Quotes & Sayings About Loving Someone Who Hurt You
Enjoy reading and share 48 famous quotes about Loving Someone Who Hurt You with everyone.
Top Loving Someone Who Hurt You Quotes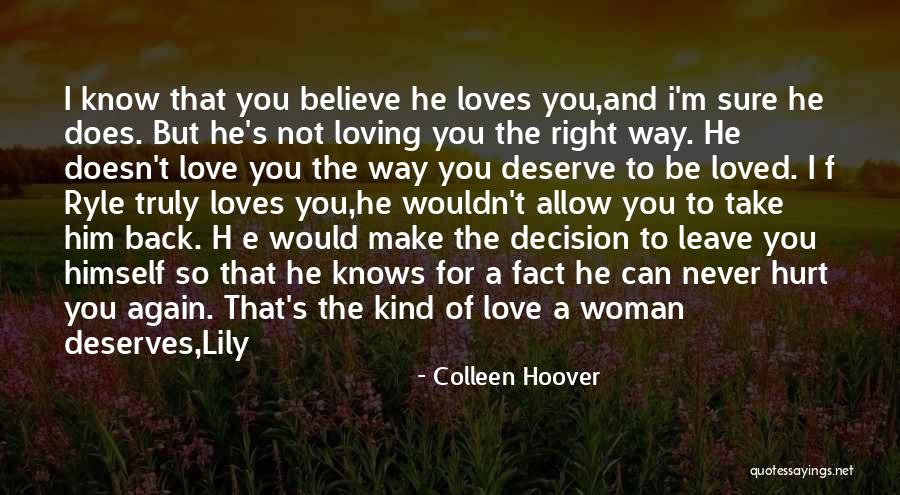 I know that you believe he loves you,and i'm sure he does. But he's not loving you the right way. He doesn't love you the way you deserve to be loved. I f Ryle truly loves you,he wouldn't allow you to take him back. H e would make the decision to leave you himself so that he knows for a fact he can never hurt you again. That's the kind of love a woman deserves,Lily — Colleen Hoover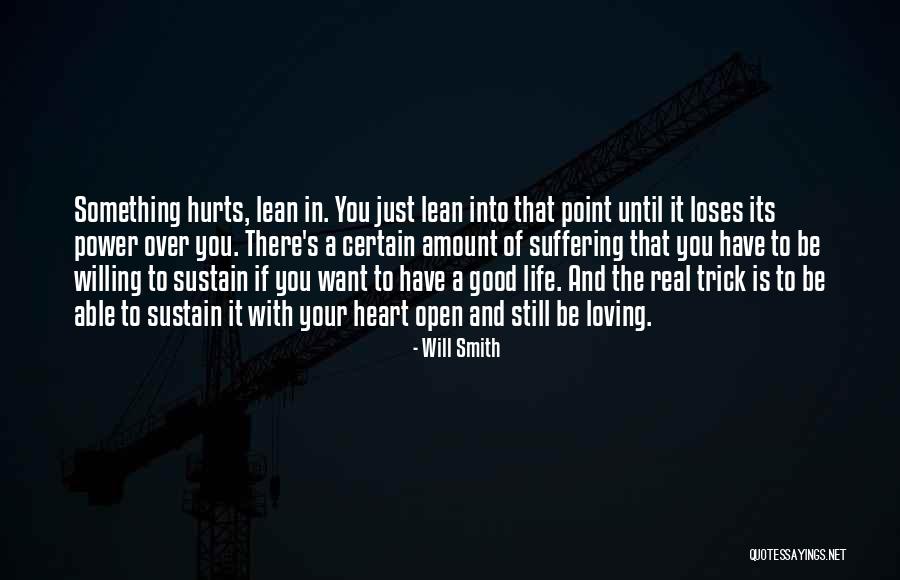 Something hurts, lean in. You just lean into that point until it loses its power over you. There's a certain amount of suffering that you have to be willing to sustain if you want to have a good life. And the real trick is to be able to sustain it with your heart open and still be loving. — Will Smith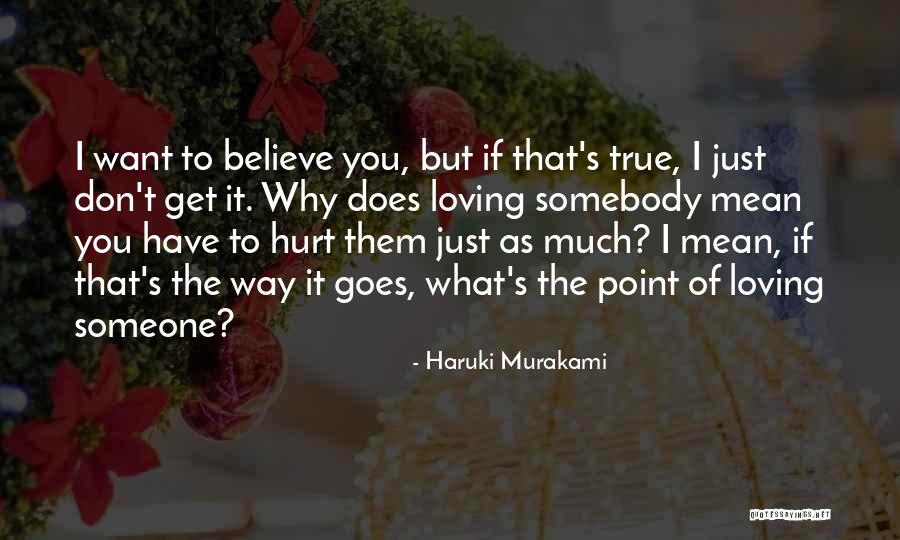 I want to believe you, but if that's true, I just don't get it. Why does loving somebody mean you have to hurt them just as much? I mean, if that's the way it goes, what's the point of loving someone? — Haruki Murakami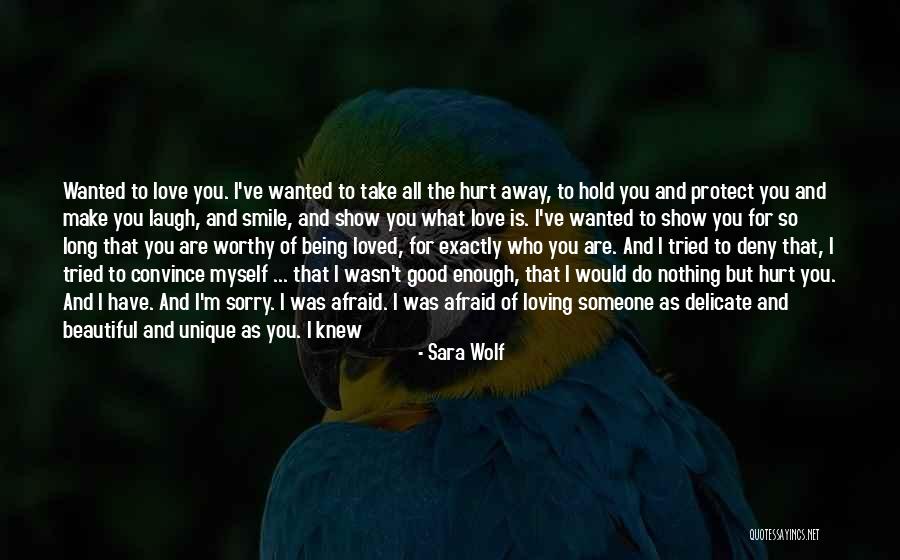 Wanted to love you. I've wanted to take all the hurt away, to hold you and protect you and make you laugh, and smile, and show you what love is. I've wanted to show you for so long that you are worthy of being loved, for exactly who you are. And I tried to deny that, I tried to convince myself ... that I wasn't good enough, that I would do nothing but hurt you. And I have. And I'm sorry. I was afraid. I was afraid of loving someone as delicate and beautiful and unique as you. I knew I only had one chance, and I was terrified I would make a mess of it and you'd only become sadder, and more convinced you were unlovable. I was afraid of my own shortcomings, and because of that I hurt you. — Sara Wolf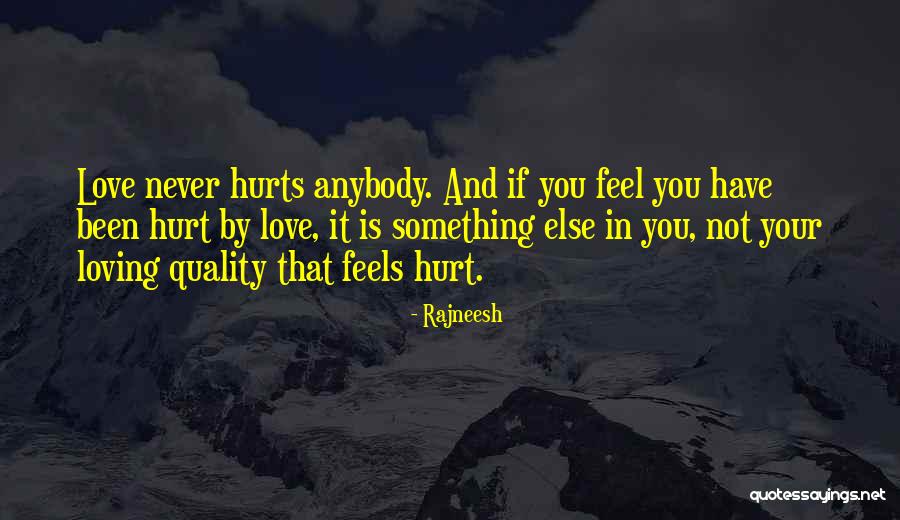 Love never hurts anybody. And if you feel you have been hurt by love, it is something else in you, not your loving quality that feels hurt. — Rajneesh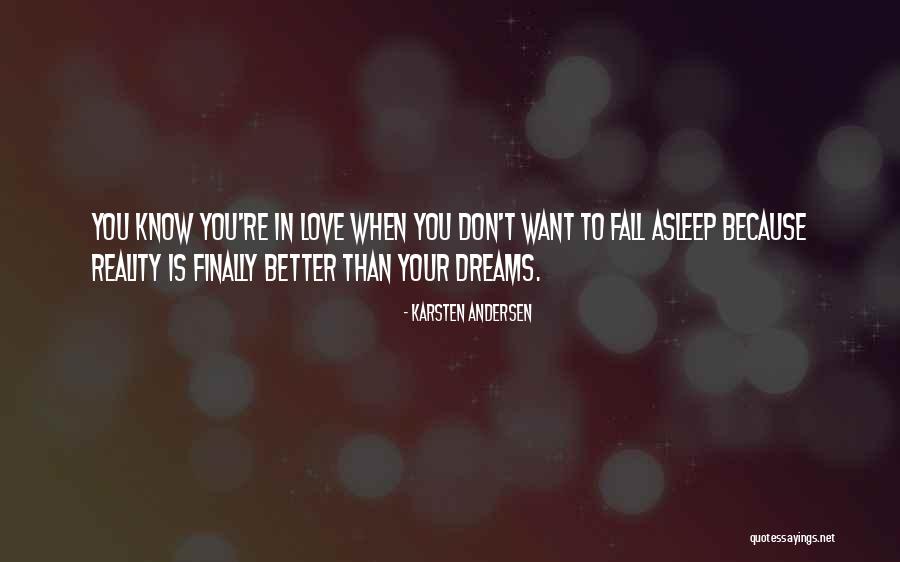 You know you're in love when you don't want to fall asleep because reality is finally better than your dreams. — Karsten Andersen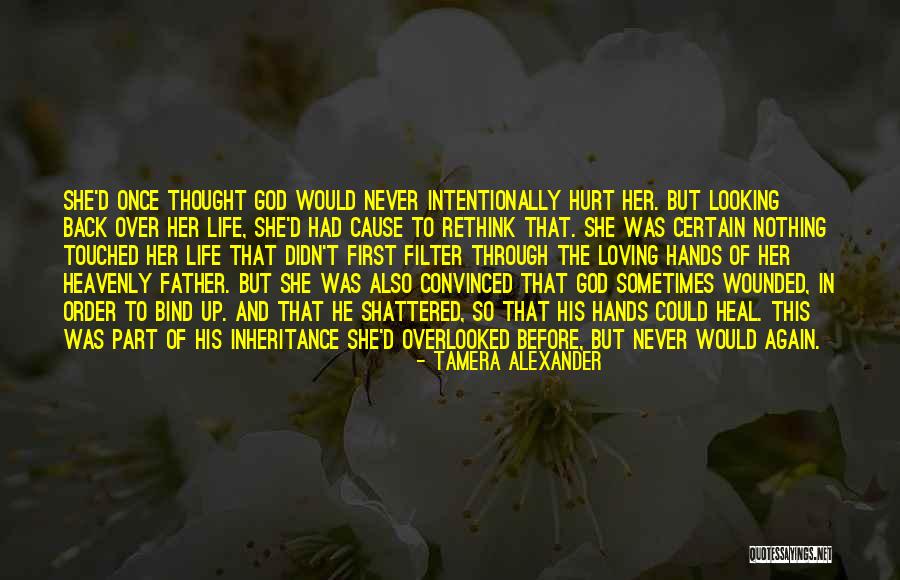 She'd once thought God would never intentionally hurt her. But looking back over her life, she'd had cause to rethink that. She was certain nothing touched her life that didn't first filter through the loving hands of her heavenly father. But she was also convinced that God sometimes wounded, in order to bind up. And that He shattered, so that His hands could heal. This was part of His inheritance she'd overlooked before, but never would again. — Tamera Alexander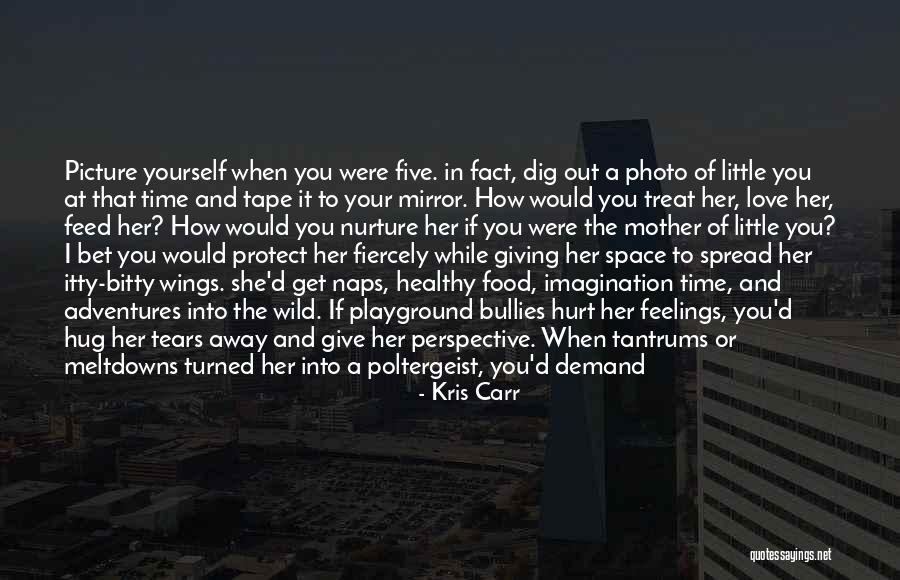 Picture yourself when you were five. in fact, dig out a photo of little you at that time and tape it to your mirror. How would you treat her, love her, feed her? How would you nurture her if you were the mother of little you? I bet you would protect her fiercely while giving her space to spread her itty-bitty wings. she'd get naps, healthy food, imagination time, and adventures into the wild. If playground bullies hurt her feelings, you'd hug her tears away and give her perspective. When tantrums or meltdowns turned her into a poltergeist, you'd demand a loving time-out in the naughty chair. From this day forward I want you to extend that same compassion to your adult self. — Kris Carr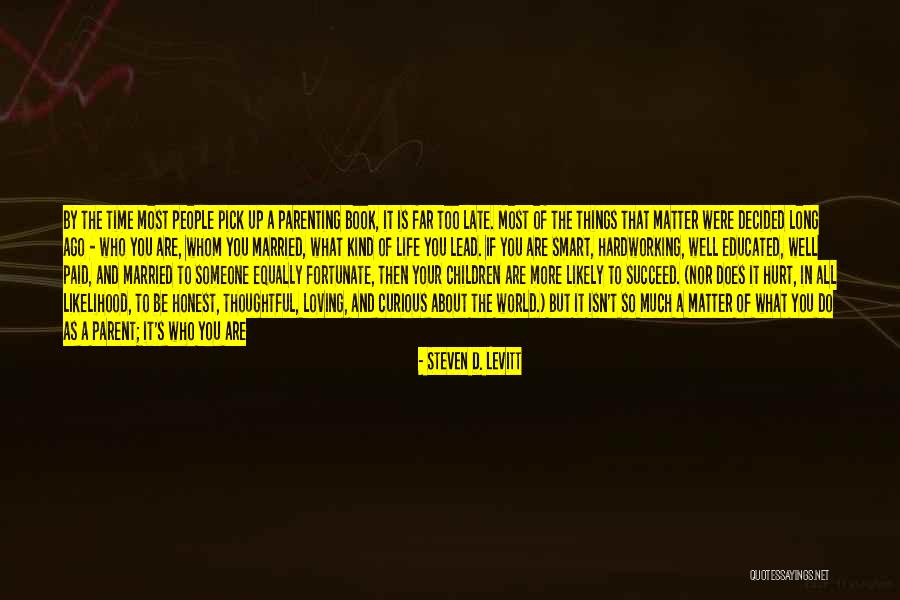 By the time most people pick up a parenting book, it is far too late. Most of the things that matter were decided long ago - who you are, whom you married, what kind of life you lead. If you are smart, hardworking, well educated, well paid, and married to someone equally fortunate, then your children are more likely to succeed. (Nor does it hurt, in all likelihood, to be honest, thoughtful, loving, and curious about the world.) But it isn't so much a matter of what you do as a parent; it's who you are — Steven D. Levitt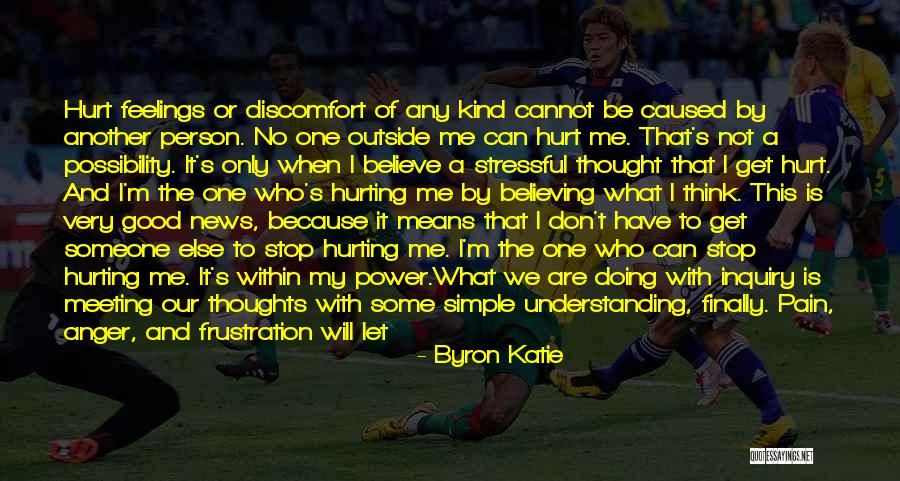 Hurt feelings or discomfort of any kind cannot be caused by another person. No one outside me can hurt me. That's not a possibility. It's only when I believe a stressful thought that I get hurt. And I'm the one who's hurting me by believing what I think. This is very good news, because it means that I don't have to get someone else to stop hurting me. I'm the one who can stop hurting me. It's within my power.
What we are doing with inquiry is meeting our thoughts with some simple understanding, finally. Pain, anger, and frustration will let us know when it's time to inquire. We either believe what we think or we question it: there's no other choice. Questioning our thoughts is the kinder way. Inquiry always leaves us as more loving human beings. — Byron Katie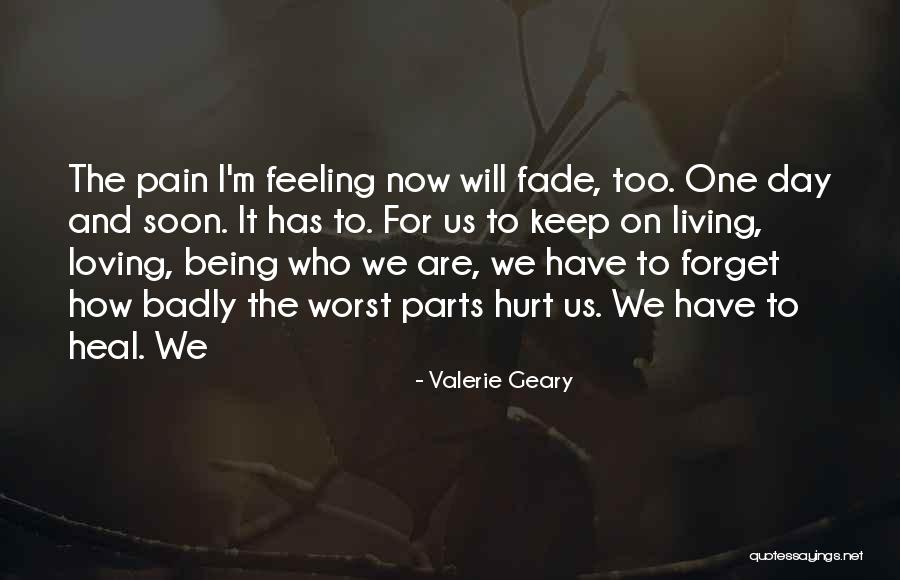 The pain I'm feeling now will fade, too. One day and soon. It has to. For us to keep on living, loving, being who we are, we have to forget how badly the worst parts hurt us. We have to heal. We — Valerie Geary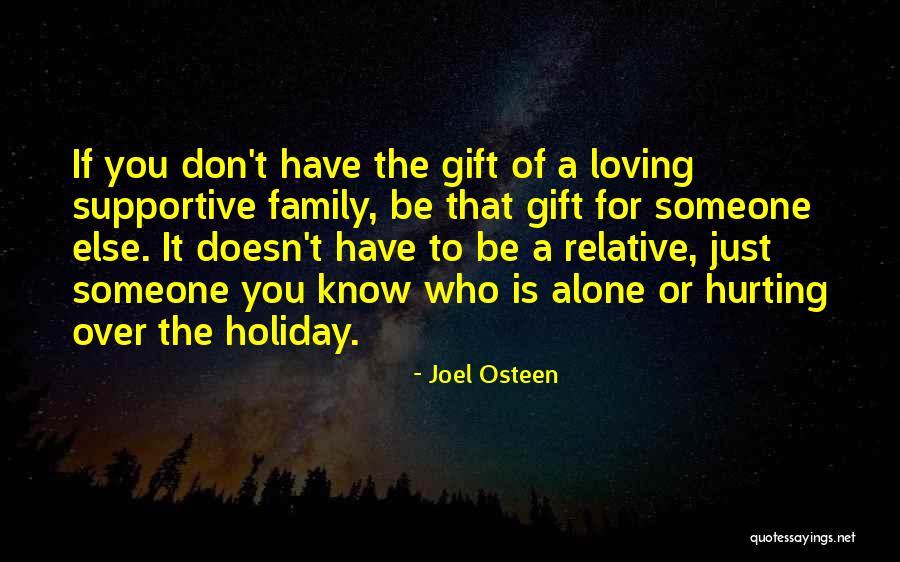 If you don't have the gift of a loving supportive family, be that gift for someone else. It doesn't have to be a relative, just someone you know who is alone or hurting over the holiday. — Joel Osteen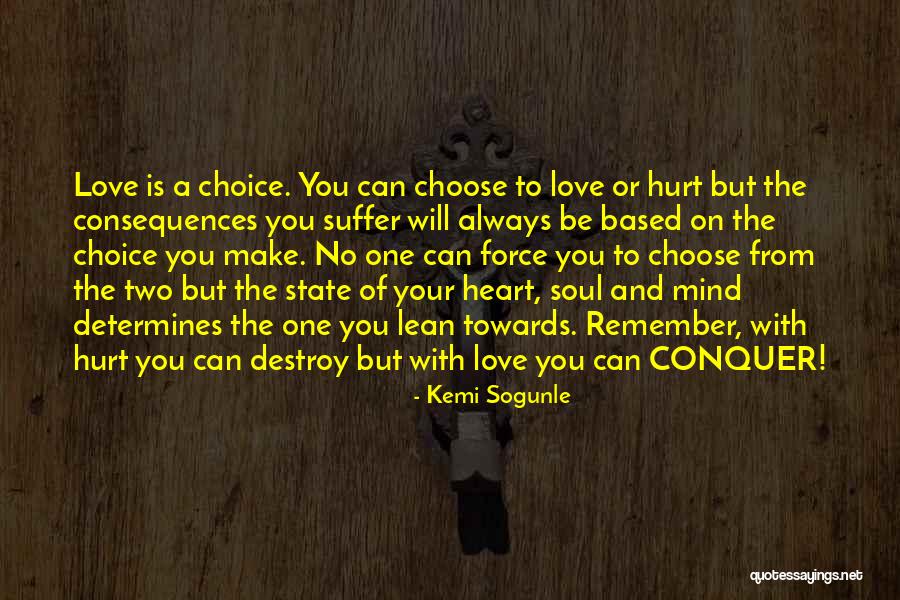 Love is a choice. You can choose to love or hurt but the consequences you suffer will always be based on the choice you make. No one can force you to choose from the two but the state of your heart, soul and mind determines the one you lean towards. Remember, with hurt you can destroy but with love you can CONQUER! — Kemi Sogunle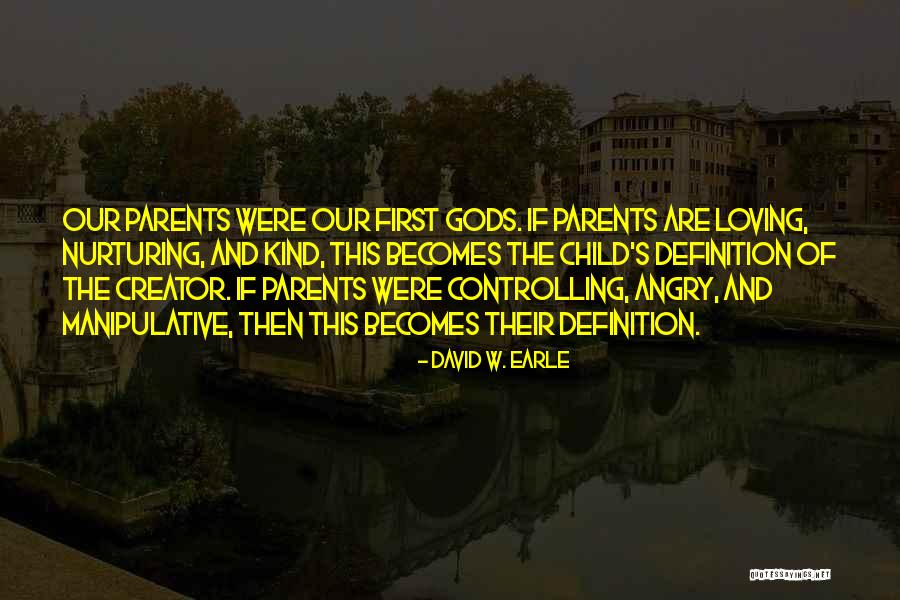 Our parents were our first gods. If parents are loving, nurturing, and kind, this becomes the child's definition of the creator. If parents were controlling, angry, and manipulative, then this becomes their definition. — David W. Earle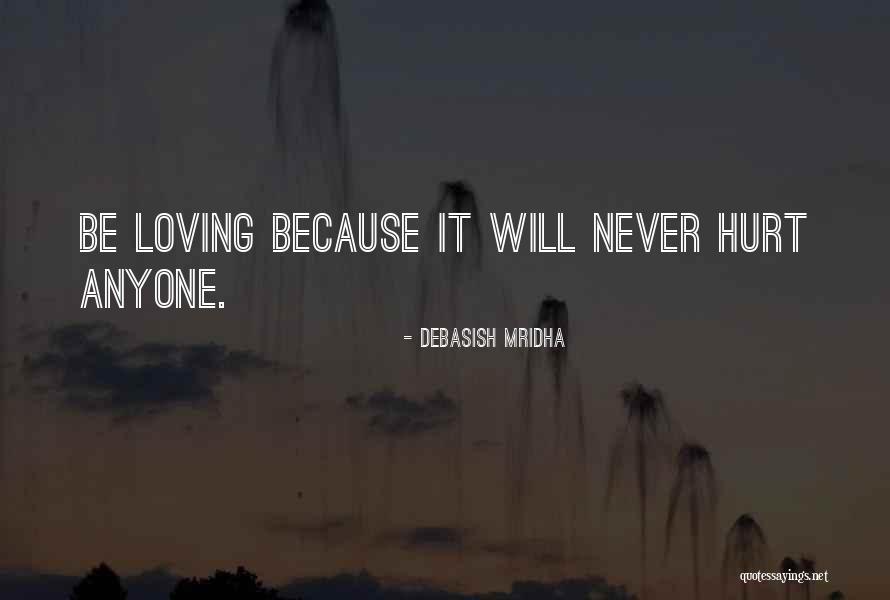 Be loving because it will never hurt anyone. — Debasish Mridha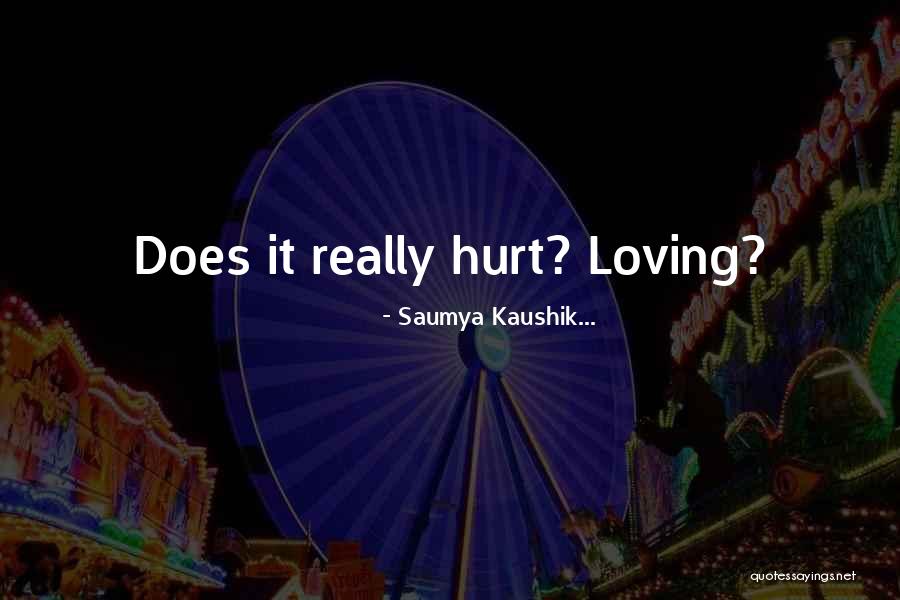 Does it really hurt? Loving? — Saumya Kaushik...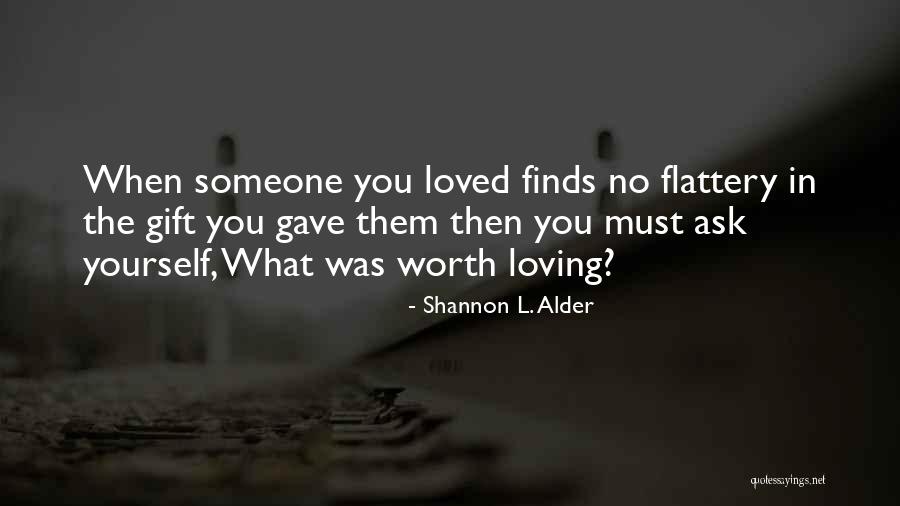 When someone you loved finds no flattery in the gift you gave them then you must ask yourself, What was worth loving? — Shannon L. Alder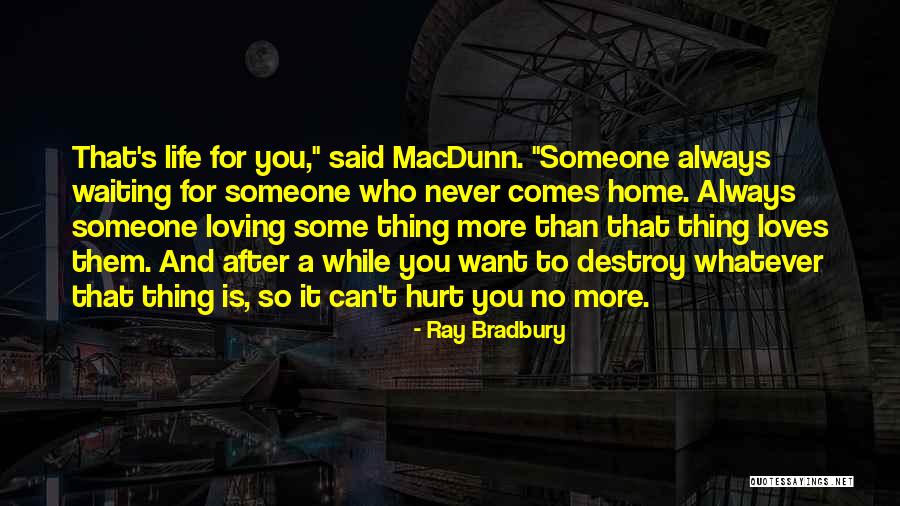 That's life for you," said MacDunn. "Someone always waiting for someone who never comes home. Always someone loving some thing more than that thing loves them. And after a while you want to destroy whatever that thing is, so it can't hurt you no more. — Ray Bradbury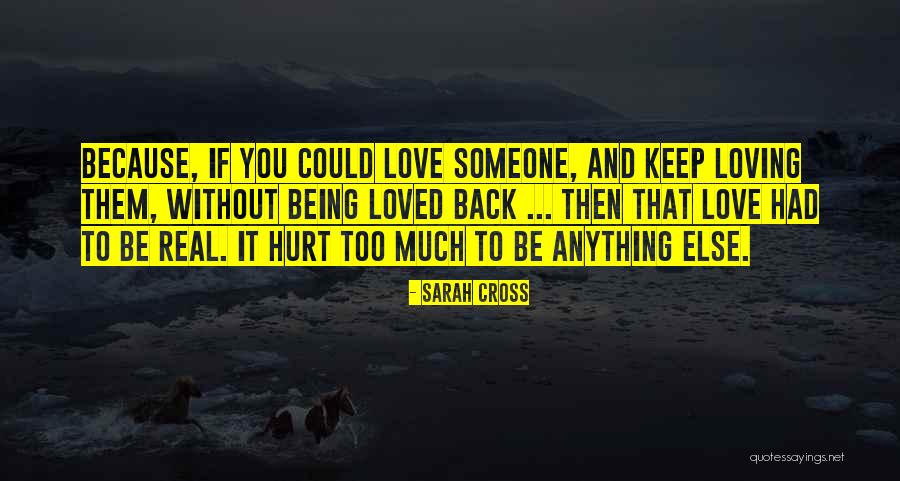 Because, if you could love someone, and keep loving them, without being loved back ... then that love had to be real. It hurt too much to be anything else. — Sarah Cross
Not loving you - that would hurt more. — Kay Cornelius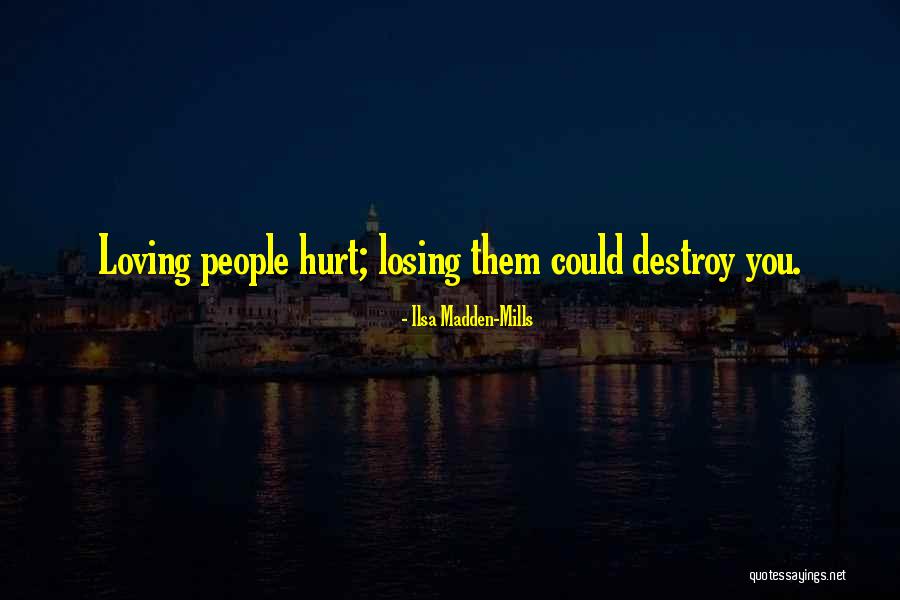 Loving people hurt; losing them could destroy you. — Ilsa Madden-Mills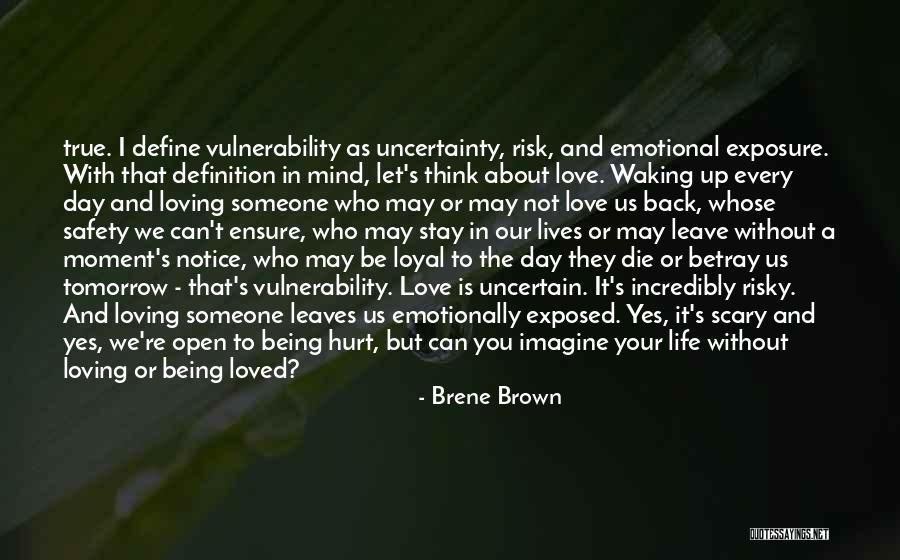 true. I define vulnerability as uncertainty, risk, and emotional exposure. With that definition in mind, let's think about love. Waking up every day and loving someone who may or may not love us back, whose safety we can't ensure, who may stay in our lives or may leave without a moment's notice, who may be loyal to the day they die or betray us tomorrow - that's vulnerability. Love is uncertain. It's incredibly risky. And loving someone leaves us emotionally exposed. Yes, it's scary and yes, we're open to being hurt, but can you imagine your life without loving or being loved? — Brene Brown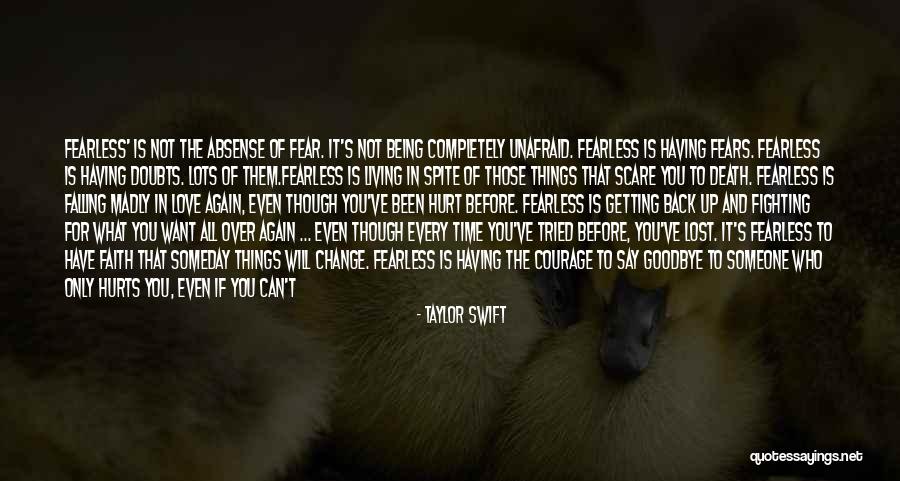 FEARLESS' is not the absense of fear.
It's not being completely unafraid.
FEARLESS is having fears.
FEARLESS is having doubts. Lots of them.
FEARLESS is living in spite of those things that scare you to death.
FEARLESS is falling madly in love again, even though you've been hurt before.
FEARLESS is getting back up and fighting for what you want all over again ... even though every time you've tried before, you've lost.
It's FEARLESS to have faith that someday things will change.
FEARLESS is having the courage to say goodbye to someone who only hurts you, even if you can't breathe without them.
It's FEARLESS to say "you're NOT sorry," and walk away.
I think loving someone despite what people think is FEARLESS. — Taylor Swift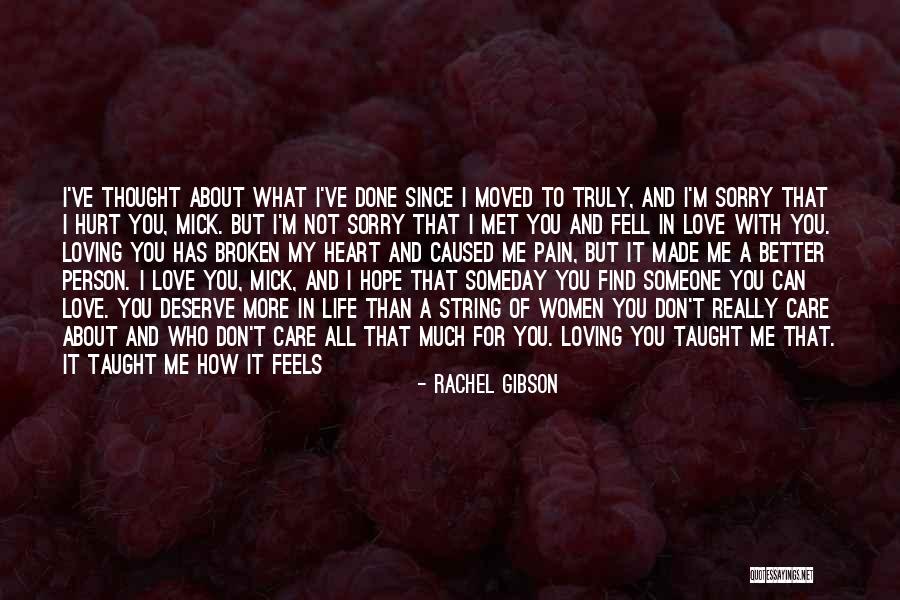 I've thought about what I've done since I moved to Truly, and I'm sorry that I hurt you, Mick. But I'm not sorry that I met you and fell in love with you. Loving you has broken my heart and caused me pain, but it made me a better person. I love you, Mick, and I hope that someday you find someone you can love. You deserve more in life than a string of women you don't really care about and who don't care all that much for you. Loving you taught me that. It taught me how it feels to love a man, and I hope that someday I can find someone who will love me the way that you can't. Because I deserve more that a string of men who don't really care about me. — Rachel Gibson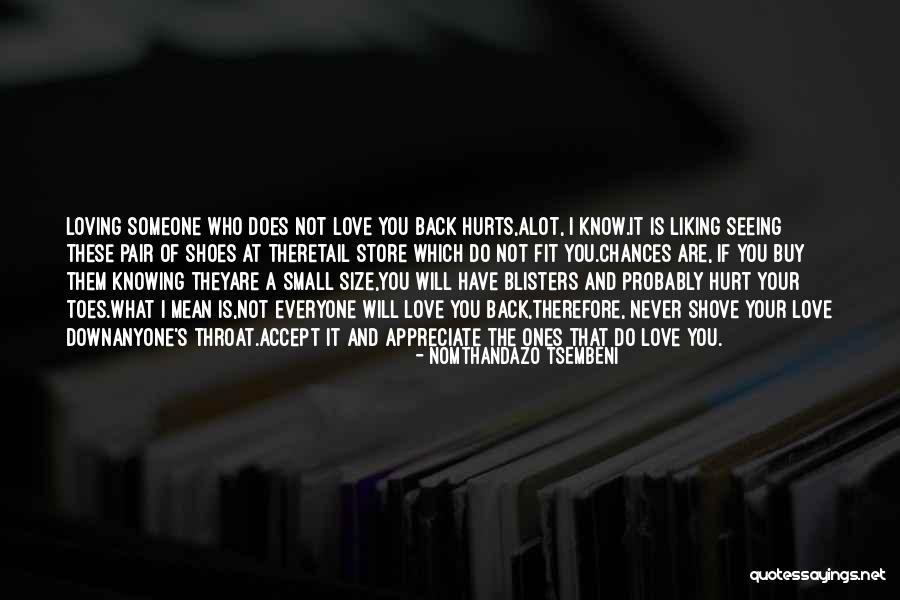 Loving someone who does not love you back hurts,
alot,
i know.
It is liking seeing these pair of shoes at the
retail store which do not fit you.
Chances are, if you buy them knowing they
are a small size,
you will have blisters and probably hurt your toes.
What i mean is,
not everyone will love you back,
therefore, never shove your love down
anyone's throat.
Accept it and appreciate the ones that do love you. — Nomthandazo Tsembeni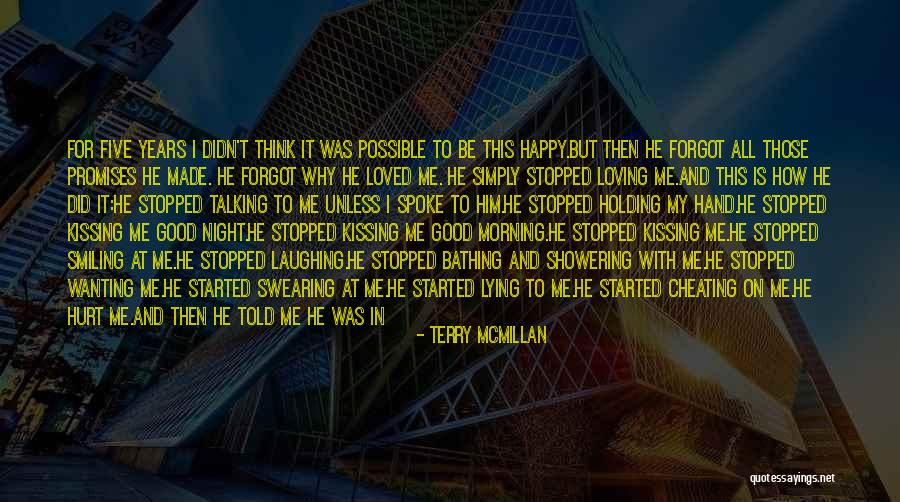 For five years I didn't think it was possible to be this happy.
But then he forgot all those promises he made. He forgot why he loved me. He simply stopped loving me.

And this is how he did it:
He stopped talking to me unless I spoke to him.
He stopped holding my hand.
He stopped kissing me good night.
He stopped kissing me good morning.
He stopped kissing me.
He stopped smiling at me.
He stopped laughing.
He stopped bathing and showering with me.
He stopped wanting me.
He started swearing at me.
He started lying to me.
He started cheating on me.
He hurt me.
And then he told me he was in love with another woman and wanted a divorce.
Oh, I forgot. He said he was sorry.

I wanted to blow his fucking brains out. — Terry McMillan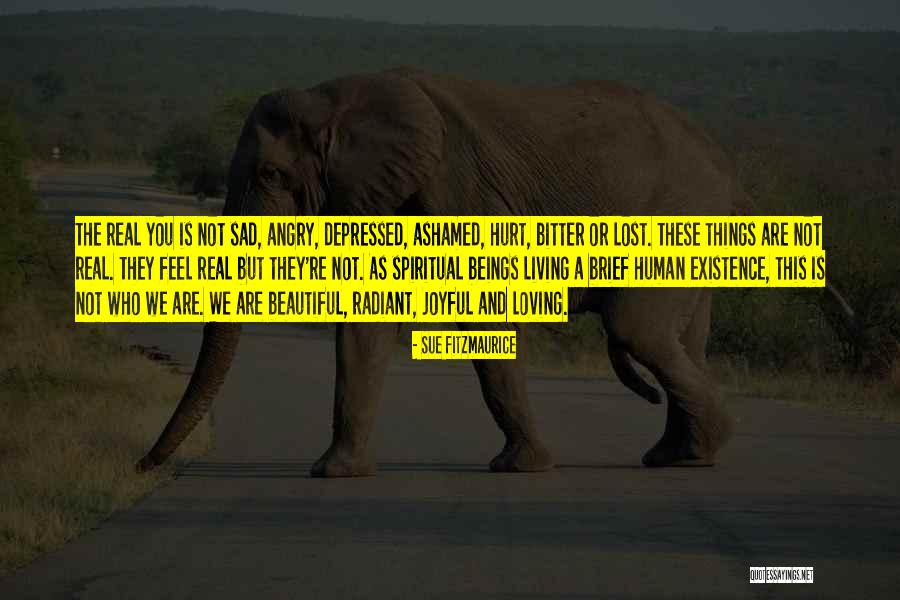 The real you is not sad, angry, depressed, ashamed, hurt, bitter or lost. These things are not real. They feel real but they're not. As spiritual beings living a brief human existence, this is not who we are. We are beautiful, radiant, joyful and loving. — Sue Fitzmaurice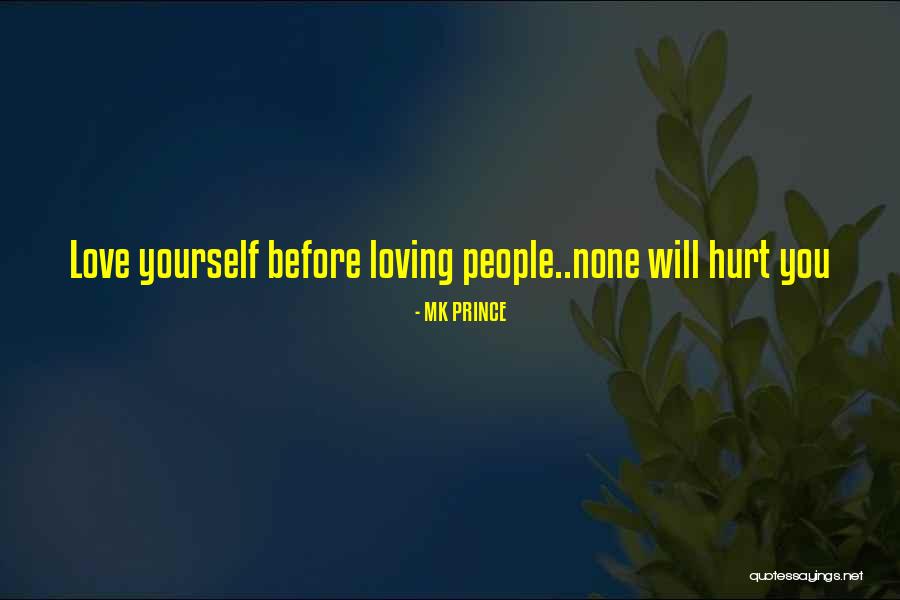 Love yourself before loving people..none will hurt you — MK PRINCE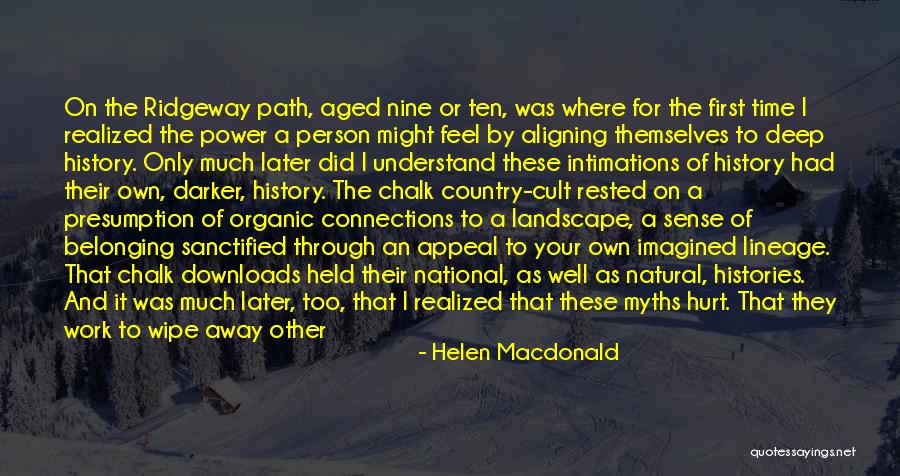 On the Ridgeway path, aged nine or ten, was where for the first time I realized the power a person might feel by aligning themselves to deep history. Only much later did I understand these intimations of history had their own, darker, history. The chalk country-cult rested on a presumption of organic connections to a landscape, a sense of belonging sanctified through an appeal to your own imagined lineage. That chalk downloads held their national, as well as natural, histories. And it was much later, too, that I realized that these myths hurt. That they work to wipe away other cultures, other histories, other ways of loving, working and being in a landscape. How they tiptoe towards darkness. — Helen Macdonald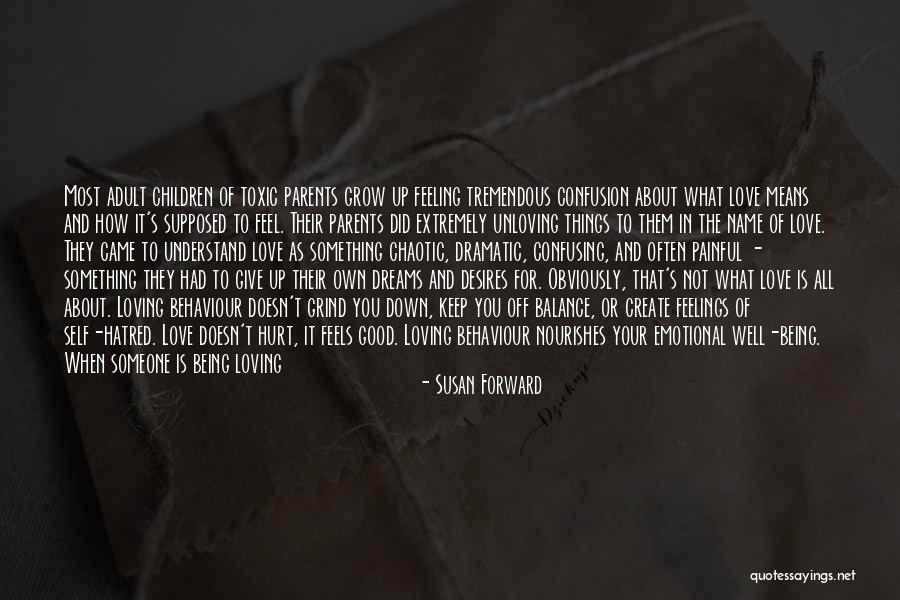 Most adult children of toxic parents grow up feeling tremendous confusion about what love means and how it's supposed to feel. Their parents did extremely unloving things to them in the name of love. They came to understand love as something chaotic, dramatic, confusing, and often painful - something they had to give up their own dreams and desires for. Obviously, that's not what love is all about. Loving behaviour doesn't grind you down, keep you off balance, or create feelings of self-hatred. Love doesn't hurt, it feels good. Loving behaviour nourishes your emotional well-being. When someone is being loving to you, you feel accepted, cared for, valued, and respected. Genuine love creates feelings of warmth, pleasure, safety, stability, and inner peace. — Susan Forward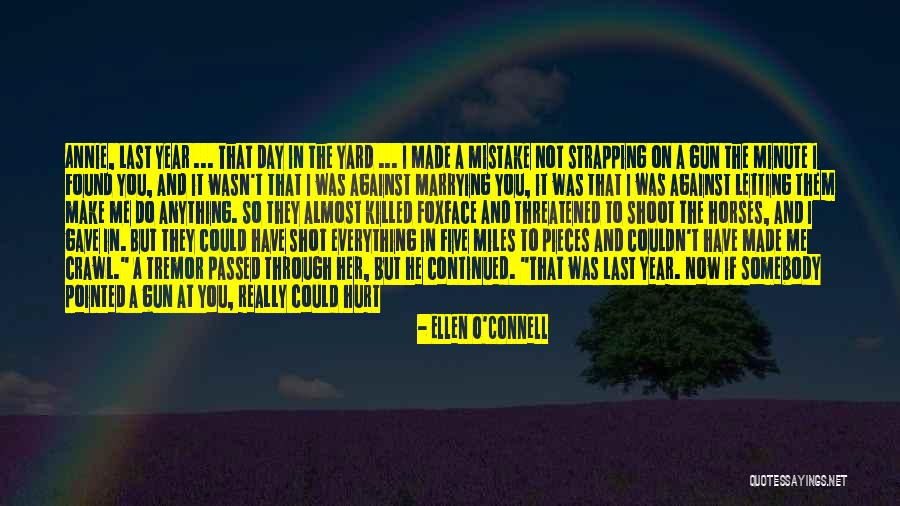 Annie, last year ... That day in the yard ... I made a mistake not strapping on a gun the minute I found you, and it wasn't that I was against marrying you, it was that I was against letting them make me do anything. So they almost killed Foxface and threatened to shoot the horses, and I gave in. But they could have shot everything in five miles to pieces and couldn't have made me crawl."
A tremor passed through her, but he continued. "That was last year. Now if somebody pointed a gun at you, really could hurt you, I'd crawl on my belly or my knees or do anything else. Maybe that's part of why loving is frightening. I'd rather pay the price and have you than be invincible because I have nothing. — Ellen O'Connell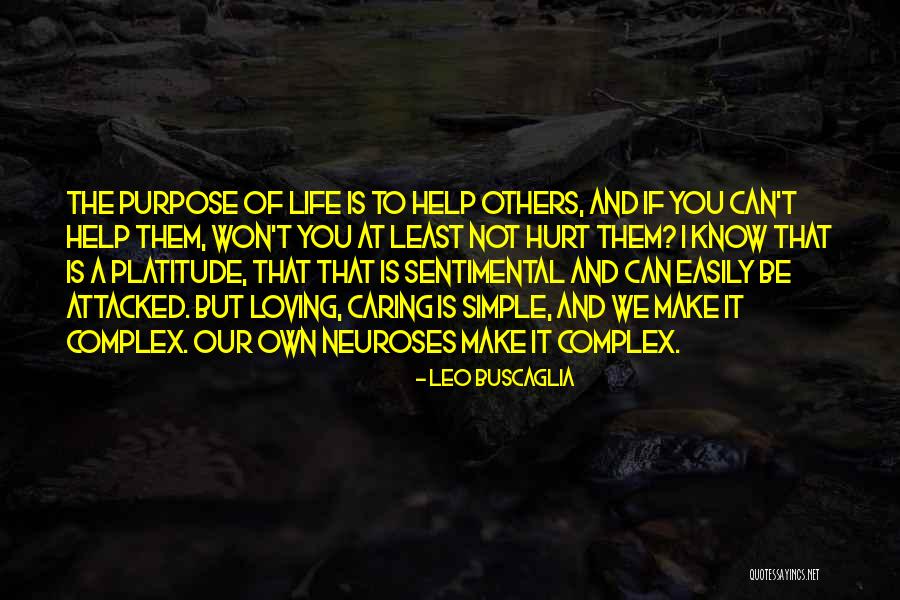 The purpose of life is to help others, and if you can't help them, won't you at least not hurt them? I know that is a platitude, that that is sentimental and can easily be attacked. But loving, caring is simple, and we make it complex. Our own neuroses make it complex. — Leo Buscaglia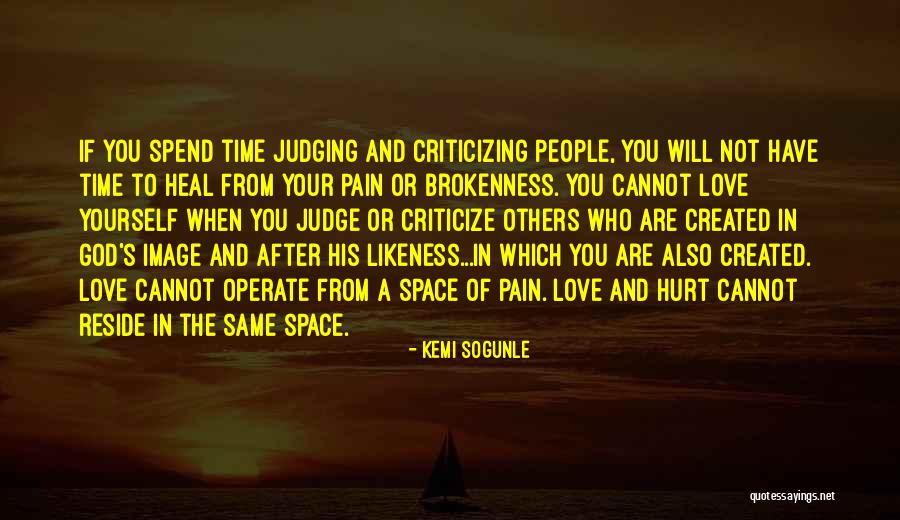 If you spend time judging and criticizing people, you will not have time to heal from your pain or brokenness. You cannot love yourself when you judge or criticize others who are created in God's image and after His Likeness...in which you are also created. Love cannot operate from a space of pain. Love and hurt cannot reside in the same space. — Kemi Sogunle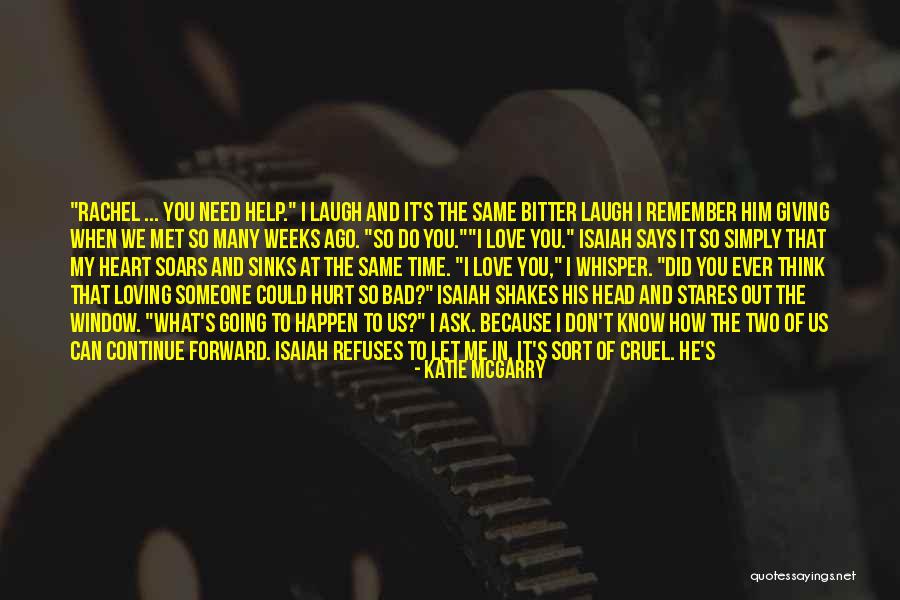 "Rachel ... you need help."
I laugh and it's the same bitter laugh I remember him giving when we met so many weeks ago. "So do you."
"I love you." Isaiah says it so simply that my heart soars and sinks at the same time.
"I love you," I whisper. "Did you ever think that loving someone could hurt so bad?"
Isaiah shakes his head and stares out the window.
"What's going to happen to us?" I ask. Because I don't know how the two of us can continue forward. Isaiah refuses to let me in. It's sort of cruel. He's brought me close with his stories of his childhood and with his words of love, but he can't relinquish control. I refuse to be with someone who won't treat me as an equal. — Katie McGarry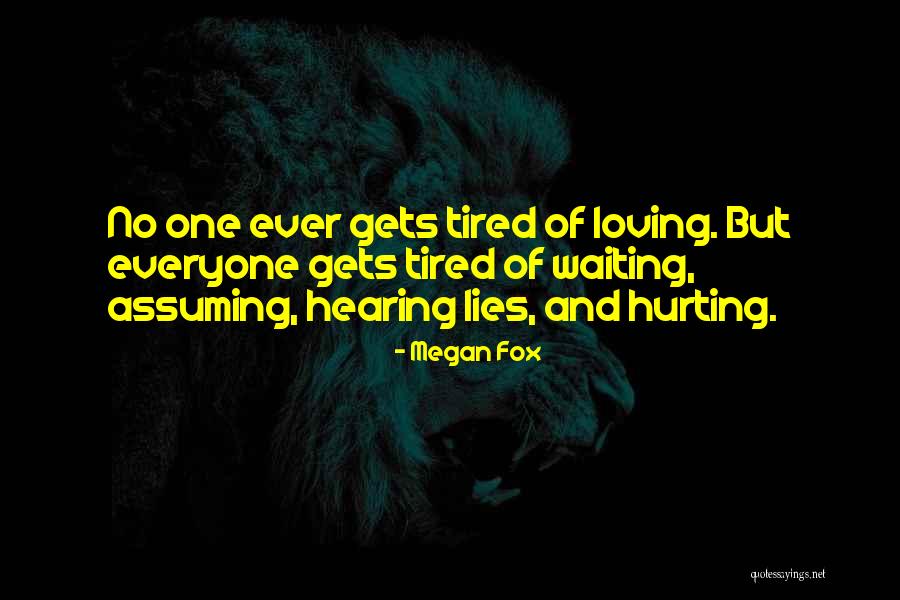 No one ever gets tired of loving. But everyone gets tired of waiting, assuming, hearing lies, and hurting. — Megan Fox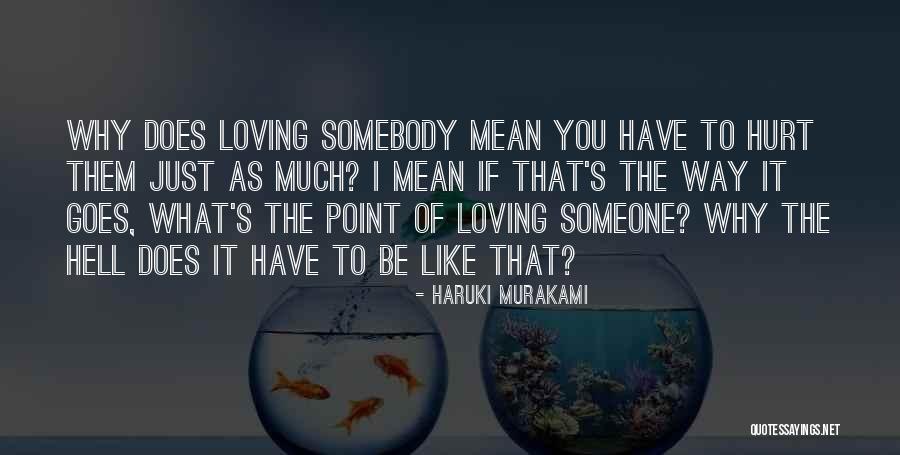 Why does loving somebody mean you have to hurt them just as much? I mean if that's the way it goes, what's the point of loving someone? Why the hell does it have to be like that? — Haruki Murakami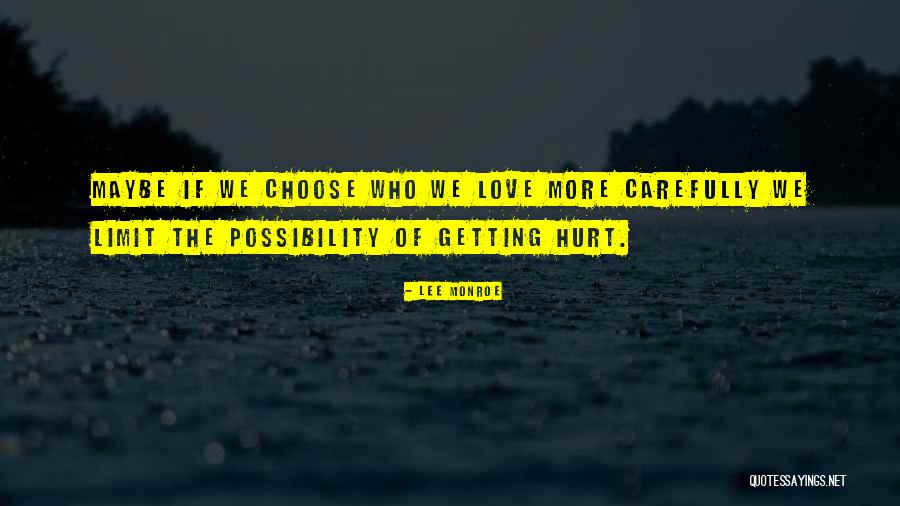 Maybe if we choose who we love more carefully we limit the possibility of getting hurt. — Lee Monroe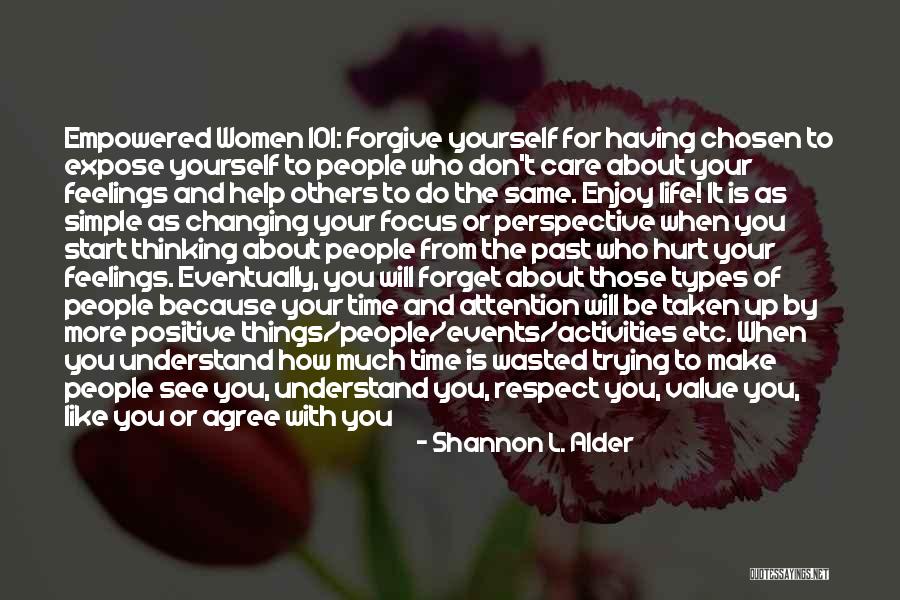 Empowered Women 101: Forgive yourself for having chosen to expose yourself to people who don't care about your feelings and help others to do the same. Enjoy life! It is as simple as changing your focus or perspective when you start thinking about people from the past who hurt your feelings. Eventually, you will forget about those types of people because your time and attention will be taken up by more positive things/people/events/activities etc. When you understand how much time is wasted trying to make people see you, understand you, respect you, value you, like you or agree with you ... life becomes a pointless negative fight for validation that will drain your happiness. You are worth more than the indifference, inattention or crumbs people throw you. You are a queen that demands respect and God will bring the right person into your life to make you forget why you ever wasted your time on nothing important. — Shannon L. Alder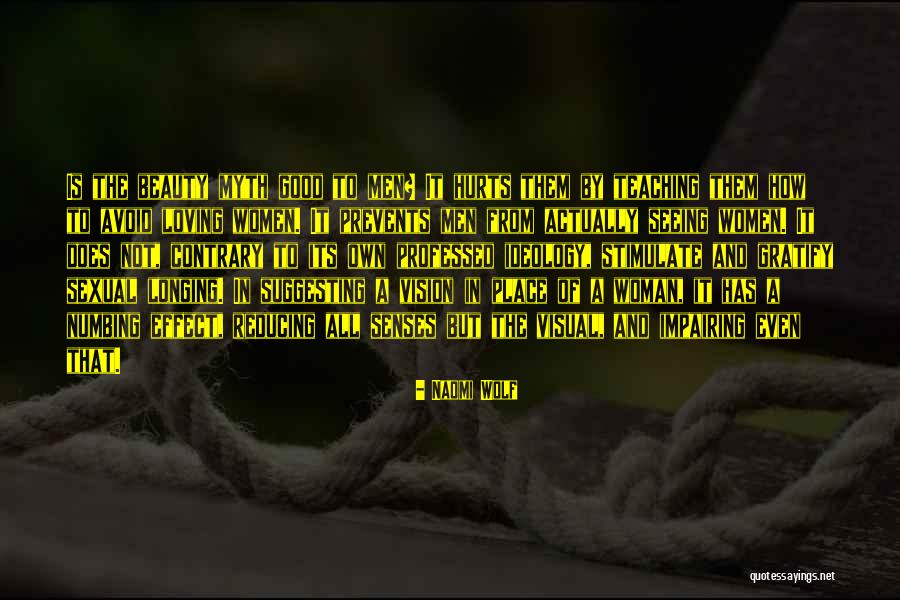 Is the beauty myth good to men? It hurts them by teaching them how to avoid loving women. It prevents men from actually seeing women. It does not, contrary to its own professed ideology, stimulate and gratify sexual longing. In suggesting a vision in place of a woman, it has a numbing effect, reducing all senses but the visual, and impairing even that. — Naomi Wolf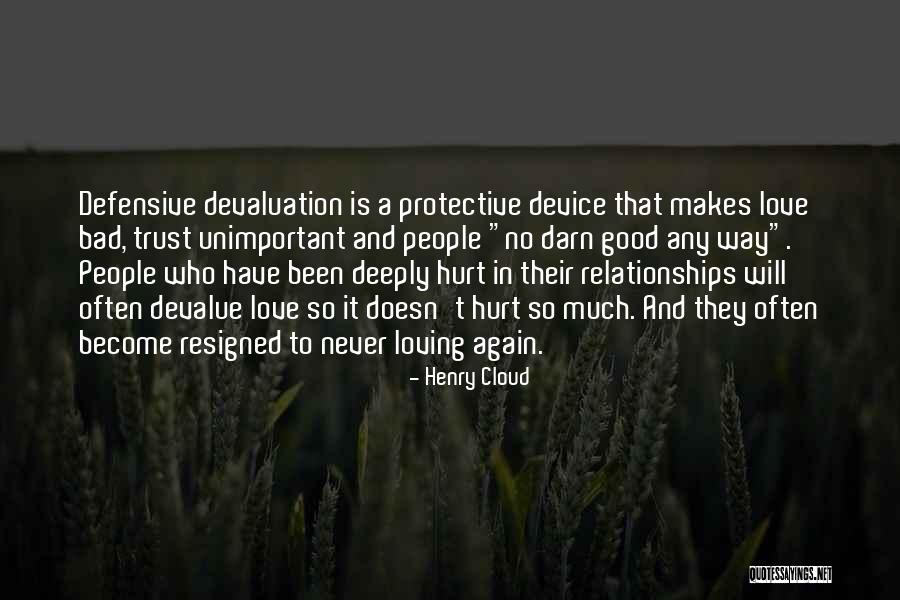 Defensive devaluation is a protective device that makes love bad, trust unimportant and people "no darn good any way". People who have been deeply hurt in their relationships will often devalue love so it doesn't hurt so much. And they often become resigned to never loving again. — Henry Cloud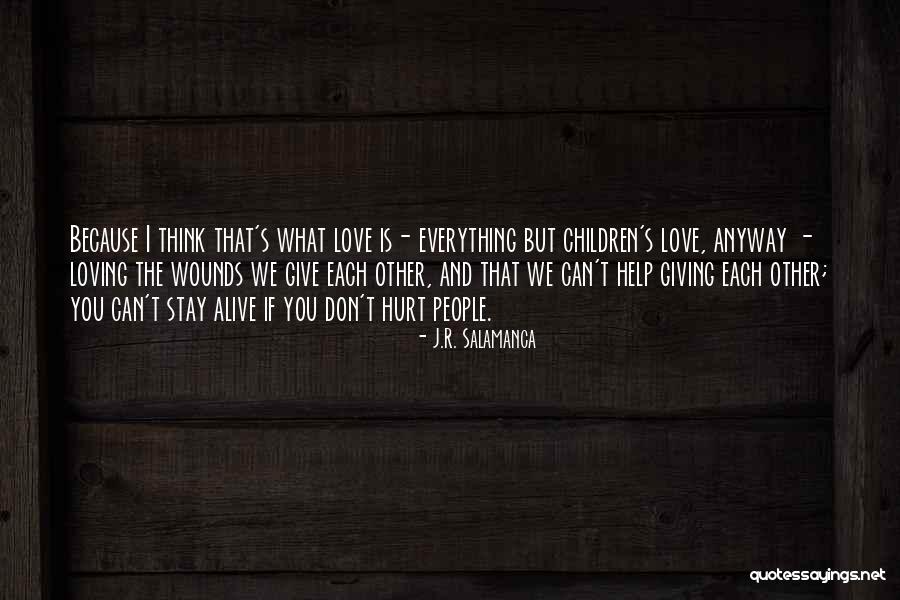 Because I think that's what love is- everything but children's love, anyway - loving the wounds we give each other, and that we can't help giving each other; you can't stay alive if you don't hurt people. — J.R. Salamanca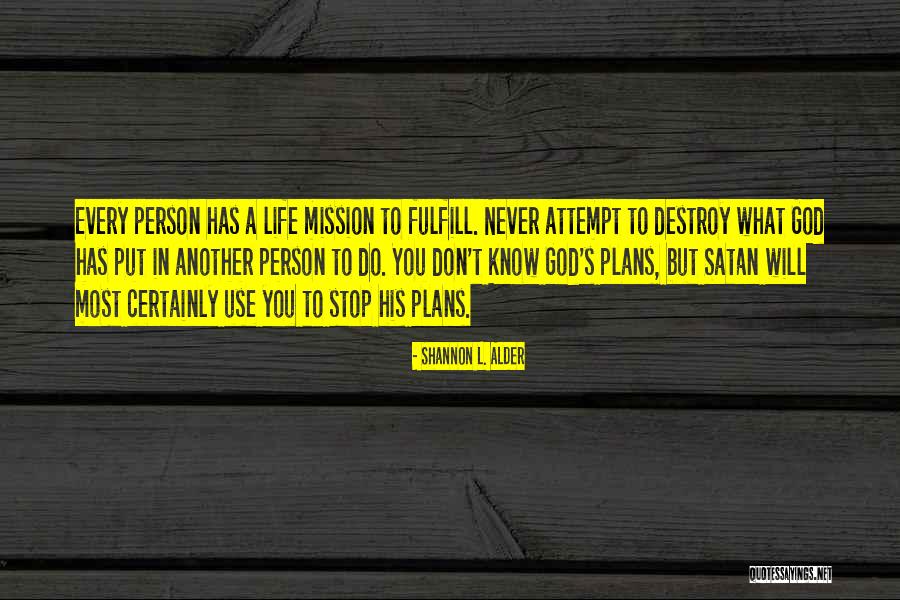 Every person has a life mission to fulfill. Never attempt to destroy what God has put in another person to do. You don't know God's plans, but Satan will most certainly use you to stop his plans. — Shannon L. Alder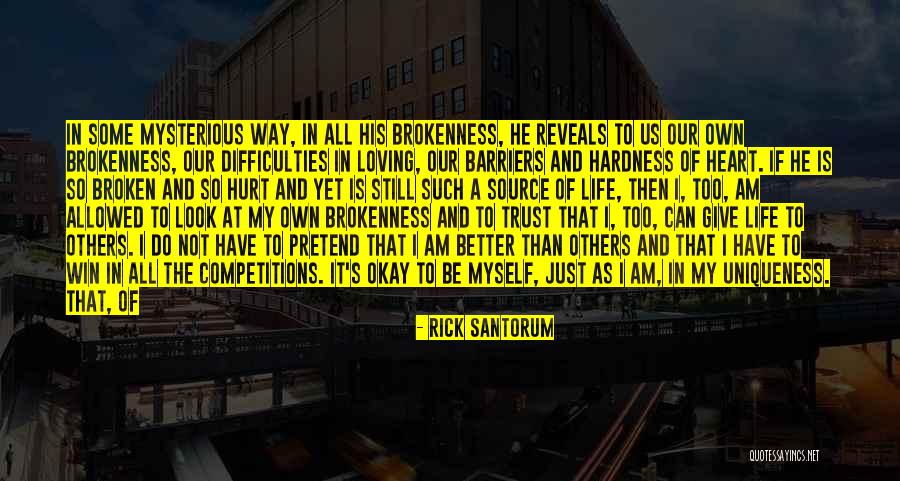 In some mysterious way, in all his brokenness, he reveals to us our own brokenness, our difficulties in loving, our barriers and hardness of heart. If he is so broken and so hurt and yet is still such a source of life, then I, too, am allowed to look at my own brokenness and to trust that I, too, can give life to others. I do not have to pretend that I am better than others and that I have to win in all the competitions. It's okay to be myself, just as I am, in my uniqueness. That, of course, is a very healing and liberating experience. I am allowed to be myself, with all my psychological and physical wounds, with all my limitations but with all my gifts too. And I can trust that I am loved just as I am, and that I, too, can love and grow. — Rick Santorum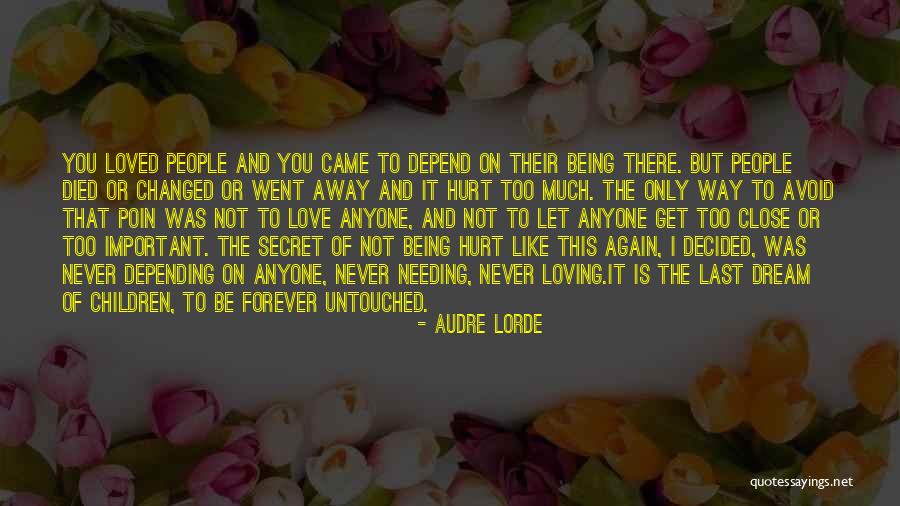 You loved people and you came to depend on their being there. but people died or changed or went away and it hurt too much. The only way to avoid that poin was not to love anyone, and not to let anyone get too close or too important. The secret of not being hurt like this again, I decided, was never depending on anyone, never needing, never loving.
It is the last dream of children, to be forever untouched. — Audre Lorde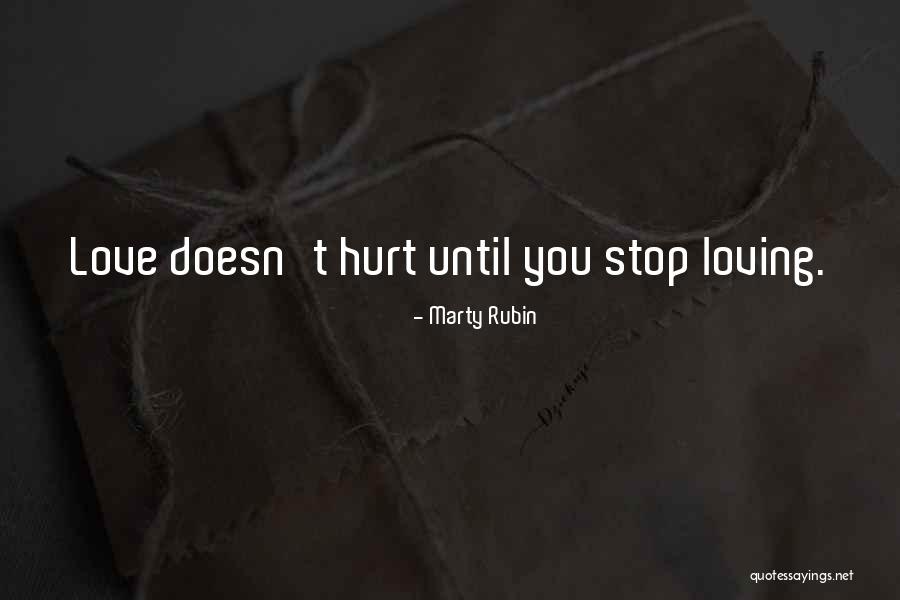 Love doesn't hurt until you stop loving. — Marty Rubin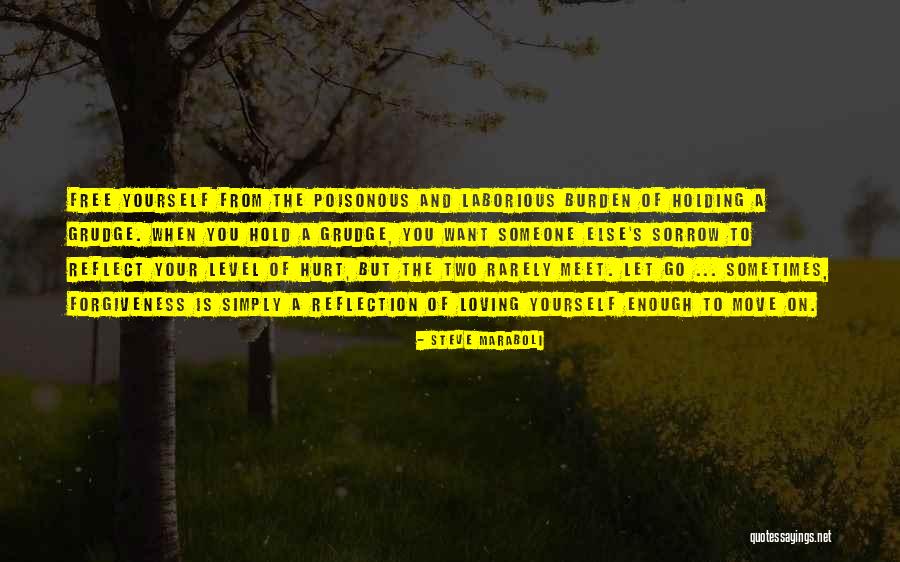 Free yourself from the poisonous and laborious burden of holding a grudge. When you hold a grudge, you want someone else's sorrow to reflect your level of hurt, but the two rarely meet. Let go ... Sometimes, forgiveness is simply a reflection of loving yourself enough to move on. — Steve Maraboli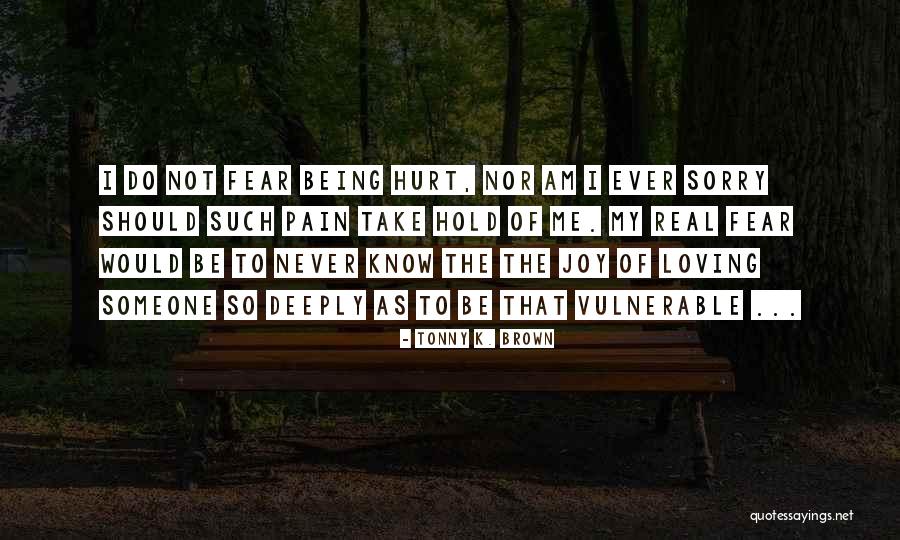 I do not fear being hurt, nor am I ever sorry should such pain take hold of me. My real fear would be to never know the the joy of loving someone so deeply as to be that vulnerable ... — Tonny K. Brown