Lover Changed Quotes & Sayings
Enjoy reading and share 20 famous quotes about Lover Changed with everyone.
Top Lover Changed Quotes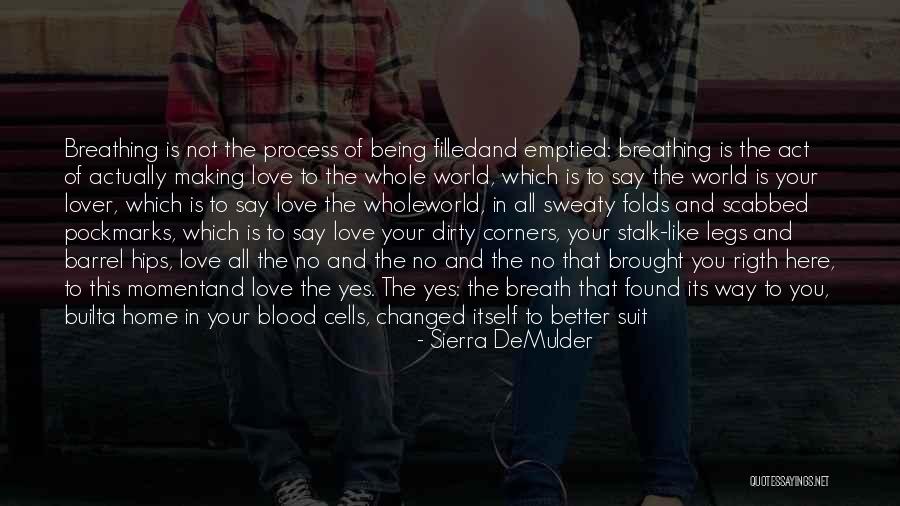 Breathing is not the process of being filled
and emptied: breathing is the act
of actually making love to the whole world,
which is to say the world is
your lover, which is to say love the whole
world, in all sweaty folds
and scabbed pockmarks, which is to say
love your dirty corners, your
stalk-like legs and barrel hips, love all
the no and the no and the no
that brought you rigth here, to this moment
and love the yes. The yes:
the breath that found its way to you, built
a home in your blood cells,
changed itself to better suit you and for it,
tonight, you say: I was made to
breathe and move and give, which is to say love.
Love. I was made to love. — Sierra DeMulder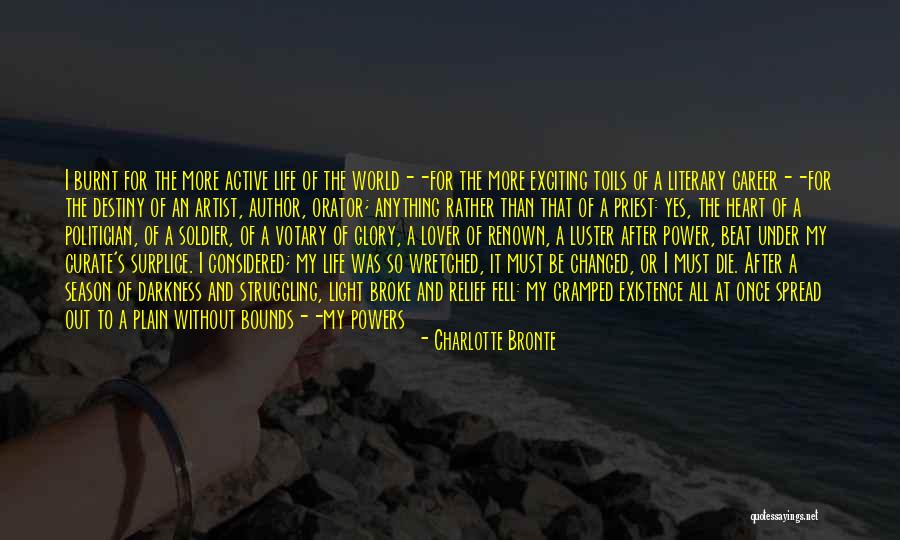 I burnt for the more active life of the world--for the more exciting toils of a literary career--for the destiny of an artist, author, orator; anything rather than that of a priest: yes, the heart of a politician, of a soldier, of a votary of glory, a lover of renown, a luster after power, beat under my curate's surplice. I considered; my life was so wretched, it must be changed, or I must die. After a season of darkness and struggling, light broke and relief fell: my cramped existence all at once spread out to a plain without bounds--my powers heard a call from heaven to rise, gather their full strength, spread their wings, and mount beyond ken. — Charlotte Bronte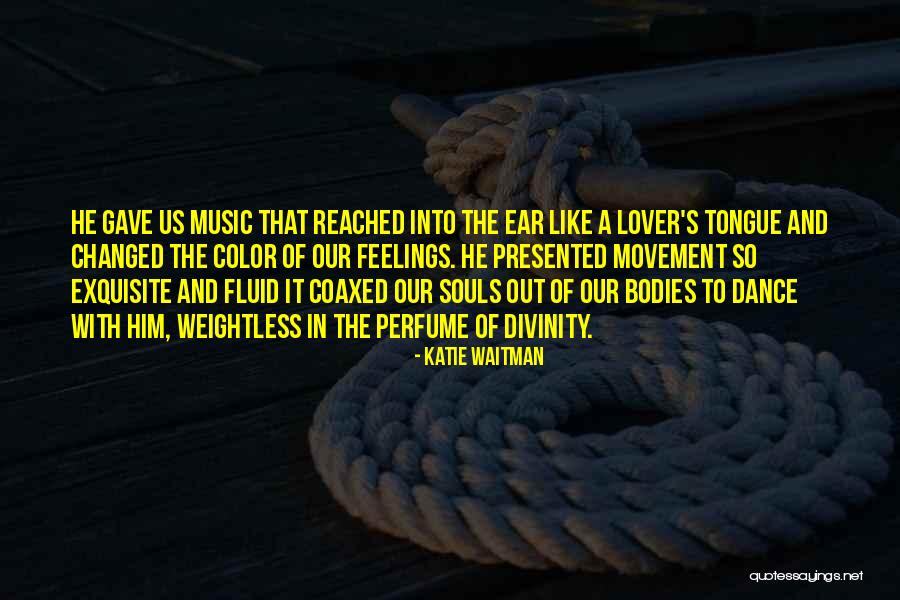 He gave us music that reached into the ear like a lover's tongue and changed the color of our feelings. He presented movement so exquisite and fluid it coaxed our souls out of our bodies to dance with him, weightless in the perfume of divinity. — Katie Waitman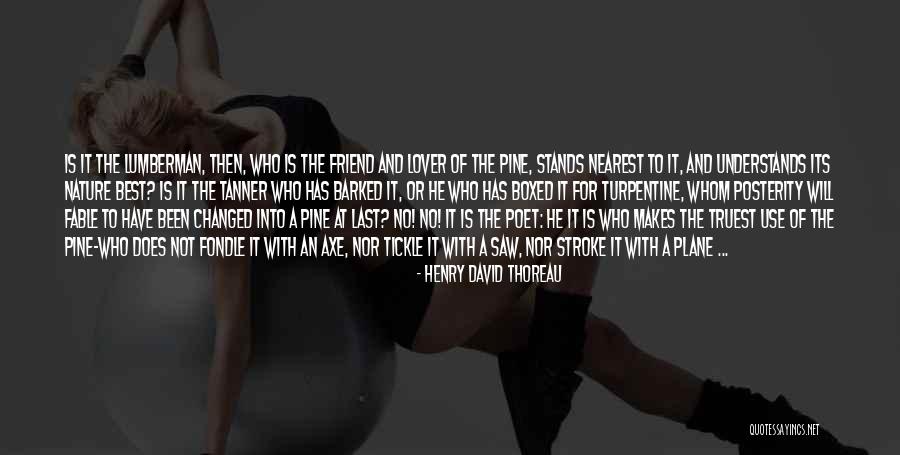 Is it the lumberman, then, who is the friend and lover of the pine, stands nearest to it, and understands its nature best? Is it the tanner who has barked it, or he who has boxed it for turpentine, whom posterity will fable to have been changed into a pine at last? No! no! it is the poet: he it is who makes the truest use of the pine-who does not fondle it with an axe, nor tickle it with a saw, nor stroke it with a plane ... — Henry David Thoreau
Oh, Beli; not so rashly, not so rashly: What did you know about states or diasporas? What did you know about Nueba Yol or unheated 'old law' tenements or children whose self-hate short-circuited their minds? What did you know, madame, about immigration? Don't laugh, mi negrita, for your world is about to be changed. Utterly. Yes: a terrible beauty is etc., etc. Take it from me. You laugh because you've been ransacked to the limit of your soul, because your lover betrayed you almost unto death, because your first son was never born. You laugh because you have no front teeth and you've sworn never to smile again. — Junot Diaz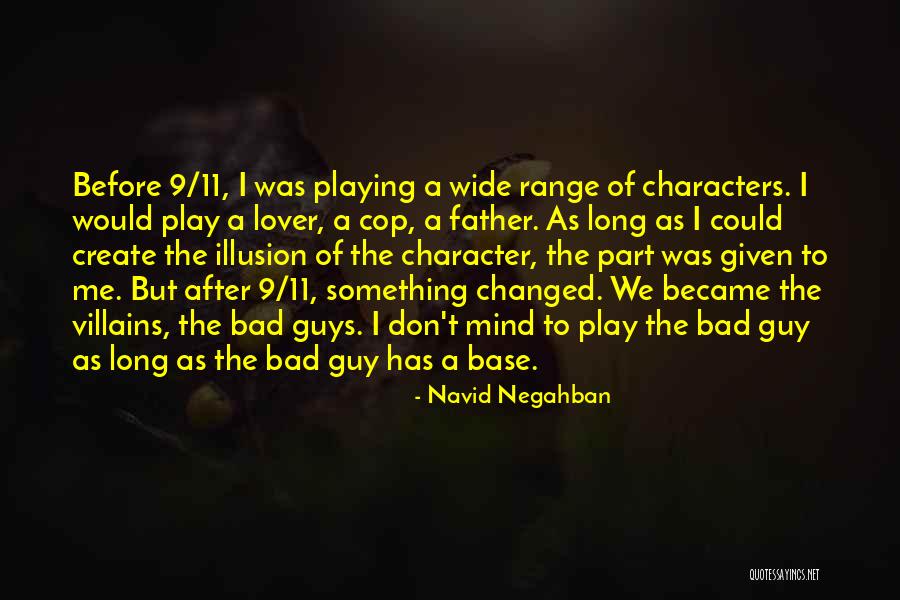 Before 9/11, I was playing a wide range of characters. I would play a lover, a cop, a father. As long as I could create the illusion of the character, the part was given to me. But after 9/11, something changed. We became the villains, the bad guys. I don't mind to play the bad guy as long as the bad guy has a base. — Navid Negahban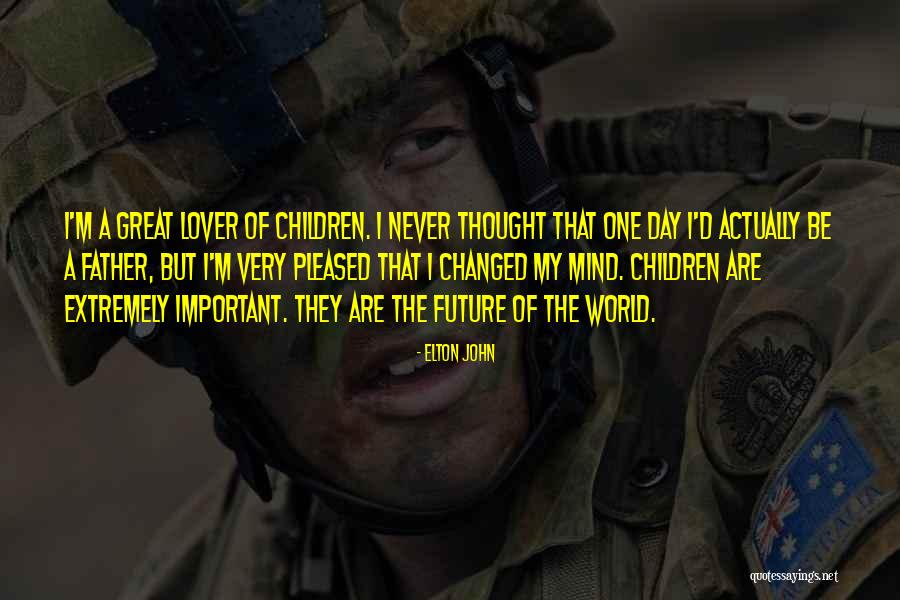 I'm a great lover of children. I never thought that one day I'd actually be a father, but I'm very pleased that I changed my mind. Children are extremely important. They are the future of the world. — Elton John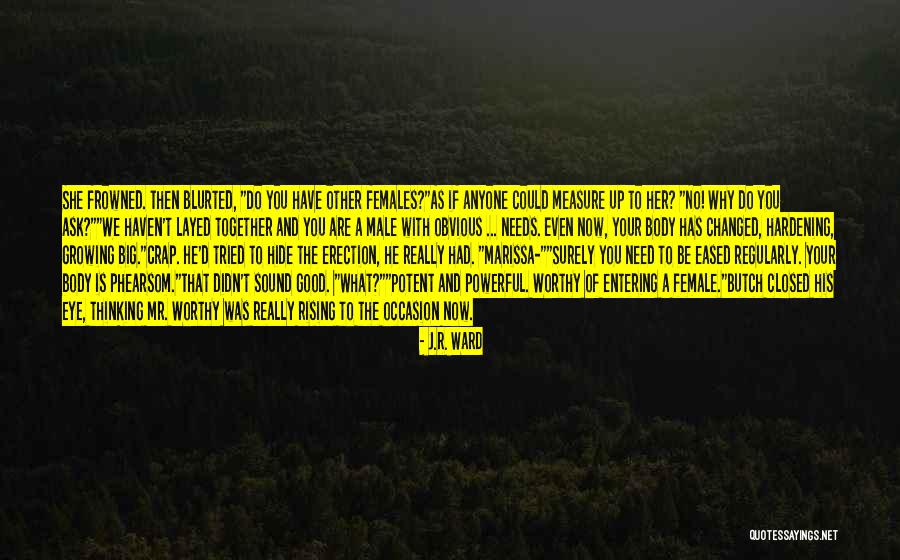 She frowned. Then blurted, "Do you have other females?"
As if anyone could measure up to her? "No! Why do you ask?"
"We haven't layed together and you are a male with obvious ... needs. Even now, your body has changed, hardening, growing big."
Crap. He'd tried to hide the erection, he really had. "Marissa-"
"Surely you need to be eased regularly. Your body is phearsom."
That didn't sound good. "What?"
"Potent and powerful. Worthy of entering a female."
Butch closed his eye, thinking Mr. Worthy was really rising to the occasion now. — J.R. Ward
One Saturday morning walking to the farmers' market with my lover she tells me she needs to look like a man on the street. She hates binding her breasts. Hates having breasts, hates not passing. I press her. I ask her, but what do you feel like when you're naked in bed with me? Do you like your body then? She is quiet. Later she tells me she had a dream. Her mother brought home a bottle of medicine from the hospital for her. The doctor says she has to take it. The medicine is testosterone.

On Shabbat I remember to pray for enough space inside of me to hold all the darkness of the night and all the sunlight of the day. I pray for enough space for transformations as miraculous as the shift from day to night.

Later when that lover has changed his name and an ex-boyfriend has come out to me as a lesbian I go to visit my best friend's sister-turned-brother-turned-sister-again and she tells me about the blessing of having many names and using them all at once. — M.J. Kaufman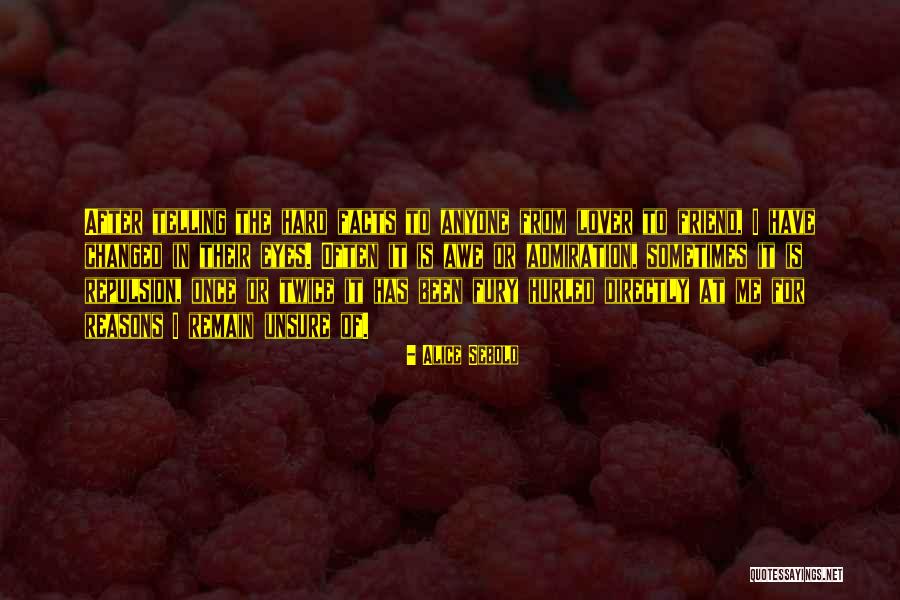 After telling the hard facts to anyone from lover to friend, I have changed in their eyes. Often it is awe or admiration, sometimes it is repulsion, once or twice it has been fury hurled directly at me for reasons I remain unsure of. — Alice Sebold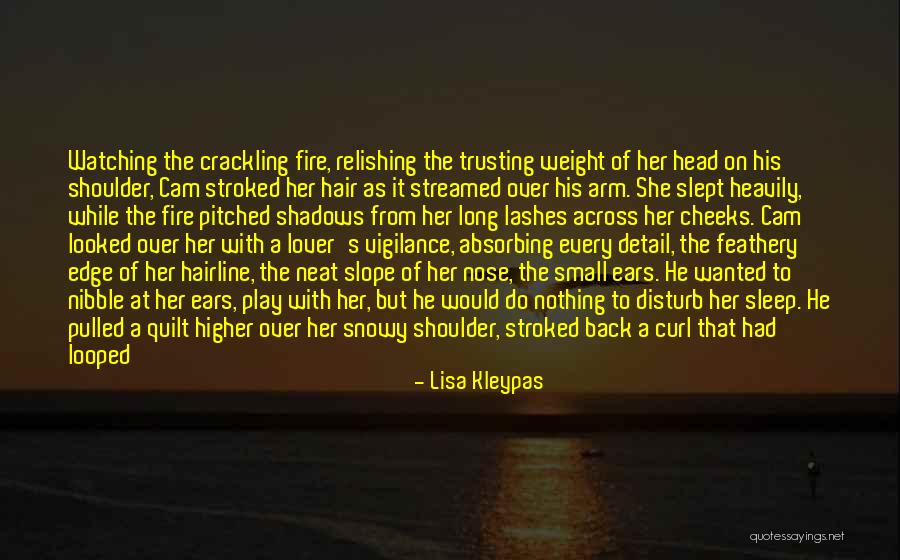 Watching the crackling fire, relishing the trusting weight of her head on his shoulder, Cam stroked her hair as it streamed over his arm. She slept heavily, while the fire pitched shadows from her long lashes across her cheeks. Cam looked over her with a lover's vigilance, absorbing every detail, the feathery edge of her hairline, the neat slope of her nose, the small ears. He wanted to nibble at her ears, play with her, but he would do nothing to disturb her sleep.
He pulled a quilt higher over her snowy shoulder, stroked back a curl that had looped over her ear. Everything had changed, he thought. And there was no turning back. — Lisa Kleypas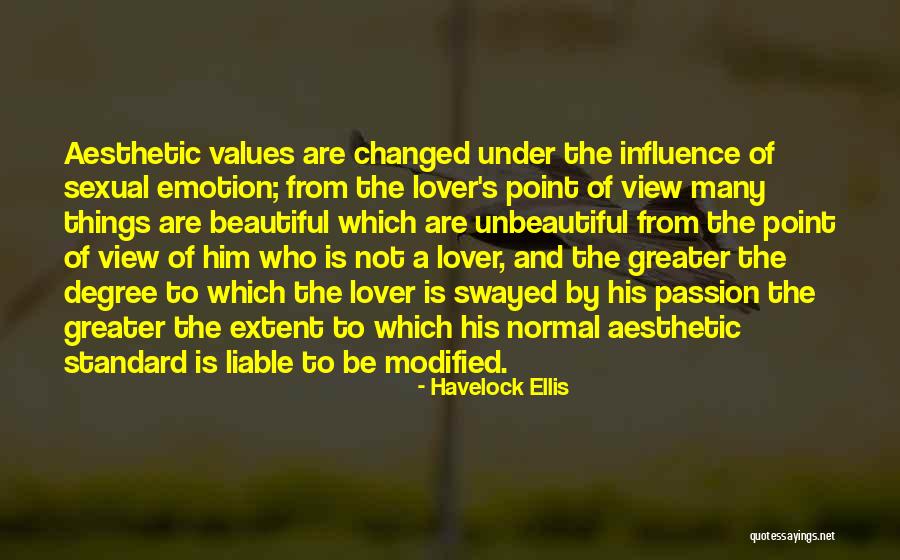 Aesthetic values are changed under the influence of sexual emotion; from the lover's point of view many things are beautiful which are unbeautiful from the point of view of him who is not a lover, and the greater the degree to which the lover is swayed by his passion the greater the extent to which his normal aesthetic standard is liable to be modified. — Havelock Ellis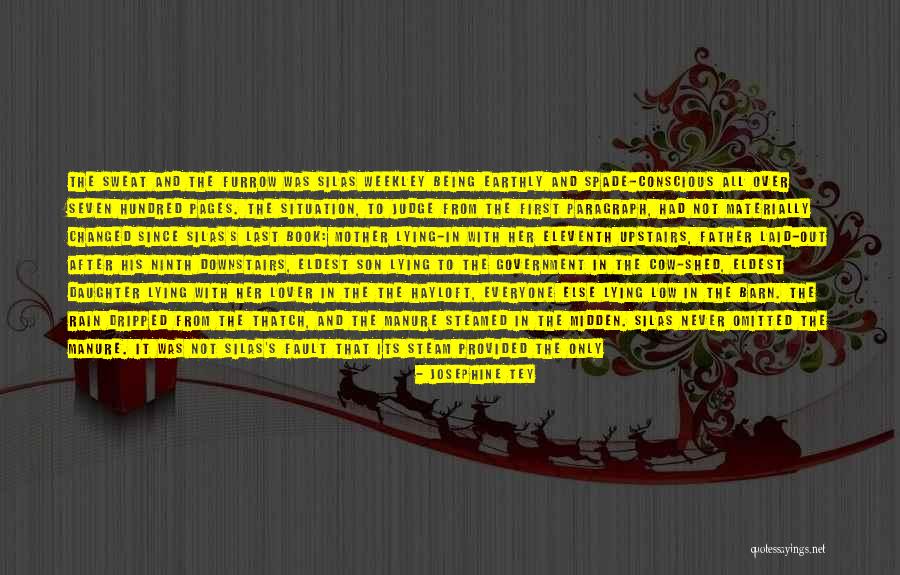 The Sweat and the Furrow was Silas Weekley being earthly and spade-conscious all over seven hundred pages. The situation, to judge from the first paragraph, had not materially changed since Silas's last book: mother lying-in with her eleventh upstairs, father laid-out after his ninth downstairs, eldest son lying to the Government in the cow-shed, eldest daughter lying with her lover in the the hayloft, everyone else lying low in the barn. The rain dripped from the thatch, and the manure steamed in the midden. Silas never omitted the manure. It was not Silas's fault that its steam provided the only uprising element in the picture. If Silas could have discovered a brand of steam that steamed downwards, Silas would have introduced it. — Josephine Tey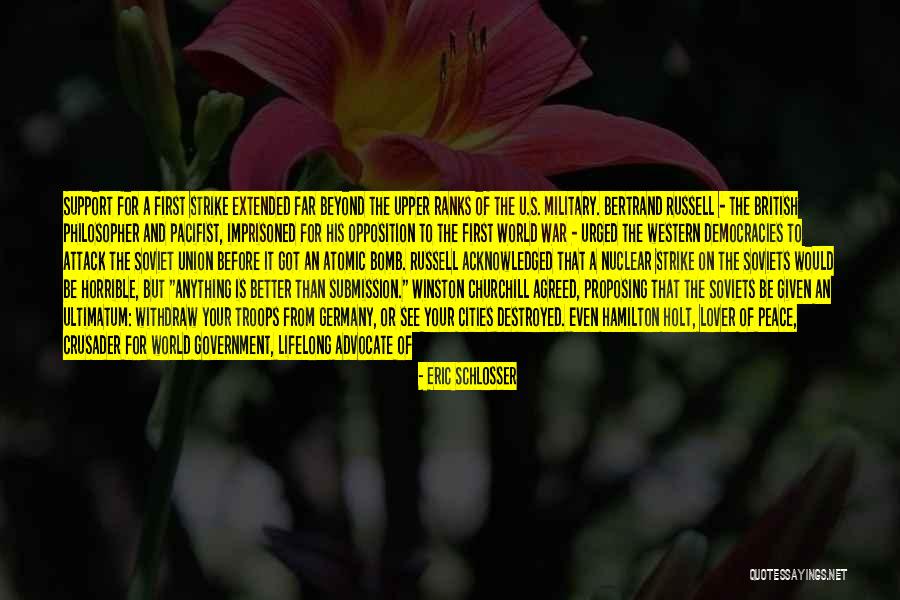 Support for a first strike extended far beyond the upper ranks of the U.S. military. Bertrand Russell - the British philosopher and pacifist, imprisoned for his opposition to the First World War - urged the western democracies to attack the Soviet Union before it got an atomic bomb. Russell acknowledged that a nuclear strike on the Soviets would be horrible, but "anything is better than submission." Winston Churchill agreed, proposing that the Soviets be given an ultimatum: withdraw your troops from Germany, or see your cities destroyed. Even Hamilton Holt, lover of peace, crusader for world government, lifelong advocate of settling disputes through mediation and diplomacy and mutual understanding, no longer believed that sort of approach would work. Nuclear weapons had changed everything, and the Soviet Union couldn't be trusted. Any nation that rejected U.N. control of atomic energy, Holt said, "should be wiped off the face of the earth with atomic bombs. — Eric Schlosser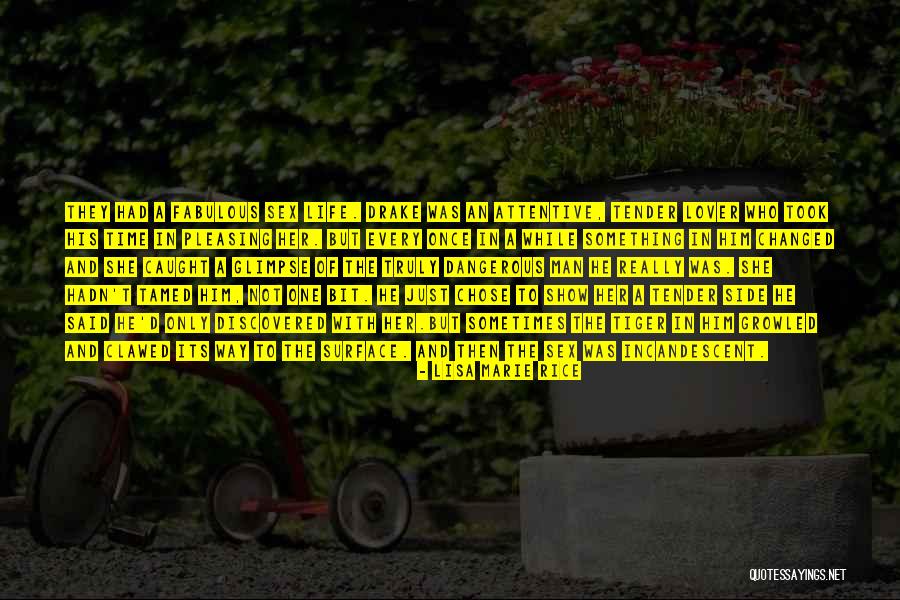 They had a fabulous sex life. Drake was an attentive, tender lover who took his time in pleasing her. But every once in a while something in him changed and she caught a glimpse of the truly dangerous man he really was. She hadn't tamed him, not one bit. He just chose to show her a tender side he said he'd only discovered with her.
But sometimes the tiger in him growled and clawed its way to the surface. And then the sex was incandescent. — Lisa Marie Rice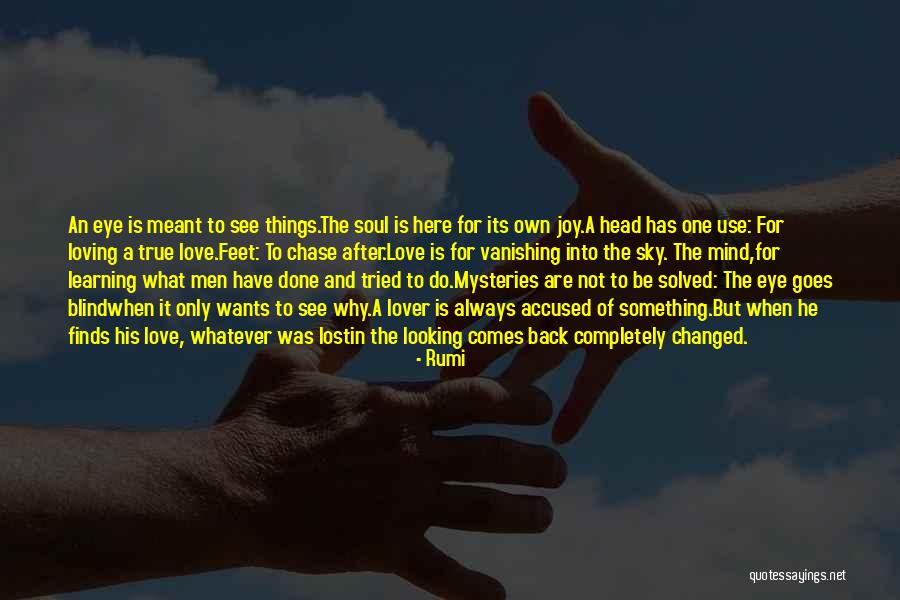 An eye is meant to see things.
The soul is here for its own joy.
A head has one use: For loving a true love.
Feet: To chase after.
Love is for vanishing into the sky. The mind,
for learning what men have done and tried to do.
Mysteries are not to be solved: The eye goes blind
when it only wants to see why.
A lover is always accused of something.
But when he finds his love, whatever was lost
in the looking comes back completely changed. — Rumi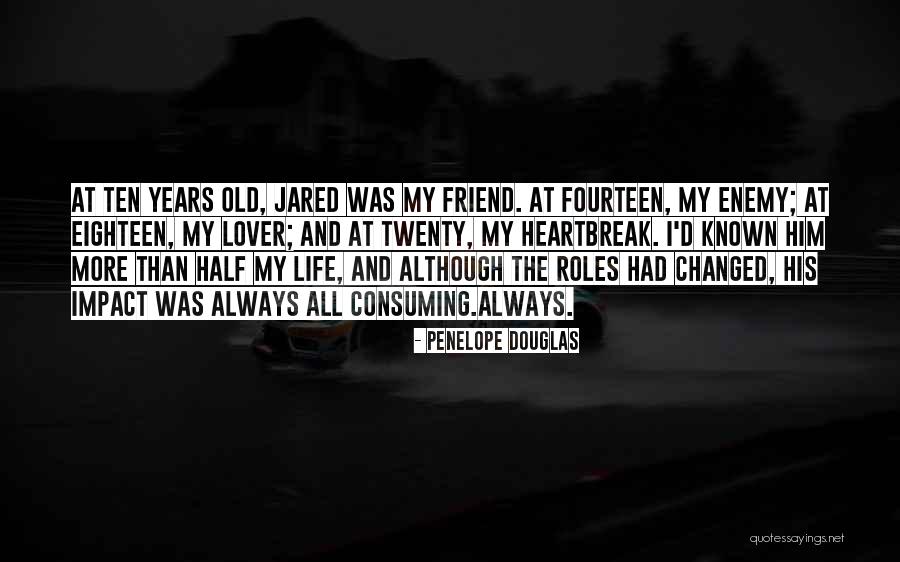 At ten years old, Jared was my friend. At fourteen, my enemy; at eighteen, my lover; and at twenty, my heartbreak. I'd known him more than half my life, and although the roles had changed, his impact was always all consuming.
Always. — Penelope Douglas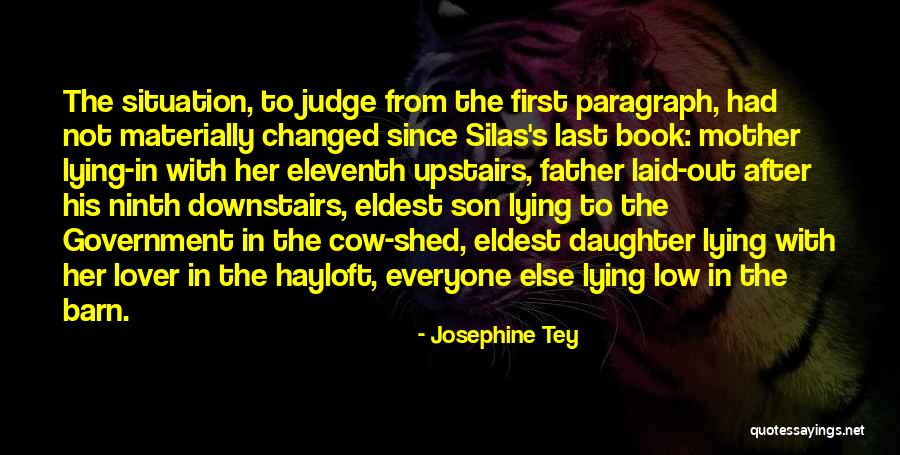 The situation, to judge from the first paragraph, had not materially changed since Silas's last book: mother lying-in with her eleventh upstairs, father laid-out after his ninth downstairs, eldest son lying to the Government in the cow-shed, eldest daughter lying with her lover in the hayloft, everyone else lying low in the barn. — Josephine Tey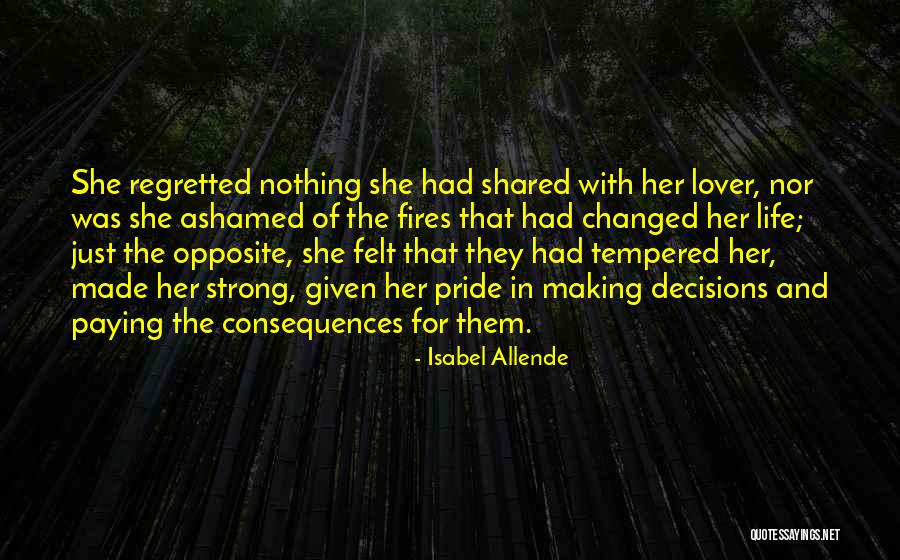 She regretted nothing she had shared with her lover, nor was she ashamed of the fires that had changed her life; just the opposite, she felt that they had tempered her, made her strong, given her pride in making decisions and paying the consequences for them. — Isabel Allende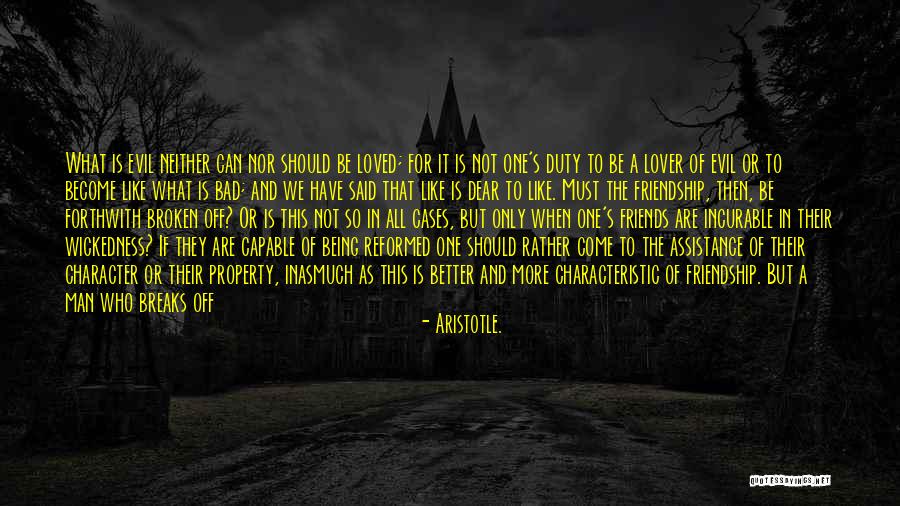 What is evil neither can nor should be loved; for it is not one's duty to be a lover of evil or to become like what is bad; and we have said that like is dear to like. Must the friendship, then, be forthwith broken off? Or is this not so in all cases, but only when one's friends are incurable in their wickedness? If they are capable of being reformed one should rather come to the assistance of their character or their property, inasmuch as this is better and more characteristic of friendship. But a man who breaks off such a friendship would seem to be doing nothing strange; for it was not to a man of this sort that he was a friend; when his friend changed, therefore, and he is unable to save him, he gives him up. — Aristotle.