Love Still Hurts Quotes & Sayings
Enjoy reading and share 56 famous quotes about Love Still Hurts with everyone.
Top Love Still Hurts Quotes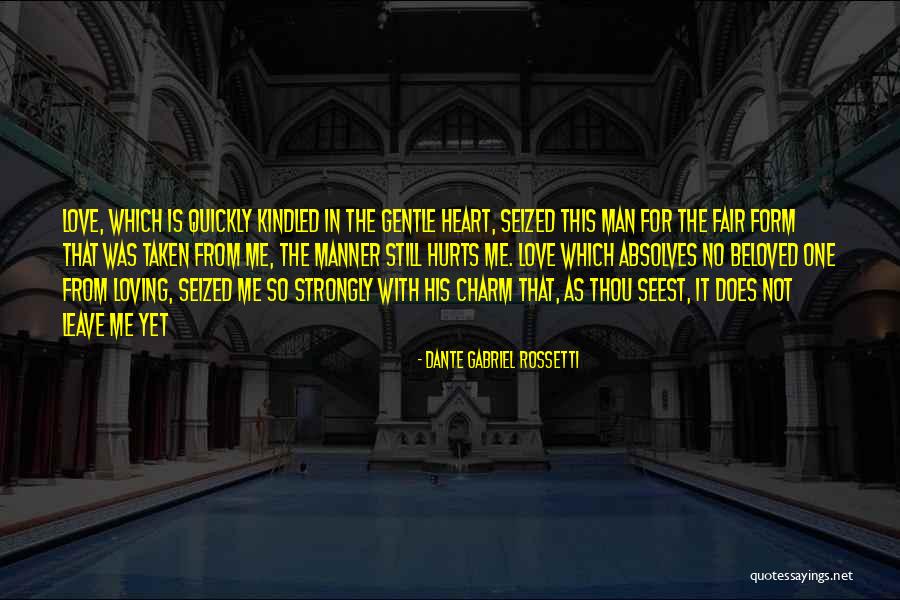 Love, which is quickly kindled in the gentle heart, seized this man for the fair form that was taken from me, the manner still hurts me. Love which absolves no beloved one from loving, seized me so strongly with his charm that, as thou seest, it does not leave me yet — Dante Gabriel Rossetti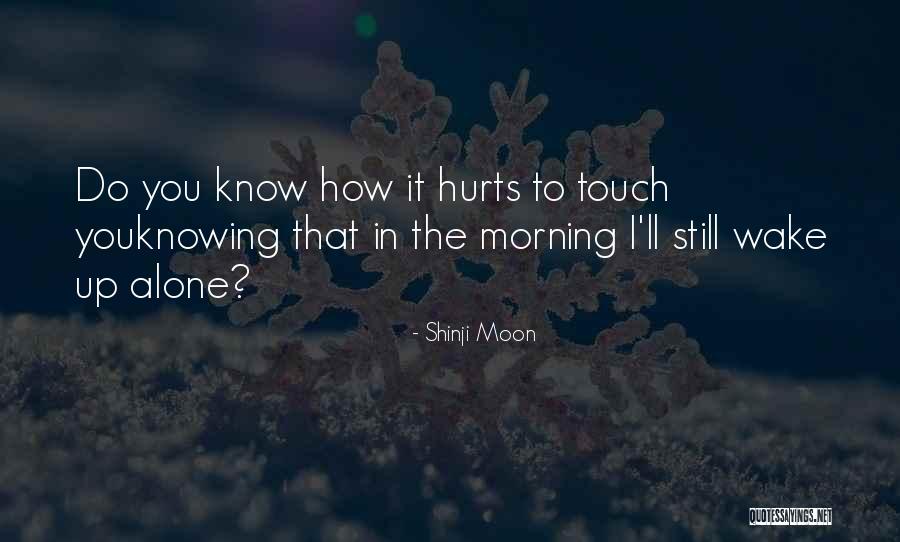 Do you know how it hurts to touch you
knowing that in the morning I'll still wake up alone? — Shinji Moon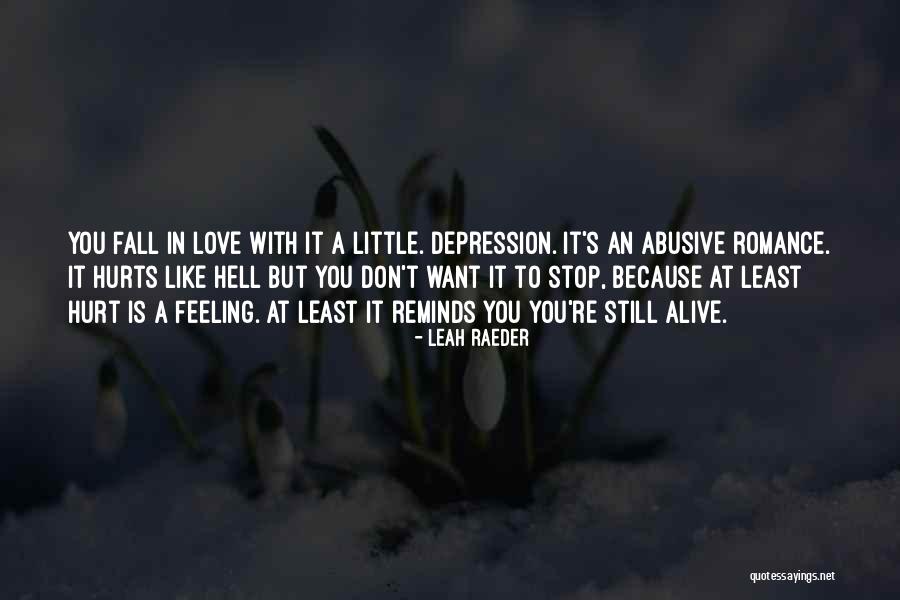 You fall in love with it a little. Depression. It's an abusive romance. It hurts like hell but you don't want it to stop, because at least hurt is a feeling. At least it reminds you you're still alive. — Leah Raeder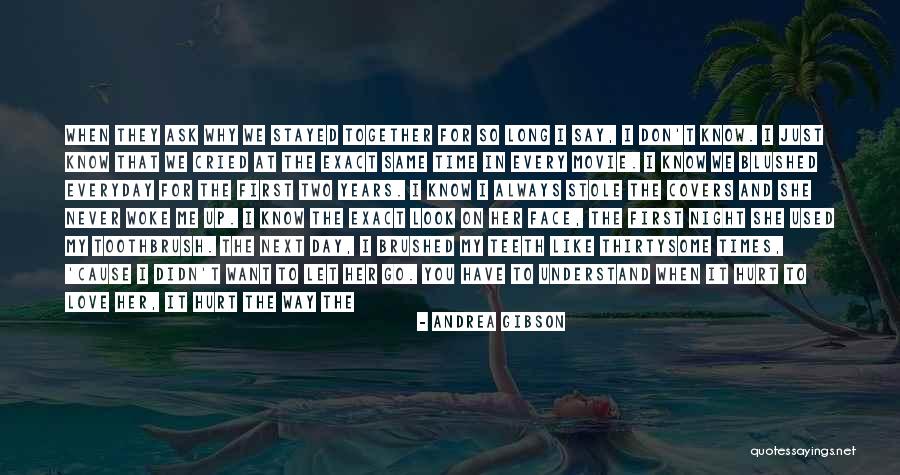 When they ask why we stayed together for so long I say, I don't know. I just know that we cried at the exact same time in every movie. I know we blushed everyday for the first two years. I know I always stole the covers and she never woke me up. I know the exact look on her face, the first night she used my toothbrush. The next day, I brushed my teeth like thirtysome times, 'cause I didn't want to let her go. You have to understand when it hurt to love her, it hurt the way the light hurts your eyes in the middle of the night, but I had to see, even through the ruin, if what we were burying were seeds. There were so many plants in our house, you could rake the leaves even through that winter when I was trying to make angels in the snow of her cold shoulder. She was still leaving love notes in my suitcase; I'd always find them. — Andrea Gibson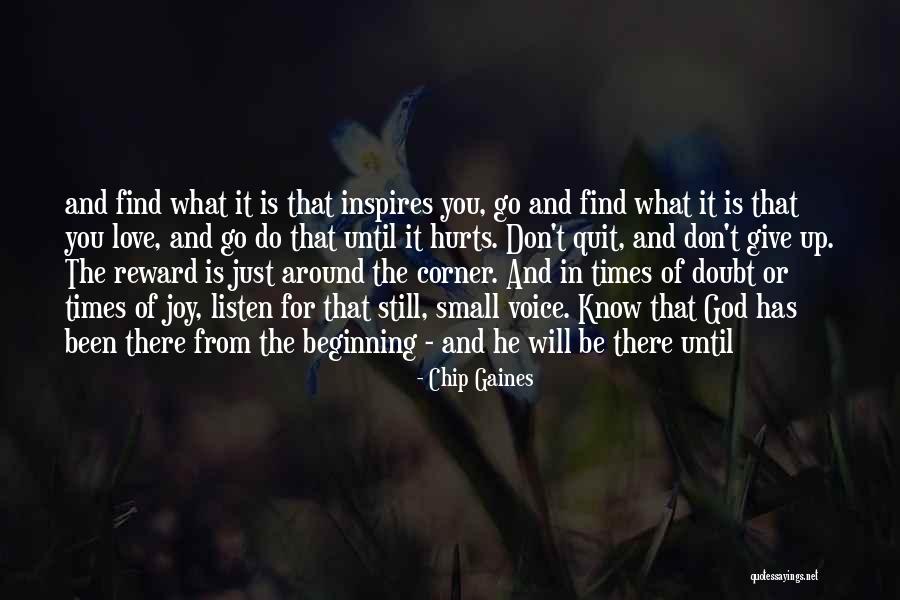 and find what it is that inspires you, go and find what it is that you love, and go do that until it hurts. Don't quit, and don't give up. The reward is just around the corner. And in times of doubt or times of joy, listen for that still, small voice. Know that God has been there from the beginning - and he will be there until — Chip Gaines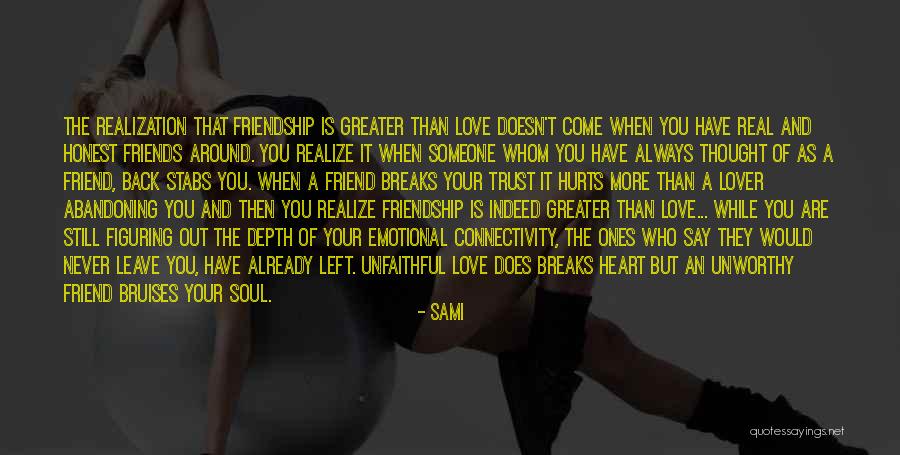 The realization that friendship is greater than love doesn't come when you have real and honest friends around. You realize it when someone whom you have always thought of as a friend, back stabs you. When a friend breaks your trust it hurts more than a lover abandoning you and then you realize friendship is indeed greater than love... While you are still figuring out the depth of your emotional connectivity, the ones who say they would never leave you, have already left. Unfaithful love does breaks heart but an unworthy friend bruises your soul. — SAMi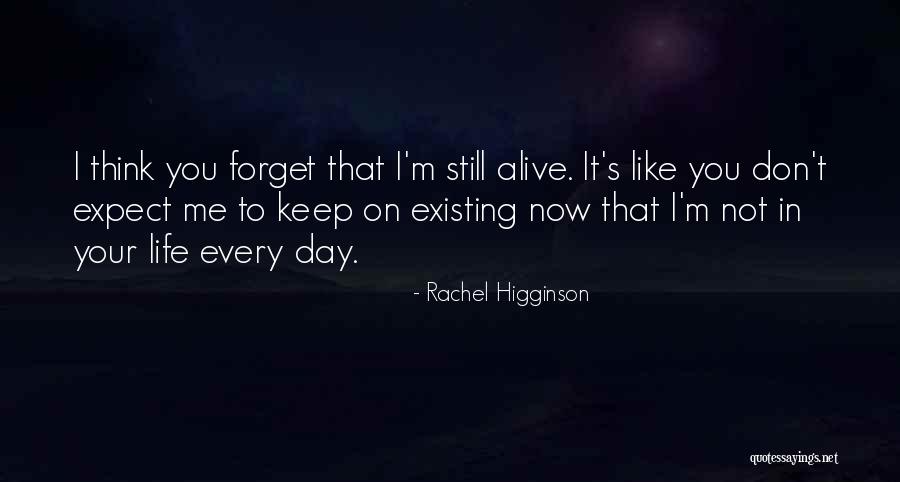 I think you forget that I'm still alive. It's like you don't expect me to keep on existing now that I'm not in your life every day. — Rachel Higginson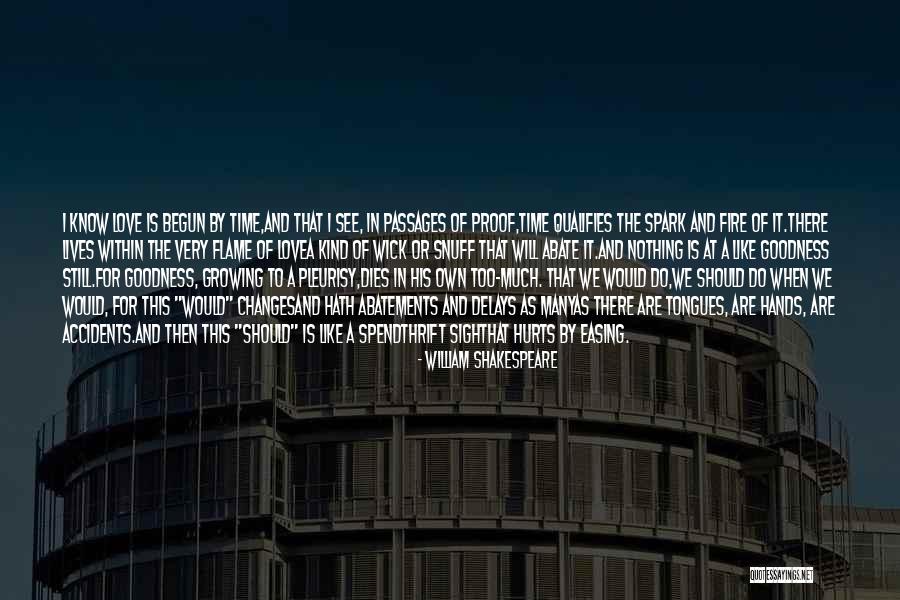 I know love is begun by time,
And that I see, in passages of proof,
Time qualifies the spark and fire of it.
There lives within the very flame of love
A kind of wick or snuff that will abate it.
And nothing is at a like goodness still.
For goodness, growing to a pleurisy,
Dies in his own too-much. That we would do,
We should do when we would, for this "would" changes
And hath abatements and delays as many
As there are tongues, are hands, are accidents.
And then this "should" is like a spendthrift sigh
That hurts by easing. — William Shakespeare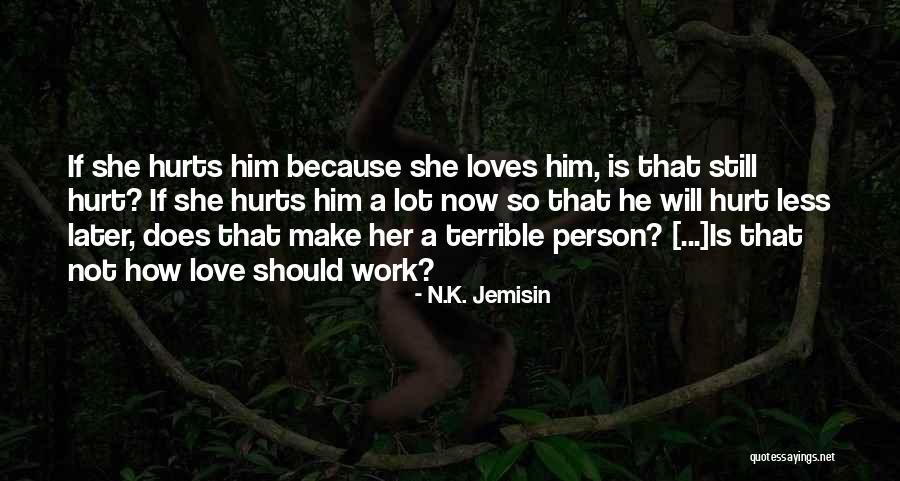 If she hurts him because she loves him, is that still hurt? If she hurts him a lot now so that he will hurt less later, does that make her a terrible person? [...]
Is that not how love should work? — N.K. Jemisin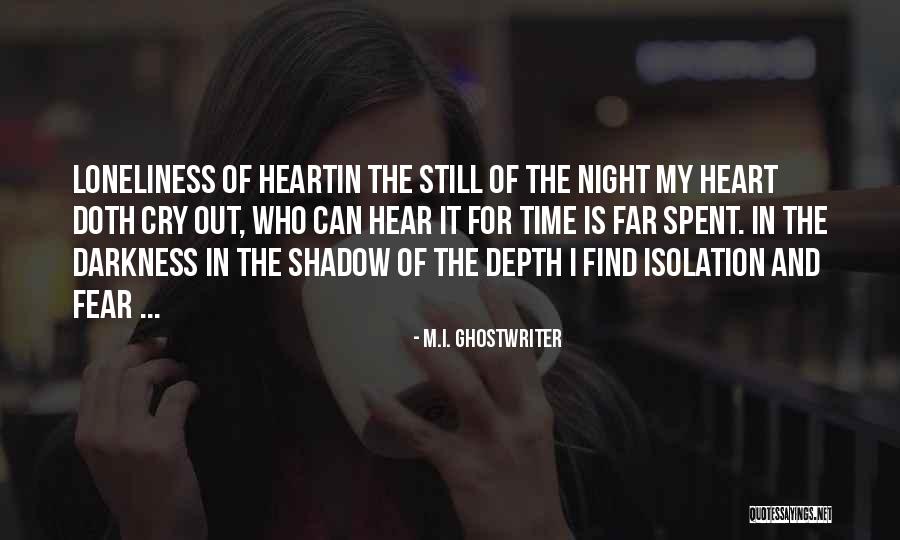 Loneliness of heart
In the still of the night my heart doth cry out, who can hear it for time is far spent. In the darkness in the shadow of the depth I find isolation and fear ... — M.I. Ghostwriter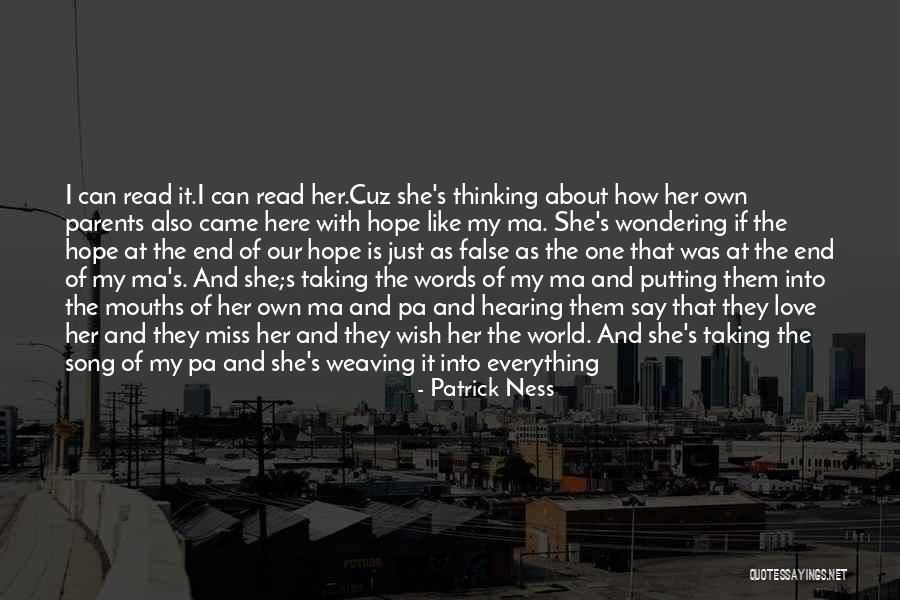 I can read it.
I can read her.
Cuz she's thinking about how her own parents also came here with hope like my ma. She's wondering if the hope at the end of our hope is just as false as the one that was at the end of my ma's. And she;s taking the words of my ma and putting them into the mouths of her own ma and pa and hearing them say that they love her and they miss her and they wish her the world. And she's taking the song of my pa and she's weaving it into everything else till it becomes a sad thing all her own.
And it hurts her, but it's an okay hurt, but it hurts still, but it's good, but it hurts.
She hurts.
I know all this.
I know it's true.
Cuz I can read her.
I can read her Noise even tho she ain't got none.
I know who she is.
I know Viola Eade. — Patrick Ness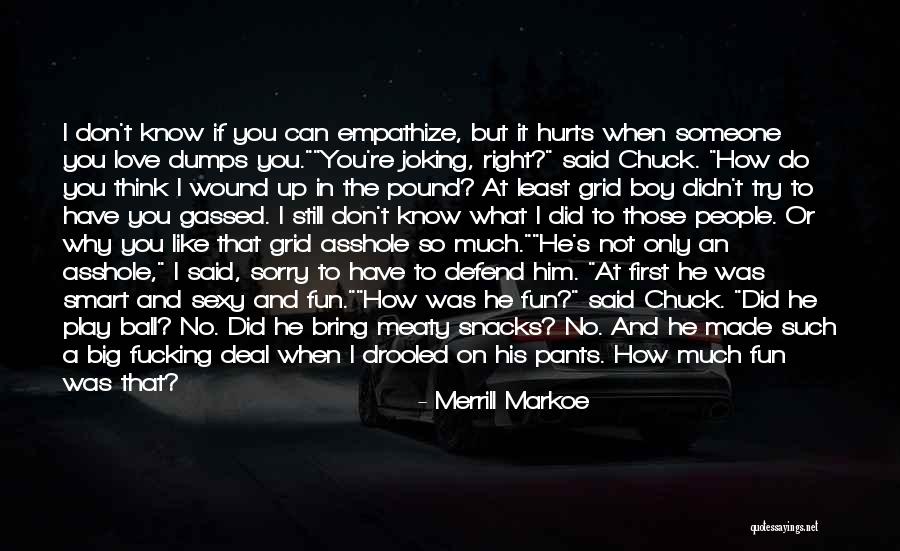 I don't know if you can empathize, but it hurts when someone you love dumps you."
"You're joking, right?" said Chuck. "How do you think I wound up in the pound? At least grid boy didn't try to have you gassed. I still don't know what I did to those people. Or why you like that grid asshole so much."
"He's not only an asshole," I said, sorry to have to defend him. "At first he was smart and sexy and fun."
"How was he fun?" said Chuck. "Did he play ball? No. Did he bring meaty snacks? No. And he made such a big fucking deal when I drooled on his pants. How much fun was that? — Merrill Markoe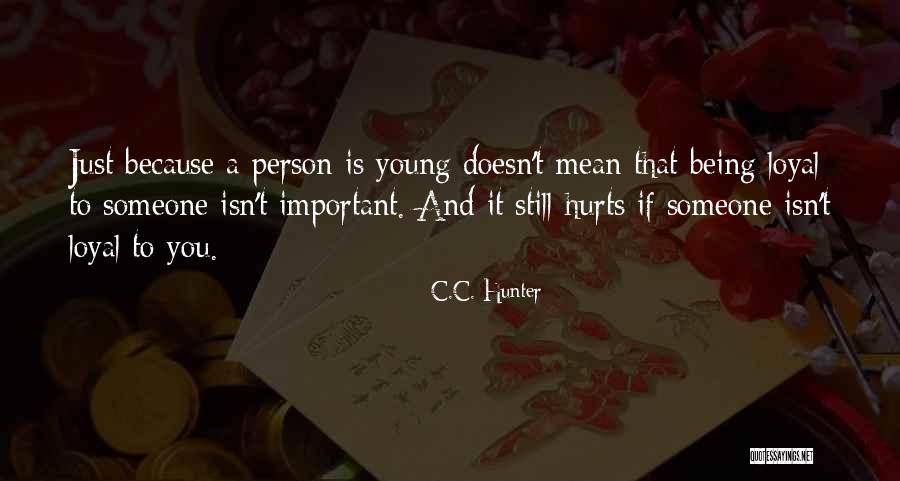 Just because a person is young doesn't mean that being loyal to someone isn't important. And it still hurts if someone isn't loyal to you. — C.C. Hunter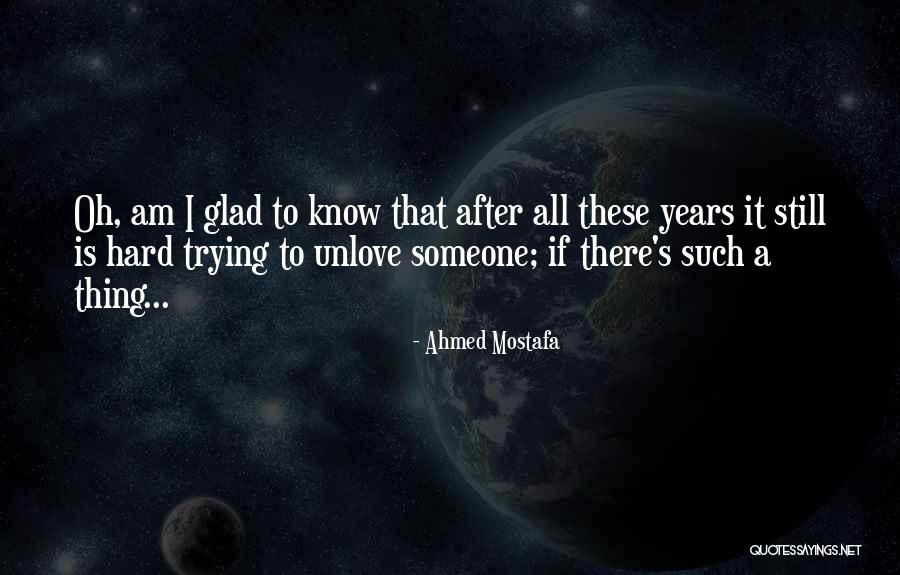 Oh, am I glad to know that after all these years it still is hard trying to unlove someone; if there's such a thing... — Ahmed Mostafa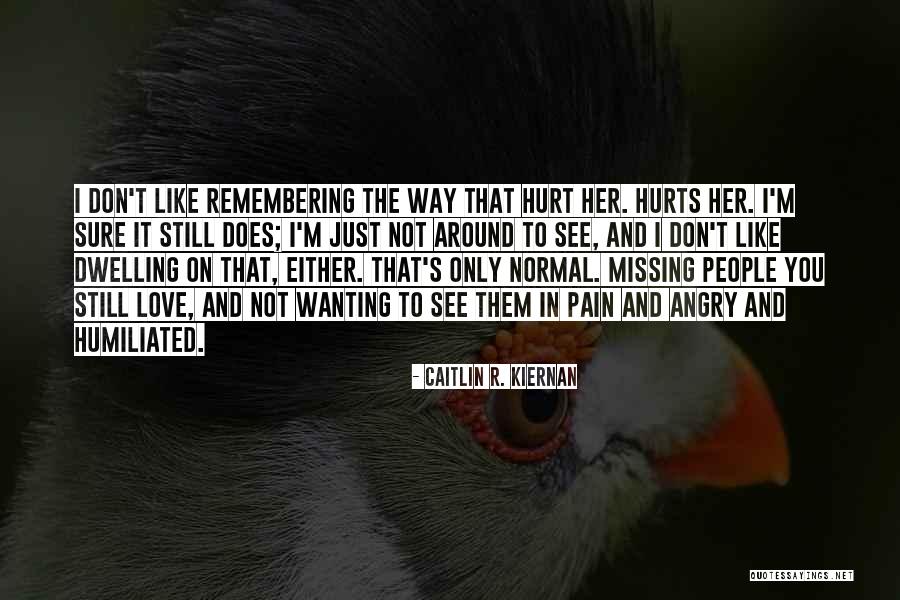 I don't like remembering the way that hurt her. Hurts her. I'm sure it still does; I'm just not around to see, and I don't like dwelling on that, either. That's only normal. Missing people you still love, and not wanting to see them in pain and angry and humiliated. — Caitlin R. Kiernan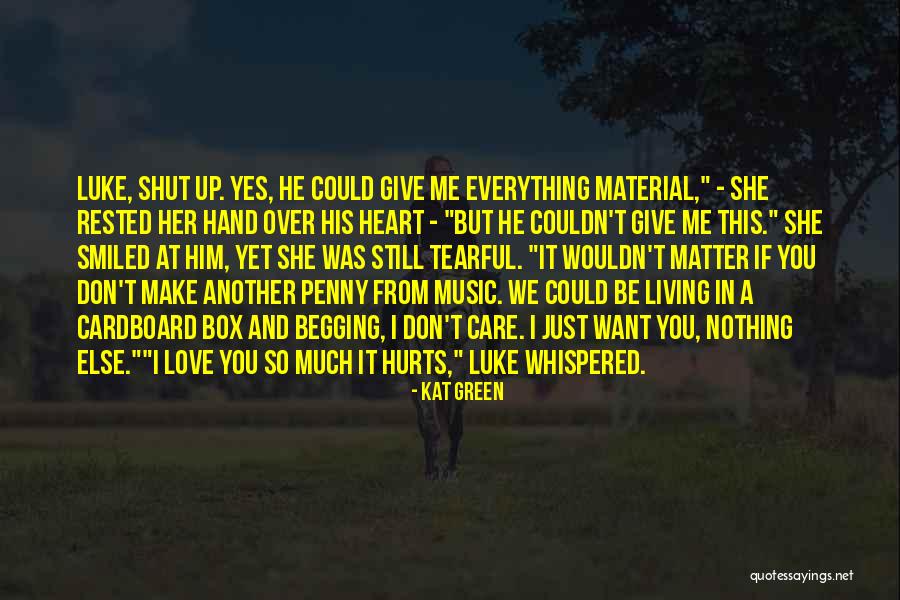 Luke, shut up. Yes, he could give me everything material," - she rested her hand over his heart - "but he couldn't give me this." She smiled at him, yet she was still tearful. "It wouldn't matter if you don't make another penny from music. We could be living in a cardboard box and begging, I don't care. I just want you, nothing else."
"I love you so much it hurts," Luke whispered. — Kat Green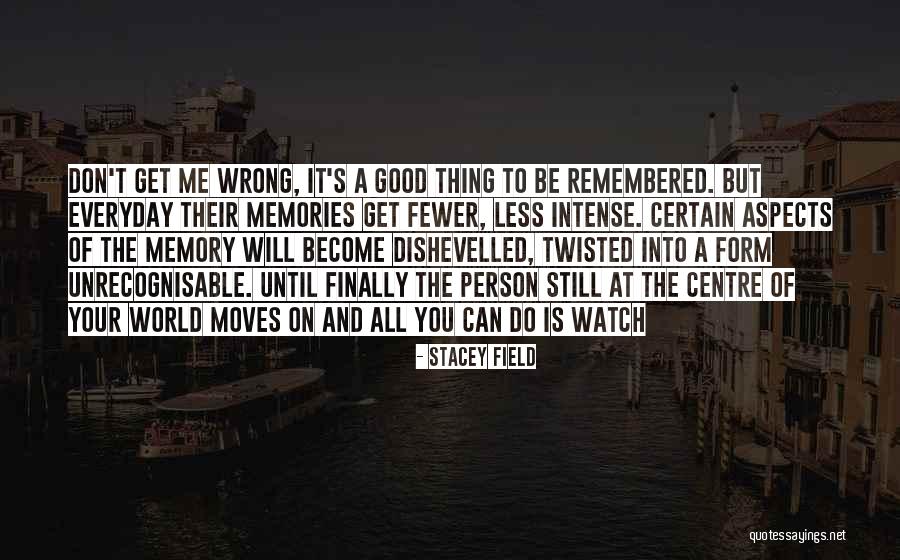 Don't get me wrong, it's a good thing to be remembered. But everyday their memories get fewer, less intense. Certain aspects of the memory will become dishevelled, twisted into a form unrecognisable. Until finally the person still at the centre of your world moves on and all you can do is watch — Stacey Field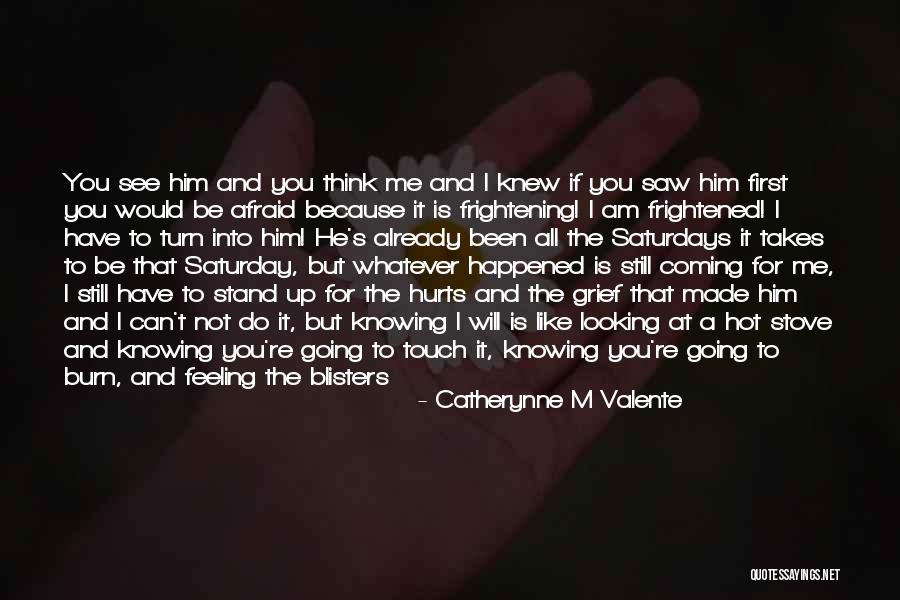 You see him and you think me and I knew if you saw him first you would be afraid because it is frightening! I am frightened! I have to turn into him! He's already been all the Saturdays it takes to be that Saturday, but whatever happened is still coming for me, I still have to stand up for the hurts and the grief that made him and I can't not do it, but knowing I will is like looking at a hot stove and knowing you're going to touch it, knowing you're going to burn, and feeling the blisters and the peeling before even you reach out your hand. I have to feel it now, all the time, and I don't even know what the stove is. — Catherynne M Valente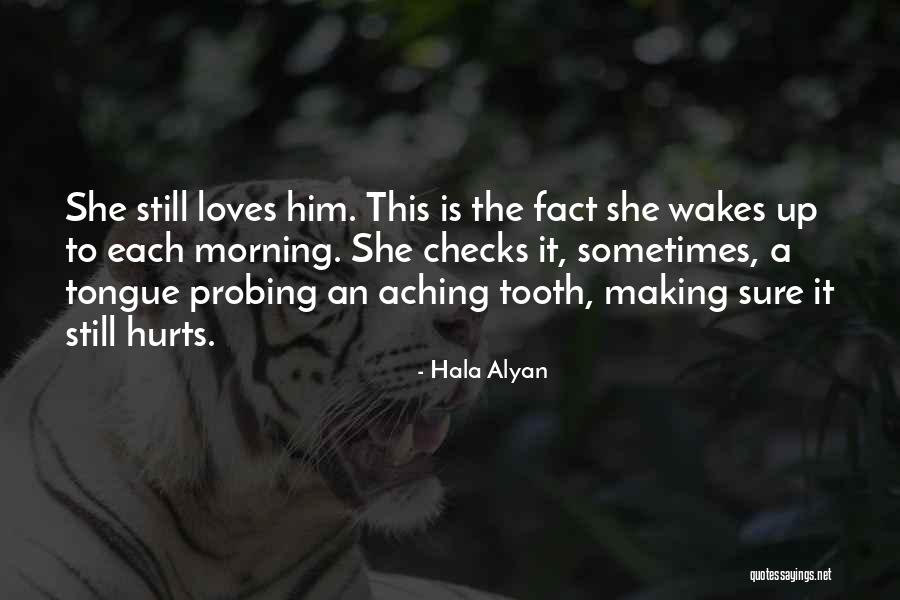 She still loves him. This is the fact she wakes up to each morning. She checks it, sometimes, a tongue probing an aching tooth, making sure it still hurts. — Hala Alyan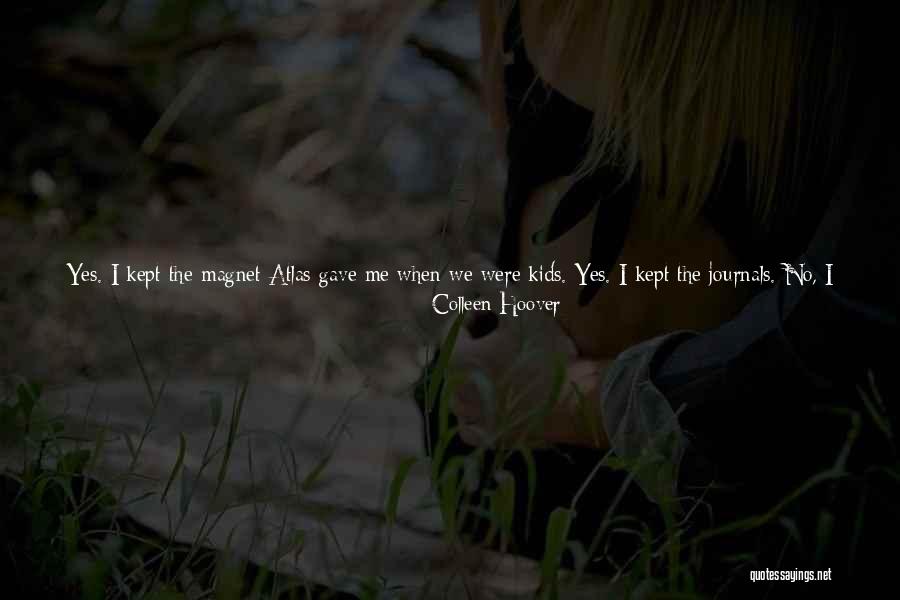 Yes. I kept the magnet Atlas gave me when we were kids. Yes. I kept the journals. No, I didn't tell you about my tattoo. Yes, I probably should have. And yes, I still love him. And I'll love him until I die, because he was a huge part of my life. And yes, I'm sure that hurts you. But none of that gave you the right to do what you did to me. Even if you would have walked into my bedroom and caught us in bed together, you still would not have the right to lay a hand on me, you goddamn son of a bitch! — Colleen Hoover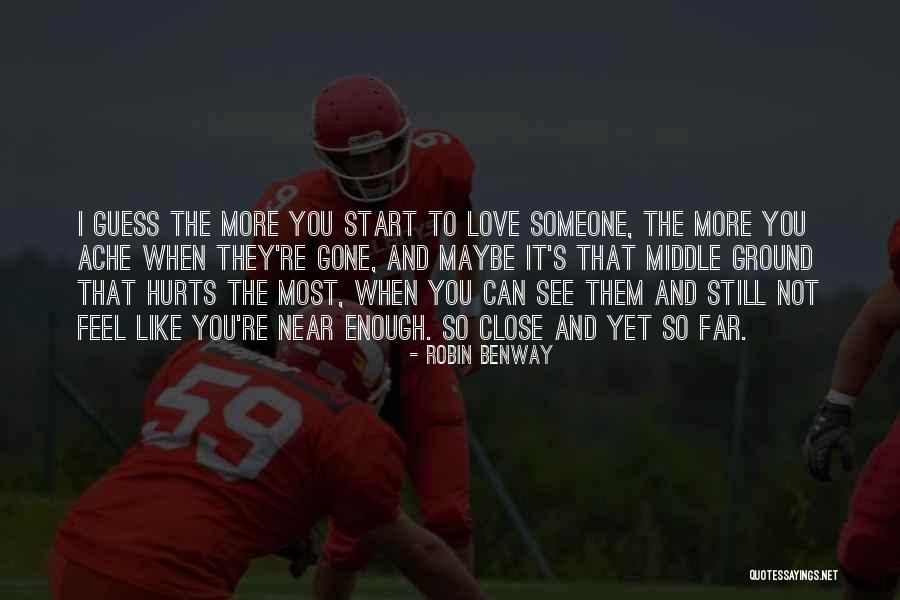 I guess the more you start to love someone, the more you ache when they're gone, and maybe it's that middle ground that hurts the most, when you can see them and still not feel like you're near enough. So close and yet so far. — Robin Benway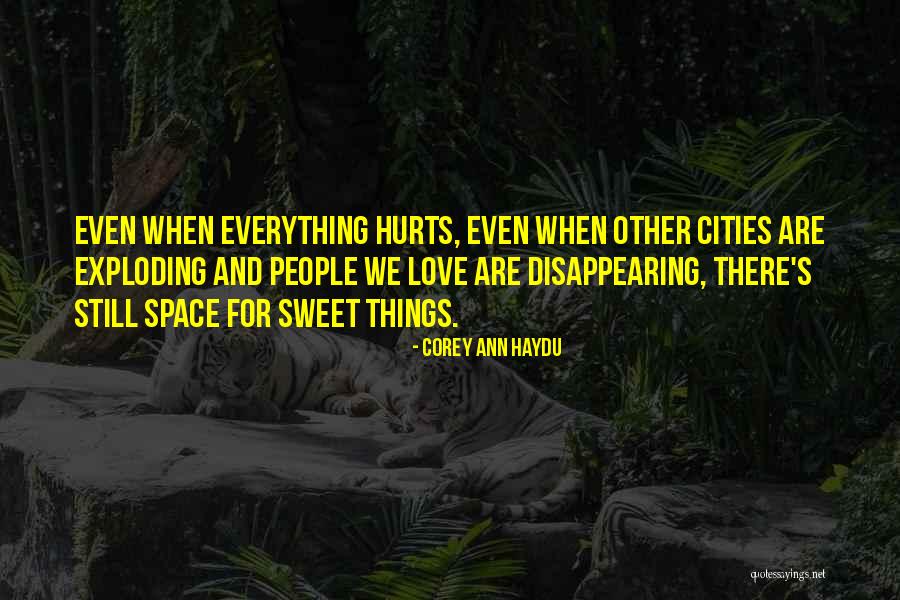 Even when everything hurts, even when other cities are exploding and people we love are disappearing, there's still space for sweet things. — Corey Ann Haydu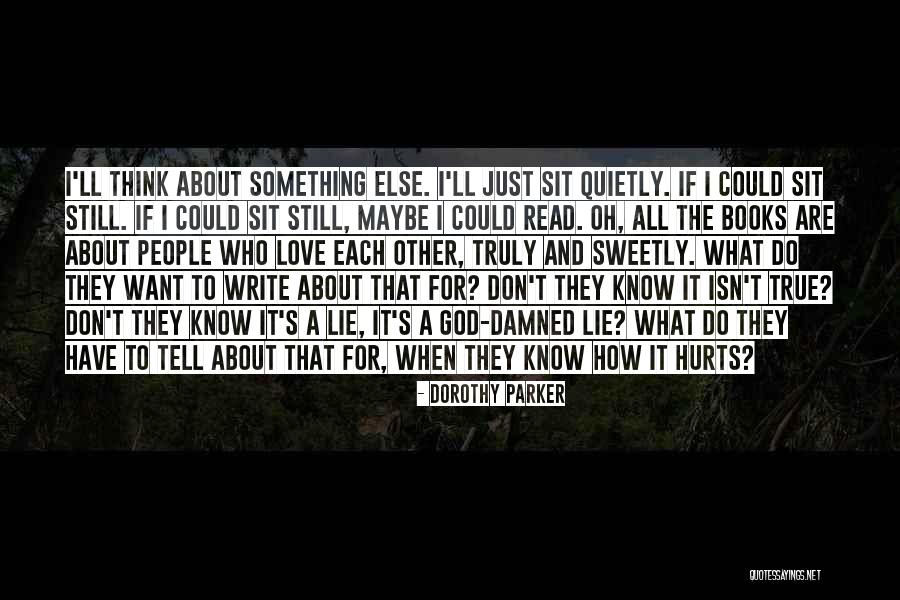 I'll think about something else. I'll just sit quietly. If I could sit still. If I could sit still, maybe I could read. Oh, all the books are about people who love each other, truly and sweetly. What do they want to write about that for? Don't they know it isn't true? Don't they know it's a lie, it's a God-damned lie? What do they have to tell about that for, when they know how it hurts? — Dorothy Parker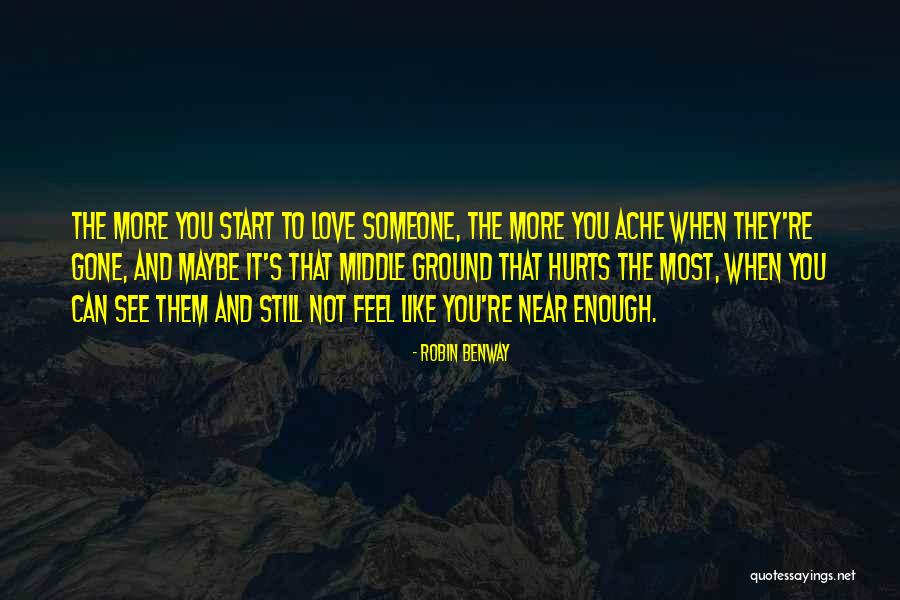 The more you start to love someone, the more you ache when they're gone, and maybe it's that middle ground that hurts the most, when you can see them and still not feel like you're near enough. — Robin Benway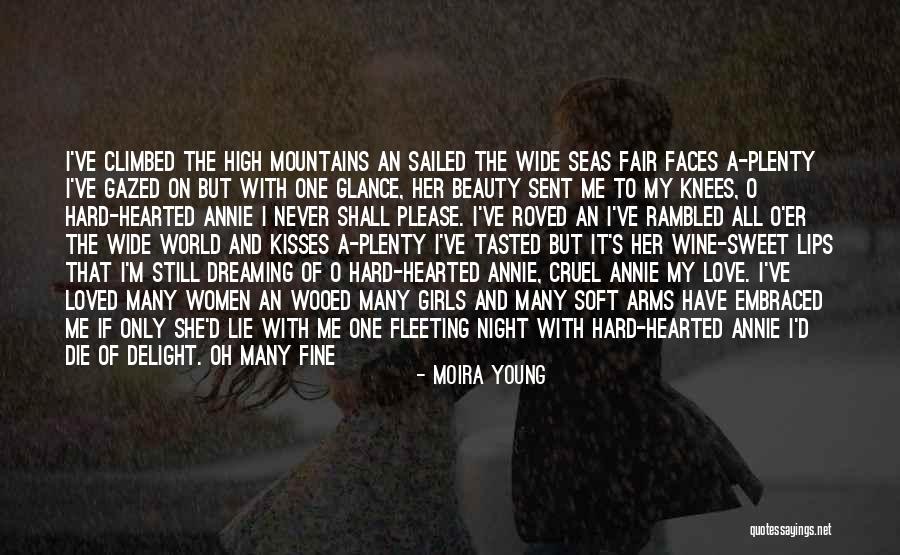 I've climbed the high mountains an sailed the wide seas Fair faces a-plenty I've gazed on But with one glance, her beauty sent me to my knees, O hard-hearted Annie I never shall please. I've roved an I've rambled all o'er the wide world And kisses a-plenty I've tasted But it's her wine-sweet lips that I'm still dreaming of O hard-hearted Annie, cruel Annie my love. I've loved many women an wooed many girls And many soft arms have embraced me If only she'd lie with me one fleeting night With hard-hearted Annie I'd die of delight. Oh many fine beauties did beg me to stay But none until Annie did snare me Though she hurts me an shuns me an makes my heart bleed My hard-hearted Annie I never shall leave. I — Moira Young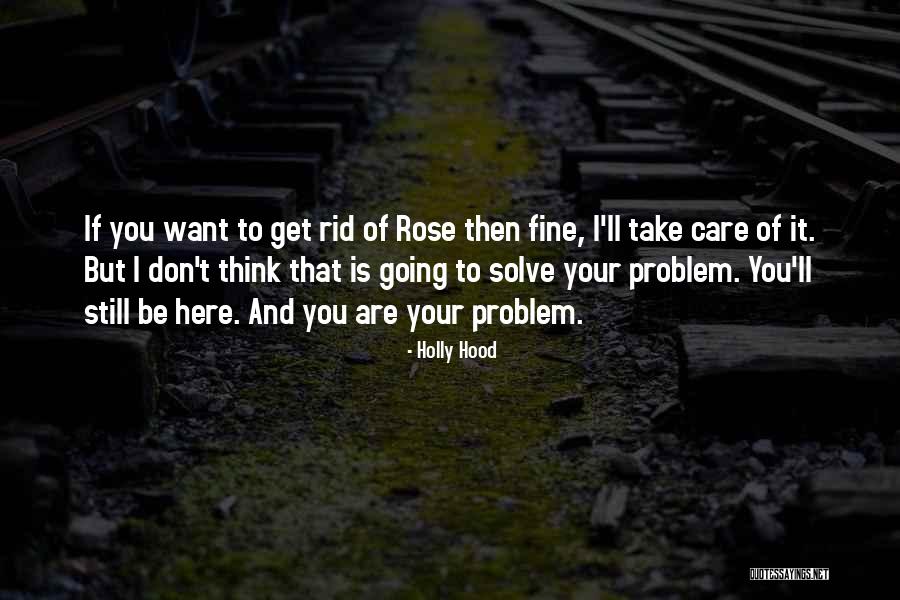 If you want to get rid of Rose then fine, I'll take care of it. But I don't think that is going to solve your problem. You'll still be here. And you are your problem. — Holly Hood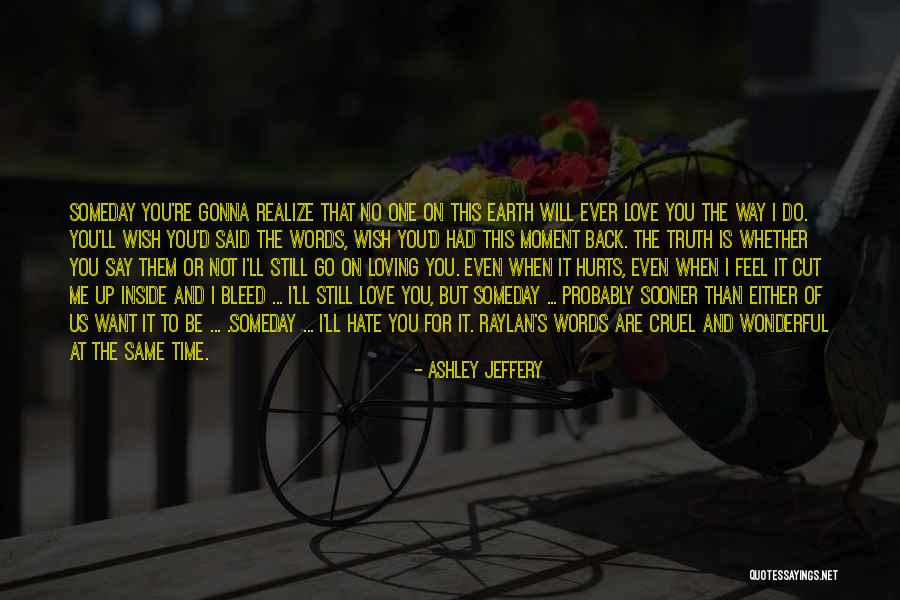 Someday you're gonna realize that no one on this earth will ever love you the way I do. You'll wish you'd said the words, wish you'd had this moment back. The truth is whether you say them or not I'll still go on loving you. Even when it hurts, even when I feel it cut me up inside and I bleed ... I'll still love you, but someday ... probably sooner than either of us want it to be ... .someday ... I'll hate you for it. Raylan's words are cruel and wonderful at the same time. — Ashley Jeffery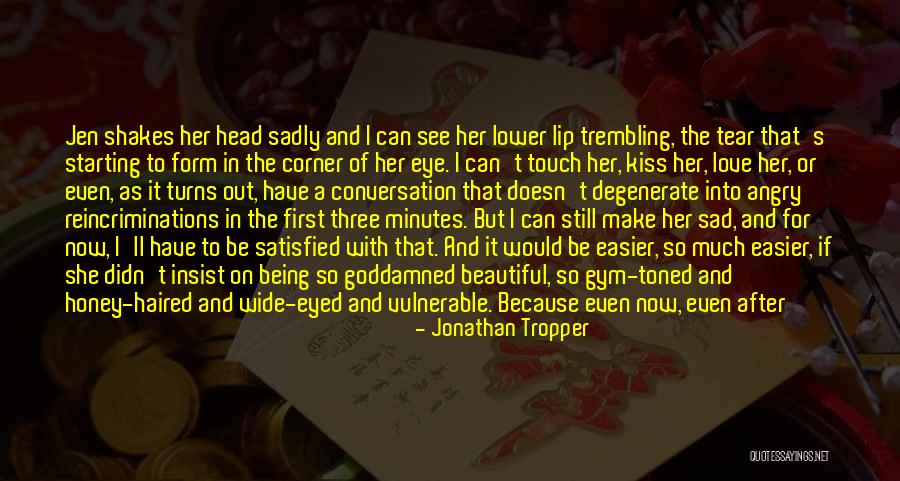 Jen shakes her head sadly and I can see her lower lip trembling, the tear that's starting to form in the corner of her eye. I can't touch her, kiss her, love her, or even, as it turns out, have a conversation that doesn't degenerate into angry reincriminations in the first three minutes. But I can still make her sad, and for now, I'll have to be satisfied with that. And it would be easier, so much easier, if she didn't insist on being so goddamned beautiful, so gym-toned and honey-haired and wide-eyed and vulnerable. Because even now, even after all that she's done to me, there's still something in her eyes that makes me want to shelter her at any cost, even though I know it's really me who needs the protection. It would be so much easier if she wasn't Jen. But she is, and where there was once the purest kind of love, there is now a snake pit of fury and resentment and a new dark and twisted love that hurts more than all the rest put together. — Jonathan Tropper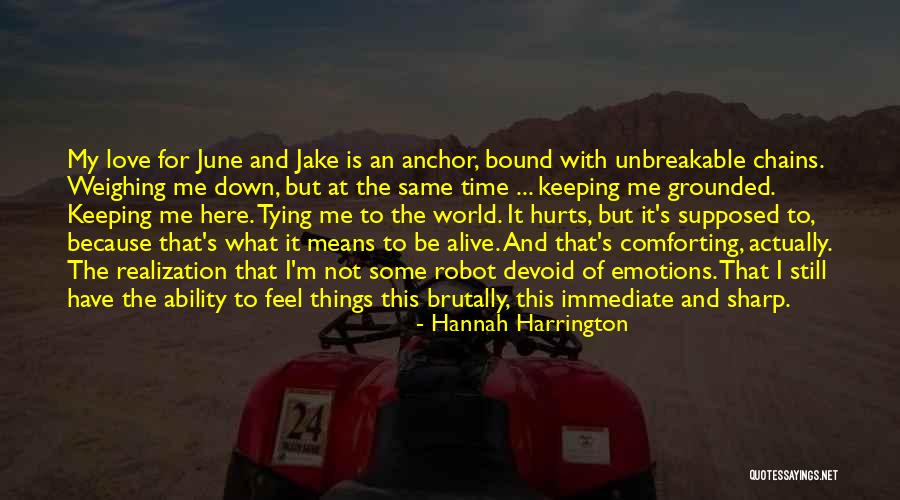 My love for June and Jake is an anchor, bound with unbreakable chains. Weighing me down, but at the same time ... keeping me grounded. Keeping me here. Tying me to the world. It hurts, but it's supposed to, because that's what it means to be alive. And that's comforting, actually. The realization that I'm not some robot devoid of emotions. That I still have the ability to feel things this brutally, this immediate and sharp. — Hannah Harrington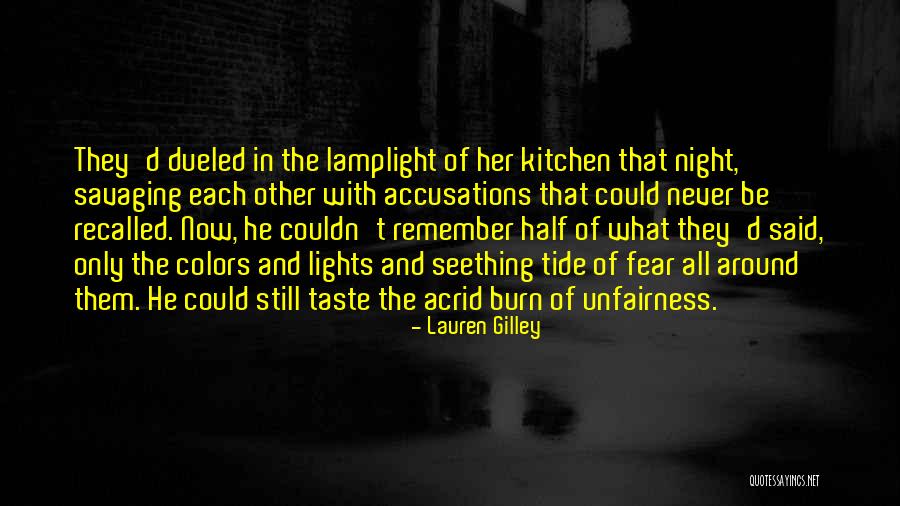 They'd dueled in the lamplight of her kitchen that night, savaging each other with accusations that could never be recalled. Now, he couldn't remember half of what they'd said, only the colors and lights and seething tide of fear all around them. He could still taste the acrid burn of unfairness. — Lauren Gilley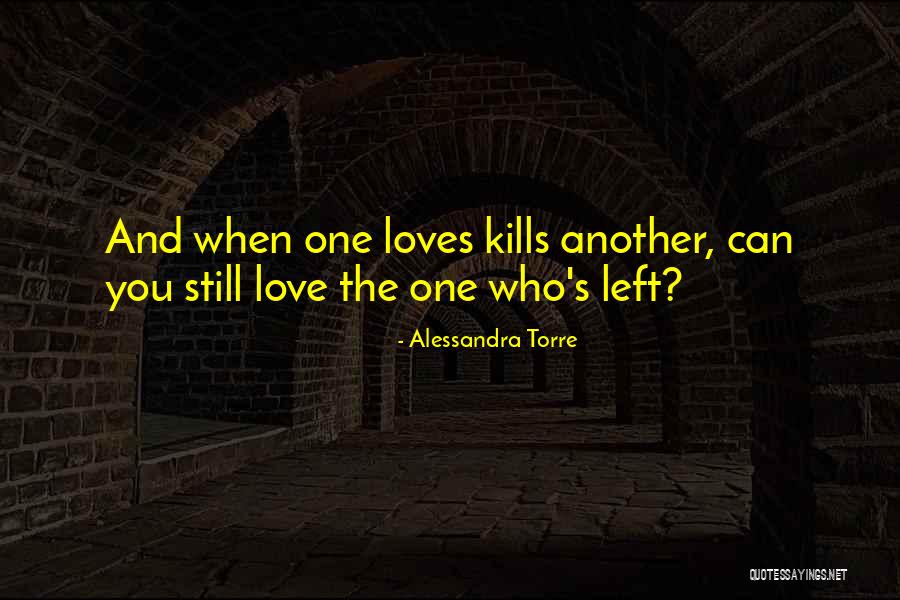 And when one loves kills another, can you still love the one who's left? — Alessandra Torre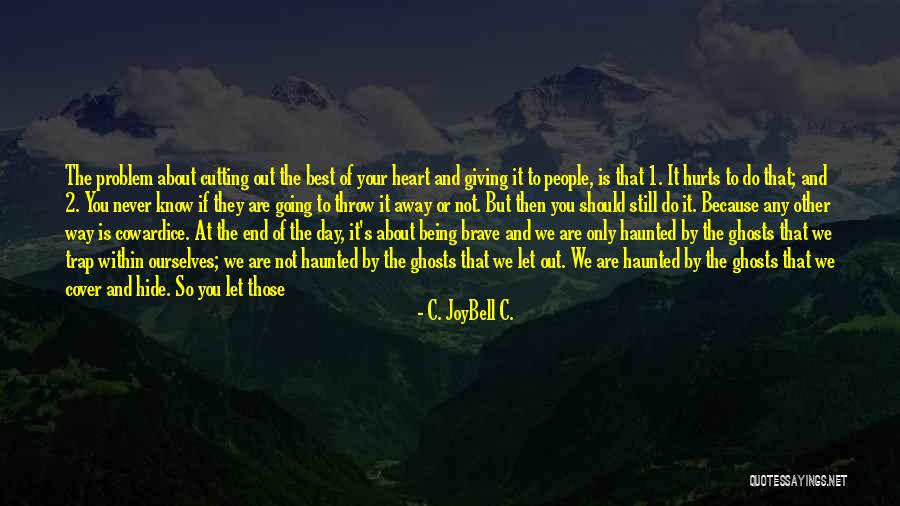 The problem about cutting out the best of your heart and giving it to people, is that 1. It hurts to do that; and 2. You never know if they are going to throw it away or not. But then you should still do it. Because any other way is cowardice. At the end of the day, it's about being brave and we are only haunted by the ghosts that we trap within ourselves; we are not haunted by the ghosts that we let out. We are haunted by the ghosts that we cover and hide. So you let those ghosts out in that best piece of your heart that you give to someone. And if the other person throws it away? Or doesn't want it to begin with? Someone else will come along one day, cut out from his/her heart that exact same jagged shape that you cut out of your own heart, and make their piece of heart fit into the rest of yours. Wait for that person. And you can fill their missing piece with your soul. — C. JoyBell C.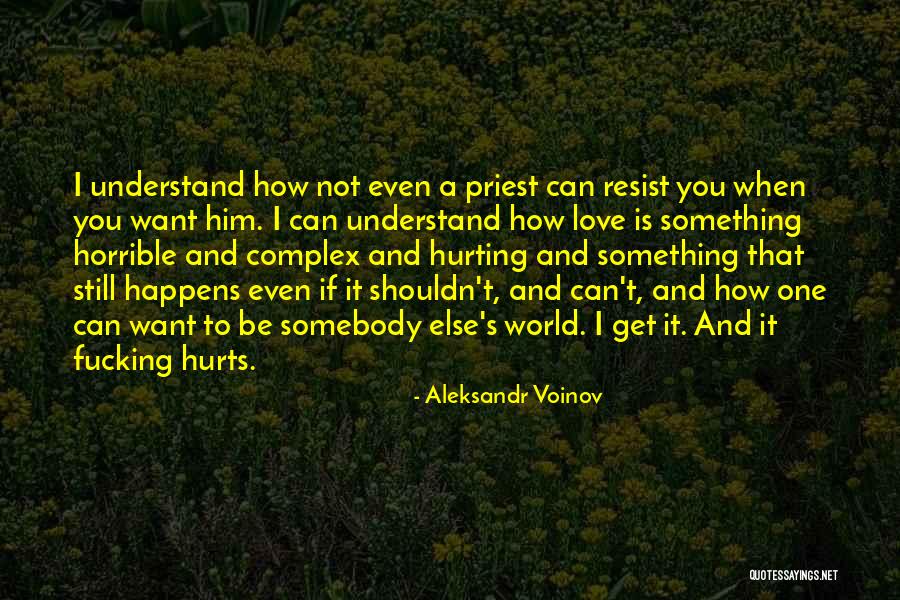 I understand how not even a priest can resist you when you want him. I can understand how love is something horrible and complex and hurting and something that still happens even if it shouldn't, and can't, and how one can want to be somebody else's world. I get it. And it fucking hurts. — Aleksandr Voinov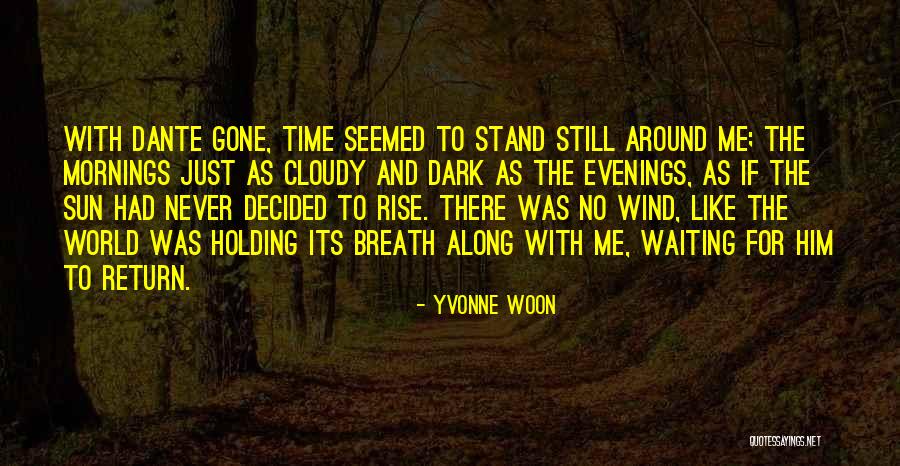 With Dante gone, time seemed to stand still around me; the mornings just as cloudy and dark as the evenings, as if the sun had never decided to rise. There was no wind, like the world was holding its breath along with me, waiting for him to return. — Yvonne Woon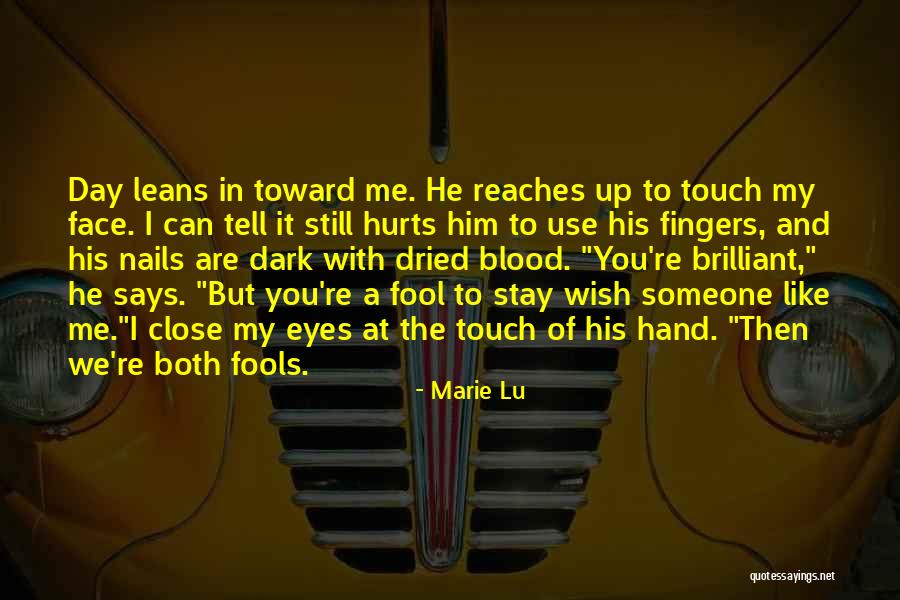 Day leans in toward me. He reaches up to touch my face. I can tell it still hurts him to use his fingers, and his nails are dark with dried blood. "You're brilliant," he says. "But you're a fool to stay wish someone like me."
I close my eyes at the touch of his hand. "Then we're both fools. — Marie Lu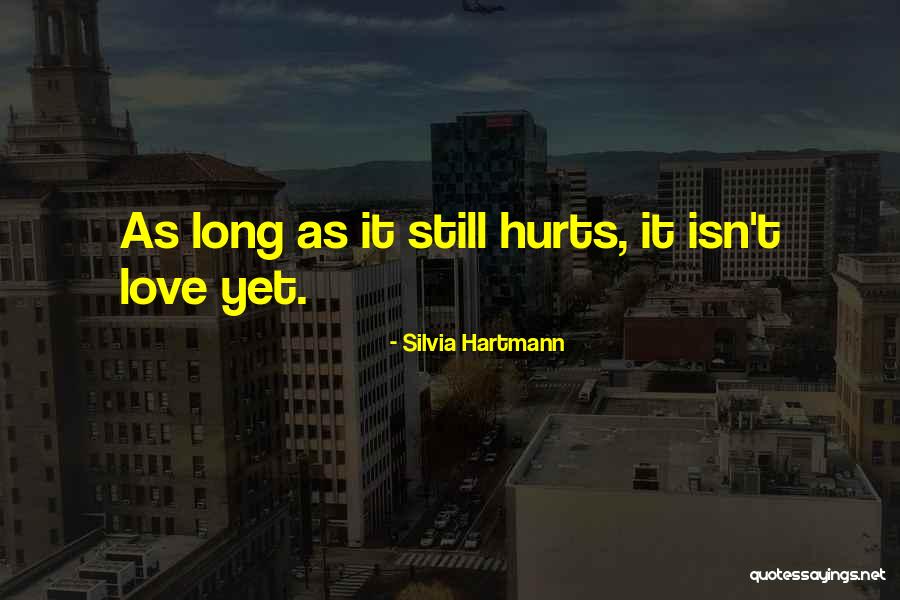 As long as it still hurts, it isn't love yet. — Silvia Hartmann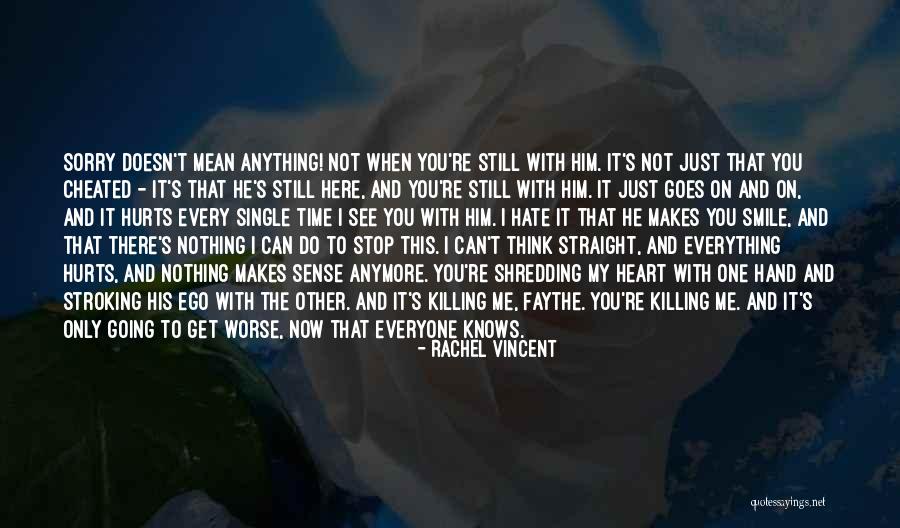 Sorry doesn't mean anything! Not when you're still with him. It's not just that you cheated - it's that he's still here, and you're still with him. It just goes on and on, and it hurts every single time I see you with him. I hate it that he makes you smile, and that there's nothing I can do to stop this. I can't think straight, and everything hurts, and nothing makes sense anymore. You're shredding my heart with one hand and stroking his ego with the other. And it's killing me, Faythe. You're killing me. And it's only going to get worse, now that everyone knows. — Rachel Vincent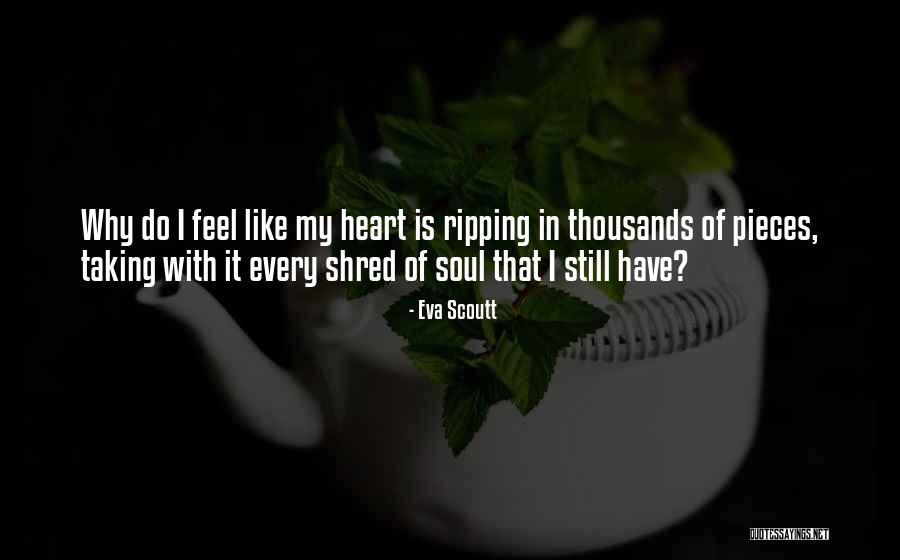 Why do I feel like my heart is ripping in thousands of pieces, taking with it every shred of soul that I still have? — Eva Scoutt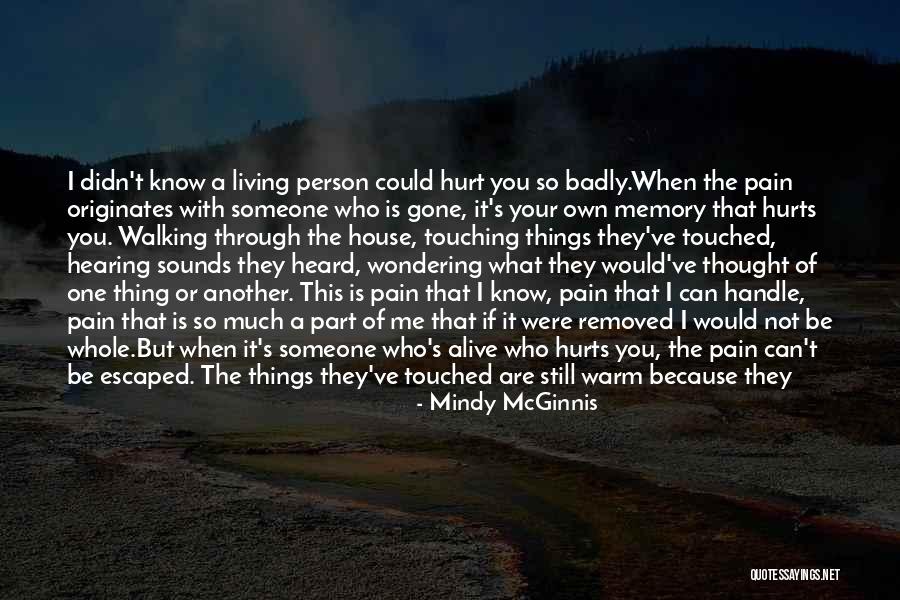 I didn't know a living person could hurt you so badly.
When the pain originates with someone who is gone, it's your own memory that hurts you. Walking through the house, touching things they've touched, hearing sounds they heard, wondering what they would've thought of one thing or another. This is pain that I know, pain that I can handle, pain that is so much a part of me that if it were removed I would not be whole.
But when it's someone who's alive who hurts you, the pain can't be escaped. The things they've touched are still warm because they were just there, the sounds they hear reach your ears too - sometimes their own voice, and it's excruciating to bear. I know what he thinks about this, that, or the other because I can hear him saying so. But not to me. He doesn't talk to me anymore. — Mindy McGinnis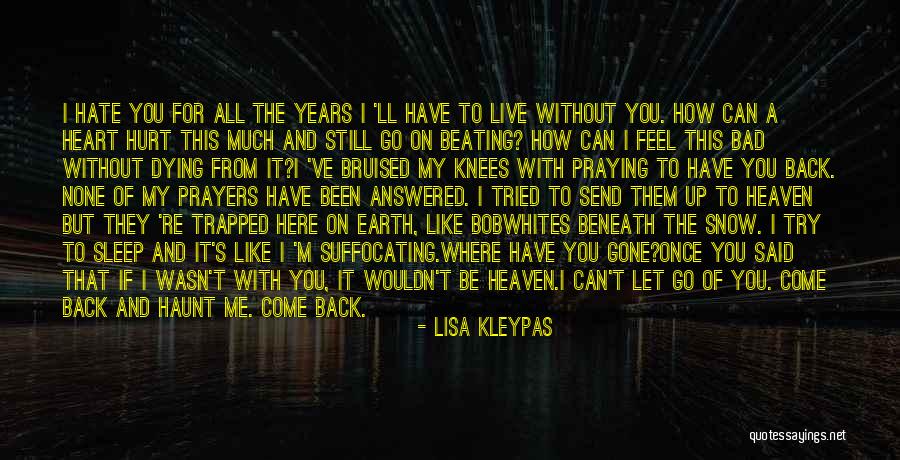 I hate you for all the years I 'll have to live without you. How can a heart hurt this much and still go on beating? How can I feel this bad without dying from it?
I 've bruised my knees with praying to have you back. None of my prayers have been answered. I tried to send them up to heaven but they 're trapped here on earth, like bobwhites beneath the snow. I try to sleep and it's like I 'm suffocating.
Where have you gone?
Once you said that if I wasn't with you, it wouldn't be heaven.
I can't let go of you. Come back and haunt me. Come back. — Lisa Kleypas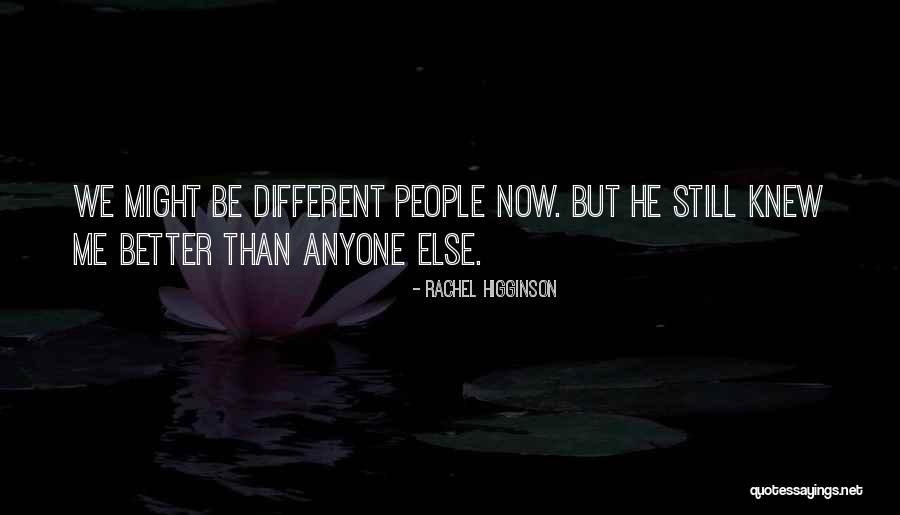 We might be different people now. But he still knew me better than anyone else. — Rachel Higginson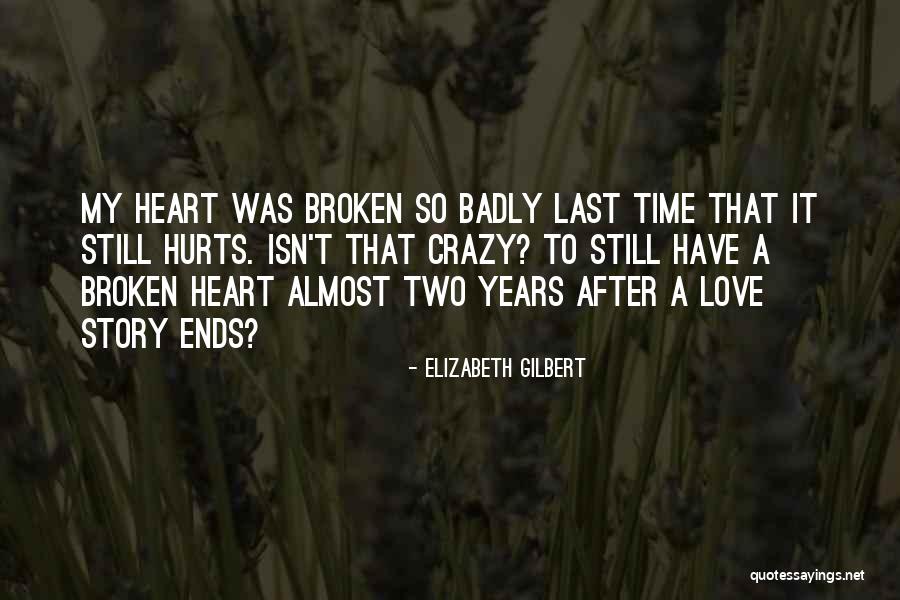 My heart was broken so badly last time that it still hurts. Isn't that crazy? To still have a broken heart almost two years after a love story ends? — Elizabeth Gilbert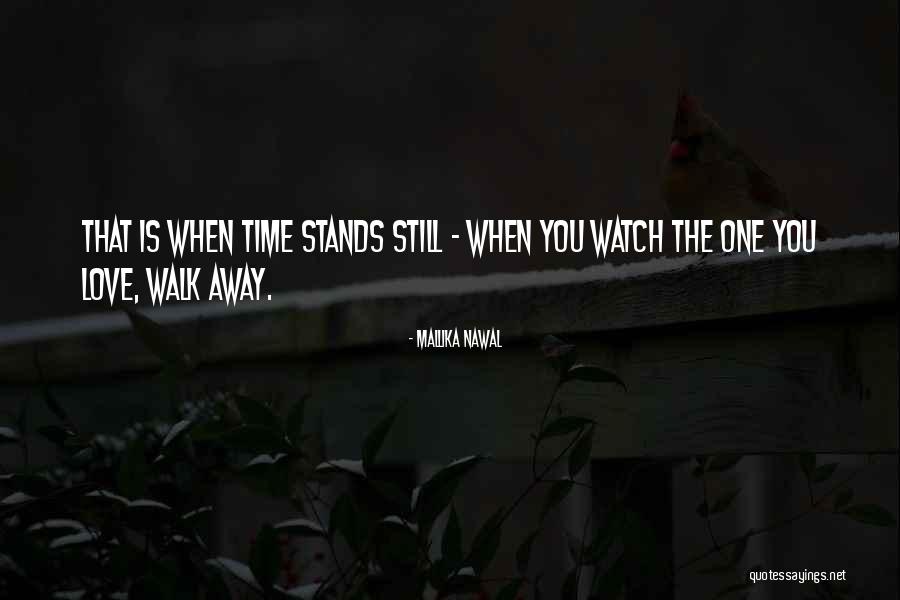 That is when time stands still - when you watch the one you love, walk away. — Mallika Nawal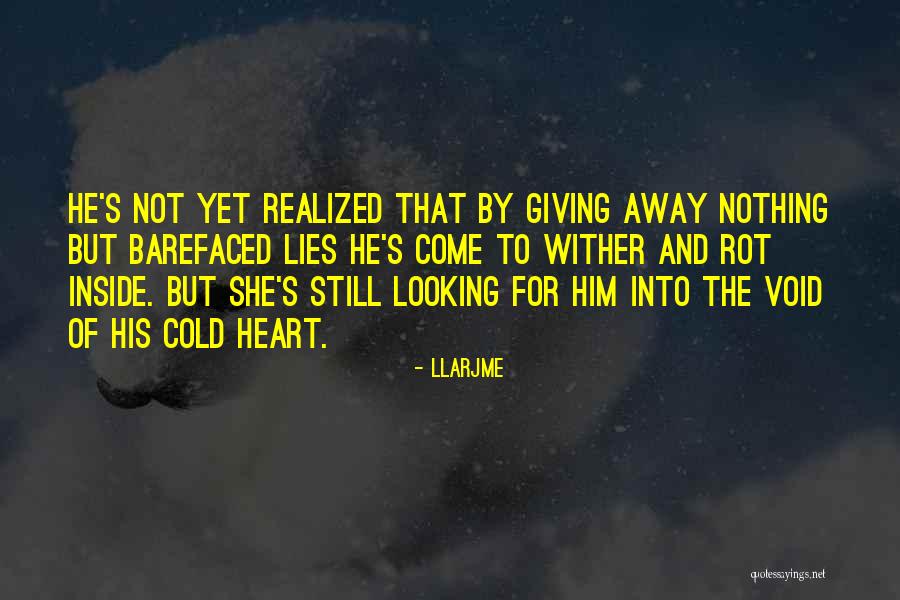 He's not yet realized that by giving away nothing but barefaced lies he's come to wither and rot inside. But she's still looking for him into the void of his cold heart. — Llarjme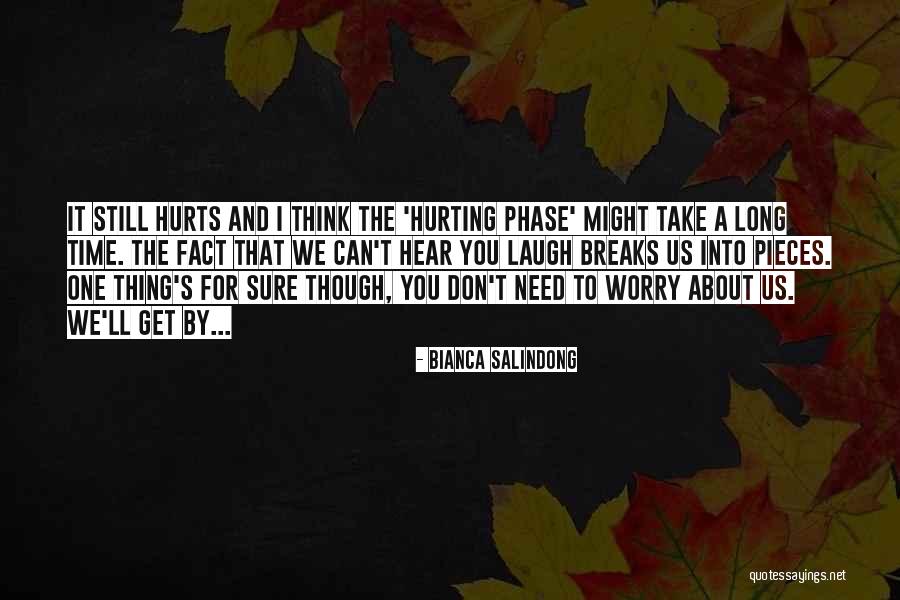 It still hurts and I think the 'hurting phase' might take a long time. The fact that we can't hear you laugh breaks us into pieces. One thing's for sure though, you don't need to worry about us. We'll get by... — Bianca Salindong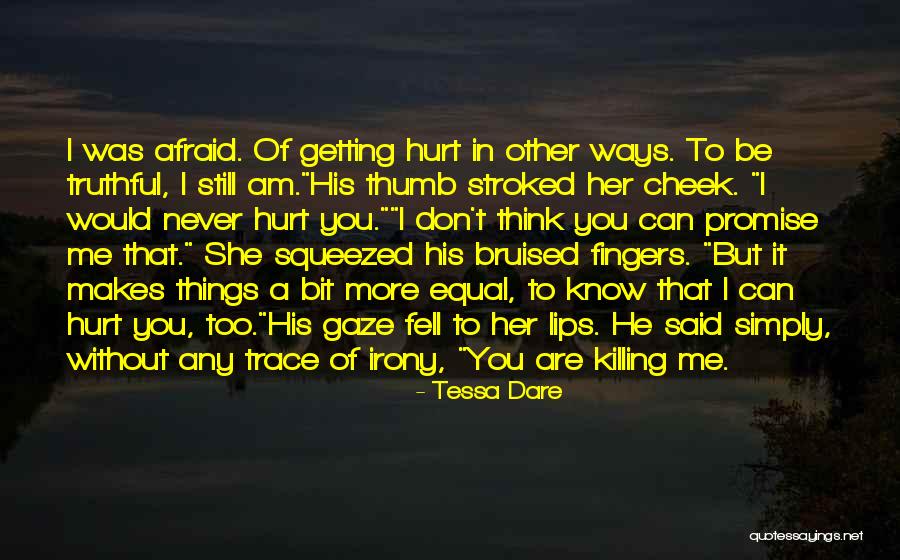 I was afraid. Of getting hurt in other ways. To be truthful, I still am."
His thumb stroked her cheek. "I would never hurt you."
"I don't think you can promise me that." She squeezed his bruised fingers. "But it makes things a bit more equal, to know that I can hurt you, too."
His gaze fell to her lips. He said simply, without any trace of irony, "You are killing me. — Tessa Dare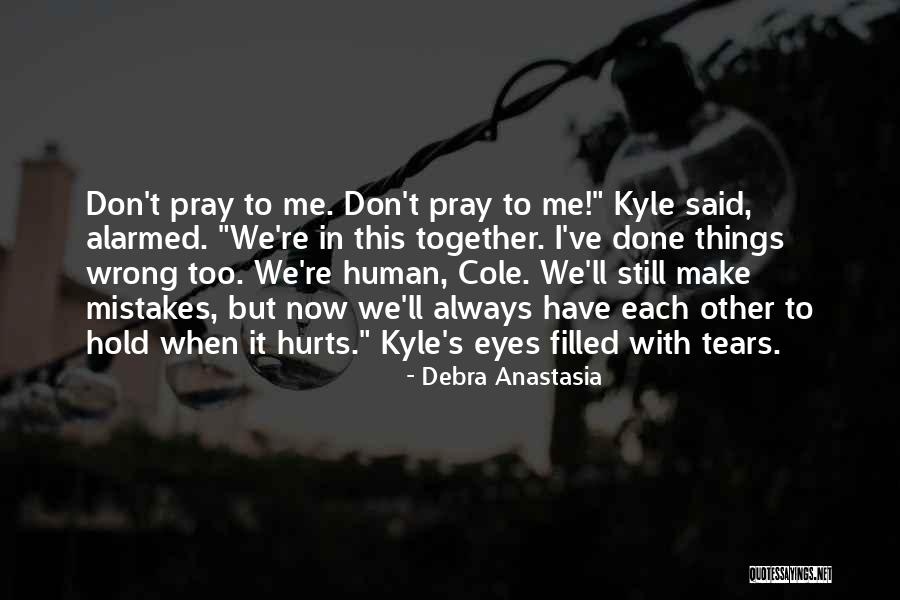 Don't pray to me. Don't pray to me!" Kyle said, alarmed. "We're in this together. I've done things wrong too. We're human, Cole. We'll still make mistakes, but now we'll always have each other to hold when it hurts." Kyle's eyes filled with tears. — Debra Anastasia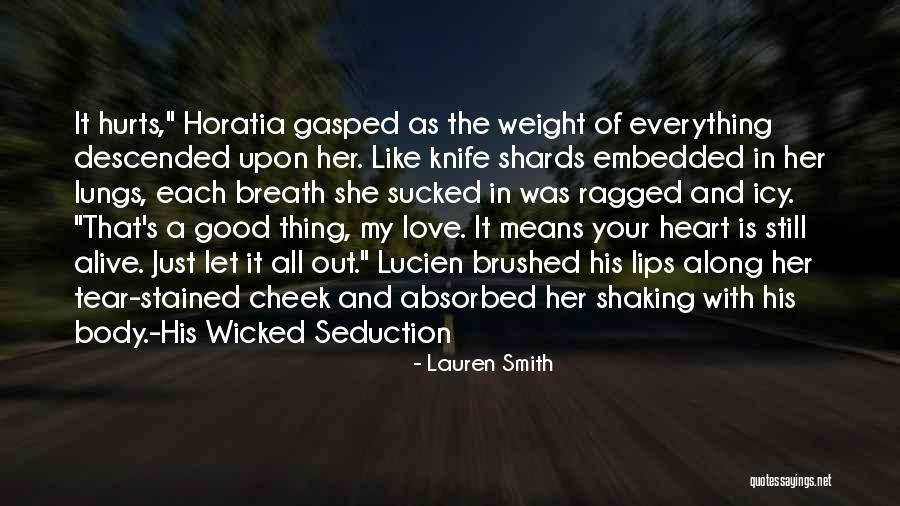 It hurts," Horatia gasped as the weight of everything descended upon her. Like knife shards embedded in her lungs, each breath she sucked in was ragged and icy.
"That's a good thing, my love. It means your heart is still alive. Just let it all out." Lucien brushed his lips along her tear-stained cheek and absorbed her shaking with his body.

-His Wicked Seduction — Lauren Smith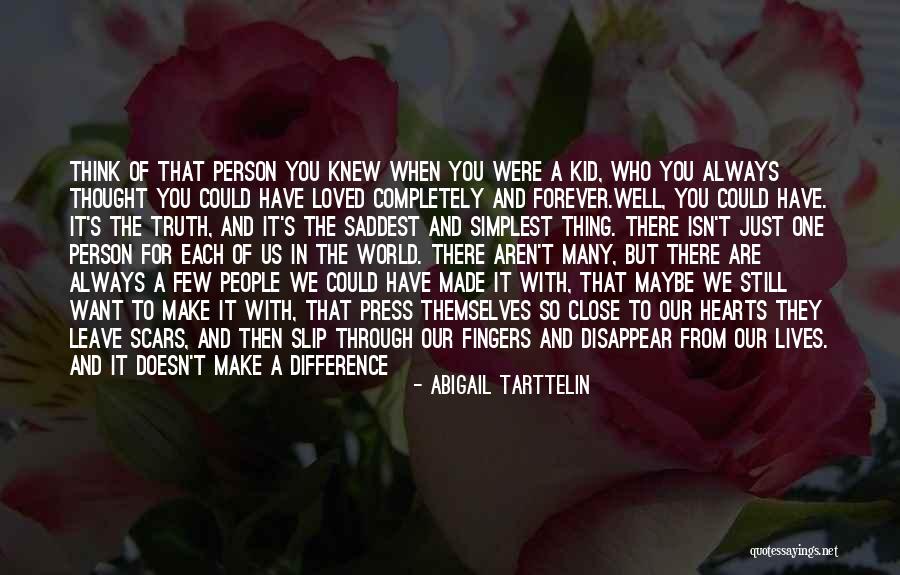 Think of that person you knew when you were a kid, who you always thought you could have loved completely and forever.Well, you could have. It's the truth, and it's the saddest and simplest thing. There isn't just one person for each of us in the world. There aren't many, but there are always a few people we could have made it with, that maybe we still want to make it with, that press themselves so close to our hearts they leave scars, and then slip through our fingers and disappear from our lives. And it doesn't make a difference if you're thirteen or ninety- eight because some things you feel are real, no matter when. — Abigail Tarttelin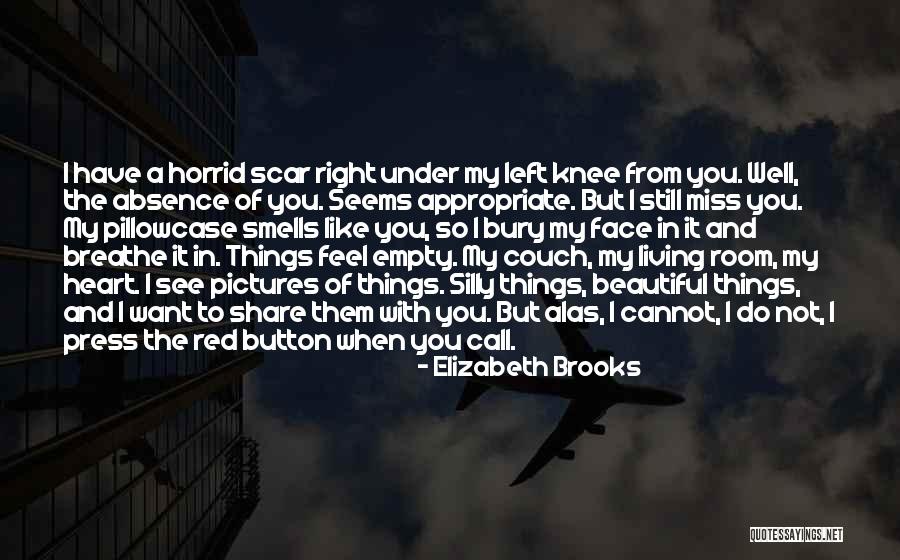 I have a horrid scar right under my left knee from you. Well, the absence of you. Seems appropriate. But I still miss you. My pillowcase smells like you, so I bury my face in it and breathe it in. Things feel empty. My couch, my living room, my heart. I see pictures of things. Silly things, beautiful things, and I want to share them with you. But alas, I cannot, I do not, I press the red button when you call. — Elizabeth Brooks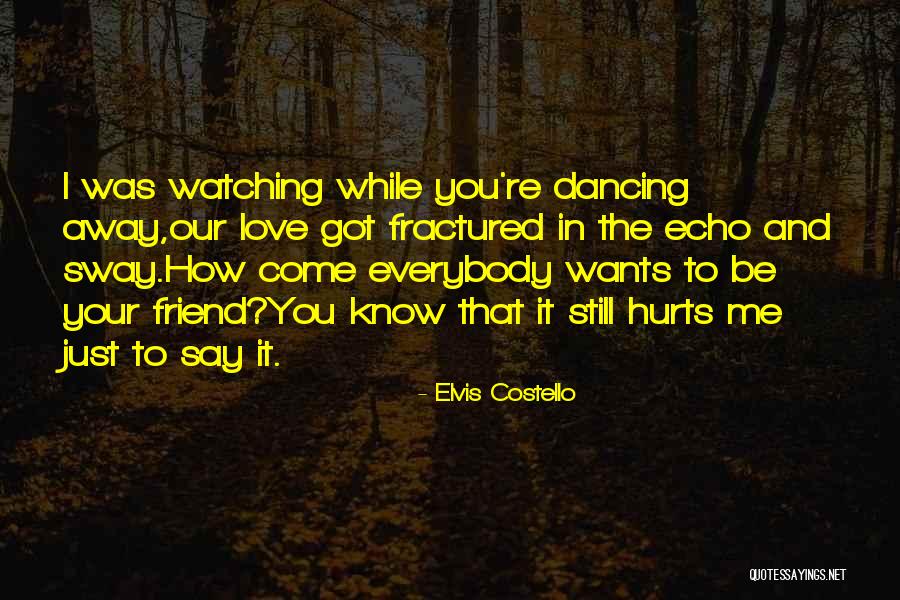 I was watching while you're dancing away,
our love got fractured in the echo and sway.
How come everybody wants to be your friend?
You know that it still hurts me just to say it. — Elvis Costello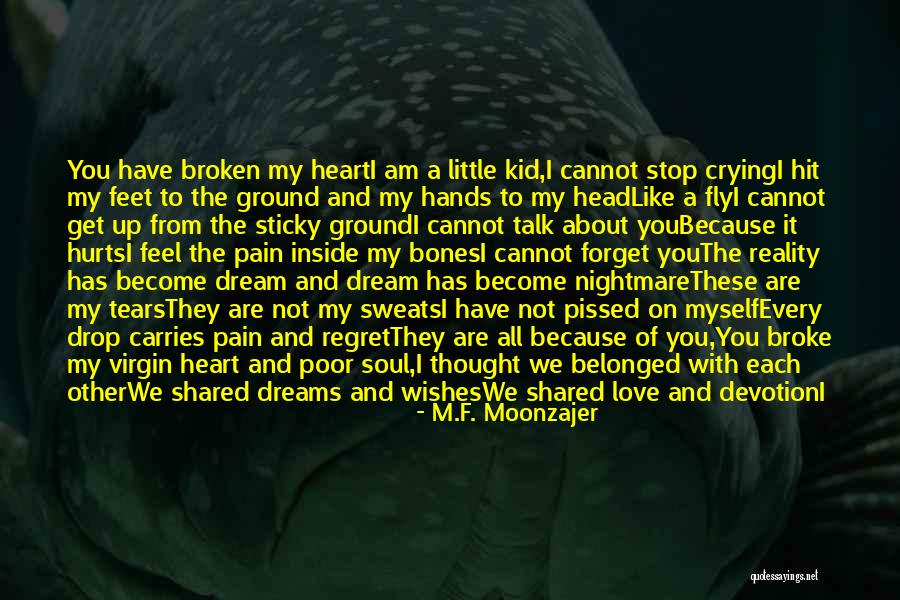 You have broken my heart
I am a little kid,
I cannot stop crying
I hit my feet to the ground and my hands to my head
Like a fly
I cannot get up from the sticky ground
I cannot talk about you
Because it hurts
I feel the pain inside my bones
I cannot forget you
The reality has become dream and dream has become nightmare
These are my tears
They are not my sweats
I have not pissed on myself
Every drop carries pain and regret
They are all because of you,
You broke my virgin heart and poor soul,
I thought we belonged with each other
We shared dreams and wishes
We shared love and devotion
I did not know they were all lies,
If I knew you were leaving me one day, I would have loved you more than I did
Maybe it would have changed your mind
Because I still love you — M.F. Moonzajer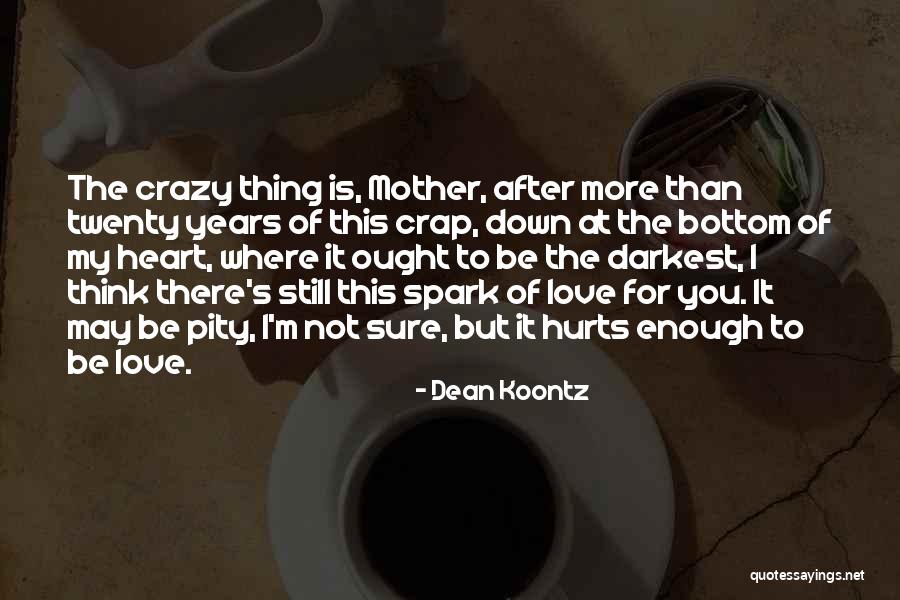 The crazy thing is, Mother, after more than twenty years of this crap, down at the bottom of my heart, where it ought to be the darkest, I think there's still this spark of love for you. It may be pity, I'm not sure, but it hurts enough to be love. — Dean Koontz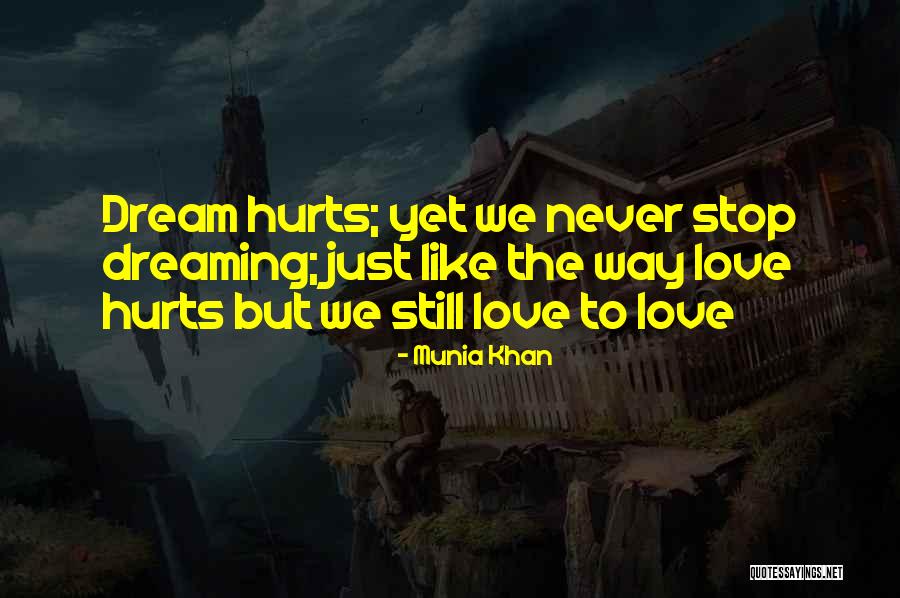 Dream hurts; yet we never stop dreaming; just like the way love hurts but we still love to love — Munia Khan