Love Profession Quotes & Sayings
Enjoy reading and share 100 famous quotes about Love Profession with everyone.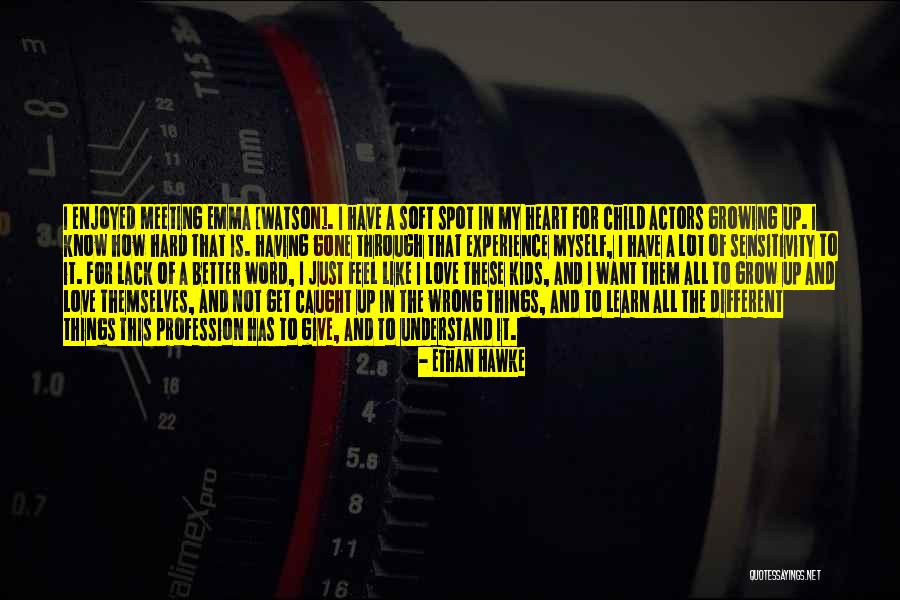 I enjoyed meeting Emma [Watson]. I have a soft spot in my heart for child actors growing up. I know how hard that is. Having gone through that experience myself, I have a lot of sensitivity to it. For lack of a better word, I just feel like I love these kids, and I want them all to grow up and love themselves, and not get caught up in the wrong things, and to learn all the different things this profession has to give, and to understand it. — Ethan Hawke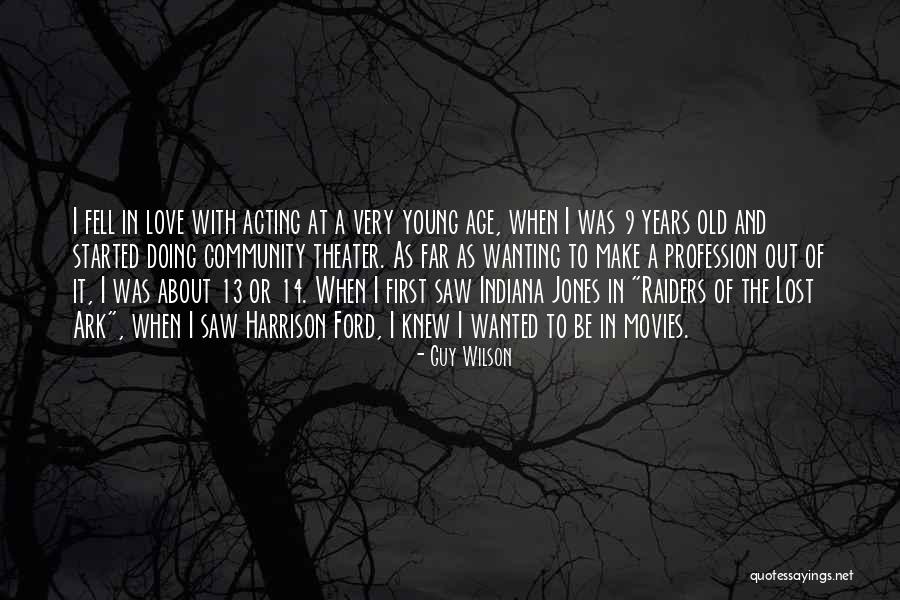 I fell in love with acting at a very young age, when I was 9 years old and started doing community theater. As far as wanting to make a profession out of it, I was about 13 or 14. When I first saw Indiana Jones in "Raiders of the Lost Ark", when I saw Harrison Ford, I knew I wanted to be in movies. — Guy Wilson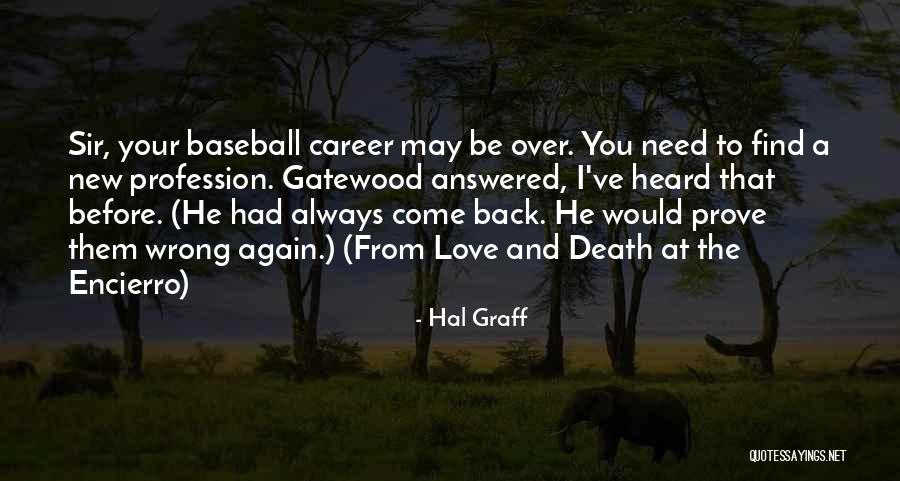 Sir, your baseball career may be over. You need to find a new profession. Gatewood answered, I've heard that before. (He had always come back. He would prove them wrong again.) (From Love and Death at the Encierro) — Hal Graff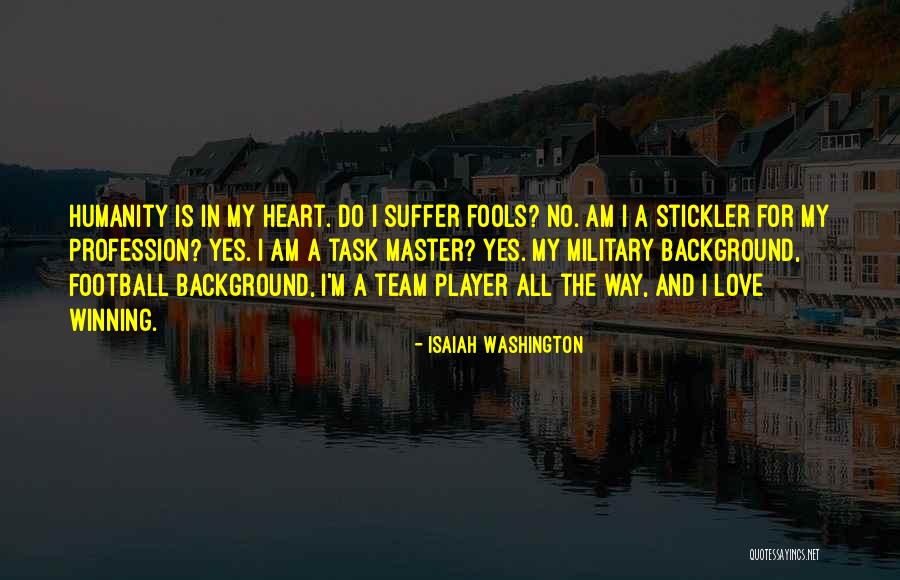 Humanity is in my heart. Do I suffer fools? No. Am I a stickler for my profession? Yes. I am a task master? Yes. My military background, football background, I'm a team player all the way, and I love winning. — Isaiah Washington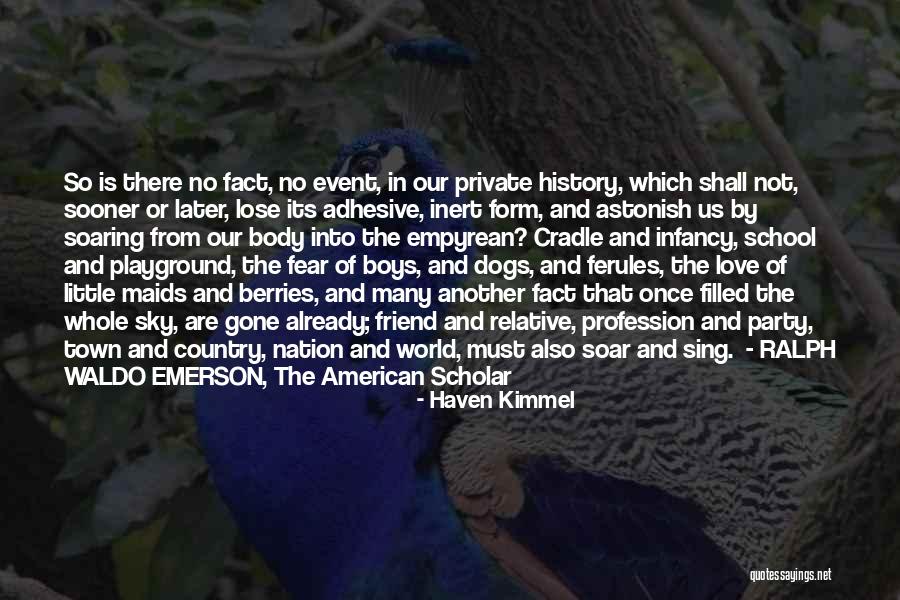 So is there no fact, no event, in our private history, which shall not, sooner or later, lose its adhesive, inert form, and astonish us by soaring from our body into the empyrean? Cradle and infancy, school and playground, the fear of boys, and dogs, and ferules, the love of little maids and berries, and many another fact that once filled the whole sky, are gone already; friend and relative, profession and party, town and country, nation and world, must also soar and sing. - RALPH WALDO EMERSON, The American Scholar — Haven Kimmel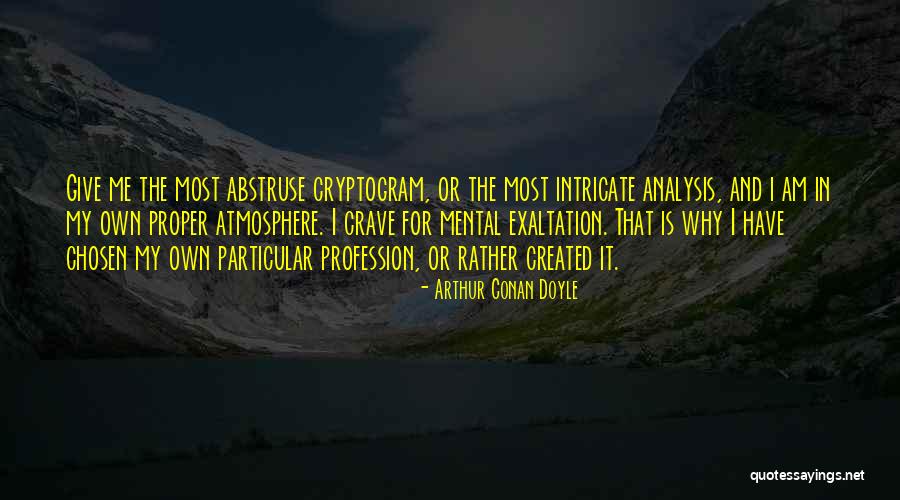 Give me the most abstruse cryptogram, or the most intricate analysis, and i am in my own proper atmosphere. I crave for mental exaltation. That is why I have chosen my own particular profession, or rather created it. — Arthur Conan Doyle
Now I know that there's no such thing as the truth. That people are constantly misquoted. That news organizations are full of conspiracy (and that, in any case, ineptness is a kind of conspiracy). That emotional detachment and cynicism get you only so far. But for many years I was in love with journalism. I loved the city room. I loved the pack. I loved smoking and drinking scotch and playing dollar poker. I didn't know much about anything, and I was in a profession where you didn't have to. I loved the speed. I loved the deadlines. I loved that you wrapped the fish. You can't make this stuff up, I used to say. — Nora Ephron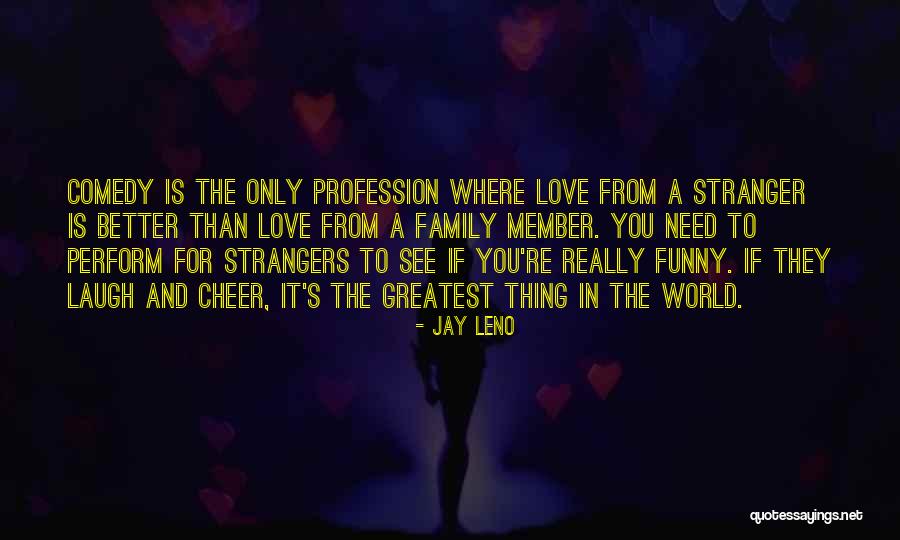 Comedy is the only profession where love from a stranger is better than love from a family member. You need to perform for strangers to see if you're really funny. If they laugh and cheer, it's the greatest thing in the world. — Jay Leno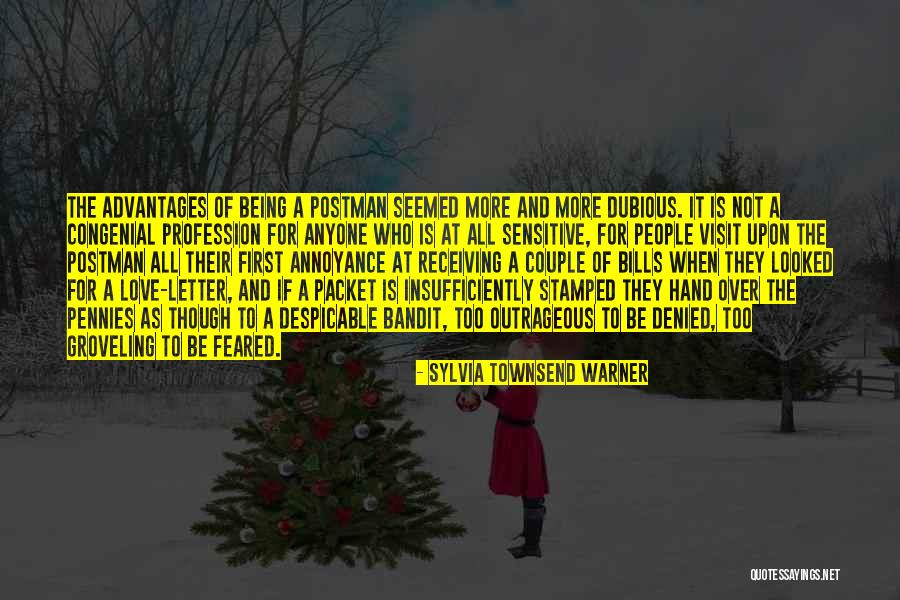 The advantages of being a postman seemed more and more dubious. It is not a congenial profession for anyone who is at all sensitive, for people visit upon the postman all their first annoyance at receiving a couple of bills when they looked for a love-letter, and if a packet is insufficiently stamped they hand over the pennies as though to a despicable bandit, too outrageous to be denied, too groveling to be feared. — Sylvia Townsend Warner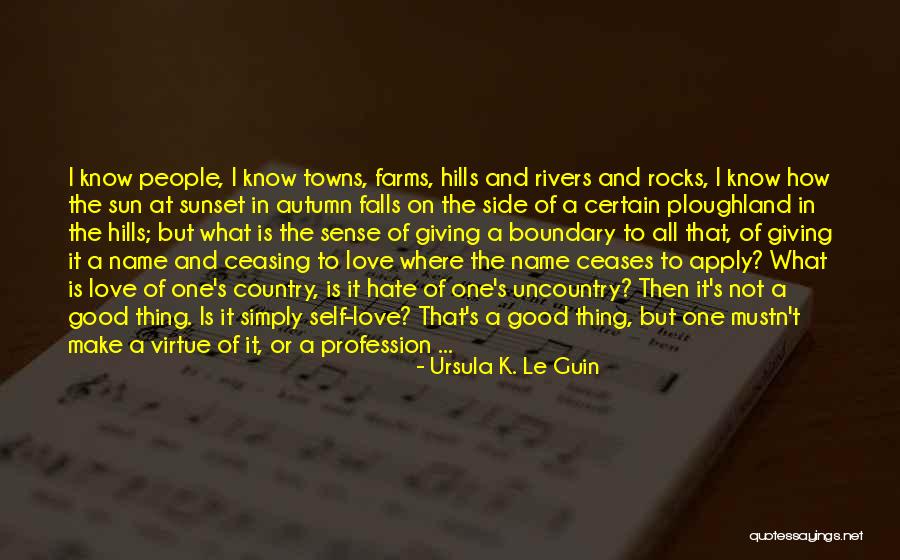 I know people, I know towns, farms, hills and rivers and rocks, I know how the sun at sunset in autumn falls on the side of a certain ploughland in the hills; but what is the sense of giving a boundary to all that, of giving it a name
and ceasing to love where the name ceases to apply? What is love of one's country, is it hate of one's uncountry? Then it's not a good thing. Is it simply self-love? That's a good thing, but one mustn't make a virtue of it, or a profession ... — Ursula K. Le Guin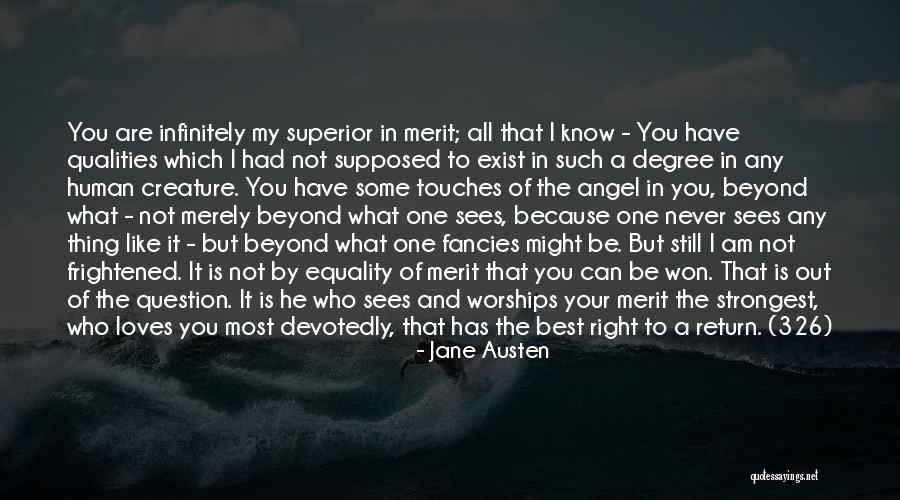 You are infinitely my superior in merit; all that I know - You have qualities which I had not supposed to exist in such a degree in any human creature. You have some touches of the angel in you, beyond what - not merely beyond what one sees, because one never sees any thing like it - but beyond what one fancies might be. But still I am not frightened. It is not by equality of merit that you can be won. That is out of the question. It is he who sees and worships your merit the strongest, who loves you most devotedly, that has the best right to a return. (326) — Jane Austen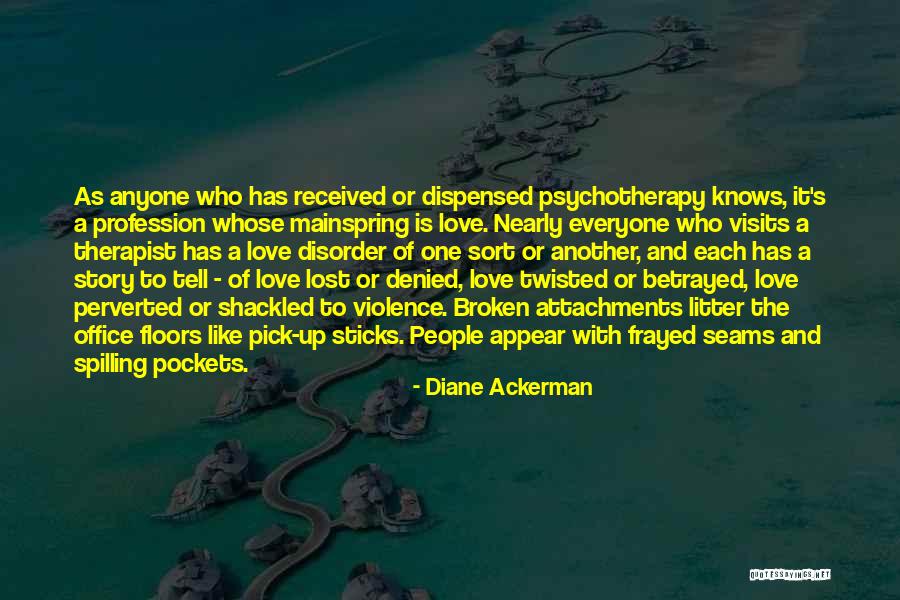 As anyone who has received or dispensed psychotherapy knows, it's a profession whose mainspring is love. Nearly everyone who visits a therapist has a love disorder of one sort or another, and each has a story to tell - of love lost or denied, love twisted or betrayed, love perverted or shackled to violence. Broken attachments litter the office floors like pick-up sticks. People appear with frayed seams and spilling pockets. — Diane Ackerman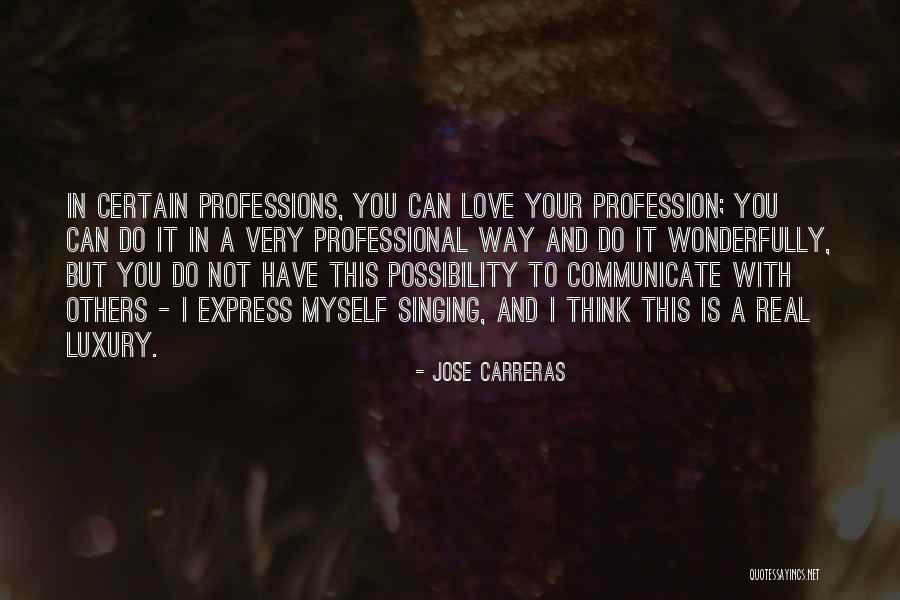 In certain professions, you can love your profession; you can do it in a very professional way and do it wonderfully, but you do not have this possibility to communicate with others - I express myself singing, and I think this is a real luxury. — Jose Carreras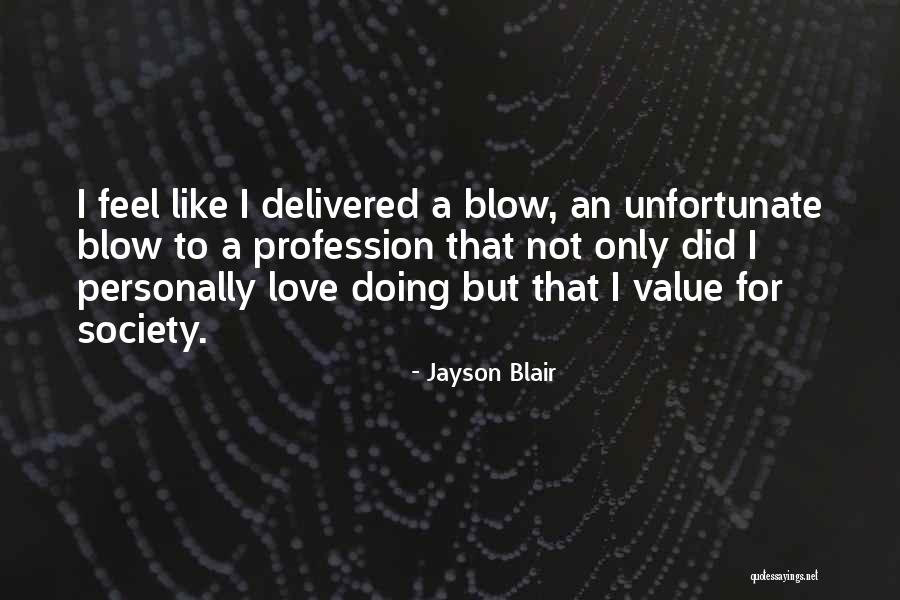 I feel like I delivered a blow, an unfortunate blow to a profession that not only did I personally love doing but that I value for society. — Jayson Blair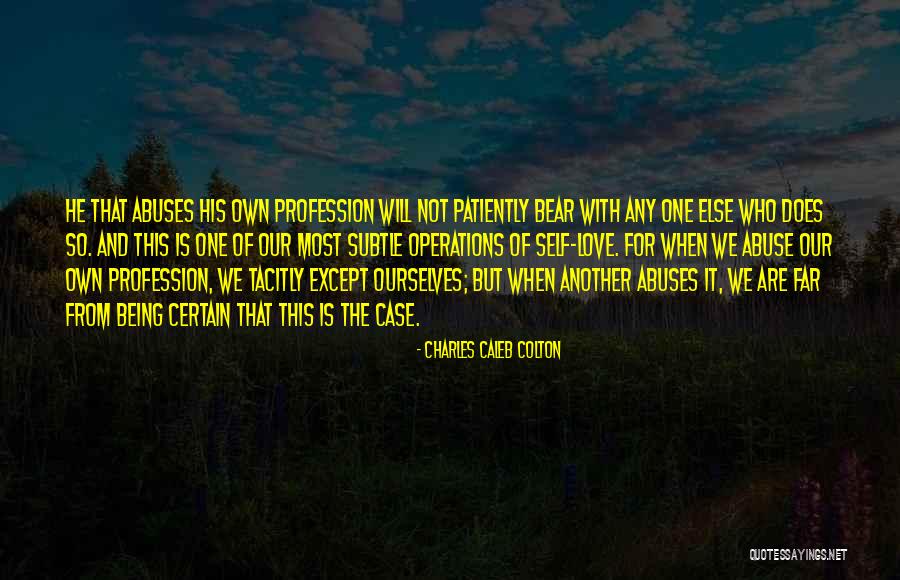 He that abuses his own profession will not patiently bear with any one else who does so. And this is one of our most subtle operations of self-love. For when we abuse our own profession, we tacitly except ourselves; but when another abuses it, we are far from being certain that this is the case. — Charles Caleb Colton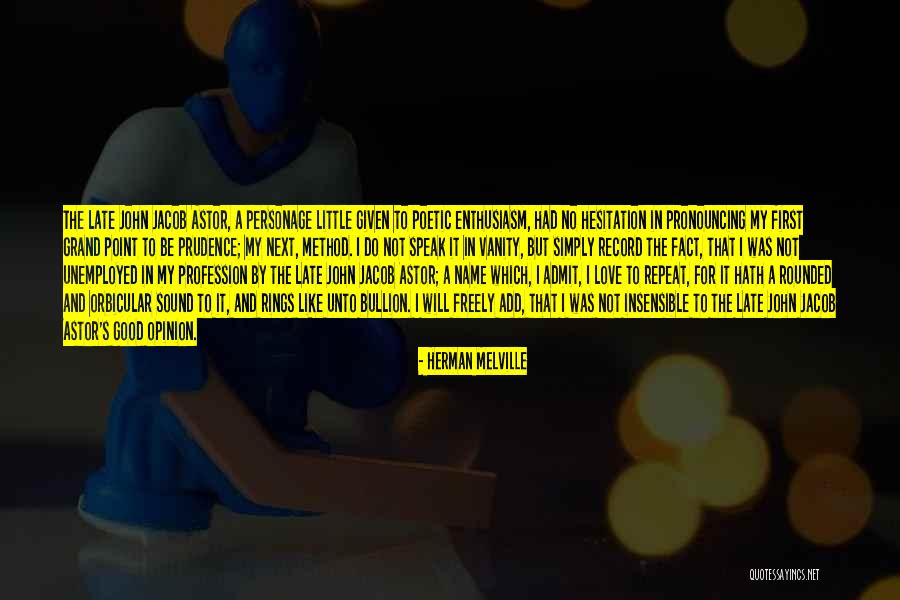 The late John Jacob Astor, a personage little given to poetic enthusiasm, had no hesitation in pronouncing my first grand point to be prudence; my next, method. I do not speak it in vanity, but simply record the fact, that I was not unemployed in my profession by the late John Jacob Astor; a name which, I admit, I love to repeat, for it hath a rounded and orbicular sound to it, and rings like unto bullion. I will freely add, that I was not insensible to the late John Jacob Astor's good opinion. — Herman Melville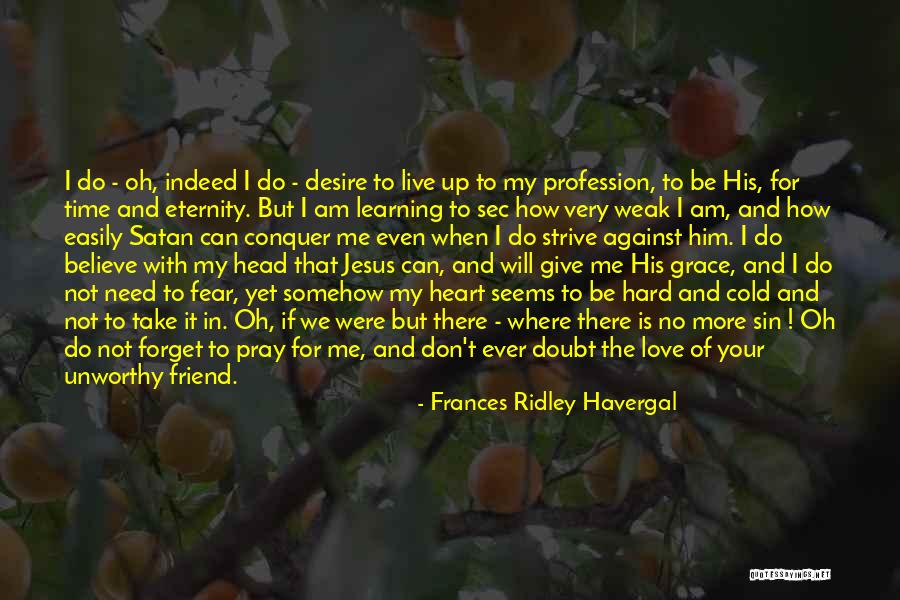 I do - oh, indeed I do - desire to live up to my profession, to be His, for time and eternity. But I am learning to sec how very weak I am, and how easily Satan can conquer me even when I do strive against him. I do believe with my head that Jesus can, and will give me His grace, and I do not need to fear, yet somehow my heart seems to be hard and cold and not to take it in. Oh, if we were but there - where there is no more sin ! Oh do not forget to pray for me, and don't ever doubt the love of your unworthy friend. — Frances Ridley Havergal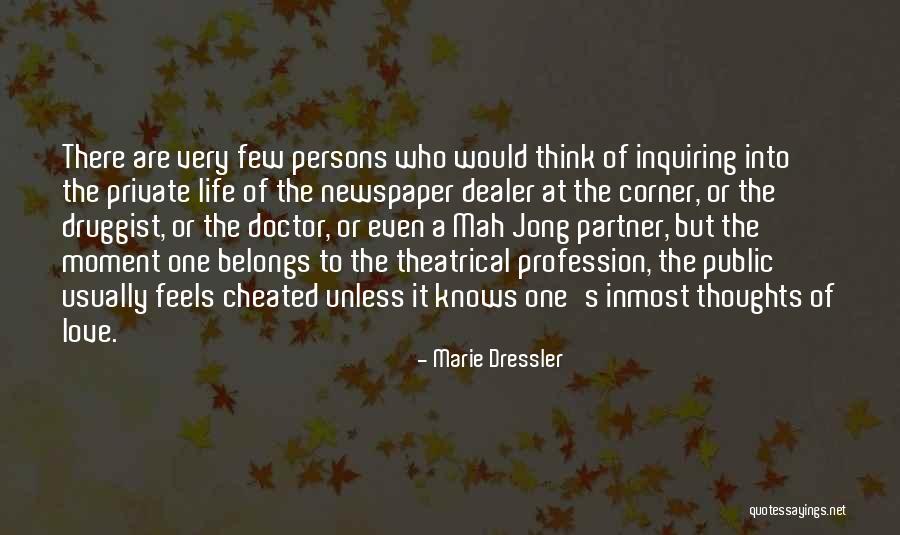 There are very few persons who would think of inquiring into the private life of the newspaper dealer at the corner, or the druggist, or the doctor, or even a Mah Jong partner, but the moment one belongs to the theatrical profession, the public usually feels cheated unless it knows one's inmost thoughts of love. — Marie Dressler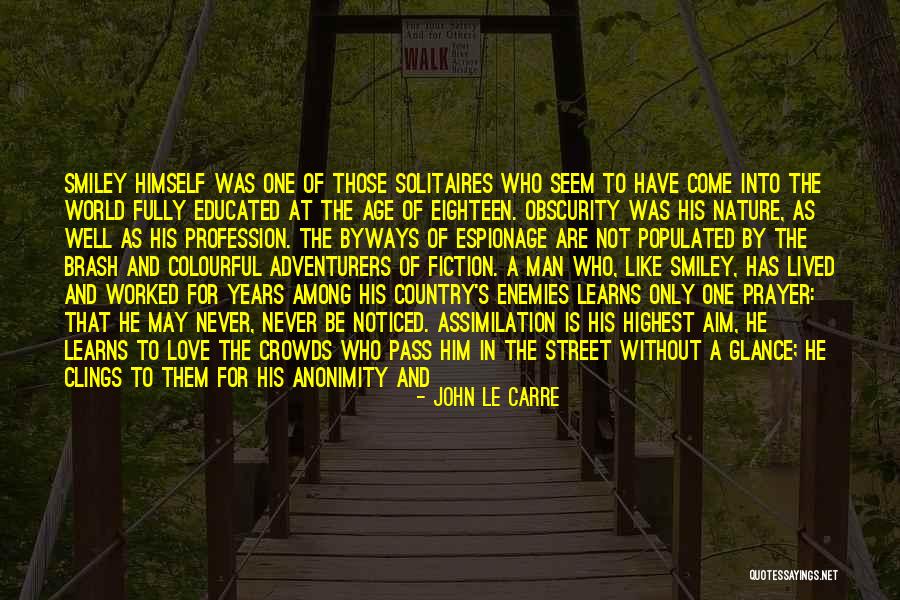 Smiley himself was one of those solitaires who seem to have come into the world fully educated at the age of eighteen. Obscurity was his nature, as well as his profession. The byways of espionage are not populated by the brash and colourful adventurers of fiction. A man who, like Smiley, has lived and worked for years among his country's enemies learns only one prayer: that he may never, never be noticed. Assimilation is his highest aim, he learns to love the crowds who pass him in the street without a glance; he clings to them for his anonimity and his safety. His fear makes him servile - he could embrace the shoppers who jostle him in their impatience, and force him from the pavement. He could adore the officials, the police, the bus conductors, for the terse indifference of their attitudes. (ch. 9) — John Le Carre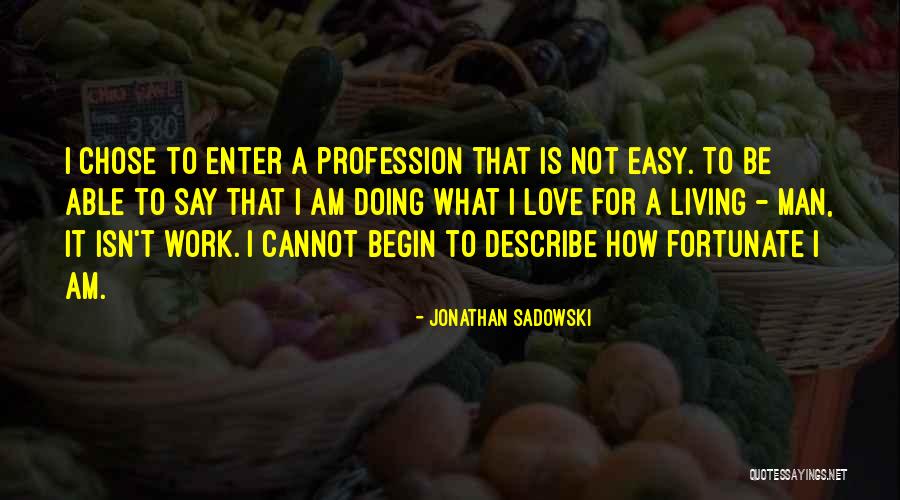 I chose to enter a profession that is not easy. To be able to say that I am doing what I love for a living - man, it isn't work. I cannot begin to describe how fortunate I am. — Jonathan Sadowski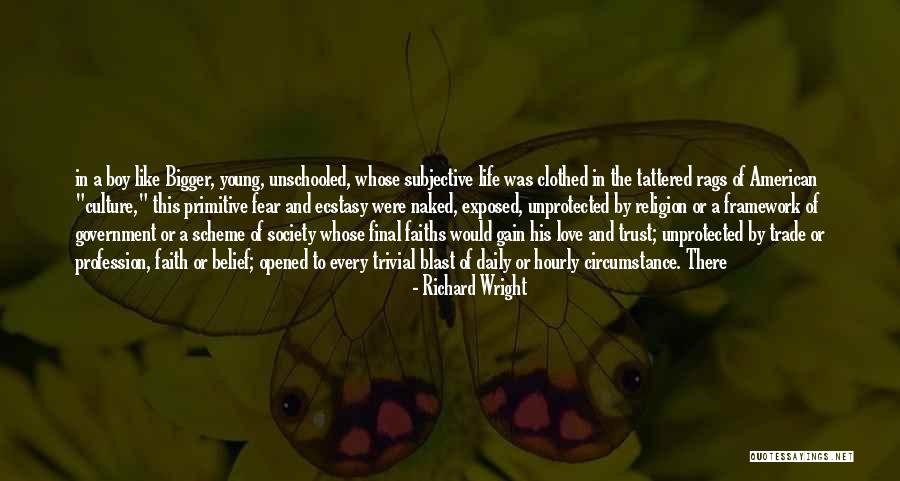 in a boy like Bigger, young, unschooled, whose subjective life was clothed in the tattered rags of American "culture," this primitive fear and ecstasy were naked, exposed, unprotected by religion or a framework of government or a scheme of society whose final faiths would gain his love and trust; unprotected by trade or profession, faith or belief; opened to every trivial blast of daily or hourly circumstance. There — Richard Wright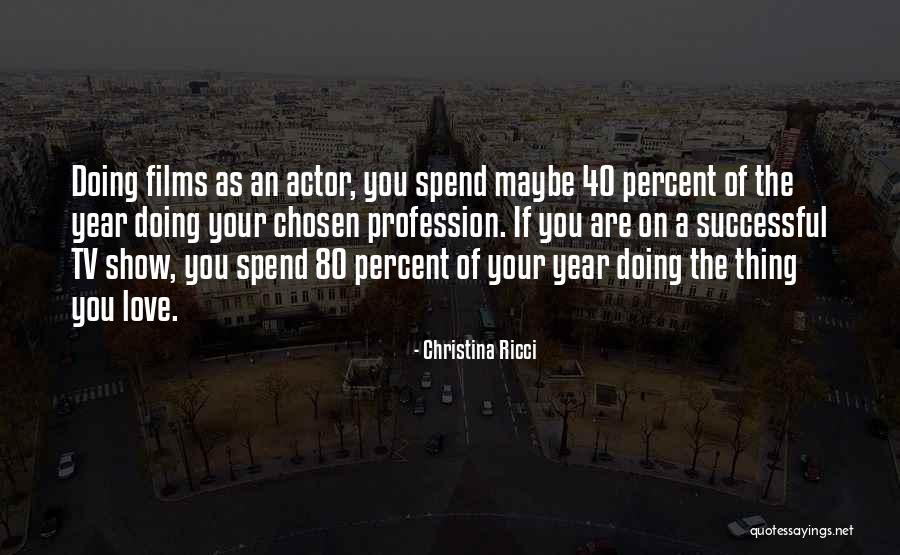 Doing films as an actor, you spend maybe 40 percent of the year doing your chosen profession. If you are on a successful TV show, you spend 80 percent of your year doing the thing you love. — Christina Ricci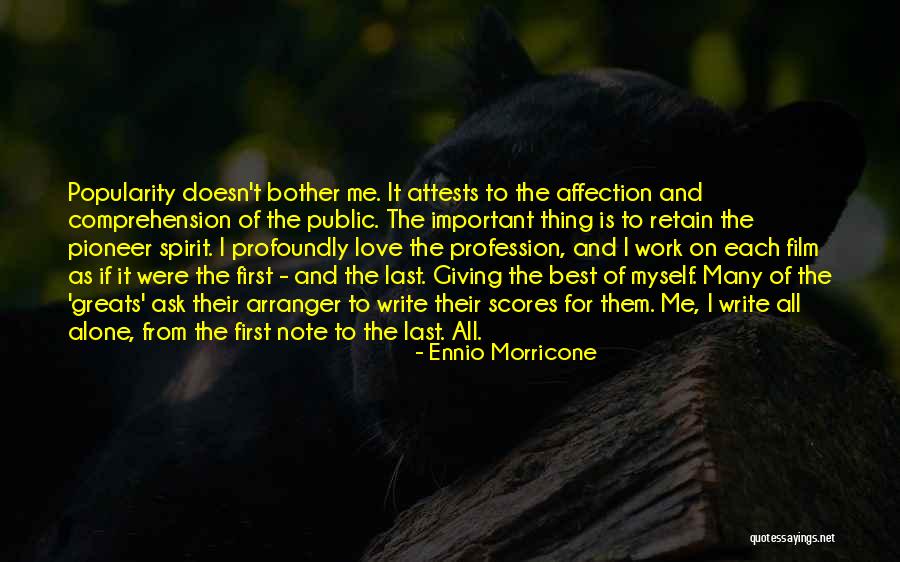 Popularity doesn't bother me. It attests to the affection and comprehension of the public. The important thing is to retain the pioneer spirit. I profoundly love the profession, and I work on each film as if it were the first - and the last. Giving the best of myself. Many of the 'greats' ask their arranger to write their scores for them. Me, I write all alone, from the first note to the last. All. — Ennio Morricone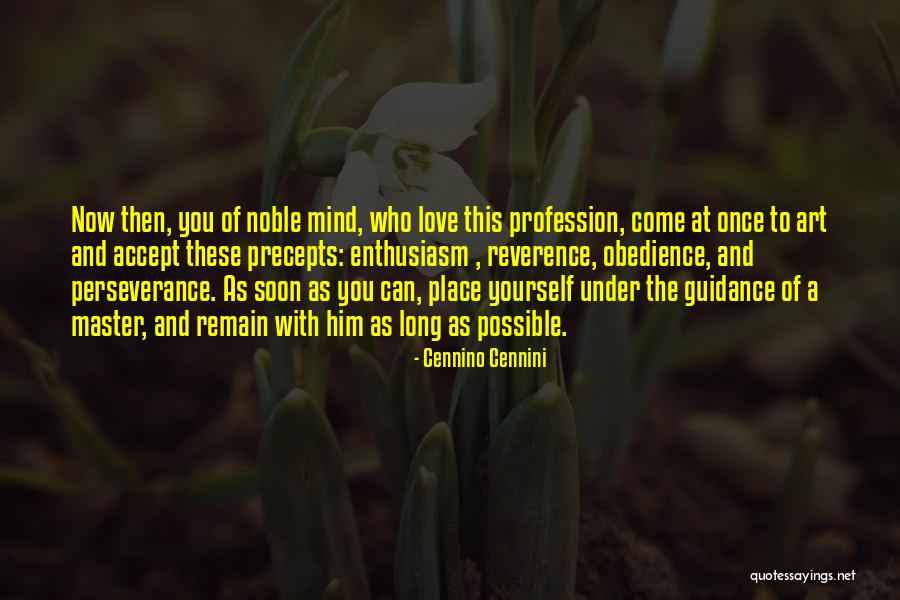 Now then, you of noble mind, who love this profession, come at once to art and accept these precepts: enthusiasm , reverence, obedience, and perseverance. As soon as you can, place yourself under the guidance of a master, and remain with him as long as possible. — Cennino Cennini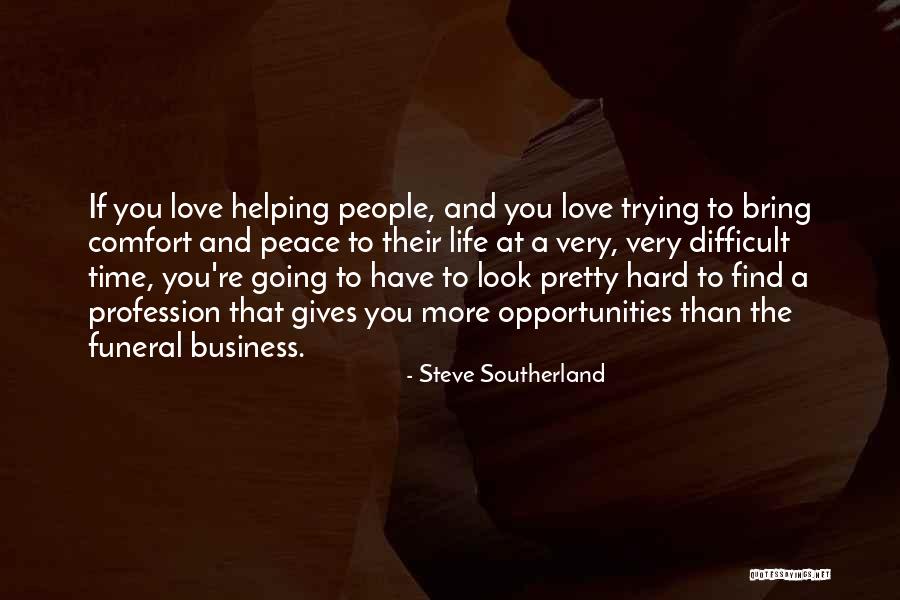 If you love helping people, and you love trying to bring comfort and peace to their life at a very, very difficult time, you're going to have to look pretty hard to find a profession that gives you more opportunities than the funeral business. — Steve Southerland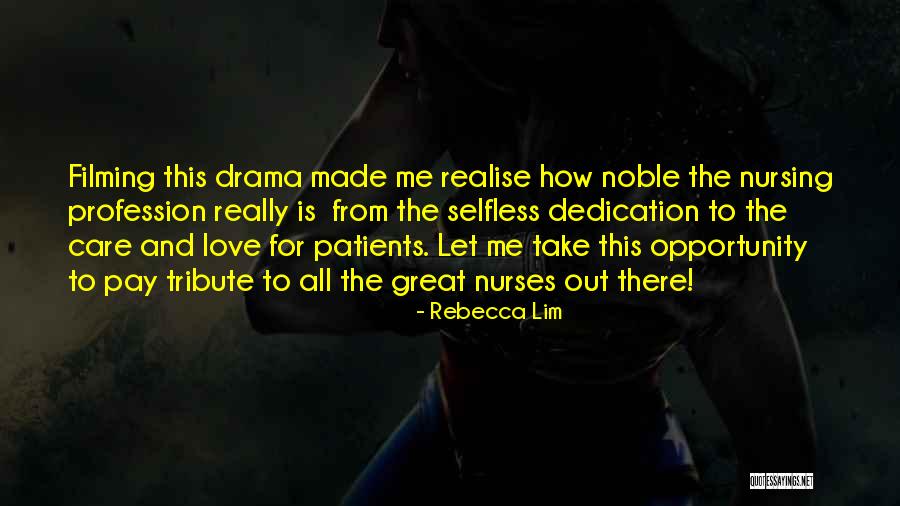 Filming this drama made me realise how noble the nursing profession really is
from the selfless dedication to the care and love for patients. Let me take this opportunity to pay tribute to all the great nurses out there! — Rebecca Lim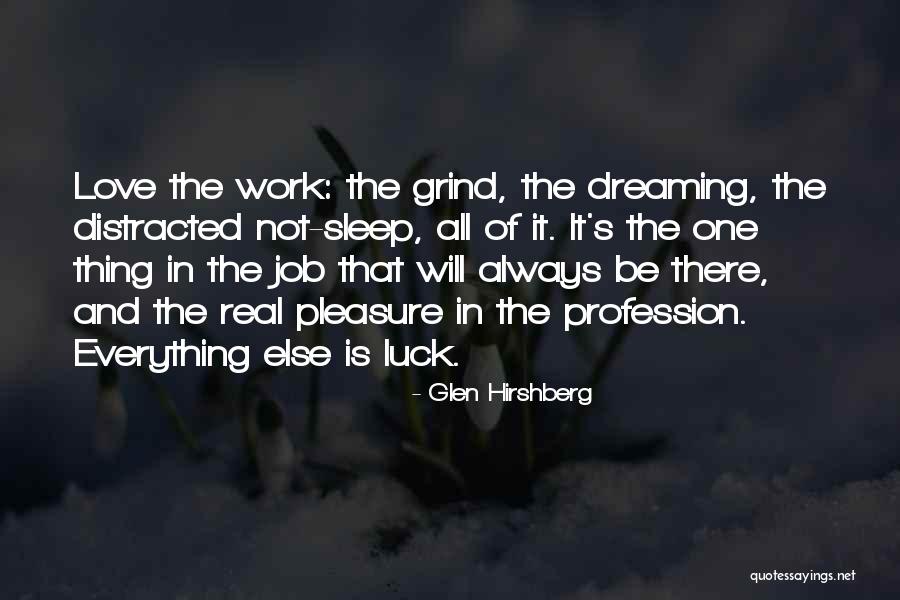 Love the work: the grind, the dreaming, the distracted not-sleep, all of it. It's the one thing in the job that will always be there, and the real pleasure in the profession. Everything else is luck. — Glen Hirshberg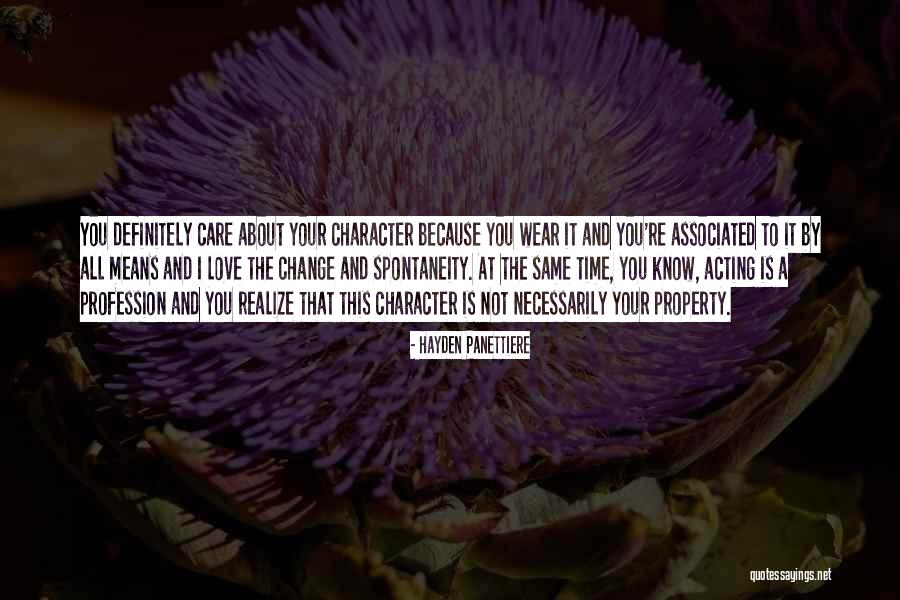 You definitely care about your character because you wear it and you're associated to it by all means and I love the change and spontaneity. At the same time, you know, acting is a profession and you realize that this character is not necessarily your property. — Hayden Panettiere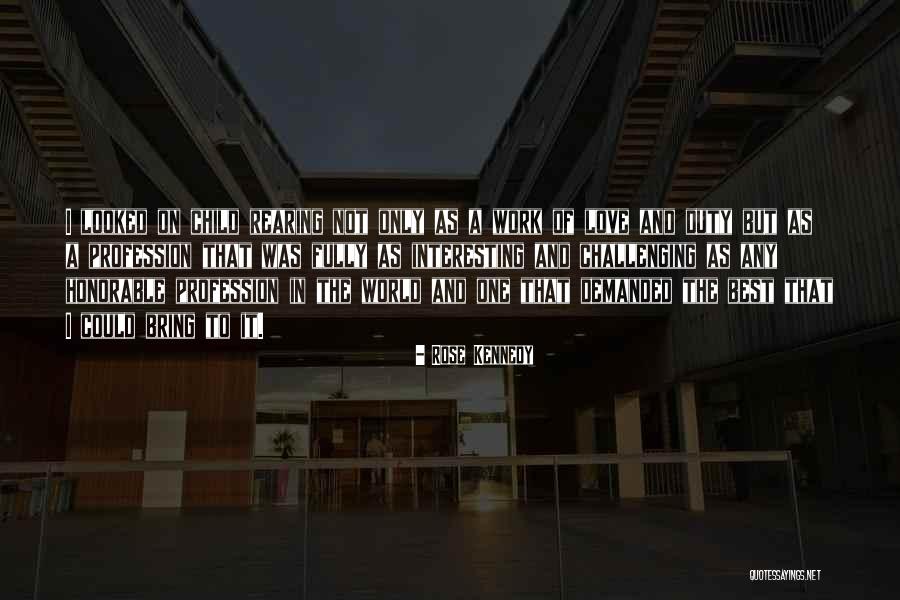 I looked on child rearing not only as a work of love and duty but as a profession that was fully as interesting and challenging as any honorable profession in the world and one that demanded the best that I could bring to it. — Rose Kennedy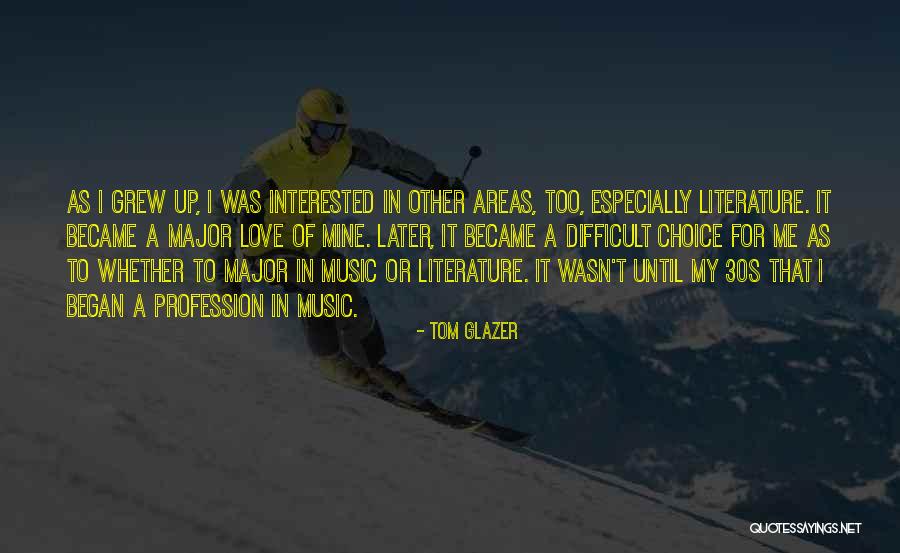 As I grew up, I was interested in other areas, too, especially literature. It became a major love of mine. Later, it became a difficult choice for me as to whether to major in music or literature. It wasn't until my 30s that I began a profession in music. — Tom Glazer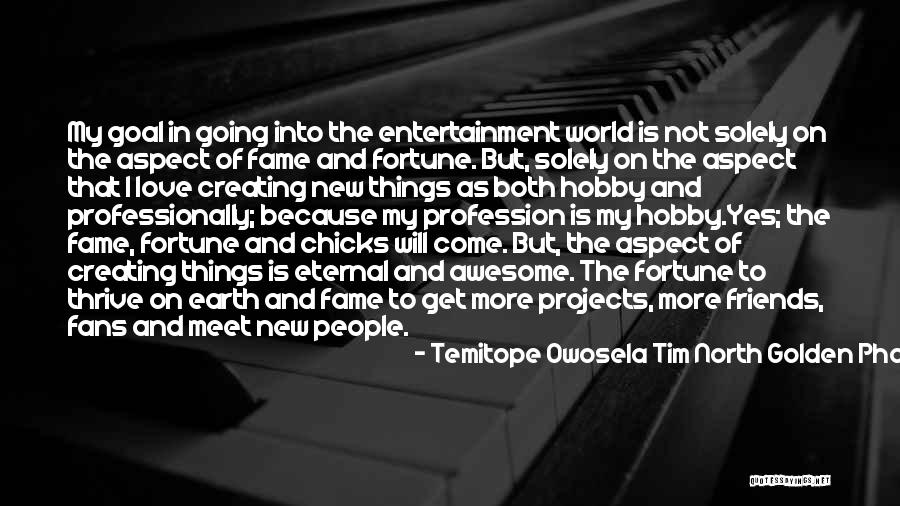 My goal in going into the entertainment world is not solely on the aspect of fame and fortune. But, solely on the aspect that I love creating new things as both hobby and professionally; because my profession is my hobby.
Yes; the fame, fortune and chicks will come. But, the aspect of creating things is eternal and awesome. The fortune to thrive on earth and fame to get more projects, more friends, fans and meet new people. — Temitope Owosela Tim North Golden Phoenix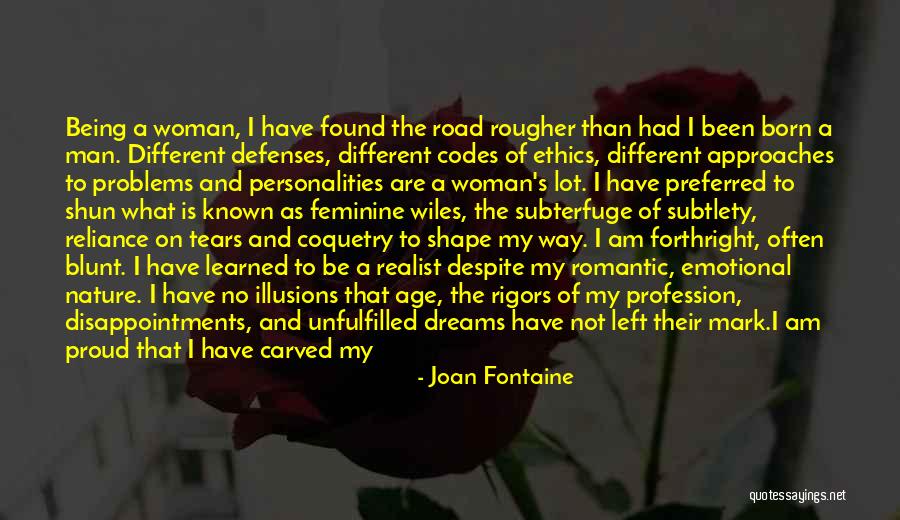 Being a woman, I have found the road rougher than had I been born a man. Different defenses, different codes of ethics, different approaches to problems and personalities are a woman's lot. I have preferred to shun what is known as feminine wiles, the subterfuge of subtlety, reliance on tears and coquetry to shape my way. I am forthright, often blunt. I have learned to be a realist despite my romantic, emotional nature. I have no illusions that age, the rigors of my profession, disappointments, and unfulfilled dreams have not left their mark.

I am proud that I have carved my path on earth almost entirely by my own efforts, proud that I have compromised in my career only when I had no other recourse, when financial or contractual commitments dictated. Proud that I have never been involved in a physical liaison unless I was deeply attracted or in love. Proud that, whatever my worldly goods may be, they have been achieved by my own labors. — Joan Fontaine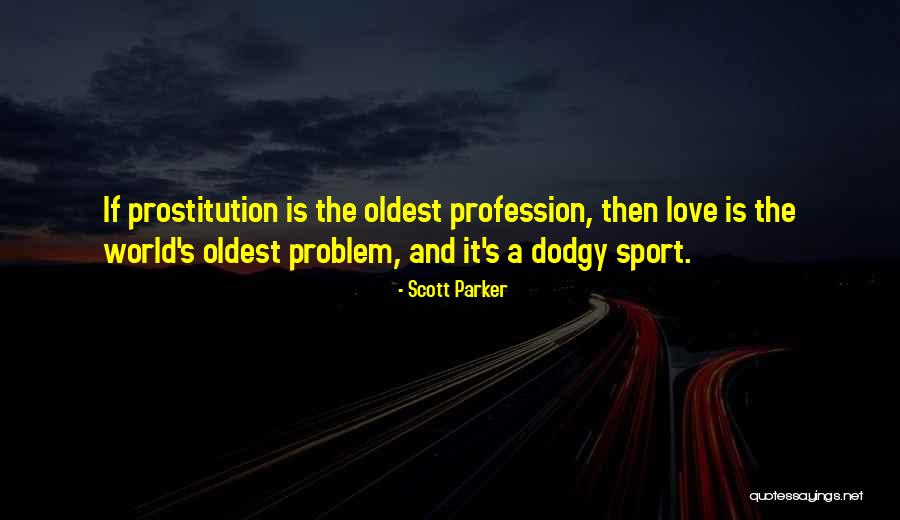 If prostitution is the oldest profession, then love is the world's oldest problem, and it's a dodgy sport. — Scott Parker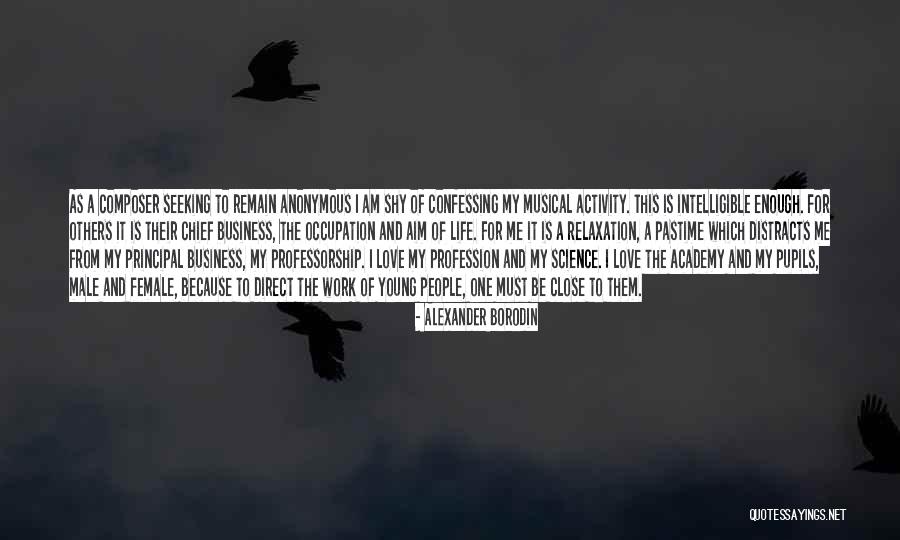 As a composer seeking to remain anonymous I am shy of confessing my musical activity. This is intelligible enough. For others it is their chief business, the occupation and aim of life. For me it is a relaxation, a pastime which distracts me from my principal business, my professorship. I love my profession and my science. I love the Academy and my pupils, male and female, because to direct the work of young people, one must be close to them. — Alexander Borodin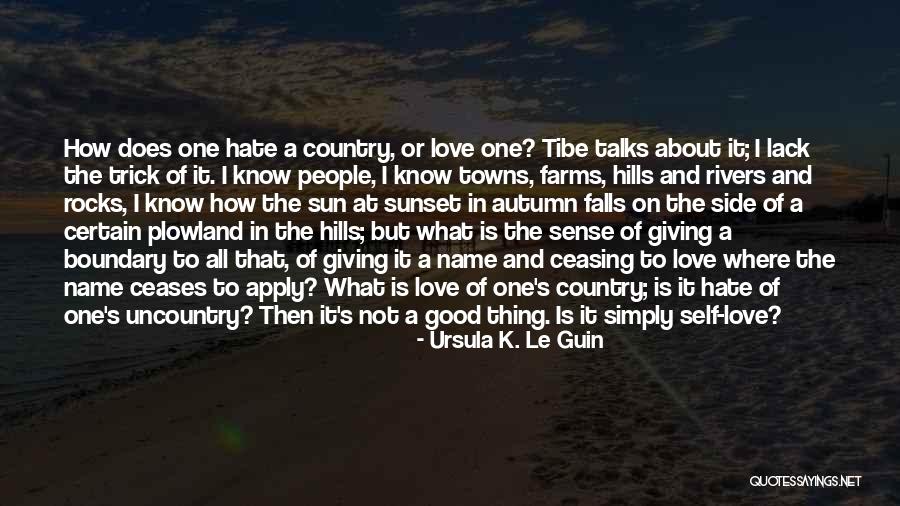 How does one hate a country, or love one? Tibe talks about it; I lack the trick of it. I know people, I know towns, farms, hills and rivers and rocks, I know how the sun at sunset in autumn falls on the side of a certain plowland in the hills; but what is the sense of giving a boundary to all that, of giving it a name and ceasing to love where the name ceases to apply? What is love of one's country; is it hate of one's uncountry? Then it's not a good thing. Is it simply self-love? That's a good thing, but one mustn't make a virtue of it, or a profession ... Insofar as I love life, I love the hills of the Domain of Estre, but that sort of love does not have a boundary-line of hate. And beyond that, I am ignorant, I hope. — Ursula K. Le Guin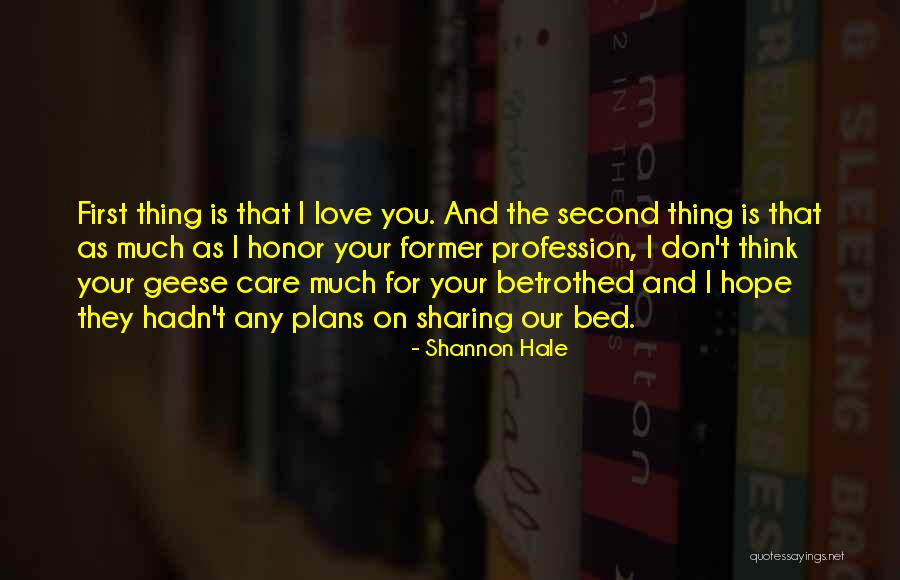 First thing is that I love you. And the second thing is that as much as I honor your former profession, I don't think your geese care much for your betrothed and I hope they hadn't any plans on sharing our bed. — Shannon Hale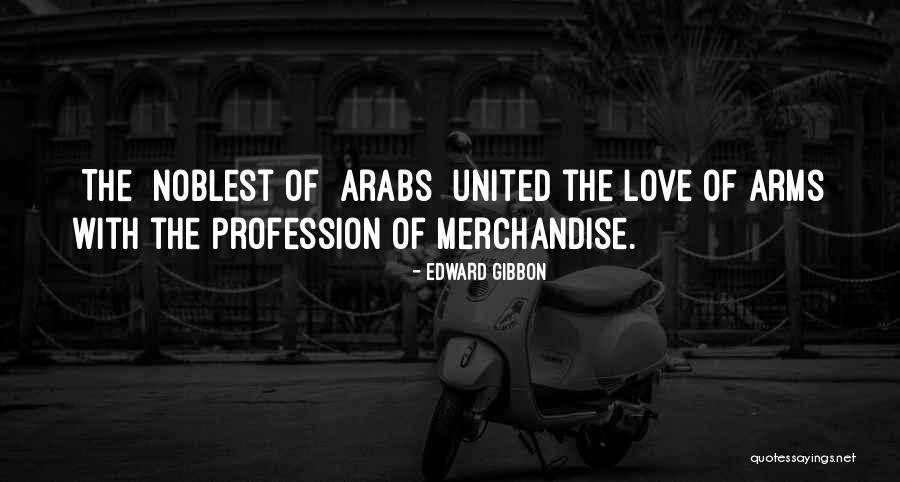 [The] noblest of [Arabs] united the love of arms with the profession of merchandise. — Edward Gibbon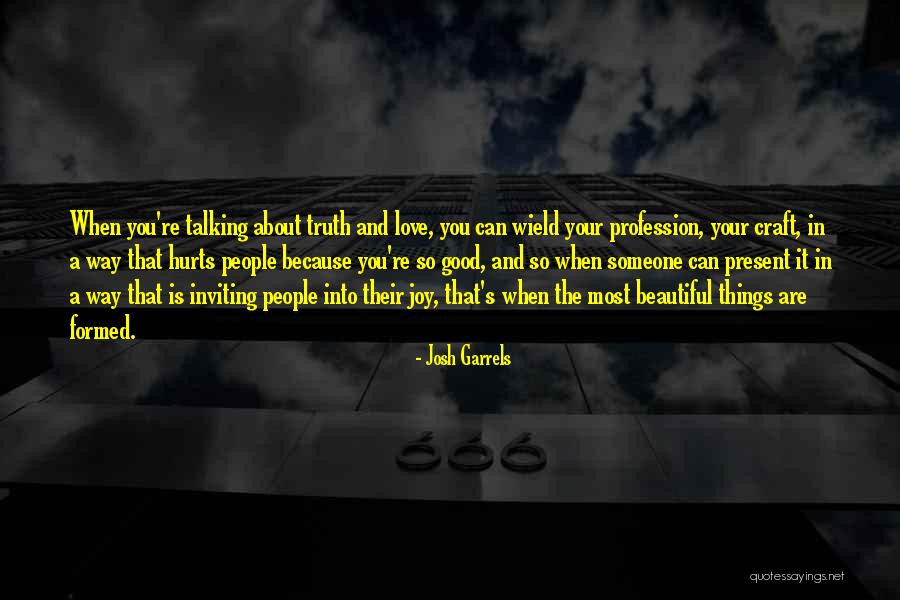 When you're talking about truth and love, you can wield your profession, your craft, in a way that hurts people because you're so good, and so when someone can present it in a way that is inviting people into their joy, that's when the most beautiful things are formed. — Josh Garrels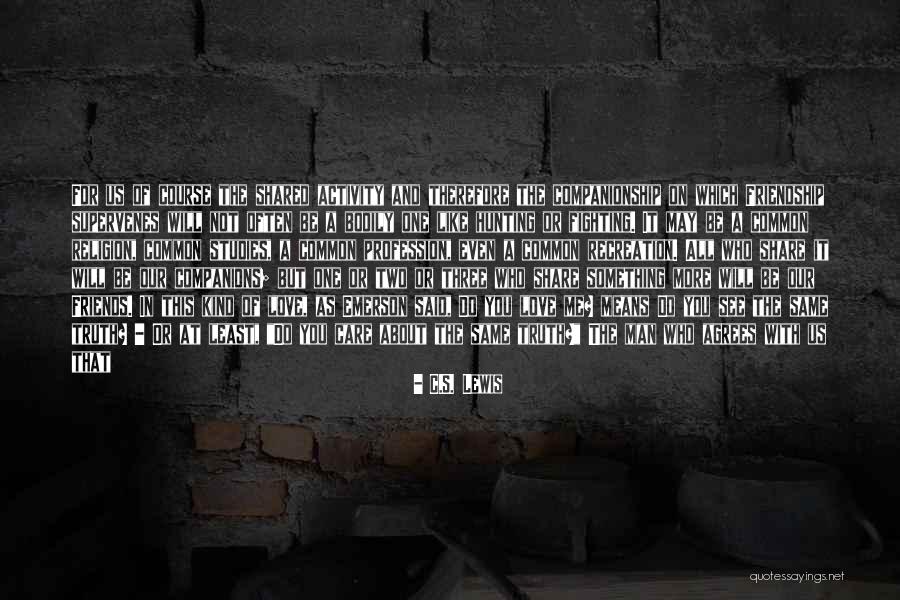 For us of course the shared activity and therefore the companionship on which Friendship supervenes will not often be a bodily one like hunting or fighting. It may be a common religion, common studies, a common profession, even a common recreation. All who share it will be our companions; but one or two or three who share something more will be our Friends. In this kind of love, as Emerson said, Do you love me? means Do you see the same truth? - Or at least, "Do you care about the same truth?" The man who agrees with us that some question, little regarded by others, is of great importance can be our Friend. He need not agree with us about the answer. — C.S. Lewis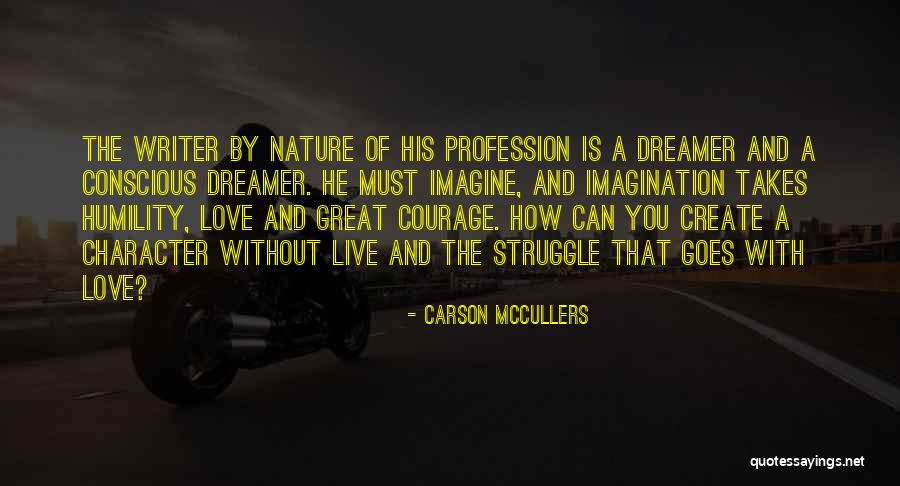 The writer by nature of his profession is a dreamer and a conscious dreamer. He must imagine, and imagination takes humility, love and great courage. How can you create a character without live and the struggle that goes with love? — Carson McCullers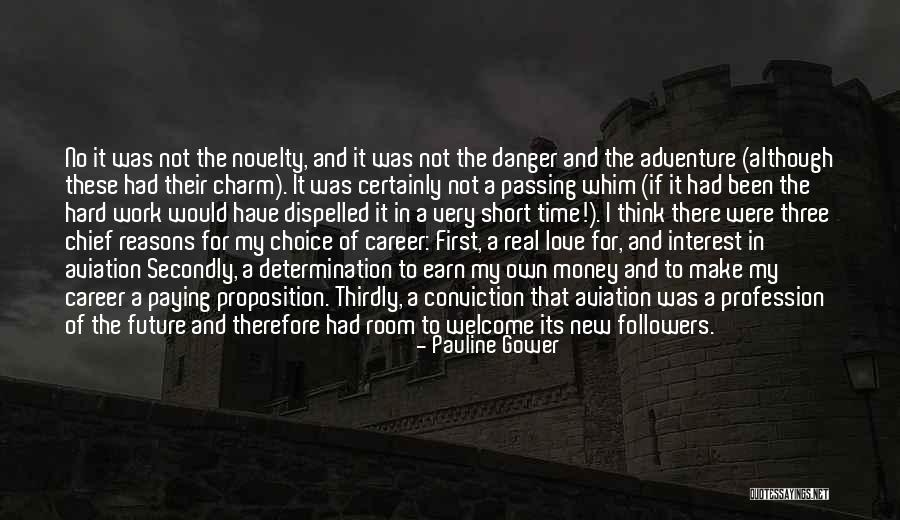 No it was not the novelty, and it was not the danger and the adventure (although these had their charm). It was certainly not a passing whim (if it had been the hard work would have dispelled it in a very short time!). I think there were three chief reasons for my choice of career: First, a real love for, and interest in aviation Secondly, a determination to earn my own money and to make my career a paying proposition. Thirdly, a conviction that aviation was a profession of the future and therefore had room to welcome its new followers. — Pauline Gower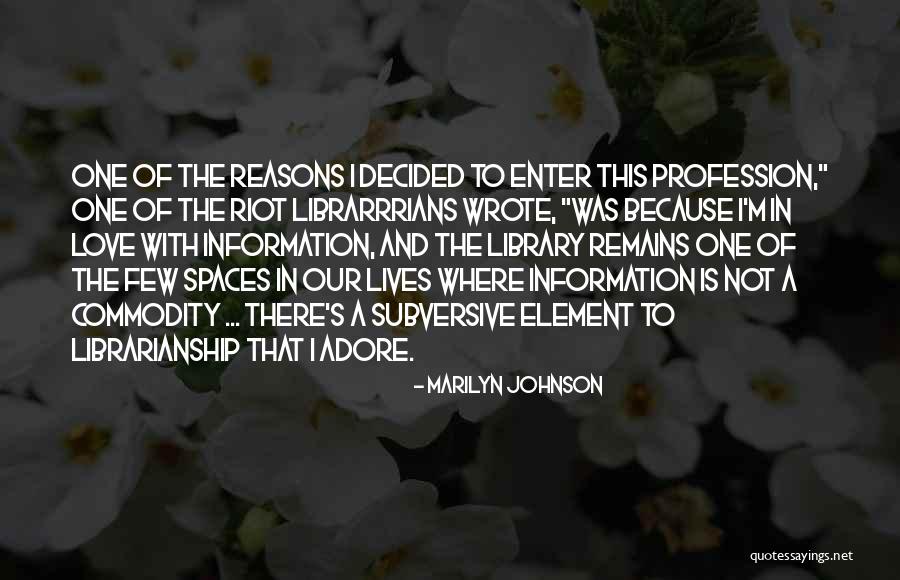 One of the reasons I decided to enter this profession," one of the Riot Librarrrians wrote, "was because I'm in love with information, and the library remains one of the few spaces in our lives where information is not a commodity ... There's a subversive element to librarianship that I adore. — Marilyn Johnson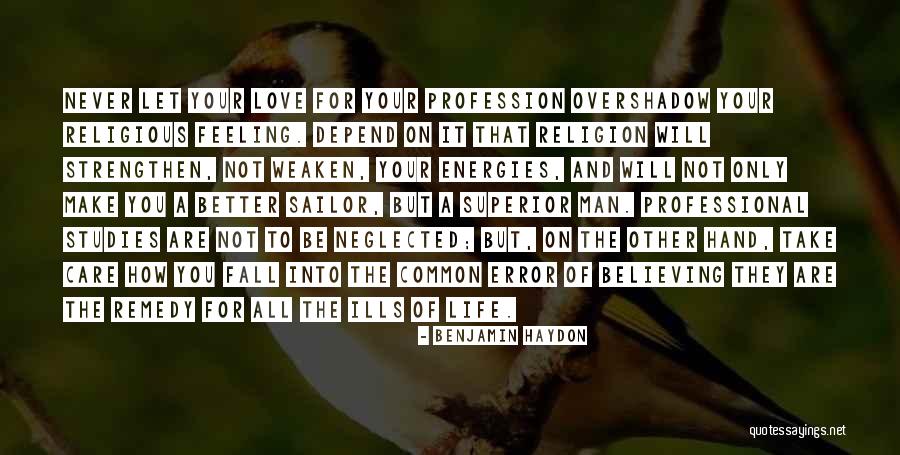 Never let your love for your profession overshadow your religious feeling. Depend on it that religion will strengthen, not weaken, your energies, and will not only make you a better sailor, but a superior man. Professional studies are not to be neglected; but, on the other hand, take care how you fall into the common error of believing they are the remedy for all the ills of life. — Benjamin Haydon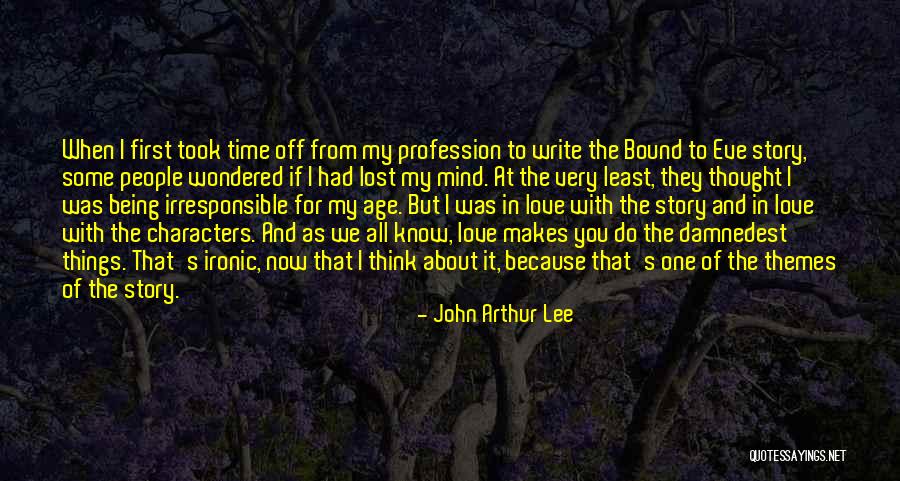 When I first took time off from my profession to write the Bound to Eve story, some people wondered if I had lost my mind. At the very least, they thought I was being irresponsible for my age. But I was in love with the story and in love with the characters. And as we all know, love makes you do the damnedest things. That's ironic, now that I think about it, because that's one of the themes of the story. — John Arthur Lee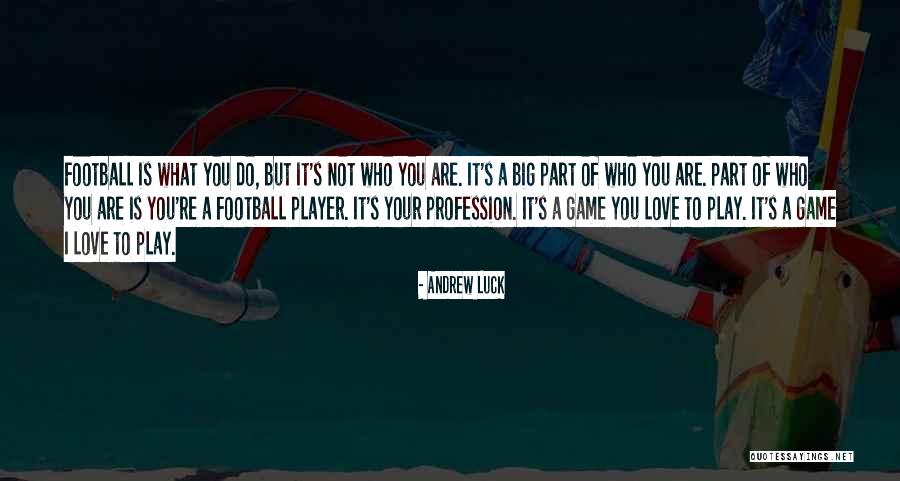 Football is what you do, but it's not who you are. It's a big part of who you are. Part of who you are is you're a football player. It's your profession. It's a game you love to play. It's a game I love to play. — Andrew Luck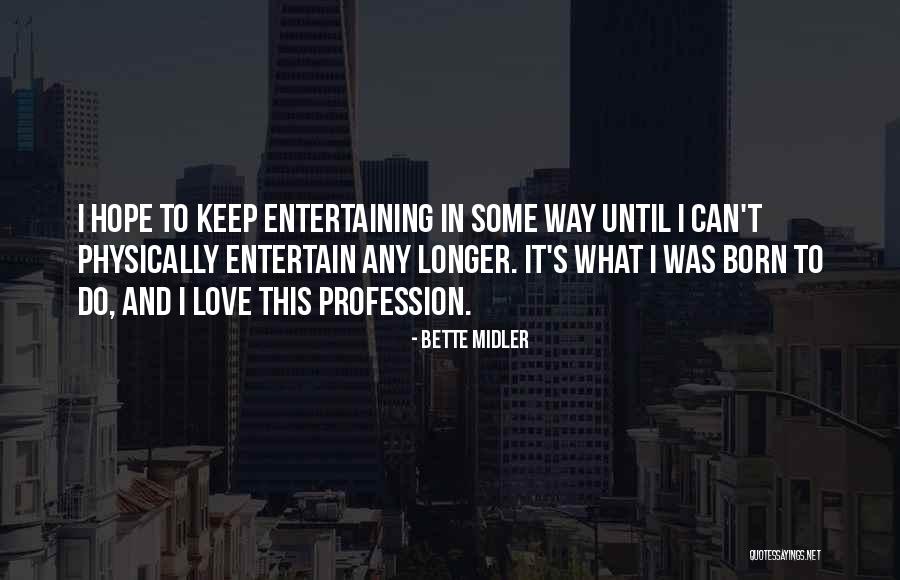 I hope to keep entertaining in some way until I can't physically entertain any longer. It's what I was born to do, and I love this profession. — Bette Midler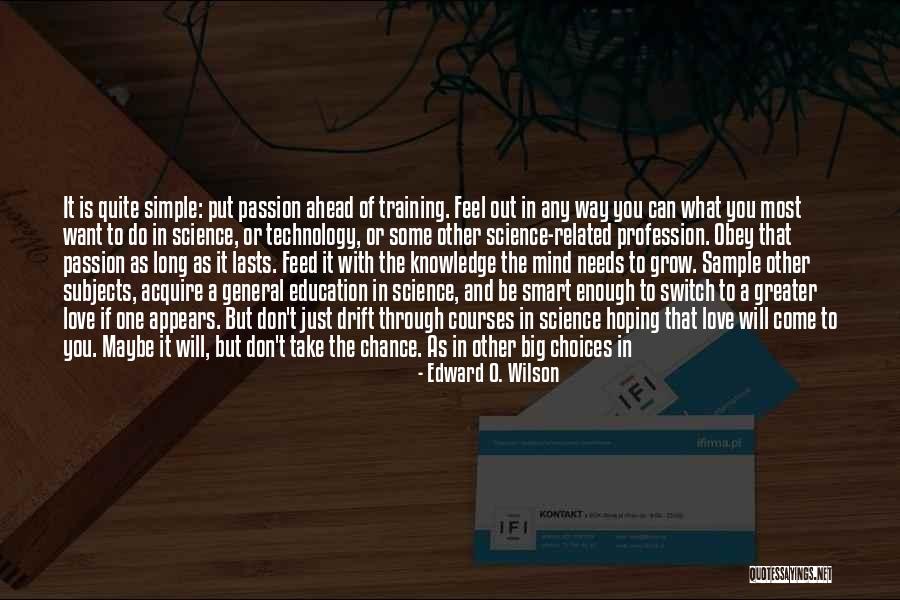 It is quite simple: put passion ahead of training. Feel out in any way you can what you most want to do in science, or technology, or some other science-related profession. Obey that passion as long as it lasts. Feed it with the knowledge the mind needs to grow. Sample other subjects, acquire a general education in science, and be smart enough to switch to a greater love if one appears. But don't just drift through courses in science hoping that love will come to you. Maybe it will, but don't take the chance. As in other big choices in your life, there is too much at stake. Decision and hard work based on enduring passion will never fail you. — Edward O. Wilson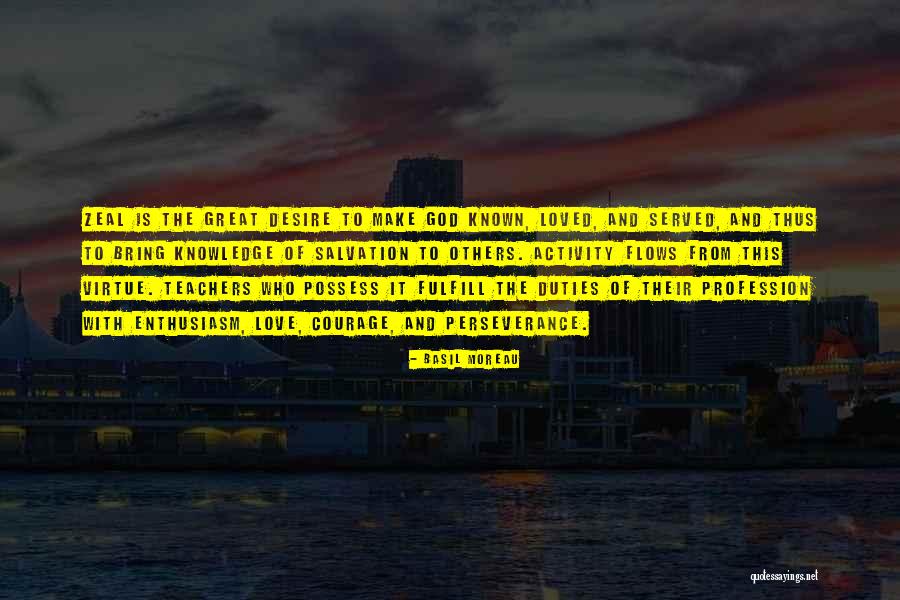 Zeal is the great desire to make God known, loved, and served, and thus to bring knowledge of salvation to others. Activity flows from this virtue. Teachers who possess it fulfill the duties of their profession with enthusiasm, love, courage, and perseverance. — Basil Moreau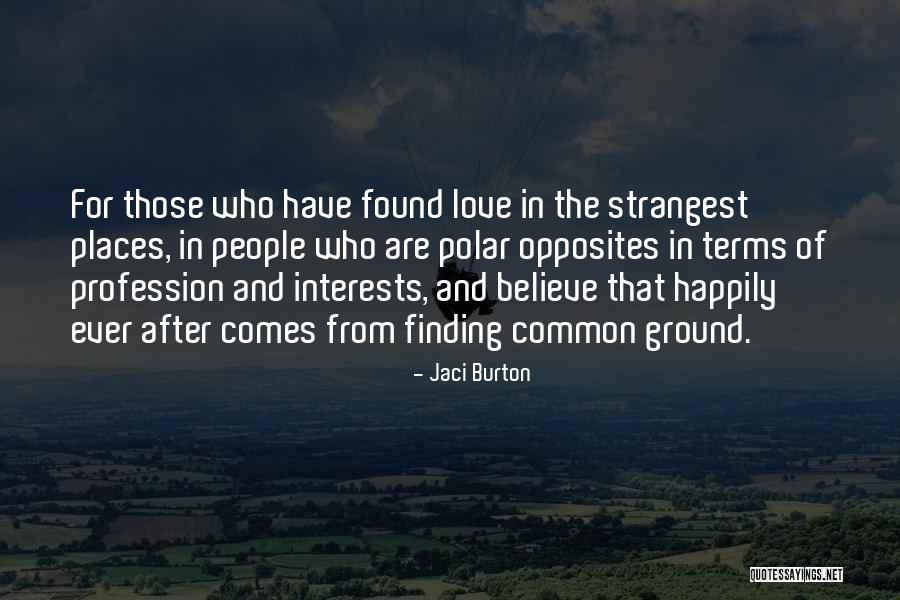 For those who have found love in the strangest places, in people who are polar opposites in terms of profession and interests, and believe that happily ever after comes from finding common ground. — Jaci Burton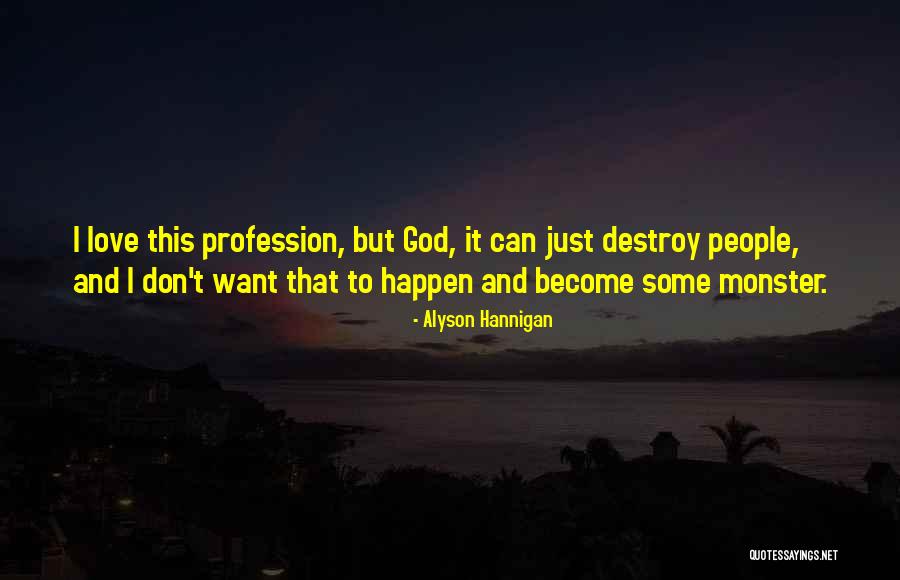 I love this profession, but God, it can just destroy people, and I don't want that to happen and become some monster. — Alyson Hannigan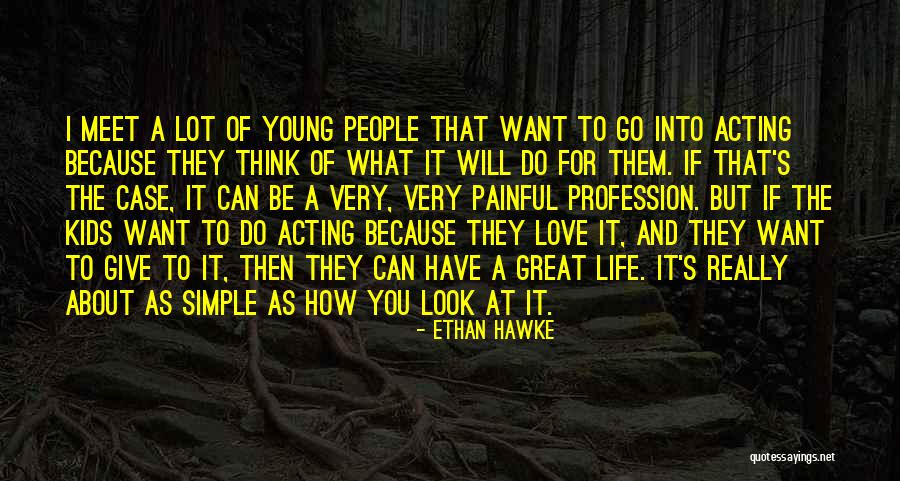 I meet a lot of young people that want to go into acting because they think of what it will do for them. If that's the case, it can be a very, very painful profession. But if the kids want to do acting because they love it, and they want to give to it, then they can have a great life. It's really about as simple as how you look at it. — Ethan Hawke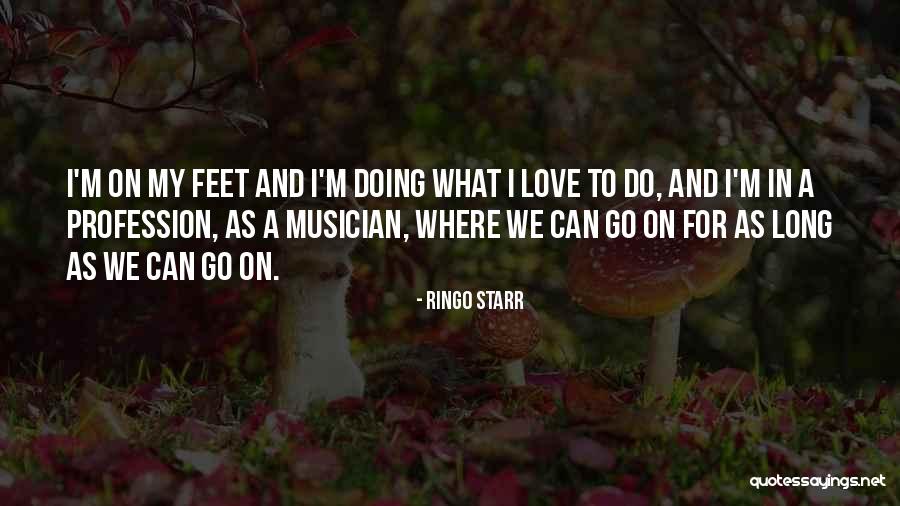 I'm on my feet and I'm doing what I love to do, and I'm in a profession, as a musician, where we can go on for as long as we can go on. — Ringo Starr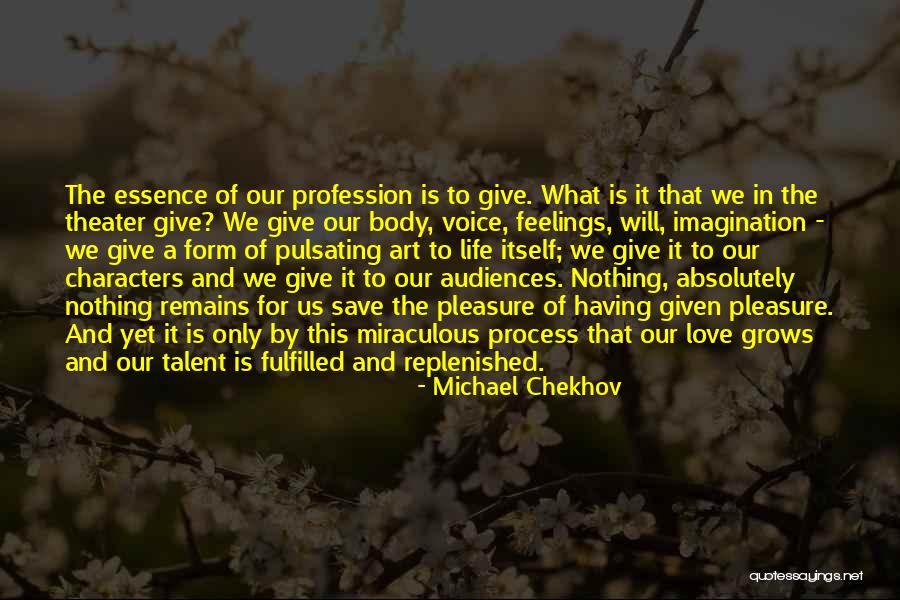 The essence of our profession is to give. What is it that we in the theater give? We give our body, voice, feelings, will, imagination - we give a form of pulsating art to life itself; we give it to our characters and we give it to our audiences. Nothing, absolutely nothing remains for us save the pleasure of having given pleasure. And yet it is only by this miraculous process that our love grows and our talent is fulfilled and replenished. — Michael Chekhov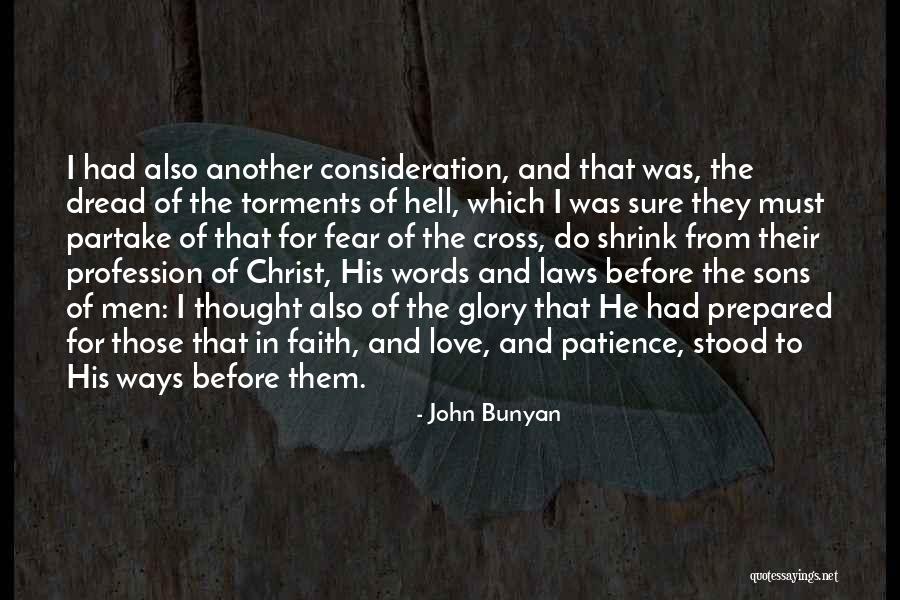 I had also another consideration, and that was, the dread of the torments of hell, which I was sure they must partake of that for fear of the cross, do shrink from their profession of Christ, His words and laws before the sons of men: I thought also of the glory that He had prepared for those that in faith, and love, and patience, stood to His ways before them. — John Bunyan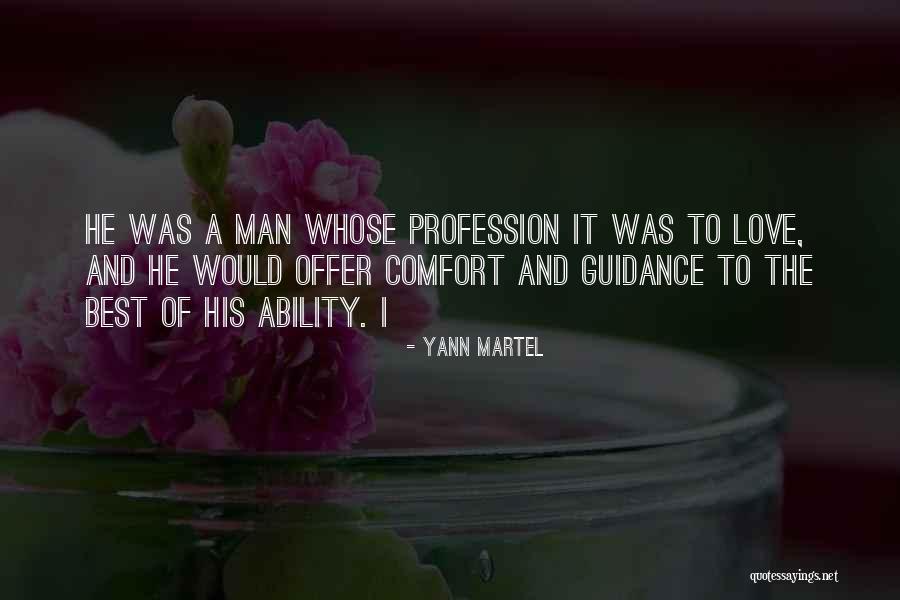 He was a man whose profession it was to love, and he would offer comfort and guidance to the best of his ability. I — Yann Martel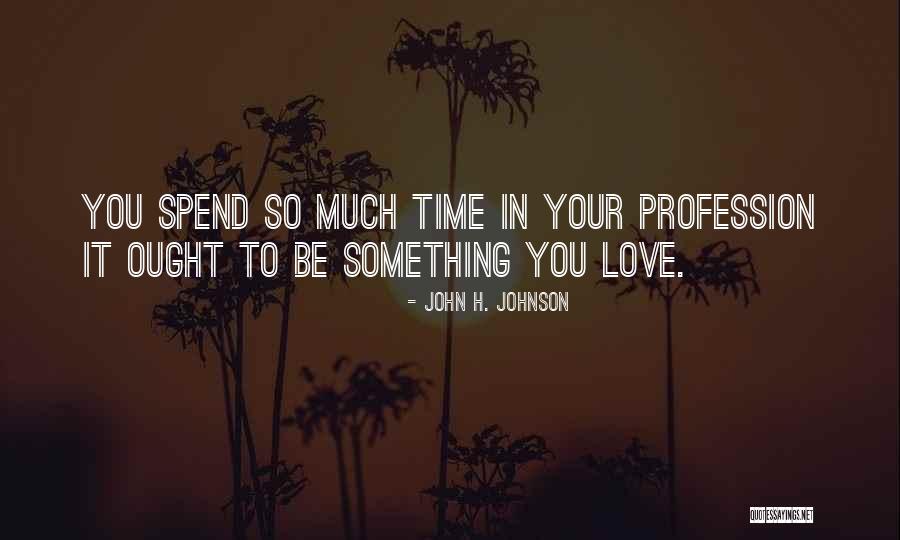 You spend so much time in your profession it ought to be something you love. — John H. Johnson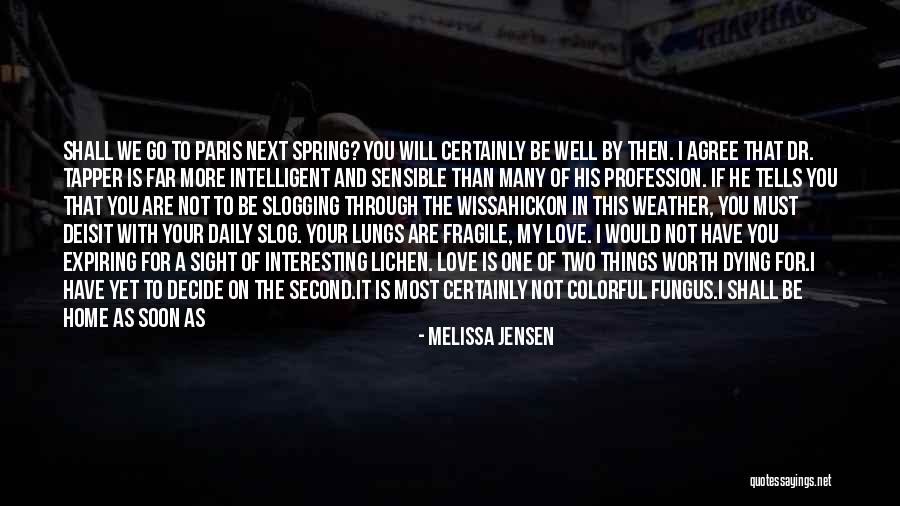 Shall we go to Paris next spring? You will certainly be well by then. I agree that Dr. Tapper is far more intelligent and sensible than many of his profession. If he tells you that you are not to be slogging through the Wissahickon in this weather, you must deisit with your daily slog. Your lungs are fragile, my love. I would not have you expiring for a sight of interesting lichen. Love is one of two things worth dying for.I have yet to decide on the second.It is most certainly not colorful fungus.
I shall be home as soon as this business is settled, certainly no more than a week.My mother complains that you will not have her to dinner. Good for you. Take pity on Hamilton's new wife and have her to tea.Fire the cook, please.I cannot face another dish of sweetbreads.
With all my love always,
Edward — Melissa Jensen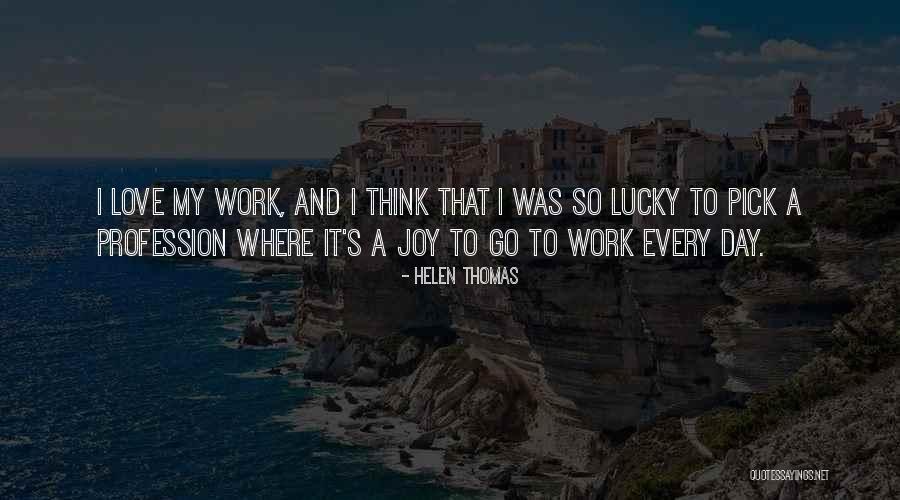 I love my work, and I think that I was so lucky to pick a profession where it's a joy to go to work every day. — Helen Thomas
The single most important thing in my life is God. The second most important thing in my life is my family and the third thing is the great profession that I chose. I chose to do something that I love. I never had to work a day in my life. — Sam Rutigliano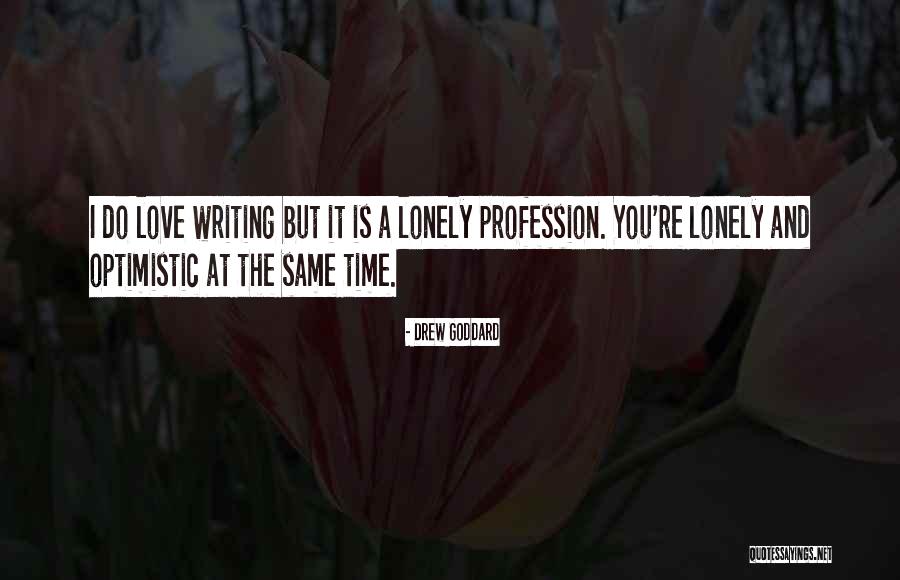 I do love writing but it is a lonely profession. You're lonely and optimistic at the same time. — Drew Goddard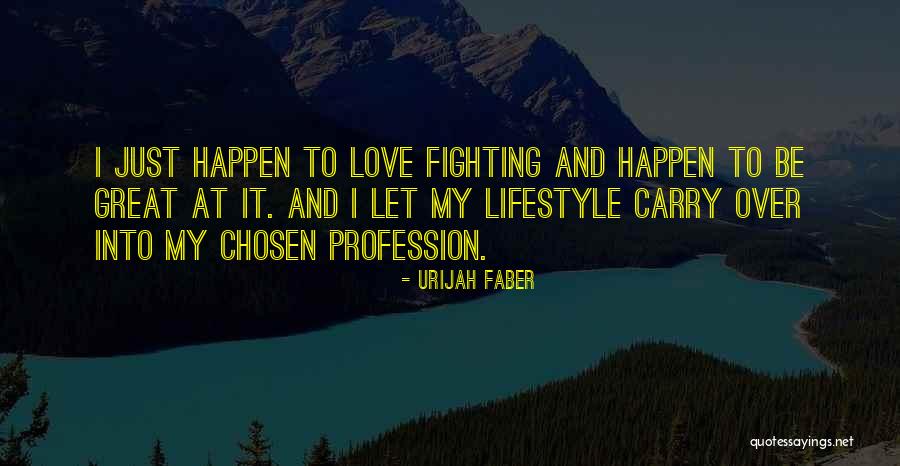 I just happen to love fighting and happen to be great at it. And I let my lifestyle carry over into my chosen profession. — Urijah Faber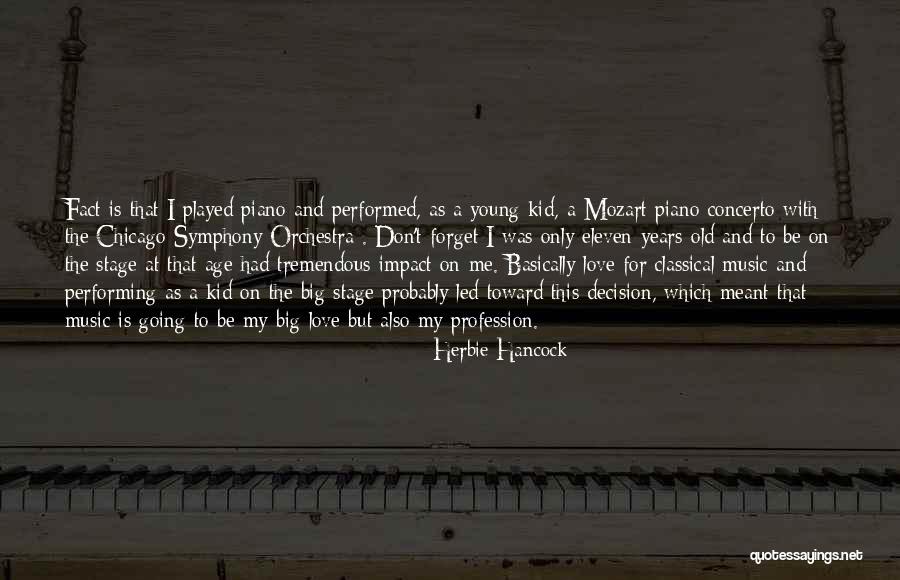 Fact is that I played piano and performed, as a young kid, a Mozart piano concerto with the Chicago Symphony Orchestra . Don't forget I was only eleven-years-old and to be on the stage at that age had tremendous impact on me. Basically love for classical music and performing as a kid on the big stage probably led toward this decision, which meant that music is going to be my big love but also my profession. — Herbie Hancock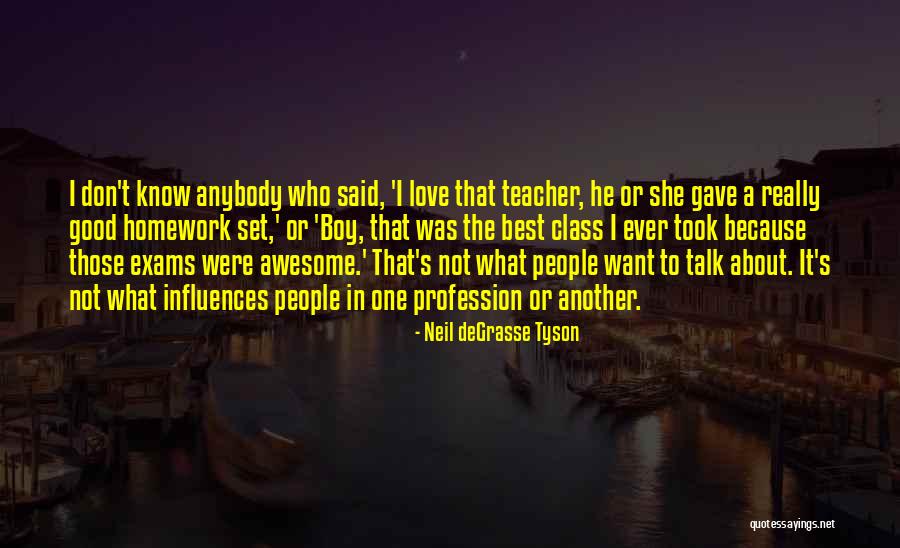 I don't know anybody who said, 'I love that teacher, he or she gave a really good homework set,' or 'Boy, that was the best class I ever took because those exams were awesome.' That's not what people want to talk about. It's not what influences people in one profession or another. — Neil DeGrasse Tyson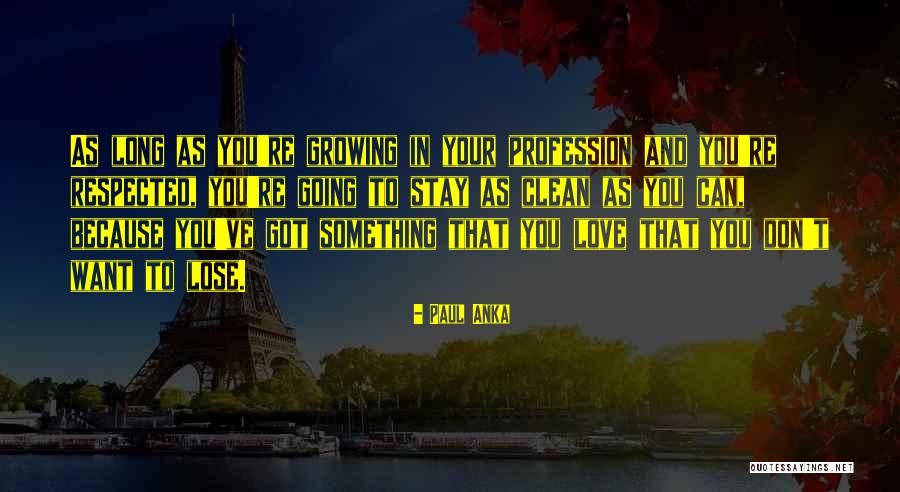 As long as you're growing in your profession and you're respected, you're going to stay as clean as you can, because you've got something that you love that you don't want to lose. — Paul Anka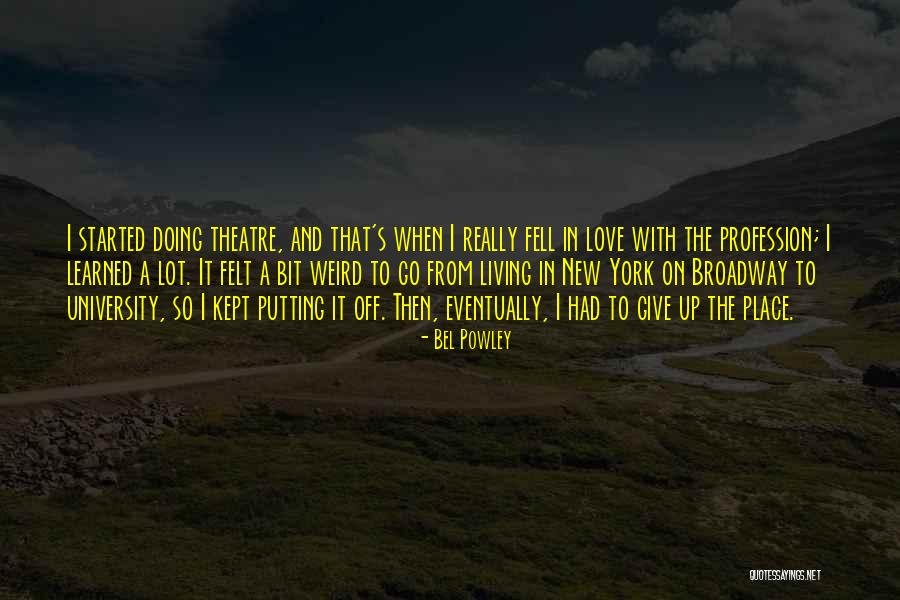 I started doing theatre, and that's when I really fell in love with the profession; I learned a lot. It felt a bit weird to go from living in New York on Broadway to university, so I kept putting it off. Then, eventually, I had to give up the place. — Bel Powley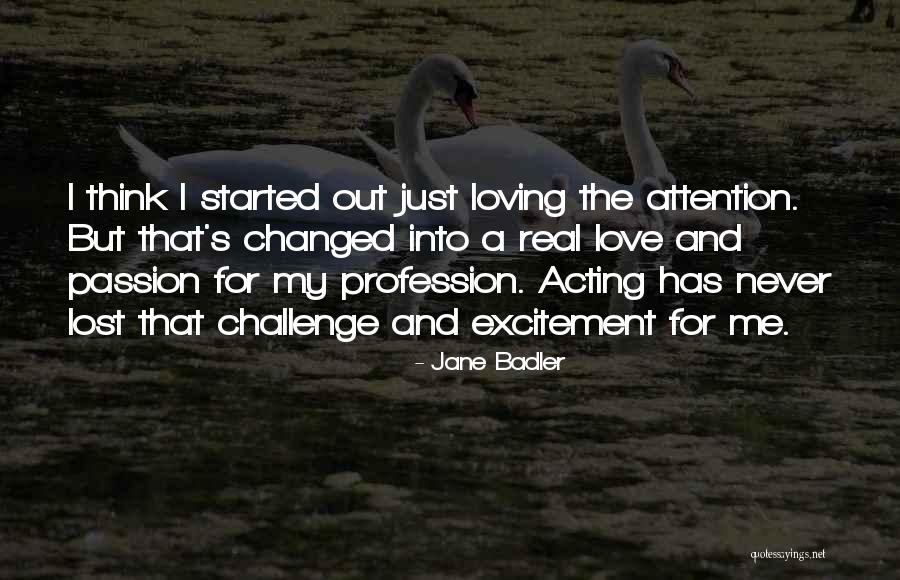 I think I started out just loving the attention. But that's changed into a real love and passion for my profession. Acting has never lost that challenge and excitement for me. — Jane Badler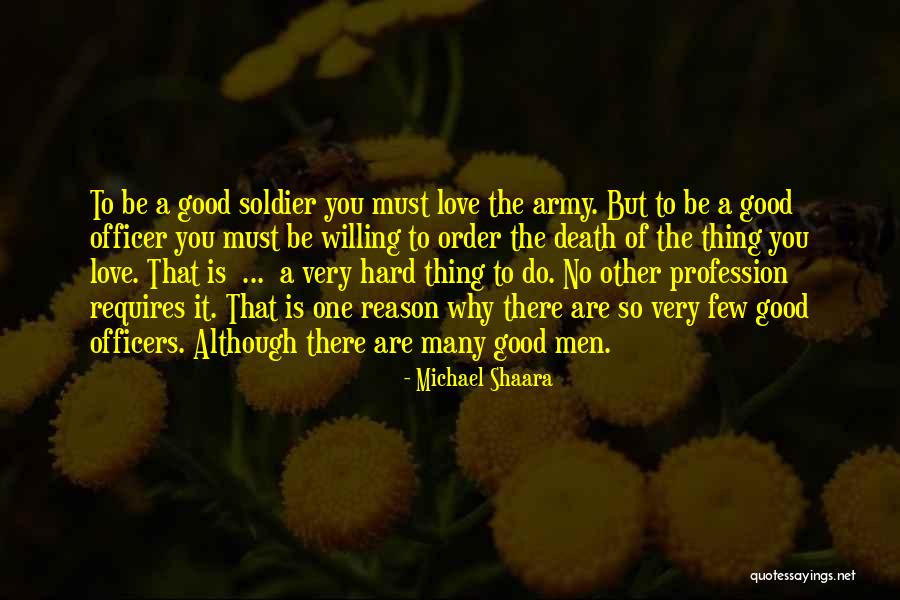 To be a good soldier you must love the army. But to be a good officer you must be willing to order the death of the thing you love. That is ... a very hard thing to do. No other profession requires it. That is one reason why there are so very few good officers. Although there are many good men. — Michael Shaara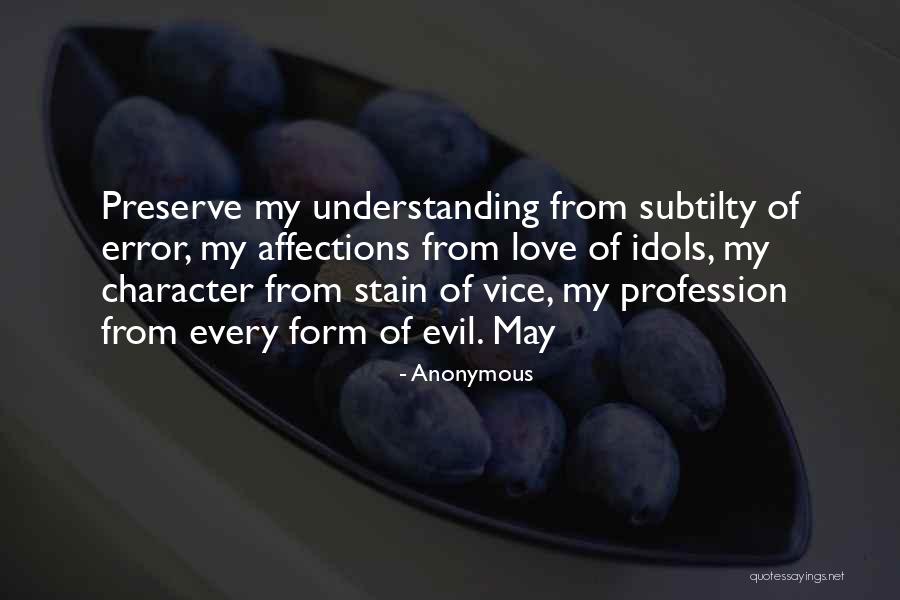 Preserve my understanding from subtilty of error, my affections from love of idols, my character from stain of vice, my profession from every form of evil. May — Anonymous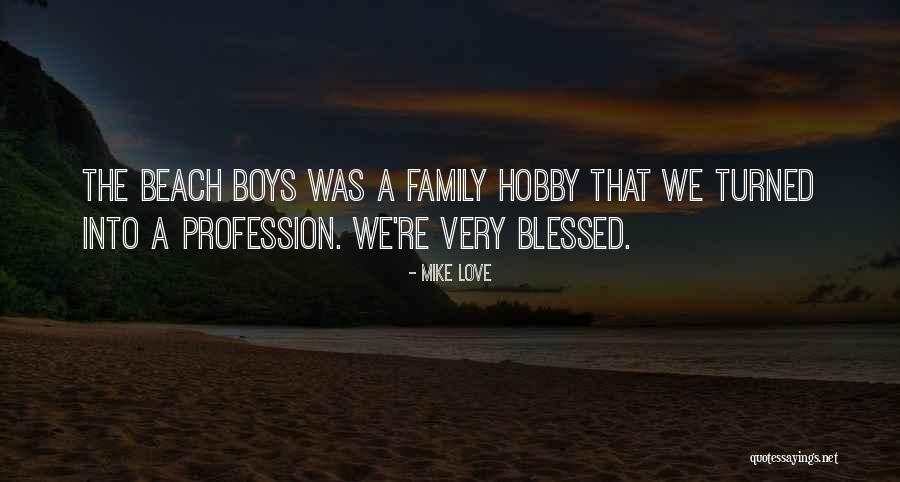 The Beach Boys was a family hobby that we turned into a profession. We're very blessed. — Mike Love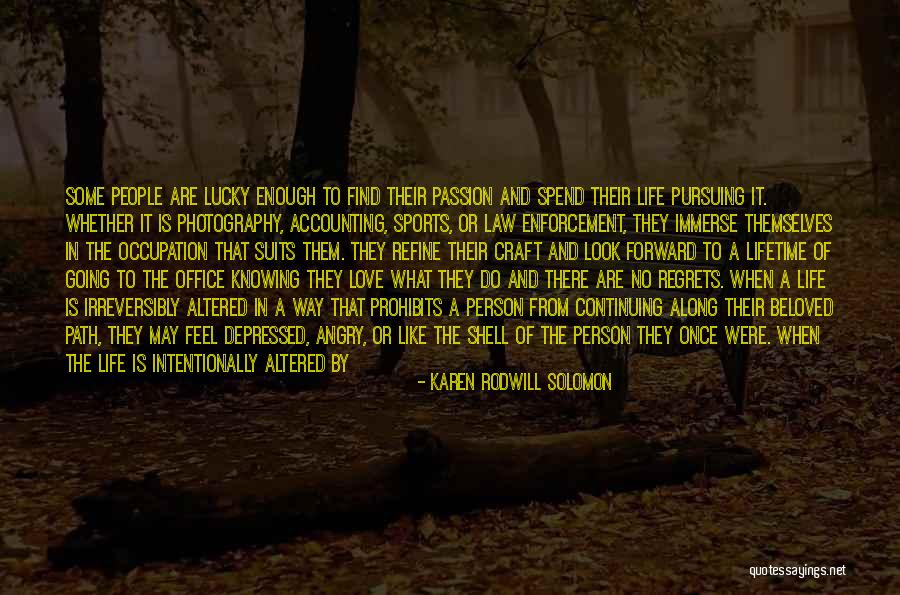 Some people are lucky enough to find their passion and spend their life pursuing it. Whether it is photography, accounting, sports, or law enforcement, they immerse themselves in the occupation that suits them. They refine their craft and look forward to a lifetime of going to the office knowing they love what they do and there are no regrets. When a life is irreversibly altered in a way that prohibits a person from continuing along their beloved path, they may feel depressed, angry, or like the shell of the person they once were. When the life is intentionally altered by someone else, the person can be left in a purgatory of sorts, hoping in a child-like fashion that things may somehow reverse themselves and they can return to the profession they loved so much. Mario is the epitome of a man whose dream was stolen, and he hasn't quite found a way to accept or believe it. — Karen Rodwill Solomon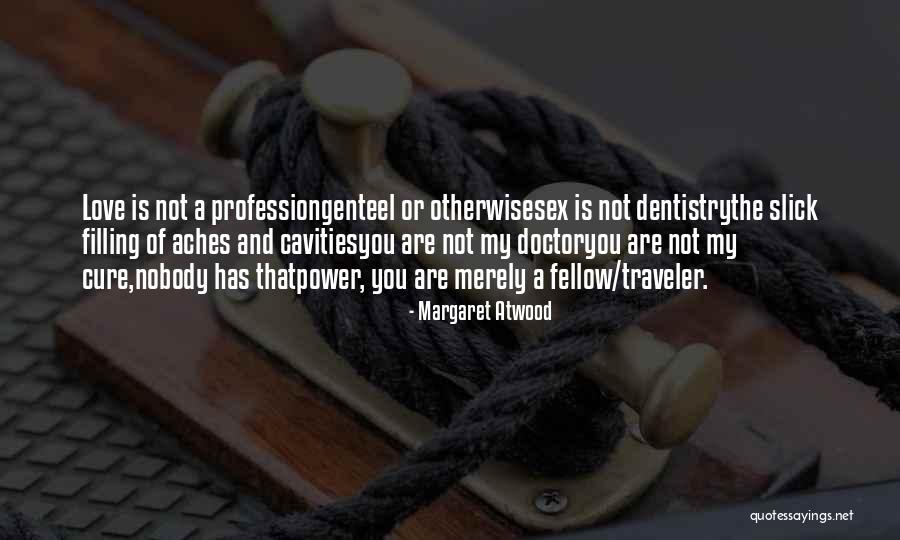 Love is not a profession
genteel or otherwise
sex is not dentistry
the slick filling of aches and cavities
you are not my doctor
you are not my cure,
nobody has that
power, you are merely a fellow/traveler. — Margaret Atwood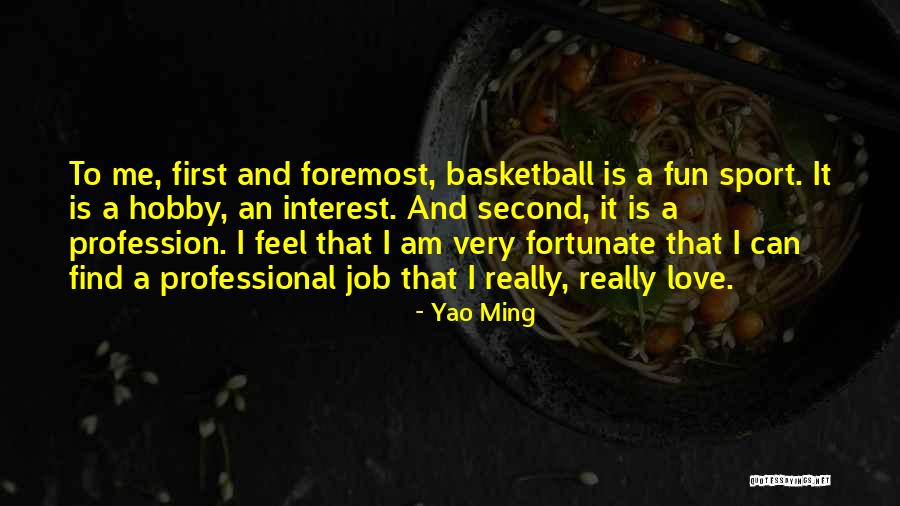 To me, first and foremost, basketball is a fun sport. It is a hobby, an interest. And second, it is a profession. I feel that I am very fortunate that I can find a professional job that I really, really love. — Yao Ming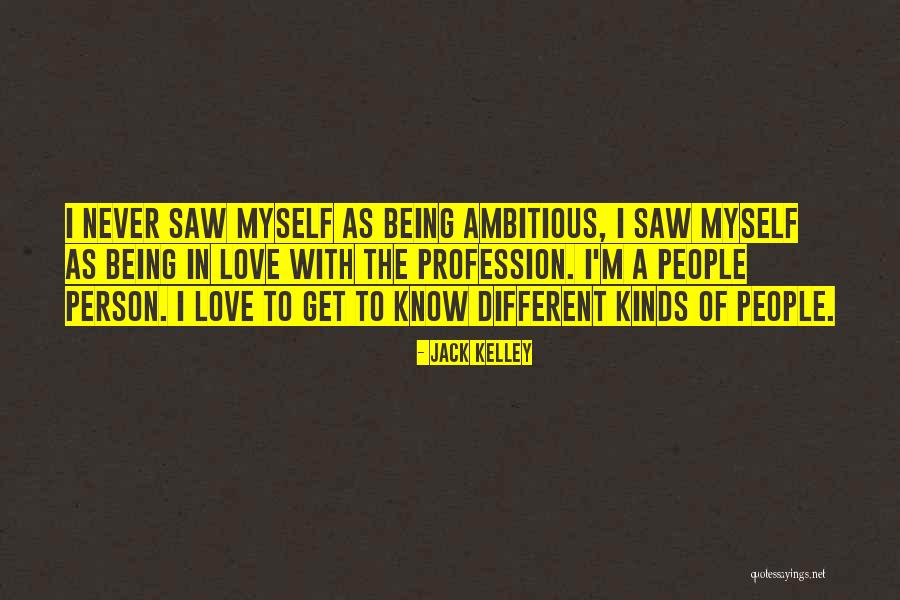 I never saw myself as being ambitious, I saw myself as being in love with the profession. I'm a people person. I love to get to know different kinds of people. — Jack Kelley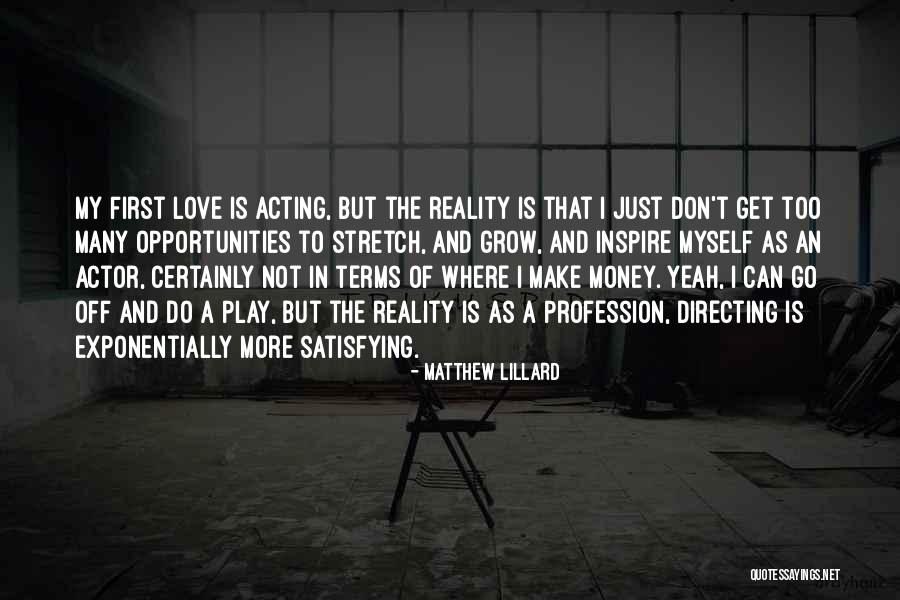 My first love is acting, but the reality is that I just don't get too many opportunities to stretch, and grow, and inspire myself as an actor, certainly not in terms of where I make money. Yeah, I can go off and do a play, but the reality is as a profession, directing is exponentially more satisfying. — Matthew Lillard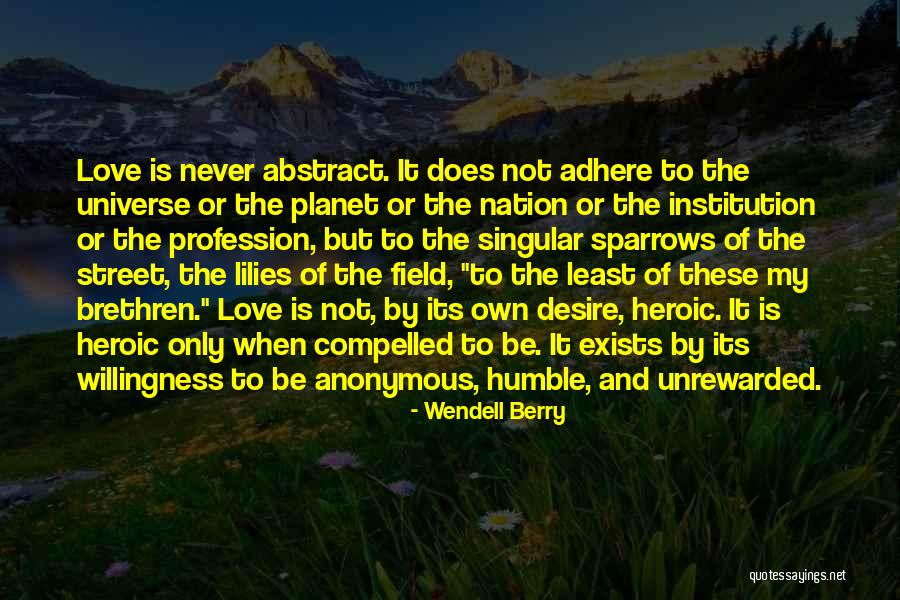 Love is never abstract. It does not adhere to the universe or the planet or the nation or the institution or the profession, but to the singular sparrows of the street, the lilies of the field, "to the least of these my brethren." Love is not, by its own desire, heroic. It is heroic only when compelled to be. It exists by its willingness to be anonymous, humble, and unrewarded. — Wendell Berry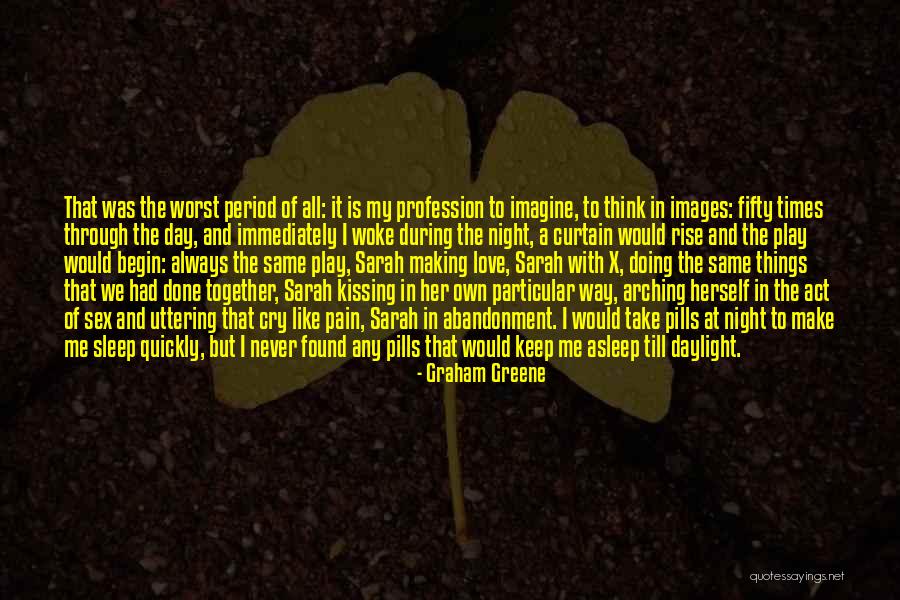 That was the worst period of all: it is my profession to imagine, to think in images: fifty times through the day, and immediately I woke during the night, a curtain would rise and the play would begin: always the same play, Sarah making love, Sarah with X, doing the same things that we had done together, Sarah kissing in her own particular way, arching herself in the act of sex and uttering that cry like pain, Sarah in abandonment. I would take pills at night to make me sleep quickly, but I never found any pills that would keep me asleep till daylight. — Graham Greene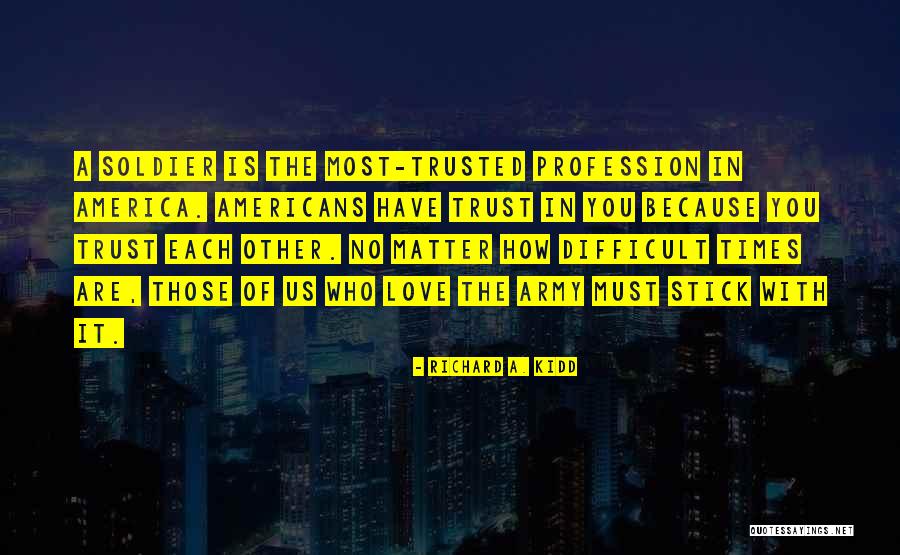 A soldier is the most-trusted profession in America. Americans have trust in you because you trust each other. No matter how difficult times are, those of us who love the Army must stick with it. — Richard A. Kidd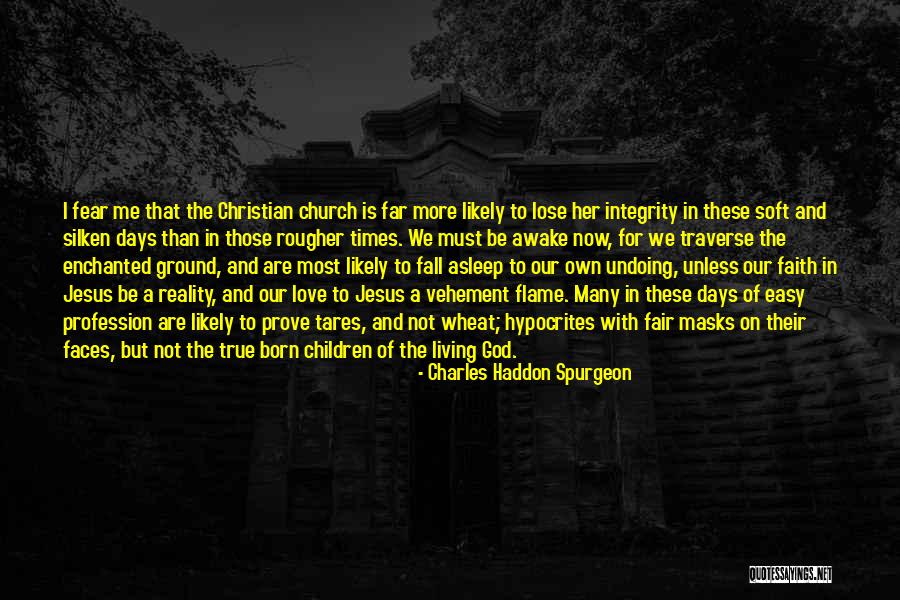 I fear me that the Christian church is far more likely to lose her integrity in these soft and silken days than in those rougher times. We must be awake now, for we traverse the enchanted ground, and are most likely to fall asleep to our own undoing, unless our faith in Jesus be a reality, and our love to Jesus a vehement flame. Many in these days of easy profession are likely to prove tares, and not wheat; hypocrites with fair masks on their faces, but not the true born children of the living God. — Charles Haddon Spurgeon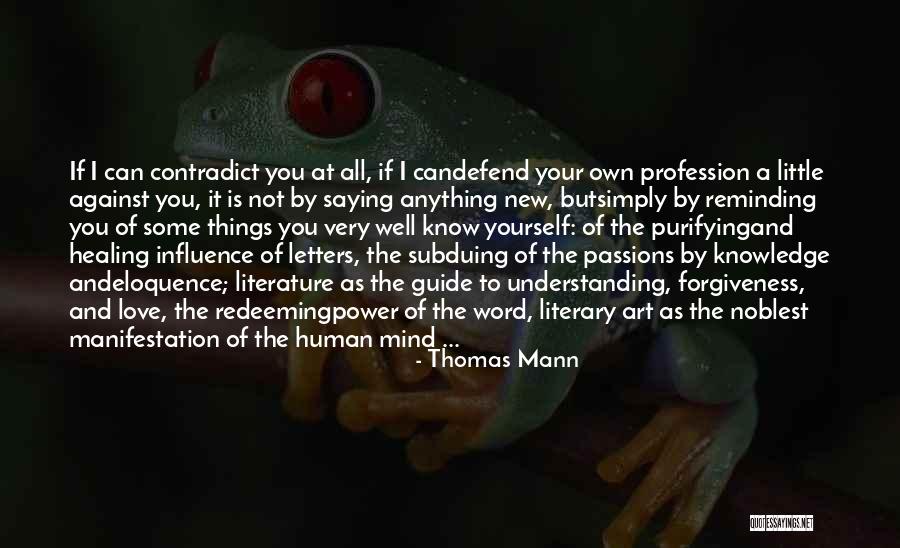 If I can contradict you at all, if I can
defend your own profession a little against you, it is not by saying anything new, but
simply by reminding you of some things you very well know yourself: of the purifying
and healing influence of letters, the subduing of the passions by knowledge and
eloquence; literature as the guide to understanding, forgiveness, and love, the redeeming
power of the word, literary art as the noblest manifestation of the human mind ... — Thomas Mann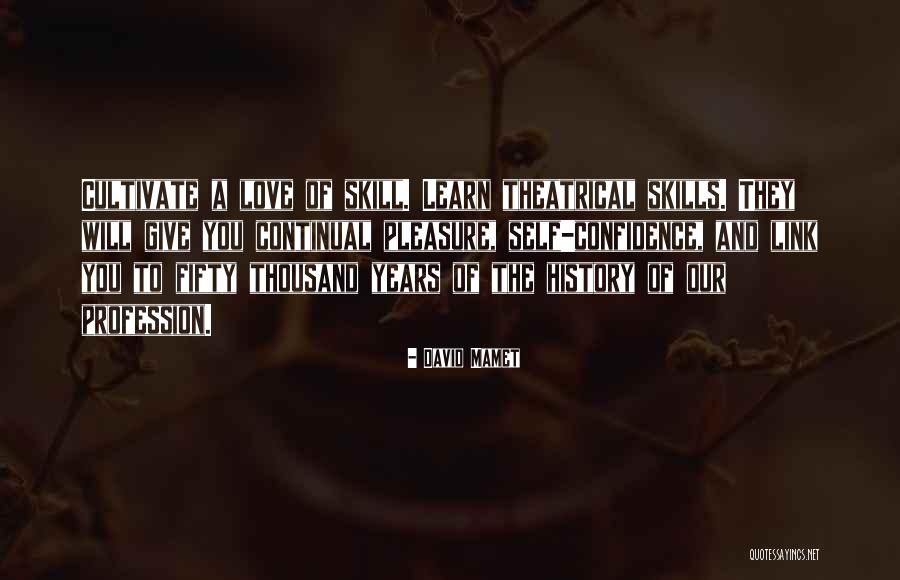 Cultivate a love of skill. Learn theatrical skills. They will give you continual pleasure, self-confidence, and link you to fifty thousand years of the history of our profession. — David Mamet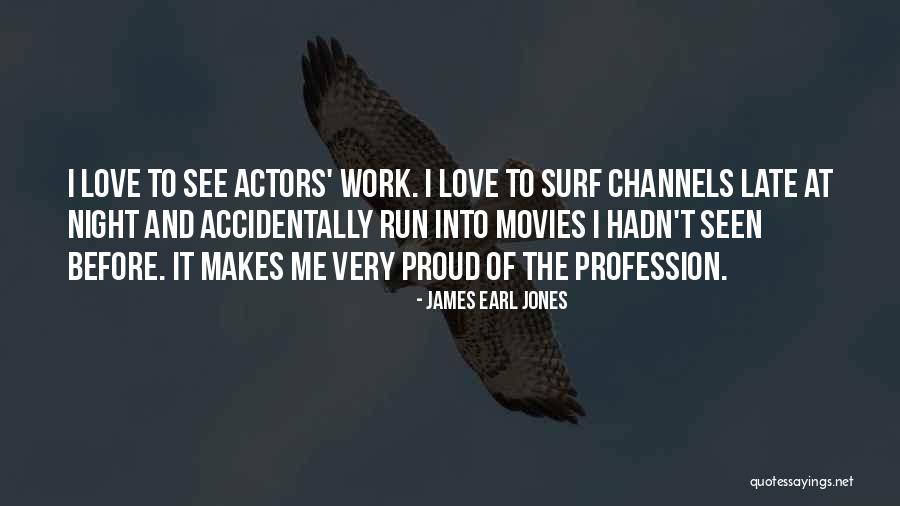 I love to see actors' work. I love to surf channels late at night and accidentally run into movies I hadn't seen before. It makes me very proud of the profession. — James Earl Jones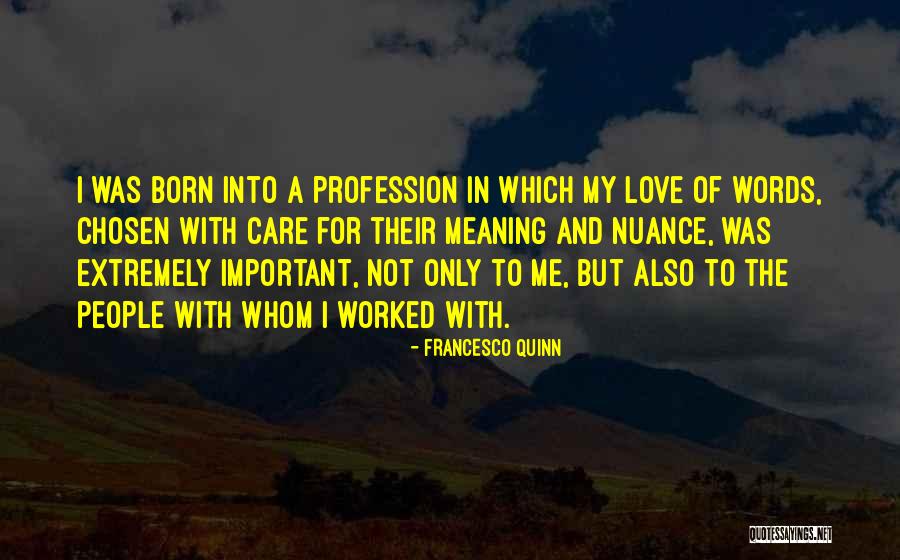 I was born into a profession in which my love of words, chosen with care for their meaning and nuance, was extremely important, not only to me, but also to the people with whom I worked with. — Francesco Quinn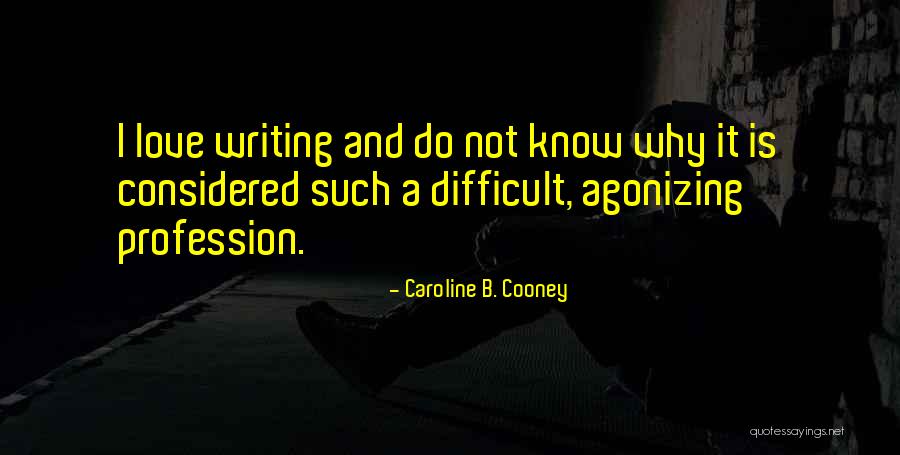 I love writing and do not know why it is considered such a difficult, agonizing profession. — Caroline B. Cooney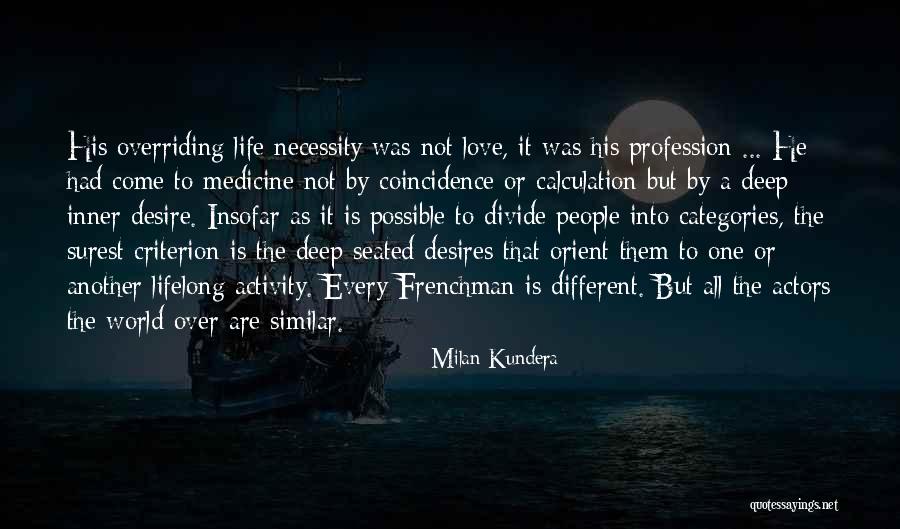 His overriding life necessity was not love, it was his profession ... He had come to medicine not by coincidence or calculation but by a deep inner desire. Insofar as it is possible to divide people into categories, the surest criterion is the deep-seated desires that orient them to one or another lifelong activity. Every Frenchman is different. But all the actors the world over are similar. — Milan Kundera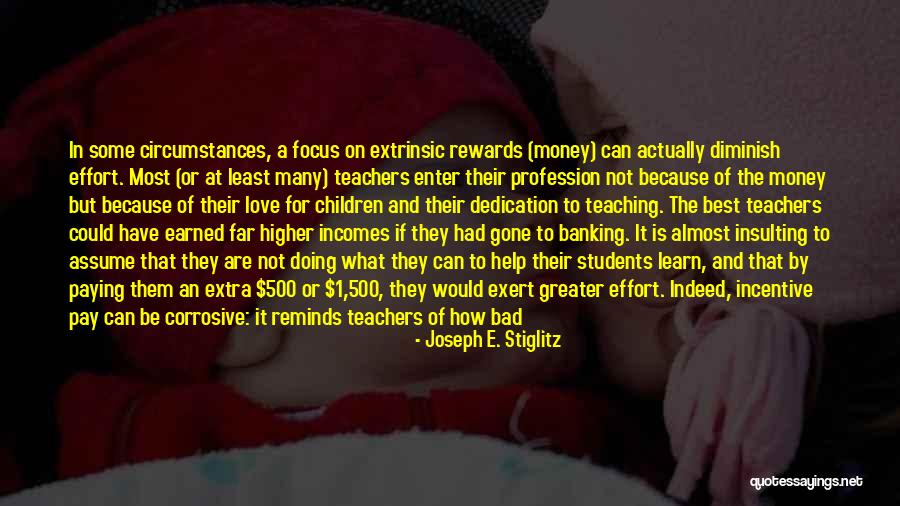 In some circumstances, a focus on extrinsic rewards (money) can actually diminish effort. Most (or at least many) teachers enter their profession not because of the money but because of their love for children and their dedication to teaching. The best teachers could have earned far higher incomes if they had gone to banking. It is almost insulting to assume that they are not doing what they can to help their students learn, and that by paying them an extra $500 or $1,500, they would exert greater effort. Indeed, incentive pay can be corrosive: it reminds teachers of how bad their pay is, and those who are led thereby to focus on money may be induced to find a better paying job, leaving behind only those for whom teaching is the only alternative. (Of course, if teachers perceive themselves to be badly paid, that will undermine morale, and that will have adverse incentive effects) — Joseph E. Stiglitz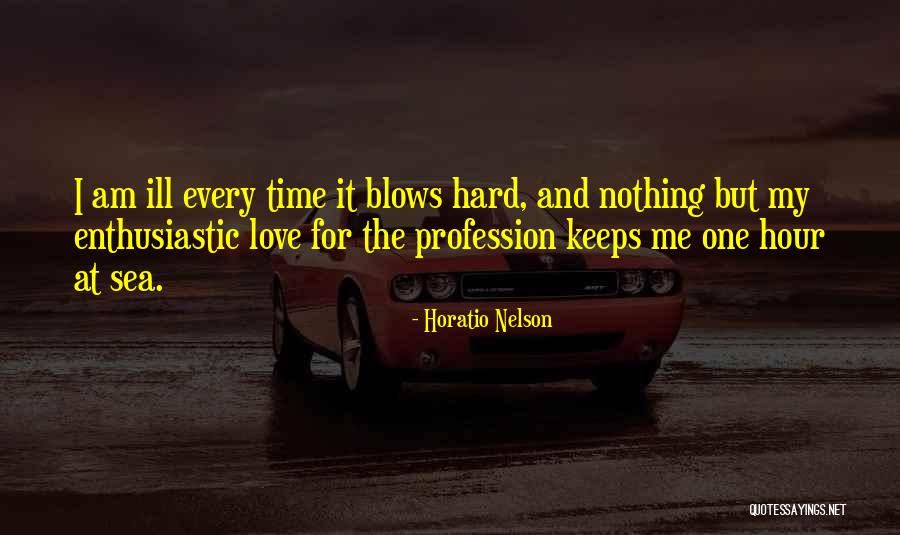 I am ill every time it blows hard, and nothing but my enthusiastic love for the profession keeps me one hour at sea. — Horatio Nelson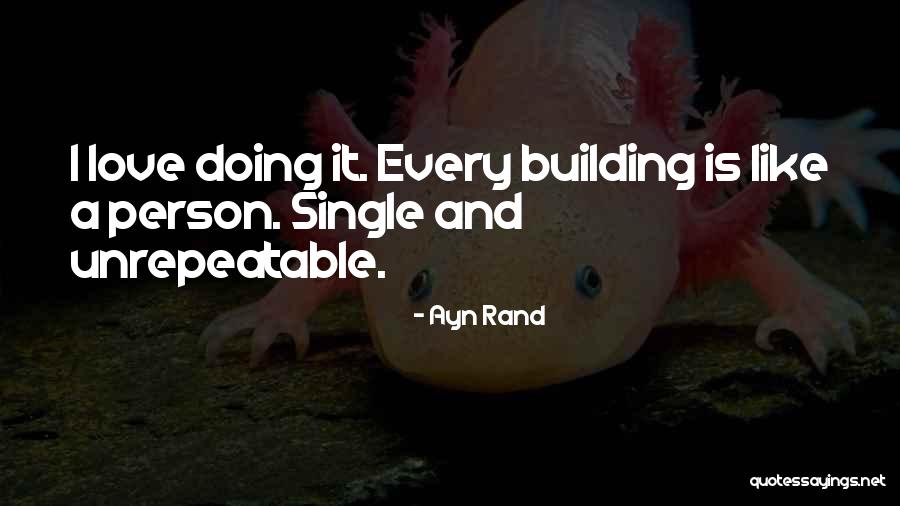 I love doing it. Every building is like a person. Single and unrepeatable. — Ayn Rand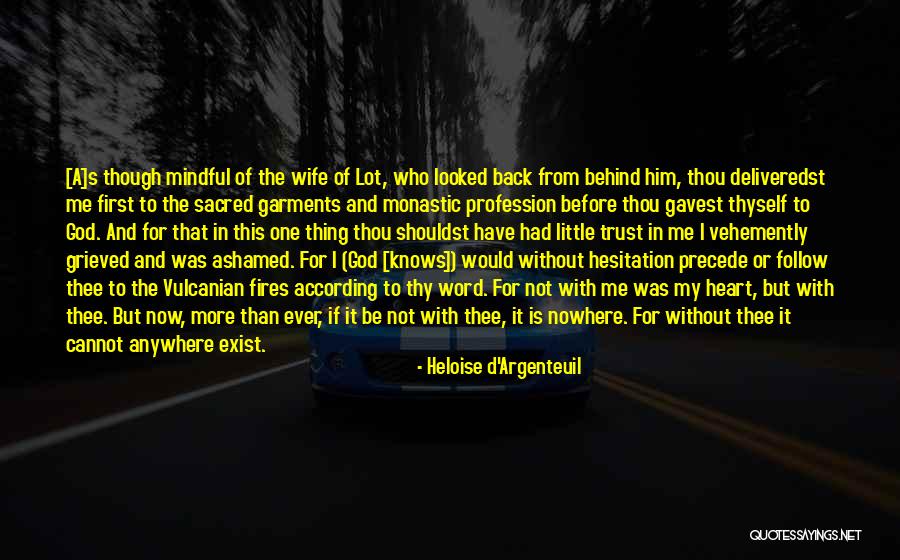 [A]s though mindful of the wife of Lot, who looked back from behind him, thou deliveredst me first to the sacred garments and monastic profession before thou gavest thyself to God. And for that in this one thing thou shouldst have had little trust in me I vehemently grieved and was ashamed. For I (God [knows]) would without hesitation precede or follow thee to the Vulcanian fires according to thy word. For not with me was my heart, but with thee. But now, more than ever, if it be not with thee, it is nowhere. For without thee it cannot anywhere exist. — Heloise D'Argenteuil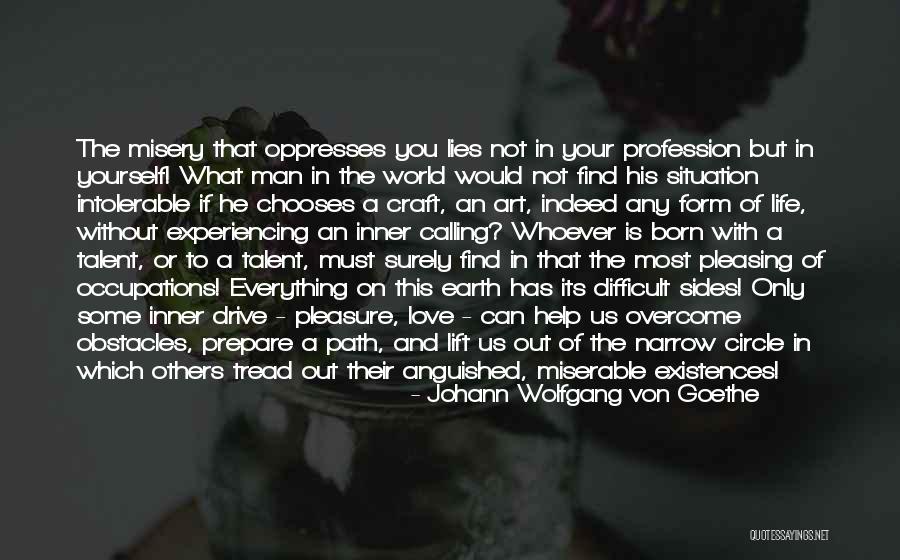 The misery that oppresses you lies not in your profession but in yourself! What man in the world would not find his situation intolerable if he chooses a craft, an art, indeed any form of life, without experiencing an inner calling? Whoever is born with a talent, or to a talent, must surely find in that the most pleasing of occupations! Everything on this earth has its difficult sides! Only some inner drive - pleasure, love - can help us overcome obstacles, prepare a path, and lift us out of the narrow circle in which others tread out their anguished, miserable existences! — Johann Wolfgang Von Goethe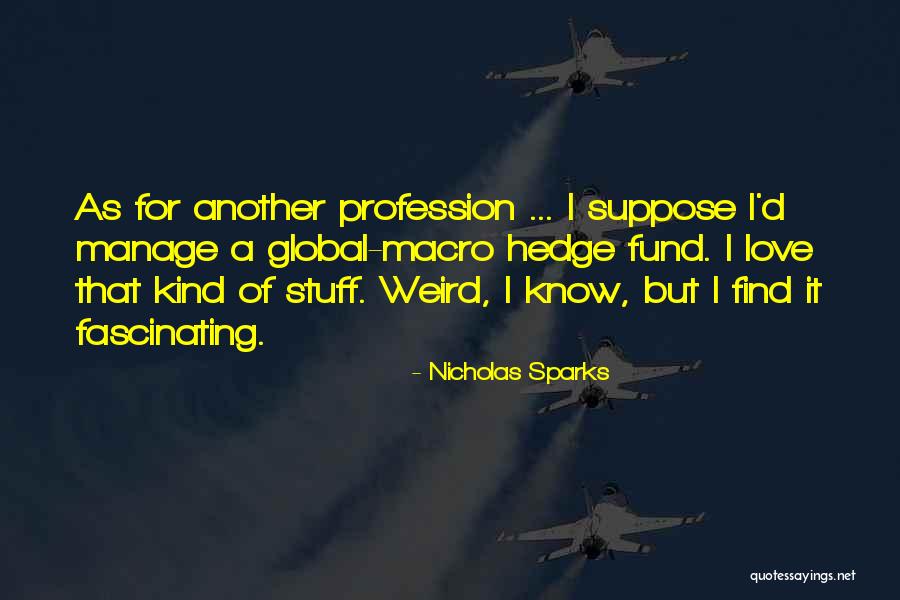 As for another profession ... I suppose I'd manage a global-macro hedge fund. I love that kind of stuff. Weird, I know, but I find it fascinating. — Nicholas Sparks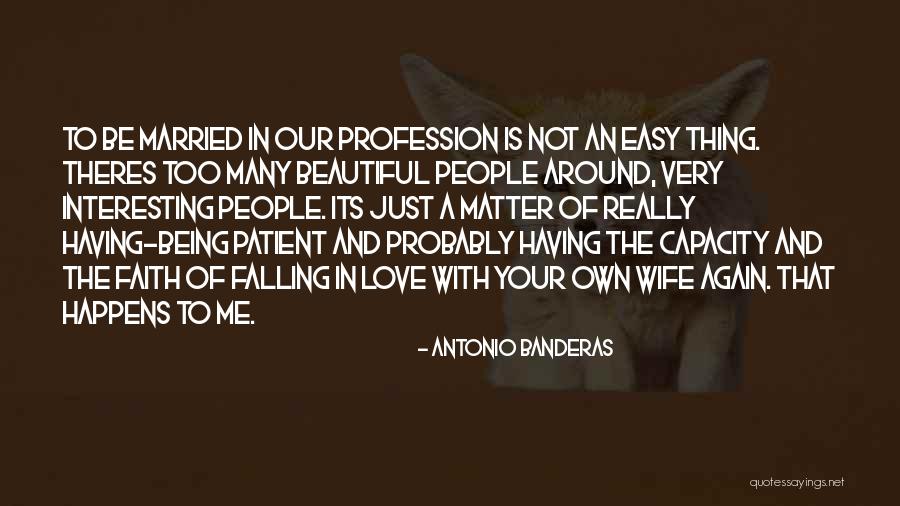 To be married in our profession is not an easy thing. Theres too many beautiful people around, very interesting people. Its just a matter of really having-being patient and probably having the capacity and the faith of falling in love with your own wife again. That happens to me. — Antonio Banderas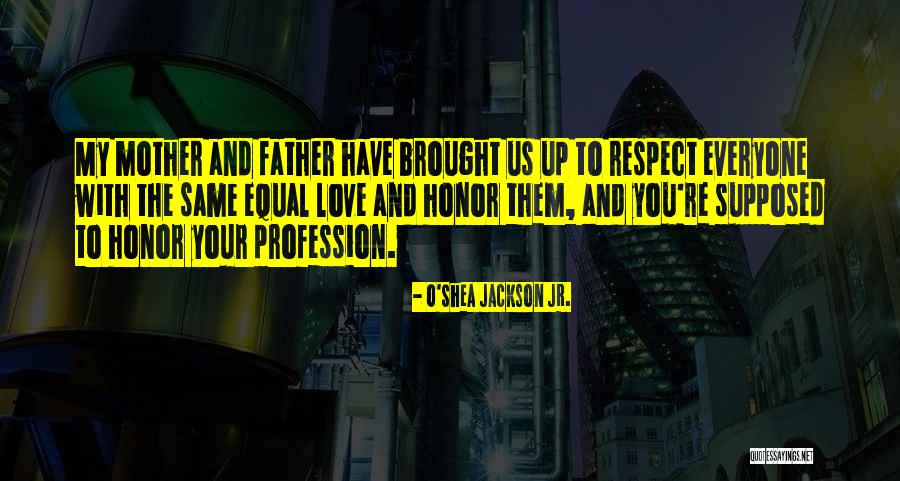 My mother and father have brought us up to respect everyone with the same equal love and honor them, and you're supposed to honor your profession. — O'Shea Jackson Jr.
Lover of love. I adore love letters, and professions of love, and true, heartfelt moments when two people know they're meant for each other. — Lauren Blakely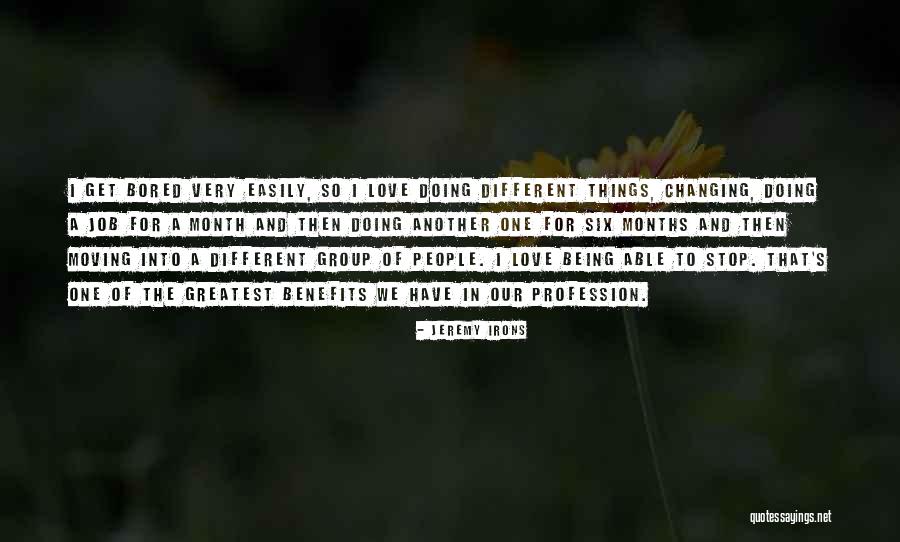 I get bored very easily, so I love doing different things, changing, doing a job for a month and then doing another one for six months and then moving into a different group of people. I love being able to stop. That's one of the greatest benefits we have in our profession. — Jeremy Irons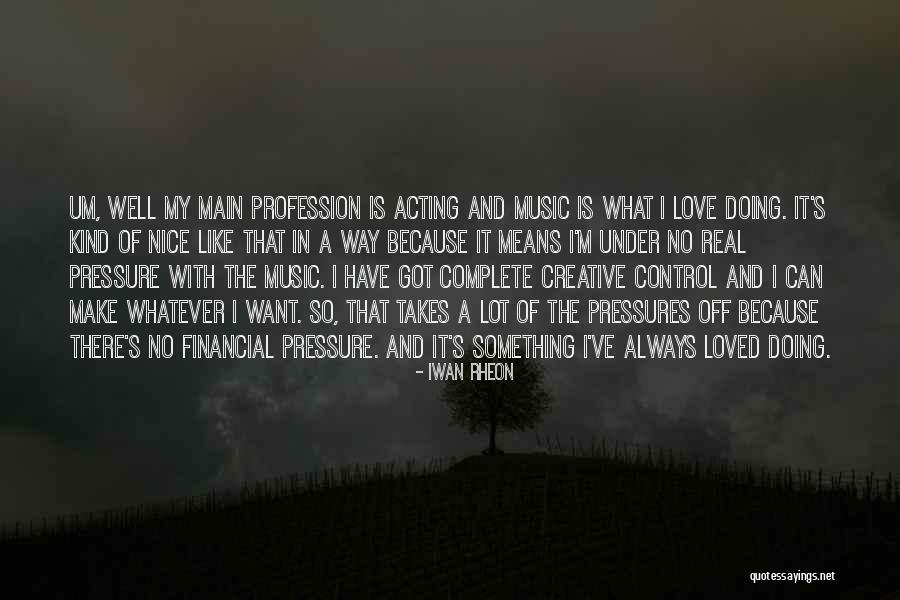 Um, well my main profession is acting and music is what I love doing. It's kind of nice like that in a way because it means I'm under no real pressure with the music. I have got complete creative control and I can make whatever I want. So, that takes a lot of the pressures off because there's no financial pressure. And it's something I've always loved doing. — Iwan Rheon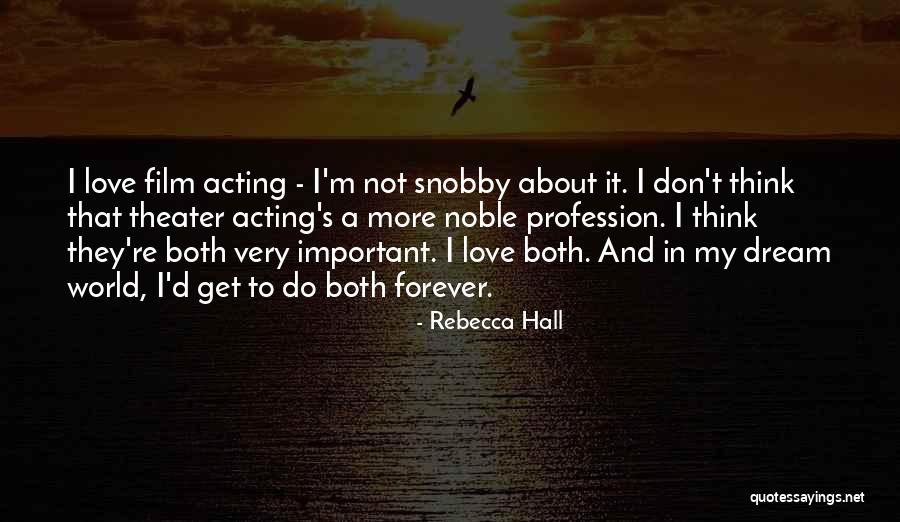 I love film acting - I'm not snobby about it. I don't think that theater acting's a more noble profession. I think they're both very important. I love both. And in my dream world, I'd get to do both forever. — Rebecca Hall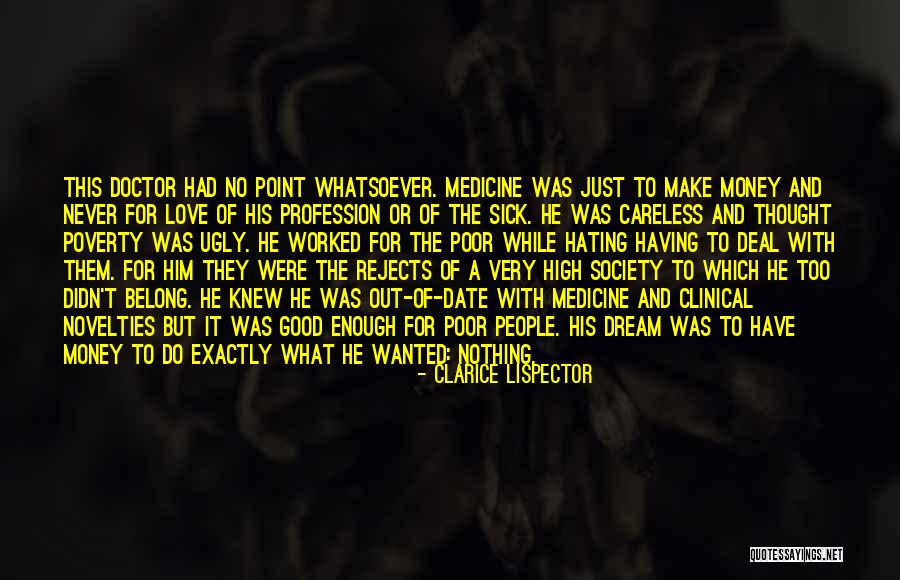 This doctor had no point whatsoever. Medicine was just to make money and never for love of his profession or of the sick. He was careless and thought poverty was ugly. He worked for the poor while hating having to deal with them. For him they were the rejects of a very high society to which he too didn't belong. He knew he was out-of-date with medicine and clinical novelties but it was good enough for poor people. His dream was to have money to do exactly what he wanted: nothing. — Clarice Lispector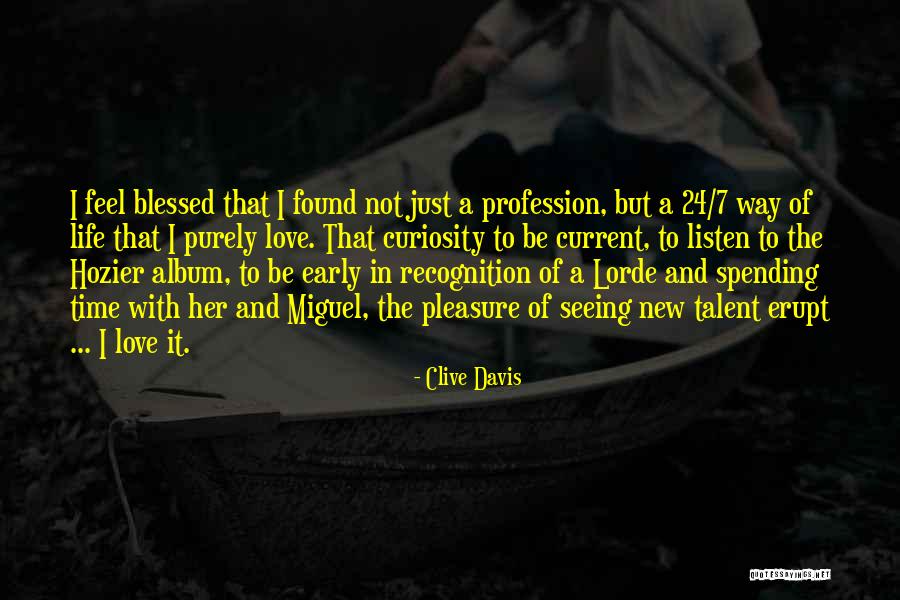 I feel blessed that I found not just a profession, but a 24/7 way of life that I purely love. That curiosity to be current, to listen to the Hozier album, to be early in recognition of a Lorde and spending time with her and Miguel, the pleasure of seeing new talent erupt ... I love it. — Clive Davis