Love Is Not Physical Attraction Quotes & Sayings
Enjoy reading and share 29 famous quotes about Love Is Not Physical Attraction with everyone.
Top Love Is Not Physical Attraction Quotes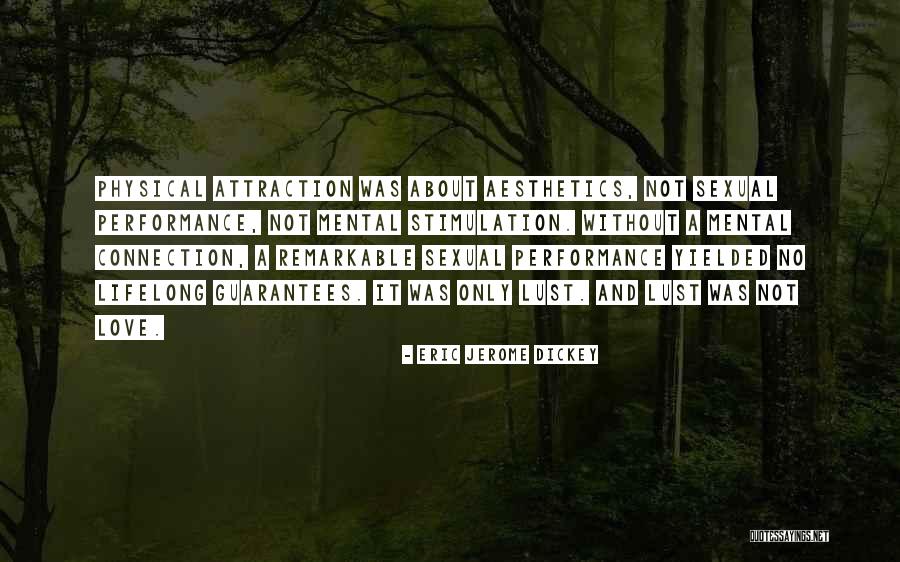 Physical attraction was about aesthetics, not sexual performance, not mental stimulation. Without a mental connection, a remarkable sexual performance yielded no lifelong guarantees. It was only lust. And lust was not love. — Eric Jerome Dickey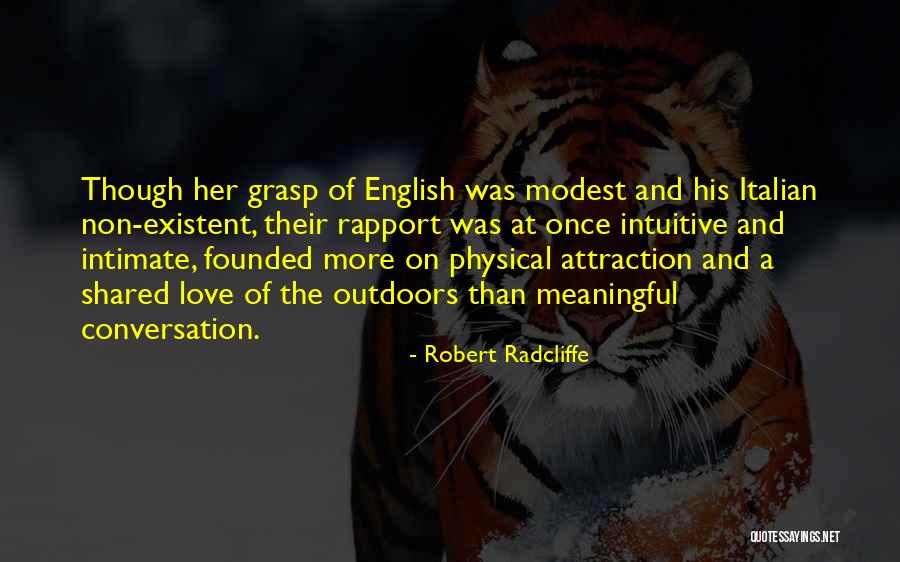 Though her grasp of English was modest and his Italian non-existent, their rapport was at once intuitive and intimate, founded more on physical attraction and a shared love of the outdoors than meaningful conversation. — Robert Radcliffe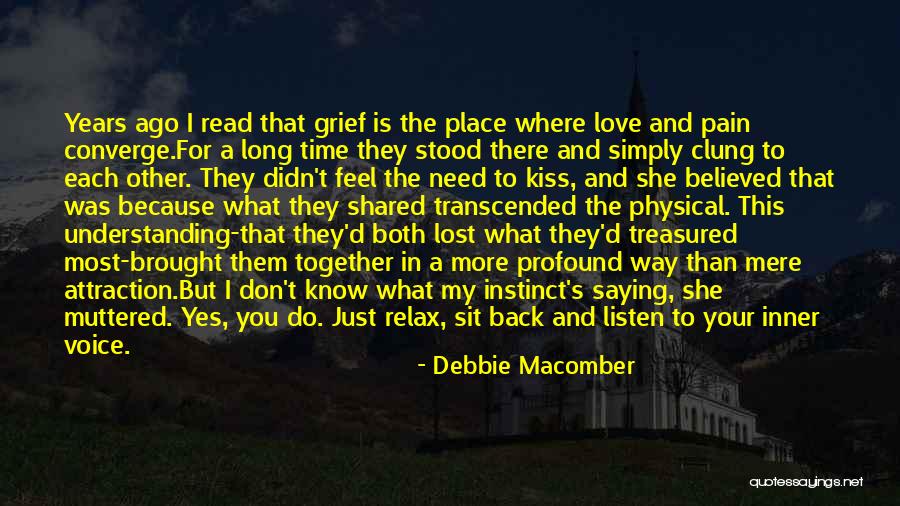 Years ago I read that grief is the place where love and pain converge.
For a long time they stood there and simply clung to each other. They didn't feel the need to kiss, and she believed that was because what they shared transcended the physical. This understanding-that they'd both lost what they'd treasured most-brought them together in a more profound way than mere attraction.
But I don't know what my instinct's saying, she muttered. Yes, you do. Just relax, sit back and listen to your inner voice. — Debbie Macomber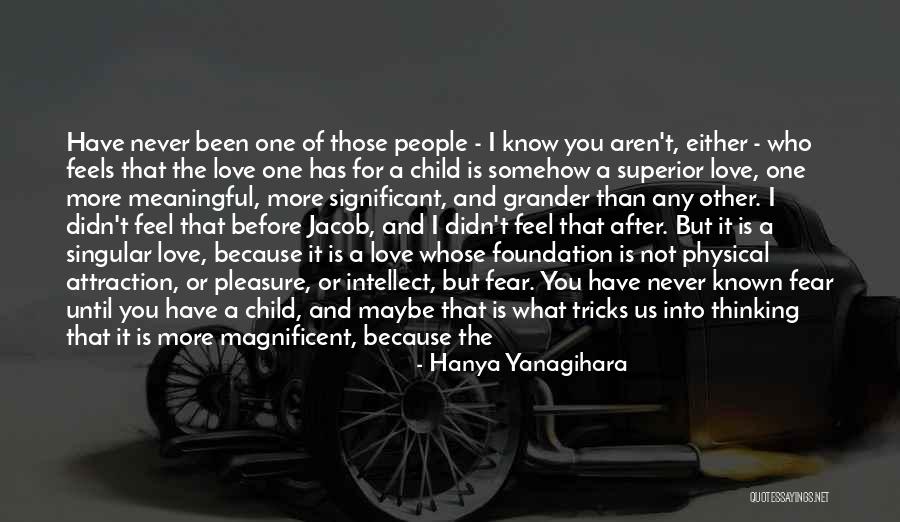 Have never been one of those people - I know you aren't, either - who feels that the love one has for a child is somehow a superior love, one more meaningful, more significant, and grander than any other. I didn't feel that before Jacob, and I didn't feel that after. But it is a singular love, because it is a love whose foundation is not physical attraction, or pleasure, or intellect, but fear. You have never known fear until you have a child, and maybe that is what tricks us into thinking that it is more magnificent, because the fear itself is more magnificent. Every day, your first thought is not "I love him" but "How is he?" The world, overnight, rearranges itself into an obstacle course of terrors. I would hold him in my arms and wait to cross the street and would think how absurd it was that my child, that any child, could expect to survive this life. — Hanya Yanagihara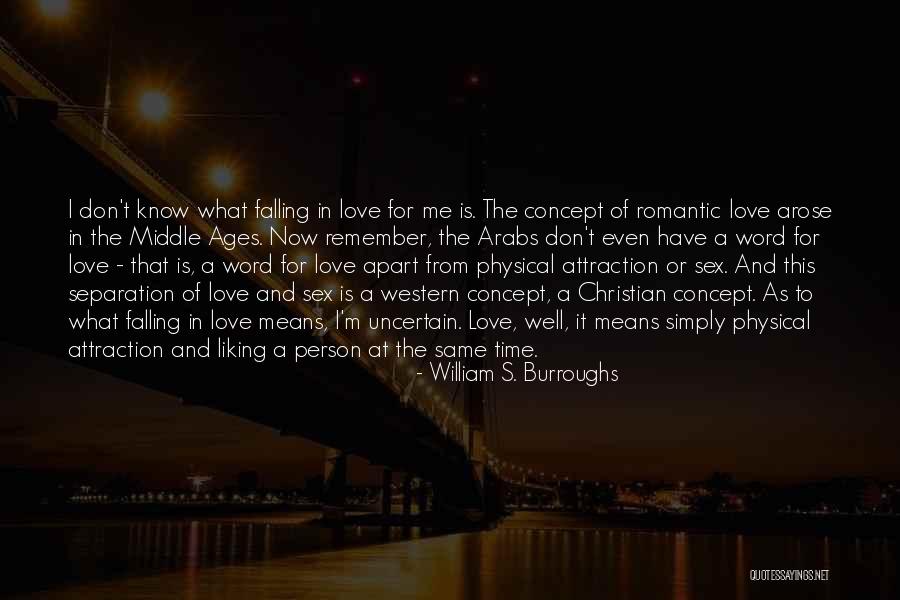 I don't know what falling in love for me is. The concept of romantic love arose in the Middle Ages. Now remember, the Arabs don't even have a word for love - that is, a word for love apart from physical attraction or sex. And this separation of love and sex is a western concept, a Christian concept. As to what falling in love means, I'm uncertain. Love, well, it means simply physical attraction and liking a person at the same time. — William S. Burroughs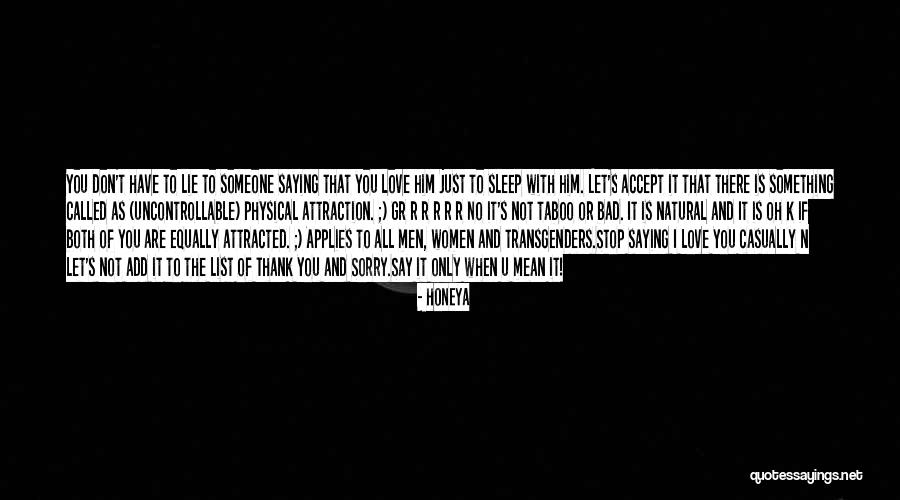 You don't have to lie to someone saying that you love him just to sleep with him.
Let's accept it that there is something called as (uncontrollable) physical attraction. ;) Gr r r r r r
No it's not taboo or bad. It is natural and It is oh k if both of you are equally attracted. ;)
Applies to all men, women and transgenders.
Stop saying I love You casually n let's not add it to the list of Thank You and Sorry.
Say it only when u mean it! — Honeya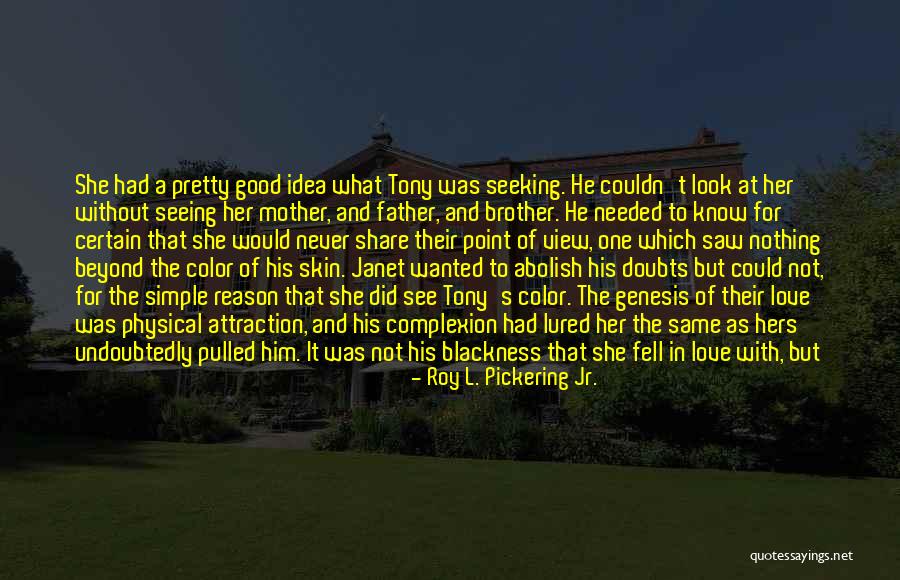 She had a pretty good idea what Tony was seeking. He couldn't look at her without seeing her mother, and father, and brother. He needed to know for certain that she would never share their point of view, one which saw nothing beyond the color of his skin. Janet wanted to abolish his doubts but could not, for the simple reason that she did see Tony's color. The genesis of their love was physical attraction, and his complexion had lured her the same as hers undoubtedly pulled him. It was not his blackness that she fell in love with, but it was a part of him, and therefore, a part of what she loved. — Roy L. Pickering Jr.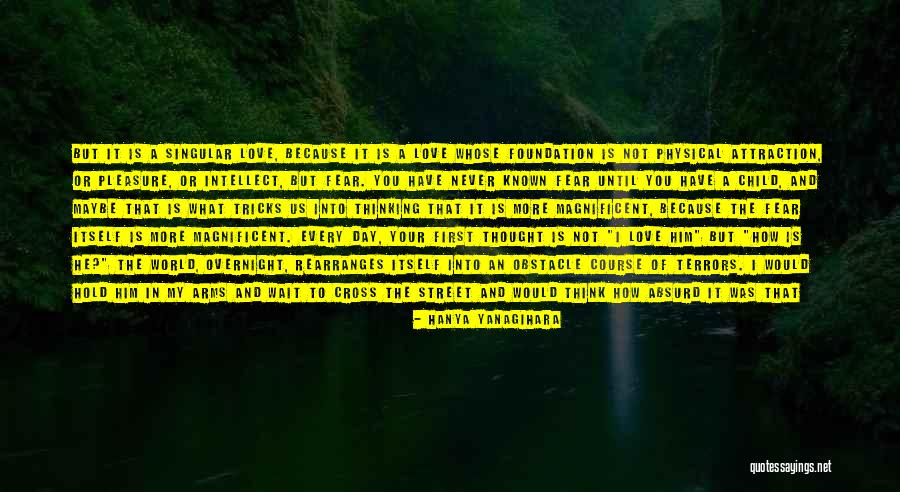 But it is a singular love, because it is a love whose foundation is not physical attraction, or pleasure, or intellect, but fear. You have never known fear until you have a child, and maybe that is what tricks us into thinking that it is more magnificent, because the fear itself is more magnificent. Every day, your first thought is not "I love him" but "How is he?" The world, overnight, rearranges itself into an obstacle course of terrors. I would hold him in my arms and wait to cross the street and would think how absurd it was that my child, that any child, could expect to survive this life. It seemed as improbable — Hanya Yanagihara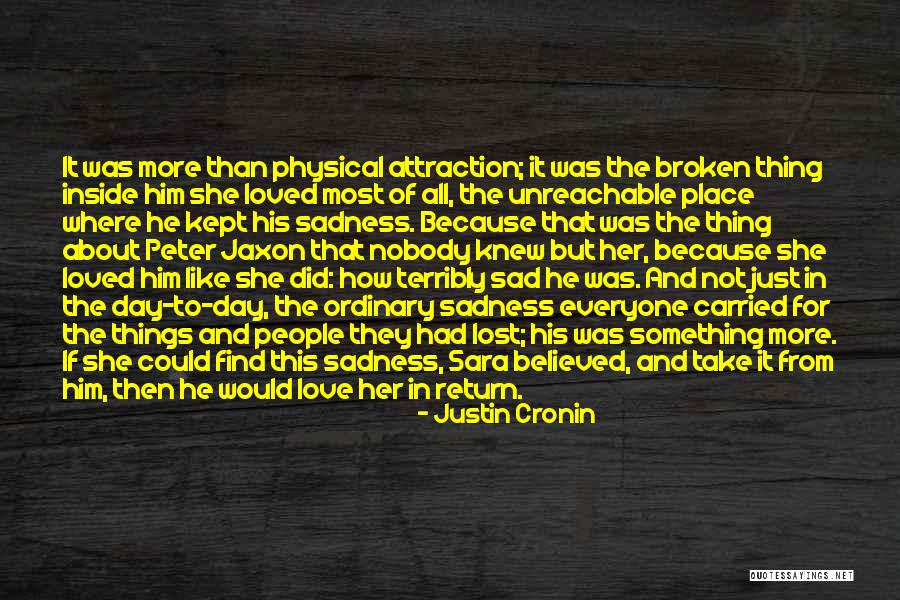 It was more than physical attraction; it was the broken thing inside him she loved most of all, the unreachable place where he kept his sadness. Because that was the thing about Peter Jaxon that nobody knew but her, because she loved him like she did: how terribly sad he was. And not just in the day-to-day, the ordinary sadness everyone carried for the things and people they had lost; his was something more. If she could find this sadness, Sara believed, and take it from him, then he would love her in return. — Justin Cronin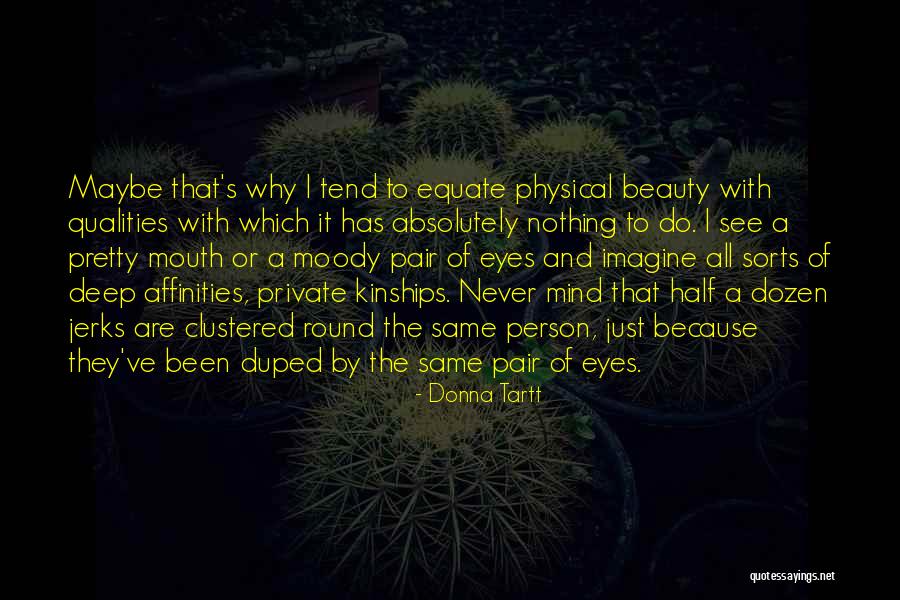 Maybe that's why I tend to equate physical beauty with qualities with which it has absolutely nothing to do. I see a pretty mouth or a moody pair of eyes and imagine all sorts of deep affinities, private kinships. Never mind that half a dozen jerks are clustered round the same person, just because they've been duped by the same pair of eyes. — Donna Tartt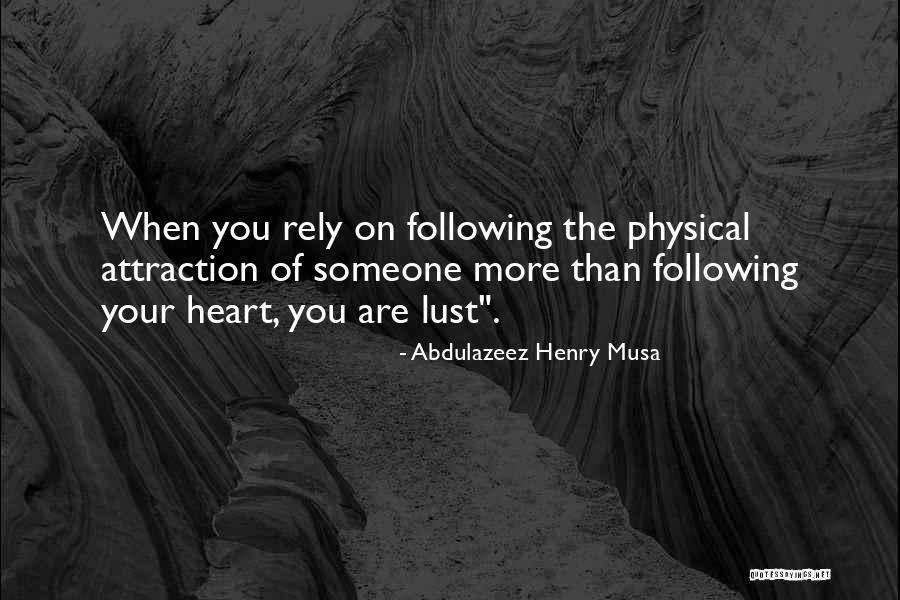 When you rely on following the physical attraction of someone more than following your heart, you are lust". — Abdulazeez Henry Musa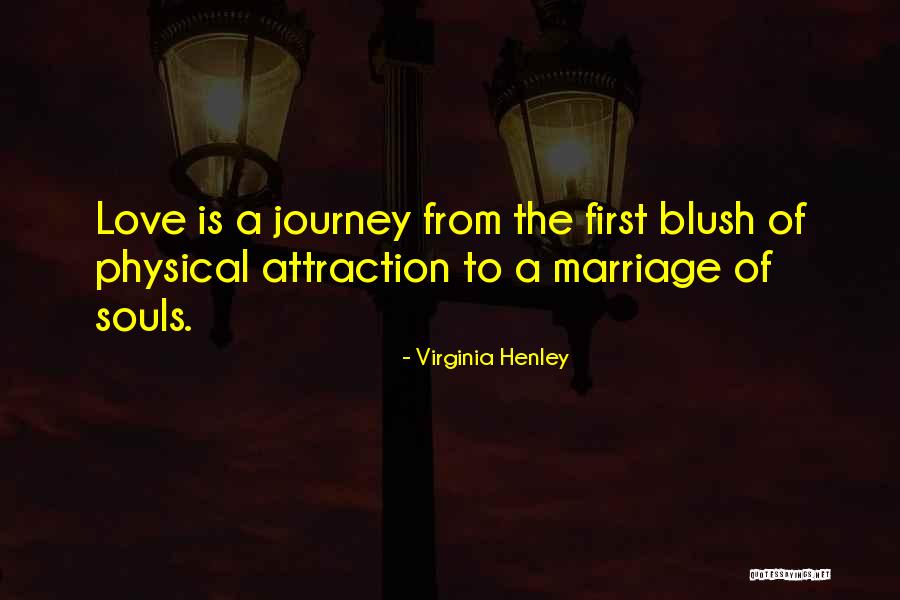 Love is a journey from the first blush of physical attraction to a marriage of souls. — Virginia Henley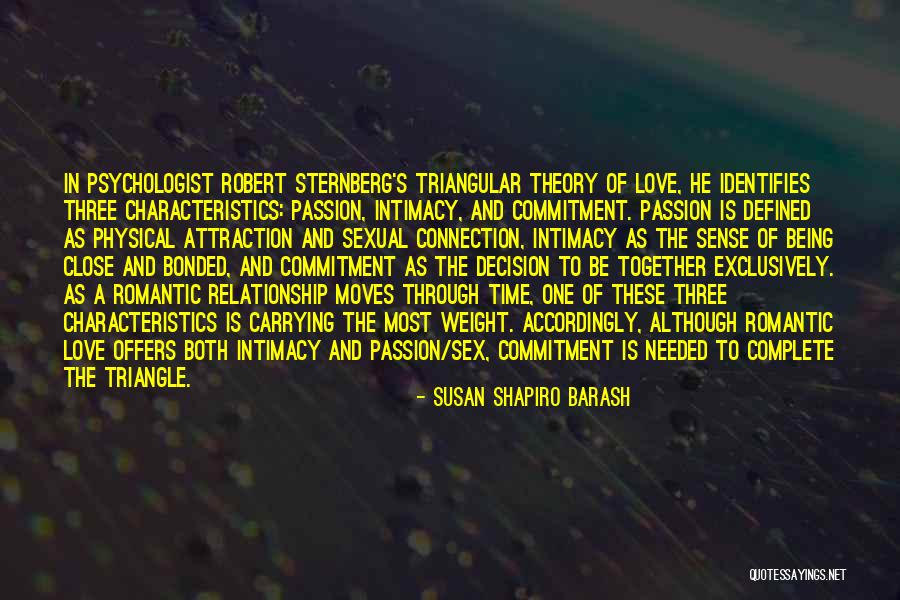 In psychologist Robert Sternberg's triangular theory of love, he identifies three characteristics: passion, intimacy, and commitment. Passion is defined as physical attraction and sexual connection, intimacy as the sense of being close and bonded, and commitment as the decision to be together exclusively. As a romantic relationship moves through time, one of these three characteristics is carrying the most weight. Accordingly, although romantic love offers both intimacy and passion/sex, commitment is needed to complete the triangle. — Susan Shapiro Barash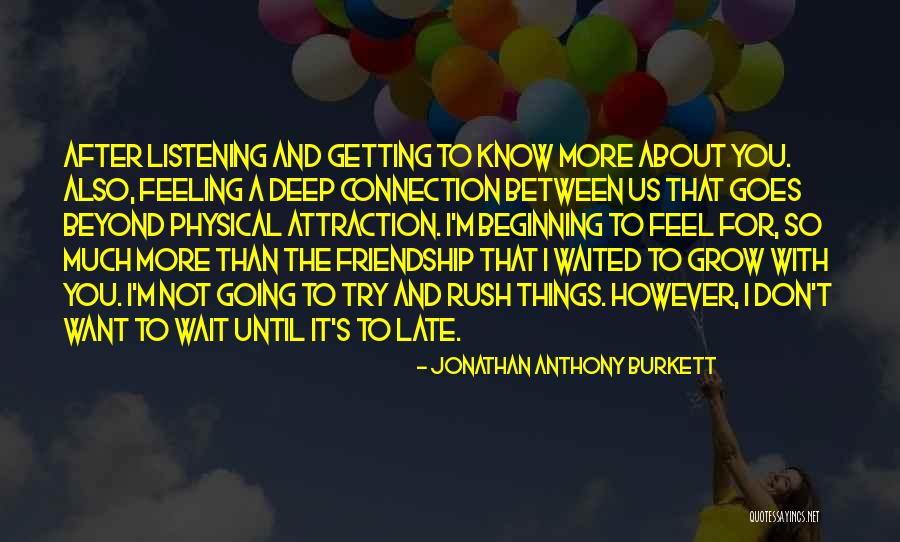 After listening and getting to know more about you. Also, feeling a deep connection between us that goes beyond physical attraction. I'm beginning to feel for, so much more than the friendship that I waited to grow with you. I'm not going to try and rush things. However, I don't want to wait until it's to late. — Jonathan Anthony Burkett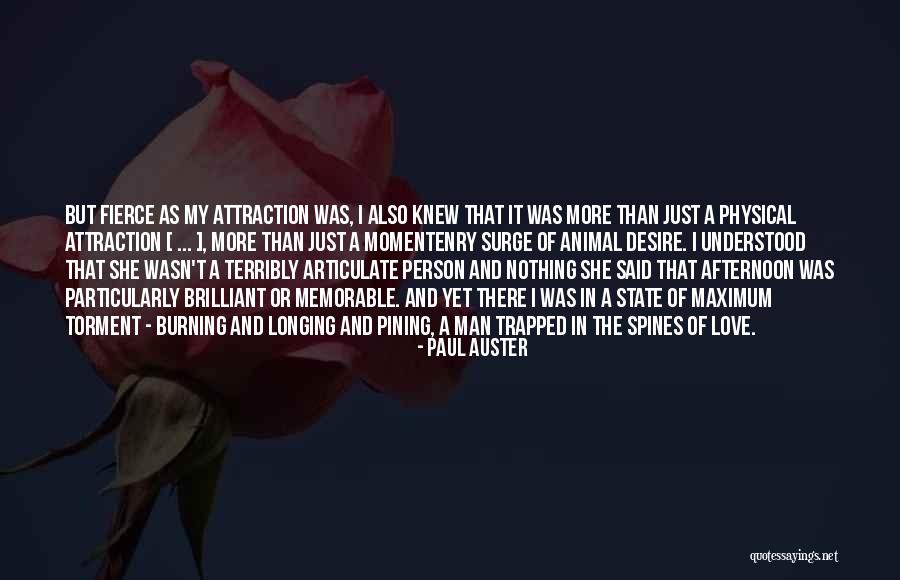 But fierce as my attraction was, I also knew that it was more than just a physical attraction [ ... ], more than just a momentenry surge of animal desire. I understood that she wasn't a terribly articulate person and nothing she said that afternoon was particularly brilliant or memorable. And yet there I was in a state of maximum torment - burning and longing and pining, a man trapped in the spines of love. — Paul Auster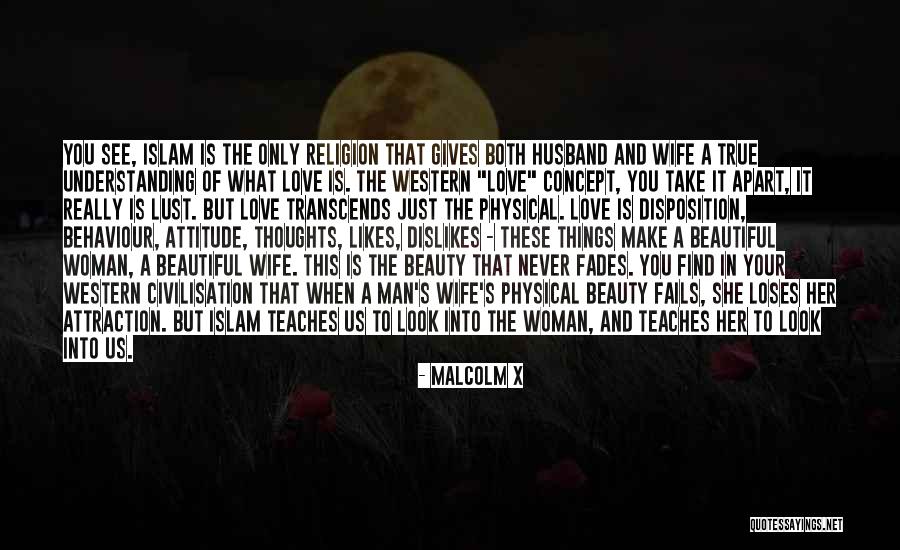 You see, Islam is the only religion that gives both husband and wife a true understanding of what love is. The Western "love" concept, you take it apart, it really is lust. But love transcends just the physical. Love is disposition, behaviour, attitude, thoughts, likes, dislikes - these things make a beautiful woman, a beautiful wife. This is the beauty that never fades. You find in your Western civilisation that when a man's wife's physical beauty fails, she loses her attraction. But Islam teaches us to look into the woman, and teaches her to look into us. — Malcolm X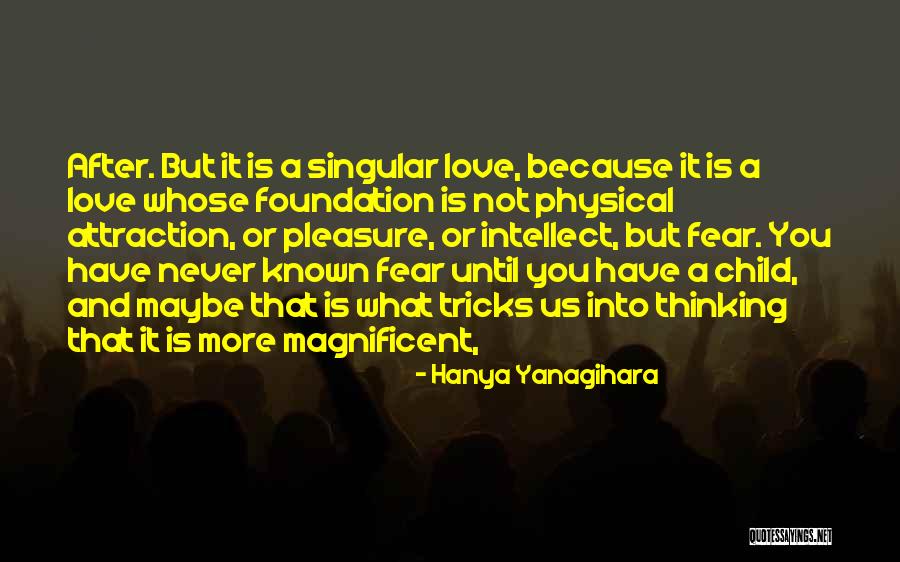 After. But it is a singular love, because it is a love whose foundation is not physical attraction, or pleasure, or intellect, but fear. You have never known fear until you have a child, and maybe that is what tricks us into thinking that it is more magnificent, — Hanya Yanagihara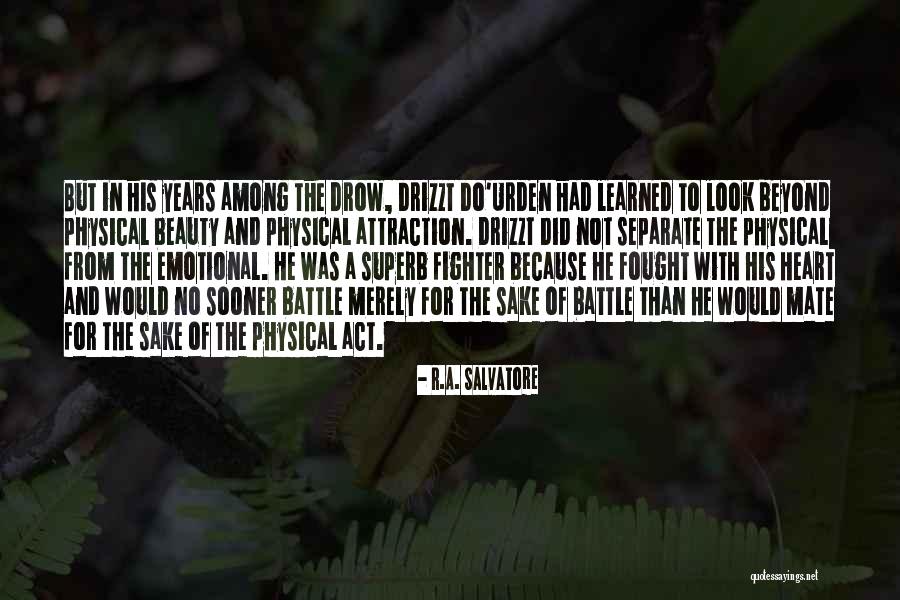 But in his years among the drow, Drizzt Do'Urden had learned to look beyond physical beauty and physical attraction. Drizzt did not separate the physical from the emotional. He was a superb fighter because he fought with his heart and would no sooner battle merely for the sake of battle than he would mate for the sake of the physical act. — R.A. Salvatore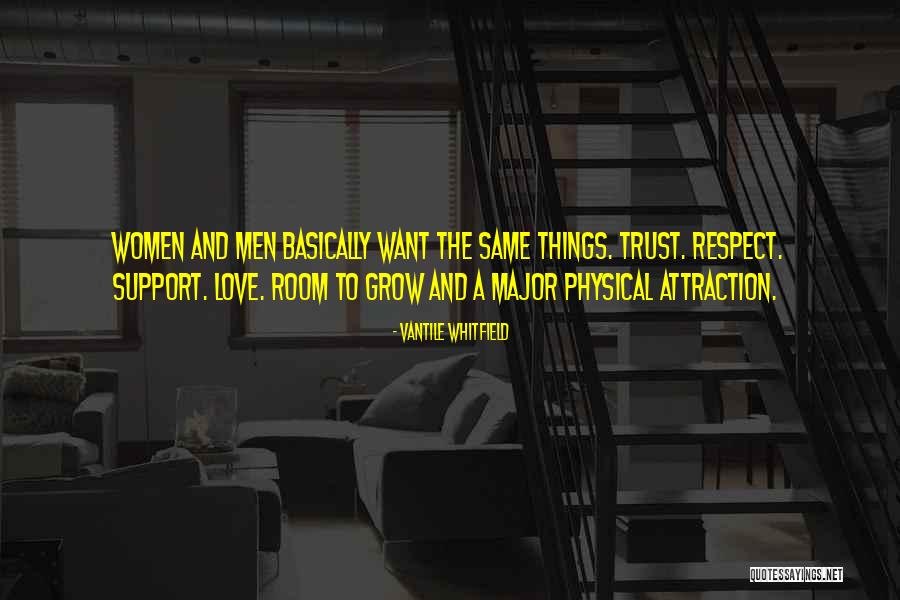 Women and men basically want the same things. Trust. Respect. Support. Love. Room to grow and a major physical attraction. — Vantile Whitfield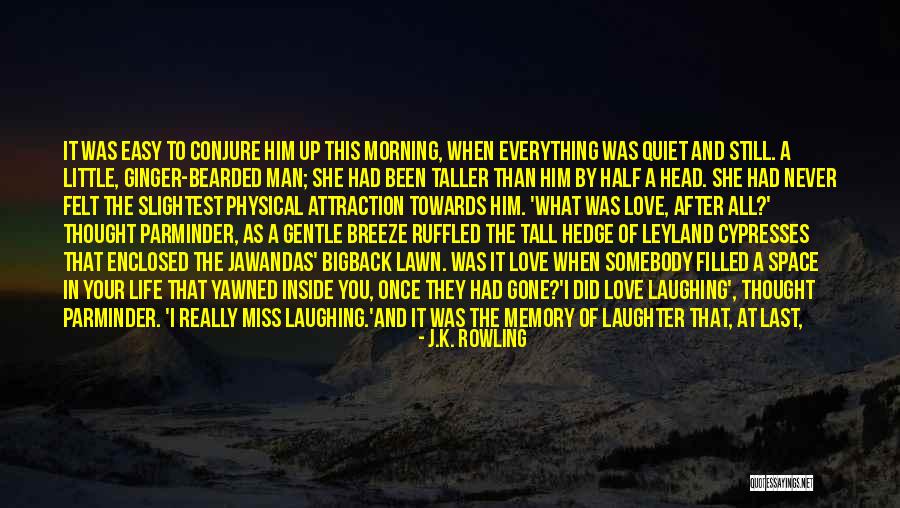 It was easy to conjure him up this morning, when everything was quiet and still. A little, ginger-bearded man; she had been taller than him by half a head. She had never felt the slightest physical attraction towards him. 'What was love, after all?' thought Parminder, as a gentle breeze ruffled the tall hedge of leyland cypresses that enclosed the Jawandas' big
back lawn. Was it love when somebody filled a space in your life that yawned inside you, once they had gone?
'I did love laughing', thought Parminder. 'I really miss laughing.'
And it was the memory of laughter that, at last, made the tears flow from her eyes. They trickled down her nose and into her coffee, where they made little bullet
holes, swiftly erased. She was crying because she never seemed to laugh any
more ( ... ). — J.K. Rowling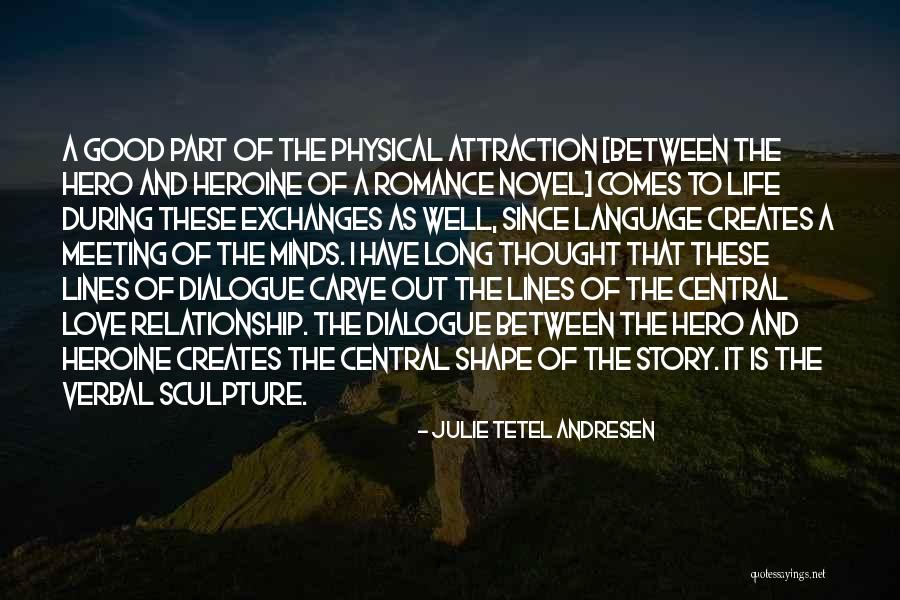 A good part of the physical attraction [between the hero and heroine of a romance novel] comes to life during these exchanges as well, since language creates a meeting of the minds. I have long thought that these lines of dialogue carve out the lines of the central love relationship. The dialogue between the hero and heroine creates the central shape of the story. It is the verbal sculpture. — Julie Tetel Andresen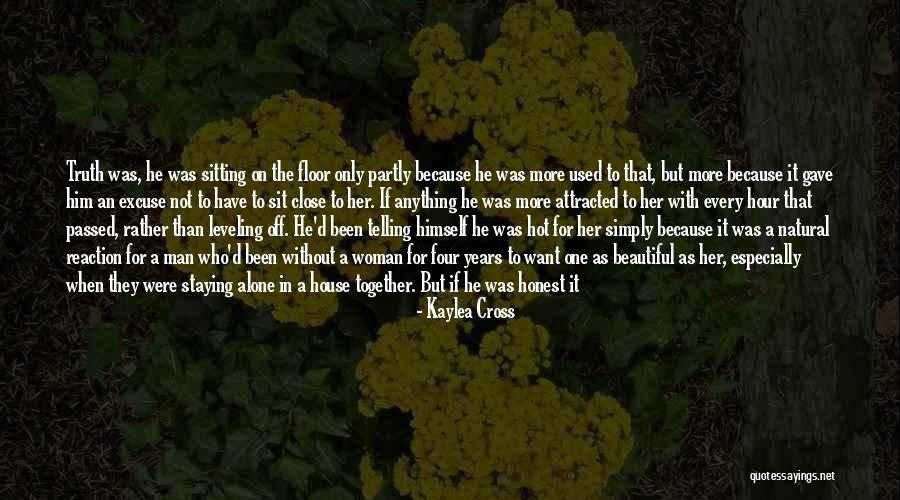 Truth was, he was sitting on the floor only partly because he was more used to that, but more because it gave him an excuse not to have to sit close to her. If anything he was more attracted to her with every hour that passed, rather than leveling off. He'd been telling himself he was hot for her simply because it was a natural reaction for a man who'd been without a woman for four years to want one as beautiful as her, especially when they were staying alone in a house together. But if he was honest it was way more than physical attraction. Erin was kind and brave and sweet. She made him simultaneously want to gather her up in his arms to protect her and pin her to the nearest flat surface and kiss her until she melted and wrapped around him. — Kaylea Cross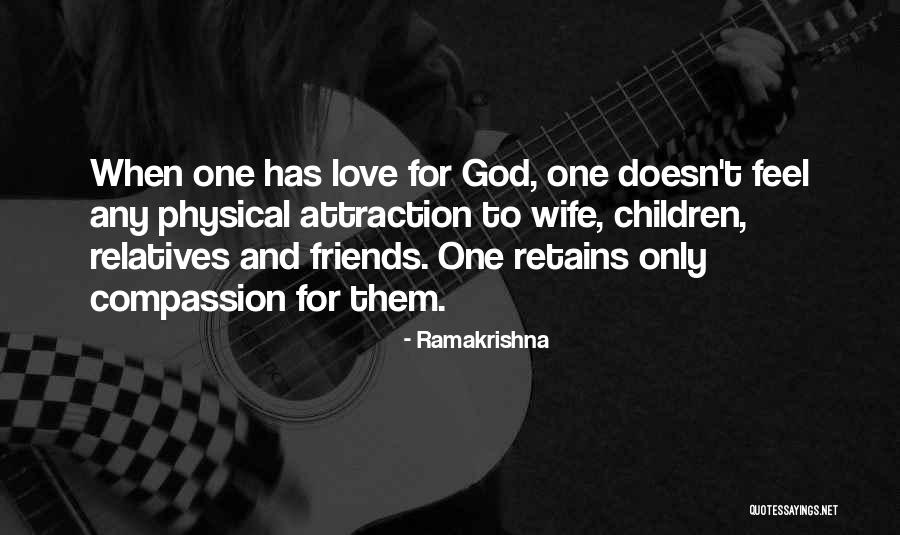 When one has love for God, one doesn't feel any physical attraction to wife, children, relatives and friends. One retains only compassion for them. — Ramakrishna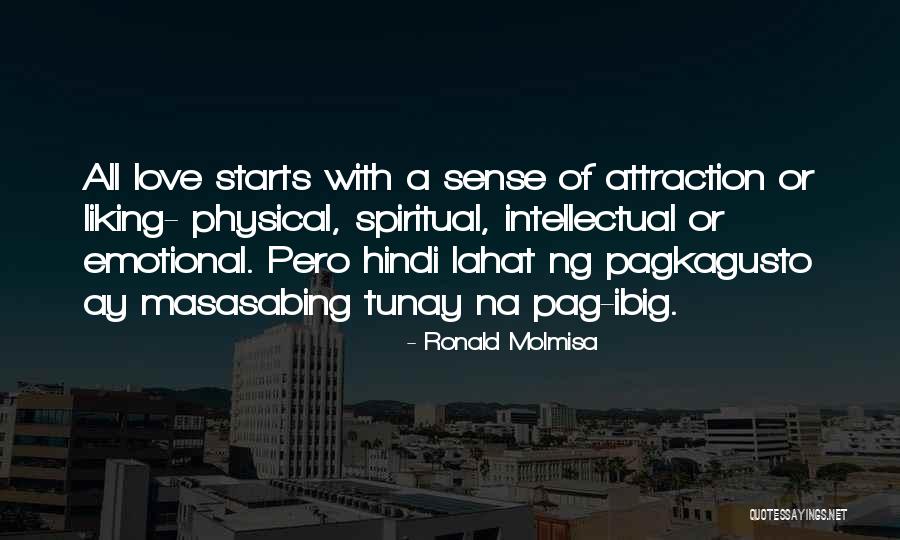 All love starts with a sense of attraction or liking- physical, spiritual, intellectual or emotional. Pero hindi lahat ng pagkagusto ay masasabing tunay na pag-ibig. — Ronald Molmisa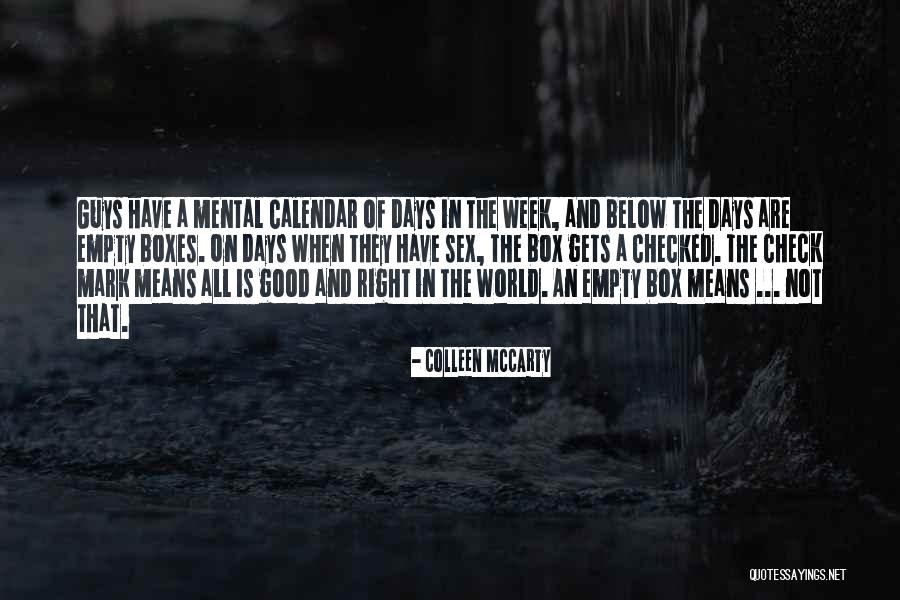 Guys have a mental calendar of days in the week, and below the days are empty boxes. On days when they have sex, the box gets a checked. The check mark means all is good and right in the world. An empty box means ... not that. — Colleen McCarty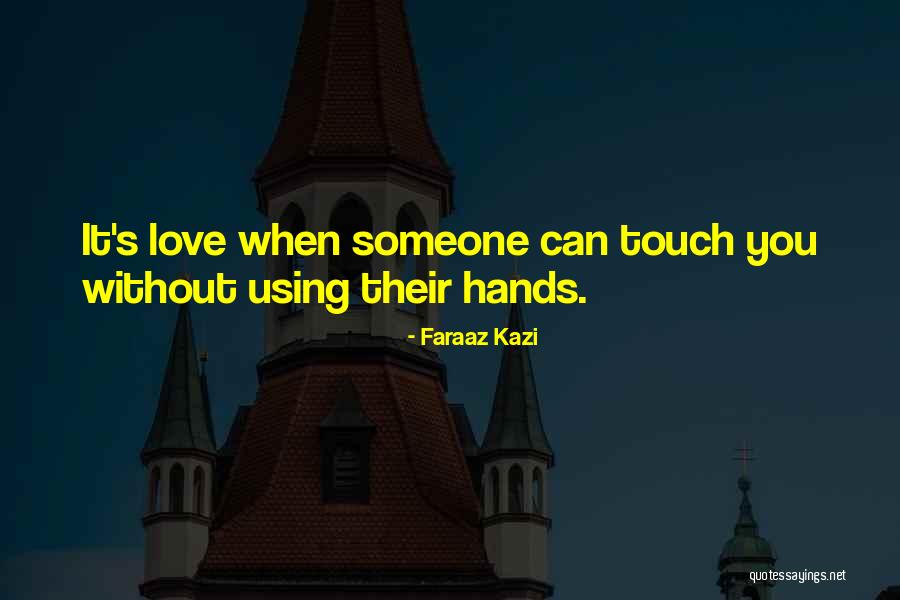 It's love when someone can touch you without using their hands. — Faraaz Kazi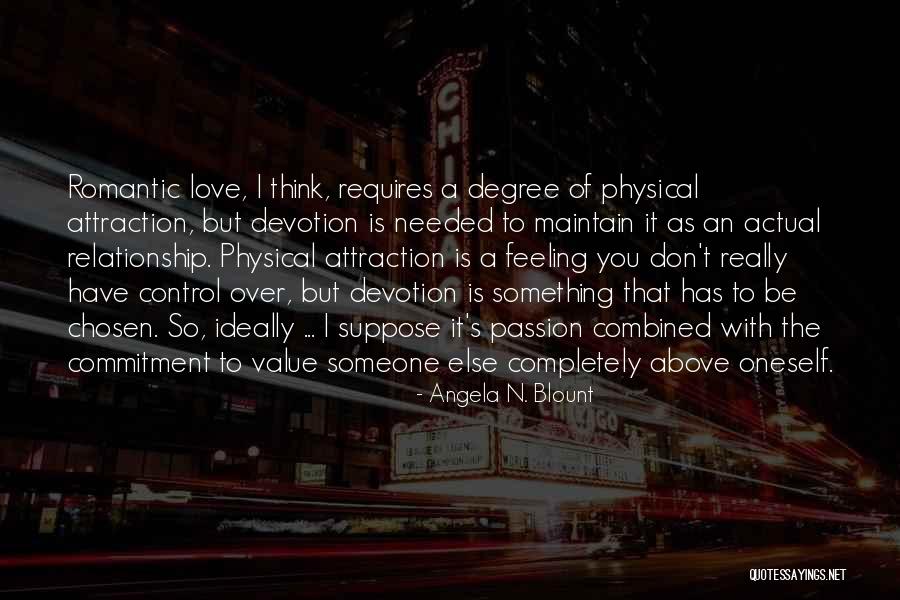 Romantic love, I think, requires a degree of physical attraction, but devotion is needed to maintain it as an actual relationship. Physical attraction is a feeling you don't really have control over, but devotion is something that has to be chosen. So, ideally ... I suppose it's passion combined with the commitment to value someone else completely above oneself. — Angela N. Blount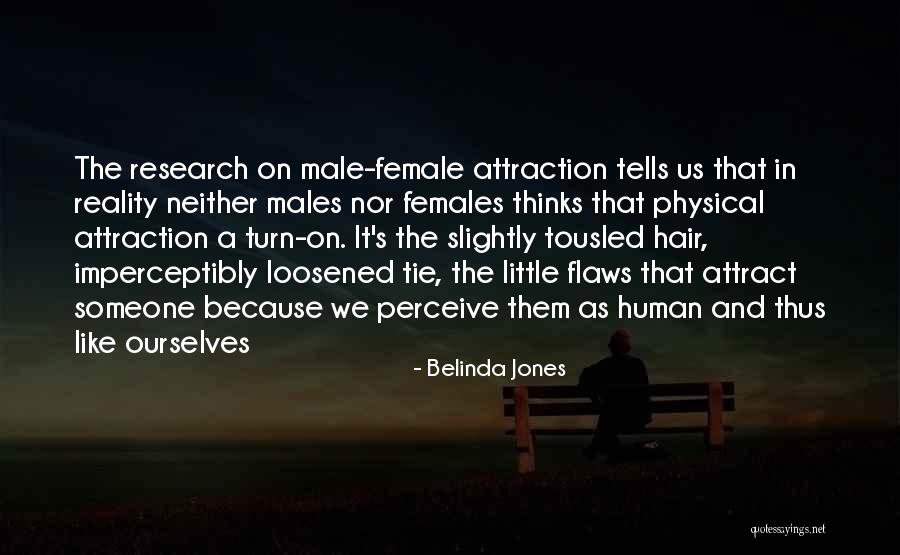 The research on male-female attraction tells us that in reality neither males nor females thinks that physical attraction a turn-on. It's the slightly tousled hair, imperceptibly loosened tie, the little flaws that attract someone because we perceive them as human and thus like ourselves — Belinda Jones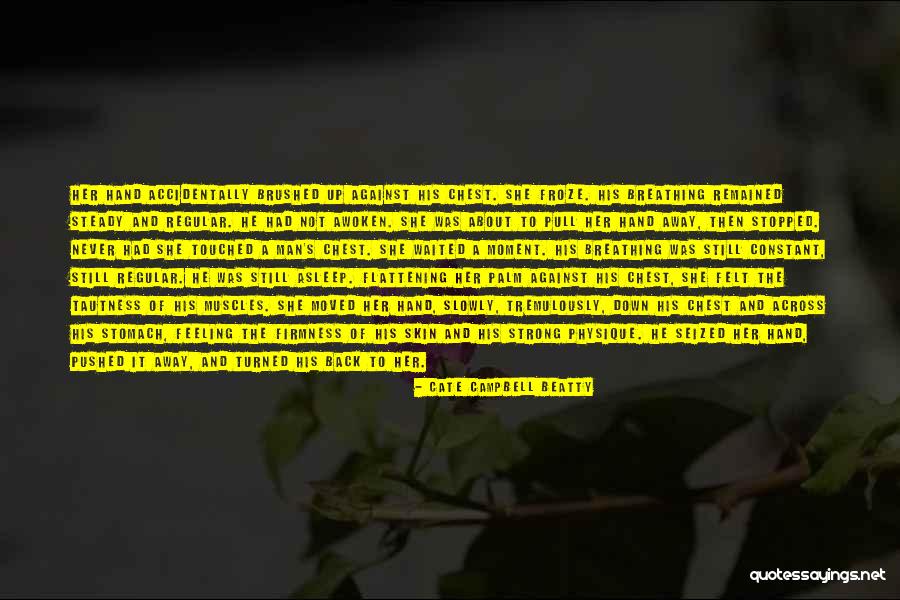 Her hand accidentally brushed up against his chest. She froze. His breathing remained steady and regular. He had not awoken. She was about to pull her hand away, then stopped. Never had she touched a man's chest. She waited a moment. His breathing was still constant, still regular. He was still asleep. Flattening her palm against his chest, she felt the tautness of his muscles. She moved her hand, slowly, tremulously, down his chest and across his stomach, feeling the firmness of his skin and his strong physique. He seized her hand, pushed it away, and turned his back to her. — Cate Campbell Beatty