Love Goes Beyond Quotes & Sayings
Enjoy reading and share 55 famous quotes about Love Goes Beyond with everyone.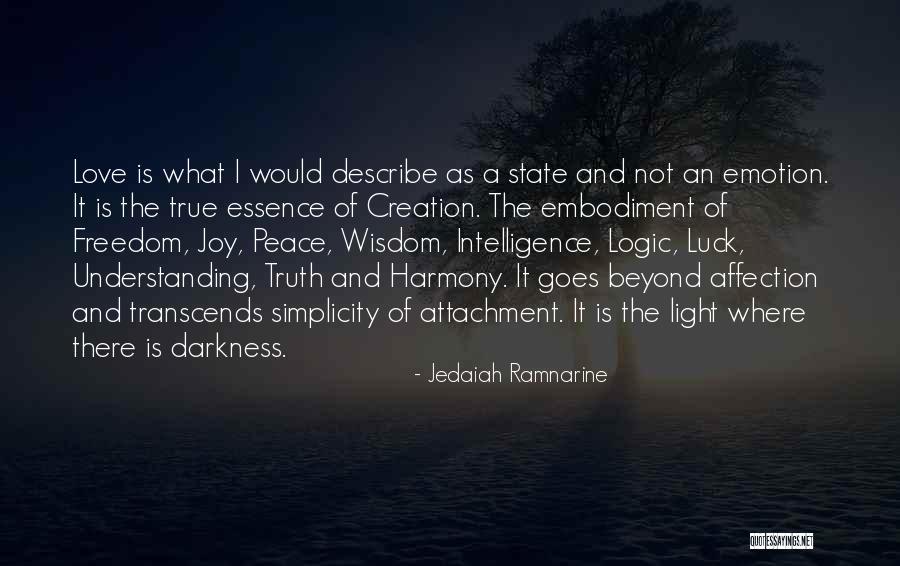 Love is what I would describe as a state and not an emotion. It is the true essence of Creation. The embodiment of Freedom, Joy, Peace, Wisdom, Intelligence, Logic, Luck, Understanding, Truth and Harmony. It goes beyond affection and transcends simplicity of attachment. It is the light where there is darkness. — Jedaiah Ramnarine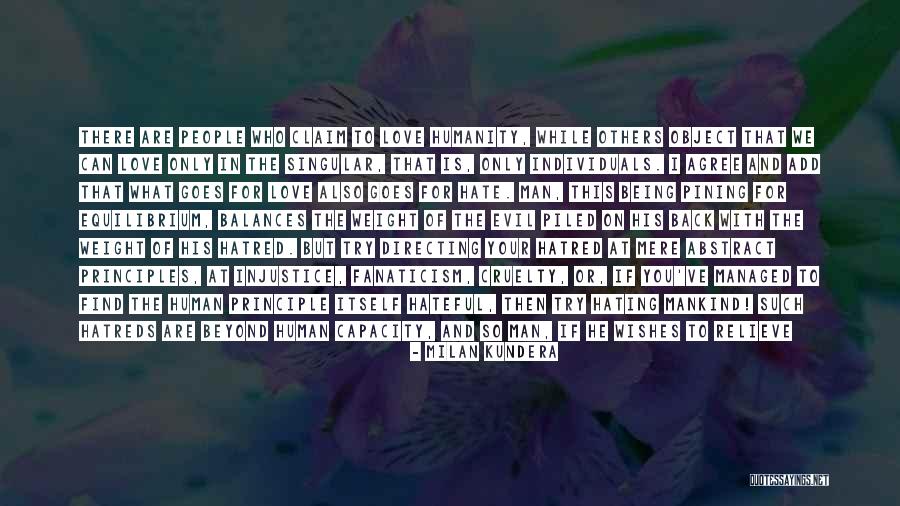 There are people who claim to love humanity, while others object that we can love only in the singular, that is, only individuals. I agree and add that what goes for love also goes for hate. Man, this being pining for equilibrium, balances the weight of the evil piled on his back with the weight of his hatred. But try directing your hatred at mere abstract principles, at injustice, fanaticism, cruelty, or, if you've managed to find the human principle itself hateful, then try hating mankind! Such hatreds are beyond human capacity, and so man, if he wishes to relieve his anger (aware as he is of its limited power) concentrates it on a single individual. — Milan Kundera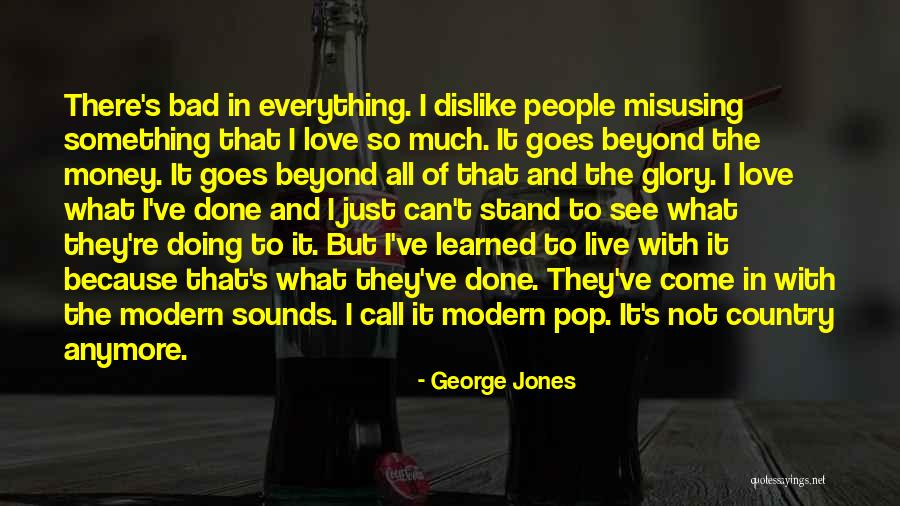 There's bad in everything. I dislike people misusing something that I love so much. It goes beyond the money. It goes beyond all of that and the glory. I love what I've done and I just can't stand to see what they're doing to it. But I've learned to live with it because that's what they've done. They've come in with the modern sounds. I call it modern pop. It's not country anymore. — George Jones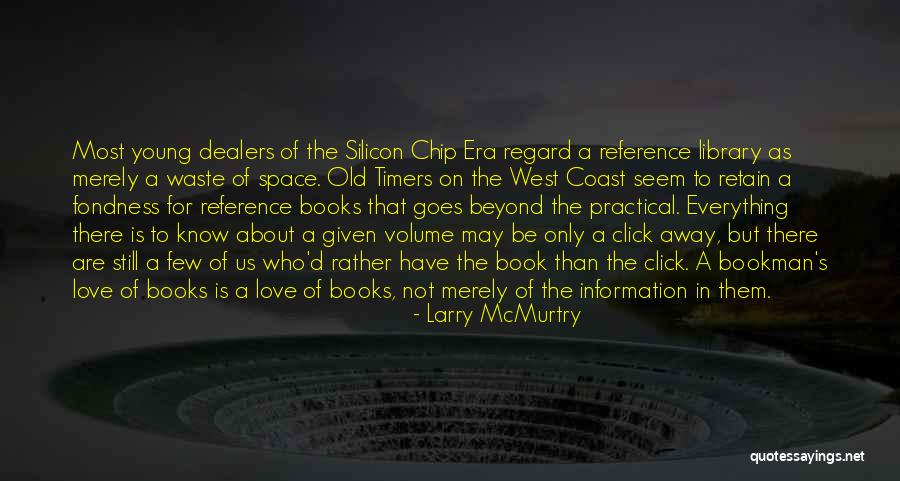 Most young dealers of the Silicon Chip Era regard a reference library as merely a waste of space. Old Timers on the West Coast seem to retain a fondness for reference books that goes beyond the practical. Everything there is to know about a given volume may be only a click away, but there are still a few of us who'd rather have the book than the click. A bookman's love of books is a love of books, not merely of the information in them. — Larry McMurtry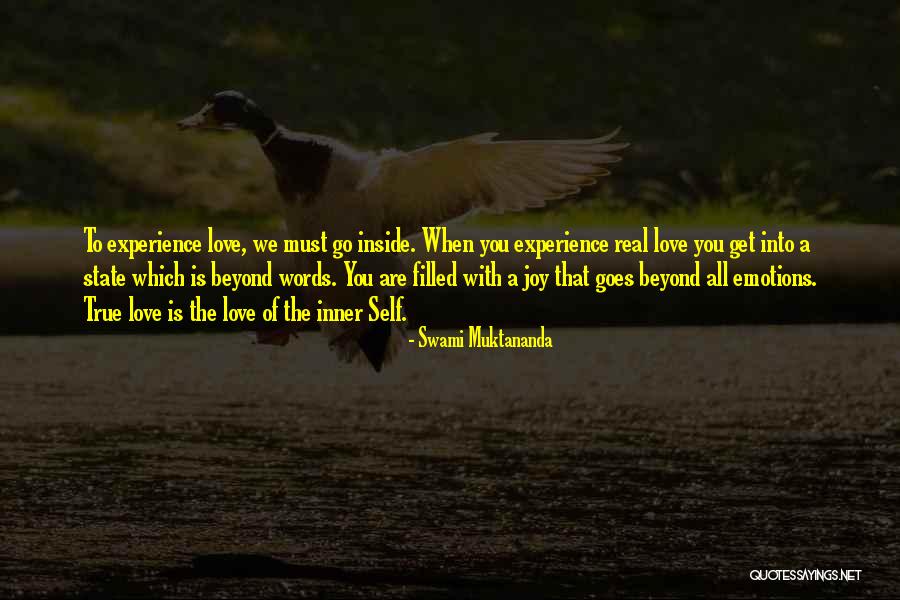 To experience love, we must go inside. When you experience real love you get into a state which is beyond words. You are filled with a joy that goes beyond all emotions. True love is the love of the inner Self. — Swami Muktananda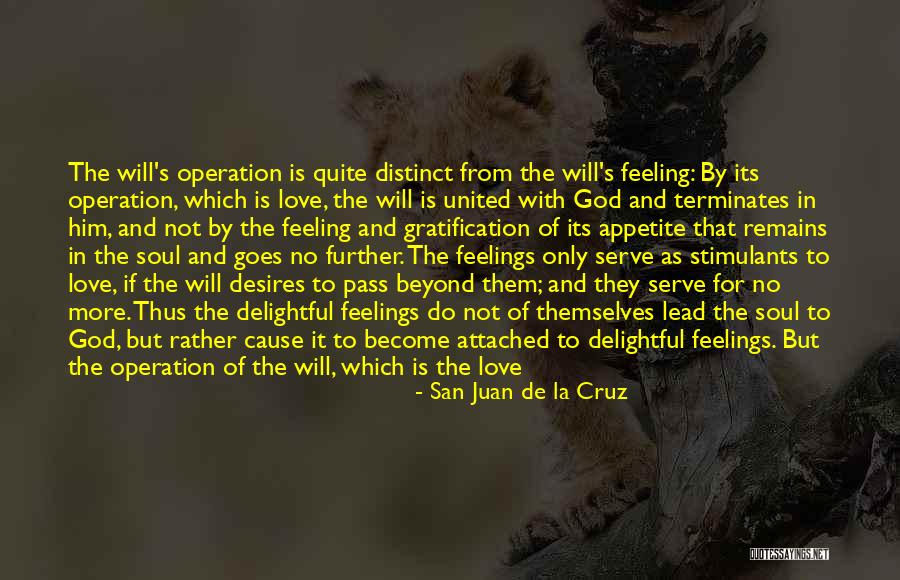 The will's operation is quite distinct from the will's feeling: By its operation, which is love, the will is united with God and terminates in him, and not by the feeling and gratification of its appetite that remains in the soul and goes no further. The feelings only serve as stimulants to love, if the will desires to pass beyond them; and they serve for no more. Thus the delightful feelings do not of themselves lead the soul to God, but rather cause it to become attached to delightful feelings. But the operation of the will, which is the love of God, concentrates the affection, joy, plea sure, satisfaction, and love of the soul only on God, leaving aside all things and loving him above them all. — San Juan De La Cruz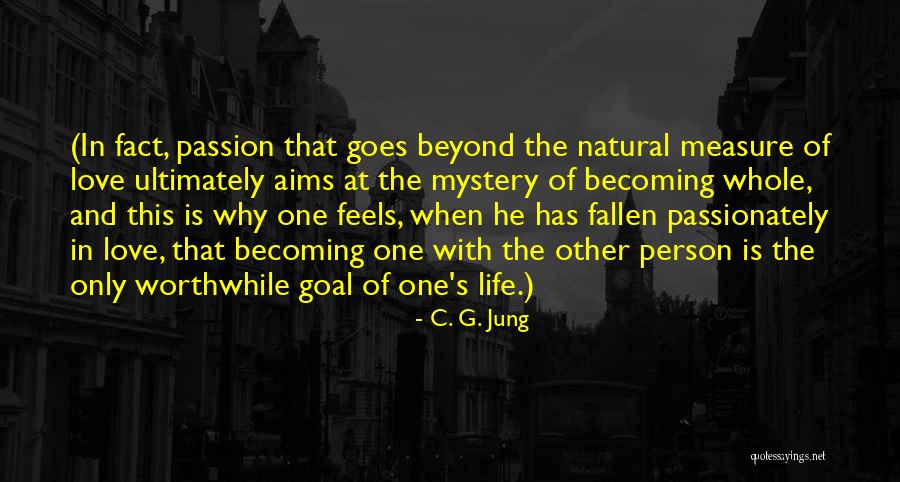 (In fact, passion that goes beyond the natural measure of love ultimately aims at the mystery of becoming whole, and this is why one feels, when he has fallen passionately in love, that becoming one with the other person is the only worthwhile goal of one's life.) — C. G. Jung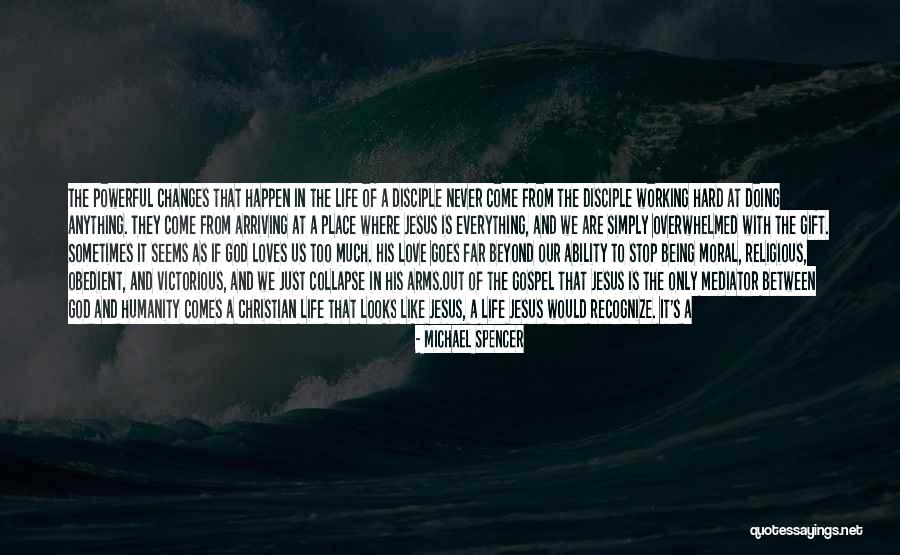 The powerful changes that happen in the life of a disciple never come from the disciple working hard at doing anything. They come from arriving at a place where Jesus is everything, and we are simply overwhelmed with the gift. Sometimes it seems as if God loves us too much. His love goes far beyond our ability to stop being moral, religious, obedient, and victorious, and we just collapse in his arms.
Out of the gospel that Jesus is the only Mediator between God and humanity comes a Christian life that looks like Jesus, a life Jesus would recognize. It's a life that looks like Jesus, because Jesus does everything, and all we do is accept his gift. And to accept his gift, we have to give up trying to be Jesus.
Out of that discovery comes a Christian life that is free from the tyranny of unnecessary adjectives - even my preferred modified, Jesus-shaped - and simply follows after the One who loves us beyond words or repayment. — Michael Spencer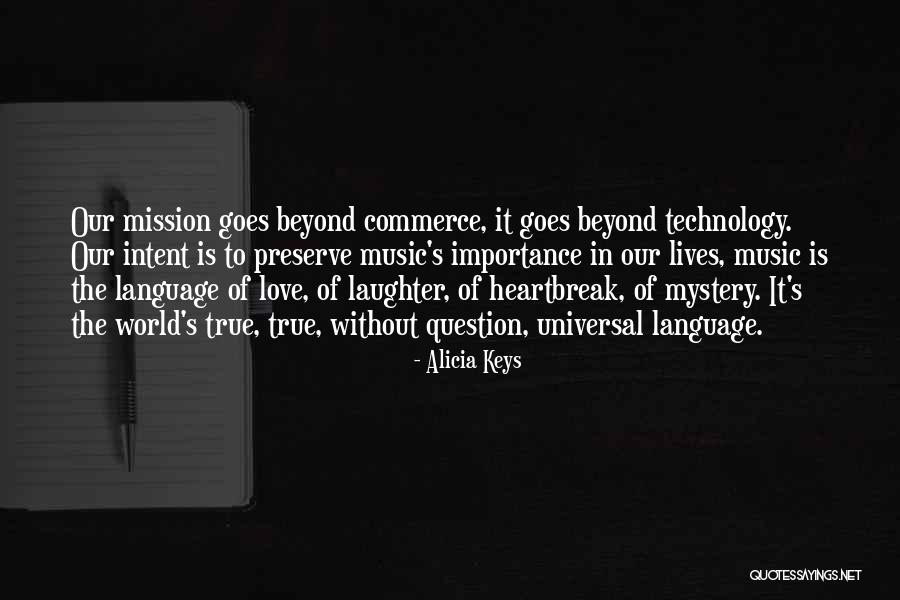 Our mission goes beyond commerce, it goes beyond technology. Our intent is to preserve music's importance in our lives, music is the language of love, of laughter, of heartbreak, of mystery. It's the world's true, true, without question, universal language. — Alicia Keys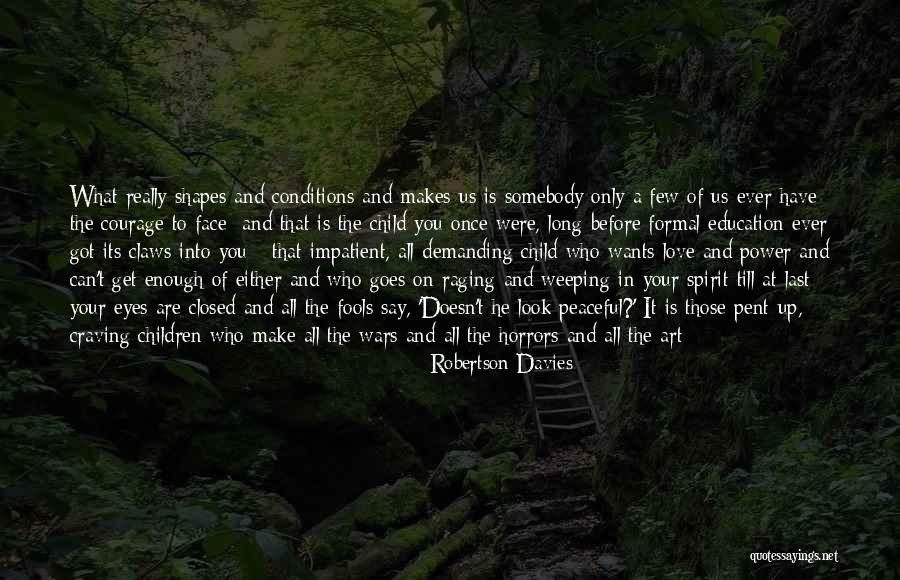 What really shapes and conditions and makes us is somebody only a few of us ever have the courage to face: and that is the child you once were, long before formal education ever got its claws into you - that impatient, all-demanding child who wants love and power and can't get enough of either and who goes on raging and weeping in your spirit till at last your eyes are closed and all the fools say, 'Doesn't he look peaceful?' It is those pent-up, craving children who make all the wars and all the horrors and all the art and all the beauty and discovery in life, because they are trying to achieve what lay beyond their grasp before they were five years old. — Robertson Davies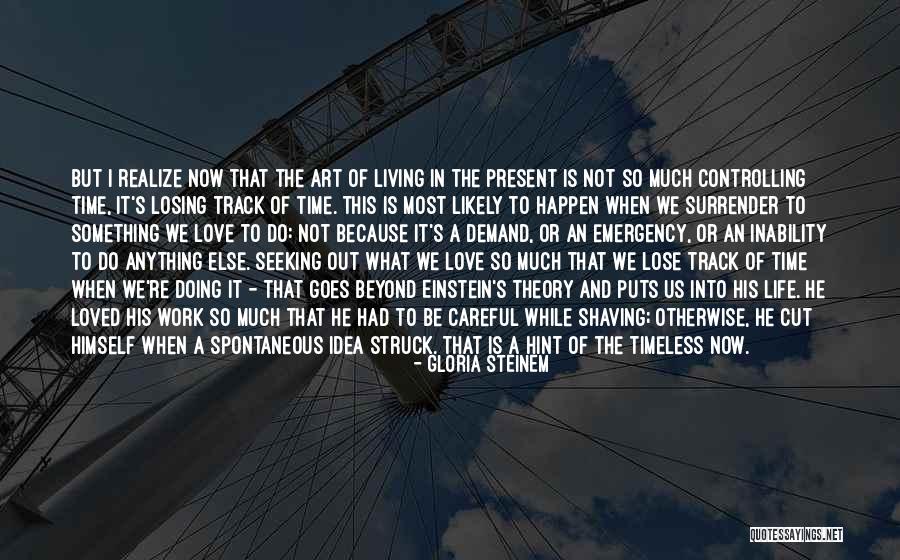 But I realize now that the art of living in the present is not so much controlling time, it's losing track of time. This is most likely to happen when we surrender to something we love to do: not because it's a demand, or an emergency, or an inability to do anything else. Seeking out what we love so much that we lose track of time when we're doing it - that goes beyond Einstein's theory and puts us into his life. He loved his work so much that he had to be careful while shaving; otherwise, he cut himself when a spontaneous idea struck. That is a hint of the timeless Now. — Gloria Steinem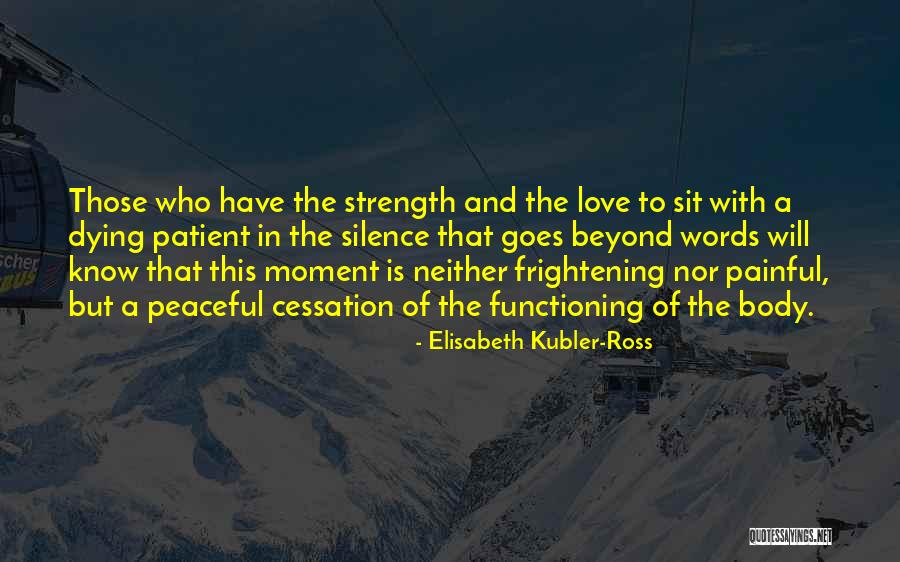 Those who have the strength and the love to sit with a dying patient in the silence that goes beyond words will know that this moment is neither frightening nor painful, but a peaceful cessation of the functioning of the body. — Elisabeth Kubler-Ross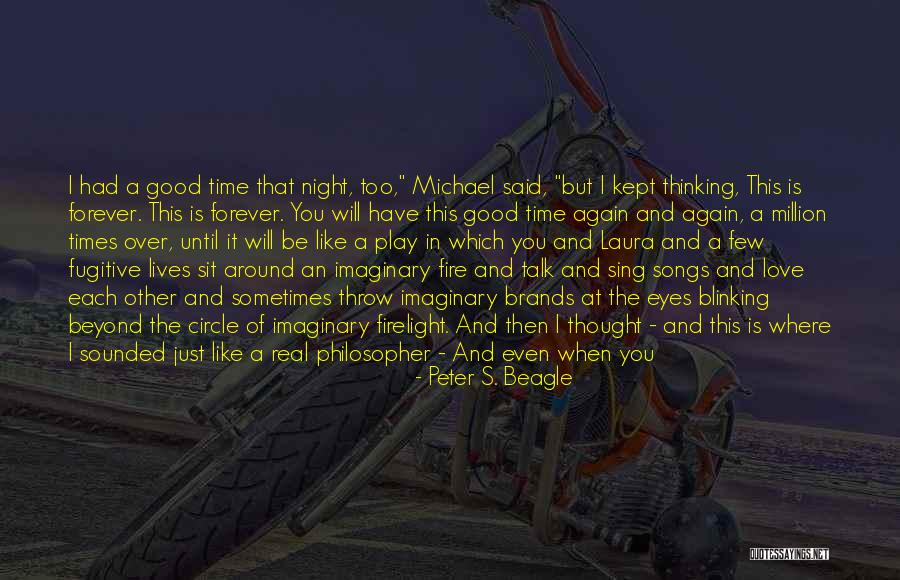 I had a good time that night, too," Michael said, "but I kept thinking, This is forever. This is forever. You will have this good time again and again, a million times over, until it will be like a play in which you and Laura and a few fugitive lives sit around an imaginary fire and talk and sing songs and love each other and sometimes throw imaginary brands at the eyes blinking beyond the circle of imaginary firelight. And then I thought - and this is where I sounded just like a real philosopher - And even when you admit that you know every line in the play and every song that will be sung, even when you know that this evening spent with friends is pleasant and joyful because you remember it as pleasant and joyful and wouldn't change it for the world, even when you know that anything you feel for these good friends has no more reality than a dream faithfully remembered every night for a thousand years - even then it goes on. Even then it has just begun. — Peter S. Beagle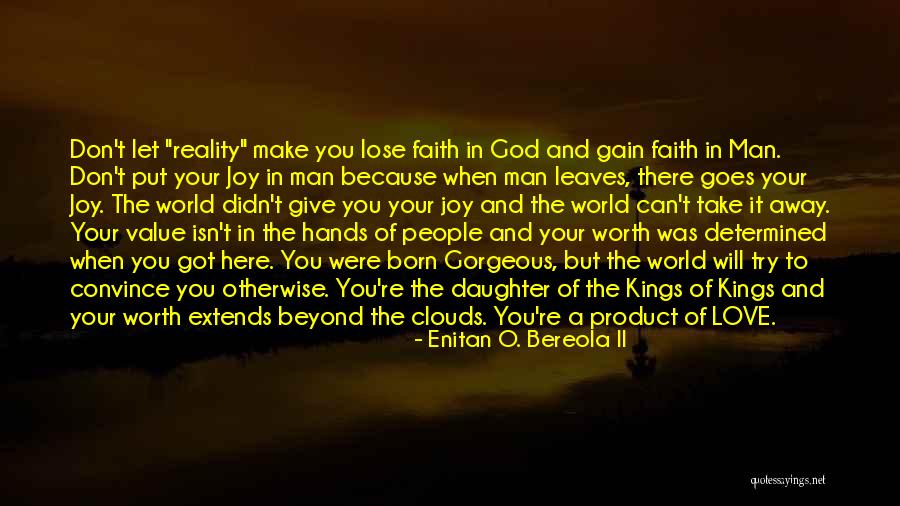 Don't let "reality" make you lose faith in God and gain faith in Man. Don't put your Joy in man because when man leaves, there goes your Joy. The world didn't give you your joy and the world can't take it away. Your value isn't in the hands of people and your worth was determined when you got here. You were born Gorgeous, but the world will try to convince you otherwise. You're the daughter of the Kings of Kings and your worth extends beyond the clouds. You're a product of LOVE. — Enitan O. Bereola II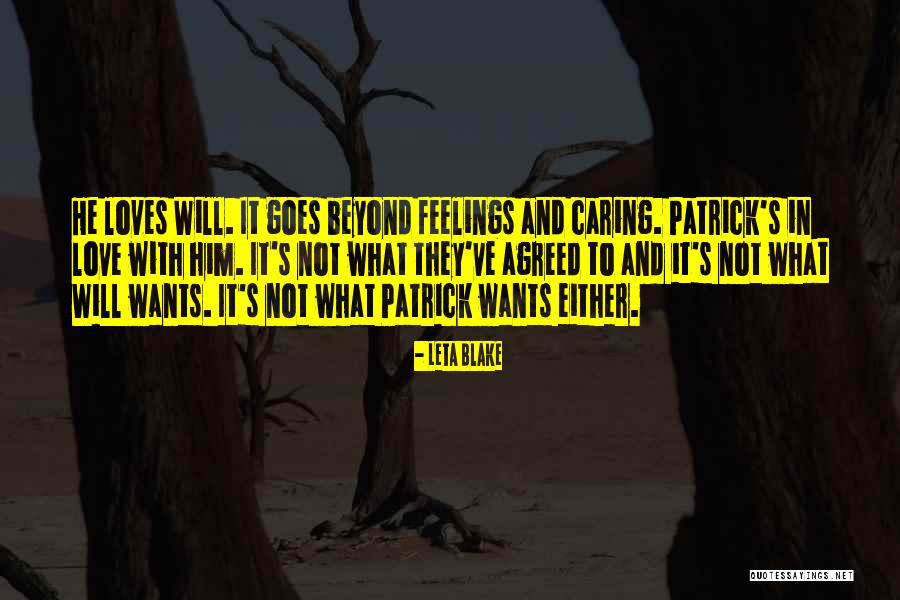 He loves Will. It goes beyond feelings and caring. Patrick's in love with him. It's not what they've agreed to and it's not what Will wants. It's not what Patrick wants either. — Leta Blake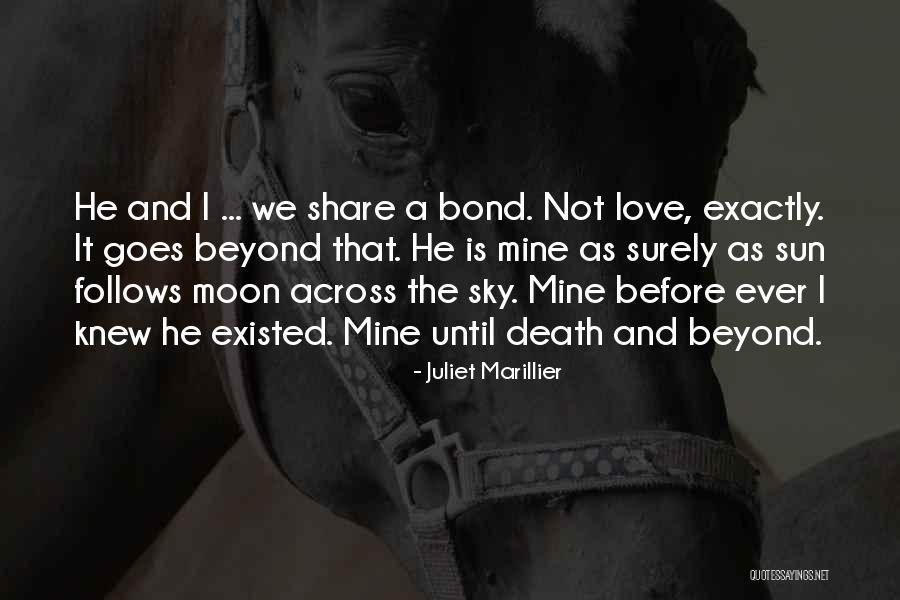 He and I ... we share a bond. Not love, exactly. It goes beyond that. He is mine as surely as sun follows moon across the sky. Mine before ever I knew he existed. Mine until death and beyond. — Juliet Marillier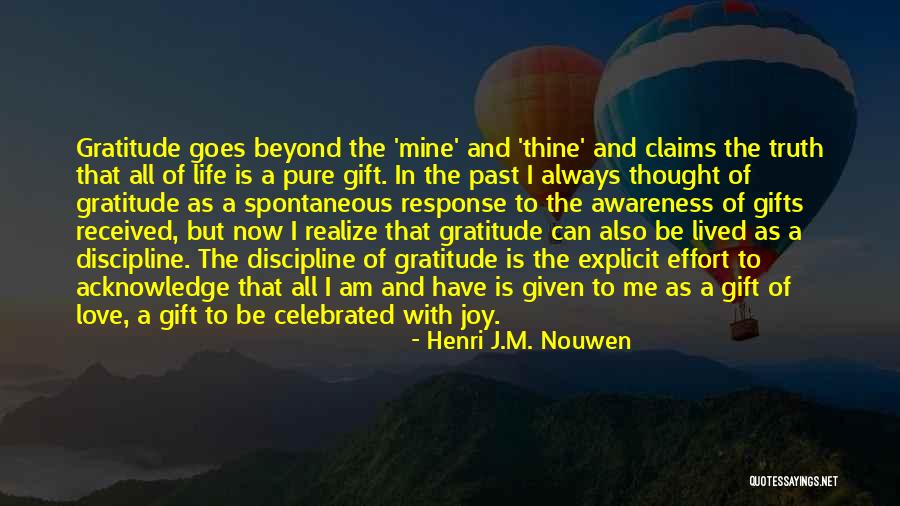 Gratitude goes beyond the 'mine' and 'thine' and claims the truth that all of life is a pure gift. In the past I always thought of gratitude as a spontaneous response to the awareness of gifts received, but now I realize that gratitude can also be lived as a discipline. The discipline of gratitude is the explicit effort to acknowledge that all I am and have is given to me as a gift of love, a gift to be celebrated with joy. — Henri J.M. Nouwen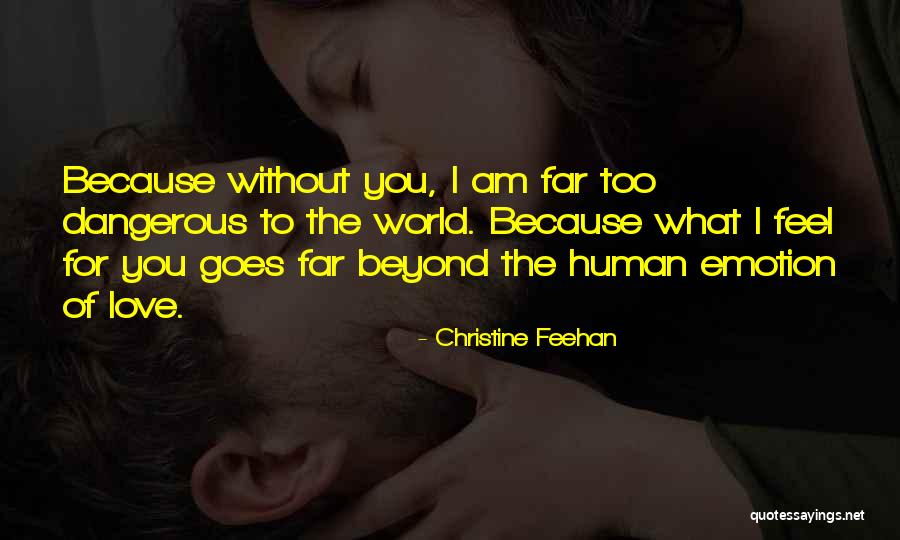 Because without you, I am far too dangerous to the world. Because what I feel for you goes far beyond the human emotion of love. — Christine Feehan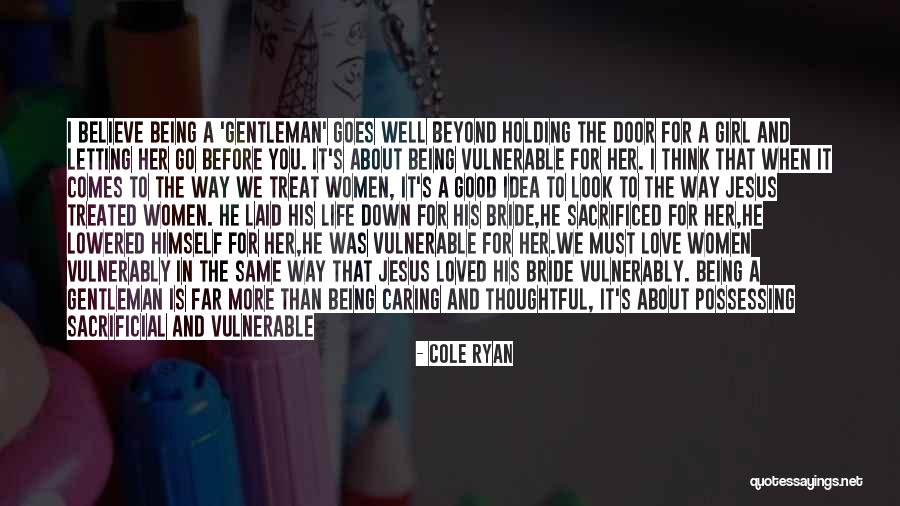 I believe being a 'gentleman' goes well beyond holding the door for a girl and letting her go before you. It's about being vulnerable for her. I think that when it comes to the way we treat women, it's a good idea to look to the way Jesus treated women.

He laid His life down for His bride,

He sacrificed for her,

He lowered Himself for her,

He was vulnerable for her.

We must love women vulnerably in the same way that Jesus loved His bride vulnerably. Being a gentleman is far more than being caring and thoughtful, it's about possessing sacrificial and vulnerable Christ-like characteristics. I don't know if it's possible to be a gentleman without knowing and representing the character of Jesus. — Cole Ryan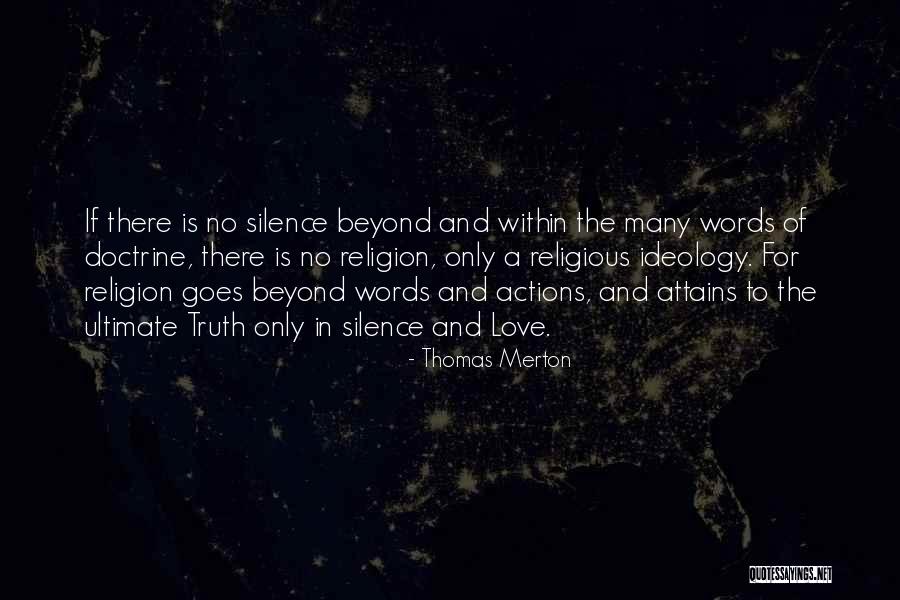 If there is no silence beyond and within the many words of doctrine, there is no religion, only a religious ideology. For religion goes beyond words and actions, and attains to the ultimate Truth only in silence and Love. — Thomas Merton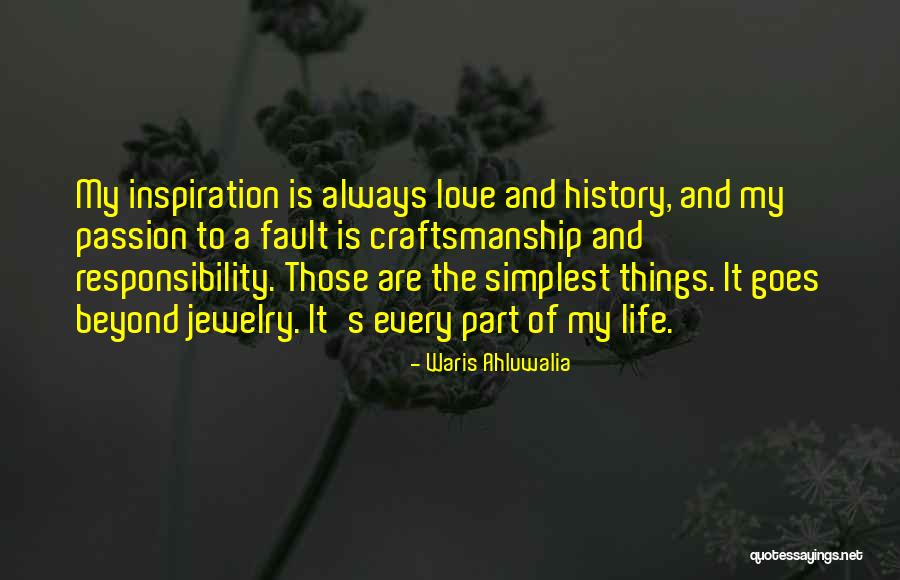 My inspiration is always love and history, and my passion to a fault is craftsmanship and responsibility. Those are the simplest things. It goes beyond jewelry. It's every part of my life. — Waris Ahluwalia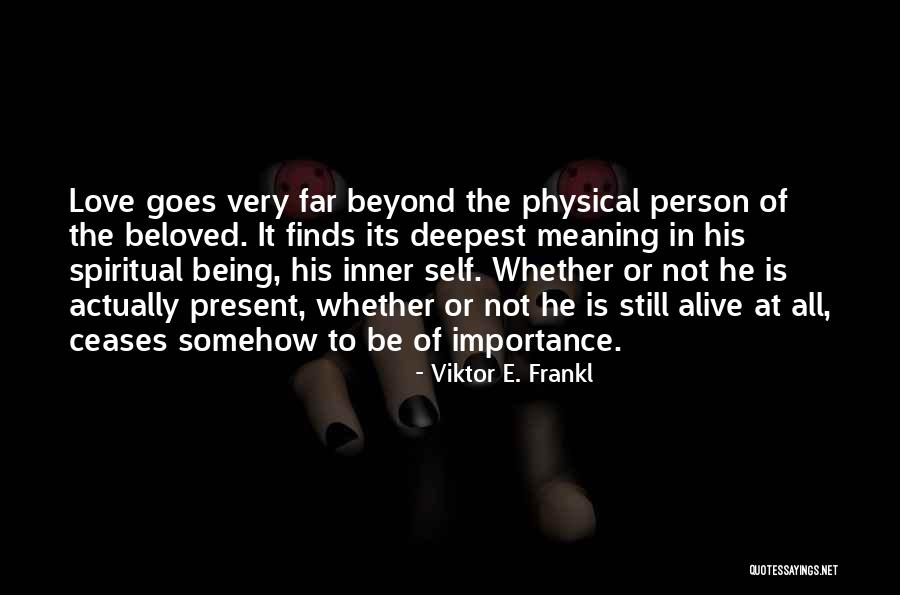 Love goes very far beyond the physical person of the beloved. It finds its deepest meaning in his spiritual being, his inner self. Whether or not he is actually present, whether or not he is still alive at all, ceases somehow to be of importance. — Viktor E. Frankl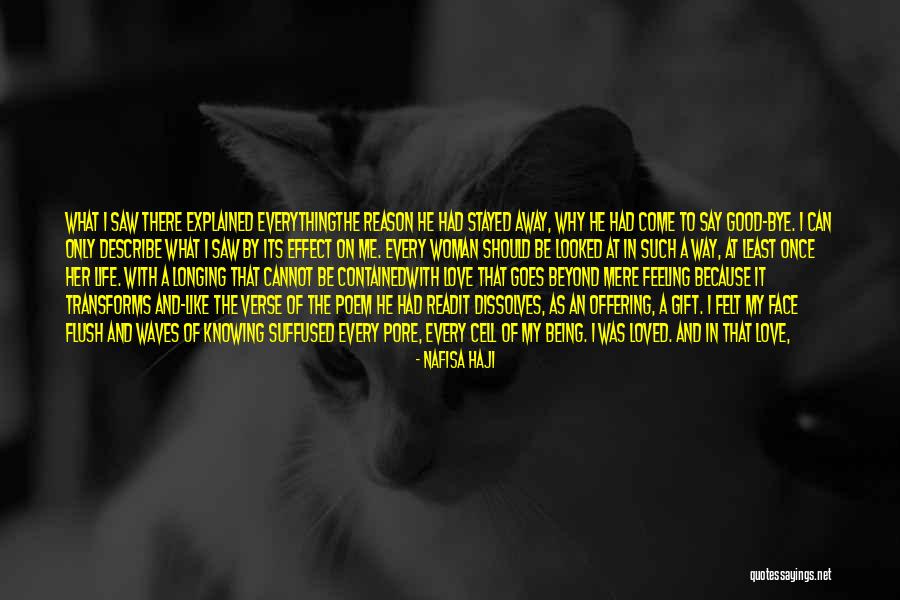 What I saw there explained everything
the reason he had stayed away, why he had come to say good-bye. I can only describe what I saw by its effect on me. Every woman should be looked at in such a way, at least once her life. With a longing that cannot be contained
with love that goes beyond mere feeling because it transforms and-like the verse of the poem he had read
it dissolves, as an offering, a gift. I felt my face flush and waves of knowing suffused every pore, every cell of my being. I was loved. And in that love, I felt beauty
my own, unrealized until that moment, suddenly rising to consciousness in a way that made everything in me come alive to the beauty all around me. Nothing more needed to be said. — Nafisa Haji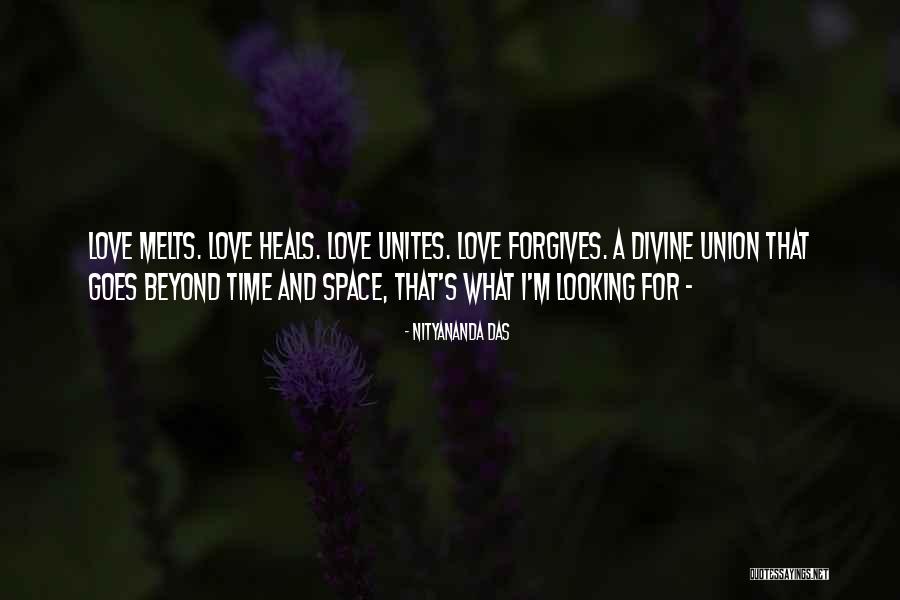 Love melts. Love heals. Love unites. Love forgives. A Divine Union that goes beyond time and space, that's what I'm looking for - — Nityananda Das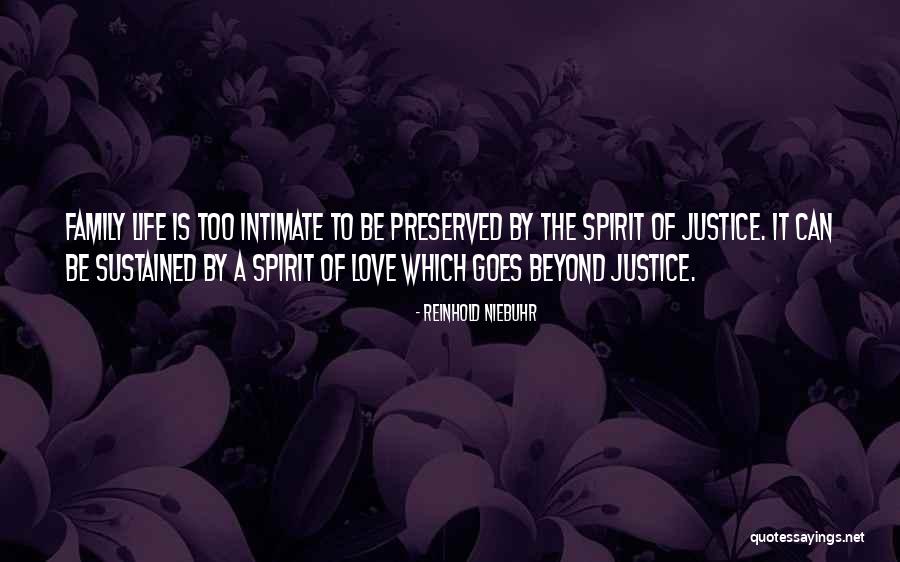 Family life is too intimate to be preserved by the spirit of justice. It can be sustained by a spirit of love which goes beyond justice. — Reinhold Niebuhr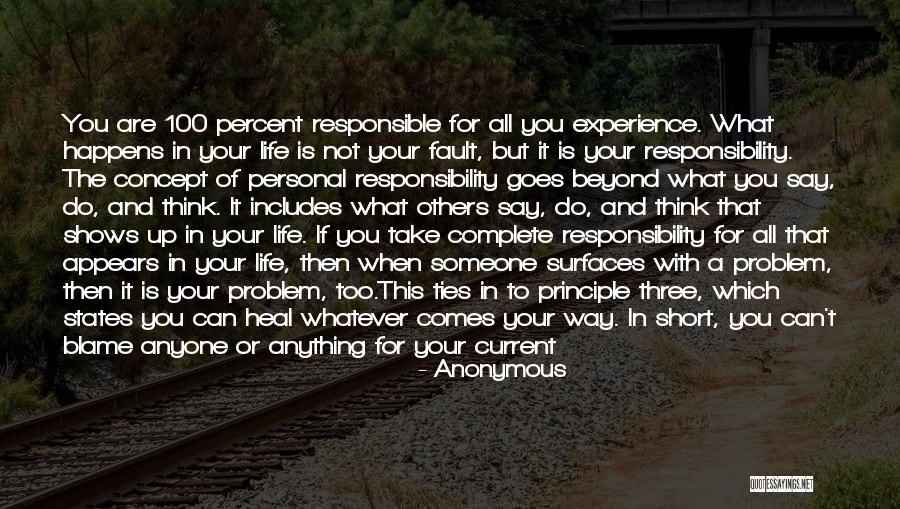 You are 100 percent responsible for all you experience. What happens in your life is not your fault, but it is your responsibility. The concept of personal responsibility goes beyond what you say, do, and think. It includes what others say, do, and think that shows up in your life. If you take complete responsibility for all that appears in your life, then when someone surfaces with a problem, then it is your problem, too.This ties in to principle three, which states you can heal whatever comes your way. In short, you can't blame anyone or anything for your current reality.All you can do is take responsibility for it, which means accept it, own it, and love it.The more you heal what comes up, the more you get in tune with the source.5. — Anonymous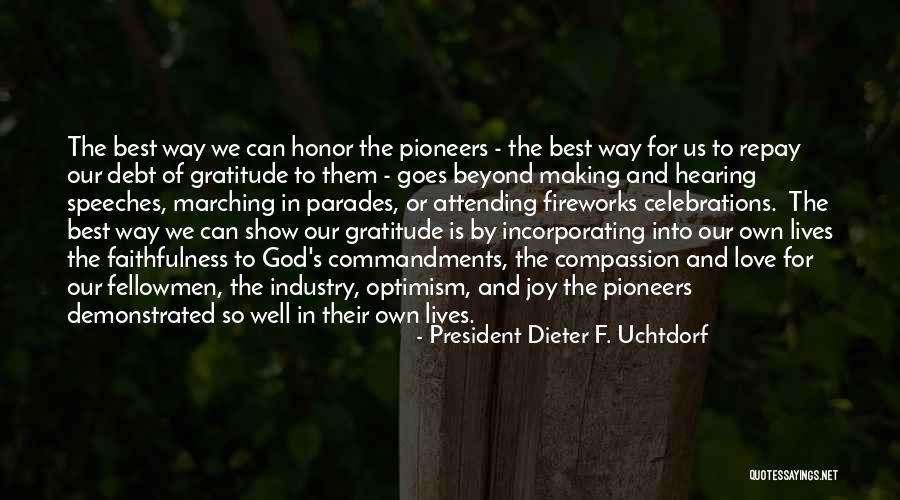 The best way we can honor the pioneers - the best way for us to repay our debt of gratitude to them - goes beyond making and hearing speeches, marching in parades, or attending fireworks celebrations.
The best way we can show our gratitude is by incorporating into our own lives the faithfulness to God's commandments, the compassion and love for our fellowmen, the industry, optimism, and joy the pioneers demonstrated so well in their own lives. — President Dieter F. Uchtdorf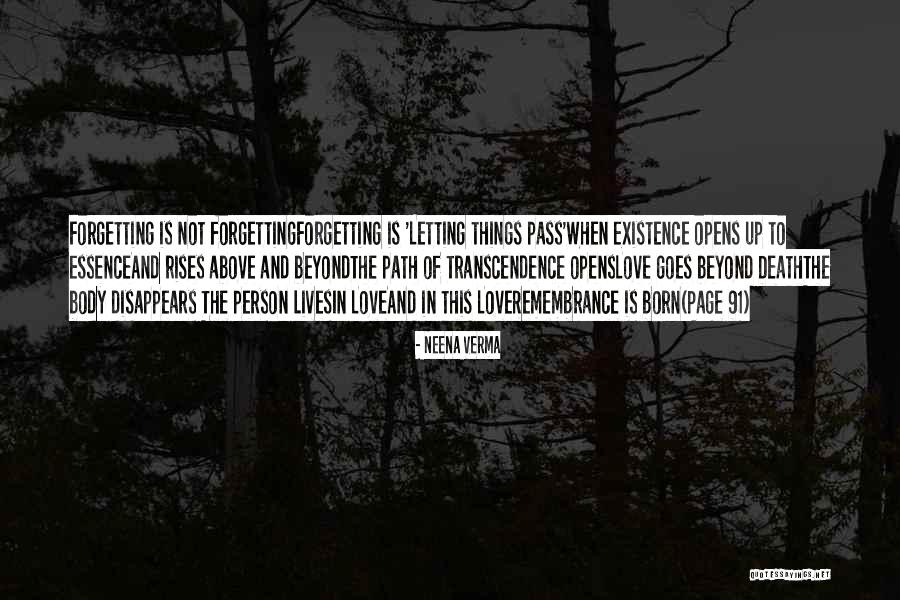 Forgetting is not forgetting
Forgetting is 'Letting things pass'

When Existence opens up to Essence
And rises above and beyond
The path of Transcendence opens

Love goes beyond Death
The body disappears
The person lives
In Love

And in this Love
Remembrance is born
(Page 91) — Neena Verma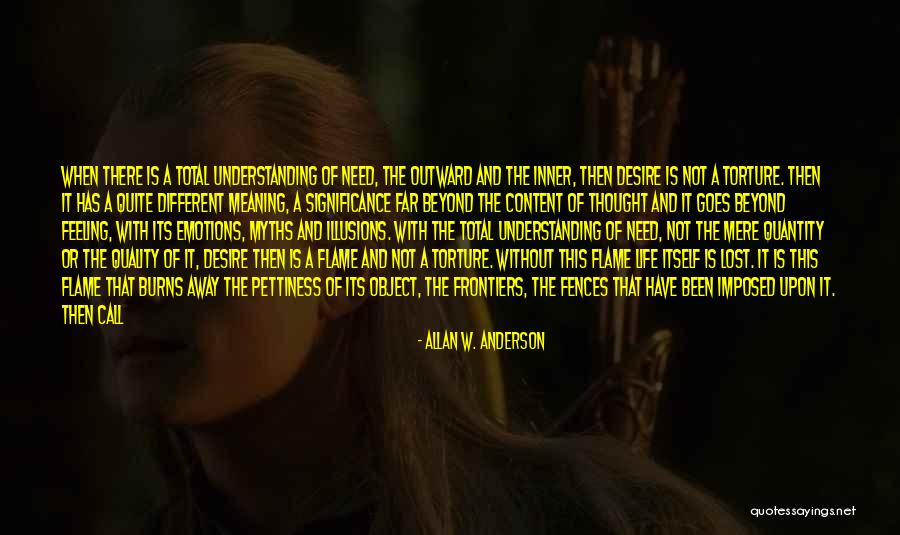 When there is a total understanding of need, the outward and the inner, then desire is not a torture. Then it has a quite different meaning, a significance far beyond the content of thought and it goes beyond feeling, with its emotions, myths and illusions. With the total understanding of need, not the mere quantity or the quality of it, desire then is a flame and not a torture. Without this flame life itself is lost. It is this flame that burns away the pettiness of its object, the frontiers, the fences that have been imposed upon it. Then call it by whatever name you will, love, death, beauty. Then it is there without an end. — Allan W. Anderson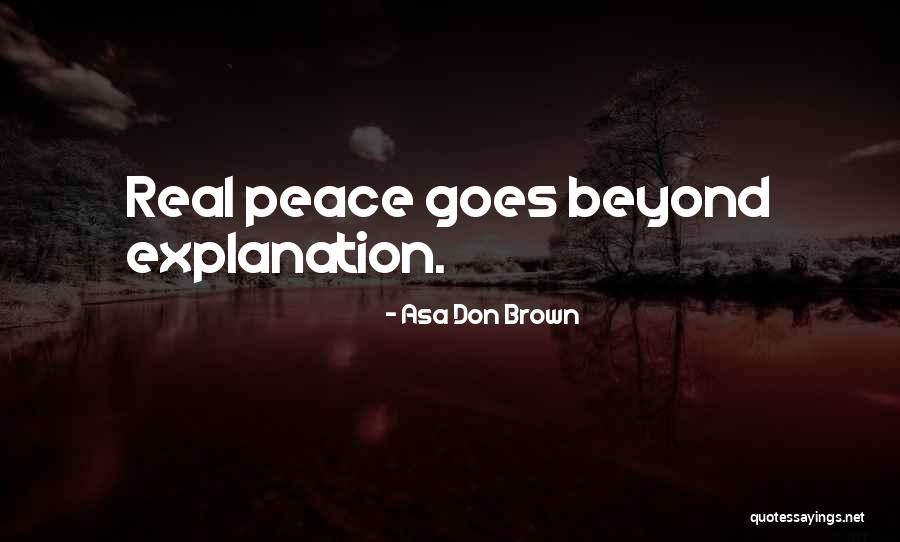 Real peace goes beyond explanation. — Asa Don Brown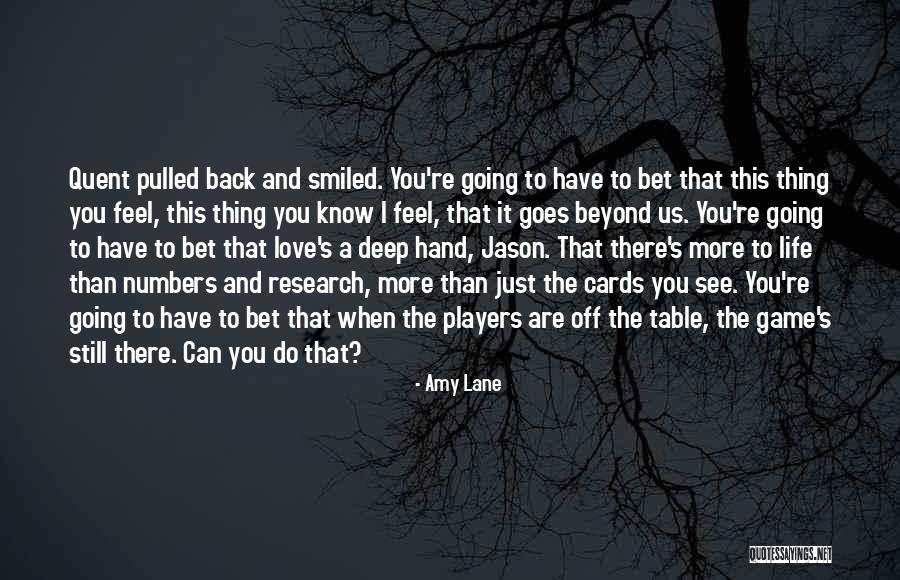 Quent pulled back and smiled. You're going to have to bet that
this thing you feel, this thing you know I feel, that it goes beyond us. You're going to have to bet that love's a deep hand, Jason. That there's
more to life than numbers and research, more than just the cards you see. You're going to have to bet that when the players are off the table, the game's still there. Can you do that? — Amy Lane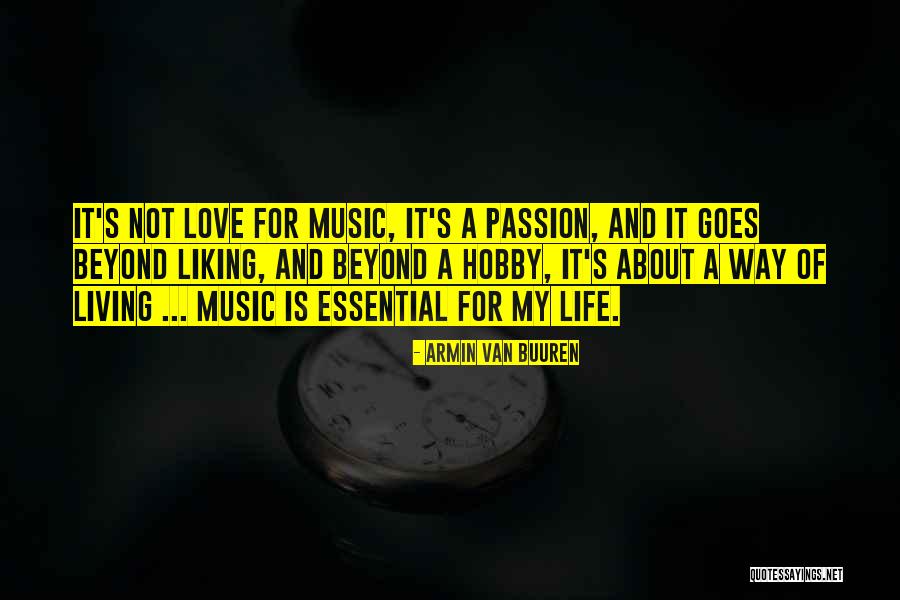 It's not love for music, it's a passion, and it goes beyond liking, and beyond a hobby, it's about a way of living ... Music is essential for my life. — Armin Van Buuren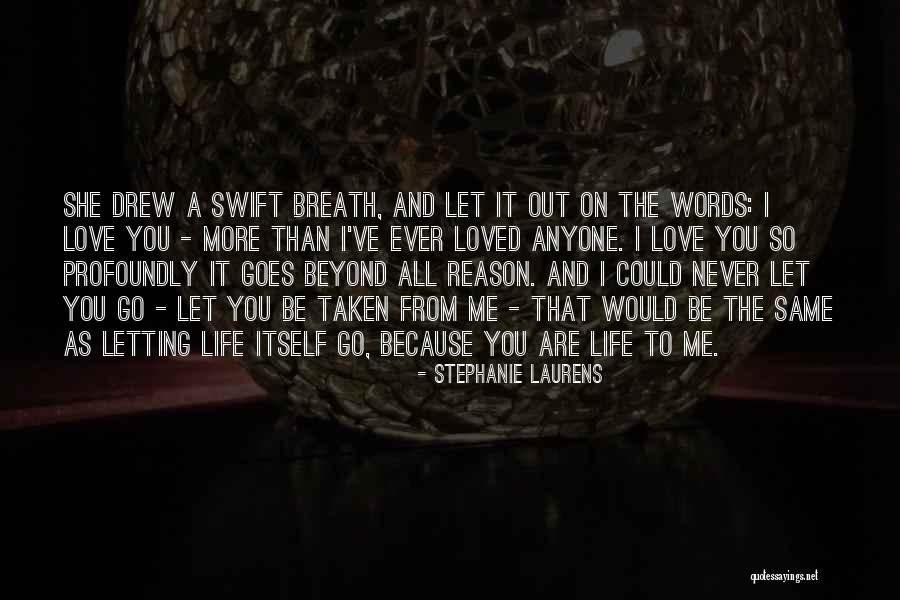 She drew a swift breath, and let it out on the words: I love you - more than I've ever loved anyone. I love you so profoundly it goes beyond all reason. And I could never let you go - let you be taken from me - that would be the same as letting life itself go, because you are life to me. — Stephanie Laurens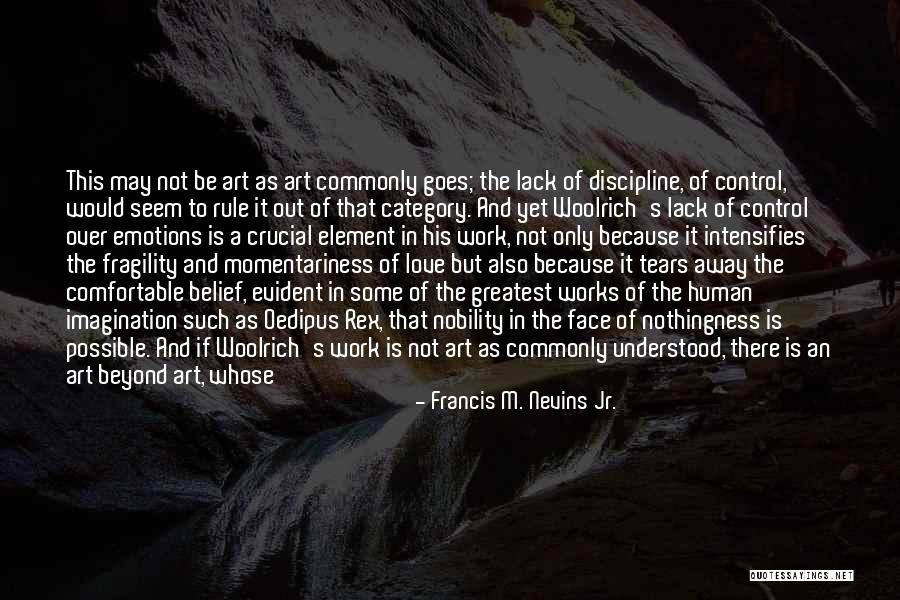 This may not be art as art commonly goes; the lack of discipline, of control, would seem to rule it out of that category. And yet Woolrich's lack of control over emotions is a crucial element in his work, not only because it intensifies the fragility and momentariness of love but also because it tears away the comfortable belief, evident in some of the greatest works of the human imagination such as Oedipus Rex, that nobility in the face of nothingness is possible. And if Woolrich's work is not art as commonly understood, there is an art beyond art, whose form is not the novel or story but the scream; and of this art Woolrich is beyond doubt a master. ("Introduction") — Francis M. Nevins Jr.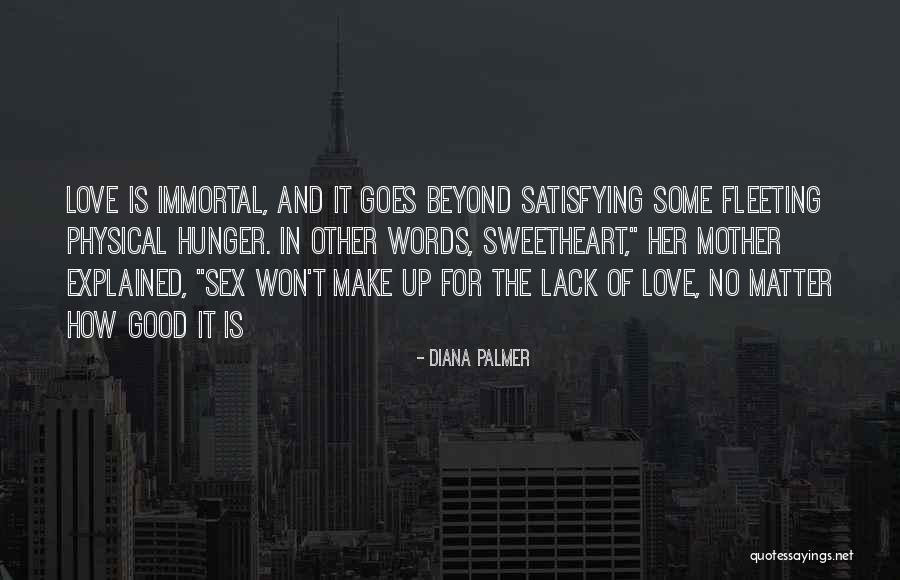 Love is immortal, and it goes beyond satisfying some fleeting physical hunger. In other words, sweetheart," her mother explained, "sex won't make up for the lack of love, no matter how good it is — Diana Palmer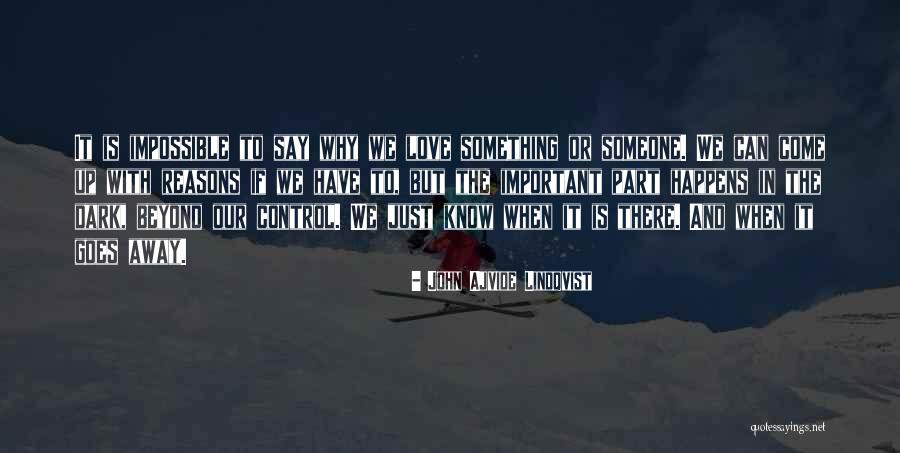 It is impossible to say why we love something or someone. We can come up with reasons if we have to, but the important part happens in the dark, beyond our control. We just know when it is there. And when it goes away. — John Ajvide Lindqvist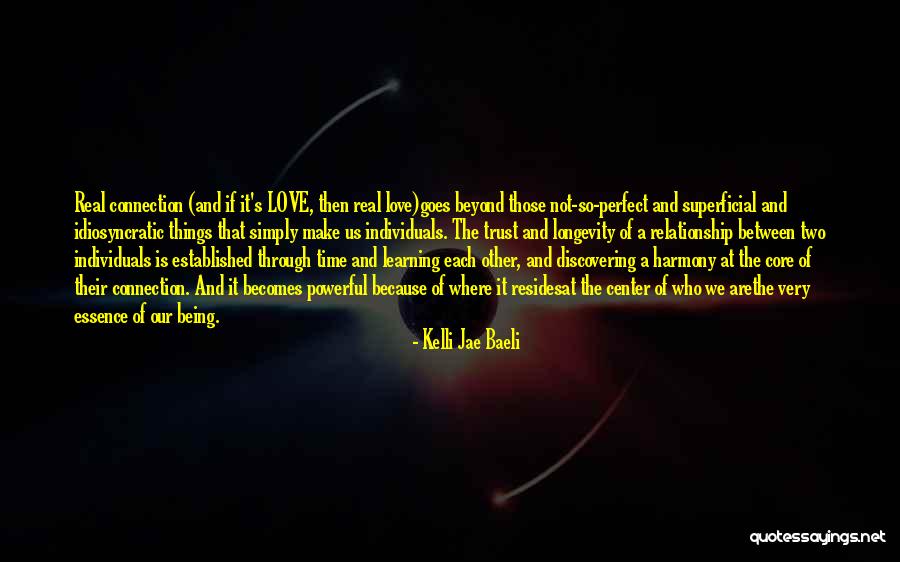 Real connection (and if it's LOVE, then real love)
goes beyond those not-so-perfect and superficial and idiosyncratic things that simply make us individuals. The trust and longevity of a relationship between two individuals is established through time and learning each other, and discovering a harmony at the core of their connection. And it becomes powerful because of where it resides
at the center of who we are
the very essence of our being. — Kelli Jae Baeli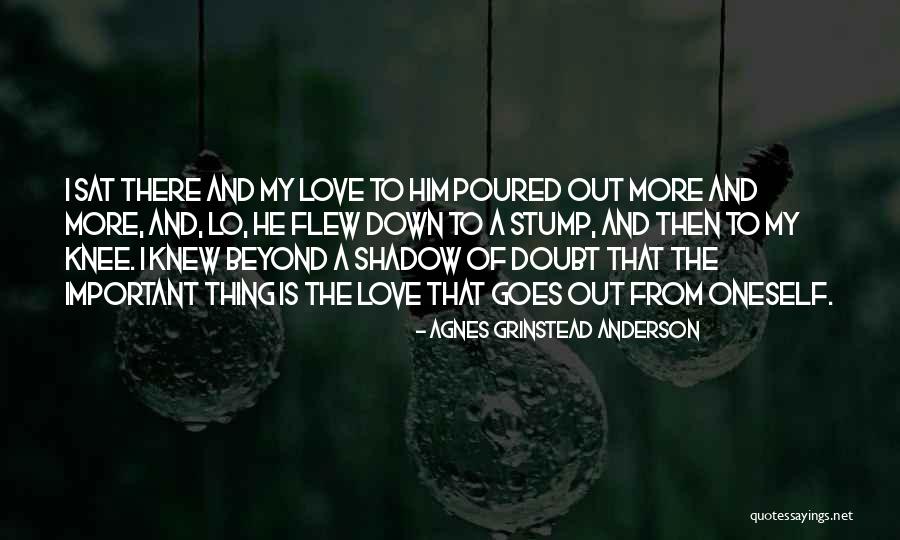 I sat there and my love to him poured out more and more, and, lo, he flew down to a stump, and then to my knee. I knew beyond a shadow of doubt that the important thing is the love that goes out from oneself. — Agnes Grinstead Anderson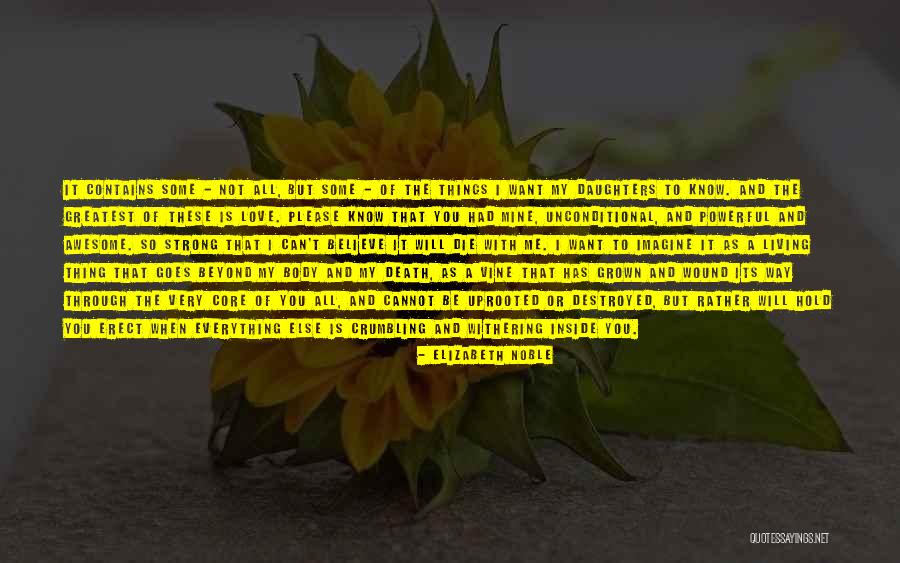 It contains some - not all, but some - of the things I want my daughters to know. And the greatest of these is love. please know that you had mine, unconditional, and powerful and awesome. So strong that I can't believe it will die with me. I want to imagine it as a living thing that goes beyond my body and my death, as a vine that has grown and wound its way through the very core of you all, and cannot be uprooted or destroyed, but rather will hold you erect when everything else is crumbling and withering inside you. — Elizabeth Noble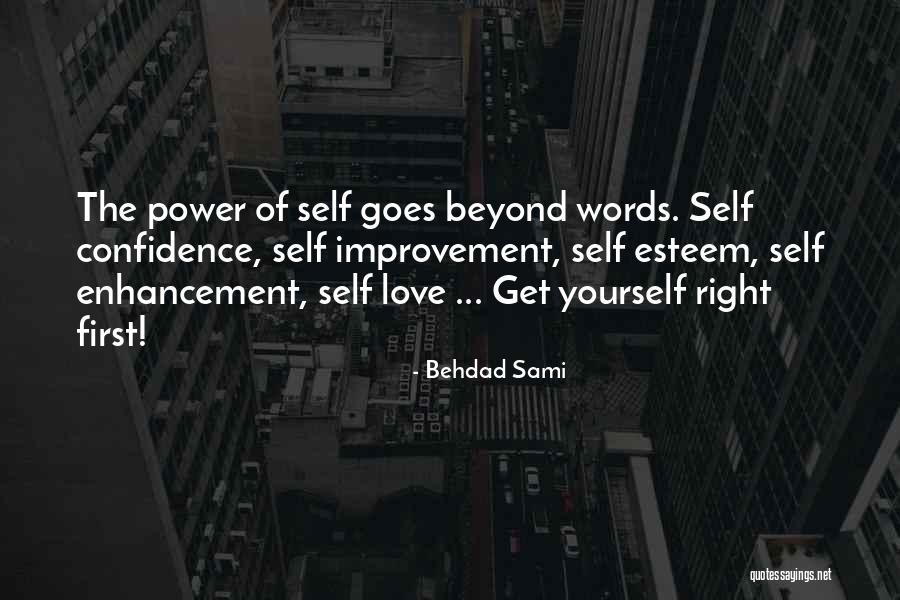 The power of self goes beyond words. Self confidence, self improvement, self esteem, self enhancement, self love ... Get yourself right first! — Behdad Sami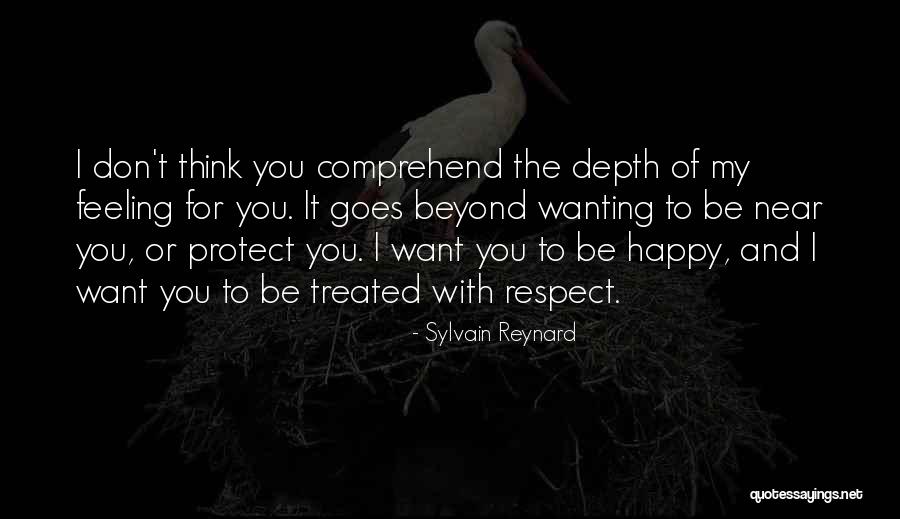 I don't think you comprehend the depth of my feeling for you. It goes beyond wanting to be near you, or protect you. I want you to be happy, and I want you to be treated with respect. — Sylvain Reynard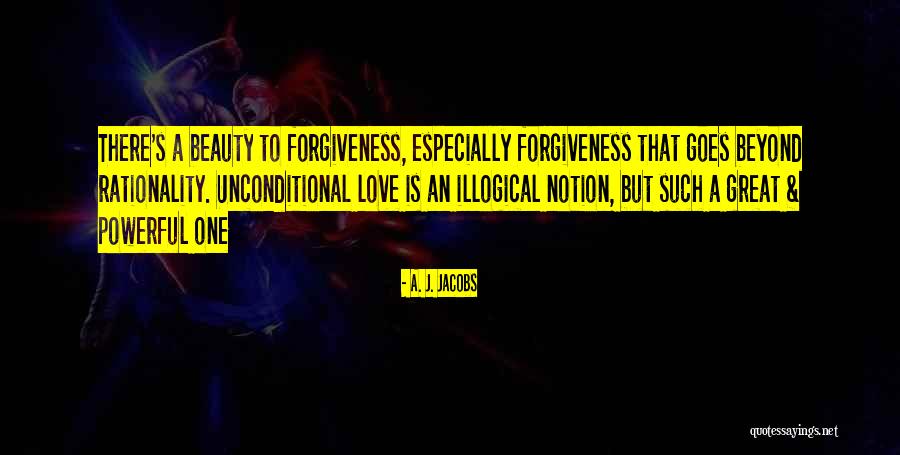 There's a beauty to forgiveness, especially forgiveness that goes beyond rationality. Unconditional love is an illogical notion, but such a great & powerful one — A. J. Jacobs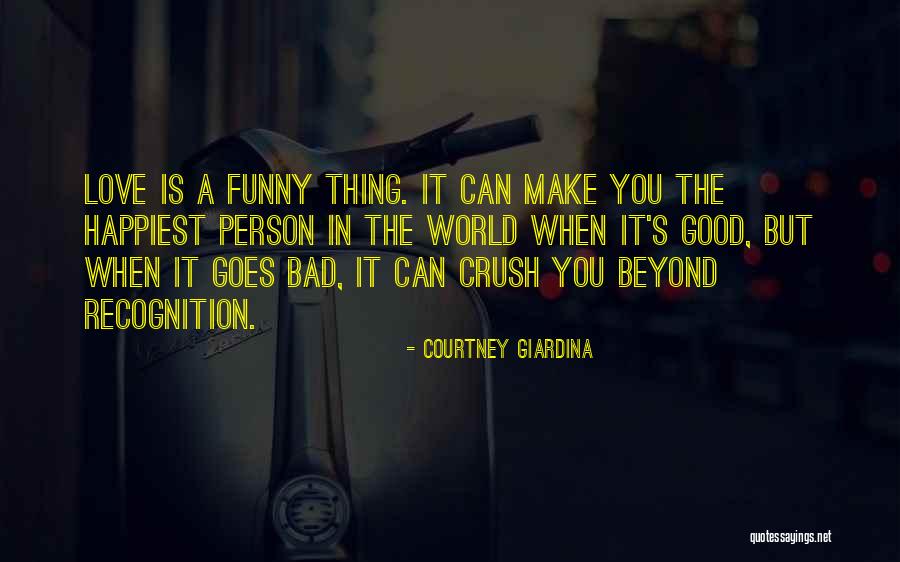 Love is a funny thing. It can make you the happiest person in the world when it's good, but when it goes bad, it can crush you beyond recognition. — Courtney Giardina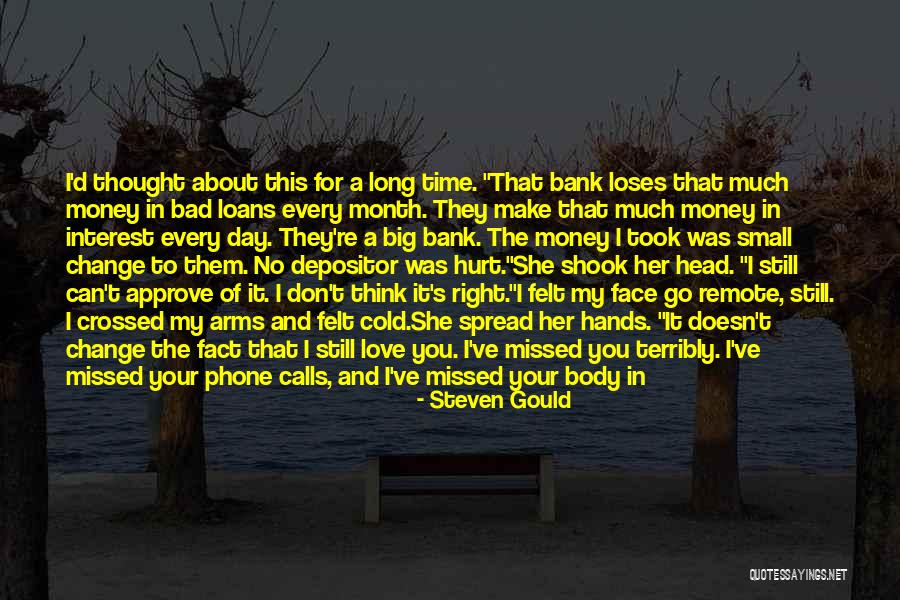 I'd thought about this for a long time. "That bank loses that much money in bad loans every
month. They make that much money in interest every day. They're a big bank. The money I
took was small change to them. No depositor was hurt."
She shook her head. "I still can't approve of it. I don't think it's right."
I felt my face go remote, still. I crossed my arms and felt cold.
She spread her hands. "It doesn't change the fact that I still love you. I've missed you terribly.
I've missed your phone calls, and I've missed your body in bed next to me. I don't know what
to do about this. My loving you goes way beyond my disapproval of your theft."
I uncrossed my arms and reached across the table for her. She leaned forward and we kissed
until the candle burned a hole in my shirt. Then we laughed and I held an ice cube to the
burn and the food came and everything was all right. — Steven Gould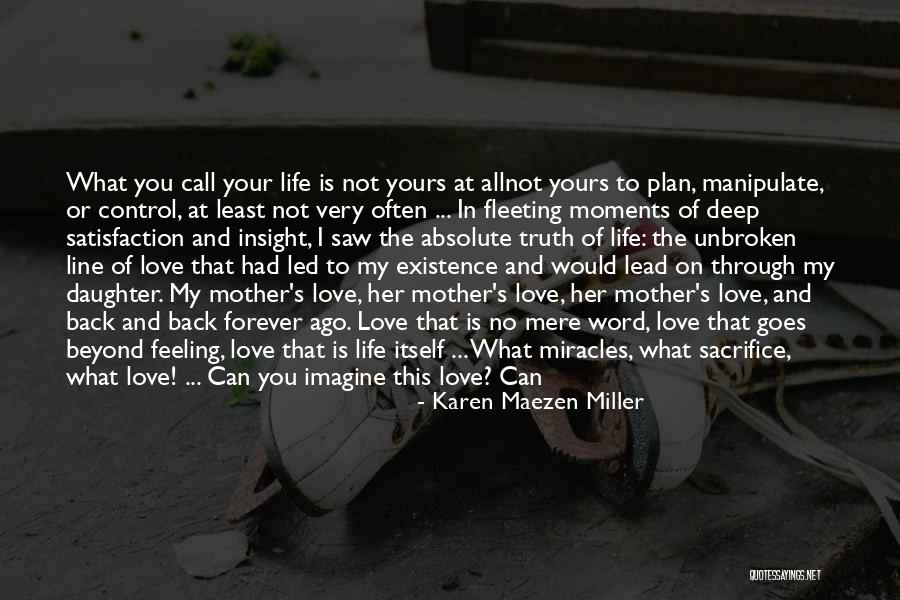 What you call your life is not yours at all
not yours to plan, manipulate, or control, at least not very often ... In fleeting moments of deep satisfaction and insight, I saw the absolute truth of life: the unbroken line of love that had led to my existence and would lead on through my daughter. My mother's love, her mother's love, her mother's love, and back and back forever ago. Love that is no mere word, love that goes beyond feeling, love that is life itself ... What miracles, what sacrifice, what love! ... Can you imagine this love? Can you anticipate it, fabricate it, measure and evaluate it? No you can't, you can only be love, and your child will release its magnitude within you. — Karen Maezen Miller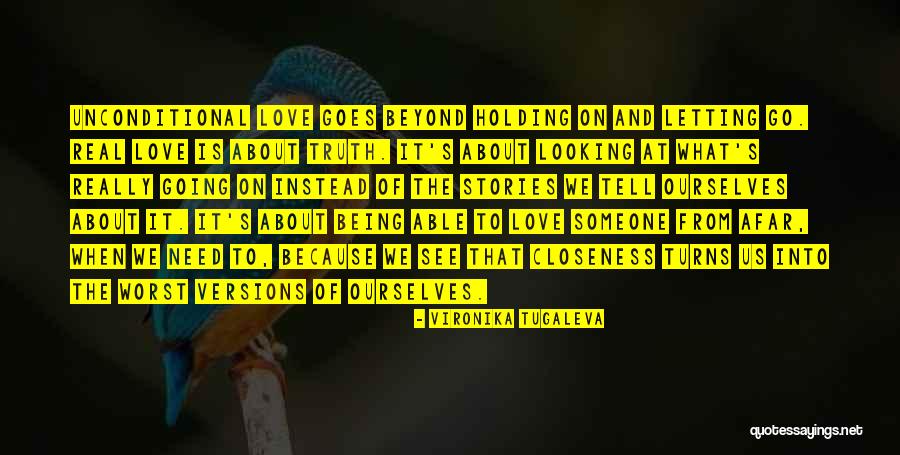 Unconditional love goes beyond holding on and letting go. Real love is about truth. It's about looking at what's really going on instead of the stories we tell ourselves about it. It's about being able to love someone from afar, when we need to, because we see that closeness turns us into the worst versions of ourselves. — Vironika Tugaleva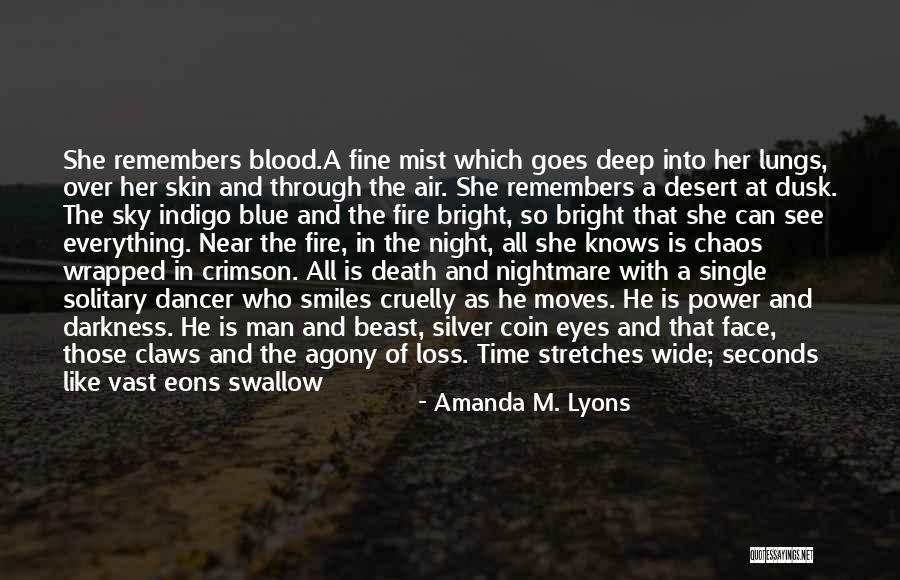 She remembers blood.
A fine mist which goes deep into her lungs, over her skin and through the air. She remembers a desert at dusk. The sky indigo blue and the fire bright, so bright that she can see everything. Near the fire, in the night, all she knows is chaos wrapped in crimson. All is death and nightmare with a single solitary dancer who smiles cruelly as he moves. He is power and darkness. He is man and beast, silver coin eyes and that face, those claws and the agony of loss.
Time stretches wide; seconds like vast eons swallow up her world. Vince is dead, his mother, his brother and her small son ripped apart and gushing as he/it moves. She is screaming, a howl of agony beyond words, primal and wordless. Still he moves, faster than air, faster than she could ever be. Blood drips from her face as she grunts, running with her lungs on fire and her last remaining hope wrapped in her arms. — Amanda M. Lyons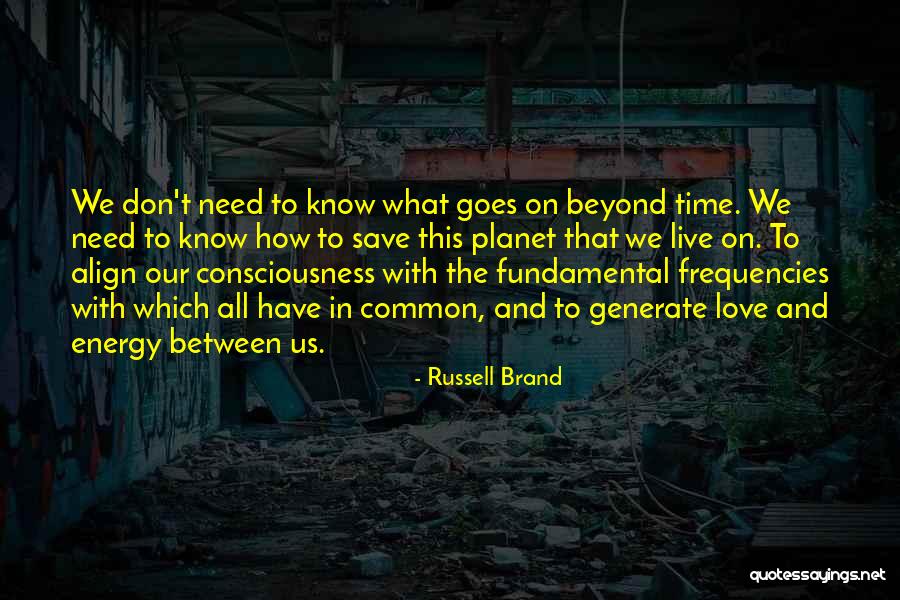 We don't need to know what goes on beyond time. We need to know how to save this planet that we live on. To align our consciousness with the fundamental frequencies with which all have in common, and to generate love and energy between us. — Russell Brand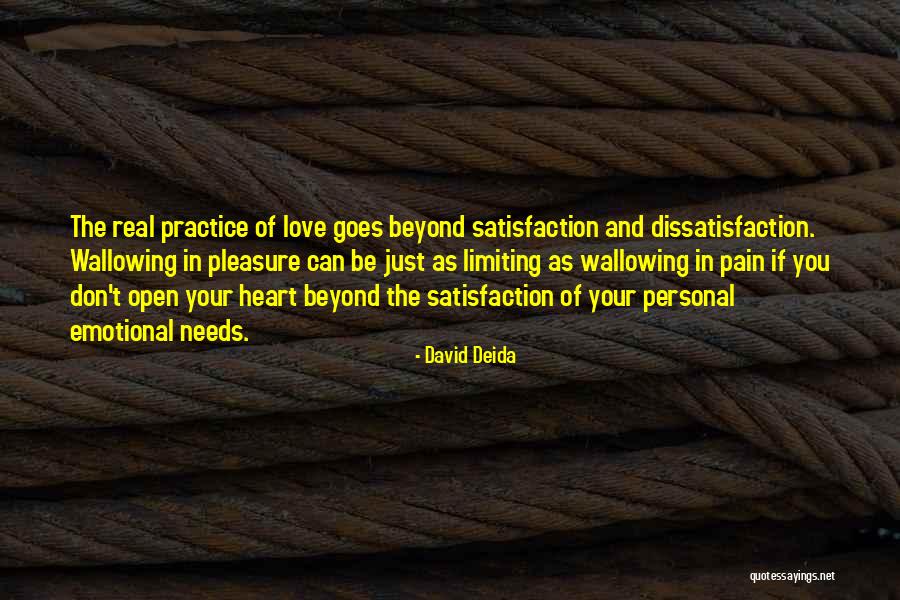 The real practice of love goes beyond satisfaction and dissatisfaction. Wallowing in pleasure can be just as limiting as wallowing in pain if you don't open your heart beyond the satisfaction of your personal emotional needs. — David Deida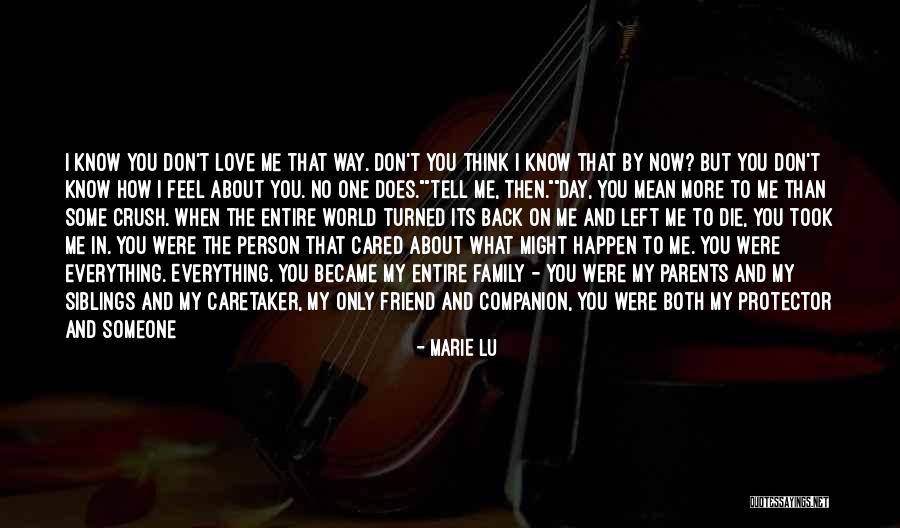 I know you don't love me that way. Don't you think I know that by now? But you don't know how I feel about you. No one does."
"Tell me, then."
"Day, you mean more to me than some crush. When the entire world turned its back on me and left me to die, you took me in. You were the person that cared about what might happen to me. You were everything. Everything. You became my entire family - you were my parents and my siblings and my caretaker, my only friend and companion, you were both my protector and someone who needed protecting. You see? I didn't love you in the way you might've thought I did, although I can't deny that was part of it. But the way I feel goes beyond that. — Marie Lu
Love is not simply a feeling of romantic excitement; it is more than a desire to marry a potential partner; it goes beyond intense sexual attraction; it exceeds the thrill at having "captured" a highly desirable social prize. Real love is an expression of the deepest appreciation for another human being; it is awareness of his or her needs and longings- past, present and future. It is unselfish, giving and caring. — James Dobson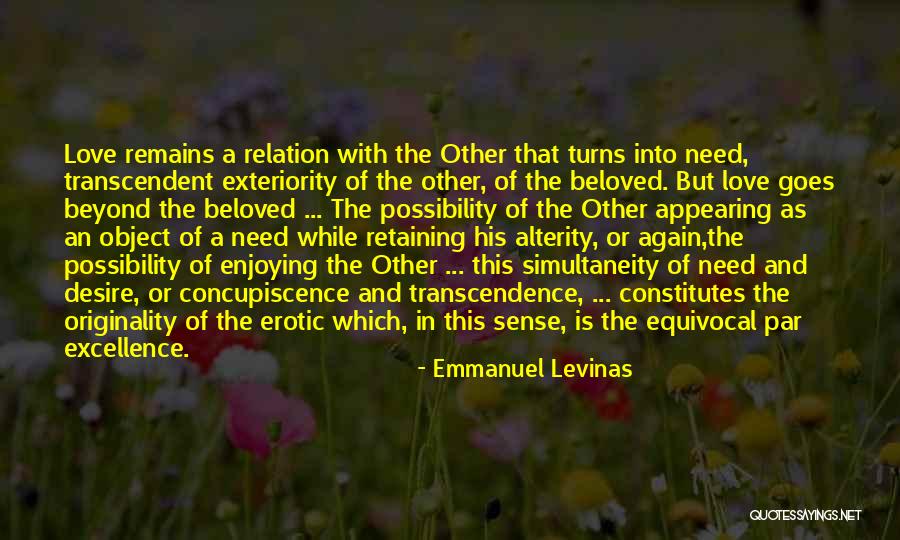 Love remains a relation with the Other that turns into need, transcendent exteriority of the other, of the beloved. But love goes beyond the beloved ... The possibility of the Other appearing as an object of a need while retaining his alterity, or again,the possibility of enjoying the Other ... this simultaneity of need and desire, or concupiscence and transcendence, ... constitutes the originality of the erotic which, in this sense, is the equivocal par excellence. — Emmanuel Levinas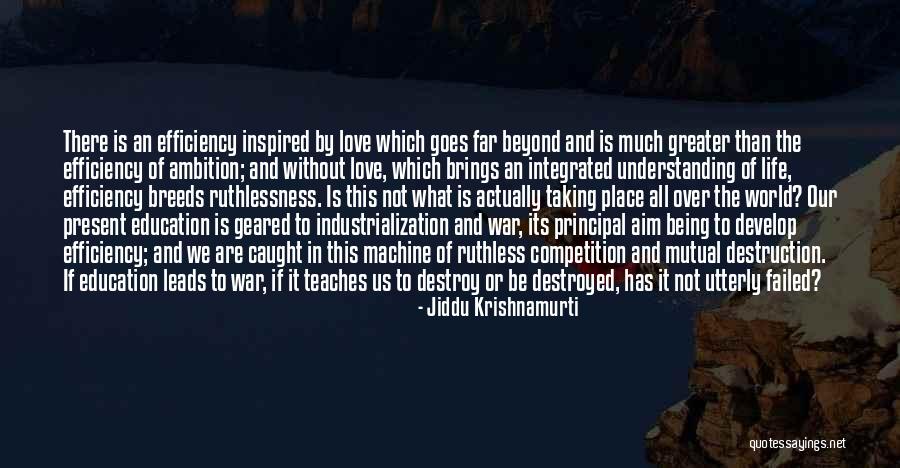 There is an efficiency inspired by love which goes far beyond and is much greater than the efficiency of ambition; and without love, which brings an integrated understanding of life, efficiency breeds ruthlessness. Is this not what is actually taking place all over the world? Our present education is geared to industrialization and war, its principal aim being to develop efficiency; and we are caught in this machine of ruthless competition and mutual destruction. If education leads to war, if it teaches us to destroy or be destroyed, has it not utterly failed? — Jiddu Krishnamurti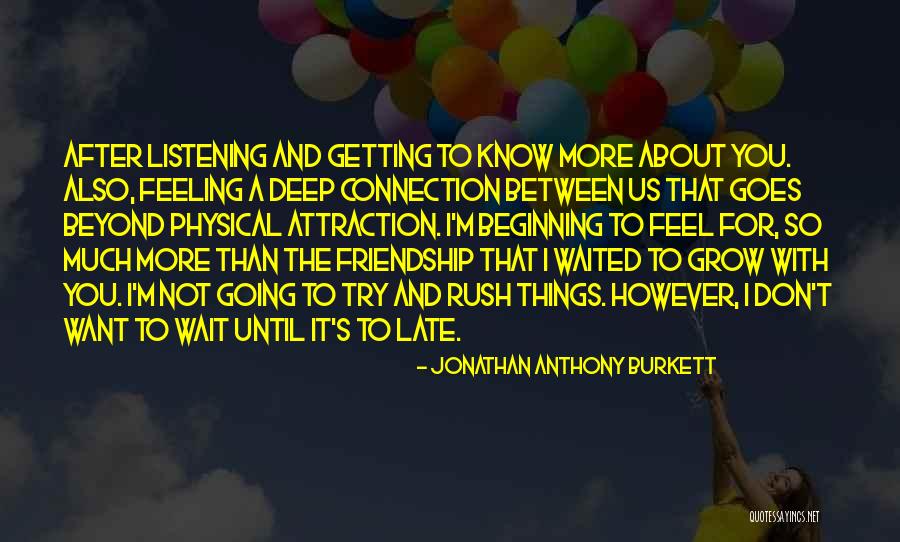 After listening and getting to know more about you. Also, feeling a deep connection between us that goes beyond physical attraction. I'm beginning to feel for, so much more than the friendship that I waited to grow with you. I'm not going to try and rush things. However, I don't want to wait until it's to late. — Jonathan Anthony Burkett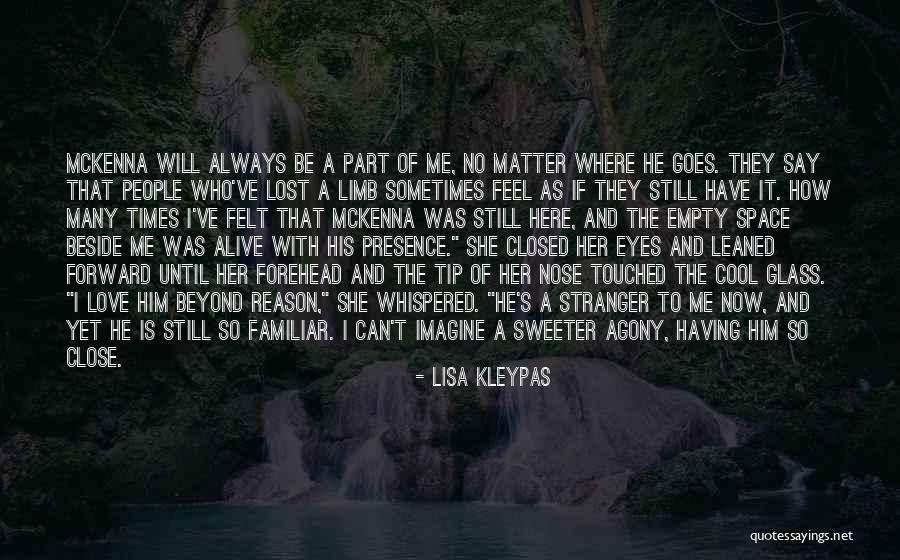 McKenna will always be a part of me, no matter where he goes. They say that people who've lost a limb sometimes feel as if they still have it. How many times I've felt that McKenna was still here, and the empty space beside me was alive with his presence." She closed her eyes and leaned forward until her forehead and the tip of her nose touched the cool glass. "I love him beyond reason," she whispered. "He's a stranger to me now, and yet he is still so familiar. I can't imagine a sweeter agony, having him so close. — Lisa Kleypas