Love Connects Us Quotes & Sayings
Enjoy reading and share 56 famous quotes about Love Connects Us with everyone.
Top Love Connects Us Quotes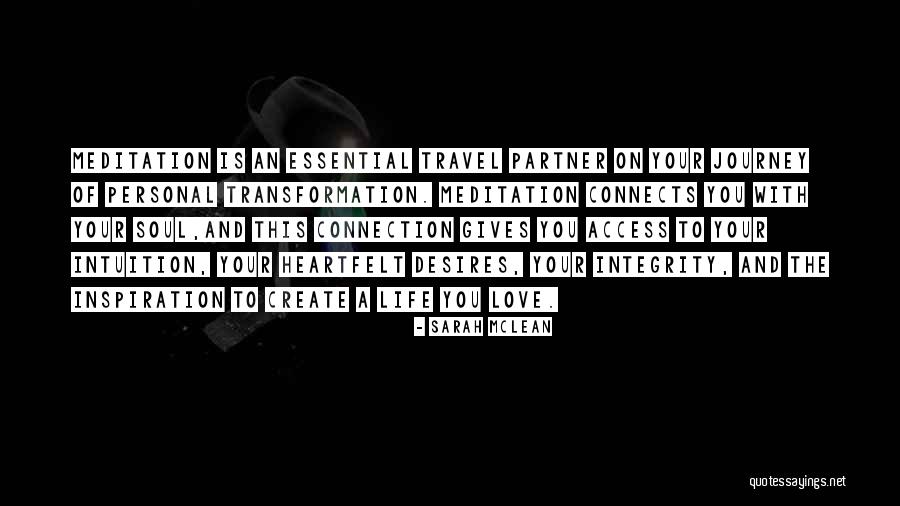 Meditation is an essential travel partner on your journey of personal transformation. Meditation connects you with your soul,and this connection gives you access to your intuition, your heartfelt desires, your integrity, and the inspiration to create a life you love. — Sarah McLean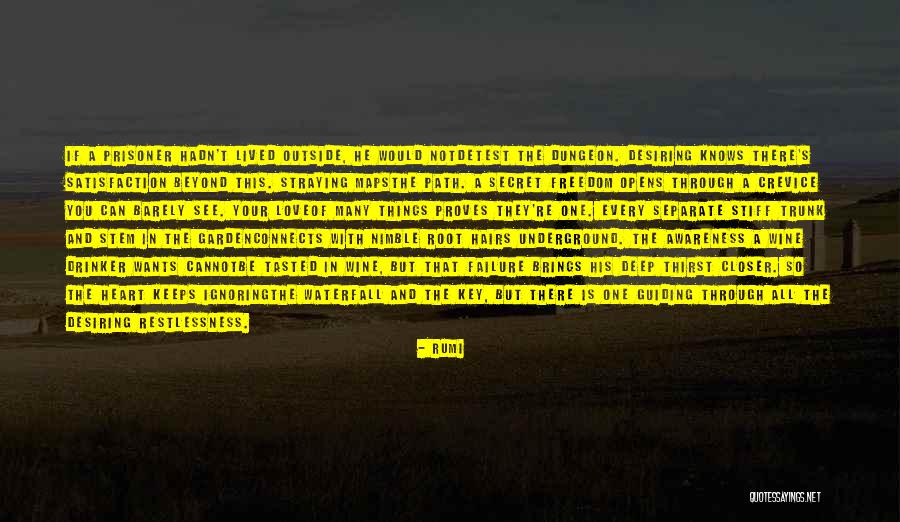 If a prisoner hadn't lived outside, he would not
detest the dungeon. Desiring knows there's satisfaction beyond this. Straying maps
the path. A secret freedom opens through a crevice you can barely see. Your love
of many things proves they're one. Every separate stiff trunk and stem in the garden
connects with nimble root hairs underground. The awareness a wine drinker wants cannot
be tasted in wine, but that failure brings his deep thirst closer. So the heart keeps ignoring
the waterfall and the key, but there is one guiding through all the desiring restlessness. — Rumi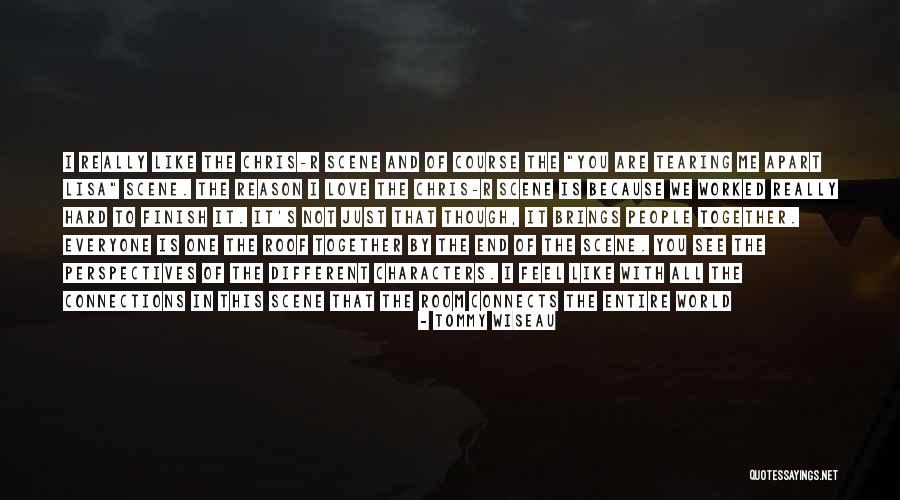 I really like the Chris-R scene and of course the "you are tearing me apart Lisa" scene. The reason I love the Chris-R scene is because we worked really hard to finish it. It's not just that though, it brings people together. Everyone is one the roof together by the end of the scene. You see the perspectives of the different characters. I feel like with all the connections in this scene that the room connects the entire world — Tommy Wiseau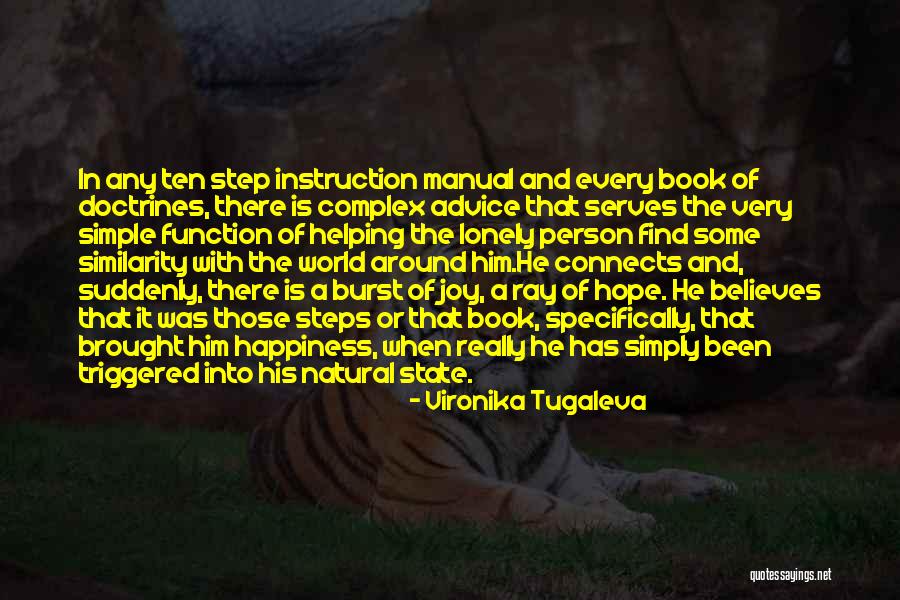 In any ten step instruction manual and every book of doctrines, there is complex advice that serves the very simple function of helping the lonely person find some similarity with the world around him.
He connects and, suddenly, there is a burst of joy, a ray of hope. He believes that it was those steps or that book, specifically, that brought him happiness, when really he has simply been triggered into his natural state. — Vironika Tugaleva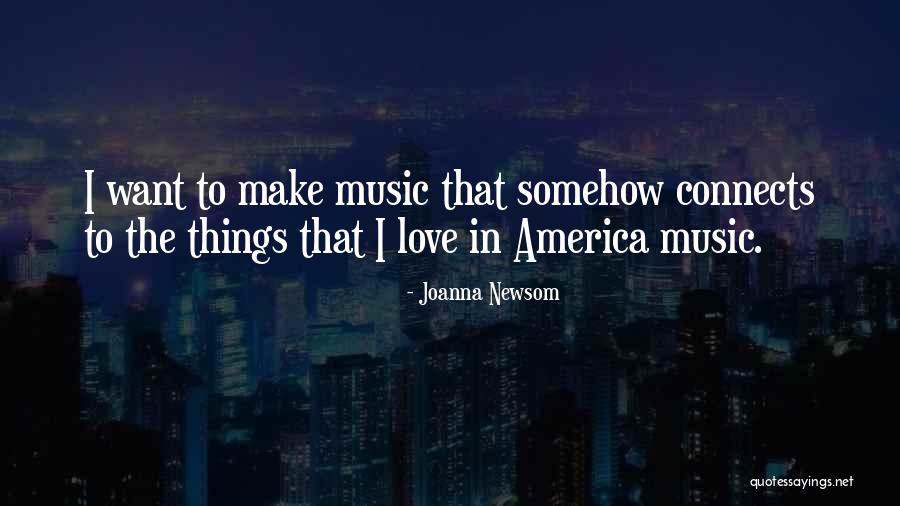 I want to make music that somehow connects to the things that I love in America music. — Joanna Newsom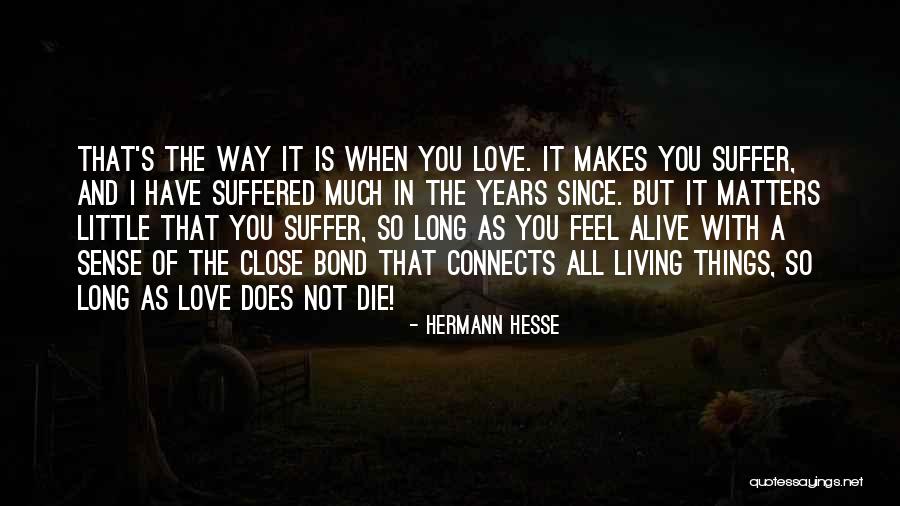 That's the way it is when you love. It makes you suffer, and I have suffered much in the years since. But it matters little that you suffer, so long as you feel alive with a sense of the close bond that connects all living things, so long as love does not die! — Hermann Hesse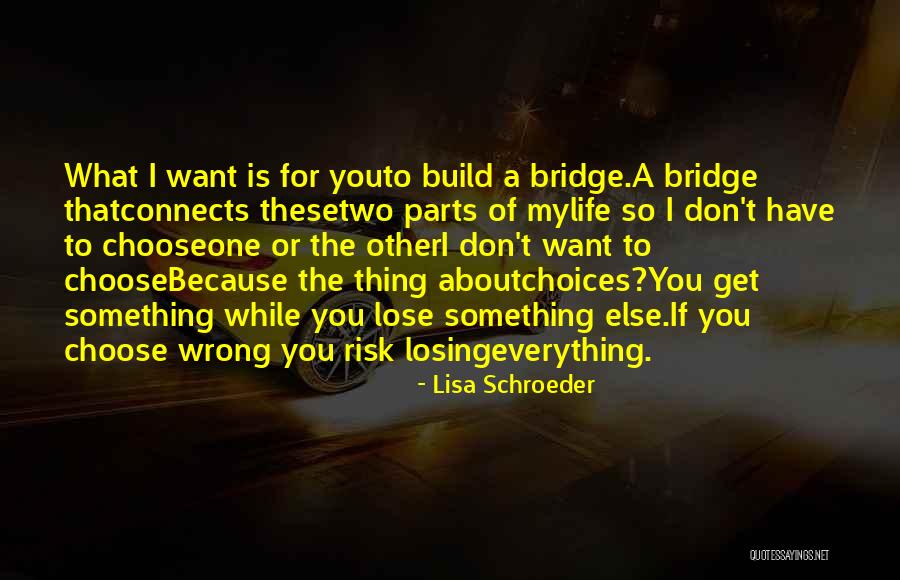 What I want
is for you
to build a bridge.
A bridge that
connects these
two parts of my
life so I don't
have to choose
one or the other
I don't want to choose
Because the thing about
choices?
You get something
while you lose something else.
If you choose wrong
you risk losing
everything. — Lisa Schroeder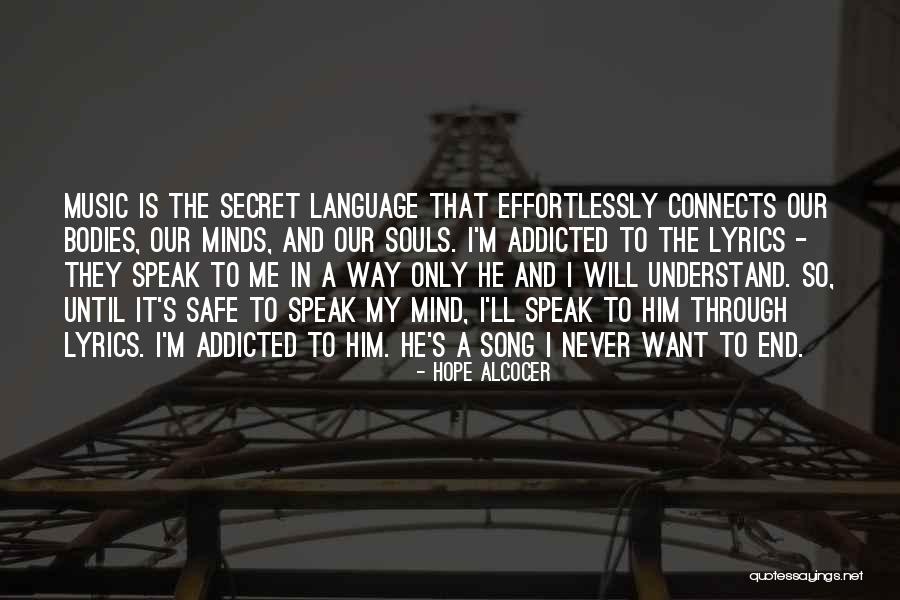 Music is the secret language that effortlessly connects our bodies, our minds, and our souls. I'm addicted to the lyrics - they speak to me in a way only he and I will understand. So, until it's safe to speak my mind, I'll speak to him through lyrics. I'm addicted to him. He's a song I never want to end. — Hope Alcocer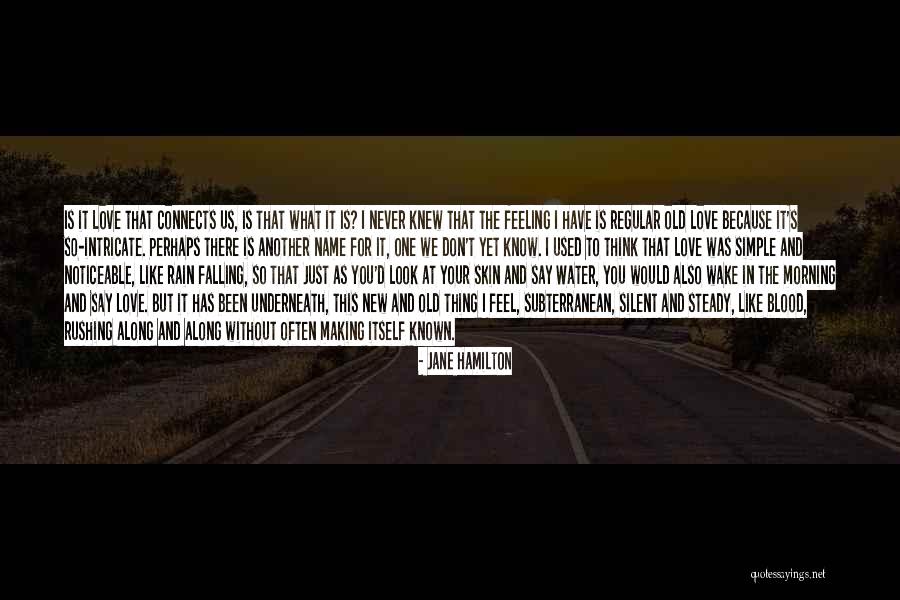 Is it love that connects us, is that what it is? I never knew that the feeling I have is regular old love because it's so-intricate. Perhaps there is another name for it, one we don't yet know. I used to think that love was simple and noticeable, like rain falling, so that just as you'd look at your skin and say Water, you would also wake in the morning and say Love. But it has been underneath, this new and old thing I feel, subterranean, silent and steady, like blood, rushing along and along without often making itself known. — Jane Hamilton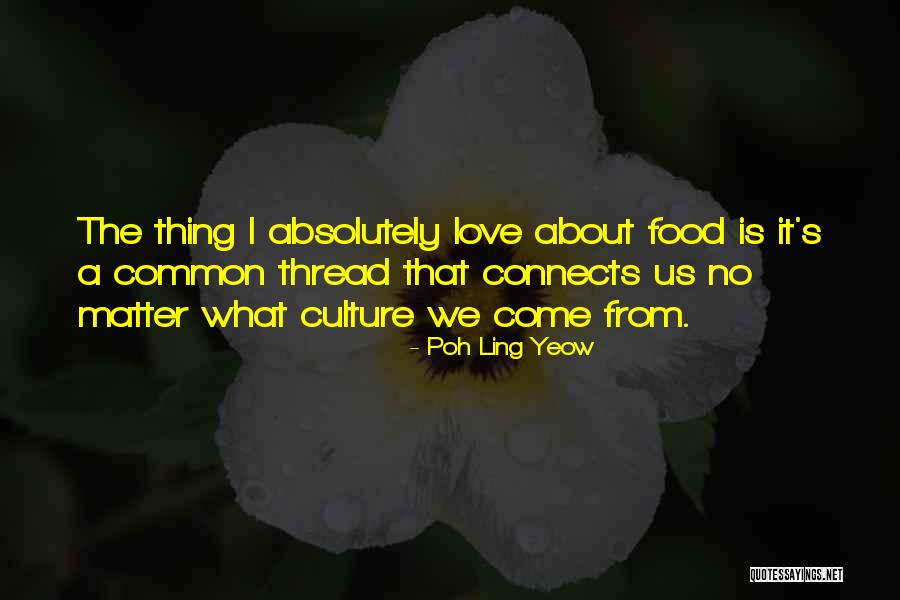 The thing I absolutely love about food is it's a common thread that connects us no matter what culture we come from. — Poh Ling Yeow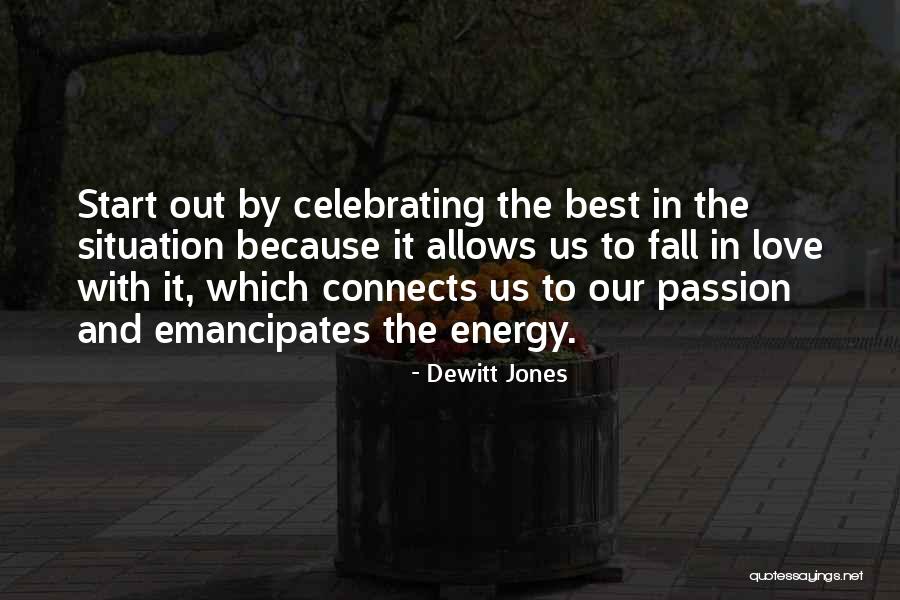 Start out by celebrating the best in the situation because it allows us to fall in love with it, which connects us to our passion and emancipates the energy. — Dewitt Jones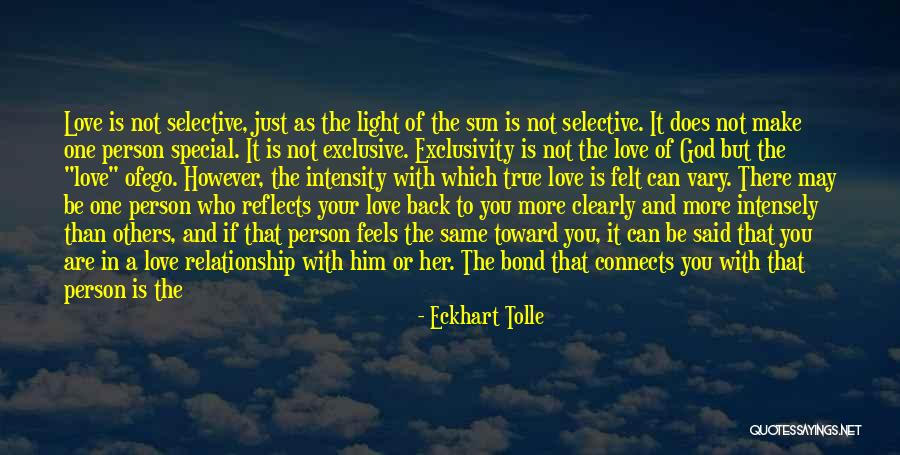 Love is not selective, just as the light of the sun is not selective. It does not make one person special. It is not exclusive. Exclusivity is not the love of God but the "love" of
ego. However, the intensity with which true love is felt can vary. There may be one person who reflects your love back to you more clearly and more intensely than others, and if that person feels the same toward you, it can be said that you are in a love relationship with him or her. The bond that connects you with that person is the same bond that connects you with the person sitting next to you on a bus, or with a bird, a tree, a flower. Only the degree of intensity with which it is felt differs. — Eckhart Tolle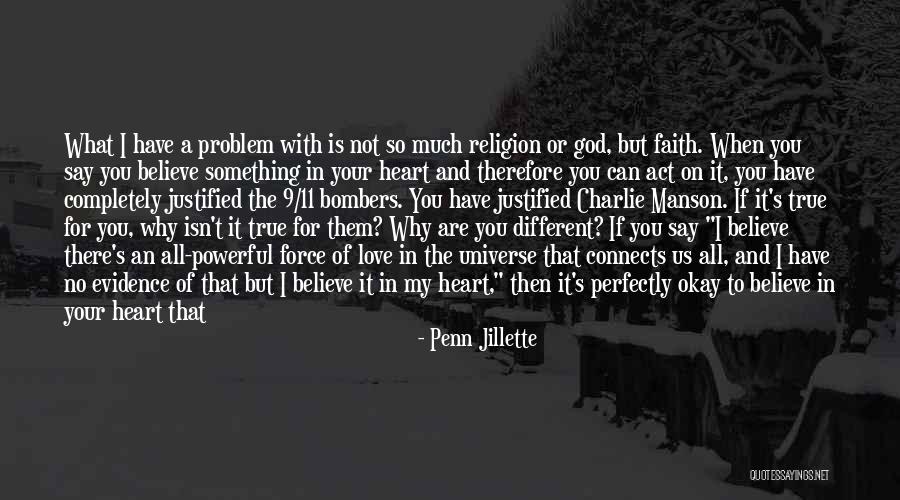 What I have a problem with is not so much religion or god, but faith. When you say you believe something in your heart and therefore you can act on it, you have completely justified the 9/11 bombers. You have justified Charlie Manson. If it's true for you, why isn't it true for them? Why are you different? If you say "I believe there's an all-powerful force of love in the universe that connects us all, and I have no evidence of that but I believe it in my heart," then it's perfectly okay to believe in your heart that Sharon Tate deserves to die. It's perfectly okay to believe in your heart that you need to fly planes into buildings for Allah. — Penn Jillette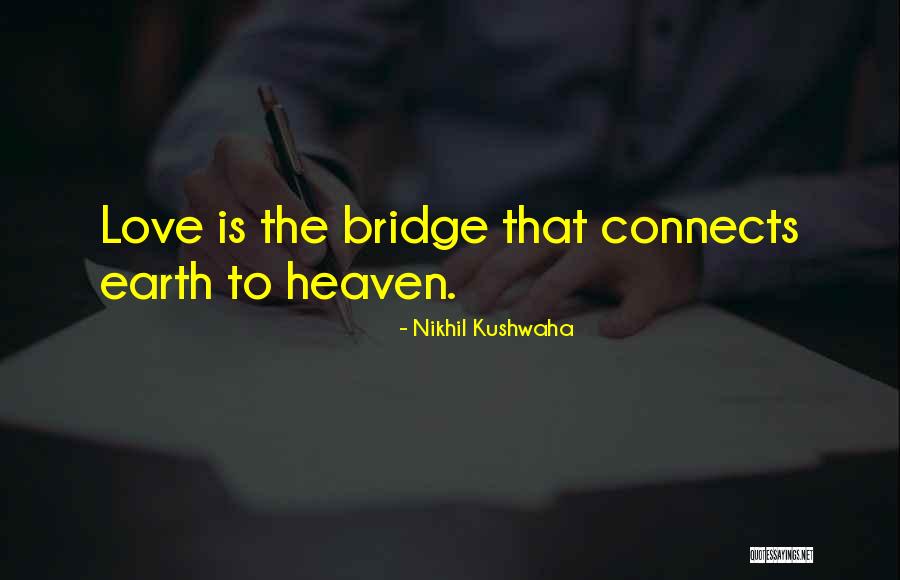 Love is the bridge that connects earth to heaven. — Nikhil Kushwaha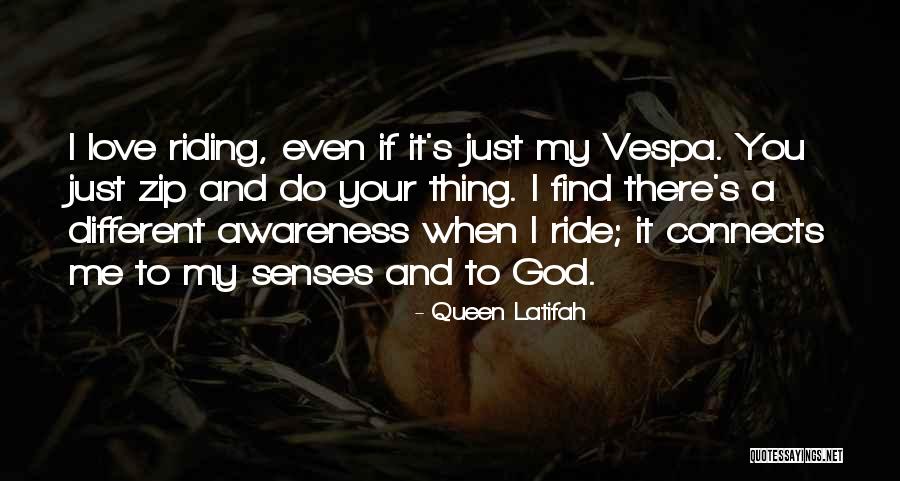 I love riding, even if it's just my Vespa. You just zip and do your thing. I find there's a different awareness when I ride; it connects me to my senses and to God. — Queen Latifah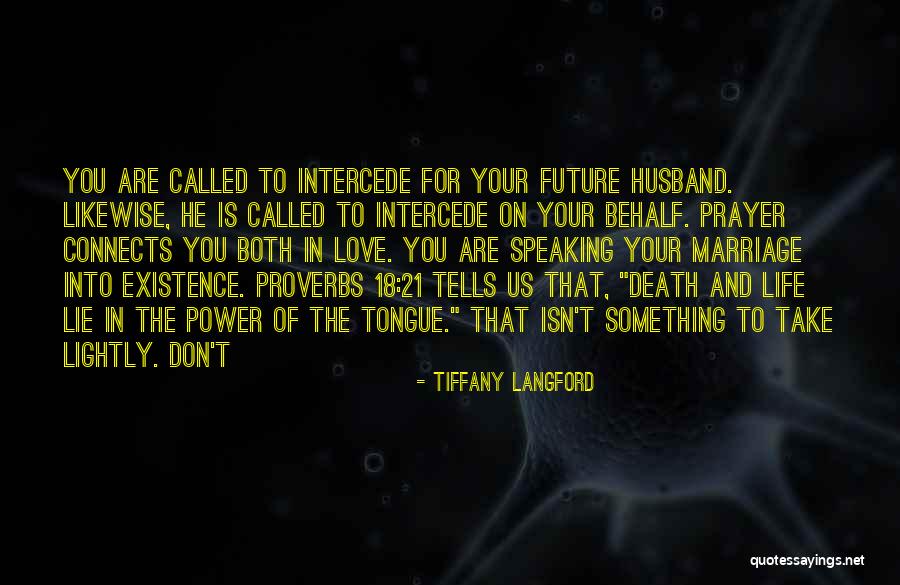 You are called to intercede for your future husband. Likewise, he is called to intercede on your behalf. Prayer connects you both in love. You are speaking your marriage into existence. Proverbs 18:21 tells us that, "death and life lie in the power of the tongue." That isn't something to take lightly. Don't — Tiffany Langford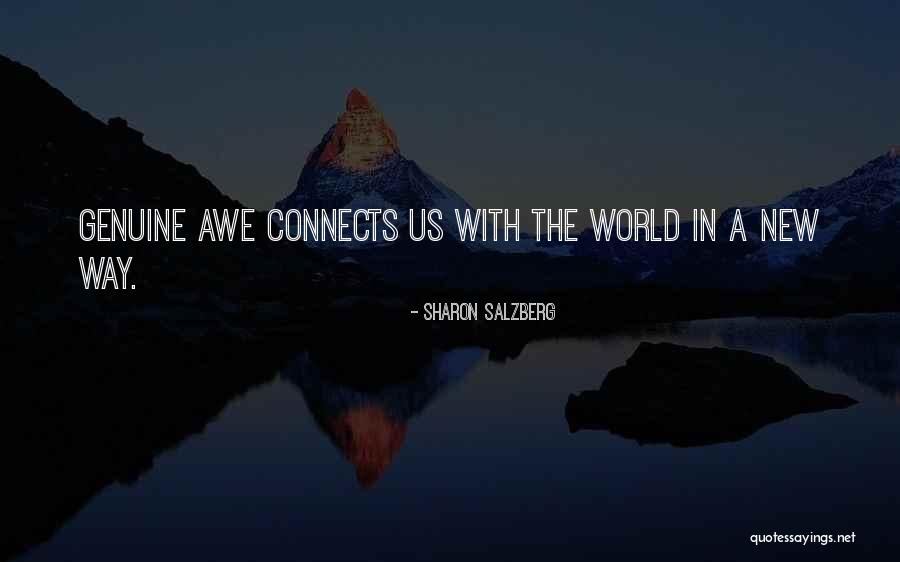 Genuine awe connects us with the world in a new way. — Sharon Salzberg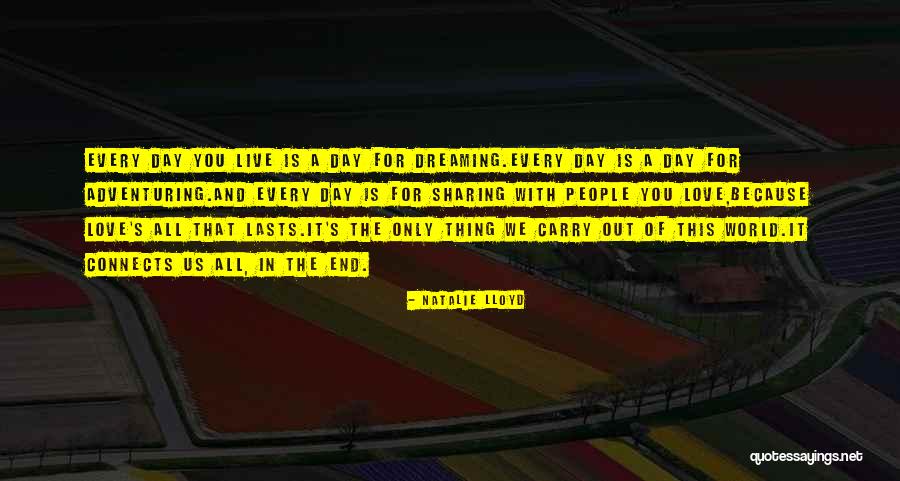 Every day you live is a day for dreaming.
Every day is a day for adventuring.
And every day is for sharing with people you love,
because love's all that lasts.
It's the only thing we carry out of this world.
It connects us all, in the end. — Natalie Lloyd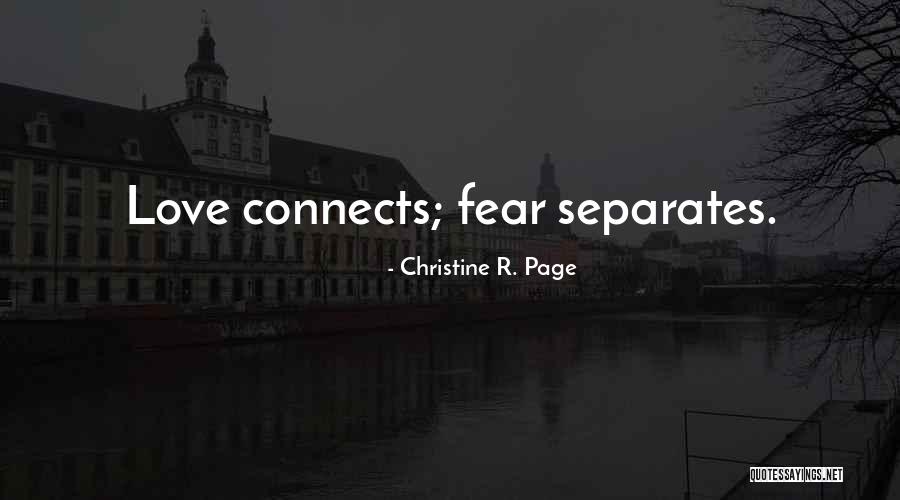 Love connects; fear separates. — Christine R. Page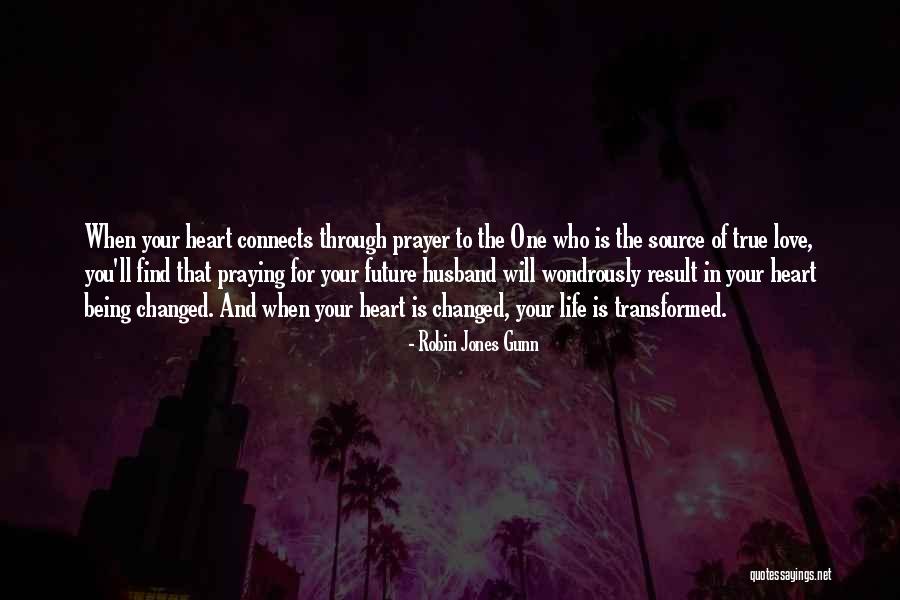 When your heart connects through prayer to the One who is the source of true love, you'll find that praying for your future husband will wondrously result in your heart being changed. And when your heart is changed, your life is transformed. — Robin Jones Gunn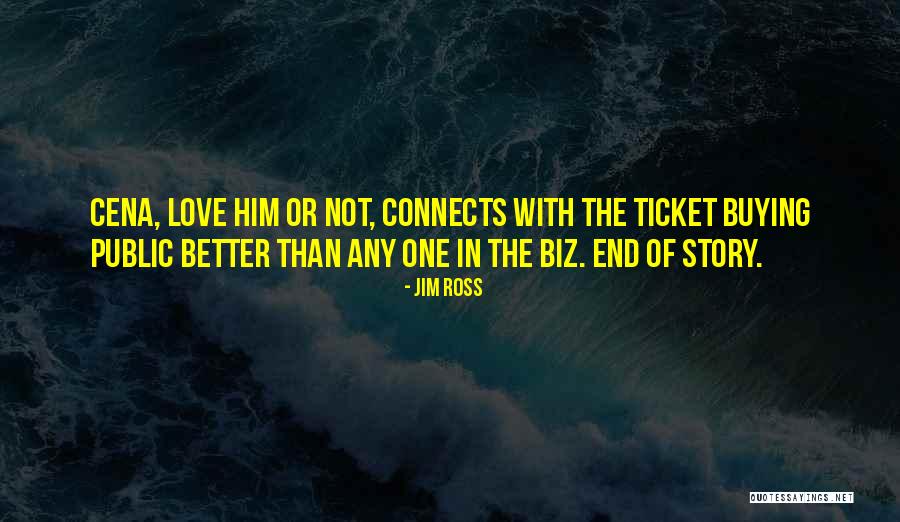 Cena, love him or not, connects with the ticket buying public better than any one in the biz. End of story. — Jim Ross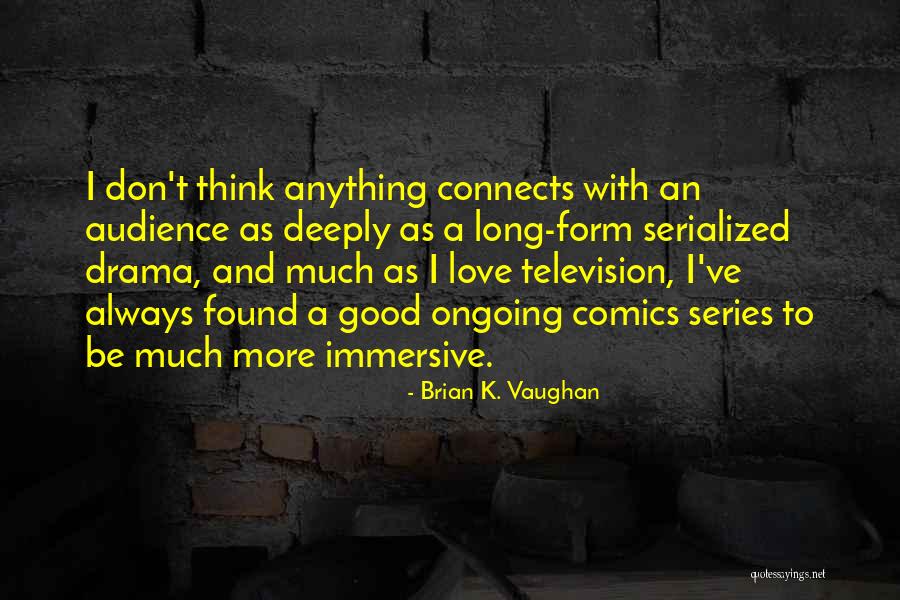 I don't think anything connects with an audience as deeply as a long-form serialized drama, and much as I love television, I've always found a good ongoing comics series to be much more immersive. — Brian K. Vaughan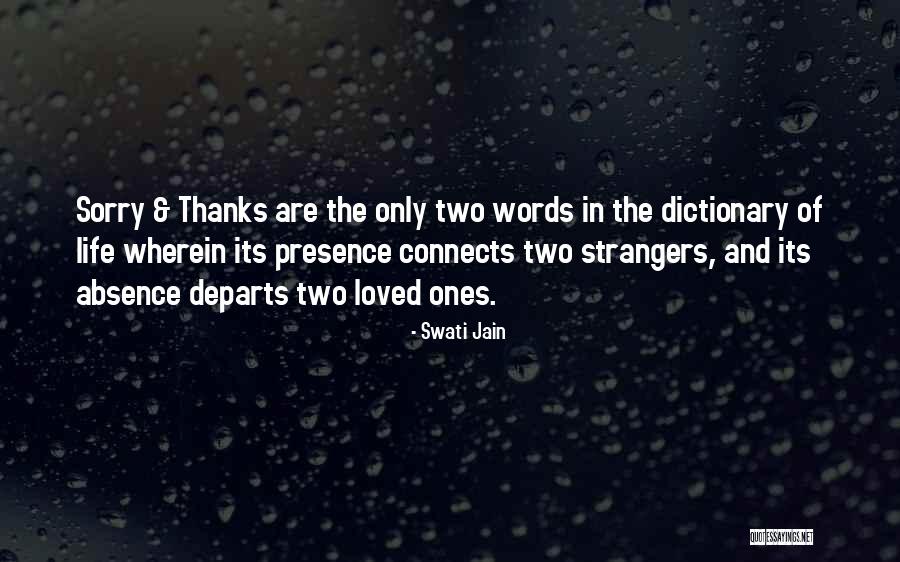 Sorry & Thanks are the only two words in the dictionary of life wherein its presence connects two strangers, and its absence departs two loved ones. — Swati Jain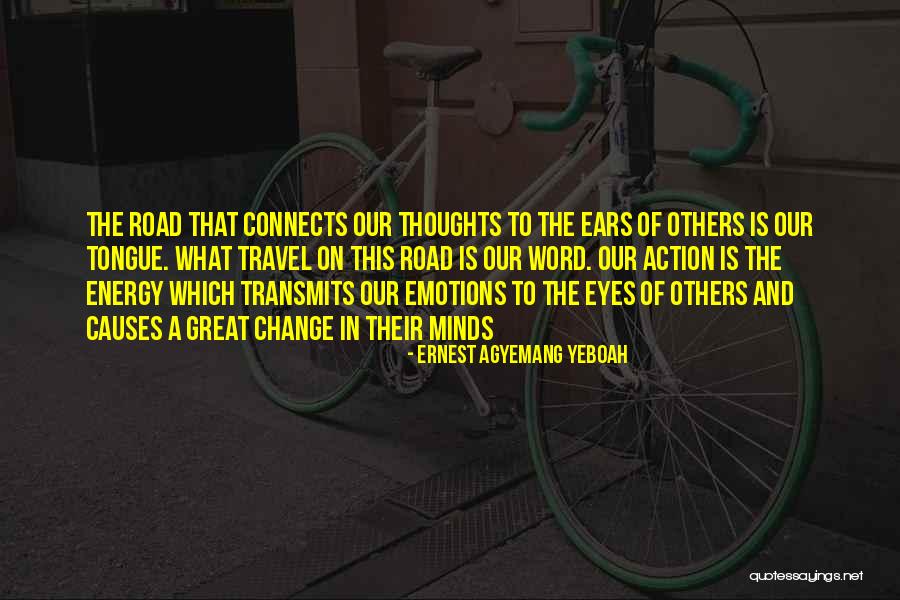 The road that connects our thoughts to the ears of others is our tongue. What travel on this road is our word. Our action is the energy which transmits our emotions to the eyes of others and causes a great change in their minds — Ernest Agyemang Yeboah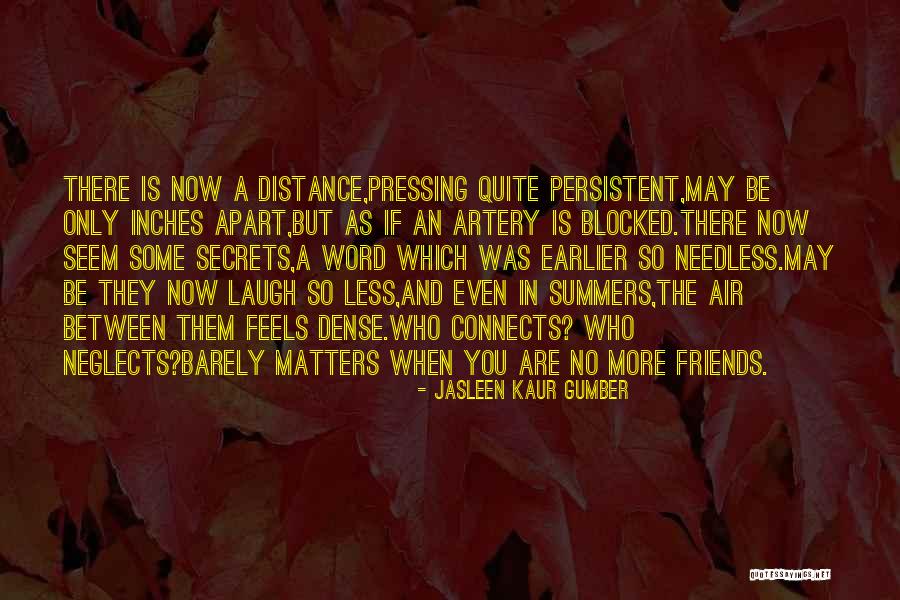 There is now a distance,
pressing quite persistent,
May be only inches apart,
but as if an artery is blocked.

There now seem some secrets,
a word which was earlier so needless.
May be they now laugh so less,
and even in summers,
the air between them feels dense.

Who connects? Who neglects?
Barely matters when you are no more friends. — Jasleen Kaur Gumber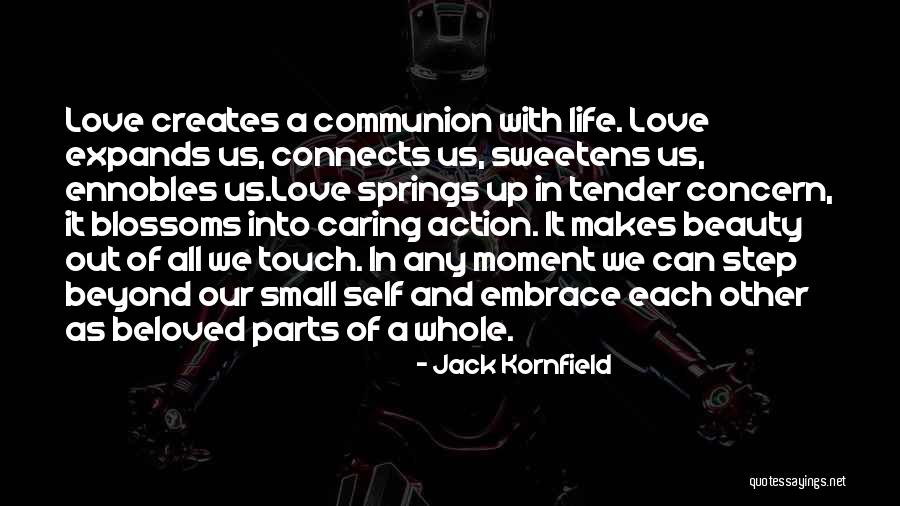 Love creates a communion with life. Love expands us, connects us, sweetens us, ennobles us.
Love springs up in tender concern, it blossoms into caring action. It makes beauty out of all we touch. In any moment we can step beyond our small self and embrace each other as beloved parts of a whole. — Jack Kornfield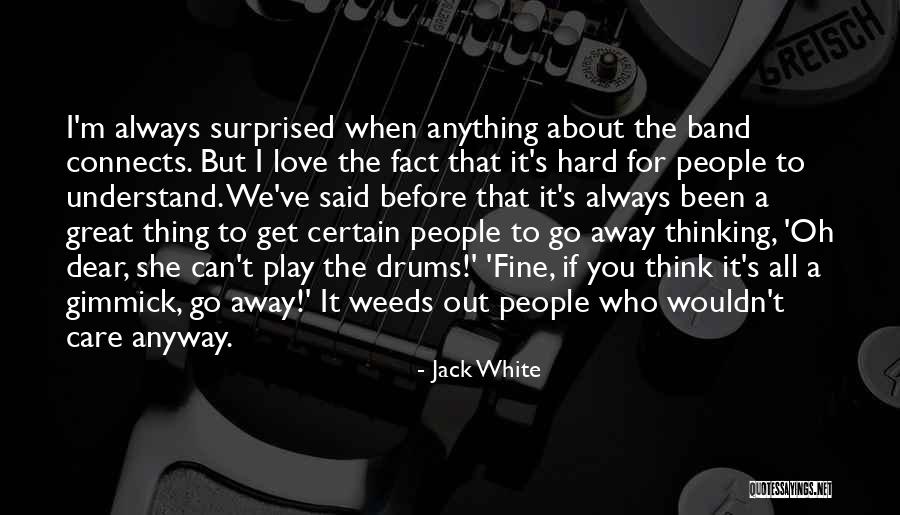 I'm always surprised when anything about the band connects. But I love the fact that it's hard for people to understand. We've said before that it's always been a great thing to get certain people to go away thinking, 'Oh dear, she can't play the drums!' 'Fine, if you think it's all a gimmick, go away!' It weeds out people who wouldn't care anyway. — Jack White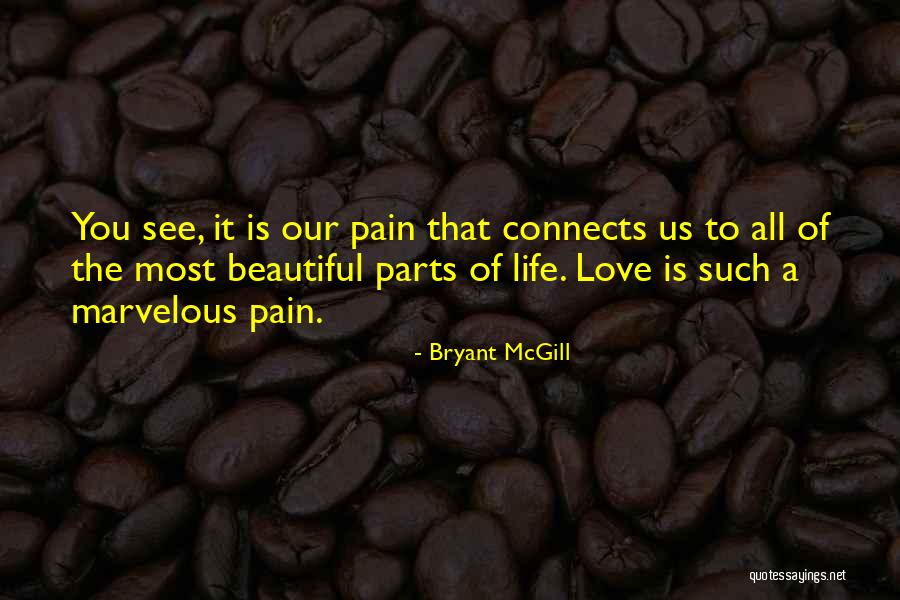 You see, it is our pain that connects us to all of the most beautiful parts of life. Love is such a marvelous pain. — Bryant McGill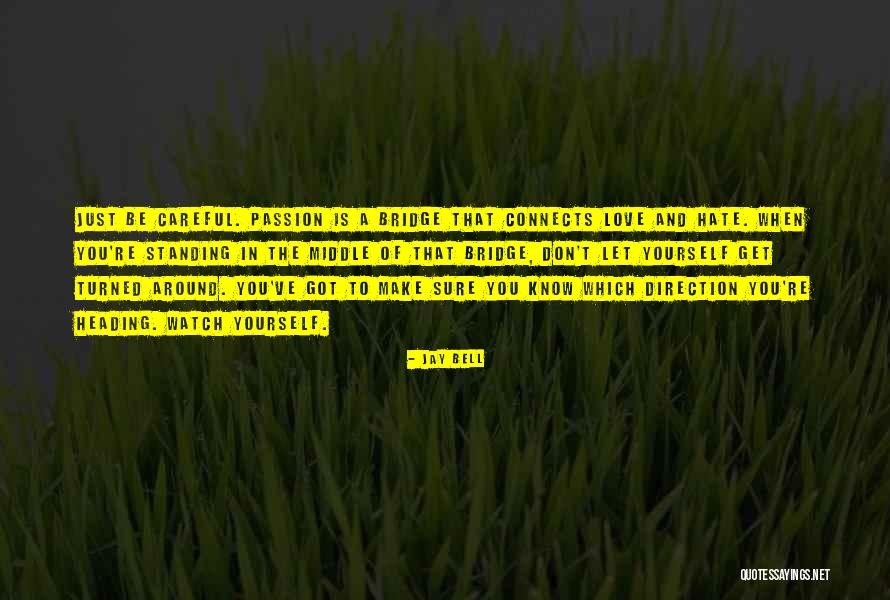 Just be careful. Passion is a bridge that connects love and hate. When you're standing in the middle of that bridge, don't let yourself get turned around. You've got to make sure you know which direction you're heading. Watch yourself. — Jay Bell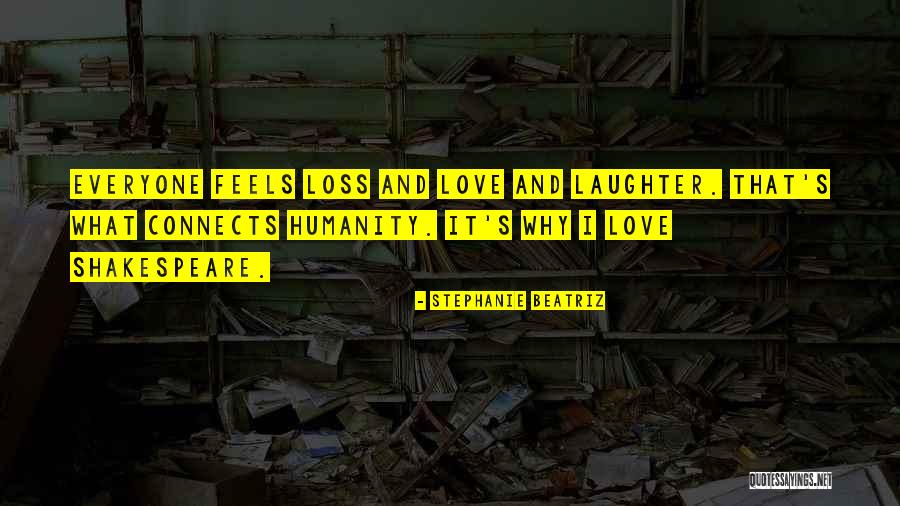 Everyone feels loss and love and laughter. That's what connects humanity. It's why I love Shakespeare. — Stephanie Beatriz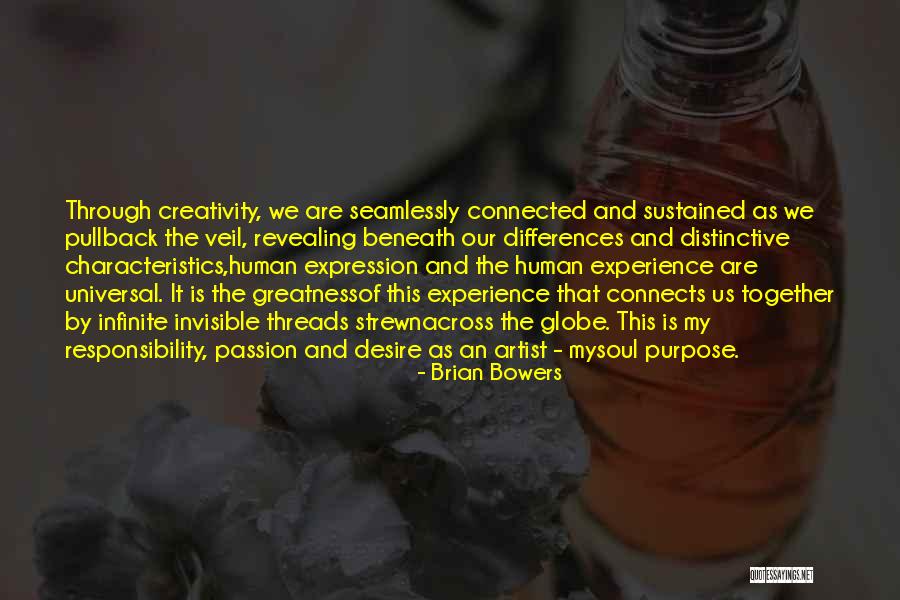 Through creativity, we are seamlessly connected and sustained as we pull
back the veil, revealing beneath our differences and distinctive characteristics,
human expression and the human experience are universal. It is the greatness
of this experience that connects us together by infinite invisible threads strewn
across the globe. This is my responsibility, passion and desire as an artist - my
soul purpose. — Brian Bowers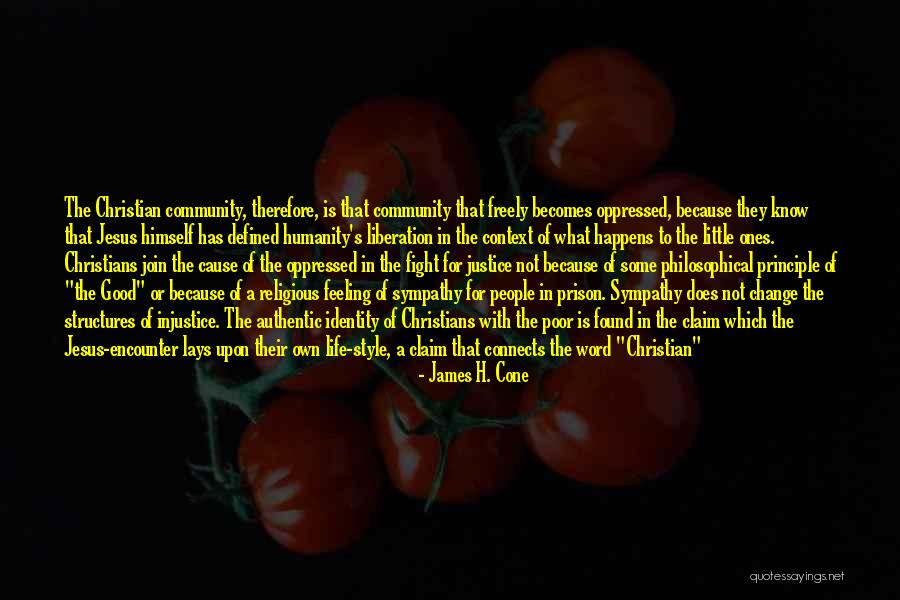 The Christian community, therefore, is that community that freely becomes oppressed, because they know that Jesus himself has defined humanity's liberation in the context of what happens to the little ones. Christians join the cause of the oppressed in the fight for justice not because of some philosophical principle of "the Good" or because of a religious feeling of sympathy for people in prison. Sympathy does not change the structures of injustice. The authentic identity of Christians with the poor is found in the claim which the Jesus-encounter lays upon their own life-style, a claim that connects the word "Christian" with the liberation of the poor. Christians fight not for humanity in general but for themselves and out of their love for concrete human beings. — James H. Cone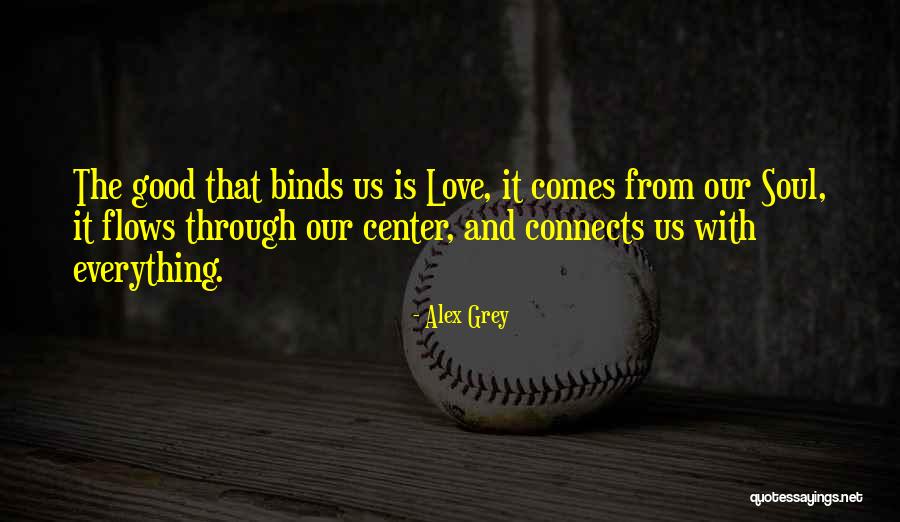 The good that binds us is Love, it comes from our Soul, it flows through our center, and connects us with everything. — Alex Grey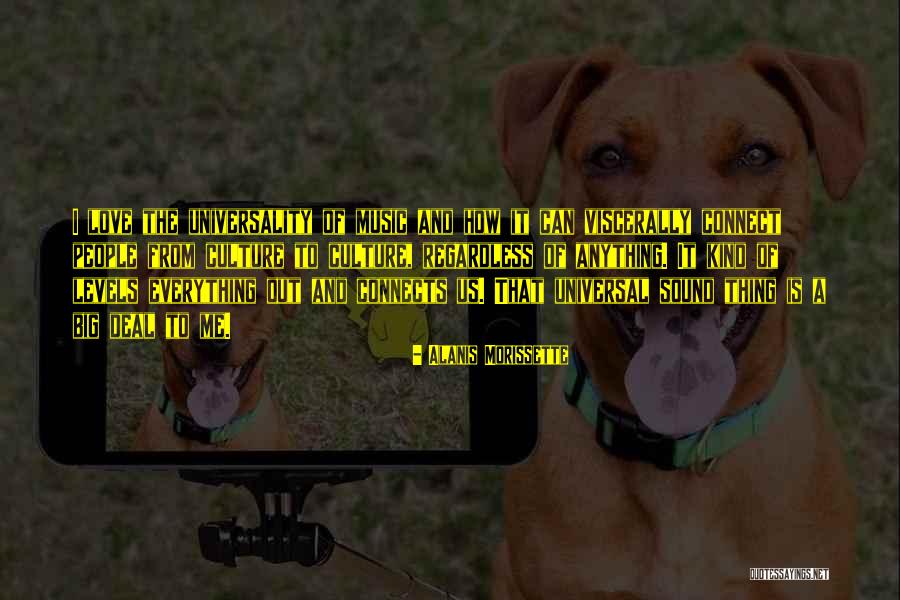 I love the universality of music and how it can viscerally connect people from culture to culture, regardless of anything. It kind of levels everything out and connects us. That universal sound thing is a big deal to me. — Alanis Morissette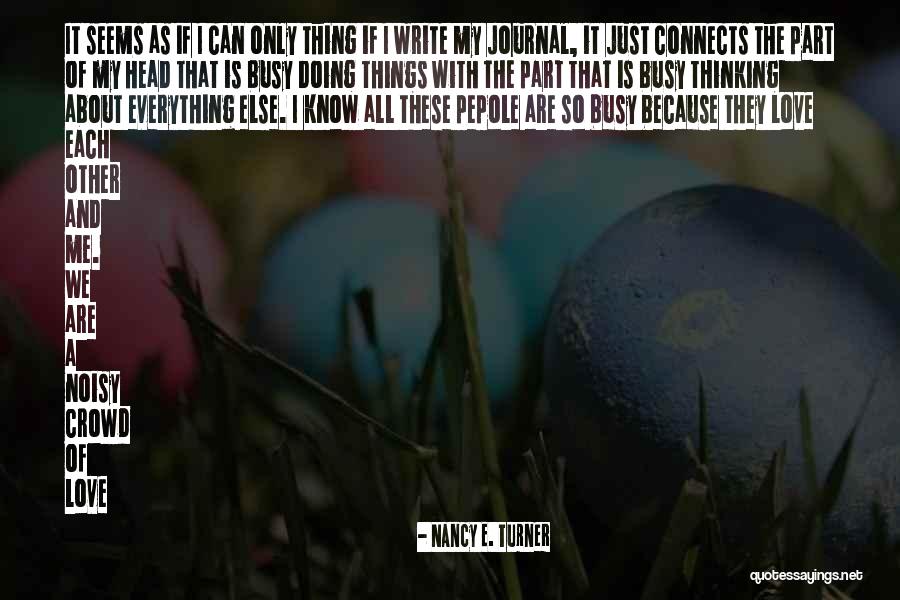 It seems as if I can only thing if I write my journal, it just connects the part of my head that is busy doing things with the part that is busy thinking about everything else. I know all these pepole are so busy because they love each other and me. We are a noisy crowd of love — Nancy E. Turner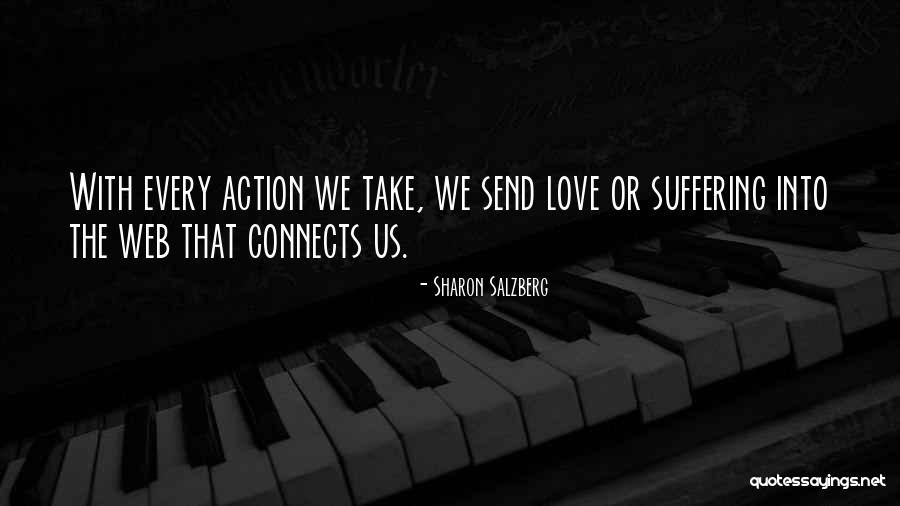 With every action we take, we send love or suffering into the web that connects us. — Sharon Salzberg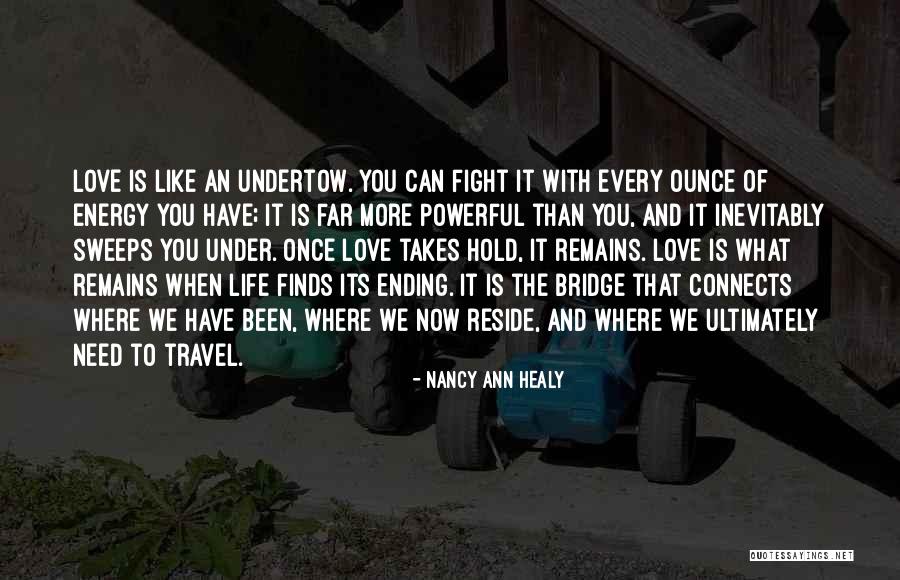 Love is like an undertow. You can fight it with every ounce of energy you have; it is far more powerful than you, and it inevitably sweeps you under. Once love takes hold, it remains. Love is what remains when life finds its ending. It is the bridge that connects where we have been, where we now reside, and where we ultimately need to travel. — Nancy Ann Healy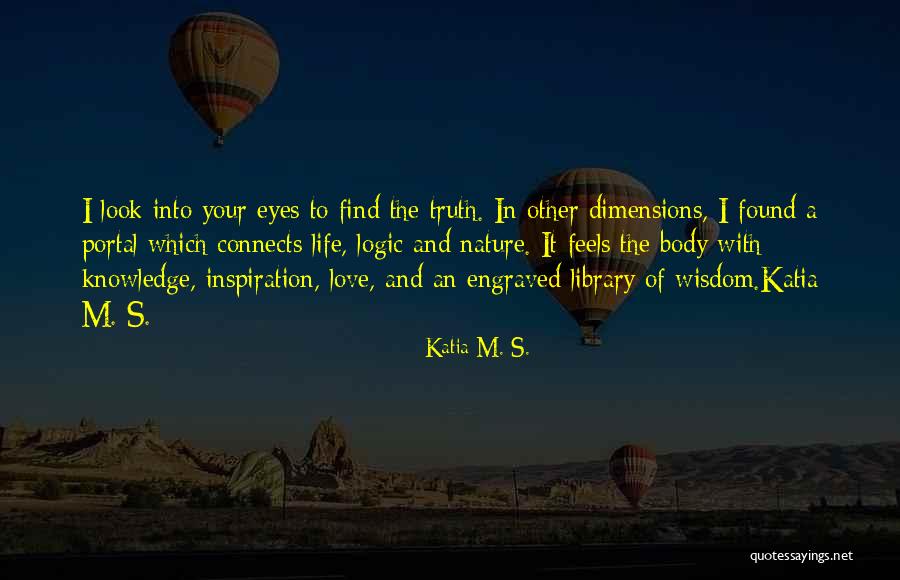 I look into your eyes to find the truth. In other dimensions, I found a portal which connects life, logic and nature. It feels the body with knowledge, inspiration, love, and an engraved library of wisdom.
Katia M. S. — Katia M. S.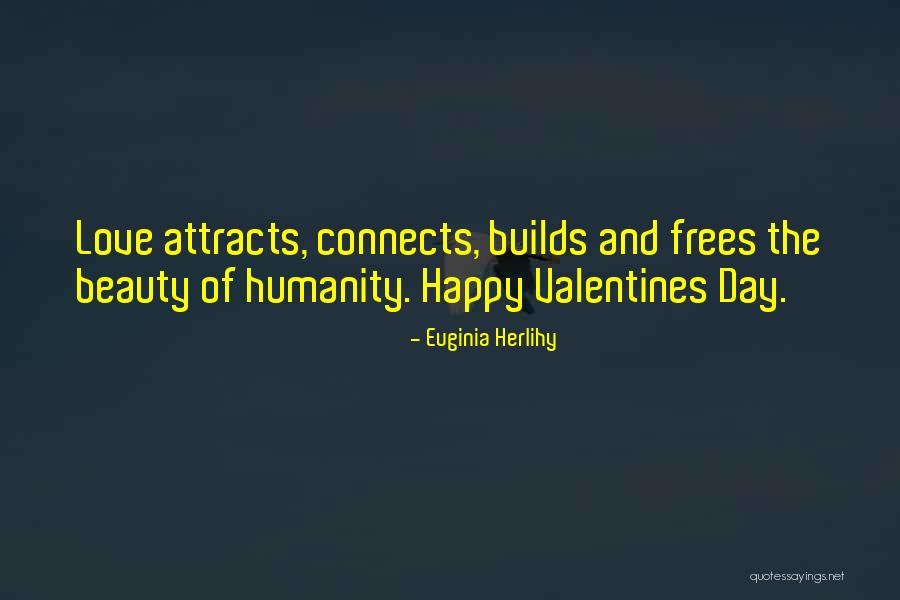 Love attracts, connects, builds and frees the beauty of humanity. Happy Valentines Day. — Euginia Herlihy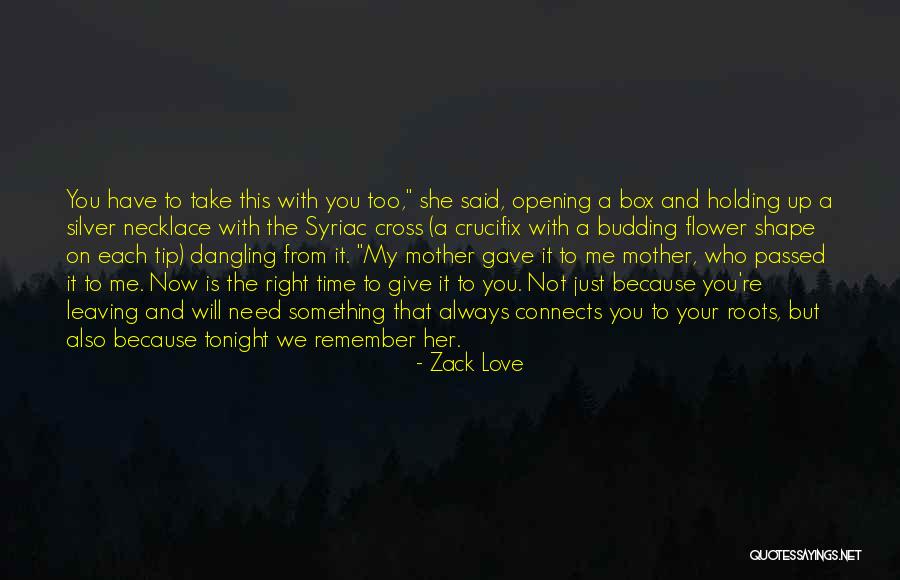 You have to take this with you too," she said, opening a box and holding up a silver necklace with the Syriac cross (a crucifix with a budding flower shape on each tip) dangling from it. "My mother gave it to me mother, who passed it to me. Now is the right time to give it to you. Not just because you're leaving and will need something that always connects you to your roots, but also because tonight we remember her. — Zack Love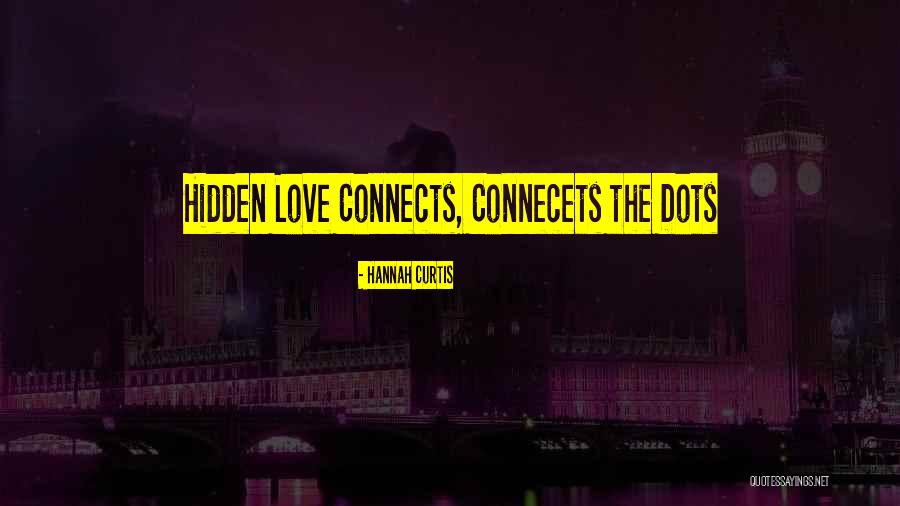 Hidden Love Connects, Connecets the Dots — Hannah Curtis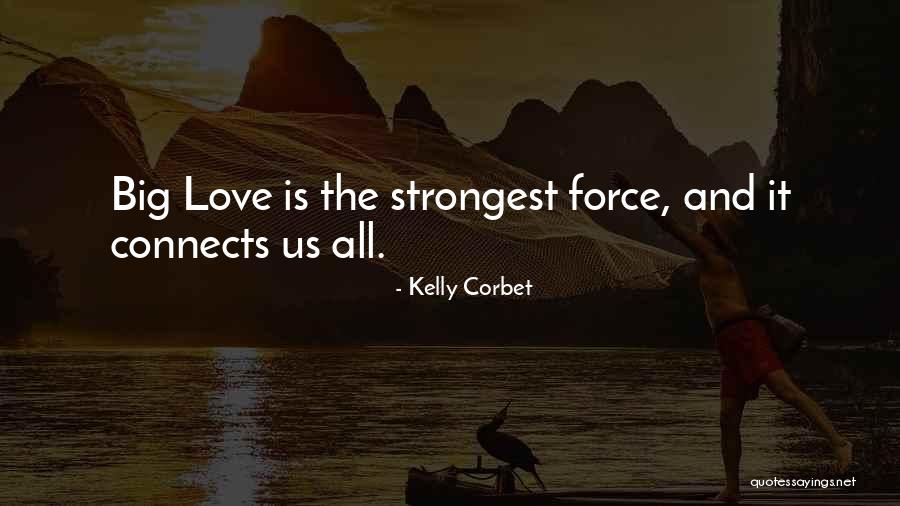 Big Love is the strongest force, and it connects us all. — Kelly Corbet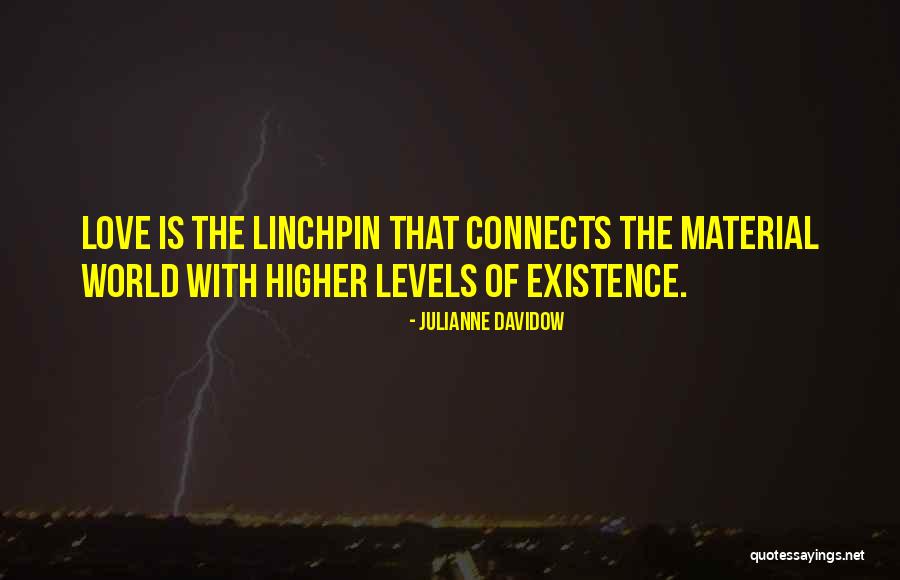 Love is the linchpin that connects the material world with higher levels of existence. — Julianne Davidow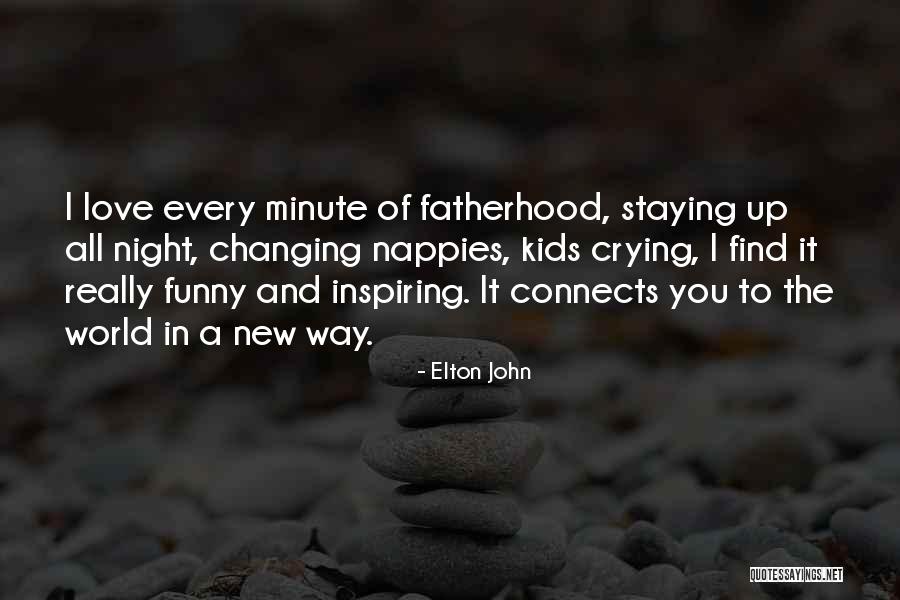 I love every minute of fatherhood, staying up all night, changing nappies, kids crying, I find it really funny and inspiring. It connects you to the world in a new way. — Elton John
I like to dabble in different things, but music is my first love. It connects to me in a way my side projects don't because it's so personal. I write the words. Music is like my diary. It's my therapy. — Eve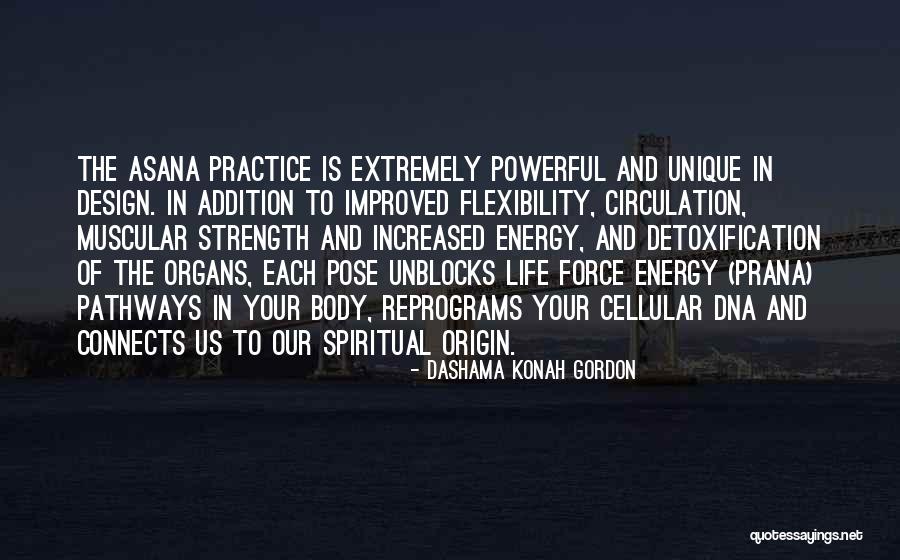 The asana practice is extremely powerful and unique in design. In addition to improved flexibility, circulation, muscular strength and increased energy, and detoxification of the organs, each pose unblocks life force energy (prana) pathways in your body, reprograms your cellular DNA and connects us to our spiritual origin. — Dashama Konah Gordon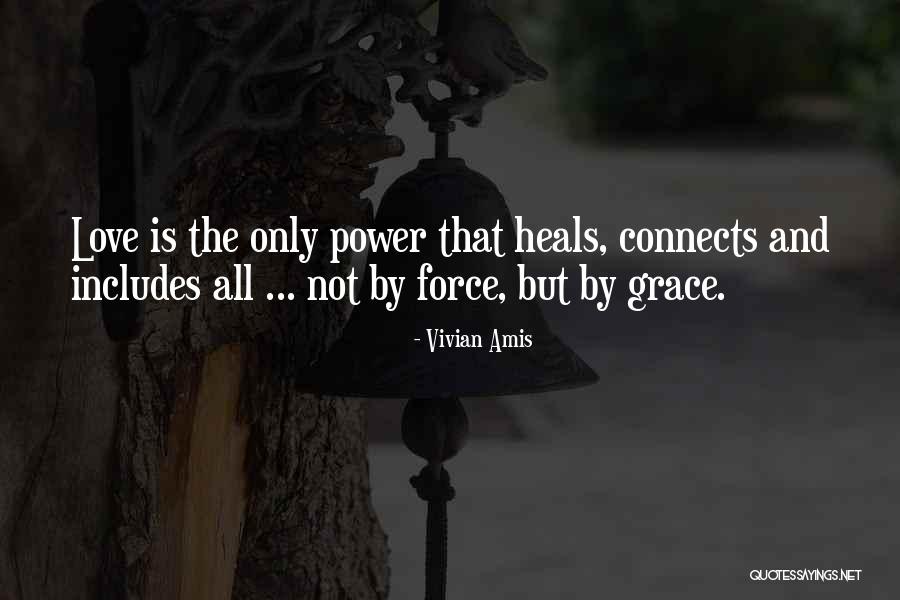 Love is the only power that heals, connects and includes all ... not by force, but by grace. — Vivian Amis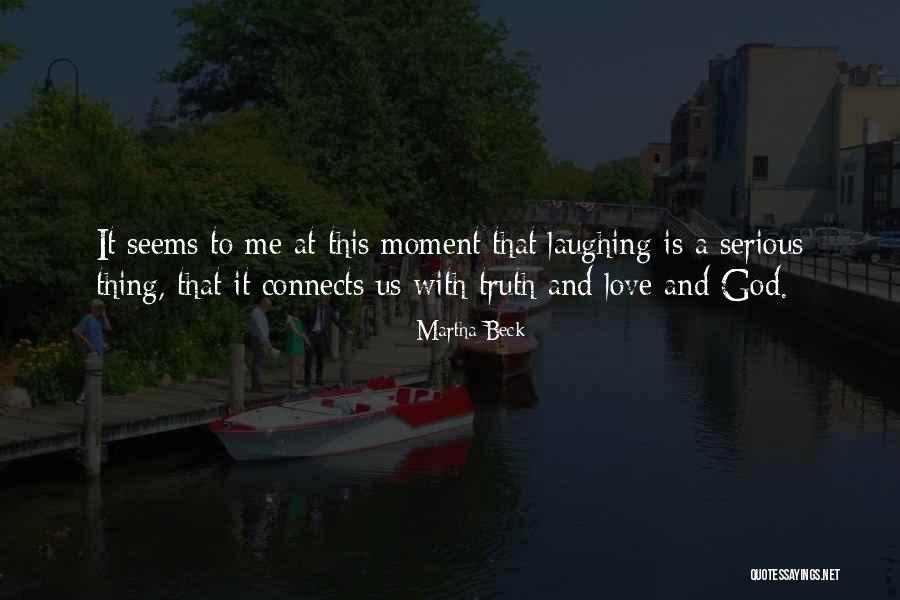 It seems to me at this moment that laughing is a serious thing, that it connects us with truth and love and God. — Martha Beck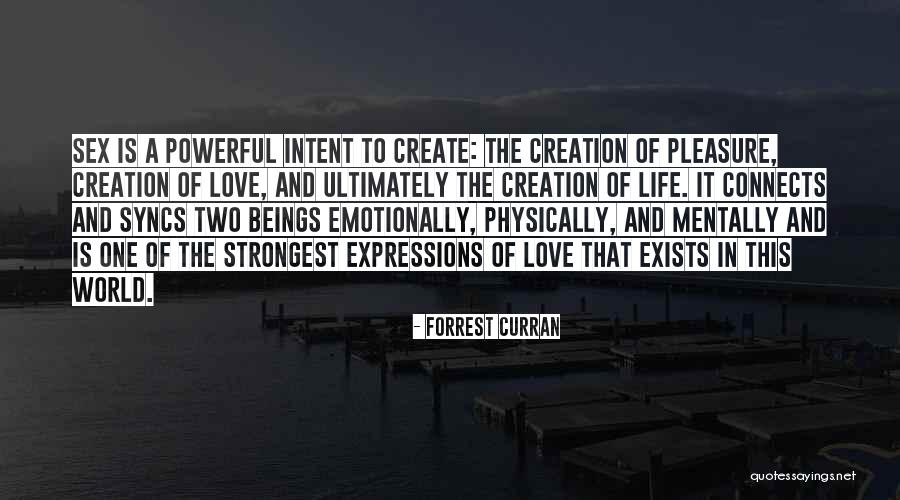 Sex is a powerful intent to create: the creation of pleasure, creation of love, and ultimately the creation of life. It connects and syncs two beings emotionally, physically, and mentally and is one of the strongest expressions of love that exists in this World. — Forrest Curran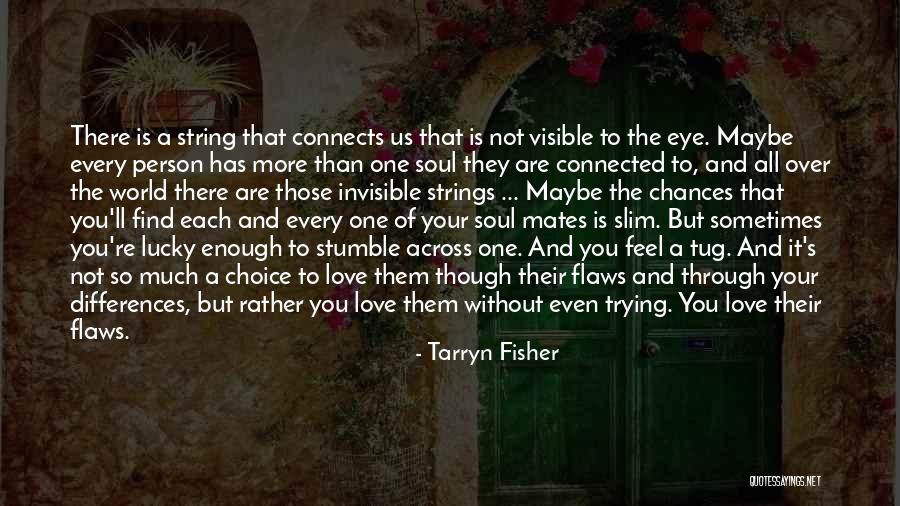 There is a string that connects us that is not visible to the eye. Maybe every person has more than one soul they are connected to, and all over the world there are those invisible strings ... Maybe the chances that you'll find each and every one of your soul mates is slim. But sometimes you're lucky enough to stumble across one. And you feel a tug. And it's not so much a choice to love them though their flaws and through your differences, but rather you love them without even trying. You love their flaws. — Tarryn Fisher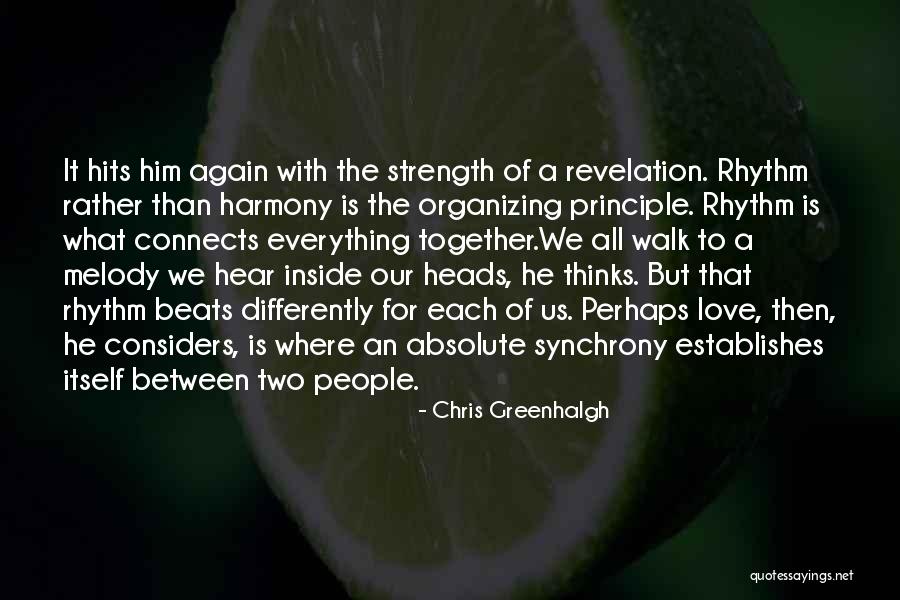 It hits him again with the strength of a revelation. Rhythm rather than harmony is the organizing principle. Rhythm is what connects everything together.
We all walk to a melody we hear inside our heads, he thinks. But that rhythm beats differently for each of us. Perhaps love, then, he considers, is where an absolute synchrony establishes itself between two people. — Chris Greenhalgh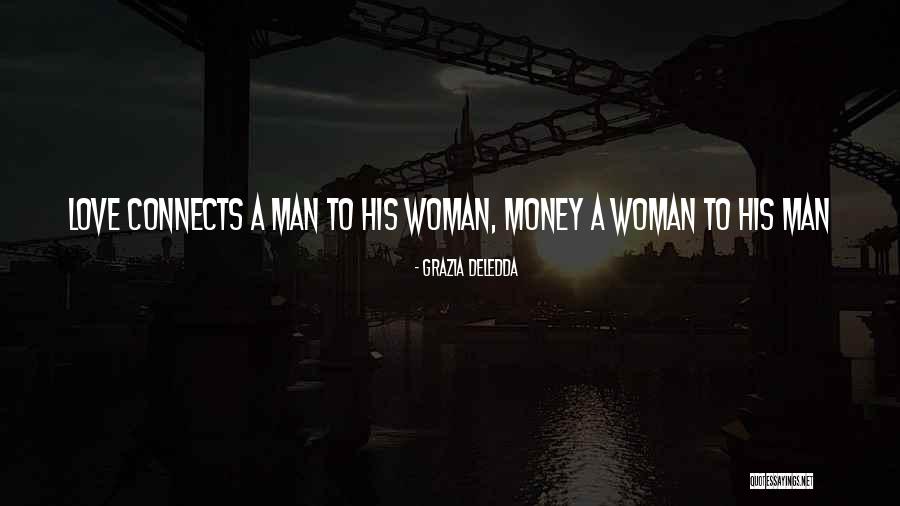 Love connects a man to his woman, money a woman to his man — Grazia Deledda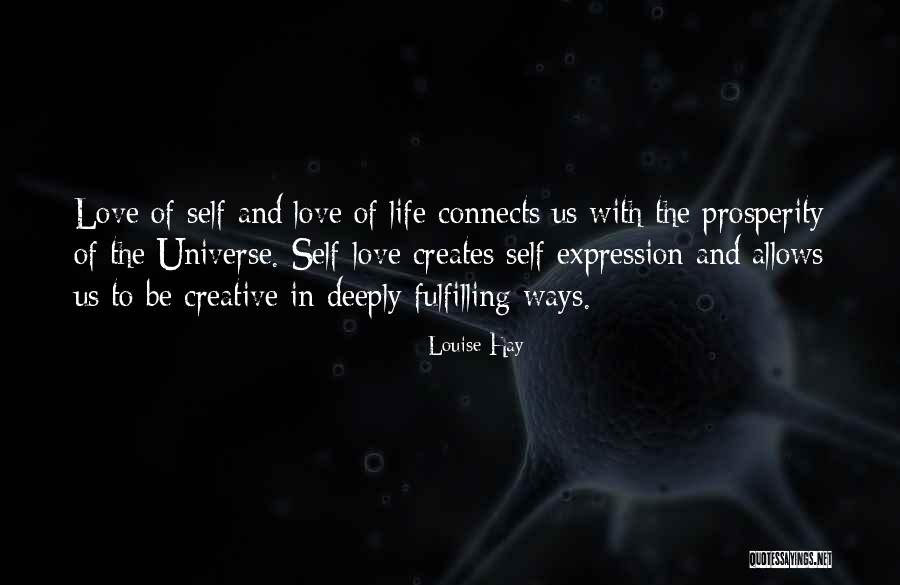 Love of self and love of life connects us with the prosperity of the Universe. Self-love creates self-expression and allows us to be creative in deeply fulfilling ways. — Louise Hay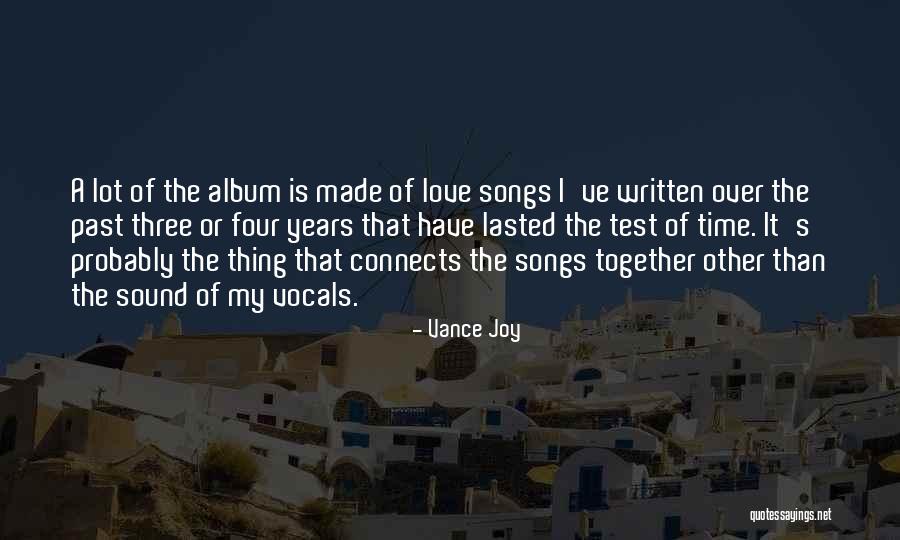 A lot of the album is made of love songs I've written over the past three or four years that have lasted the test of time. It's probably the thing that connects the songs together other than the sound of my vocals. — Vance Joy