Quotes & Sayings About Love But Not Being Together
Enjoy reading and share 52 famous quotes about Love But Not Being Together with everyone.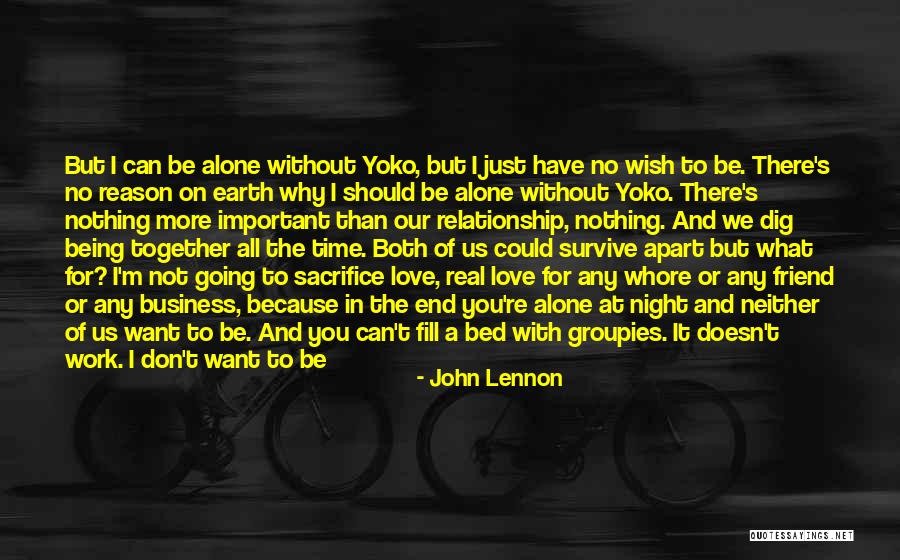 But I can be alone without Yoko, but I just have no wish to be. There's no reason on earth why I should be alone without Yoko. There's nothing more important than our relationship, nothing. And we dig being together all the time. Both of us could survive apart but what for? I'm not going to sacrifice love, real love for any whore or any friend or any business, because in the end you're alone at night and neither of us want to be. And you can't fill a bed with groupies. It doesn't work. I don't want to be a swinger. I've been through it all and nothing works better than to have someone you love hold you. — John Lennon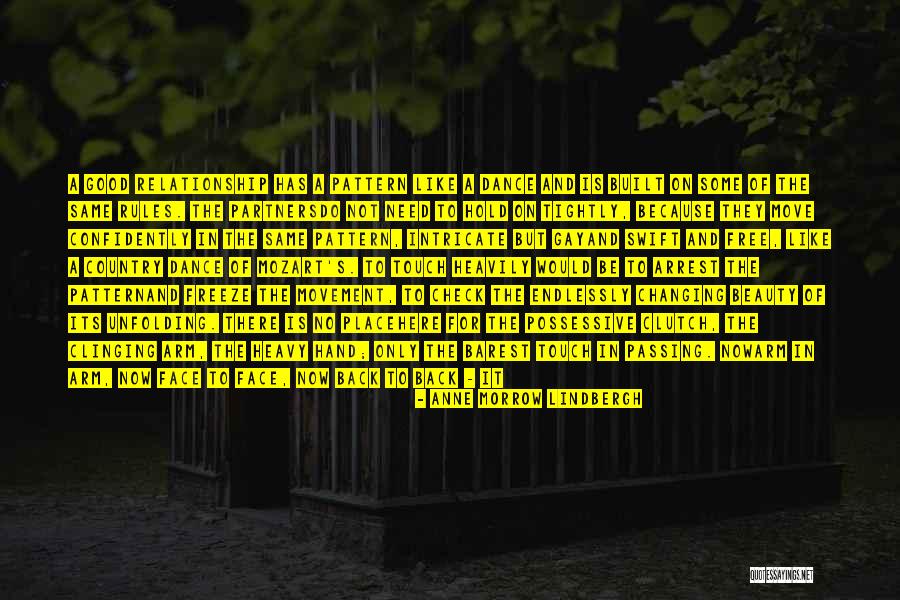 A good relationship has a pattern like a dance and is built on some of the same rules. The partners
do not need to hold on tightly, because they move confidently in the same pattern, intricate but gay
and swift and free, like a country dance of Mozart's. To touch heavily would be to arrest the pattern
and freeze the movement, to check the endlessly changing beauty of its unfolding. There is no place
here for the possessive clutch, the clinging arm, the heavy hand; only the barest touch in passing. Now
arm in arm, now face to face, now back to back - it does not matter which. Because they know they
are partners moving to the same rhythm, creating a pattern together, and being invisibly nourished by
it. — Anne Morrow Lindbergh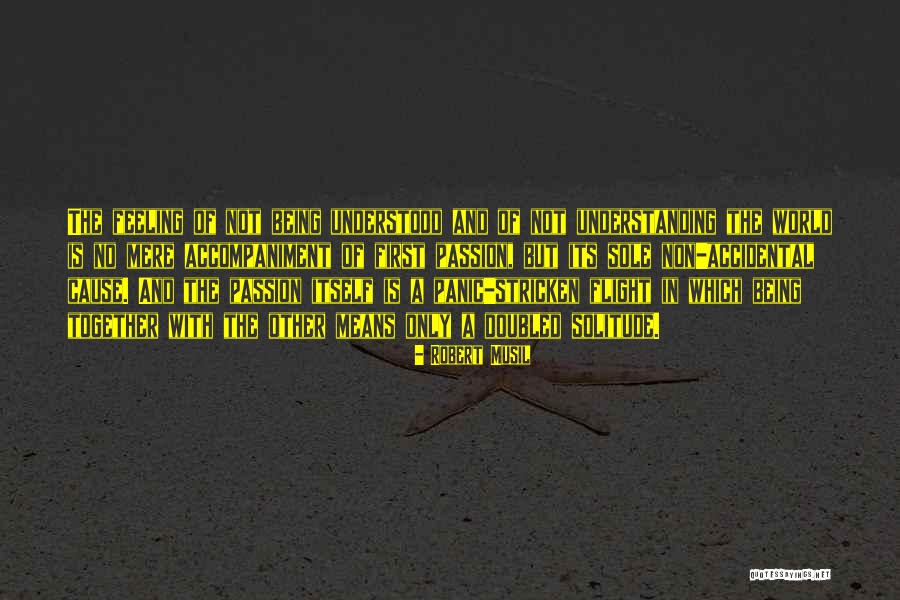 The feeling of not being understood and of not understanding the world is no mere accompaniment of first passion, but its sole non-accidental cause. And the passion itself is a panic-stricken flight in which being together with the other means only a doubled solitude. — Robert Musil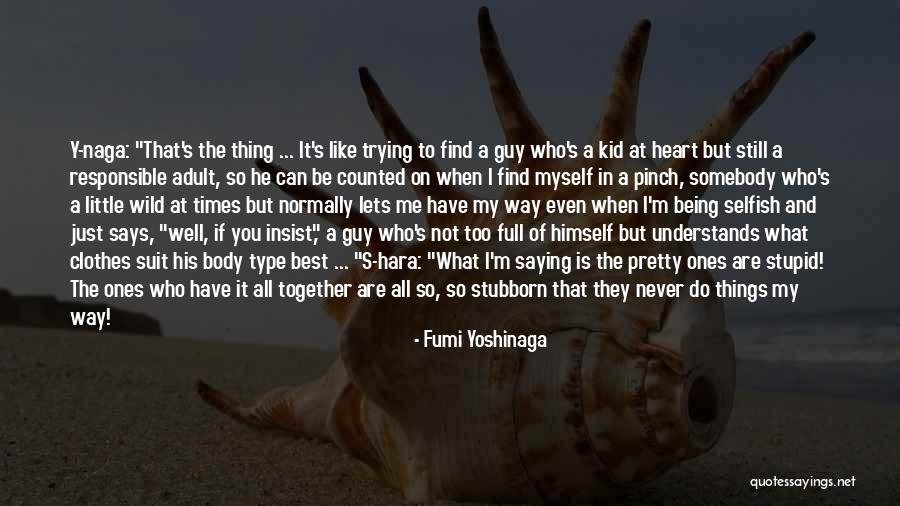 Y-naga: "That's the thing ... It's like trying to find a guy who's a kid at heart but still a responsible adult, so he can be counted on when I find myself in a pinch, somebody who's a little wild at times but normally lets me have my way even when I'm being selfish and just says, "well, if you insist," a guy who's not too full of himself but understands what clothes suit his body type best ... "
S-hara: "What I'm saying is the pretty ones are stupid! The ones who have it all together are all so, so stubborn that they never do things my way! — Fumi Yoshinaga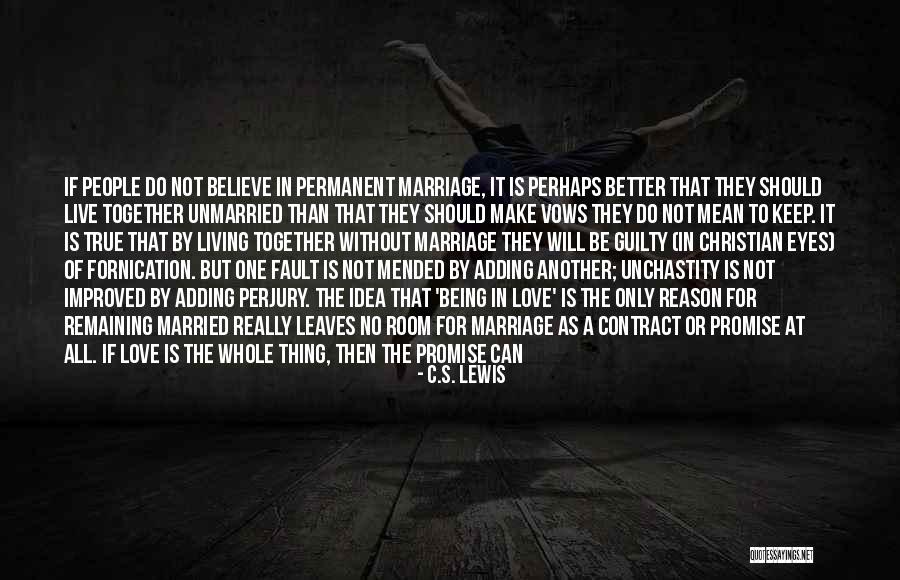 If people do not believe in permanent marriage, it is perhaps better that they should live together unmarried than that they should make vows they do not mean to keep. It is true that by living together without marriage they will be guilty (in Christian eyes) of fornication. But one fault is not mended by adding another; unchastity is not improved by adding perjury. The idea that 'being in love' is the only reason for remaining married really leaves no room for marriage as a contract or promise at all. If love is the whole thing, then the promise can add nothing; and if it adds nothing, then it should not be made. — C.S. Lewis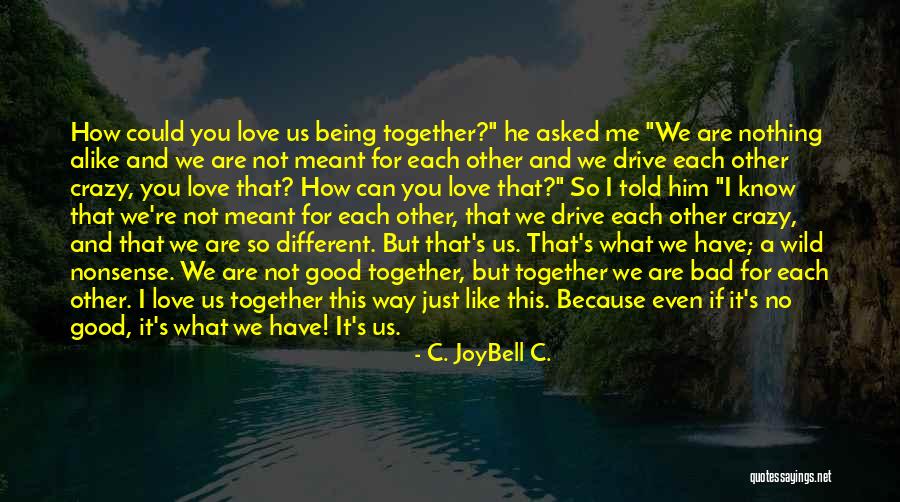 How could you love us being together?" he asked me "We are nothing alike and we are not meant for each other and we drive each other crazy, you love that? How can you love that?" So I told him "I know that we're not meant for each other, that we drive each other crazy, and that we are so different. But that's us. That's what we have; a wild nonsense. We are not good together, but together we are bad for each other. I love us together this way just like this. Because even if it's no good, it's what we have! It's us. — C. JoyBell C.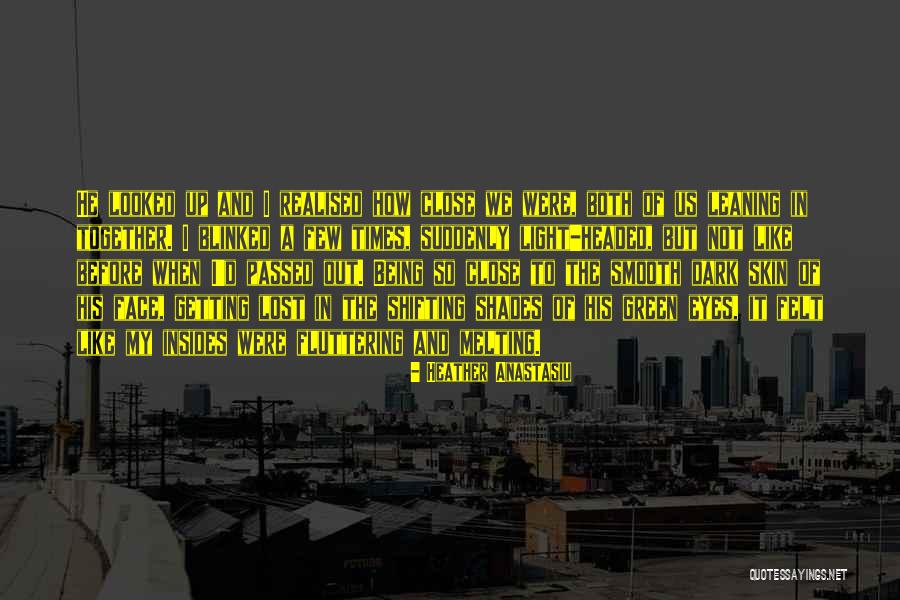 He looked up and I realised how close we were, both of us leaning in together. I blinked a few times, suddenly light-headed, but not like before when I'd passed out. Being so close to the smooth dark skin of his face, getting lost in the shifting shades of his green eyes, it felt like my insides were fluttering and melting. — Heather Anastasiu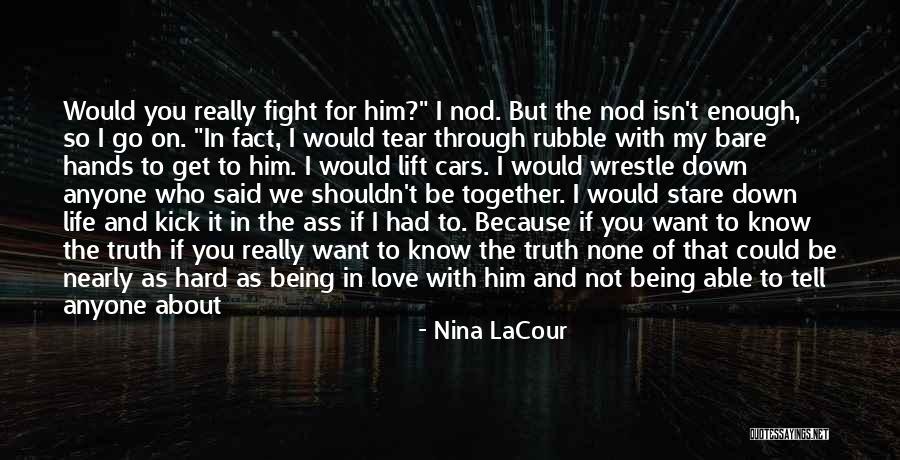 Would you really fight for him?" I nod.
But the nod isn't enough, so I go on.
"In fact, I would tear through rubble with my bare hands to get to him. I would lift cars. I would wrestle down anyone who said we shouldn't be together. I would stare down life and kick it in the ass if I had to. Because if you want to know the truth
if you really want to know the truth
none of that could be nearly as hard as being in love with him and not being able to tell anyone about it. Including him. I have this thing inside me, and it's angry and it's scared and it's uncertain and most of all it's so completely in love with him, and it would do anything to keep him, even if it means things staying the way they are now. — Nina LaCour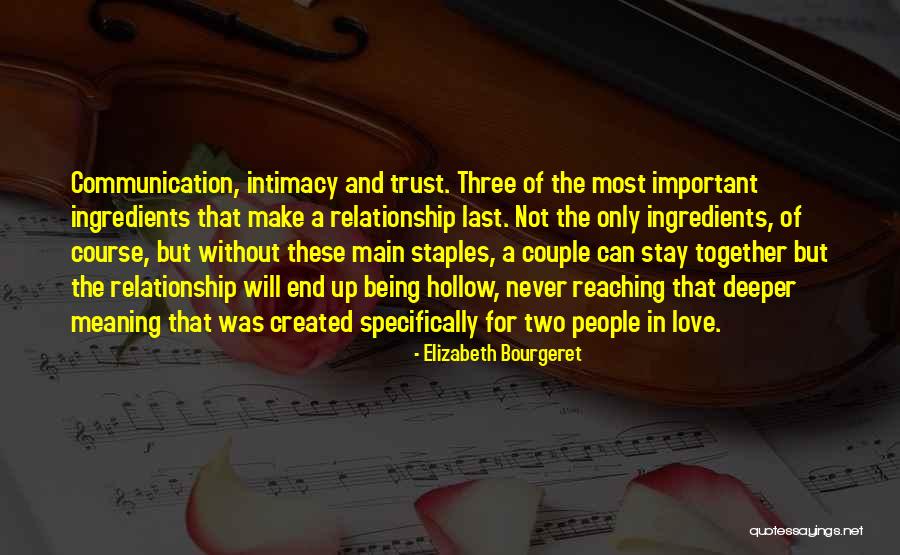 Communication, intimacy and trust. Three of the most important ingredients that make a relationship last. Not the only ingredients, of course, but without these main staples, a couple can stay together but the relationship will end up being hollow, never reaching that deeper meaning that was created specifically for two people in love. — Elizabeth Bourgeret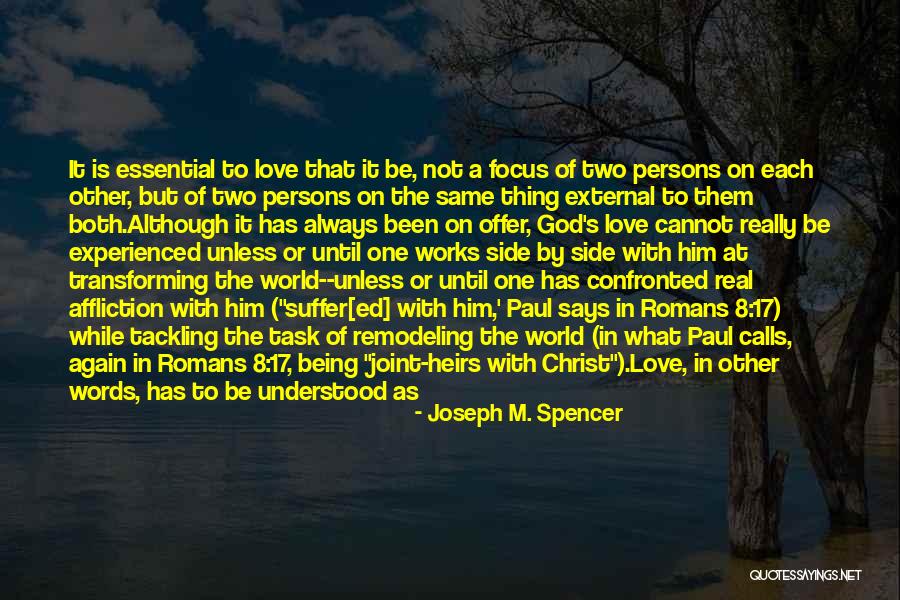 It is essential to love that it be, not a focus of two persons on each other, but of two persons on the same thing external to them both.

Although it has always been on offer, God's love cannot really be experienced unless or until one works side by side with him at transforming the world--unless or until one has confronted real affliction with him ("suffer[ed] with him,' Paul says in Romans 8:17) while tackling the task of remodeling the world (in what Paul calls, again in Romans 8:17, being "joint-heirs with Christ").

Love, in other words, has to be understood as more than a mere emotion; it is a way of being together in the world or, better, a way of working together to change the world.

What begins as a kind of instrumentality--I hope only to be a toll in God's hands--eventually becomes a very real partnership, ideally bound by covenant. — Joseph M. Spencer
When I met you - somehow you healed me. From the inside out, the outside in. We conquered fears together, we learned, we laughed, and we loved. I swear, you caused my heart to soar more in the past few months than it has in my entire existence. My heart is whole because you chose to share yours with me, and it's for that reason that I get down on not one, but both knees ... " I knelt in front of her and gripped her hand. "And say thank you. Thank you for saving my life, thank you for loving me enough to treasure your own, and thank you for being my strength when I had none. I'd like to think our hearts are joined - forever entwined - but considering that's not technically a legal joining, I have a question for you
Marry me? Make me the happiest man alive." I opened the box revealing my mom's ring. — Rachel Van Dyken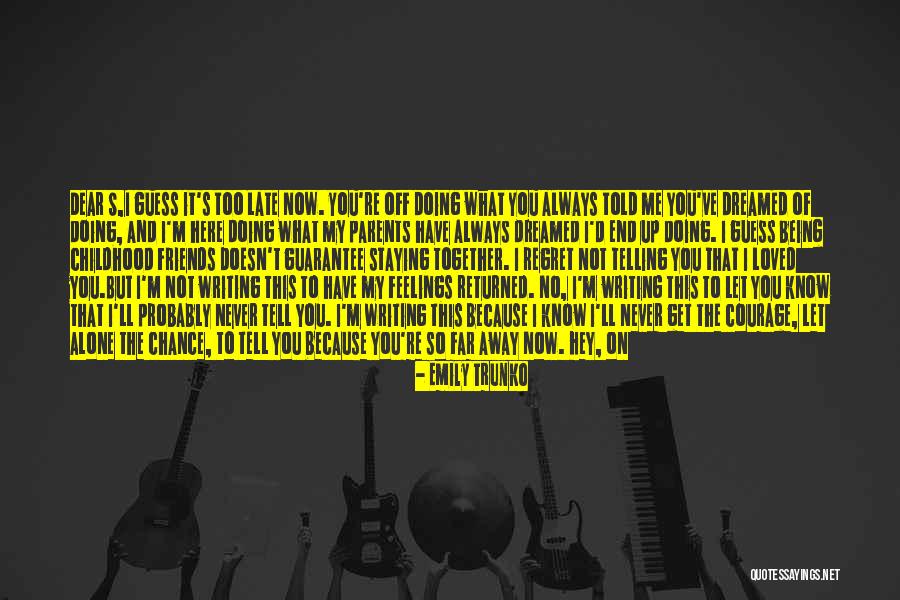 Dear S,
I guess it's too late now. You're off doing what you always told me you've dreamed of doing, and I'm here doing what my parents have always dreamed I'd end up doing. I guess being childhood friends doesn't guarantee staying together.
I regret not telling you that I loved you.
But I'm not writing this to have my feelings returned. No, I'm writing this to let you know that I'll probably never tell you. I'm writing this because I know I'll never get the courage, let alone the chance, to tell you because you're so far away now.
Hey, on the off chance that telepathy works or that you have powers to know everything, I want you to know that I love you -- not just as a childhood friend, but as someone I want to marry. — Emily Trunko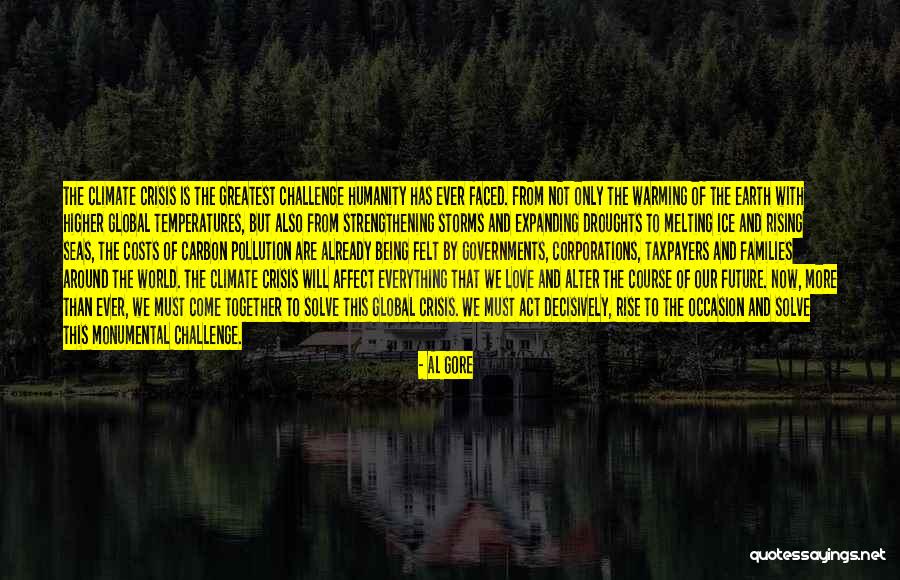 The climate crisis is the greatest challenge humanity has ever faced. From not only the warming of the earth with higher global temperatures, but also from strengthening storms and expanding droughts to melting ice and rising seas, the costs of carbon pollution are already being felt by governments, corporations, taxpayers and families around the world. The climate crisis will affect everything that we love and alter the course of our future. Now, more than ever, we must come together to solve this global crisis. We must act decisively, rise to the occasion and solve this monumental challenge. — Al Gore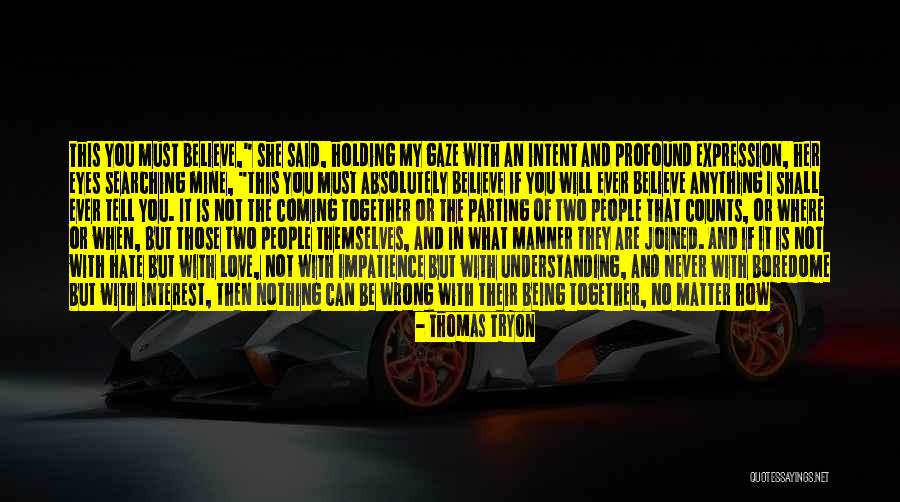 This you must believe," she said, holding my gaze with an intent and profound expression, her eyes searching mine, "this you must absolutely believe if you will ever believe anything I shall ever tell you. It is not the coming together or the parting of two people that counts, or where or when, but those two people themselves, and in what manner they are joined. And if it is not with hate but with love, not with impatience but with understanding, and never with boredome but with interest, then nothing can be wrong with their being together, no matter how wrong it may seem to others. But those others, they do not count, they must not be permitted to count, for it is only between the two persons themselves that it must have meaning. It is not so difficult for people to arrange their lives sensibly if they behave sensibly, but to arrange their lives happily, that is a far, far different thing. — Thomas Tryon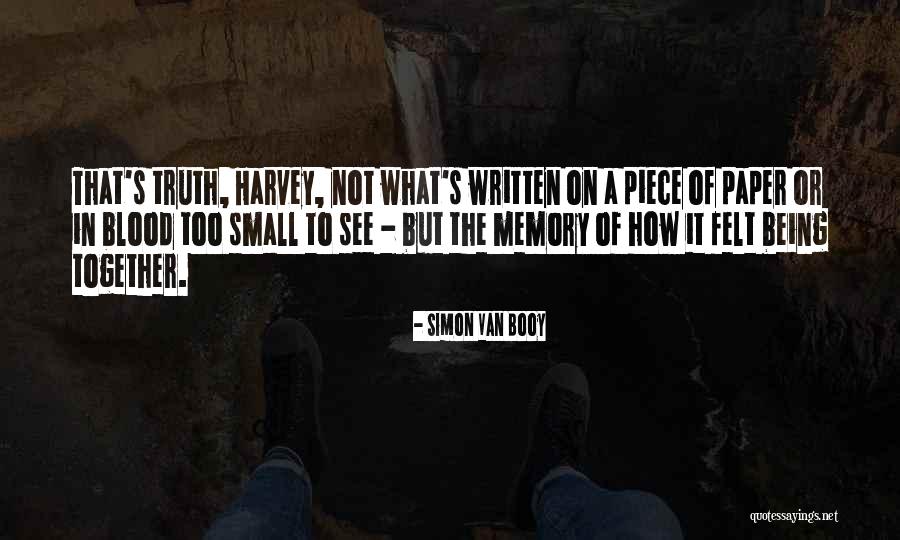 That's truth, Harvey, not what's written on a piece of paper or in blood too small to see - but the memory of how it felt being together. — Simon Van Booy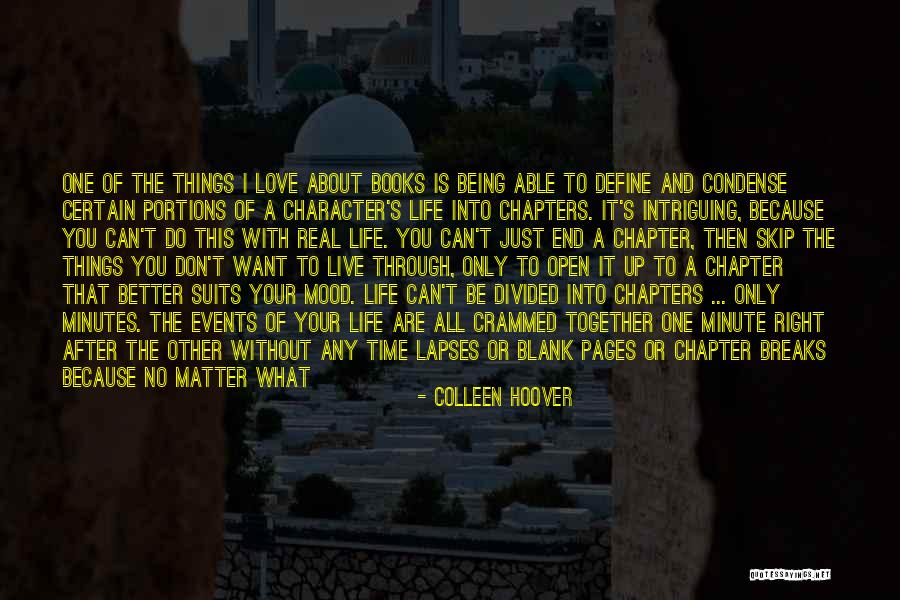 One of the things I love about books is being able to define and condense certain portions of a character's life into chapters. It's intriguing, because you can't do this with real life. You can't just end a chapter, then skip the things you don't want to live through, only to open it up to a chapter that better suits your mood. Life can't be divided into chapters ... only minutes. The events of your life are all crammed together one minute right after the other without any time lapses or blank pages or chapter breaks because no matter what happens life just keeps going and moving forward and words keep flowing and truths keep spewing whether you like it or not and life never lets you pause and just catch your fucking breath.
I need one of those chapter breaks. I just want to catch my breath, but I have no idea how. — Colleen Hoover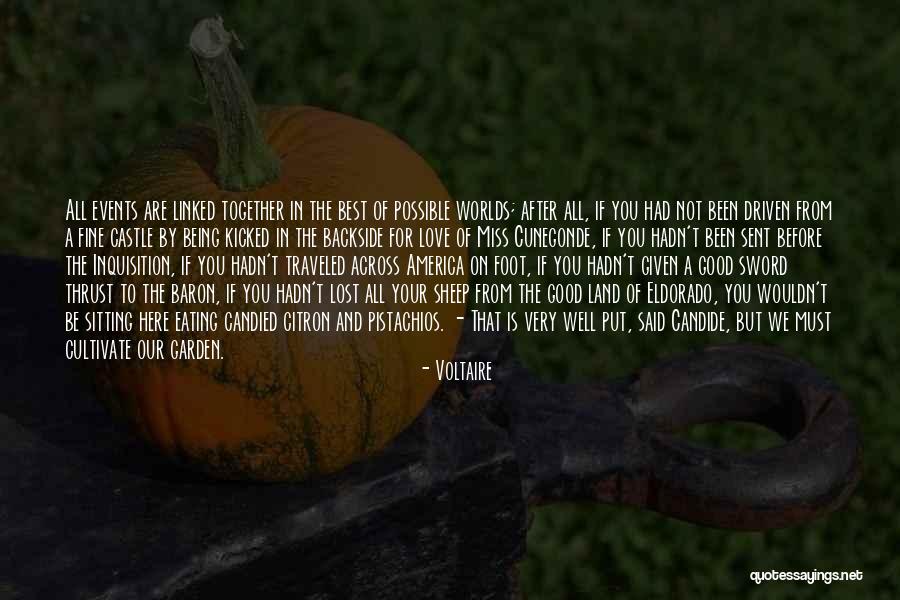 All events are linked together in the best of possible worlds; after all, if you had not been driven from a fine castle by being kicked in the backside for love of Miss Cunegonde, if you hadn't been sent before the Inquisition, if you hadn't traveled across America on foot, if you hadn't given a good sword thrust to the baron, if you hadn't lost all your sheep from the good land of Eldorado, you wouldn't be sitting here eating candied citron and pistachios. - That is very well put, said Candide, but we must cultivate our garden. — Voltaire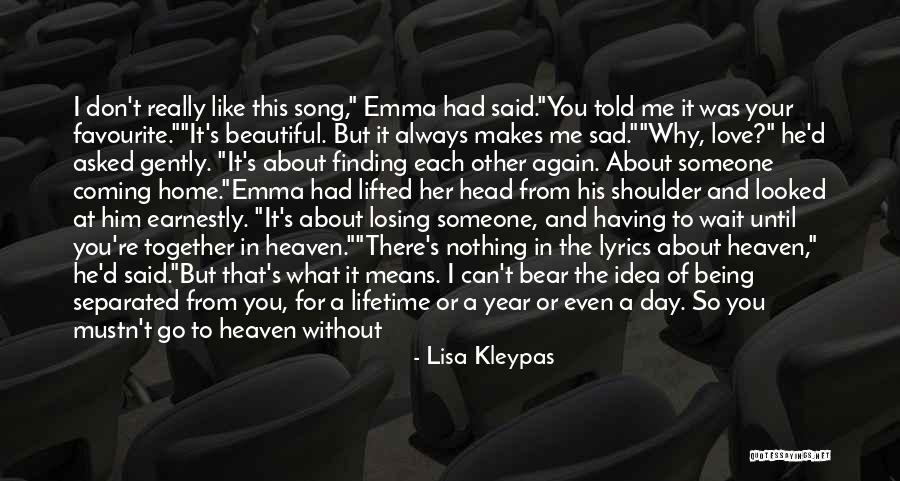 I don't really like this song," Emma had said.
"You told me it was your favourite."
"It's beautiful. But it always makes me sad."
"Why, love?" he'd asked gently. "It's about finding each other again. About someone coming home."
Emma had lifted her head from his shoulder and looked at him earnestly. "It's about losing someone, and having to wait until you're together in heaven."
"There's nothing in the lyrics about heaven," he'd said.
"But that's what it means. I can't bear the idea of being separated from you, for a lifetime or a year or even a day. So you mustn't go to heaven without me."
"Of course not," he had whispered. "It wouldn't be heaven without you. — Lisa Kleypas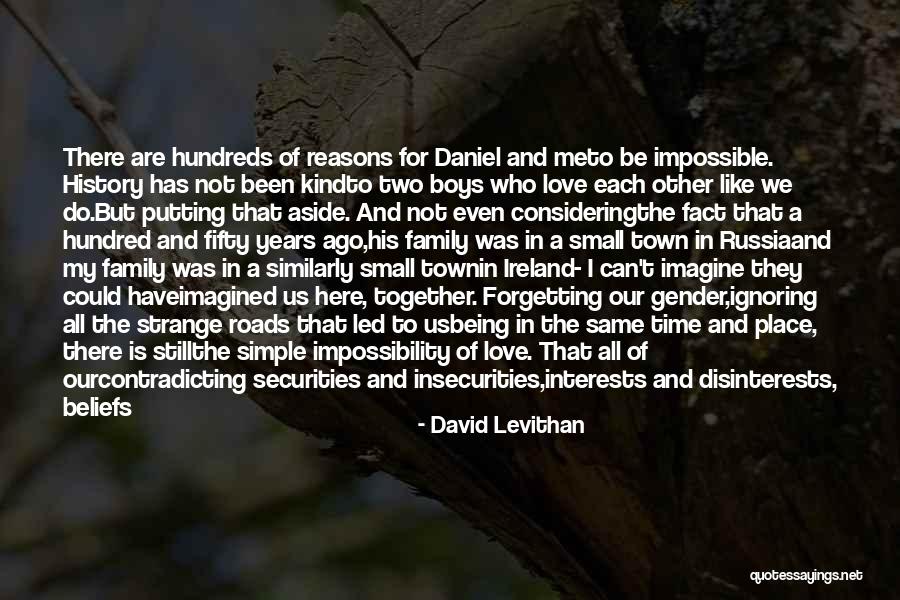 There are hundreds of reasons for Daniel and me
to be impossible. History has not been kind
to two boys who love each other like we do.
But putting that aside. And not even considering
the fact that a hundred and fifty years ago,
his family was in a small town in Russia
and my family was in a similarly small town
in Ireland- I can't imagine they could have
imagined us here, together. Forgetting our gender,
ignoring all the strange roads that led to us
being in the same time and place, there is still
the simple impossibility of love. That all of our
contradicting securities and insecurities,
interests and disinterests, beliefs and doubts,
could somehow translate into this common
uncommon affection should be as impossible
as walking to the moon. But instead, I love him. — David Levithan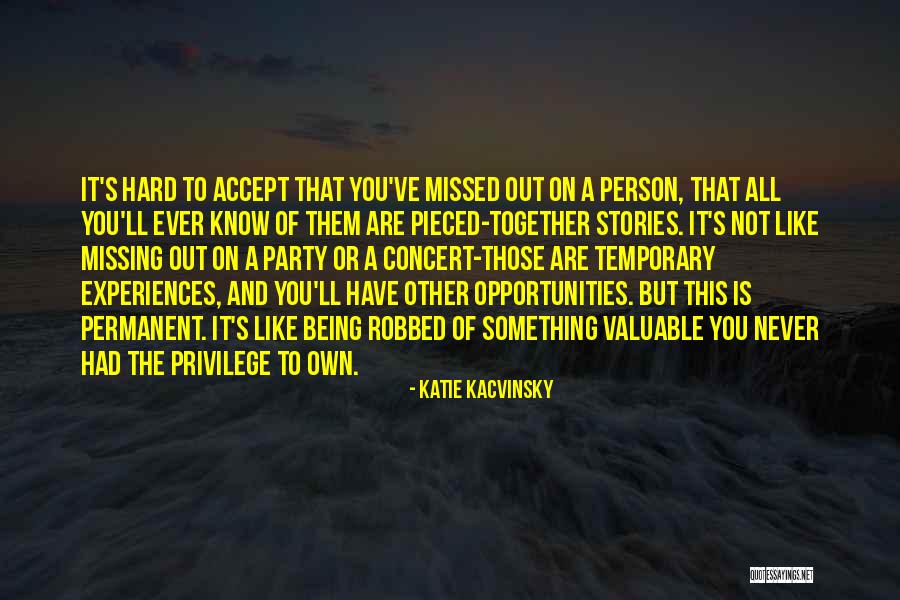 It's hard to accept that you've missed out on a person, that all you'll ever know of them are pieced-together stories. It's not like missing out on a party or a concert-those are temporary experiences, and you'll have other opportunities. But this is permanent. It's like being robbed of something valuable you never had the privilege to own. — Katie Kacvinsky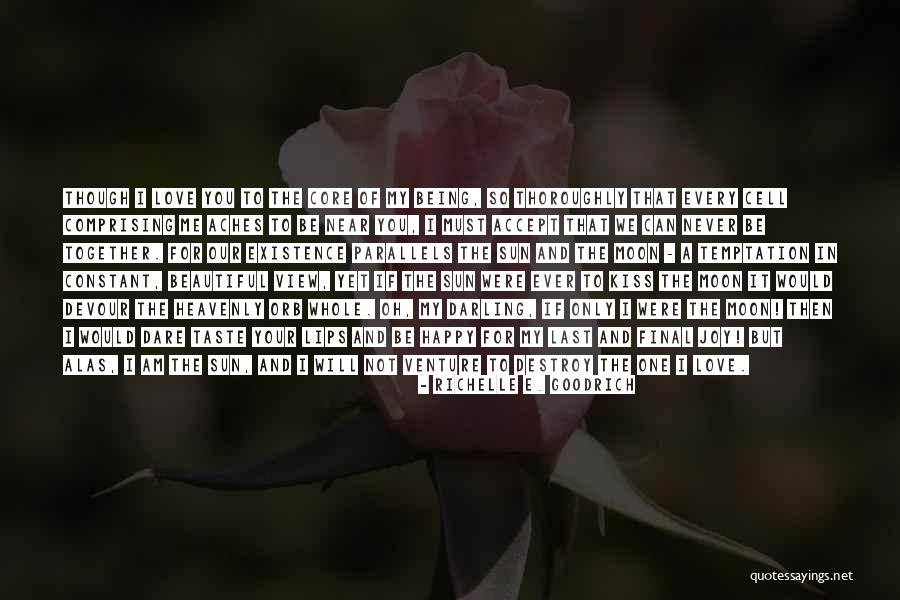 Though I love you to the core of my being, so thoroughly that every cell comprising me aches to be near you, I must accept that we can never be together. For our existence parallels the sun and the moon - a temptation in constant, beautiful view, yet if the sun were ever to kiss the moon it would devour the heavenly orb whole. Oh, my darling, if only I were the moon! Then I would dare taste your lips and be happy for my last and final joy! But alas, I am the sun, and I will not venture to destroy the one I love. — Richelle E. Goodrich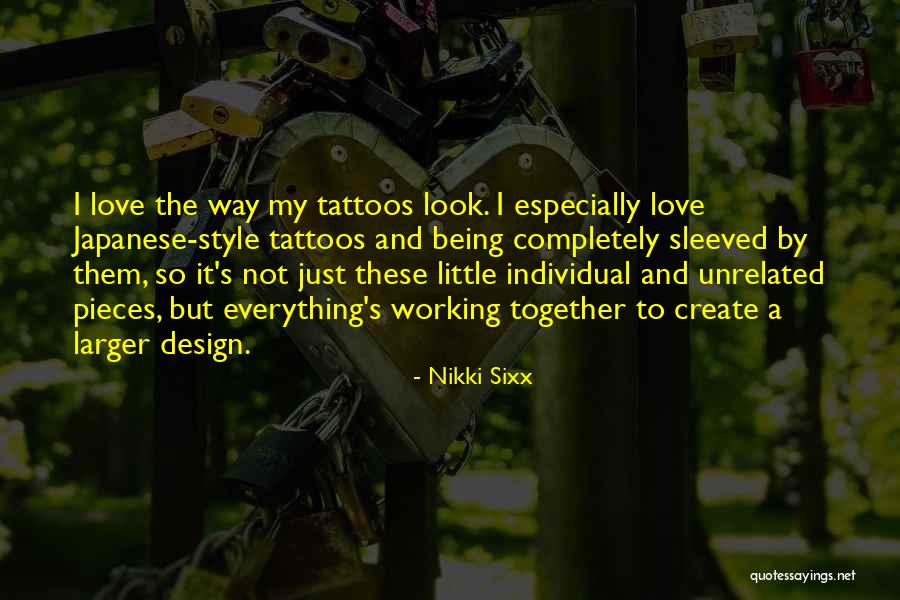 I love the way my tattoos look. I especially love Japanese-style tattoos and being completely sleeved by them, so it's not just these little individual and unrelated pieces, but everything's working together to create a larger design. — Nikki Sixx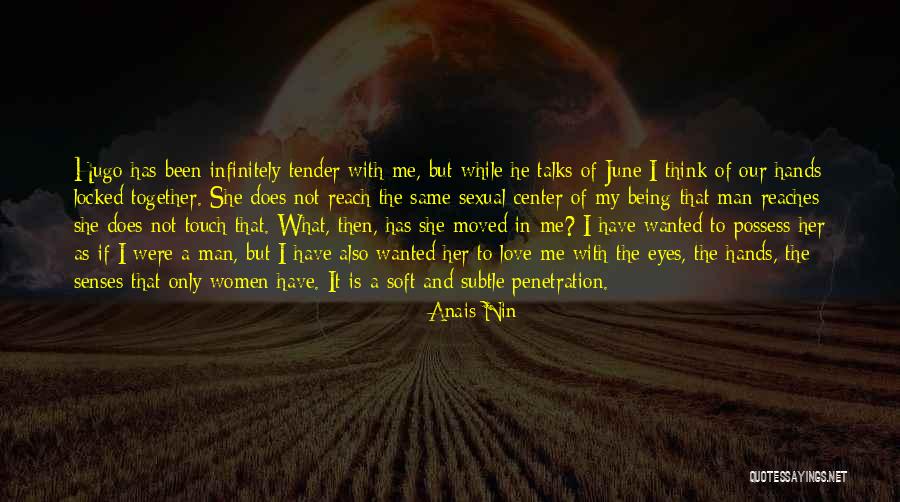 Hugo has been infinitely tender with me, but while he talks of June I think of our hands locked together. She does not reach the same sexual center of my being that man reaches; she does not touch that. What, then, has she moved in me? I have wanted to possess her as if I were a man, but I have also wanted her to love me with the eyes, the hands, the senses that only women have. It is a soft and subtle penetration. — Anais Nin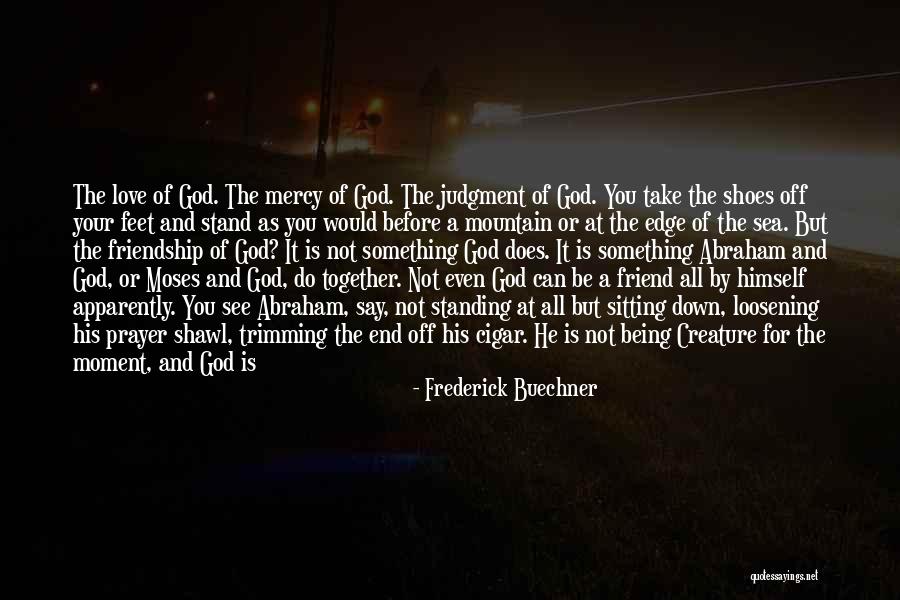 The love of God. The mercy of God. The judgment of God. You take the shoes off your feet and stand as you would before a mountain or at the edge of the sea. But the friendship of God? It is not something God does. It is something Abraham and God, or Moses and God, do together. Not even God can be a friend all by himself apparently. You see Abraham, say, not standing at all but sitting down, loosening his prayer shawl, trimming the end off his cigar. He is not being Creature for the moment, and God is not being Creator. There is no agenda. They are simply being together, the two of them, and being themselves. — Frederick Buechner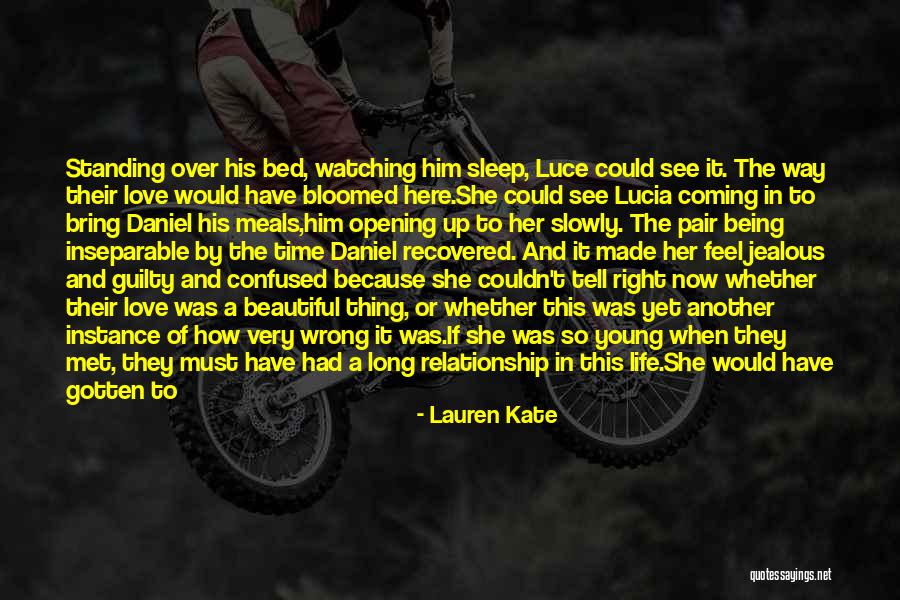 Standing over his bed, watching him sleep, Luce could see it. The way their love would have bloomed here.She could see Lucia coming in to bring Daniel his meals,him opening up to her slowly. The pair being inseparable by the time Daniel recovered. And it made her feel jealous and guilty and confused because she couldn't tell right now whether their love was a beautiful thing, or whether this was yet another instance of how very wrong it was.
If she was so young when they met, they must have had a long relationship in this life.She would have gotten to spend years with him before it happened. Before she died and was reincarnated into another life completely. She must have thought they'd spend forever together-and must not even have known how long forever meant.
But Daniel knew.He always knew. — Lauren Kate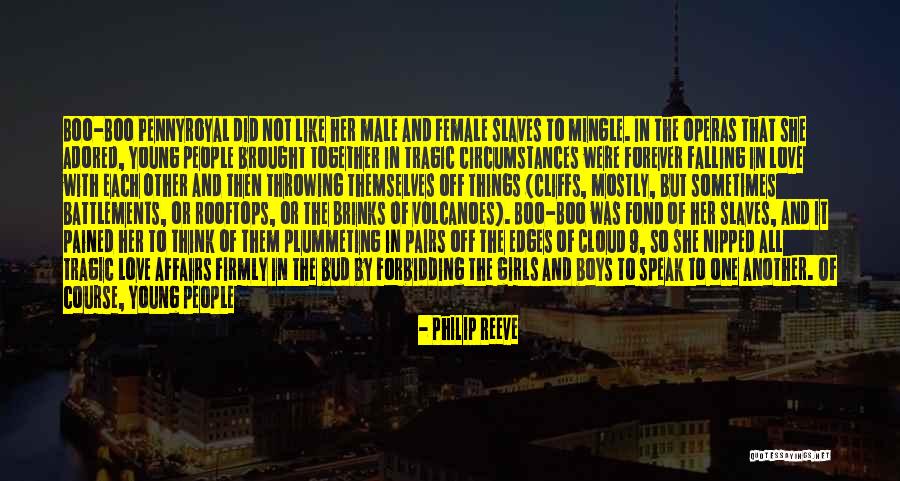 Boo-Boo Pennyroyal did not like her male and female slaves to mingle. In the operas that she adored, young people brought together in tragic circumstances were forever falling in love with each other and then throwing themselves off things (cliffs, mostly, but sometimes battlements, or rooftops, or the brinks of volcanoes). Boo-Boo was fond of her slaves, and it pained her to think of them plummeting in pairs off the edges of Cloud 9, so she nipped all tragic love affairs firmly in the bud by forbidding the girls and boys to speak to one another. Of course, young people being what they were, girls sometimes fell in love with other girls, or boys with boys, but that never happened in the operas, so Boo-Boo didn't notice. — Philip Reeve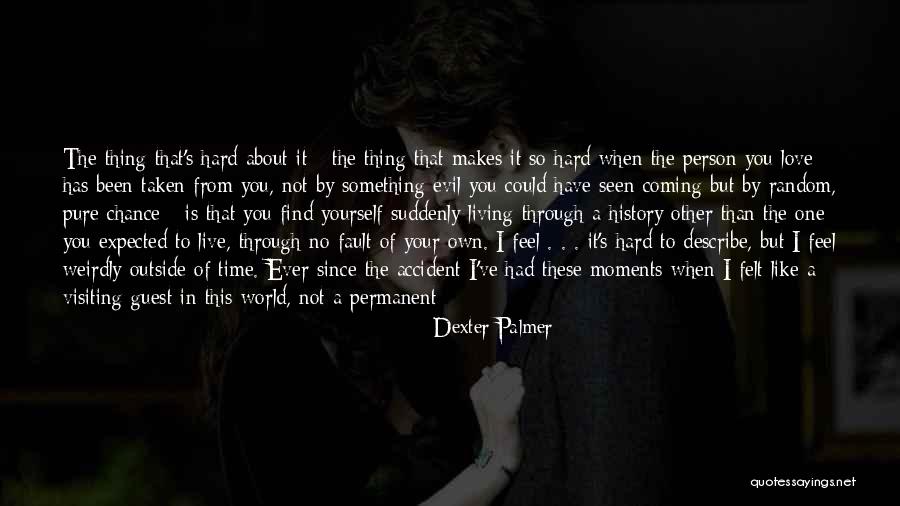 The thing that's hard about it - the thing that makes it so hard when the person you love has been taken from you, not by something evil you could have seen coming but by random, pure chance - is that you find yourself suddenly living through a history other than the one you expected to live, through no fault of your own. I feel . . . it's hard to describe, but I feel weirdly outside of time. Ever since the accident I've had these moments when I felt like a visiting guest in this world, not a permanent resident. Like sometimes I look in a mirror and I feel like I can almost see through the version of me on the other side of the glass. And sometimes I feel like I can see the history I used to be in more clearly than the history I'm in now - the real history is one where Philip and Sean and I are all together, being a family and doing whatever family things people do, and this one's like . . . like a fake version of events that I've been yanked into, where everything's gone wrong. — Dexter Palmer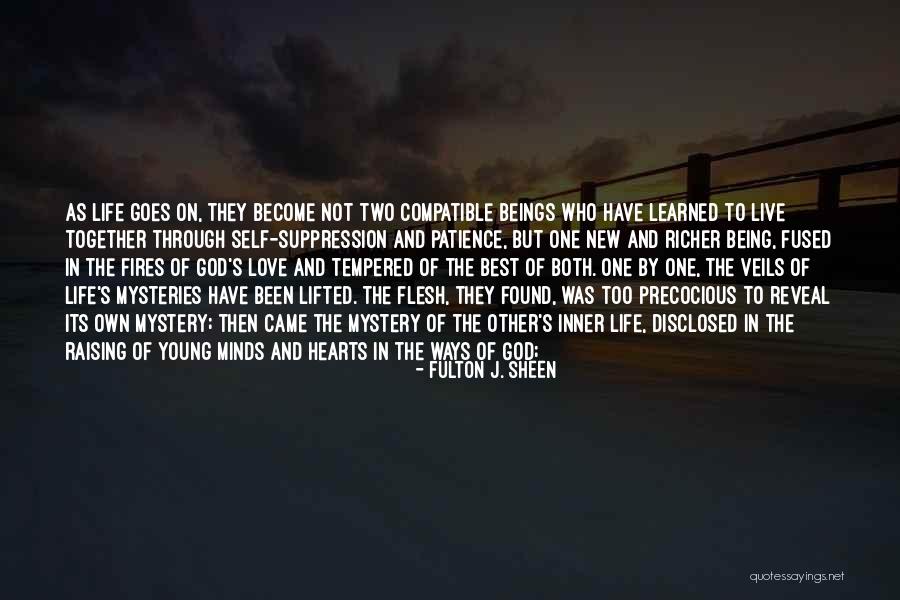 As life goes on, they become not two compatible beings who have learned to live together through self-suppression and patience, but one new and richer being, fused in the fires of God's love and tempered of the best of both. One by one, the veils of life's mysteries have been lifted. The flesh, they found, was too precocious to reveal its own mystery; then came the mystery of the other's inner life, disclosed in the raising of young minds and hearts in the ways of God; — Fulton J. Sheen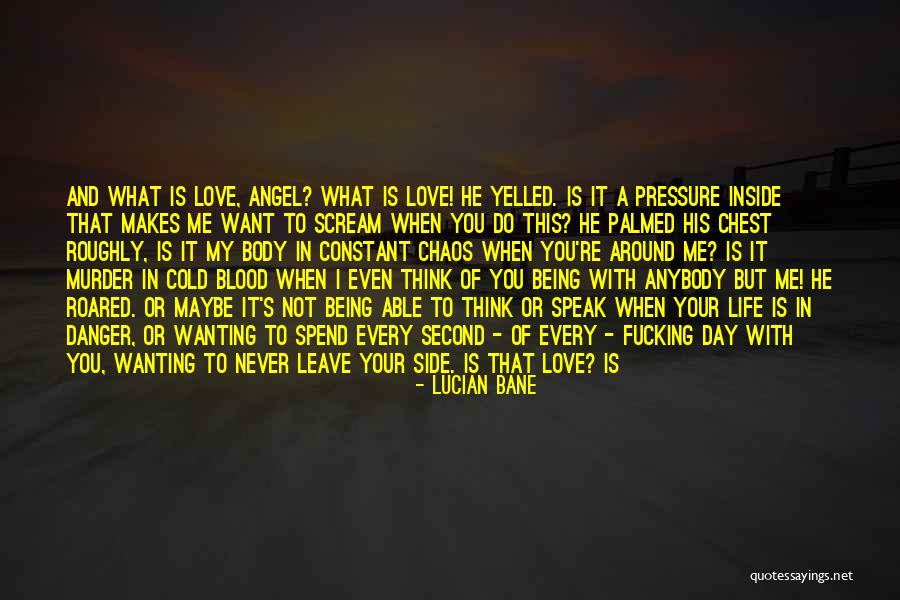 And what is love, Angel? What is love! he yelled. Is it a pressure inside that makes me want to scream when you do this? he palmed his chest roughly, Is it my body in constant chaos when you're around me? Is it murder in cold blood when I even think of you being with anybody but me! he roared. Or maybe it's not being able to think or speak when your life is in danger, or wanting to spend every second - of every - fucking day with you, wanting to never leave your side. Is that love? Is it, Isadore? He drew closer and hit his fist repeatedly against his chest. Is it pain so hard and heavy that I can't fucking breathe unless I smell you, touch you, taste you? His body heaved as his bright green gaze seared her heart. Because if it is, Angel...he held his lips together and shook his head slowly, then I am....slain with an eternal and violent love for you. — Lucian Bane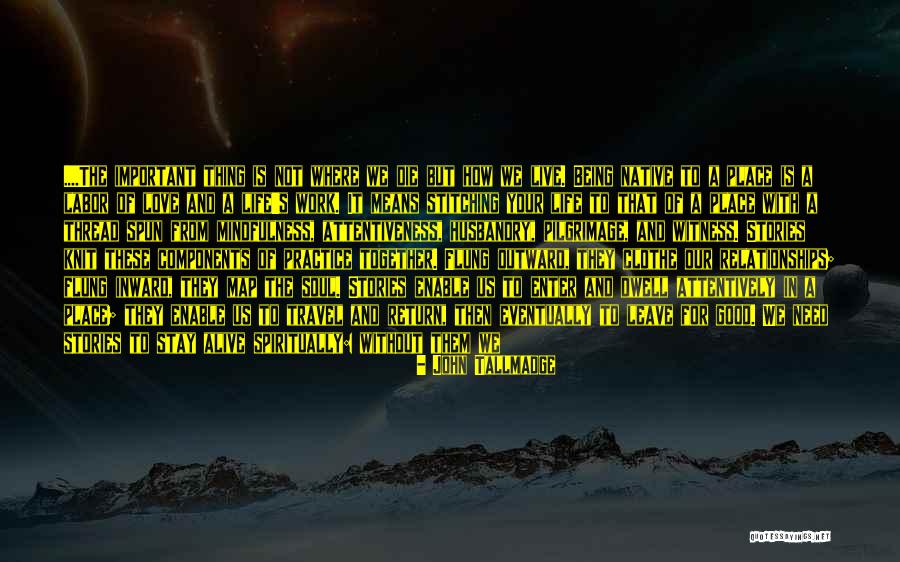 ....The important thing is not where we die but how we live. Being native to a place is a labor of love and a life's work. It means stitching your life to that of a place with a thread spun from mindfulness, attentiveness, husbandry, pilgrimage, and witness. Stories knit these components of practice together. Flung outward, they clothe our relationships; flung inward, they map the soul. Stories enable us to enter and dwell attentively in a place; they enable us to travel and return, then eventually to leave for good. We need stories to stay alive spiritually: without them we would all turn into hungry ghosts. Stories are the only things we can take with us out of this world. They are the wings that bear us up or the chains that drag us down. In the end, it is stories that enable us to die. — John Tallmadge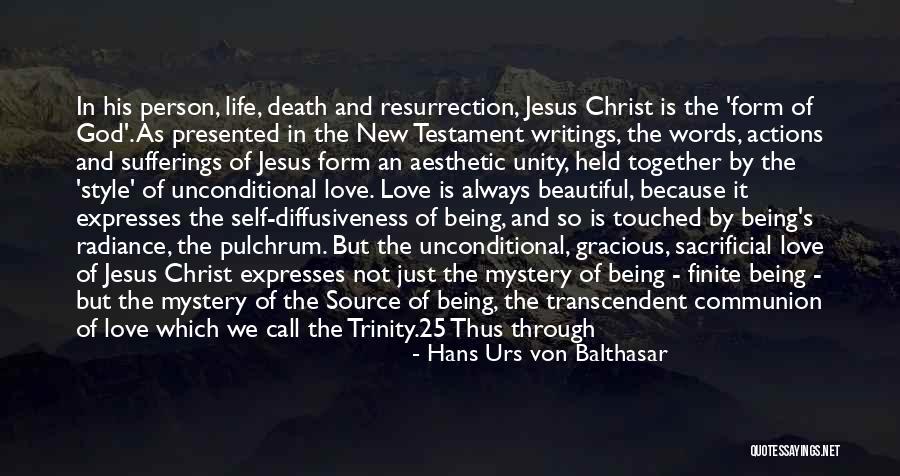 In his person, life, death and resurrection, Jesus Christ is the 'form of God'. As presented in the New Testament writings, the words, actions and sufferings of Jesus form an aesthetic unity, held together by the 'style' of unconditional love. Love is always beautiful, because it expresses the self-diffusiveness of being, and so is touched by being's radiance, the pulchrum. But the unconditional, gracious, sacrificial love of Jesus Christ expresses not just the mystery of being - finite being - but the mystery of the Source of being, the transcendent communion of love which we call the Trinity.25 Thus through the Gestalt Christi, the love which God is shines through to the world. This is Balthasar's basic intuition. — Hans Urs Von Balthasar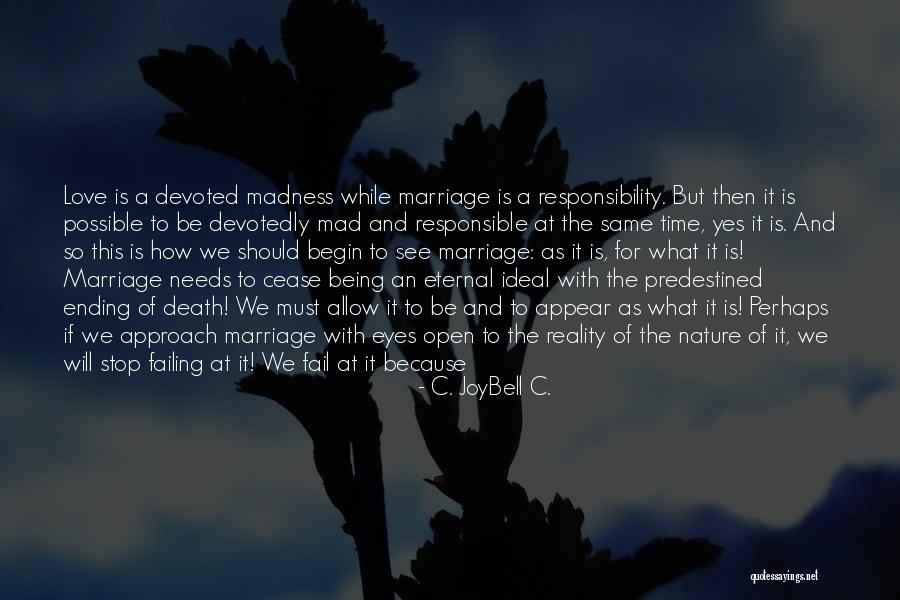 Love is a devoted madness while marriage is a responsibility. But then it is possible to be devotedly mad and responsible at the same time, yes it is. And so this is how we should begin to see marriage: as it is, for what it is! Marriage needs to cease being an eternal ideal with the predestined ending of death! We must allow it to be and to appear as what it is! Perhaps if we approach marriage with eyes open to the reality of the nature of it, we will stop failing at it! We fail at it because we think of it as something it is not! We are romanced by an ideal that is not in touch with reality and that's why when we begin to discover the reality of it, we see ourselves as failures! It is a wild and blessed thing to want to spend the rest of your adult life with one person, growing and changing together, while stepping deeper into the depths of love; notwithstanding, we must understand that we may not get it "right" the first time. — C. JoyBell C.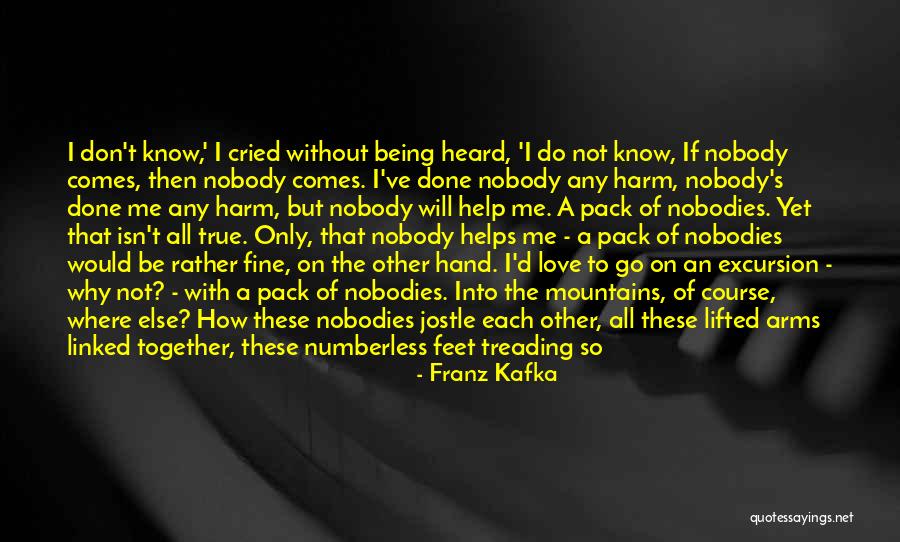 I don't know,' I cried without being heard, 'I do not know, If nobody comes, then nobody comes. I've done nobody any harm, nobody's done me any harm, but nobody will help me. A pack of nobodies. Yet that isn't all true. Only, that nobody helps me - a pack of nobodies would be rather fine, on the other hand. I'd love to go on an excursion - why not? - with a pack of nobodies. Into the mountains, of course, where else? How these nobodies jostle each other, all these lifted arms linked together, these numberless feet treading so close! Of course they are all in dress suits. We go so gaily, the wind blows through us and the gaps in our company. Our throats swell and are free in the mountains! It's a wonder that we don't burst into song. — Franz Kafka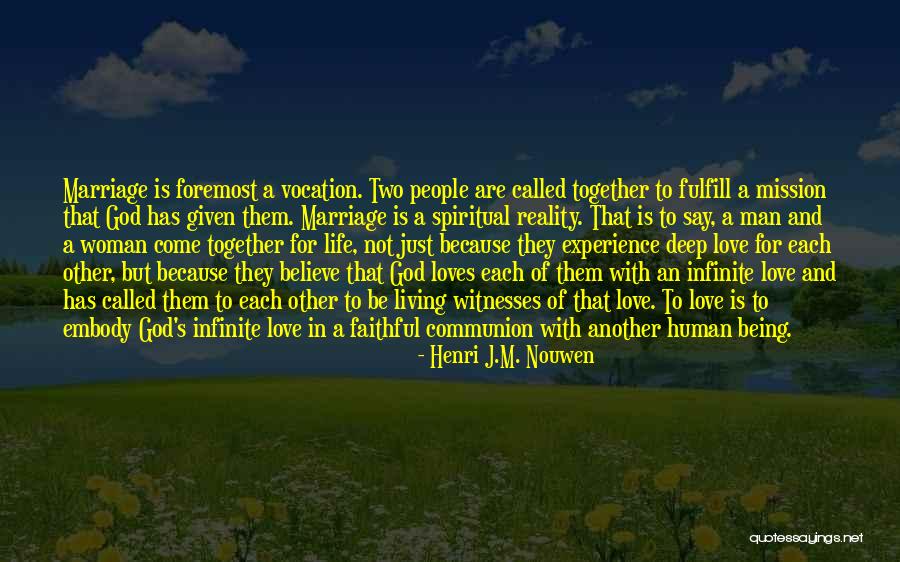 Marriage is foremost a vocation. Two people are called together to fulfill a mission that God has given them. Marriage is a spiritual reality. That is to say, a man and a woman come together for life, not just because they experience deep love for each other, but because they believe that God loves each of them with an infinite love and has called them to each other to be living witnesses of that love. To love is to embody God's infinite love in a faithful communion with another human being. — Henri J.M. Nouwen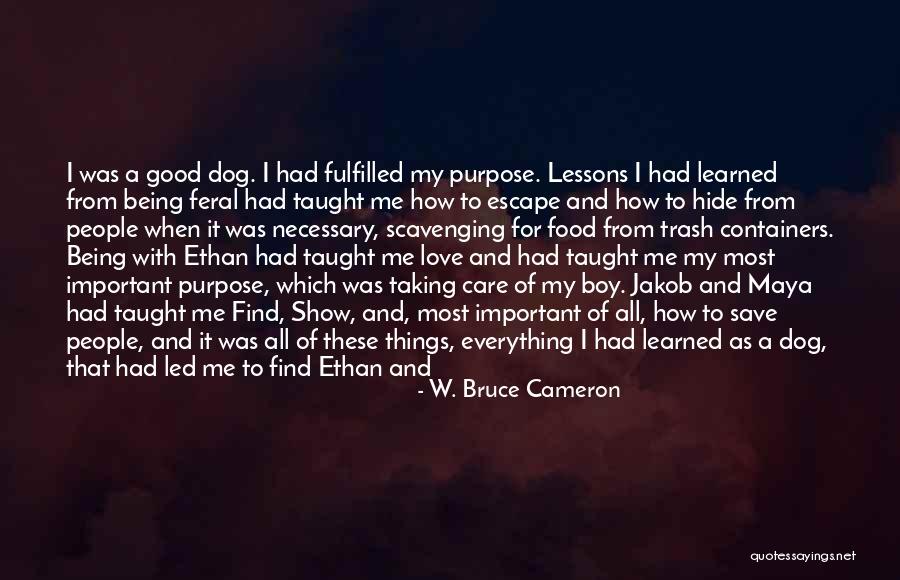 I was a good dog. I had fulfilled my purpose. Lessons I had learned from being feral had taught me how to escape and how to hide from people when it was necessary, scavenging for food from trash containers. Being with Ethan had taught me love and had taught me my most important purpose, which was taking care of my boy. Jakob and Maya had taught me Find, Show, and, most important of all, how to save people, and it was all of these things, everything I had learned as a dog, that had led me to find Ethan and Hannah and to bring them both together. I understood it now, why I had lived so many times. I had to learn a lot of important skills and lessons, so that when the time came I could rescue Ethan, not from the pond but from the sinking despair of his own life. The — W. Bruce Cameron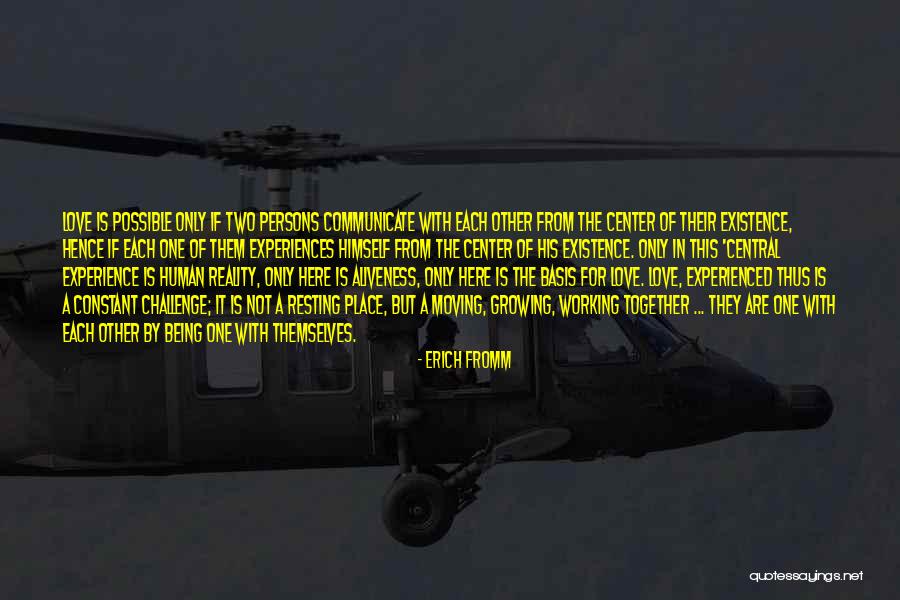 Love is possible only if two persons communicate with each other from the center of their existence, hence if each one of them experiences himself from the center of his existence. Only in this 'central experience is human reality, only here is aliveness, only here is the basis for love. Love, experienced thus is a constant challenge; it is not a resting place, but a moving, growing, working together ... they are one with each other by being one with themselves. — Erich Fromm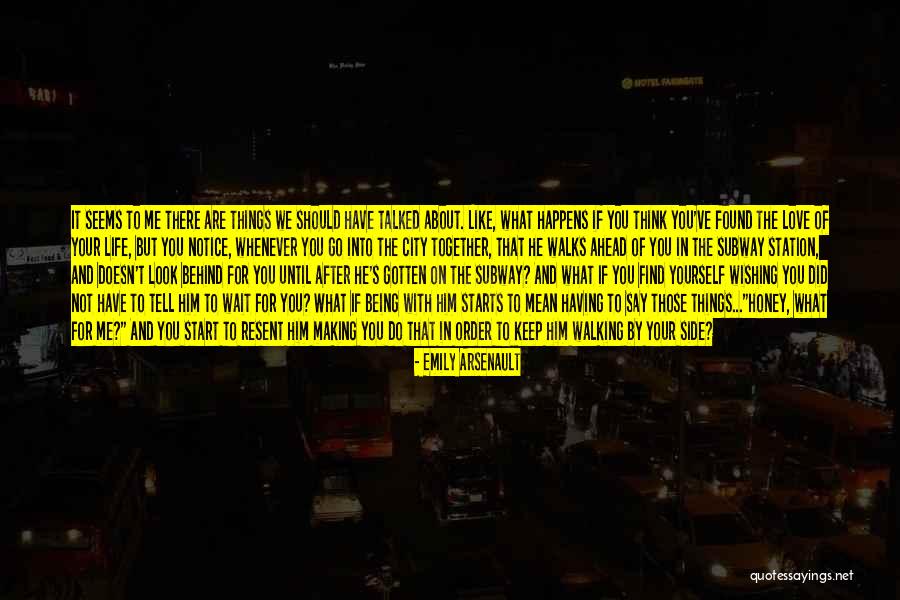 It seems to me there are things we should have talked about. Like, what happens if you think you've found the love of your life, but you notice, whenever you go into the city together, that he walks ahead of you in the subway station, and doesn't look behind for you until after he's gotten on the subway? And what if you find yourself wishing you did not have to tell him to wait for you? What if being with him starts to mean having to say those things..."Honey, what for me?" And you start to resent him making you do that in order to keep him walking by your side? — Emily Arsenault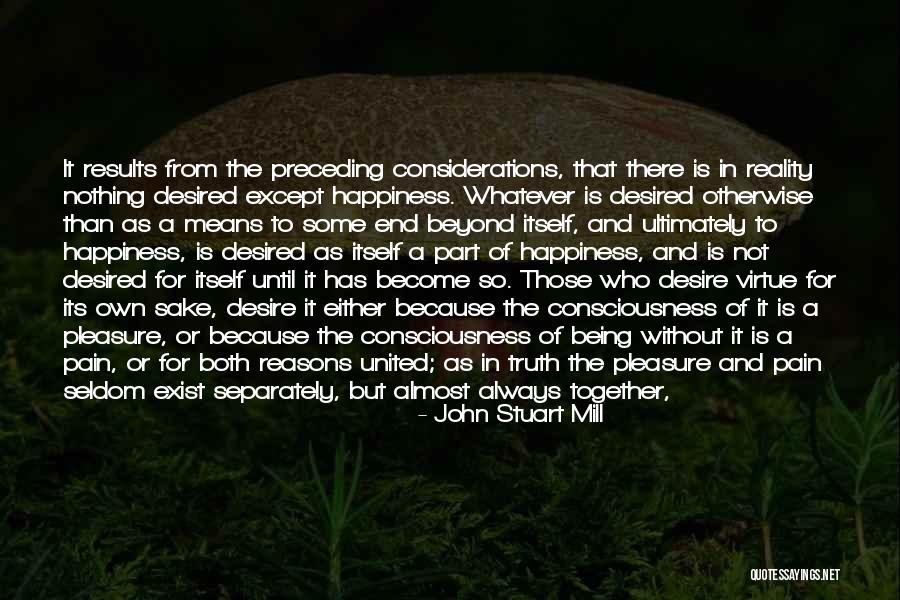 It results from the preceding considerations, that there is in reality nothing desired except happiness. Whatever is desired otherwise than as a means to some end beyond itself, and ultimately to happiness, is desired as itself a part of happiness, and is not desired for itself until it has become so. Those who desire virtue for its own sake, desire it either because the consciousness of it is a pleasure, or because the consciousness of being without it is a pain, or for both reasons united; as in truth the pleasure and pain seldom exist separately, but almost always together, the same person feeling pleasure in the degree of virtue attained, and pain in not having attained more. If one of these gave him no pleasure, and the other no pain, he would not love or desire virtue, or would desire it only for the other benefits which it might produce to himself or to persons whom he cared for. — John Stuart Mill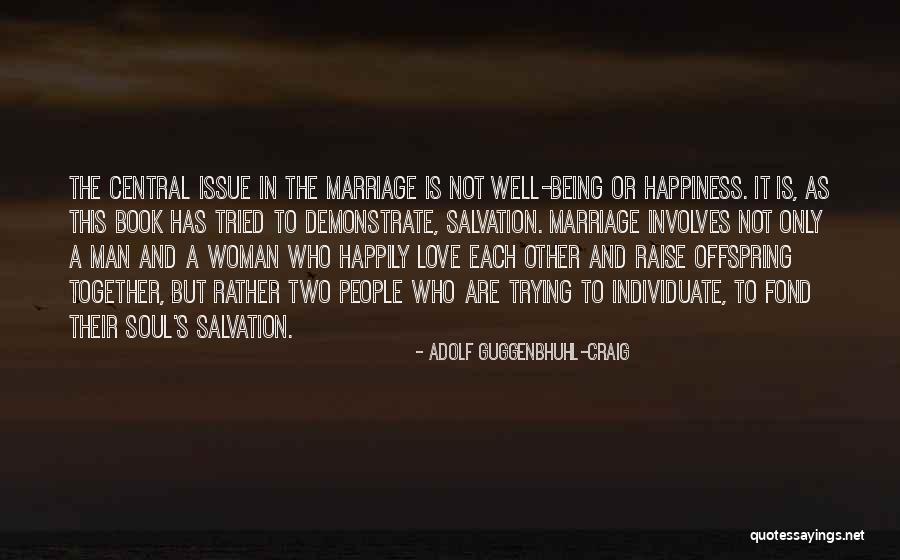 The central issue in the marriage is not well-being or happiness. It is, as this book has tried to demonstrate, salvation. Marriage involves not only a man and a woman who happily love each other and raise offspring together, but rather two people who are trying to individuate, to fond their soul's salvation. — Adolf Guggenbhuhl-Craig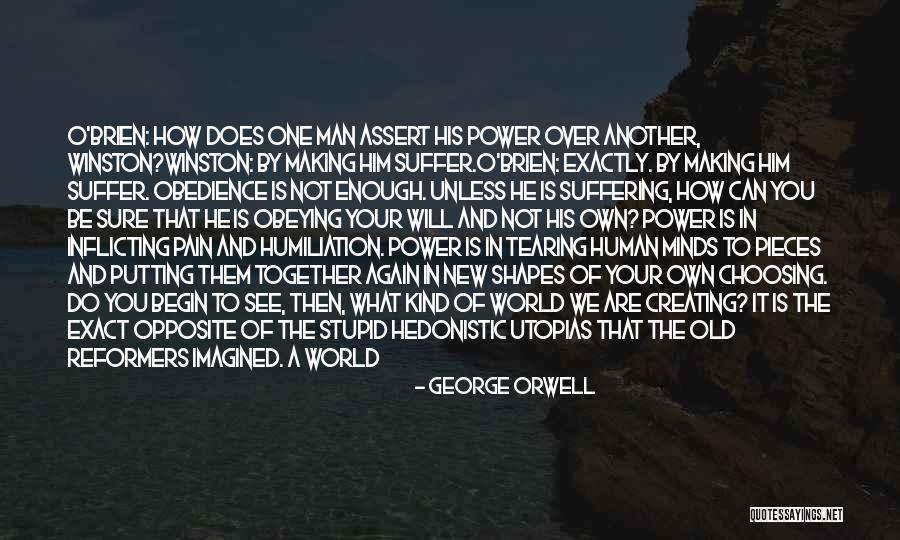 O'Brien: How does one man assert his power over another, Winston?
Winston: By making him suffer.
O'Brien: Exactly. By making him suffer. Obedience is not enough. Unless he is suffering, how can you be sure that he is obeying your will and not his own? Power is in inflicting pain and humiliation. Power is in tearing human minds to pieces and putting them together again in new shapes of your own choosing. Do you begin to see, then, what kind of world we are creating? It is the exact opposite of the stupid hedonistic Utopias that the old reformers imagined. A world of fear and treachery and torment, a world of trampling and being trampled upon, a world which will grow not less but MORE merciless as it refines itself. Progress in our world will be progress towards more pain. The old civilizations claimed that they were founded on love or justice. Ours is founded upon hatred. — George Orwell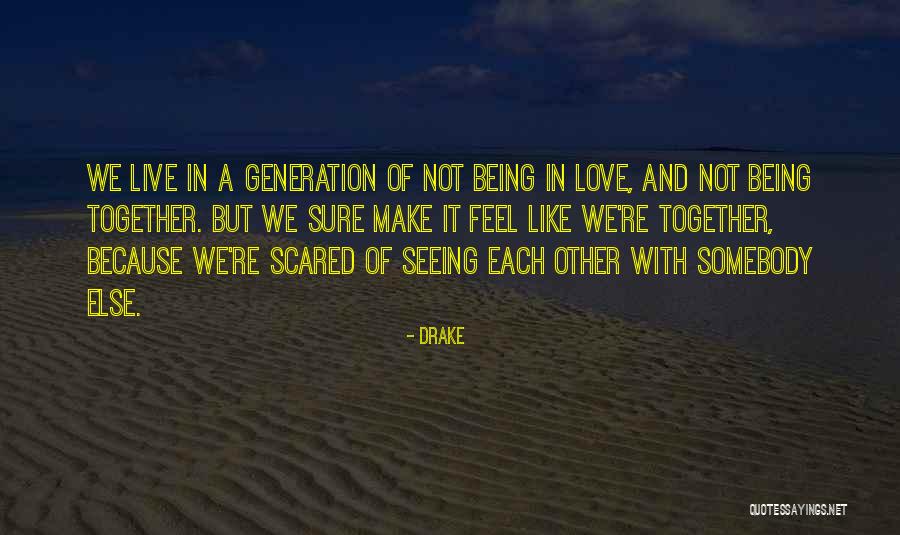 We live in a generation of not being in love, and not being together. But we sure make it feel like we're together, because we're scared of seeing each other with somebody else. — Drake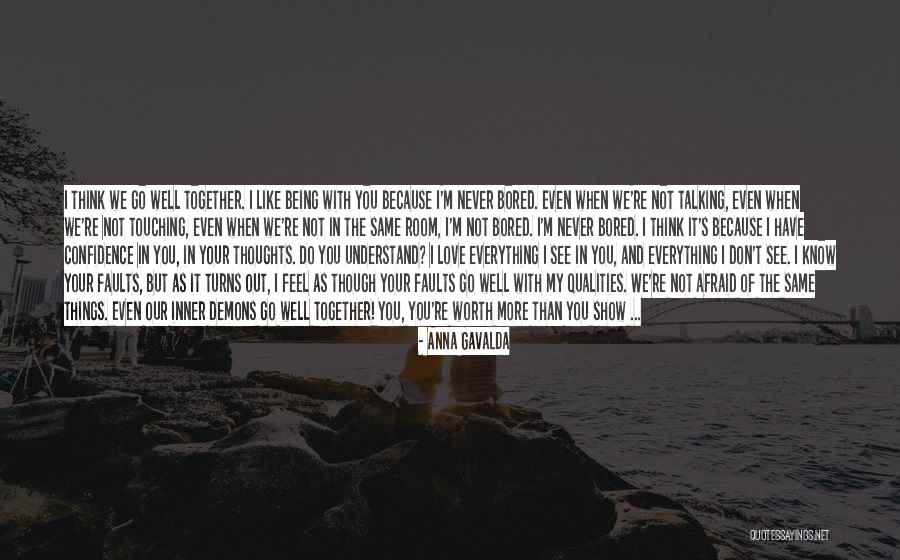 I think we go well together. I like being with you because I'm never bored. Even when we're not talking, even when we're not touching, even when we're not in the same room, I'm not bored. I'm never bored. I think it's because I have confidence in you, in your thoughts. Do you understand? I love everything I see in you, and everything I don't see. I know your faults, but as it turns out, I feel as though your faults go well with my qualities. We're not afraid of the same things. Even our inner demons go well together! You, you're worth more than you show ... — Anna Gavalda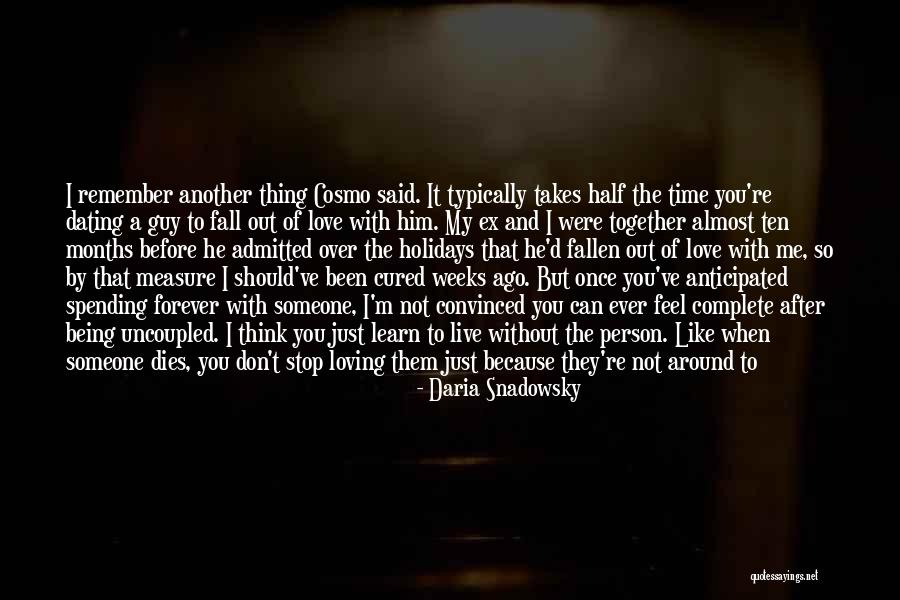 I remember another thing Cosmo said. It typically takes half the time you're dating a guy to fall out of love with him. My ex and I were together almost ten months before he admitted over the holidays that he'd fallen out of love with me, so by that measure I should've been cured weeks ago. But once you've anticipated spending forever with someone, I'm not convinced you can ever feel complete after being uncoupled. I think you just learn to live without the person. Like when someone dies, you don't stop loving them just because they're not around to love you back anymore. Breakups truly are a kind of death. — Daria Snadowsky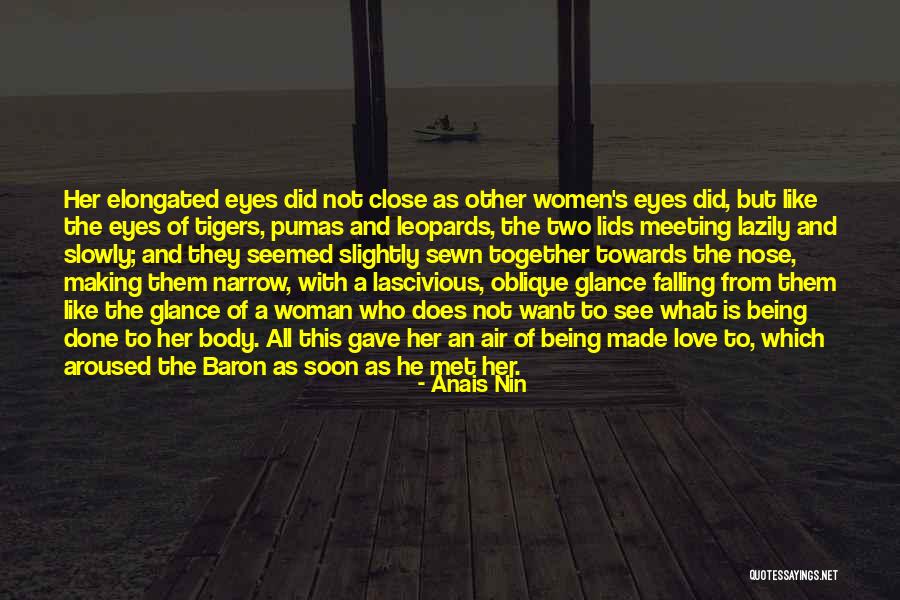 Her elongated eyes did not close as other women's eyes did, but like the eyes of tigers, pumas and leopards, the two lids meeting lazily and slowly; and they seemed slightly sewn together towards the nose, making them narrow, with a lascivious, oblique glance falling from them like the glance of a woman who does not want to see what is being done to her body. All this gave her an air of being made love to, which aroused the Baron as soon as he met her. — Anais Nin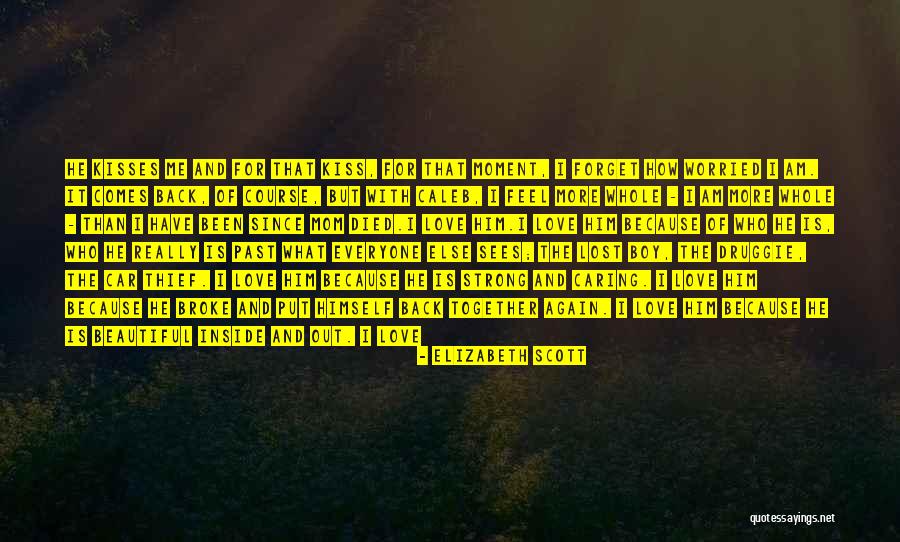 He kisses me and for that kiss, for that moment, I forget how worried I am. It comes back, of course, but with Caleb, I feel more whole - I am more whole - than I have been since Mom died.
I love him.
I love him because of who he is, who he really is past what everyone else sees; the lost boy, the druggie, the car thief. I love him because he is strong and caring. I love him because he broke and put himself back together again. I love him because he is beautiful inside and out.
I love him for being here with me. I love him for not telling me that everything will be all right. I love him because he knows what life is like, what it can do, and is always honest about it. — Elizabeth Scott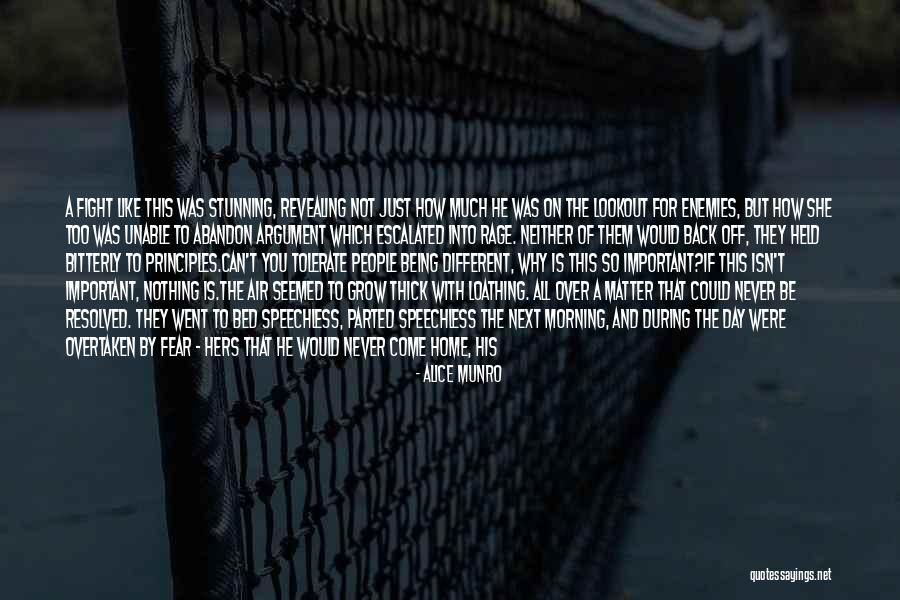 A fight like this was stunning, revealing not just how much he was on the lookout for enemies, but how she too was unable to abandon argument which escalated into rage. Neither of them would back off, they held bitterly to principles.
Can't you tolerate people being different, why is this so important?
If this isn't important, nothing is.
The air seemed to grow thick with loathing. All over a matter that could never be resolved. They went to bed speechless, parted speechless the next morning, and during the day were overtaken by fear - hers that he would never come home, his that when he did she would not be there. Their luck held, however. They came together in the late afternoon pale with contrition, shaking with love, like people who had narrowly escaped an earthquake and had been walking around in naked desolation. — Alice Munro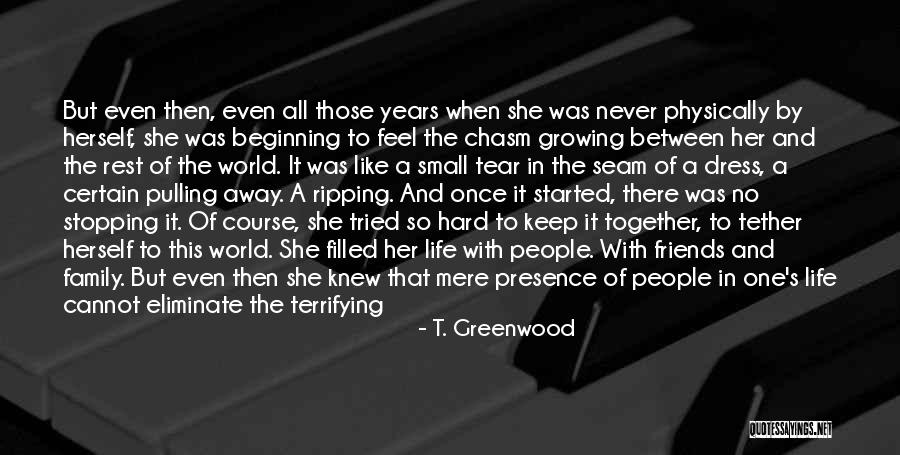 But even then, even all those years when she was never physically by herself, she was beginning to feel the chasm growing between her and the rest of the world. It was like a small tear in the seam of a dress, a certain pulling away. A ripping. And once it started, there was no stopping it. Of course, she tried so hard to keep it together, to tether herself to this world. She filled her life with people. With friends and family. But even then she knew that mere presence of people in one's life cannot eliminate the terrifying sense of one's aloneness in the world. Being surrounded by people is not the same as connection. As friendship. As love. When Robert came along, she believed for a little while she had found the answer, the bridge that crossed the deep canyon. And children too became links between herself and normalcy. The accident didn't start it, it just proved the faultiness, the tenuousness of these connections. — T. Greenwood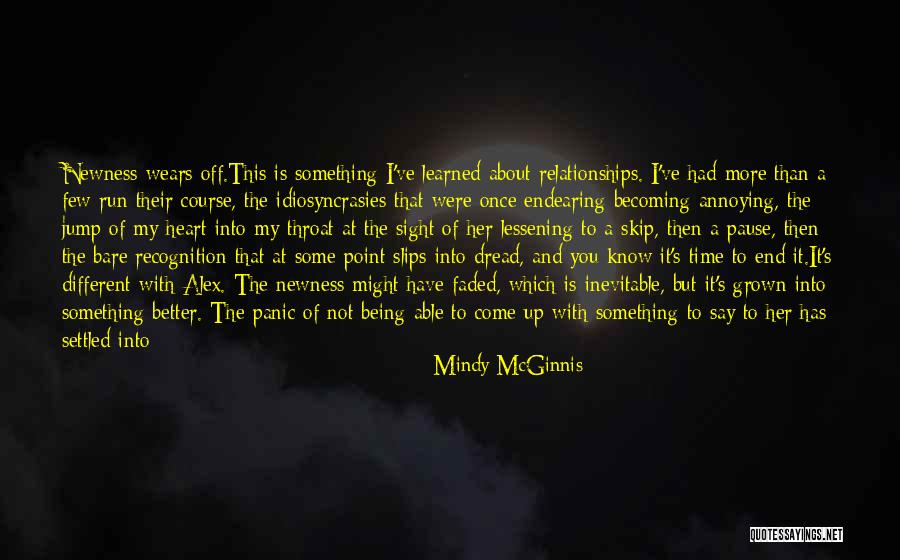 Newness wears off.
This is something I've learned about relationships. I've had more than a few run their course, the idiosyncrasies that were once endearing becoming annoying, the jump of my heart into my throat at the sight of her lessening to a skip, then a pause, then the bare recognition that at some point slips into dread, and you know it's time to end it.
It's different with Alex. The newness might have faded, which is inevitable, but it's grown into something better. The panic of not being able to come up with something to say to her has settled into the comfort of companionable silence, my hand resting on her knee, or her head on my chest. The frantic need to be near her and know how she feels has morphed into an almost pleasant ache of missing her when she's not with me, because I know we'll be together again. — Mindy McGinnis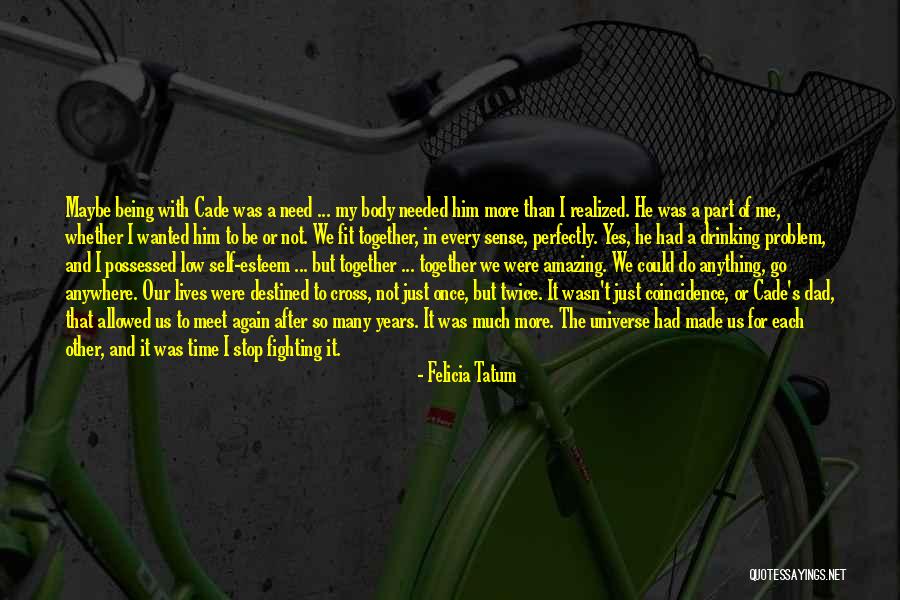 Maybe being with Cade was a need ... my body needed him more than I realized. He was a part of me, whether I wanted him to be or not. We fit together, in every sense, perfectly. Yes, he had a drinking problem, and I possessed low self-esteem ... but together ... together we were amazing. We could do anything, go anywhere. Our lives were destined to cross, not just once, but twice. It wasn't just coincidence, or Cade's dad, that allowed us to meet again after so many years. It was much more. The universe had made us for each other, and it was time I stop fighting it. — Felicia Tatum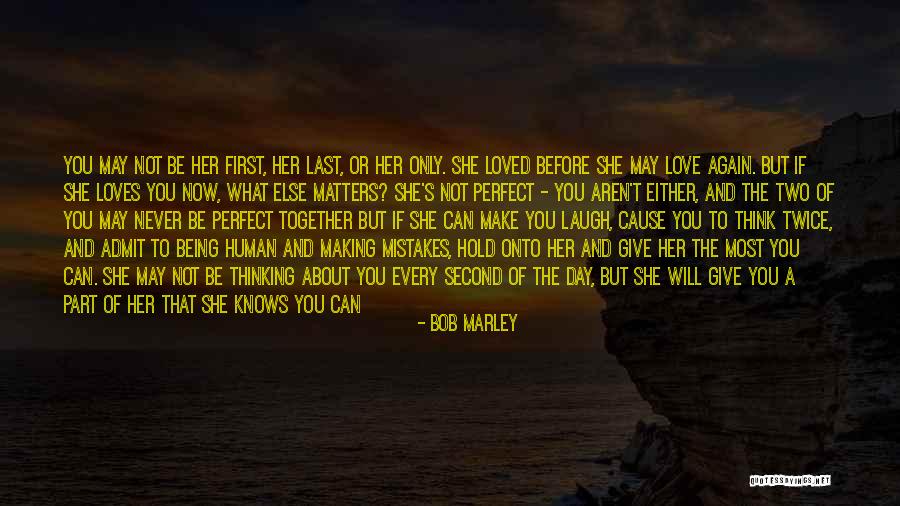 You may not be her first, her last, or her only. She loved before she may love again. But if she loves you now, what else matters? She's not perfect - you aren't either, and the two of you may never be perfect together but if she can make you laugh, cause you to think twice, and admit to being human and making mistakes, hold onto her and give her the most you can. She may not be thinking about you every second of the day, but she will give you a part of her that she knows you can break - her heart. So don't hurt her, don't change her, don't analyze and don't expect more than she can give. Smile when she makes you happy, let her know when she makes you mad, and miss her when she's not there. — Bob Marley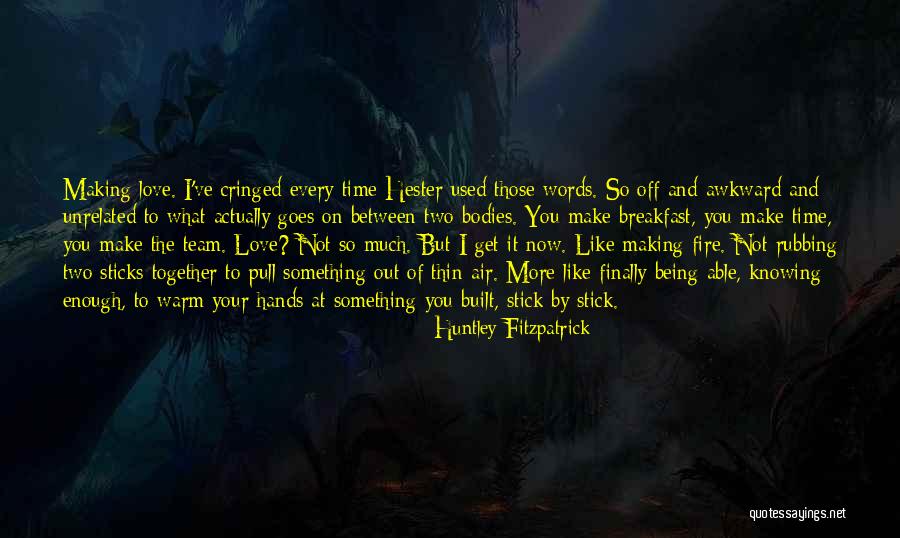 Making love. I've cringed every time Hester used those words. So off and awkward and unrelated to what actually goes on between two bodies. You make breakfast, you make time, you make the team. Love? Not so much. But I get it now. Like making fire. Not rubbing two sticks together to pull something out of thin air. More like finally being able, knowing enough, to warm your hands at something you built, stick by stick. — Huntley Fitzpatrick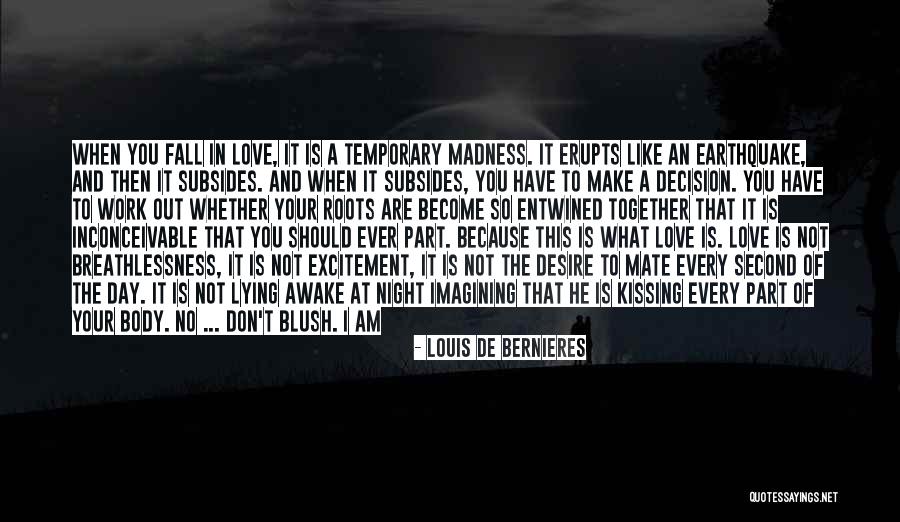 When you fall in love, it is a temporary madness. It erupts like an earthquake, and then it subsides. And when it subsides, you have to make a decision. You have to work out whether your roots are become so entwined together that it is inconceivable that you should ever part. Because this is what love is. Love is not breathlessness, it is not excitement, it is not the desire to mate every second of the day. It is not lying awake at night imagining that he is kissing every part of your body. No ... don't blush. I am telling you some truths. For that is just being in love; which any of us can convince ourselves we are. Love itself is what is left over, when being in love has burned away. Doesn't sound very exciting, does it? But it is! — Louis De Bernieres