Losing Season Quotes & Sayings
Enjoy reading and share 14 famous quotes about Losing Season with everyone.
Top Losing Season Quotes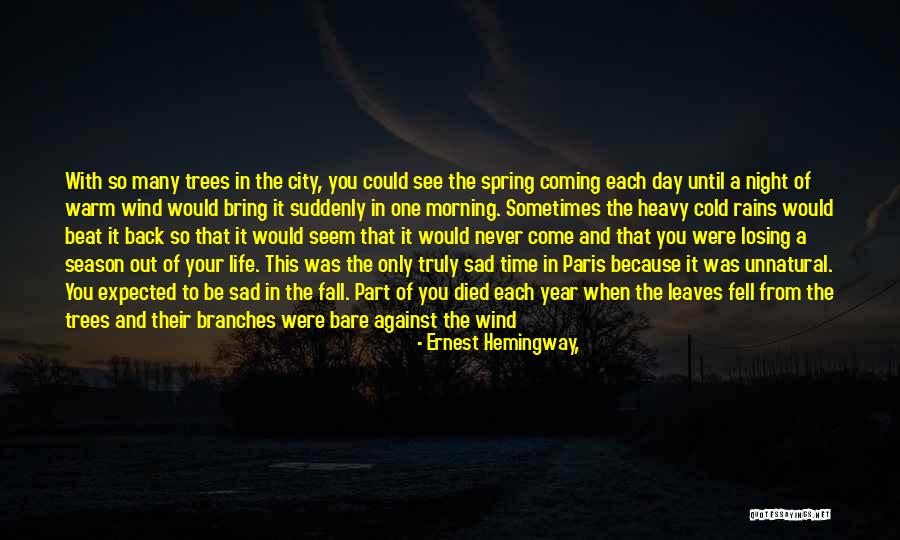 With so many trees in the city, you could see the spring coming each day until a night of warm wind would bring it suddenly in one morning. Sometimes the heavy cold rains would beat it back so that it would seem that it would never come and that you were losing a season out of your life. This was the only truly sad time in Paris because it was unnatural. You expected to be sad in the fall. Part of you died each year when the leaves fell from the trees and their branches were bare against the wind and the cold, wintry light. But you knew there would always be the spring, as you knew the river would flow again after it was frozen. When the cold rains kept on and killed the spring, it was as though a young person had died for no reason.
In those days, though, the spring always came finally but it was frightening that it had nearly failed. — Ernest Hemingway,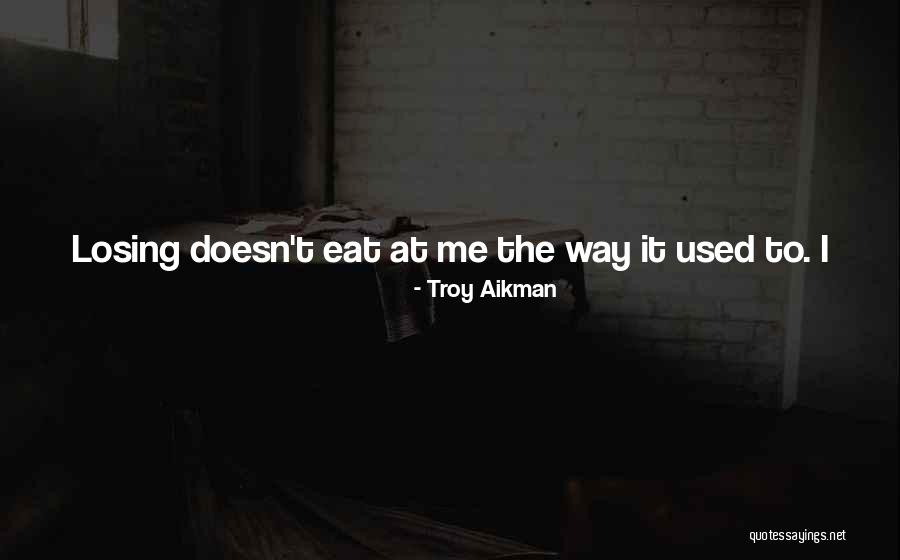 Losing doesn't eat at me the way it used to. I just get ready for the next play, the next game, the next season. — Troy Aikman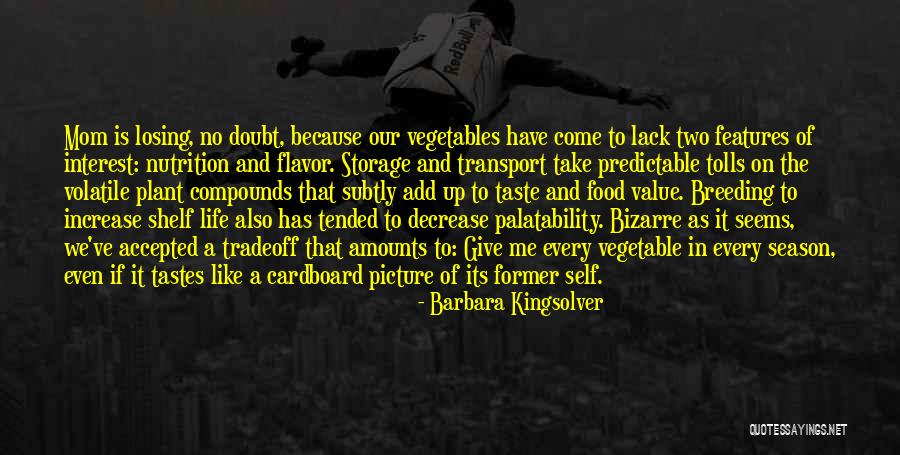 Mom is losing, no doubt, because our vegetables have come to lack two features of interest: nutrition and flavor. Storage and transport take predictable tolls on the volatile plant compounds that subtly add up to taste and food value. Breeding to increase shelf life also has tended to decrease palatability. Bizarre as it seems, we've accepted a tradeoff that amounts to: Give me every vegetable in every season, even if it tastes like a cardboard picture of its former self. — Barbara Kingsolver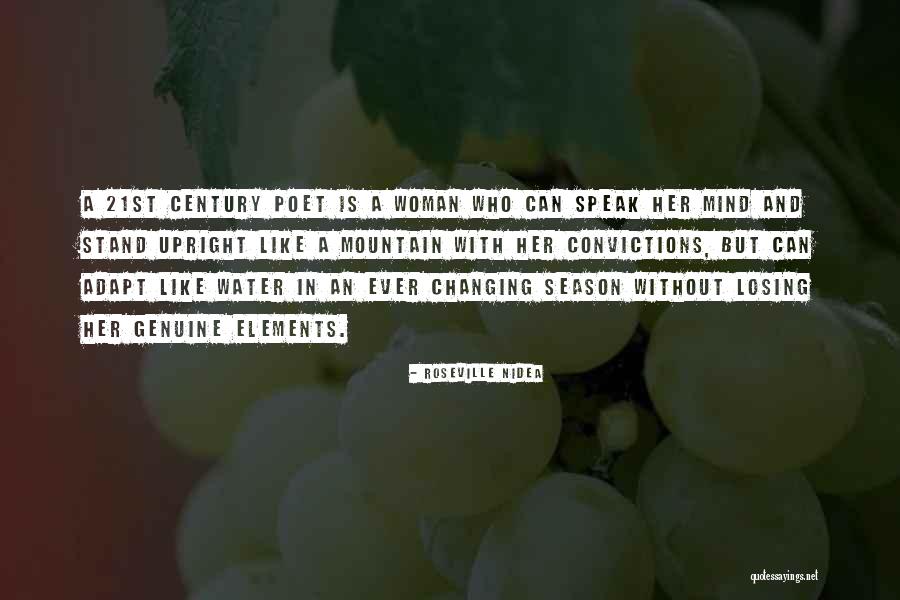 A 21st century poet is a woman who can speak her mind and stand upright like a mountain with her convictions, but can adapt like water in an ever changing season without losing her genuine elements. — Roseville Nidea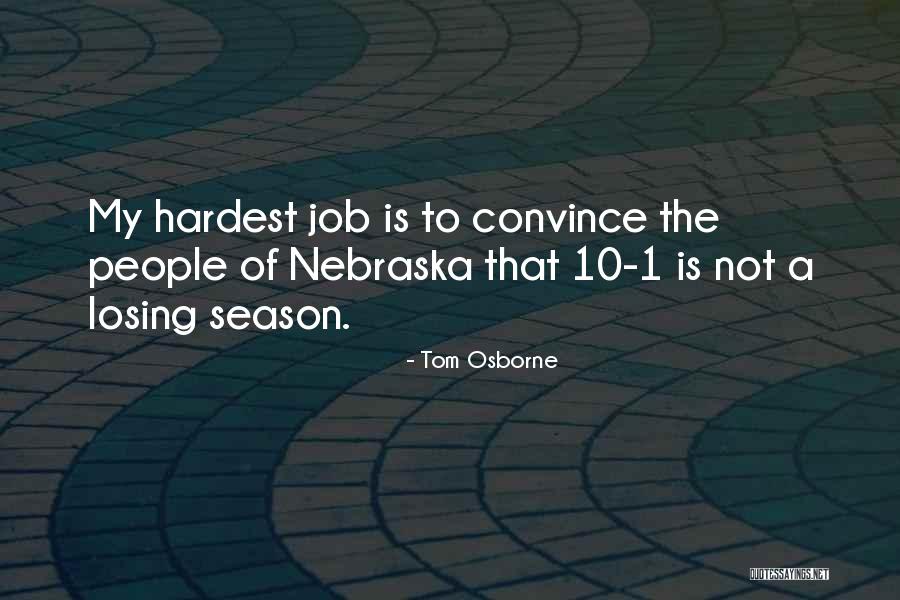 My hardest job is to convince the people of Nebraska that 10-1 is not a losing season. — Tom Osborne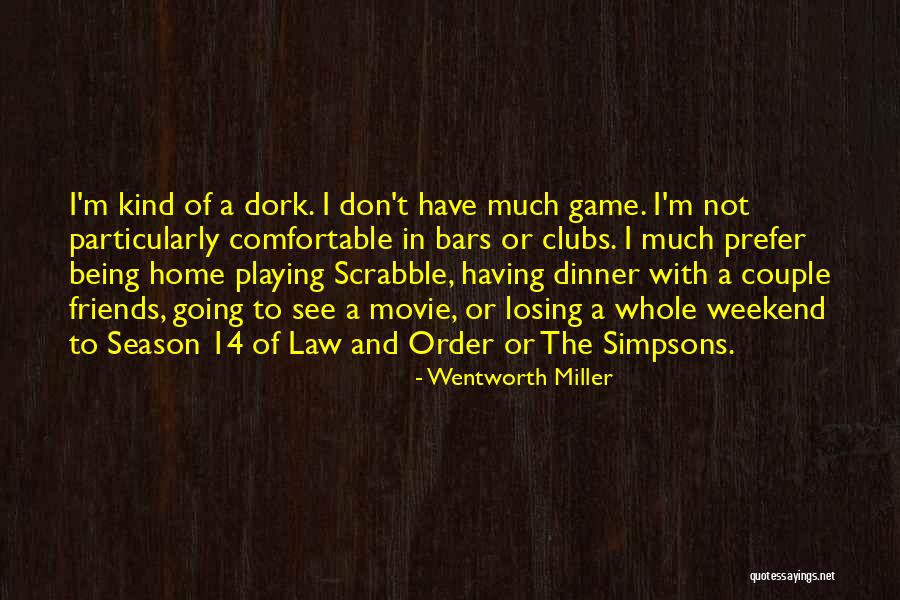 I'm kind of a dork. I don't have much game. I'm not particularly comfortable in bars or clubs. I much prefer being home playing Scrabble, having dinner with a couple friends, going to see a movie, or losing a whole weekend to Season 14 of Law and Order or The Simpsons. — Wentworth Miller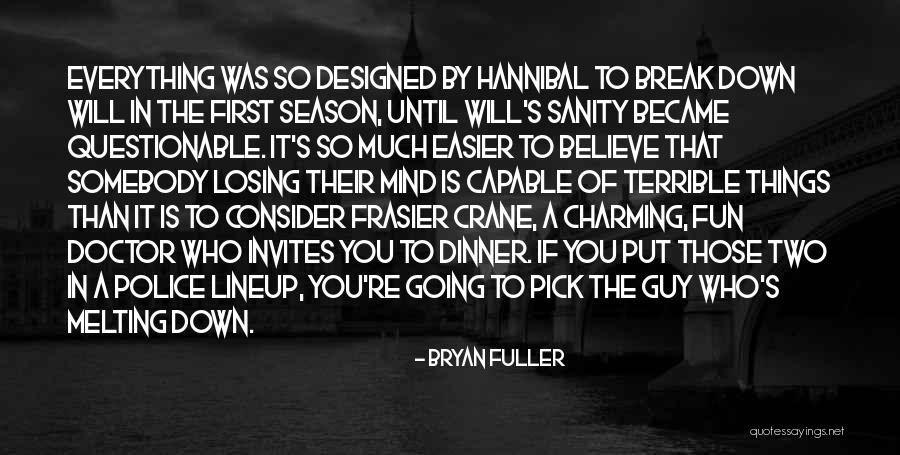 Everything was so designed by Hannibal to break down Will in the first season, until Will's sanity became questionable. It's so much easier to believe that somebody losing their mind is capable of terrible things than it is to consider Frasier Crane, a charming, fun doctor who invites you to dinner. If you put those two in a police lineup, you're going to pick the guy who's melting down. — Bryan Fuller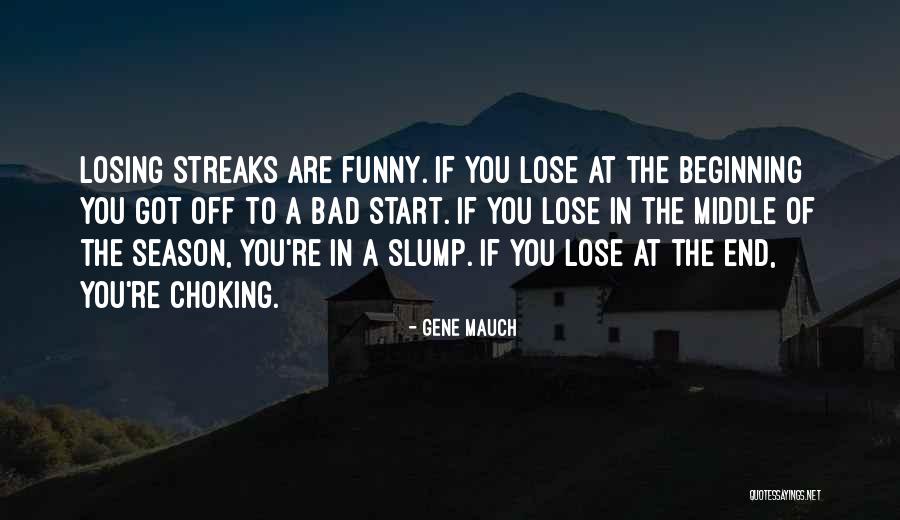 Losing streaks are funny. If you lose at the beginning you got off to a bad start. If you lose in the middle of the season, you're in a slump. If you lose at the end, you're choking. — Gene Mauch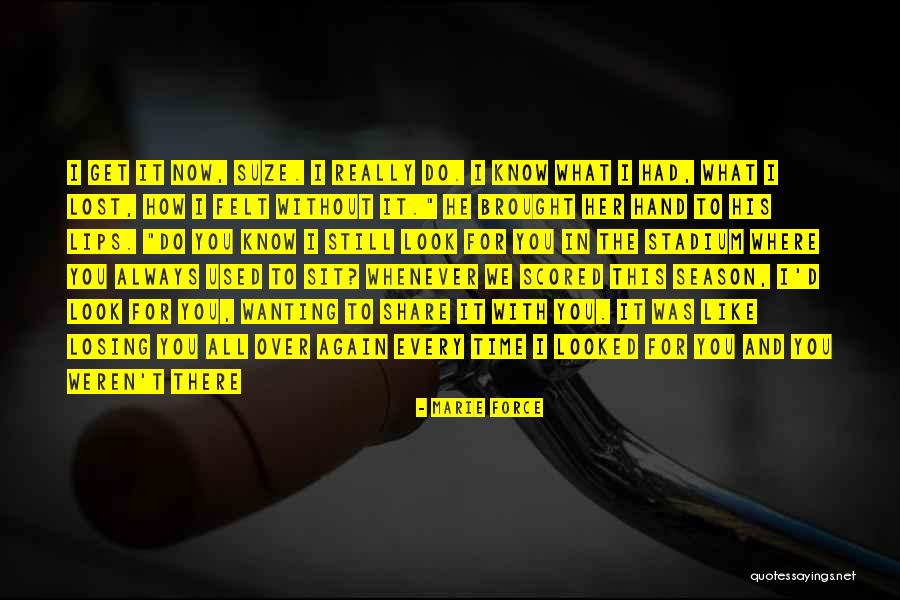 I get it now, Suze. I really do. I know what I had, what I lost, how I felt without it." He brought her hand to his lips. "Do you know I still look for you in the stadium where you always used to sit? Whenever we scored this season, I'd look for you, wanting to share it with you. It was like losing you all over again every time I looked for you and you weren't there — Marie Force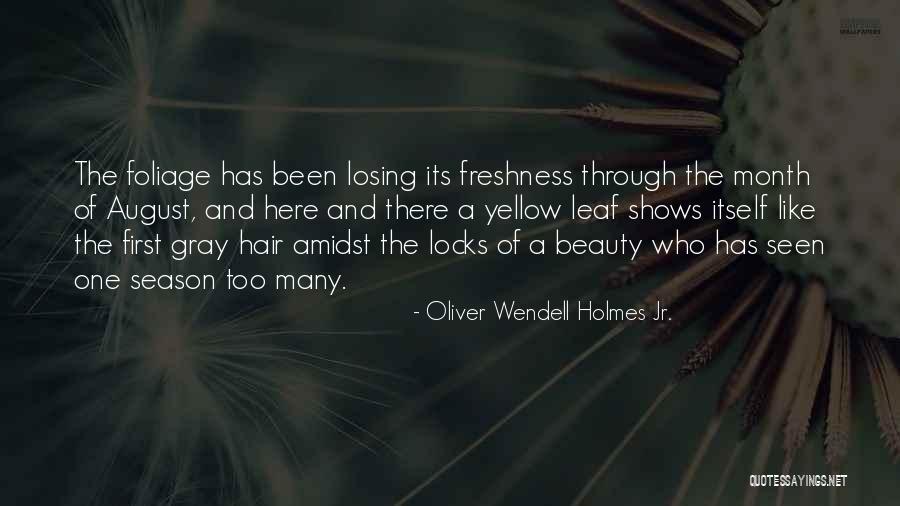 The foliage has been losing its freshness through the month of August, and here and there a yellow leaf shows itself like the first gray hair amidst the locks of a beauty who has seen one season too many. — Oliver Wendell Holmes Jr.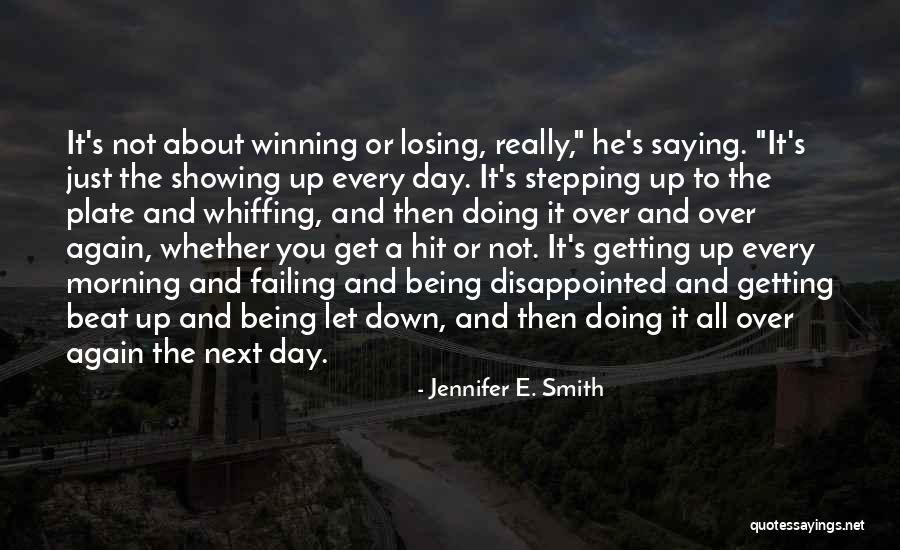 It's not about winning or losing, really," he's saying. "It's just the showing up every day. It's stepping up to the plate and whiffing, and then doing it over and over again, whether you get a hit or not. It's getting up every morning and failing and being disappointed and getting beat up and being let down, and then doing it all over again the next day. — Jennifer E. Smith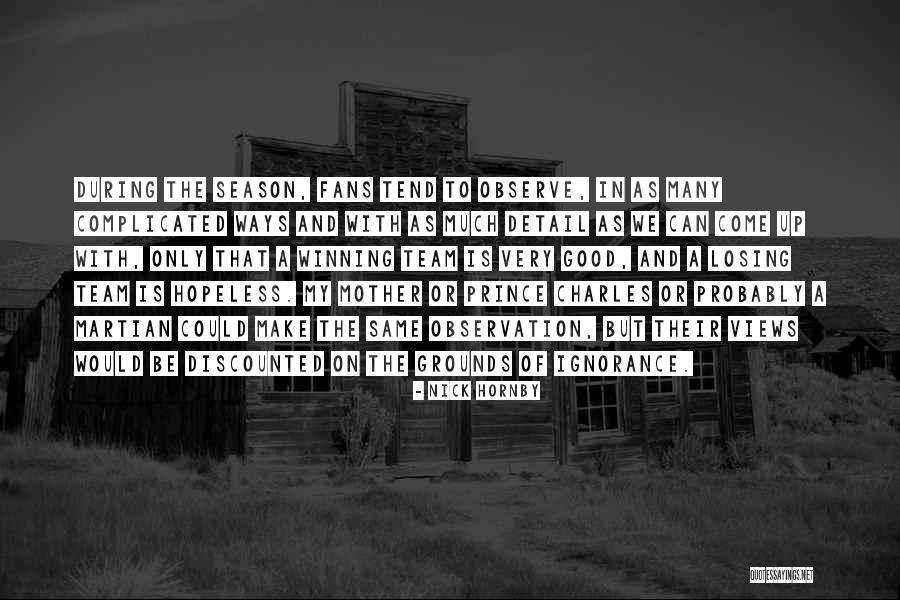 During the season, fans tend to observe, in as many complicated ways and with as much detail as we can come up with, only that a winning team is very good, and a losing team is hopeless. My mother or Prince Charles or probably a Martian could make the same observation, but their views would be discounted on the grounds of ignorance. — Nick Hornby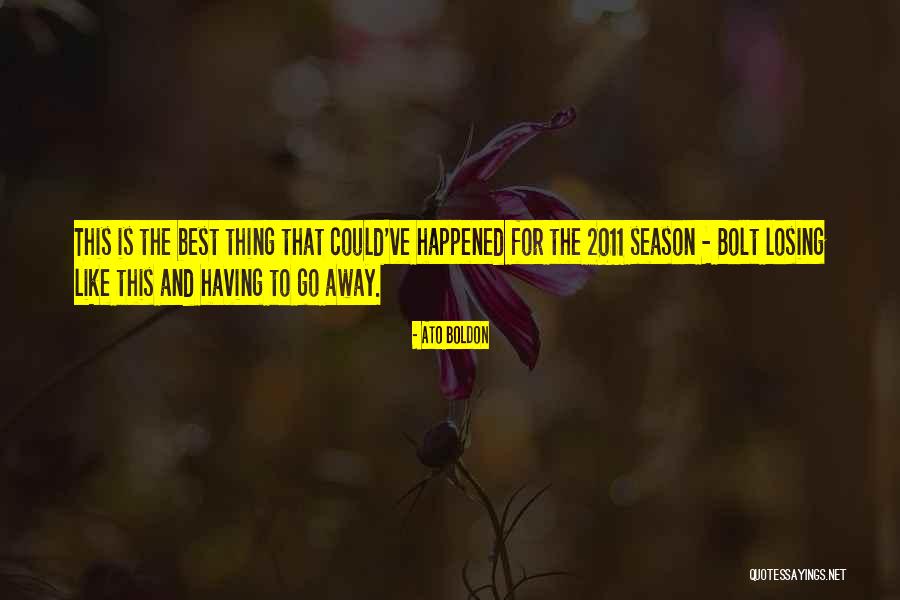 This is the best thing that could've happened for the 2011 season - Bolt losing like this and having to go away. — Ato Boldon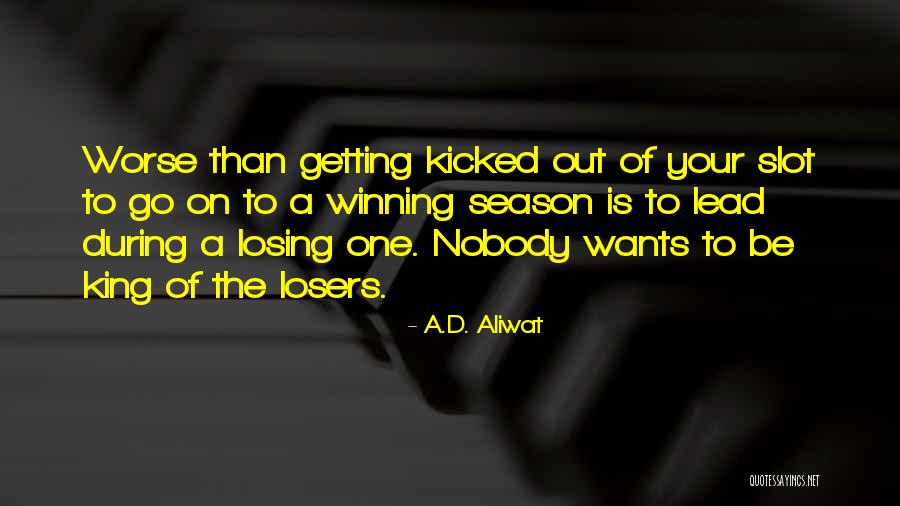 Worse than getting kicked out of your slot to go on to a winning season is to lead during a losing one. Nobody wants to be king of the losers. — A.D. Aliwat