Longing To Hear Your Voice Quotes & Sayings
Enjoy reading and share 10 famous quotes about Longing To Hear Your Voice with everyone.
Top Longing To Hear Your Voice Quotes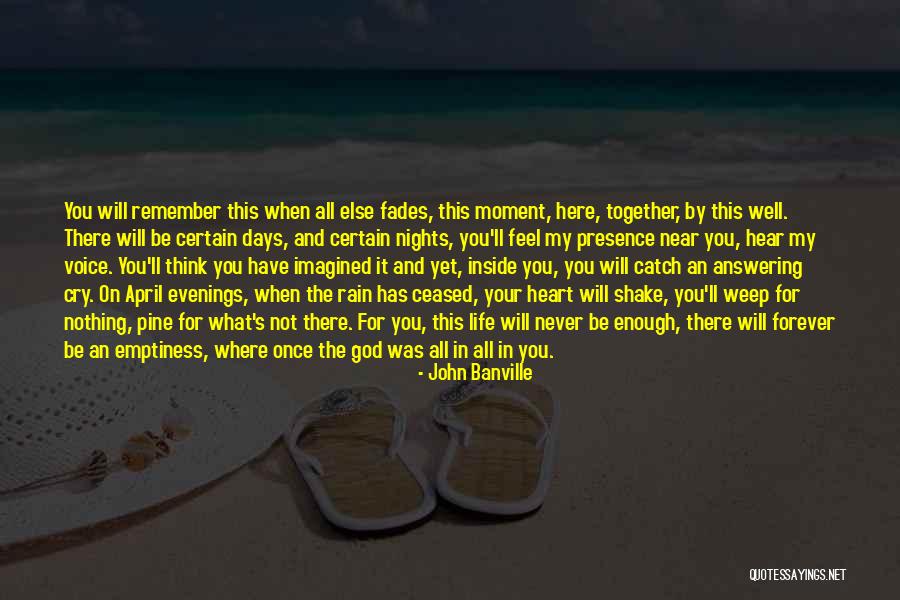 You will remember this when all else fades, this moment, here, together, by this well. There will be certain days, and certain nights, you'll feel my presence near you, hear my voice. You'll think you have imagined it and yet, inside you, you will catch an answering cry. On April evenings, when the rain has ceased, your heart will shake, you'll weep for nothing, pine for what's not there. For you, this life will never be enough, there will forever be an emptiness, where once the god was all in all in you. — John Banville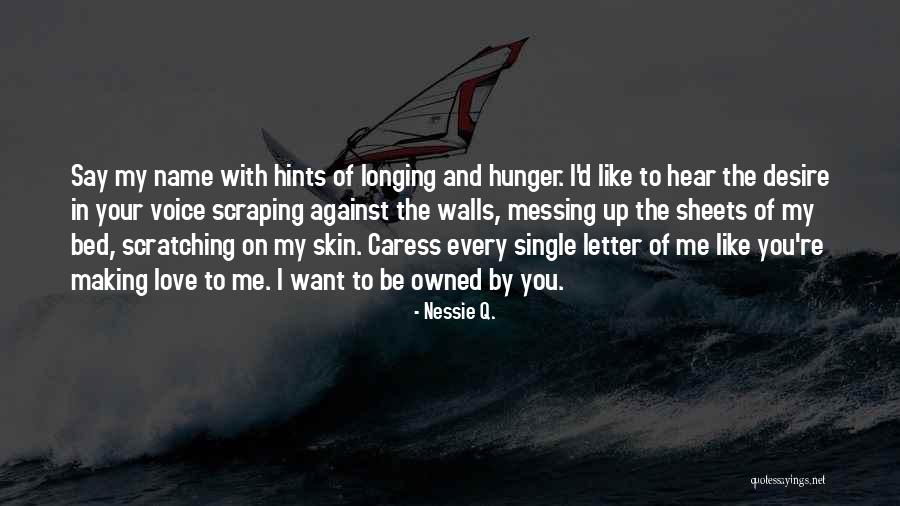 Say my name with hints of longing and hunger. I'd like to hear the desire in your voice scraping against the walls, messing up the sheets of my bed, scratching on my skin. Caress every single letter of me like you're making love to me. I want to be owned by you. — Nessie Q.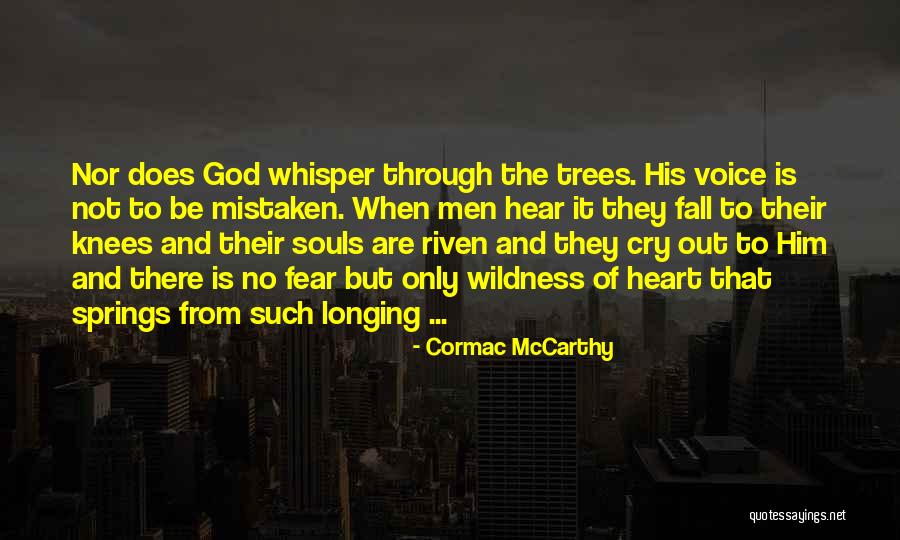 Nor does God whisper through the trees. His voice is not to be mistaken. When men hear it they fall to their knees and their souls are riven and they cry out to Him and there is no fear but only wildness of heart that springs from such longing ... — Cormac McCarthy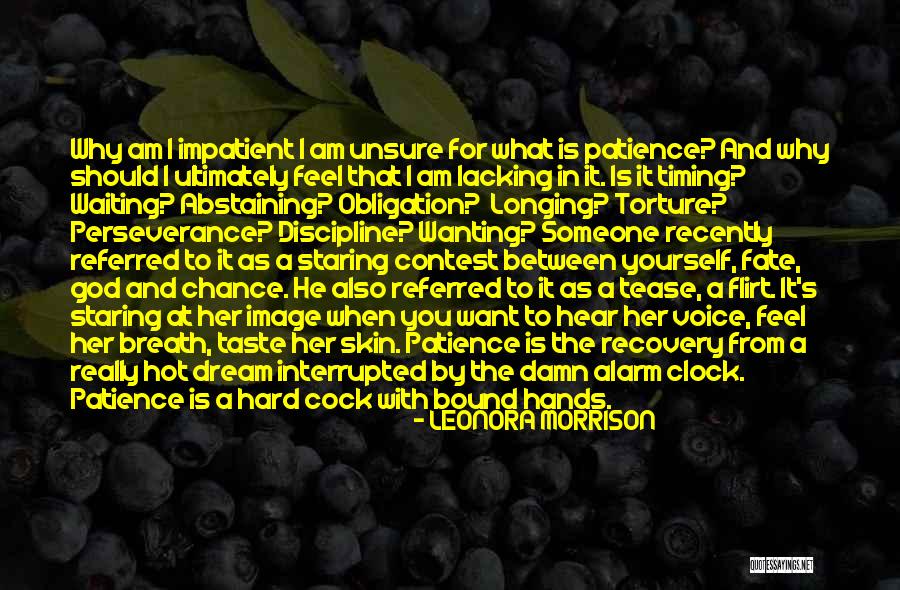 Why am I impatient I am unsure for what is patience? And why should I ultimately feel that I am lacking in it.
Is it timing? Waiting?
Abstaining?
Obligation?
Longing?
Torture?
Perseverance?
Discipline?
Wanting?
Someone recently referred to it as a staring contest between yourself, fate, god and chance. He also referred to it as a tease, a flirt. It's staring at her image when you want to hear her voice, feel her breath, taste her skin. Patience is the recovery from a really hot dream interrupted by the damn alarm clock. Patience is a hard cock with bound hands. — LEONORA MORRISON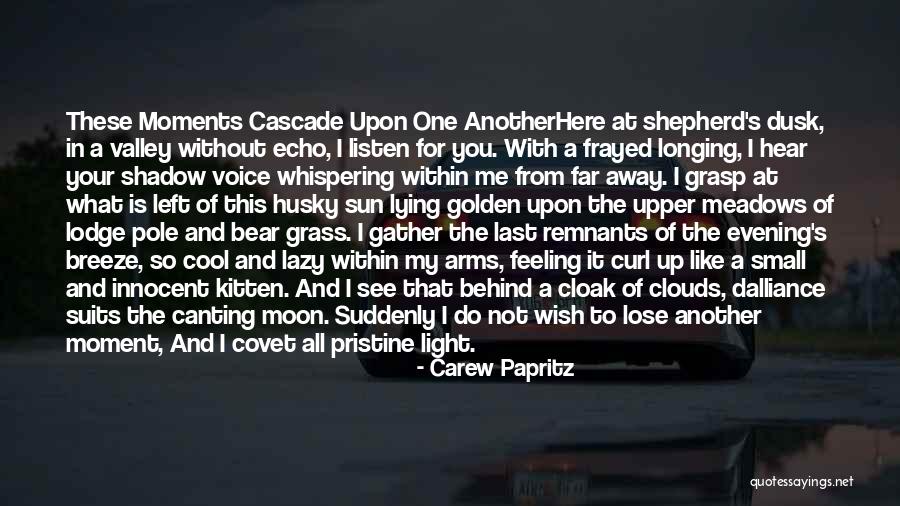 These Moments Cascade Upon One Another
Here at shepherd's dusk, in a valley without echo, I listen for you. With a frayed longing, I hear your shadow voice whispering within me from far away. I grasp at what is left of this husky sun lying golden upon the upper meadows of lodge pole and bear grass. I gather the last remnants of the evening's breeze, so cool and lazy within my arms, feeling it curl up like a small and innocent kitten. And I see that behind a cloak of clouds, dalliance suits the canting moon. Suddenly I do not wish to lose another moment, And I covet all pristine light. — Carew Papritz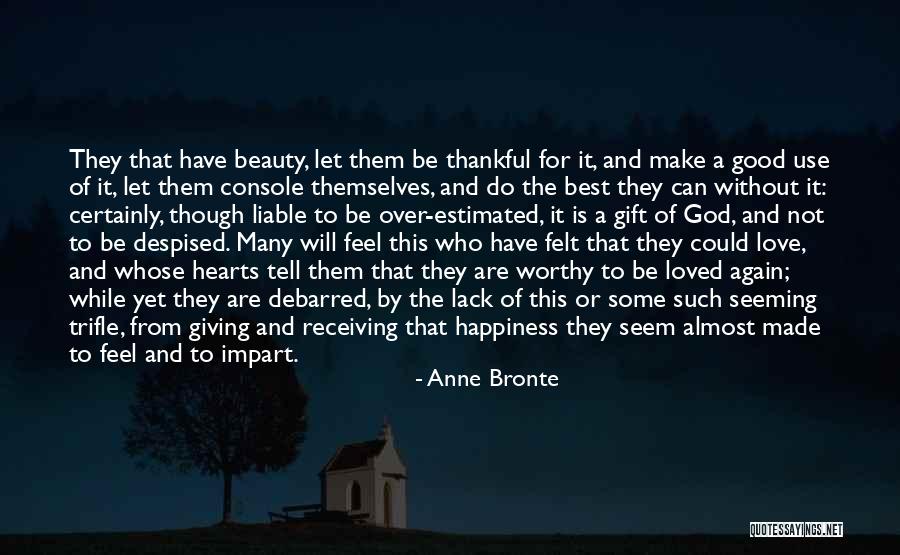 They that have beauty, let them be thankful for it, and make a good use of it, let them console themselves, and do the best they can without it: certainly, though liable to be over-estimated, it is a gift of God, and not to be despised. Many will feel this who have felt that they could love, and whose hearts tell them that they are worthy to be loved again; while yet they are debarred, by the lack of this or some such seeming trifle, from giving and receiving that happiness they seem almost made to feel and to impart. As well might the humble glowworm despise that power of giving light without which the roving fly might pass her and repass her a thousand times, and never rest beside her: she might hear her winged darling buzzing over and around her; he vainly seeking her, she longing to be found, but with no power to make her presence known, no voice to call him, no wings to follow his flight;
the fly must seek another mate, the worm must live and die alone. — Anne Bronte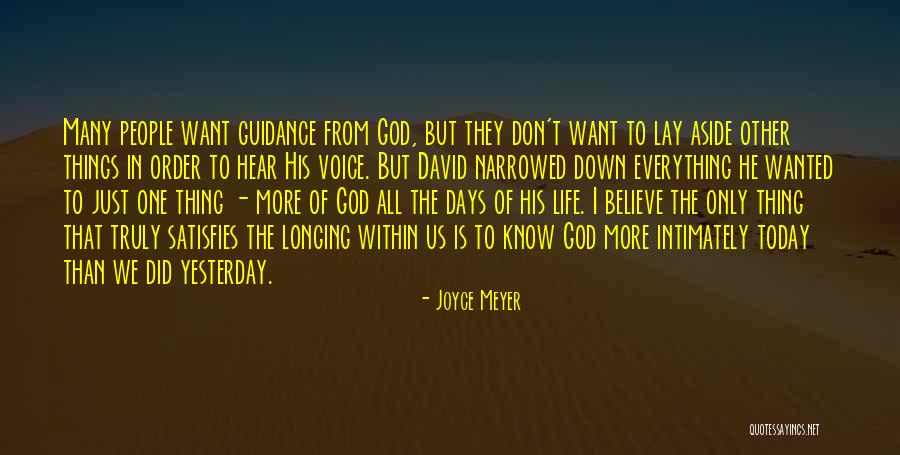 Many people want guidance from God, but they don't want to lay aside other things in order to hear His voice. But David narrowed down everything he wanted to just one thing - more of God all the days of his life. I believe the only thing that truly satisfies the longing within us is to know God more intimately today than we did yesterday. — Joyce Meyer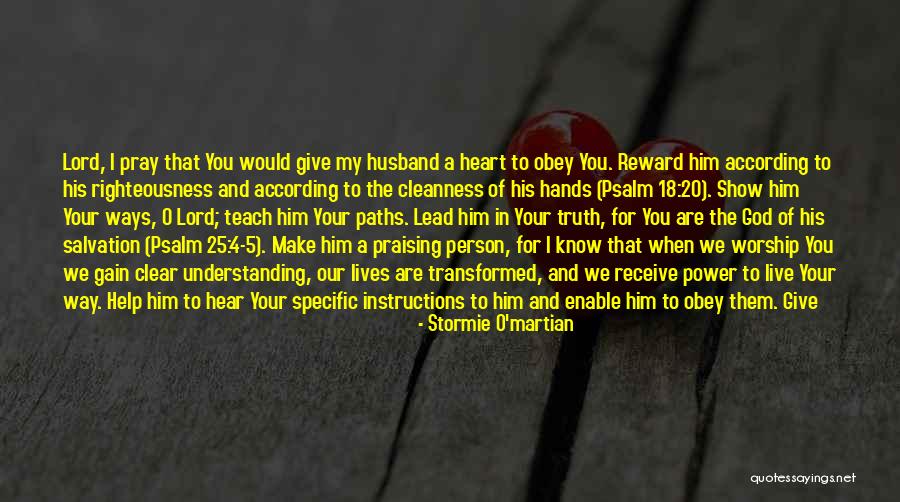 Lord, I pray that You would give my husband a heart to obey You. Reward him according to his righteousness and according to the cleanness of his hands (Psalm 18:20). Show him Your ways, O Lord; teach him Your paths. Lead him in Your truth, for You are the God of his salvation (Psalm 25:4-5). Make him a praising person, for I know that when we worship You we gain clear understanding, our lives are transformed, and we receive power to live Your way. Help him to hear Your specific instructions to him and enable him to obey them. Give him a longing to do Your will and may he enjoy the peace that can only come from living in total obedience to Your commands. In Jesus' name I pray. Obey My voice, and I will be your God, and you shall be My people. And walk in all the ways that I have commanded you, that it may be well with you. JEREMIAH 7:23 — Stormie O'martian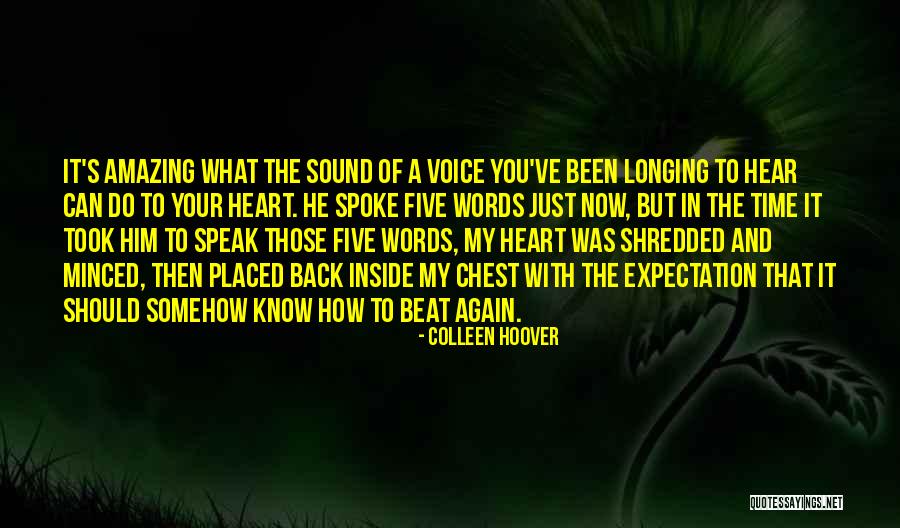 It's amazing what the sound of a voice you've been longing to hear can do to your heart. He spoke five words just now, but in the time it took him to speak those five words, my heart was shredded and minced, then placed back inside my chest with the expectation that it should somehow know how to beat again. — Colleen Hoover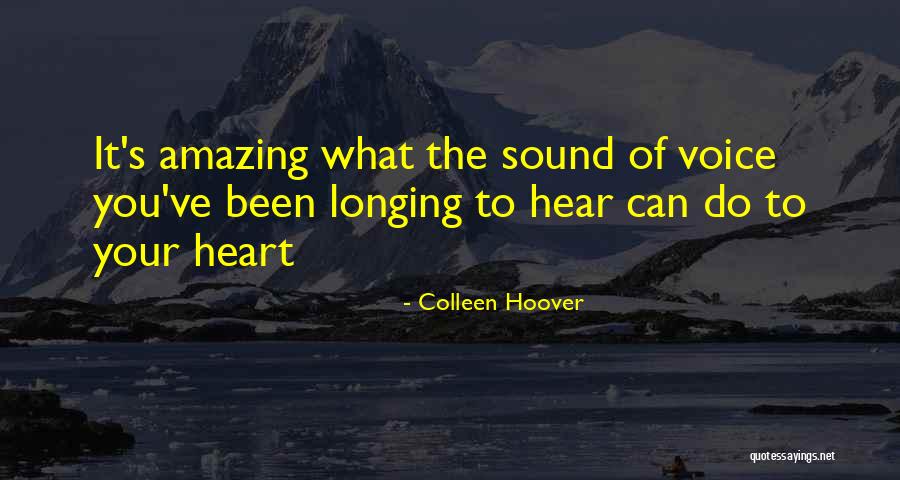 It's amazing what the sound of voice you've been longing to hear can do to your heart — Colleen Hoover