Loneliness In Crowd Quotes & Sayings
Enjoy reading and share 36 famous quotes about Loneliness In Crowd with everyone.
Top Loneliness In Crowd Quotes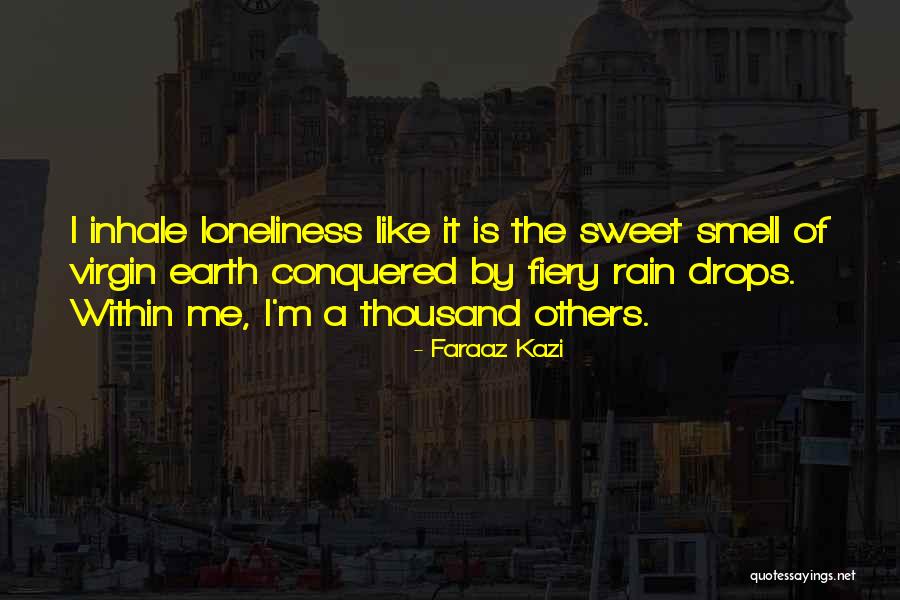 I inhale loneliness like it is the sweet smell of virgin earth conquered by fiery rain drops. Within me, I'm a thousand others. — Faraaz Kazi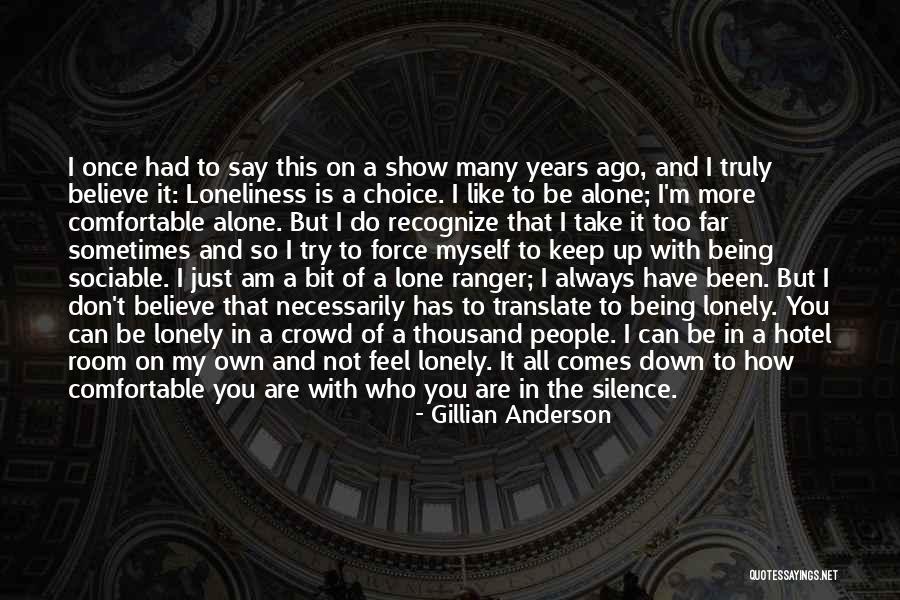 I once had to say this on a show many years ago, and I truly believe it: Loneliness is a choice. I like to be alone; I'm more comfortable alone. But I do recognize that I take it too far sometimes and so I try to force myself to keep up with being sociable. I just am a bit of a lone ranger; I always have been. But I don't believe that necessarily has to translate to being lonely. You can be lonely in a crowd of a thousand people. I can be in a hotel room on my own and not feel lonely. It all comes down to how comfortable you are with who you are in the silence. — Gillian Anderson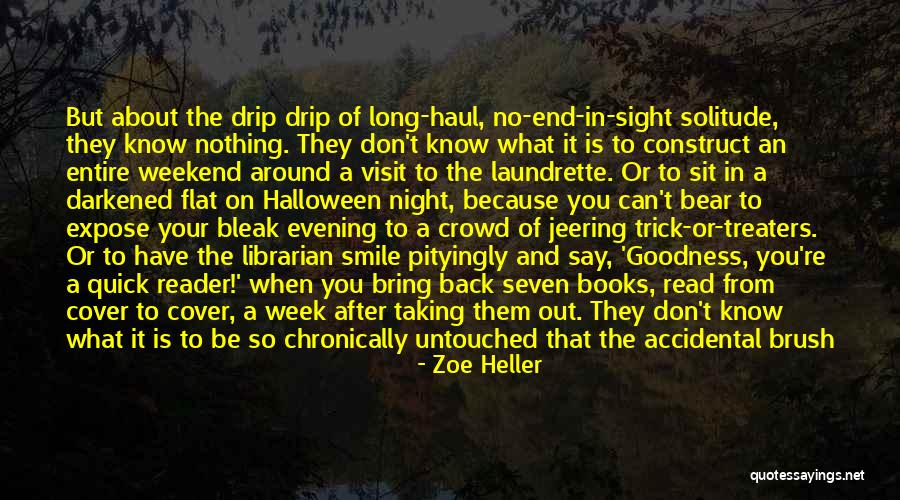 But about the drip drip of long-haul, no-end-in-sight solitude, they know nothing. They don't know what it is to construct an entire weekend around a visit to the laundrette. Or to sit in a darkened flat on Halloween night, because you can't bear to expose your bleak evening to a crowd of jeering trick-or-treaters. Or to have the librarian smile pityingly and say, 'Goodness, you're a quick reader!' when you bring back seven books, read from cover to cover, a week after taking them out. They don't know what it is to be so chronically untouched that the accidental brush of a bus conductor's hand on your shoulder sends a jolt of longing straight to your groin. — Zoe Heller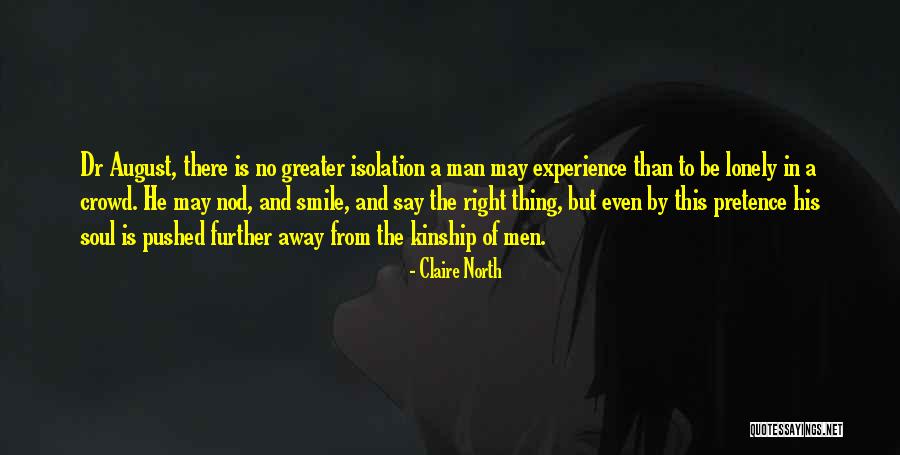 Dr August, there is no greater isolation a man may experience than to be lonely in a crowd. He may nod, and smile, and say the right thing, but even by this pretence his soul is pushed further away from the kinship of men. — Claire North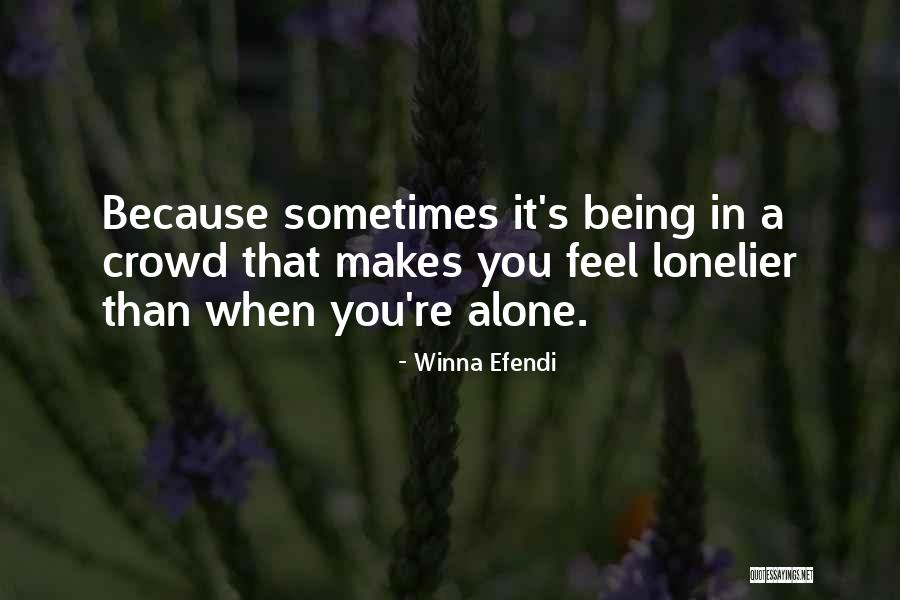 Because sometimes it's being in a crowd that makes you feel lonelier than when you're alone. — Winna Efendi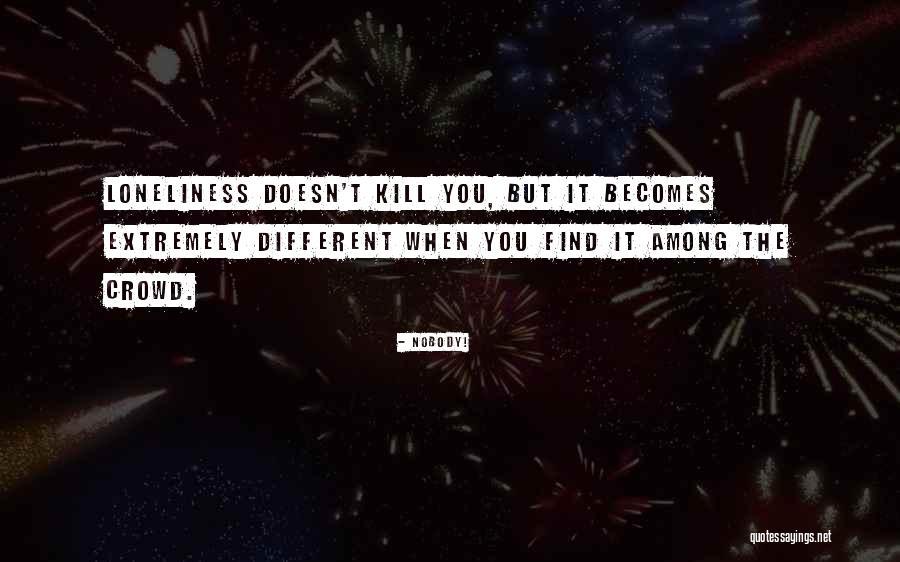 loneliness doesn't kill you, but it becomes extremely different when you find it among the crowd. — Nobody!
I know the dark delight of being strange, The penalty of difference in the crowd, The loneliness of wisdom among fools ... — Claude McKay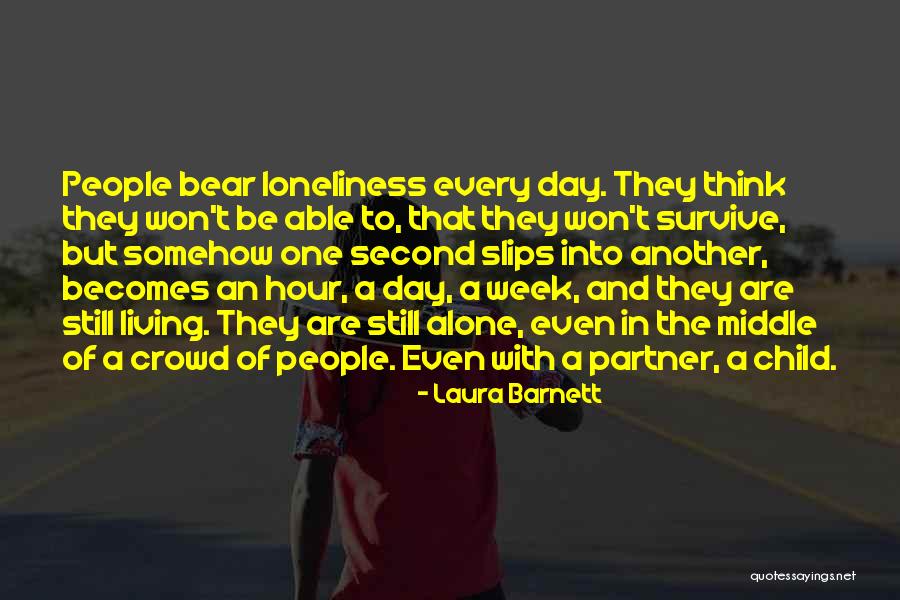 People bear loneliness every day. They think they won't be able to, that they won't survive, but somehow one second slips into another, becomes an hour, a day, a week, and they are still living. They are still alone, even in the middle of a crowd of people. Even with a partner, a child. — Laura Barnett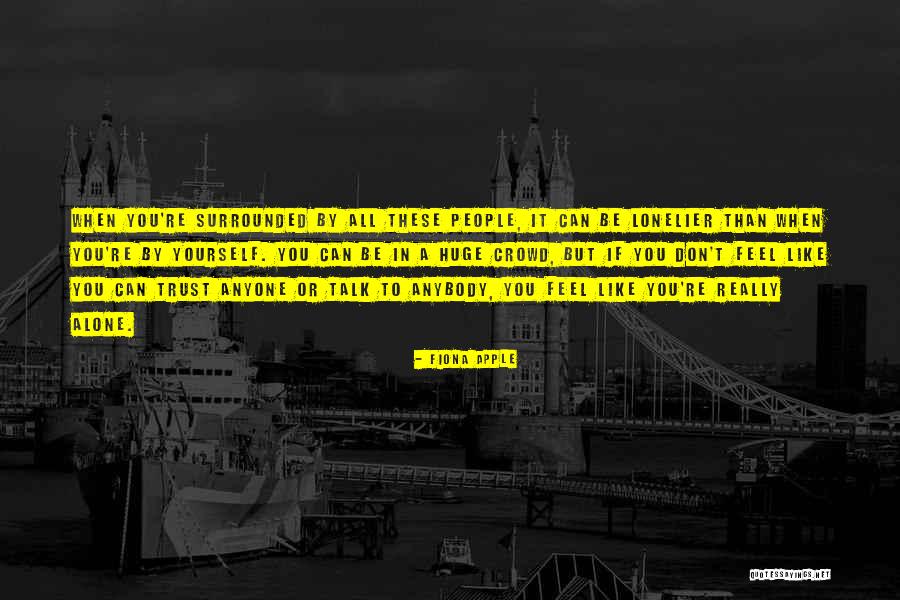 When you're surrounded by all these people, it can be lonelier than when you're by yourself. You can be in a huge crowd, but if you don't feel like you can trust anyone or talk to anybody, you feel like you're really alone. — Fiona Apple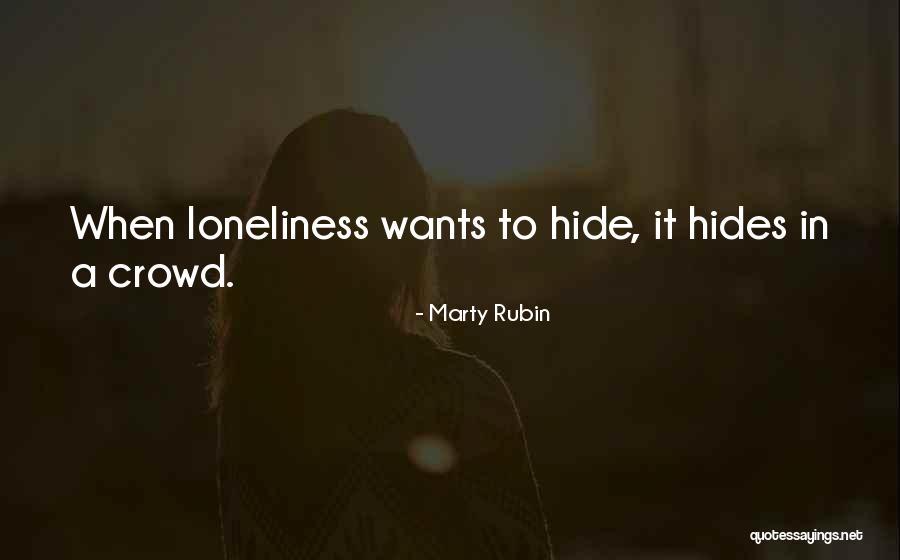 When loneliness wants to hide, it hides in a crowd. — Marty Rubin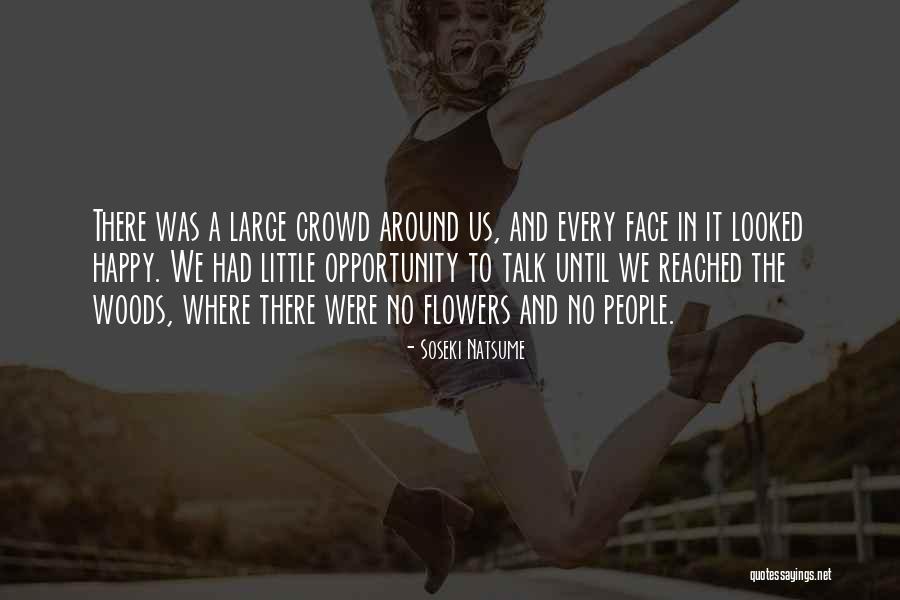 There was a large crowd around us, and every face in it looked happy. We had little opportunity to talk until we reached the woods, where there were no flowers and no people. — Soseki Natsume
Loneliness in a crowd of people was the worst kind of loneliness, but she couldn't help it. — Lauren Kate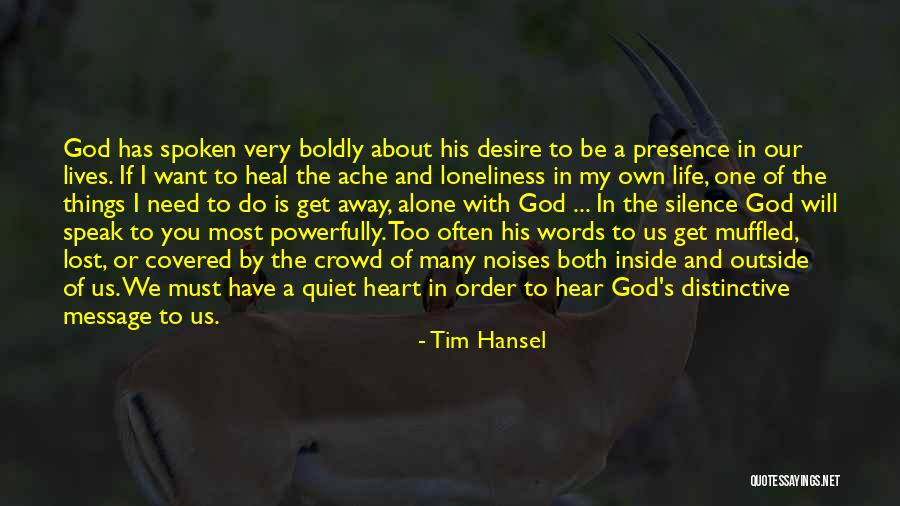 God has spoken very boldly about his desire to be a presence in our lives. If I want to heal the ache and loneliness in my own life, one of the things I need to do is get away, alone with God ... In the silence God will speak to you most powerfully. Too often his words to us get muffled, lost, or covered by the crowd of many noises both inside and outside of us. We must have a quiet heart in order to hear God's distinctive message to us. — Tim Hansel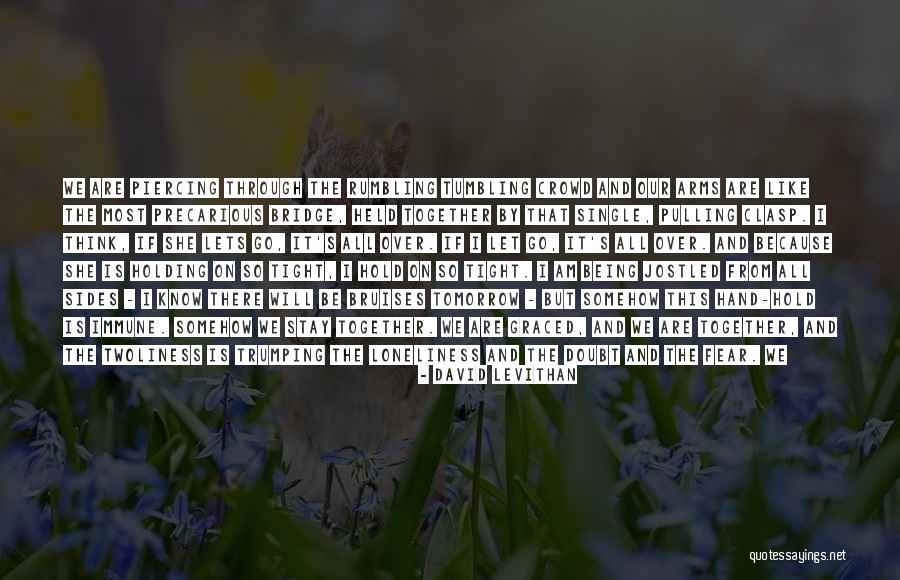 We are piercing through the rumbling tumbling crowd and our arms are like the most precarious bridge, held together by that single, pulling clasp. I think, If she lets go, it's all over. If I let go, it's all over. And because she is holding on so tight, I hold on so tight. I am being jostled from all sides - I know there will be bruises tomorrow - but somehow this hand-hold is immune. Somehow we stay together. We are graced, and we are together, and the twoliness is trumping the loneliness and the doubt and the fear. We are making it through. Thank you, music. Damn you, memories. Thank you, present. — David Levithan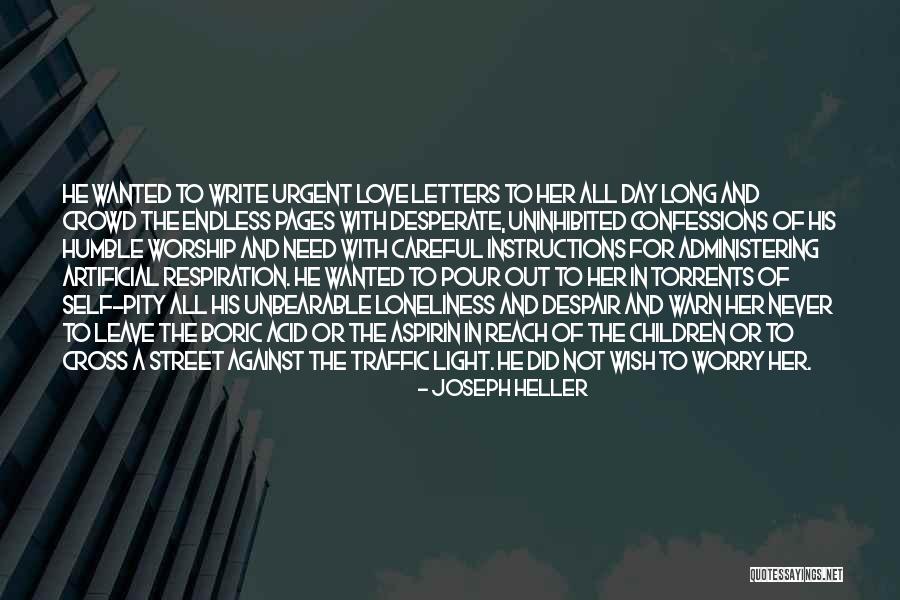 He wanted to write urgent love letters to her all day long and crowd the endless pages with desperate, uninhibited confessions of his humble worship and need with careful instructions for administering artificial respiration. He wanted to pour out to her in torrents of self-pity all his unbearable loneliness and despair and warn her never to leave the boric acid or the aspirin in reach of the children or to cross a street against the traffic light. He did not wish to worry her. — Joseph Heller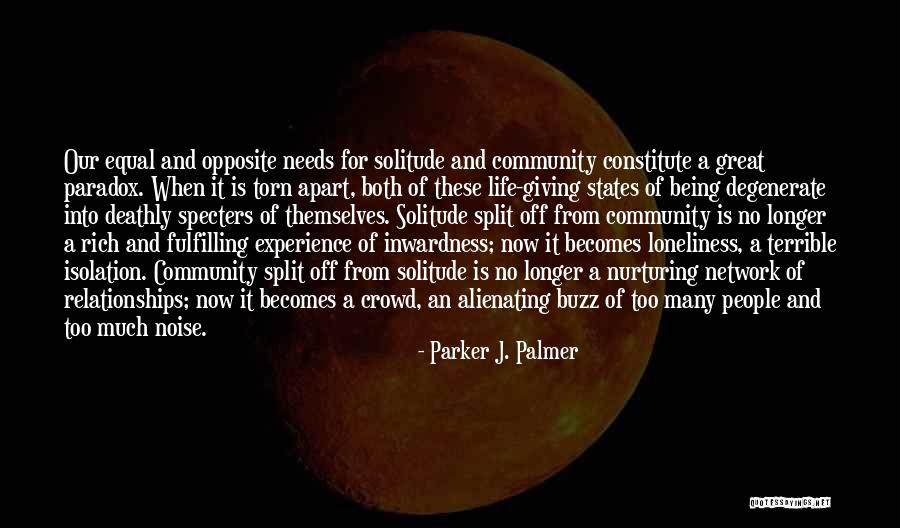 Our equal and opposite needs for solitude and community constitute a great paradox. When it is torn apart, both of these life-giving states of being degenerate into deathly specters of themselves. Solitude split off from community is no longer a rich and fulfilling experience of inwardness; now it becomes loneliness, a terrible isolation. Community split off from solitude is no longer a nurturing network of relationships; now it becomes a crowd, an alienating buzz of too many people and too much noise. — Parker J. Palmer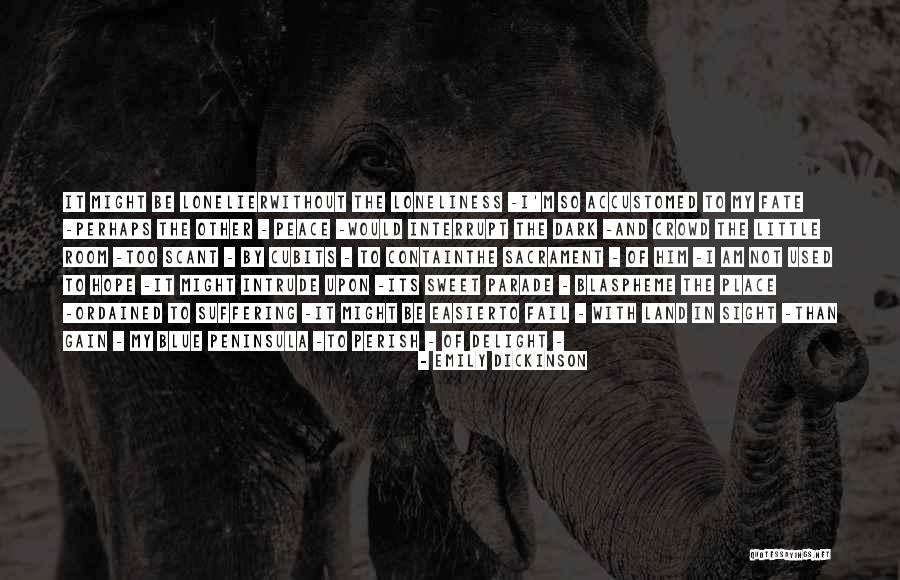 It might be lonelier
Without the Loneliness -
I'm so accustomed to my Fate -
Perhaps the Other - Peace -
Would interrupt the Dark -
And crowd the little Room -
Too scant - by Cubits - to contain
The Sacrament - of Him -
I am not used to Hope -
It might intrude upon -
Its sweet parade - blaspheme the place -
Ordained to Suffering -
It might be easier
To fail - with Land in Sight -
Than gain - My Blue Peninsula -
To perish - of Delight - — Emily Dickinson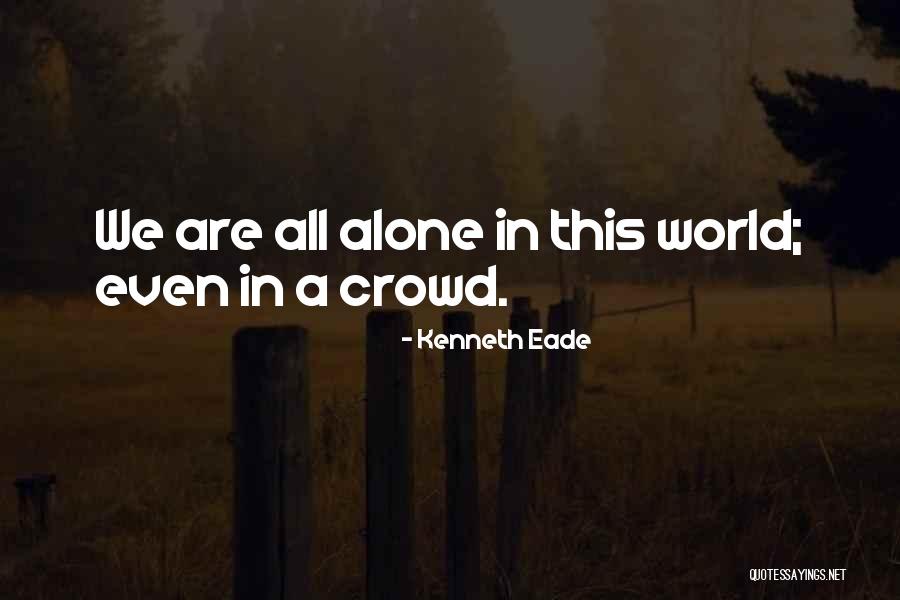 We are all alone in this world; even in a crowd. — Kenneth Eade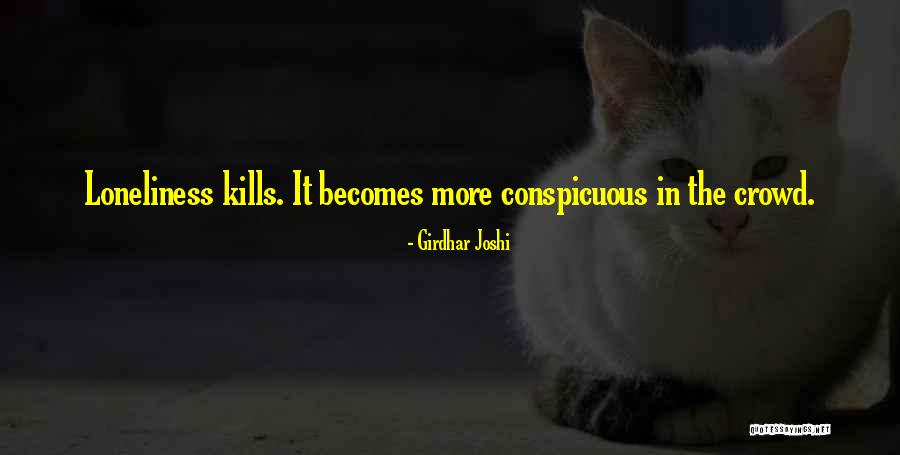 Loneliness kills. It becomes more conspicuous in the crowd. — Girdhar Joshi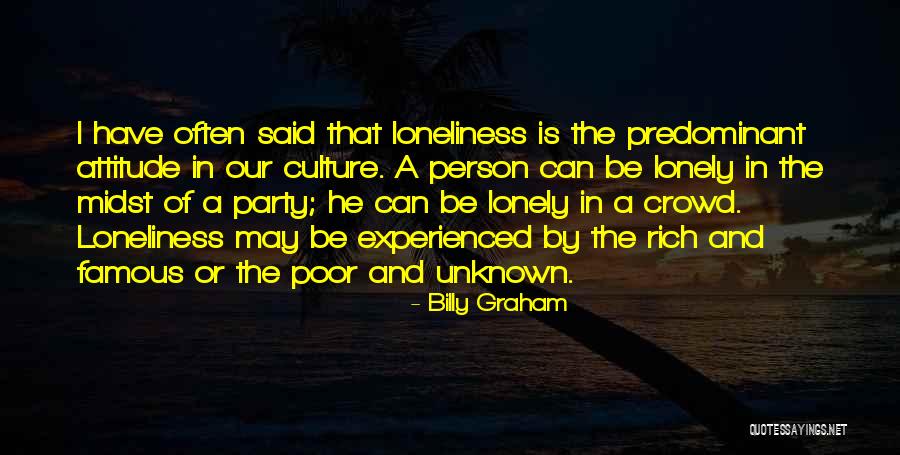 I have often said that loneliness is the predominant attitude in our culture. A person can be lonely in the midst of a party; he can be lonely in a crowd. Loneliness may be experienced by the rich and famous or the poor and unknown. — Billy Graham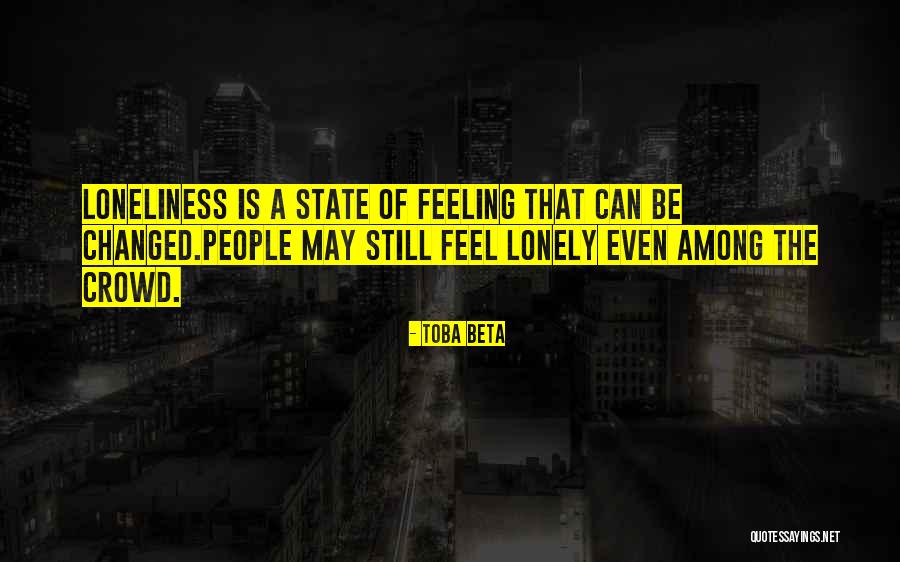 Loneliness is a state of feeling that can be changed.
People may still feel lonely even among the crowd. — Toba Beta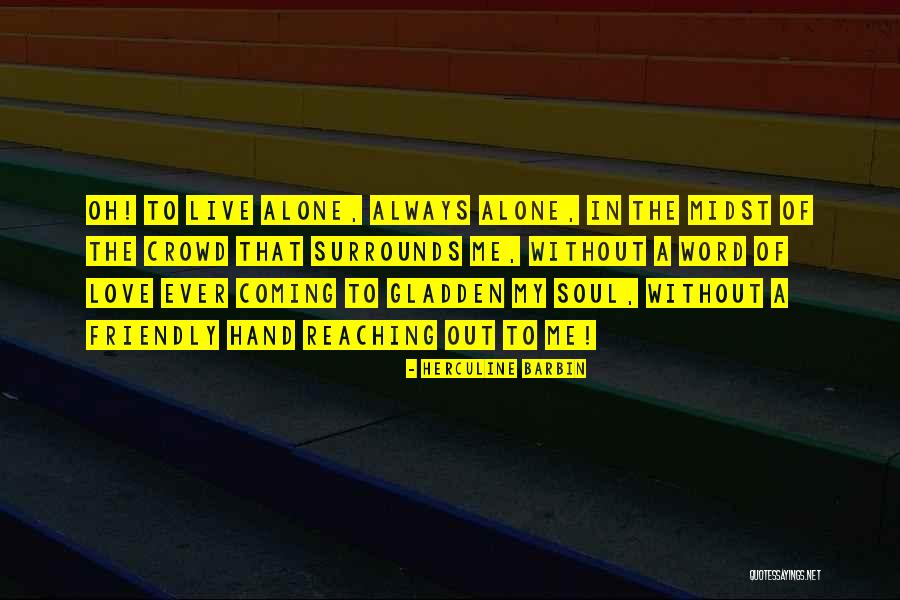 Oh! To live alone, always alone, in the midst of the crowd that surrounds me, without a word of love ever coming to gladden my soul, without a friendly hand reaching out to me! — Herculine Barbin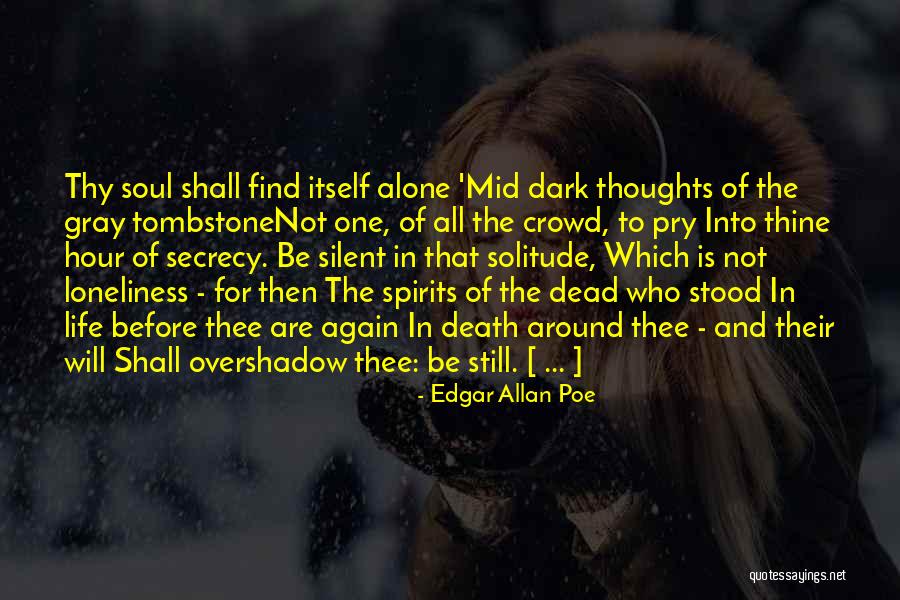 Thy soul shall find itself alone
'Mid dark thoughts of the gray tombstone
Not one, of all the crowd, to pry
Into thine hour of secrecy.
Be silent in that solitude,
Which is not loneliness - for then
The spirits of the dead who stood
In life before thee are again
In death around thee - and their will
Shall overshadow thee: be still. [ ... ] — Edgar Allan Poe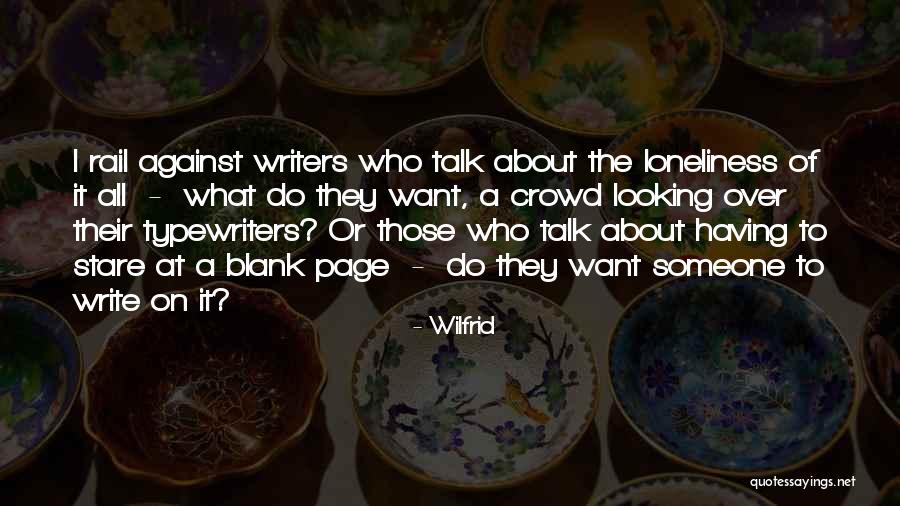 I rail against writers who talk about the loneliness of it all - what do they want, a crowd looking over their typewriters? Or those who talk about having to stare at a blank page - do they want someone to write on it? — Wilfrid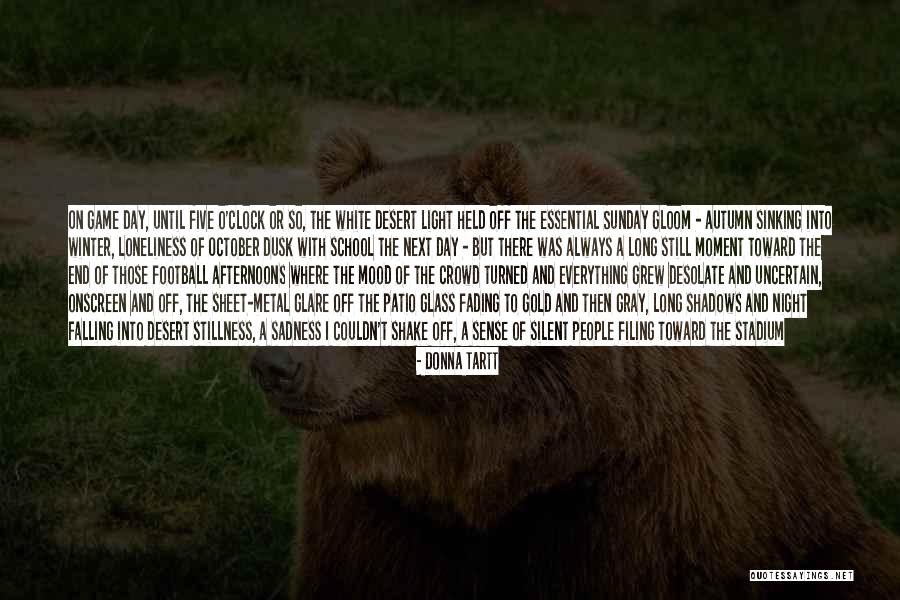 On game day, until five o'clock or so, the white desert light held off the essential Sunday gloom - autumn sinking into winter, loneliness of October dusk with school the next day - but there was always a long still moment toward the end of those football afternoons where the mood of the crowd turned and everything grew desolate and uncertain, onscreen and off, the sheet-metal glare off the patio glass fading to gold and then gray, long shadows and night falling into desert stillness, a sadness I couldn't shake off, a sense of silent people filing toward the stadium exits and cold rain falling in college towns back east. — Donna Tartt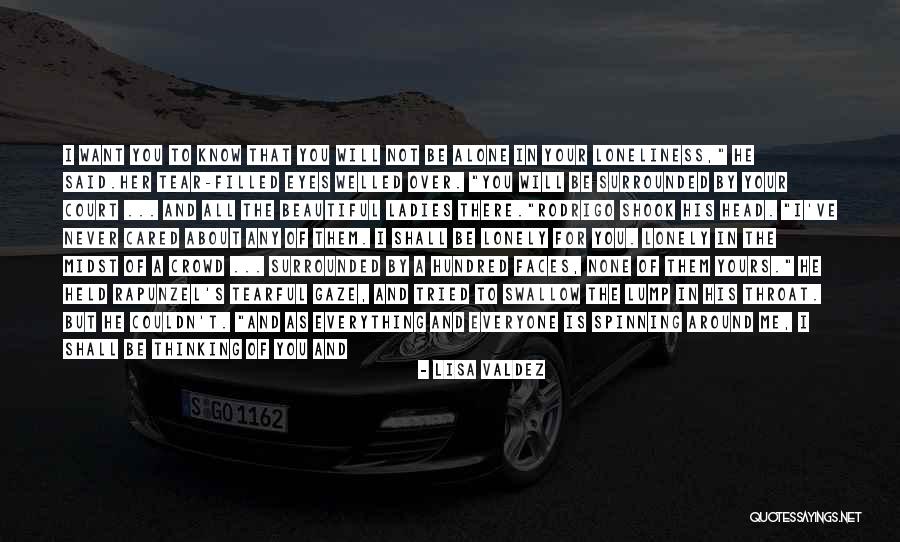 I want you to know that you will not be alone in your loneliness," he said.
Her tear-filled eyes welled over. "You will be surrounded by your court ... and all the beautiful ladies there."
Rodrigo shook his head. "I've never cared about any of them. I shall be lonely for you. Lonely in the midst of a crowd ... surrounded by a hundred faces, none of them yours." He held Rapunzel's tearful gaze, and tried to swallow the lump in his throat. But he couldn't. "And as everything and everyone is spinning around me, I shall be thinking of you and longing to be here ... " he brushed the backs of his fingers against her wet cheek, " ... here in the tower, with my Rapunzel. — Lisa Valdez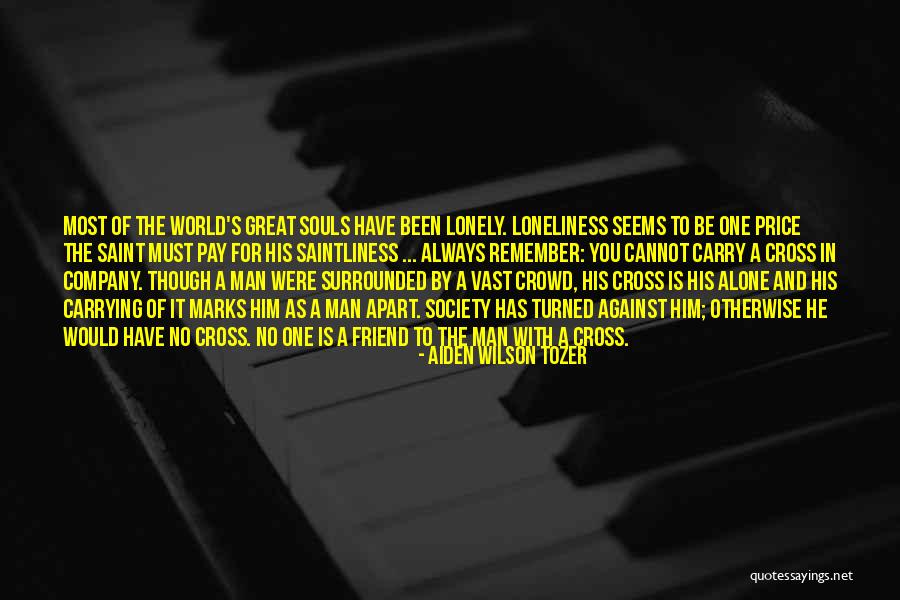 Most of the world's great souls have been lonely. Loneliness seems to be one price the saint must pay for his saintliness ... Always remember: you cannot carry a cross in company. Though a man were surrounded by a vast crowd, his cross is his alone and his carrying of it marks him as a man apart. Society has turned against him; otherwise he would have no cross. No one is a friend to the man with a cross. — Aiden Wilson Tozer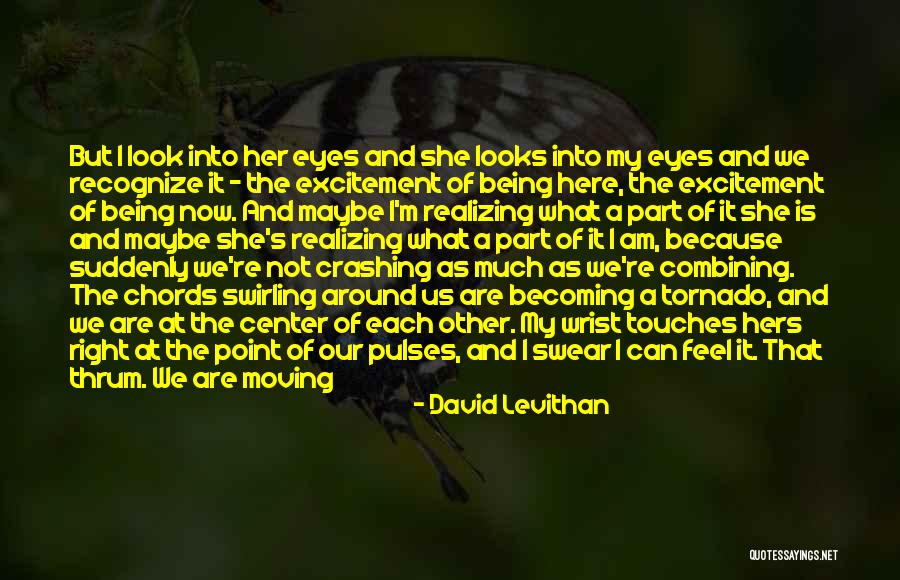 But I look into her eyes and she looks into my eyes and we recognize it - the excitement of being here, the excitement of being now. And maybe I'm realizing what a part of it she is and maybe she's realizing what a part of it I am, because suddenly we're not crashing as much as we're combining. The chords swirling around us are becoming a tornado, and we are at the center of each other. My wrist touches hers right at the point of our pulses, and I swear I can feel it. That thrum. We are moving to the music and at the same time we are a stillness. I am not losing myself in the barrage. I am finding her. And she is - yes, she is finding me. The crowd is pressing in on us and the bassline is revealing everything and we are two people who are part of a lot more people, and at the same time we're our own part. There isn't loneliness, only this intense twoliness. — David Levithan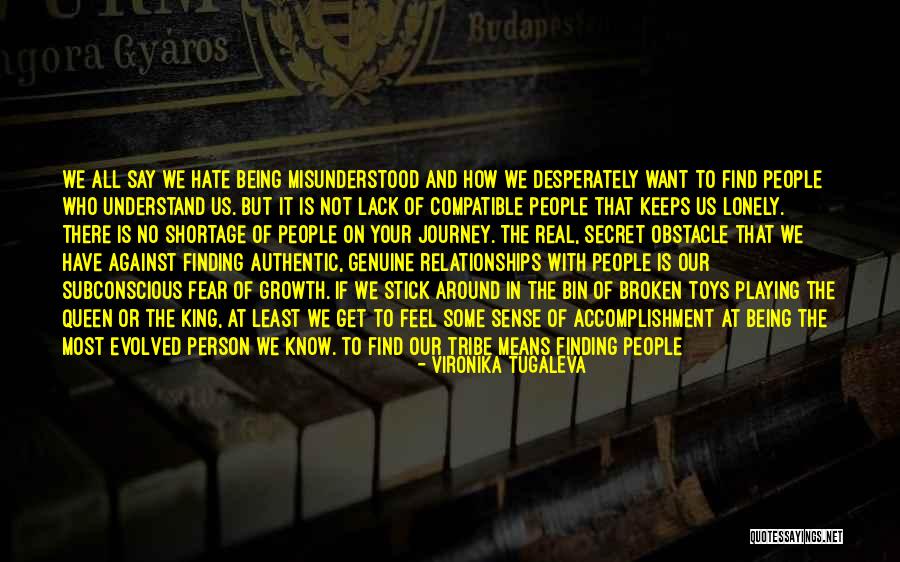 We all say we hate being misunderstood and how we desperately want to find people who understand us. But it is not lack of compatible people that keeps us lonely. There is no shortage of people on your journey. The real, secret obstacle that we have against finding authentic, genuine relationships with people is our subconscious fear of growth. If we stick around in the bin of broken toys playing the queen or the king, at least we get to feel some sense of accomplishment at being the most evolved person we know. To find our tribe means finding people we can learn from, people who are better at some things than we are, people who have something to teach. We say we want it, but how many of us fear being a beginner more than loneliness and much more than being in the wrong crowd? There is a strange comfort, a sense of safety, to suffering and loneliness. To be happy, to find our family, we must be willing to let that go. — Vironika Tugaleva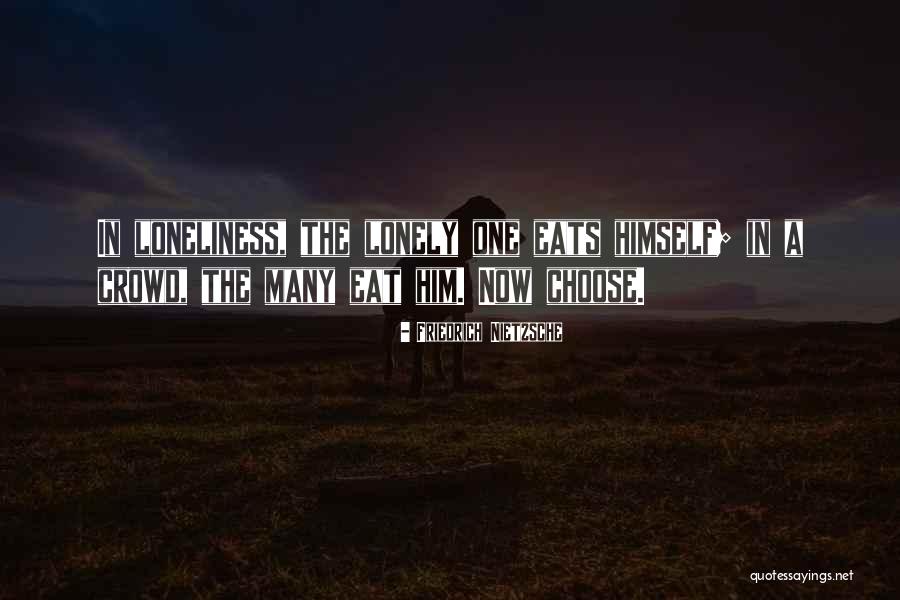 In loneliness, the lonely one eats himself; in a crowd, the many eat him. Now choose. — Friedrich Nietzsche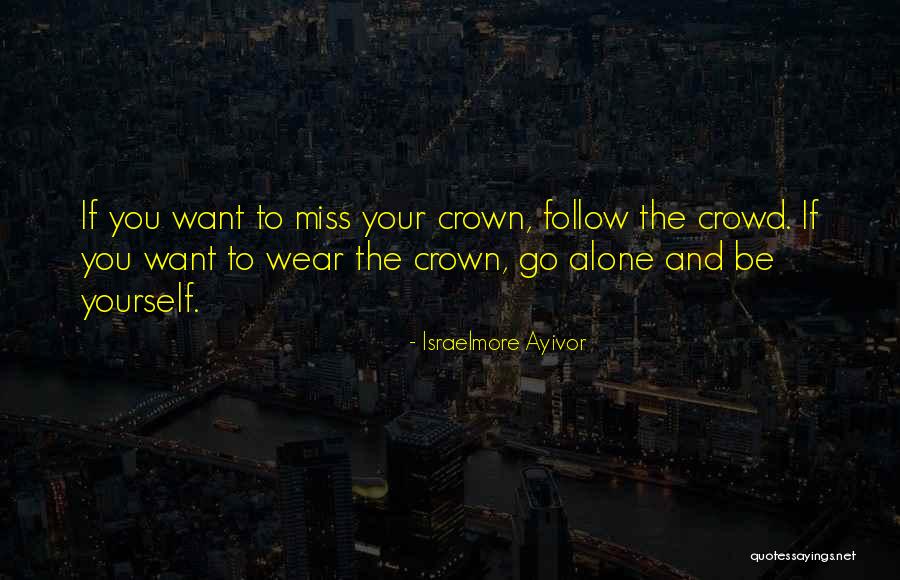 If you want to miss your crown, follow the crowd. If you want to wear the crown, go alone and be yourself. — Israelmore Ayivor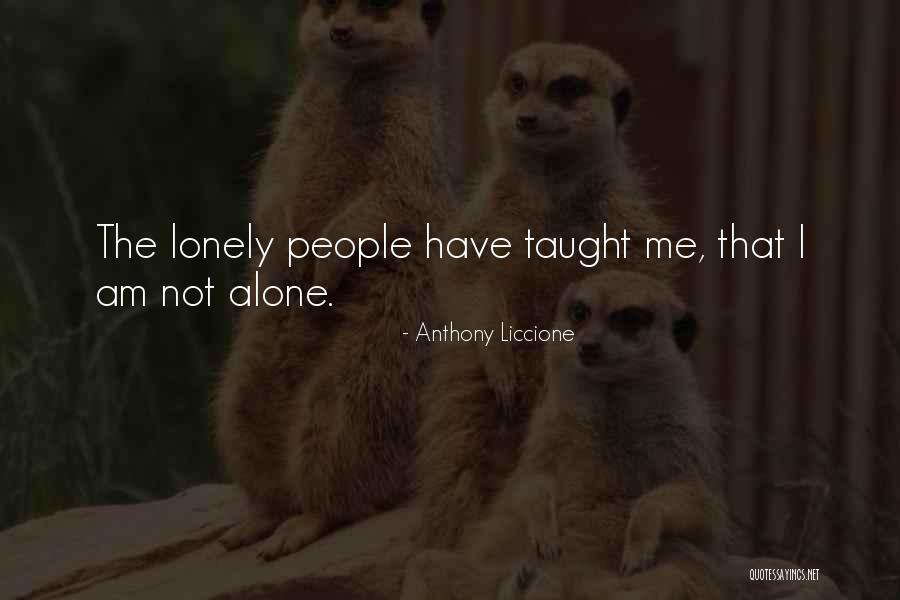 The lonely people have taught me, that I am not alone. — Anthony Liccione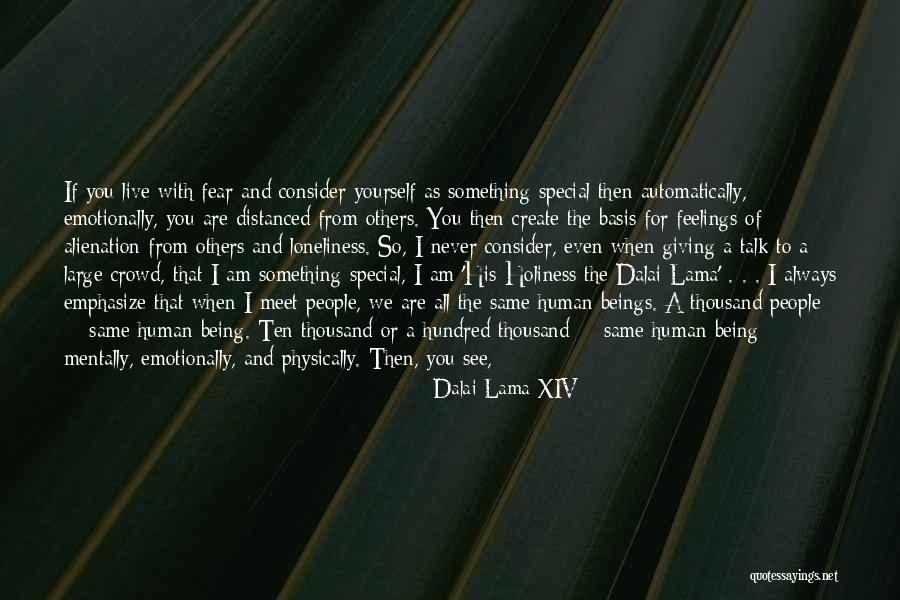 If you live with fear and consider yourself as something special then automatically, emotionally, you are distanced from others. You then create the basis for feelings of alienation from others and loneliness. So, I never consider, even when giving a talk to a large crowd, that I am something special, I am 'His Holiness the Dalai Lama' . . . I always emphasize that when I meet people, we are all the same human beings. A thousand people -- same human being. Ten thousand or a hundred thousand -- same human being -- mentally, emotionally, and physically. Then, you see, no barrier. Then my mind remains completely calm and relaxed. If too much emphasis on myself, and I start to think I'm something special, then more anxiety, more nervousness. — Dalai Lama XIV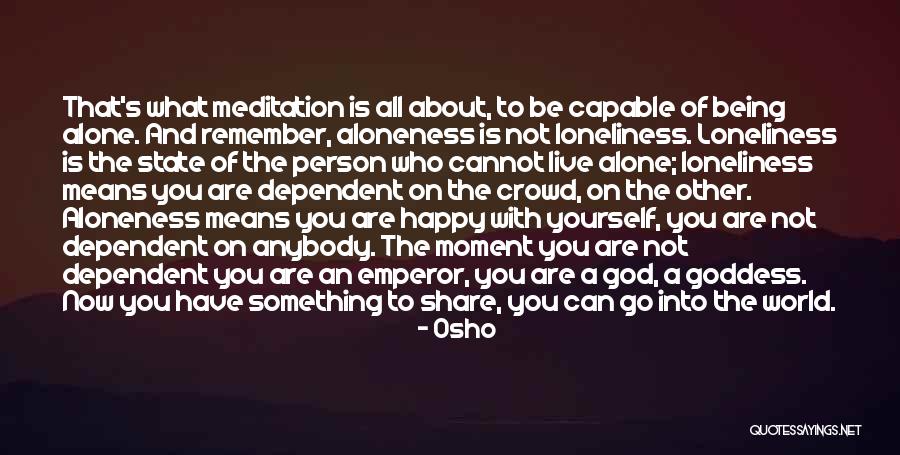 That's what meditation is all about, to be capable of being alone. And remember, aloneness is not loneliness. Loneliness is the state of the person who cannot live alone; loneliness means you are dependent on the crowd, on the other. Aloneness means you are happy with yourself, you are not dependent on anybody. The moment you are not dependent you are an emperor, you are a god, a goddess. Now you have something to share, you can go into the world. — Osho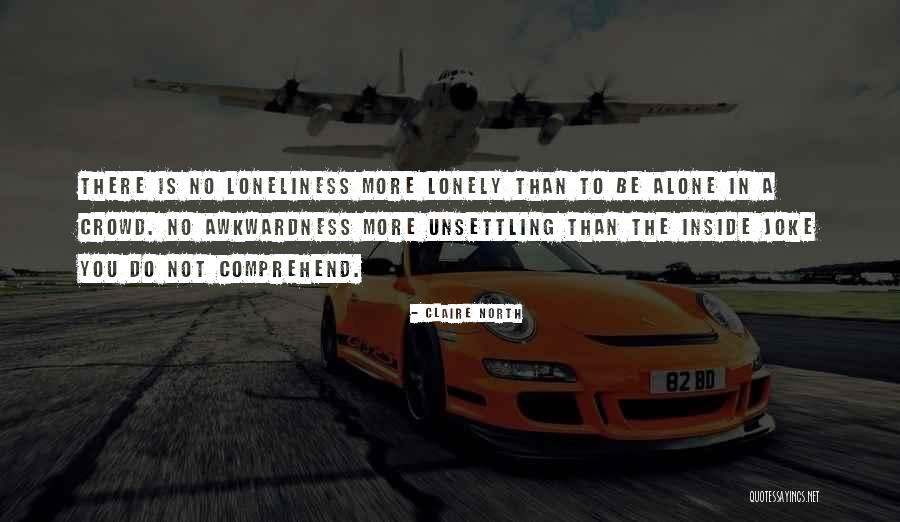 There is no loneliness more lonely than to be alone in a crowd. No awkwardness more unsettling than the inside joke you do not comprehend. — Claire North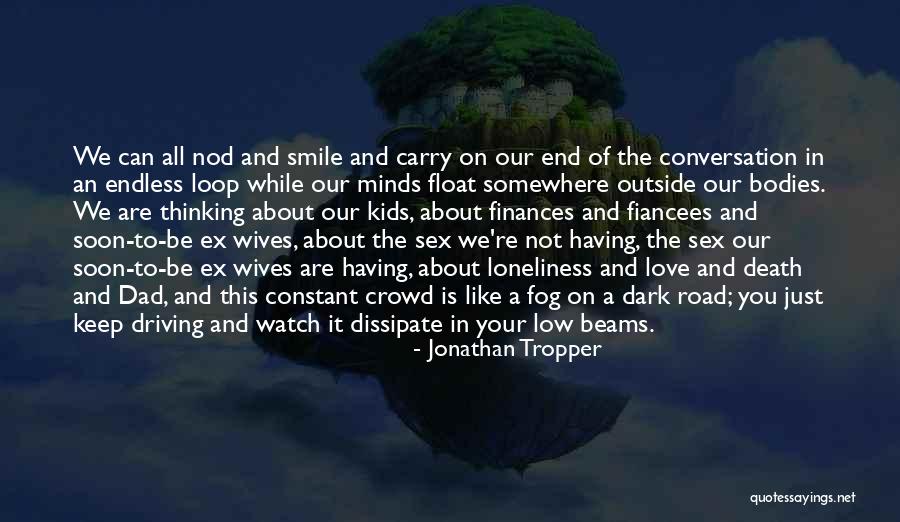 We can all nod and smile and carry on our end of the conversation in an endless loop while our minds float somewhere outside our bodies. We are thinking about our kids, about finances and fiancees and soon-to-be ex wives, about the sex we're not having, the sex our soon-to-be ex wives are having, about loneliness and love and death and Dad, and this constant crowd is like a fog on a dark road; you just keep driving and watch it dissipate in your low beams. — Jonathan Tropper