Quotes & Sayings About Living Your Life Through Someone Else
Enjoy reading and share 33 famous quotes about Living Your Life Through Someone Else with everyone.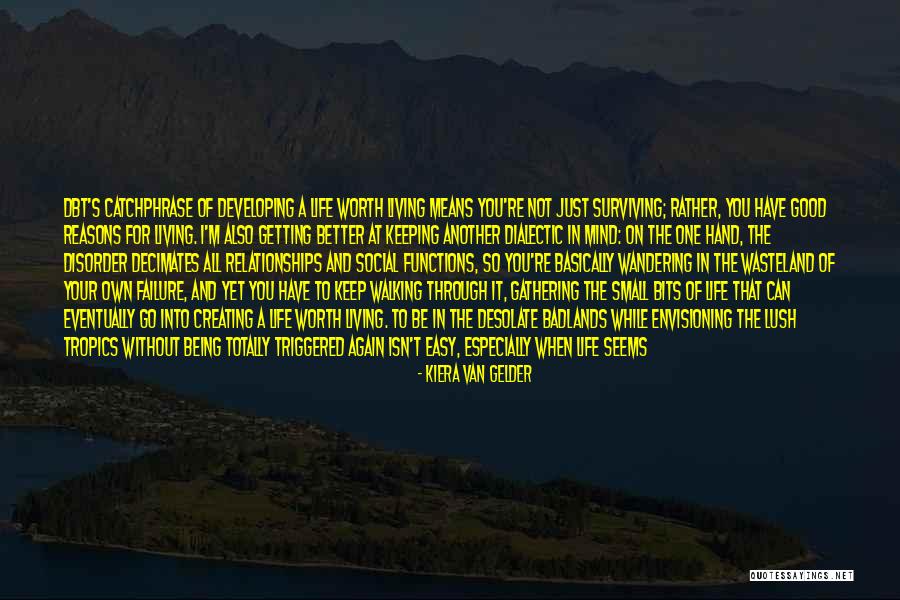 DBT's catchphrase of developing a life worth living means you're not just surviving; rather, you have good reasons for living. I'm also getting better at keeping another dialectic in mind: On the one hand, the disorder decimates all relationships and social functions, so you're basically wandering in the wasteland of your own failure, and yet you have to keep walking through it, gathering the small bits of life that can eventually go into creating a life worth living. To be in the desolate badlands while envisioning the lush tropics without being totally triggered again isn't easy, especially when life seems so effortless for everyone else. — Kiera Van Gelder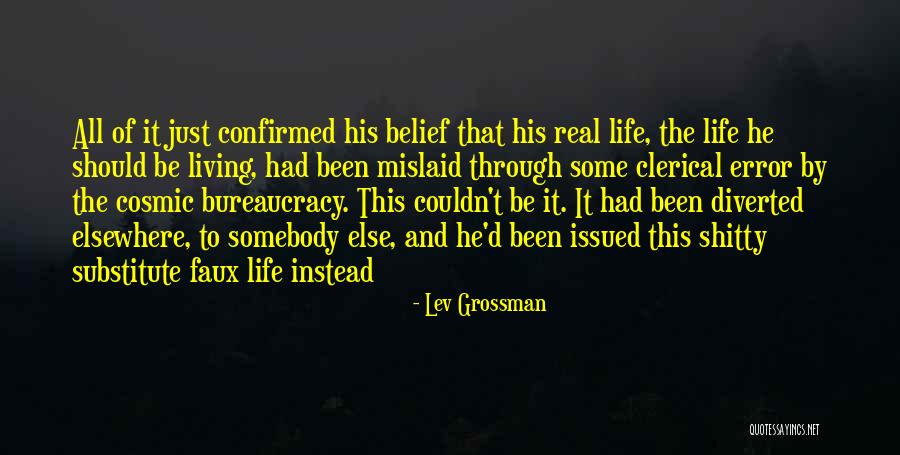 All of it just confirmed his belief that his real life, the life he should be living, had been mislaid through some clerical error by the cosmic bureaucracy. This couldn't be it. It had been diverted elsewhere, to somebody else, and he'd been issued this shitty substitute faux life instead — Lev Grossman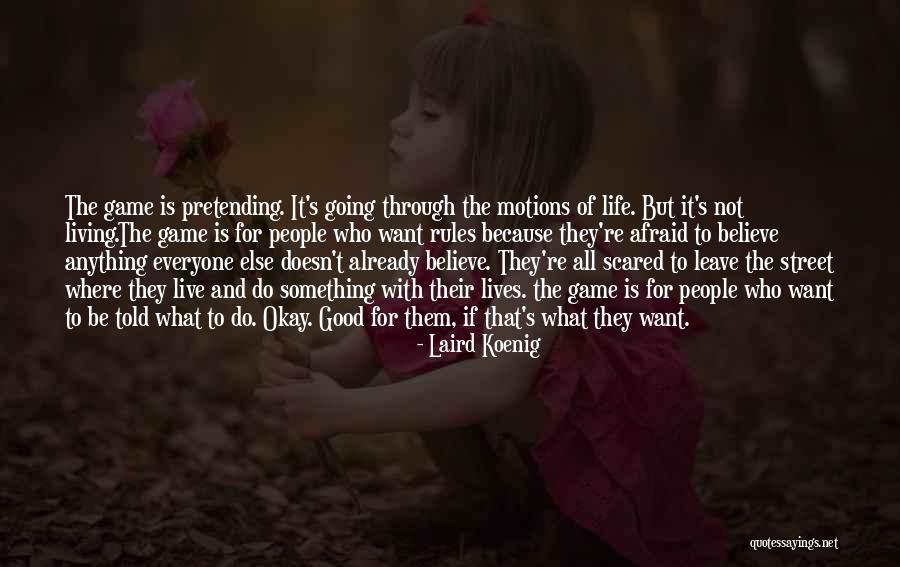 The game is pretending. It's going through the motions of life. But it's not living.

The game is for people who want rules because they're afraid to believe anything everyone else doesn't already believe. They're all scared to leave the street where they live and do something with their lives. the game is for people who want to be told what to do. Okay. Good for them, if that's what they want. — Laird Koenig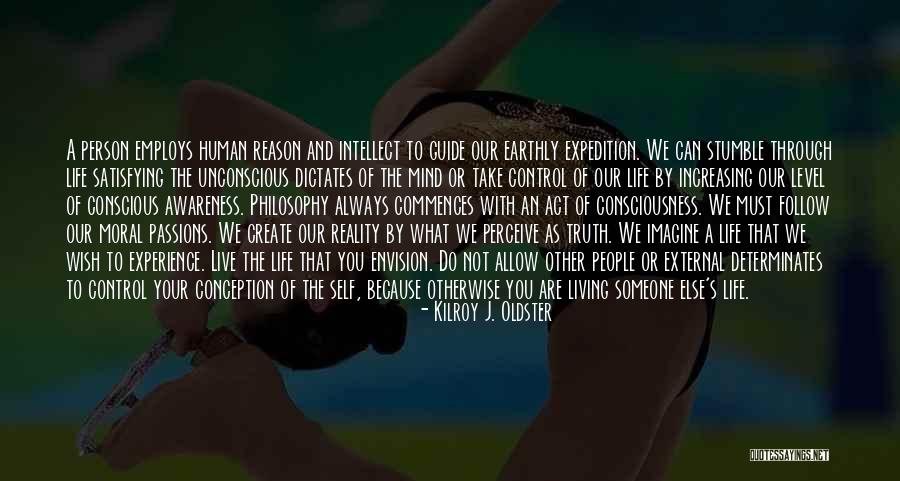 A person employs human reason and intellect to guide our earthly expedition. We can stumble through life satisfying the unconscious dictates of the mind or take control of our life by increasing our level of conscious awareness. Philosophy always commences with an act of consciousness. We must follow our moral passions. We create our reality by what we perceive as truth. We imagine a life that we wish to experience. Live the life that you envision. Do not allow other people or external determinates to control your conception of the self, because otherwise you are living someone else's life. — Kilroy J. Oldster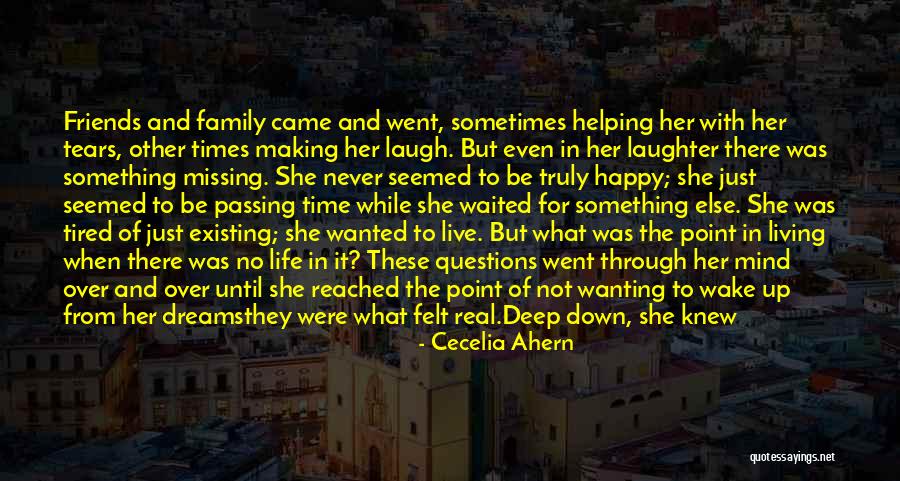 Friends and family came and went, sometimes helping her with her tears, other times making her laugh. But even in her laughter there was something missing. She never seemed to be truly happy; she just seemed to be passing time while she waited for something else. She was tired of just existing; she wanted to live. But what was the point in living when there was no life in it? These questions went through her mind over and over until she reached the point of not wanting to wake up from her dreams
they were what felt real.
Deep down, she knew it was normal to feel like this, she didn't particularly think she was losing her mind. She knew that one day she would be happy again and that this feeling would just be a distant memory. It was getting to that day that was the hard part. — Cecelia Ahern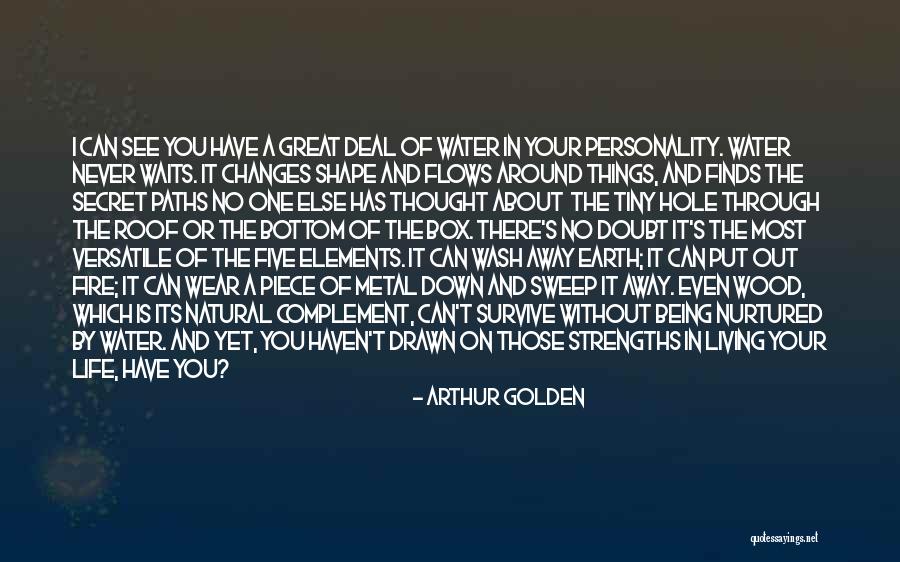 I can see you have a great deal of water in your personality. Water never waits. It changes shape and flows around things, and finds the secret paths no one else has thought about
the tiny hole through the roof or the bottom of the box. There's no doubt it's the most versatile of the five elements. It can wash away earth; it can put out fire; it can wear a piece of metal down and sweep it away. Even wood, which is its natural complement, can't survive without being nurtured by water. And yet, you haven't drawn on those strengths in living your life, have you? — Arthur Golden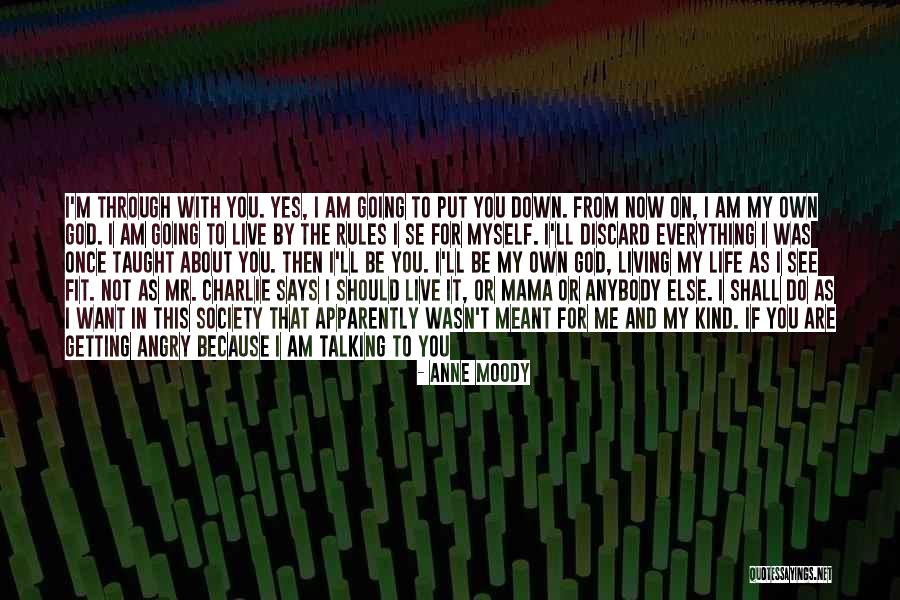 I'm through with you. Yes, I am going to put you down. From now on, I am my own God. I am going to live by the rules I se for myself. I'll discard everything I was once taught about you. Then I'll be you. I'll be my own God, living my life as I see fit. Not as Mr. Charlie says I should live it, or Mama or anybody else. I shall do as I want in this society that apparently wasn't meant for me and my kind. If you are getting angry because I am talking to you like this, then just kill me, leave me here in this graveyard dead. Maybe thats where all of us belong anyway. Maybe then we wouldn't have to suffer so much. At the rate we are being killed now, we'll all be soon dead anyway. — Anne Moody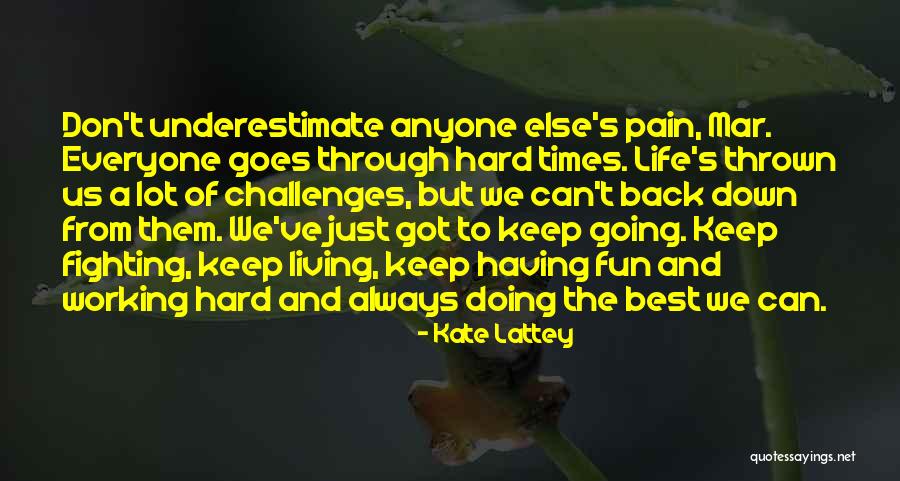 Don't underestimate anyone else's pain, Mar. Everyone goes through hard times. Life's thrown us a lot of challenges, but we can't back down from them. We've just got to keep going. Keep fighting, keep living, keep having fun and working hard and always doing the best we can. — Kate Lattey
A lot of life boils down to the question of whether a person is going to be able to realize his fantasies, or else end up surviving only through compromises he can't face up to. The way I figure it, Heaven and Hell are right here on Earth. Heaven is living in your hopes and Hell is living in your fears. It's up to each individual which one he chooses. - Bonanza Jellybean — Tom Robbins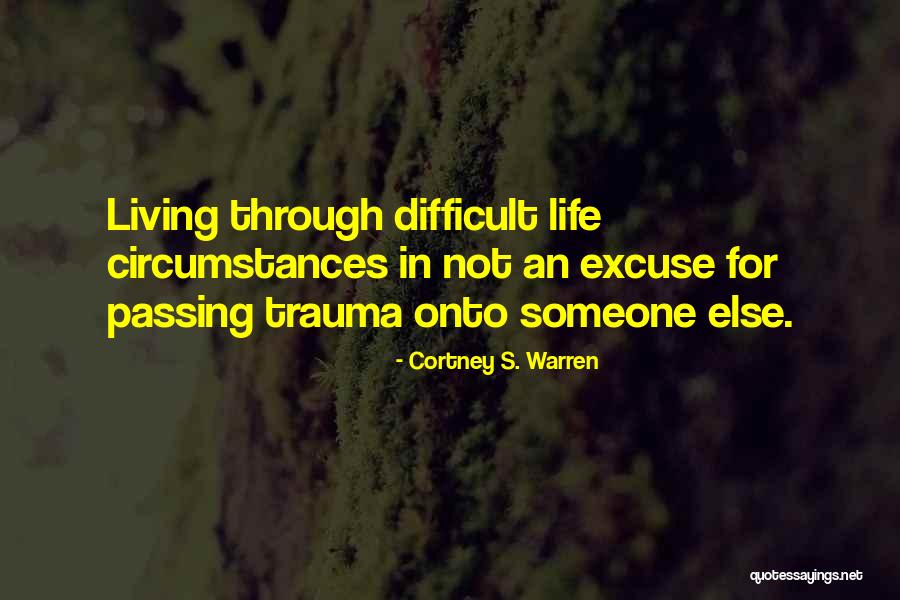 Living through difficult life circumstances in not an excuse for passing trauma onto someone else. — Cortney S. Warren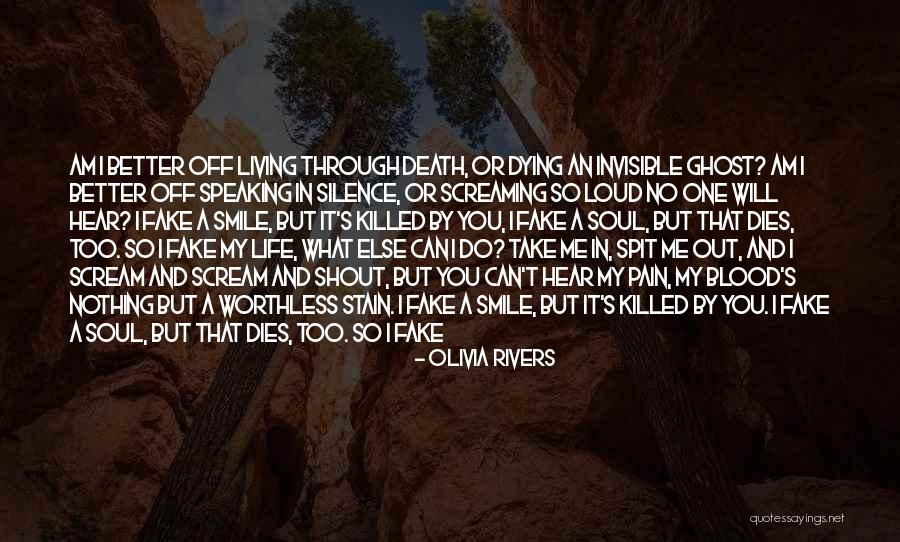 Am I better off living through death,
Or dying an invisible ghost?
Am I better off speaking in silence,
Or screaming so loud no one will hear?
I fake a smile,
But it's killed by you,
I fake a soul,
But that dies, too.
So I fake my life,
What else can I do?
Take me in, spit me out,
And I scream and scream and shout,
But you can't hear my pain,
My blood's nothing but a worthless stain.
I fake a smile,
But it's killed by you.
I fake a soul,
But that dies, too.
So I fake my life,
What else can I do?
And if one day I wake up gone,
Maybe people will see through,
But until then the lies will rule.
And sometimes I think
I'm better off dead,
But then I realize
I already am. — Olivia Rivers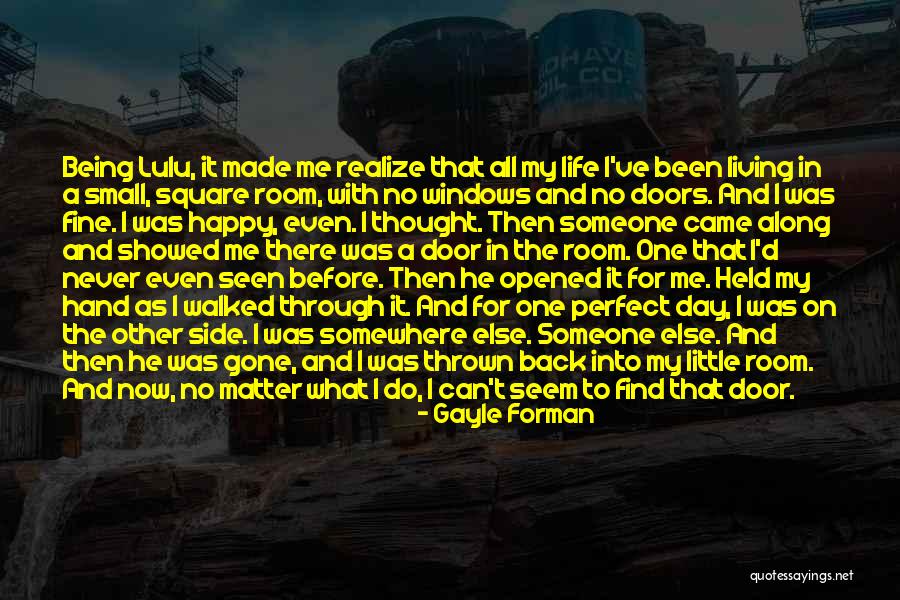 Being Lulu, it made me realize that all my life I've been living in a small, square room, with no windows and no doors. And I was fine. I was happy, even. I thought. Then someone came along and showed me there was a door in the room. One that I'd never even seen before. Then he opened it for me. Held my hand as I walked through it. And for one perfect day, I was on the other side. I was somewhere else. Someone else. And then he was gone, and I was thrown back into my little room. And now, no matter what I do, I can't seem to find that door. — Gayle Forman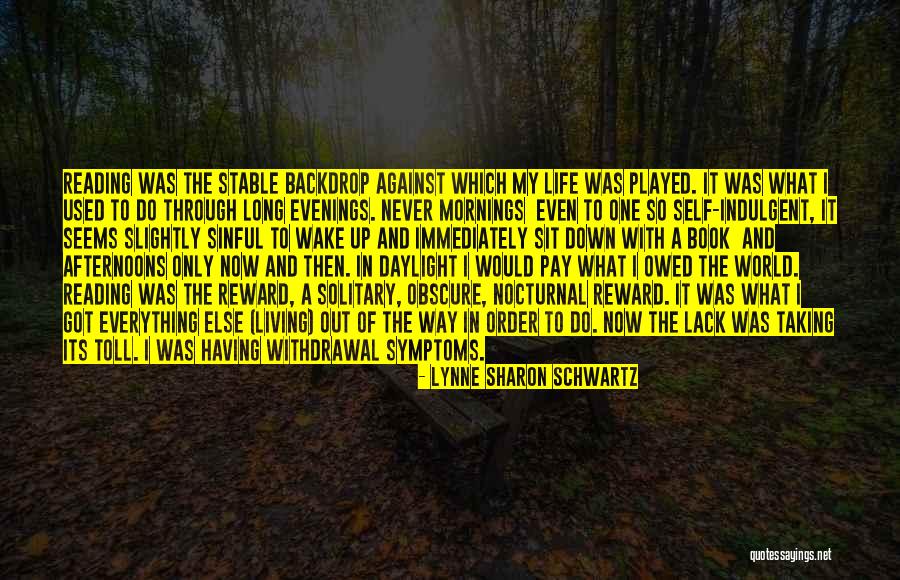 Reading was the stable backdrop against which my life was played. It was what I used to do through long evenings. Never mornings even to one so self-indulgent, it seems slightly sinful to wake up and immediately sit down with a book and afternoons only now and then. In daylight I would pay what I owed the world. Reading was the reward, a solitary, obscure, nocturnal reward. It was what I got everything else (living) out of the way in order to do. Now the lack was taking its toll. I was having withdrawal symptoms. — Lynne Sharon Schwartz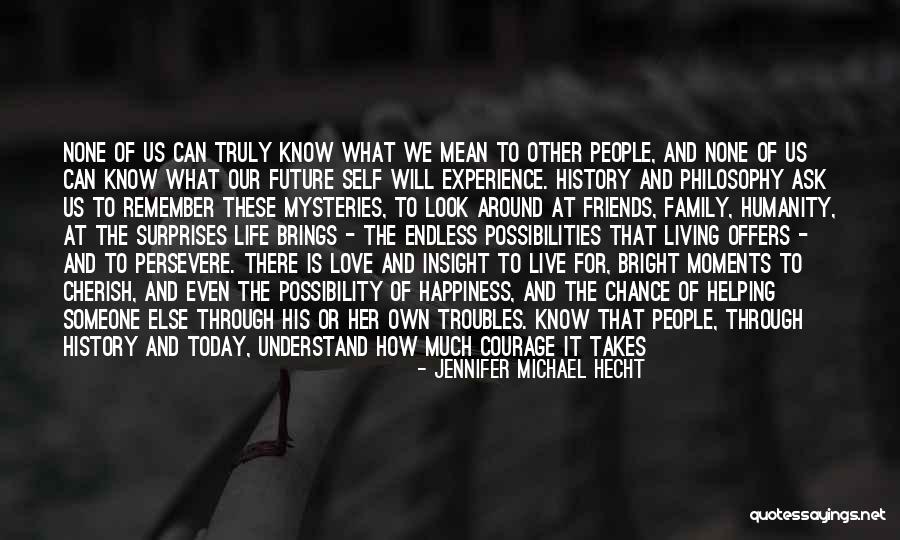 None of us can truly know what we mean to other people, and none of us can know what our future self will experience. History and philosophy ask us to remember these mysteries, to look around at friends, family, humanity, at the surprises life brings - the endless possibilities that living offers - and to persevere. There is love and insight to live for, bright moments to cherish, and even the possibility of happiness, and the chance of helping someone else through his or her own troubles. Know that people, through history and today, understand how much courage it takes to stay. Bear witness to the night side of being human and the bravery it entails, and wait for the sun. If we meditate on the record of human wisdom we may find there reason enough to persist and find our way back to happiness. The first step is to consider the arguments and evidence and choose to stay. After that, anything may happen. First, choose to stay. — Jennifer Michael Hecht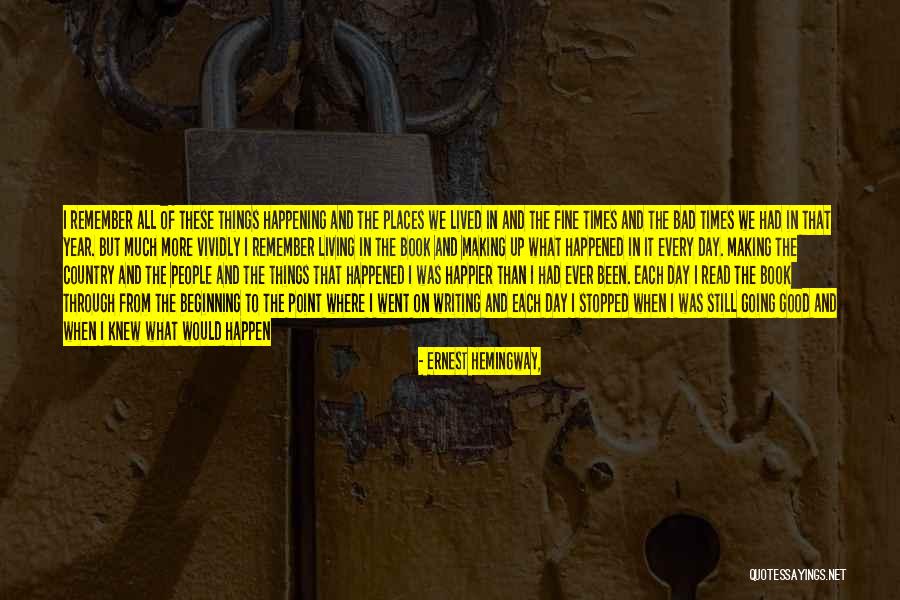 I remember all of these things happening and the places we lived in and the fine times and the bad times we had in that year. But much more vividly I remember living in the book and making up what happened in it every day. Making the country and the people and the things that happened I was happier than I had ever been. Each day I read the book through from the beginning to the point where I went on writing and each day I stopped when I was still going good and when I knew what would happen next. The fact the book was a tragic one did not make me unhappy since I believed that life was a tragedy and knew it could have only one end. But finding you were able to make something up; to create truly enough so that it made you happy to read it; and to do this every day you worked was something that gave a greater pleasure than any I had ever known. Beside it nothing else mattered. — Ernest Hemingway,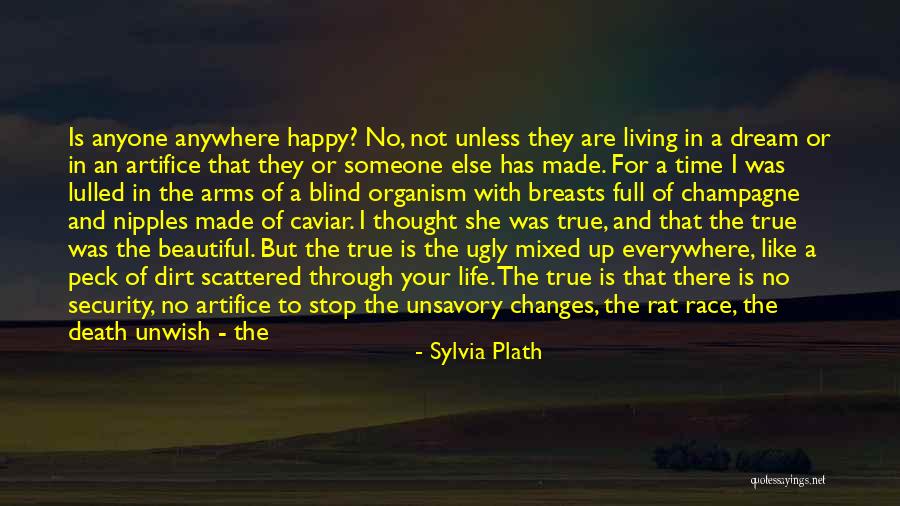 Is anyone anywhere happy? No, not unless they are living in a dream or in an artifice that they or someone else has made. For a time I was lulled in the arms of a blind organism with breasts full of champagne and nipples made of caviar. I thought she was true, and that the true was the beautiful. But the true is the ugly mixed up everywhere, like a peck of dirt scattered through your life. The true is that there is no security, no artifice to stop the unsavory changes, the rat race, the death unwish - the winged chariot, the horns and the motors, the Devil in the clock. Love is a desperate artifice to take the place of those two original parents who turned out not to be omnisciently right gods, but a rather pedestrian pair of muddled suburbanites who, no matter how bumbling they tried, never could quite understand how or why you grew up to your 21st birthday. — Sylvia Plath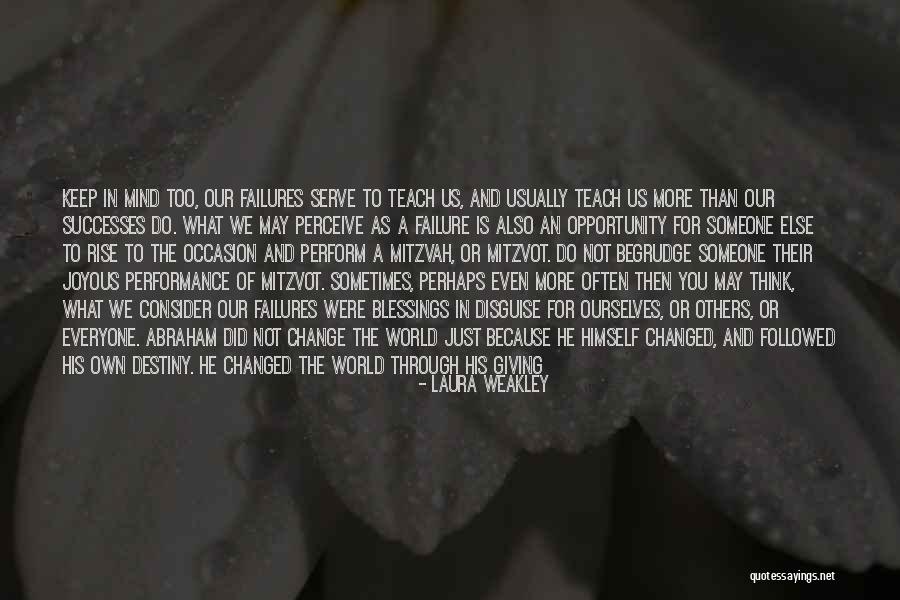 Keep in mind too, our failures serve to teach us, and usually teach us more than our successes do. What we may perceive as a failure is also an opportunity for someone else to rise to the occasion and perform a mitzvah, or mitzvot. Do not begrudge someone their joyous performance of mitzvot. Sometimes, perhaps even more often then you may think, what we consider our failures were blessings in disguise for ourselves, or others, or everyone. Abraham did not change the world just because he himself changed, and followed his own destiny. He changed the world through his giving others opportunities to rise to their own greatness. — Laura Weakley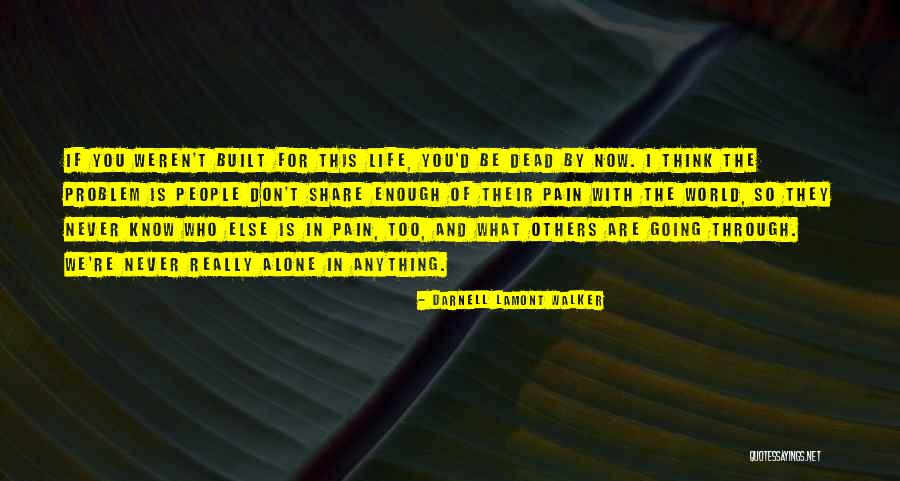 If you weren't built for this life, you'd be dead by now. i think the problem is people don't share enough of their pain with the world, so they never know who else is in pain, too, and what others are going through. we're never really alone in anything. — Darnell Lamont Walker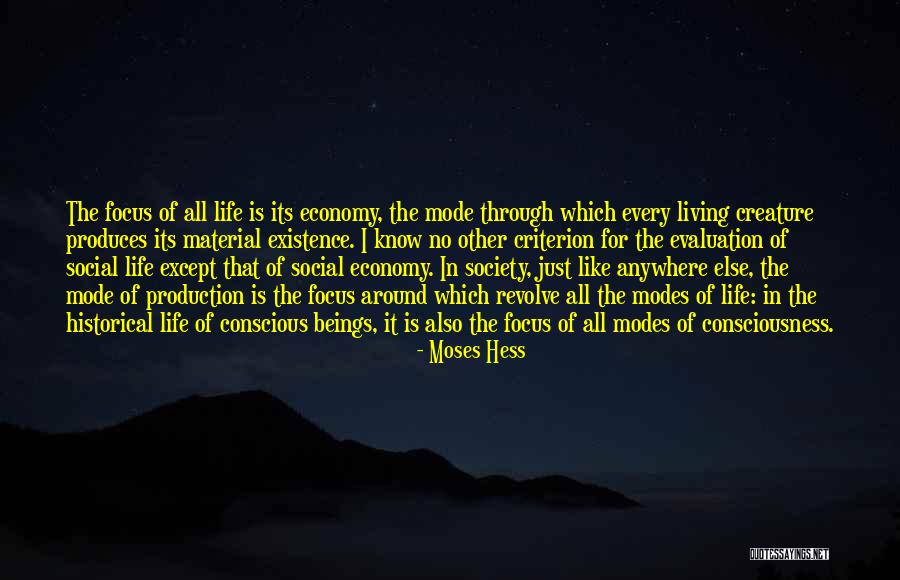 The focus of all life is its economy, the mode through which every living creature produces its material existence. I know no other criterion for the evaluation of social life except that of social economy. In society, just like anywhere else, the mode of production is the focus around which revolve all the modes of life: in the historical life of conscious beings, it is also the focus of all modes of consciousness. — Moses Hess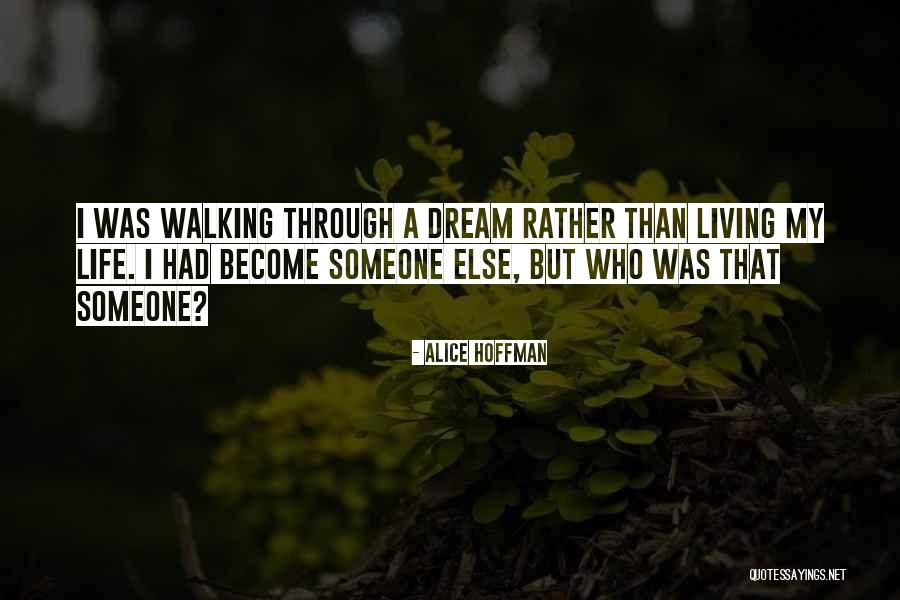 I was walking through a dream rather than living my life. I had become someone else, but who was that someone? — Alice Hoffman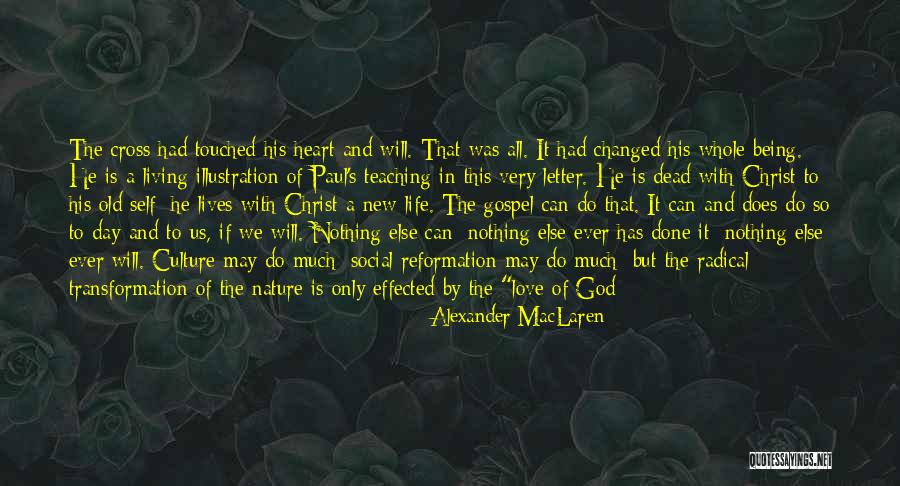 The cross had touched his heart and will. That was all. It had changed his whole being. He is a living illustration of Paul's teaching in this very letter. He is dead with Christ to his old self; he lives with Christ a new life. The gospel can do that. It can and does do so to-day and to us, if we will. Nothing else can; nothing else ever has done it; nothing else ever will. Culture may do much; social reformation may do much; but the radical transformation of the nature is only effected by the "love of God shed abroad in the heart," and by the new life which we receive through our faith in Christ. — Alexander MacLaren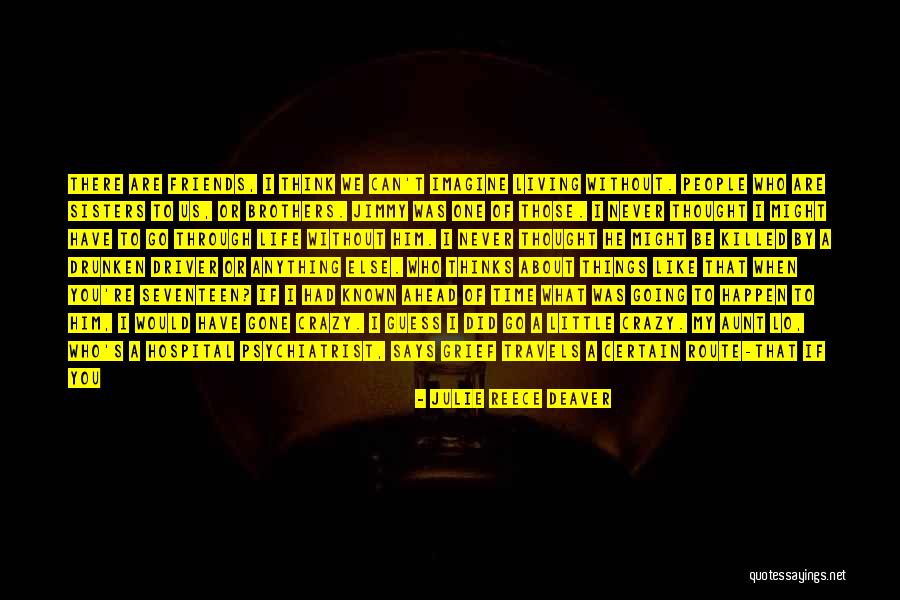 There are friends, I think we can't imagine living without. People who are sisters to us, or brothers. Jimmy was one of those. I never thought I might have to go through life without him. I never thought he might be killed by a drunken driver or anything else. Who thinks about things like that when you're seventeen? If I had known ahead of time what was going to happen to him, I would have gone crazy. I guess I did go a little crazy. My Aunt Lo, who's a hospital psychiatrist, says grief travels a certain route-that if you could plot it out on a map you'd have a line that twists and weaves and eventually ends up near the point of departure. I say "near" because although
you may survive the grief, you won't ever be exactly the same. It took me a long time to learn that, and sometimes the whole experience comes back on me and I have to learn it all over again. — Julie Reece Deaver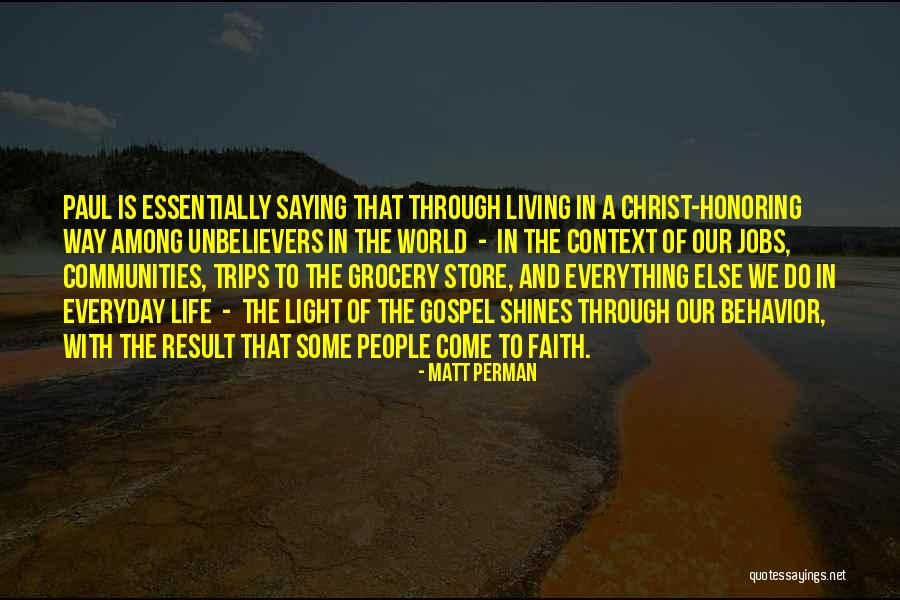 Paul is essentially saying that through living in a Christ-honoring way among unbelievers in the world - in the context of our jobs, communities, trips to the grocery store, and everything else we do in everyday life - the light of the gospel shines through our behavior, with the result that some people come to faith. — Matt Perman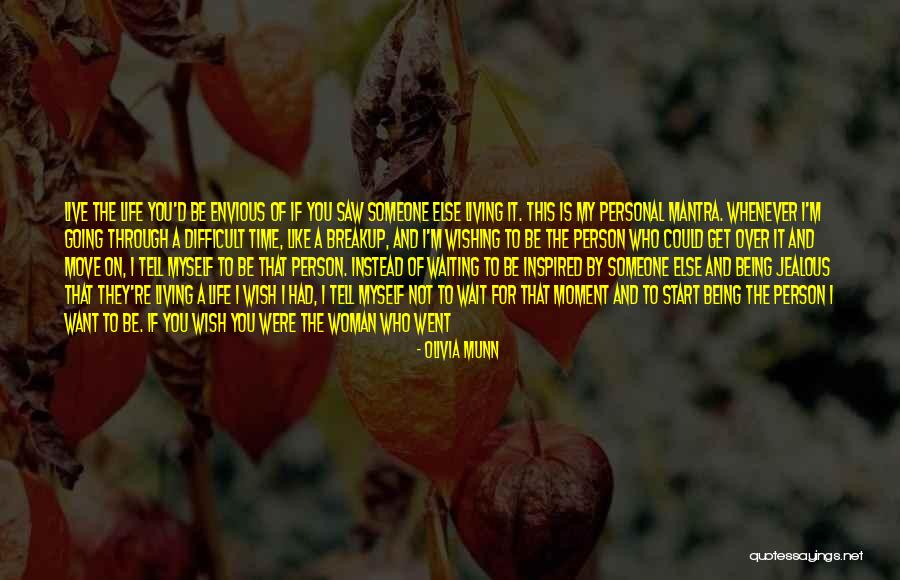 Live the life you'd be envious of if you saw someone else living it. This is my personal mantra. Whenever I'm going through a difficult time, like a breakup, and I'm wishing to be the person who could get over it and move on, I tell myself to be that person. Instead of waiting to be inspired by someone else and being jealous that they're living a life I wish I had, I tell myself not to wait for that moment and to start being the person I want to be. If you wish you were the woman who went for that big promotion, learned a second language, dumped that guy who cheated on you, then just be that person. Think, if I have the energy to wish for it, I have the energy to do it. — Olivia Munn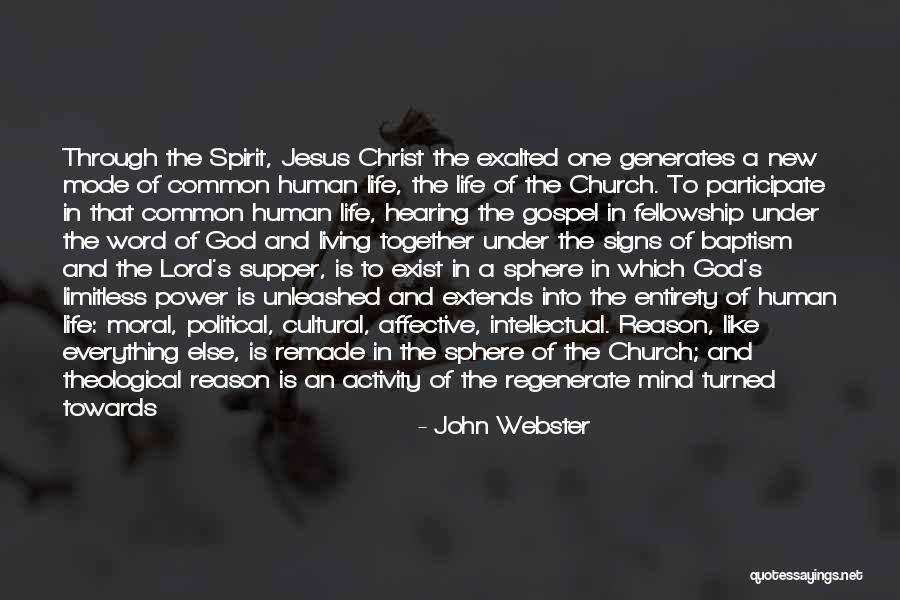 Through the Spirit, Jesus Christ the exalted one generates a new mode of common human life, the life of the Church. To participate in that common human life, hearing the gospel in fellowship under the word of God and living together under the signs of baptism and the Lord's supper, is to exist in a sphere in which God's limitless power is unleashed and extends into the entirety of human life: moral, political, cultural, affective, intellectual. Reason, like everything else, is remade in the sphere of the Church; and theological reason is an activity of the regenerate mind turned towards the gospel of Jesus Christ, which constitutes the Church's origin and vocation. — John Webster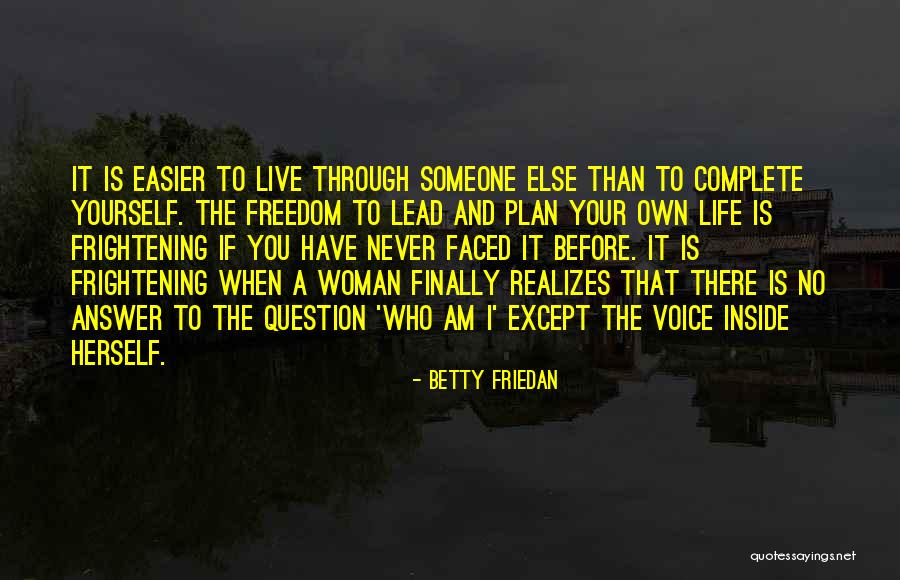 It is easier to live through someone else than to complete yourself. The freedom to lead and plan your own life is frightening if you have never faced it before. It is frightening when a woman finally realizes that there is no answer to the question 'who am I' except the voice inside herself. — Betty Friedan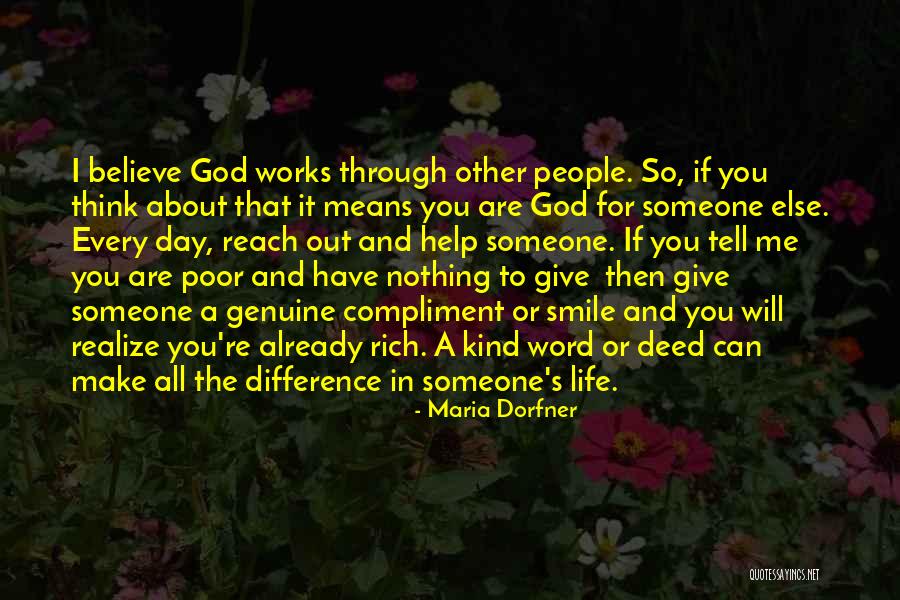 I believe God works through other people. So, if you think about that it means you are God for someone else. Every day, reach out and help someone. If you tell me you are poor and have nothing to give
then give someone a genuine compliment or smile and you will realize you're already rich. A kind word or deed can make all the difference in someone's life. — Maria Dorfner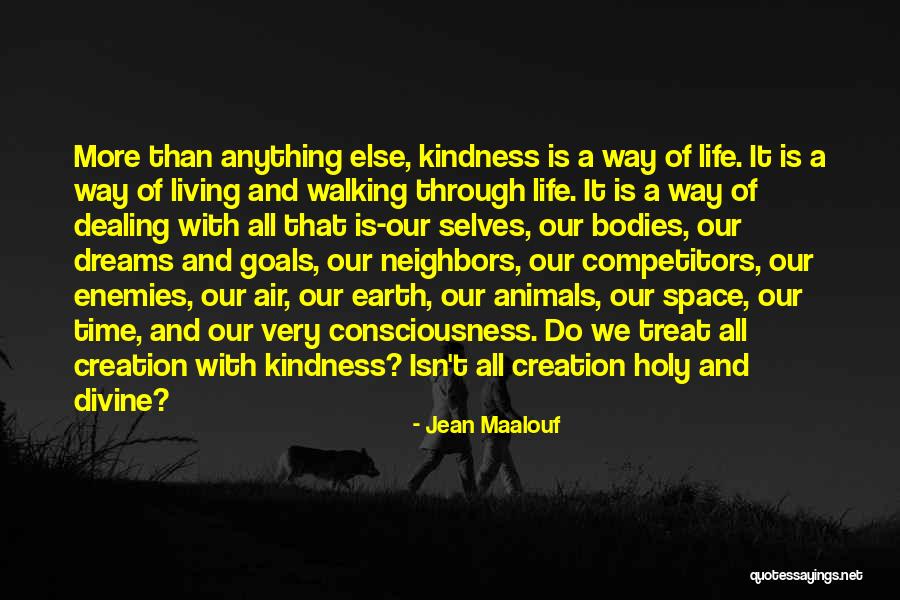 More than anything else, kindness is a way of life. It is a way of living and walking through life. It is a way of dealing with all that is-our selves, our bodies, our dreams and goals, our neighbors, our competitors, our enemies, our air, our earth, our animals, our space, our time, and our very consciousness. Do we treat all creation with kindness? Isn't all creation holy and divine? — Jean Maalouf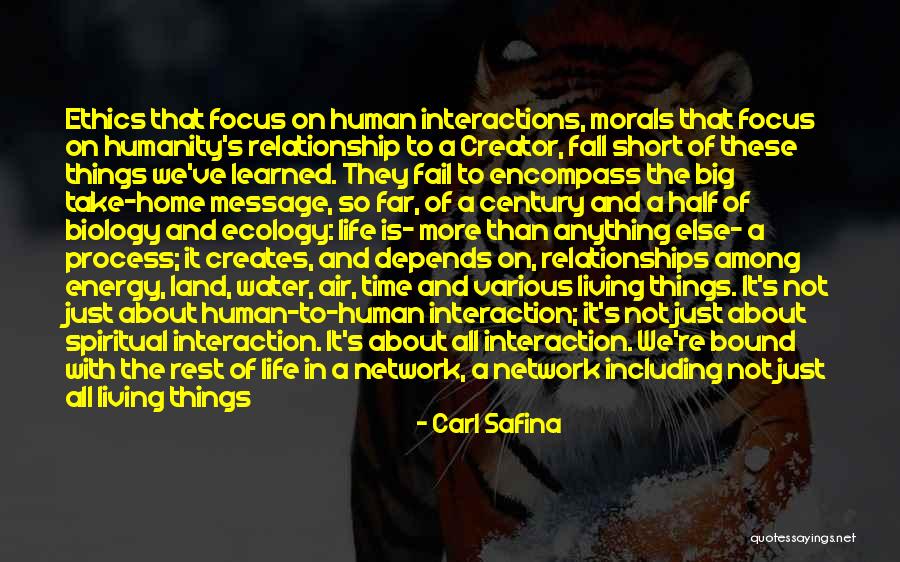 Ethics that focus on human interactions, morals that focus on humanity's relationship to a Creator, fall short of these things we've learned. They fail to encompass the big take-home message, so far, of a century and a half of biology and ecology: life is- more than anything else- a process; it creates, and depends on, relationships among energy, land, water, air, time and various living things. It's not just about human-to-human interaction; it's not just about spiritual interaction. It's about all interaction. We're bound with the rest of life in a network, a network including not just all living things but the energy and nonliving matter that flows through the living, making and keeping all of us alive as we make it alive. We can keep debating ideologies and sending entreaties toward heaven. But unless we embrace the fuller reality we're in- and reality's implications- we'll face big problems. — Carl Safina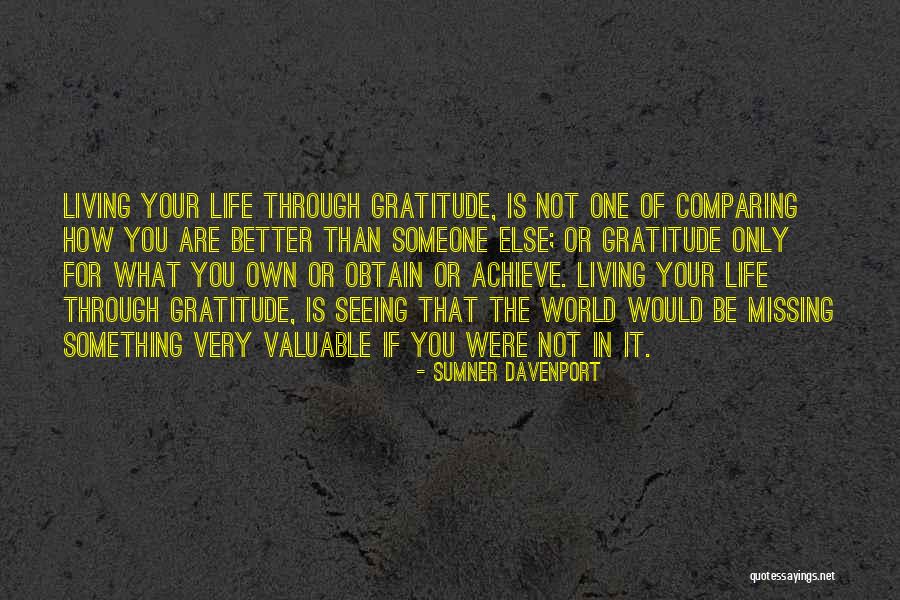 Living your life through Gratitude, is not one of comparing how you are better than someone else; or Gratitude only for what you own or obtain or achieve. Living your life through Gratitude, is seeing that the world would be missing something very valuable if you were not in it. — Sumner Davenport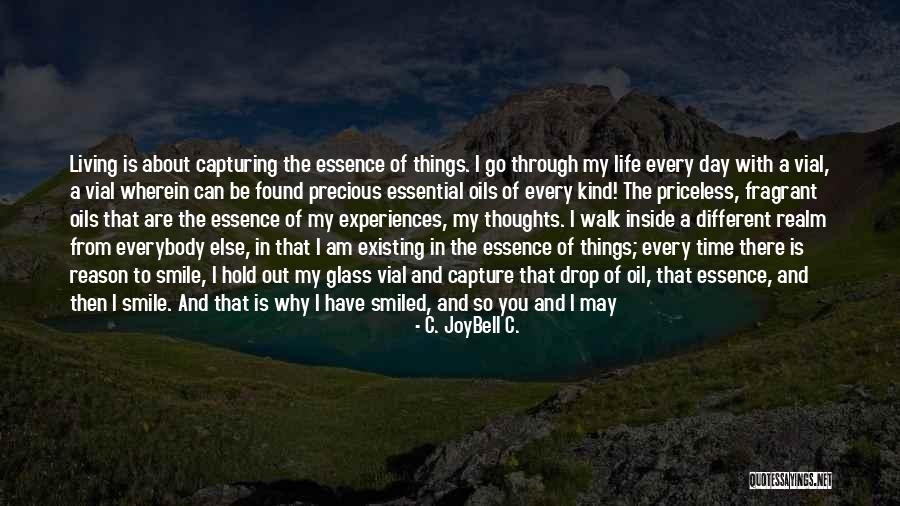 Living is about capturing the essence of things. I go through my life every day with a vial, a vial wherein can be found precious essential oils of every kind! The priceless, fragrant oils that are the essence of my experiences, my thoughts. I walk inside a different realm from everybody else, in that I am existing in the essence of things; every time there is reason to smile, I hold out my glass vial and capture that drop of oil, that essence, and then I smile. And that is why I have smiled, and so you and I may be smiling at the same time but I am smiling because of that one drop of cherished, treasured oil that I have extracted. When I write, I find no need to memorize an idea, a plot, a sequence of things: no. I must only capture the essence of a feeling or a thought and once I have inhaled that aroma, I know that I have what I need. — C. JoyBell C.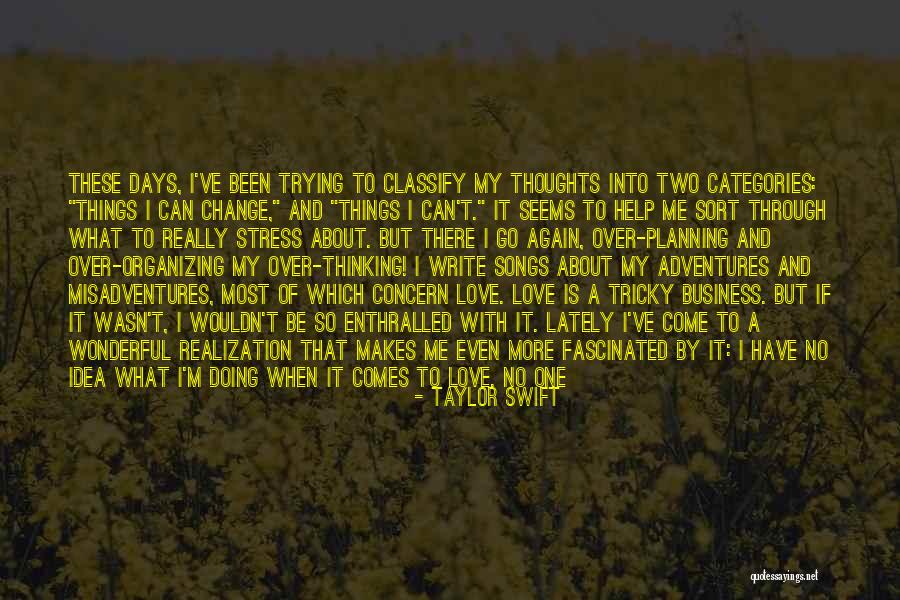 These days, I've been trying to classify my thoughts into two categories: "Things I can change," and "Things I can't." It seems to help me sort through what to really stress about. But there I go again, over-planning and over-organizing my over-thinking! I write songs about my adventures and misadventures, most of which concern love. Love is a tricky business. But if it wasn't, I wouldn't be so enthralled with it. Lately I've come to a wonderful realization that makes me even more fascinated by it: I have no idea what I'm doing when it comes to love. No one does! There's no pattern to it, except that it happens to all of us, of course. I can't plan for it. I can't predict how it'll end up. Because love is unpredictable and it's frustrating and it's tragic and it's beautiful. And even though there's no way to feel like I'm an expert at it, it's worth writing songs about
more than anything else I've ever experienced in my life. — Taylor Swift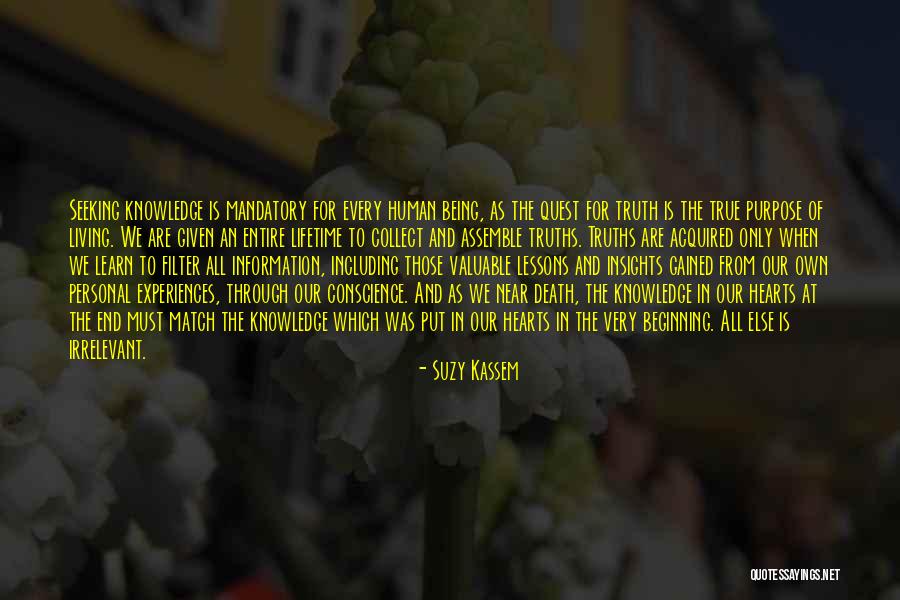 Seeking knowledge is mandatory for every human being, as the quest for truth is the true purpose of living. We are given an entire lifetime to collect and assemble truths. Truths are acquired only when we learn to filter all information, including those valuable lessons and insights gained from our own personal experiences, through our conscience. And as we near death, the knowledge in our hearts at the end must match the knowledge which was put in our hearts in the very beginning. All else is irrelevant. — Suzy Kassem