Live Life Like You're Dying Quotes & Sayings
Enjoy reading and share 30 famous quotes about Live Life Like You're Dying with everyone.
Top Live Life Like You're Dying Quotes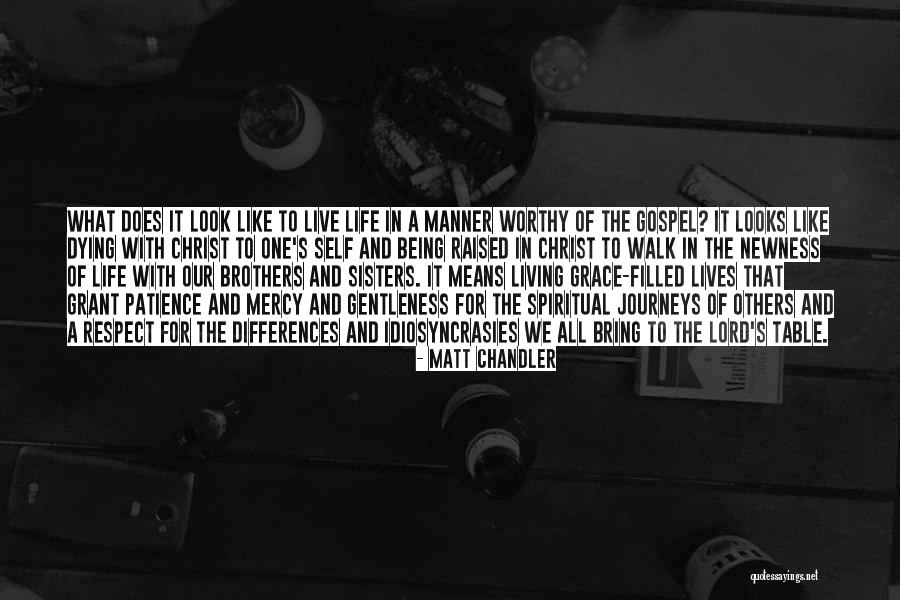 What does it look like to live life in a manner worthy of the gospel? It looks like dying with Christ to one's self and being raised in Christ to walk in the newness of life with our brothers and sisters. It means living grace-filled lives that grant patience and mercy and gentleness for the spiritual journeys of others and a respect for the differences and idiosyncrasies we all bring to the Lord's table. — Matt Chandler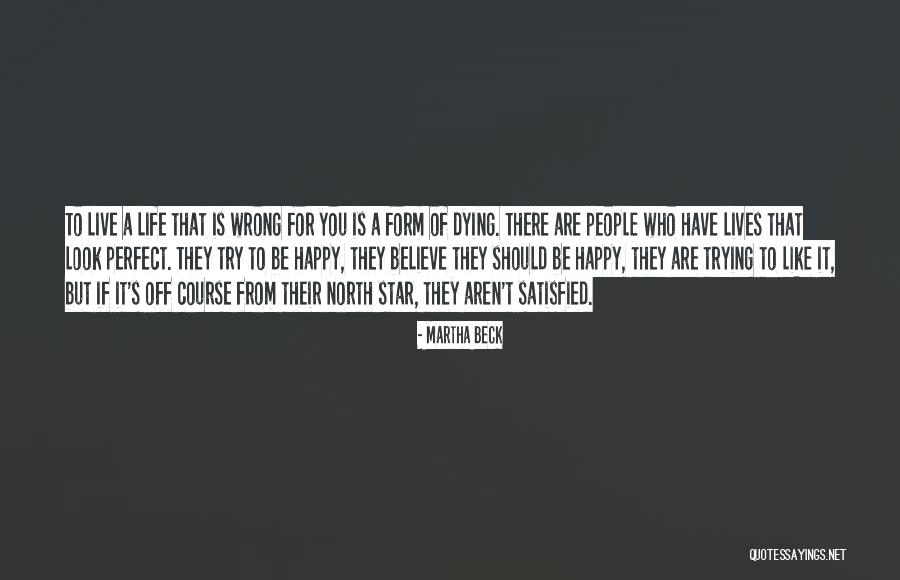 To live a life that is wrong for you is a form of dying. There are people who have lives that look perfect. They try to be happy, they believe they should be happy, they are trying to like it, but if it's off course from their north star, they aren't satisfied. — Martha Beck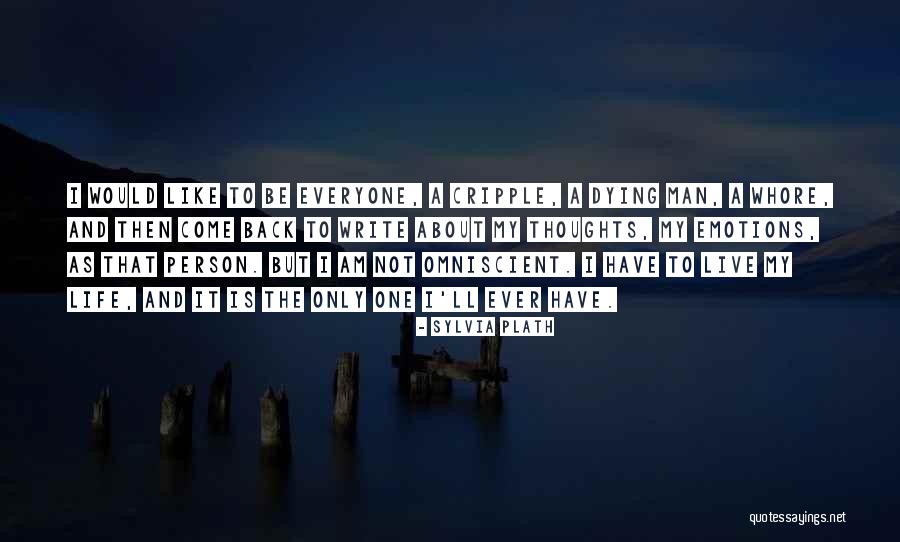 I would like to be everyone, a cripple, a dying man, a whore, and then come back to write about my thoughts, my emotions, as that person. But I am not omniscient. I have to live my life, and it is the only one I'll ever have. — Sylvia Plath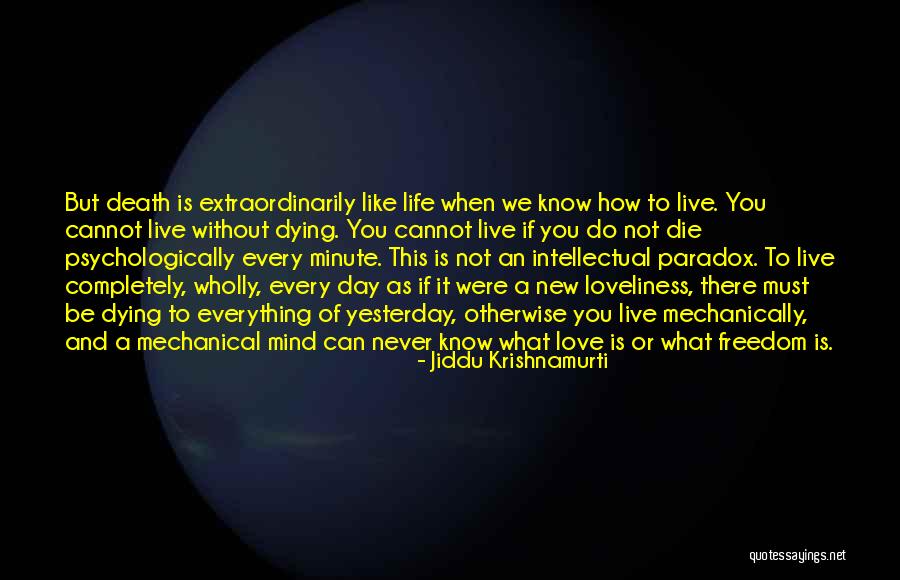 But death is extraordinarily like life when we know how to live. You cannot live without dying. You cannot live if you do not die psychologically every minute. This is not an intellectual paradox. To live completely, wholly, every day as if it were a new loveliness, there must be dying to everything of yesterday, otherwise you live mechanically, and a mechanical mind can never know what love is or what freedom is. — Jiddu Krishnamurti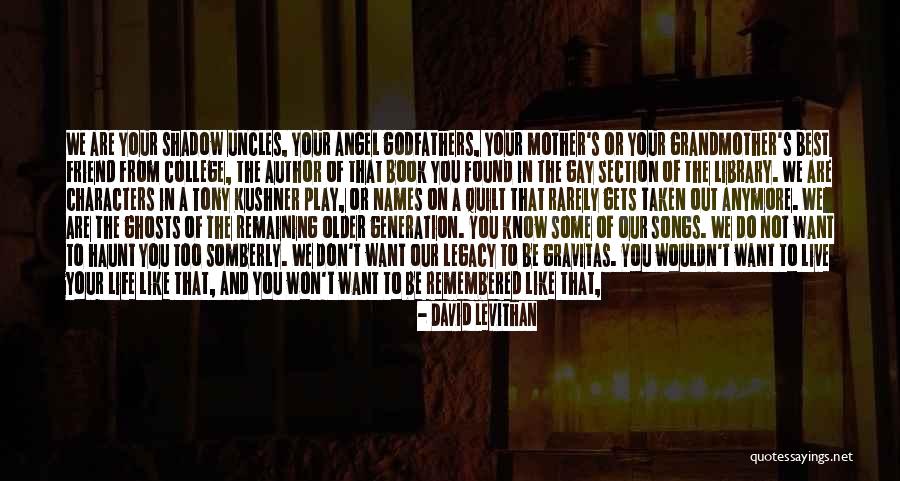 We are your shadow uncles, your angel godfathers, your mother's or your grandmother's best friend from college, the author of that book you found in the gay section of the library. We are characters in a Tony Kushner play, or names on a quilt that rarely gets taken out anymore. We are the ghosts of the remaining older generation. You know some of our songs. We do not want to haunt you too somberly. We don't want our legacy to be gravitas. You wouldn't want to live your life like that, and you won't want to be remembered like that, either. Your mistake would be to find our commonality in our dying. The living part mattered more. We taught you how to dance. — David Levithan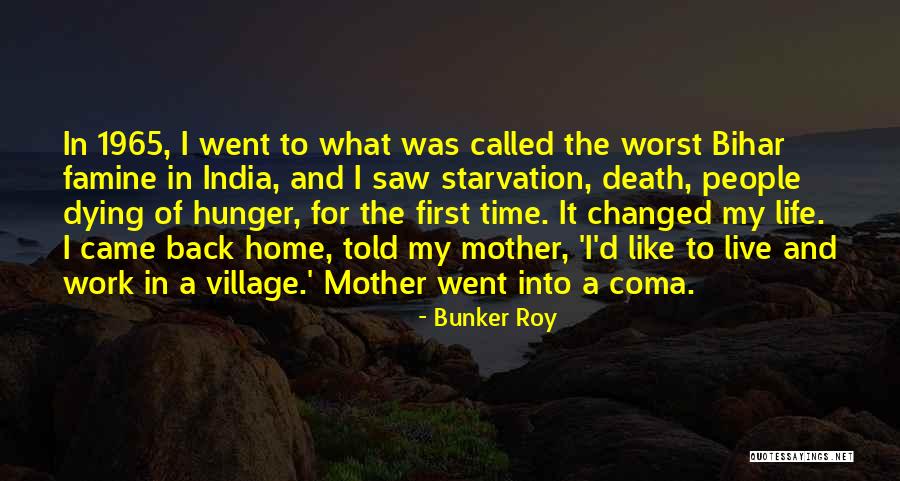 In 1965, I went to what was called the worst Bihar famine in India, and I saw starvation, death, people dying of hunger, for the first time. It changed my life. I came back home, told my mother, 'I'd like to live and work in a village.' Mother went into a coma. — Bunker Roy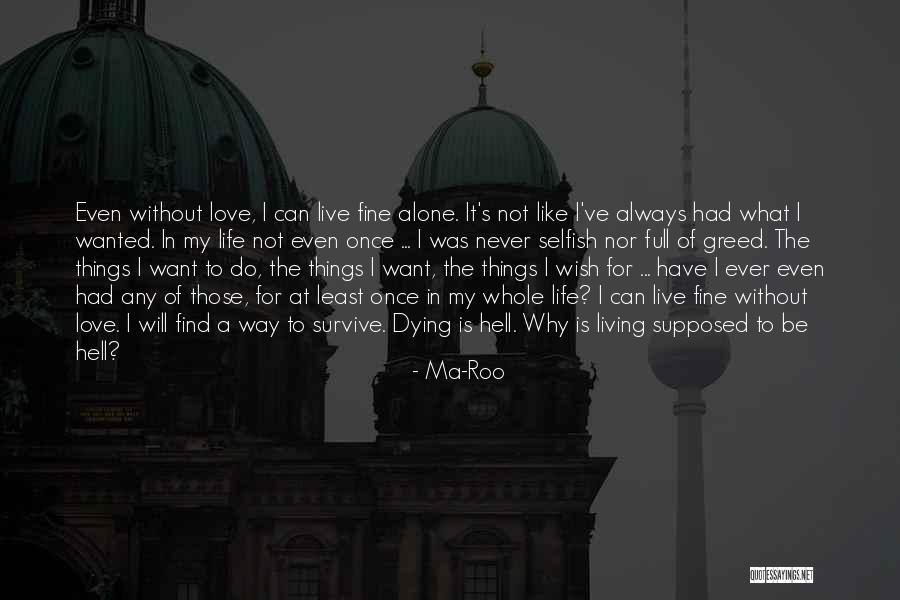 Even without love, I can live fine alone. It's not like I've always had what I wanted. In my life not even once ... I was never selfish nor full of greed. The things I want to do, the things I want, the things I wish for ... have I ever even had any of those, for at least once in my whole life? I can live fine without love. I will find a way to survive. Dying is hell. Why is living supposed to be hell? — Ma-Roo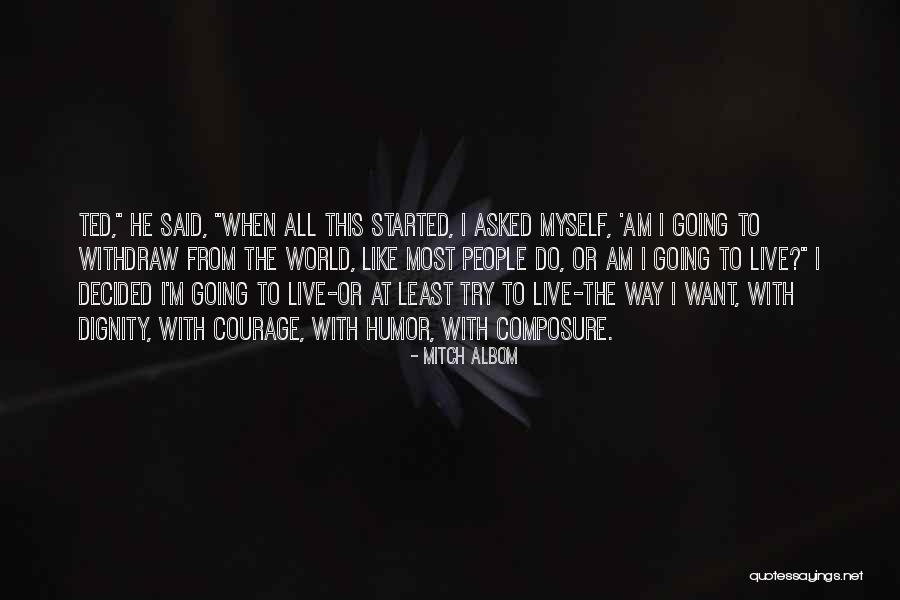 Ted," he said, "when all this started, I asked myself, 'Am I going to withdraw from the world, like most people do, or am I going to live?" I decided I'm going to live-or at least try to live-the way I want, with dignity, with courage, with humor, with composure. — Mitch Albom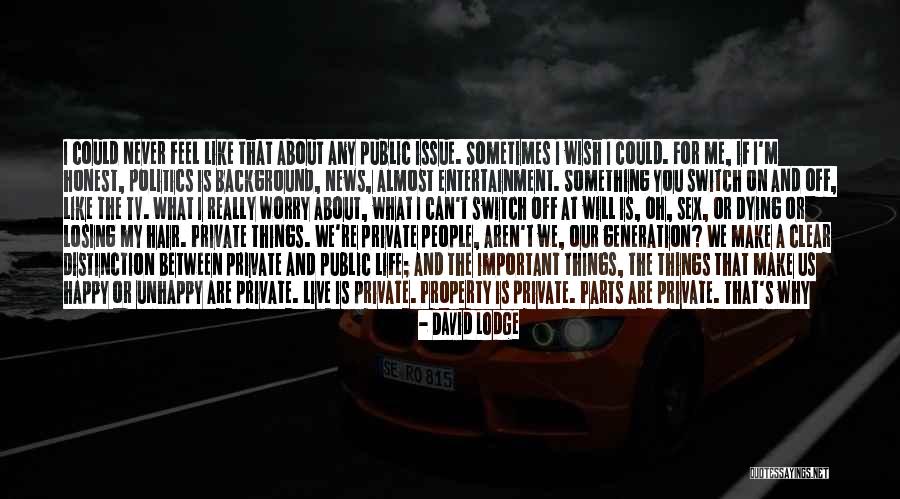 I could never feel like that about any public issue. Sometimes I wish I could. For me, if I'm honest, politics is background, news, almost entertainment. Something you switch on and off, like the TV. What I really worry about, what I can't switch off at will is, oh, sex, or dying or losing my hair. Private things. We're private people, aren't we, our generation? We make a clear distinction between private and public life; and the important things, the things that make us happy or unhappy are private. Live is private. Property is private. Parts are private. That's why the young radicals call for fucking in the streets. It's not just a cheap shock-tactic. It's a serious revolutionary proposition. — David Lodge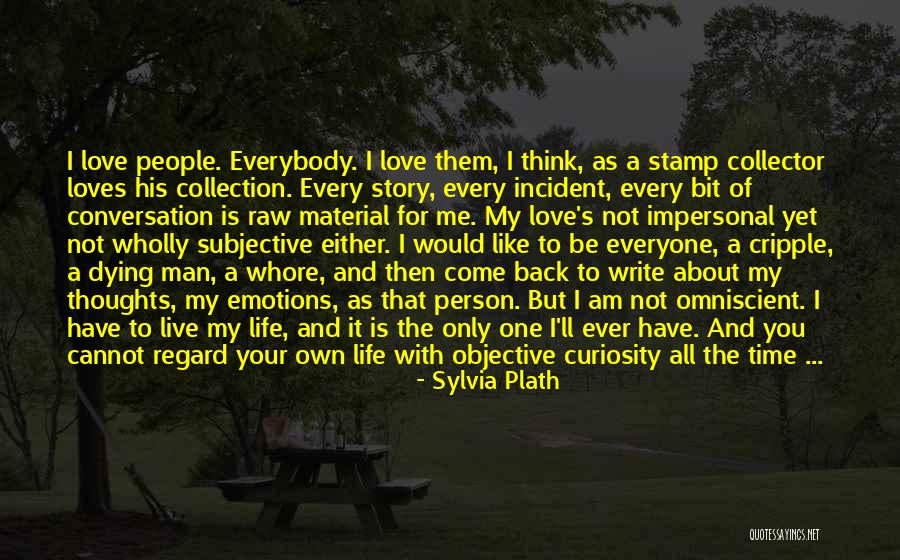 I love people. Everybody. I love them, I think, as a stamp collector loves his collection. Every story, every incident, every bit of conversation is raw material for me. My love's not impersonal yet not wholly subjective either. I would like to be everyone, a cripple, a dying man, a whore, and then come back to write about my thoughts, my emotions, as that person. But I am not omniscient. I have to live my life, and it is the only one I'll ever have. And you cannot regard your own life with objective curiosity all the time ... — Sylvia Plath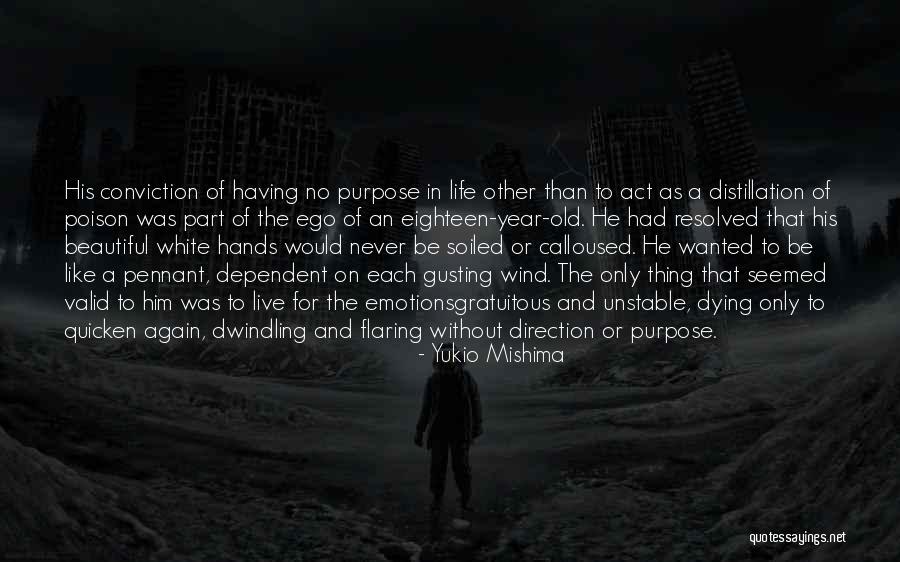 His conviction of having no purpose in life other than to act as a distillation of poison was part of the ego of an eighteen-year-old. He had resolved that his beautiful white hands would never be soiled or calloused. He wanted to be like a pennant, dependent on each gusting wind. The only thing that seemed valid to him was to live for the emotions
gratuitous and unstable, dying only to quicken again, dwindling and flaring without direction or purpose. — Yukio Mishima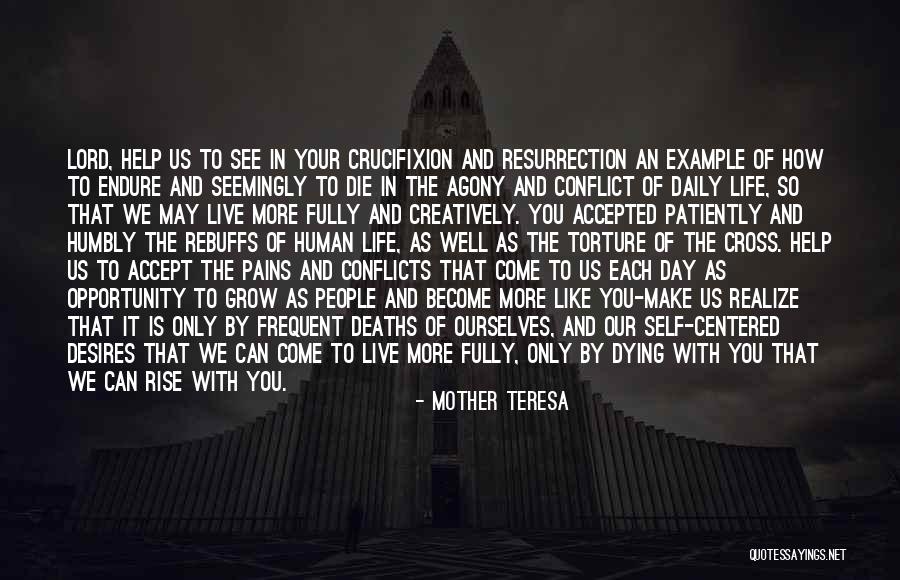 Lord, help us to see in your crucifixion and resurrection an example of how to endure and seemingly to die in the agony and conflict of daily life, so that we may live more fully and creatively. You accepted patiently and humbly the rebuffs of human life, as well as the torture of the cross. Help us to accept the pains and conflicts that come to us each day as opportunity to grow as people and become more like you-make us realize that it is only by frequent deaths of ourselves, and our self-centered desires that we can come to live more fully, only by dying with you that we can rise with you. — Mother Teresa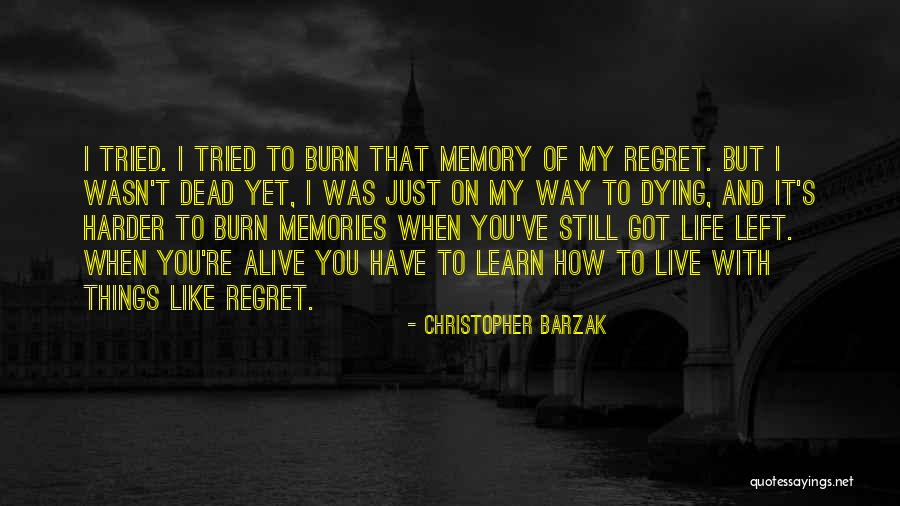 I tried. I tried to burn that memory of my regret. But I wasn't dead yet, I was just on my way to dying, and it's harder to burn memories when you've still got life left. When you're alive you have to learn how to live with things like regret. — Christopher Barzak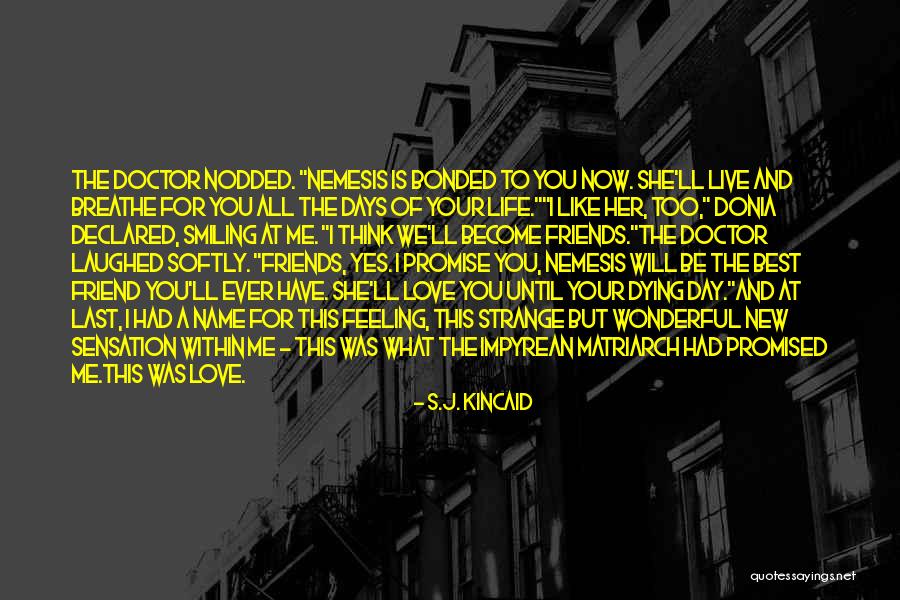 The doctor nodded. "Nemesis is bonded to you now. She'll live and breathe for you all the days of your life."
"I like her, too," Donia declared, smiling at me. "I think we'll become friends."
The doctor laughed softly. "Friends, yes. I promise you, Nemesis will be the best friend you'll ever have. She'll love you until your dying day."
And at last, I had a name for this feeling, this strange but wonderful new sensation within me - this was what the Impyrean Matriarch had promised me.
This was love. — S.J. Kincaid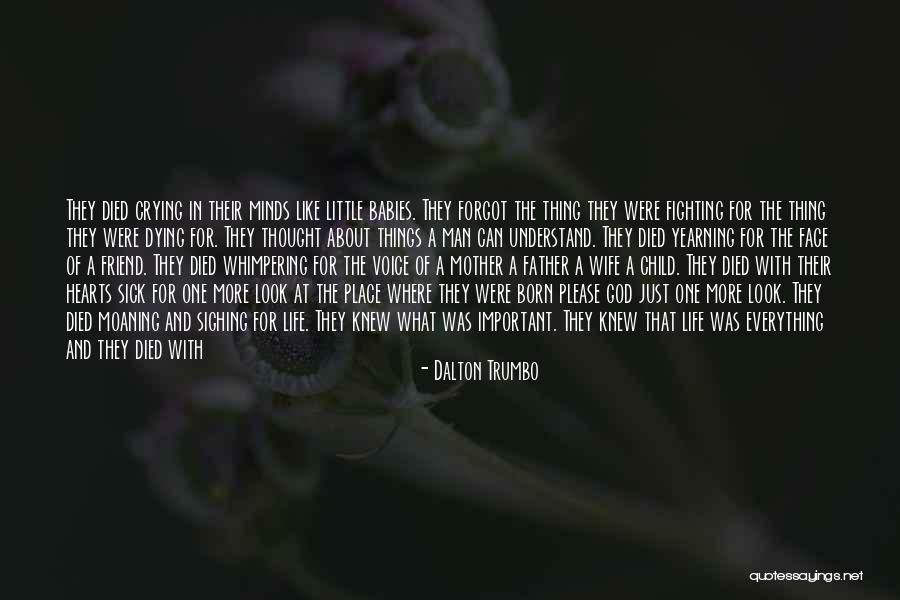 They died crying in their minds like little babies. They forgot the thing they were fighting for the thing they were dying for. They thought about things a man can understand. They died yearning for the face of a friend. They died whimpering for the voice of a mother a father a wife a child. They died with their hearts sick for one more look at the place where they were born please god just one more look. They died moaning and sighing for life. They knew what was important. They knew that life was everything and they died with screams and sobs. They died with only one thought in their minds and that was I want to live I want to live I want to live. — Dalton Trumbo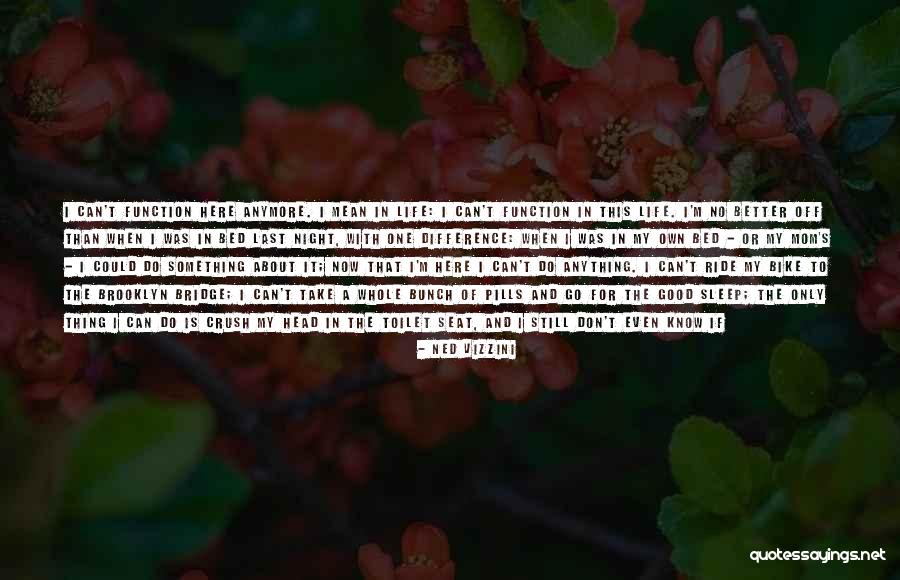 I can't function here anymore. I mean in life: I can't function in this life. I'm no better off than when I was in bed last night, with one difference: when I was in my own bed - or my mom's - I could do something about it; now that I'm here I can't do anything. I can't ride my bike to the Brooklyn Bridge; I can't take a whole bunch of pills and go for the good sleep; the only thing I can do is crush my head in the toilet seat, and I still don't even know if that would work. They take away your options and all you can do is live, and it's just like Humble said: I'm not afraid of dying; I'm afraid of living. I was afraid before, but I'm afraid even more now that I'm a public joke. The teachers are going to hear from the students. They'll think I'm trying to make an excuse for bad work. — Ned Vizzini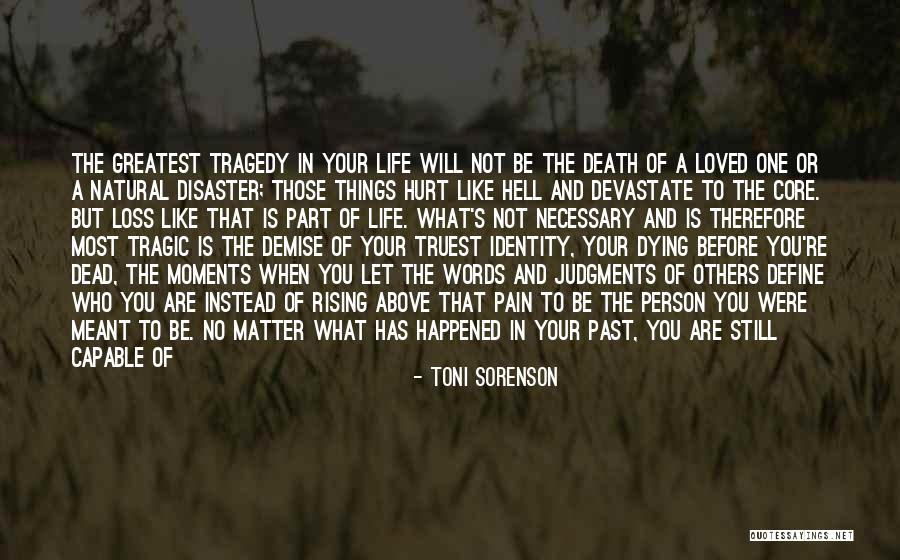 The greatest tragedy in your life will not be the death of a loved one or a natural disaster; those things hurt like hell and devastate to the core. But loss like that is part of life. What's not necessary and is therefore most tragic is the demise of your truest identity, your dying before you're dead, the moments when you let the words and judgments of others define who you are instead of rising above that pain to be the person you were meant to be. No matter what has happened in your past, you are still capable of becoming a better version of who you are at this moment. Think right. Believe the voice inside of you that speaks the truth. You are a divine marvel. Act like it. Live like it. — Toni Sorenson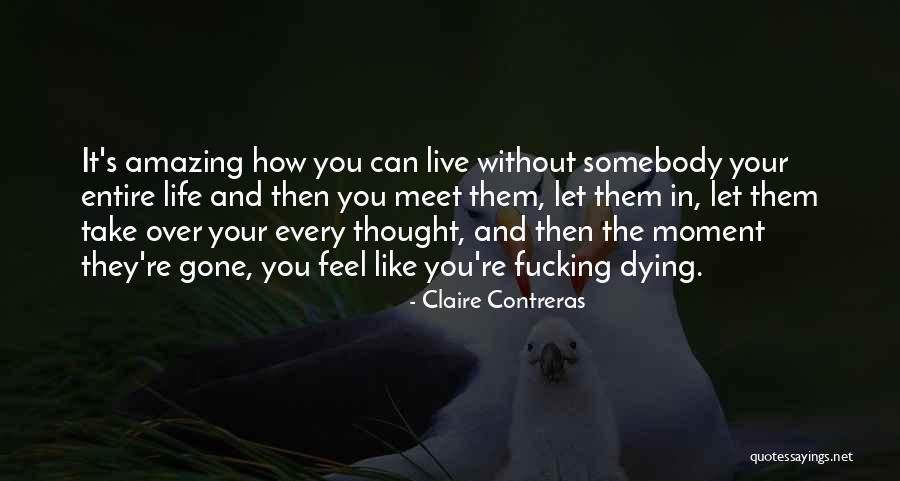 It's amazing how you can live without somebody your entire life and then you meet them, let them in, let them take over your every thought, and then the moment they're gone, you feel like you're fucking dying. — Claire Contreras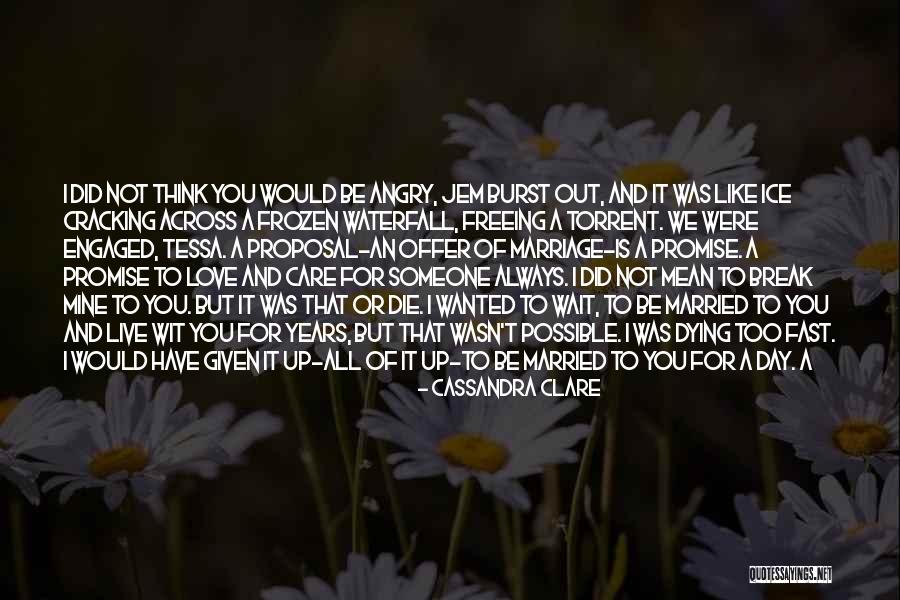 I did not think you would be angry, Jem burst out, and it was like ice cracking across a frozen waterfall, freeing a torrent. We were engaged, Tessa. A proposal-an offer of marriage-is a promise. A promise to love and care for someone always. I did not mean to break mine to you. But it was that or die. I wanted to wait, to be married to you and live wit you for years, but that wasn't possible. I was dying too fast. I would have given it up-all of it up-to be married to you for a day. A day that would never have come. You are a reminder-a reminder of everything I am losing. The life I will not have. — Cassandra Clare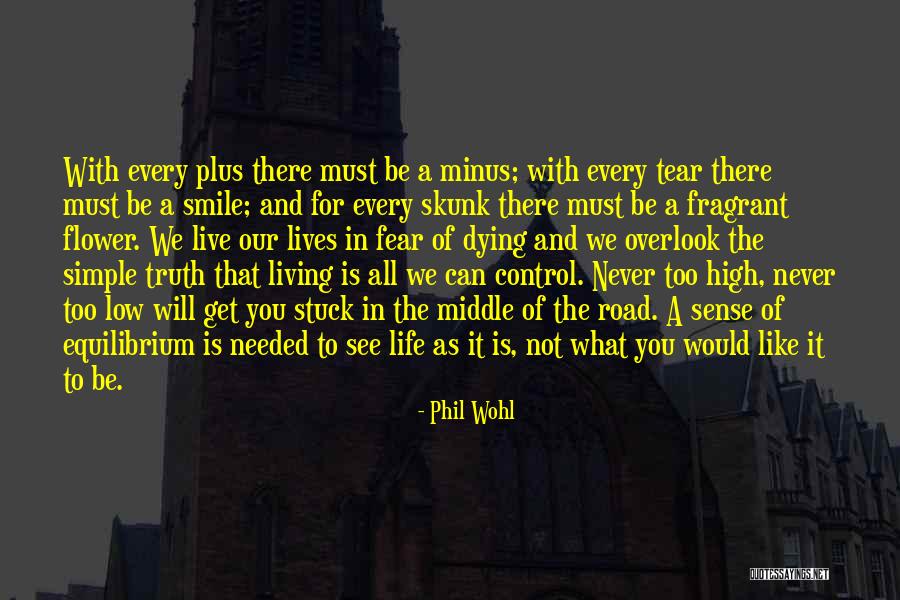 With every plus there must be a minus; with every tear there must be a smile; and for every skunk there must be a fragrant flower. We live our lives in fear of dying and we overlook the simple truth that living is all we can control. Never too high, never too low will get you stuck in the middle of the road. A sense of equilibrium is needed to see life as it is, not what you would like it to be. — Phil Wohl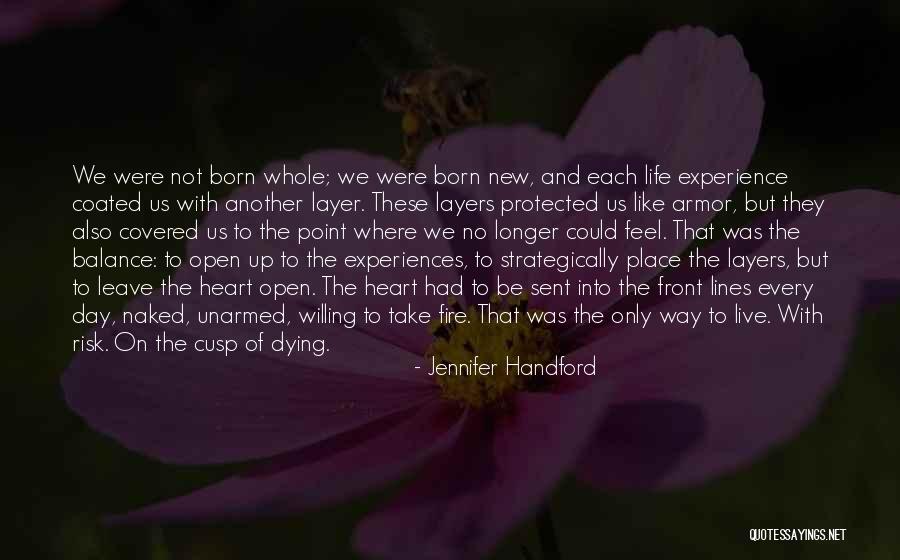 We were not born whole; we were born new, and each life experience coated us with another layer. These layers protected us like armor, but they also covered us to the point where we no longer could feel. That was the balance: to open up to the experiences, to strategically place the layers, but to leave the heart open. The heart had to be sent into the front lines every day, naked, unarmed, willing to take fire. That was the only way to live. With risk. On the cusp of dying. — Jennifer Handford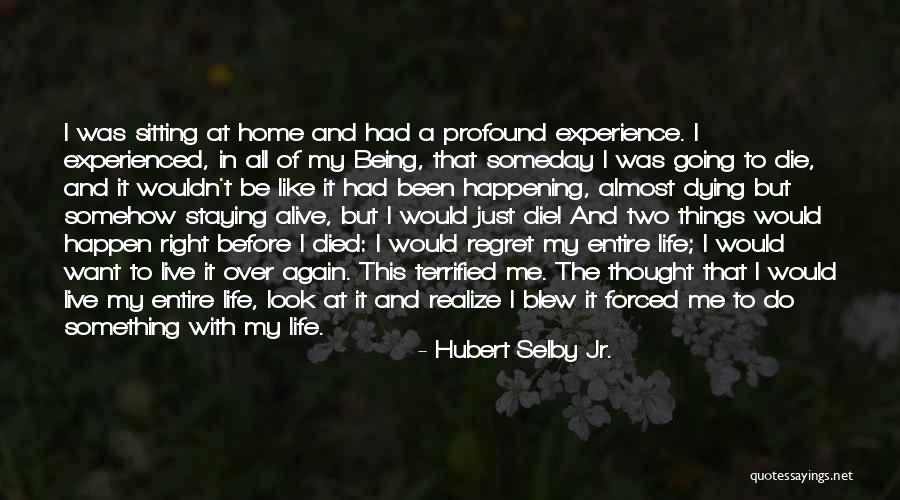 I was sitting at home and had a profound experience. I experienced, in all of my Being, that someday I was going to die, and it wouldn't be like it had been happening, almost dying but somehow staying alive, but I would just die! And two things would happen right before I died: I would regret my entire life; I would want to live it over again. This terrified me. The thought that I would live my entire life, look at it and realize I blew it forced me to do something with my life. — Hubert Selby Jr.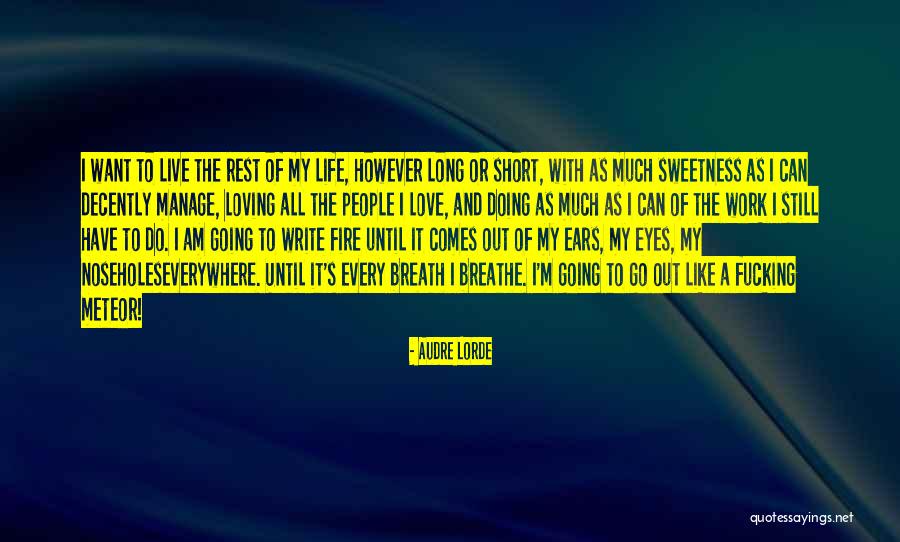 I want to live the rest of my life, however long or short, with as much sweetness as I can decently manage, loving all the people I love, and doing as much as I can of the work I still have to do. I am going to write fire until it comes out of my ears, my eyes, my noseholes
everywhere. Until it's every breath I breathe. I'm going to go out like a fucking meteor! — Audre Lorde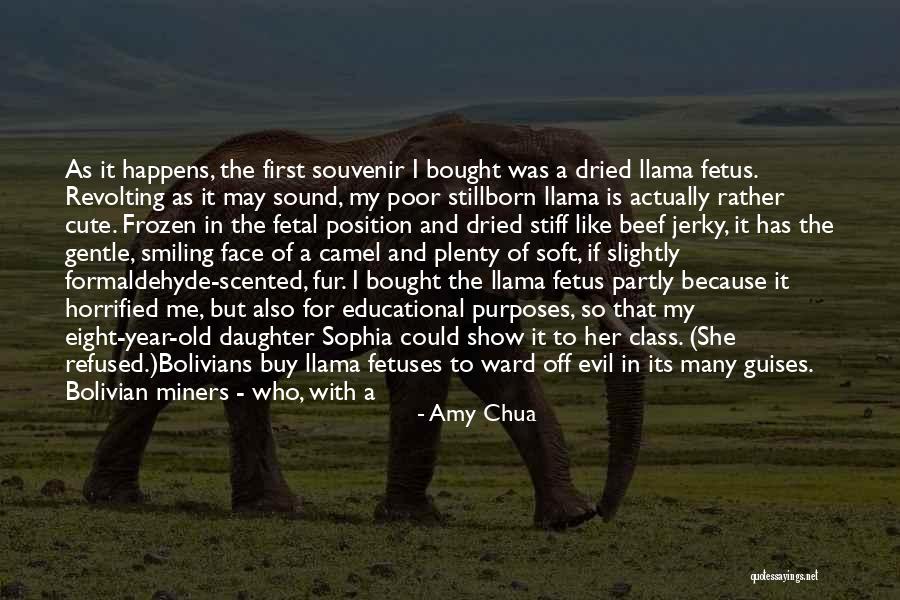 As it happens, the first souvenir I bought was a dried llama fetus. Revolting as it may sound, my poor stillborn llama is actually rather cute. Frozen in the fetal position and dried stiff like beef jerky, it has the gentle, smiling face of a camel and plenty of soft, if slightly formaldehyde-scented, fur. I bought the llama fetus partly because it horrified me, but also for educational purposes, so that my eight-year-old daughter Sophia could show it to her class. (She refused.)
Bolivians buy llama fetuses to ward off evil in its many guises. Bolivian miners - who, with a life expectancy of forty-five years, basically live their entire adult lives dying - look to llama fetuses for protection against dynamite explosions and the lung-destroying silicon particulates they inhale all day. Downing high-proof alcohol also helps. "The purer the alcohol, the purer the minerals I find," one miner told me wryly. — Amy Chua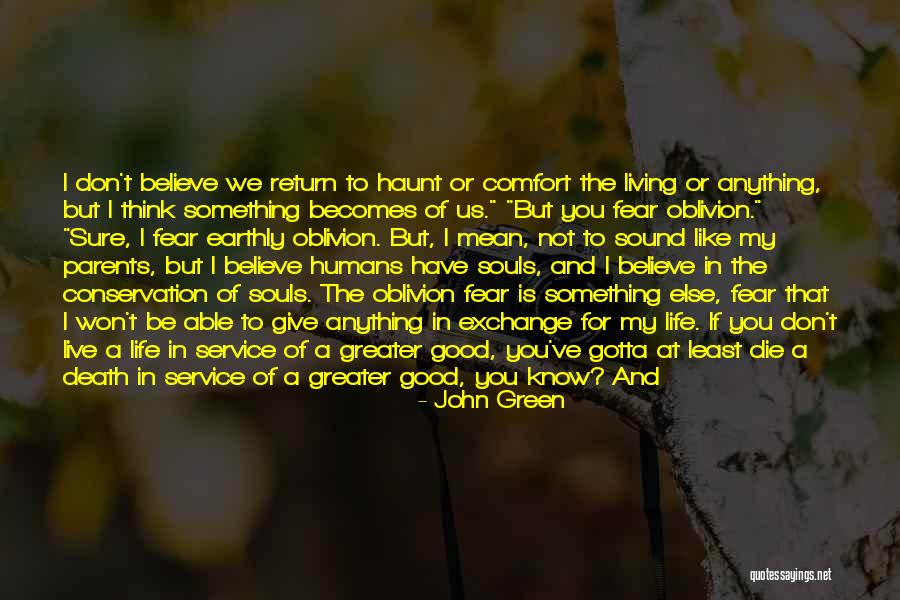 I don't believe we return to haunt or comfort the living or anything, but I think something becomes of us." "But you fear oblivion." "Sure, I fear earthly oblivion. But, I mean, not to sound like my parents, but I believe humans have souls, and I believe in the conservation of souls. The oblivion fear is something else, fear that I won't be able to give anything in exchange for my life. If you don't live a life in service of a greater good, you've gotta at least die a death in service of a greater good, you know? And I fear that I won't get either a life or a death that means anything." I just shook my head. "What?" he asked. "Your obsession with, like, dying for something or leaving behind some great sign of your heroism or whatever. It's just weird." "Everyone wants to lead an extraordinary life. — John Green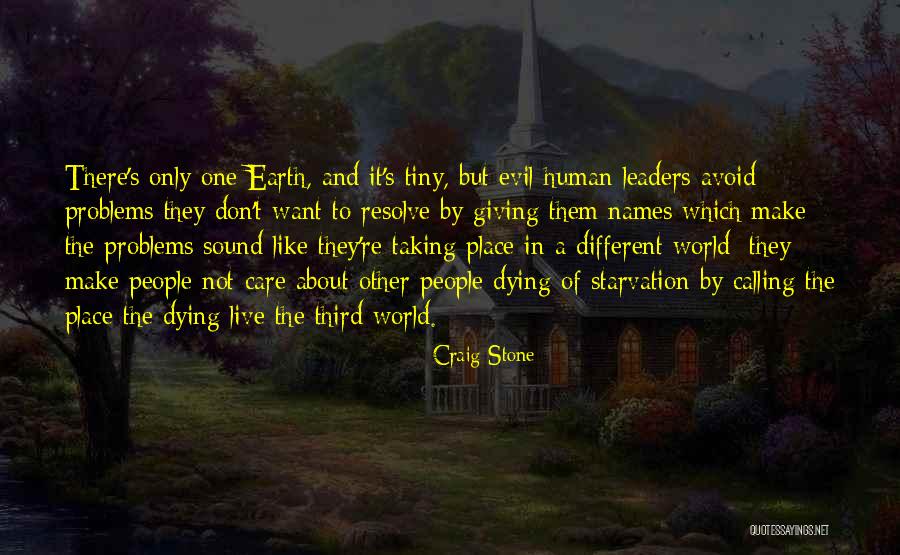 There's only one Earth, and it's tiny, but evil human leaders avoid problems they don't want to resolve by giving them names which make the problems sound like they're taking place in a different world: they make people not care about other people dying of starvation by calling the place the dying live the third world. — Craig Stone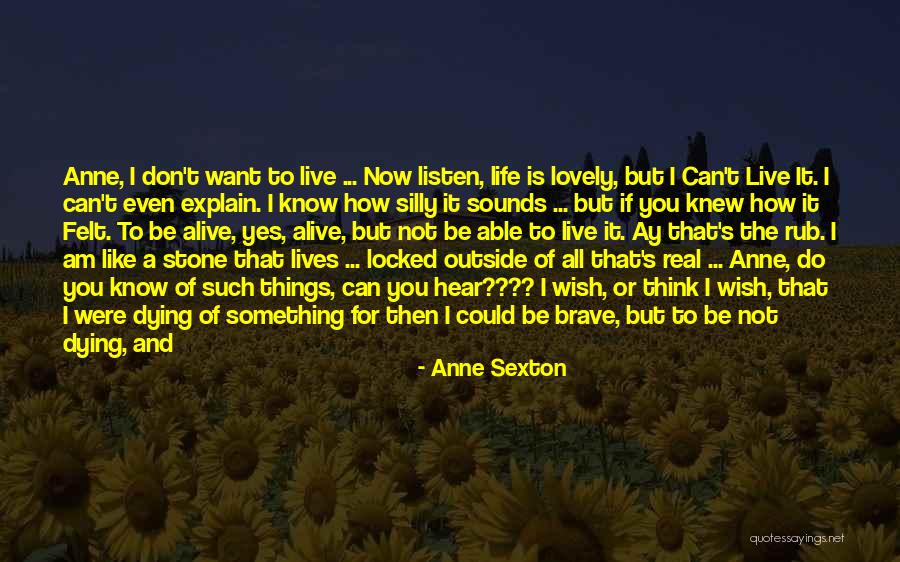 Anne, I don't want to live ... Now listen, life is lovely, but I Can't Live It. I can't even explain. I know how silly it sounds ... but if you knew how it Felt. To be alive, yes, alive, but not be able to live it. Ay that's the rub. I am like a stone that lives ... locked outside of all that's real ... Anne, do you know of such things, can you hear???? I wish, or think I wish, that I were dying of something for then I could be brave, but to be not dying, and yet ... and yet to [be] behind a wall, watching everyone fit in where I can't, to talk behind a gray foggy wall, to live but to not reach or to reach wrong ... to do it all wrong ... believe me, (can you?) ... what's wrong. I want to belong. I'm like a jew who ends up in the wrong country. I'm not a part. I'm not a member. I'm frozen. — Anne Sexton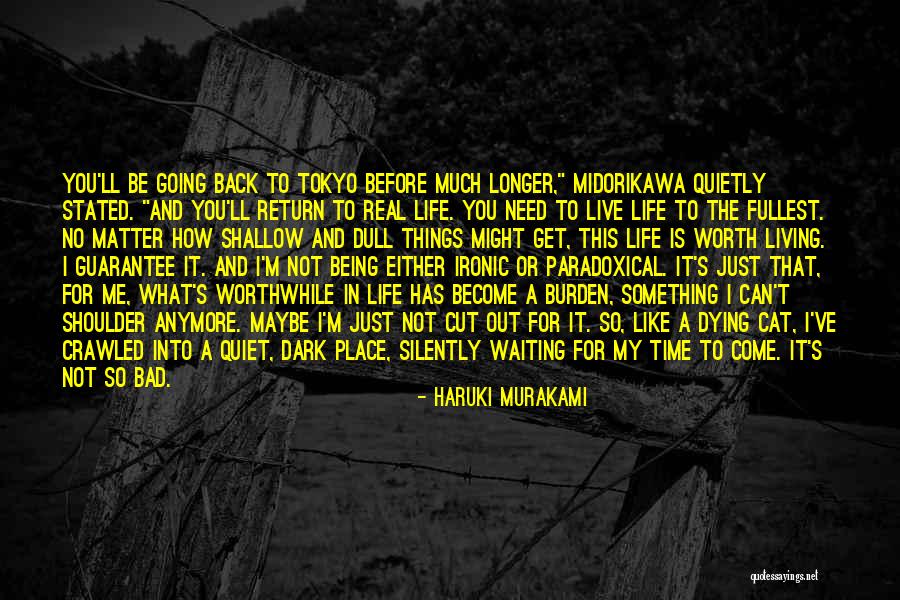 You'll be going back to Tokyo before much longer," Midorikawa quietly stated. "And you'll return to real life. You need to live life to the fullest. No matter how shallow and dull things might get, this life is worth living. I guarantee it. And I'm not being either ironic or paradoxical. It's just that, for me, what's worthwhile in life has become a burden, something I can't shoulder anymore. Maybe I'm just not cut out for it. So, like a dying cat, I've crawled into a quiet, dark place, silently waiting for my time to come. It's not so bad. But you're different. You should be able to handle what life sends your way. You need to use the thread of logic, as best as you can, to skillfully sew onto yourself everything that's worth living for. — Haruki Murakami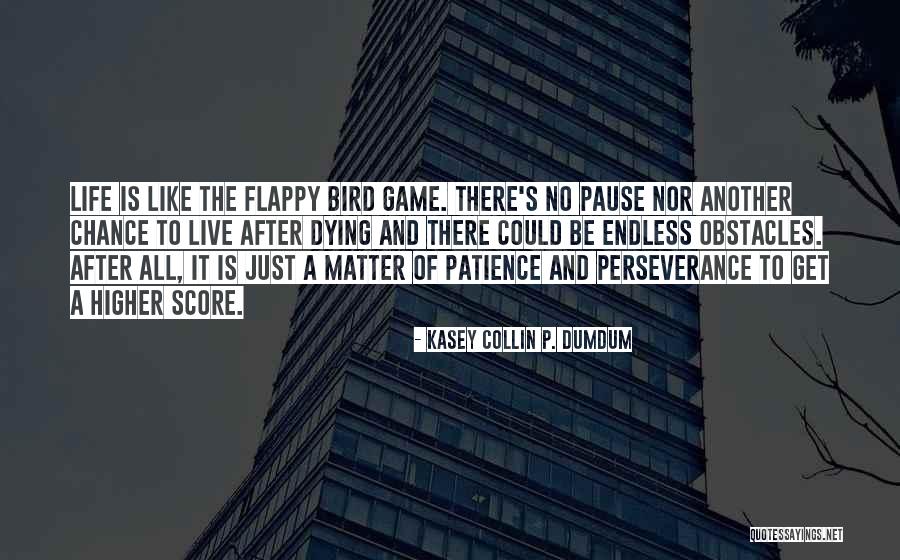 Life is like the flappy bird game. There's no pause nor another chance to live after dying and there could be endless obstacles. After all, it is just a matter of patience and perseverance to get a higher score. — Kasey Collin P. Dumdum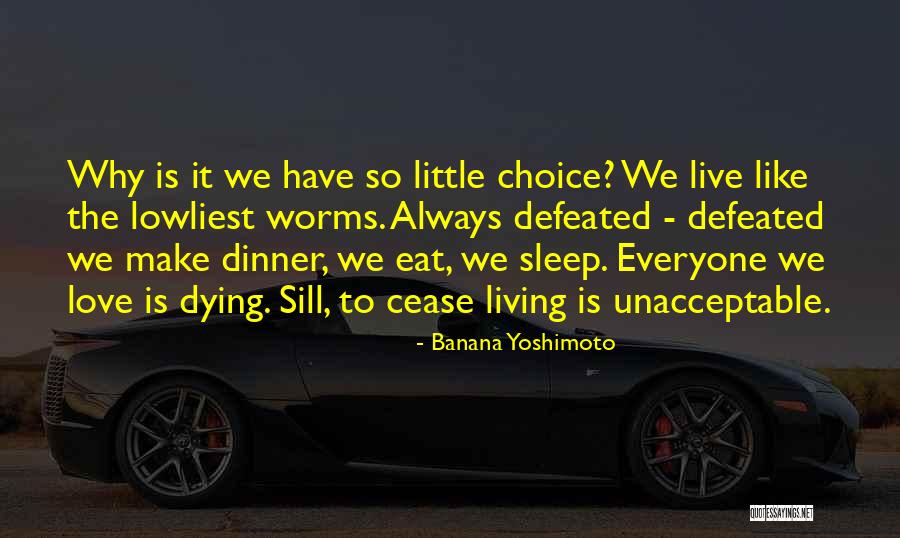 Why is it we have so little choice? We live like the lowliest worms. Always defeated - defeated we make dinner, we eat, we sleep. Everyone we love is dying. Sill, to cease living is unacceptable. — Banana Yoshimoto