Listen To The Advice Of Others Quotes & Sayings
Enjoy reading and share 50 famous quotes about Listen To The Advice Of Others with everyone.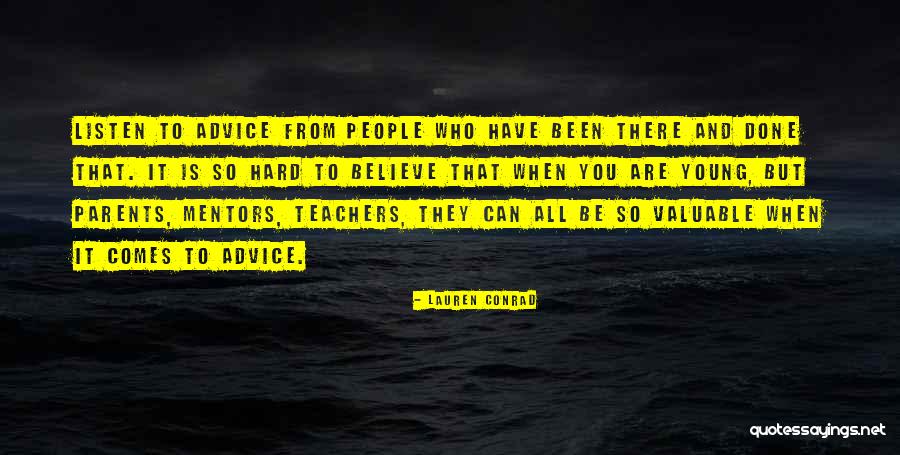 Listen to advice from people who have been there and done that. It is so hard to believe that when you are young, but parents, mentors, teachers, they can all be so valuable when it comes to advice. — Lauren Conrad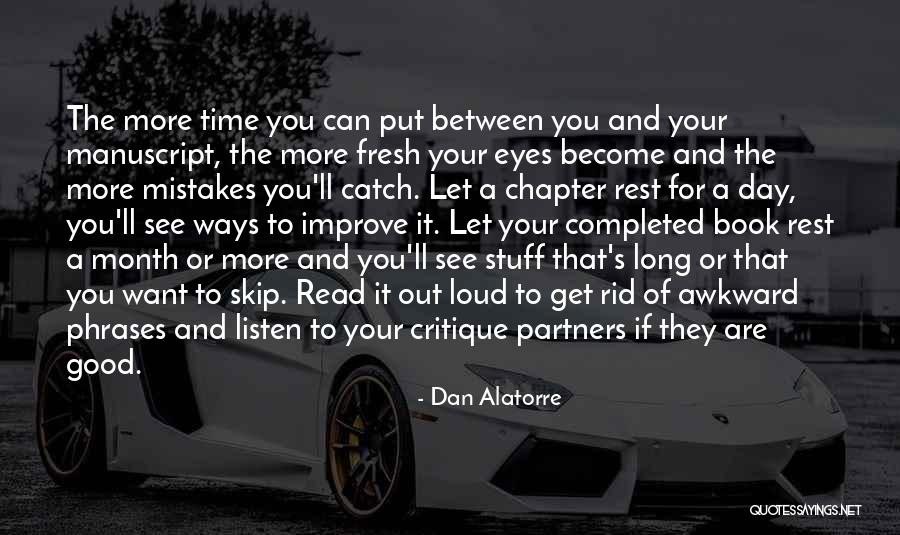 The more time you can put between you and your manuscript, the more fresh your eyes become and the more mistakes you'll catch. Let a chapter rest for a day, you'll see ways to improve it. Let your completed book rest a month or more and you'll see stuff that's long or that you want to skip. Read it out loud to get rid of awkward phrases and listen to your critique partners if they are good. — Dan Alatorre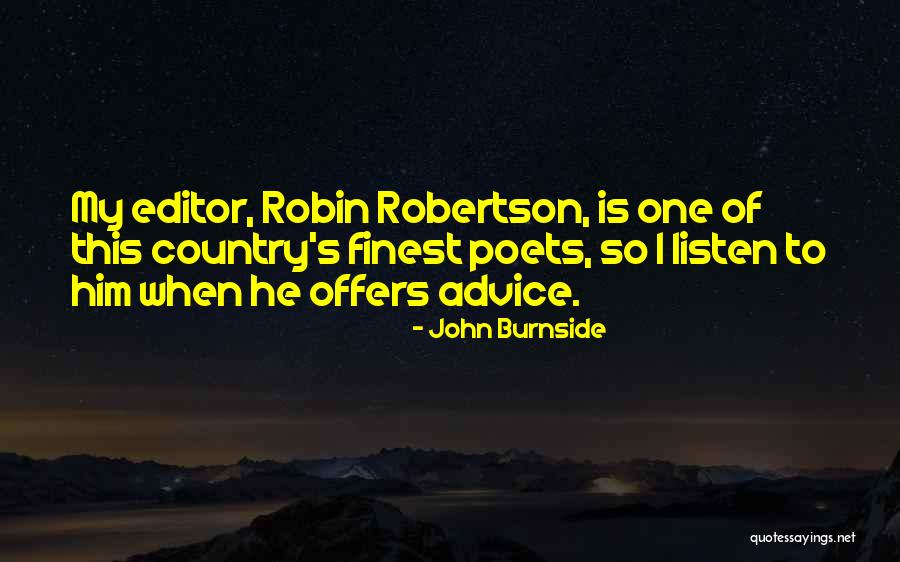 My editor, Robin Robertson, is one of this country's finest poets, so I listen to him when he offers advice. — John Burnside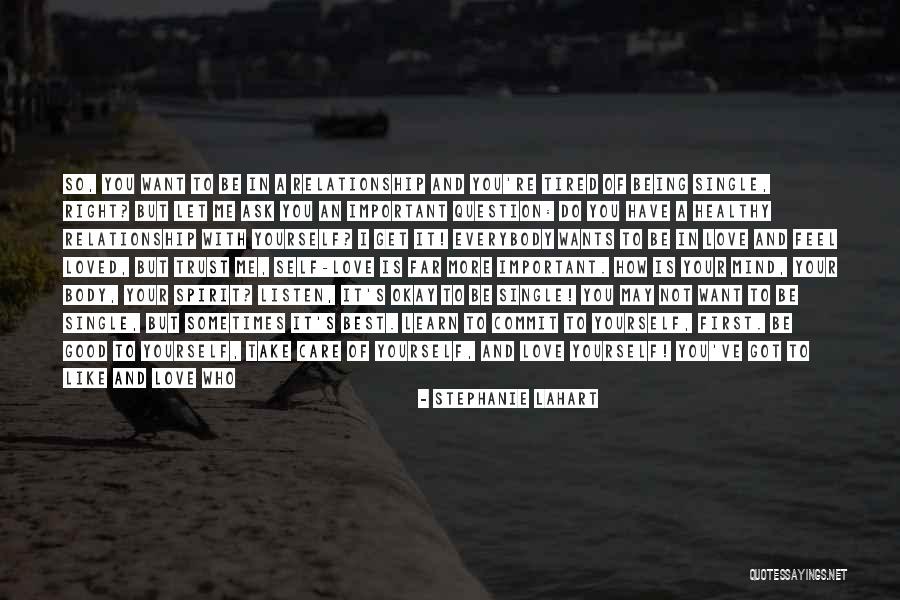 So, you want to be in a relationship and you're tired of being single, right? But let me ask you an important question: Do you have a healthy relationship with yourself? I get it! Everybody wants to be in love and feel loved, but trust me, SELF-LOVE is far more important. How is YOUR mind, YOUR body, YOUR spirit? Listen, it's okay to be single! You may not want to be single, but sometimes it's best. Learn to commit to yourself, first. Be good to yourself, take care of yourself, and love yourself! You've got to like and love who YOU are before you can give your very best to that special someone. Don't be in a rush and don't be desperate. Work on yourself first and be at peace. — Stephanie Lahart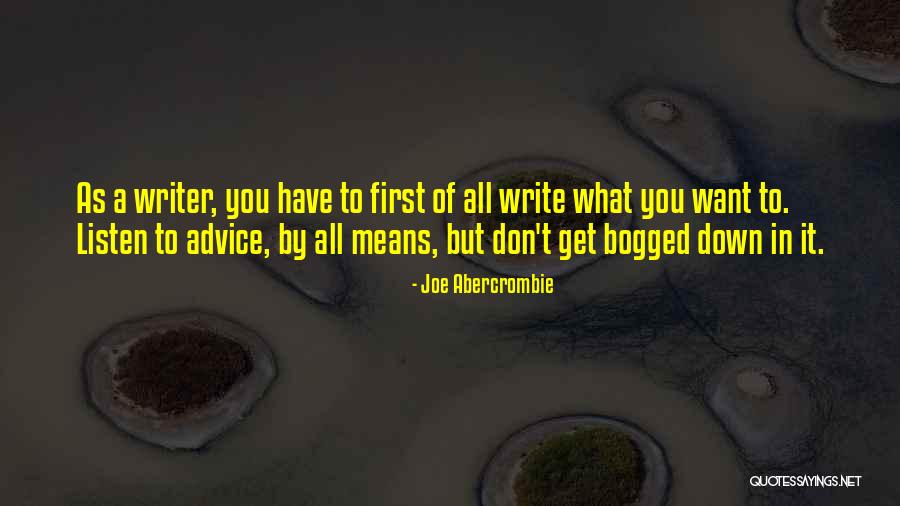 As a writer, you have to first of all write what you want to. Listen to advice, by all means, but don't get bogged down in it. — Joe Abercrombie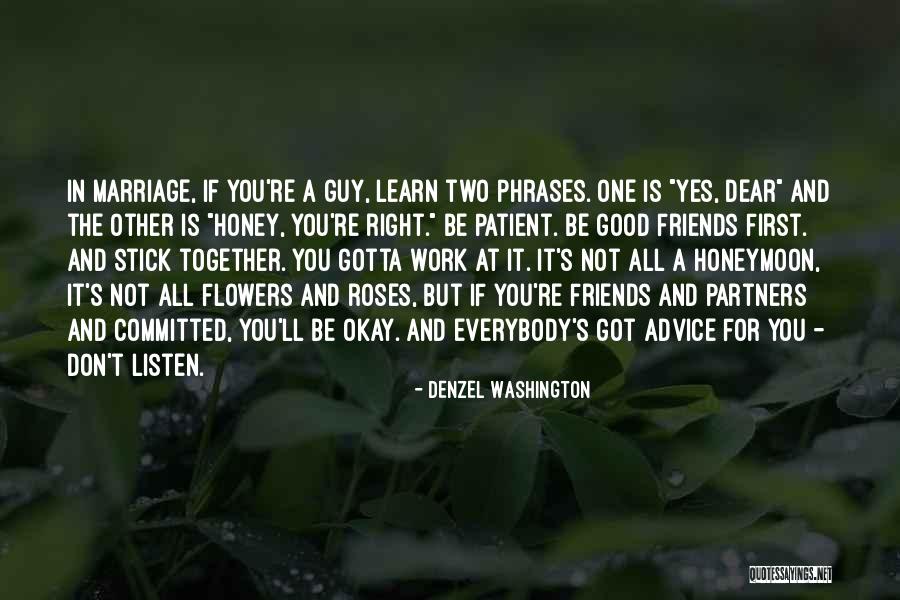 In marriage, if you're a guy, learn two phrases. One is "yes, dear" and the other is "honey, you're right." Be patient. Be good friends first. And stick together. You gotta work at it. It's not all a honeymoon, it's not all flowers and roses, but if you're friends and partners and committed, you'll be okay. And everybody's got advice for you - don't listen. — Denzel Washington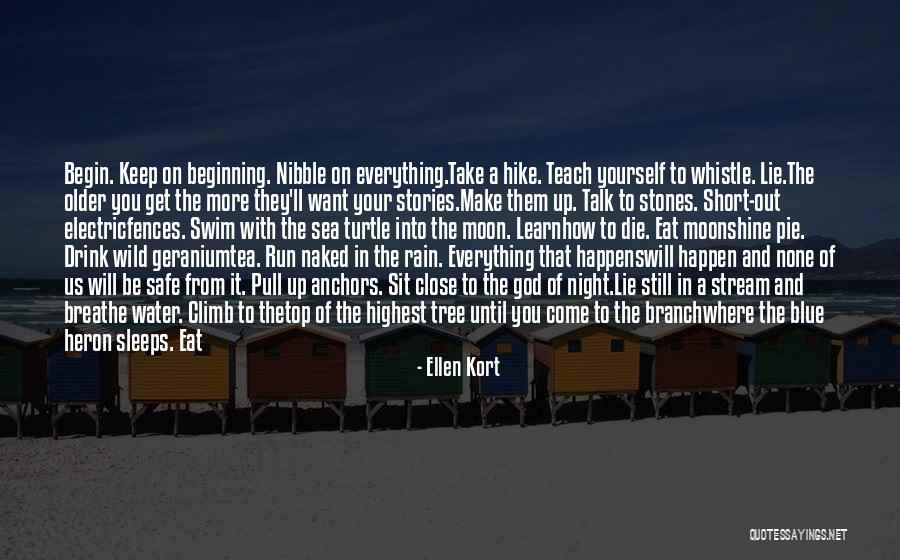 Begin. Keep on beginning. Nibble on everything.
Take a hike. Teach yourself to whistle. Lie.
The older you get the more they'll want your stories.
Make them up. Talk to stones. Short-out electric
fences. Swim with the sea turtle into the moon. Learn
how to die. Eat moonshine pie. Drink wild geranium
tea. Run naked in the rain. Everything that happens
will happen and none of us will be safe from it.
Pull up anchors. Sit close to the god of night.
Lie still in a stream and breathe water. Climb to the
top of the highest tree until you come to the branch
where the blue heron sleeps. Eat poems for breakfast.
Wear them on your forehead. Lick the mountain's
bare shoulder. Measure the color of days
around your mother's death. Put your hands over
your face and listen to what they tell you. — Ellen Kort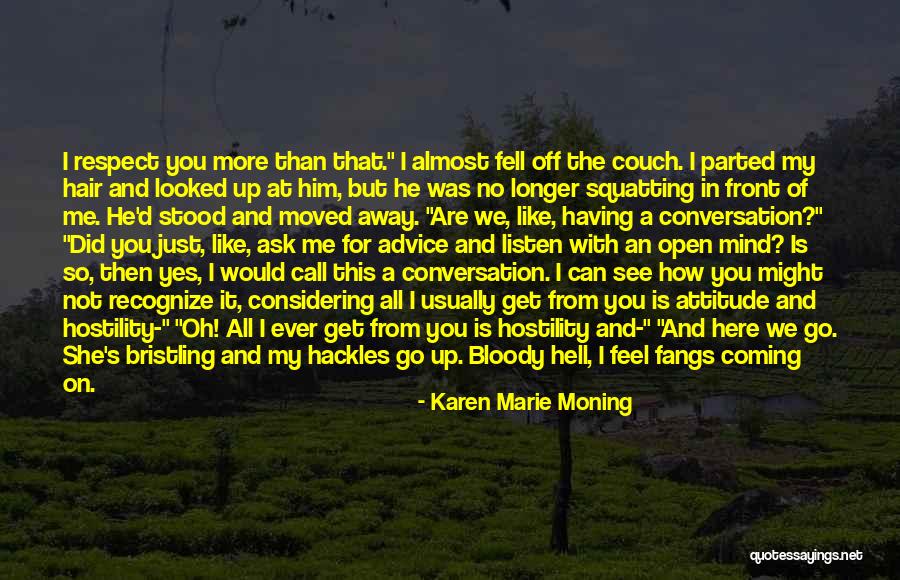 I respect you more than that."
I almost fell off the couch. I parted my hair and looked up at him, but he was no longer squatting in front of me. He'd stood and moved away.
"Are we, like, having a conversation?"
"Did you just, like, ask me for advice and listen with an open mind? Is so, then yes, I would call this a conversation. I can see how you might not recognize it, considering all I usually get from you is attitude and hostility-"
"Oh! All I ever get from you is hostility and-"
"And here we go. She's bristling and my hackles go up. Bloody hell, I feel fangs coming on. — Karen Marie Moning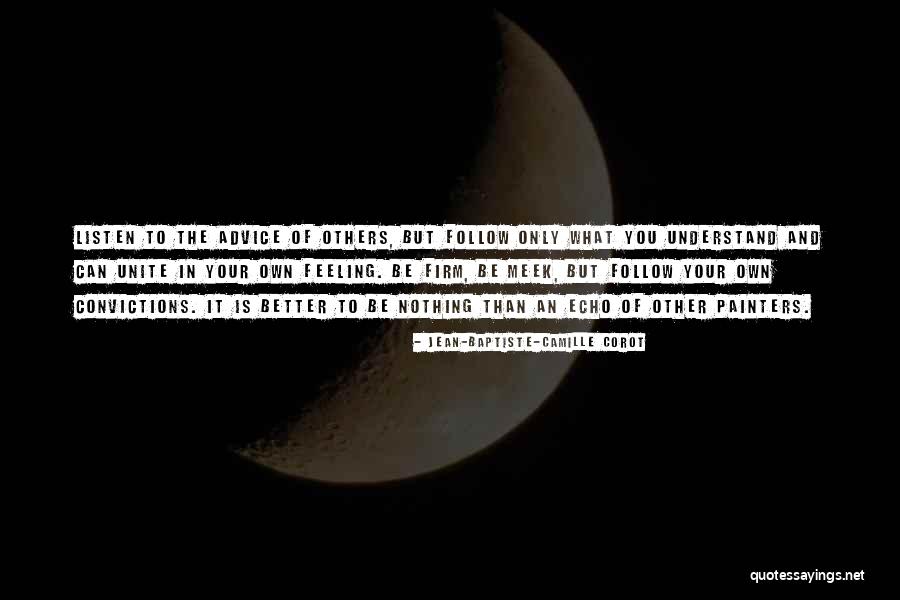 Listen to the advice of others, but follow only what you understand and can unite in your own feeling. Be firm, be meek, but follow your own convictions. It is better to be nothing than an echo of other painters. — Jean-Baptiste-Camille Corot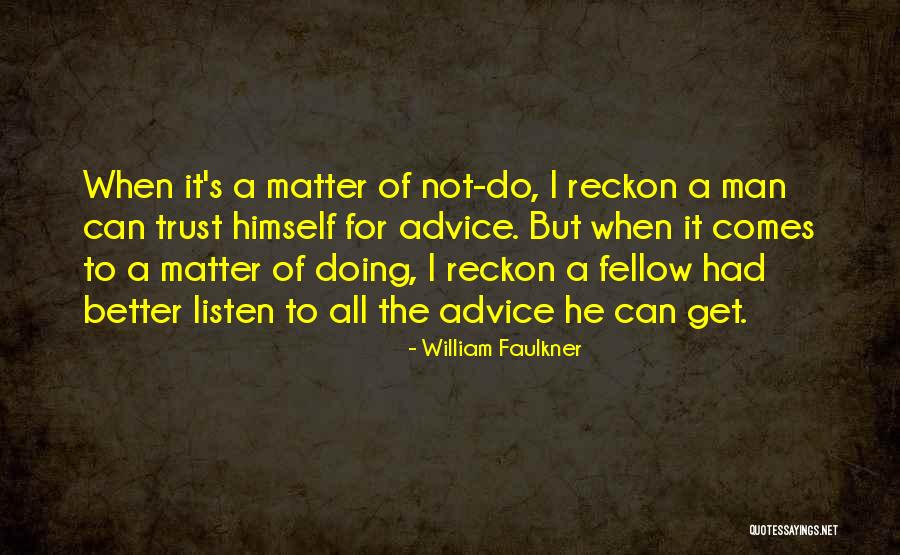 When it's a matter of not-do, I reckon a man can trust himself for advice. But when it comes to a matter of doing, I reckon a fellow had better listen to all the advice he can get. — William Faulkner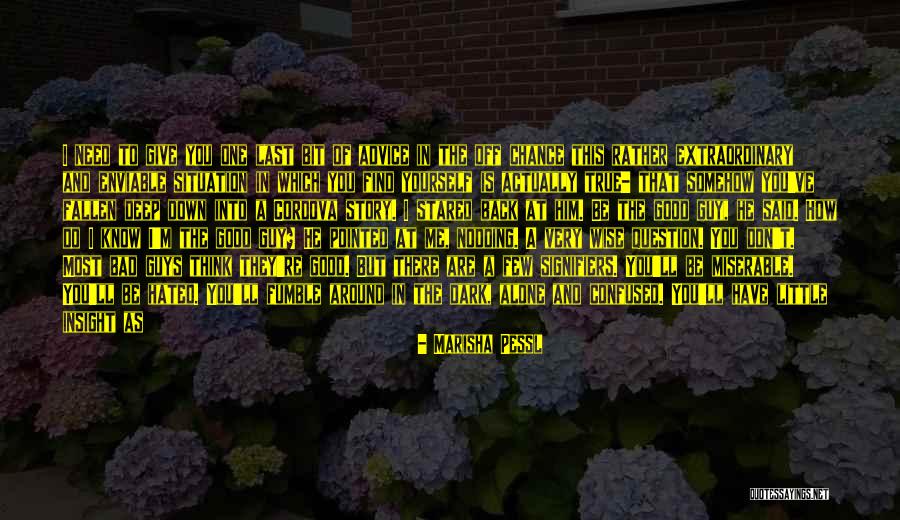 I need to give you one last bit of advice in the off chance this rather extraordinary and enviable situation in which you find yourself is actually true- that somehow you've fallen deep down into a Cordova story. I stared back at him. Be the good guy, he said. How do I know I'm the good guy? He pointed at me, nodding. A very wise question. You don't. Most bad guys think they're good. But there are a few signifiers. You'll be miserable. You'll be hated. You'll fumble around in the dark, alone and confused. You'll have little insight as to the true nature of things, not until the very last minute, and only if you have the stamina and the madness to go to the very, very end. But most importantly- and critically- you will act without regard for yourself. You'll be motivated by something that has nothing to do with the ego. You'll do it for justice. For grace. For love. Those large rather heroic qualities only the good have the strength to carry on their shoulders. And you'll listen. — Marisha Pessl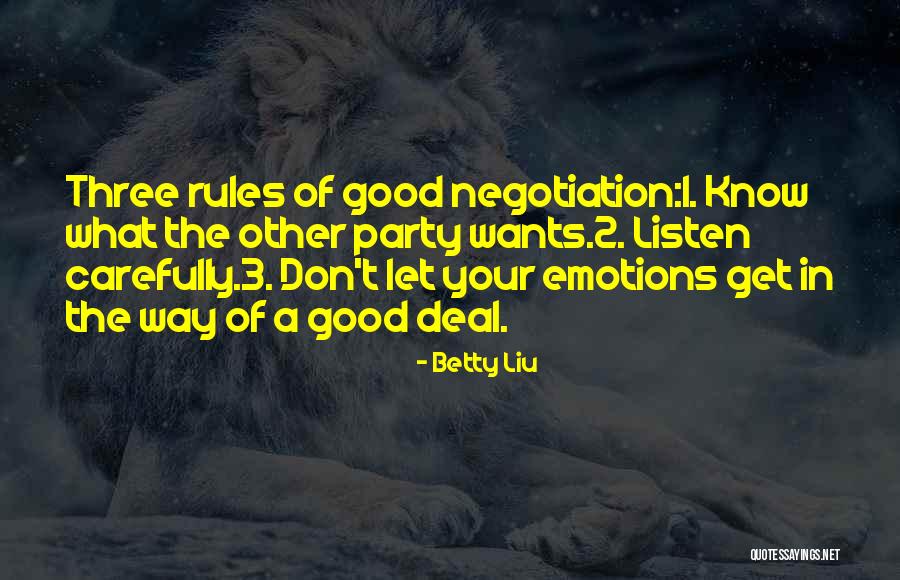 Three rules of good negotiation:
1. Know what the other party wants.
2. Listen carefully.
3. Don't let your emotions get in the way of a good deal. — Betty Liu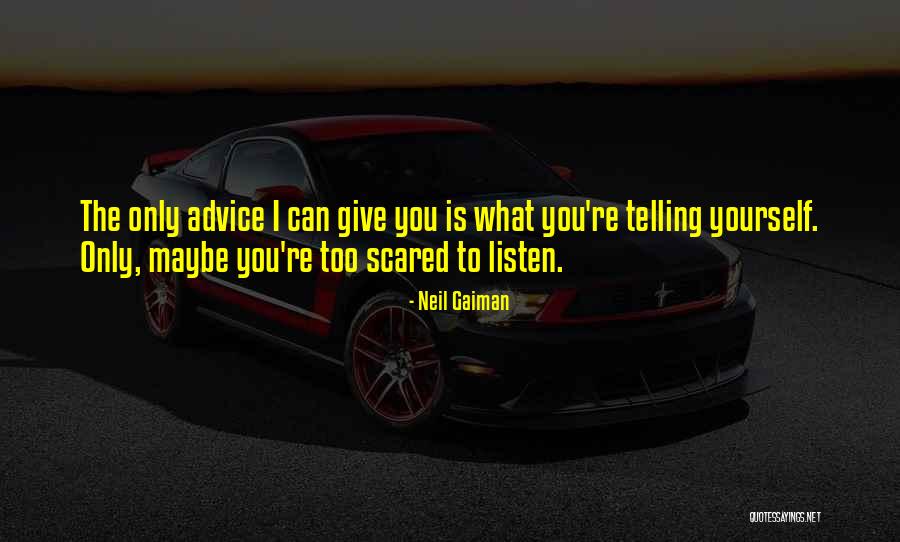 The only advice I can give you is what you're telling yourself. Only, maybe you're too scared to listen. — Neil Gaiman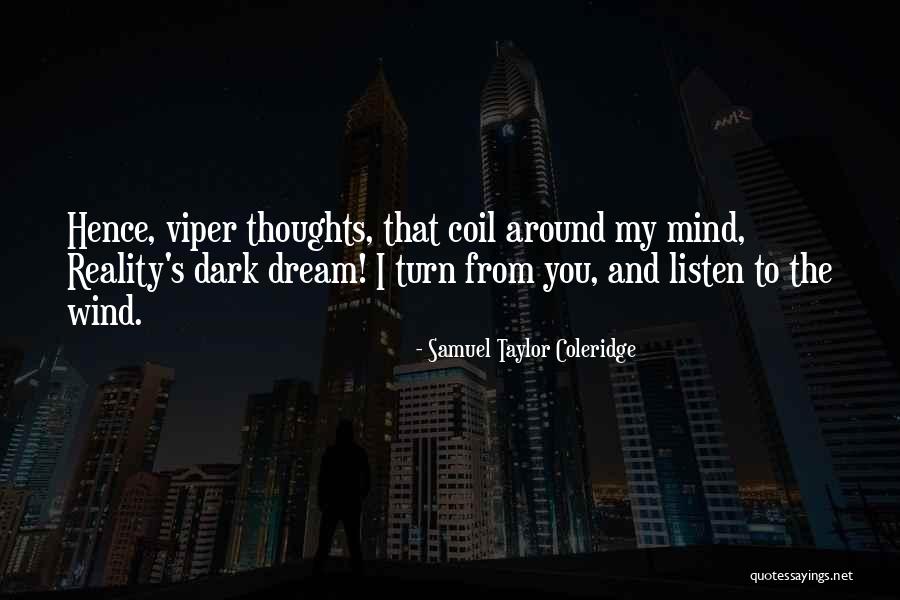 Hence, viper thoughts, that coil around my mind, Reality's dark dream!
I turn from you, and listen to the wind. — Samuel Taylor Coleridge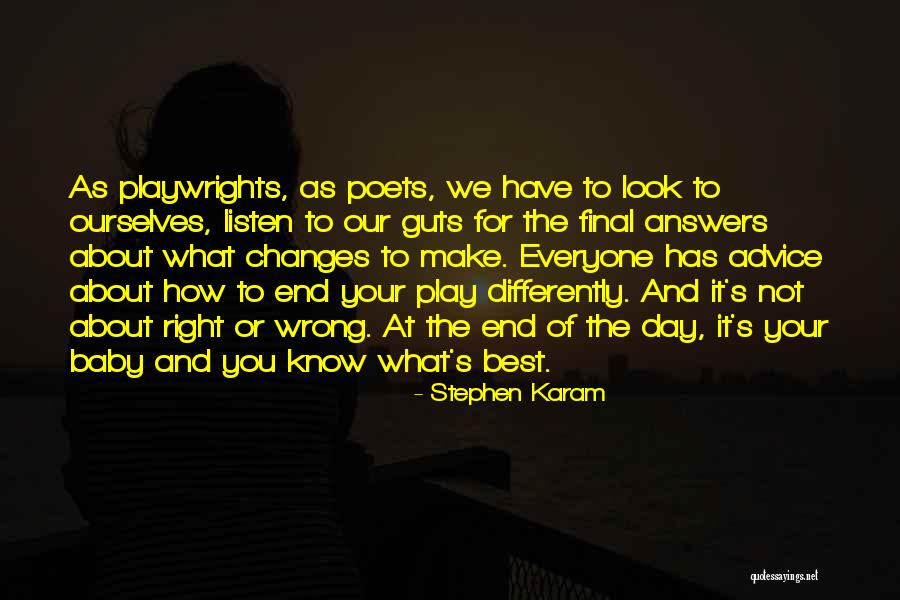 As playwrights, as poets, we have to look to ourselves, listen to our guts for the final answers about what changes to make. Everyone has advice about how to end your play differently. And it's not about right or wrong. At the end of the day, it's your baby and you know what's best. — Stephen Karam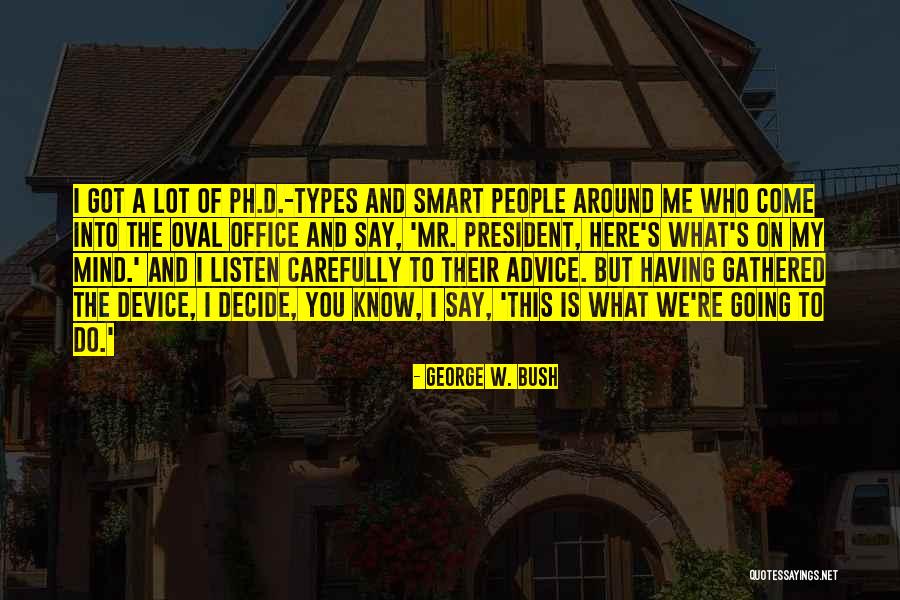 I got a lot of Ph.D.-types and smart people around me who come into the Oval Office and say, 'Mr. President, here's what's on my mind.' And I listen carefully to their advice. But having gathered the device, I decide, you know, I say, 'This is what we're going to do.' — George W. Bush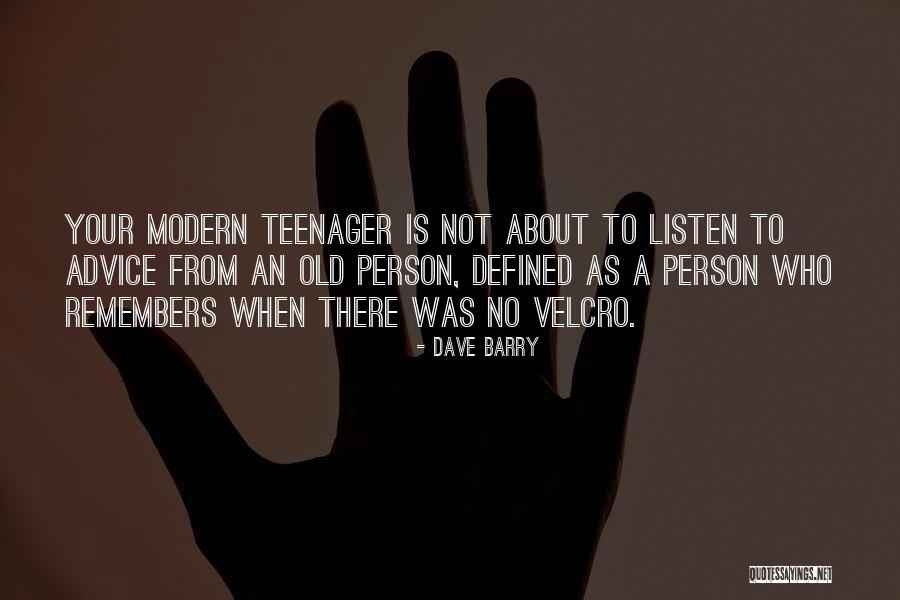 Your modern teenager is not about to listen to advice from an old person, defined as a person who remembers when there was no Velcro. — Dave Barry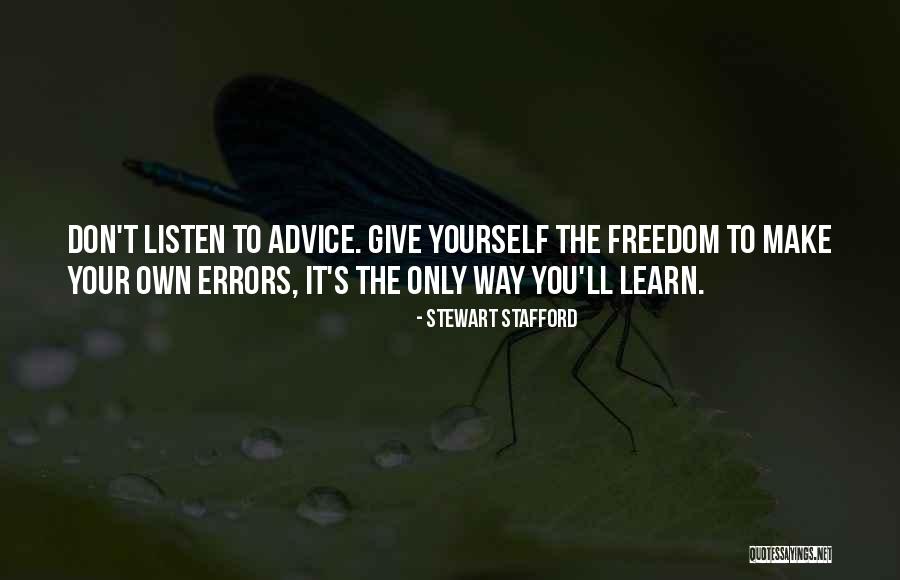 Don't listen to advice. Give yourself the freedom to make your own errors, it's the only way you'll learn. — Stewart Stafford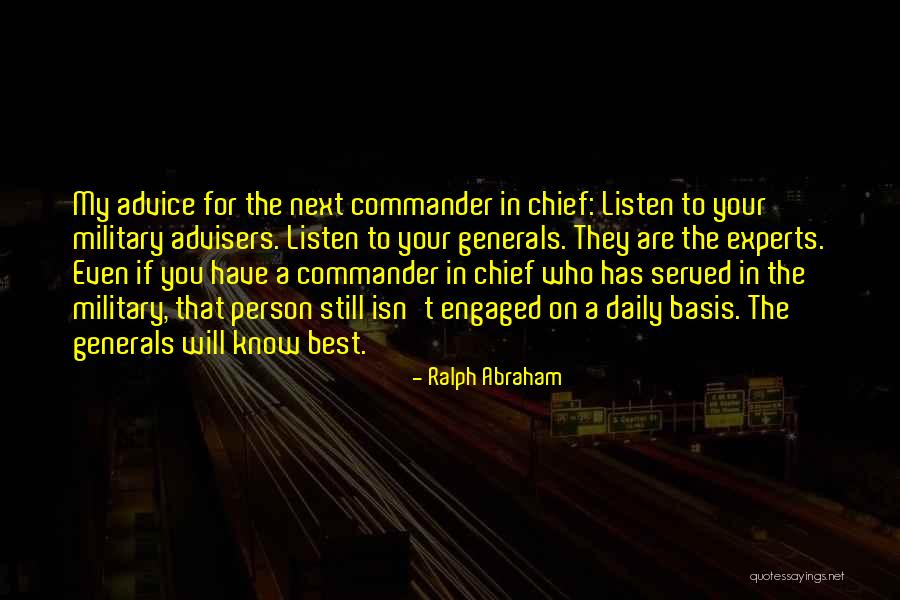 My advice for the next commander in chief: Listen to your military advisers. Listen to your generals. They are the experts. Even if you have a commander in chief who has served in the military, that person still isn't engaged on a daily basis. The generals will know best. — Ralph Abraham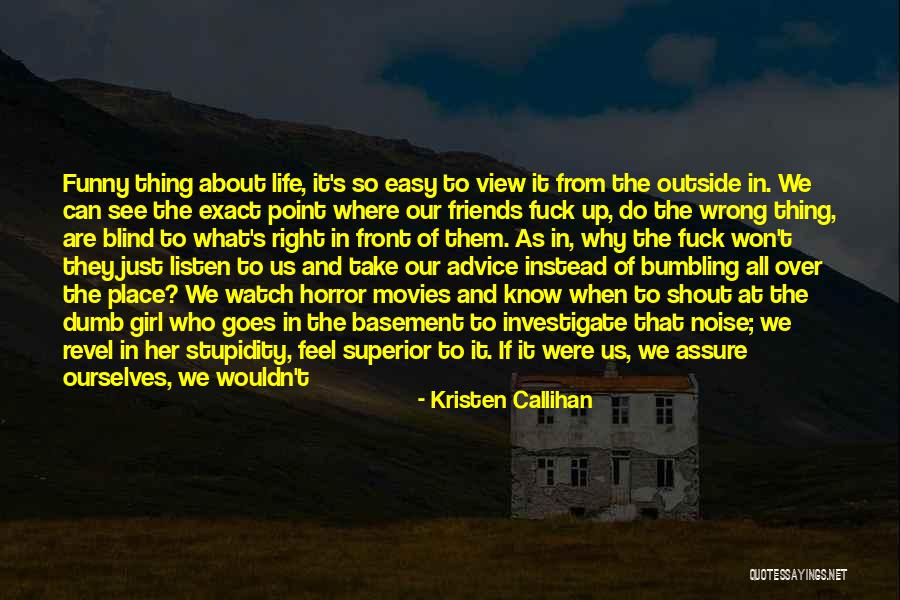 Funny thing about life, it's so easy to view it from the outside in. We can see the exact point where our friends fuck up, do the wrong thing, are blind to what's right in front of them. As in, why the fuck won't they just listen to us and take our advice instead of bumbling all over the place? We watch horror movies and know when to shout at the dumb girl who goes in the basement to investigate that noise; we revel in her stupidity, feel superior to it. If it were us, we assure ourselves, we wouldn't be so stupid. Sure we would; we just wouldn't realize the danger. Because the truth is, we're walking deaf, dumb, and blind half of the time. And even though I can tell myself this afterward, after I fuck up, it doesn't make me feel any better. Because I'm about to do a fuck up royale. With cheese. — Kristen Callihan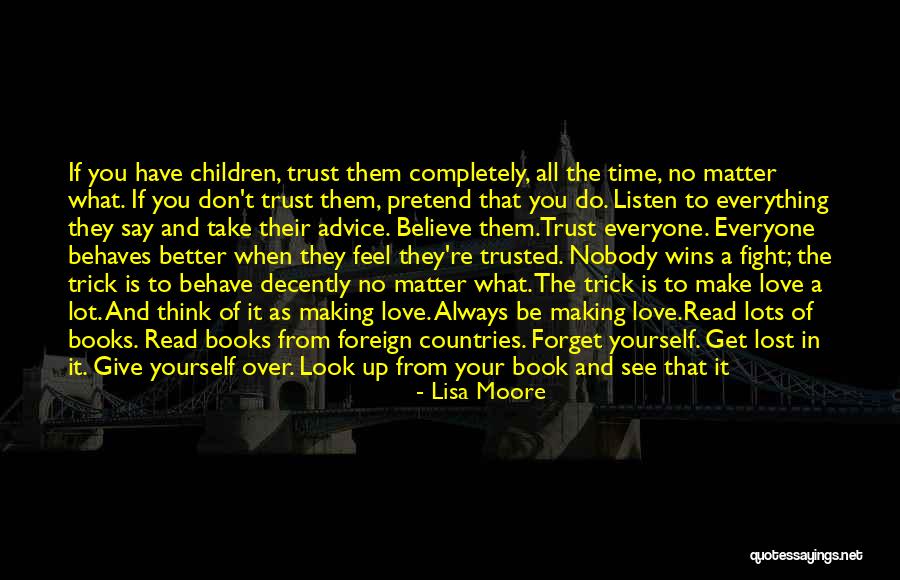 If you have children, trust them completely, all the time, no matter what. If you don't trust them, pretend that you do. Listen to everything they say and take their advice. Believe them.

Trust everyone. Everyone behaves better when they feel they're trusted. Nobody wins a fight; the trick is to behave decently no matter what. The trick is to make love a lot. And think of it as making love. Always be making love.

Read lots of books. Read books from foreign countries. Forget yourself. Get lost in it. Give yourself over. Look up from your book and see that it is dark now and everything has changed. — Lisa Moore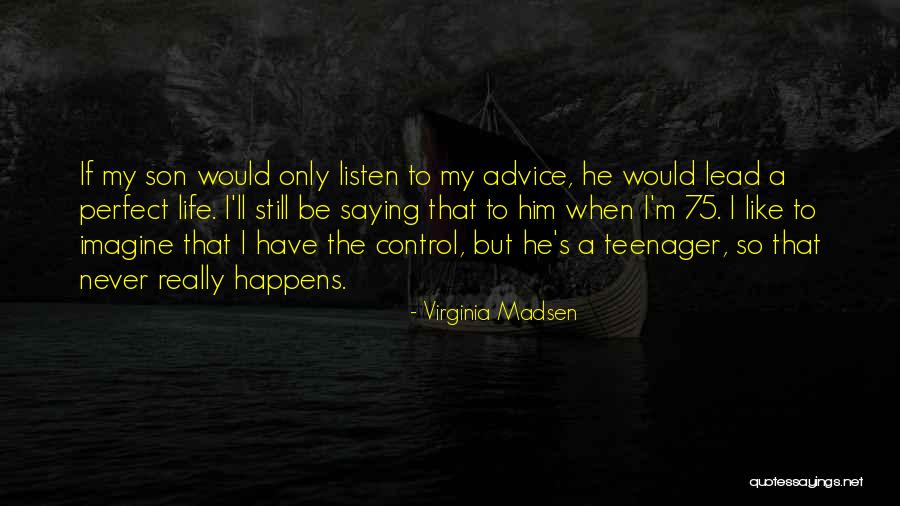 If my son would only listen to my advice, he would lead a perfect life. I'll still be saying that to him when I'm 75. I like to imagine that I have the control, but he's a teenager, so that never really happens. — Virginia Madsen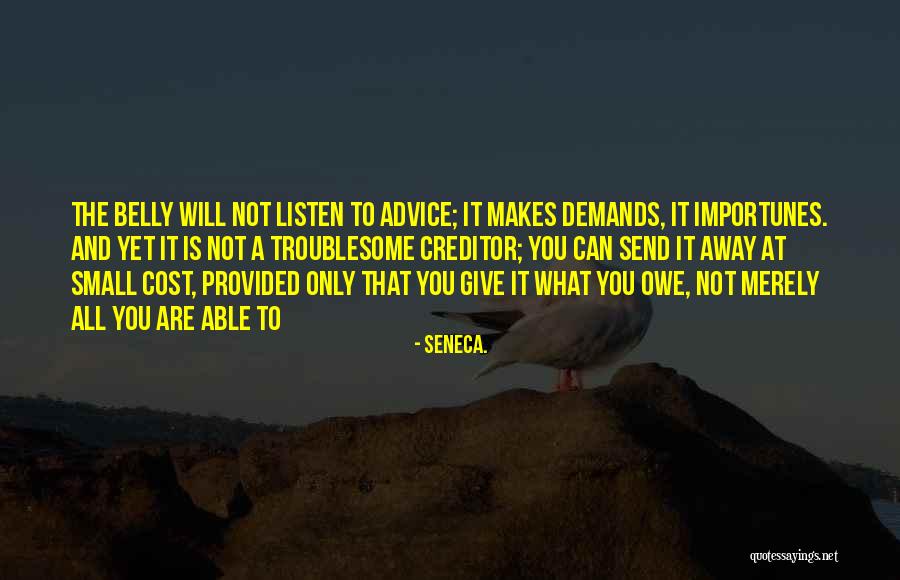 The belly will not listen to advice; it makes demands, it importunes. And yet it is not a troublesome creditor; you can send it away at small cost, provided only that you give it what you owe, not merely all you are able to — Seneca.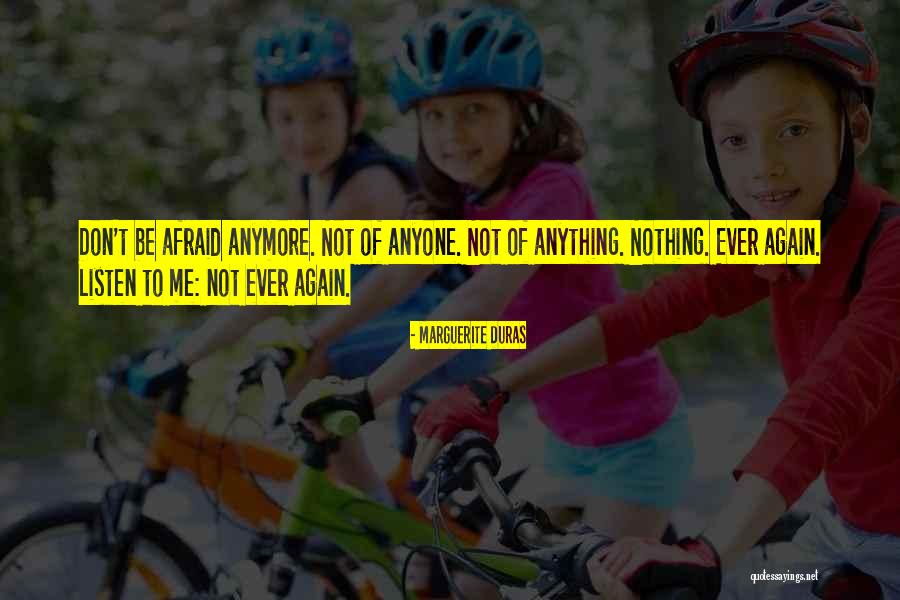 Don't be afraid anymore. Not of anyone. Not of anything. Nothing. Ever again. Listen to me: not ever again. — Marguerite Duras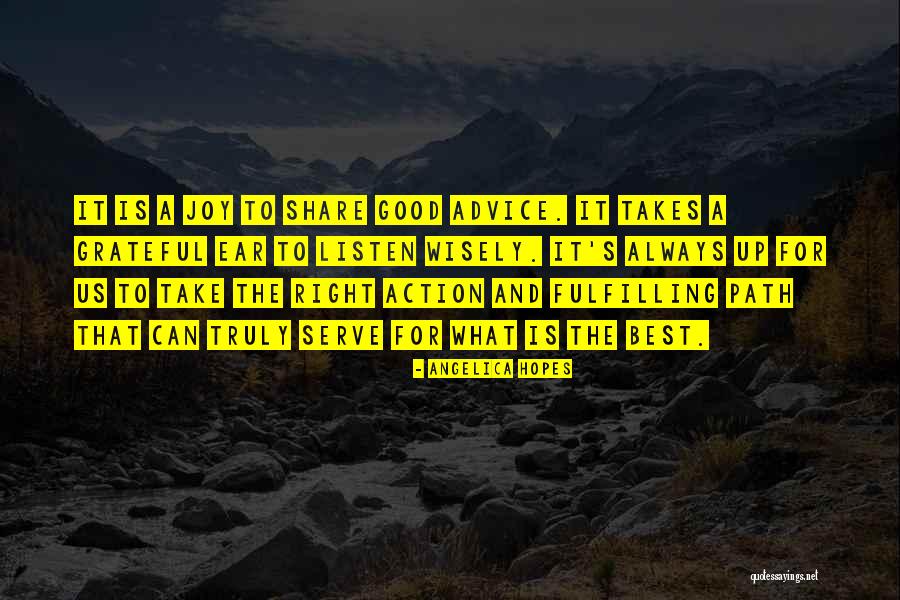 It is a joy to share good advice. It takes a grateful ear to listen wisely. It's always up for us to take the right action and fulfilling path that can truly serve for what is the best. — Angelica Hopes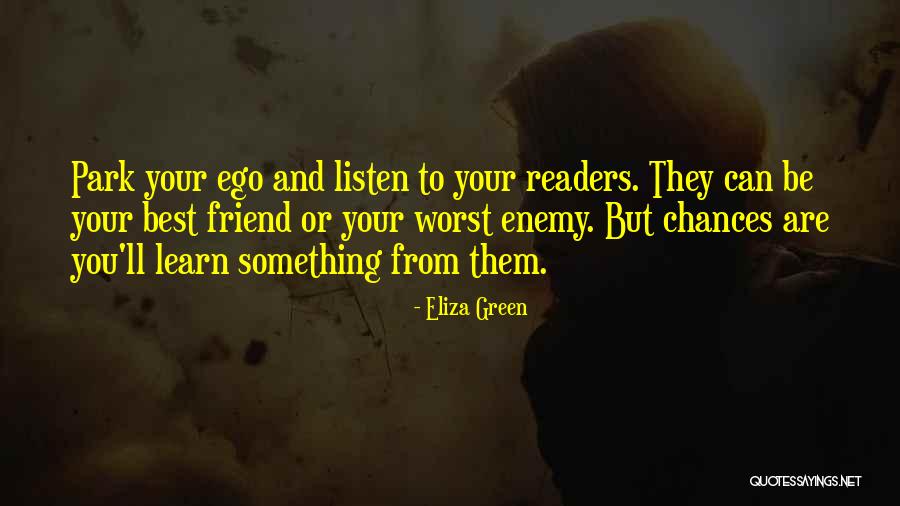 Park your ego and listen to your readers. They can be your best friend or your worst enemy. But chances are you'll learn something from them. — Eliza Green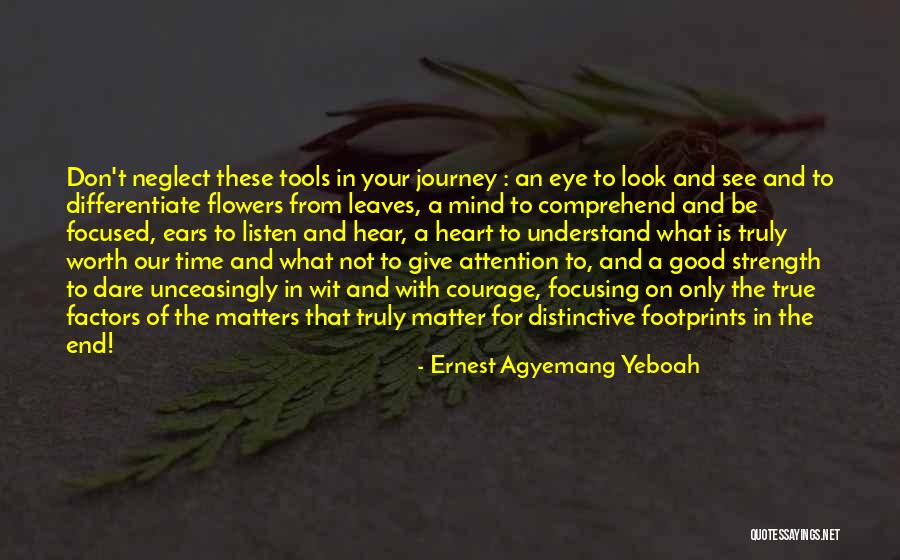 Don't neglect these tools in your journey : an eye to look and see and to differentiate flowers from leaves, a mind to comprehend and be focused, ears to listen and hear, a heart to understand what is truly worth our time and what not to give attention to, and a good strength to dare unceasingly in wit and with courage, focusing on only the true factors of the matters that truly matter for distinctive footprints in the end! — Ernest Agyemang Yeboah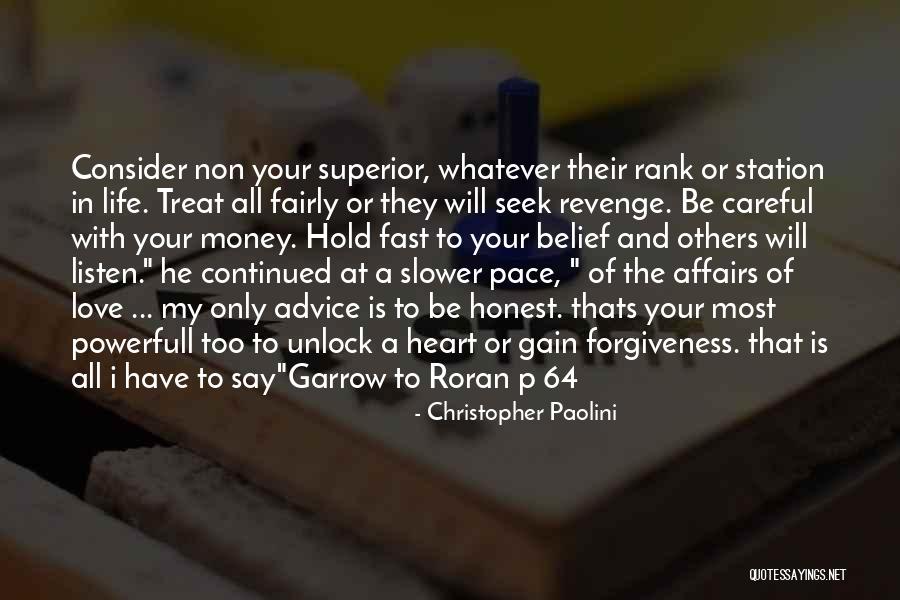 Consider non your superior, whatever their rank or station in life. Treat all fairly or they will seek revenge. Be careful with your money. Hold fast to your belief and others will listen." he continued at a slower pace, " of the affairs of love ... my only advice is to be honest. thats your most powerfull too to unlock a heart or gain forgiveness. that is all i have to say"Garrow to Roran p 64 — Christopher Paolini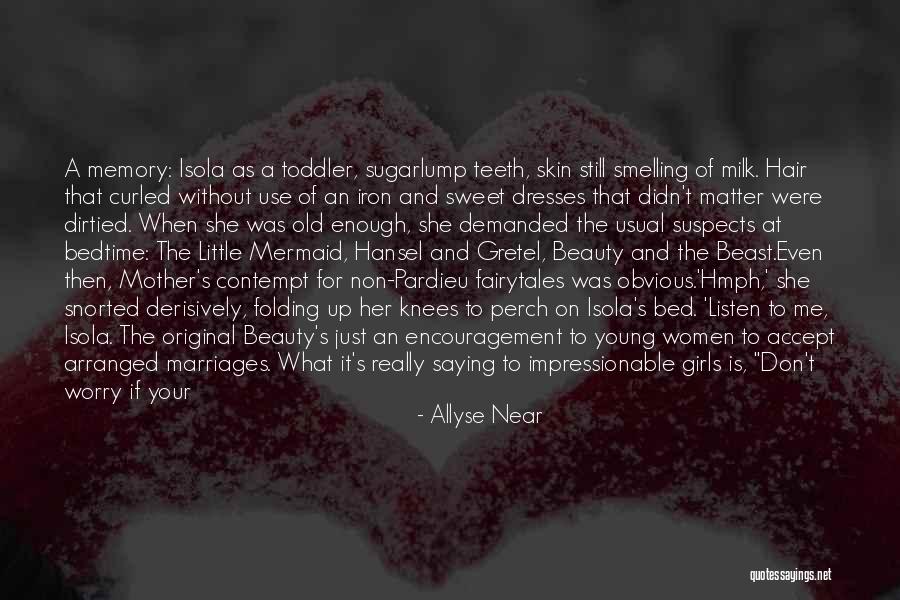 A memory: Isola as a toddler, sugarlump teeth, skin still smelling of milk. Hair that curled without use of an iron and sweet dresses that didn't matter were dirtied. When she was old enough, she demanded the usual suspects at bedtime: The Little Mermaid, Hansel and Gretel, Beauty and the Beast.
Even then, Mother's contempt for non-Pardieu fairytales was obvious.
'Hmph,' she snorted derisively, folding up her knees to perch on Isola's bed. 'Listen to me, Isola. The original Beauty's just an encouragement to young women to accept arranged marriages. What it's really saying to impressionable girls is, "Don't worry if your new husband is decades older than you, or ugly, or horrid. If you're sweet and obedient enough, you might just discover he's a prince in disguise!'

Mother's Most Lasting Advice
'Never be that girl, Isola. Never pick the beast or the wolf on the off-chance he won't devour you. — Allyse Near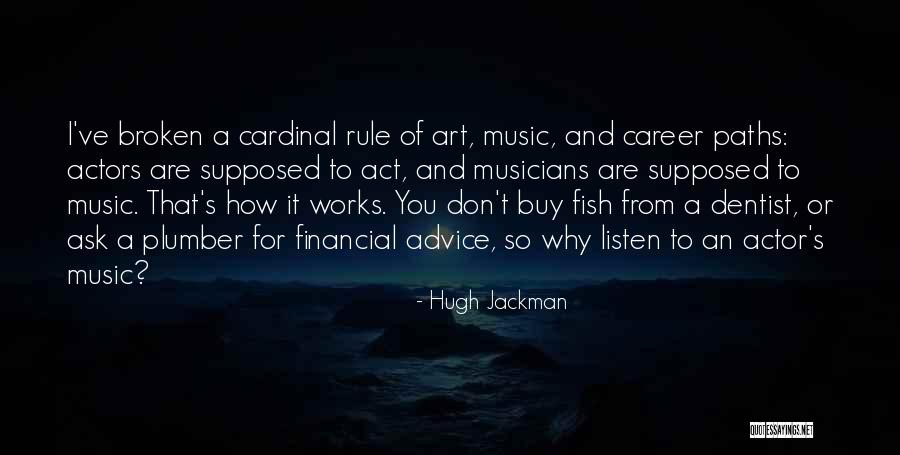 I've broken a cardinal rule of art, music, and career paths: actors are supposed to act, and musicians are supposed to music. That's how it works. You don't buy fish from a dentist, or ask a plumber for financial advice, so why listen to an actor's music? — Hugh Jackman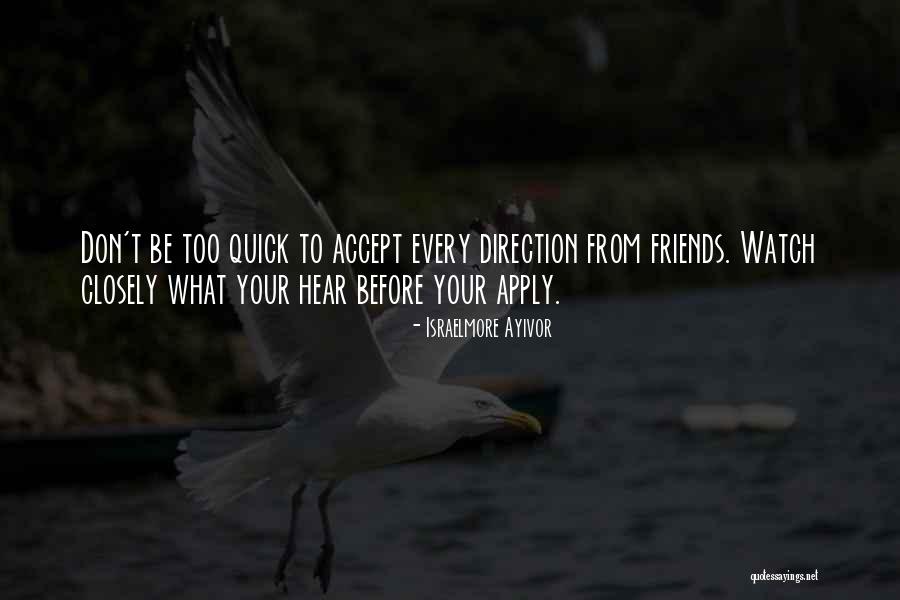 Don't be too quick to accept every direction from friends. Watch closely what your hear before your apply. — Israelmore Ayivor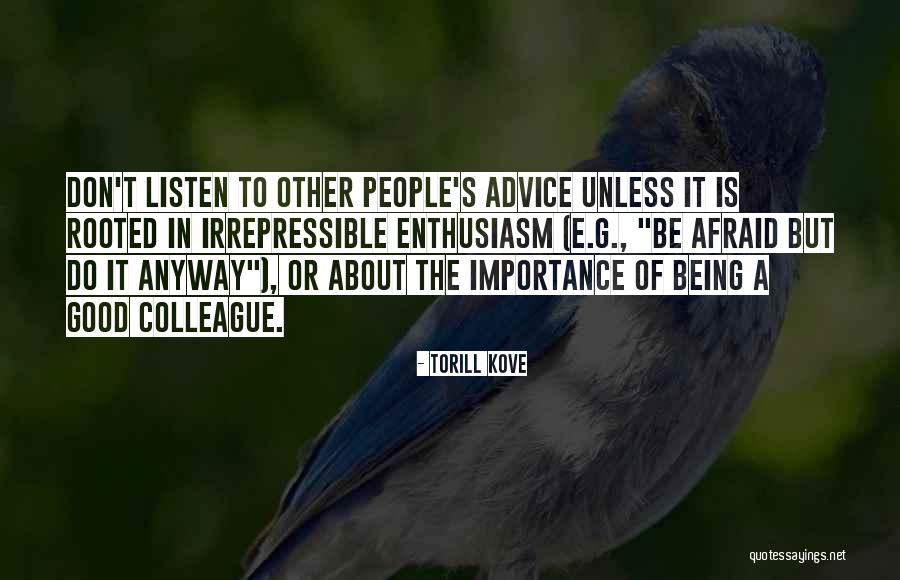 Don't listen to other people's advice unless it is rooted in irrepressible enthusiasm (e.g., "Be afraid but do it anyway"), or about the importance of being a good colleague. — Torill Kove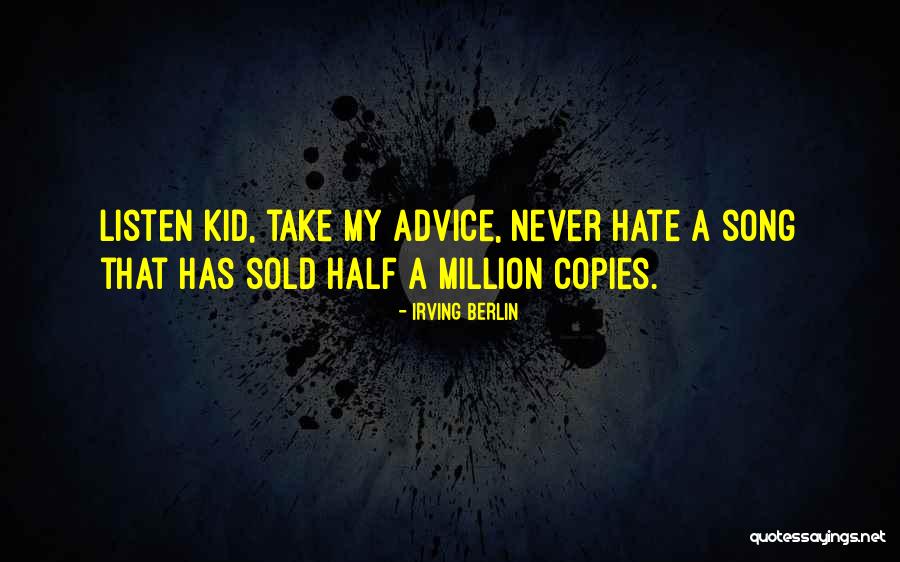 Listen kid, take my advice, never hate a song that has sold half a million copies. — Irving Berlin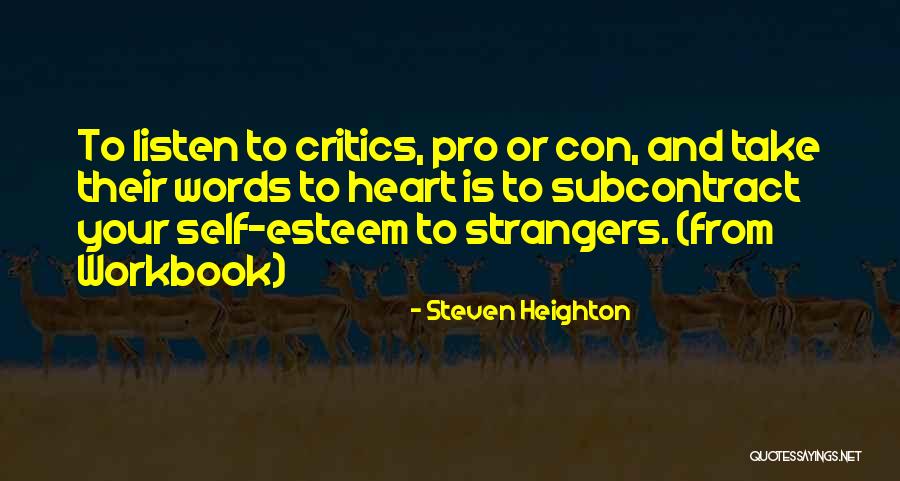 To listen to critics, pro or con, and take their words to heart is to subcontract your self-esteem to strangers. (from Workbook) — Steven Heighton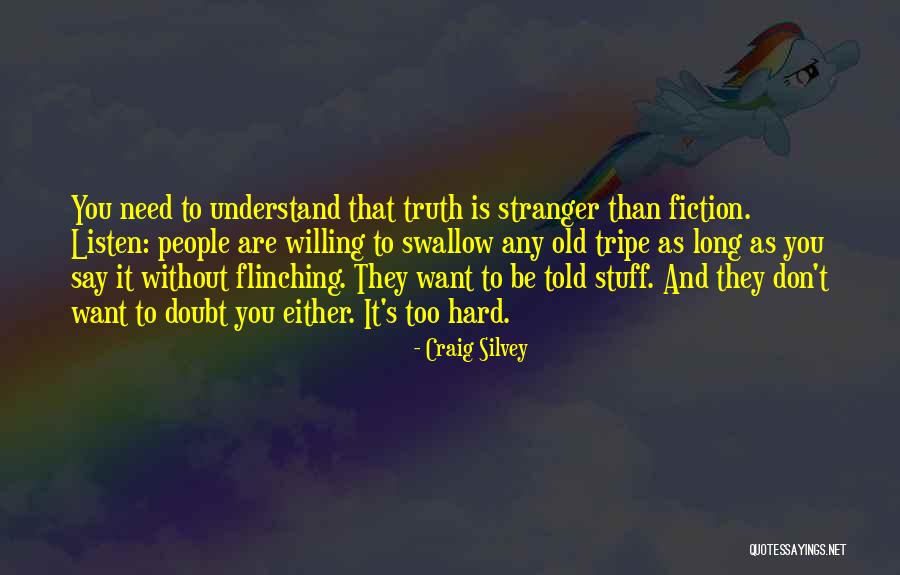 You need to understand that truth is stranger than fiction. Listen: people are willing to swallow any old tripe as long as you say it without flinching. They want to be told stuff. And they don't want to doubt you either. It's too hard. — Craig Silvey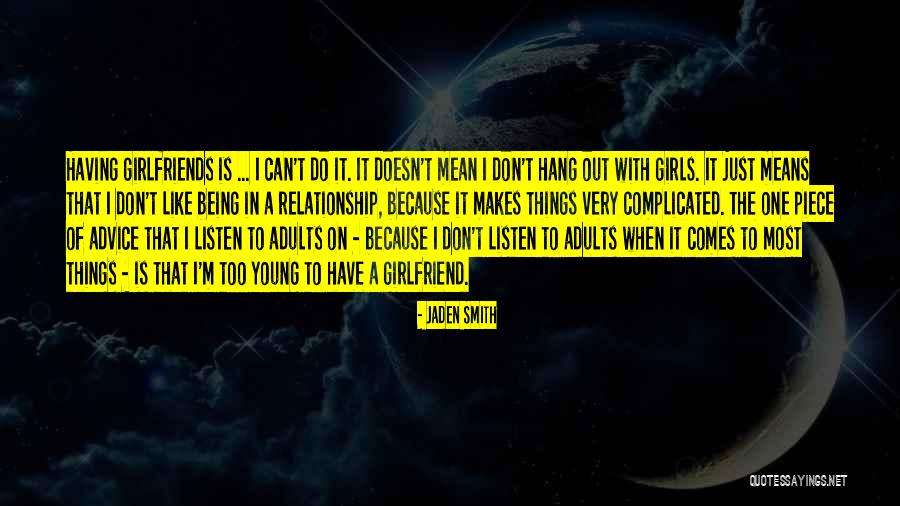 Having girlfriends is ... I can't do it. It doesn't mean I don't hang out with girls. It just means that I don't like being in a relationship, because it makes things very complicated. The one piece of advice that I listen to adults on - because I don't listen to adults when it comes to most things - is that I'm too young to have a girlfriend. — Jaden Smith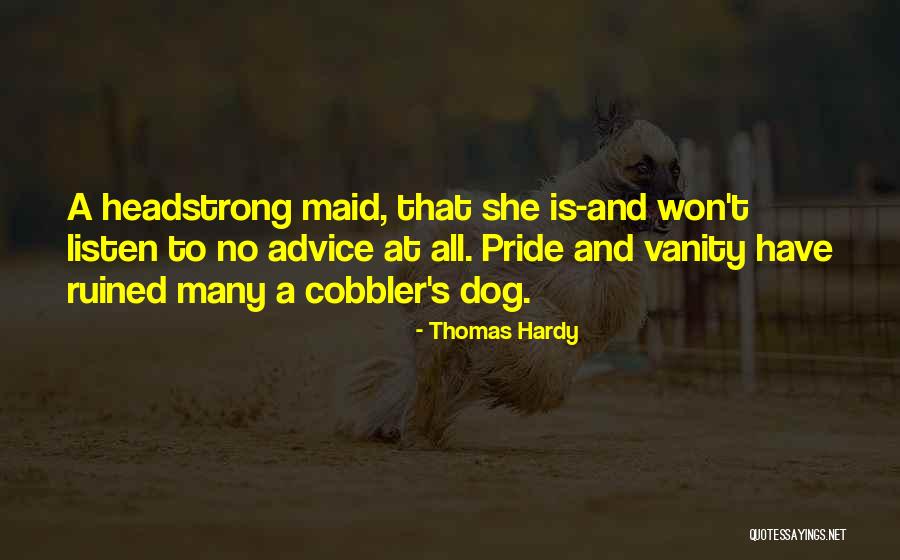 A headstrong maid, that she is-and won't listen to no advice at all. Pride and vanity have ruined many a cobbler's dog. — Thomas Hardy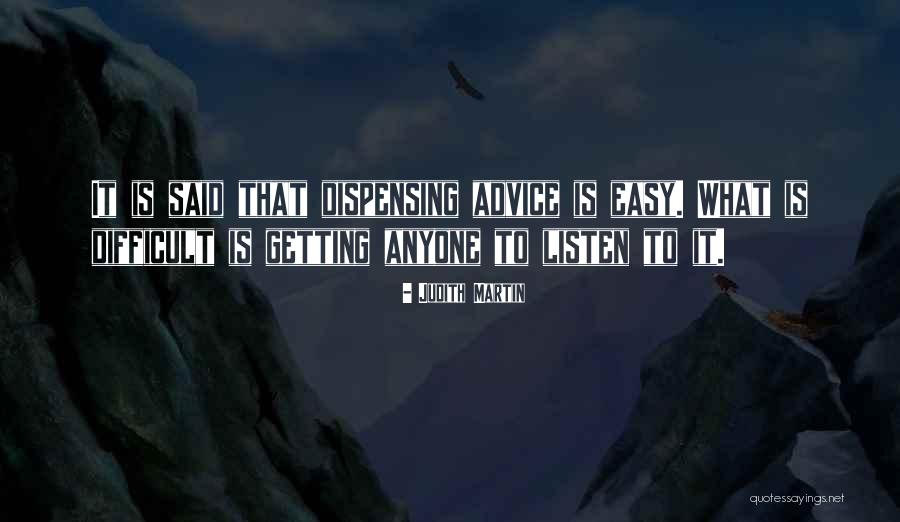 It is said that dispensing advice is easy. What is difficult is getting anyone to listen to it. — Judith Martin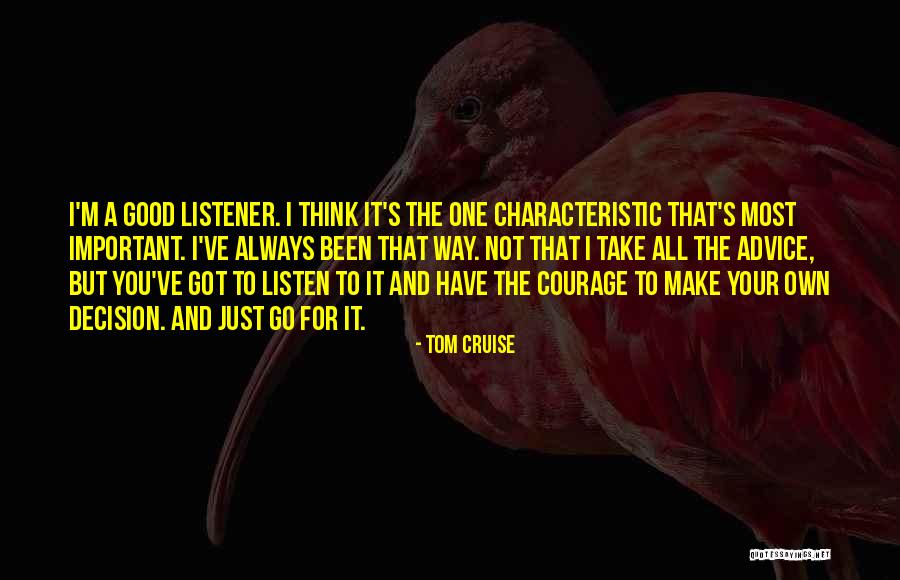 I'm a good listener. I think it's the one characteristic that's most important. I've always been that way. Not that I take all the advice, but you've got to listen to it and have the courage to make your own decision. And just go for it. — Tom Cruise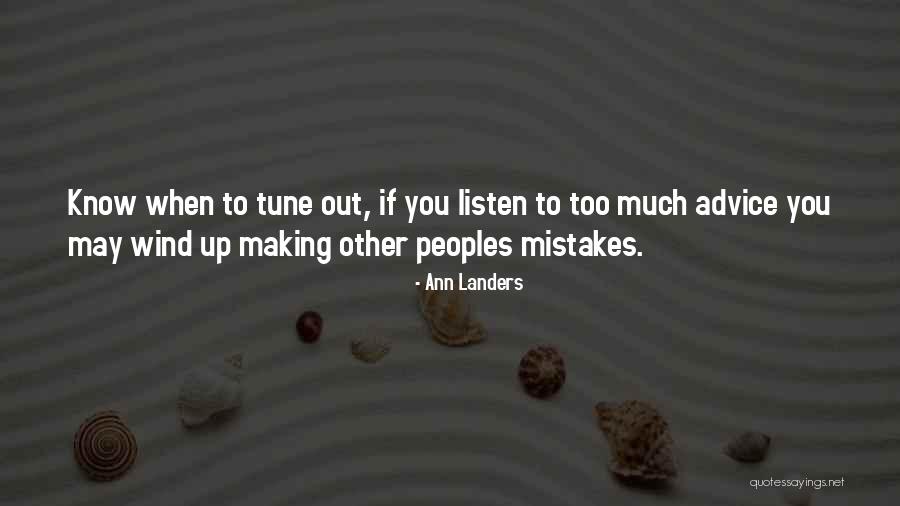 Know when to tune out, if you listen to too much advice you may wind up making other peoples mistakes. — Ann Landers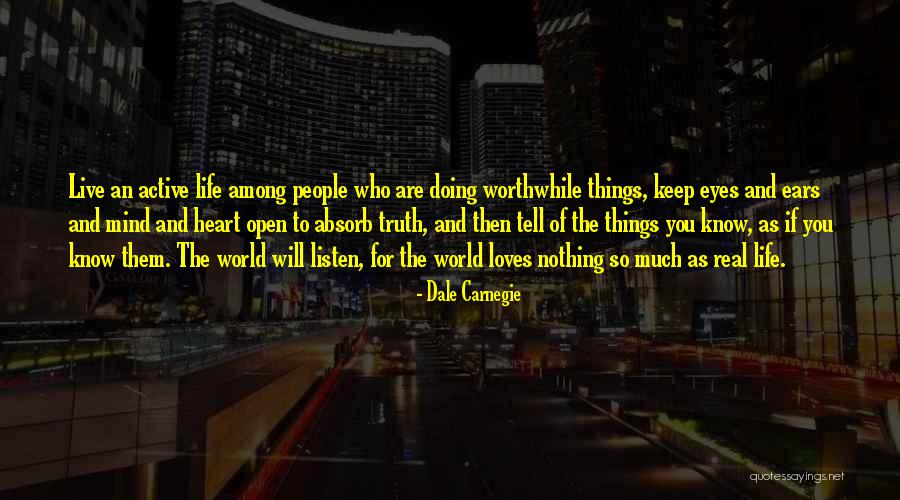 Live an active life among people who are doing worthwhile things, keep eyes and ears and mind and heart open to absorb truth, and then tell of the things you know, as if you know them. The world will listen, for the world loves nothing so much as real life. — Dale Carnegie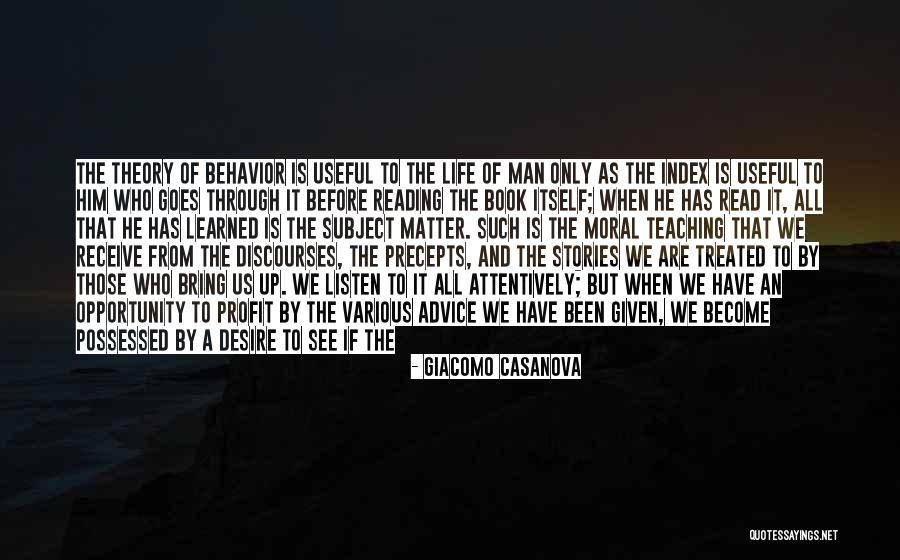 The theory of behavior is useful to the life of man only as the index is useful to him who goes through it before reading the book itself; when he has read it, all that he has learned is the subject matter. Such is the moral teaching that we receive from the discourses, the precepts, and the stories we are treated to by those who bring us up. We listen to it all attentively; but when we have an opportunity to profit by the various advice we have been given, we become possessed by a desire to see if the thing will turn out to be what we have been told it will; we do it, and we are punished by repentance. What recompenses us a little is that in such moments we consider ourselves wise and hence entitled to teach others. Those whom we teach do exactly as we did, from which it follows that the world always stands still or goes from bad to worse. — Giacomo Casanova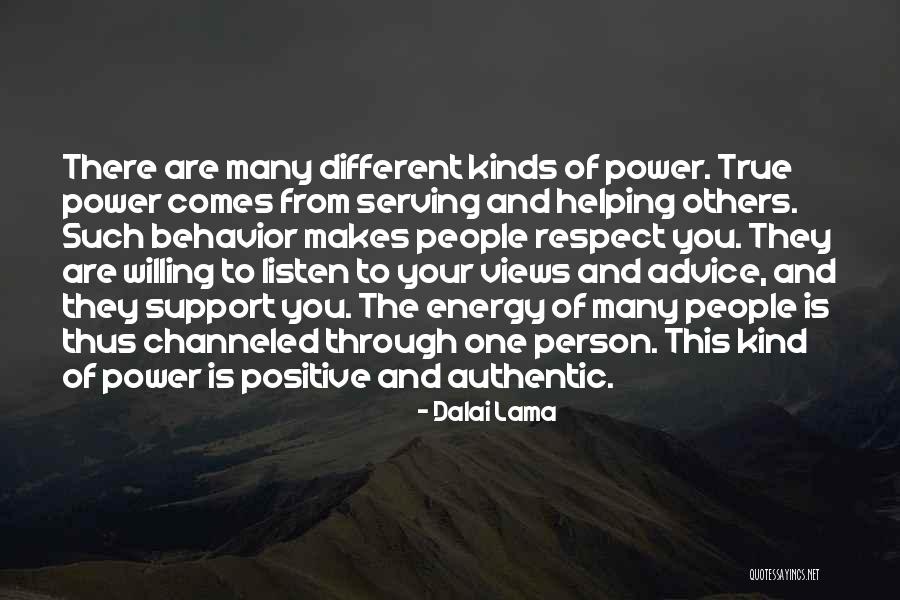 There are many different kinds of power. True power comes from serving and helping others. Such behavior makes people respect you. They are willing to listen to your views and advice, and they support you. The energy of many people is thus channeled through one person. This kind of power is positive and authentic. — Dalai Lama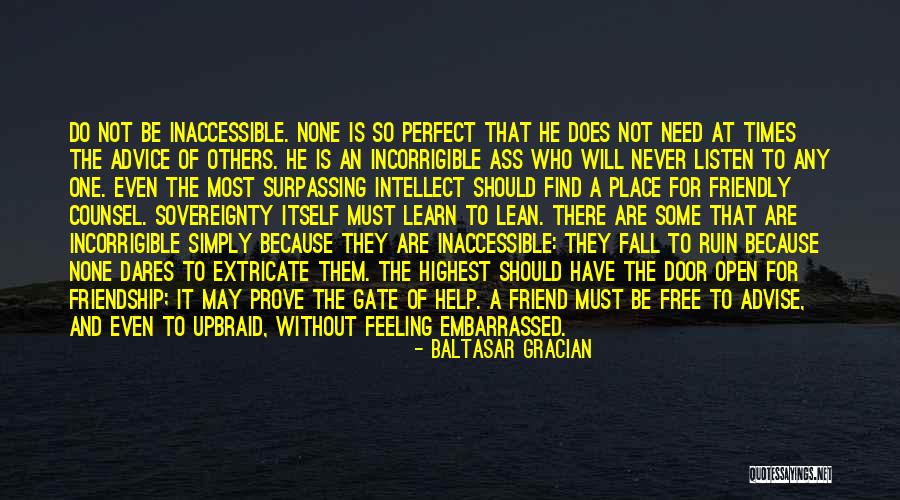 Do not be inaccessible. None is so perfect that he does not need at times the advice of others. He is an incorrigible ass who will never listen to any one. Even the most surpassing intellect should find a place for friendly counsel. Sovereignty itself must learn to lean. There are some that are incorrigible simply because they are inaccessible: They fall to ruin because none dares to extricate them. The highest should have the door open for friendship; it may prove the gate of help. A friend must be free to advise, and even to upbraid, without feeling embarrassed. — Baltasar Gracian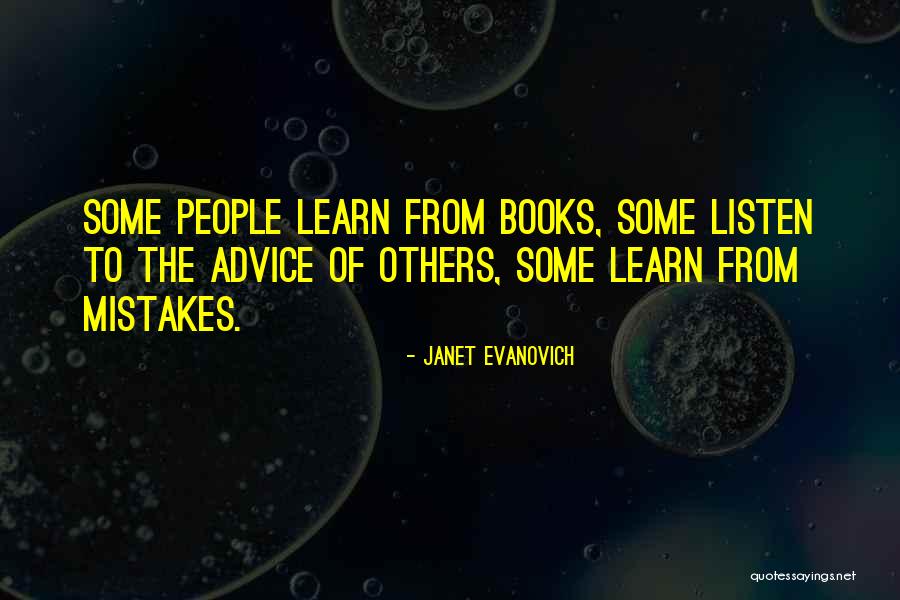 Some people learn from books, some listen to the advice of others, some learn from mistakes. — Janet Evanovich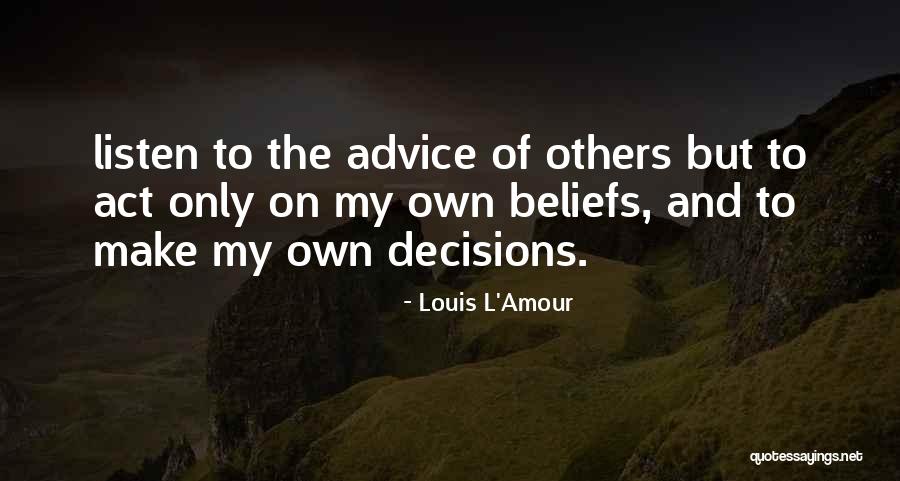 listen to the advice of others but to act only on my own beliefs, and to make my own decisions. — Louis L'Amour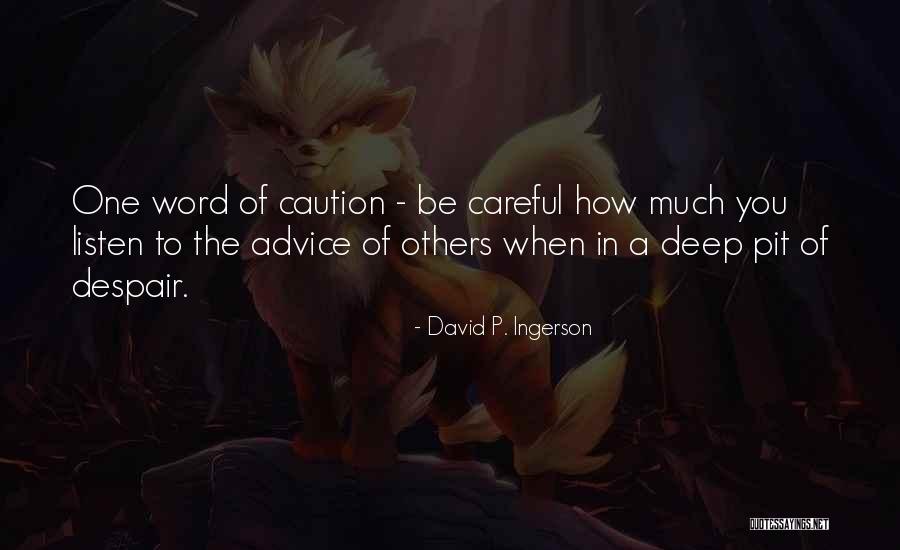 One word of caution - be careful how much you listen to the advice of others when in a deep pit of despair. — David P. Ingerson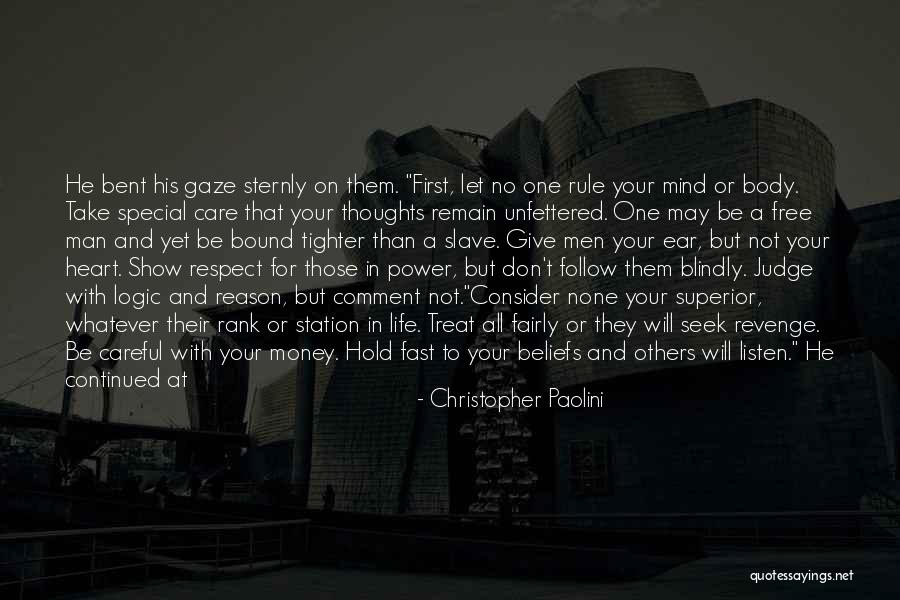 He bent his gaze sternly on them. "First, let no one rule your mind or body. Take special care that your thoughts remain unfettered. One may be a free man and yet be bound tighter than a slave. Give men your ear, but not your heart. Show respect for those in power, but don't follow them blindly. Judge with logic and reason, but comment not.
"Consider none your superior, whatever their rank or station in life. Treat all fairly or they will seek revenge. Be careful with your money. Hold fast to your beliefs and others will listen." He continued at a slower pace, "Of the affairs of love ... my only advice is to be honest. That's your most powerful took to unlock a heart or gain forgiveness. That's all I have to say." He seemed slightly self-conscious of his speech. — Christopher Paolini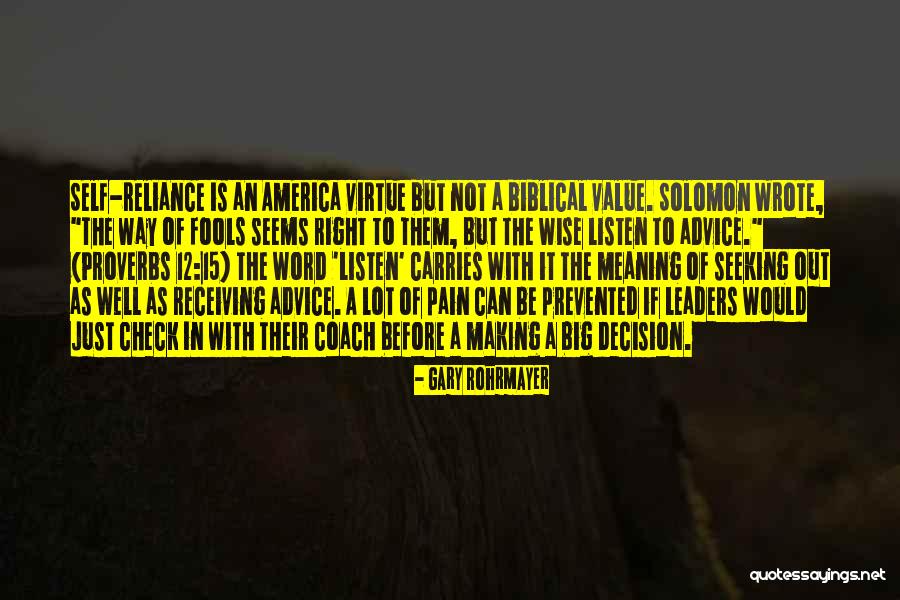 Self-reliance is an America virtue but not a biblical value. Solomon wrote, "The way of fools seems right to them, but the wise listen to advice." (Proverbs 12:15) The word 'listen' carries with it the meaning of seeking out as well as receiving advice. A lot of pain can be prevented if leaders would just check in with their coach before a making a big decision. — Gary Rohrmayer