Life Size Quotes & Sayings
Enjoy reading and share 100 famous quotes about Life Size with everyone.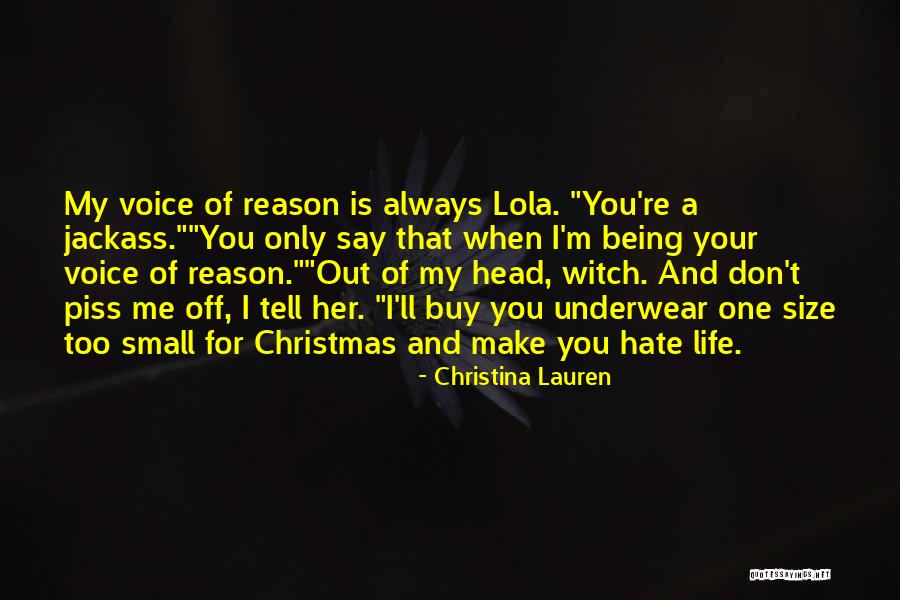 My voice of reason is always Lola. "You're a jackass."
"You only say that when I'm being your voice of reason."
"Out of my head, witch. And don't piss me off, I tell her. "I'll buy you underwear one size too small for Christmas and make you hate life. — Christina Lauren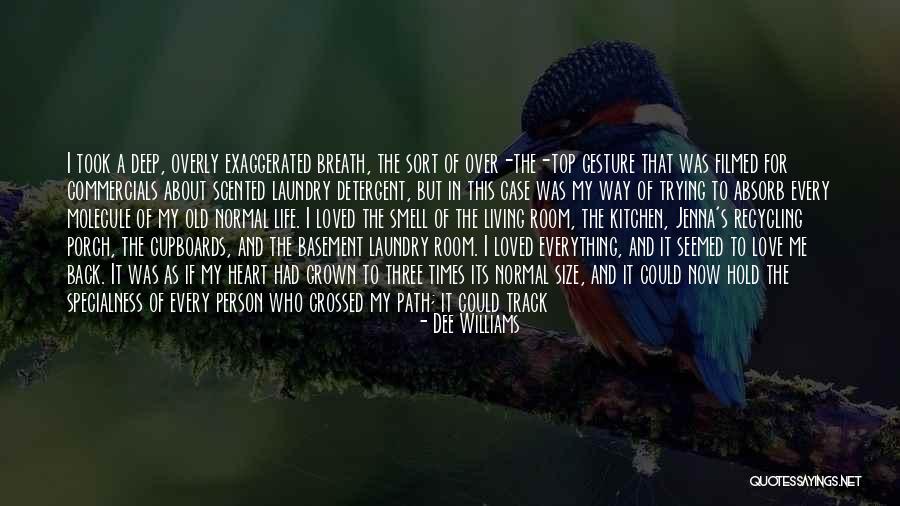 I took a deep, overly exaggerated breath, the sort of over-the-top gesture that was filmed for commercials about scented laundry detergent, but in this case was my way of trying to absorb every molecule of my old normal life. I loved the smell of the living room, the kitchen, Jenna's recycling porch, the cupboards, and the basement laundry room. I loved everything, and it seemed to love me back. It was as if my heart had grown to three times its normal size, and it could now hold the specialness of every person who crossed my path; it could track how phenomenal every scent, sound, taste, or texture was. Everything was beautiful, even if it was just the laundry that I'd pulled out of the dryer, still warm, and hugged like a small, lost child. — Dee Williams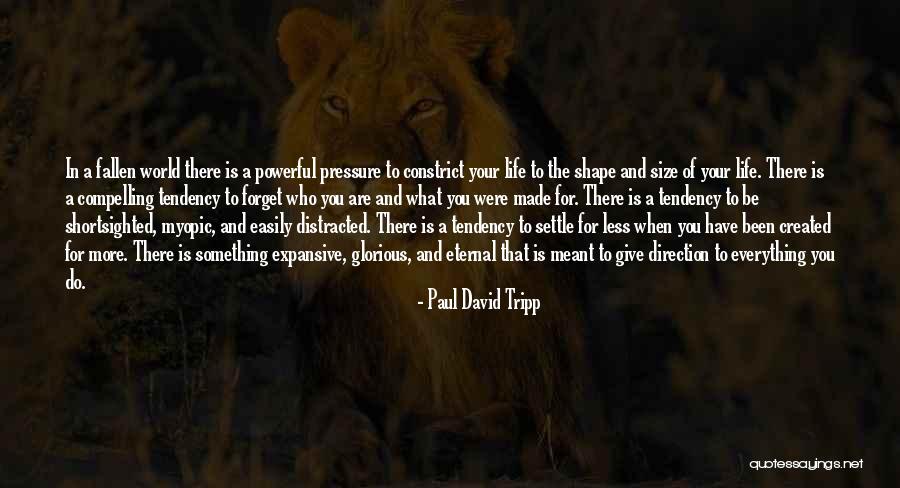 In a fallen world there is a powerful pressure to constrict your life to the shape and size of your life. There is a compelling tendency to forget who you are and what you were made for. There is a tendency to be shortsighted, myopic, and easily distracted. There is a tendency to settle for less when you have been created for more. There is something expansive, glorious, and eternal that is meant to give direction to everything you do. — Paul David Tripp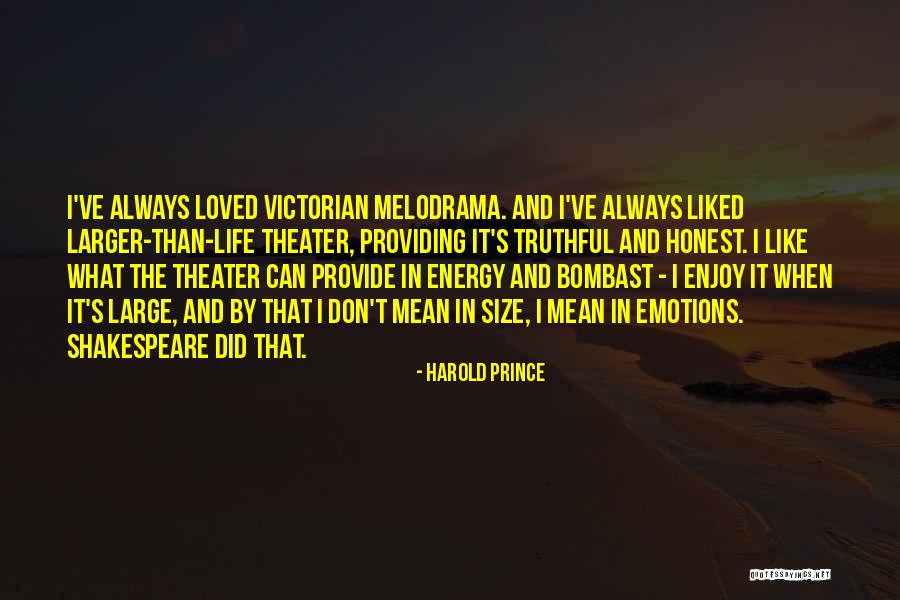 I've always loved Victorian melodrama. And I've always liked larger-than-life theater, providing it's truthful and honest. I like what the theater can provide in energy and bombast - I enjoy it when it's large, and by that I don't mean in size, I mean in emotions. Shakespeare did that. — Harold Prince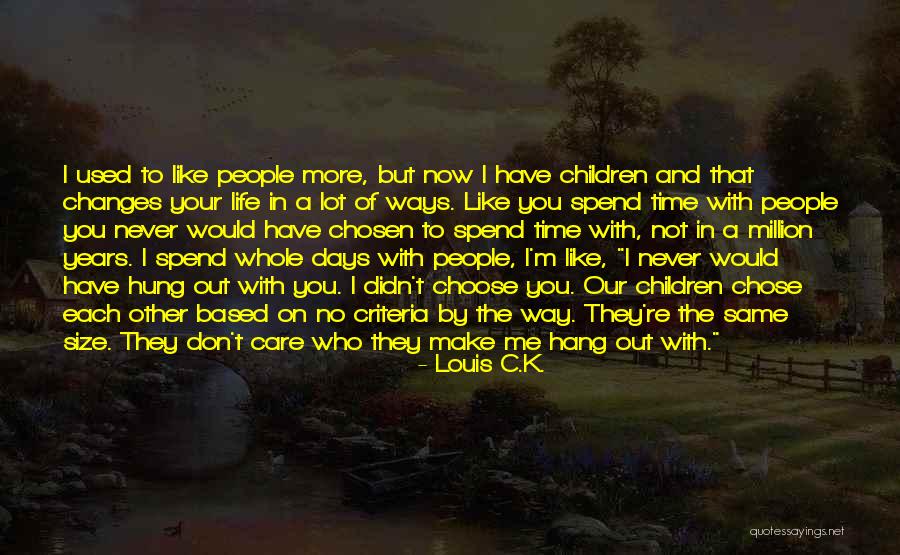 I used to like people more, but now I have children and that changes your life in a lot of ways. Like you spend time with people you never would have chosen to spend time with, not in a million years. I spend whole days with people, I'm like, "I never would have hung out with you. I didn't choose you. Our children chose each other based on no criteria by the way. They're the same size. They don't care who they make me hang out with." — Louis C.K.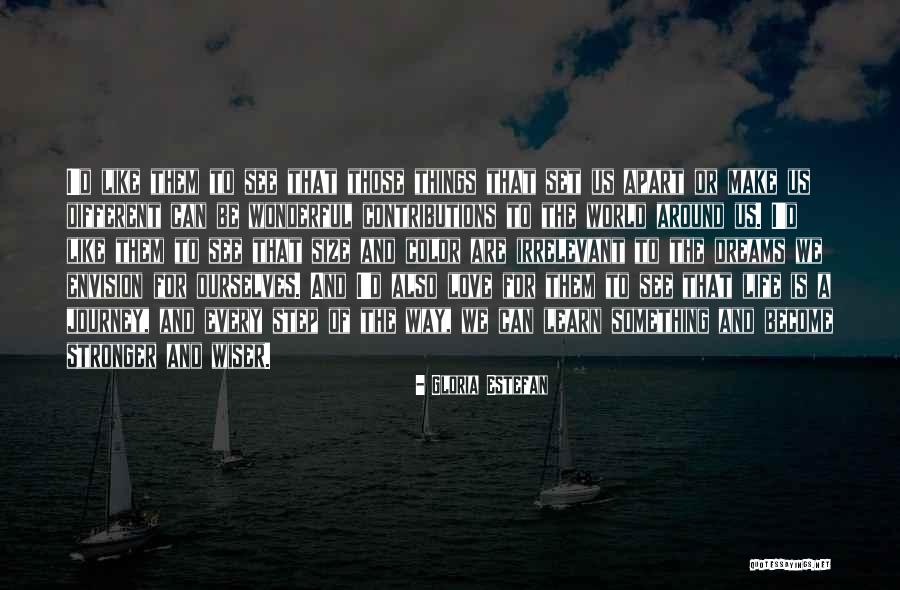 I'd like them to see that those things that set us apart or make us different can be wonderful contributions to the world around us. I'd like them to see that size and color are irrelevant to the dreams we envision for ourselves. And I'd also love for them to see that life is a journey, and every step of the way, we can learn something and become stronger and wiser. — Gloria Estefan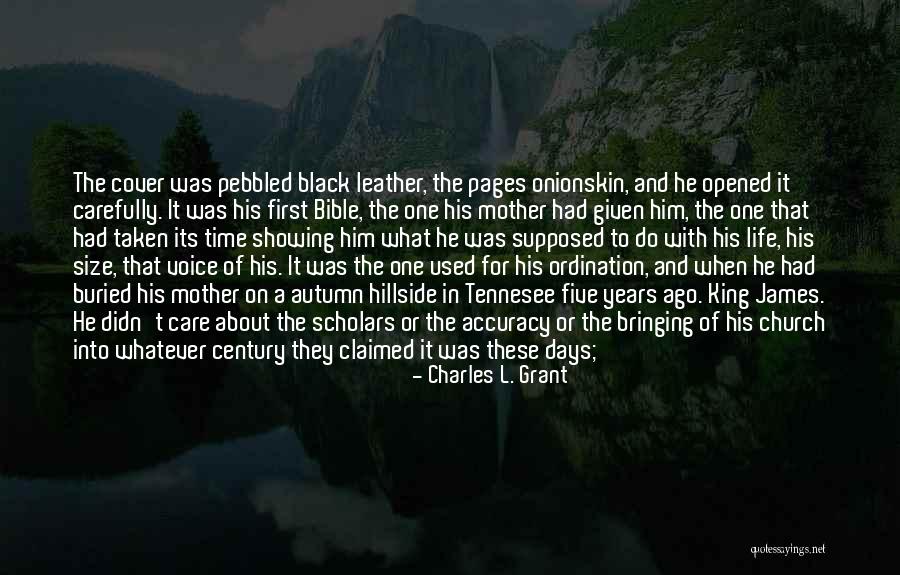 The cover was pebbled black leather, the pages onionskin, and he opened it carefully. It was his first Bible, the one his mother had given him, the one that had taken its time showing him what he was supposed to do with his life, his size, that voice of his. It was the one used for his ordination, and when he had buried his mother on a autumn hillside in Tennesee five years ago. King James. He didn't care about the scholars or the accuracy or the bringing of his church into whatever century they claimed it was these days; he cared about the poetry, and about the comfort it brought to those who needed to hear it. — Charles L. Grant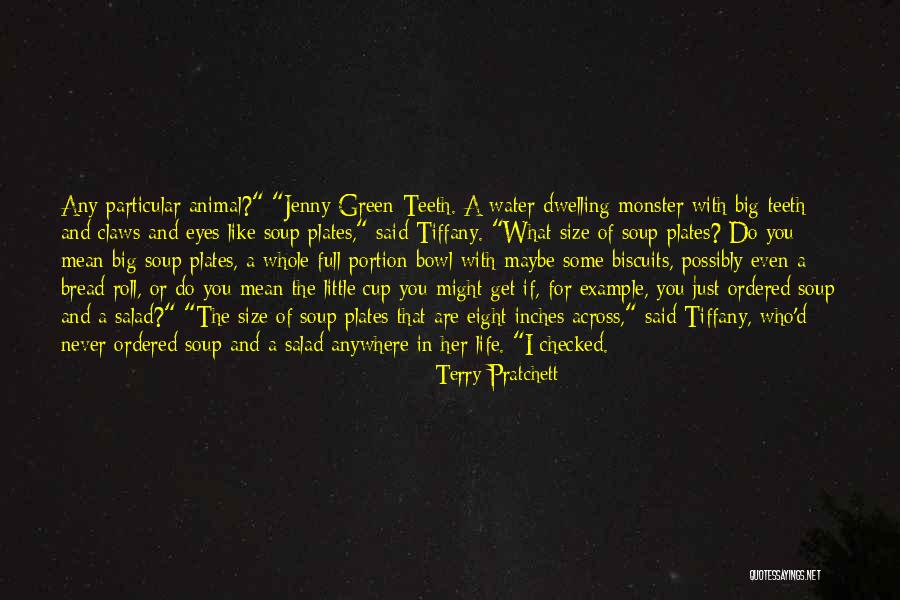 Any particular animal?" "Jenny Green-Teeth. A water-dwelling monster with big teeth and claws and eyes like soup plates," said Tiffany. "What size of soup plates? Do you mean big soup plates, a whole full-portion bowl with maybe some biscuits, possibly even a bread roll, or do you mean the little cup you might get if, for example, you just ordered soup and a salad?" "The size of soup plates that are eight inches across," said Tiffany, who'd never ordered soup and a salad anywhere in her life. "I checked. — Terry Pratchett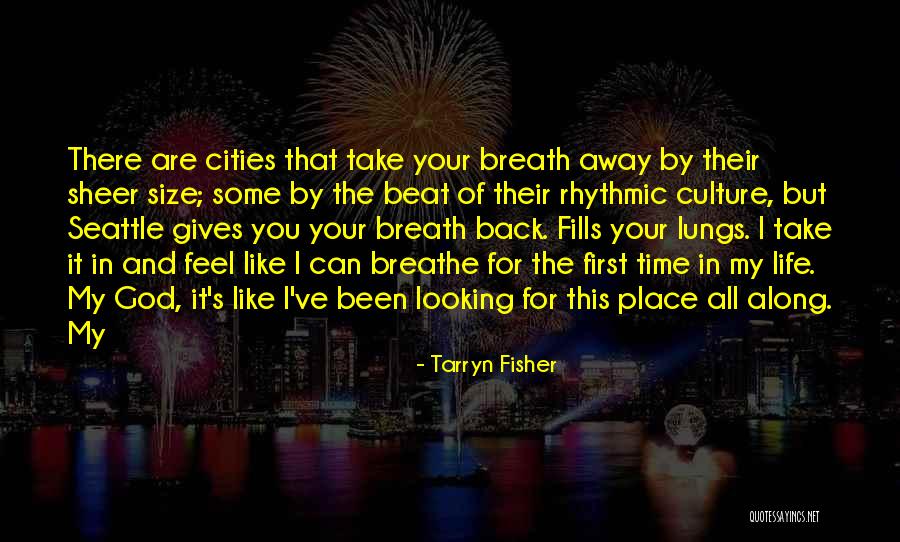 There are cities that take your breath away by their sheer size; some by the beat of their rhythmic culture, but Seattle gives you your breath back. Fills your lungs. I take it in and feel like I can breathe for the first time in my life. My God, it's like I've been looking for this place all along. My — Tarryn Fisher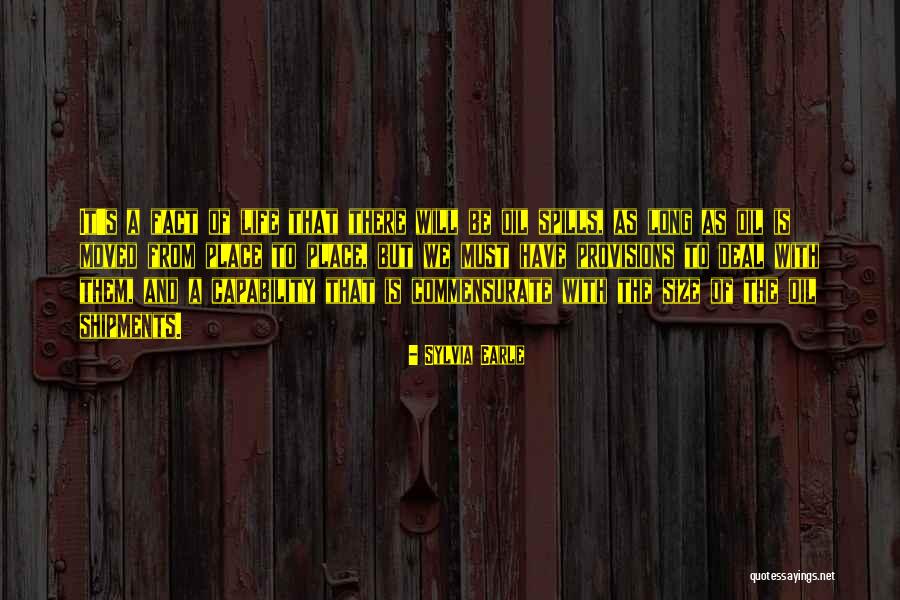 It's a fact of life that there will be oil spills, as long as oil is moved from place to place, but we must have provisions to deal with them, and a capability that is commensurate with the size of the oil shipments. — Sylvia Earle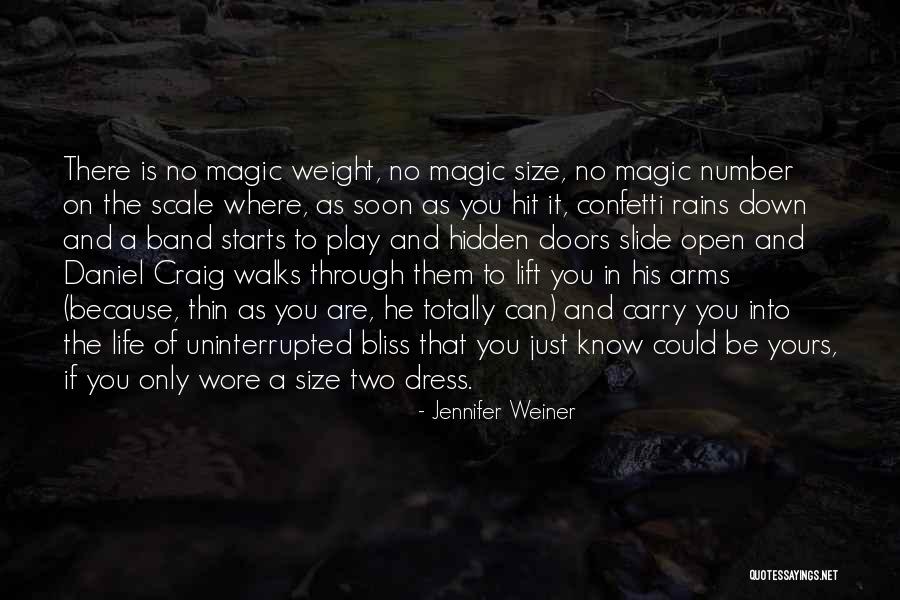 There is no magic weight, no magic size, no magic number on the scale where, as soon as you hit it, confetti rains down and a band starts to play and hidden doors slide open and Daniel Craig walks through them to lift you in his arms (because, thin as you are, he totally can) and carry you into the life of uninterrupted bliss that you just know could be yours, if you only wore a size two dress. — Jennifer Weiner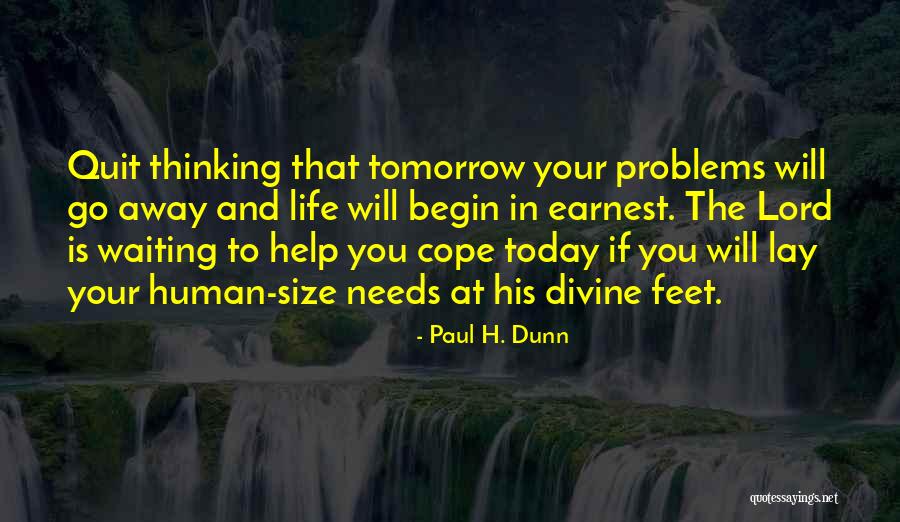 Quit thinking that tomorrow your problems will go away and life will begin in earnest. The Lord is waiting to help you cope today if you will lay your human-size needs at his divine feet. — Paul H. Dunn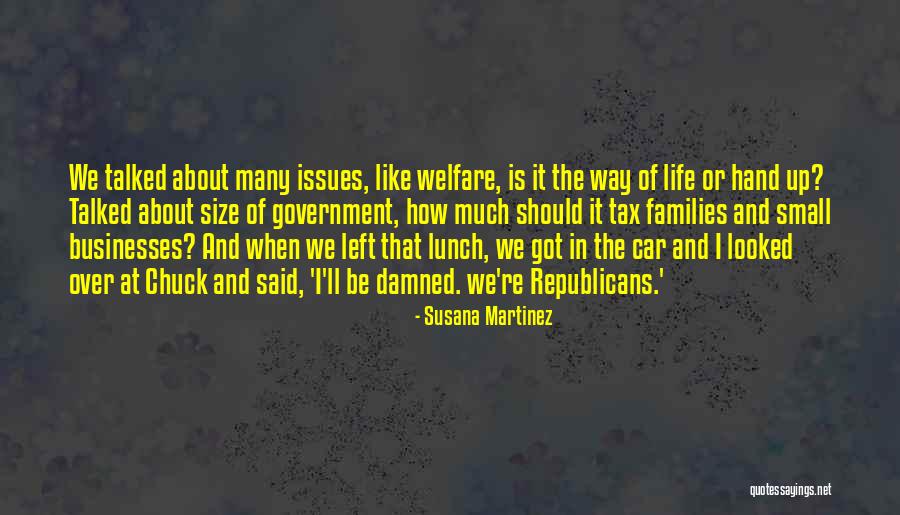 We talked about many issues, like welfare, is it the way of life or hand up? Talked about size of government, how much should it tax families and small businesses? And when we left that lunch, we got in the car and I looked over at Chuck and said, 'I'll be damned. we're Republicans.' — Susana Martinez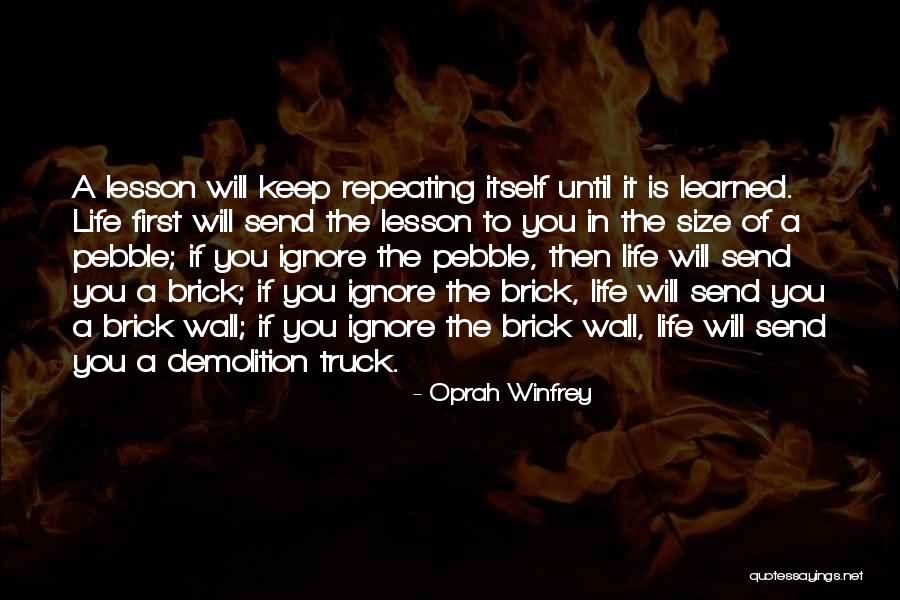 A lesson will keep repeating itself until it is learned. Life first will send the lesson to you in the size of a pebble; if you ignore the pebble, then life will send you a brick; if you ignore the brick, life will send you a brick wall; if you ignore the brick wall, life will send you a demolition truck. — Oprah Winfrey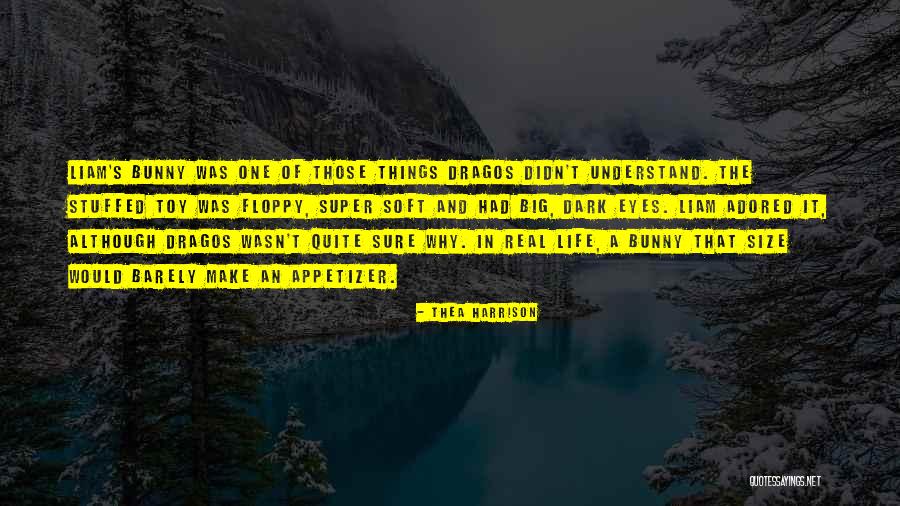 Liam's bunny was one of those things Dragos didn't understand. The stuffed toy was floppy, super soft and had big, dark eyes. Liam adored it, although Dragos wasn't quite sure why. In real life, a bunny that size would barely make an appetizer. — Thea Harrison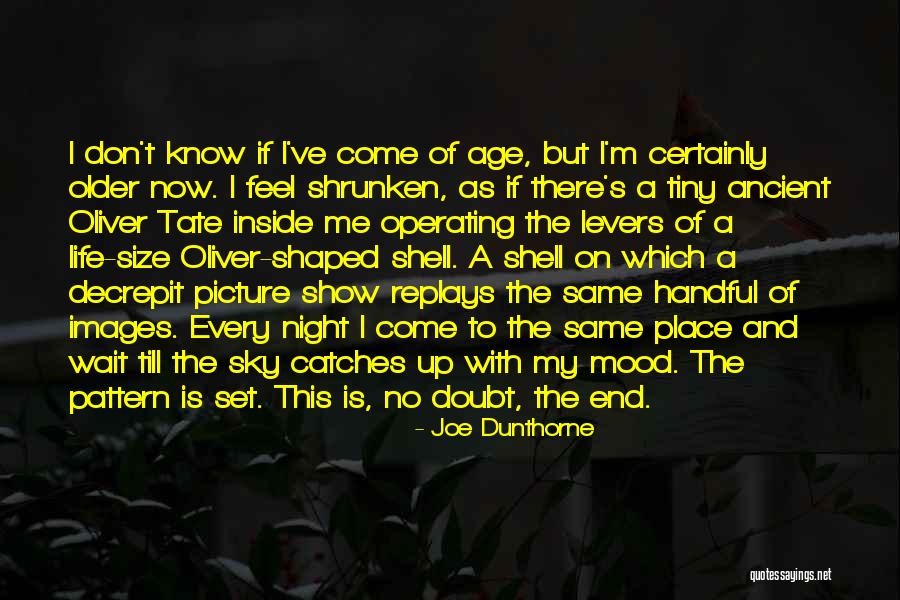 I don't know if I've come of age, but I'm certainly older now. I feel shrunken, as if there's a tiny ancient Oliver Tate inside me operating the levers of a life-size Oliver-shaped shell. A shell on which a decrepit picture show replays the same handful of images. Every night I come to the same place and wait till the sky catches up with my mood. The pattern is set. This is, no doubt, the end. — Joe Dunthorne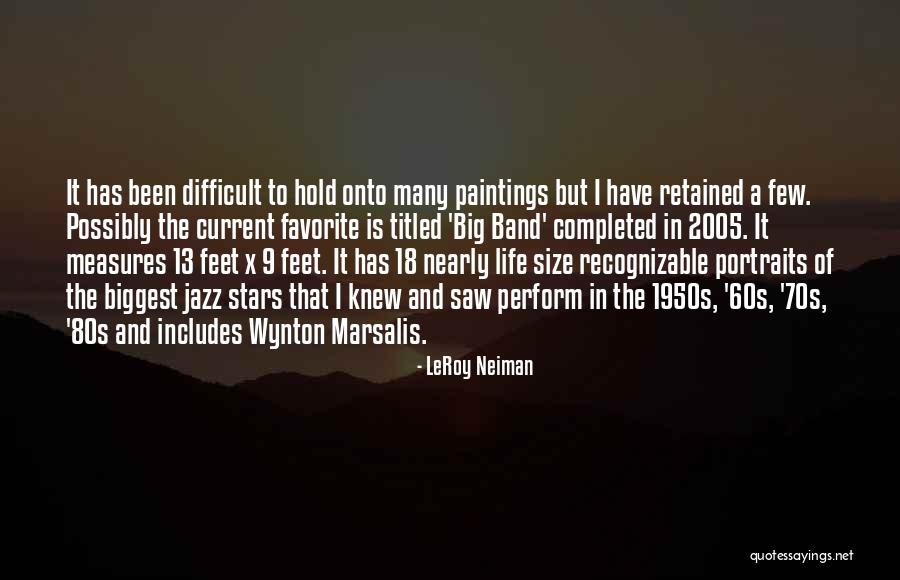 It has been difficult to hold onto many paintings but I have retained a few. Possibly the current favorite is titled 'Big Band' completed in 2005. It measures 13 feet x 9 feet. It has 18 nearly life size recognizable portraits of the biggest jazz stars that I knew and saw perform in the 1950s, '60s, '70s, '80s and includes Wynton Marsalis. — LeRoy Neiman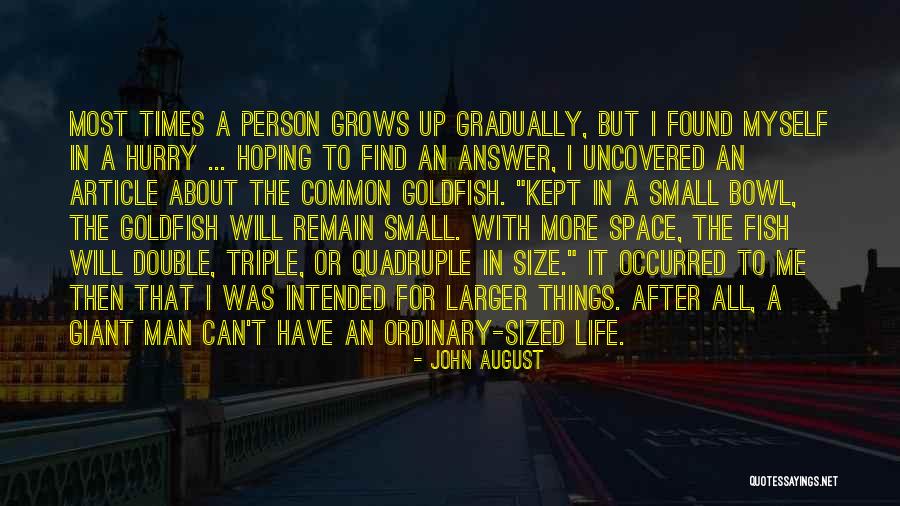 Most times a person grows up gradually, but I found myself in a hurry ... Hoping to find an answer, I uncovered an article about the common goldfish. "Kept in a small bowl, the goldfish will remain small. With more space, the fish will double, triple, or quadruple in size." It occurred to me then that I was intended for larger things. After all, a giant man can't have an ordinary-sized life. — John August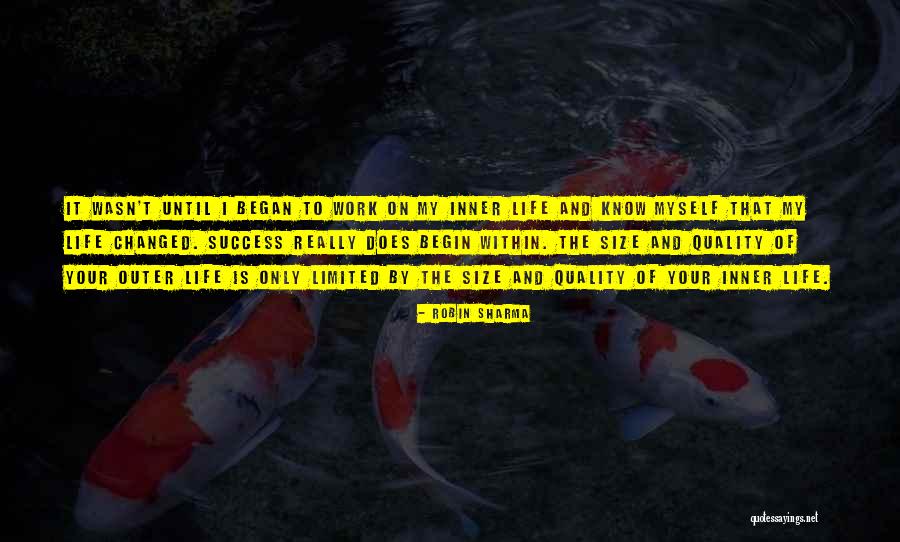 It wasn't until I began to work on my inner life and know myself that my life changed. Success really does begin within. The size and quality of your outer life is only limited by the size and quality of your inner life. — Robin Sharma
What have I ever had to do in my life that really
needed to be done? I always had a choice, and I always took the easy way
out - we always took the easy way out. At our age the burden of double
maths on a Monday morning and finding a spot the size of Pluto on my nose
was as complicated as it ever got for me.
This time round I'm having a baby. A baby. And that baby will be
around on the Monday, on the Tuesday, on the Wednesday, Thursday, Friday, Saturday, and Sunday. I have no weekends off. No three-month holidays.
I can't take a day off, call in sick, or get Mum to write a note. I am
going to be the mum now. I wish I could write myself a note.
I'm scared, Alex.
Rosie — Cecelia Ahern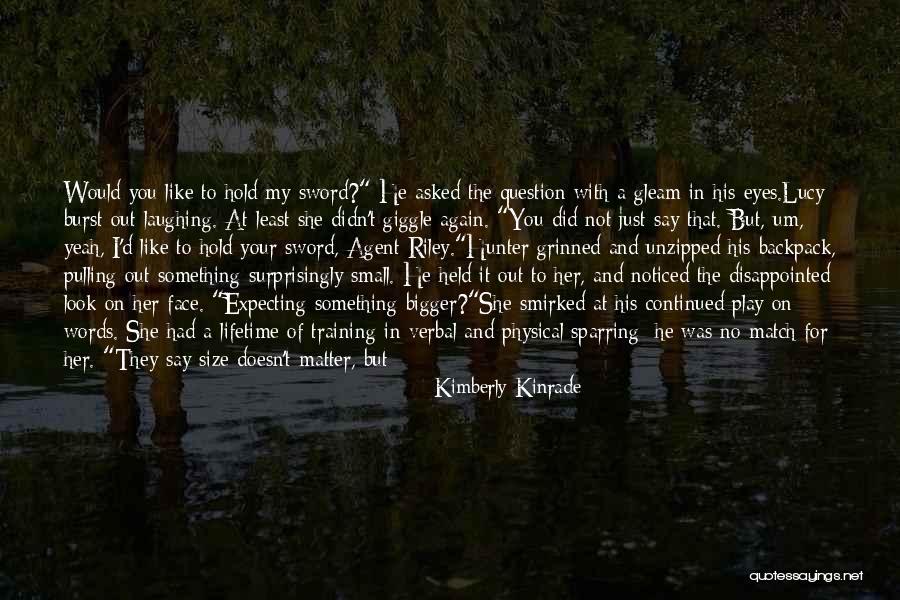 Would you like to hold my sword?" He asked the question with a gleam in his eyes.
Lucy burst out laughing. At least she didn't giggle again. "You did not just say that. But, um, yeah, I'd like to hold your sword, Agent Riley."
Hunter grinned and unzipped his backpack, pulling out something surprisingly small. He held it out to her, and noticed the disappointed look on her face. "Expecting something bigger?"
She smirked at his continued play on words. She had a lifetime of training in verbal and physical sparring; he was no match for her. "They say size doesn't matter, but I disagree."
Hunter, who apparently hadn't expected her response, choked on his own comeback and unsheathed the sword, then placed it in her hand. "You have to stroke it a certain way to make it bigger. — Kimberly Kinrade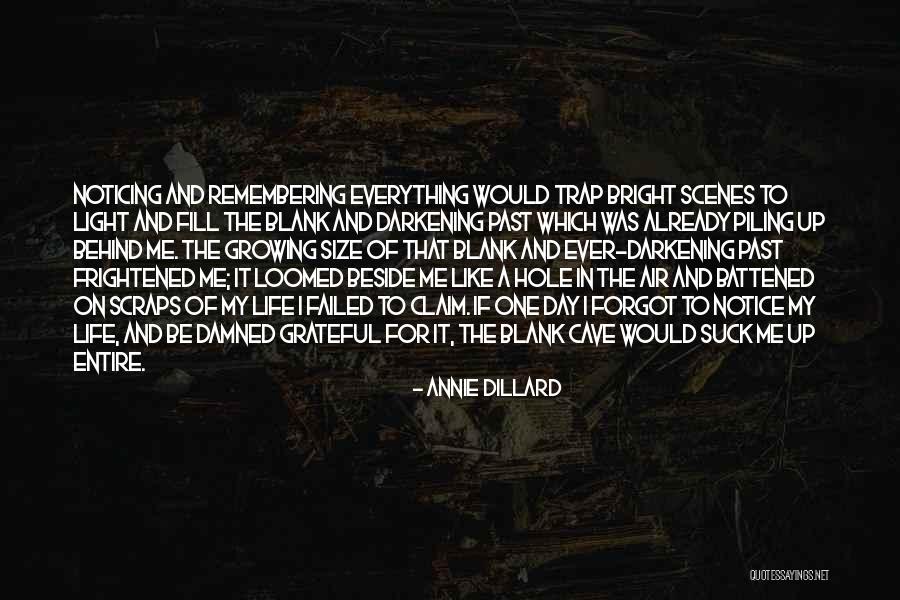 Noticing and remembering everything would trap bright scenes to light and fill the blank and darkening past which was already piling up behind me. The growing size of that blank and ever-darkening past frightened me; it loomed beside me like a hole in the air and battened on scraps of my life I failed to claim. If one day I forgot to notice my life, and be damned grateful for it, the blank cave would suck me up entire. — Annie Dillard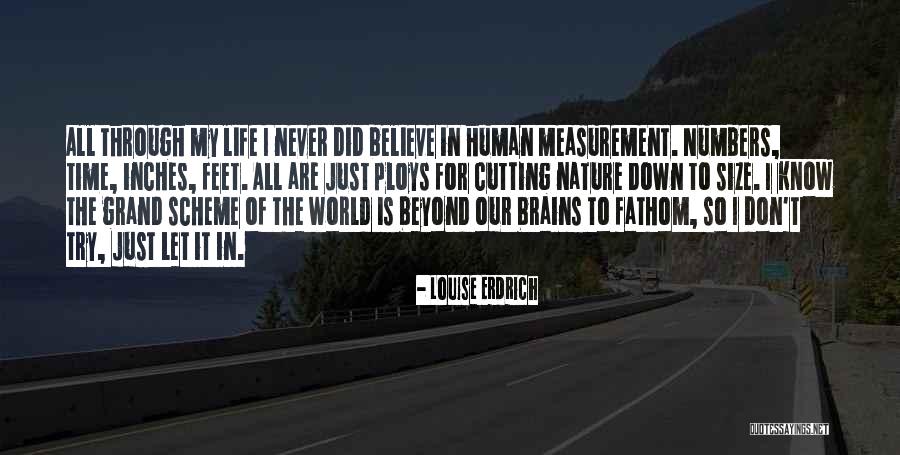 All through my life I never did believe in human measurement. Numbers, time, inches, feet. All are just ploys for cutting nature down to size. I know the grand scheme of the world is beyond our brains to fathom, so I don't try, just let it in. — Louise Erdrich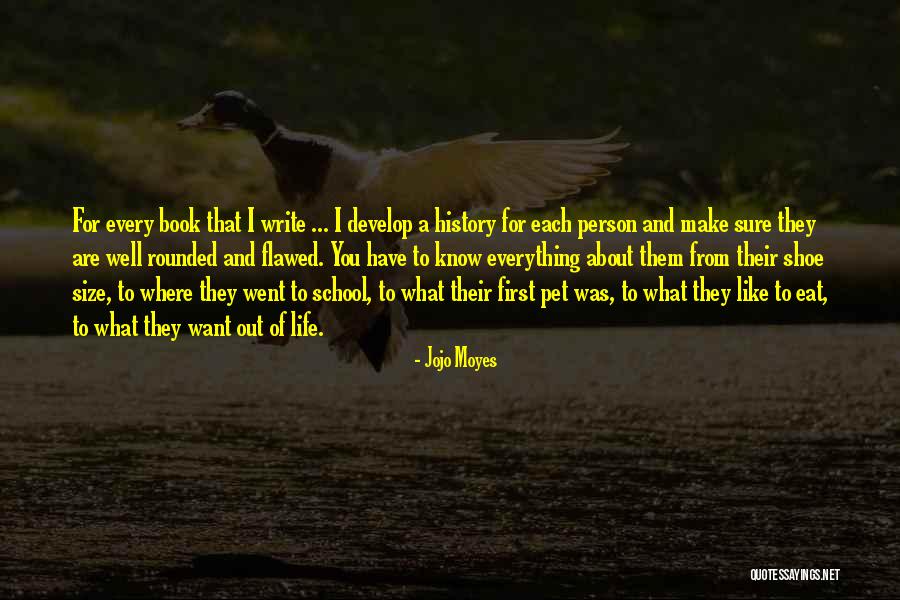 For every book that I write ... I develop a history for each person and make sure they are well rounded and flawed. You have to know everything about them from their shoe size, to where they went to school, to what their first pet was, to what they like to eat, to what they want out of life. — Jojo Moyes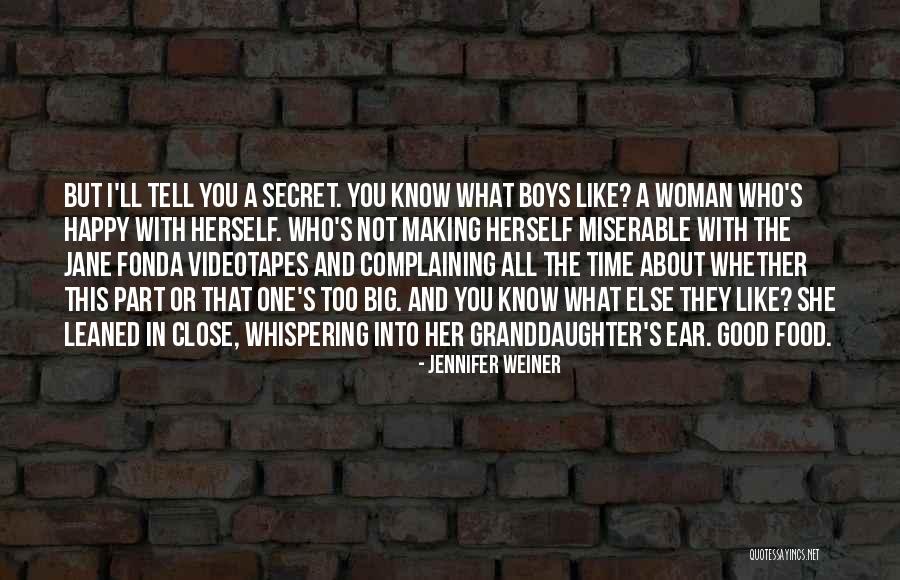 But I'll tell you a secret. You know what boys like? A woman who's happy with herself. Who's not making herself miserable with the Jane Fonda videotapes and complaining all the time about whether this part or that one's too big. And you know what else they like? She leaned in close, whispering into her granddaughter's ear. Good food. — Jennifer Weiner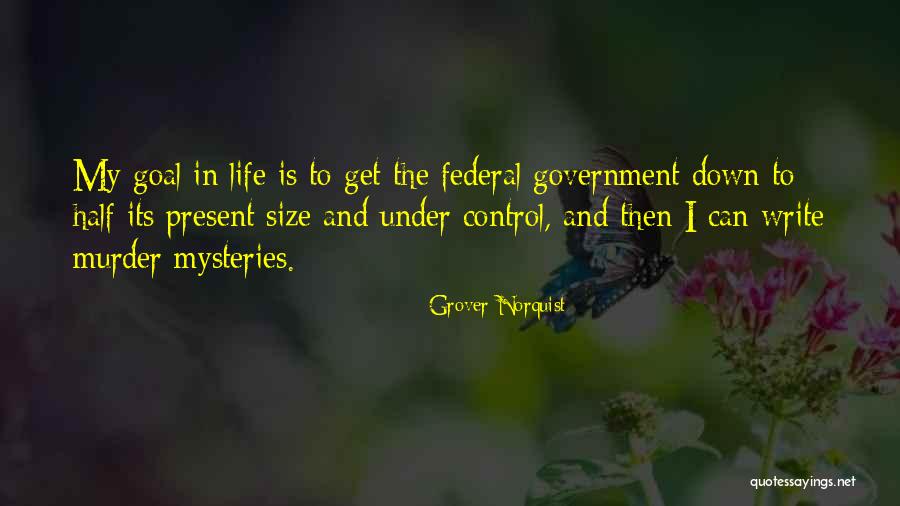 My goal in life is to get the federal government down to half its present size and under control, and then I can write murder mysteries. — Grover Norquist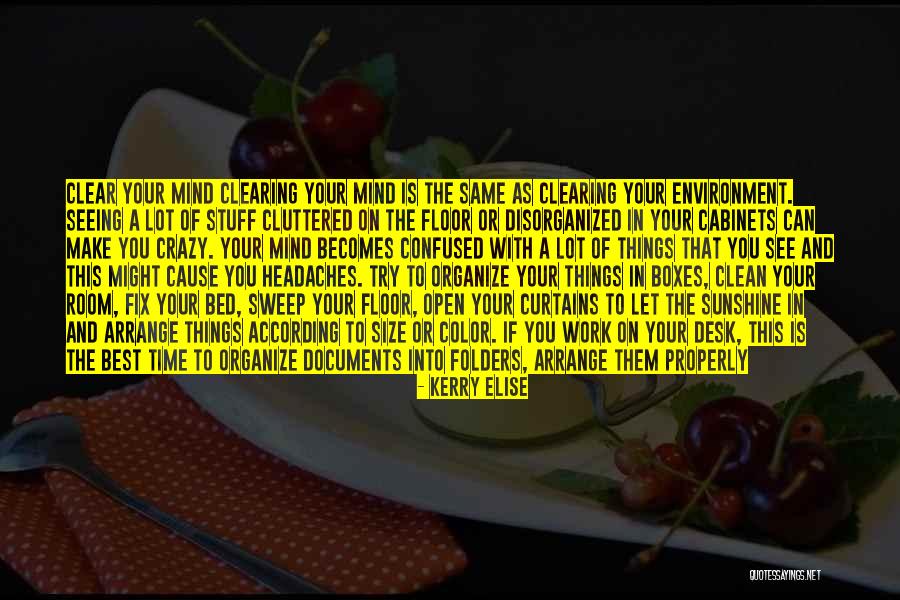 Clear Your Mind Clearing your mind is the same as clearing your environment. Seeing a lot of stuff cluttered on the floor or disorganized in your cabinets can make you crazy. Your mind becomes confused with a lot of things that you see and this might cause you headaches. Try to organize your things in boxes, clean your room, fix your bed, sweep your floor, open your curtains to let the sunshine in and arrange things according to size or color. If you work on your desk, this is the best time to organize documents into folders, arrange them properly in drawers and throw out those that are not needed anymore. Making a habit of cleaning your environment can clear your mind and can make your life easier. — Kerry Elise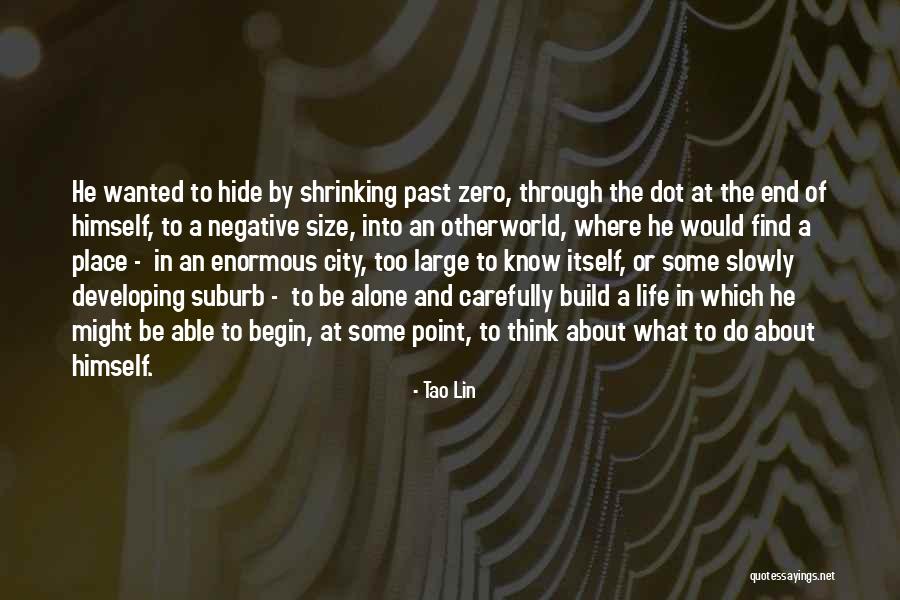 He wanted to hide by shrinking past zero, through the dot at the end of himself, to a negative size, into an otherworld, where he would find a place - in an enormous city, too large to know itself, or some slowly developing suburb - to be alone and carefully build a life in which he might be able to begin, at some point, to think about what to do about himself. — Tao Lin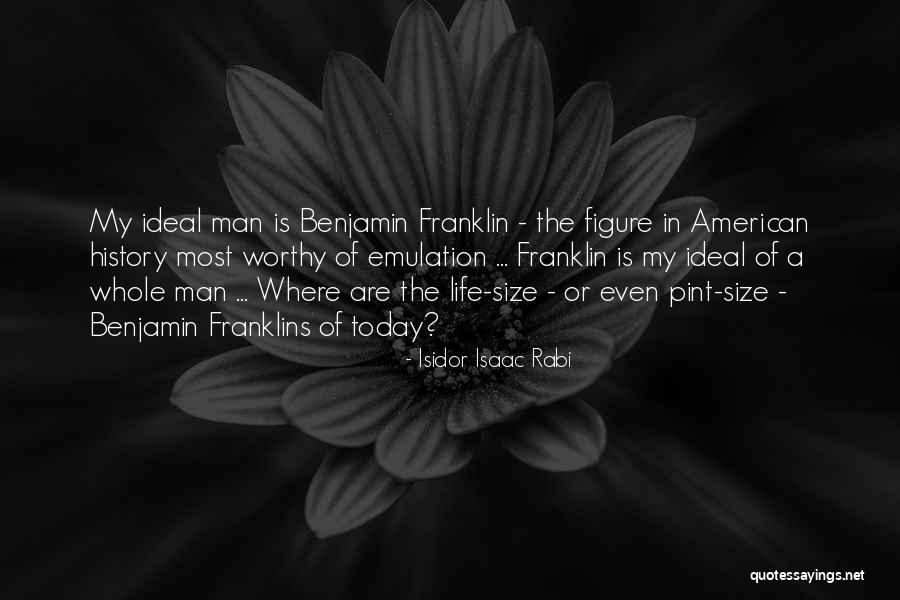 My ideal man is Benjamin Franklin - the figure in American history most worthy of emulation ... Franklin is my ideal of a whole man ... Where are the life-size - or even pint-size - Benjamin Franklins of today? — Isidor Isaac Rabi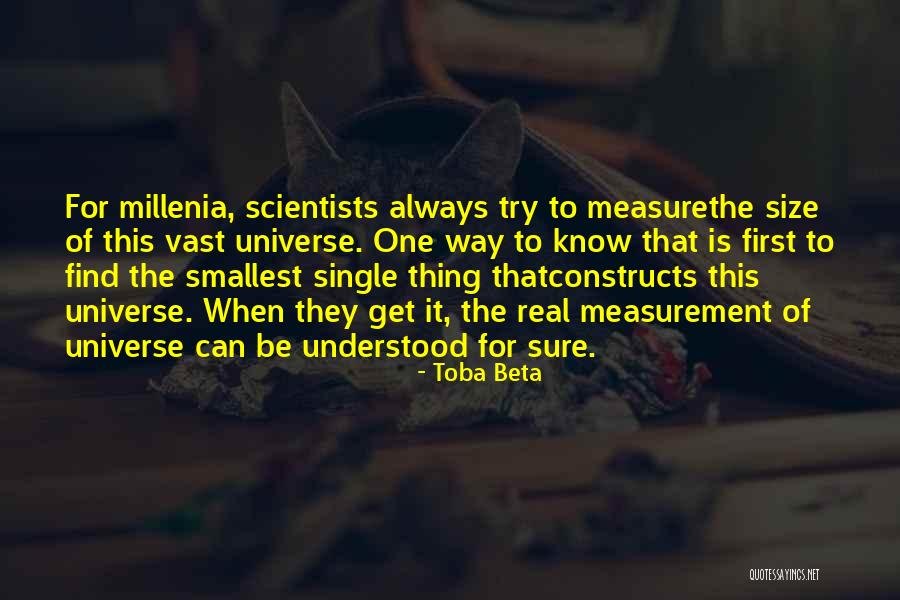 For millenia, scientists always try to measure
the size of this vast universe. One way to know
that is first to find the smallest single thing that
constructs this universe. When they get it, the
real measurement of universe can be understood for sure. — Toba Beta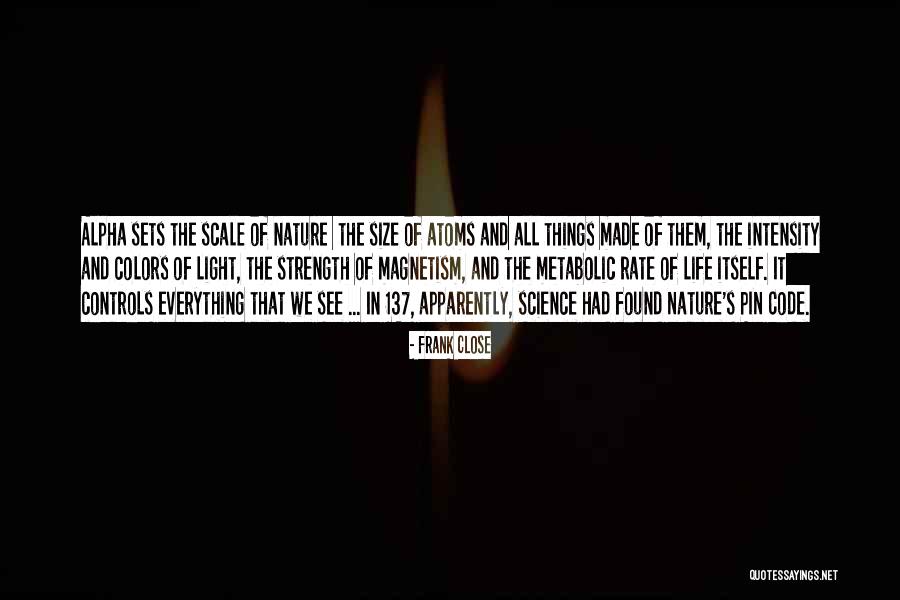 Alpha sets the scale of nature
the size of atoms and all things made of them, the intensity and colors of light, the strength of magnetism, and the metabolic rate of life itself. It controls everything that we see ... In 137, apparently, science had found Nature's PIN Code. — Frank Close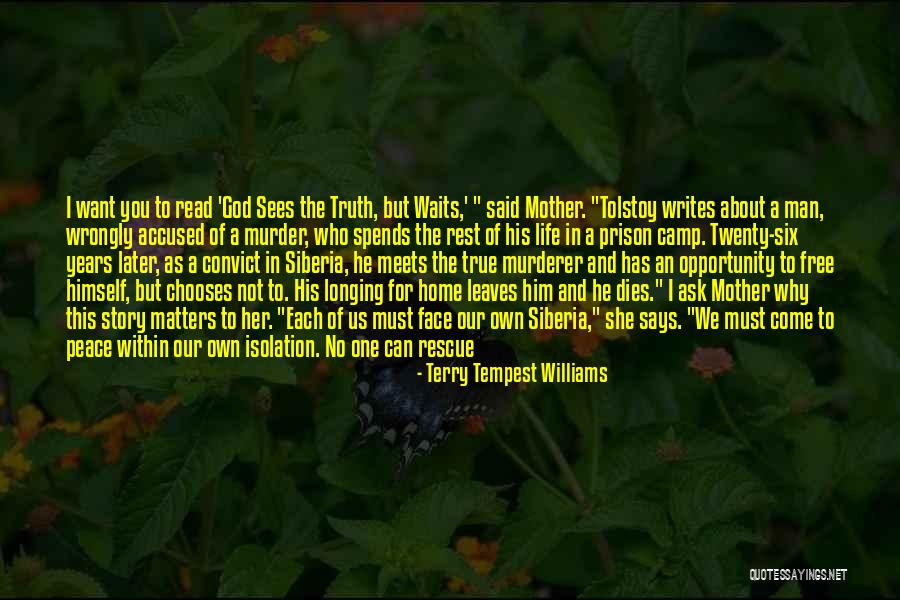 I want you to read 'God Sees the Truth, but Waits,' " said Mother. "Tolstoy writes about a man, wrongly accused of a murder, who spends the rest of his life in a prison camp. Twenty-six years later, as a convict in Siberia, he meets the true murderer and has an opportunity to free himself, but chooses not to. His longing for home leaves him and he dies." I ask Mother why this story matters to her. "Each of us must face our own Siberia," she says. "We must come to peace within our own isolation. No one can rescue us. My cancer is my Siberia." Suddenly, two white birds about the size of finches, dart in front of us and land on the snow. — Terry Tempest Williams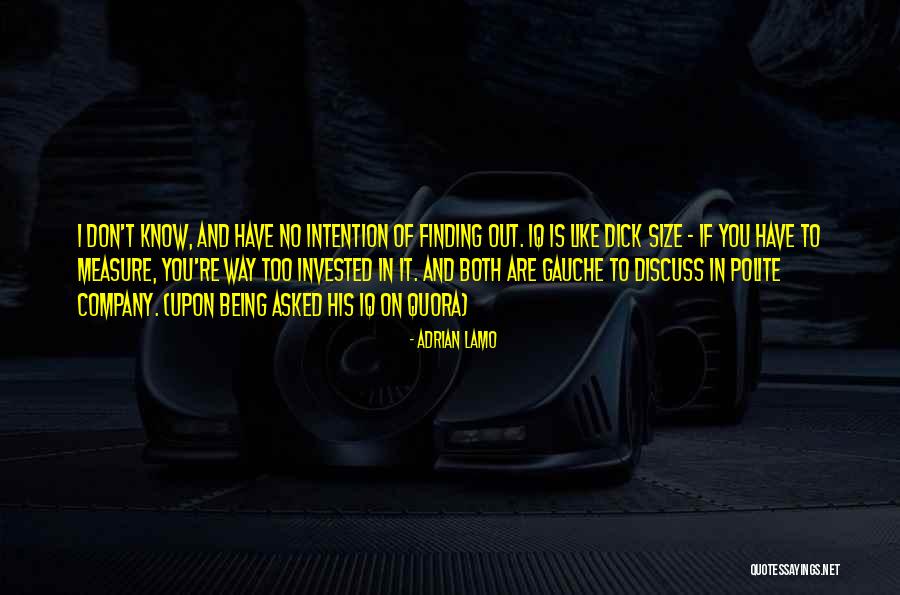 I don't know, and have no intention of finding out. IQ is like dick size - if you have to measure, you're way too invested in it. And both are gauche to discuss in polite company. (Upon being asked his IQ on Quora) — Adrian Lamo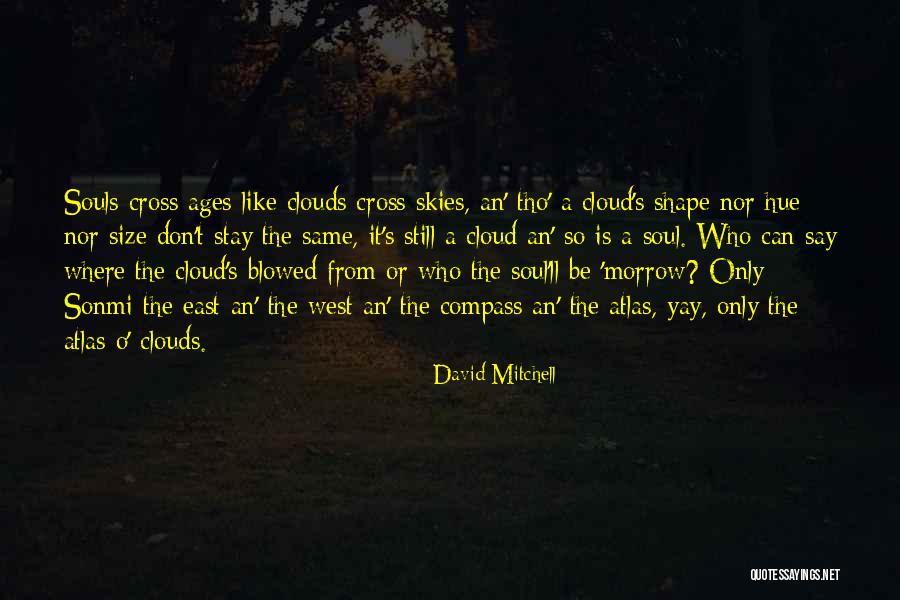 Souls cross ages like clouds cross skies, an' tho' a cloud's shape nor hue nor size don't stay the same, it's still a cloud an' so is a soul. Who can say where the cloud's blowed from or who the soul'll be 'morrow? Only Sonmi the east an' the west an' the compass an' the atlas, yay, only the atlas o' clouds. — David Mitchell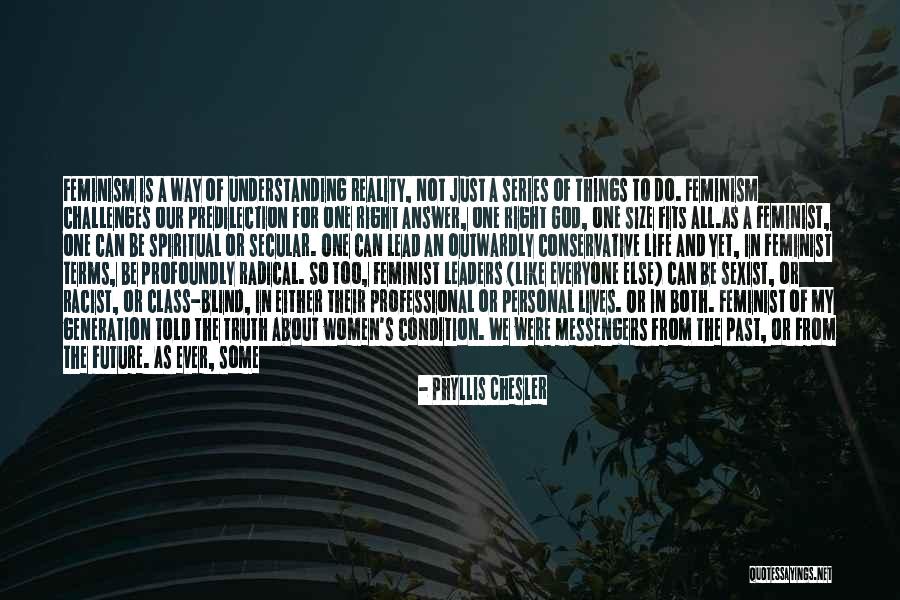 Feminism is a way of understanding reality, not just a series of things to do. Feminism challenges our predilection for one right answer, one right God, one size fits all.
As a feminist, one can be spiritual or secular. One can lead an outwardly conservative life and yet, in feminist terms, be profoundly radical. So too, feminist leaders (like everyone else) can be sexist, or racist, or class-blind, in either their professional or personal lives. Or in both.
Feminist of my generation told the truth about women's condition. We were messengers from the past, or from the future. As ever, some people thought that killing, or at least defaming, the messengers was a way of making us and our truths disappear.
I'm counting on you not to do that. — Phyllis Chesler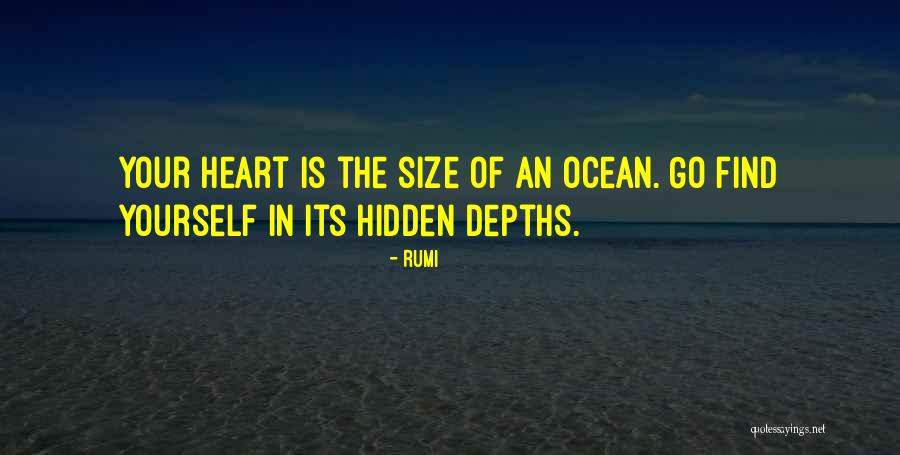 Your heart is the size of an ocean. Go find yourself in its hidden depths. — Rumi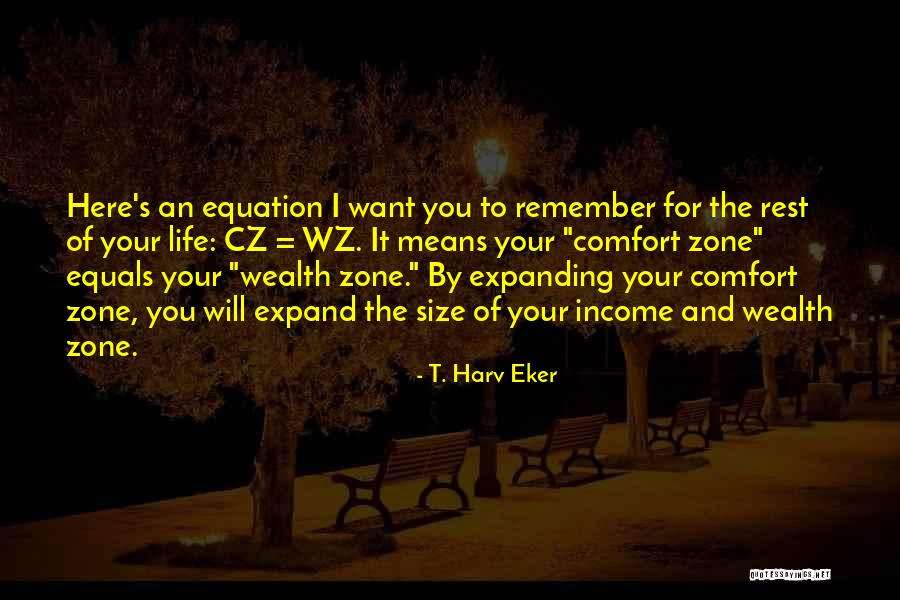 Here's an equation I want you to remember for the rest of your life: CZ = WZ. It means your "comfort zone" equals your "wealth zone." By expanding your comfort zone, you will expand the size of your income and wealth zone. — T. Harv Eker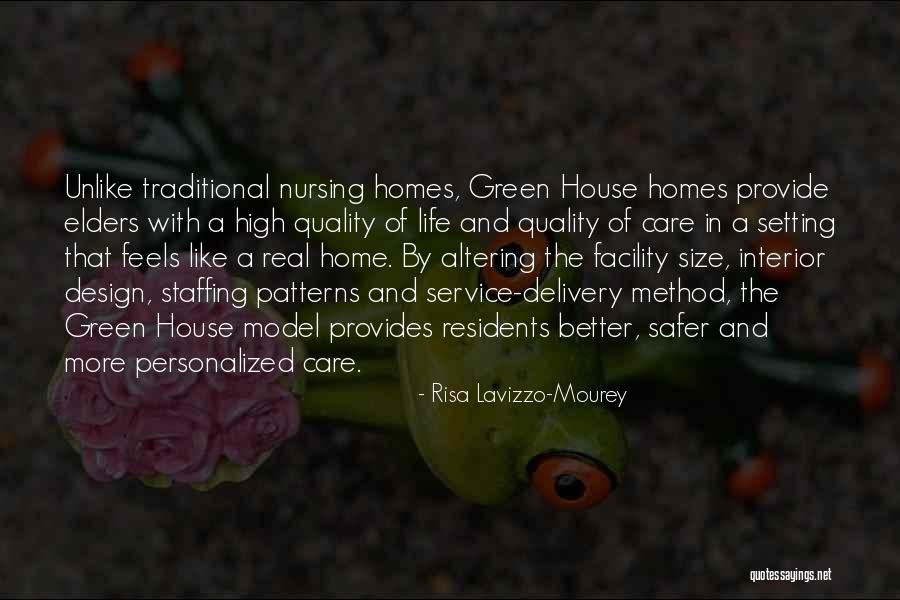 Unlike traditional nursing homes, Green House homes provide elders with a high quality of life and quality of care in a setting that feels like a real home. By altering the facility size, interior design, staffing patterns and service-delivery method, the Green House model provides residents better, safer and more personalized care. — Risa Lavizzo-Mourey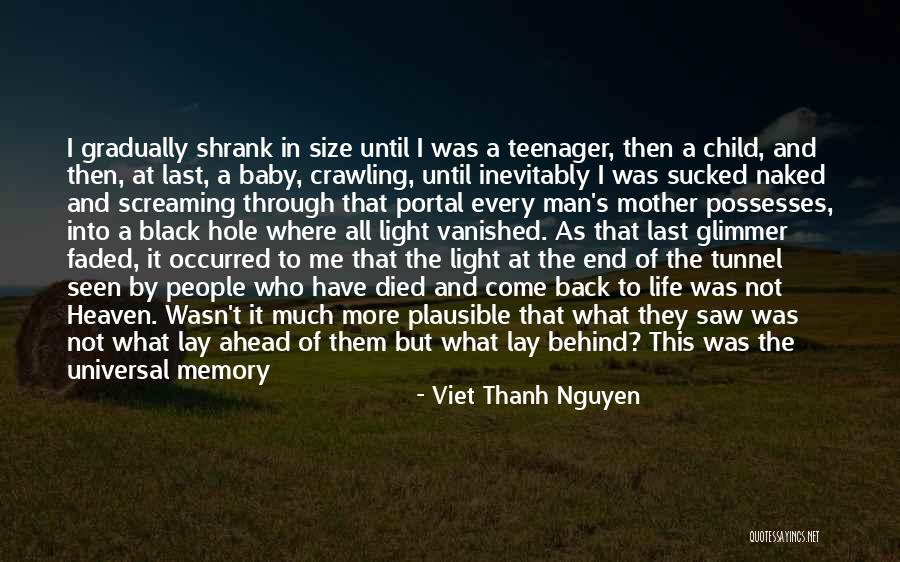 I gradually shrank in size until I was a teenager, then a child, and then, at last, a baby, crawling, until inevitably I was sucked naked and screaming through that portal every man's mother possesses, into a black hole where all light vanished. As that last glimmer faded, it occurred to me that the light at the end of the tunnel seen by people who have died and come back to life was not Heaven. Wasn't it much more plausible that what they saw was not what lay ahead of them but what lay behind? This was the universal memory of the first tunnel we all pass through, the light at its end penetrating our fetal darkness... — Viet Thanh Nguyen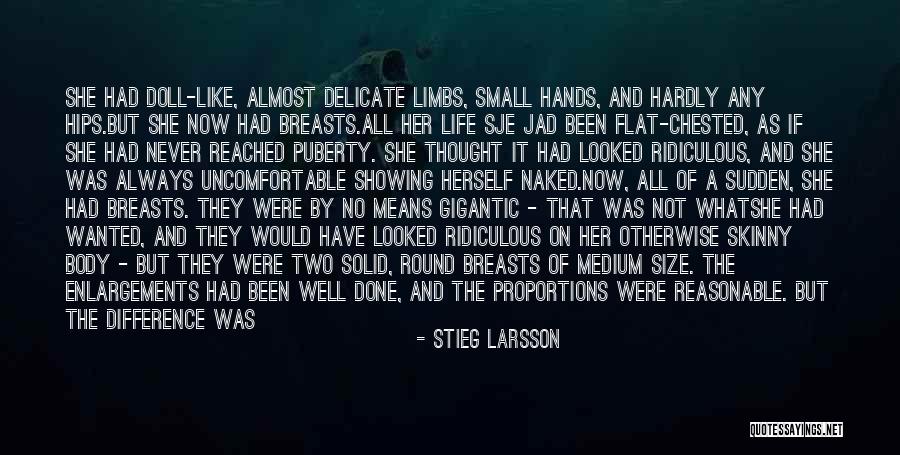 She had doll-like, almost delicate limbs, small hands, and hardly any hips.
But she now had breasts.
All her life sje jad been flat-chested, as if she had never reached puberty. She thought it had looked ridiculous, and she was always uncomfortable showing herself naked.
Now, all of a sudden, she had breasts. They were by no means gigantic - that was not whatshe had wanted, and they would have looked ridiculous on her otherwise skinny body - but they were two solid, round breasts of medium size. The enlargements had been well done, and the proportions were reasonable. But the difference was dramatic. — Stieg Larsson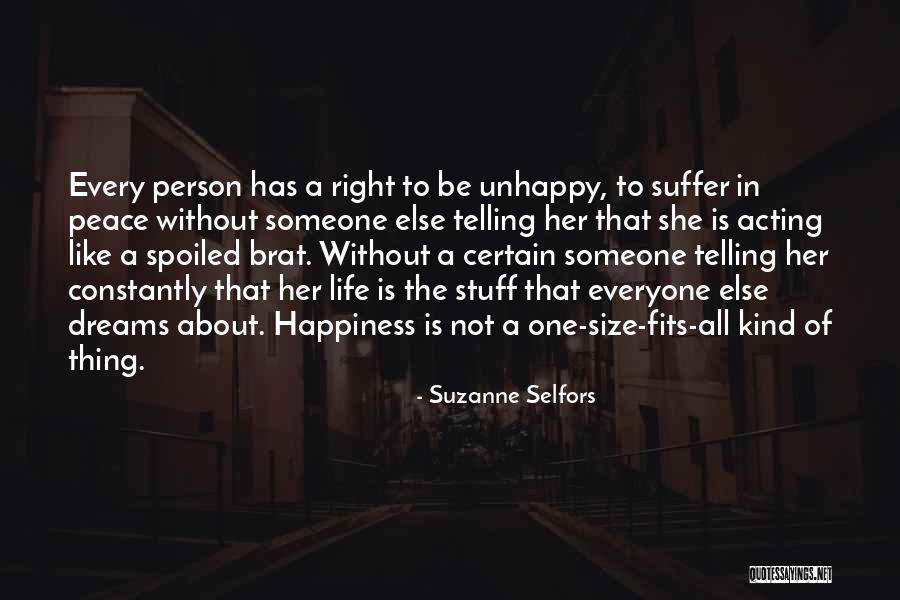 Every person has a right to be unhappy, to suffer in peace without someone else telling her that she is acting like a spoiled brat. Without a certain someone telling her constantly that her life is the stuff that everyone else dreams about. Happiness is not a one-size-fits-all kind of thing. — Suzanne Selfors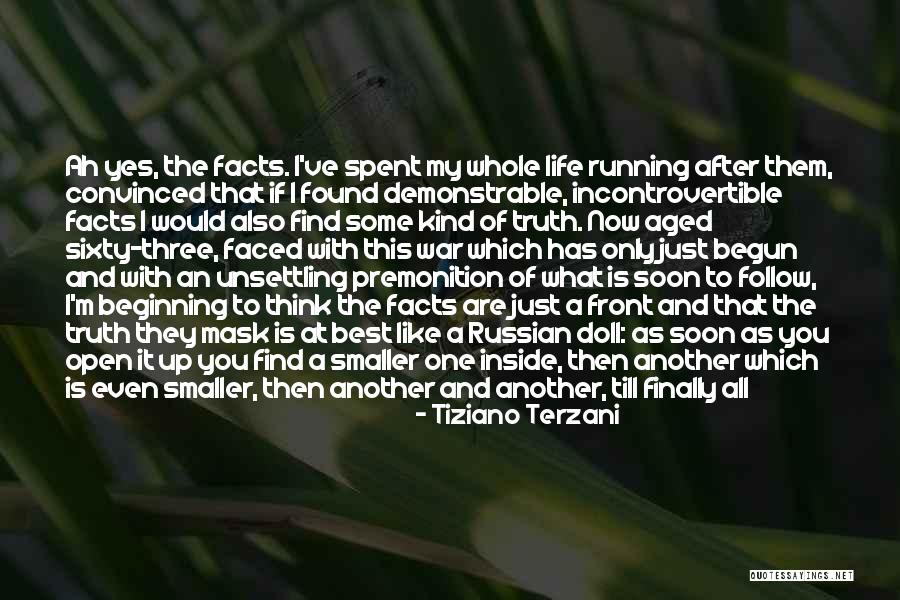 Ah yes, the facts. I've spent my whole life running after them, convinced that if I found demonstrable, incontrovertible facts I would also find some kind of truth. Now aged sixty-three, faced with this war which has only just begun and with an unsettling premonition of what is soon to follow, I'm beginning to think the facts are just a front and that the truth they mask is at best like a Russian doll: as soon as you open it up you find a smaller one inside, then another which is even smaller, then another and another, till finally all you are left with is something the size of a grain.
Letters against the war: Letter from Quetta, 2011. — Tiziano Terzani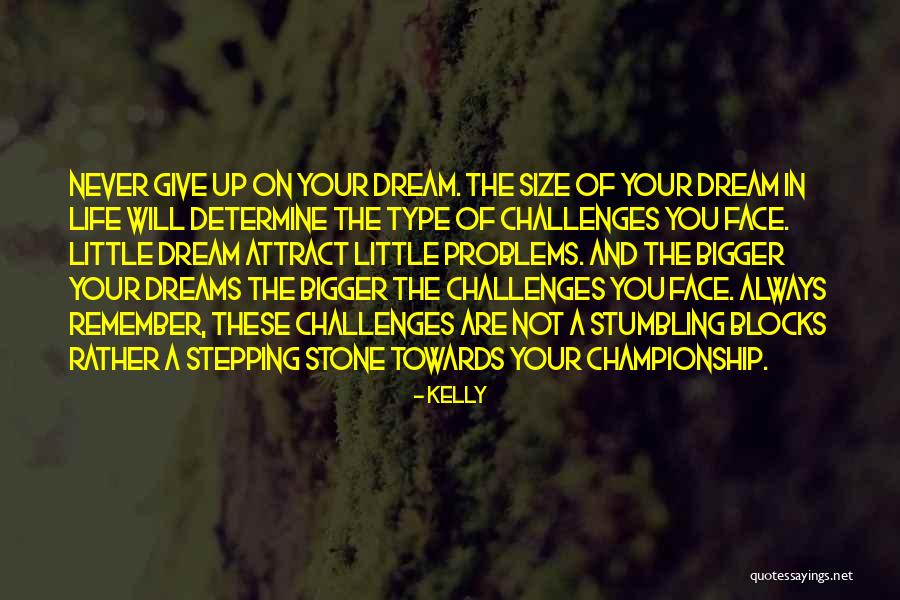 Never give up on your dream. The size of your dream in life will determine the type of challenges you face. Little dream attract little problems. And the bigger your dreams the bigger the challenges you face. Always remember, these challenges are not a stumbling blocks rather a stepping stone towards your championship. — Kelly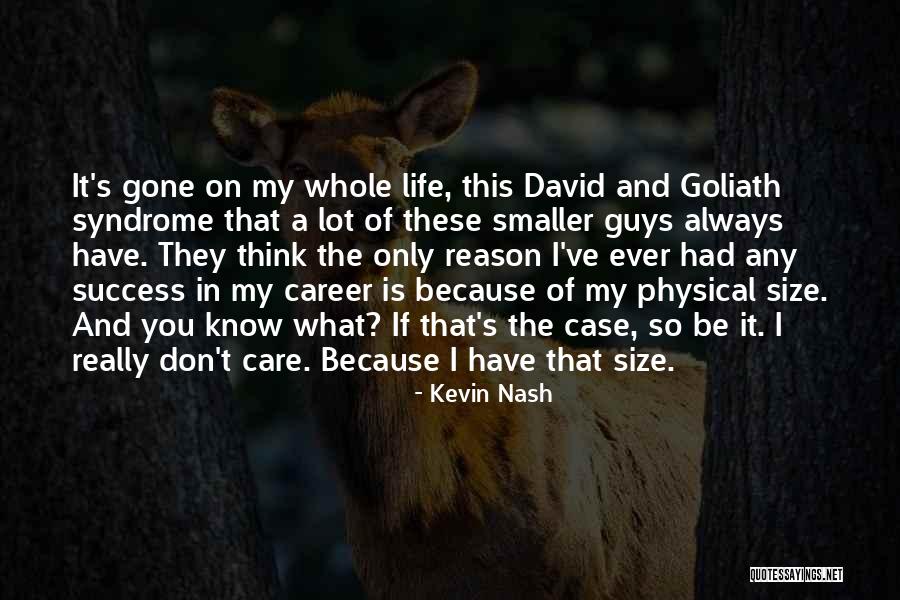 It's gone on my whole life, this David and Goliath syndrome that a lot of these smaller guys always have. They think the only reason I've ever had any success in my career is because of my physical size. And you know what? If that's the case, so be it. I really don't care. Because I have that size. — Kevin Nash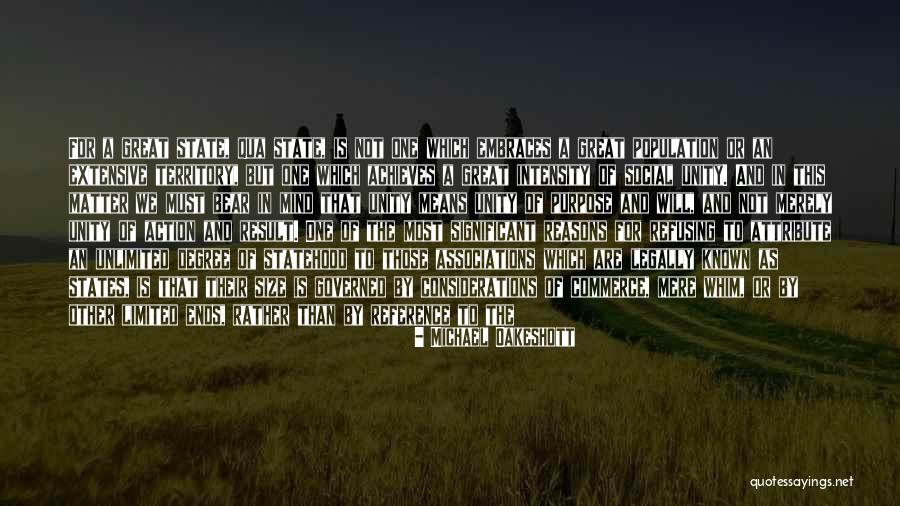 For a great state, qua state, is not one which embraces a great population or an extensive territory, but one which achieves a great intensity of social unity. And in this matter we must bear in mind that unity means unity of purpose and will, and not merely unity of action and result. One of the most significant reasons for refusing to attribute an unlimited degree of statehood to those associations which are legally known as states, is that their size is governed by considerations of commerce, mere whim, or by other limited ends, rather than by reference to the good life or the excellence of souls. — Michael Oakeshott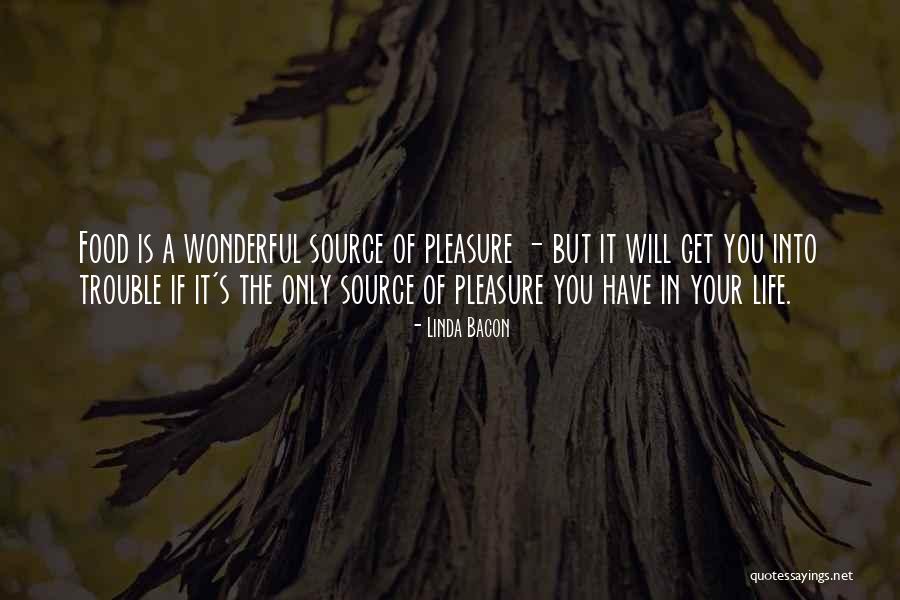 Food is a wonderful source of pleasure - but it will get you into trouble if it's the only source of pleasure you have in your life. — Linda Bacon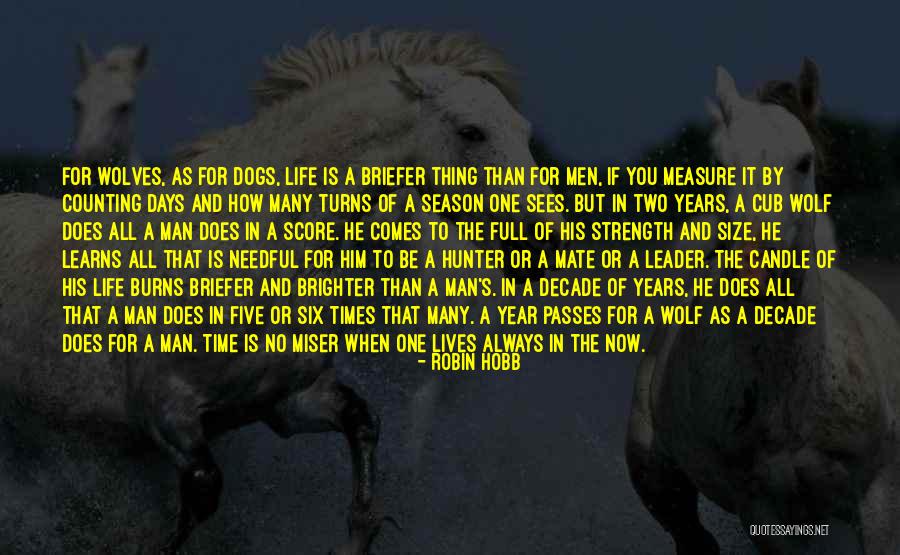 For wolves, as for dogs, life is a briefer thing than for men, if you measure it by counting days and how many turns of a season one sees. But in two years, a cub wolf does all a man does in a score. He comes to the full of his strength and size, he learns all that is needful for him to be a hunter or a mate or a leader. The candle of his life burns briefer and brighter than a man's. In a decade of years, he does all that a man does in five or six times that many. A year passes for a wolf as a decade does for a man. Time is no miser when one lives always in the now. — Robin Hobb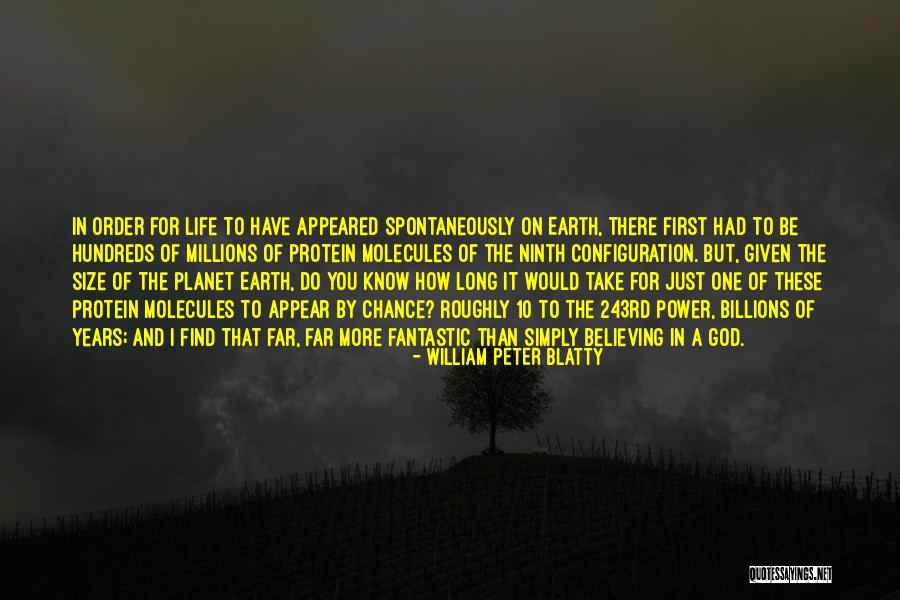 In order for life to have appeared spontaneously on Earth, there first had to be hundreds of millions of protein molecules of the Ninth Configuration. But, given the size of the planet Earth, do you know how long it would take for just one of these protein molecules to appear by chance? Roughly 10 to the 243rd power, billions of years; and I find that far, far more fantastic than simply believing in a god. — William Peter Blatty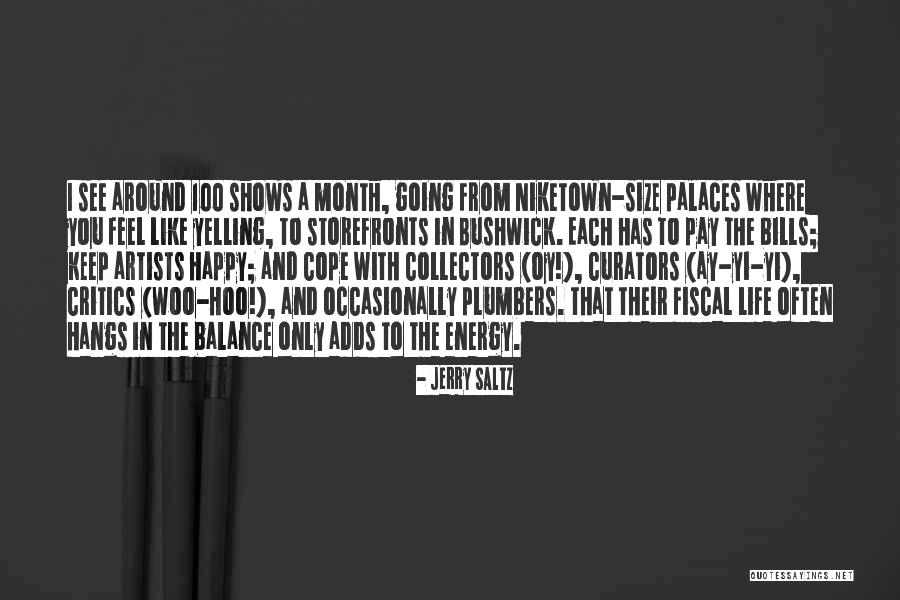 I see around 100 shows a month, going from Niketown-size palaces where you feel like yelling, to storefronts in Bushwick. Each has to pay the bills; keep artists happy; and cope with collectors (oy!), curators (ay-yi-yi), critics (woo-hoo!), and occasionally plumbers. That their fiscal life often hangs in the balance only adds to the energy. — Jerry Saltz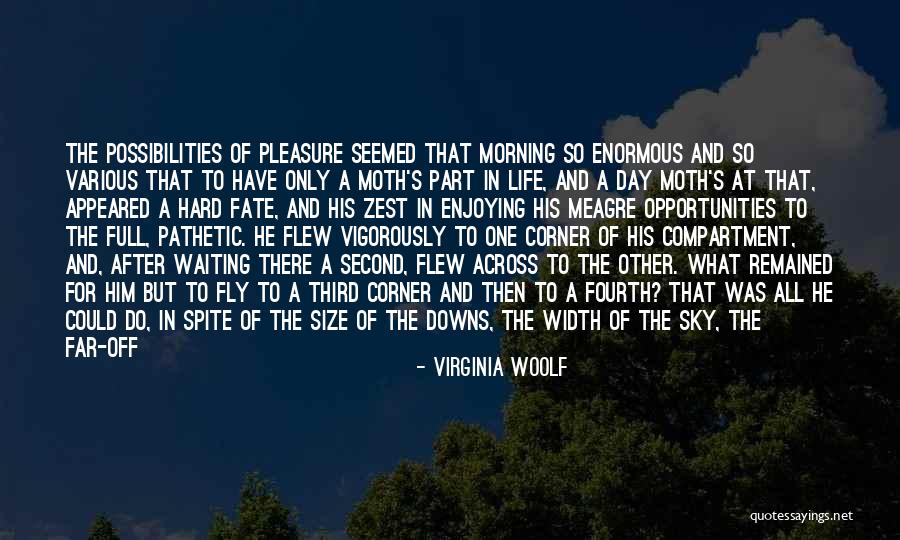 The possibilities of pleasure seemed that morning so enormous and so various that to have only a moth's part in life, and a day moth's at that, appeared a hard fate, and his zest in enjoying his meagre opportunities to the full, pathetic. He flew vigorously to one corner of his compartment, and, after waiting there a second, flew across to the other. What remained for him but to fly to a third corner and then to a fourth? That was all he could do, in spite of the size of the downs, the width of the sky, the far-off smoke of houses, and the romantic voice, now and then, of a steamer out at sea. What he could do he did. — Virginia Woolf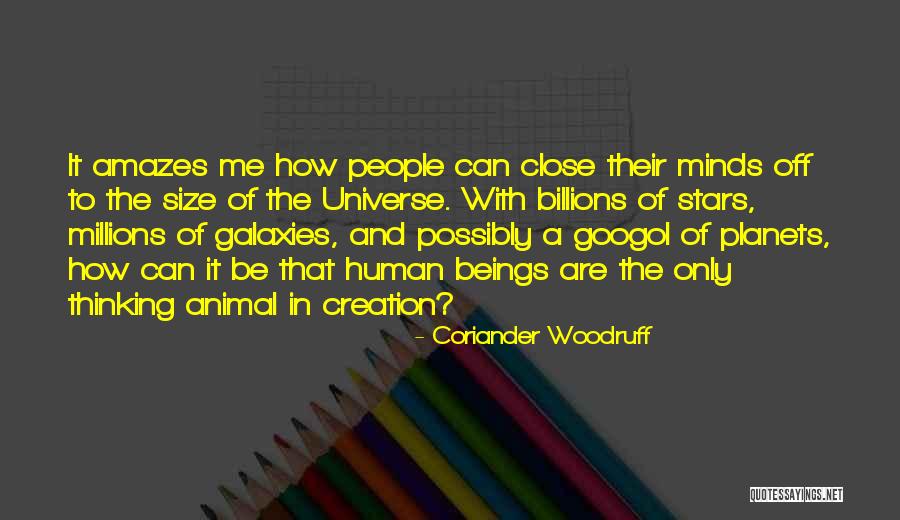 It amazes me how people can close their minds off to the size of the Universe. With billions of stars, millions of galaxies, and possibly a googol of planets, how can it be that human beings are the only thinking animal in creation? — Coriander Woodruff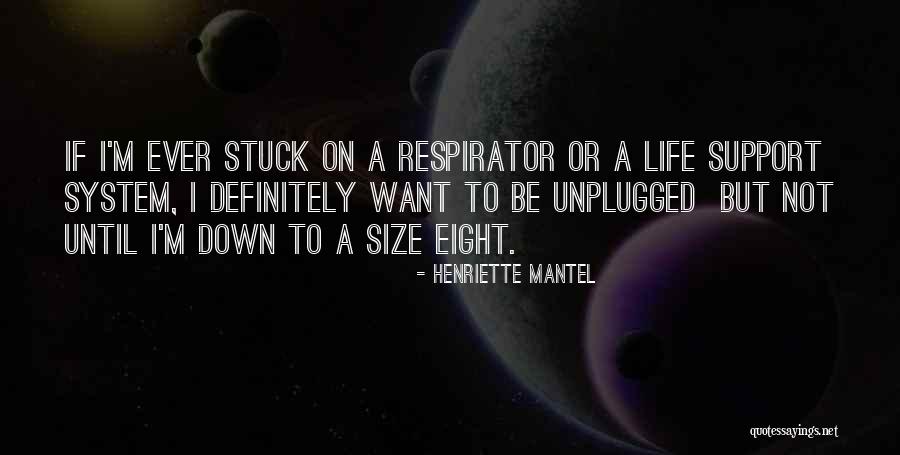 If I'm ever stuck on a respirator or a life support system, I definitely want to be unplugged
but not until I'm down to a size eight. — Henriette Mantel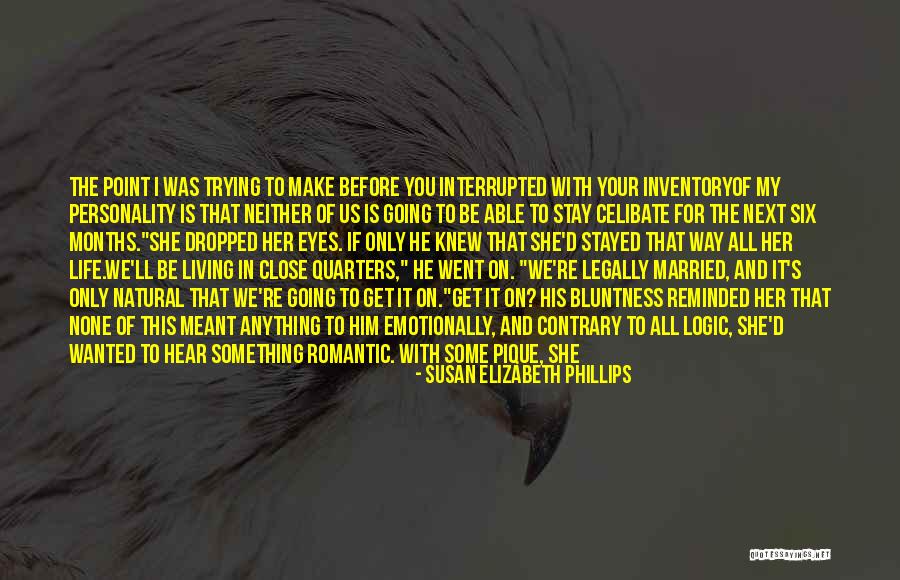 The point I was trying to make before you interrupted with your inventory
of my personality is that neither of us is going to be able to stay celibate for the next six months."
She dropped her eyes. If only he knew that she'd stayed that way all her life.
We'll be living in close quarters," he went on. "We're legally married, and it's only natural that we're going to get it on."
Get it on? His bluntness reminded her that none of this meant anything to him emotionally, and contrary to all logic, she'd wanted to hear something romantic. With some pique, she said, "In other words, you expect me to keep house, work for the circus, and 'get it on' with you."
He thought it over. "I guess that's about the size of it. — Susan Elizabeth Phillips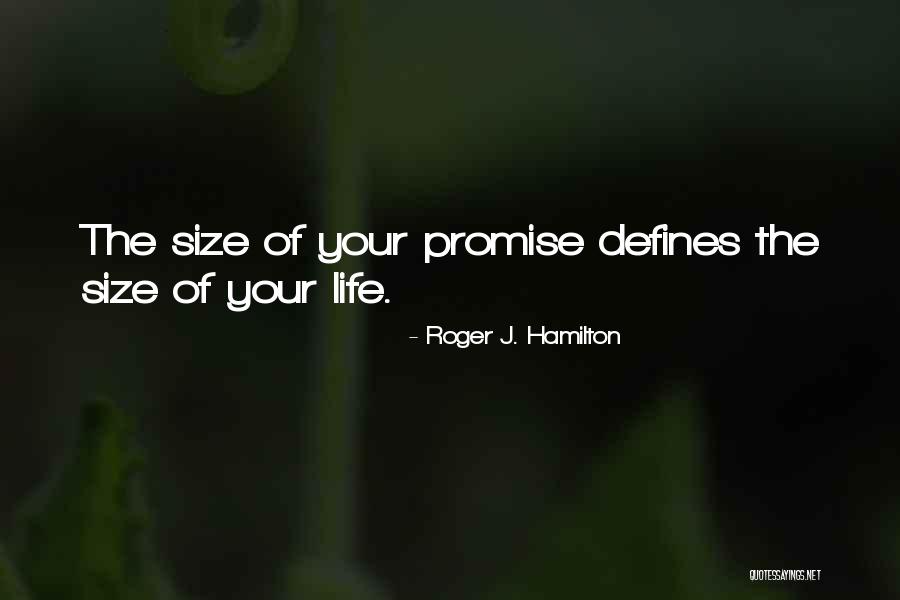 The size of your promise defines the size of your life. — Roger J. Hamilton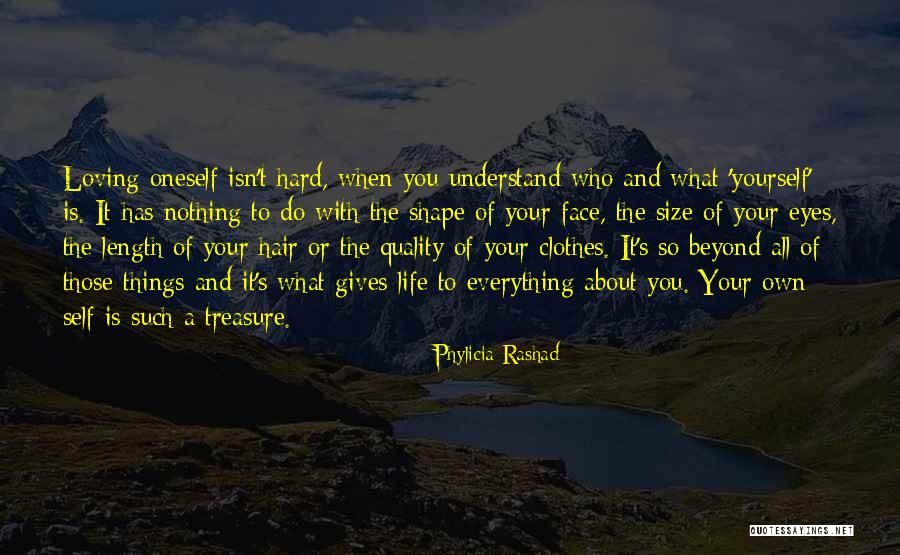 Loving oneself isn't hard, when you understand who and what 'yourself' is. It has nothing to do with the shape of your face, the size of your eyes, the length of your hair or the quality of your clothes. It's so beyond all of those things and it's what gives life to everything about you. Your own self is such a treasure. — Phylicia Rashad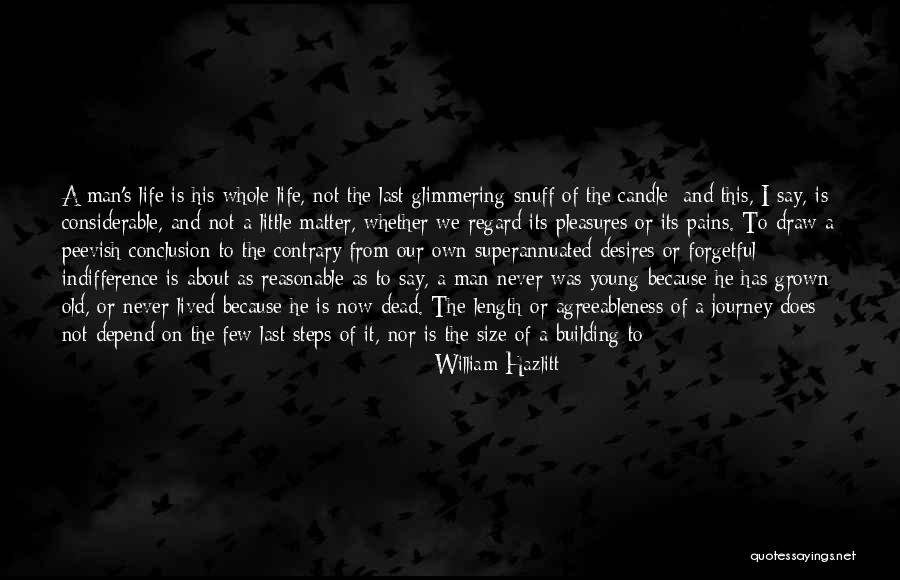 A man's life is his whole life, not the last glimmering snuff of the candle; and this, I say, is considerable, and not a little matter, whether we regard its pleasures or its pains. To draw a peevish conclusion to the contrary from our own superannuated desires or forgetful indifference is about as reasonable as to say, a man never was young because he has grown old, or never lived because he is now dead. The length or agreeableness of a journey does not depend on the few last steps of it, nor is the size of a building to be judged of from the last stone that is added to it. It is neither the first nor last hour of our existence, but the space that parts these two - not our exit nor our entrance upon the stage, but what we do, feel, and think while there - that we are to attend to in pronouncing sentence upon it. — William Hazlitt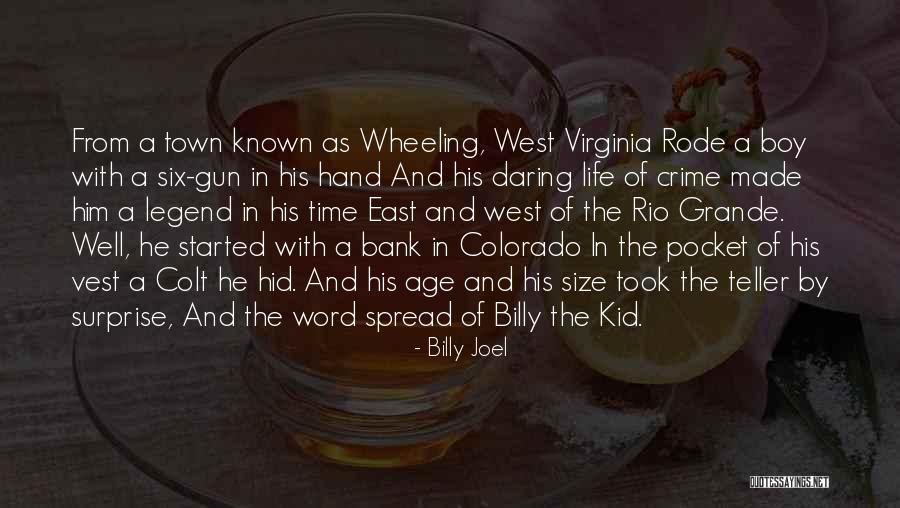 From a town known as Wheeling, West Virginia Rode a boy with a six-gun in his hand And his daring life of crime made him a legend in his time East and west of the Rio Grande. Well, he started with a bank in Colorado In the pocket of his vest a Colt he hid. And his age and his size took the teller by surprise, And the word spread of Billy the Kid. — Billy Joel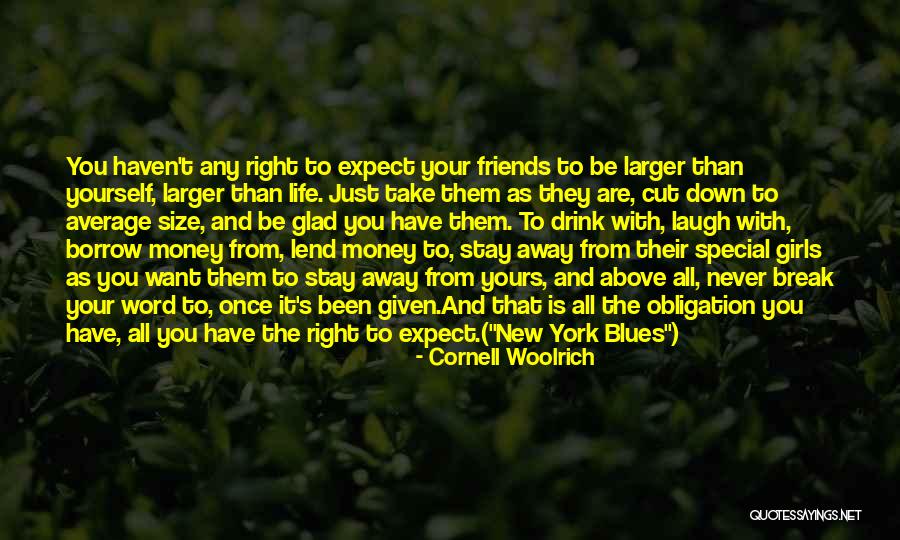 You haven't any right to expect your friends to be larger than yourself, larger than life. Just take them as they are, cut down to average size, and be glad you have them. To drink with, laugh with, borrow money from, lend money to, stay away from their special girls as you want them to stay away from yours, and above all, never break your word to, once it's been given.
And that is all the obligation you have, all you have the right to expect.
("New York Blues") — Cornell Woolrich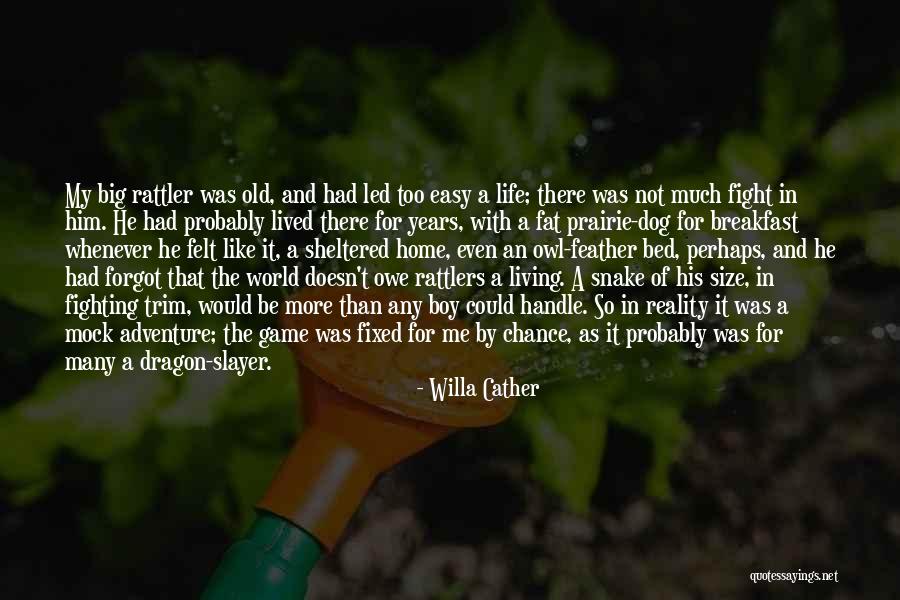 My big rattler was old, and had led too easy a life; there was not much fight in him. He had probably lived there for years, with a fat prairie-dog for breakfast whenever he felt like it, a sheltered home, even an owl-feather bed, perhaps, and he had forgot that the world doesn't owe rattlers a living. A snake of his size, in fighting trim, would be more than any boy could handle. So in reality it was a mock adventure; the game was fixed for me by chance, as it probably was for many a dragon-slayer. — Willa Cather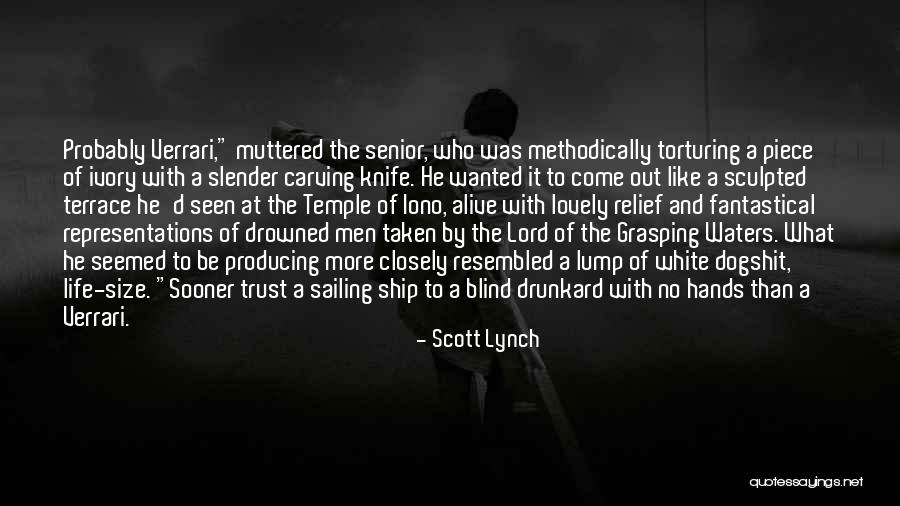 Probably Verrari," muttered the senior, who was methodically torturing a piece of ivory with a slender carving knife. He wanted it to come out like a sculpted terrace he'd seen at the Temple of Iono, alive with lovely relief and fantastical representations of drowned men taken by the Lord of the Grasping Waters. What he seemed to be producing more closely resembled a lump of white dogshit, life-size. "Sooner trust a sailing ship to a blind drunkard with no hands than a Verrari. — Scott Lynch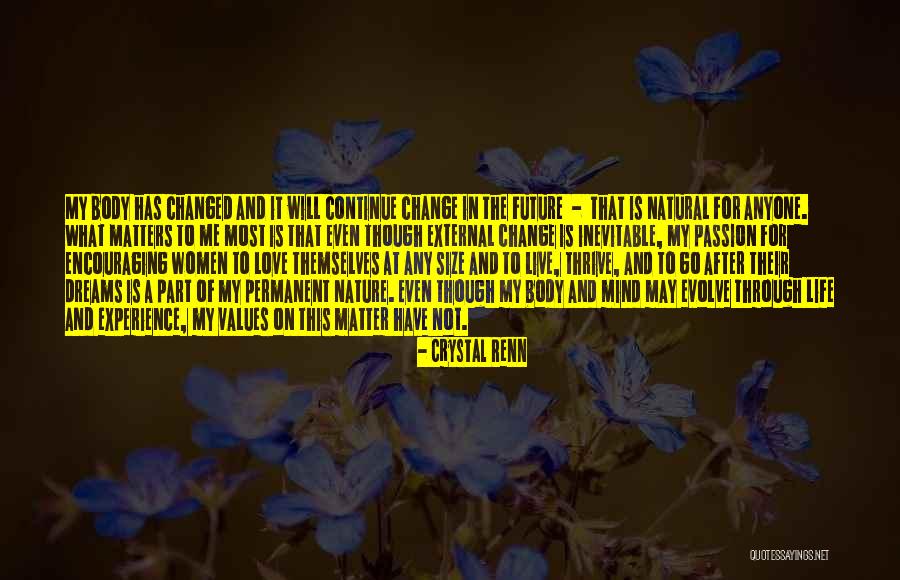 My body has changed and it will continue change in the future - that is natural for anyone. What matters to me most is that even though external change is inevitable, my passion for encouraging women to love themselves at any size and to live, thrive, and to go after their dreams is a part of my permanent nature. Even though my body and mind may evolve through life and experience, my values on this matter have not. — Crystal Renn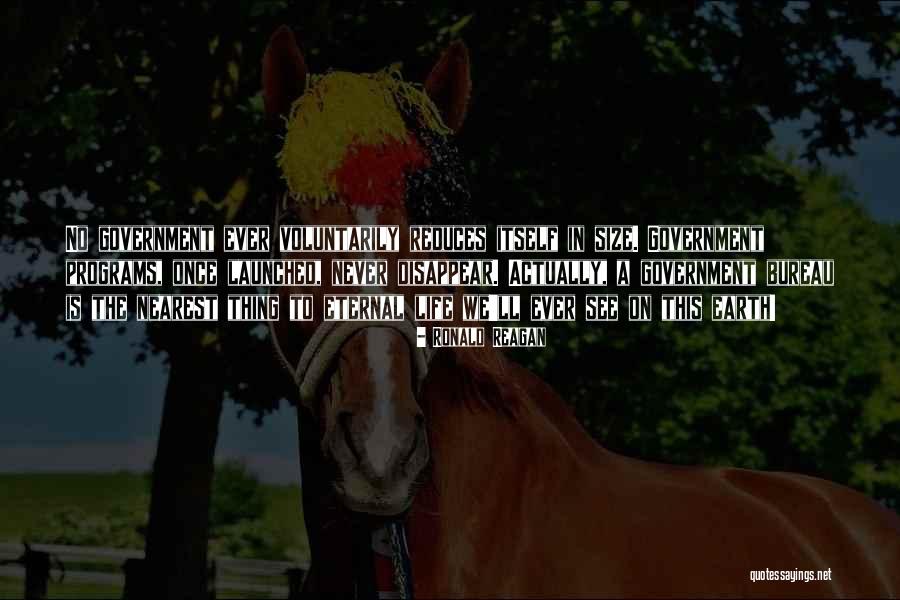 No government ever voluntarily reduces itself in size. Government programs, once launched, never disappear. Actually, a government bureau is the nearest thing to eternal life we'll ever see on this earth! — Ronald Reagan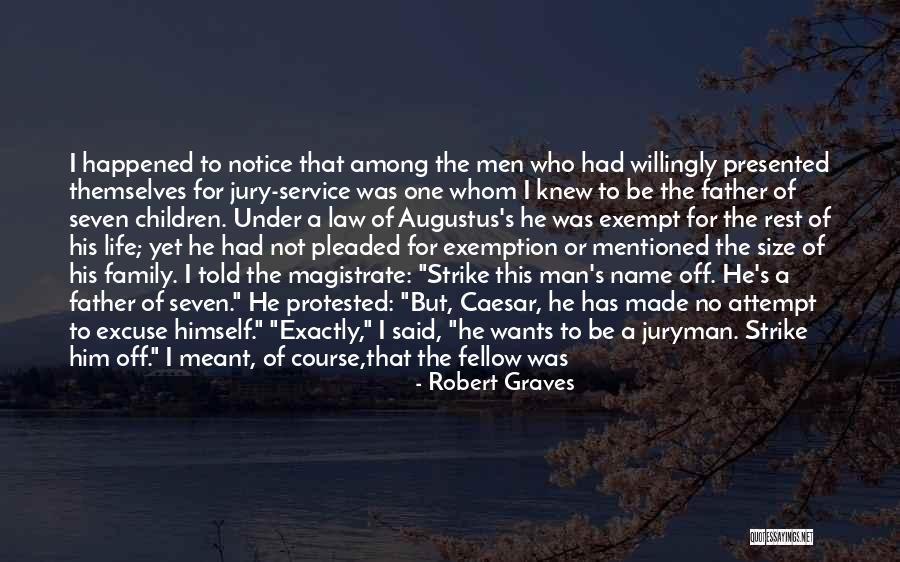 I happened to notice that among the men who had willingly presented themselves for jury-service was one whom I knew to be the father of seven children. Under a law of Augustus's he was exempt for the rest of his life; yet he had not pleaded for exemption or mentioned the size of his family. I told the magistrate: "Strike this man's name off. He's a father of seven." He protested: "But, Caesar, he has made no attempt to excuse himself." "Exactly," I said, "he wants to be a juryman. Strike him off." I meant, of course,that the fellow was concealing his immunity from what every honest man considered a very thankless and disagreeable duty and that he therefore was almost certain to have crooked intentions. Crooked jurymen could pick up a lot of money by bribes, for it was a commonplace that one interested juryman could sway the opinions of a whole bunch of uninterested ones; and the majority verdict decided a case. — Robert Graves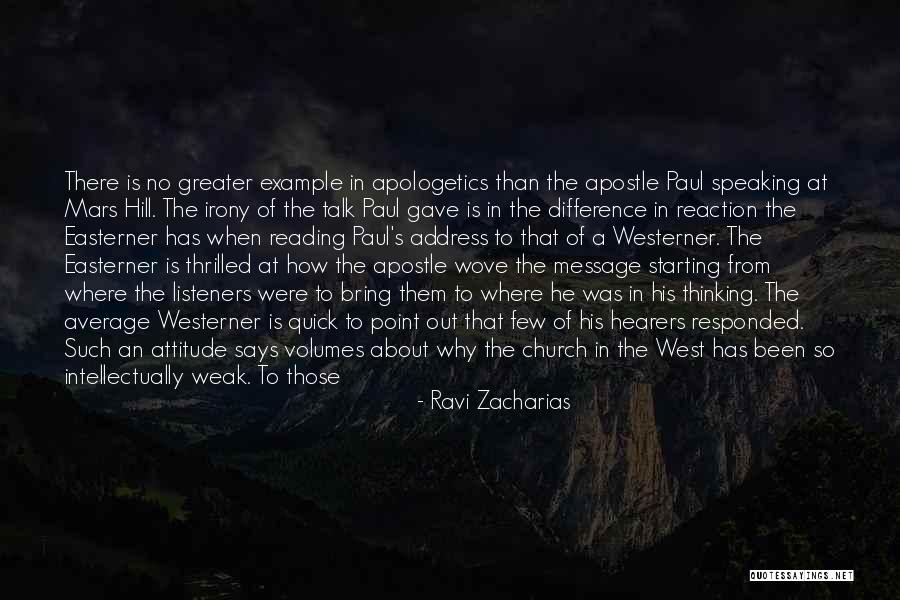 There is no greater example in apologetics than the apostle Paul speaking at Mars Hill. The irony of the talk Paul gave is in the difference in reaction the Easterner has when reading Paul's address to that of a Westerner. The Easterner is thrilled at how the apostle wove the message starting from where the listeners were to bring them to where he was in his thinking. The average Westerner is quick to point out that few of his hearers responded. Such an attitude says volumes about why the church in the West has been so intellectually weak. To those in the West, the bigger the number of respondents, the more replicated the technique. The bigger the statistic, the greater the success. Westerners are enamored by size, largesse, number of hands raised, and so on. When the sun has set on these reports, we seem rather dismayed when statistics show the quality of the life of the believer is no different from that of the unbeliever. — Ravi Zacharias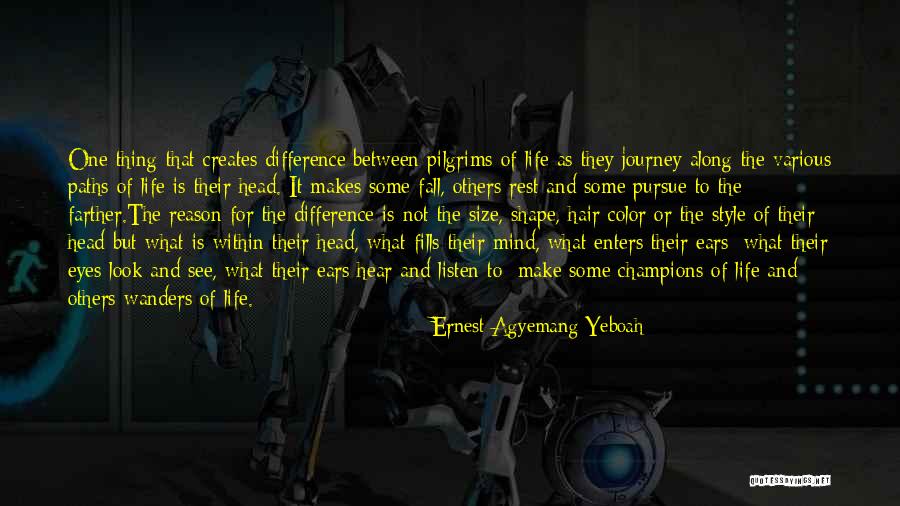 One thing that creates difference between pilgrims of life as they journey along the various paths of life is their head. It makes some fall, others rest and some pursue to the farther.
The reason for the difference is not the size, shape, hair color or the style of their head but what is within their head, what fills their mind, what enters their ears; what their eyes look and see, what their ears hear and listen to; make some champions of life and others wanders of life. — Ernest Agyemang Yeboah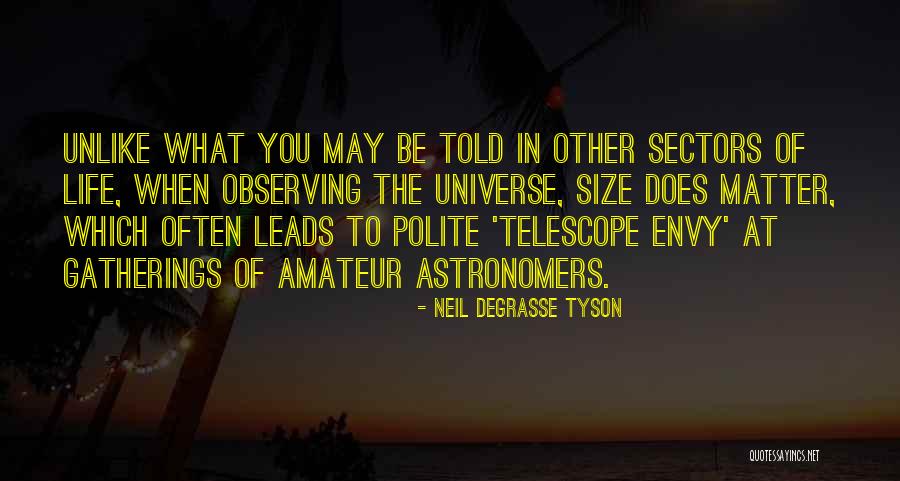 Unlike what you may be told in other sectors of life, when observing the universe, size does matter, which often leads to polite 'telescope envy' at gatherings of amateur astronomers. — Neil DeGrasse Tyson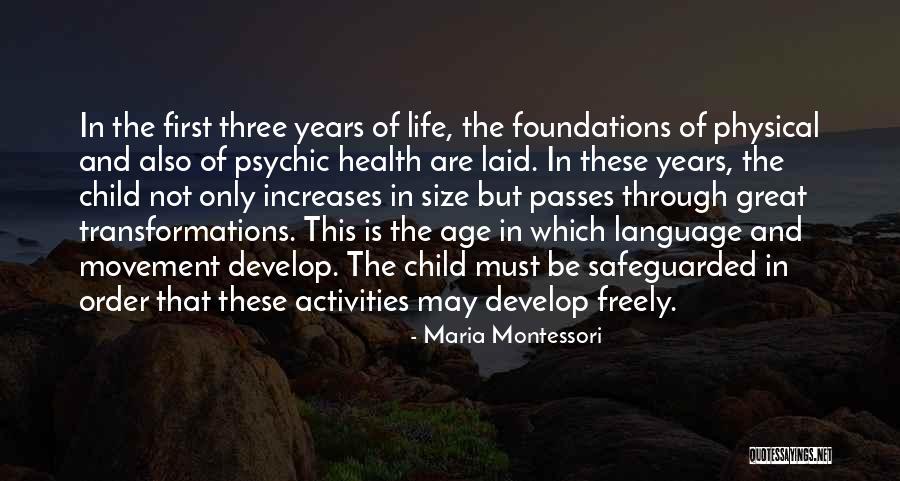 In the first three years of life, the foundations of physical and also of psychic health are laid. In these years, the child not only increases in size but passes through great transformations. This is the age in which language and movement develop. The child must be safeguarded in order that these activities may develop freely. — Maria Montessori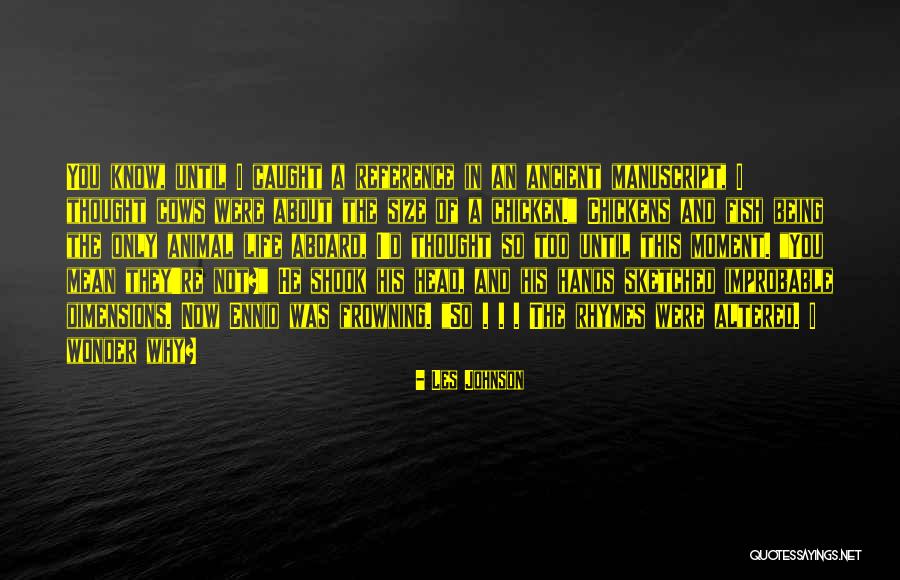 You know, until I caught a reference in an ancient manuscript, I thought cows were about the size of a chicken." Chickens and fish being the only animal life aboard, I'd thought so too until this moment. "You mean they're not?" He shook his head, and his hands sketched improbable dimensions. Now Ennio was frowning. "So . . . The rhymes were altered. I wonder why? — Les Johnson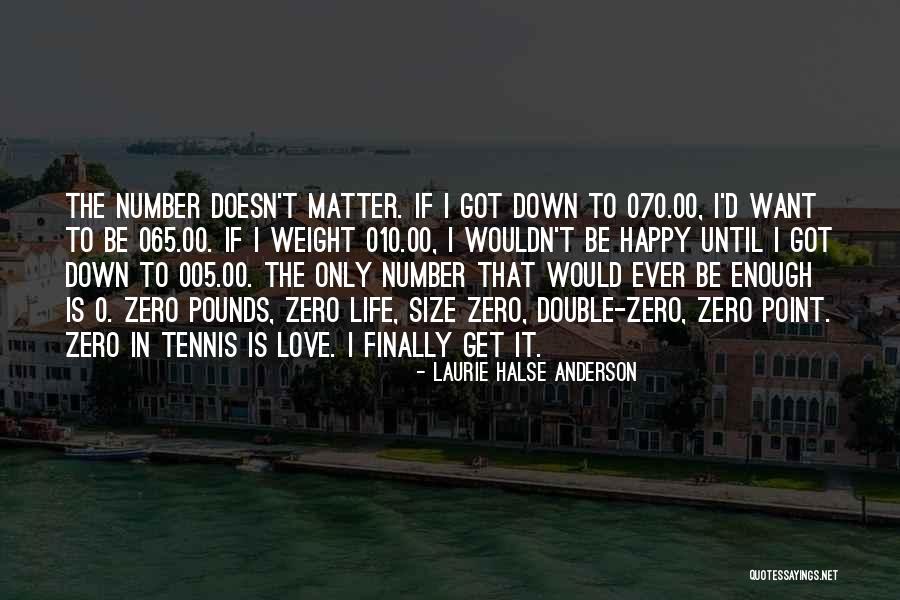 The number doesn't matter. If I got down to 070.00, I'd want to be 065.00. If I weight 010.00, I wouldn't be happy until I got down to 005.00. The only number that would ever be enough is 0. Zero pounds, zero life, size zero, double-zero, zero point. Zero in tennis is love. I finally get it. — Laurie Halse Anderson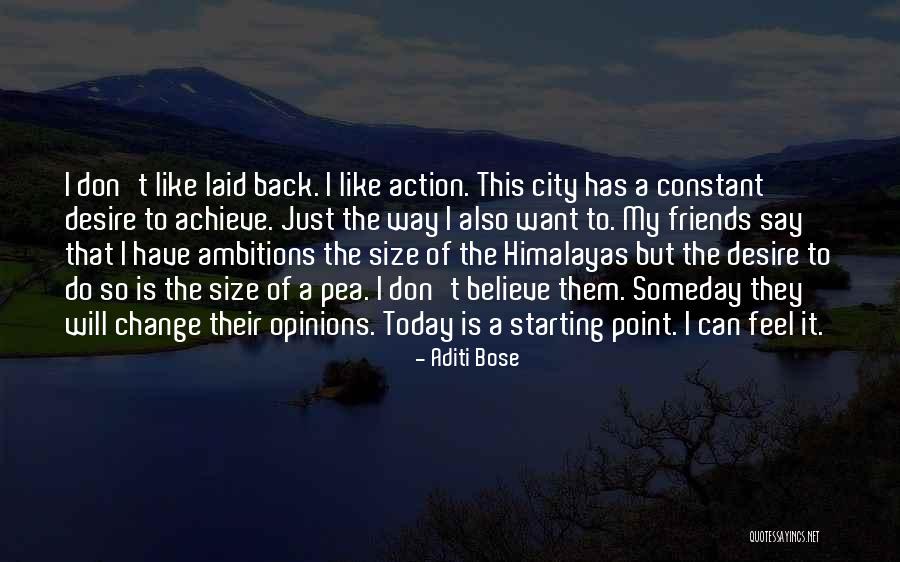 I don't like laid back. I like action. This city has a constant desire to achieve. Just the way I also want to. My friends say that I have ambitions the size of the Himalayas but the desire to do so is the size of a pea. I don't believe them. Someday they will change their opinions. Today is a starting point. I can feel it. — Aditi Bose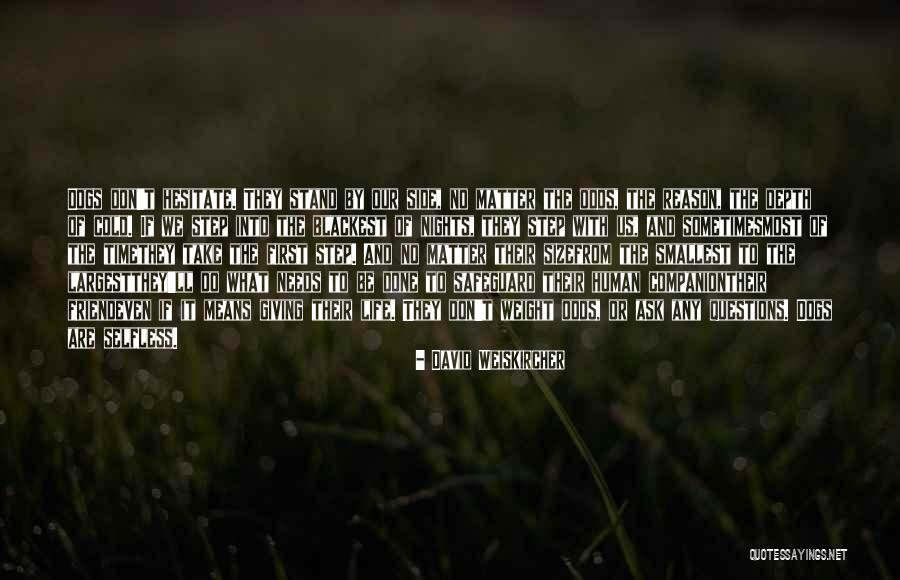 Dogs don't hesitate. They stand by our side, no matter the odds, the reason, the depth of cold.
If we step into the blackest of nights, they step with us, and sometimes
most of the time
they take the first step.
And no matter their size
from the smallest to the largest
they'll do what needs to be done to safeguard their human companion
their friend
even if it means giving their life.
They don't weight odds, or ask any questions. Dogs are selfless. — David Weiskircher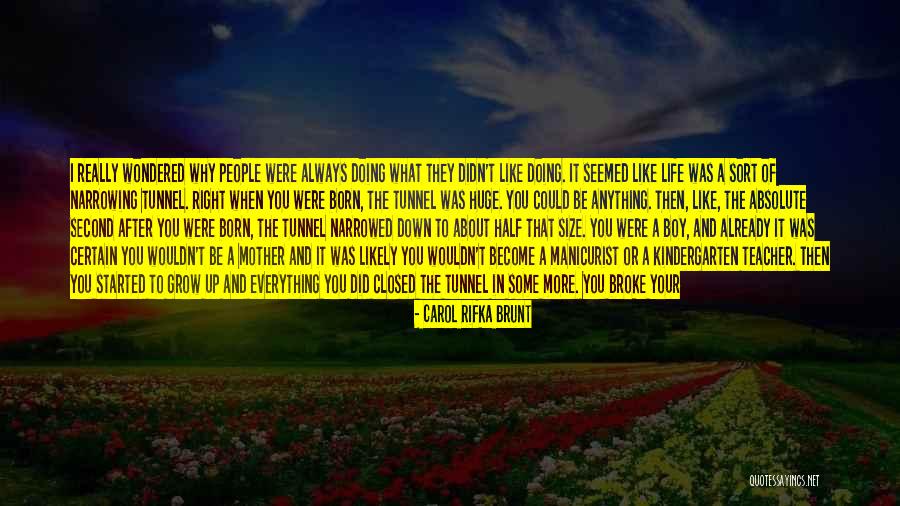 I really wondered why people were always doing what they didn't like doing. It seemed like life was a sort of narrowing tunnel. Right when you were born, the tunnel was huge. You could be anything. Then, like, the absolute second after you were born, the tunnel narrowed down to about half that size. You were a boy, and already it was certain you wouldn't be a mother and it was likely you wouldn't become a manicurist or a kindergarten teacher. Then you started to grow up and everything you did closed the tunnel in some more. You broke your arm climbing a tree and you ruled out being a baseball pitcher. You failed every math test you ever took and you canceled any hope of being a scientist. Like that. On and on through the years until you were stuck. You'd become a baker or a librarian or a bartender. Or an accountant. And there you were. I figured that on the day you died, the tunnel would be so narrow, you'd have squeezed yourself in with so many choices, that you just got squashed. — Carol Rifka Brunt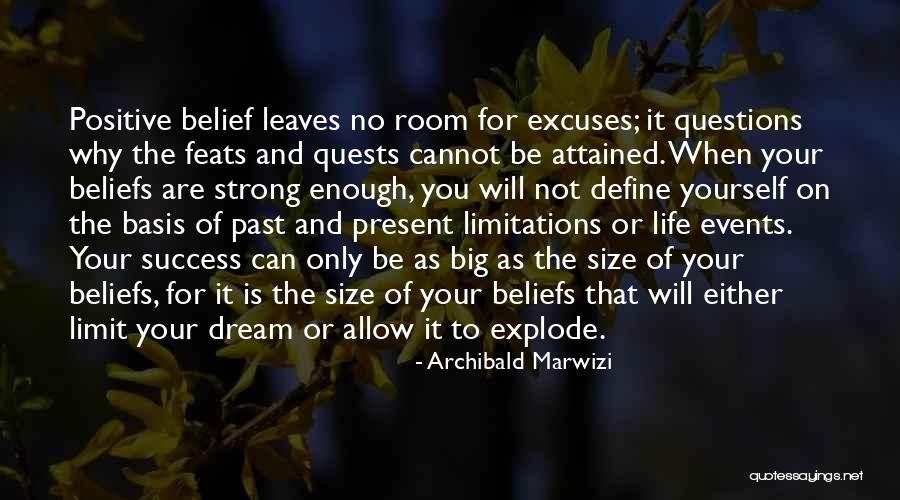 Positive belief leaves no room for excuses; it questions why the feats and quests cannot be attained. When your beliefs are strong enough, you will not define yourself on the basis of past and present limitations or life events. Your success can only be as big as the size of your beliefs, for it is the size of your beliefs that will either limit your dream or allow it to explode. — Archibald Marwizi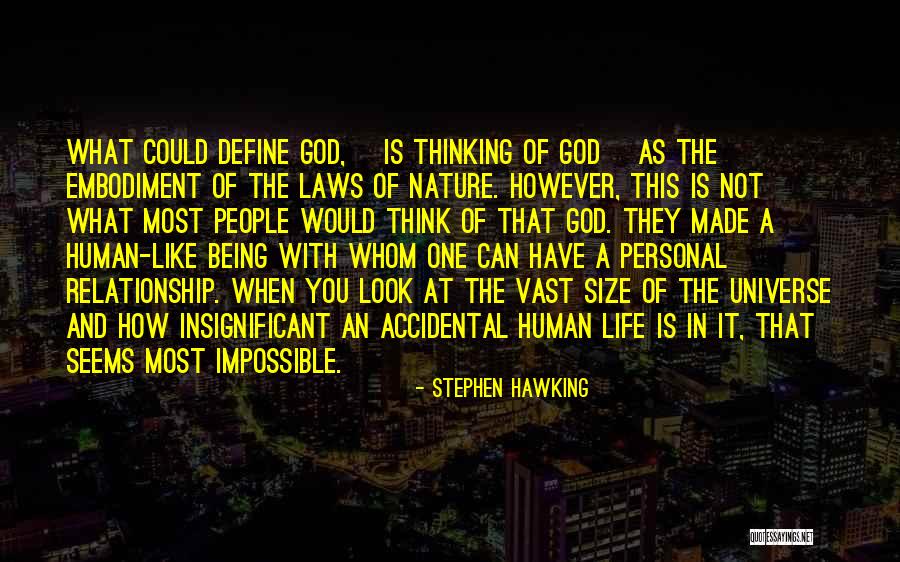 What could define God, [is thinking of God] as the embodiment of the laws of nature. However, this is not what most people would think of that God. They made a human-like being with whom one can have a personal relationship. When you look at the vast size of the universe and how insignificant an accidental human life is in it, that seems most impossible. — Stephen Hawking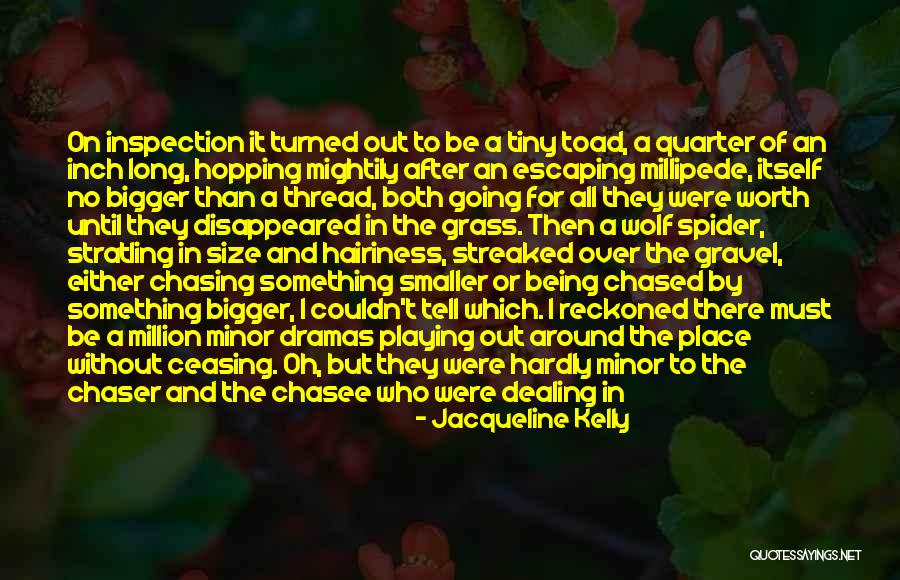 On inspection it turned out to be a tiny toad, a quarter of an inch long, hopping mightily after an escaping millipede, itself no bigger than a thread, both going for all they were worth until they disappeared in the grass. Then a wolf spider, stratling in size and hairiness, streaked over the gravel, either chasing something smaller or being chased by something bigger, I couldn't tell which. I reckoned there must be a million minor dramas playing out around the place without ceasing. Oh, but they were hardly minor to the chaser and the chasee who were dealing in the coin of life and death. I was a mere bystander, an idler. They were playing for keeps. — Jacqueline Kelly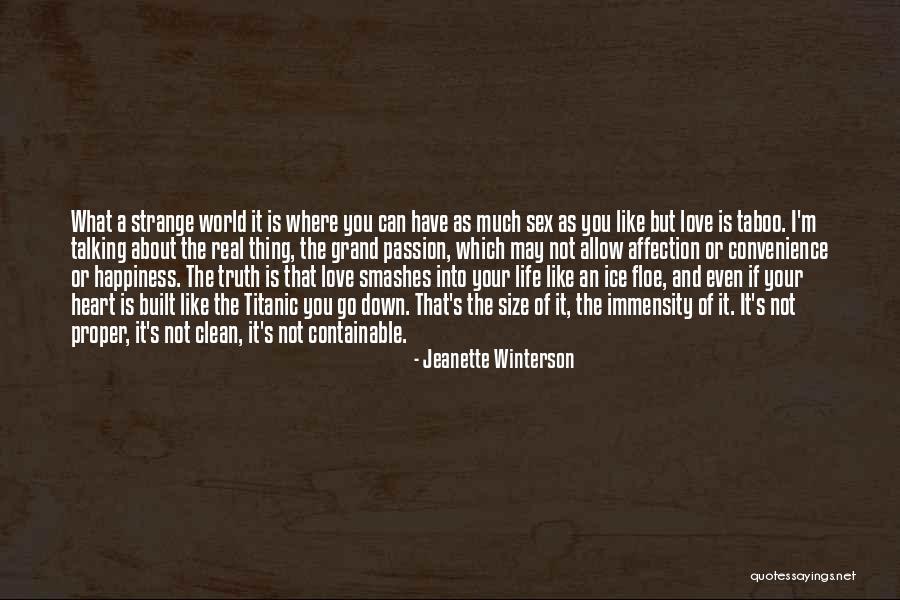 What a strange world it is where you can have as much sex as you like but love is taboo. I'm talking about the real thing, the grand passion, which may not allow affection or convenience or happiness. The truth is that love smashes into your life like an ice floe, and even if your heart is built like the Titanic you go down. That's the size of it, the immensity of it. It's not proper, it's not clean, it's not containable. — Jeanette Winterson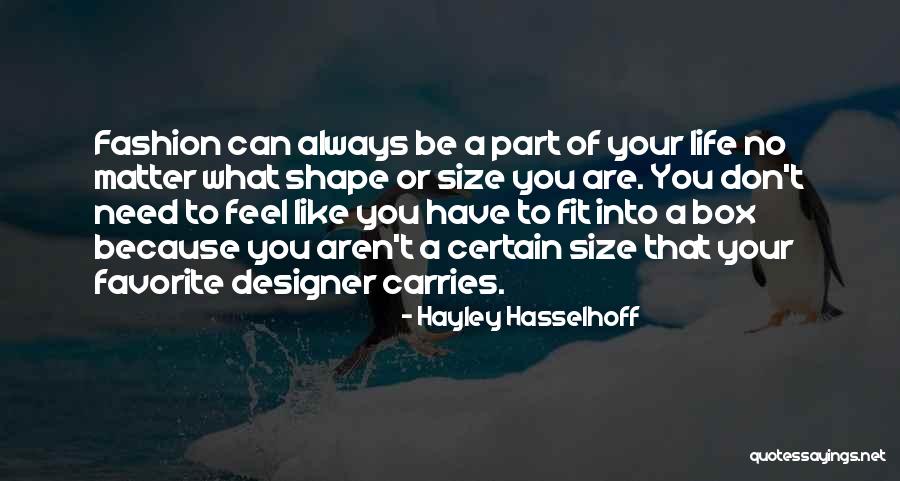 Fashion can always be a part of your life no matter what shape or size you are. You don't need to feel like you have to fit into a box because you aren't a certain size that your favorite designer carries. — Hayley Hasselhoff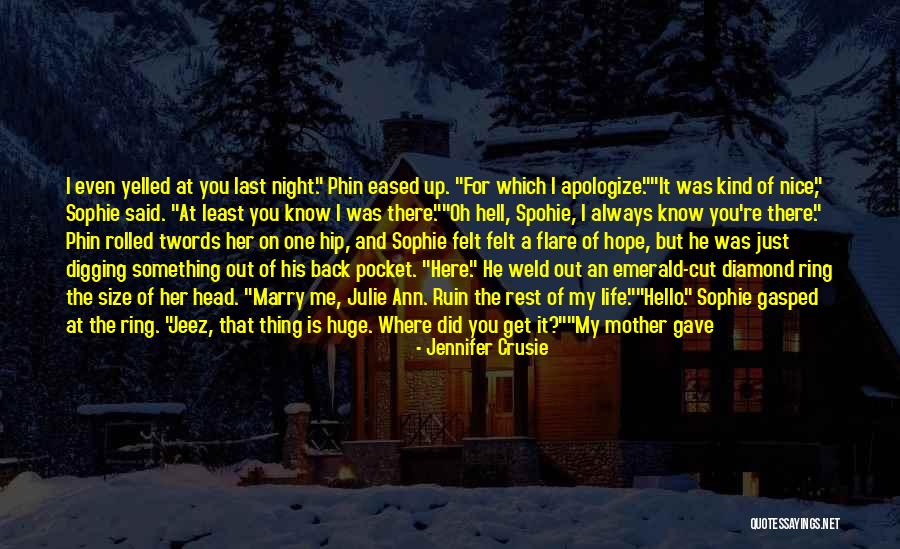 I even yelled at you last night." Phin eased up. "For which I apologize."
"It was kind of nice," Sophie said. "At least you know I was there."
"Oh hell, Spohie, I always know you're there." Phin rolled twords her on one hip, and Sophie felt felt a flare of hope, but he was just digging something out of his back pocket. "Here." He weld out an emerald-cut diamond ring the size of her head. "Marry me, Julie Ann. Ruin the rest of my life."
"Hello." Sophie gasped at the ring. "Jeez, that thing is huge. Where did you get it?"
"My mother gave it to me," Phin said sounding bemused.
Then the other shoe dropped. "Marry you?" Sophie said, and the sun came out and the birds to sing and the river sent up a cheer. Marriage was probably out- Liz as a mother-in-law was too terrifying to complete , and Phin would never get elected agian if he was married to a pornographer- but suddenly everything else was looking pretty good. — Jennifer Crusie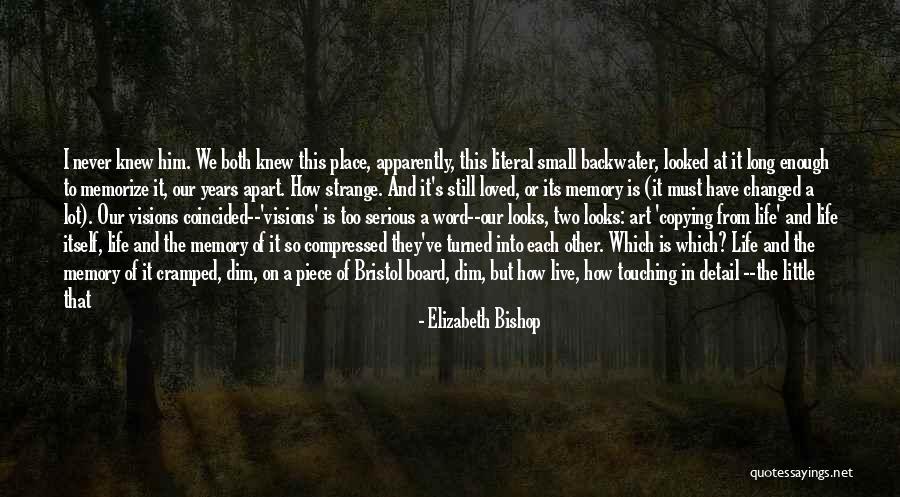 I never knew him. We both knew this place,
apparently, this literal small backwater,
looked at it long enough to memorize it,
our years apart. How strange. And it's still loved,
or its memory is (it must have changed a lot).
Our visions coincided--'visions' is
too serious a word--our looks, two looks:
art 'copying from life' and life itself,
life and the memory of it so compressed
they've turned into each other. Which is which?
Life and the memory of it cramped,
dim, on a piece of Bristol board,
dim, but how live, how touching in detail
--the little that we get for free,
the little of our earthly trust. Not much.
About the size of our abidance
along with theirs: the munching cows,
the iris, crisp and shivering, the water
still standing from spring freshets,
the yet-to-be-dismantled elms, the geese. — Elizabeth Bishop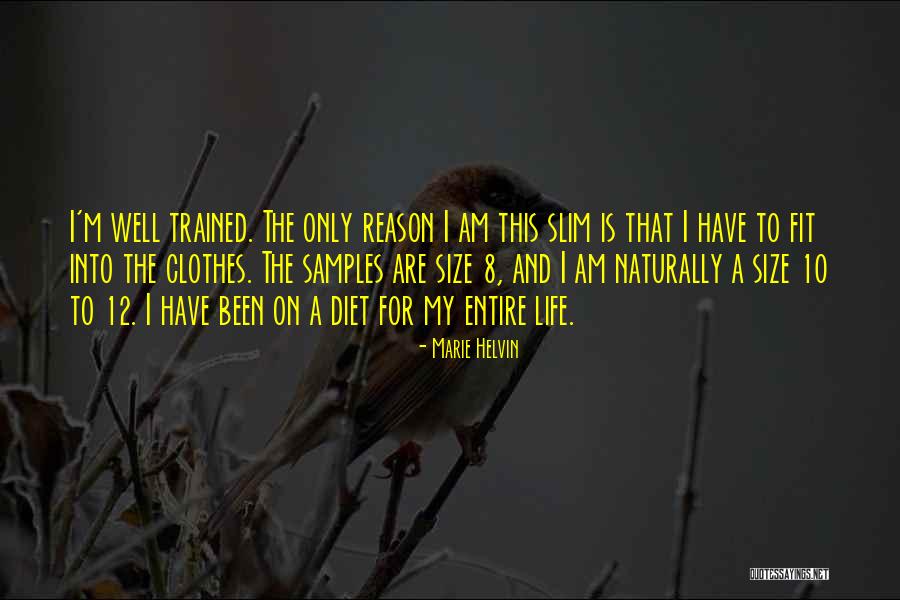 I'm well trained. The only reason I am this slim is that I have to fit into the clothes. The samples are size 8, and I am naturally a size 10 to 12. I have been on a diet for my entire life. — Marie Helvin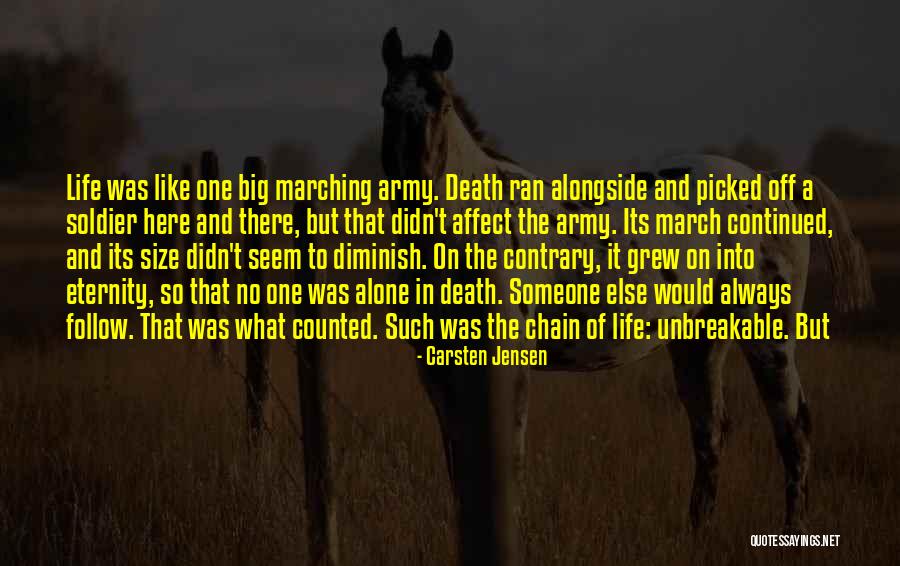 Life was like one big marching army. Death ran alongside and picked off a soldier here and there, but that didn't affect the army. Its march continued, and its size didn't seem to diminish. On the contrary, it grew on into eternity, so that no one was alone in death. Someone else would always follow. That was what counted. Such was the chain of life: unbreakable. But — Carsten Jensen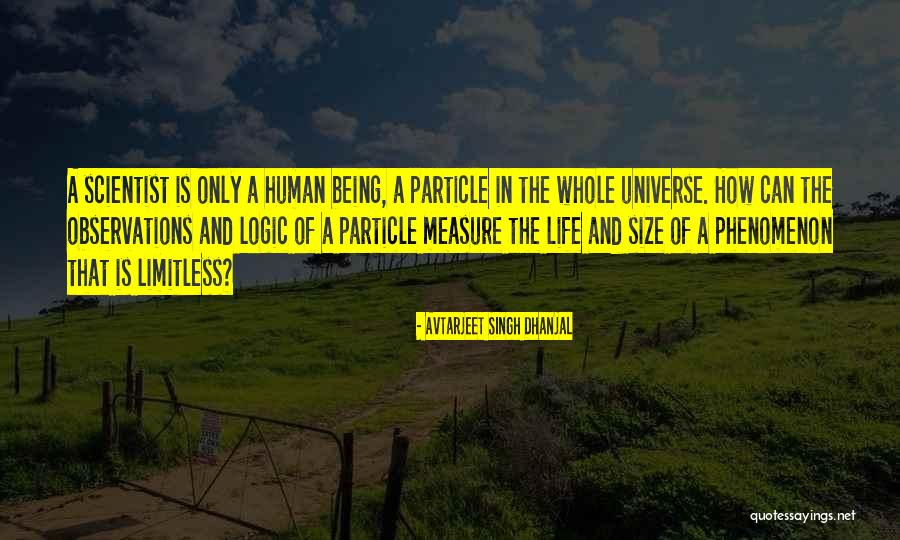 A scientist is only a human being, a particle in the whole universe. How can the observations and logic of a particle measure the life and size of a phenomenon that is limitless? — Avtarjeet Singh Dhanjal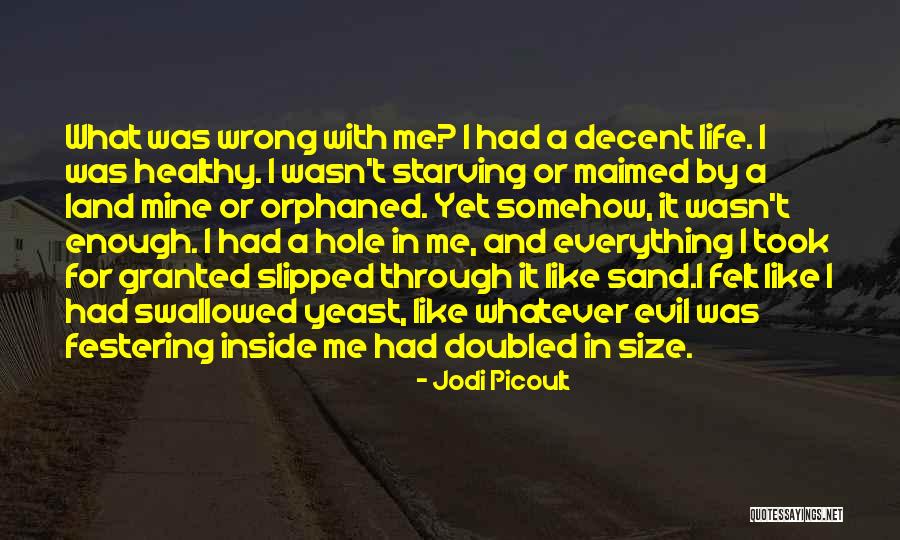 What was wrong with me? I had a decent life. I was healthy. I wasn't starving or maimed by a land mine or orphaned. Yet somehow, it wasn't enough. I had a hole in me, and everything I took for granted slipped through it like sand.
I felt like I had swallowed yeast, like whatever evil was festering inside me had doubled in size. — Jodi Picoult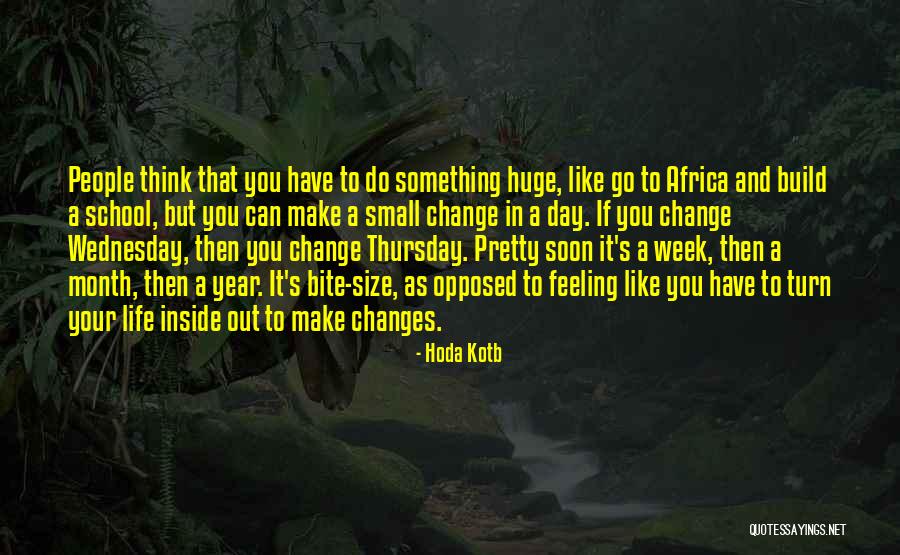 People think that you have to do something huge, like go to Africa and build a school, but you can make a small change in a day. If you change Wednesday, then you change Thursday. Pretty soon it's a week, then a month, then a year. It's bite-size, as opposed to feeling like you have to turn your life inside out to make changes. — Hoda Kotb
The laws of science, as we know them at present, contain many fundamental numbers, like the size of the electric charge of the electron and the ratio of the masses of the proton and the electron ... The remarkable fact is that the values of these numbers seem to have been finely adjusted to make possible the development of life. — Stephen Hawking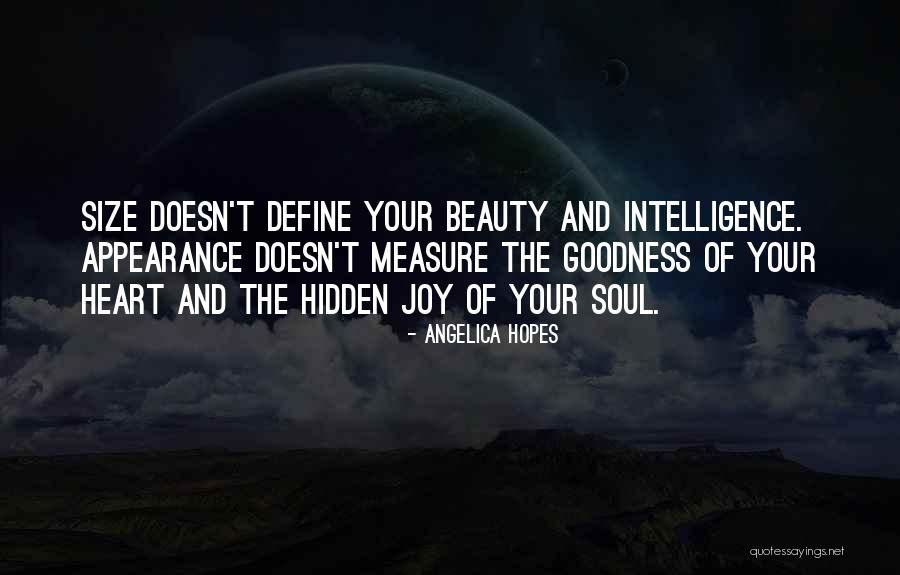 Size doesn't define your beauty and intelligence. Appearance doesn't measure the goodness of your heart and the hidden joy of your soul. — Angelica Hopes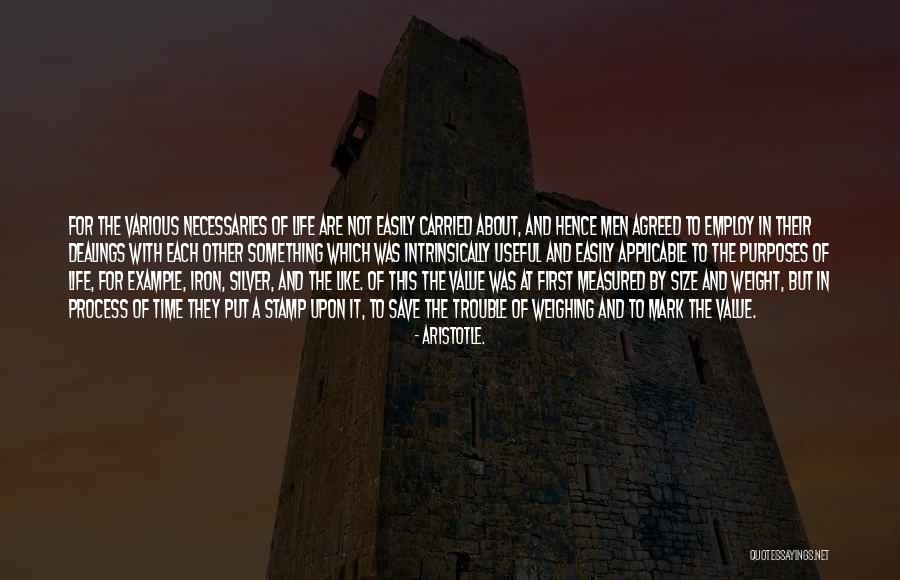 For the various necessaries of life are not easily carried about, and hence men agreed to employ in their dealings with each other something which was intrinsically useful and easily applicable to the purposes of life, for example, iron, silver, and the like. Of this the value was at first measured by size and weight, but in process of time they put a stamp upon it, to save the trouble of weighing and to mark the value. — Aristotle.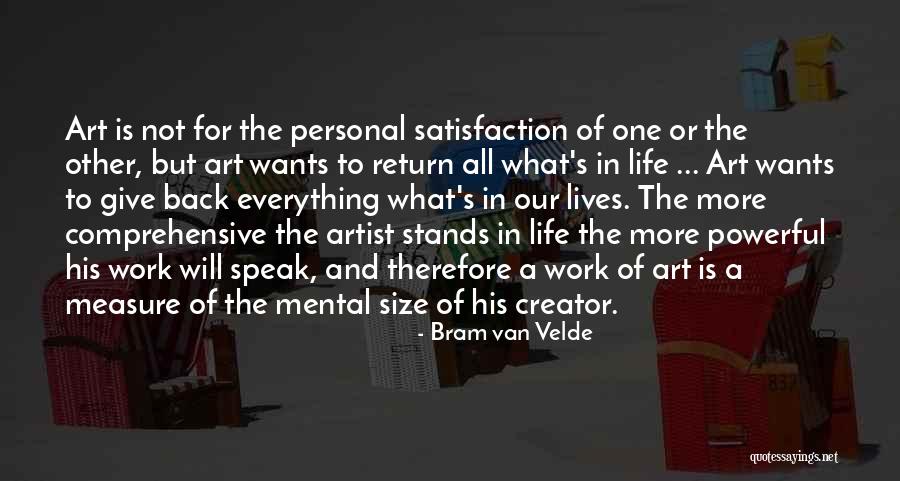 Art is not for the personal satisfaction of one or the other, but art wants to return all what's in life ... Art wants to give back everything what's in our lives. The more comprehensive the artist stands in life the more powerful his work will speak, and therefore a work of art is a measure of the mental size of his creator. — Bram Van Velde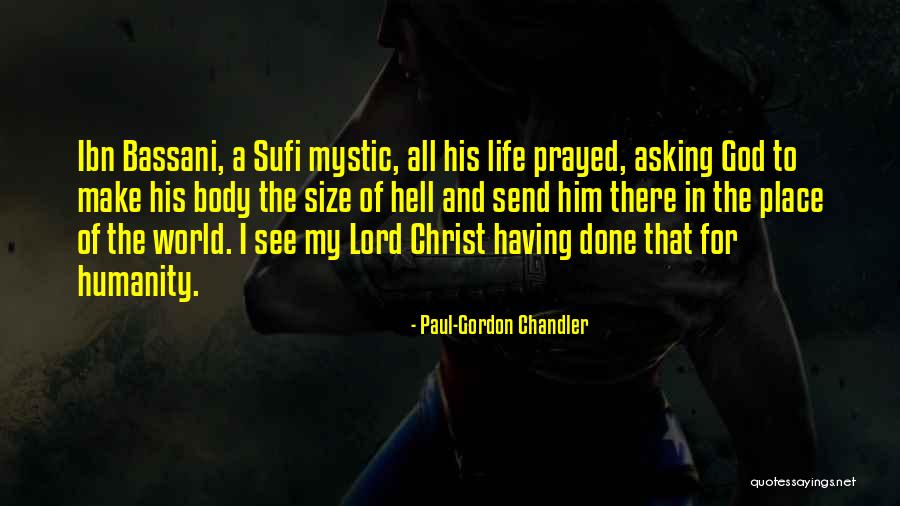 Ibn Bassani, a Sufi mystic, all his life prayed, asking God to make his body the size of hell and send him there in the place of the world. I see my Lord Christ having done that for humanity. — Paul-Gordon Chandler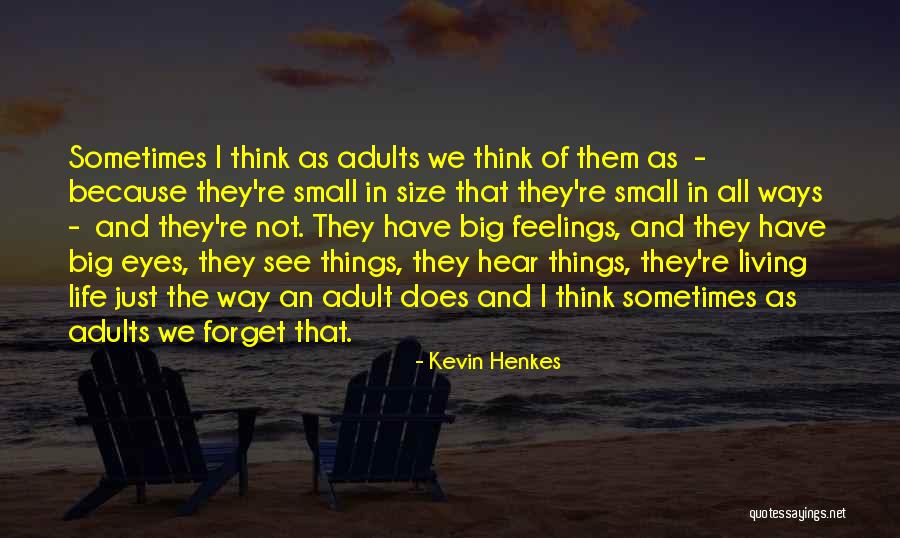 Sometimes I think as adults we think of them as - because they're small in size that they're small in all ways - and they're not. They have big feelings, and they have big eyes, they see things, they hear things, they're living life just the way an adult does and I think sometimes as adults we forget that. — Kevin Henkes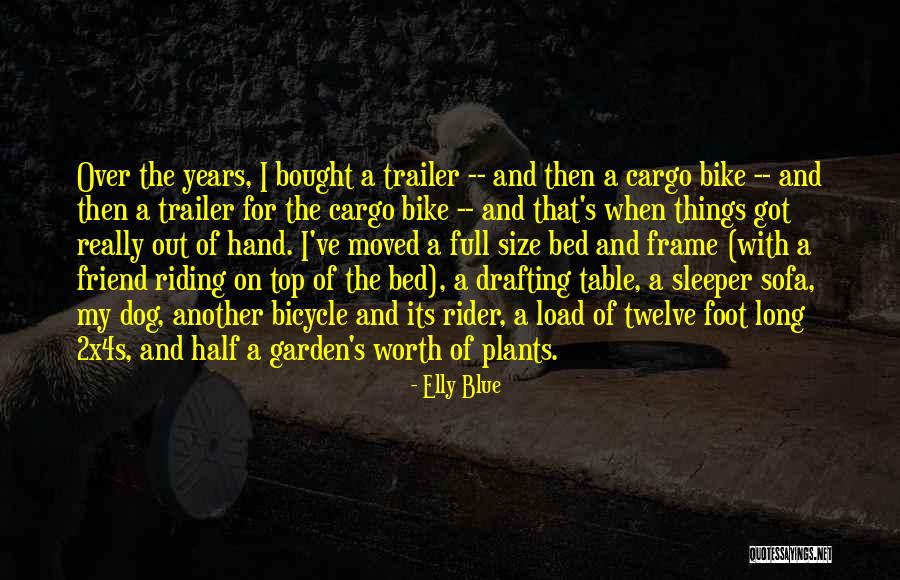 Over the years, I bought a trailer -- and then a cargo bike -- and then a trailer for the cargo bike -- and that's when things got really out of hand. I've moved a full size bed and frame (with a friend riding on top of the bed), a drafting table, a sleeper sofa, my dog, another bicycle and its rider, a load of twelve foot long 2x4s, and half a garden's worth of plants. — Elly Blue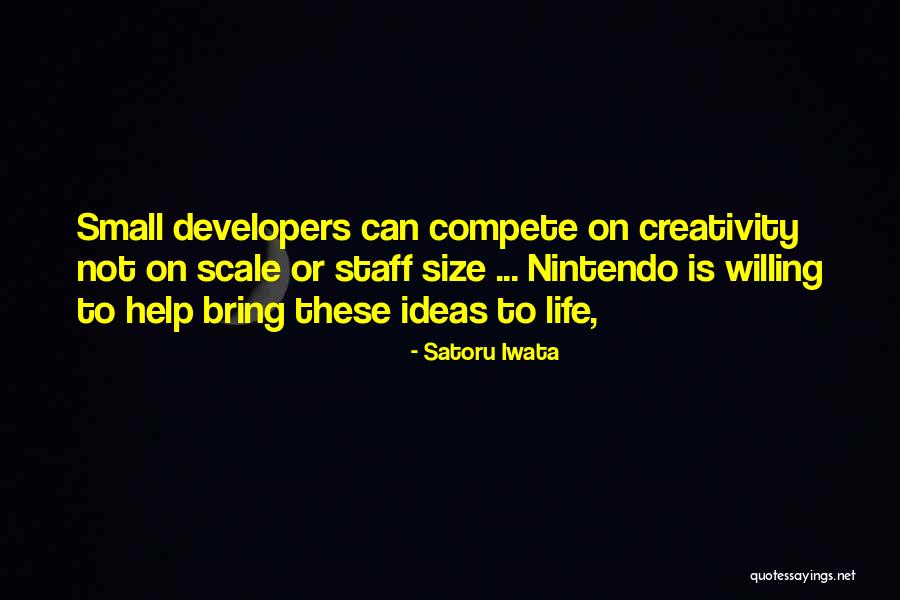 Small developers can compete on creativity not on scale or staff size ... Nintendo is willing to help bring these ideas to life, — Satoru Iwata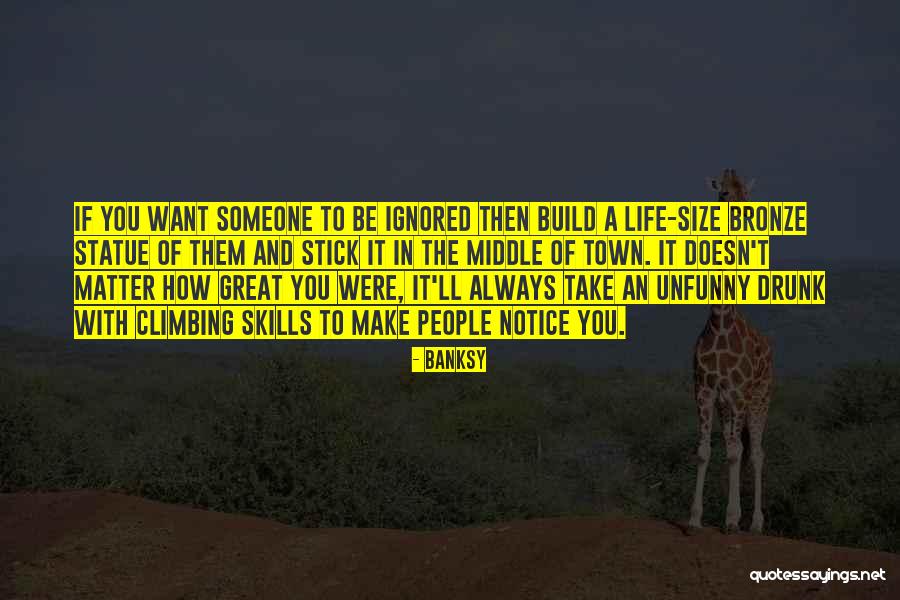 If you want someone to be ignored then build a life-size bronze statue of them and stick it in the middle of town. It doesn't matter how great you were, it'll always take an unfunny drunk with climbing skills to make people notice you. — Banksy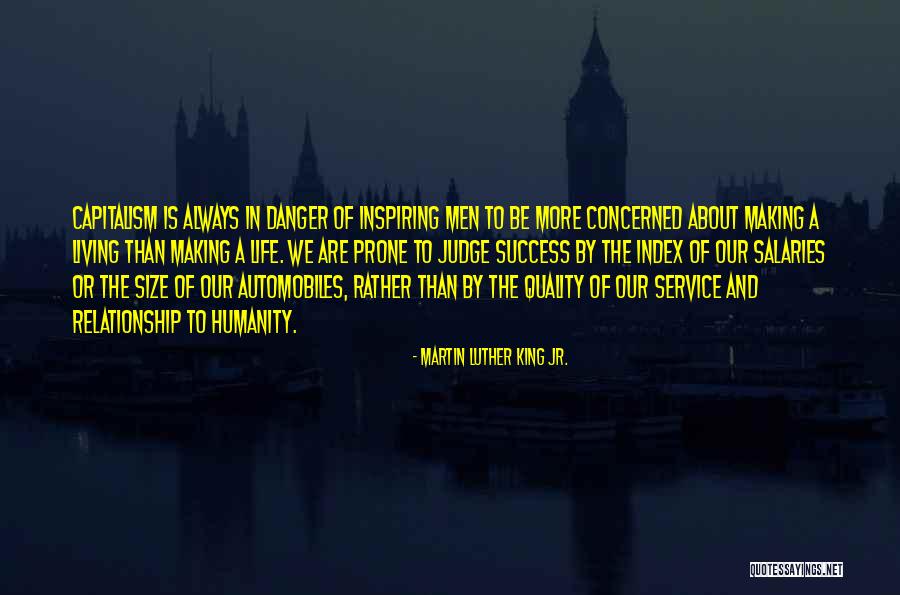 Capitalism is always in danger of inspiring men to be more concerned about making a living than making a life. We are prone to judge success by the index of our salaries or the size of our automobiles, rather than by the quality of our service and relationship to humanity. — Martin Luther King Jr.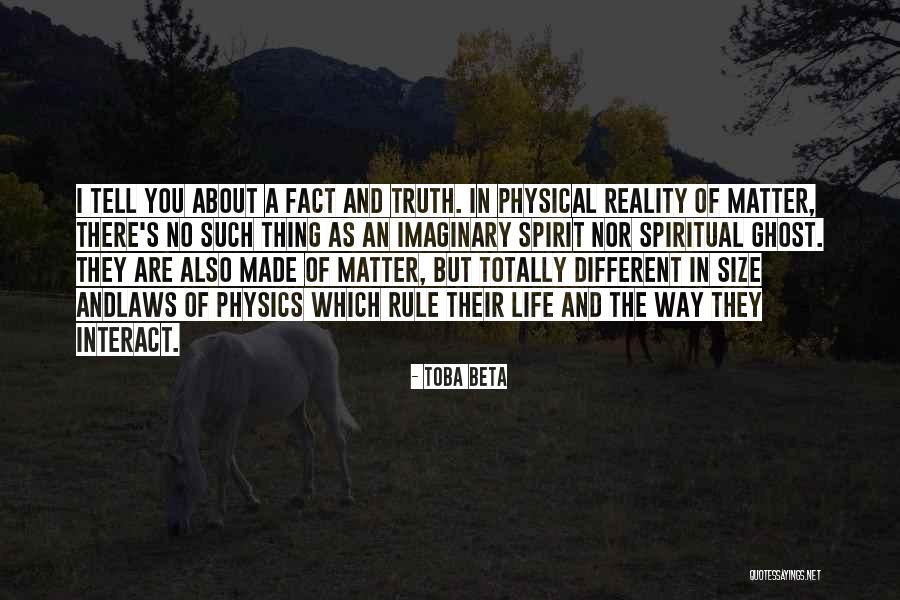 I tell you about a fact and truth. In physical reality of matter,
there's no such thing as an imaginary spirit nor spiritual ghost.
They are also made of matter, but totally different in size and
laws of physics which rule their life and the way they interact. — Toba Beta
I'm looking at everything with a clear eye and an attitude of acceptance rather than skepticism. I realized, this isn't a career - this is my life. This is what I do. It doesn't matter what the size of the role is. It matter that you're enjoying yourself. And I'm loving it. — Jake Busey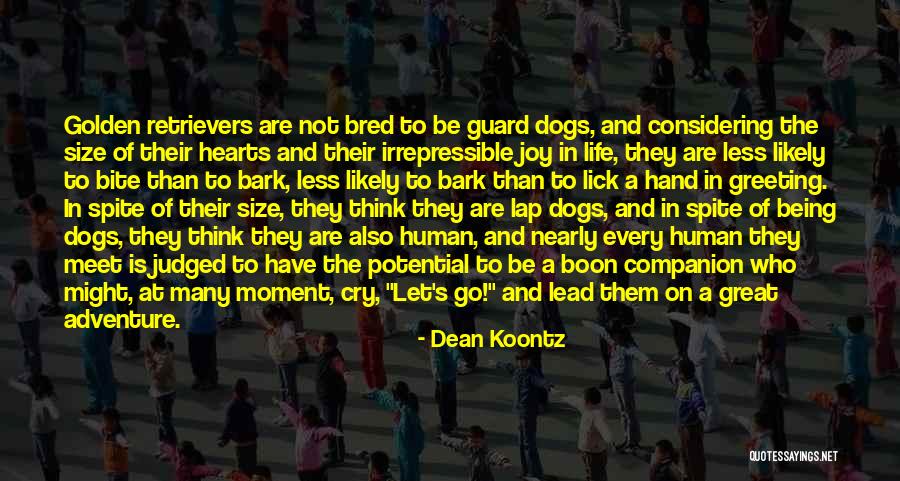 Golden retrievers are not bred to be guard dogs, and considering the size of their hearts and their irrepressible joy in life, they are less likely to bite than to bark, less likely to bark than to lick a hand in greeting. In spite of their size, they think they are lap dogs, and in spite of being dogs, they think they are also human, and nearly every human they meet is judged to have the potential to be a boon companion who might, at many moment, cry, "Let's go!" and lead them on a great adventure. — Dean Koontz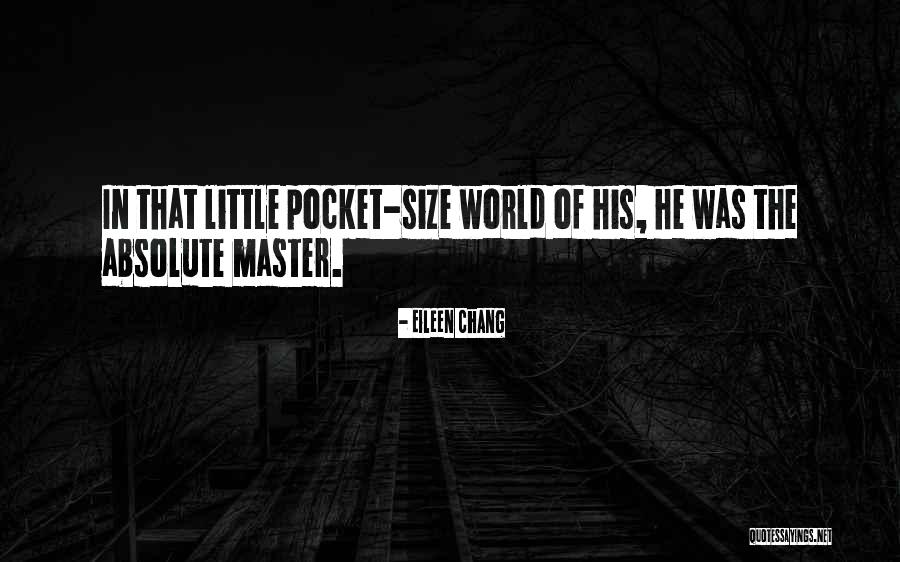 In that little pocket-size world of his, he was the absolute master. — Eileen Chang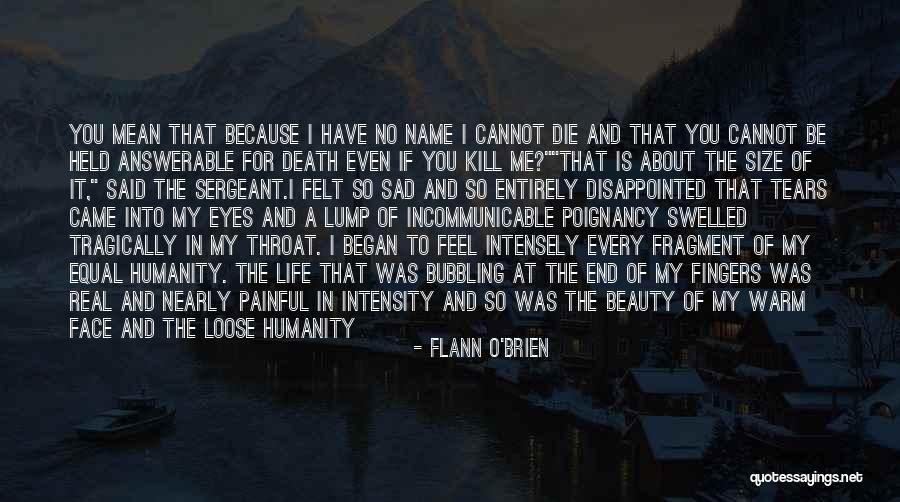 You mean that because I have no name I cannot die and that you cannot be held answerable for death even if you kill me?"
"That is about the size of it," said the Sergeant.
I felt so sad and so entirely disappointed that tears came into my eyes and a lump of incommunicable poignancy swelled tragically in my throat. I began to feel intensely every fragment of my equal humanity. The life that was bubbling at the end of my fingers was real and nearly painful in intensity and so was the beauty of my warm face and the loose humanity of my limbs and the racy health of my red rich blood. To leave it all without good reason and to smash the little empire into small fragments was a thing too pitiful even to refuse to think about. — Flann O'Brien