Life Is All About Compromise Quotes & Sayings
Enjoy reading and share 19 famous quotes about Life Is All About Compromise with everyone.
If you don't respect the other person, you're gonna have a lot of trouble. If you don't know how to compromise, you're gonna have a lot of trouble. If you can't talk openly about what goes on between you, you're gonna have a lot of trouble. And if you have different set of values in life, you're gonna have a lot of trouble.Your values must be alike. And the biggest of those values ... the belief in the importance of your marriage. — Mitch Albom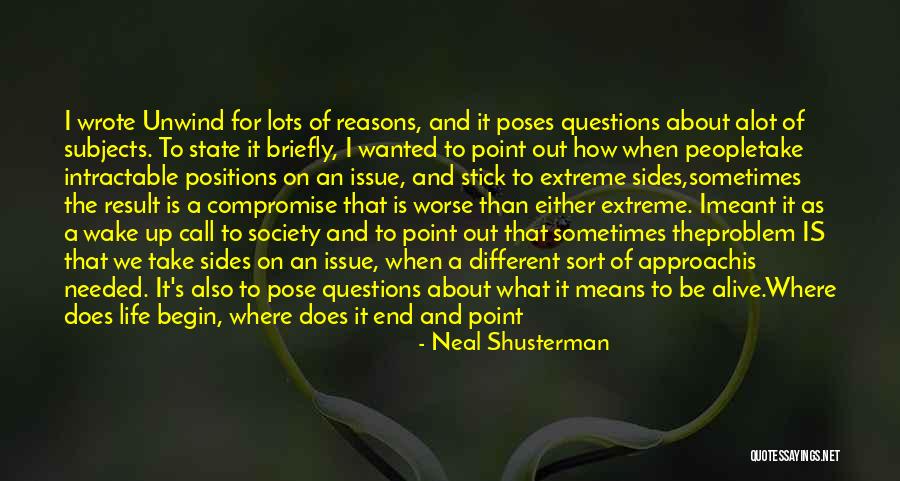 I wrote Unwind for lots of reasons, and it poses questions about a
lot of subjects. To state it briefly, I wanted to point out how when people
take intractable positions on an issue, and stick to extreme sides,
sometimes the result is a compromise that is worse than either extreme. I
meant it as a wake up call to society
and to point out that sometimes the
problem IS that we take sides on an issue, when a different sort of approach
is needed. It's also to pose questions about what it means to be alive.
Where does life begin, where does it end
and point out that there is no
single answer to these questions. The problem is people who think there are
simple answers. People who see things as simple black-and-white
right-and-wrong are the type of people who will end up with a world like the
world in Unwind. — Neal Shusterman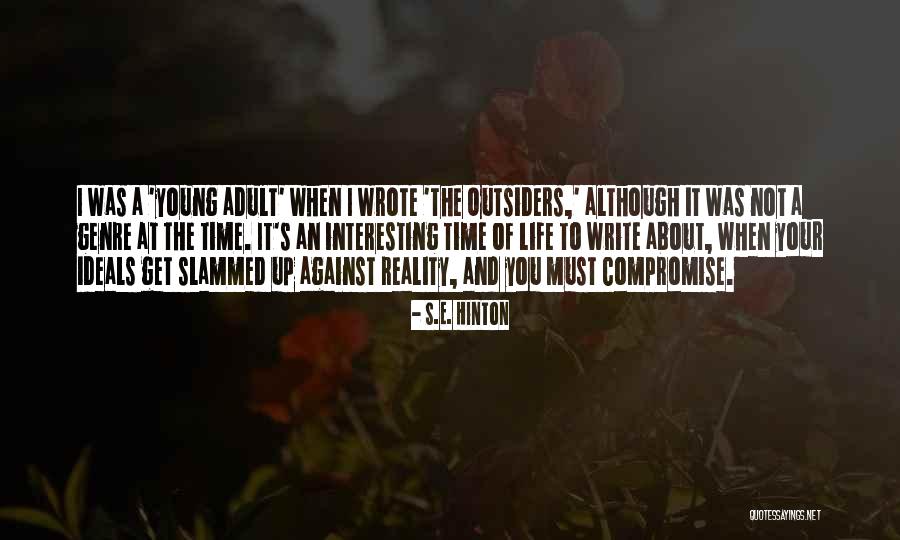 I was a 'young adult' when I wrote 'The Outsiders,' although it was not a genre at the time. It's an interesting time of life to write about, when your ideals get slammed up against reality, and you must compromise. — S.E. Hinton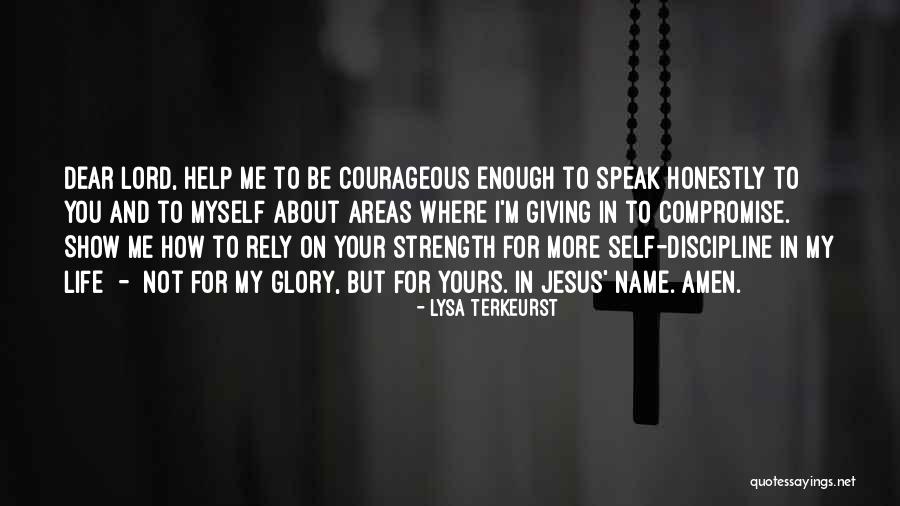 Dear Lord, help me to be courageous enough to speak honestly to You and to myself about areas where I'm giving in to compromise. Show me how to rely on Your strength for more self-discipline in my life - not for my glory, but for Yours. In Jesus' name. Amen. — Lysa TerKeurst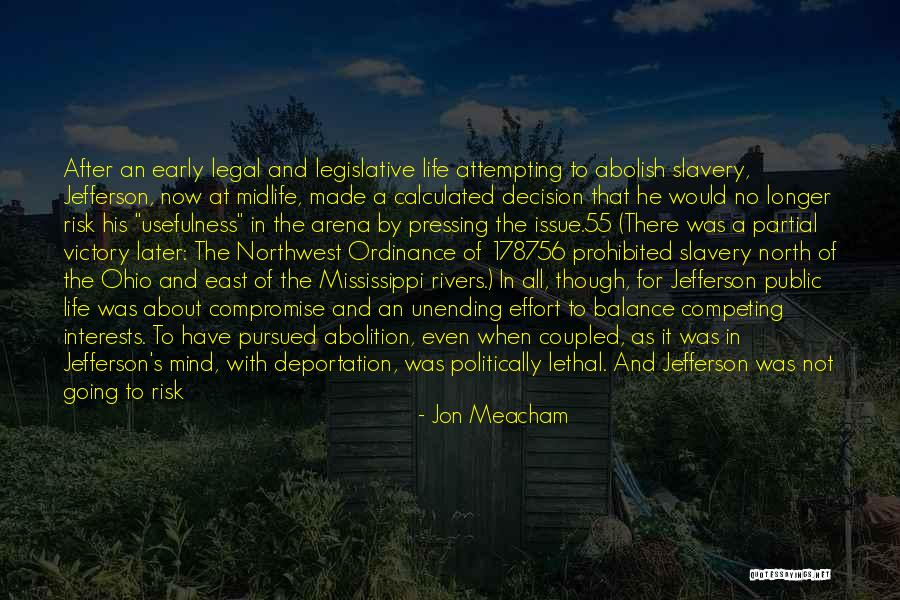 After an early legal and legislative life attempting to abolish slavery, Jefferson, now at midlife, made a calculated decision that he would no longer risk his "usefulness" in the arena by pressing the issue.55 (There was a partial victory later: The Northwest Ordinance of 178756 prohibited slavery north of the Ohio and east of the Mississippi rivers.) In all, though, for Jefferson public life was about compromise and an unending effort to balance competing interests. To have pursued abolition, even when coupled, as it was in Jefferson's mind, with deportation, was politically lethal. And Jefferson was not going to risk all for what he believed was a cause whose time had not yet come. — Jon Meacham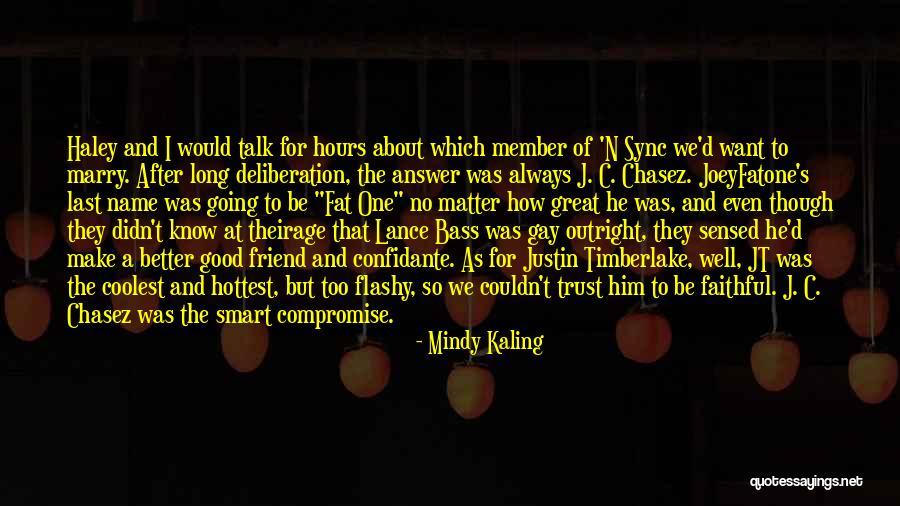 Haley and I would talk for hours about which member of 'N Sync we'd want to marry. After long deliberation, the answer was always J. C. Chasez. Joey
Fatone's last name was going to be "Fat One" no matter how great he was, and even though they didn't know at their
age that Lance Bass was gay outright, they sensed he'd make a better good friend and confidante. As for Justin Timberlake, well, JT was the coolest and hottest, but too flashy, so we couldn't trust him to be faithful. J. C. Chasez was the smart compromise. — Mindy Kaling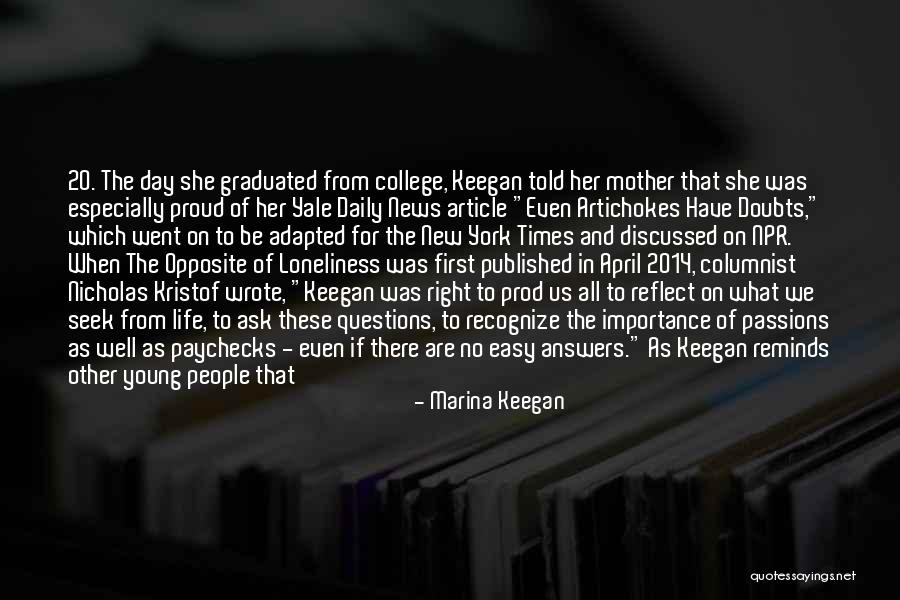 20. The day she graduated from college, Keegan told her mother that she was especially proud of her Yale Daily News article "Even Artichokes Have Doubts," which went on to be adapted for the New York Times and discussed on NPR. When The Opposite of Loneliness was first published in April 2014, columnist Nicholas Kristof wrote, "Keegan was right to prod us all to reflect on what we seek from life, to ask these questions, to recognize the importance of passions as well as paychecks - even if there are no easy answers." As Keegan reminds other young people that "we can do something really cool to this world" (p. 200), what points does she emphasize? What counterarguments might she have considered more specifically? Do you share her concern about where so many top young graduates take their first jobs? Do you worry that you need to compromise your own dreams for practical concerns? Why or why not? — Marina Keegan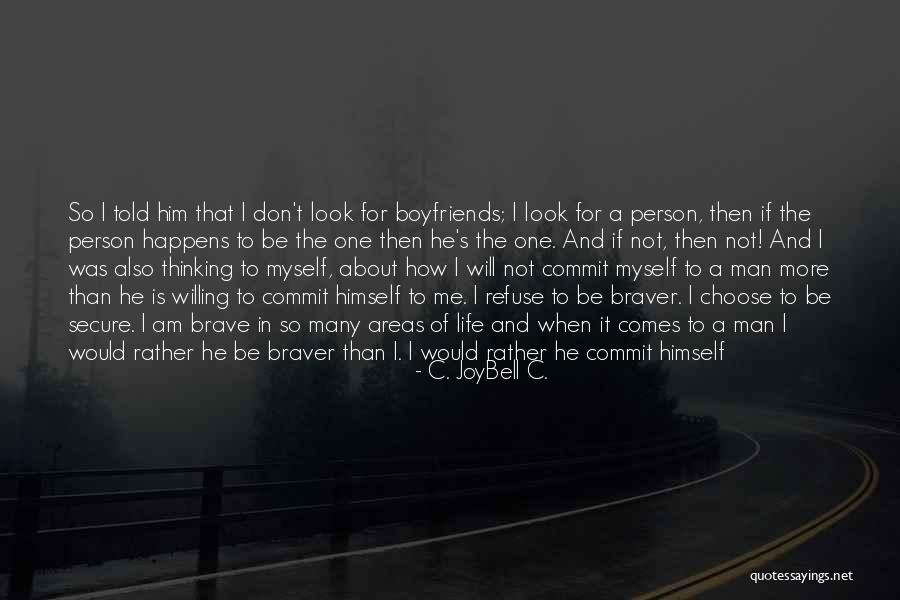 So I told him that I don't look for boyfriends; I look for a person, then if the person happens to be the one then he's the one. And if not, then not! And I was also thinking to myself, about how I will not commit myself to a man more than he is willing to commit himself to me. I refuse to be braver. I choose to be secure. I am brave in so many areas of life and when it comes to a man I would rather he be braver than I. I would rather he commit himself to me in ways that will make my heart know him so well that I can say he swims in my blood and he walks inside my bones. But for me to throw my commitment in front of him, on the ground, to see if it's good enough? Hell will freeze over before that happens. I compromise myself in many ways, because compromise is selfless and compromise is giving. But one thing I will not compromise is my commitment. I have to feel safe to do that. I have to know that I am reciprocating; not initiating. — C. JoyBell C.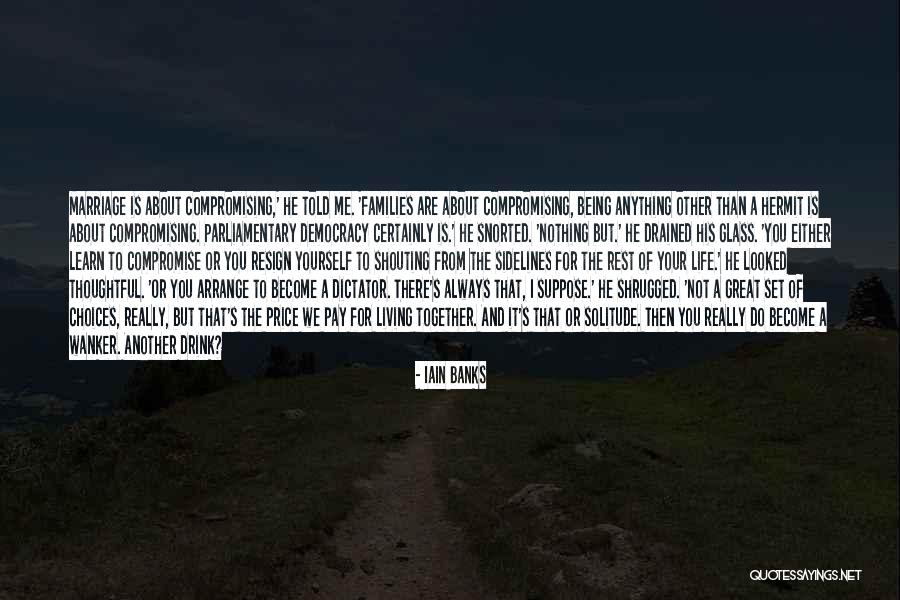 Marriage is about compromising,' he told me. 'Families are about compromising, being anything other than a hermit is about compromising. Parliamentary democracy certainly is.' He snorted. 'Nothing but.' He drained his glass. 'You either learn to compromise or you resign yourself to shouting from the sidelines for the rest of your life.' He looked thoughtful. 'Or you arrange to become a dictator. There's always that, I suppose.' He shrugged. 'Not a great set of choices, really, but that's the price we pay for living together. And it's that or solitude. Then you really do become a wanker. Another drink? — Iain Banks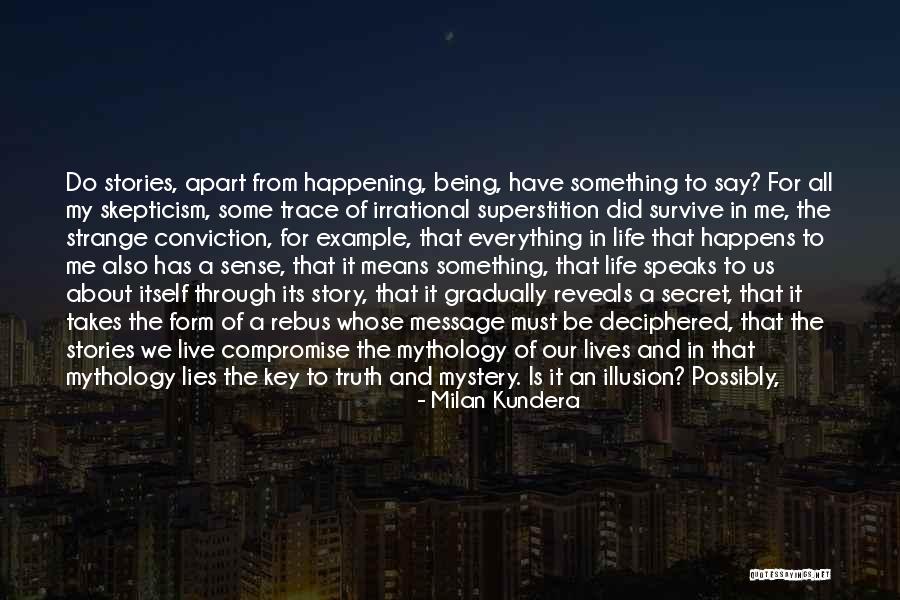 Do stories, apart from happening, being, have something to say? For all my skepticism, some trace of irrational superstition did survive in me, the strange conviction, for example, that everything in life that happens to me also has a sense, that it means something, that life speaks to us about itself through its story, that it gradually reveals a secret, that it takes the form of a rebus whose message must be deciphered, that the stories we live compromise the mythology of our lives and in that mythology lies the key to truth and mystery. Is it an illusion? Possibly, even probably, but I can't rid myself of the need continually to decipher my own life. — Milan Kundera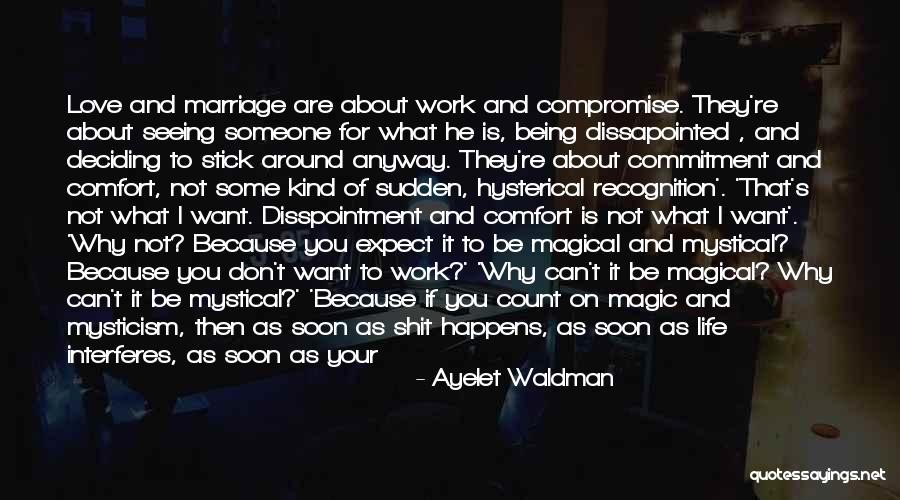 Love and marriage are about work and compromise. They're about seeing someone for what he is, being dissapointed , and deciding to stick around anyway. They're about commitment and comfort, not some kind of sudden, hysterical recognition'. 'That's not what I want. Disspointment and comfort is not what I want'. 'Why not? Because you expect it to be magical and mystical? Because you don't want to work?' 'Why can't it be magical? Why can't it be mystical?' 'Because if you count on magic and mysticism, then as soon as shit happens, as soon as life interferes, as soon as your stepson treats you badly, or your husband's ex-wife has a fit about something, or your baby dies, as soon as life happens, the magic will disappear and you'll be left with nothing. You can't count on magic. Trust me, I know. Sweetheart, little girl, you can't count on magic'. — Ayelet Waldman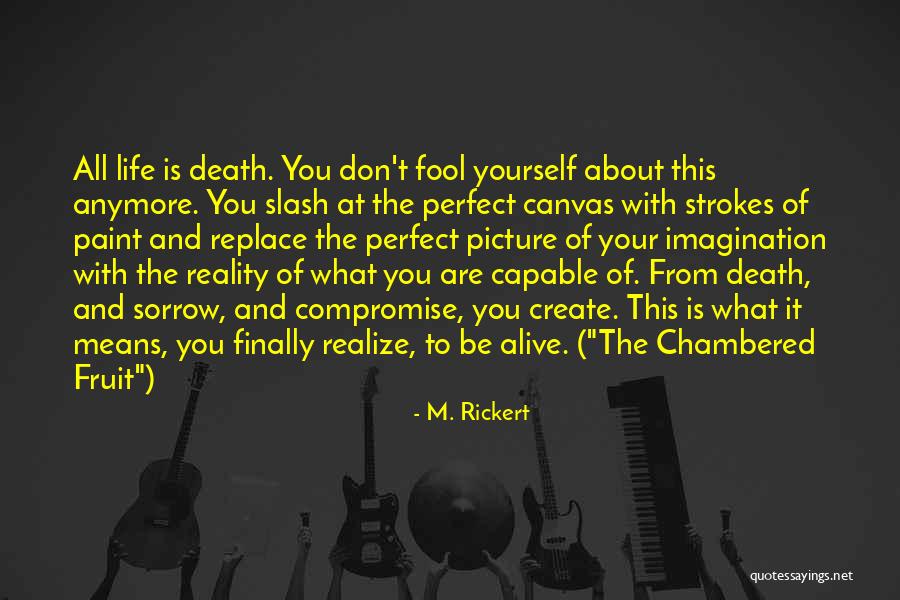 All life is death. You don't fool yourself about this anymore. You slash at the perfect canvas with strokes of paint and replace the perfect picture of your imagination with the reality of what you are capable of. From death, and sorrow, and compromise, you create. This is what it means, you finally realize, to be alive. ("The Chambered Fruit") — M. Rickert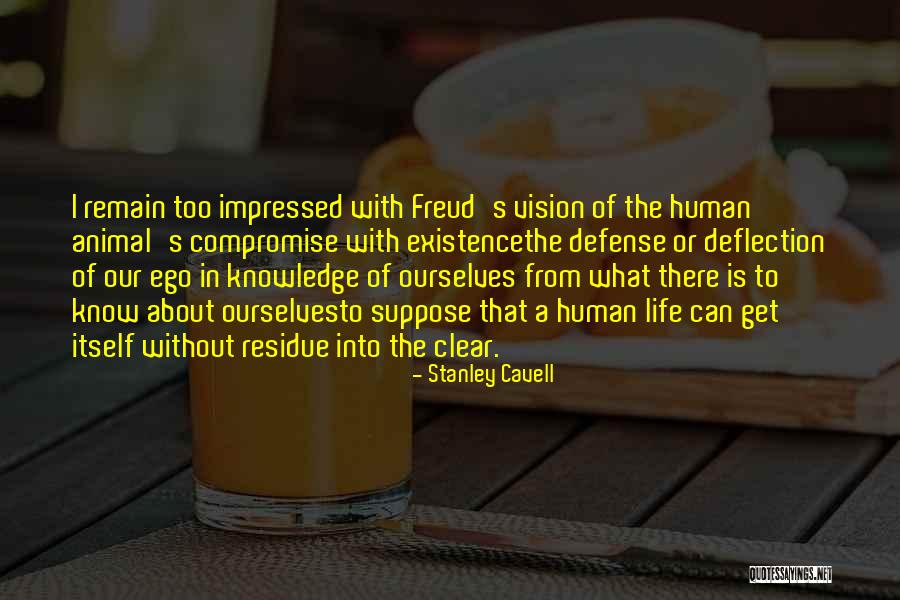 I remain too impressed with Freud's vision of the human animal's compromise with existence
the defense or deflection of our ego in knowledge of ourselves from what there is to know about ourselves
to suppose that a human life can get itself without residue into the clear. — Stanley Cavell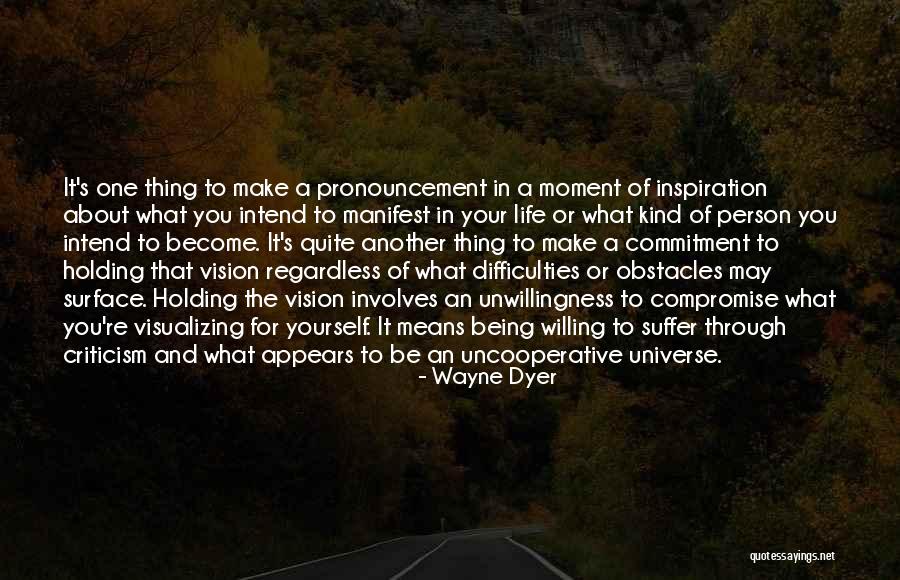 It's one thing to make a pronouncement in a moment of inspiration about what you intend to manifest in your life or what kind of person you intend to become. It's quite another thing to make a commitment to holding that vision regardless of what difficulties or obstacles may surface. Holding the vision involves an unwillingness to compromise what you're visualizing for yourself. It means being willing to suffer through criticism and what appears to be an uncooperative universe. — Wayne Dyer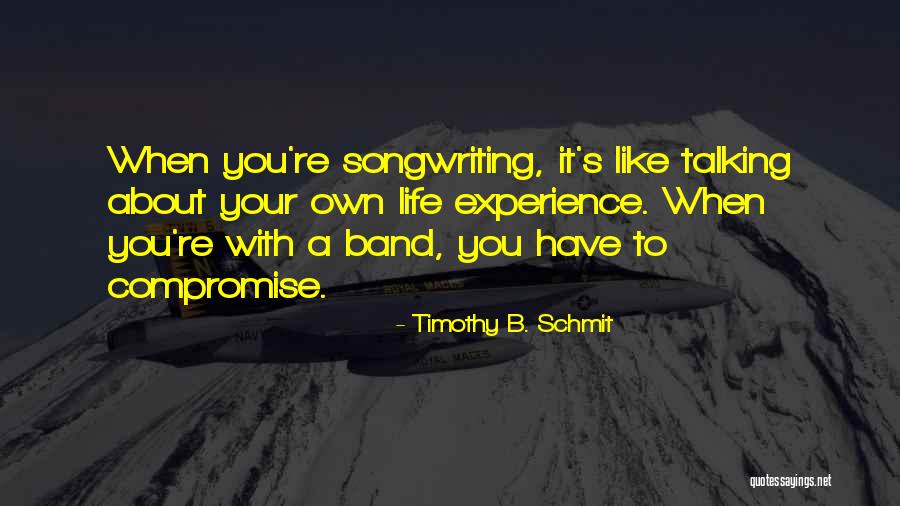 When you're songwriting, it's like talking about your own life experience. When you're with a band, you have to compromise. — Timothy B. Schmit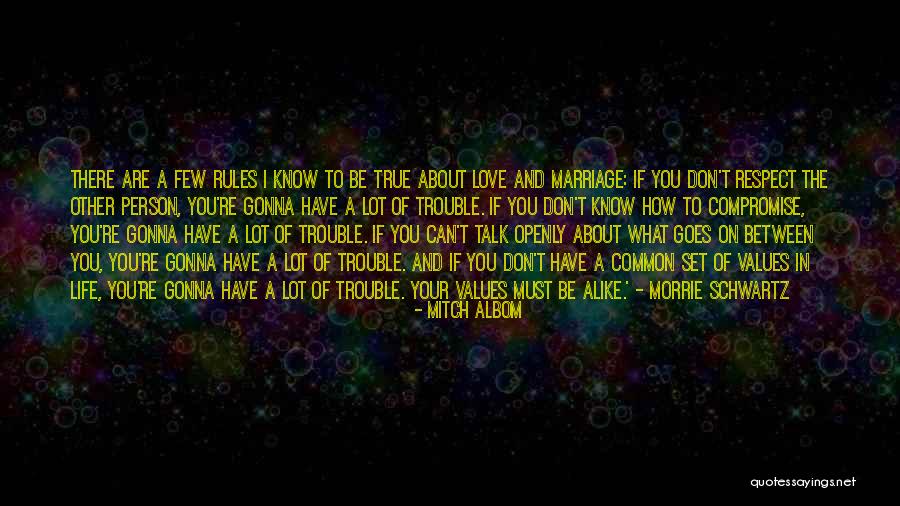 There are a few rules I know to be true about love and marriage: If you don't respect the other person, you're gonna have a lot of trouble. If you don't know how to compromise, you're gonna have a lot of trouble. If you can't talk openly about what goes on between you, you're gonna have a lot of trouble. And if you don't have a common set of values in life, you're gonna have a lot of trouble. Your values must be alike.' - Morrie Schwartz — Mitch Albom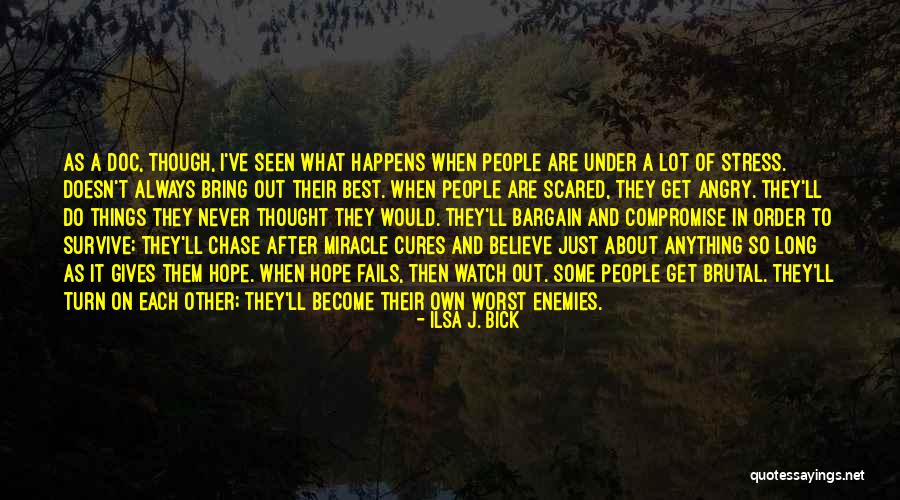 As a doc, though, I've seen what happens when people are under a lot of stress. Doesn't always bring out their best. When people are scared, they get angry. They'll do things they never thought they would. They'll bargain and compromise in order to survive; they'll chase after miracle cures and believe just about anything so long as it gives them hope. When hope fails, then watch out. Some people get brutal. They'll turn on each other; they'll become their own worst enemies. — Ilsa J. Bick
Sometimes in life, you do things you don't want to. Sometimes you sacrifice, sometimes you compromise. Sometimes you let go and sometimes you fight. It's all about deciding what's worth losing and what's worth keeping. — Lindy Zart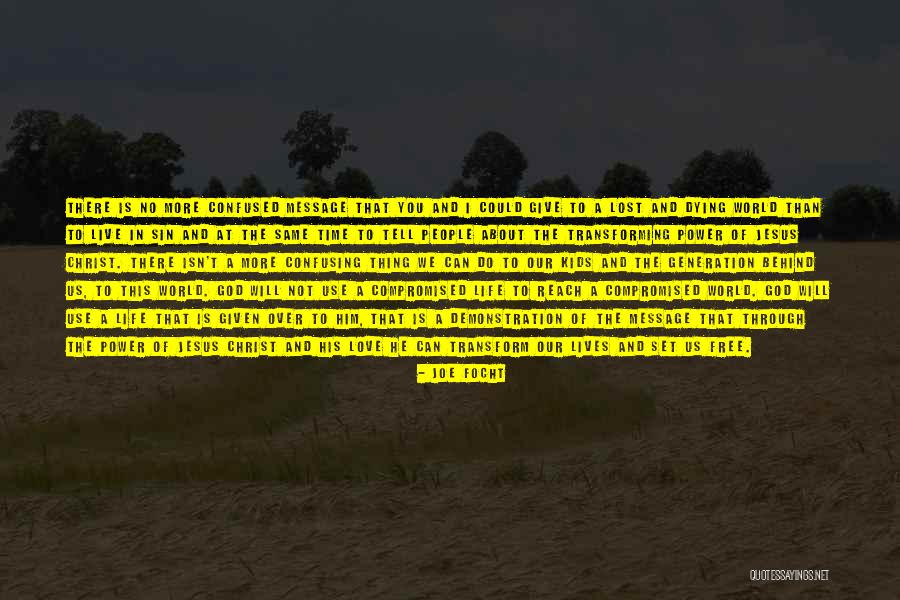 There is no more confused message that you and I could give to a lost and dying world than to live in sin and at the same time to tell people about the transforming power of Jesus Christ. There isn't a more confusing thing we can do to our kids and the generation behind us, to this world.

God will not use a compromised life to reach a compromised world. God will use a life that is given over to Him, that is a demonstration of the message that through the power of Jesus Christ and His love He can transform our lives and set us free. — Joe Focht