Life Confuses Quotes & Sayings
Enjoy reading and share 18 famous quotes about Life Confuses with everyone.
Top Life Confuses Quotes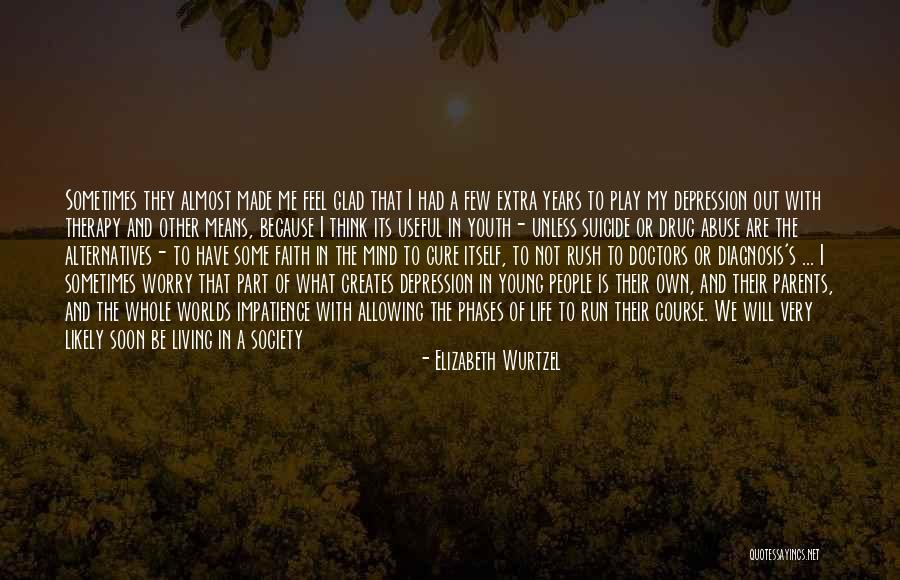 Sometimes they almost made me feel glad that I had a few extra years to play my depression out with therapy and other means, because I think its useful in youth- unless suicide or drug abuse are the alternatives- to have some faith in the mind to cure itself, to not rush to doctors or diagnosis's ... I sometimes worry that part of what creates depression in young people is their own, and their parents, and the whole worlds impatience with allowing the phases of life to run their course. We will very likely soon be living in a society that confuses disease with normal life if the panic and rush to judgment and labeling do not slow down a bit. Somewhere between the unbelievable tardiness that the medical profession was guilty of in administering proper treatment to me and the eagerness to with which practitioners prescribe Ritalin for 8 year old boys and Paxil for 14 year old girls, there is a sane course of action. — Elizabeth Wurtzel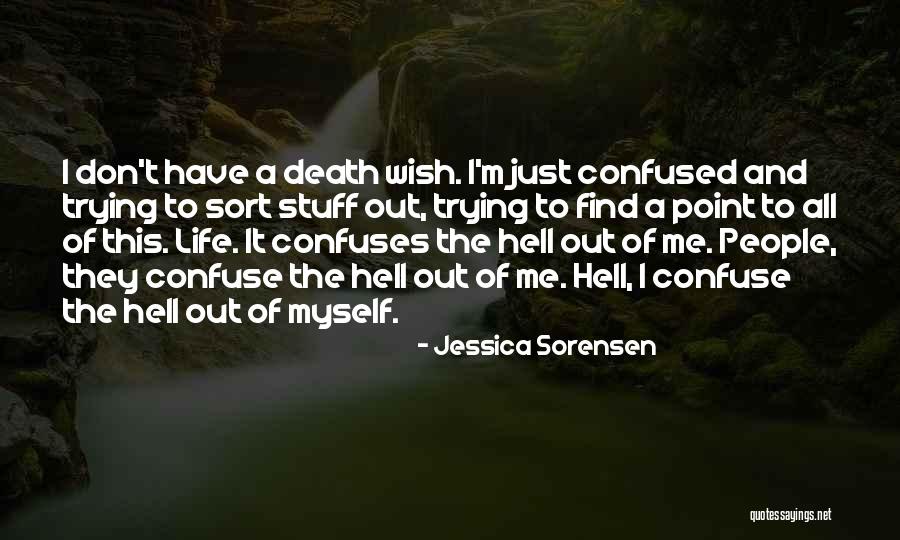 I don't have a death wish. I'm just confused and trying to sort stuff out, trying to find a point to all of this. Life. It confuses the hell out of me. People, they confuse the hell out of me. Hell, I confuse the hell out of myself. — Jessica Sorensen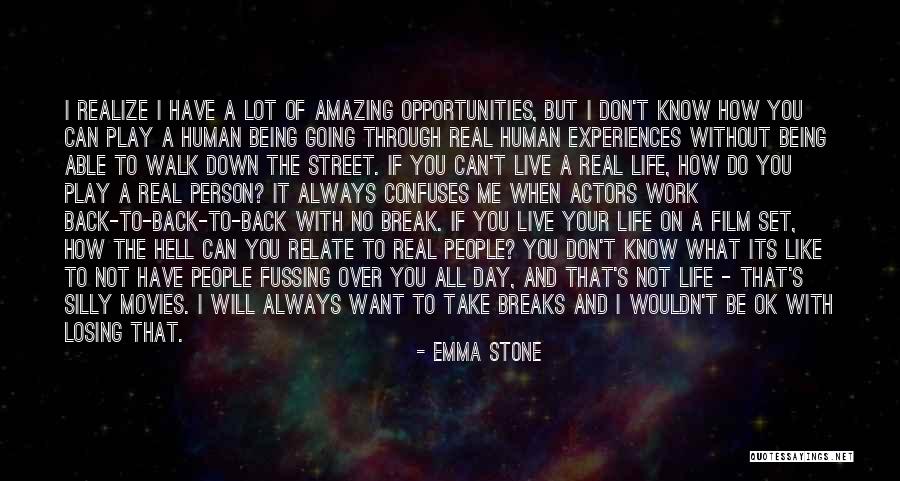 I realize I have a lot of amazing opportunities, but I don't know how you can play a human being going through real human experiences without being able to walk down the street. If you can't live a real life, how do you play a real person? It always confuses me when actors work back-to-back-to-back with no break. If you live your life on a film set, how the hell can you relate to real people? You don't know what its like to not have people fussing over you all day, and that's not life - that's silly movies. I will always want to take breaks and I wouldn't be OK with losing that. — Emma Stone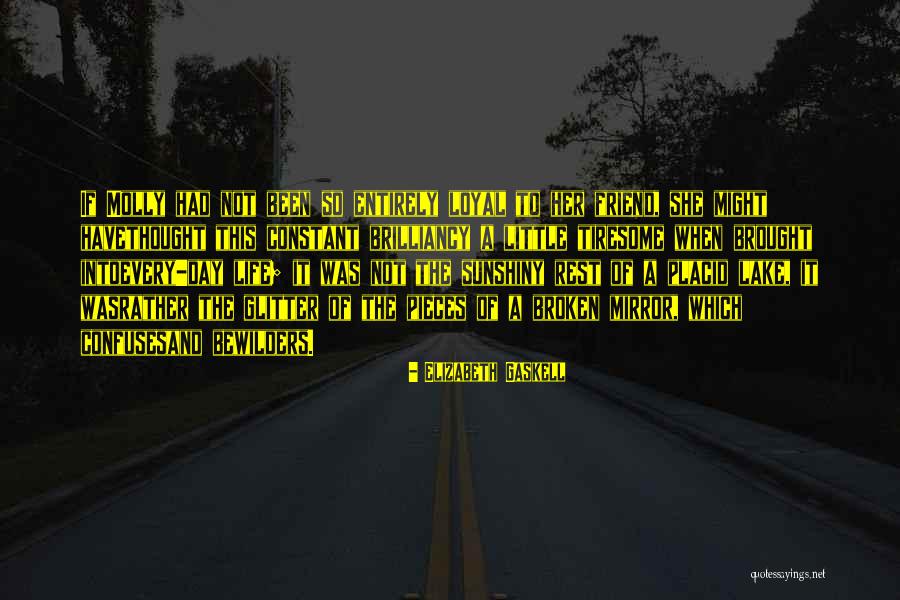 If Molly had not been so entirely loyal to her friend, she might have
thought this constant brilliancy a little tiresome when brought into
every-day life; it was not the sunshiny rest of a placid lake, it was
rather the glitter of the pieces of a broken mirror, which confuses
and bewilders. — Elizabeth Gaskell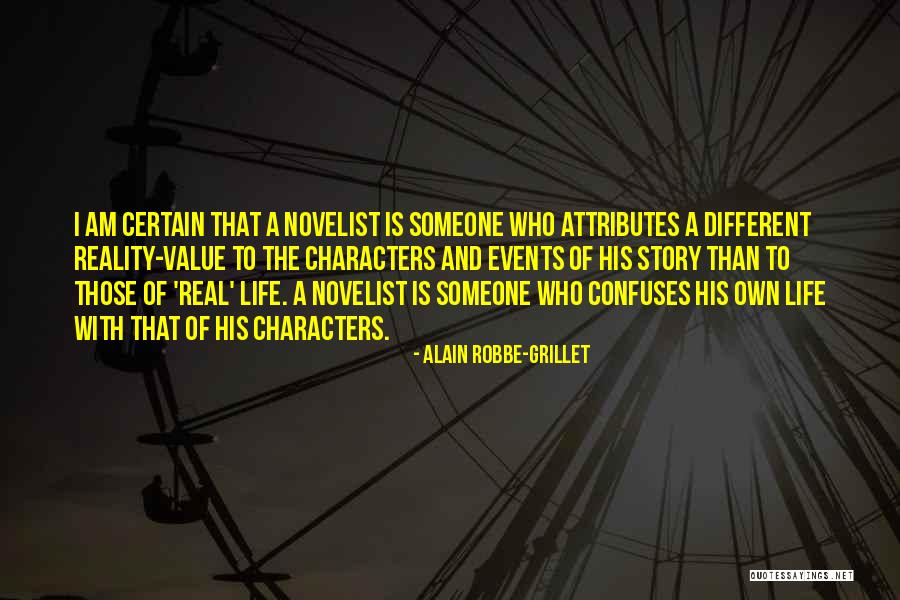 I am certain that a novelist is someone who attributes a different reality-value to the characters and events of his story than to those of 'real' life. A novelist is someone who confuses his own life with that of his characters. — Alain Robbe-Grillet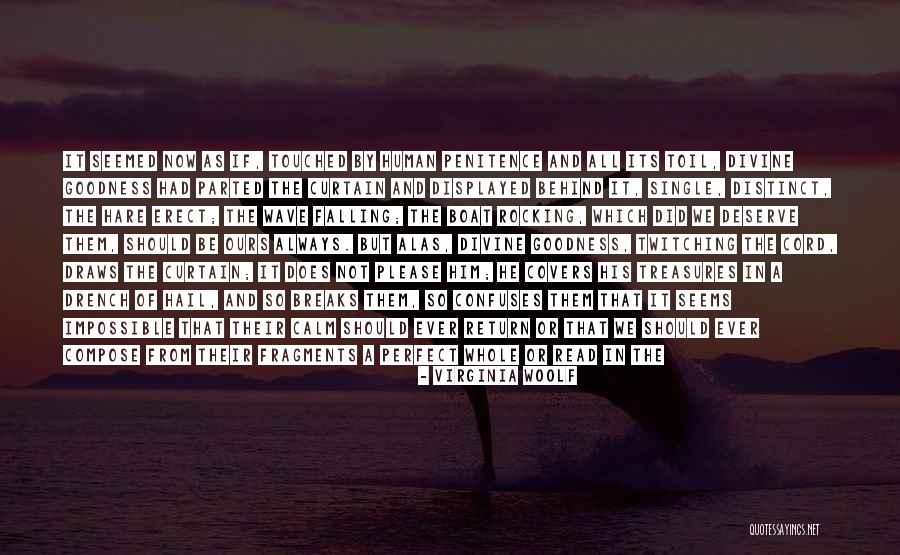 It seemed now as if, touched by human penitence and all its toil, divine goodness had parted the curtain and displayed behind it, single, distinct, the hare erect; the wave falling; the boat rocking, which did we deserve them, should be ours always. But alas, divine goodness, twitching the cord, draws the curtain; it does not please him; he covers his treasures in a drench of hail, and so breaks them, so confuses them that it seems impossible that their calm should ever return or that we should ever compose from their fragments a perfect whole or read in the littered pieces the clear words of truth. For our penitence deserves a glimpse only; our toil respite only. — Virginia Woolf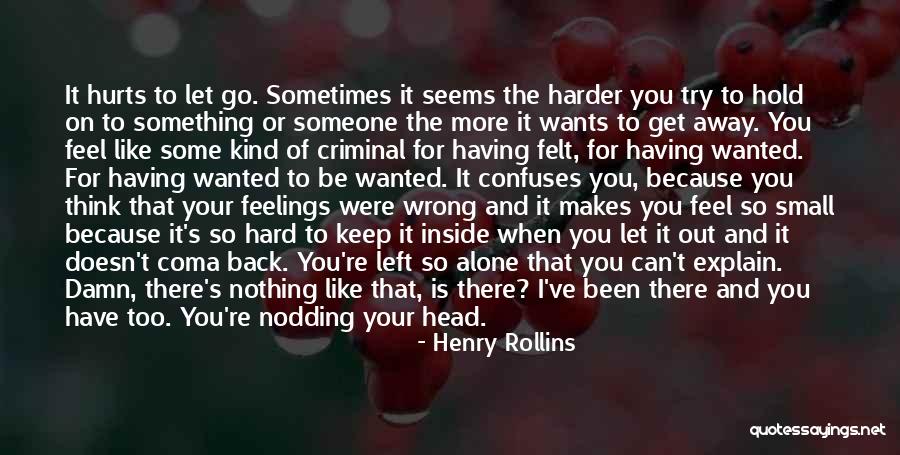 It hurts to let go. Sometimes it seems the harder you try to hold on to something or someone the more it wants to get away. You feel like some kind of criminal for having felt, for having wanted. For having wanted to be wanted. It confuses you, because you think that your feelings were wrong and it makes you feel so small because it's so hard to keep it inside when you let it out and it doesn't coma back. You're left so alone that you can't explain. Damn, there's nothing like that, is there? I've been there and you have too. You're nodding your head. — Henry Rollins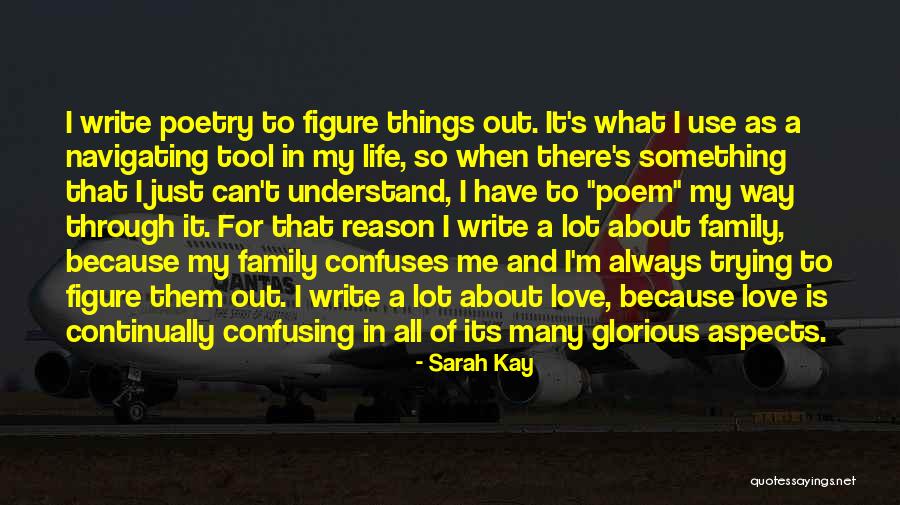 I write poetry to figure things out. It's what I use as a navigating tool in my life, so when there's something that I just can't understand, I have to "poem" my way through it. For that reason I write a lot about family, because my family confuses me and I'm always trying to figure them out. I write a lot about love, because love is continually confusing in all of its many glorious aspects. — Sarah Kay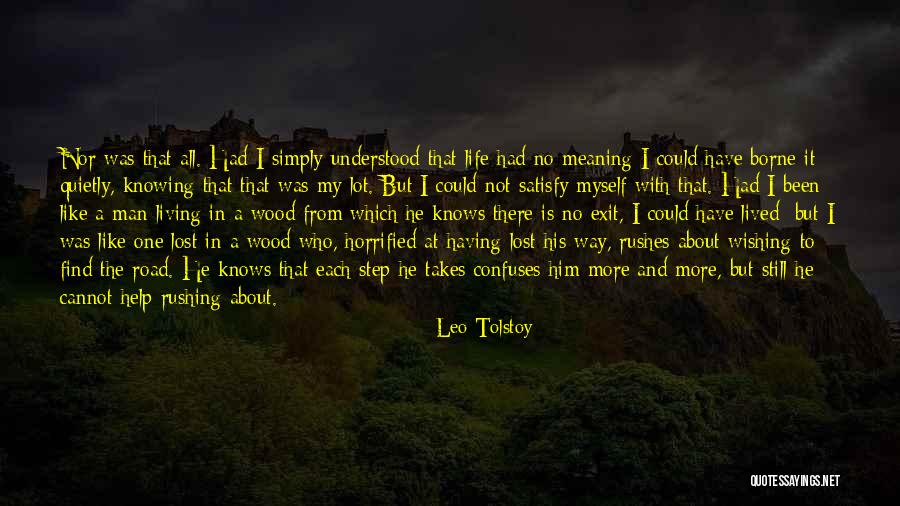 Nor was that all. Had I simply understood that life had no meaning I could have borne it quietly, knowing that that was my lot. But I could not satisfy myself with that. Had I been like a man living in a wood from which he knows there is no exit, I could have lived; but I was like one lost in a wood who, horrified at having lost his way, rushes about wishing to find the road. He knows that each step he takes confuses him more and more, but still he cannot help rushing about. — Leo Tolstoy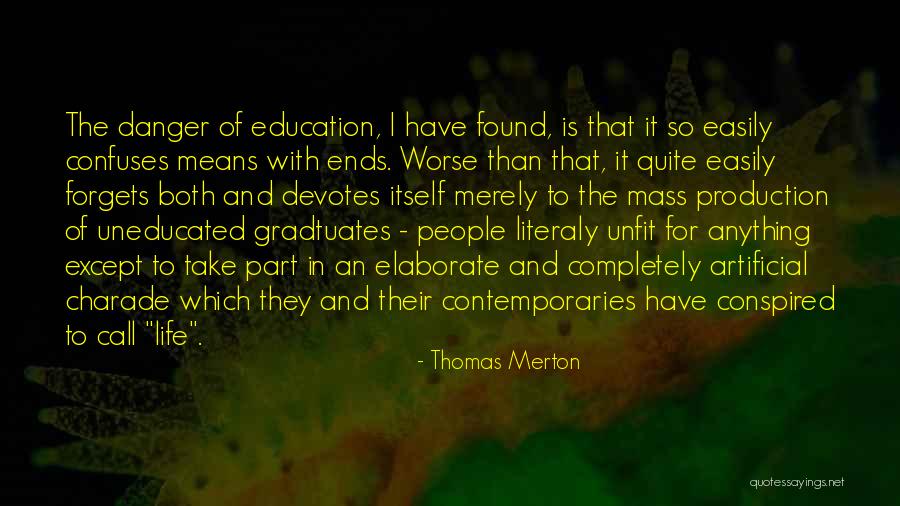 The danger of education, I have found, is that it so easily confuses means with ends. Worse than that, it quite easily forgets both and devotes itself merely to the mass production of uneducated gradtuates - people literaly unfit for anything except to take part in an elaborate and completely artificial charade which they and their contemporaries have conspired to call "life". — Thomas Merton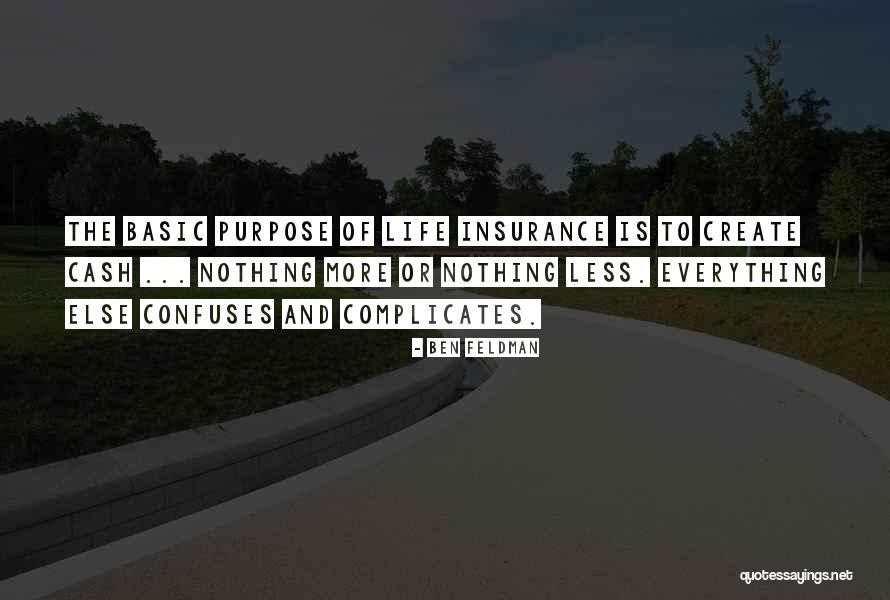 The basic purpose of life insurance is to create cash ... nothing more or nothing less. Everything else confuses and complicates. — Ben Feldman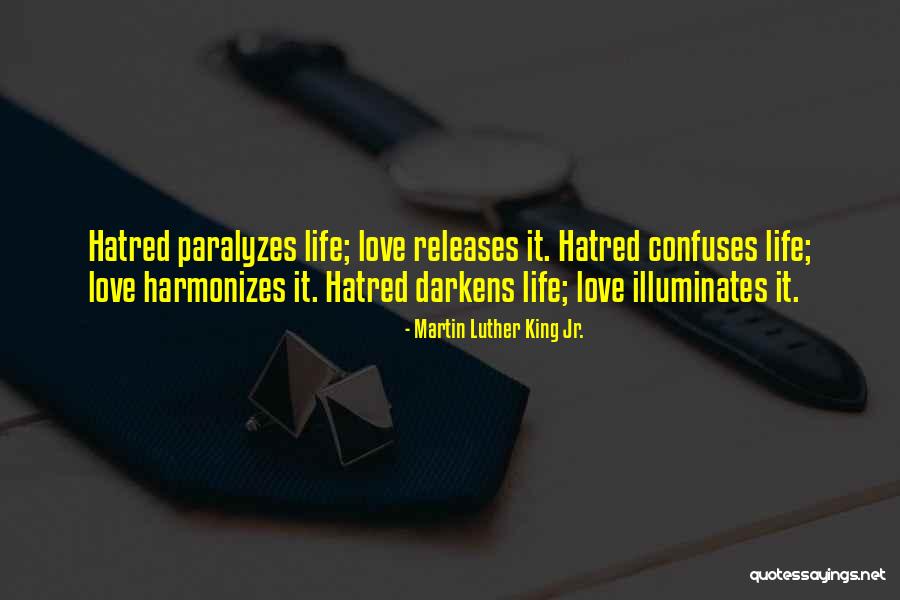 Hatred paralyzes life; love releases it. Hatred confuses life; love harmonizes it. Hatred darkens life; love illuminates it. — Martin Luther King Jr.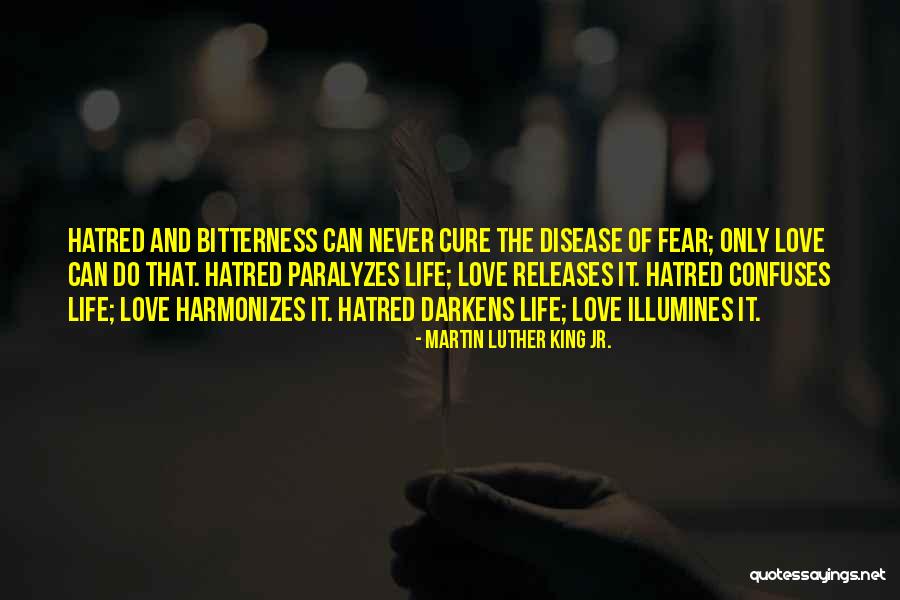 Hatred and bitterness can never cure the disease of fear; only love can do that. Hatred paralyzes life; love releases it. Hatred confuses life; love harmonizes it. Hatred darkens life; love illumines it. — Martin Luther King Jr.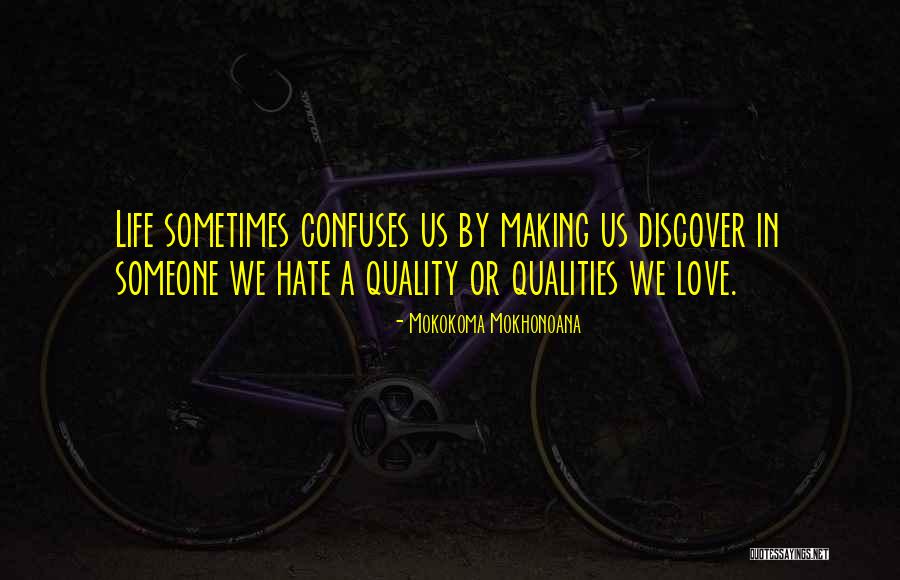 Life sometimes confuses us by making us discover in someone we hate a quality or qualities we love. — Mokokoma Mokhonoana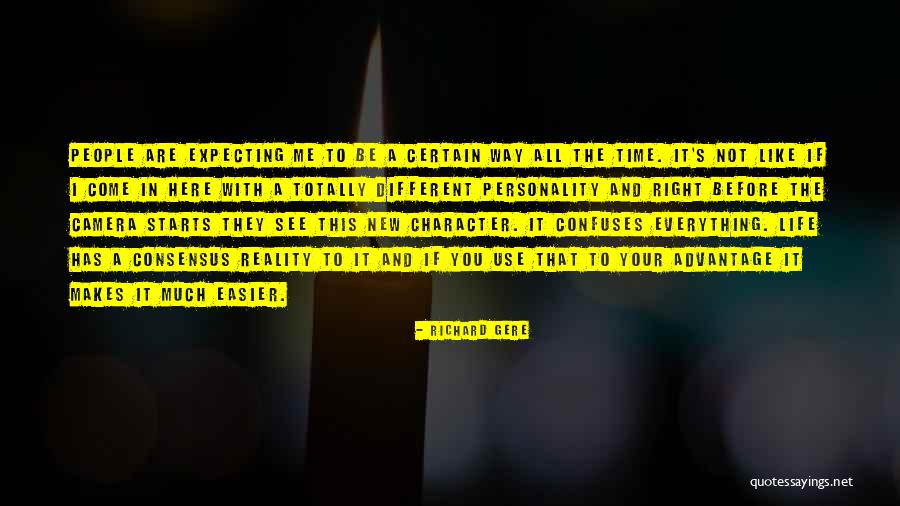 People are expecting me to be a certain way all the time. It's not like if I come in here with a totally different personality and right before the camera starts they see this new character. It confuses everything. Life has a consensus reality to it and if you use that to your advantage it makes it much easier. — Richard Gere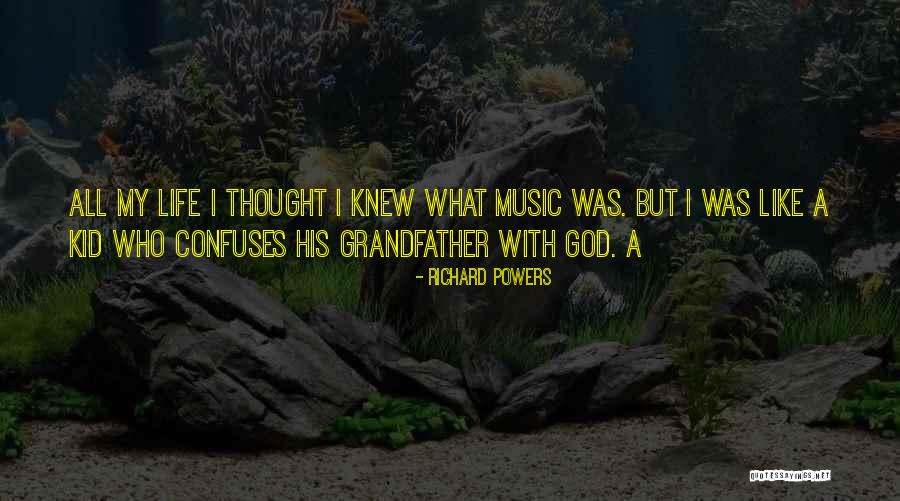 All my life I thought I knew what music was. But I was like a kid who confuses his grandfather with God. A — Richard Powers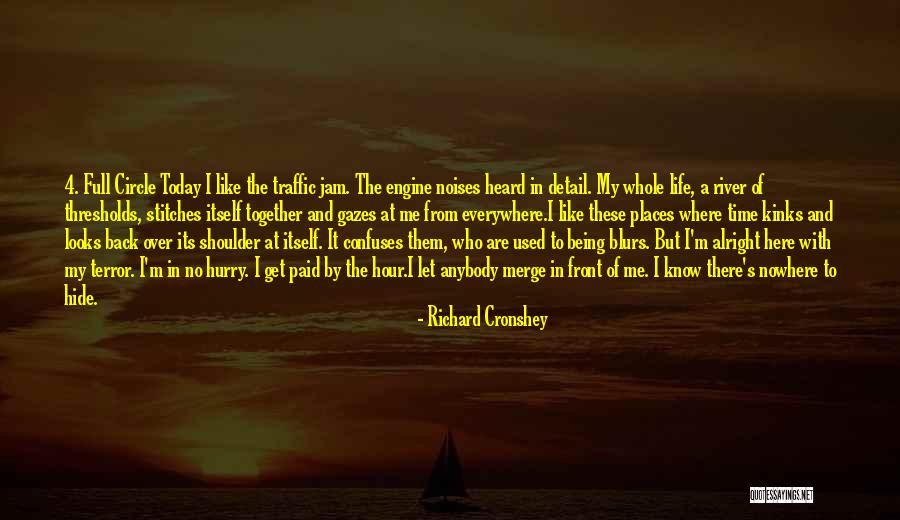 4. Full Circle

Today I like the traffic jam.
The engine noises heard in detail.
My whole life, a river of thresholds, stitches itself together
and gazes at me
from everywhere.
I like these places where time kinks and looks back over its shoulder
at itself. It confuses them, who are used to being blurs.
But I'm alright here with my terror. I'm in no hurry.
I get paid by the hour.
I let anybody merge in front of me.
I know there's nowhere to hide. — Richard Cronshey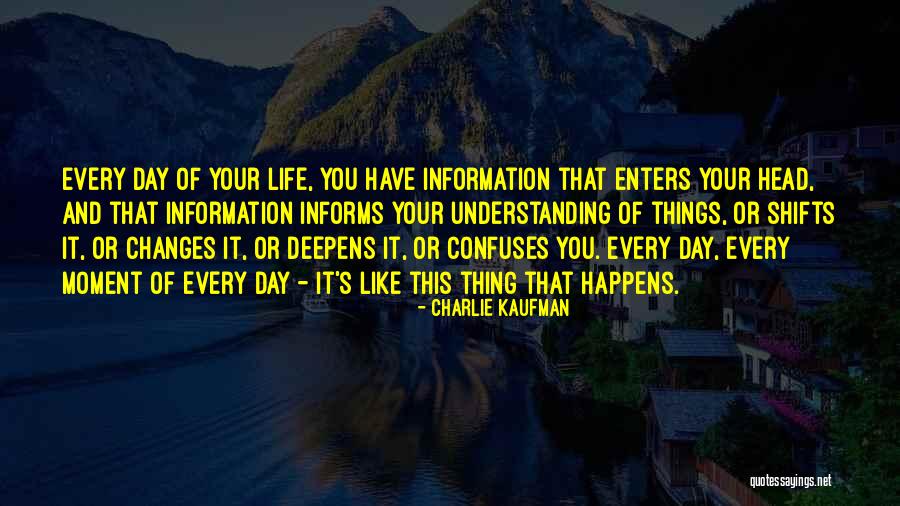 Every day of your life, you have information that enters your head, and that information informs your understanding of things, or shifts it, or changes it, or deepens it, or confuses you. Every day, every moment of every day - it's like this thing that happens. — Charlie Kaufman