Life Ain't So Bad Quotes & Sayings
Enjoy reading and share 15 famous quotes about Life Ain't So Bad with everyone.
Top Life Ain't So Bad Quotes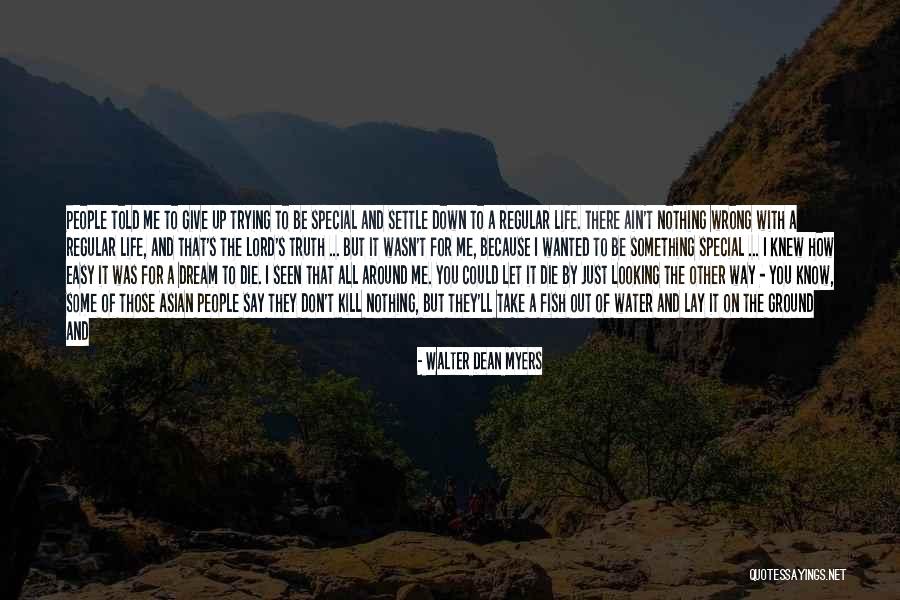 People told me to give up trying to be special and settle down to a regular life. There ain't nothing wrong with a regular life, and that's the Lord's truth ... But it wasn't for me, because I wanted to be something special ... I knew how easy it was for a dream to die. I seen that all around me. You could let it die by just looking the other way - you know, some of those Asian people say they don't kill nothing, but they'll take a fish out of water and lay it on the ground and then say it just died on its own - you can do that with a dream, too. And sometimes you can get so frustrated, you feel so bad about your dream, that you go on and kill it yourself. When you do that, you're killing a piece of yourself, too.
- Mr. Cephus — Walter Dean Myers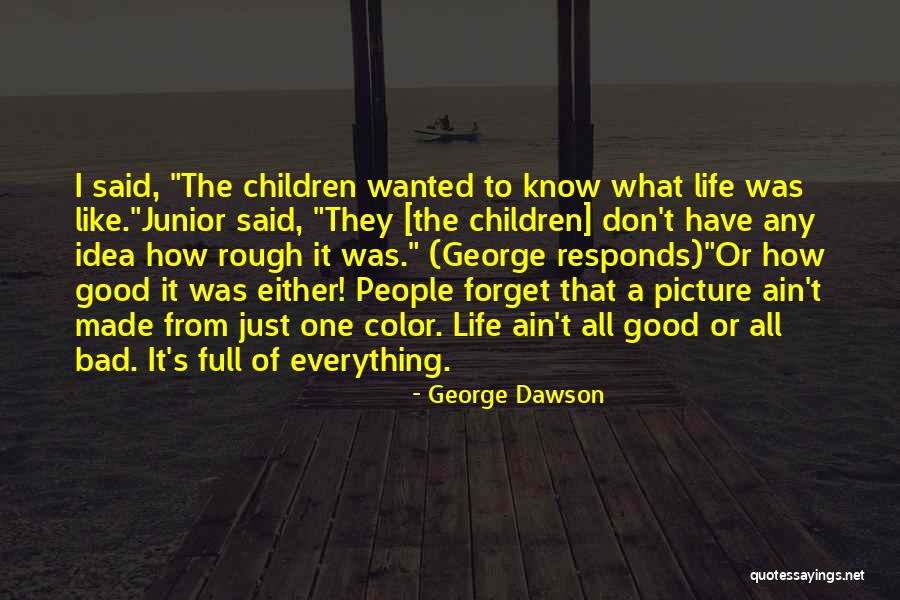 I said, "The children wanted to know what life was like."
Junior said, "They [the children] don't have any idea how rough it was."
(George responds)"Or how good it was either! People forget that a picture ain't made from just one color. Life ain't all good or all bad. It's full of everything. — George Dawson
As I get older ... I start to realize that life ain't half bad. Each year, I'm amazed that I'm still alive. I don't take any of this for granted, I'm a lucky dude. — Dave Grohl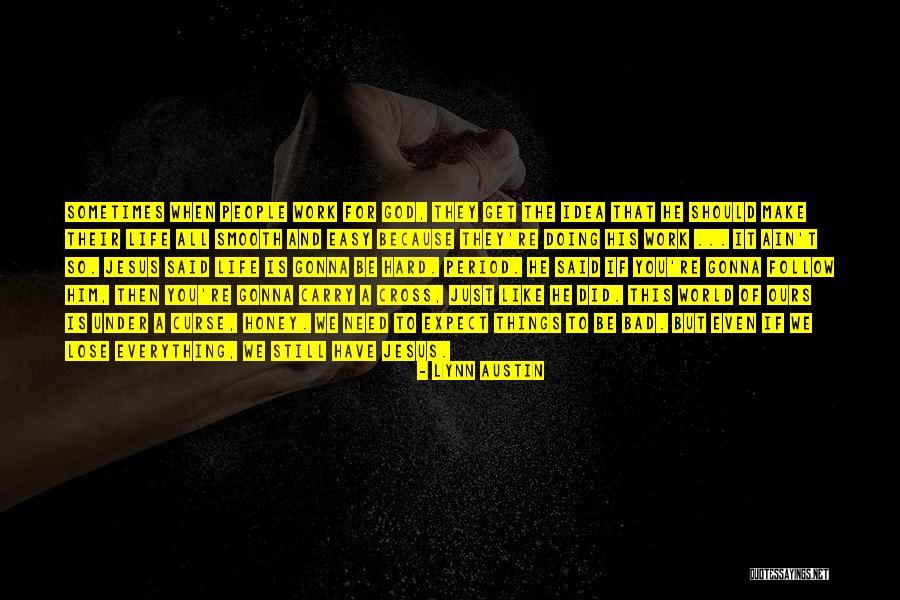 Sometimes when people work for God, they get the idea that He should make their life all smooth and easy because they're doing His work ... It ain't so. Jesus said life is gonna be hard. Period. He said if you're gonna follow Him, then you're gonna carry a cross, just like He did. this world of ours is under a curse, honey. We need to expect things to be bad. But even if we lose everything, we still have Jesus. — Lynn Austin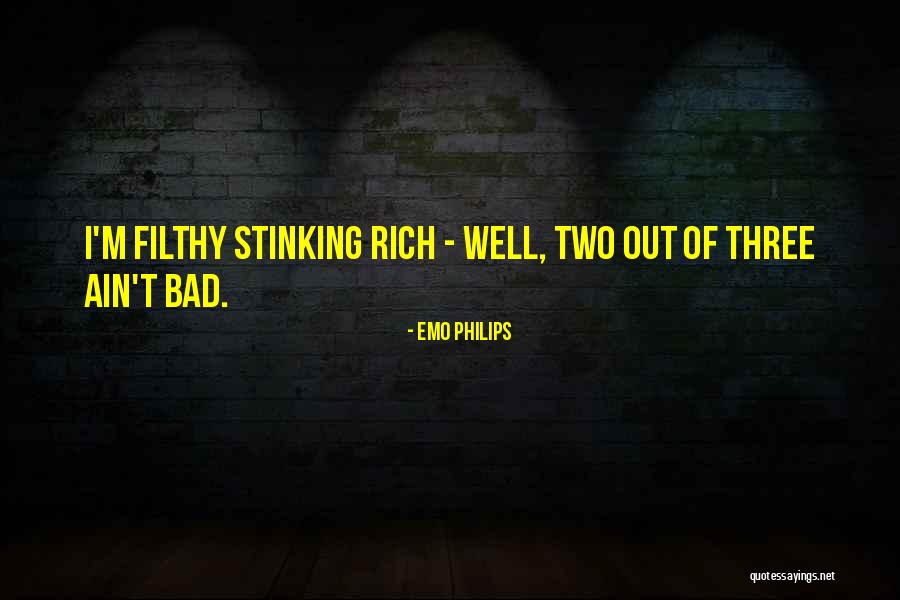 I'm filthy stinking rich - well, two out of three ain't bad. — Emo Philips
You're probably wondering why there's never any good news.
I mean, I've been doing this job a few months now. I've been soaking up the paper every week, same as you, and watching the same newsfeeds as you. I got the same list burned into the front of my head as you. Death. Horror. Bad sex. Living nightmares. Each day a little further down the spiral.
There's never any good news because they know you.
I mean, here's the top of today's column that I discarded: I had a really good time last night down the bar with my assistant and some cheerfully doomed sex fiends of our acquaintance.
No one ever sold newspapers by telling you the truth; life just ain't that bad. — Warren Ellis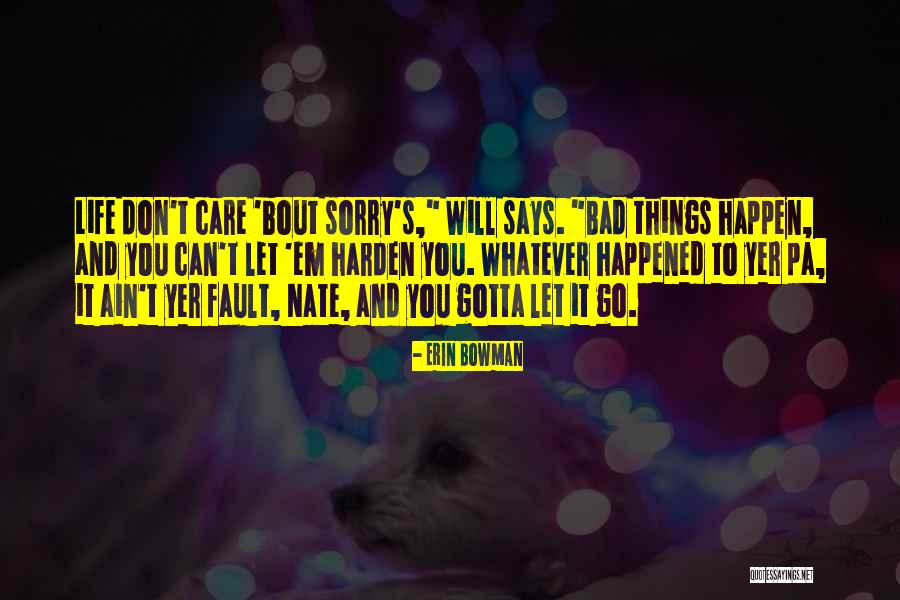 Life don't care 'bout sorry's," Will says. "Bad things happen, and you can't let 'em harden you. Whatever happened to yer pa, it ain't yer fault, Nate, and you gotta let it go. — Erin Bowman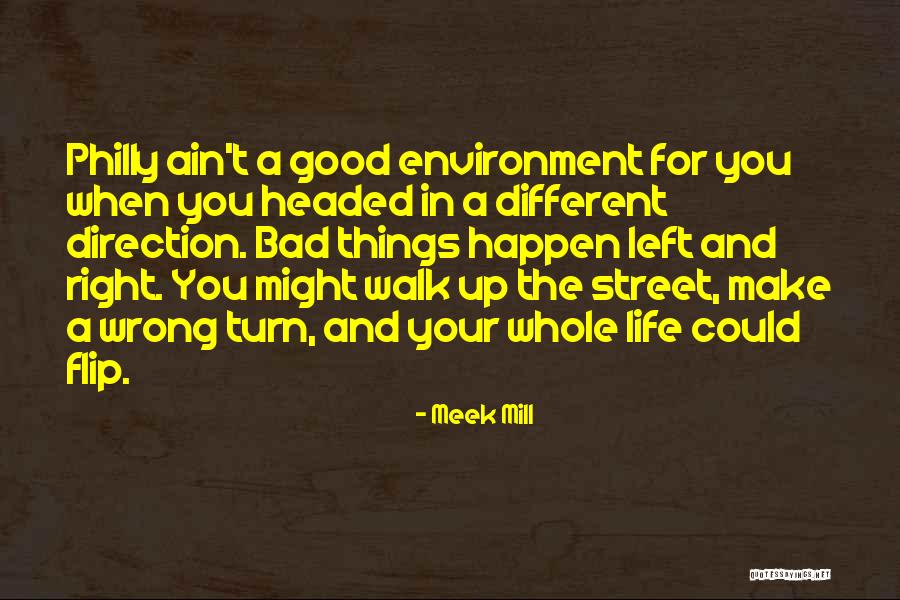 Philly ain't a good environment for you when you headed in a different direction. Bad things happen left and right. You might walk up the street, make a wrong turn, and your whole life could flip. — Meek Mill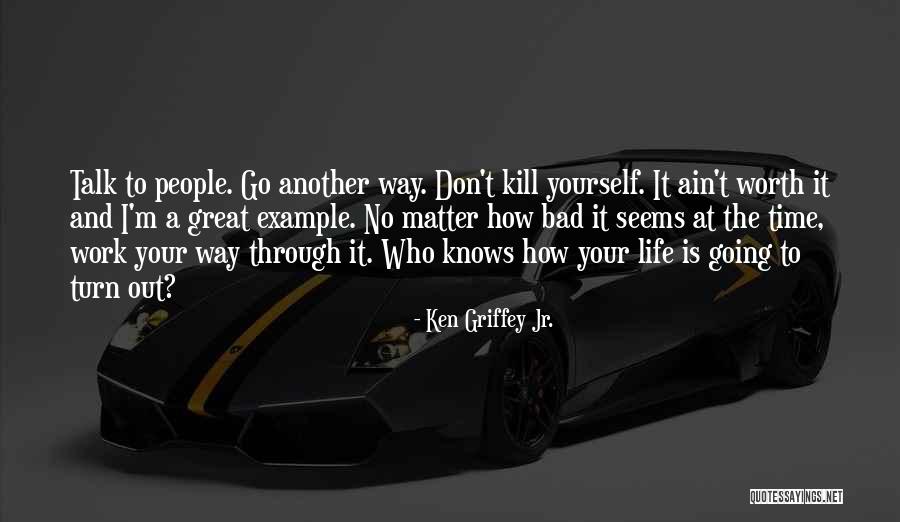 Talk to people. Go another way. Don't kill yourself. It ain't worth it and I'm a great example. No matter how bad it seems at the time, work your way through it. Who knows how your life is going to turn out? — Ken Griffey Jr.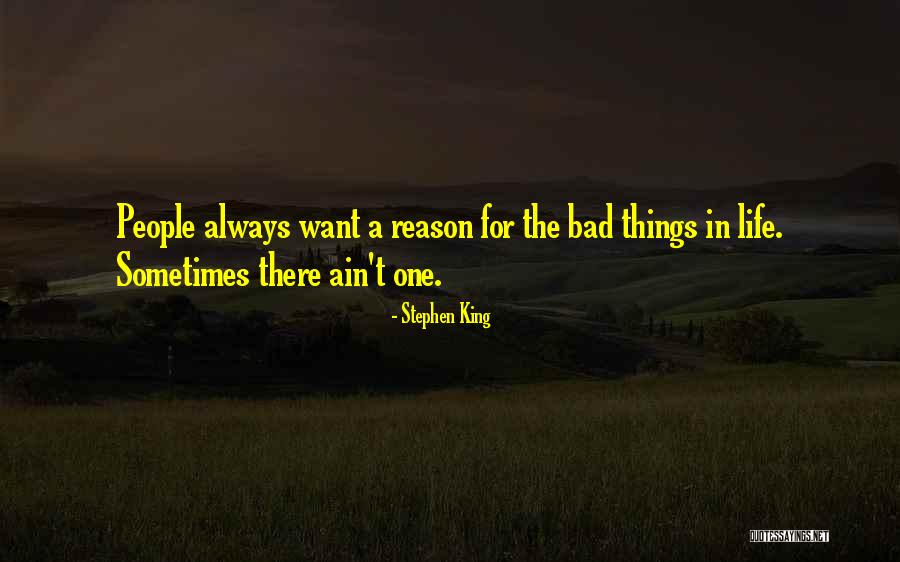 People always want a reason for the bad things in life. Sometimes there ain't one. — Stephen King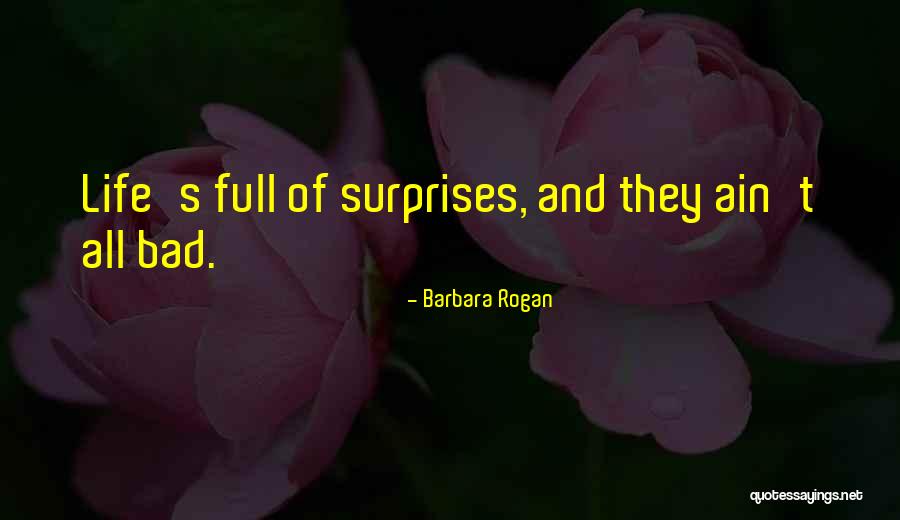 Life's full of surprises, and they ain't all bad. — Barbara Rogan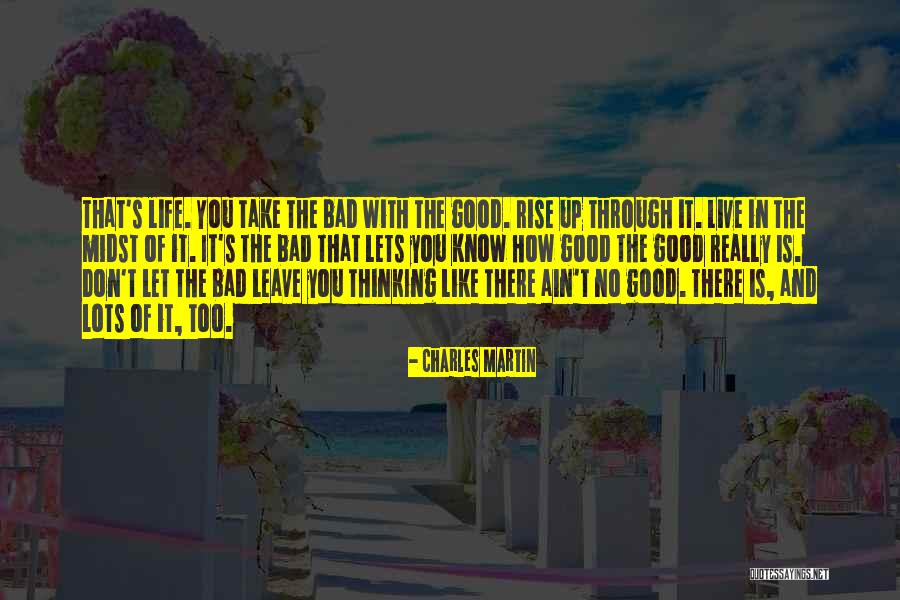 That's life. You take the bad with the good. Rise up through it. Live in the midst of it. It's the bad that lets you know how good the good really is. Don't let the bad leave you thinking like there ain't no good. There is, and lots of it, too. — Charles Martin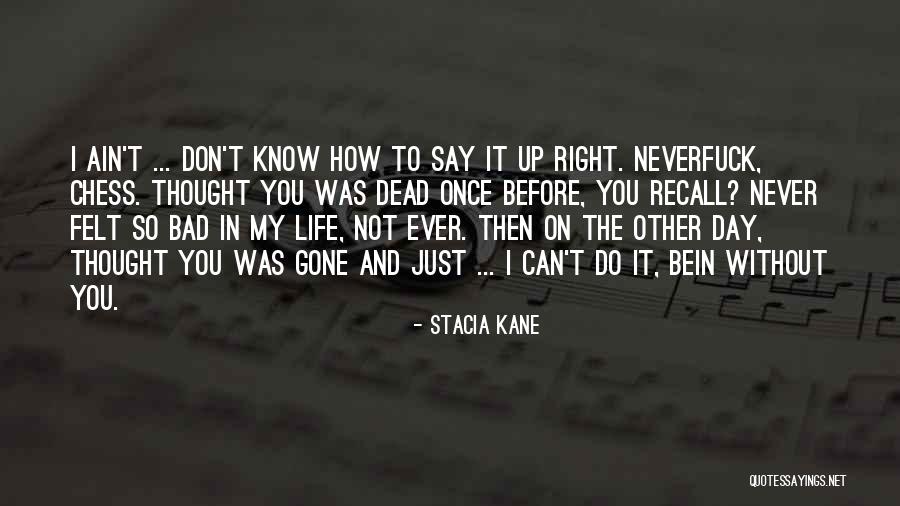 I ain't ... Don't know how to say it up right. Never
Fuck, Chess. Thought you was dead once before, you recall? Never felt so bad in my life, not ever. Then on the other day, thought you was gone and just ... I can't do it, bein without you. — Stacia Kane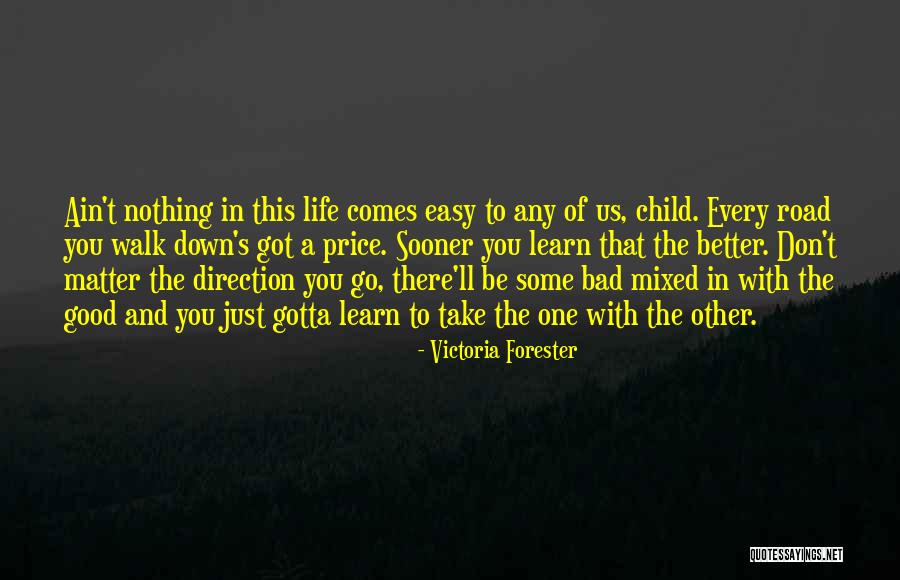 Ain't nothing in this life comes easy to any of us, child. Every road you walk down's got a price. Sooner you learn that the better. Don't matter the direction you go, there'll be some bad mixed in with the good and you just gotta learn to take the one with the other. — Victoria Forester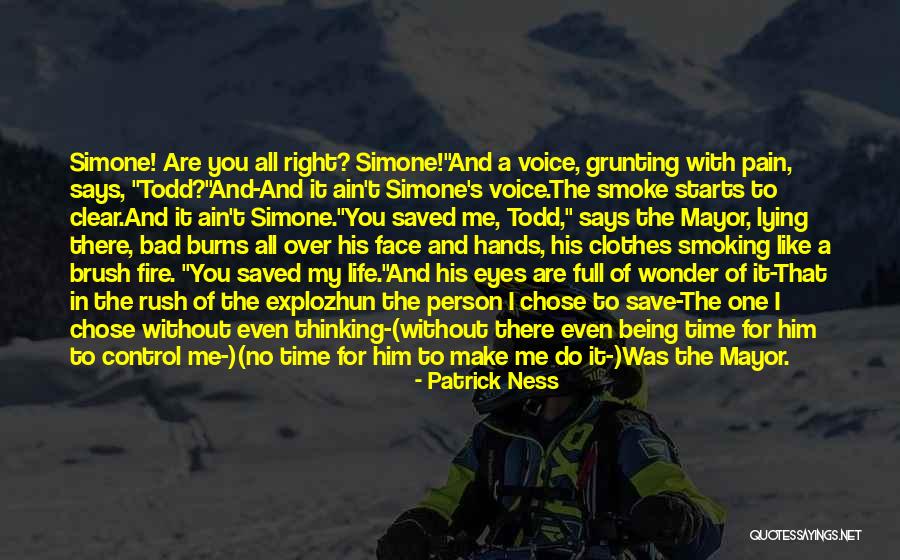 Simone! Are you all right? Simone!"
And a voice, grunting with pain, says, "Todd?"
And-
And it ain't Simone's voice.
The smoke starts to clear.
And it ain't Simone.
"You saved me, Todd," says the Mayor, lying there, bad burns all over his face and hands, his clothes smoking like a brush fire. "You saved my life."
And his eyes are full of wonder of it-
That in the rush of the explozhun the person I chose to save-
The one I chose without even thinking-
(without there even being time for him to control me-)
(no time for him to make me do it-)
Was the Mayor. — Patrick Ness