Quotes & Sayings About Learning From Experiences
Enjoy reading and share 61 famous quotes about Learning From Experiences with everyone.
Top Learning From Experiences Quotes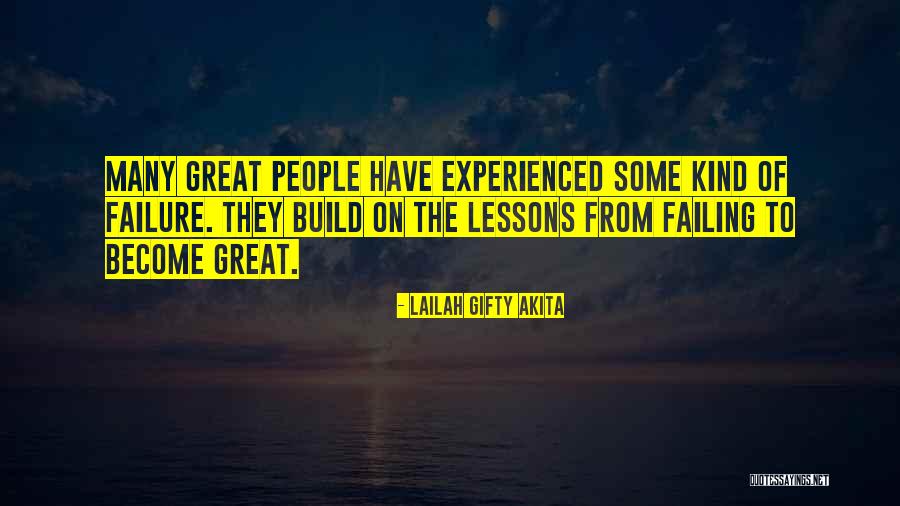 Many great people have experienced some kind of failure. They build on the lessons from failing to become great. — Lailah Gifty Akita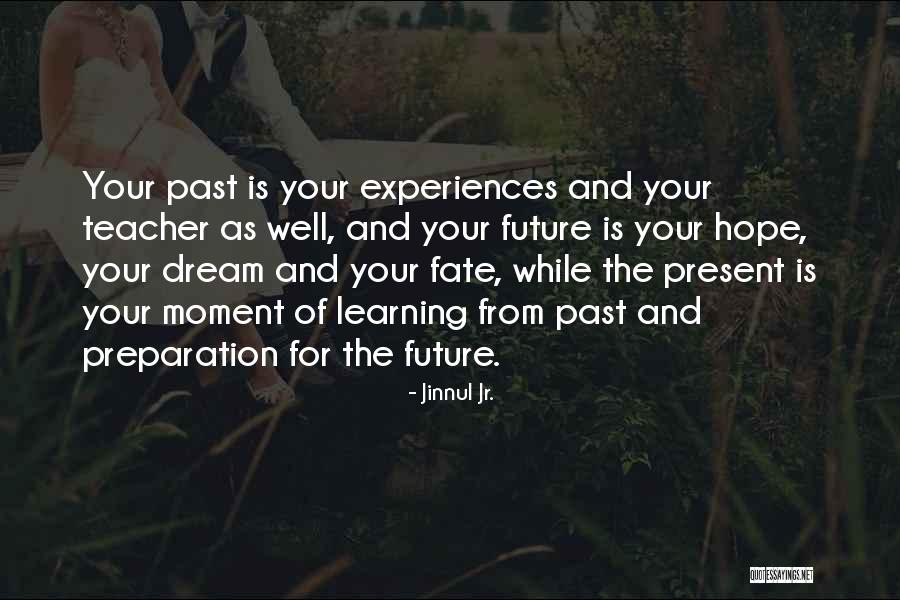 Your past is your experiences and your teacher as well, and your future is your hope, your dream and your fate, while the present is your moment of learning from past and preparation for the future. — Jinnul Jr.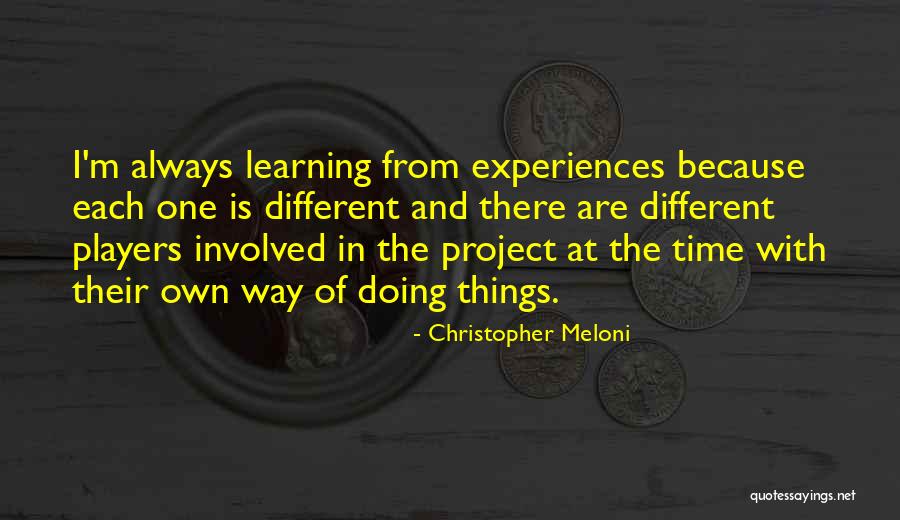 I'm always learning from experiences because each one is different and there are different players involved in the project at the time with their own way of doing things. — Christopher Meloni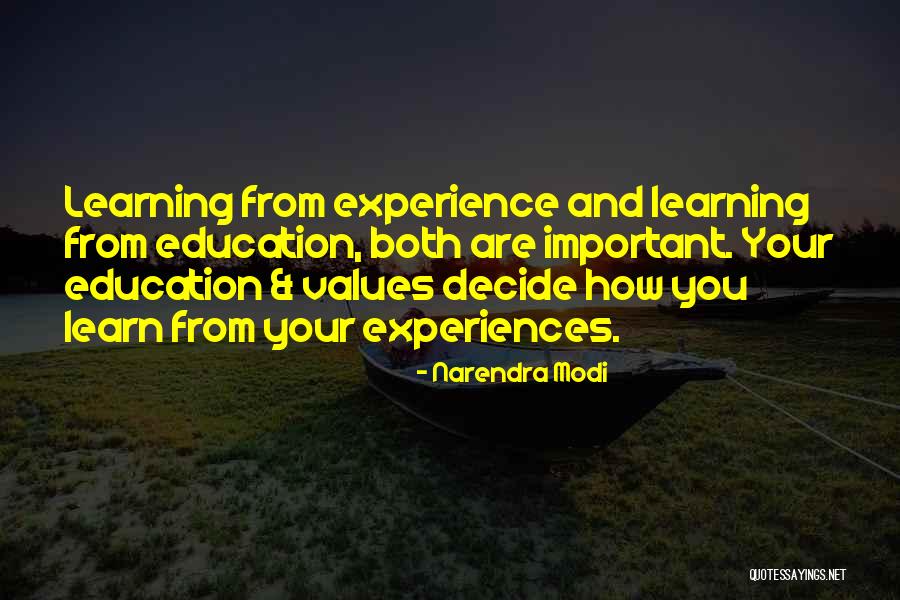 Learning from experience and learning from education, both are important. Your education & values decide how you learn from your experiences. — Narendra Modi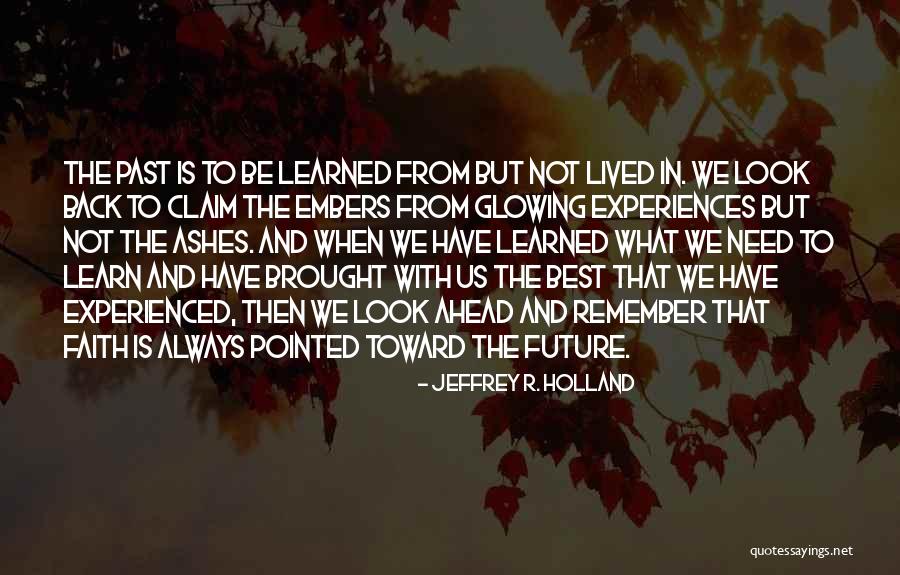 The past is to be learned from but not lived in. We look back to claim the embers from glowing experiences but not the ashes. And when we have learned what we need to learn and have brought with us the best that we have experienced, then we look ahead and remember that faith is always pointed toward the future. — Jeffrey R. Holland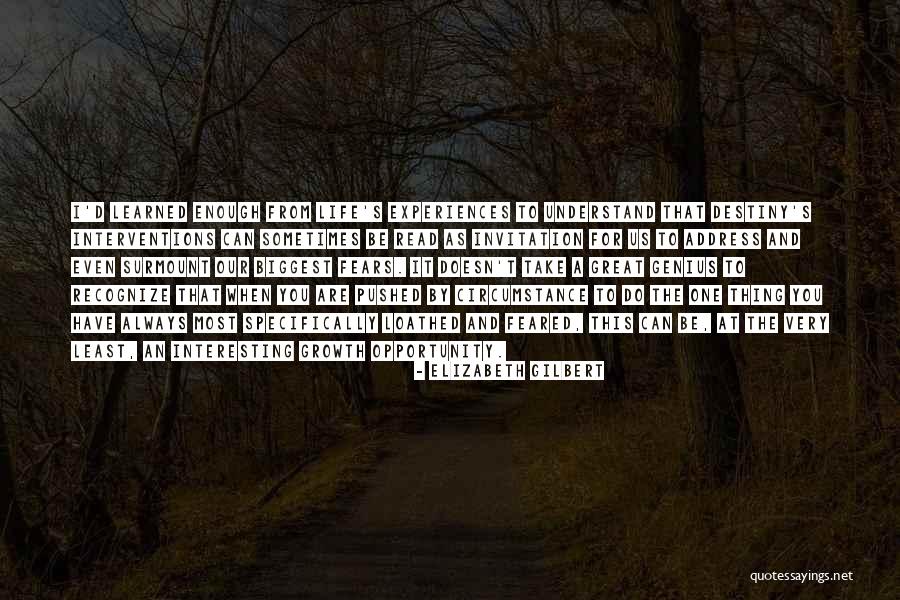 I'd learned enough from life's experiences to understand that destiny's interventions can sometimes be read as invitation for us to address and even surmount our biggest fears. It doesn't take a great genius to recognize that when you are pushed by circumstance to do the one thing you have always most specifically loathed and feared, this can be, at the very least, an interesting growth opportunity. — Elizabeth Gilbert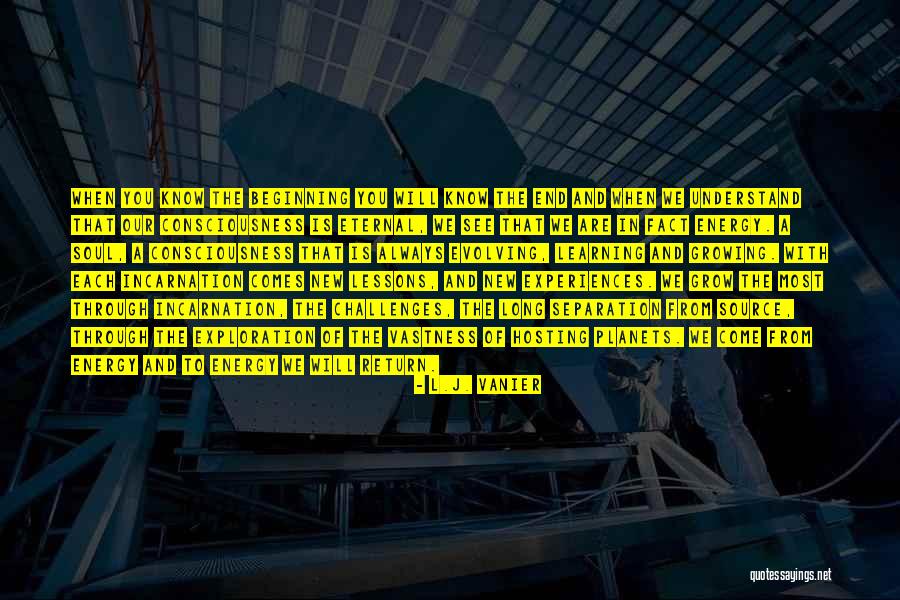 When you know the beginning you will know the end and when we understand that our consciousness is eternal, we see that we are in fact energy.
A soul, a consciousness that is always evolving, learning and growing. With each incarnation comes new lessons, and new experiences. We grow the most through incarnation, the challenges, the long separation from source, through the exploration of the vastness of hosting planets. We come from energy and to energy we will return. — L.J. Vanier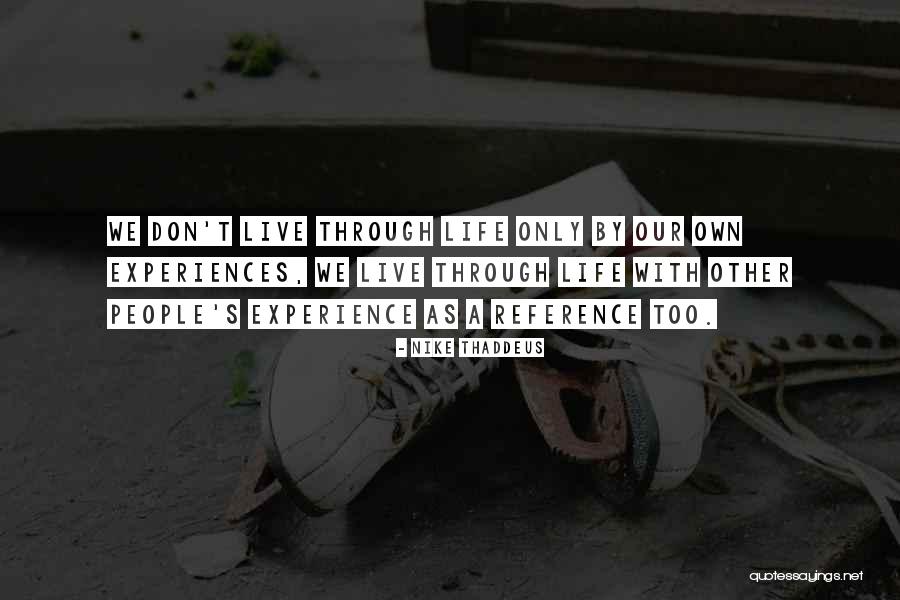 We don't live through life only by our own experiences, we live through life with other people's experience as a reference too. — Nike Thaddeus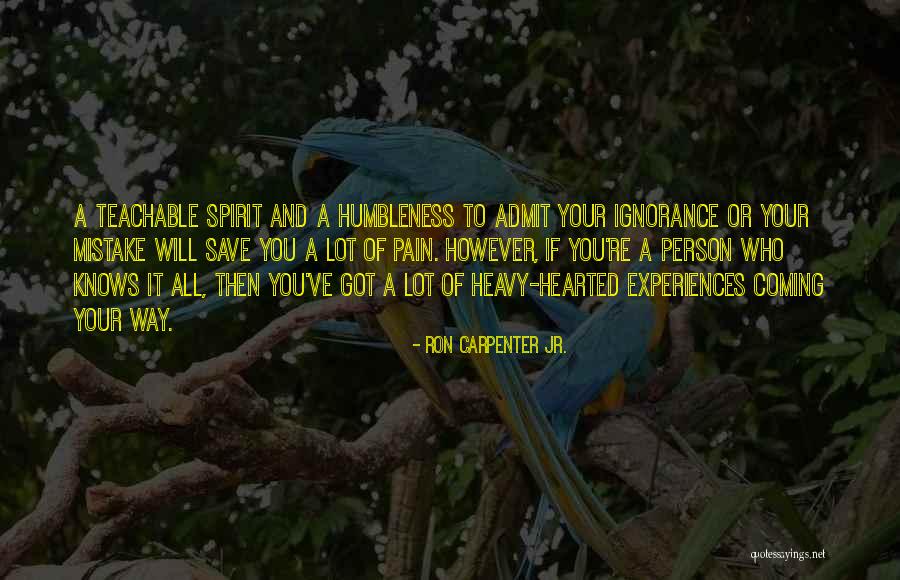 A teachable spirit and a humbleness to admit your ignorance or your mistake will save you a lot of pain. However, if you're a person who knows it all, then you've got a lot of heavy-hearted experiences coming your way. — Ron Carpenter Jr.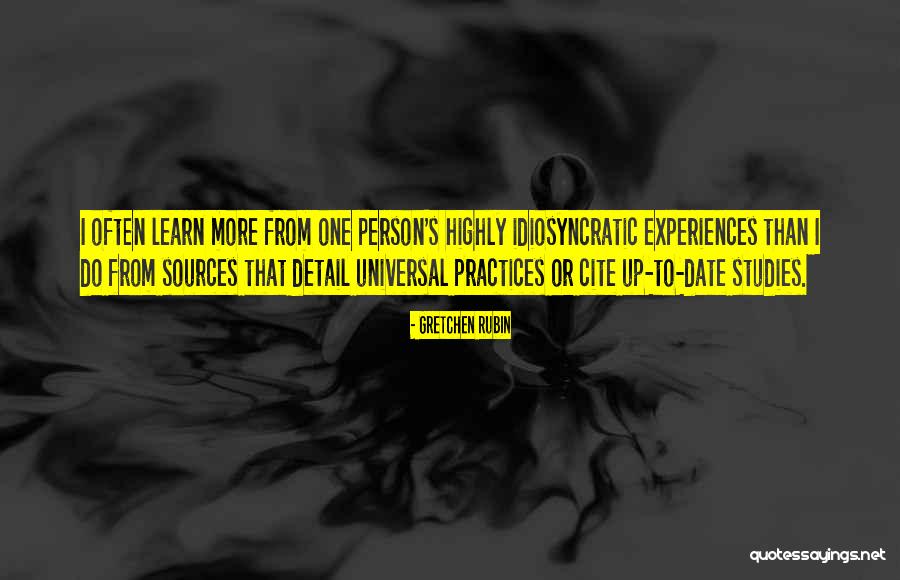 I often learn more from one person's highly idiosyncratic experiences than I do from sources that detail universal practices or cite up-to-date studies. — Gretchen Rubin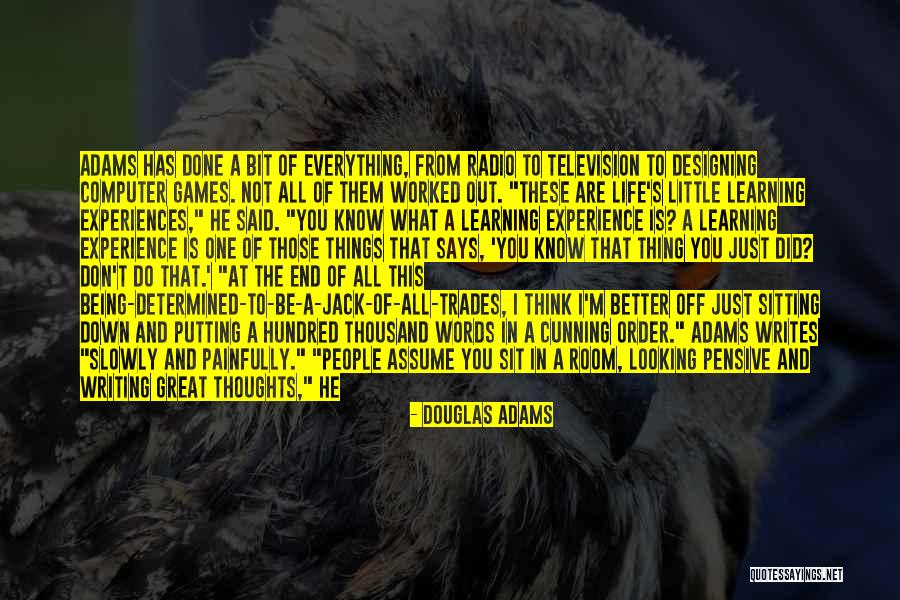 Adams has done a bit of everything, from radio to television to designing computer games. Not all of them worked out.

"These are life's little learning experiences," he said. "You know what a learning experience is? A learning experience is one of those things that says, 'You know that thing you just did? Don't do that.'

"At the end of all this being-determined-to-be-a-jack-of-all-trades, I think I'm better off just sitting down and putting a hundred thousand words in a cunning order."

Adams writes "slowly and painfully."

"People assume you sit in a room, looking pensive and writing great thoughts," he said. "But you mostly sit in a room looking panic-stricken and hoping they haven't put a guard on the door yet. — Douglas Adams
The word constructionism is a mnemonic for two aspects of the theory of science education underlying this project. From constructivist theories of psychology we take a view of learning as a reconstruction rather than as a transmission of knowledge. Then we extend the idea of manipulative materials to the idea that learning is most effective when part of an activity the learner experiences as constructing a meaningful product. — Seymour Papert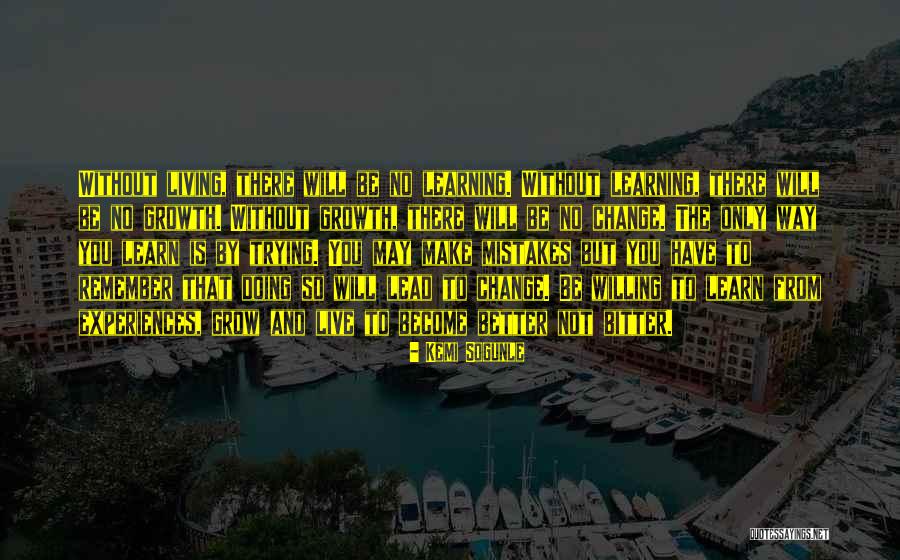 Without living, there will be no learning. Without learning, there will be no growth. Without growth, there will be no change. The only way you learn is by trying. You may make mistakes but you have to remember that doing so will lead to change. Be willing to learn from experiences, grow and live to become better not bitter. — Kemi Sogunle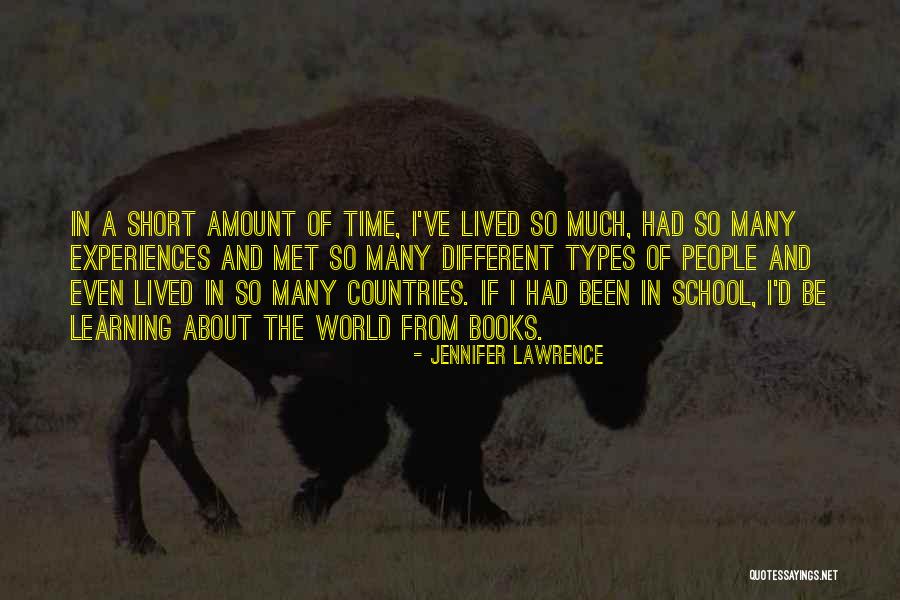 In a short amount of time, I've lived so much, had so many experiences and met so many different types of people and even lived in so many countries. If I had been in school, I'd be learning about the world from books. — Jennifer Lawrence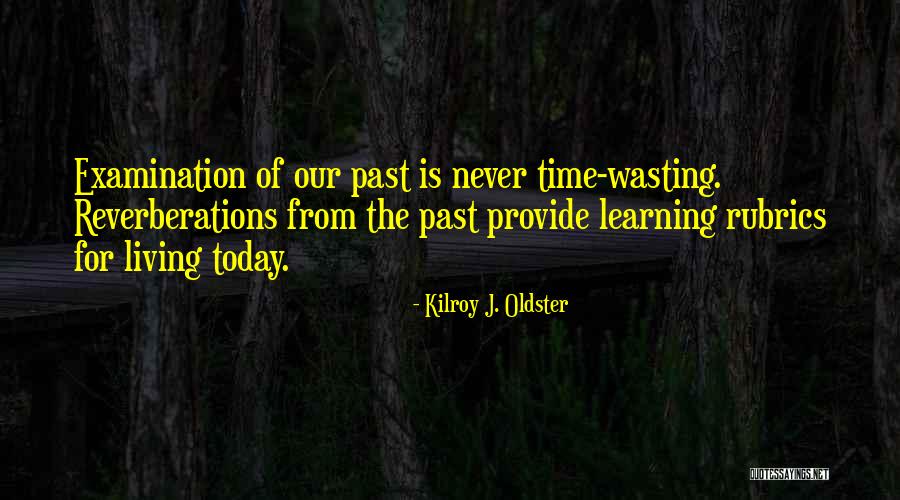 Examination of our past is never time-wasting. Reverberations from the past provide learning rubrics for living today. — Kilroy J. Oldster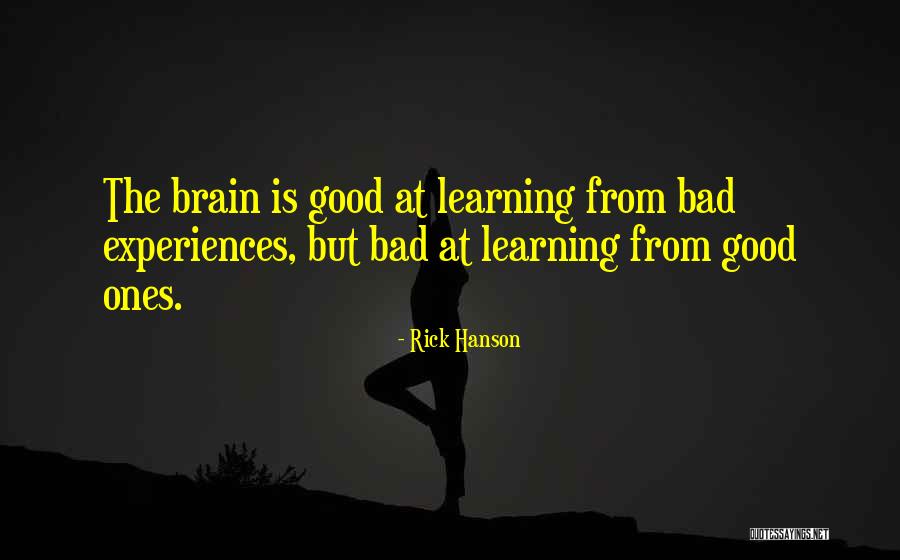 The brain is good at learning from bad experiences, but bad at learning from good ones. — Rick Hanson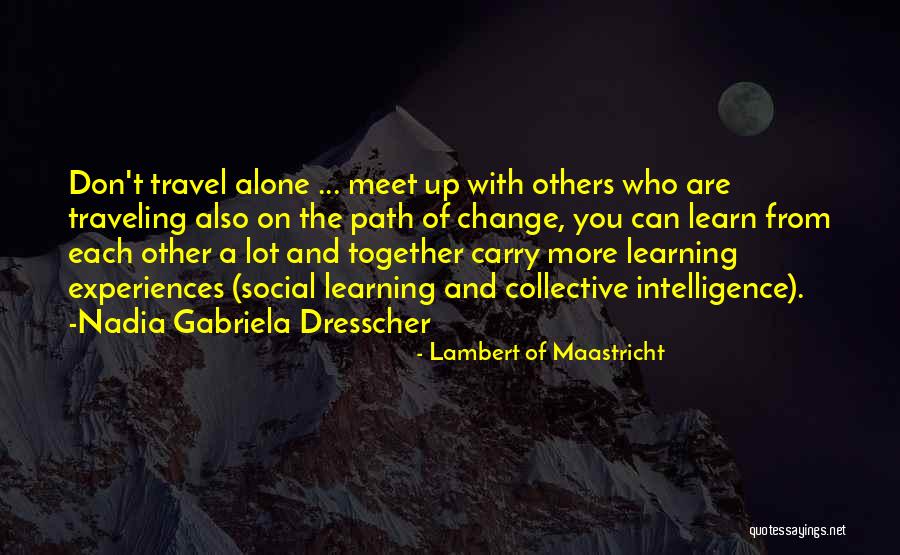 Don't travel alone ... meet up with others who are traveling also on the path of change, you can learn from each other a lot and together carry more learning experiences (social learning and collective intelligence). -Nadia Gabriela Dresscher — Lambert Of Maastricht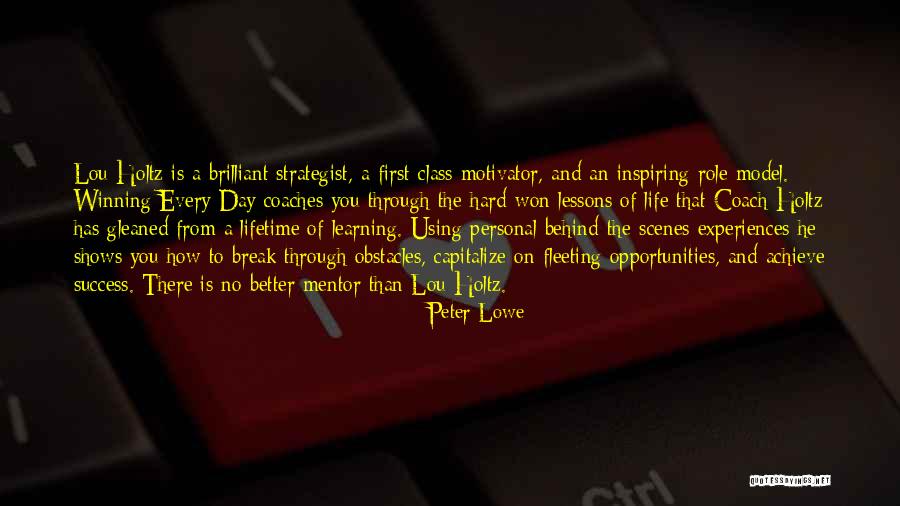 Lou Holtz is a brilliant strategist, a first-class motivator, and an inspiring role model. Winning Every Day coaches you through the hard-won lessons of life that Coach Holtz has gleaned from a lifetime of learning. Using personal behind-the-scenes experiences he shows you how to break through obstacles, capitalize on fleeting opportunities, and achieve success. There is no better mentor than Lou Holtz. — Peter Lowe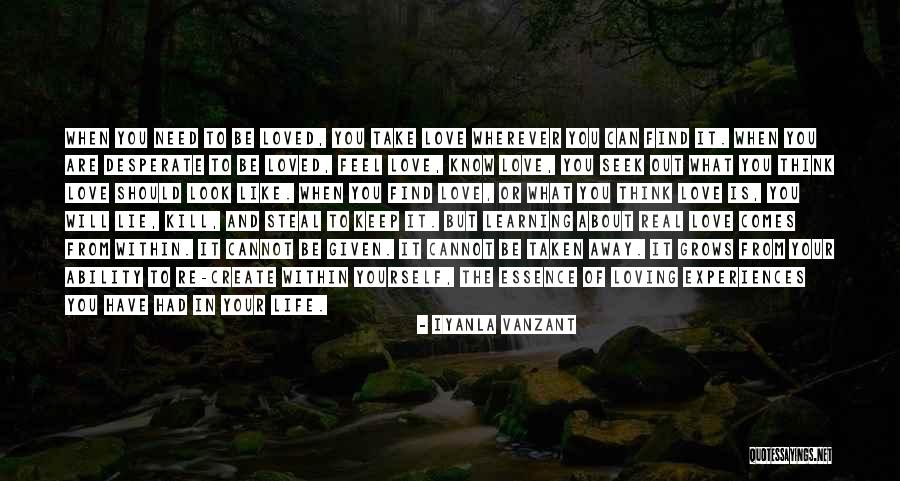 When you need to be loved, you take love wherever you can find it. When you are desperate to be loved, feel love, know love, you seek out what you think love should look like. When you find love, or what you think love is, you will lie, kill, and steal to keep it. But learning about real love comes from within. It cannot be given. It cannot be taken away. It grows from your ability to re-create within yourself, the essence of loving experiences you have had in your life. — Iyanla Vanzant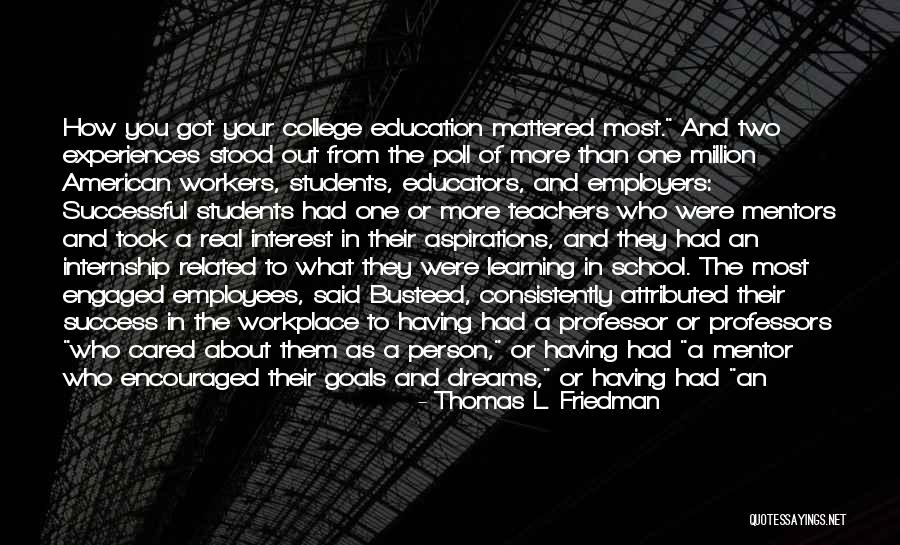 How you got your college education mattered most." And two experiences stood out from the poll of more than one million American workers, students, educators, and employers: Successful students had one or more teachers who were mentors and took a real interest in their aspirations, and they had an internship related to what they were learning in school. The most engaged employees, said Busteed, consistently attributed their success in the workplace to having had a professor or professors "who cared about them as a person," or having had "a mentor who encouraged their goals and dreams," or having had "an internship where they applied what they were learning." Those workers, he found, "were twice as likely to be engaged with their work and thriving in their overall well-being." There's a message in that bottle. — Thomas L. Friedman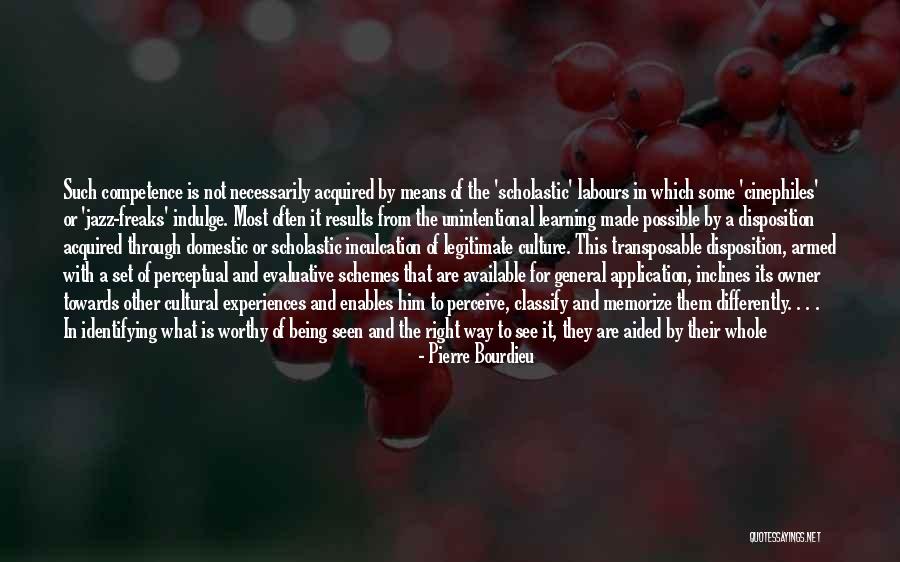 Such competence is not necessarily acquired by means of the 'scholastic' labours in which some 'cinephiles' or 'jazz-freaks' indulge. Most often it results from the unintentional learning made possible by a disposition acquired through domestic or scholastic inculcation of legitimate culture. This transposable disposition, armed with a set of perceptual and evaluative schemes that are available for general application, inclines its owner towards other cultural experiences and enables him to perceive, classify and memorize them differently. . . . In identifying what is worthy of being seen and the right way to see it, they are aided by their whole social group and by the whole corporation of critics mandated by the group to produce legitimate classifications and the discourse necessarily accompanying any artistic enjoyment worthy of the name. — Pierre Bourdieu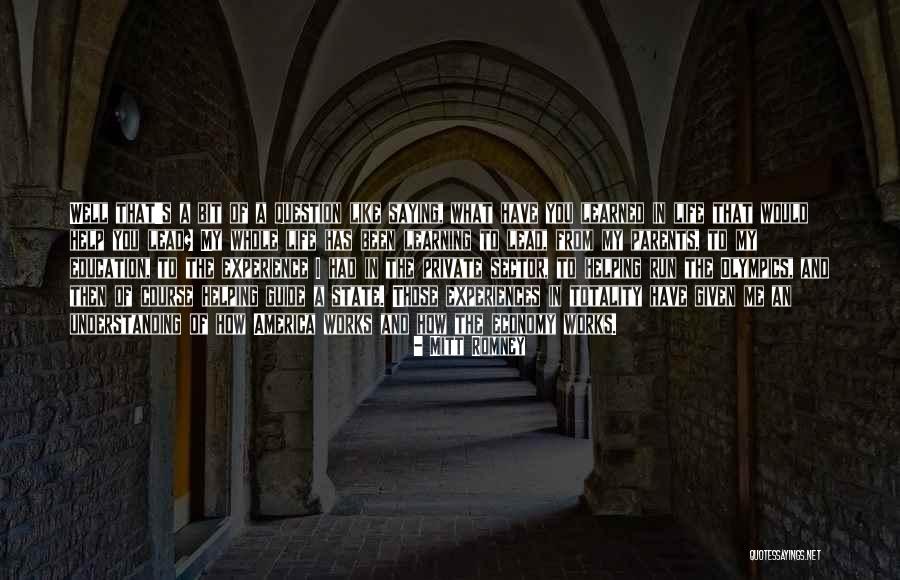 Well that's a bit of a question like saying, what have you learned in life that would help you lead? My whole life has been learning to lead, from my parents, to my education, to the experience I had in the private sector, to helping run the Olympics, and then of course helping guide a state. Those experiences in totality have given me an understanding of how America works and how the economy works. — Mitt Romney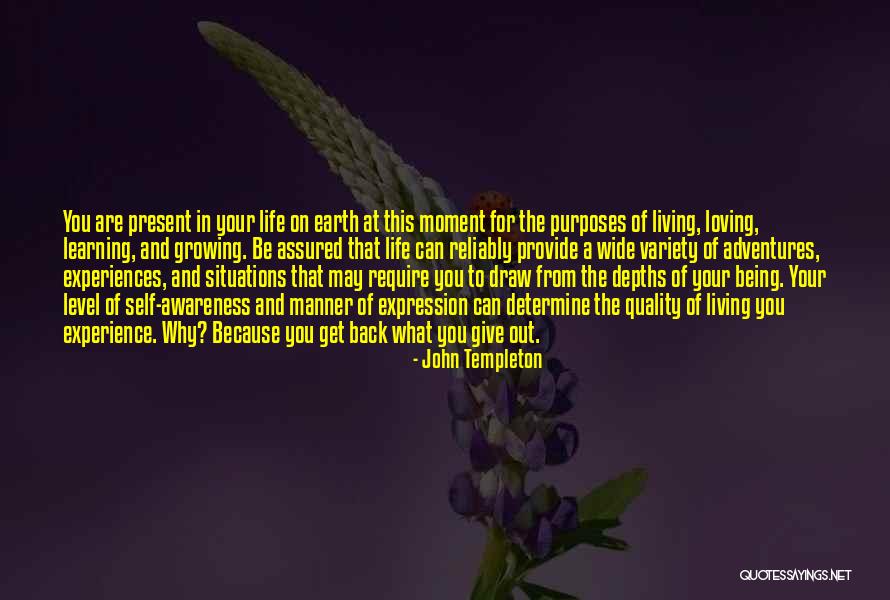 You are present in your life on earth at this moment for the purposes of living, loving, learning, and growing. Be assured that life can reliably provide a wide variety of adventures, experiences, and situations that may require you to draw from the depths of your being. Your level of self-awareness and manner of expression can determine the quality of living you experience. Why? Because you get back what you give out. — John Templeton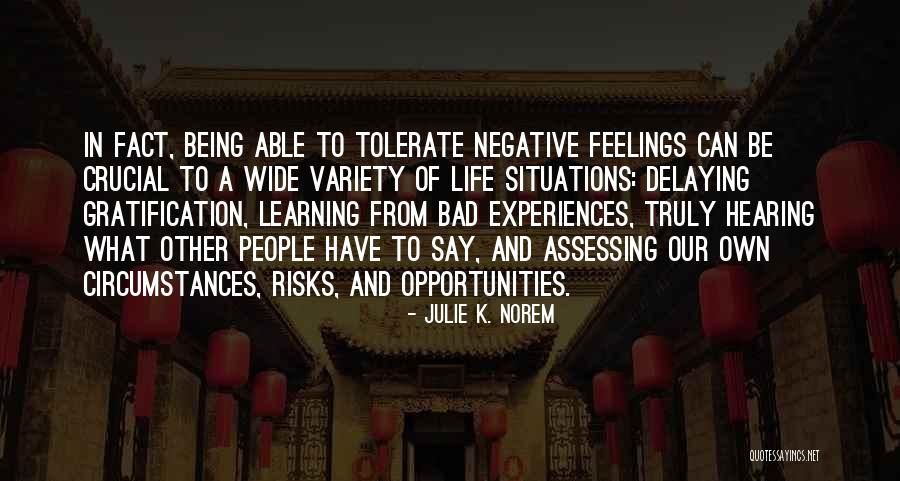 In fact, being able to tolerate negative feelings can be crucial to a wide variety of life situations: delaying gratification, learning from bad experiences, truly hearing what other people have to say, and assessing our own circumstances, risks, and opportunities. — Julie K. Norem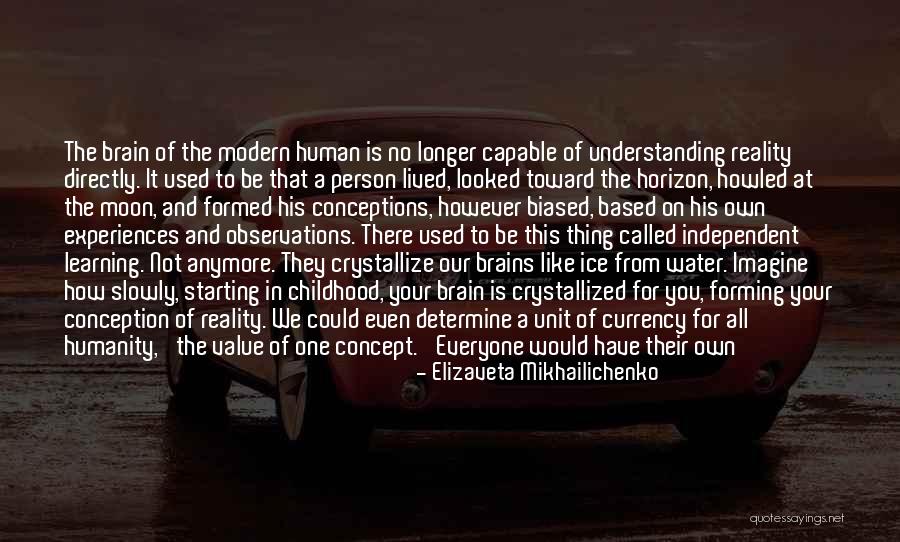 The brain of the modern human is no longer capable of understanding reality directly. It used to be that a person lived, looked toward the horizon, howled at the moon, and formed his conceptions, however biased, based on his own experiences and observations. There used to be this thing called independent learning. Not anymore. They crystallize our brains like ice from water. Imagine how slowly, starting in childhood, your brain is crystallized for you, forming your conception of reality. We could even determine a unit of currency for all humanity, 'the value of one concept.' Everyone would have their own change purse, so to speak, and the coins in it, though of various values, quantities, styles, and metals, would all be from a single mint. — Elizaveta Mikhailichenko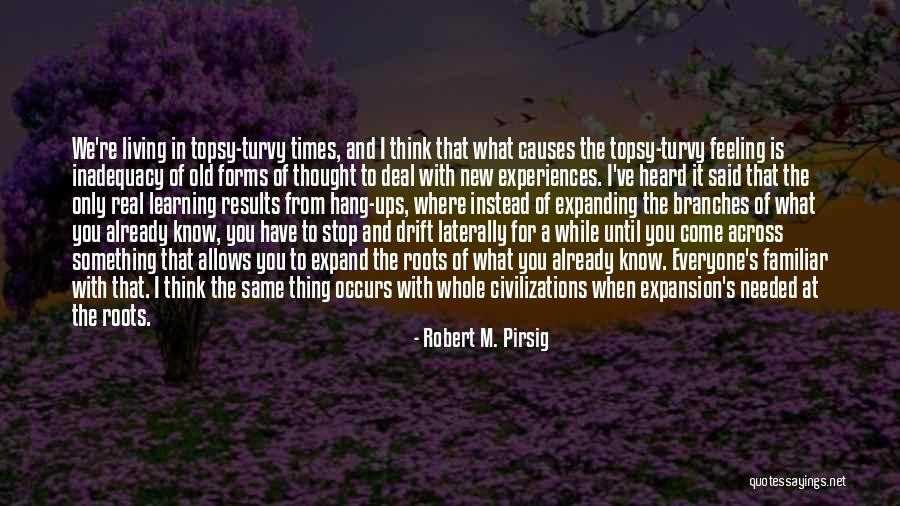 We're living in topsy-turvy times, and I think that what causes the topsy-turvy feeling is inadequacy of old forms of thought to deal with new experiences. I've heard it said that the only real learning results from hang-ups, where instead of expanding the branches of what you already know, you have to stop and drift laterally for a while until you come across something that allows you to expand the roots of what you already know. Everyone's familiar with that. I think the same thing occurs with whole civilizations when expansion's needed at the roots. — Robert M. Pirsig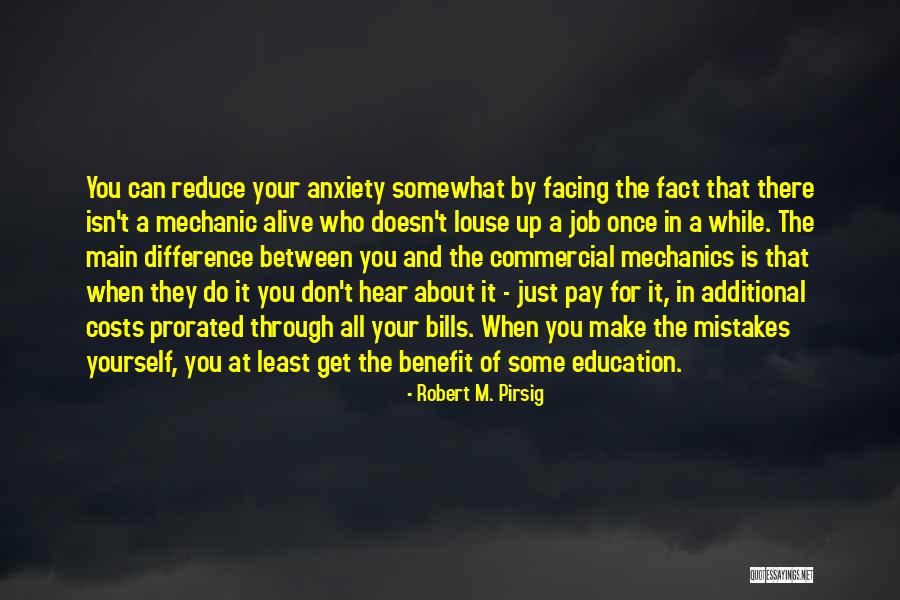 You can reduce your anxiety somewhat by facing the fact that there isn't a mechanic alive who doesn't louse up a job once in a while. The main difference between you and the commercial mechanics is that when they do it you don't hear about it - just pay for it, in additional costs prorated through all your bills. When you make the mistakes yourself, you at least get the benefit of some education. — Robert M. Pirsig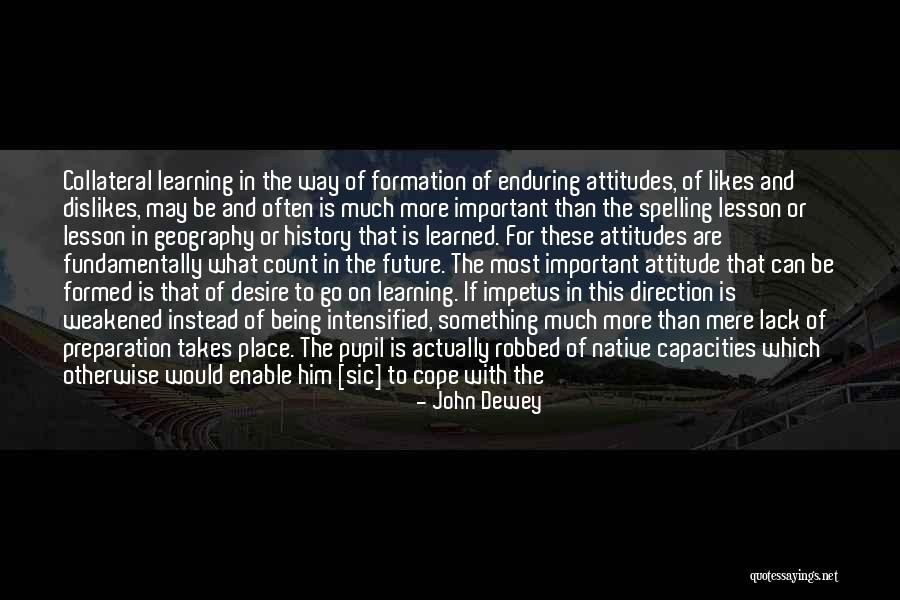 Collateral learning in the way of formation of enduring attitudes, of likes and dislikes, may be and often is much more important than the spelling lesson or lesson in geography or history that is learned. For these attitudes are fundamentally what count in the future. The most important attitude that can be formed is that of desire to go on learning. If impetus in this direction is weakened instead of being intensified, something much more than mere lack of preparation takes place. The pupil is actually robbed of native capacities which otherwise would enable him [sic] to cope with the circumstances that he meets in the course of his life. We often see persons who have had little schooling and in whose case the absence of set schooling proves to be a positive asset. They have at least retained their native common sense and power of judgement, and its exercise in the actual conditions of living has given them the precious gift of ability to learn from the experiences they have. — John Dewey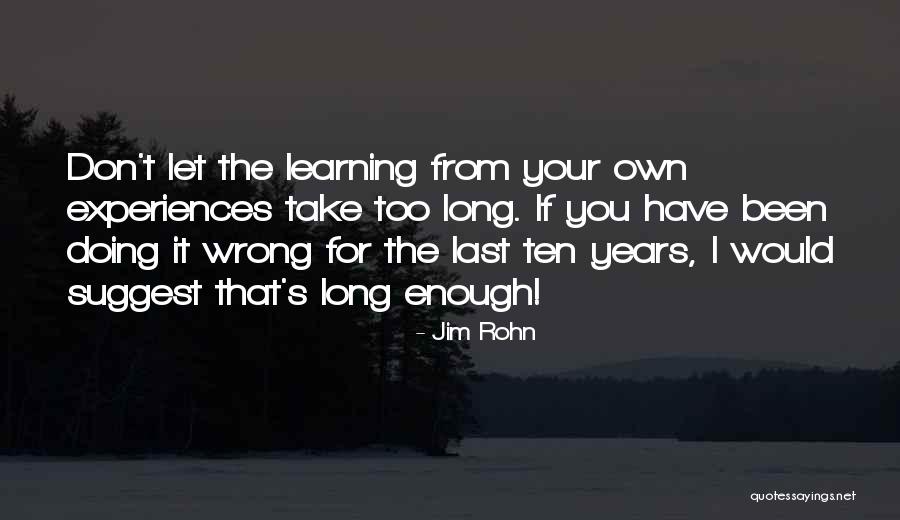 Don't let the learning from your own experiences take too long. If you have been doing it wrong for the last ten years, I would suggest that's long enough! — Jim Rohn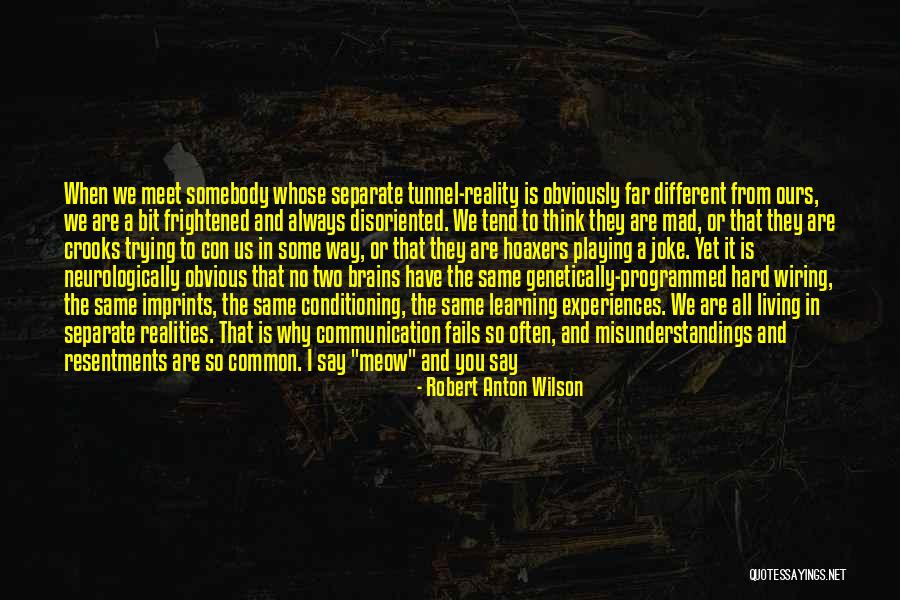 When we meet somebody whose separate tunnel-reality is obviously far different from ours, we are a bit frightened and always disoriented. We tend to think they are mad, or that they are crooks trying to con us in some way, or that they are hoaxers playing a joke. Yet it is neurologically obvious that no two brains have the same genetically-programmed hard wiring, the same imprints, the same conditioning, the same learning experiences. We are all living in separate realities. That is why communication fails so often, and misunderstandings and resentments are so common. I say "meow" and you say "Bow-wow," and each of us is convinced the other is a bit dumb. — Robert Anton Wilson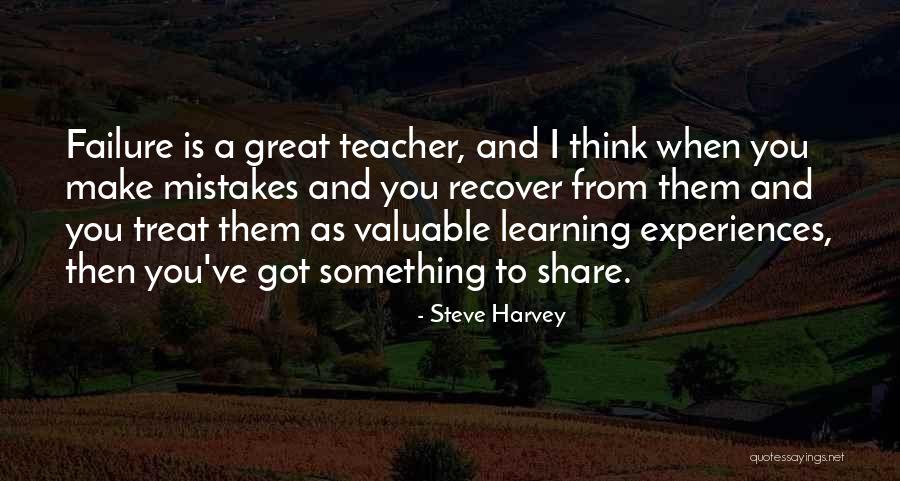 Failure is a great teacher, and I think when you make mistakes and you recover from them and you treat them as valuable learning experiences, then you've got something to share. — Steve Harvey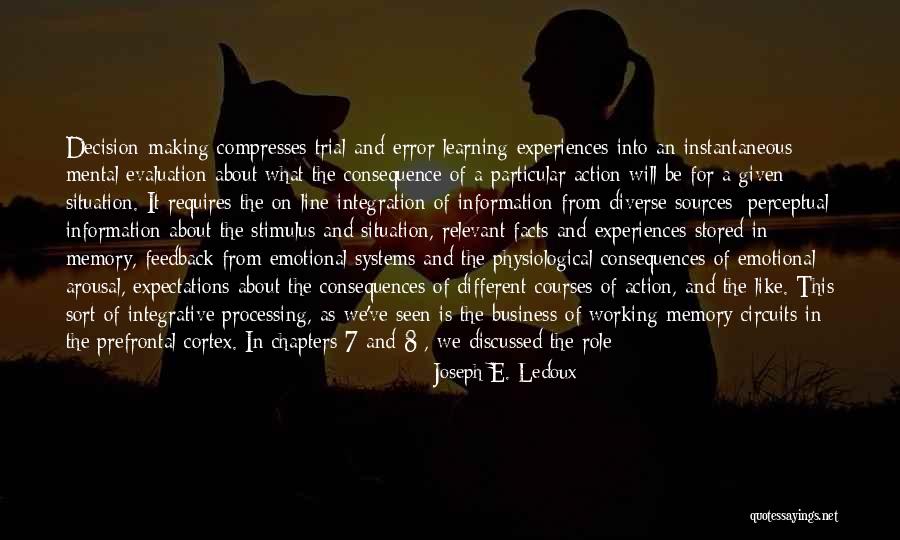 Decision-making compresses trial-and-error learning experiences into an instantaneous mental evaluation about what the consequence of a particular action will be for a given situation. It requires the on-line integration of information from diverse sources: perceptual information about the stimulus and situation, relevant facts and experiences stored in memory, feedback from emotional systems and the physiological consequences of emotional arousal, expectations about the consequences of different courses of action, and the like. This sort of integrative processing, as we've seen is the business of working memory circuits in the prefrontal cortex. In chapters 7 and 8 , we discussed the role of the prefrontal cortex in working memory and considered the contribution of the lateral and medial prefrontal cortex. Here, we will focus on two of the subareas of the medial prefrontal cortex in light of their relation to the motive circuits outlined above. — Joseph E. Ledoux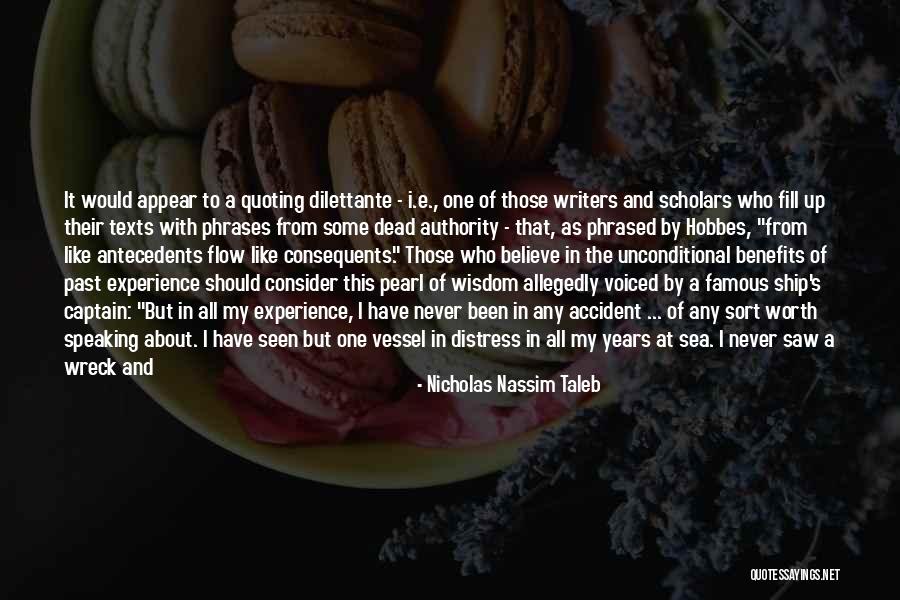 It would appear to a quoting dilettante - i.e., one of those writers and scholars who fill up their texts with phrases from some dead authority - that, as phrased by Hobbes, "from like antecedents flow like consequents." Those who believe in the unconditional benefits of past experience should consider this pearl of wisdom allegedly voiced by a famous ship's captain:
"But in all my experience, I have never been in any accident ... of any sort worth speaking about. I have seen but one vessel in distress in all my years at sea. I never saw a wreck and never have been wrecked nor was I ever in any predicament that threatened to end in disaster of any sort." E. J. Smith, 1907, Captain, RMS
Titanic Captain Smith's ship sank in 1912 in what became the most talked-about shipwreck in history. — Nicholas Nassim Taleb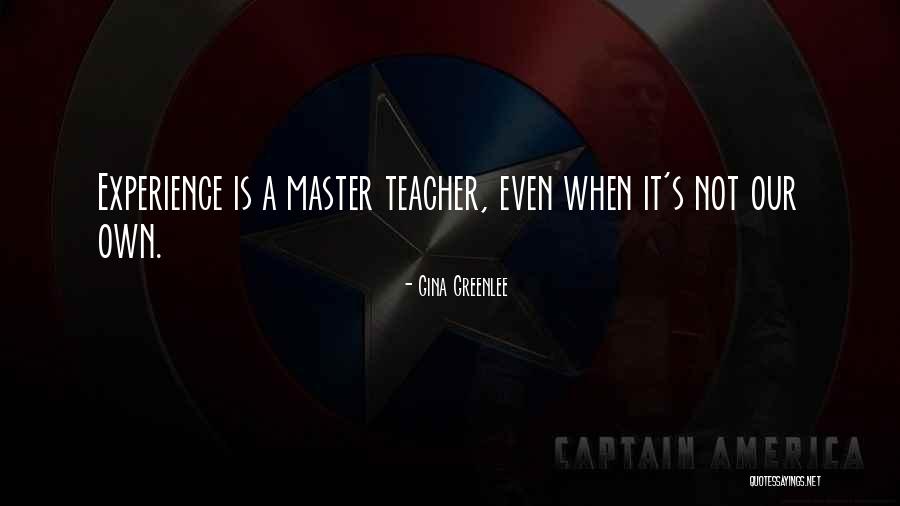 Experience is a master teacher, even when it's not our own. — Gina Greenlee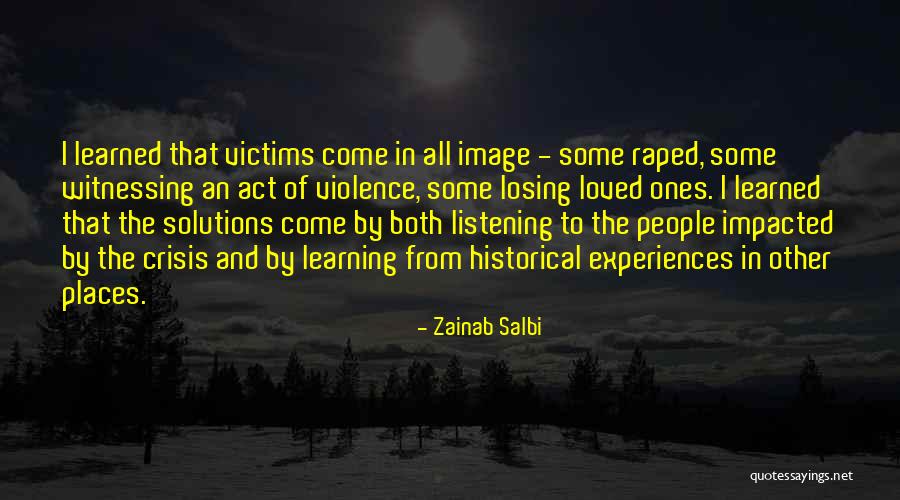 I learned that victims come in all image - some raped, some witnessing an act of violence, some losing loved ones. I learned that the solutions come by both listening to the people impacted by the crisis and by learning from historical experiences in other places. — Zainab Salbi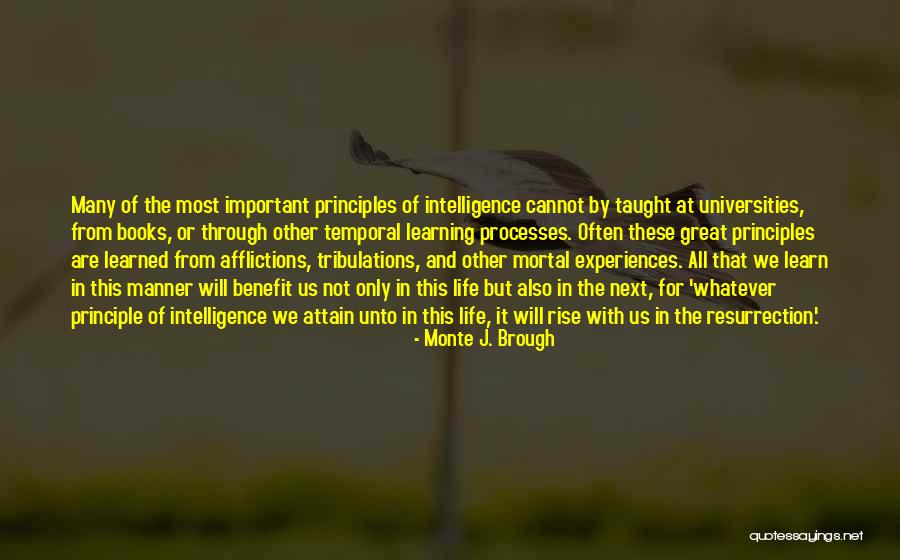 Many of the most important principles of intelligence cannot by taught at universities, from books, or through other temporal learning processes. Often these great principles are learned from afflictions, tribulations, and other mortal experiences. All that we learn in this manner will benefit us not only in this life but also in the next, for 'whatever principle of intelligence we attain unto in this life, it will rise with us in the resurrection'. — Monte J. Brough
You learn from experiences, and I suppose that's where I color most of my music, from experiences. — Pharrell Williams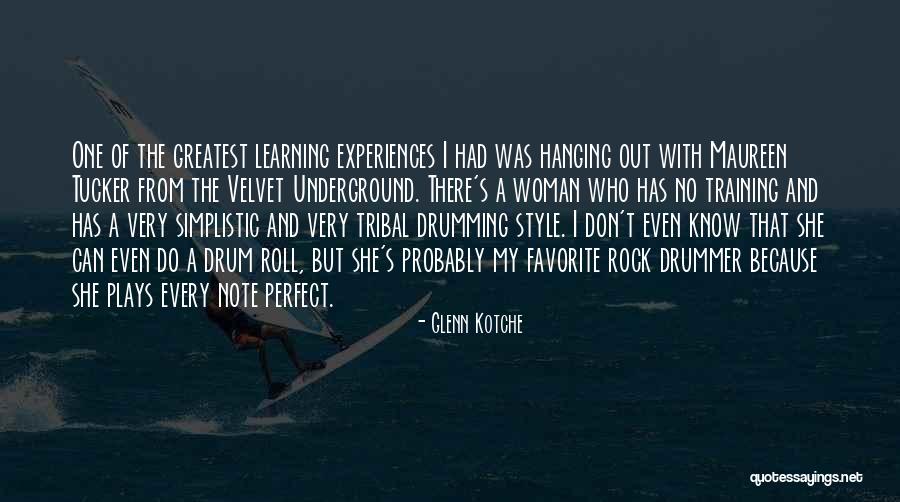 One of the greatest learning experiences I had was hanging out with Maureen Tucker from the Velvet Underground. There's a woman who has no training and has a very simplistic and very tribal drumming style. I don't even know that she can even do a drum roll, but she's probably my favorite rock drummer because she plays every note perfect. — Glenn Kotche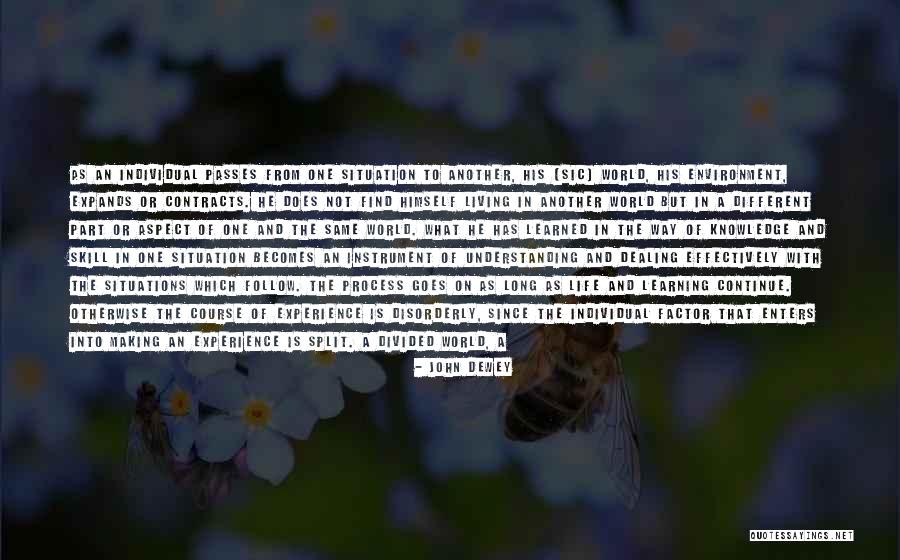 As an individual passes from one situation to another, his [sic] world, his environment, expands or contracts. He does not find himself living in another world but in a different part or aspect of one and the same world. What he has learned in the way of knowledge and skill in one situation becomes an instrument of understanding and dealing effectively with the situations which follow. The process goes on as long as life and learning continue. Otherwise the course of experience is disorderly, since the individual factor that enters into making an experience is split. A divided world, a world whose parts and aspects do not hang together, is at once a sign and a cause of a divided personality. When the splitting-up reaches a certain point we call the person insane. A fully integrated personality, on the other hand, exists only when successive experiences are integrated with one another. It can be built up only as a world of related objects is constructed. — John Dewey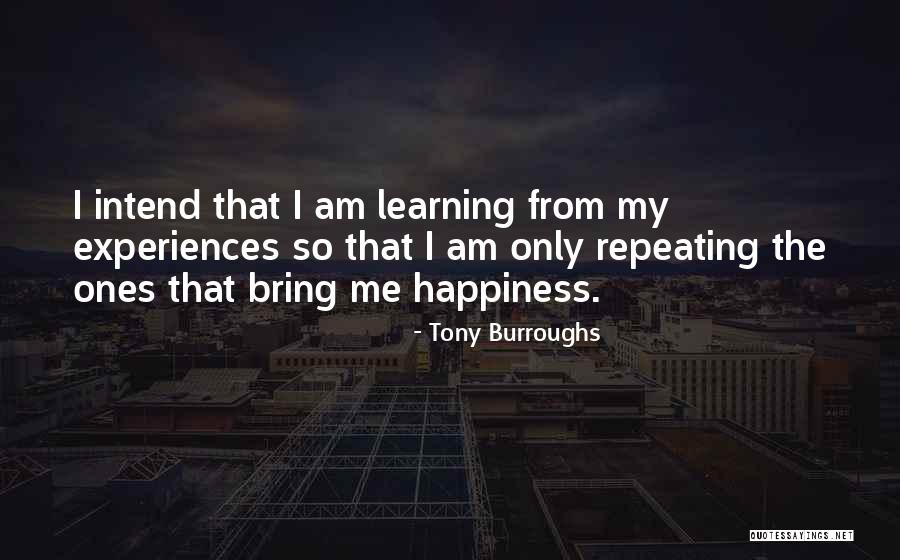 I intend that I am learning from my experiences so that I am only repeating the ones that bring me happiness. — Tony Burroughs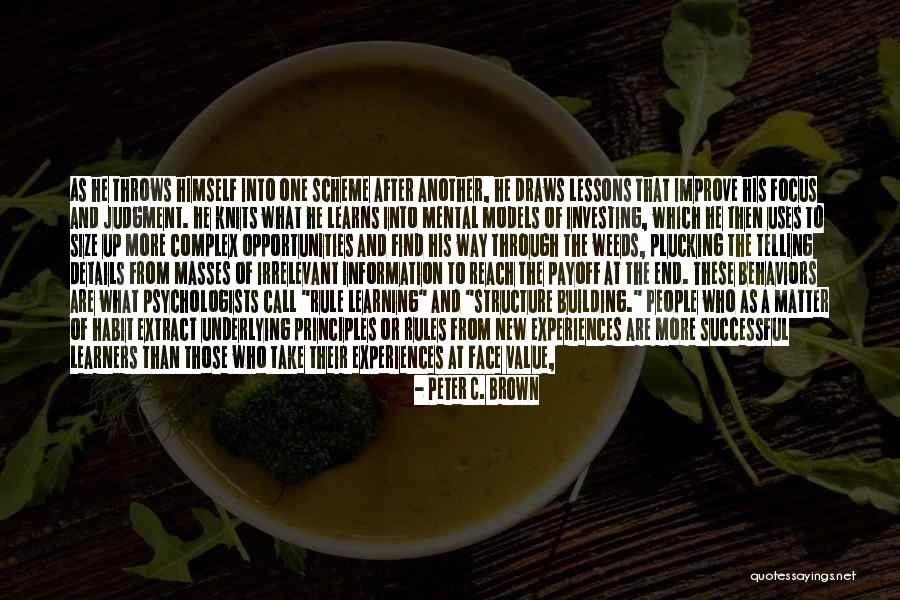 As he throws himself into one scheme after another, he draws lessons that improve his focus and judgment. He knits what he learns into mental models of investing, which he then uses to size up more complex opportunities and find his way through the weeds, plucking the telling details from masses of irrelevant information to reach the payoff at the end. These behaviors are what psychologists call "rule learning" and "structure building." People who as a matter of habit extract underlying principles or rules from new experiences are more successful learners than those who take their experiences at face value, failing to infer lessons that can be applied later in similar situations. Likewise, people who single out salient concepts from the less important information they encounter in new material and who link these key ideas into a mental structure are more successful learners than those who cannot separate wheat from chaff and understand how the wheat is made into flour. — Peter C. Brown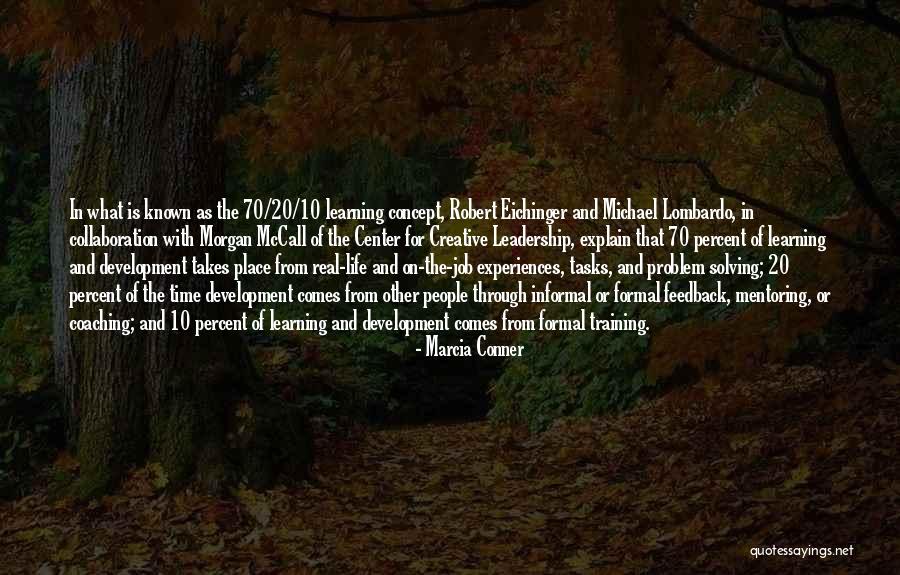 In what is known as the 70/20/10 learning concept, Robert Eichinger and Michael Lombardo, in collaboration with Morgan McCall of the Center for Creative Leadership, explain that 70 percent of learning and development takes place from real-life and on-the-job experiences, tasks, and problem solving; 20 percent of the time development comes from other people through informal or formal feedback, mentoring, or coaching; and 10 percent of learning and development comes from formal training. — Marcia Conner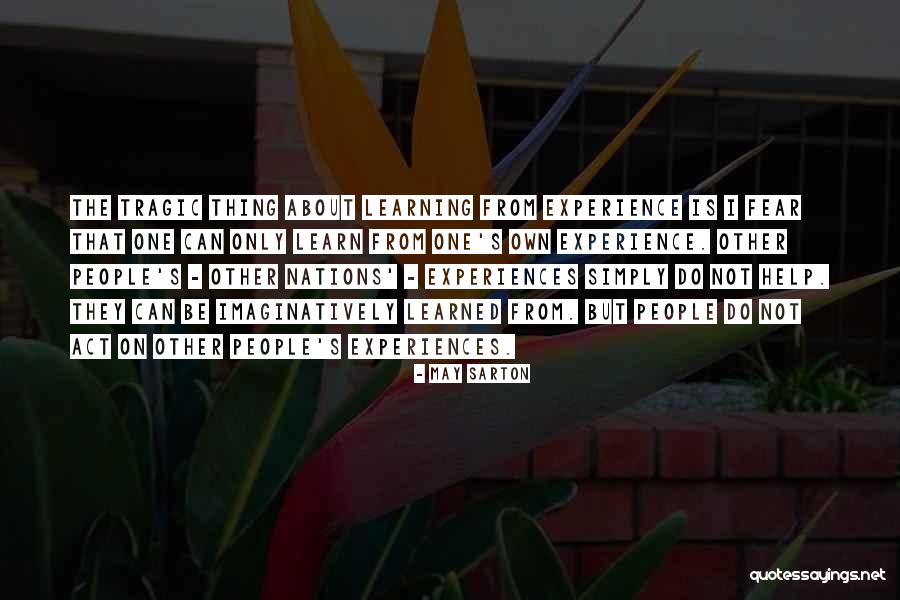 The tragic thing about learning from experience is I fear that one can only learn from one's own experience. Other people's - other nations' - experiences simply do not help. They can be imaginatively learned from. But people do not act on other people's experiences. — May Sarton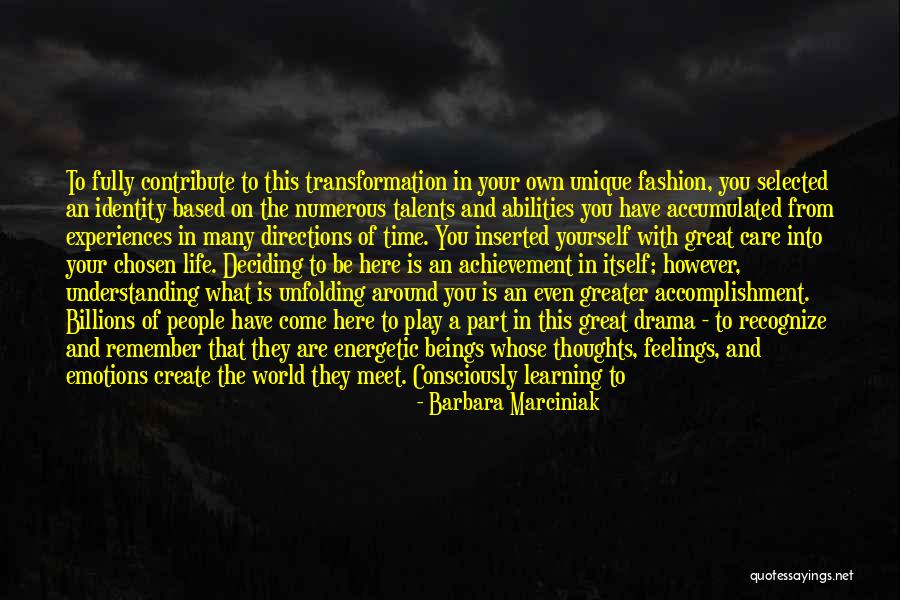 To fully contribute to this transformation in your own unique fashion, you selected an identity based on the numerous talents and abilities you have accumulated from experiences in many directions of time. You inserted yourself with great care into your chosen life. Deciding to be here is an achievement in itself; however, understanding what is unfolding around you is an even greater accomplishment. Billions of people have come here to play a part in this great drama - to recognize and remember that they are energetic beings whose thoughts, feelings, and emotions create the world they meet. Consciously learning to recognize frequencies and then producing those you want is an underlying key to the game; being able to read and communicate with the life energies of your environment is a worthy goal for all humanity. To — Barbara Marciniak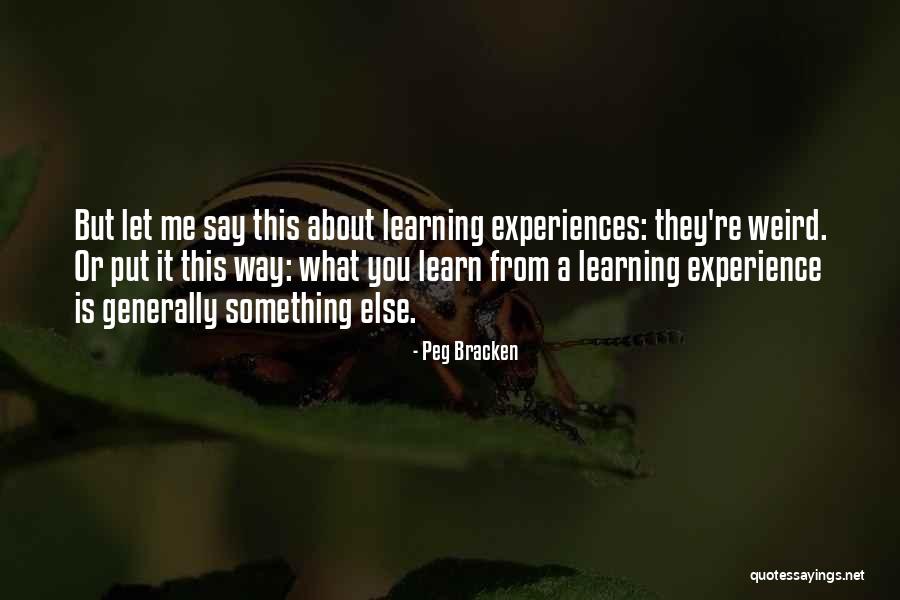 But let me say this about learning experiences: they're weird. Or put it this way: what you learn from a learning experience is generally something else. — Peg Bracken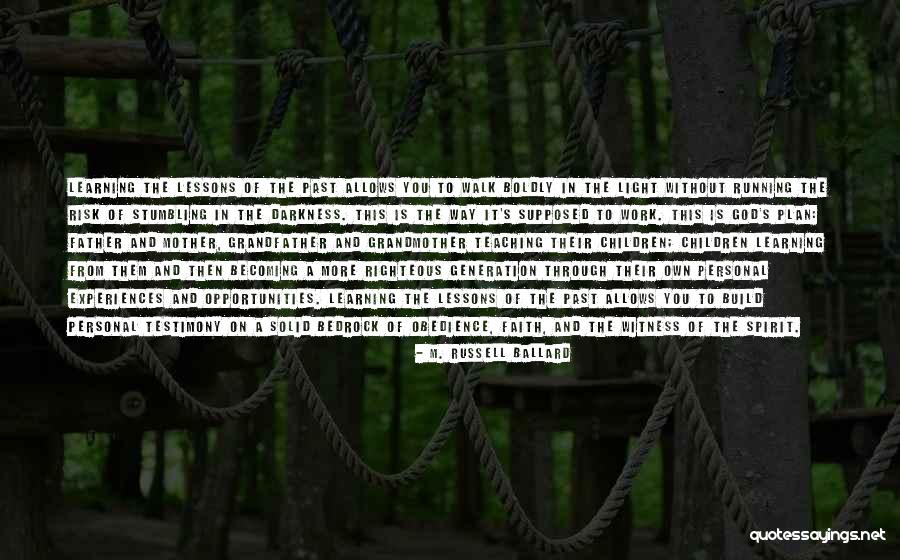 Learning the lessons of the past allows you to walk boldly in the light without running the risk of stumbling in the darkness. This is the way it's supposed to work. This is God's plan: father and mother, grandfather and grandmother teaching their children; children learning from them and then becoming a more righteous generation through their own personal experiences and opportunities. Learning the lessons of the past allows you to build personal testimony on a solid bedrock of obedience, faith, and the witness of the Spirit. — M. Russell Ballard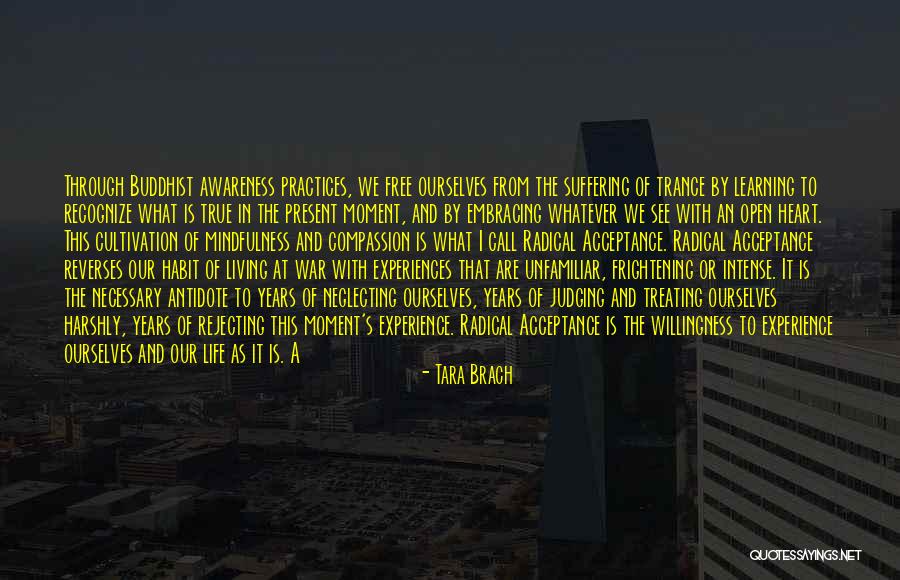 Through Buddhist awareness practices, we free ourselves from the suffering of trance by learning to recognize what is true in the present moment, and by embracing whatever we see with an open heart. This cultivation of mindfulness and compassion is what I call Radical Acceptance. Radical Acceptance reverses our habit of living at war with experiences that are unfamiliar, frightening or intense. It is the necessary antidote to years of neglecting ourselves, years of judging and treating ourselves harshly, years of rejecting this moment's experience. Radical Acceptance is the willingness to experience ourselves and our life as it is. A moment of Radical Acceptance is a moment of genuine freedom. — Tara Brach
Learning from the experiences of our ancestors, let us together create knowledge for all that benefits all. — Kailash Satyarthi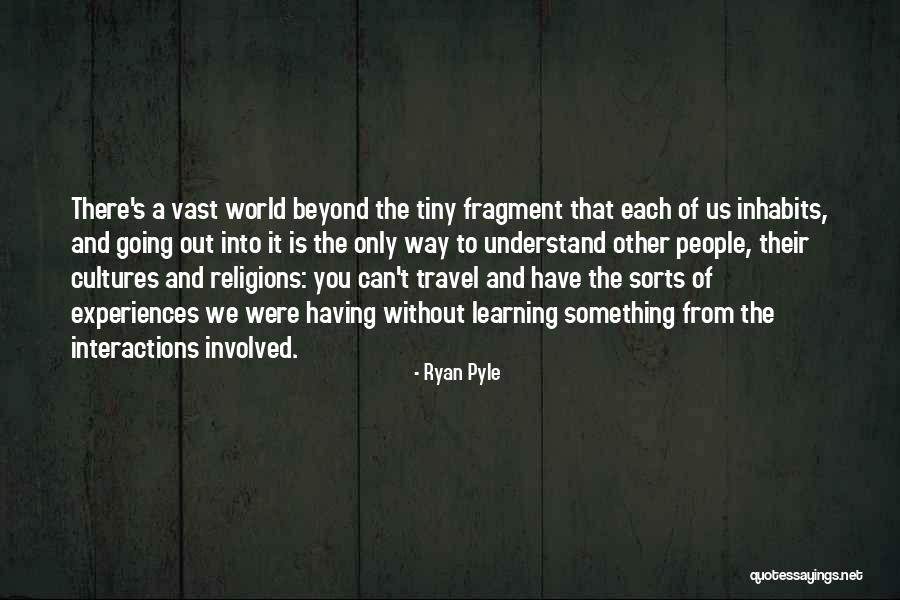 There's a vast world beyond the tiny fragment that each of us inhabits, and going out into it is the only way to understand other people, their cultures and religions: you can't travel and have the sorts of experiences we were having without learning something from the interactions involved. — Ryan Pyle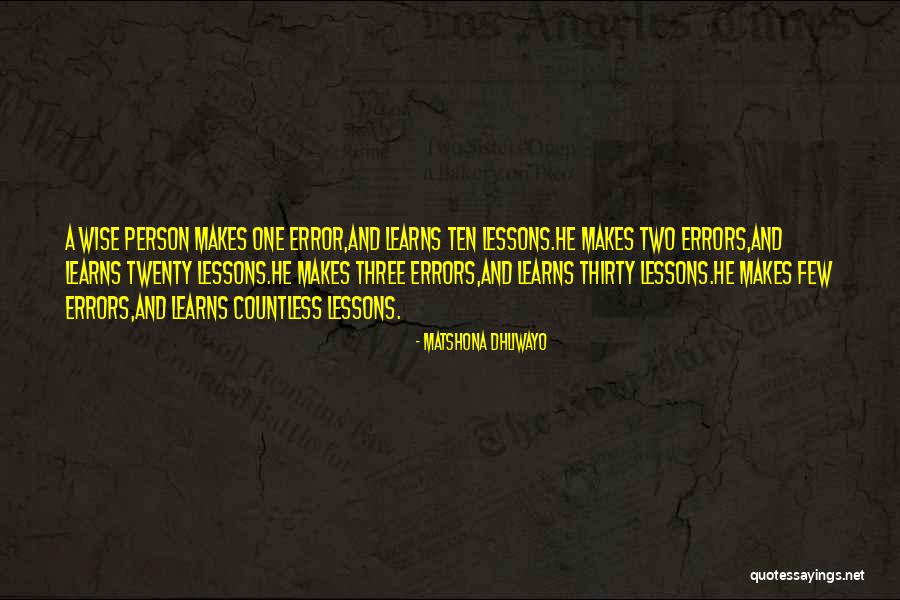 A wise person makes one error,
and learns ten lessons.
He makes two errors,
and learns twenty lessons.
He makes three errors,
and learns thirty lessons.
He makes few errors,
and learns countless lessons. — Matshona Dhliwayo
In the School of Life events, situations, and the people you have attracted to be part of your personal experiences are synchronized perfectly in order to teach you the lessons that need to be learned. They show you exactly what is needed to be successful in your Life. — Jacqueline Ripstein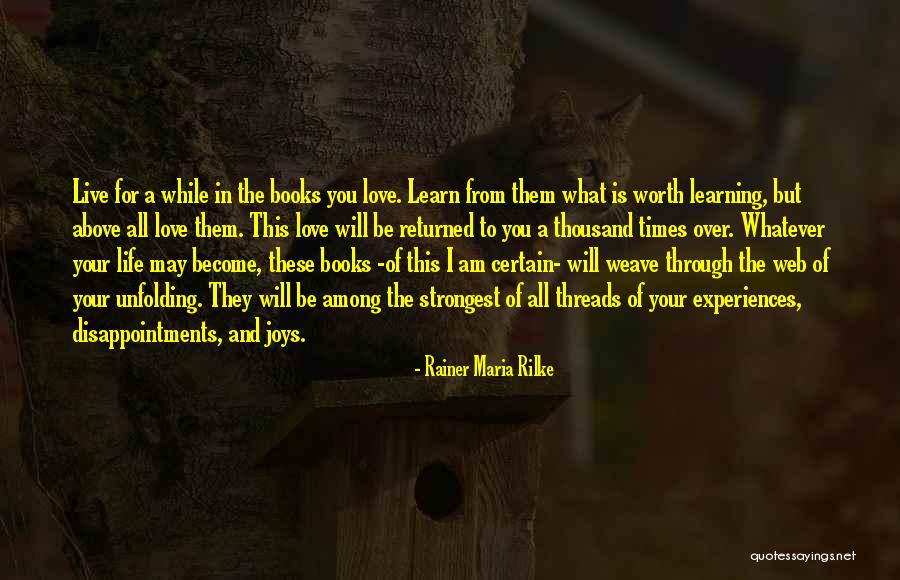 Live for a while in the books you love. Learn from them what is worth learning, but above all love them. This love will be returned to you a thousand times over. Whatever your life may become, these books -of this I am certain- will weave through the web of your unfolding. They will be among the strongest of all threads of your experiences, disappointments, and joys. — Rainer Maria Rilke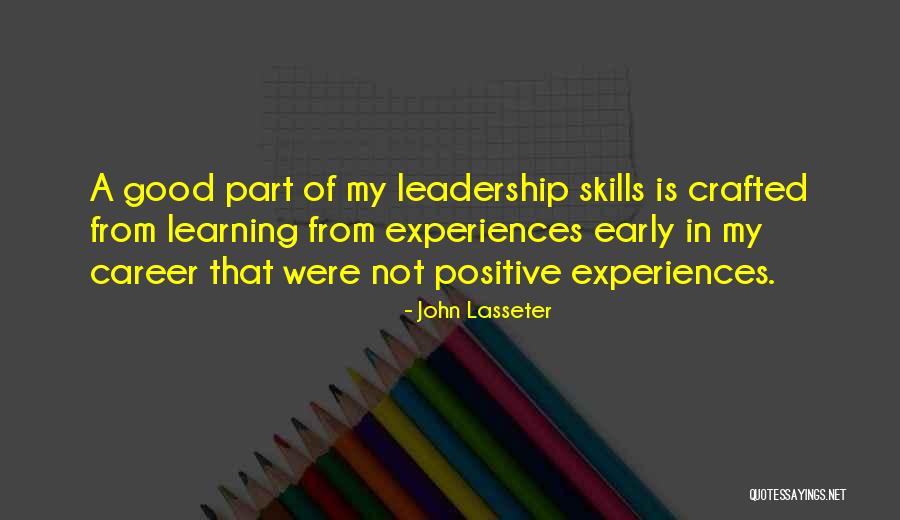 A good part of my leadership skills is crafted from learning from experiences early in my career that were not positive experiences. — John Lasseter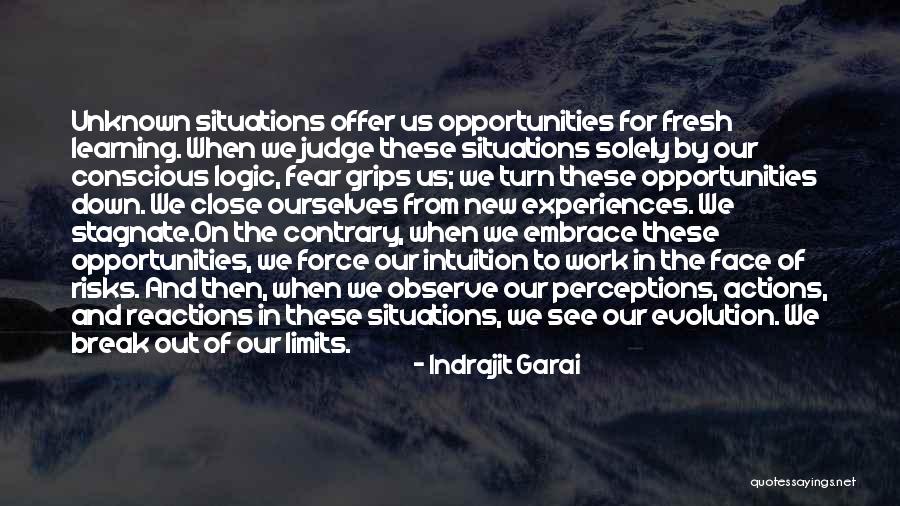 Unknown situations offer us opportunities for fresh learning. When we judge these situations solely by our conscious logic, fear grips us; we turn these opportunities down. We close ourselves from new experiences. We stagnate.

On the contrary, when we embrace these opportunities, we force our intuition to work in the face of risks. And then, when we observe our perceptions, actions, and reactions in these situations, we see our evolution. We break out of our limits. — Indrajit Garai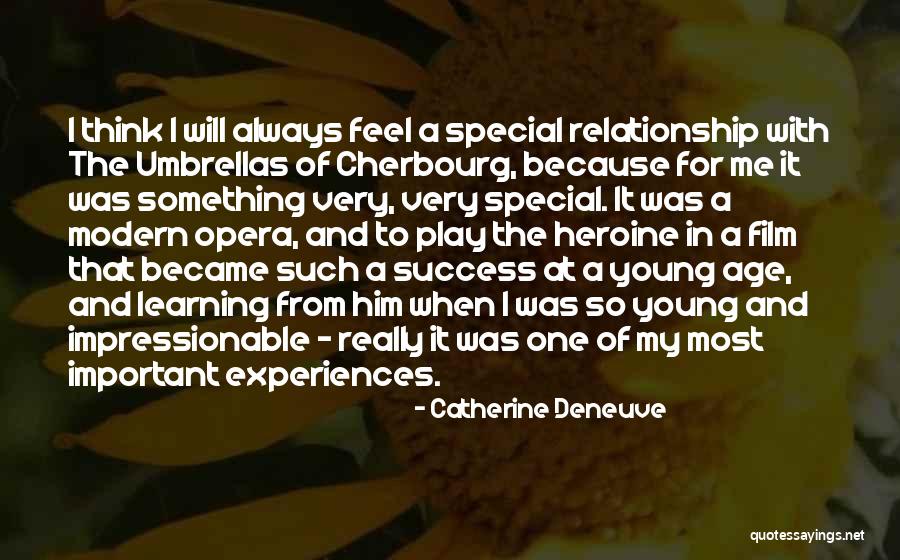 I think I will always feel a special relationship with The Umbrellas of Cherbourg, because for me it was something very, very special. It was a modern opera, and to play the heroine in a film that became such a success at a young age, and learning from him when I was so young and impressionable - really it was one of my most important experiences. — Catherine Deneuve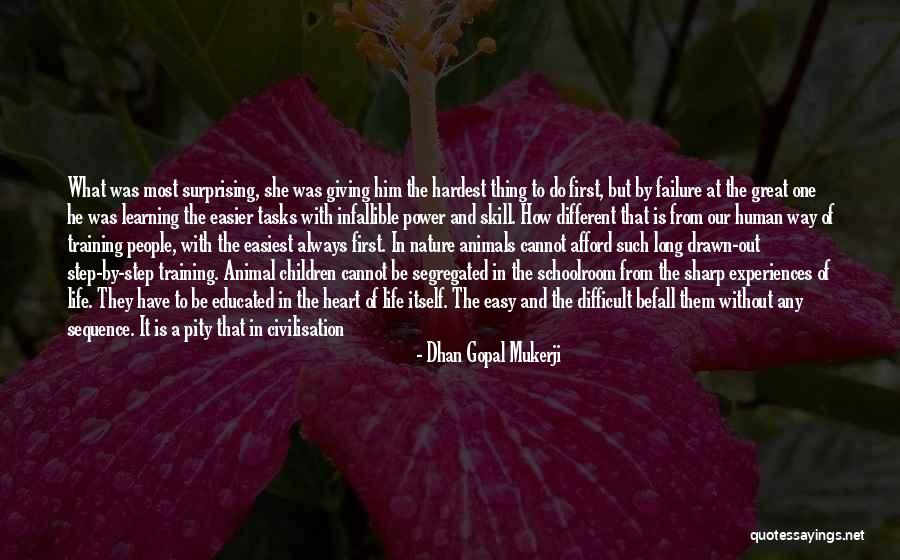 What was most surprising, she was giving him the hardest thing to do first, but by failure at the great one he was learning the easier tasks with infallible power and skill. How different that is from our human way of training people, with the easiest always first. In nature animals cannot afford such long drawn-out step-by-step training. Animal children cannot be segregated in the schoolroom from the sharp experiences of life. They have to be educated in the heart of life itself. The easy and the difficult befall them without any sequence. It is a pity that in civilisation man has made the business of education so sequestered and slow. — Dhan Gopal Mukerji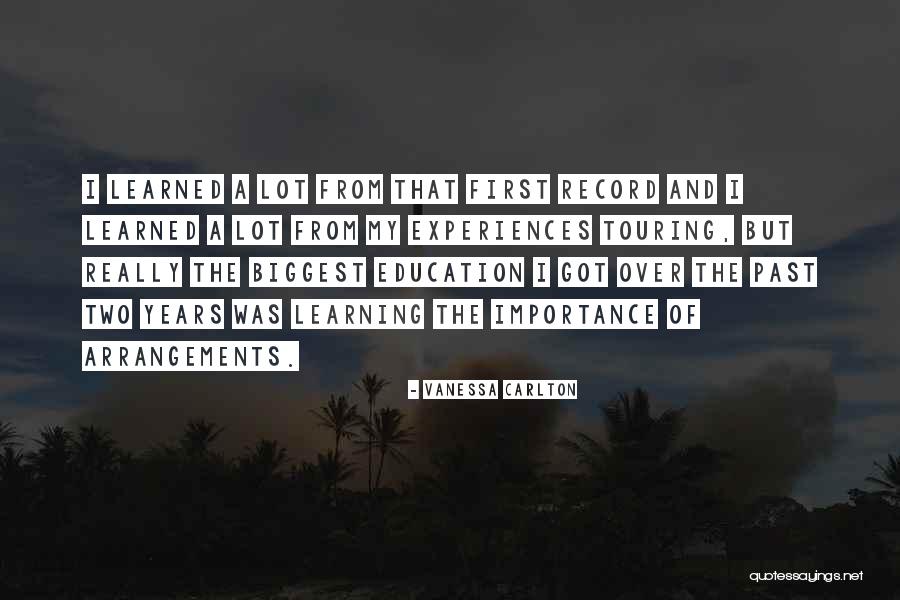 I learned a lot from that first record and I learned a lot from my experiences touring, but really the biggest education I got over the past two years was learning the importance of arrangements. — Vanessa Carlton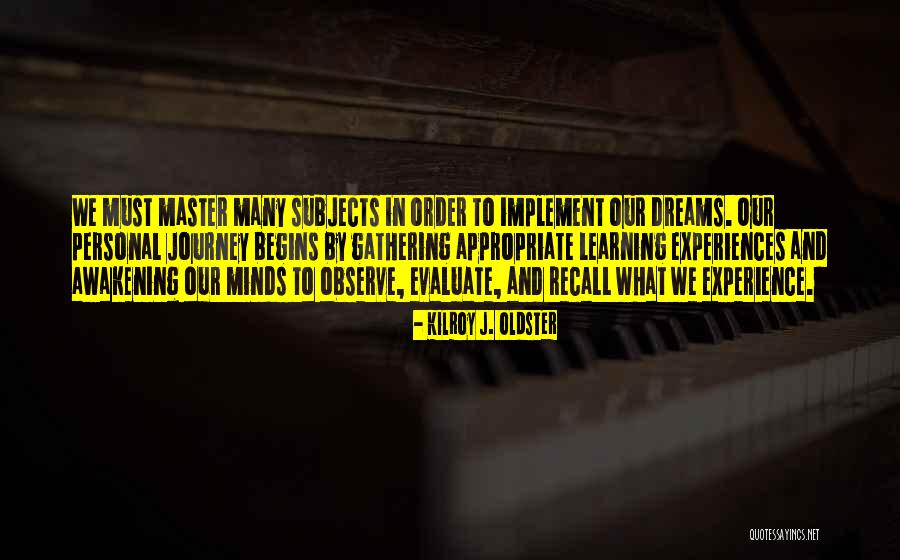 We must master many subjects in order to implement our dreams. Our personal journey begins by gathering appropriate learning experiences and awakening our minds to observe, evaluate, and recall what we experience. — Kilroy J. Oldster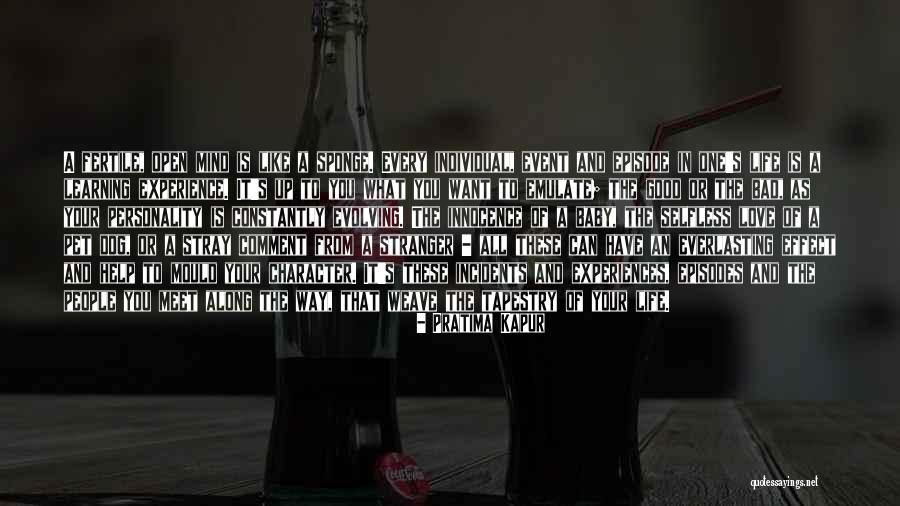 A fertile, open mind is like a sponge. Every individual, event and episode in one's life is a learning experience. It's up to you what you want to emulate; the good or the bad, as your personality is constantly evolving. The innocence of a baby, the selfless love of a pet dog, or a stray comment from a stranger - all these can have an everlasting effect and help to mould your character. It's these incidents and experiences, episodes and the people you meet along the way, that weave the tapestry of your life. — Pratima Kapur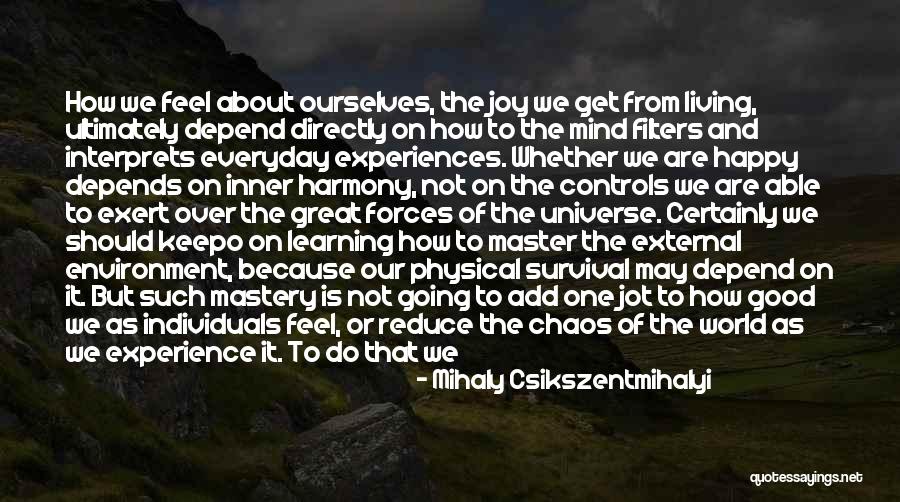 How we feel about ourselves, the joy we get from living, ultimately depend directly on how to the mind filters and interprets everyday experiences. Whether we are happy depends on inner harmony, not on the controls we are able to exert over the great forces of the universe. Certainly we should keepo on learning how to master the external environment, because our physical survival may depend on it. But such mastery is not going to add one jot to how good we as individuals feel, or reduce the chaos of the world as we experience it. To do that we must learn to achive mastery over conciousness itself. — Mihaly Csikszentmihalyi