Quotes & Sayings About Law Enforcement Officers
Enjoy reading and share 51 famous quotes about Law Enforcement Officers with everyone.
Top Law Enforcement Officers Quotes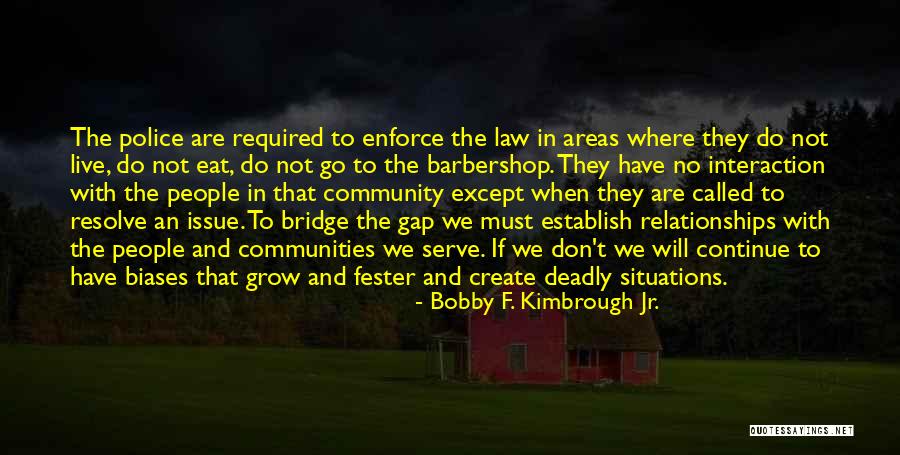 The police are required to enforce the law in areas where they do not live, do not eat, do not go to the barbershop. They have no interaction with the people in that community except when they are called to resolve an issue. To bridge the gap we must establish relationships with the people and communities we serve. If we don't we will continue to have biases that grow and fester and create deadly situations. — Bobby F. Kimbrough Jr.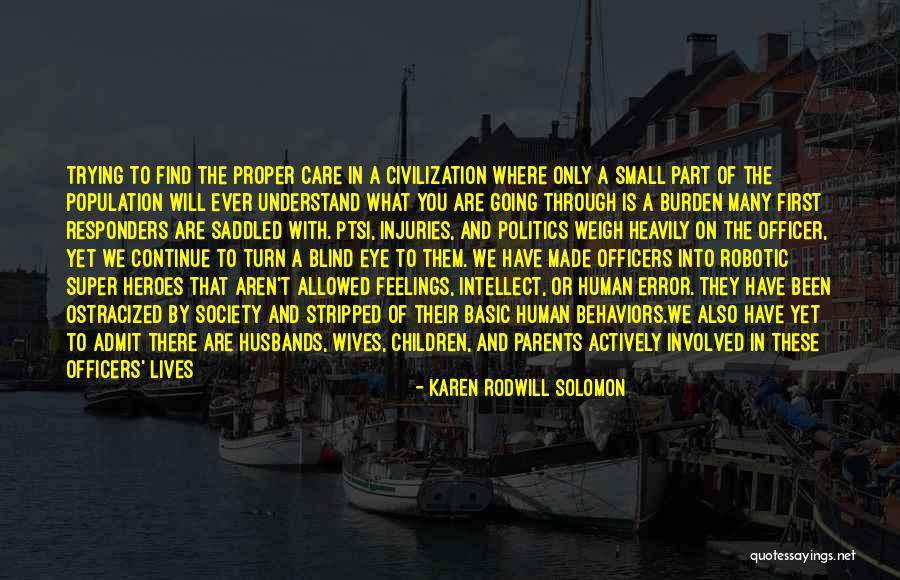 Trying to find the proper care in a civilization where only a small part of the population will ever understand what you are going through is a burden many first responders are saddled with. PTSI, injuries, and politics weigh heavily on the officer, yet we continue to turn a blind eye to them. We have made officers into robotic super heroes that aren't allowed feelings, intellect, or human error. They have been ostracized by society and stripped of their basic human behaviors.

We also have yet to admit there are husbands, wives, children, and parents actively involved in these officers' lives hoping to help them cope with their trauma. Families who do more than make sure they get enough sleep, a hot meal and fresh uniforms in the closet. The faces of the families are yet to be seen. — Karen Rodwill Solomon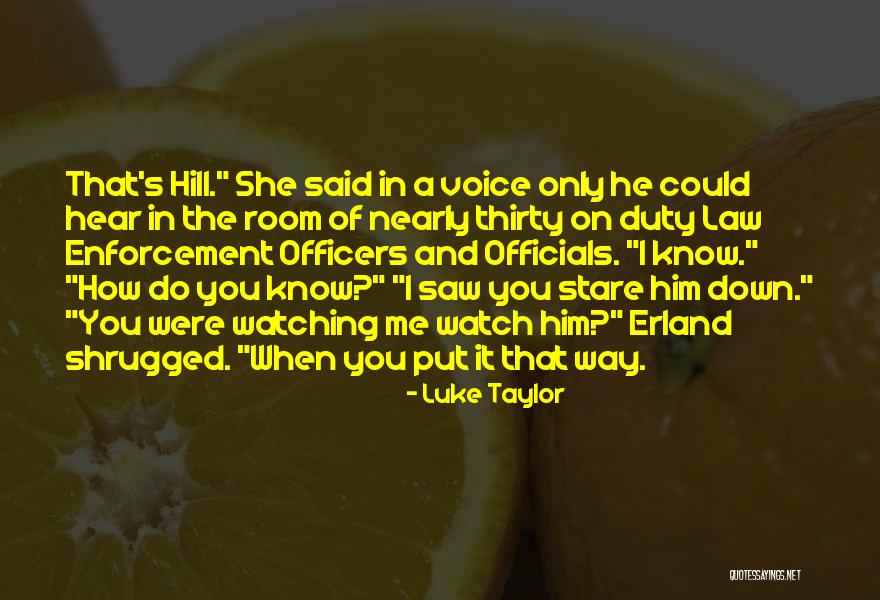 That's Hill." She said in a voice only he could hear in the room of nearly thirty on duty Law Enforcement Officers and Officials.
"I know."
"How do you know?"
"I saw you stare him down."
"You were watching me watch him?"
Erland shrugged.
"When you put it that way. — Luke Taylor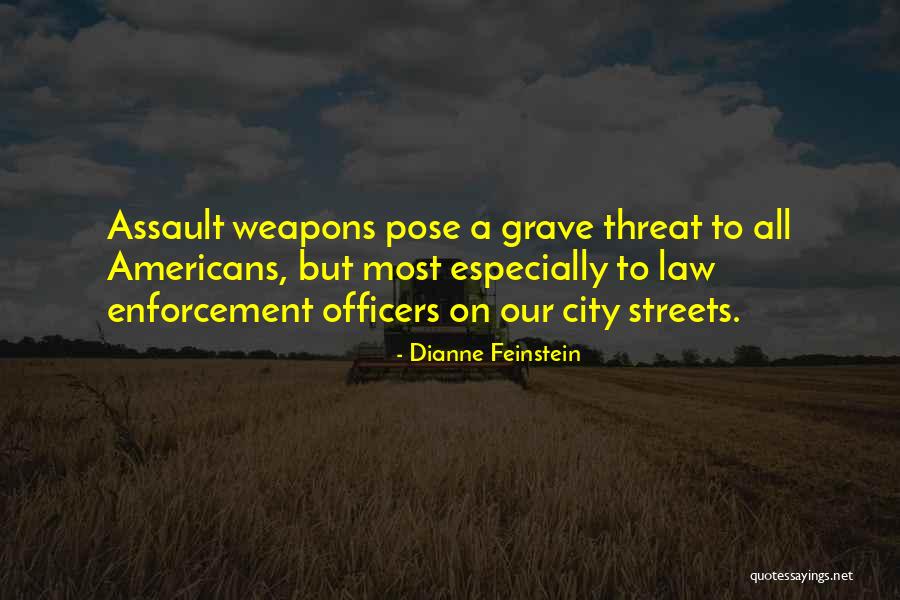 Assault weapons pose a grave threat to all Americans, but most especially to law enforcement officers on our city streets. — Dianne Feinstein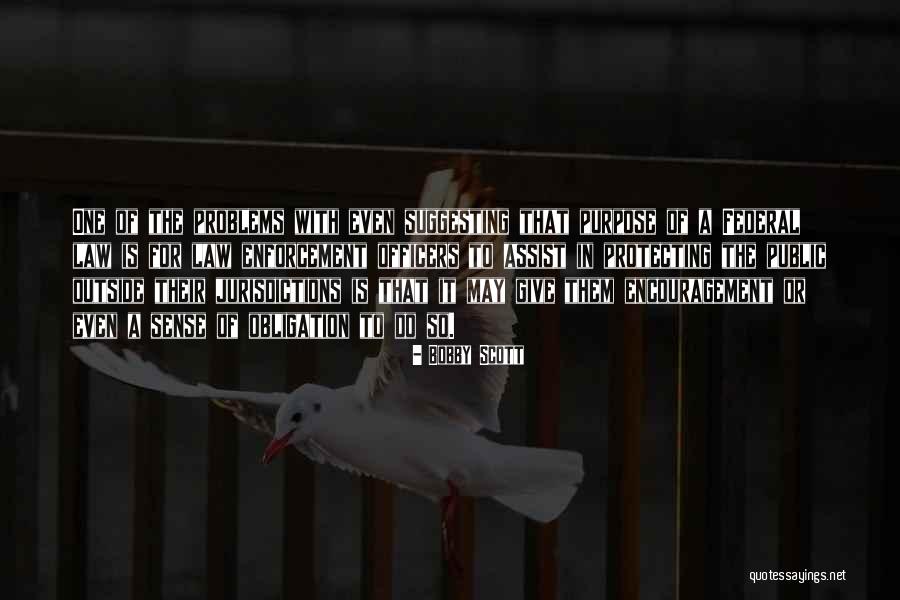 One of the problems with even suggesting that purpose of a Federal law is for law enforcement officers to assist in protecting the public outside their jurisdictions is that it may give them encouragement or even a sense of obligation to do so. — Bobby Scott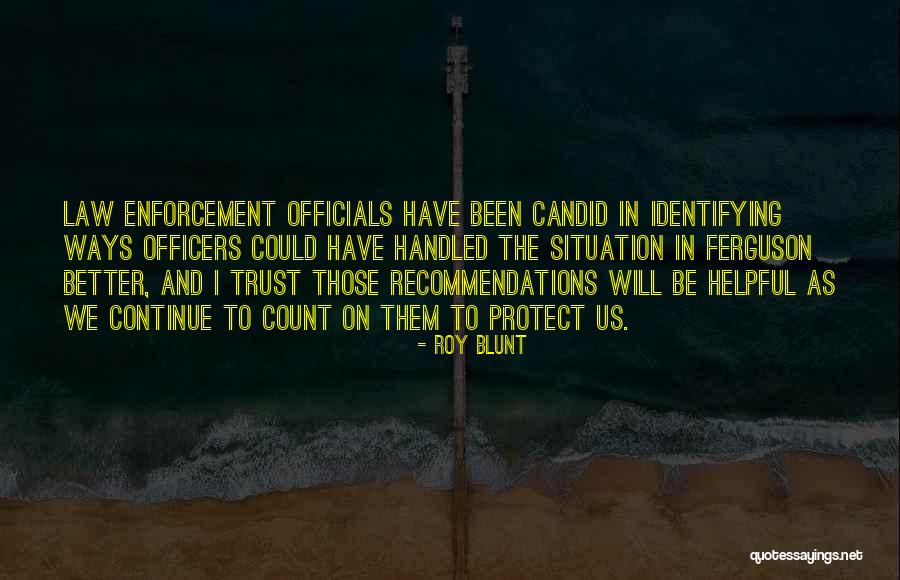 Law enforcement officials have been candid in identifying ways officers could have handled the situation in Ferguson better, and I trust those recommendations will be helpful as we continue to count on them to protect us. — Roy Blunt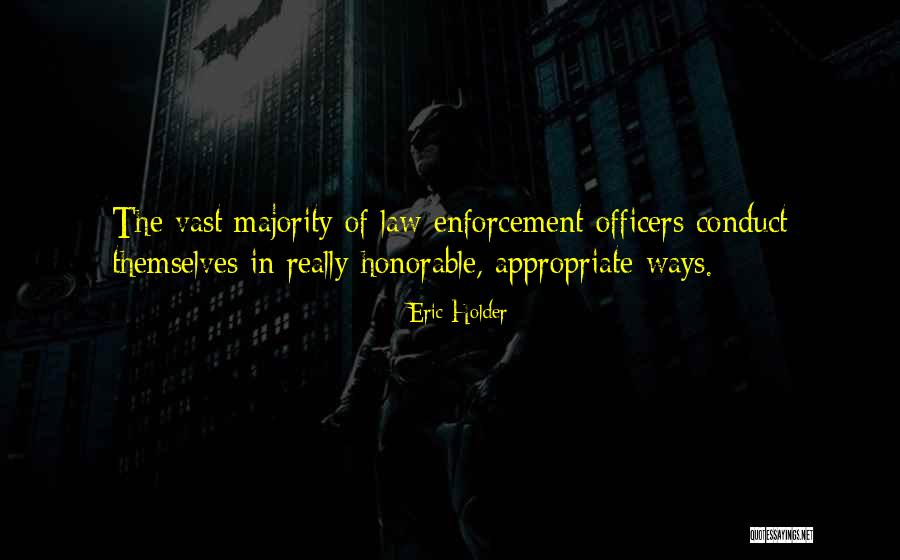 The vast majority of law enforcement officers conduct themselves in really honorable, appropriate ways. — Eric Holder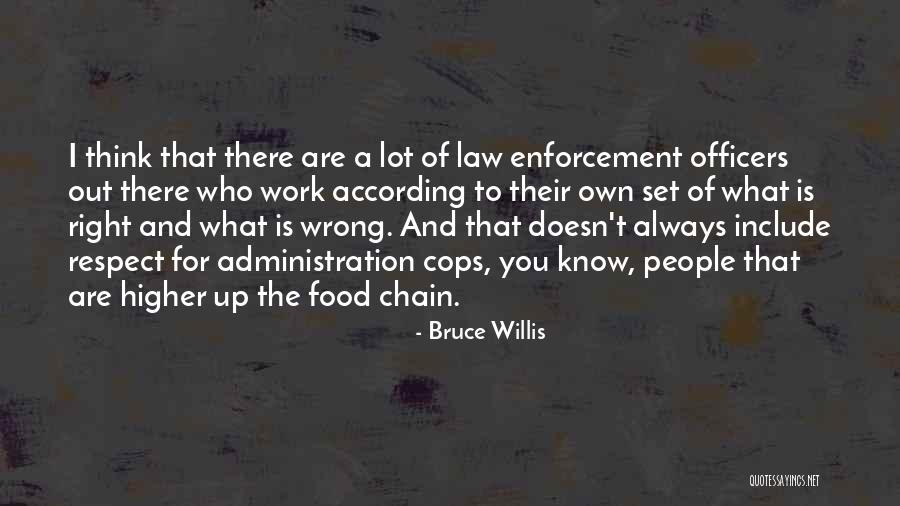 I think that there are a lot of law enforcement officers out there who work according to their own set of what is right and what is wrong. And that doesn't always include respect for administration cops, you know, people that are higher up the food chain. — Bruce Willis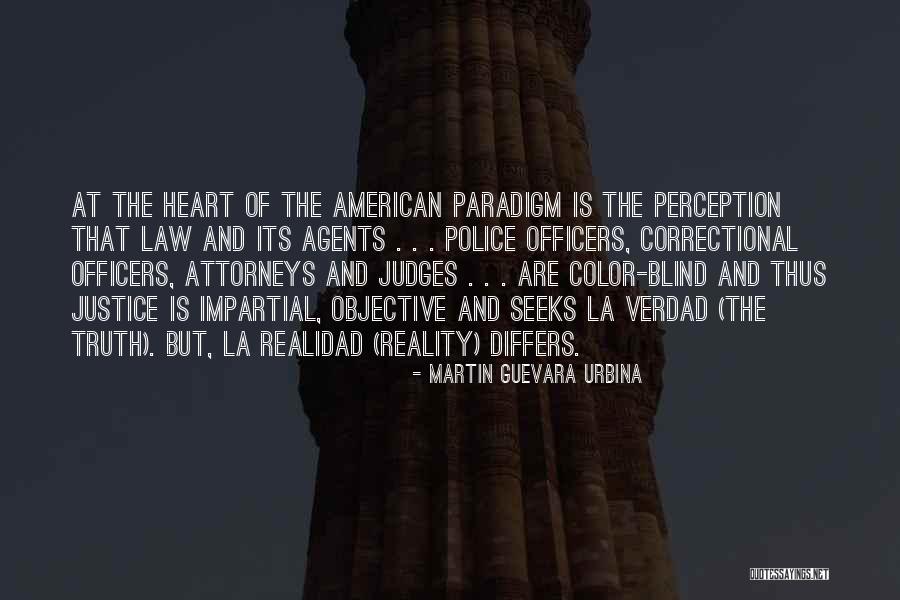 At the heart of the American paradigm is the perception that law and its agents . . . police officers, correctional officers, attorneys and judges . . . are color-blind and thus justice is impartial, objective and seeks la verdad (the truth). But, la realidad (reality) differs. — Martin Guevara Urbina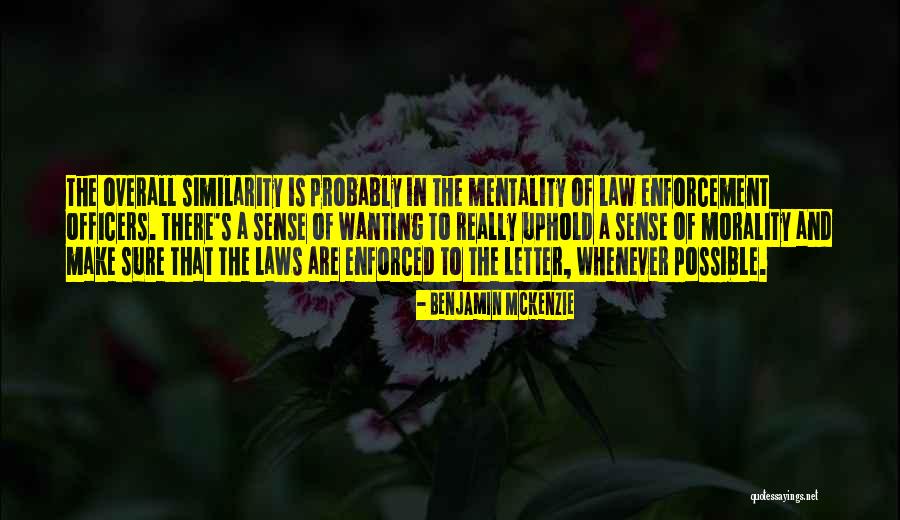 The overall similarity is probably in the mentality of law enforcement officers. There's a sense of wanting to really uphold a sense of morality and make sure that the laws are enforced to the letter, whenever possible. — Benjamin McKenzie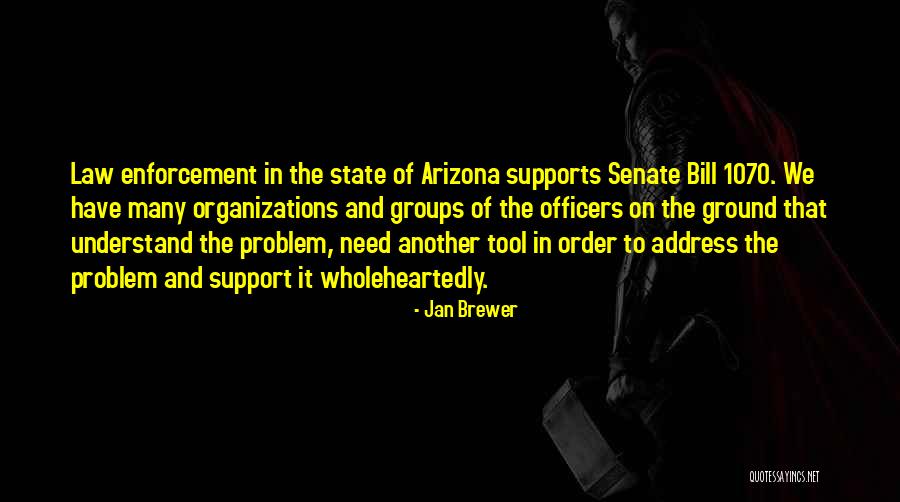 Law enforcement in the state of Arizona supports Senate Bill 1070. We have many organizations and groups of the officers on the ground that understand the problem, need another tool in order to address the problem and support it wholeheartedly. — Jan Brewer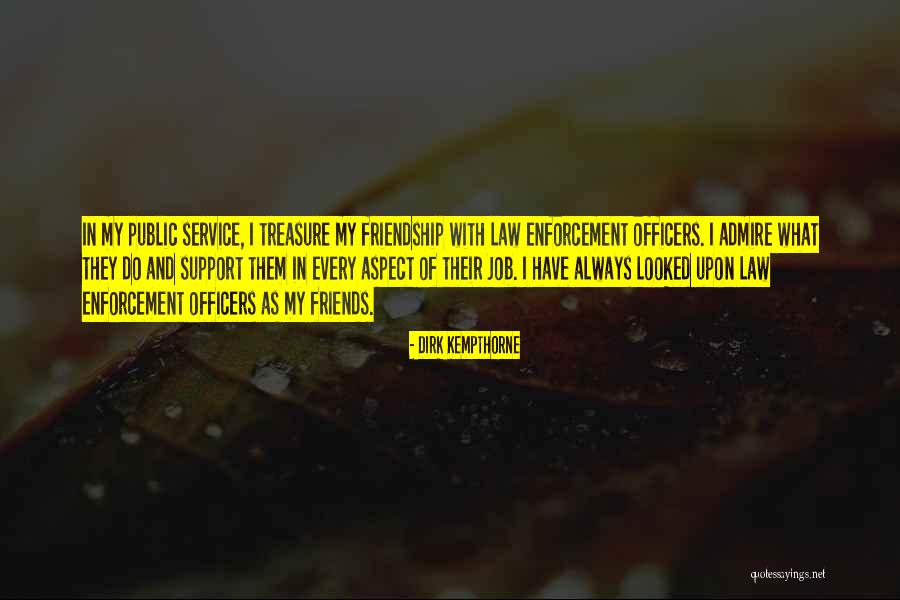 In my public service, I treasure my friendship with law enforcement officers. I admire what they do and support them in every aspect of their job. I have always looked upon law enforcement officers as my friends. — Dirk Kempthorne
...when one considers that there are more than 750,000 police officers in the United States and that these officers have tens of millions of interactions with citizens each year, it is clear that police shootings are extremely rare events and that few officers--less than one-half of 1 percent each year--ever shoot anyone. — David Klinger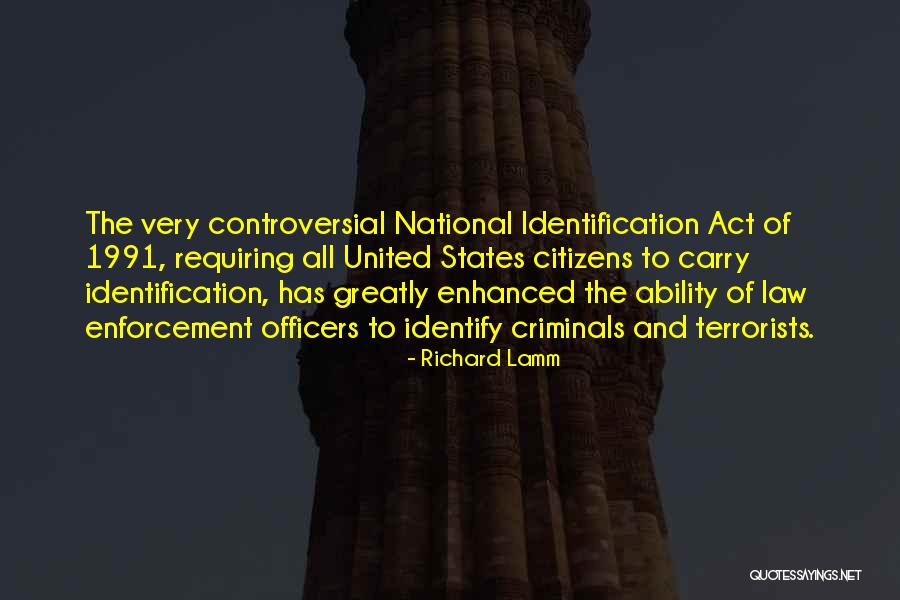 The very controversial National Identification Act of 1991, requiring all United States citizens to carry identification, has greatly enhanced the ability of law enforcement officers to identify criminals and terrorists. — Richard Lamm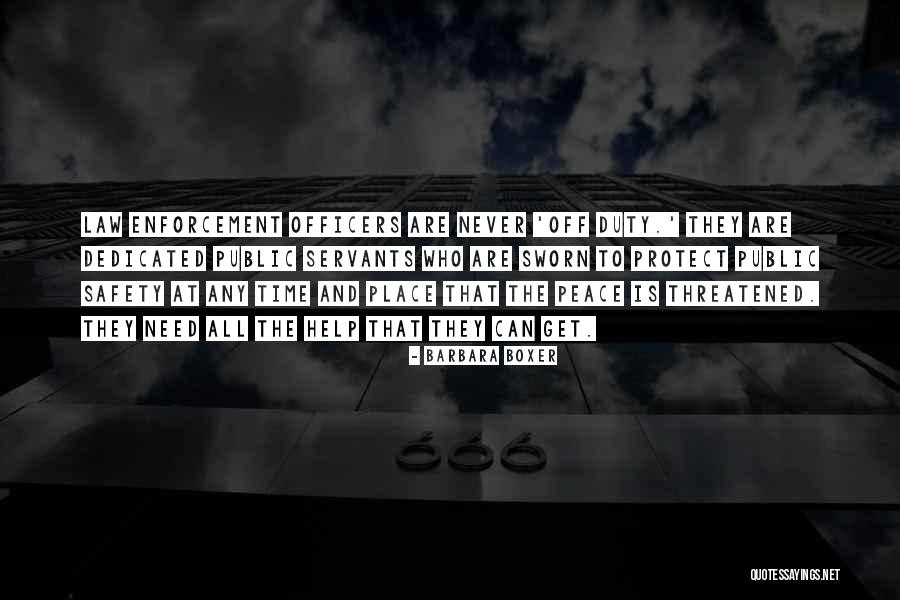 Law enforcement officers are never 'off duty.' They are dedicated public servants who are sworn to protect public safety at any time and place that the peace is threatened. They need all the help that they can get. — Barbara Boxer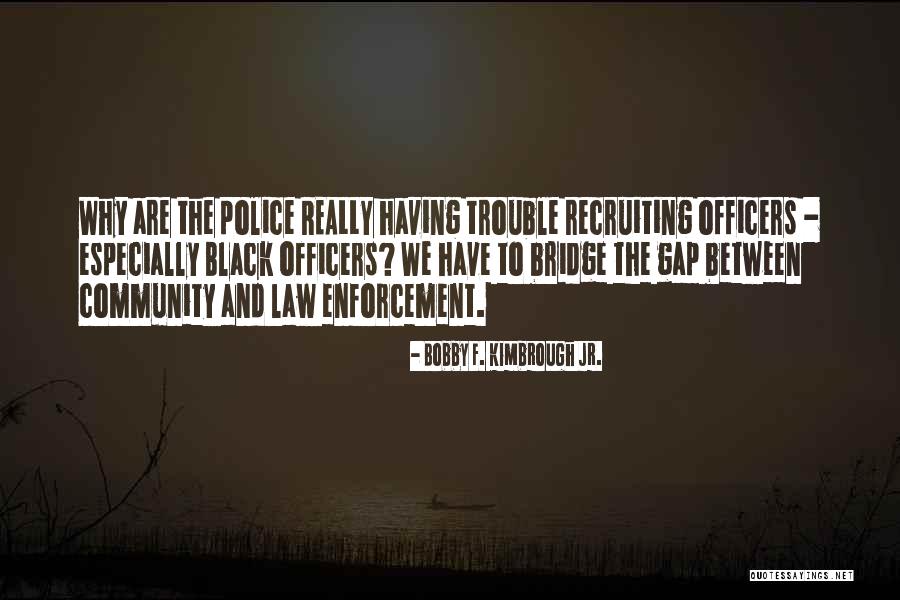 Why are the police REALLY having trouble recruiting officers - especially Black officers? We have to bridge the gap between community and law enforcement. — Bobby F. Kimbrough Jr.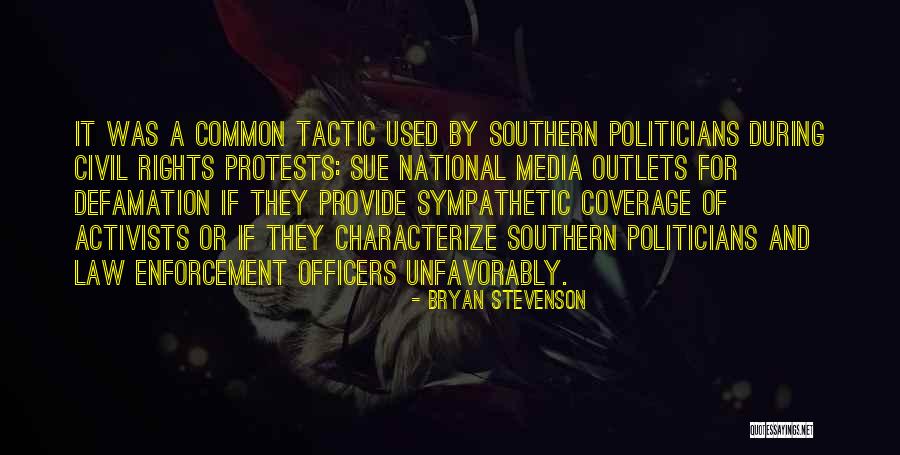 It was a common tactic used by Southern politicians during civil rights protests: Sue national media outlets for defamation if they provide sympathetic coverage of activists or if they characterize Southern politicians and law enforcement officers unfavorably. — Bryan Stevenson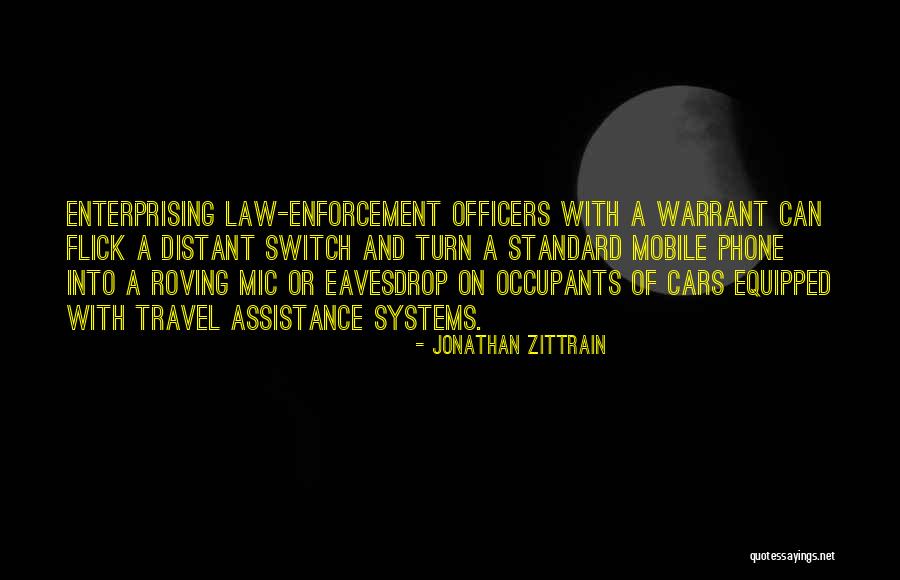 Enterprising law-enforcement officers with a warrant can flick a distant switch and turn a standard mobile phone into a roving mic or eavesdrop on occupants of cars equipped with travel assistance systems. — Jonathan Zittrain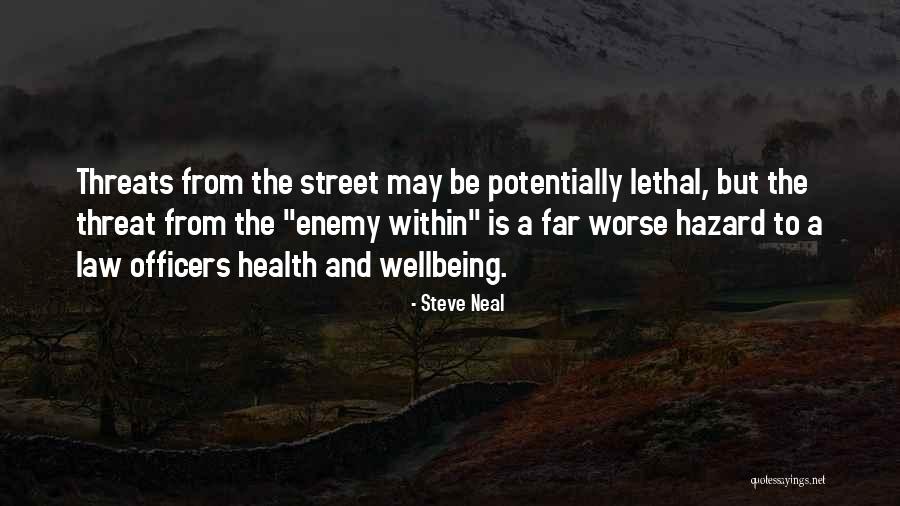 Threats from the street may be potentially lethal, but the threat from the "enemy within" is a far worse hazard to a law officers health and wellbeing. — Steve Neal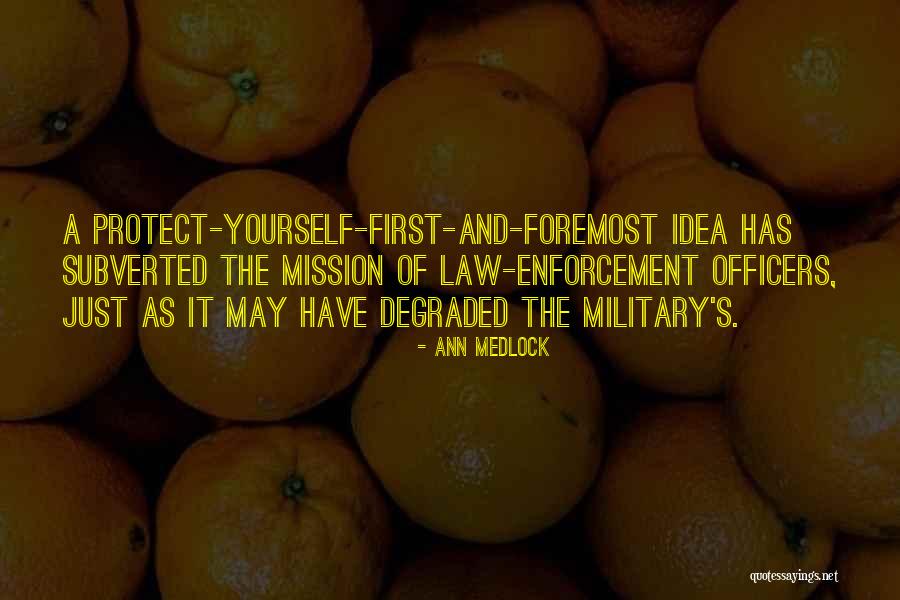 A protect-yourself-first-and-foremost idea has subverted the mission of law-enforcement officers, just as it may have degraded the military's. — Ann Medlock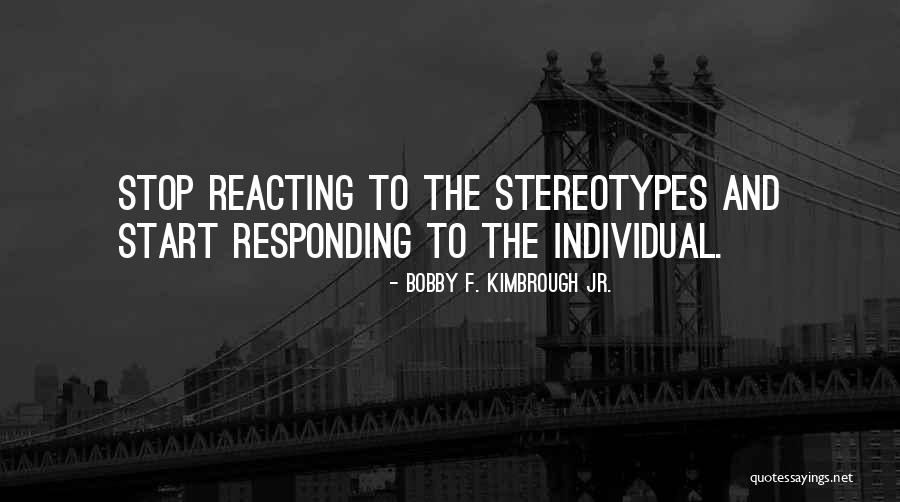 Stop reacting to the stereotypes and start responding to the individual. — Bobby F. Kimbrough Jr.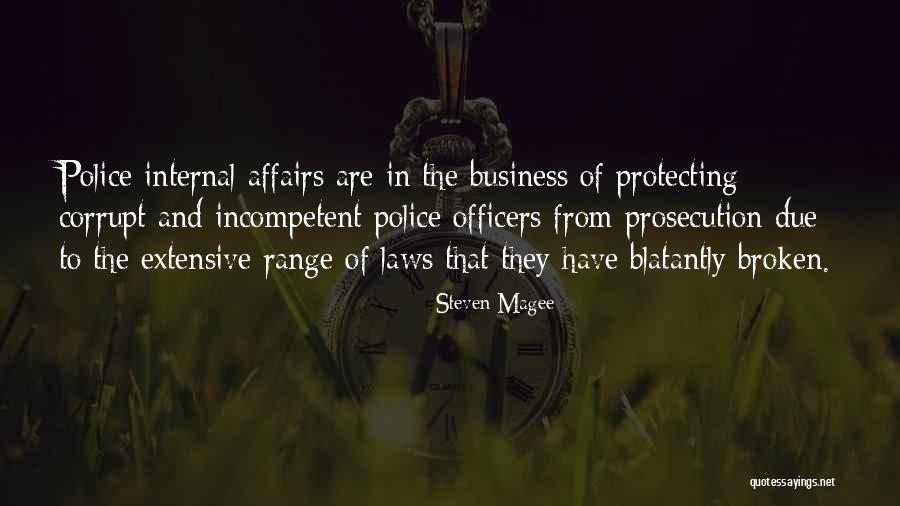 Police internal affairs are in the business of protecting corrupt and incompetent police officers from prosecution due to the extensive range of laws that they have blatantly broken. — Steven Magee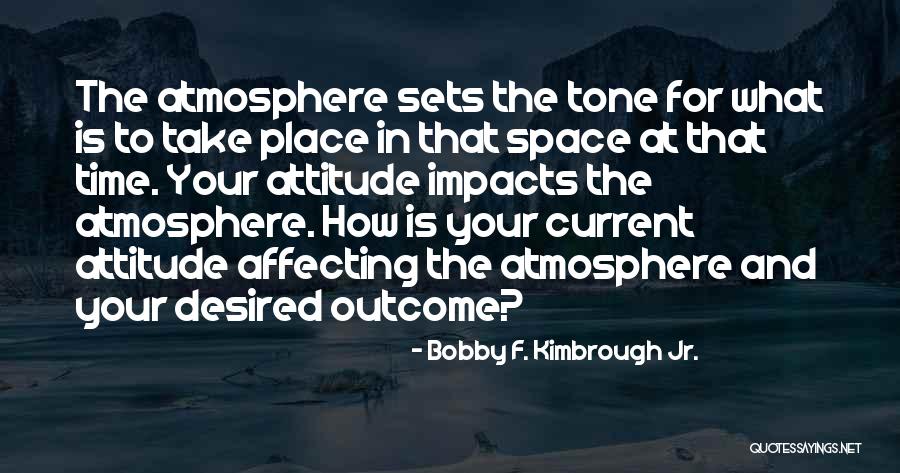 The atmosphere sets the tone for what is to take place in that space at that time. Your attitude impacts the atmosphere. How is your current attitude affecting the atmosphere and your desired outcome? — Bobby F. Kimbrough Jr.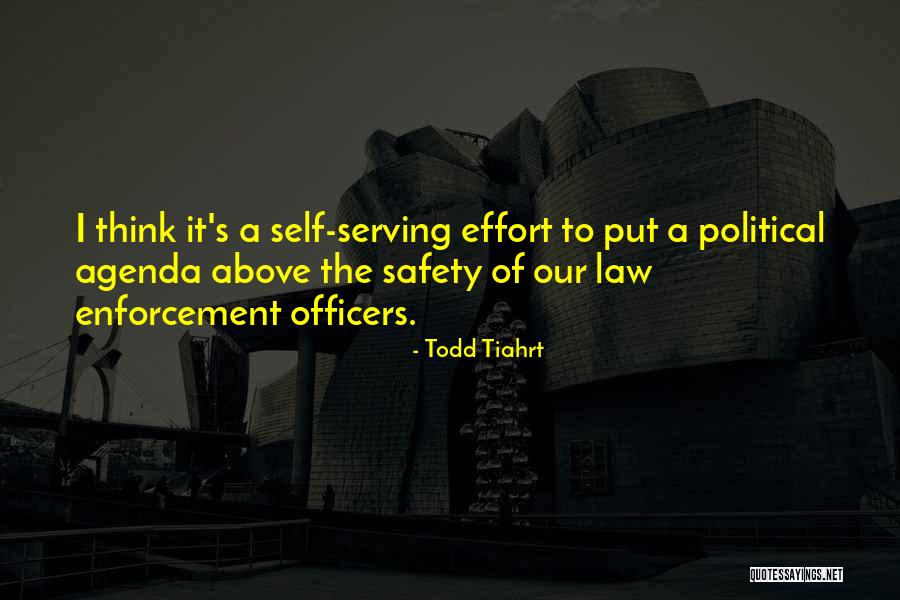 I think it's a self-serving effort to put a political agenda above the safety of our law enforcement officers. — Todd Tiahrt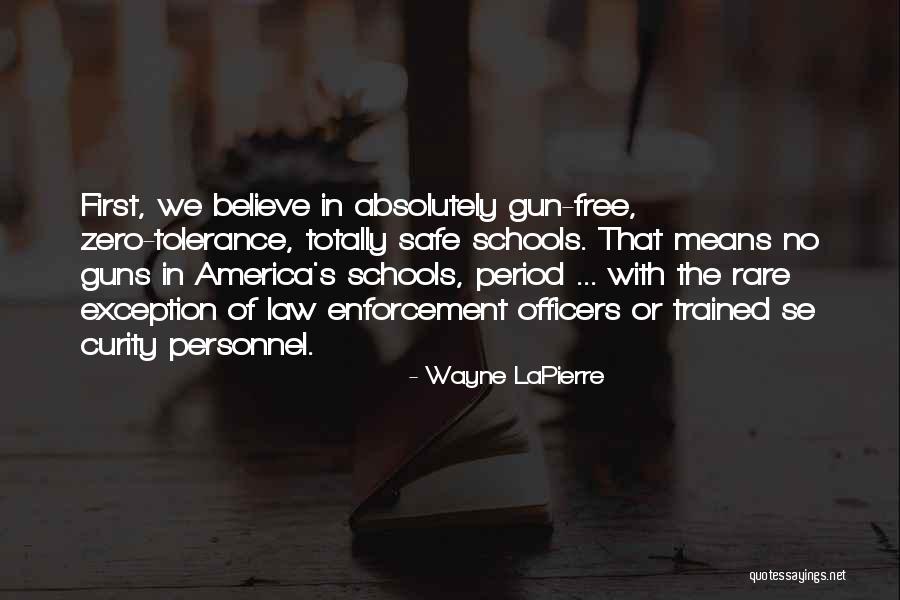 First, we believe in absolutely gun-free, zero-tolerance, totally safe schools. That means no guns
in America's schools, period ... with the rare exception of law enforcement officers or trained se
curity personnel. — Wayne LaPierre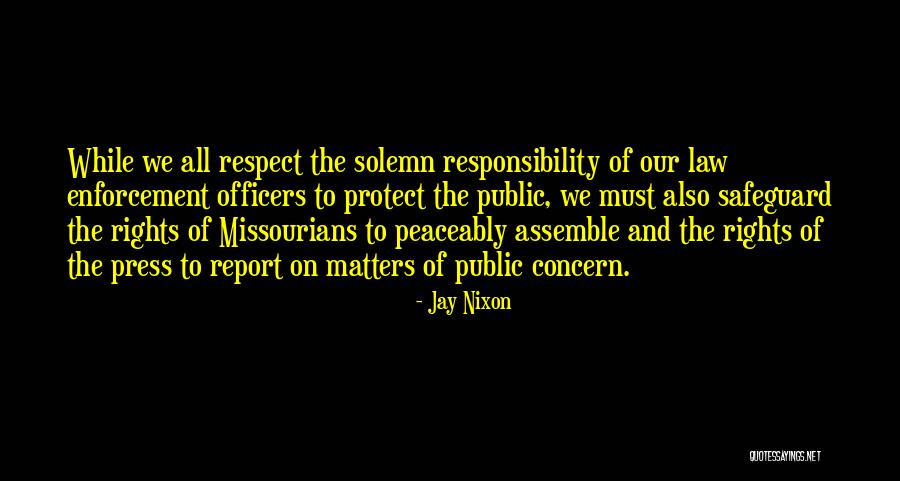 While we all respect the solemn responsibility of our law enforcement officers to protect the public, we must also safeguard the rights of Missourians to peaceably assemble and the rights of the press to report on matters of public concern. — Jay Nixon
This is not a Black problem. It is not a white problem. It is not a police problem. It is a WE problem. We the people, for the people. It is going to take all of us being transparent in order to transform. — Bobby F. Kimbrough Jr.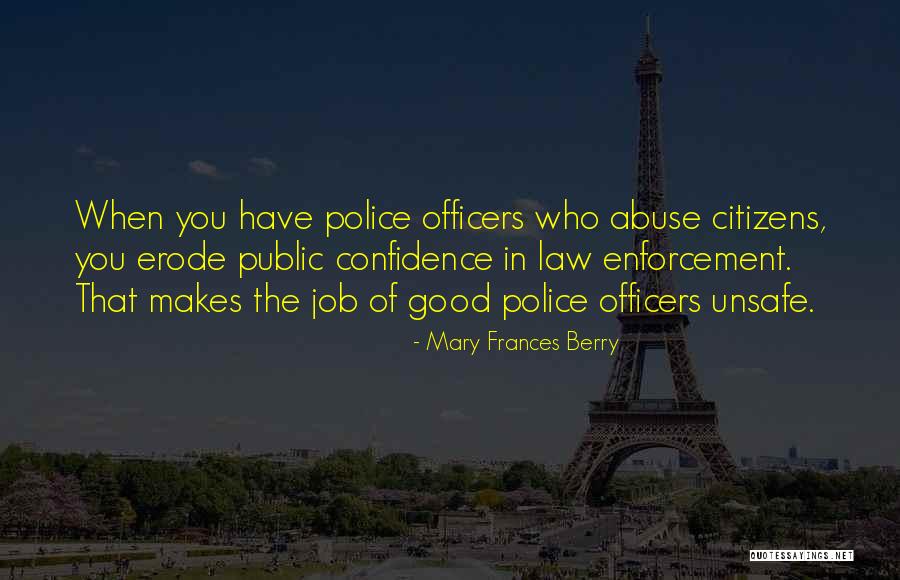 When you have police officers who abuse citizens, you erode public confidence in law enforcement. That makes the job of good police officers unsafe. — Mary Frances Berry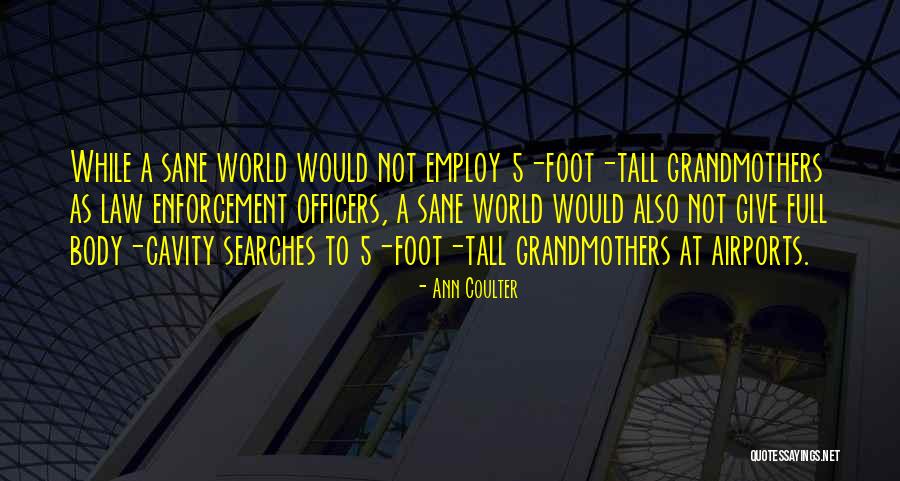 While a sane world would not employ 5-foot-tall grandmothers as law enforcement officers, a sane world would also not give full body-cavity searches to 5-foot-tall grandmothers at airports. — Ann Coulter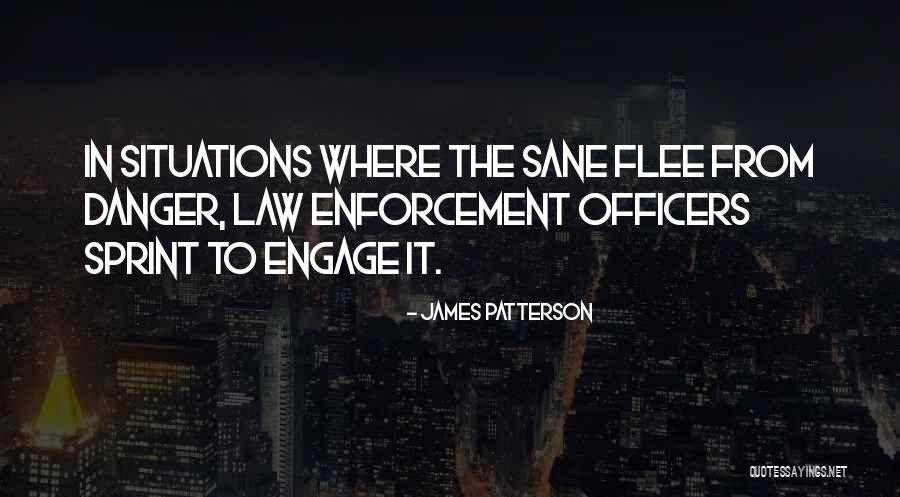 In situations where the sane flee from danger, law enforcement officers sprint to engage it. — James Patterson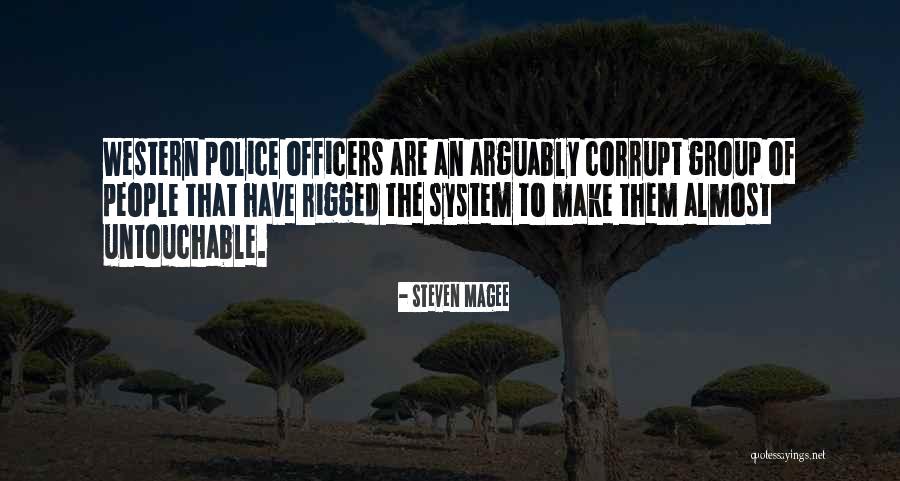 Western police officers are an arguably corrupt group of people that have rigged the system to make them almost untouchable. — Steven Magee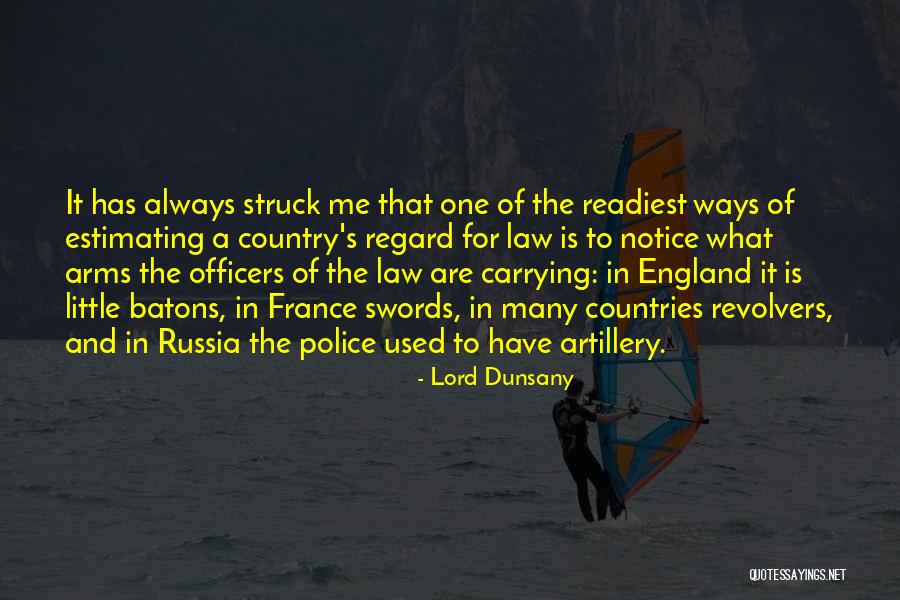 It has always struck me that one of the readiest ways of estimating a country's regard for law is to notice what arms the officers of the law are carrying: in England it is little batons, in France swords, in many countries revolvers, and in Russia the police used to have artillery. — Lord Dunsany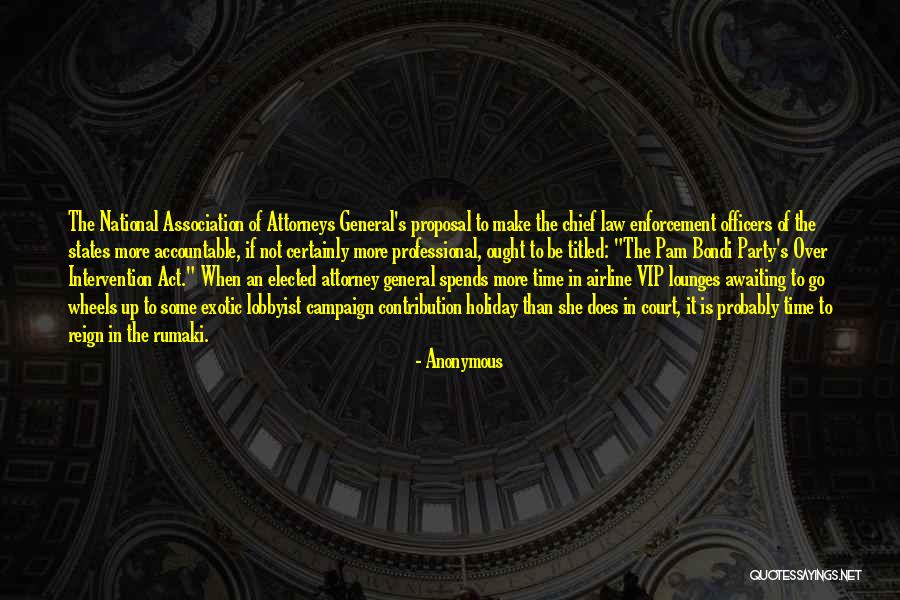 The National Association of Attorneys General's proposal to make the chief law enforcement officers of the states more accountable, if not certainly more professional, ought to be titled: "The Pam Bondi Party's Over Intervention Act." When an elected attorney general spends more time in airline VIP lounges awaiting to go wheels up to some exotic lobbyist campaign contribution holiday than she does in court, it is probably time to reign in the rumaki. — Anonymous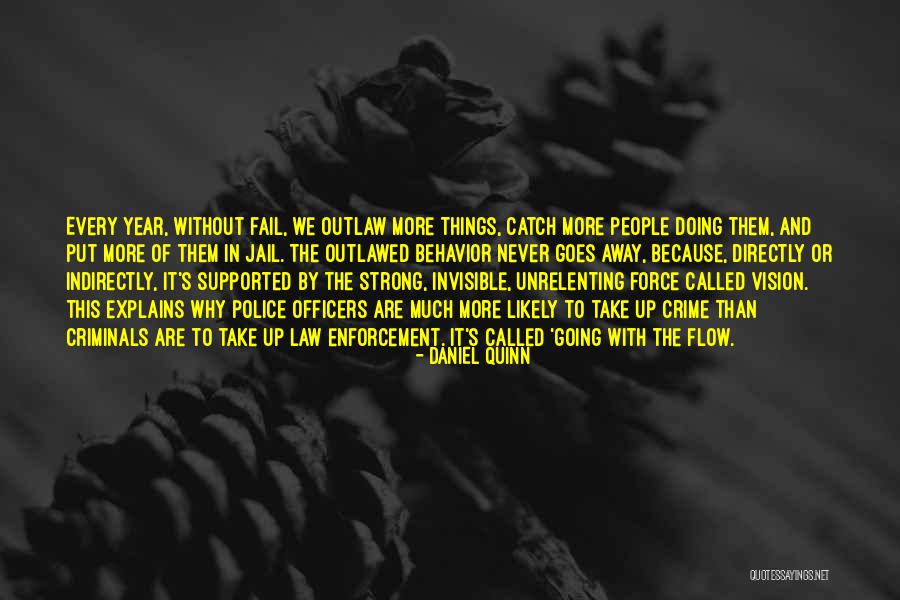 Every year, without fail, we outlaw more things, catch more people doing them, and put more of them in jail. The outlawed behavior never goes away, because, directly or indirectly, it's supported by the strong, invisible, unrelenting force called vision. This explains why police officers are much more likely to take up crime than criminals are to take up law enforcement. It's called 'going with the flow. — Daniel Quinn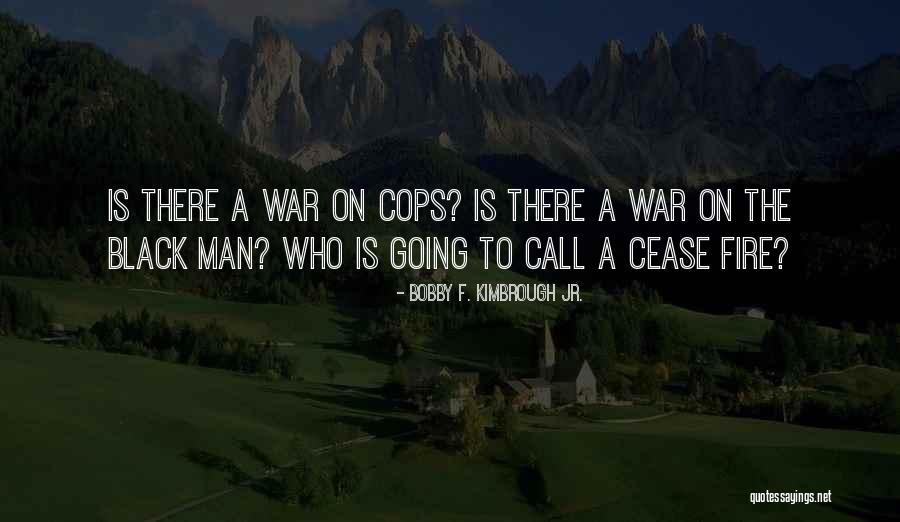 Is there a war on cops? Is there a war on the Black man? Who is going to call a cease fire? — Bobby F. Kimbrough Jr.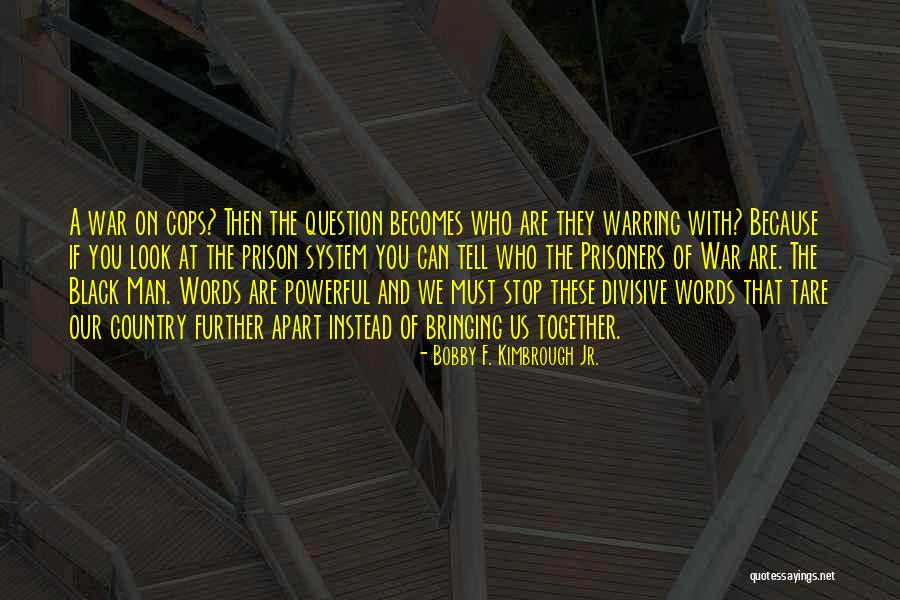 A war on cops? Then the question becomes who are they warring with? Because if you look at the prison system you can tell who the Prisoners of War are. The Black Man. Words are powerful and we must stop these divisive words that tare our country further apart instead of bringing us together. — Bobby F. Kimbrough Jr.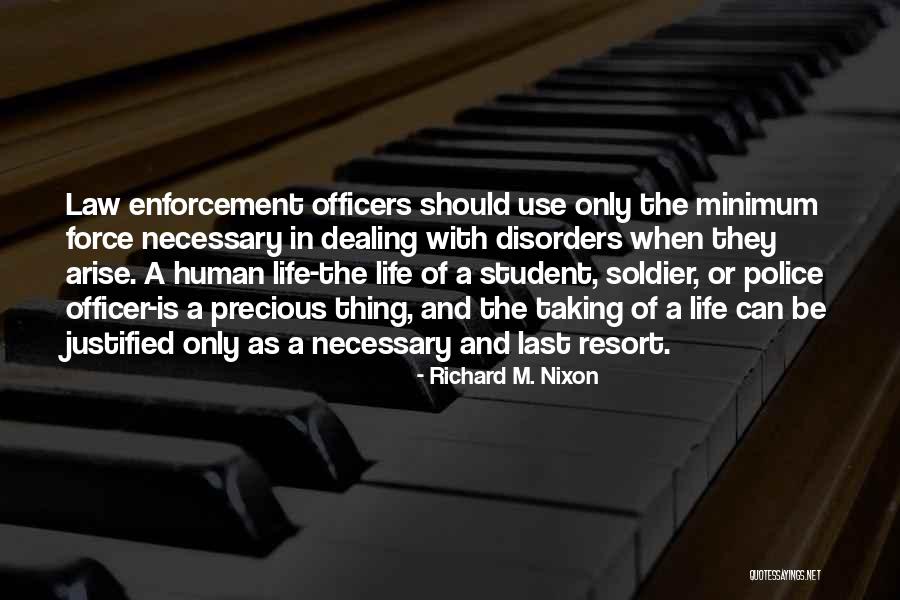 Law enforcement officers should use only the minimum force necessary in dealing with disorders when they arise. A human life-the life of a student, soldier, or police officer-is a precious thing, and the taking of a life can be justified only as a necessary and last resort. — Richard M. Nixon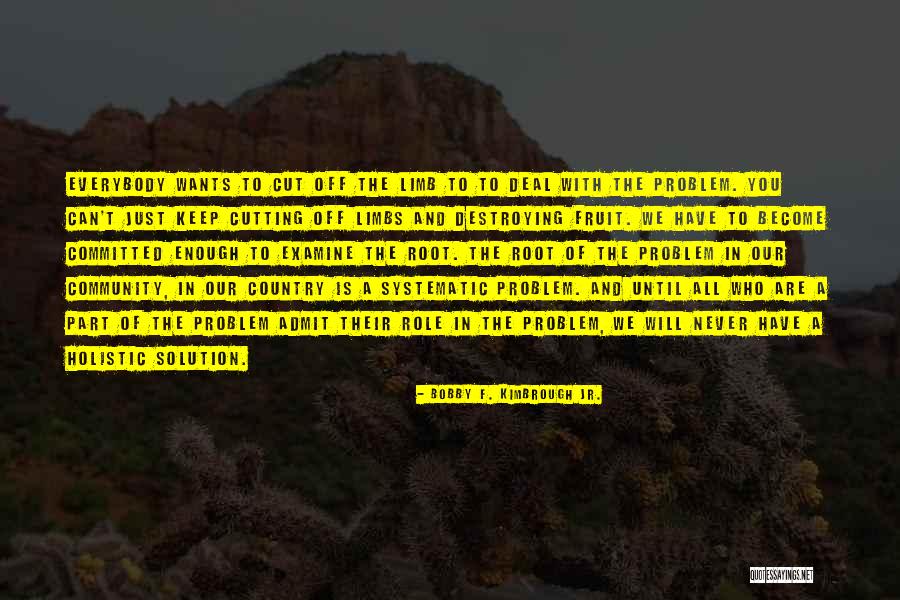 Everybody wants to cut off the limb to to deal with the problem. You can't just keep cutting off limbs and destroying fruit. We have to become committed enough to examine the root. The root of the problem in our community, in our country is a systematic problem. And until all who are a part of the problem admit their role in the problem, we will never have a holistic solution. — Bobby F. Kimbrough Jr.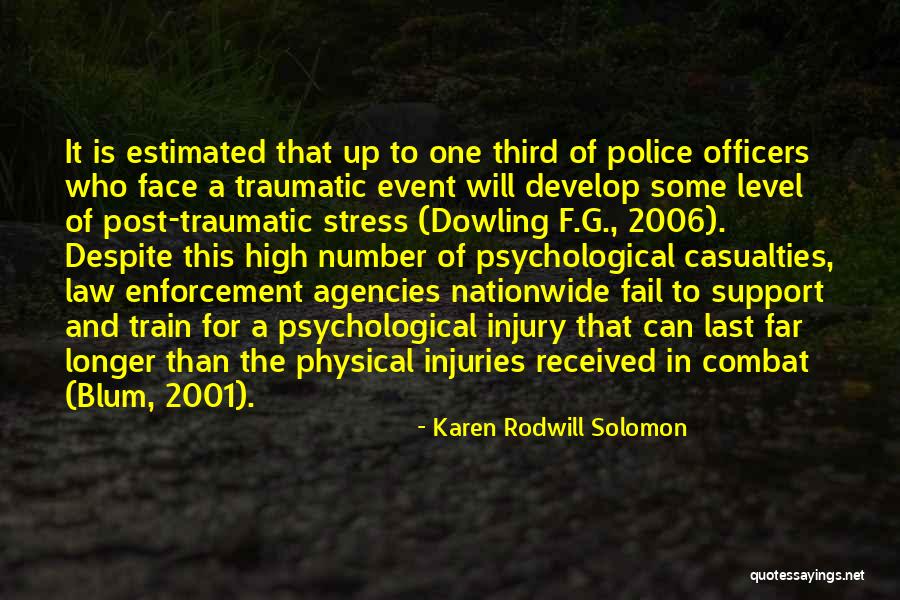 It is estimated that up to one third of police officers who face a traumatic event will develop some level of post-traumatic stress (Dowling F.G., 2006). Despite this high number of psychological casualties, law enforcement agencies nationwide fail to support and train for a psychological injury that can last far longer than the physical injuries received in combat (Blum, 2001). — Karen Rodwill Solomon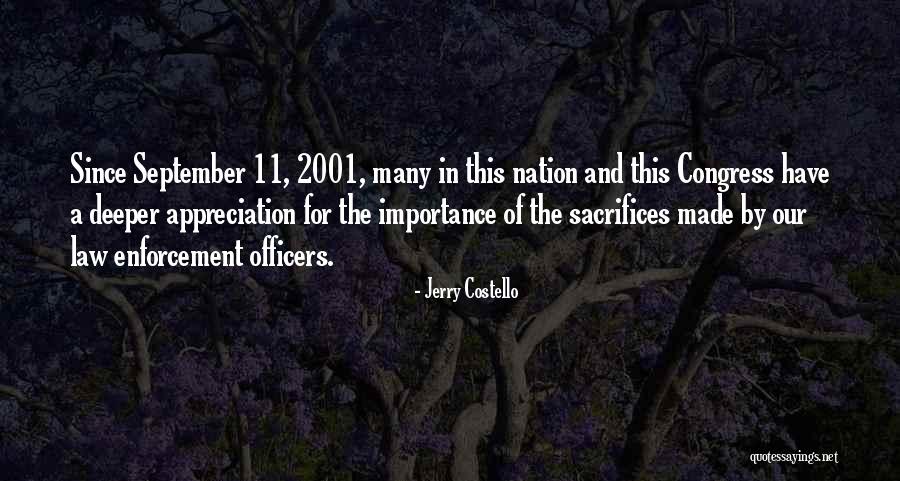 Since September 11, 2001, many in this nation and this Congress have a deeper appreciation for the importance of the sacrifices made by our law enforcement officers. — Jerry Costello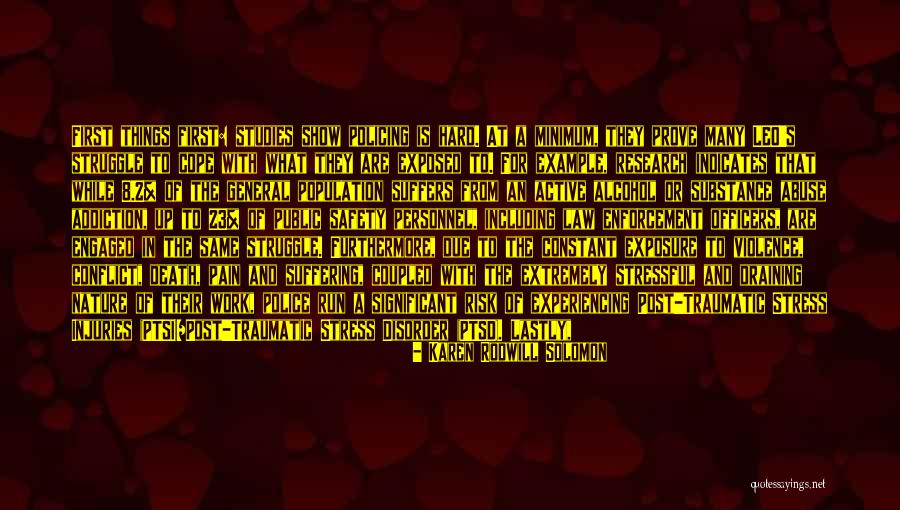 First things first: studies show policing is hard. At a minimum, they prove many LEO's struggle to cope with what they are exposed to. For example, research indicates that while 8.2% of the general population suffers from an active alcohol or substance abuse addiction, up to 23% of public safety personnel, including law enforcement officers, are engaged in the same struggle. Furthermore, due to the constant exposure to violence, conflict, death, pain and suffering, coupled with the extremely stressful and draining nature of their work, police run a significant risk of experiencing Post-Traumatic Stress Injuries (PTSI)/Post-Traumatic Stress Disorder (PTSD). Lastly, research by Dr. John Violanti in 2004 indicates a combination of alcohol use and PTSD produces a tenfold increase in the risk of suicide. This small snapshot of research paints a grim picture on how policing can negatively impact those that take up its calling. — Karen Rodwill Solomon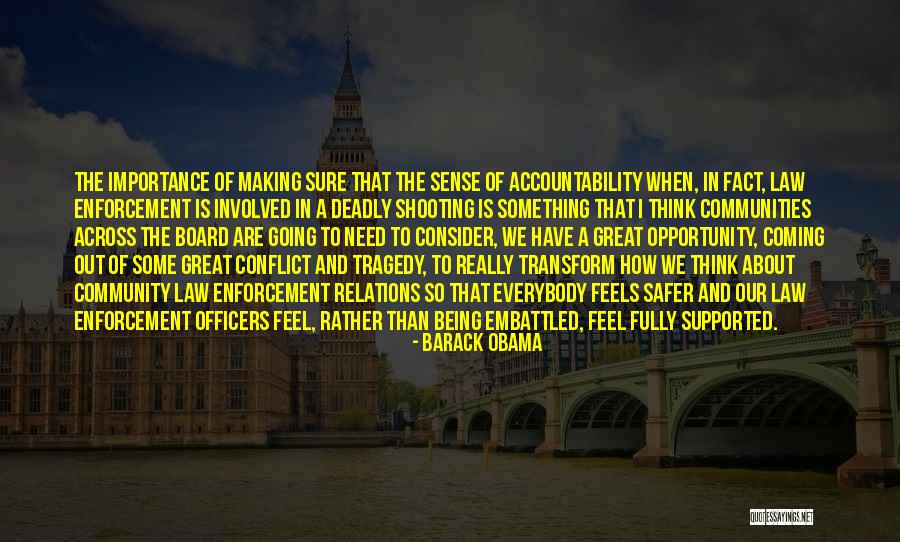 The importance of making sure that the sense of accountability when, in fact, law enforcement is involved in a deadly shooting is something that I think communities across the board are going to need to consider, we have a great opportunity, coming out of some great conflict and tragedy, to really transform how we think about community law enforcement relations so that everybody feels safer and our law enforcement officers feel, rather than being embattled, feel fully supported. — Barack Obama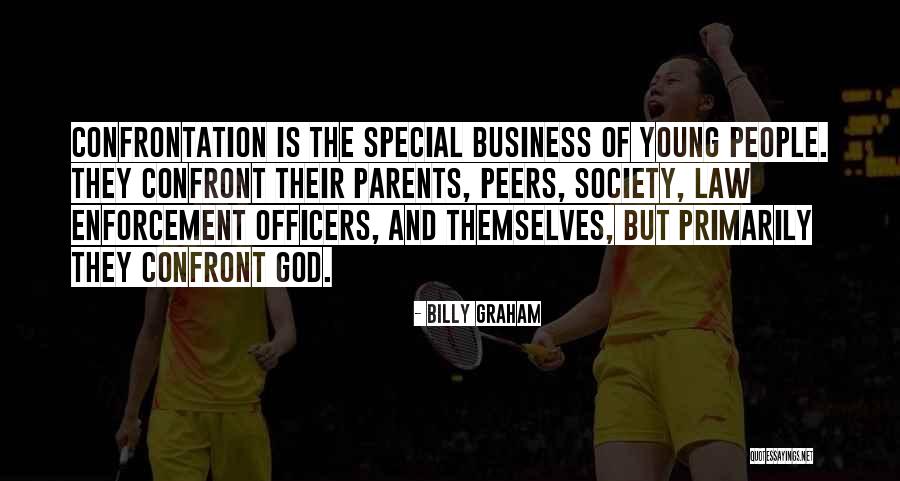 Confrontation is the special business of young people. They confront their parents, peers, society, law enforcement officers, and themselves, but primarily they confront God. — Billy Graham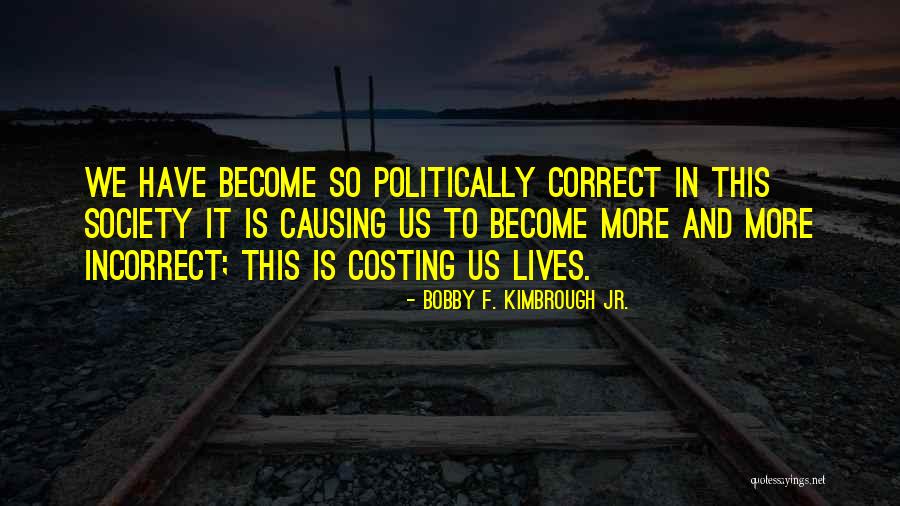 We have become so politically correct in this society it is causing us to become more and more incorrect; this is costing us lives. — Bobby F. Kimbrough Jr.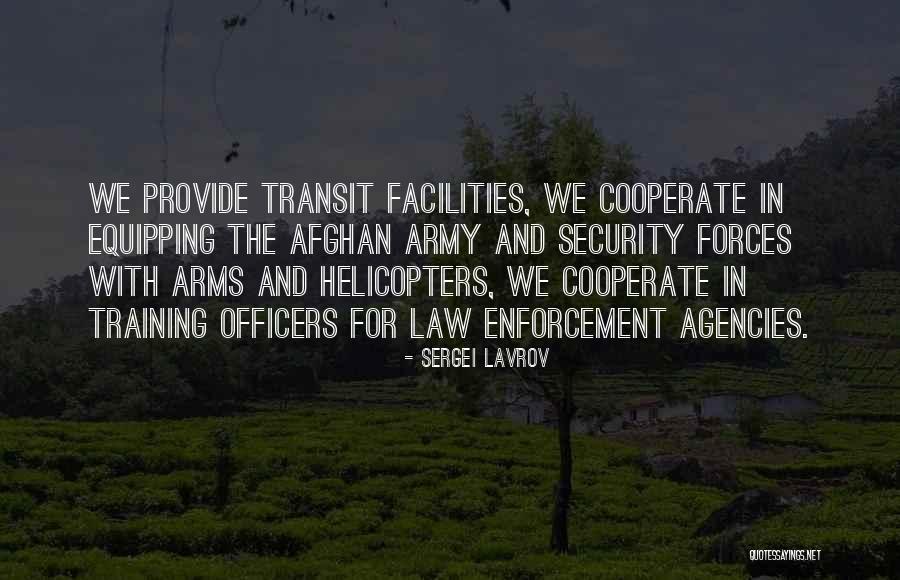 We provide transit facilities, we cooperate in equipping the Afghan army and security forces with arms and helicopters, we cooperate in training officers for law enforcement agencies. — Sergei Lavrov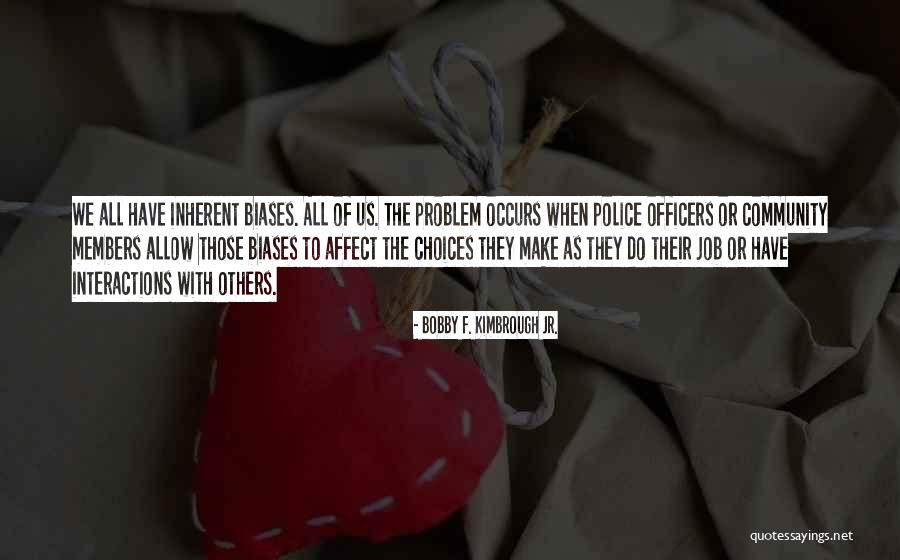 We all have inherent biases. All of us. The problem occurs when police officers or community members allow those biases to affect the choices they make as they do their job or have interactions with others. — Bobby F. Kimbrough Jr.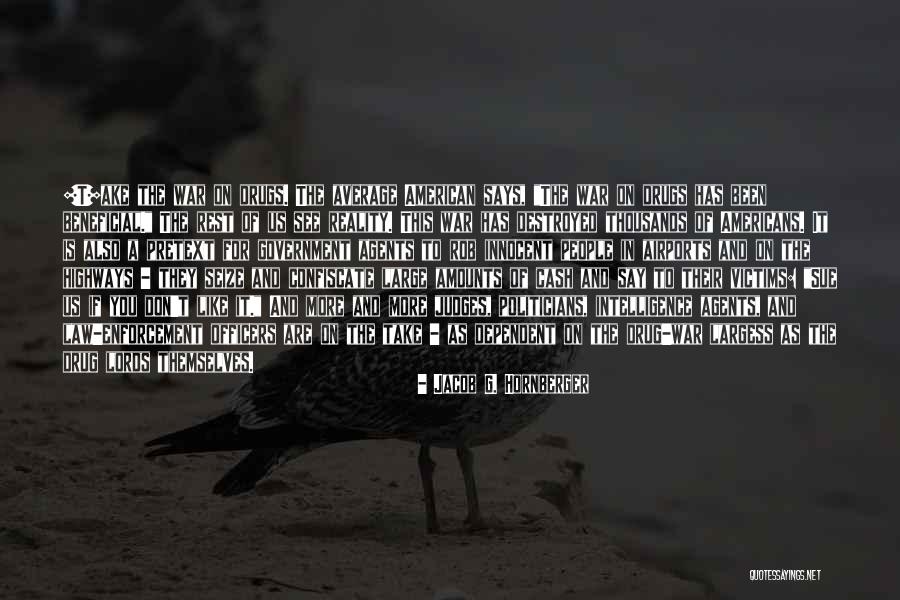 [T]ake the war on drugs. The average American says, "The war on drugs has been beneficial." The rest of us see reality. This war has destroyed thousands of Americans. It is also a pretext for government agents to rob innocent people in airports and on the highways - they seize and confiscate large amounts of cash and say to their victims: "Sue us if you don't like it." And more and more judges, politicians, intelligence agents, and law-enforcement officers are on the take - as dependent on the drug-war largess as the drug lords themselves. — Jacob G. Hornberger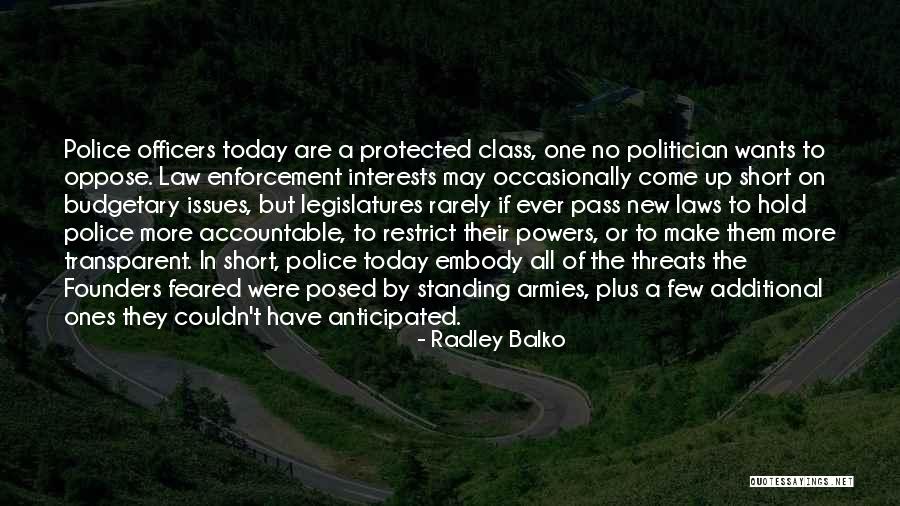 Police officers today are a protected class, one no politician wants to oppose. Law enforcement interests may occasionally come up short on budgetary issues, but legislatures rarely if ever pass new laws to hold police more accountable, to restrict their powers, or to make them more transparent. In short, police today embody all of the threats the Founders feared were posed by standing armies, plus a few additional ones they couldn't have anticipated. — Radley Balko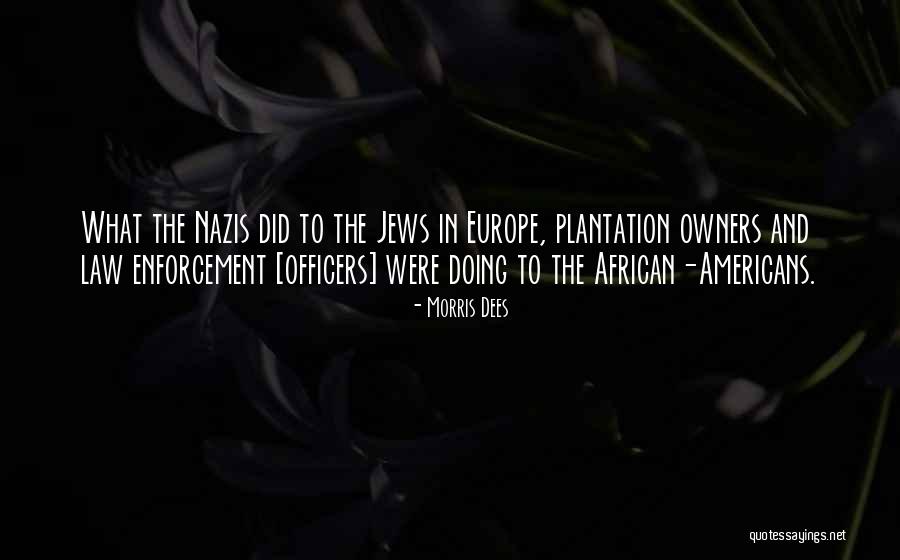 What the Nazis did to the Jews in Europe, plantation owners and law enforcement [officers] were doing to the African-Americans. — Morris Dees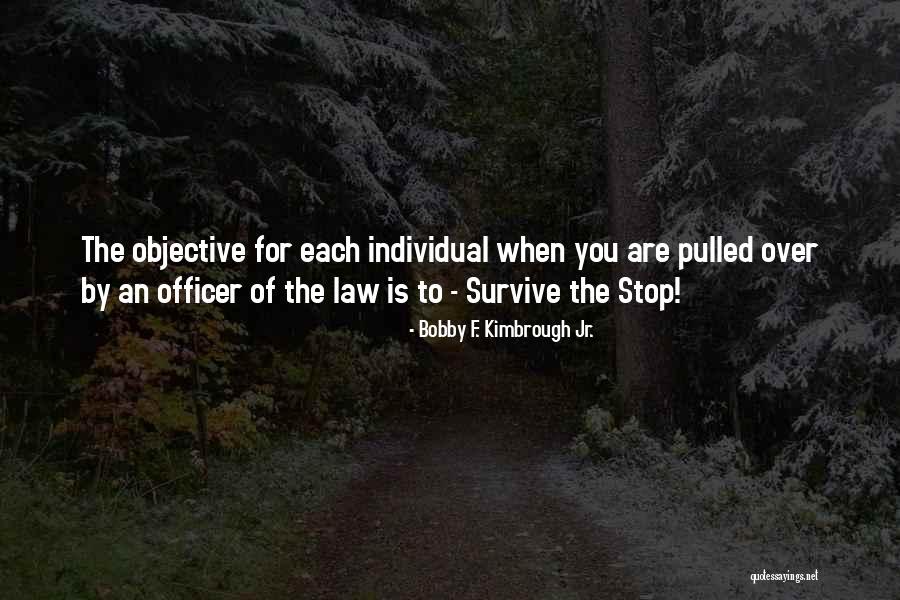 The objective for each individual when you are pulled over by an officer of the law is to - Survive the Stop! — Bobby F. Kimbrough Jr.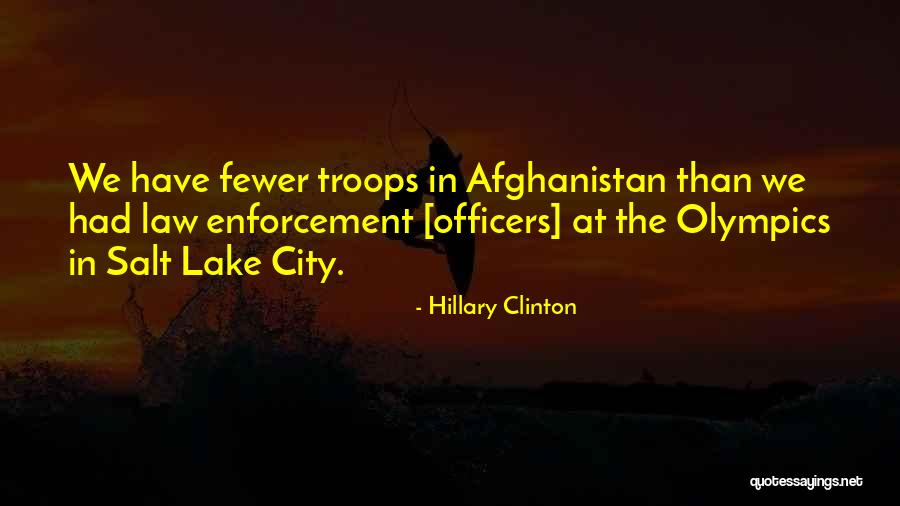 We have fewer troops in Afghanistan than we had law enforcement [officers] at the Olympics in Salt Lake City. — Hillary Clinton