Quotes & Sayings About Lasting Love Relationships
Enjoy reading and share 23 famous quotes about Lasting Love Relationships with everyone.
Top Lasting Love Relationships Quotes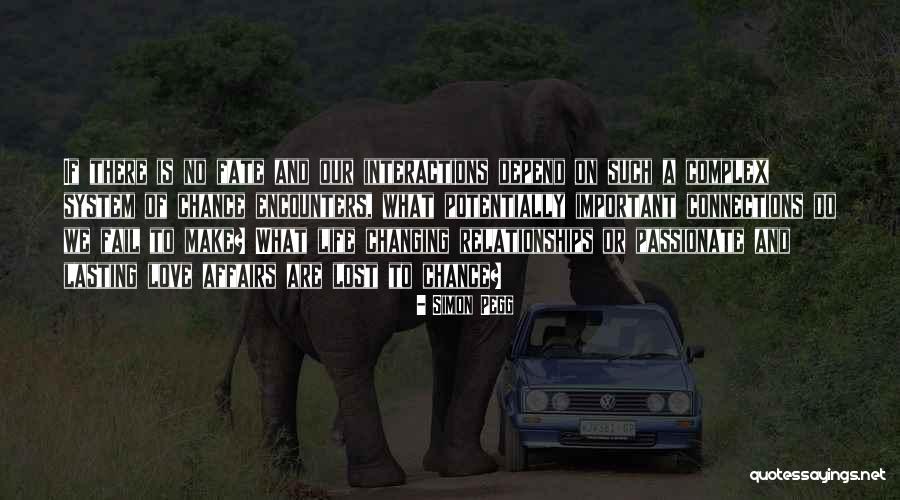 If there is no fate and our interactions depend on such a complex system of chance encounters, what potentially important connections do we fail to make? What life changing relationships or passionate and lasting love affairs are lost to chance? — Simon Pegg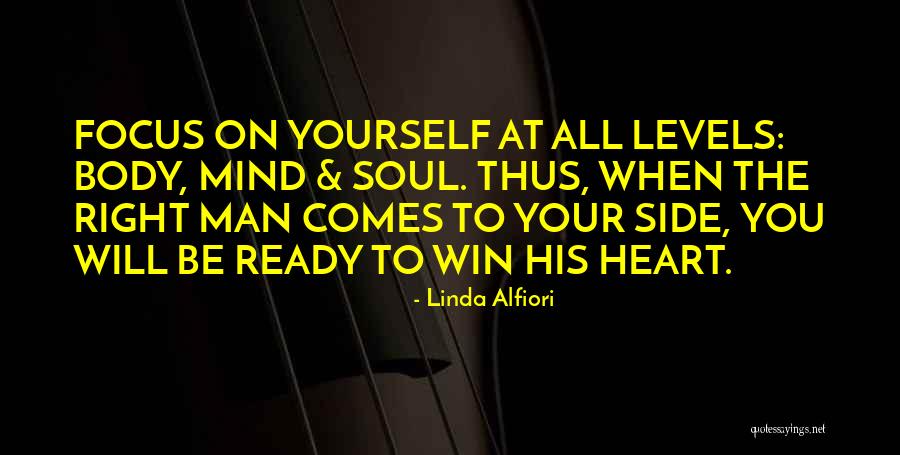 FOCUS ON YOURSELF AT ALL LEVELS: BODY, MIND & SOUL. THUS, WHEN THE RIGHT MAN COMES TO YOUR SIDE, YOU WILL BE READY TO WIN HIS HEART. — Linda Alfiori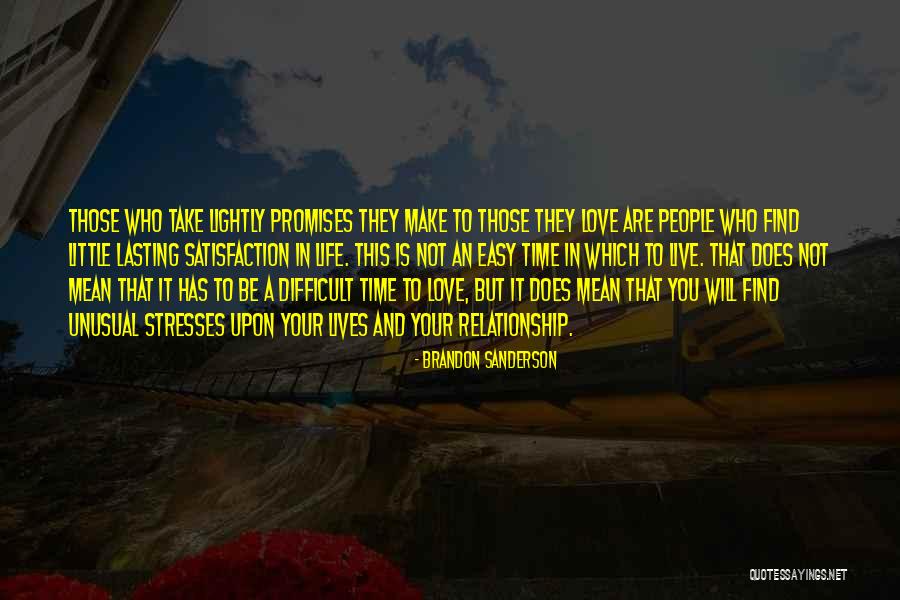 Those who take lightly promises they make to those they love are people who find little lasting satisfaction in life. This is not an easy time in which to live. That does not mean that it has to be a difficult time to love, but it does mean that you will find unusual stresses upon your lives and your relationship. — Brandon Sanderson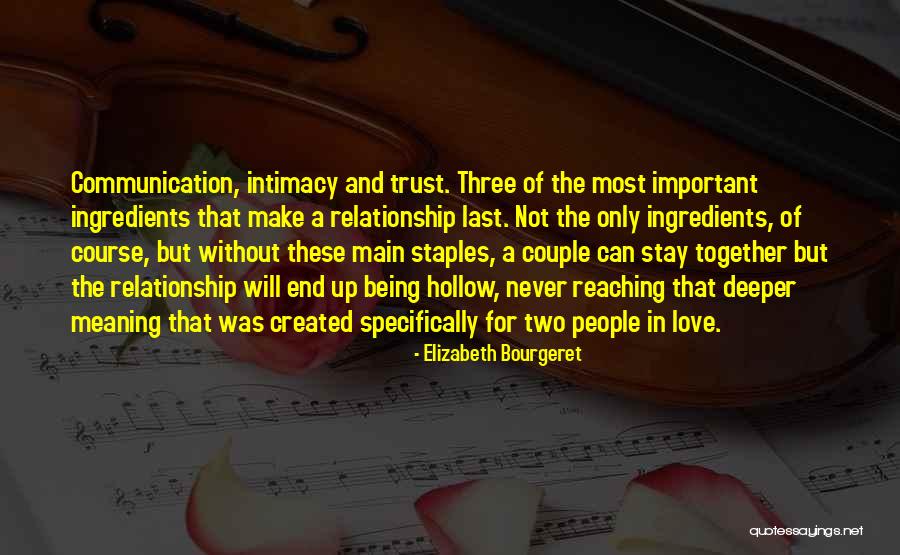 Communication, intimacy and trust. Three of the most important ingredients that make a relationship last. Not the only ingredients, of course, but without these main staples, a couple can stay together but the relationship will end up being hollow, never reaching that deeper meaning that was created specifically for two people in love. — Elizabeth Bourgeret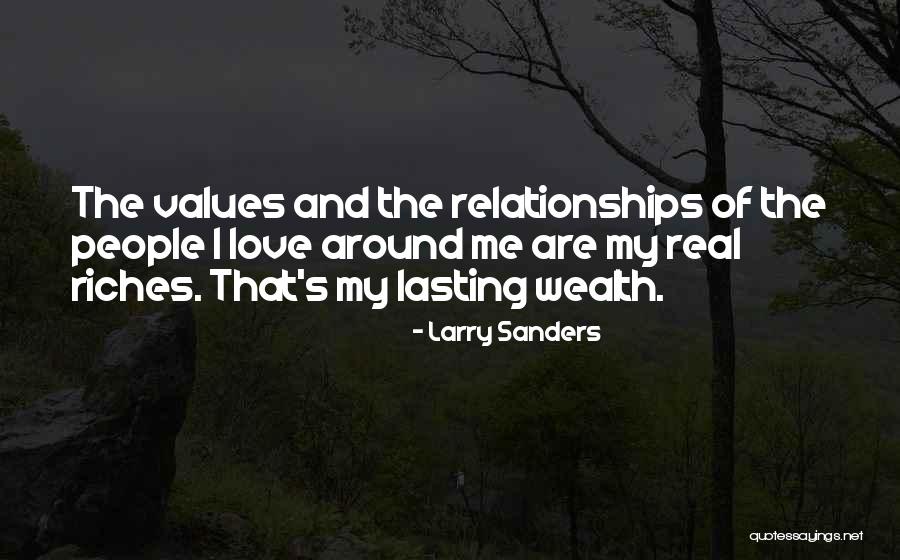 The values and the relationships of the people I love around me are my real riches. That's my lasting wealth. — Larry Sanders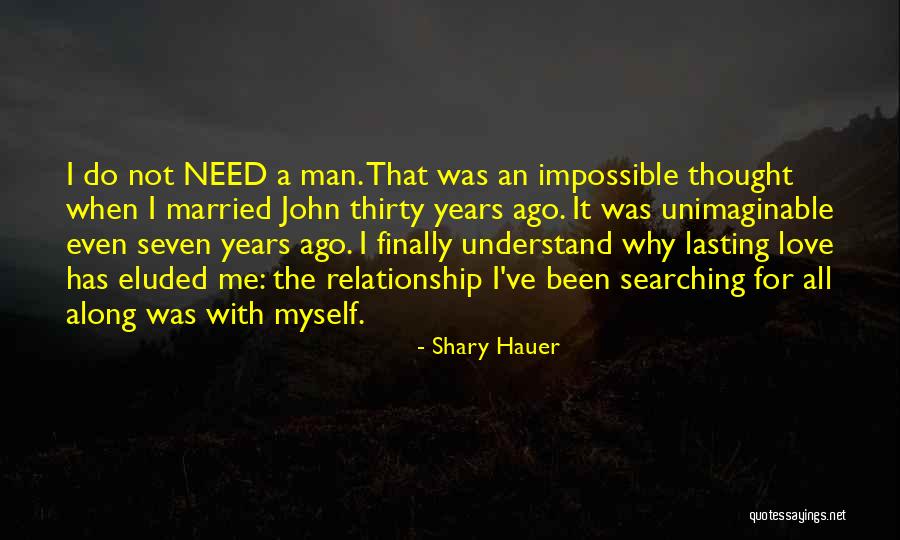 I do not NEED a man. That was an impossible thought when I married John thirty years ago. It was unimaginable even seven years ago. I finally understand why lasting love has eluded me: the relationship I've been searching for all along was with myself. — Shary Hauer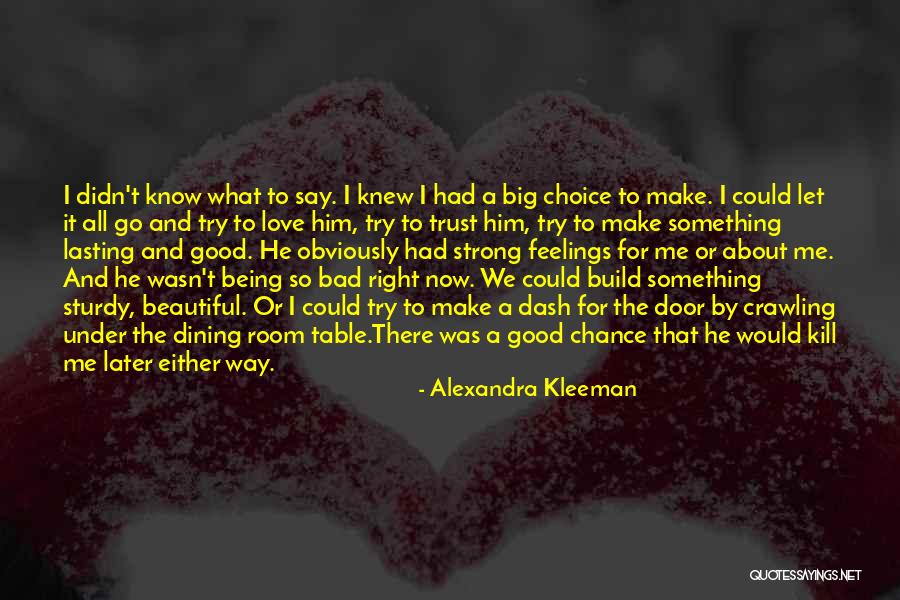 I didn't know what to say. I knew I had a big choice to make. I could let it all go and try to love him, try to trust him, try to make something lasting and good. He obviously had strong feelings for me or about me. And he wasn't being so bad right now. We could build something sturdy, beautiful. Or I could try to make a dash for the door by crawling under the dining room table.

There was a good chance that he would kill me later either way. — Alexandra Kleeman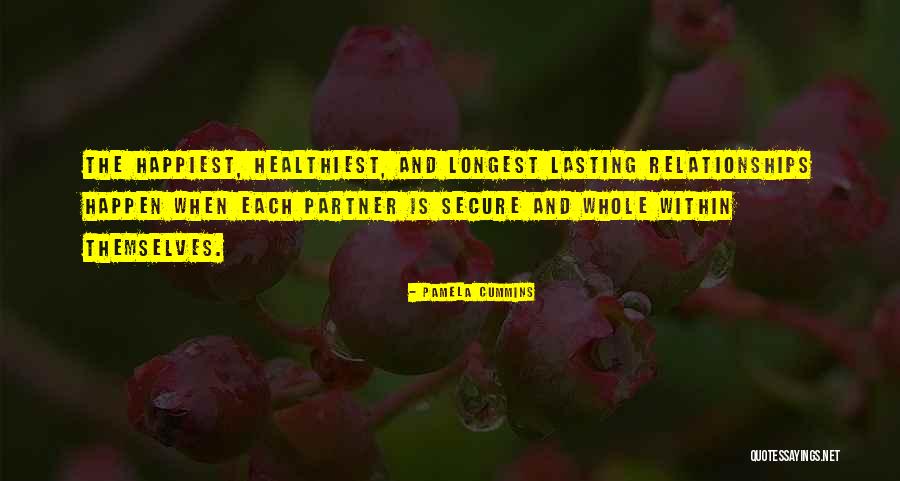 The happiest, healthiest, and longest lasting relationships happen when each partner is secure and whole within themselves. — Pamela Cummins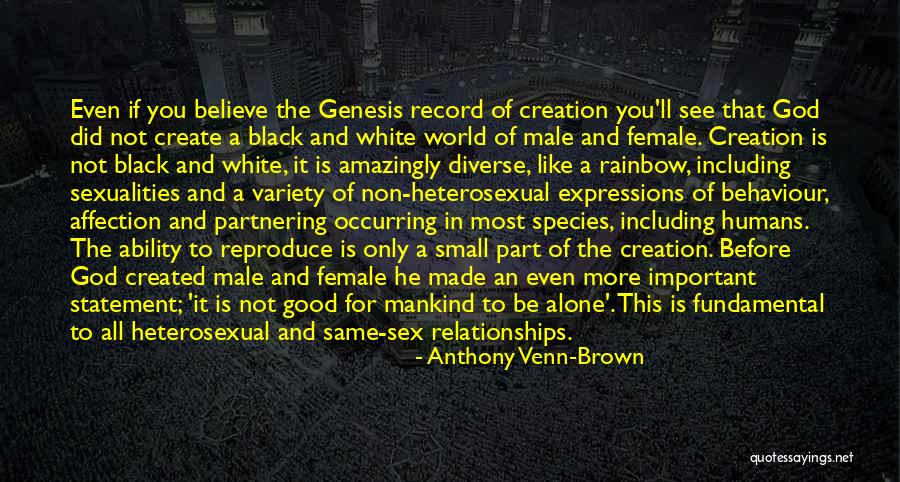 Even if you believe the Genesis record of creation you'll see that God did not create a black and white world of male and female. Creation is not black and white, it is amazingly diverse, like a rainbow, including sexualities and a variety of non-heterosexual expressions of behaviour, affection and partnering occurring in most species, including humans. The ability to reproduce is only a small part of the creation. Before God created male and female he made an even more important statement; 'it is not good for mankind to be alone'. This is fundamental to all heterosexual and same-sex relationships. Lasting relationships are based on love, trust and commitment, not sex or reproduction. So stop with the 'God created Adam and Eve not Adam and Steve' quote already. It's boring and an insult to the creator of this incredible universe. — Anthony Venn-Brown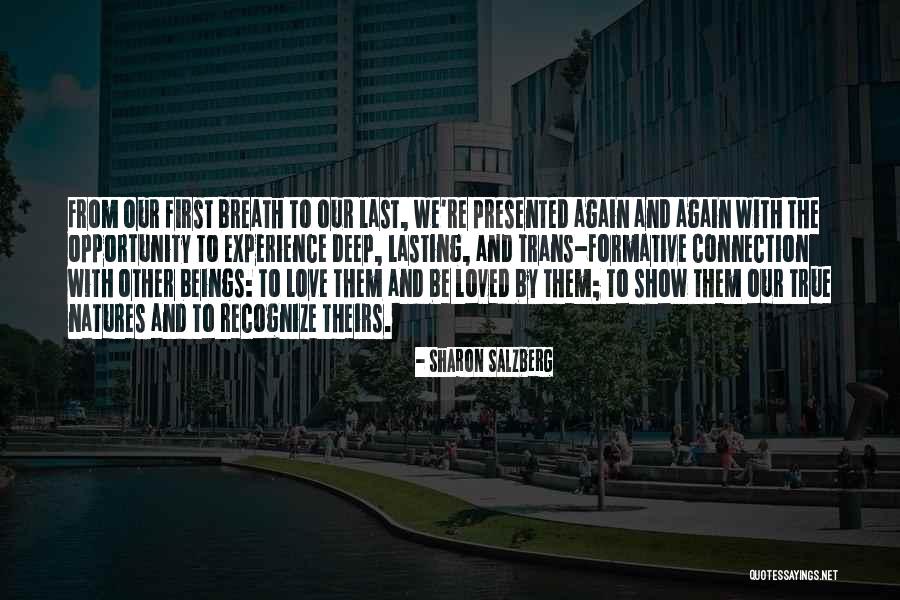 From our first breath to our last, we're presented again and again with the opportunity to experience deep, lasting, and trans-formative connection with other beings: to love them and be loved by them; to show them our true natures and to recognize theirs. — Sharon Salzberg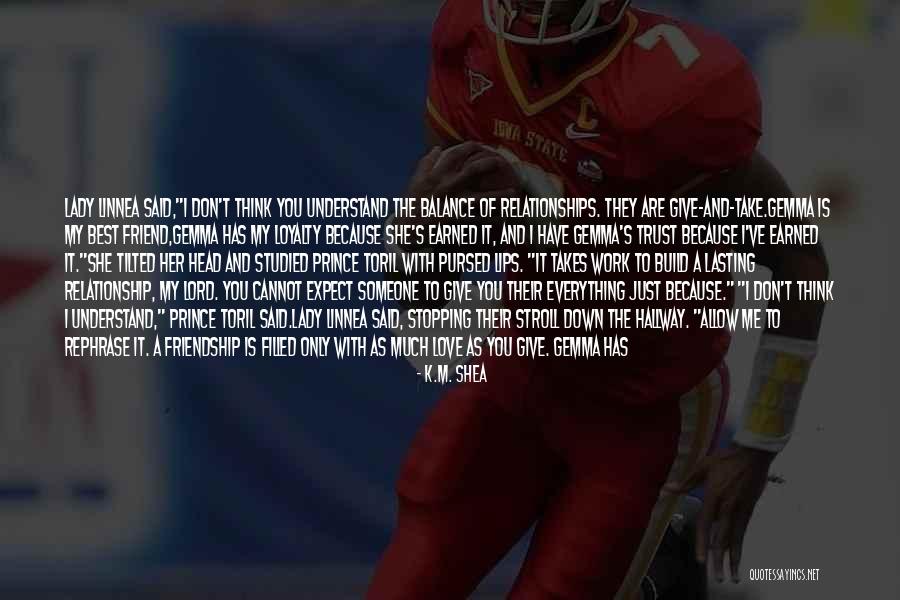 Lady Linnea said,

"I don't think you understand the balance of relationships. They are give-and-take.Gemma is my best friend,Gemma has my loyalty because she's earned it, and I have Gemma's trust because I've earned it."

She tilted her head and studied Prince Toril with pursed lips.

"It takes work to build a lasting relationship, My Lord. You cannot expect someone to give you their everything just because."

"I don't think I understand," Prince Toril said.

Lady Linnea said, stopping their stroll down the hallway.

"Allow me to rephrase it. A friendship is filled only with as much love as YOU give. Gemma has my heart because I chose to give it to her. And my choice paid off, because there is no one in this horrible, tattered world that I trust more than Gemma Kielland. And so we are two best friends, walking together to achieve what neither of us could do alone. Do you understand it now? — K.M. Shea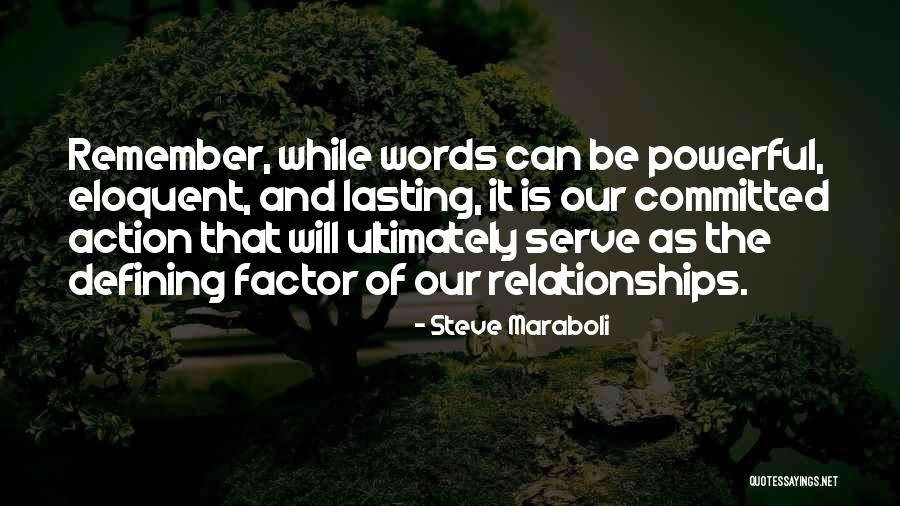 Remember, while words can be powerful, eloquent, and lasting, it is our committed action that will ultimately serve as the defining factor of our relationships. — Steve Maraboli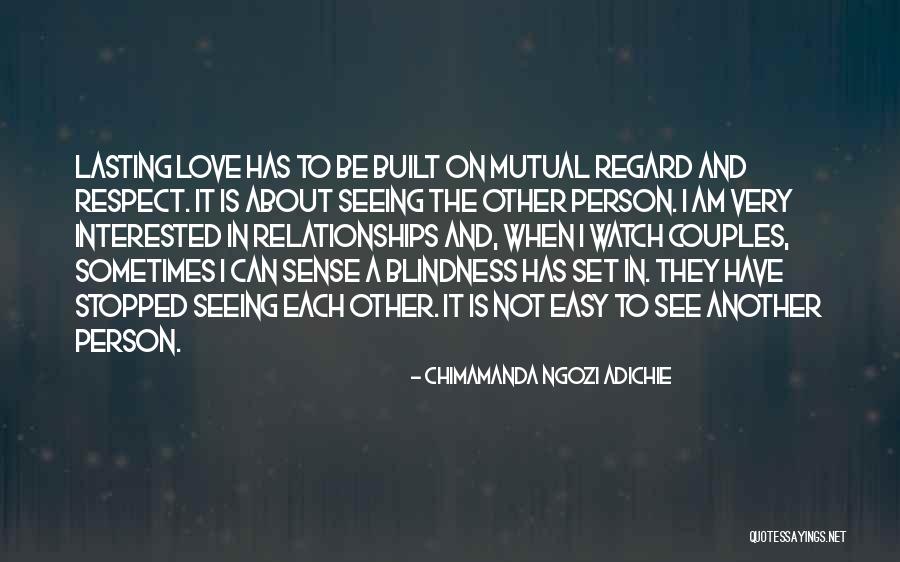 Lasting love has to be built on mutual regard and respect. It is about seeing the other person. I am very interested in relationships and, when I watch couples, sometimes I can sense a blindness has set in. They have stopped seeing each other. It is not easy to see another person. — Chimamanda Ngozi Adichie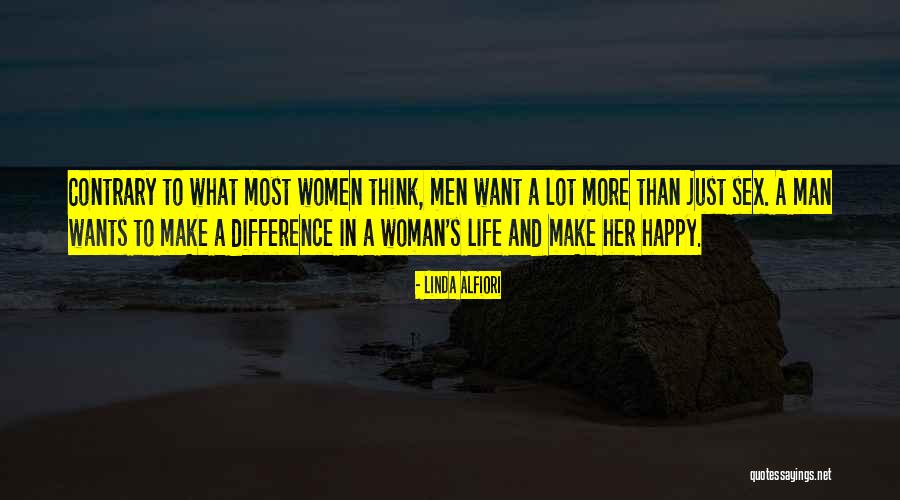 Contrary to what most women think, men want a lot more than just sex. A man wants to make a difference in a woman's life and make her happy. — Linda Alfiori
Human beings are hard-wired to make relationships. We do so in many capacities, fleeting and long-lasting, between different sexes, both inside and outside of the confines of the almost universally accepted partnership we called marriage. — Louisa Leontiades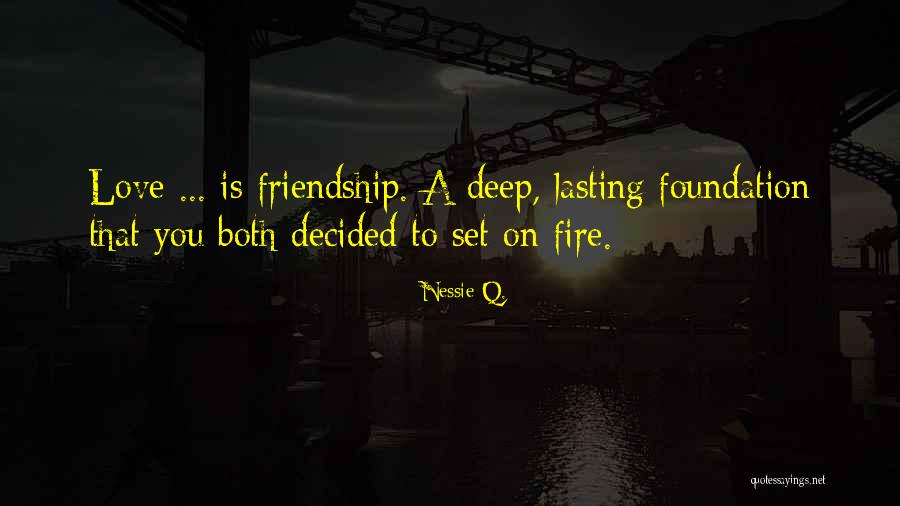 Love ... is friendship. A deep, lasting foundation that you both decided to set on fire. — Nessie Q.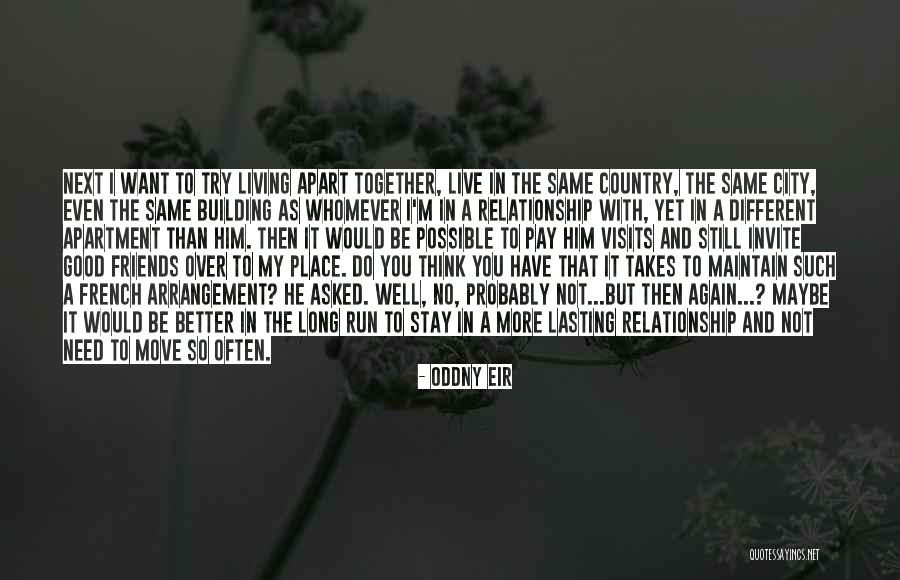 Next I want to try living apart together, live in the same country, the same city, even the same building as whomever I'm in a relationship with, yet in a different apartment than him. Then it would be possible to pay him visits and still invite good friends over to my place. Do you think you have that it takes to maintain such a French arrangement? he asked. Well, no, probably not...but then again...? Maybe it would be better in the long run to stay in a more lasting relationship and not need to move so often. — Oddny Eir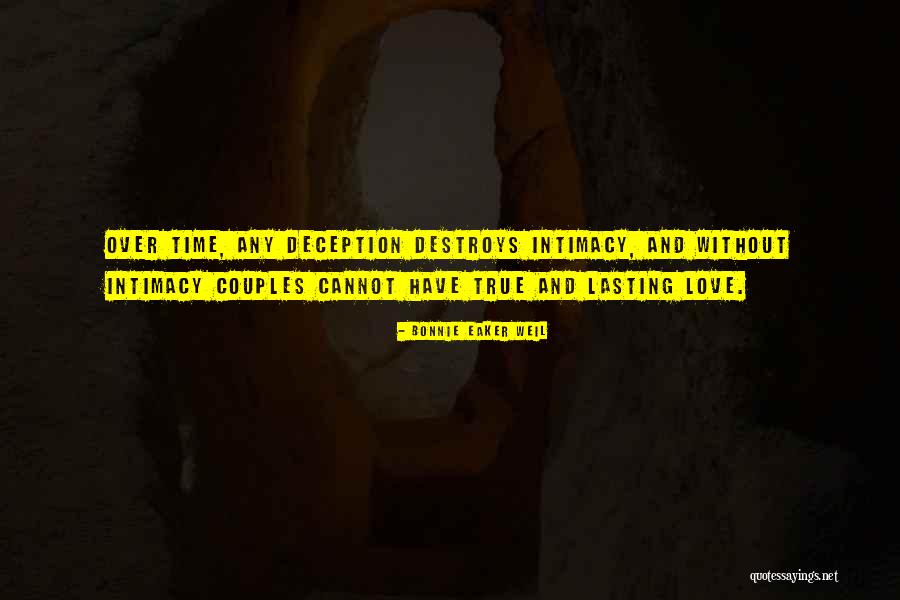 Over time, any deception destroys intimacy, and without intimacy couples cannot have true and lasting love. — Bonnie Eaker Weil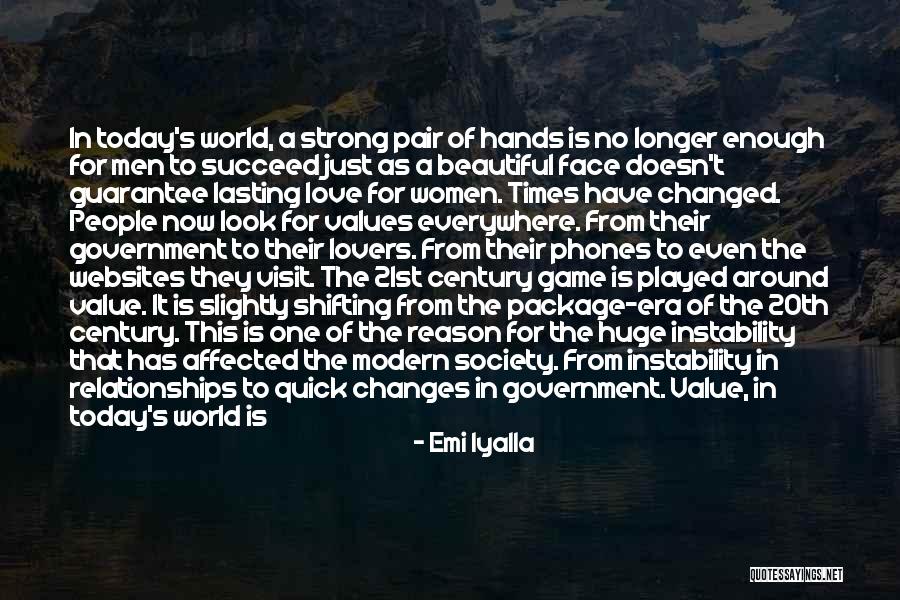 In today's world, a strong pair of hands is no longer enough for men to succeed just as a beautiful face doesn't guarantee lasting love for women. Times have changed. People now look for values everywhere. From their government to their lovers. From their phones to even the websites they visit. The 21st century game is played around value. It is slightly shifting from the package-era of the 20th century. This is one of the reason for the huge instability that has affected the modern society. From instability in relationships to quick changes in government. Value, in today's world is the difference maker between the things that will stay and the ones that won't. — Emi Iyalla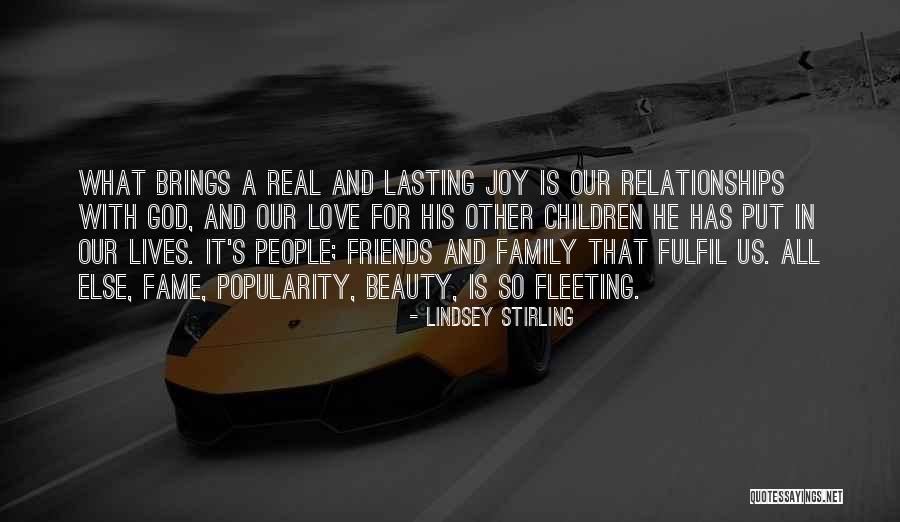 What brings a real and lasting joy is our relationships with God, and our love for His other children He has put in our lives. It's people; friends and family that fulfil us. All else, fame, popularity, beauty, is so fleeting. — Lindsey Stirling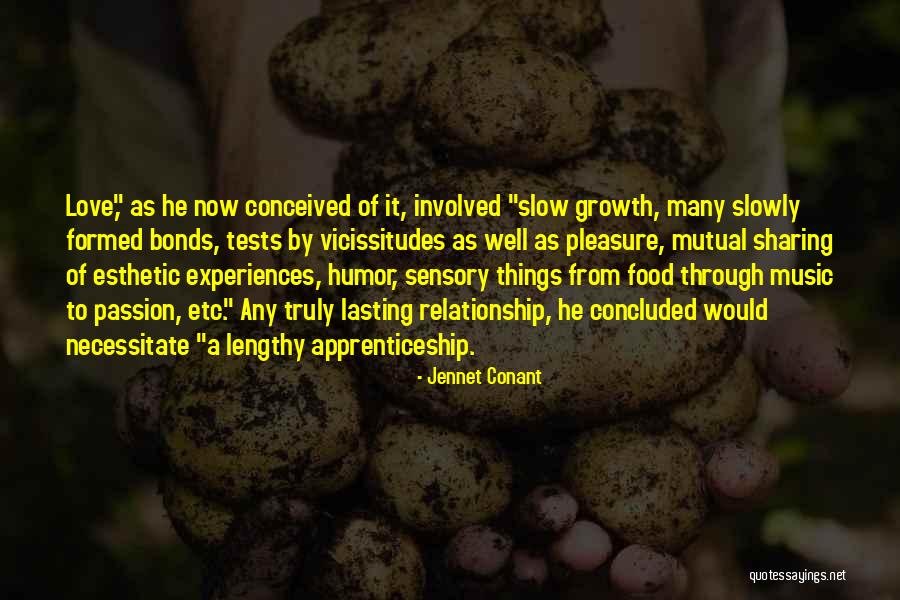 Love," as he now conceived of it, involved "slow growth, many slowly formed bonds, tests by vicissitudes as well as pleasure, mutual sharing of esthetic experiences, humor, sensory things from food through music to passion, etc." Any truly lasting relationship, he concluded would necessitate "a lengthy apprenticeship. — Jennet Conant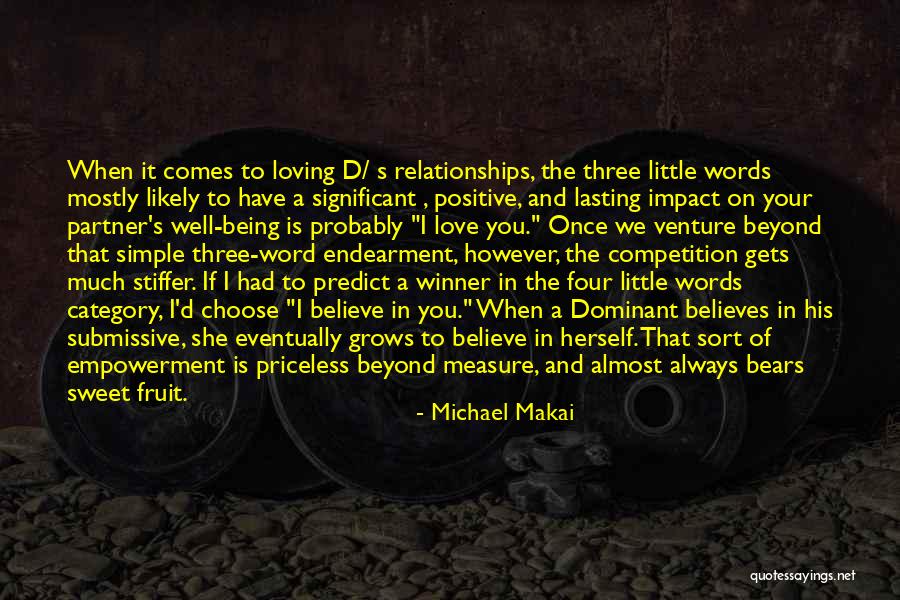 When it comes to loving D/ s relationships, the three little words mostly likely to have a significant , positive, and lasting impact on your partner's well-being is probably "I love you." Once we venture beyond that simple three-word endearment, however, the competition gets much stiffer. If I had to predict a winner in the four little words category, I'd choose "I believe in you." When a Dominant believes in his submissive, she eventually grows to believe in herself. That sort of empowerment is priceless beyond measure, and almost always bears sweet fruit. — Michael Makai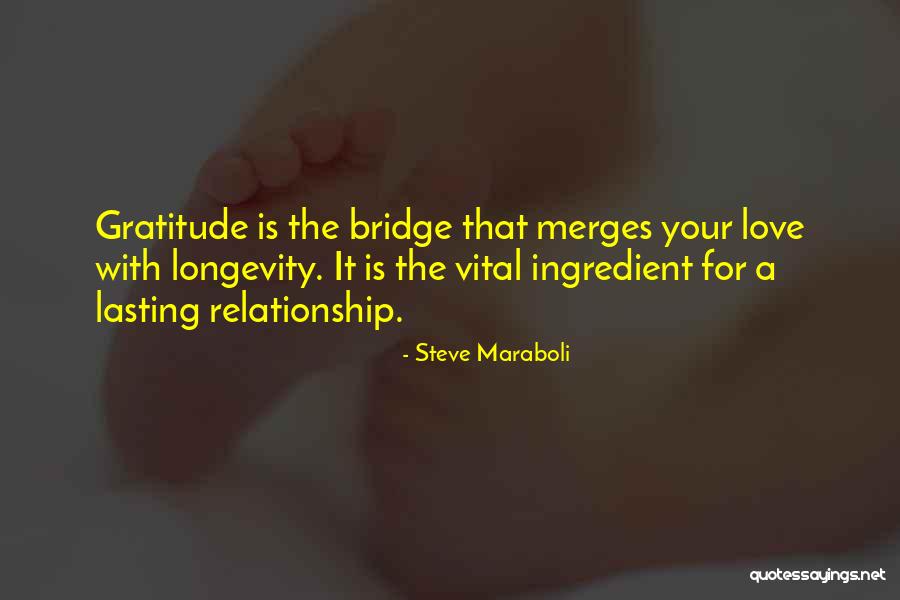 Gratitude is the bridge that merges your love with longevity. It is the vital ingredient for a lasting relationship. — Steve Maraboli