Jury Verdict Quotes & Sayings
Enjoy reading and share 25 famous quotes about Jury Verdict with everyone.
Top Jury Verdict Quotes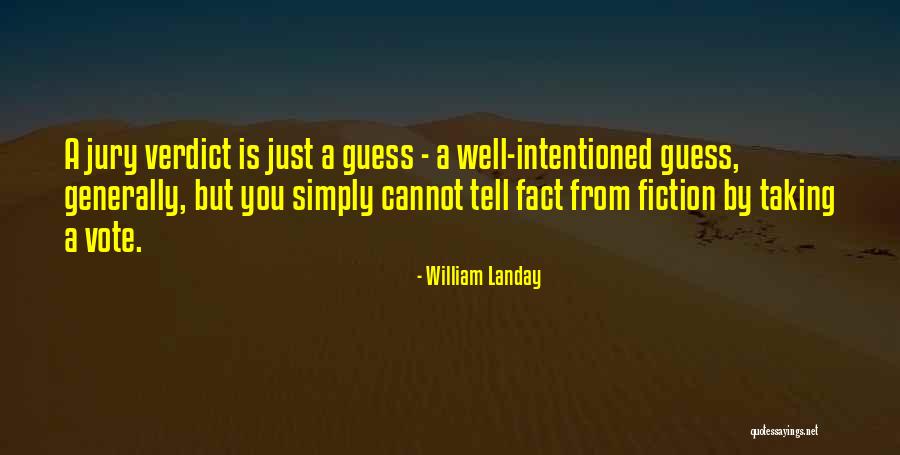 A jury verdict is just a guess - a well-intentioned guess, generally, but you simply cannot tell fact from fiction by taking a vote. — William Landay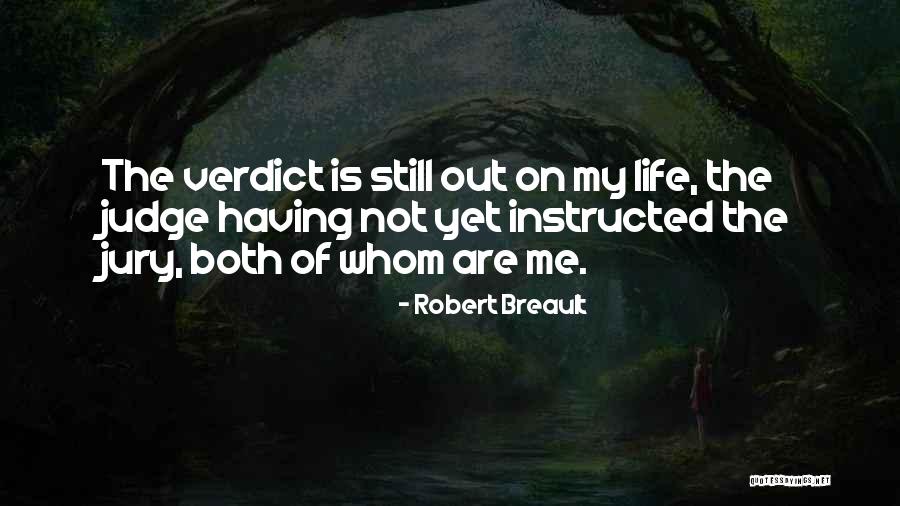 The verdict is still out on my life, the judge having not yet instructed the jury, both of whom are me. — Robert Breault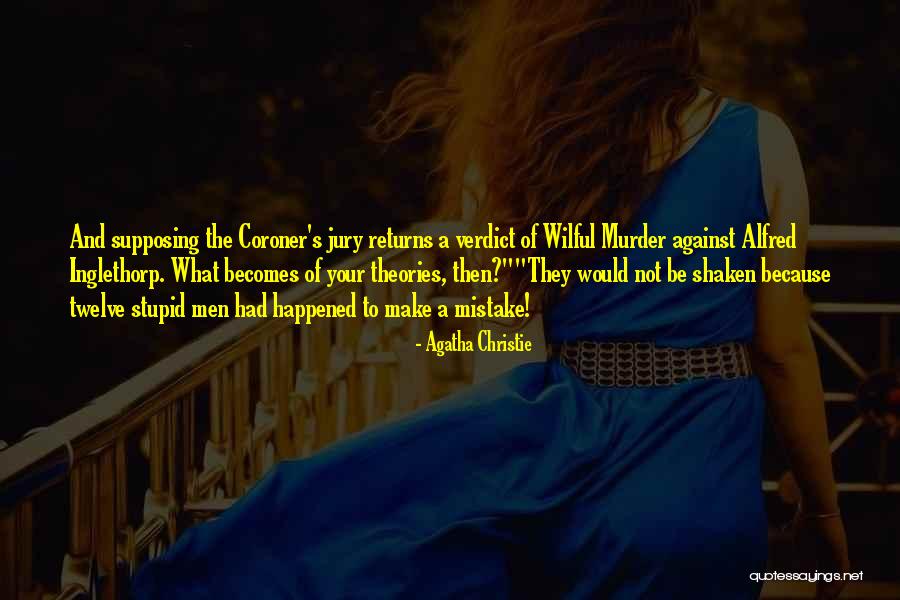 And supposing the Coroner's jury returns a verdict of Wilful Murder against Alfred Inglethorp. What becomes of your theories, then?"
"They would not be shaken because twelve stupid men had happened to make a mistake! — Agatha Christie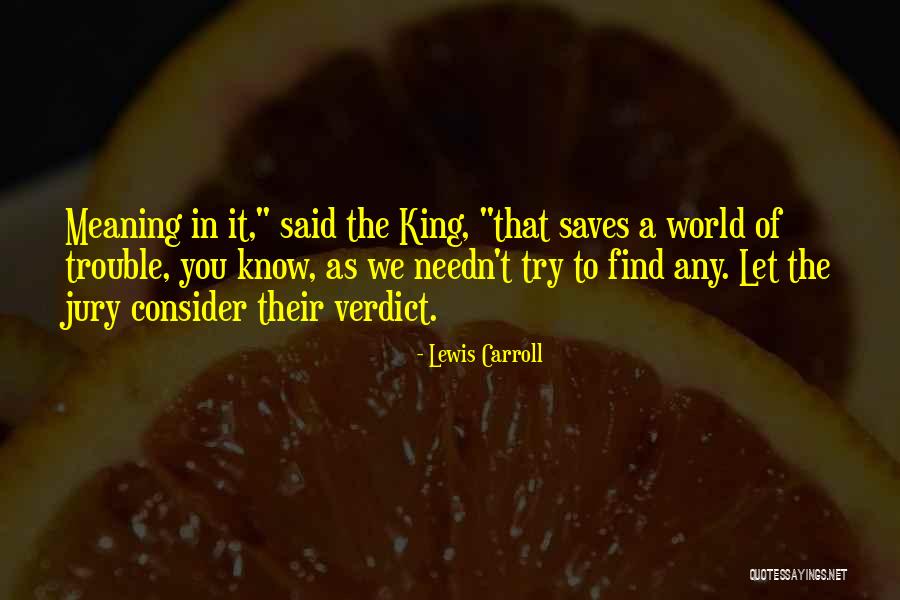 Meaning in it," said the King, "that saves a world of trouble, you know, as we needn't try to find any. Let the jury consider their verdict. — Lewis Carroll
You had to have a unanimous jury verdict, and one percent of contributory negligence barred all recovery. It was so satisfying to realize I could do it. And I'll tell you what motivated me: competitiveness. I was betting on me. That's what a contingent-fee lawyer does. — Joe Jamail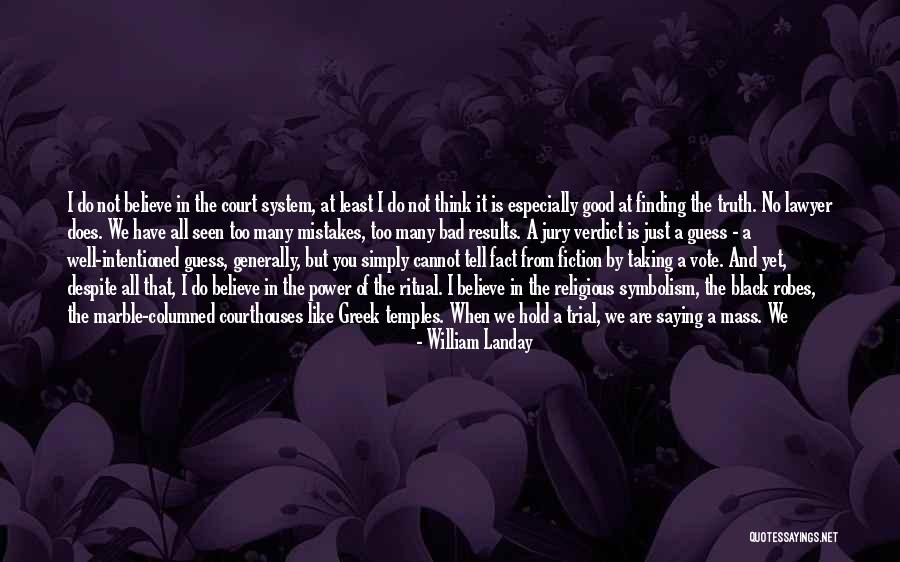 I do not believe in the court system, at least I do not think it is especially good at finding the truth. No lawyer does. We have all seen too many mistakes, too many bad results. A jury verdict is just a guess - a well-intentioned guess, generally, but you simply cannot tell fact from fiction by taking a vote. And yet, despite all that, I do believe in the power of the ritual. I believe in the religious symbolism, the black robes, the marble-columned courthouses like Greek temples. When we hold a trial, we are saying a mass. We are praying together to do what is right and to be protected from danger, and that is worth doing whether or not our prayers are actually heard. — William Landay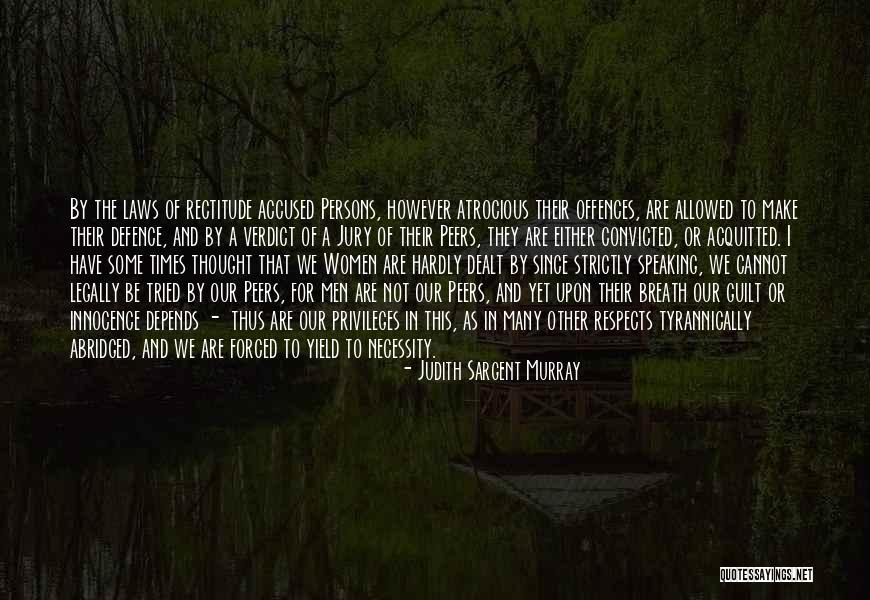 By the laws of rectitude accused Persons, however atrocious their offences, are allowed to make their defence, and by a verdict of a Jury of their Peers, they are either convicted, or acquitted. I have some times thought that we Women are hardly dealt by since strictly speaking, we cannot legally be tried by our Peers, for men are not our Peers, and yet upon their breath our guilt or innocence depends - thus are our privileges in this, as in many other respects tyrannically abridged, and we are forced to yield to necessity. — Judith Sargent Murray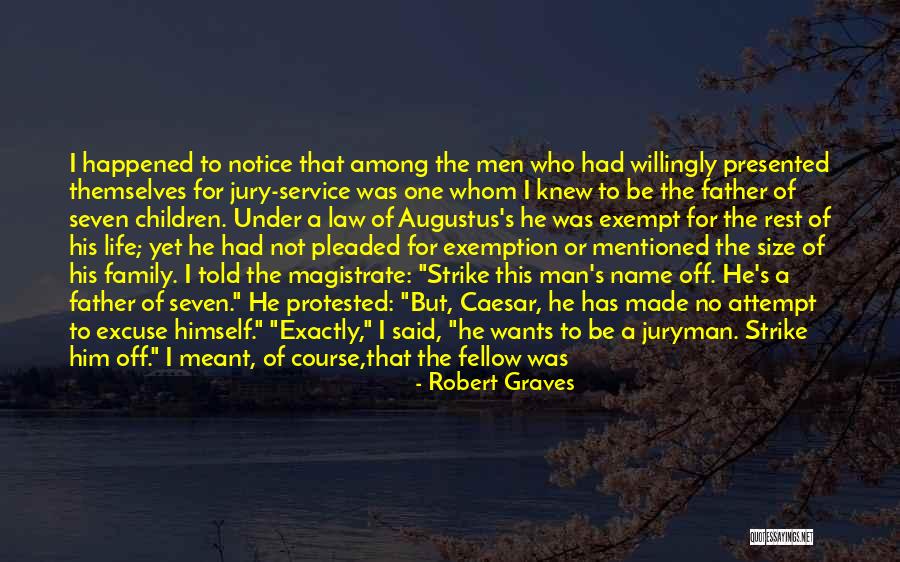 I happened to notice that among the men who had willingly presented themselves for jury-service was one whom I knew to be the father of seven children. Under a law of Augustus's he was exempt for the rest of his life; yet he had not pleaded for exemption or mentioned the size of his family. I told the magistrate: "Strike this man's name off. He's a father of seven." He protested: "But, Caesar, he has made no attempt to excuse himself." "Exactly," I said, "he wants to be a juryman. Strike him off." I meant, of course,that the fellow was concealing his immunity from what every honest man considered a very thankless and disagreeable duty and that he therefore was almost certain to have crooked intentions. Crooked jurymen could pick up a lot of money by bribes, for it was a commonplace that one interested juryman could sway the opinions of a whole bunch of uninterested ones; and the majority verdict decided a case. — Robert Graves
Yes, the jury was now out. Verdict: Mom liked Max for certain. — Kristen Ashley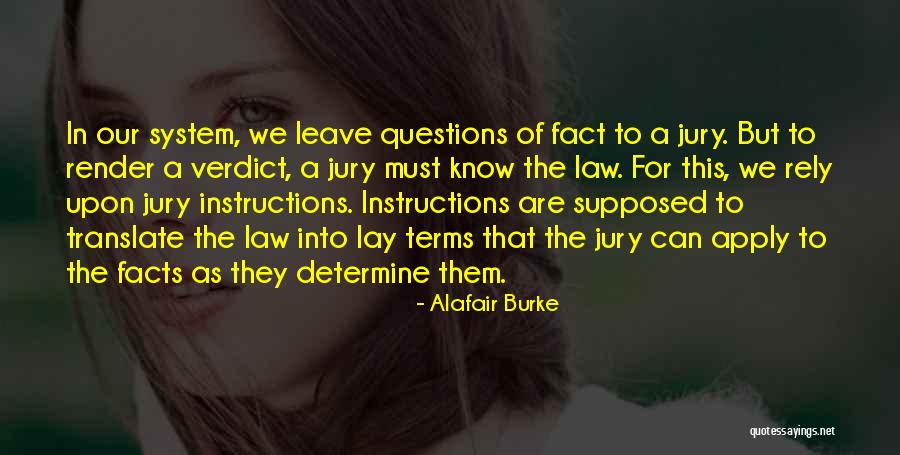 In our system, we leave questions of fact to a jury. But to render a verdict, a jury must know the law. For this, we rely upon jury instructions. Instructions are supposed to translate the law into lay terms that the jury can apply to the facts as they determine them. — Alafair Burke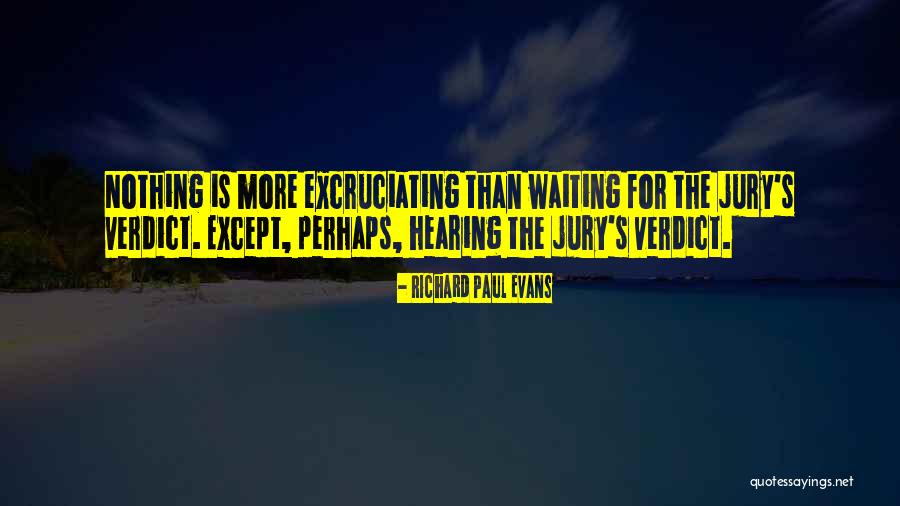 Nothing is more excruciating than waiting for the jury's verdict. Except, perhaps, hearing the jury's verdict. — Richard Paul Evans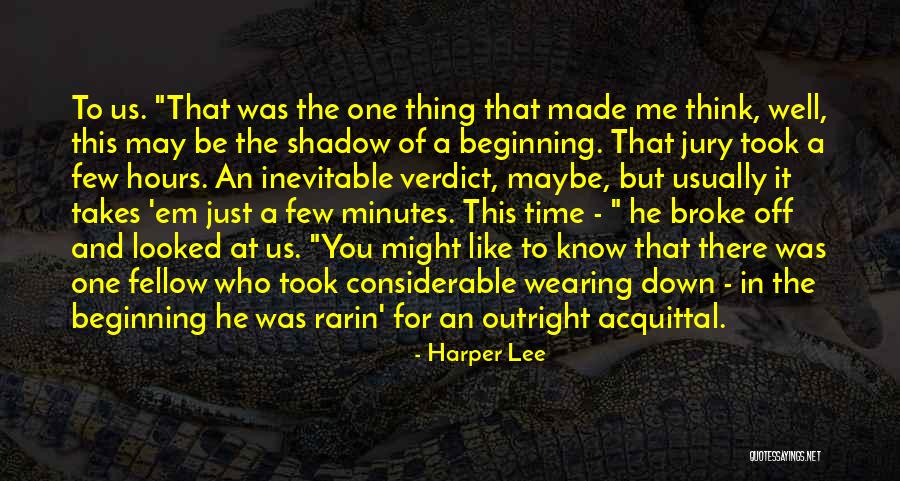 To us. "That was the one thing that made me think, well, this may be the shadow of a beginning. That jury took a few hours. An inevitable verdict, maybe, but usually it takes 'em just a few minutes. This time - " he broke off and looked at us. "You might like to know that there was one fellow who took considerable wearing down - in the beginning he was rarin' for an outright acquittal. — Harper Lee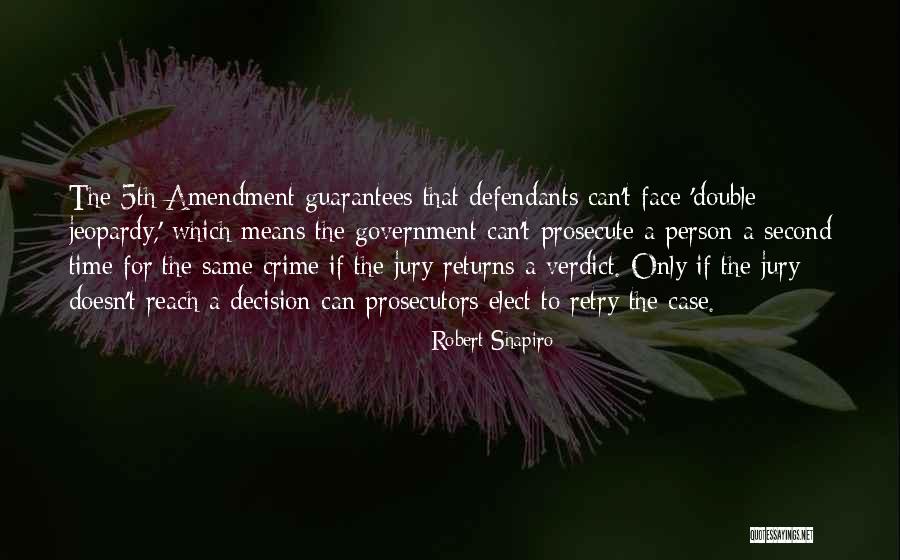 The 5th Amendment guarantees that defendants can't face 'double jeopardy,' which means the government can't prosecute a person a second time for the same crime if the jury returns a verdict. Only if the jury doesn't reach a decision can prosecutors elect to retry the case. — Robert Shapiro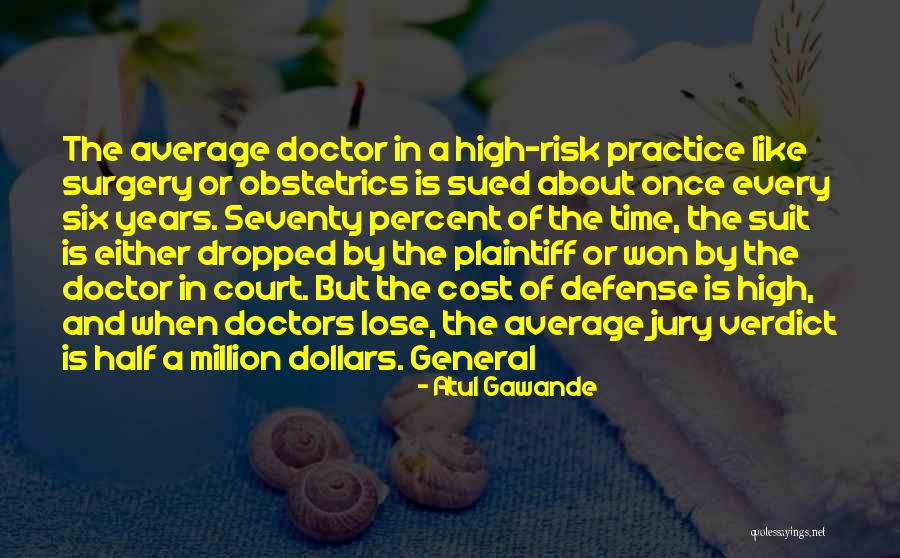 The average doctor in a high-risk practice like surgery or obstetrics is sued about once every six years. Seventy percent of the time, the suit is either dropped by the plaintiff or won by the doctor in court. But the cost of defense is high, and when doctors lose, the average jury verdict is half a million dollars. General — Atul Gawande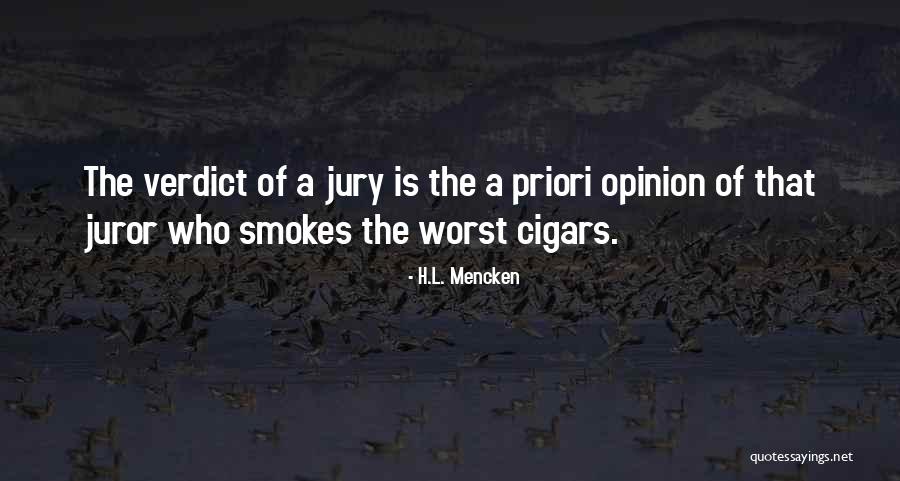 The verdict of a jury is the a priori opinion of that juror who smokes the worst cigars. — H.L. Mencken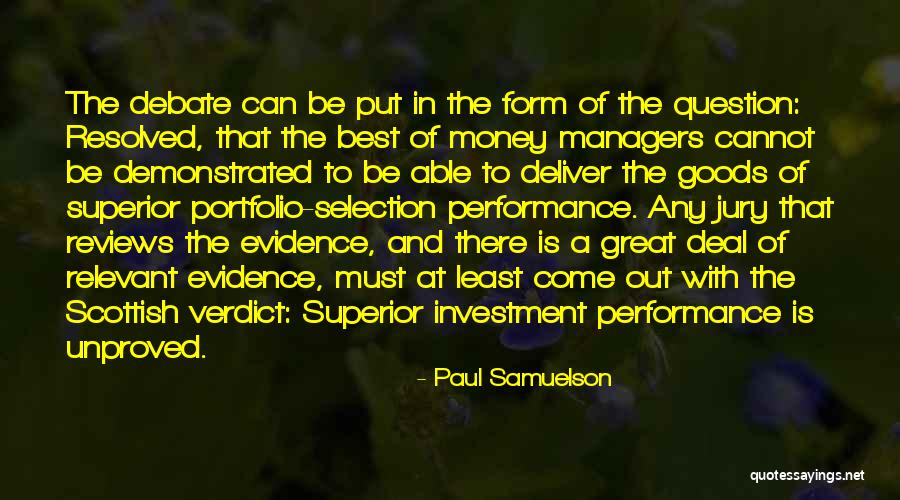 The debate can be put in the form of the question: Resolved, that the best of money managers cannot be demonstrated to be able to deliver the goods of superior portfolio-selection performance. Any jury that reviews the evidence, and there is a great deal of relevant evidence, must at least come out with the Scottish verdict: Superior investment performance is unproved. — Paul Samuelson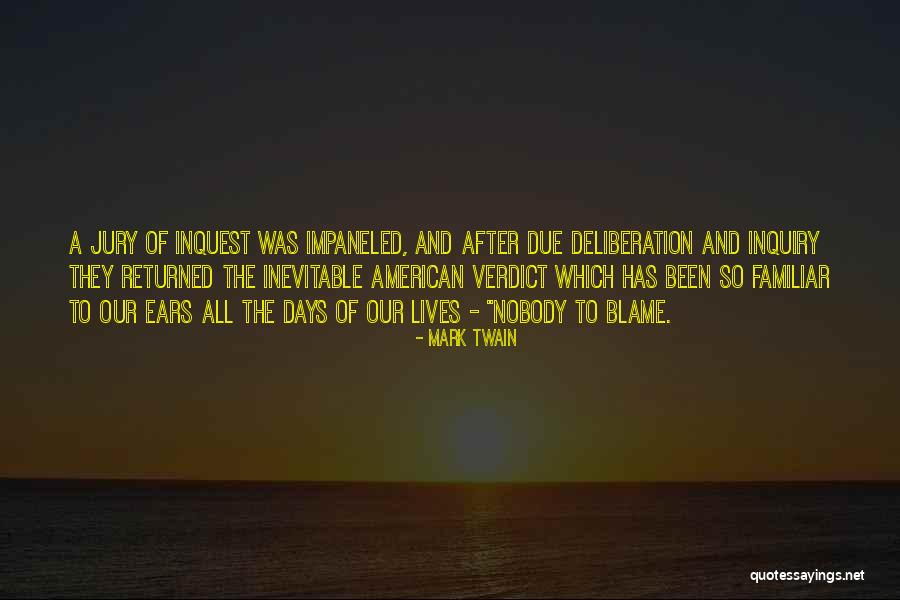 A jury of inquest was impaneled, and after due deliberation and inquiry they returned the inevitable American verdict which has been so familiar to our ears all the days of our lives - "NOBODY TO BLAME. — Mark Twain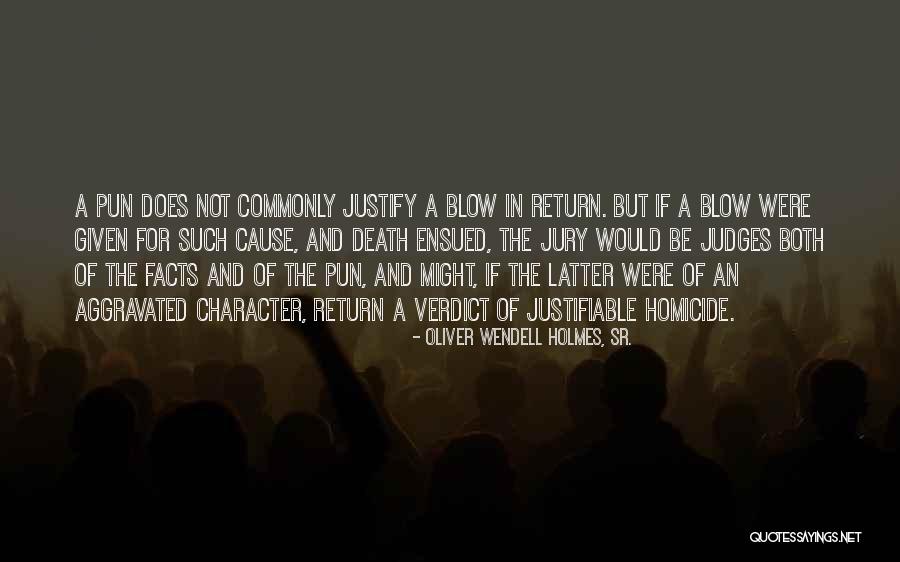 A pun does not commonly justify a blow in return. But if a blow were given for such cause, and death ensued, the jury would be judges both of the facts and of the pun, and might, if the latter were of an aggravated character, return a verdict of justifiable homicide. — Oliver Wendell Holmes, Sr.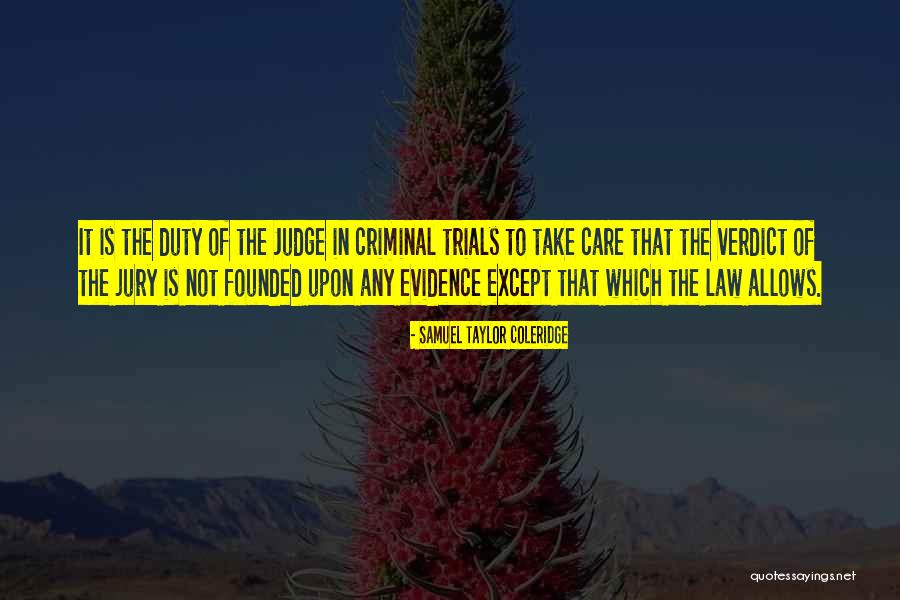 It is the duty of the Judge in criminal trials to take care that the verdict of the jury is not founded upon any evidence except that which the law allows. — Samuel Taylor Coleridge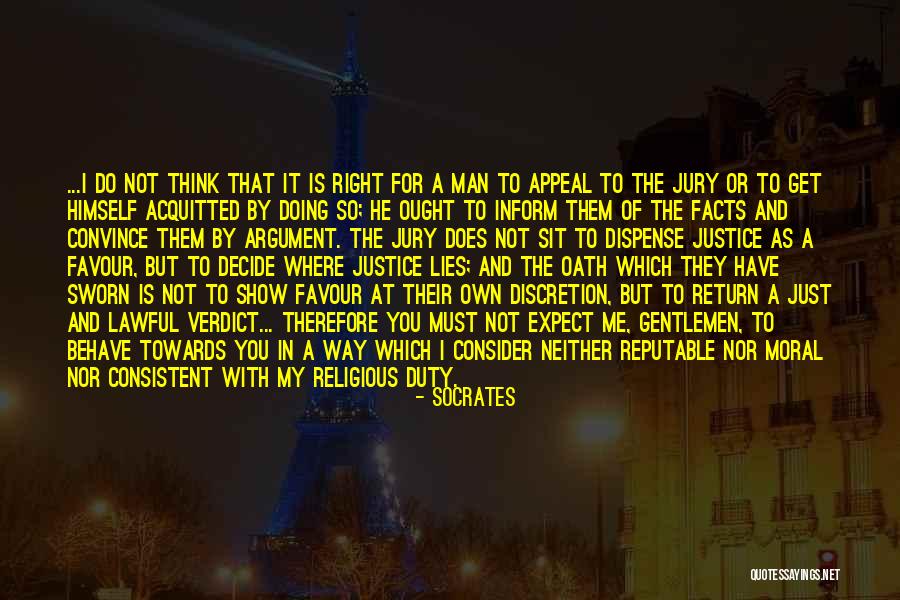 ...I do not think that it is right for a man to appeal to the jury or to get himself acquitted by doing so; he ought to inform them of the facts and convince them by argument. The jury does not sit to dispense justice as a favour, but to decide where justice lies; and the oath which they have sworn is not to show favour at their own discretion, but to return a just and lawful verdict... Therefore you must not expect me, gentlemen, to behave towards you in a way which I consider neither reputable nor moral nor consistent with my religious duty. — Socrates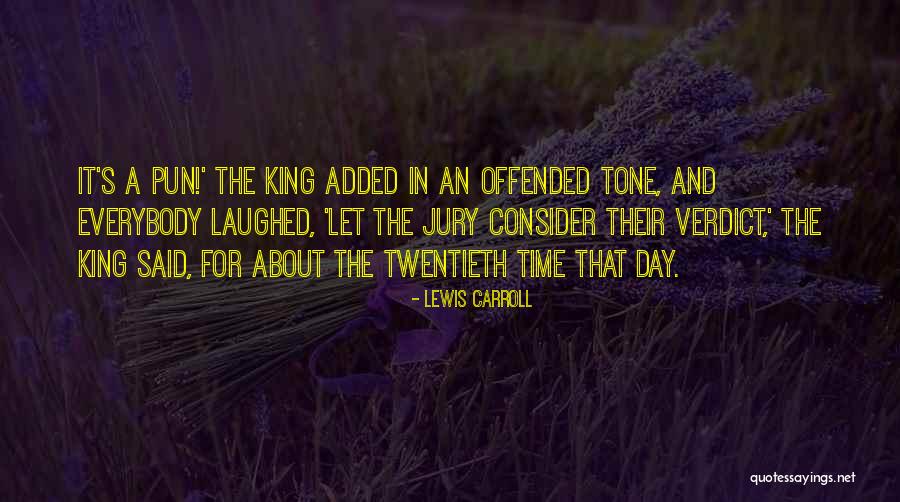 It's a pun!' the King added in an offended tone, and everybody laughed, 'Let the jury consider their verdict,' the King said, for about the twentieth time that day. — Lewis Carroll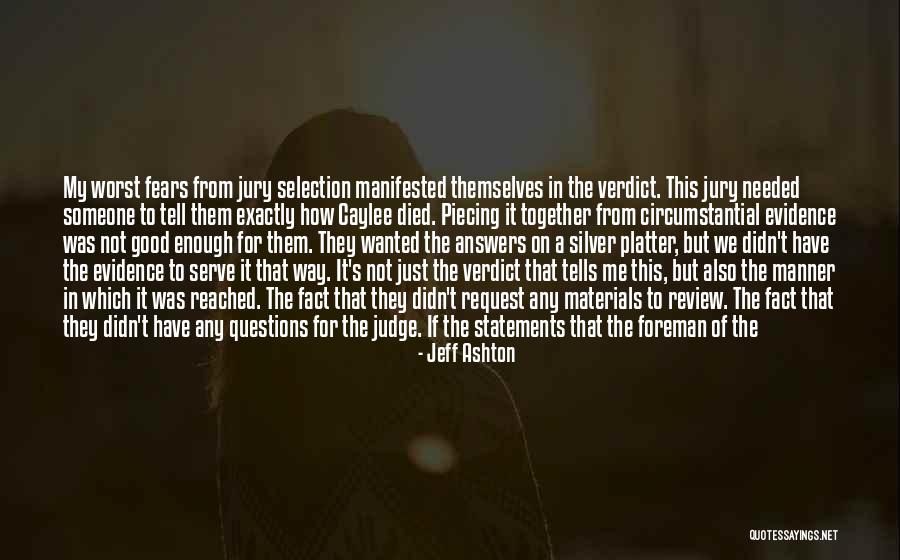 My worst fears from jury selection manifested themselves in the verdict. This jury needed someone to tell them exactly how Caylee died. Piecing it together from circumstantial evidence was not good enough for them. They wanted the answers on a silver platter, but we didn't have the evidence to serve it that way. It's not just the verdict that tells me this, but also the manner in which it was reached. The fact that they didn't request any materials to review. The fact that they didn't have any questions for the judge. If the statements that the foreman of the jury made to the media are true, ten of these twelve jurors felt that ninety minutes of deliberation was sufficient to fully weigh, consider, and reject four weeks' worth of testimony that we on the prosecution used to establish that this was first-degree murder. The rest of the thirteen hours of deliberation had been spent trying to convince the two holdout jurors of the decision. — Jeff Ashton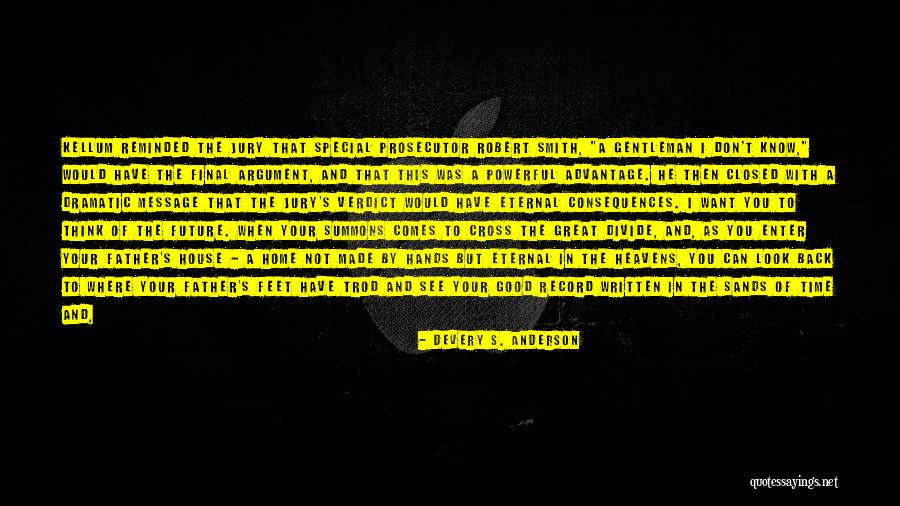 Kellum reminded the jury that special prosecutor Robert Smith, "a gentleman I don't know," would have the final argument, and that this was a powerful advantage. He then closed with a dramatic message that the jury's verdict would have eternal consequences. I want you to think of the future. When your summons comes to cross the Great Divide, and, as you enter your father's house - a home not made by hands but eternal in the heavens, you can look back to where your father's feet have trod and see your good record written in the sands of time and, when you go down to your lonely silent tomb to a sleep that knows no dreams, I want you to hold in the palm of your hand a record of service to God and your fellow man. And the only way you can do that is to turn these boys loose.123 — Devery S. Anderson
Earlier today, the jury at the Martha Stewart trial reached a verdict. Martha was found guilty on all charges. In a related story, there's a huge sale at K-Mart. — Conan O'Brien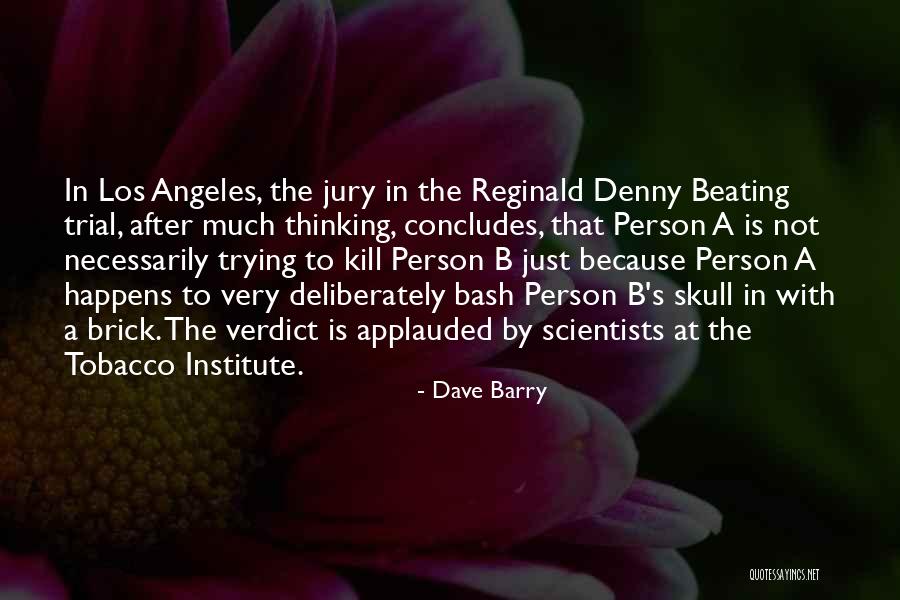 In Los Angeles, the jury in the Reginald Denny Beating trial, after much thinking, concludes, that Person A is not necessarily trying to kill Person B just because Person A happens to very deliberately bash Person B's skull in with a brick. The verdict is applauded by scientists at the Tobacco Institute. — Dave Barry