Quotes & Sayings About Jazz And Blues
Enjoy reading and share 100 famous quotes about Jazz And Blues with everyone.
Top Jazz And Blues Quotes
I have to admit that more and more lately, the whole idea of jazz as an idiom is one that I've completely rejected. I just don't see it as an idiomatic thing any more ... To me, if jazz is anything, it's a process, and maybe a verb, but it's not a thing. It's a form that demands that you bring to it things athat are valuable to you, that are personal to you. That, for me, is a pretty serious distinction that doesn't have anything to do with blues, or swing, or any of these other things that tend to be listed as essentials in order for music to be jazz with a capital J. — Pat Metheny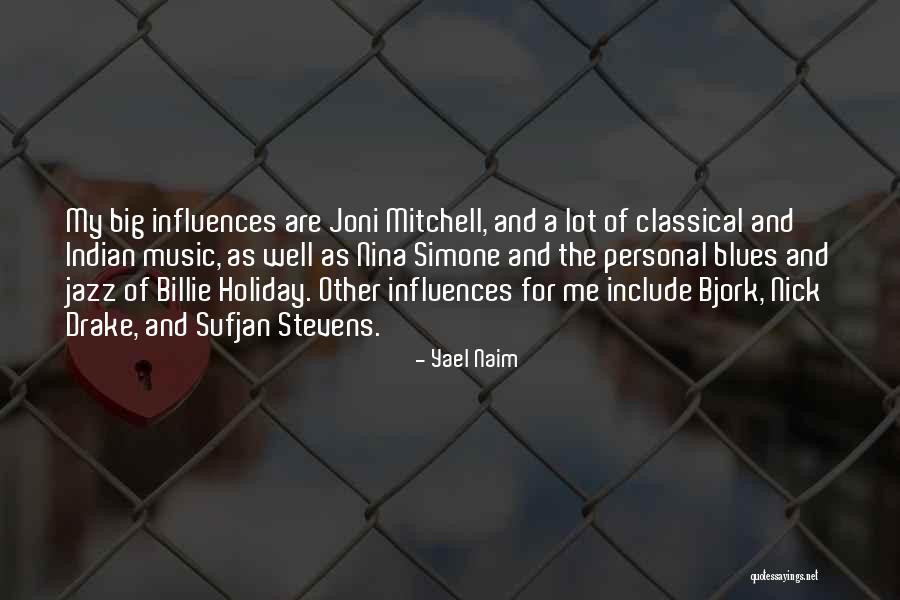 My big influences are Joni Mitchell, and a lot of classical and Indian music, as well as Nina Simone and the personal blues and jazz of Billie Holiday. Other influences for me include Bjork, Nick Drake, and Sufjan Stevens. — Yael Naim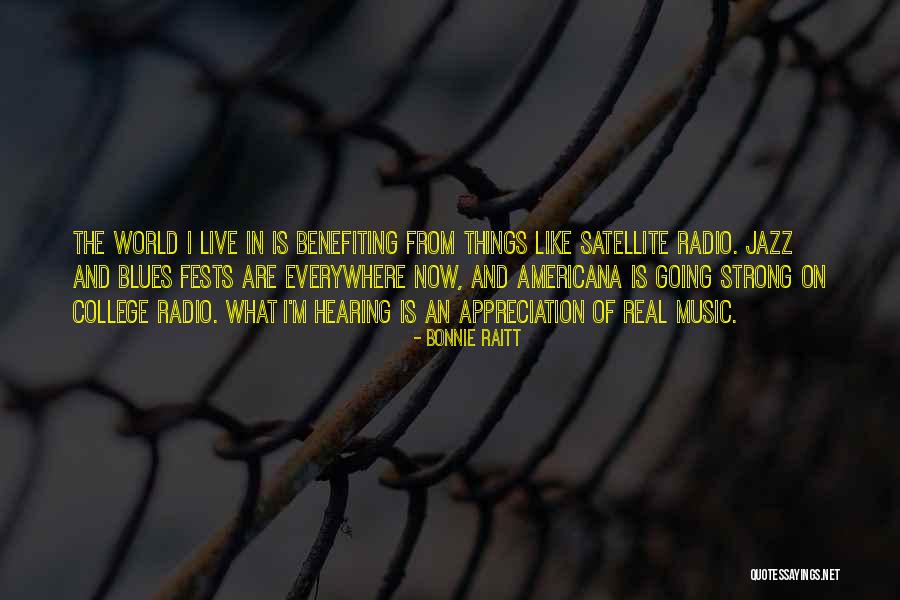 The world I live in is benefiting from things like satellite radio. Jazz and blues fests are everywhere now, and Americana is going strong on college radio. What I'm hearing is an appreciation of real music. — Bonnie Raitt
Bruce Katz is a spectacular talent! He's a brilliant composer and arranger who uses uncommon and unique musical intelligence to redefine jazz and blues far beyond the pale of the accepted definitions of keyboard competence. Whether on piano or organ, when you hear Bruce Katz you know it's him, unmistakably and uniquely. — Larry Coryell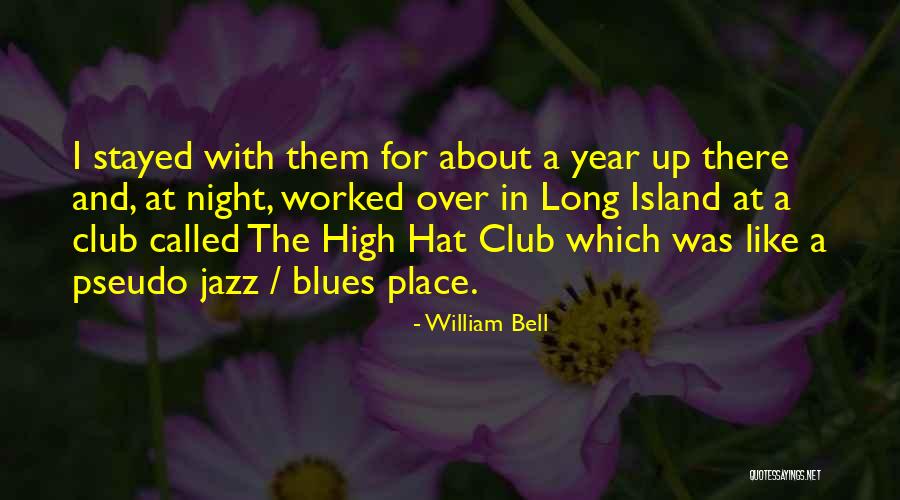 I stayed with them for about a year up there and, at night, worked over in Long Island at a club called The High Hat Club which was like a pseudo jazz / blues place. — William Bell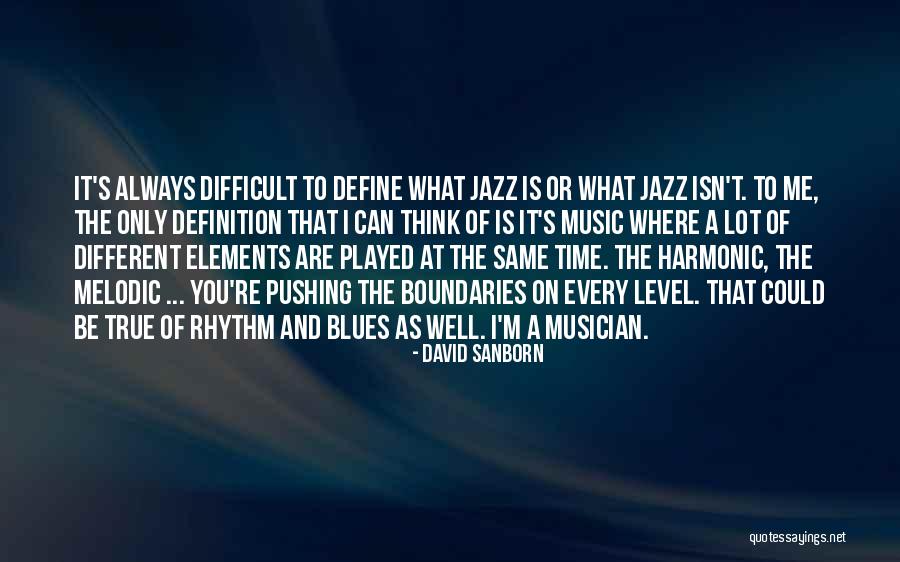 It's always difficult to define what jazz is or what jazz isn't. To me, the only definition that I can think of is it's music where a lot of different elements are played at the same time. The harmonic, the melodic ... You're pushing the boundaries on every level. That could be true of rhythm and blues as well. I'm a musician. — David Sanborn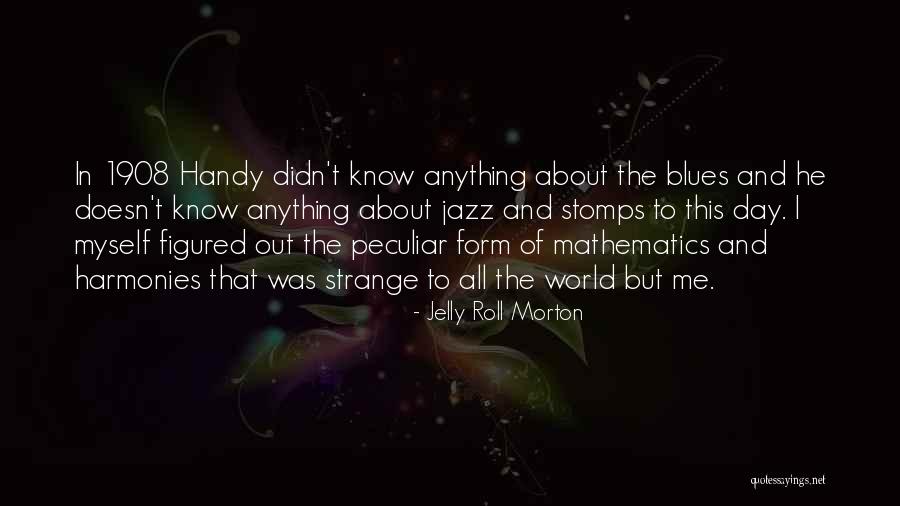 In 1908 Handy didn't know anything about the blues and he doesn't know anything about jazz and stomps to this day. I myself figured out the peculiar form of mathematics and harmonies that was strange to all the world but me. — Jelly Roll Morton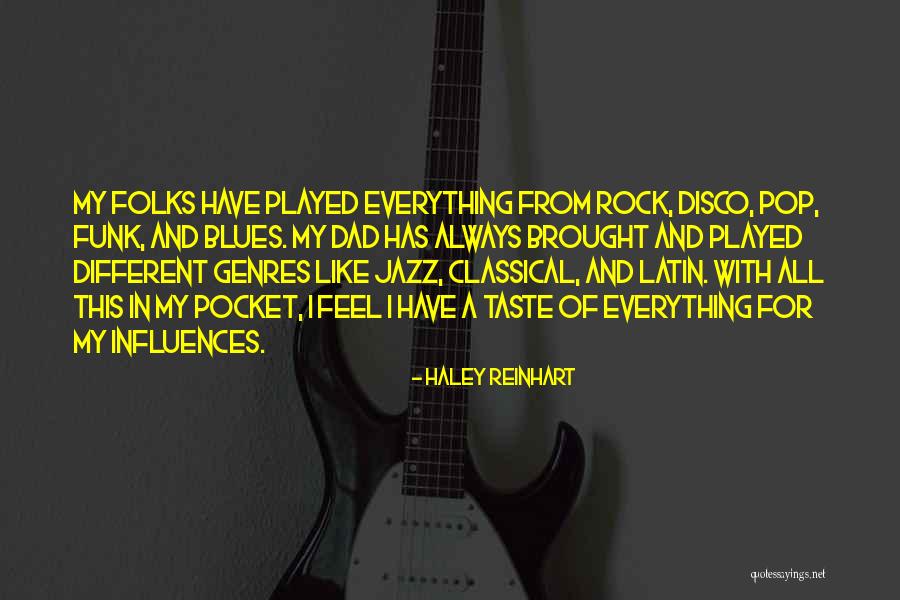 My folks have played everything from rock, disco, pop, funk, and blues. My dad has always brought and played different genres like jazz, classical, and Latin. With all this in my pocket, I feel I have a taste of everything for my influences. — Haley Reinhart
And what happened was, it's the same thing an older, more successful writer of ficition might say to a student: write about what you know. And what I knew - of course I knew jazz, but I also knew country, blues and some rock and roll. And that came out. — Larry Coryell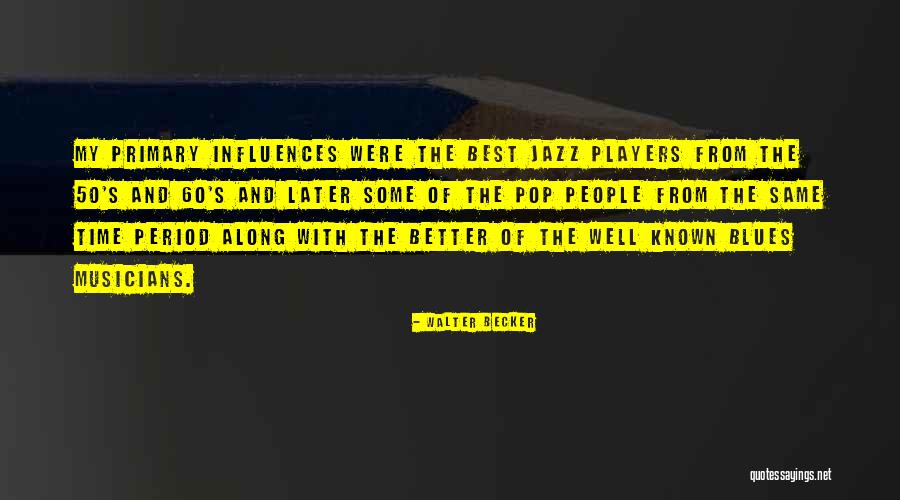 My primary influences were the best jazz players from the 50's and 60's and later some of the pop people from the same time period along with the better of the well known blues musicians. — Walter Becker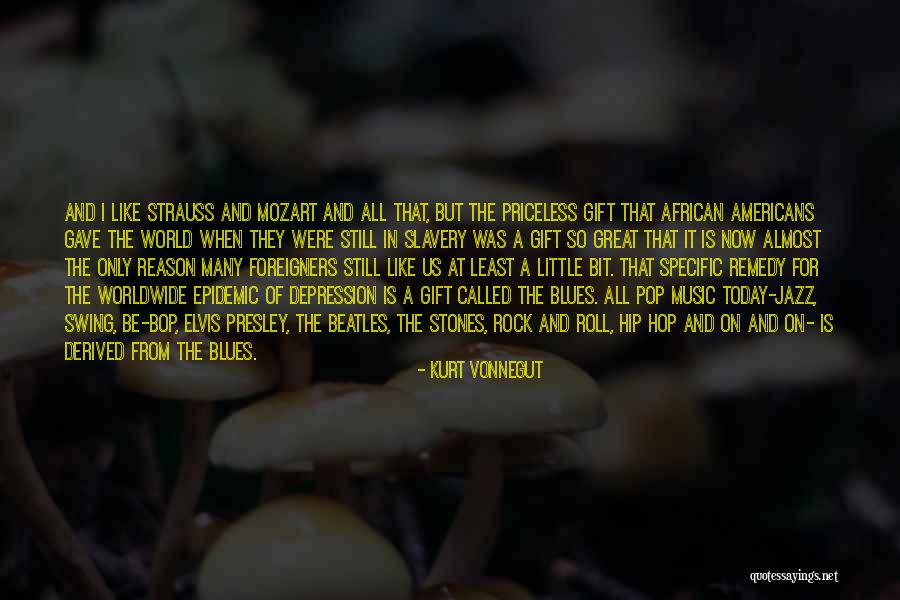 And I like Strauss and Mozart and all that, but the priceless gift that African Americans gave the world when they were still in slavery was a gift so great that it is now almost the only reason many foreigners still like us at least a little bit. That specific remedy for the worldwide epidemic of depression is a gift called the blues. All pop music today-jazz, swing, be-bop, Elvis Presley, the Beatles, the Stones, rock and roll, hip hop and on and on- is derived from the blues. — Kurt Vonnegut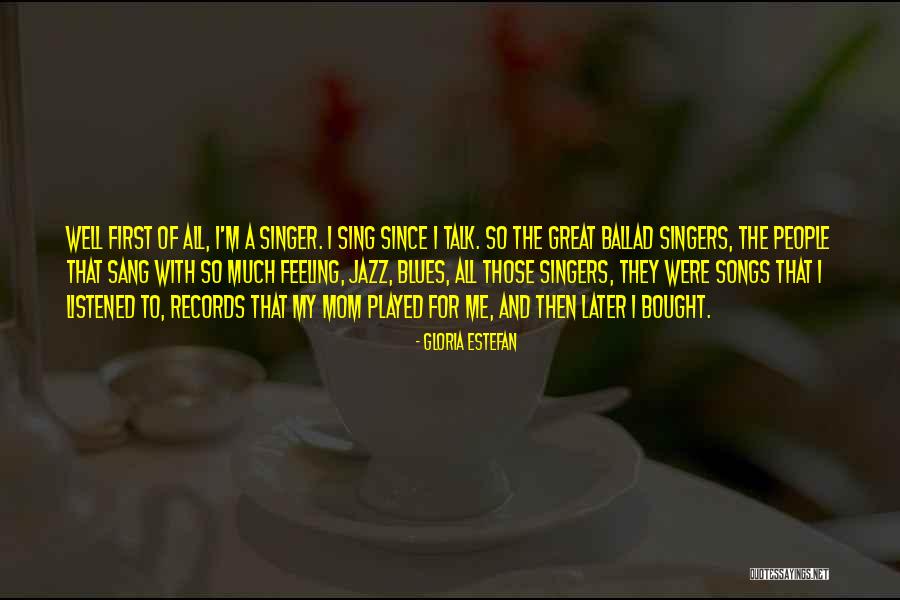 Well first of all, I'm a singer. I sing since I talk. So the great ballad singers, the people that sang with so much feeling, jazz, blues, all those singers, they were songs that I listened to, records that my mom played for me, and then later I bought. — Gloria Estefan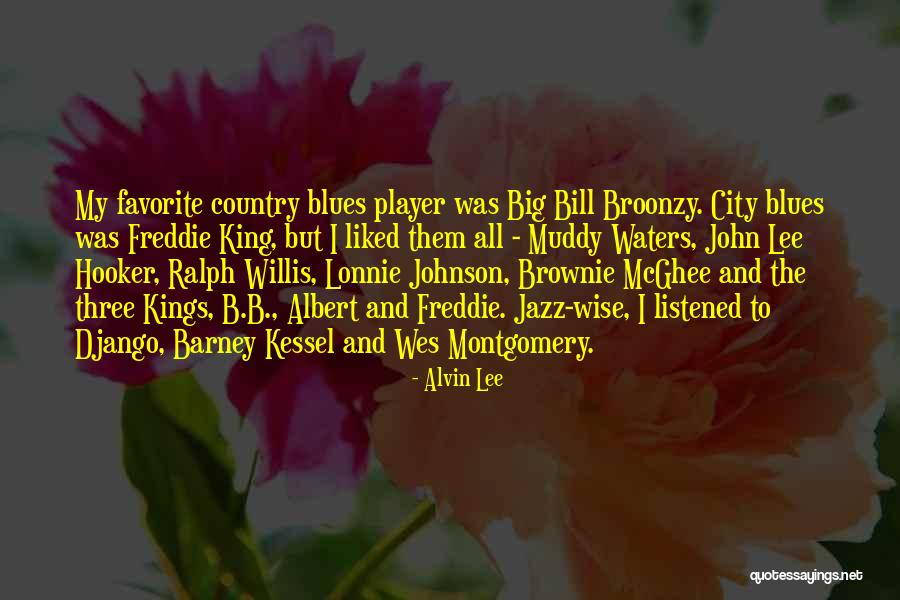 My favorite country blues player was Big Bill Broonzy. City blues was Freddie King, but I liked them all - Muddy Waters, John Lee Hooker, Ralph Willis, Lonnie Johnson, Brownie McGhee and the three Kings, B.B., Albert and Freddie. Jazz-wise, I listened to Django, Barney Kessel and Wes Montgomery. — Alvin Lee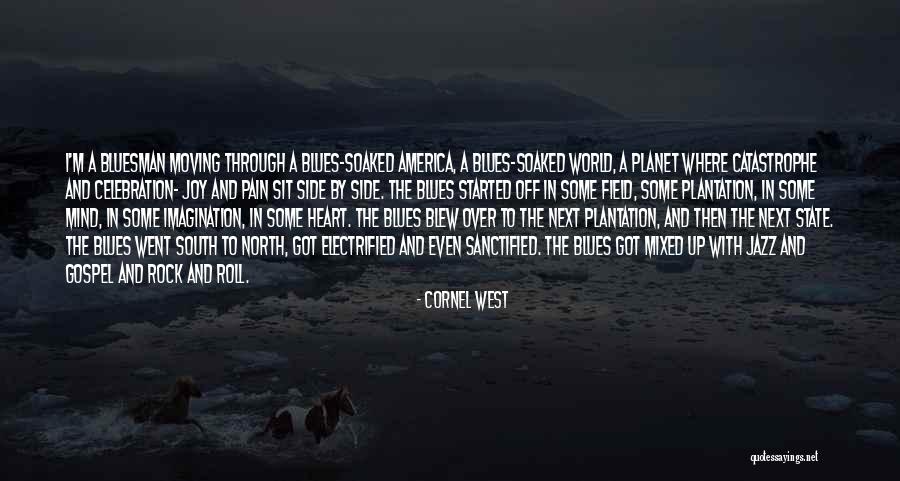 I'm a bluesman moving through a blues-soaked America, a blues-soaked world, a planet where catastrophe and celebration- joy and pain sit side by side. The blues started off in some field, some plantation, in some mind, in some imagination, in some heart. The blues blew over to the next plantation, and then the next state. The blues went south to north, got electrified and even sanctified. The blues got mixed up with jazz and gospel and rock and roll. — Cornel West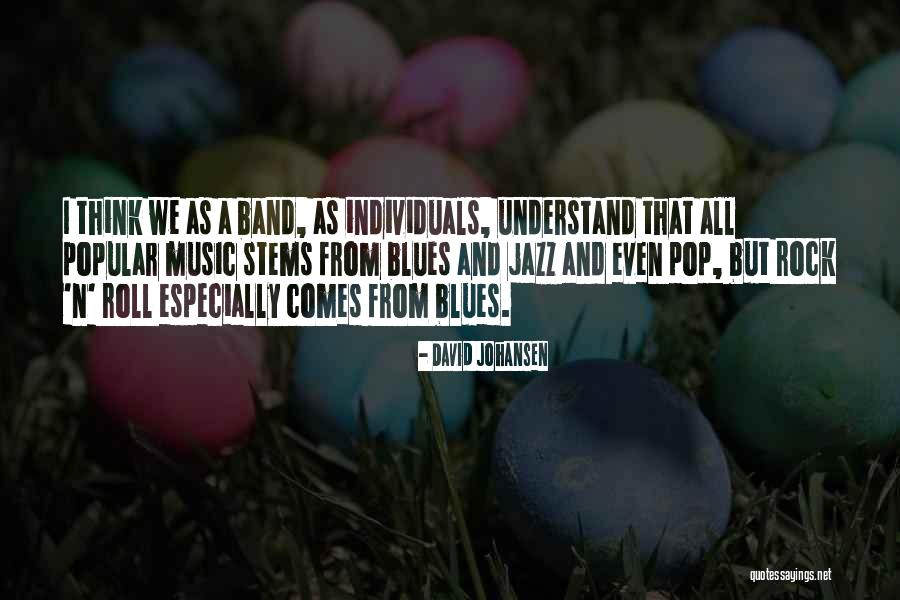 I think we as a band, as individuals, understand that all popular music stems from blues and jazz and even pop, but rock 'n' roll especially comes from blues. — David Johansen
Whenever I'm in Kansas City, I think back to all the jazz-blues greats who played the blues here - like Count Basie, Charlie Parker and Jay McShann. I watched those guys jam in different places and heard a lot of things - but I couldn't do what they did. They were too good. — B.B. King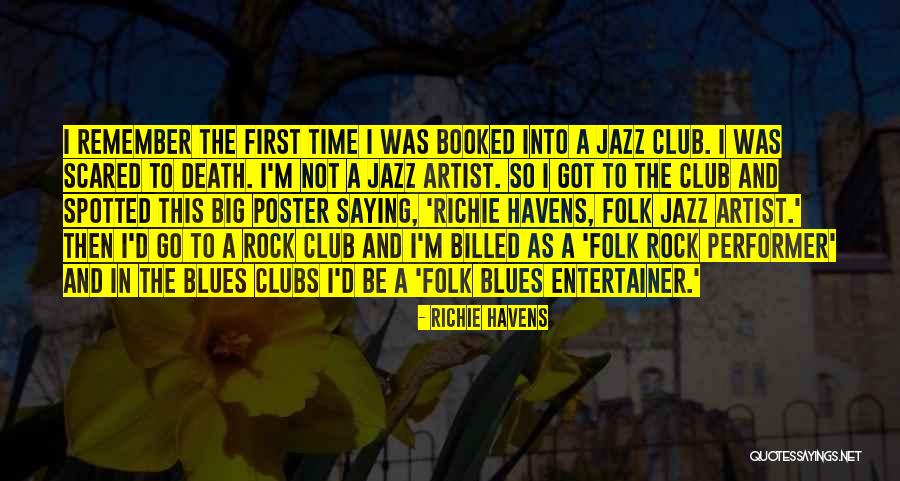 I remember the first time I was booked into a jazz club. I was scared to death. I'm not a jazz artist. So I got to the club and spotted this big poster saying, 'Richie Havens, folk jazz artist.' Then I'd go to a rock club and I'm billed as a 'folk rock performer' and in the blues clubs I'd be a 'folk blues entertainer.' — Richie Havens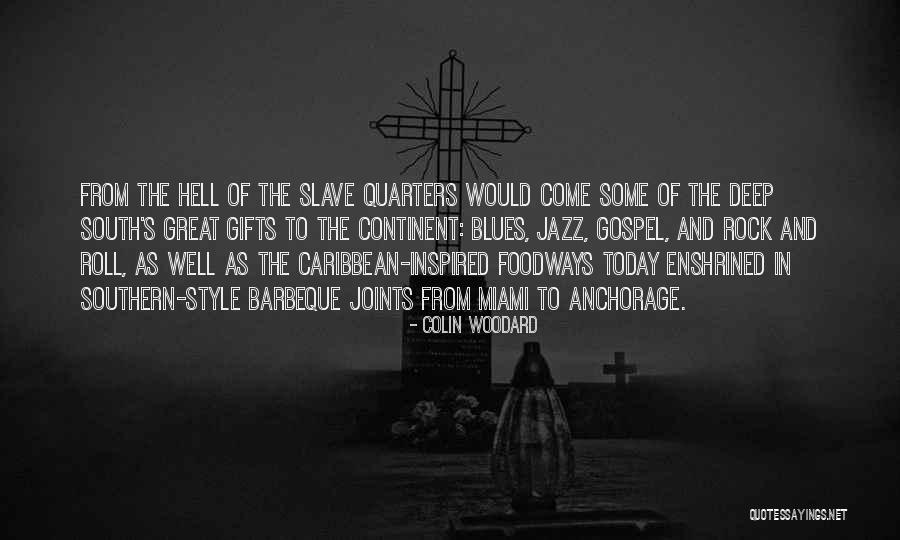 From the hell of the slave quarters would come some of the Deep South's great gifts to the continent: blues, jazz, gospel, and rock and roll, as well as the Caribbean-inspired foodways today enshrined in Southern-style barbeque joints from Miami to Anchorage. — Colin Woodard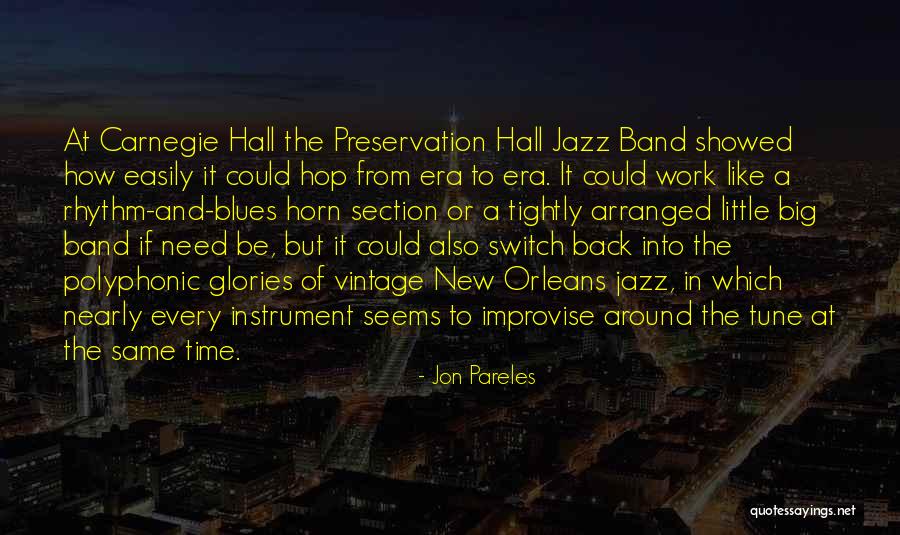 At Carnegie Hall the Preservation Hall Jazz Band showed how easily it could hop from era to era. It could work like a rhythm-and-blues horn section or a tightly arranged little big band if need be, but it could also switch back into the polyphonic glories of vintage New Orleans jazz, in which nearly every instrument seems to improvise around the tune at the same time. — Jon Pareles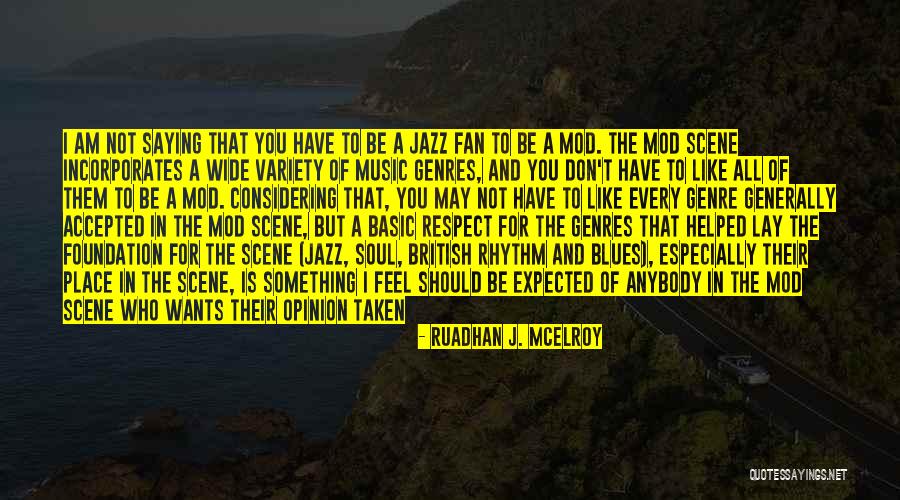 I am not saying that you have to be a jazz fan to be a Mod. The Mod scene incorporates a wide variety of music genres, and you don't have to like all of them to be a Mod. Considering that, you may not have to like every genre generally accepted in the Mod scene, but a basic respect for the genres that helped lay the foundation for the scene (Jazz, Soul, British Rhythm and Blues), especially their place in the scene, is something I feel should be expected of anybody in the Mod scene who wants their opinion taken seriously. That said, let's be realistic: You may not have to like any one or two or ten specific genres of Mod music, but if you don't like any of them, yet still fancy yourself to be a "Mod", don't be surprised when people in the scene don't take you seriously at all. — Ruadhan J. McElroy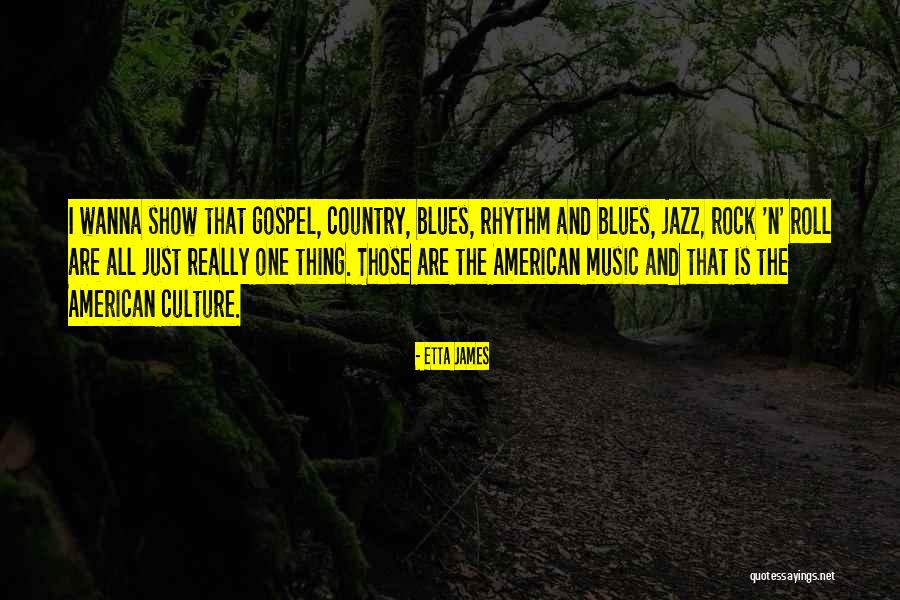 I wanna show that gospel, country, blues, rhythm and blues, jazz, rock 'n' roll are all just really one thing. Those are the American music and that is the American culture. — Etta James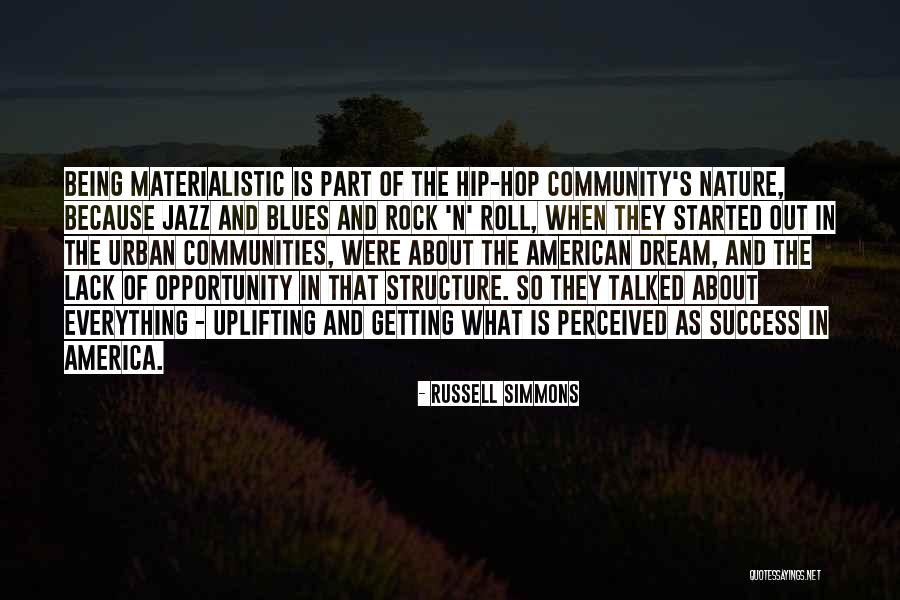 Being materialistic is part of the hip-hop community's nature, because jazz and blues and rock 'n' roll, when they started out in the urban communities, were about the American Dream, and the lack of opportunity in that structure. So they talked about everything - uplifting and getting what is perceived as success in America. — Russell Simmons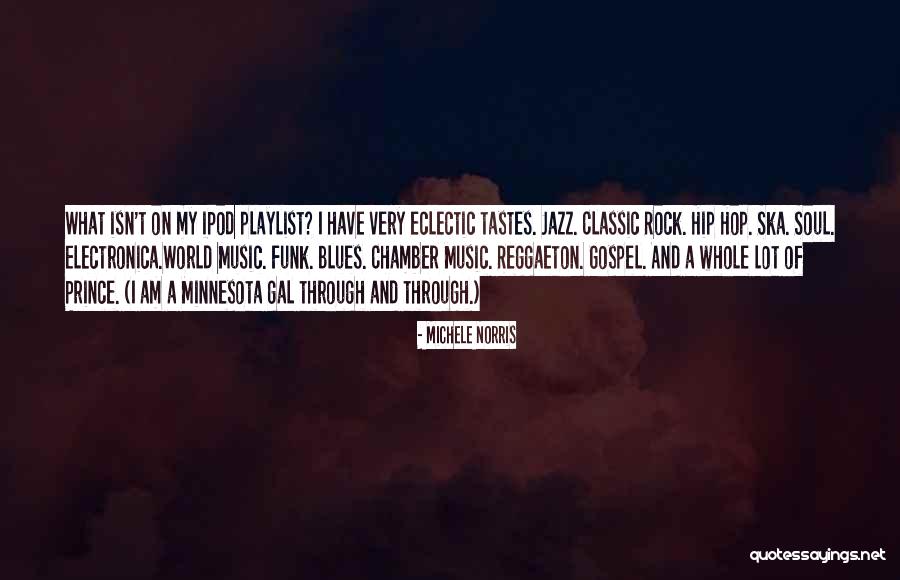 What isn't on my iPod playlist? I have very eclectic tastes. Jazz. Classic Rock. Hip Hop. Ska. Soul. Electronica.World Music. Funk. Blues. Chamber Music. Reggaeton. Gospel. And a whole lot of Prince. (I am a Minnesota gal through and through.) — Michele Norris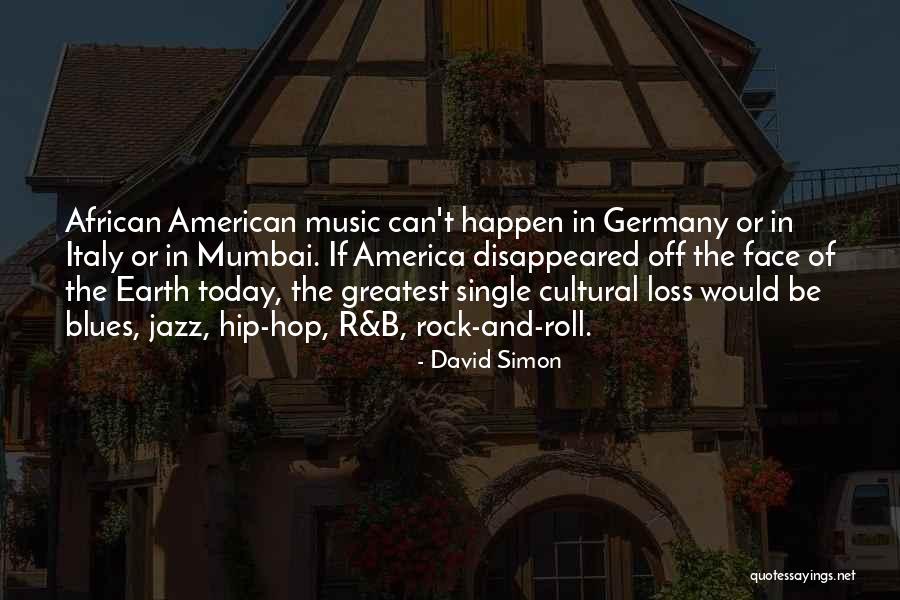 African American music can't happen in Germany or in Italy or in Mumbai. If America disappeared off the face of the Earth today, the greatest single cultural loss would be blues, jazz, hip-hop, R&B, rock-and-roll. — David Simon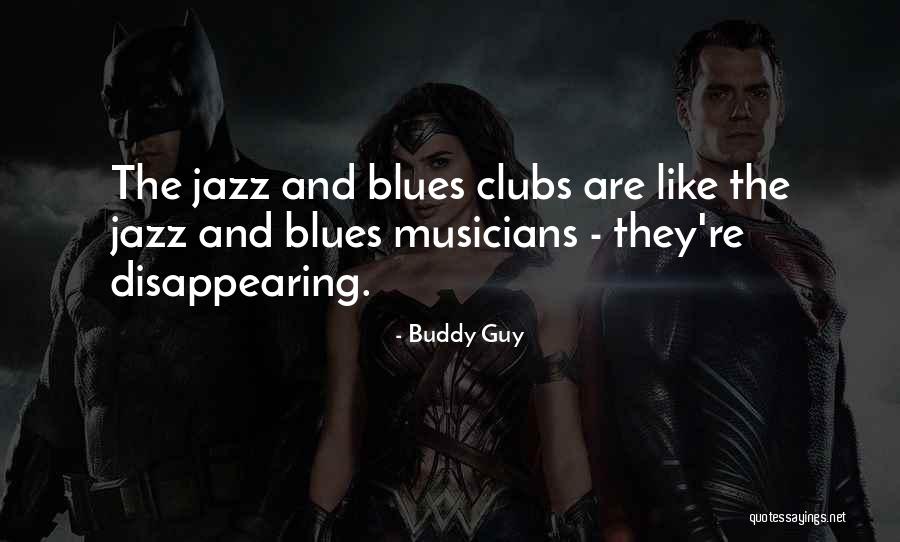 The jazz and blues clubs are like the jazz and blues musicians - they're disappearing. — Buddy Guy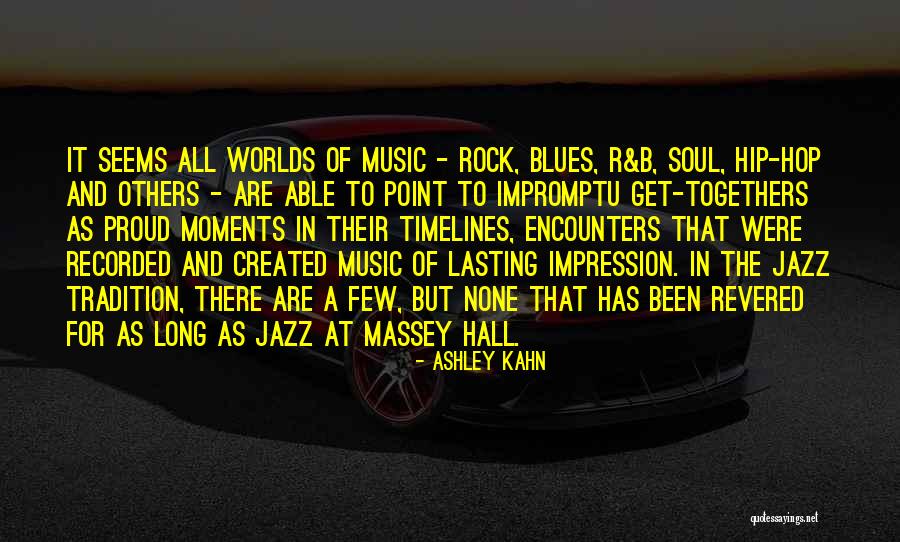 It seems all worlds of music - rock, blues, R&B, soul, hip-hop and others - are able to point to impromptu get-togethers as proud moments in their timelines, encounters that were recorded and created music of lasting impression. In the jazz tradition, there are a few, but none that has been revered for as long as Jazz at Massey Hall. — Ashley Kahn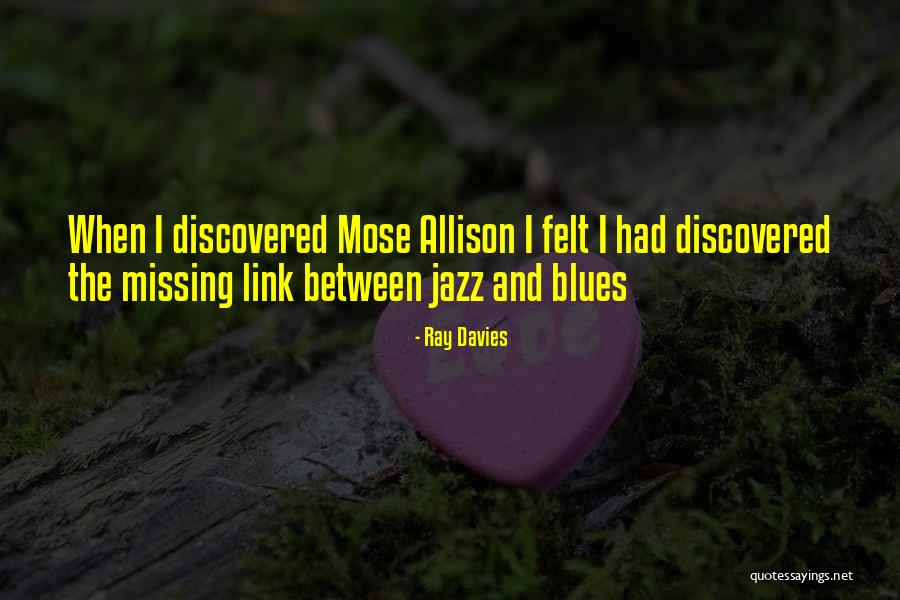 When I discovered Mose Allison I felt I had discovered the missing link between jazz and blues — Ray Davies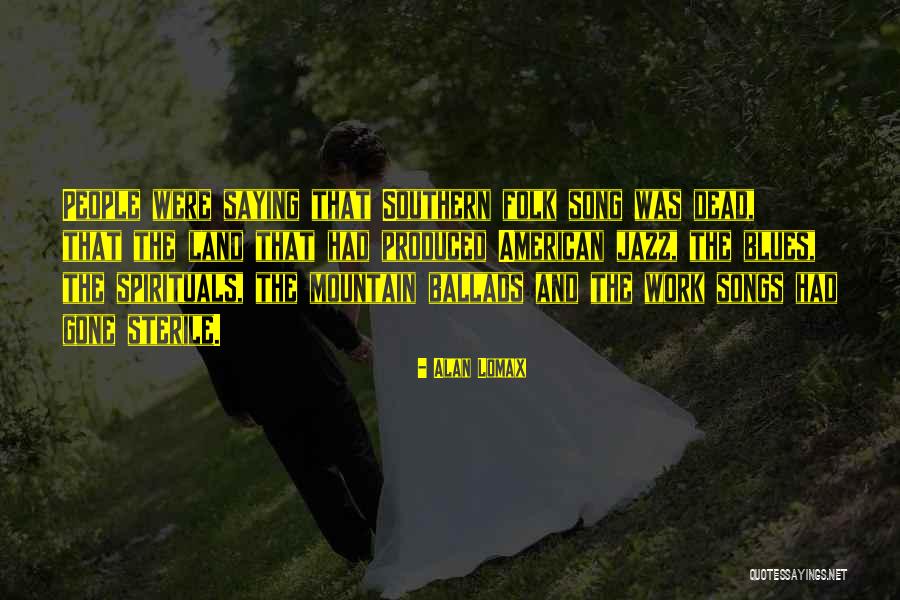 People were saying that Southern folk song was dead, that the land that had produced American jazz, the blues, the spirituals, the mountain ballads and the work songs had gone sterile. — Alan Lomax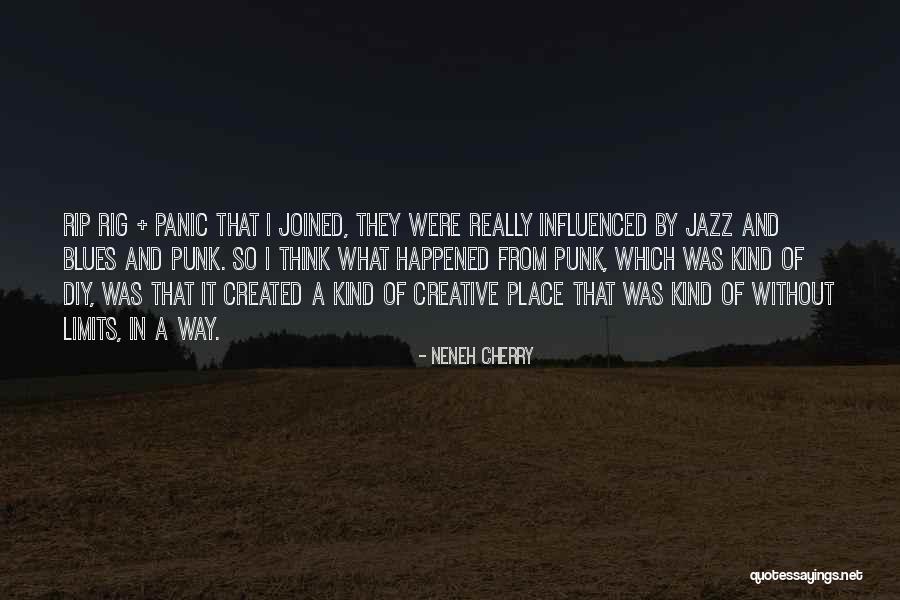 Rip Rig + Panic that I joined, they were really influenced by jazz and blues and punk. So I think what happened from punk, which was kind of DIY, was that it created a kind of creative place that was kind of without limits, in a way. — Neneh Cherry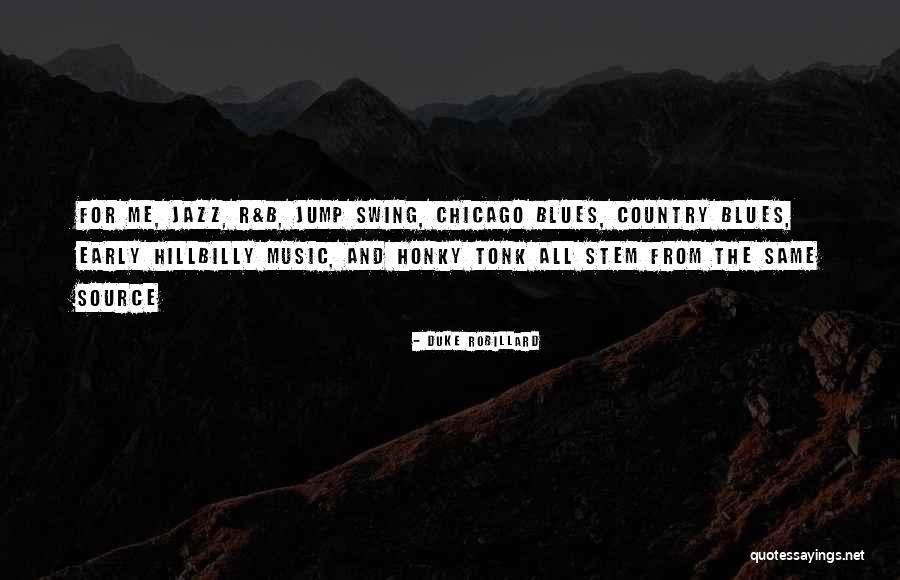 For me, jazz, R&B, jump swing, Chicago blues, country blues, early hillbilly music, and honky tonk all stem from the same source — Duke Robillard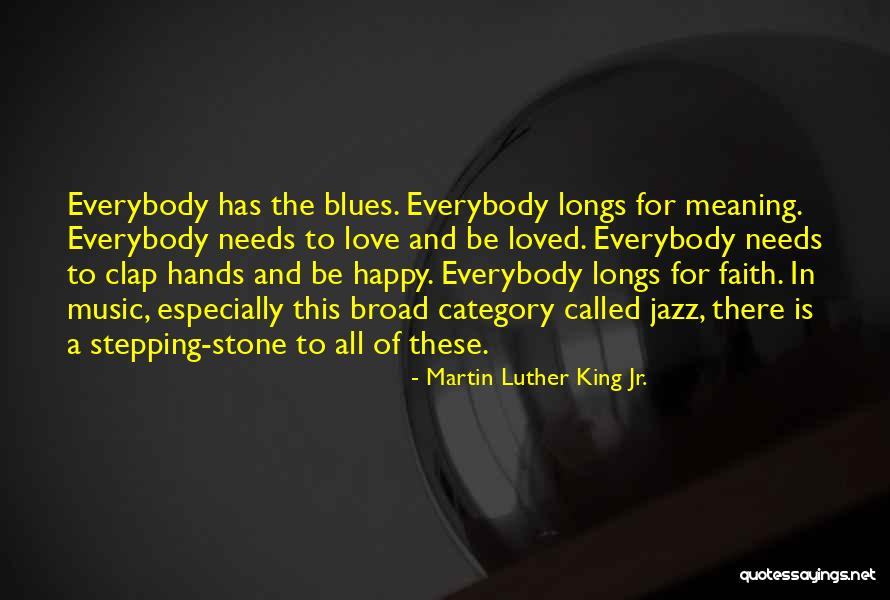 Everybody has the blues. Everybody longs for meaning. Everybody needs to love and be loved. Everybody needs to clap hands and be happy. Everybody longs for faith. In music, especially this broad category called jazz, there is a stepping-stone to all of these. — Martin Luther King Jr.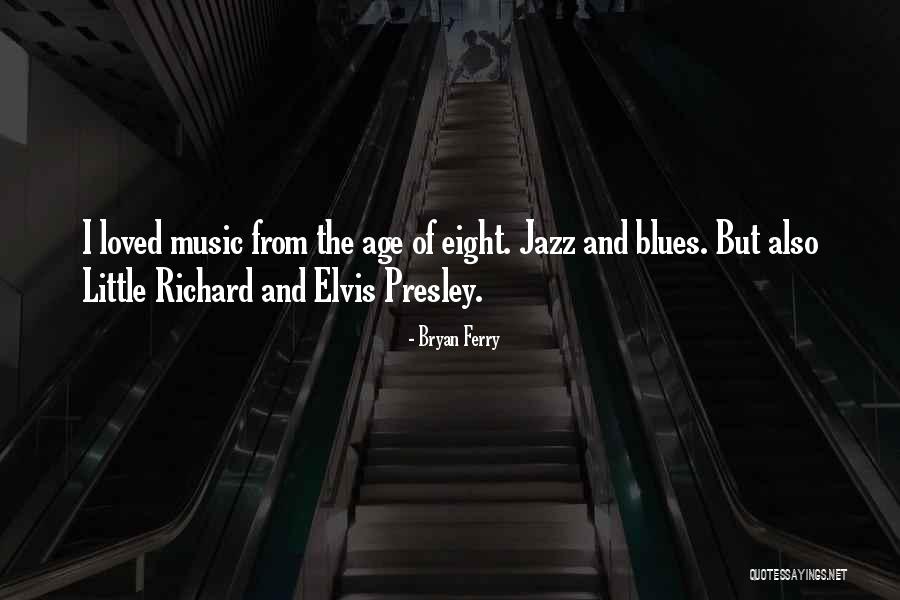 I loved music from the age of eight. Jazz and blues. But also Little Richard and Elvis Presley. — Bryan Ferry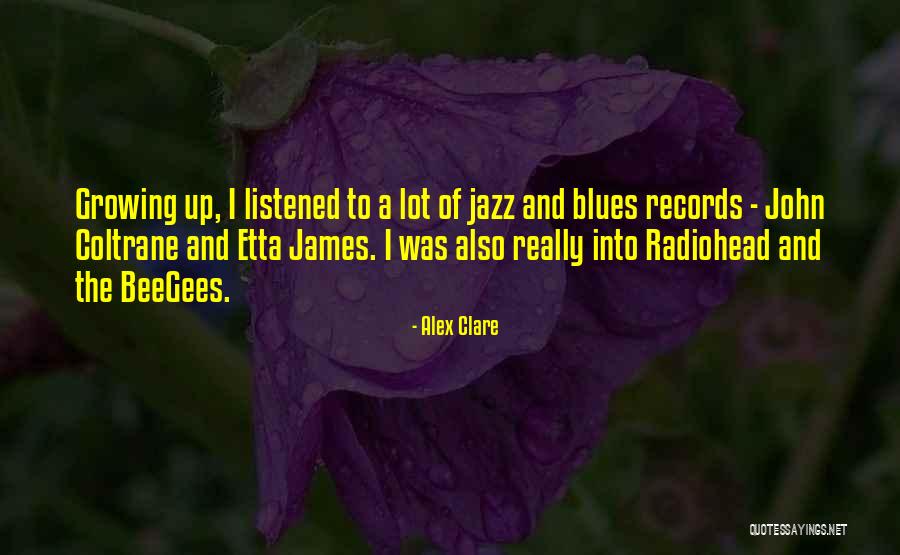 Growing up, I listened to a lot of jazz and blues records - John Coltrane and Etta James. I was also really into Radiohead and the BeeGees. — Alex Clare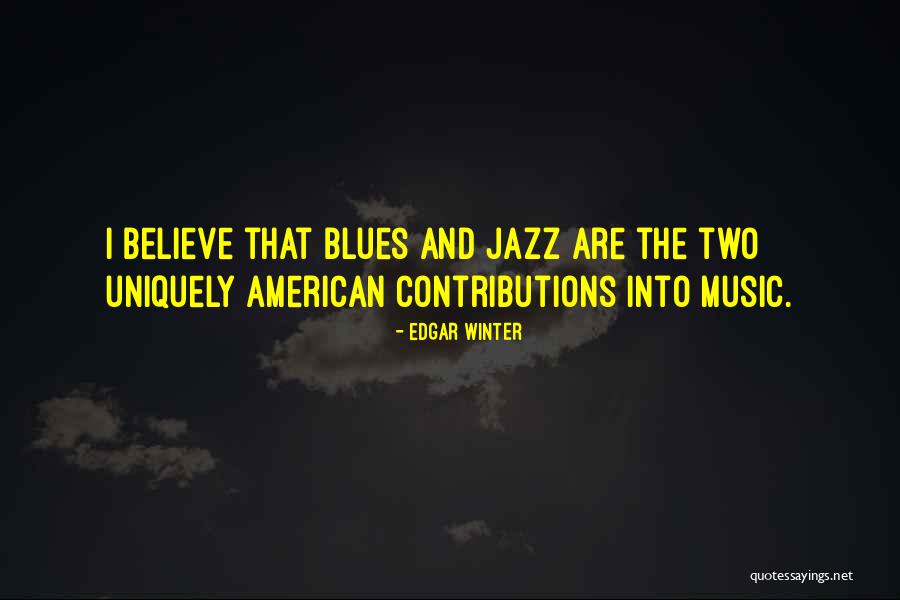 I believe that blues and jazz are the two uniquely American contributions into music. — Edgar Winter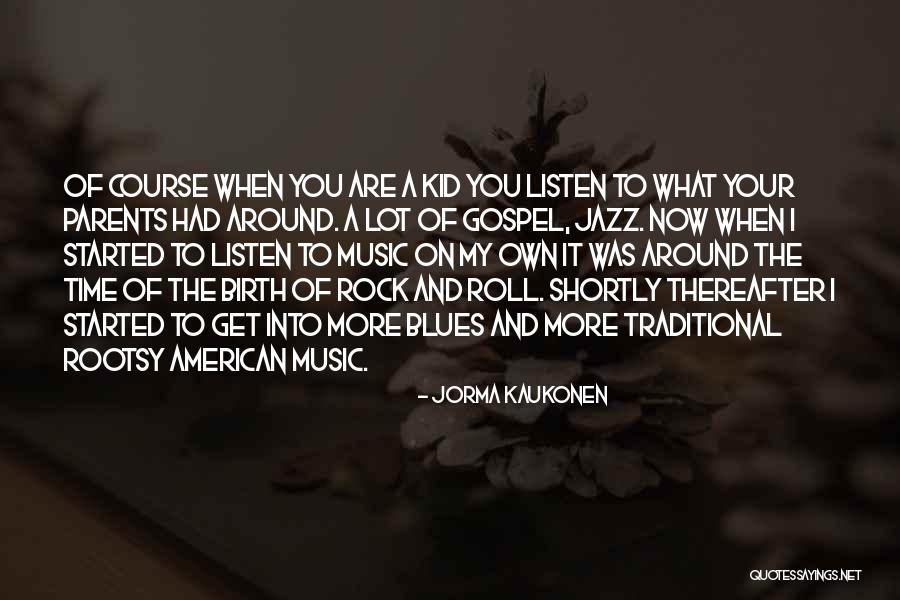 Of course when you are a kid you listen to what your parents had around. A lot of gospel, jazz. Now when I started to listen to music on my own it was around the time of the birth of rock and roll. Shortly thereafter I started to get into more blues and more traditional rootsy American music. — Jorma Kaukonen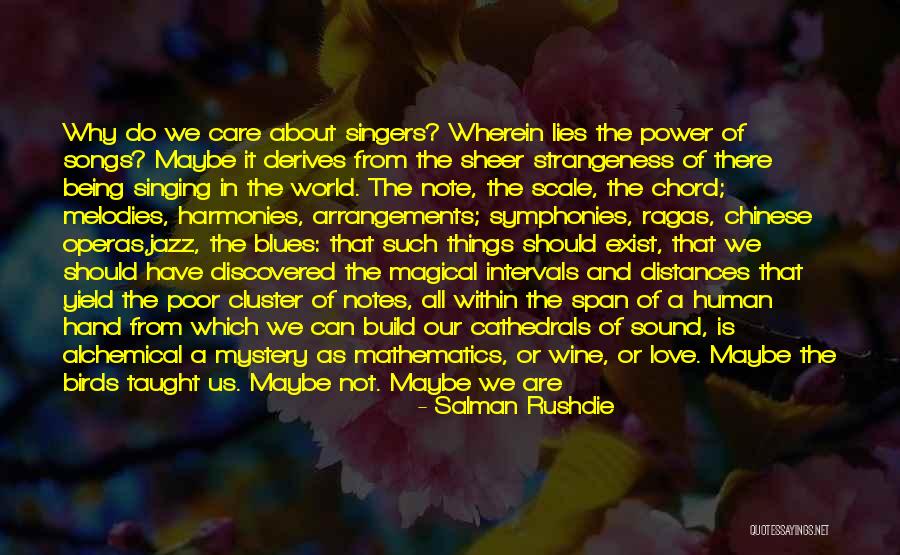 Why do we care about singers? Wherein lies the power of songs? Maybe it derives from the sheer strangeness of there being singing in the world. The note, the scale, the chord; melodies, harmonies, arrangements; symphonies, ragas, chinese operas,jazz, the blues: that such things should exist, that we should have discovered the magical intervals and distances that yield the poor cluster of notes, all within the span of a human hand from which we can build our cathedrals of sound, is alchemical a mystery as mathematics, or wine, or love. Maybe the birds taught us. Maybe not. Maybe we are just creatures in search of exaltation. We don't have much of it. Our lives are not what we deserve; they are, let us agree, in many painful ways deficient. Song turns them into something else. Song shows us a world that is worthy of our yearning, it shows us our selves as they might be, if we were worthy of the world. — Salman Rushdie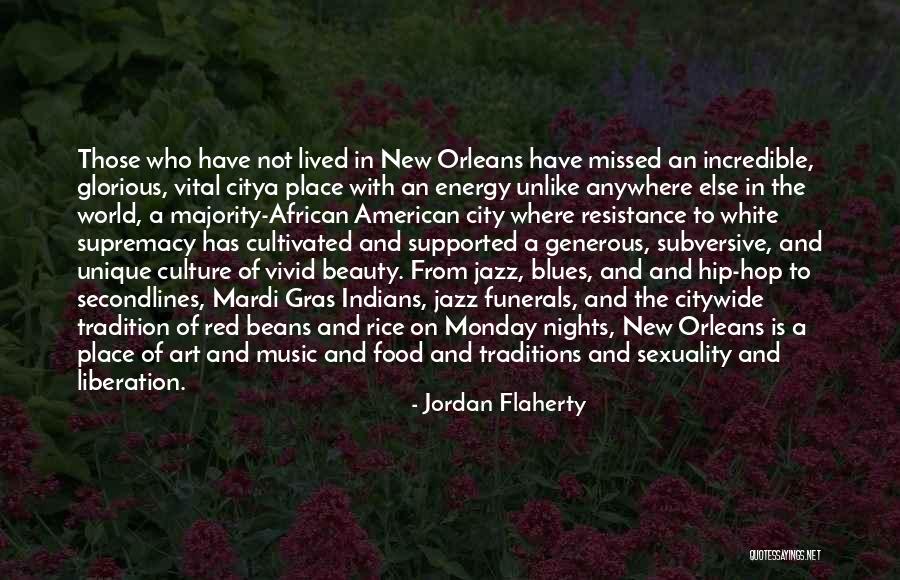 Those who have not lived in New Orleans have missed an incredible, glorious, vital city
a place with an energy unlike anywhere else in the world, a majority-African American city where resistance to white supremacy has cultivated and supported a generous, subversive, and unique culture of vivid beauty. From jazz, blues, and and hip-hop to secondlines, Mardi Gras Indians, jazz funerals, and the citywide tradition of red beans and rice on Monday nights, New Orleans is a place of art and music and food and traditions and sexuality and liberation. — Jordan Flaherty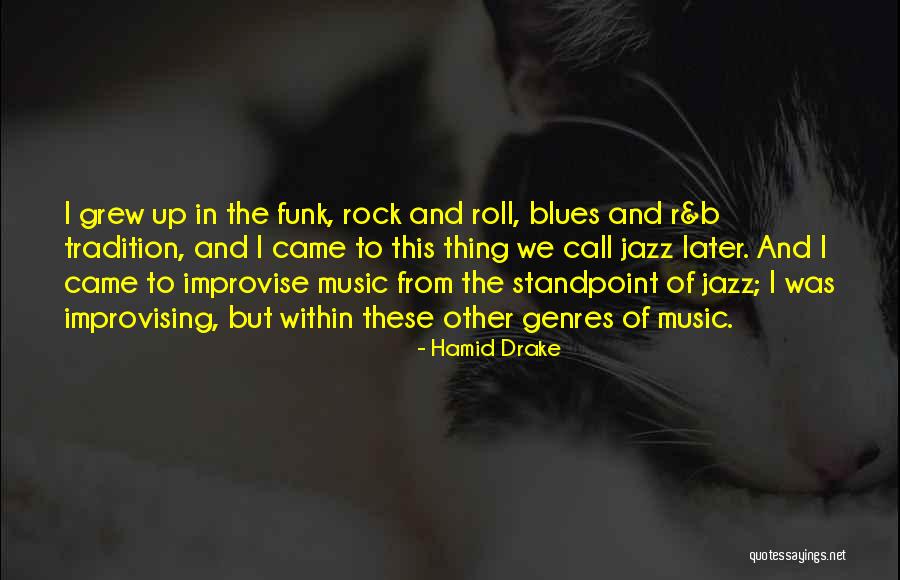 I grew up in the funk, rock and roll, blues and r&b tradition, and I came to this thing we call jazz later. And I came to improvise music from the standpoint of jazz; I was improvising, but within these other genres of music. — Hamid Drake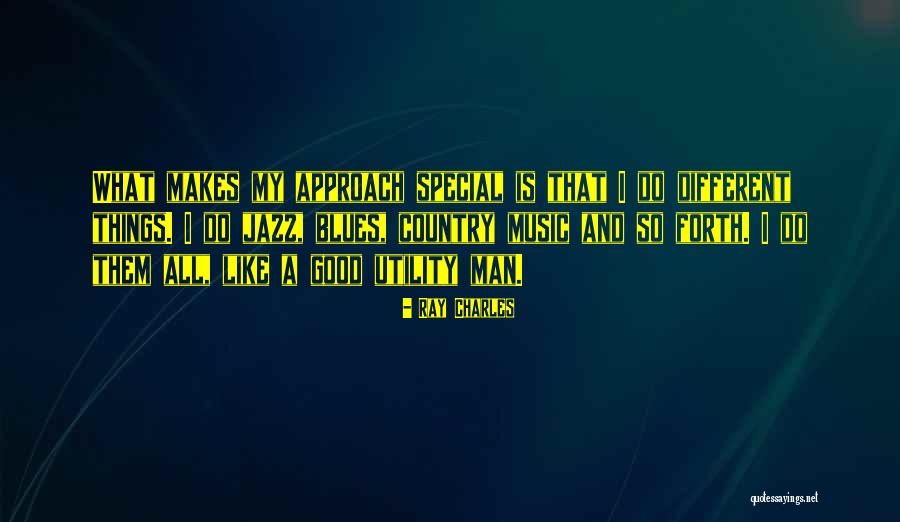 What makes my approach special is that I do different things. I do jazz, blues, country music and so forth. I do them all, like a good utility man. — Ray Charles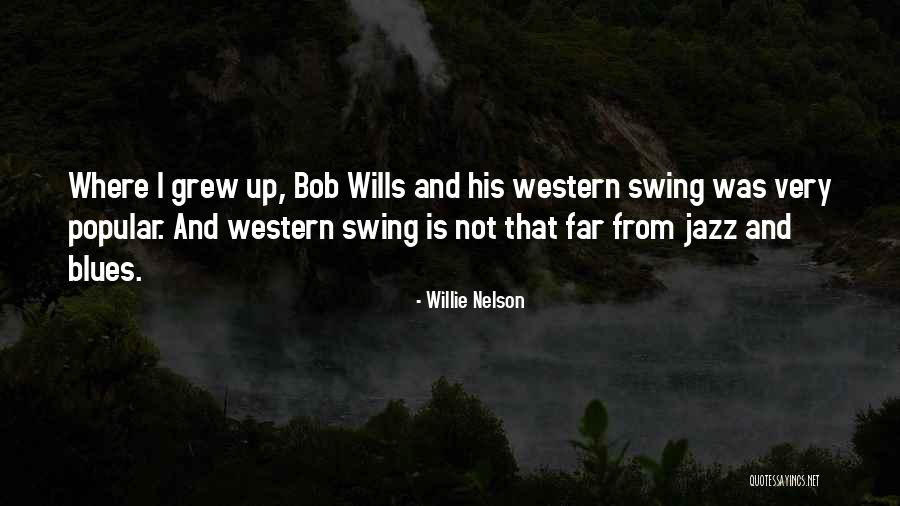 Where I grew up, Bob Wills and his western swing was very popular. And western swing is not that far from jazz and blues. — Willie Nelson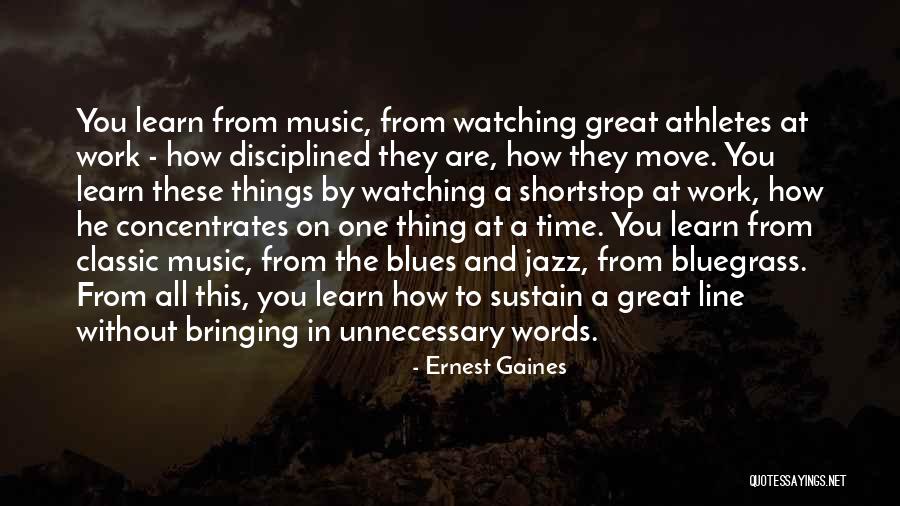 You learn from music, from watching great athletes at work - how disciplined they are, how they move. You learn these things by watching a shortstop at work, how he concentrates on one thing at a time. You learn from classic music, from the blues and jazz, from bluegrass. From all this, you learn how to sustain a great line without bringing in unnecessary words. — Ernest Gaines
My school music teacher, Al Bennest, introduced me to jazz by playing Louis Armstrong's record of "West End Blues" for me. I found more jazz on the radio, and began looking for records. My paper route money, and later, money I earned working after school in a print shop and a butcher shop went toward buying jazz records. I taught myself the alto saxophone and the drums in order to play in my high school dance band. — Bill Crow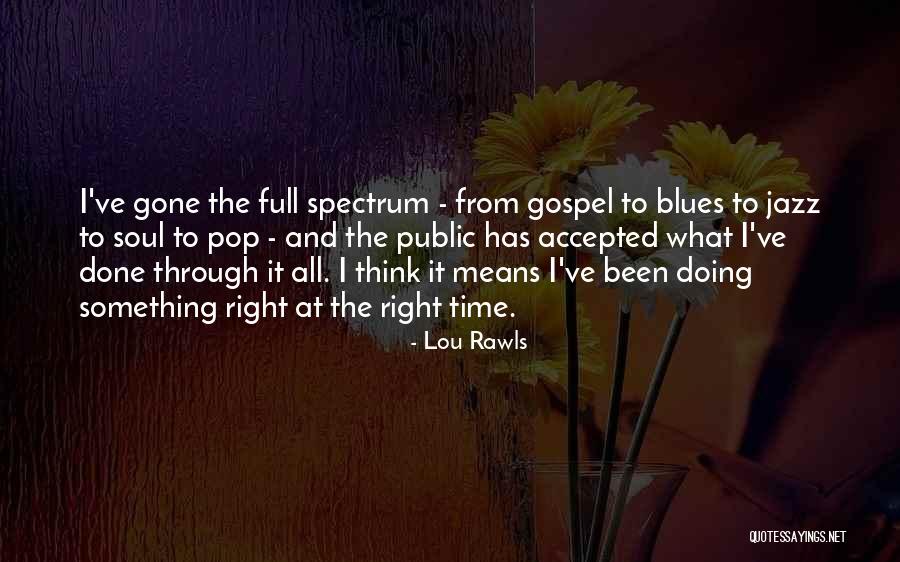 I've gone the full spectrum - from gospel to blues to jazz to soul to pop - and the public has accepted what I've done through it all. I think it means I've been doing something right at the right time. — Lou Rawls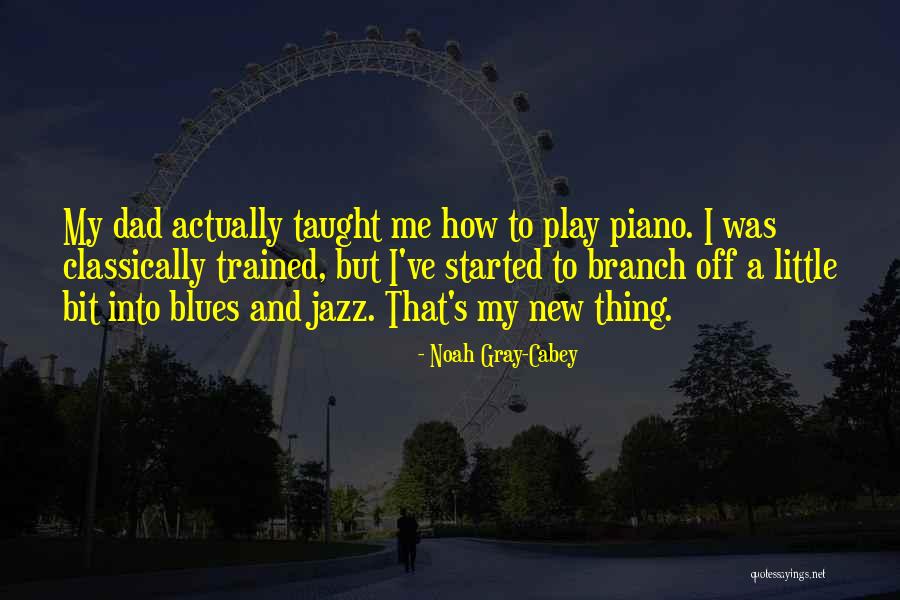 My dad actually taught me how to play piano. I was classically trained, but I've started to branch off a little bit into blues and jazz. That's my new thing. — Noah Gray-Cabey
The blues is the foundation, and it's got to carry the top. The other part of the scene, the rock 'n' roll and the jazz, are the walls of the blues. — Luther Allison
Blues is to jazz what yeast is to bread
without it, it's flat. — Carmen McRae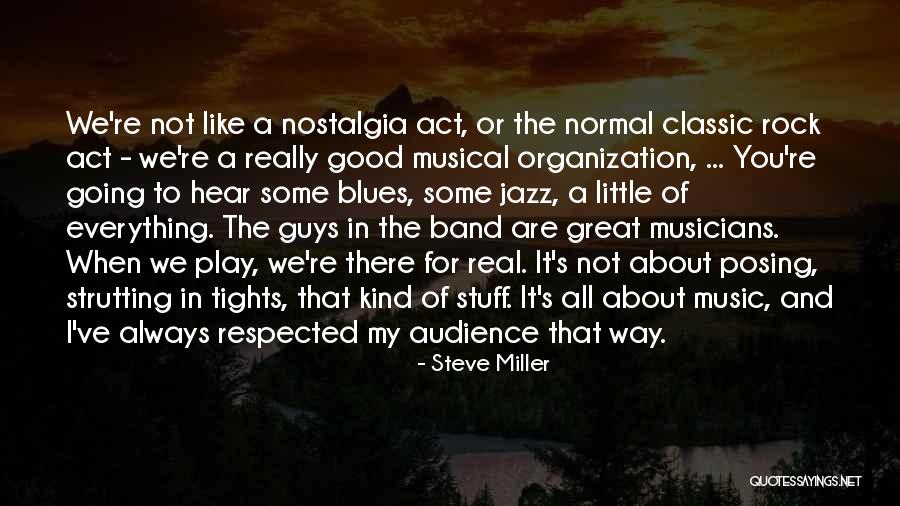 We're not like a nostalgia act, or the normal classic rock act - we're a really good musical organization, ... You're going to hear some blues, some jazz, a little of everything. The guys in the band are great musicians. When we play, we're there for real. It's not about posing, strutting in tights, that kind of stuff. It's all about music, and I've always respected my audience that way. — Steve Miller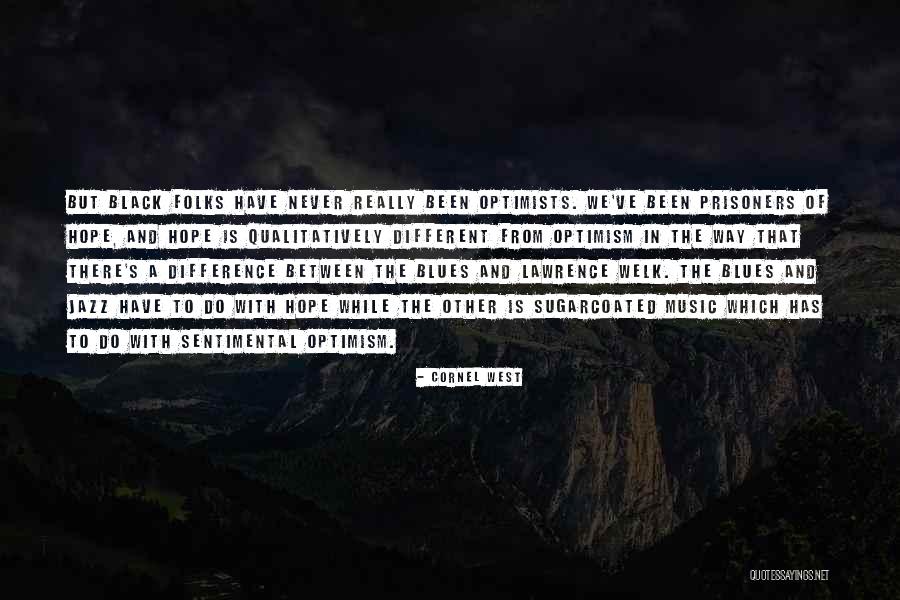 But black folks have never really been optimists. We've been prisoners of hope, and hope is qualitatively different from optimism in the way that there's a difference between The Blues and Lawrence Welk. The Blues and Jazz have to do with hope while the other is sugarcoated music which has to do with sentimental optimism. — Cornel West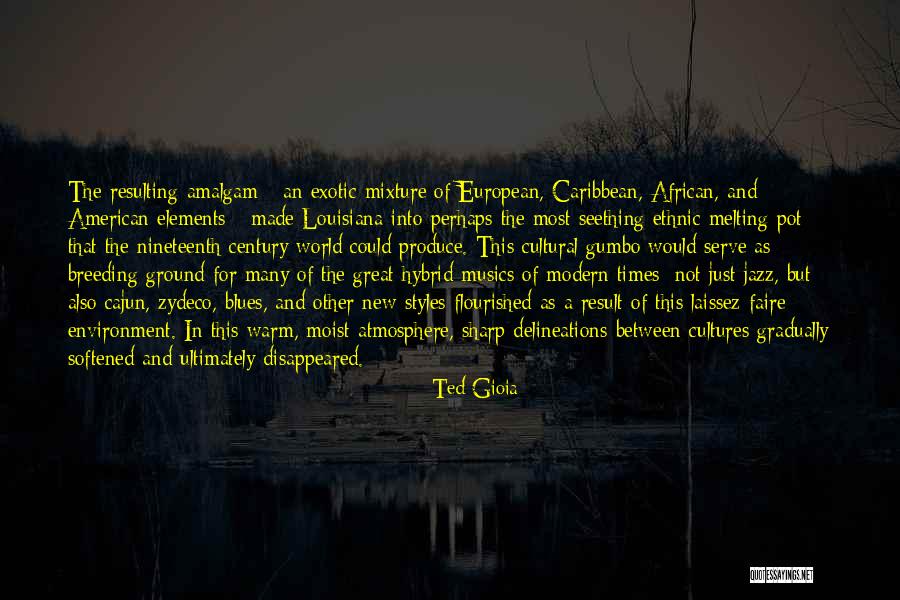 The resulting amalgam - an exotic mixture of European, Caribbean, African, and American elements - made Louisiana into perhaps the most seething ethnic melting pot that the nineteenth century world could produce. This cultural gumbo would serve as breeding ground for many of the great hybrid musics of modern times; not just jazz, but also cajun, zydeco, blues, and other new styles flourished as a result of this laissez-faire environment. In this warm, moist atmosphere, sharp delineations between cultures gradually softened and ultimately disappeared. — Ted Gioia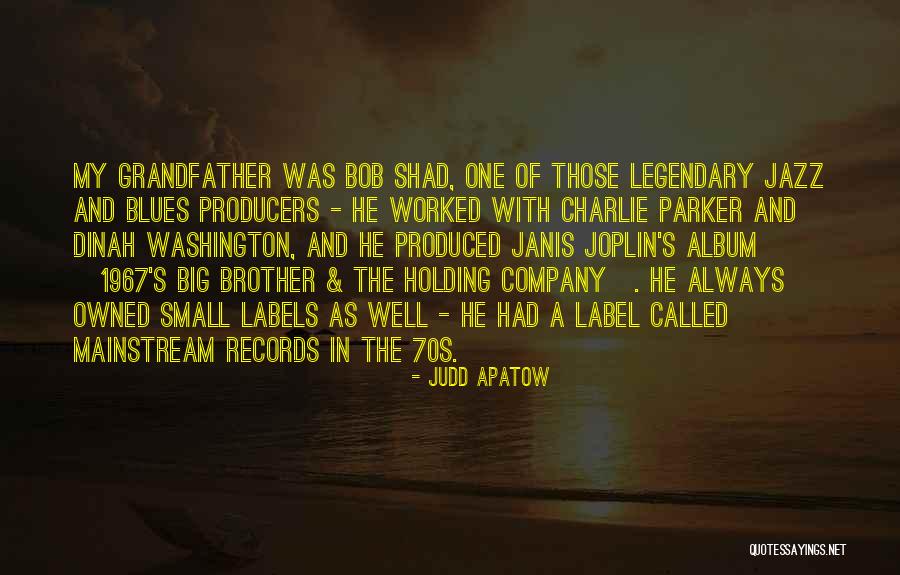 My grandfather was Bob Shad, one of those legendary jazz and blues producers - he worked with Charlie Parker and Dinah Washington, and he produced Janis Joplin's album [1967's Big Brother & the Holding Company]. He always owned small labels as well - he had a label called Mainstream Records in the 70s. — Judd Apatow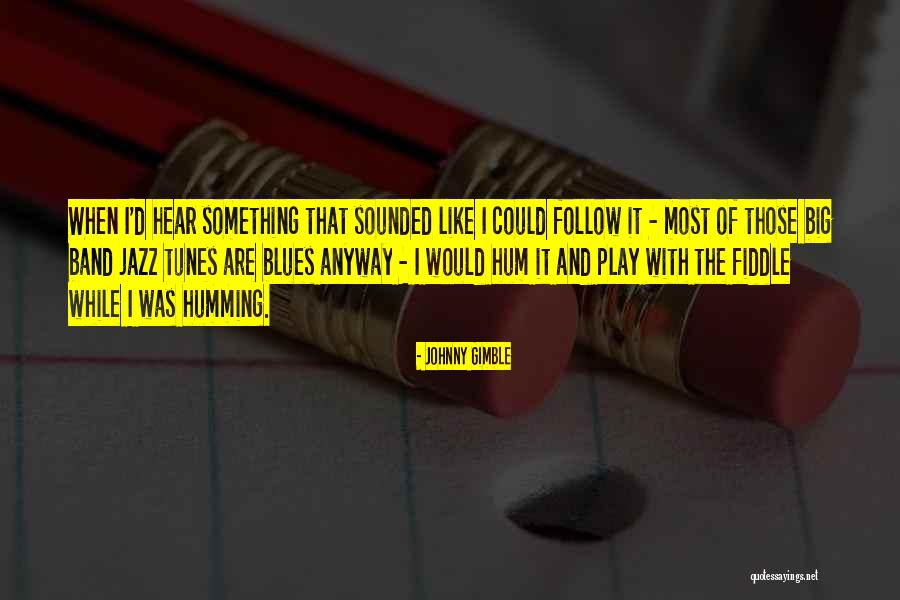 When I'd hear something that sounded like I could follow it - most of those big band jazz tunes are blues anyway - I would hum it and play with the fiddle while I was humming. — Johnny Gimble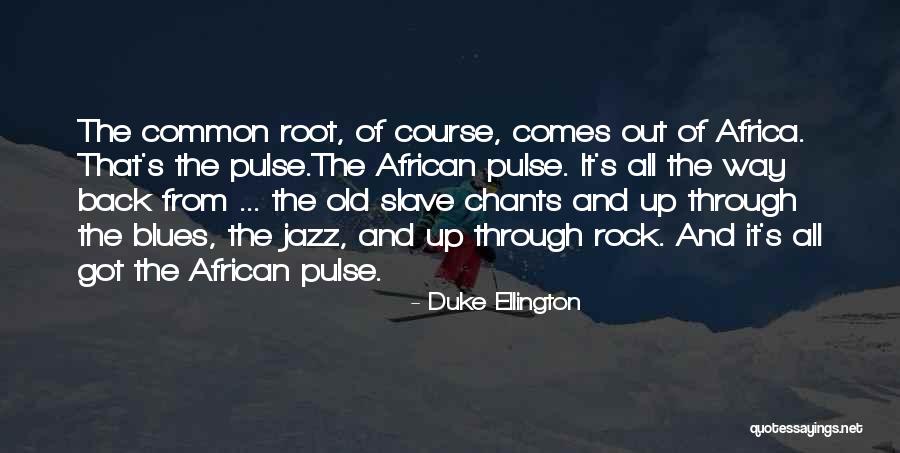 The common root, of course, comes out of Africa. That's the pulse.The African pulse. It's all the way back from ... the old slave chants and up through the blues, the jazz, and up through rock. And it's all got the African pulse. — Duke Ellington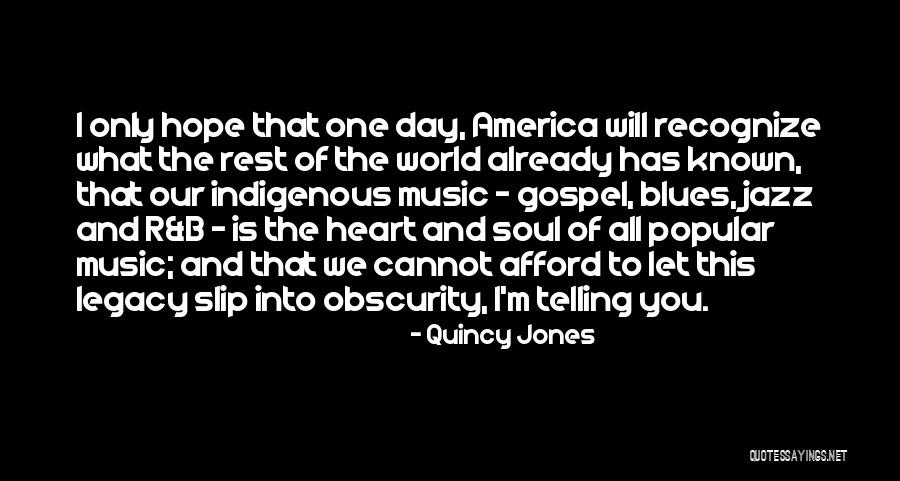 I only hope that one day, America will recognize what the rest of the world already has known, that our indigenous music - gospel, blues, jazz and R&B - is the heart and soul of all popular music; and that we cannot afford to let this legacy slip into obscurity, I'm telling you. — Quincy Jones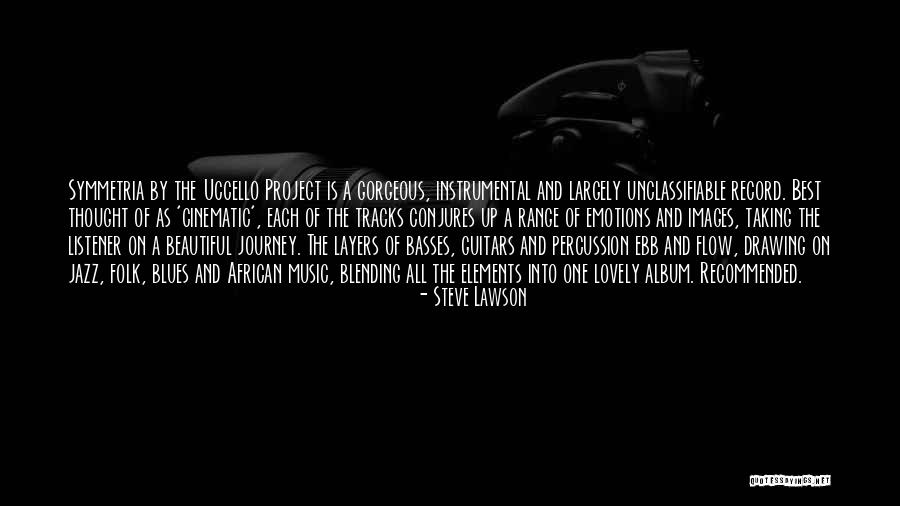 Symmetria by the Uccello Project is a gorgeous, instrumental and largely unclassifiable record. Best thought of as 'cinematic', each of the tracks conjures up a range of emotions and images, taking the listener on a beautiful journey. The layers of basses, guitars and percussion ebb and flow, drawing on jazz, folk, blues and African music, blending all the elements into one lovely album. Recommended. — Steve Lawson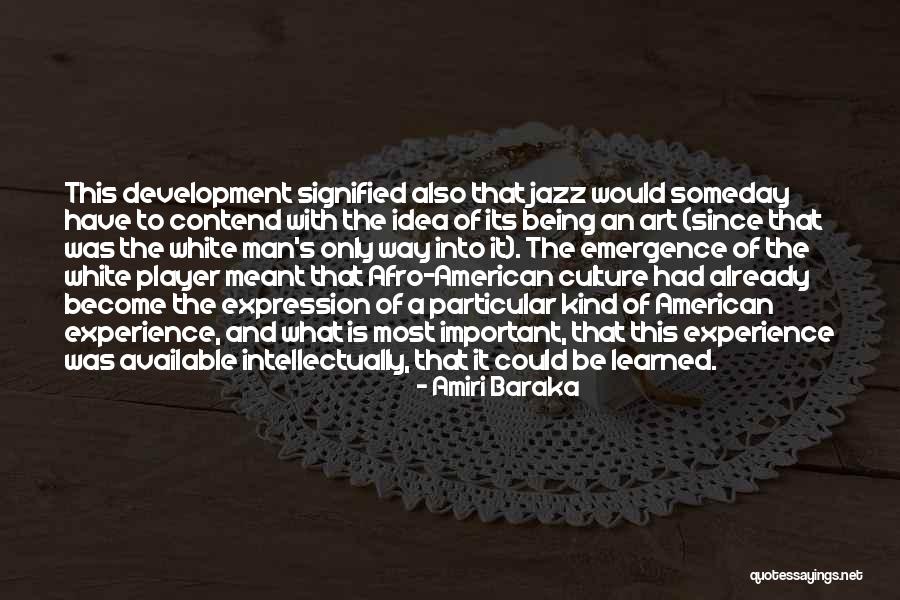 This development signified also that jazz would someday have to contend with the idea of its being an art (since that was the white man's only way into it). The emergence of the white player meant that Afro-American culture had already become the expression of a particular kind of American experience, and what is most important, that this experience was available intellectually, that it could be learned. — Amiri Baraka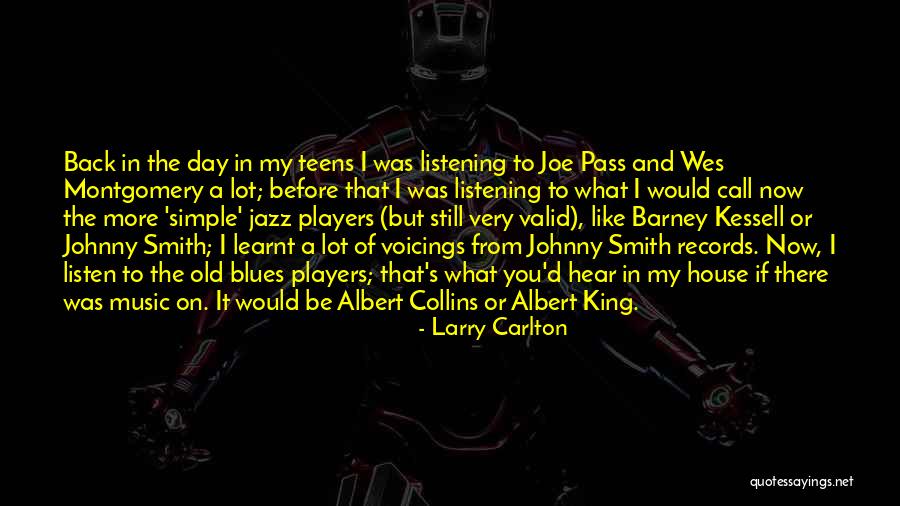 Back in the day in my teens I was listening to Joe Pass and Wes Montgomery a lot; before that I was listening to what I would call now the more 'simple' jazz players (but still very valid), like Barney Kessell or Johnny Smith; I learnt a lot of voicings from Johnny Smith records. Now, I listen to the old blues players; that's what you'd hear in my house if there was music on. It would be Albert Collins or Albert King. — Larry Carlton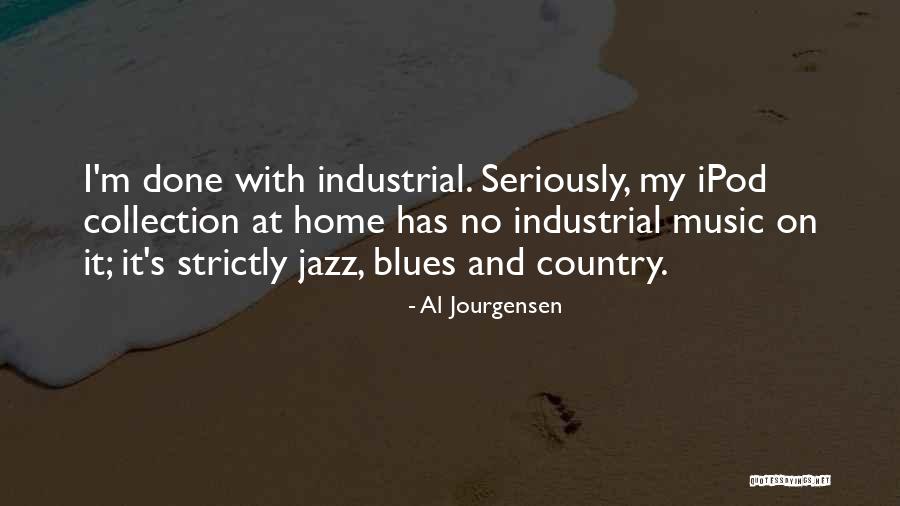 I'm done with industrial. Seriously, my iPod collection at home has no industrial music on it; it's strictly jazz, blues and country. — Al Jourgensen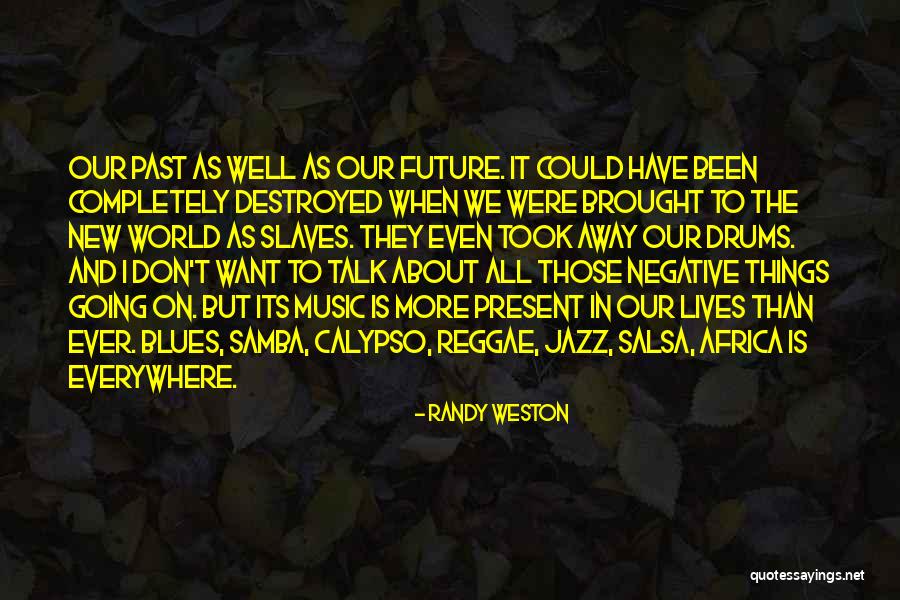 Our past as well as our future. It could have been completely destroyed when we were brought to the New World as slaves. They even took away our drums. And I don't want to talk about all those negative things going on. But its music is more present in our lives than ever. Blues, samba, calypso, reggae, jazz, salsa, Africa is everywhere. — Randy Weston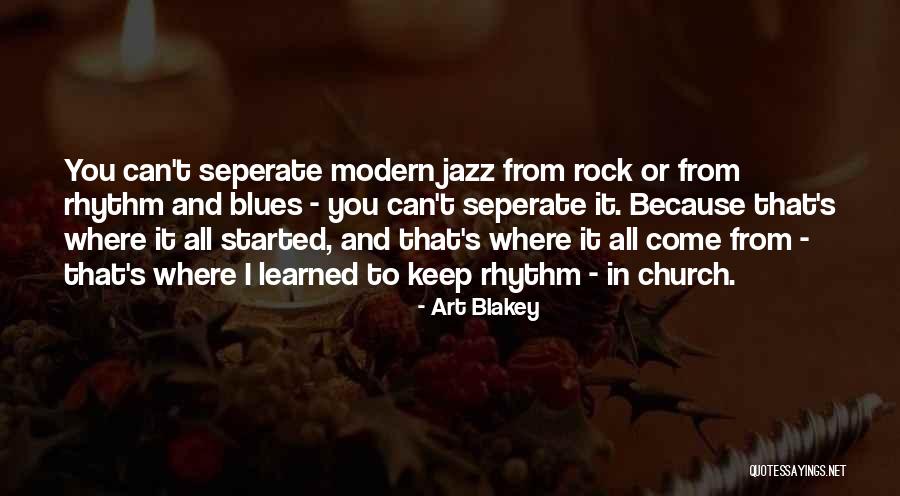 You can't seperate modern jazz from rock or from rhythm and blues - you can't seperate it. Because that's where it all started, and that's where it all come from - that's where I learned to keep rhythm - in church. — Art Blakey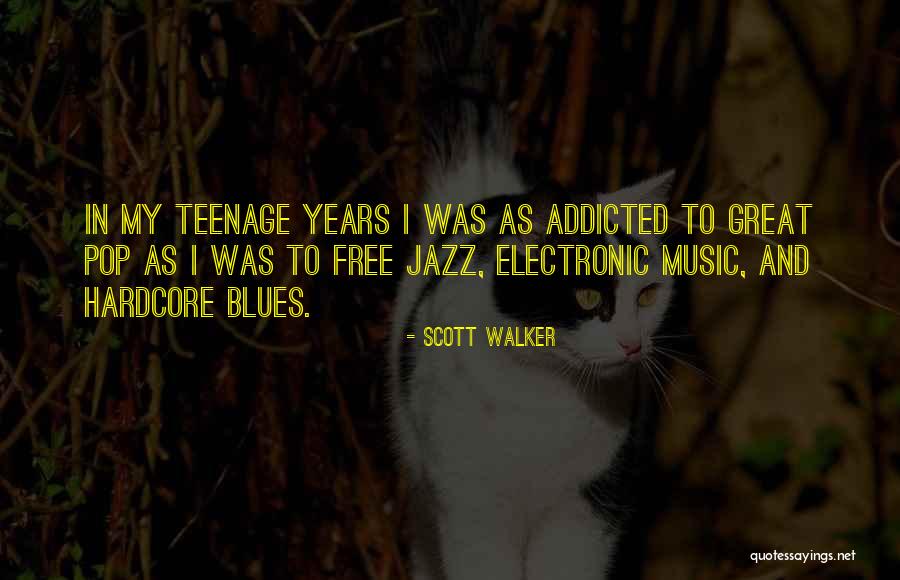 In my teenage years I was as addicted to great pop as I was to free jazz, electronic music, and hardcore blues. — Scott Walker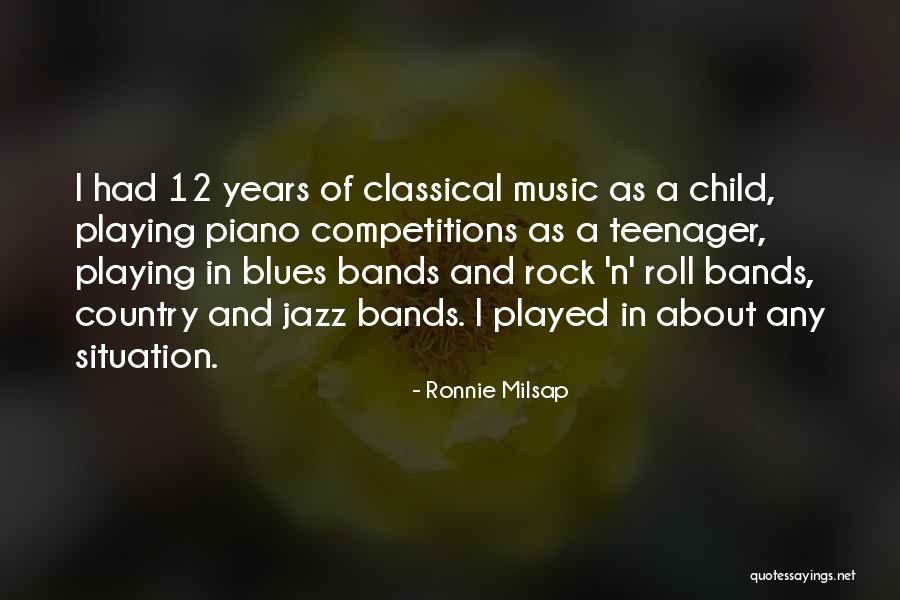 I had 12 years of classical music as a child, playing piano competitions as a teenager, playing in blues bands and rock 'n' roll bands, country and jazz bands. I played in about any situation. — Ronnie Milsap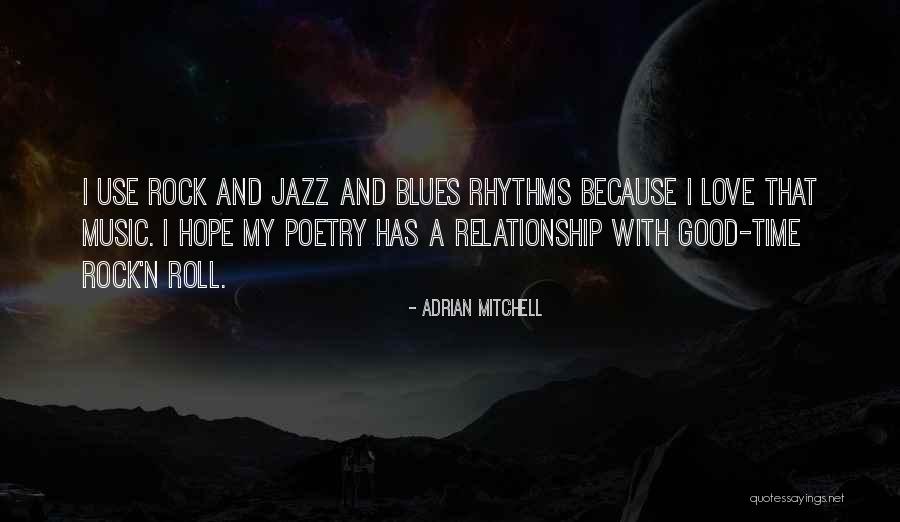 I use rock and jazz and blues rhythms because I love that music. I hope my poetry has a relationship with good-time rock'n roll. — Adrian Mitchell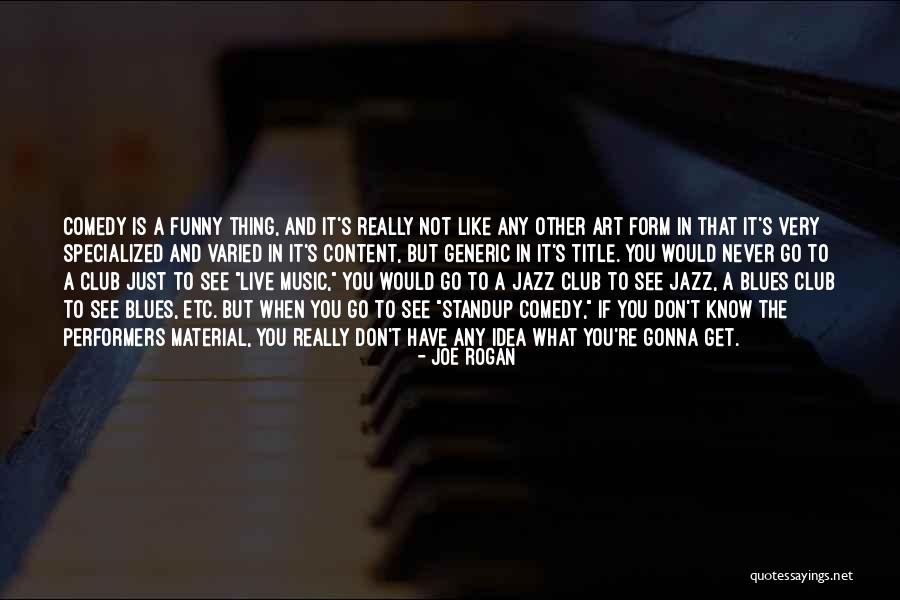 Comedy is a funny thing, and it's really not like any other art form in that it's very specialized and varied in it's content, but generic in it's title. You would never go to a club just to see "Live music," you would go to a jazz club to see jazz, a blues club to see blues, etc. But when you go to see "standup comedy," if you don't know the performers material, you really don't have any idea what you're gonna get. — Joe Rogan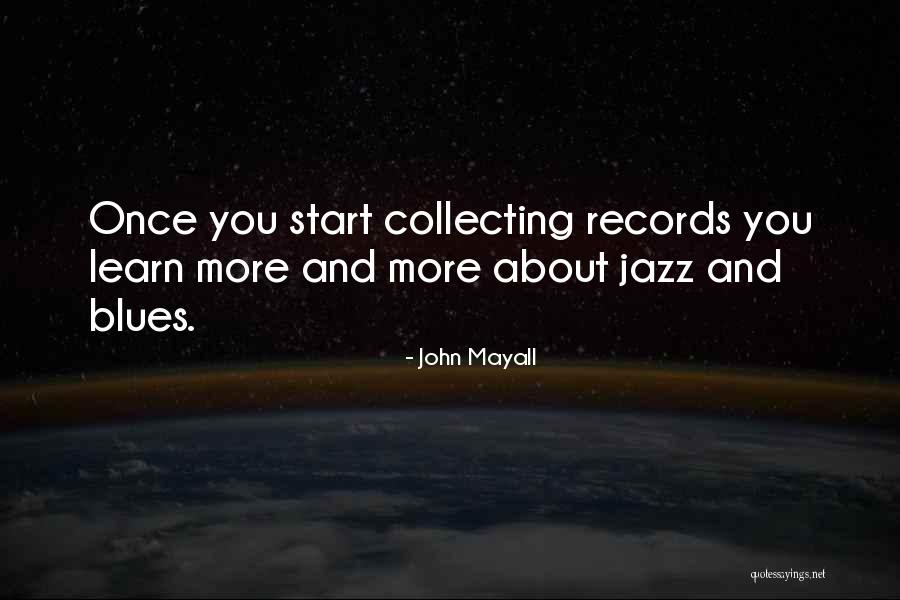 Once you start collecting records you learn more and more about jazz and blues. — John Mayall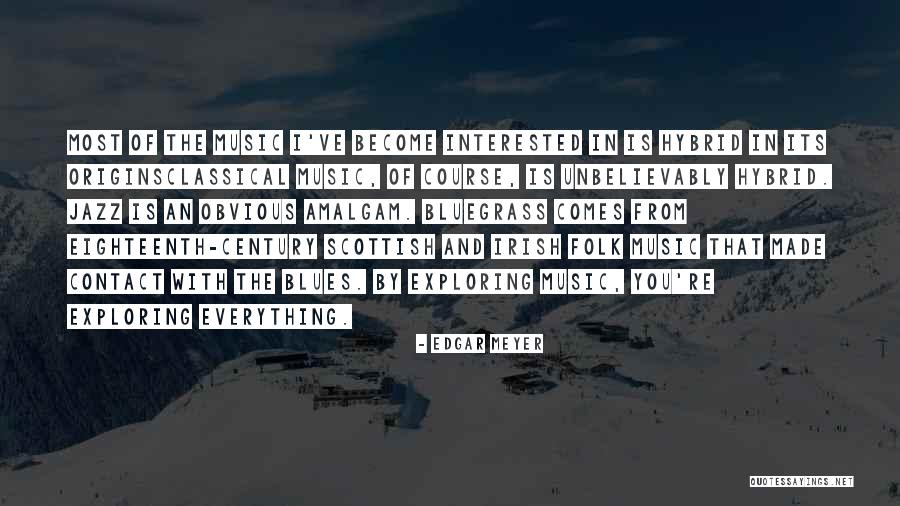 Most of the music I've become interested in is hybrid in its originsClassical music, of course, is unbelievably hybrid. Jazz is an obvious amalgam. Bluegrass comes from eighteenth-century Scottish and Irish folk music that made contact with the blues. By exploring music, you're exploring everything. — Edgar Meyer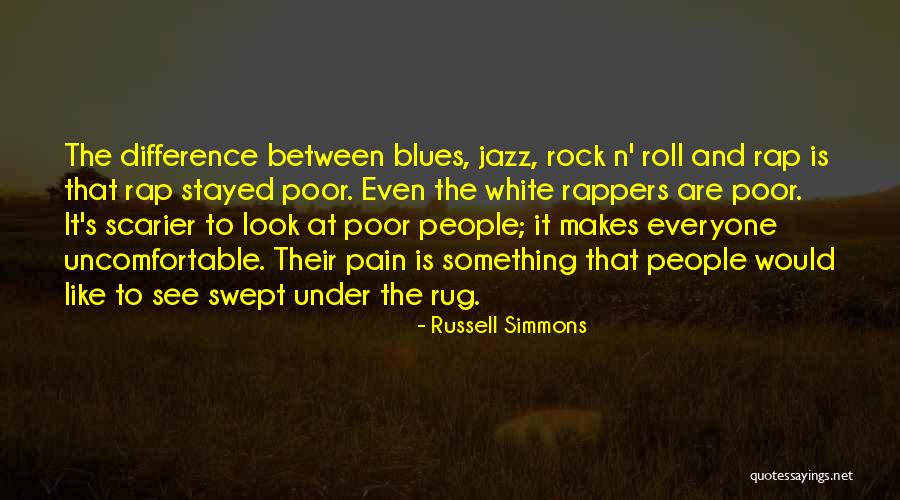 The difference between blues, jazz, rock n' roll and rap is that rap stayed poor. Even the white rappers are poor. It's scarier to look at poor people; it makes everyone uncomfortable. Their pain is something that people would like to see swept under the rug. — Russell Simmons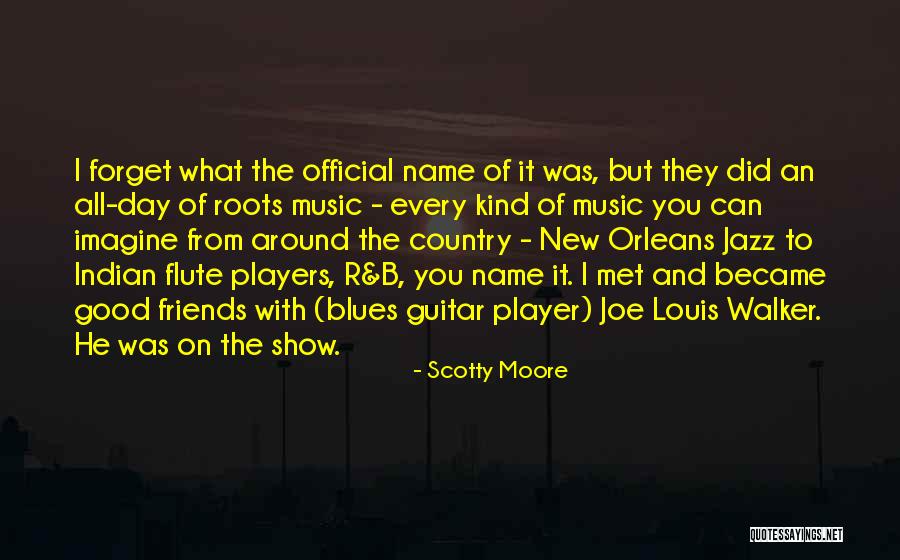 I forget what the official name of it was, but they did an all-day of roots music - every kind of music you can imagine from around the country - New Orleans Jazz to Indian flute players, R&B, you name it. I met and became good friends with (blues guitar player) Joe Louis Walker. He was on the show. — Scotty Moore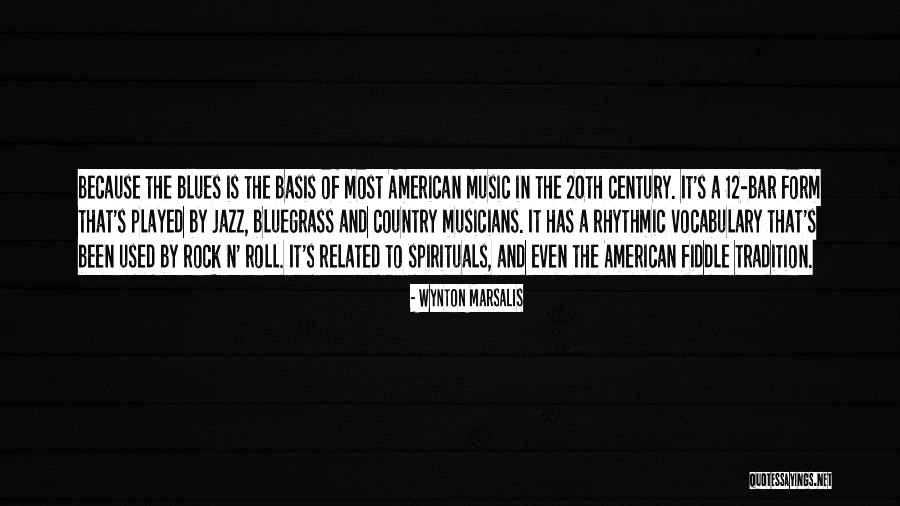 Because the blues is the basis of most American music in the 20th century. It's a 12-bar form that's played by jazz, bluegrass and country musicians. It has a rhythmic vocabulary that's been used by rock n' roll. It's related to spirituals, and even the American fiddle tradition. — Wynton Marsalis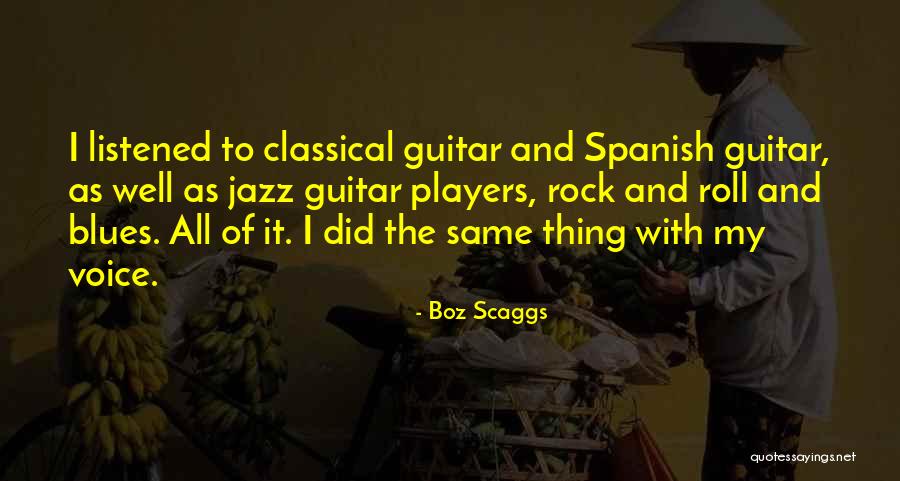 I listened to classical guitar and Spanish guitar, as well as jazz guitar players, rock and roll and blues. All of it. I did the same thing with my voice. — Boz Scaggs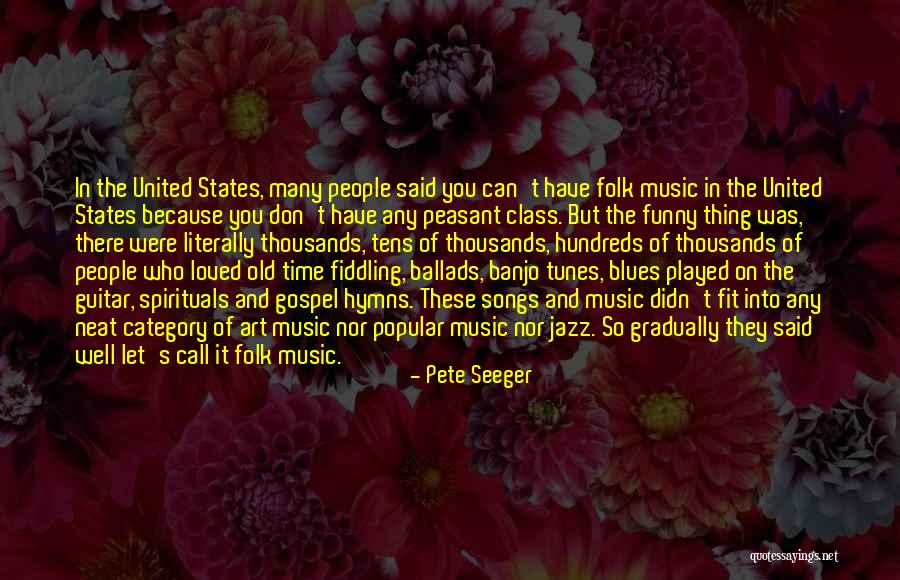 In the United States, many people said you can't have folk music in the United States because you don't have any peasant class. But the funny thing was, there were literally thousands, tens of thousands, hundreds of thousands of people who loved old time fiddling, ballads, banjo tunes, blues played on the guitar, spirituals and gospel hymns. These songs and music didn't fit into any neat category of art music nor popular music nor jazz. So gradually they said well let's call it folk music. — Pete Seeger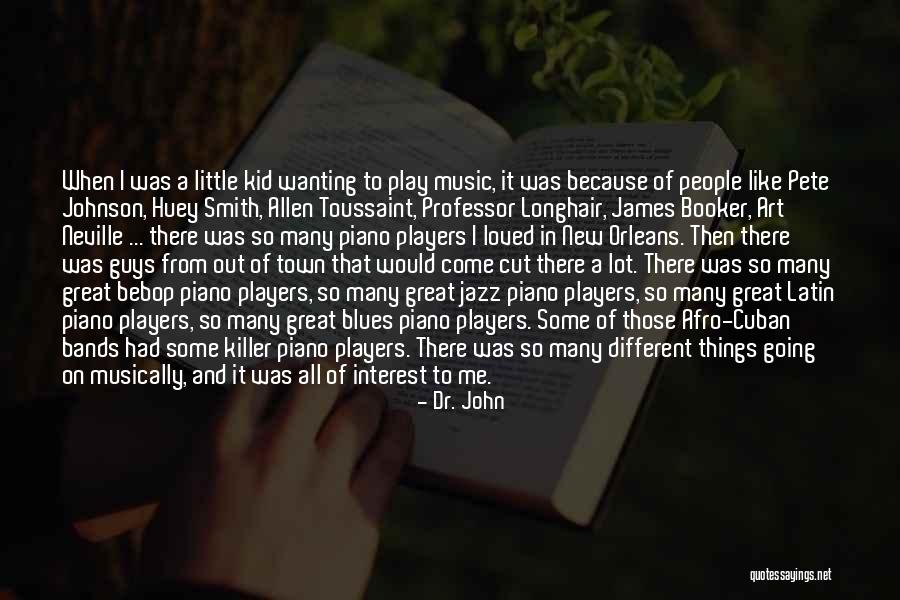 When I was a little kid wanting to play music, it was because of people like Pete Johnson, Huey Smith, Allen Toussaint, Professor Longhair, James Booker, Art Neville ... there was so many piano players I loved in New Orleans. Then there was guys from out of town that would come cut there a lot. There was so many great bebop piano players, so many great jazz piano players, so many great Latin piano players, so many great blues piano players. Some of those Afro-Cuban bands had some killer piano players. There was so many different things going on musically, and it was all of interest to me. — Dr. John
Blues and jazz pulled me away from what was left of my family. — Alexis Korner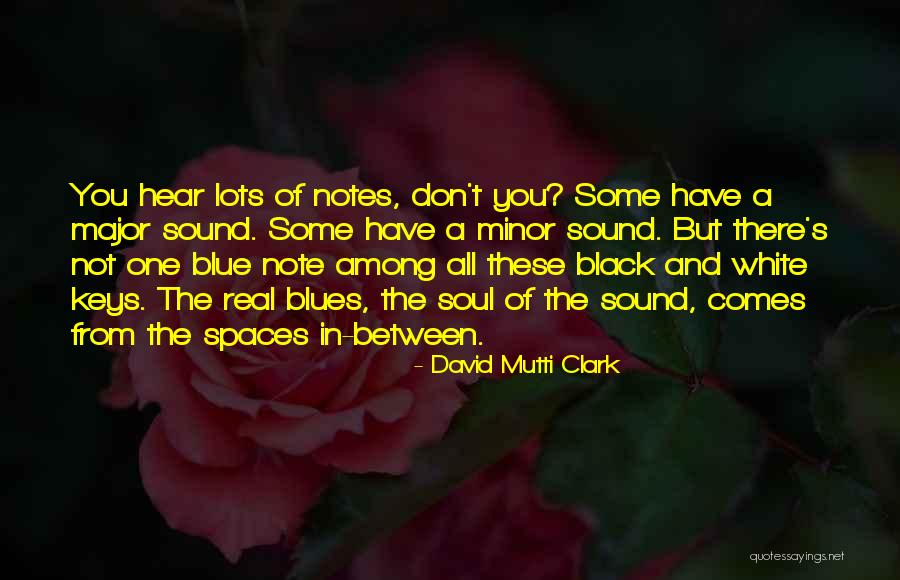 You hear lots of notes, don't you? Some have a major sound. Some have a minor sound. But there's not one blue note among all these black and white keys. The real blues, the soul of the sound, comes from the spaces in-between. — David Mutti Clark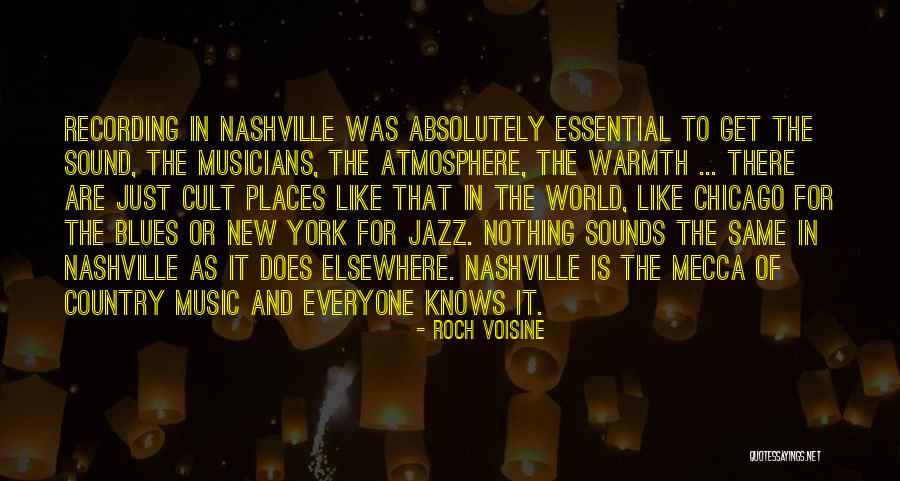 Recording in Nashville was absolutely essential to get the sound, the musicians, the atmosphere, the warmth ... There are just cult places like that in the world, like Chicago for the blues or New York for jazz. Nothing sounds the same in Nashville as it does elsewhere. Nashville is the Mecca of country music and everyone knows it. — Roch Voisine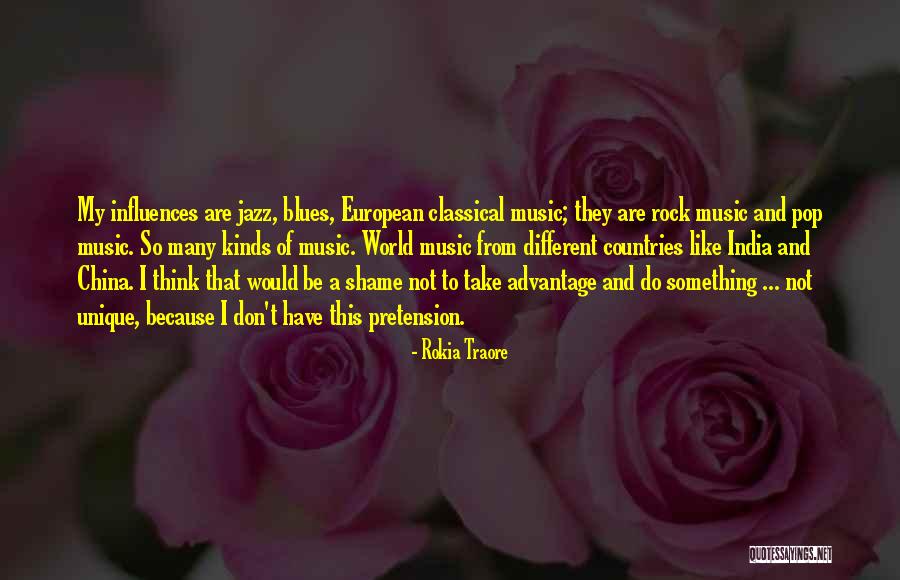 My influences are jazz, blues, European classical music; they are rock music and pop music. So many kinds of music. World music from different countries like India and China. I think that would be a shame not to take advantage and do something ... not unique, because I don't have this pretension. — Rokia Traore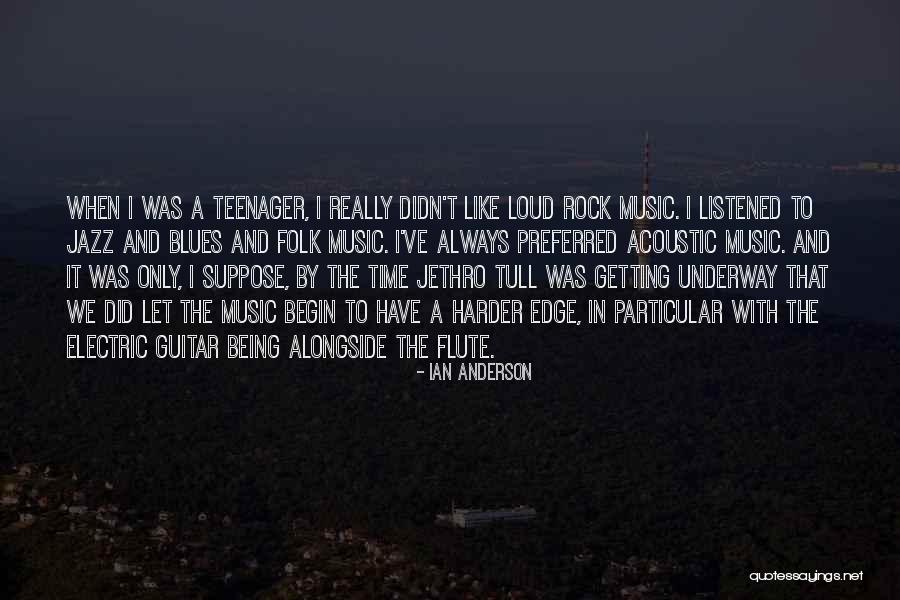 When I was a teenager, I really didn't like loud rock music. I listened to jazz and blues and folk music. I've always preferred acoustic music. And it was only, I suppose, by the time Jethro Tull was getting underway that we did let the music begin to have a harder edge, in particular with the electric guitar being alongside the flute. — Ian Anderson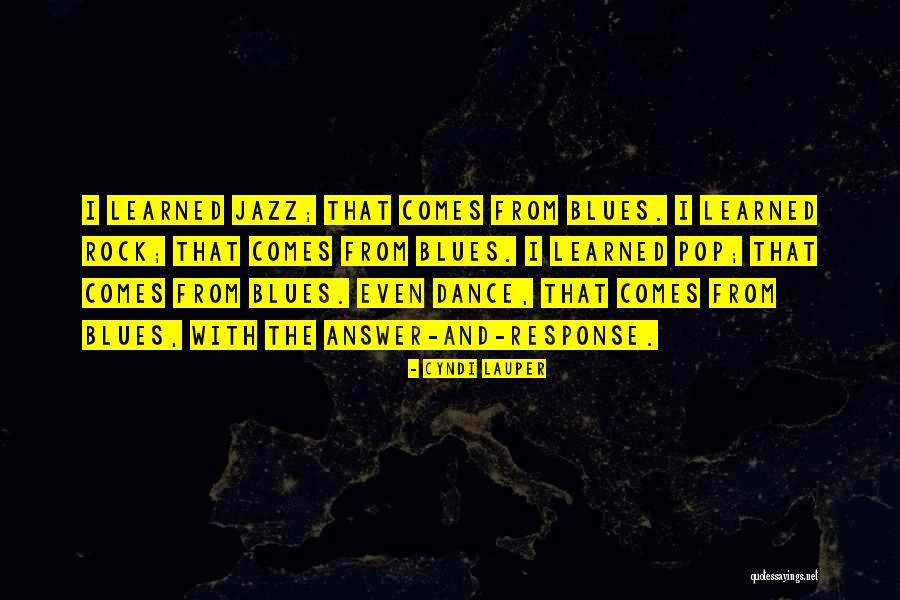 I learned jazz; that comes from blues. I learned rock; that comes from blues. I learned pop; that comes from blues. Even dance, that comes from blues, with the answer-and-response. — Cyndi Lauper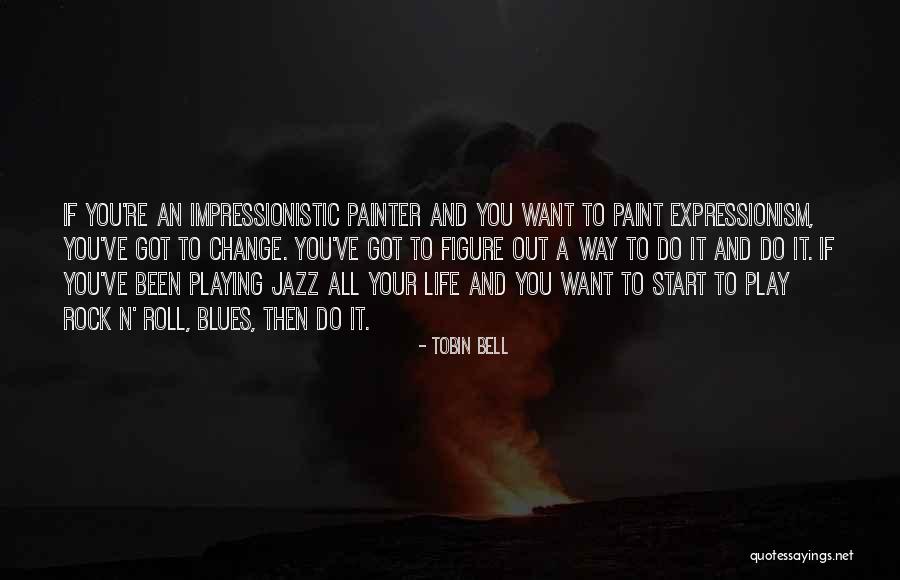 If you're an impressionistic painter and you want to paint expressionism, you've got to change. You've got to figure out a way to do it and do it. If you've been playing jazz all your life and you want to start to play rock n' roll, blues, then do it. — Tobin Bell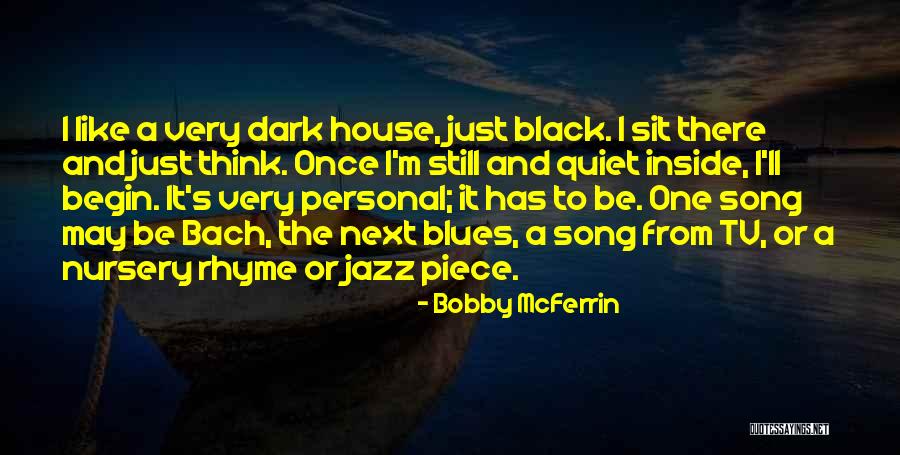 I like a very dark house, just black. I sit there and just think. Once I'm still and quiet inside, I'll begin. It's very personal; it has to be. One song may be Bach, the next blues, a song from TV, or a nursery rhyme or jazz piece. — Bobby McFerrin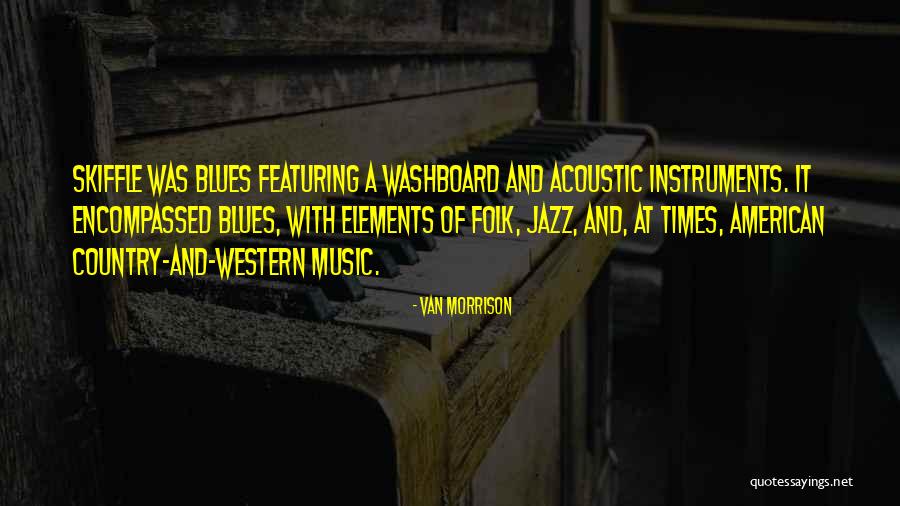 Skiffle was blues featuring a washboard and acoustic instruments. It encompassed blues, with elements of folk, jazz, and, at times, American country-and-western music. — Van Morrison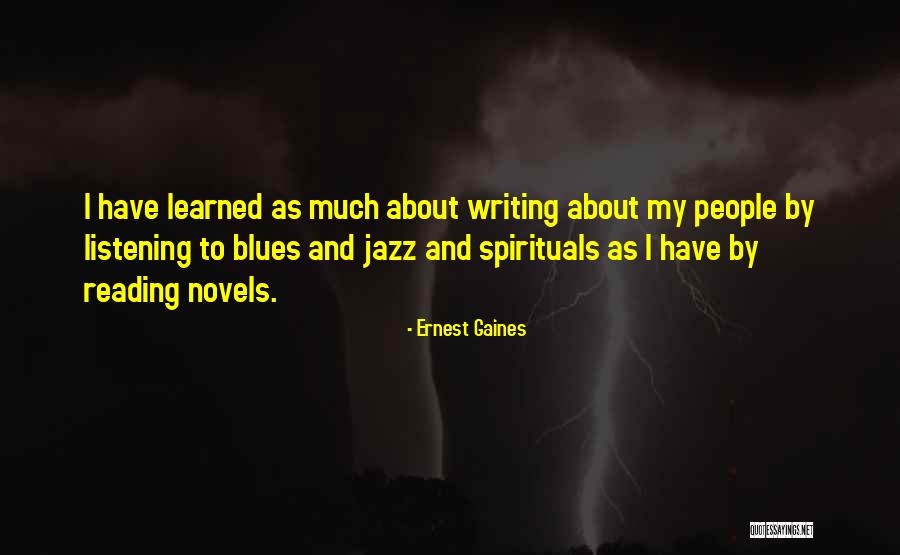 I have learned as much about writing about my people by listening to blues and jazz and spirituals as I have by reading novels. — Ernest Gaines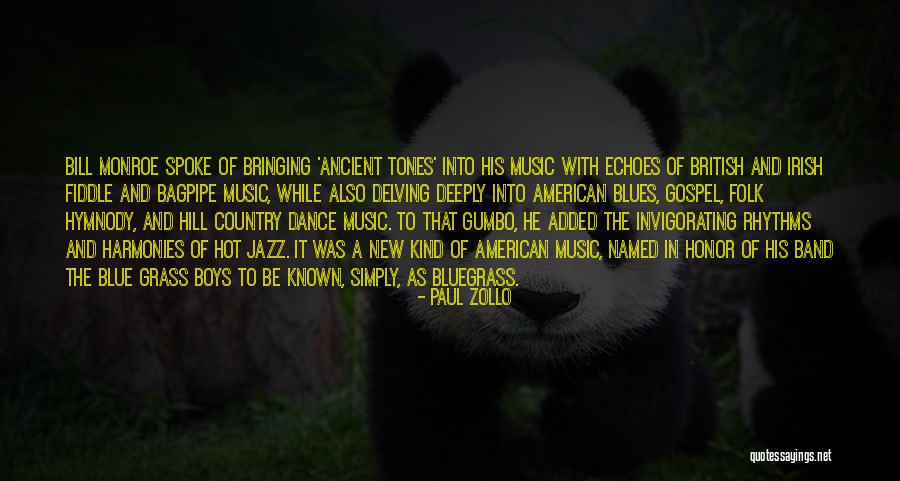 Bill Monroe spoke of bringing 'ancient tones' into his music with echoes of British and Irish fiddle and bagpipe music, while also delving deeply into American blues, gospel, folk hymnody, and hill country dance music. To that gumbo, he added the invigorating rhythms and harmonies of hot jazz. It was a new kind of American music, named in honor of his band The Blue Grass Boys to be known, simply, as bluegrass. — Paul Zollo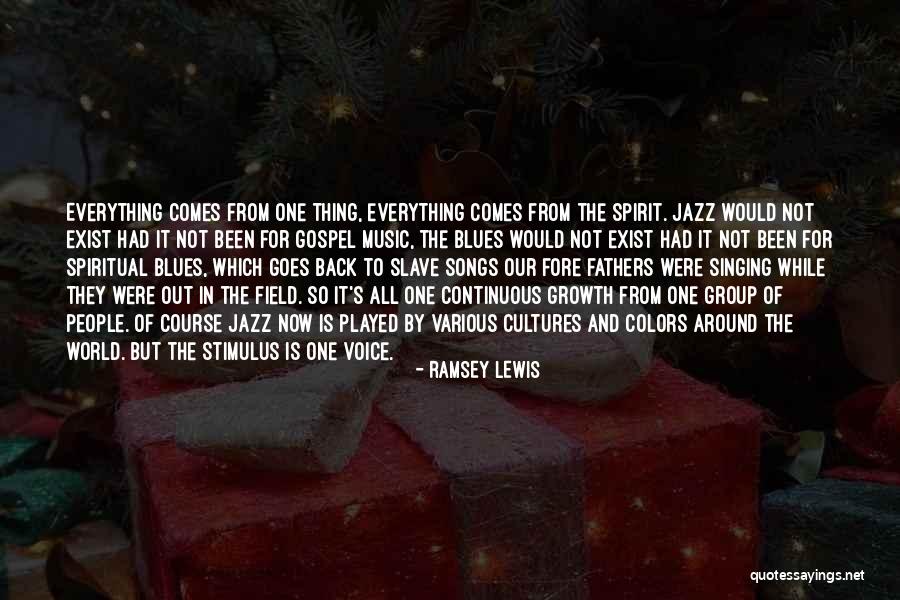 Everything comes from one thing, everything comes from the Spirit. Jazz would not exist had it not been for gospel music, the blues would not exist had it not been for spiritual blues, which goes back to slave songs our fore fathers were singing while they were out in the field. So it's all one continuous growth from one group of people. Of course jazz now is played by various cultures and colors around the world. But the stimulus is One Voice. — Ramsey Lewis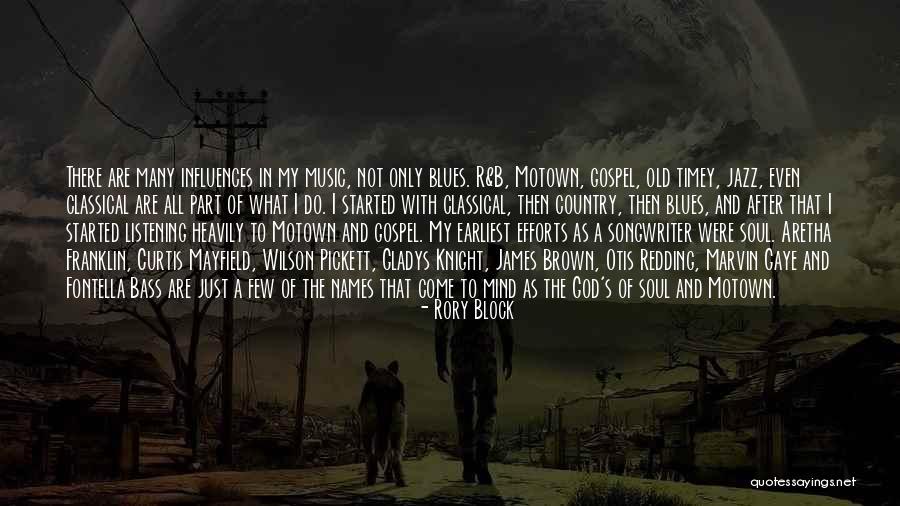 There are many influences in my music, not only blues. R&B, Motown, gospel, old timey, jazz, even classical are all part of what I do. I started with classical, then country, then blues, and after that I started listening heavily to Motown and gospel. My earliest efforts as a songwriter were soul. Aretha Franklin, Curtis Mayfield, Wilson Pickett, Gladys Knight, James Brown, Otis Redding, Marvin Gaye and Fontella Bass are just a few of the names that come to mind as the God's of soul and Motown. — Rory Block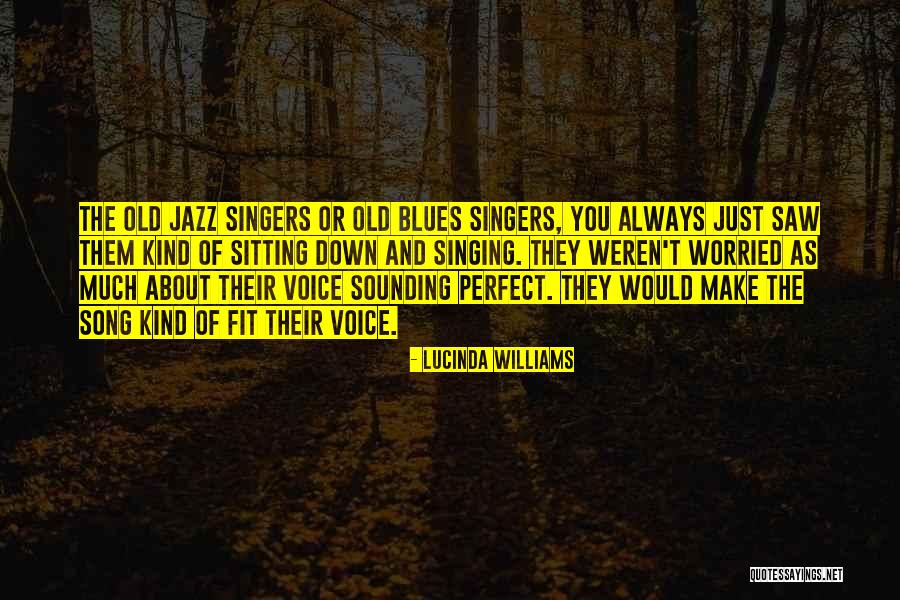 The old jazz singers or old blues singers, you always just saw them kind of sitting down and singing. They weren't worried as much about their voice sounding perfect. They would make the song kind of fit their voice. — Lucinda Williams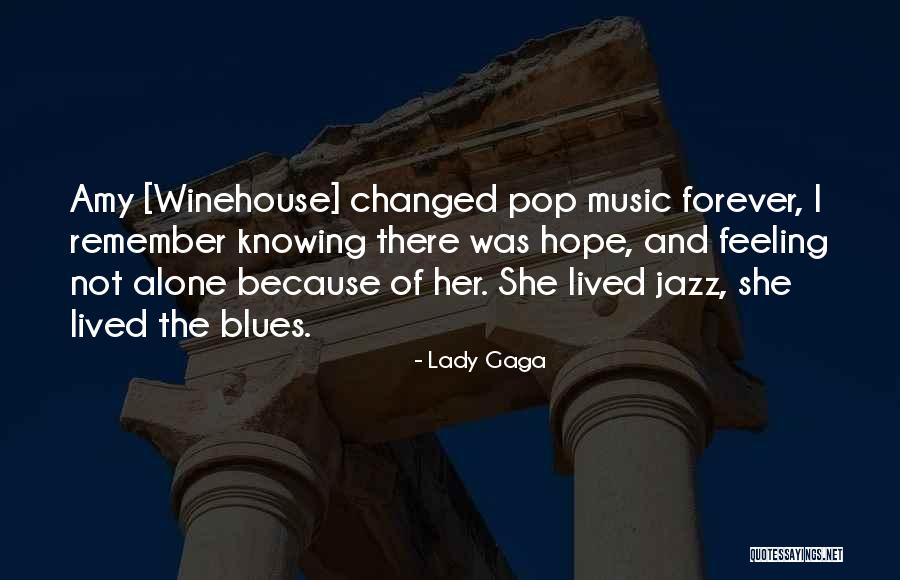 Amy [Winehouse] changed pop music forever, I remember knowing there was hope, and feeling not alone because of her. She lived jazz, she lived the blues. — Lady Gaga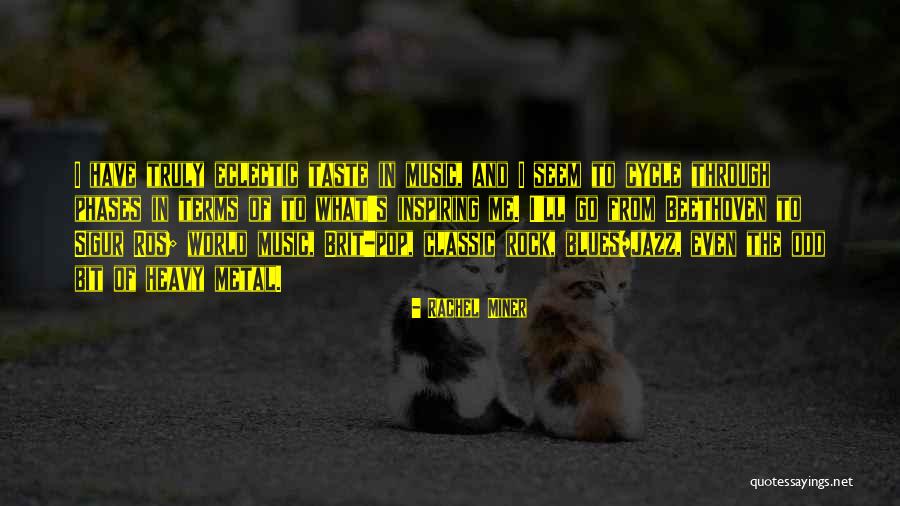 I have truly eclectic taste in music, and I seem to cycle through phases in terms of to what's inspiring me. I'll go from Beethoven to Sigur Ros; world music, Brit-pop, classic rock, blues/jazz, even the odd bit of heavy metal. — Rachel Miner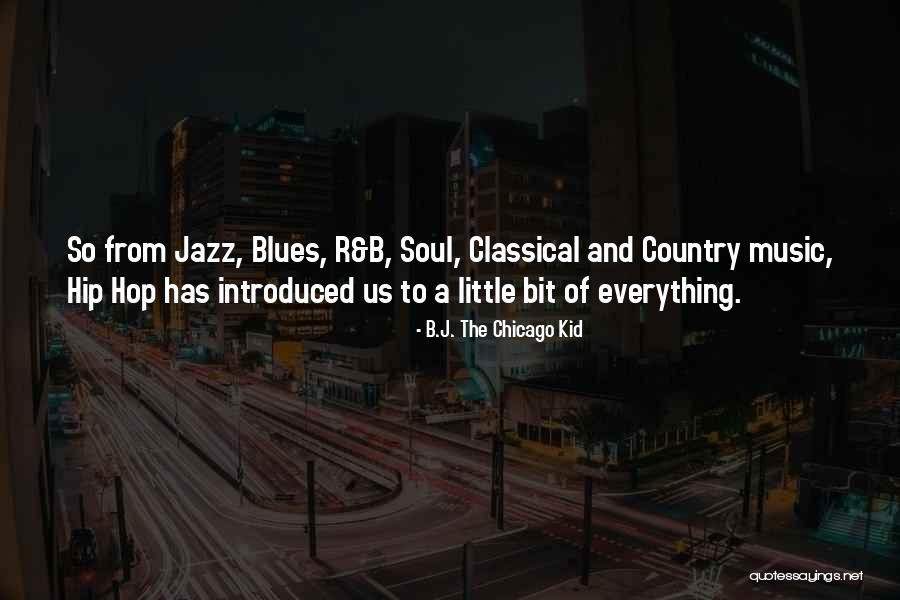 So from Jazz, Blues, R&B, Soul, Classical and Country music, Hip Hop has introduced us to a little bit of everything. — B.J. The Chicago Kid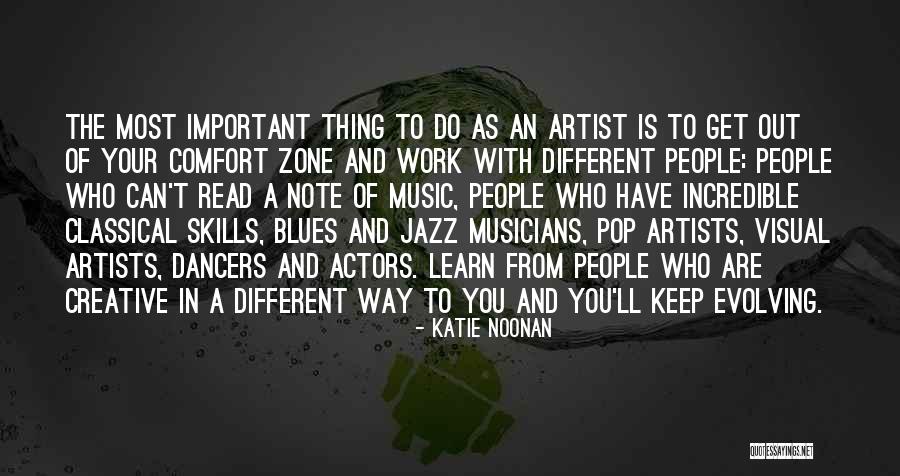 The most important thing to do as an artist is to get out of your comfort zone and work with different people: people who can't read a note of music, people who have incredible classical skills, blues and jazz musicians, pop artists, visual artists, dancers and actors. Learn from people who are creative in a different way to you and you'll keep evolving. — Katie Noonan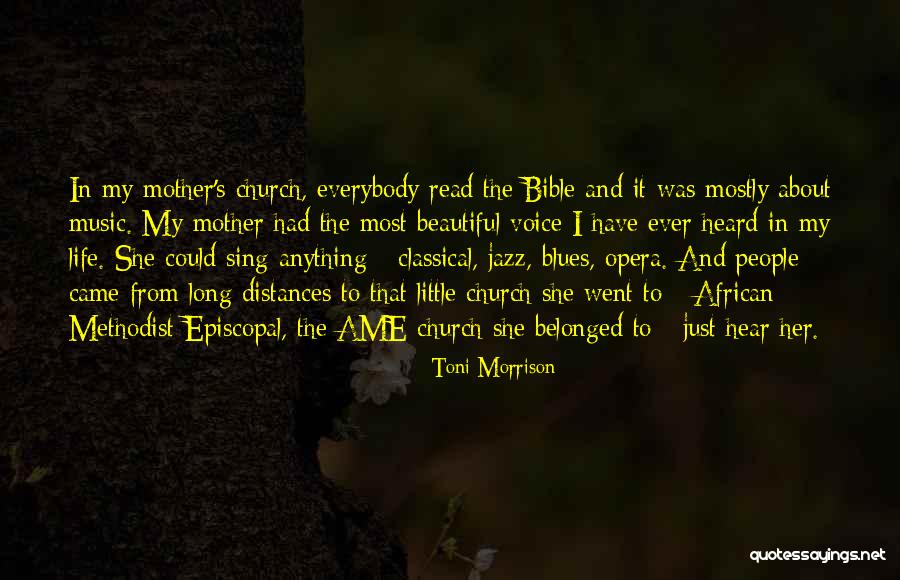 In my mother's church, everybody read the Bible and it was mostly about music. My mother had the most beautiful voice I have ever heard in my life. She could sing anything - classical, jazz, blues, opera. And people came from long distances to that little church she went to - African Methodist Episcopal, the AME church she belonged to - just hear her. — Toni Morrison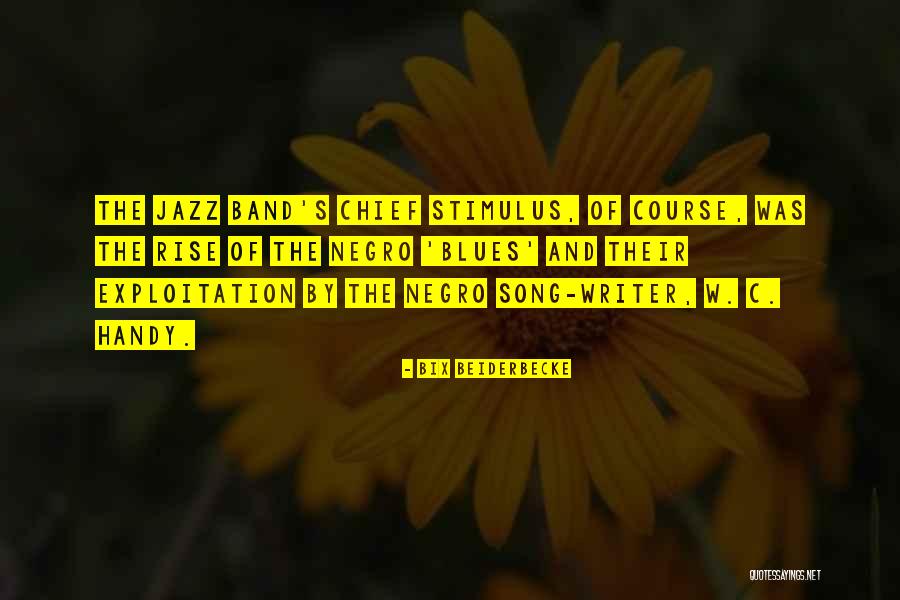 The jazz band's chief stimulus, of course, was the rise of the negro 'blues' and their exploitation by the negro song-writer, W. C. Handy. — Bix Beiderbecke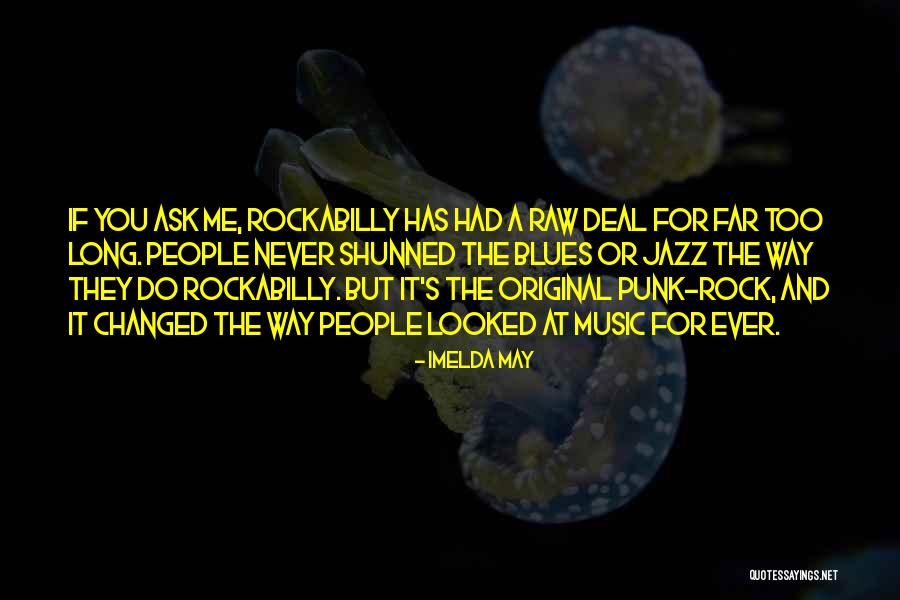 If you ask me, rockabilly has had a raw deal for far too long. People never shunned the blues or jazz the way they do rockabilly. But it's the original punk-rock, and it changed the way people looked at music for ever. — Imelda May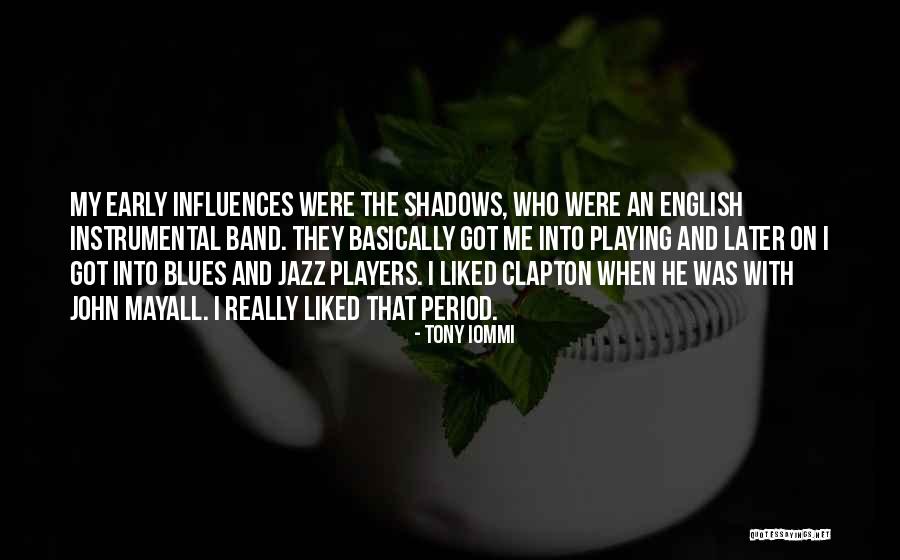 My early influences were the Shadows, who were an English instrumental band. They basically got me into playing and later on I got into blues and jazz players. I liked Clapton when he was with John Mayall. I really liked that period. — Tony Iommi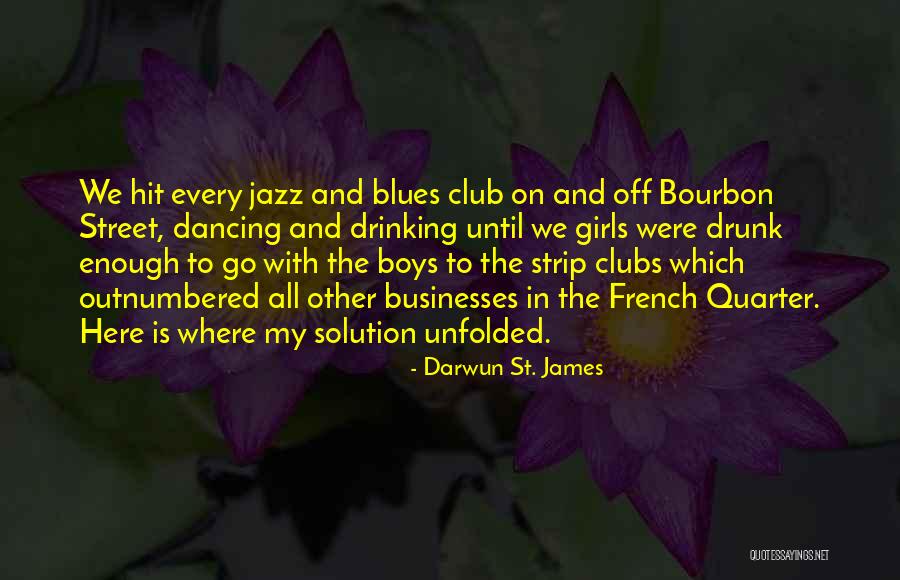 We hit every jazz and blues club on and off Bourbon Street, dancing and drinking until we girls were drunk enough to go with the boys to the strip clubs which outnumbered all other businesses in the French Quarter. Here is where my solution unfolded. — Darwun St. James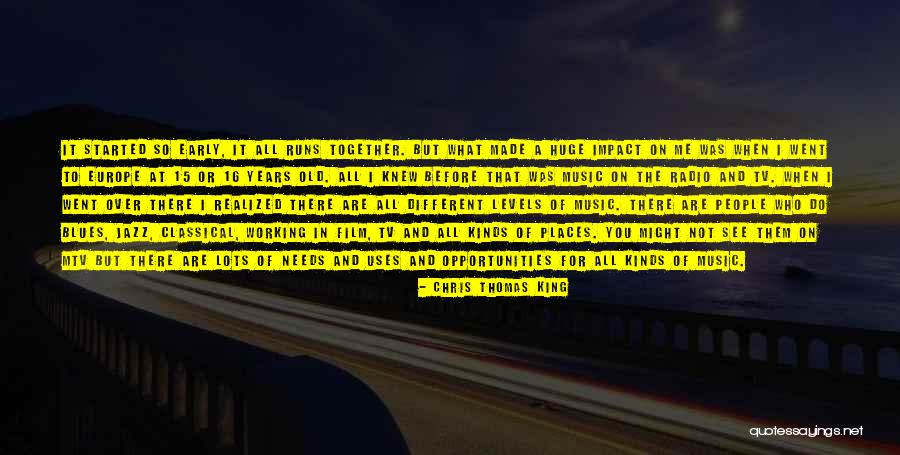 It started so early, it all runs together. But what made a huge impact on me was when I went to Europe at 15 or 16 years old. All I knew before that was music on the radio and TV. When I went over there I realized there are all different levels of music. There are people who do blues, jazz, classical, working in film, TV and all kinds of places. You might not see them on MTV but there are lots of needs and uses and opportunities for all kinds of music. — Chris Thomas King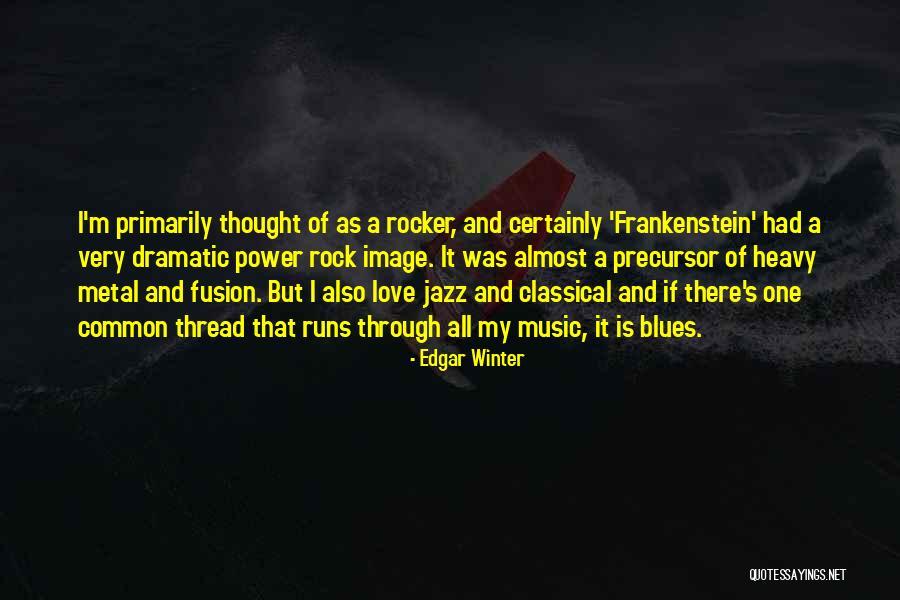 I'm primarily thought of as a rocker, and certainly 'Frankenstein' had a very dramatic power rock image. It was almost a precursor of heavy metal and fusion. But I also love jazz and classical and if there's one common thread that runs through all my music, it is blues. — Edgar Winter