Quotes & Sayings About Jasmine Tea
Enjoy reading and share 8 famous quotes about Jasmine Tea with everyone.
One of Francie's favorite stores was the one which sold nothing but tea, coffee, and spices. It was an exciting place of rows of lacquered bins and strange, romantic, exotics odors. There were a dozen scarlet coffee bins with adventurous words written across the front in black China ink: Brazil! Argentine! Turkish! Java! Mixed Blend! The tea was in smaller bins: beautiful bins with sloping covers. They read: Oolong! Formosa! Orange Pekoe! Black China! Flowering Almond! Jasmine! Irish Tea! The spices were in miniature bins behind the counter. Their names marches in a row across the shelves: cinnamon
cloves
ginger
all-spice
ball nutmeg
curry
peppercorns
sage
thyme
marjoram. — Betty Smith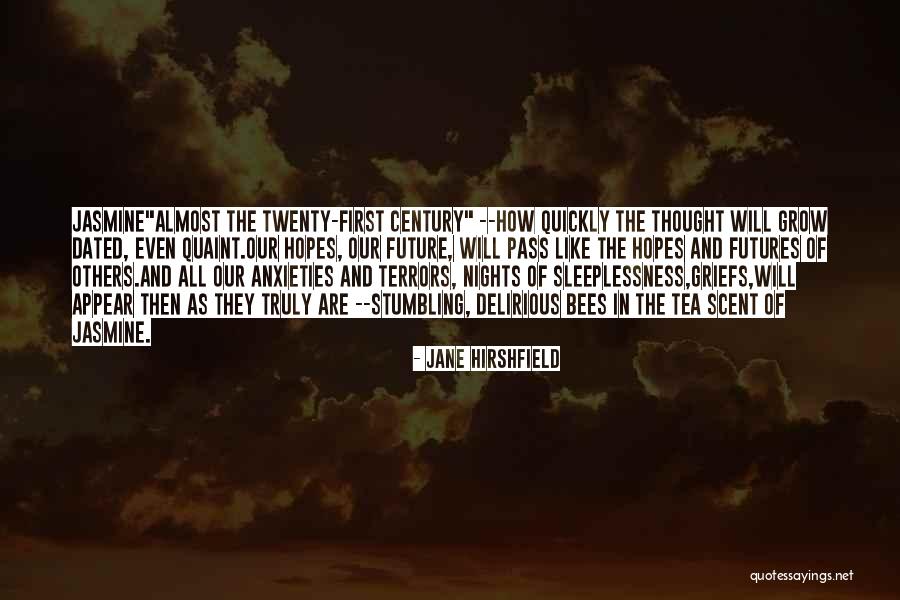 Jasmine

"Almost the twenty-first century" --
how quickly the thought will grow dated,
even quaint.

Our hopes, our future,
will pass like the hopes and futures of others.

And all our anxieties and terrors,
nights of sleeplessness,
griefs,
will appear then as they truly are --

Stumbling, delirious bees in the tea scent of jasmine. — Jane Hirshfield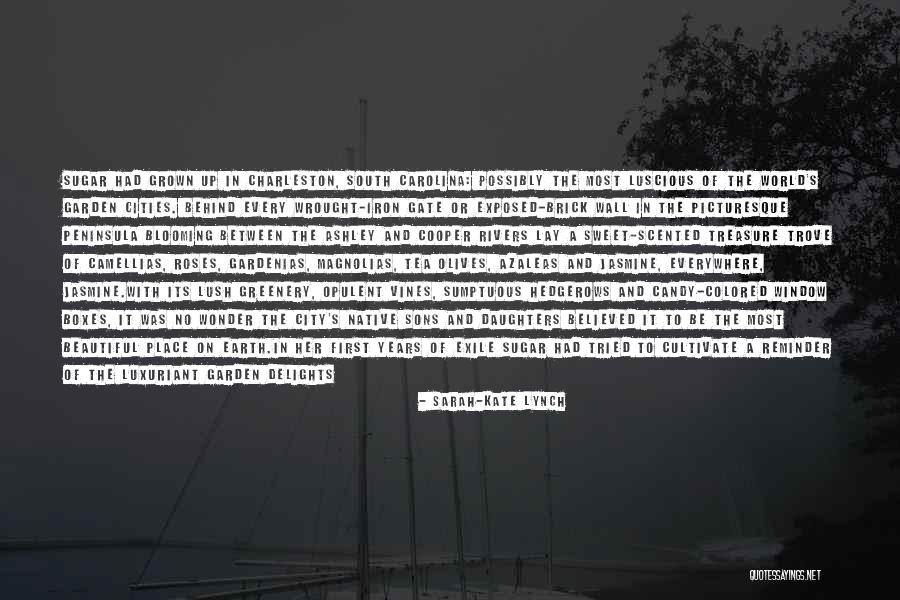 Sugar had grown up in Charleston, South Carolina: possibly the most luscious of the world's garden cities. Behind every wrought-iron gate or exposed-brick wall in the picturesque peninsula blooming between the Ashley and Cooper Rivers lay a sweet-scented treasure trove of camellias, roses, gardenias, magnolias, tea olives, azaleas and jasmine, everywhere, jasmine.
With its lush greenery, opulent vines, sumptuous hedgerows and candy-colored window boxes, it was no wonder the city's native sons and daughters believed it to be the most beautiful place on earth.
In her first years of exile Sugar had tried to cultivate a reminder of the luxuriant garden delights she had left behind, struggling in sometimes hostile elements to train reluctant honeysuckle and sulky sweet potato vines or nurture creeping jenny and autumn stonecrop. — Sarah-Kate Lynch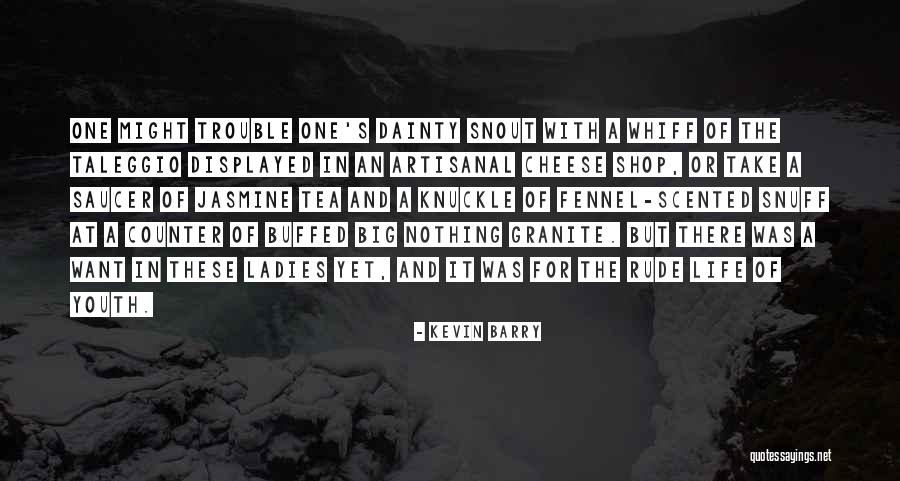 One might trouble one's dainty snout with a whiff of the taleggio displayed in an artisanal cheese shop, or take a saucer of jasmine tea and a knuckle of fennel-scented snuff at a counter of buffed Big Nothing granite. But there was a want in these ladies yet, and it was for the rude life of youth. — Kevin Barry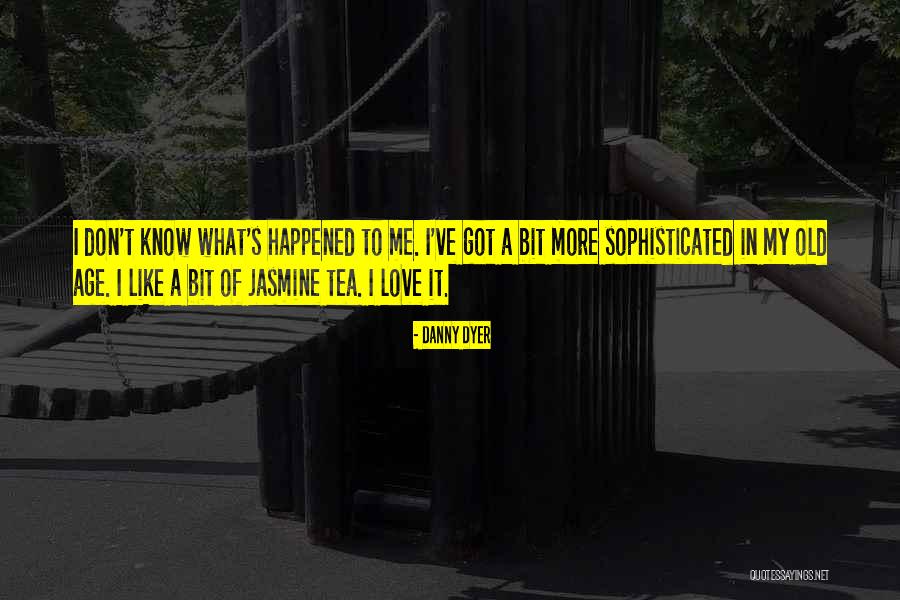 I don't know what's happened to me. I've got a bit more sophisticated in my old age. I like a bit of jasmine tea. I love it. — Danny Dyer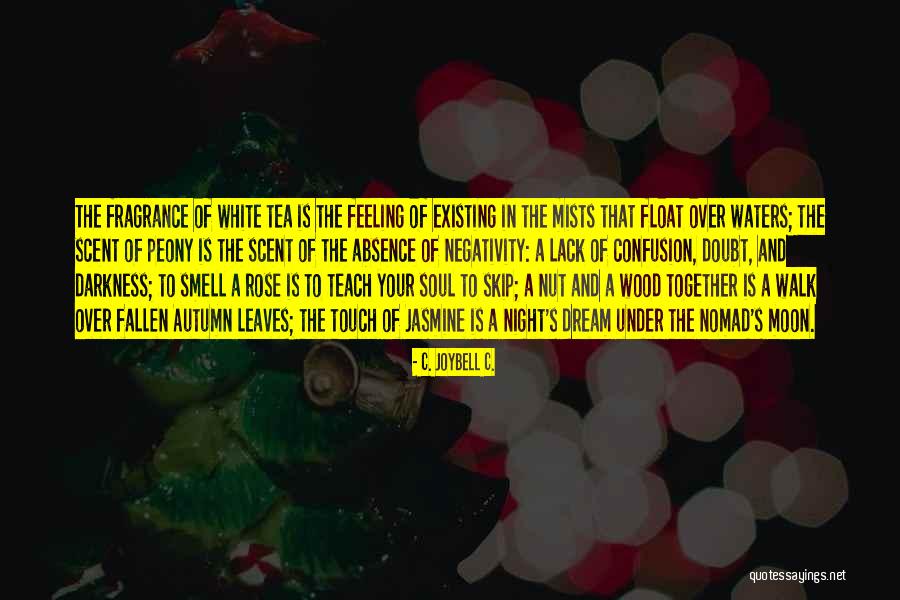 The fragrance of white tea is the feeling of existing in the mists that float over waters; the scent of peony is the scent of the absence of negativity: a lack of confusion, doubt, and darkness; to smell a rose is to teach your soul to skip; a nut and a wood together is a walk over fallen Autumn leaves; the touch of jasmine is a night's dream under the nomad's moon. — C. JoyBell C.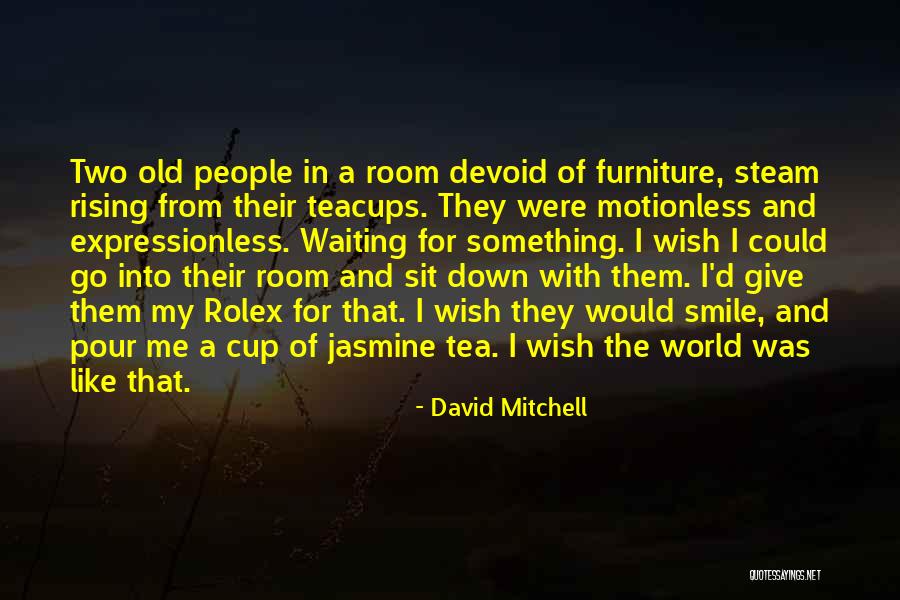 Two old people in a room devoid of furniture, steam rising from their teacups. They were motionless and expressionless. Waiting for something. I wish I could go into their room and sit down with them. I'd give them my Rolex for that. I wish they would smile, and pour me a cup of jasmine tea. I wish the world was like that. — David Mitchell
Whether I'm making a recipe or a piece of jewelry or a white-rose-and-jasmine tea or the perfume, I like to think of myself as a happy little sorceress, and if I could just have a little general store with all that stuff and give people a sense of my taste, that would be lovely. — Padma Lakshmi