It's All About Your Attitude Quotes & Sayings
Enjoy reading and share 31 famous quotes about It's All About Your Attitude with everyone.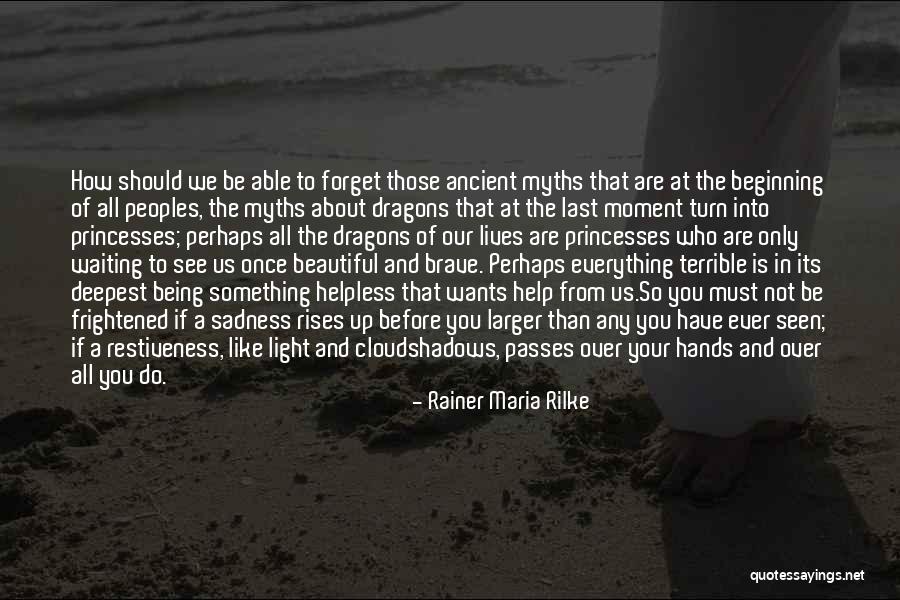 How should we be able to forget those ancient myths that are at the beginning of all peoples, the myths about dragons that at the last moment turn into princesses; perhaps all the dragons of our lives are princesses who are only waiting to see us once beautiful and brave. Perhaps everything terrible is in its deepest being something helpless that wants help from us.
So you must not be frightened if a sadness rises up before you larger than any you have ever seen; if a restiveness, like light and cloudshadows, passes over your hands and over all you do. You must think that something is happening with you, that life has not forgotten you, that it holds you in its hand; it will not let you fall. Why do you want to shut out of your life any uneasiness, any miseries, or any depressions? For after all, you do not know what work these conditions are doing inside you. — Rainer Maria Rilke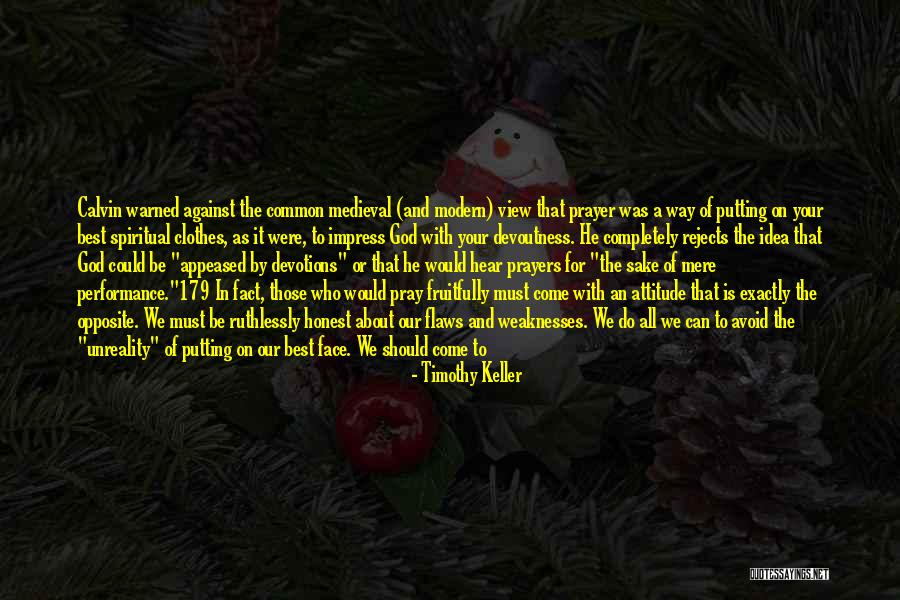 Calvin warned against the common medieval (and modern) view that prayer was a way of putting on your best spiritual clothes, as it were, to impress God with your devoutness. He completely rejects the idea that God could be "appeased by devotions" or that he would hear prayers for "the sake of mere performance."179 In fact, those who would pray fruitfully must come with an attitude that is exactly the opposite. We must be ruthlessly honest about our flaws and weaknesses. We do all we can to avoid the "unreality" of putting on our best face. We should come to God knowing our only hope is in his grace and forgiveness and being honest about our doubts, fears, and emptiness. We should come to God with the "disposition of a beggar. — Timothy Keller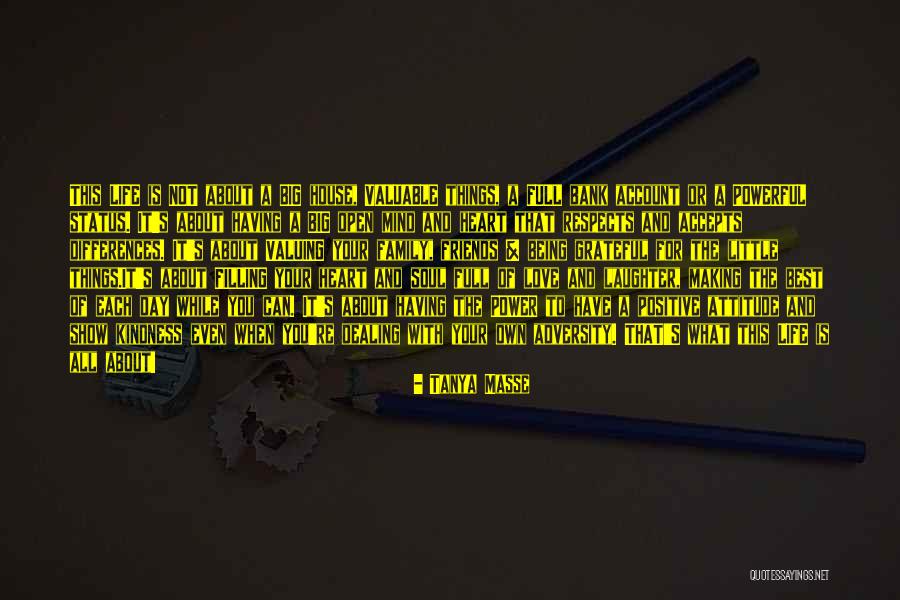 This LIFE is NOT about a BIG house, VALUABLE things, a FULL bank account or a POWERFUL status.
It's about having a BIG open mind and heart that respects and accepts differences.
It's about VALUING your family, friends & being grateful for the little things.
It's about FILLING your heart and soul full of love and laughter, making the best of each day while you can.
It's about having the POWER to have a positive attitude and show kindness even when you're dealing with your own adversity.
THAT'S what this LIFE is all about! — Tanya Masse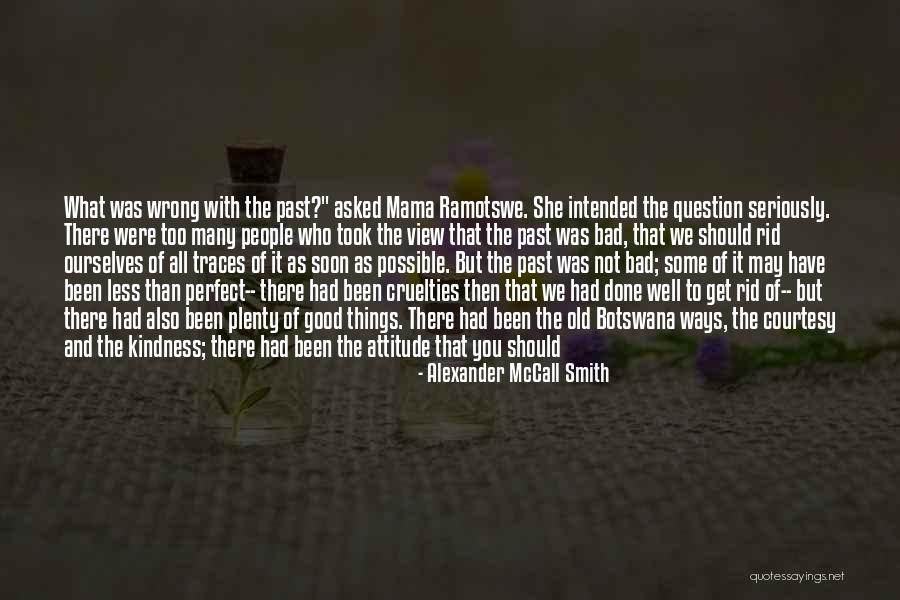 What was wrong with the past?" asked Mama Ramotswe. She intended the question seriously. There were too many people who took the view that the past was bad, that we should rid ourselves of all traces of it as soon as possible. But the past was not bad; some of it may have been less than perfect-- there had been cruelties then that we had done well to get rid of-- but there had also been plenty of good things. There had been the old Botswana ways, the courtesy and the kindness; there had been the attitude that you should find time for other people and not always be in a desperate rush; there had been the belief that you should listen to other people, should talk to them, rather than spend all your time fiddling with your electronic gadgets; there had been the view that it was a good thing to sit under a tree sometimes and look up at the sky and think about cattle or pumpkins or non-electric things like that. — Alexander McCall Smith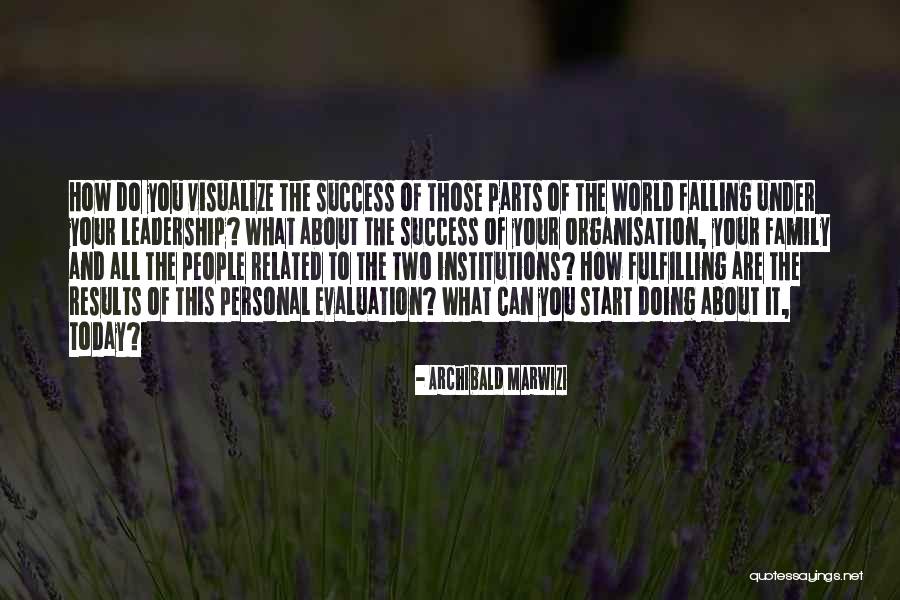 How do you visualize the success of those parts of the world falling under your leadership? What about the success of your organisation, your family and all the people related to the two institutions? How fulfilling are the results of this personal evaluation? What can you start doing about it, today? — Archibald Marwizi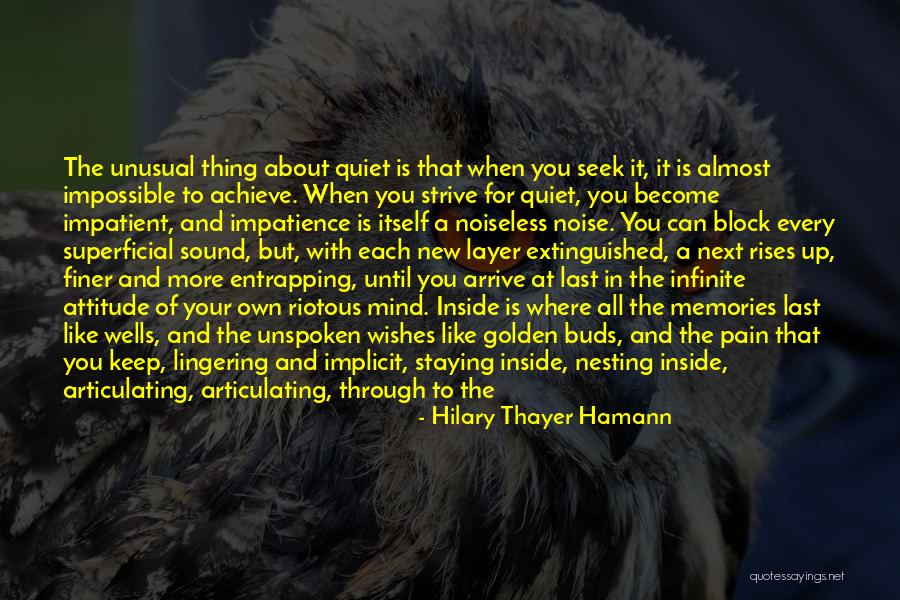 The unusual thing about quiet is that when you seek it, it is almost impossible to achieve. When you strive for quiet, you become impatient, and impatience is itself a noiseless noise. You can block every superficial sound, but, with each new layer extinguished, a next rises up, finer and more entrapping, until you arrive at last in the infinite attitude of your own riotous mind. Inside is where all the memories last like wells, and the unspoken wishes like golden buds, and the pain that you keep, lingering and implicit, staying inside, nesting inside, articulating, articulating, through to the day you die. (p. 240) — Hilary Thayer Hamann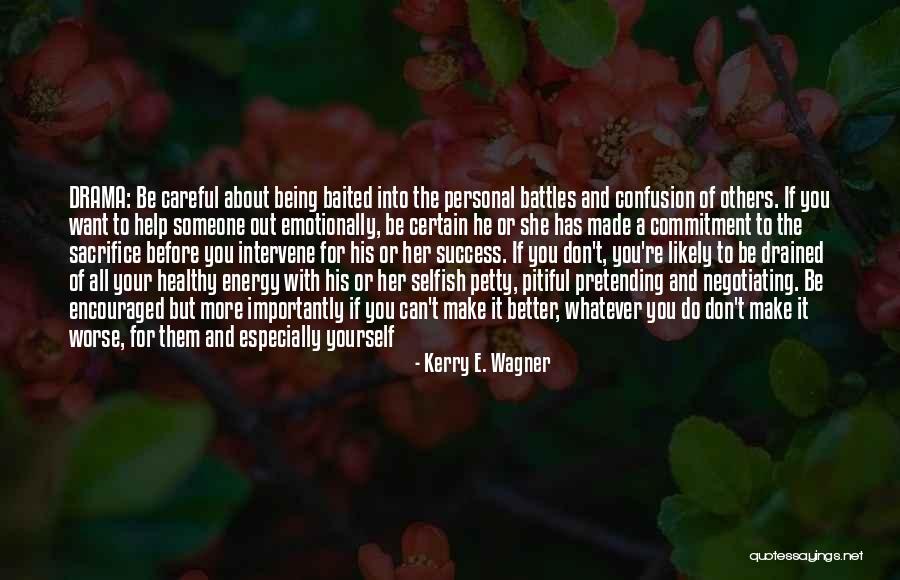 DRAMA: Be careful about being baited into the personal battles and confusion of others. If you want to help someone out emotionally, be certain he or she has made a commitment to the sacrifice before you intervene for his or her success. If you don't, you're likely to be drained of all your healthy energy with his or her selfish petty, pitiful pretending and negotiating. Be encouraged but more importantly if you can't make it better, whatever you do don't make it worse, for them and especially yourself — Kerry E. Wagner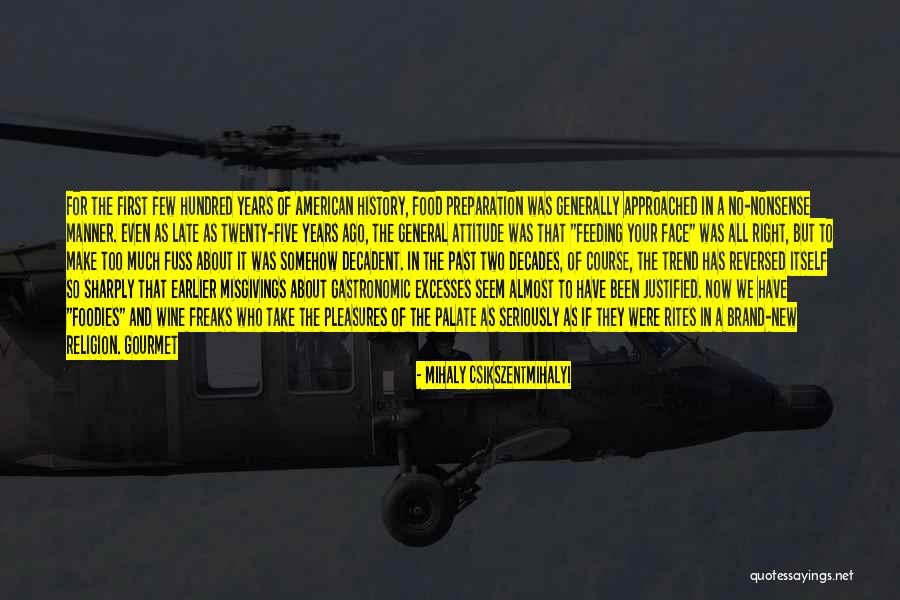 For the first few hundred years of American history, food preparation was generally approached in a no-nonsense manner. Even as late as twenty-five years ago, the general attitude was that "feeding your face" was all right, but to make too much fuss about it was somehow decadent. In the past two decades, of course, the trend has reversed itself so sharply that earlier misgivings about gastronomic excesses seem almost to have been justified. Now we have "foodies" and wine freaks who take the pleasures of the palate as seriously as if they were rites in a brand-new religion. Gourmet — Mihaly Csikszentmihalyi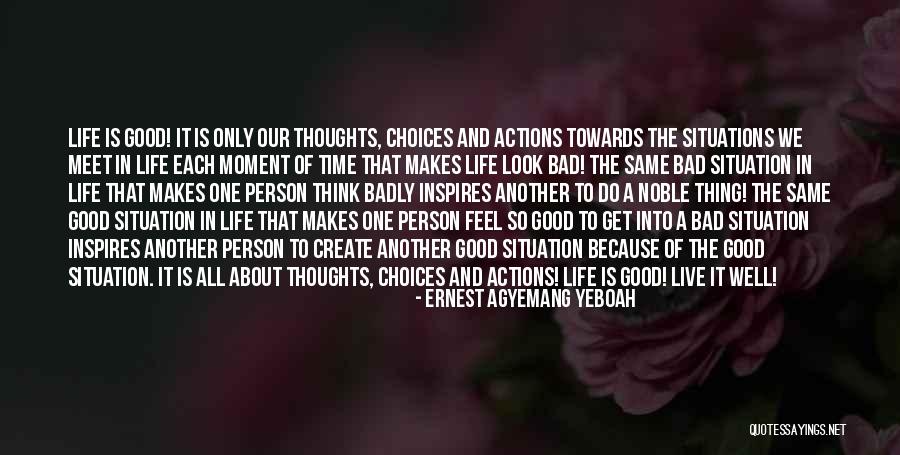 Life is good! It is only our thoughts, choices and actions towards the situations we meet in life each moment of time that makes life look bad! The same bad situation in life that makes one person think badly inspires another to do a noble thing! The same good situation in life that makes one person feel so good to get into a bad situation inspires another person to create another good situation because of the good situation. It is all about thoughts, choices and actions! Life is good! Live it well! — Ernest Agyemang Yeboah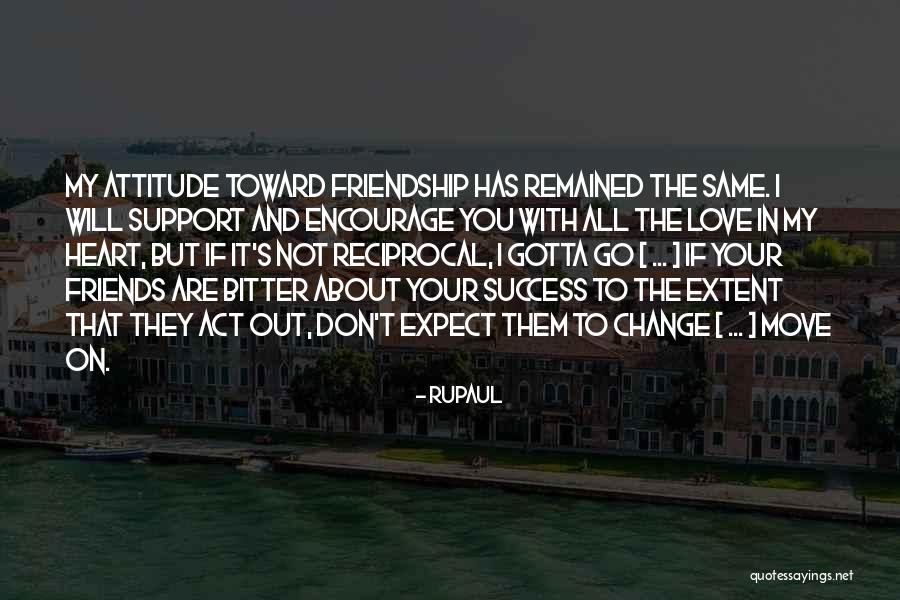 My attitude toward friendship has remained the same. I will support and encourage you with all the love in my heart, but if it's not reciprocal, I gotta go [ ... ] If your friends are bitter about your success to the extent that they act out, don't expect them to change [ ... ] Move on. — RuPaul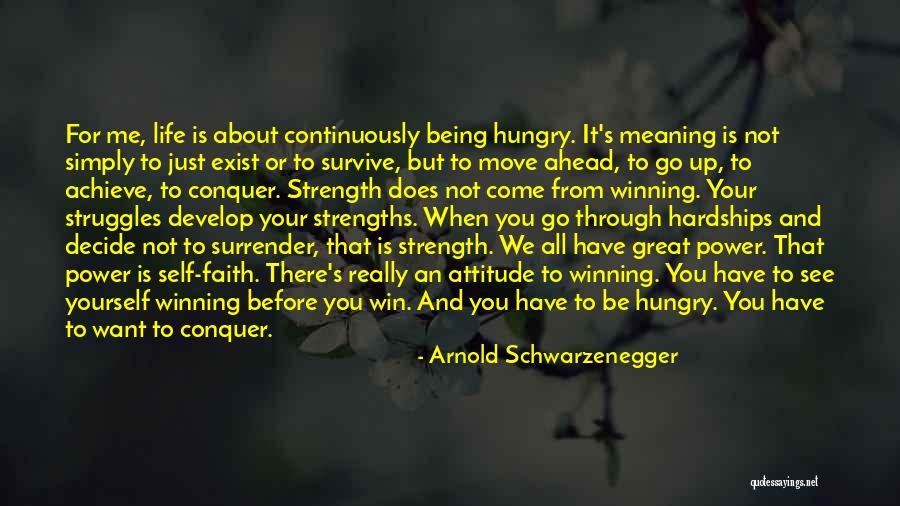 For me, life is about continuously being hungry. It's meaning is not simply to just exist or to survive, but to move ahead, to go up, to achieve, to conquer. Strength does not come from winning. Your struggles develop your strengths. When you go through hardships and decide not to surrender, that is strength. We all have great power. That power is self-faith. There's really an attitude to winning. You have to see yourself winning before you win. And you have to be hungry. You have to want to conquer. — Arnold Schwarzenegger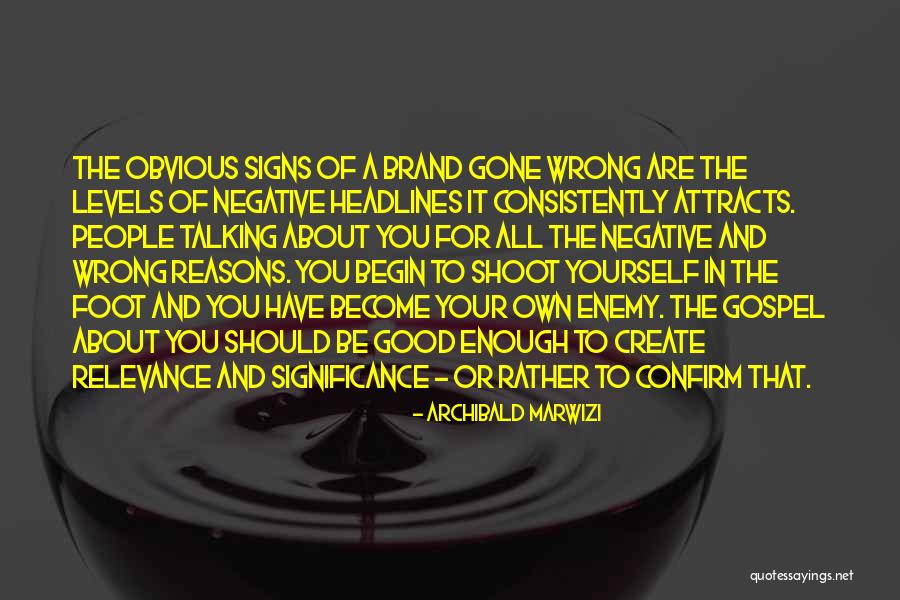 The obvious signs of a brand gone wrong are the levels of negative headlines it consistently attracts. People talking about you for all the negative and wrong reasons. You begin to shoot yourself in the foot and you have become your own enemy. The gospel about you should be good enough to create relevance and significance - or rather to confirm that. — Archibald Marwizi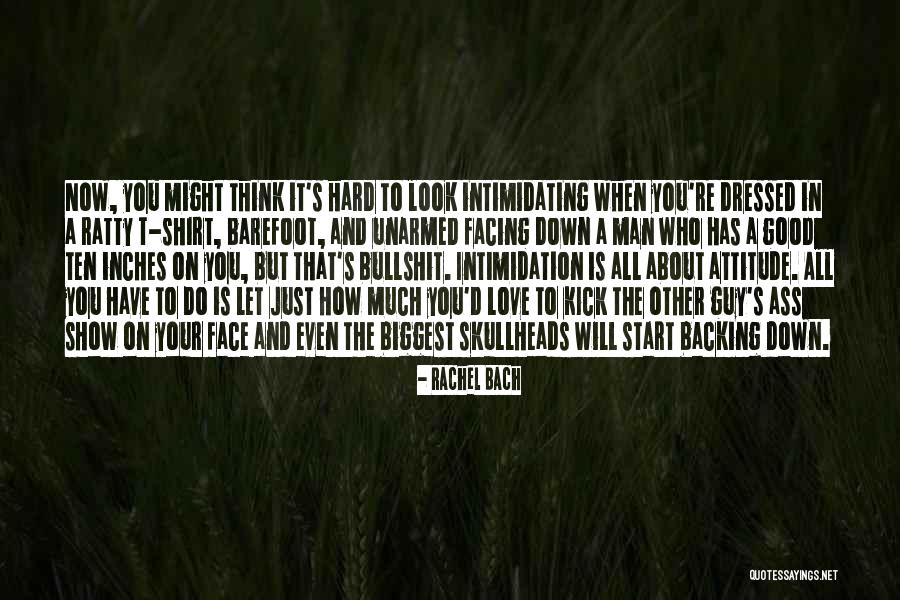 Now, you might think it's hard to look intimidating when you're dressed in a ratty T-shirt, barefoot, and unarmed facing down a man who has a good ten inches on you, but that's bullshit. Intimidation is all about attitude. All you have to do is let just how much you'd love to kick the other guy's ass show on your face and even the biggest skullheads will start backing down. — Rachel Bach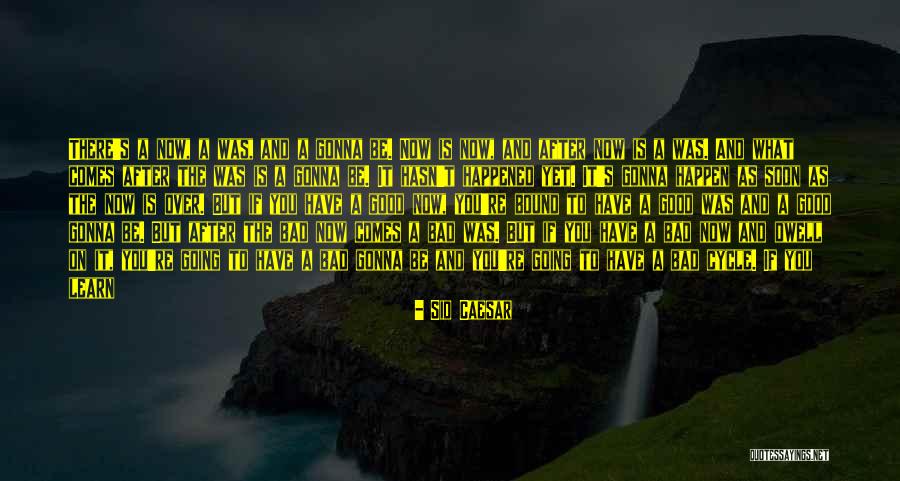 There's a now, a was, and a gonna be. Now is now, and after now is a was. And what comes after the was is a gonna be. It hasn't happened yet. It's gonna happen as soon as the now is over. But if you have a good now, you're bound to have a good was and a good gonna be. But after the bad now comes a bad was. But if you have a bad now and dwell on it, you're going to have a bad gonna be and you're going to have a bad cycle. If you learn from the bad was, you can turn the bad gonna be into a good gonna be. The only way you can change the cycle is after the was. If you carry the bad wases around with you, they get heavy and become should'a could'as - I should'a done this, I could'a done that.
If you learn from the was, you'll have a great now; you won't repeat the same mistakes. It will bring you to a good now, which changes the cycle to a good was, and a good gonna be. You need to learn from the wases. It's all about changing your attitude. — Sid Caesar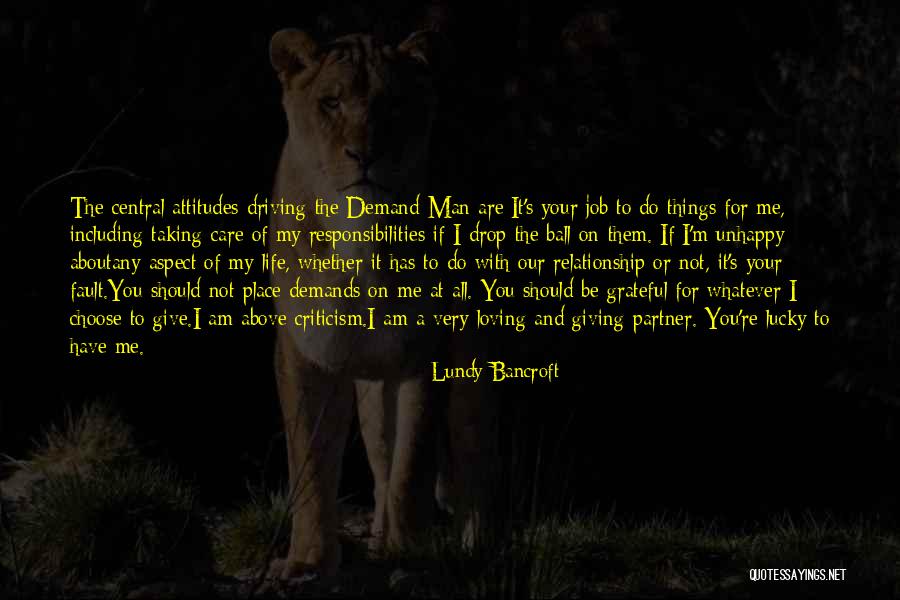 The central attitudes driving the Demand Man are:
It's your job to do things for me, including taking care of my responsibilities if I drop the ball on them. If I'm unhappy about
any aspect of my life, whether it has to do with our relationship or not, it's your fault.
You should not place demands on me at all. You should be grateful for whatever I choose to give.
I am above criticism.
I am a very loving and giving partner. You're lucky to have me. — Lundy Bancroft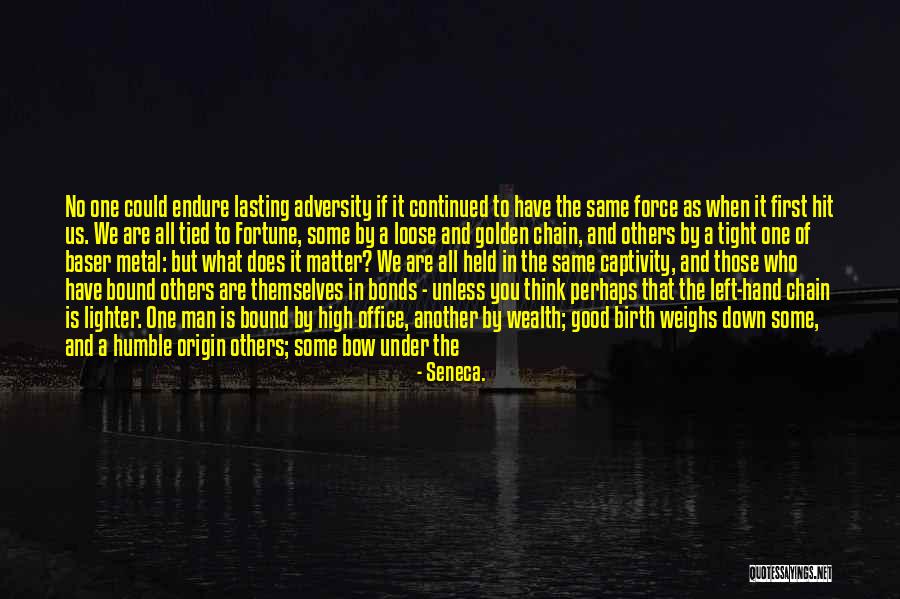 No one could endure lasting adversity if it continued to have the same force as when it first hit us. We are all tied to Fortune, some by a loose and golden chain, and others by a tight one of baser metal: but what does it matter? We are all held in the same captivity, and those who have bound others are themselves in bonds - unless you think perhaps that the left-hand chain is lighter. One man is bound by high office, another by wealth; good birth weighs down some, and a humble origin others; some bow under the rule of other men and some under their own; some are restricted to one place by exile, others by priesthoods: all life is a servitude.
So you have to get used to your circumstances, complain about them as little as possible, and grasp whatever advantage they have to offer: no condition is so bitter that a stable mind cannot find some consolation in it. — Seneca.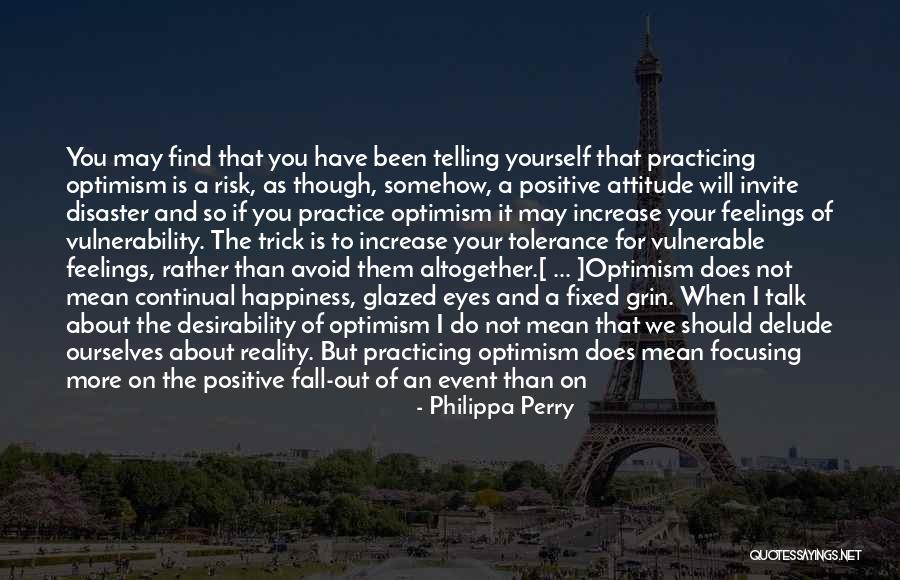 You may find that you have been telling yourself that practicing optimism is a risk, as though, somehow, a positive attitude will invite disaster and so if you practice optimism it may increase your feelings of vulnerability. The trick is to increase your tolerance for vulnerable feelings, rather than avoid them altogether.
[ ... ]
Optimism does not mean continual happiness, glazed eyes and a fixed grin. When I talk about the desirability of optimism I do not mean that we should delude ourselves about reality. But practicing optimism does mean focusing more on the positive fall-out of an event than on the negative. ... I am not advocating the kind of optimism that means you blow all your savings on a horse running at a hundred to one; I am talking about being optimistic enough to sow some seeds in the hope that some of them will germinate and grow into flowers. — Philippa Perry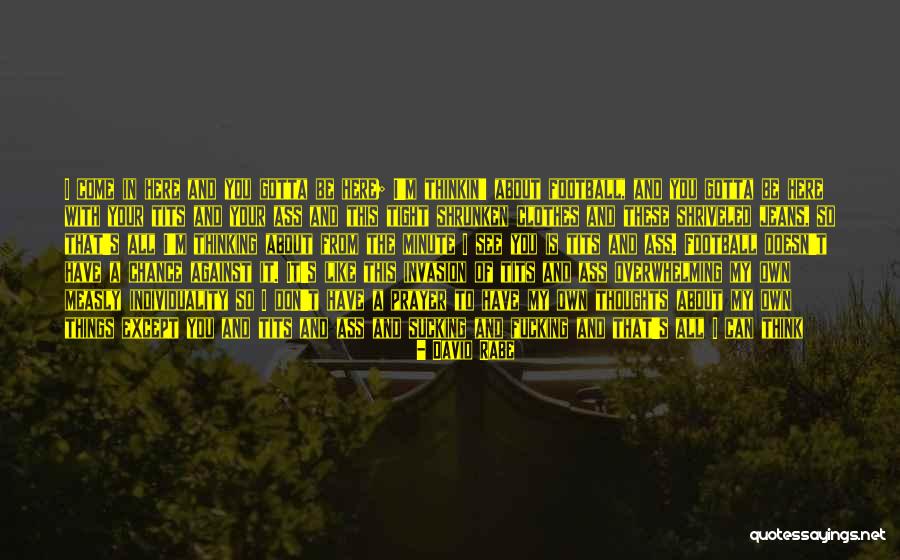 I come in here and you gotta be here; I'm thinkin' about football, and you gotta be here with your tits and your ass and this tight shrunken clothes and these shriveled jeans, so that's all I'm thinking about from the minute I see you is tits and ass. Football doesn't have a chance against it. It's like this invasion of tits and ass overwhelming my own measly individuality so I don't have a prayer to have my own thoughts about my own things except you and tits and ass and sucking and fucking and that's all I can think about. My privacy has been demolished. You think a person wants that kind of a thing to happen their heads - they are trying to give their problems some serious thought, the next thing they know there's nothing in their brains as far as they can see but your tits and ass? You think a person likes that? — David Rabe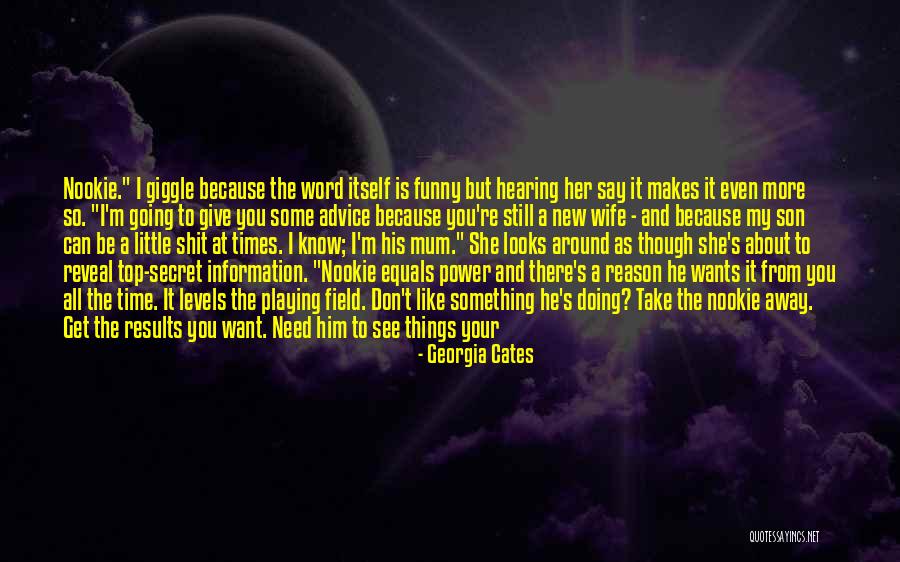 Nookie." I giggle because the word itself is funny but hearing her say it makes it even more so. "I'm going to give you some advice because you're still a new wife - and because my son can be a little shit at times. I know; I'm his mum." She looks around as though she's about to reveal top-secret information. "Nookie equals power and there's a reason he wants it from you all the time. It levels the playing field. Don't like something he's doing? Take the nookie away. Get the results you want. Need him to see things your way but he refuses? Withhold the nookie and he'll make the fastest attitude adjustment you've ever seen. Want your husband to retire because he's going to work himself into an early grave and miss his grandchildren growing up the way he missed his kids? Close the gates of nookie and get your husband home with you instead of burying him. That's how you work it, darling. You use the power of the nookie to get the results you want. — Georgia Cates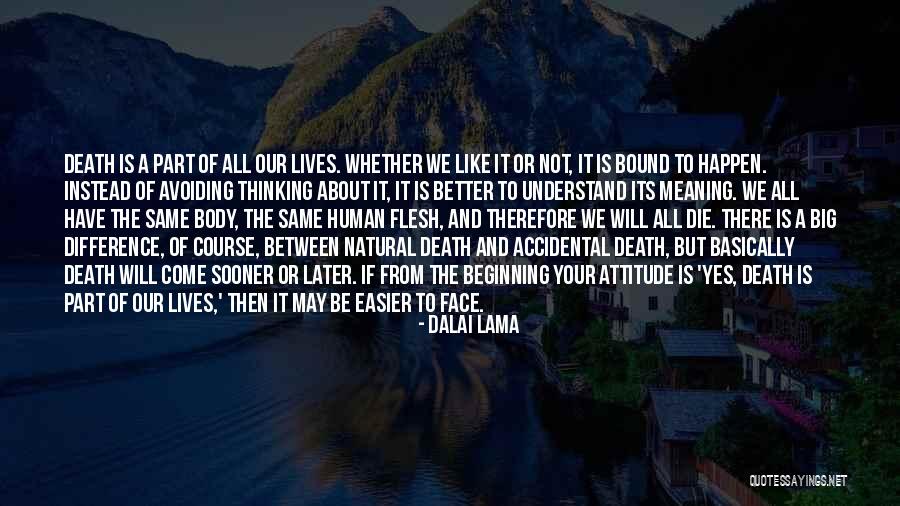 Death is a part of all our lives. Whether we like it or not, it is bound to happen. Instead of avoiding thinking about it, it is better to understand its meaning. We all have the same body, the same human flesh, and therefore we will all die. There is a big difference, of course, between natural death and accidental death, but basically death will come sooner or later. If from the beginning your attitude is 'Yes, death is part of our lives,' then it may be easier to face. — Dalai Lama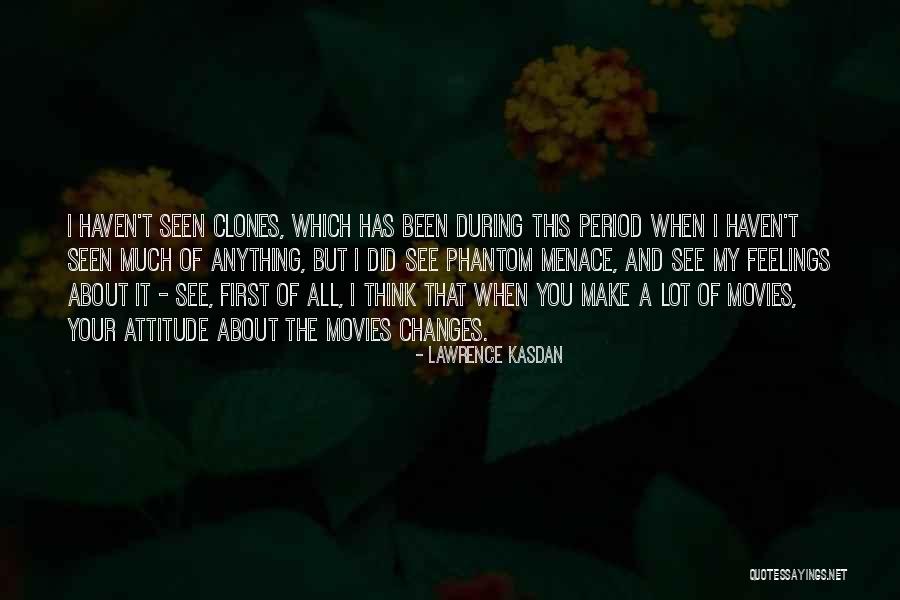 I haven't seen Clones, which has been during this period when I haven't seen much of anything, but I did see Phantom Menace, and see my feelings about it - see, first of all, I think that when you make a lot of movies, your attitude about the movies changes. — Lawrence Kasdan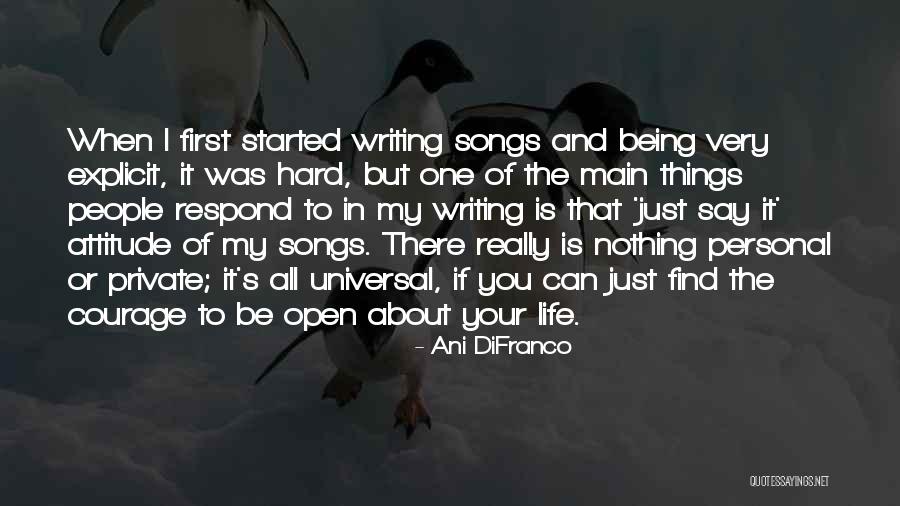 When I first started writing songs and being very explicit, it was hard, but one of the main things people respond to in my writing is that 'just say it' attitude of my songs. There really is nothing personal or private; it's all universal, if you can just find the courage to be open about your life. — Ani DiFranco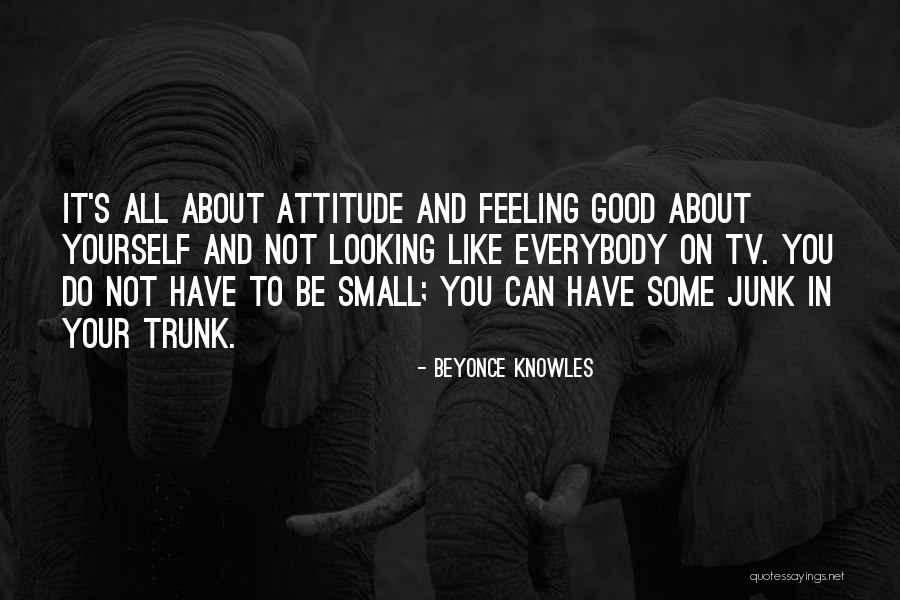 It's all about attitude and feeling good about yourself and not looking like everybody on TV. You do not have to be small; you can have some junk in your trunk. — Beyonce Knowles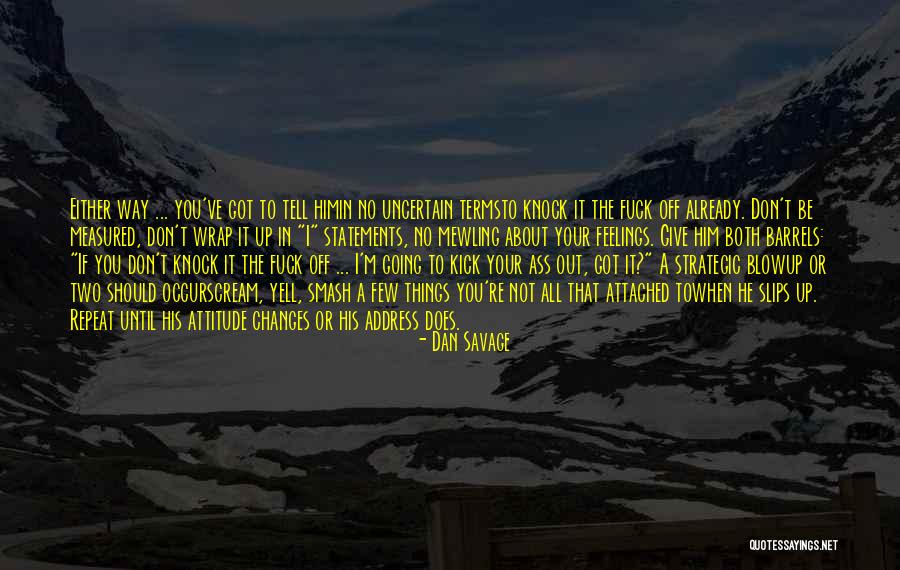 Either way ... you've got to tell him
in no uncertain terms
to knock it the fuck off already. Don't be measured, don't wrap it up in "I" statements, no mewling about your feelings. Give him both barrels: "If you don't knock it the fuck off ... I'm going to kick your ass out, got it?" A strategic blowup or two should occur
scream, yell, smash a few things you're not all that attached to
when he slips up. Repeat until his attitude changes or his address does. — Dan Savage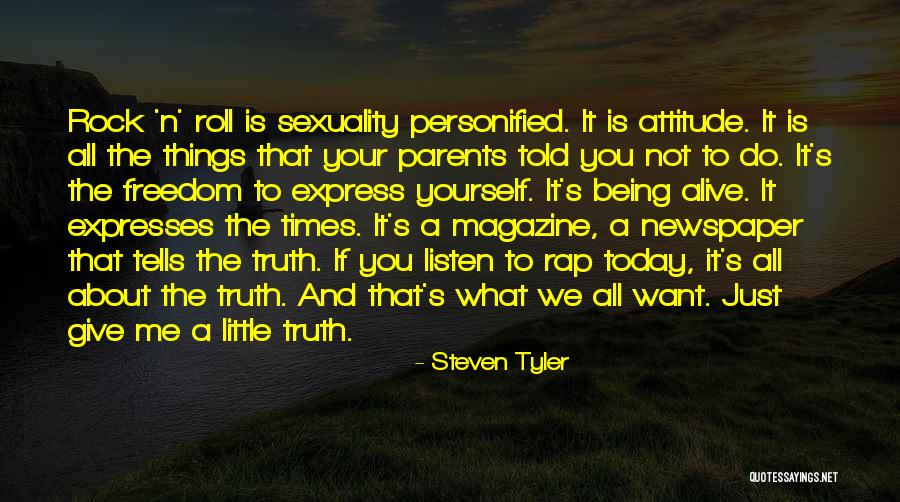 Rock 'n' roll is sexuality personified. It is attitude. It is all the things that your parents told you not to do. It's the freedom to express yourself. It's being alive. It expresses the times. It's a magazine, a newspaper that tells the truth. If you listen to rap today, it's all about the truth. And that's what we all want. Just give me a little truth. — Steven Tyler
If your temper is aroused and you tell 'em a thing or two, you will have a fine time unloading your feelings. But what about the other fellow? Will he share your pleasure? Will your belligerent tones, your hostile attitude, make it easy for him to agree with you? "If you come at me with your fists doubled," said Wood row Wilson, "I think I can promise you that mine will double as fast as yours; but if you come to me and say, 'Let us sit down and take counsel together, and, if we differ from one another, understand why it is that we differ from one another, just what the points at issue are,' we will presently find that we are not so far apart after all, that the points on which we differ are few and the points on which we agree are many, and that if we only have the patience and the candor and the desire to get together, we will get together. — Dale Carnegie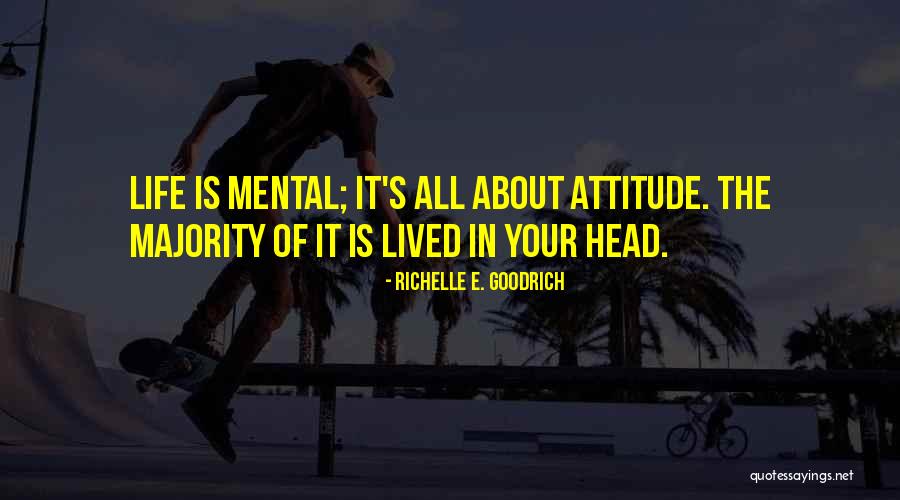 Life is mental; it's all about attitude. The majority of it is lived in your head. — Richelle E. Goodrich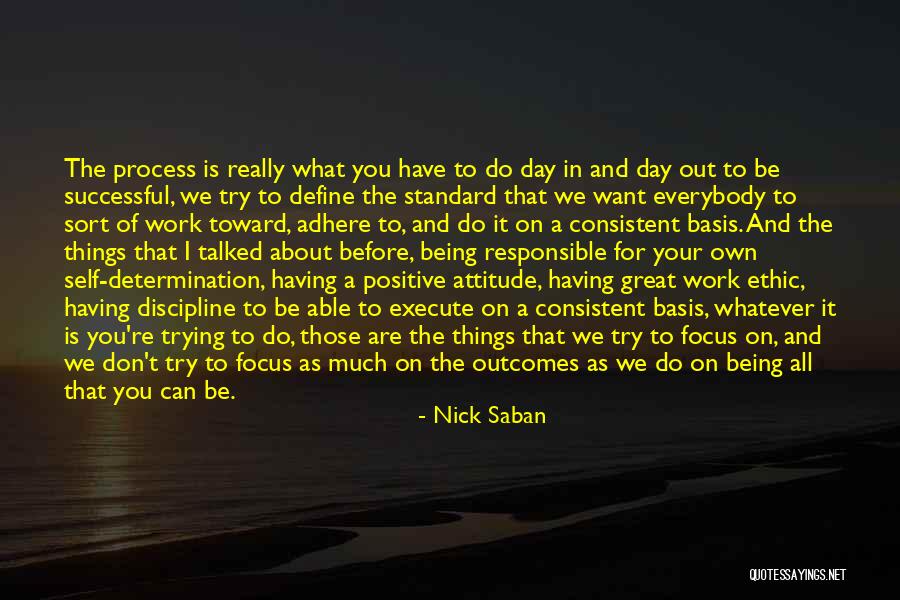 The process is really what you have to do day in and day out to be successful, we try to define the standard that we want everybody to sort of work toward, adhere to, and do it on a consistent basis. And the things that I talked about before, being responsible for your own self-determination, having a positive attitude, having great work ethic, having discipline to be able to execute on a consistent basis, whatever it is you're trying to do, those are the things that we try to focus on, and we don't try to focus as much on the outcomes as we do on being all that you can be. — Nick Saban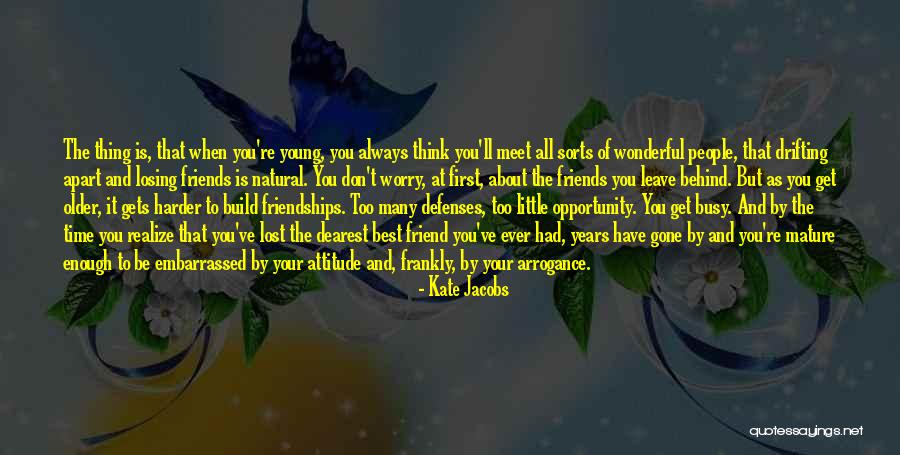 The thing is, that when you're young, you always think you'll meet all sorts of wonderful people, that drifting apart and losing friends is natural. You don't worry, at first, about the friends you leave behind. But as you get older, it gets harder to build friendships. Too many defenses, too little opportunity. You get busy. And by the time you realize that you've lost the dearest best friend you've ever had, years have gone by and you're mature enough to be embarrassed by your attitude and, frankly, by your arrogance. — Kate Jacobs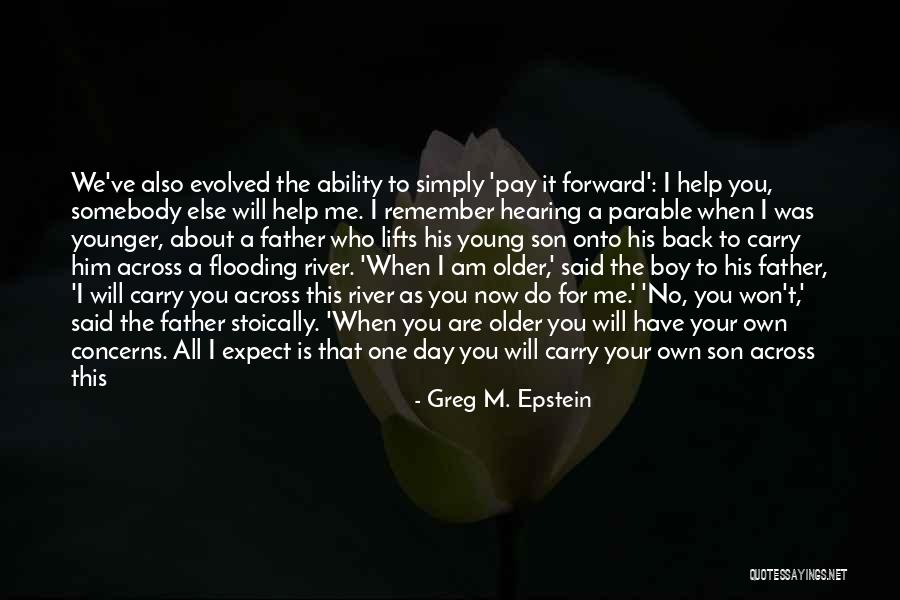 We've also evolved the ability to simply 'pay it forward': I help you, somebody else will help me. I remember hearing a parable when I was younger, about a father who lifts his young son onto his back to carry him across a flooding river. 'When I am older,' said the boy to his father, 'I will carry you across this river as you now do for me.' 'No, you won't,' said the father stoically. 'When you are older you will have your own concerns. All I expect is that one day you will carry your own son across this river as I no do for you.' Cultivating this attitude is an important part of Humanism
to realize that life without God can be much more than a series of strict tit-for-tat transactions where you pay me and I pay you back. Learning to pay it forward can add a tremendous sense of meaning and dignity to our lives. Simply put, it feels good to give to others, whether we get back or not. — Greg M. Epstein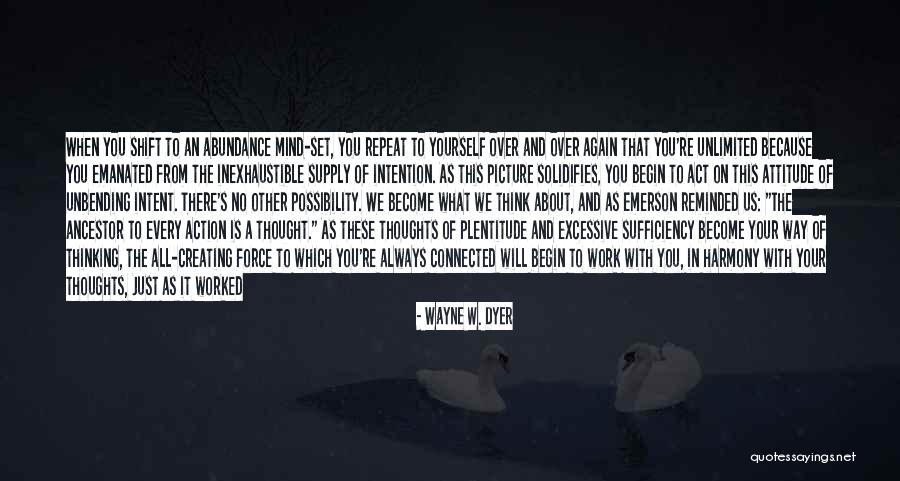 When you shift to an abundance mind-set, you repeat to yourself over and over again that you're unlimited because you emanated from the inexhaustible supply of intention. As this picture solidifies, you begin to act on this attitude of unbending intent. There's no other possibility. We become what we think about, and as Emerson reminded us: "The ancestor to every action is a thought." As these thoughts of plentitude and excessive sufficiency become your way of thinking, the all-creating force to which you're always connected will begin to work with you, in harmony with your thoughts, just as it worked with you in harmony with your thoughts of scarcity. If you think you can't manifest abundance into your life, you'll see intention agreeing with you, and assisting you in the fulfillment of meager expectations! — Wayne W. Dyer