Interests Passion Quotes & Sayings
Enjoy reading and share 61 famous quotes about Interests Passion with everyone.
Top Interests Passion Quotes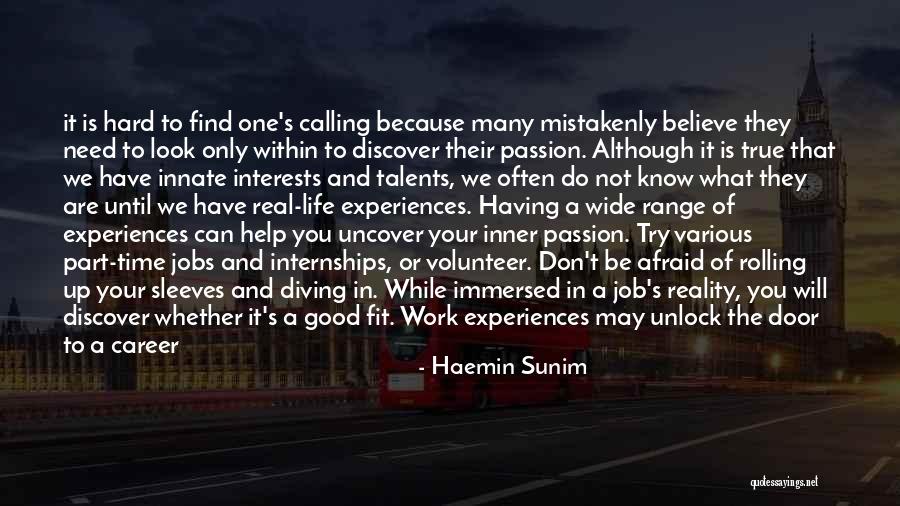 it is hard to find one's calling because many mistakenly believe they need to look only within to discover their passion. Although it is true that we have innate interests and talents, we often do not know what they are until we have real-life experiences. Having a wide range of experiences can help you uncover your inner passion. Try various part-time jobs and internships, or volunteer. Don't be afraid of rolling up your sleeves and diving in. While immersed in a job's reality, you will discover whether it's a good fit. Work experiences may unlock the door to a career opportunity you hadn't considered. Third, — Haemin Sunim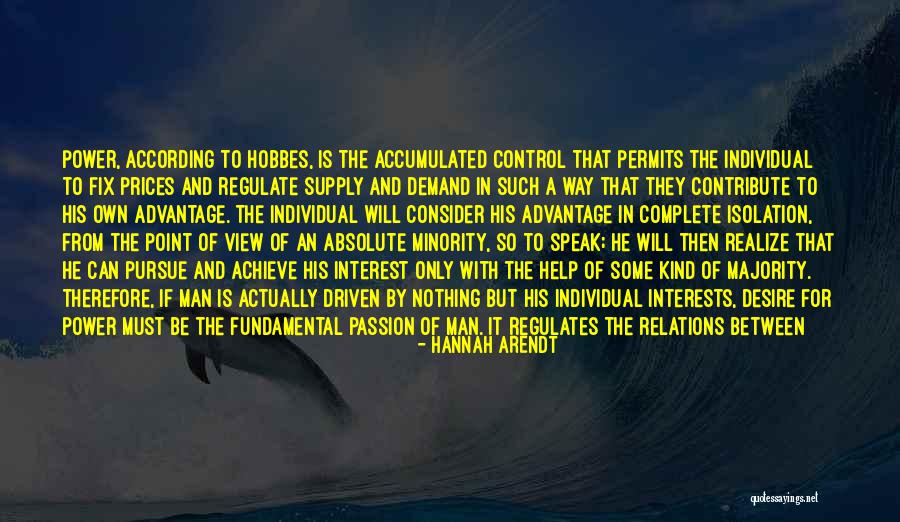 Power, according to Hobbes, is the accumulated control that permits the individual to fix prices and regulate supply and demand in such a way that they contribute to his own advantage. The individual will consider his advantage in complete isolation, from the point of view of an absolute minority, so to speak; he will then realize that he can pursue and achieve his interest only with the help of some kind of majority. Therefore, if man is actually driven by nothing but his individual interests, desire for power must be the fundamental passion of man. It regulates the relations between individual and society, and all other ambitions as well, for riches, knowledge, and honor follow from it. — Hannah Arendt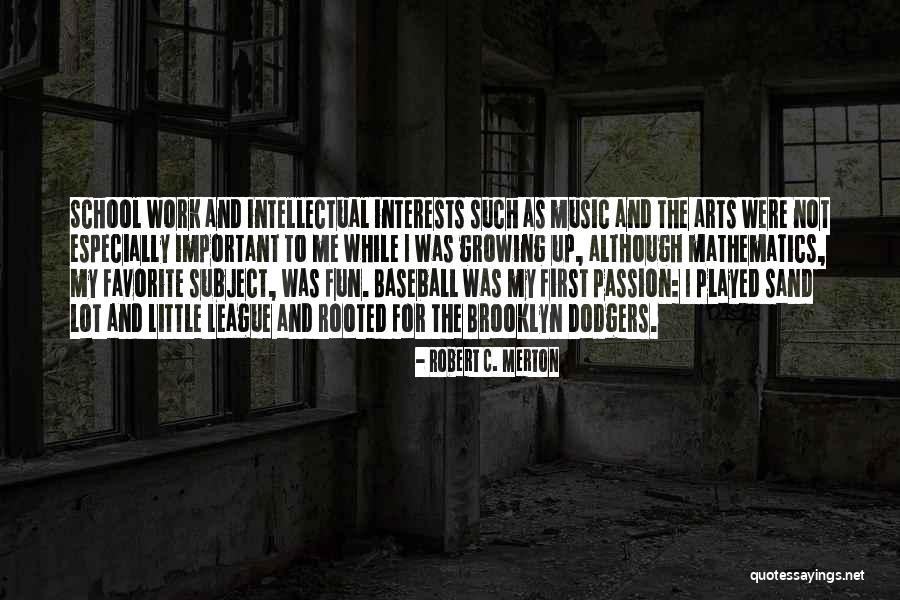 School work and intellectual interests such as music and the arts were not especially important to me while I was growing up, although mathematics, my favorite subject, was fun. Baseball was my first passion: I played sand lot and Little League and rooted for the Brooklyn Dodgers. — Robert C. Merton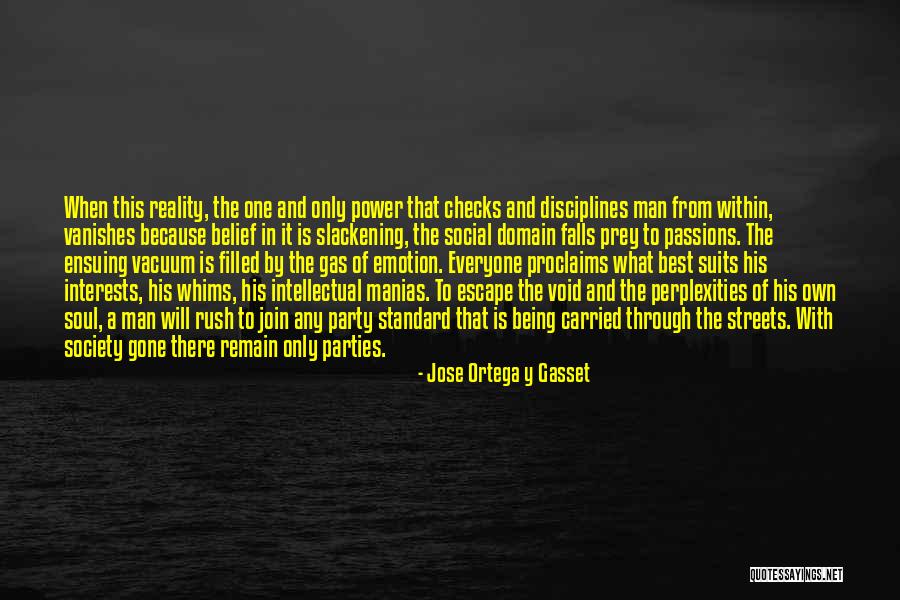 When this reality, the one and only power that checks and disciplines man from within, vanishes because belief in it is slackening, the social domain falls prey to passions. The ensuing vacuum is filled by the gas of emotion. Everyone proclaims what best suits his interests, his whims, his intellectual manias. To escape the void and the perplexities of his own soul, a man will rush to join any party standard that is being carried through the streets. With society gone there remain only parties. — Jose Ortega Y Gasset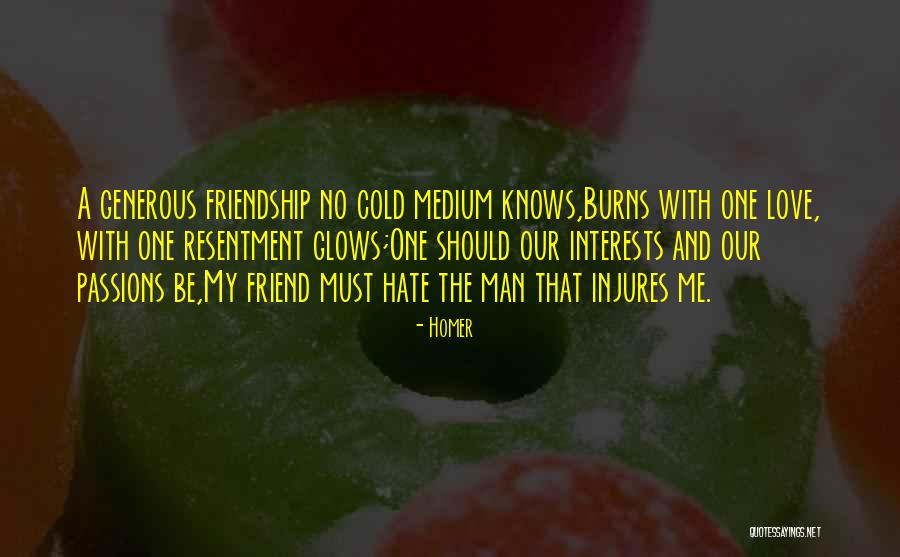 A generous friendship no cold medium knows,
Burns with one love, with one resentment glows;
One should our interests and our passions be,
My friend must hate the man that injures me. — Homer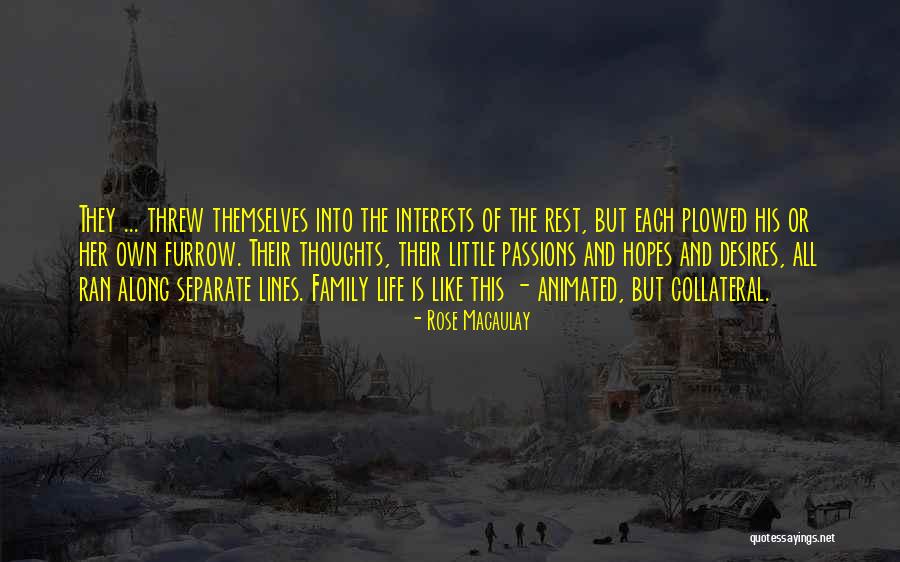 They ... threw themselves into the interests of the rest, but each plowed his or her own furrow. Their thoughts, their little passions and hopes and desires, all ran along separate lines. Family life is like this - animated, but collateral. — Rose Macaulay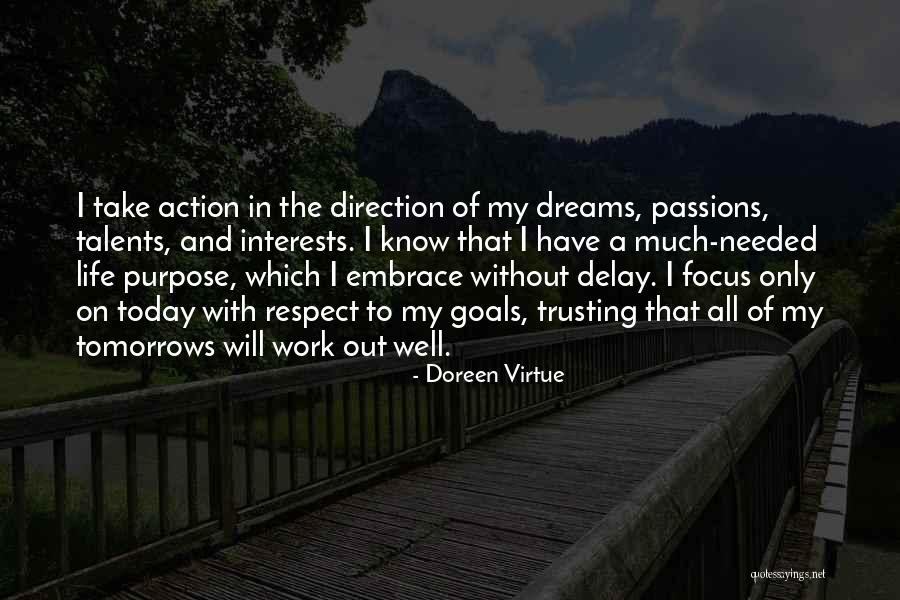 I take action in the direction of my dreams, passions, talents, and interests. I know that I have a much-needed life purpose, which I embrace without delay. I focus only on today with respect to my goals, trusting that all of my tomorrows will work out well. — Doreen Virtue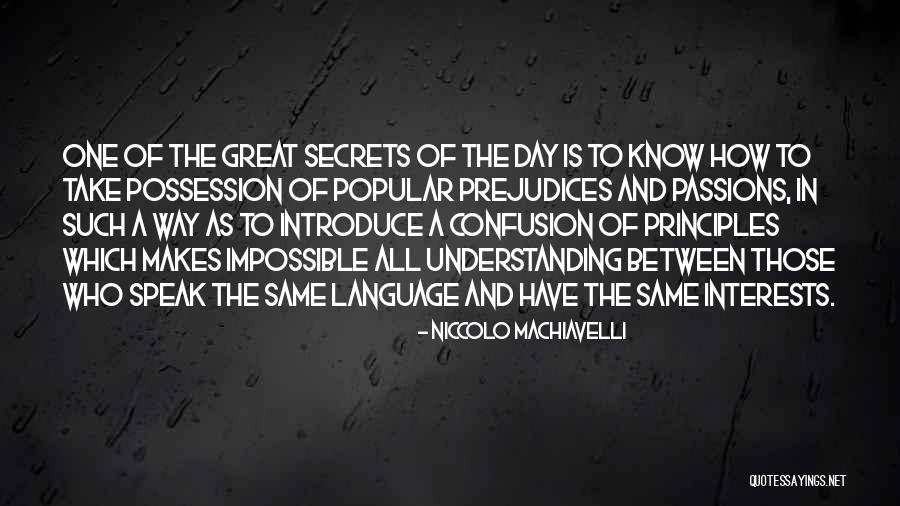 One of the great secrets of the day is to know how to take possession of popular prejudices and passions, in such a way as to introduce a confusion of principles which makes impossible all understanding between those who speak the same language and have the same interests. — Niccolo Machiavelli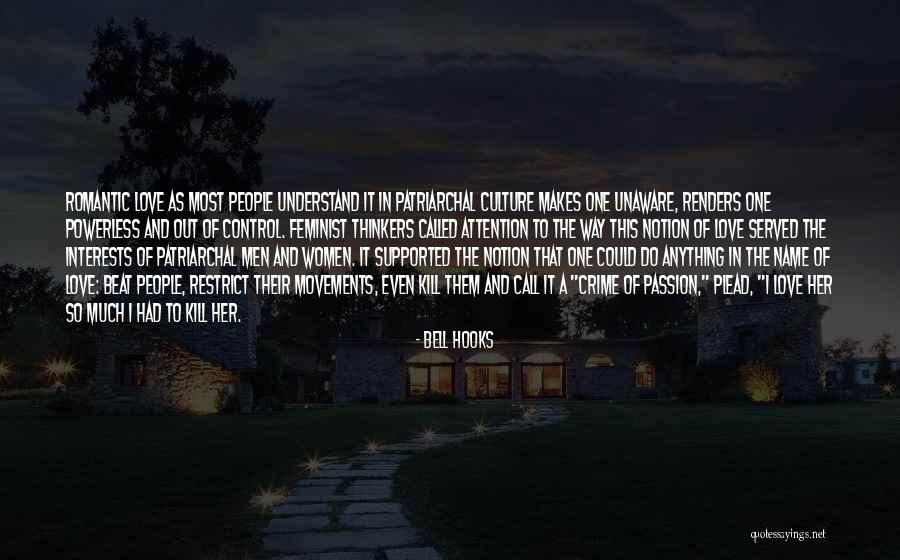 Romantic love as most people understand it in patriarchal culture makes one unaware, renders one powerless and out of control. Feminist thinkers called attention to the way this notion of love served the interests of patriarchal men and women. It supported the notion that one could do anything in the name of love: beat people, restrict their movements, even kill them and call it a "crime of passion," plead, "I love her so much i had to kill her. — Bell Hooks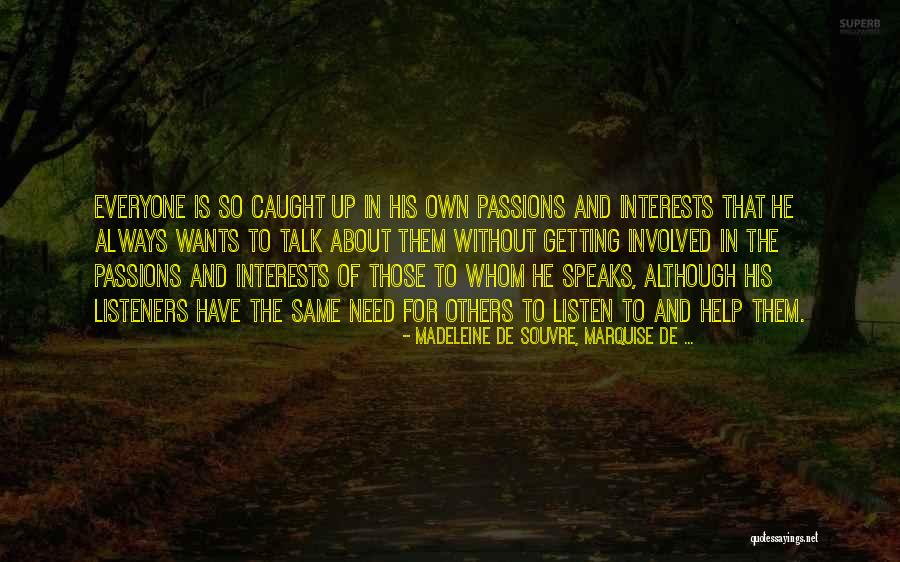 Everyone is so caught up in his own passions and interests that he always wants to talk about them without getting involved in the passions and interests of those to whom he speaks, although his listeners have the same need for others to listen to and help them. — Madeleine De Souvre, Marquise De ...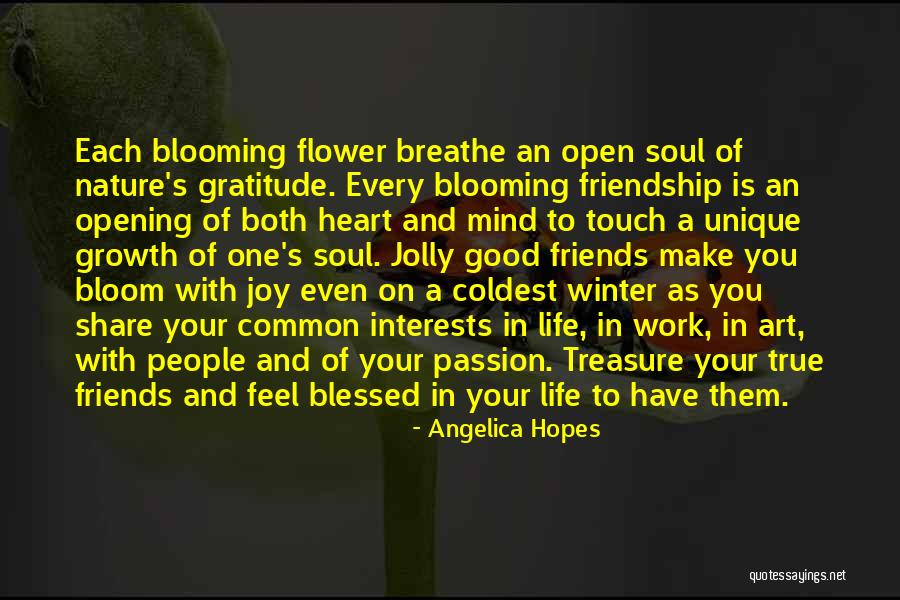 Each blooming flower breathe an open soul of nature's gratitude. Every blooming friendship is an opening of both heart and mind to touch a unique growth of one's soul. Jolly good friends make you bloom with joy even on a coldest winter as you share your common interests in life, in work, in art, with people and of your passion. Treasure your true friends and feel blessed in your life to have them. — Angelica Hopes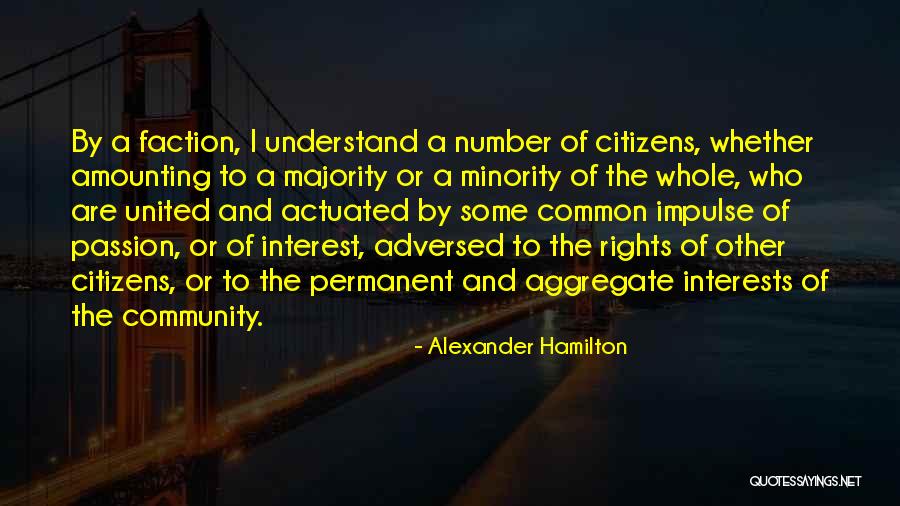 By a faction, I understand a number of citizens, whether amounting to a majority or a minority of the whole, who are united and actuated by some common impulse of passion, or of interest, adversed to the rights of other citizens, or to the permanent and aggregate interests of the community. — Alexander Hamilton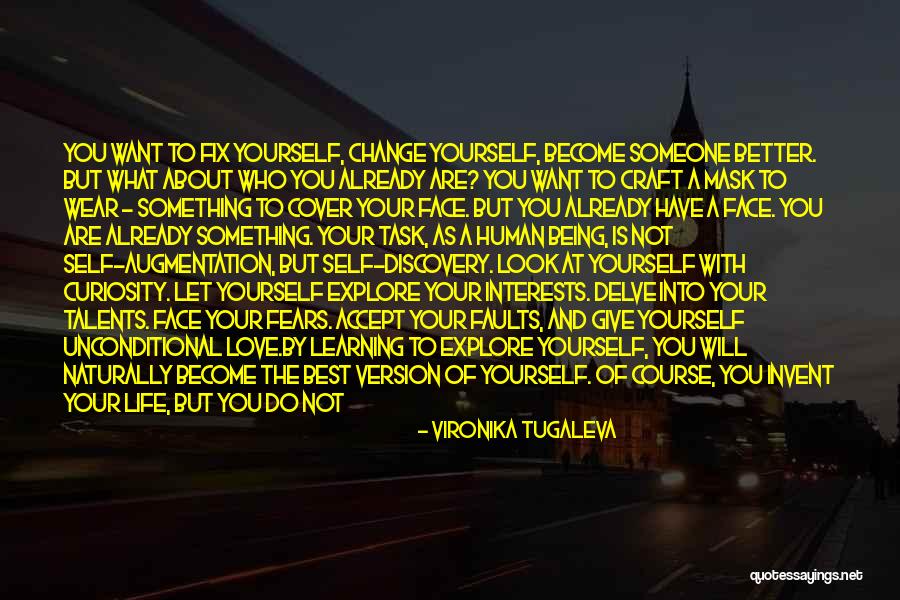 You want to fix yourself, change yourself, become someone better. But what about who you already are? You want to craft a mask to wear - something to cover your face. But you already have a face. You are already something.

Your task, as a human being, is not self-augmentation, but self-discovery. Look at yourself with curiosity. Let yourself explore your interests. Delve into your talents. Face your fears. Accept your faults, and give yourself unconditional love.

By learning to explore yourself, you will naturally become the best version of yourself. Of course, you invent your life, but you do not invent your passions. Some things, you must create, and others you must discover.

Learn to be curious about yourself. Then, you will be on the right path. — Vironika Tugaleva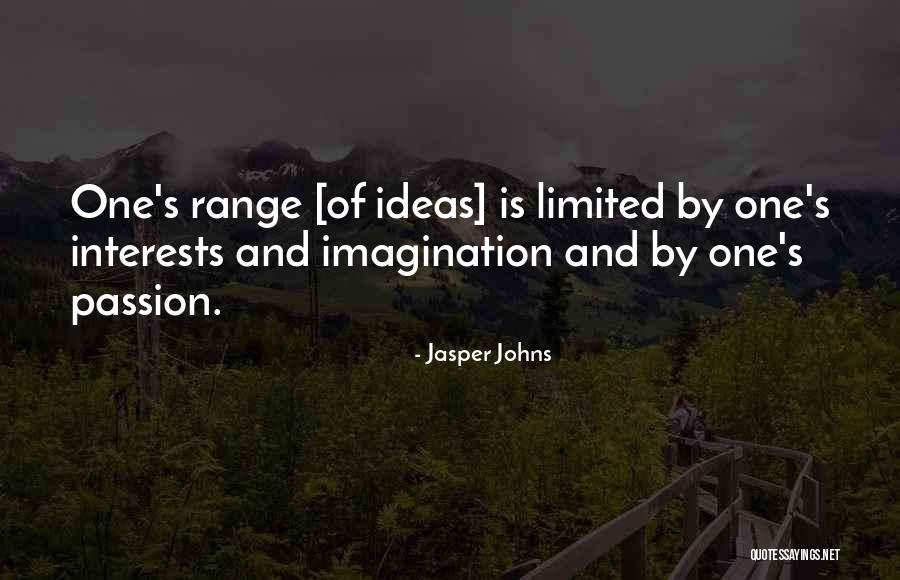 One's range [of ideas] is limited by one's interests and imagination and by one's passion. — Jasper Johns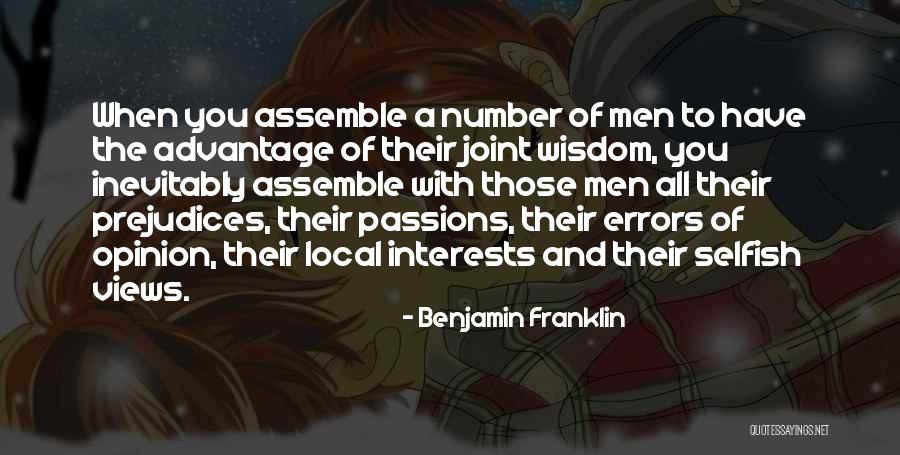 When you assemble a number of men to have the advantage of their joint wisdom, you inevitably assemble with those men all their prejudices, their passions, their errors of opinion, their local interests and their selfish views. — Benjamin Franklin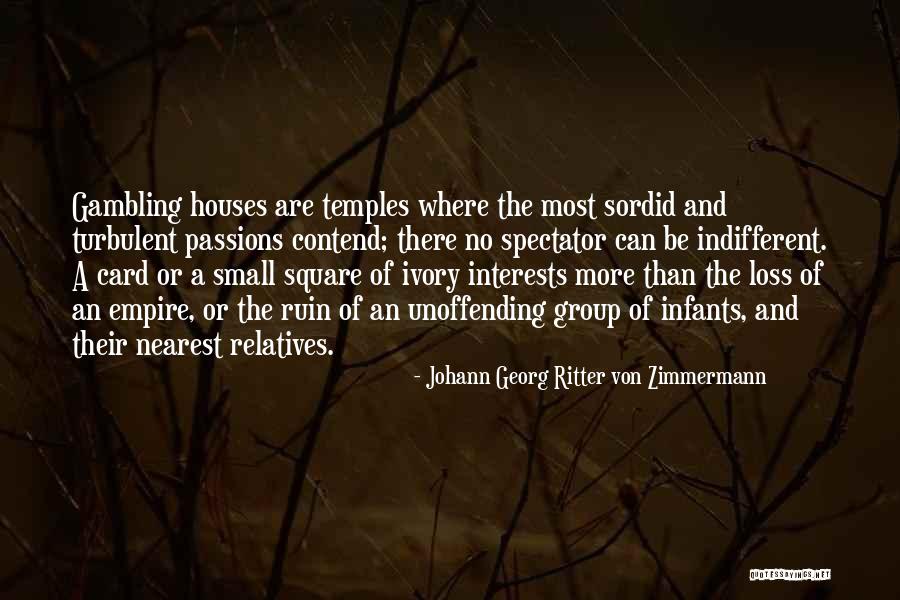 Gambling houses are temples where the most sordid and turbulent passions contend; there no spectator can be indifferent. A card or a small square of ivory interests more than the loss of an empire, or the ruin of an unoffending group of infants, and their nearest relatives. — Johann Georg Ritter Von Zimmermann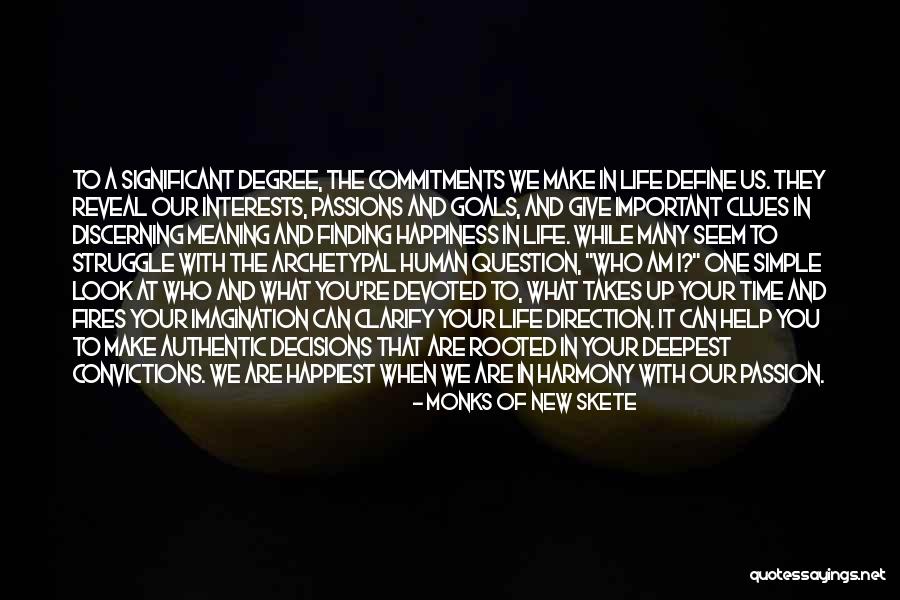 To a significant degree, the commitments we make in life define us. They reveal our interests, passions and goals, and give important clues in discerning meaning and finding happiness in life. While many seem to struggle with the archetypal human question, "who am I?" one simple look at who and what you're devoted to, what takes up your time and fires your imagination can clarify your life direction. It can help you to make authentic decisions that are rooted in your deepest convictions. We are happiest when we are in harmony with our passion. — Monks Of New Skete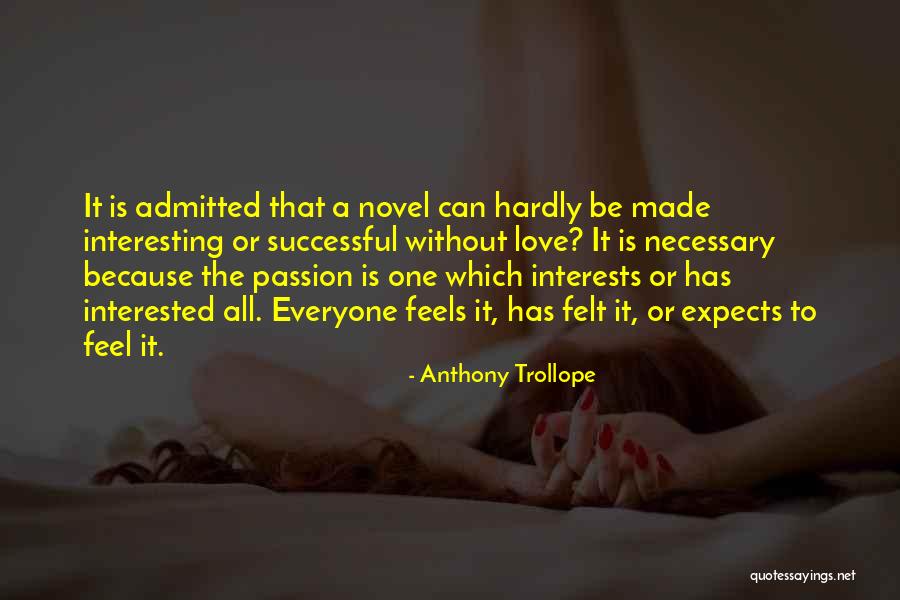 It is admitted that a novel can hardly be made interesting or successful without love? It is necessary because the passion is one which interests or has interested all. Everyone feels it, has felt it, or expects to feel it. — Anthony Trollope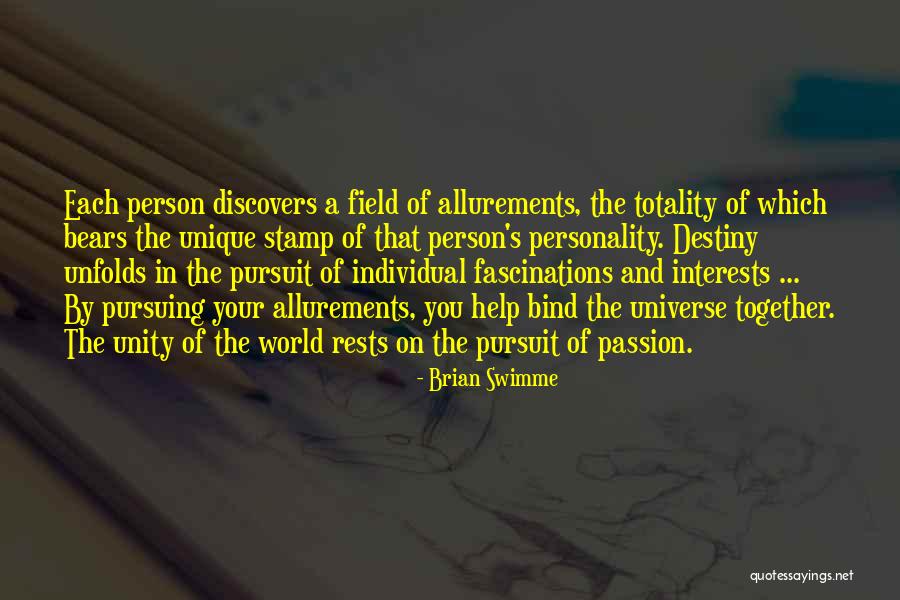 Each person discovers a field of allurements, the totality of which bears the unique stamp of that person's personality. Destiny unfolds in the pursuit of individual fascinations and interests ... By pursuing your allurements, you help bind the universe together. The unity of the world rests on the pursuit of passion. — Brian Swimme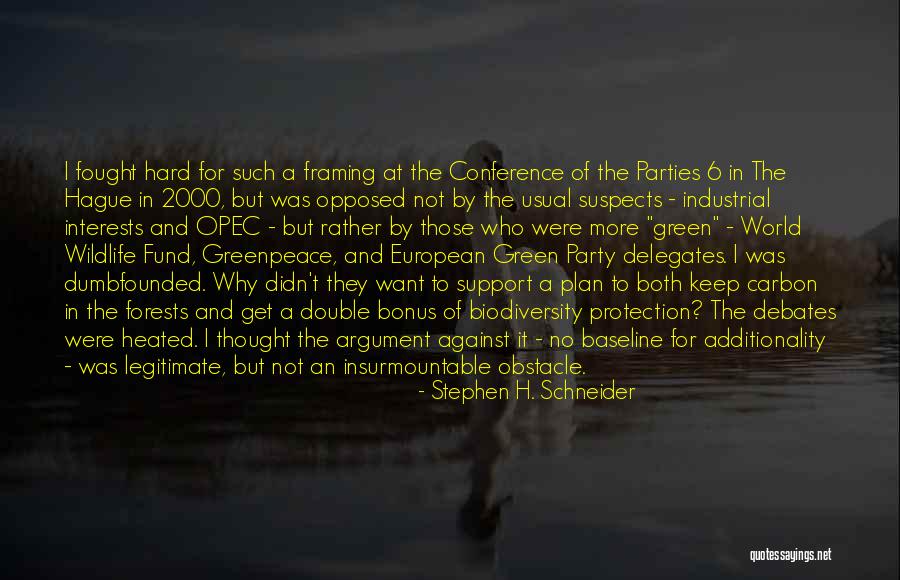 I fought hard for such a framing at the Conference of the Parties 6 in The Hague in 2000, but was opposed not by the usual suspects - industrial interests and OPEC - but rather by those who were more "green" - World Wildlife Fund, Greenpeace, and European Green Party delegates. I was dumbfounded. Why didn't they want to support a plan to both keep carbon in the forests and get a double bonus of biodiversity protection? The debates were heated. I thought the argument against it - no baseline for additionality - was legitimate, but not an insurmountable obstacle. Baselines are negotiable, and protecting primary forests should at least have been on the agenda. The passion of the opponents seemed totally misplaced. One evening during COP 6, I went to the environment NGOs' tent for a reception. In this more informal setting, — Stephen H. Schneider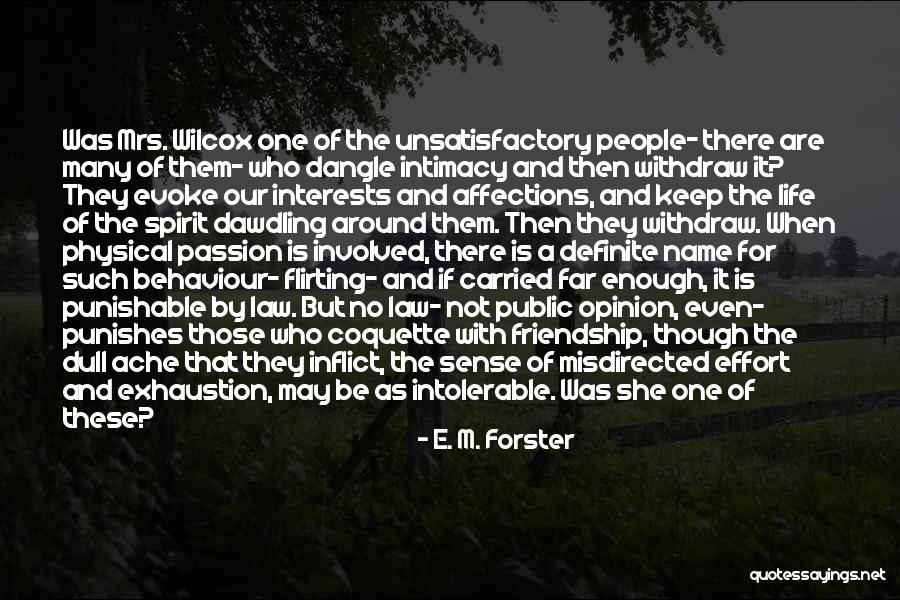 Was Mrs. Wilcox one of the unsatisfactory people- there are many of them- who dangle intimacy and then withdraw it? They evoke our interests and affections, and keep the life of the spirit dawdling around them. Then they withdraw. When physical passion is involved, there is a definite name for such behaviour- flirting- and if carried far enough, it is punishable by law. But no law- not public opinion, even- punishes those who coquette with friendship, though the dull ache that they inflict, the sense of misdirected effort and exhaustion, may be as intolerable. Was she one of these? — E. M. Forster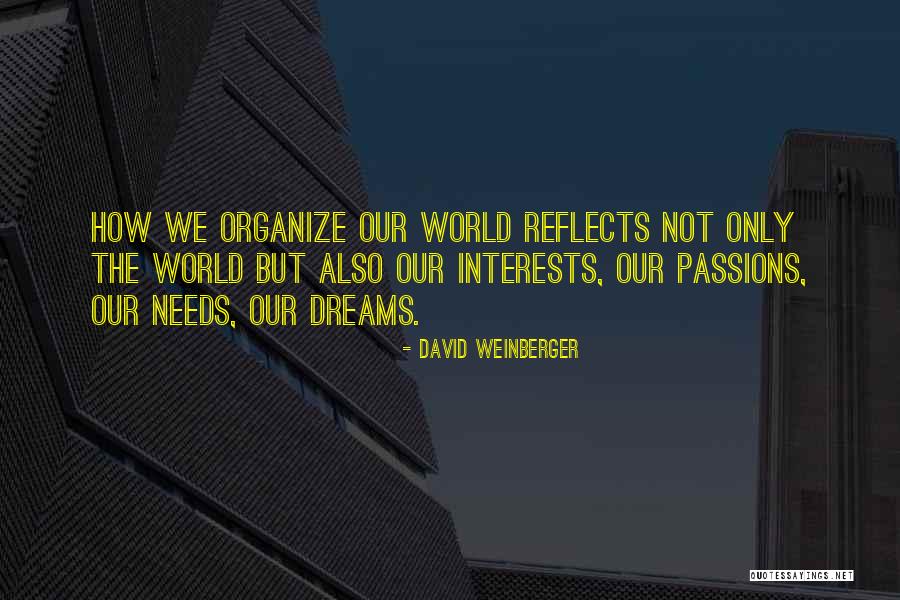 How we organize our world reflects not only the world but also our interests, our passions, our needs, our dreams. — David Weinberger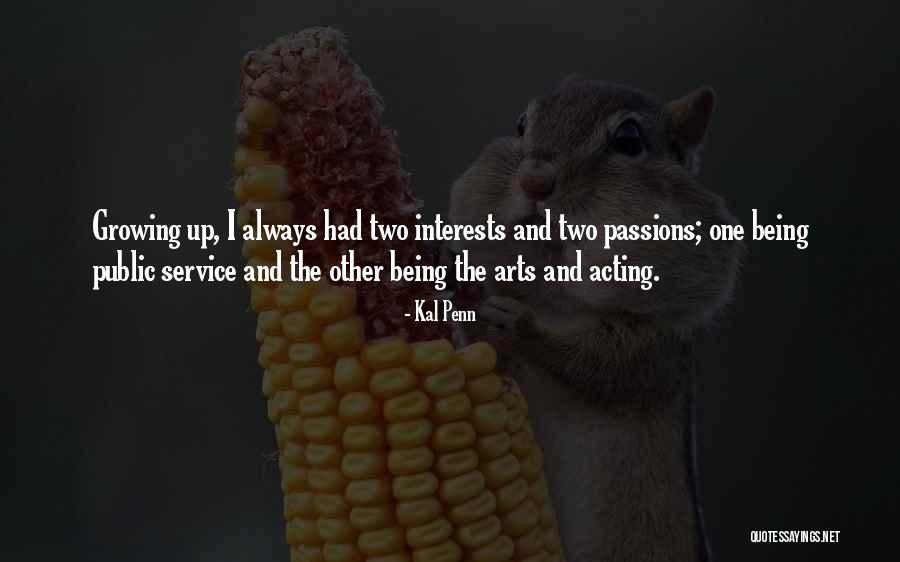 Growing up, I always had two interests and two passions; one being public service and the other being the arts and acting. — Kal Penn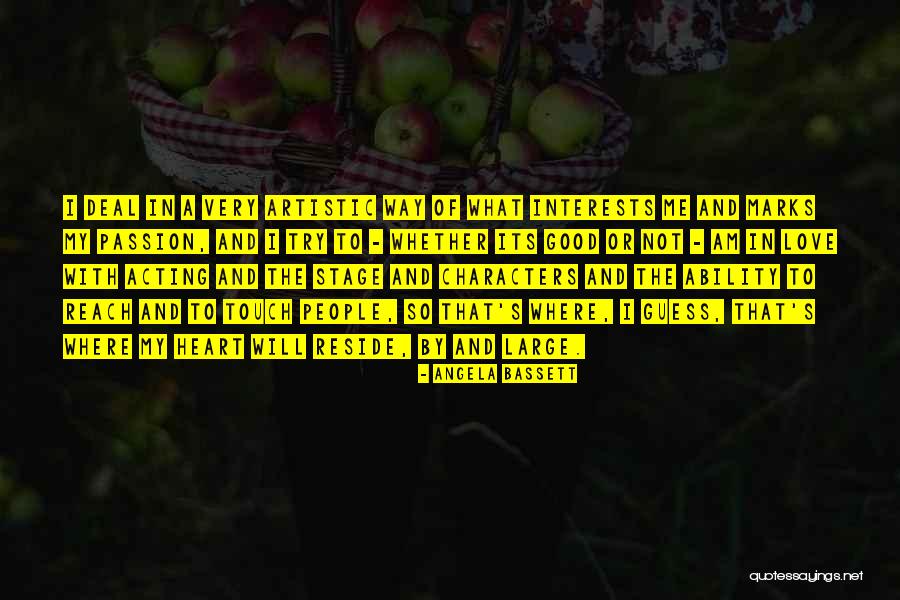 I deal in a very artistic way of what interests me and marks my passion, and I try to - whether its good or not - am in love with acting and the stage and characters and the ability to reach and to touch people, so that's where, I guess, that's where my heart will reside, by and large. — Angela Bassett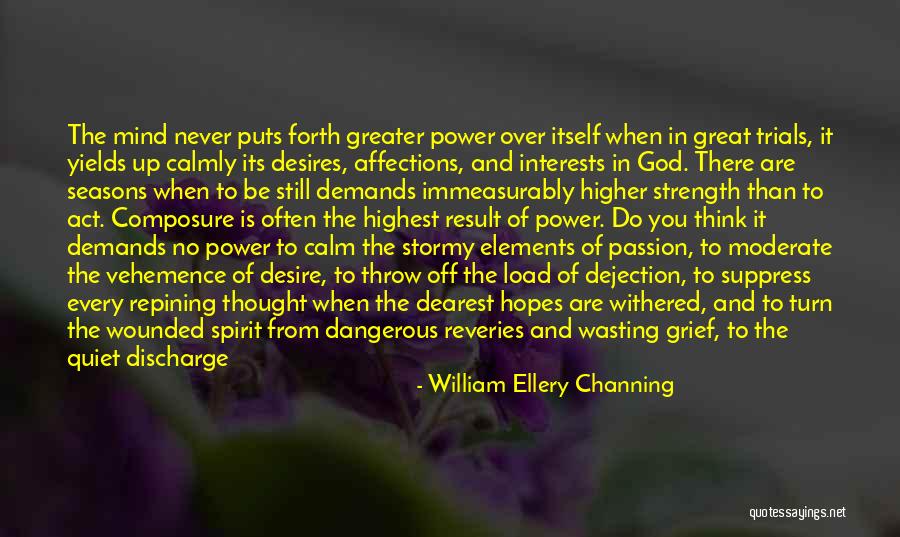 The mind never puts forth greater power over itself when in great trials, it yields up calmly its desires, affections, and interests in God. There are seasons when to be still demands immeasurably higher strength than to act. Composure is often the highest result of power. Do you think it demands no power to calm the stormy elements of passion, to moderate the vehemence of desire, to throw off the load of dejection, to suppress every repining thought when the dearest hopes are withered, and to turn the wounded spirit from dangerous reveries and wasting grief, to the quiet discharge of ordinary duties? Is there no power put forth, when a {woman}, stripped of {her} property, of the fruits of a life's labors, quells discontent and gloomy forebodings, and serenely and patiently returns to the tasks which Providence assigns? — William Ellery Channing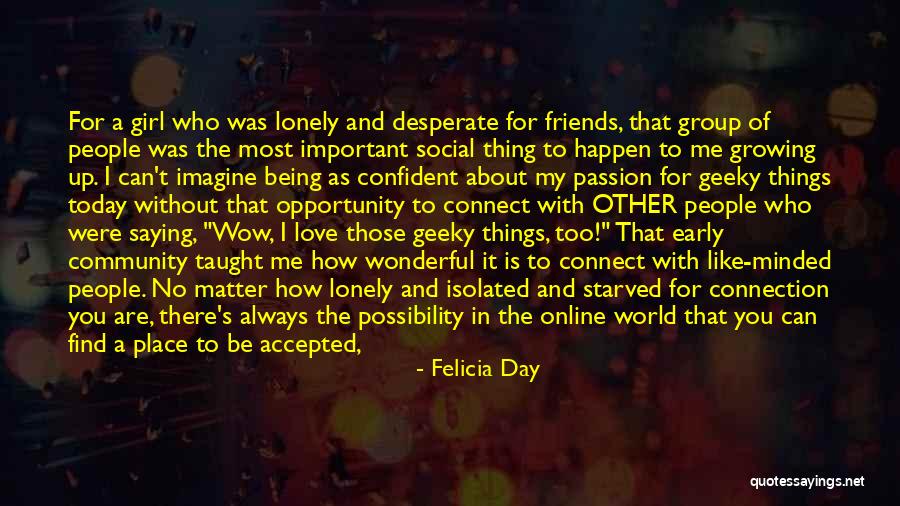 For a girl who was lonely and desperate for friends, that group of people was the most important social thing to happen to me growing up. I can't imagine being as confident about my passion for geeky things today without that opportunity to connect with OTHER people who were saying, "Wow, I love those geeky things, too!" That early community taught me how wonderful it is to connect with like-minded people. No matter how lonely and isolated and starved for connection you are, there's always the possibility in the online world that you can find a place to be accepted, or discover a friendship that's started with the smallest of interests but could last a lifetime. Your qualification for finding a place to belong is enthusiasm and passion, and I think that's a beautiful thing. — Felicia Day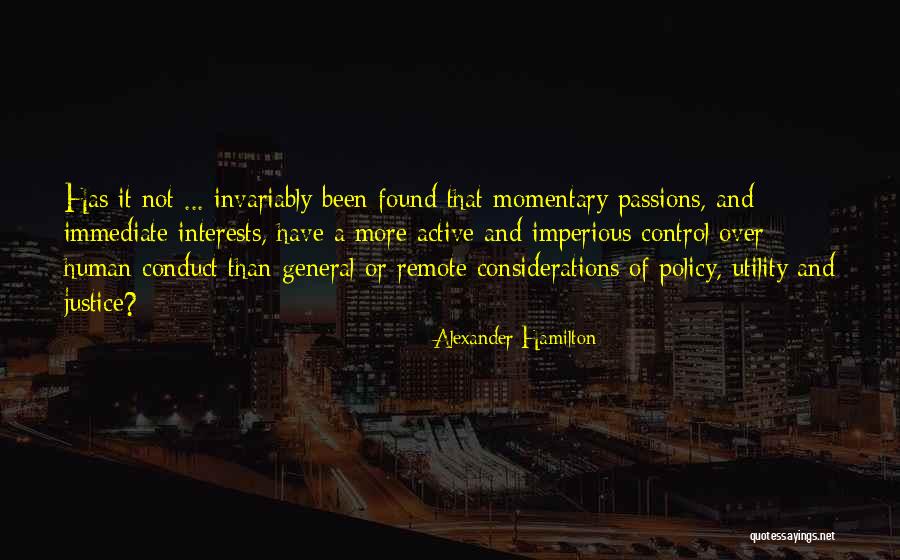 Has it not ... invariably been found that momentary passions, and immediate interests, have a more active and imperious control over human conduct than general or remote considerations of policy, utility and justice? — Alexander Hamilton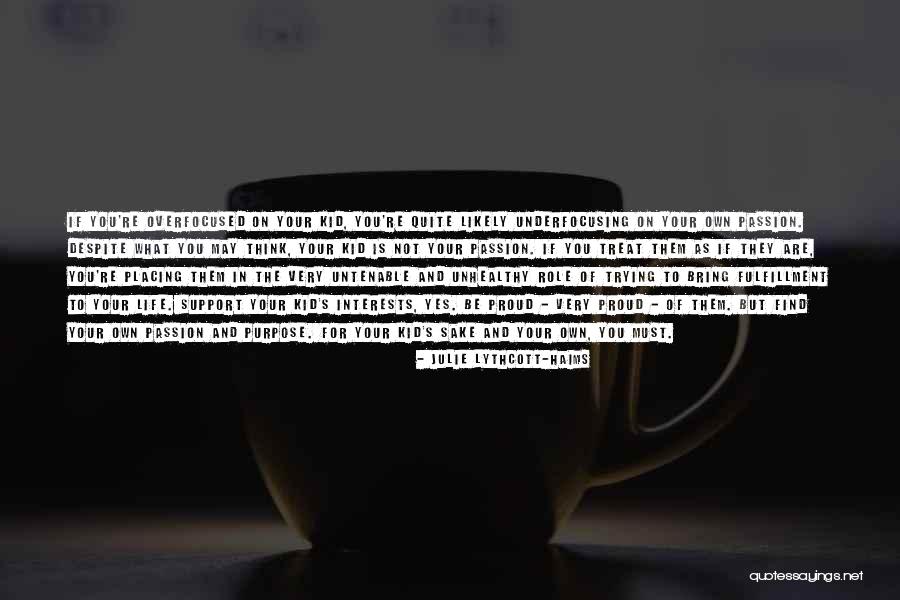 If you're overfocused on your kid, you're quite likely underfocusing on your own passion. Despite what you may think, your kid is not your passion. If you treat them as if they are, you're placing them in the very untenable and unhealthy role of trying to bring fulfillment to your life. Support your kid's interests, yes. Be proud - very proud - of them. But find your own passion and purpose. For your kid's sake and your own, you must. — Julie Lythcott-Haims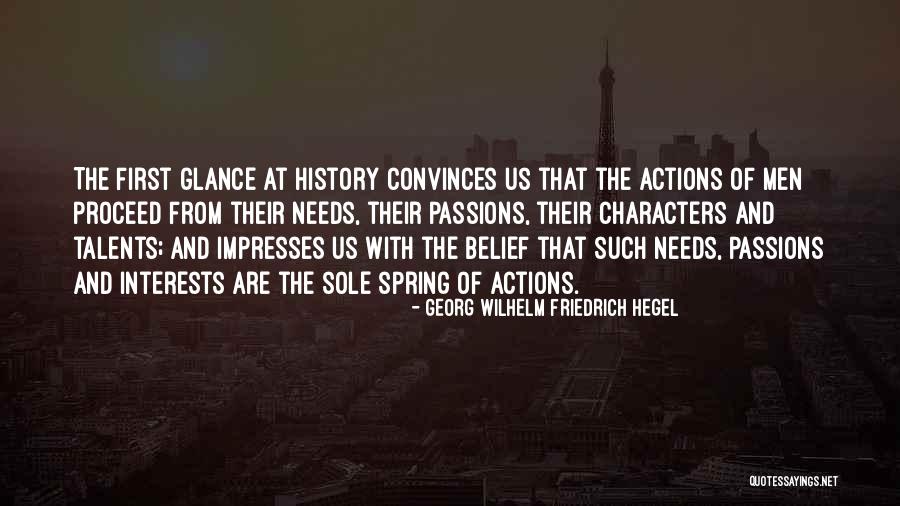 The first glance at History convinces us that the actions of men proceed from their needs, their passions, their characters and talents; and impresses us with the belief that such needs, passions and interests are the sole spring of actions. — Georg Wilhelm Friedrich Hegel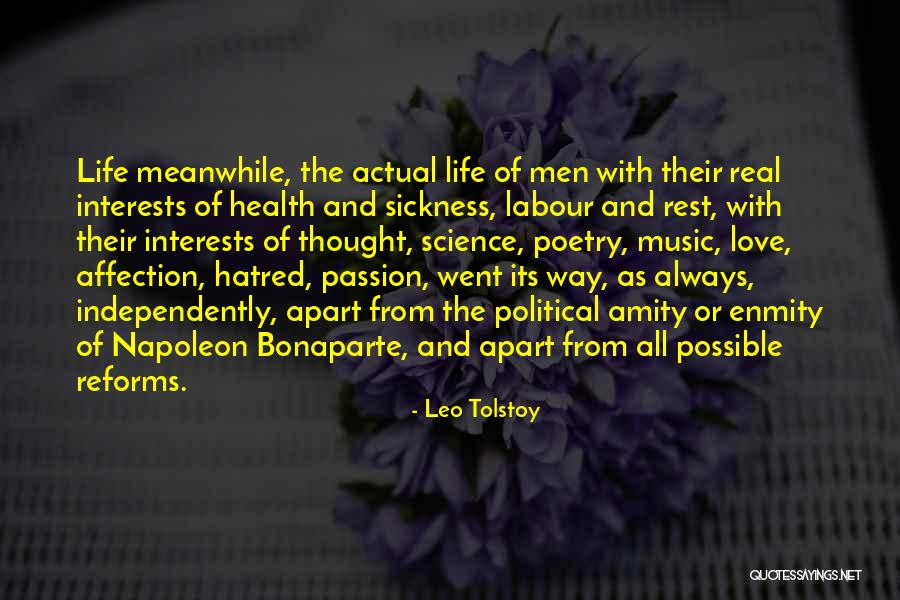 Life meanwhile, the actual life of men with their real interests of health and sickness, labour and rest, with their interests of thought, science, poetry, music, love, affection, hatred, passion, went its way, as always, independently, apart from the political amity or enmity of Napoleon Bonaparte, and apart from all possible reforms. — Leo Tolstoy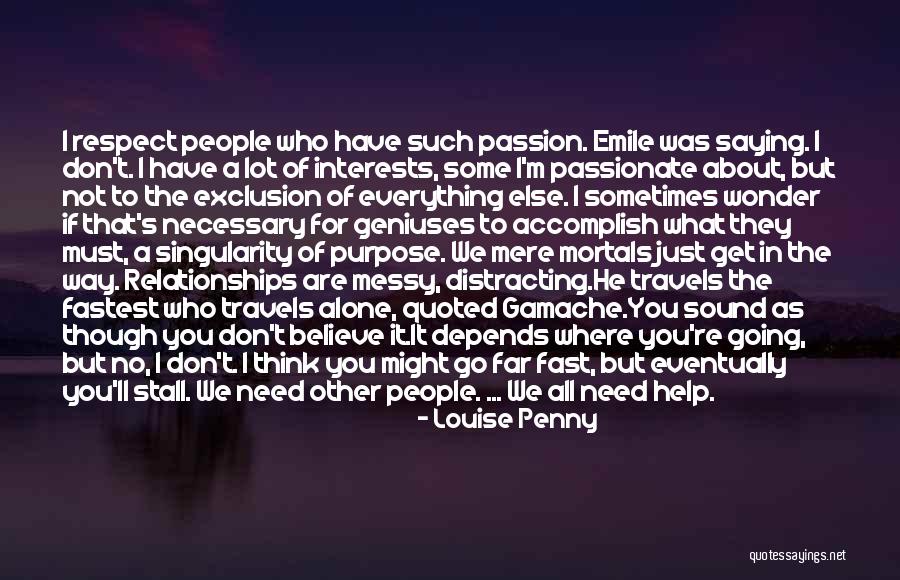 I respect people who have such passion. Emile was saying. I don't. I have a lot of interests, some I'm passionate about, but not to the exclusion of everything else. I sometimes wonder if that's necessary for geniuses to accomplish what they must, a singularity of purpose. We mere mortals just get in the way. Relationships are messy, distracting.
He travels the fastest who travels alone, quoted Gamache.
You sound as though you don't believe it.
It depends where you're going, but no, I don't. I think you might go far fast, but eventually you'll stall. We need other people.
...
We all need help. — Louise Penny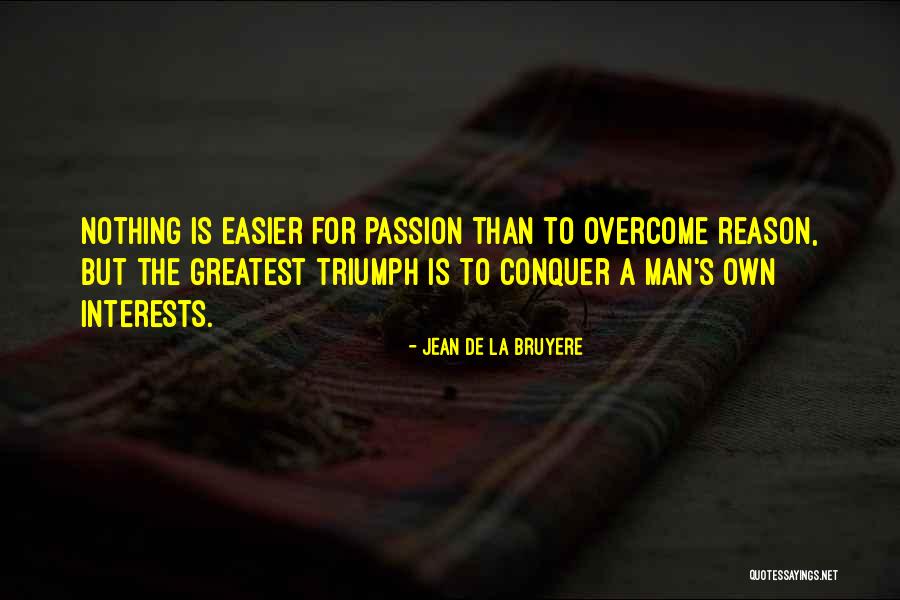 Nothing is easier for passion than to overcome reason, but the greatest triumph is to conquer a man's own interests. — Jean De La Bruyere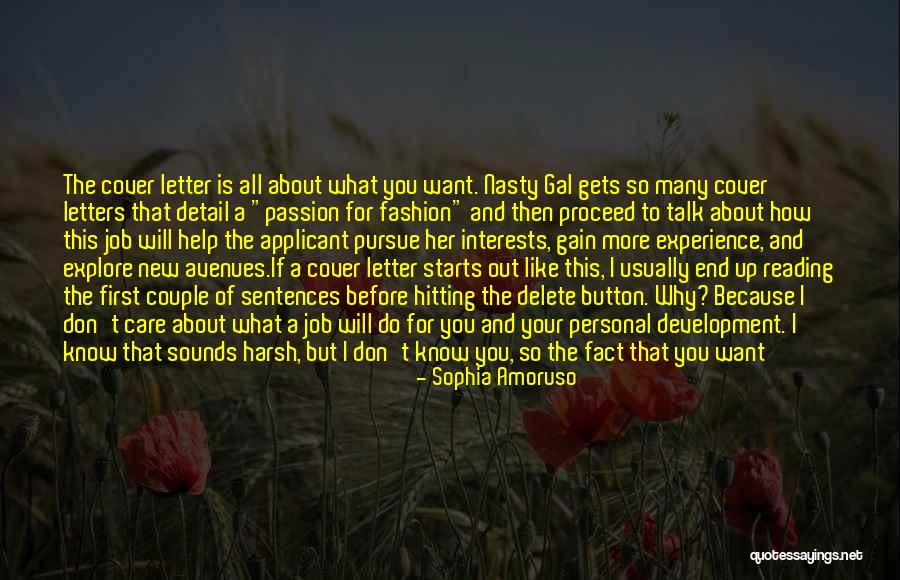 The cover letter is all about what you want. Nasty Gal gets so many cover letters that detail a "passion for fashion" and then proceed to talk about how this job will help the applicant pursue her interests, gain more experience, and explore new avenues.
If a cover letter starts out like this, I usually end up reading the first couple of sentences before hitting the delete button. Why? Because I don't care about what a job will do for you and your personal development. I know that sounds harsh, but I don't know you, so the fact that you want to work for my company does not automatically mean that I have an interest in helping you grow your career. I have a business that is growing by the day, so I want to know what you can do for me. It's as simple as that. — Sophia Amoruso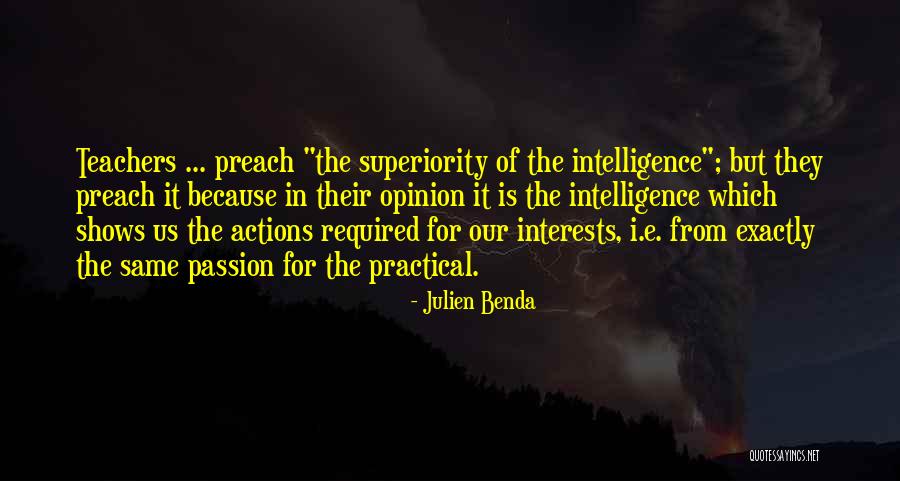 Teachers ... preach "the superiority of the intelligence"; but they preach it because in their opinion it is the intelligence which shows us the actions required for our interests, i.e. from exactly the same passion for the practical. — Julien Benda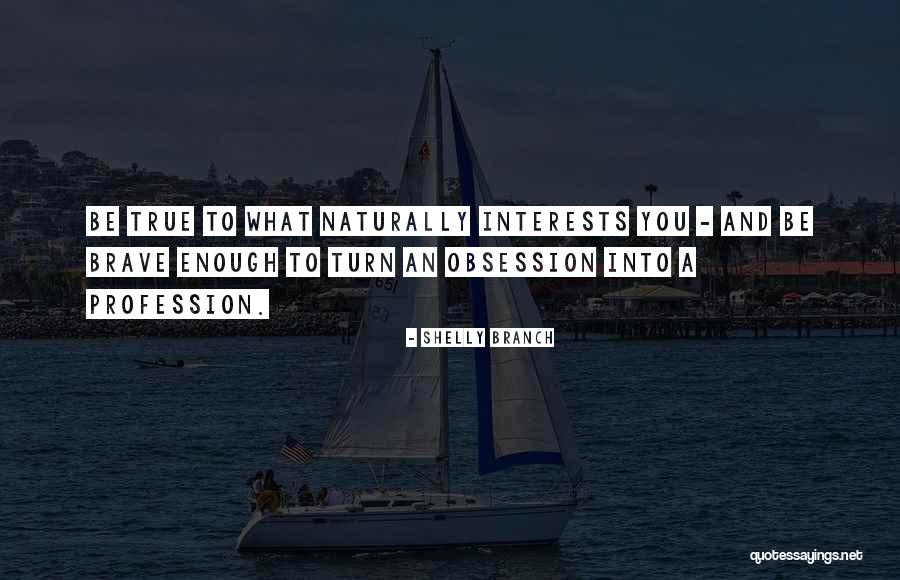 Be true to what naturally interests you - and be brave enough to turn an obsession into a profession. — Shelly Branch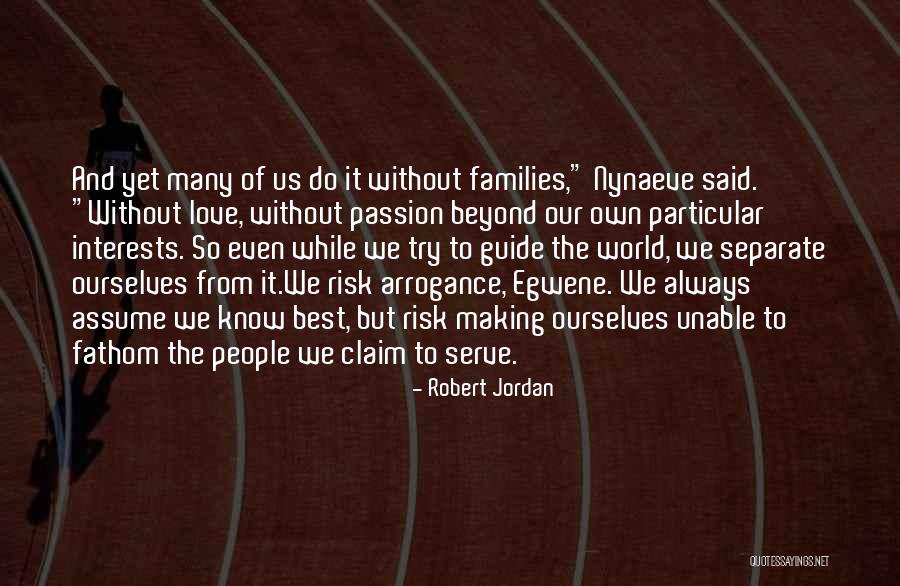 And yet many of us do it without families," Nynaeve said. "Without love, without passion beyond our own particular interests. So even while we try to guide the world, we separate ourselves from it.We risk arrogance, Egwene. We always assume we know best, but risk making ourselves unable to fathom the people we claim to serve. — Robert Jordan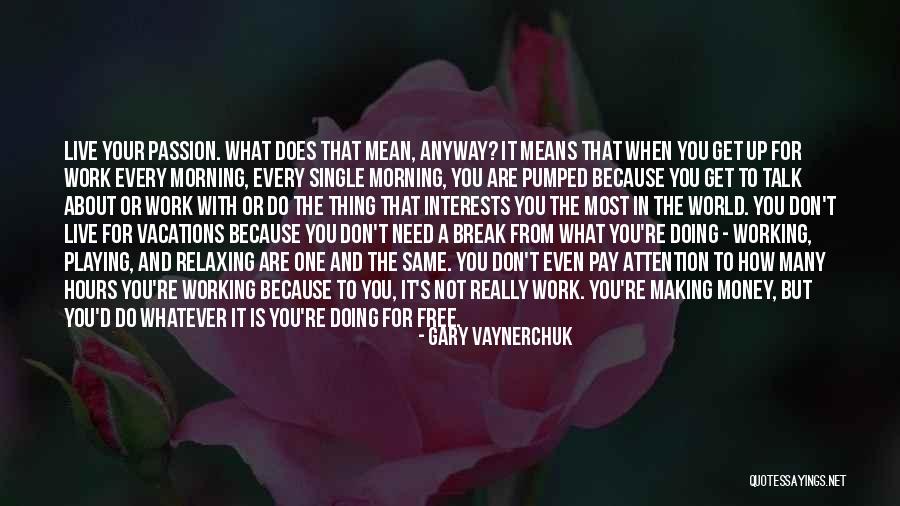 Live your passion. What does that mean, anyway? It means that when you get up for work every morning, every single morning, you are pumped because you get to talk about or work with or do the thing that interests you the most in the world. You don't live for vacations because you don't need a break from what you're doing - working, playing, and relaxing are one and the same. You don't even pay attention to how many hours you're working because to you, it's not really work. You're making money, but you'd do whatever it is you're doing for free. — Gary Vaynerchuk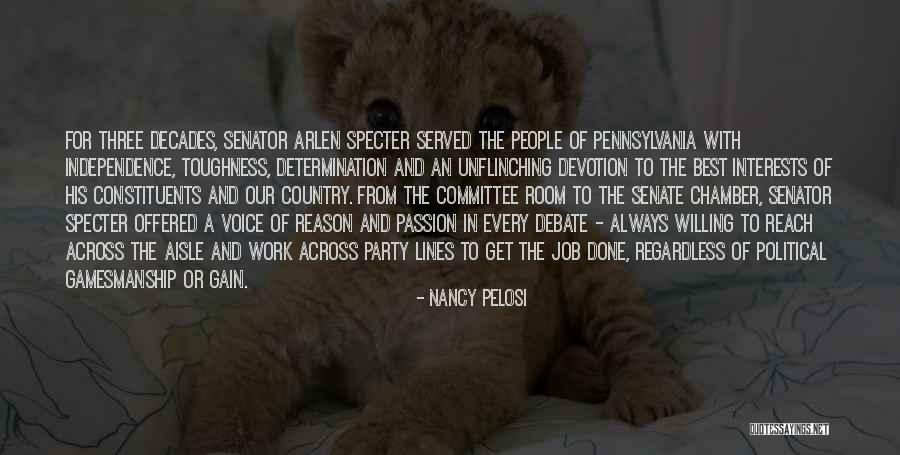 For three decades, Senator Arlen Specter served the people of Pennsylvania with independence, toughness, determination and an unflinching devotion to the best interests of his constituents and our country. From the committee room to the Senate chamber, Senator Specter offered a voice of reason and passion in every debate - always willing to reach across the aisle and work across party lines to get the job done, regardless of political gamesmanship or gain. — Nancy Pelosi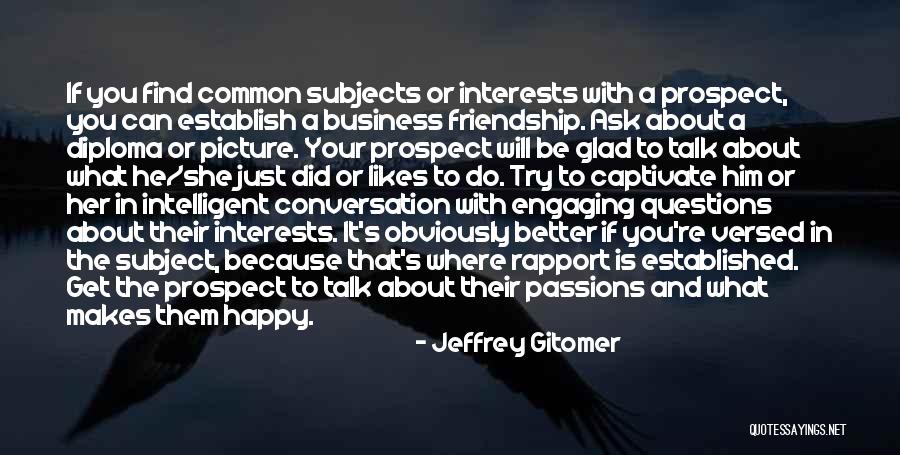 If you find common subjects or interests with a prospect, you can establish a business friendship. Ask about a diploma or picture. Your prospect will be glad to talk about what he/she just did or likes to do. Try to captivate him or her in intelligent conversation with engaging questions about their interests. It's obviously better if you're versed in the subject, because that's where rapport is established. Get the prospect to talk about their passions and what makes them happy. — Jeffrey Gitomer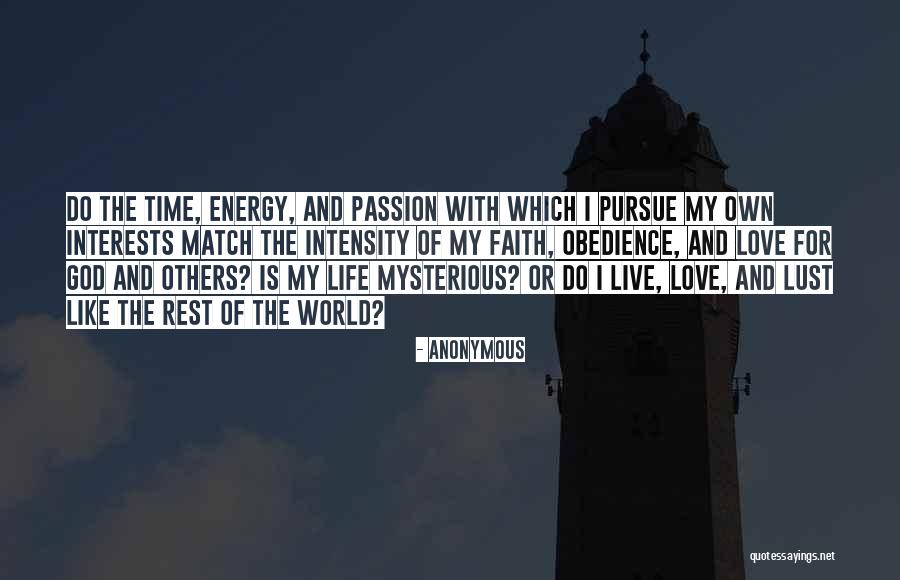 Do the time, energy, and passion with which I pursue my own interests match the intensity of my faith, obedience, and love for God and others? Is my life mysterious? Or do I live, love, and lust like the rest of the world? — Anonymous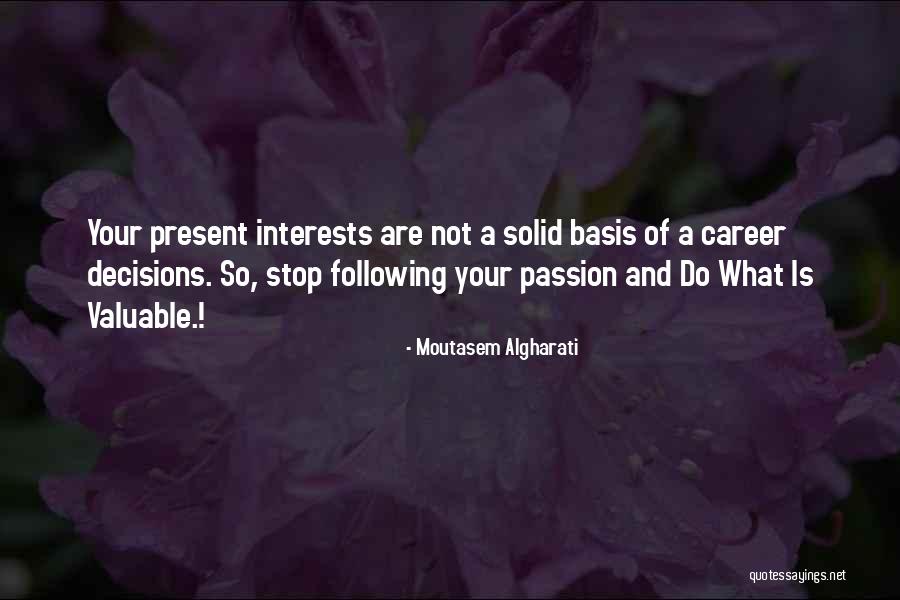 Your present interests are not a solid basis of a career decisions. So, stop following your passion and Do What Is Valuable.! — Moutasem Algharati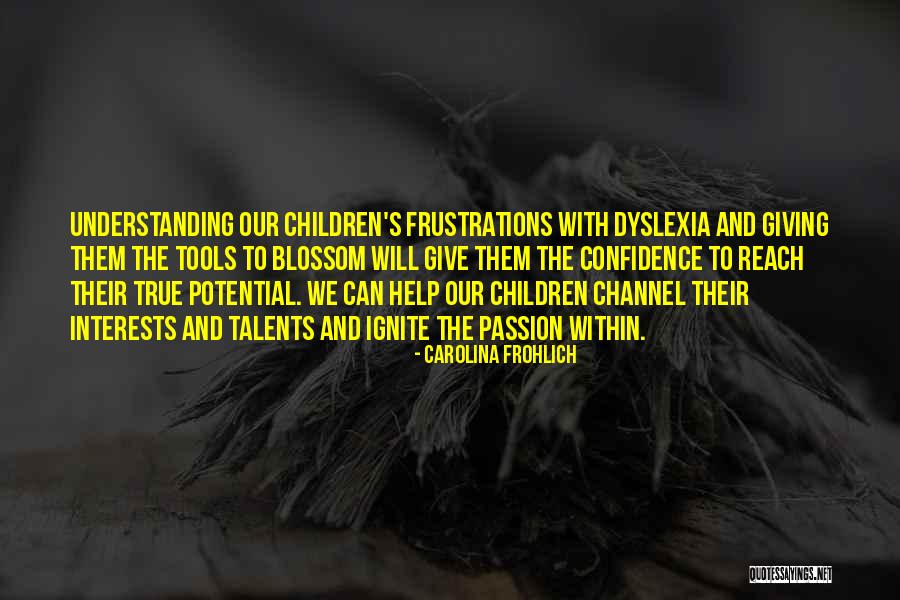 Understanding our children's frustrations with dyslexia and giving them the tools to blossom will give them the confidence to reach their true potential. We can help our children channel their interests and talents and ignite the passion within. — Carolina Frohlich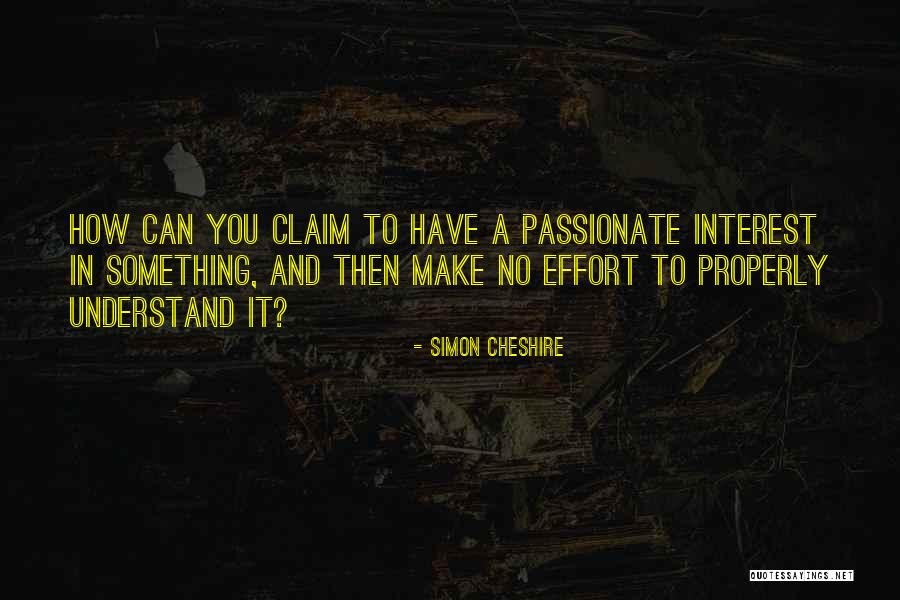 How can you claim to have a passionate interest in something, and then make no effort to properly understand it? — Simon Cheshire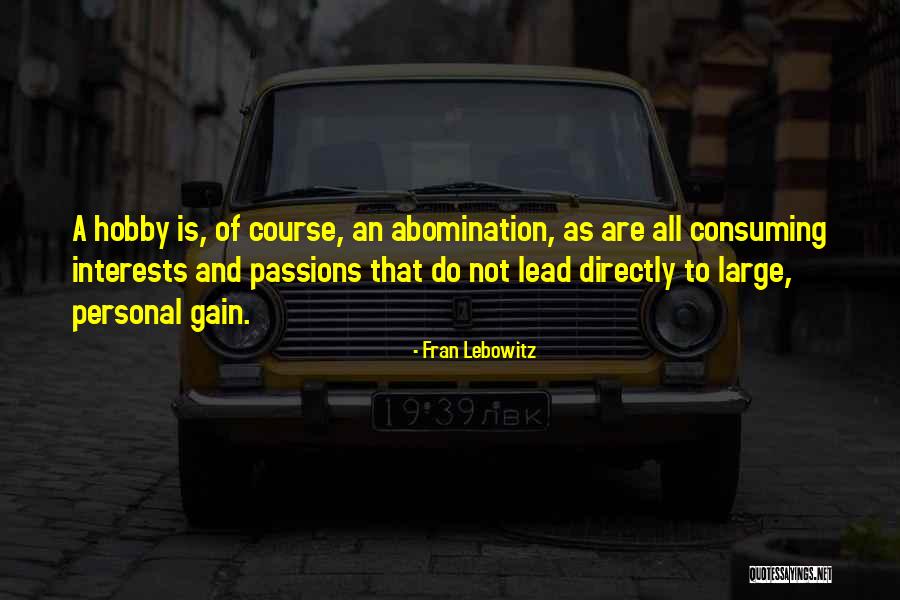 A hobby is, of course, an abomination, as are all consuming interests and passions that do not lead directly to large, personal gain. — Fran Lebowitz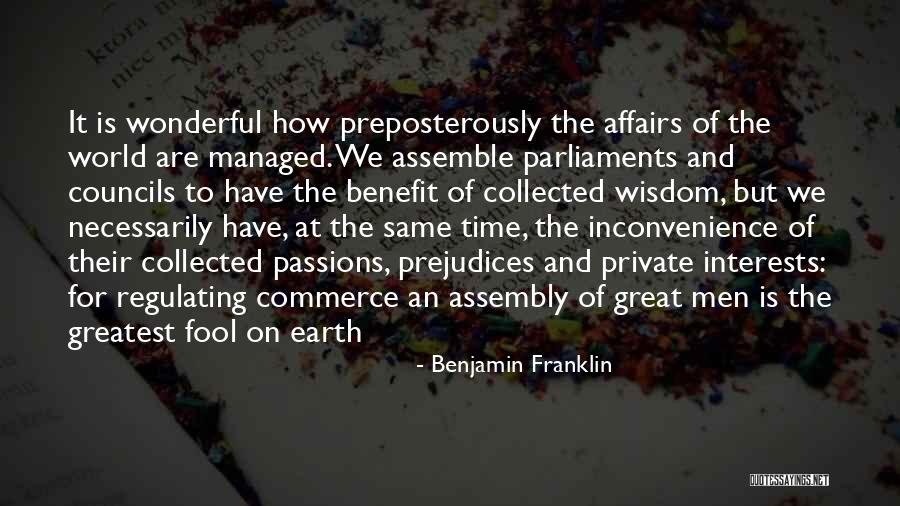 It is wonderful how preposterously the affairs of the world are managed. We assemble parliaments and councils to have the benefit of collected wisdom, but we necessarily have, at the same time, the inconvenience of their collected passions, prejudices and private interests: for regulating commerce an assembly of great men is the greatest fool on earth — Benjamin Franklin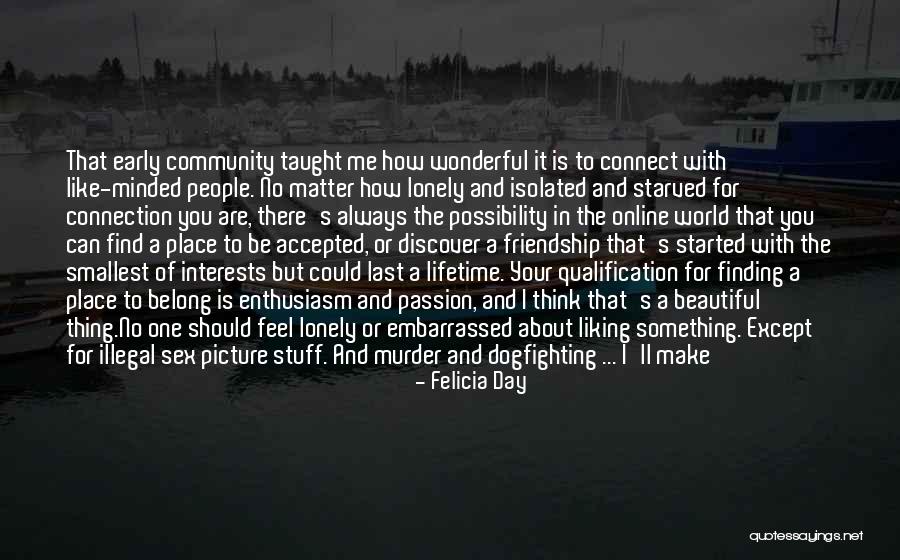 That early community taught me how wonderful it is to connect with like-minded people. No matter how lonely and isolated and starved for connection you are, there's always the possibility in the online world that you can find a place to be accepted, or discover a friendship that's started with the smallest of interests but could last a lifetime. Your qualification for finding a place to belong is enthusiasm and passion, and I think that's a beautiful thing.
No one should feel lonely or embarrassed about liking something. Except for illegal sex picture stuff. And murder and dogfighting ... I'll make a list. It'll be pretty long, now that I think about it. But you get the gist. — Felicia Day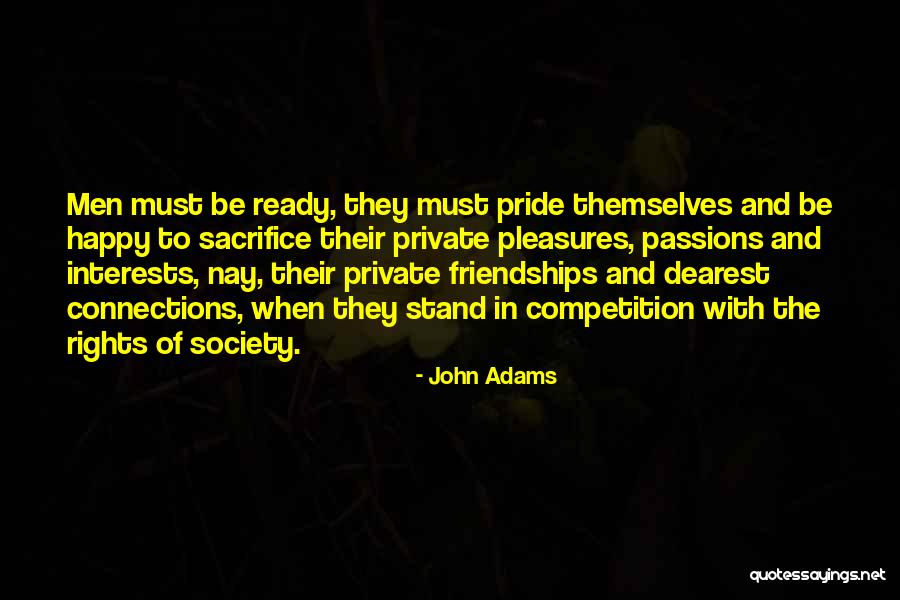 Men must be ready, they must pride themselves and be happy to sacrifice their private pleasures, passions and interests, nay, their private friendships and dearest connections, when they stand in competition with the rights of society. — John Adams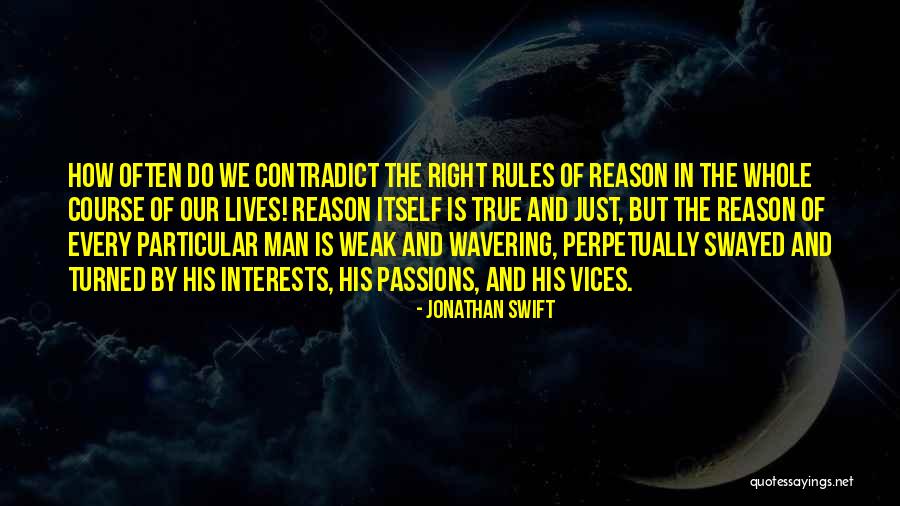 How often do we contradict the right rules of reason in the whole course of our lives! Reason itself is true and just, but the reason of every particular man is weak and wavering, perpetually swayed and turned by his interests, his passions, and his vices. — Jonathan Swift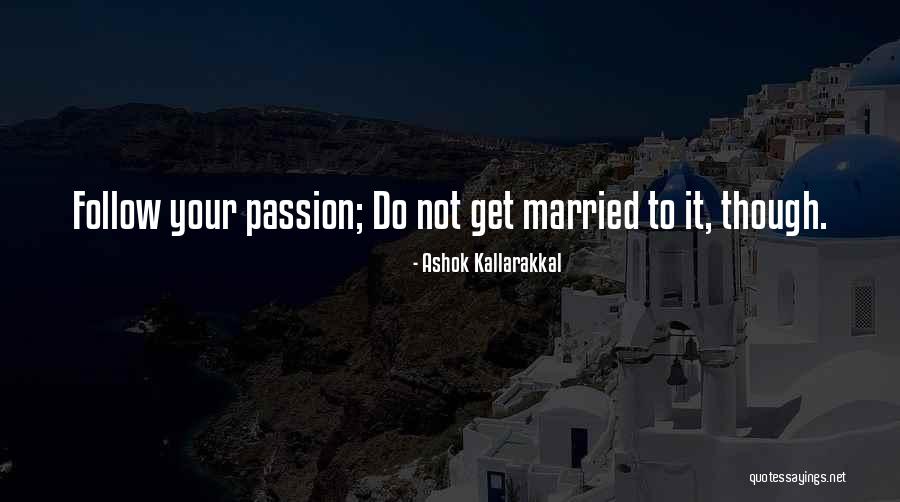 Follow your passion; Do not get married to it, though. — Ashok Kallarakkal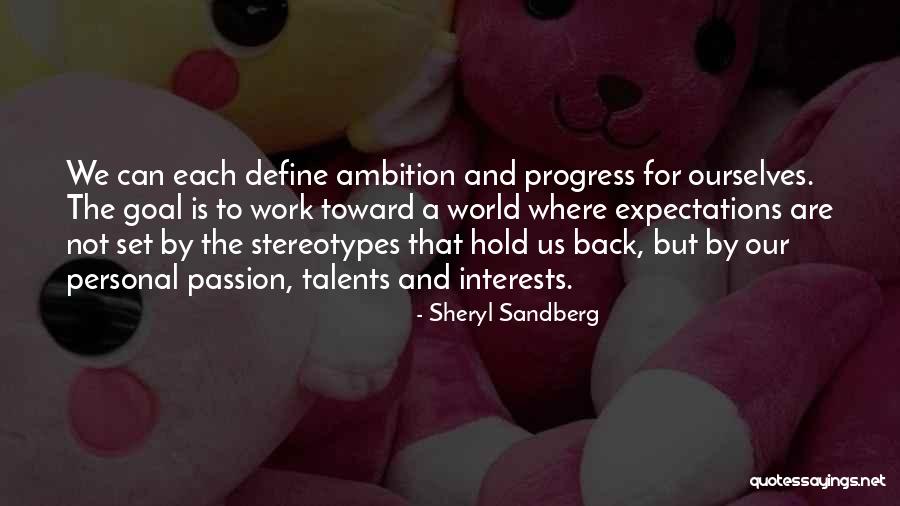 We can each define ambition and progress for ourselves. The goal is to work toward a world where expectations are not set by the stereotypes that hold us back, but by our personal passion, talents and interests. — Sheryl Sandberg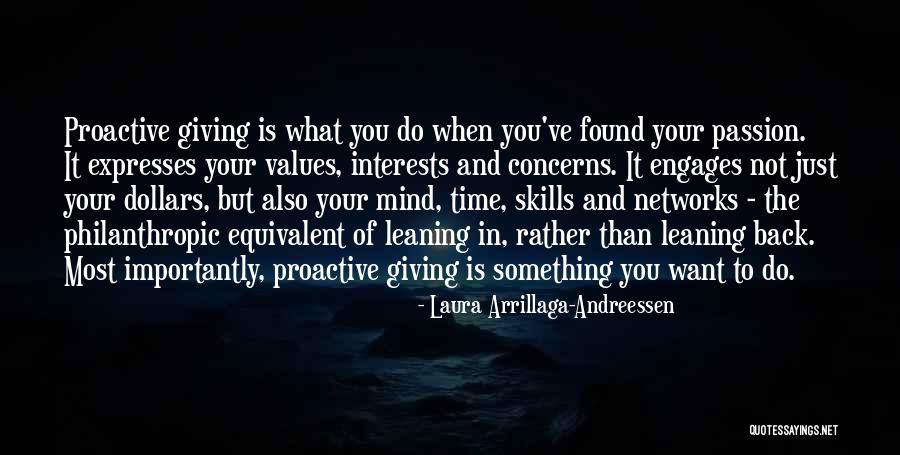 Proactive giving is what you do when you've found your passion. It expresses your values, interests and concerns. It engages not just your dollars, but also your mind, time, skills and networks - the philanthropic equivalent of leaning in, rather than leaning back. Most importantly, proactive giving is something you want to do. — Laura Arrillaga-Andreessen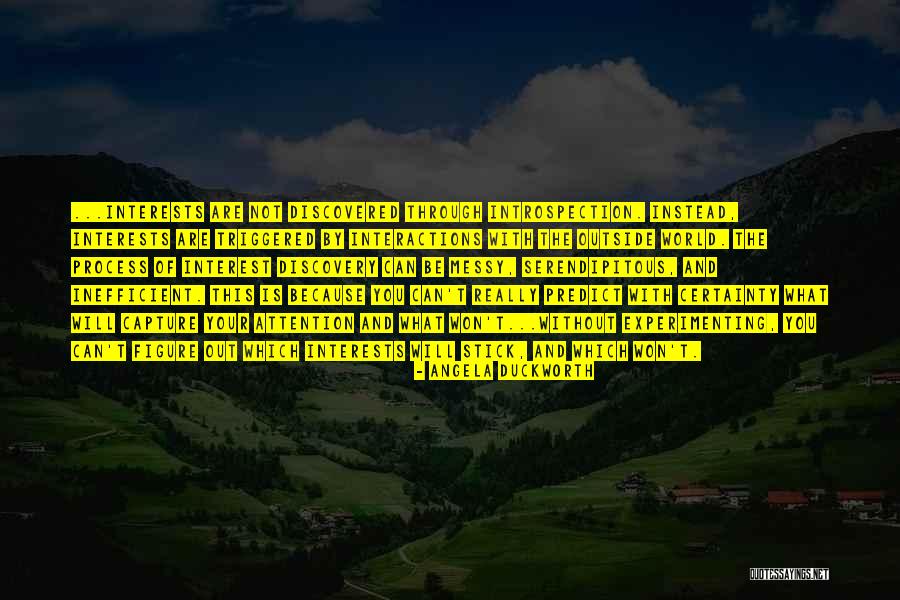 ...interests are not discovered through introspection. Instead, interests are triggered by interactions with the outside world. The process of interest discovery can be messy, serendipitous, and inefficient. This is because you can't really predict with certainty what will capture your attention and what won't...Without experimenting, you can't figure out which interests will stick, and which won't. — Angela Duckworth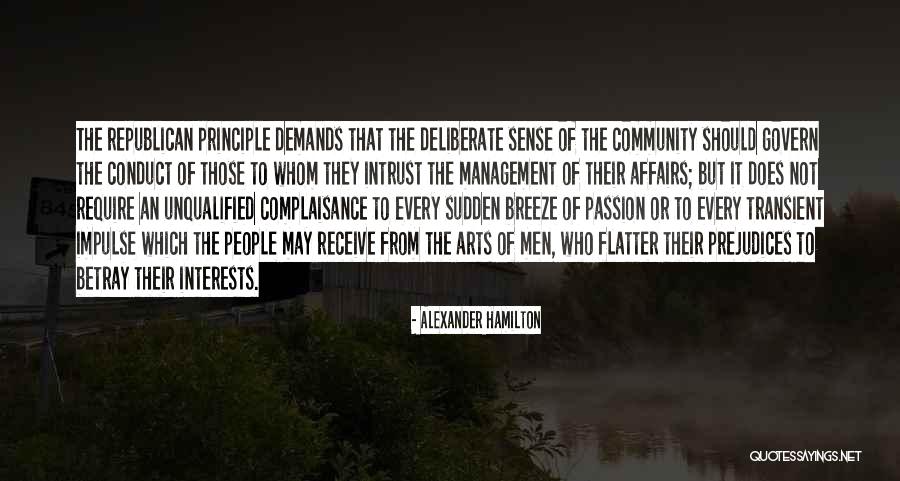 The republican principle demands that the deliberate sense of the community should govern the conduct of those to whom they intrust the management of their affairs; but it does not require an unqualified complaisance to every sudden breeze of passion or to every transient impulse which the people may receive from the arts of men, who flatter their prejudices to betray their interests. — Alexander Hamilton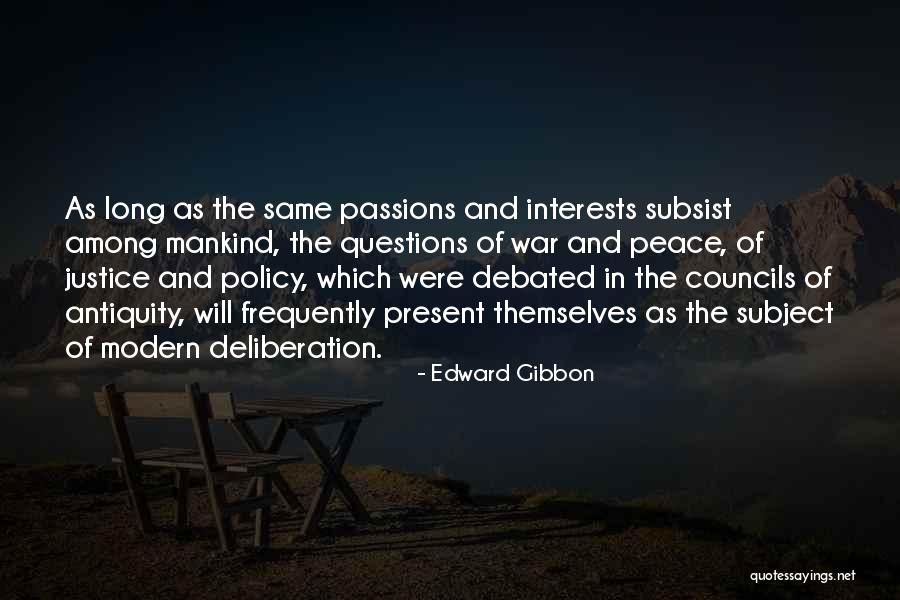 As long as the same passions and interests subsist among mankind, the questions of war and peace, of justice and policy, which were debated in the councils of antiquity, will frequently present themselves as the subject of modern deliberation. — Edward Gibbon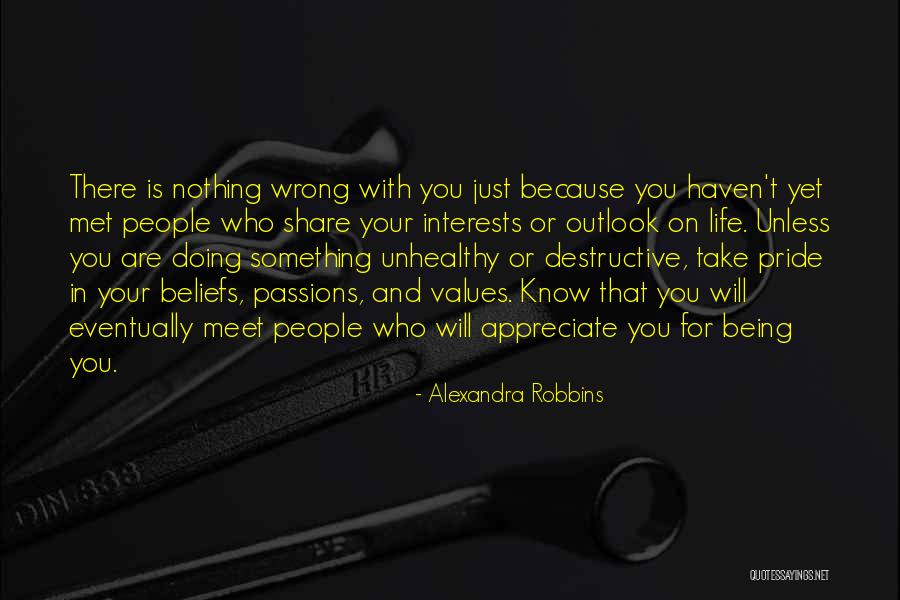 There is nothing wrong with you just because you haven't yet met people who share your interests or outlook on life. Unless you are doing something unhealthy or destructive, take pride in your beliefs, passions, and values. Know that you will eventually meet people who will appreciate you for being you. — Alexandra Robbins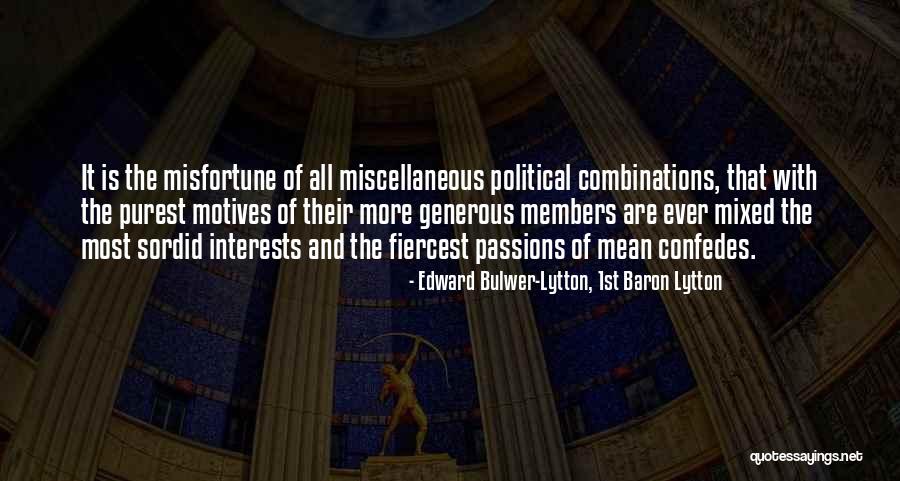 It is the misfortune of all miscellaneous political combinations, that with the purest motives of their more generous members are ever mixed the most sordid interests and the fiercest passions of mean confedes. — Edward Bulwer-Lytton, 1st Baron Lytton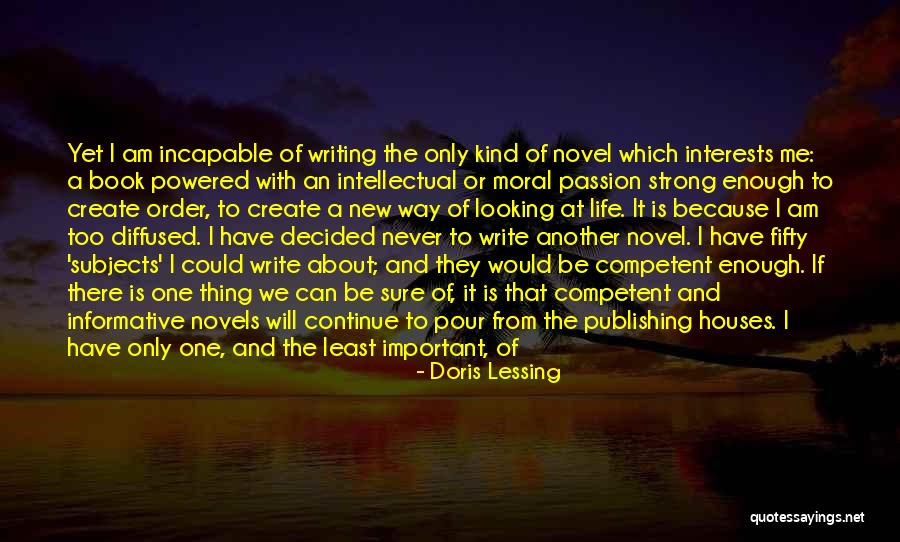 Yet I am incapable of writing the only kind of novel which interests me: a book powered with an intellectual or moral passion strong enough to create order, to create a new way of looking at life. It is because I am too diffused. I have decided never to write another novel. I have fifty 'subjects' I could write about; and they would be competent enough. If there is one thing we can be sure of, it is that competent and informative novels will continue to pour from the publishing houses. I have only one, and the least important, of the qualities necessary to write at all, and that is curiosity. It is the curiosity of the journalist. — Doris Lessing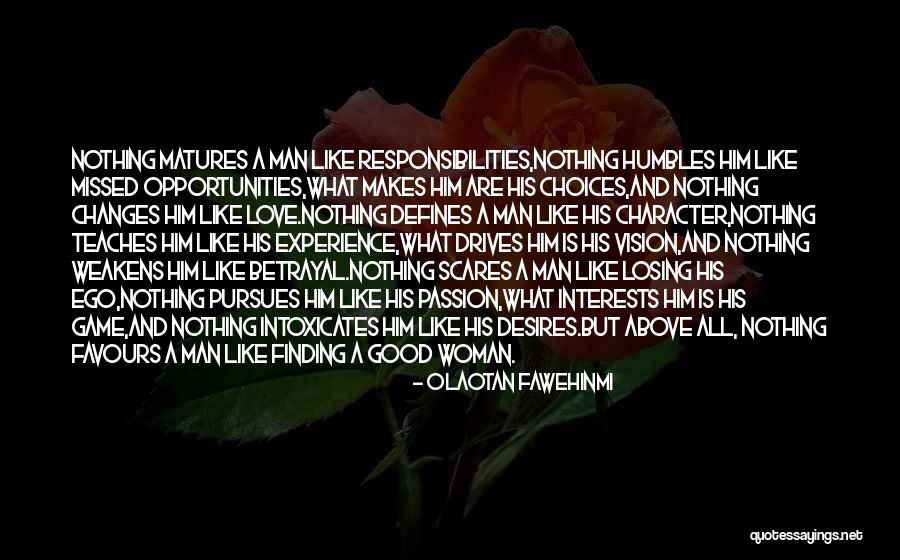 Nothing matures a Man like RESPONSIBILITIES,
Nothing humbles him like MISSED OPPORTUNITIES,
What makes him are his CHOICES,
And nothing changes him like LOVE.
Nothing defines a Man like his CHARACTER,
Nothing teaches him like his EXPERIENCE,
What drives him is his VISION,
And nothing weakens him like BETRAYAL.
Nothing scares a Man like losing his EGO,
Nothing pursues him like his PASSION,
What interests him is his GAME,
And nothing intoxicates him like his DESIRES.
But above all, NOTHING FAVOURS A MAN
LIKE FINDING A GOOD WOMAN. — Olaotan Fawehinmi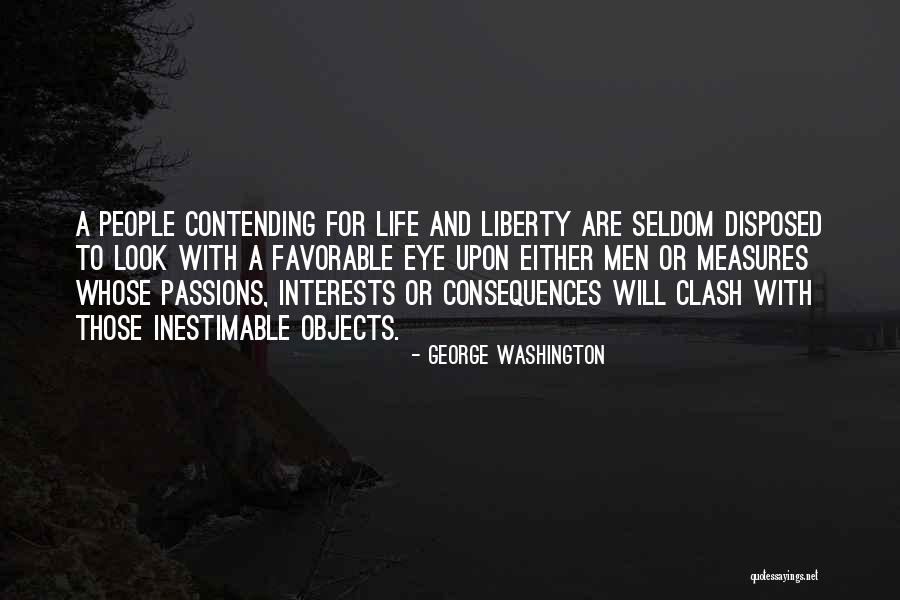 A people contending for life and liberty are seldom disposed to look with a favorable eye upon either men or measures whose passions, interests or consequences will clash with those inestimable objects. — George Washington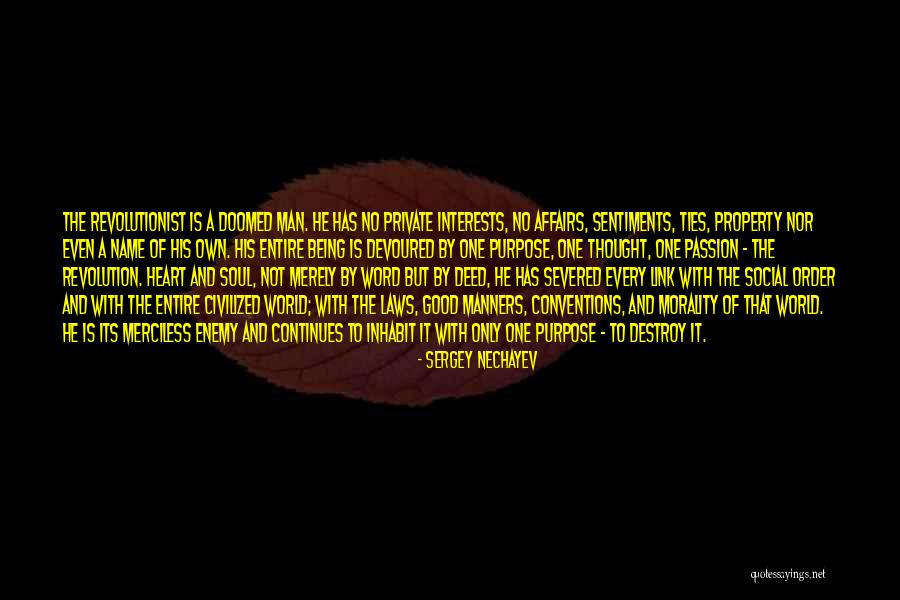 The Revolutionist is a doomed man. He has no private interests, no affairs, sentiments, ties, property nor even a name of his own. His entire being is devoured by one purpose, one thought, one passion - the revolution. Heart and soul, not merely by word but by deed, he has severed every link with the social order and with the entire civilized world; with the laws, good manners, conventions, and morality of that world. He is its merciless enemy and continues to inhabit it with only one purpose - to destroy it. — Sergey Nechayev