Quotes & Sayings About Indifference To Evil
Enjoy reading and share 41 famous quotes about Indifference To Evil with everyone.
Top Indifference To Evil Quotes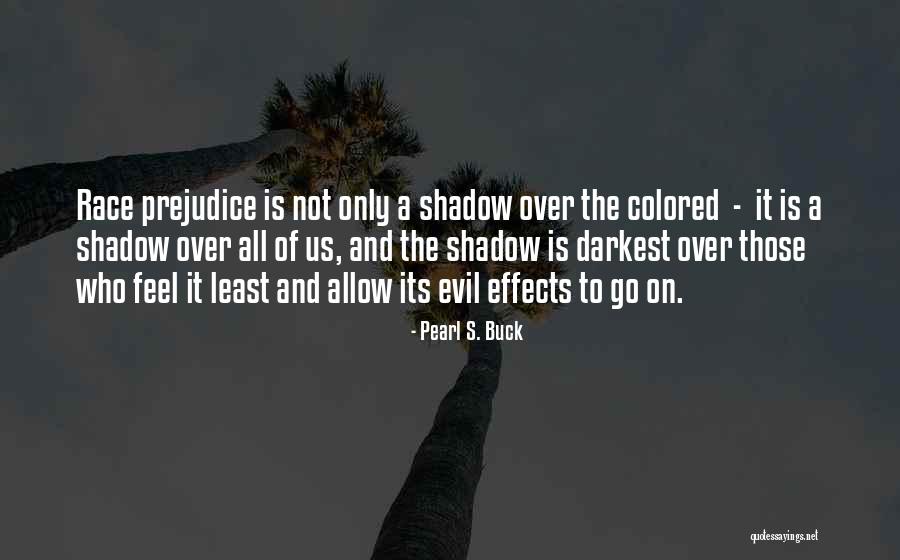 Race prejudice is not only a shadow over the colored - it is a shadow over all of us, and the shadow is darkest over those who feel it least and allow its evil effects to go on. — Pearl S. Buck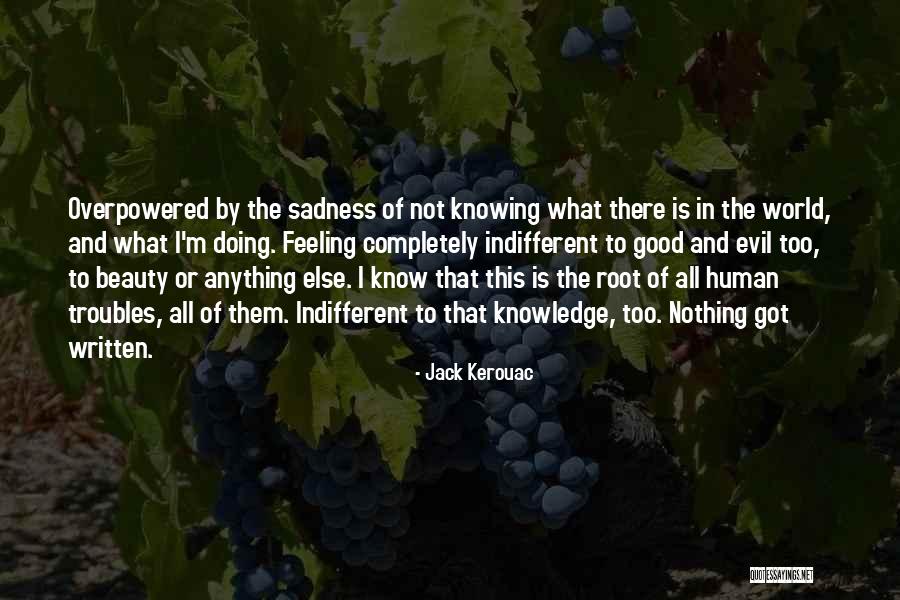 Overpowered by the sadness of not knowing what there is in the world, and what I'm doing. Feeling completely indifferent to good and evil too, to beauty or anything else. I know that this is the root of all human troubles, all of them. Indifferent to that knowledge, too. Nothing got written. — Jack Kerouac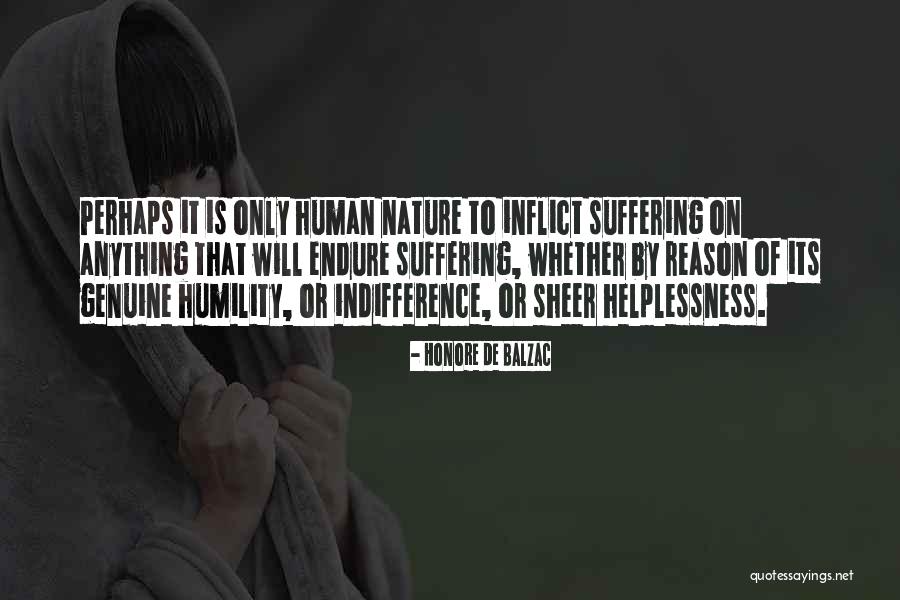 Perhaps it is only human nature to inflict suffering on anything that will endure suffering, whether by reason of its genuine humility, or indifference, or sheer helplessness. — Honore De Balzac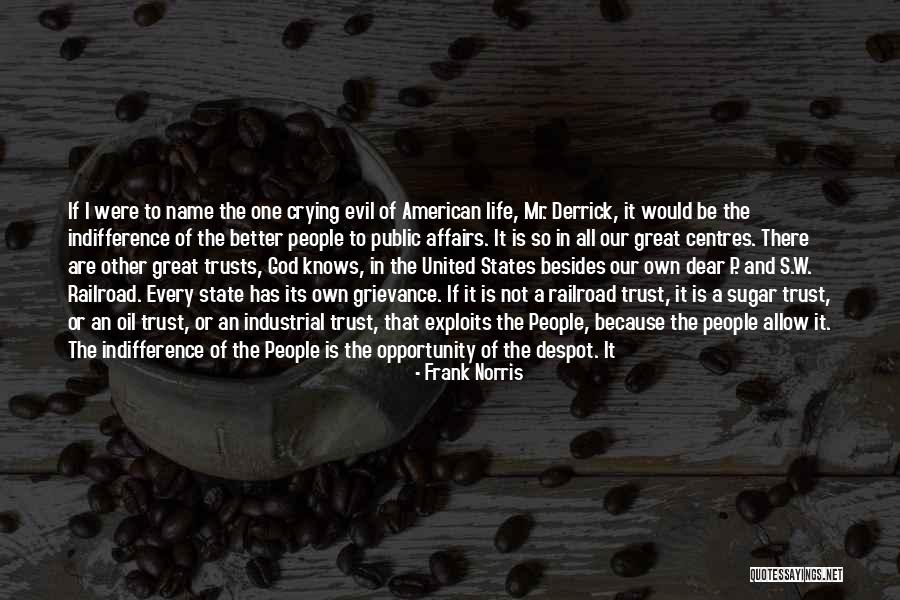 If I were to name the one crying evil of American life, Mr. Derrick, it would be the indifference of the better people to public affairs. It is so in all our great centres. There are other great trusts, God knows, in the United States besides our own dear P. and S.W. Railroad. Every state has its own grievance. If it is not a railroad trust, it is a sugar trust, or an oil trust, or an industrial trust, that exploits the People, because the people allow it. The indifference of the People is the opportunity of the despot. It is as true as that the whole is greater than the part, and the maxim is so old that it is trite - it is laughable. It is neglected and disused for the sake of some new ingenious and complicated theory, some wonderful scheme of reorganization, the fact remains, nevertheless, simple, fundamental, everlasting. The People have but to say 'No' and not the strongest tyranny, political, religious, or financial, that was ever organized, could survive one week. — Frank Norris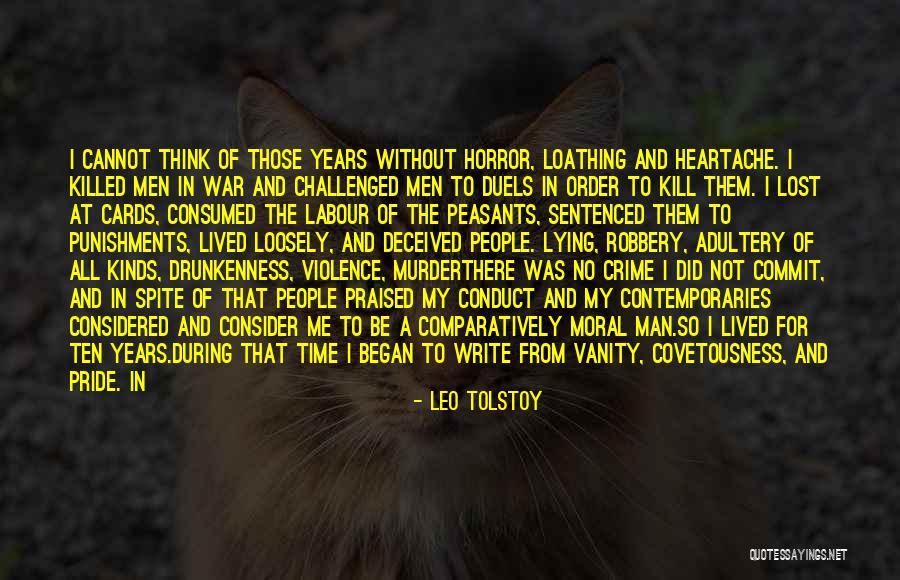 I cannot think of those years without horror, loathing and heartache. I killed men in war and challenged men to duels in order to kill them. I lost at cards, consumed the labour of the peasants, sentenced them to punishments, lived loosely, and deceived people. Lying, robbery, adultery of all kinds, drunkenness, violence, murder
there was no crime I did not commit, and in spite of that people praised my conduct and my contemporaries considered and consider me to be a comparatively moral man.
So I lived for ten years.
During that time I began to write from vanity, covetousness, and pride. In my writings I did the same as in my life. to get fame and money, for the sake of which I wrote, it was necessary to hide the good and to display the evil. and I did so. How often in my writings I contrived to hide under the guise of indifference, or even of banter, those strivings of mine towards goodness which gave meaning to my life! And I succeeded in this and was praised. — Leo Tolstoy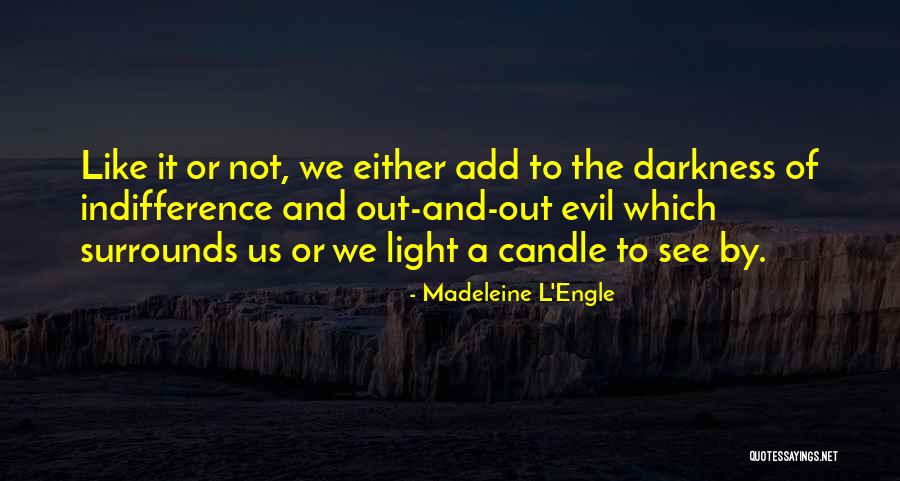 Like it or not, we either add to the darkness of indifference and out-and-out evil which surrounds us or we light a candle to see by. — Madeleine L'Engle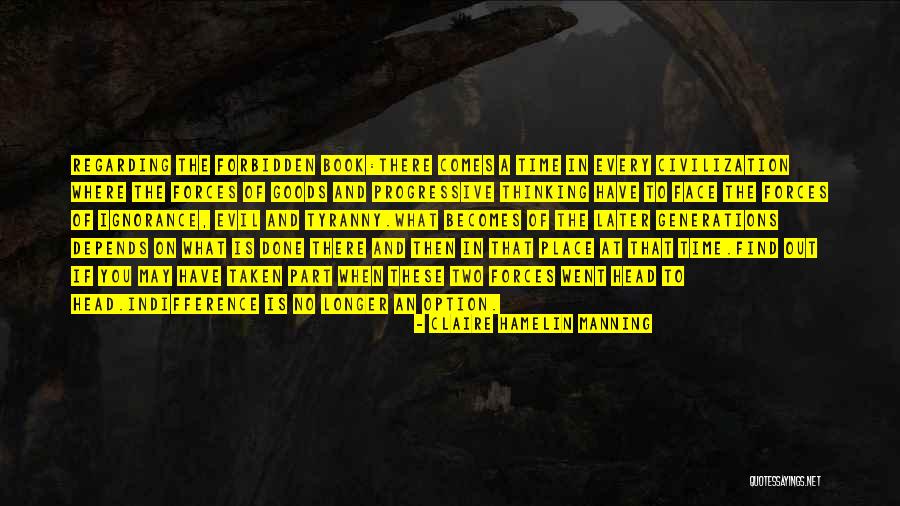 Regarding the Forbidden Book:
There comes a time in every civilization where the forces of goods and progressive thinking have to face the forces of ignorance, evil and tyranny.

What becomes of the later generations depends on what is done there and then in that place at that time.

Find out if you may have taken part when these two forces went head to head.

Indifference is no longer an option. — Claire Hamelin Manning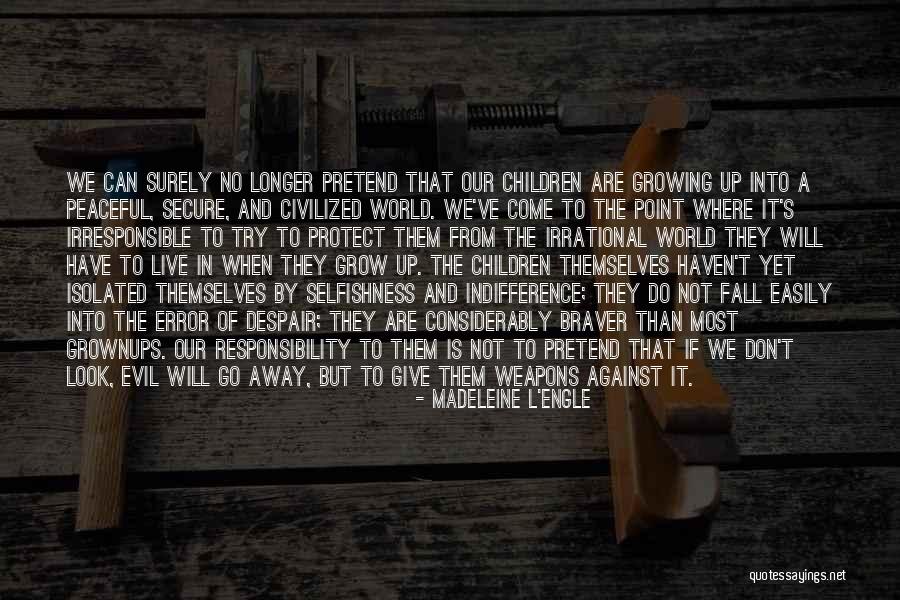 We can surely no longer pretend that our children are growing up into a peaceful, secure, and civilized world. We've come to the point where it's irresponsible to try to protect them from the irrational world they will have to live in when they grow up. The children themselves haven't yet isolated themselves by selfishness and indifference; they do not fall easily into the error of despair; they are considerably braver than most grownups. Our responsibility to them is not to pretend that if we don't look, evil will go away, but to give them weapons against it. — Madeleine L'Engle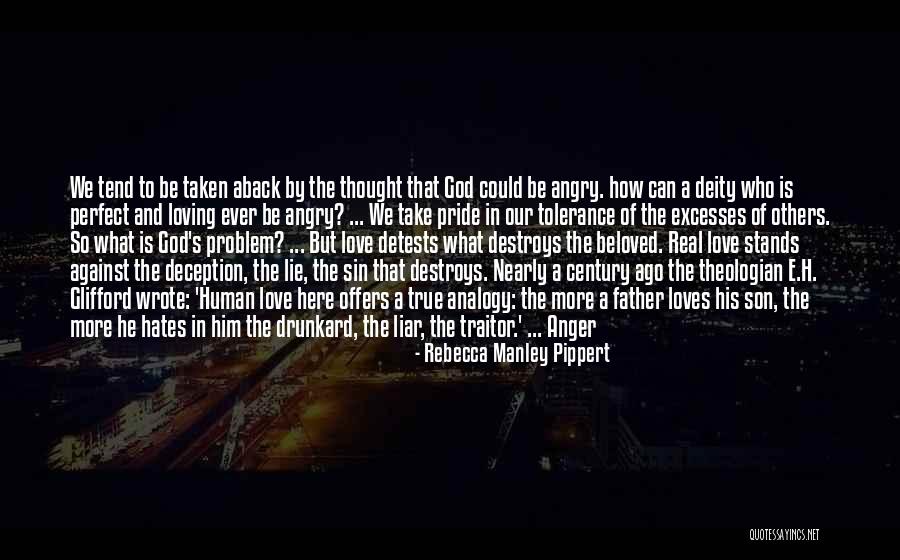 We tend to be taken aback by the thought that God could be angry. how can a deity who is perfect and loving ever be angry? ... We take pride in our tolerance of the excesses of others. So what is God's problem? ... But love detests what destroys the beloved. Real love stands against the deception, the lie, the sin that destroys. Nearly a century ago the theologian E.H. Glifford wrote: 'Human love here offers a true analogy: the more a father loves his son, the more he hates in him the drunkard, the liar, the traitor.' ... Anger isn't the opposite of love. Hate is, and the final form of hate is indifference ... How can a good God forgive bad people without compromising himself? Does he just play fast and loose with the facts? 'Oh, never mind ... boys will be boys'. Try telling that to a survivor of the Cambodian 'killing fields' or to someone who lost an entire family in the Holocaust. No. To be truly good one has to be outraged by evil and implacably hostile to injustice. — Rebecca Manley Pippert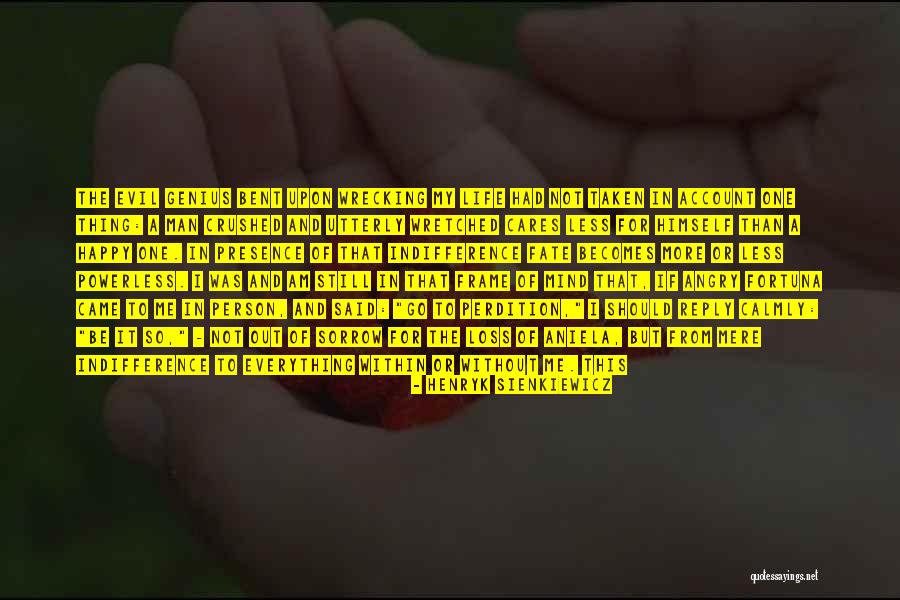 The evil genius bent upon wrecking my life had not taken in account one thing: a man crushed and utterly wretched cares less for himself than a happy one. In presence of that indifference fate becomes more or less powerless. I was and am still in that frame of mind that, if angry Fortuna came to me in person, and said: "Go to perdition," I should reply calmly: "Be it so," - not out of sorrow for the loss of Aniela, but from mere indifference to everything within or without me. This — Henryk Sienkiewicz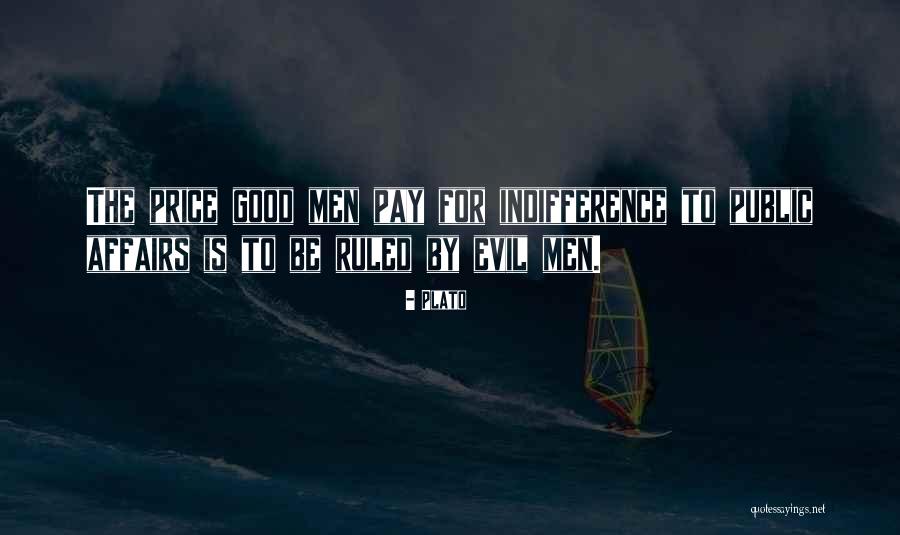 The price good men pay for indifference to public affairs is to be ruled by evil men. — Plato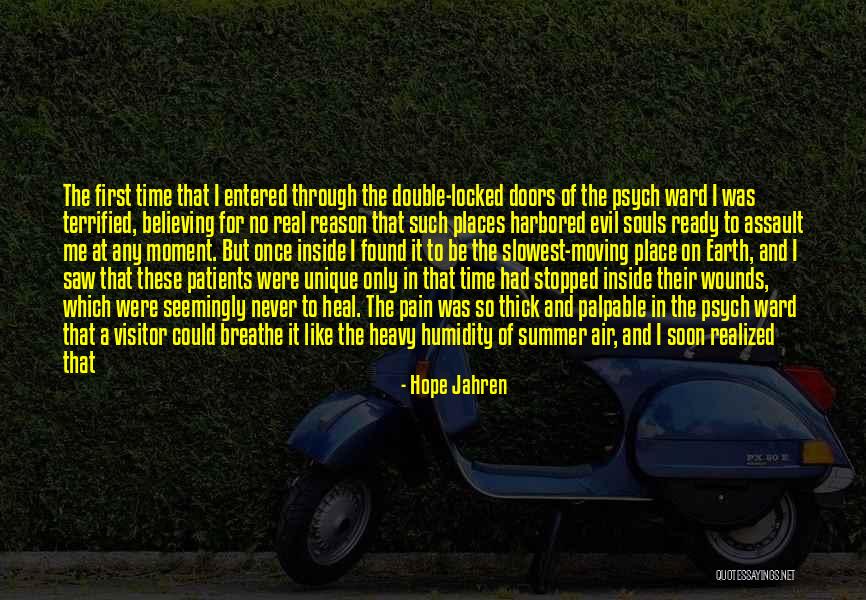 The first time that I entered through the double-locked doors of the psych ward I was terrified, believing for no real reason that such places harbored evil souls ready to assault me at any moment. But once inside I found it to be the slowest-moving place on Earth, and I saw that these patients were unique only in that time had stopped inside their wounds, which were seemingly never to heal. The pain was so thick and palpable in the psych ward that a visitor could breathe it like the heavy humidity of summer air, and I soon realized that the challenge would not be to defend myself from patients, but to defend myself against my own increasing indifference toward them. What originally struck me as cryptic in chapter fifty-nine was now mundane: they are turned inward, to feed upon their own hearts, and their own hearts are very bad feeding. — Hope Jahren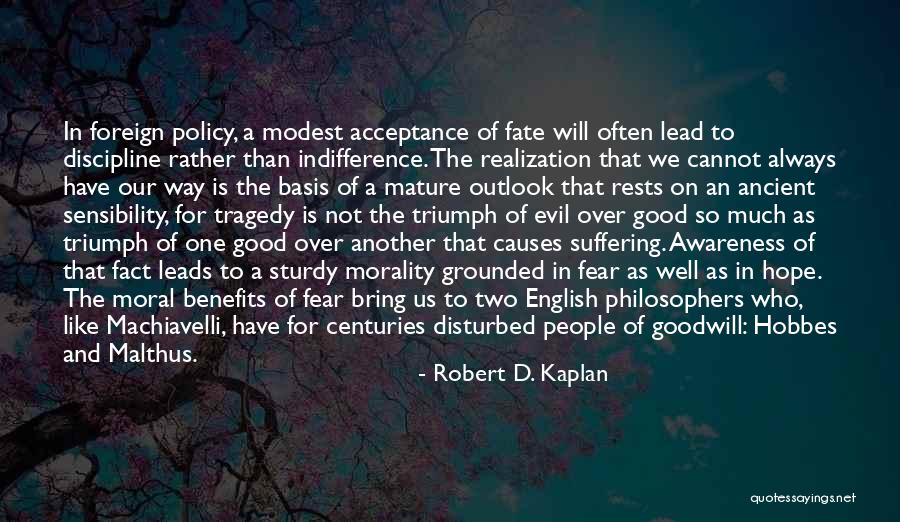 In foreign policy, a modest acceptance of fate will often lead to discipline rather than indifference. The realization that we cannot always have our way is the basis of a mature outlook that rests on an ancient sensibility, for tragedy is not the triumph of evil over good so much as triumph of one good over another that causes suffering. Awareness of that fact leads to a sturdy morality grounded in fear as well as in hope. The moral benefits of fear bring us to two English philosophers who, like Machiavelli, have for centuries disturbed people of goodwill: Hobbes and Malthus. — Robert D. Kaplan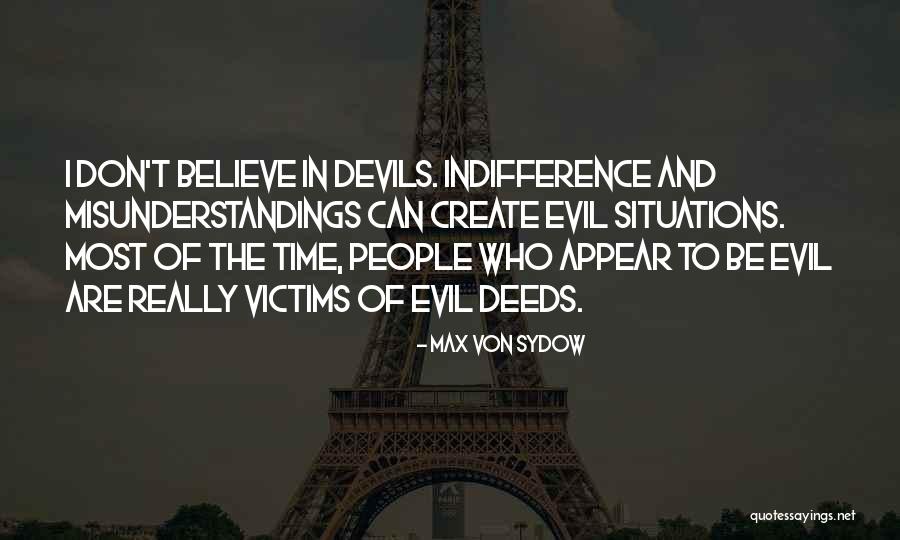 I don't believe in devils. Indifference and misunderstandings can create evil situations. Most of the time, people who appear to be evil are really victims of evil deeds. — Max Von Sydow
Just like our forefathers in Boston Harbor, who boarded a British ship to let the king know they would have none of his tyrannical rule, this man boarded the pirate ship called the IRS, and let the repressive government, the unfeeling government that is embodied by the man who inhabits the building over there," Hamilton said, pausing and pointing to the White House, a few blocks away. "This courageous man let that evil government know he would no longer suffer under its indifference. Would no longer tolerate taxation without representation. Would no longer accept the injustice and indignity met out by that government organization."
From TAX BREAK, written in 1991, but sounding like today's politics. — Jay Williams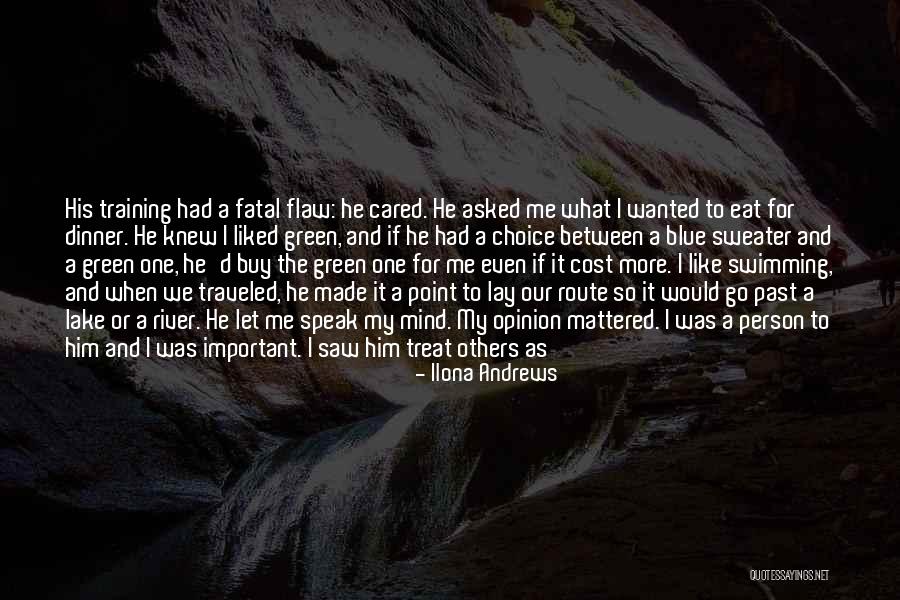 His training had a fatal flaw: he cared. He asked me what I wanted to eat for dinner. He knew I liked green, and if he had a choice between a blue sweater and a green one, he'd buy the green one for me even if it cost more. I like swimming, and when we traveled, he made it a point to lay our route so it would go past a lake or a river. He let me speak my mind. My opinion mattered. I was a person to him and I was important. I saw him treat others as if they were important. For all of his supposed indifference, there is a town in Oklahoma that worships him and a little village in Guatemala that put a wooden statue of him at the gates to protect them from evil spirits. He helped people, when he thought it was right. — Ilona Andrews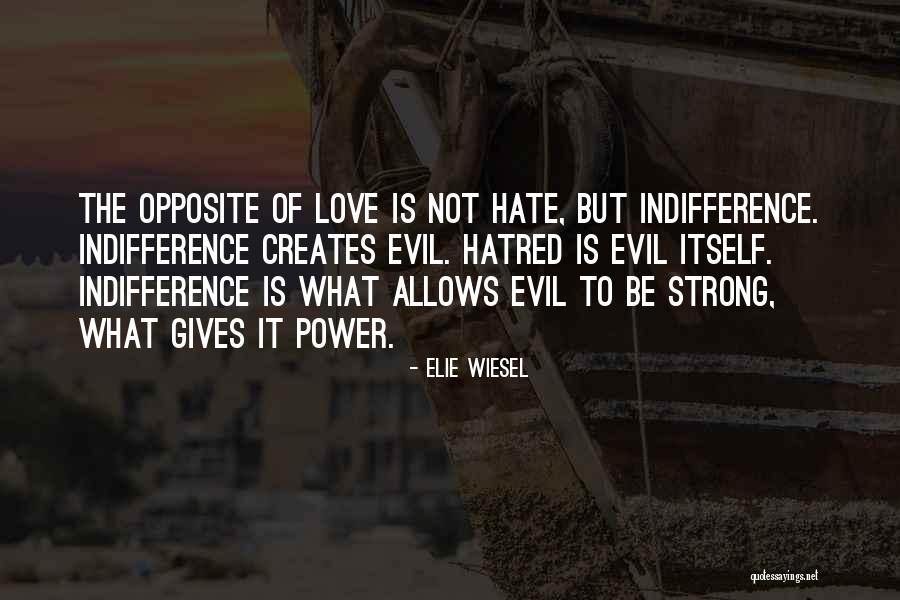 The opposite of love is not hate, but indifference. Indifference creates evil. Hatred is evil itself. Indifference is what allows evil to be strong, what gives it power. — Elie Wiesel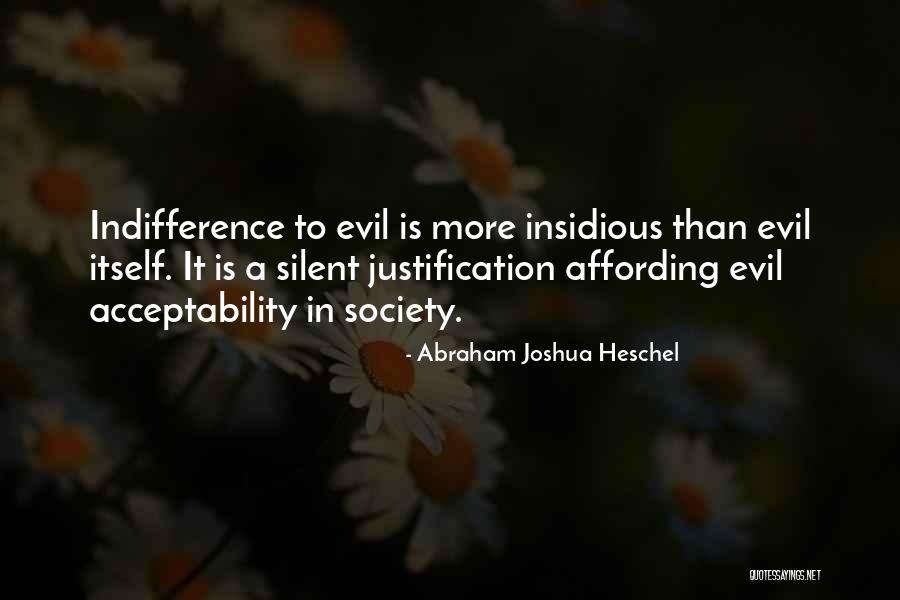 Indifference to evil is more insidious than evil itself. It is a silent justification affording evil acceptability in society. — Abraham Joshua Heschel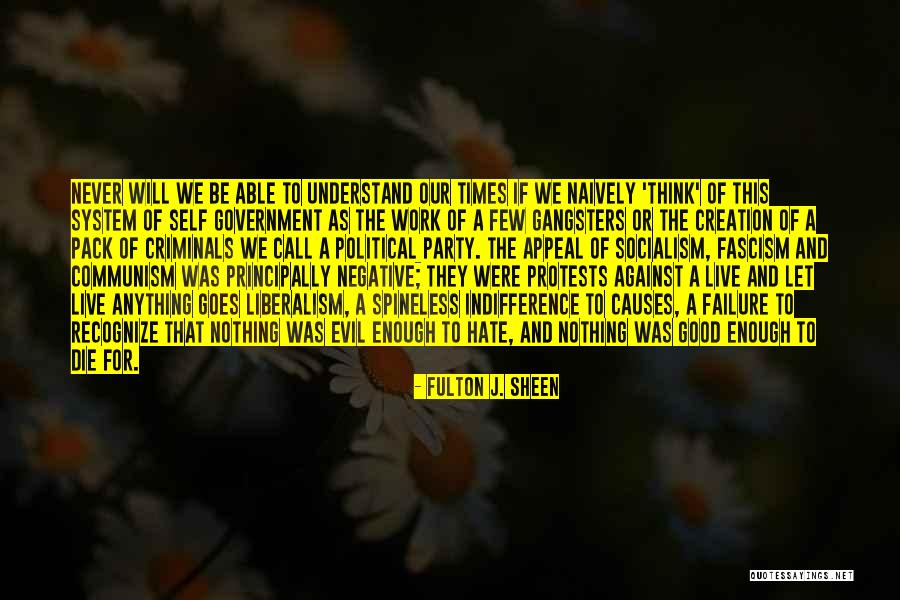 Never will we be able to understand our times if we naively 'think' of this system of self Government as the work of a few gangsters or the creation of a pack of criminals we call a political party. The appeal of Socialism, Fascism and communism was principally negative; they were protests against a live and let live anything goes liberalism, a spineless indifference to causes, a failure to recognize that nothing was evil enough to hate, and nothing was good enough to die for. — Fulton J. Sheen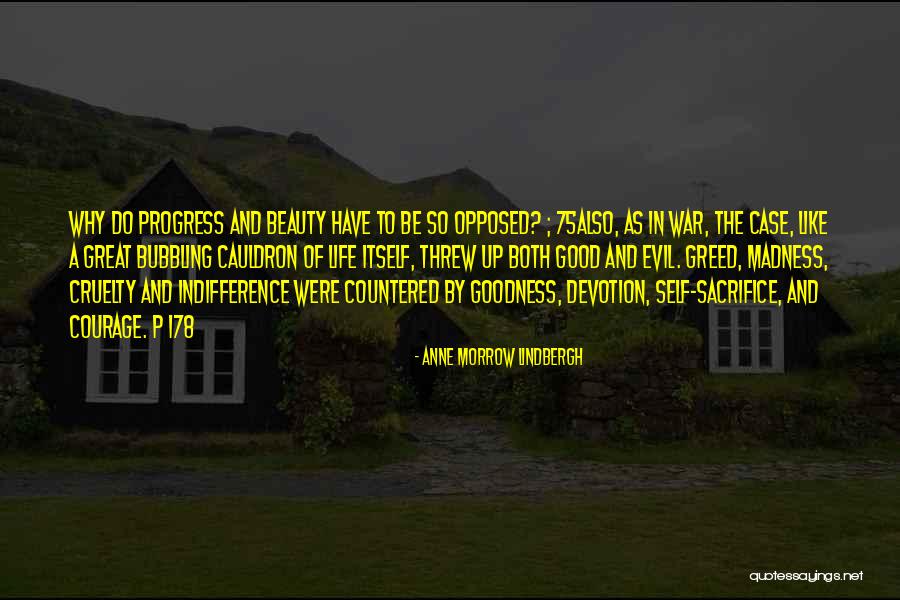 Why do progress and beauty have to be so opposed? ; 75
Also, as in war, the case, like a great bubbling cauldron of life itself, threw up both good and evil. Greed, madness, cruelty and indifference were countered by goodness, devotion, self-sacrifice, and courage. p 178 — Anne Morrow Lindbergh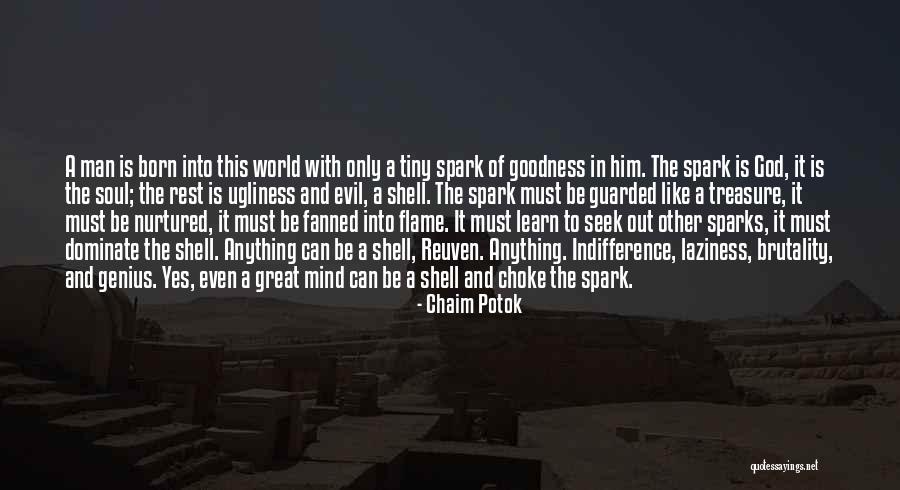 A man is born into this world with only a tiny spark of goodness in him. The spark is God, it is the soul; the rest is ugliness and evil, a shell. The spark must be guarded like a treasure, it must be nurtured, it must be fanned into flame. It must learn to seek out other sparks, it must dominate the shell. Anything can be a shell, Reuven. Anything. Indifference, laziness, brutality, and genius. Yes, even a great mind can be a shell and choke the spark. — Chaim Potok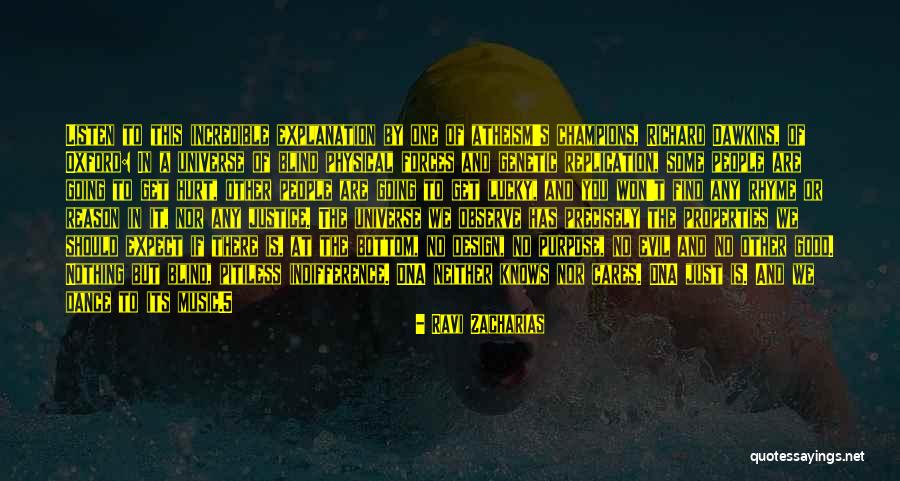 Listen to this incredible explanation by one of atheism's champions, Richard Dawkins, of Oxford: In a universe of blind physical forces and genetic replication, some people are going to get hurt, other people are going to get lucky, and you won't find any rhyme or reason in it, nor any justice. The universe we observe has precisely the properties we should expect if there is, at the bottom, no design, no purpose, no evil and no other good. Nothing but blind, pitiless indifference. DNA neither knows nor cares. DNA just is. And we dance to its music.5 — Ravi Zacharias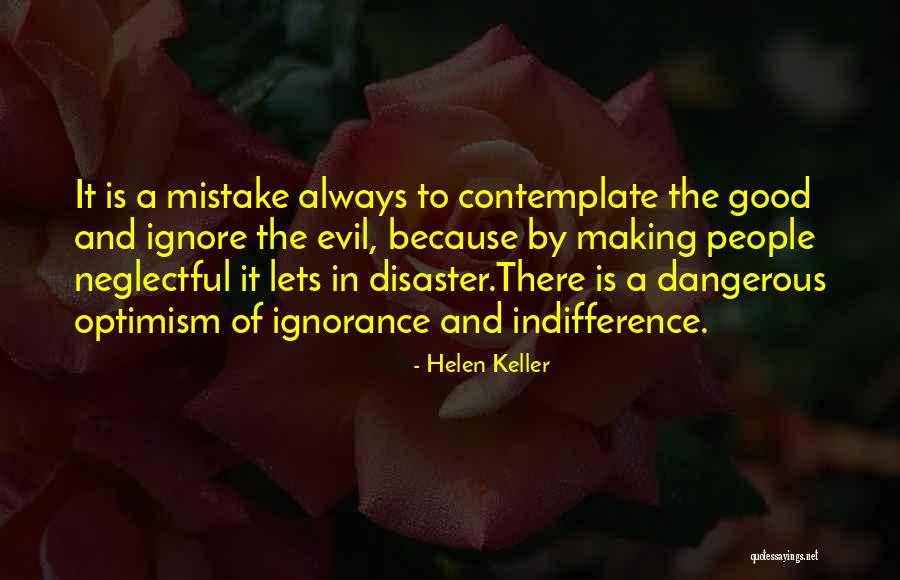 It is a mistake always to contemplate the good and ignore the evil, because by making people neglectful it lets in disaster.
There is a dangerous optimism of ignorance and indifference. — Helen Keller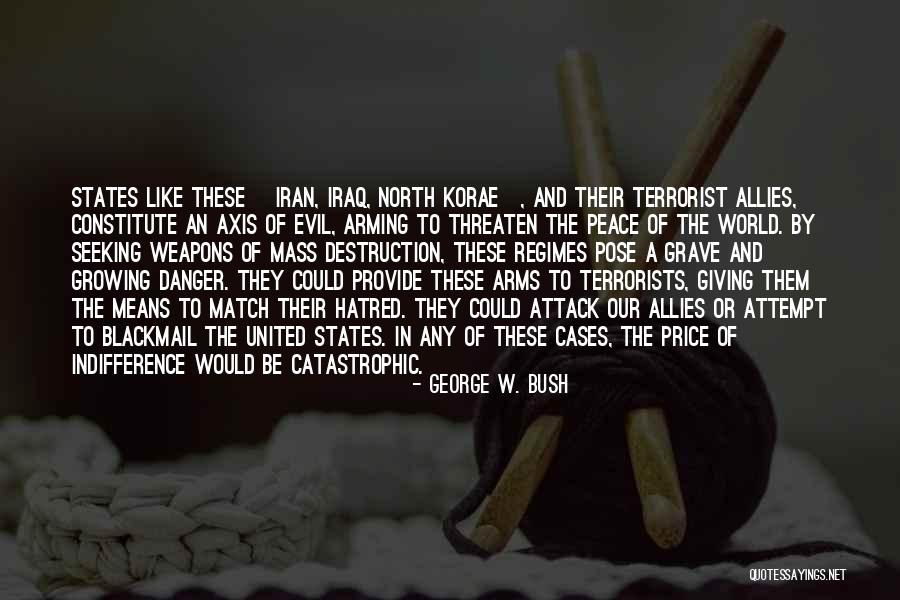 States like these [Iran, Iraq, North Korae], and their terrorist allies, constitute an axis of evil, arming to threaten the peace of the world. By seeking weapons of mass destruction, these regimes pose a grave and growing danger. They could provide these arms to terrorists, giving them the means to match their hatred. They could attack our allies or attempt to blackmail the United States. In any of these cases, the price of indifference would be catastrophic. — George W. Bush
The point we desperately need to grasp is that forgiveness is not the same thing as tolerance. We are told again and again today that we must be "inclusive"; that Jesus welcomed all kinds of people just as they were; that the church believes in forgiveness and therefore we should remarry divorcees without question, reinstate employees who were sacked for dishonesty, allow convicted pedophiles back into children's work-actually, we don't normally say the last of these, which shows that we have retained at least some vestiges of common sense. But forgiveness is not the same as tolerance. It is not the same as inclusivity. It is not the same as indifference, whether personal or moral. Forgiveness doesn't mean that we don't take evil seriously after all; it means that we do. — N. T. Wright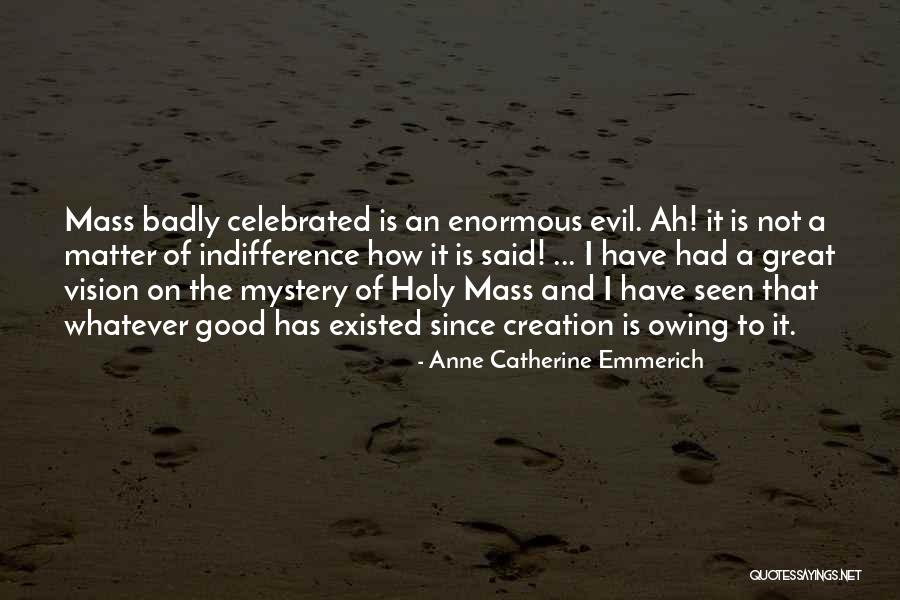 Mass badly celebrated is an enormous evil. Ah! it is not a matter of indifference how it is said! ... I have had a great vision on the mystery of Holy Mass and I have seen that whatever good has existed since creation is owing to it. — Anne Catherine Emmerich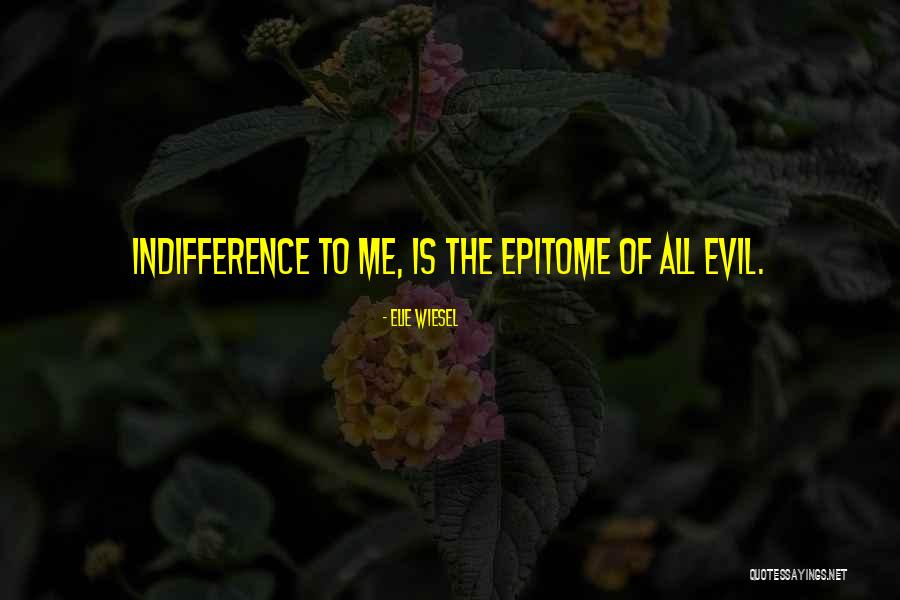 Indifference to me, is the epitome of all evil. — Elie Wiesel
Throughout history, it has been the inaction of those who could have acted; the indifference of those who should have known better; the silence of the voice of justice when it mattered most; that has made it possible for evil to triumph. — Haile Selassie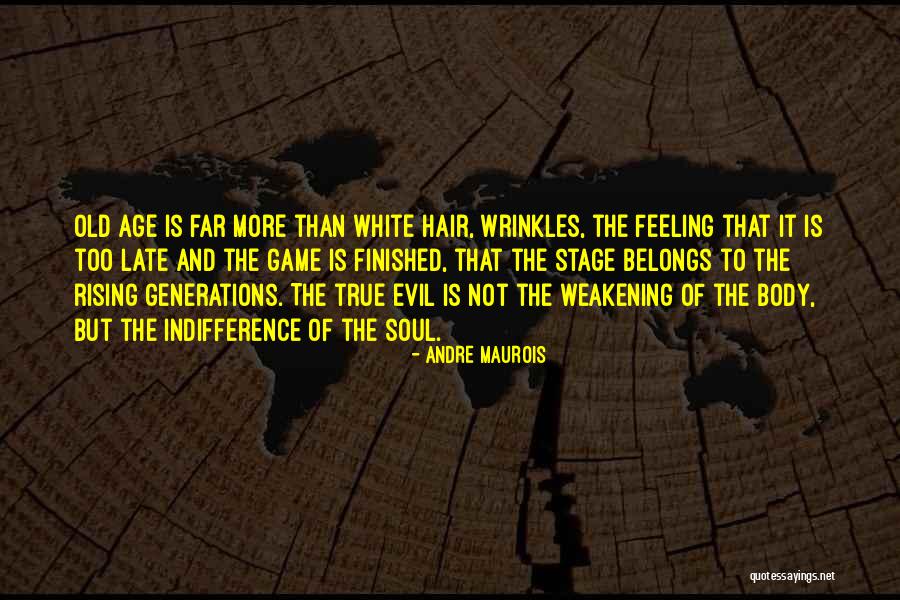 Old age is far more than white hair, wrinkles, the feeling that it is too late and the game is finished, that the stage belongs to the rising generations. The true evil is not the weakening of the body, but the indifference of the soul. — Andre Maurois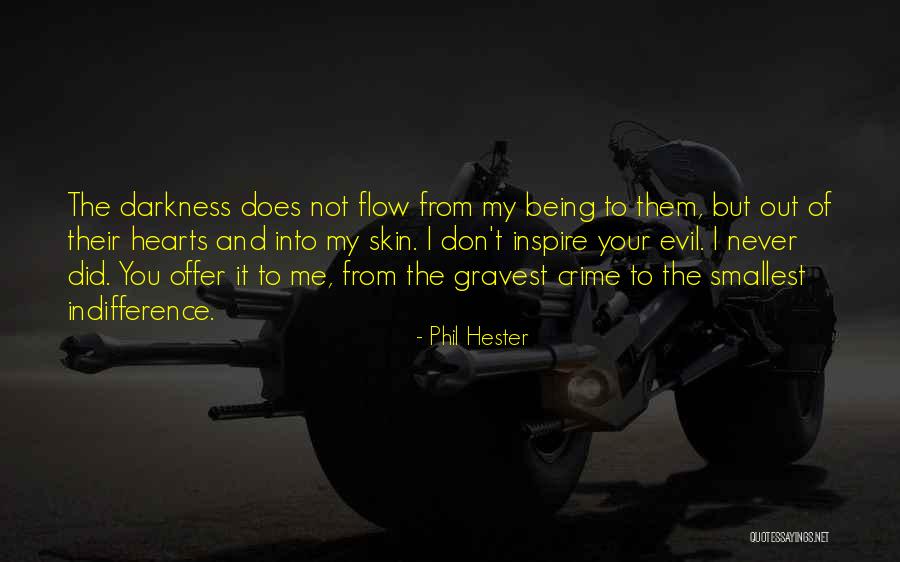 The darkness does not flow from my being to them, but out of their hearts and into my skin. I don't inspire your evil. I never did. You offer it to me, from the gravest crime to the smallest indifference. — Phil Hester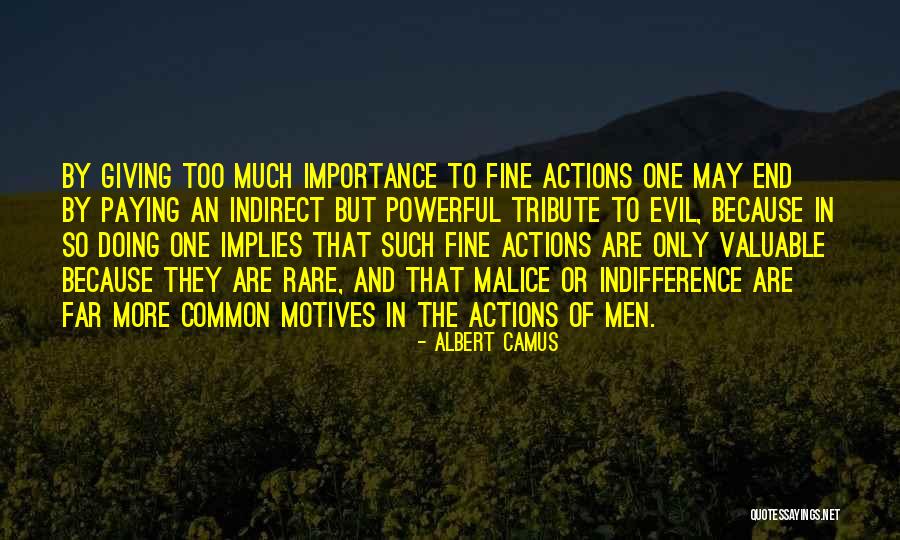 By giving too much importance to fine actions one may end by paying an indirect but powerful tribute to evil, because in so doing one implies that such fine actions are only valuable because they are rare, and that malice or indifference are far more common motives in the actions of men. — Albert Camus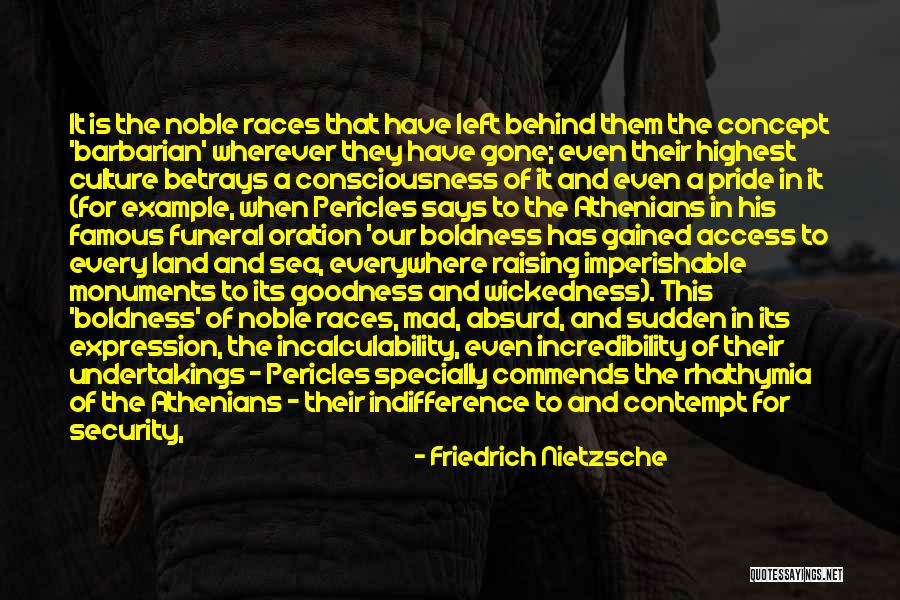 It is the noble races that have left behind them the concept 'barbarian' wherever they have gone; even their highest culture betrays a consciousness of it and even a pride in it (for example, when Pericles says to the Athenians in his famous funeral oration 'our boldness has gained access to every land and sea, everywhere raising imperishable monuments to its goodness and wickedness). This 'boldness' of noble races, mad, absurd, and sudden in its expression, the incalculability, even incredibility of their undertakings - Pericles specially commends the rhathymia of the Athenians - their indifference to and contempt for security, body, life, comfort, their hair-raising cheerfulness and profound joy in all destruction, in all the voluptuousness of victory and cruelty - all this came together, in the minds of those who suffered from it, in the image of the 'barbarian,' the 'evil enemy,' perhaps as the 'Goths,' the 'Vandals. — Friedrich Nietzsche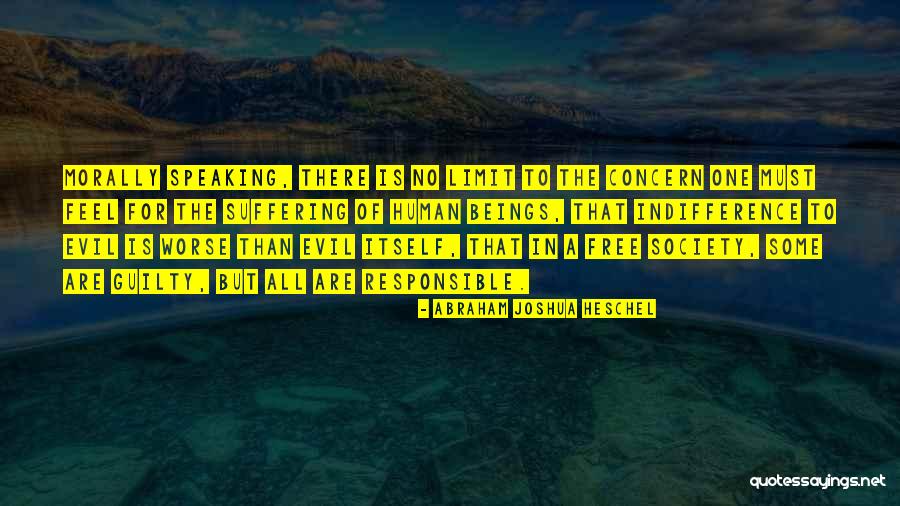 Morally speaking, there is no limit to the concern one must feel for the suffering of human beings, that indifference to evil is worse than evil itself, that in a free society, some are guilty, but all are responsible. — Abraham Joshua Heschel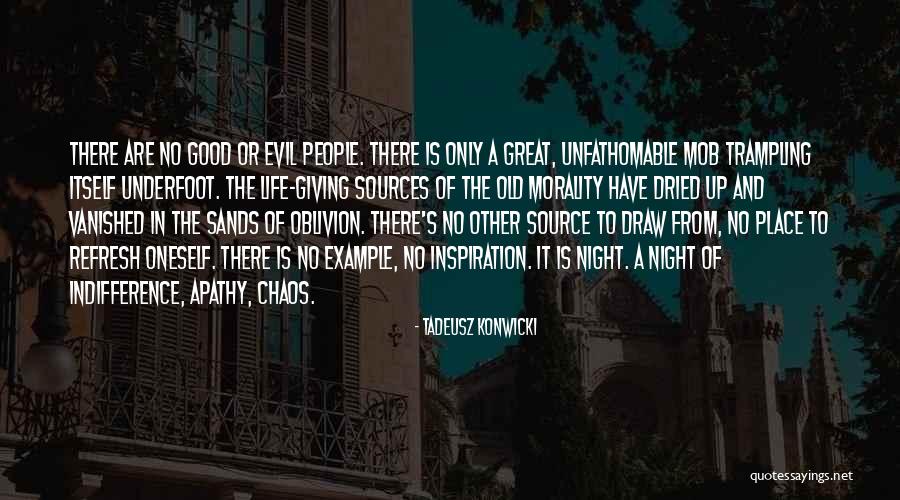 There are no good or evil people. There is only a great, unfathomable mob trampling itself underfoot. The life-giving sources of the old morality have dried up and vanished in the sands of oblivion. There's no other source to draw from, no place to refresh oneself. There is no example, no inspiration. It is night. A night of indifference, apathy, chaos. — Tadeusz Konwicki
Be of good hope in the face of death. Believe in this one truth for certain, that no evil can befall a good man either in life or death, and that his fate is not a matter of indifference to the gods. — Socrates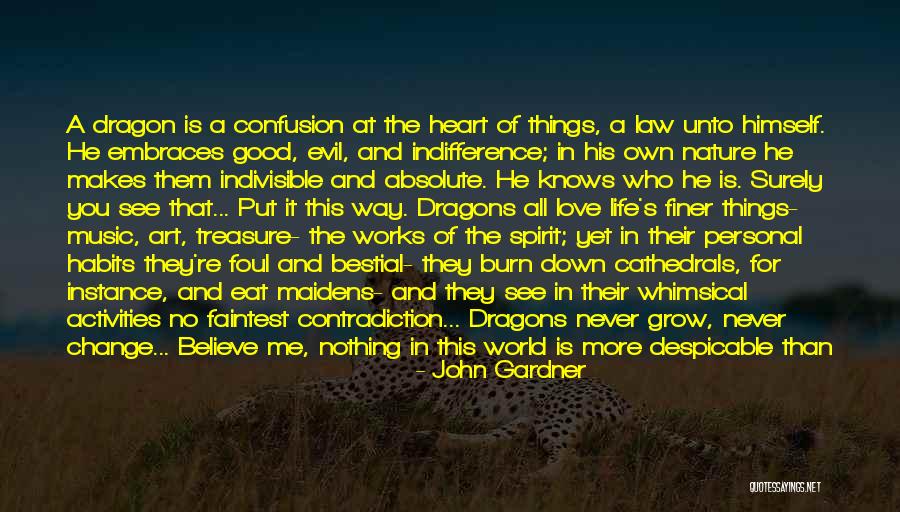 A dragon is a confusion at the heart of things, a law unto himself. He embraces good, evil, and indifference; in his own nature he makes them indivisible and absolute. He knows who he is. Surely you see that... Put it this way. Dragons all love life's finer things- music, art, treasure- the works of the spirit; yet in their personal habits they're foul and bestial- they burn down cathedrals, for instance, and eat maidens- and they see in their whimsical activities no faintest contradiction... Dragons never grow, never change... Believe me, nothing in this world is more despicable than a dragon. They're a walking- or flying- condemnation of all we stand for, all we pray for our children, nay, for ourselves. We struggle to improve ourselves, we tortuously balance on the delicate line between our duties to society and our duties within- our duties to God and our own nature. — John Gardner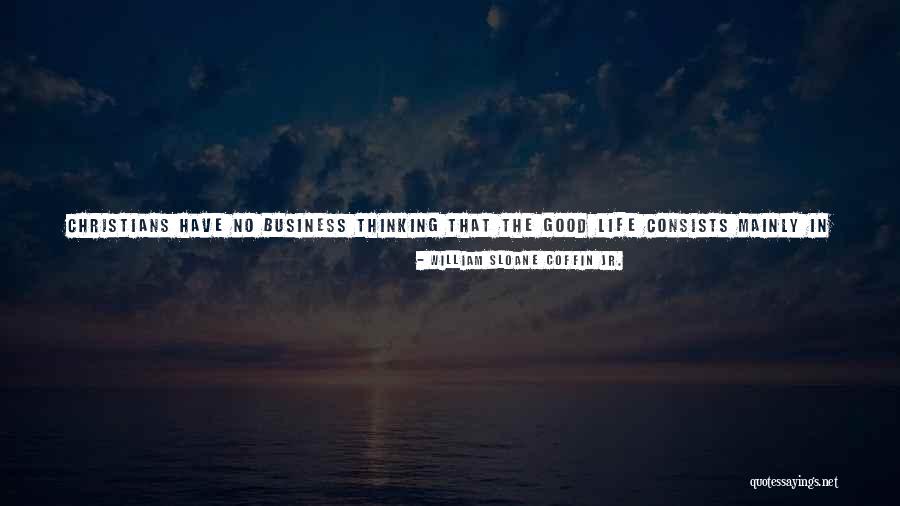 Christians have no business thinking that the good life consists mainly in not doing bad things. We have no business thinking that to do evil in this world you have to be a Bengal tiger, when, in fact, it is enough to be a tame tabby - a nice person but not a good one. In short, Pentecost makes it clear that nothing is so fatal to Christianity as indifference. — William Sloane Coffin Jr.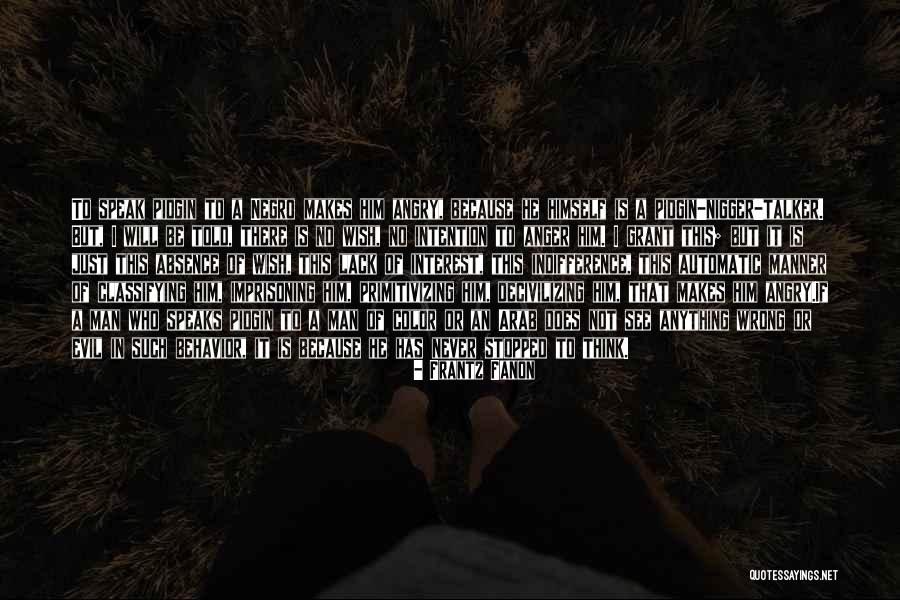 To speak pidgin to a Negro makes him angry, because he himself is a pidgin-nigger-talker. But, I will be told, there is no wish, no intention to anger him. I grant this; but it is just this absence of wish, this lack of interest, this indifference, this automatic manner of classifying him, imprisoning him, primitivizing him, decivilizing him, that makes him angry.
If a man who speaks pidgin to a man of color or an Arab does not see anything wrong or evil in such behavior, it is because he has never stopped to think. — Frantz Fanon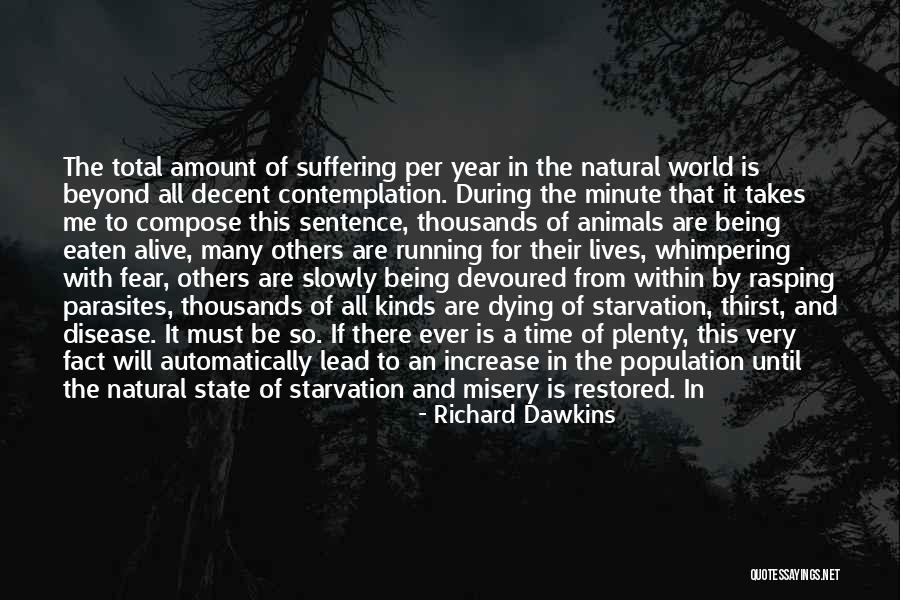 The total amount of suffering per year in the natural world is beyond all decent contemplation. During the minute that it takes me to compose this sentence, thousands of animals are being eaten alive, many others are running for their lives, whimpering with fear, others are slowly being devoured from within by rasping parasites, thousands of all kinds are dying of starvation, thirst, and disease. It must be so. If there ever is a time of plenty, this very fact will automatically lead to an increase in the population until the natural state of starvation and misery is restored. In a universe of electrons and selfish genes, blind physical forces and genetic replication, some people are going to get hurt, other people are going to get lucky, and you won't find any rhyme or reason in it, nor any justice. The universe that we observe has precisely the properties we should expect if there is, at bottom, no design, no purpose, no evil, no good, nothing but pitiless indifference. — Richard Dawkins
There are no more barriers to cross. All I have in common with the uncontrollable and the insane, the vicious and the evil, all the mayhem I have caused and my utter indifference toward it I have now surpassed. My pain is constant and sharp and I do not hope for a better world for anyone, in fact I want my pain to be inflicted on others. I want no one to escape, but even after admitting this there is no catharsis, my punishment continues to elude me and I gain no deeper knowledge of myself; no new knowledge can be extracted from my telling. This confession has meant nothing. — Bret Easton Ellis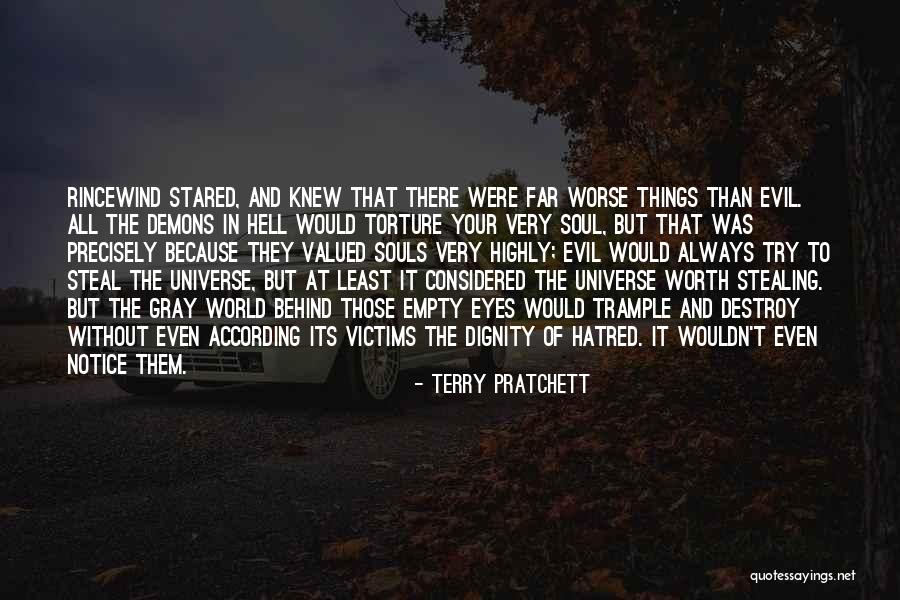 Rincewind stared, and knew that there were far worse things than Evil. All the demons in Hell would torture your very soul, but that was precisely because they valued souls very highly; evil would always try to steal the universe, but at least it considered the universe worth stealing. But the gray world behind those empty eyes would trample and destroy without even according its victims the dignity of hatred. It wouldn't even notice them. — Terry Pratchett