In Life Facebook Quotes & Sayings
Enjoy reading and share 58 famous quotes about In Life Facebook with everyone.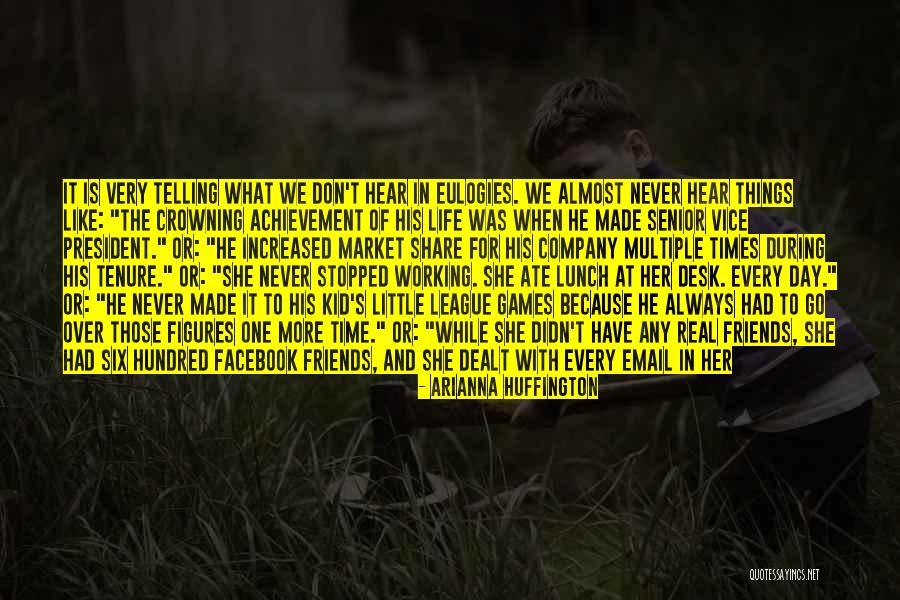 It is very telling what we don't hear in eulogies. We almost never hear things like: "The crowning achievement of his life was when he made senior vice president." Or: "He increased market share for his company multiple times during his tenure." Or: "She never stopped working. She ate lunch at her desk. Every day." Or: "He never made it to his kid's Little League games because he always had to go over those figures one more time." Or: "While she didn't have any real friends, she had six hundred Facebook friends, and she dealt with every email in her in-box every night." Or: "His PowerPoint slides were always meticulously prepared." Our eulogies are always about the other stuff: what we gave, how we connected, how much we meant to our family and friends, small kindnesses, lifelong passions, and the things that made us laugh. — Arianna Huffington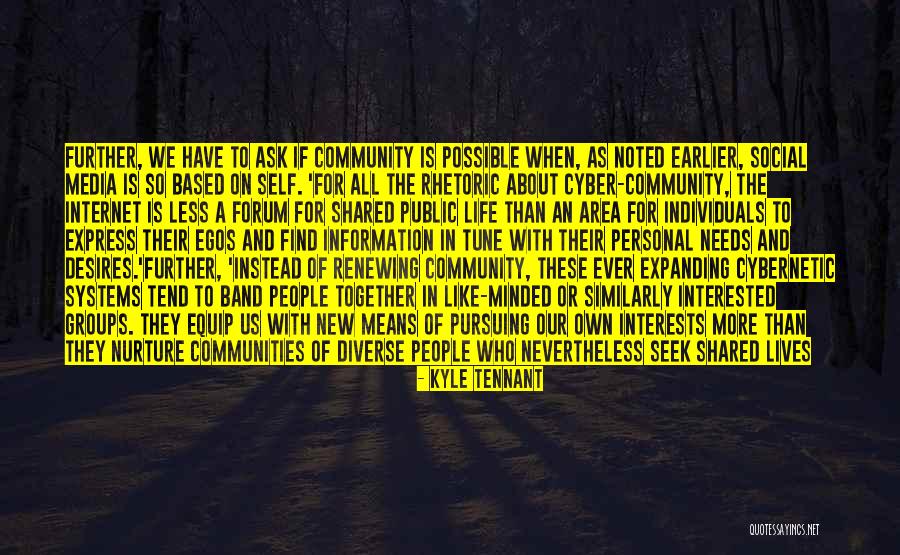 Further, we have to ask if community is possible when, as noted earlier, social media is so based on self. 'For all the rhetoric about cyber-community, the internet is less a forum for shared public life than an area for individuals to express their egos and find information in tune with their personal needs and desires.'

Further, 'Instead of renewing community, these ever expanding cybernetic systems tend to band people together in like-minded or similarly interested groups. They equip us with new means of pursuing our own interests more than they nurture communities of diverse people who nevertheless seek shared lives and common ends.'

Schultze, Habits — Kyle Tennant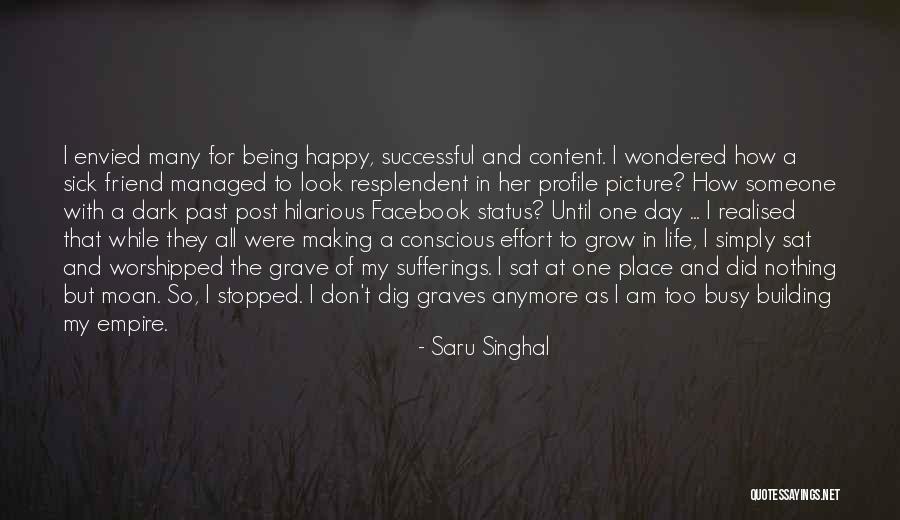 I envied many for being happy, successful and content. I wondered how a sick friend managed to look resplendent in her profile picture?
How someone with a dark past post hilarious Facebook status? Until one day ... I realised that while they all were making a conscious effort to grow in life, I simply sat and worshipped the grave of my sufferings.
I sat at one place and did nothing but moan. So, I stopped. I don't dig graves anymore as I am too busy building my empire. — Saru Singhal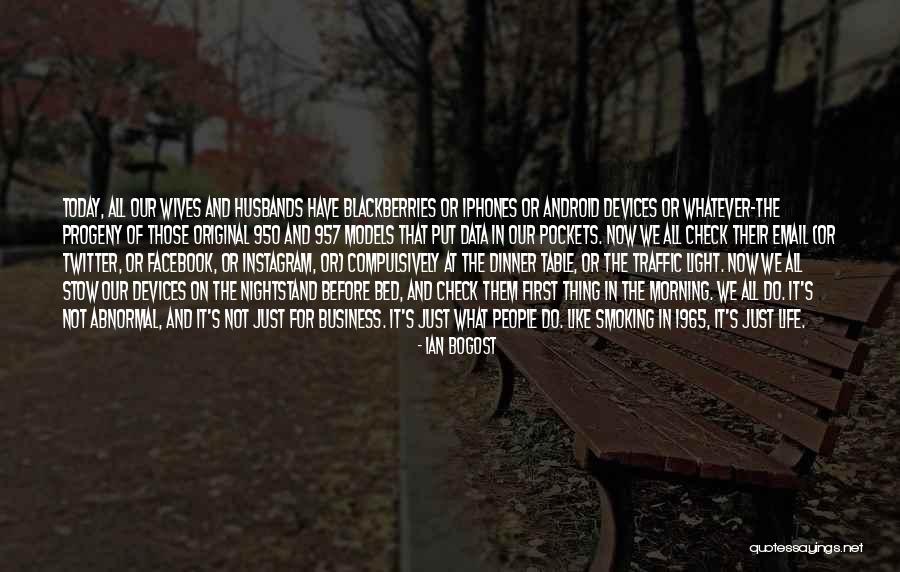 Today, all our wives and husbands have Blackberries or iPhones or Android devices or whatever-the progeny of those original 950 and 957 models that put data in our pockets. Now we all check their email (or Twitter, or Facebook, or Instagram, or) compulsively at the dinner table, or the traffic light. Now we all stow our devices on the nightstand before bed, and check them first thing in the morning. We all do. It's not abnormal, and it's not just for business. It's just what people do. Like smoking in 1965, it's just life. — Ian Bogost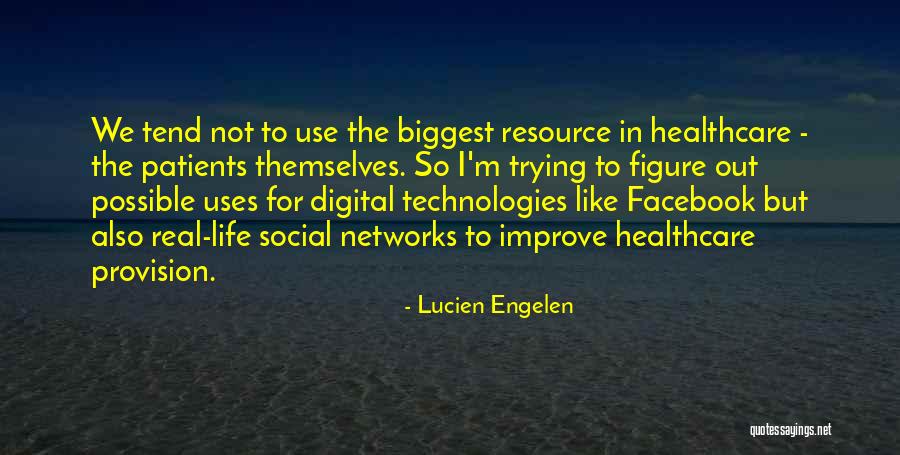 We tend not to use the biggest resource in healthcare - the patients themselves. So I'm trying to figure out possible uses for digital technologies like Facebook but also real-life social networks to improve healthcare provision. — Lucien Engelen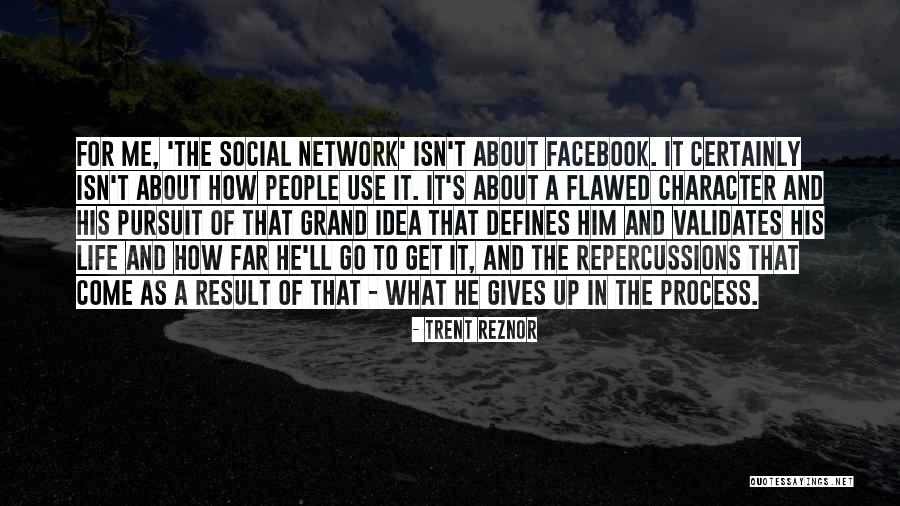 For me, 'The Social Network' isn't about Facebook. It certainly isn't about how people use it. It's about a flawed character and his pursuit of that grand idea that defines him and validates his life and how far he'll go to get it, and the repercussions that come as a result of that - what he gives up in the process. — Trent Reznor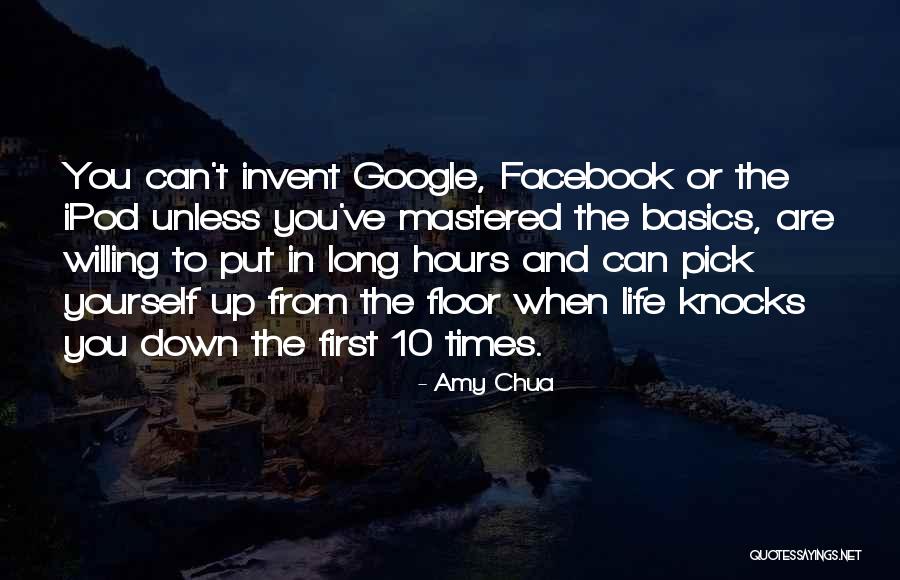 You can't invent Google, Facebook or the iPod unless you've mastered the basics, are willing to put in long hours and can pick yourself up from the floor when life knocks you down the first 10 times. — Amy Chua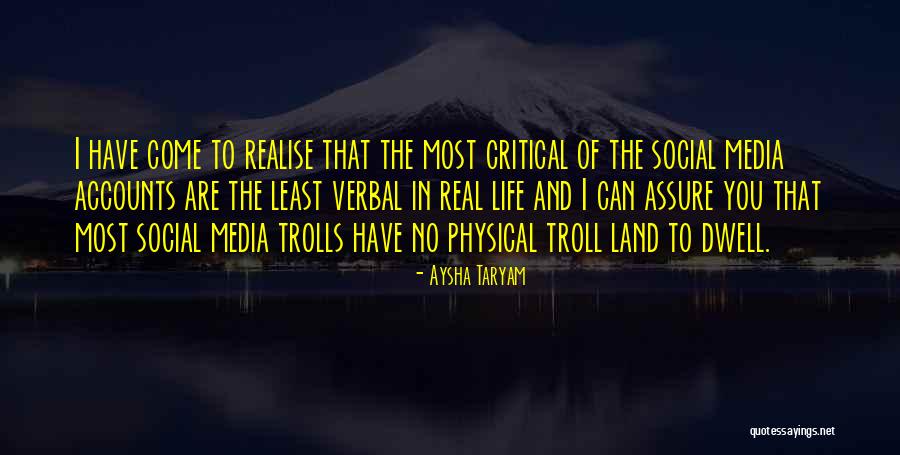 I have come to realise that the most critical of the social media accounts are the least verbal in real life and I can assure you that most social media trolls have no physical troll land to dwell. — Aysha Taryam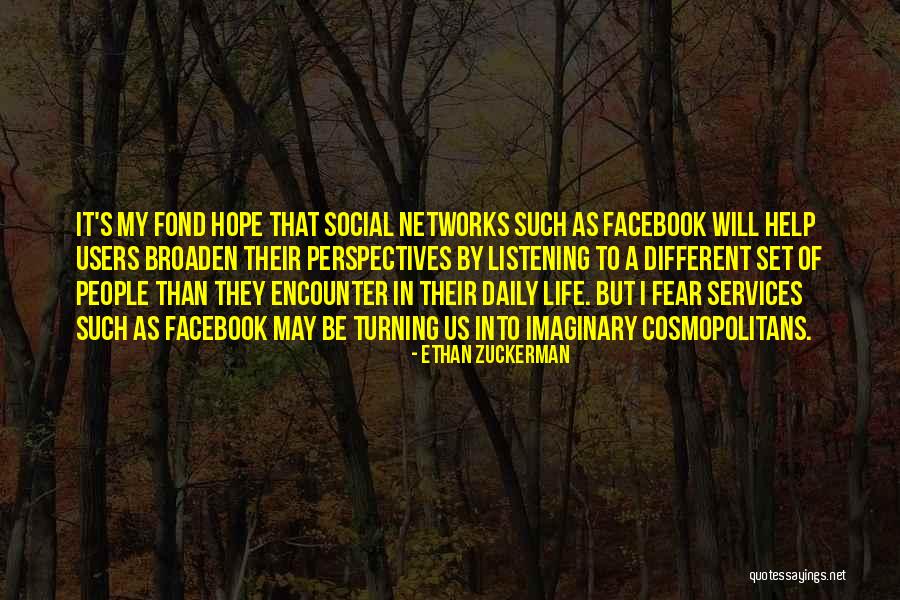 It's my fond hope that social networks such as Facebook will help users broaden their perspectives by listening to a different set of people than they encounter in their daily life. But I fear services such as Facebook may be turning us into imaginary cosmopolitans. — Ethan Zuckerman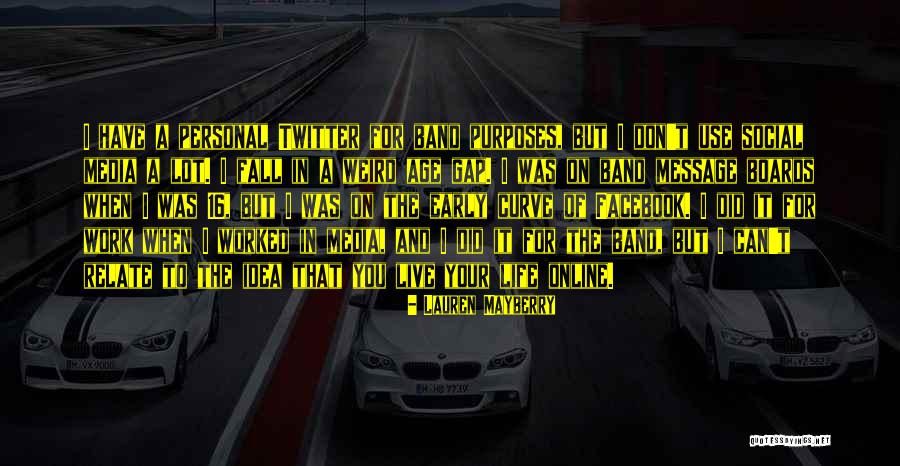 I have a personal Twitter for band purposes, but I don't use social media a lot. I fall in a weird age gap. I was on band message boards when I was 16, but I was on the early curve of Facebook. I did it for work when I worked in media, and I did it for the band, but I can't relate to the idea that you live your life online. — Lauren Mayberry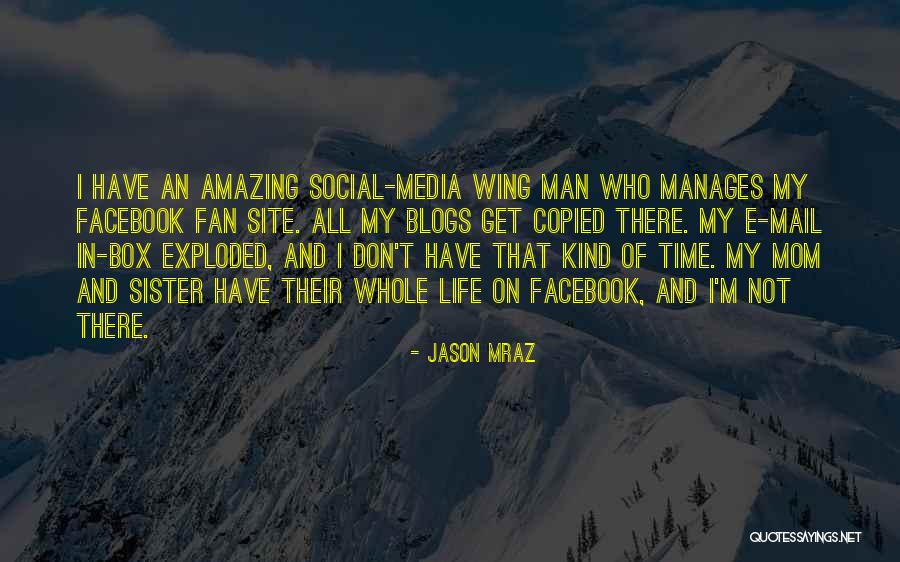 I have an amazing social-media wing man who manages my Facebook fan site. All my blogs get copied there. My e-mail in-box exploded, and I don't have that kind of time. My mom and sister have their whole life on Facebook, and I'm not there. — Jason Mraz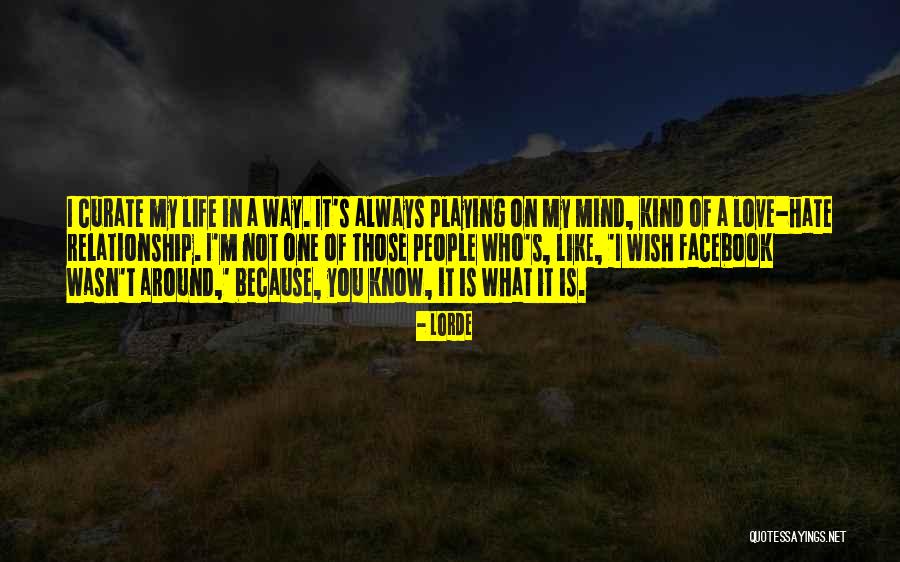 I curate my life in a way. It's always playing on my mind, kind of a love-hate relationship. I'm not one of those people who's, like, 'I wish Facebook wasn't around,' because, you know, it is what it is. — Lorde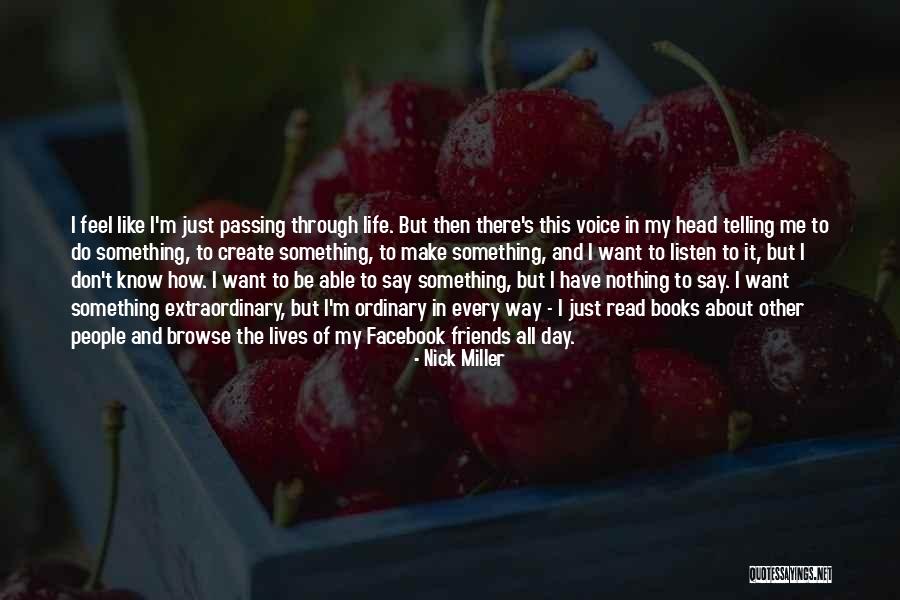 I feel like I'm just passing through life. But then there's this voice in my head telling me to do something, to create something, to make something, and I want to listen to it, but I don't know how. I want to be able to say something, but I have nothing to say. I want something extraordinary, but I'm ordinary in every way - I just read books about other people and browse the lives of my Facebook friends all day. — Nick Miller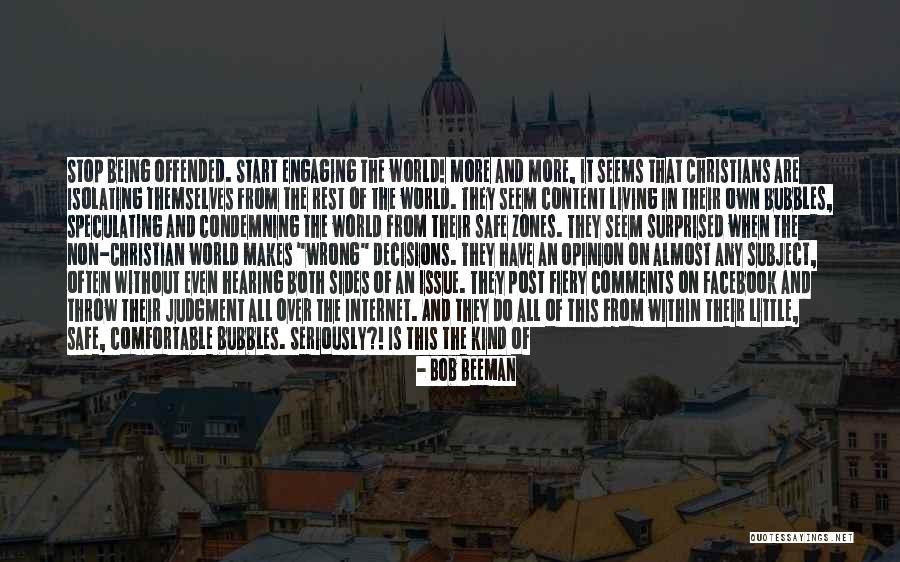 Stop being offended. Start engaging the world! More and more, it seems that Christians are isolating themselves from the rest of the world. They seem content living in their own bubbles, speculating and condemning the world from their safe zones. They seem surprised when the non-Christian world makes "wrong" decisions. They have an opinion on almost any subject, often without even hearing both sides of an issue. They post fiery comments on Facebook and throw their judgment all over the Internet. And they do all of this from within their little, safe, comfortable bubbles. Seriously?! Is this the kind of influence Jesus asked us to have in the world? You need to quit being offended! Instead, you must engage the world. The world doesn't need your judgment. It needs your love! It needs to see a real Christian living a real life. The good. The bad. The ugly! — Bob Beeman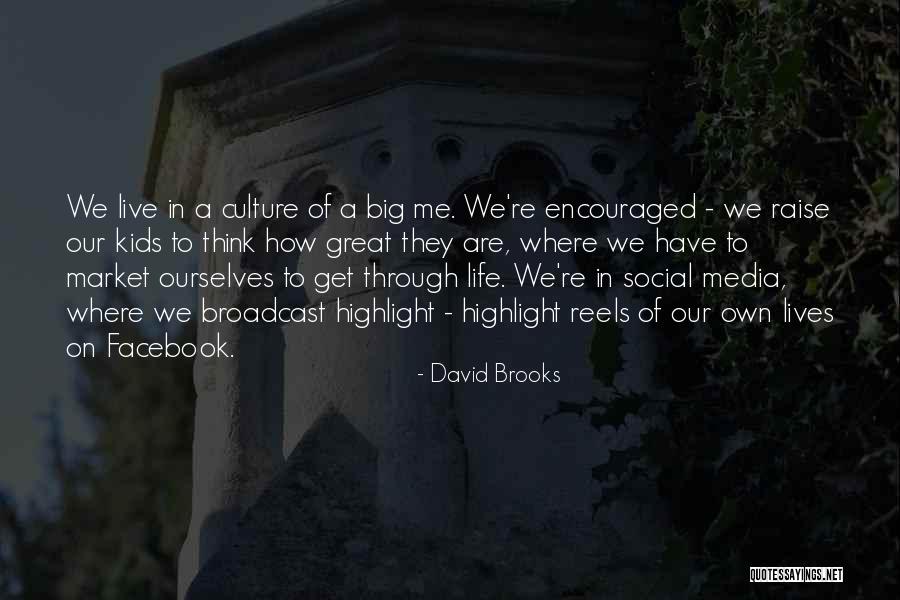 We live in a culture of a big me. We're encouraged - we raise our kids to think how great they are, where we have to market ourselves to get through life. We're in social media, where we broadcast highlight - highlight reels of our own lives on Facebook. — David Brooks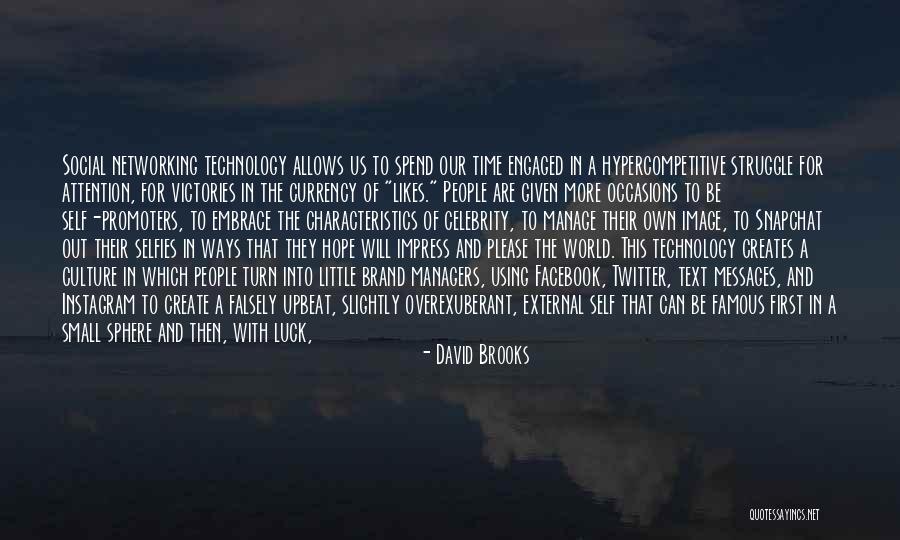 Social networking technology allows us to spend our time engaged in a hypercompetitive struggle for attention, for victories in the currency of "likes." People are given more occasions to be self-promoters, to embrace the characteristics of celebrity, to manage their own image, to Snapchat out their selfies in ways that they hope will impress and please the world. This technology creates a culture in which people turn into little brand managers, using Facebook, Twitter, text messages, and Instagram to create a falsely upbeat, slightly overexuberant, external self that can be famous first in a small sphere and then, with luck, in a large one. The manager of this self measures success by the flow of responses it gets. The social media maven spends his or her time creating a self-caricature, a much happier and more photogenic version of real life. People subtly start comparing themselves to other people's highlight reels, and of course they feel inferior. — David Brooks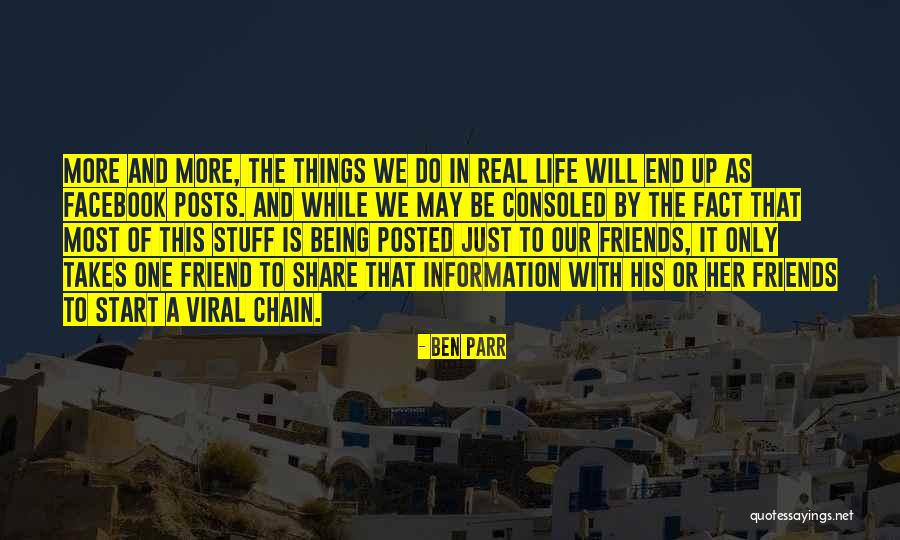 More and more, the things we do in real life will end up as Facebook posts. And while we may be consoled by the fact that most of this stuff is being posted just to our friends, it only takes one friend to share that information with his or her friends to start a viral chain. — Ben Parr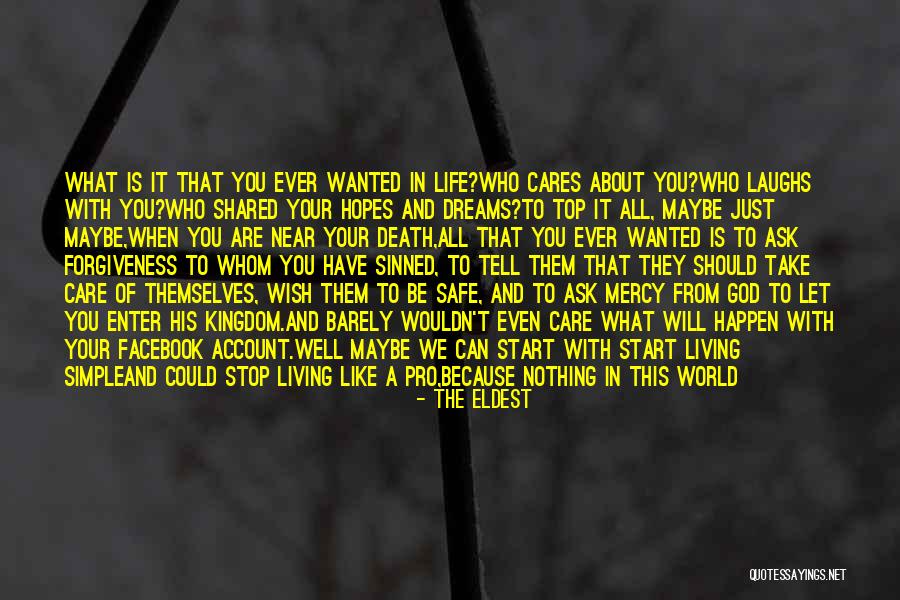 What is it that you ever wanted in life?
Who cares about you?
Who laughs with you?
Who shared your hopes and dreams?
To top it all, maybe just maybe,
When you are near your death,
All that you ever wanted is to ask forgiveness to whom you have sinned,
to tell them that they should take care of themselves, wish them to be safe, and to ask mercy from God to let you enter His Kingdom.
And barely wouldn't even care what will happen with your facebook account.
Well maybe we can start with start living simple
And could stop living like a pro,
Because nothing in this world is worth of value to the One up above.
Don't you know that none of us is born perfect,
And no one else will be? — The Eldest
Today would be perfect in every way. The Facebook photos wouldn't lie. So much joy. Her life had so much so joy. That was an actual verifiable fact. — Liane Moriarty
You can be the ugliest man in the world but once you got money, you can have all the women in the world. — Jonathan Anthony Burkett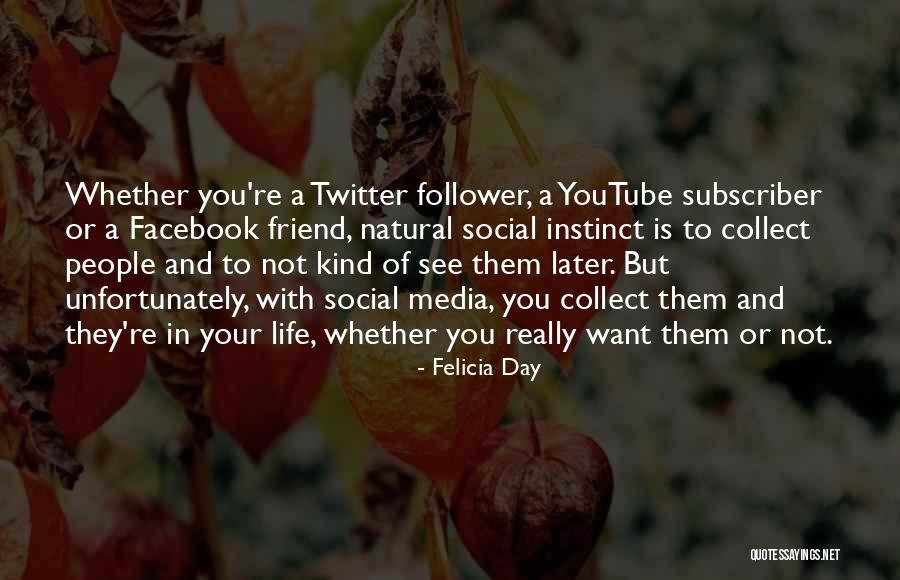 Whether you're a Twitter follower, a YouTube subscriber or a Facebook friend, natural social instinct is to collect people and to not kind of see them later. But unfortunately, with social media, you collect them and they're in your life, whether you really want them or not. — Felicia Day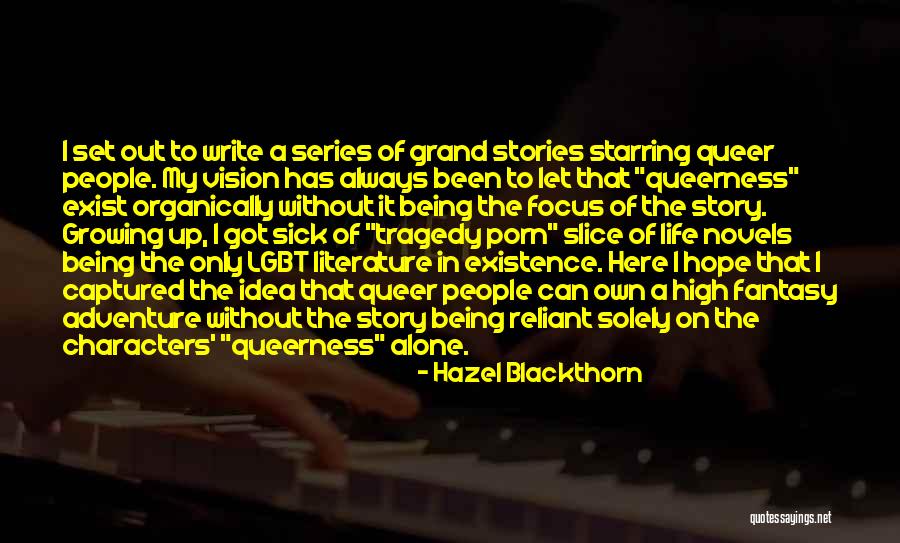 I set out to write a series of grand stories starring queer people. My vision has always been to let that "queerness" exist organically without it being the focus of the story. Growing up, I got sick of "tragedy porn" slice of life novels being the only LGBT literature in existence. Here I hope that I captured the idea that queer people can own a high fantasy adventure without the story being reliant solely on the characters' "queerness" alone. — Hazel Blackthorn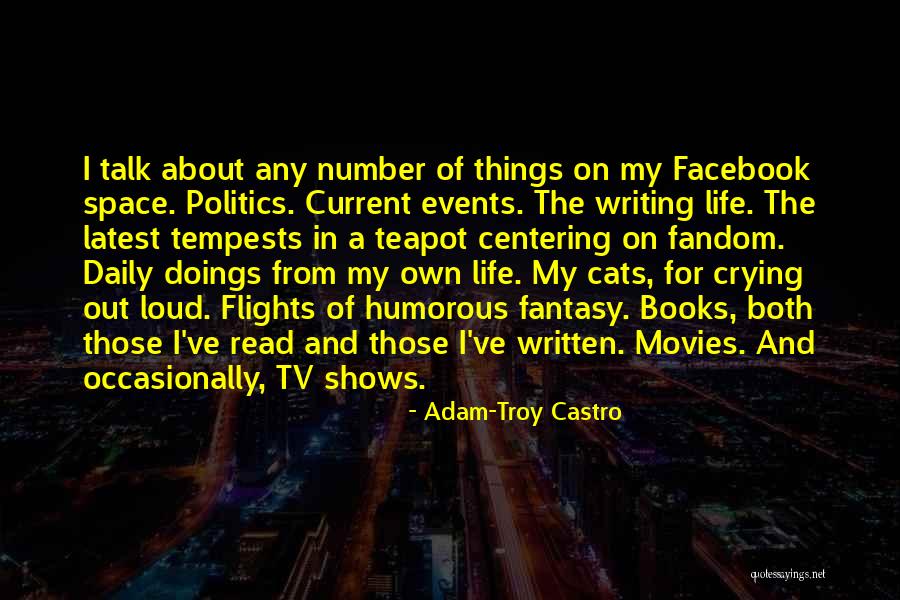 I talk about any number of things on my Facebook space. Politics. Current events. The writing life. The latest tempests in a teapot centering on fandom. Daily doings from my own life. My cats, for crying out loud. Flights of humorous fantasy. Books, both those I've read and those I've written. Movies. And occasionally, TV shows. — Adam-Troy Castro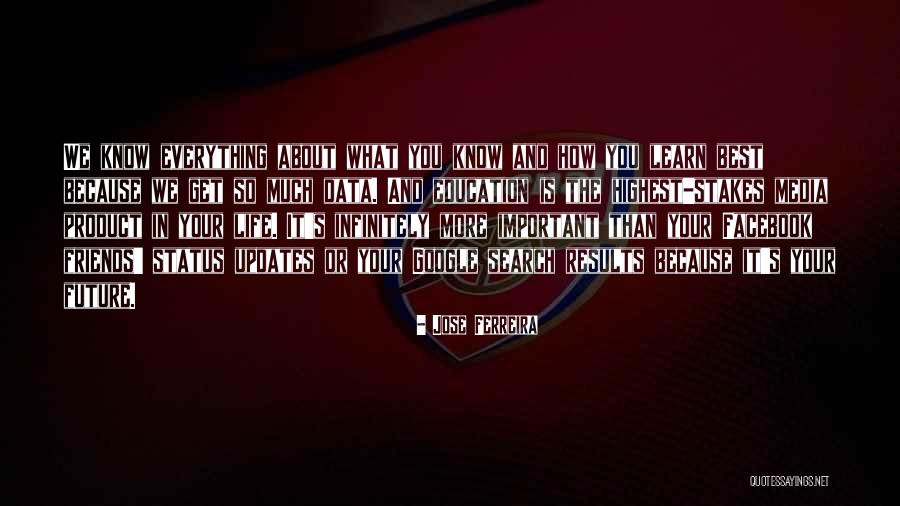 We know everything about what you know and how you learn best because we get so much data. And education is the highest-stakes media product in your life. It's infinitely more important than your Facebook friends' status updates or your Google search results because it's your future. — Jose Ferreira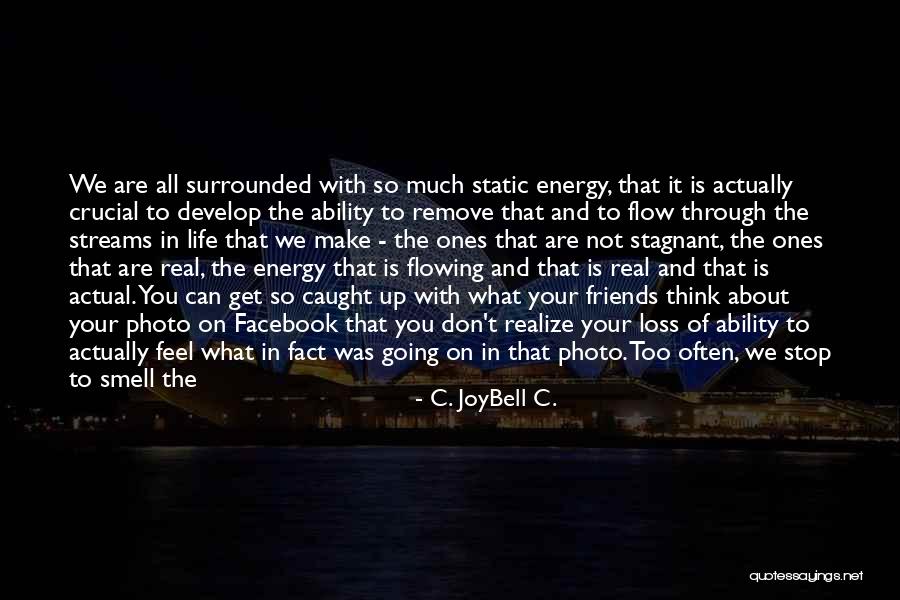 We are all surrounded with so much static energy, that it is actually crucial to develop the ability to remove that and to flow through the streams in life that we make - the ones that are not stagnant, the ones that are real, the energy that is flowing and that is real and that is actual. You can get so caught up with what your friends think about your photo on Facebook that you don't realize your loss of ability to actually feel what in fact was going on in that photo. Too often, we stop to smell the flowers in order to show someone that we have stopped to smell the flowers; without actually smelling anything with our noses! This is scary. We live in a scary world. — C. JoyBell C.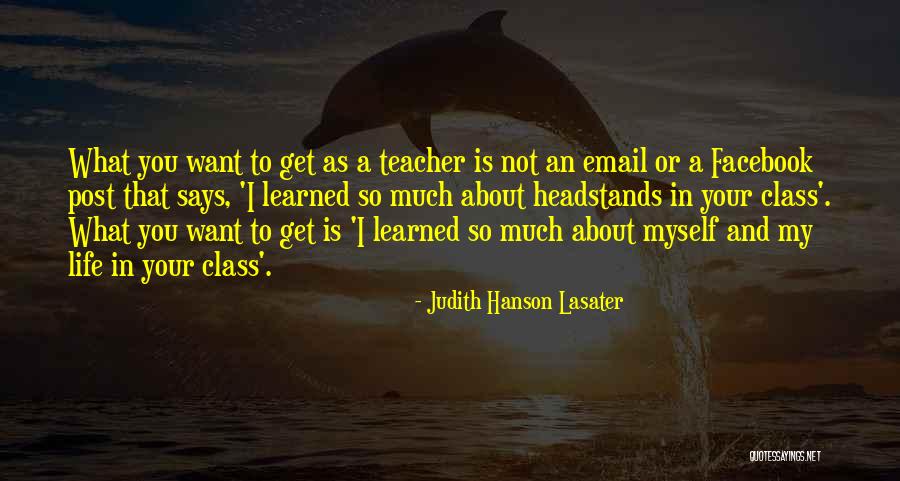 What you want to get as a teacher is not an email or a Facebook post that says, 'I learned so much about headstands in your class'. What you want to get is 'I learned so much about myself and my life in your class'. — Judith Hanson Lasater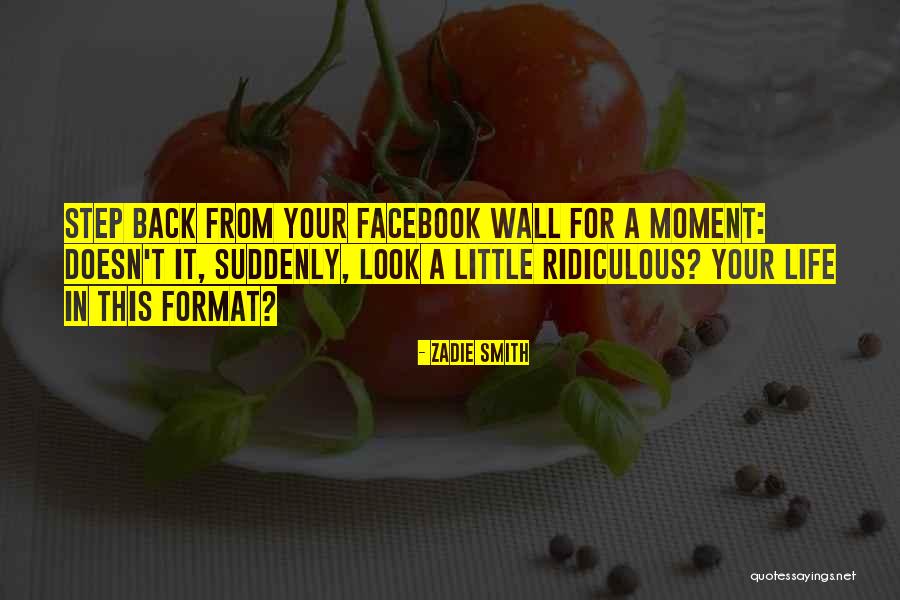 Step back from your Facebook Wall for a moment: Doesn't it, suddenly, look a little ridiculous? Your life in this format? — Zadie Smith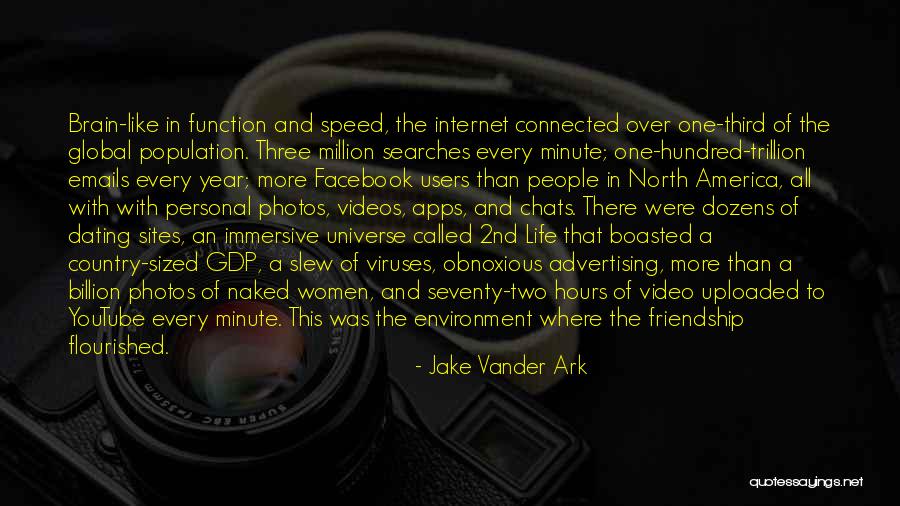 Brain-like in function and speed, the internet connected over one-third of the global population. Three million searches every minute; one-hundred-trillion emails every year; more Facebook users than people in North America, all with with personal photos, videos, apps, and chats. There were dozens of dating sites, an immersive universe called 2nd Life that boasted a country-sized GDP, a slew of viruses, obnoxious advertising, more than a billion photos of naked women, and seventy-two hours of video uploaded to YouTube every minute. This was the environment where the friendship flourished. — Jake Vander Ark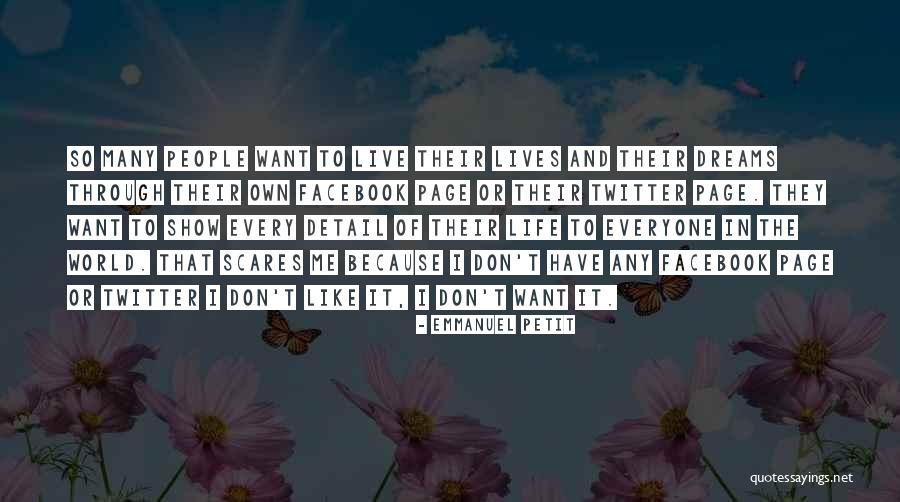 So many people want to live their lives and their dreams through their own Facebook page or their Twitter page. They want to show every detail of their life to everyone in the world. That scares me because I don't have any Facebook page or Twitter I don't like it, I don't want it. — Emmanuel Petit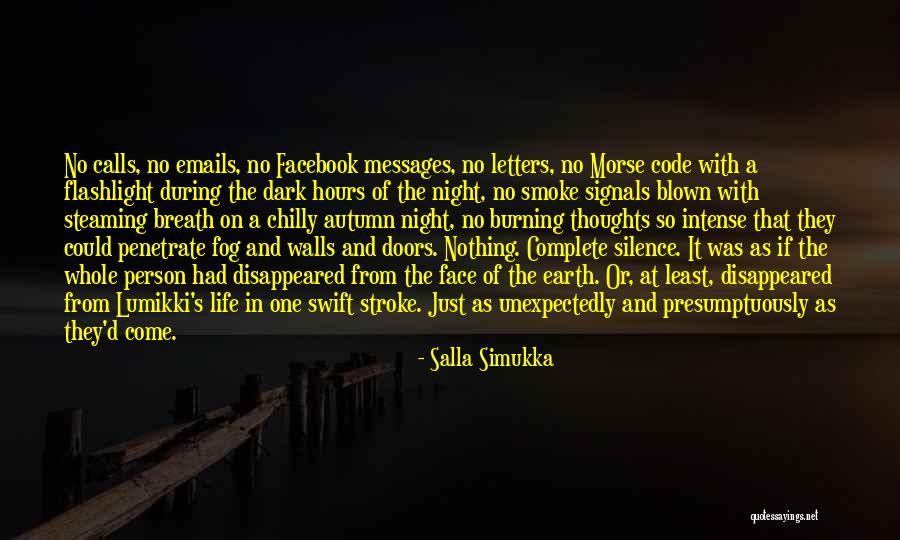 No calls, no emails, no Facebook messages, no letters, no Morse code with a flashlight during the dark hours of the night, no smoke signals blown with steaming breath on a chilly autumn night, no burning thoughts so intense that they could penetrate fog and walls and doors. Nothing. Complete silence. It was as if the whole person had disappeared from the face of the earth. Or, at least, disappeared from Lumikki's life in one swift stroke. Just as unexpectedly and presumptuously as they'd come. — Salla Simukka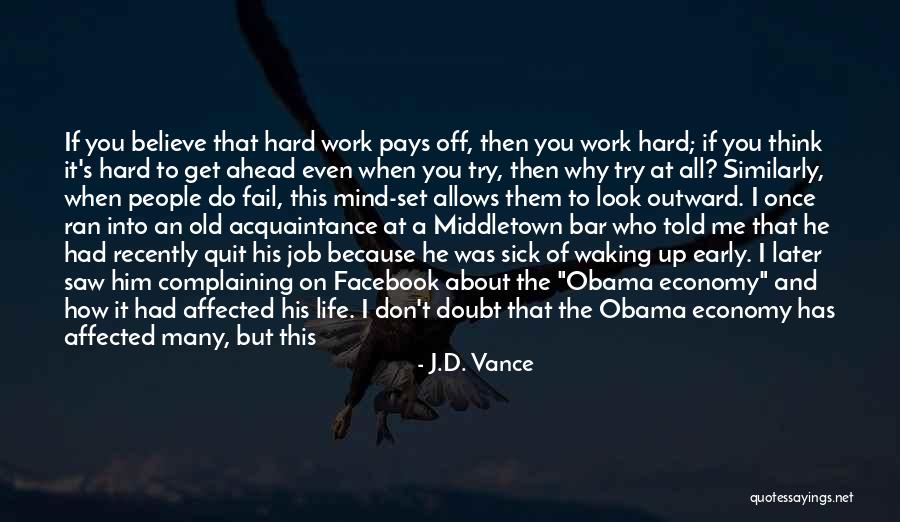 If you believe that hard work pays off, then you work hard; if you think it's hard to get ahead even when you try, then why try at all? Similarly, when people do fail, this mind-set allows them to look outward. I once ran into an old acquaintance at a Middletown bar who told me that he had recently quit his job because he was sick of waking up early. I later saw him complaining on Facebook about the "Obama economy" and how it had affected his life. I don't doubt that the Obama economy has affected many, but this man is assuredly not among them. His status in life is directly attributable to the choices he's made, and his life will improve only through better decisions. But for him to make better choices, he needs to live in an environment that forces him to ask tough questions about himself. There is a cultural movement in the white working class to blame problems on society or the government, and that movement gains adherents by the day. — J.D. Vance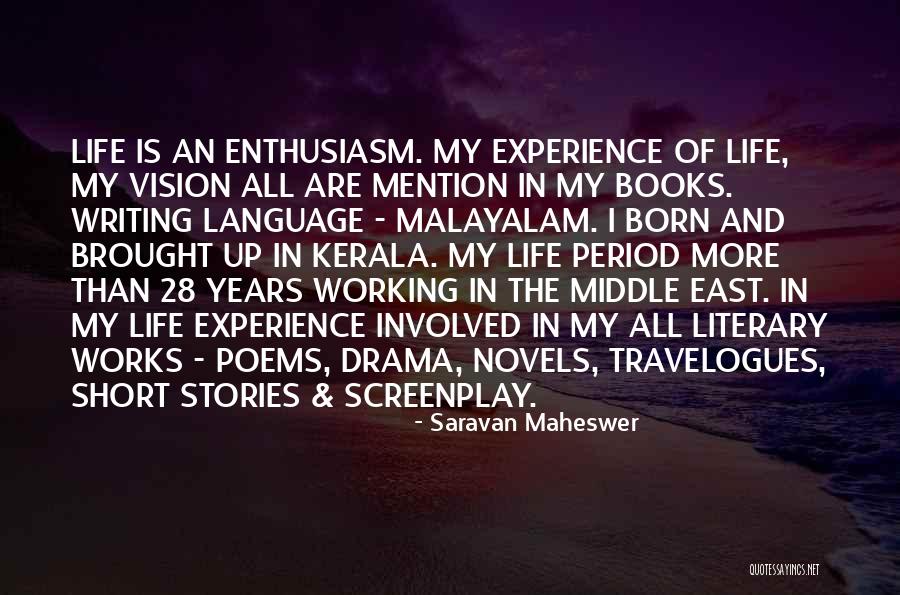 LIFE IS AN ENTHUSIASM. MY EXPERIENCE OF LIFE, MY VISION ALL ARE MENTION IN MY BOOKS. WRITING LANGUAGE - MALAYALAM. I BORN AND BROUGHT UP IN KERALA. MY LIFE PERIOD MORE THAN 28 YEARS WORKING IN THE MIDDLE EAST. IN MY LIFE EXPERIENCE INVOLVED IN MY ALL LITERARY WORKS - POEMS, DRAMA, NOVELS, TRAVELOGUES, SHORT STORIES & SCREENPLAY. — Saravan Maheswer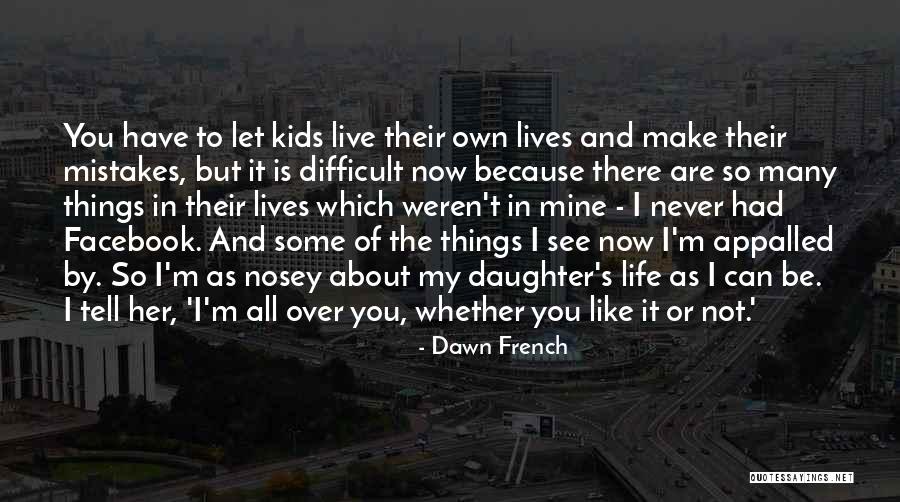 You have to let kids live their own lives and make their mistakes, but it is difficult now because there are so many things in their lives which weren't in mine - I never had Facebook. And some of the things I see now I'm appalled by. So I'm as nosey about my daughter's life as I can be. I tell her, 'I'm all over you, whether you like it or not.' — Dawn French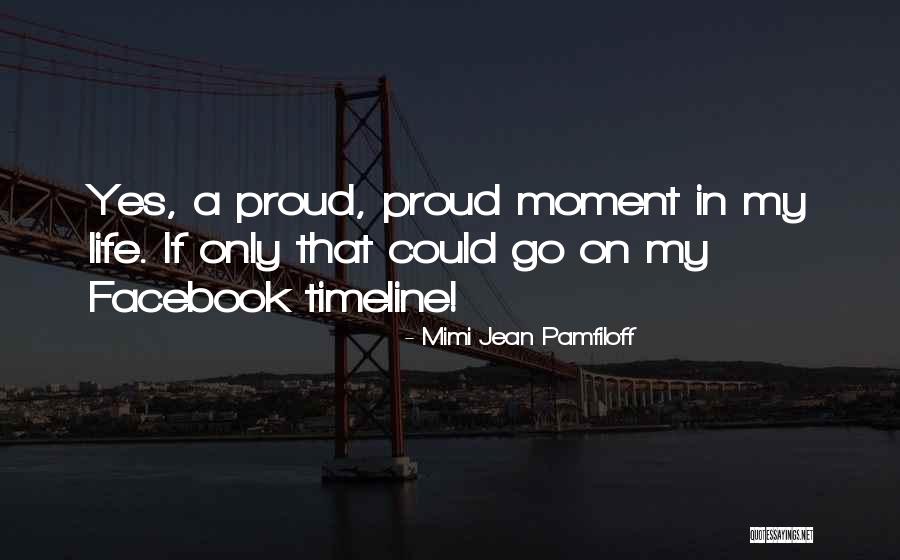 Yes, a proud, proud moment in my life. If only that could go on my Facebook timeline! — Mimi Jean Pamfiloff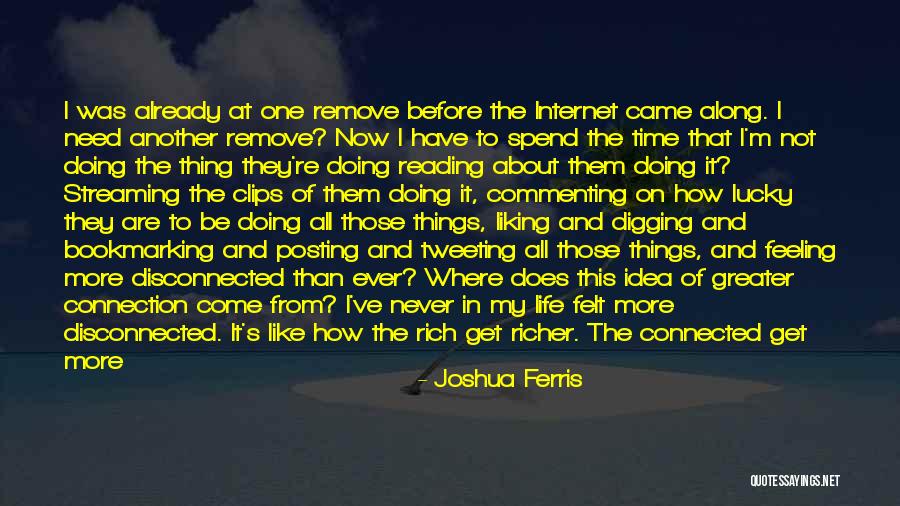 I was already at one remove before the Internet came along. I need another remove? Now I have to spend the time that I'm not doing the thing they're doing reading about them doing it? Streaming the clips of them doing it, commenting on how lucky they are to be doing all those things, liking and digging and bookmarking and posting and tweeting all those things, and feeling more disconnected than ever? Where does this idea of greater connection come from? I've never in my life felt more disconnected. It's like how the rich get richer. The connected get more connected while the disconnected get more disconnected. No thanks man, I can't do it. The world was a sufficient trial, Betsy, before Facebook. — Joshua Ferris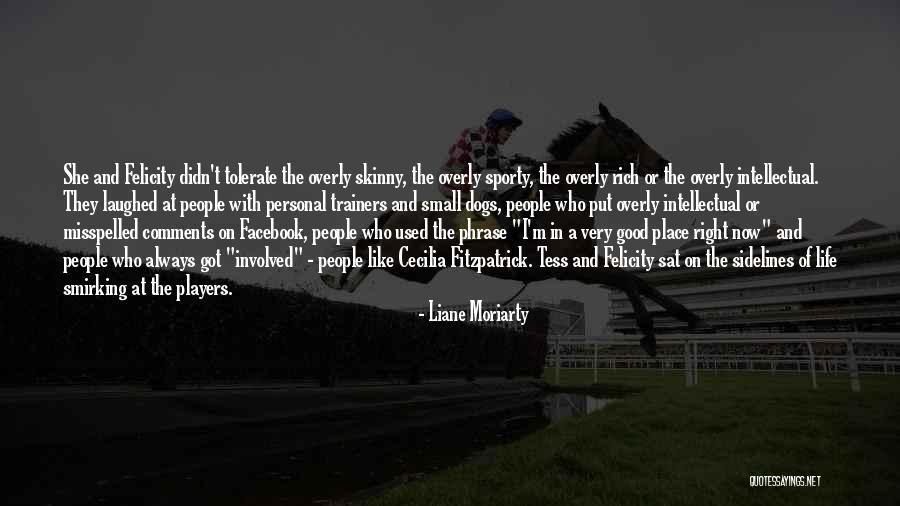 She and Felicity didn't tolerate the overly skinny, the overly sporty, the overly rich or the overly intellectual. They laughed at people with personal trainers and small dogs, people who put overly intellectual or misspelled comments on Facebook, people who used the phrase "I'm in a very good place right now" and people who always got "involved" - people like Cecilia Fitzpatrick. Tess and Felicity sat on the sidelines of life smirking at the players. — Liane Moriarty
Today is the day I stand tall, strong, and mighty to tell the world who I am. — Jonathan Anthony Burkett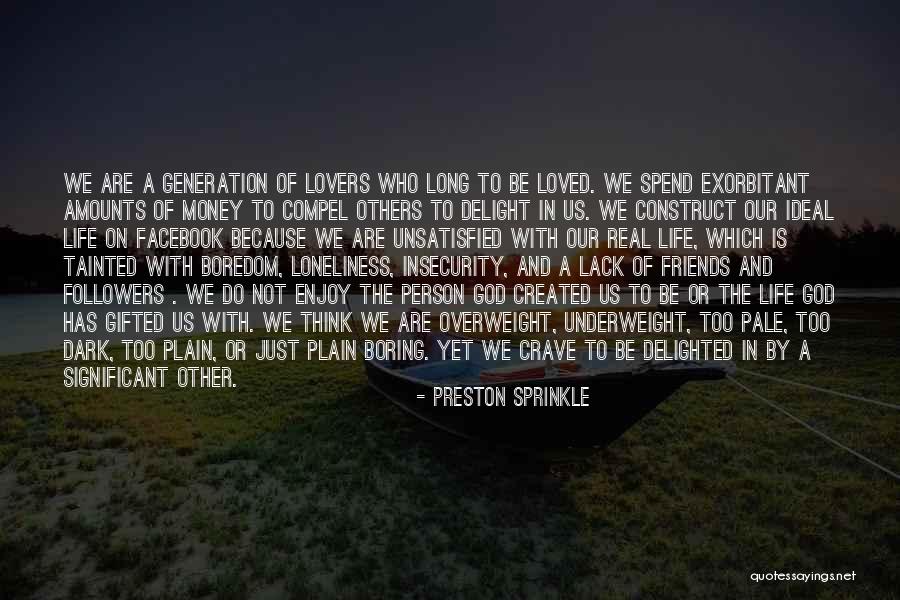 We are a generation of lovers who long to be loved. We spend exorbitant amounts of money to compel others to delight in us. We construct our ideal life on Facebook because we are unsatisfied with our real life, which is tainted with boredom, loneliness, insecurity, and a lack of friends and followers . We do not enjoy the person God created us to be or the life God has gifted us with. We think we are overweight, underweight, too pale, too dark, too plain, or just plain boring. Yet we crave to be delighted in by a significant other. So we pursue misguided avenues to make ourselves delightful, to satisfy our craving to be loved.
Charis: God's Scandalous Grace for Us (pp. 118-119). — Preston Sprinkle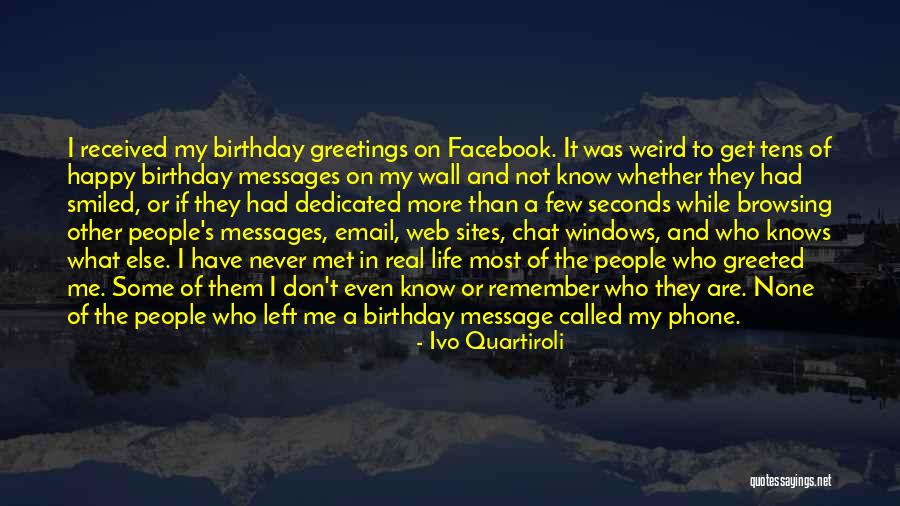 I received my birthday greetings on Facebook. It was weird to get tens of happy birthday messages on my wall and not know whether they had smiled, or if they had dedicated more than a few seconds while browsing other people's messages, email, web sites, chat windows, and who knows what else. I have never met in real life most of the people who greeted me. Some of them I don't even know or remember who they are. None of the people who left me a birthday message called my phone. — Ivo Quartiroli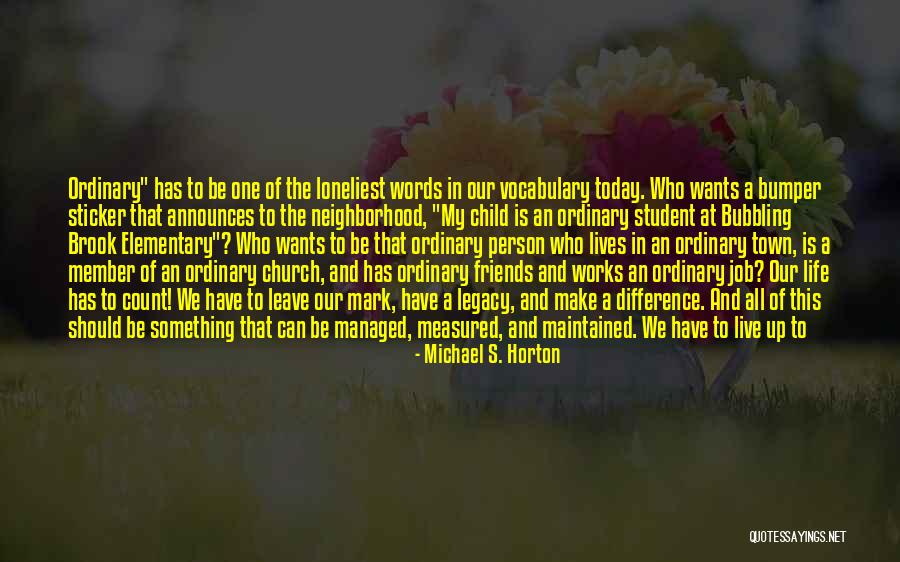 Ordinary" has to be one of the loneliest words in our vocabulary today. Who wants a bumper sticker that announces to the neighborhood, "My child is an ordinary student at Bubbling Brook Elementary"? Who wants to be that ordinary person who lives in an ordinary town, is a member of an ordinary church, and has ordinary friends and works an ordinary job? Our life has to count! We have to leave our mark, have a legacy, and make a difference. And all of this should be something that can be managed, measured, and maintained. We have to live up to our Facebook profile. It's one of the newer versions of salvation by works. — Michael S. Horton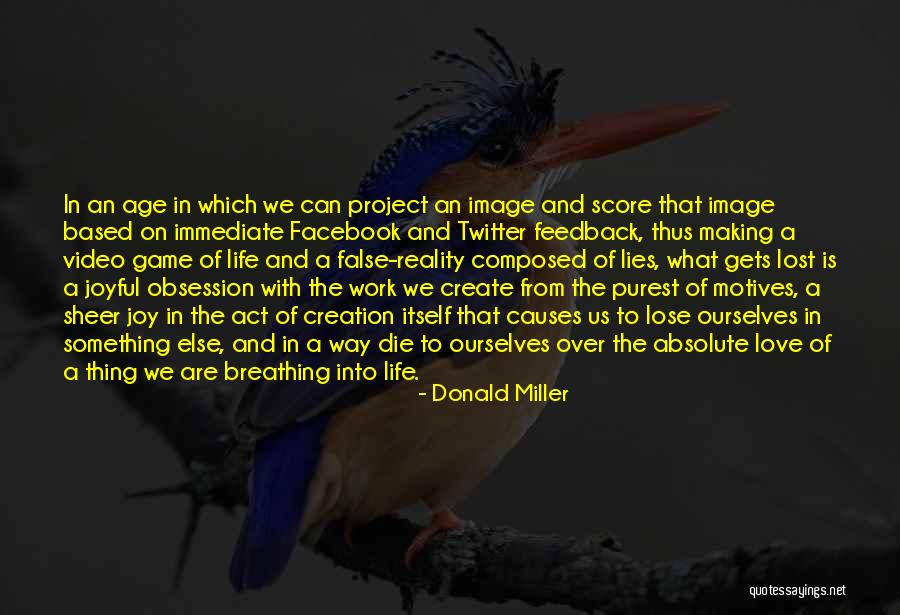 In an age in which we can project an image and score that image based on immediate Facebook and Twitter feedback, thus making a video game of life and a false-reality composed of lies, what gets lost is a joyful obsession with the work we create from the purest of motives, a sheer joy in the act of creation itself that causes us to lose ourselves in something else, and in a way die to ourselves over the absolute love of a thing we are breathing into life. — Donald Miller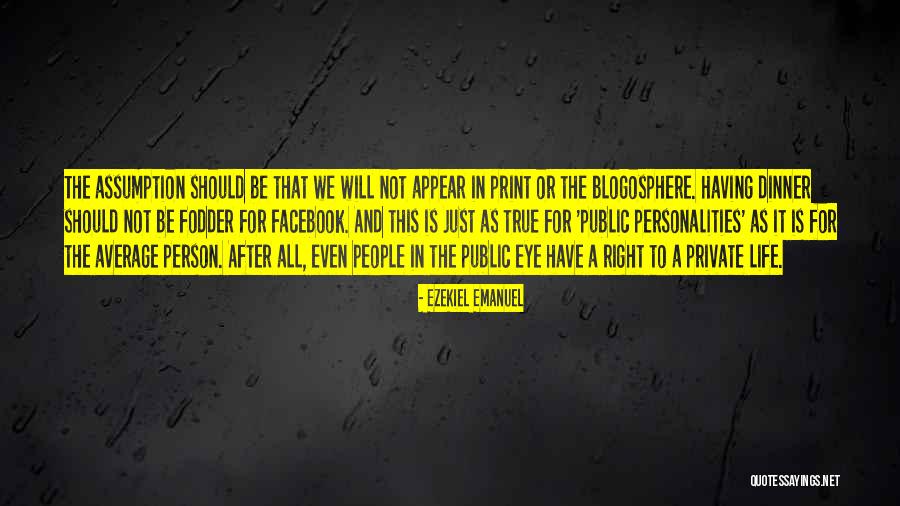 The assumption should be that we will not appear in print or the blogosphere. Having dinner should not be fodder for Facebook. And this is just as true for 'public personalities' as it is for the average person. After all, even people in the public eye have a right to a private life. — Ezekiel Emanuel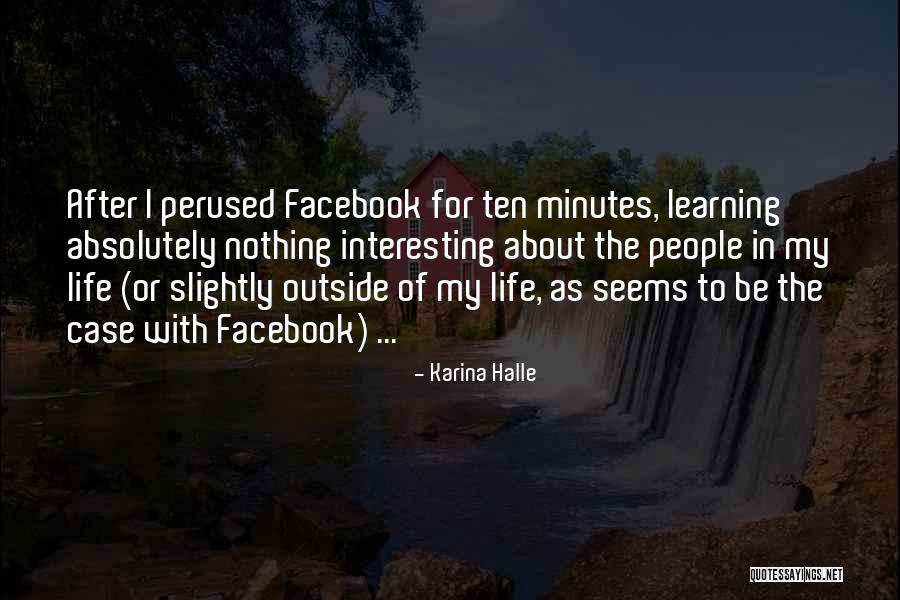 After I perused Facebook for ten minutes, learning absolutely nothing interesting about the people in my life (or slightly outside of my life, as seems to be the case with Facebook) ... — Karina Halle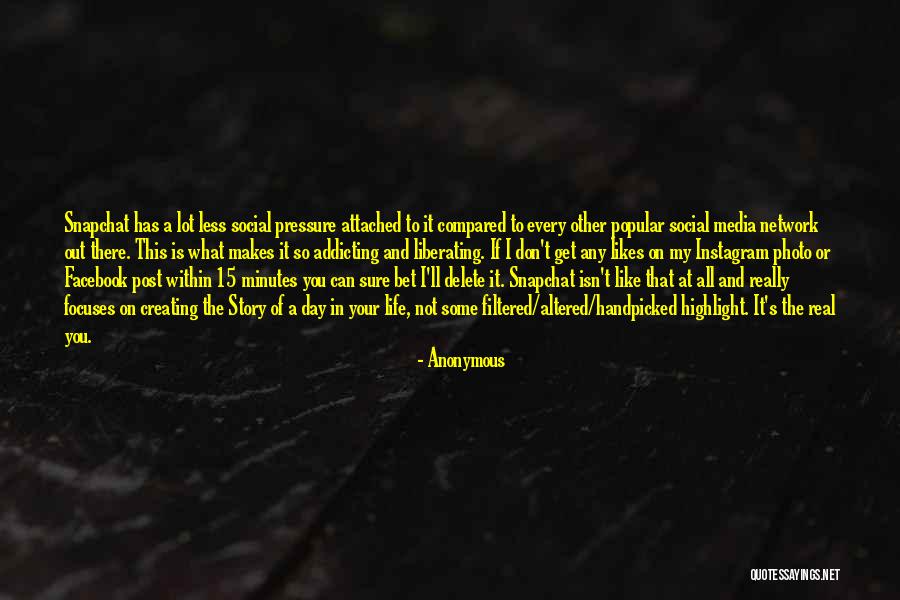 Snapchat has a lot less social pressure attached to it compared to every other popular social media network out there. This is what makes it so addicting and liberating. If I don't get any likes on my Instagram photo or Facebook post within 15 minutes you can sure bet I'll delete it. Snapchat isn't like that at all and really focuses on creating the Story of a day in your life, not some filtered/altered/handpicked highlight. It's the real you. — Anonymous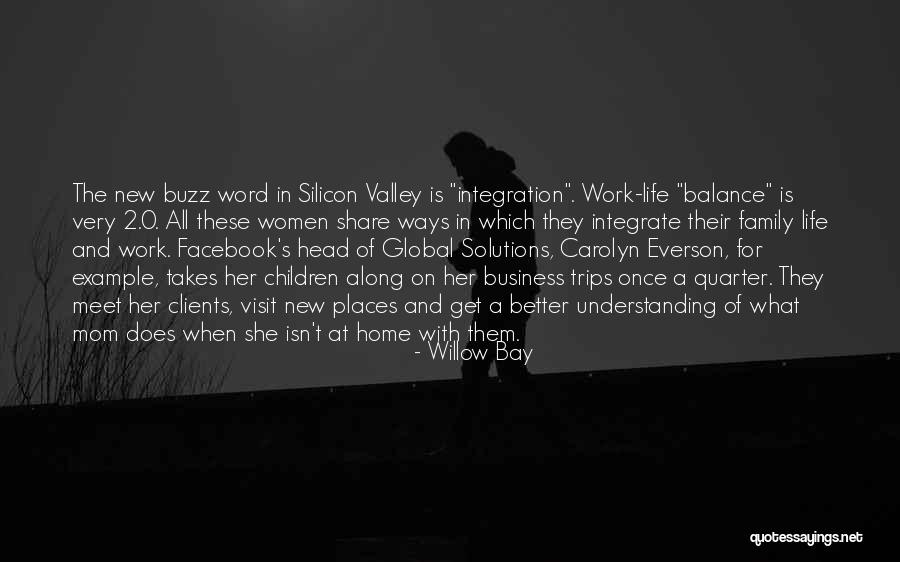 The new buzz word in Silicon Valley is "integration". Work-life "balance" is very 2.0. All these women share ways in which they integrate their family life and work. Facebook's head of Global Solutions, Carolyn Everson, for example, takes her children along on her business trips once a quarter. They meet her clients, visit new places and get a better understanding of what mom does when she isn't at home with them. — Willow Bay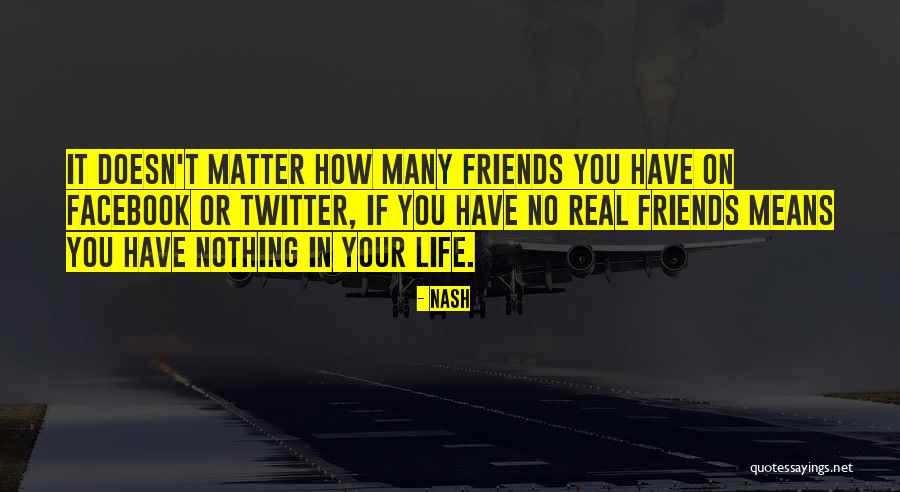 It doesn't matter how many friends you have on Facebook or twitter, if you have no real friends means you have nothing in your life. — Nash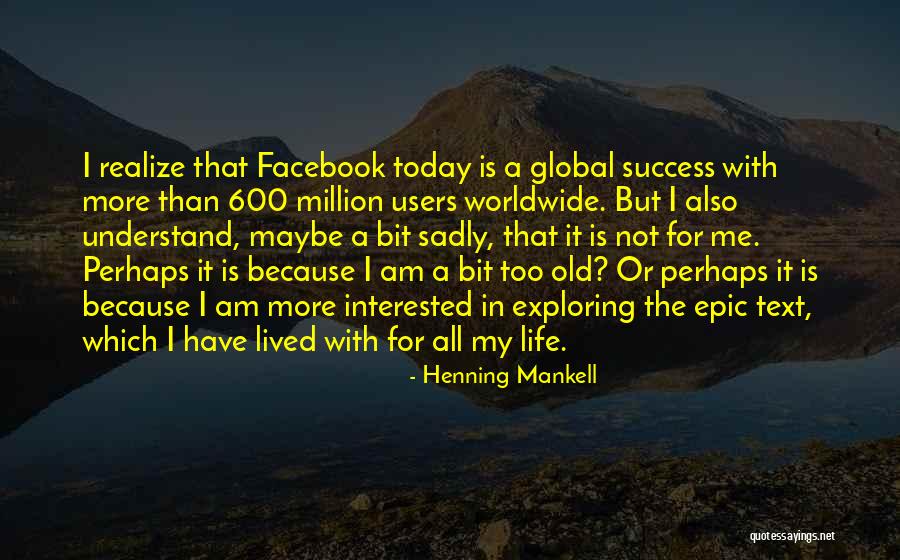 I realize that Facebook today is a global success with more than 600 million users worldwide. But I also understand, maybe a bit sadly, that it is not for me. Perhaps it is because I am a bit too old? Or perhaps it is because I am more interested in exploring the epic text, which I have lived with for all my life. — Henning Mankell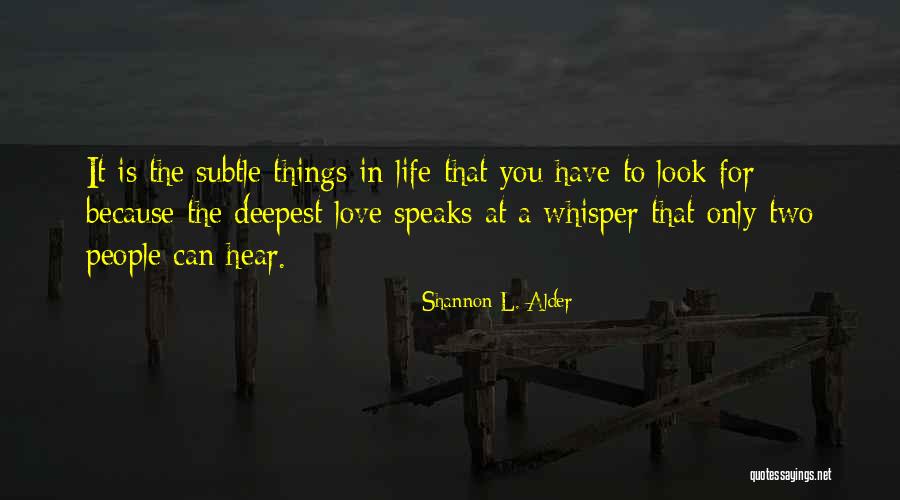 It is the subtle things in life that you have to look for because the deepest love speaks at a whisper that only two people can hear. — Shannon L. Alder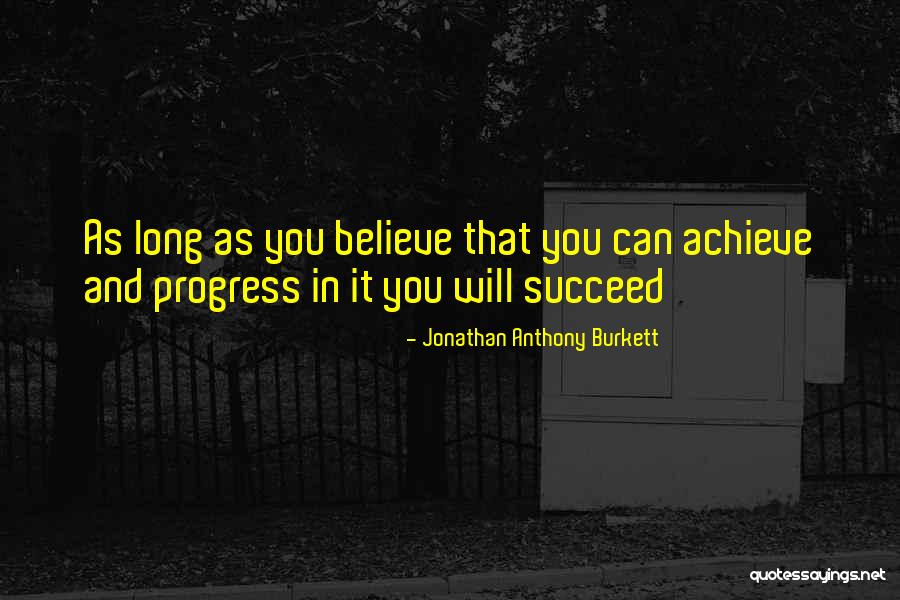 As long as you believe that you can achieve and progress in it you will succeed — Jonathan Anthony Burkett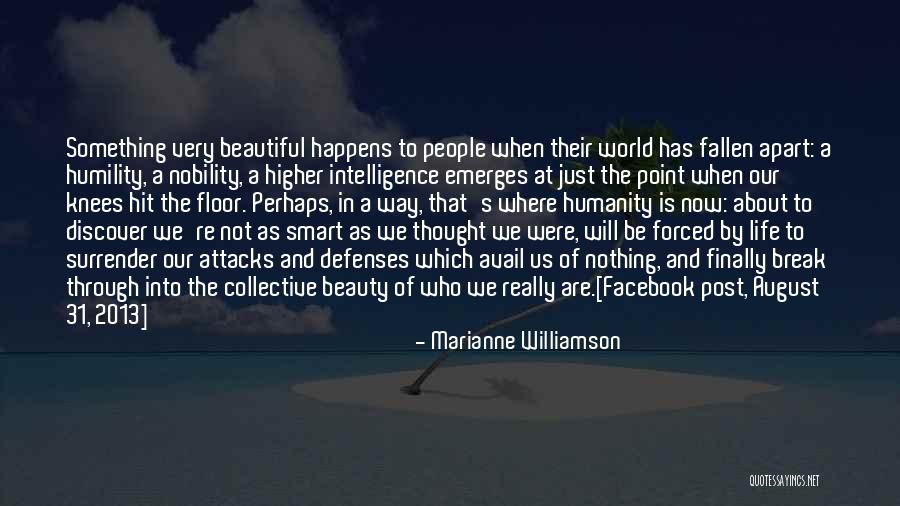 Something very beautiful happens to people when their world has fallen apart: a humility, a nobility, a higher intelligence emerges at just the point when our knees hit the floor. Perhaps, in a way, that's where humanity is now: about to discover we're not as smart as we thought we were, will be forced by life to surrender our attacks and defenses which avail us of nothing, and finally break through into the collective beauty of who we really are.
[Facebook post, August 31, 2013] — Marianne Williamson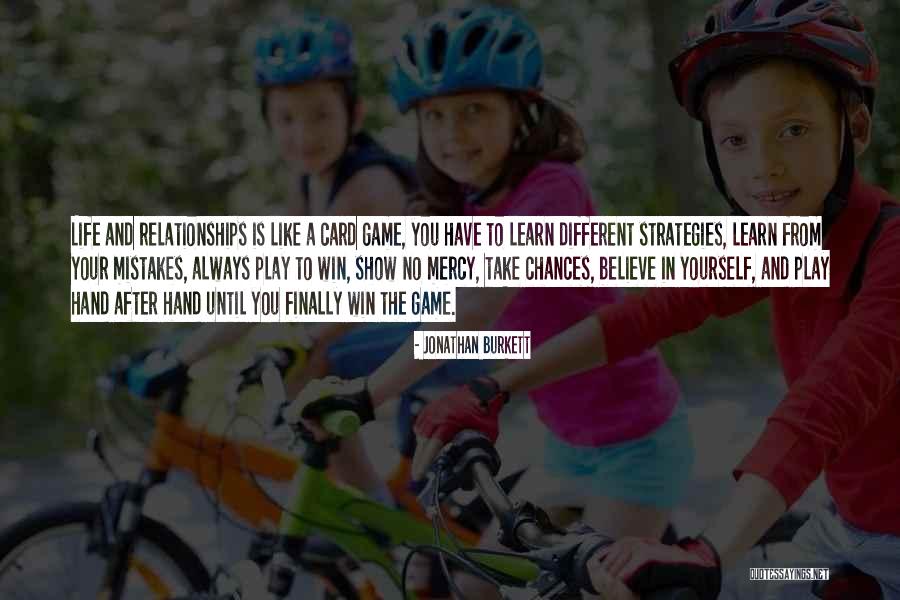 Life and relationships is like a card game, you have to learn different strategies, learn from your mistakes, always play to win, show no mercy, take chances, believe in yourself, and play hand after hand until you finally win the game. — Jonathan Burkett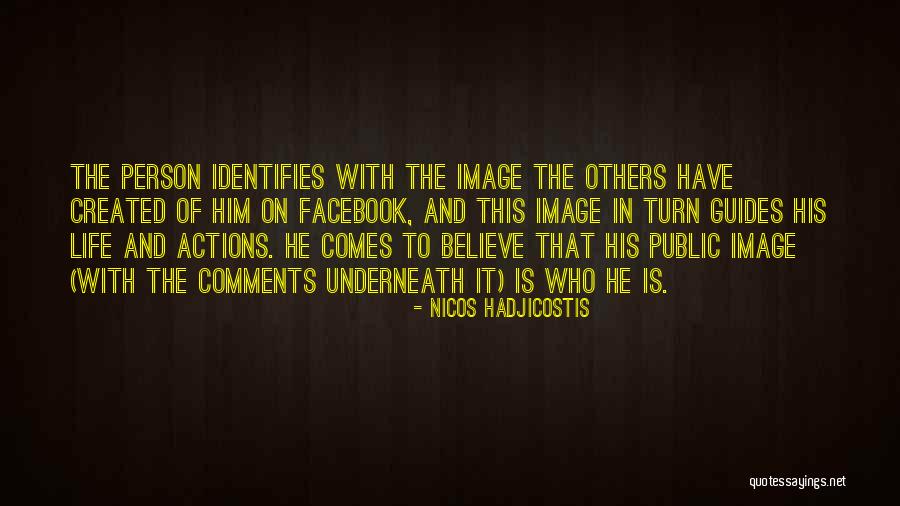 The person identifies with the image the others have created of him on Facebook, and this image in turn guides his life and actions. He comes to believe that his public image (with the comments underneath it) is who he is. — Nicos Hadjicostis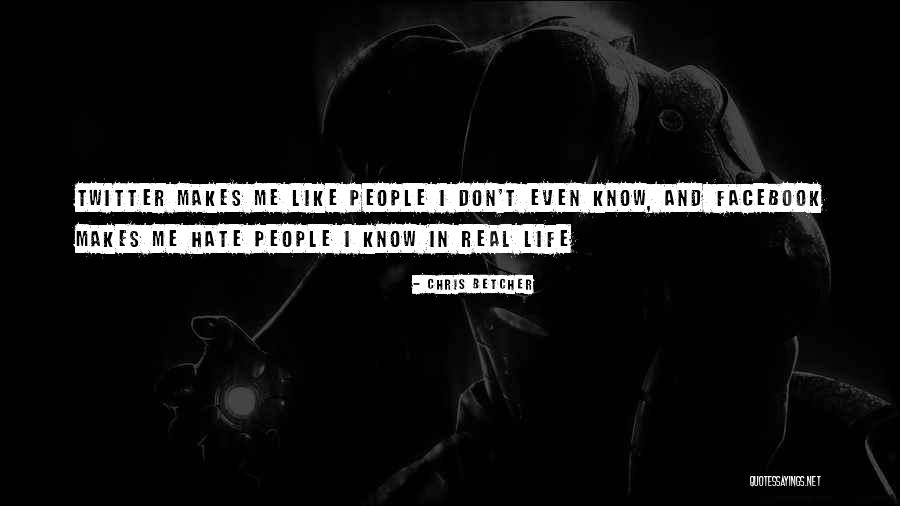 Twitter makes me like people I don't even know, and Facebook makes me hate people I know in real life — Chris Betcher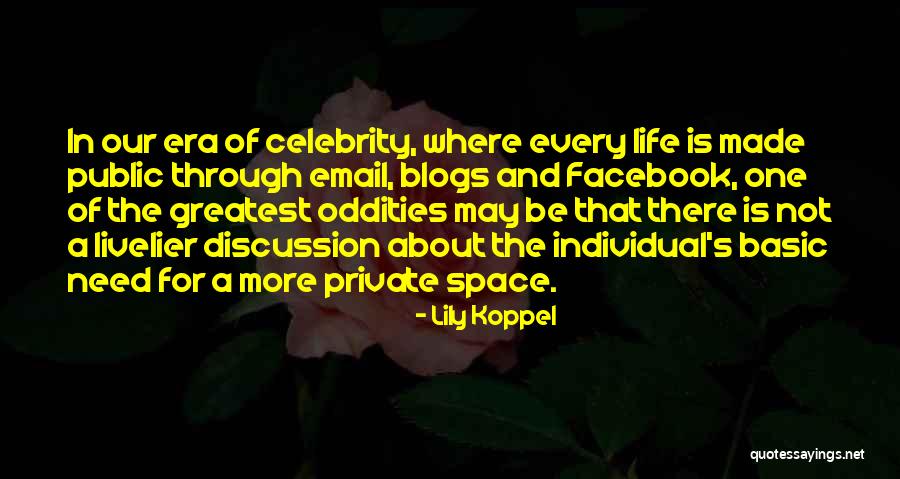 In our era of celebrity, where every life is made public through email, blogs and Facebook, one of the greatest oddities may be that there is not a livelier discussion about the individual's basic need for a more private space. — Lily Koppel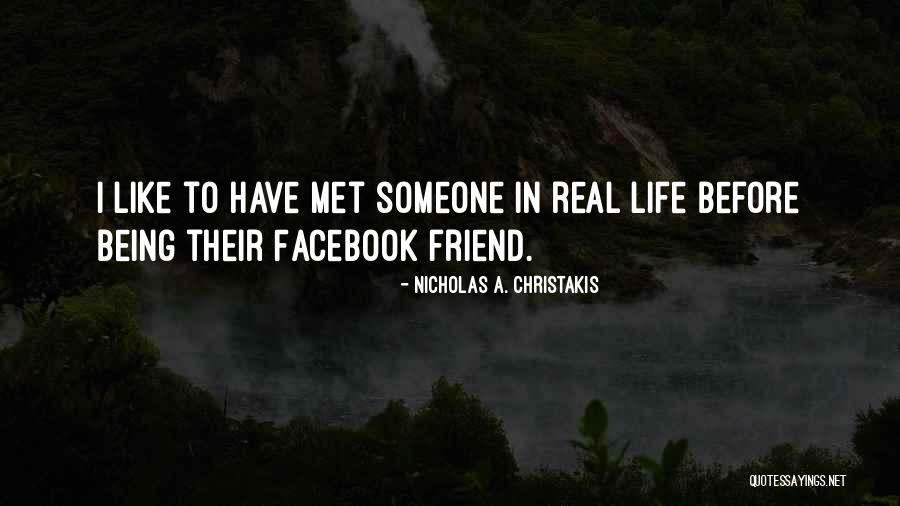 I like to have met someone in real life before being their Facebook friend. — Nicholas A. Christakis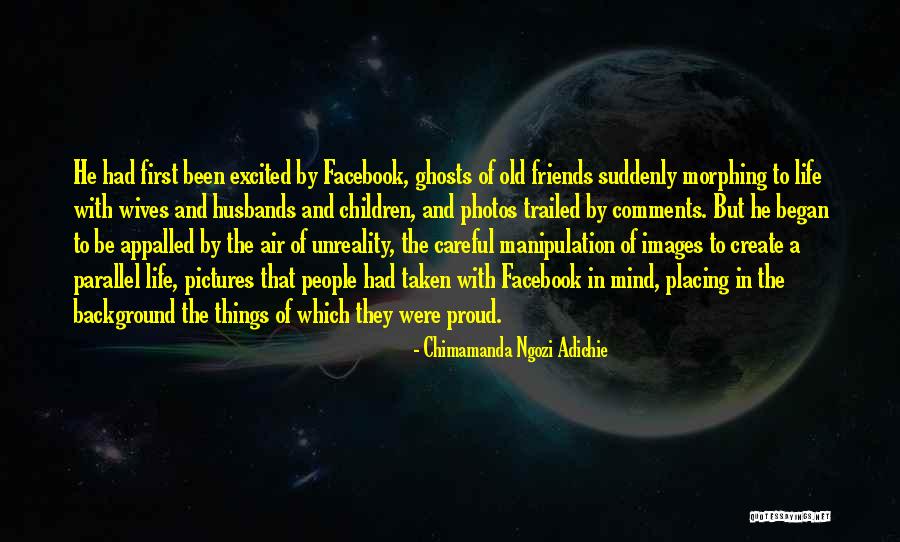 He had first been excited by Facebook, ghosts of old friends suddenly morphing to life with wives and husbands and children, and photos trailed by comments. But he began to be appalled by the air of unreality, the careful manipulation of images to create a parallel life, pictures that people had taken with Facebook in mind, placing in the background the things of which they were proud. — Chimamanda Ngozi Adichie
For believers in Christ, affliction often has a softening effect on the heart. This is why cancer patients are posting uplifting thoughts in my Facebook newsfeed and teenagers are complaining about their phones not working right. Suffering is when life gets real. Our interests are narrowed. Our attention is grabbed. What really matters? The — Jared C. Wilson