Quotes & Sayings About Important Person In Your Life
Enjoy reading and share 63 famous quotes about Important Person In Your Life with everyone.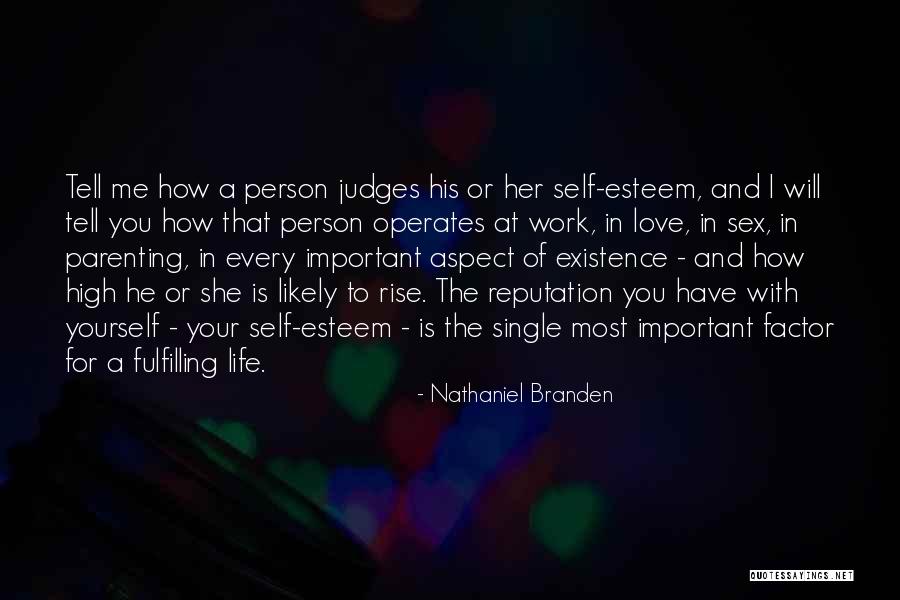 Tell me how a person judges his or her self-esteem, and I will tell you how that person operates at work, in love, in sex, in parenting, in every important aspect of existence - and how high he or she is likely to rise. The reputation you have with yourself - your self-esteem - is the single most important factor for a fulfilling life. — Nathaniel Branden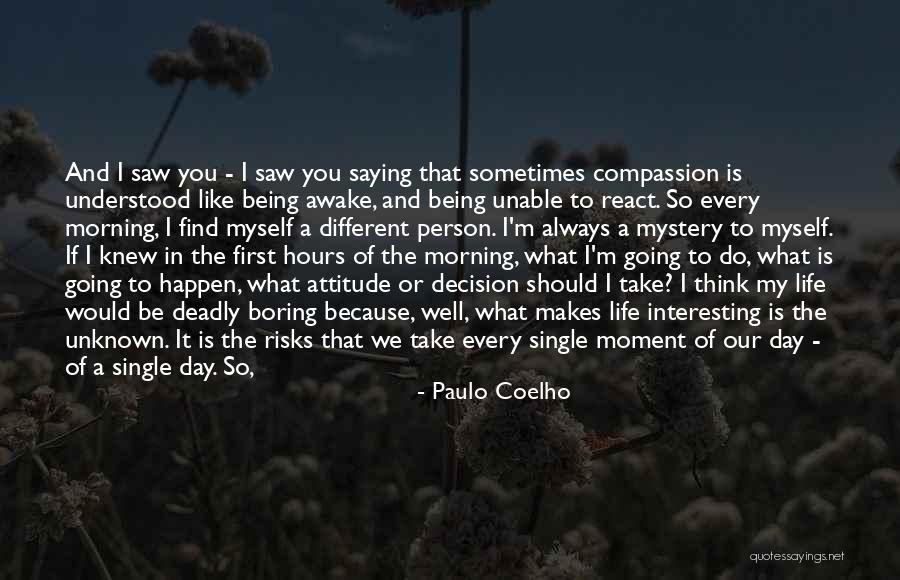 And I saw you - I saw you saying that sometimes compassion is understood like being awake, and being unable to react. So every morning, I find myself a different person. I'm always a mystery to myself. If I knew in the first hours of the morning, what I'm going to do, what is going to happen, what attitude or decision should I take? I think my life would be deadly boring because, well, what makes life interesting is the unknown. It is the risks that we take every single moment of our day - of a single day. So, I think that this contradiction should be accepted. Having said that, I mean that learning how to live with our contradictions does not keep us away from the ethic and respecting our neighbor, and learning about tolerance, and learning about compassion. These are two very important words today that were totally forgotten. If you have tolerance and compassion, you can go to the battle, in the metaphoric sense of course, fighting for your dreams without harming anyone. — Paulo Coelho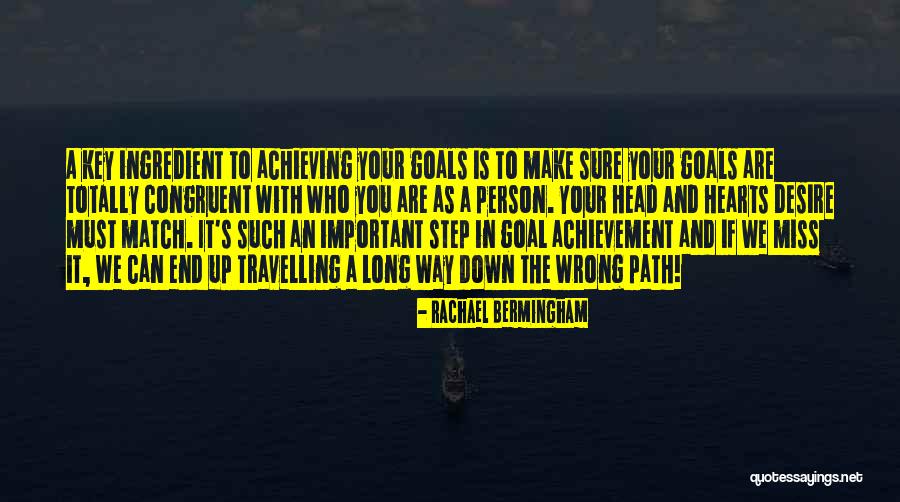 A key ingredient to achieving your goals is to make sure your goals are totally congruent with who you are as a person. Your head and hearts desire must match. It's such an important step in goal achievement and if we miss it, we can end up travelling a long way down the wrong path! — Rachael Bermingham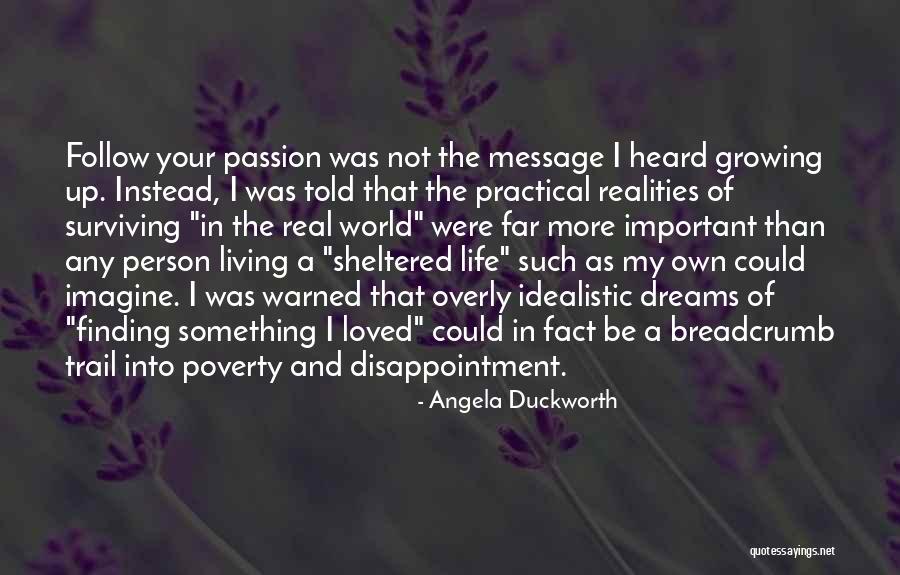 Follow your passion was not the message I heard growing up. Instead, I was told that the practical realities of surviving "in the real world" were far more important than any person living a "sheltered life" such as my own could imagine. I was warned that overly idealistic dreams of "finding something I loved" could in fact be a breadcrumb trail into poverty and disappointment. — Angela Duckworth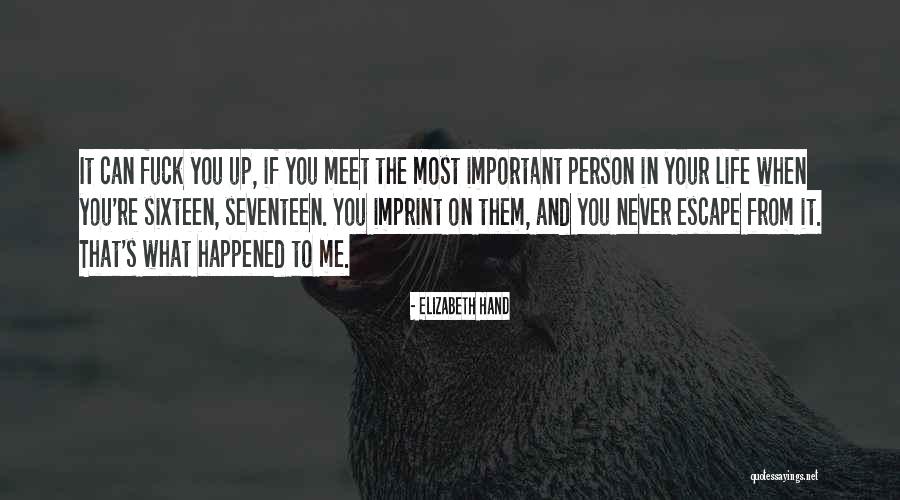 It can fuck you up, if you meet the most important person in your life when you're sixteen, seventeen. You imprint on them, and you never escape from it. That's what happened to me. — Elizabeth Hand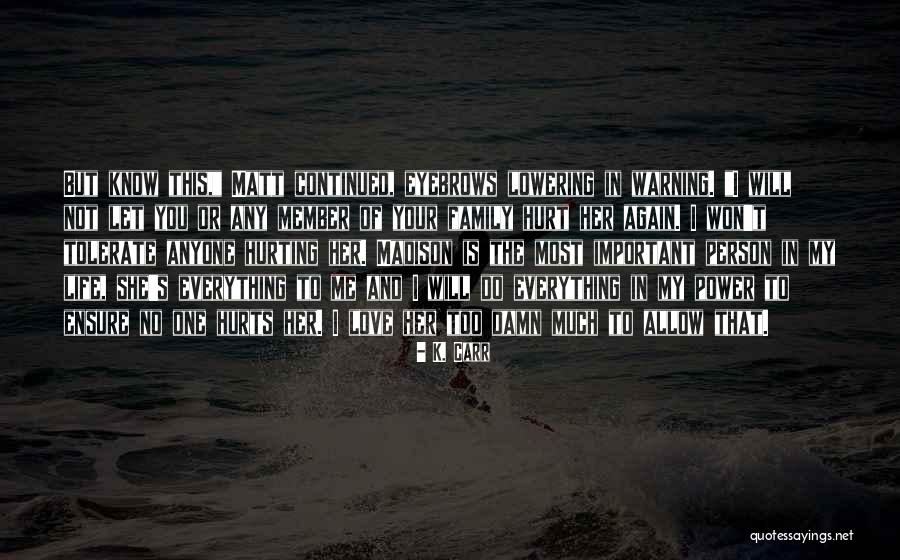 But know this," Matt continued, eyebrows lowering in warning. "I will not let you or any member of your family hurt her again. I won't tolerate anyone hurting her. Madison is the most important person in my life, she's everything to me and I will do everything in my power to ensure no one hurts her. I love her too damn much to allow that. — K. Carr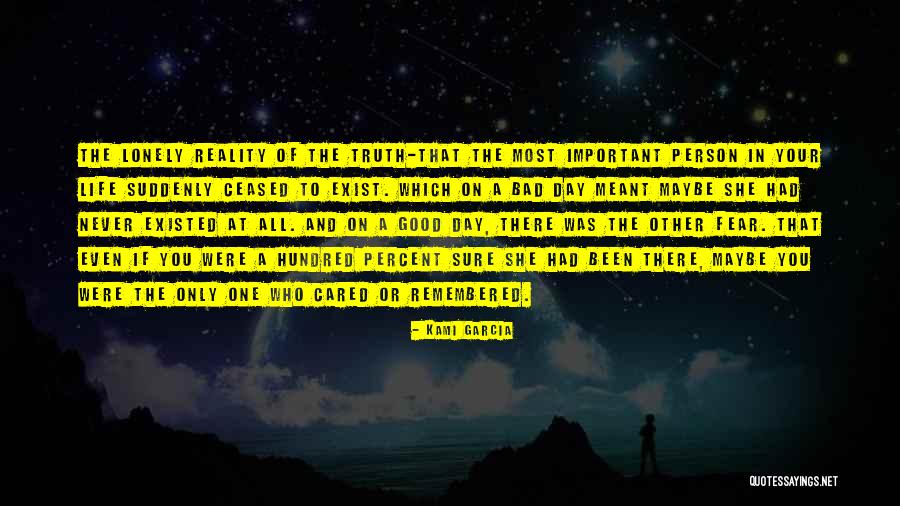 The lonely reality of the truth-that the most important person in your life suddenly ceased to exist. Which on a bad day meant maybe she had never existed at all. And on a good day, there was the other fear. That even if you were a hundred percent sure she had been there, maybe you were the only one who cared or remembered. — Kami Garcia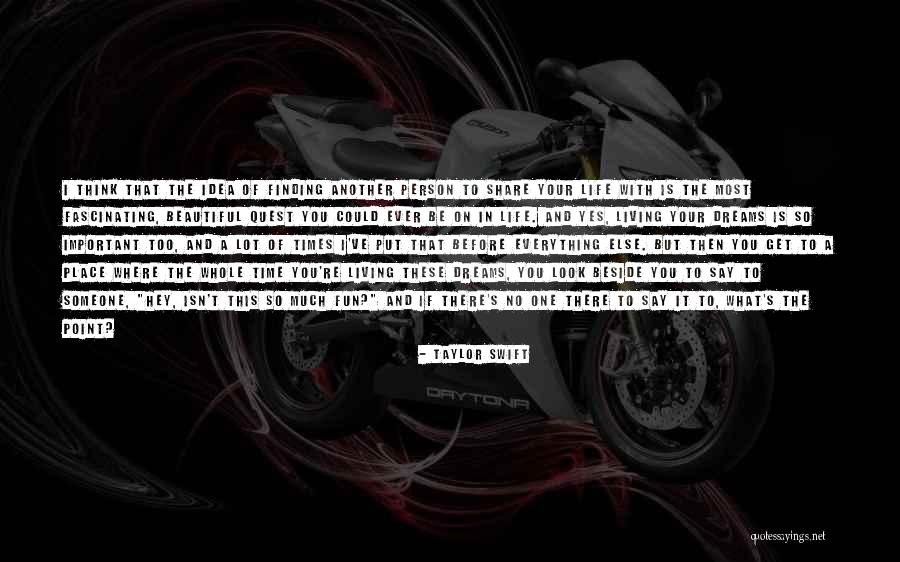 I think that the idea of finding another person to share your life with is the most fascinating, beautiful quest you could ever be on in life. And yes, living your dreams is so important too, and a lot of times I've put that before everything else. But then you get to a place where the whole time you're living these dreams, you look beside you to say to someone, "Hey, isn't this so much fun?" And if there's no one there to say it to, what's the point? — Taylor Swift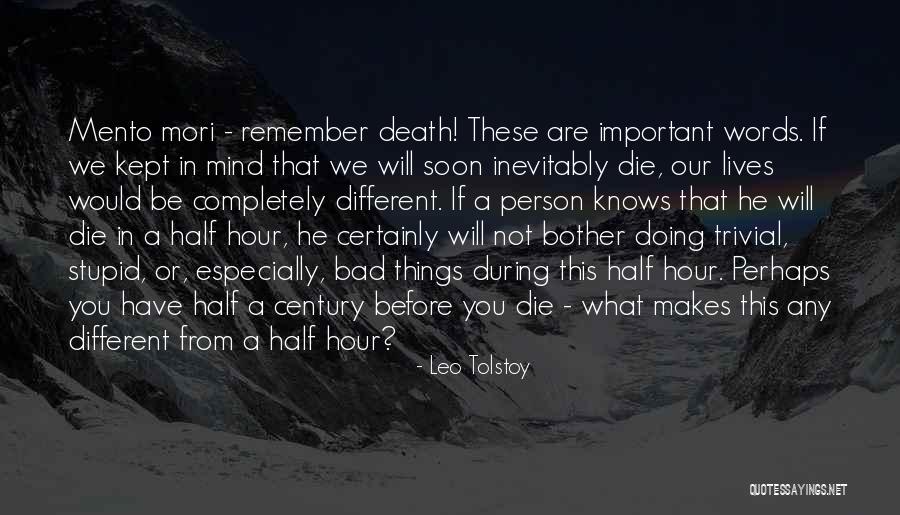 Mento mori - remember death! These are important words. If we kept in mind that we will soon inevitably die, our lives would be completely different. If a person knows that he will die in a half hour, he certainly will not bother doing trivial, stupid, or, especially, bad things during this half hour. Perhaps you have half a century before you die - what makes this any different from a half hour? — Leo Tolstoy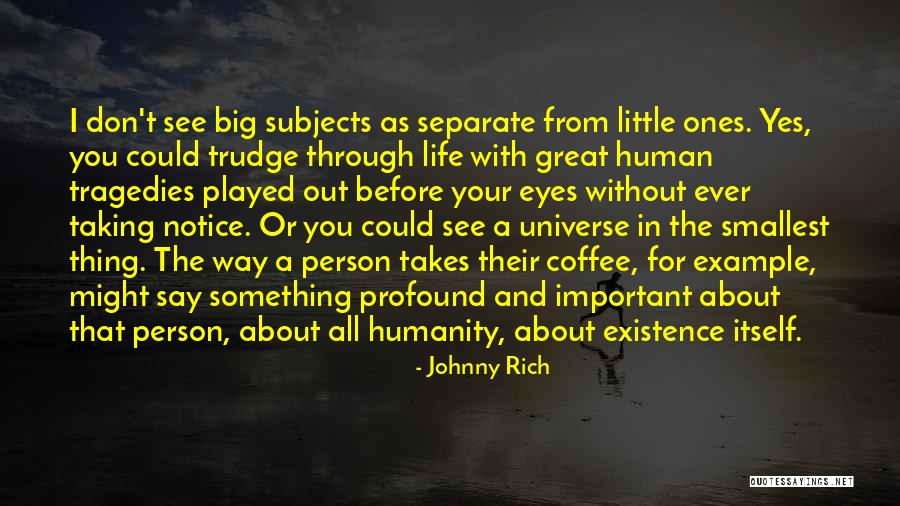 I don't see big subjects as separate from little ones. Yes, you could trudge through life with great human tragedies played out before your eyes without ever taking notice. Or you could see a universe in the smallest thing. The way a person takes their coffee, for example, might say something profound and important about that person, about all humanity, about existence itself. — Johnny Rich
I never expected her. Sometimes people sneak up on you and suddenly you don't know how you ever lived without them. How you went about your day and hung out with your friends and fucked other people without having this one important person in your life." Garrett Graham — Elle Kennedy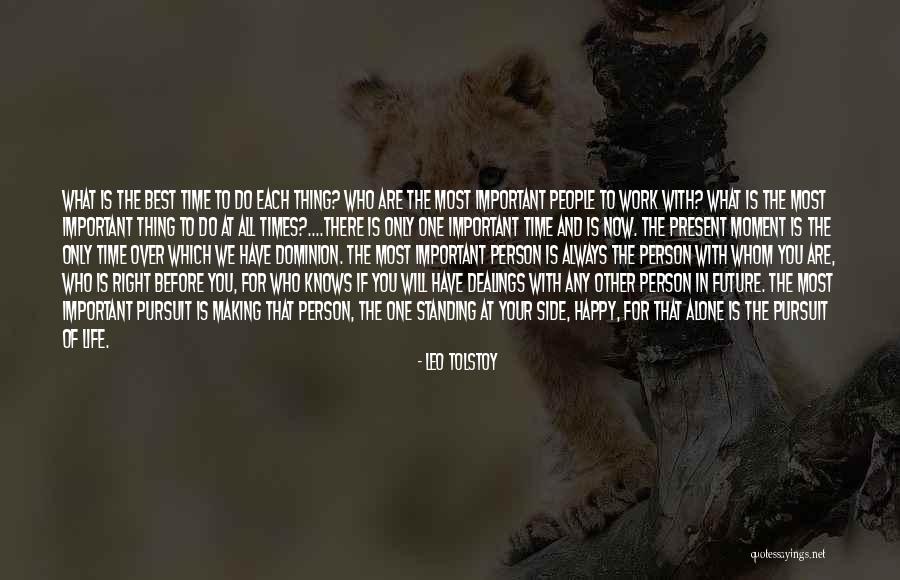 What is the best time to do each thing? Who are the most important people to work with? What is the most important thing to do at all times?..
..there is only one important time and is Now. The present moment is the only time over which we have dominion. The most important person is always the person with whom you are, who is right before you, for who knows if you will have dealings with any other person in future. The most important pursuit is making that person, the one standing at your side, happy, for that alone is the pursuit of life. — Leo Tolstoy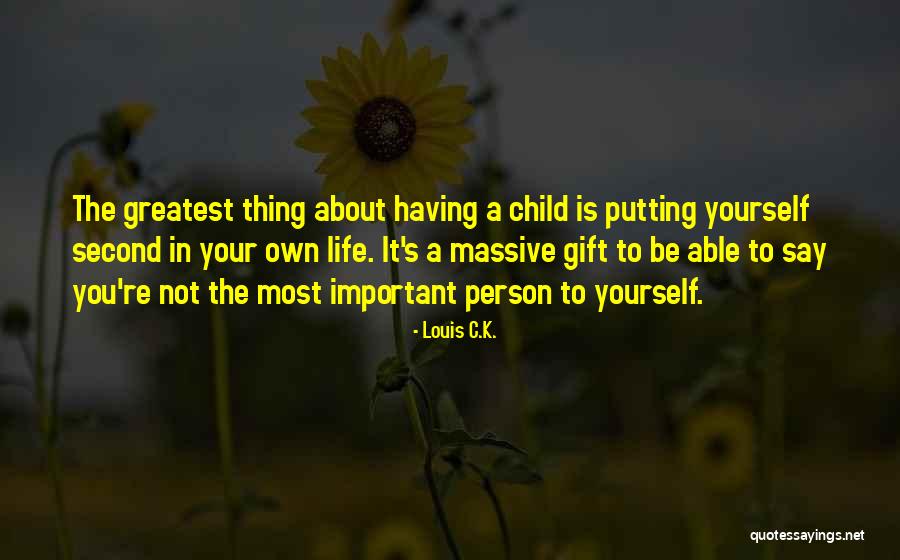 The greatest thing about having a child is putting yourself second in your own life. It's a massive gift to be able to say you're not the most important person to yourself. — Louis C.K.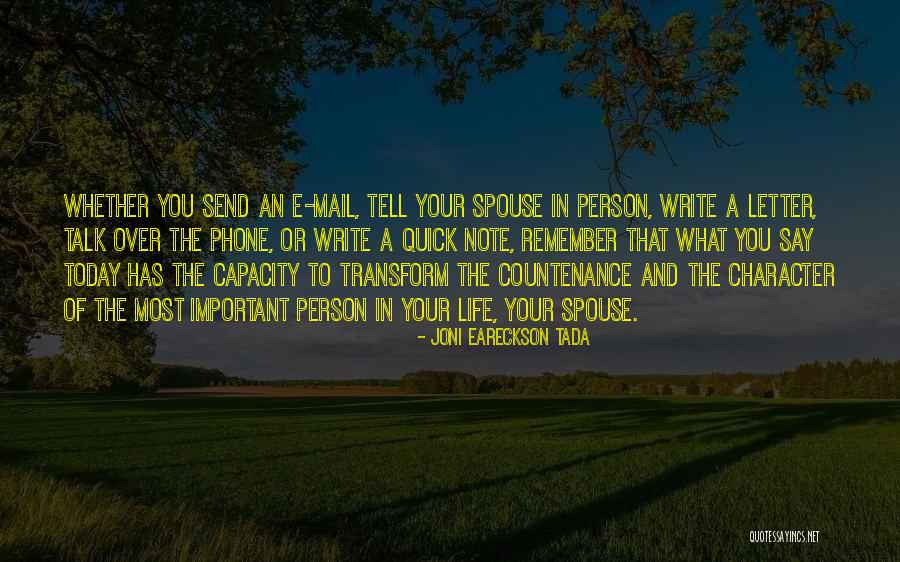 Whether you send an e-mail, tell your spouse in person, write a letter, talk over the phone, or write a quick note, remember that what you say today has the capacity to transform the countenance and the character of the most important person in your life, your spouse. — Joni Eareckson Tada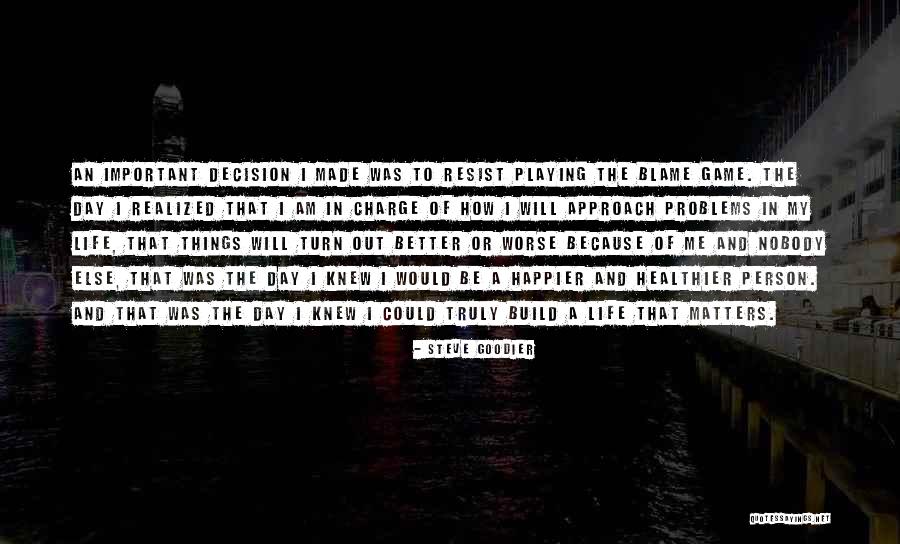 An important decision I made was to resist playing the Blame Game. The day I realized that I am in charge of how I will approach problems in my life, that things will turn out better or worse because of me and nobody else, that was the day I knew I would be a happier and healthier person. And that was the day I knew I could truly build a life that matters. — Steve Goodier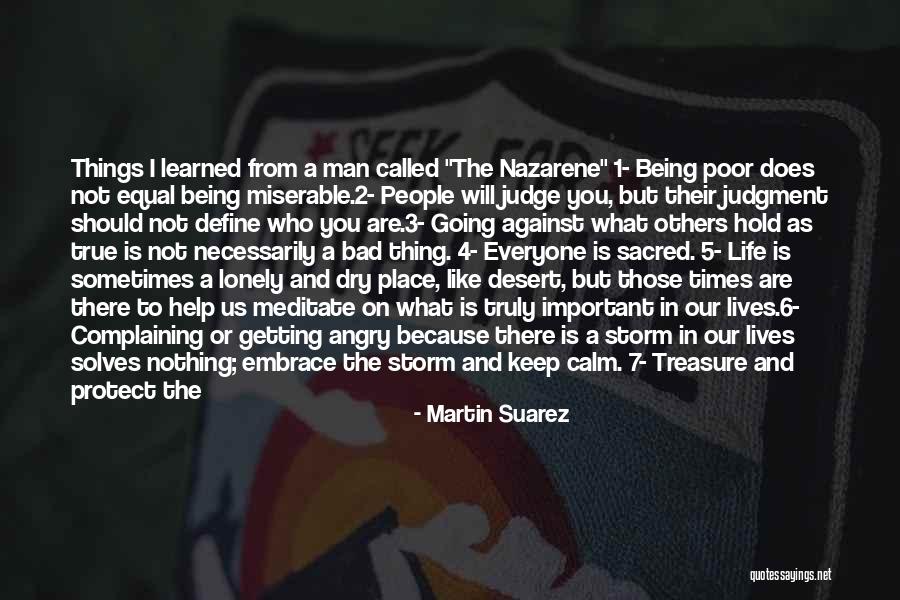 Things I learned from a man called "The Nazarene"
1- Being poor does not equal being miserable.
2- People will judge you, but their judgment should not define who you are.
3- Going against what others hold as true is not necessarily a bad thing.
4- Everyone is sacred.
5- Life is sometimes a lonely and dry place, like desert, but those times are there to help us meditate on what is truly important in our lives.
6- Complaining or getting angry because there is a storm in our lives solves nothing; embrace the storm and keep calm.
7- Treasure and protect the children of the world, they hold the key of what is pure and innocent; they are the way to freedom.
8- We are free to be who we want to be, it is our choice to be slaves or kings.
9- Fear nothing.
10- The person you don't like is also your neighbor.
11- The words following "I AM" define who we are, we must choose wisely. — Martin Suarez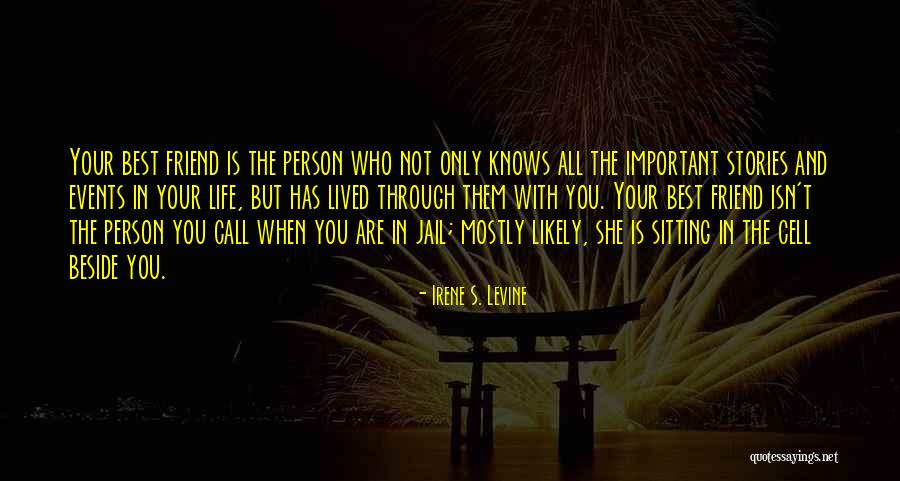 Your best friend is the person who not only knows all the important stories and events in your life, but has lived through them with you. Your best friend isn't the person you call when you are in jail; mostly likely, she is sitting in the cell beside you. — Irene S. Levine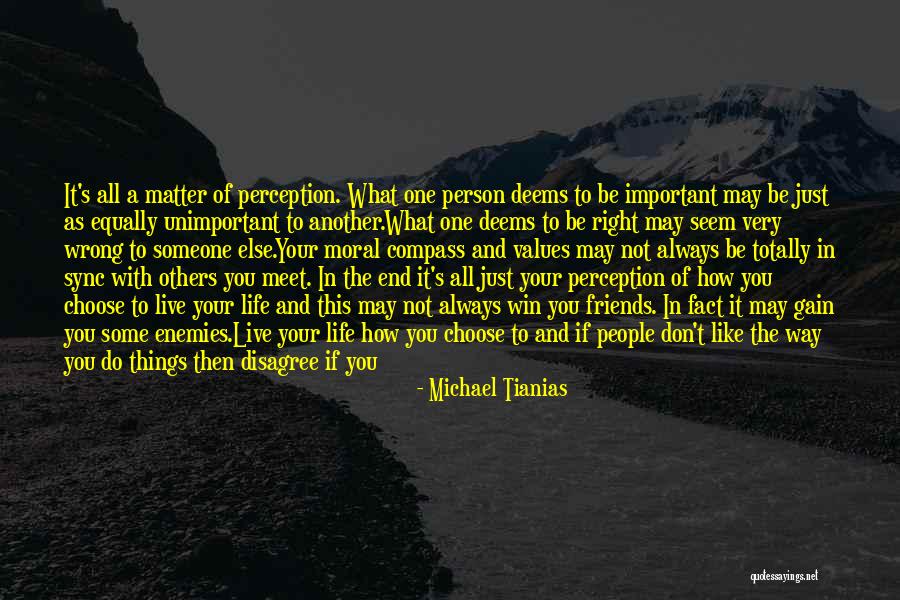 It's all a matter of perception.
What one person deems to be important may be just as equally unimportant to another.
What one deems to be right may seem very wrong to someone else.
Your moral compass and values may not always be totally in sync with others you meet.
In the end it's all just your perception of how you choose to live your life and this may not always win you friends. In fact it may gain you some enemies.
Live your life how you choose to and if people don't like the way you do things then disagree if you must, but be nice & be respectful and then if you must, move on and leave it all behind you.
It's your life after all and only you can live it. Choose your path and set your compass then start walking. — Michael Tianias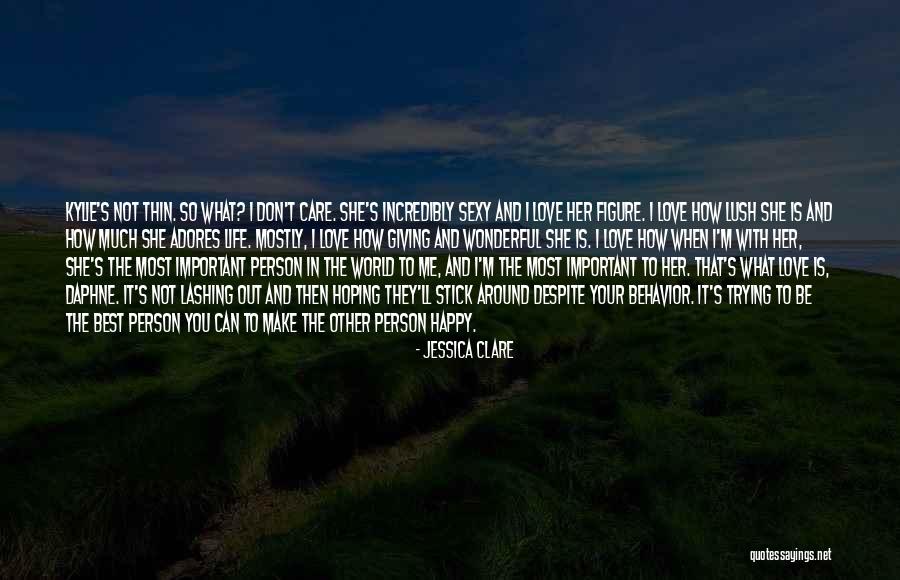 Kylie's not thin. So what? I don't care. She's incredibly sexy and I love her figure. I love how lush she is and how much she adores life. Mostly, I love how giving and wonderful she is. I love how when I'm with her, she's the most important person in the world to me, and I'm the most important to her. That's what love is, Daphne. It's not lashing out and then hoping they'll stick around despite your behavior. It's trying to be the best person you can to make the other person happy. — Jessica Clare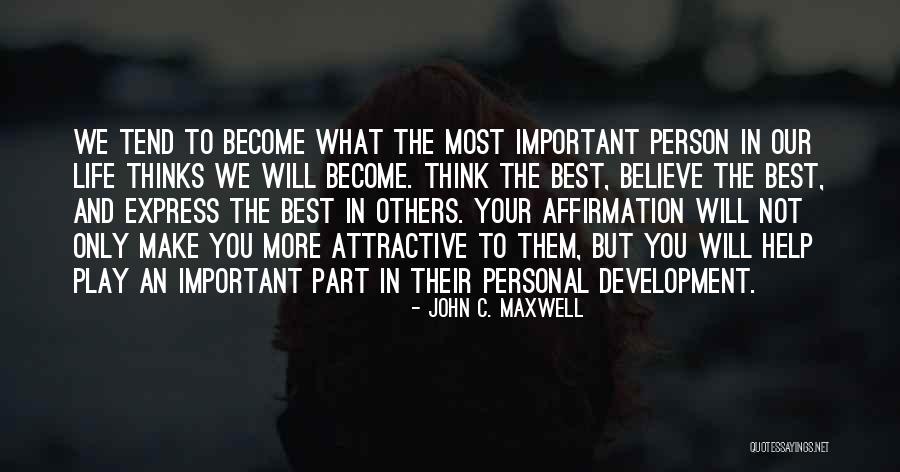 We tend to become what the most important person in our life thinks we will become. Think the best, believe the best, and express the best in others. Your affirmation will not only make you more attractive to them, but you will help play an important part in their personal development. — John C. Maxwell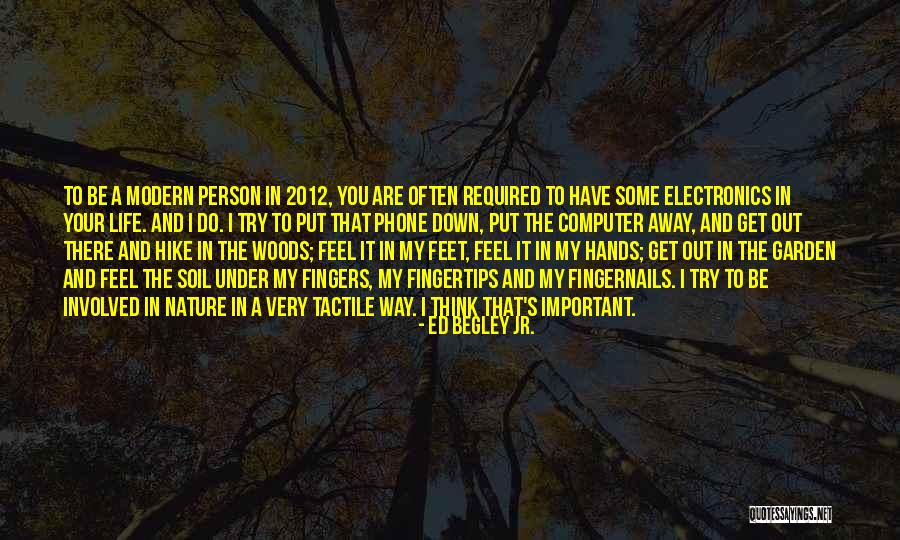 To be a modern person in 2012, you are often required to have some electronics in your life. And I do. I try to put that phone down, put the computer away, and get out there and hike in the woods; feel it in my feet, feel it in my hands; get out in the garden and feel the soil under my fingers, my fingertips and my fingernails. I try to be involved in nature in a very tactile way. I think that's important. — Ed Begley Jr.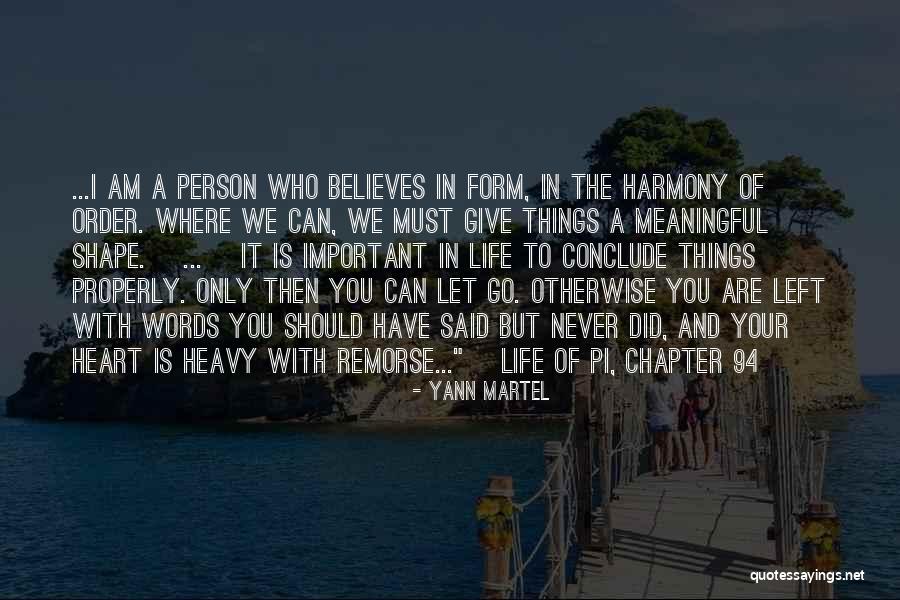 ...I am a person who believes in form, in the harmony of order. Where we can, we must give things a meaningful shape. [...] It is important in life to conclude things properly. Only then you can let go. Otherwise you are left with words you should have said but never did, and your heart is heavy with remorse..."
~Life of Pi, chapter 94 — Yann Martel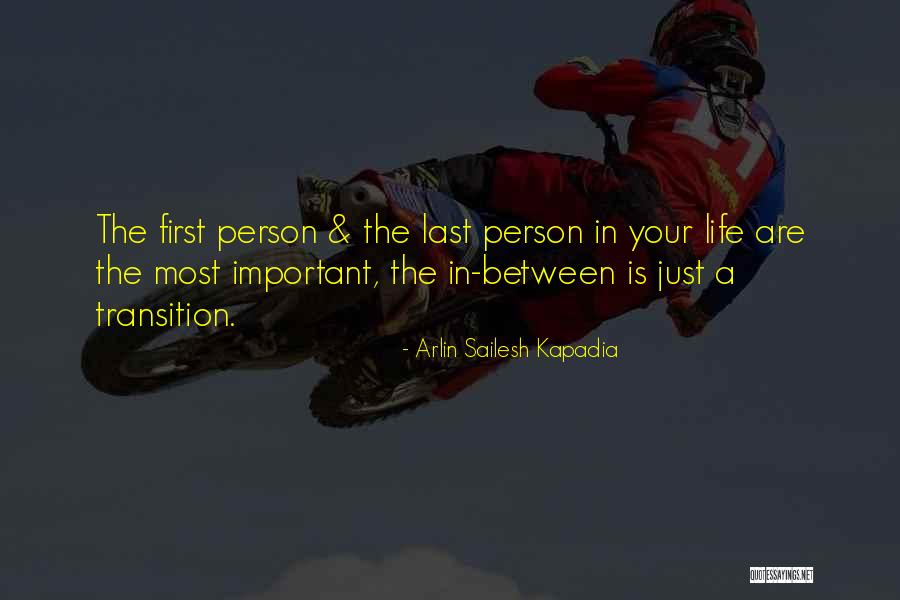 The first person & the last person in your life are the most important, the in-between is just a transition. — Arlin Sailesh Kapadia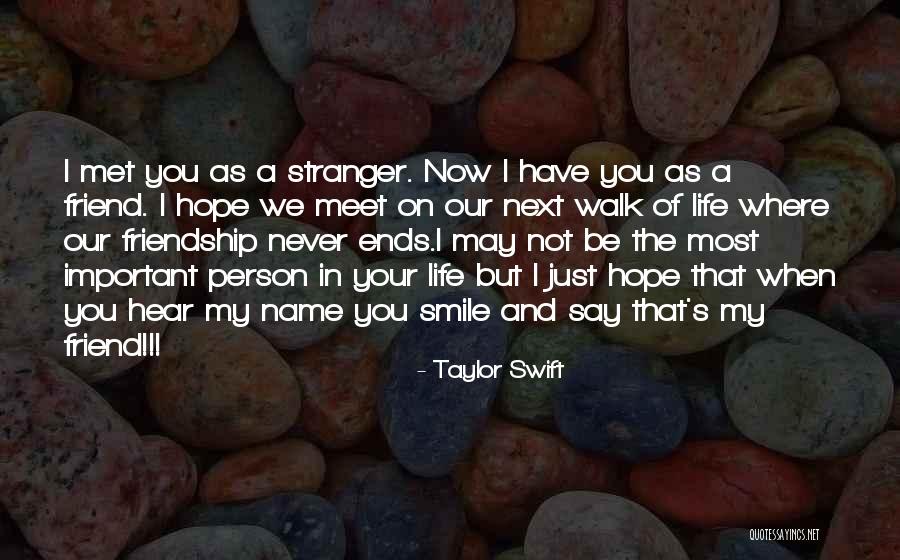 I met you as a stranger. Now I have you as a friend. I hope we meet on our next walk of life where our friendship never ends.
I may not be the most important person in your life but I just hope that when you hear my name you smile and say that's my friend!!! — Taylor Swift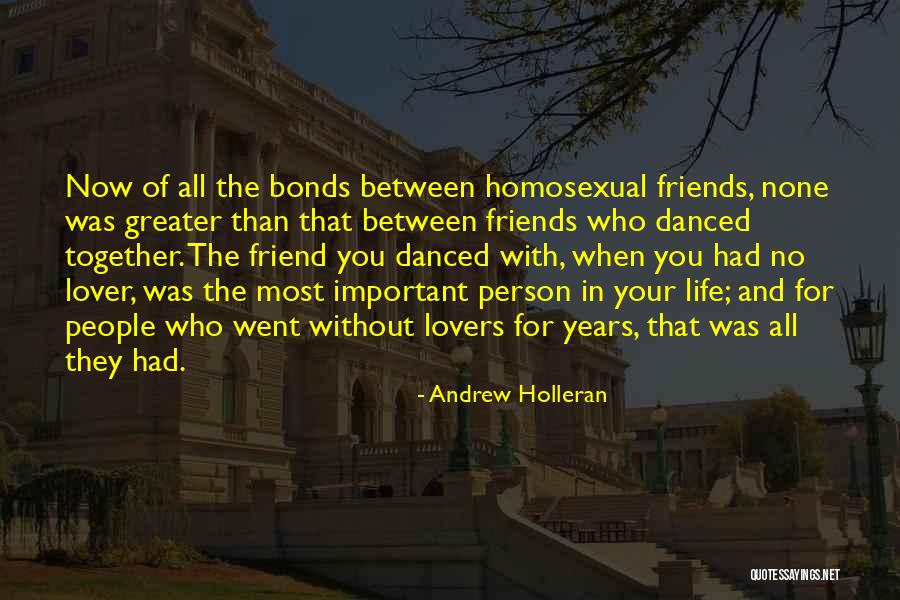 Now of all the bonds between homosexual friends, none was greater than that between friends who danced together. The friend you danced with, when you had no lover, was the most important person in your life; and for people who went without lovers for years, that was all they had. — Andrew Holleran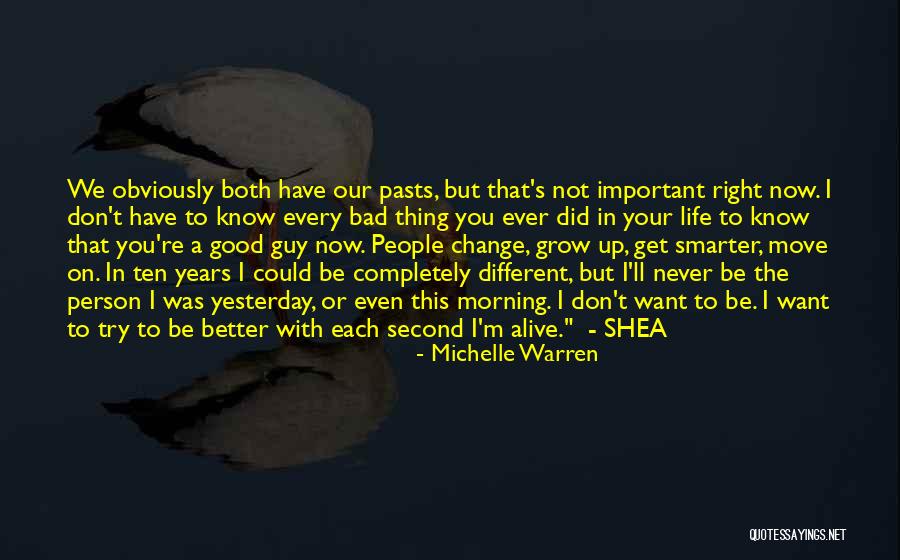 We obviously both have our pasts, but that's not important right now. I don't have to know every bad thing you ever did in your life to know that you're a good guy now. People change, grow up, get smarter, move on. In ten years I could be completely different, but I'll never be the person I was yesterday, or even this morning. I don't want to be. I want to try to be better with each second I'm alive." - SHEA — Michelle Warren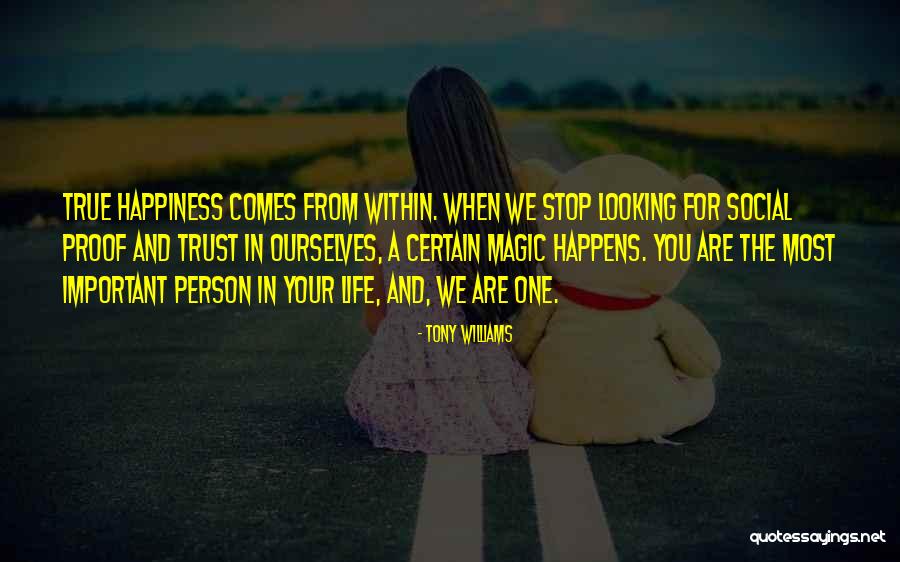 True happiness comes from within. When we stop looking for social proof and trust in ourselves, a certain magic happens. You are the most important person in your life, and, we are one. — Tony Williams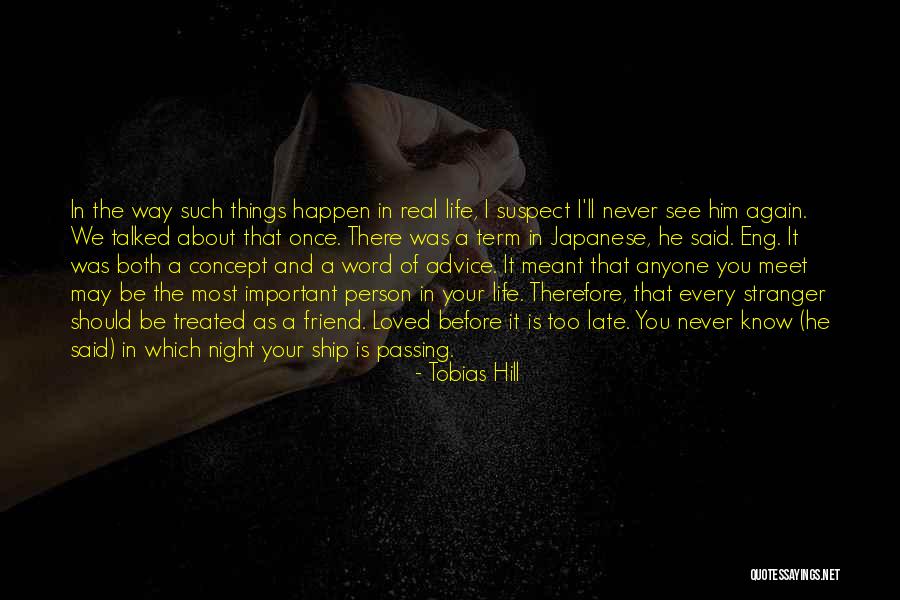 In the way such things happen in real life, I suspect I'll never see him again. We talked about that once. There was a term in Japanese, he said. Eng. It was both a concept and a word of advice. It meant that anyone you meet may be the most important person in your life. Therefore, that every stranger should be treated as a friend. Loved before it is too late. You never know (he said) in which night your ship is passing. — Tobias Hill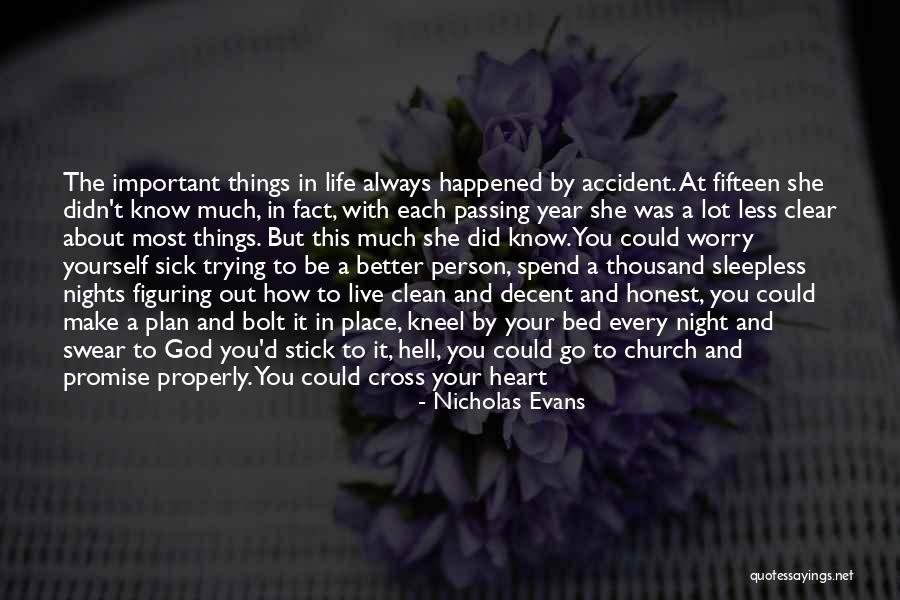 The important things in life always happened by accident. At fifteen she didn't know much, in fact, with each passing year she was a lot less clear about most things. But this much she did know. You could worry yourself sick trying to be a better person, spend a thousand sleepless nights figuring out how to live clean and decent and honest, you could make a plan and bolt it in place, kneel by your bed every night and swear to God you'd stick to it, hell, you could go to church and promise properly. You could cross your heart seven times with your eyes tight shut, cut your thumb and squeeze it and pen solemn vows on a rock with your own blood then throw it in the river at the stroke of midnight. And then, out of the black beyond, like a hawk on a rat, some nameless catastrophe would swoop into your life and turn everything upside down and inside out forever. — Nicholas Evans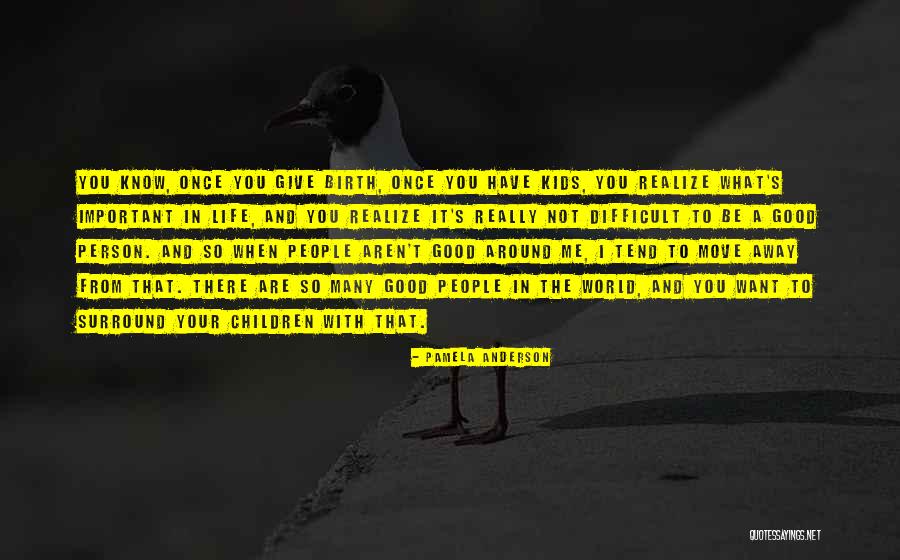 You know, once you give birth, once you have kids, you realize what's important in life, and you realize it's really not difficult to be a good person. And so when people aren't good around me, I tend to move away from that. There are so many good people in the world, and you want to surround your children with that. — Pamela Anderson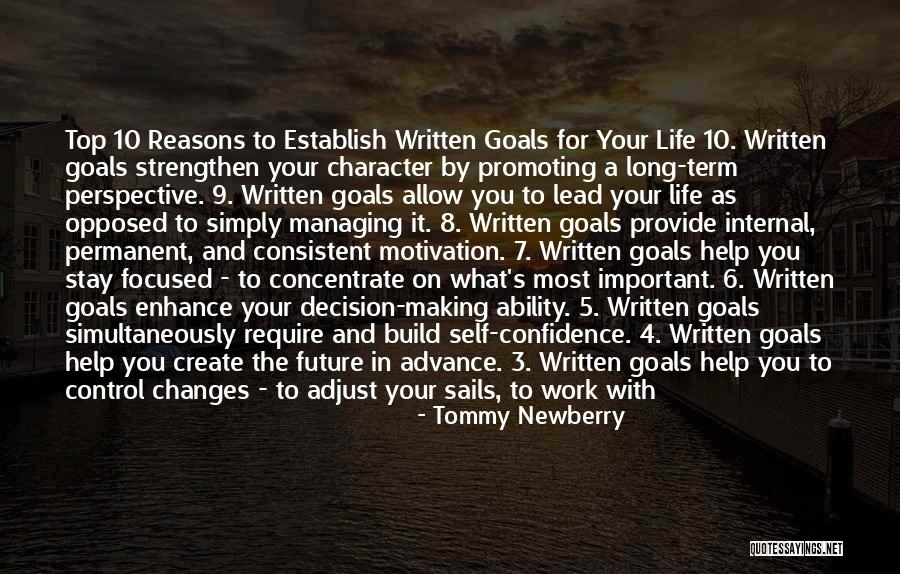 Top 10 Reasons to Establish Written Goals for Your Life 10. Written goals strengthen your character by promoting a long-term perspective. 9. Written goals allow you to lead your life as opposed to simply managing it. 8. Written goals provide internal, permanent, and consistent motivation. 7. Written goals help you stay focused - to concentrate on what's most important. 6. Written goals enhance your decision-making ability. 5. Written goals simultaneously require and build self-confidence. 4. Written goals help you create the future in advance. 3. Written goals help you to control changes - to adjust your sails, to work with the wind rather than against it. 2. Written goals heighten your awareness of opportunities that are consistent with your goals. 1. And finally, the most important benefit of setting effective goals is the person you become as a result of the pursuit! — Tommy Newberry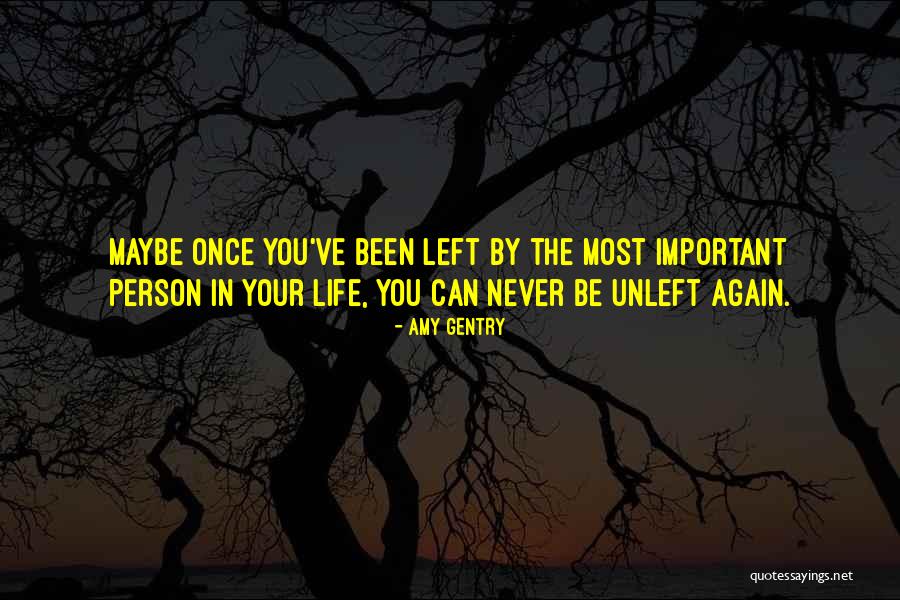 Maybe once you've been left by the most important person in your life, you can never be unleft again. — Amy Gentry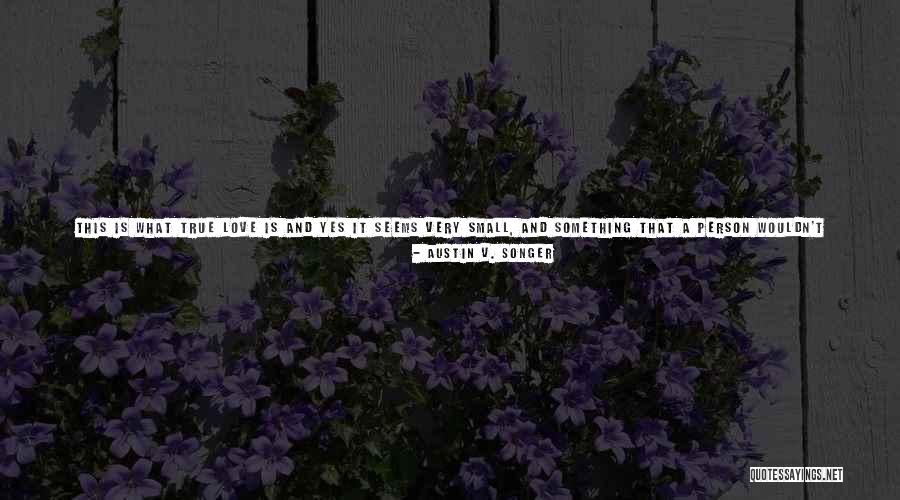 This is what true love is and yes it seems very small, and something that a person wouldn't think would be a sign of True Love, but I think that all of the important and meaningful signs come to us in "small signs" that we all tend to ignore it as something that isn't meaningful, because we all live life like we are in a rush to get somewhere and we never stop and actually pay more attention to "Now", if we all started to "live in the now" then I feel that life would become more important to everyone, and the majority of people could find happiness out of just living in the "Now" instead of living in the past or the future.
All that matters is Today, Right now is your life, take control of your happiness by living right now. — Austin V. Songer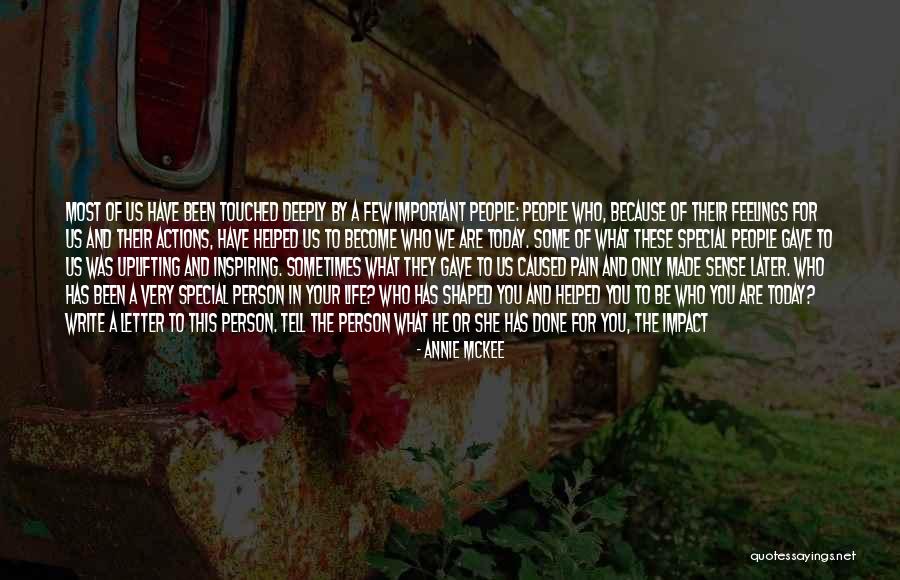 Most of us have been touched deeply by a few important people: people who, because of their feelings for us and their actions, have helped us to become who we are today. Some of what these special people gave to us was uplifting and inspiring. Sometimes what they gave to us caused pain and only made sense later. Who has been a very special person in your life? Who has shaped you and helped you to be who you are today? Write a letter to this person. Tell the person what he or she has done for you, the impact the person has had, and your feelings about how he or she has touched you. Be as honest and authentic as possible. Write from your heart. You may decide later to send this letter, but this first version should be for you. — Annie McKee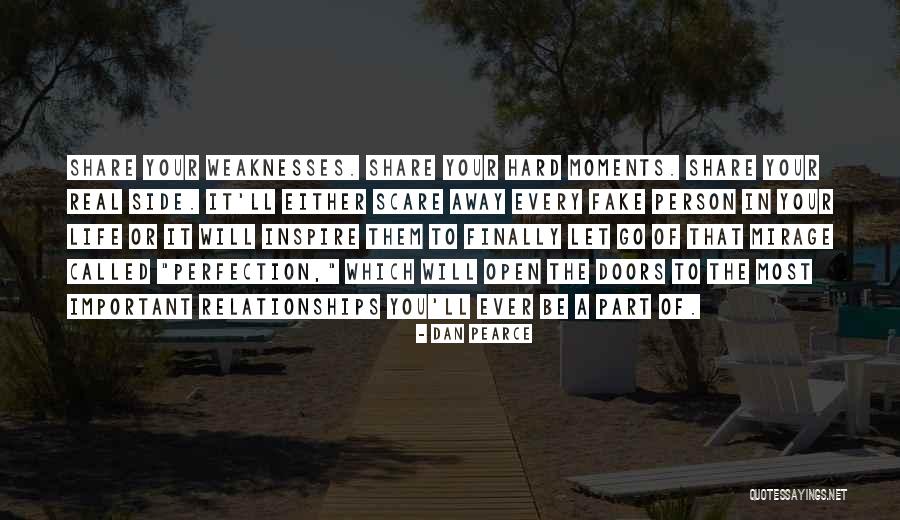 Share your weaknesses. Share your hard moments. Share your real side. It'll either scare away every fake person in your life or it will inspire them to finally let go of that mirage called "perfection," which will open the doors to the most important relationships you'll ever be a part of. — Dan Pearce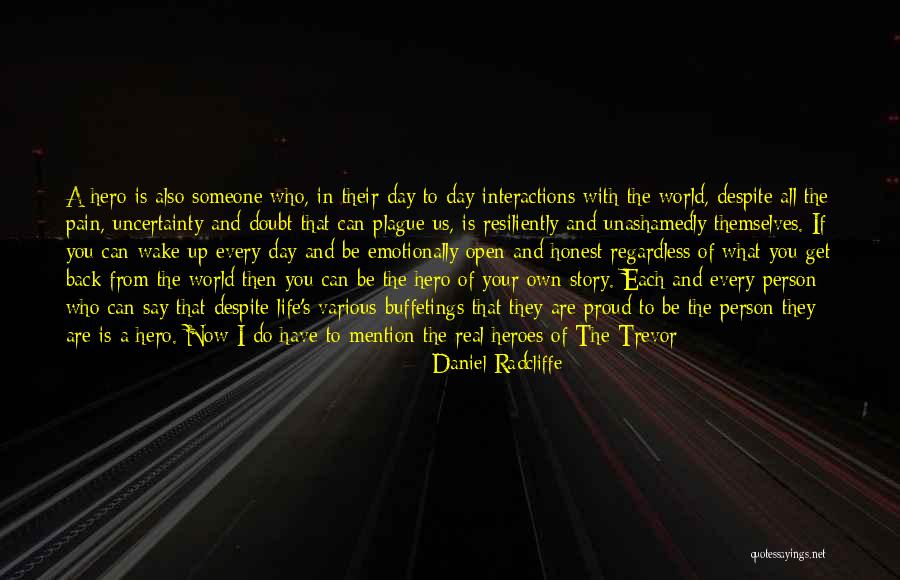 A hero is also someone who, in their day to day interactions with the world, despite all the pain, uncertainty and doubt that can plague us, is resiliently and unashamedly themselves. If you can wake up every day and be emotionally open and honest regardless of what you get back from the world then you can be the hero of your own story. Each and every person who can say that despite life's various buffetings that they are proud to be the person they are is a hero. Now I do have to mention the real heroes of The Trevor Project, the men and women volunteers, all of whom stand up day after day answering the calls of desperate teens whose circumstances have pushed them to the edge of the abyss. To take that call, and say yes, I will be the one who saves this life takes such courage and compassion. Hemingway's definition of 'grace under pressure' seems fitting as the job they do is every bit as important, and every bit as delicate as a soldier defusing a bomb. — Daniel Radcliffe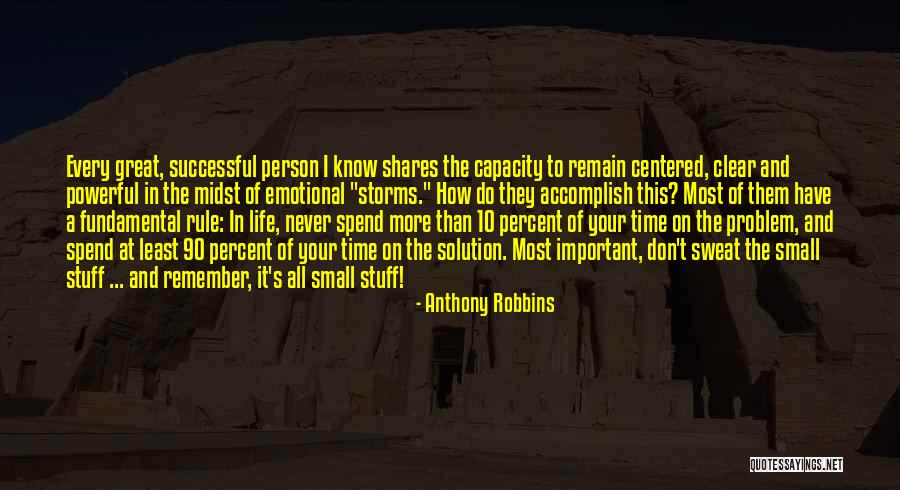 Every great, successful person I know shares the capacity to remain centered, clear and powerful in the midst of emotional "storms." How do they accomplish this? Most of them have a fundamental rule: In life, never spend more than 10 percent of your time on the problem, and spend at least 90 percent of your time on the solution. Most important, don't sweat the small stuff ... and remember, it's all small stuff! — Anthony Robbins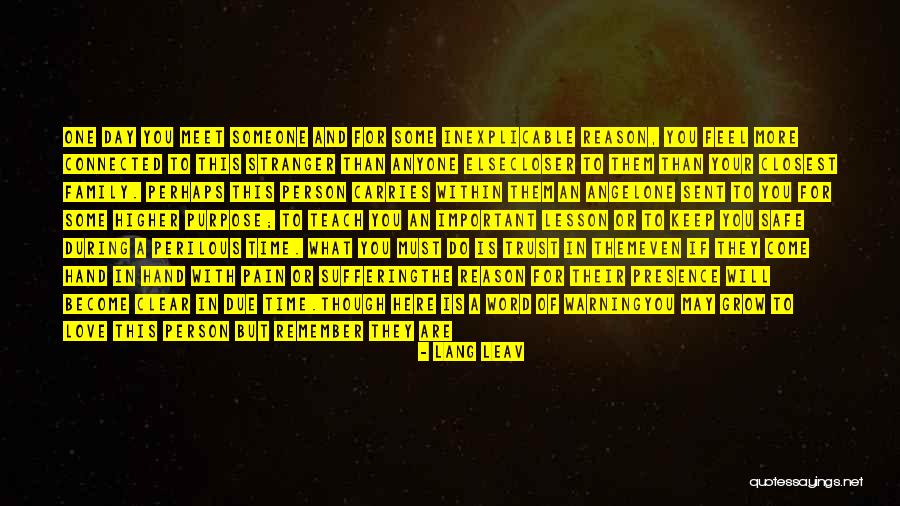 One day you meet someone and for some inexplicable reason, you feel more connected to this stranger than anyone else
closer to them than your closest family. Perhaps this person carries within them an angel
one sent to you for some higher purpose; to teach you an important lesson or to keep you safe during a perilous time. What you must do is trust in them
even if they come hand in hand with pain or suffering
the reason for their presence will become clear in due time.
Though here is a word of warning
you may grow to love this person but remember they are not yours to keep. Their purpose isn't to save you but to show you how to save yourself. And once this is fulfilled; the halo lifts and the angel leaves their body as the person exits your life. They will be a stranger to you once more. — Lang Leav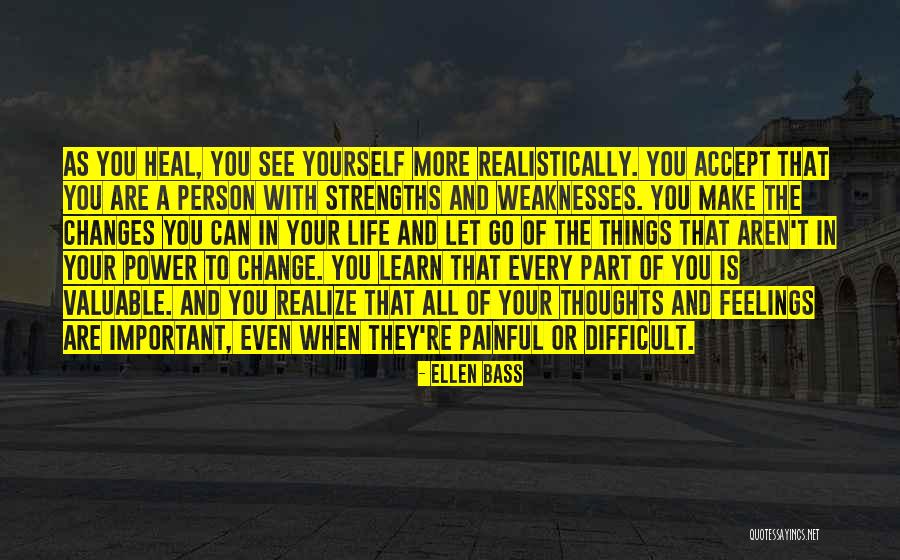 As you heal, you see yourself more realistically. You accept that you are a person with strengths and weaknesses. You make the changes you can in your life and let go of the things that aren't in your power to change. You learn that every part of you is valuable. And you realize that all of your thoughts and feelings are important, even when they're painful or difficult. — Ellen Bass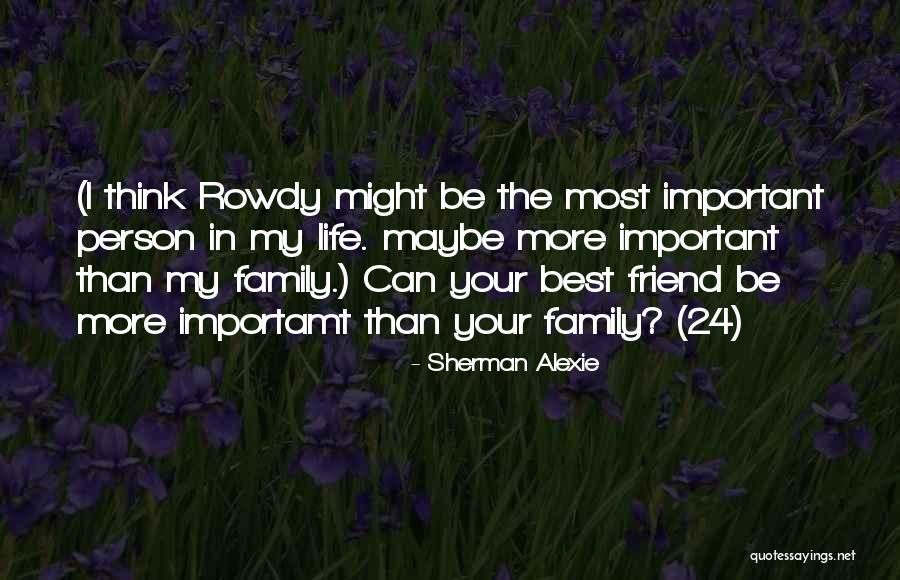 (I think Rowdy might be the most important person in my life. maybe more important than my family.) Can your best friend be more importamt than your family? (24) — Sherman Alexie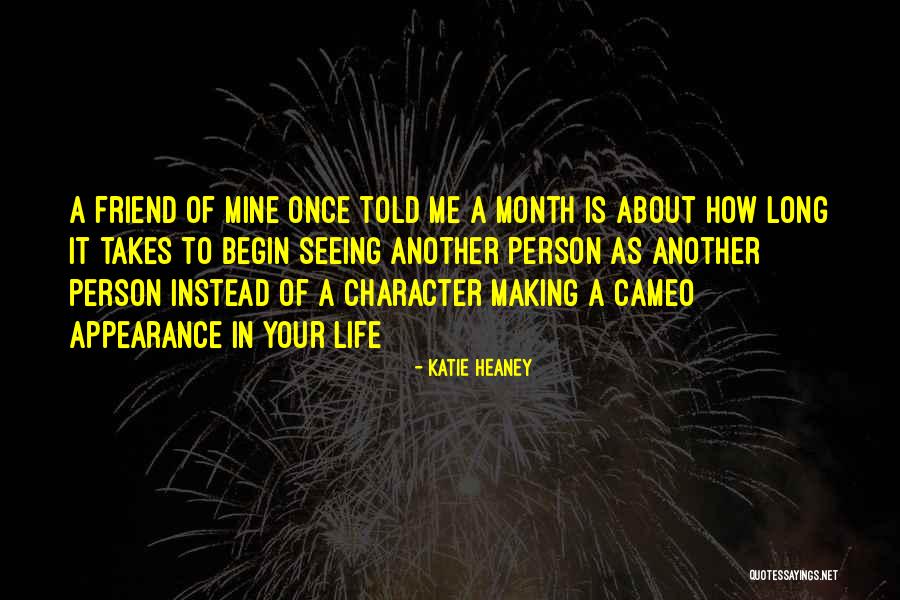 A friend of mine once told me a month is about how long it takes to begin seeing another person as another person instead of a character making a cameo appearance in your life — Katie Heaney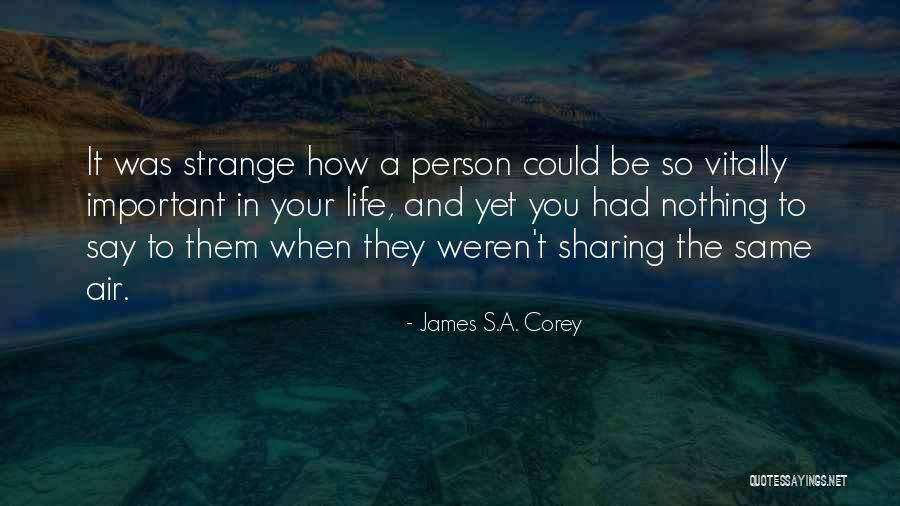 It was strange how a person could be so vitally important in your life, and yet you had nothing to say to them when they weren't sharing the same air. — James S.A. Corey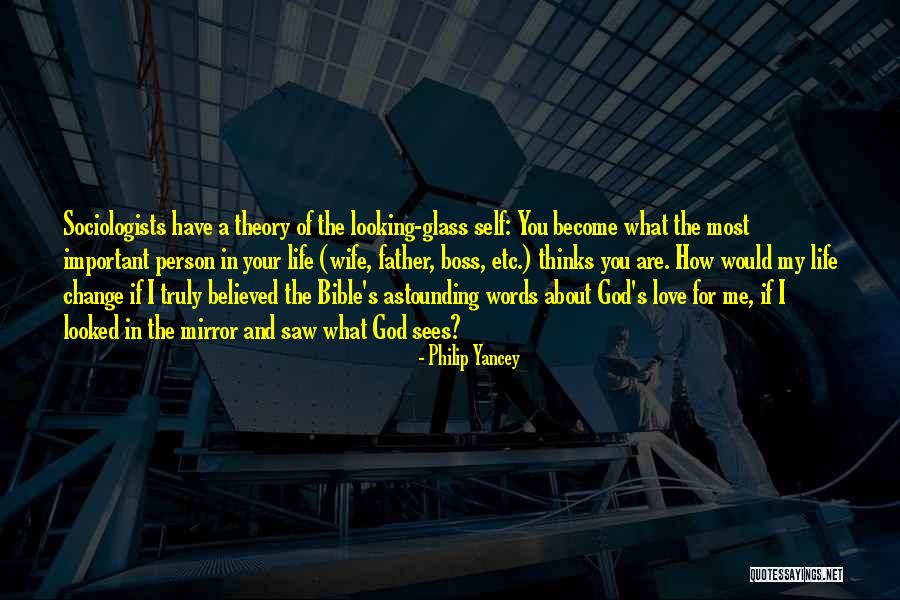 Sociologists have a theory of the looking-glass self: You become what the most important person in your life (wife, father, boss, etc.) thinks you are. How would my life change if I truly believed the Bible's astounding words about God's love for me, if I looked in the mirror and saw what God sees? — Philip Yancey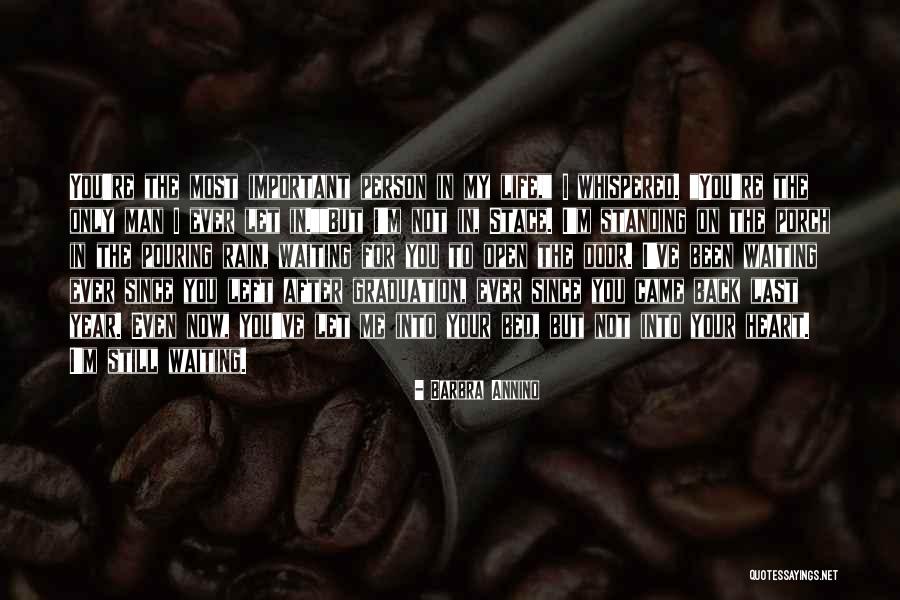 You're the most important person in my life," I whispered. "You're the only man I ever let in."
"But I'm not in, Stace. I'm standing on the porch in the pouring rain, waiting for you to open the door. I've been waiting ever since you left after graduation, ever since you came back last year. Even now, you've let me into your bed, but not into your heart. I'm still waiting. — Barbra Annino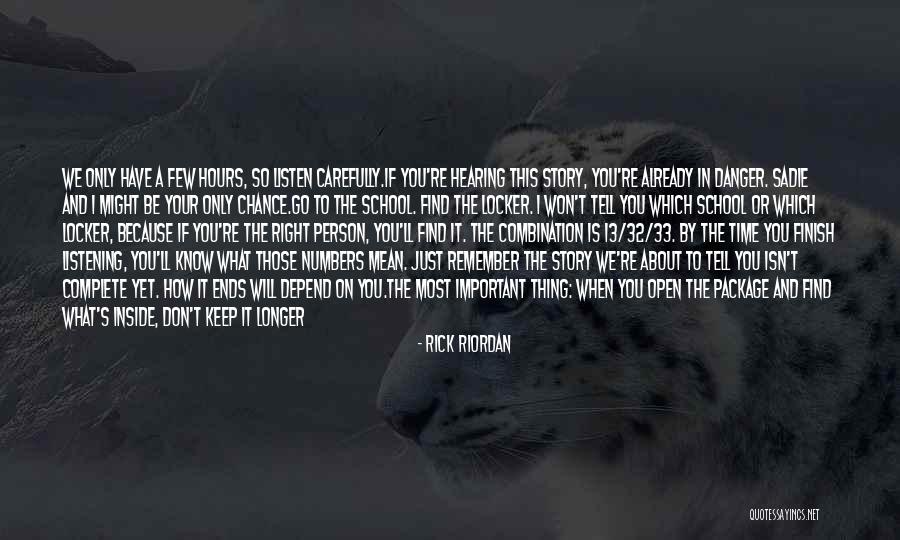 We only have a few hours, so listen carefully.
If you're hearing this story, you're already in danger. Sadie and I might be your only chance.
Go to the school. Find the locker. I won't tell you which school or which locker, because if you're the right person, you'll find it. The combination is 13/32/33. By the time you finish listening, you'll know what those numbers mean. Just remember the story we're about to tell you isn't complete yet.
How it ends will depend on you.
The most important thing: when you open the package and find what's inside, don't keep it longer than a week. Sure, it'll be tempting. I mean, it will grant you almost unlimited power. But if you possess it too long, it will consume you. Learn its secrets quickly and pass it on. Hide it for the next person, the way Sadie and I did for you. Then be prepared for your life to get very interesting. — Rick Riordan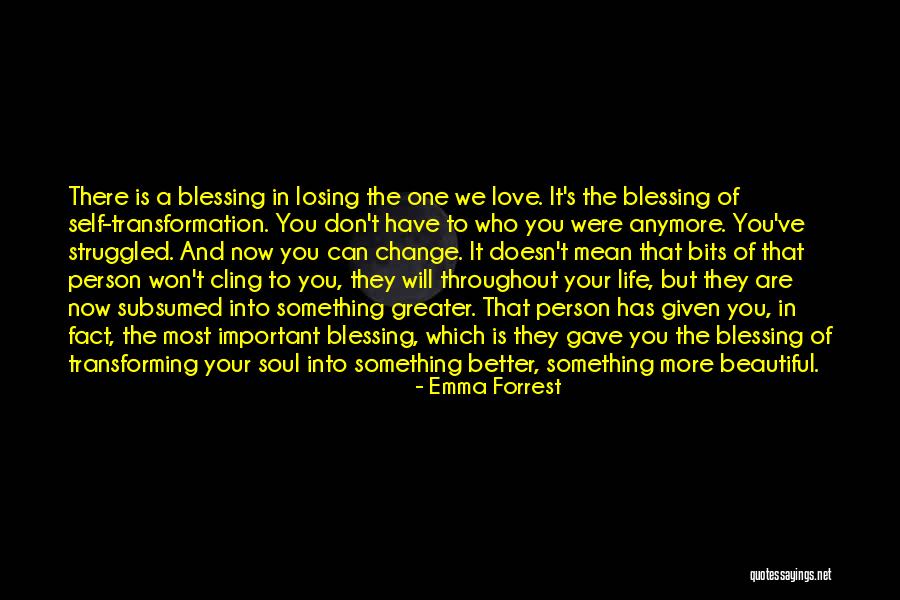 There is a blessing in losing the one we love. It's the blessing of self-transformation. You don't have to who you were anymore. You've struggled. And now you can change. It doesn't mean that bits of that person won't cling to you, they will throughout your life, but they are now subsumed into something greater. That person has given you, in fact, the most important blessing, which is they gave you the blessing of transforming your soul into
something better, something more beautiful. — Emma Forrest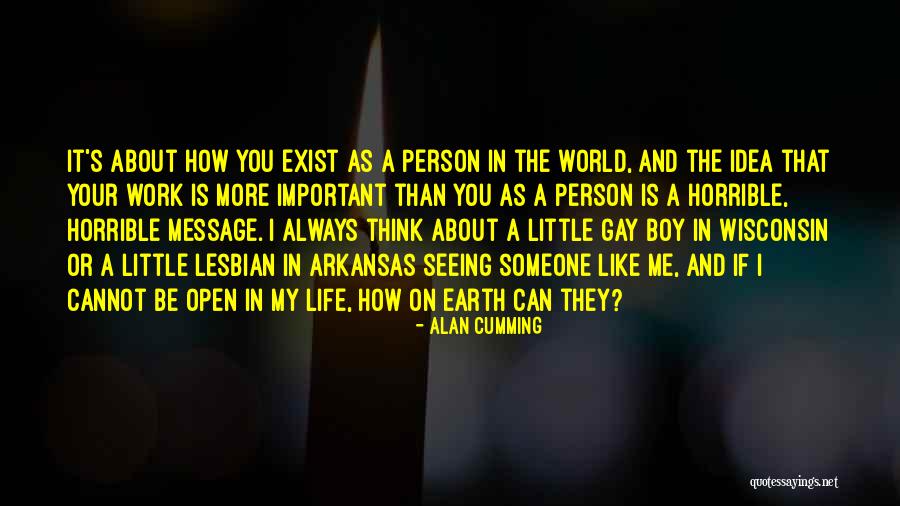 It's about how you exist as a person in the world, and the idea that your work is more important than you as a person is a horrible, horrible message. I always think about a little gay boy in Wisconsin or a little lesbian in Arkansas seeing someone like me, and if I cannot be open in my life, how on earth can they? — Alan Cumming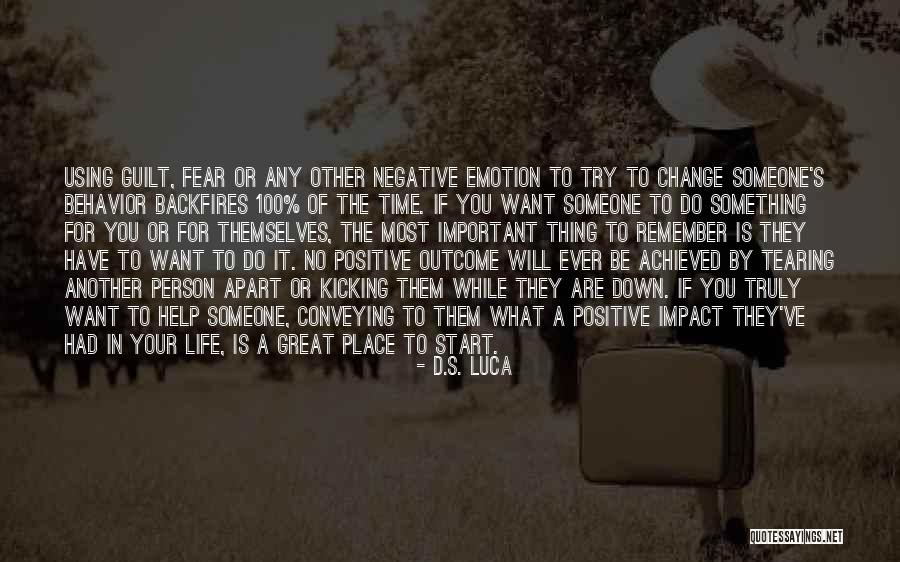 Using guilt, fear or any other negative emotion to try to change someone's behavior backfires 100% of the time. If you want someone to do something for you or for themselves, the most important thing to remember is they have to want to do it. No positive outcome will ever be achieved by tearing another person apart or kicking them while they are down. If you truly want to help someone, conveying to them what a positive impact they've had in your life, is a great place to start. — D.S. Luca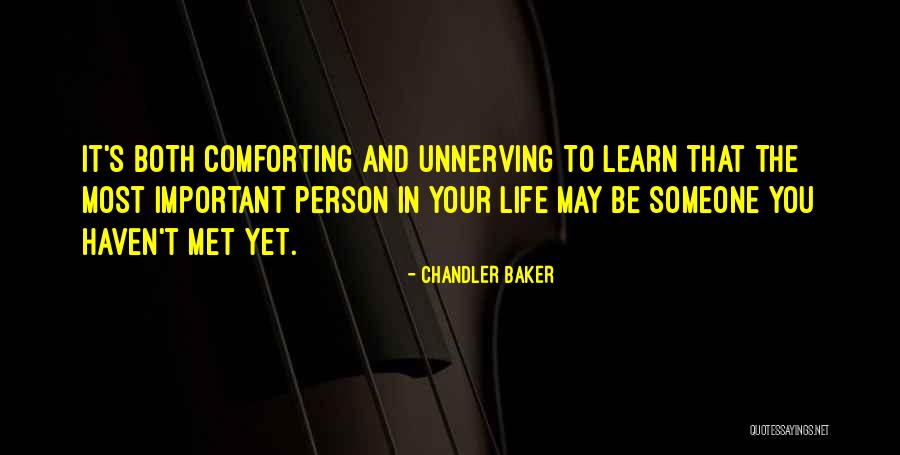 It's both comforting and unnerving to learn that the most important person in your life may be someone you haven't met yet. — Chandler Baker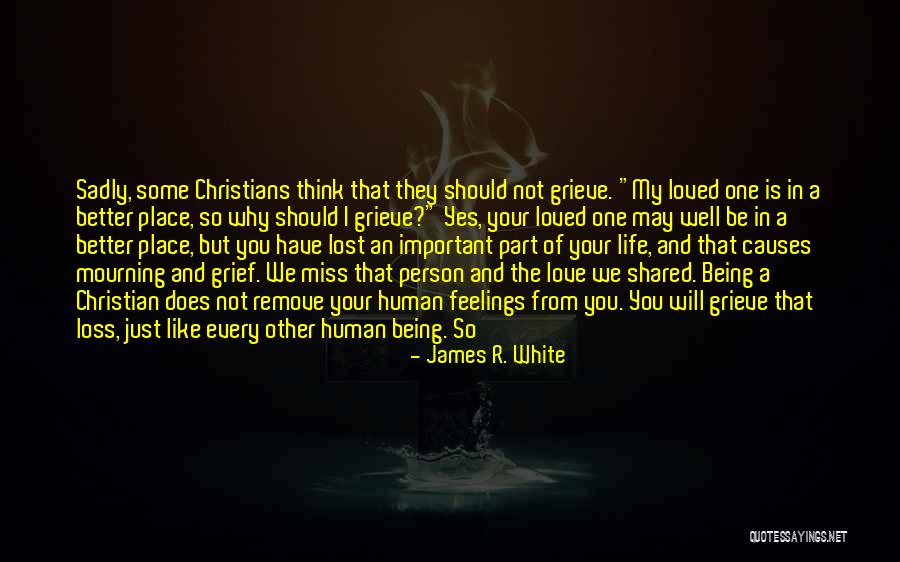 Sadly, some Christians think that they should not grieve. "My loved one is in a better place, so why should I grieve?" Yes, your loved one may well be in a better place, but you have lost an important part of your life, and that causes mourning and grief. We miss that person and the love we shared. Being a Christian does not remove your human feelings from you. You will grieve that loss, just like every other human being. So — James R. White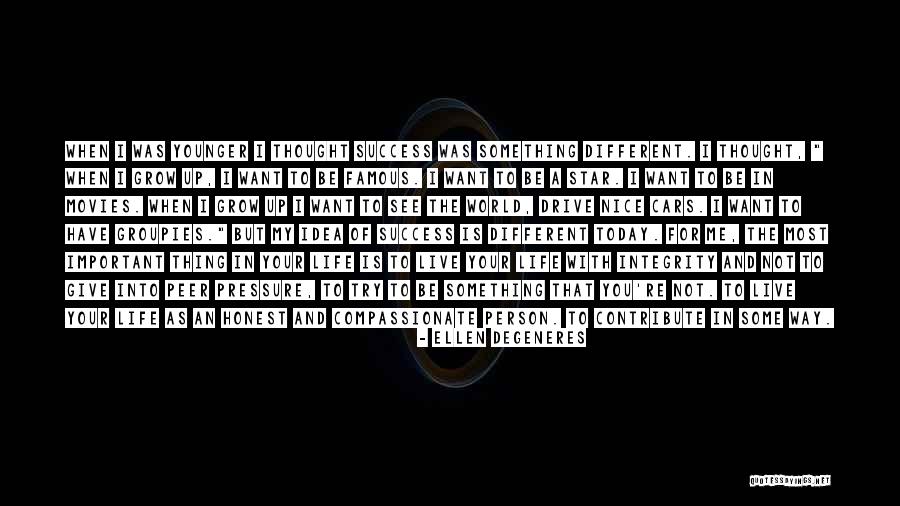 When I was younger I thought success was something different. I thought, " When I grow up, I want to be famous. I want to be a star. I want to be in movies. When I grow up I want to see the world, drive nice cars. I want to have groupies." But my idea of success is different today. For me, the most important thing in your life is to live your life with integrity and not to give into peer pressure, to try to be something that you're not. To live your life as an honest and compassionate person. To contribute in some way. — Ellen DeGeneres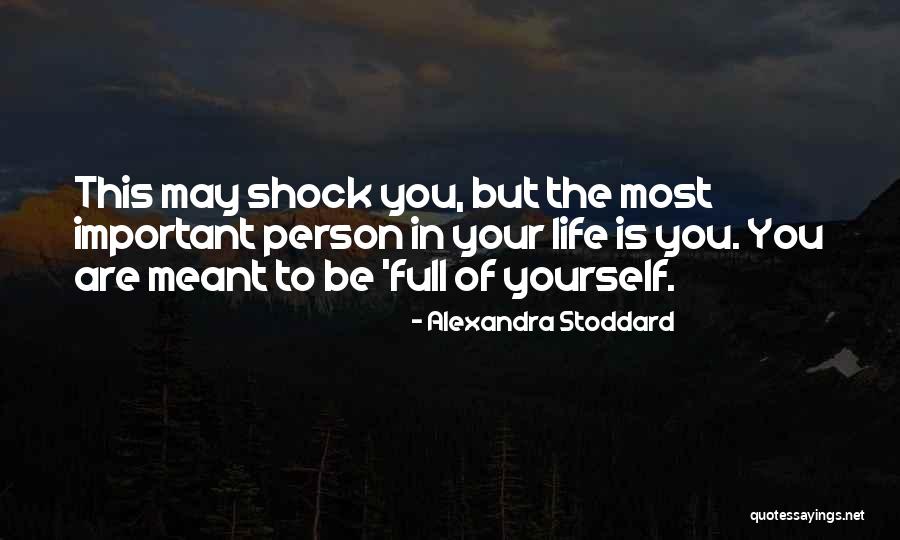 This may shock you, but the most important person in your life is you. You are meant to be 'full of yourself. — Alexandra Stoddard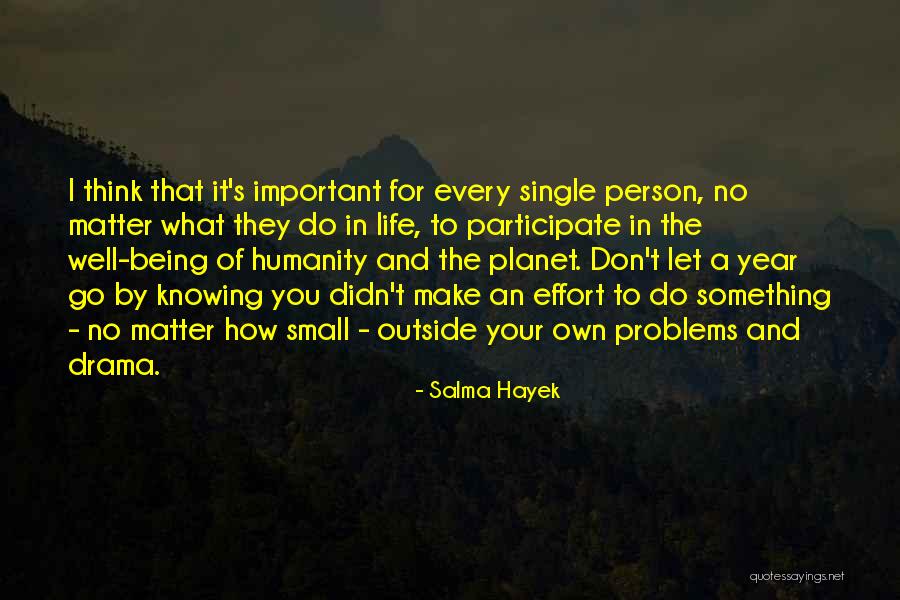 I think that it's important for every single person, no matter what they do in life, to participate in the well-being of humanity and the planet. Don't let a year go by knowing you didn't make an effort to do something - no matter how small - outside your own problems and drama. — Salma Hayek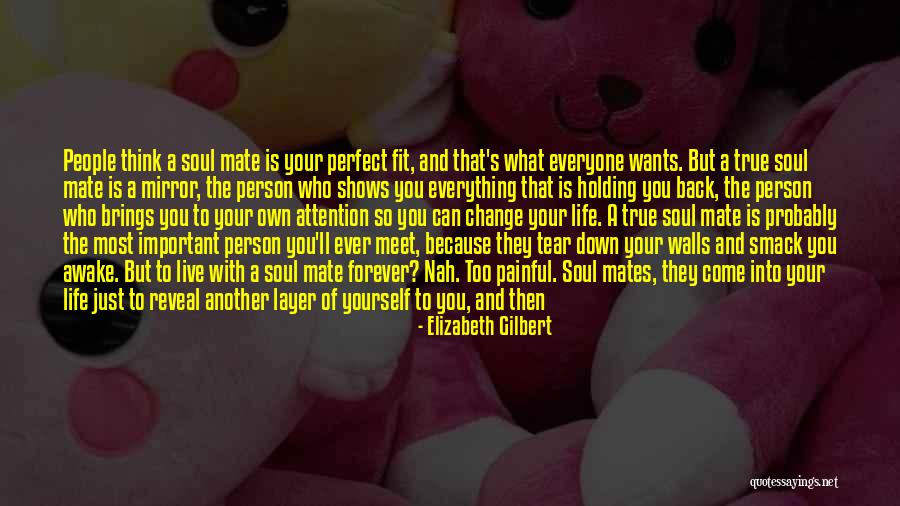 People think a soul mate is your perfect fit, and that's what everyone wants. But a true soul mate is a mirror, the person who shows you everything that is holding you back, the person who brings you to your own attention so you can change your life.
A true soul mate is probably the most important person you'll ever meet, because they tear down your walls and smack you awake. But to live with a soul mate forever? Nah. Too painful. Soul mates, they come into your life just to reveal another layer of yourself to you, and then leave.
A soul mates purpose is to shake you up, tear apart your ego a little bit, show you your obstacles and addictions, break your heart open so new light can get in, make you so desperate and out of control that you have to transform your life, then introduce you to your spiritual master ... — Elizabeth Gilbert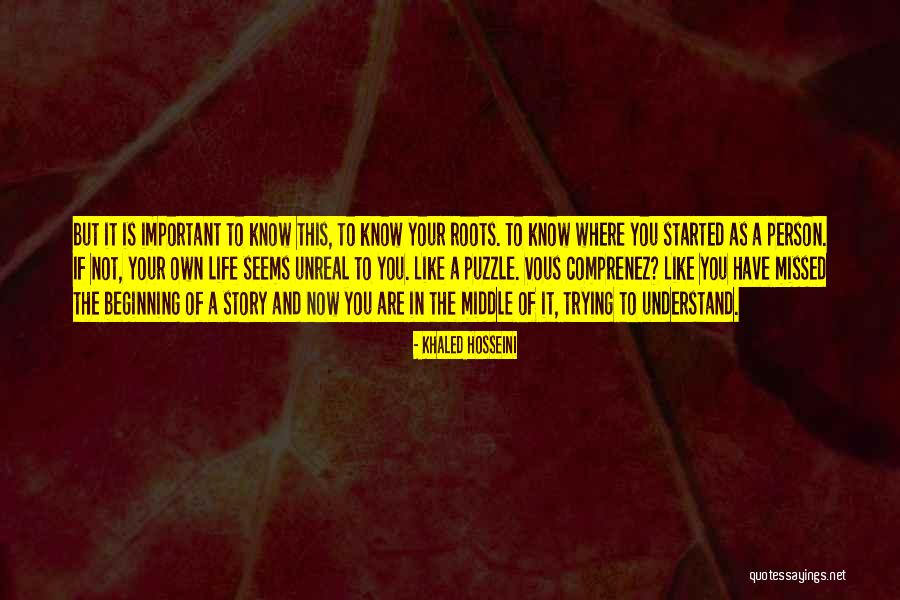 But it is important to know this, to know your roots. To know where you started as a person. If not, your own life seems unreal to you. Like a puzzle. Vous comprenez? Like you have missed the beginning of a story and now you are in the middle of it, trying to understand. — Khaled Hosseini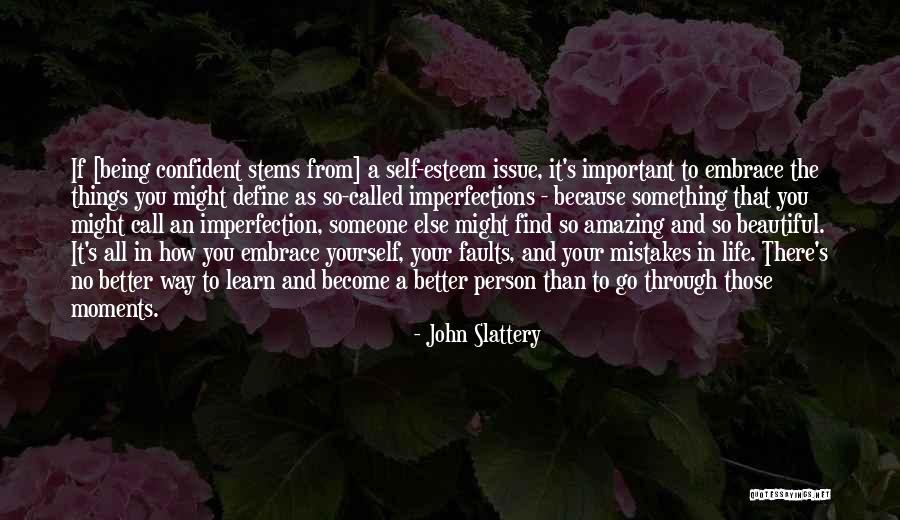 If [being confident stems from] a self-esteem issue, it's important to embrace the things you might define as so-called imperfections - because something that you might call an imperfection, someone else might find so amazing and so beautiful. It's all in how you embrace yourself, your faults, and your mistakes in life. There's no better way to learn and become a better person than to go through those moments. — John Slattery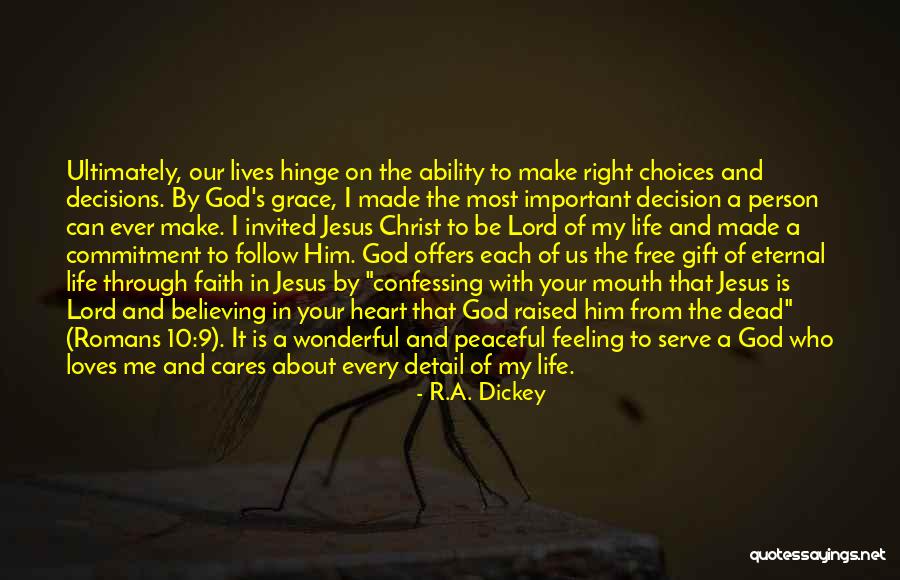 Ultimately, our lives hinge on the ability to make right choices and decisions. By God's grace, I made the most important decision a person can ever make. I invited Jesus Christ to be Lord of my life and made a commitment to follow Him. God offers each of us the free gift of eternal life through faith in Jesus by "confessing with your mouth that Jesus is Lord and believing in your heart that God raised him from the dead" (Romans 10:9). It is a wonderful and peaceful feeling to serve a God who loves me and cares about every detail of my life. — R.A. Dickey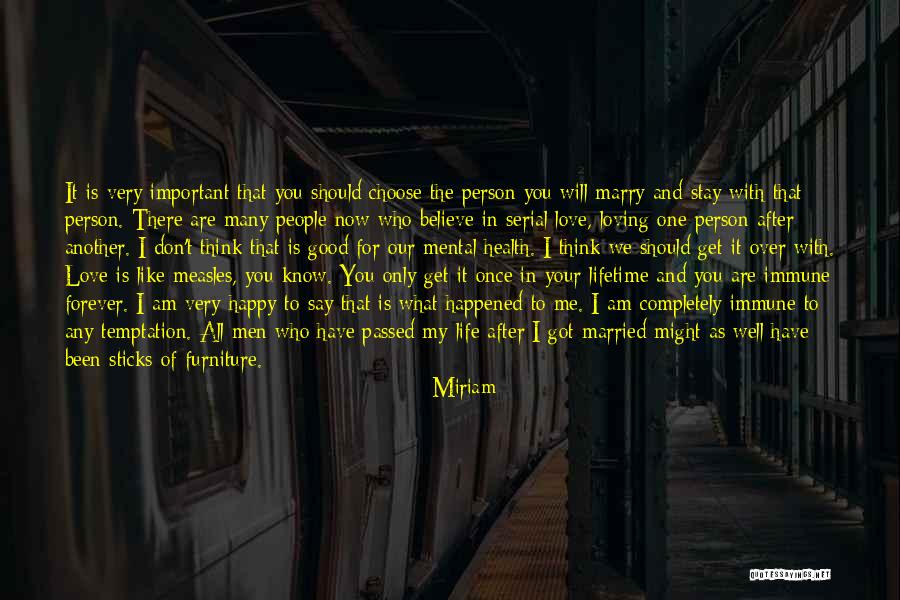 It is very important that you should choose the person you will marry and stay with that person. There are many people now who believe in serial love, loving one person after another. I don't think that is good for our mental health. I think we should get it over with. Love is like measles, you know. You only get it once in your lifetime and you are immune forever. I am very happy to say that is what happened to me. I am completely immune to any temptation. All men who have passed my life after I got married might as well have been sticks of furniture. — Miriam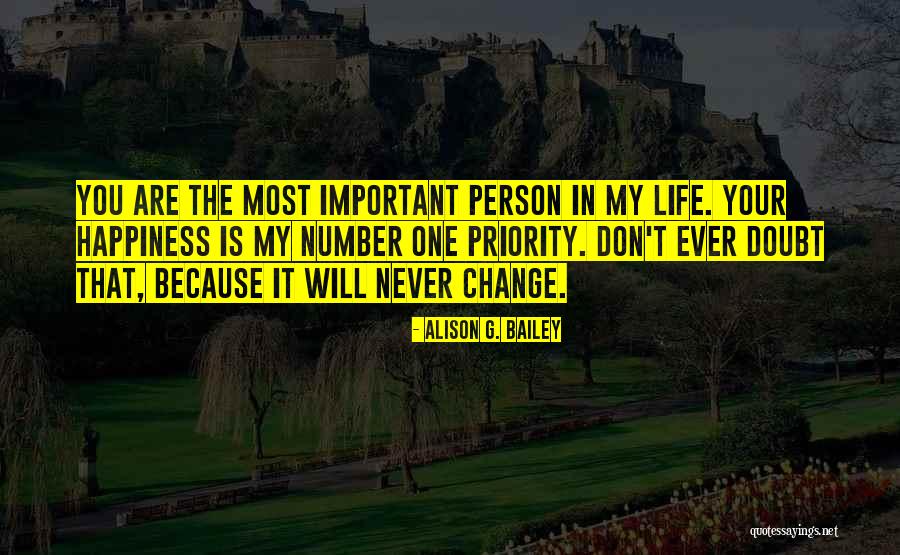 You are the most important person in my life. Your happiness is my number one priority. Don't ever doubt that, because it will never change. — Alison G. Bailey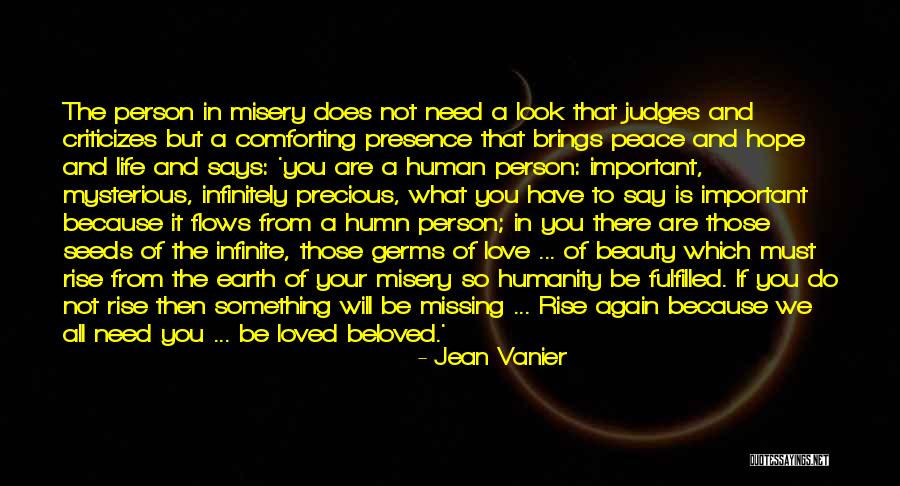 The person in misery does not need a look that judges and criticizes but a comforting presence that brings peace and hope and life and says: 'you are a human person: important, mysterious, infinitely precious, what you have to say is important because it flows from a humn person; in you there are those seeds of the infinite, those germs of love ... of beauty which must rise from the earth of your misery so humanity be fulfilled. If you do not rise then something will be missing ... Rise again because we all need you ... be loved beloved.' — Jean Vanier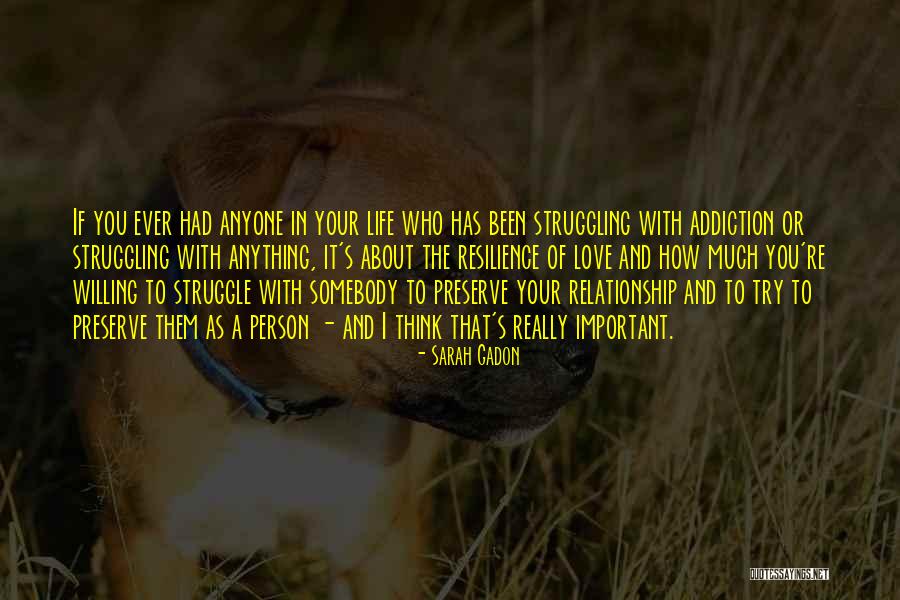 If you ever had anyone in your life who has been struggling with addiction or struggling with anything, it's about the resilience of love and how much you're willing to struggle with somebody to preserve your relationship and to try to preserve them as a person - and I think that's really important. — Sarah Gadon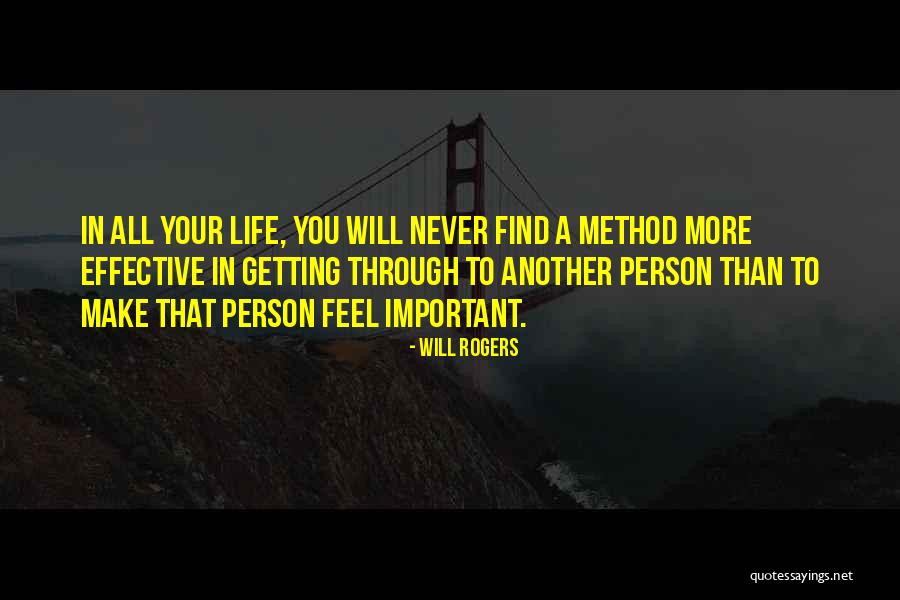 In all your life, you will never find a method more effective in getting through to another person than to make that person feel important. — Will Rogers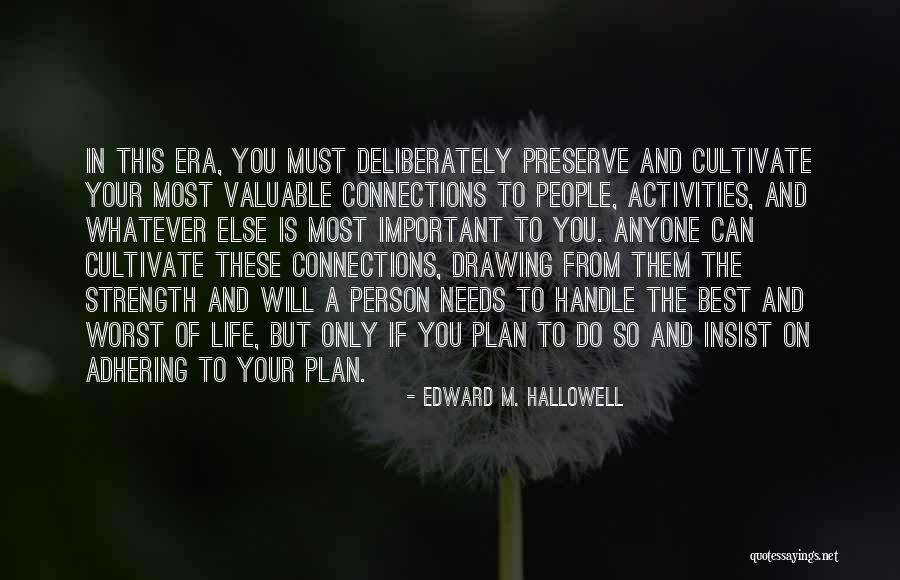 In this era, you must deliberately preserve and cultivate your most valuable connections to people, activities, and whatever else is most important to you. Anyone can cultivate these connections, drawing from them the strength and will a person needs to handle the best and worst of life, but only if you plan to do so and insist on adhering to your plan. — Edward M. Hallowell