If You Take Someone For Granted Quotes & Sayings
Enjoy reading and share 40 famous quotes about If You Take Someone For Granted with everyone.
Top If You Take Someone For Granted Quotes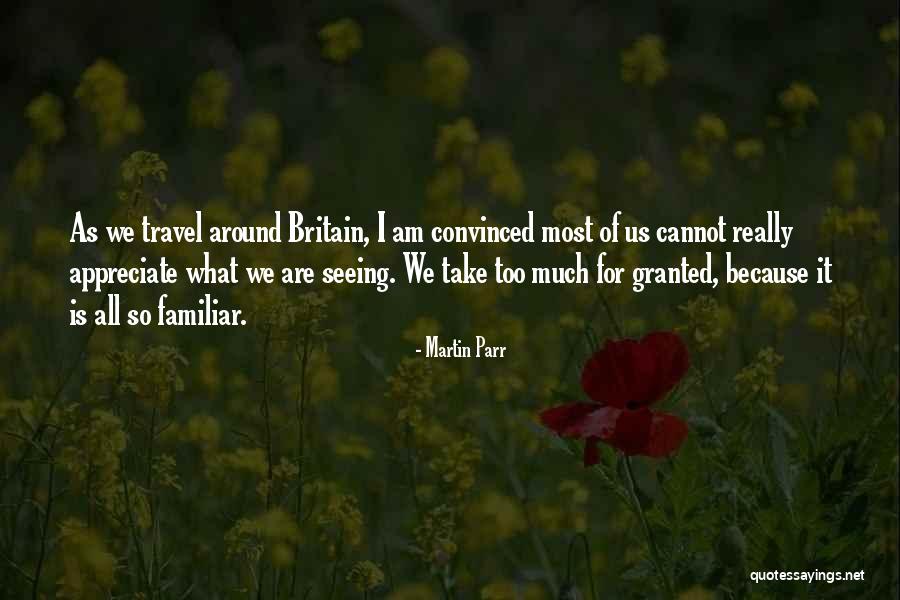 As we travel around Britain, I am convinced most of us cannot really appreciate what we are seeing. We take too much for granted, because it is all so familiar. — Martin Parr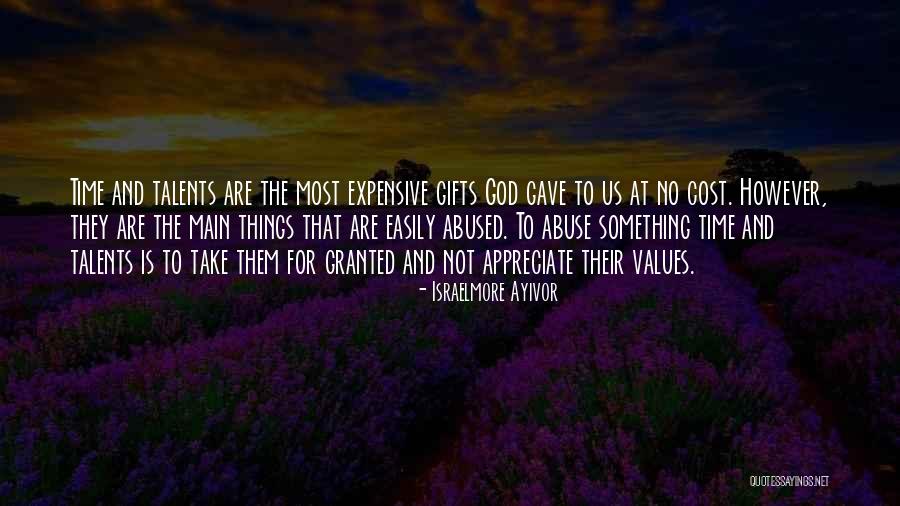 Time and talents are the most expensive gifts God gave to us at no cost. However, they are the main things that are easily abused. To abuse something time and talents is to take them for granted and not appreciate their values. — Israelmore Ayivor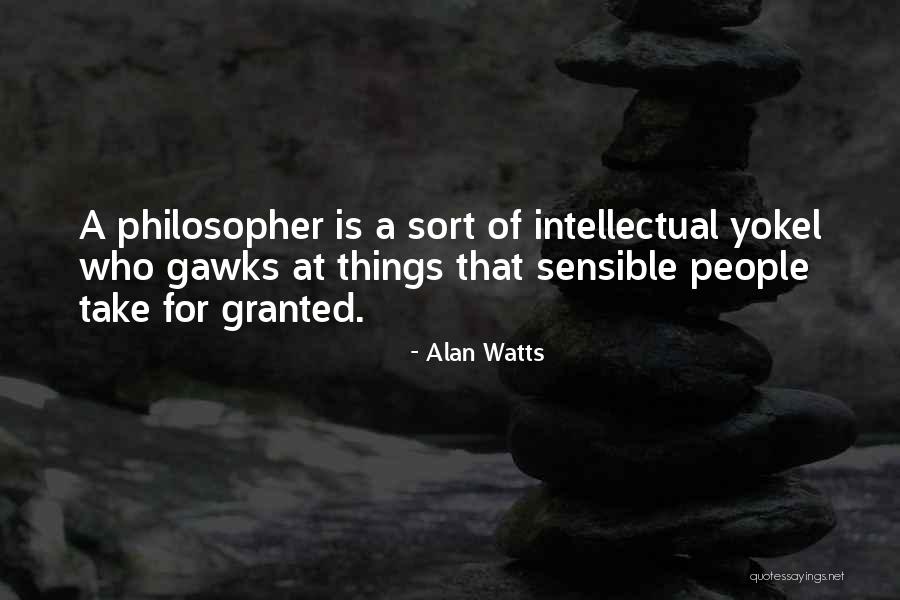 A philosopher is a sort of intellectual yokel who gawks at things that sensible people take for granted. — Alan Watts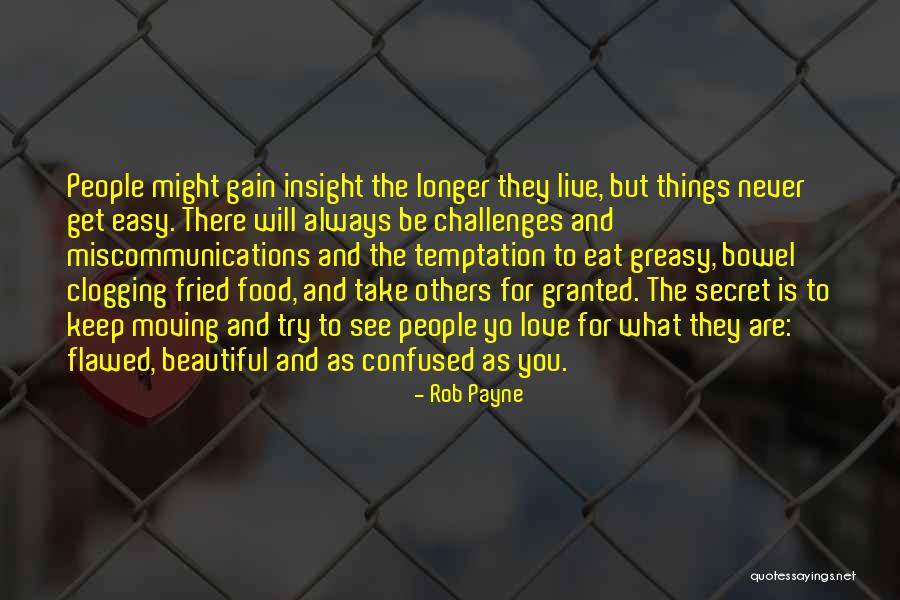 People might gain insight the longer they live, but things never get easy. There will always be challenges and miscommunications and the temptation to eat greasy, bowel clogging fried food, and take others for granted. The secret is to keep moving and try to see people yo love for what they are: flawed, beautiful and as confused as you. — Rob Payne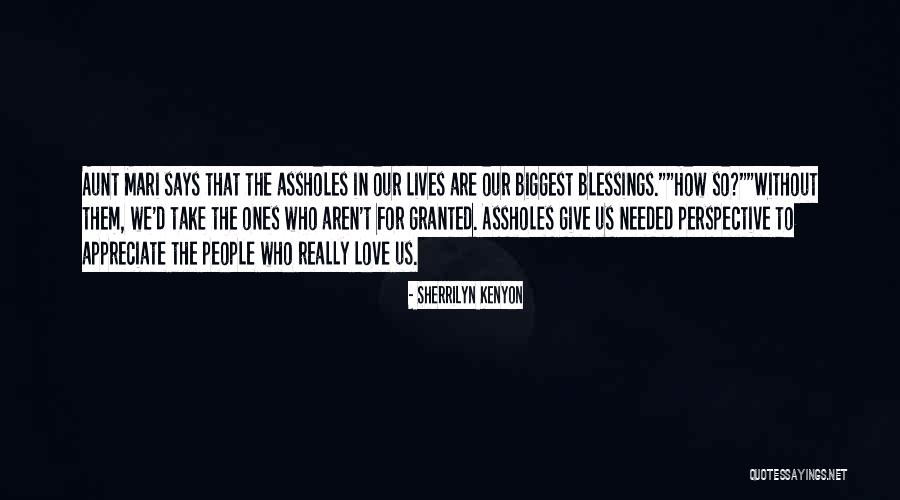 Aunt Mari says that the assholes in our lives are our biggest blessings."
"How so?"
"Without them, we'd take the ones who aren't for granted. Assholes give us needed perspective to appreciate the people who really love us. — Sherrilyn Kenyon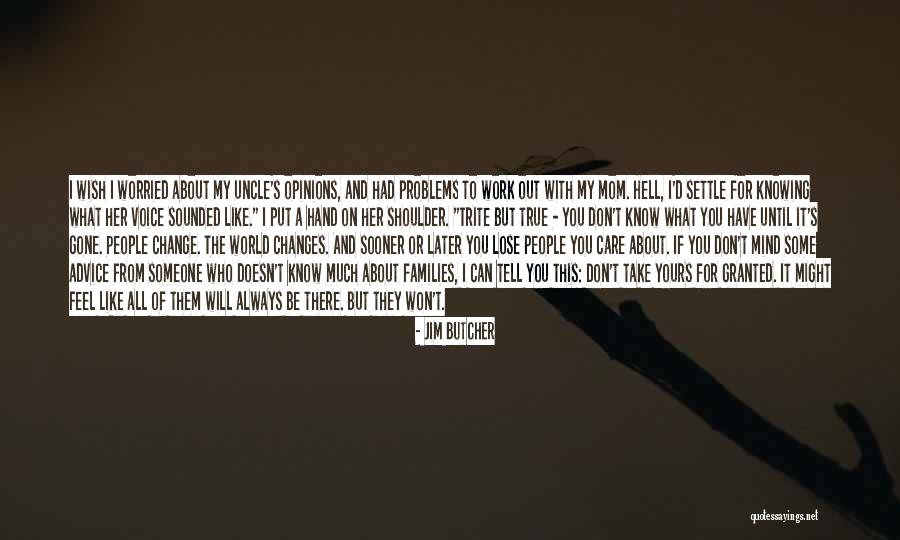 I wish I worried about my uncle's opinions, and had problems to work out with my mom. Hell, I'd settle for knowing what her voice sounded like." I put a hand on her shoulder. "Trite but true - you don't know what you have until it's gone. People change. The world changes. And sooner or later you lose people you care about. If you don't mind some advice from someone who doesn't know much about families, I can tell you this: Don't take yours for granted. It might feel like all of them will always be there. But they won't. — Jim Butcher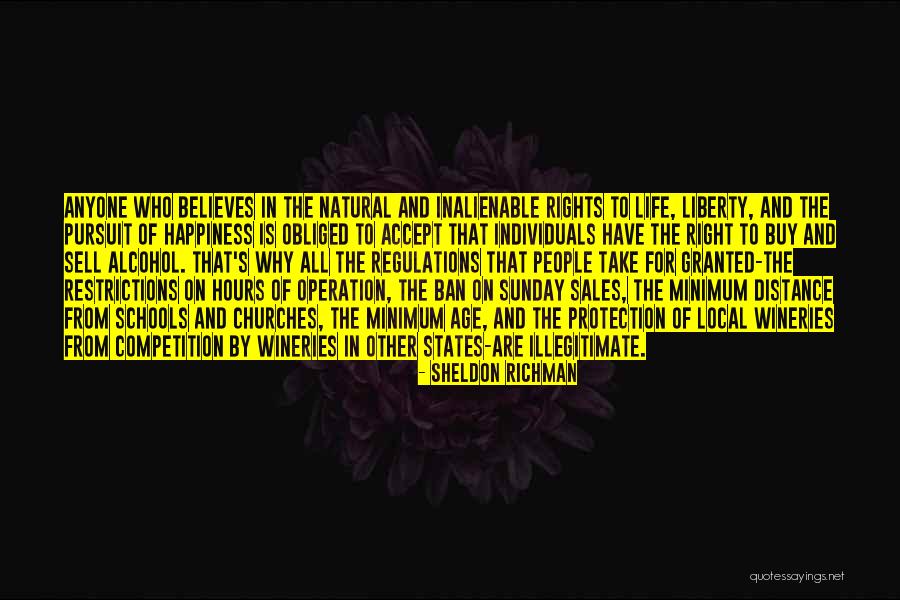 Anyone who believes in the natural and inalienable rights to life, liberty, and the pursuit of happiness is obliged to accept that individuals have the right to buy and sell alcohol. That's why all the regulations that people take for granted-the restrictions on hours of operation, the ban on Sunday sales, the minimum distance from schools and churches, the minimum age, and the protection of local wineries from competition by wineries in other states-are illegitimate. — Sheldon Richman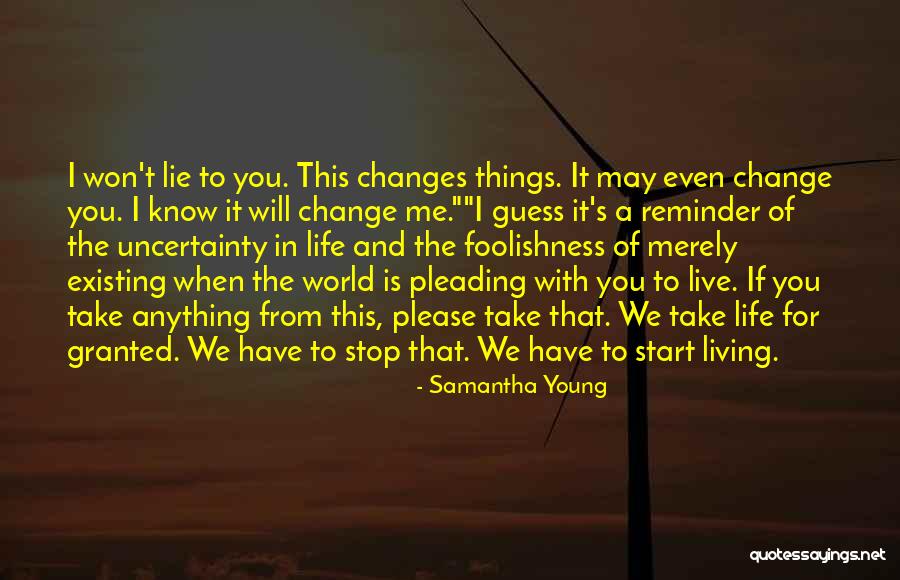 I won't lie to you. This changes things. It may even change you. I know it will change me."
"I guess it's a reminder of the uncertainty in life and the foolishness of merely existing when the world is pleading with you to live. If you take anything from this, please take that. We take life for granted. We have to stop that. We have to start living. — Samantha Young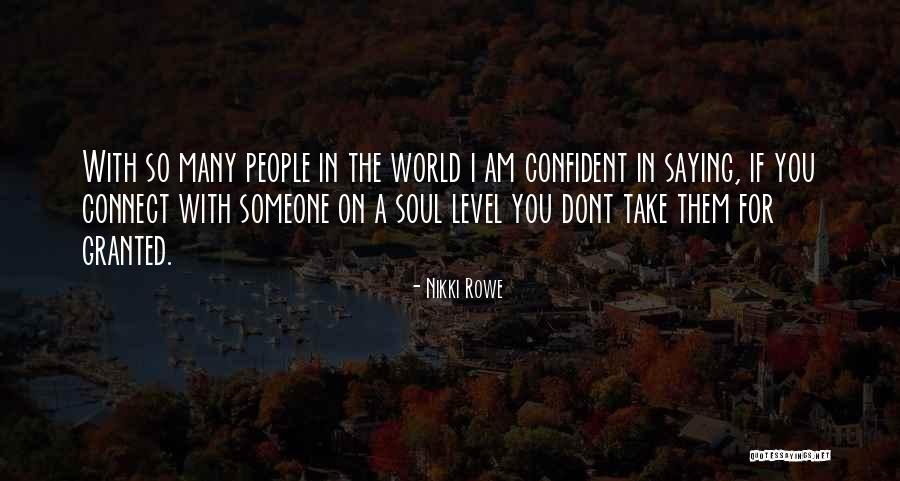 With so many people in the world i am confident in saying, if you connect with someone on a soul level you dont take them for granted. — Nikki Rowe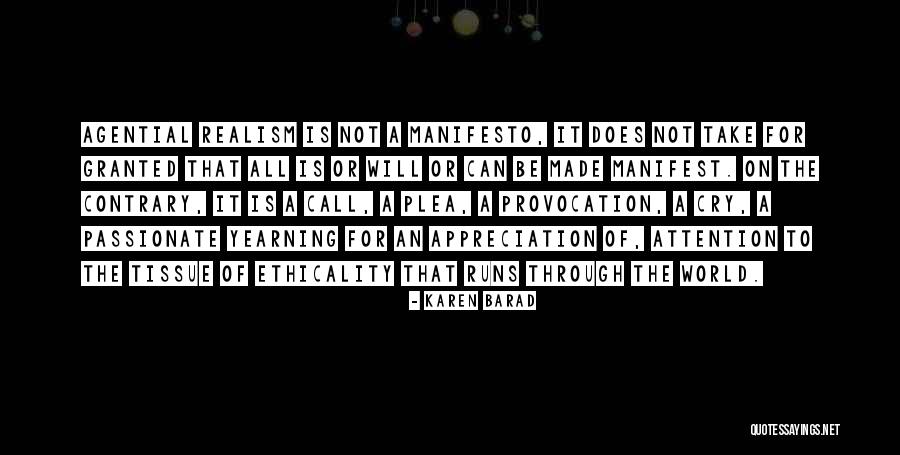 Agential realism is not a manifesto, it does not take for granted that all is or will or can be made manifest. On the contrary, it is a call, a plea, a provocation, a cry, a passionate yearning for an appreciation of, attention to the tissue of ethicality that runs through the world. — Karen Barad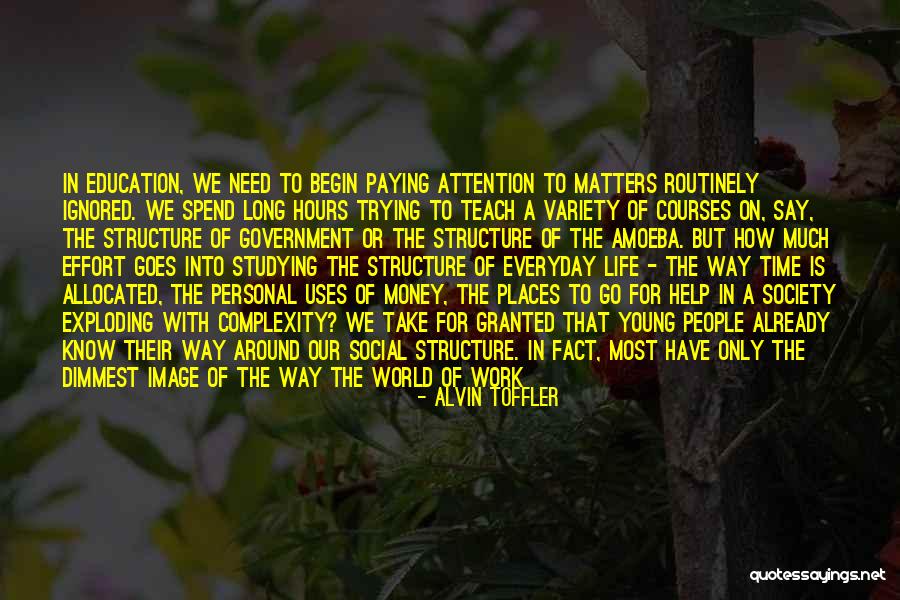 In education, we need to begin paying attention to matters routinely ignored. We spend long hours trying to teach a variety of courses on, say, the structure of government or the structure of the amoeba. But how much effort goes into studying the structure of everyday life - the way time is allocated, the personal uses of money, the places to go for help in a society exploding with complexity? We take for granted that young people already know their way around our social structure. In fact, most have only the dimmest image of the way the world of work or business is organized. Most students have no conception of the architecture of their own city's economy, or the way the local bureaucracy operates, or the place to go to lodge a complaint against a merchant. Most do not even understand how their own schools - even universities - are structured, let alone how much structures are changing under the impact of the Third Wave. — Alvin Toffler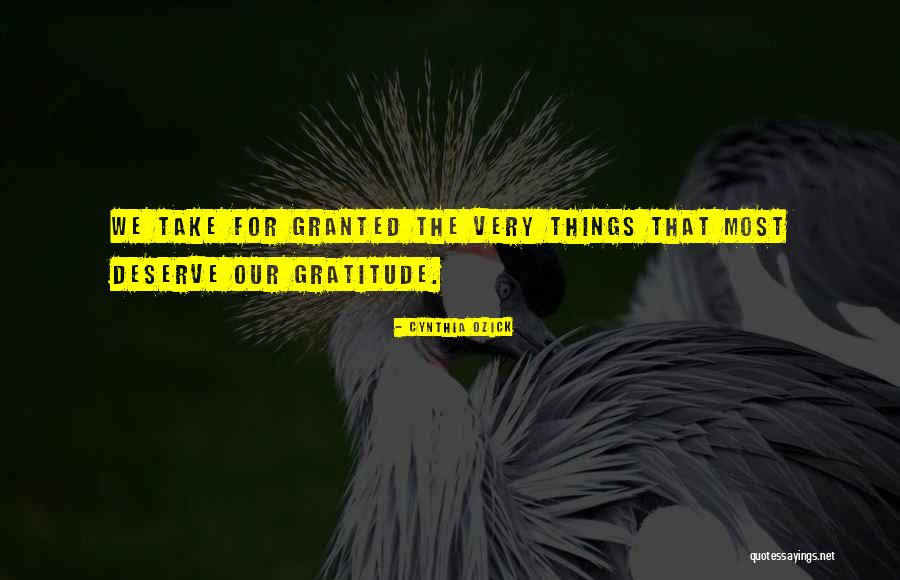 We take for granted the very things that most deserve our gratitude. — Cynthia Ozick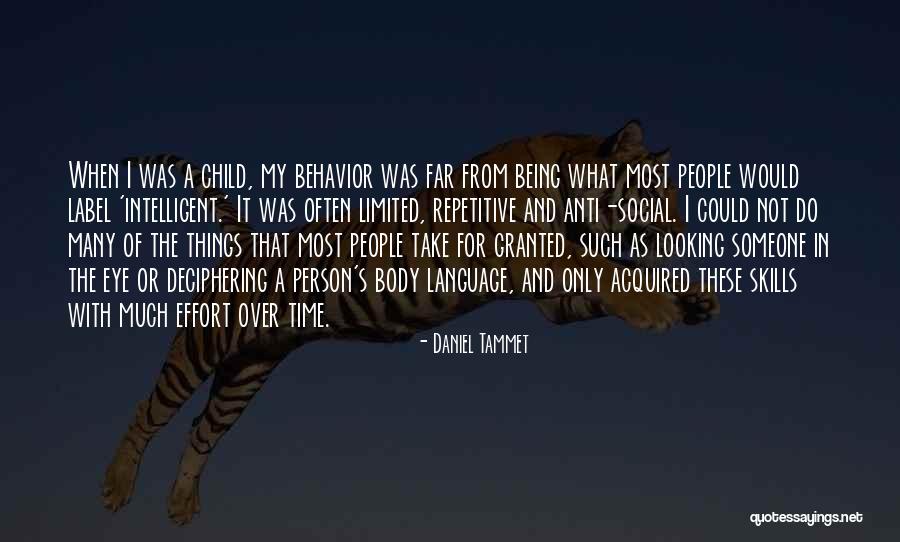 When I was a child, my behavior was far from being what most people would label 'intelligent.' It was often limited, repetitive and anti-social. I could not do many of the things that most people take for granted, such as looking someone in the eye or deciphering a person's body language, and only acquired these skills with much effort over time. — Daniel Tammet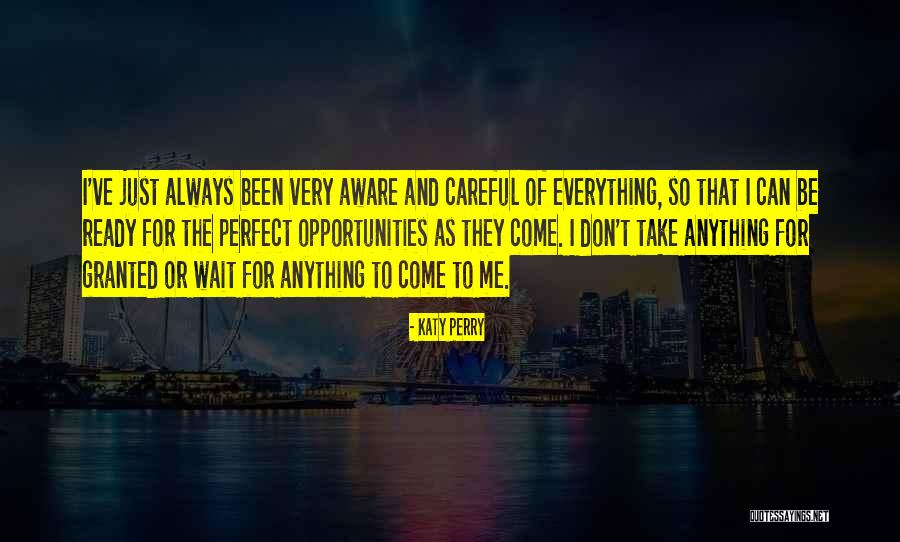 I've just always been very aware and careful of everything, so that I can be ready for the perfect opportunities as they come. I don't take anything for granted or wait for anything to come to me. — Katy Perry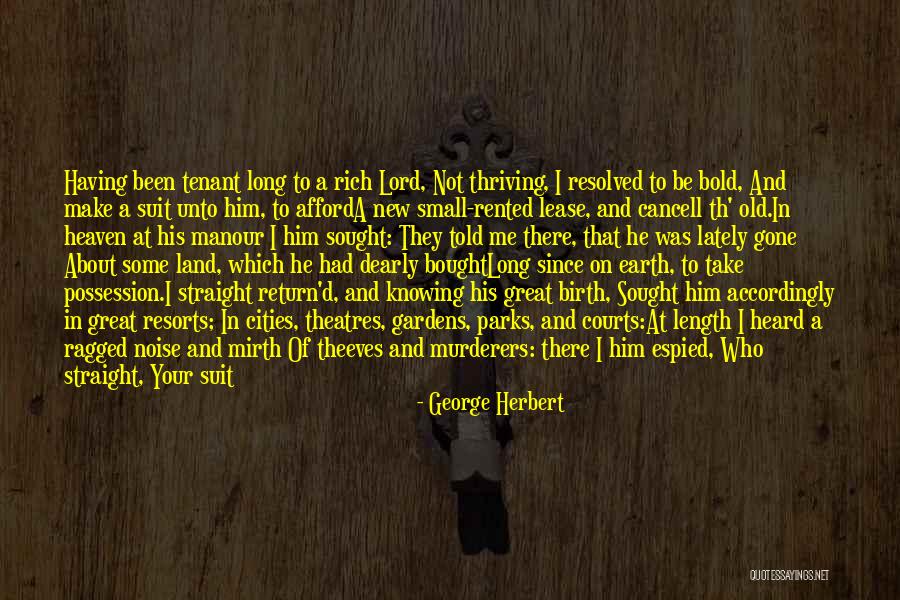 Having been tenant long to a rich Lord,
Not thriving, I resolved to be bold,
And make a suit unto him, to afford
A new small-rented lease, and cancell th' old.
In heaven at his manour I him sought:
They told me there, that he was lately gone
About some land, which he had dearly bought
Long since on earth, to take possession.
I straight return'd, and knowing his great birth,
Sought him accordingly in great resorts;
In cities, theatres, gardens, parks, and courts:
At length I heard a ragged noise and mirth
Of theeves and murderers: there I him espied,
Who straight, Your suit is granted, said, and died. — George Herbert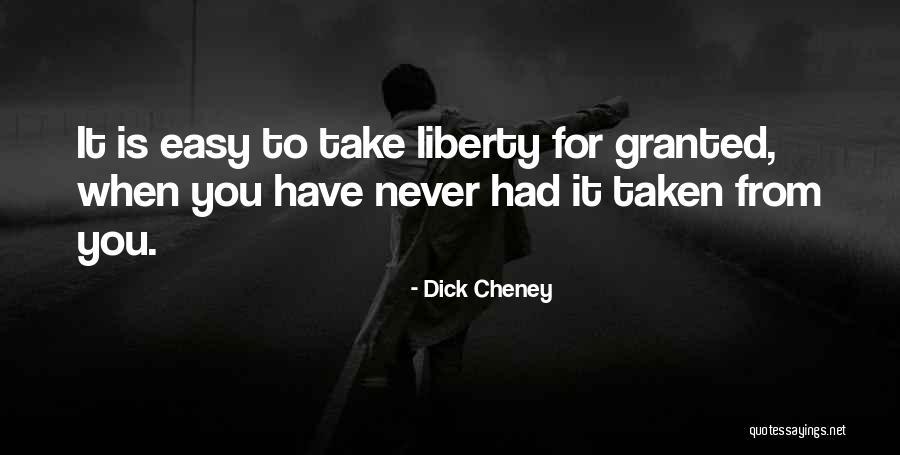 It is easy to take liberty for granted, when you have never had it taken from you. — Dick Cheney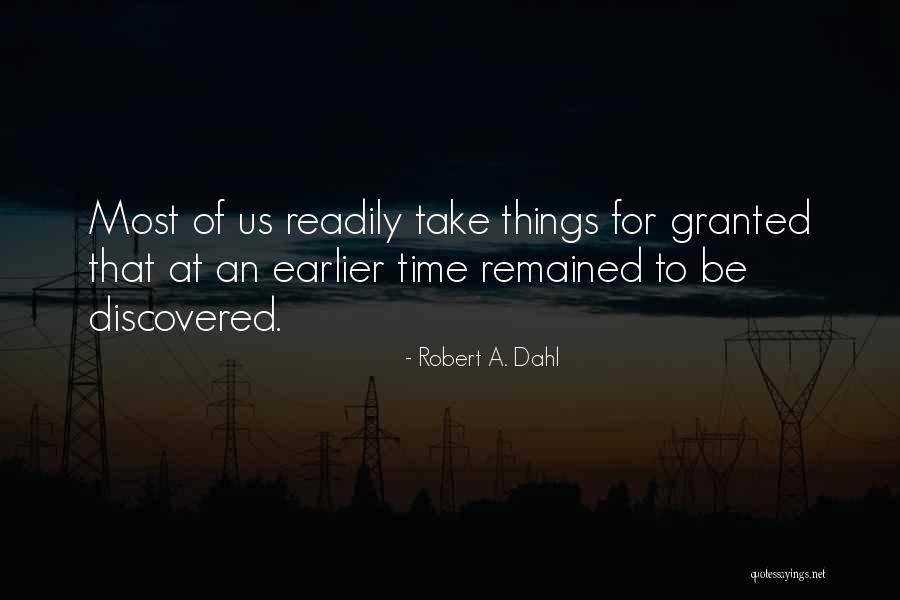 Most of us readily take things for granted that at an earlier time remained to be discovered. — Robert A. Dahl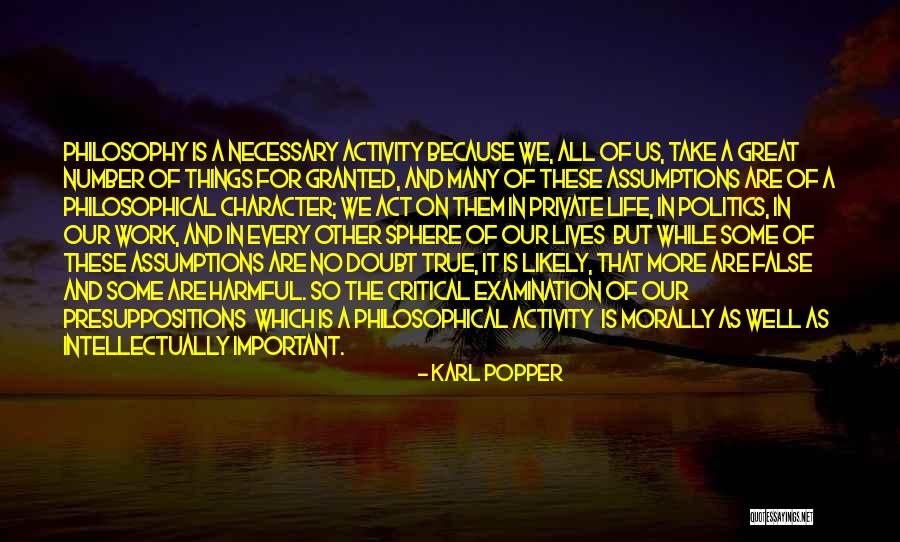 Philosophy is a necessary activity because we, all of us, take a great number of things for granted, and many of these assumptions are of a philosophical character; we act on them in private life, in politics, in our work, and in every other sphere of our lives
but while some of these assumptions are no doubt true, it is likely, that more are false and some are harmful. So the critical examination of our presuppositions
which is a philosophical activity
is morally as well as intellectually important. — Karl Popper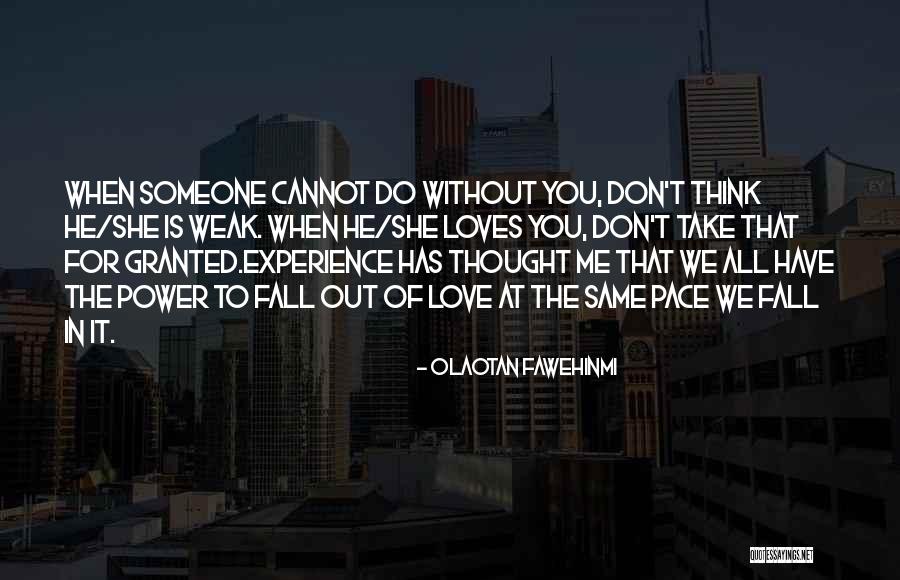 When someone cannot do without you, don't think he/she is weak. When he/she loves you, don't take that for granted.
Experience has thought me that we all have the power to fall out of love at the same pace we fall in it. — Olaotan Fawehinmi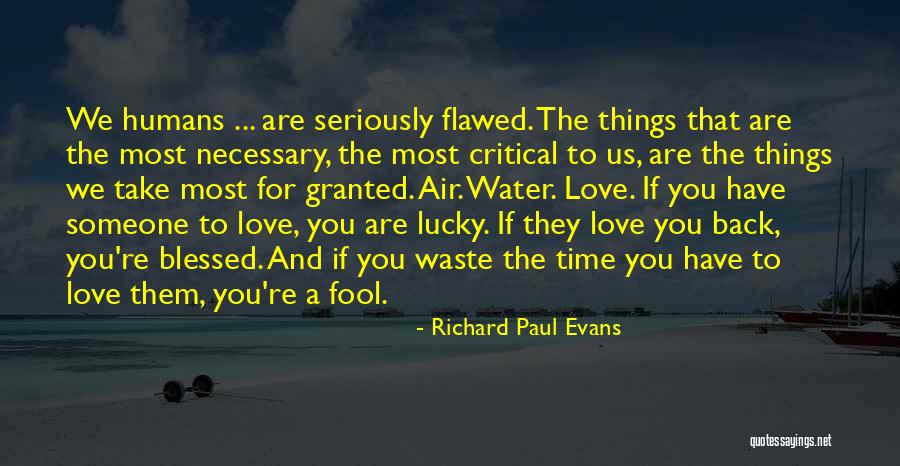 We humans ... are seriously flawed. The things that are the most necessary, the most critical to us, are the things we take most for granted. Air. Water. Love.
If you have someone to love, you are lucky. If they love you back, you're blessed. And if you waste the time you have to love them, you're a fool. — Richard Paul Evans
Trite but true - you don't know what you have until it's gone. People change. The world changes. And sooner or later you lose people you care about. If you don't mind some advice from someone who doesn't know much about families, I can tell you this: Don't take yours for granted. It might feel like all of them will always be there. But they won't. She — Jim Butcher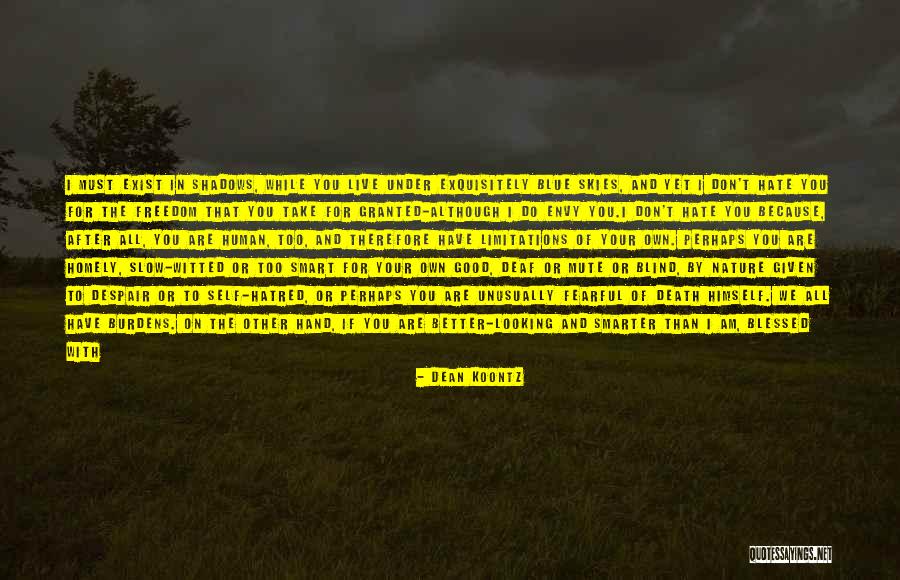 I must exist in shadows, while you live under exquisitely blue skies, and yet I don't hate you for the freedom that you take for granted-although I do envy you.
I don't hate you because, after all, you are human, too, and therefore have limitations of your own. Perhaps you are homely, slow-witted or too smart for your own good, deaf or mute or blind, by nature given to despair or to self-hatred, or perhaps you are unusually fearful of Death himself. We all have burdens. On the other hand, if you are better-looking and smarter than I am, blessed with five sharp senses, even more optimistic than I am, with plenty of self-esteem, and if you also share my refusal to be humbled by the Reaper ... well, then I could almost hate you if I didn't know that, like all of us in this imperfect world, you also have a haunted heart and a mind troubled by grief, by loss, by longing. — Dean Koontz
A time is one's own, Eva, when oneself and one's peers take the same things for granted, without thinking about it. Likewise, a man is ruined when the times change but he does not. Permit me to add, empires fall for the same reason. — David Mitchell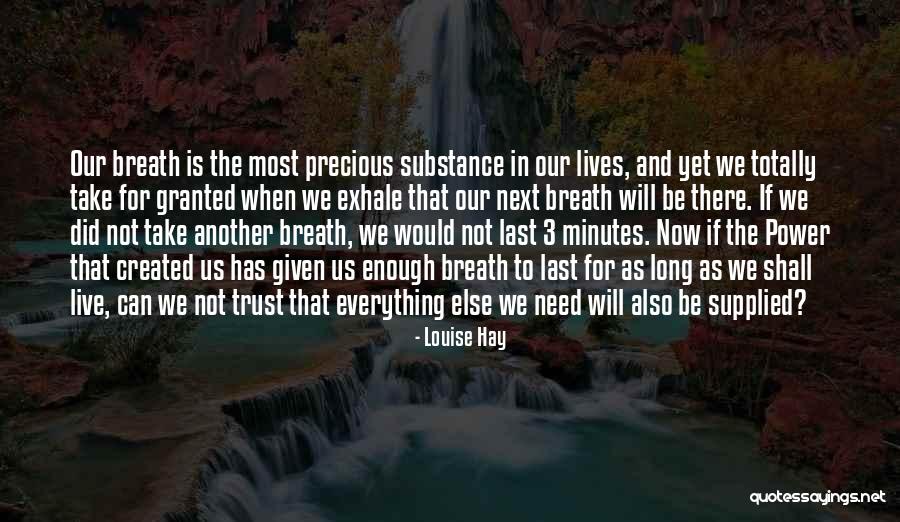 Our breath is the most precious substance in our lives, and yet we totally take for granted when we exhale that our next breath will be there. If we did not take another breath, we would not last 3 minutes. Now if the Power that created us has given us enough breath to last for as long as we shall live, can we not trust that everything else we need will also be supplied? — Louise Hay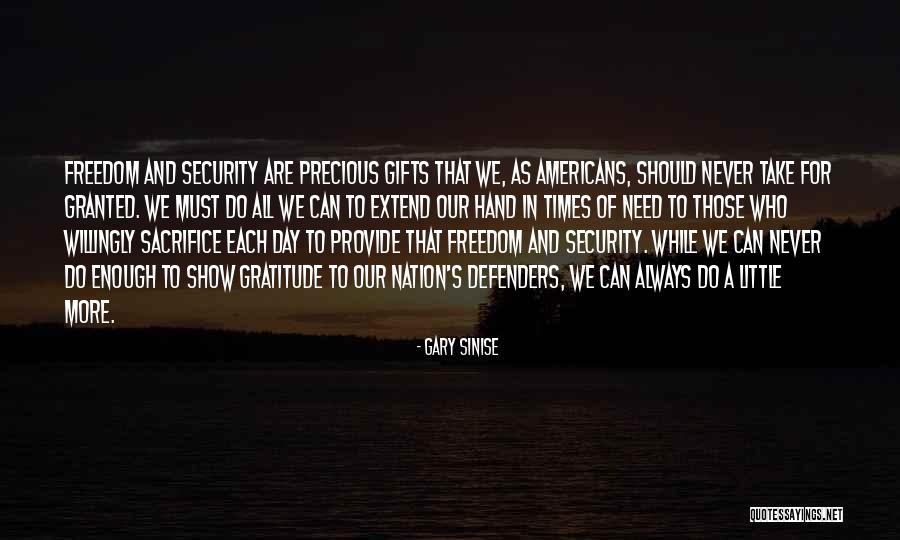 Freedom and security are precious gifts that we, as Americans, should never take for granted. We must do all we can to extend our hand in times of need to those who willingly sacrifice each day to provide that freedom and security. While we can never do enough to show gratitude to our nation's defenders, we can always do a little more. — Gary Sinise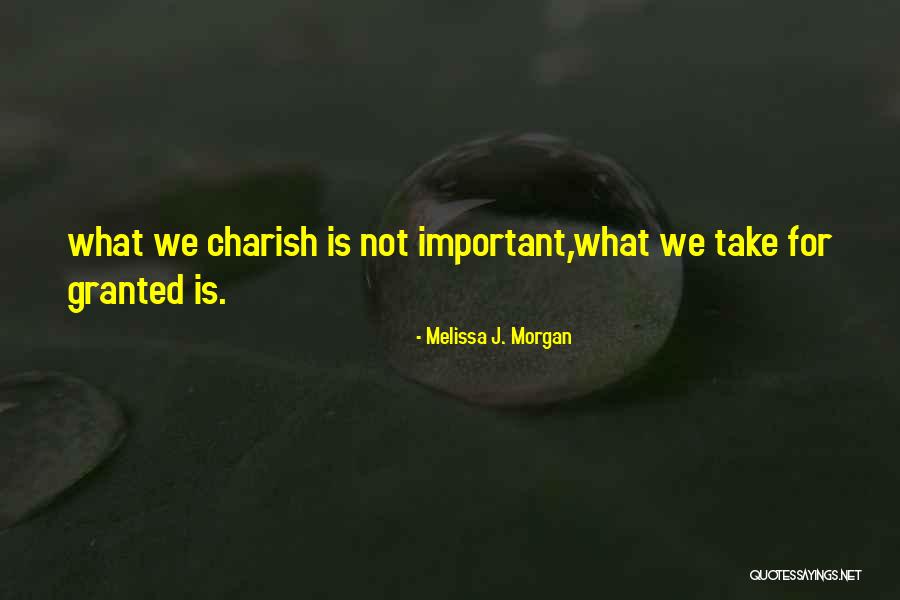 what we charish is not important,what we take for granted is. — Melissa J. Morgan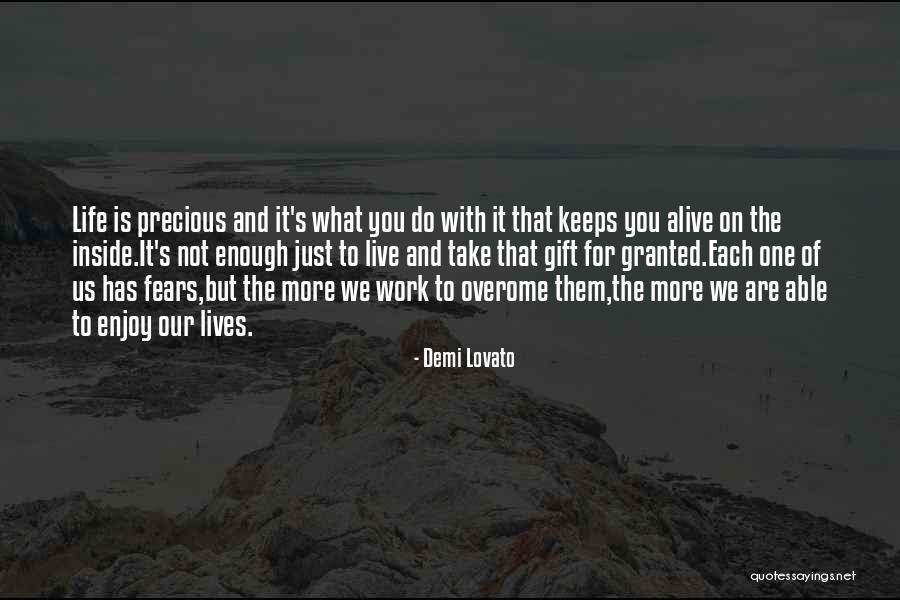 Life is precious and it's what you do with it that keeps you alive on the inside.It's not enough just to live and take that gift for granted.Each one of us has fears,but the more we work to overome them,the more we are able to enjoy our lives. — Demi Lovato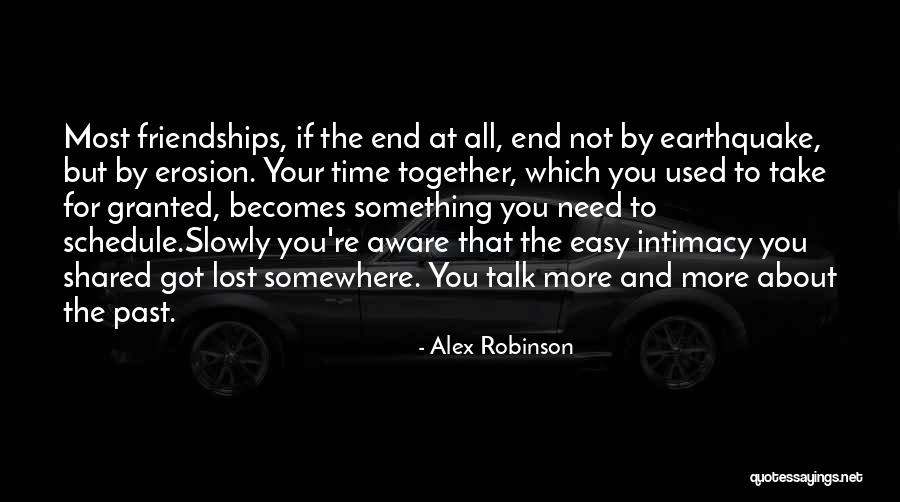 Most friendships, if the end at all, end not by earthquake, but by erosion. Your time together, which you used to take for granted, becomes something you need to schedule.
Slowly you're aware that the easy intimacy you shared got lost somewhere. You talk more and more about the past. — Alex Robinson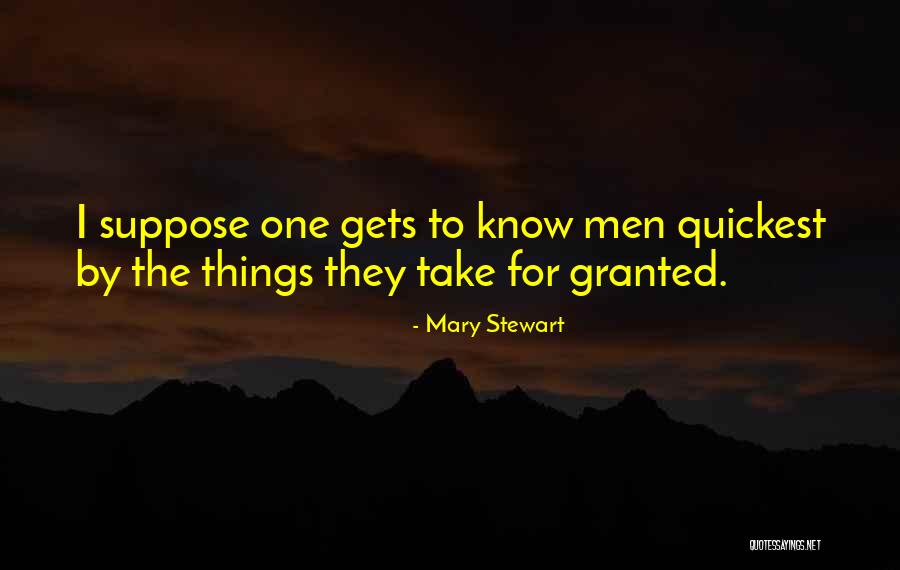 I suppose one gets to know men quickest by the things they take for granted. — Mary Stewart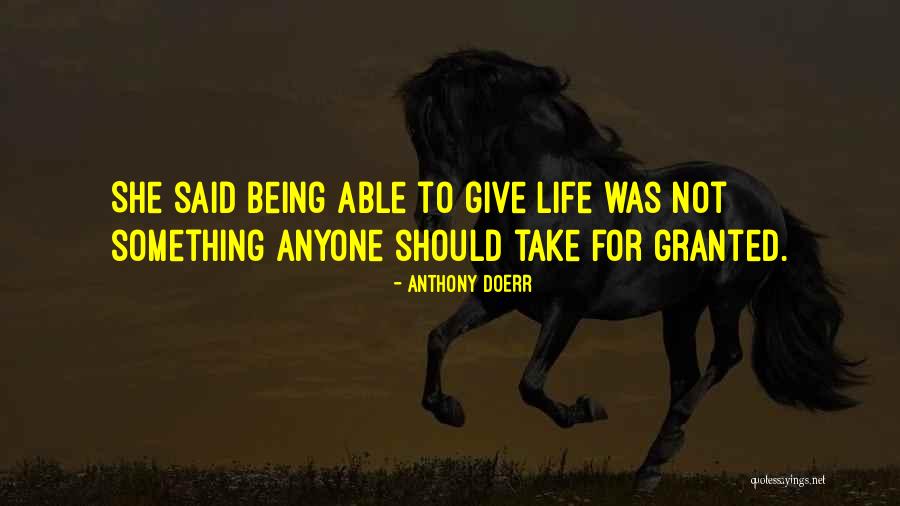 She said being able to give life was not something anyone should take for granted. — Anthony Doerr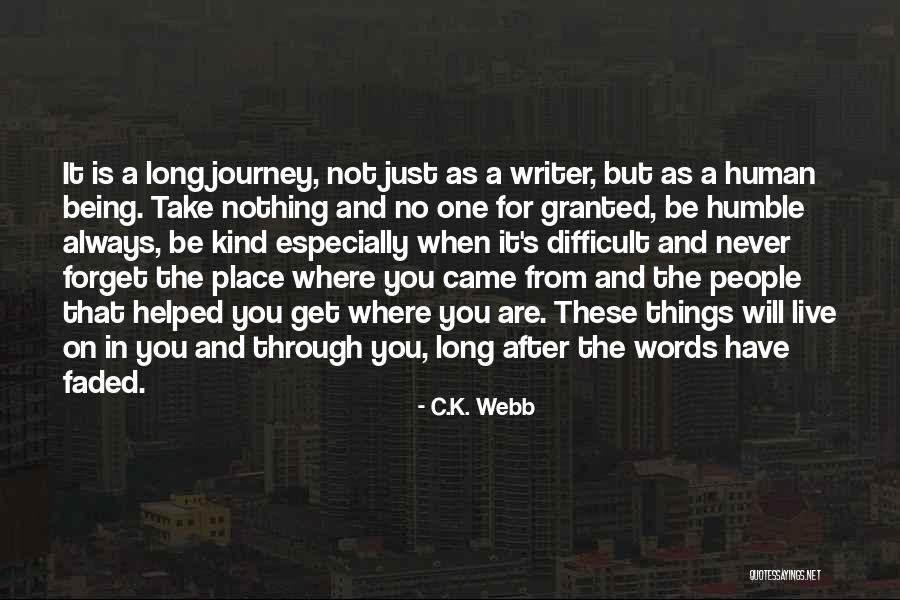 It is a long journey, not just as a writer, but as a human being. Take nothing and no one for granted, be humble always, be kind especially when it's difficult and never forget the place where you came from and the people that helped you get where you are. These things will live on in you and through you, long after the words have faded. — C.K. Webb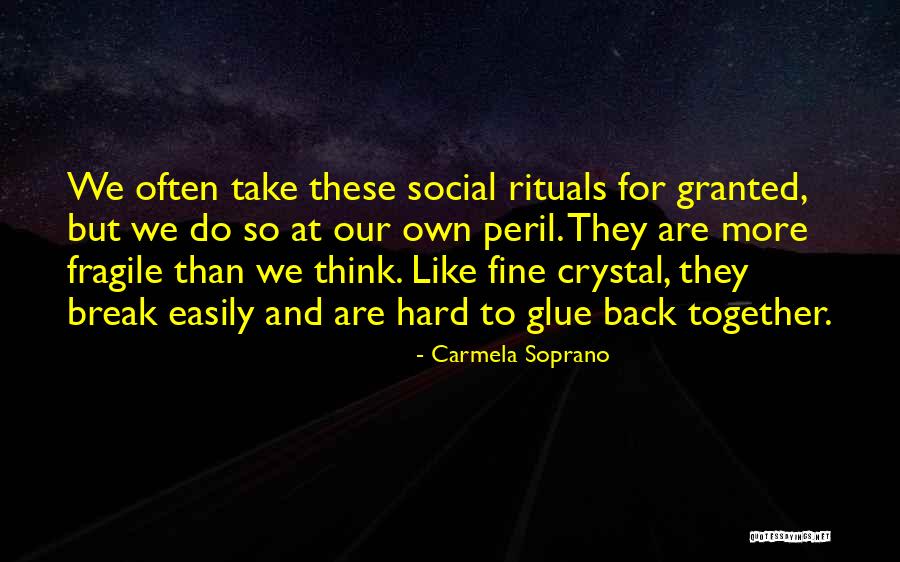 We often take these social rituals for granted, but we do so at our own peril. They are more fragile than we think. Like fine crystal, they break easily and are hard to glue back together. — Carmela Soprano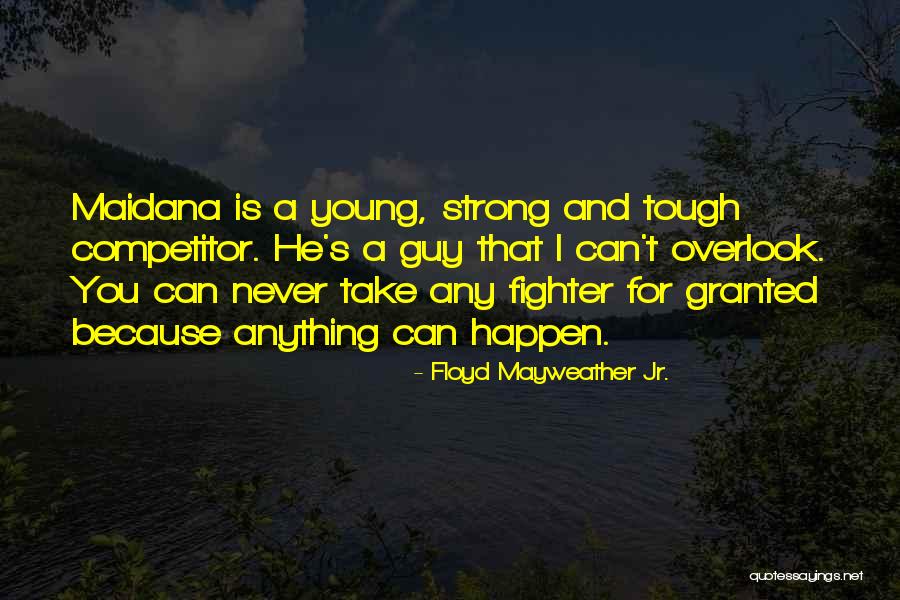 Maidana is a young, strong and tough competitor. He's a guy that I can't overlook. You can never take any fighter for granted because anything can happen. — Floyd Mayweather Jr.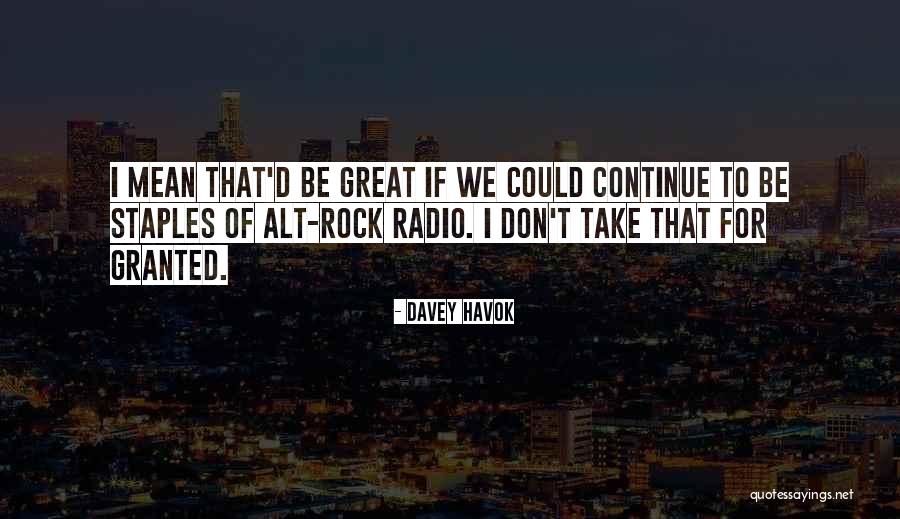 I mean that'd be great if we could continue to be staples of alt-rock radio. I don't take that for granted. — Davey Havok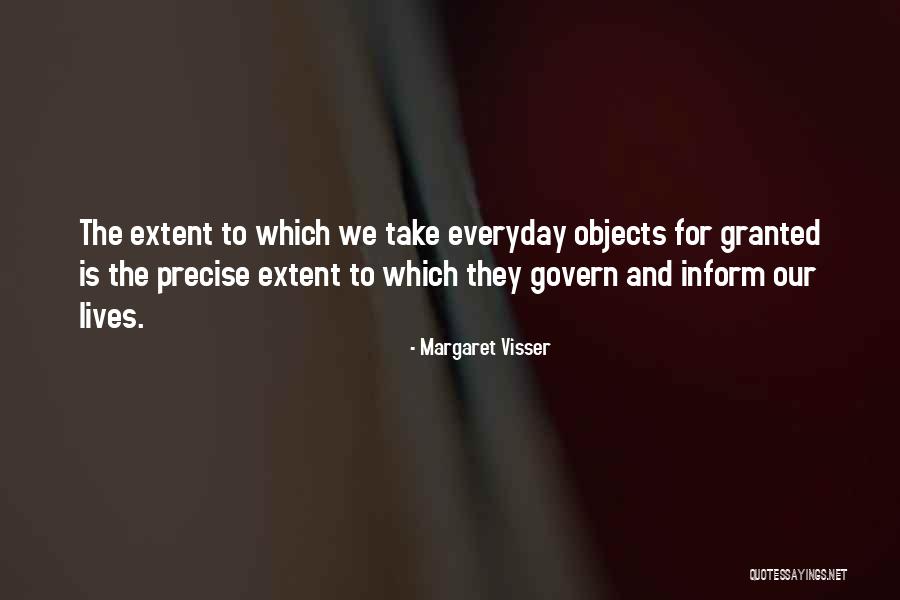 The extent to which we take everyday objects for granted is the precise extent to which they govern and inform our lives. — Margaret Visser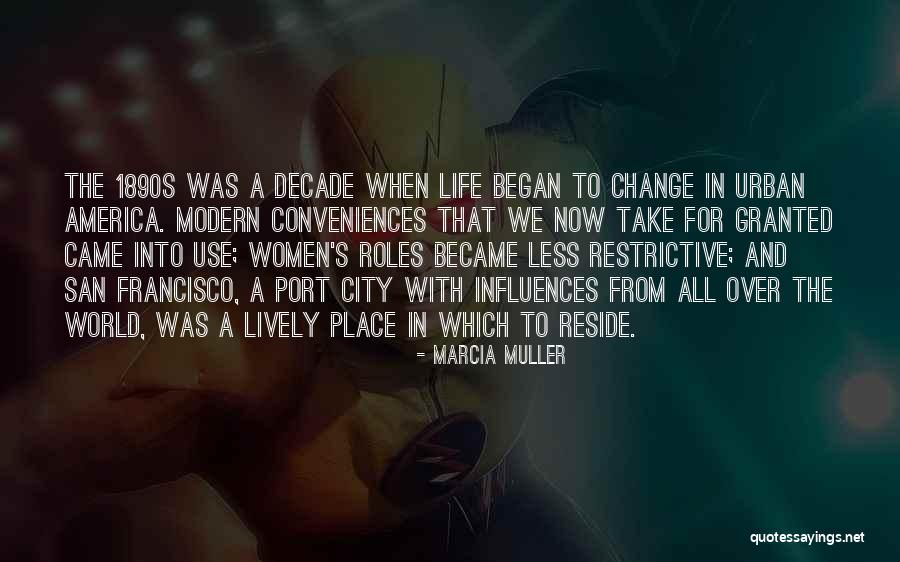 The 1890s was a decade when life began to change in urban America. Modern conveniences that we now take for granted came into use; women's roles became less restrictive; and San Francisco, a port city with influences from all over the world, was a lively place in which to reside. — Marcia Muller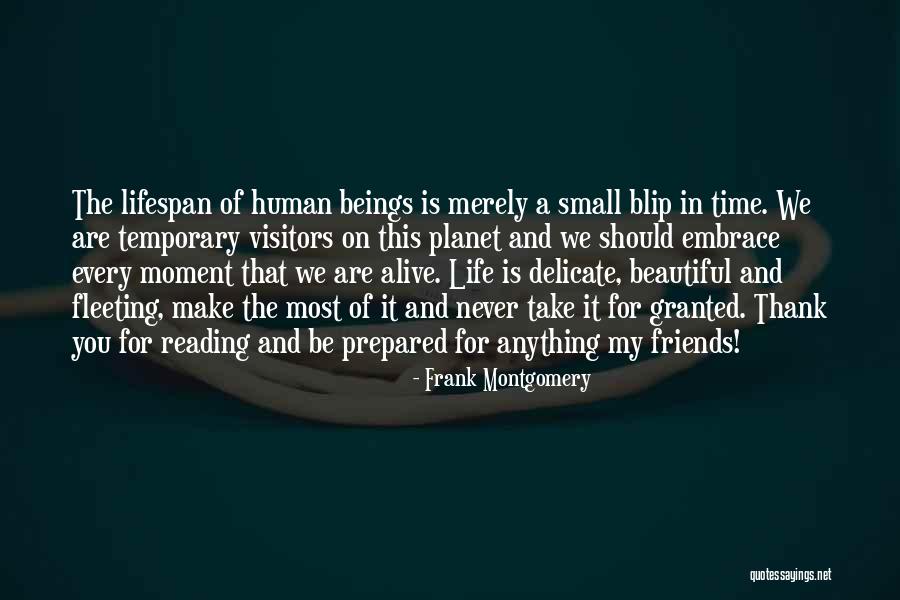 The lifespan of human beings is merely a small blip in time. We are temporary visitors on this planet and we should embrace every moment that we are alive. Life is delicate, beautiful and fleeting, make the most of it and never take it for granted. Thank you for reading and be prepared for anything my friends! — Frank Montgomery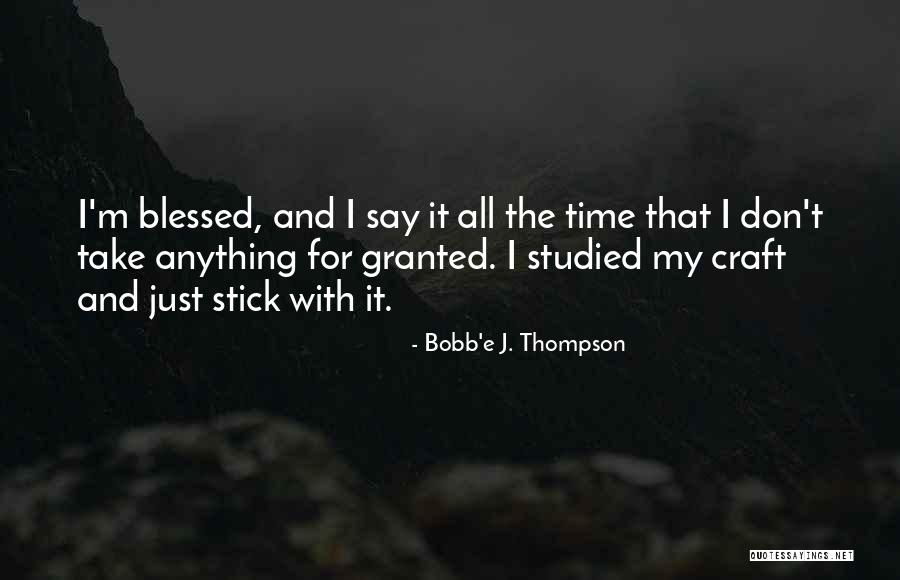 I'm blessed, and I say it all the time that I don't take anything for granted. I studied my craft and just stick with it. — Bobb'e J. Thompson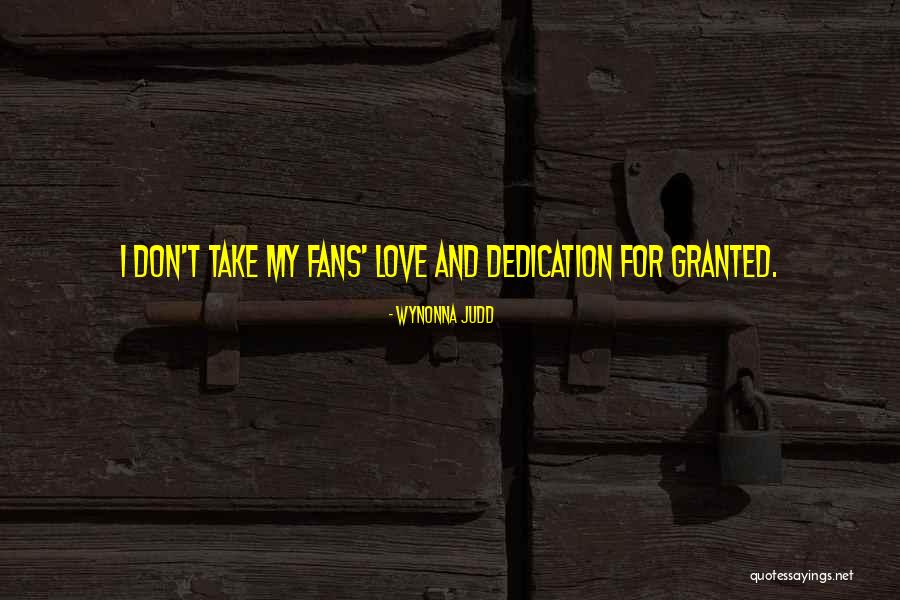 I don't take my fans' love and dedication for granted. — Wynonna Judd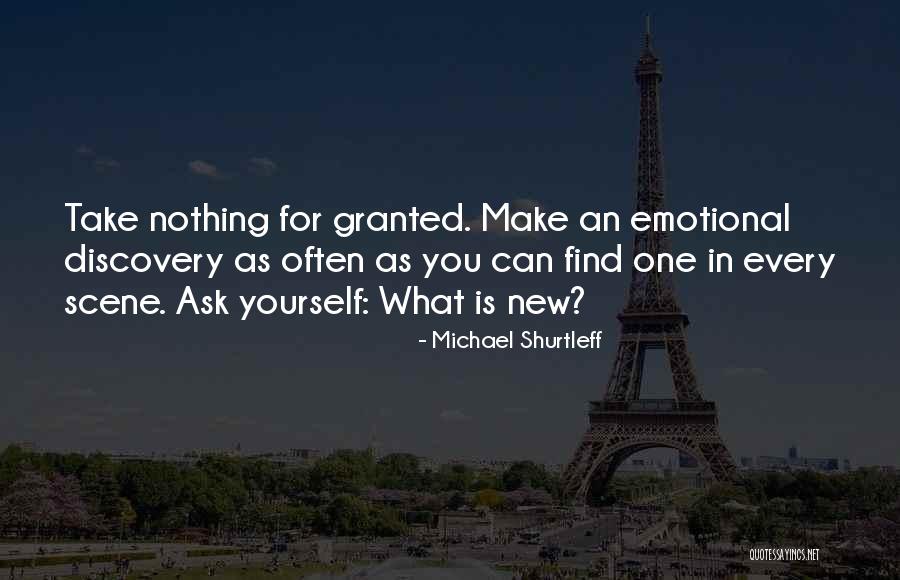 Take nothing for granted. Make an emotional discovery as often as you can find one in every scene. Ask yourself: What is new? — Michael Shurtleff