If I Speak My Mind Quotes & Sayings
Enjoy reading and share 45 famous quotes about If I Speak My Mind with everyone.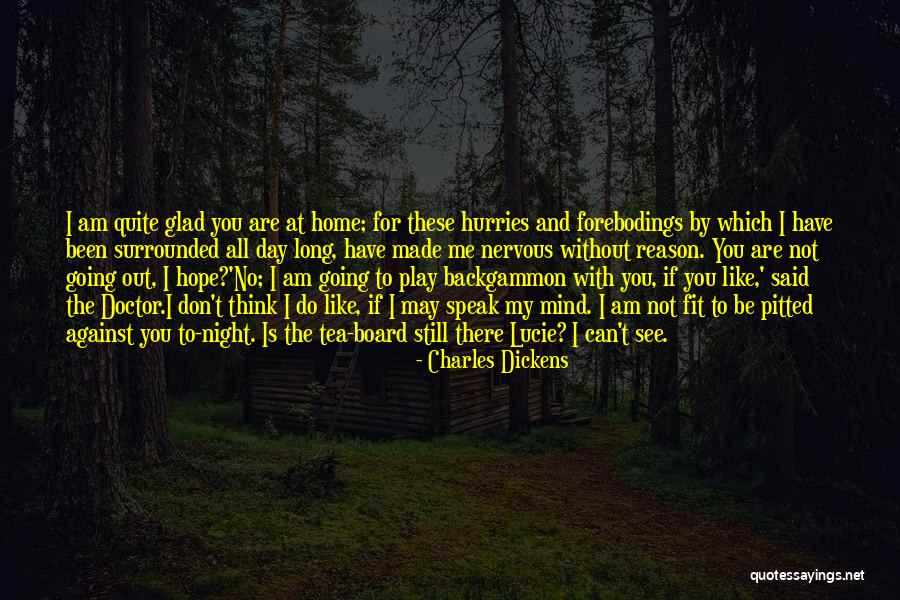 I am quite glad you are at home; for these hurries and forebodings by which I have been surrounded all day long, have made me nervous without reason. You are not going out, I hope?'
No; I am going to play backgammon with you, if you like,' said the Doctor.
I don't think I do like, if I may speak my mind. I am not fit to be pitted against you to-night. Is the tea-board still there Lucie? I can't see. — Charles Dickens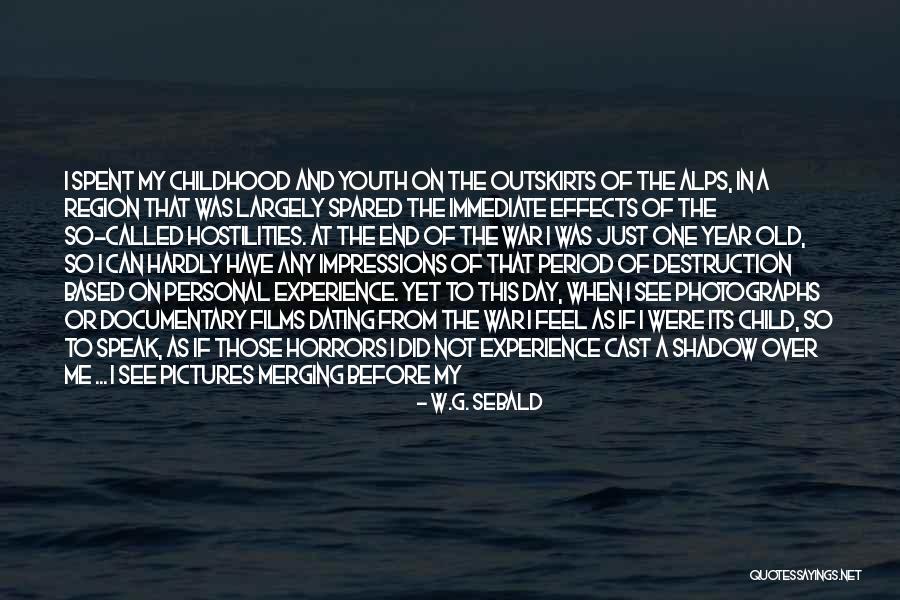 I spent my childhood and youth on the outskirts of the Alps, in a region that was largely spared the immediate effects of the so-called hostilities. At the end of the war I was just one year old, so I can hardly have any impressions of that period of destruction based on personal experience. Yet to this day, when I see photographs or documentary films dating from the war I feel as if I were its child, so to speak, as if those horrors I did not experience cast a shadow over me ... I see pictures merging before my mind's eye - paths through the fields, river meadows, and mountain pastures mingling with images of destruction - and oddly enough, it is the latter, not the now entirely unreal idylls of my early childhood, that make me feel rather as if I were coming home ... — W.G. Sebald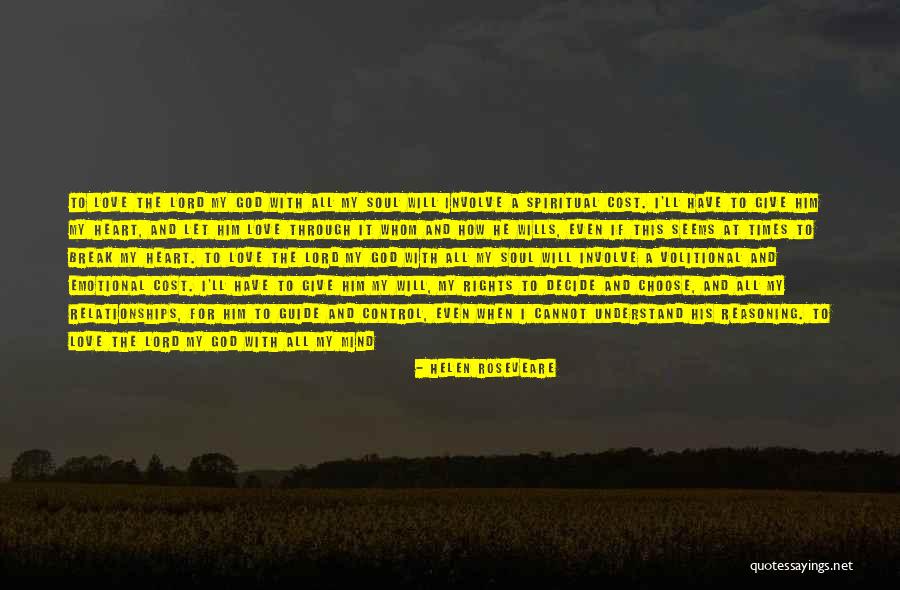 To love the Lord my God with all my soul will involve a spiritual cost. I'll have to give Him my heart, and let Him love through it whom and how He wills, even if this seems at times to break my heart.
To love the Lord my God with all my soul will involve a volitional and emotional cost. I'll have to give Him my will, my rights to decide and choose, and all my relationships, for Him to guide and control, even when I cannot understand His reasoning.
To love the Lord my God with all my mind will involve an intellectual cost. I must give Him my mind, my intelligence, my reasoning powers, and trust Him to work through them, even when He may appear to act in contradiction to common sense.
To love the Lord my God with all my strength will involve a physical cost. I must give Him my body to indwell, and through which to speak, whether He chooses health or sickness, by strength or weakness, and trust Him utterly with the outcome. — Helen Roseveare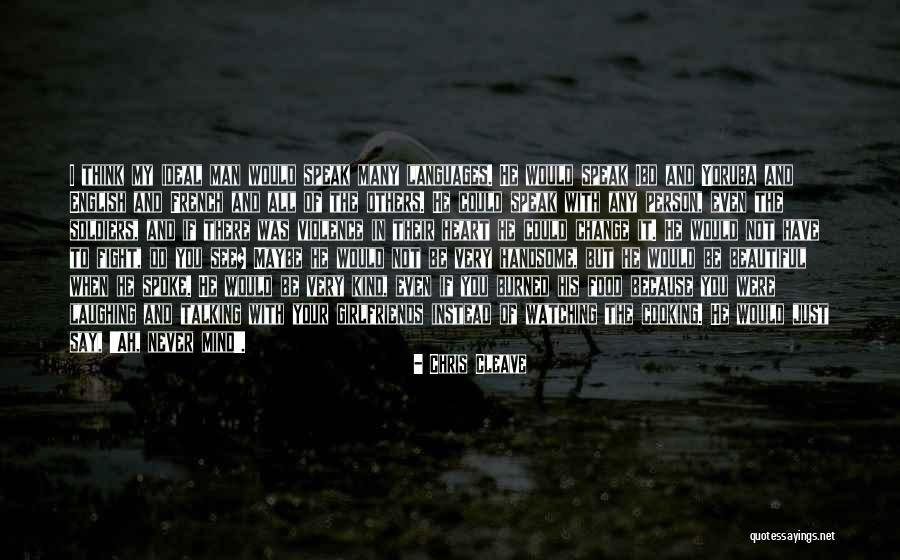 I think my ideal man would speak many languages. He would speak Ibo and Yoruba and English and French and all of the others. He could speak with any person, even the soldiers, and if there was violence in their heart he could change it. He would not have to fight, do you see? Maybe he would not be very handsome, but he would be beautiful when he spoke. He would be very kind, even if you burned his food because you were laughing and talking with your girlfriends instead of watching the cooking. He would just say, 'Ah, never mind'. — Chris Cleave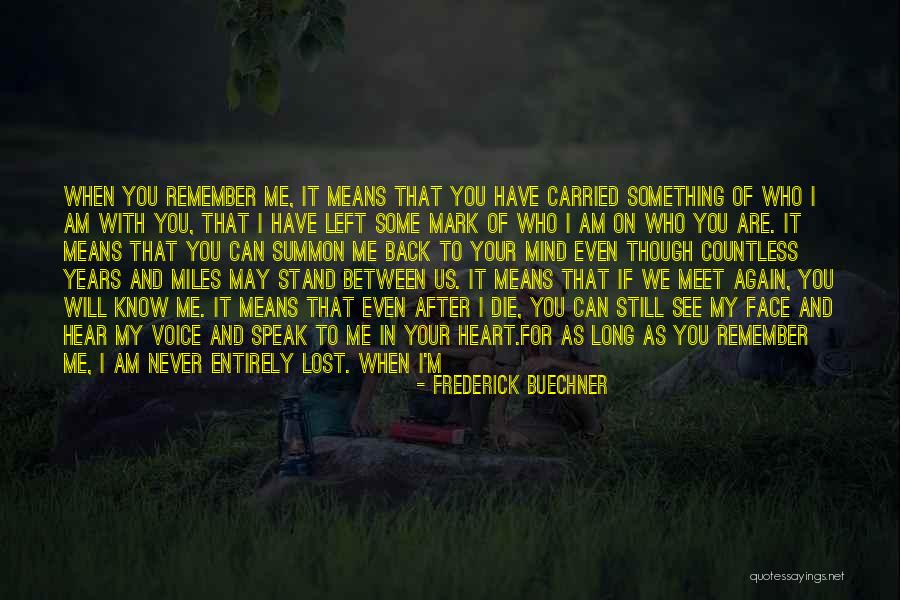 When you remember me, it means that you have carried something of who I am with you, that I have left some mark of who I am on who you are. It means that you can summon me back to your mind even though countless years and miles may stand between us. It means that if we meet again, you will know me. It means that even after I die, you can still see my face and hear my voice and speak to me in your heart.
For as long as you remember me, I am never entirely lost. When I'm feeling most ghost-like, it is your remembering me that helps remind me that I actually exist. When I'm feeling sad, it's my consolation. When I'm feeling happy, it's part of why I feel that way.
If you forget me, one of the ways I remember who I am will be gone. If you forget, part of who I am will be gone. — Frederick Buechner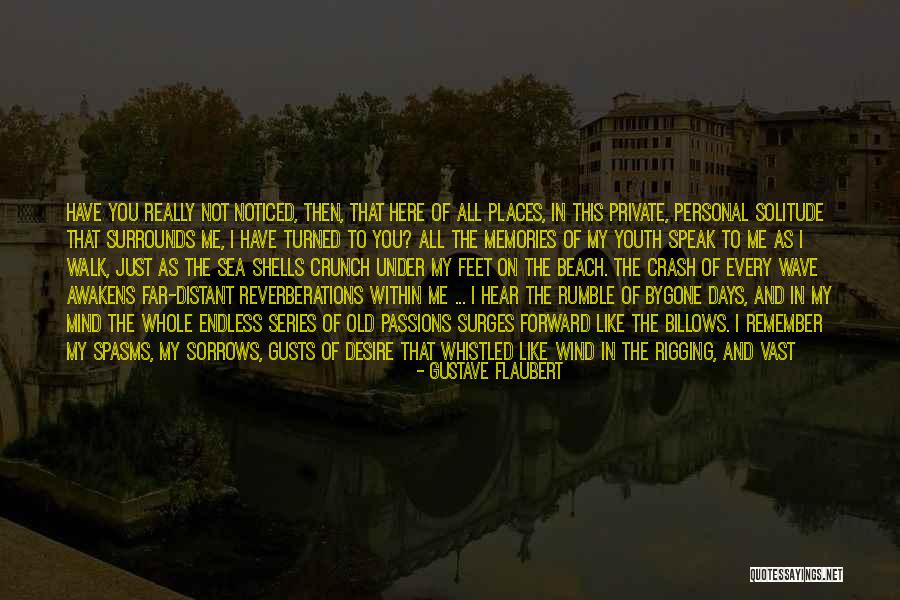 Have you really not noticed, then, that here of all places, in this private, personal solitude that surrounds me, I have turned to you? All the memories of my youth speak to me as I walk, just as the sea shells crunch under my feet on the beach. The crash of every wave awakens far-distant reverberations within me ... I hear the rumble of bygone days, and in my mind the whole endless series of old passions surges forward like the billows. I remember my spasms, my sorrows, gusts of desire that whistled like wind in the rigging, and vast vague longings that swirled in the dark like a flock of wild gulls in a stormcloud ... On whom should I lean, if not on you? My weary mind turns for refreshment to the thought of you as a dusty traveler might sink onto a soft and grassy bank ... — Gustave Flaubert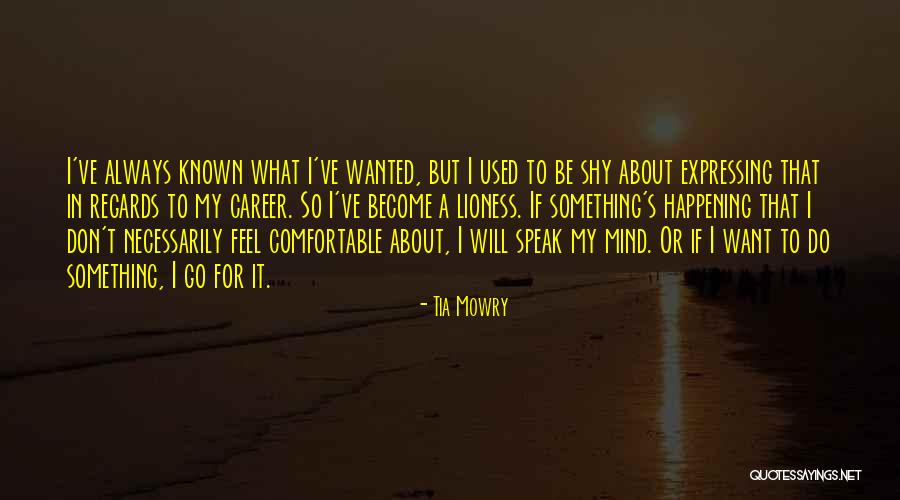 I've always known what I've wanted, but I used to be shy about expressing that in regards to my career. So I've become a lioness. If something's happening that I don't necessarily feel comfortable about, I will speak my mind. Or if I want to do something, I go for it. — Tia Mowry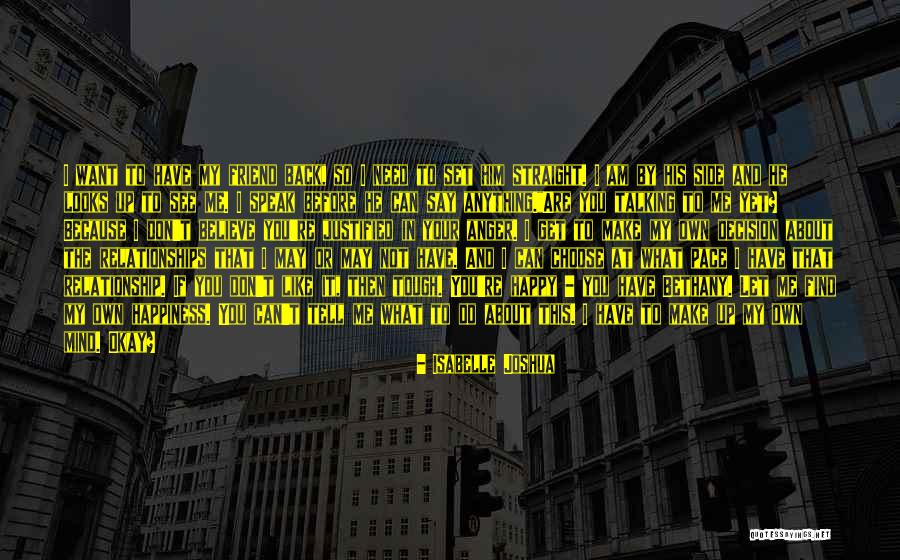 I want to have my friend back, so I need to set him straight. I am by his side and he looks up to see me. I speak before he can say anything.
"Are you talking to me yet? Because I don't believe you're justified in your anger. I get to make my own decision about the relationships that I may or may not have. And I can choose at what pace I have that relationship. If you don't like it, then tough. You're happy - you have Bethany. Let me find my own happiness. You can't tell me what to do about this. I have to make up my own mind. Okay? — Isabelle Joshua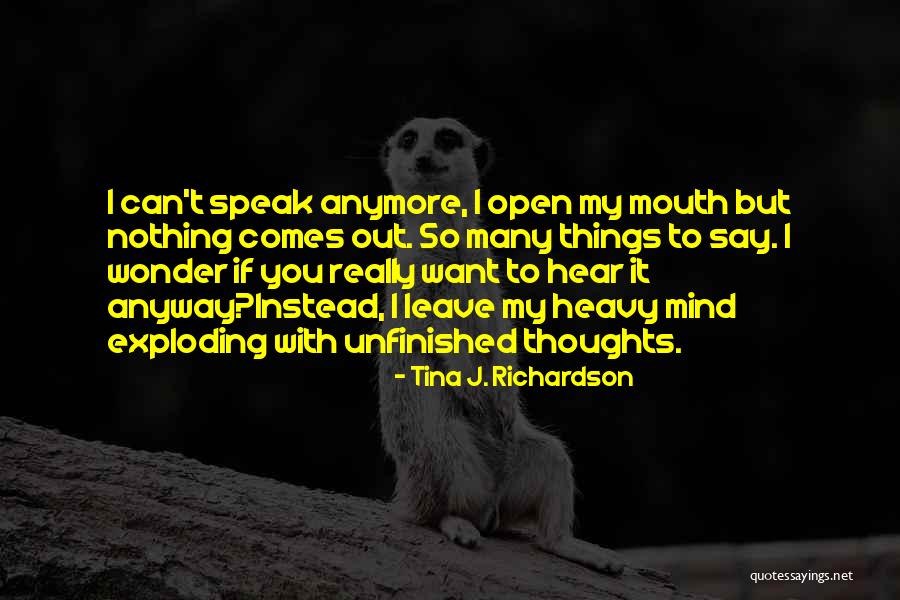 I can't speak anymore, I open my mouth but nothing comes out. So many things to say. I wonder if you really want to hear it anyway?

Instead, I leave my heavy mind exploding with unfinished thoughts. — Tina J. Richardson
She began to whisper something in my ear. It's the strangest thing about poetry - you can tell it's poetry, even if you don't speak the language. You can hear Homer's Greek without understanding a word, and you still know it's poetry. I've heard Polish poetry, and Inuit poetry, and I knew what it was without knowing. Her whisper was like that. I didn't know the language, but her words washed through me, perfect, and in my mind's eye I saw towers of glass and diamond; and people with eyes of the palest green; and, unstoppable, beneath every syllable, I could feel the relentless advance of the ocean. — Neil Gaiman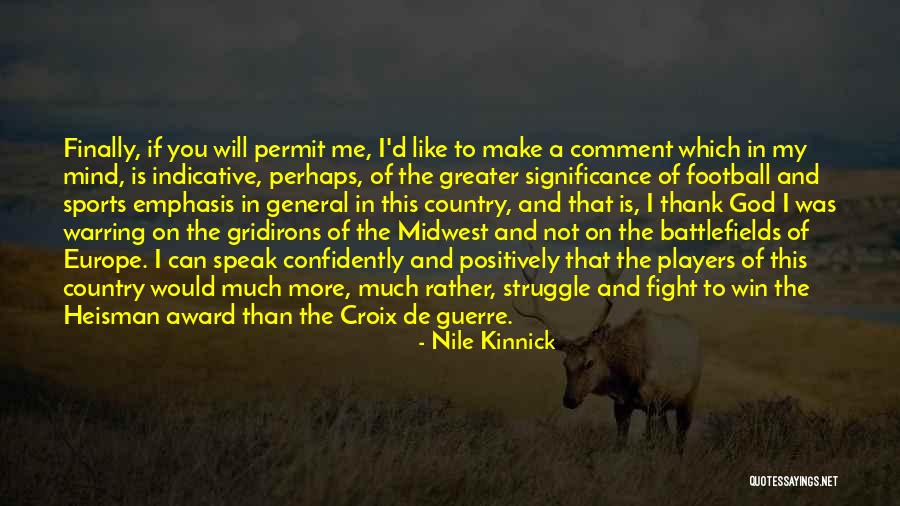 Finally, if you will permit me, I'd like to make a comment which in my mind, is indicative, perhaps, of the greater significance of football and sports emphasis in general in this country, and that is, I thank God I was warring on the gridirons of the Midwest and not on the battlefields of Europe. I can speak confidently and positively that the players of this country would much more, much rather, struggle and fight to win the Heisman award than the Croix de guerre. — Nile Kinnick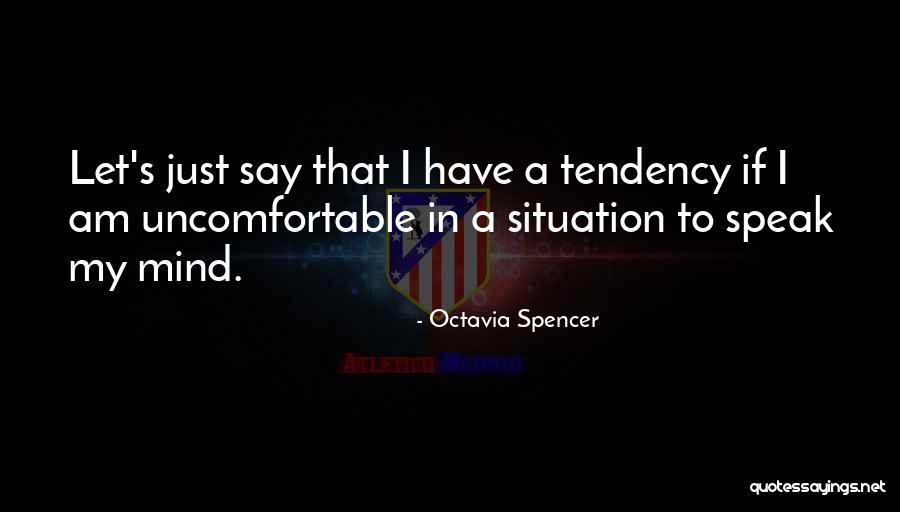 Let's just say that I have a tendency if I am uncomfortable in a situation to speak my mind. — Octavia Spencer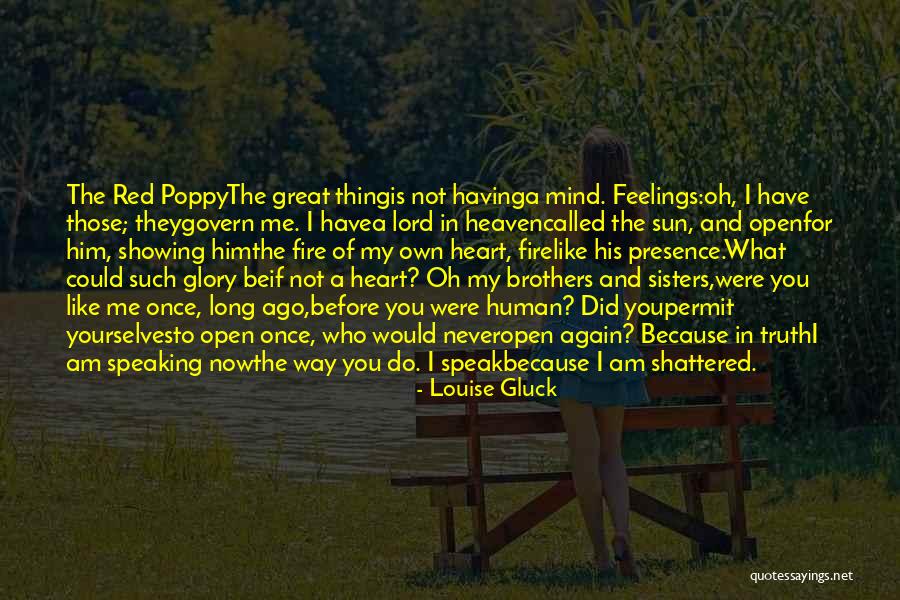 The Red Poppy

The great thing
is not having
a mind. Feelings:
oh, I have those; they
govern me. I have
a lord in heaven
called the sun, and open
for him, showing him
the fire of my own heart, fire
like his presence.
What could such glory be
if not a heart? Oh my brothers and sisters,
were you like me once, long ago,
before you were human? Did you
permit yourselves
to open once, who would never
open again? Because in truth
I am speaking now
the way you do. I speak
because I am shattered. — Louise Gluck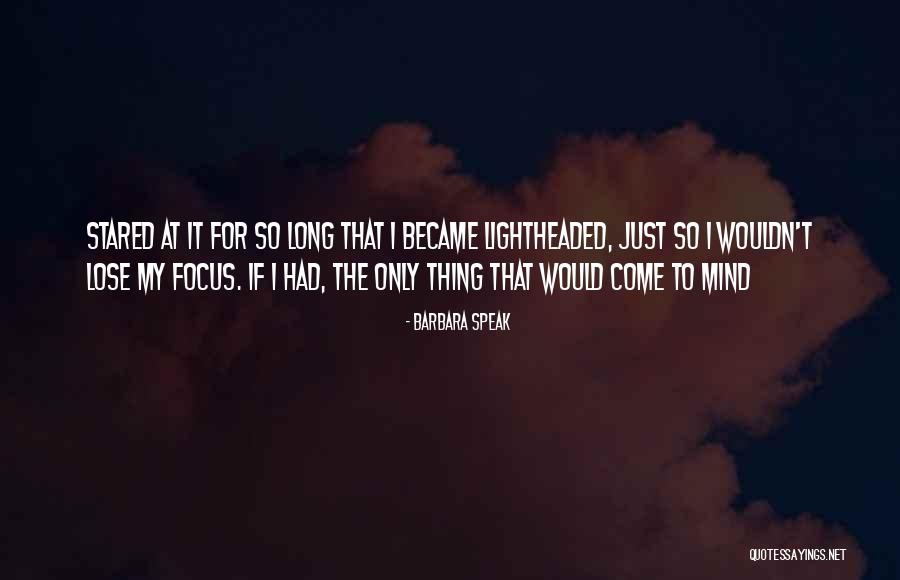 stared at it for so long that I became lightheaded, just so I wouldn't lose my focus. If I had, the only thing that would come to mind — Barbara Speak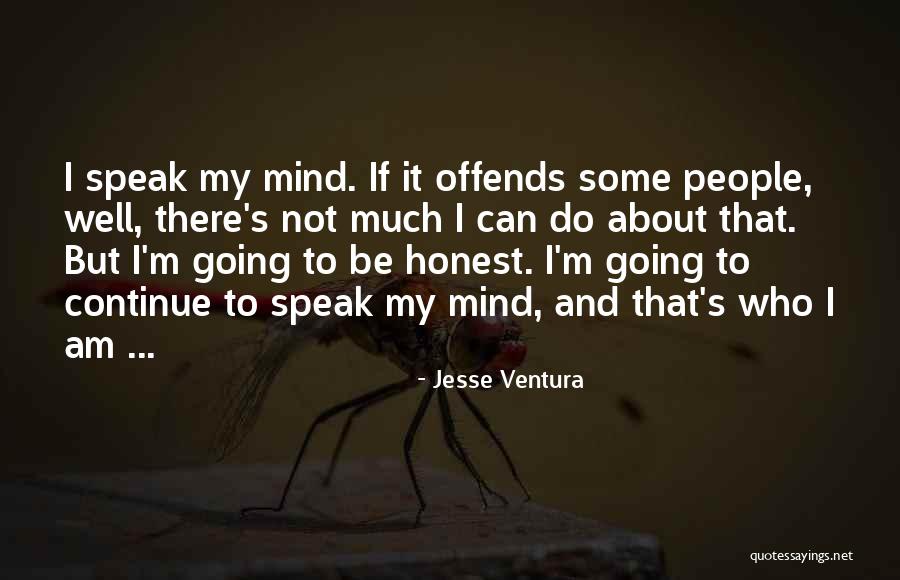 I speak my mind. If it offends some people, well, there's not much I can do about that. But I'm going to be honest. I'm going to continue to speak my mind, and that's who I am ... — Jesse Ventura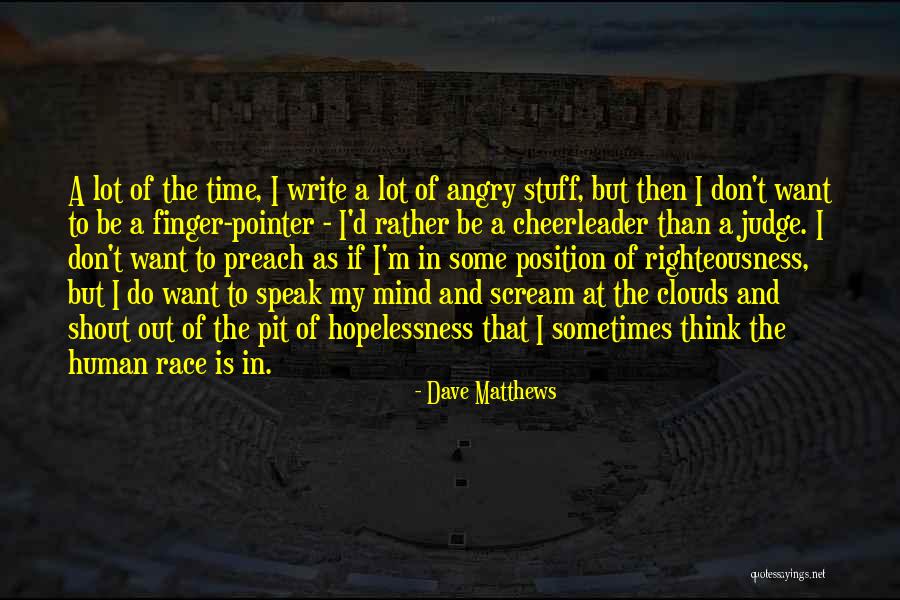 A lot of the time, I write a lot of angry stuff, but then I don't want to be a finger-pointer - I'd rather be a cheerleader than a judge. I don't want to preach as if I'm in some position of righteousness, but I do want to speak my mind and scream at the clouds and shout out of the pit of hopelessness that I sometimes think the human race is in. — Dave Matthews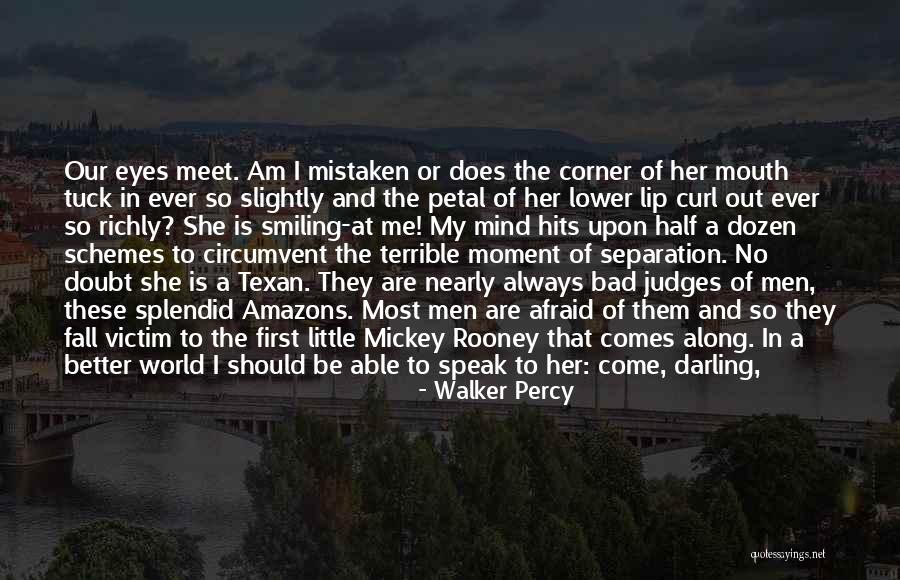 Our eyes meet. Am I mistaken or does the corner of her mouth tuck in ever so slightly and the petal of her lower lip curl out ever so richly? She is smiling-at me! My mind hits upon half a dozen schemes to circumvent the terrible moment of separation. No doubt she is a Texan. They are nearly always bad judges of men, these splendid Amazons. Most men are afraid of them and so they fall victim to the first little Mickey Rooney that comes along. In a better world I should be able to speak to her: come, darling, you can see that I love you. If you are planning to meet some little Mickey, think better of it. What a tragedy it is that I do not know her, will probably never see her again. What good times we could have! — Walker Percy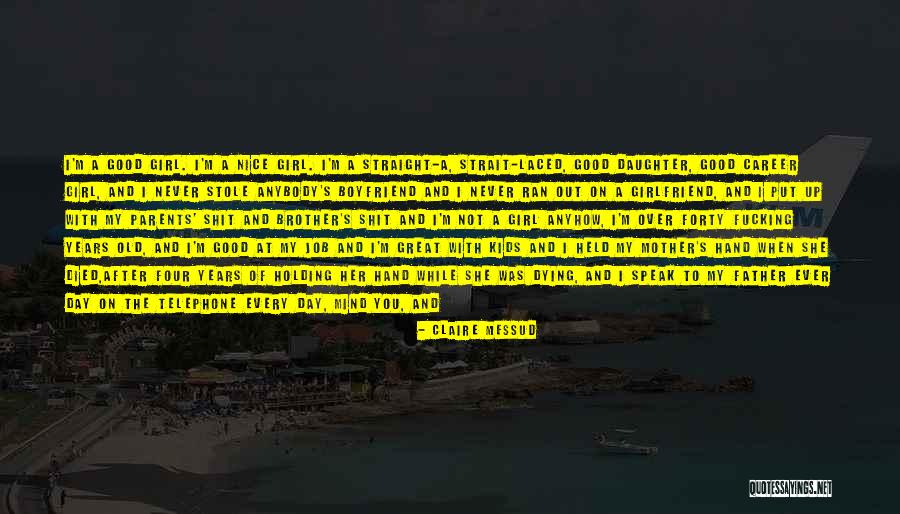 I'm a good girl. I'm a nice girl. I'm a straight-A, strait-laced, good daughter, good career girl, and I never stole anybody's boyfriend and I never ran out on a girlfriend, and I put up with my parents' shit and brother's shit and I'm not a girl anyhow, I'm over forty fucking years old, and I'm good at my job and I'm great with kids and I held my mother's hand when she died,after four years of holding her hand while she was dying, and I speak to my father ever day on the telephone
every day, mind you, and what kind of weather do you have on your side of the river, because here it's pretty gray and a big muggy too? It was supposed to say "Great Artist" on my tombstone, but if I died right now it would say "Such a good teacher/daughter/friend" instead; and what I really want to shout, and want in big letters on that grave, too, is FUCK YOU ALL. — Claire Messud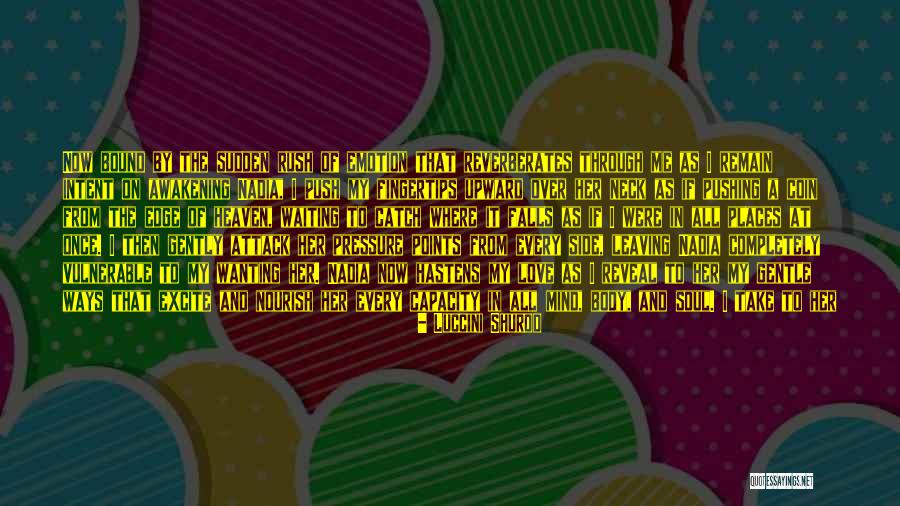 Now bound by the sudden rush of emotion that reverberates through me as I remain intent on awakening Nadia, I push my fingertips upward over her neck as if pushing a coin from the edge of heaven, waiting to catch where it falls as if I were in all places at once. I then gently attack her pressure points from every side, leaving Nadia completely vulnerable to my wanting her. Nadia now hastens my love as I reveal to her my gentle ways that excite and nourish her every capacity in all mind, body, and soul. I take to her exaggerated lines that press firmly against me with a wet friction that builds between the cold and the heat, tasting and smelling her sweet body that warms my heart to its core. I allow my mind to speak through my gaze as I look into Nadia's rich brunneous eyes where hints of sable shimmer across the reflection that mirrors her heart. — Luccini Shurod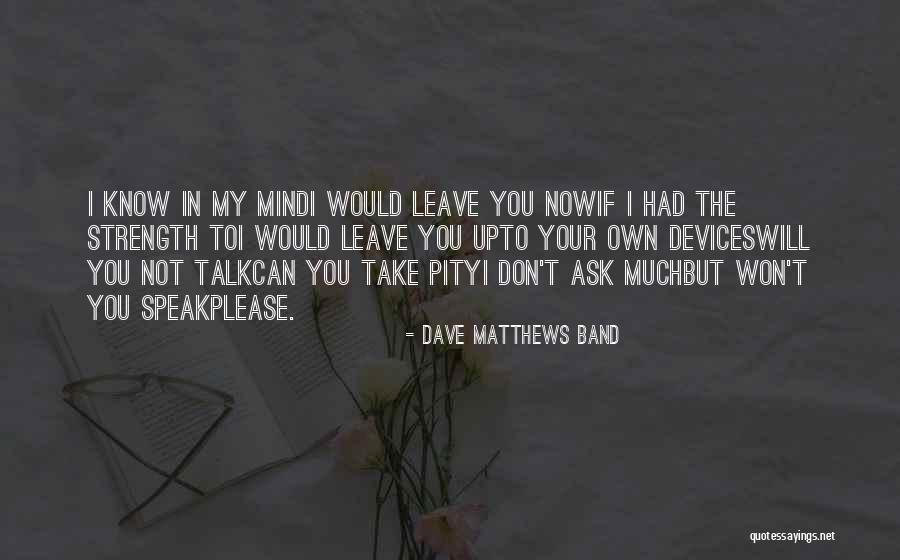 I know in my mind
I would leave you now
If I had the strength to
I would leave you up
To your own devices
Will you not talk
Can you take pity
I don't ask much
But won't you speak
Please. — Dave Matthews Band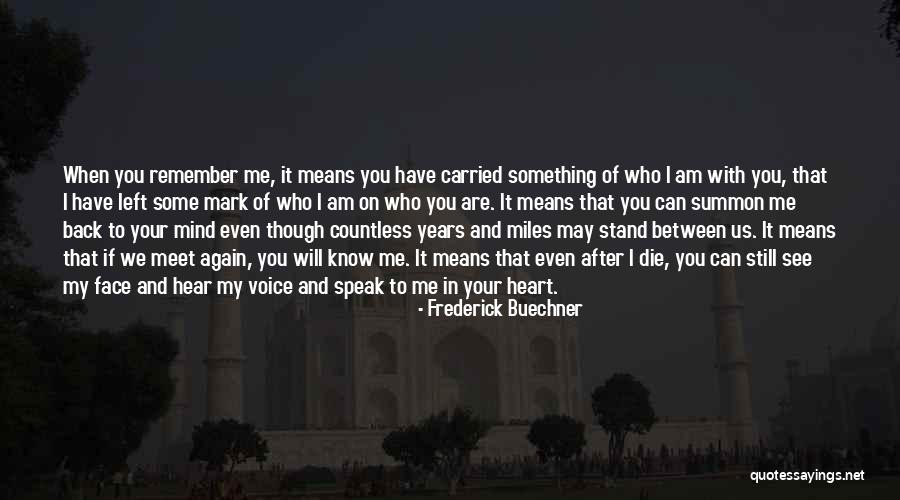 When you remember me, it means you have carried something of who I am with you, that I have left some mark of who I am on who you are. It means that you can summon me back to your mind even though countless years and miles may stand between us. It means that if we meet again, you will know me. It means that even after I die, you can still see my face and hear my voice and speak to me in your heart. — Frederick Buechner
After reading some of my stories, I once had a friend say to me, "I'd love to spend five minutes in your head to see what's going on in there." I warned them, "If you spent five seconds in my mind you'd probably run out screaming and never speak to me again. — Mark W. Boyer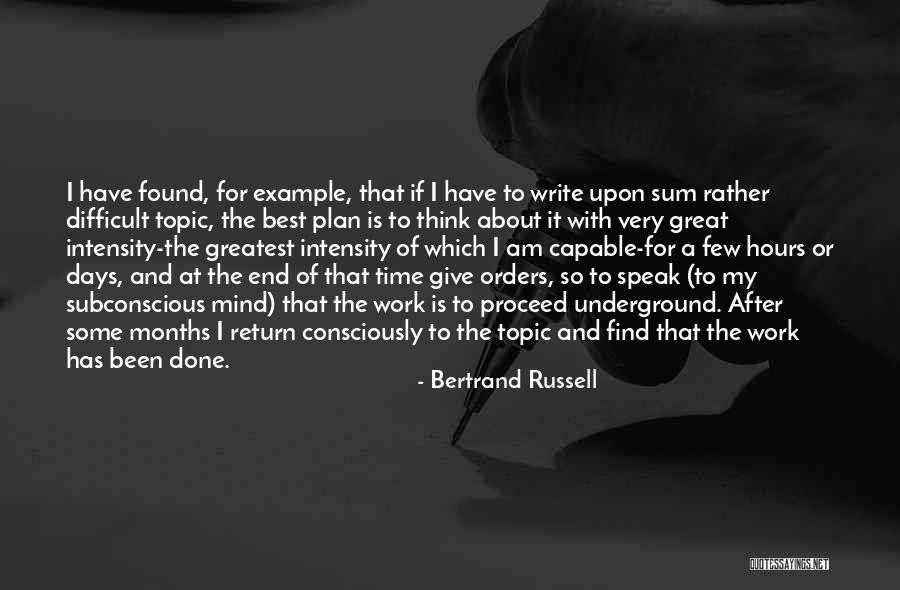 I have found, for example, that if I have to write upon sum rather difficult topic, the best plan is to think about it with very great intensity-the greatest intensity of which I am capable-for a few hours or days, and at the end of that time give orders, so to speak (to my subconscious mind) that the work is to proceed underground. After some months I return consciously to the topic and find that the work has been done. — Bertrand Russell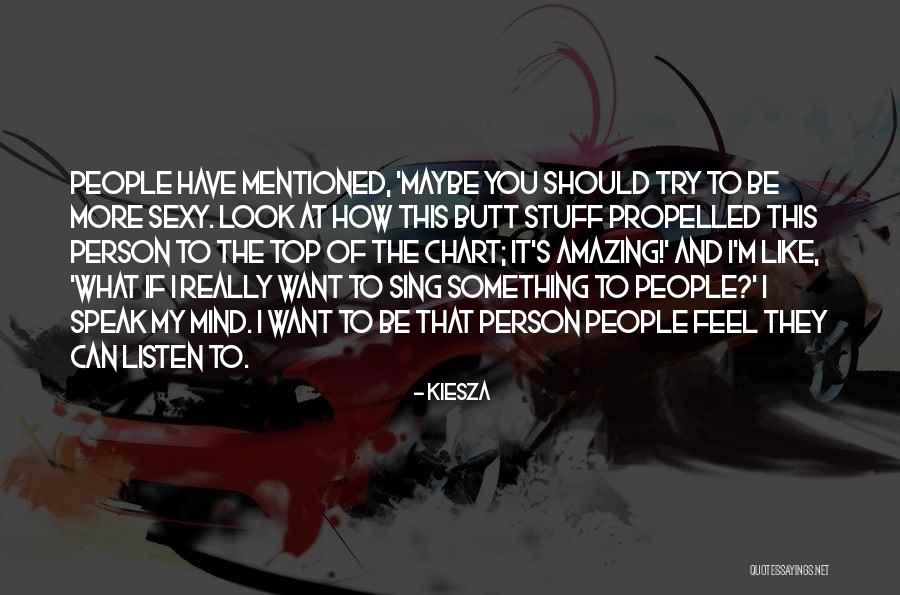 People have mentioned, 'Maybe you should try to be more sexy. Look at how this butt stuff propelled this person to the top of the chart; it's amazing!' And I'm like, 'What if I really want to sing something to people?' I speak my mind. I want to be that person people feel they can listen to. — Kiesza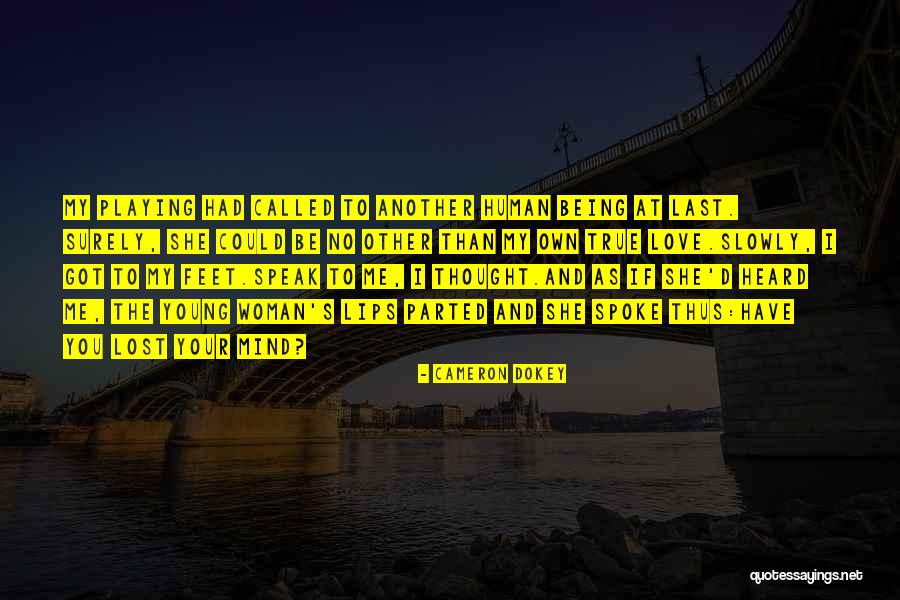 My playing had called to another human being at last. Surely, she could be no other than my own true love.
Slowly, I got to my feet.
Speak to me, I thought.
And as if she'd heard me, the young woman's lips parted and she spoke thus:
Have you lost your mind? — Cameron Dokey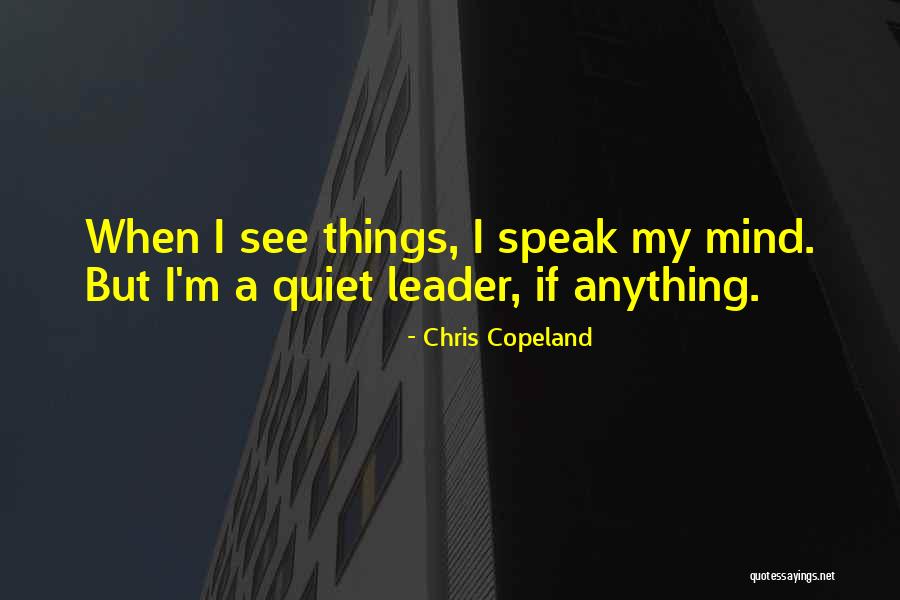 When I see things, I speak my mind. But I'm a quiet leader, if anything. — Chris Copeland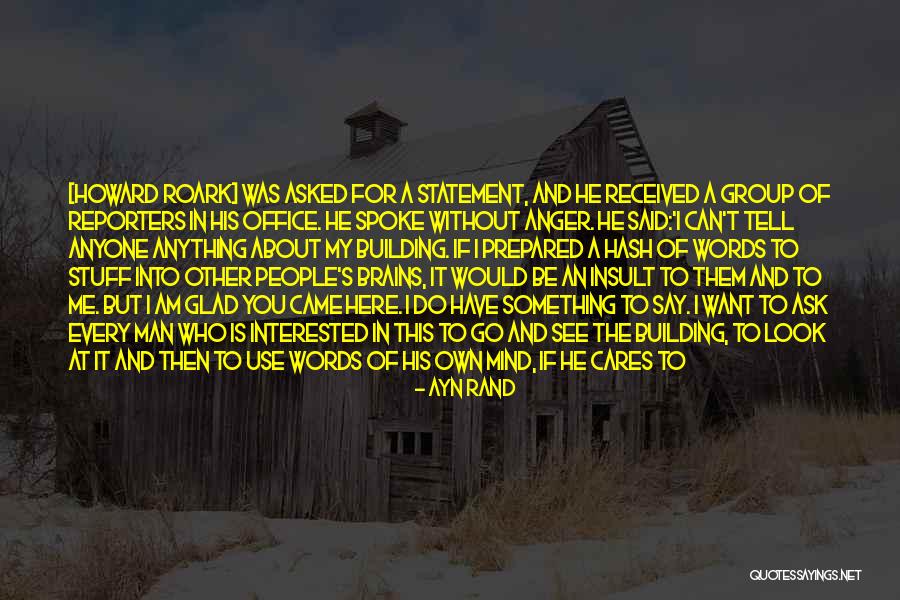 [Howard Roark] was asked for a statement, and he received a group of reporters in his office. He spoke without anger. He said:
'I can't tell anyone anything about my building. If I prepared a hash of words to stuff into other people's brains, it would be an insult to them and to me. But I am glad you came here. I do have something to say. I want to ask every man who is interested in this to go and see the building, to look at it and then to use words of his own mind, if he cares to speak.'
The Banner printed the interview as follows:
'Mr. Roark, who seems to be a publicity hound, received reporters with an air of swaggering insolence and stated that the public mind was hash. He did not choose to talk, but seemed well aware of the advertising angles of the situation. All he cared about, he explained, was to have his building seen by as many people as possible. — Ayn Rand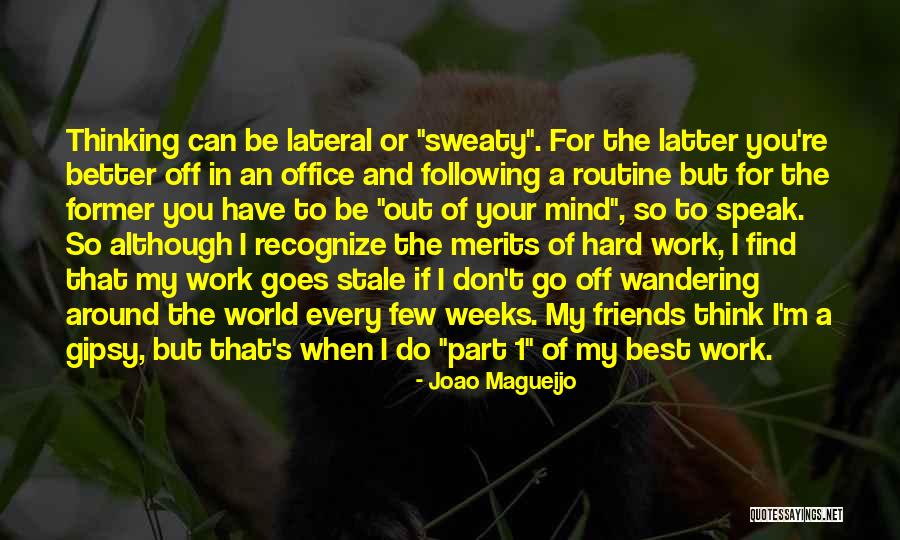 Thinking can be lateral or "sweaty". For the latter you're better off in an office and following a routine but for the former you have to be "out of your mind", so to speak. So although I recognize the merits of hard work, I find that my work goes stale if I don't go off wandering around the world every few weeks. My friends think I'm a gipsy, but that's when I do "part 1" of my best work. — Joao Magueijo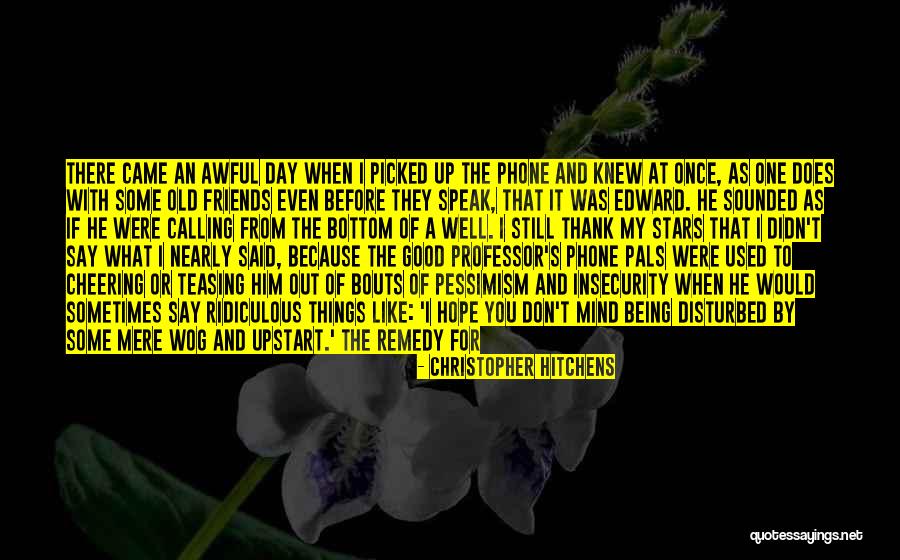 There came an awful day when I picked up the phone and knew at once, as one does with some old friends even before they speak, that it was Edward. He sounded as if he were calling from the bottom of a well. I still thank my stars that I didn't say what I nearly said, because the good professor's phone pals were used to cheering or teasing him out of bouts of pessimism and insecurity when he would sometimes say ridiculous things like: 'I hope you don't mind being disturbed by some mere wog and upstart.' The remedy for this was not to indulge it but to reply with bracing and satirical stuff which would soon get the gurgling laugh back into his throat. But I'm glad I didn't say, 'What, Edward, splashing about again in the waters of self-pity?' because this time he was calling to tell me that he had contracted a rare strain of leukemia. Not at all untypically, he used the occasion to remind me that it was very important always to make and keep regular appointments with one's physician. — Christopher Hitchens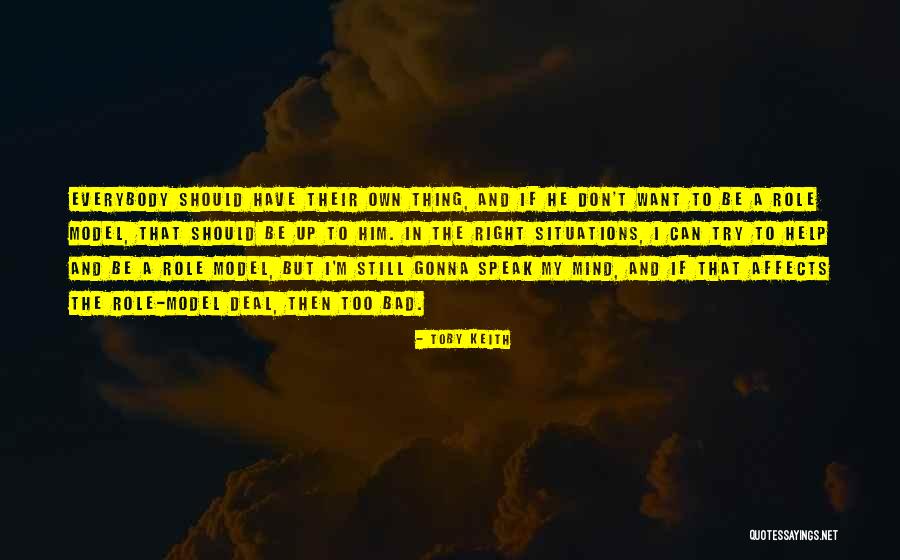 Everybody should have their own thing, and if he don't want to be a role model, that should be up to him. In the right situations, I can try to help and be a role model, but I'm still gonna speak my mind, and if that affects the role-model deal, then too bad. — Toby Keith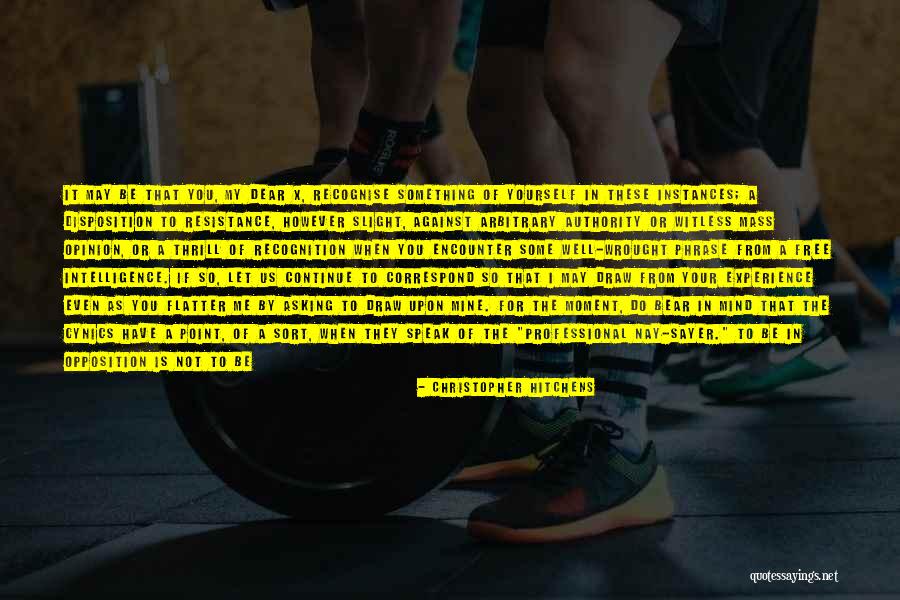 It may be that you, my dear X, recognise something of yourself in these instances; a disposition to resistance, however slight, against arbitrary authority or witless mass opinion, or a thrill of recognition when you encounter some well-wrought phrase from a free intelligence. If so, let us continue to correspond so that I may draw from your experience even as you flatter me by asking to draw upon mine. For the moment, do bear in mind that the cynics have a point, of a sort, when they speak of the "professional nay-sayer." To be in opposition is not to be a nihilist. And there is no decent or charted way of making a living at it. It is something you are, and not something you do. — Christopher Hitchens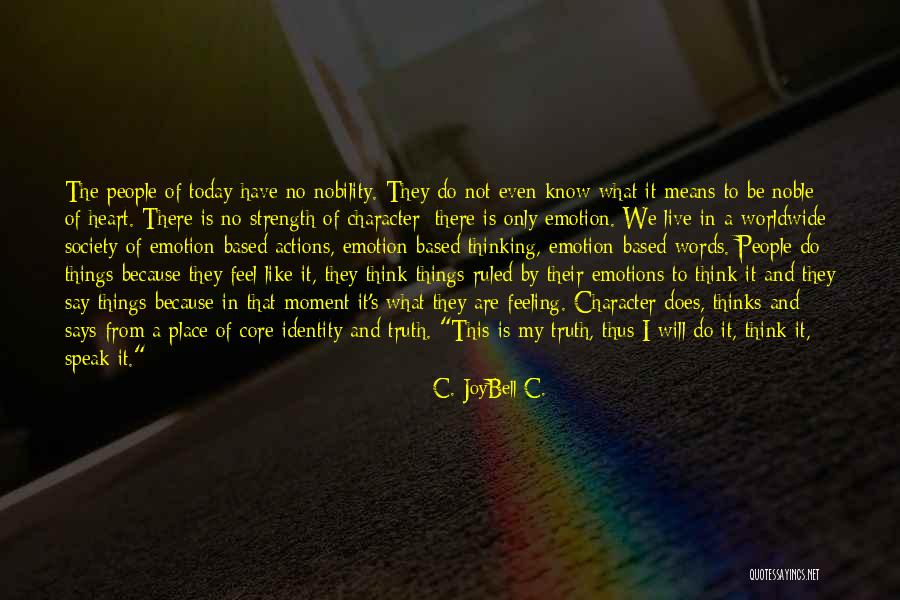 The people of today have no nobility. They do not even know what it means to be noble of heart. There is no strength of character; there is only emotion. We live in a worldwide society of emotion-based actions, emotion-based thinking, emotion-based words. People do things because they feel like it, they think things ruled by their emotions to think it and they say things because in that moment it's what they are feeling. Character does, thinks and says from a place of core identity and truth. "This is my truth, thus I will do it, think it, speak it." Nobility means strength of character, a word of honor, immovability and mind over matter. The feelings and emotions of a noble person do not merely come and go with the tides; they are there in the first place because they wouldn't have been there if it were not already decided upon. That is nobility. — C. JoyBell C.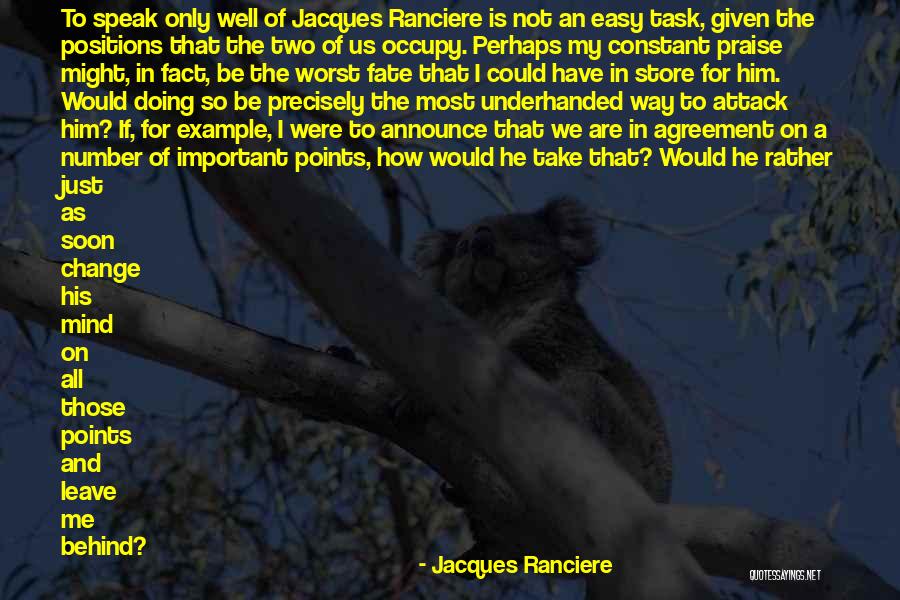 To speak only well of Jacques Ranciere is not an easy task, given the positions that the two of us occupy. Perhaps my constant praise might, in fact, be the worst fate that I could have in store for him. Would doing so be precisely the most underhanded way to attack him? If, for example, I were to announce that we are in agreement on a number of important points, how would he take that? Would he rather just as soon change his mind on all those points and leave me behind? — Jacques Ranciere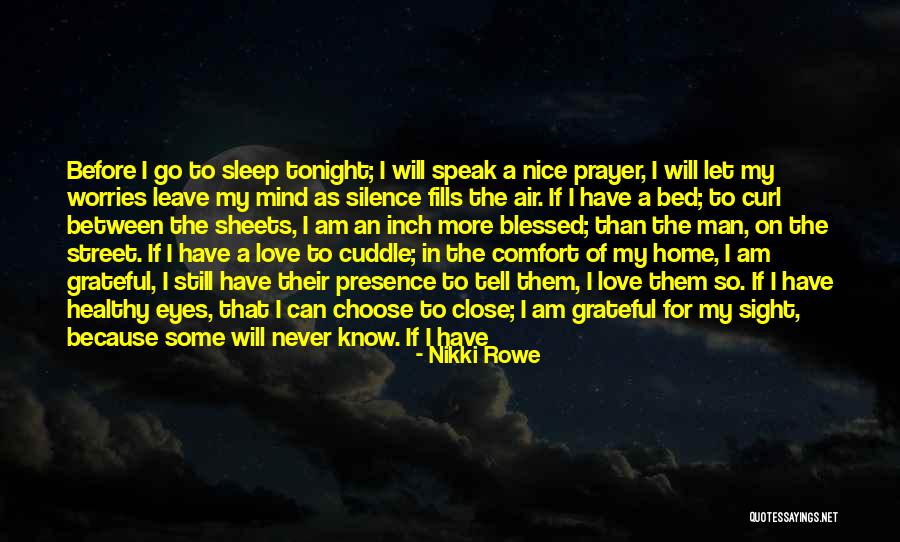 Before I go to sleep tonight; I will speak a nice prayer, I will let my worries leave my mind as silence fills the air.
If I have a bed; to curl between the sheets,
I am an inch more blessed; than the man, on the street.
If I have a love to cuddle; in the comfort of my home,
I am grateful, I still have their presence to tell them, I love them so.
If I have healthy eyes, that I can choose to close;
I am grateful for my sight, because some will never know.
If I have a voice & glistening ears to listen;
Than in all my glory, I am grateful for this livin'
All that really matters; is what, most don't have the courage to see,
Who you became; from the day of your birth, the dash and the final chapter that makes your story complete. — Nikki Rowe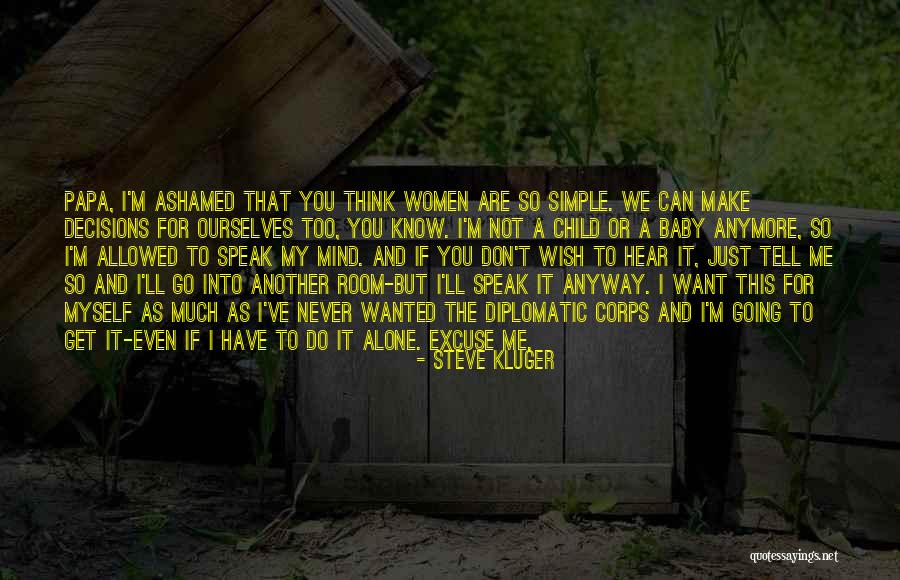 Papa, I'm ashamed that you think women are so simple. We can make decisions for ourselves too, you know. I'm not a child or a baby anymore, so I'm allowed to speak my mind. And if you don't wish to hear it, just tell me so and I'll go into another room-but I'll speak it anyway. I want this for myself as much as I've never wanted the diplomatic corps and I'm going to get it-even if I have to do it alone. Excuse me. — Steve Kluger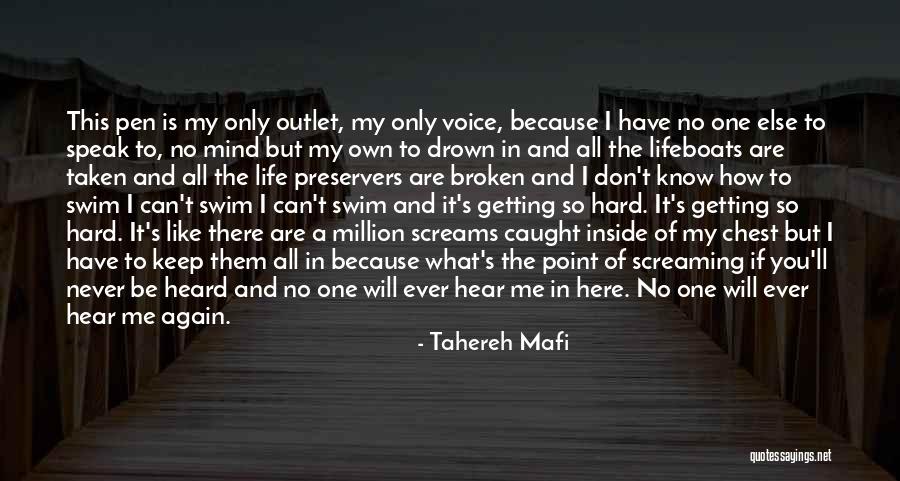 This pen is my only outlet, my only voice, because I have no one else to speak to, no mind but my own to drown in and all the lifeboats are taken and all the life preservers are broken and I don't know how to swim I can't swim I can't swim and it's getting so hard. It's getting so hard. It's like there are a million screams caught inside of my chest but I have to keep them all in because what's the point of screaming if you'll never be heard and no one will ever hear me in here. No one will ever hear me again. — Tahereh Mafi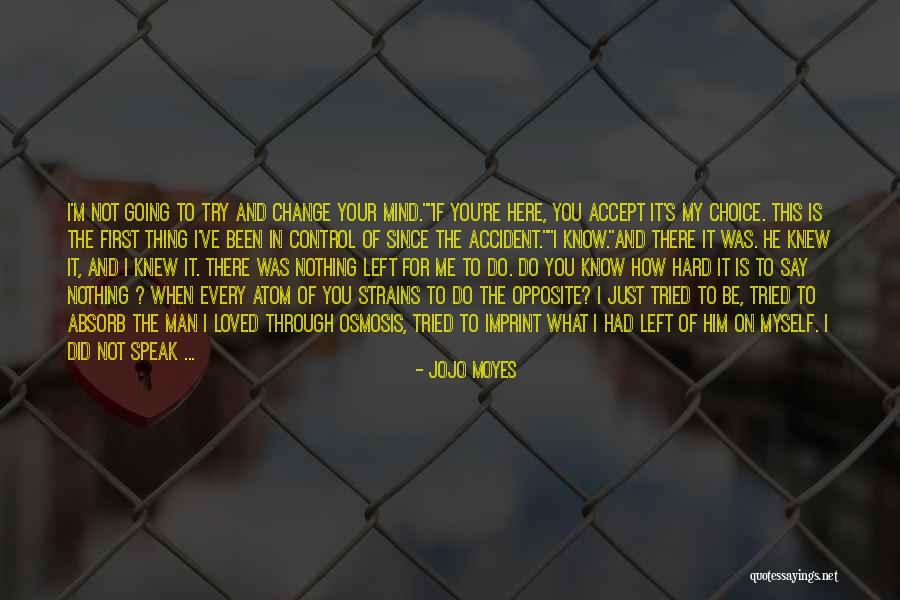 I'm not going to try and change your mind."
"If you're here, you accept it's my choice. This is the first thing I've been in control of since the accident."
"I know."
And there it was. He knew it, and I knew it. There was nothing left for me to do. Do you know how hard it is to say nothing ? When every atom of you strains to do the opposite? I just tried to be, tried to absorb the man I loved through osmosis, tried to imprint what I had left of him on myself. I did not speak ... — Jojo Moyes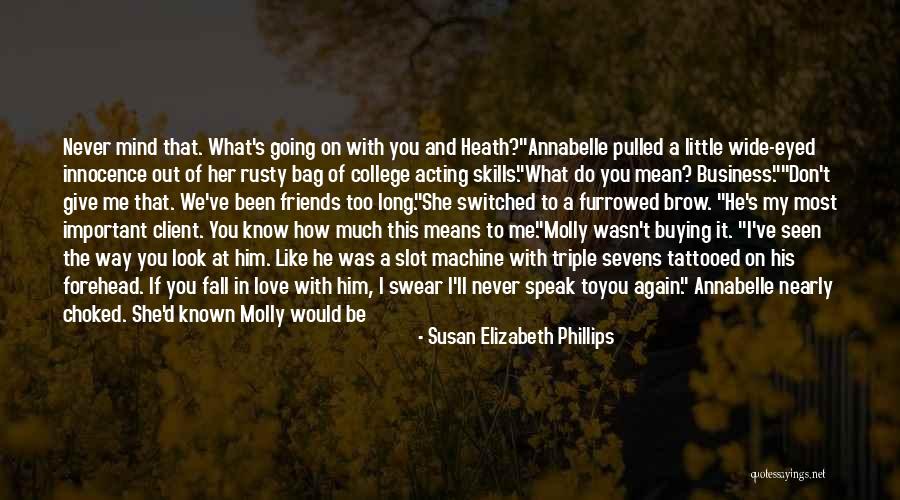 Never mind that. What's going on with you and Heath?"
Annabelle pulled a little wide-eyed innocence out of her rusty bag of college acting skills.
"What do you mean? Business."
"Don't give me that. We've been friends too long."
She switched to a furrowed brow. "He's my most important client. You know how much this means to me."
Molly wasn't buying it. "I've seen the way you look at him. Like he was a slot machine with triple sevens tattooed on his forehead. If you fall in love with him, I swear I'll never speak to
you again."
Annabelle nearly choked. She'd known Molly would be suspicious, but she hadn't expected an outright confrontation. "Are you nuts? Setting aside the fact that he treats me like a flunky, I'd never fall for a workaholic after what I've had to go through with my family." Falling in lust, however, was an entirely different matter.
"He has a calculator for a heart," Molly said.
"I thought you liked him. — Susan Elizabeth Phillips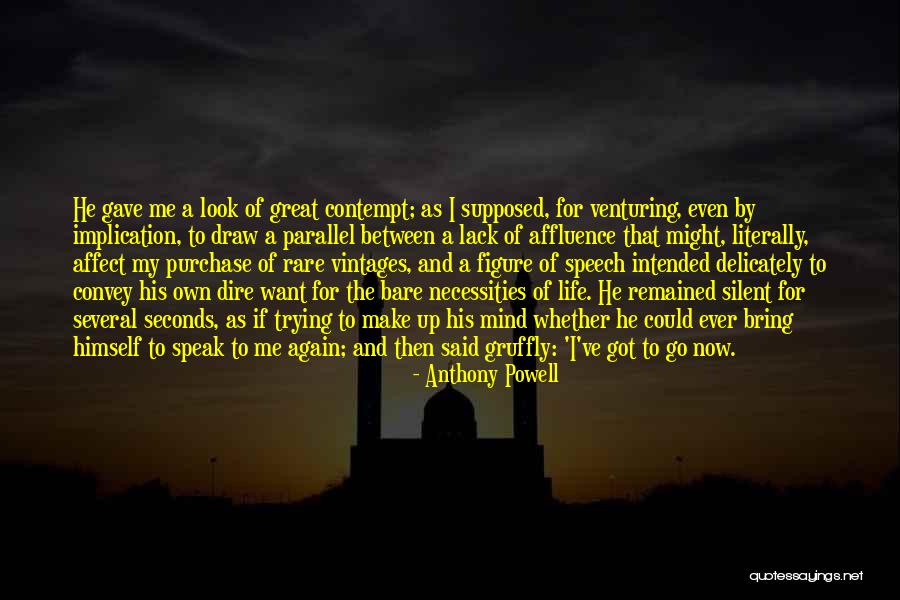 He gave me a look of great contempt; as I supposed, for venturing, even by implication, to draw a parallel between a lack of affluence that might, literally, affect my purchase of rare vintages, and a figure of speech intended delicately to convey his own dire want for the bare necessities of life. He remained silent for several seconds, as if trying to make up his mind whether he could ever bring himself to speak to me again; and then said gruffly: 'I've got to go now. — Anthony Powell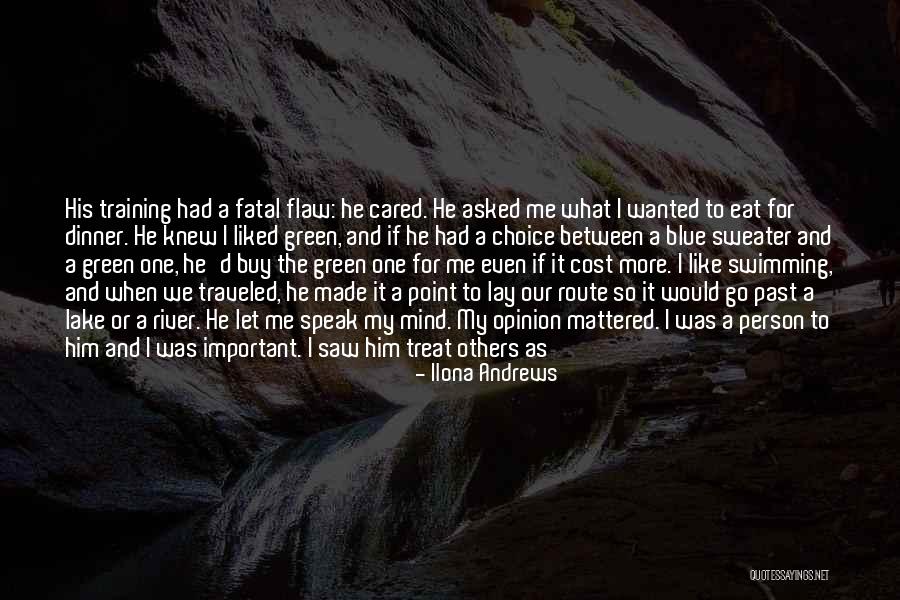 His training had a fatal flaw: he cared. He asked me what I wanted to eat for dinner. He knew I liked green, and if he had a choice between a blue sweater and a green one, he'd buy the green one for me even if it cost more. I like swimming, and when we traveled, he made it a point to lay our route so it would go past a lake or a river. He let me speak my mind. My opinion mattered. I was a person to him and I was important. I saw him treat others as if they were important. For all of his supposed indifference, there is a town in Oklahoma that worships him and a little village in Guatemala that put a wooden statue of him at the gates to protect them from evil spirits. He helped people, when he thought it was right. — Ilona Andrews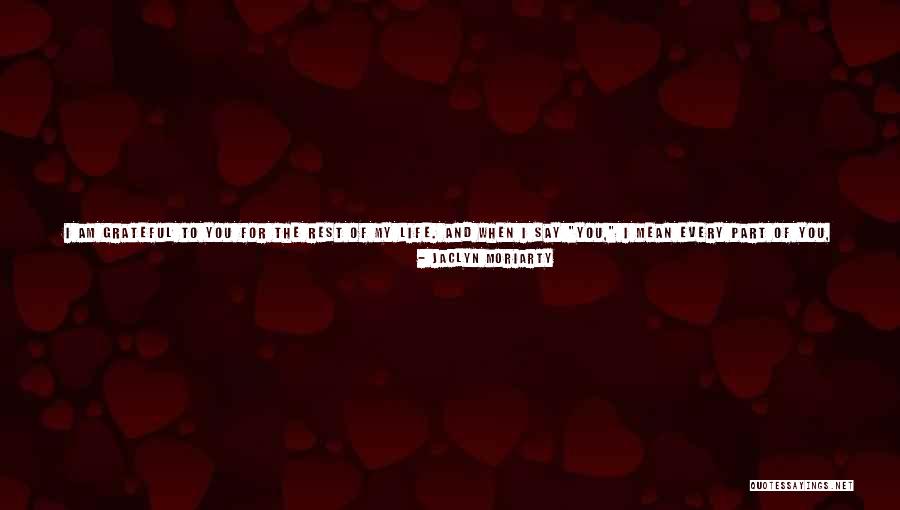 I am grateful to you for the rest of my life. And when I say "you," I mean every part of you, including your mind and your smile and your giggle and the mad look you get in your eyes sometimes. If you don't believe that your words have got into my soul, take a look at the painting which I took to the art show (it's called The Puppy and the Pyramid, which is what you might call a clue). But if I don't get to kiss you fairly soon, Lyd, I won't have a soul left to speak of. — Jaclyn Moriarty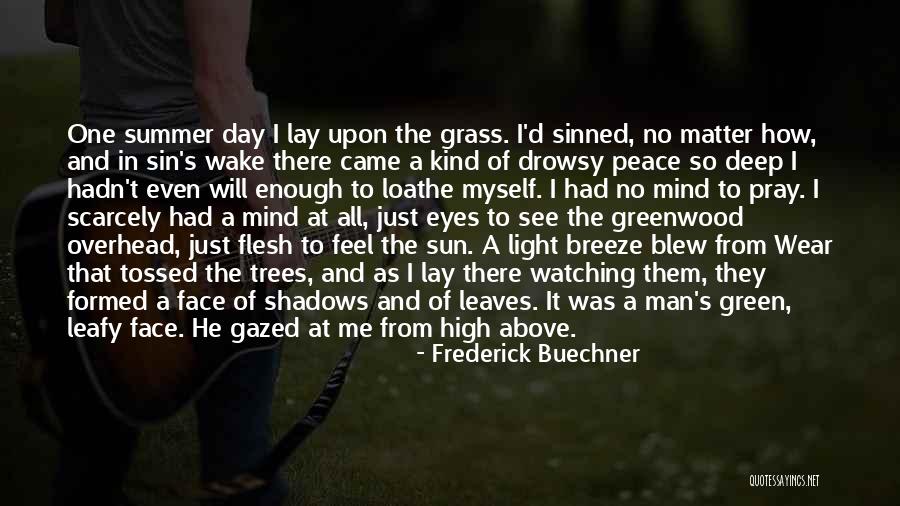 One summer day I lay upon the grass. I'd sinned, no matter how, and in sin's wake there came a kind of drowsy peace so deep I hadn't even will enough to loathe myself. I had no mind to pray. I scarcely had a mind at all, just eyes to see the greenwood overhead, just flesh to feel the sun.
A light breeze blew from Wear that tossed the trees, and as I lay there watching them, they formed a face of shadows and of leaves. It was a man's green, leafy face. He gazed at me from high above. And as the branches nodded in the air, he opened up his mouth to speak. No sound came from his lips, but by their shape I knew it was my name.
His was the holiest face I ever saw. My very name turned holy on his tongue. If he had bade me rise and follow him to the end of time, I would have gone. If he had bade me die for him, I would have died. When I deserved it least, God gave me most. I think it was the Savior's face itself I saw. — Frederick Buechner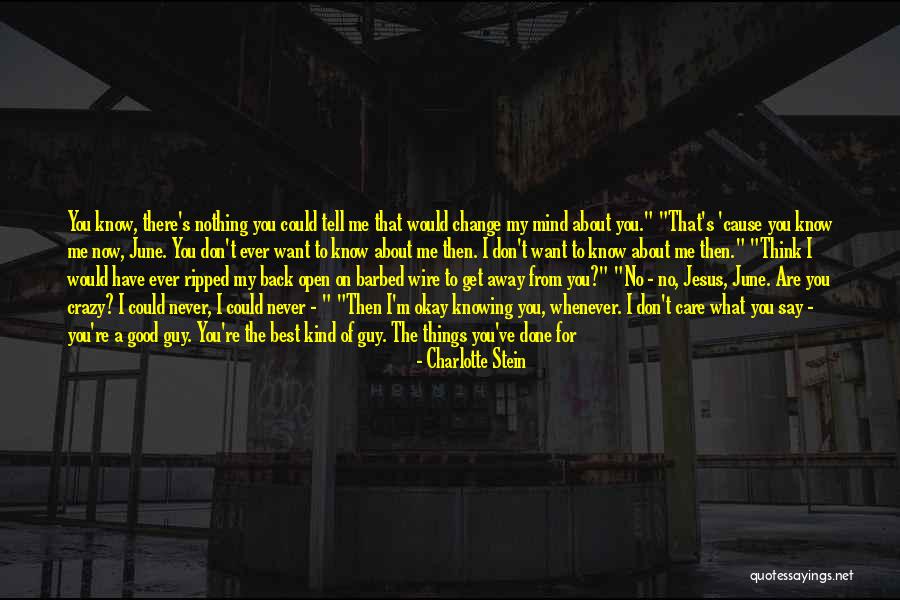 You know, there's nothing you could tell me that would change my mind about you."

"That's 'cause you know me now, June. You don't ever want to know about me then. I don't want to know about me then."

"Think I would have ever ripped my back open on barbed wire to get away from you?"

"No - no, Jesus, June. Are you crazy? I could never, I could never - "

"Then I'm okay knowing you, whenever. I don't care what you say - you're a good guy. You're the best kind of guy. The things you've done for me, I - "

She couldn't speak, then. The glow was almost completely gone - it would never return if she started bawling.

"Hey, hey - okay. Okay, baby. It's okay. — Charlotte Stein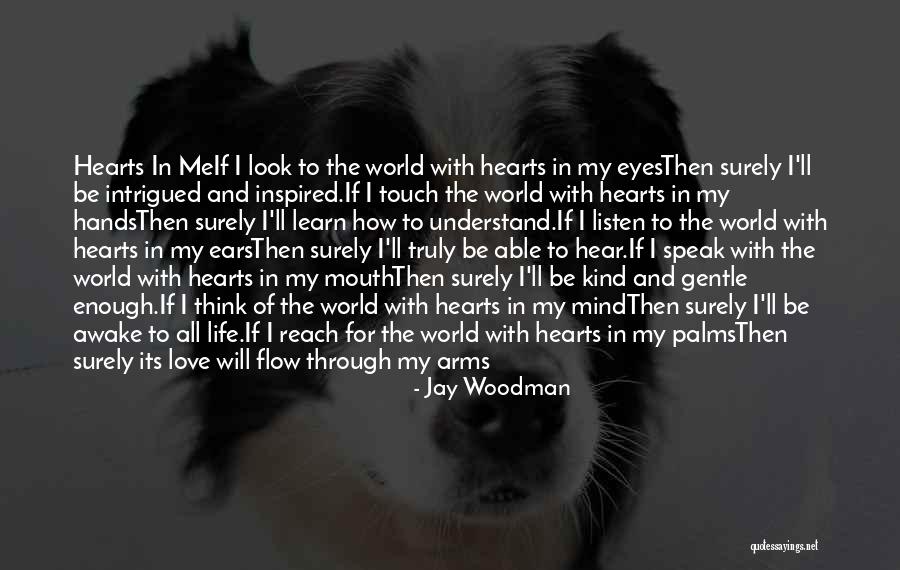 Hearts In Me
If I look to the world with hearts in my eyes
Then surely I'll be intrigued and inspired.
If I touch the world with hearts in my hands
Then surely I'll learn how to understand.
If I listen to the world with hearts in my ears
Then surely I'll truly be able to hear.
If I speak with the world with hearts in my mouth
Then surely I'll be kind and gentle enough.
If I think of the world with hearts in my mind
Then surely I'll be awake to all life.
If I reach for the world with hearts in my palms
Then surely its love will flow through my arms — Jay Woodman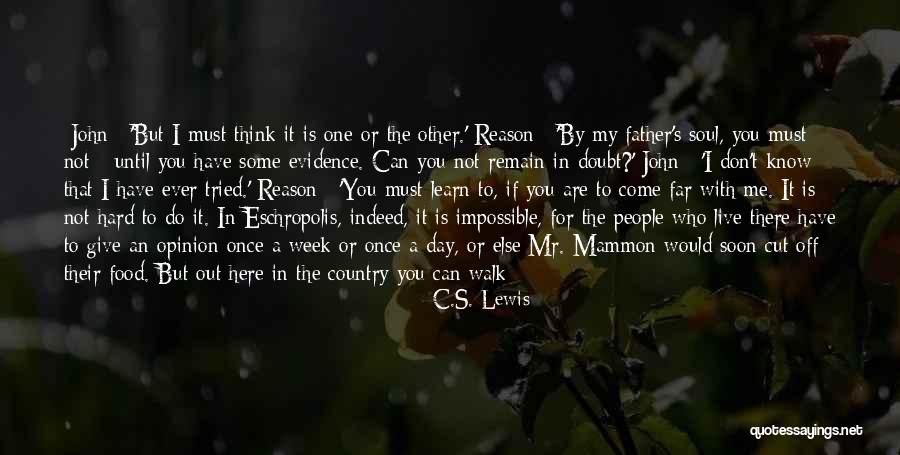 [John]: 'But I must think it is one or the other.'

[Reason]: 'By my father's soul, you must not - until you have some evidence. Can you not remain in doubt?'

[John]: 'I don't know that I have ever tried.'

[Reason]: 'You must learn to, if you are to come far with me. It is not hard to do it. In Eschropolis, indeed, it is impossible, for the people who live there have to give an opinion once a week or once a day, or else Mr. Mammon would soon cut off their food. But out here in the country you can walk all day and all the next day with an unanswered question in your head: you need never speak until you have made up your mind. — C.S. Lewis