I Will Never Forget You Friend Quotes & Sayings
Enjoy reading and share 40 famous quotes about I Will Never Forget You Friend with everyone.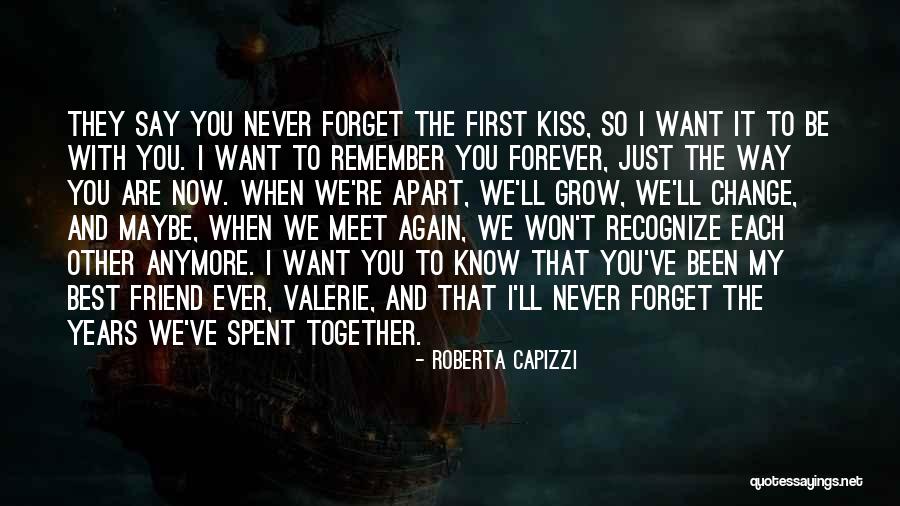 They say you never forget the first kiss, so I want it to be with you. I want to remember you forever, just the way you are now. When we're apart, we'll grow, we'll change, and maybe, when we meet again, we won't recognize each other anymore. I want you to know that you've been my best friend ever, Valerie, and that I'll never forget the years we've spent together. — Roberta Capizzi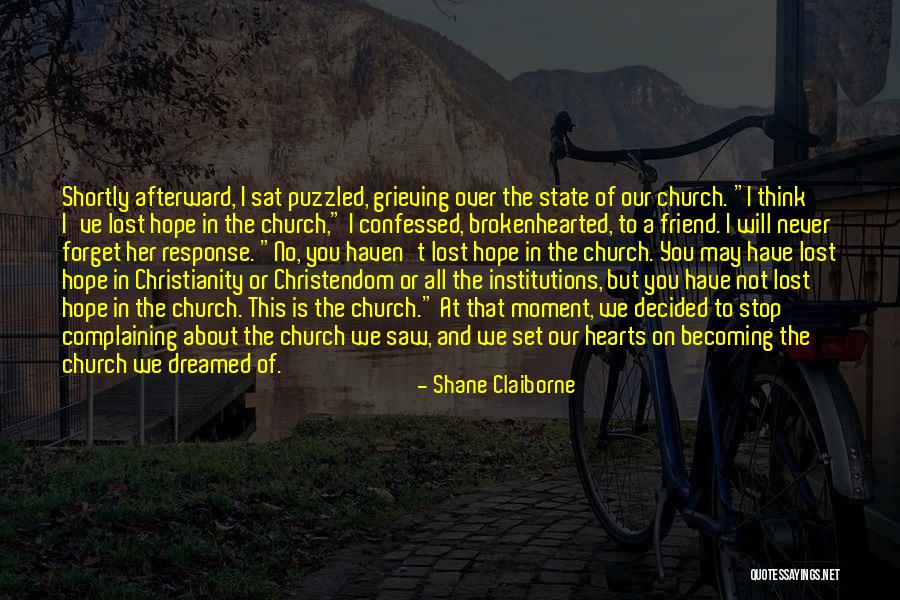 Shortly afterward, I sat puzzled, grieving over the state of our church. "I think I've lost hope in the church," I confessed, brokenhearted, to a friend. I will never forget her response. "No, you haven't lost hope in the church. You may have lost hope in Christianity or Christendom or all the institutions, but you have not lost hope in the church. This is the church." At that moment, we decided to stop complaining about the church we saw, and we set our hearts on becoming the church we dreamed of. — Shane Claiborne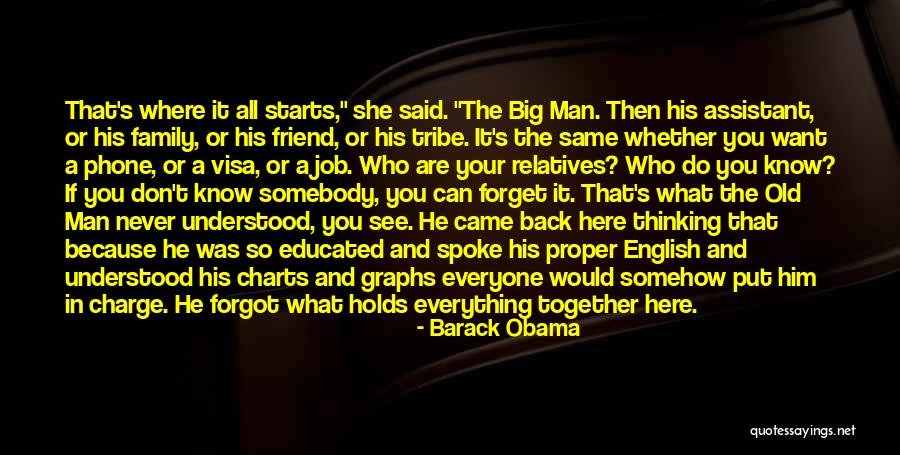 That's where it all starts," she said. "The Big Man. Then his assistant, or his family, or his friend, or his tribe. It's the same whether you want a phone, or a visa, or a job. Who are your relatives? Who do you know? If you don't know somebody, you can forget it. That's what the Old Man never understood, you see. He came back here thinking that because he was so educated and spoke his proper English and understood his charts and graphs everyone would somehow put him in charge. He forgot what holds everything together here. — Barack Obama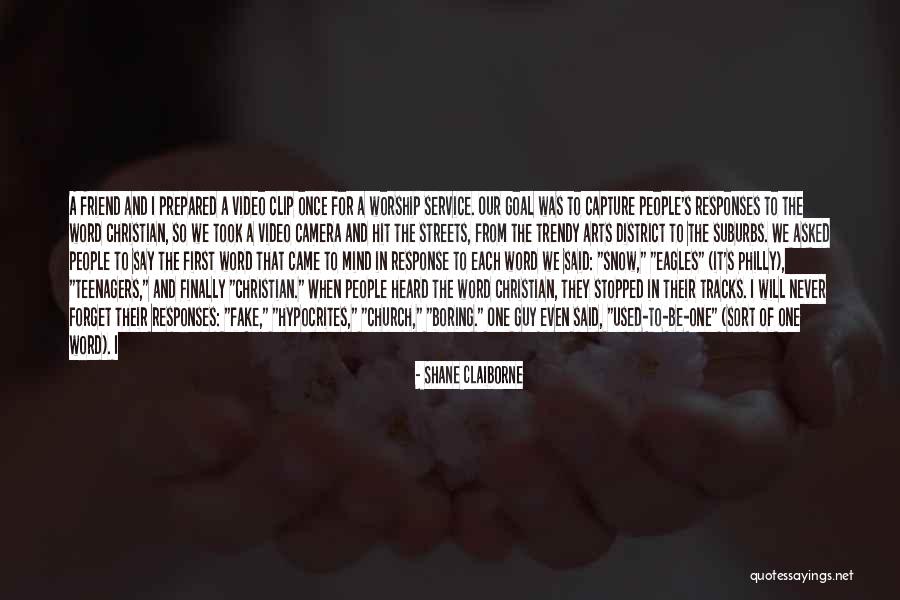 A friend and I prepared a video clip once for a worship service. Our goal was to capture people's responses to the word Christian, so we took a video camera and hit the streets, from the trendy arts district to the suburbs. We asked people to say the first word that came to mind in response to each word we said: "snow," "eagles" (it's Philly), "teenagers," and finally "Christian." When people heard the word Christian, they stopped in their tracks. I will never forget their responses: "fake," "hypocrites," "church," "boring." One guy even said, "used-to-be-one" (sort of one word). I will also never forget what they didn't say. Not one of the people we asked that day said "love." No one said "grace." No one said "community. — Shane Claiborne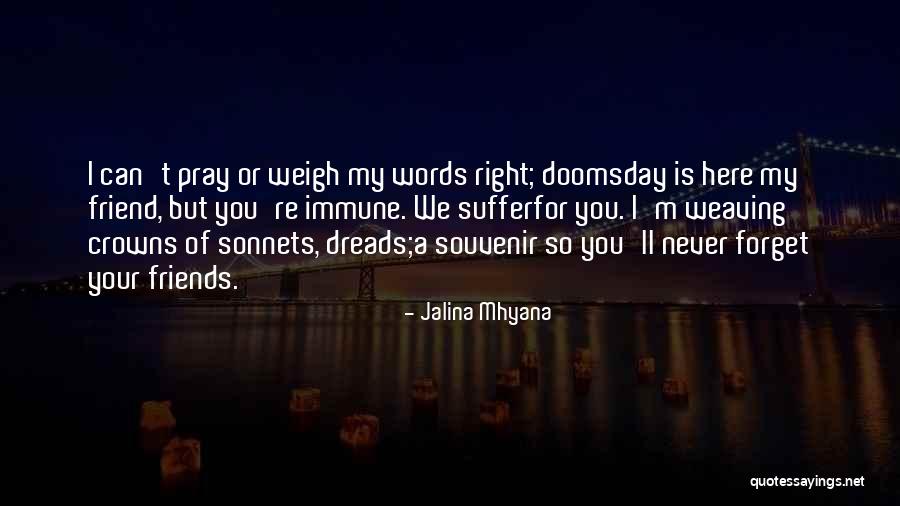 I can't pray or weigh my words right; doomsday
is here my friend, but you're immune. We suffer
for you. I'm weaving crowns of sonnets, dreads;
a souvenir so you'll never forget your friends. — Jalina Mhyana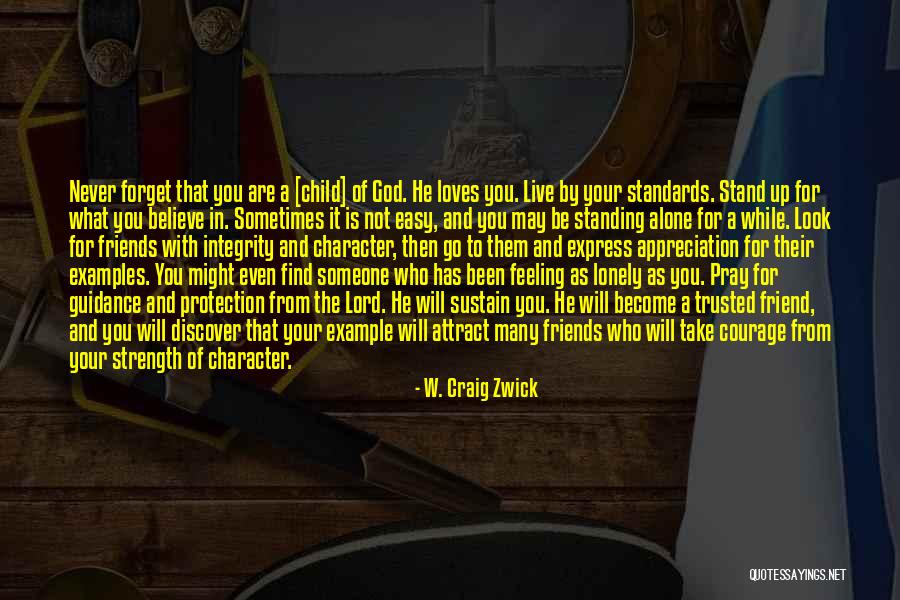 Never forget that you are a [child] of God. He loves you. Live by your standards. Stand up for what you believe in. Sometimes it is not easy, and you may be standing alone for a while. Look for friends with integrity and character, then go to them and express appreciation for their examples. You might even find someone who has been feeling as lonely as you. Pray for guidance and protection from the Lord. He will sustain you. He will become a trusted friend, and you will discover that your example will attract many friends who will take courage from your strength of character. — W. Craig Zwick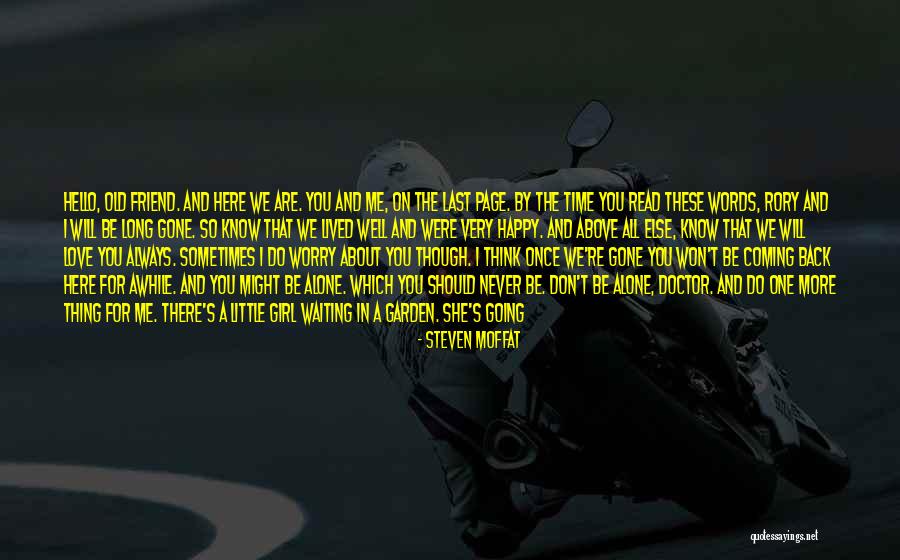 Hello, old friend. And here we are. You and me, on the last page. By the time you read these words, Rory and I will be long gone. So know that we lived well and were very happy. And above all else, know that we will love you always. Sometimes I do worry about you though. I think once we're gone you won't be coming back here for awhile. And you might be alone. Which you should never be. Don't be alone, Doctor. And do one more thing for me. There's a little girl waiting in a garden. She's going to wait a long while, so she's going to need a lot of hope. Go to her. Tell her a story. Tell her that if she's patient, the days are coming that she'll never forget. Tell her she'll go to see and fight pirates. She'll fall in love with a man who'll wait two thousand years to keep her safe. Tell her she'll give hope to the greatest painter who ever lived. And save a whale in outer space. Tell her, this is the story of Amelia Pond. And this is how it ends. — Steven Moffat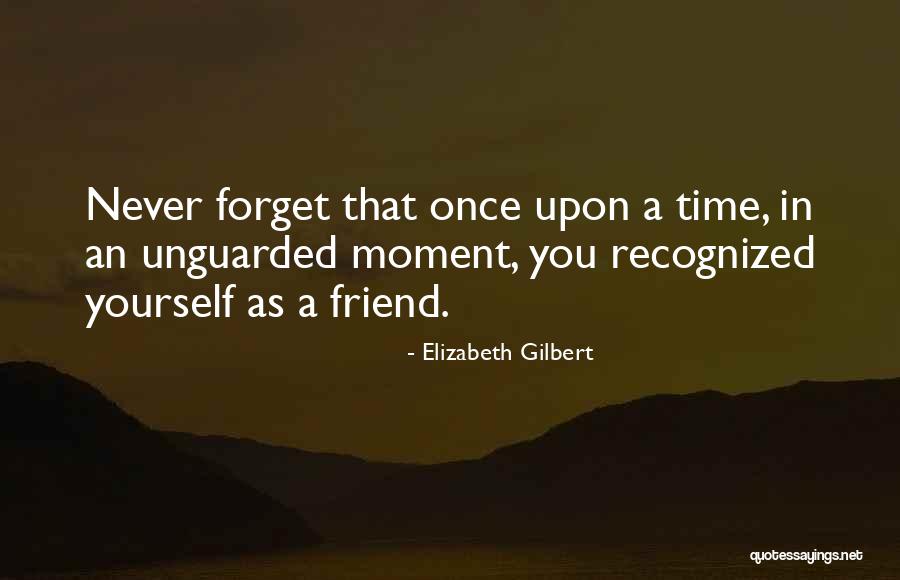 Never forget that once upon a time, in an unguarded moment, you recognized yourself as a friend. — Elizabeth Gilbert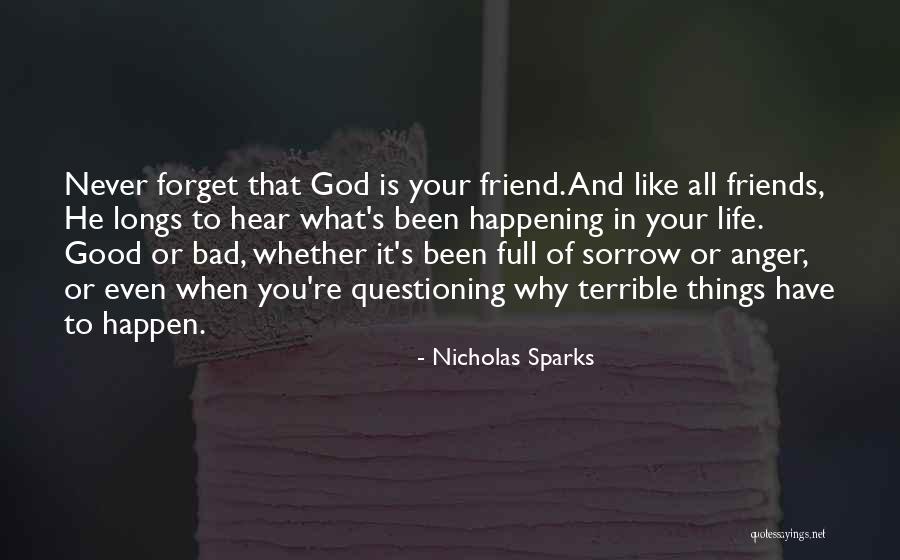 Never forget that God is your friend. And like all friends, He longs to hear what's been happening in your life. Good or bad, whether it's been full of sorrow or anger, or even when you're questioning why terrible things have to happen. — Nicholas Sparks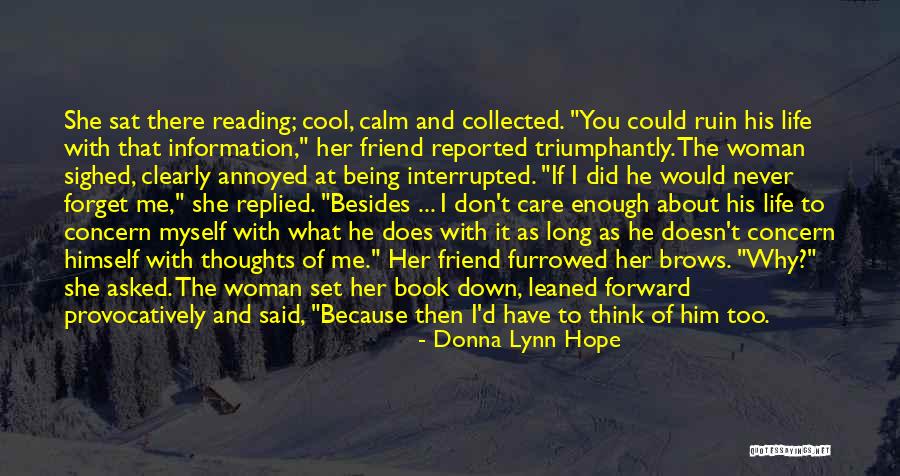 She sat there reading; cool, calm and collected. "You could ruin his life with that information," her friend reported triumphantly. The woman sighed, clearly annoyed at being interrupted. "If I did he would never forget me," she replied. "Besides ... I don't care enough about his life to concern myself with what he does with it as long as he doesn't concern himself with thoughts of me." Her friend furrowed her brows. "Why?" she asked. The woman set her book down, leaned forward provocatively and said, "Because then I'd have to think of him too. — Donna Lynn Hope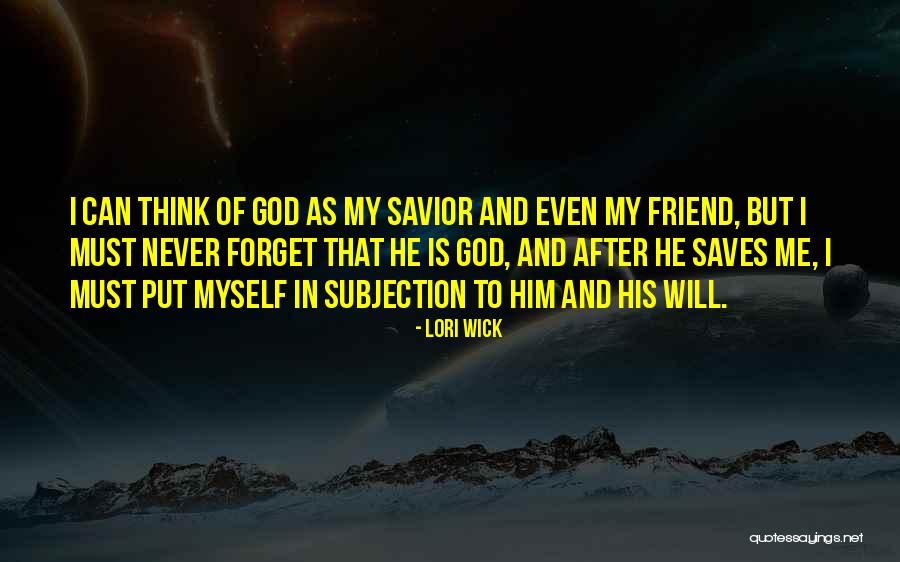 I can think of God as my savior and even my friend, but I must never forget that He is God, and after He saves me, I must put myself in subjection to Him and His will. — Lori Wick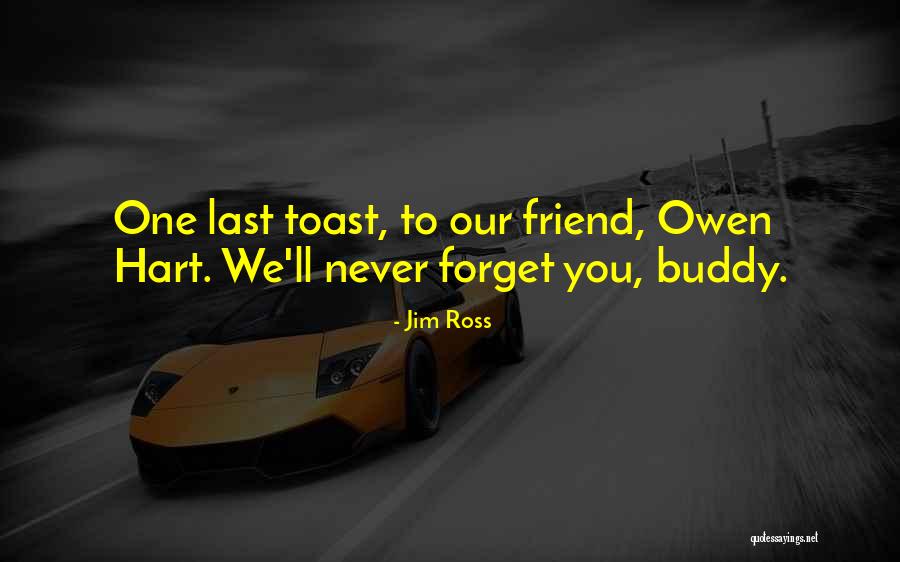 One last toast, to our friend, Owen Hart. We'll never forget you, buddy. — Jim Ross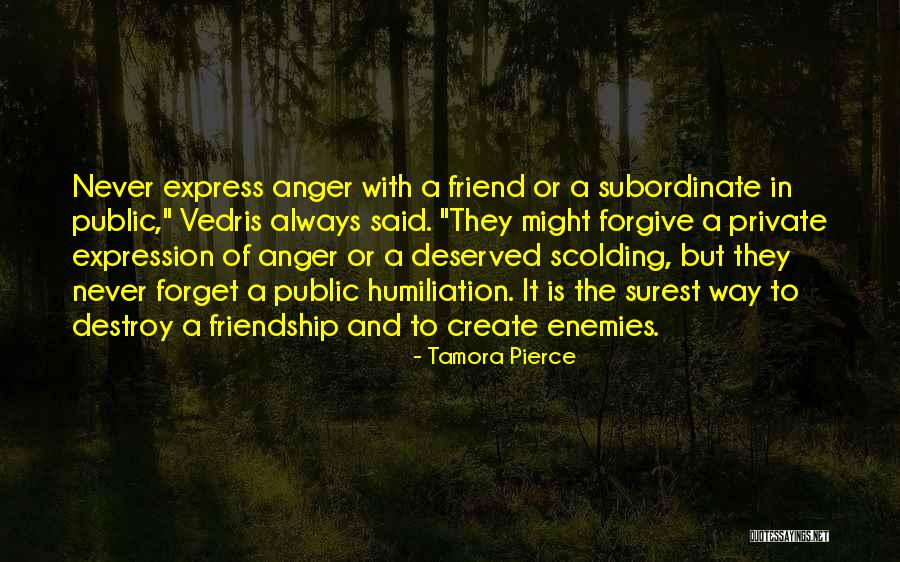 Never express anger with a friend or a subordinate in public," Vedris always said. "They might forgive a private expression of anger or a deserved scolding, but they never forget a public humiliation. It is the surest way to destroy a friendship and to create enemies. — Tamora Pierce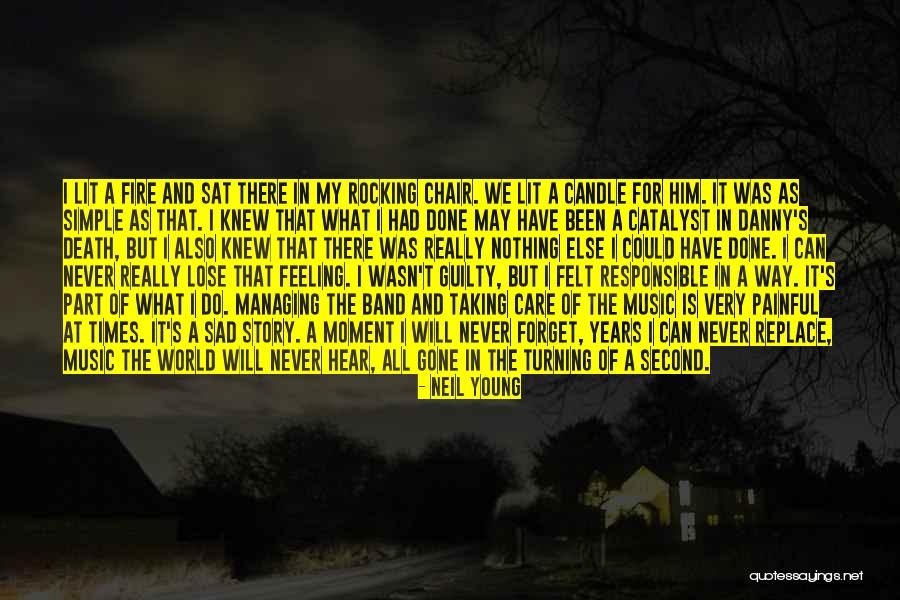 I lit a fire and sat there in my rocking chair. We lit a candle for him. It was as simple as that. I knew that what I had done may have been a catalyst in Danny's death, but I also knew that there was really nothing else I could have done. I can never really lose that feeling. I wasn't guilty, but I felt responsible in a way. It's part of what I do. Managing the band and taking care of the music is very painful at times. It's a sad story. A moment I will never forget, years I can never replace, music the world will never hear, all gone in the turning of a second. — Neil Young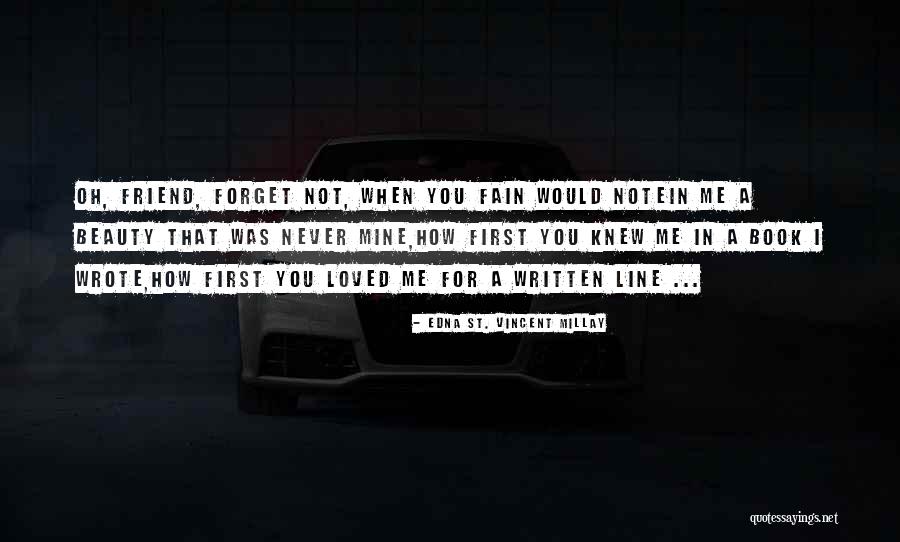 Oh, friend, forget not, when you fain would note
In me a beauty that was never mine,
How first you knew me in a book I wrote,
How first you loved me for a written line ... — Edna St. Vincent Millay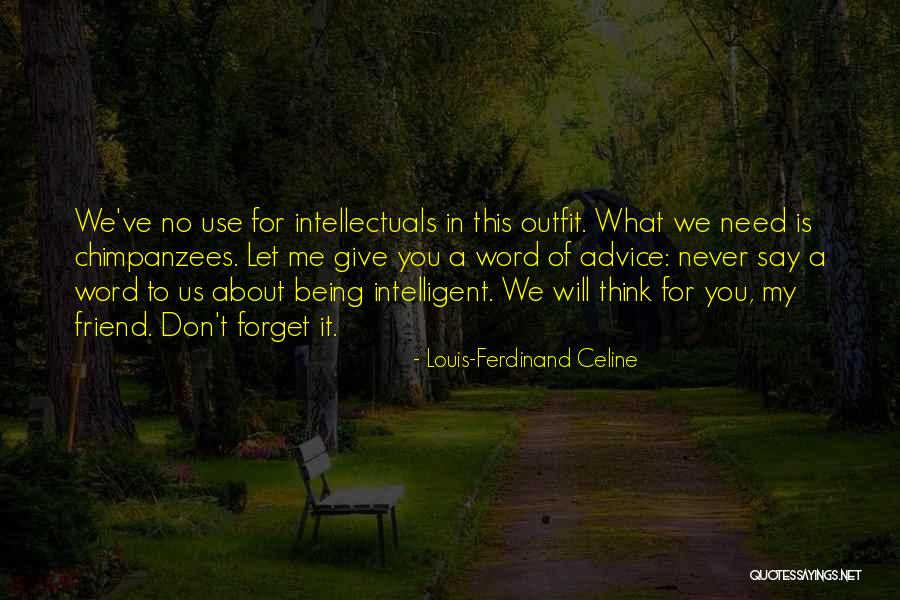 We've no use for intellectuals in this outfit. What we need is chimpanzees. Let me give you a word of advice: never say a word to us about being intelligent. We will think for you, my friend. Don't forget it. — Louis-Ferdinand Celine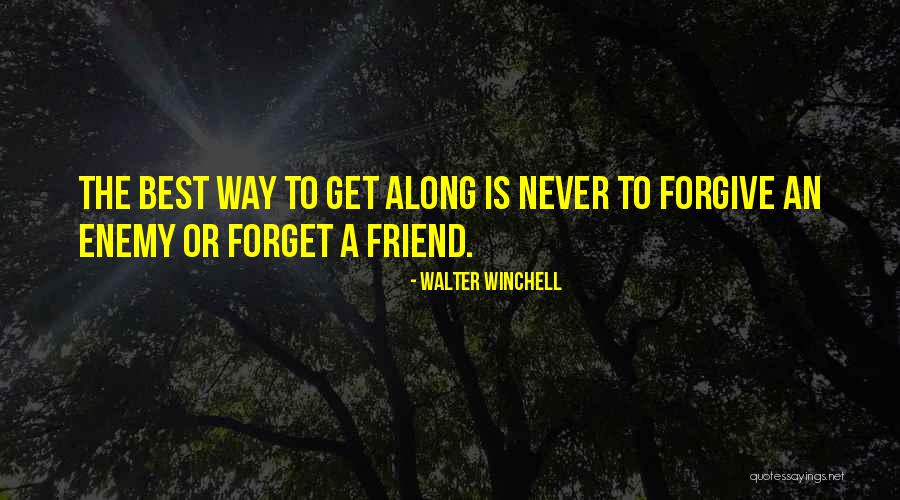 The best way to get along is never to forgive an enemy or forget a friend. — Walter Winchell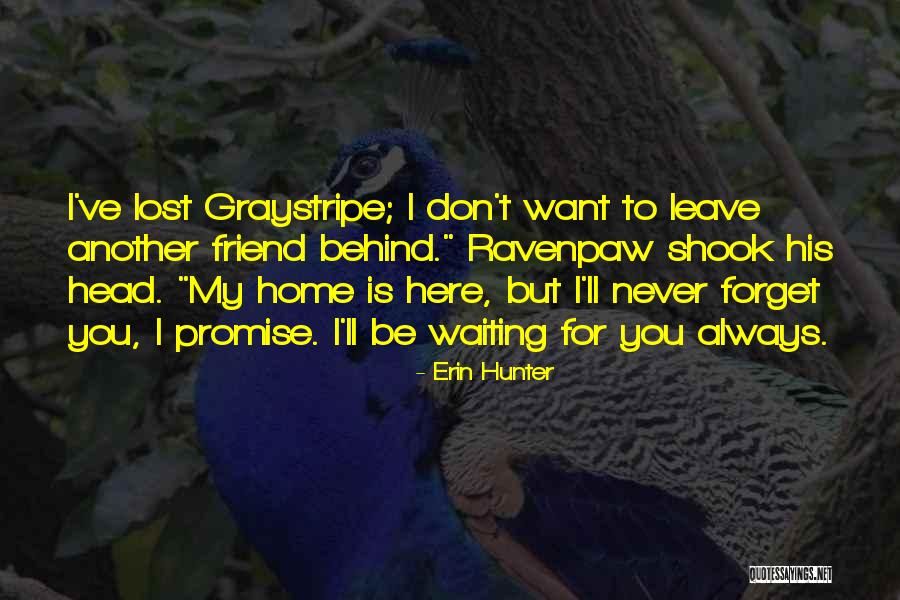 I've lost Graystripe; I don't want to leave another friend behind." Ravenpaw shook his head. "My home is here, but I'll never forget you, I promise. I'll be waiting for you always. — Erin Hunter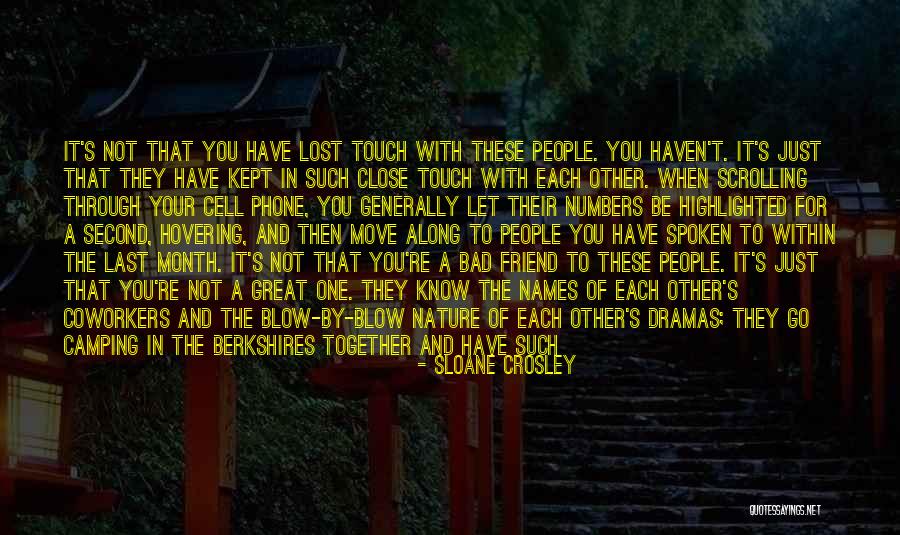 It's not that you have lost touch with these people. You haven't. It's just that they have kept in such close touch with each other. When scrolling through your cell phone, you generally let their numbers be highlighted for a second, hovering, and then move along to people you have spoken to within the last month. It's not that you're a bad friend to these people. It's just that you're not a great one. They know the names of each other's coworkers and the blow-by-blow nature of each other's dramas; they go camping in the Berkshires together and have such sentences in their conversational arsenal as "you left your lip gloss in my bathroom." You have no such sentences. Your connection to your friends is half-baked and you are starting to forget their siblings' names, never mind their coworkers. But you're still in the play even if you're no longer a main character. — Sloane Crosley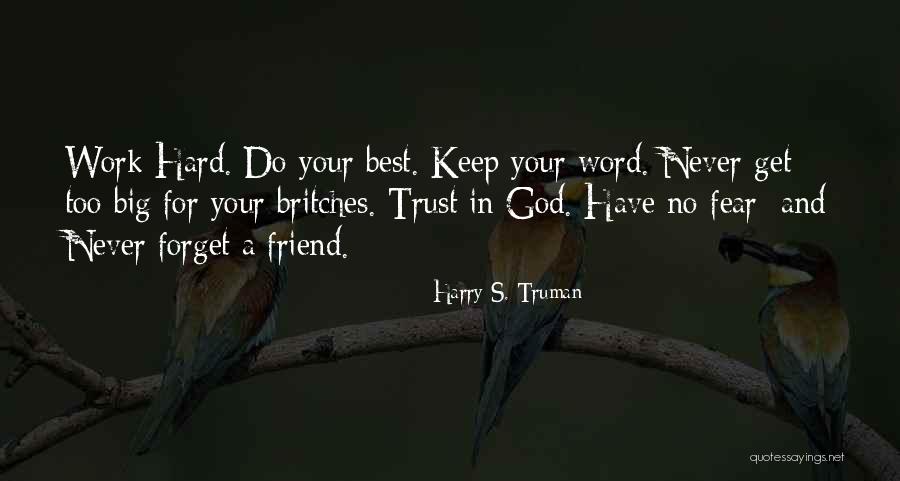 Work Hard. Do your best. Keep your word. Never get too big for your britches. Trust in God. Have no fear; and Never forget a friend. — Harry S. Truman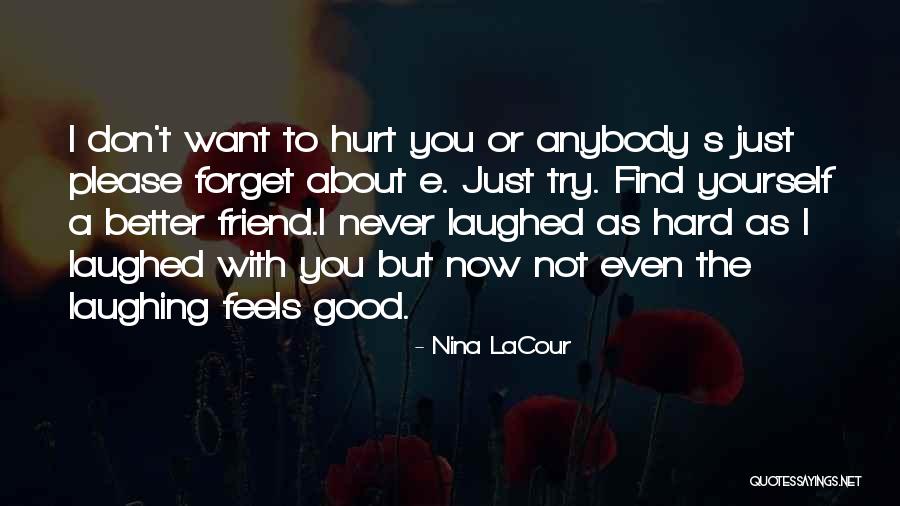 I don't want to hurt you or anybody s just please forget about e. Just try. Find yourself a better friend.I never laughed as hard as I laughed with you but now not even the laughing feels good. — Nina LaCour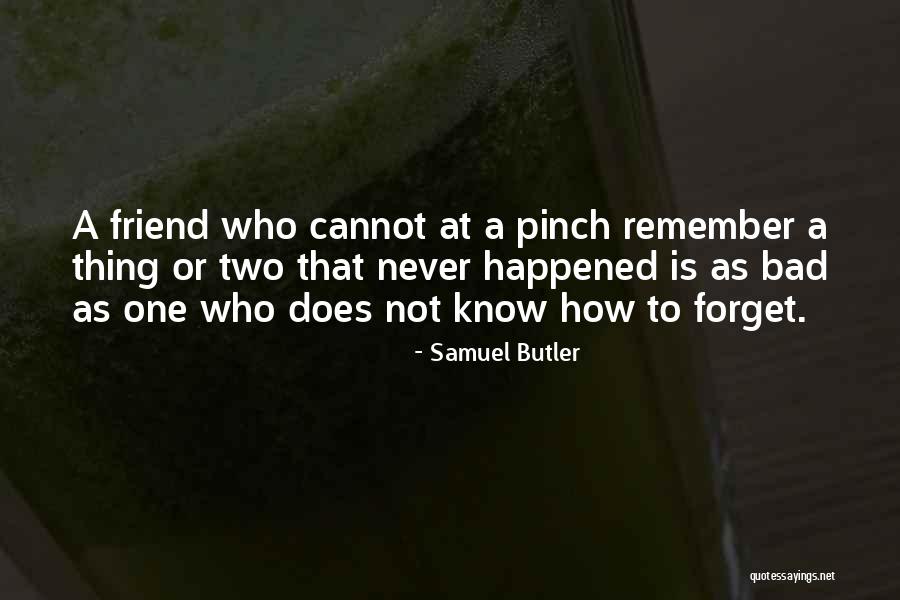 A friend who cannot at a pinch remember a thing or two that never happened is as bad as one who does not know how to forget. — Samuel Butler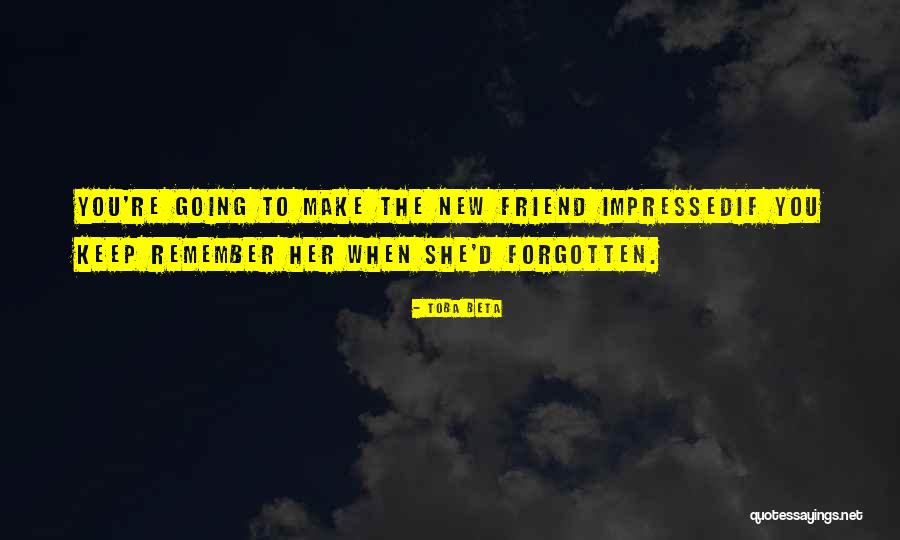 You're going to make the new friend impressed
if you keep remember her when she'd forgotten. — Toba Beta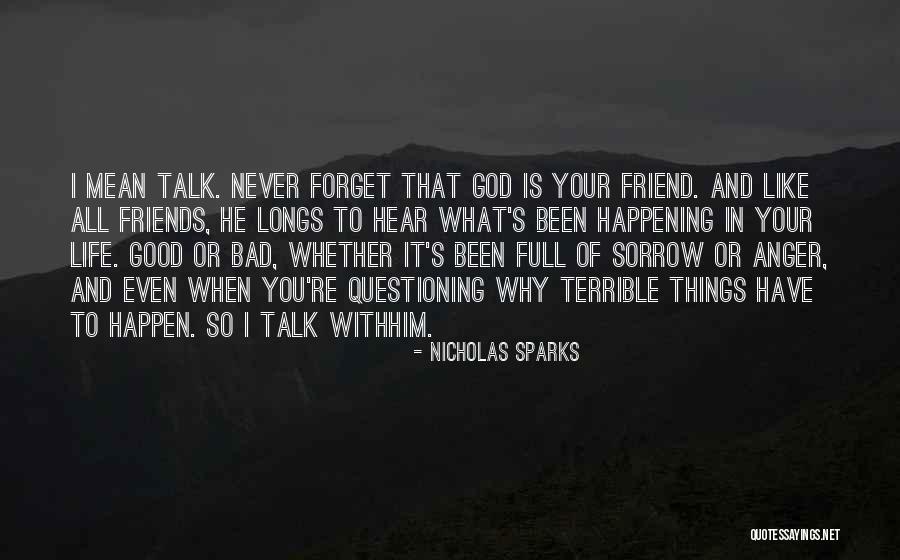 I mean talk. Never forget that God is your friend. And like all friends, He longs to hear what's been happening in your life. Good or bad, whether it's been full of sorrow or anger, and even when you're questioning why terrible things have to happen. So I talk with
him. — Nicholas Sparks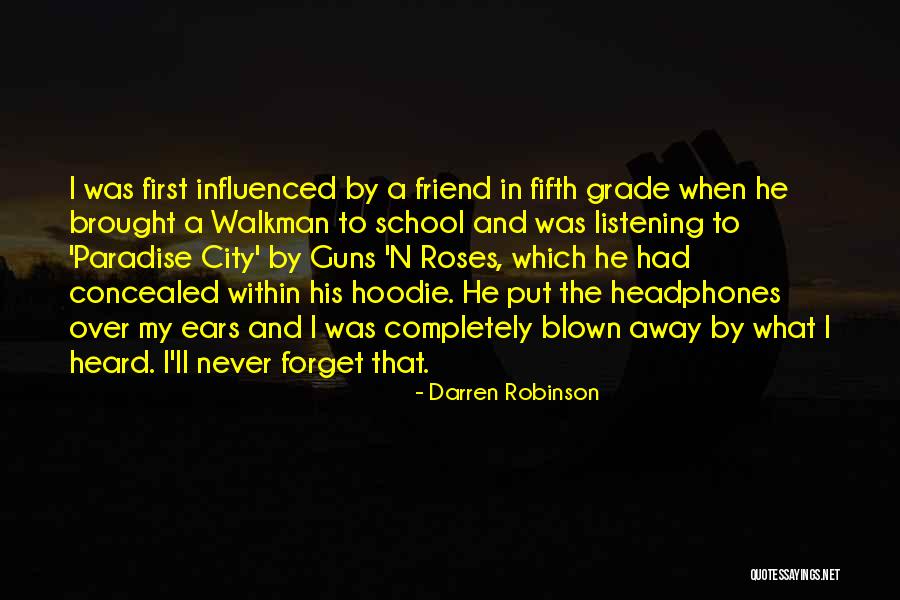 I was first influenced by a friend in fifth grade when he brought a Walkman to school and was listening to 'Paradise City' by Guns 'N Roses, which he had concealed within his hoodie. He put the headphones over my ears and I was completely blown away by what I heard. I'll never forget that. — Darren Robinson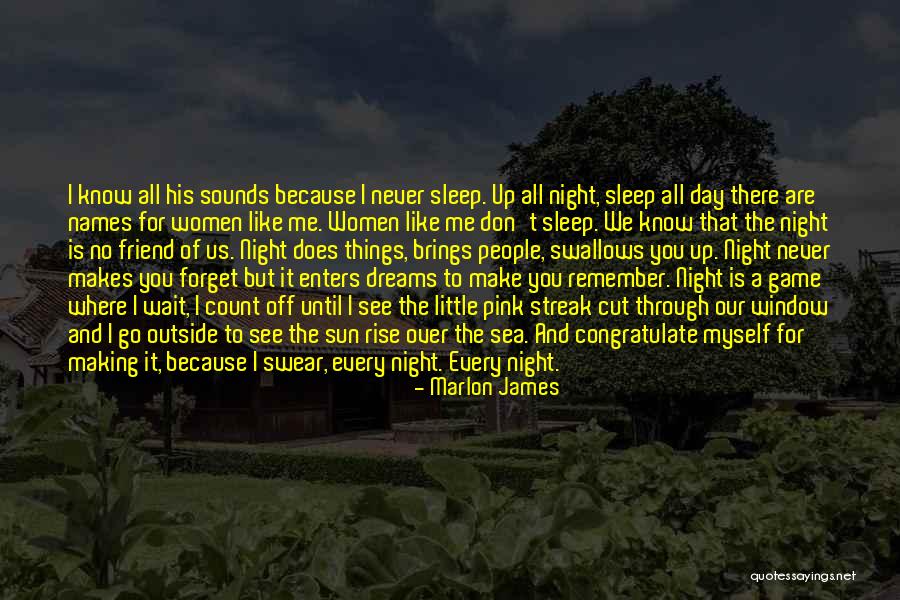 I know all his sounds because I never sleep. Up all night, sleep all day there are names for women like me. Women like me don't sleep. We know that the night is no friend of us. Night does things, brings people, swallows you up. Night never makes you forget but it enters dreams to make you remember. Night is a game where I wait, I count off until I see the little pink streak cut through our window and I go outside to see the sun rise over the sea. And congratulate myself for making it, because I swear, every night. Every night. — Marlon James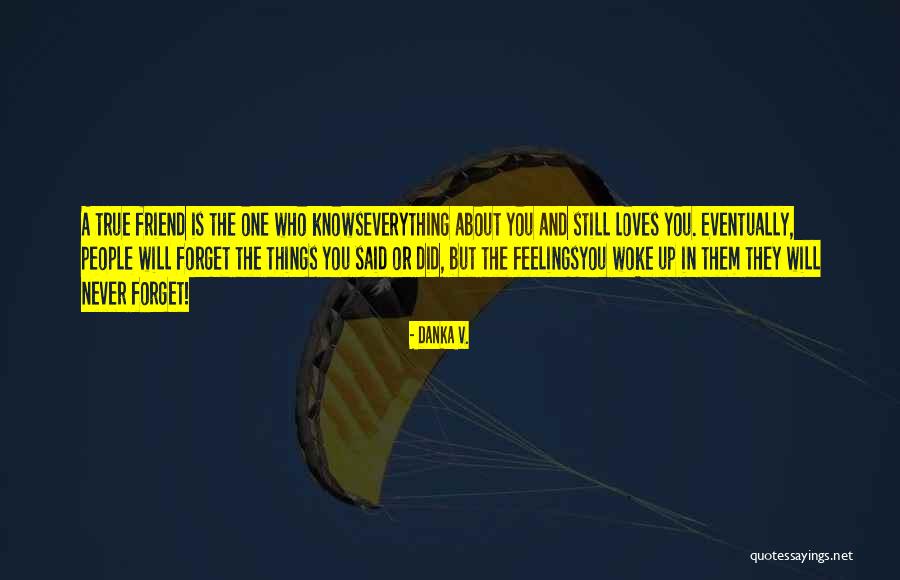 A true friend is the one who knows
everything about you and still loves you. Eventually, people will forget the things you said or did, but the feelings
you woke up in them they will never forget! — Danka V.
I love you, Savannah, and I always will," I breathed. "You're the best thing that's ever happened to me. You were my best friend and my lover, and I dont regret a single moment of it. You made me feel alive again, and most of all, you gave me my father. I'll never forget you for that. You're always going to be the very best part of me. I'm sorry it has to be this way, but I have to leave, and you have to see your husband." As I spoke, I could feel her shaking with sobs, and I continued to hold her for a long time afterward. When we finally seperated, I knew that it would be the last time I ever held her. I backed away, my eyes holding Savannah's. "I love you, too, John," she said. "Good-bye." I raised a hand. — Nicholas Sparks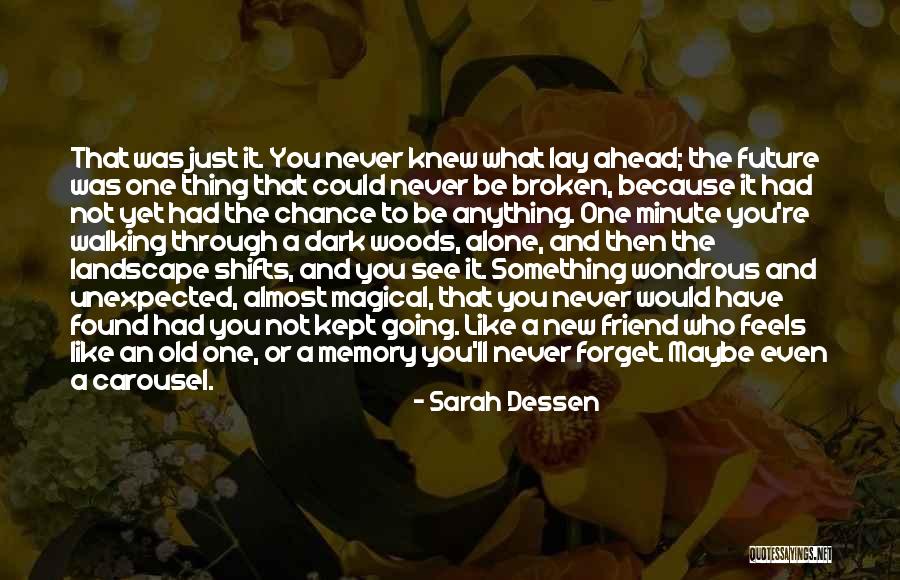 That was just it. You never knew what lay ahead; the future was one thing that could never be broken, because it had not yet had the chance to be anything. One minute you're walking through a dark woods, alone, and then the landscape shifts, and you see it. Something wondrous and unexpected, almost magical, that you never would have found had you not kept going. Like a new friend who feels like an old one, or a memory you'll never forget. Maybe even a carousel. — Sarah Dessen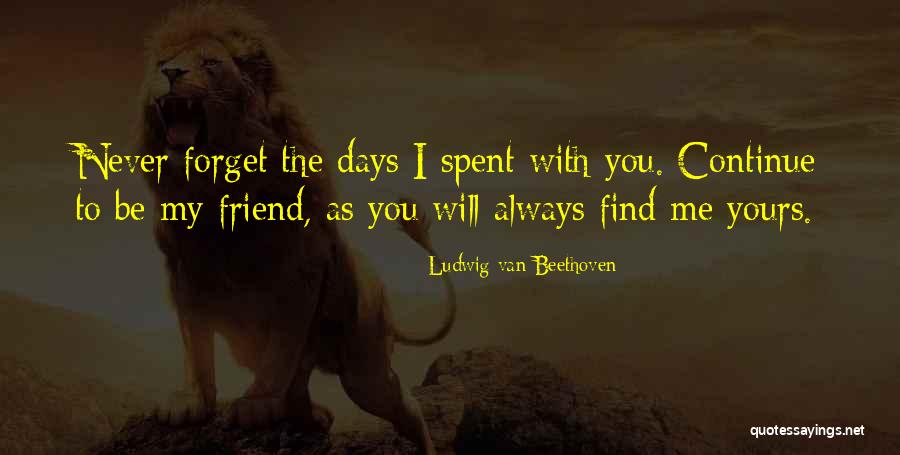 Never forget the days I spent with you. Continue to be my friend, as you will always find me yours. — Ludwig Van Beethoven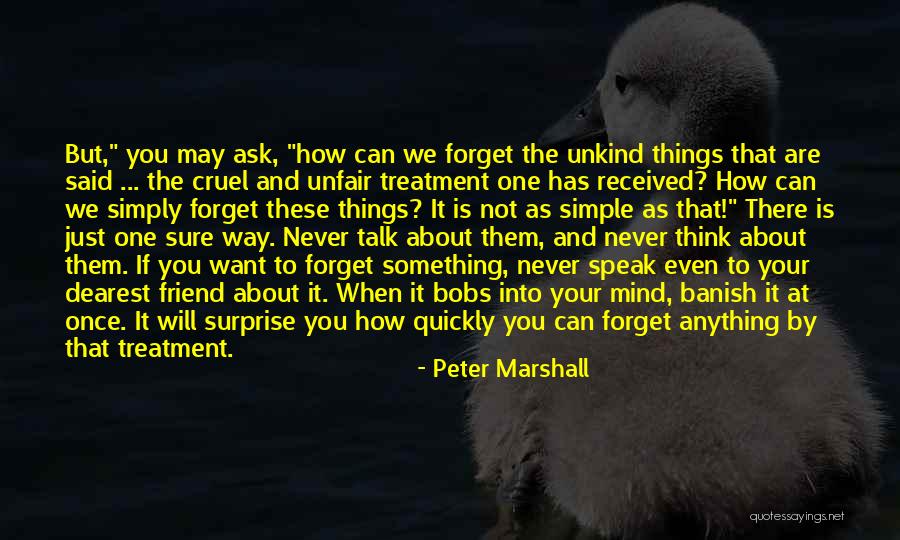 But," you may ask, "how can we forget the unkind things that are said ... the cruel and unfair treatment one has received? How can we simply forget these things? It is not as simple as that!" There is just one sure way. Never talk about them, and never think about them. If you want to forget something, never speak even to your dearest friend about it. When it bobs into your mind, banish it at once. It will surprise you how quickly you can forget anything by that treatment. — Peter Marshall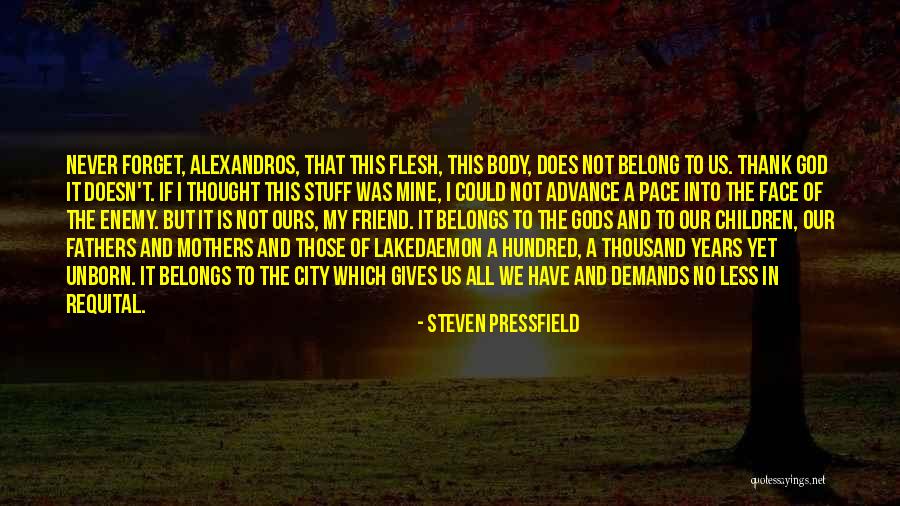 Never forget, Alexandros, that this flesh, this body, does not belong to us. Thank God it doesn't. If I thought this stuff was mine, I could not advance a pace into the face of the enemy. But it is not ours, my friend. It belongs to the gods and to our children, our fathers and mothers and those of Lakedaemon a hundred, a thousand years yet unborn. It belongs to the city which gives us all we have and demands no less in requital. — Steven Pressfield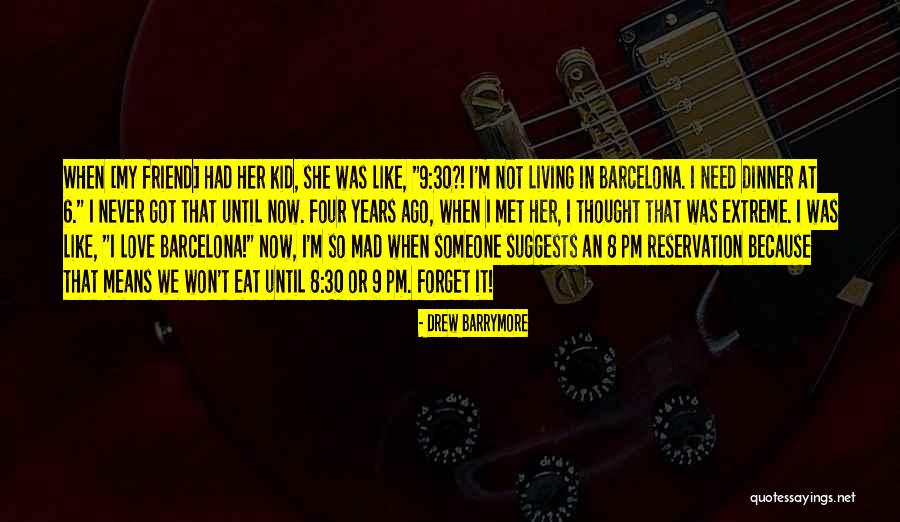 When [my friend] had her kid, she was like, "9:30?! I'm not living in Barcelona. I need dinner at 6." I never got that until now. Four years ago, when I met her, I thought that was extreme. I was like, "I love Barcelona!" Now, I'm so mad when someone suggests an 8 pm reservation because that means we won't eat until 8:30 or 9 pm. Forget it! — Drew Barrymore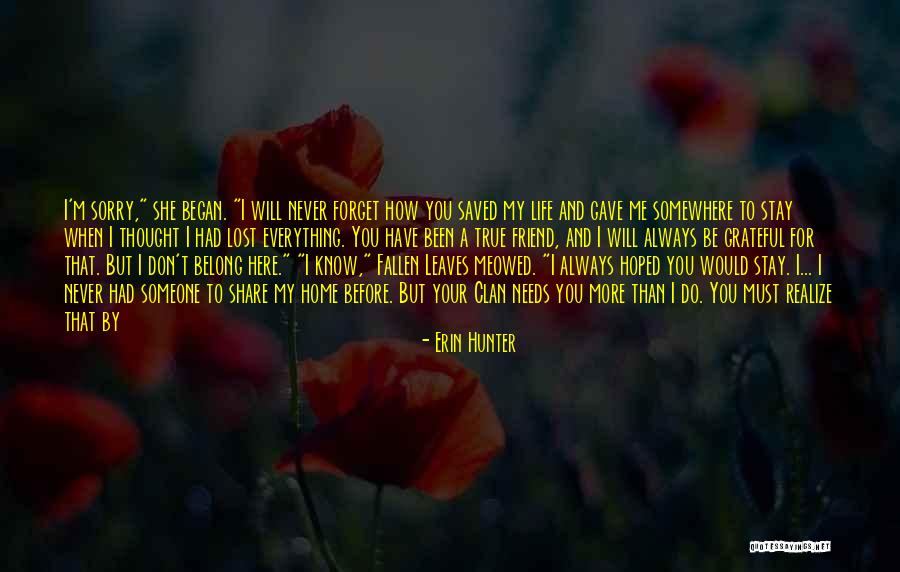 I'm sorry," she began. "I will never forget how you saved my life and gave me somewhere to stay when I thought I had lost everything. You have been a true friend, and I will always be grateful for that. But I don't belong here." "I know," Fallen Leaves meowed. "I always hoped you would stay. I... I never had someone to share my home before. But your Clan needs you more than I do. You must realize that by — Erin Hunter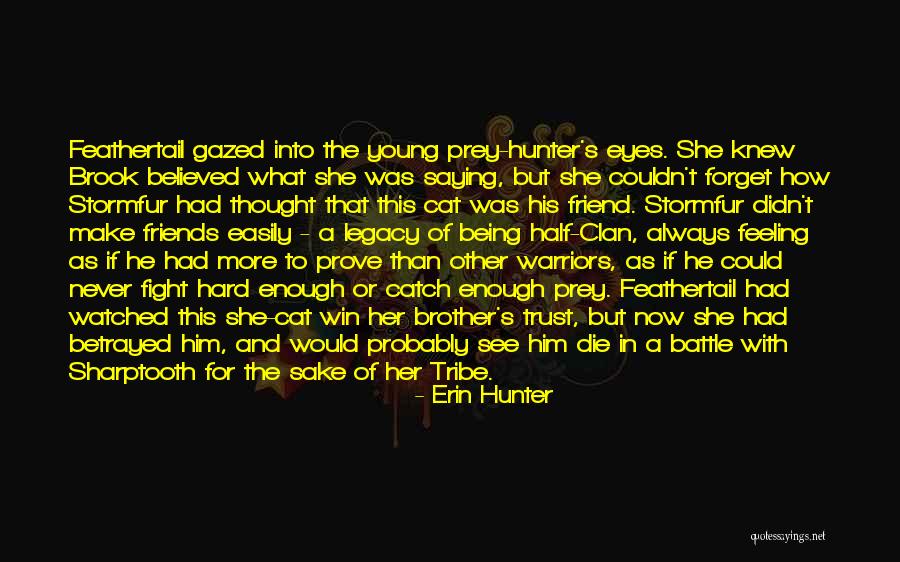 Feathertail gazed into the young prey-hunter's eyes. She knew Brook believed what she was saying, but she couldn't forget how Stormfur had thought that this cat was his friend. Stormfur didn't make friends easily - a legacy of being half-Clan, always feeling as if he had more to prove than other warriors, as if he could never fight hard enough or catch enough prey. Feathertail had watched this she-cat win her brother's trust, but now she had betrayed him, and would probably see him die in a battle with Sharptooth for the sake of her Tribe. — Erin Hunter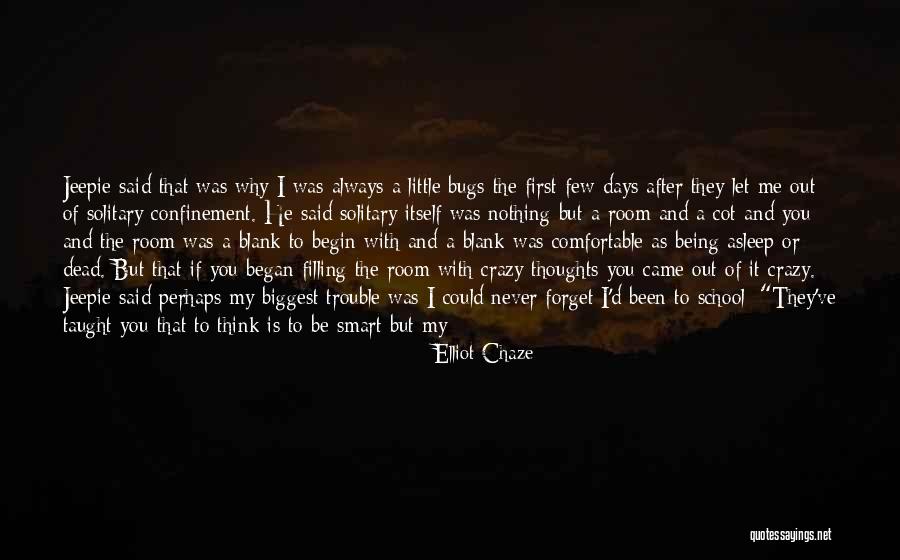 Jeepie said that was why I was always a little bugs the first few days after they let me out of solitary confinement. He said solitary itself was nothing but a room and a cot and you; and the room was a blank to begin with and a blank was comfortable as being asleep or dead. But that if you began filling the room with crazy thoughts you came out of it crazy. Jeepie said perhaps my biggest trouble was I could never forget I'd been to school: "They've taught you that to think is to be smart but my friend there's times when it's smart to be stupid."

But no one's immune to thinking. Try drawing a blank for any length of time, emptying your head of everything and still you land on a color, a shape, a personality, a grievance. I can sit here on this cot in my cell and stare at the plaster wall, go absolutely limp in my head, and the story, the story of Virginia and me is there in the plaster. — Elliot Chaze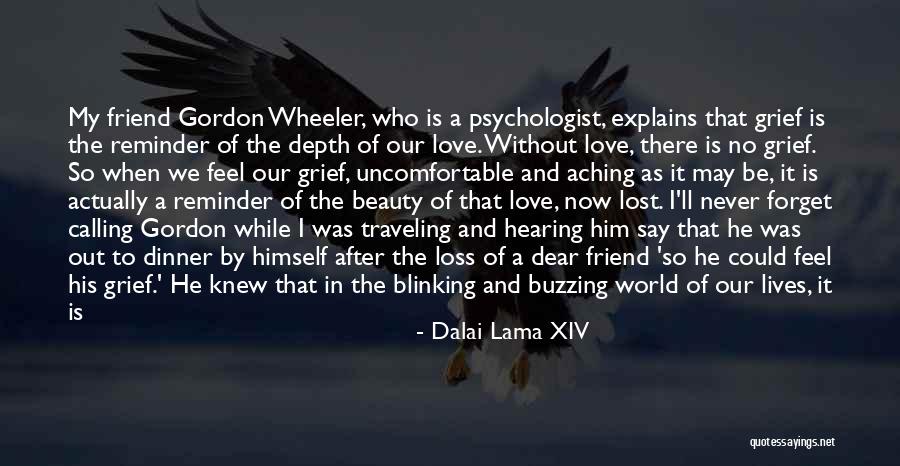 My friend Gordon Wheeler, who is a psychologist, explains that grief is the reminder of the depth of our love. Without love, there is no grief. So when we feel our grief, uncomfortable and aching as it may be, it is actually a reminder of the beauty of that love, now lost. I'll never forget calling Gordon while I was traveling and hearing him say that he was out to dinner by himself after the loss of a dear friend 'so he could feel his grief.' He knew that in the blinking and buzzing world of our lives, it is so easy to delete the past and move on to the next moment. To linger in the longing, the loss, the yearning is a way of feeling the rich embroidered texture of life, the torn cloth of our world that is endlessly being ripped and rewoven. — Dalai Lama XIV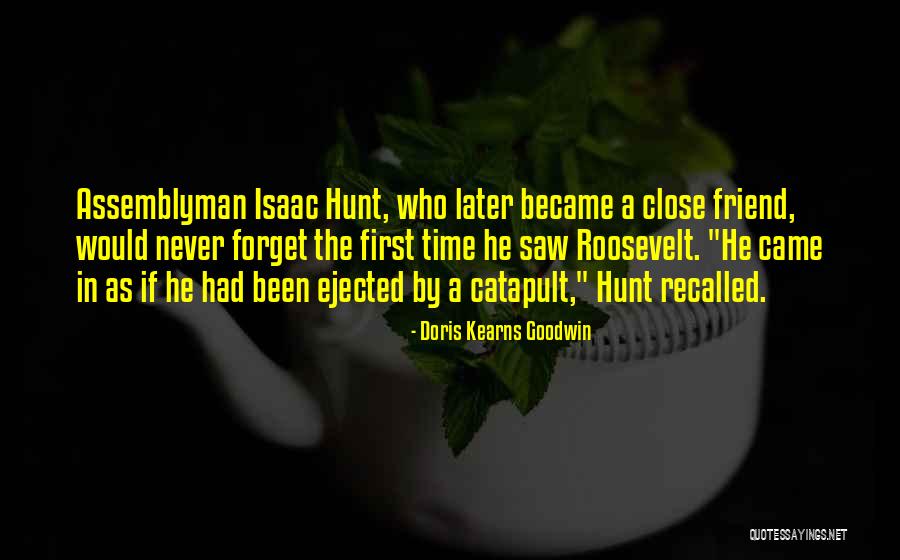 Assemblyman Isaac Hunt, who later became a close friend, would never forget the first time he saw Roosevelt. "He came in as if he had been ejected by a catapult," Hunt recalled. — Doris Kearns Goodwin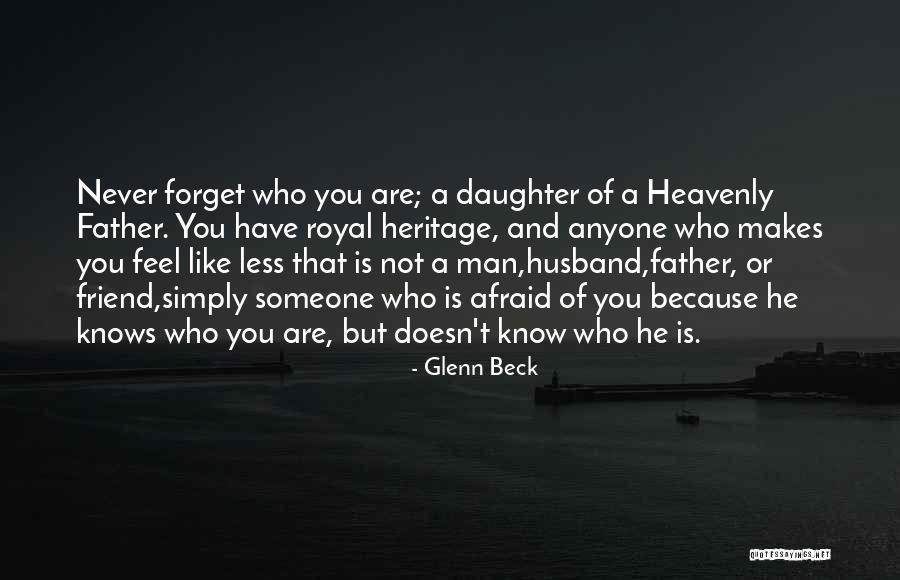 Never forget who you are; a daughter of a Heavenly Father. You have royal heritage, and anyone who makes you feel like less that is not a man,husband,father, or friend,simply someone who is afraid of you because he knows who you are, but doesn't know who he is. — Glenn Beck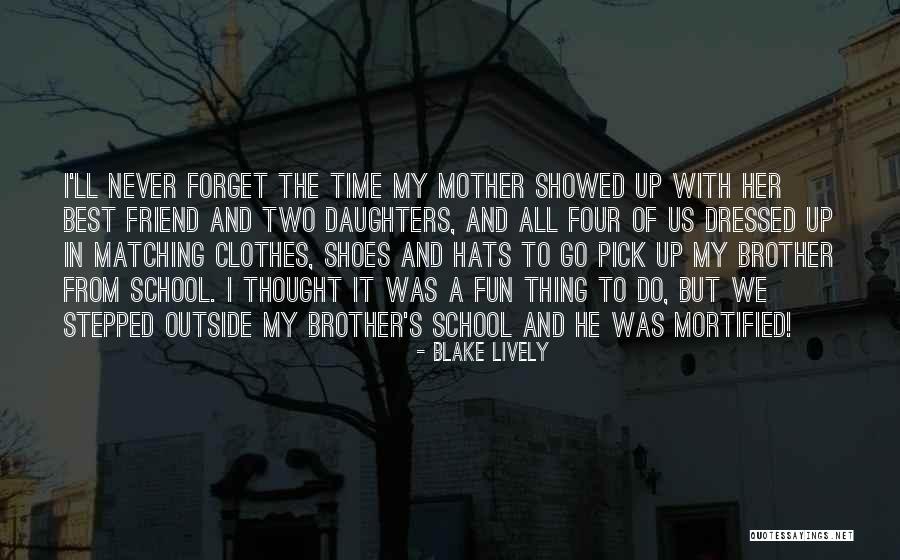 I'll never forget the time my mother showed up with her best friend and two daughters, and all four of us dressed up in matching clothes, shoes and hats to go pick up my brother from school. I thought it was a fun thing to do, but we stepped outside my brother's school and he was mortified! — Blake Lively