I Live For Your Smile Quotes & Sayings
Enjoy reading and share 64 famous quotes about I Live For Your Smile with everyone.
Top I Live For Your Smile Quotes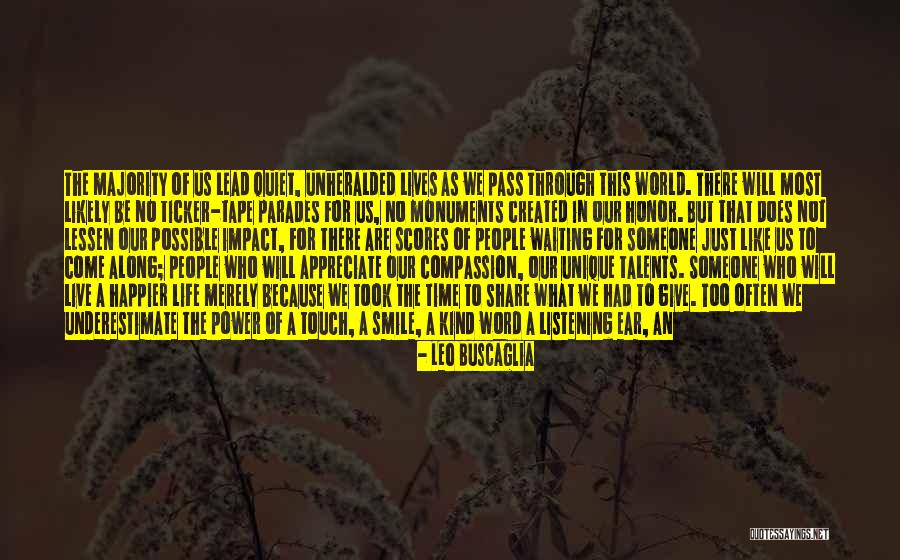 The majority of us lead quiet, unheralded lives as we pass through this world. There will most likely be no ticker-tape parades for us, no monuments created in our honor. But that does not lessen our possible impact, for there are scores of people waiting for someone just like us to come along; people who will appreciate our compassion, our unique talents. Someone who will live a happier life merely because we took the time to share what we had to give. Too often we underestimate the power of a touch, a smile, a kind word a listening ear, an honest compliment, or the smallest act of caring, all of which have a potential to turn a life around. It's overwhelming to consider the continuous opportunities there are to make our love felt. — Leo Buscaglia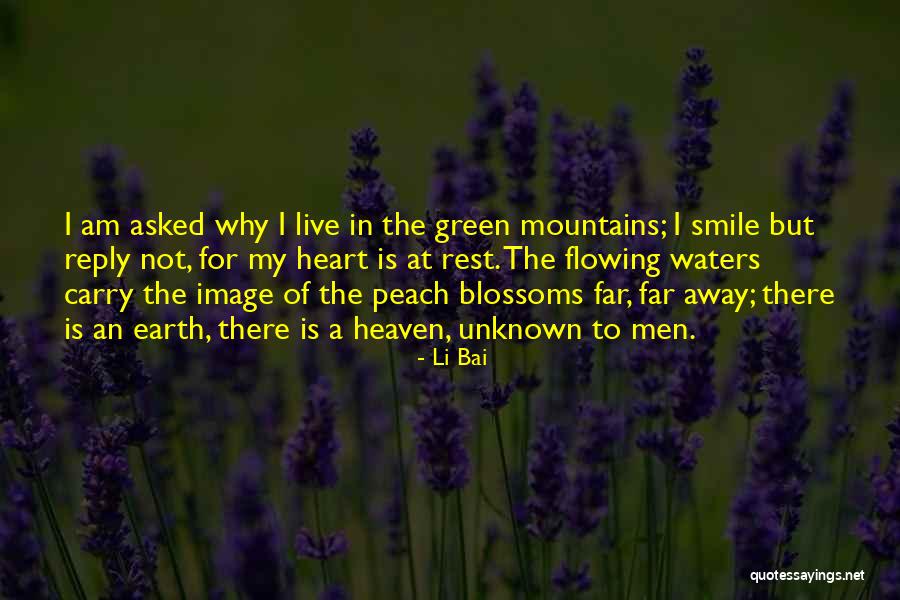 I am asked why I live in the green mountains; I smile but reply not, for my heart is at rest. The flowing waters carry the image of the peach blossoms far, far away; there is an earth, there is a heaven, unknown to men. — Li Bai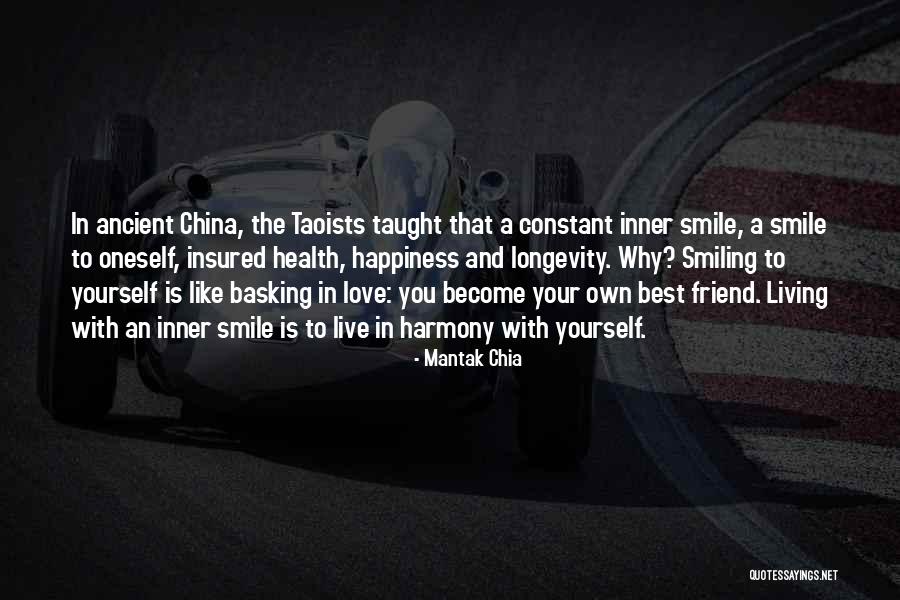 In ancient China, the Taoists taught that a constant inner smile, a smile to oneself, insured health, happiness and longevity. Why? Smiling to yourself is like basking in love: you become your own best friend. Living with an inner smile is to live in harmony with yourself. — Mantak Chia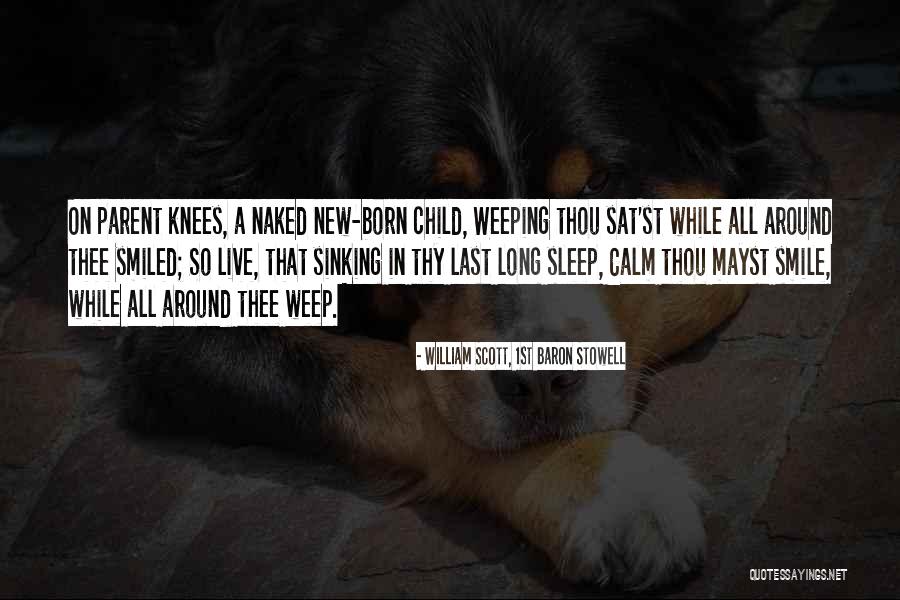 On parent knees, a naked new-born child, Weeping thou sat'st while all around thee smiled; So live, that sinking in thy last long sleep, Calm thou mayst smile, while all around thee weep. — William Scott, 1st Baron Stowell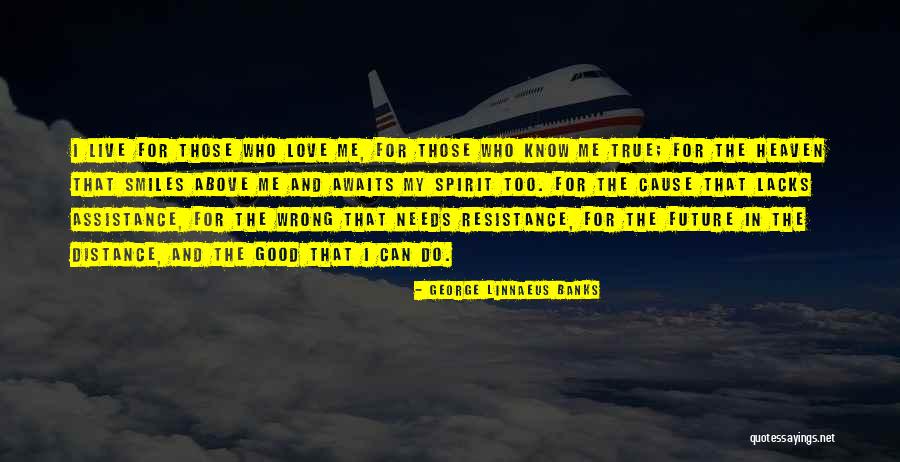 I live for those who love me, for those who know me true; for the heaven that smiles above me and awaits my spirit too. For the cause that lacks assistance, for the wrong that needs resistance, for the future in the distance, and the good that I can do. — George Linnaeus Banks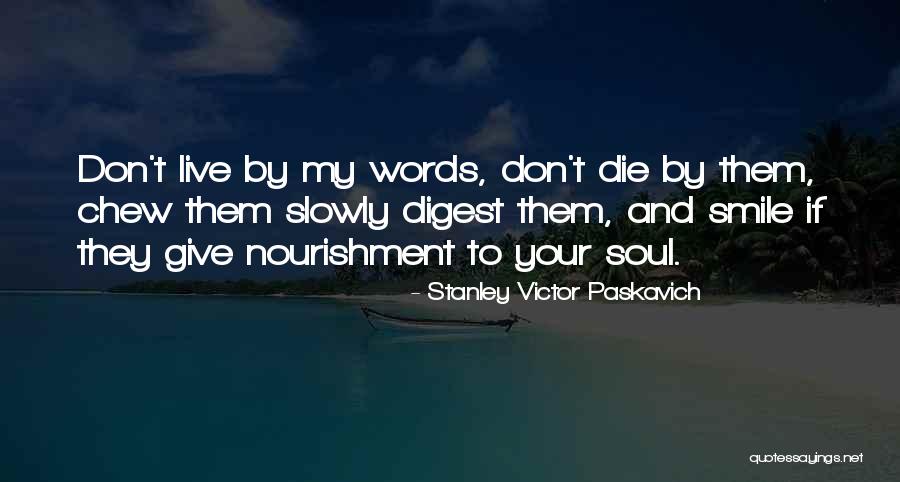 Don't live by my words, don't die by them, chew them slowly digest them, and smile if they give nourishment to your soul. — Stanley Victor Paskavich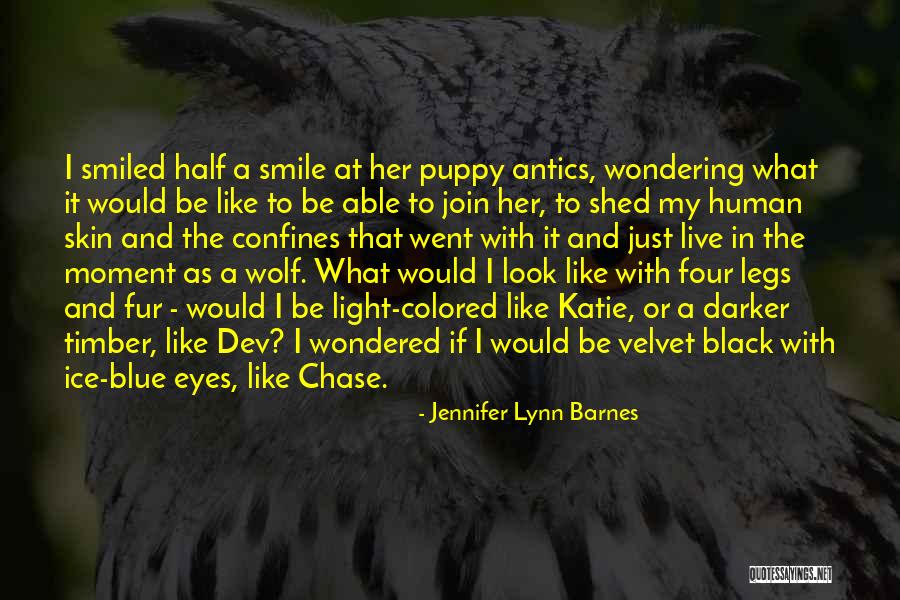 I smiled half a smile at her puppy antics, wondering what it would be like to be able to join her, to shed my human skin and the confines that went with it and just live in the moment as a wolf. What would I look like with four legs and fur - would I be light-colored like Katie, or a darker timber, like Dev? I wondered if I would be velvet black with ice-blue eyes, like Chase. — Jennifer Lynn Barnes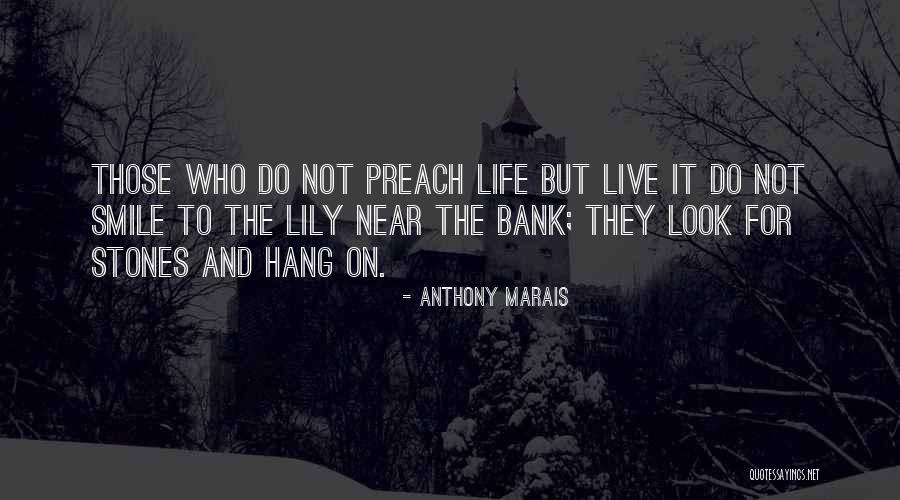 Those who do not preach life but live it do not smile to the lily near the bank; they look for stones and hang on. — Anthony Marais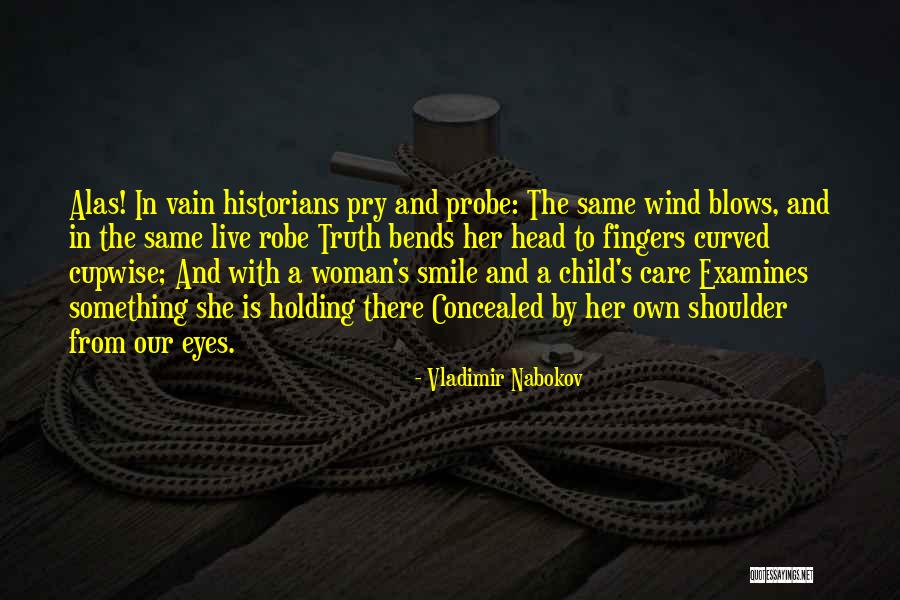 Alas! In vain historians pry and probe: The same wind blows, and in the same live robe Truth bends her head to fingers curved cupwise; And with a woman's smile and a child's care Examines something she is holding there Concealed by her own shoulder from our eyes. — Vladimir Nabokov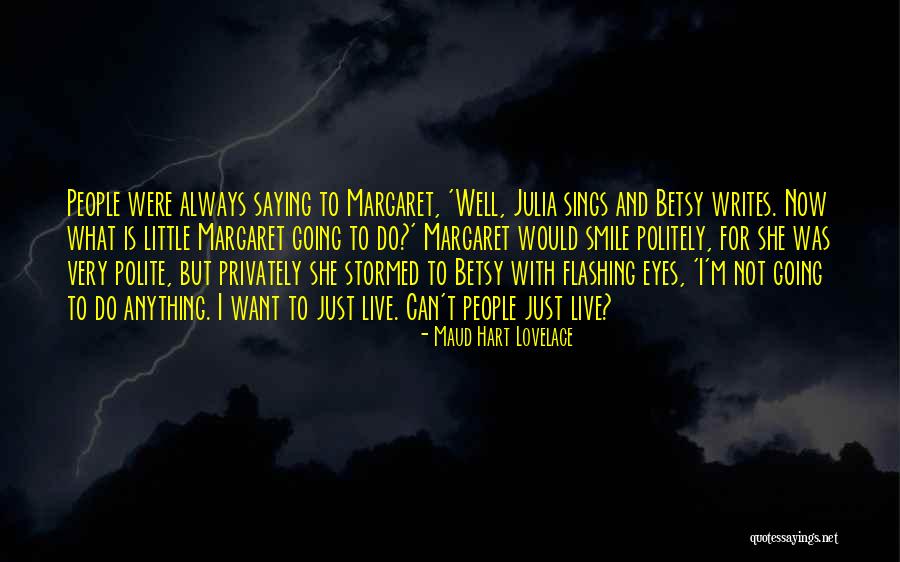 People were always saying to Margaret, 'Well, Julia sings and Betsy writes. Now what is little Margaret going to do?' Margaret would smile politely, for she was very polite, but privately she stormed to Betsy with flashing eyes, 'I'm not going to do anything. I want to just live. Can't people just live? — Maud Hart Lovelace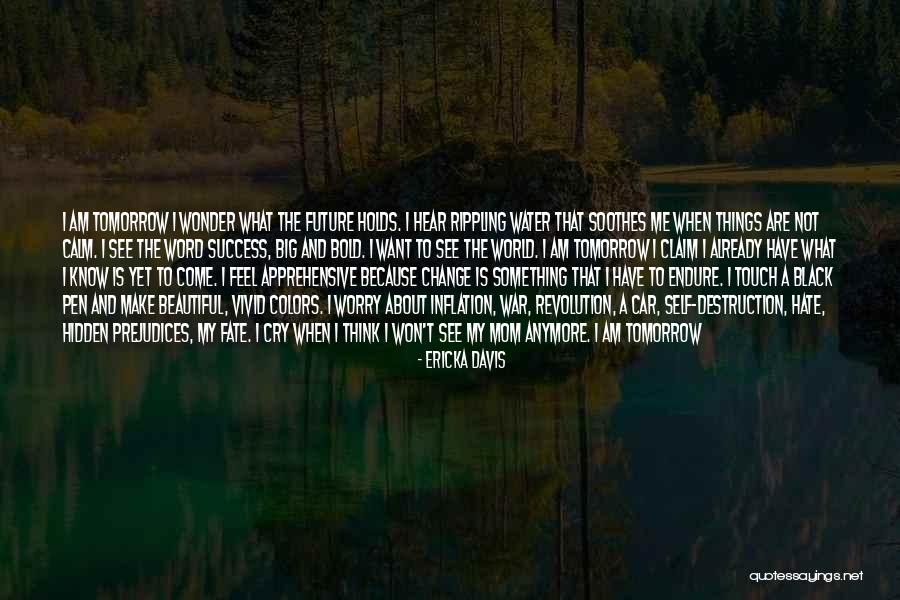 I am tomorrow I wonder what the future holds. I hear rippling water that soothes me when things are not calm. I see the word success, big and bold. I want to see the world. I am Tomorrow I claim I already have what I know is yet to come. I feel apprehensive because change is something that I have to endure. I touch a black pen and make beautiful, vivid colors. I worry about inflation, war, revolution, a car, self-destruction, hate, hidden prejudices, my fate. I cry when I think I won't see my mom anymore. I AM TOMORROW I understand that tomorrow is not promised. I say live like you're trying to get your name on his list. I dream that I am happy, prosperous, and loved. I try to meet the world and greet them with a smile on my face. I hope that the weight on my shoulders will take off and fly like a dove. I am tomorrow — Ericka Davis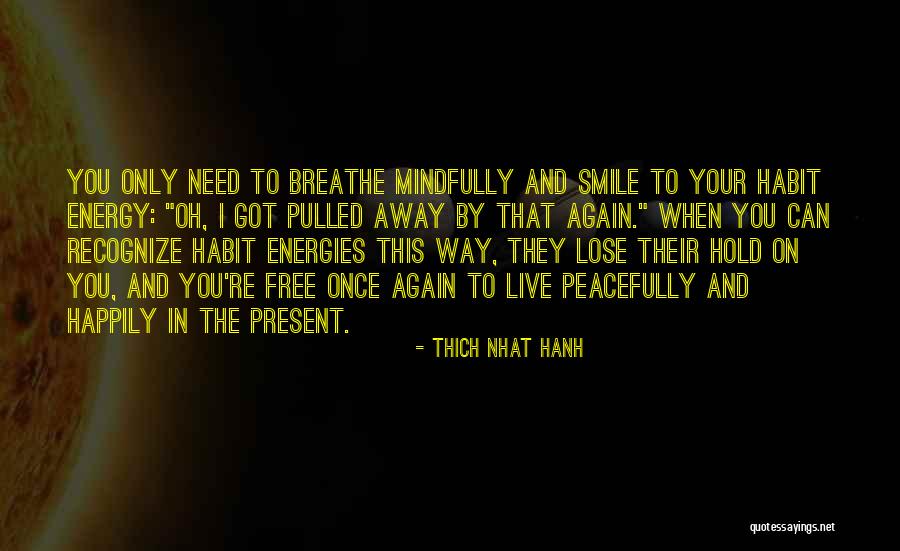 You only need to breathe mindfully and smile to your habit energy: "Oh, I got pulled away by that again." When you can recognize habit energies this way, they lose their hold on you, and you're free once again to live peacefully and happily in the present. — Thich Nhat Hanh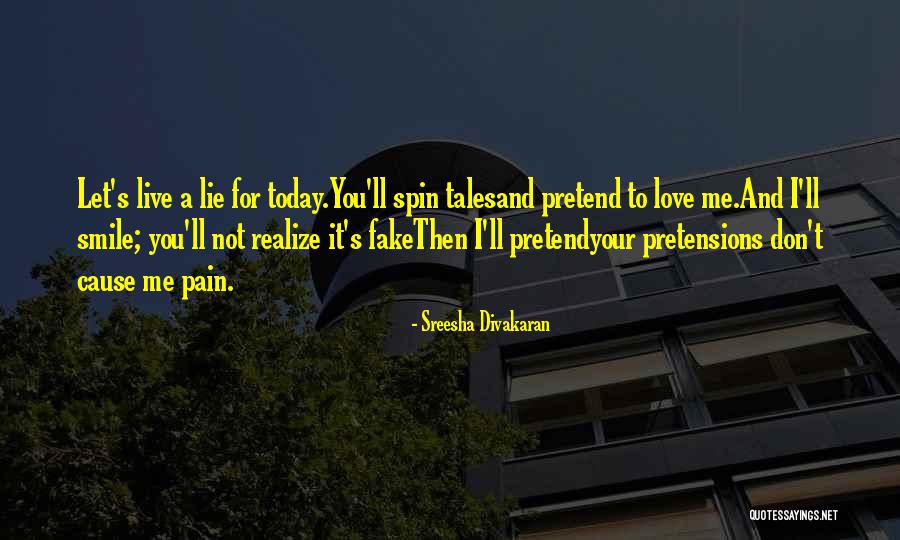 Let's live a lie for today.
You'll spin tales
and pretend to love me.
And I'll smile; you'll not realize it's fake
Then I'll pretend
your pretensions don't cause me pain. — Sreesha Divakaran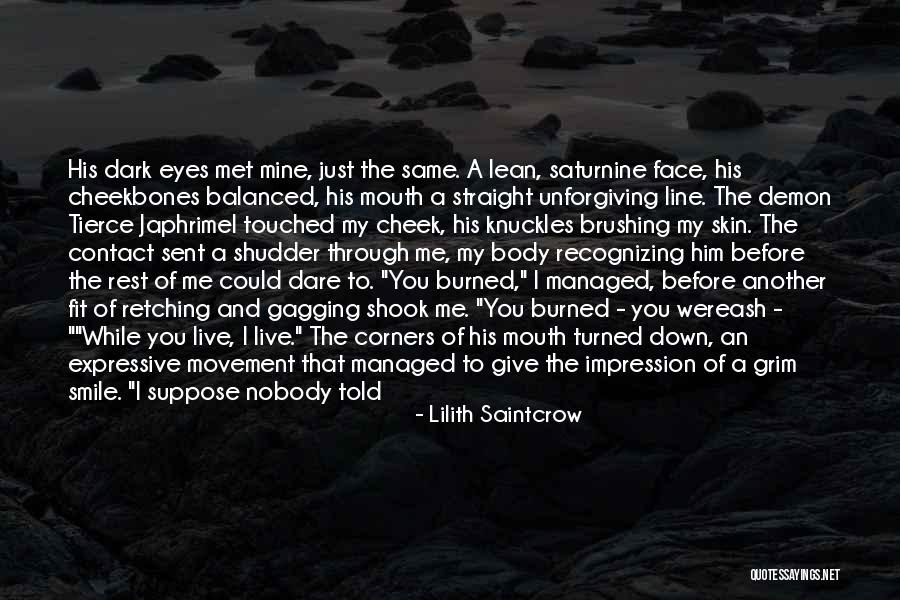 His dark eyes met mine, just the same. A lean, saturnine face, his cheekbones balanced, his mouth a straight unforgiving line. The demon Tierce Japhrimel touched my cheek, his knuckles brushing my skin. The contact sent a shudder through me, my body recognizing him before the rest of me could dare to. "You burned," I managed, before another fit of retching and gagging shook me. "You burned - you were
ash - "
"While you live, I live." The corners of his mouth turned down, an expressive movement that managed to give the impression of a grim smile. "I suppose nobody told you." I shook my head weakly. — Lilith Saintcrow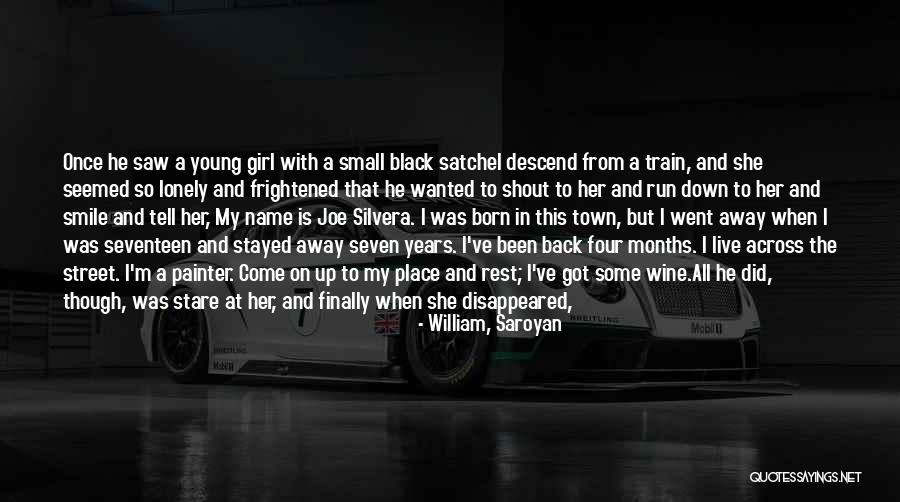 Once he saw a young girl with a small black satchel descend from a train, and she seemed so lonely and frightened that he wanted to shout to her and run down to her and smile and tell her, My name is Joe Silvera. I was born in this town, but I went away when I was seventeen and stayed away seven years. I've been back four months. I live across the street. I'm a painter. Come on up to my place and rest; I've got some wine.
All he did, though, was stare at her, and finally when she disappeared, walking down Tulare Street, he wanted very much, even then, to run down to the street and catch up with her; and a day later he wanted to look for her all over town; and a week later he wondered where she might be. — William, Saroyan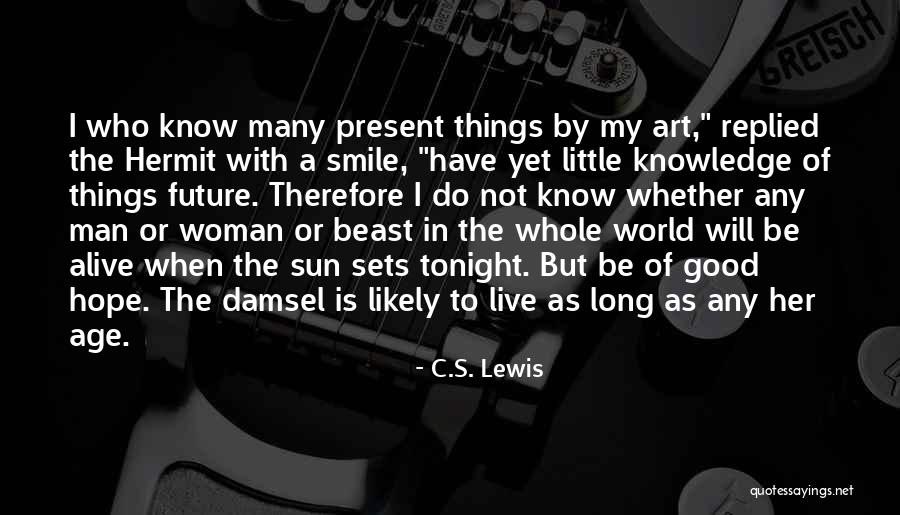 I who know many present things by my art," replied the Hermit with a smile, "have yet little knowledge of things future. Therefore I do not know whether any man or woman or beast in the whole world will be alive when the sun sets tonight. But be of good hope. The damsel is likely to live as long as any her age. — C.S. Lewis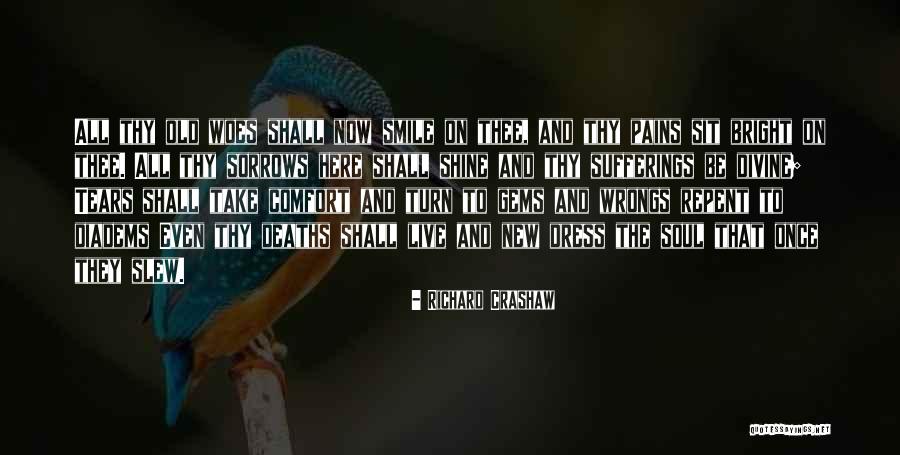 All thy old woes shall now smile on thee, and thy pains sit bright on thee. All thy sorrows here shall shine and thy sufferings be divine; Tears shall take comfort and turn to gems and wrongs repent to diadems Even thy deaths shall live and new dress the soul that once they slew. — Richard Crashaw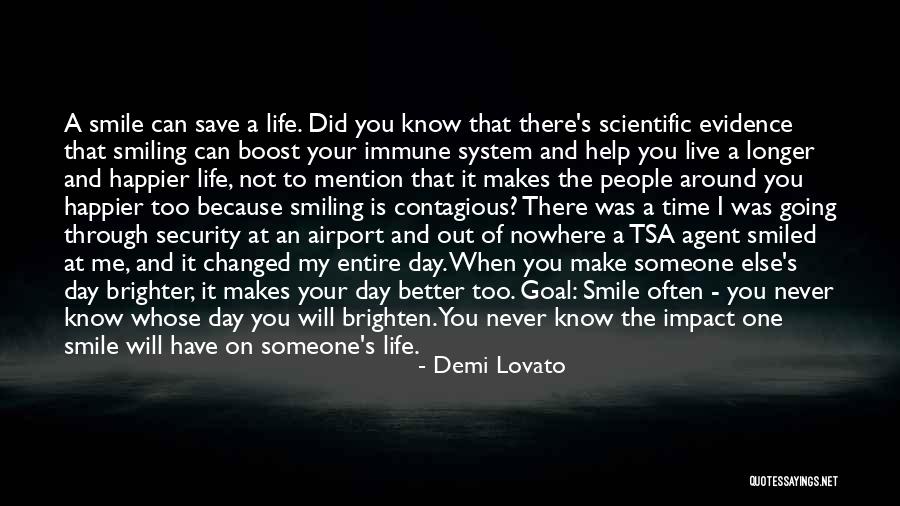 A smile can save a life. Did you know that there's scientific evidence that smiling can boost your immune system and help you live a longer and happier life, not to mention that it makes the people around you happier too because smiling is contagious? There was a time I was going through security at an airport and out of nowhere a TSA agent smiled at me, and it changed my entire day. When you make someone else's day brighter, it makes your day better too. Goal: Smile often - you never know whose day you will brighten. You never know the impact one smile will have on someone's life. — Demi Lovato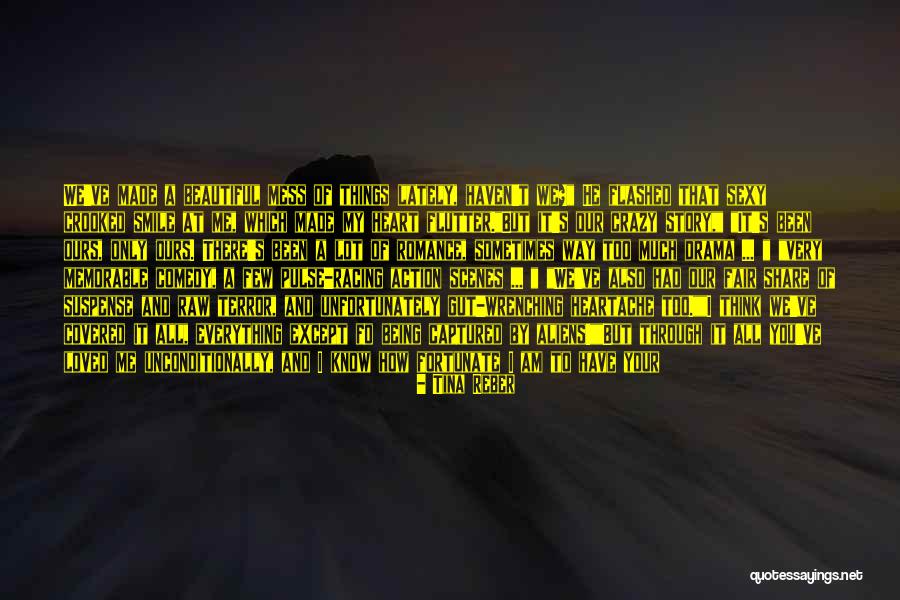 We've made a beautiful mess of things lately, haven't we?" He flashed that sexy crooked smile at me, which made my heart flutter.
"But it's our crazy story," "It's been ours, only ours. There's been a lot of romance, sometimes way too much drama ... " "very memorable comedy, a few pulse-racing action scenes ... "
"We've also had our fair share of suspense and raw terror, and unfortunately gut-wrenching heartache too."
"I think we've covered it all, everything except fo being captured by aliens!"
"But through it all you've loved me unconditionally, and I know how fortunate I am to have your love. I don't want to live without you, not for one more minute, not for one more second. I want to spend the rest of my days living my story with you ... only you."
"It is here that I fell in love with you"
"And as fate would have it, it is here that I humbly kneel before you and ask you to be my wife. — Tina Reber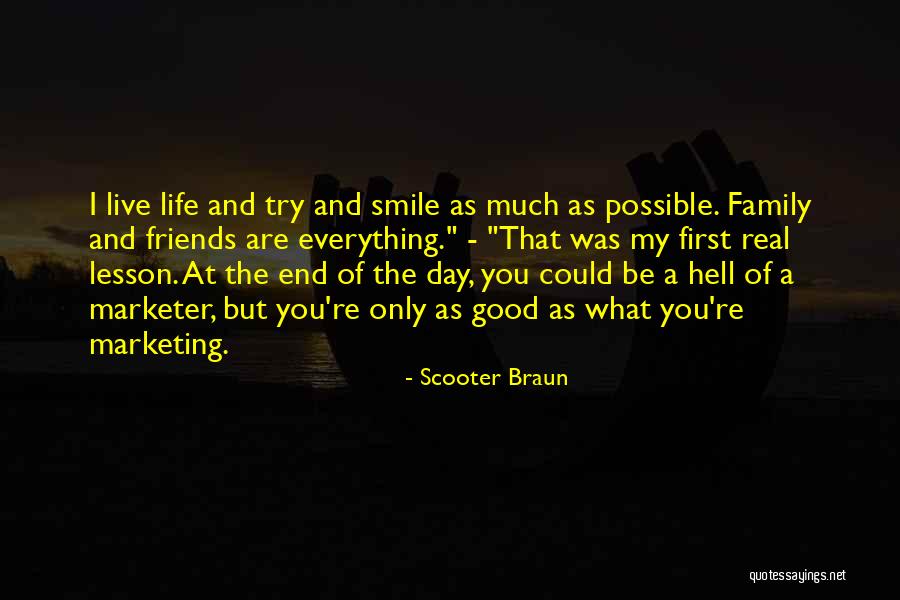 I live life and try and smile as much as possible. Family and friends are everything." - "That was my first real lesson. At the end of the day, you could be a hell of a marketer, but you're only as good as what you're marketing. — Scooter Braun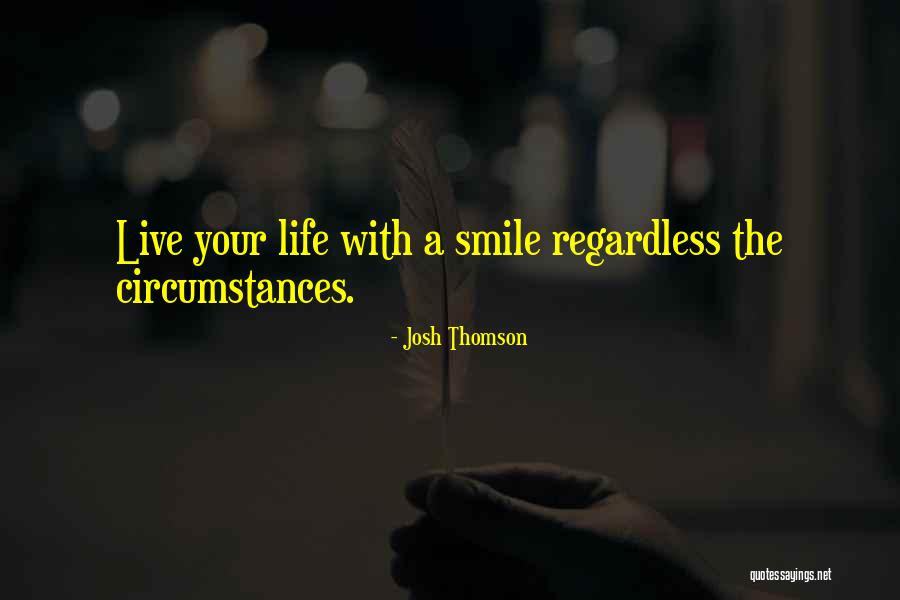 Live your life with a smile regardless the circumstances. — Josh Thomson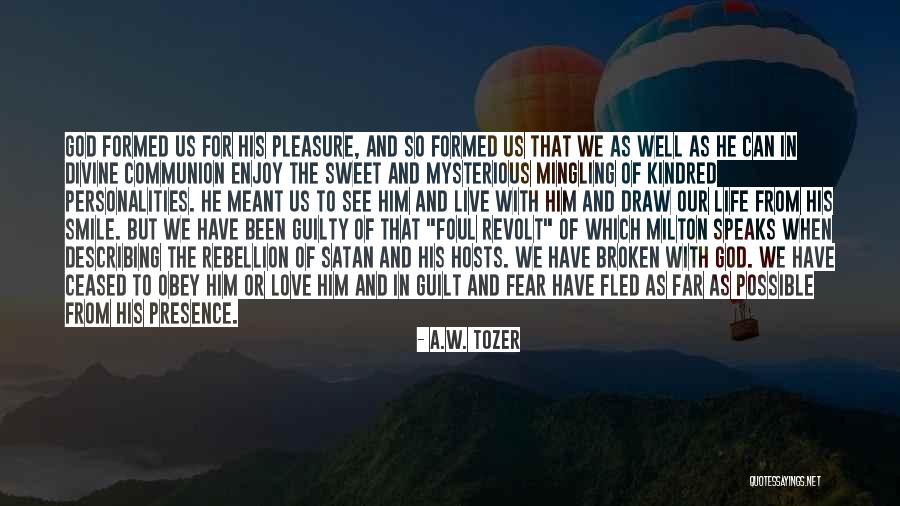 God formed us for His pleasure, and so formed us that we as well as He can in divine communion enjoy the sweet and mysterious mingling of kindred personalities. He meant us to see Him and live with Him and draw our life from His smile. But we have been guilty of that "foul revolt" of which Milton speaks when describing the rebellion of Satan and his hosts. We have broken with God. We have ceased to obey Him or love Him and in guilt and fear have fled as far as possible from His Presence. — A.W. Tozer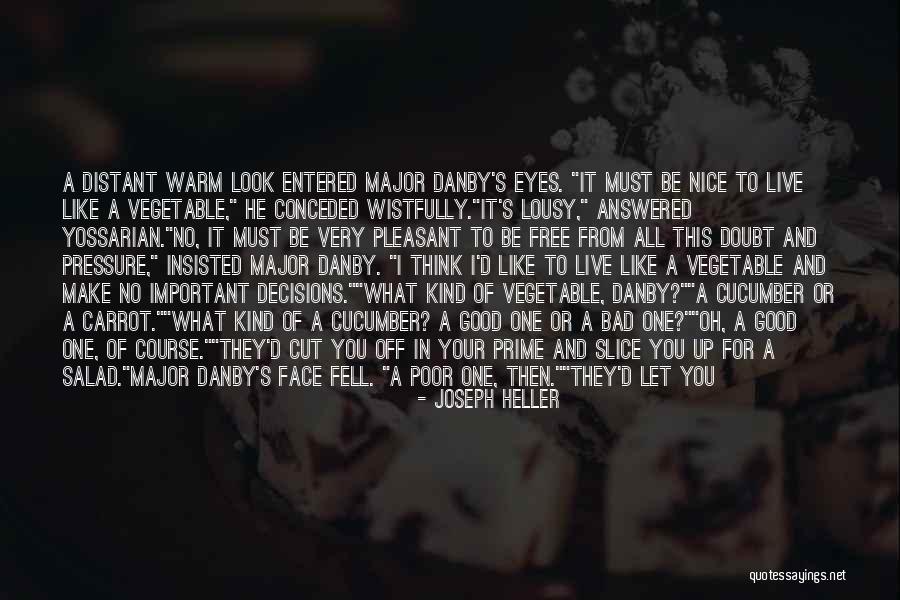 A distant warm look entered Major Danby's eyes. "It must be nice to live like a vegetable," he conceded wistfully.
"It's lousy," answered Yossarian.
"No, it must be very pleasant to be free from all this doubt and pressure," insisted Major Danby. "I think I'd like to live like a vegetable and make no important decisions."
"What kind of vegetable, Danby?"
"A cucumber or a carrot."
"What kind of a cucumber? A good one or a bad one?"
"Oh, a good one, of course."
"They'd cut you off in your prime and slice you up for a salad."
Major Danby's face fell. "A poor one, then."
"They'd let you rot and use you for fertilizer to help the good ones grow."
"I guess I don't want to live like a vegetable, then," said Major Danby with a smile of sad resignation. — Joseph Heller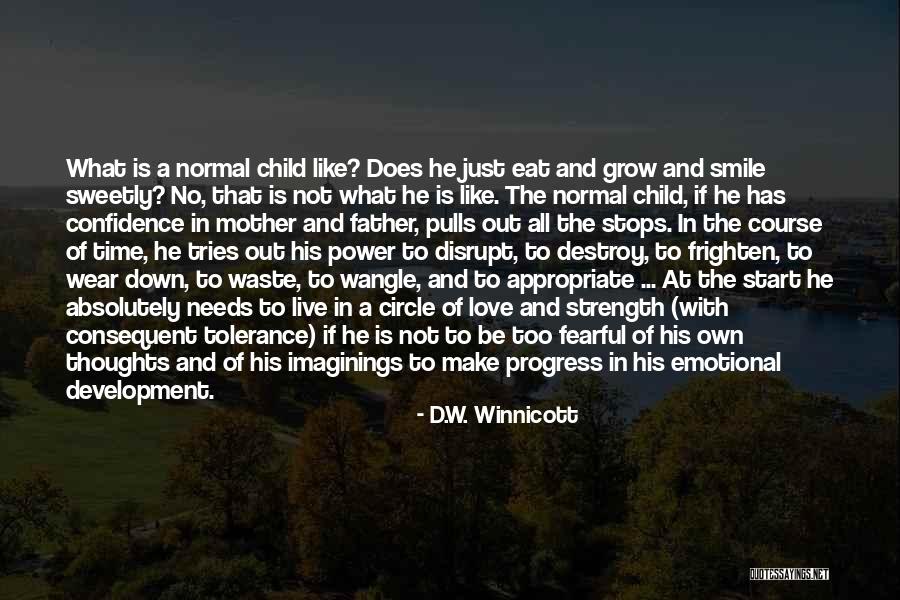 What is a normal child like? Does he just eat and grow and smile sweetly? No, that is not what he is like. The normal child, if he has confidence in mother and father, pulls out all the stops. In the course of time, he tries out his power to disrupt, to destroy, to frighten, to wear down, to waste, to wangle, and to appropriate ... At the start he absolutely needs to live in a circle of love and strength (with consequent tolerance) if he is not to be too fearful of his own thoughts and of his imaginings to make progress in his emotional development. — D.W. Winnicott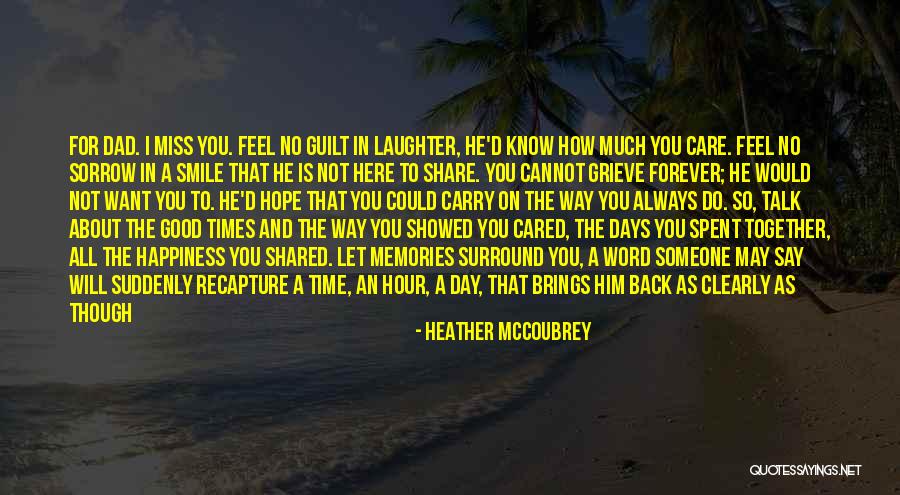 For Dad. I miss you. Feel no guilt in laughter, he'd know how much you care. Feel no sorrow in a smile that he is not here to share. You cannot grieve forever; he would not want you to. He'd hope that you could carry on the way you always do. So, talk about the good times and the way you showed you cared, The days you spent together, all the happiness you shared. Let memories surround you, a word someone may say Will suddenly recapture a time, an hour, a day, That brings him back as clearly as though he were still here, And fills you with the feeling that he is always near. For if you keep those moments, you will never be apart And he will live forever locked safely within your heart. --Unknown — Heather McCoubrey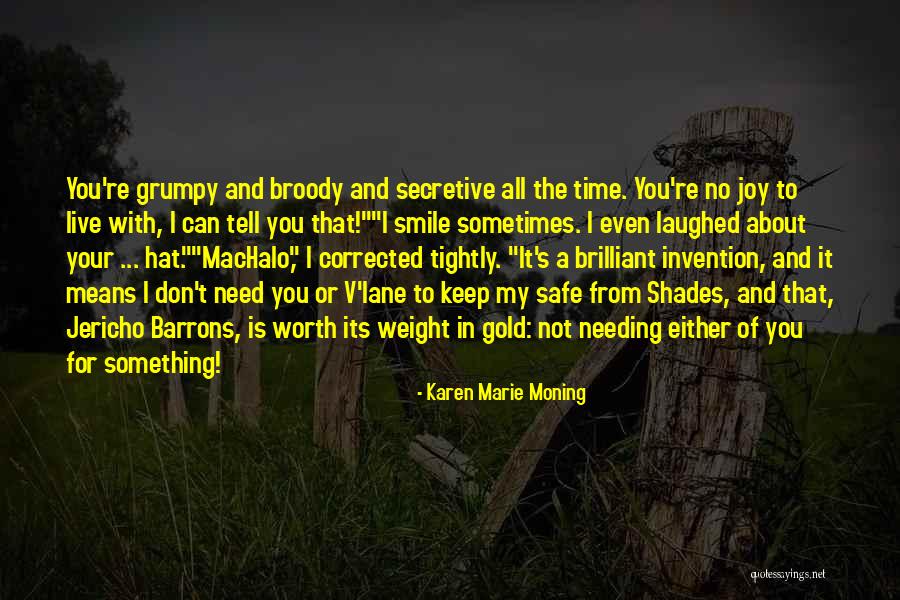 You're grumpy and broody and secretive all the time. You're no joy to live with, I can tell you that!"
"I smile sometimes. I even laughed about your ... hat."
"MacHalo," I corrected tightly. "It's a brilliant invention, and it means I don't need you or V'lane to keep my safe from Shades, and that, Jericho Barrons, is worth its weight in gold: not needing either of you for something! — Karen Marie Moning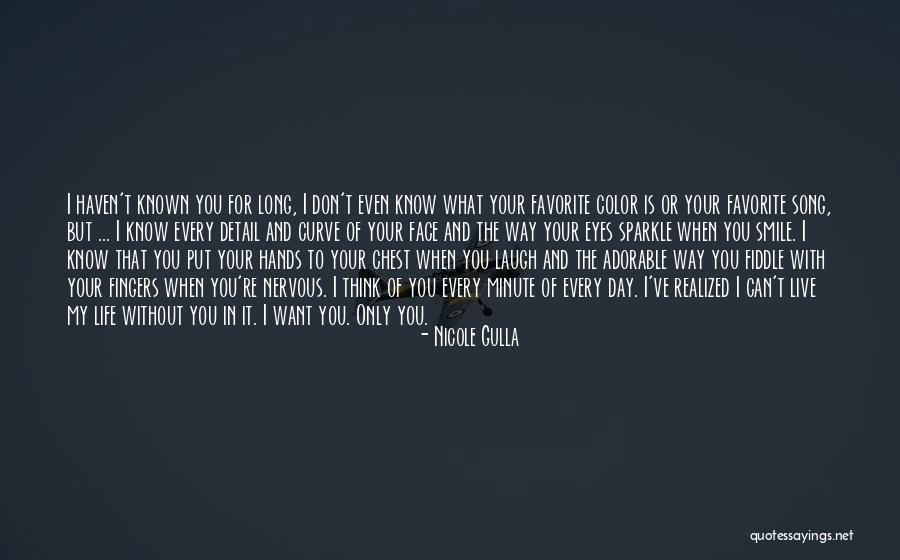 I haven't known you for long, I don't even know what your favorite color is or your favorite song, but ... I know every detail and curve of your face and the way your eyes sparkle when you smile. I know that you put your hands to your chest when you laugh and the adorable way you fiddle with your fingers when you're nervous. I think of you every minute of every day. I've realized I can't live my life without you in it. I want you. Only you. — Nicole Gulla
There's so much more to life than finding someone who will want you, or being sad over someone who doesn't. There's a lot of wonderful time to be spent discovering yourself without hoping someone will fall in love with you along the way, and it doesn't need to be painful or empty. You need to fill yourself up with love. Not anyone else. Become a whole being on your own. Go on adventures, fall asleep in the woods with friends, wander around the city at night, sit in a coffee shop on your own, write on bathroom stalls, leave notes in library books, dress up for yourself, give to others, smile a lot. Do all things with love, but don't romanticize life like you can't survive without it. Live for yourself and be happy on your own. It isn't any less beautiful, I promise. — Emery Allen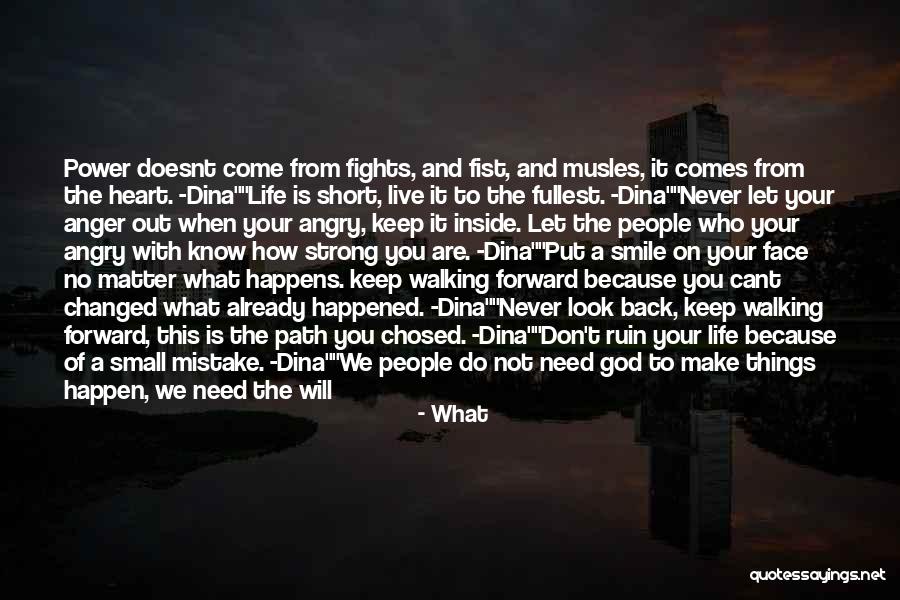 Power doesnt come from fights, and fist, and musles, it comes from the heart. -Dina"

"Life is short, live it to the fullest. -Dina"

"Never let your anger out when your angry, keep it inside. Let the people who your angry with know how strong you are. -Dina"

"Put a smile on your face no matter what happens. keep walking forward because you cant changed what already happened. -Dina"

"Never look back, keep walking forward, this is the path you chosed. -Dina"

"Don't ruin your life because of a small mistake. -Dina"

"We people do not need god to make things happen, we need the will and courage to do it ourselves.-Dina"

"I wonder what life would be like if i didnt have the people i have today. -Dina"

"I wonder what life would be like for others if i wasn't born. -Dina — What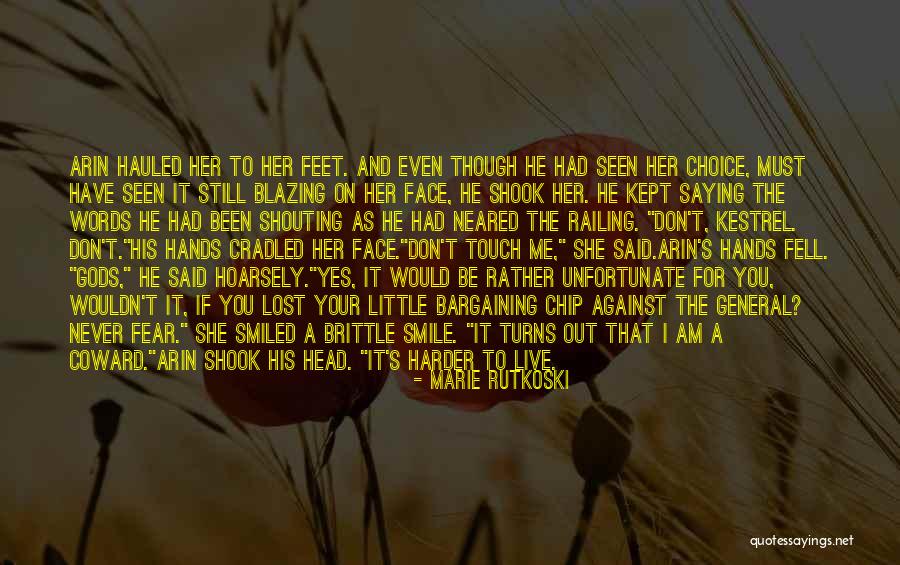 Arin hauled her to her feet. And even though he had seen her choice, must have seen it still blazing on her face, he shook her. He kept saying the words he had been shouting as he had neared the railing. "Don't, Kestrel. Don't."
His hands cradled her face.
"Don't touch me," she said.
Arin's hands fell. "Gods," he said hoarsely.
"Yes, it would be rather unfortunate for you, wouldn't it, if you lost your little bargaining chip against the general? Never fear." She smiled a brittle smile. "It turns out that I am a coward."
Arin shook his head. "It's harder to live. — Marie Rutkoski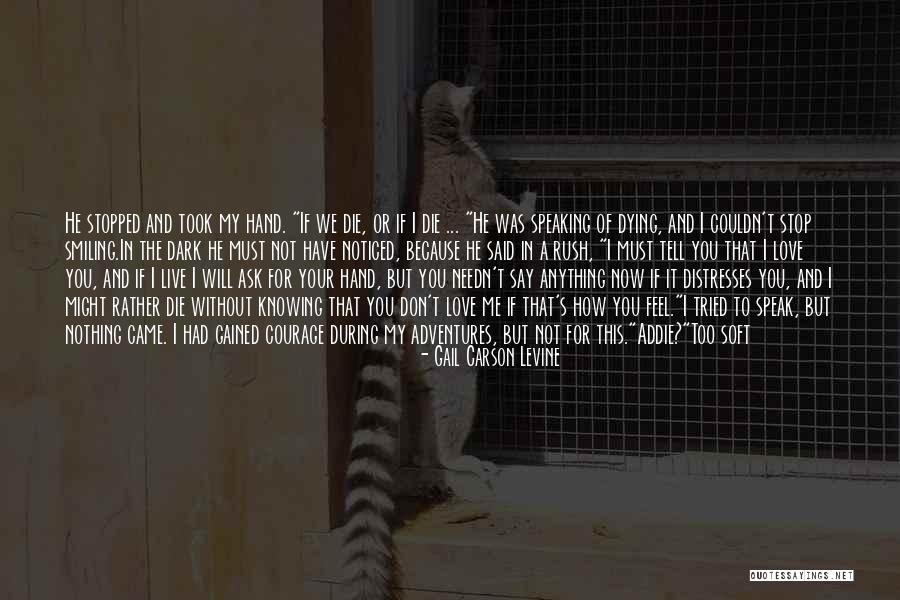 He stopped and took my hand. "If we die, or if I die ... "
He was speaking of dying, and I couldn't stop smiling.
In the dark he must not have noticed, because he said in a rush, "I must tell you that I love you, and if I live I will ask for your hand, but you needn't say anything now if it distresses you, and I might rather die without knowing that you don't love me if that's how you feel."
I tried to speak, but nothing came. I had gained courage during my adventures, but not for this.
"Addie?"
Too soft to hear, I whispered, "I do love you."
But he heard. He cupped his hand under my chin and tilted my face up so I had to meet his eyes. He was smiling too, with a smile as happy as mine. "Oh, Addie!" He leaned down to kiss me ... — Gail Carson Levine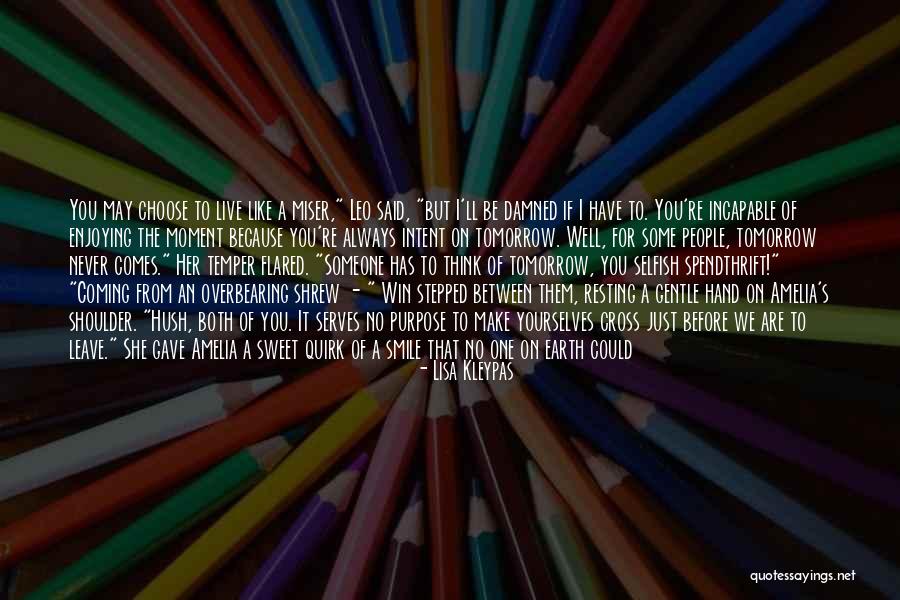 You may choose to live like a miser," Leo said, "but I'll be damned if I have to. You're incapable of enjoying the moment because you're always intent on tomorrow. Well, for some people, tomorrow never comes."
Her temper flared. "Someone has to think of tomorrow, you selfish spendthrift!"
"Coming from an overbearing shrew - "
Win stepped between them, resting a gentle hand on Amelia's shoulder. "Hush, both of you. It serves no purpose to make yourselves cross just before we are to leave." She gave Amelia a sweet quirk of a smile that no one on earth could have resisted. "Don't frown like that, dear. What if your face stayed that way?"
"With prolonged exposure to Leo," Amelia replied, "it undoubtedly would. — Lisa Kleypas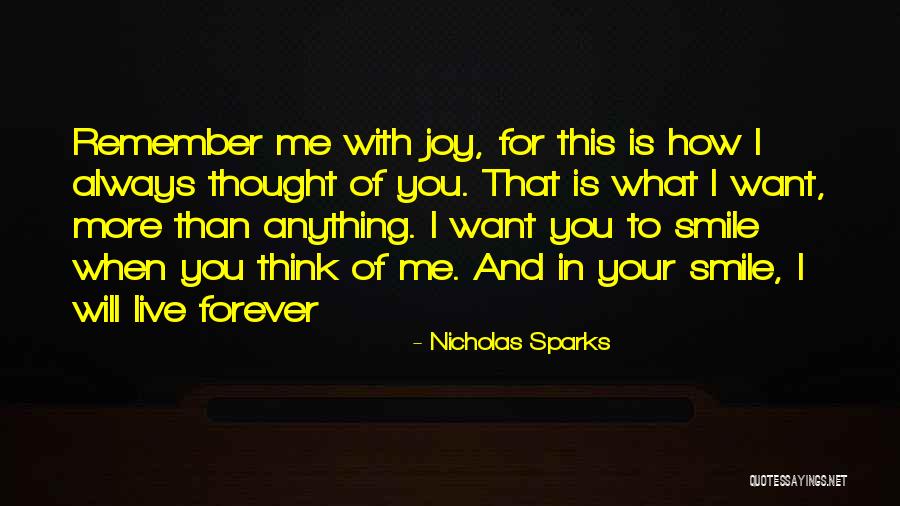 Remember me with joy, for this is how I always thought of you. That is what I want, more than anything. I want you to smile when you think of me. And in your smile, I will live forever — Nicholas Sparks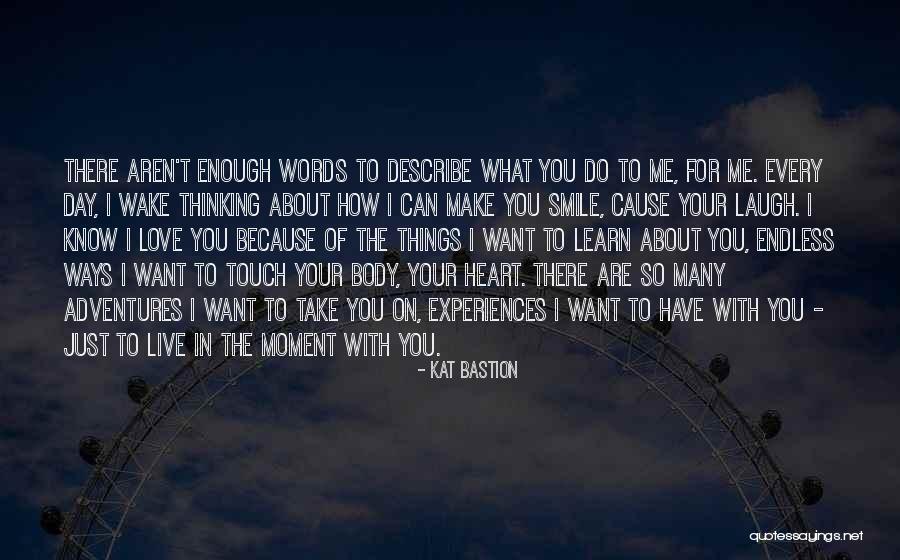 There aren't enough words to describe what you do to me, for me. Every day, I wake thinking about how I can make you smile, cause your laugh. I know I love you because of the things I want to learn about you, endless ways I want to touch your body, your heart. There are so many adventures I want to take you on, experiences I want to have with you - just to live in the moment with you. — Kat Bastion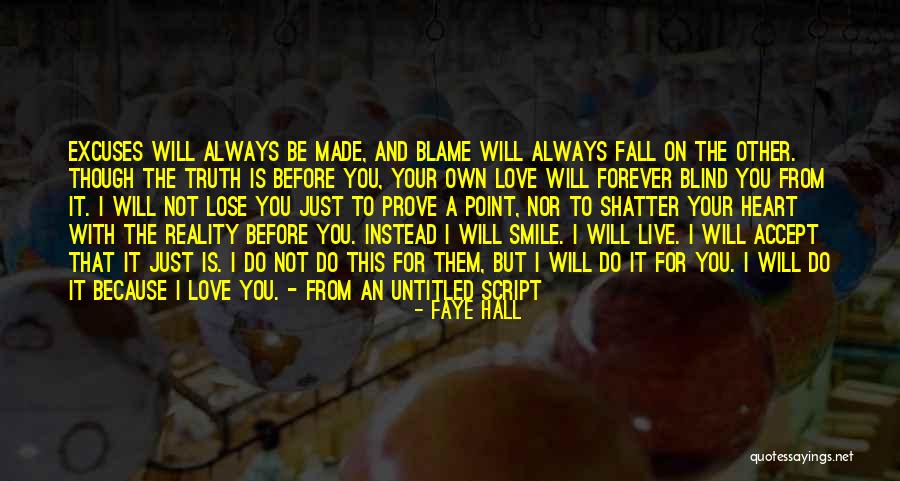 Excuses will always be made, and blame will always fall on the other. Though the truth is before you, your own love will forever blind you from it. I will not lose you just to prove a point, nor to shatter your heart with the reality before you. Instead I will smile. I will live. I will accept that it just is. I do not do this for them, but I will do it for you. I will do it because I love you. - from an untitled script — Faye Hall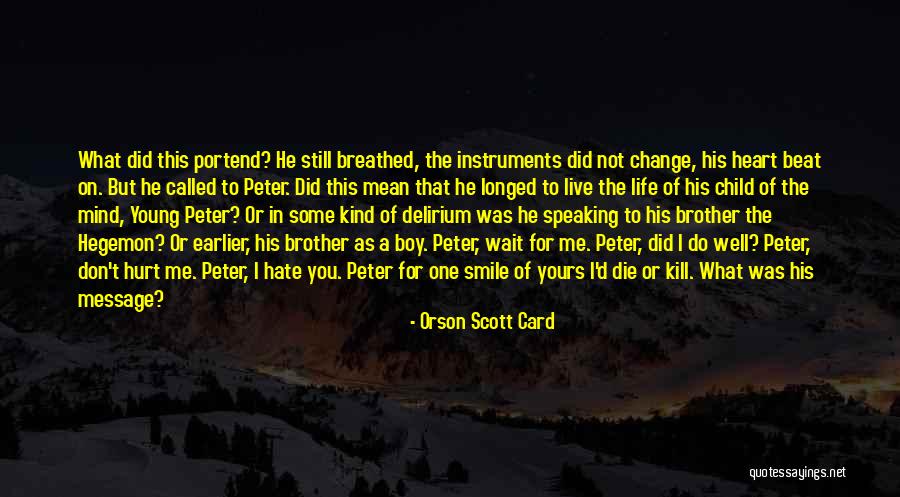 What did this portend? He still breathed, the instruments did not change, his heart beat on. But he called to Peter. Did this mean that he longed to live the life of his child of the mind, Young Peter? Or in some kind of delirium was he speaking to his brother the Hegemon? Or earlier, his brother as a boy. Peter, wait for me. Peter, did I do well? Peter, don't hurt me. Peter, I hate you. Peter for one smile of yours I'd die or kill. What was his message? — Orson Scott Card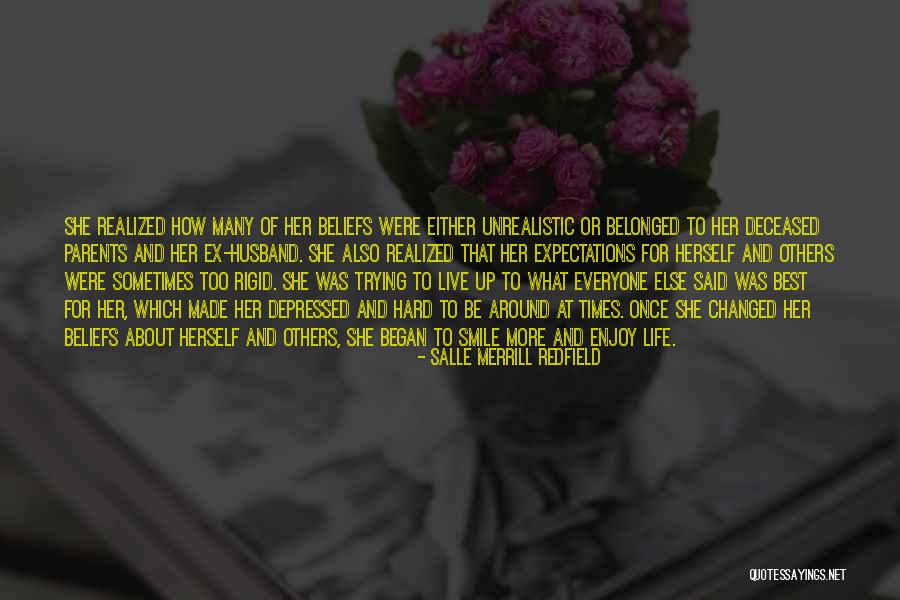 She realized how many of her beliefs were either unrealistic or belonged to her deceased parents and her ex-husband. She also realized that her expectations for herself and others were sometimes too rigid. She was trying to live up to what everyone else said was best for her, which made her depressed and hard to be around at times. Once she changed her beliefs about herself and others, she began to smile more and enjoy life. — Salle Merrill Redfield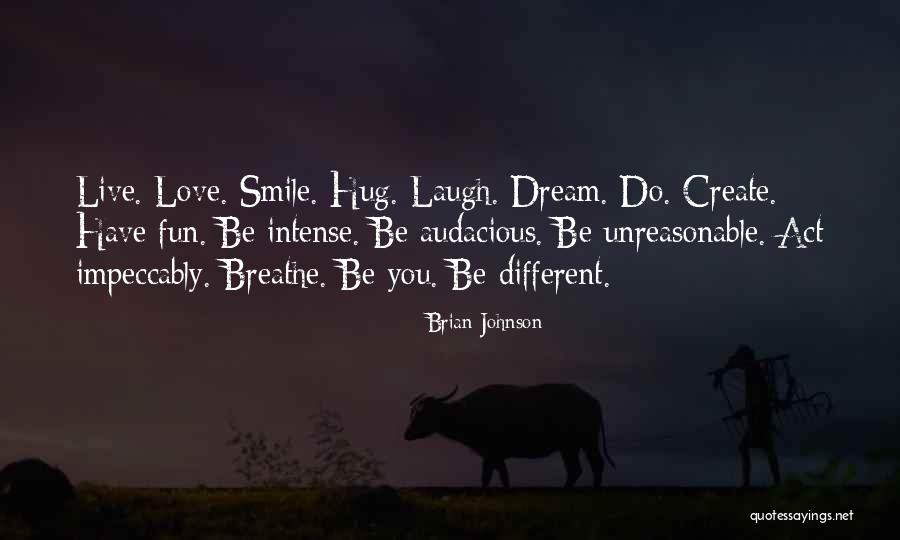 Live. Love. Smile. Hug. Laugh. Dream. Do. Create. Have fun. Be intense. Be audacious. Be unreasonable. Act impeccably. Breathe. Be you. Be different. — Brian Johnson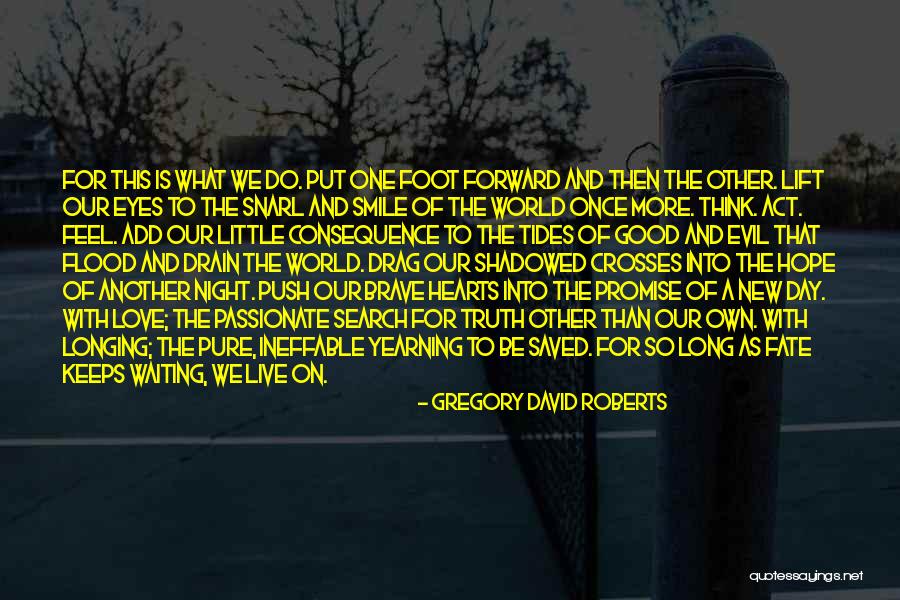 For this is what we do. Put one foot forward and then the other. Lift our eyes to the snarl and smile of the world once more. Think. Act. feel. Add our little consequence to the tides of good and evil that flood and drain the world. Drag our shadowed crosses into the hope of another night. Push our brave hearts into the promise of a new day. With love; the passionate search for truth other than our own. With longing; the pure, ineffable yearning to be saved. For so long as fate keeps waiting, we live on. — Gregory David Roberts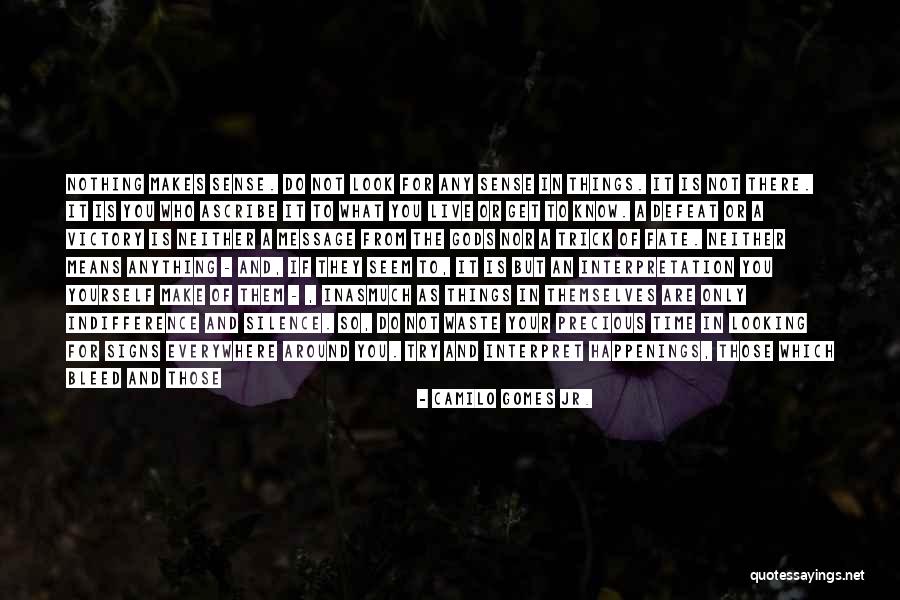 NOTHING MAKES SENSE. Do not look for any sense in things. It is not there. It is you who ascribe it to what you live or get to know. A defeat or a victory is neither a message from the gods nor a trick of fate. Neither means anything - and, if they seem to, it is but an interpretation you yourself make of them - , inasmuch as things in themselves are only indifference and silence. So, do not waste your precious time in looking for signs everywhere around you. Try and interpret happenings, those which bleed and those which make you smile, as maturing experiences. Oh, yes, what is most important: live! — Camilo Gomes Jr.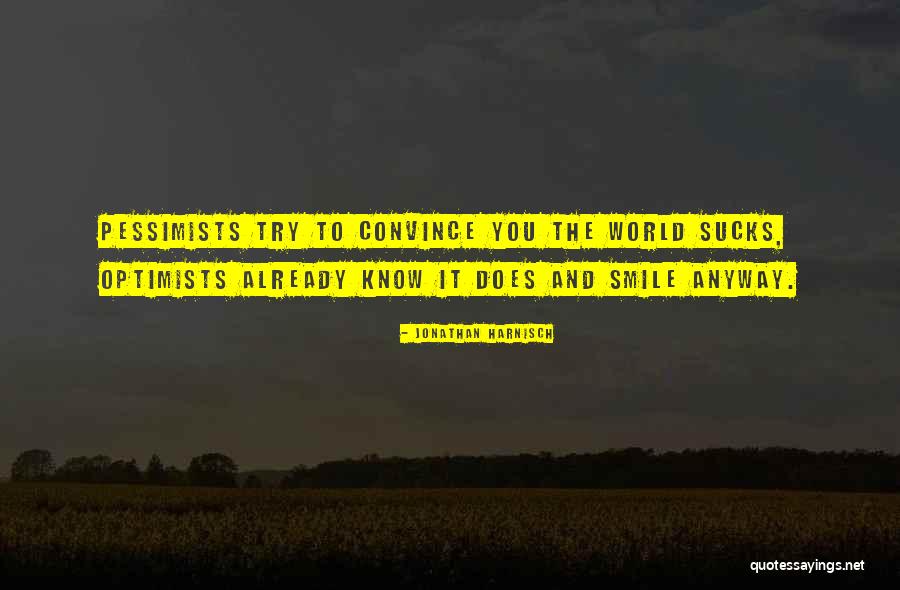 Pessimists try to convince you the world sucks, optimists already know it does and smile anyway. — Jonathan Harnisch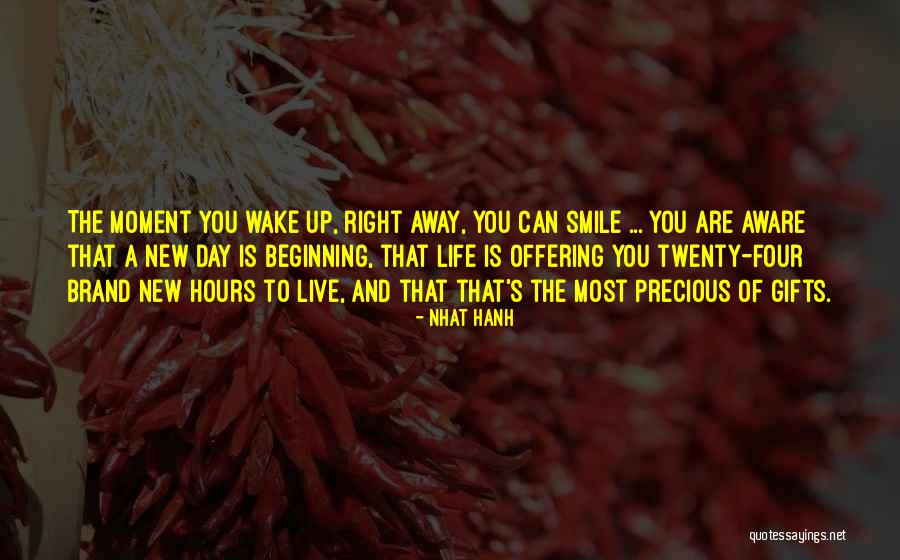 The moment you wake up, right away, you can smile ... You are aware that a new day is beginning, that life is offering you twenty-four brand new hours to live, and that that's the most precious of gifts. — Nhat Hanh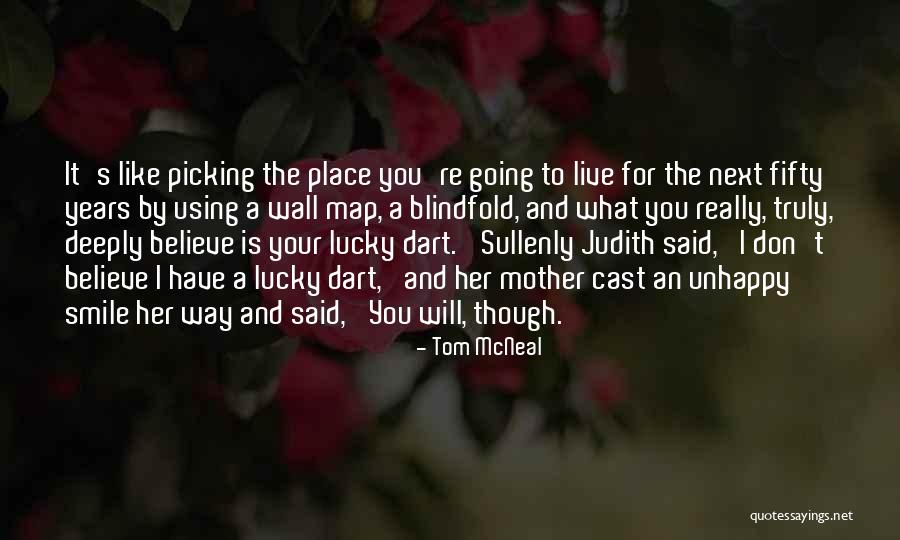 It's like picking the place you're going to live for the next fifty years by using a wall map, a blindfold, and what you really, truly, deeply believe is your lucky dart.' Sullenly Judith said, 'I don't believe I have a lucky dart,' and her mother cast an unhappy smile her way and said, 'You will, though. — Tom McNeal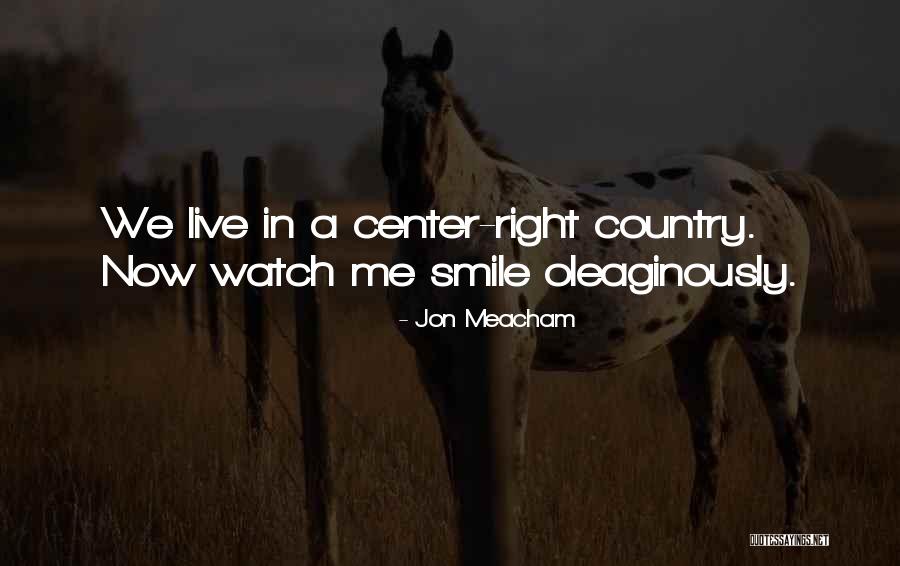 We live in a center-right country. Now watch me smile oleaginously. — Jon Meacham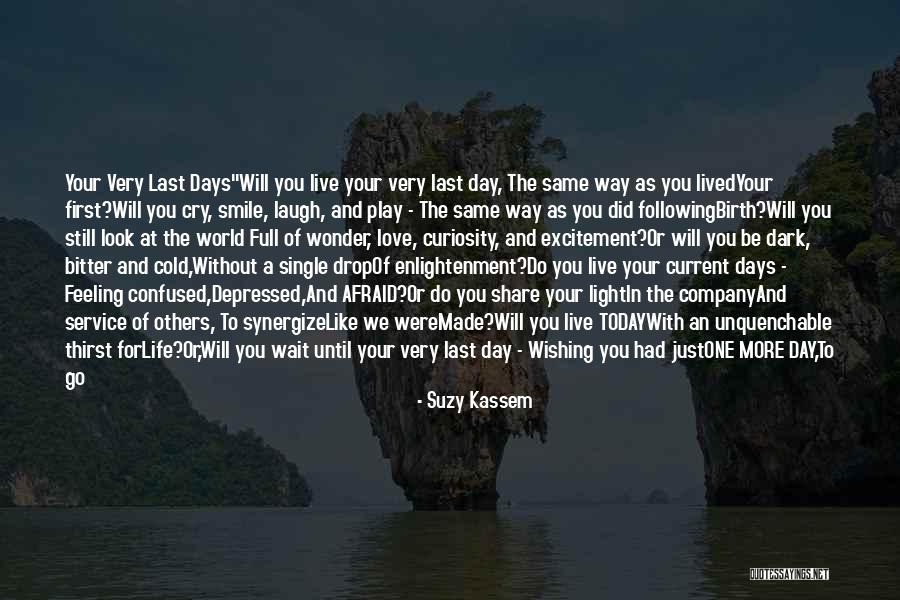 Your Very Last Days"


Will you live your very last day,
The same way as you lived
Your first?

Will you cry, smile, laugh, and play -
The same way as you did following
Birth?

Will you still look at the world
Full of wonder, love, curiosity, and excitement?
Or will you be dark, bitter and cold,
Without a single drop
Of enlightenment?

Do you live your current days -
Feeling confused,
Depressed,
And AFRAID?

Or do you share your light
In the company
And service of others,
To synergize
Like we were
Made?

Will you live TODAY
With an unquenchable thirst for
Life?

Or,
Will you wait until your very last day -

Wishing you had just
ONE MORE DAY,

To go out and spend
Your time
RIGHT? — Suzy Kassem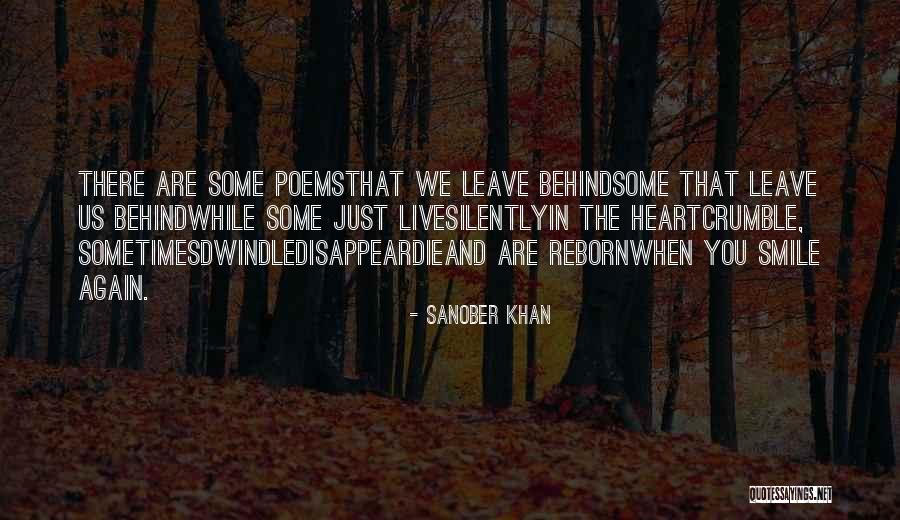 there are some poems
that we leave behind
some that leave us behind

while some just live
silently
in the heart

crumble, sometimes
dwindle
disappear
die

and are reborn
when you smile again. — Sanober Khan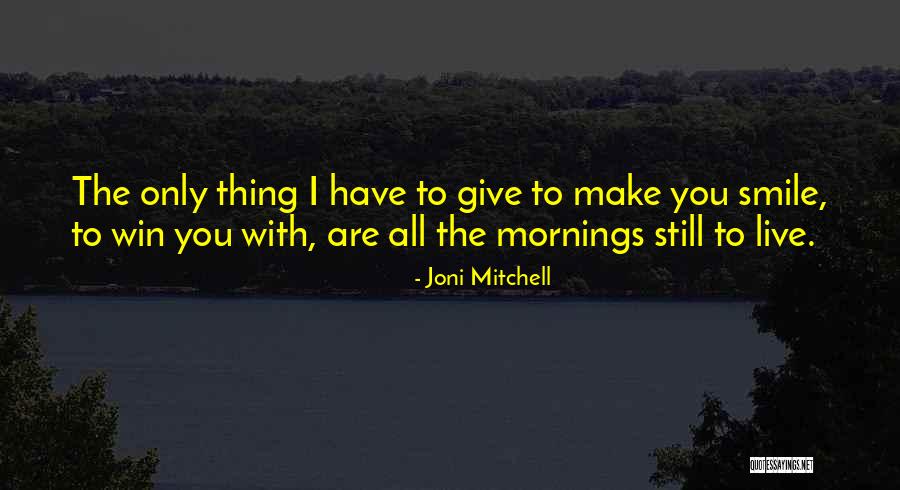 The only thing I have to give to make you smile, to win you with, are all the mornings still to live. — Joni Mitchell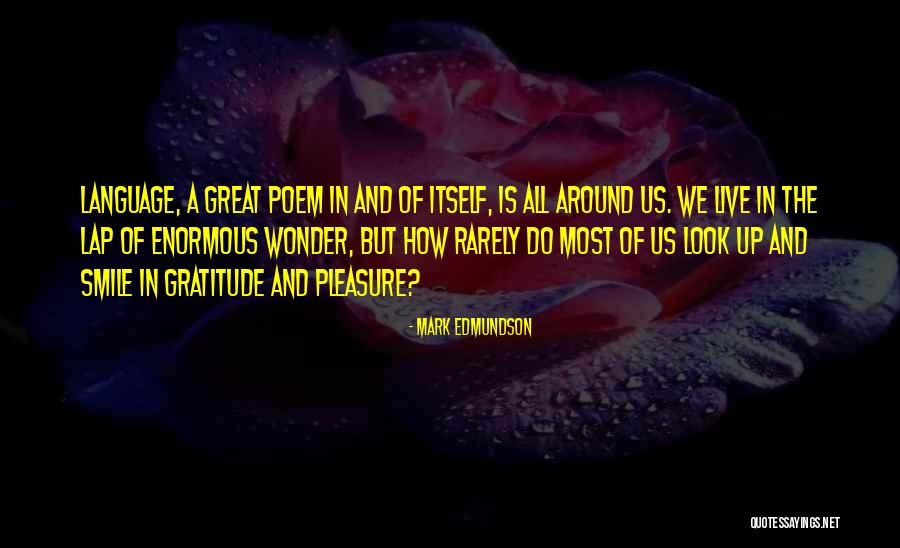 Language, a great poem in and of itself, is all around us. We live in the lap of enormous wonder, but how rarely do most of us look up and smile in gratitude and pleasure? — Mark Edmundson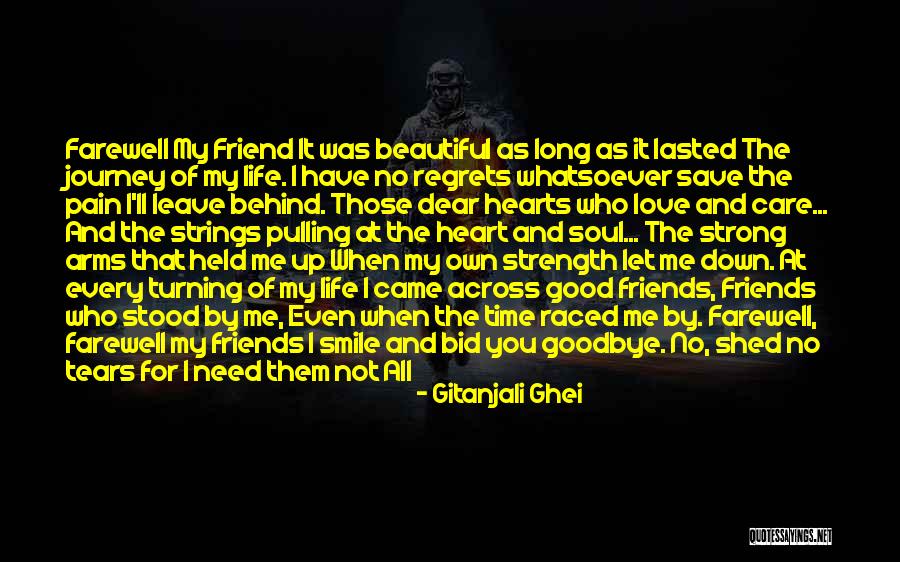 Farewell My Friend

It was beautiful as long as it lasted
The journey of my life.
I have no regrets whatsoever
save the pain I'll leave behind.
Those dear hearts who love and care...
And the strings pulling at the heart and soul...
The strong arms that held me up
When my own strength let me down.
At every turning of my life
I came across good friends,
Friends who stood by me,
Even when the time raced me by.
Farewell, farewell my friends
I smile and bid you goodbye.
No, shed no tears for I need them not
All I need is your smile.
If you feel sad do think of me
for that's what I'll like
when you live in the hearts
of those you love, remember then
you never die. — Gitanjali Ghei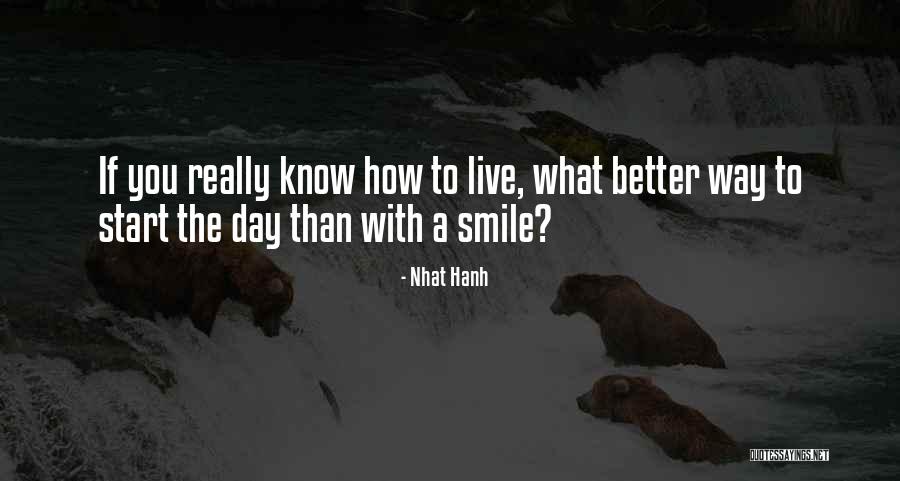 If you really know how to live, what better way to start the day than with a smile? — Nhat Hanh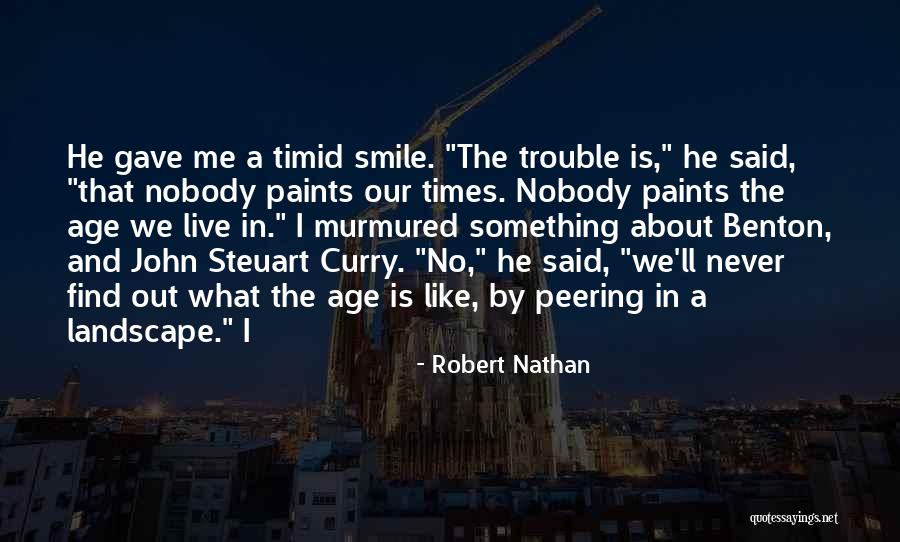 He gave me a timid smile. "The trouble is," he said, "that nobody paints our times. Nobody paints the age we live in." I murmured something about Benton, and John Steuart Curry. "No," he said, "we'll never find out what the age is like, by peering in a landscape." I — Robert Nathan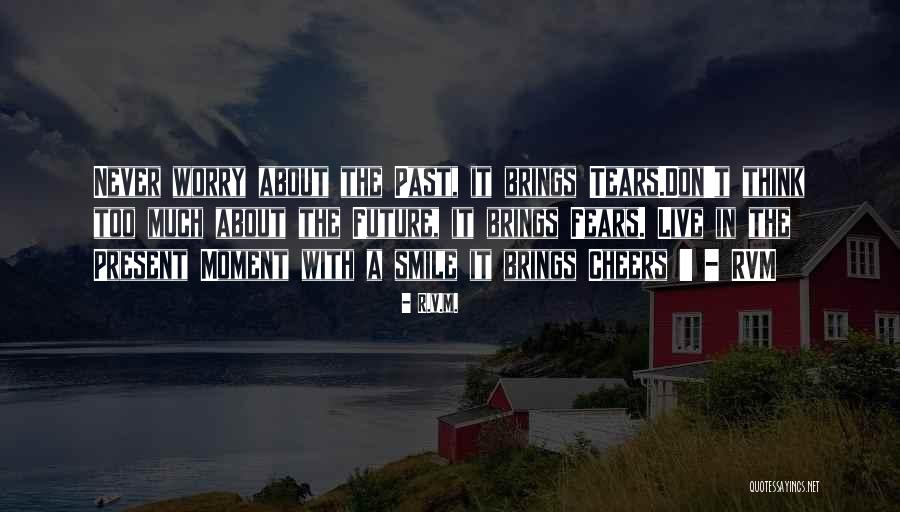 Never worry about the Past, it brings Tears.Don't think too much about the Future, it brings Fears. Live in the Present Moment with a smile it brings Cheers !! - RVM — R.v.m.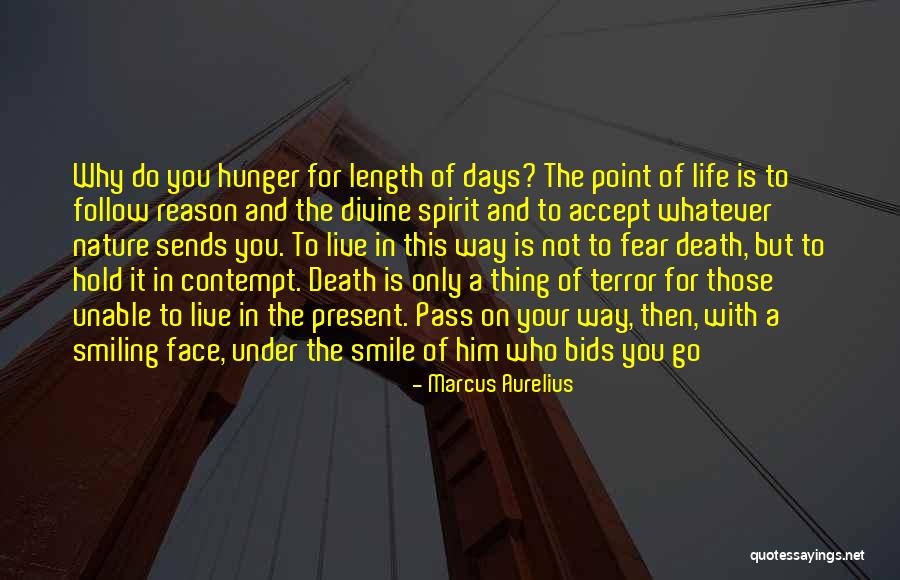 Why do you hunger for length of days? The point of life is to follow reason and the divine spirit and to accept whatever nature sends you. To live in this way is not to fear death, but to hold it in contempt. Death is only a thing of terror for those unable to live in the present. Pass on your way, then, with a smiling face, under the smile of him who bids you go — Marcus Aurelius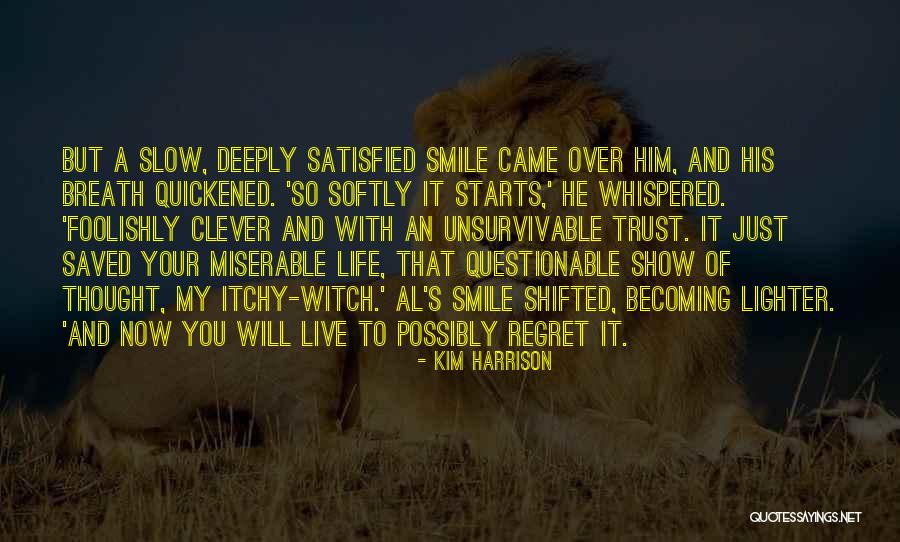 But a slow, deeply satisfied smile came over him, and his breath quickened. 'So softly it starts,' he whispered. 'Foolishly clever and with an unsurvivable trust. It just saved your miserable life, that questionable show of thought, my itchy-witch.' Al's smile shifted, becoming lighter. 'And now you will live to possibly regret it. — Kim Harrison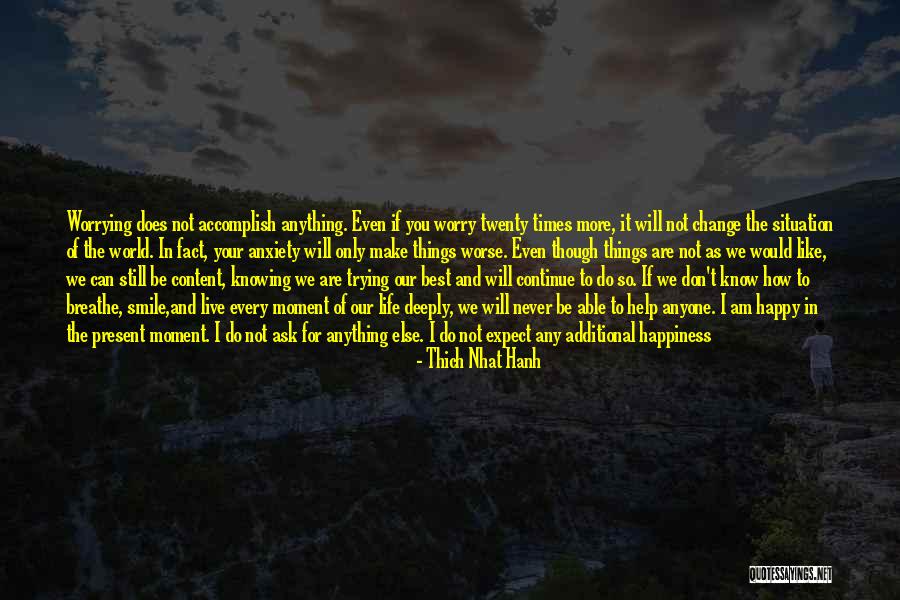 Worrying does not accomplish anything. Even if you worry twenty times more, it will not change the situation of the world. In fact, your anxiety will only make things worse. Even though things are not as we would like, we can still be content, knowing we are trying our best and will continue to do so. If we don't know how to breathe, smile,and live every moment of our life deeply, we will never be able to help anyone. I am happy in the present moment. I do not ask for anything else. I do not expect any additional happiness or conditions that will bring about more happiness. The most important practice is aimlessness, not running after things, not grasping. — Thich Nhat Hanh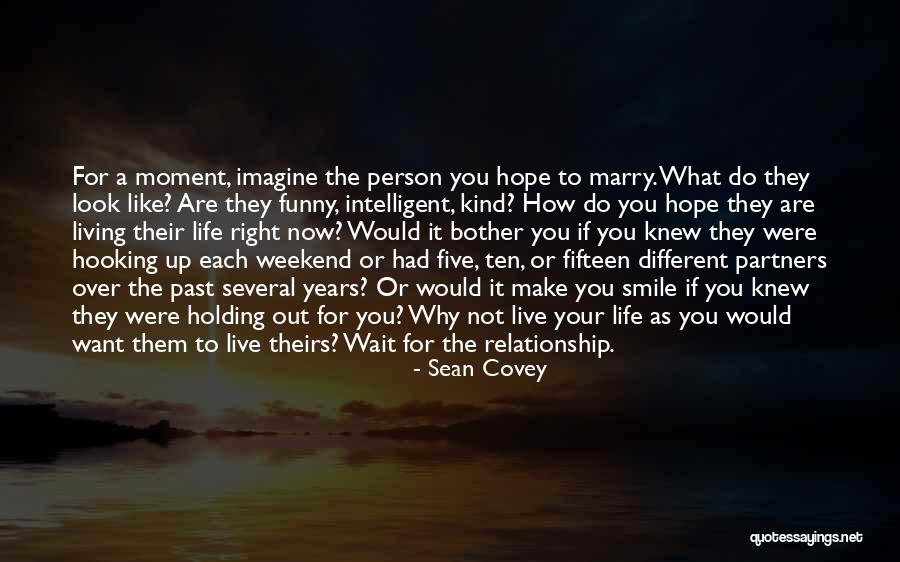 For a moment, imagine the person you hope to marry. What do they look like? Are they funny, intelligent, kind? How do you hope they are living their life right now? Would it bother you if you knew they were hooking up each weekend or had five, ten, or fifteen different partners over the past several years? Or would it make you smile if you knew they were holding out for you? Why not live your life as you would want them to live theirs? Wait for the relationship. — Sean Covey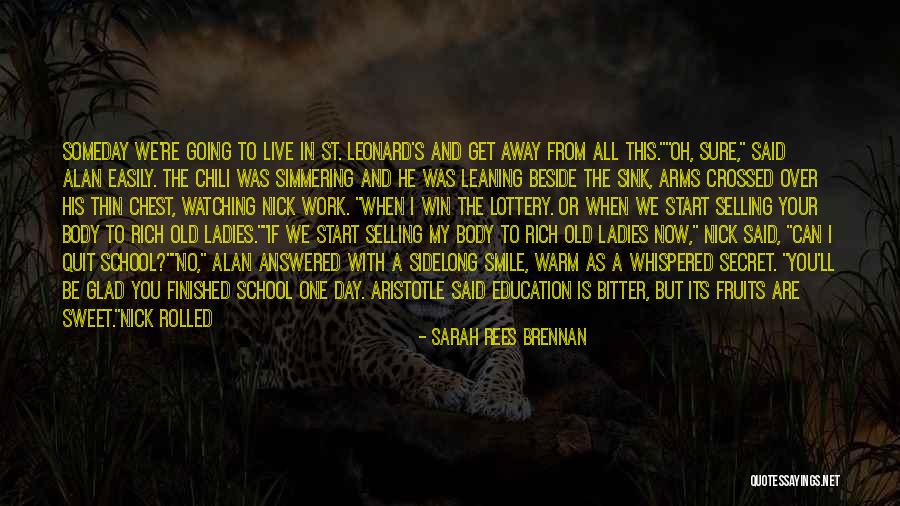 Someday we're going to live in St. Leonard's and get away from all this."


"Oh, sure," said Alan easily. The chili was simmering and he was leaning beside the sink, arms crossed over his thin chest, watching Nick work. "When I win the lottery. Or when we start selling your body to rich old ladies."


"If we start selling my body to rich old ladies now," Nick said, "can I quit school?"


"No," Alan answered with a sidelong smile, warm as a whispered secret. "You'll be glad you finished school one day. Aristotle said education is bitter, but its fruits are sweet."


Nick rolled his eyes. "Aristotle can bite me. — Sarah Rees Brennan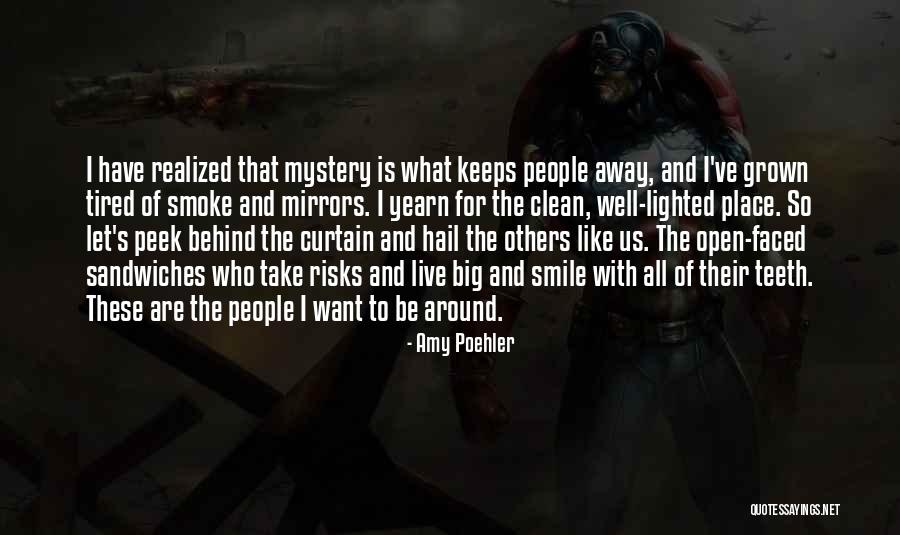 I have realized that mystery is what keeps people away, and I've grown tired of smoke and mirrors. I yearn for the clean, well-lighted place. So let's peek behind the curtain and hail the others like us. The open-faced sandwiches who take risks and live big and smile with all of their teeth. These are the people I want to be around. — Amy Poehler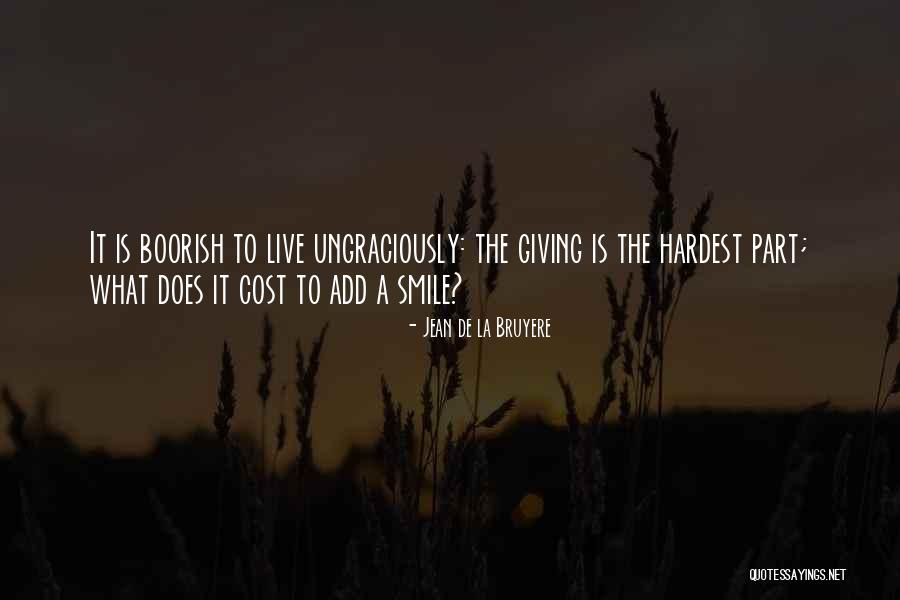 It is boorish to live ungraciously: the giving is the hardest part; what does it cost to add a smile? — Jean De La Bruyere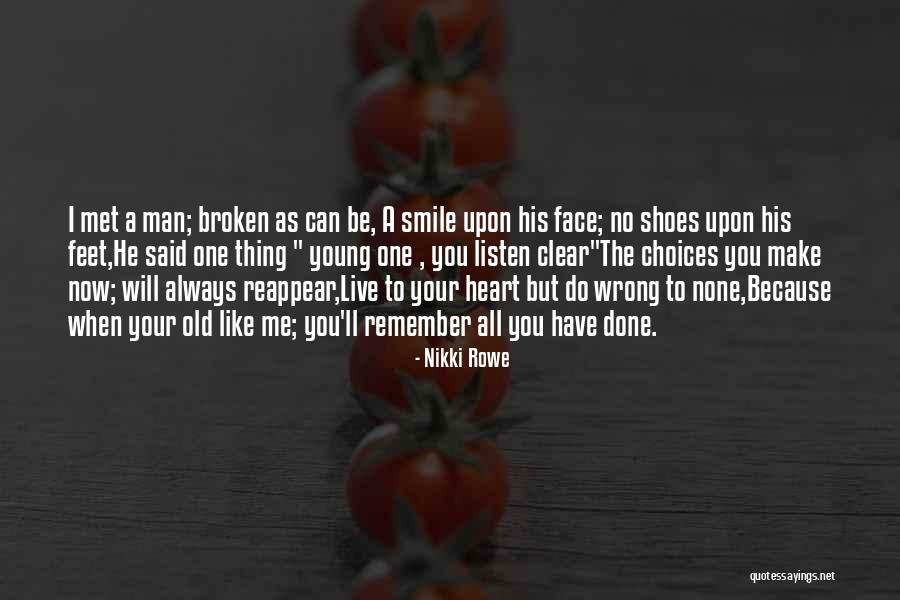 I met a man; broken as can be,
A smile upon his face; no shoes upon his feet,
He said one thing " young one , you listen clear"
The choices you make now; will always reappear,
Live to your heart but do wrong to none,
Because when your old like me; you'll remember all you have done. — Nikki Rowe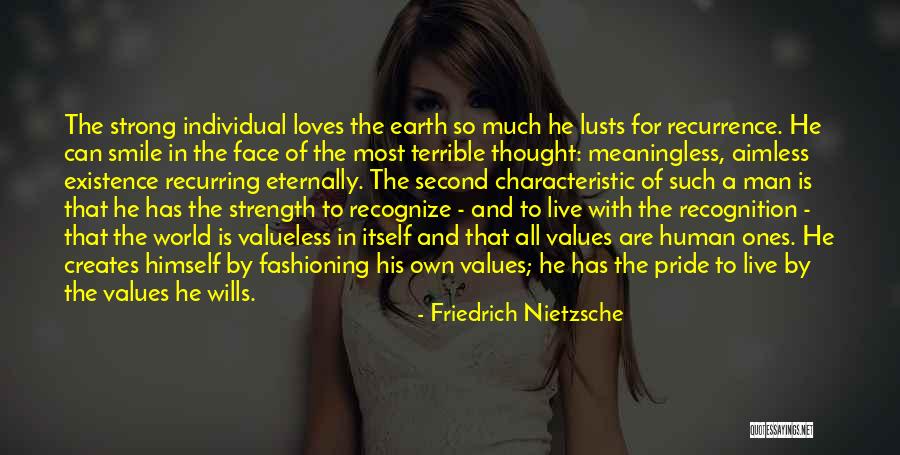 The strong individual loves the earth so much he lusts for recurrence. He can smile in the face of the most terrible thought: meaningless, aimless existence recurring eternally. The second characteristic of such a man is that he has the strength to recognize - and to live with the recognition - that the world is valueless in itself and that all values are human ones. He creates himself by fashioning his own values; he has the pride to live by the values he wills. — Friedrich Nietzsche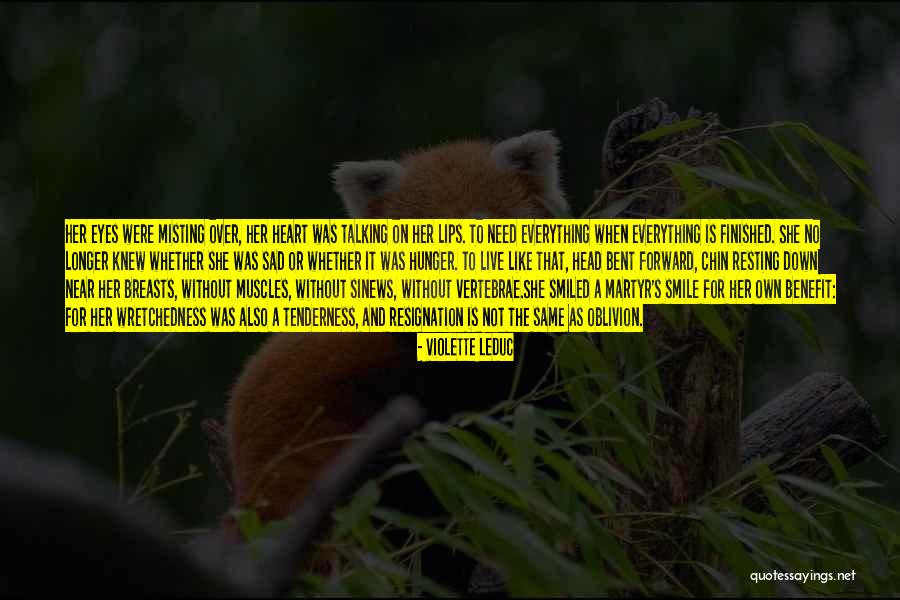 Her eyes were misting over, her heart was talking on her lips. To need everything when everything is finished. She no longer knew whether she was sad or whether it was hunger. To live like that, head bent forward, chin resting down near her breasts, without muscles, without sinews, without vertebrae.
She smiled a martyr's smile for her own benefit: for her wretchedness was also a tenderness, and resignation is not the same as oblivion. — Violette Leduc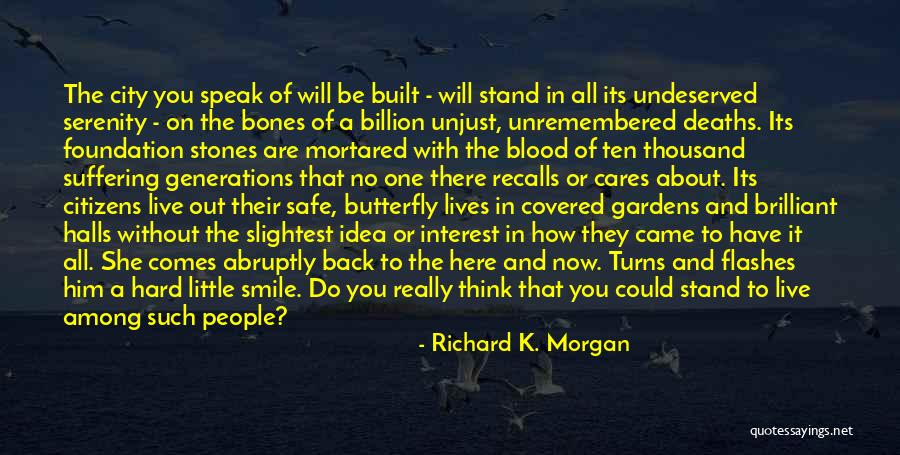 The city you speak of will be built - will stand in all its undeserved serenity - on the bones of a billion unjust, unremembered deaths. Its foundation stones are mortared with the blood of ten thousand suffering generations that no one there recalls or cares about. Its citizens live out their safe, butterfly lives in covered gardens and brilliant halls without the slightest idea or interest in how they came to have it all. She comes abruptly back to the here and now. Turns and flashes him a hard little smile. Do you really think that you could stand to live among such people? — Richard K. Morgan