I Just Had An Epiphany Quotes & Sayings
Enjoy reading and share 42 famous quotes about I Just Had An Epiphany with everyone.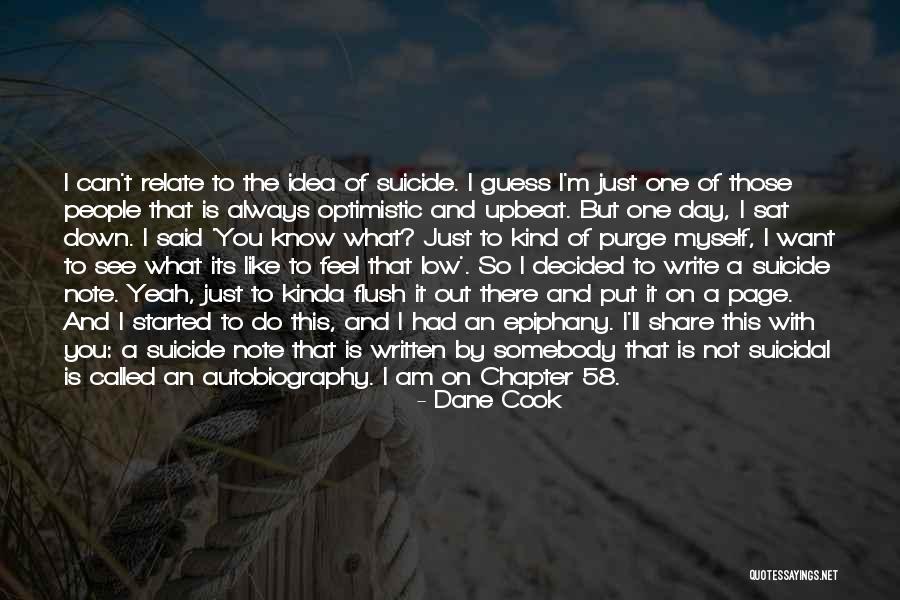 I can't relate to the idea of suicide. I guess I'm just one of those people that is always optimistic and upbeat. But one day, I sat down. I said 'You know what? Just to kind of purge myself, I want to see what its like to feel that low'. So I decided to write a suicide note. Yeah, just to kinda flush it out there and put it on a page. And I started to do this, and I had an epiphany. I'll share this with you: a suicide note that is written by somebody that is not suicidal is called an autobiography. I am on Chapter 58. — Dane Cook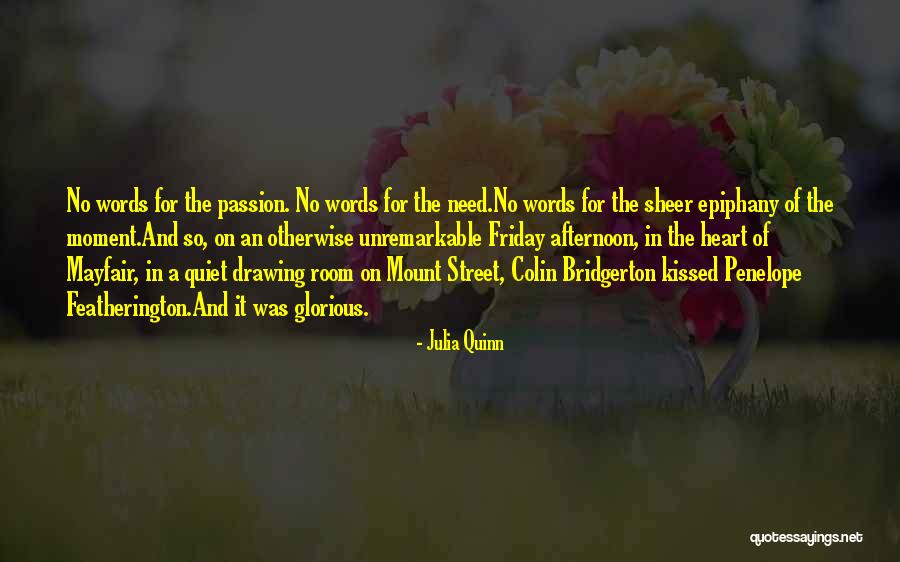 No words for the passion. No words for the need.No words for the sheer epiphany of the moment.And so, on an otherwise unremarkable Friday afternoon, in the heart of Mayfair, in a quiet drawing room on Mount Street, Colin Bridgerton kissed Penelope Featherington.And it was glorious. — Julia Quinn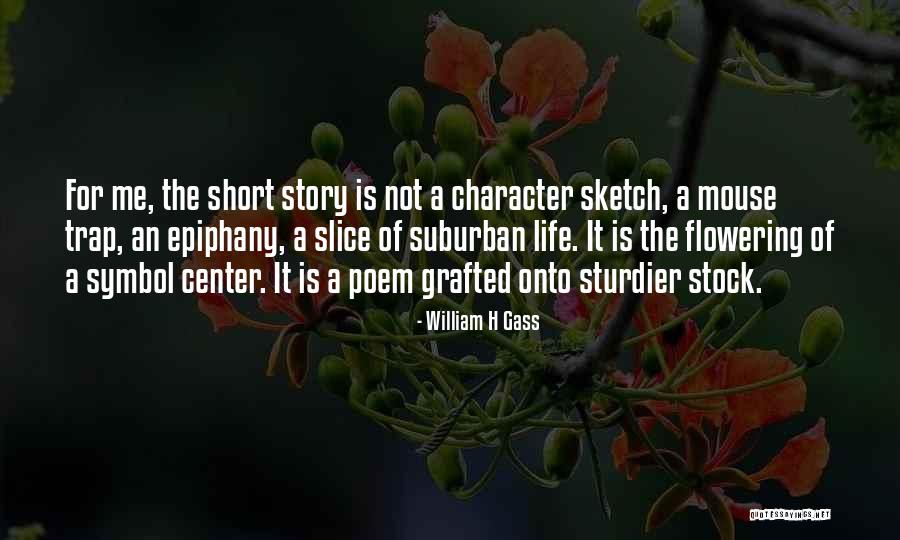 For me, the short story is not a character sketch, a mouse trap, an epiphany, a slice of suburban life. It is the flowering of a symbol center. It is a poem grafted onto sturdier stock. — William H Gass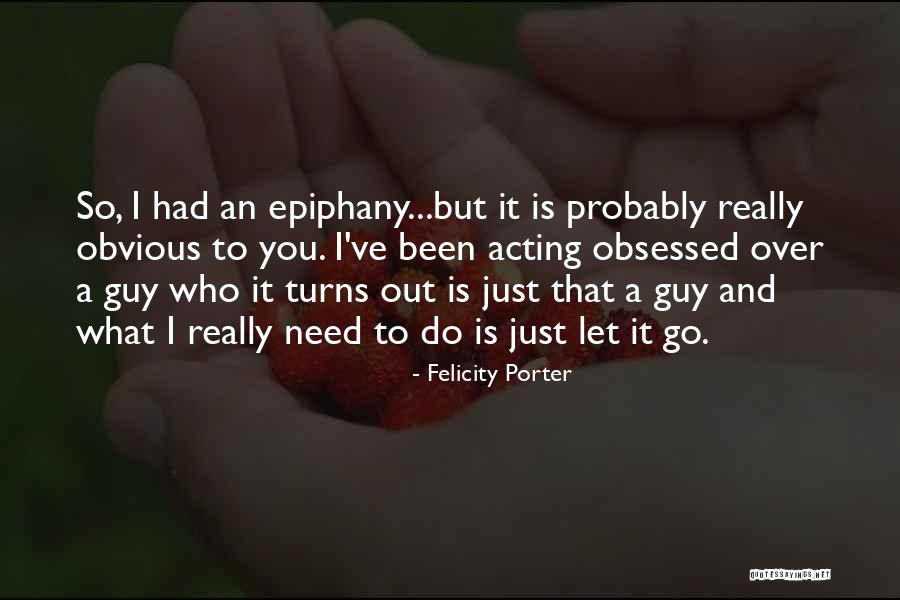 So, I had an epiphany...but it is probably really obvious to you. I've been acting obsessed over a guy who it turns out is just that a guy and what I really need to do is just let it go. — Felicity Porter
It's the hard things that break; soft things don't break. It was an epiphany I had today and I just wonder why it took me so very, very long to see it! You can waste so many years of your life trying to become something hard in order not to break; but it's the soft things that can't break! The hard things are the ones that shatter into a million pieces! — C. JoyBell C.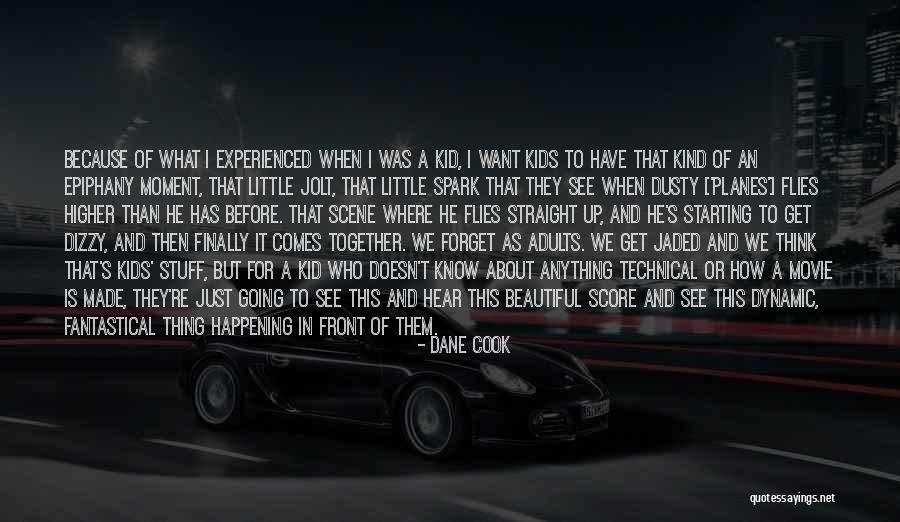 Because of what I experienced when I was a kid, I want kids to have that kind of an epiphany moment, that little jolt, that little spark that they see when Dusty ['Planes'] flies higher than he has before. That scene where he flies straight up, and he's starting to get dizzy, and then finally it comes together. We forget as adults. We get jaded and we think that's kids' stuff, but for a kid who doesn't know about anything technical or how a movie is made, they're just going to see this and hear this beautiful score and see this dynamic, fantastical thing happening in front of them. — Dane Cook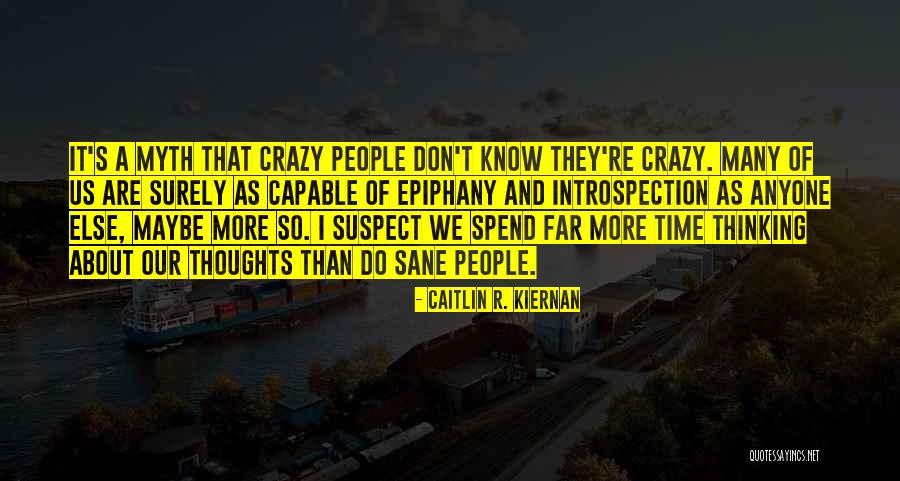 It's a myth that crazy people don't know they're crazy. Many of us are surely as capable of epiphany and introspection as anyone else, maybe more so. I suspect we spend far more time thinking about our thoughts than do sane people. — Caitlin R. Kiernan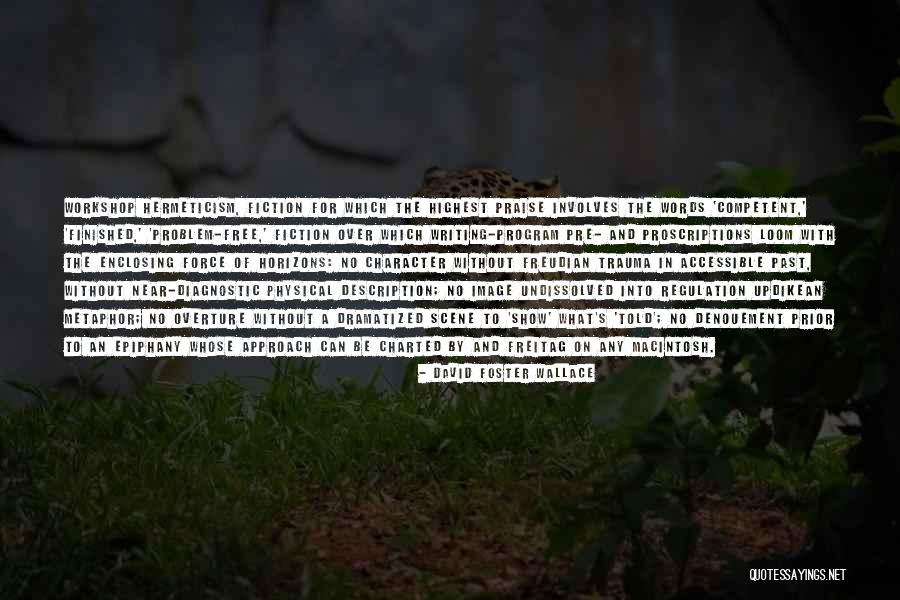 Workshop Hermeticism, fiction for which the highest praise involves the words 'competent,' 'finished,' 'problem-free,' fiction over which Writing-Program pre- and proscriptions loom with the enclosing force of horizons: no character without Freudian trauma in accessible past, without near-diagnostic physical description; no image undissolved into regulation Updikean metaphor; no overture without a dramatized scene to 'show' what's 'told'; no denouement prior to an epiphany whose approach can be charted by and Freitag on any Macintosh. — David Foster Wallace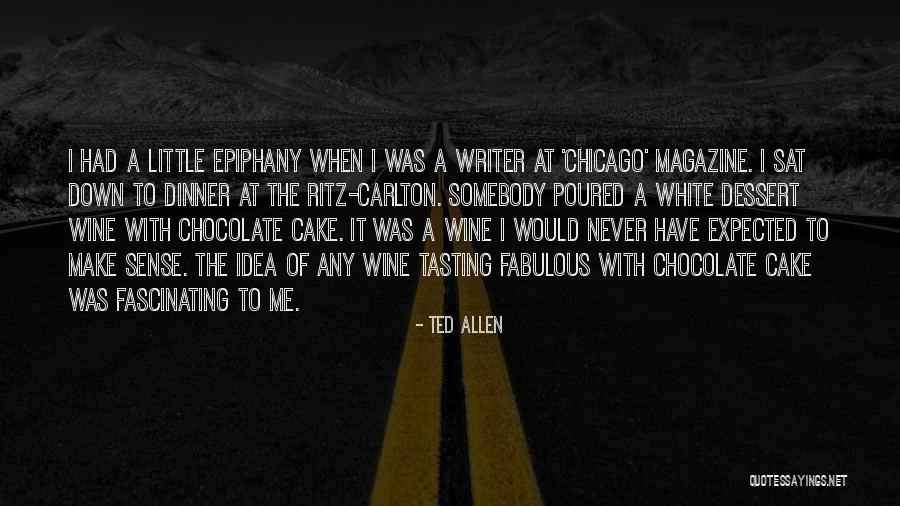 I had a little epiphany when I was a writer at 'Chicago' magazine. I sat down to dinner at the Ritz-Carlton. Somebody poured a white dessert wine with chocolate cake. It was a wine I would never have expected to make sense. The idea of any wine tasting fabulous with chocolate cake was fascinating to me. — Ted Allen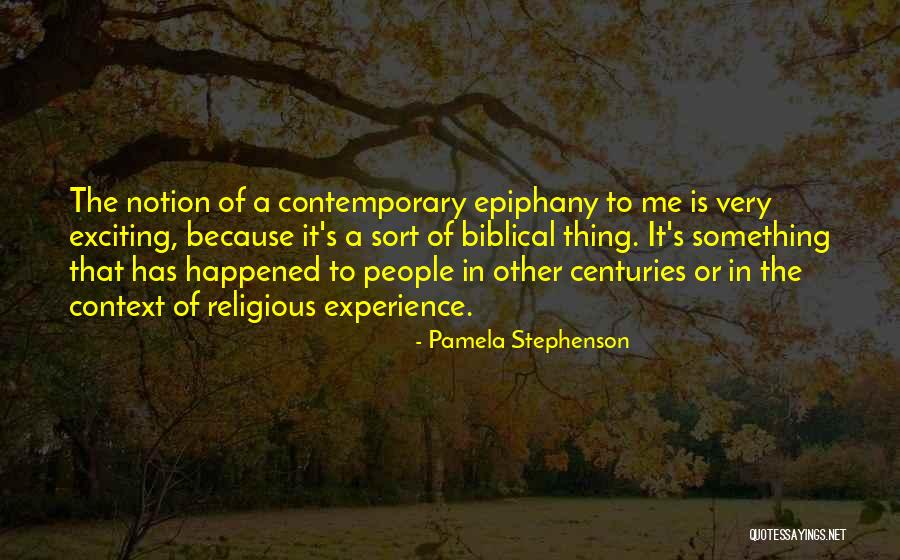 The notion of a contemporary epiphany to me is very exciting, because it's a sort of biblical thing. It's something that has happened to people in other centuries or in the context of religious experience. — Pamela Stephenson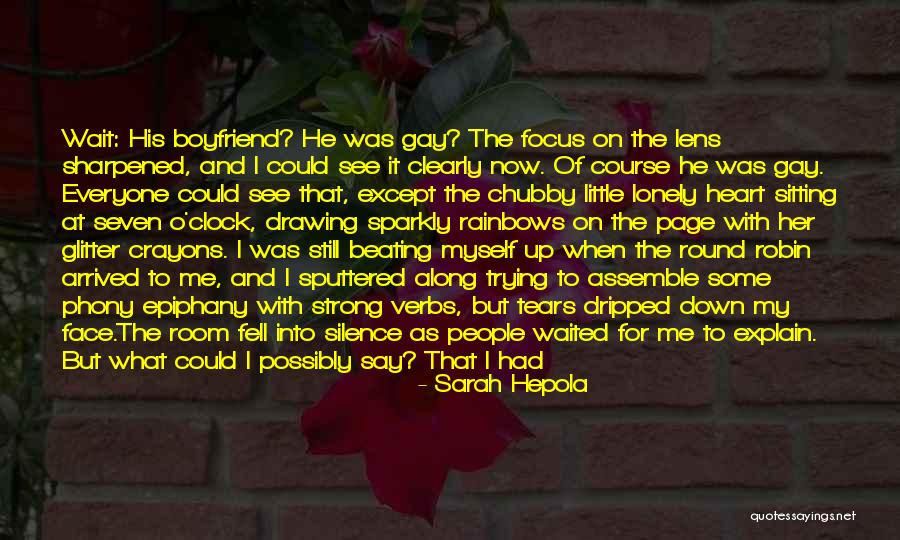 Wait: His boyfriend? He was gay? The focus on the lens sharpened, and I could see it clearly now. Of course he was gay. Everyone could see that, except the chubby little lonely heart sitting at seven o'clock, drawing sparkly rainbows on the page with her glitter crayons. I was still beating myself up when the round robin arrived to me, and I sputtered along trying to assemble some phony epiphany with strong verbs, but tears dripped down my face.
The room fell into silence as people waited for me to explain. But what could I possibly say? That I had just discovered my future husband was gay? That I was going to live the rest of my life surrounded by nothing but empty lasagna pans and an overloved cat destined to die before me?
"I'm sorry," I finally said. "I was just reminded of something very painful." And I guess that wasn't a lie. — Sarah Hepola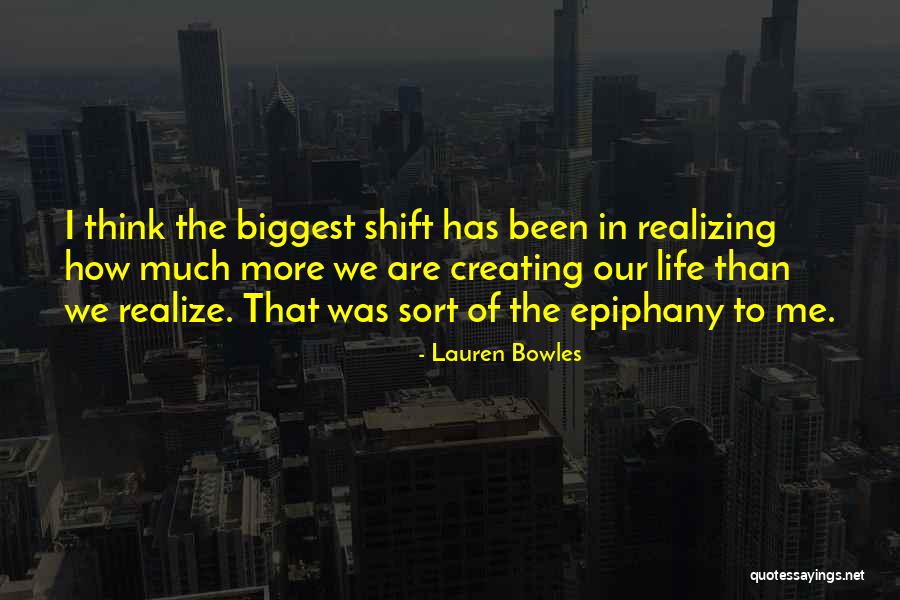 I think the biggest shift has been in realizing how much more we are creating our life than we realize. That was sort of the epiphany to me. — Lauren Bowles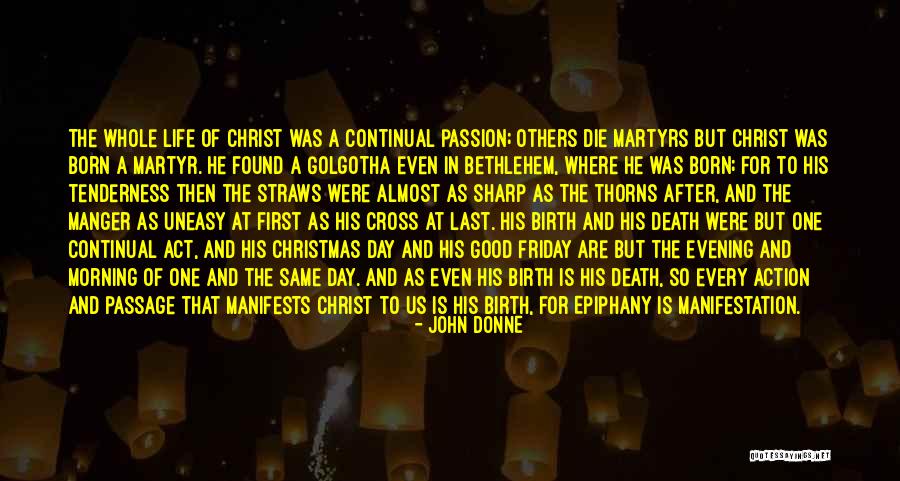 The whole life of Christ was a continual Passion; others die martyrs but Christ was born a martyr. He found a Golgotha even in Bethlehem, where he was born; for to his tenderness then the straws were almost as sharp as the thorns after, and the manger as uneasy at first as his cross at last. His birth and his death were but one continual act, and his Christmas day and his Good Friday are but the evening and morning of one and the same day. And as even his birth is his death, so every action and passage that manifests Christ to us is his birth, for Epiphany is manifestation. — John Donne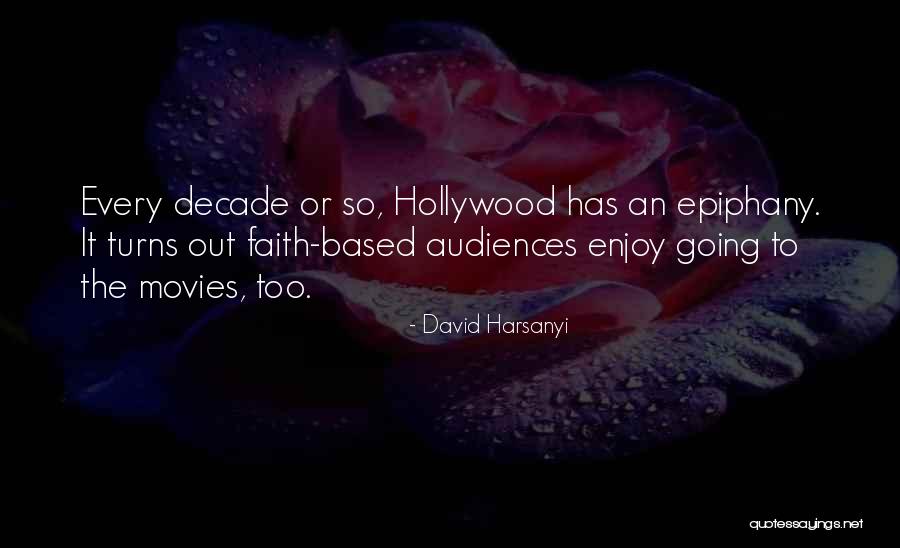 Every decade or so, Hollywood has an epiphany. It turns out faith-based audiences enjoy going to the movies, too. — David Harsanyi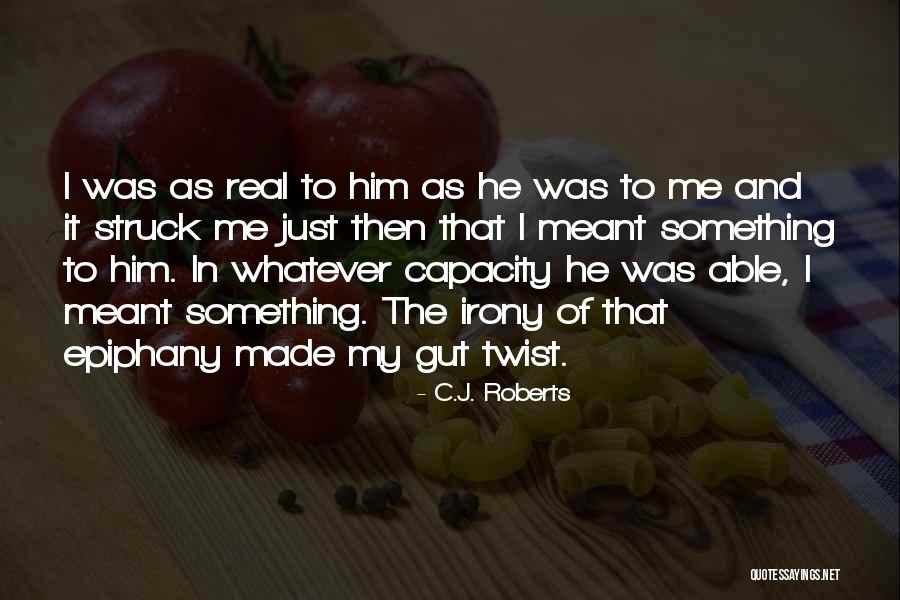 I was as real to him as he was to me and it struck me just then that I meant something to him. In whatever capacity he was able, I meant something. The irony of that epiphany made my gut twist. — C.J. Roberts
My whole life has been spent waiting for an epiphany, a manifestation of God's presence, the kind of transcendent, magical experience that let's you see your place in the big picture. And that is what I had with my first compost heap. — Bette Midler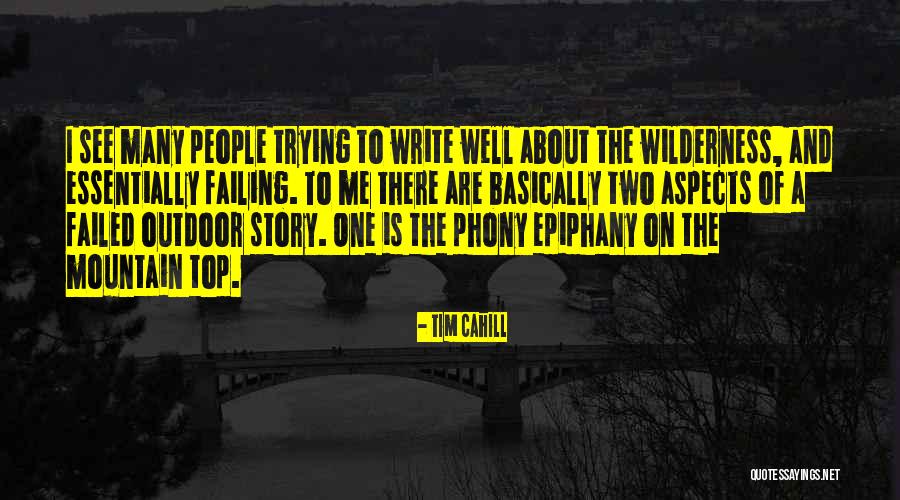 I see many people trying to write well about the wilderness, and essentially failing. To me there are basically two aspects of a failed outdoor story. One is the phony epiphany on the mountain top. — Tim Cahill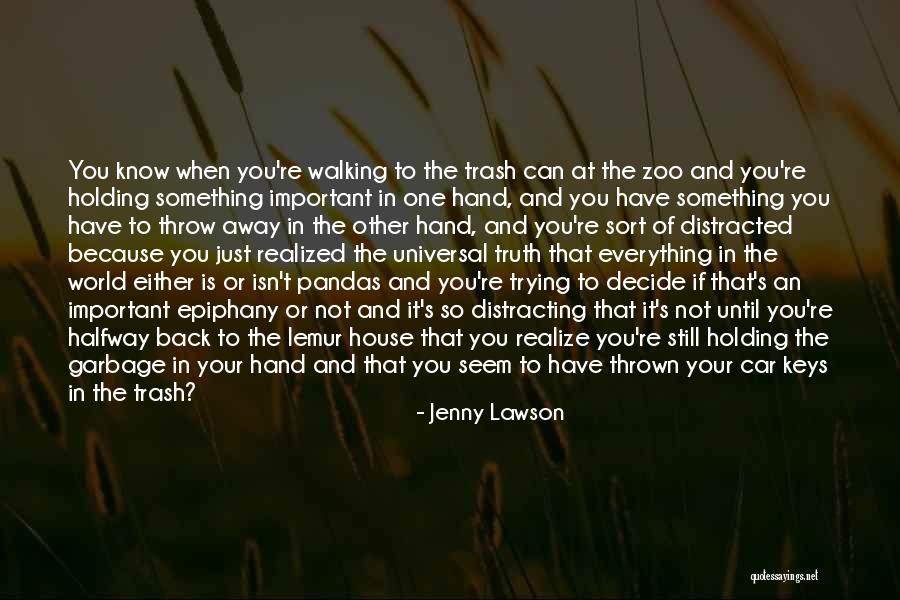 You know when you're walking to the trash can at the zoo and you're holding something important in one hand, and you have something you have to throw away in the other hand, and you're sort of distracted because you just realized the universal truth that everything in the world either is or isn't pandas and you're trying to decide if that's an important epiphany or not and it's so distracting that it's not until you're halfway back to the lemur house that you realize you're still holding the garbage in your hand and that you seem to have thrown your car keys in the trash? — Jenny Lawson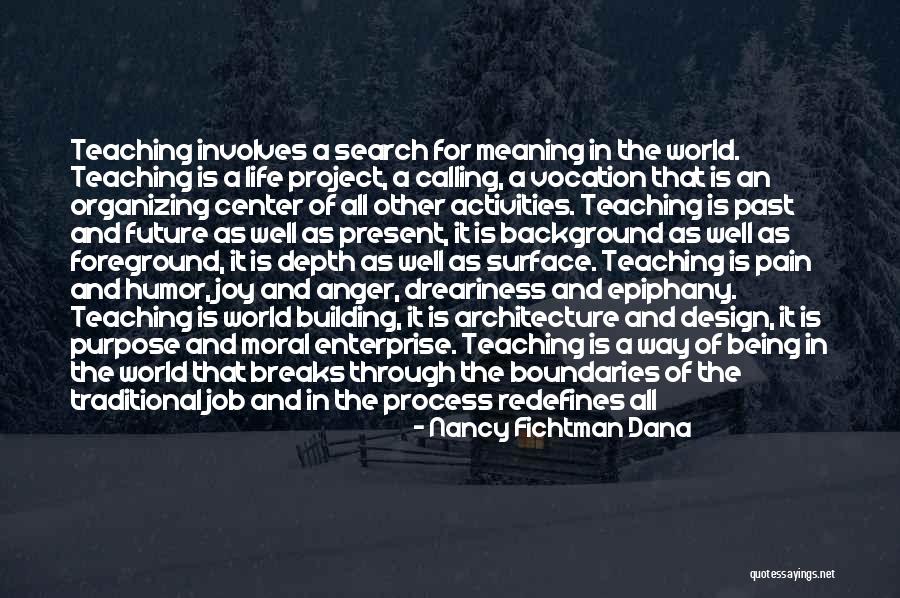 Teaching involves a search for meaning in the world. Teaching is a life project, a calling, a vocation that is an organizing center of all other activities. Teaching is past and future as well as present, it is background as well as foreground, it is depth as well as surface. Teaching is pain and humor, joy and anger, dreariness and epiphany. Teaching is world building, it is architecture and design, it is purpose and moral enterprise. Teaching is a way of being in the world that breaks through the boundaries of the traditional job and in the process redefines all life and teaching itself. (p. 130) — Nancy Fichtman Dana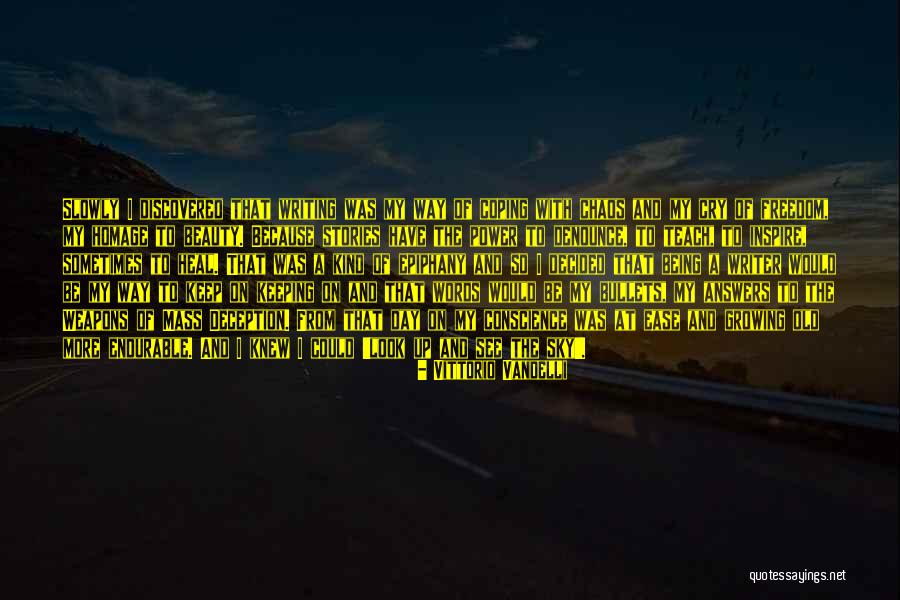 Slowly I discovered that writing was my way of coping with chaos and my cry of freedom, my homage to beauty. Because stories have the power to denounce, to teach, to inspire, sometimes to heal. That was a kind of epiphany and so I decided that being a writer would be my way to keep on keeping on and that words would be my bullets, my answers to the Weapons of Mass Deception. From that day on my conscience was at ease and growing old more endurable. And I knew I could 'look up and see the sky'. — Vittorio Vandelli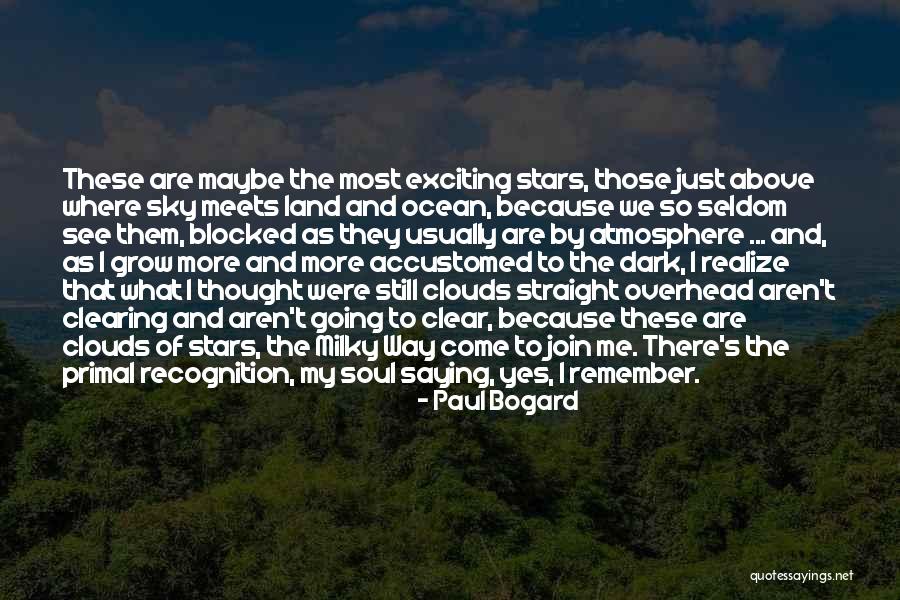 These are maybe the most exciting stars, those just above where sky meets land and ocean, because we so seldom see them, blocked as they usually are by atmosphere ... and, as I grow more and more accustomed to the dark, I realize that what I thought were still clouds straight overhead aren't clearing and aren't going to clear, because these are clouds of stars, the Milky Way come to join me. There's the primal recognition, my soul saying, yes, I remember. — Paul Bogard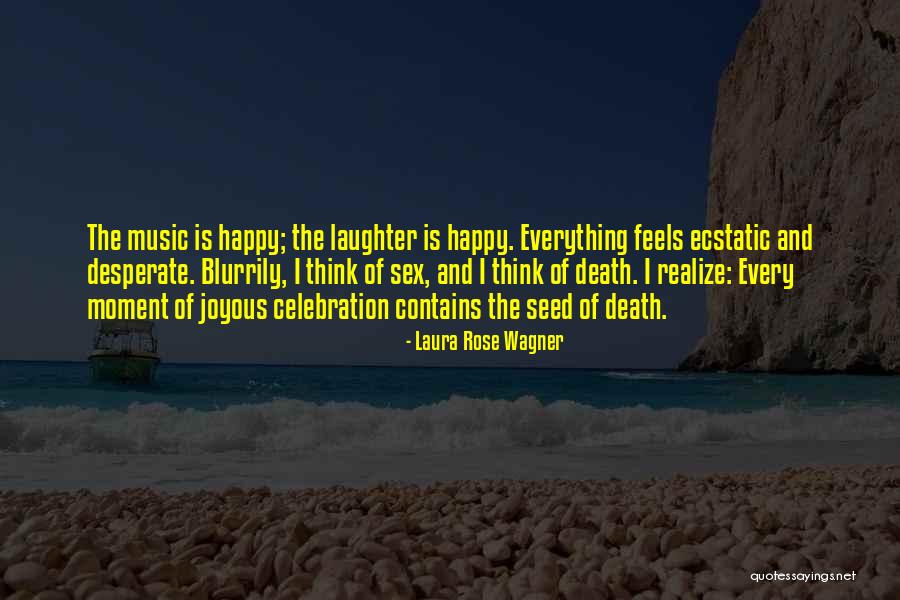 The music is happy; the laughter is happy. Everything feels ecstatic and desperate. Blurrily, I think of sex, and I think of death. I realize: Every moment of joyous celebration contains the seed of death. — Laura Rose Wagner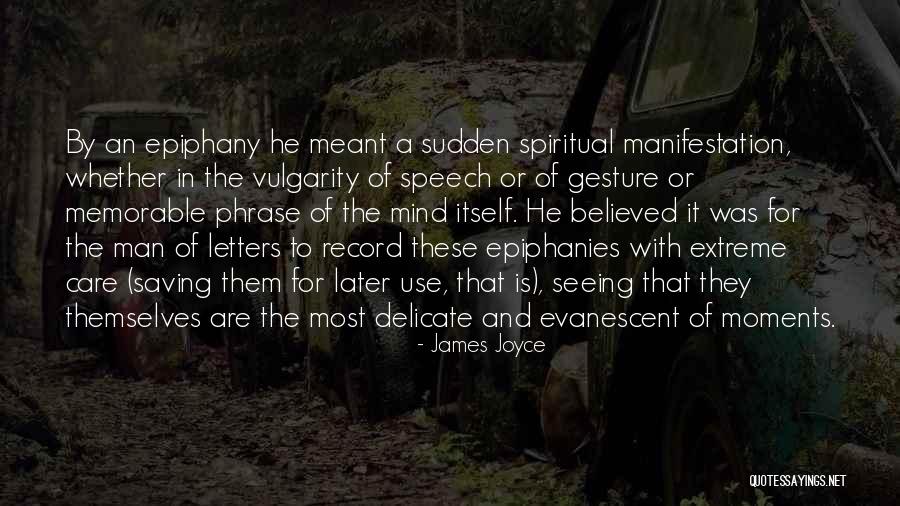 By an epiphany he meant a sudden spiritual manifestation, whether in the vulgarity of speech or of gesture or memorable phrase of the mind itself. He believed it was for the man of letters to record these epiphanies with extreme care (saving them for later use, that is), seeing that they themselves are the most delicate and evanescent of moments. — James Joyce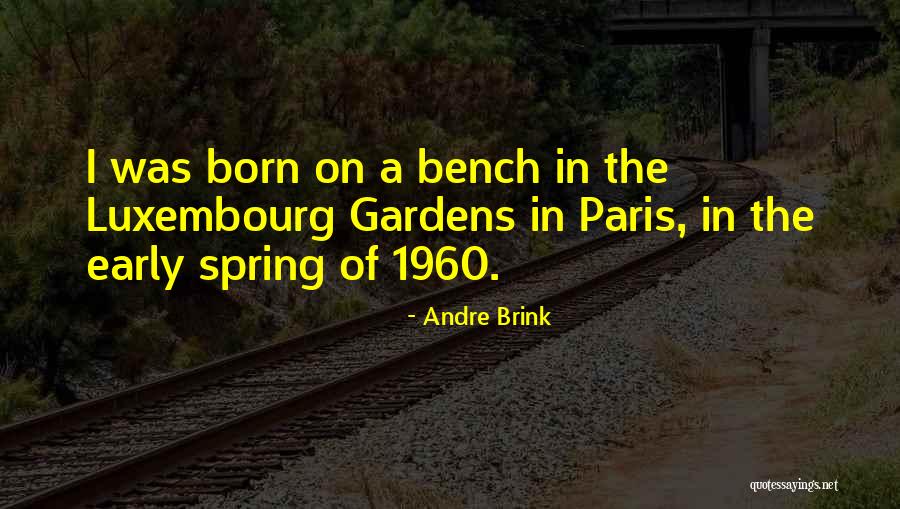 I was born on a bench in the Luxembourg Gardens in Paris, in the early spring of 1960. — Andre Brink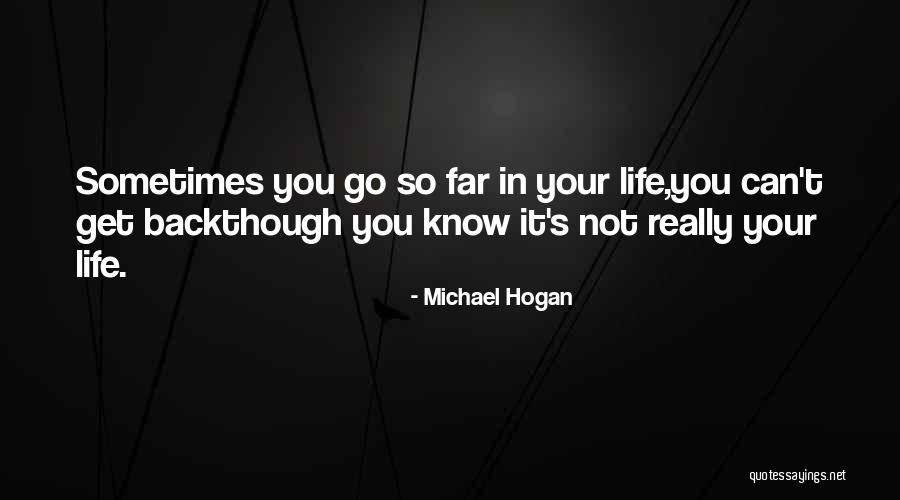 Sometimes you go so far in your life,
you can't get back
though you know it's not really your life. — Michael Hogan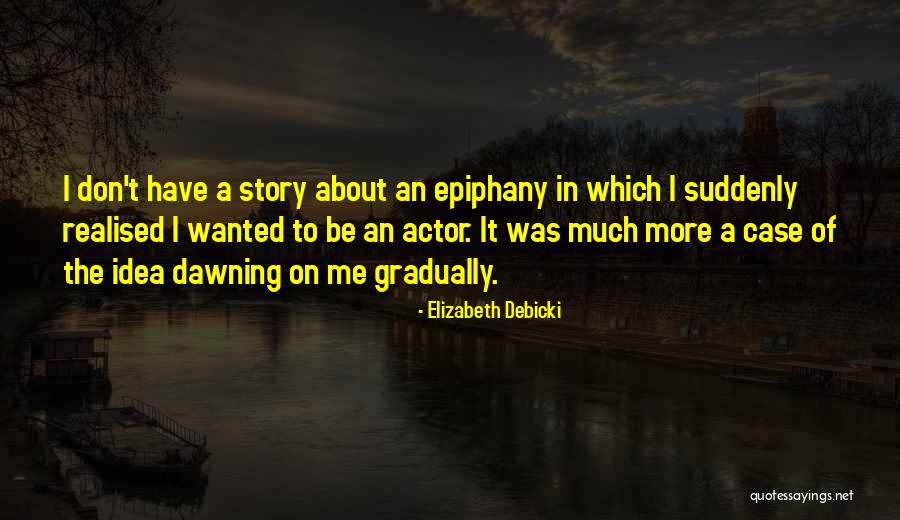 I don't have a story about an epiphany in which I suddenly realised I wanted to be an actor. It was much more a case of the idea dawning on me gradually. — Elizabeth Debicki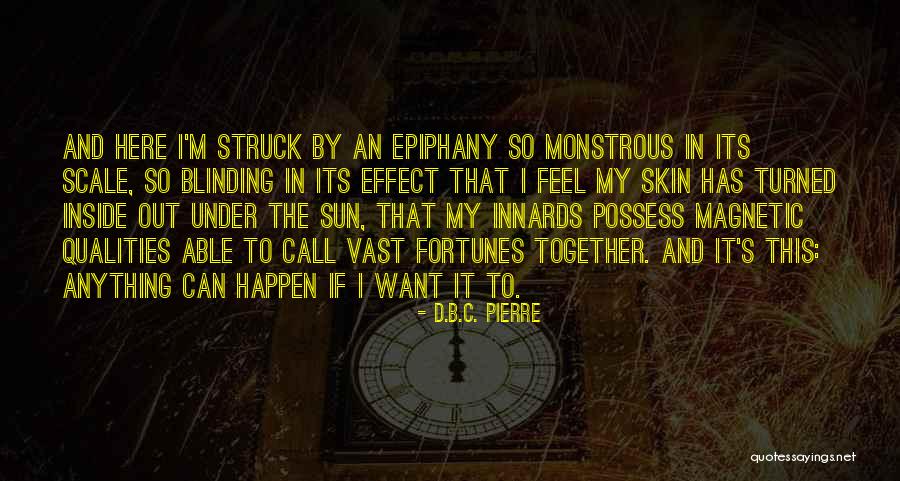 And here I'm struck by an epiphany so monstrous in its scale, so blinding in its effect that I feel my skin has turned inside out under the sun, that my innards possess magnetic qualities able to call vast fortunes together. And it's this: anything can happen if I want it to. — D.B.C. Pierre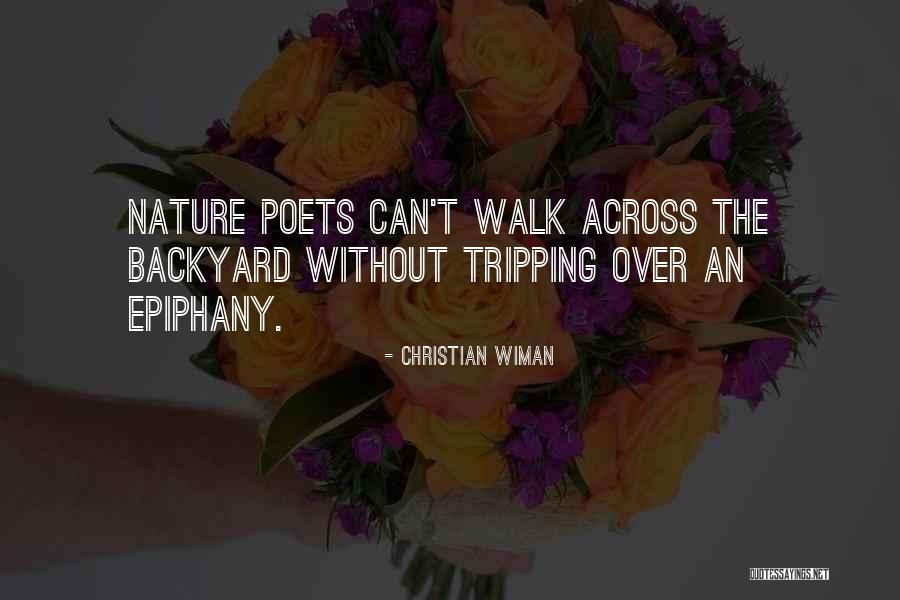 Nature poets can't walk across the backyard without tripping over an epiphany. — Christian Wiman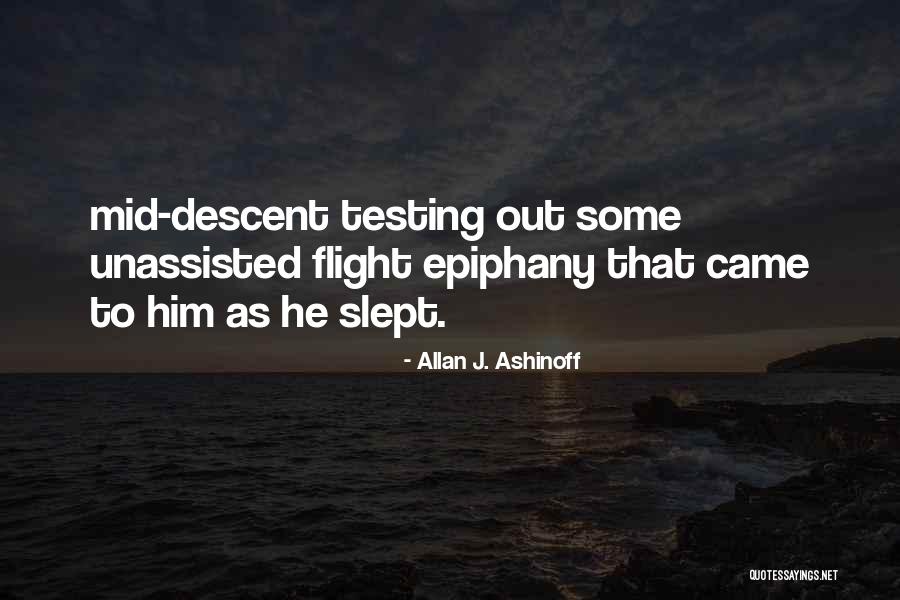 mid-descent testing out some unassisted flight epiphany that came to him as he slept. — Allan J. Ashinoff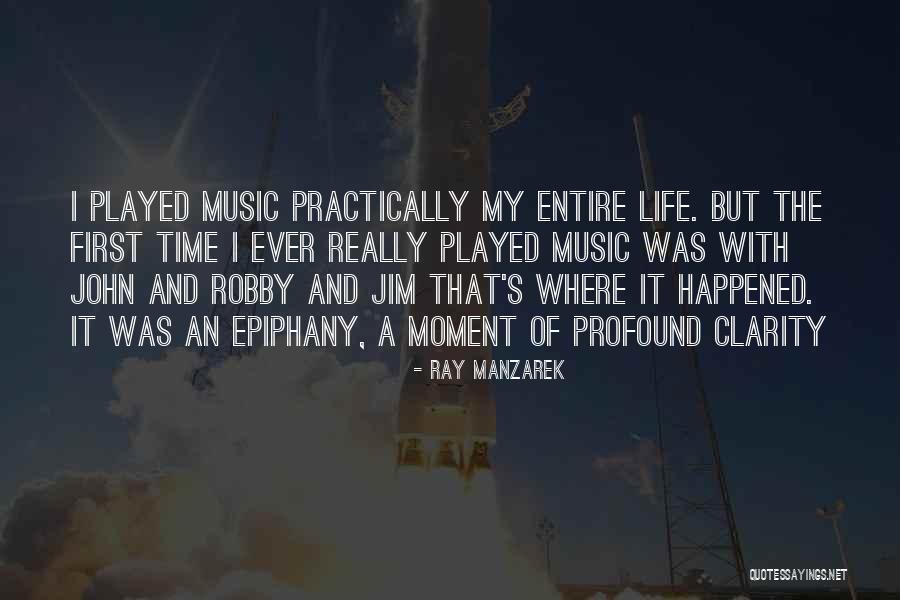 I played music practically my entire life. But the first time I ever really played music was with John and Robby and Jim That's where it happened. it was an epiphany, a moment of profound clarity — Ray Manzarek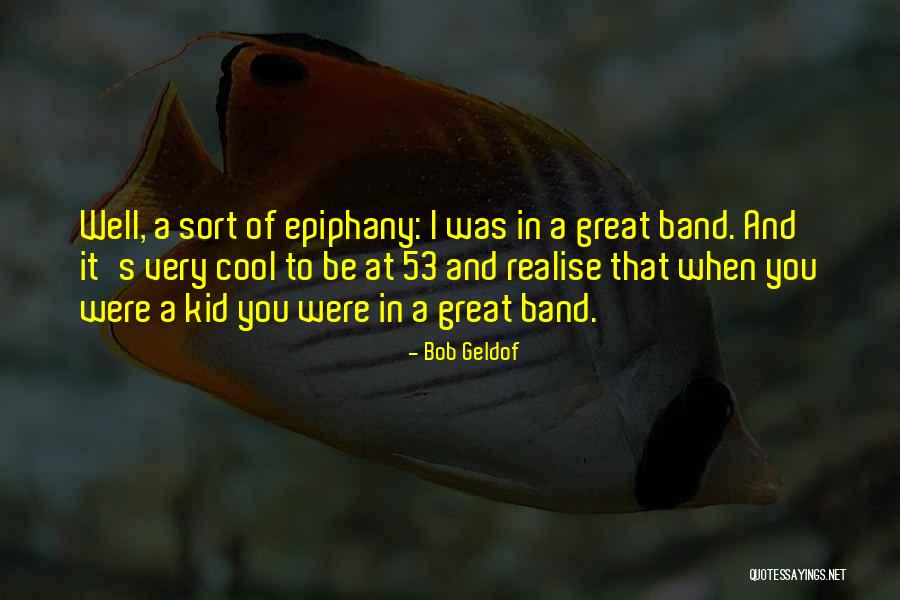 Well, a sort of epiphany: I was in a great band. And it's very cool to be at 53 and realise that when you were a kid you were in a great band. — Bob Geldof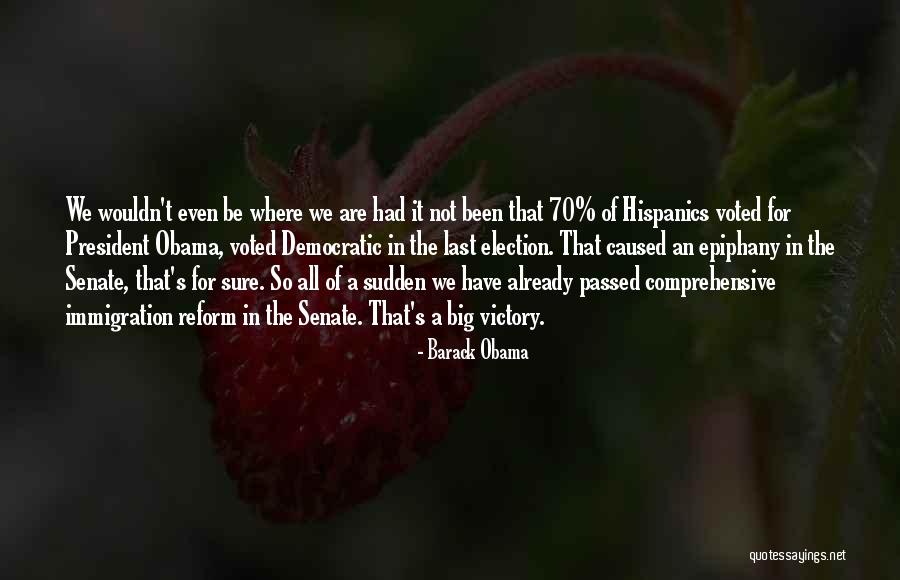 We wouldn't even be where we are had it not been that 70% of Hispanics voted for President Obama, voted Democratic in the last election. That caused an epiphany in the Senate, that's for sure. So all of a sudden we have already passed comprehensive immigration reform in the Senate. That's a big victory. — Barack Obama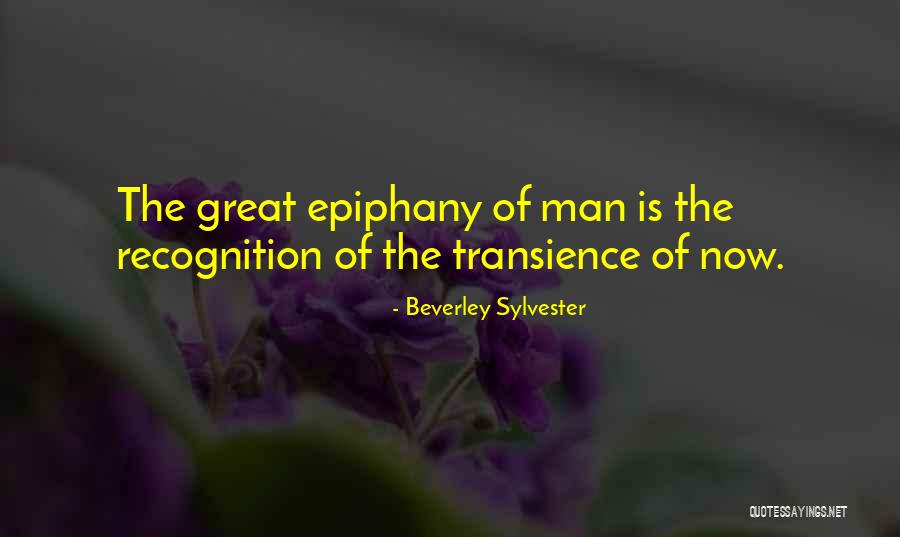 The great epiphany of man is the recognition of the transience of now. — Beverley Sylvester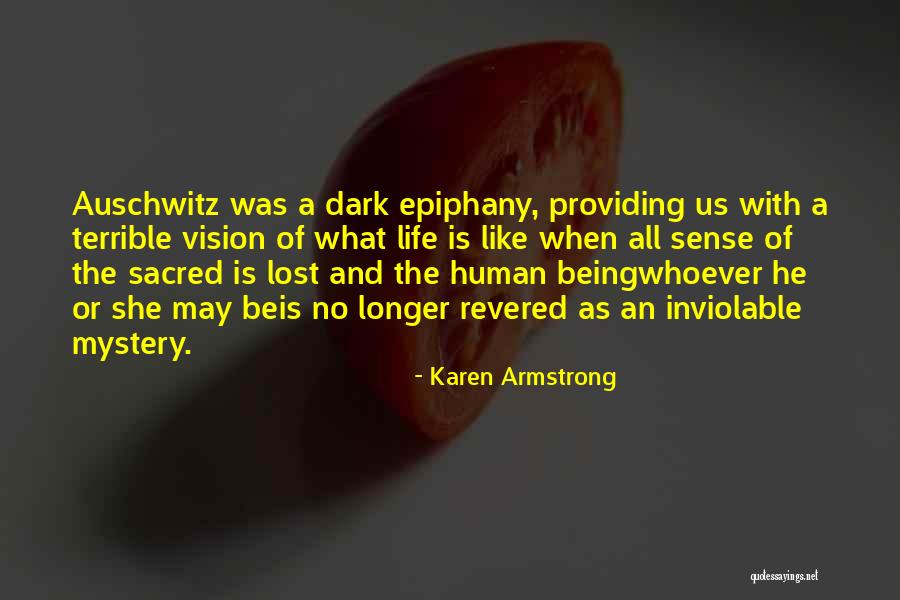 Auschwitz was a dark epiphany, providing us with a terrible vision of what life is like when all sense of the sacred is lost and the human being
whoever he or she may be
is no longer revered as an inviolable mystery. — Karen Armstrong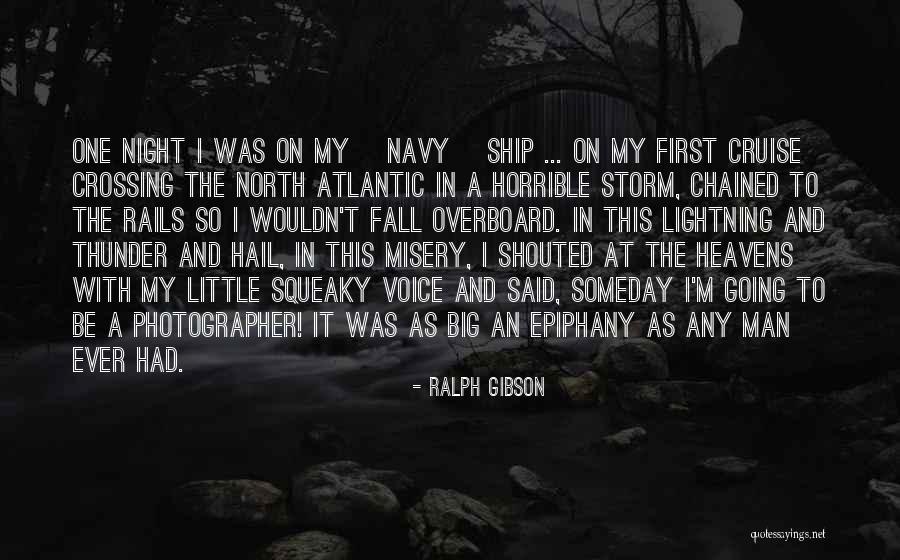 One night I was on my [Navy] ship ... on my first cruise crossing the North Atlantic in a horrible storm, chained to the rails so I wouldn't fall overboard. In this lightning and thunder and hail, in this misery, I shouted at the heavens with my little squeaky voice and said, Someday I'm going to be a photographer! It was as big an epiphany as any man ever had. — Ralph Gibson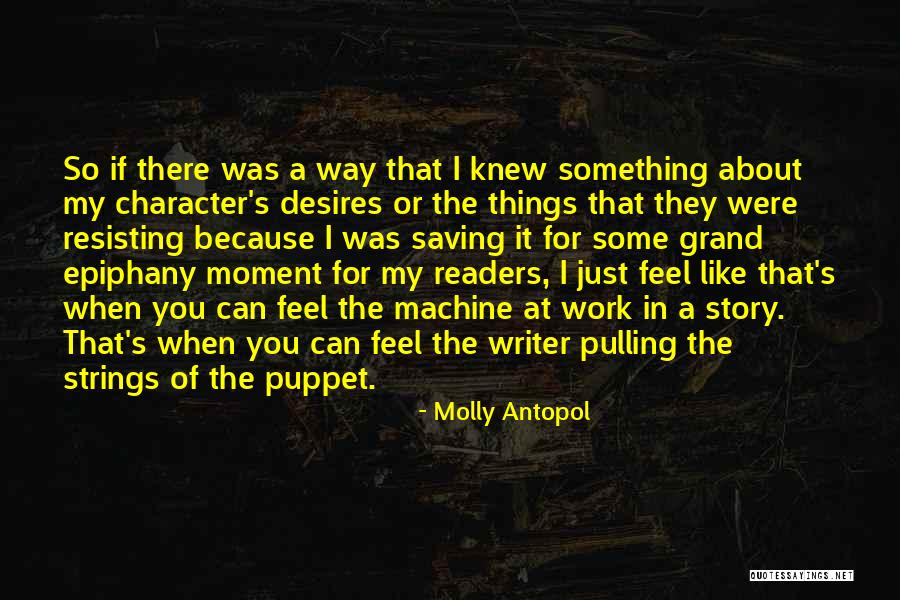 So if there was a way that I knew something about my character's desires or the things that they were resisting because I was saving it for some grand epiphany moment for my readers, I just feel like that's when you can feel the machine at work in a story. That's when you can feel the writer pulling the strings of the puppet. — Molly Antopol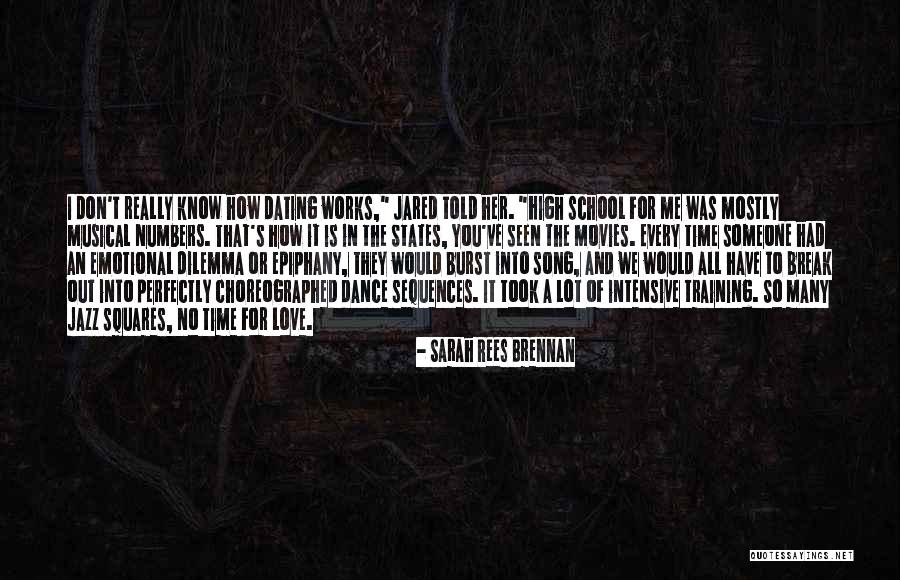 I don't really know how dating works," Jared told her. "High school for me was mostly musical numbers. That's how it is in the States, you've seen the movies. Every time someone had an emotional dilemma or epiphany, they would burst into song, and we would all have to break out into perfectly choreographed dance sequences. It took a lot of intensive training. So many jazz squares, no time for love. — Sarah Rees Brennan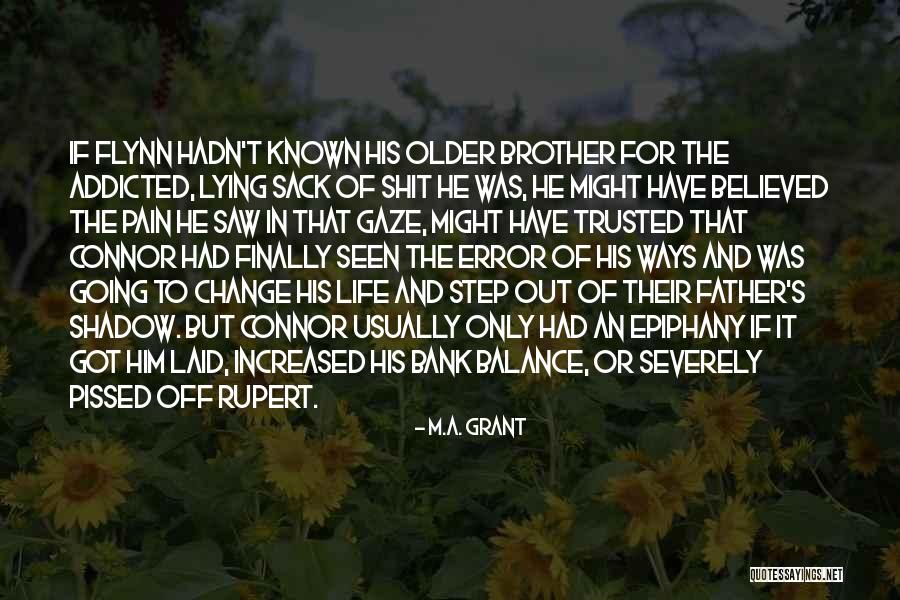 If Flynn hadn't known his older brother for the addicted, lying sack of shit he was, he might have believed the pain he saw in that gaze, might have trusted that Connor had finally seen the error of his ways and was going to change his life and step out of their father's shadow. But Connor usually only had an epiphany if it got him laid, increased his bank balance, or severely pissed off Rupert. — M.A. Grant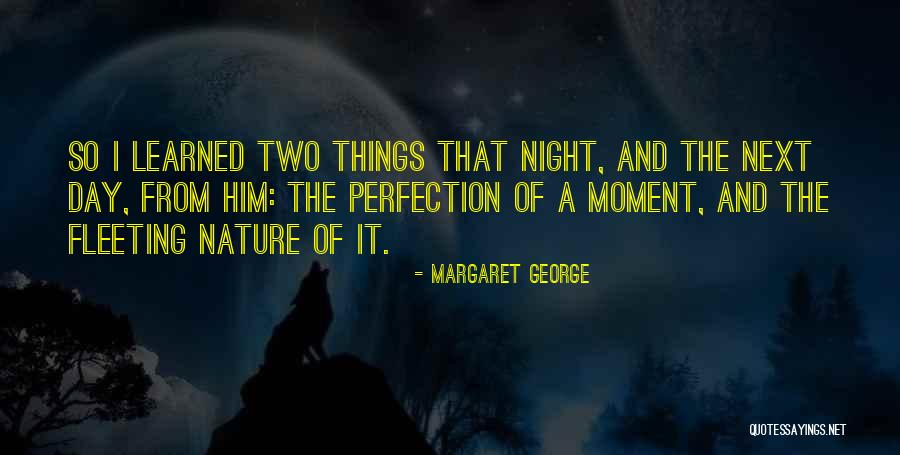 So I learned two things that night, and the next day, from him: the perfection of a moment, and the fleeting nature of it. — Margaret George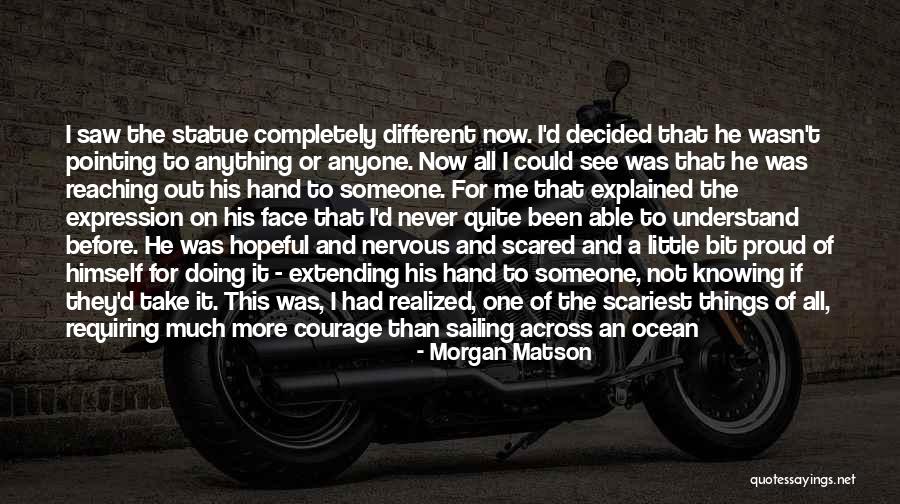 I saw the statue completely different now. I'd decided that he wasn't pointing to anything or anyone. Now all I could see was that he was reaching out his hand to someone. For me that explained the expression on his face that I'd never quite been able to understand before.

He was hopeful and nervous and scared and a little bit proud of himself for doing it - extending his hand to someone, not knowing if they'd take it. This was, I had realized, one of the scariest things of all, requiring much more courage than sailing across an ocean and landing on an unknown shore

At least that's what I saw. Clark and Tom's new theory was that he was a time traveler who'd somehow been transported to the past and was just trying to hail a cab. — Morgan Matson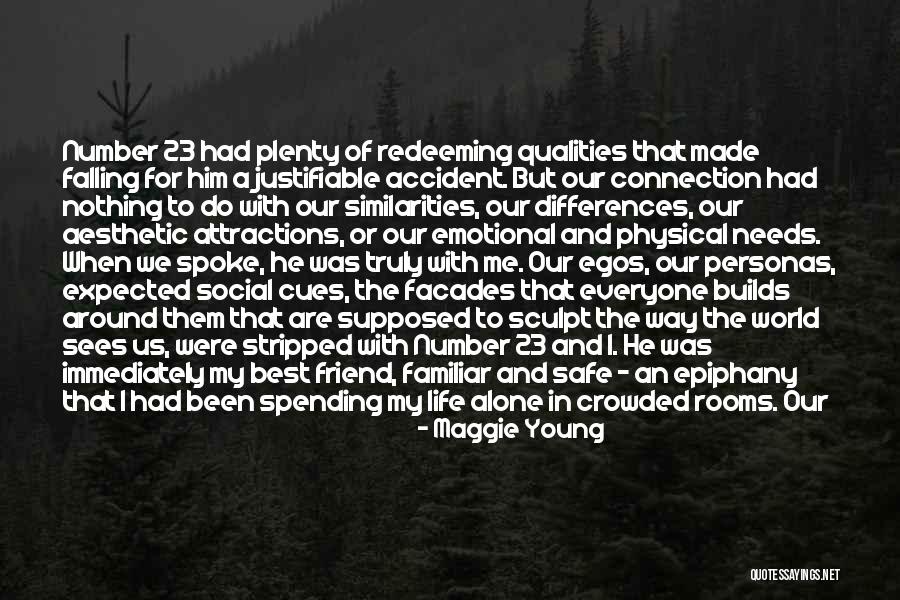 Number 23 had plenty of redeeming qualities that made falling for him a justifiable accident. But our connection had nothing to do with our similarities, our differences, our aesthetic attractions, or our emotional and physical needs. When we spoke, he was truly with me. Our egos, our personas, expected social cues, the facades that everyone builds around them that are supposed to sculpt the way the world sees us, were stripped with Number 23 and I. He was immediately my best friend, familiar and safe - an epiphany that I had been spending my life alone in crowded rooms.
Our souls were naked. We initially curled into the warmth of that connection. But once we knew how real it was, we felt exposed, vulnerable, and raw. While his defense was his fearful recoil, mine was dictation. — Maggie Young