I Don't Believe You Quotes & Sayings
Enjoy reading and share 100 famous quotes about I Don't Believe You with everyone.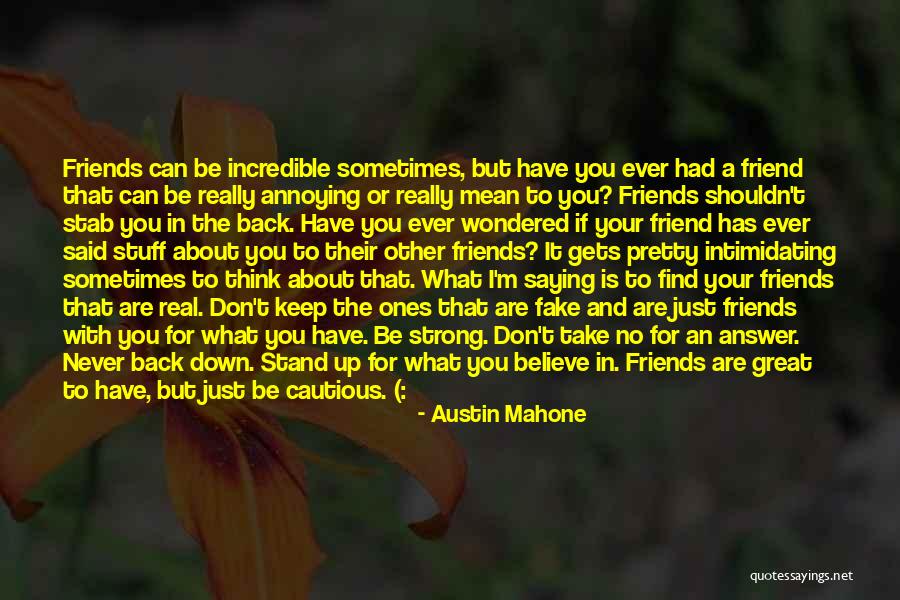 Friends can be incredible sometimes, but have you ever had a friend that can be really annoying or really mean to you? Friends shouldn't stab you in the back. Have you ever wondered if your friend has ever said stuff about you to their other friends? It gets pretty intimidating sometimes to think about that. What I'm saying is to find your friends that are real. Don't keep the ones that are fake and are just friends with you for what you have. Be strong. Don't take no for an answer. Never back down. Stand up for what you believe in. Friends are great to have, but just be cautious. (: — Austin Mahone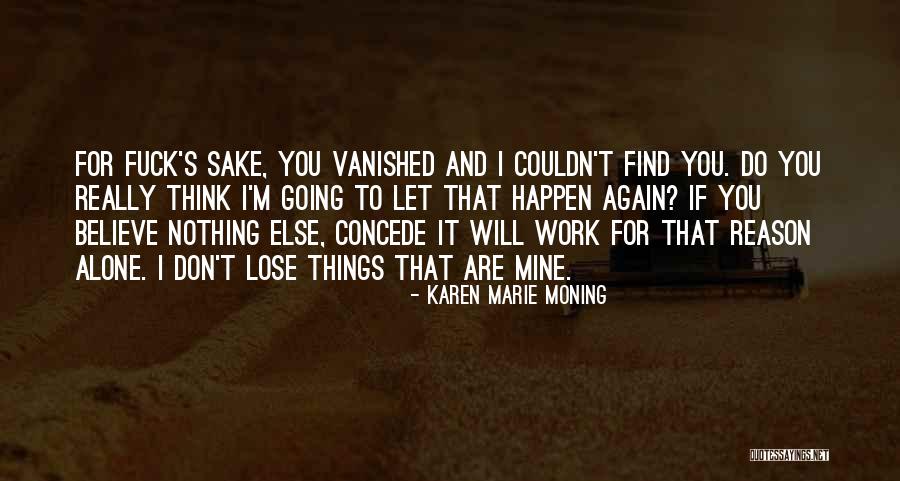 For fuck's sake, you vanished and I couldn't find you. Do you really think I'm going to let that happen again? If you believe nothing else, concede it will work for that reason alone. I don't lose things that are mine. — Karen Marie Moning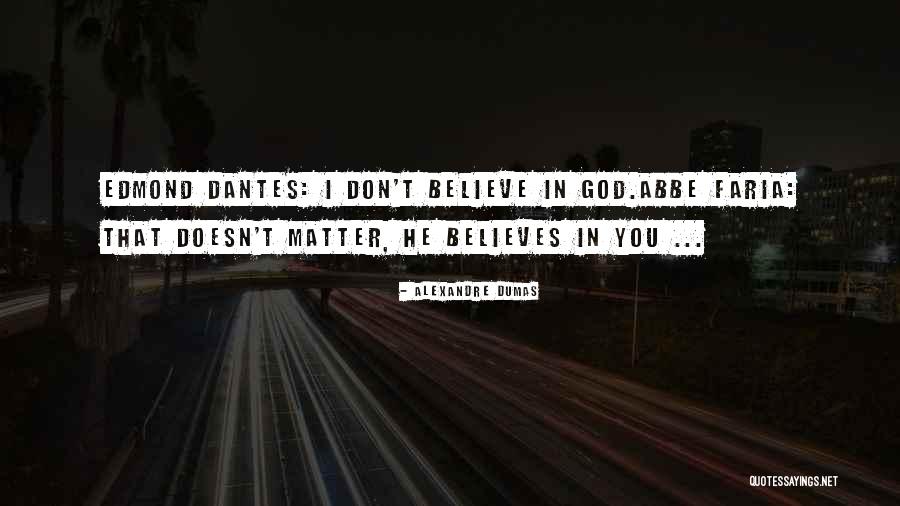 Edmond Dantes: I don't believe in God.
Abbe Faria: That doesn't matter, He believes in you ... — Alexandre Dumas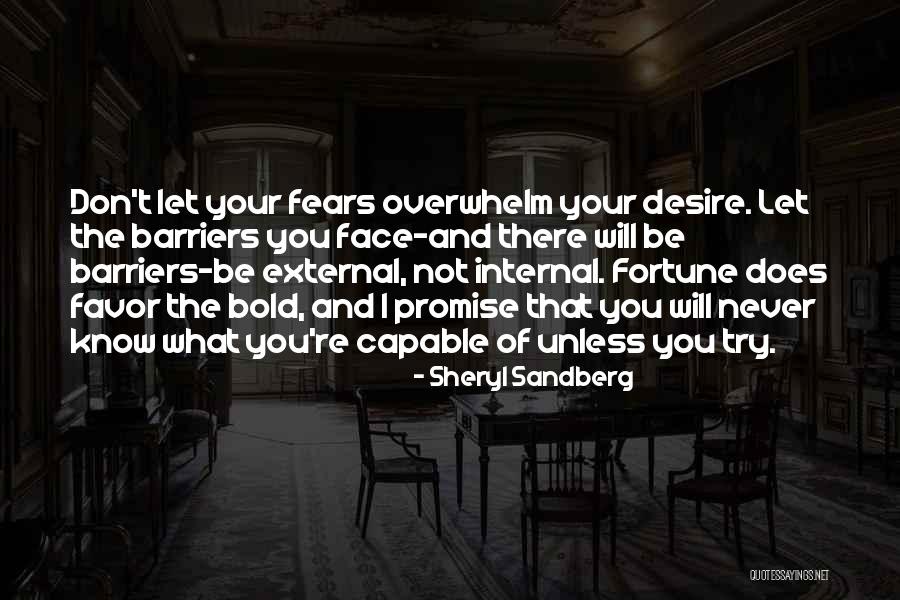 Don't let your fears overwhelm your desire. Let the barriers you face-and there will be barriers-be external, not internal. Fortune does favor the bold, and I promise that you will never know what you're capable of unless you try. — Sheryl Sandberg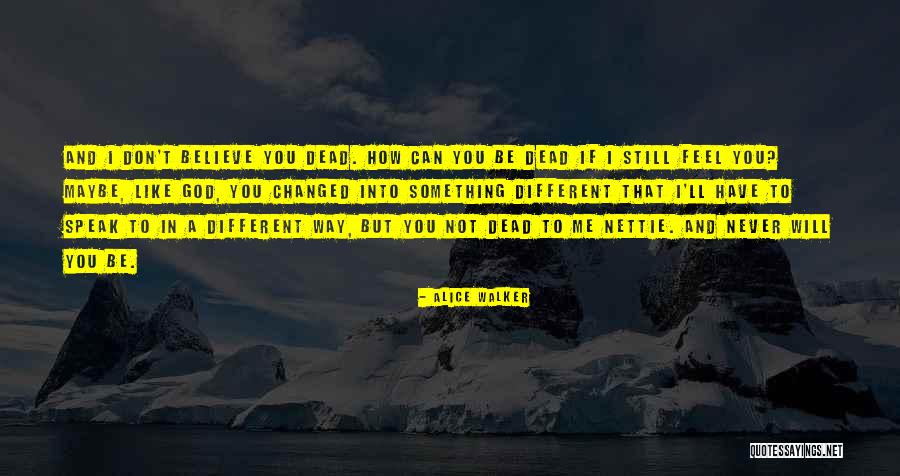 And I don't believe you dead. How can you be dead if I still feel you? Maybe, like God, you changed into something different that I'll have to speak to in a different way, but you not dead to me Nettie. And never will you be. — Alice Walker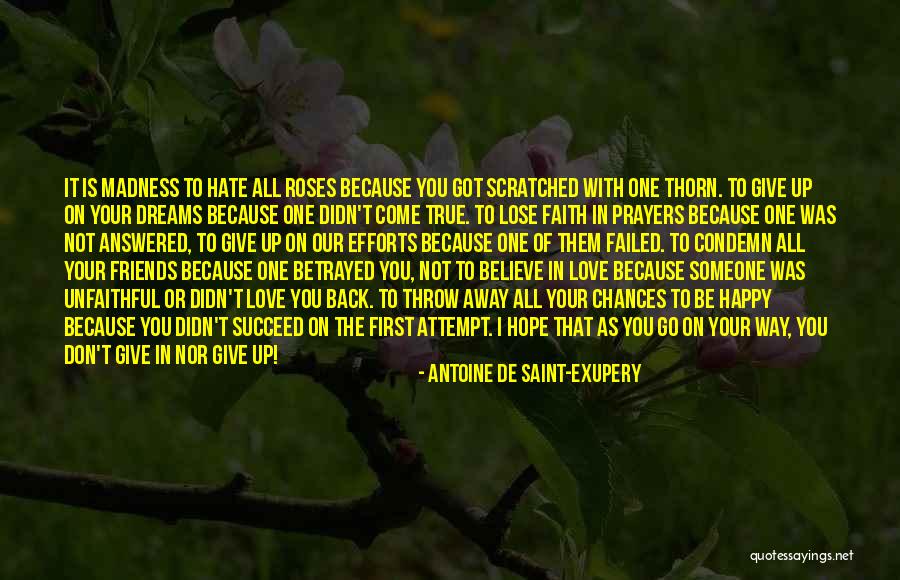 It is madness to hate all roses because you got scratched with one thorn. To give up on your dreams because one didn't come true. To lose faith in prayers because one was not answered, to give up on our efforts because one of them failed. To condemn all your friends because one betrayed you, not to believe in love because someone was unfaithful or didn't love you back. To throw away all your chances to be happy because you didn't succeed on the first attempt. I hope that as you go on your way, you don't give in nor give up! — Antoine De Saint-Exupery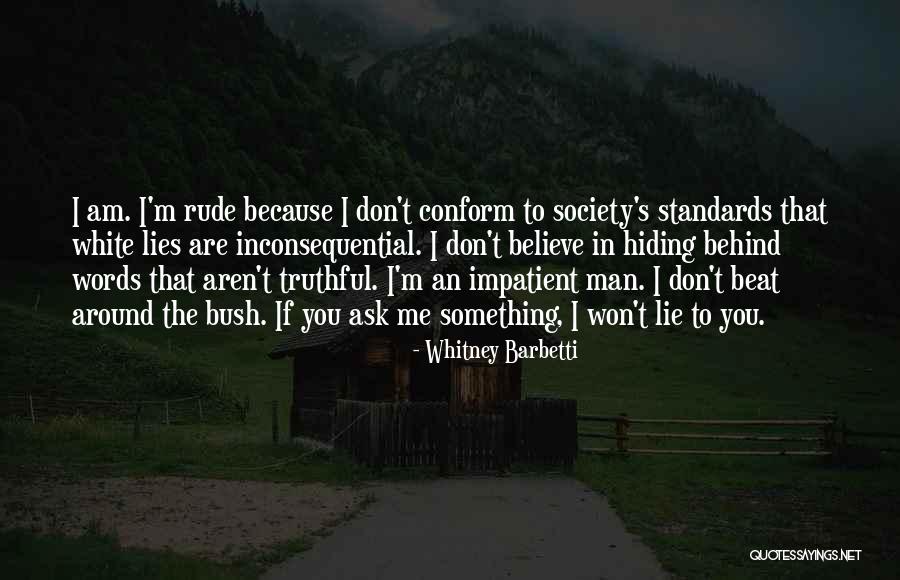 I am. I'm rude because I don't conform to society's standards that white lies are inconsequential. I don't believe in hiding behind words that aren't truthful. I'm an impatient man. I don't beat around the bush. If you ask me something, I won't lie to you. — Whitney Barbetti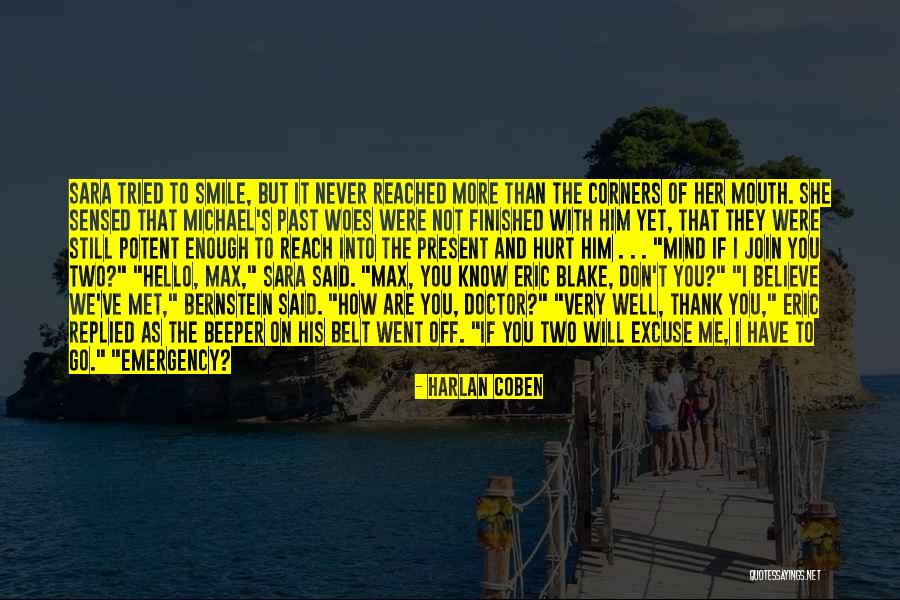 Sara tried to smile, but it never reached more than the corners of her mouth. She sensed that Michael's past woes were not finished with him yet, that they were still potent enough to reach into the present and hurt him . . . "Mind if I join you two?" "Hello, Max," Sara said. "Max, you know Eric Blake, don't you?" "I believe we've met," Bernstein said. "How are you, Doctor?" "Very well, thank you," Eric replied as the beeper on his belt went off. "If you two will excuse me, I have to go." "Emergency? — Harlan Coben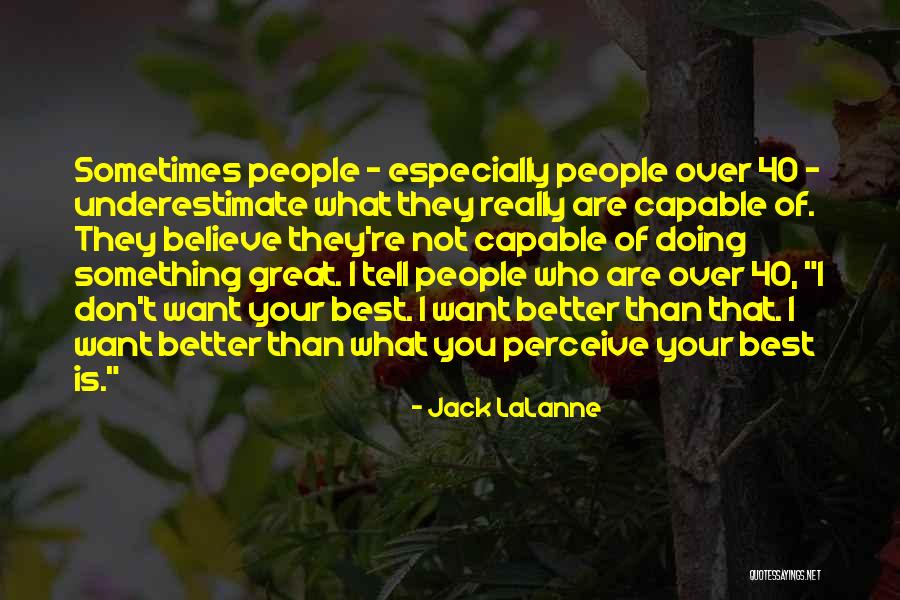 Sometimes people - especially people over 40 - underestimate what they really are capable of. They believe they're not capable of doing something great. I tell people who are over 40, "I don't want your best. I want better than that. I want better than what you perceive your best is." — Jack LaLanne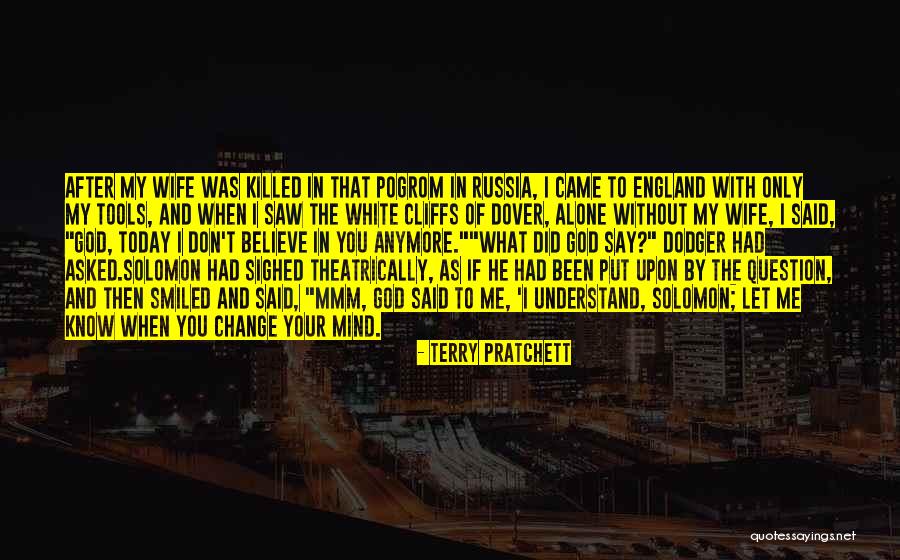 After my wife was killed in that pogrom in Russia, I came to England with only my tools, and when I saw the white cliffs of Dover, alone without my wife, I said, "God, today I don't believe in you anymore."

"What did God say?" Dodger had asked.

Solomon had sighed theatrically, as if he had been put upon by the question, and then smiled and said, "Mmm, God said to me, 'I understand, Solomon; let me know when you change your mind. — Terry Pratchett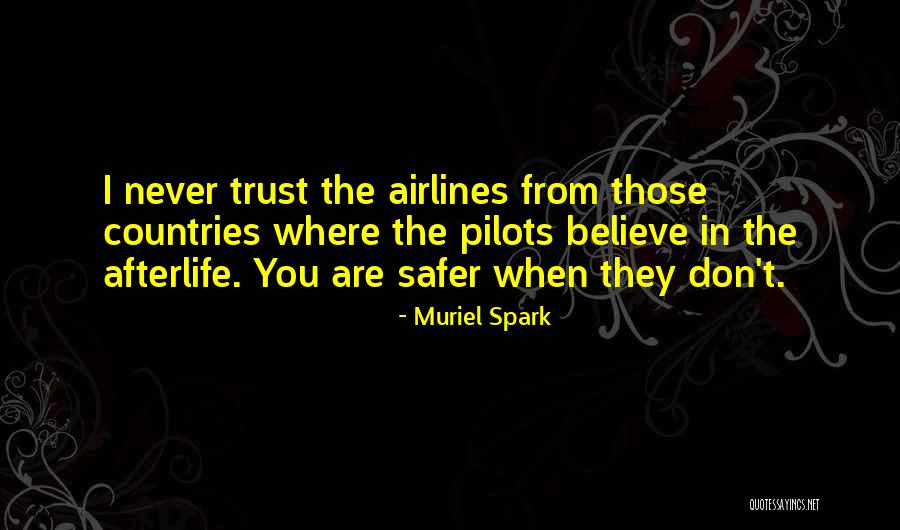 I never trust the airlines from those countries where the pilots believe in the afterlife. You are safer when they don't. — Muriel Spark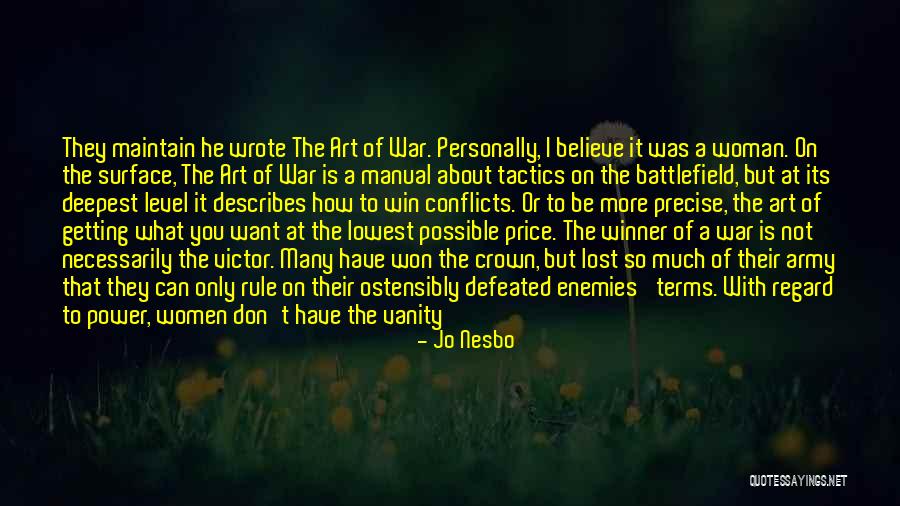 They maintain he wrote The Art of War. Personally, I believe it was a woman. On the surface, The Art of War is a manual about tactics on the battlefield, but at its deepest level it describes how to win conflicts. Or to be more precise, the art of getting what you want at the lowest possible price. The winner of a war is not necessarily the victor. Many have won the crown, but lost so much of their army that they can only rule on their ostensibly defeated enemies' terms. With regard to power, women don't have the vanity men have. They don't need to make power visible, they only want the power to give them the other things they want. Security. Food. Enjoyment. Revenge. Peace. They are rational, power-seeking planners, who think beyond the battle, beyond the victory celebrations. And because they have an inborn capacity to see weakness in their victims, they know instinctively when and how to strike. And when to stop. You can't learn that, Spiuni. — Jo Nesbo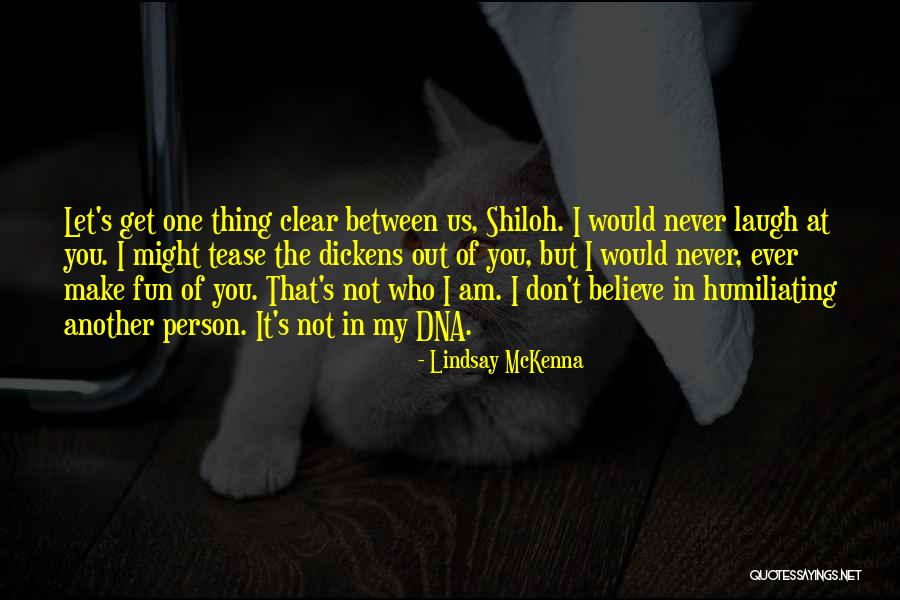 Let's get one thing clear between us, Shiloh. I would never laugh at you. I might tease the dickens out of you, but I would never, ever make fun of you. That's not who I am. I don't believe in humiliating another person. It's not in my DNA. — Lindsay McKenna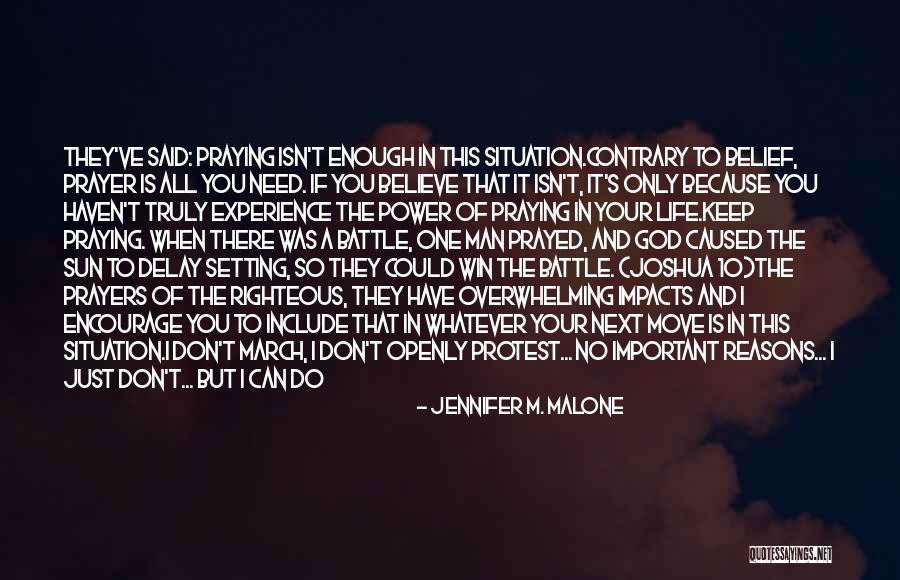 They've said: PRAYING isn't enough in this situation.
Contrary to belief, prayer is all you need. If you believe that it isn't, it's only because you haven't truly experience the power of praying in your life.
Keep praying. When there was a battle, one man prayed, and God caused the sun to delay setting, so they could win the battle. (Joshua 10)
The prayers of the Righteous, they have overwhelming impacts and I encourage you to include that in whatever your next move is in this situation.
I don't march, I don't openly protest... No important reasons... I just don't... but I can do what I do best... Help behind the scenes.. and PRAY.. because, I know it works.
Peace and Blessings — Jennifer M. Malone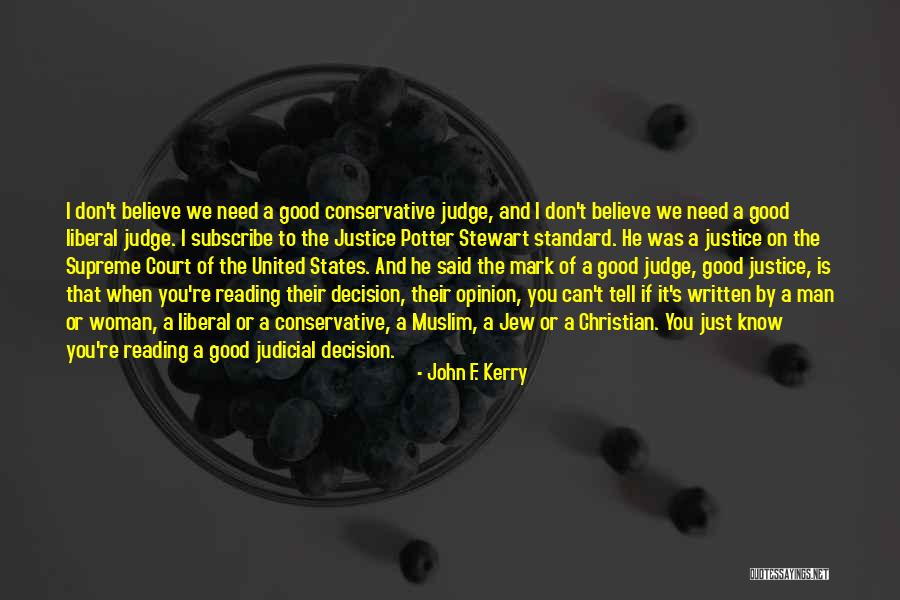 I don't believe we need a good conservative judge, and I don't believe we need a good liberal judge. I subscribe to the Justice Potter Stewart standard. He was a justice on the Supreme Court of the United States. And he said the mark of a good judge, good justice, is that when you're reading their decision, their opinion, you can't tell if it's written by a man or woman, a liberal or a conservative, a Muslim, a Jew or a Christian. You just know you're reading a good judicial decision. — John F. Kerry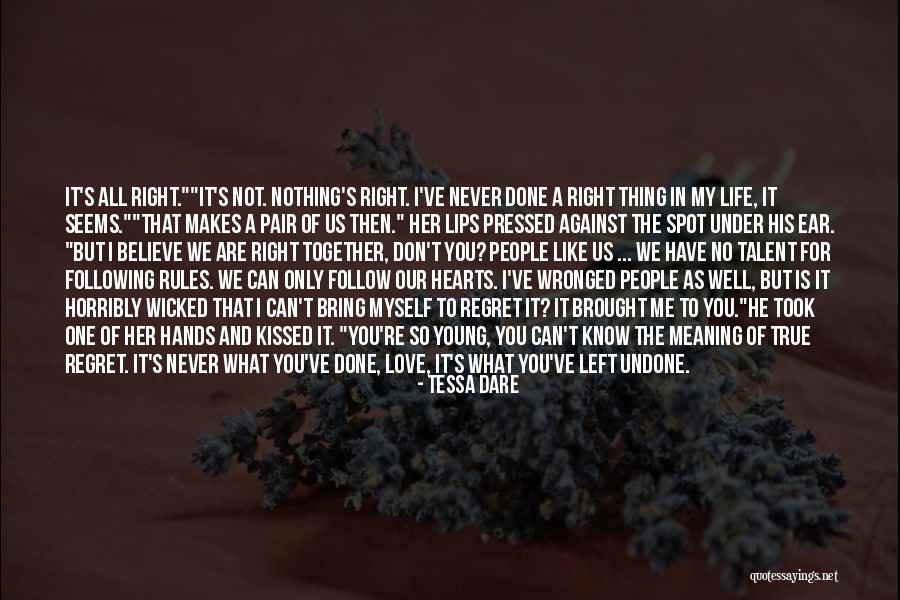 It's all right."
"It's not. Nothing's right. I've never done a right thing in my life, it seems."
"That makes a pair of us then." Her lips pressed against the spot under his ear. "But I believe we are right together, don't you? People like us ... we have no talent for following rules. We can only follow our hearts. I've wronged people as well, but is it horribly wicked that I can't bring myself to regret it? It brought me to you."
He took one of her hands and kissed it. "You're so young, you can't know the meaning of true regret. It's never what you've done, love, it's what you've left undone. — Tessa Dare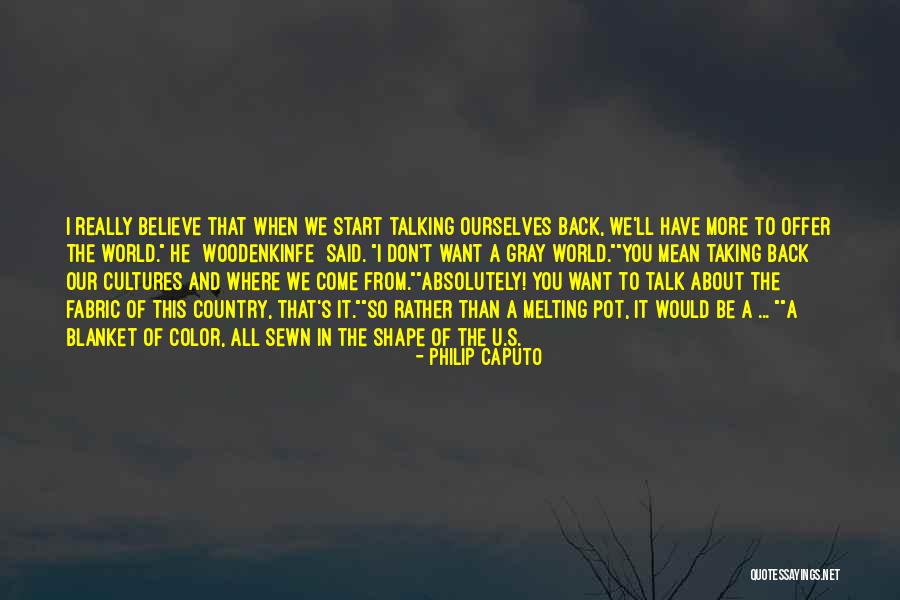 I really believe that when we start talking ourselves back, we'll have more to offer the world." he [Woodenkinfe] said. "I don't want a gray world."
"You mean taking back our cultures and where we come from."
"Absolutely! You want to talk about the fabric of this country, that's it."
"So rather than a melting pot, it would be a ... "
"A blanket of color, all sewn in the shape of the U.S. — Philip Caputo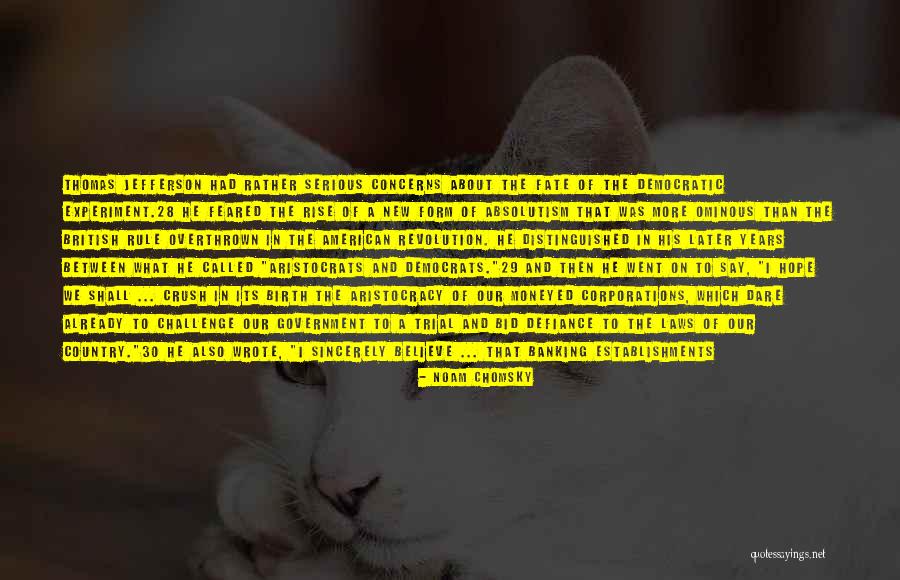 Thomas Jefferson had rather serious concerns about the fate of the democratic experiment.28 He feared the rise of a new form of absolutism that was more ominous than the British rule overthrown in the American Revolution. He distinguished in his later years between what he called "aristocrats and democrats."29 And then he went on to say, "I hope we shall ... crush in its birth the aristocracy of our moneyed corporations, which dare already to challenge our government to a trial and bid defiance to the laws of our country."30 He also wrote, "I sincerely believe ... that banking establishments are more dangerous than standing armies."31 That's the kind of quote from a Founding Father you don't see too much. — Noam Chomsky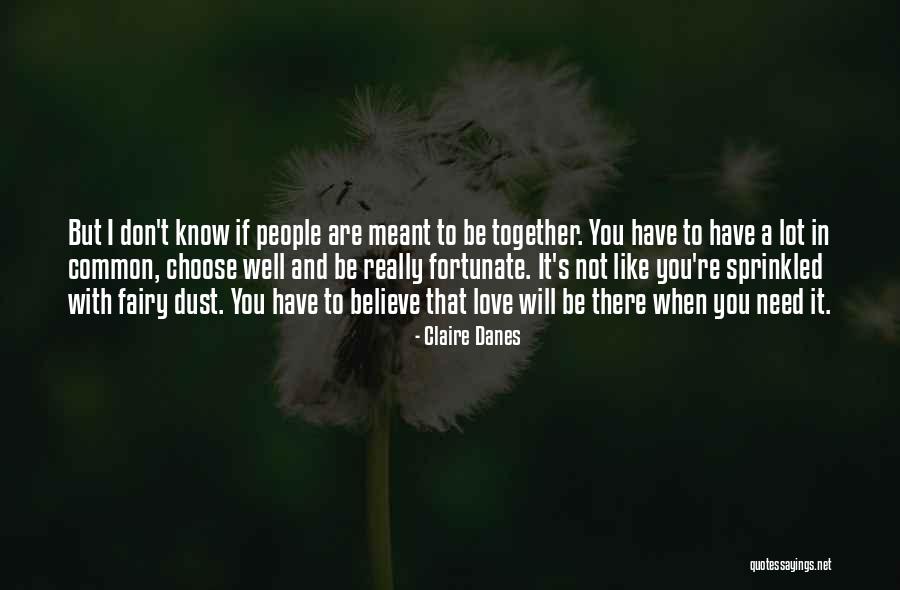 But I don't know if people are meant to be together. You have to have a lot in common, choose well and be really fortunate. It's not like you're sprinkled with fairy dust. You have to believe that love will be there when you need it. — Claire Danes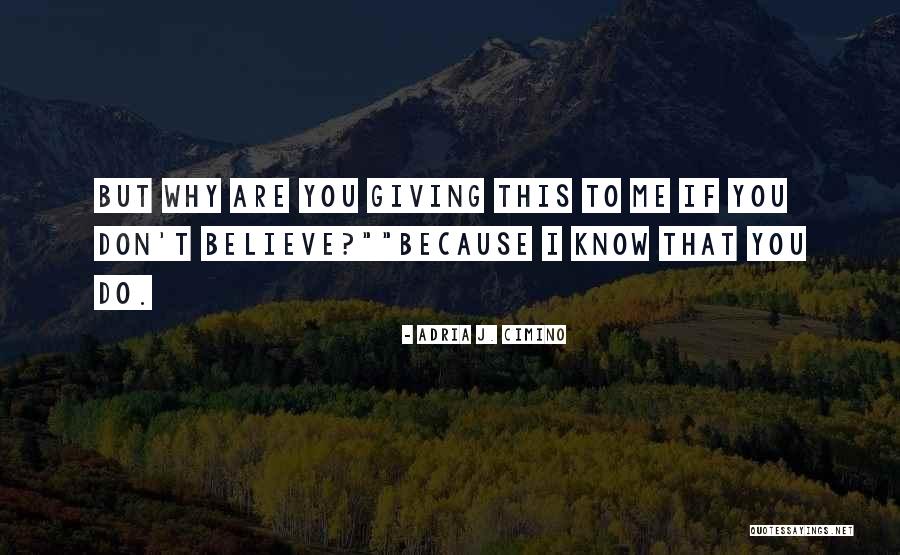 But why are you giving this to me if you don't believe?"

"Because I know that you do. — Adria J. Cimino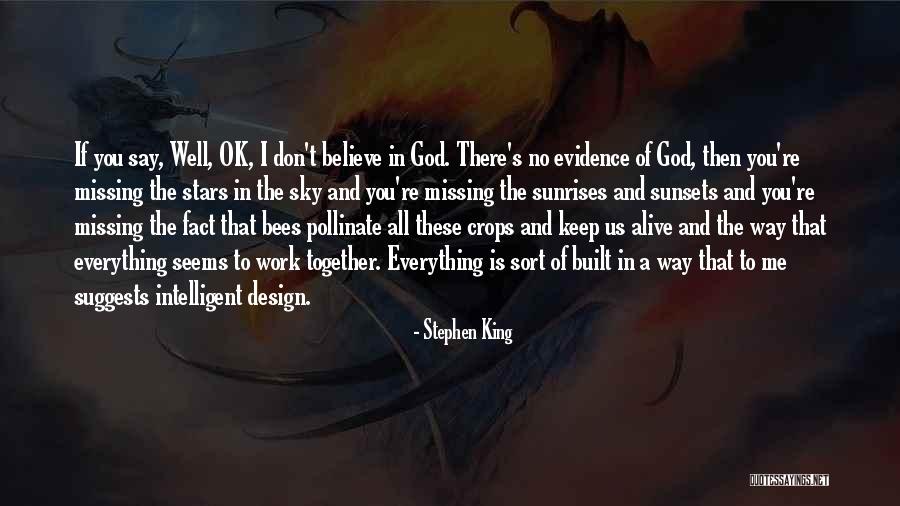 If you say, Well, OK, I don't believe in God. There's no evidence of God, then you're missing the stars in the sky and you're missing the sunrises and sunsets and you're missing the fact that bees pollinate all these crops and keep us alive and the way that everything seems to work together. Everything is sort of built in a way that to me suggests intelligent design. — Stephen King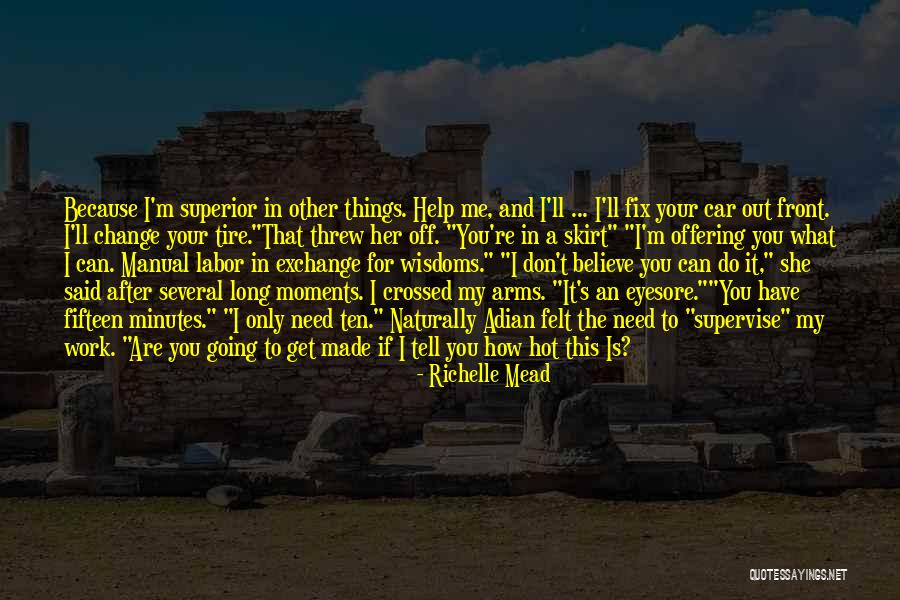 Because I'm superior in other things. Help me, and I'll ... I'll fix your car out front. I'll change your tire."
That threw her off. "You're in a skirt"
"I'm offering you what I can. Manual labor in exchange for wisdoms."
"I don't believe you can do it," she said after several long moments.
I crossed my arms. "It's an eyesore."
"You have fifteen minutes."
"I only need ten."
Naturally Adian felt the need to "supervise" my work. "Are you going to get made if I tell you how hot this Is? — Richelle Mead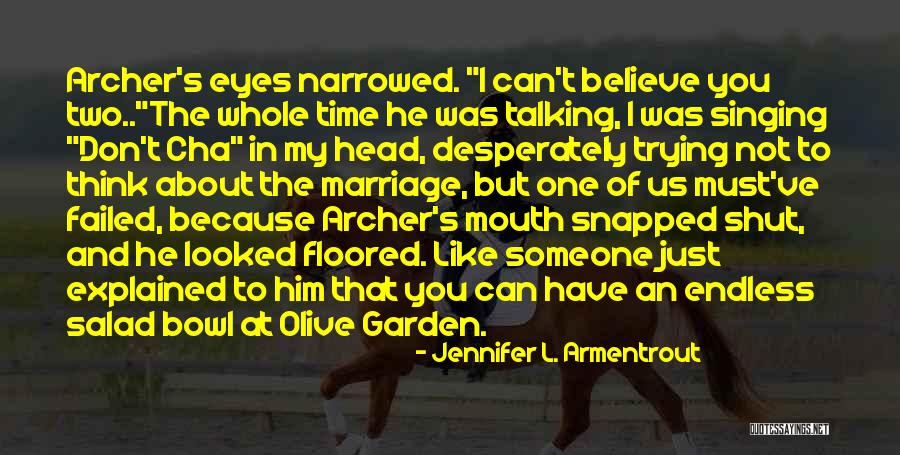 Archer's eyes narrowed. "I can't believe you two.."
The whole time he was talking, I was singing "Don't Cha" in my head, desperately trying not to think about the marriage, but one of us must've failed, because Archer's mouth snapped shut, and he looked floored. Like someone just explained to him that you can have an endless salad bowl at Olive Garden. — Jennifer L. Armentrout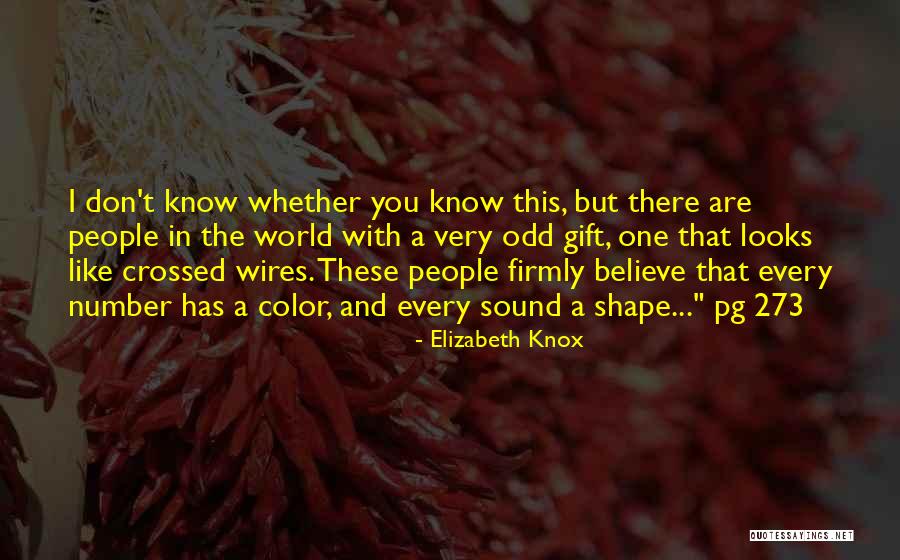 I don't know whether you know this, but there are people in the world with a very odd gift, one that looks like crossed wires. These people firmly believe that every number has a color, and every sound a shape..." pg 273 — Elizabeth Knox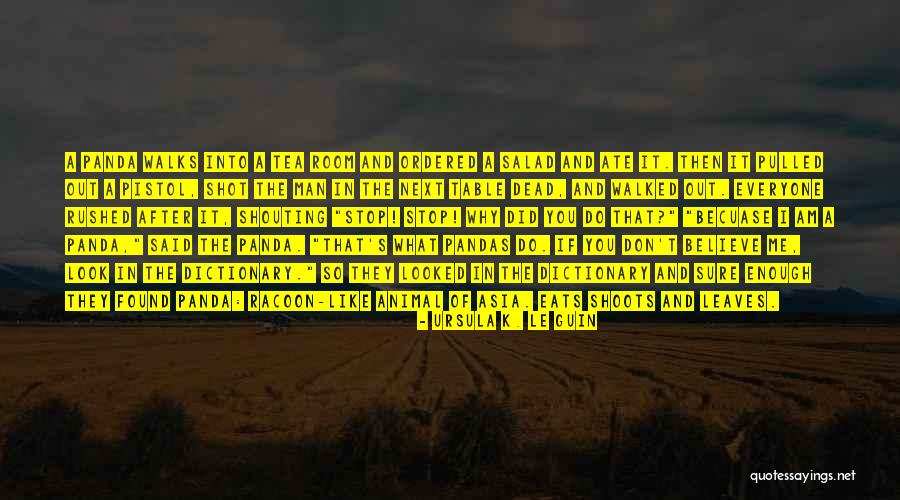 A panda walks into a tea room and ordered a salad and ate it. Then it pulled out a pistol, shot the man in the next table dead, and walked out. Everyone rushed after it, shouting "Stop! Stop! Why did you do that?" "Becuase I am a panda," said the panda. "That's what pandas do. If you don't believe me, look in the dictionary." So they looked in the dictionary and sure enough they found Panda: Racoon-like animal of Asia. Eats shoots and leaves. — Ursula K. Le Guin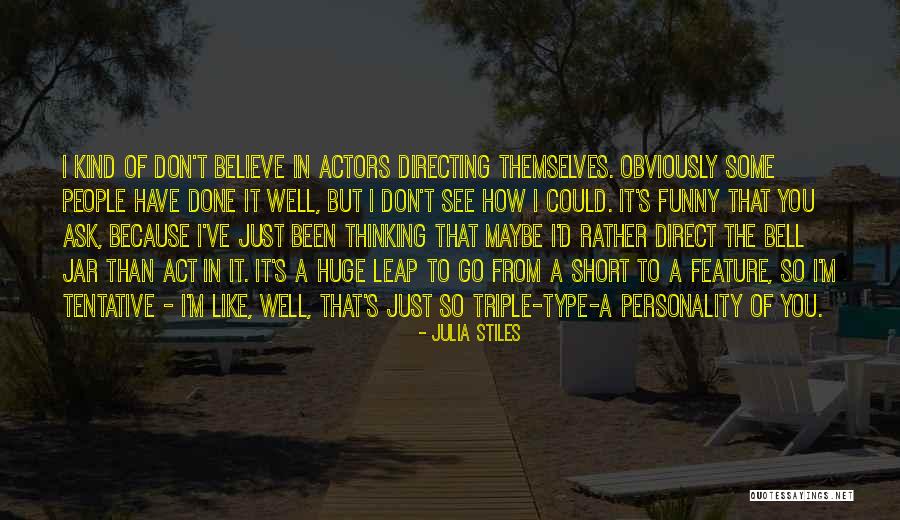 I kind of don't believe in actors directing themselves. Obviously some people have done it well, but I don't see how I could. It's funny that you ask, because I've just been thinking that maybe I'd rather direct The Bell Jar than act in it. It's a huge leap to go from a short to a feature, so I'm tentative - I'm like, Well, that's just so triple-type-A personality of you. — Julia Stiles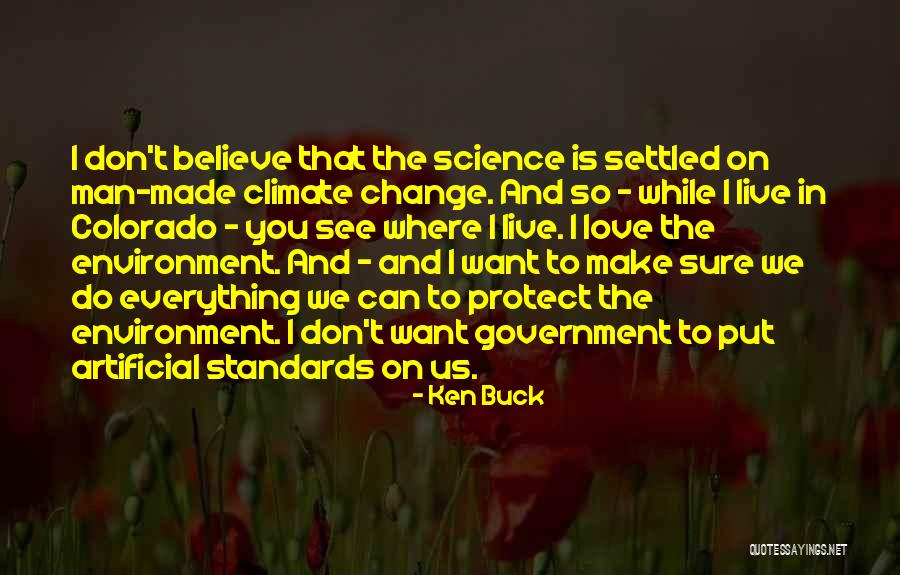 I don't believe that the science is settled on man-made climate change. And so - while I live in Colorado - you see where I live. I love the environment. And - and I want to make sure we do everything we can to protect the environment. I don't want government to put artificial standards on us. — Ken Buck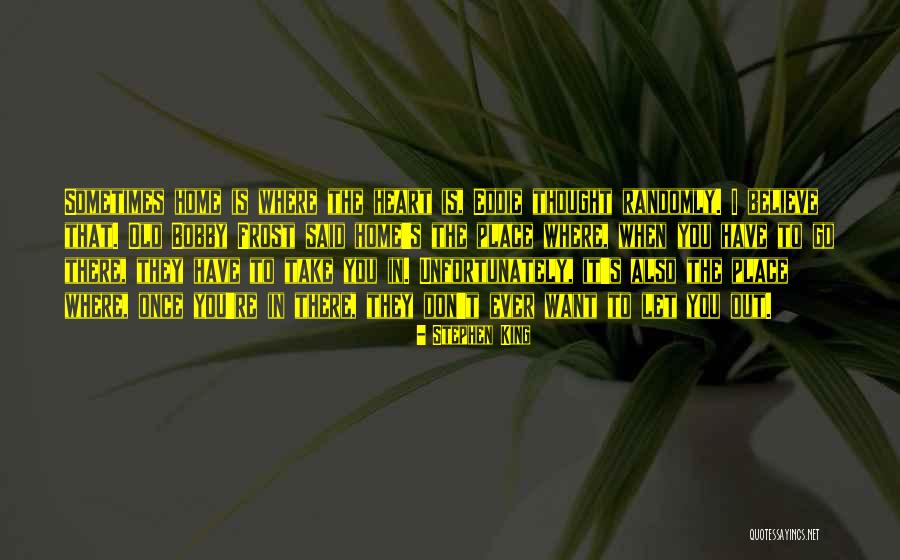 Sometimes home is where the heart is, Eddie thought randomly. I believe that. Old Bobby Frost said home's the place where, when you have to go there, they have to take you in. Unfortunately, it's also the place where, once you're in there, they don't ever want to let you out. — Stephen King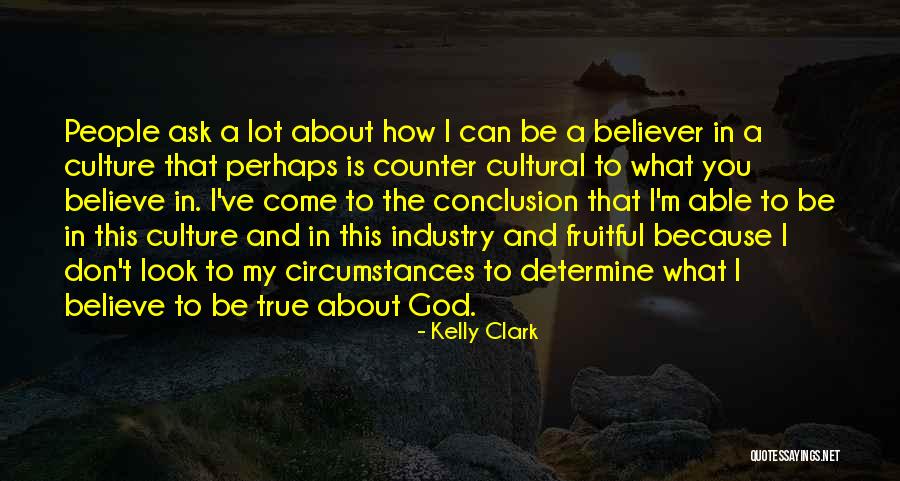 People ask a lot about how I can be a believer in a culture that perhaps is counter cultural to what you believe in. I've come to the conclusion that I'm able to be in this culture and in this industry and fruitful because I don't look to my circumstances to determine what I believe to be true about God. — Kelly Clark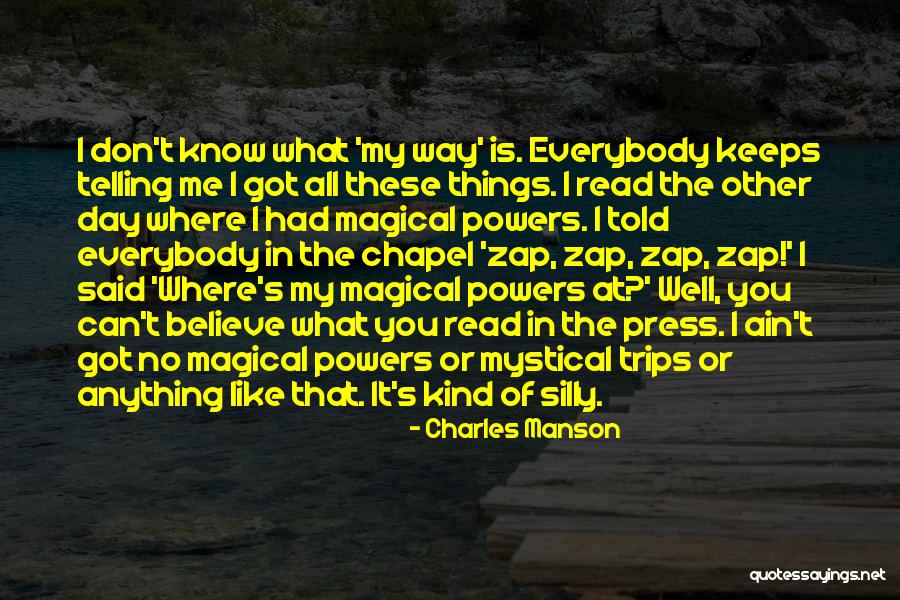 I don't know what 'my way' is. Everybody keeps telling me I got all these things. I read the other day where I had magical powers. I told everybody in the chapel 'zap, zap, zap, zap!' I said 'Where's my magical powers at?' Well, you can't believe what you read in the press. I ain't got no magical powers or mystical trips or anything like that. It's kind of silly. — Charles Manson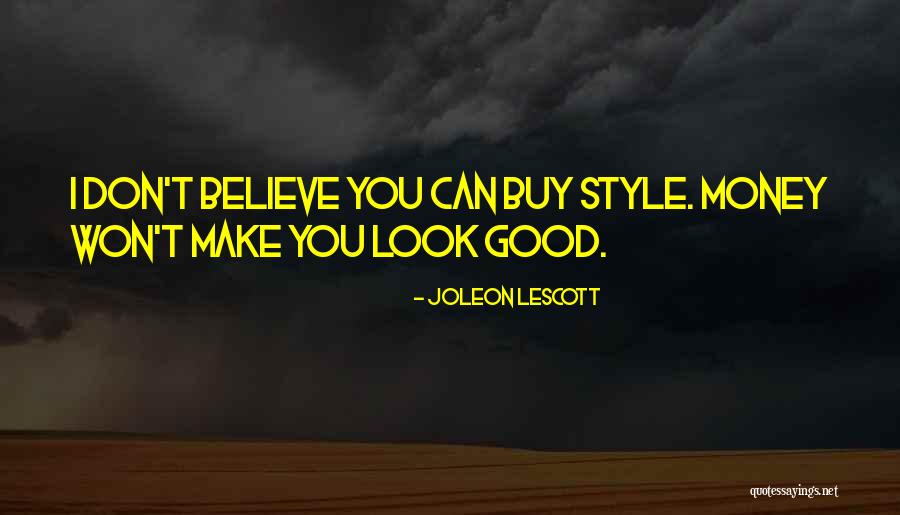 I don't believe you can buy style. Money won't make you look good. — Joleon Lescott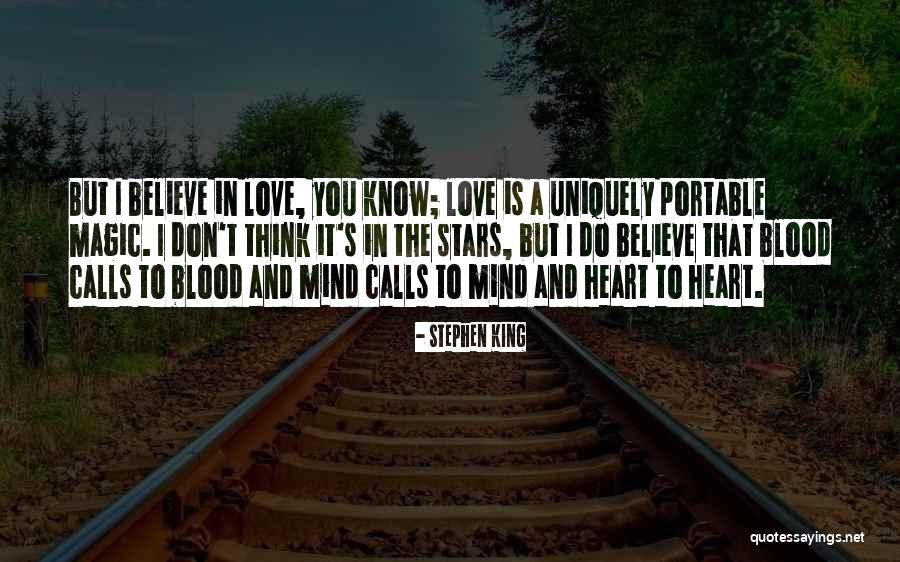 But I believe in love, you know; love is a uniquely portable magic. I don't think it's in the stars, but I do believe that blood calls to blood and mind calls to mind and heart to heart. — Stephen King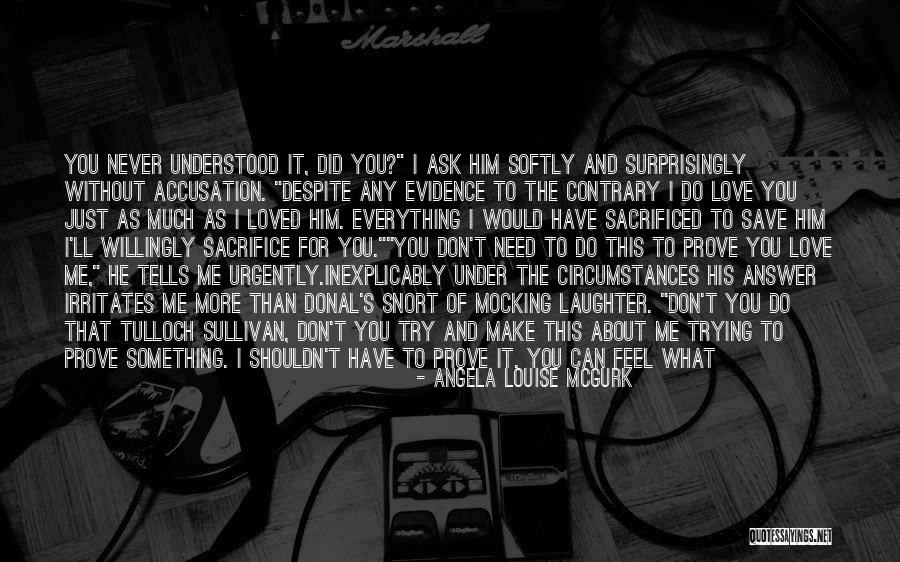 You never understood it, did you?" I ask him softly and surprisingly without accusation. "Despite any evidence to the contrary I do love you just as much as I loved him. Everything I would have sacrificed to save him I'll willingly sacrifice for you."
"You don't need to do this to prove you love me," he tells me urgently.
Inexplicably under the circumstances his answer irritates me more than Donal's snort of mocking laughter. "Don't you do that Tulloch Sullivan, don't you try and make this about me trying to prove something. I shouldn't have to prove it. You can feel what I feel even if you don't believe it. I'm trying to save your life, nothing more than that, because you are the only thing that matters to me. — Angela Louise McGurk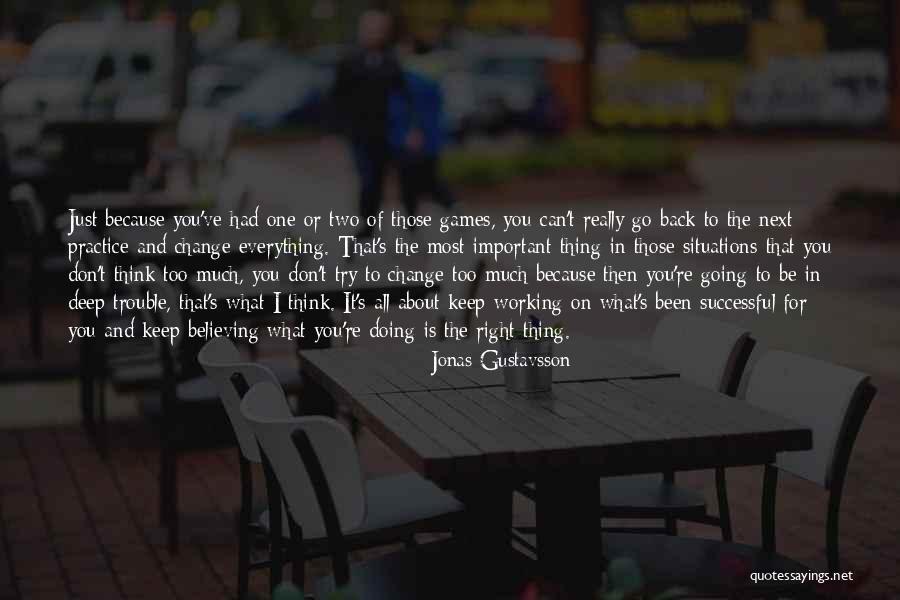 Just because you've had one or two of those games, you can't really go back to the next practice and change everything. That's the most important thing in those situations that you don't think too much, you don't try to change too much because then you're going to be in deep trouble, that's what I think. It's all about keep working on what's been successful for you and keep believing what you're doing is the right thing. — Jonas Gustavsson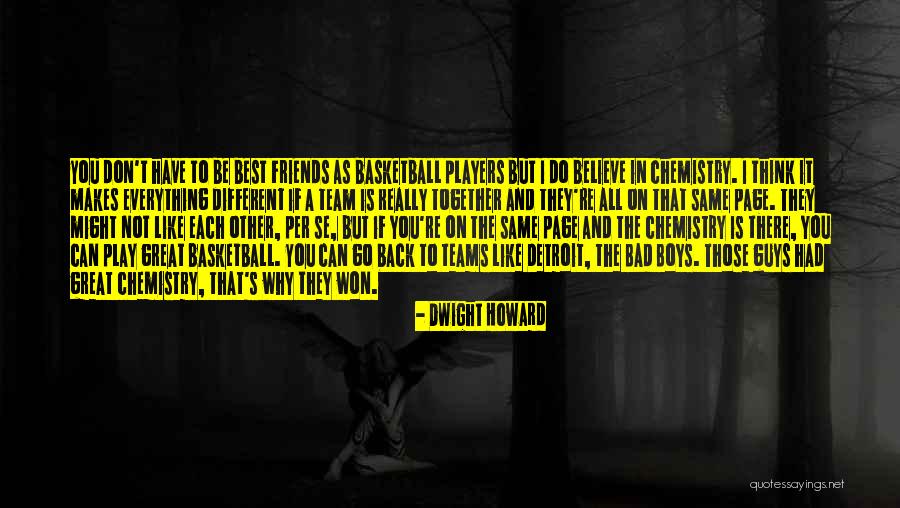 You don't have to be best friends as basketball players but I do believe in chemistry. I think it makes everything different if a team is really together and they're all on that same page. They might not like each other, per se, but if you're on the same page and the chemistry is there, you can play great basketball. You can go back to teams like Detroit, the Bad Boys. Those guys had great chemistry, that's why they won. — Dwight Howard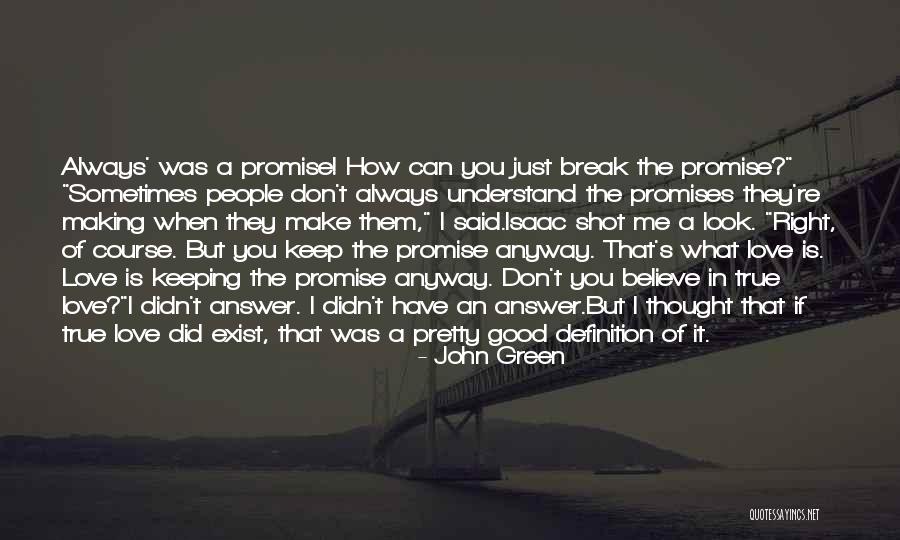 Always' was a promise! How can you just break the promise?"
"Sometimes people don't always understand the promises they're making when they make them," I said.
Isaac shot me a look. "Right, of course. But you keep the promise anyway. That's what love is. Love is keeping the promise anyway. Don't you believe in true love?"
I didn't answer. I didn't have an answer.
But I thought that if true love did exist, that was a pretty good definition of it. — John Green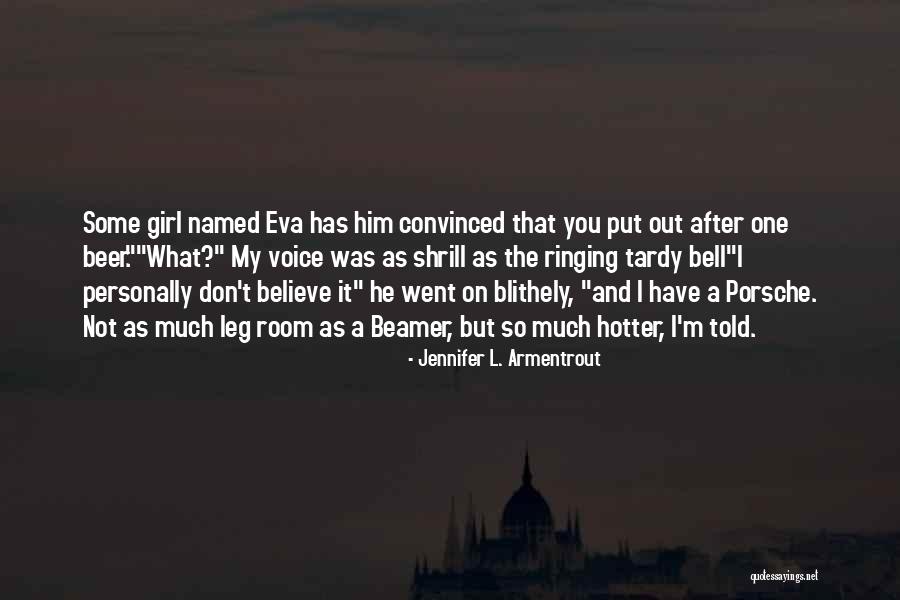 Some girl named Eva has him convinced that you put out after one beer."
"What?" My voice was as shrill as the ringing tardy bell
"I personally don't believe it" he went on blithely, "and I have a Porsche. Not as much leg room as a Beamer, but so much hotter, I'm told. — Jennifer L. Armentrout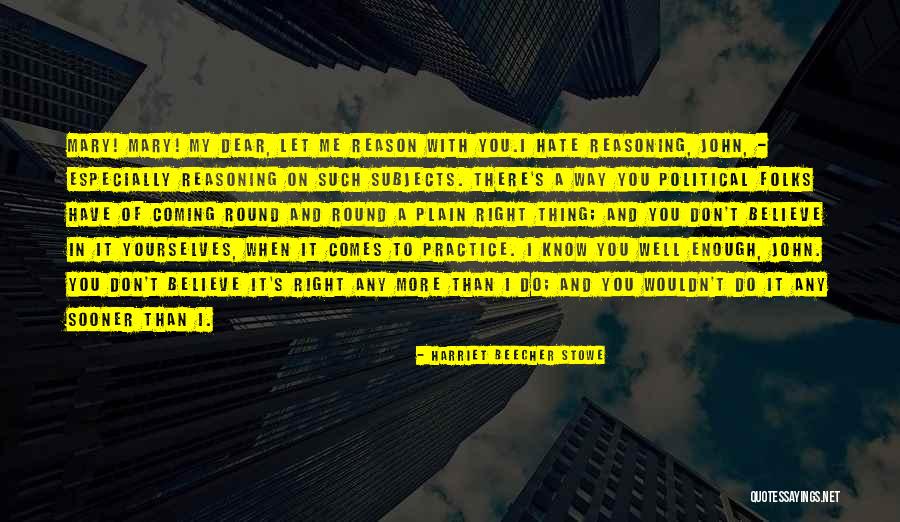 Mary! Mary! My dear, let me reason with you.
I hate reasoning, John, - especially reasoning on such subjects. There's a way you political folks have of coming round and round a plain right thing; and you don't believe in it yourselves, when it comes to practice. I know you well enough, John. You don't believe it's right any more than I do; and you wouldn't do it any sooner than I. — Harriet Beecher Stowe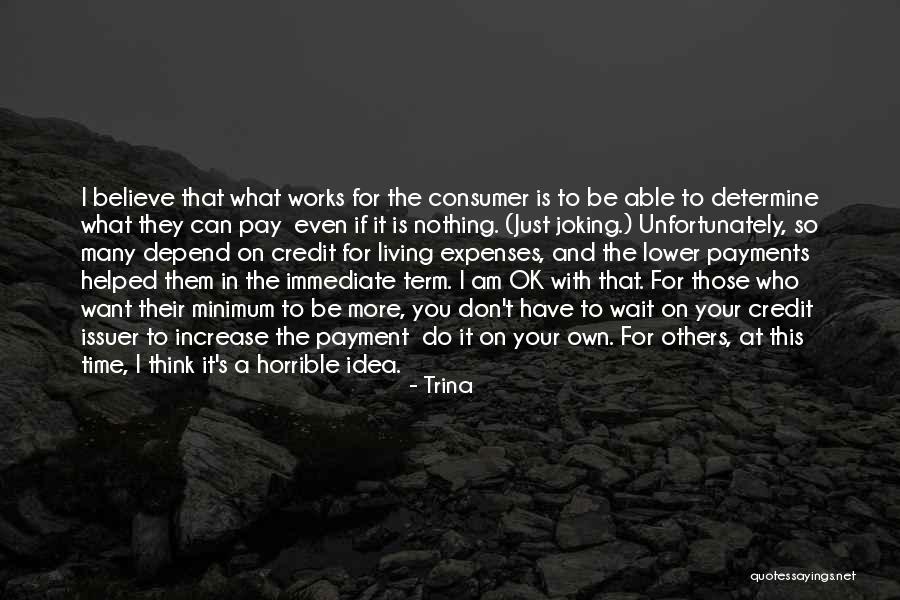 I believe that what works for the consumer is to be able to determine what they can pay
even if it is nothing. (Just joking.) Unfortunately, so many depend on credit for living expenses, and the lower payments helped them in the immediate term. I am OK with that. For those who want their minimum to be more, you don't have to wait on your credit issuer to increase the payment
do it on your own. For others, at this time, I think it's a horrible idea. — Trina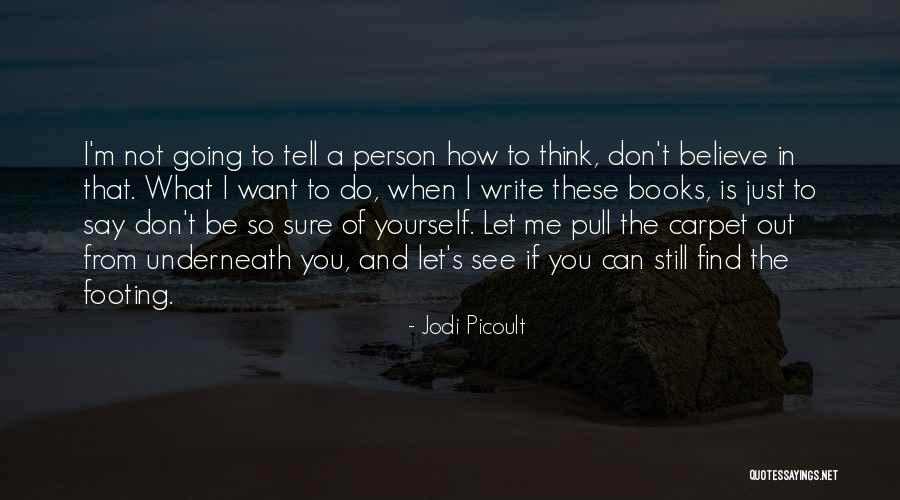 I'm not going to tell a person how to think, don't believe in that. What I want to do, when I write these books, is just to say don't be so sure of yourself. Let me pull the carpet out from underneath you, and let's see if you can still find the footing. — Jodi Picoult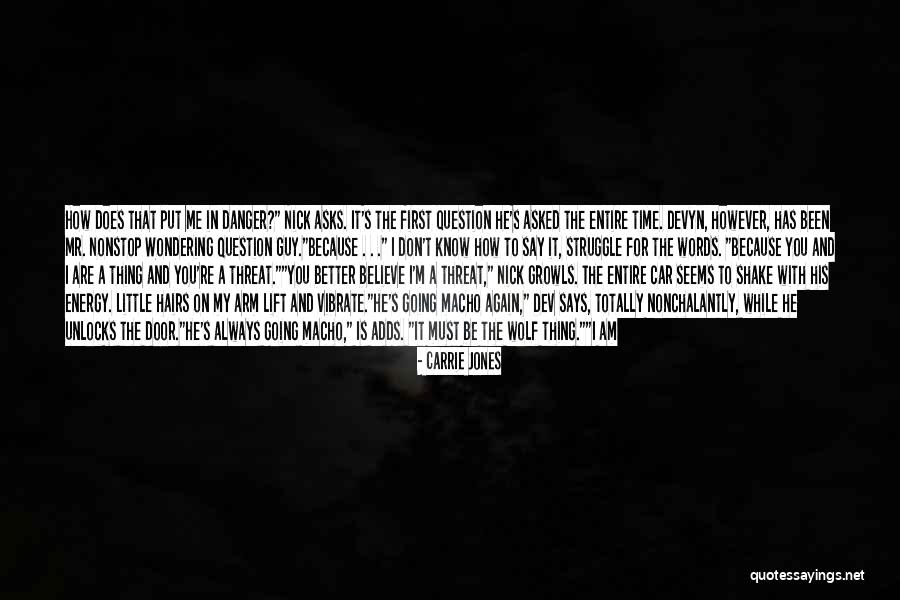 How does that put me in danger?" Nick asks. It's the first question he's asked the entire time. Devyn, however, has been Mr. Nonstop Wondering Question Guy.
"Because . . ." I don't know how to say it, struggle for the words. "Because you and I are a thing and you're a threat."
"You better believe I'm a threat," Nick growls. The entire car seems to shake with his energy. Little hairs on my arm lift and vibrate.
"He's going macho again," Dev says, totally nonchalantly, while he unlocks the door.
"He's always going macho," Is adds. "It must be the wolf thing."
"I am not going macho. I am always macho," Nick says, and for a moment the tension ratchets down, but then his face muscles become rigid again. — Carrie Jones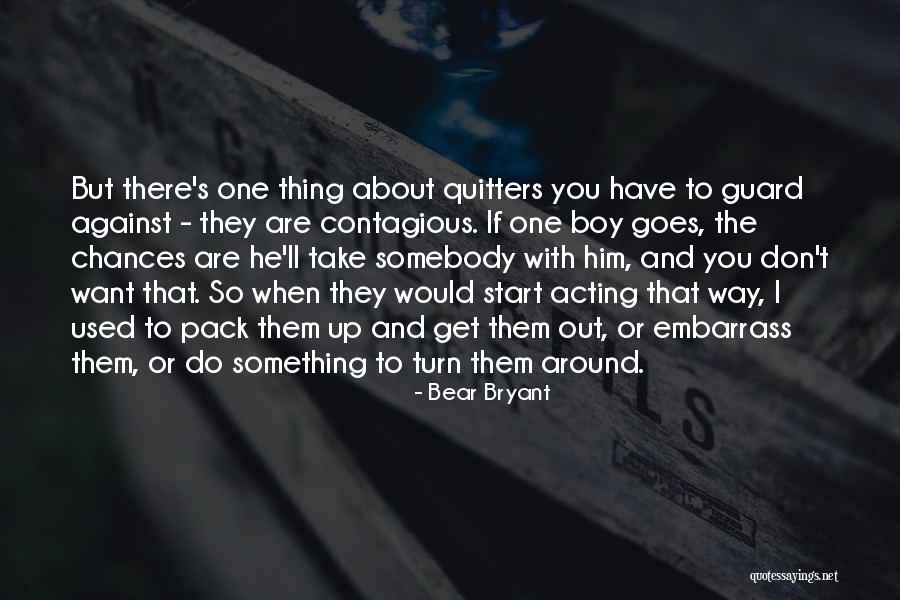 But there's one thing about quitters you have to guard against - they are contagious. If one boy goes, the chances are he'll take somebody with him, and you don't want that. So when they would start acting that way, I used to pack them up and get them out, or embarrass them, or do something to turn them around. — Bear Bryant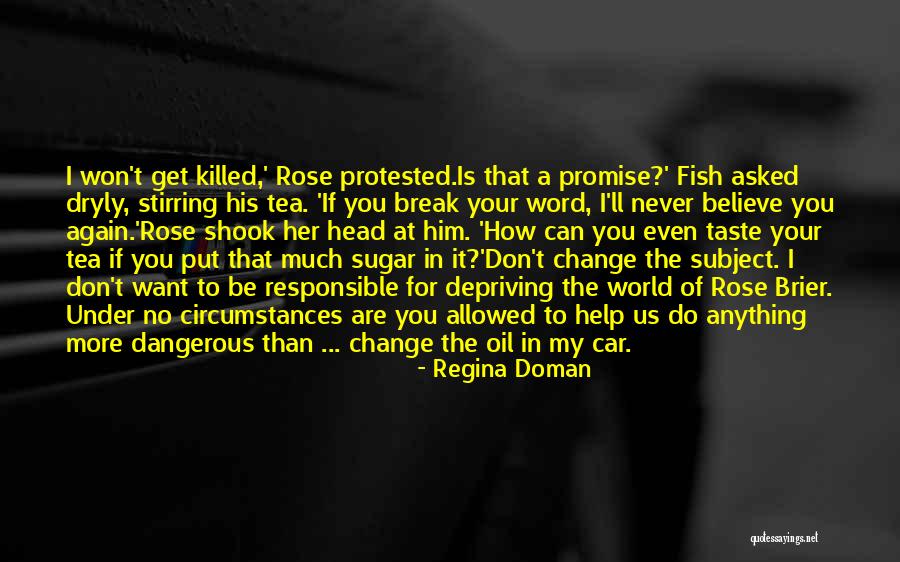 I won't get killed,' Rose protested.
Is that a promise?' Fish asked dryly, stirring his tea. 'If you break your word, I'll never believe you again.'
Rose shook her head at him. 'How can you even taste your tea if you put that much sugar in it?'
Don't change the subject. I don't want to be responsible for depriving the world of Rose Brier. Under no circumstances are you allowed to help us do anything more dangerous than ... change the oil in my car. — Regina Doman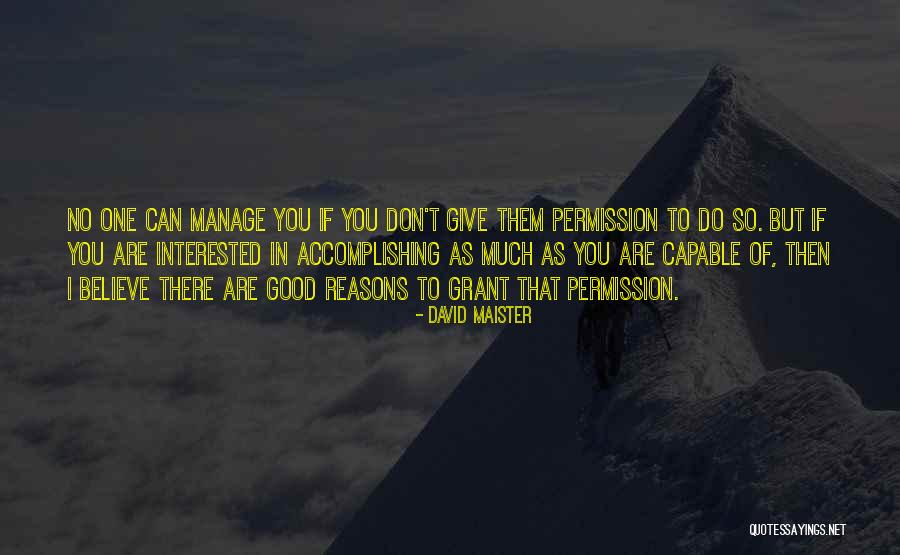 No one can manage you if you don't give them permission to do so. But if you are interested in accomplishing as much as you are capable of, then I believe there are good reasons to grant that permission. — David Maister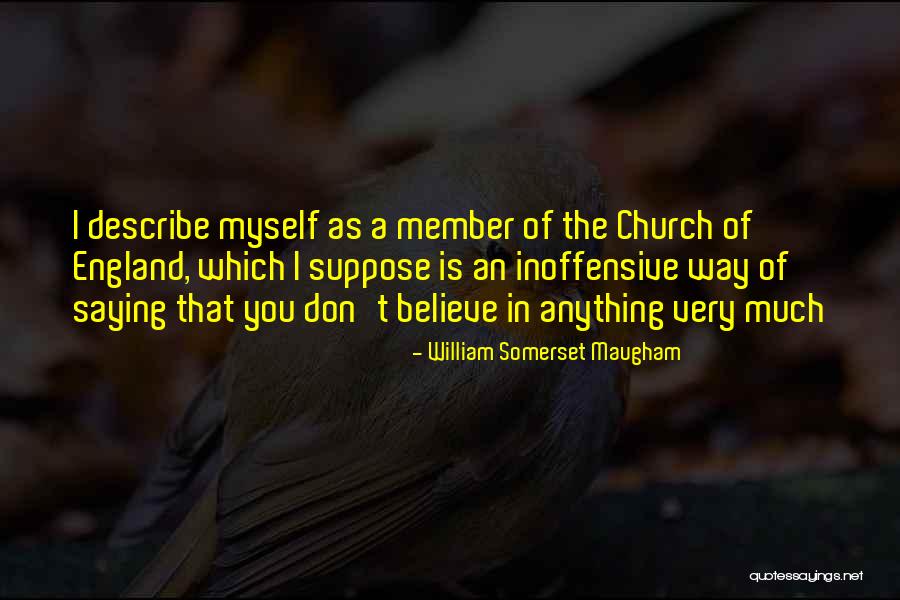 I describe myself as a member of the Church of England, which I suppose is an inoffensive way of saying that you don't believe in anything very much — William Somerset Maugham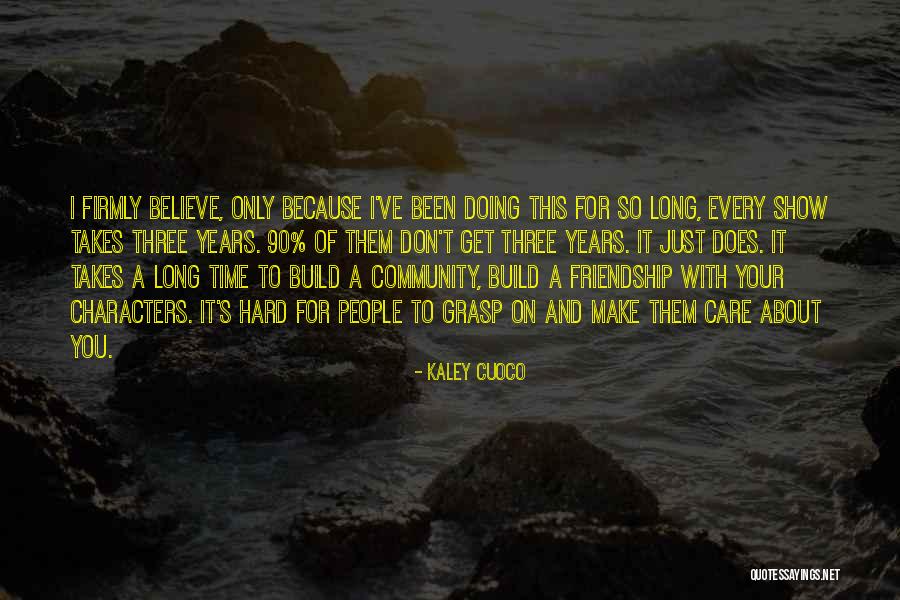 I firmly believe, only because I've been doing this for so long, every show takes three years. 90% of them don't get three years. It just does. It takes a long time to build a community, build a friendship with your characters. It's hard for people to grasp on and make them care about you. — Kaley Cuoco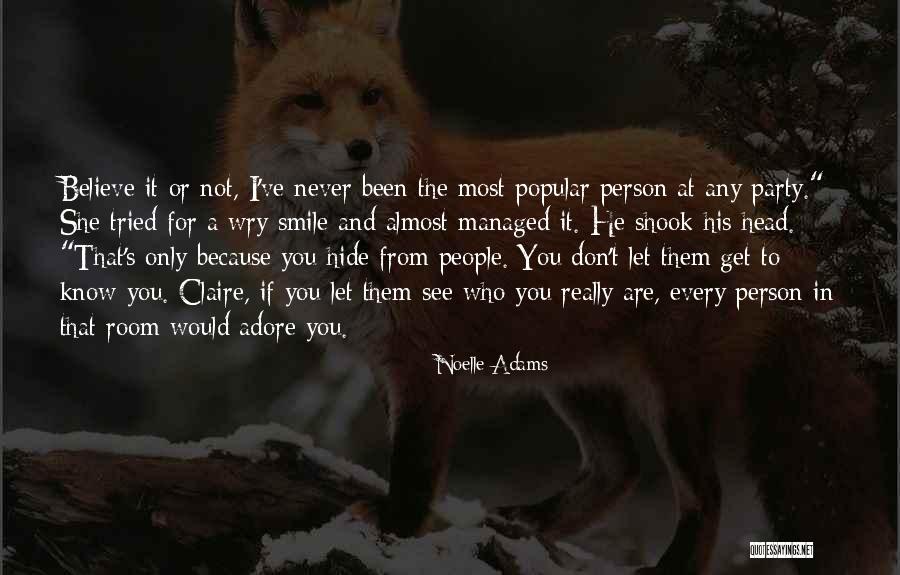 Believe it or not, I've never been the most popular person at any party." She tried for a wry smile and almost managed it.

He shook his head. "That's only because you hide from people. You don't let them get to know you. Claire, if you let them see who you really are, every person in that room would adore you. — Noelle Adams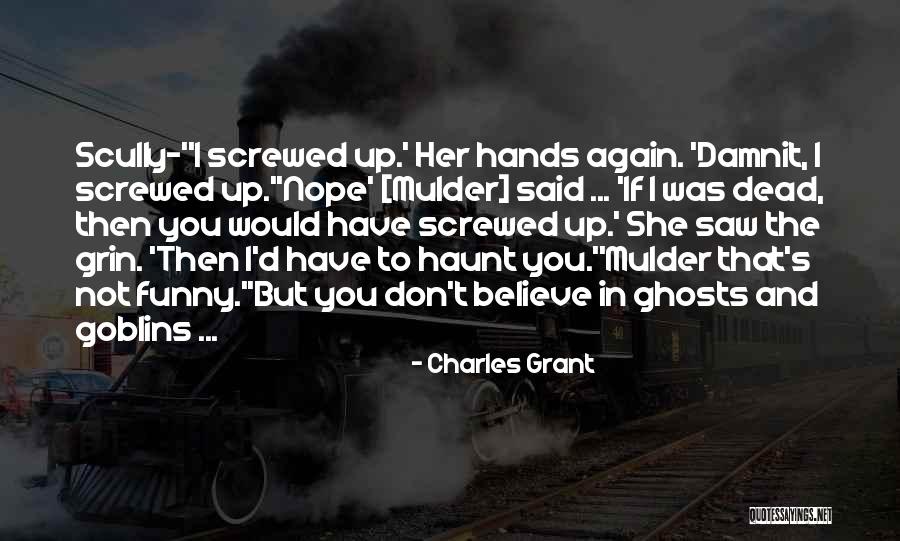 Scully-'
'I screwed up.' Her hands again. 'Damnit, I screwed up.'
'Nope' [Mulder] said ... 'If I was dead, then you would have screwed up.' She saw the grin. 'Then I'd have to haunt you.'
'Mulder that's not funny.'
'But you don't believe in ghosts and goblins ... — Charles Grant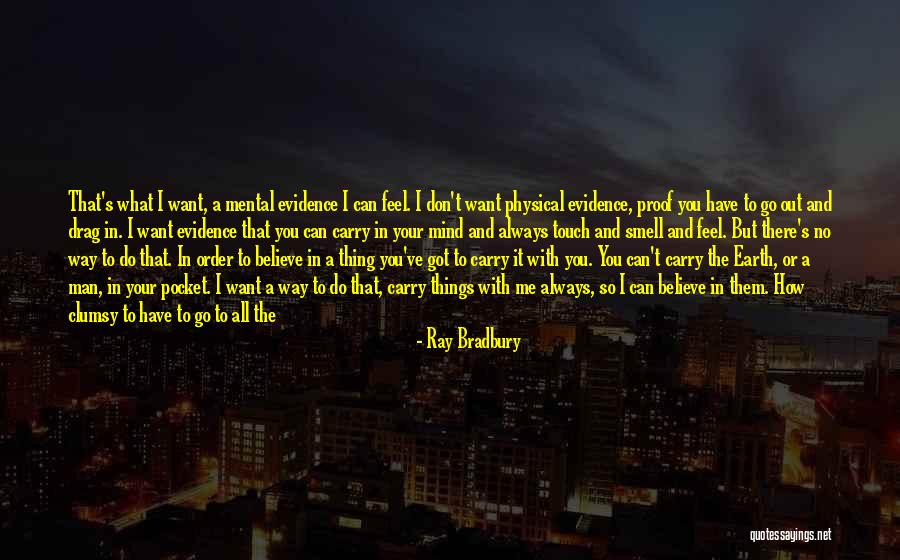 That's what I want, a mental evidence I can feel. I don't want physical evidence, proof you have to go out and drag in. I want evidence that you can carry in your mind and always touch and smell and feel. But there's no way to do that. In order to believe in a thing you've got to carry it with you. You can't carry the Earth, or a man, in your pocket. I want a way to do that, carry things with me always, so I can believe in them. How clumsy to have to go to all the trouble of going out and bringing in something terribly physical to prove something. I hate physical things because they can be left behind and become impossible to believe in them. — Ray Bradbury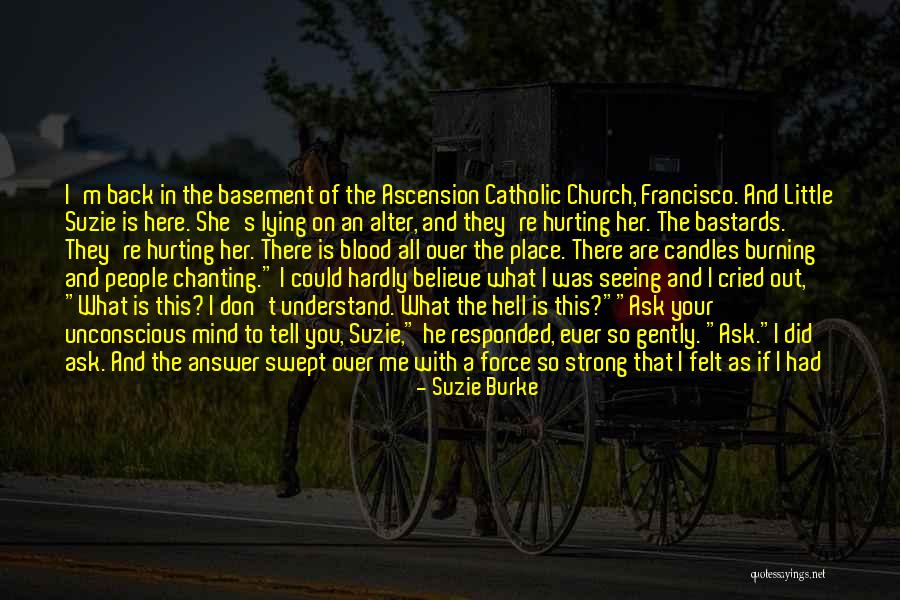 I'm back in the basement of the Ascension Catholic Church, Francisco. And Little Suzie is here. She's lying on an alter, and they're hurting her. The bastards. They're hurting her. There is blood all over the place. There are candles burning and people chanting." I could hardly believe what I was seeing and I cried out, "What is this? I don't understand. What the hell is this?"
"Ask your unconscious mind to tell you, Suzie," he responded, ever so gently. "Ask."
I did ask. And the answer swept over me with a force so strong that I felt as if I had been knocked backward.
"Lord! Oh, Lord. This is satanic ritual abuse, Francisco. That's what this is! That's what this is!" I screamed. "Satanic ritual abuse. And they're using Little Suzie as part of their goddamned ritual.
p150 — Suzie Burke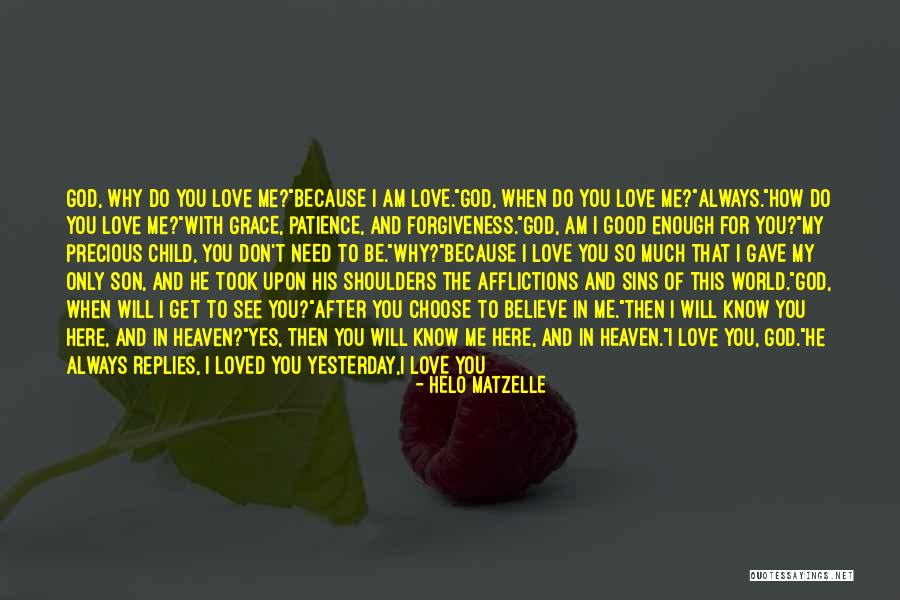 God, why do You love me?"
BECAUSE I AM LOVE.
"God, when do You love me?"
ALWAYS.
"How do You love me?"
WITH GRACE, PATIENCE, AND FORGIVENESS.
"God, am I good enough for You?"
MY PRECIOUS CHILD, YOU DON'T NEED TO BE.
"Why?"
BECAUSE I LOVE YOU SO MUCH THAT I GAVE MY ONLY SON, AND HE TOOK UPON HIS SHOULDERS THE AFFLICTIONS AND SINS OF THIS WORLD.
"God, when will I get to see You?"
AFTER YOU CHOOSE TO BELIEVE IN ME.
"Then I will know You here, and in Heaven?"
YES, THEN YOU WILL KNOW ME HERE, AND IN HEAVEN.
"I love you, God."
He always replies,
I LOVED YOU YESTERDAY,
I LOVE YOU TODAY,
AND I WILL LOVE YOU TOMORROW.
~ excerpt from "Halo Found Hope" Chapter 21, HOPE FOUND — Helo Matzelle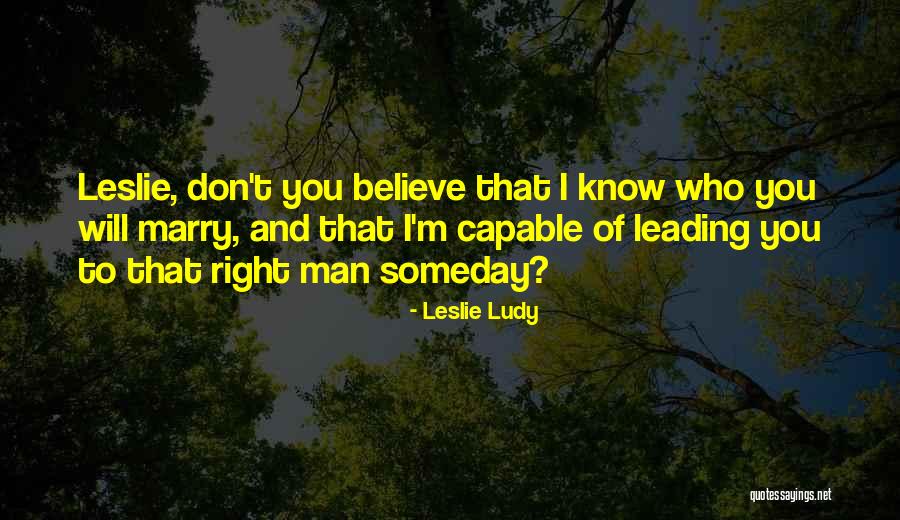 Leslie, don't you believe that I know who you will marry, and that I'm capable of leading you to that right man someday? — Leslie Ludy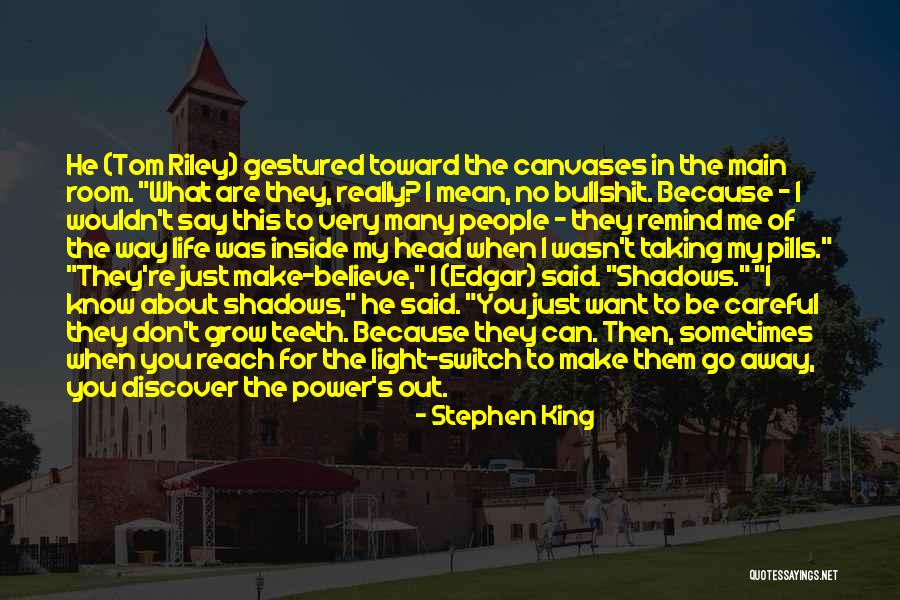 He (Tom Riley) gestured toward the canvases in the main room. "What are they, really? I mean, no bullshit. Because - I wouldn't say this to very many people - they remind me of the way life was inside my head when I wasn't taking my pills."
"They're just make-believe," I (Edgar) said. "Shadows."
"I know about shadows," he said. "You just want to be careful they don't grow teeth. Because they can. Then, sometimes when you reach for the light-switch to make them go away, you discover the power's out. — Stephen King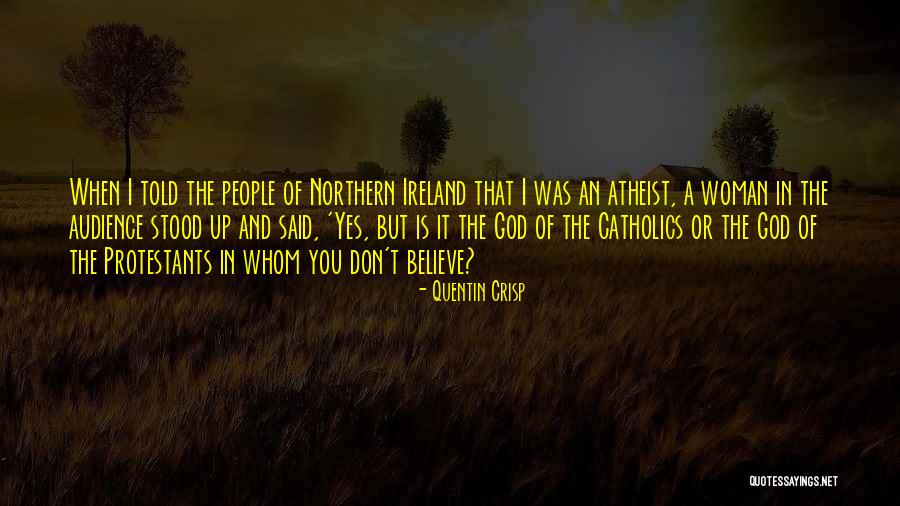 When I told the people of Northern Ireland that I was an atheist, a woman in the audience stood up and said, 'Yes, but is it the God of the Catholics or the God of the Protestants in whom you don't believe? — Quentin Crisp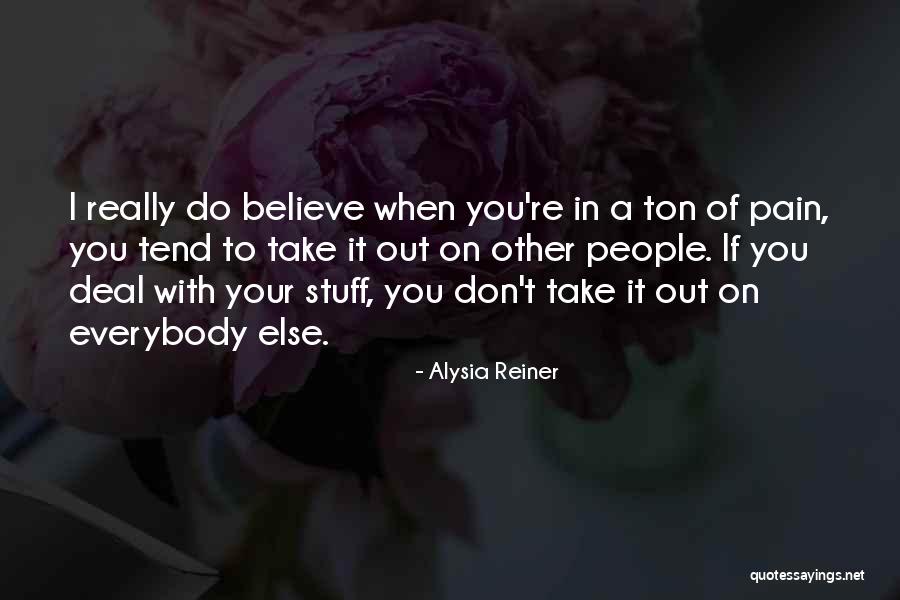 I really do believe when you're in a ton of pain, you tend to take it out on other people. If you deal with your stuff, you don't take it out on everybody else. — Alysia Reiner
I believe the experiences reported in this book are reproducible by anyone who wishes to try.
I went to Africa. You can go to Africa. You may have trouble arranging the time or the money, but everybody has trouble arranging something. I believe you can travel anywhere if you want to badly enough.
And I believe the same is true of inner travel. You don't have to take my word about chakras or healing energy or auras. You can find about them for yourself if you want to. Don't take my word for it.
Be as skeptical as you like.
Find out for yourself. — Michael Crichton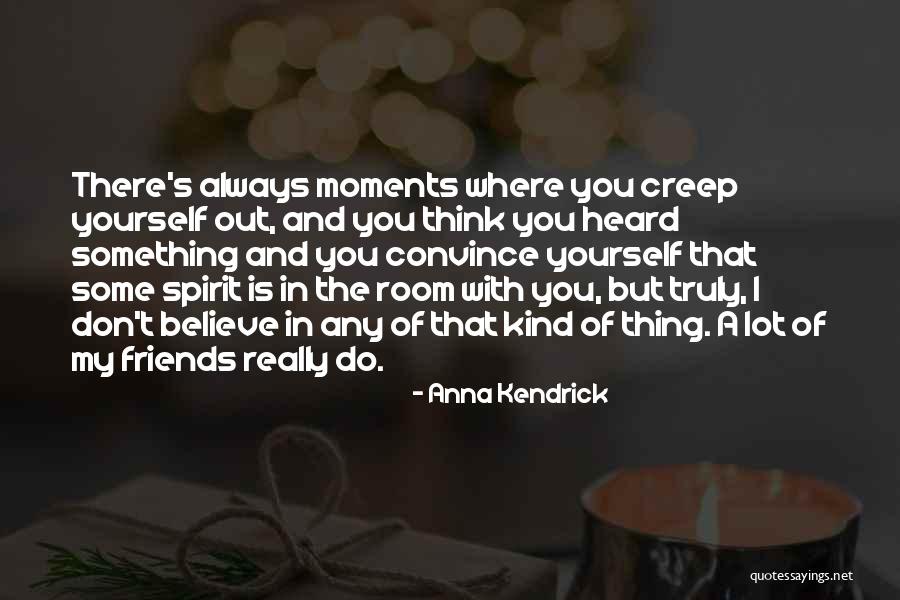 There's always moments where you creep yourself out, and you think you heard something and you convince yourself that some spirit is in the room with you, but truly, I don't believe in any of that kind of thing. A lot of my friends really do. — Anna Kendrick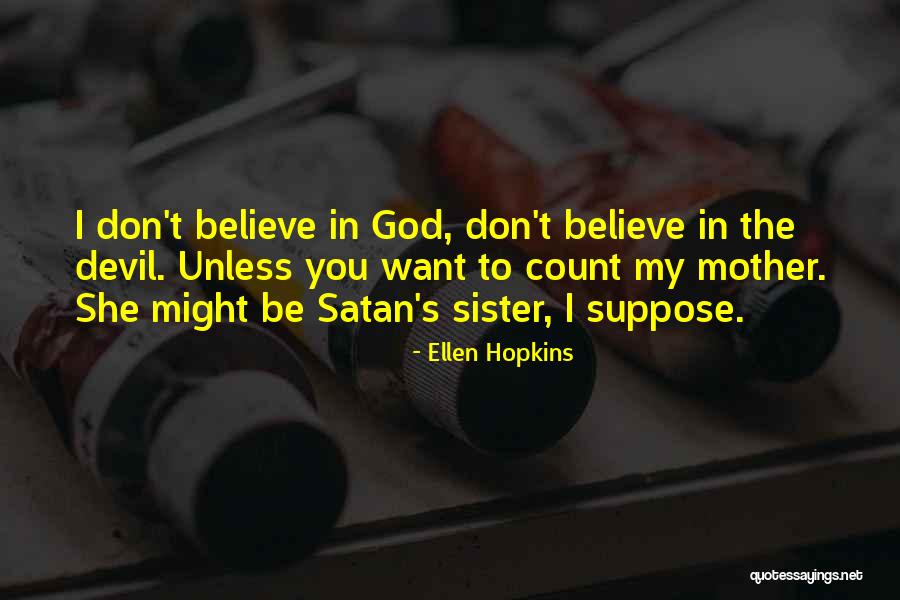 I don't believe in God, don't believe in the devil. Unless you want to count my mother. She might be Satan's sister, I suppose. — Ellen Hopkins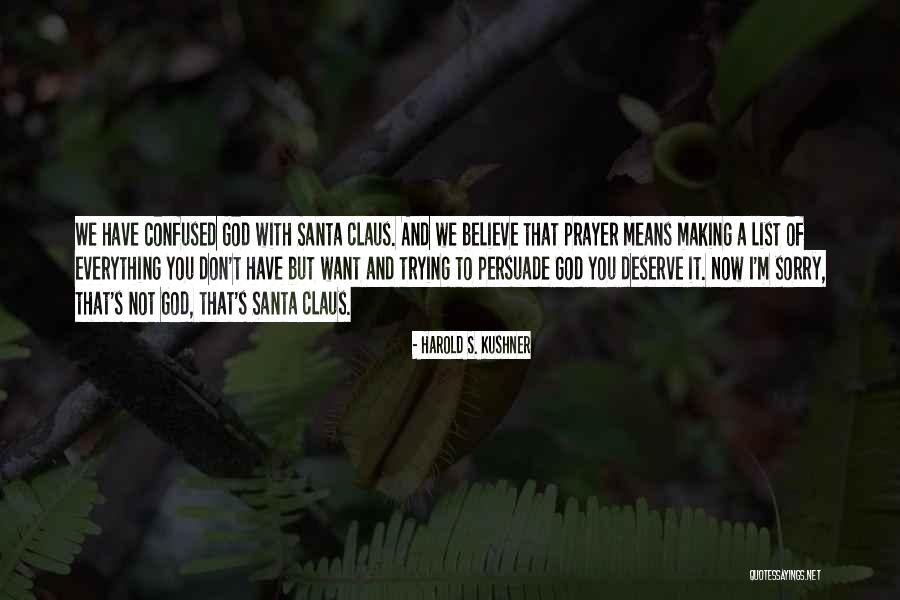 We have confused God with Santa Claus. And we believe that prayer means making a list of everything you don't have but want and trying to persuade God you deserve it. Now I'm sorry, that's not God, that's Santa Claus. — Harold S. Kushner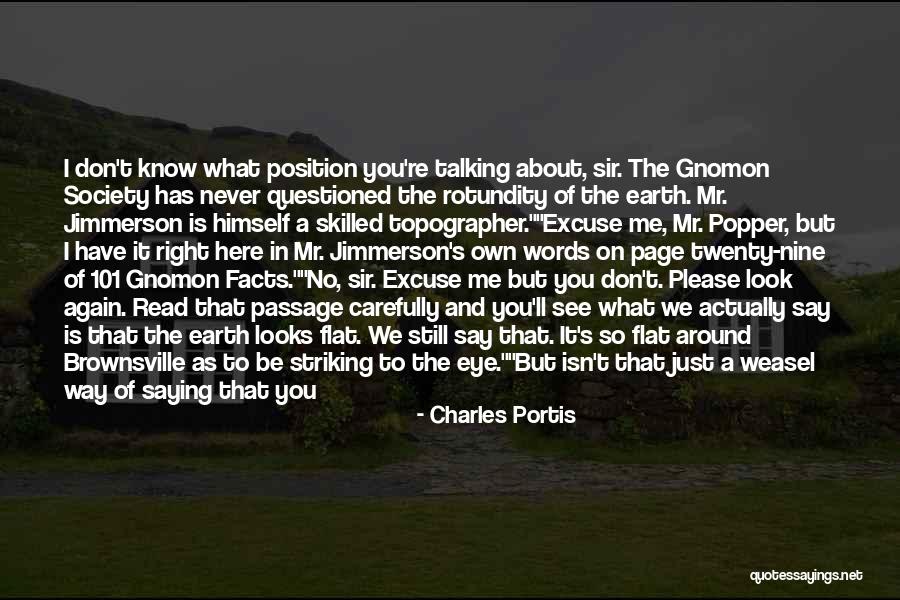 I don't know what position you're talking about, sir. The Gnomon Society has never questioned the rotundity of the earth. Mr. Jimmerson is himself a skilled topographer."
"Excuse me, Mr. Popper, but I have it right here in Mr. Jimmerson's own words on page twenty-nine of 101 Gnomon Facts."
"No, sir. Excuse me but you don't. Please look again. Read that passage carefully and you'll see what we actually say is that the earth looks flat. We still say that. It's so flat around Brownsville as to be striking to the eye."
"But isn't that just a weasel way of saying that you really believe if to be flat?"
"Not at all. What we're saying is that the curvature of the earth is so gentle, relative to our human scale of things, that we need not bother or take it into account when going for a stroll, say, or laying out our gardens. — Charles Portis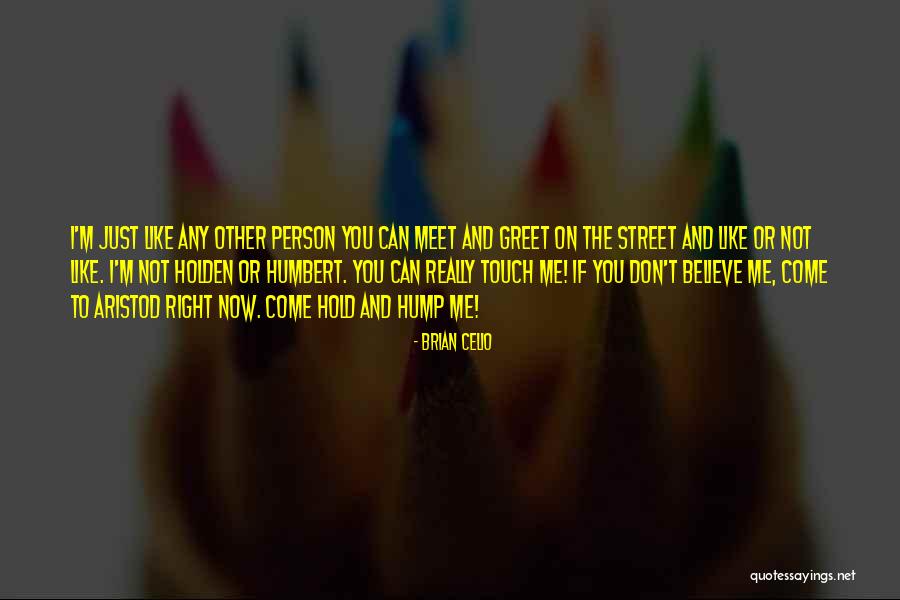 I'm just like any other person you can meet and greet on the street and like or not like. I'm not Holden or Humbert. You can really touch me! If you don't believe me, come to Aristod right now. Come hold and hump me! — Brian Celio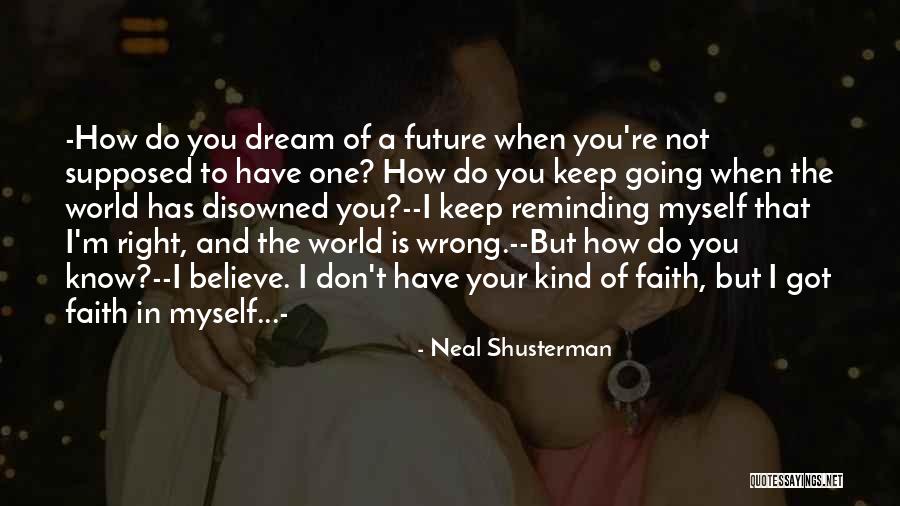 -How do you dream of a future when you're not supposed to have one? How do you keep going when the world has disowned you?-

-I keep reminding myself that I'm right, and the world is wrong.-

-But how do you know?-

-I believe. I don't have your kind of faith, but I got faith in myself...- — Neal Shusterman
Procuring the house in Ballister was a desperate bid for respect, for recognition, the ultimate gesture (or sacrifice, as it turned out) that would prove him a worthy successor to the Flo and Walter Prices of the world.
To my mind, the Culver was Norm's way home, the only way he knew. It was an ever-evolving means to an ever-evolving end that eventually ended him. Who or what led Norm down that thorny path - devotion, economic pressures, family cynicism, Beth's insatiable appetite - has been a topic of endless debate. You can believe what you want to believe. Personally, I don't think any rational argument under the sun would have deterred Beth's "messiah" from his mission. If the Ballister acquisition was Norm's cross, as everyone seems to think it was, then it was Norm who chose to bear that cross. And pride that nailed him to it. — Ted Gargiulo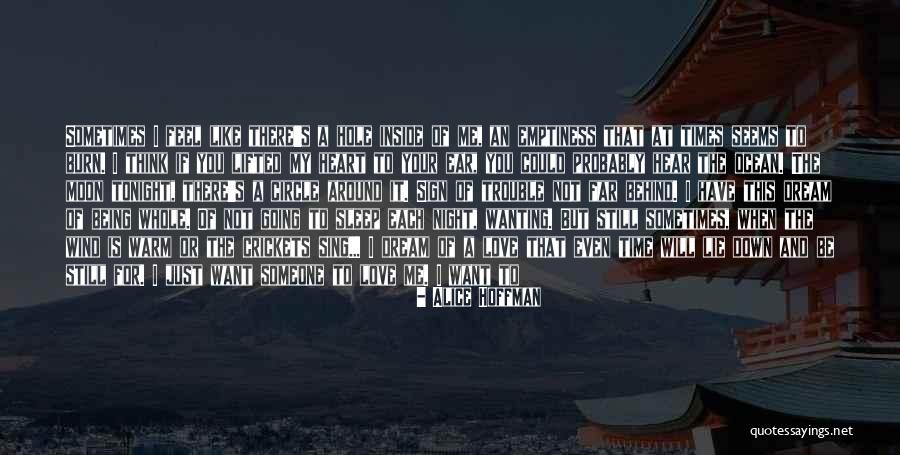 Sometimes I feel like there's a hole inside of me, an emptiness that at times seems to burn. I think if you lifted my heart to your ear, you could probably hear the ocean. The moon tonight, there's a circle around it. Sign of trouble not far behind. I have this dream of being whole. Of not going to sleep each night, wanting. But still sometimes, when the wind is warm or the crickets sing... I dream of a love that even time will lie down and be still for. I just want someone to love me. I want to be seen. I don't know. Maybe I had my happiness. I don't want to believe it but, there is no man, Gilly. Only that moon. — Alice Hoffman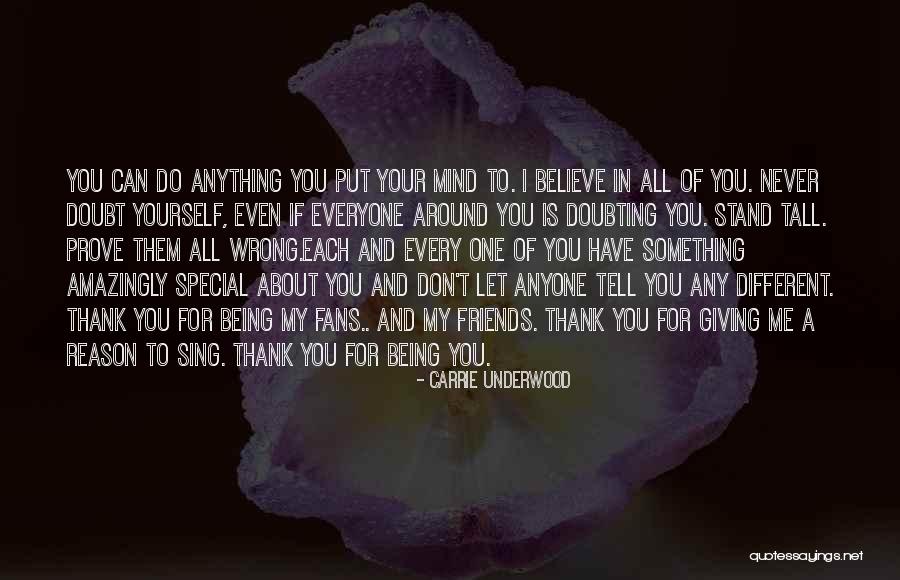 You can do anything you put your mind to. I believe in all of you. Never doubt yourself, even if everyone around you is doubting you. Stand tall. Prove them all wrong.Each and every one of you have something amazingly special about you and don't let anyone tell you any different. Thank you for being my fans.. and my friends. Thank you for giving me a reason to sing. Thank you for being you. — Carrie Underwood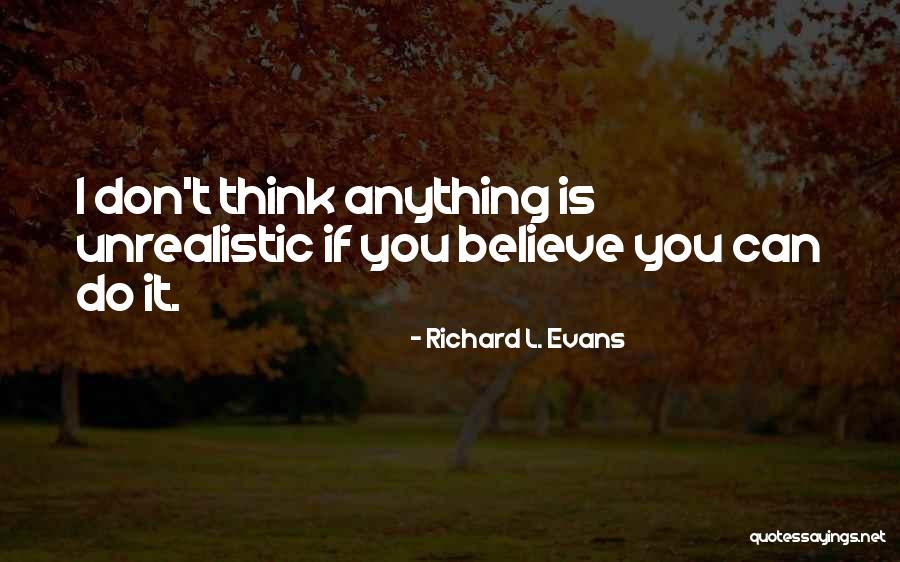 I don't think anything is unrealistic if you believe you can do it. — Richard L. Evans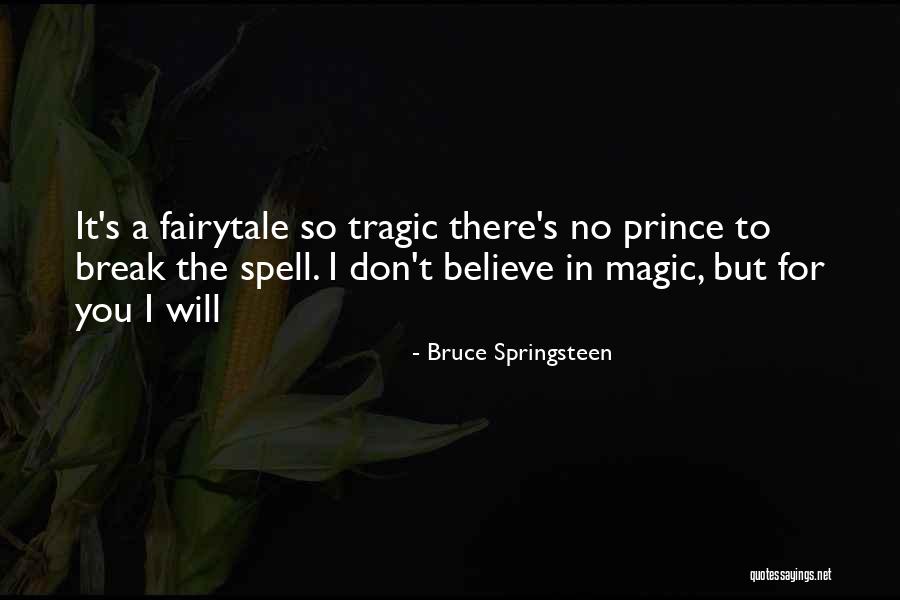 It's a fairytale so tragic there's no prince to break the spell. I don't believe in magic, but for you I will — Bruce Springsteen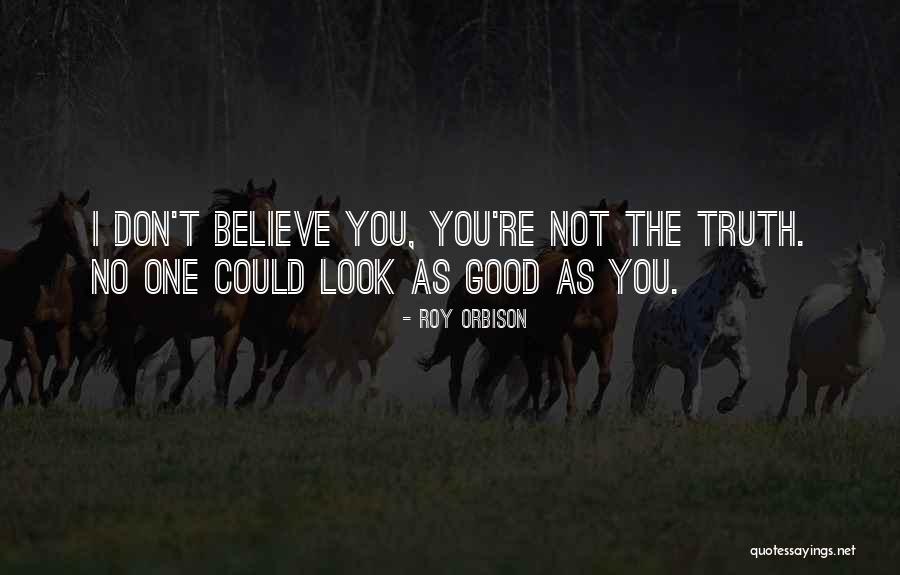 I don't believe you, you're not the truth. No one could look as good as you. — Roy Orbison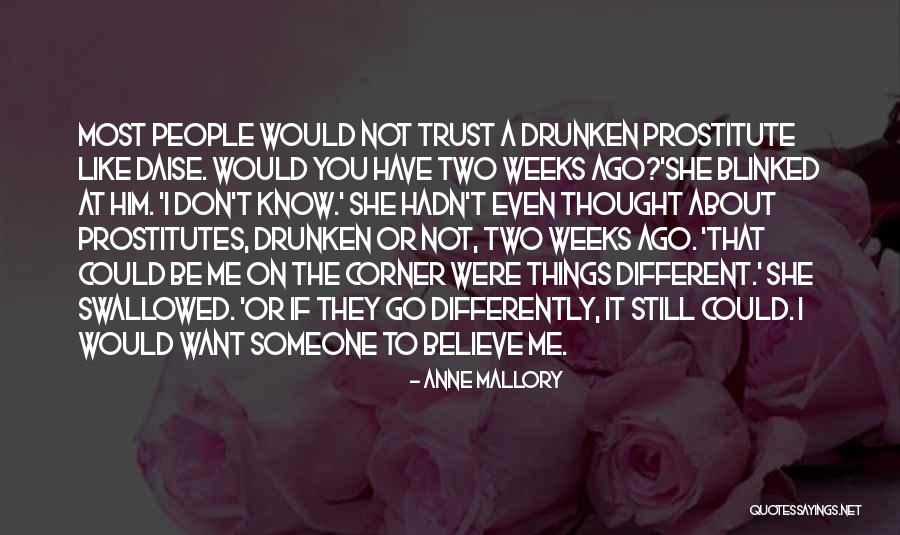 Most people would not trust a drunken prostitute like Daise. Would you have two weeks ago?'
She blinked at him. 'I don't know.' She hadn't even thought about prostitutes, drunken or not, two weeks ago. 'That could be me on the corner were things different.' She swallowed. 'Or if they go differently, it still could. I would want someone to believe me. — Anne Mallory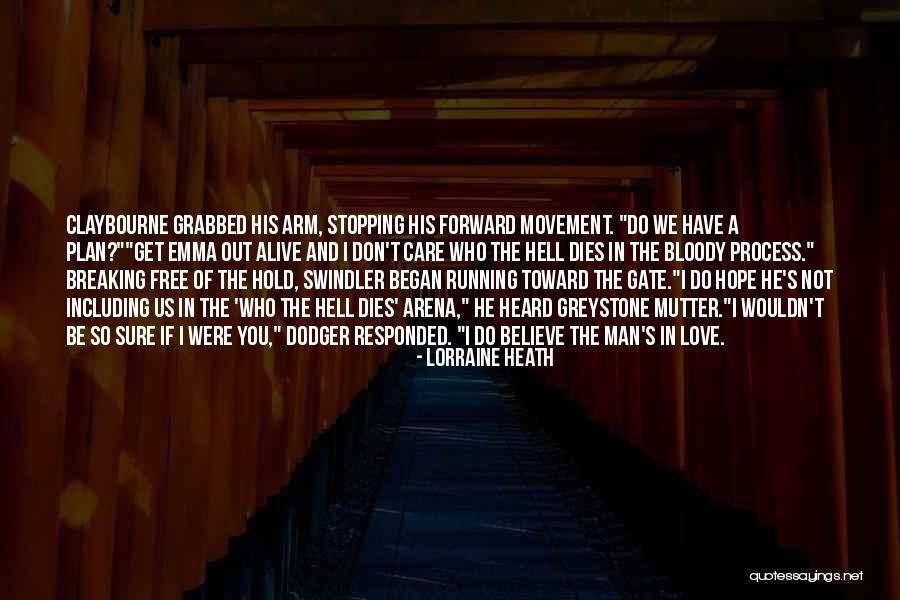 Claybourne grabbed his arm, stopping his forward movement. "Do we have a plan?"
"Get Emma out alive and I don't care who the hell dies in the bloody process." Breaking free of the hold, Swindler began running toward the gate.
"I do hope he's not including us in the 'who the hell dies' arena," he heard Greystone mutter.
"I wouldn't be so sure if I were you," Dodger responded. "I do believe the man's in love. — Lorraine Heath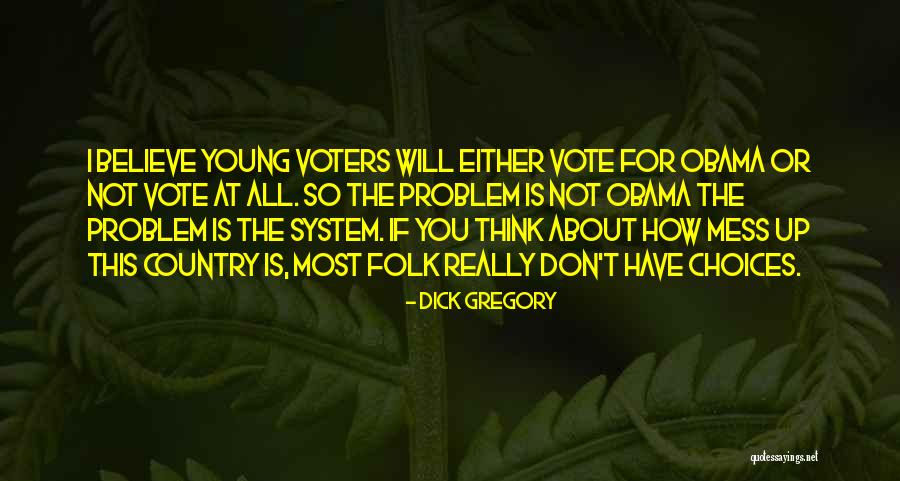 I believe young voters will either vote for Obama or not vote at all. So the problem is not Obama the problem is the system. If you think about how mess up this country is, most folk really don't have choices. — Dick Gregory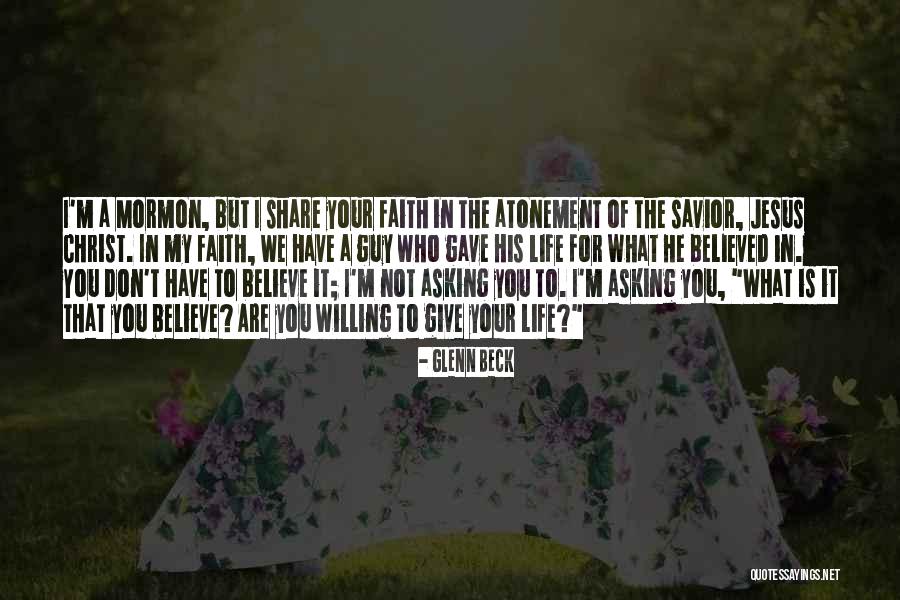 I'm a Mormon, but I share your faith in the atonement of the savior, Jesus Christ. In my faith, we have a guy who gave his life for what he believed in. You don't have to believe it; I'm not asking you to. I'm asking you, "What is it that you believe? Are you willing to give your life?" — Glenn Beck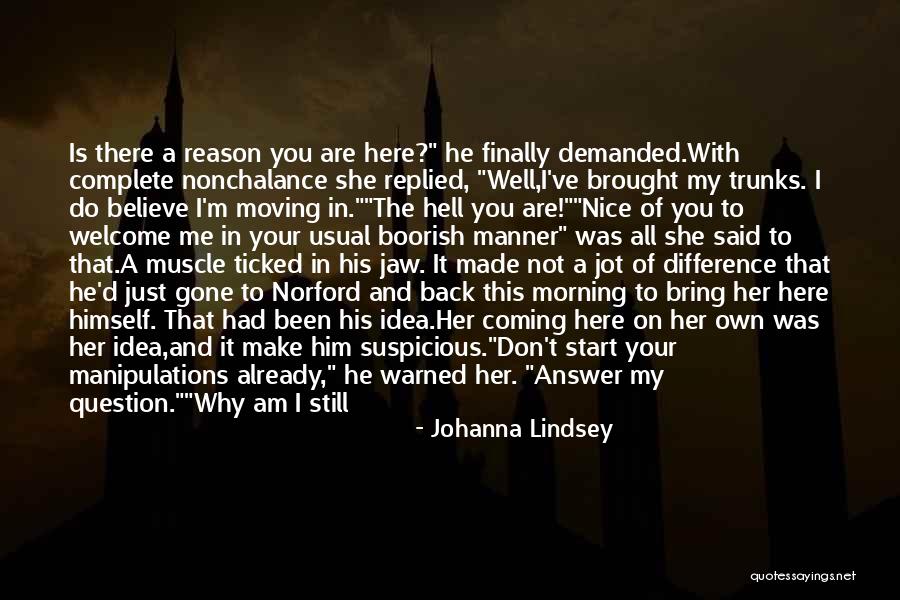 Is there a reason you are here?" he finally demanded.
With complete nonchalance she replied, "Well,I've brought my trunks. I do believe I'm moving in."
"The hell you are!"
"Nice of you to welcome me in your usual boorish manner" was all she said to that.
A muscle ticked in his jaw. It made not a jot of difference that he'd just gone to Norford and back this morning to bring her here himself. That had been his idea.Her coming here on her own was her idea,and it make him suspicious.
"Don't start your manipulations already," he warned her. "Answer my question."
"Why am I still here? Shall we start with the obvious reason? Because I really am pregnant and once my pregnancy starts to show,I do not want to be in a position to have people ask me who my husband is and not believe me when I tell them that it's you."
"And the not-so-obvious answer?"
"Because you make me so furious that I spite myself to spite you! — Johanna Lindsey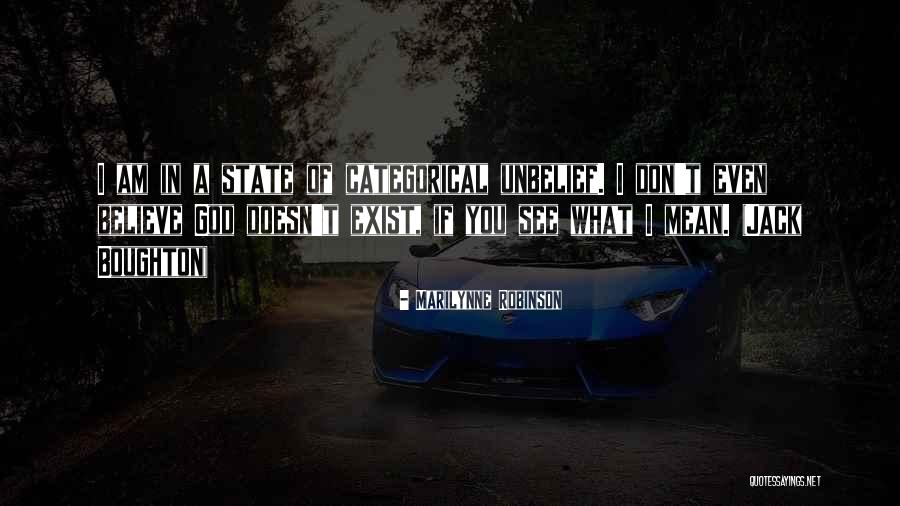 I am in a state of categorical unbelief. I don't even believe God doesn't exist, if you see what I mean. (Jack Boughton) — Marilynne Robinson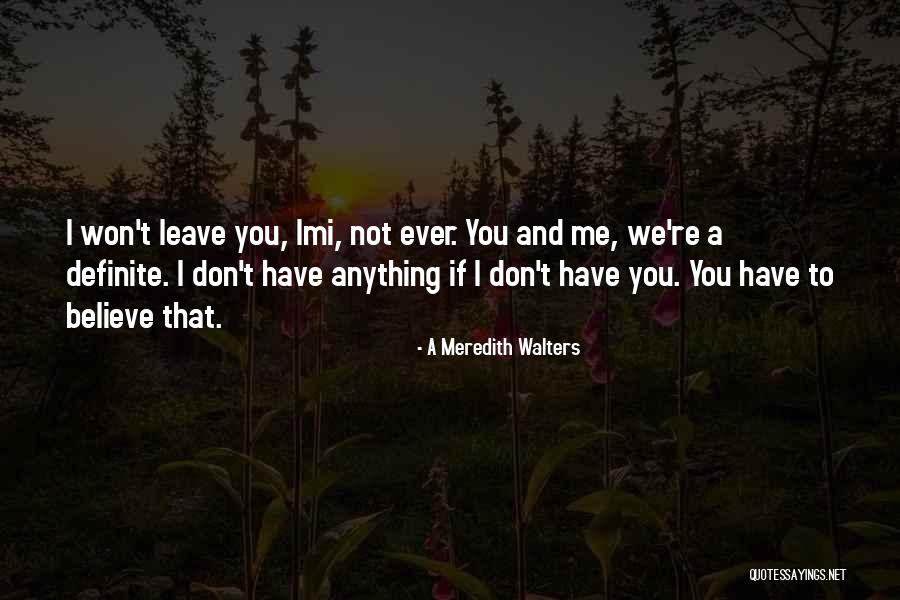 I won't leave you, Imi, not ever. You and me, we're a definite. I don't have anything if I don't have you. You have to believe that. — A Meredith Walters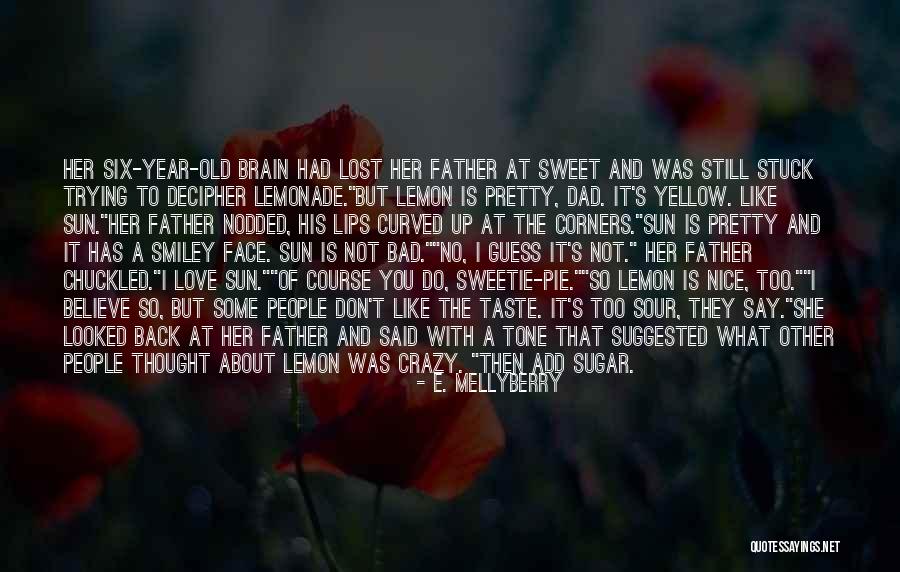 Her six-year-old brain had lost her father at sweet and was still stuck trying to decipher lemonade.
"But lemon is pretty, Dad. It's yellow. Like sun."
Her father nodded, his lips curved up at the corners.
"Sun is pretty and it has a smiley face. Sun is not bad."
"No, I guess it's not." Her father chuckled.
"I love sun."
"Of course you do, sweetie-pie."
"So lemon is nice, too."
"I believe so, but some people don't like the taste. It's too sour, they say."
She looked back at her father and said with a tone that suggested what other people thought about lemon was crazy. "Then add sugar. No need to blame the lemon. — E. Mellyberry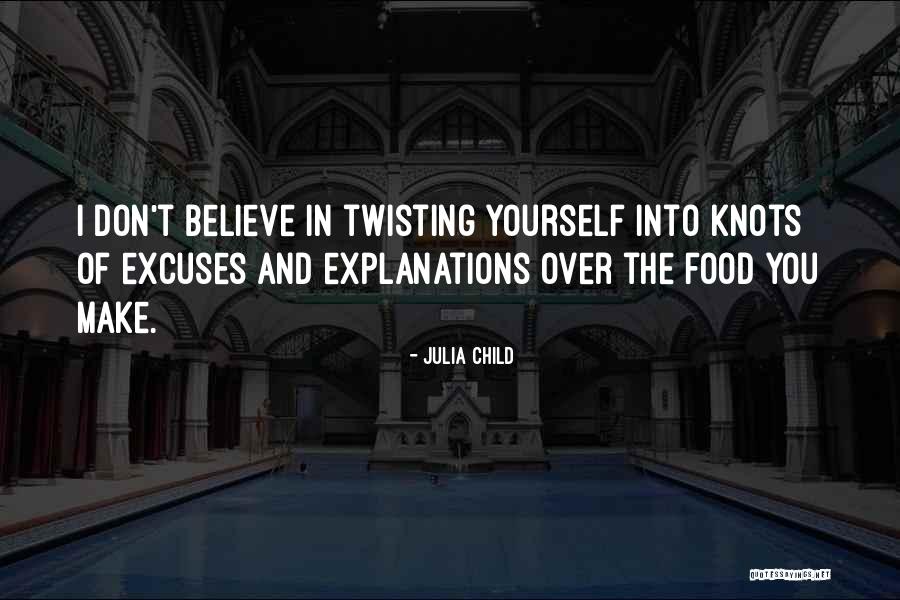 I don't believe in twisting yourself into knots of excuses and explanations over the food you make. — Julia Child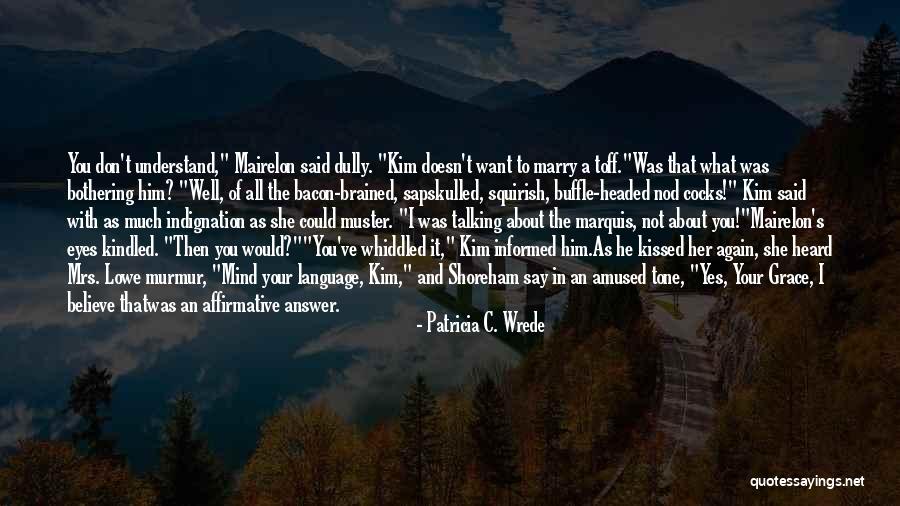 You don't understand," Mairelon said dully. "Kim doesn't want to marry a toff."
Was that what was bothering him? "Well, of all the bacon-brained, sapskulled, squirish, buffle-headed nod cocks!" Kim said with as much indignation as she could muster. "I was talking about the marquis, not about you!"
Mairelon's eyes kindled. "Then you would?"
"You've whiddled it," Kim informed him.
As he kissed her again, she heard Mrs. Lowe murmur, "Mind your language, Kim," and Shoreham say in an amused tone, "Yes, Your Grace, I believe that
was an affirmative answer. — Patricia C. Wrede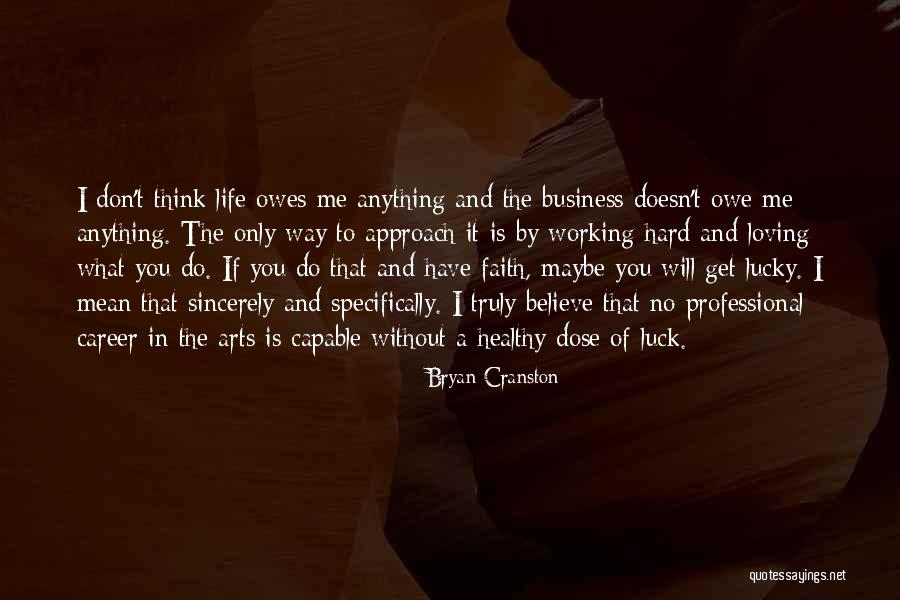 I don't think life owes me anything and the business doesn't owe me anything. The only way to approach it is by working hard and loving what you do. If you do that and have faith, maybe you will get lucky. I mean that sincerely and specifically. I truly believe that no professional career in the arts is capable without a healthy dose of luck. — Bryan Cranston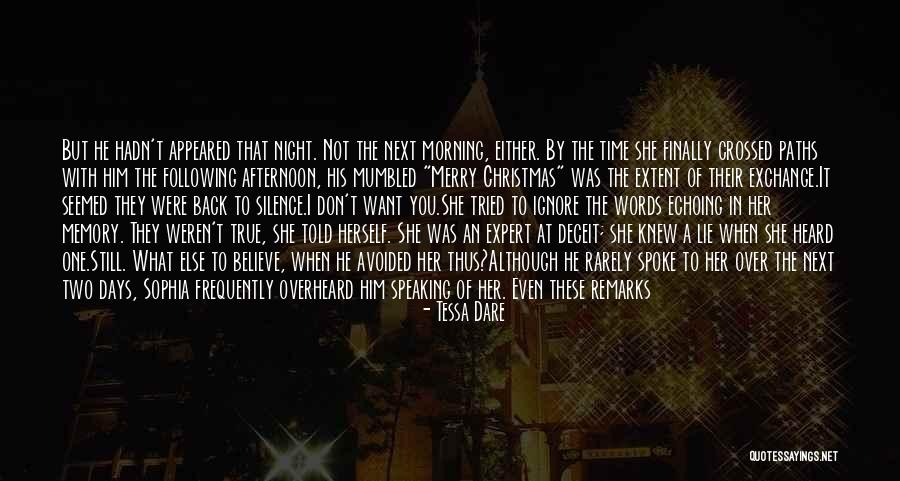 But he hadn't appeared that night. Not the next morning, either. By the time she finally crossed paths with him the following afternoon, his mumbled "Merry Christmas" was the extent of their exchange.
It seemed they were back to silence.
I don't want you.
She tried to ignore the words echoing in her memory. They weren't true, she told herself. She was an expert at deceit; she knew a lie when she heard one.
Still. What else to believe, when he avoided her thus?
Although he rarely spoke to her over the next two days, Sophia frequently overheard him speaking of her. Even these remarks were the tersest of commands: "Fetch Miss Turner more water," or "See that her canopy doesn't go slack." She felt herself being tended, not unlike a goat. Fed, watered, sheltered. Perhaps she shouldn't complain. Food, water, and shelter were all welcome things.
But Sophia was not livestock, and she had other, more profound needs. Needs he seemed intent on neglecting, the infuriating man. — Tessa Dare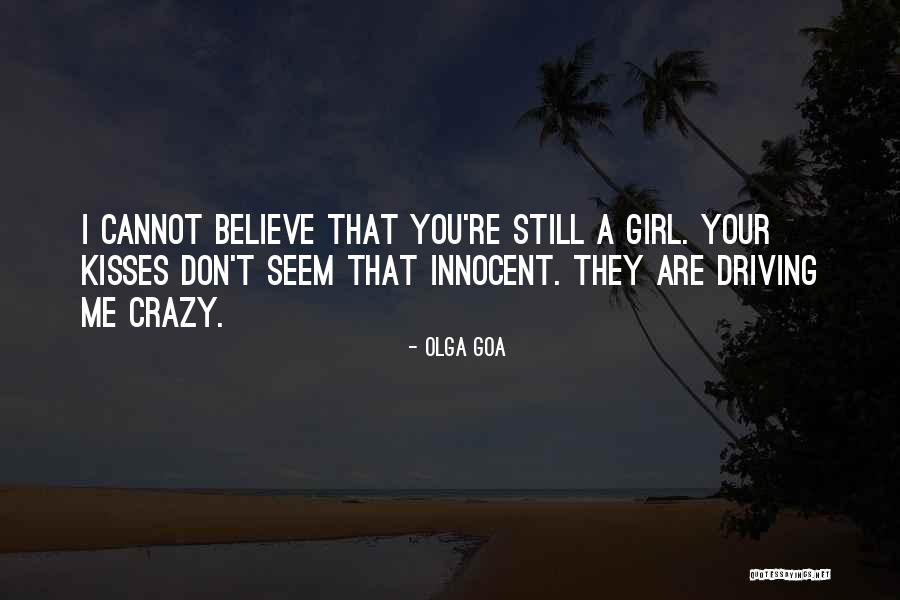 I cannot believe that you're still a girl. Your kisses don't seem that innocent. They are driving me crazy. — Olga Goa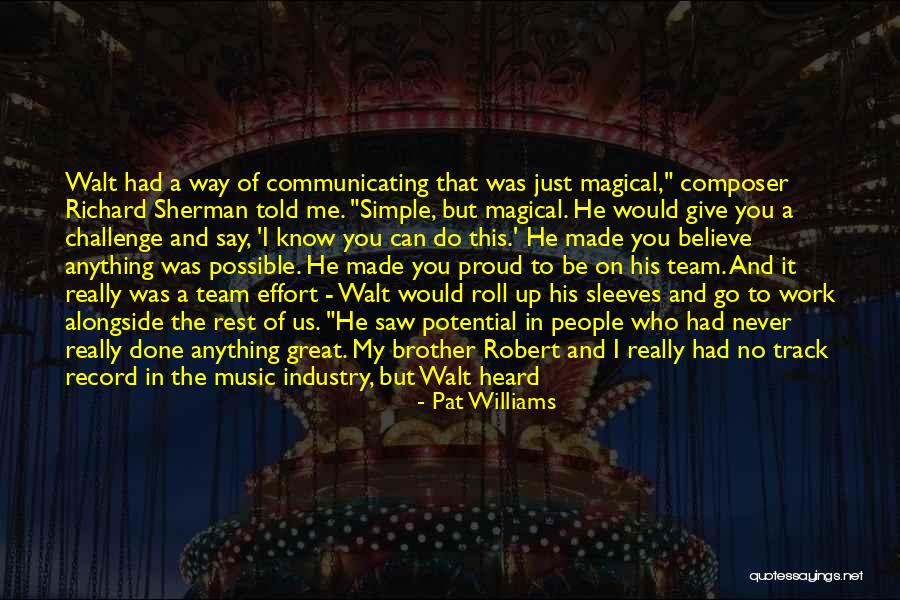 Walt had a way of communicating that was just magical," composer Richard Sherman told me. "Simple, but magical. He would give you a challenge and say, 'I know you can do this.' He made you believe anything was possible. He made you proud to be on his team. And it really was a team effort - Walt would roll up his sleeves and go to work alongside the rest of us. "He saw potential in people who had never really done anything great. My brother Robert and I really had no track record in the music industry, but Walt heard a few of our songs and he gave us an opportunity and inspired us to keep topping ourselves. Without Walt to inspire us, I don't know where we'd be today. "Walt always wanted you to find something wonderful in yourself, to believe in it and consider it God's gift to you. God gives you the gift, and the rest is up to you. Walt taught me that what you do with that gift is your gift back to God. — Pat Williams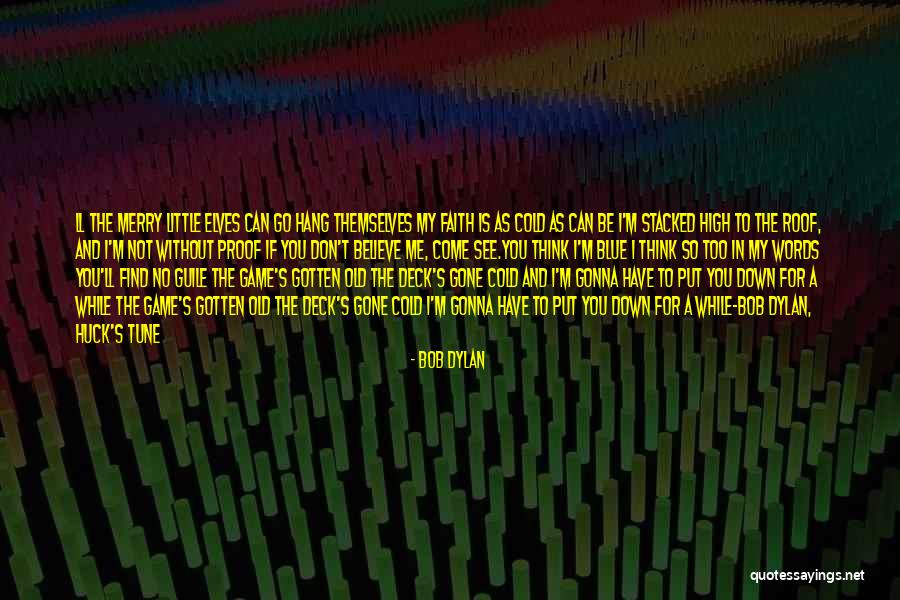 Ll the merry little elves can go hang themselves
My faith is as cold as can be
I'm stacked high to the roof, and I'm not without proof
If you don't believe me, come see.
You think i'm blue I think so too
In my words you'll find no guile
The game's gotten old The deck's gone cold
And i'm gonna have to put you down for a while
The game's gotten old The deck's gone cold
I'm gonna have to put you down for a while
-Bob Dylan, Huck's Tune — Bob Dylan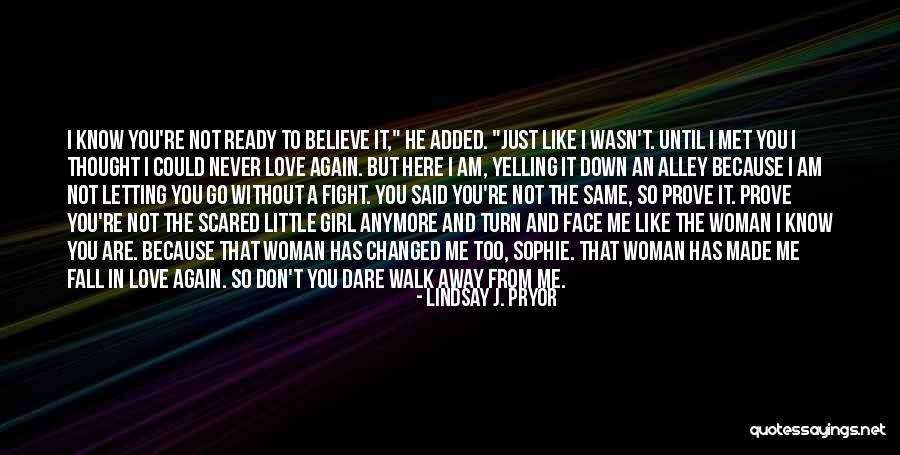 I know you're not ready to believe it," he added. "Just like I wasn't. Until I met you I thought I could never love again. But here I am, yelling it down an alley because I am not letting you go without a fight. You said you're not the same, so prove it. Prove you're not the scared little girl anymore and turn and face me like the woman I know you are. Because that woman has changed me too, Sophie. That woman has made me fall in love again. So don't you dare walk away from me. — Lindsay J. Pryor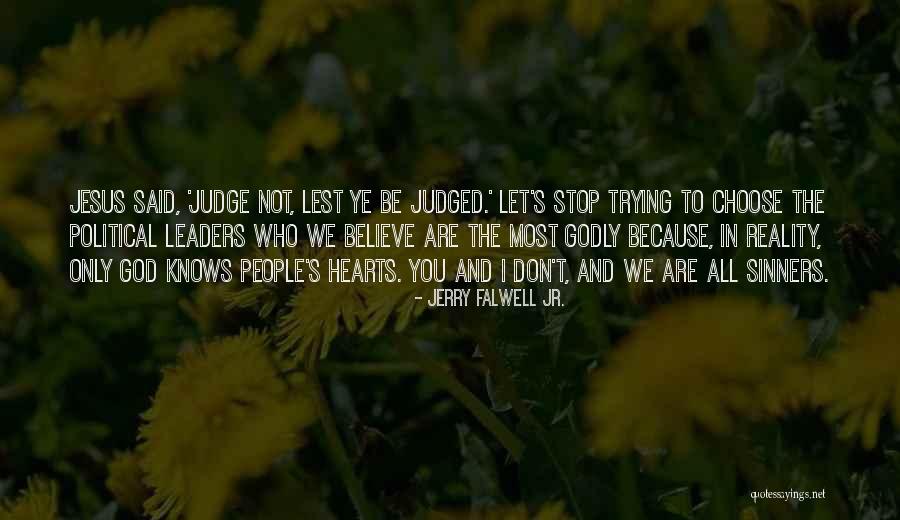 Jesus said, 'Judge not, lest ye be judged.' Let's stop trying to choose the political leaders who we believe are the most godly because, in reality, only God knows people's hearts. You and I don't, and we are all sinners. — Jerry Falwell Jr.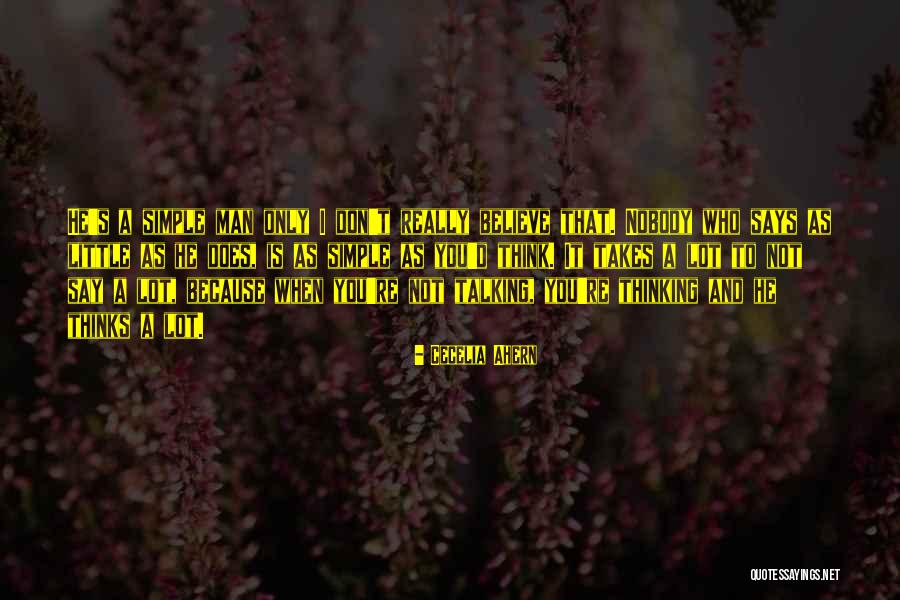 He's a simple man only I don't really believe that. Nobody who says as little as he does, is as simple as you'd think. It takes a lot to not say a lot, because when you're not talking, you're thinking and he thinks a lot. — Cecelia Ahern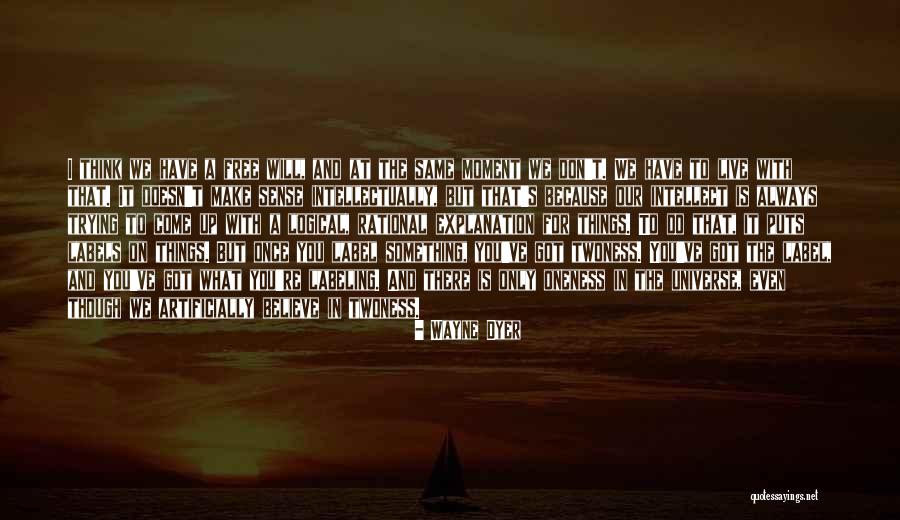 I think we have a free will, and at the same moment we don't. We have to live with that. It doesn't make sense intellectually, but that's because our intellect is always trying to come up with a logical, rational explanation for things. To do that, it puts labels on things. But once you label something, you've got twoness. You've got the label, and you've got what you're labeling. And there is only oneness in the universe, even though we artificially believe in twoness. — Wayne Dyer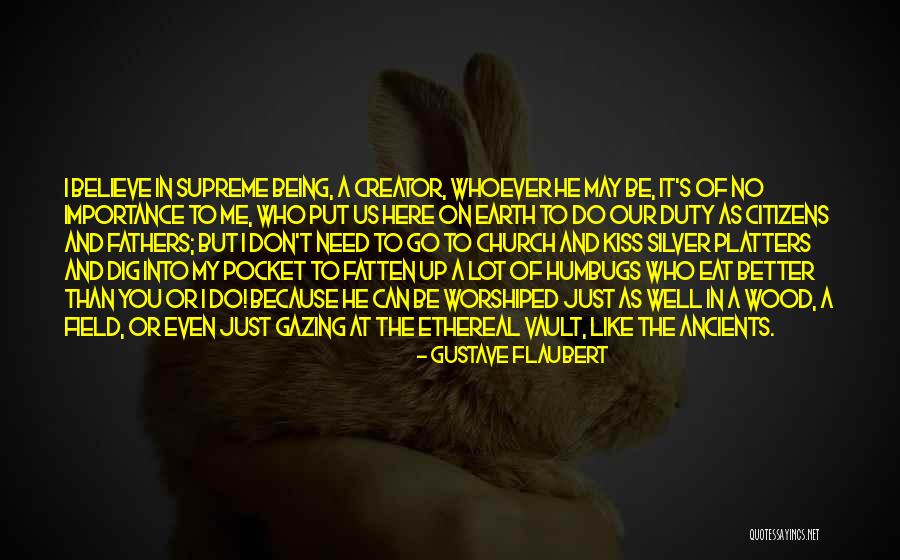 I believe in Supreme Being, a Creator, whoever he may be, it's of no importance to me, who put us here on earth to do our duty as citizens and fathers; but I don't need to go to church and kiss silver platters and dig into my pocket to fatten up a lot of humbugs who eat better than you or I do! Because he can be worshiped just as well in a wood, a field, or even just gazing at the ethereal vault, like the ancients. — Gustave Flaubert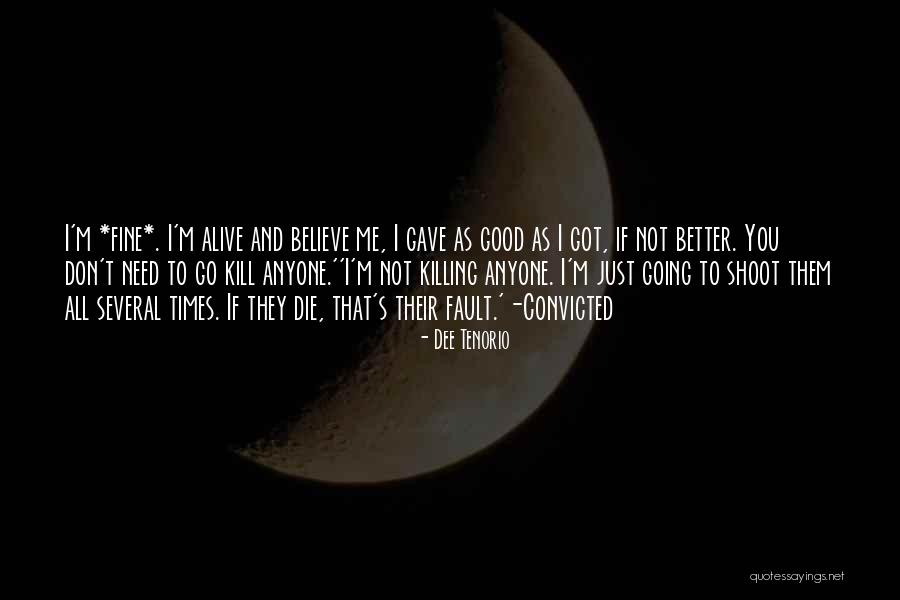 I'm *fine*. I'm alive and believe me, I gave as good as I got, if not better. You don't need to go kill anyone.'
'I'm not killing anyone. I'm just going to shoot them all several times. If they die, that's their fault.'
-Convicted — Dee Tenorio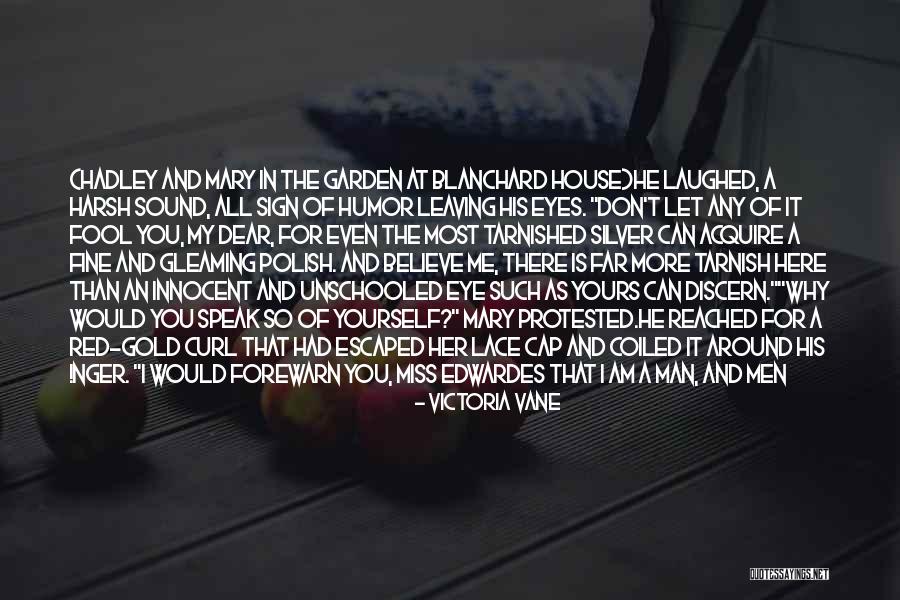 (Hadley and Mary in the Garden at Blanchard House)
He laughed, a harsh sound, all sign of humor leaving his eyes. "Don't let any of it fool you, my dear, for even the most tarnished silver can acquire a fine and gleaming polish. And believe me, there is far more tarnish here than an innocent and unschooled eye such as yours can discern."
"Why would you speak so of yourself?" Mary protested.
He reached for a red-gold curl that had escaped her lace cap and coiled it around his !nger. "I would forewarn you, Miss Edwardes that I am a man, and men in general are not to be trusted ... " He held her gaze as he slowly released the ringlet, allowing his fingers to skim her cheek. " ... especially not by pretty young virgins. — Victoria Vane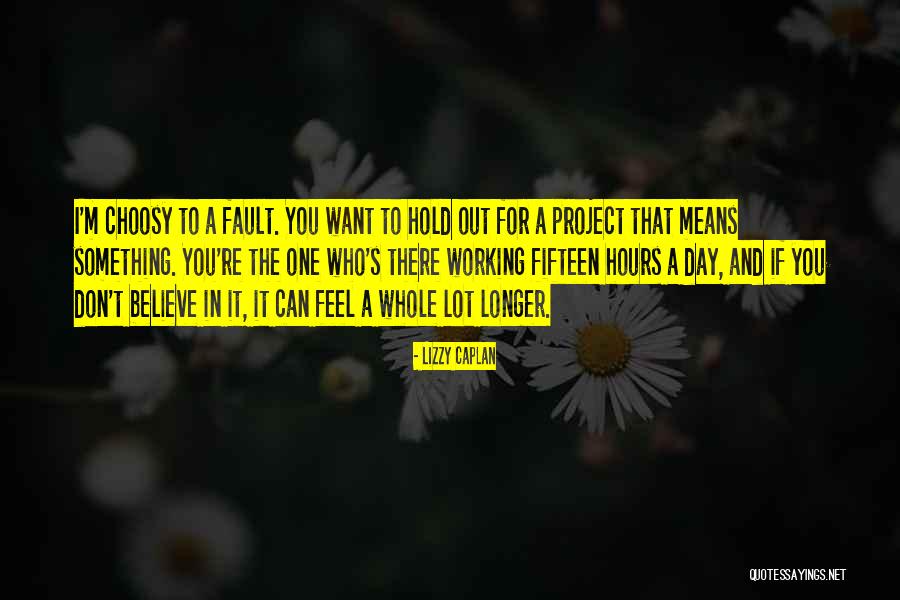 I'm choosy to a fault. You want to hold out for a project that means something. You're the one who's there working fifteen hours a day, and if you don't believe in it, it can feel a whole lot longer. — Lizzy Caplan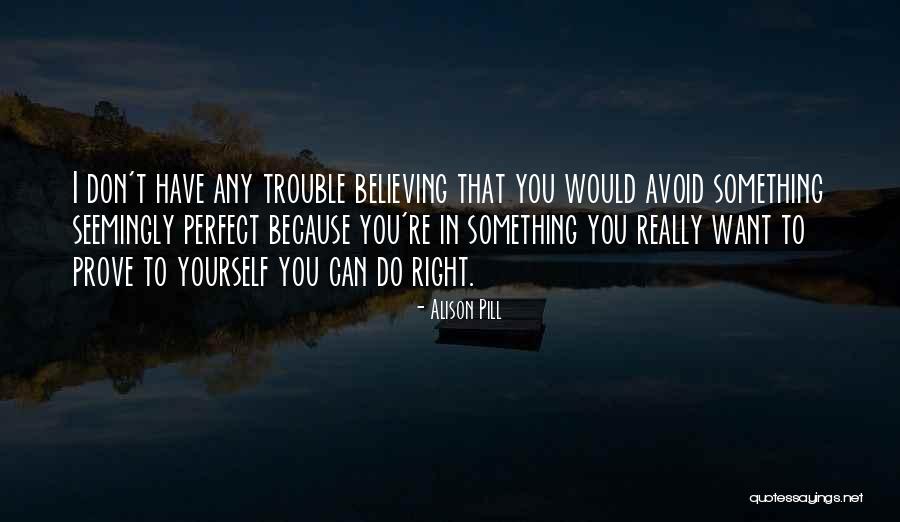 I don't have any trouble believing that you would avoid something seemingly perfect because you're in something you really want to prove to yourself you can do right. — Alison Pill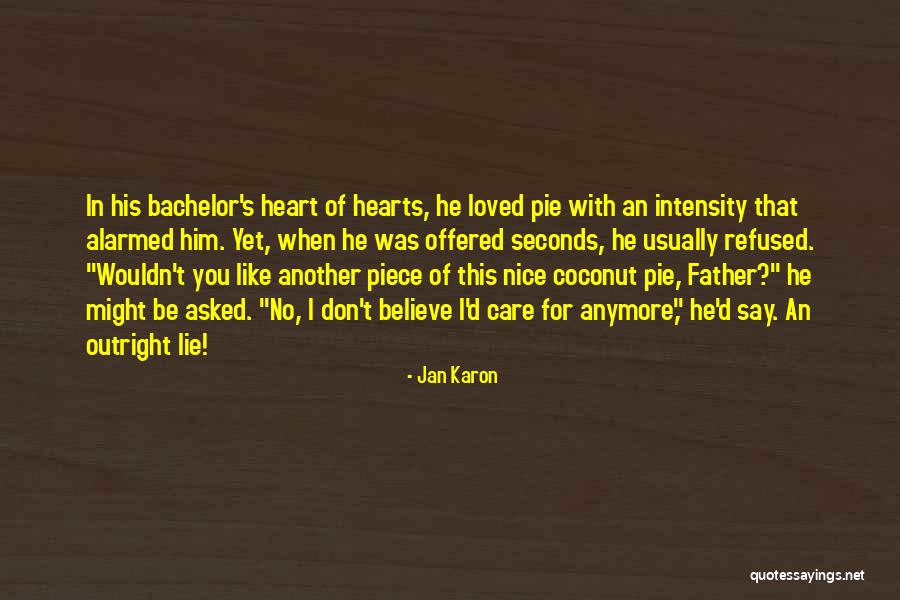 In his bachelor's heart of hearts, he loved pie with an intensity that alarmed him. Yet, when he was offered seconds, he usually refused. "Wouldn't you like another piece of this nice coconut pie, Father?" he might be asked. "No, I don't believe I'd care for anymore," he'd say. An outright lie! — Jan Karon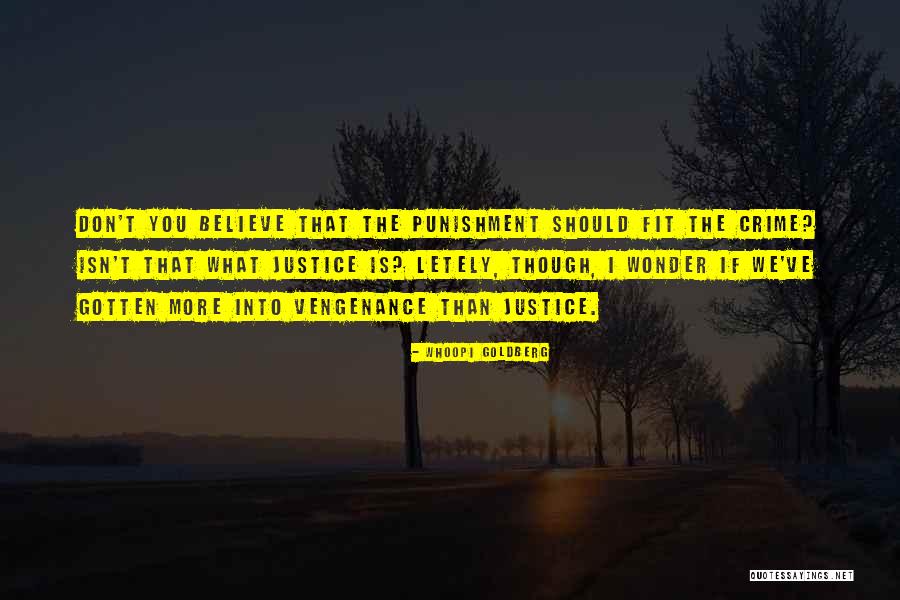 Don't you believe that the punishment should fit the crime? Isn't that what justice is? Letely, though, I wonder if we've gotten more into vengenance than justice. — Whoopi Goldberg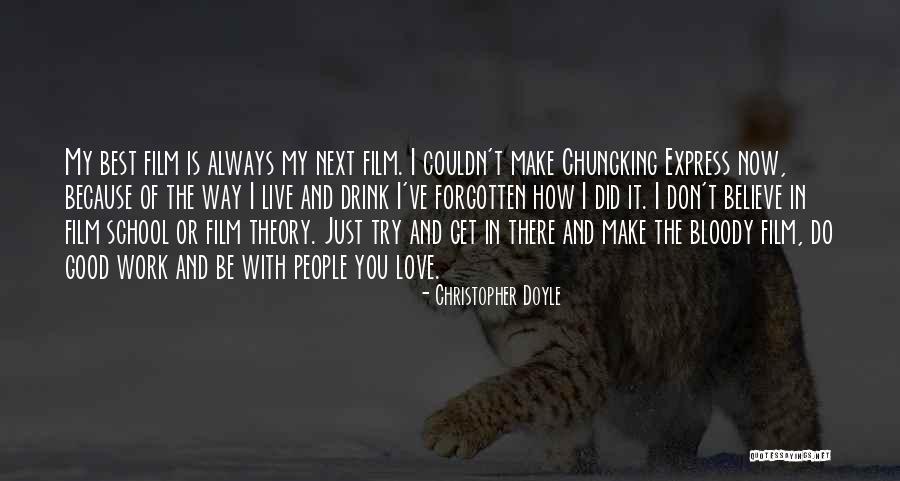 My best film is always my next film. I couldn't make Chungking Express now, because of the way I live and drink I've forgotten how I did it. I don't believe in film school or film theory. Just try and get in there and make the bloody film, do good work and be with people you love. — Christopher Doyle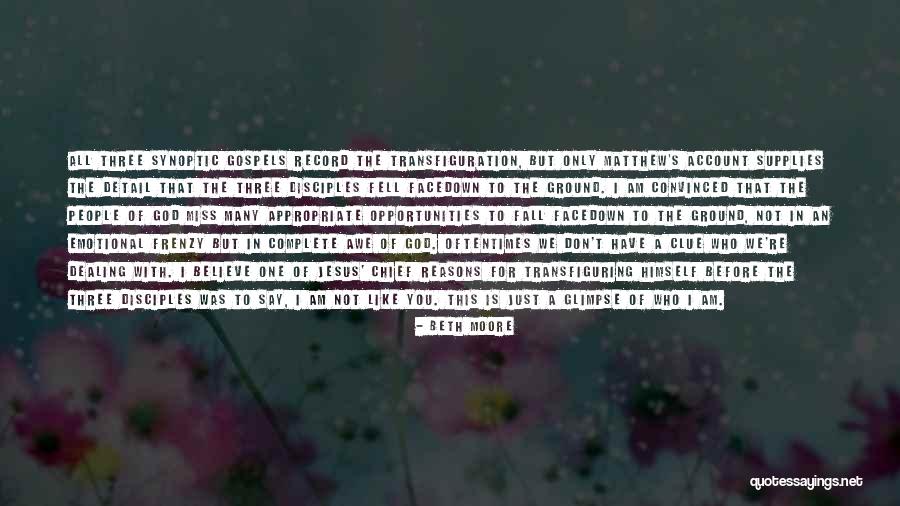 All three synoptic Gospels record the transfiguration, but only Matthew's account supplies the detail that the three disciples fell facedown to the ground. I am convinced that the people of God miss many appropriate opportunities to fall facedown to the ground, not in an emotional frenzy but in complete awe of God. Oftentimes we don't have a clue who we're dealing with. I believe one of Jesus' chief reasons for transfiguring Himself before the three disciples was to say, I am not like you. This is just a glimpse of who I am. — Beth Moore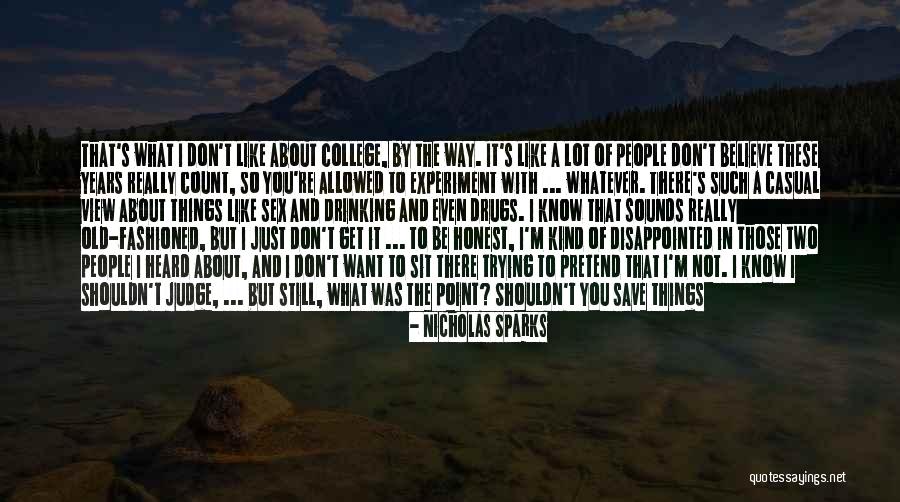 That's what I don't like about college, by the way. It's like a lot of people don't believe these years really count, so you're allowed to experiment with ... whatever. There's such a casual view about things like sex and drinking and even drugs. I know that sounds really old-fashioned, but I just don't get it ... to be honest, I'm kind of disappointed in those two people I heard about, and I don't want to sit there trying to pretend that I'm not. I know I shouldn't judge, ... but still, what was the point? Shouldn't you save things like that for someone you love? So that it really means something? - Savannah — Nicholas Sparks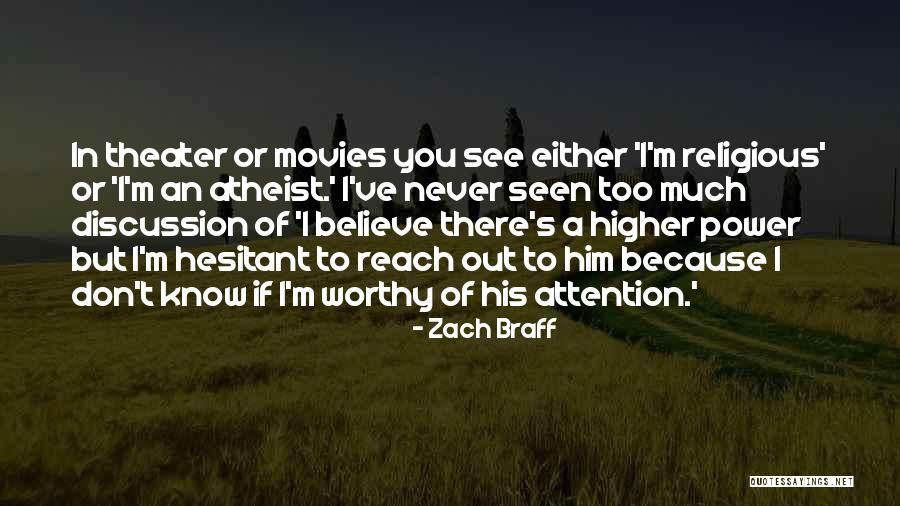 In theater or movies you see either 'I'm religious' or 'I'm an atheist.' I've never seen too much discussion of 'I believe there's a higher power but I'm hesitant to reach out to him because I don't know if I'm worthy of his attention.' — Zach Braff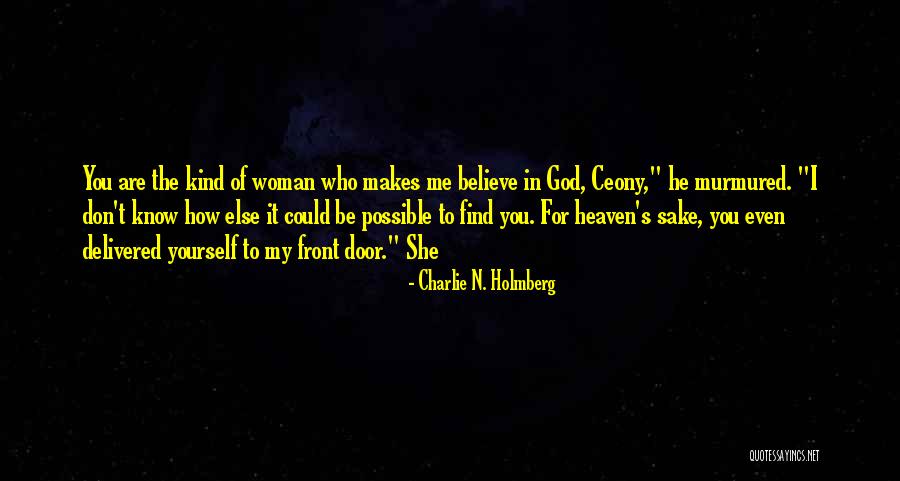 You are the kind of woman who makes me believe in God, Ceony," he murmured. "I don't know how else it could be possible to find you. For heaven's sake, you even delivered yourself to my front door." She — Charlie N. Holmberg