I Come Bearing Gifts Quotes & Sayings
Enjoy reading and share 20 famous quotes about I Come Bearing Gifts with everyone.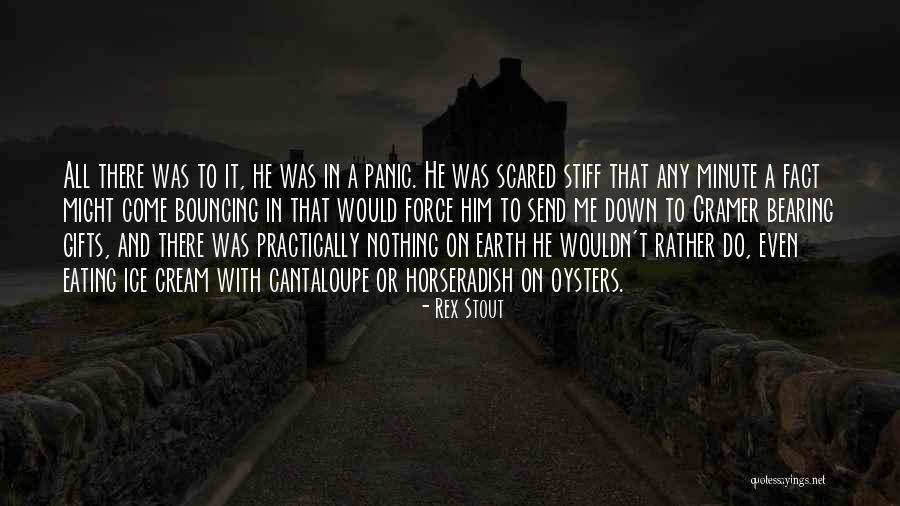 All there was to it, he was in a panic. He was scared stiff that any minute a fact might come bouncing in that would force him to send me down to Cramer bearing gifts, and there was practically nothing on earth he wouldn't rather do, even eating ice cream with cantaloupe or horseradish on oysters. — Rex Stout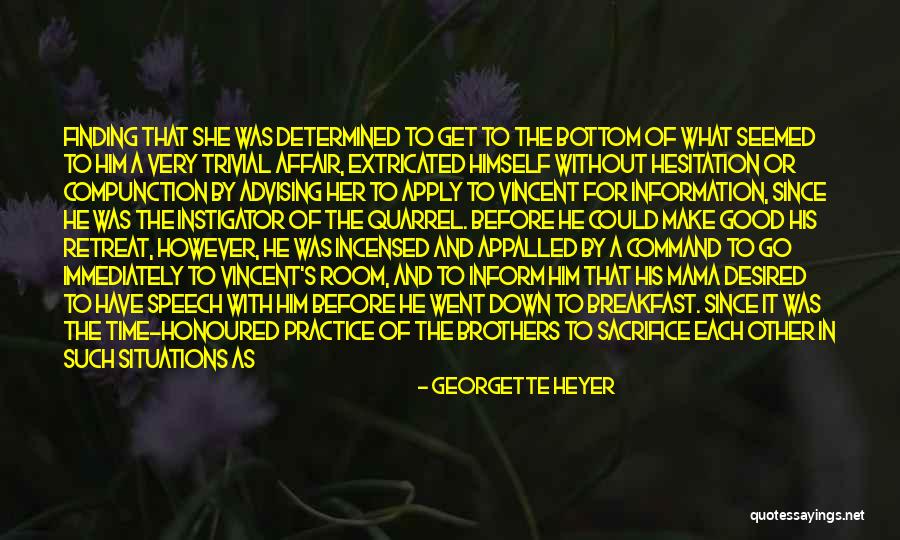 Finding that she was determined to get to the bottom of what seemed to him a very trivial affair, extricated himself without hesitation or compunction by advising her to apply to Vincent for information, since he was the instigator of the quarrel. Before he could make good his retreat, however, he was incensed and appalled by a command to go immediately to Vincent's room, and to inform him that his mama desired to have speech with him before he went down to breakfast. Since it was the time-honoured practice of the brothers to sacrifice each other in such situations as now confronted Claud, it was not fear of Vincent's wrath at finding himself betrayed which prompted Claud to despatch Polyphant on the errand, but the knowledge that not even a messenger bearing gifts of great price would meet with anything but the rudest of receptions from Vincent at this hour of the morning. — Georgette Heyer
When Aaron arrived at my place - a ground-floor studio fitting my full-size bed, desk, and TV - he came bearing gifts: The Artist's Way by Julia Cameron and two red tension balls. "I figure they'll help you relax and write," he said. We watched my favorite relationship — Janet Mock
That promotion is satisfactory. Yes, Liverpool Football Club are back in the First Division. Back in the Big League. But that is only where Liverpool Football Club belong. Only where they should have been all along. In the First Division, in the Big League. So the next time you come bearing gifts, bringing presents, it will be because we've won the Big League. Because Liverpool Football Club have won the First Division. And the FA Cup. And the European Cup. And every cup there is to win. Because only that will be satisfactory, gentlemen. When Liverpool Football Club have won everything there is to win, when Liverpool Football Club have conquered the world. Only that will be enough. — David Peace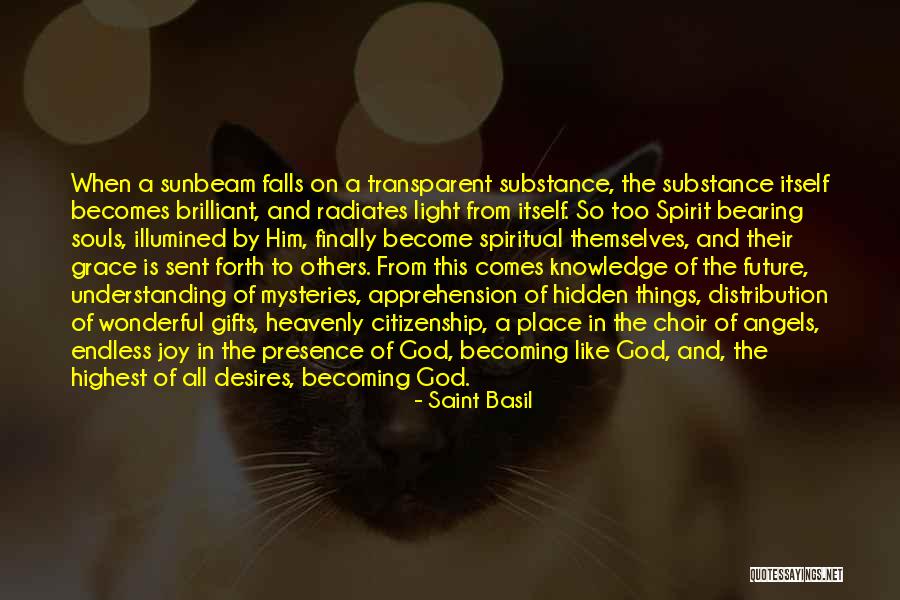 When a sunbeam falls on a transparent substance, the substance itself becomes brilliant, and radiates light from itself. So too Spirit bearing souls, illumined by Him, finally become spiritual themselves, and their grace is sent forth to others. From this comes knowledge of the future, understanding of mysteries, apprehension of hidden things, distribution of wonderful gifts, heavenly citizenship, a place in the choir of angels, endless joy in the presence of God, becoming like God, and, the highest of all desires, becoming God. — Saint Basil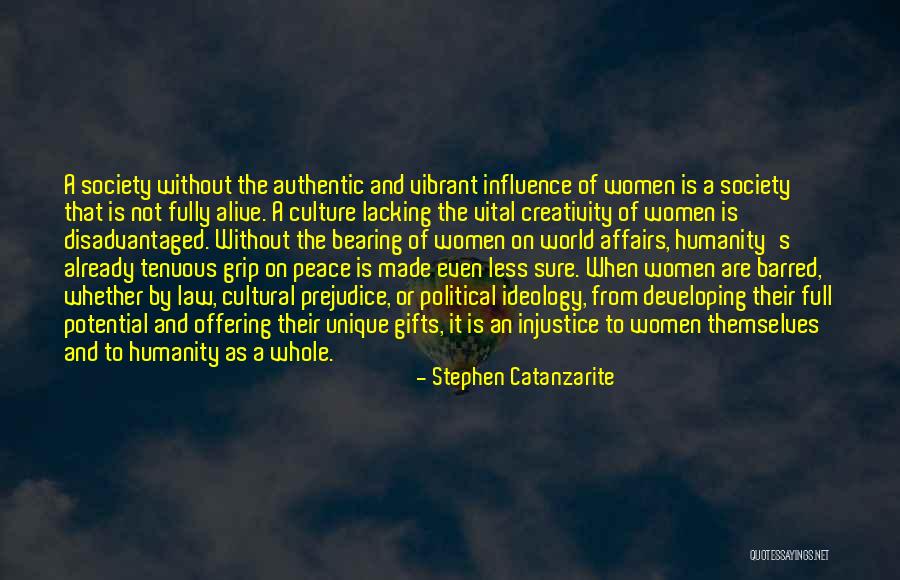 A society without the authentic and vibrant influence of women is a society that is not fully alive. A culture lacking the vital creativity of women is disadvantaged. Without the bearing of women on world affairs, humanity's already tenuous grip on peace is made even less sure. When women are barred, whether by law, cultural prejudice, or political ideology, from developing their full potential and offering their unique gifts, it is an injustice to women themselves and to humanity as a whole. — Stephen Catanzarite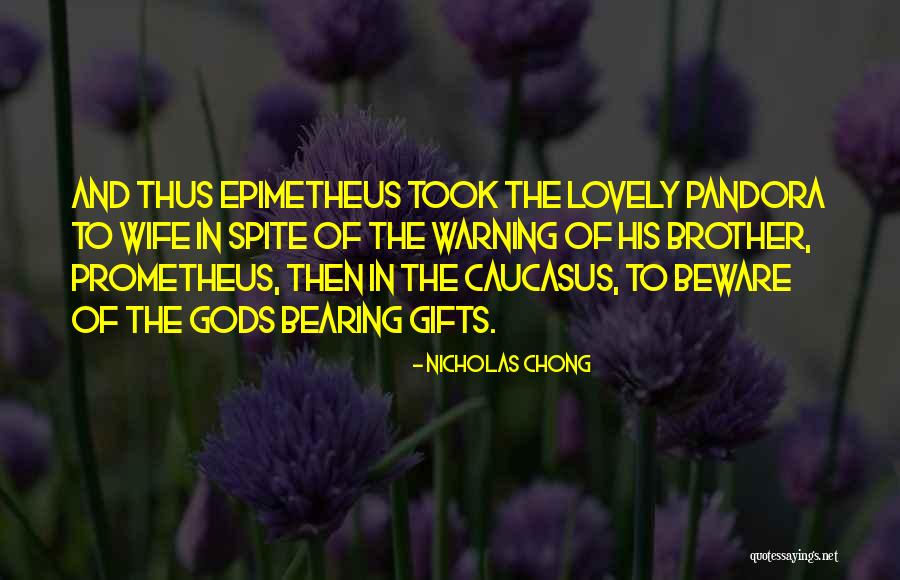 And thus Epimetheus took the lovely Pandora to wife in spite of the warning of his brother, Prometheus, then in the Caucasus, to beware of the Gods bearing gifts. — Nicholas Chong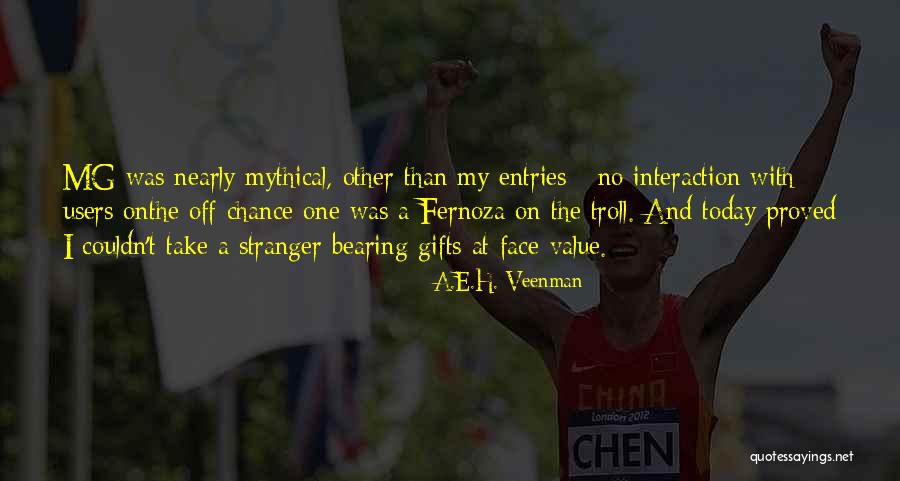 MG was nearly mythical, other than my entries - no interaction with users on
the off chance one was a Fernoza on the troll. And today proved I couldn't take a stranger bearing gifts at face-value. — A.E.H. Veenman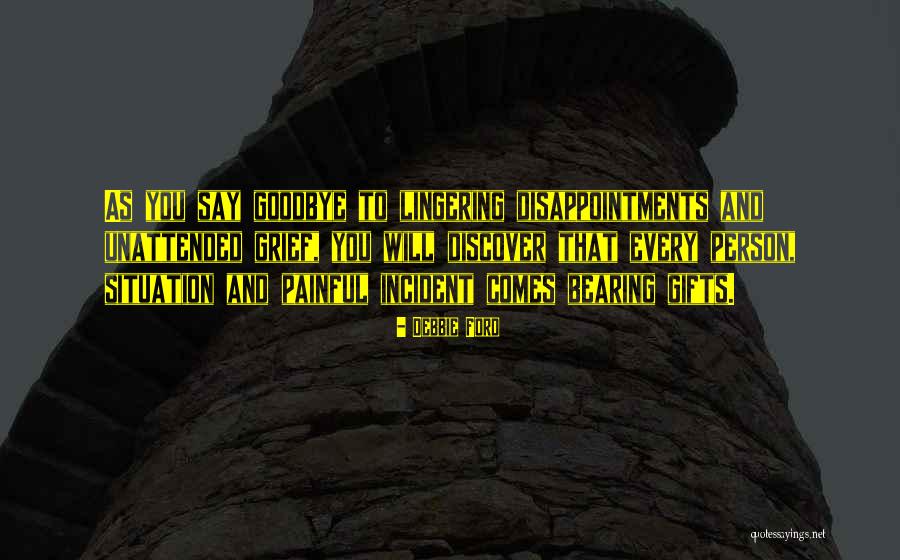 As you say goodbye to lingering disappointments and unattended grief, you will discover that every person, situation and painful incident comes bearing gifts. — Debbie Ford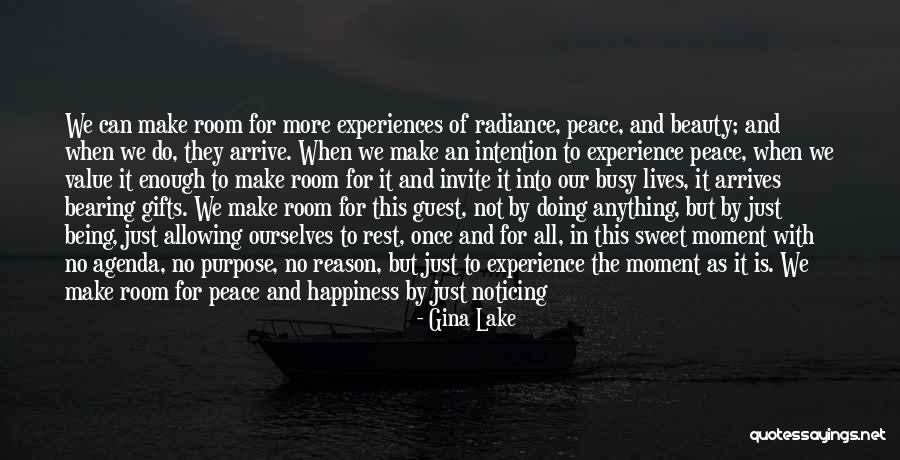 We can make room for more experiences of radiance, peace, and beauty; and when we do, they arrive. When we make an intention to experience peace, when we value it enough to make room for it and invite it into our busy lives, it arrives bearing gifts. We make room for this guest, not by doing anything, but by just being, just allowing ourselves to rest, once and for all, in this sweet moment with no agenda, no purpose, no reason, but just to experience the moment as it is. We make room for peace and happiness by just noticing them. We notice that they are already here, and noticing them brings them more strongly into focus. Peace and happiness are always here, but they often go unnoticed. — Gina Lake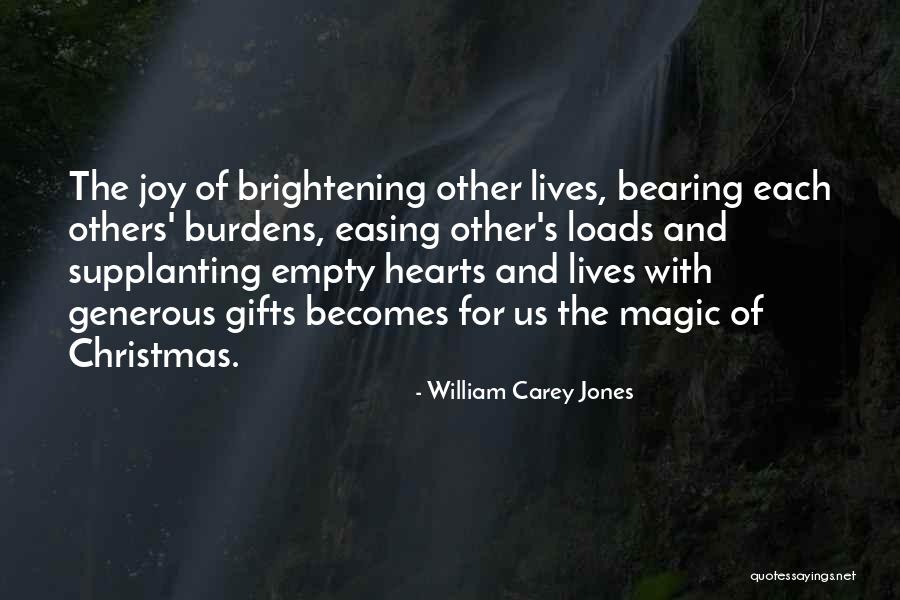 The joy of brightening other lives, bearing each others' burdens, easing other's loads and supplanting empty hearts and lives with generous gifts becomes for us the magic of Christmas. — William Carey Jones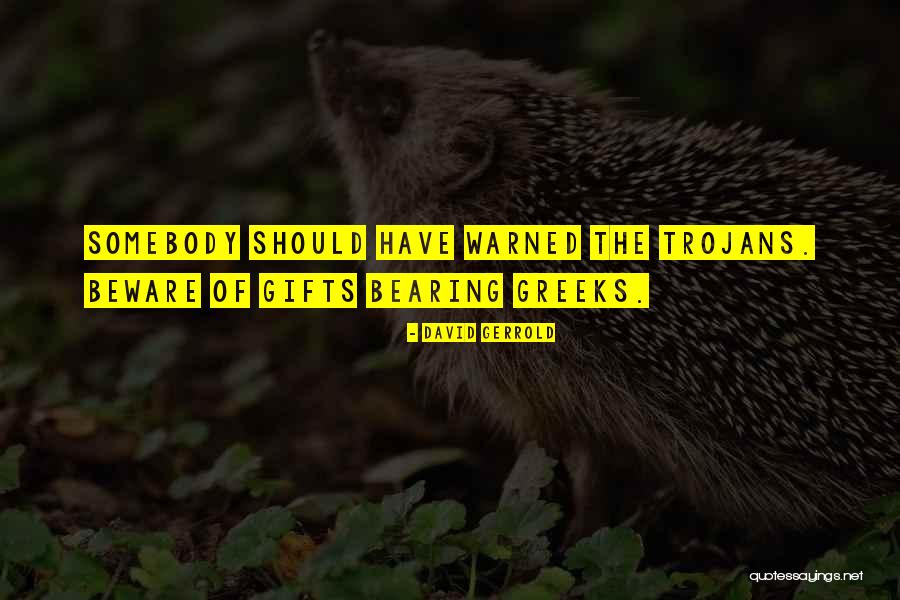 Somebody should have warned the Trojans. Beware of gifts bearing Greeks. — David Gerrold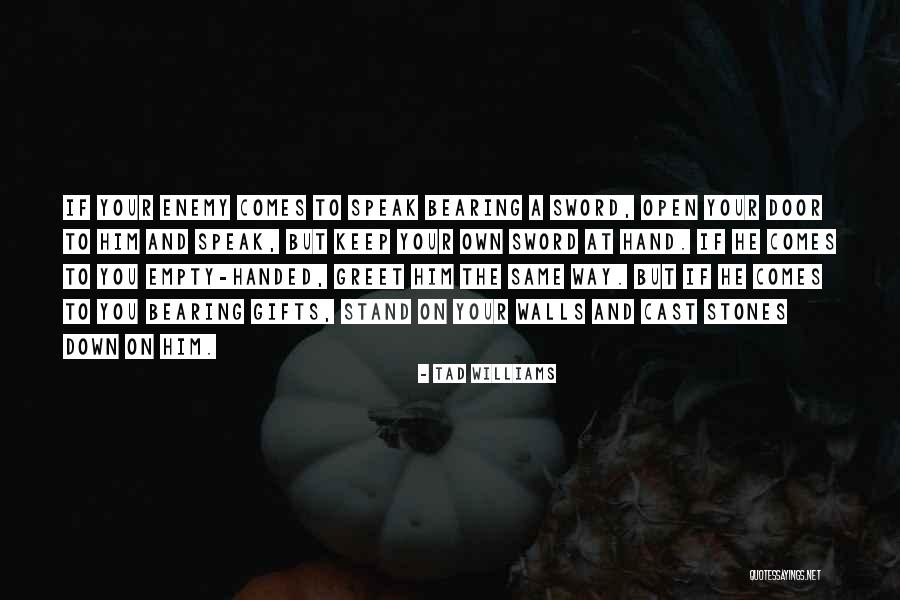 If your enemy comes to speak bearing a sword, open your door to him and speak, but keep your own sword at hand. If he comes to you empty-handed, greet him the same way. But if he comes to you bearing gifts, stand on your walls and cast stones down on him. — Tad Williams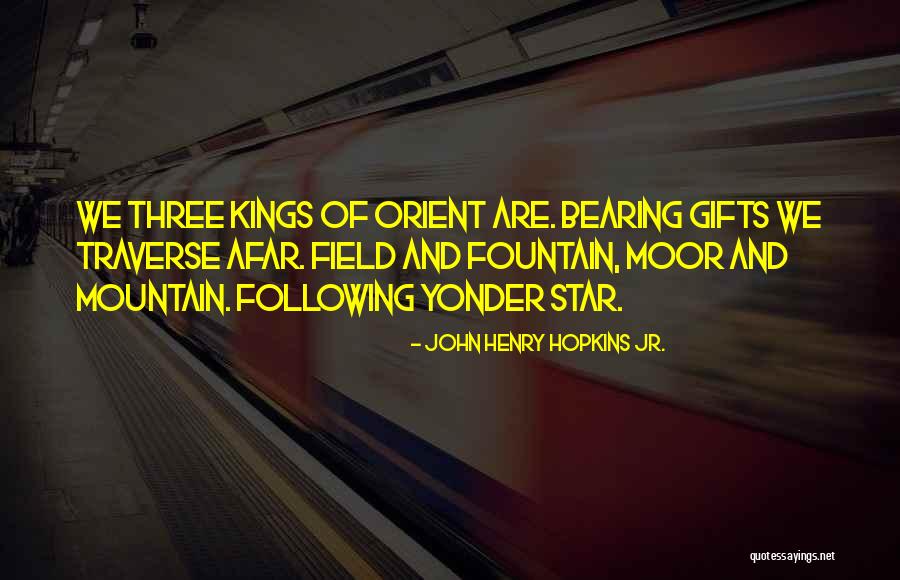 We three kings of Orient are. Bearing gifts we traverse afar. Field and fountain, moor and mountain. Following yonder star. — John Henry Hopkins Jr.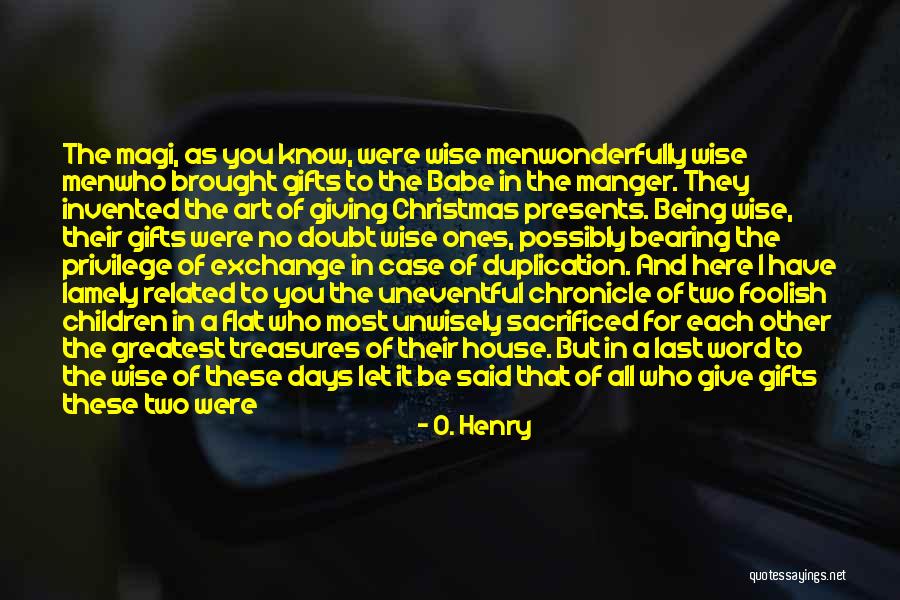 The magi, as you know, were wise men
wonderfully wise men
who brought gifts to the Babe in the manger. They invented the art of giving Christmas presents. Being wise, their gifts were no doubt wise ones, possibly bearing the privilege of exchange in case of duplication. And here I have lamely related to you the uneventful chronicle of two foolish children in a flat who most unwisely sacrificed for each other the greatest treasures of their house. But in a last word to the wise of these days let it be said that of all who give gifts these two were the wisest. O all who give and receive gifts, such as they are wisest. Everywhere they are wisest. They are the magi. — O. Henry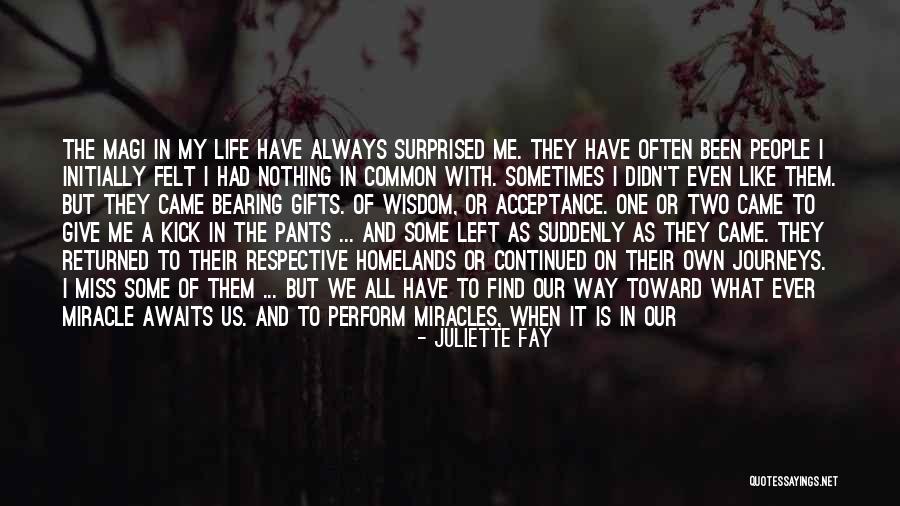 The Magi in my life have always surprised me. They have often been people I initially felt I had nothing in common with. Sometimes I didn't even like them. But they came bearing gifts. Of wisdom, or acceptance. One or two came to give me a kick in the pants ... and some left as suddenly as they came. They returned to their respective homelands or continued on their own journeys. I miss some of them ... But we all have to find our way toward what ever miracle awaits us. And to perform miracles, when it is in our power to do so. Maybe the most important question is: how do I serve the Magi for others? How generously do I give my gifts - and not just to the obvious recipients in my life? How far out of my way do go to recognize and pay homage to miracles? Not very far some days. But on good days, just far enough. — Juliette Fay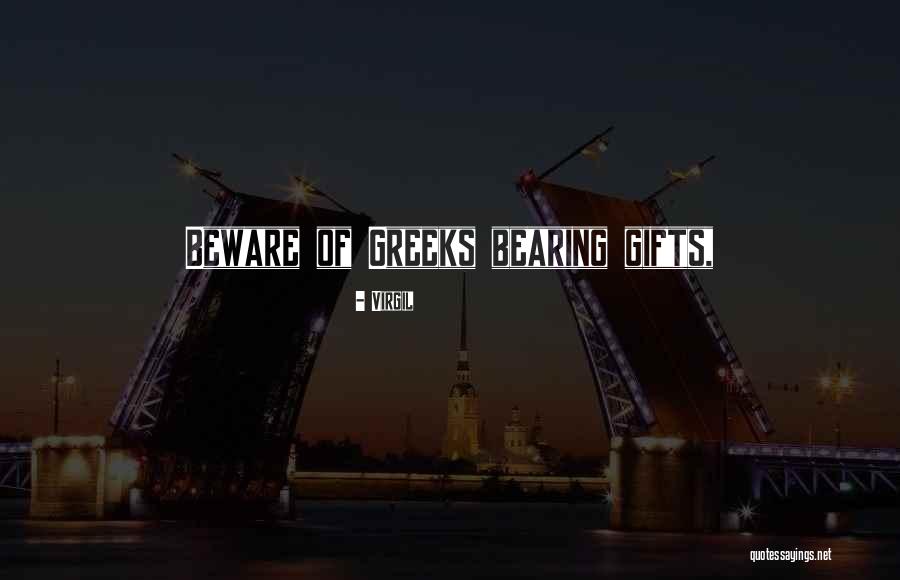 Beware of Greeks bearing gifts, — Virgil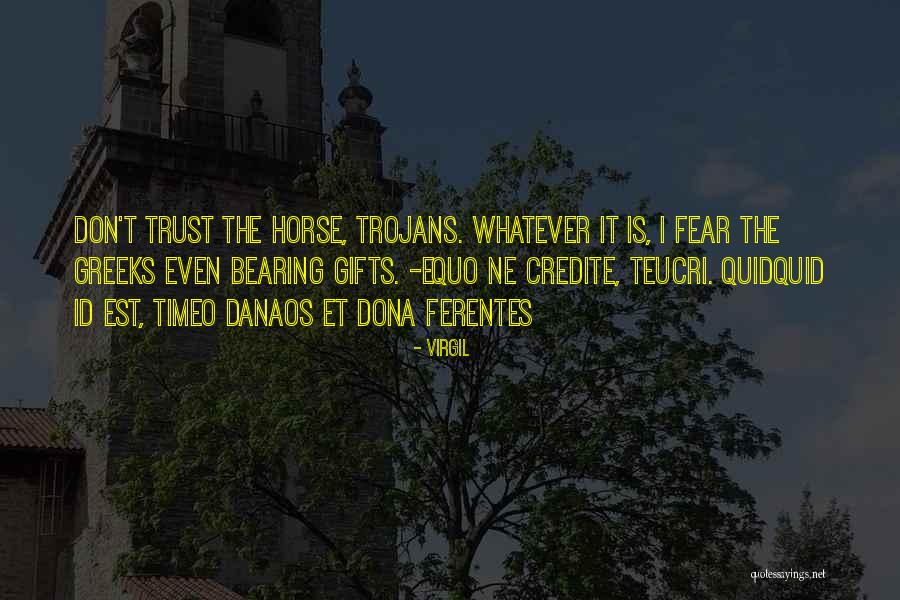 Don't trust the horse, Trojans. Whatever it is, I fear the Greeks even bearing gifts. -Equo ne credite, Teucri. Quidquid id est, timeo Danaos et dona ferentes — Virgil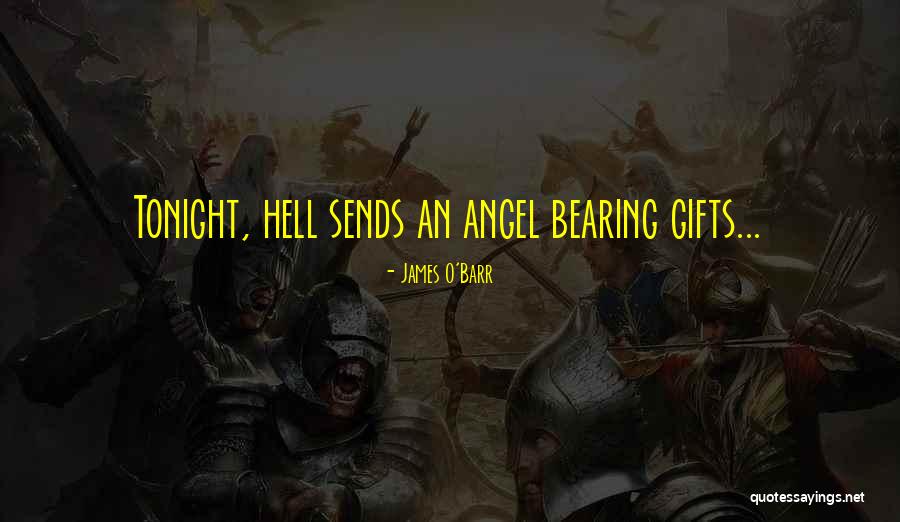 Tonight, hell sends an angel bearing gifts... — James O'Barr