I Am Strong And Beautiful Quotes & Sayings
Enjoy reading and share 35 famous quotes about I Am Strong And Beautiful with everyone.
Top I Am Strong And Beautiful Quotes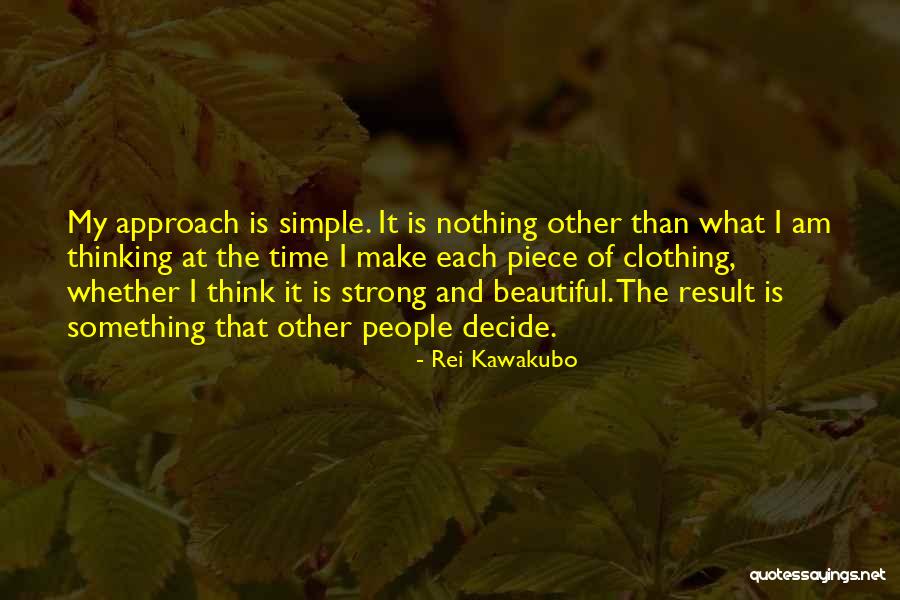 My approach is simple. It is nothing other than what I am thinking at the time I make each piece of clothing, whether I think it is strong and beautiful. The result is something that other people decide. — Rei Kawakubo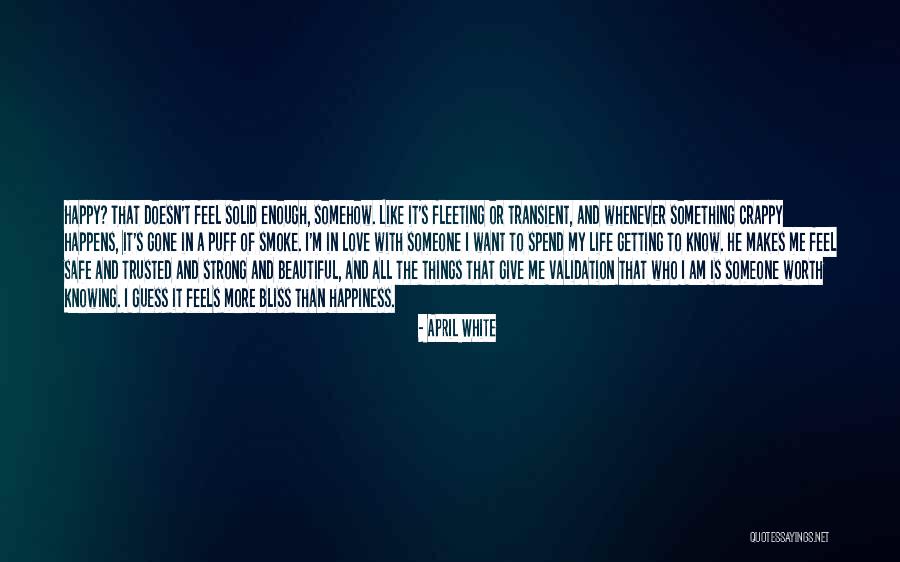 Happy? That doesn't feel solid enough, somehow. Like it's fleeting or transient, and whenever something crappy happens, it's gone in a puff of smoke. I'm in love with someone I want to spend my life getting to know. He makes me feel safe and trusted and strong and beautiful, and all the things that give me validation that who I am is someone worth knowing. I guess it feels more bliss than happiness. — April White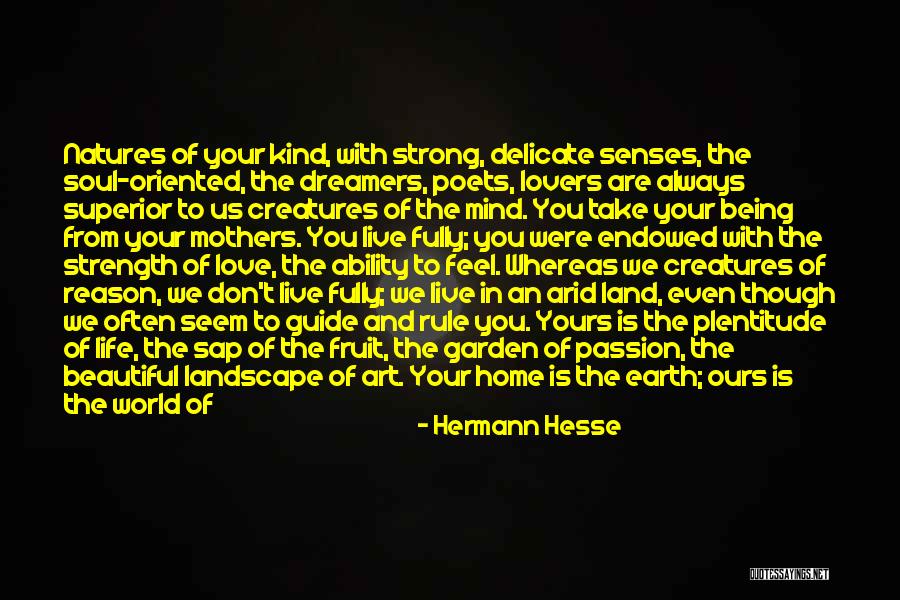 Natures of your kind, with strong, delicate senses, the soul-oriented, the dreamers, poets, lovers are always superior to us creatures of the mind. You take your being from your mothers. You live fully; you were endowed with the strength of love, the ability to feel. Whereas we creatures of reason, we don't live fully; we live in an arid land, even though we often seem to guide and rule you. Yours is the plentitude of life, the sap of the fruit, the garden of passion, the beautiful landscape of art. Your home is the earth; ours is the world of ideas. You are in danger of drowning in the world of the senses; ours is the danger of suffocating in an airless void. You are an artist; I am a thinker. You sleep at your mother's breast; I wake in the desert. For me the sun shines; for you the moon and the stars. — Hermann Hesse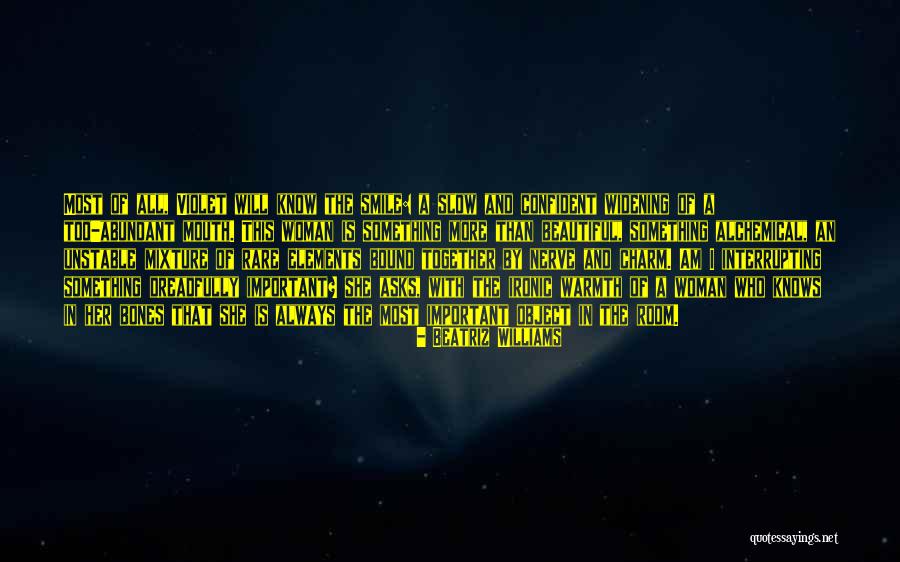 Most of all, Violet will know the smile: a slow and confident widening of a too-abundant mouth. This woman is something more than beautiful, something alchemical, an unstable mixture of rare elements bound together by nerve and charm. Am I interrupting something dreadfully important? she asks, with the ironic warmth of a woman who knows in her bones that she is always the most important object in the room. — Beatriz Williams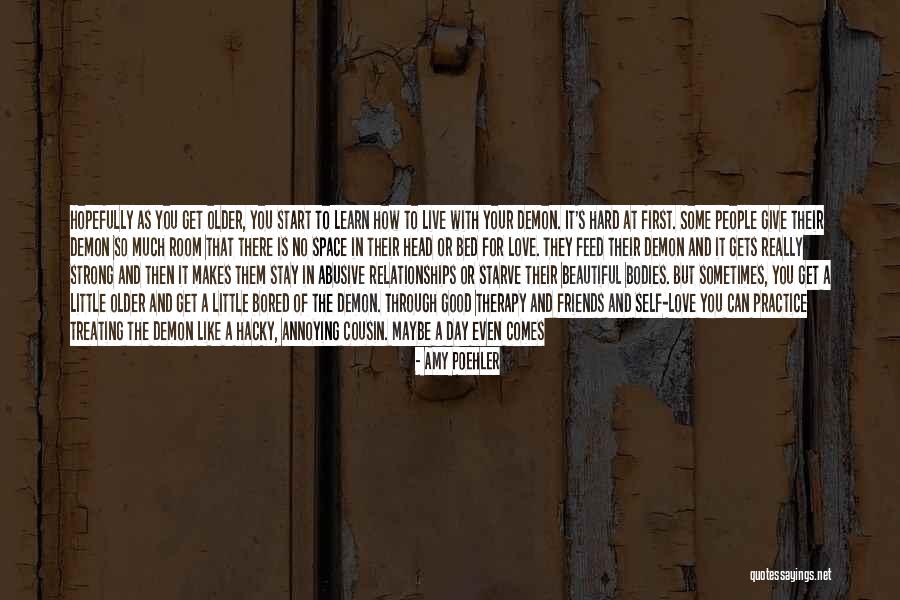 Hopefully as you get older, you start to learn how to live with your demon. It's hard at first. Some people give their demon so much room that there is no space in their head or bed for love. They feed their demon and it gets really strong and then it makes them stay in abusive relationships or starve their beautiful bodies. But sometimes, you get a little older and get a little bored of the demon. Through good therapy and friends and self-love you can practice treating the demon like a hacky, annoying cousin. Maybe a day even comes when you are getting dressed for a fancy event and it whispers, "You aren't pretty," and you go, "I know, I know, now let me find my earrings." Sometimes you say, "Demon, I promise you I will let you remind me of my ugliness, but right now I am having hot sex so I will check in later. — Amy Poehler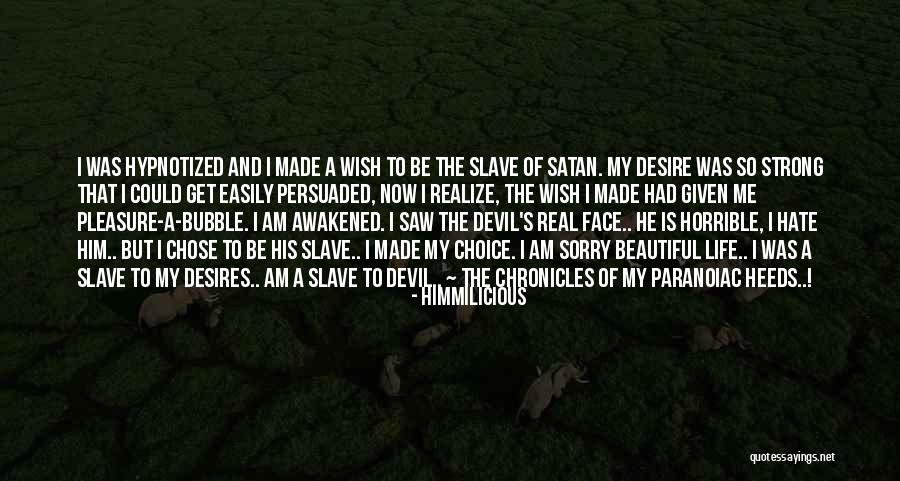 I was hypnotized and I made a wish to be the slave of Satan. My desire was so strong that I could get easily persuaded, now I realize, the wish I made had given me pleasure-a-bubble. I am awakened. I saw the devil's real face.. He is horrible, I hate him.. But I chose to be his slave.. I made my choice. I am sorry beautiful life.. I was a slave to my desires.. Am a slave to devil.. ~ The Chronicles of my Paranoiac Heeds..! — Himmilicious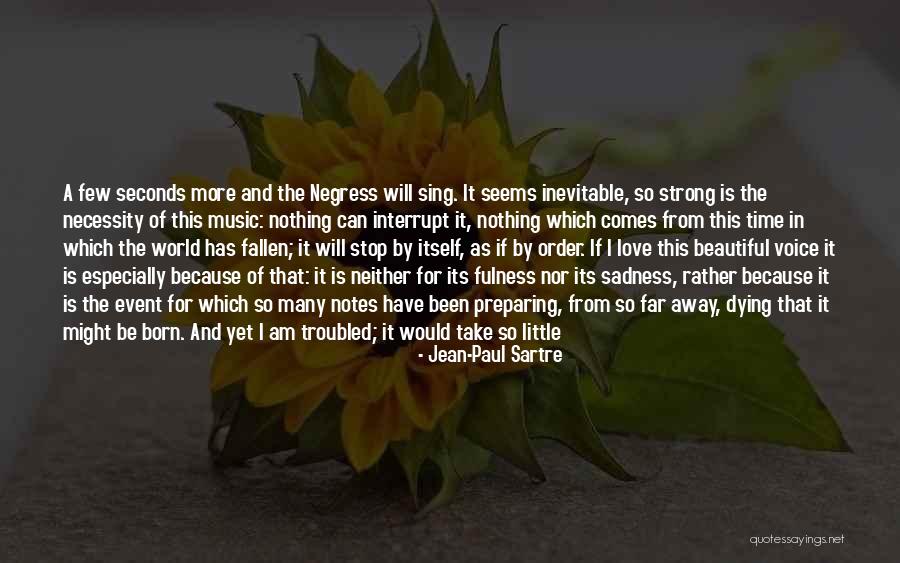 A few seconds more and the Negress will sing. It seems inevitable, so strong is the necessity of this music: nothing can interrupt it, nothing which comes from this time in which the world has fallen; it will stop by itself, as if by order. If I love this beautiful voice it is especially because of that: it is neither for its fulness nor its sadness, rather because it is the event for which so many notes have been preparing, from so far away, dying that it might be born. And yet I am troubled; it would take so little to make the record stop: a broken spring, the whim of Cousin Adolphe. How strange it is, how moving, that this hardness should be so fragile. Nothing can interrupt it yet it can break it.
The last chord has died away. In the brief silence which follows I feel strongly that there is, that SOMETHING HAS HAPPENED.
Silence.
SOME OF THESE DAYS
YOU'LL MISS ME HONEY — Jean-Paul Sartre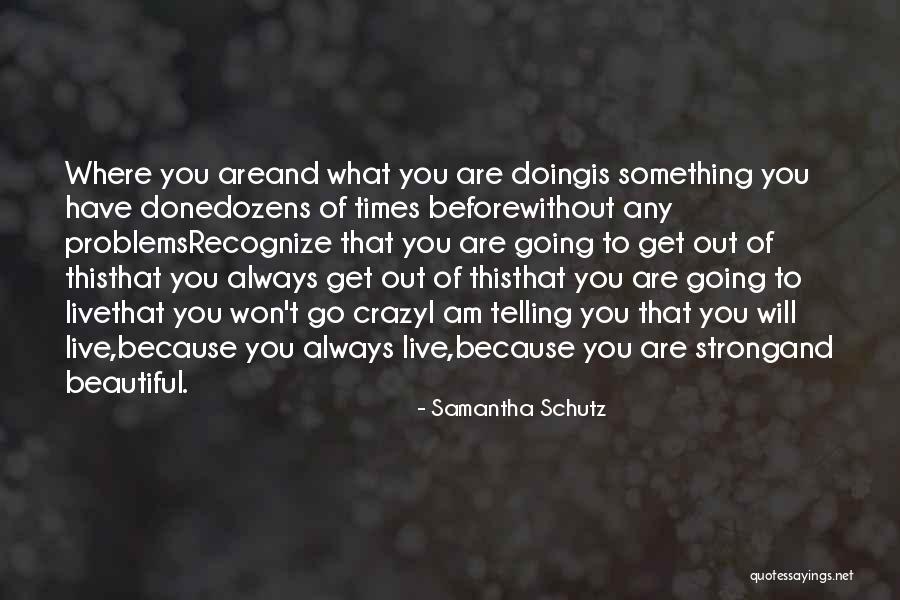 Where you are
and what you are doing
is something you have done
dozens of times before
without any problems
Recognize that you are going to get out of this
that you always get out of this
that you are going to live
that you won't go crazy
I am telling you that you will live,
because you always live,
because you are strong
and beautiful. — Samantha Schutz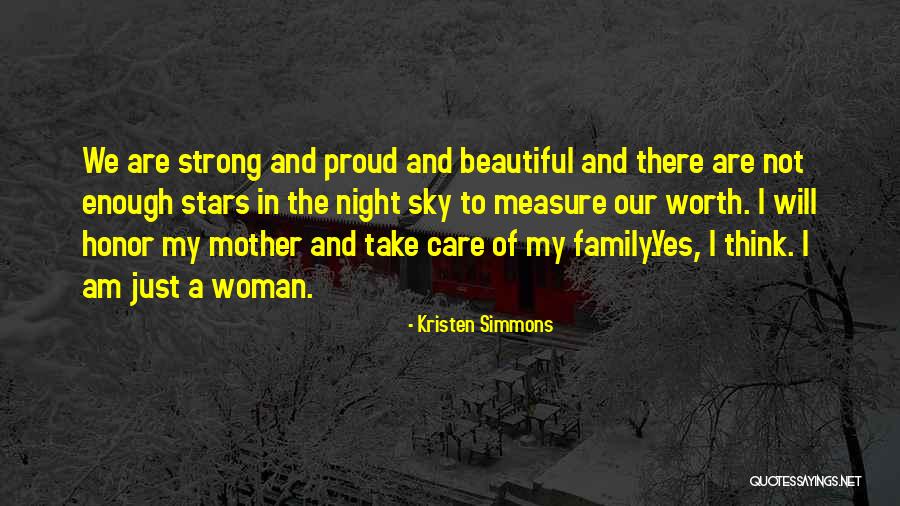 We are strong and proud and beautiful and there are not enough stars in the night sky to measure our worth.
I will honor my mother and take care of my family.
Yes, I think. I am just a woman. — Kristen Simmons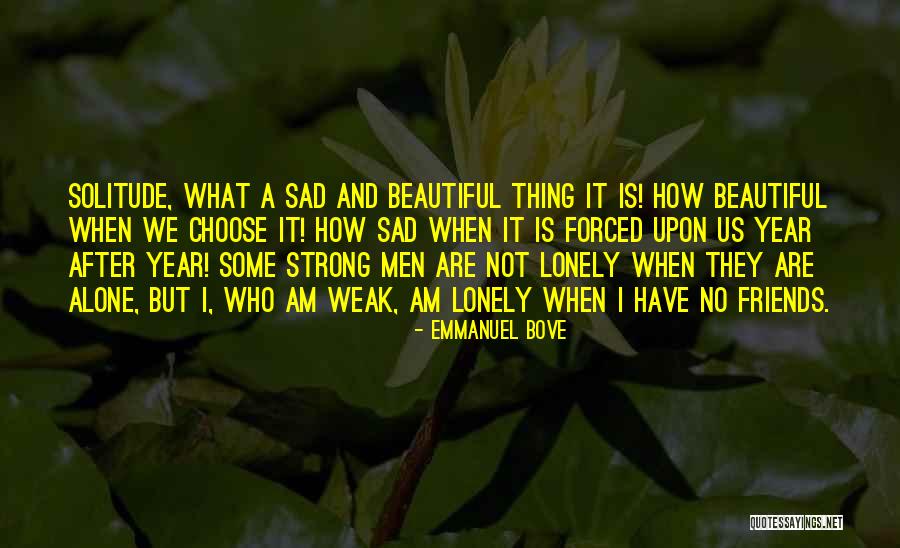 Solitude, what a sad and beautiful thing it is! How beautiful when we choose it! How sad when it is forced upon us year after year! Some strong men are not lonely when they are alone, but I, who am weak, am lonely when I have no friends. — Emmanuel Bove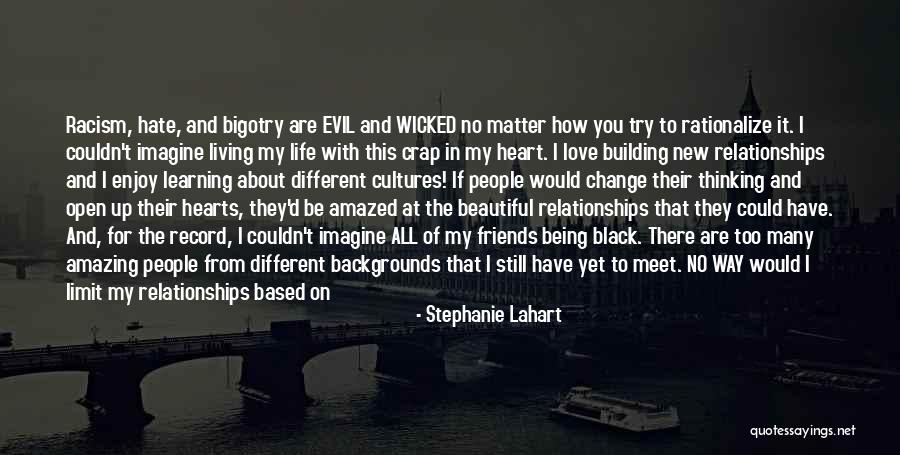 Racism, hate, and bigotry are EVIL and WICKED no matter how you try to rationalize it. I couldn't imagine living my life with this crap in my heart. I love building new relationships and I enjoy learning about different cultures! If people would change their thinking and open up their hearts, they'd be amazed at the beautiful relationships that they could have. And, for the record, I couldn't imagine ALL of my friends being black. There are too many amazing people from different backgrounds that I still have yet to meet. NO WAY would I limit my relationships based on race, absolutely not! I am free to like and love who I want to and I won't allow anybody to persuade me with their opinions. I have my own mind! I'm my own person! I refuse to dislike and/or hate another race 'just because!' I am Stephanie Lahart: BOLD. BRAVE. STRONG. — Stephanie Lahart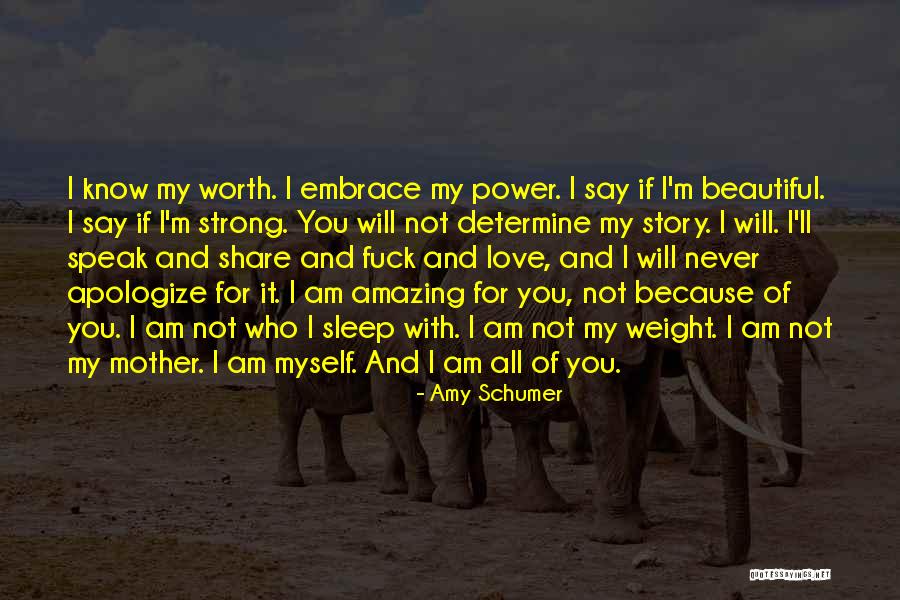 I know my worth. I embrace my power. I say if I'm beautiful. I say if I'm strong. You will not determine my story. I will. I'll speak and share and fuck and love, and I will never apologize for it. I am amazing for you, not because of you. I am not who I sleep with. I am not my weight. I am not my mother. I am myself. And I am all of you. — Amy Schumer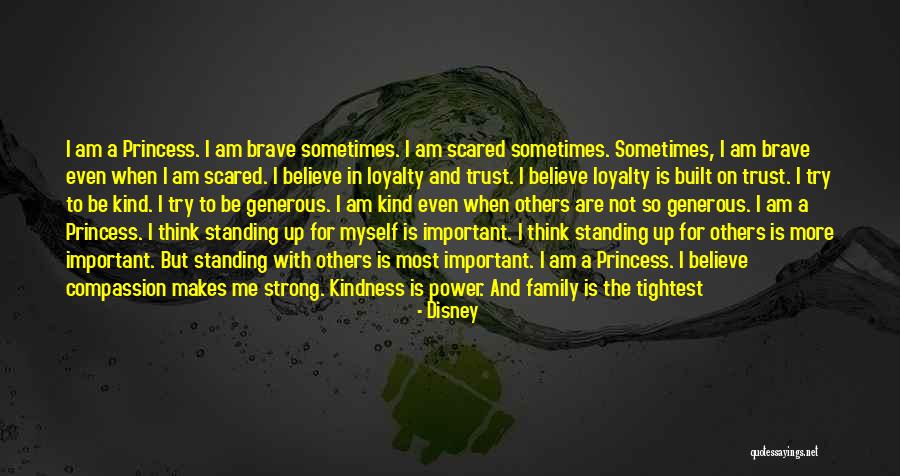 I am a Princess. I am brave sometimes. I am scared sometimes. Sometimes, I am brave even when I am scared. I believe in loyalty and trust. I believe loyalty is built on trust. I try to be kind. I try to be generous. I am kind even when others are not so generous. I am a Princess. I think standing up for myself is important. I think standing up for others is more important. But standing with others is most important. I am a Princess. I believe compassion makes me strong. Kindness is power. And family is the tightest bond of all. I have heard I am beautiful. I know I am strong. I am a Princess. Long may I reign. — Disney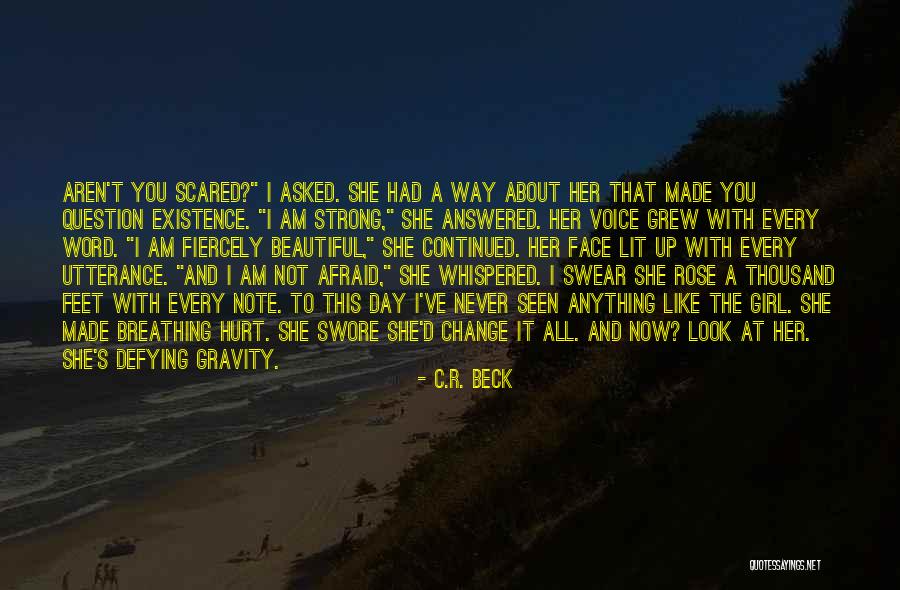 Aren't you scared?" I asked. She had a way about her that made you question existence.
"I am strong," she answered. Her voice grew with every word. "I am fiercely beautiful," she continued. Her face lit up with every utterance. "And I am not afraid," she whispered. I swear she rose a thousand feet with every note.
To this day I've never seen anything like the girl. She made breathing hurt. She swore she'd change it all. And now? Look at her. She's defying gravity. — C.R. Beck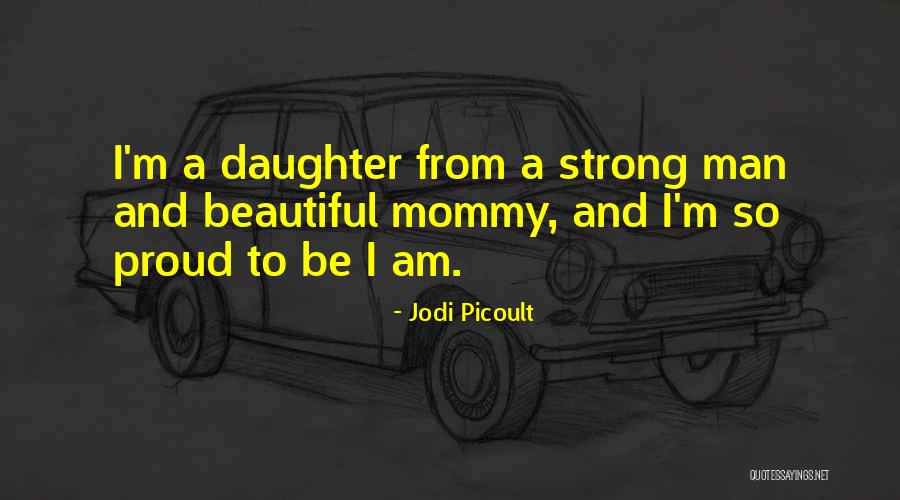 I'm a daughter from a strong man and beautiful mommy, and I'm so proud to be I am. — Jodi Picoult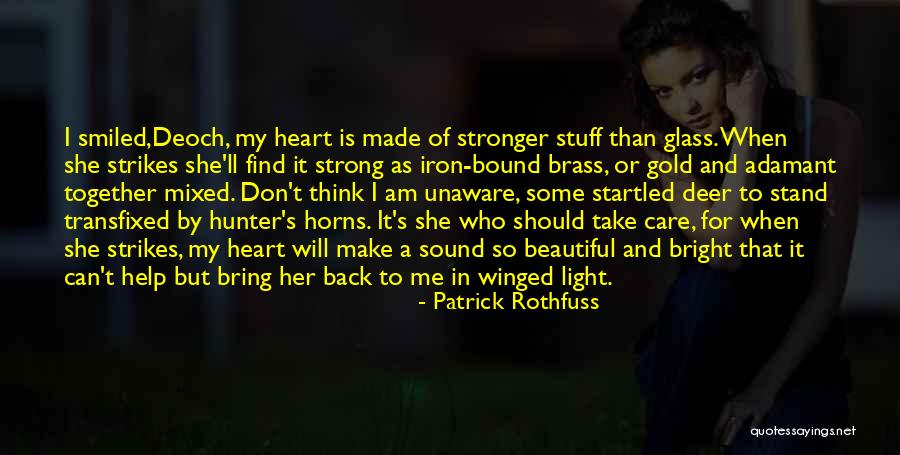 I smiled,Deoch, my heart is made of stronger stuff than glass. When she strikes she'll find it strong as iron-bound brass, or gold and adamant together mixed. Don't think I am unaware, some startled deer to stand transfixed by hunter's horns. It's she who should take care, for when she strikes, my heart will make a sound so beautiful and bright that it can't help but bring her back to me in winged light. — Patrick Rothfuss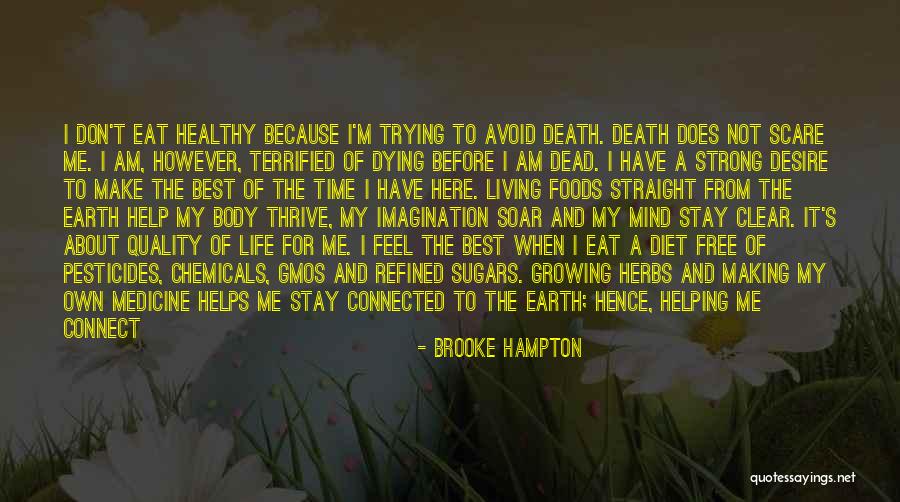 I don't eat healthy because I'm trying to avoid death. Death does not scare me. I am, however, terrified of dying before I am dead. I have a strong desire to make the best of the time I have here.
Living foods straight from the Earth help my body thrive, my imagination soar and my mind stay clear. It's about quality of life for me. I feel the best when I eat a diet free of pesticides, chemicals, GMOs and refined sugars.
Growing herbs and making my own medicine helps me stay connected to the Earth; hence, helping me connect with my true purpose here.

I have work to do here! I choose to leave this planet more beautiful than I found it and eating magical foods gives me the energy and inspiration I need to do my work. — Brooke Hampton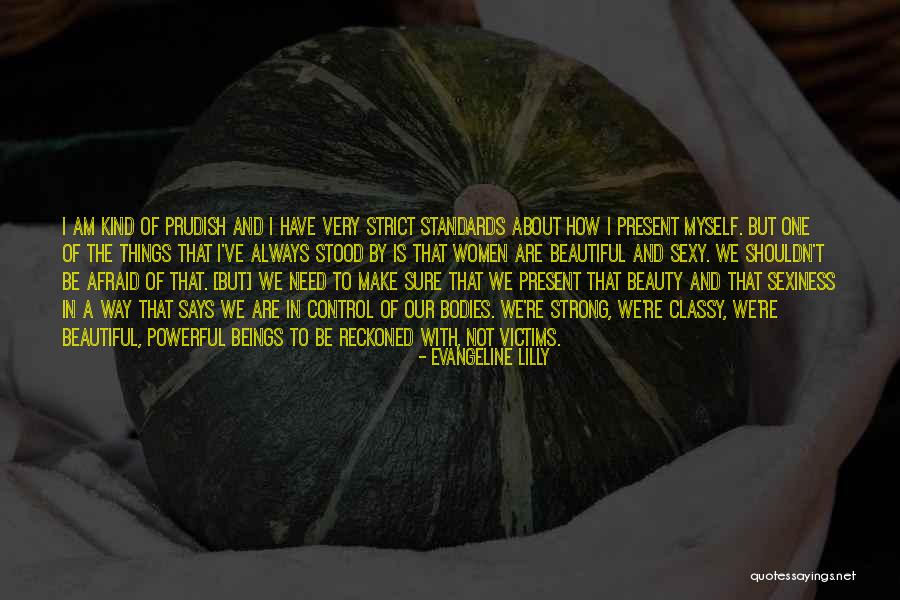 I am kind of prudish and I have very strict standards about how I present myself. But one of the things that I've always stood by is that women are beautiful and sexy. We shouldn't be afraid of that. [But] we need to make sure that we present that beauty and that sexiness in a way that says we are in control of our bodies. We're strong, we're classy, we're beautiful, powerful beings to be reckoned with, not victims. — Evangeline Lilly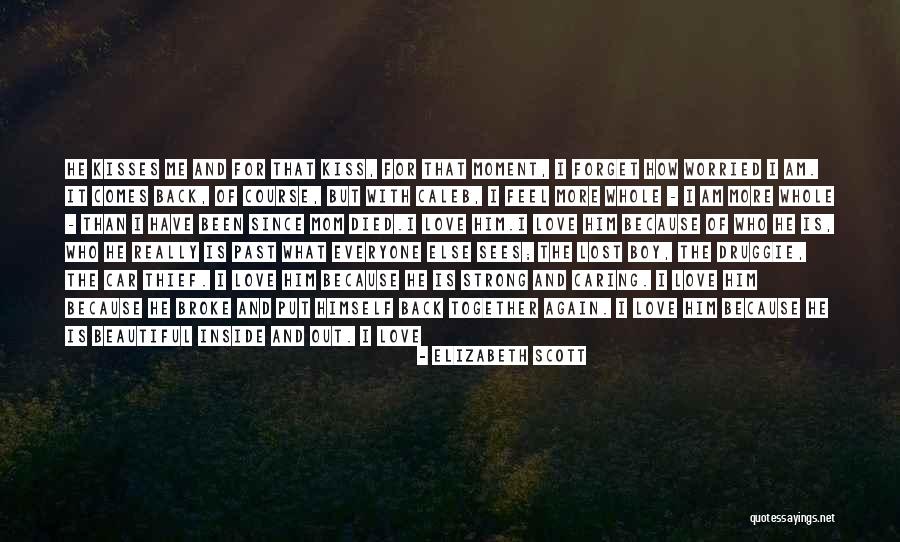 He kisses me and for that kiss, for that moment, I forget how worried I am. It comes back, of course, but with Caleb, I feel more whole - I am more whole - than I have been since Mom died.
I love him.
I love him because of who he is, who he really is past what everyone else sees; the lost boy, the druggie, the car thief. I love him because he is strong and caring. I love him because he broke and put himself back together again. I love him because he is beautiful inside and out.
I love him for being here with me. I love him for not telling me that everything will be all right. I love him because he knows what life is like, what it can do, and is always honest about it. — Elizabeth Scott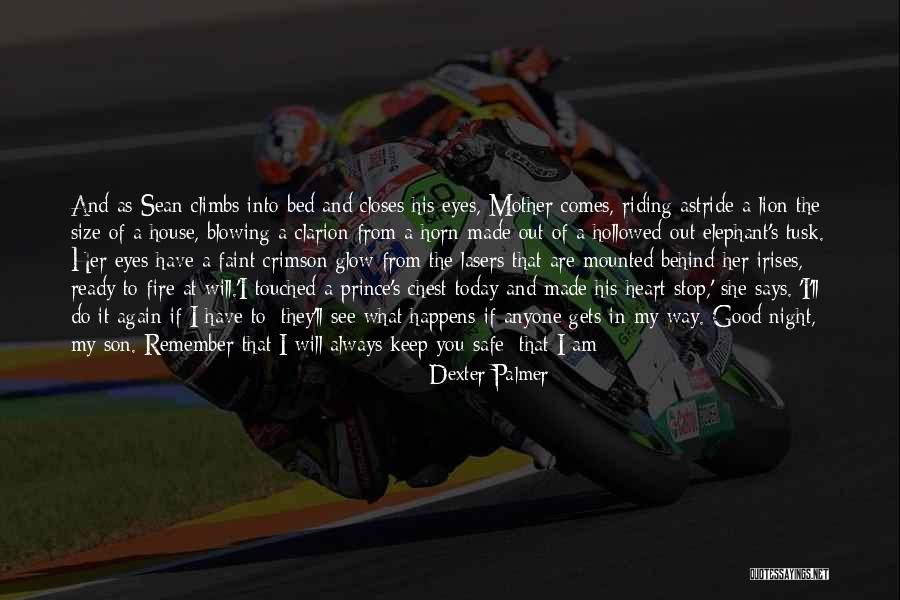 And as Sean climbs into bed and closes his eyes, Mother comes, riding astride a lion the size of a house, blowing a clarion from a horn made out of a hollowed-out elephant's tusk. Her eyes have a faint crimson glow from the lasers that are mounted behind her irises, ready to fire at will.

'I touched a prince's chest today and made his heart stop,' she says. 'I'll do it again if I have to: they'll see what happens if anyone gets in my way. Good night, my son. Remember that I will always keep you safe; that I am always everywhere and always here.'

'Good night, Mom,' Sean says, and falls asleep.

And Mother recedes, wise and beautiful and strong, a genius and a hero, a punisher of thieves and a slayer of wicked men, to watch over her son in all her different versions. — Dexter Palmer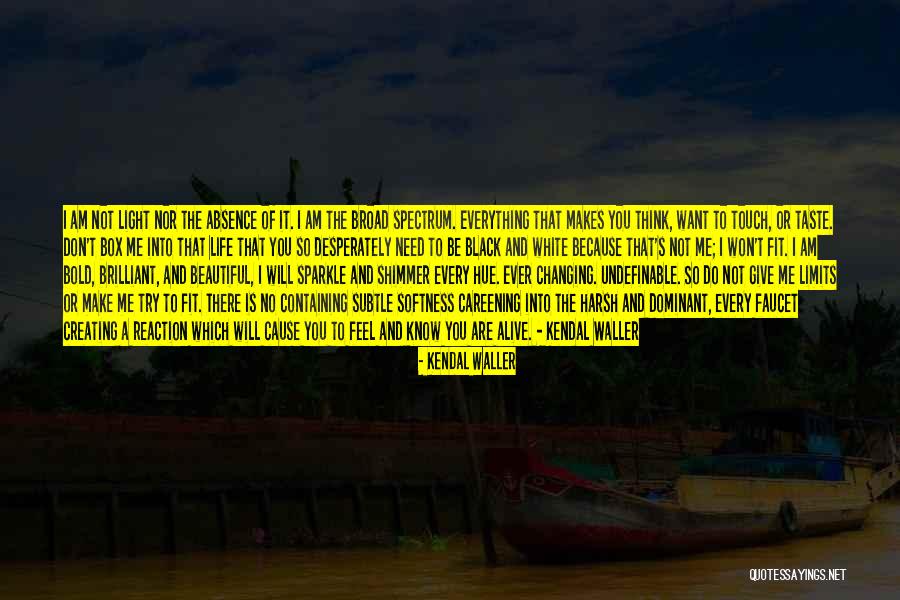 I am not light nor the absence of it. I am the broad spectrum. Everything that makes you think, want to touch, or taste. Don't box me into that life that you so desperately need to be black and white because that's not me; I won't fit. I am bold, brilliant, and beautiful, I will sparkle and shimmer every hue. Ever changing. Undefinable. So do not give me limits or make me try to fit. There is no containing subtle softness careening into the harsh and dominant, every faucet creating a reaction which will cause you to feel and know you are alive. - Kendal Waller — Kendal Waller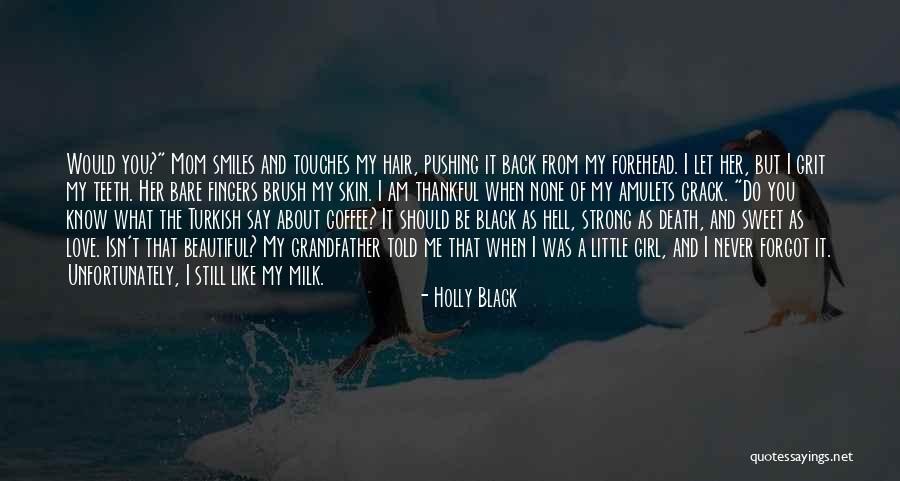 Would you?" Mom smiles and touches my hair, pushing it back from my forehead. I let her, but I grit my teeth. Her bare fingers brush my skin. I am thankful when none of my amulets crack. "Do you know what the Turkish say about coffee? It should be black as hell, strong as death, and sweet as love. Isn't that beautiful? My grandfather told me that when I was a little girl, and I never forgot it. Unfortunately, I still like my milk. — Holly Black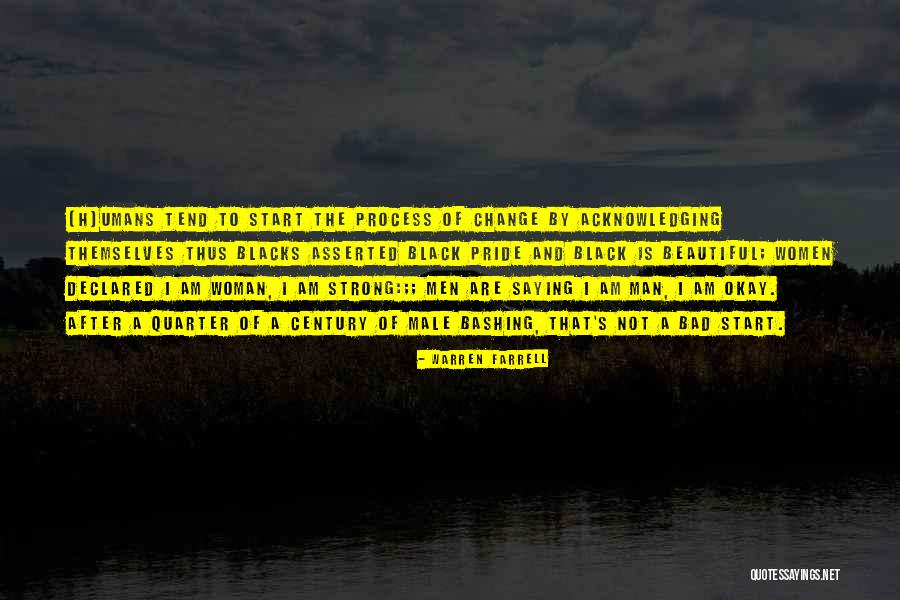 [H]umans tend to start the process of change by acknowledging themselves thus blacks asserted black pride and black is beautiful; women declared I am woman, I am strong:;; men are saying I am man, I am okay. After a quarter of a century of male bashing, that's not a bad start. — Warren Farrell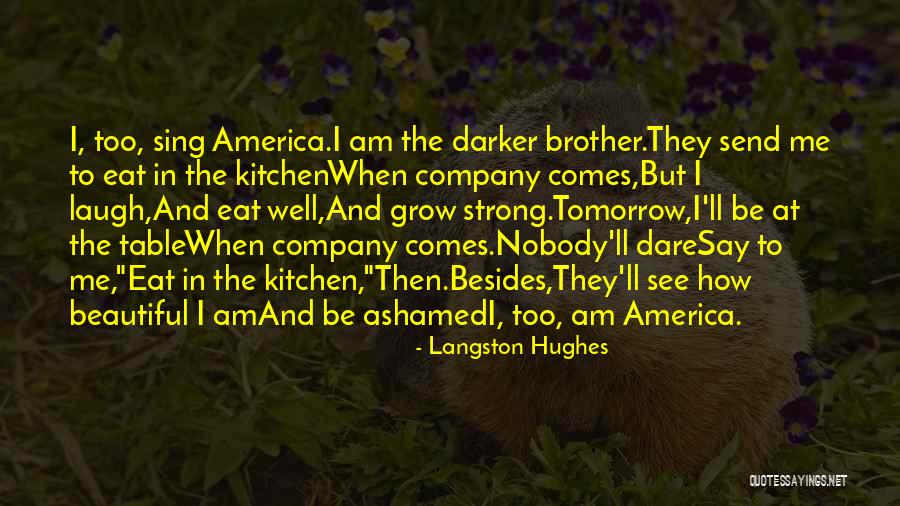 I, too, sing America.
I am the darker brother.
They send me to eat in the kitchen
When company comes,
But I laugh,
And eat well,
And grow strong.
Tomorrow,
I'll be at the table
When company comes.
Nobody'll dare
Say to me,
"Eat in the kitchen,"
Then.
Besides,
They'll see how beautiful I am
And be ashamed
I, too, am America. — Langston Hughes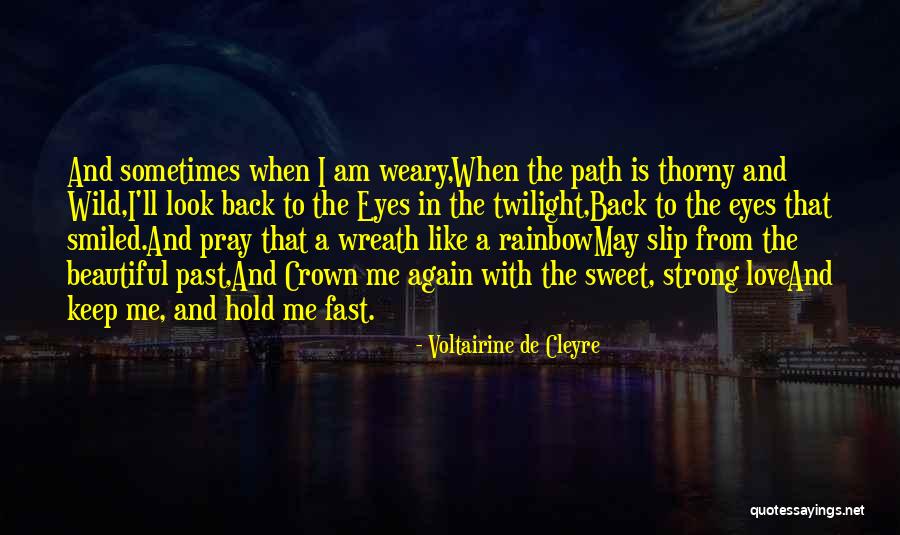 And sometimes when I am weary,
When the path is thorny and Wild,
I'll look back to the Eyes in the twilight,
Back to the eyes that smiled.
And pray that a wreath like a rainbow
May slip from the beautiful past,
And Crown me again with the sweet, strong love
And keep me, and hold me fast. — Voltairine De Cleyre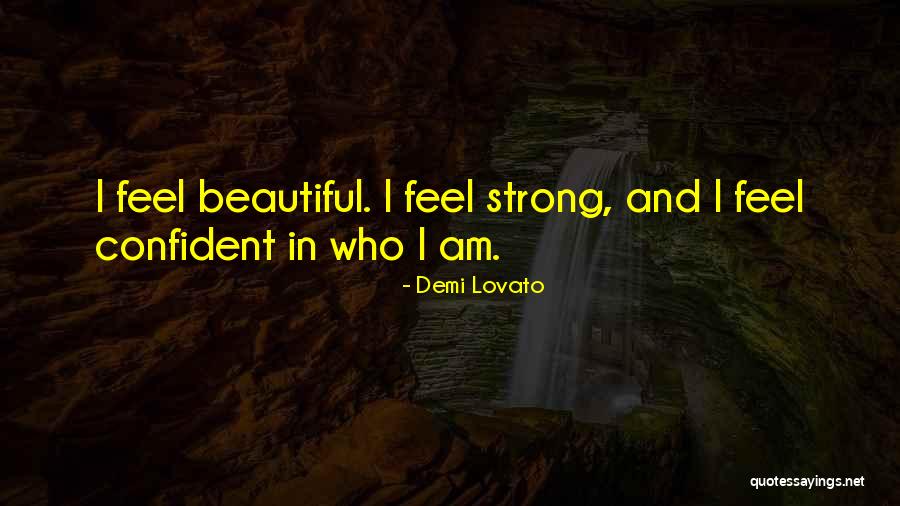 I feel beautiful. I feel strong, and I feel confident in who I am. — Demi Lovato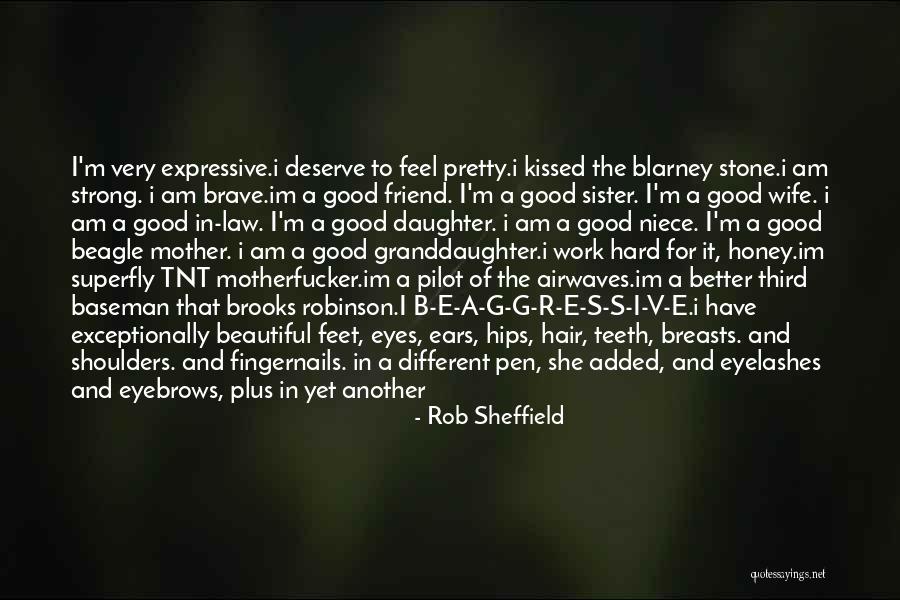 I'm very expressive.
i deserve to feel pretty.
i kissed the blarney stone.
i am strong. i am brave.
im a good friend. I'm a good sister. I'm a good wife. i am a good in-law. I'm a good daughter. i am a good niece. I'm a good beagle mother. i am a good granddaughter.
i work hard for it, honey.
im superfly TNT motherfucker.
im a pilot of the airwaves.
im a better third baseman that brooks robinson.
I B-E-A-G-G-R-E-S-S-I-V-E.
i have exceptionally beautiful feet, eyes, ears, hips, hair, teeth, breasts. and shoulders. and fingernails. in a different pen, she added, and eyelashes and eyebrows, plus in yet another pen, and nose. and chin. — Rob Sheffield
Beautiful people are blessed by god and those who love them.
Beautiful people are loved by everyone.
Beautiful people love and Forgive.
Beautiful people don't Sin by heart.
Beautiful people are beautiful from within.
I am Beautiful, Strong and Proud Forever..! — Chitralekha Rathore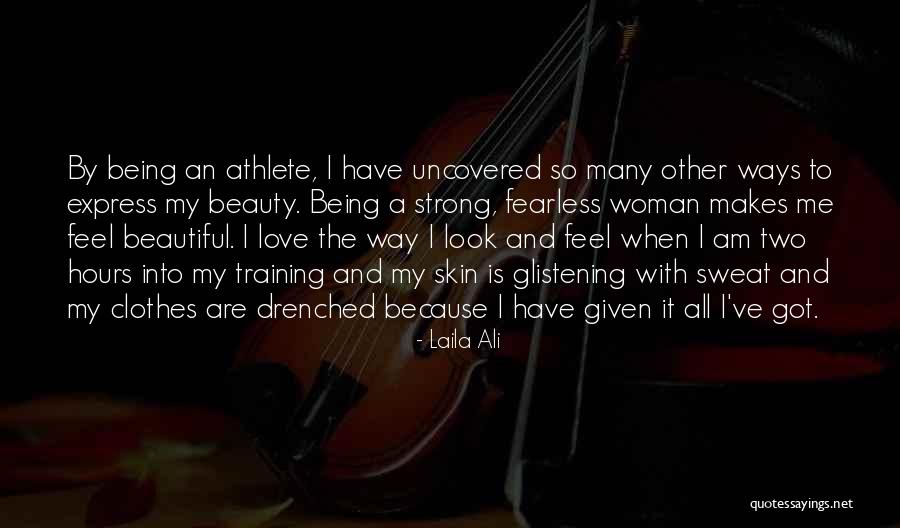 By being an athlete, I have uncovered so many other ways to express my beauty. Being a strong, fearless woman makes me feel beautiful. I love the way I look and feel when I am two hours into my training and my skin is glistening with sweat and my clothes are drenched because I have given it all I've got. — Laila Ali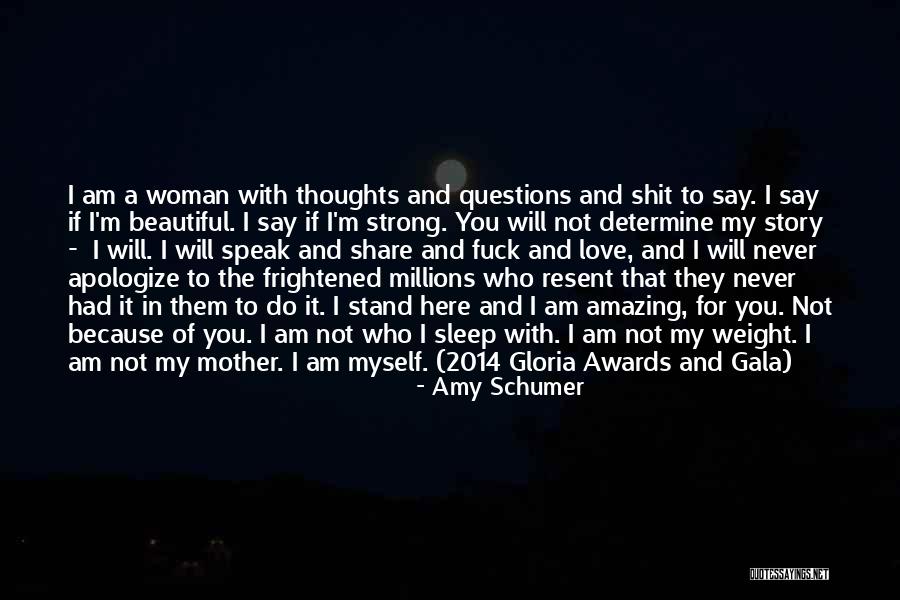 I am a woman with thoughts and questions and shit to say. I say if I'm beautiful. I say if I'm strong. You will not determine my story - I will. I will speak and share and fuck and love, and I will never apologize to the frightened millions who resent that they never had it in them to do it. I stand here and I am amazing, for you. Not because of you. I am not who I sleep with. I am not my weight. I am not my mother. I am myself. (2014 Gloria Awards and Gala) — Amy Schumer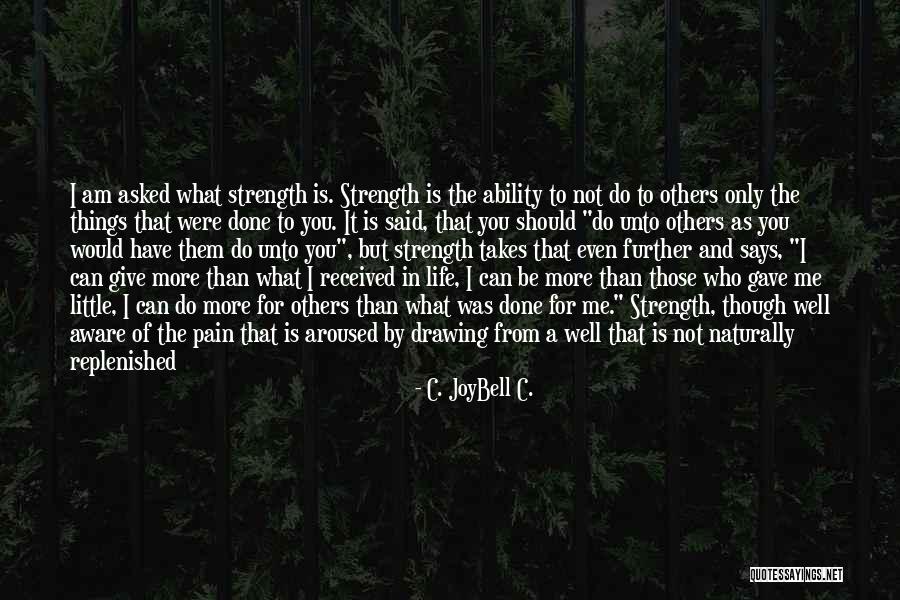 I am asked what strength is. Strength is the ability to not do to others only the things that were done to you. It is said, that you should "do unto others as you would have them do unto you", but strength takes that even further and says, "I can give more than what I received in life, I can be more than those who gave me little, I can do more for others than what was done for me." Strength, though well aware of the pain that is aroused by drawing from a well that is not naturally replenished by others, continues to replenish that well so that it may draw from those beautiful innate waters, so that it may give to others even those things that were not given unto it. — C. JoyBell C.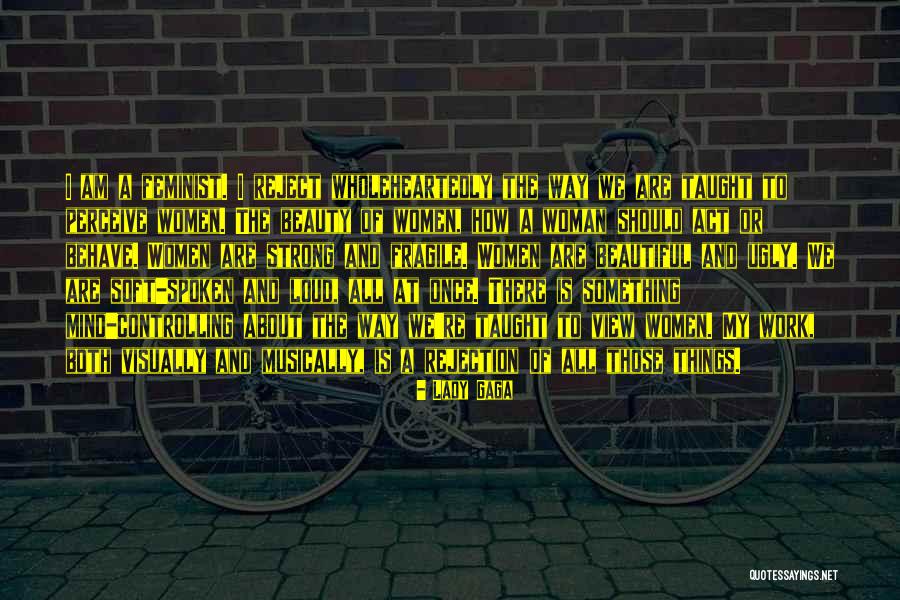 I am a feminist. I reject wholeheartedly the way we are taught to perceive women. The beauty of women, how a woman should act or behave. Women are strong and fragile. Women are beautiful and ugly. We are soft-spoken and loud, all at once. There is something mind-controlling about the way we're taught to view women. My work, both visually and musically, is a rejection of all those things. — Lady Gaga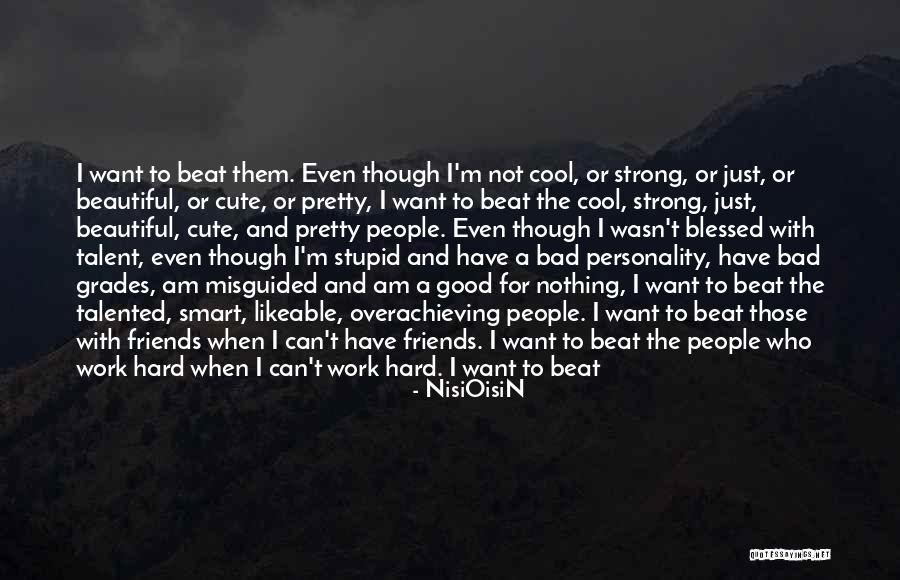 I want to beat them. Even though I'm not cool, or strong, or just, or beautiful, or cute, or pretty, I want to beat the cool, strong, just, beautiful, cute, and pretty people. Even though I wasn't blessed with talent, even though I'm stupid and have a bad personality, have bad grades, am misguided and am a good for nothing, I want to beat the talented, smart, likeable, overachieving people. I want to beat those with friends when I can't have friends. I want to beat the people who work hard when I can't work hard. I want to beat the the victorious people when I can't win. I want to beat the happy people when I'm miserable. Even if I'm hated, even if I'm despised, even if I'm useless, I want to prove that I'm better than the main characters! — NisiOisiN
Not that I'm bipolar, but that I'm two people, and not just two people, but two people at odds with each other. The mom and the kid, the homebody and the explorer, the strong and the weak, the logical and the emotional, the funny and the sad, the angry and the calm, the open and the closed, the loved and the hated, the hot and the cold, the alive and the dead, the beautiful and the ugly. It's exhausting. I. Am. Exhausting. — Stacey Turis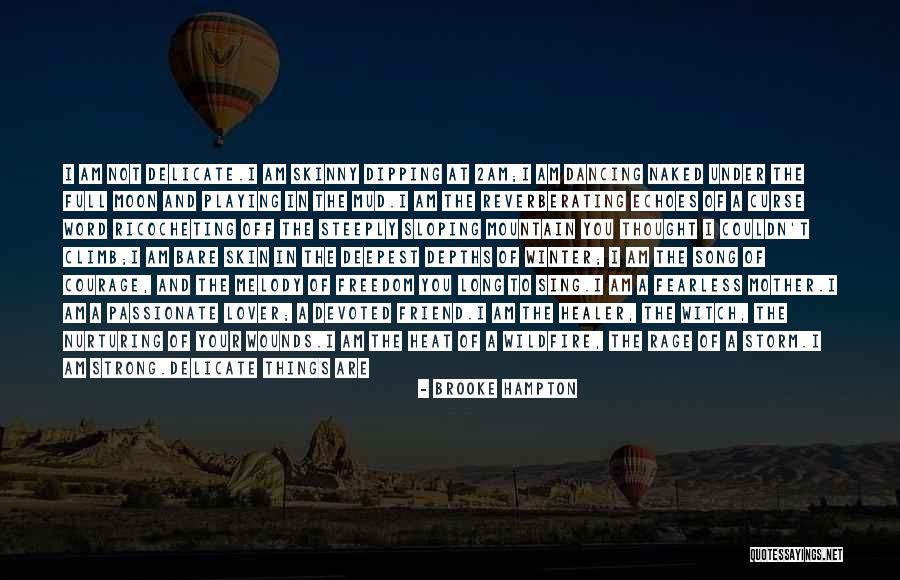 I am not delicate.
I am skinny dipping at 2am;
I am dancing naked under the full moon and playing in the mud.
I am the reverberating echoes of a curse word ricocheting off the steeply sloping mountain you thought I couldn't climb;
I am bare skin in the deepest depths of winter; I am the song of courage, and the melody of freedom you long to sing.
I am a fearless mother.
I am a passionate lover; a devoted friend.
I am the healer, the witch, the nurturing of your wounds.
I am the heat of a wildfire, the rage of a storm.
I am strong.
Delicate things are pretty-cute, even.
But I am not delicate.
I am wild, fierce and unpredictable.
I am breathtaking.
I am beautiful.
I am sacred. — Brooke Hampton