Human Vs Animal Quotes & Sayings
Enjoy reading and share 32 famous quotes about Human Vs Animal with everyone.
Top Human Vs Animal Quotes
It is beyond doubt that the chief motive of Vegetarianism is the humane one. Questions of hygiene and of economy both play their part, and an important part, in a full discussion of food reform; but the feeling which underlies and animates the whole movement is the instinctive horror of butchery, especially the butchery of the more highly organized animals, so human, so near akin to man. — Henry Stephens Salt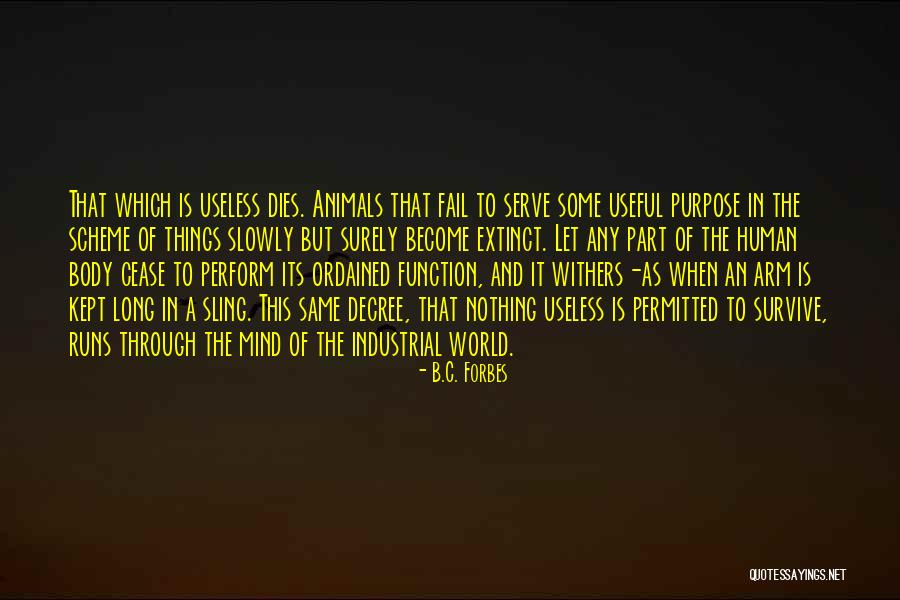 That which is useless dies. Animals that fail to serve some useful purpose in the scheme of things slowly but surely become extinct. Let any part of the human body cease to perform its ordained function, and it withers-as when an arm is kept long in a sling. This same decree, that nothing useless is permitted to survive, runs through the mind of the industrial world. — B.C. Forbes
John Burroughs has stated that experimental study of animals in captivity is absolutely useless. Their character, their habits, their appetites undergo a complete transformation when torn from their soil in field and forest. With human nature caged in a narrow space, whipped daily into submission, how can we speak of its potentialities? — Emma Goldman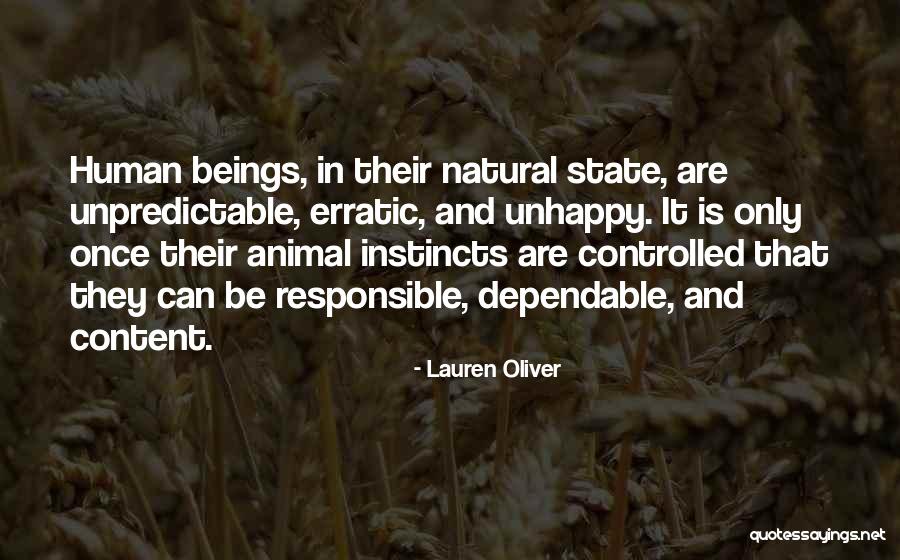 Human beings, in their natural state, are unpredictable, erratic, and unhappy. It is only once their animal instincts are controlled that they can be responsible, dependable, and content. — Lauren Oliver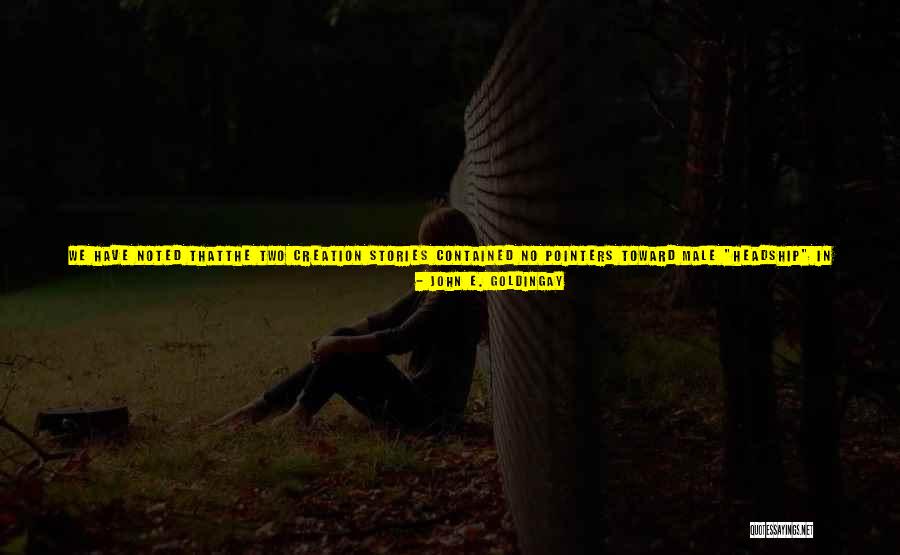 We have noted thatthe two creation stories contained no pointers toward male "headship" in the sense that men or husbands are supposed to exercise authority or leadership over women or wives. But the audience of Genesis knew that patriarchy was a reality of life. Genesis here tells them how this came to be. Male authority or domination was not God's design but a consequence of a breakdown in relationship between humanity and God, between humanity and the animal world, and between human beings and one another. From now on, the Bible will assume the reality of patriarchy and of male headship, but it begins by noting that this came about only as a result of those various breakdowns of relationship. — John E. Goldingay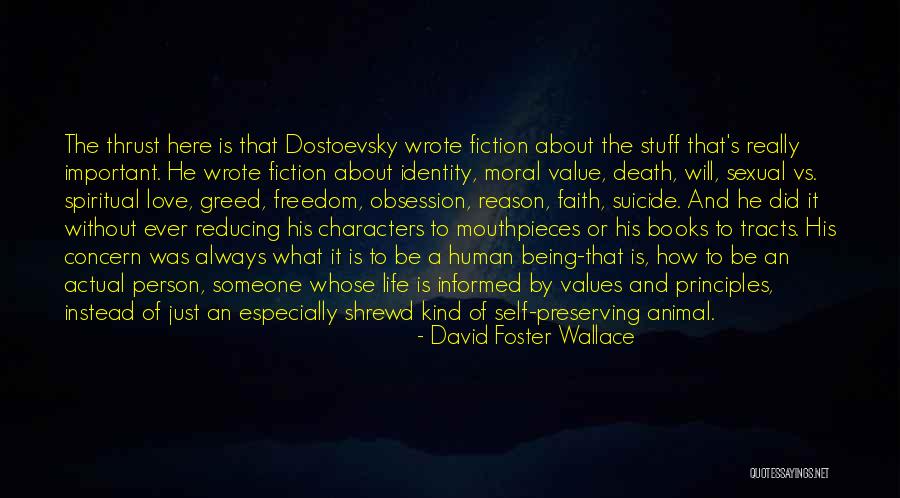 The thrust here is that Dostoevsky wrote fiction about the stuff that's really important. He wrote fiction about identity, moral value, death, will, sexual vs. spiritual love, greed, freedom, obsession, reason, faith, suicide. And he did it without ever reducing his characters to mouthpieces or his books to tracts. His concern was always what it is to be a human being-that is, how to be an actual person, someone whose life is informed by values and principles, instead of just an especially shrewd kind of self-preserving animal. — David Foster Wallace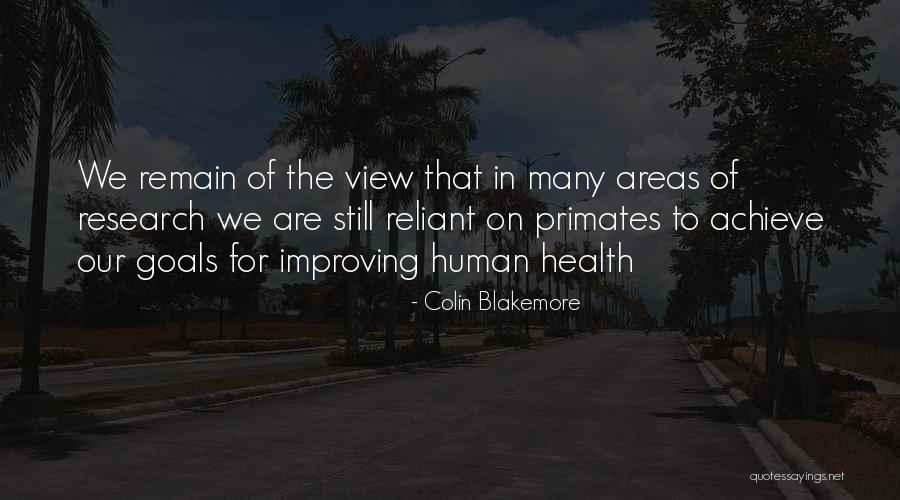 We remain of the view that in many areas of research we are still reliant on primates to achieve our goals for improving human health — Colin Blakemore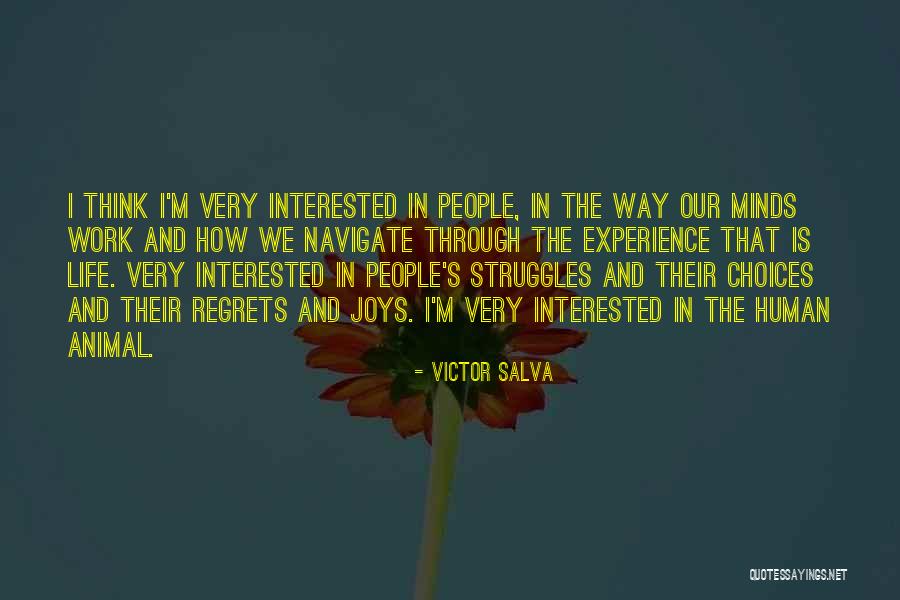 I think I'm very interested in people, in the way our minds work and how we navigate through the experience that is life. Very interested in people's struggles and their choices and their regrets and joys. I'm very interested in the human animal. — Victor Salva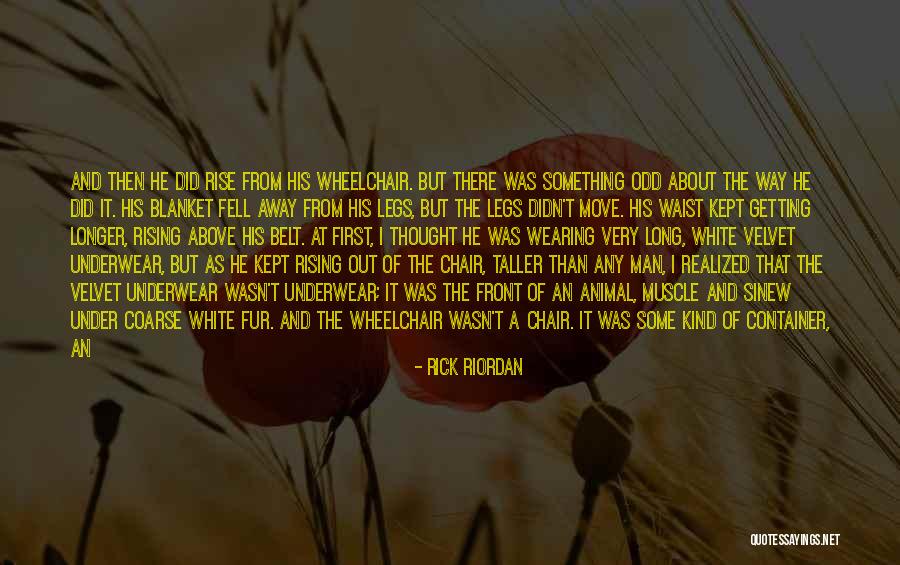 And then he did rise from his wheelchair. But there was something odd about the way he did it. His blanket fell away from his legs, but the legs didn't move. His waist kept getting longer, rising above his belt. At first, I thought he was wearing very long, white velvet underwear, but as he kept rising out of the chair, taller than any man, I realized that the velvet underwear wasn't underwear; it was the front of an animal, muscle and sinew under coarse white fur. And the wheelchair wasn't a chair. It was some kind of container, an enormous box on wheels, and it must've been magic, because there's no way it could've held all of him. A leg came out, long and knobby-kneed, with a huge polished hoof. Then another front leg, then hindquarters, and then the box was empty, nothing but a metal shell with a couple of fake human legs attached. — Rick Riordan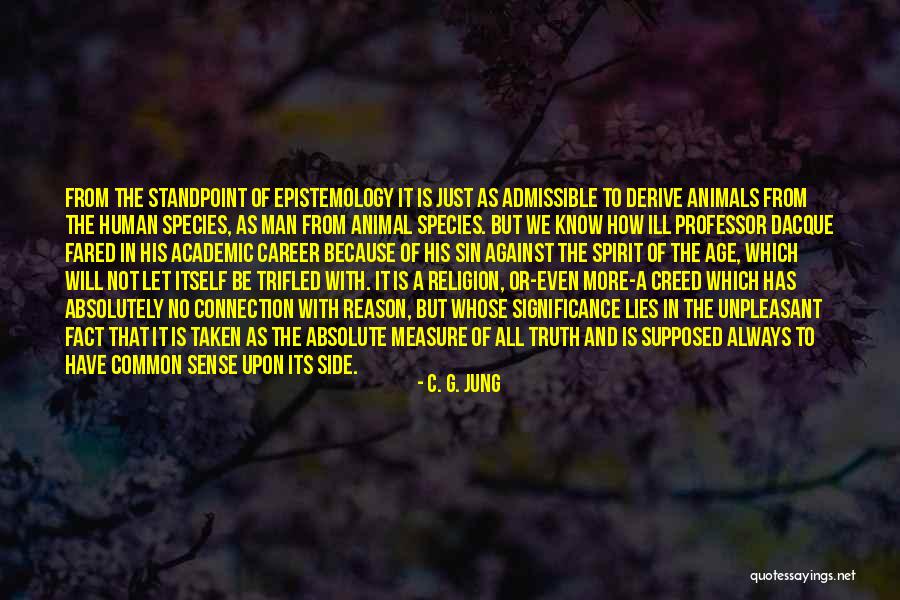 From the standpoint of epistemology it is just as admissible to derive animals from the human species, as man from animal species. But we know how ill Professor Dacque fared in his academic career because of his sin against the spirit of the age, which will not let itself be trifled with. It is a religion, or-even more-a creed which has absolutely no connection with reason, but whose significance lies in the unpleasant fact that it is taken as the absolute measure of all truth and is supposed always to have common sense upon its side. — C. G. Jung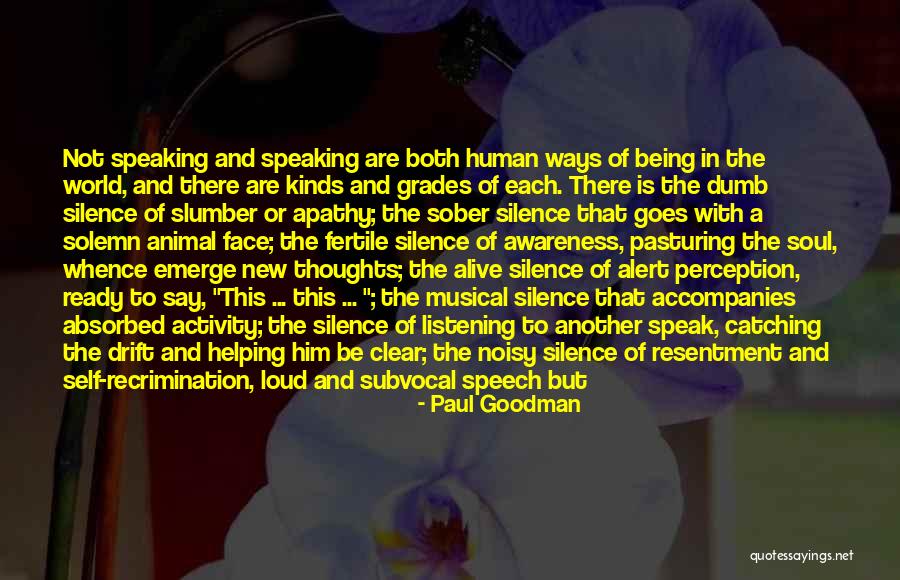 Not speaking and speaking are both human ways of being in the world, and there are kinds and grades of each. There is the dumb silence of slumber or apathy; the sober silence that goes with a solemn animal face; the fertile silence of awareness, pasturing the soul, whence emerge new thoughts; the alive silence of alert perception, ready to say, "This ... this ... "; the musical silence that accompanies absorbed activity; the silence of listening to another speak, catching the drift and helping him be clear; the noisy silence of resentment and self-recrimination, loud and subvocal speech but sullen to say it; baffled silence; the silence of peaceful accord with other persons or communion with the cosmos. — Paul Goodman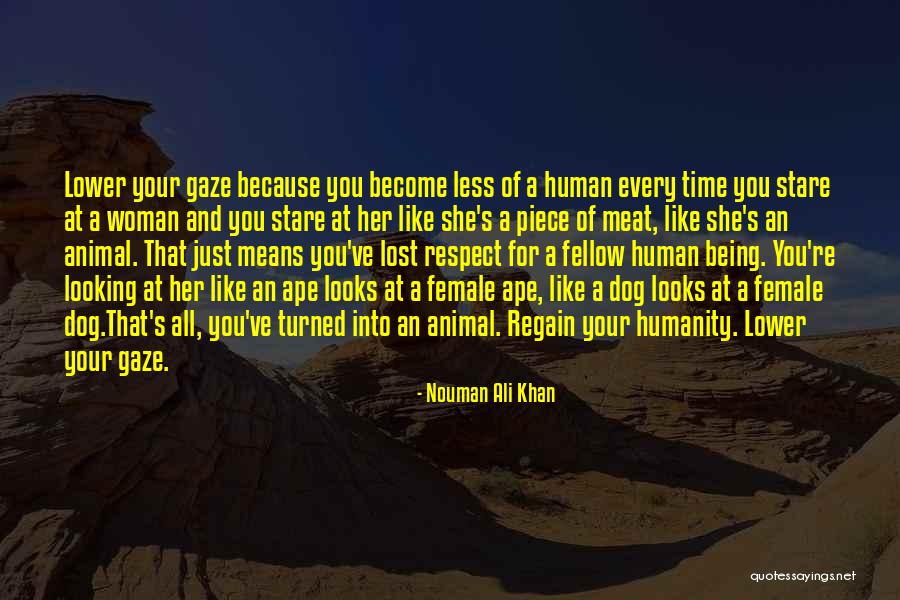 Lower your gaze because you become less of a human every time you stare at a woman and you stare at her like she's a piece of meat, like she's an animal. That just means you've lost respect for a fellow human being. You're looking at her like an ape looks at a female ape, like a dog looks at a female dog.That's all, you've turned into an animal. Regain your humanity. Lower your gaze. — Nouman Ali Khan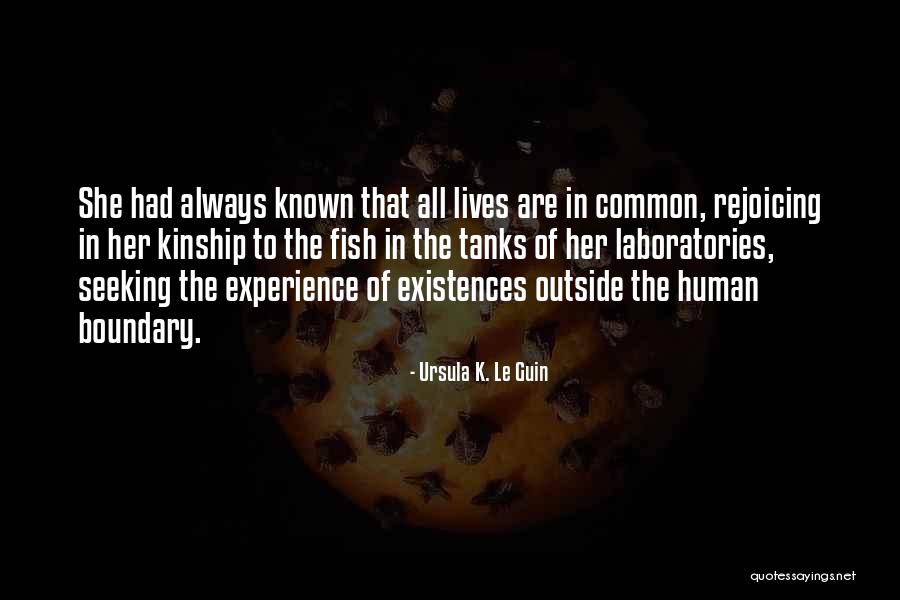 She had always known that all lives are in common, rejoicing in her kinship to the fish in the tanks of her laboratories, seeking the experience of existences outside the human boundary. — Ursula K. Le Guin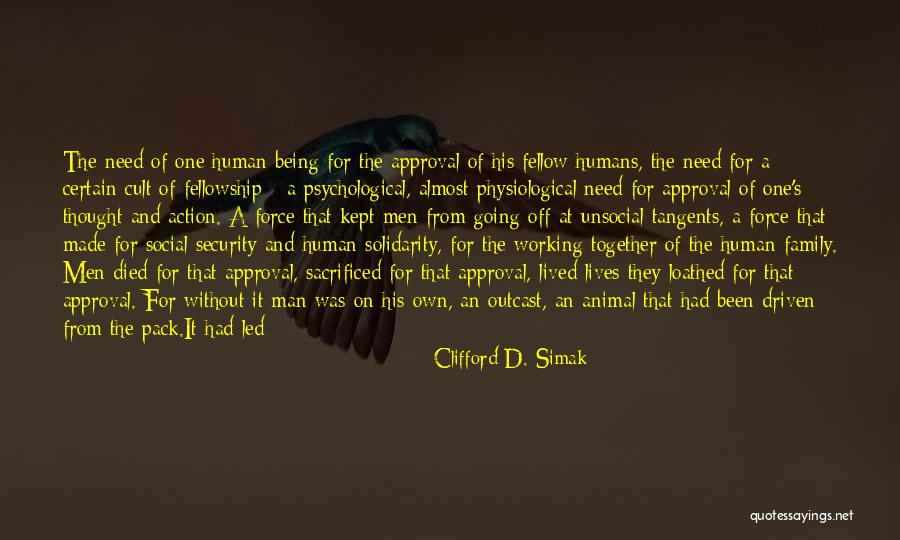 The need of one human being for the approval of his fellow humans, the need for a certain cult of fellowship - a psychological, almost physiological need for approval of one's thought and action. A force that kept men from going off at unsocial tangents, a force that made for social security and human solidarity, for the working together of the human family.
Men died for that approval, sacrificed for that approval, lived lives they loathed for that approval. For without it man was on his own, an outcast, an animal that had been driven from the pack.
It had led to terrible things, of course - to mob psychology, to racial persecution, to mass atrocities in the name of patriotism or religion. But likewise it had been the sizing that held the race together, the thing that from the very start had made human society possible.
And Joe didn't have it. Joe didn't give a damn. He didn't care what anyone thought of him. He didn't care whether anyone approved or not. — Clifford D. Simak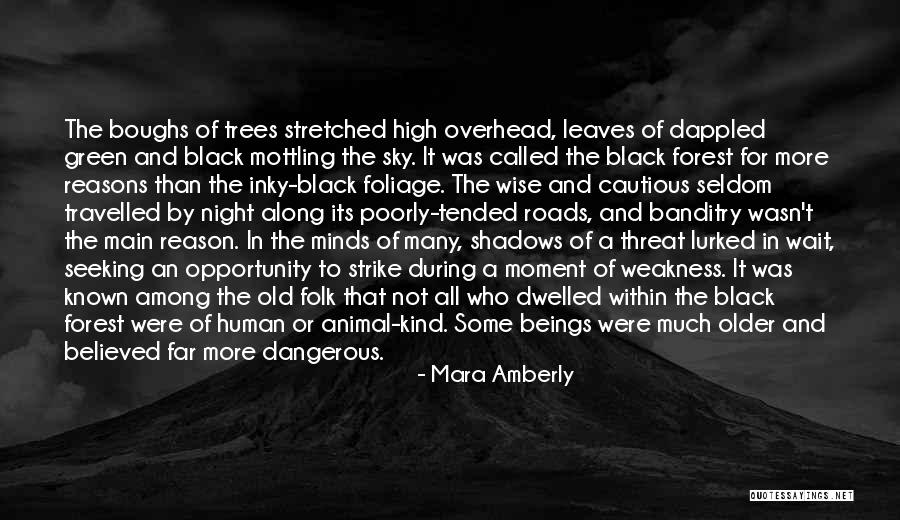 The boughs of trees stretched high overhead, leaves of dappled green and black mottling the sky. It was called the black forest for more reasons than the inky-black foliage. The wise and cautious seldom travelled by night along its poorly-tended roads, and banditry wasn't the main reason. In the minds of many, shadows of a threat lurked in wait, seeking an opportunity to strike during a moment of weakness. It was known among the old folk that not all who dwelled within the black forest were of human or animal-kind. Some beings were much older and believed far more dangerous. — Mara Amberly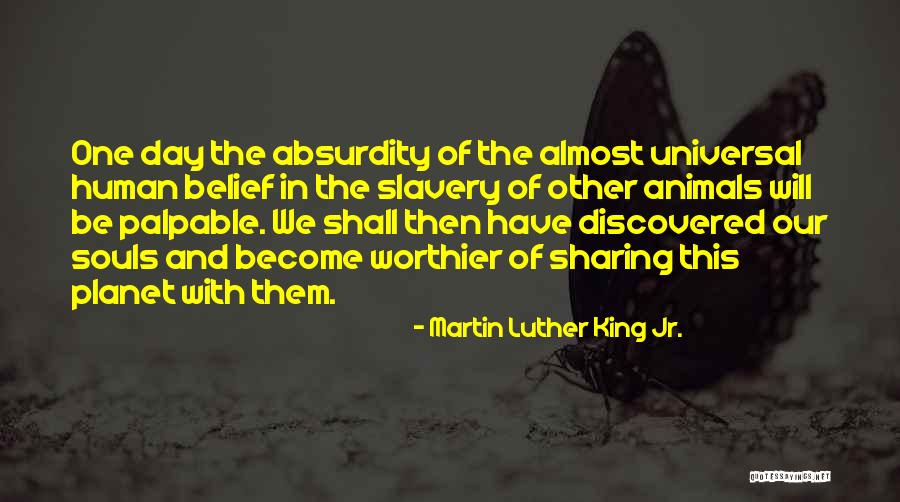 One day the absurdity of the almost universal human belief in the slavery of other animals will be palpable. We shall then have discovered our souls and become worthier of sharing this planet with them. — Martin Luther King Jr.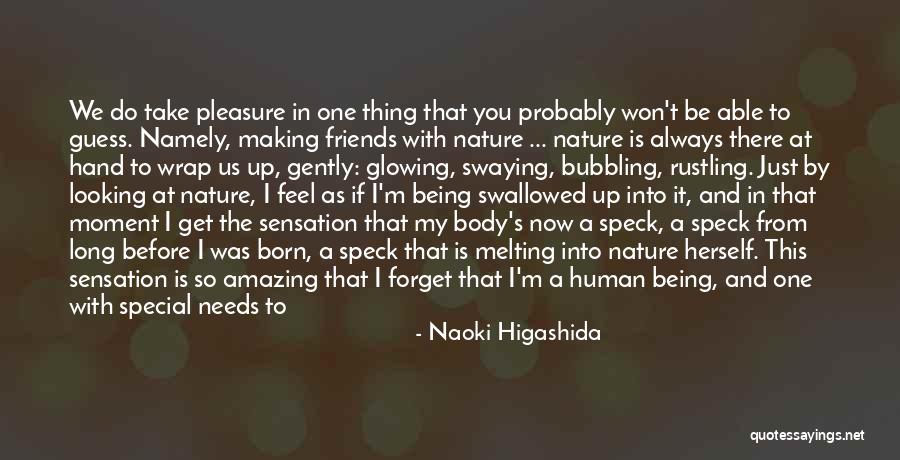 We do take pleasure in one thing that you probably won't be able to guess. Namely, making friends with nature ... nature is always there at hand to wrap us up, gently: glowing, swaying, bubbling, rustling.
Just by looking at nature, I feel as if I'm being swallowed up into it, and in that moment I get the sensation that my body's now a speck, a speck from long before I was born, a speck that is melting into nature herself. This sensation is so amazing that I forget that I'm a human being, and one with special needs to boot.
Nature calms me down when I'm furious, and laughs with me when I'm happy. You might think that it's not possible that nature could be a friend, not really. But human beings are part of the animal kingdom too, and perhaps us people with autism still have some left-over awareness of this, buried somewhere deep down. I'll always cherish that part of me that thinks of nature as a friend. — Naoki Higashida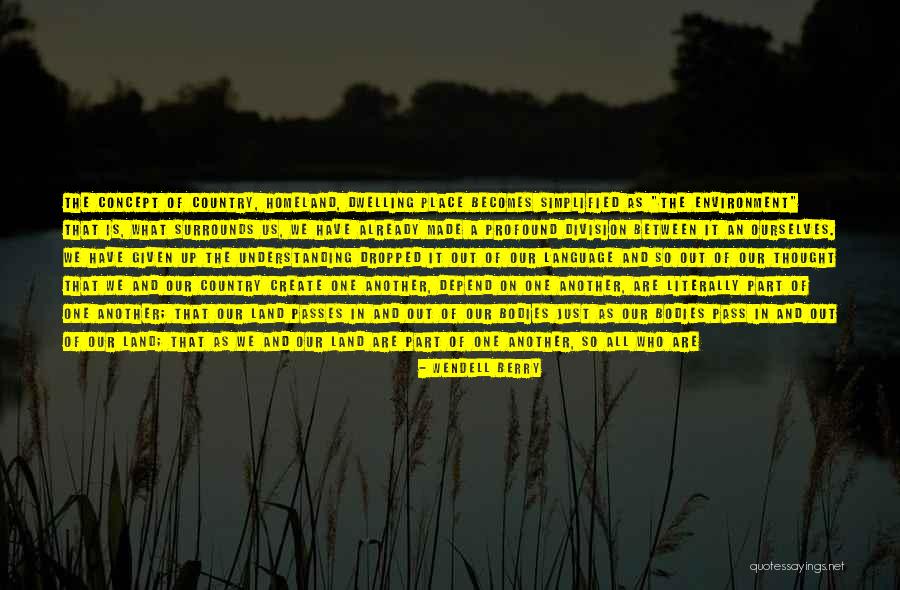 The concept of country, homeland, dwelling place becomes simplified as "the environment"
that is, what surrounds us, we have already made a profound division between it an ourselves. We have given up the understanding
dropped it out of our language and so out of our thought
that we and our country create one another, depend on one another, are literally part of one another; that our land passes in and out of our bodies just as our bodies pass in and out of our land; that as we and our land are part of one another, so all who are living as neighbors here, human and plant and animal, are part of one another, and so cannot possibly flourish alone; that, therefore, our culture must be our response to our place, our culture and our place are images of each other and inseparable from each other, and so neither can be better than they other. — Wendell Berry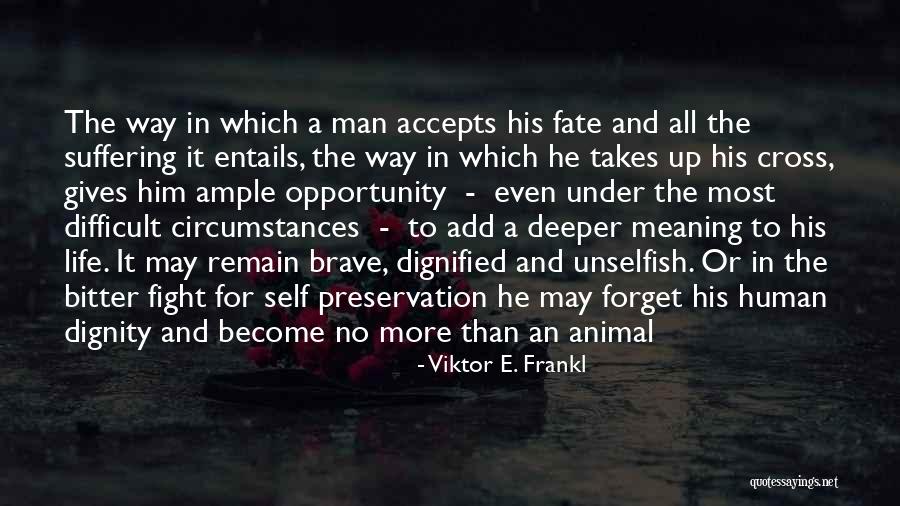 The way in which a man accepts his fate and all the suffering it entails, the way in which he takes up his cross, gives him ample opportunity - even under the most difficult circumstances - to add a deeper meaning to his life. It may remain brave, dignified and unselfish. Or in the bitter fight for self preservation he may forget his human dignity and become no more than an animal — Viktor E. Frankl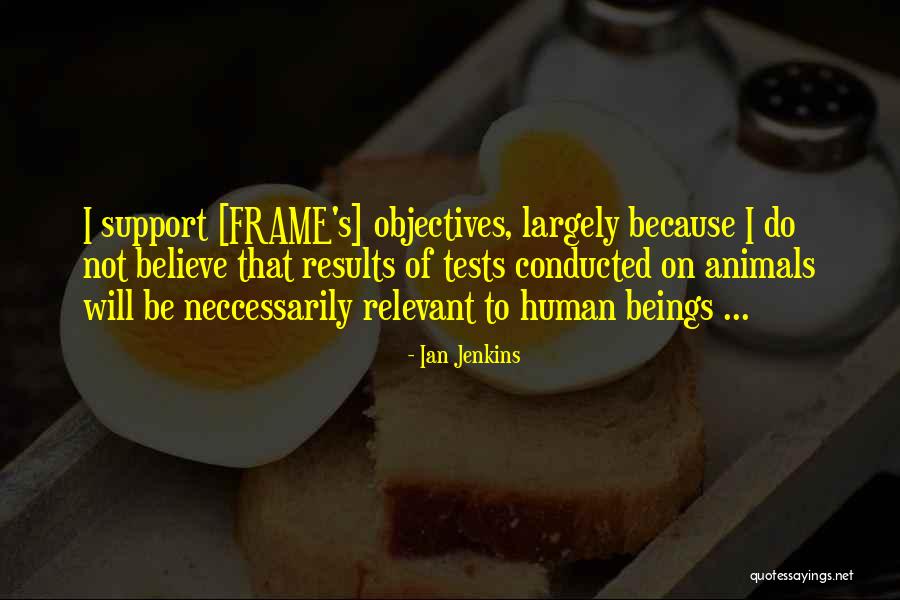 I support [FRAME's] objectives, largely because I do not believe that results of tests conducted on animals will be neccessarily relevant to human beings ... — Ian Jenkins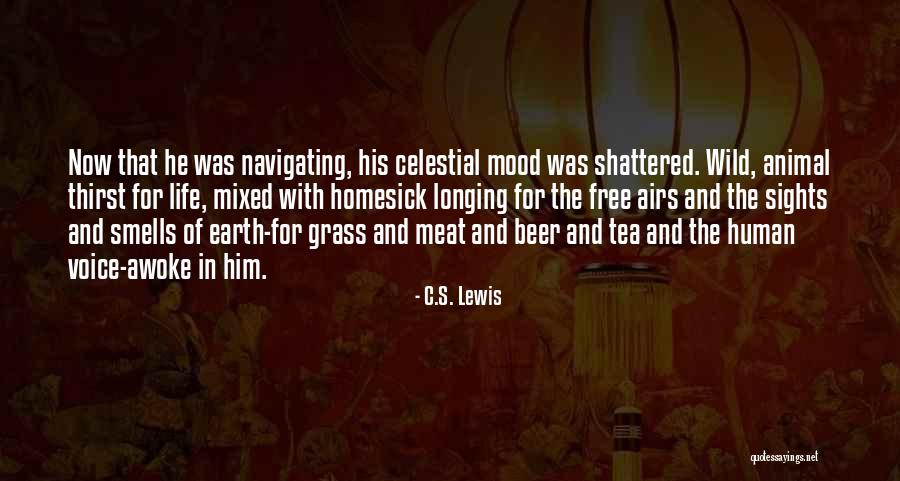 Now that he was navigating, his celestial mood was shattered. Wild, animal thirst for life, mixed with homesick longing for the free airs and the sights and smells of earth-for grass and meat and beer and tea and the human voice-awoke in him. — C.S. Lewis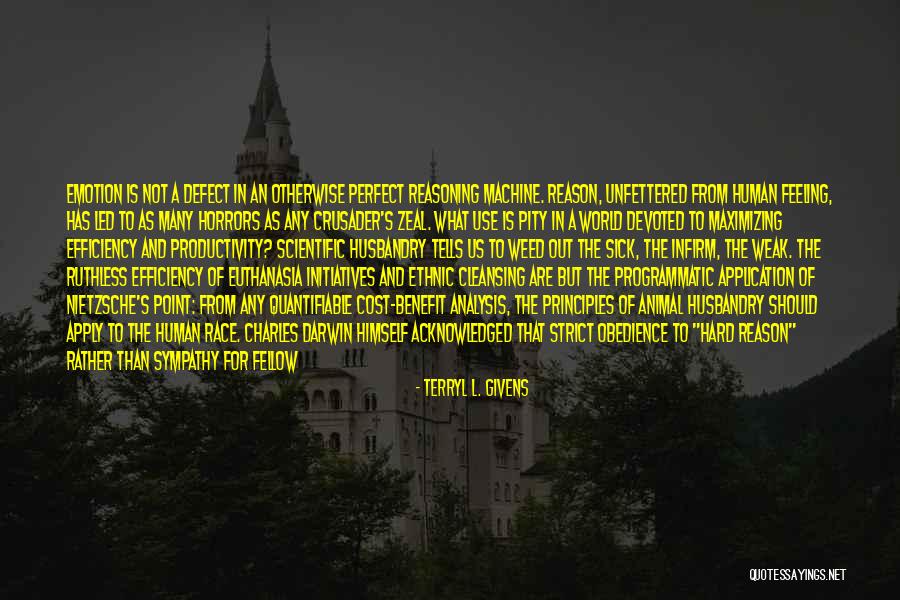 Emotion is not a defect in an otherwise perfect reasoning machine. Reason, unfettered from human feeling, has led to as many horrors as any crusader's zeal. What use is pity in a world devoted to maximizing efficiency and productivity? Scientific husbandry tells us to weed out the sick, the infirm, the weak. The ruthless efficiency of euthanasia initiatives and ethnic cleansing are but the programmatic application of Nietzsche's point: from any quantifiable cost-benefit analysis, the principles of animal husbandry should apply to the human race. Charles Darwin himself acknowledged that strict obedience to "hard reason" rather than sympathy for fellow humans would represent a sacrifice of "the noblest part of our nature."6 It is the human heart resonating with empathy, not the logical brain attuned to the mathematics of efficiency, that revolts at cruelty and inhumanity. In — Terryl L. Givens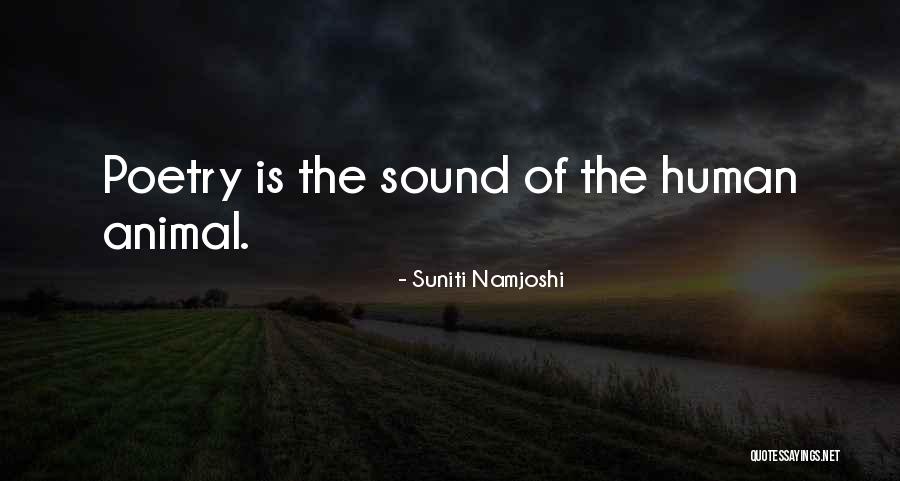 Poetry is the sound of the human animal. — Suniti Namjoshi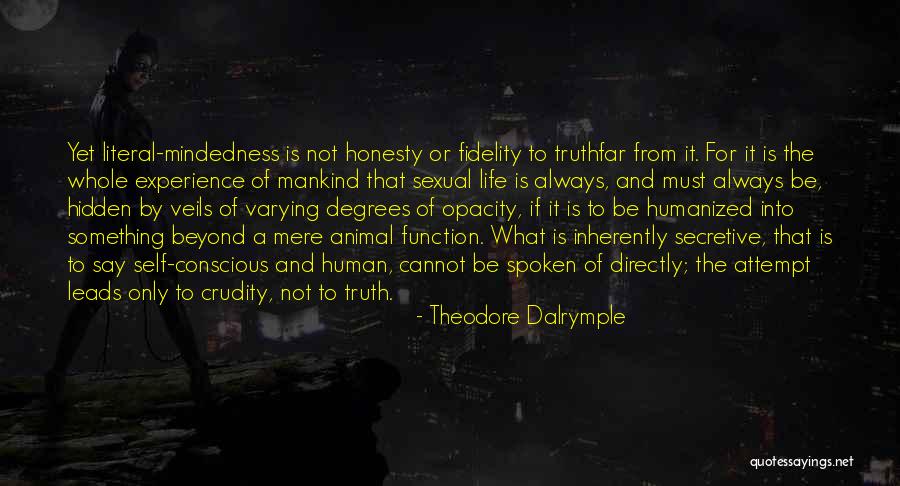 Yet literal-mindedness is not honesty or fidelity to truth
far from it. For it is the whole experience of mankind that sexual life is always, and must always be, hidden by veils of varying degrees of opacity, if it is to be humanized into something beyond a mere animal function. What is inherently secretive, that is to say self-conscious and human, cannot be spoken of directly; the attempt leads only to crudity, not to truth. — Theodore Dalrymple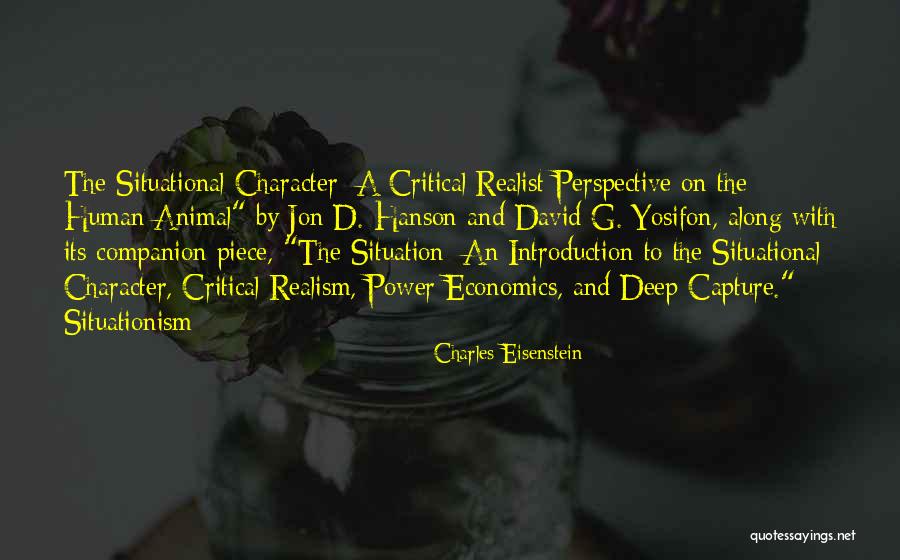 The Situational Character: A Critical Realist Perspective on the Human Animal" by Jon D. Hanson and David G. Yosifon, along with its companion piece, "The Situation: An Introduction to the Situational Character, Critical Realism, Power Economics, and Deep Capture." Situationism — Charles Eisenstein
What made this project especially remarkable is that, among the many associations that are relevant to diet and disease, so many pointed to the same finding: people who ate the most animal-based foods got the most chronic disease. Even relatively small intakes of animal-based food were associated with adverse effects. People who ate the most plant-based foods were the healthiest and tended to avoid chronic disease. These results could not be ignored. From the initial experimental animal studies on animal protein effects to this massive human study on dietary patterns, the findings proved to be consistent. The health implications of consuming either animal or plant-based nutrients were remarkably different. — T. Colin Campbell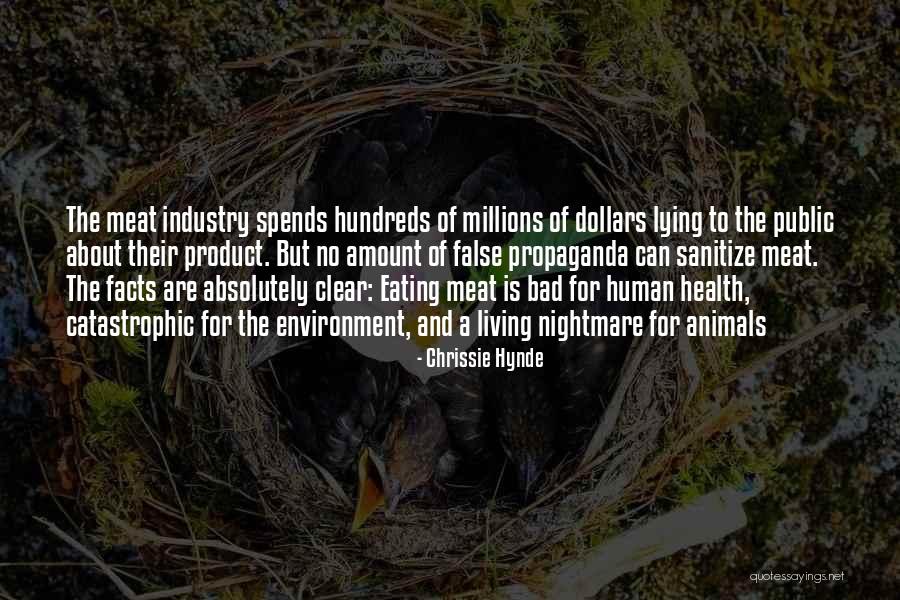 The meat industry spends hundreds of millions of dollars lying to the public about their product. But no amount of false propaganda can sanitize meat. The facts are absolutely clear: Eating meat is bad for human health, catastrophic for the environment, and a living nightmare for animals — Chrissie Hynde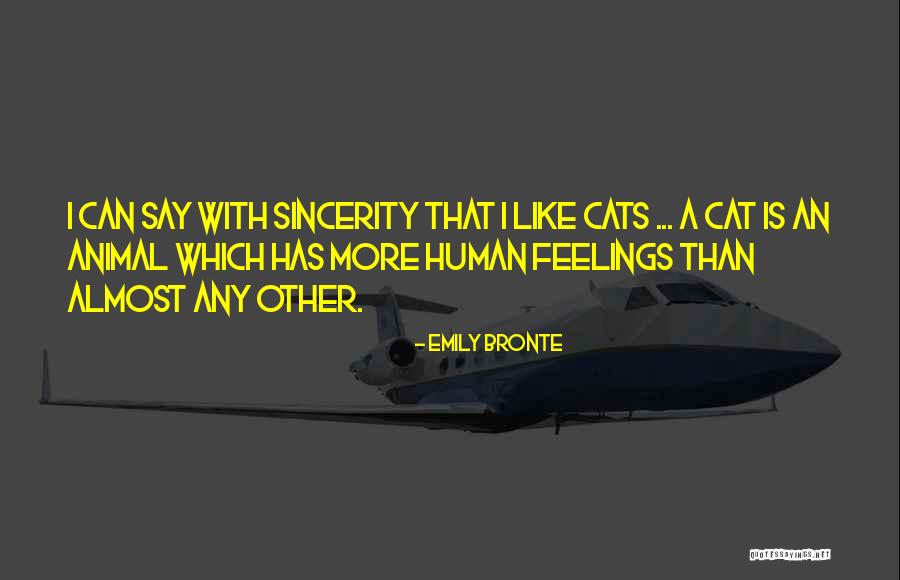 I can say with sincerity that I like cats ... A cat is an animal which has more human feelings than almost any other. — Emily Bronte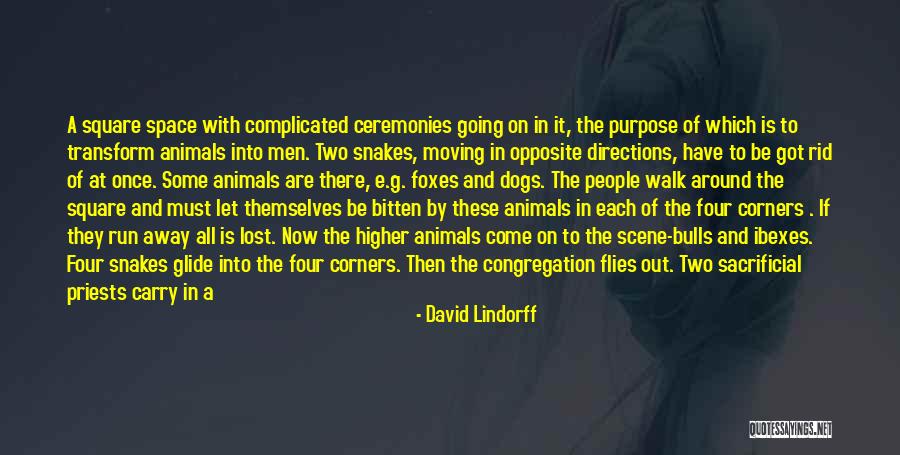 A square space with complicated ceremonies going on in it, the purpose of which is to transform animals into men. Two snakes, moving in opposite directions, have to be got rid of at once. Some animals are there, e.g. foxes and dogs. The people walk around the square and must let themselves be bitten by these animals in each of the four corners . If they run away all is lost. Now the higher animals come on to the scene-bulls and ibexes. Four snakes glide into the four corners. Then the congregation flies out. Two sacrificial priests carry in a huge reptile and with this they touch the forehead of a shapeless animal lump or life-mass. Out of it there instantly rises a human head, transfigured. A voice proclaims: "These are attempts at being. — David Lindorff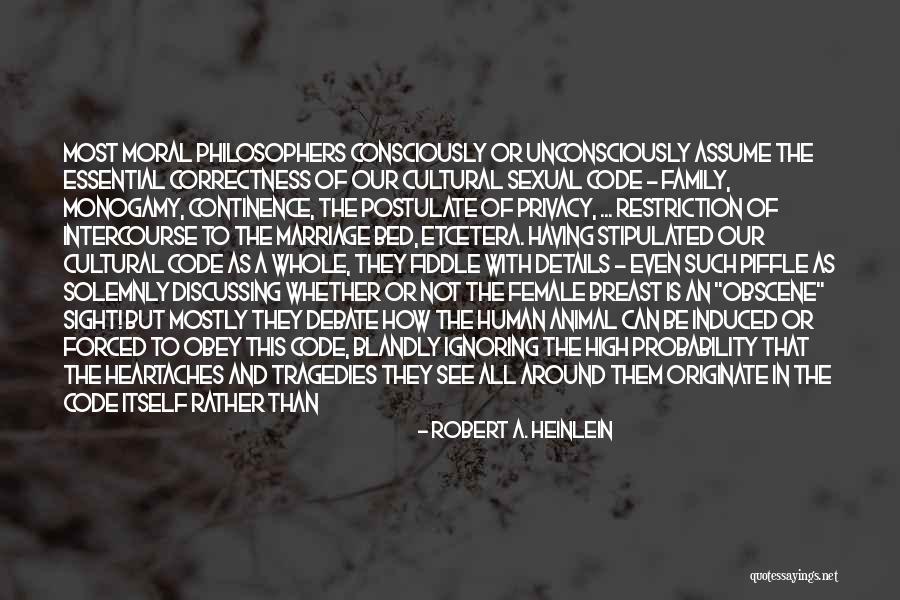 Most moral philosophers consciously or unconsciously assume the essential correctness of our cultural sexual code - family, monogamy, continence, the postulate of privacy, ... restriction of intercourse to the marriage bed, etcetera. Having stipulated our cultural code as a whole, they fiddle with details - even such piffle as solemnly discussing whether or not the female breast is an "obscene" sight! But mostly they debate how the human animal can be induced or forced to obey this code, blandly ignoring the high probability that the heartaches and tragedies they see all around them originate in the code itself rather than the failure to abide by the code. — Robert A. Heinlein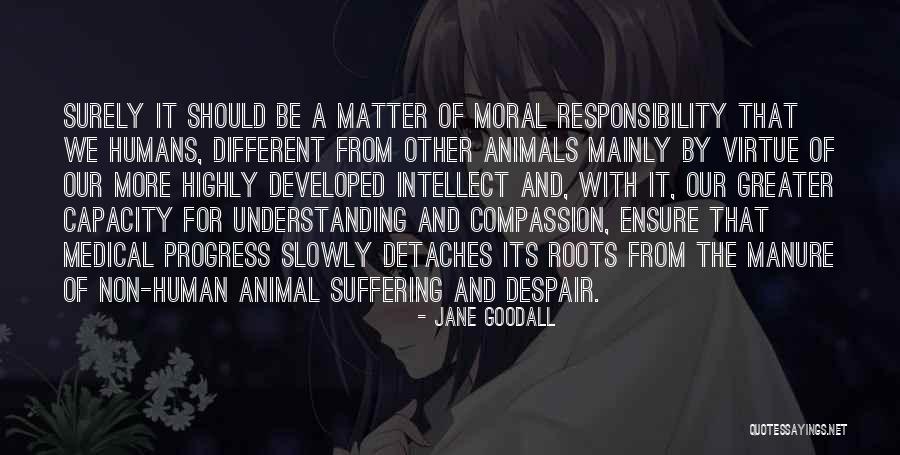 Surely it should be a matter of moral responsibility that we humans, different from other animals mainly by virtue of our more highly developed intellect and, with it, our greater capacity for understanding and compassion, ensure that medical progress slowly detaches its roots from the manure of non-human animal suffering and despair. — Jane Goodall
The program of scientific experimentation that leads you to conclude that animals are imbeciles is profoundly anthropocentric. It values being able to find your way out of a sterile maze, ignoring the fact that if the researcher who designed the maze were to be parachuted into the jungles of Borneo, he or she would be dead of starvation in a week ... If I as a human being were told that the standards by which animals are being measured in these experiments are human standards, I would be insulted. — J.M. Coetzee