Quotes & Sayings About How God Sees Beauty
Enjoy reading and share 16 famous quotes about How God Sees Beauty with everyone.
Top How God Sees Beauty Quotes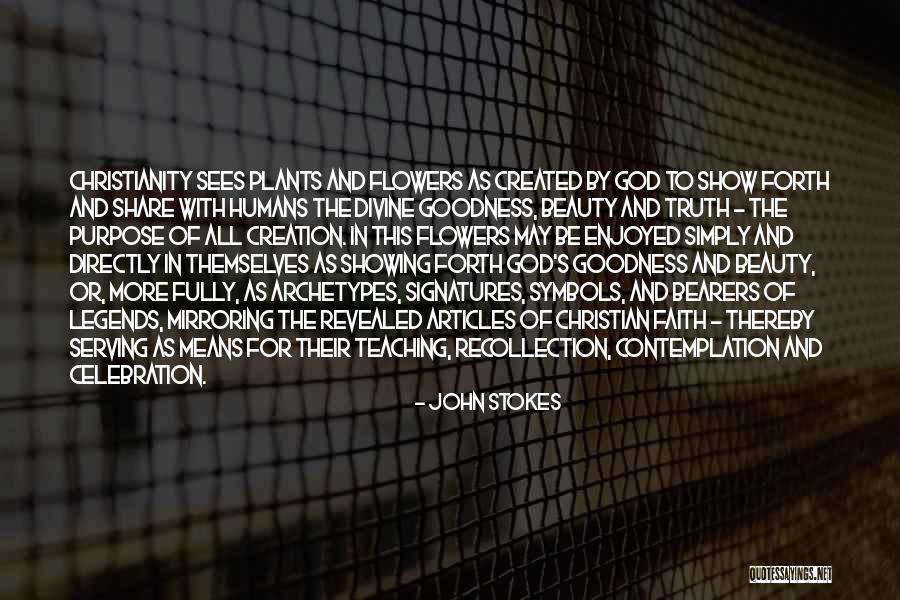 Christianity sees plants and flowers as created by God to show forth and share with humans the divine goodness, beauty and truth - the purpose of all Creation. In this flowers may be enjoyed simply and directly in themselves as showing forth God's goodness and beauty, or, more fully, as archetypes, signatures, symbols, and bearers of legends, mirroring the revealed articles of Christian faith - thereby serving as means for their teaching, recollection, contemplation and celebration. — John Stokes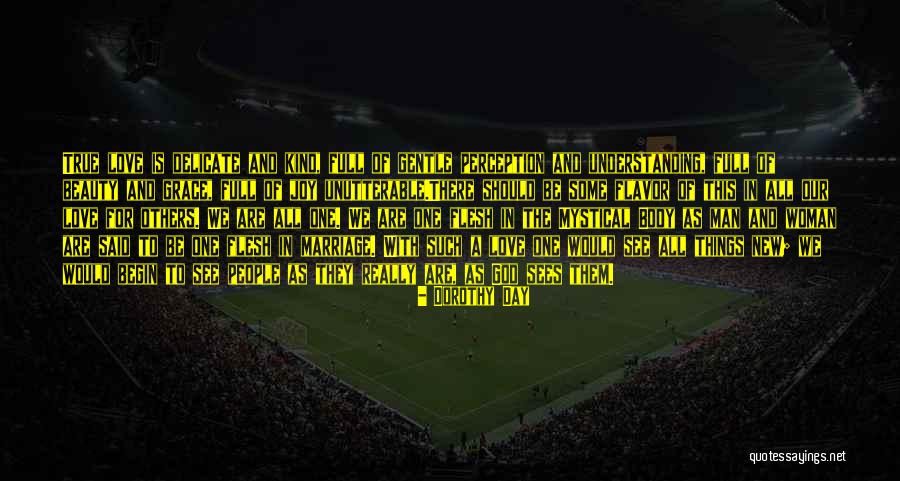 True love is delicate and kind, full of gentle perception and understanding, full of beauty and grace, full of joy unutterable.
There should be some flavor of this in all our love for others. We are all one. We are one flesh in the Mystical Body as man and woman are said to be one flesh in marriage.
With such a love one would see all things new; we would begin to see people as they really are, as God sees them. — Dorothy Day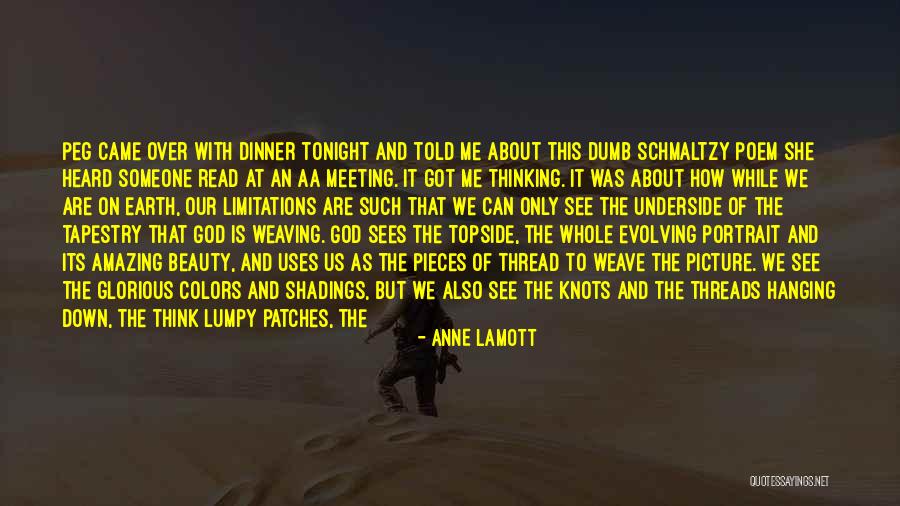 Peg came over with dinner tonight and told me about this dumb schmaltzy poem she heard someone read at an AA meeting. It got me thinking. It was about how while we are on earth, our limitations are such that we can only see the underside of the tapestry that God is weaving. God sees the topside, the whole evolving portrait and its amazing beauty, and uses us as the pieces of thread to weave the picture. We see the glorious colors and shadings, but we also see the knots and the threads hanging down, the think lumpy patches, the tangles. But God and the people in heaven with him see how beautiful the portraits in the tapestry are. The poem says in this flowery way that faith is about the willingness to be used by God wherever and however he most needs you, most needs the piece of thread that is your life. You give him your life to put through his needle, to use as he sees fit. — Anne Lamott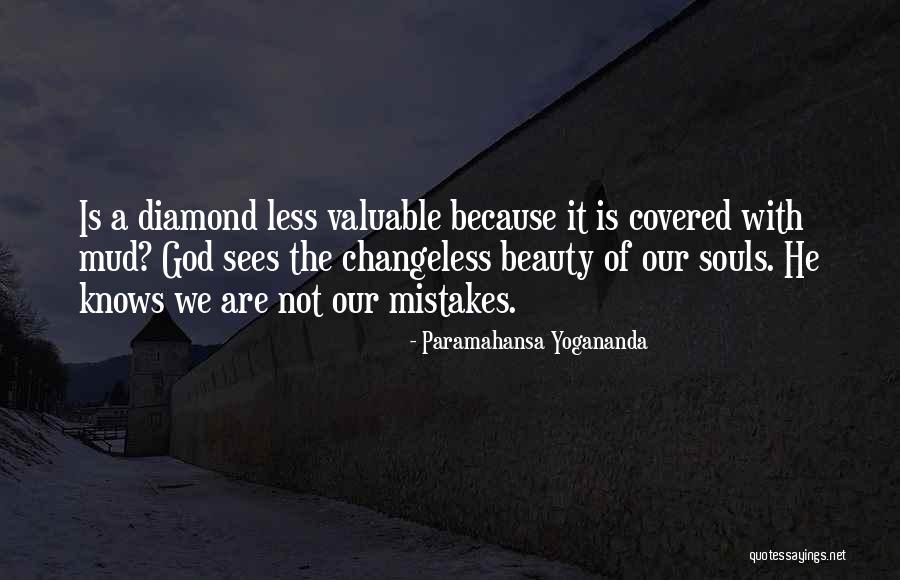 Is a diamond less valuable because it is covered with mud? God sees the changeless beauty of our souls. He knows we are not our mistakes. — Paramahansa Yogananda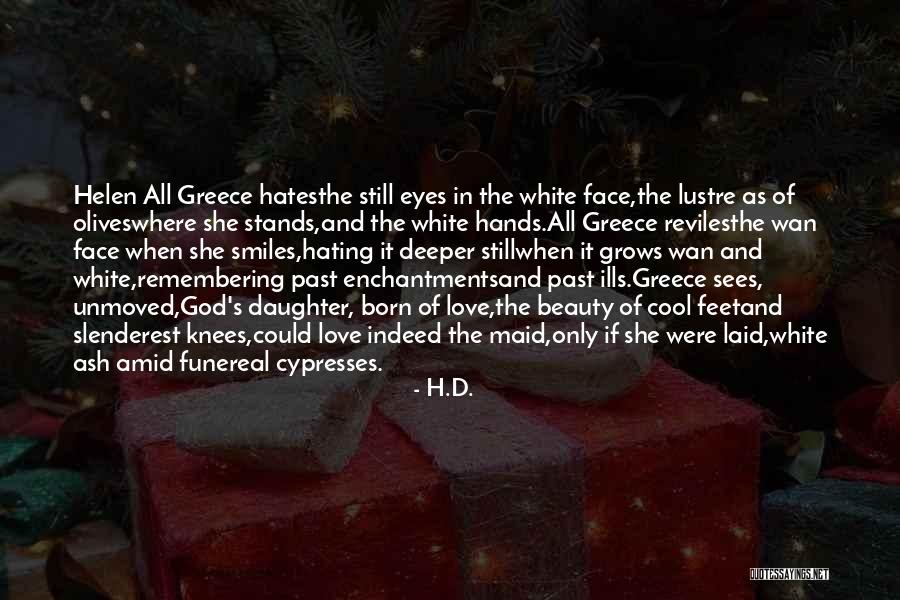 Helen

All Greece hates
the still eyes in the white face,
the lustre as of olives
where she stands,
and the white hands.

All Greece reviles
the wan face when she smiles,
hating it deeper still
when it grows wan and white,
remembering past enchantments
and past ills.

Greece sees, unmoved,
God's daughter, born of love,
the beauty of cool feet
and slenderest knees,
could love indeed the maid,
only if she were laid,
white ash amid funereal cypresses. — H.D.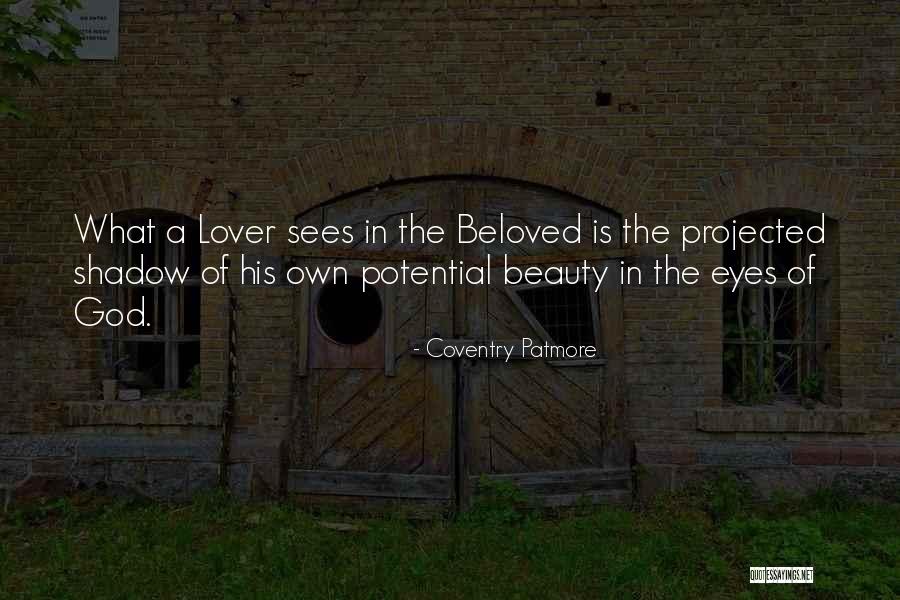 What a Lover sees in the Beloved is the projected shadow of his own potential beauty in the eyes of God. — Coventry Patmore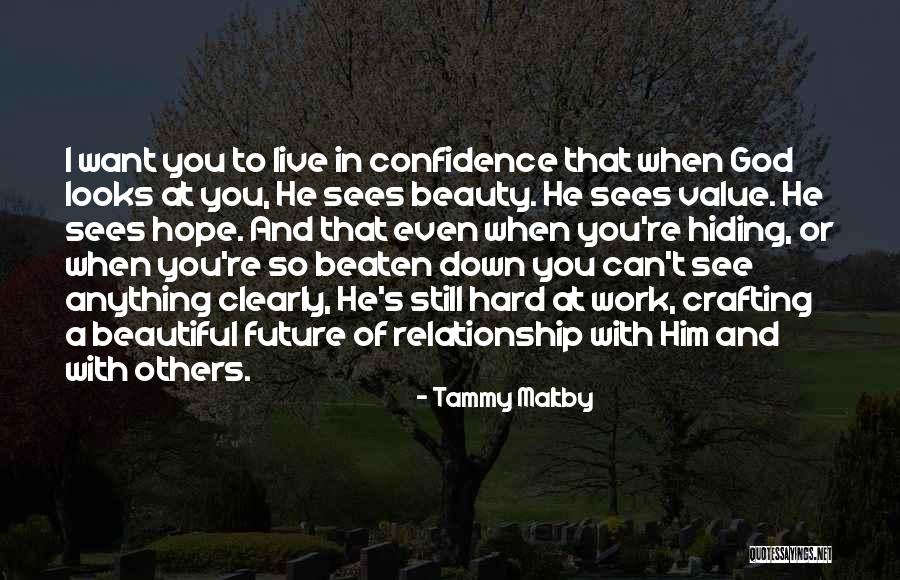 I want you to live in confidence that when God looks at you, He sees beauty. He sees value. He sees hope. And that even when you're hiding, or when you're so beaten down you can't see anything clearly, He's still hard at work, crafting a beautiful future of relationship with Him and with others. — Tammy Maltby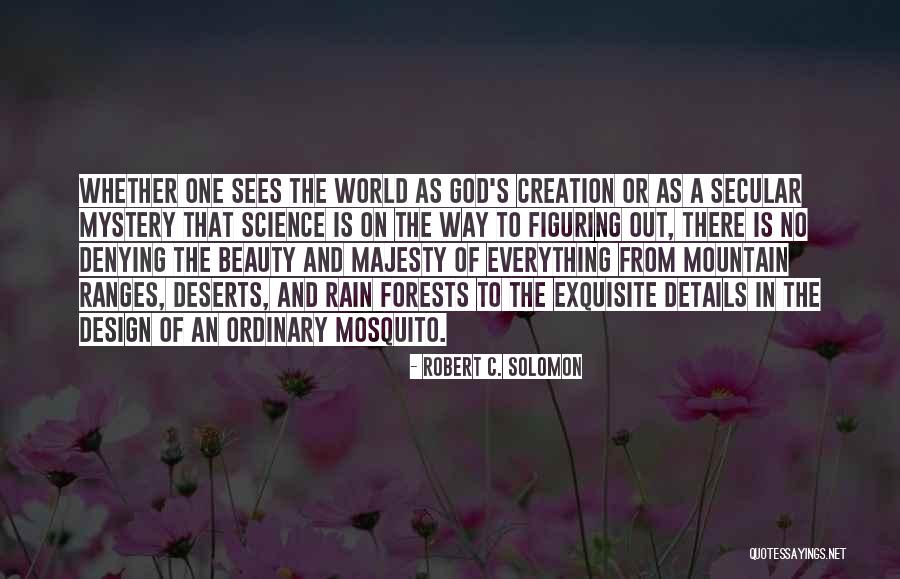 Whether one sees the world as God's creation or as a secular mystery that science is on the way to figuring out, there is no denying the beauty and majesty of everything from mountain ranges, deserts, and rain forests to the exquisite details in the design of an ordinary mosquito. — Robert C. Solomon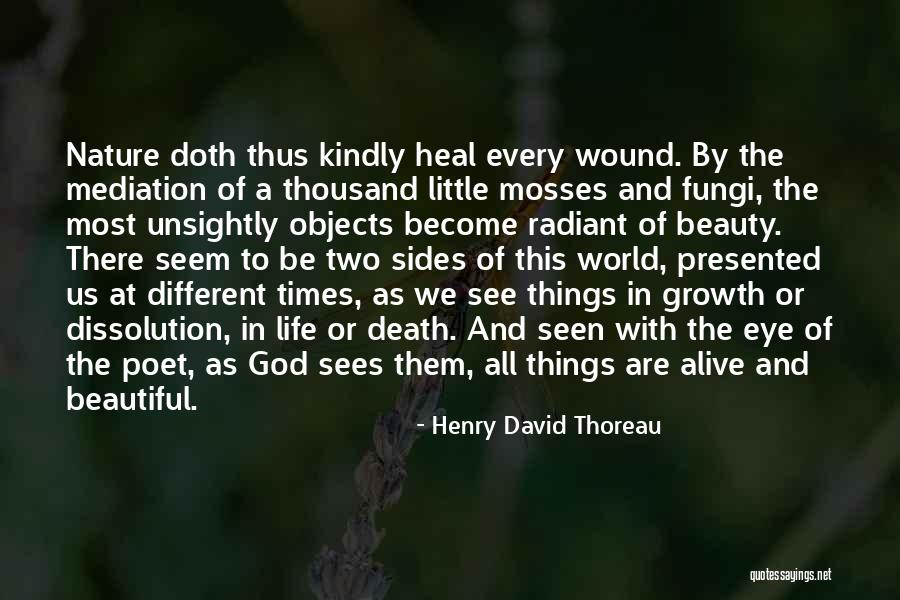 Nature doth thus kindly heal every wound. By the mediation of a thousand little mosses and fungi, the most unsightly objects become radiant of beauty. There seem to be two sides of this world, presented us at different times, as we see things in growth or dissolution, in life or death. And seen with the eye of the poet, as God sees them, all things are alive and beautiful. — Henry David Thoreau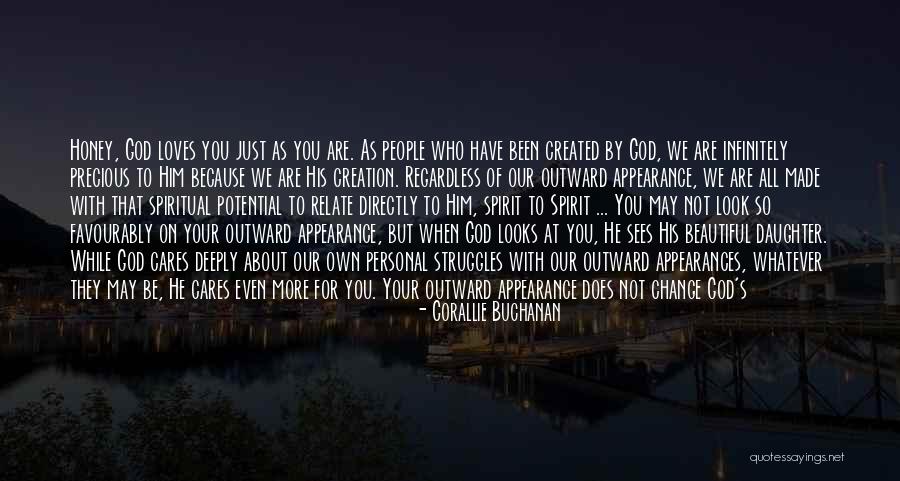 Honey, God loves you just as you are. As people who have been created by God, we are infinitely precious to Him because we are His creation. Regardless of our outward appearance, we are all made with that spiritual potential to relate directly to Him, spirit to Spirit ...
You may not look so favourably on your outward appearance, but when God looks at you, He sees His beautiful daughter. While God cares deeply about our own personal struggles with our outward appearances, whatever they may be, He cares even more for you. Your outward appearance does not change God's acceptance of you, and it certainly does not change the way He feels about you. — Corallie Buchanan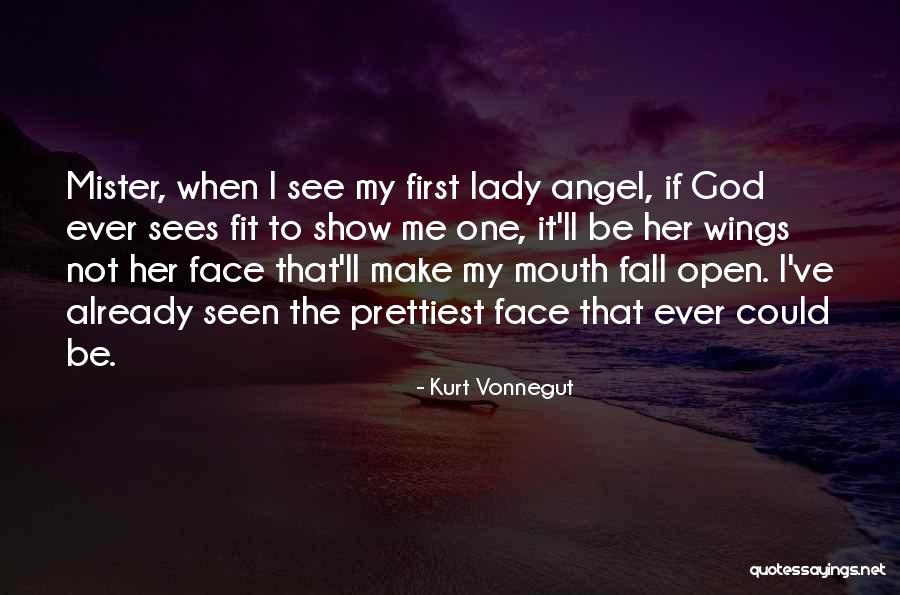 Mister, when I see my first lady angel, if God ever sees fit to show me one, it'll be her wings not her face that'll make my mouth fall open. I've already seen the prettiest face that ever could be. — Kurt Vonnegut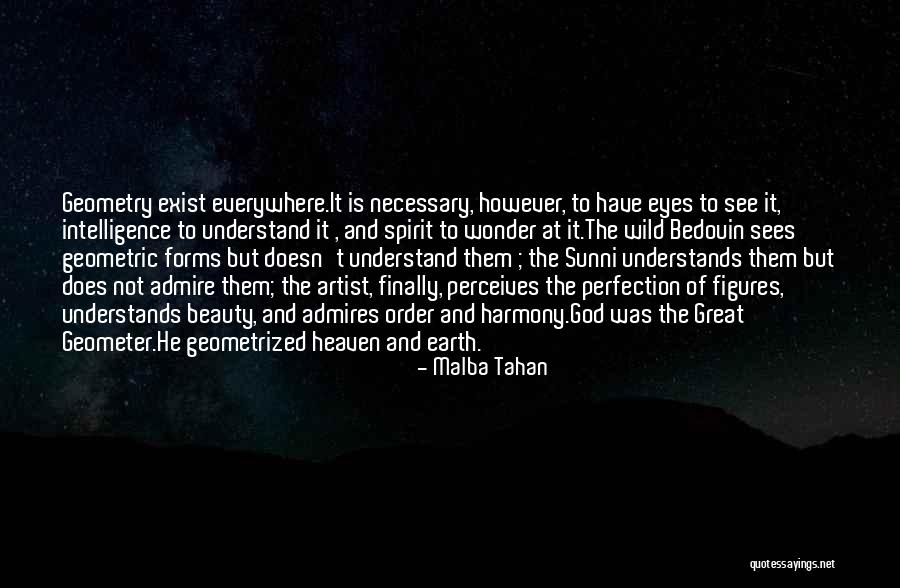 Geometry exist everywhere.It is necessary, however, to have eyes to see it, intelligence to understand it , and spirit to wonder at it.The wild Bedouin sees geometric forms but doesn't understand them ; the Sunni understands them but does not admire them; the artist, finally, perceives the perfection of figures, understands beauty, and admires order and harmony.God was the Great Geometer.He geometrized heaven and earth. — Malba Tahan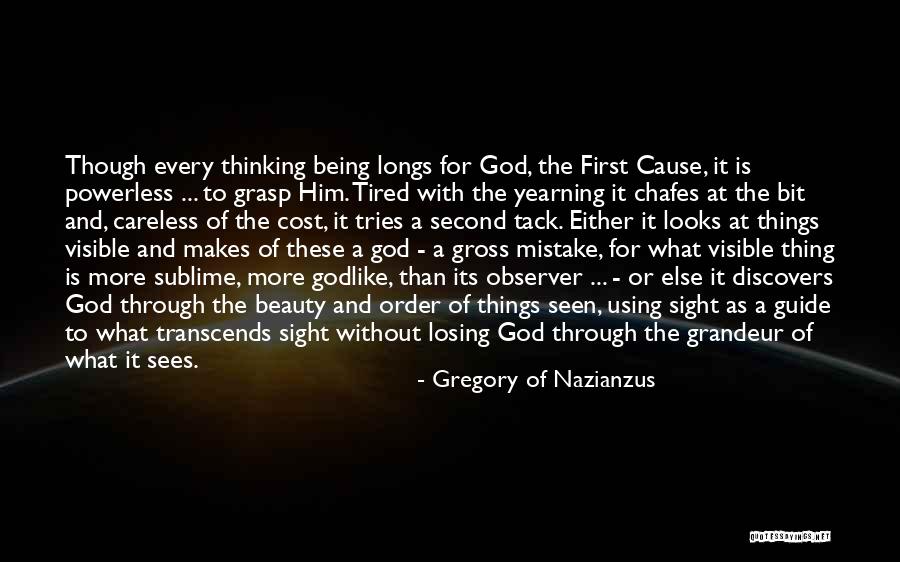 Though every thinking being longs for God, the First Cause, it is powerless ... to grasp Him. Tired with the yearning it chafes at the bit and, careless of the cost, it tries a second tack. Either it looks at things visible and makes of these a god - a gross mistake, for what visible thing is more sublime, more godlike, than its observer ... - or else it discovers God through the beauty and order of things seen, using sight as a guide to what transcends sight without losing God through the grandeur of what it sees. — Gregory Of Nazianzus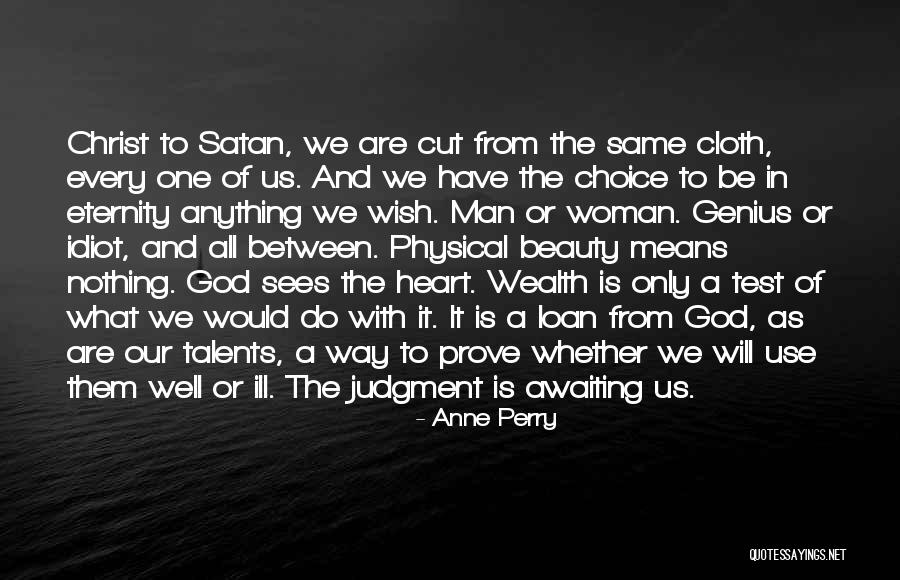 Christ to Satan, we are cut from the same cloth, every one of us. And we have the choice to be in eternity anything we wish. Man or woman. Genius or idiot, and all between. Physical beauty means nothing. God sees the heart. Wealth is only a test of what we would do with it. It is a loan from God, as are our talents, a way to prove whether we will use them well or ill. The judgment is awaiting us. — Anne Perry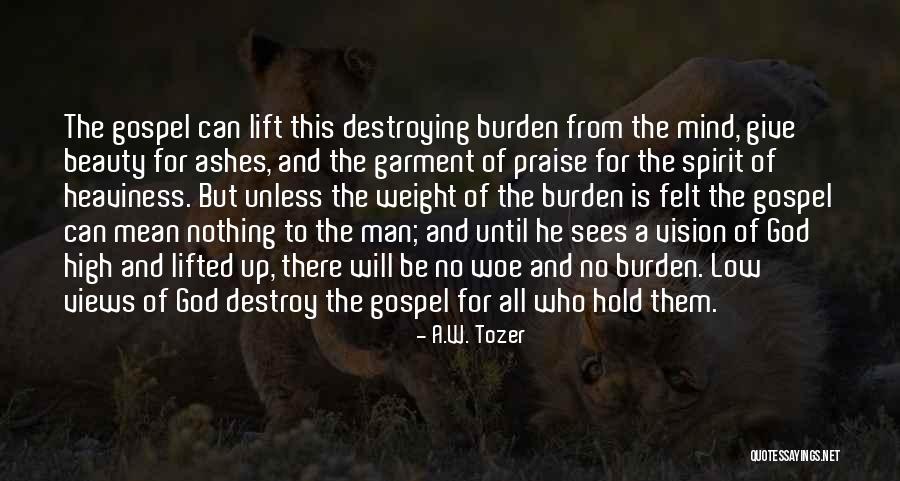 The gospel can lift this destroying burden from the mind, give beauty for ashes, and the garment of praise for the spirit of heaviness. But unless the weight of the burden is felt the gospel can mean nothing to the man; and until he sees a vision of God high and lifted up, there will be no woe and no burden. Low views of God destroy the gospel for all who hold them. — A.W. Tozer