Hope Restored Quotes & Sayings
Enjoy reading and share 30 famous quotes about Hope Restored with everyone.
Top Hope Restored Quotes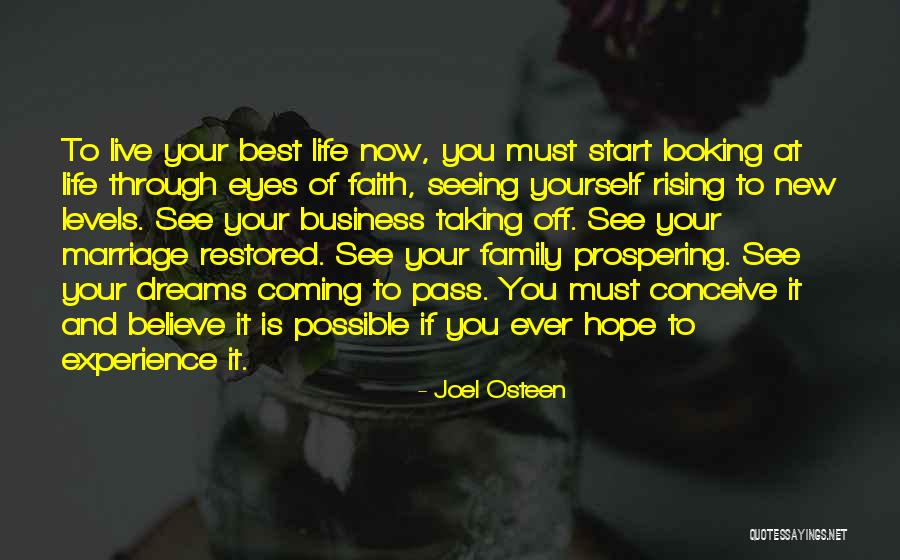 To live your best life now, you must start looking at life through eyes of faith, seeing yourself rising to new levels. See your business taking off. See your marriage restored. See your family prospering. See your dreams coming to pass. You must conceive it and believe it is possible if you ever hope to experience it. — Joel Osteen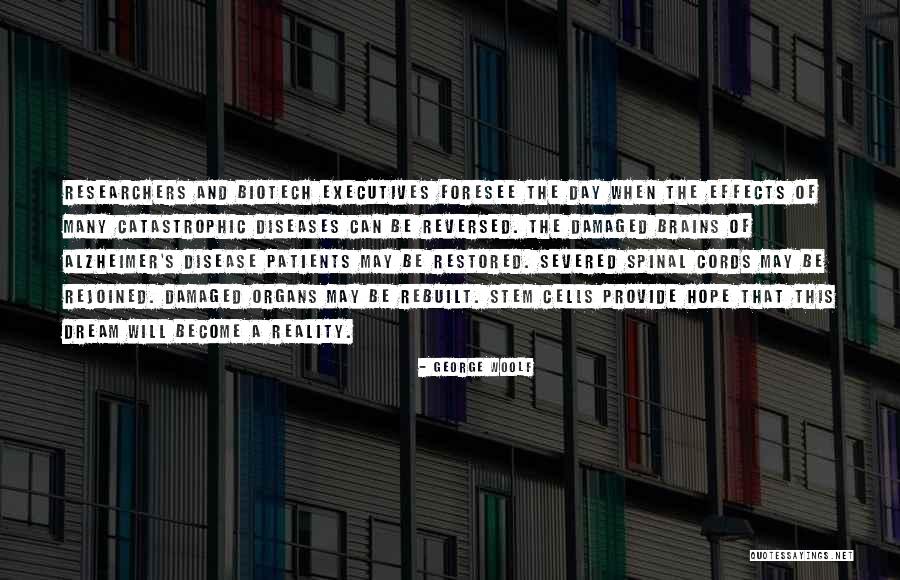 Researchers and biotech executives foresee the day when the effects of many catastrophic diseases can be reversed. The damaged brains of Alzheimer's disease patients may be restored. Severed spinal cords may be rejoined. Damaged organs may be rebuilt. Stem cells provide hope that this dream will become a reality. — George Woolf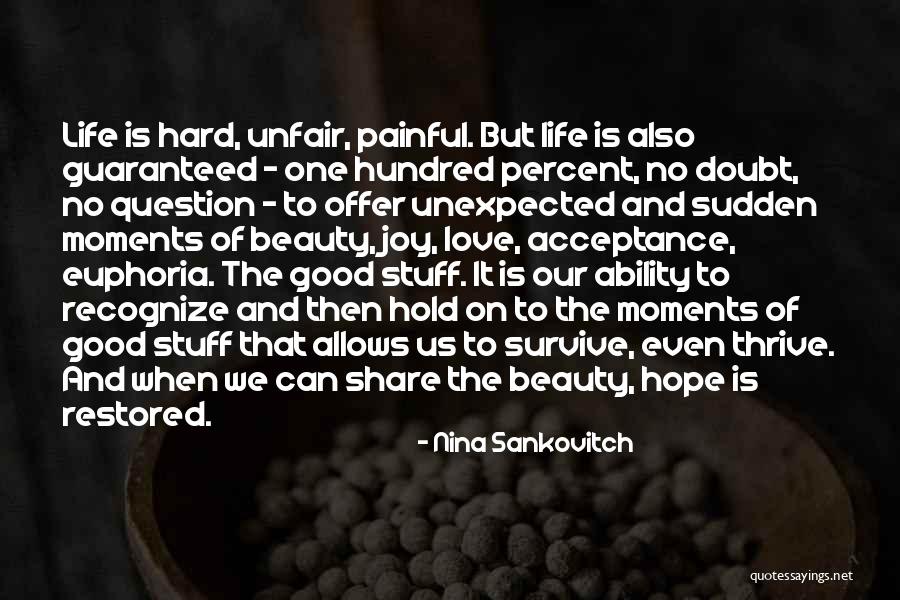 Life is hard, unfair, painful. But life is also guaranteed - one hundred percent, no doubt, no question - to offer unexpected and sudden moments of beauty, joy, love, acceptance, euphoria. The good stuff. It is our ability to recognize and then hold on to the moments of good stuff that allows us to survive, even thrive. And when we can share the beauty, hope is restored. — Nina Sankovitch
This is my Italy, she thought. The power and beauty of the antiquities, the detailed frescos, the imposing statuaries carved of milk white granite, Don Martinelli's hammered gold chalice, the glorious tones of the music, the Italy of Puccini and Verdi, Caruso and Toscanini, not the Italy of the shattered spirits in Hoboken and the drunken, desperate Anna Buffa. This was the Italy that fed her soul, where hope was restored and broken hearts were mended in the hands of great artists. — Adriana Trigiani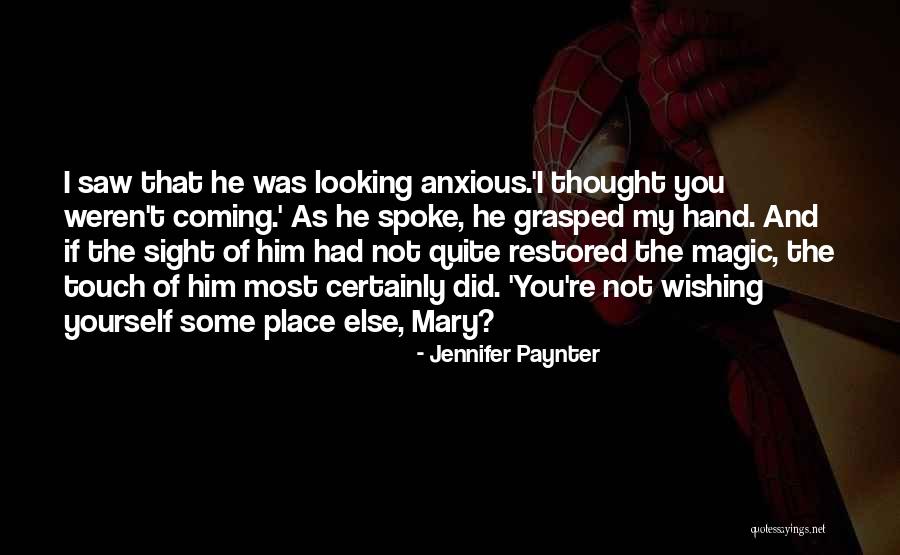 I saw that he was looking anxious.
'I thought you weren't coming.' As he spoke, he grasped my hand. And if the sight of him had not quite restored the magic, the touch of him most certainly did. 'You're not wishing yourself some place else, Mary? — Jennifer Paynter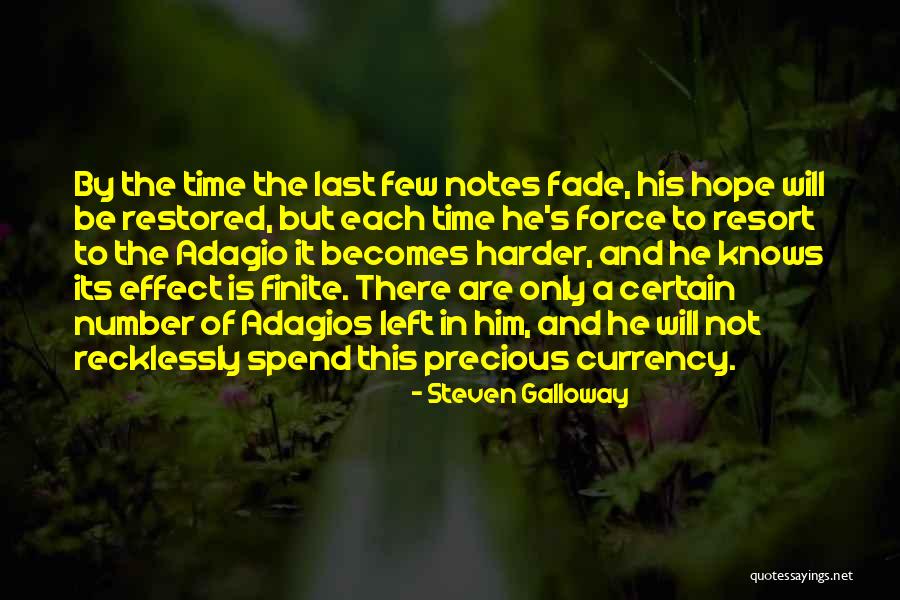 By the time the last few notes fade, his hope will be restored, but each time he's force to resort to the Adagio it becomes harder, and he knows its effect is finite. There are only a certain number of Adagios left in him, and he will not recklessly spend this precious currency. — Steven Galloway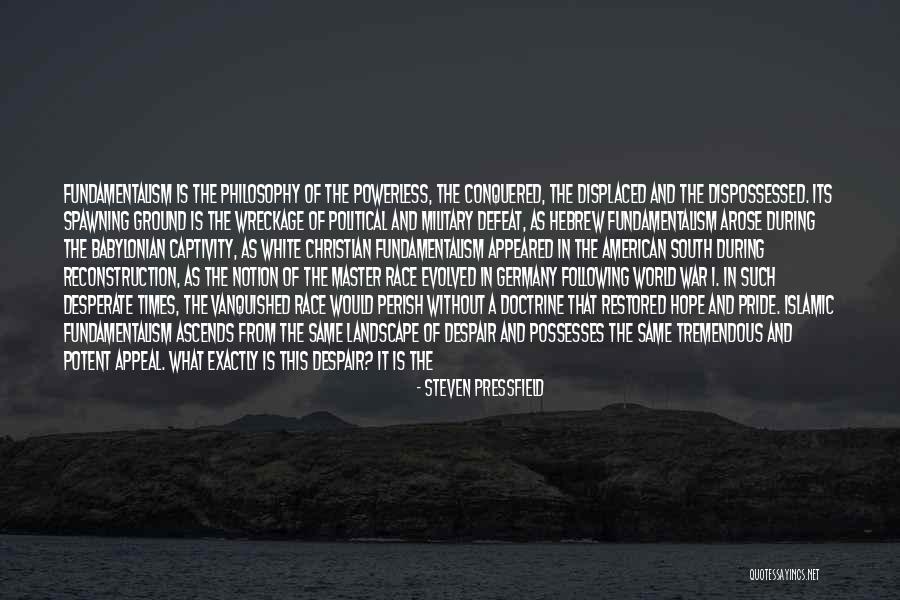 Fundamentalism is the philosophy of the powerless, the conquered, the displaced and the dispossessed. Its spawning ground is the wreckage of political and military defeat, as Hebrew fundamentalism arose during the Babylonian captivity, as white Christian fundamentalism appeared in the American South during Reconstruction, as the notion of the Master Race evolved in Germany following World War I. In such desperate times, the vanquished race would perish without a doctrine that restored hope and pride. Islamic fundamentalism ascends from the same landscape of despair and possesses the same tremendous and potent appeal. What exactly is this despair? It is the despair of freedom. The dislocation and emasculation experienced by the individual cut free from the familiar and comforting structures of the tribe and the clan, the village and the family. It is the state of modern life. The — Steven Pressfield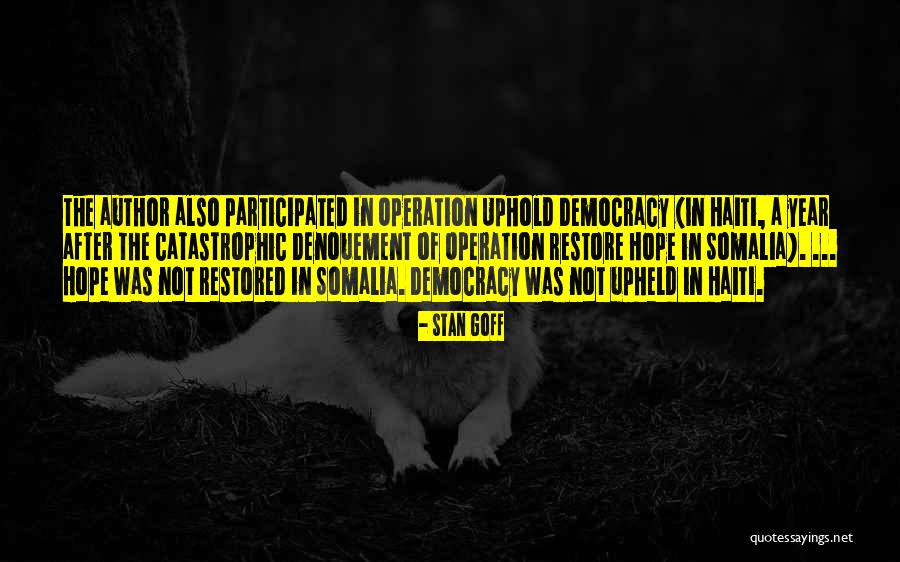 The author also participated in Operation Uphold Democracy (in Haiti, a year after the catastrophic denouement of Operation Restore Hope in Somalia). ... Hope was not restored in Somalia. Democracy was not upheld in Haiti. — Stan Goff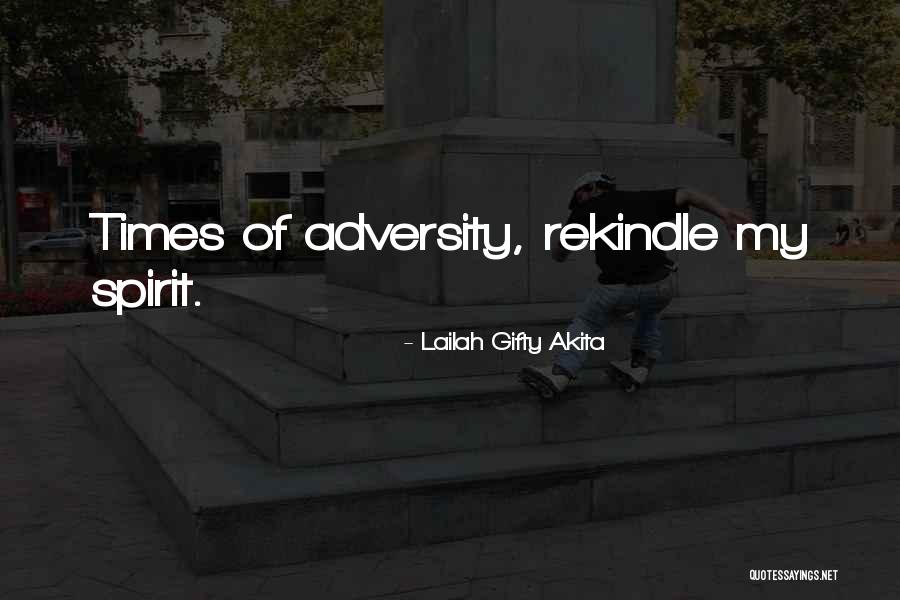 Times of adversity, rekindle my spirit. — Lailah Gifty Akita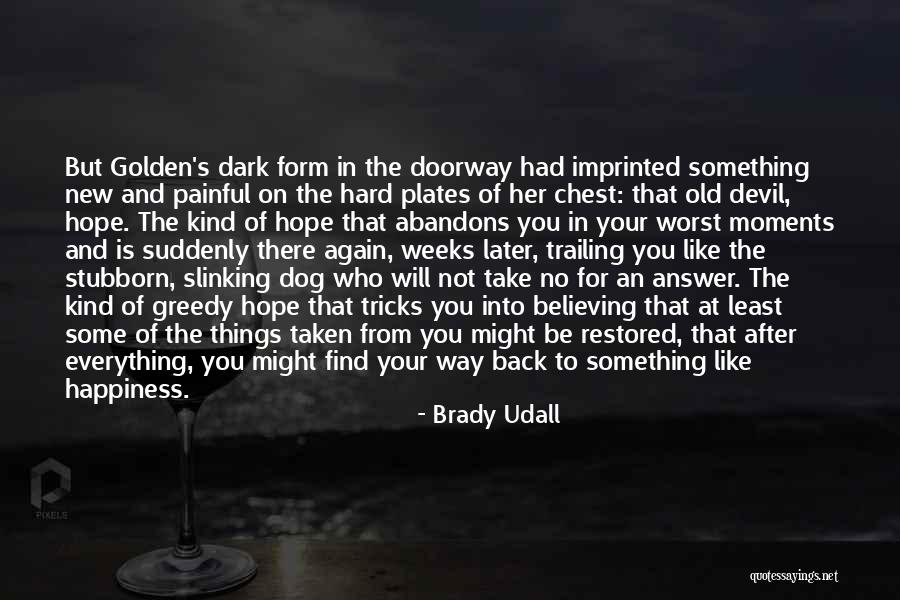 But Golden's dark form in the doorway had imprinted something new and painful on the hard plates of her chest: that old devil, hope. The kind of hope that abandons you in your worst moments and is suddenly there again, weeks later, trailing you like the stubborn, slinking dog who will not take no for an answer. The kind of greedy hope that tricks you into believing that at least some of the things taken from you might be restored, that after everything, you might find your way back to something like happiness. — Brady Udall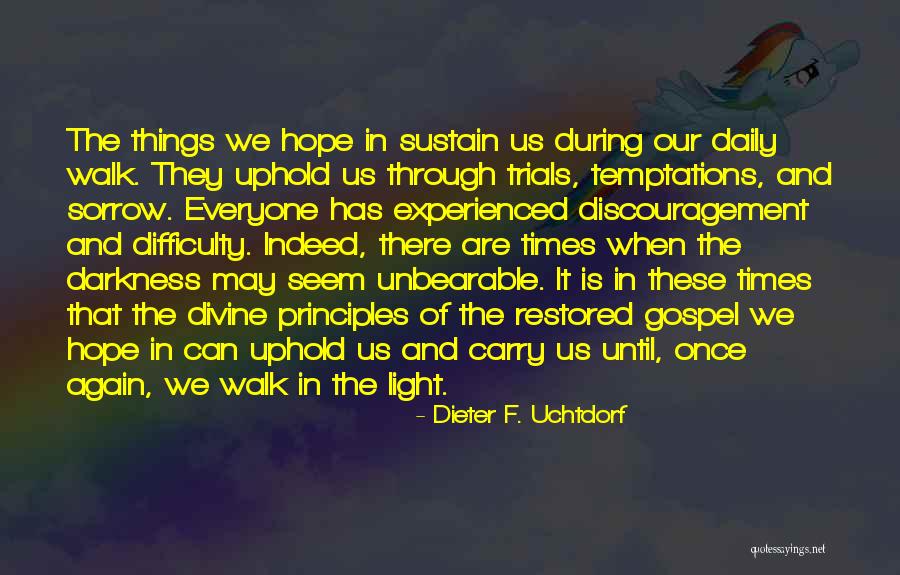 The things we hope in sustain us during our daily walk. They uphold us through trials, temptations, and sorrow. Everyone has experienced discouragement and difficulty. Indeed, there are times when the darkness may seem unbearable. It is in these times that the divine principles of the restored gospel we hope in can uphold us and carry us until, once again, we walk in the light. — Dieter F. Uchtdorf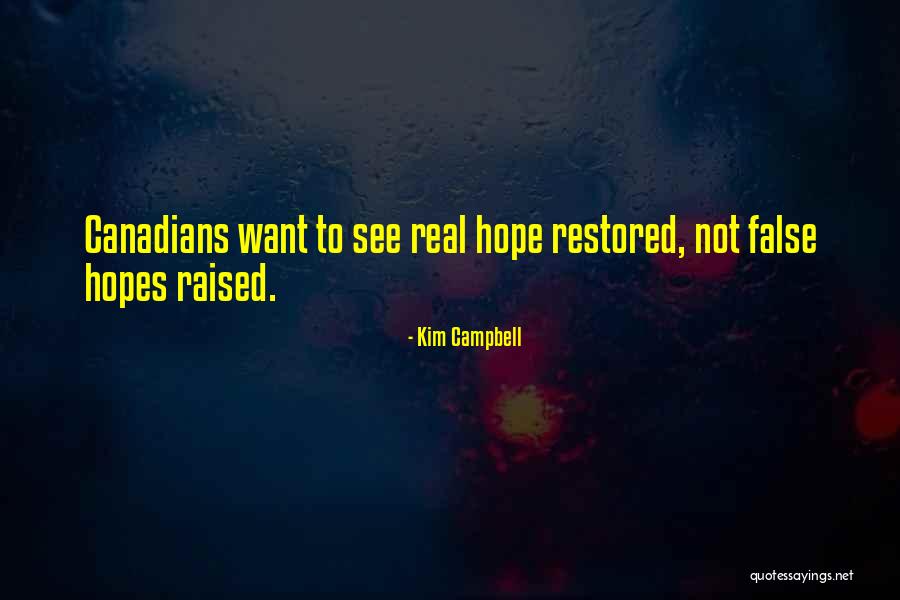 Canadians want to see real hope restored, not false hopes raised. — Kim Campbell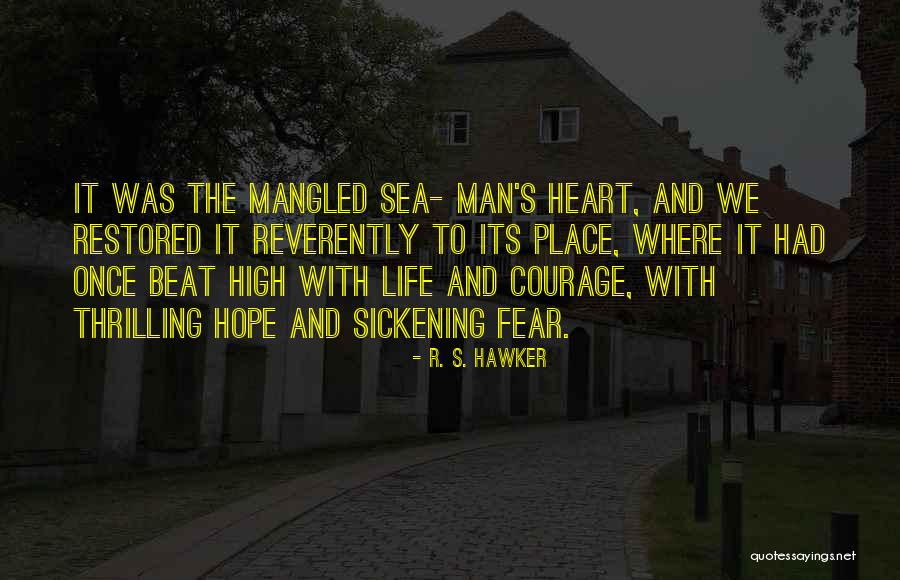 It was the mangled sea- man's heart, and we restored it reverently to its place, where it had once beat high with life and courage, with thrilling hope and sickening fear. — R. S. Hawker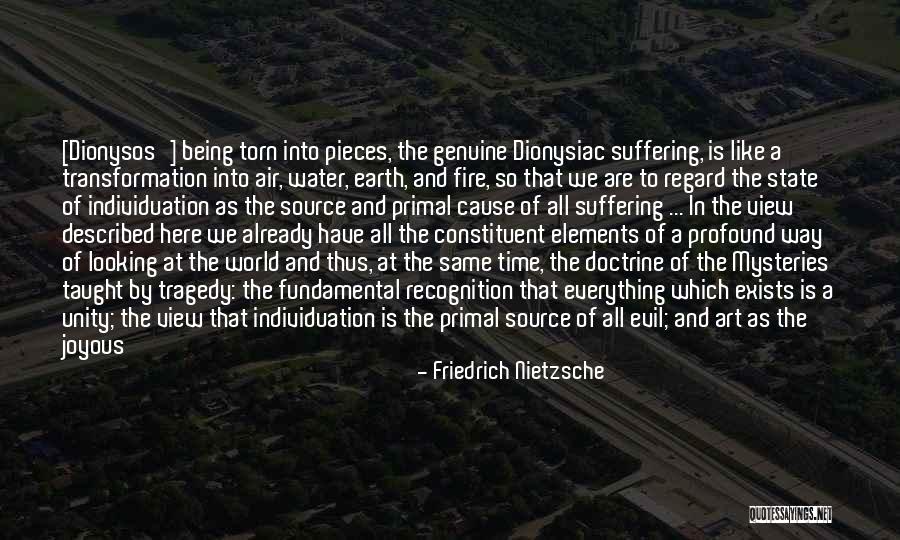 [Dionysos'] being torn into pieces, the genuine Dionysiac suffering, is like a transformation into air, water, earth, and fire, so that we are to regard the state of individuation as the source and primal cause of all suffering ... In the view described here we already have all the constituent elements of a profound way of looking at the world and thus, at the same time, the doctrine of the Mysteries taught by tragedy: the fundamental recognition that everything which exists is a unity; the view that individuation is the primal source of all evil; and art as the joyous hope that the spell of individuation can be broken, a premonition of unity restored. — Friedrich Nietzsche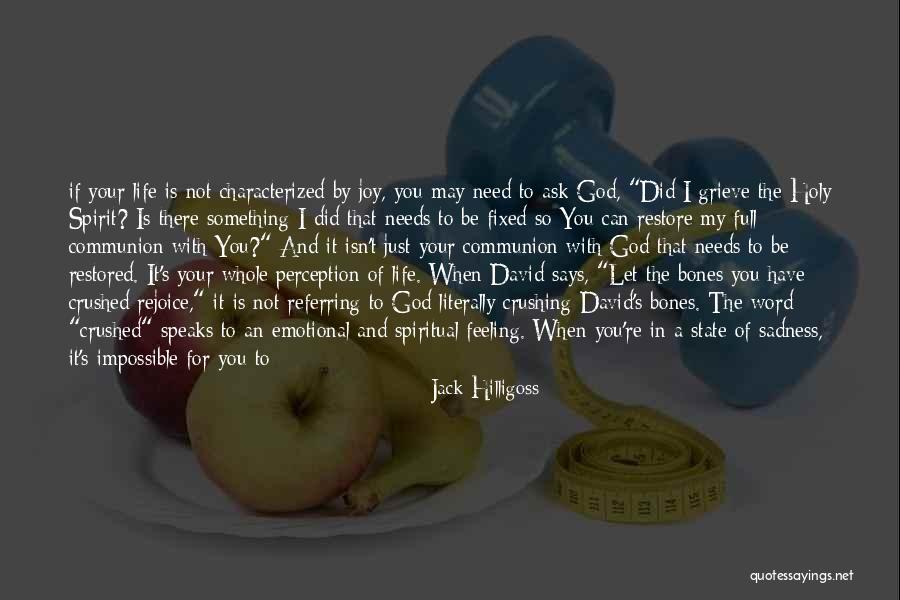 if your life is not characterized by joy, you may need to ask God, "Did I grieve the Holy Spirit? Is there something I did that needs to be fixed so You can restore my full communion with You?" And it isn't just your communion with God that needs to be restored. It's your whole perception of life. When David says, "Let the bones you have crushed rejoice," it is not referring to God literally crushing David's bones. The word "crushed" speaks to an emotional and spiritual feeling. When you're in a state of sadness, it's impossible for you to hear any joy or see any good around you. But if your emotions are healed, your perception of life immediately changes! You hear joy again. You see hope again! — Jack Hilligoss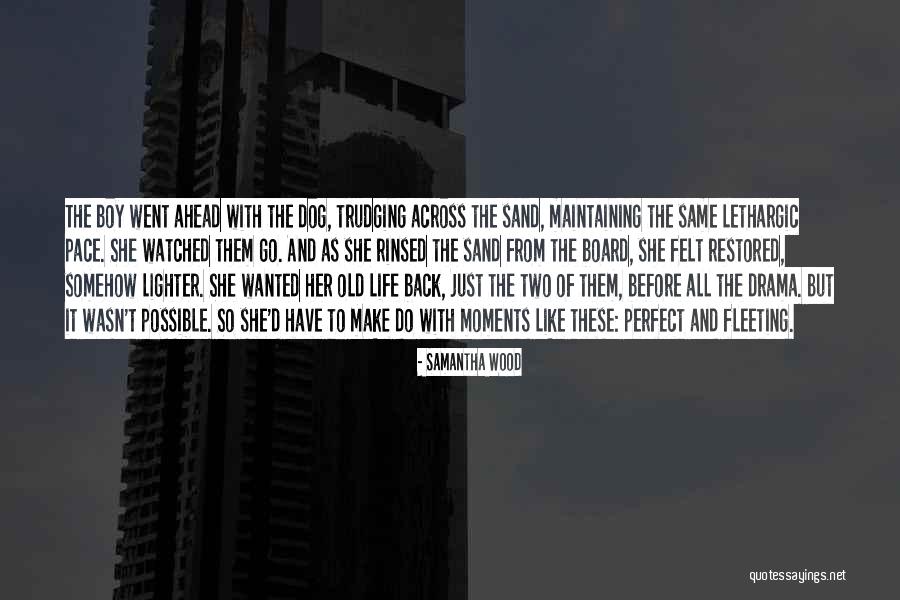 The boy went ahead with the dog, trudging across the sand, maintaining the same lethargic pace. She watched them go. And as she rinsed the sand from the board, she felt restored, somehow lighter. She wanted her old life back, just the two of them, before all the drama. But it wasn't possible. So she'd have to make do with moments like these: perfect and fleeting. — Samantha Wood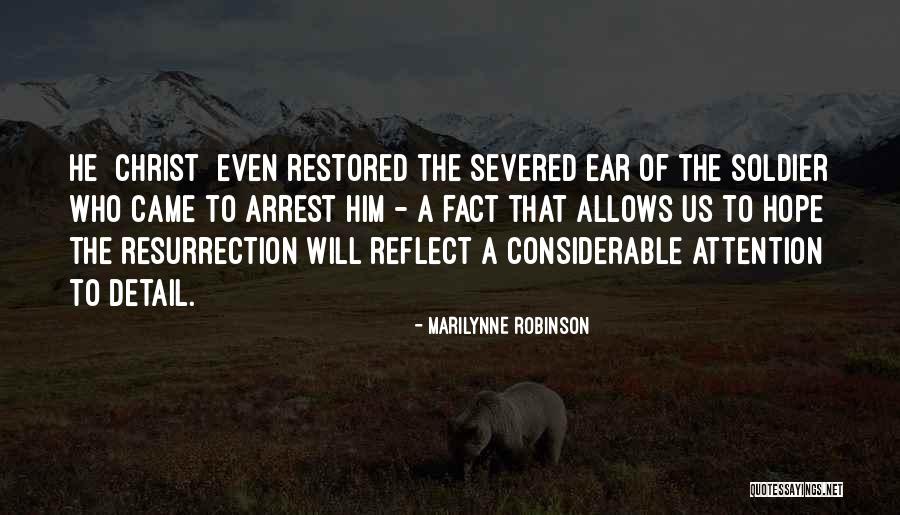 He [Christ] even restored the severed ear of the soldier who came to arrest Him - a fact that allows us to hope the resurrection will reflect a considerable attention to detail. — Marilynne Robinson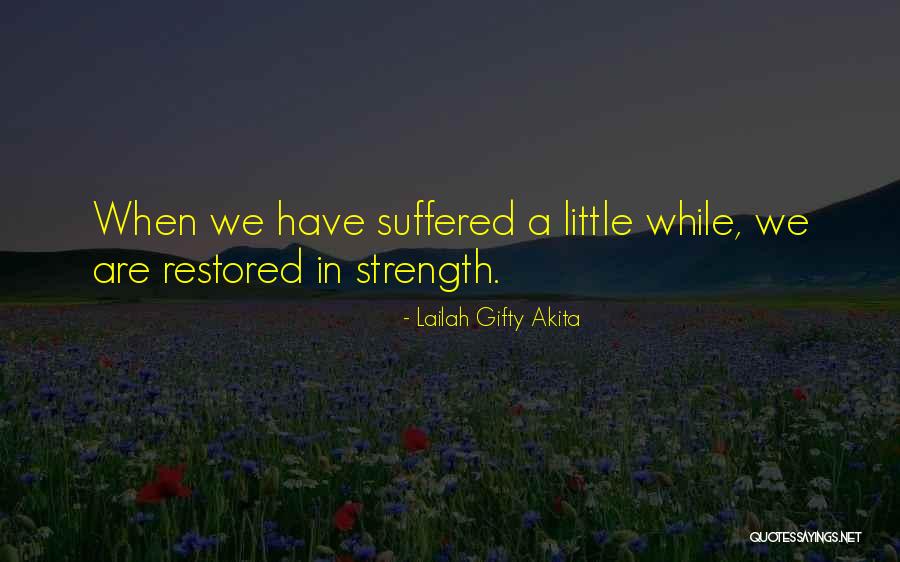 When we have suffered a little while, we are restored in strength. — Lailah Gifty Akita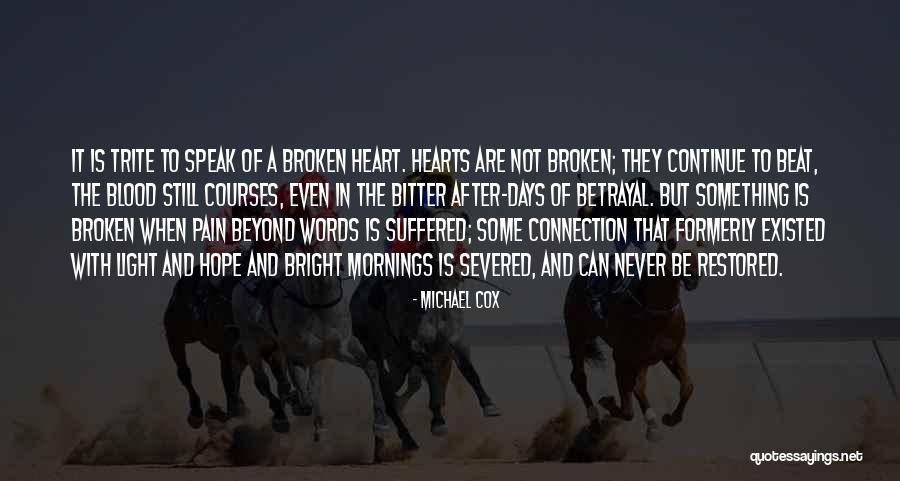 It is trite to speak of a broken heart. Hearts are not broken; they continue to beat, the blood still courses, even in the bitter after-days of betrayal. but something is broken when pain beyond words is suffered; some connection that formerly existed with light and hope and bright mornings is severed, and can never be restored. — Michael Cox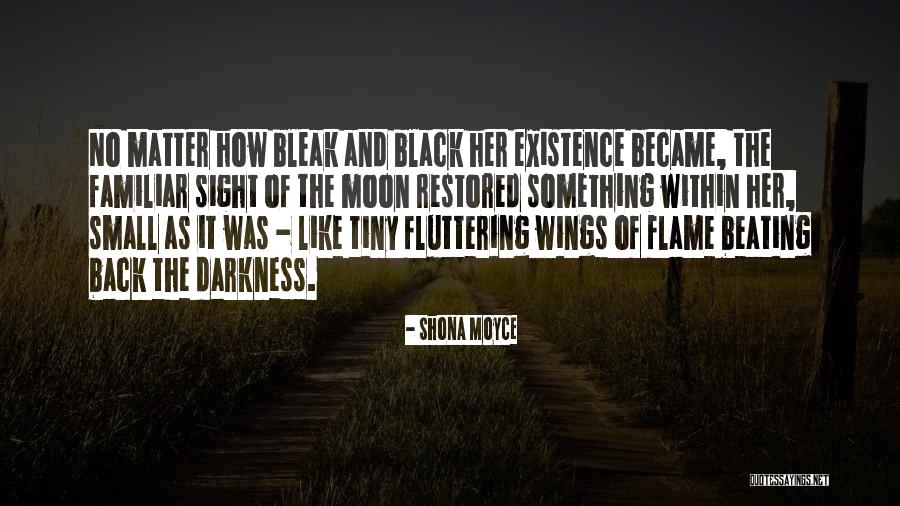 No matter how bleak and black her existence became, the familiar sight of the moon restored something within her, small as it was - like tiny fluttering wings of flame beating back the darkness. — Shona Moyce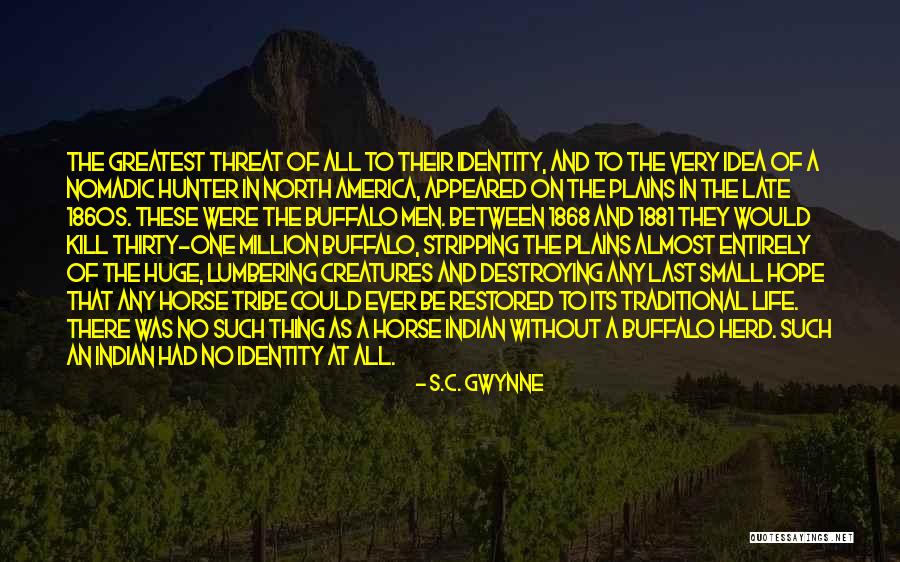 The greatest threat of all to their identity, and to the very idea of a nomadic hunter in North America, appeared on the plains in the late 1860s. These were the buffalo men. Between 1868 and 1881 they would kill thirty-one million buffalo, stripping the plains almost entirely of the huge, lumbering creatures and destroying any last small hope that any horse tribe could ever be restored to its traditional life. There was no such thing as a horse Indian without a buffalo herd. Such an Indian had no identity at all. — S.C. Gwynne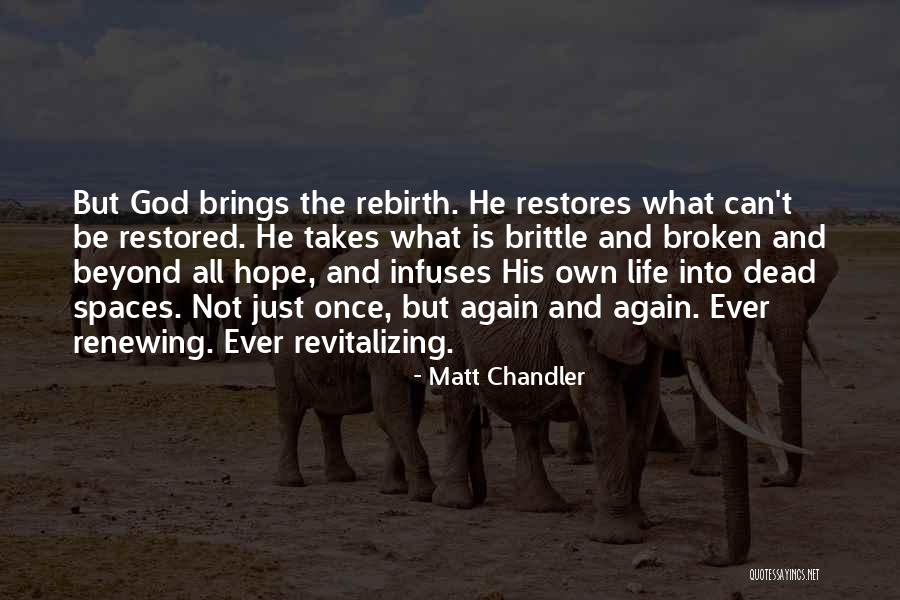 But God brings the rebirth. He restores what can't be restored. He takes what is brittle and broken and beyond all hope, and infuses His own life into dead spaces. Not just once, but again and again. Ever renewing. Ever revitalizing. — Matt Chandler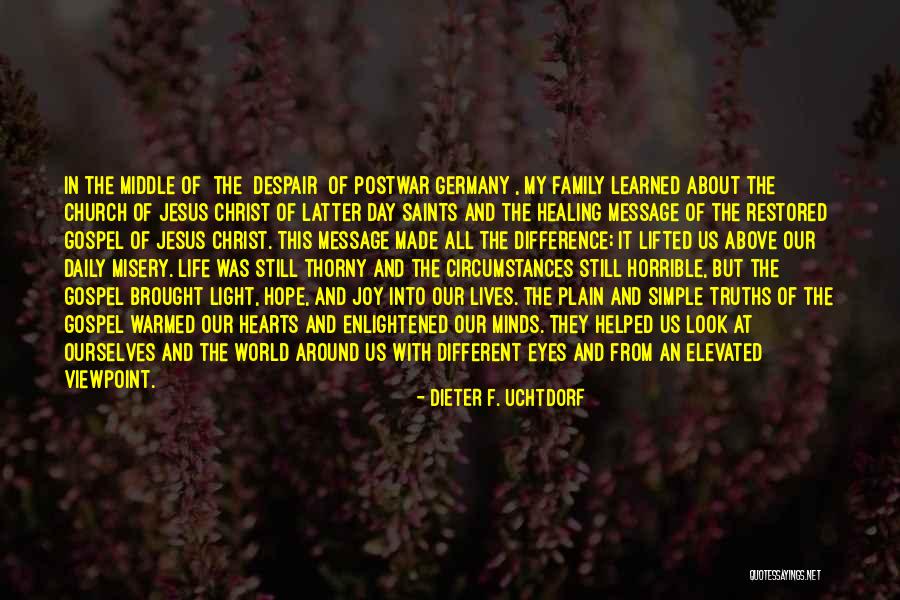 In the middle of [the] despair [of postwar Germany], my family learned about The Church of Jesus Christ of Latter day Saints and the healing message of the restored gospel of Jesus Christ. This message made all the difference; it lifted us above our daily misery. Life was still thorny and the circumstances still horrible, but the gospel brought light, hope, and joy into our lives. The plain and simple truths of the gospel warmed our hearts and enlightened our minds. They helped us look at ourselves and the world around us with different eyes and from an elevated viewpoint. — Dieter F. Uchtdorf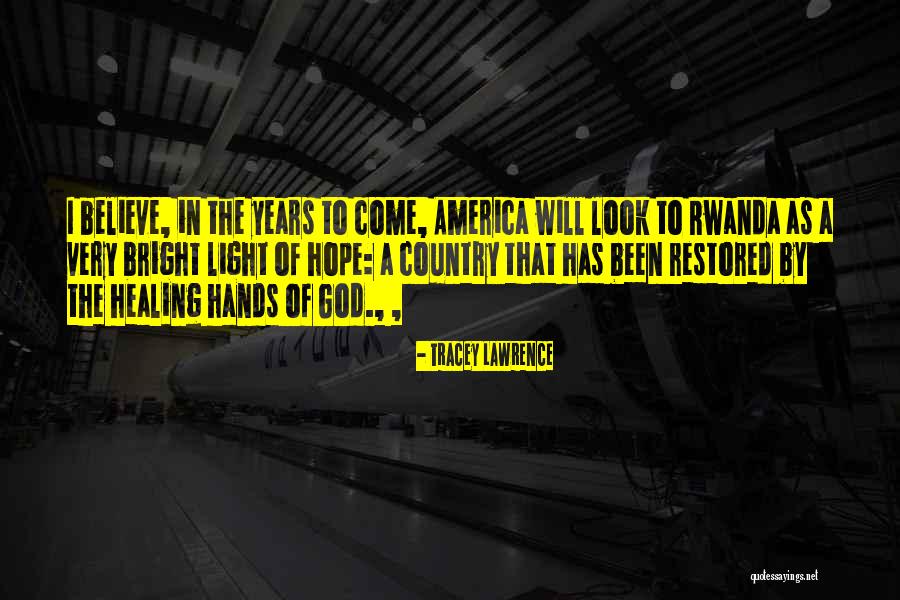 I believe, in the years to come, America will look to Rwanda as a very bright light of hope: a country that has been restored by the healing hands of God., , — Tracey Lawrence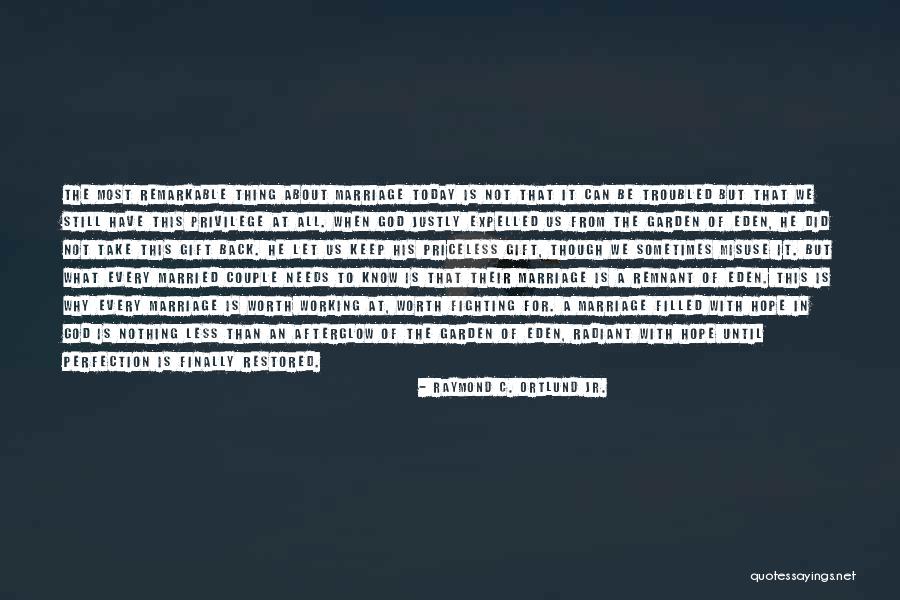 The most remarkable thing about marriage today is not that it can be troubled but that we still have this privilege at all. When God justly expelled us from the garden of Eden, he did not take this gift back. He let us keep his priceless gift, though we sometimes misuse it. But what every married couple needs to know is that their marriage is a remnant of Eden. This is why every marriage is worth working at, worth fighting for. A marriage filled with hope in God is nothing less than an afterglow of the garden of Eden, radiant with hope until perfection is finally restored. — Raymond C. Ortlund Jr.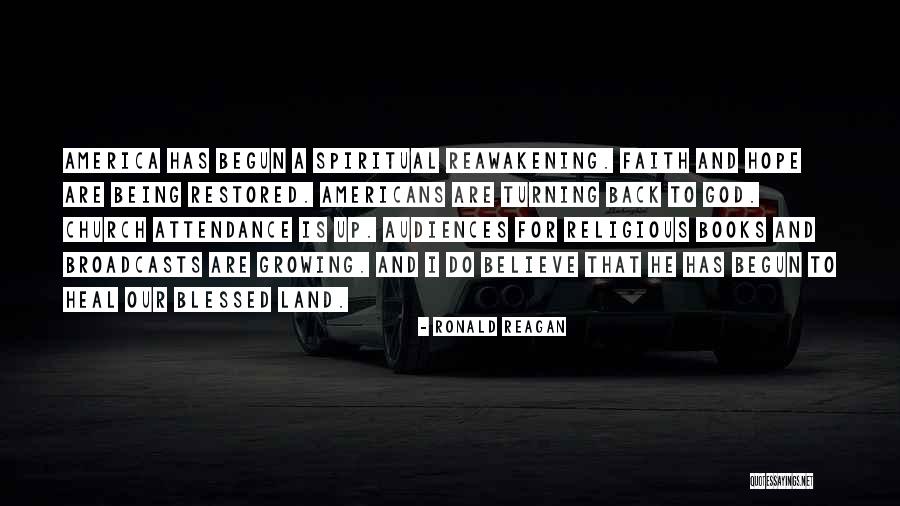 America has begun a spiritual reawakening. Faith and hope are being restored. Americans are turning back to God. Church attendance is up. Audiences for religious books and broadcasts are growing. And I do believe that he has begun to heal our blessed land. — Ronald Reagan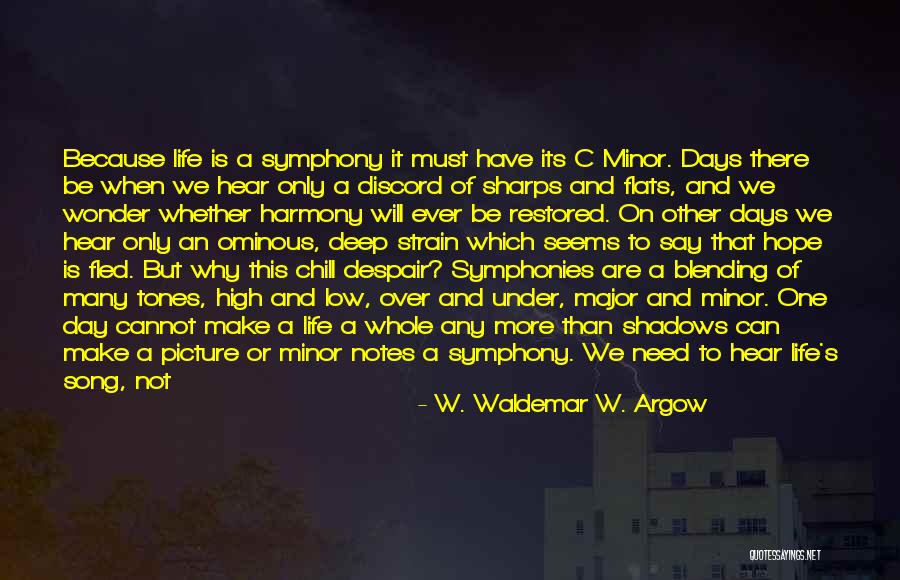 Because life is a symphony it must have its C Minor. Days there be when we hear only a discord of sharps and flats, and we wonder whether harmony will ever be restored. On other days we hear only an ominous, deep strain which seems to say that hope is fled. But why this chill despair? Symphonies are a blending of many tones, high and low, over and under, major and minor. One day cannot make a life a whole any more than shadows can make a picture or minor notes a symphony. We need to hear life's song, not as the discord of a single day, but as the completed harmony of all the years. Then will today's sorrow and tomorrow's disappointment ring forth in major key as glorious melody. — W. Waldemar W. Argow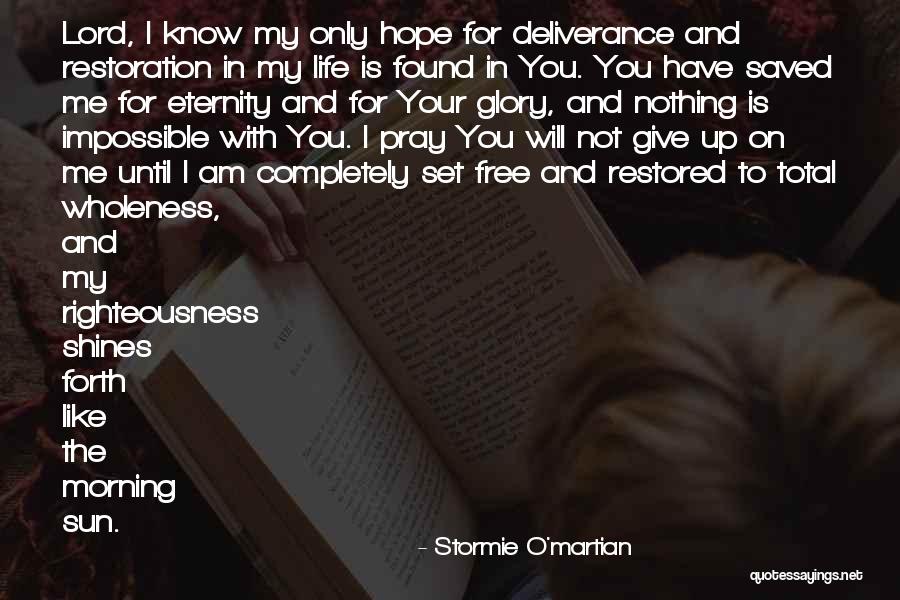 Lord, I know my only hope for deliverance and restoration in my life is found in You. You have saved me for eternity and for Your glory, and nothing is impossible with You. I pray You will not give up on me until I am completely set free and restored to total wholeness, and my righteousness shines forth like the morning sun. — Stormie O'martian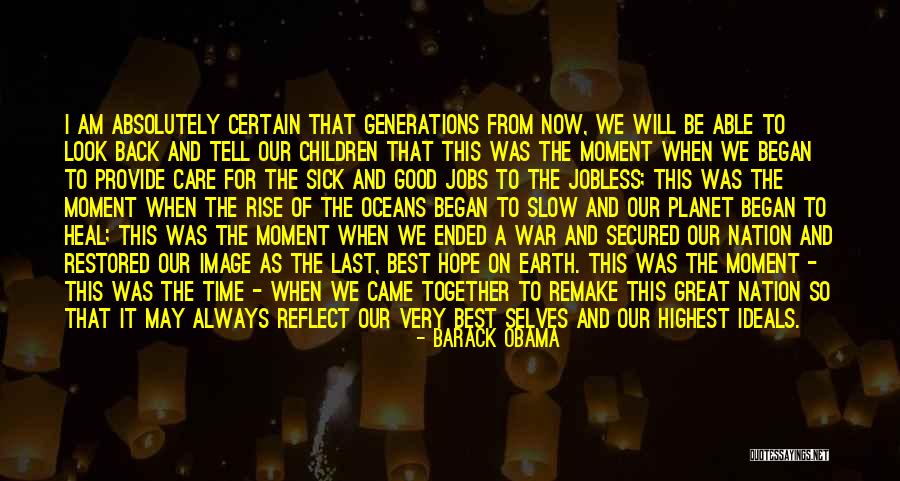 I am absolutely certain that generations from now, we will be able to look back and tell our children that this was the moment when we began to provide care for the sick and good jobs to the jobless; this was the moment when the rise of the oceans began to slow and our planet began to heal; this was the moment when we ended a war and secured our nation and restored our image as the last, best hope on earth. This was the moment - this was the time - when we came together to remake this great nation so that it may always reflect our very best selves and our highest ideals. — Barack Obama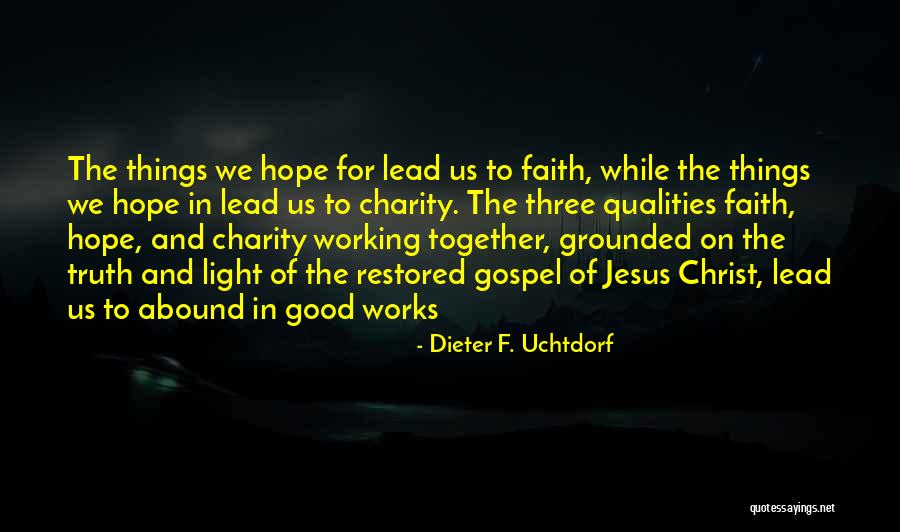 The things we hope for lead us to faith, while the things we hope in lead us to charity. The three qualities faith, hope, and charity working together, grounded on the truth and light of the restored gospel of Jesus Christ, lead us to abound in good works — Dieter F. Uchtdorf