Quotes & Sayings About Herbs And Love
Enjoy reading and share 33 famous quotes about Herbs And Love with everyone.
Top Herbs And Love Quotes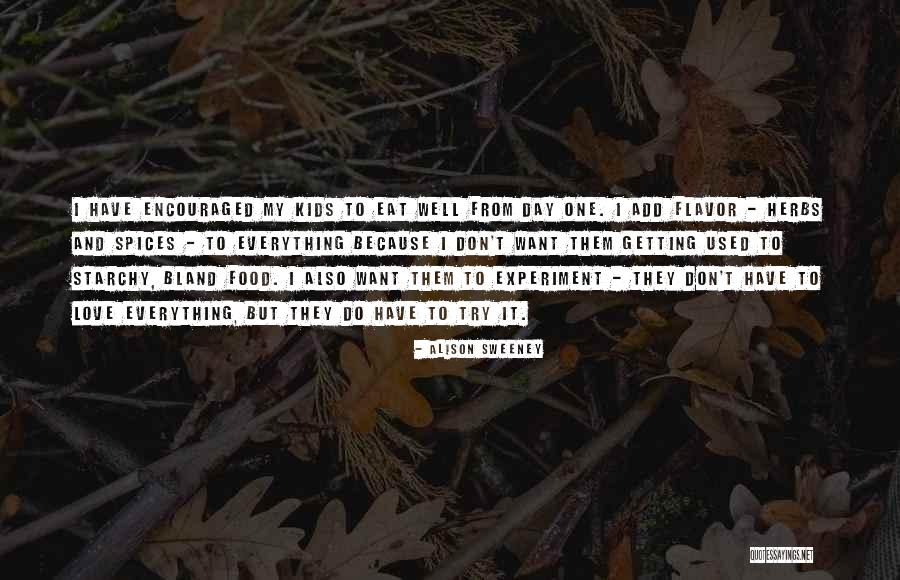 I have encouraged my kids to eat well from day one. I add flavor - herbs and spices - to everything because I don't want them getting used to starchy, bland food. I also want them to experiment - they don't have to love everything, but they do have to try it. — Alison Sweeney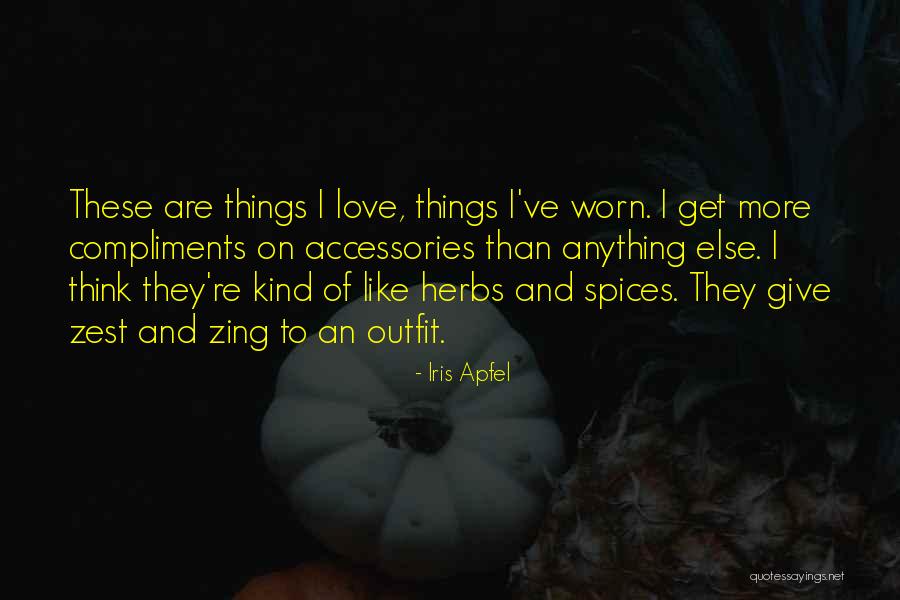 These are things I love, things I've worn. I get more compliments on accessories than anything else. I think they're kind of like herbs and spices. They give zest and zing to an outfit. — Iris Apfel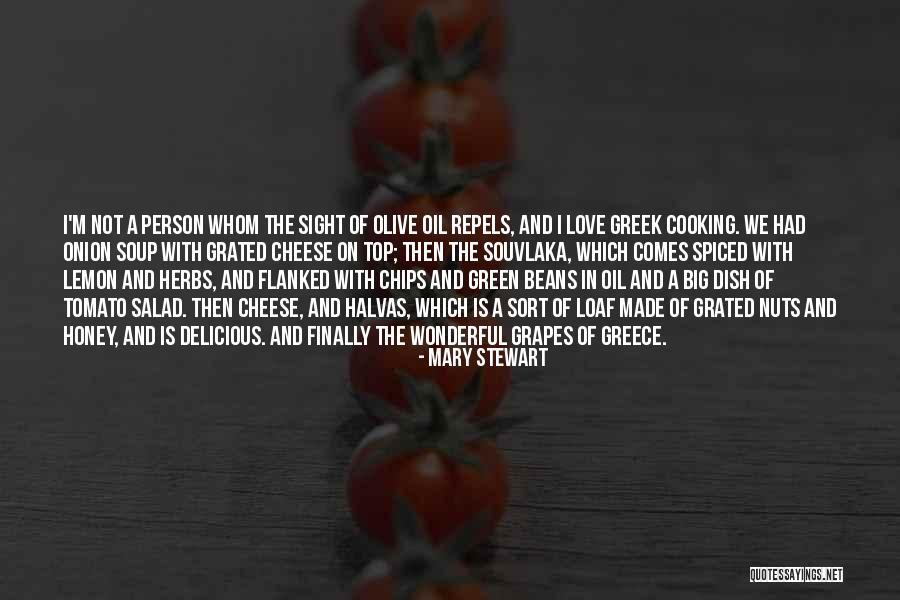 I'm not a person whom the sight of olive oil repels, and I love Greek cooking. We had onion soup with grated cheese on top; then the souvlaka, which comes spiced with lemon and herbs, and flanked with chips and green beans in oil and a big dish of tomato salad. Then cheese, and halvas, which is a sort of loaf made of grated nuts and honey, and is delicious. And finally the wonderful grapes of Greece. — Mary Stewart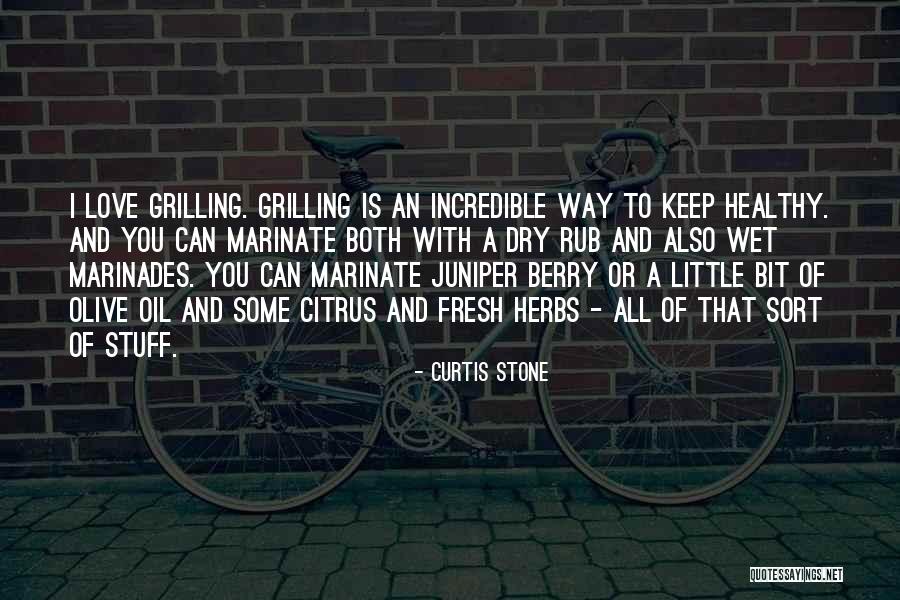 I love grilling. Grilling is an incredible way to keep healthy. And you can marinate both with a dry rub and also wet marinades. You can marinate juniper berry or a little bit of olive oil and some citrus and fresh herbs - all of that sort of stuff. — Curtis Stone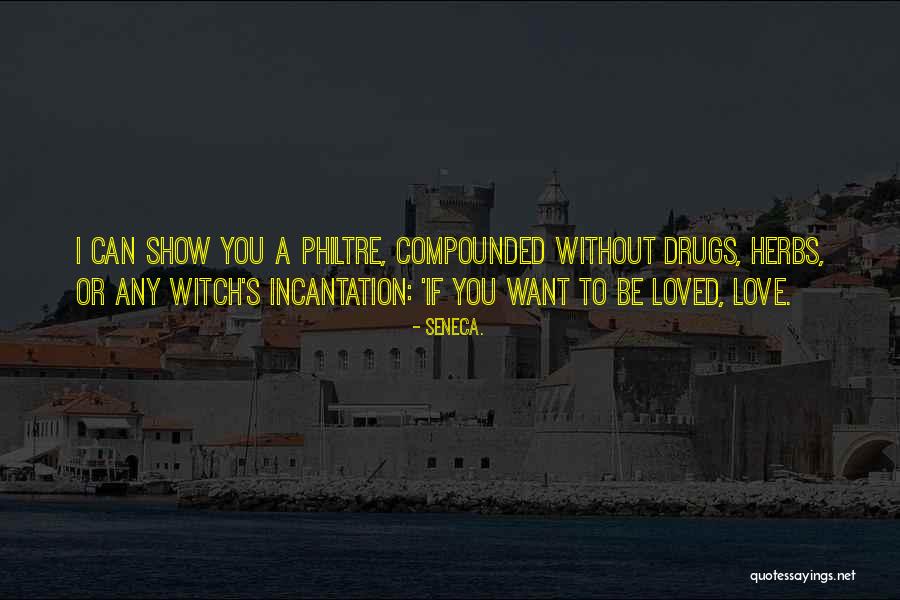 I can show you a philtre, compounded without drugs, herbs, or any witch's incantation: 'If you want to be loved, love. — Seneca.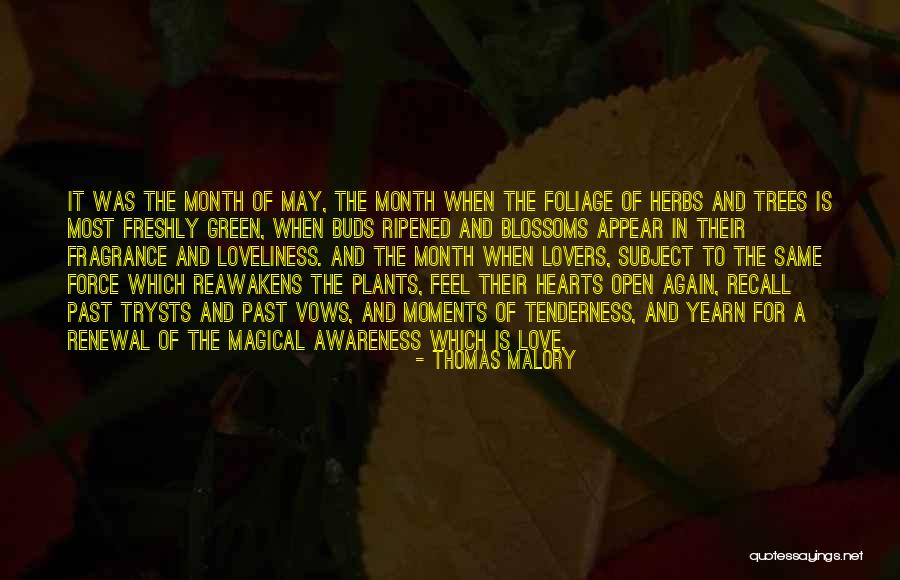 It was the month of May, the month when the foliage of herbs and trees is most freshly green, when buds ripened and blossoms appear in their fragrance and loveliness. And the month when lovers, subject to the same force which reawakens the plants, feel their hearts open again, recall past trysts and past vows, and moments of tenderness, and yearn for a renewal of the magical awareness which is love. — Thomas Malory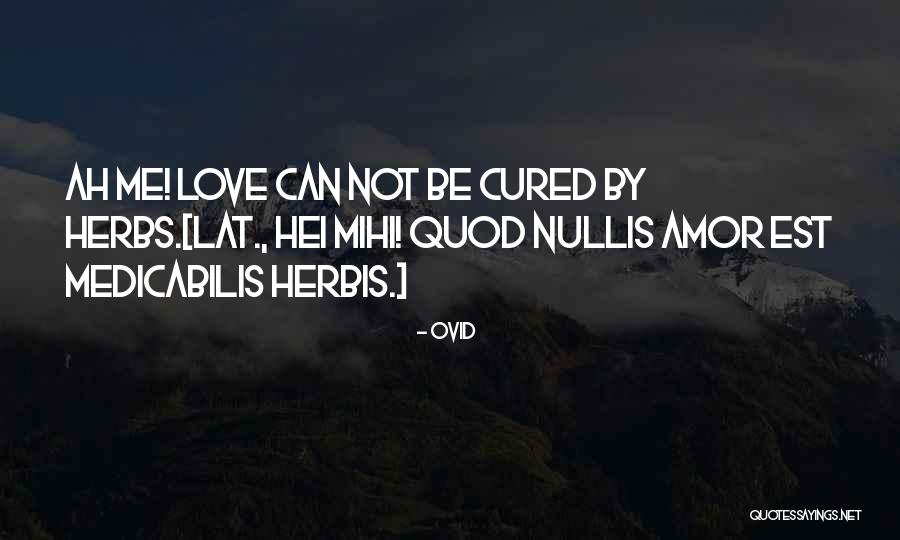 Ah me! love can not be cured by herbs.
[Lat., Hei mihi! quod nullis amor est medicabilis herbis.] — Ovid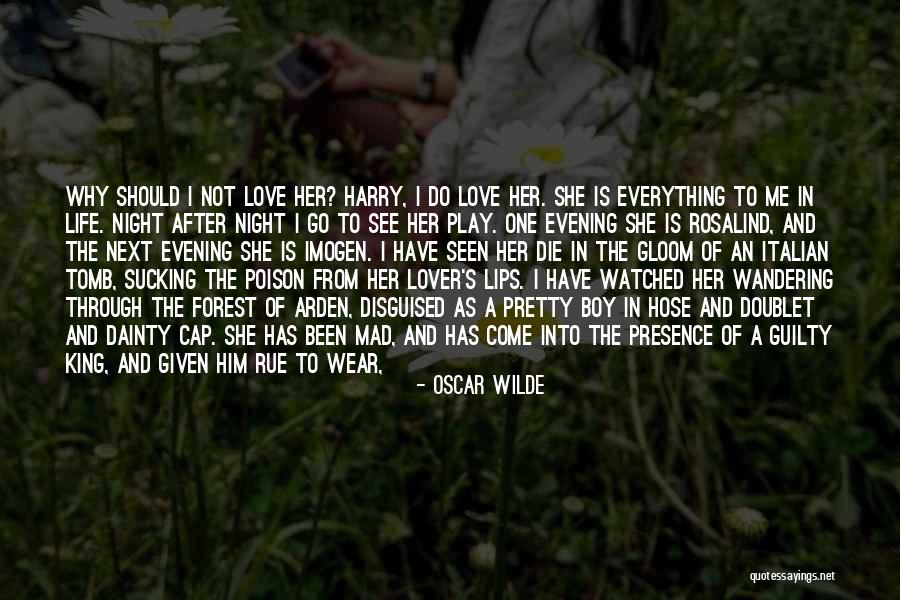 Why should I not love her? Harry, I do love her. She is everything to me in life. Night after night I go to see her play. One evening she is Rosalind, and the next evening she is Imogen. I have seen her die in the gloom of an Italian Tomb, sucking the poison from her lover's lips. I have watched her wandering through the forest of Arden, disguised as a pretty boy in hose and doublet and dainty cap. She has been mad, and has come into the presence of a guilty king, and given him rue to wear, and bitter herbs to taste of. She has been innocent, and the black hands of jealousy have crushed her reed-like throat. I have seen her in every age and in every costume. Ordinary women never appeal to one's imagination. They are limited to their century. No glamour ever transfigures them. One knows their minds as easily as one knows their bonnets. One can always find them. There is no mystery in one of them. — Oscar Wilde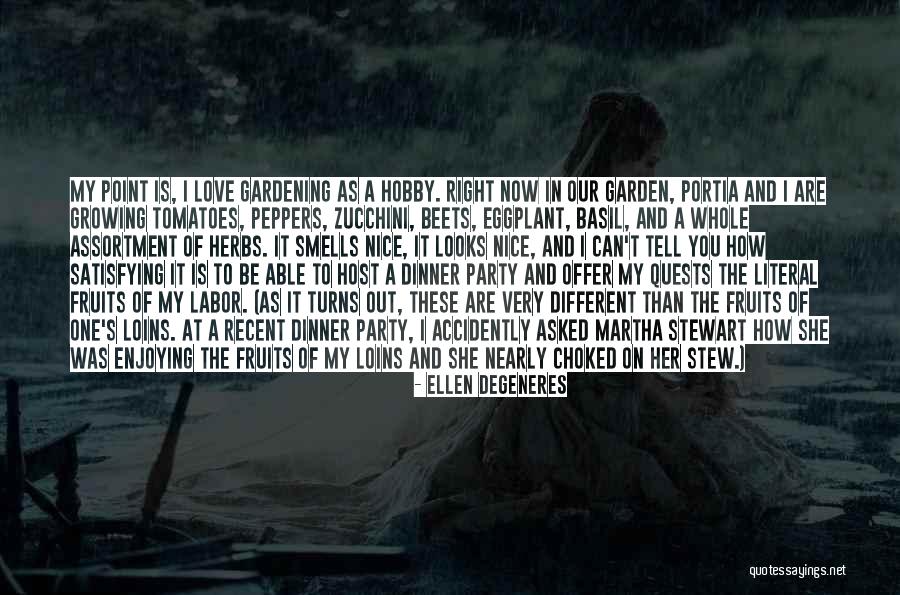 My point is, I love gardening as a hobby. Right now in our garden, Portia and I are growing tomatoes, peppers, zucchini, beets, eggplant, basil, and a whole assortment of herbs. It smells nice, it looks nice, and I can't tell you how satisfying it is to be able to host a dinner party and offer my quests the literal fruits of my labor. (As it turns out, these are very different than the fruits of one's loins. At a recent dinner party, I accidently asked Martha Stewart how she was enjoying the fruits of my loins and she nearly choked on her stew.) — Ellen DeGeneres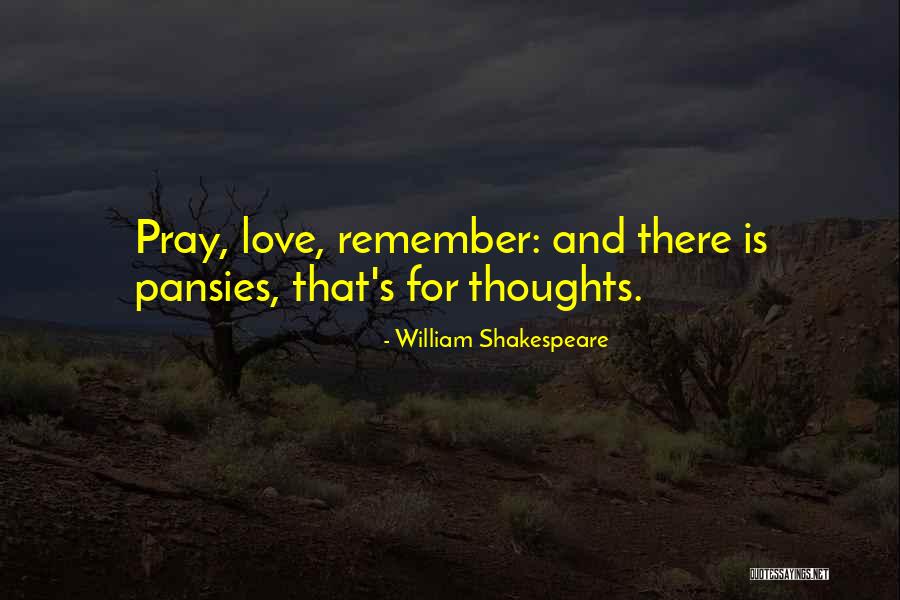 Pray, love, remember: and there is pansies, that's for thoughts. — William Shakespeare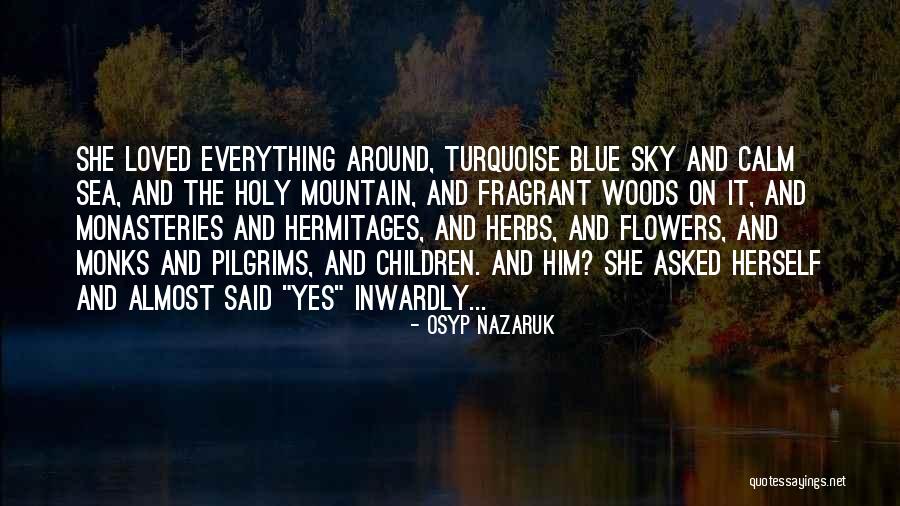 She loved everything around, turquoise blue sky and calm sea, and the holy mountain, and fragrant woods on it, and monasteries and hermitages, and herbs, and flowers, and monks and pilgrims, and children. And him? She asked herself and almost said "yes" inwardly... — Osyp Nazaruk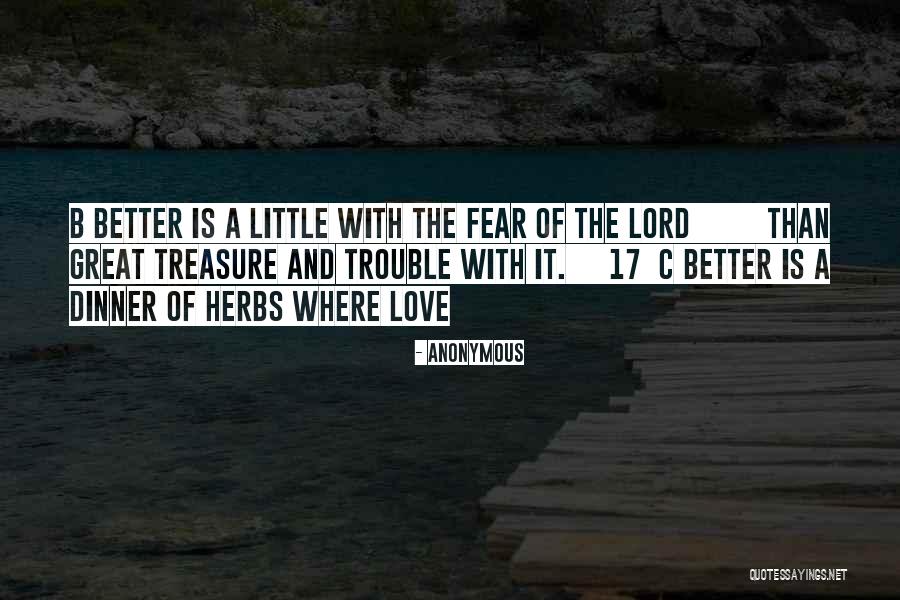 b Better is a little with the fear of the LORD than great treasure and trouble with it. 17 c Better is a dinner of herbs where love — Anonymous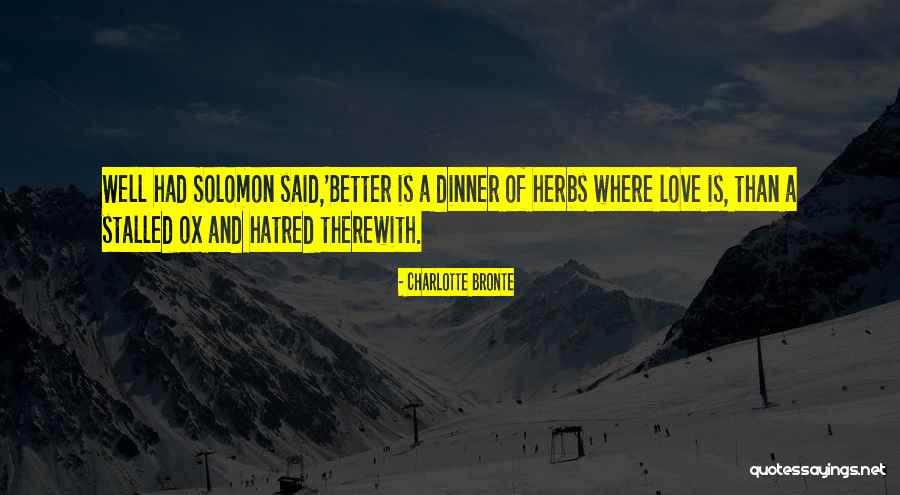 Well had Solomon said,'Better is a dinner of herbs where love is, than a stalled ox and hatred therewith. — Charlotte Bronte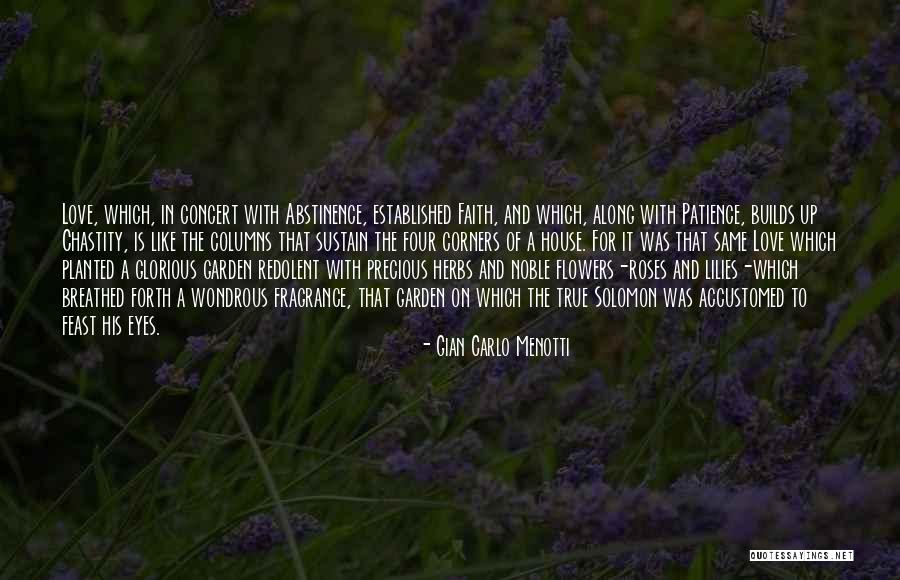 Love, which, in concert with Abstinence, established Faith, and which, along with Patience, builds up Chastity, is like the columns that sustain the four corners of a house. For it was that same Love which planted a glorious garden redolent with precious herbs and noble flowers-roses and lilies-which breathed forth a wondrous fragrance, that garden on which the true Solomon was accustomed to feast his eyes. — Gian Carlo Menotti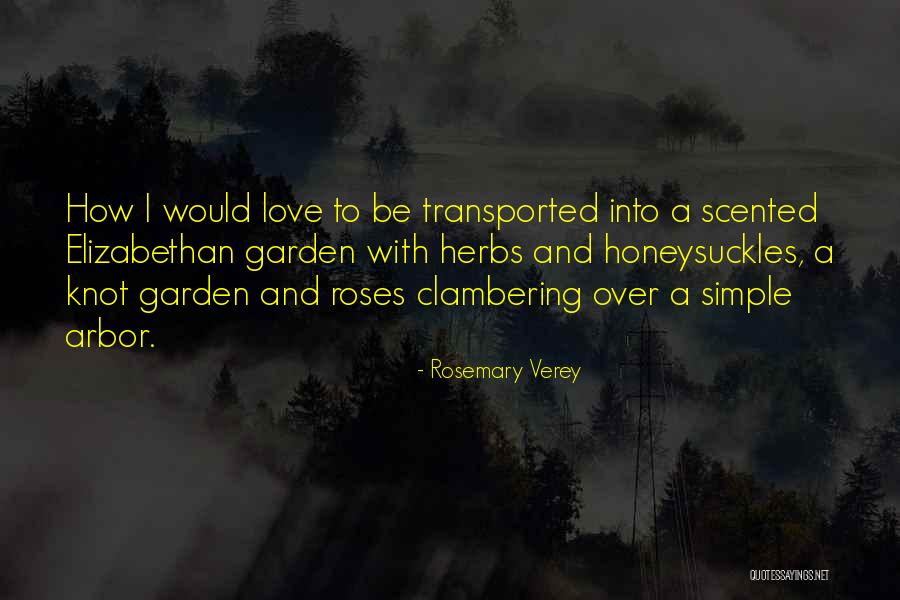 How I would love to be transported into a scented Elizabethan garden with herbs and honeysuckles, a knot garden and roses clambering over a simple arbor. — Rosemary Verey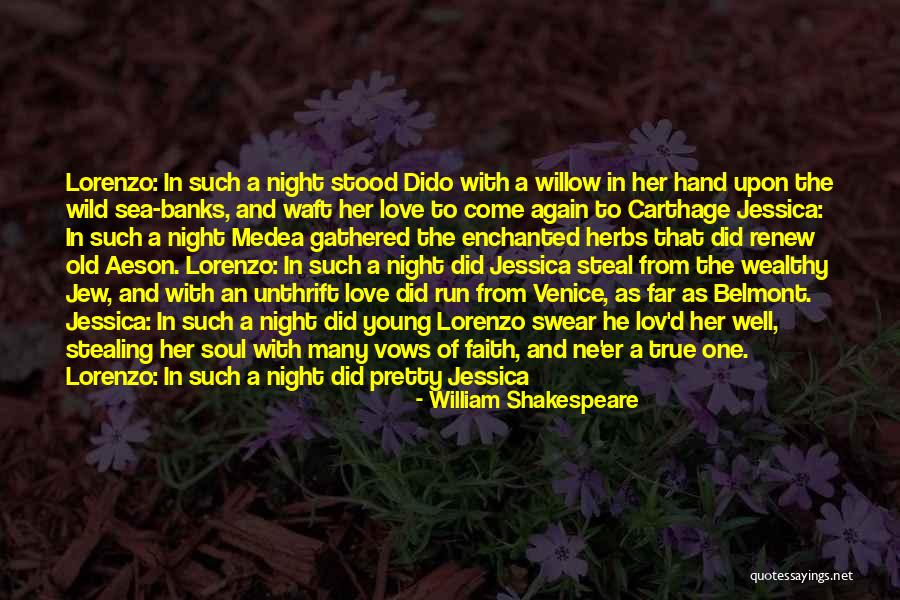 Lorenzo: In such a night stood Dido with a willow in her hand upon the wild sea-banks, and waft her love to come again to Carthage
Jessica: In such a night Medea gathered the enchanted herbs that did renew old Aeson.
Lorenzo: In such a night did Jessica steal from the wealthy Jew, and with an unthrift love did run from Venice, as far as Belmont.
Jessica: In such a night did young Lorenzo swear he lov'd her well, stealing her soul with many vows of faith, and ne'er a true one.
Lorenzo: In such a night did pretty Jessica (like a little shrow) slander her love, and he forgave it her.
Jessica: I would out-night you, did nobody come; but hark, I hear the footing of a man. — William Shakespeare
Back at the cottage we explored the topography of my body; twigs in my hair, calves striped red and my skirt smudged in meadowtones. The forest underlined me, accentuated me, illustrated me. I felt alive in that midnight village whose dark places left their signatures on my skin, whose bites still hummed around my wrists. I didn't notice till then the thousand nettle stings rising like pearls; burning bracelets that my love kissed and rubbed with dock leaves; a folk remedy painting my pulse points green; honorary stalks. — Jalina Mhyana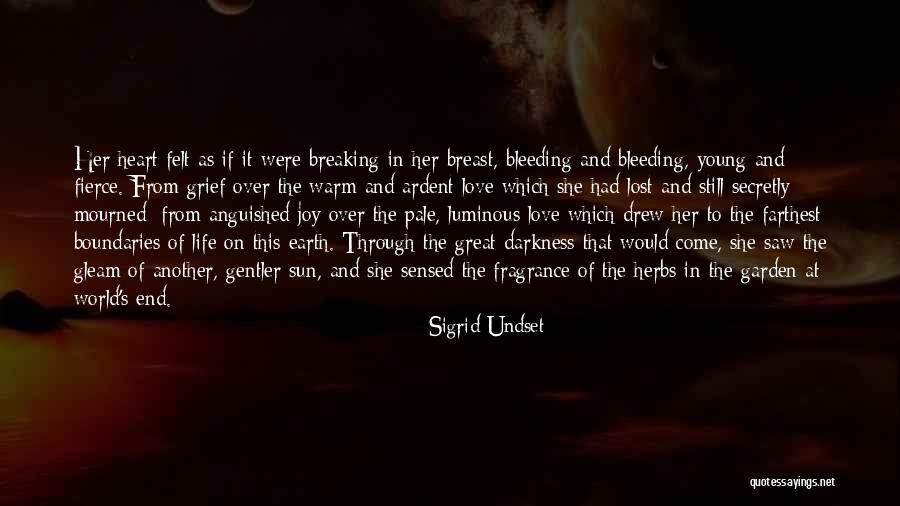 Her heart felt as if it were breaking in her breast, bleeding and bleeding, young and fierce. From grief over the warm and ardent love which she had lost and still secretly mourned; from anguished joy over the pale, luminous love which drew her to the farthest boundaries of life on this earth. Through the great darkness that would come, she saw the gleam of another, gentler sun, and she sensed the fragrance of the herbs in the garden at world's end. — Sigrid Undset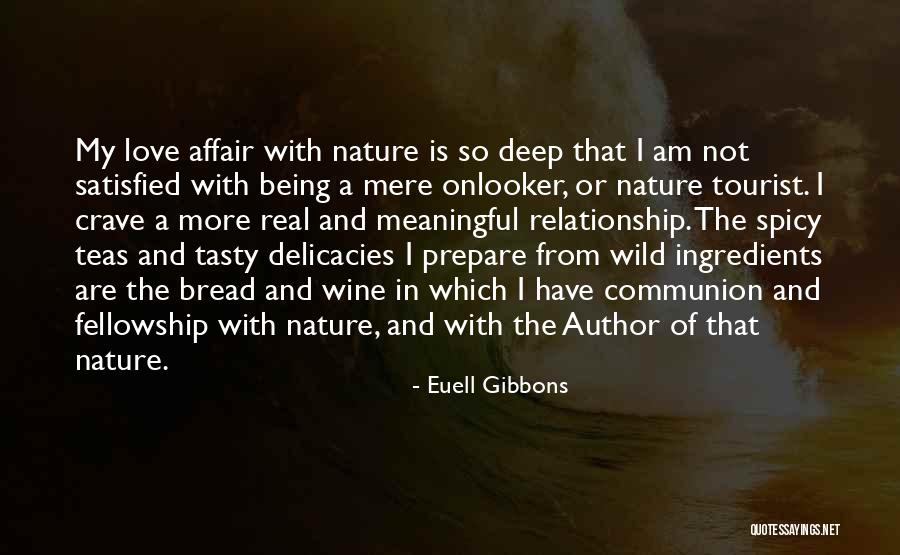 My love affair with nature is so deep that I am not satisfied with being a mere onlooker, or nature tourist. I crave a more real and meaningful relationship. The spicy teas and tasty delicacies I prepare from wild ingredients are the bread and wine in which I have communion and fellowship with nature, and with the Author of that nature. — Euell Gibbons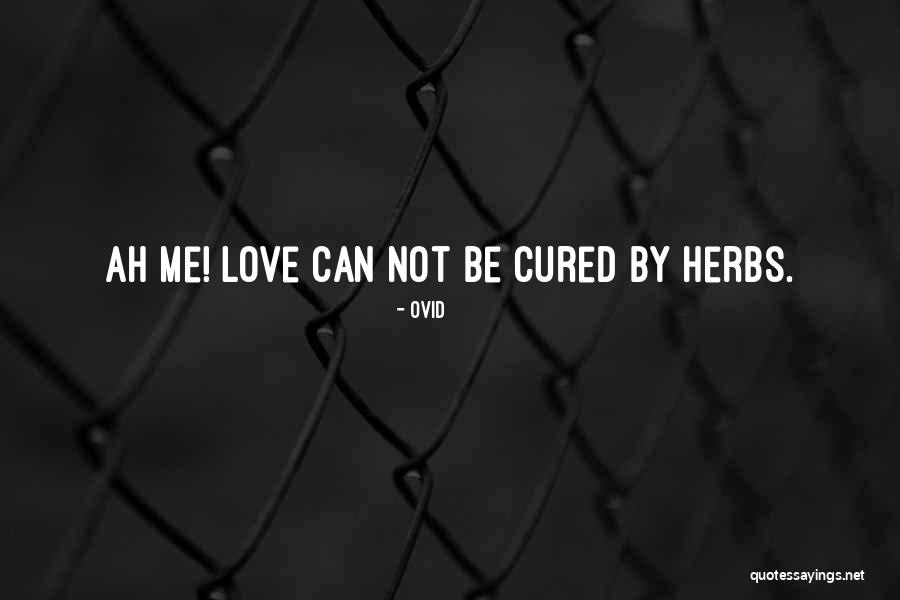 Ah me! Love can not be cured by herbs. — Ovid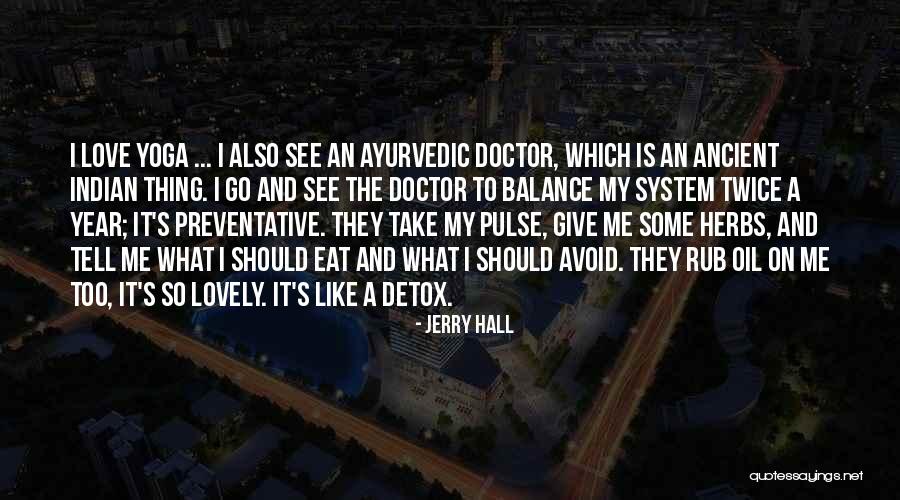 I love yoga ... I also see an Ayurvedic doctor, which is an ancient Indian thing. I go and see the doctor to balance my system twice a year; it's preventative. They take my pulse, give me some herbs, and tell me what I should eat and what I should avoid. They rub oil on me too, it's so lovely. It's like a detox. — Jerry Hall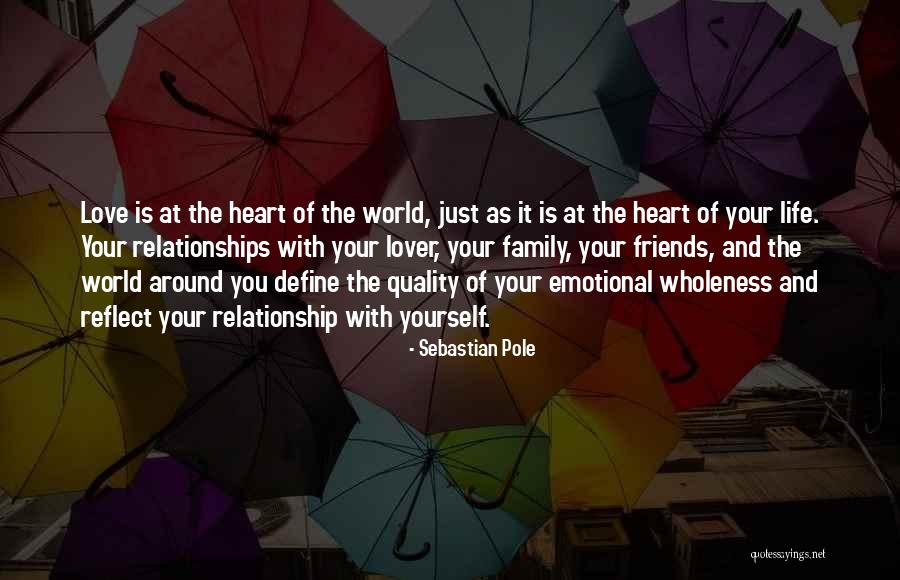 Love is at the heart of the world, just as it is at the heart of your life. Your relationships with your lover, your family, your friends, and the world around you define the quality of your emotional wholeness and reflect your relationship with yourself. — Sebastian Pole
Meditation is both the symbol and expression of our intention to grow. Sitting still, alone with our thoughts and feelings, we can honor missed opportunities, passing desires, remembered disappointments, as well as our inner strength, personal wisdom, and ability to forgive and love. — Sebastian Pole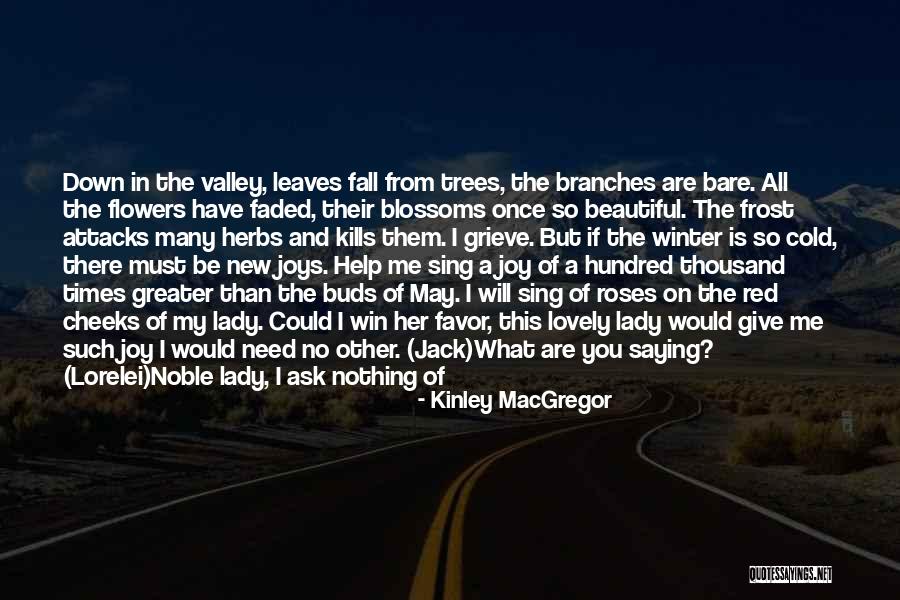 Down in the valley, leaves fall from trees, the branches are bare. All the flowers have faded, their blossoms once so beautiful. The frost attacks many herbs and kills them. I grieve. But if the winter is so cold, there must be new joys. Help me sing a joy of a hundred thousand times greater than the buds of May. I will sing of roses on the red cheeks of my lady. Could I win her favor, this lovely lady would give me such joy I would need no other. (Jack)
What are you saying? (Lorelei)
Noble lady, I ask nothing of you save that you should accept me as your servant. I will serve you as a good lord should serve, whatever the reward may be. Here I am, then, at your orders, sincere and humble, gay and courteous. You are not, after all, a bear or lion, and would not kill me, surely, if I put myself between your hands. I love you, my lady, Lorelei. Marry me and I swear I shall never again do or say anything to harm you and I will slay anyone who does. (Jack) — Kinley MacGregor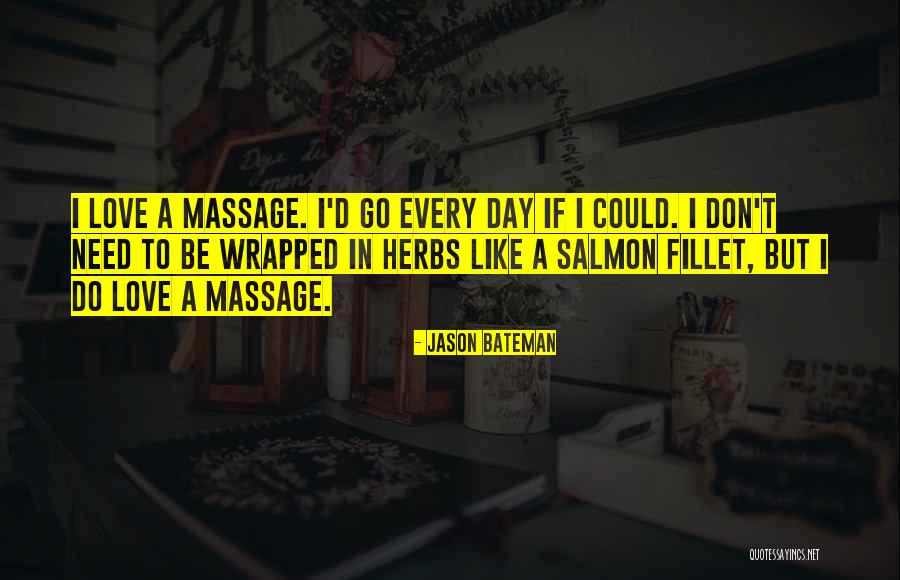 I love a massage. I'd go every day if I could. I don't need to be wrapped in herbs like a salmon fillet, but I do love a massage. — Jason Bateman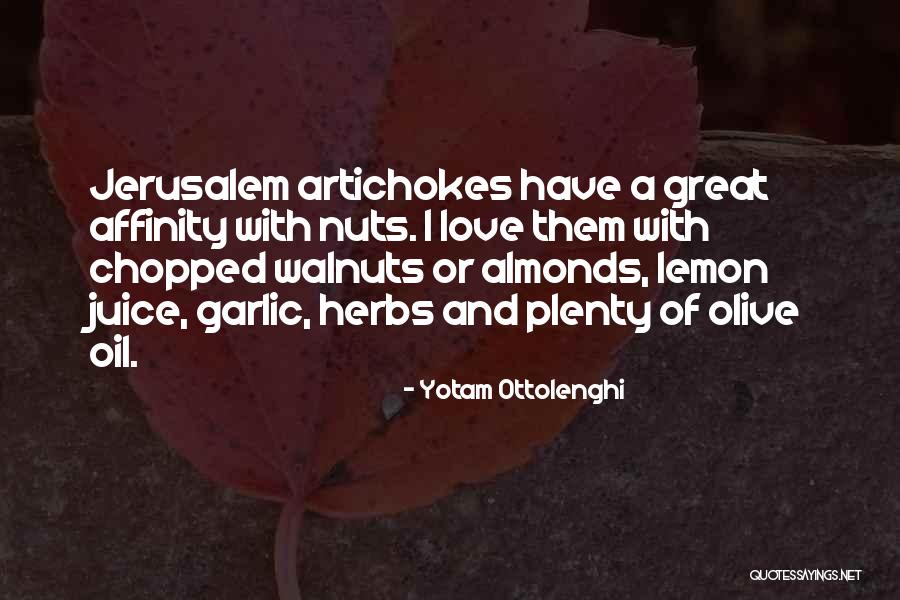 Jerusalem artichokes have a great affinity with nuts. I love them with chopped walnuts or almonds, lemon juice, garlic, herbs and plenty of olive oil. — Yotam Ottolenghi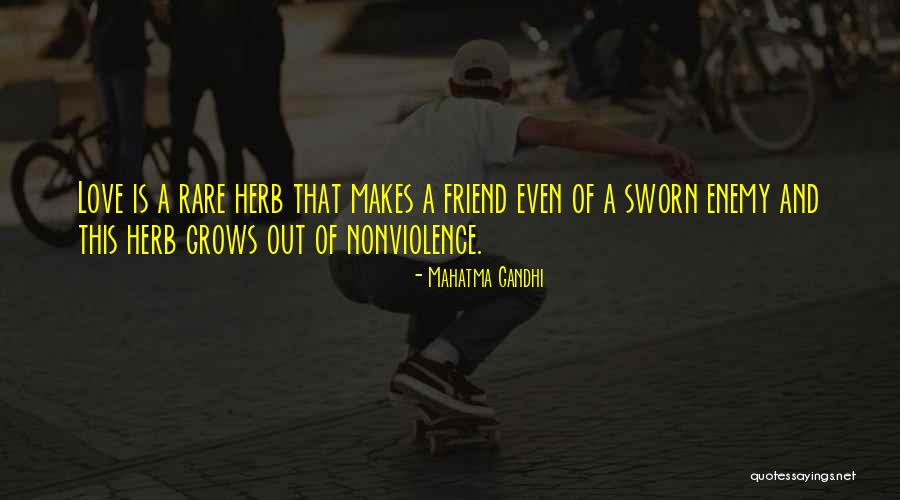 Love is a rare herb that makes a friend even of a sworn enemy and this herb grows out of nonviolence. — Mahatma Gandhi
The wisdom teachings that permeate this book revolve around the truth that radically honest, compassionate self-exploration leads to self-awareness, and that true self-awareness is always healing. It opens us to the naturalness of love, peace, joy, and our own boundless creativity. Love, and especially self-love and acceptance, is the greatest healing force that I have gleaned thus far. — Robin Rose Bennett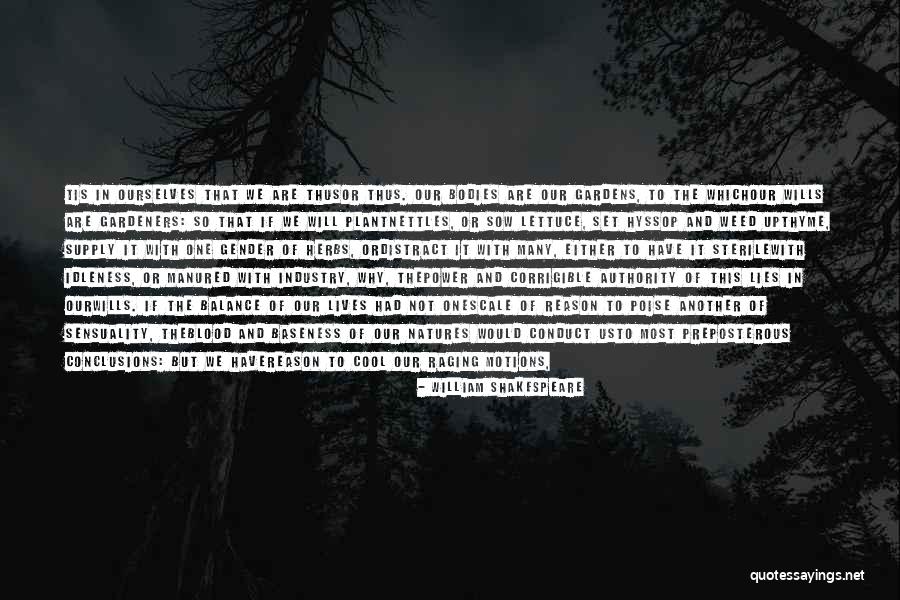 Tis in ourselves that we are thus
or thus. Our bodies are our gardens, to the which
our wills are gardeners: so that if we will plant
nettles, or sow lettuce, set hyssop and weed up
thyme, supply it with one gender of herbs, or
distract it with many, either to have it sterile
with idleness, or manured with industry, why, the
power and corrigible authority of this lies in our
wills. If the balance of our lives had not one
scale of reason to poise another of sensuality, the
blood and baseness of our natures would conduct us
to most preposterous conclusions: but we have
reason to cool our raging motions, our carnal
stings, our unbitted lusts, whereof I take this that
you call love to be a sect or scion. — William Shakespeare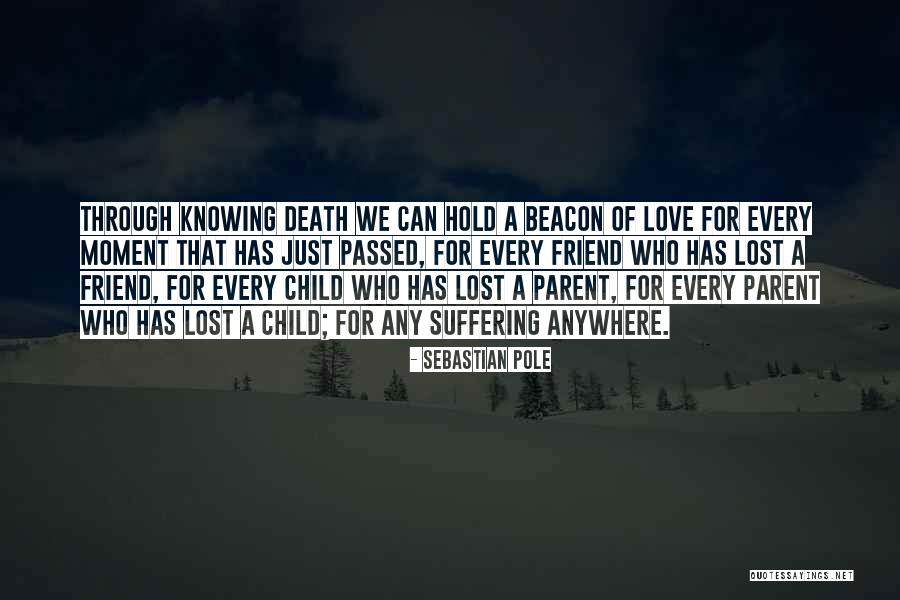 Through knowing death we can hold a beacon of love for every moment that has just passed, for every friend who has lost a friend, for every child who has lost a parent, for every parent who has lost a child; for any suffering anywhere. — Sebastian Pole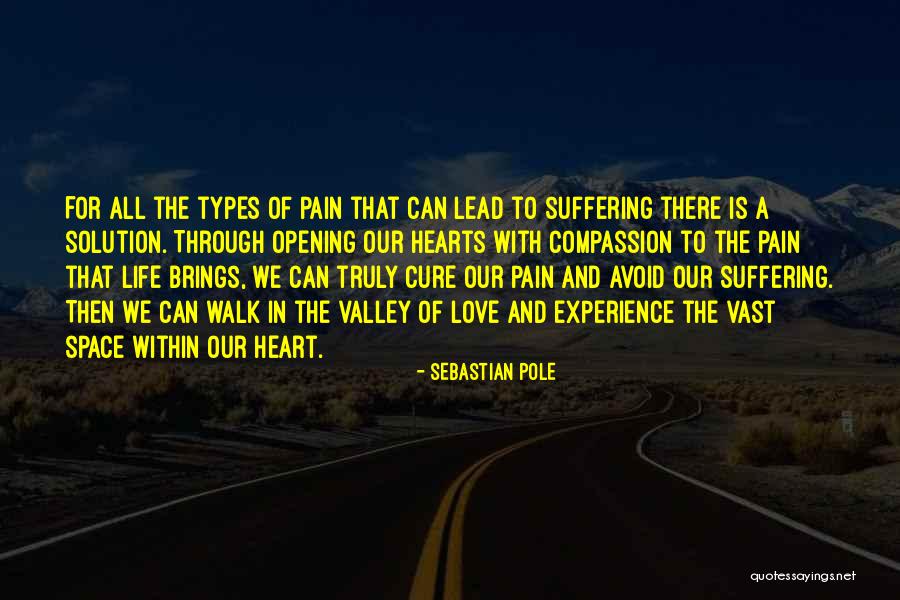 For all the types of pain that can lead to suffering there is a solution. Through opening our hearts with compassion to the pain that life brings, we can truly cure our pain and avoid our suffering. Then we can walk in the valley of love and experience the vast space within our heart. — Sebastian Pole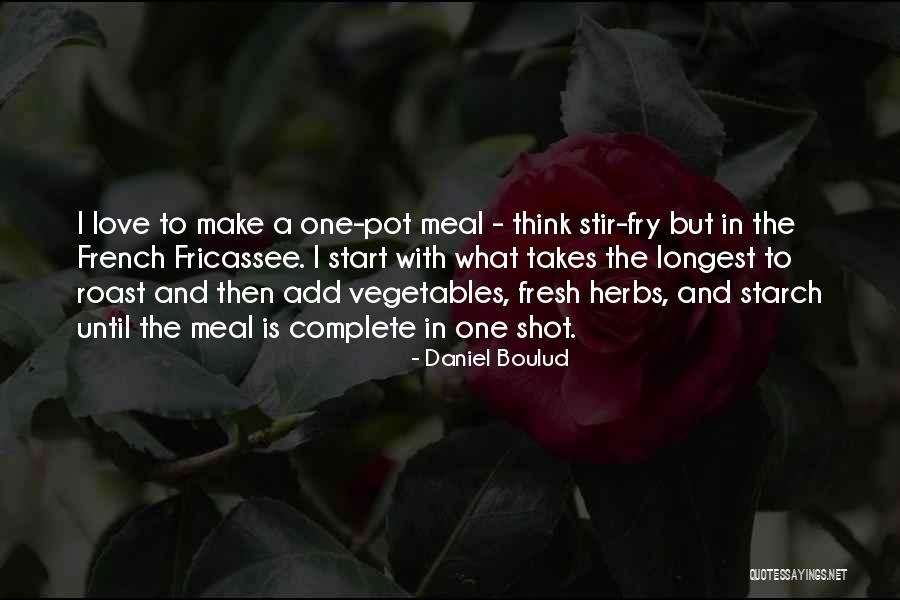 I love to make a one-pot meal - think stir-fry but in the French Fricassee. I start with what takes the longest to roast and then add vegetables, fresh herbs, and starch until the meal is complete in one shot. — Daniel Boulud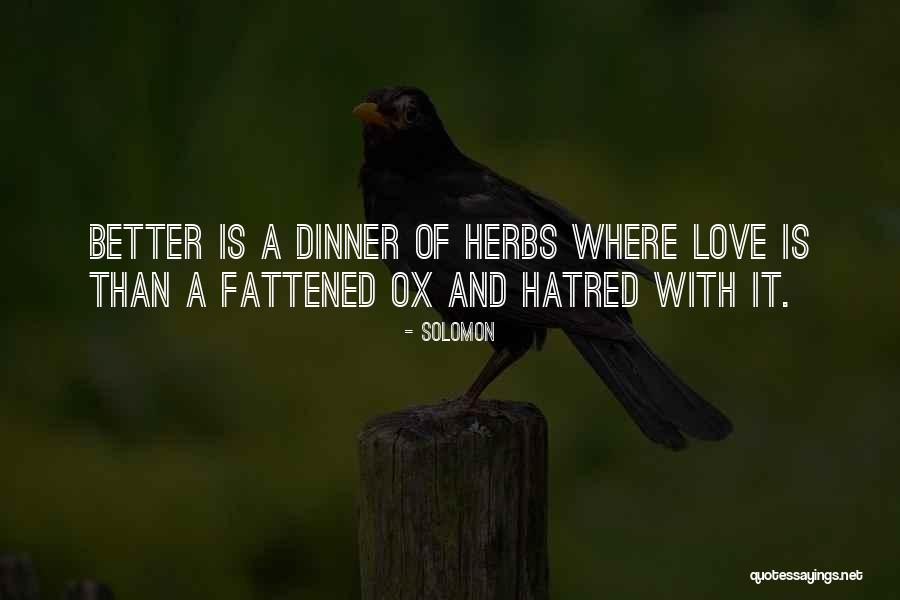 Better is a dinner of herbs where love is than a fattened ox and hatred with it. — Solomon