Quotes & Sayings About Heartbreak And Depression
Enjoy reading and share 16 famous quotes about Heartbreak And Depression with everyone.
Top Heartbreak And Depression Quotes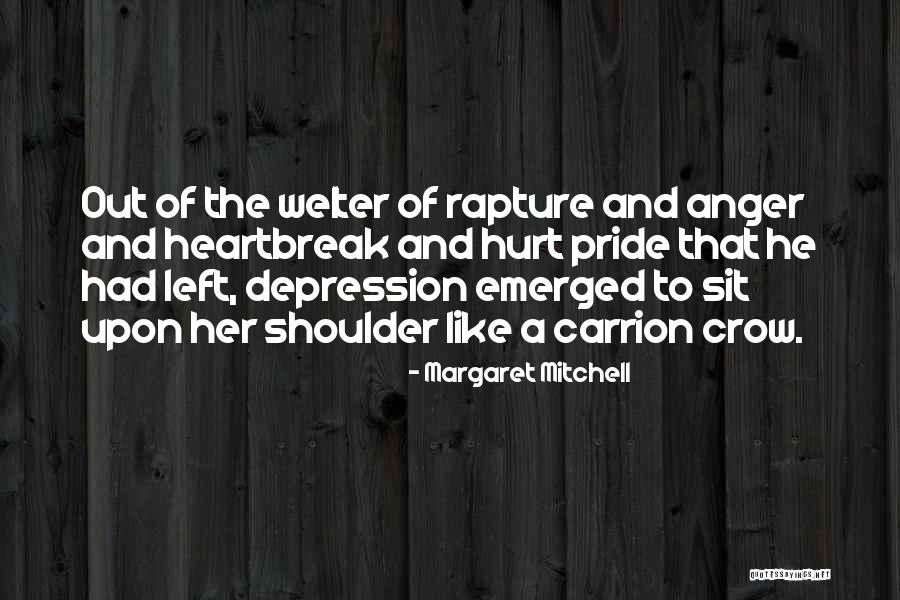 Out of the welter of rapture and anger and heartbreak and hurt pride that he had left, depression emerged to sit upon her shoulder like a carrion crow. — Margaret Mitchell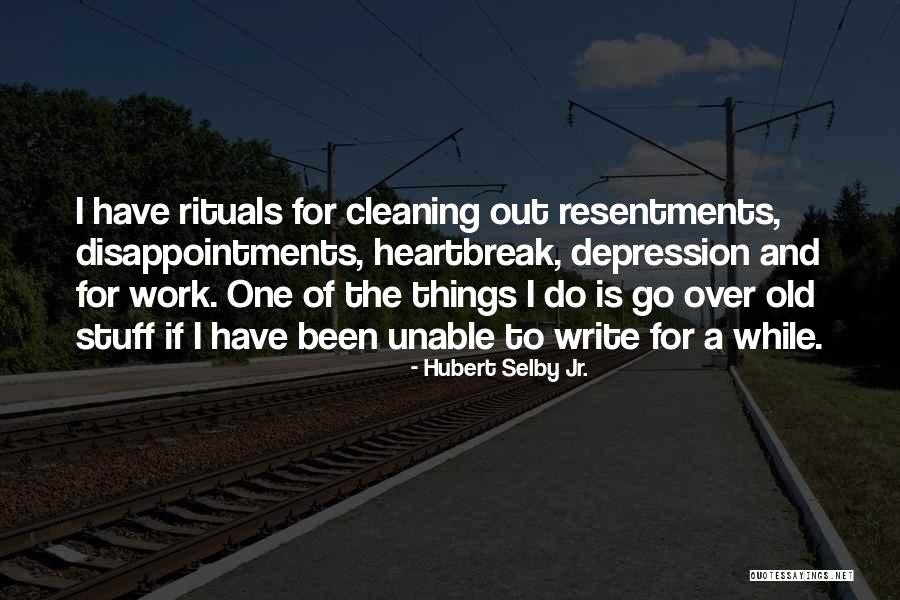 I have rituals for cleaning out resentments, disappointments, heartbreak, depression and for work. One of the things I do is go over old stuff if I have been unable to write for a while. — Hubert Selby Jr.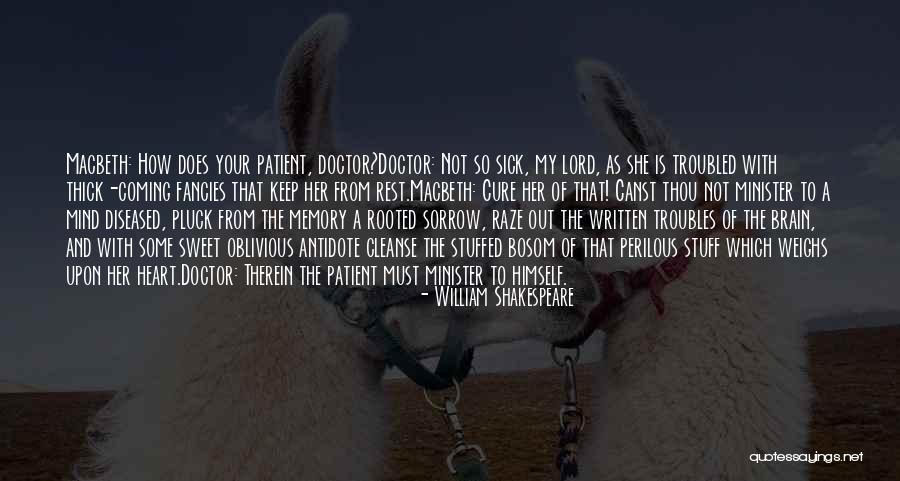 Macbeth: How does your patient, doctor?
Doctor: Not so sick, my lord, as she is troubled with thick-coming fancies that keep her from rest.
Macbeth: Cure her of that! Canst thou not minister to a mind diseased, pluck from the memory a rooted sorrow, raze out the written troubles of the brain, and with some sweet oblivious antidote cleanse the stuffed bosom of that perilous stuff which weighs upon her heart.
Doctor: Therein the patient must minister to himself. — William Shakespeare
Being Lulu, it made me realize that all my life I've been living in a small, square room, with no windows and no doors. And I was fine. I was happy, even. I thought. Then someone came along and showed me there was a door in the room. One that I'd never even seen before. Then he opened it for me. Held my hand as I walked through it. And for one perfect day, I was on the other side. I was somewhere else. Someone else. And then he was gone, and I was thrown back into my little room. And now, no matter what I do, I can't seem to find that door. — Gayle Forman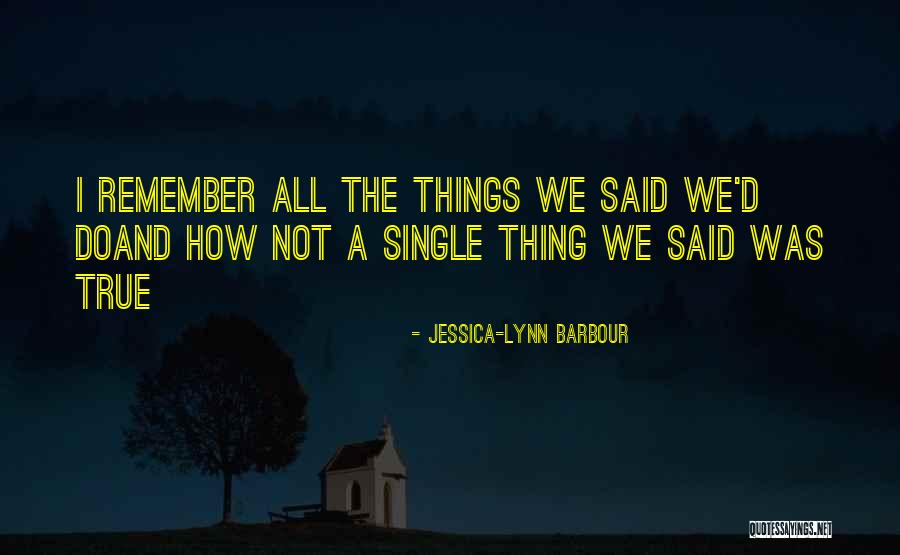 I remember all the things we said we'd do
And how not a single thing we said was true — Jessica-Lynn Barbour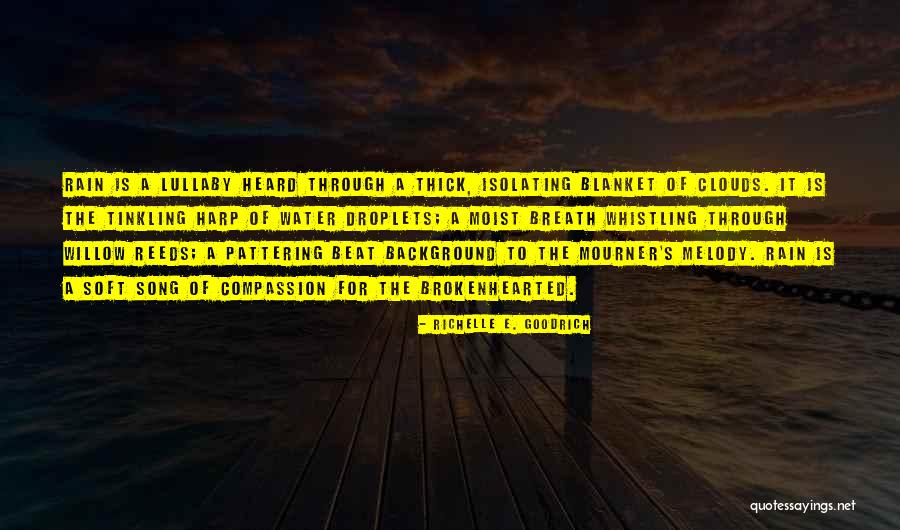 Rain is a lullaby heard through a thick, isolating blanket of clouds. It is the tinkling harp of water droplets; a moist breath whistling through willow reeds; a pattering beat background to the mourner's melody. Rain is a soft song of compassion for the brokenhearted. — Richelle E. Goodrich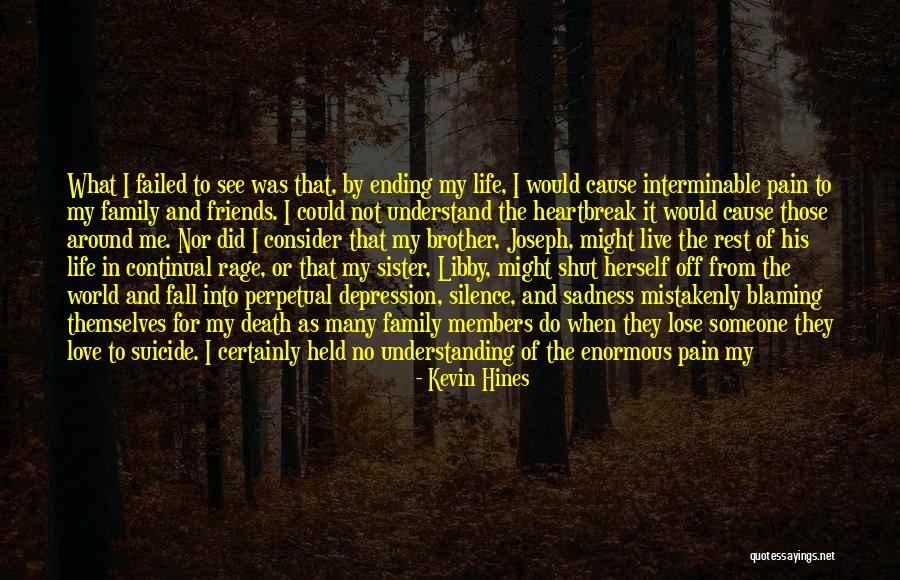 What I failed to see was that, by ending my life, I would cause interminable pain to my family and friends. I could not understand the heartbreak it would cause those around me. Nor did I consider that my brother, Joseph, might live the rest of his life in continual rage, or that my sister, Libby, might shut herself off from the world and fall into perpetual depression, silence, and sadness mistakenly blaming themselves for my death as many family members do when they lose someone they love to suicide. I certainly held no understanding of the enormous pain my mother and father would suffer because they lost their oldest son in such a terrifying and devastating way. They would not have a chance to watch me mature, marry, and perhaps have children. Instead, all of their hopes, aspirations, and dreams for me would be destroyed with my decision to end my life by jumping off the Golden Gate Bridge. — Kevin Hines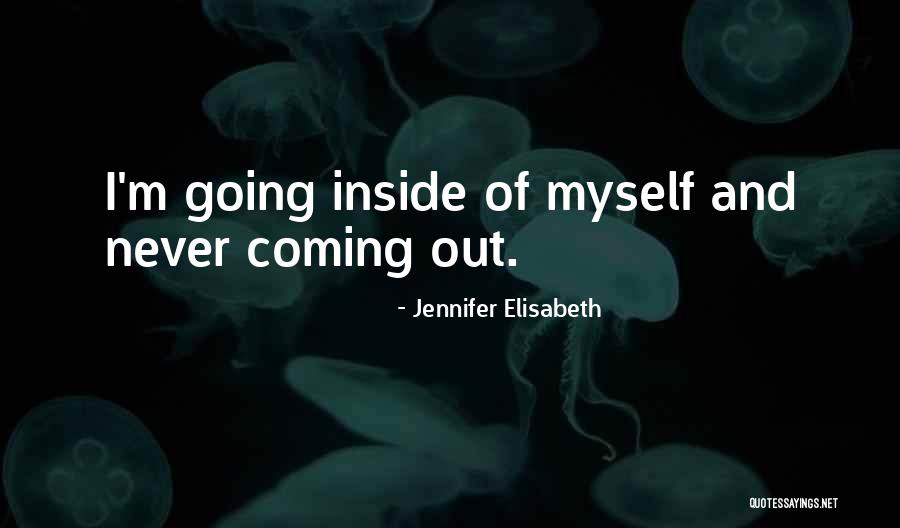 I'm going inside of myself and never coming out. — Jennifer Elisabeth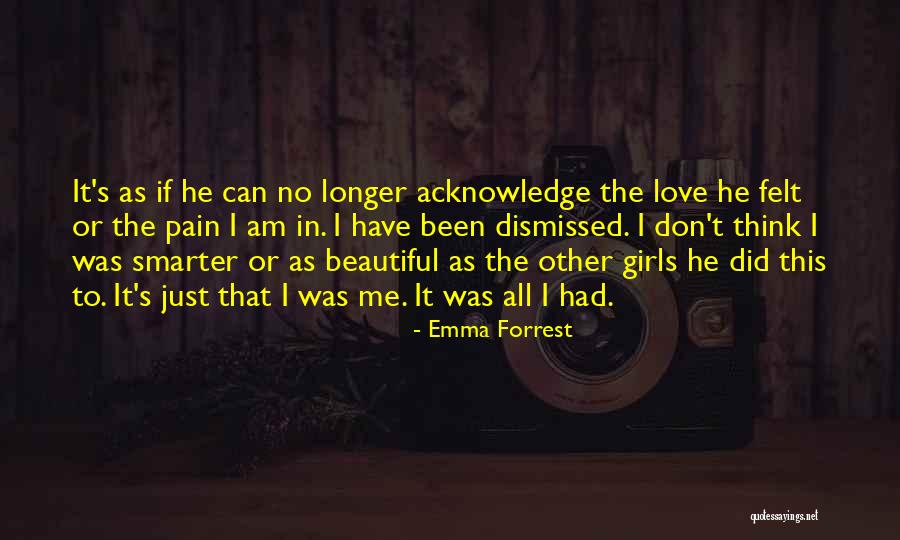 It's as if he can no longer acknowledge the love he felt or the pain I am in. I have been dismissed. I don't think I was smarter or as beautiful as the other girls he did this to. It's just that I was me. It was all I had. — Emma Forrest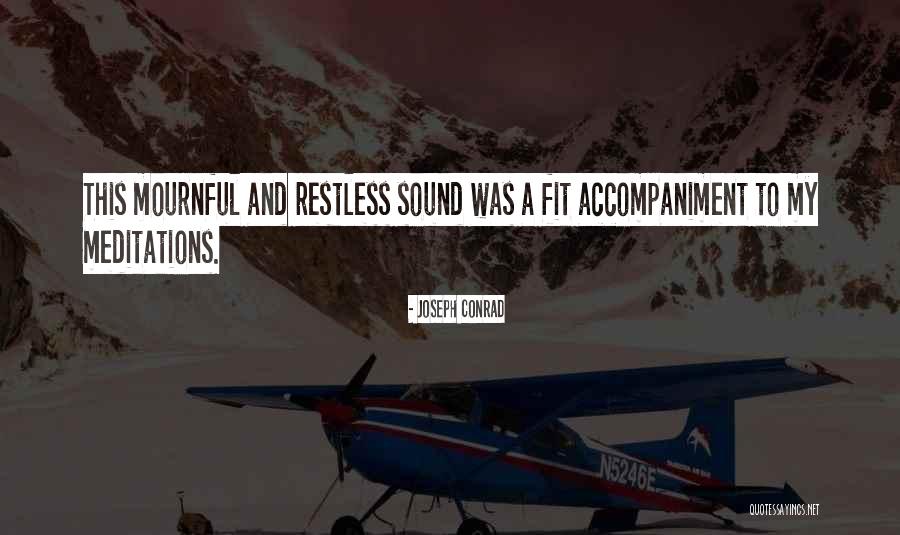 This mournful and restless sound was a fit accompaniment to my meditations. — Joseph Conrad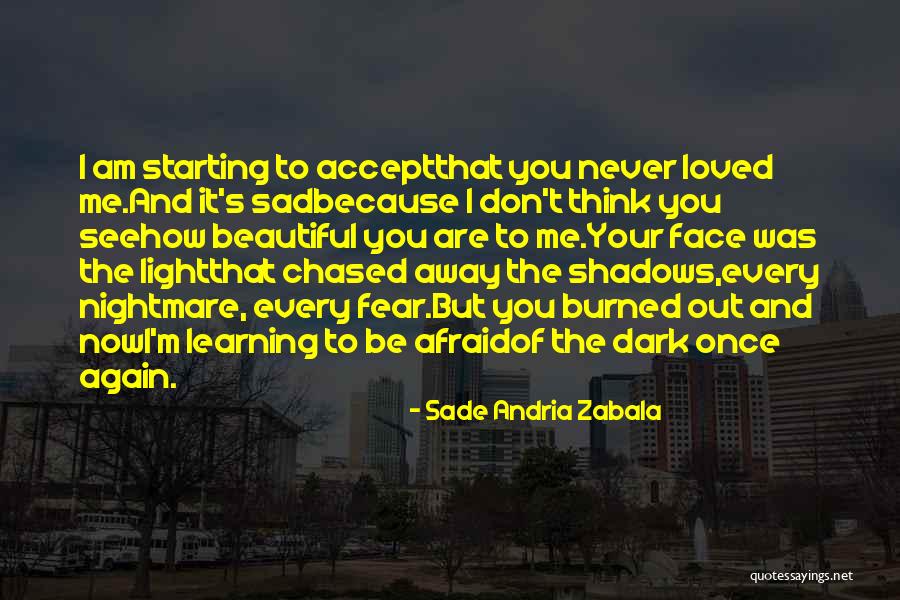 I am starting to accept
that you never loved me.
And it's sad
because I don't think you see
how beautiful you are to me.
Your face was the light
that chased away the shadows,
every nightmare, every fear.
But you burned out and now
I'm learning to be afraid
of the dark once again. — Sade Andria Zabala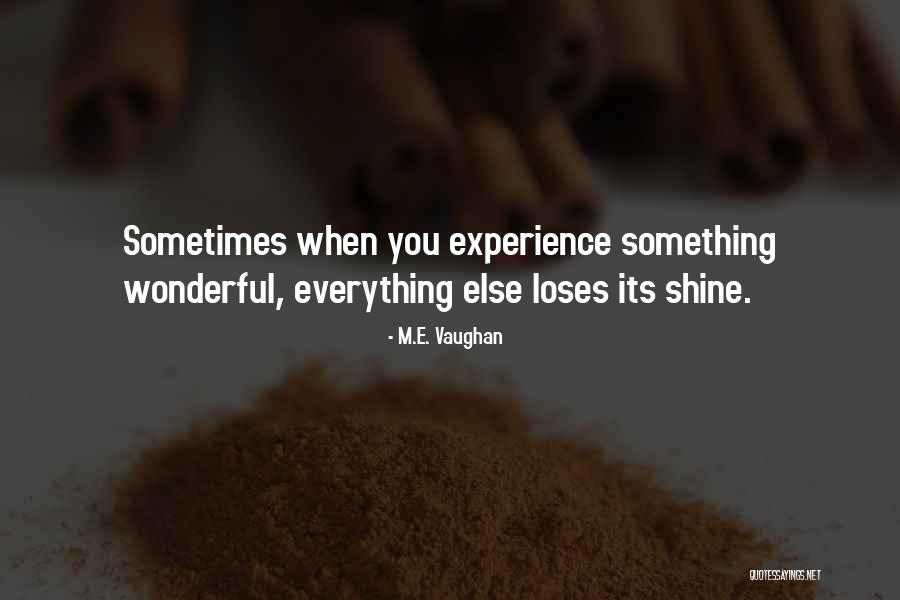 Sometimes when you experience something wonderful, everything else loses its shine. — M.E. Vaughan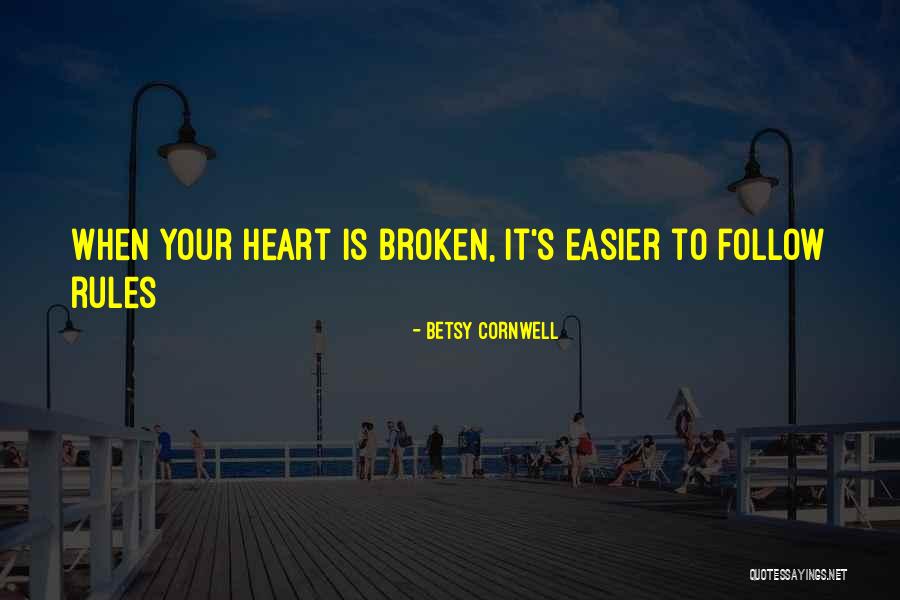 When your heart is broken, it's easier to follow rules — Betsy Cornwell