Quotes & Sayings About Hearing God Voice
Enjoy reading and share 34 famous quotes about Hearing God Voice with everyone.
Top Hearing God Voice Quotes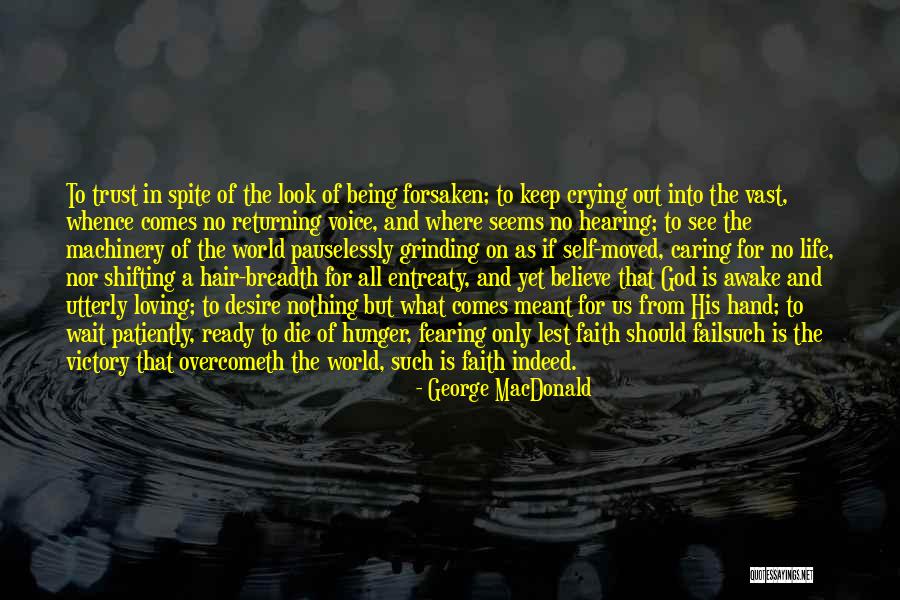 To trust in spite of the look of being forsaken; to keep crying out into the vast, whence comes no returning voice, and where seems no hearing; to see the machinery of the world pauselessly grinding on as if self-moved, caring for no life, nor shifting a hair-breadth for all entreaty, and yet believe that God is awake and utterly loving; to desire nothing but what comes meant for us from His hand; to wait patiently, ready to die of hunger, fearing only lest faith should fail
such is the victory that overcometh the world, such is faith indeed. — George MacDonald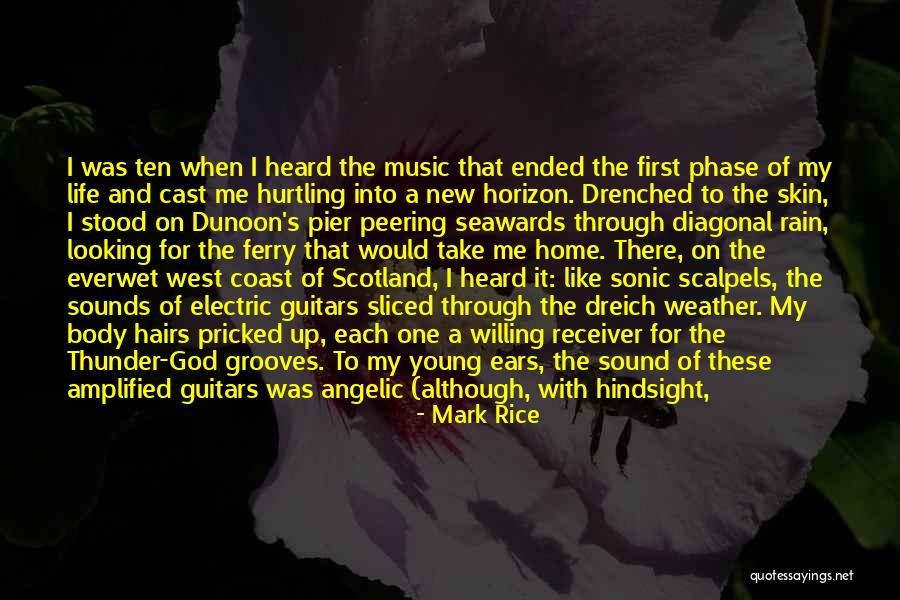 I was ten when I heard the music that ended the first phase of my life and cast me hurtling into a new horizon. Drenched to the skin, I stood on Dunoon's pier peering seawards through diagonal rain, looking for the ferry that would take me home. There, on the everwet west coast of Scotland, I heard it: like sonic scalpels, the sounds of electric guitars sliced through the dreich weather. My body hairs pricked up, each one a willing receiver for the Thunder-God grooves. To my young ears, the sound of these amplified guitars was angelic (although, with hindsight, I don't suppose angels play Gibson guitars at ear-bleeding volume). A voice that suggested vocal chords of polished silver soared alongside razor-sharp overdriven riffs. I knew that I was hearing the future. — Mark Rice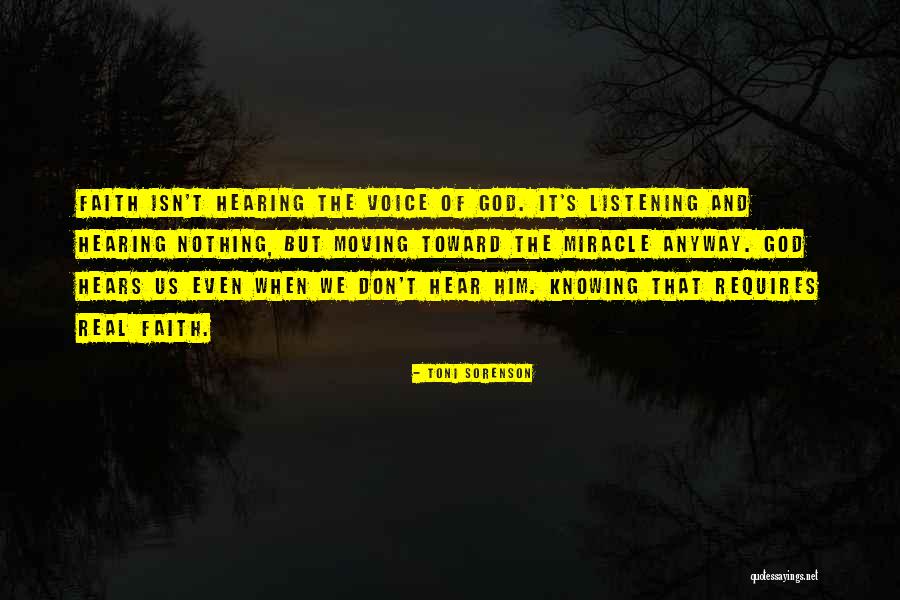 Faith isn't hearing the voice of God. It's listening and hearing nothing, but moving toward the miracle anyway. God hears us even when we don't hear him. Knowing that requires real faith. — Toni Sorenson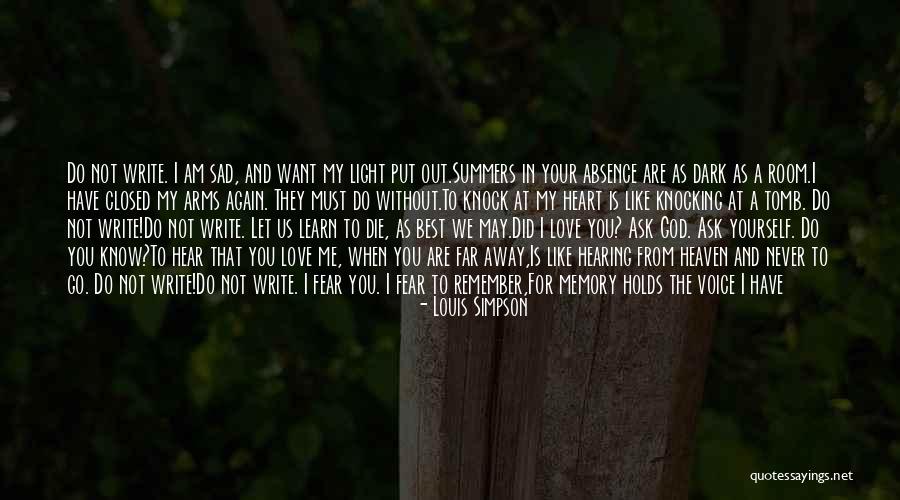 Do not write. I am sad, and want my light put out.
Summers in your absence are as dark as a room.
I have closed my arms again. They must do without.
To knock at my heart is like knocking at a tomb.
Do not write!
Do not write. Let us learn to die, as best we may.
Did I love you? Ask God. Ask yourself. Do you know?
To hear that you love me, when you are far away,
Is like hearing from heaven and never to go.
Do not write!
Do not write. I fear you. I fear to remember,
For memory holds the voice I have often heard.
To the one who cannot drink, do not show water,
The beloved one's picture in the handwritten word.
Do not write!
Do not write those gentle words that I dare not see,
It seems that your voice is spreading them on my heart,
Across your smile, on fire, they appear to me,
It seems that a kiss is printing them on my heart.
Do not write! — Louis Simpson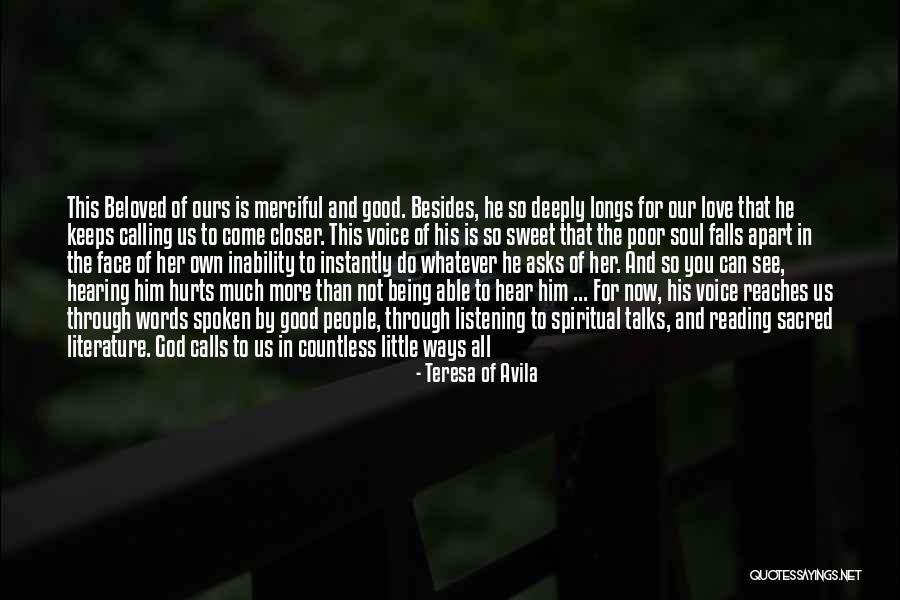 This Beloved of ours is merciful and good. Besides, he so deeply longs for our love that he keeps calling us to come closer. This voice of his is so sweet that the poor soul falls apart in the face of her own inability to instantly do whatever he asks of her. And so you can see, hearing him hurts much more than not being able to hear him ... For now, his voice reaches us through words spoken by good people, through listening to spiritual talks, and reading sacred literature. God calls to us in countless little ways all the time. Through illnesses and suffering and through sorrow he calls to us. Through a truth glimpsed fleetingly in a state of prayer he calls to us. No matter how halfhearted such insights may be, God rejoices whenever we learn what he is trying to teach us. — Teresa Of Avila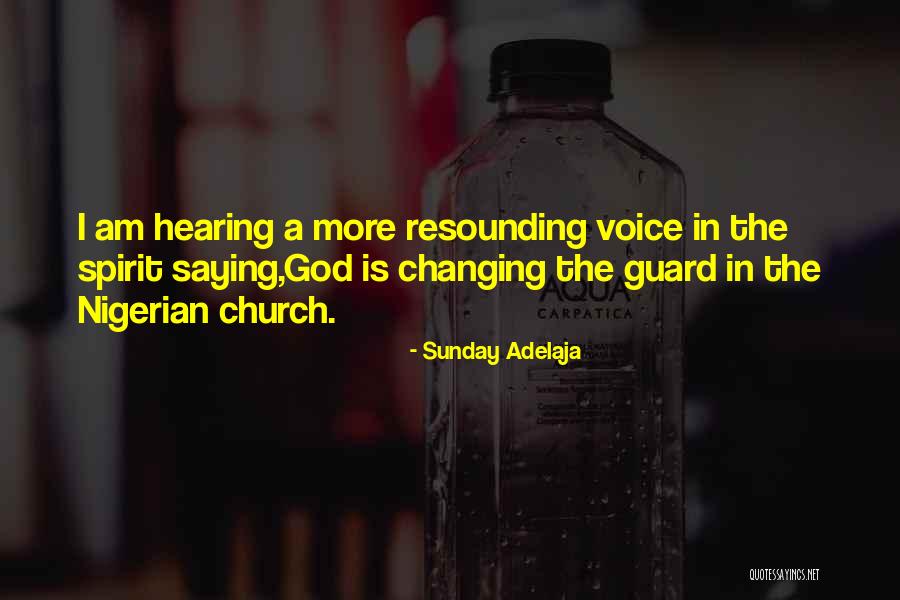 I am hearing a more resounding voice in the spirit saying,God is changing the guard in the Nigerian church. — Sunday Adelaja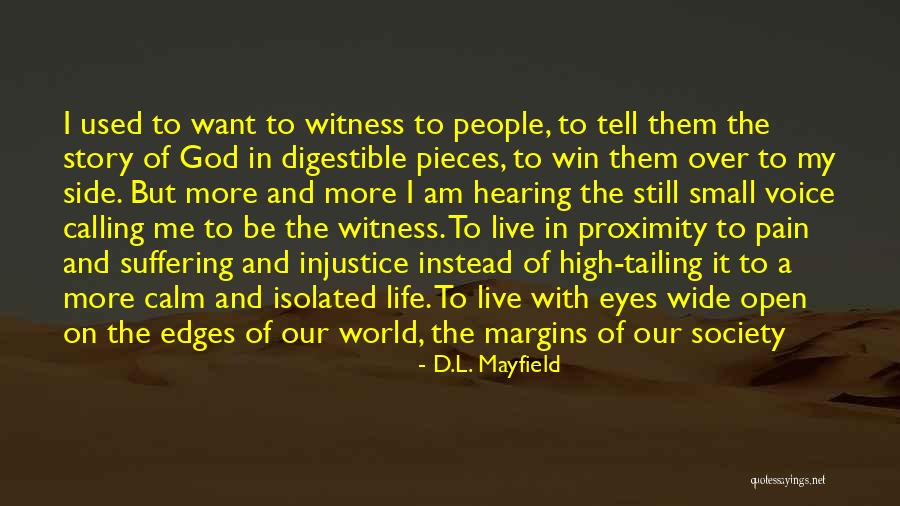 I used to want to witness to people, to tell them the story of God in digestible pieces, to win them over to my side. But more and more I am hearing the still small voice calling me to be the witness. To live in proximity to pain and suffering and injustice instead of high-tailing it to a more calm and isolated life. To live with eyes wide open on the edges of our world, the margins of our society — D.L. Mayfield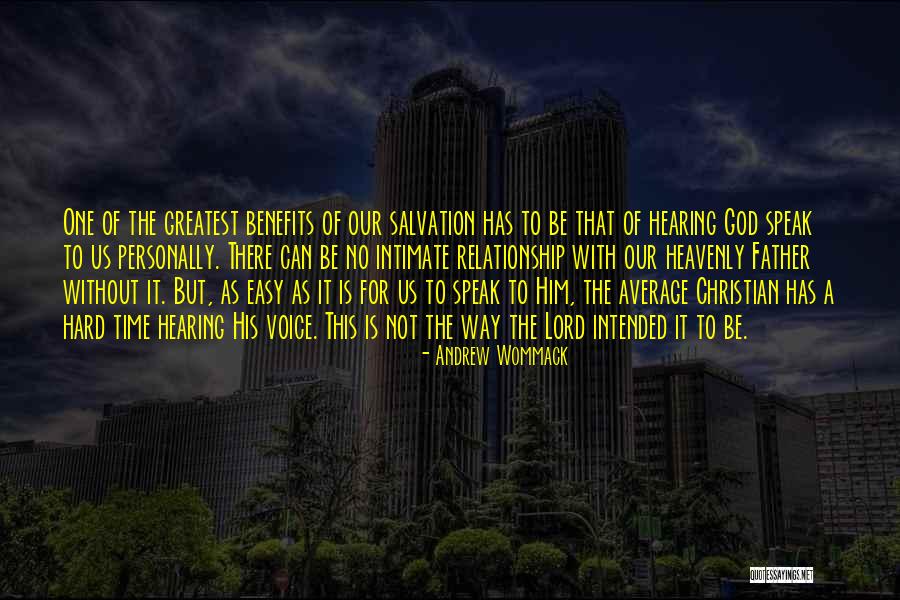 One of the greatest benefits of our salvation has to be that of hearing God speak to us personally. There can be no intimate relationship with our heavenly Father without it. But, as easy as it is for us to speak to Him, the average Christian has a hard time hearing His voice. This is not the way the Lord intended it to be. — Andrew Wommack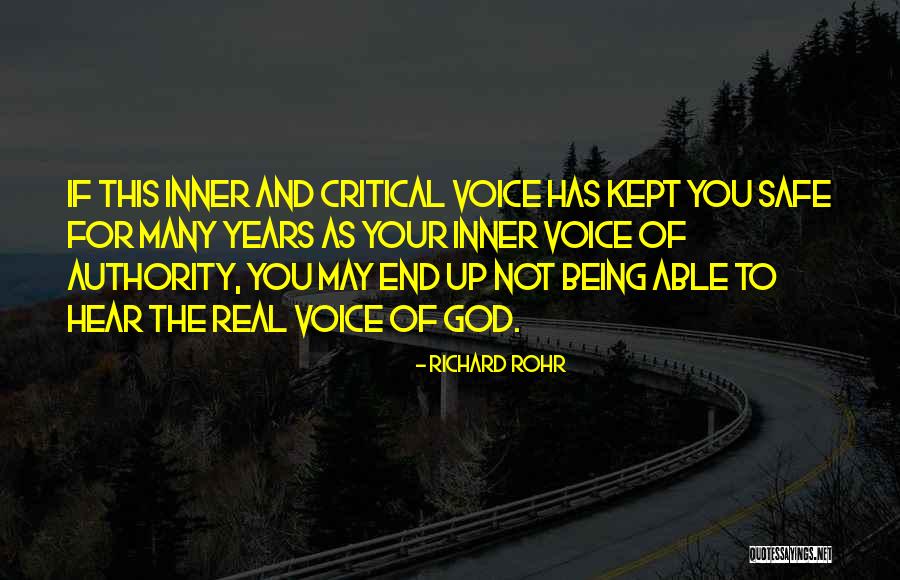 If this inner and critical voice has kept you safe for many years as your inner voice of authority, you may end up not being able to hear the real voice of God. — Richard Rohr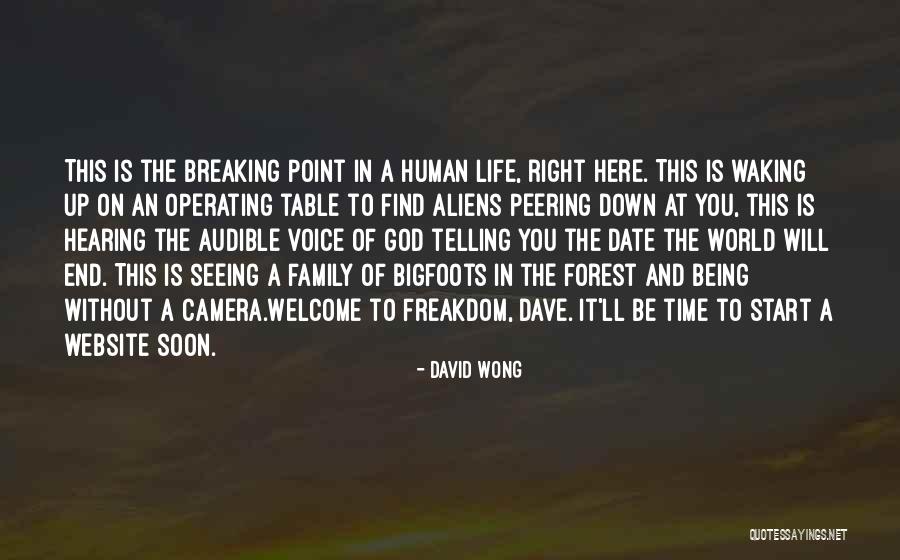 This is the breaking point in a human life, right here. This is waking up on an operating table to find aliens peering down at you, this is hearing the audible voice of God telling you the date the world will end. This is seeing a family of bigfoots in the forest and being without a camera.
Welcome to freakdom, Dave. It'll be time to start a website soon. — David Wong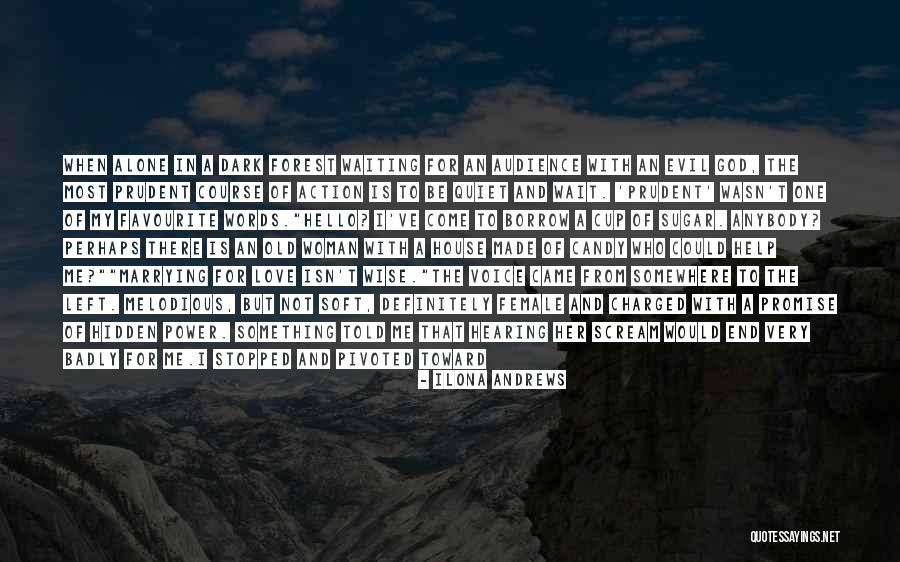 When alone in a dark forest waiting for an audience with an evil god, the most prudent course of action is to be quiet and wait. 'Prudent' wasn't one of my favourite words.
"Hello? I've come to borrow a cup of sugar. Anybody? Perhaps there is an old woman with a house made of candy who could help me?"
"Marrying for love isn't wise."
The voice came from somewhere to the left. Melodious, but not soft, definitely female and charged with a promise of hidden power. Something told me that hearing her scream would end very badly for me.
I stopped and pivoted toward the voice.
"Marry for safety. Marry for power. But only fools marry for love."
When a strange voice talks to you in the black woods, only idiots answer.
I was that idiot. "Thank you, counsellor. How much do I owe you for this session? — Ilona Andrews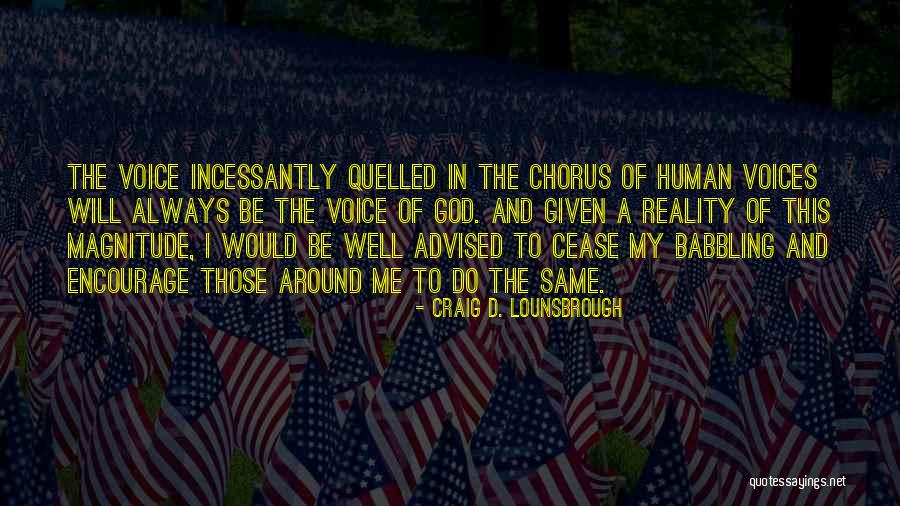 The voice incessantly quelled in the chorus of human voices will always be the voice of God. And given a reality of this magnitude, I would be well advised to cease my babbling and encourage those around me to do the same. — Craig D. Lounsbrough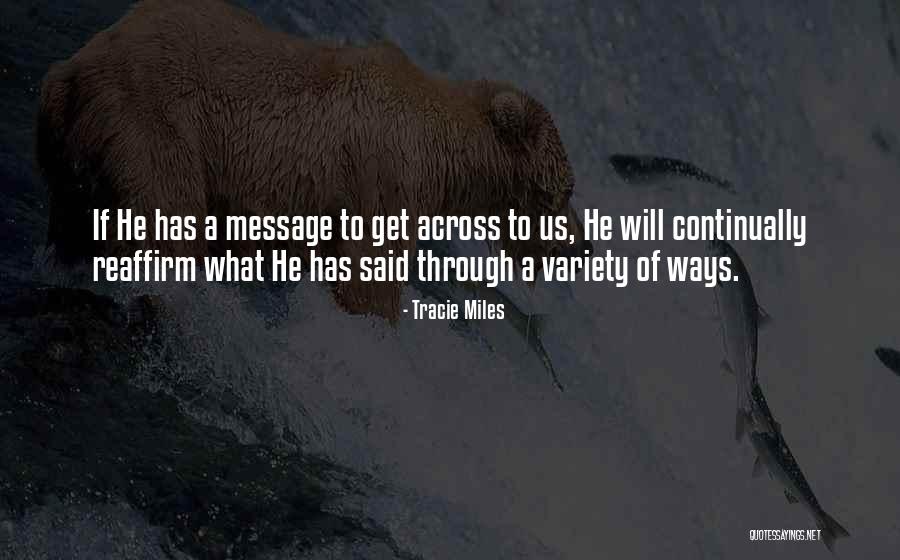 If He has a message to get across to us, He will continually reaffirm what He has said through a variety of ways. — Tracie Miles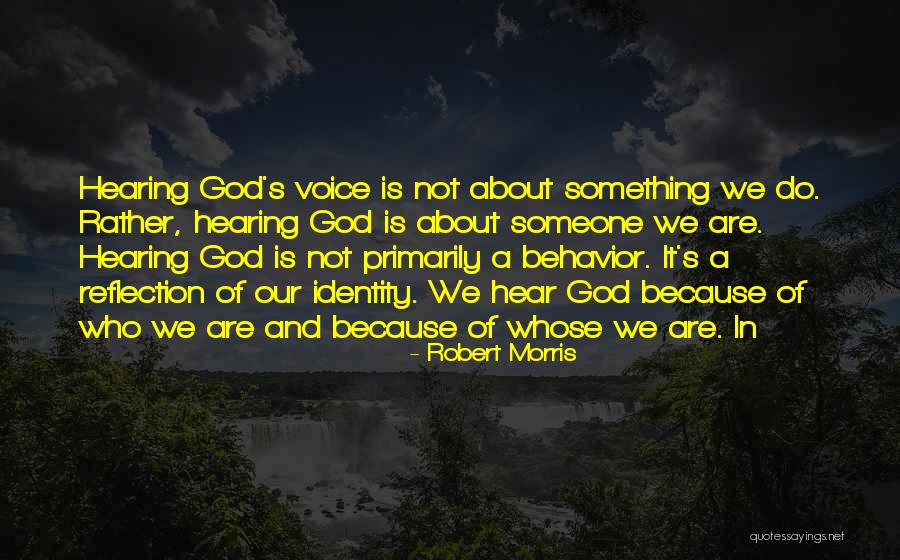 Hearing God's voice is not about something we do. Rather, hearing God is about someone we are. Hearing God is not primarily a behavior. It's a reflection of our identity. We hear God because of who we are and because of whose we are. In — Robert Morris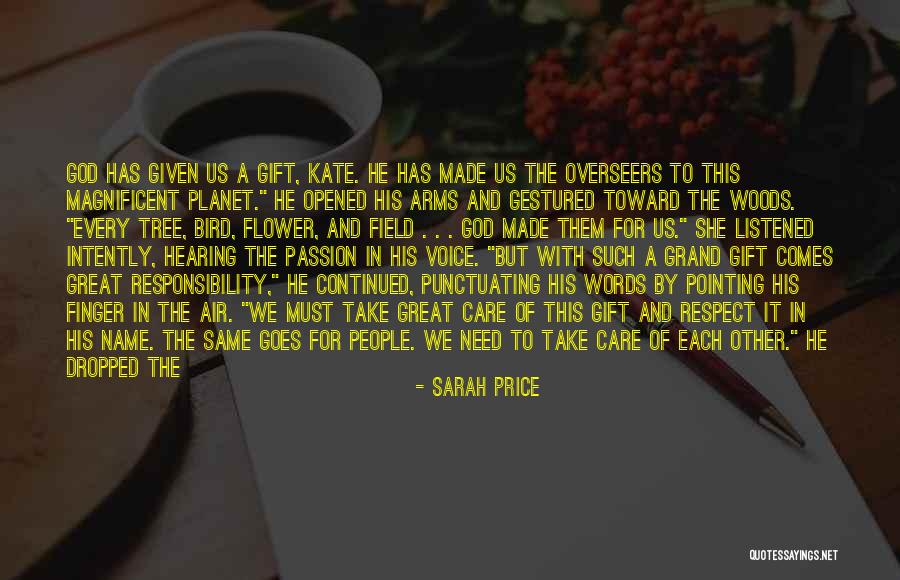 God has given us a gift, Kate. He has made us the overseers to this magnificent planet." He opened his arms and gestured toward the woods. "Every tree, bird, flower, and field . . . God made them for us." She listened intently, hearing the passion in his voice. "But with such a grand gift comes great responsibility," he continued, punctuating his words by pointing his finger in the air. "We must take great care of this gift and respect it in His name. The same goes for people. We need to take care of each other." He dropped the stick on the ground. "I don't think the rest of the world has figured that out yet, Kate. — Sarah Price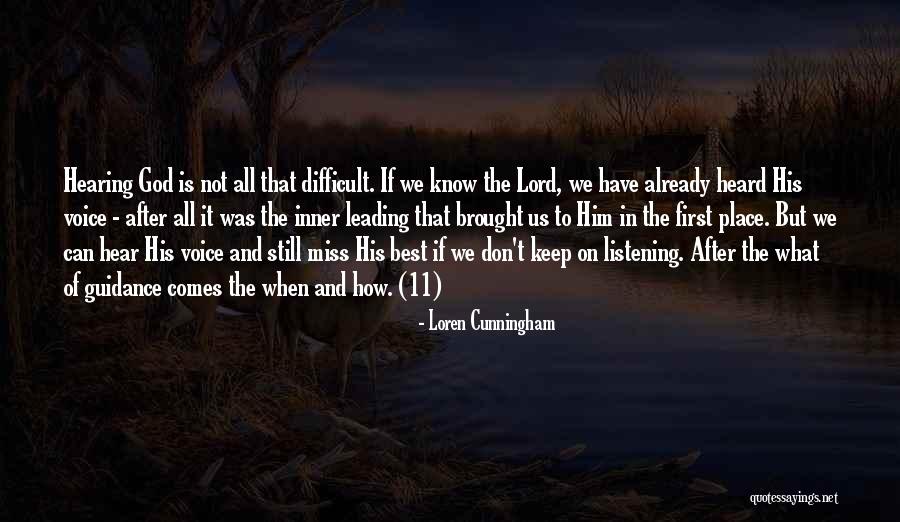 Hearing God is not all that difficult. If we know the Lord, we have already heard His voice - after all it was the inner leading that brought us to Him in the first place. But we can hear His voice and still miss His best if we don't keep on listening. After the what of guidance comes the when and how. (11) — Loren Cunningham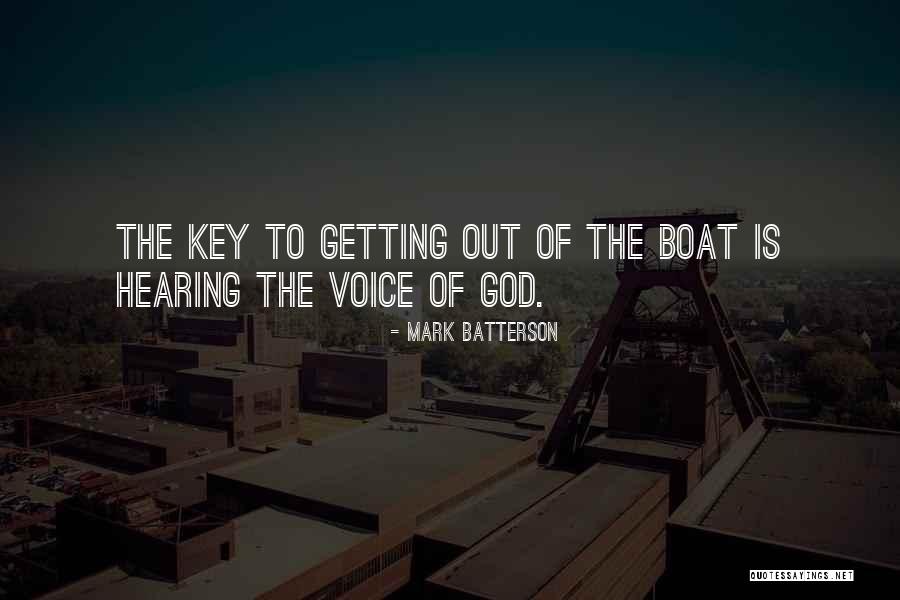 The key to getting out of the boat is hearing the voice of God. — Mark Batterson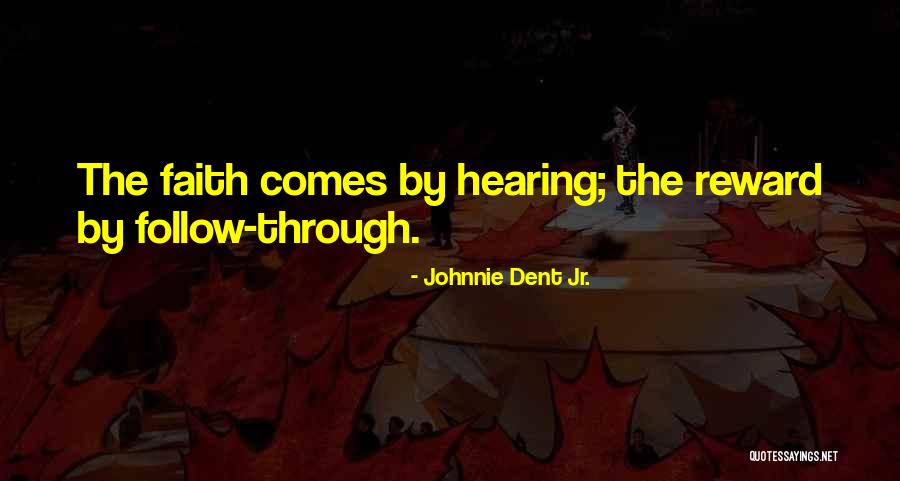 The faith comes by hearing; the reward by follow-through. — Johnnie Dent Jr.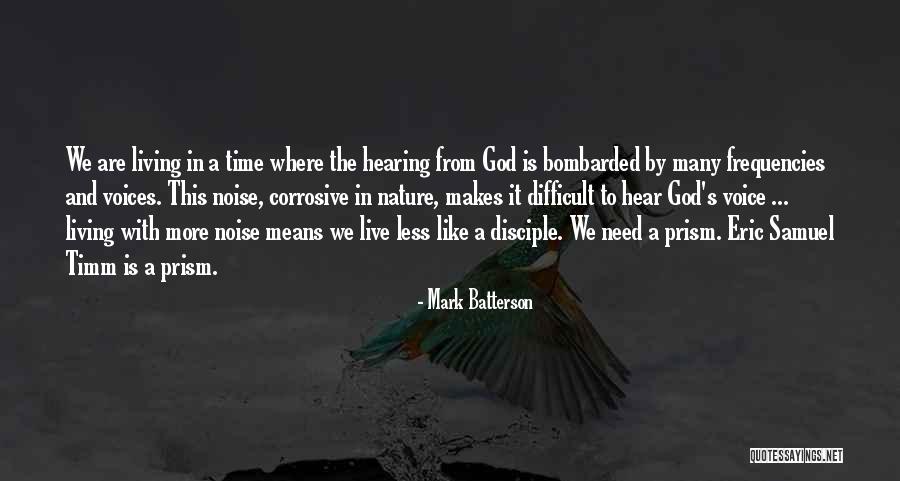 We are living in a time where the hearing from God is bombarded by many frequencies and voices. This noise, corrosive in nature, makes it difficult to hear God's voice ... living with more noise means we live less like a disciple. We need a prism. Eric Samuel Timm is a prism. — Mark Batterson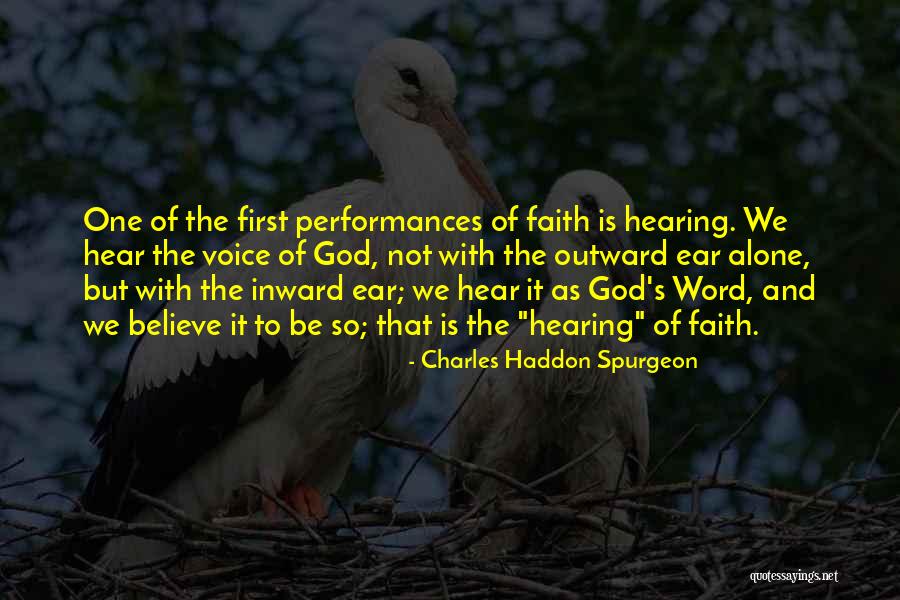 One of the first performances of faith is hearing. We hear the voice of God, not with the outward ear alone, but with the inward ear; we hear it as God's Word, and we believe it to be so; that is the "hearing" of faith. — Charles Haddon Spurgeon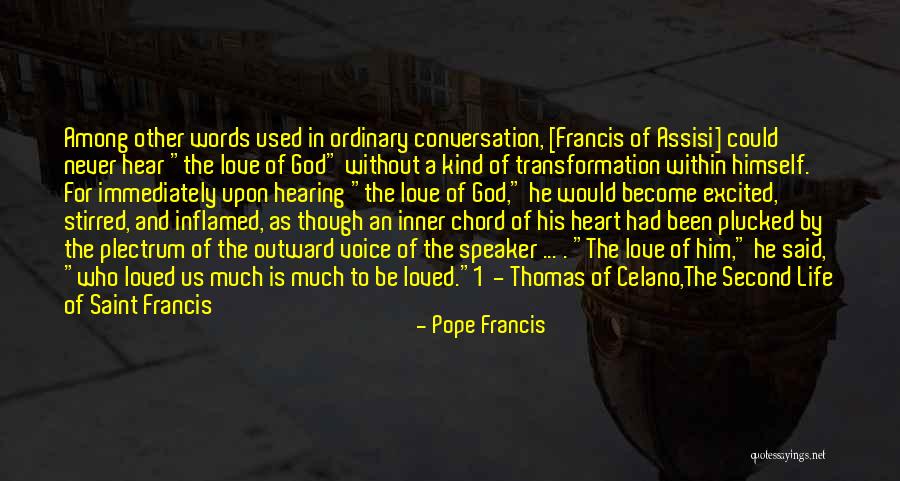 Among other words used in ordinary conversation, [Francis of Assisi] could never hear "the love of God" without a kind of transformation within himself. For immediately upon hearing "the love of God," he would become excited, stirred, and inflamed, as though an inner chord of his heart had been plucked by the plectrum of the outward voice of the speaker ... . "The love of him," he said, "who loved us much is much to be loved."1 - Thomas of Celano,The Second Life of Saint Francis — Pope Francis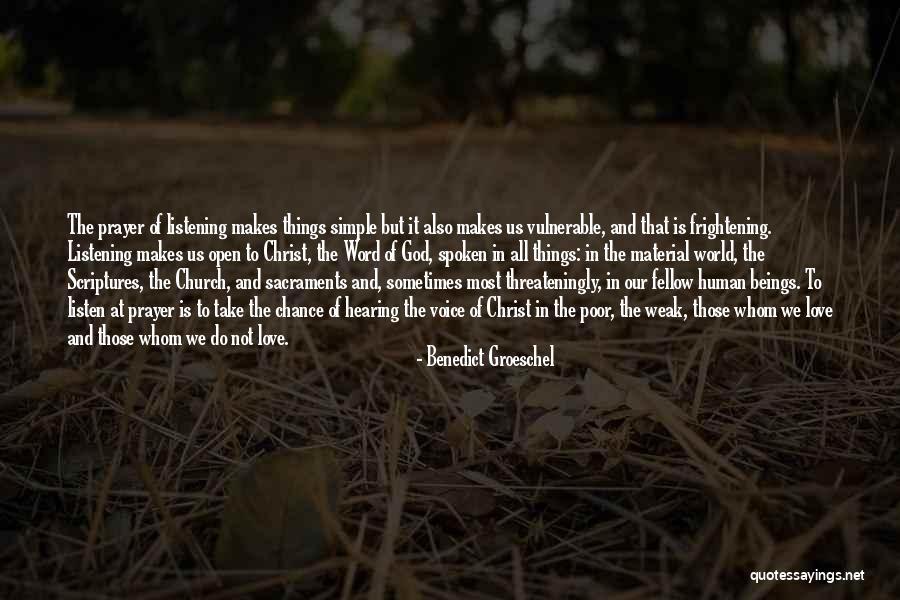 The prayer of listening makes things simple but it also makes us vulnerable, and that is frightening. Listening makes us open to Christ, the Word of God, spoken in all things: in the material world, the Scriptures, the Church, and sacraments and, sometimes most threateningly, in our fellow human beings. To listen at prayer is to take the chance of hearing the voice of Christ in the poor, the weak, those whom we love and those whom we do not love. — Benedict Groeschel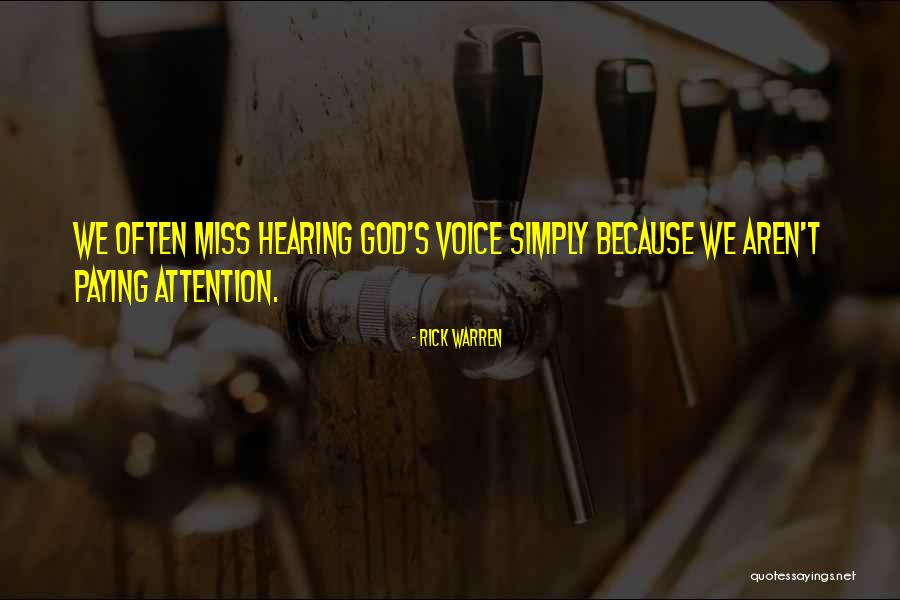 We often miss hearing God's voice simply because we aren't paying attention. — Rick Warren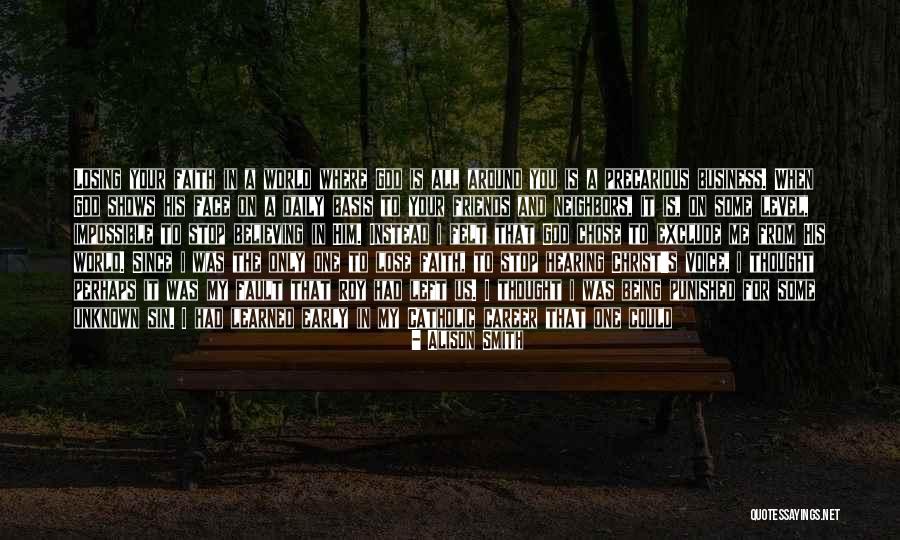 Losing your faith in a world where God is all around you is a precarious business. When God shows his face on a daily basis to your friends and neighbors, it is, on some level, impossible to stop believing in Him. Instead i felt that God chose to exclude me from His world. Since i was the only one to lose faith, to stop hearing Christ's voice, i thought perhaps it was my fault that Roy had left us. I thought i was being punished for some unknown sin. I had learned early in my Catholic career that one could sin silently in one's heart. One could even sin without ever discovering what one had done or why it was wrong. What had i done, i asked myself, to make God disappear and take Roy with Him. — Alison Smith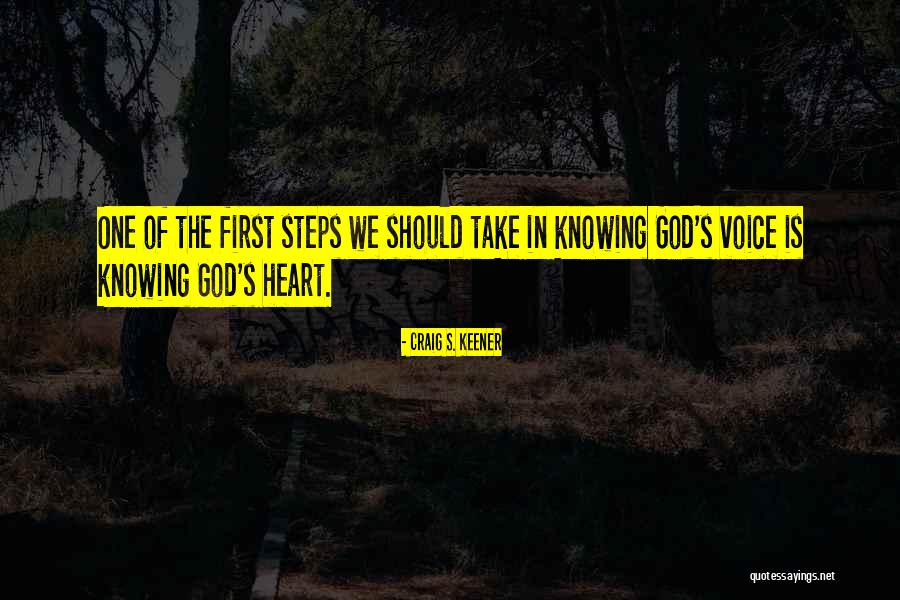 One of the first steps we should take in knowing God's voice is knowing God's heart. — Craig S. Keener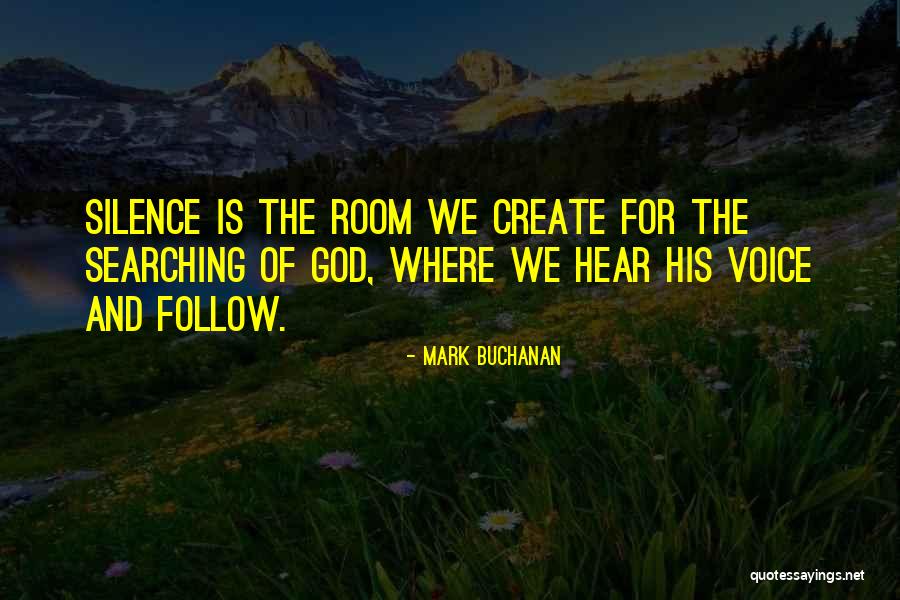 Silence is the room we create for the searching of God, where we hear His voice and follow. — Mark Buchanan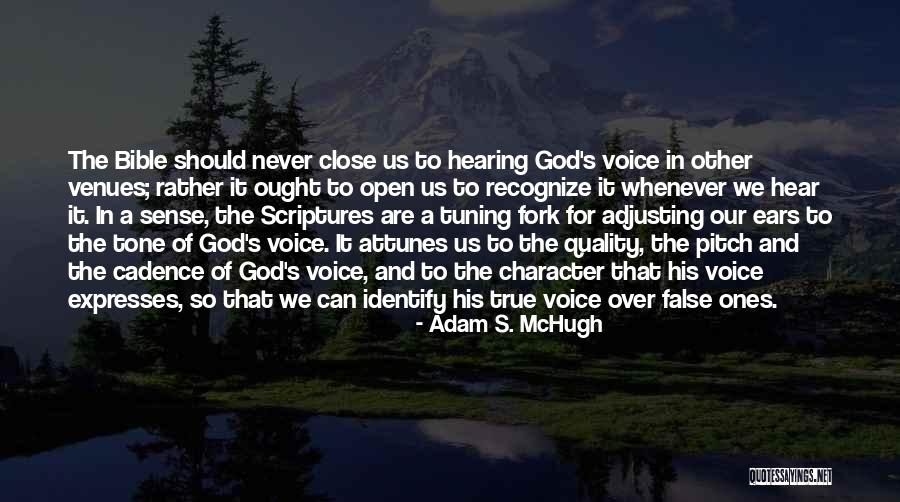 The Bible should never close us to hearing God's voice in other venues; rather it ought to open us to recognize it whenever we hear it. In a sense, the Scriptures are a tuning fork for adjusting our ears to the tone of God's voice. It attunes us to the quality, the pitch and the cadence of God's voice, and to the character that his voice expresses, so that we can identify his true voice over false ones. — Adam S. McHugh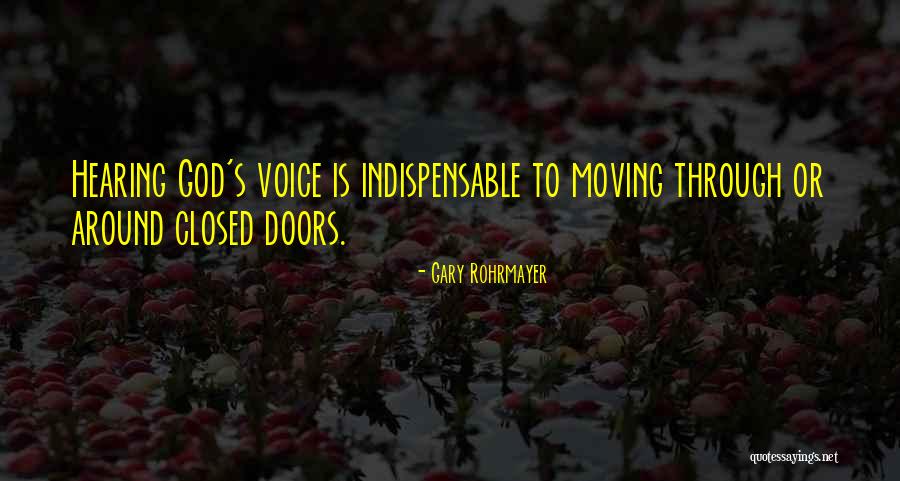 Hearing God's voice is indispensable to moving through or around closed doors. — Gary Rohrmayer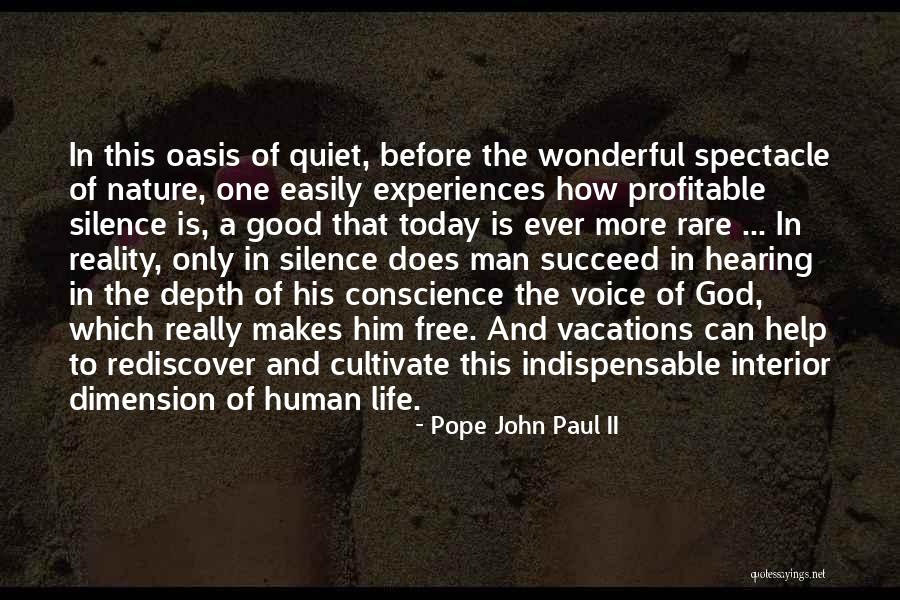 In this oasis of quiet, before the wonderful spectacle of nature, one easily experiences how profitable silence is, a good that today is ever more rare ... In reality, only in silence does man succeed in hearing in the depth of his conscience the voice of God, which really makes him free. And vacations can help to rediscover and cultivate this indispensable interior dimension of human life. — Pope John Paul II
I can go into a playground of kids that don't know anything about Christianity, lead them to the Lord in a matter of, just no time at all, and just moments later they can be seeing visions and hearing the voice of God, because they're so open. They are so usable in Christianity. — Becky Fischer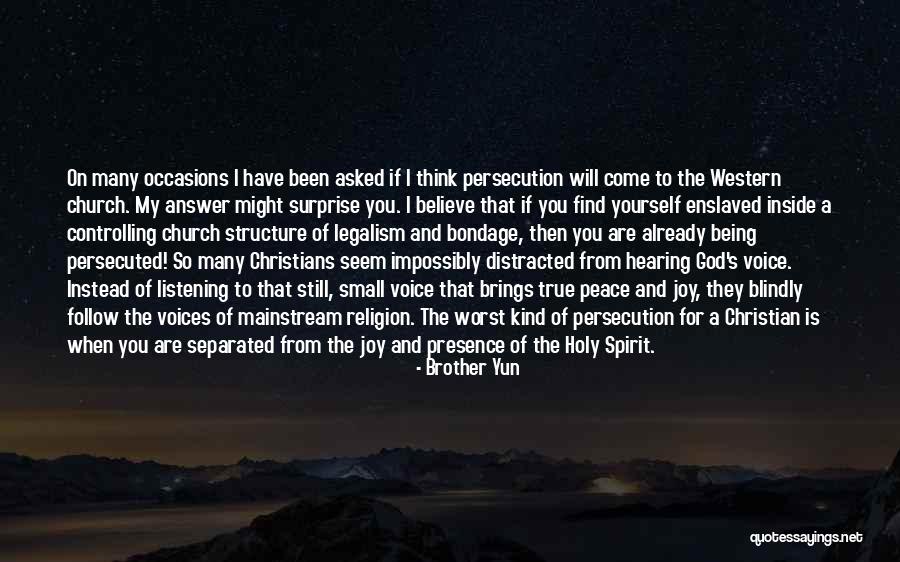 On many occasions I have been asked if I think persecution will come to the Western church. My answer might surprise you. I believe that if you find yourself enslaved inside a controlling church structure of legalism and bondage, then you are already being persecuted! So many Christians seem impossibly distracted from hearing God's voice. Instead of listening to that still, small voice that brings true peace and joy, they blindly follow the voices of mainstream religion. The worst kind of persecution for a Christian is when you are separated from the joy and presence of the Holy Spirit. — Brother Yun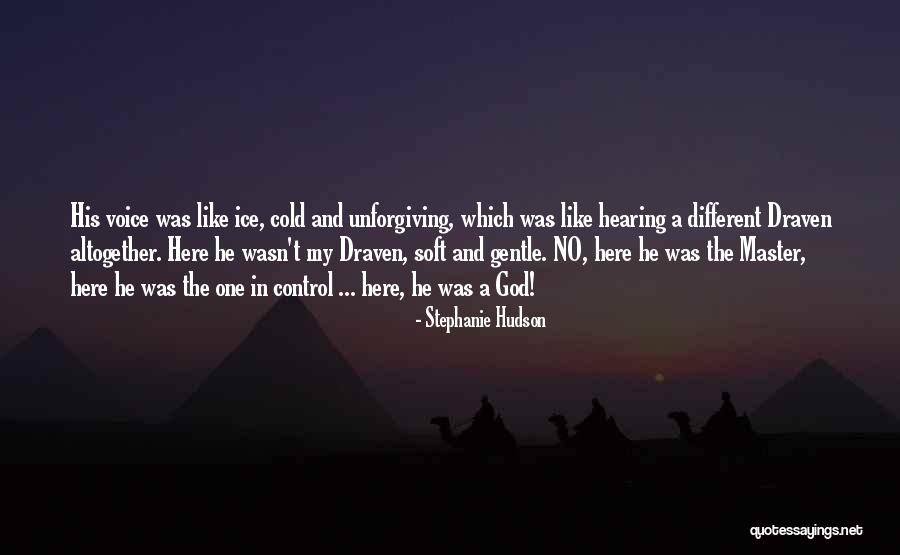 His voice was like ice, cold and unforgiving, which was like hearing a different Draven altogether. Here he wasn't my Draven, soft and gentle. NO, here he was the Master, here he was the one in control ... here, he was a God! — Stephanie Hudson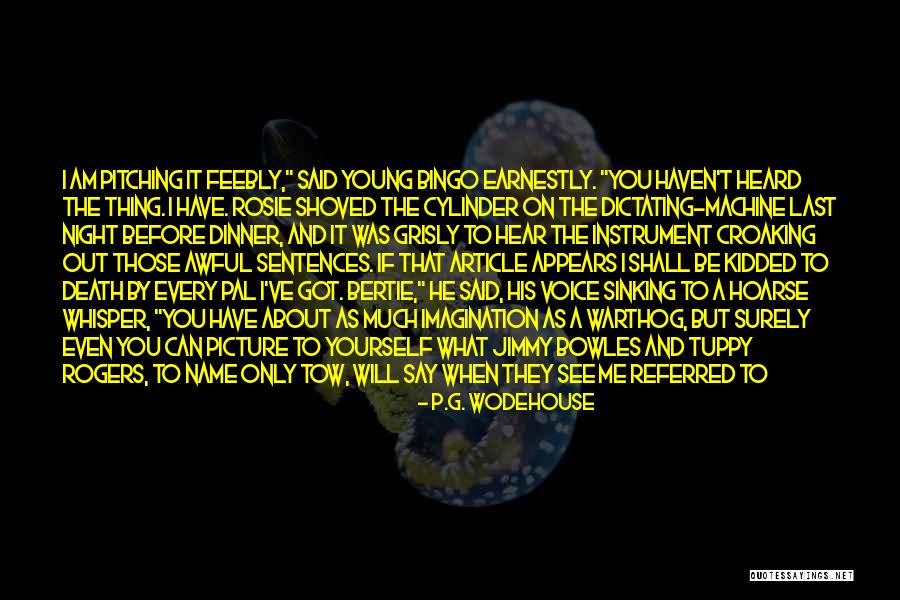 I am pitching it feebly," said young Bingo earnestly. "You haven't heard the thing. I have. Rosie shoved the cylinder on the dictating-machine last night before dinner, and it was grisly to hear the instrument croaking out those awful sentences. If that article appears I shall be kidded to death by every pal I've got. Bertie," he said, his voice sinking to a hoarse whisper, "you have about as much imagination as a warthog, but surely even you can picture to yourself what Jimmy Bowles and Tuppy Rogers, to name only tow, will say when they see me referred to in print as "half god, half prattling, mischievous child"?"
I jolly well could
"She doesn't say that?"I gasped.
"She certainly does. And when I tell you that I selected that particular quotation because it's about the only one I can stand hearing spoken, you will realise what I'm up against. — P.G. Wodehouse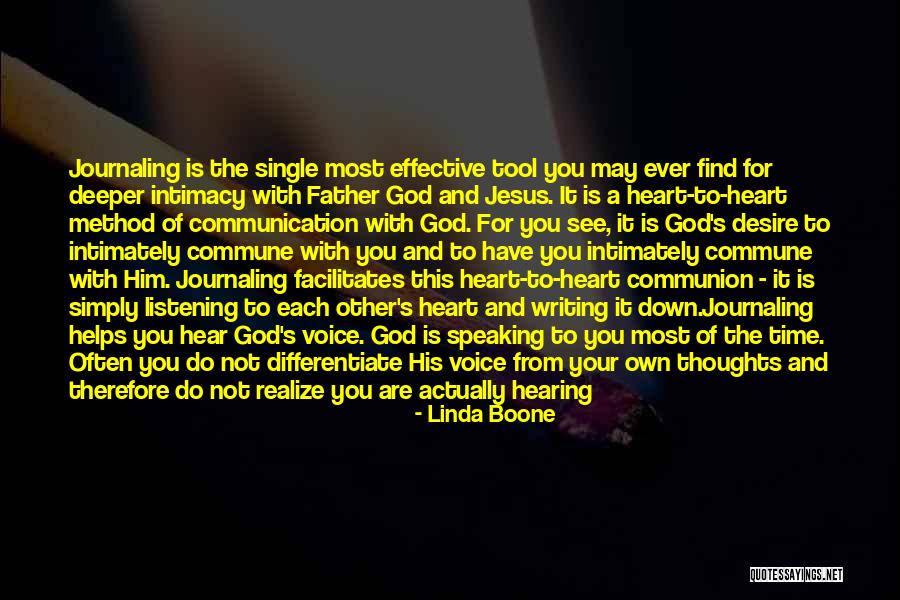 Journaling is the single most effective tool you may ever find for deeper intimacy with Father God and Jesus. It is a heart-to-heart method of communication with God. For you see, it is God's desire to intimately commune with you and to have you intimately commune with Him. Journaling facilitates this heart-to-heart communion - it is simply listening to each other's heart and writing it down.
Journaling helps you hear God's voice. God is speaking to you most of the time. Often you do not differentiate His voice from your own thoughts and therefore do not realize you are actually hearing God's voice. If you can learn to clearly discern His voice speaking within you, you have found the font of intimacy - the heart of God speaking to you. — Linda Boone