Healing Power Of God Quotes & Sayings
Enjoy reading and share 43 famous quotes about Healing Power Of God with everyone.
Top Healing Power Of God Quotes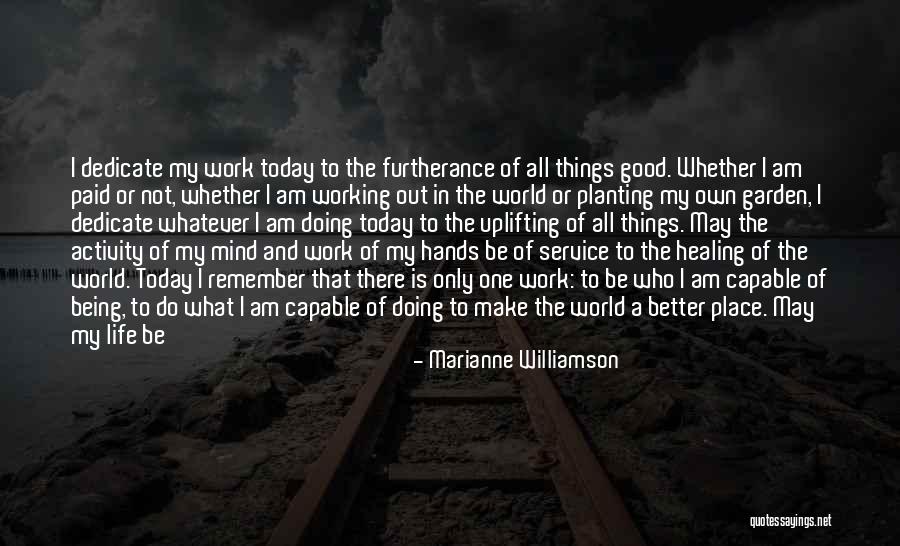 I dedicate my work today to the furtherance of all things good. Whether I am paid or not, whether I am working out in the world or planting my own garden, I dedicate whatever I am doing today to the uplifting of all things. May the activity of my mind and work of my hands be of service to the healing of the world. Today I remember that there is only one work: to be who I am capable of being, to do what I am capable of doing to make the world a better place. May my life be of use to something greater than myself, that I might feel the joy of being used. Dear God, Today I dedicate all I am and all that I have, That love might use me as a conduit of its power. Illumine my mind and increase my understanding, Hone my personality and deepen my skills, That all I do might glorify Your presence in the world. And so it is. Amen. — Marianne Williamson
God doesn't want to overwhelm us with a lot of theology in order to receive our healing. He keeps it simple. Nonetheless, there is great power to be found in these simple and easily implemented truths. The first of them is to "draw near to God and He will draw near to you" (James 4:8). — Dutch Sheets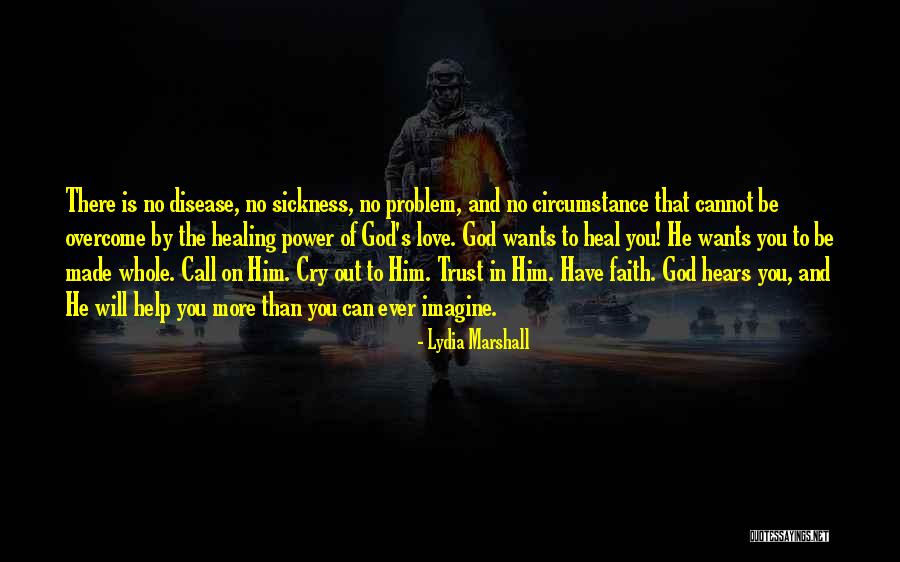 There is no disease, no sickness, no problem, and no circumstance that cannot be overcome by the healing power of God's love. God wants to heal you! He wants you to be made whole. Call on Him. Cry out to Him. Trust in Him. Have faith. God hears you, and He will help you more than you can ever imagine. — Lydia Marshall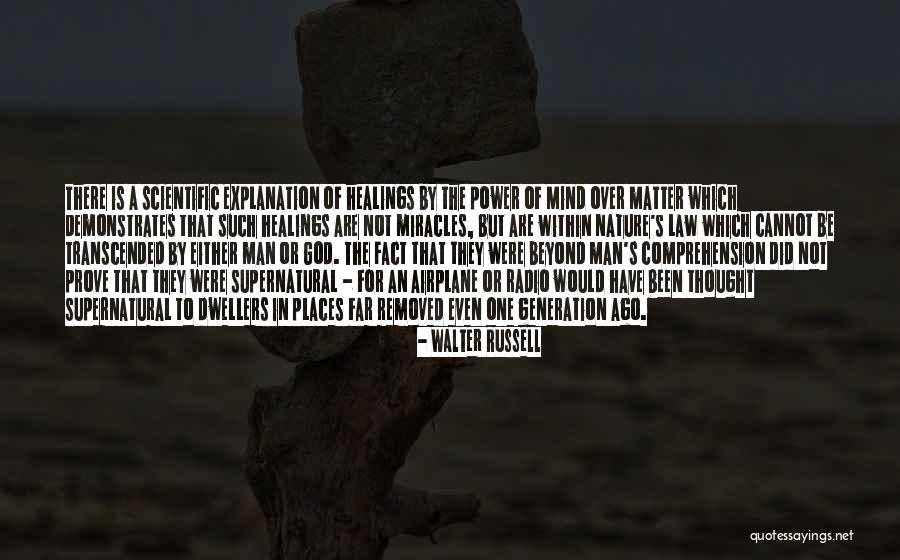 There is a scientific explanation of healings by the power of Mind over matter which demonstrates that such healings are not miracles, but are within Nature's law which cannot be transcended by either man or God. The Fact that they were beyond man's comprehension did not prove that they were supernatural - for an airplane or radio would have been thought supernatural to dwellers in places far removed even one generation ago. — Walter Russell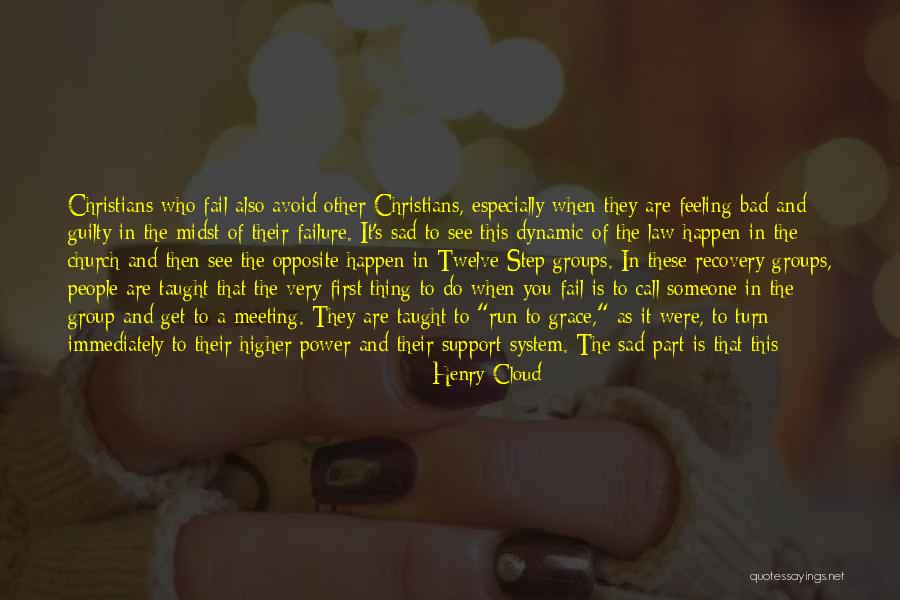 Christians who fail also avoid other Christians, especially when they are feeling bad and guilty in the midst of their failure. It's sad to see this dynamic of the law happen in the church and then see the opposite happen in Twelve Step groups. In these recovery groups, people are taught that the very first thing to do when you fail is to call someone in the group and get to a meeting. They are taught to "run to grace," as it were, to turn immediately to their higher power and their support system. The sad part is that this theology is more biblical than what is practices in many Christian environments, where people in failure run from instead of to God and the people they need. — Henry Cloud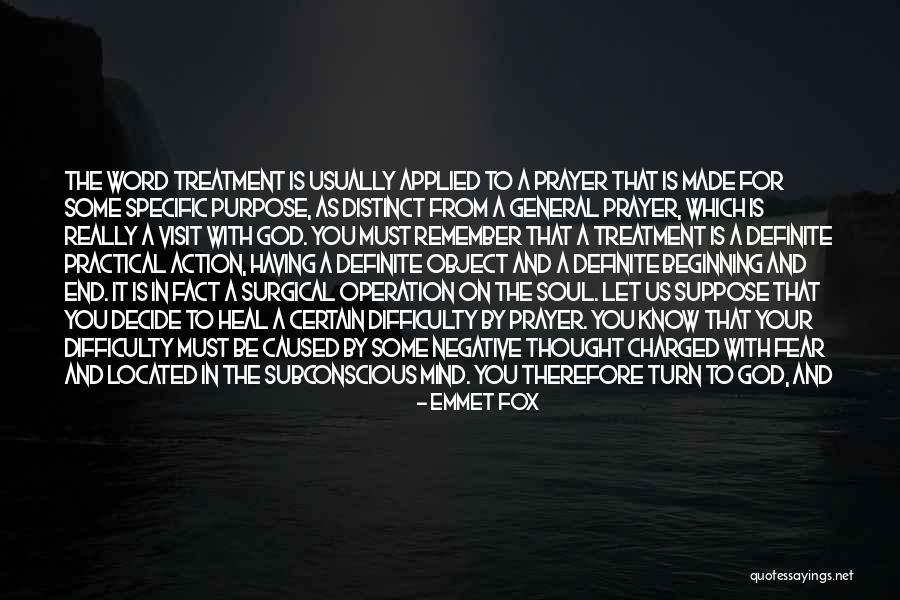 The word treatment is usually applied to a prayer that is made for some specific purpose, as distinct from a general prayer, which is really a visit with God. You must remember that a treatment is a definite practical action, having a definite object and a definite beginning and end. It is in fact a surgical operation on the soul. Let us suppose that you decide to heal a certain difficulty by prayer. You know that your difficulty must be caused by some negative thought charged with fear and located in the subconscious mind. You therefore turn to God, and remind yourself of His goodness, His limitless power, and His care for you. As you work the fear will begin to dissolve, and the awareness of the Truth corrects the erroneous beliefs themselves. Thank God for the healing that you believe will come - and then you keep your thought off the matter until you feel led, after an interval, to treat again. He sent his word, and healed them ... (Psalm 107:20). — Emmet Fox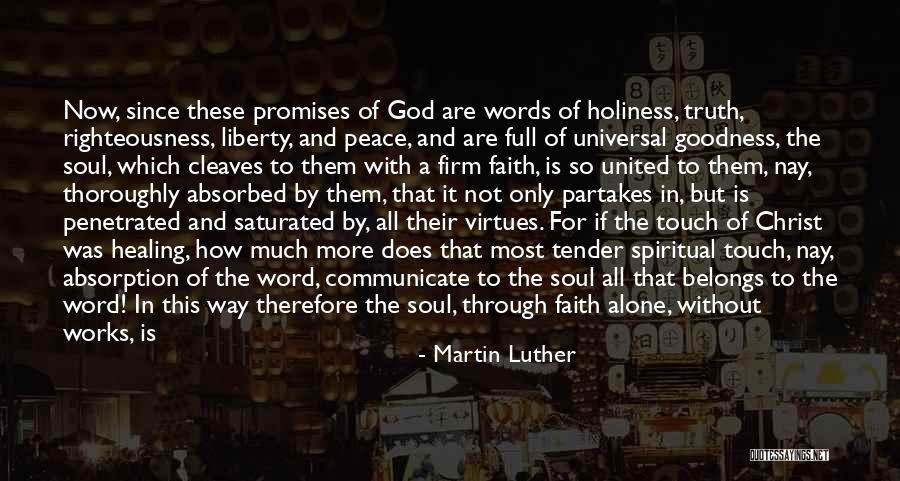 Now, since these promises of God are words of holiness, truth, righteousness, liberty, and peace, and are full of universal goodness, the soul, which cleaves to them with a firm faith, is so united to them, nay, thoroughly absorbed by them, that it not only partakes in, but is penetrated and saturated by, all their virtues. For if the touch of Christ was healing, how much more does that most tender spiritual touch, nay, absorption of the word, communicate to the soul all that belongs to the word! In this way therefore the soul, through faith alone, without works, is from the word of God justified, sanctified, endued with truth, peace, and liberty, and filled full with every good thing, and is truly made the child of God, as it is said, "To them gave He power to become the sons of God, even to them that believe on His name" (John i. 12). — Martin Luther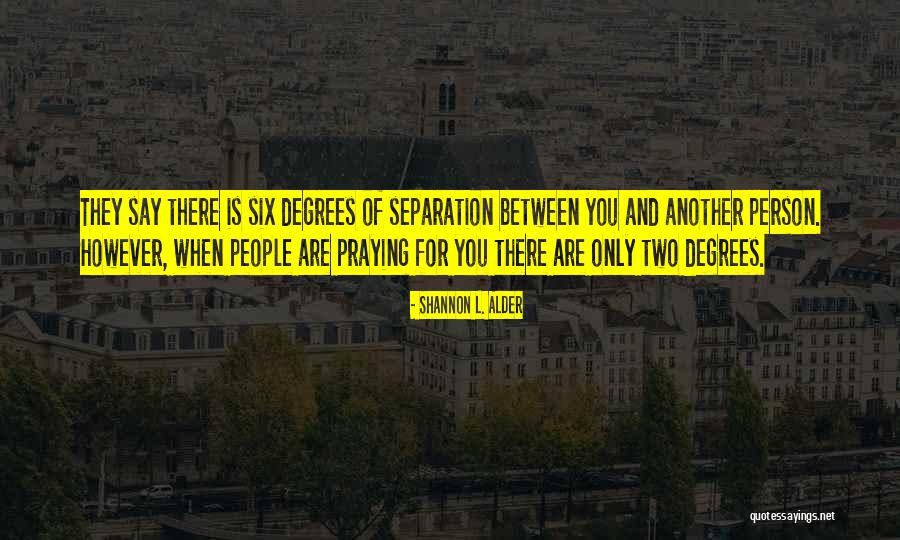 They say there is six degrees of separation between you and another person. However, when people are praying for you there are only two degrees. — Shannon L. Alder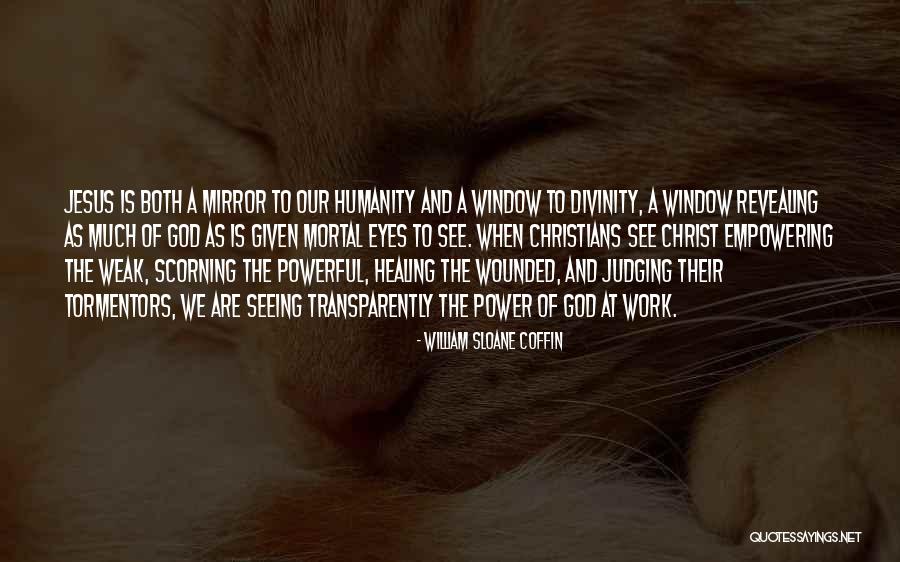 Jesus is both a mirror to our humanity and a window to divinity, a window revealing as much of God as is given mortal eyes to see. When Christians see Christ empowering the weak, scorning the powerful, healing the wounded, and judging their tormentors, we are seeing transparently the power of God at work. — William Sloane Coffin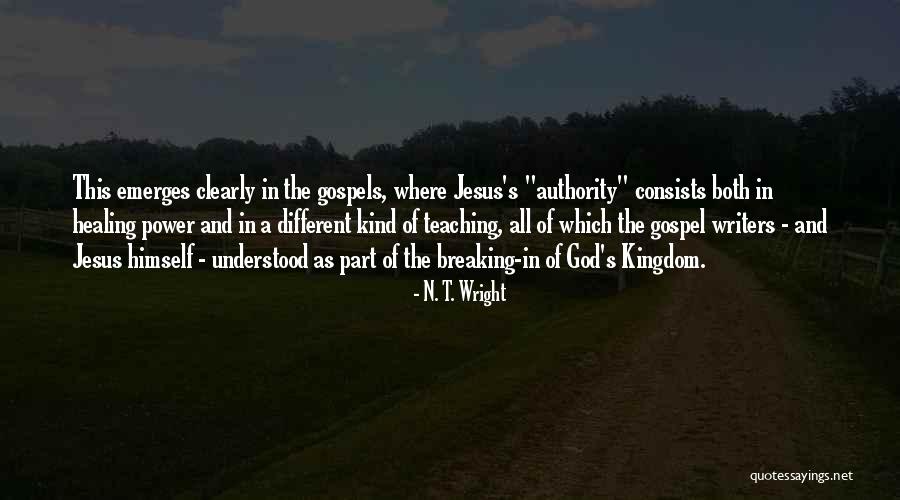 This emerges clearly in the gospels, where Jesus's "authority" consists both in healing power and in a different kind of teaching, all of which the gospel writers - and Jesus himself - understood as part of the breaking-in of God's Kingdom. — N. T. Wright
In me is working a power stronger than every other power. The life that is in me is a thousand times bigger than I am outside. — Smith Wigglesworth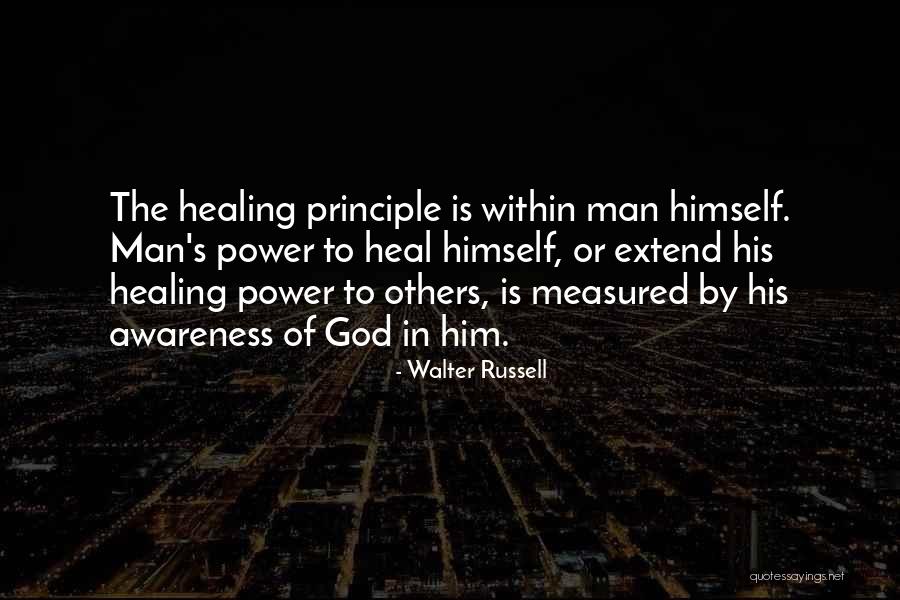 The healing principle is within man himself. Man's power to heal himself, or extend his healing power to others, is measured by his awareness of God in him. — Walter Russell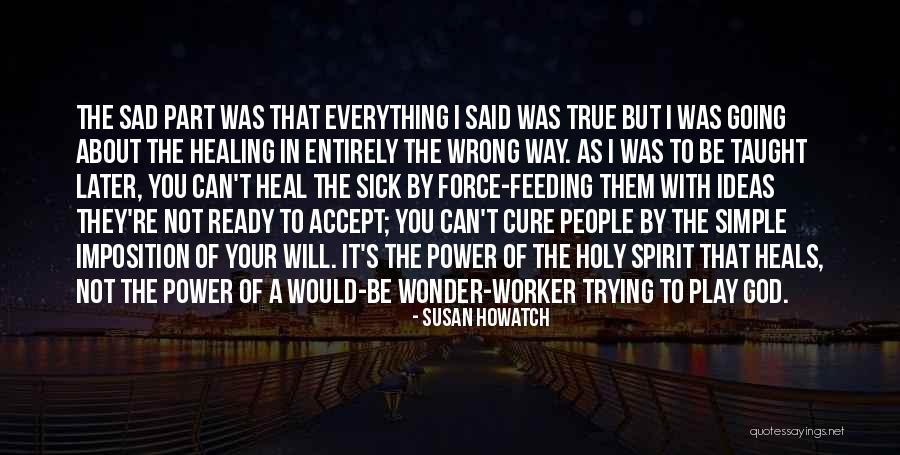 The sad part was that everything I said was true but I was going about the healing in entirely the wrong way. As I was to be taught later, you can't heal the sick by force-feeding them with ideas they're not ready to accept; you can't cure people by the simple imposition of your will. It's the power of the Holy Spirit that heals, not the power of a would-be wonder-worker trying to play God. — Susan Howatch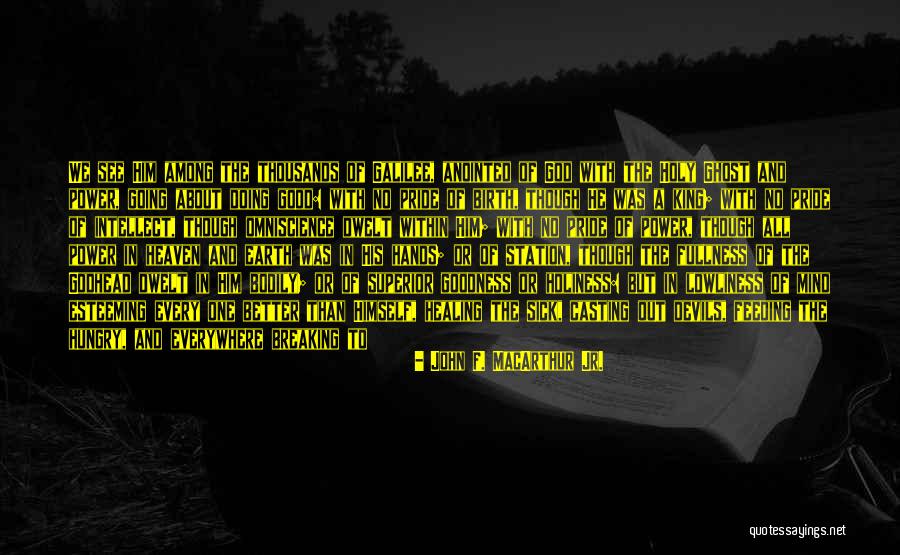 We see Him among the thousands of Galilee, anointed of God with the Holy Ghost and power, going about doing good: with no pride of birth, though He was a king; with no pride of intellect, though omniscience dwelt within Him; with no pride of power, though all power in heaven and earth was in His hands; or of station, though the fullness of the Godhead dwelt in Him bodily; or of superior goodness or holiness: but in lowliness of mind esteeming every one better than Himself, healing the sick, casting out devils, feeding the hungry, and everywhere breaking to men the bread of life. We see Him everywhere offering to men His life for the salvation of their souls: and when, at last, the forces of evil gathered thick around Him, walking, alike without display and without dismay, the path of suffering appointed for Him, and giving His life at Calvary that through His death the world might live.1 — John F. MacArthur Jr.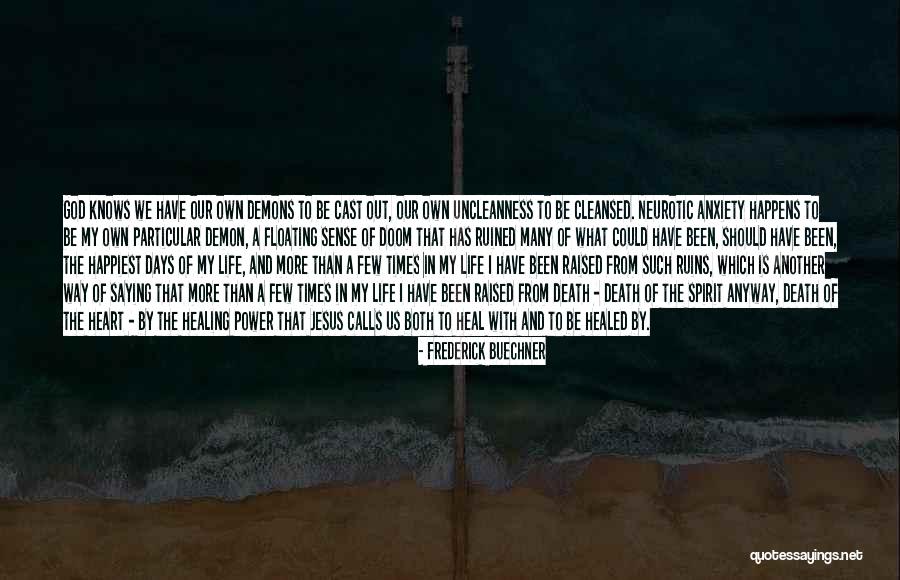 God knows we have our own demons to be cast out, our own uncleanness to be cleansed. Neurotic anxiety happens to be my own particular demon, a floating sense of doom that has ruined many of what could have been, should have been, the happiest days of my life, and more than a few times in my life I have been raised from such ruins, which is another way of saying that more than a few times in my life I have been raised from death - death of the spirit anyway, death of the heart - by the healing power that Jesus calls us both to heal with and to be healed by. — Frederick Buechner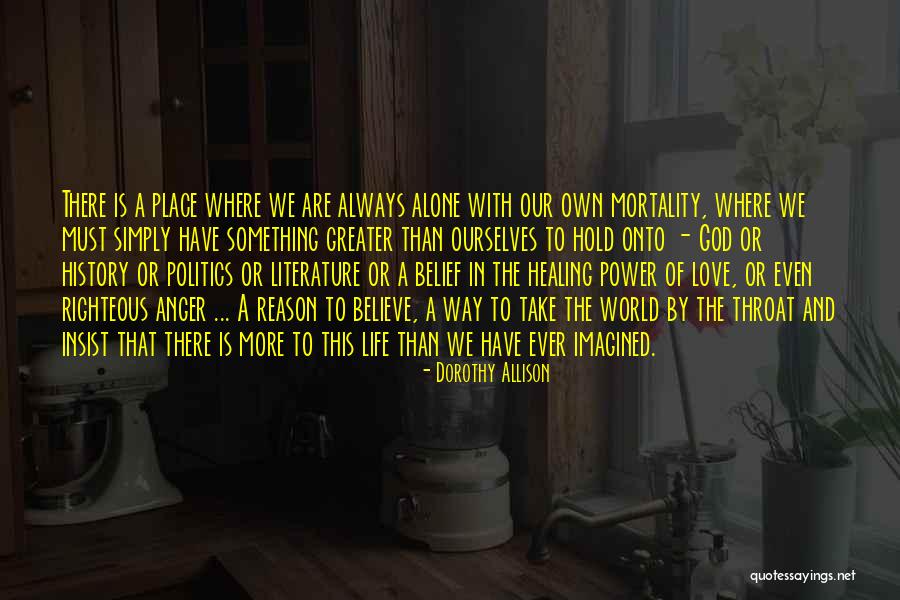 There is a place where we are always alone with our own mortality, where we must simply have something greater than ourselves to hold onto - God or history or politics or literature or a belief in the healing power of love, or even righteous anger ... A reason to believe, a way to take the world by the throat and insist that there is more to this life than we have ever imagined. — Dorothy Allison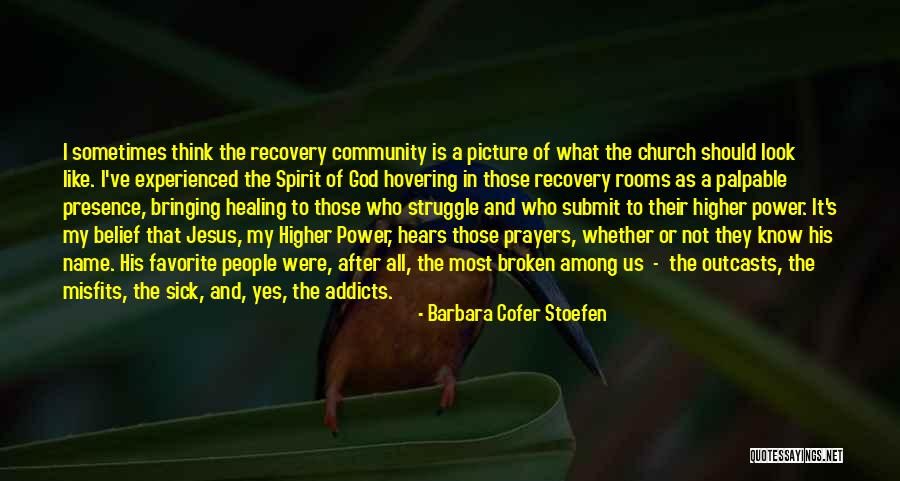 I sometimes think the recovery community is a picture of what the church should look like. I've experienced the Spirit of God hovering in those recovery rooms as a palpable presence, bringing healing to those who struggle and who submit to their higher power. It's my belief that Jesus, my Higher Power, hears those prayers, whether or not they know his name. His favorite people were, after all, the most broken among us - the outcasts, the misfits, the sick, and, yes, the addicts. — Barbara Cofer Stoefen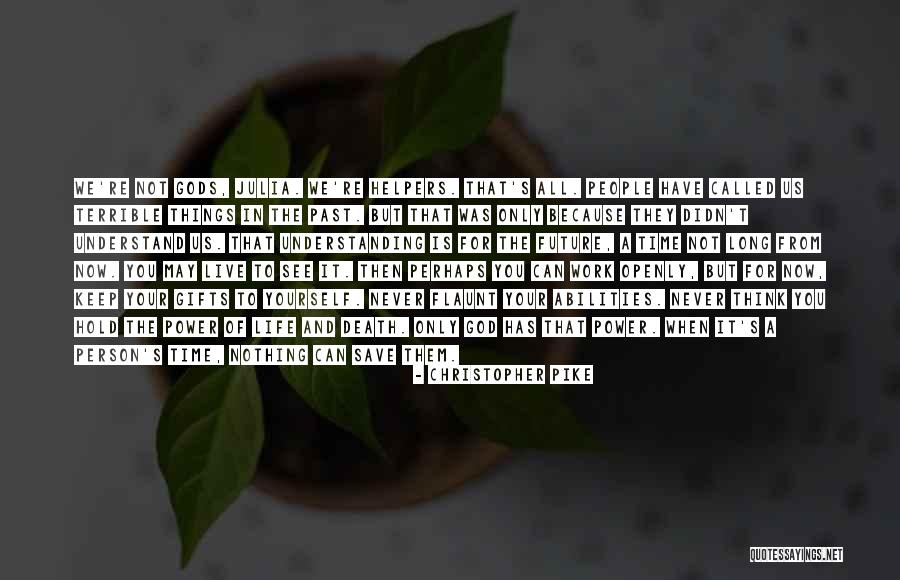 We're not gods, Julia. We're helpers. That's all. People have called us terrible things in the past. But that was only because they didn't understand us. That understanding is for the future, a time not long from now. You may live to see it. Then perhaps you can work openly, but for now, keep your gifts to yourself. Never flaunt your abilities. Never think you hold the power of life and death. Only God has that power. When it's a person's time, nothing can save them. — Christopher Pike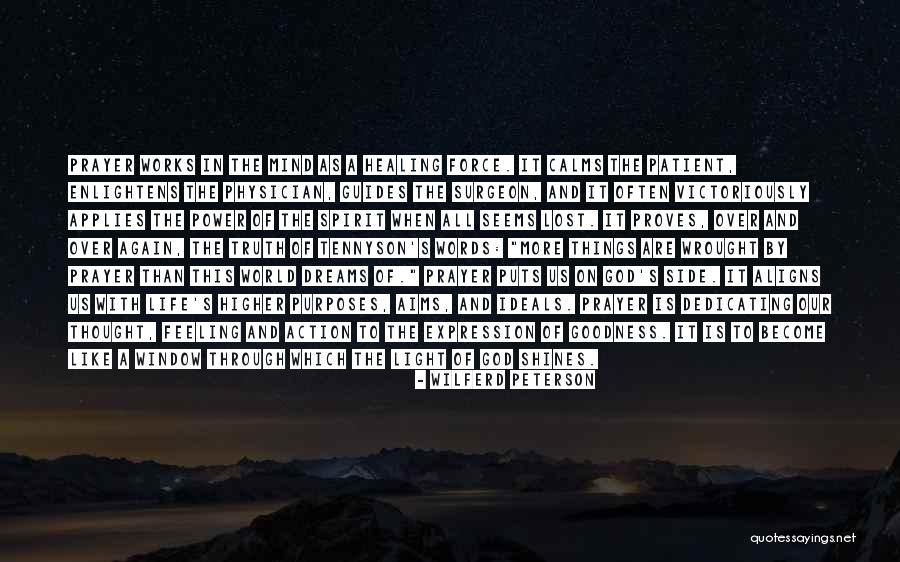 Prayer works in the mind as a healing force. It calms the patient, enlightens the physician, guides the surgeon, and it often victoriously applies the power of the spirit when all seems lost. It proves, over and over again, the truth of Tennyson's words: "More things are wrought by prayer than this world dreams of." Prayer puts us on God's side. It aligns us with life's higher purposes, aims, and ideals. Prayer is dedicating our thought, feeling and action to the expression of goodness. It is to become like a window through which the light of God shines. — Wilferd Peterson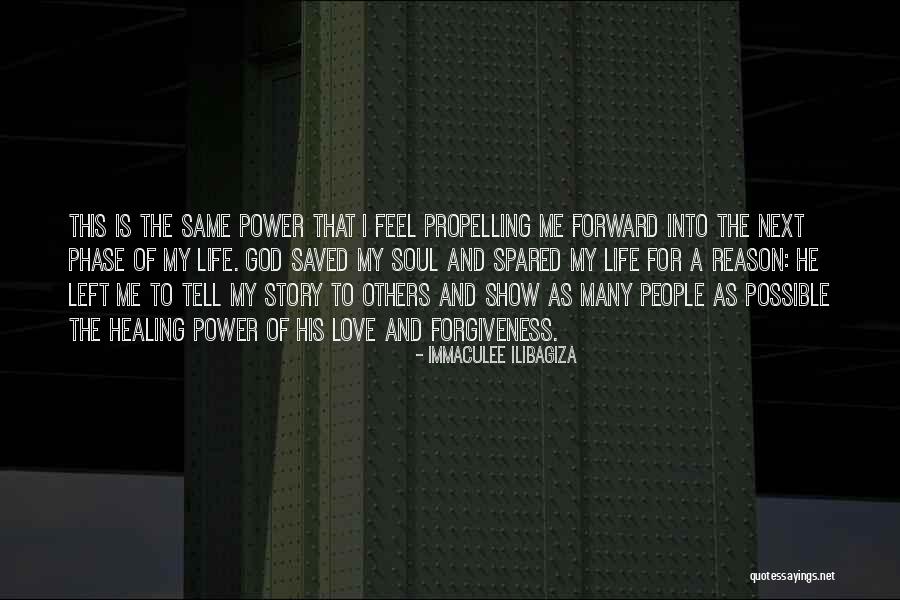 This is the same power that I feel propelling me forward into the next phase of my life. God saved my soul and spared my life for a reason: He left me to tell my story to others and show as many people as possible the healing power of His love and forgiveness. — Immaculee Ilibagiza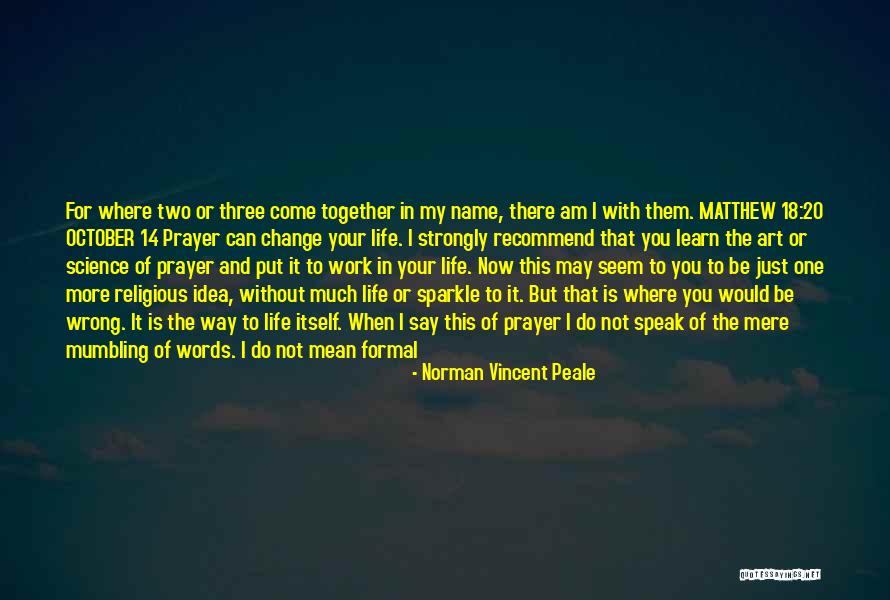 For where two or three come together in my name, there am I with them. MATTHEW 18:20 OCTOBER 14 Prayer can change your life. I strongly recommend that you learn the art or science of prayer and put it to work in your life. Now this may seem to you to be just one more religious idea, without much life or sparkle to it. But that is where you would be wrong. It is the way to life itself. When I say this of prayer I do not speak of the mere mumbling of words. I do not mean formal affirmations either, although formal prayers sometimes help and some formal prayers are touched with the glory of God. What I mean is a deep, fundamental, powerful relationship of the individual to God, whereby his whole mind and heart become changed and he receives power from God within himself. I have seen such prayer change the lives of many. God's peace deeply imbedded in your mind can often have a more tranquilizing and healing effect upon nerves and tension than medicine. God's peace is itself medicinal. — Norman Vincent Peale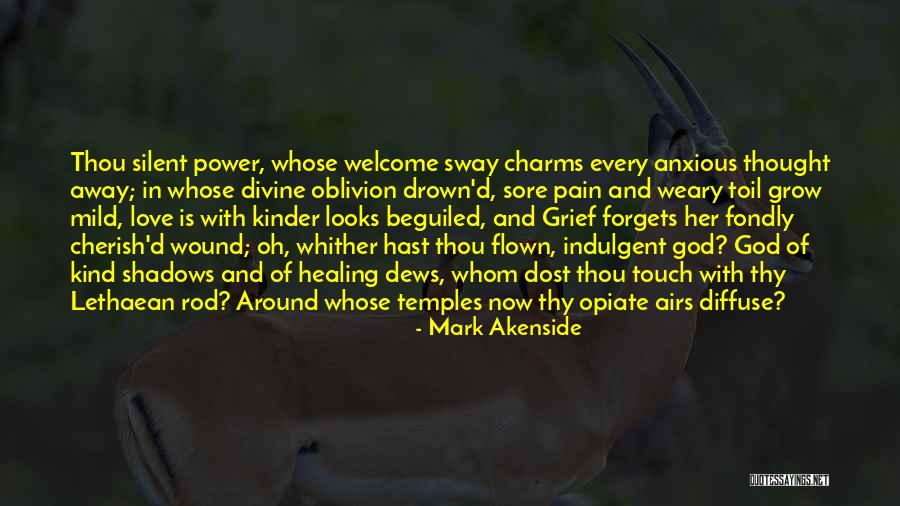 Thou silent power, whose welcome sway charms every anxious thought away; in whose divine oblivion drown'd, sore pain and weary toil grow mild, love is with kinder looks beguiled, and Grief forgets her fondly cherish'd wound; oh, whither hast thou flown, indulgent god? God of kind shadows and of healing dews, whom dost thou touch with thy Lethaean rod? Around whose temples now thy opiate airs diffuse? — Mark Akenside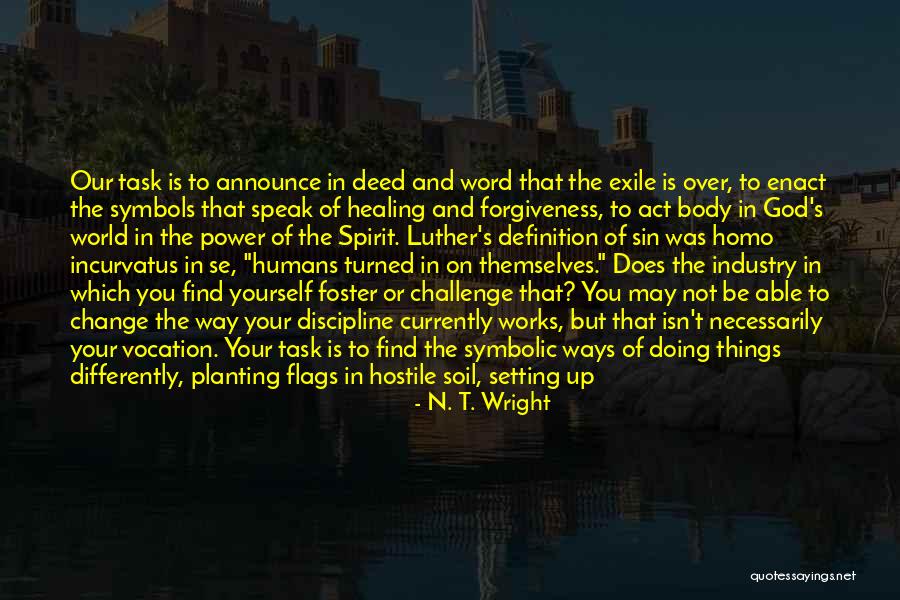 Our task is to announce in deed and word that the exile is over, to enact the symbols that speak of healing and forgiveness, to act body in God's world in the power of the Spirit. Luther's definition of sin was homo incurvatus in se, "humans turned in on themselves." Does the industry in which you find yourself foster or challenge that? You may not be able to change the way your discipline currently works, but that isn't necessarily your vocation. Your task is to find the symbolic ways of doing things differently, planting flags in hostile soil, setting up signposts that say there is a different way to be human. And when people are puzzled at what you are doing, find ways - fresh ways - of telling the story of the return of the human race from its exile, and use those stories as your explanation. — N. T. Wright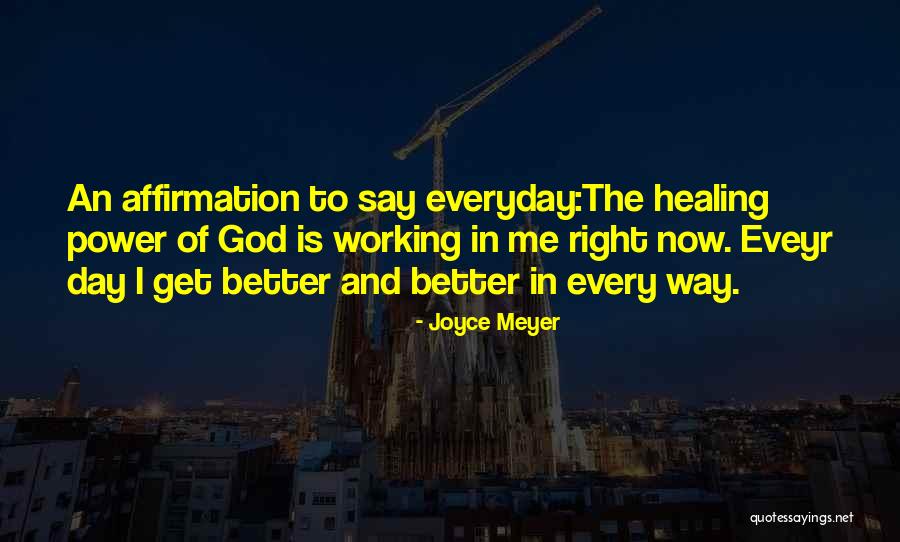 An affirmation to say everyday:
The healing power of God is working in me right now. Eveyr day I get better and better in every way. — Joyce Meyer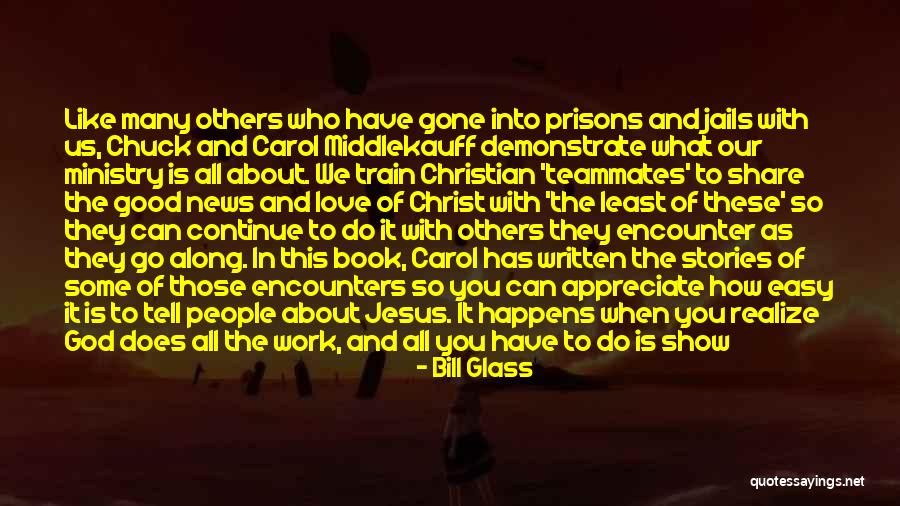 Like many others who have gone into prisons and jails with us, Chuck and Carol Middlekauff demonstrate what our ministry is all about. We train Christian 'teammates' to share the good news and love of Christ with 'the least of these' so they can continue to do it with others they encounter as they go along. In this book, Carol has written the stories of some of those encounters so you can appreciate how easy it is to tell people about Jesus. It happens when you realize God does all the work, and all you have to do is show up. I hope you will be encouraged by reading the book and then join us soon for a Weekend of Champions to find out for yourself."
Bill Glass, retired NFL all-pro defensive end, evangelist, founder of Bill Glass Champions for Life prison ministries, and author of numerous books, including The Healing Power of a Father's Blessing and Blitzed by Blessings — Bill Glass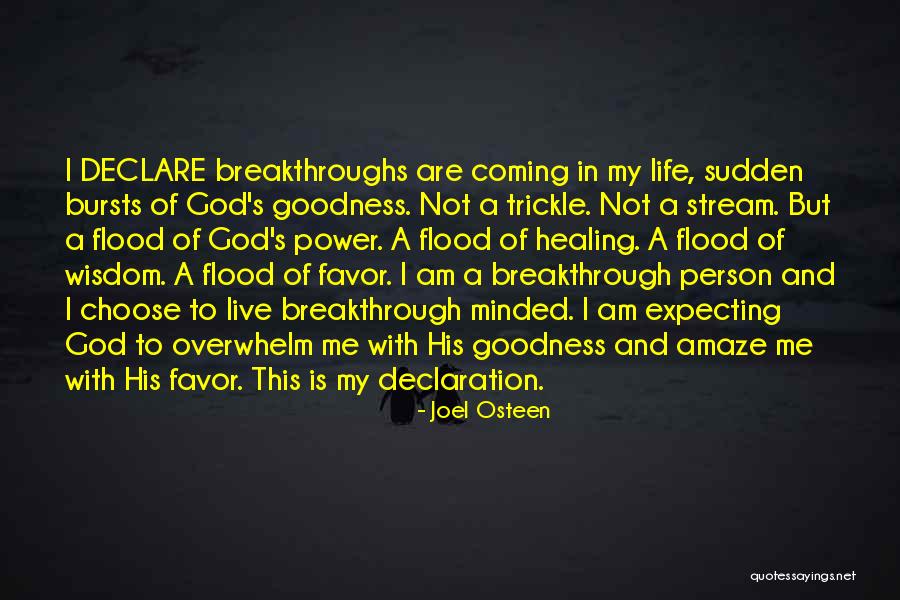 I DECLARE breakthroughs are coming in my life, sudden bursts of God's goodness. Not a trickle. Not a stream. But a flood of God's power. A flood of healing. A flood of wisdom. A flood of favor. I am a breakthrough person and I choose to live breakthrough minded. I am expecting God to overwhelm me with His goodness and amaze me with His favor. This is my declaration. — Joel Osteen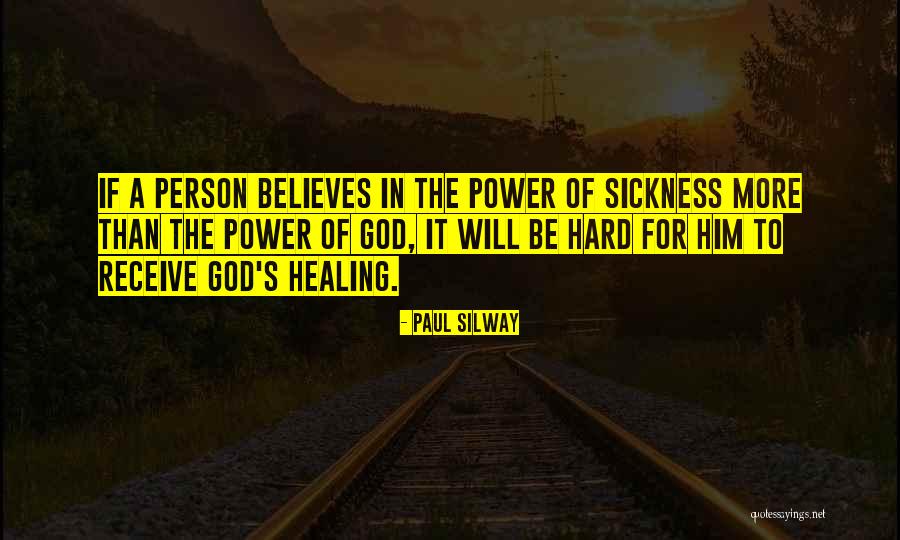 If a person believes in the power of sickness more than the power of God, it will be hard for him to receive God's healing. — Paul Silway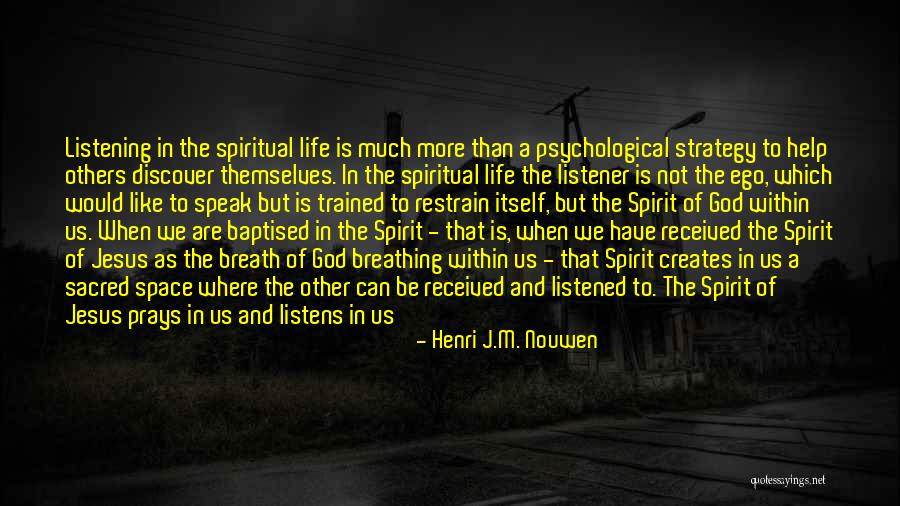 Listening in the spiritual life is much more than a psychological strategy to help others discover themselves. In the spiritual life the listener is not the ego, which would like to speak but is trained to restrain itself, but the Spirit of God within us. When we are baptised in the Spirit - that is, when we have received the Spirit of Jesus as the breath of God breathing within us - that Spirit creates in us a sacred space where the other can be received and listened to. The Spirit of Jesus prays in us and listens in us to all who come to us with their sufferings and pains.
When we dare to fully trust in the power of God's Spirit listening in us, we will see true healing occur. — Henri J.M. Nouwen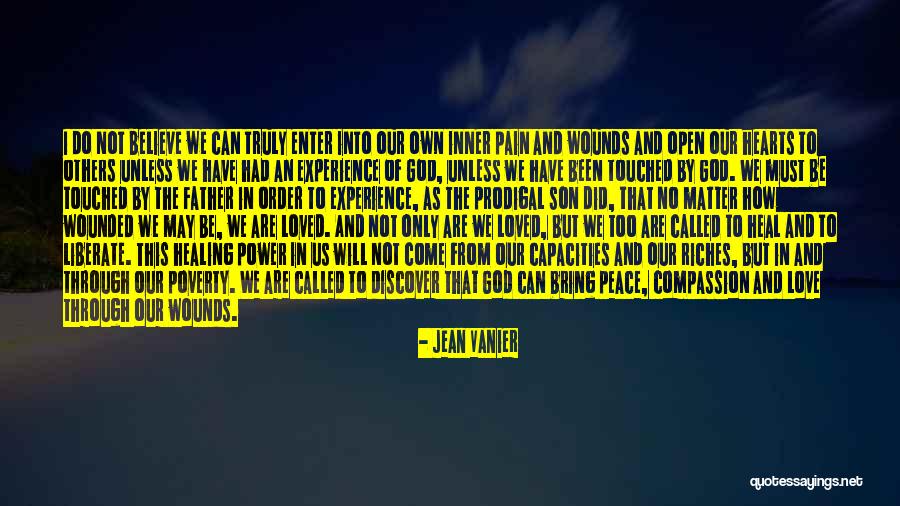 I do not believe we can truly enter into our own inner pain and wounds and open our hearts to others unless we have had an experience of God, unless we have been touched by God. We must be touched by the Father in order to experience, as the prodigal son did, that no matter how wounded we may be, we are loved. And not only are we loved, but we too are called to heal and to liberate. This healing power in us will not come from our capacities and our riches, but in and through our poverty. We are called to discover that God can bring peace, compassion and love through our wounds. — Jean Vanier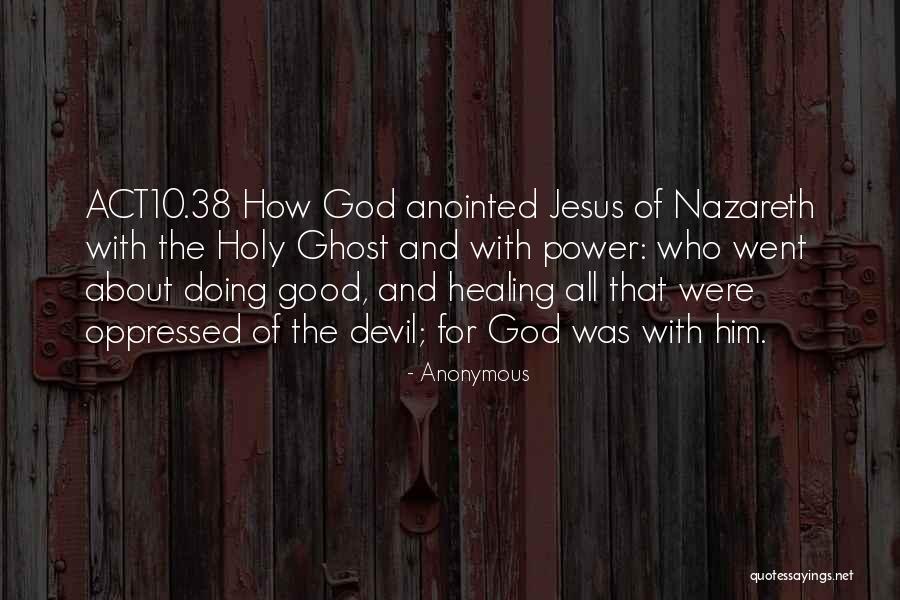 ACT10.38 How God anointed Jesus of Nazareth with the Holy Ghost and with power: who went about doing good, and healing all that were oppressed of the devil; for God was with him. — Anonymous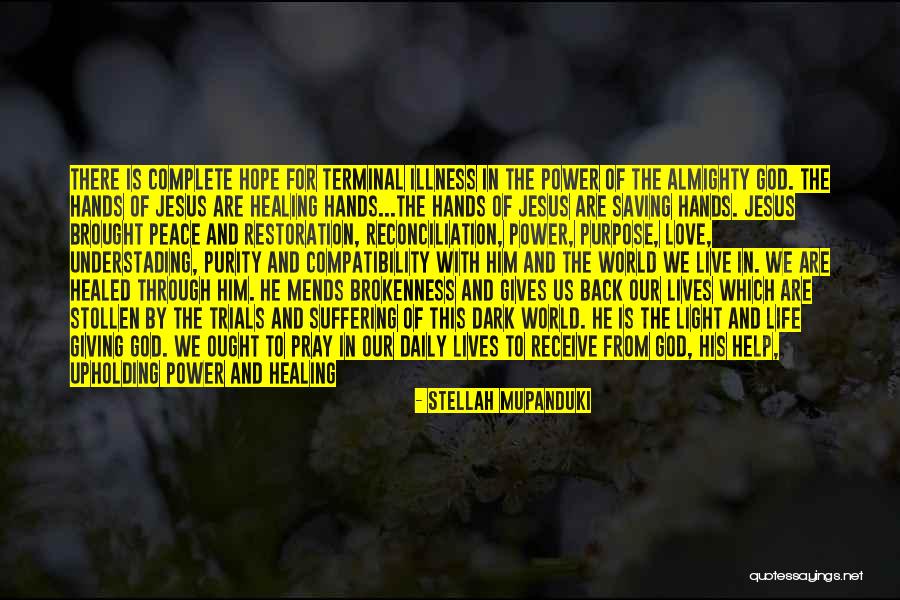 There is complete hope for terminal illness in the power of the Almighty God. The hands of Jesus are healing hands...the hands of Jesus are saving hands. Jesus brought peace and restoration, reconciliation, power, purpose, love, understading, purity and compatibility with him and the world we live in. we are healed through him. He mends brokenness and gives us back our lives which are stollen by the trials and suffering of this dark world. He is the light and life giving God. We ought to pray in our daily lives to receive from God, his help, upholding power and healing in the Name of Jesus Christ his one and only Son. When we ask from him...then we receive healing, relief from suffering, we stop living in fear of death. Read these books and experience the real presence of the supernatural, almighty sovereign and loving God. — Stellah Mupanduki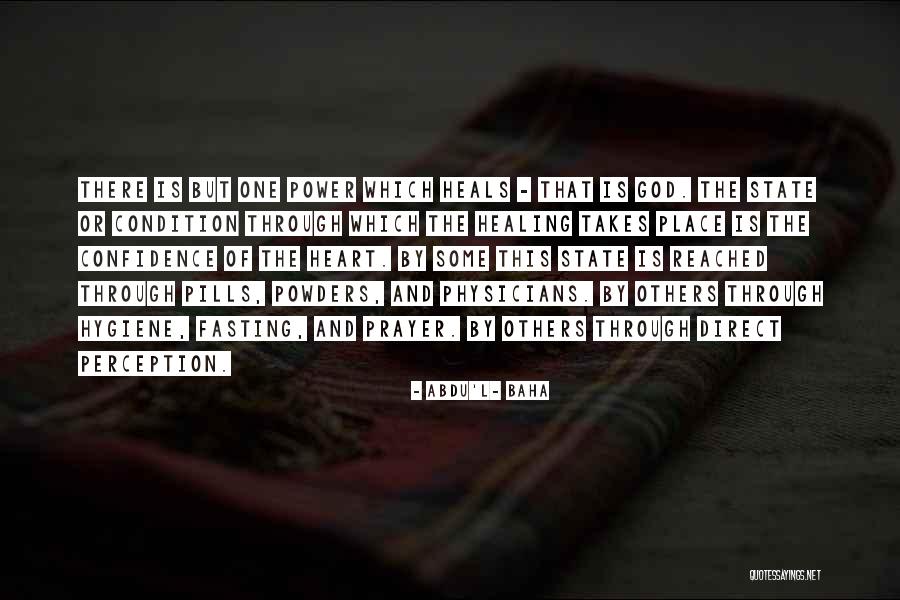 There is but one power which heals - that is God. The state or condition through which the healing takes place is the confidence of the heart. By some this state is reached through pills, powders, and physicians. By others through hygiene, fasting, and prayer. By others through direct perception. — Abdu'l- Baha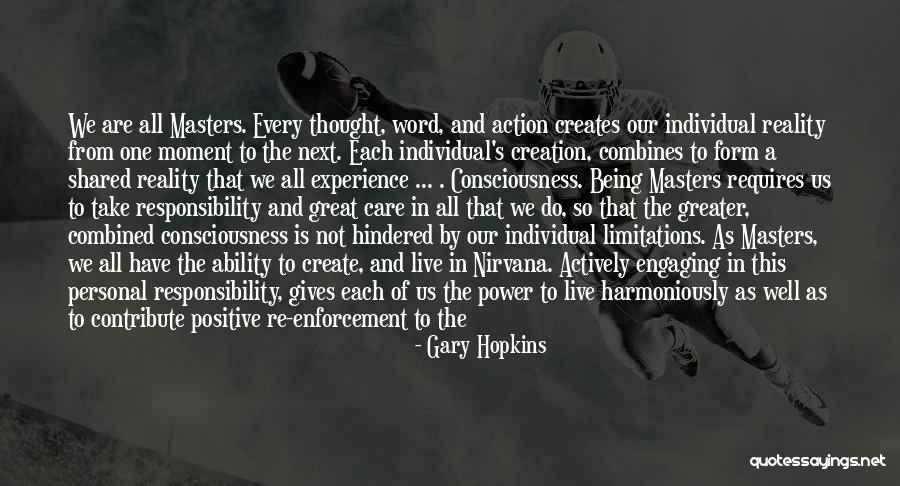 We are all Masters. Every thought, word, and action creates our individual reality from one moment to the next. Each individual's creation, combines to form a shared reality that we all experience ... . Consciousness. Being Masters requires us to take responsibility and great care in all that we do, so that the greater, combined consciousness is not hindered by our individual limitations. As Masters, we all have the ability to create, and live in Nirvana. Actively engaging in this personal responsibility, gives each of us the power to live harmoniously as well as to contribute positive re-enforcement to the greater Consciousness that we all share — Gary Hopkins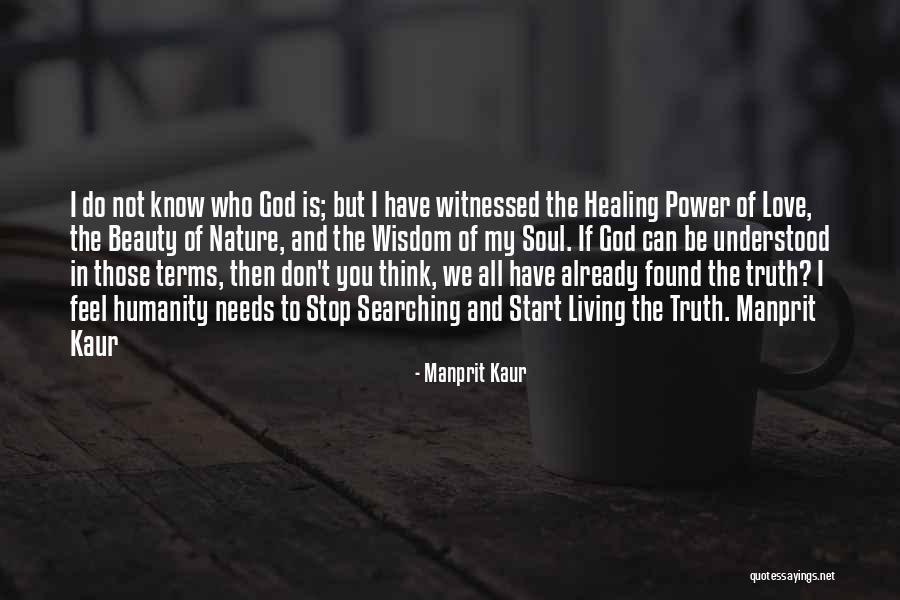 I do not know who God is; but I have witnessed the Healing Power of Love, the Beauty of Nature, and the Wisdom of my Soul. If God can be understood in those terms, then don't you think, we all have already found the truth? I feel humanity needs to Stop Searching and Start Living the Truth. Manprit Kaur — Manprit Kaur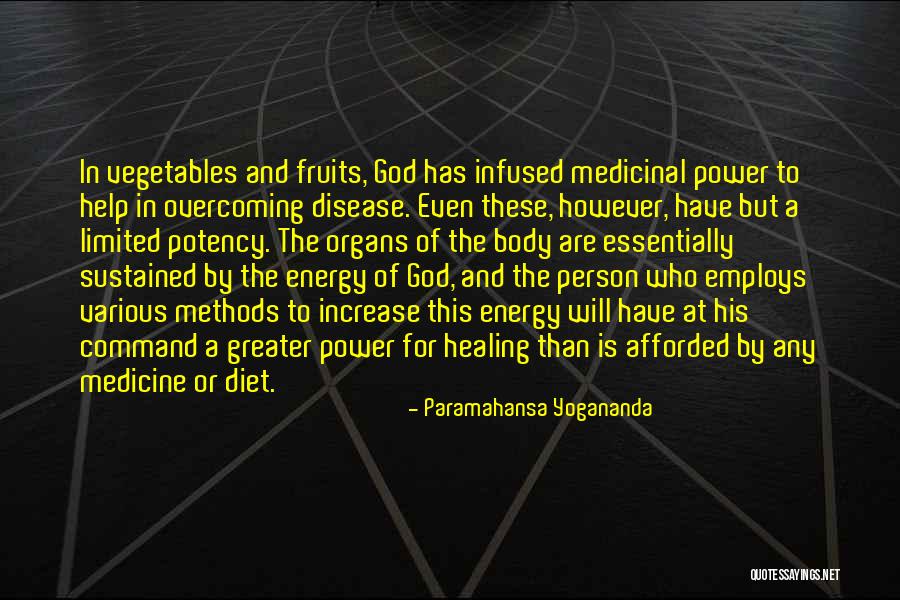 In vegetables and fruits, God has infused medicinal power to help in overcoming disease. Even these, however, have but a limited potency. The organs of the body are essentially sustained by the energy of God, and the person who employs various methods to increase this energy will have at his command a greater power for healing than is afforded by any medicine or diet. — Paramahansa Yogananda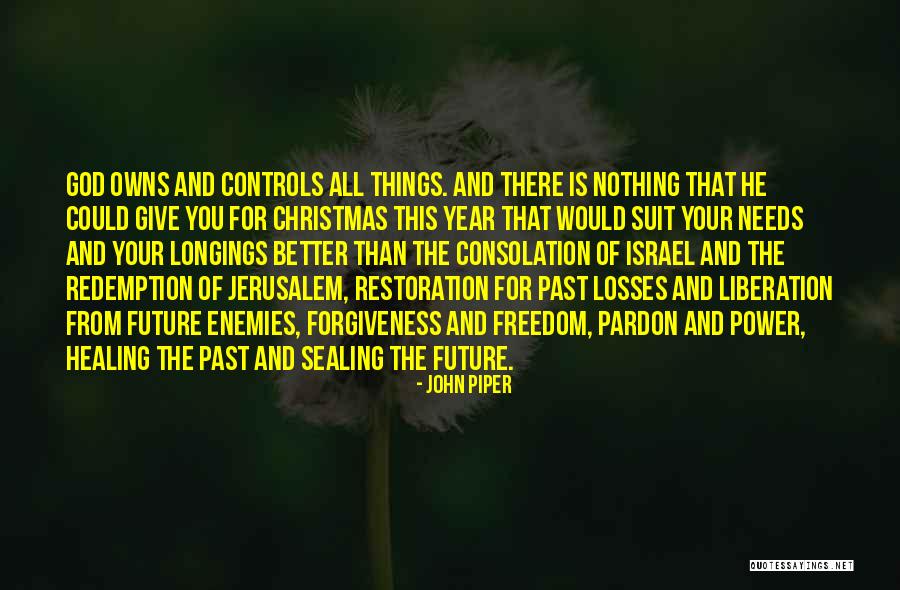 God owns and controls all things. And there is nothing that he could give you for Christmas this year that would suit your needs and your longings better than the consolation of Israel and the redemption of Jerusalem, restoration for past losses and liberation from future enemies, forgiveness and freedom, pardon and power, healing the past and sealing the future. — John Piper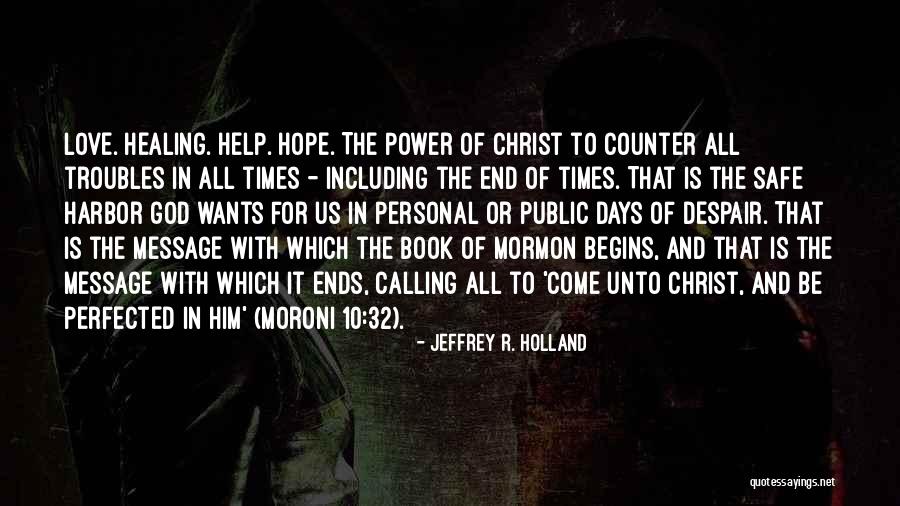 Love. Healing. Help. Hope. The power of Christ to counter all troubles in all times - including the end of times. That is the safe harbor God wants for us in personal or public days of despair. That is the message with which the Book of Mormon begins, and that is the message with which it ends, calling all to 'come unto Christ, and be perfected in him' (Moroni 10:32). — Jeffrey R. Holland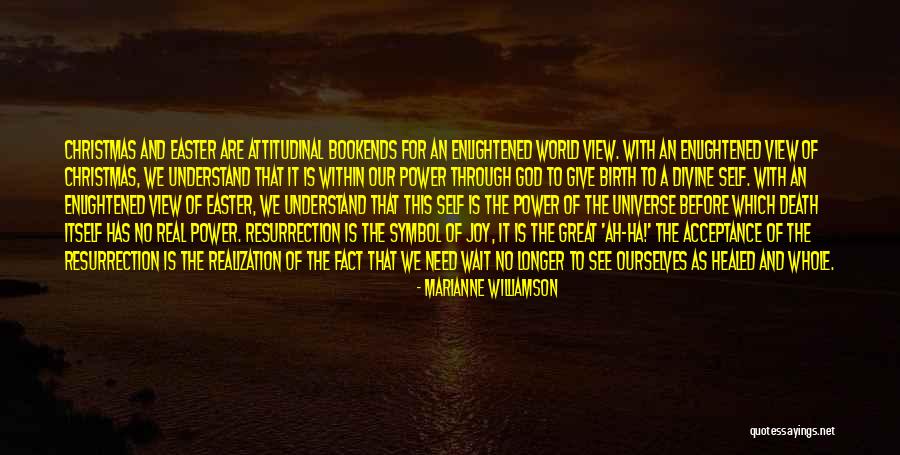 Christmas and Easter are attitudinal bookends for an enlightened world view. With an enlightened view of Christmas, we understand that it is within our power through God to give birth to a divine self. With an enlightened view of Easter, we understand that this self is the power of the universe before which death itself has no real power. Resurrection is the symbol of joy, it is the great 'ah-ha!' The acceptance of the resurrection is the realization of the fact that we need wait no longer to see ourselves as healed and whole. — Marianne Williamson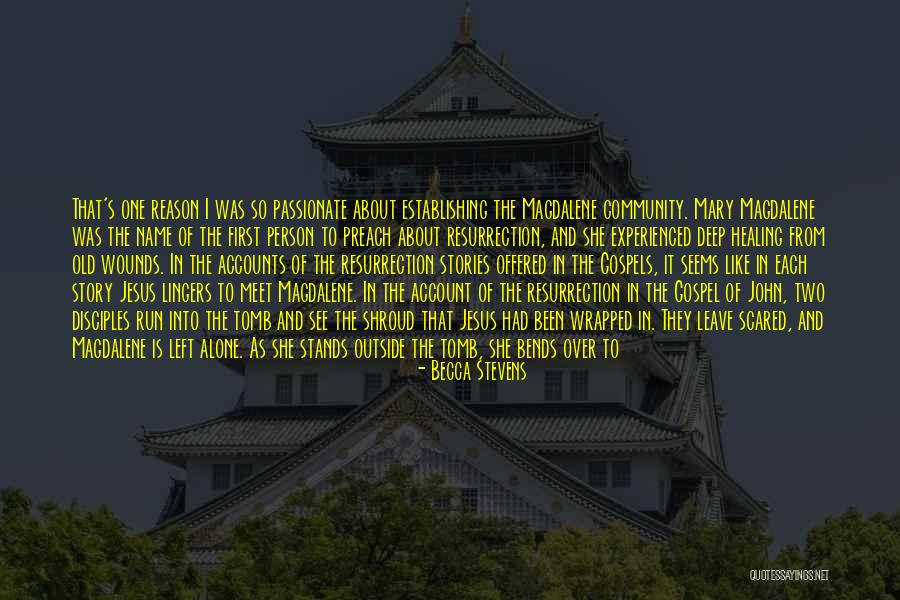 That's one reason I was so passionate about establishing the Magdalene community. Mary Magdalene was the name of the first person to preach about resurrection, and she experienced deep healing from old wounds. In the accounts of the resurrection stories offered in the Gospels, it seems like in each story Jesus lingers to meet Magdalene. In the account of the resurrection in the Gospel of John, two disciples run into the tomb and see the shroud that Jesus had been wrapped in. They leave scared, and Magdalene is left alone. As she stands outside the tomb, she bends over to look into the tomb. Jesus speaks to her. The bond and power of grace seem to bring her into the heart of God. I wanted to name the community in her honor and for it to be a sanctuary. I knew that in order to heal people, women needed a place to speak their truth in love without fear of being judged, in part because I needed that place. — Becca Stevens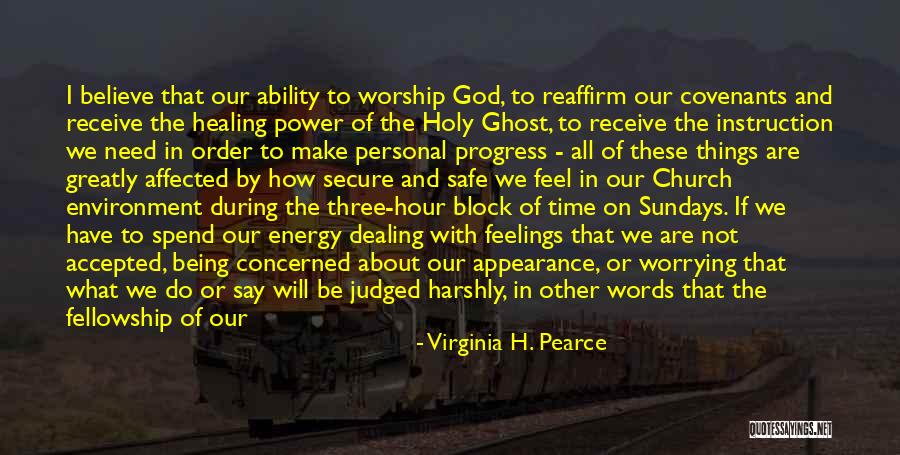 I believe that our ability to worship God, to reaffirm our covenants and receive the healing power of the Holy Ghost, to receive the instruction we need in order to make personal progress - all of these things are greatly affected by how secure and safe we feel in our Church environment during the three-hour block of time on Sundays. If we have to spend our energy dealing with feelings that we are not accepted, being concerned about our appearance, or worrying that what we do or say will be judged harshly, in other words that the fellowship of our ward members is anything but "fixed, immovable, and unchangeable", we certainly won't be able to make the kind of progress we could make otherwise. — Virginia H. Pearce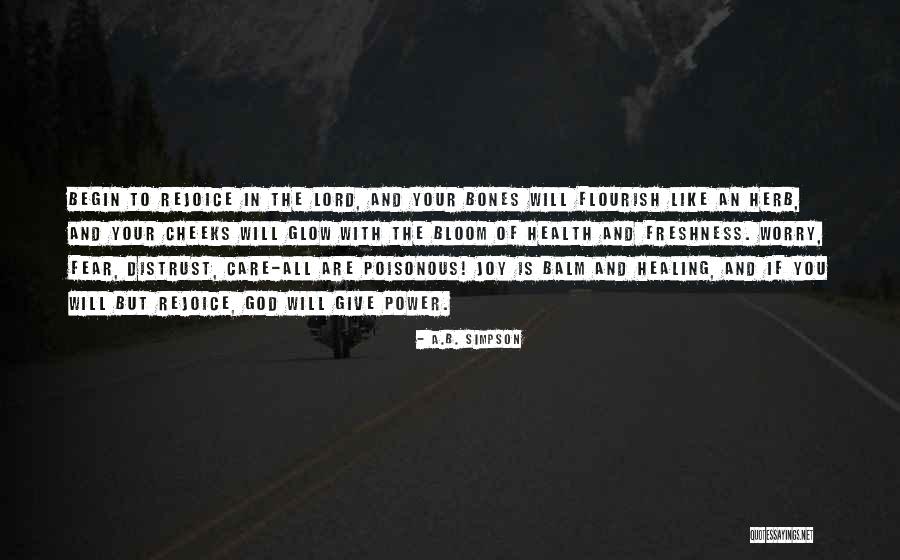 Begin to rejoice in the Lord, and your bones will flourish like an herb, and your cheeks will glow with the bloom of health and freshness. Worry, fear, distrust, care-all are poisonous! Joy is balm and healing, and if you will but rejoice, God will give power. — A.B. Simpson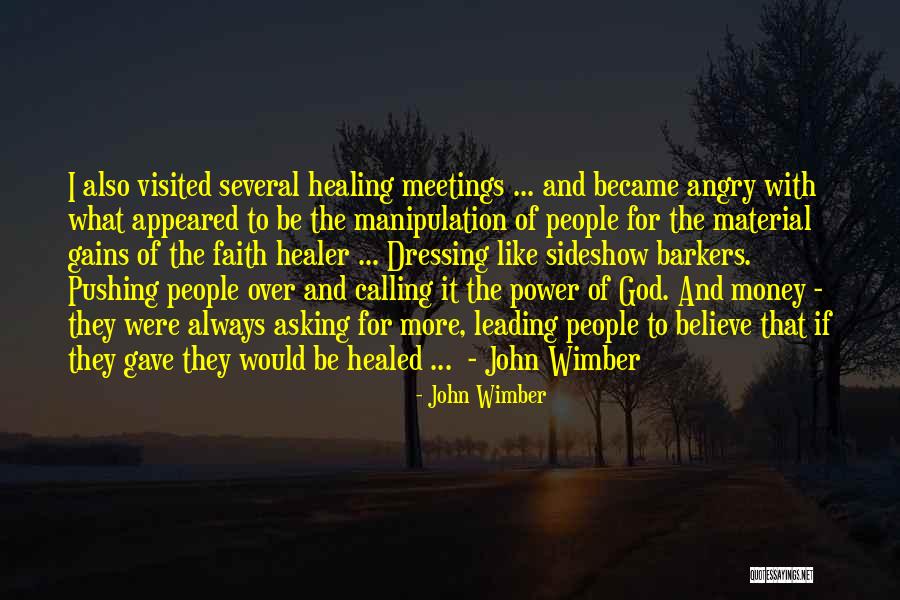 I also visited several healing meetings ... and became angry with what appeared to be the manipulation of people for the material gains of the faith healer ... Dressing like sideshow barkers. Pushing people over and calling it the power of God. And money - they were always asking for more, leading people to believe that if they gave they would be healed ... - John Wimber — John Wimber