Heal The World Quotes & Sayings
Enjoy reading and share 100 famous quotes about Heal The World with everyone.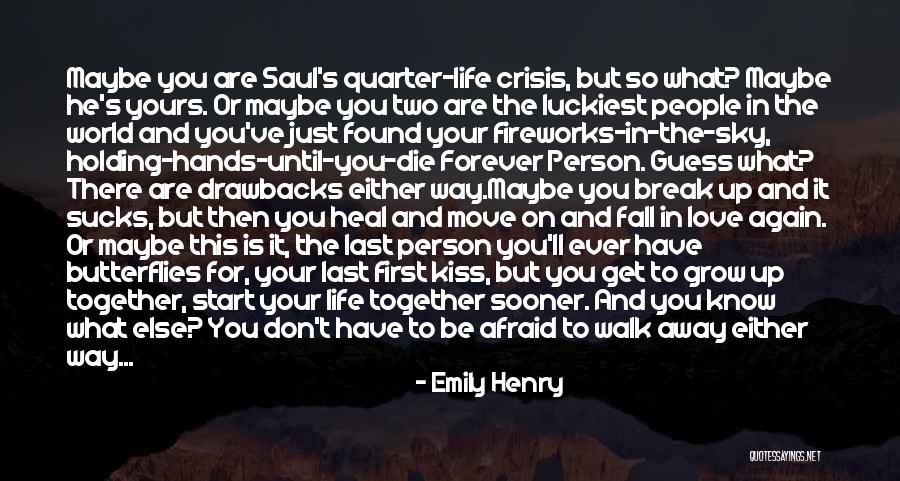 Maybe you are Saul's quarter-life crisis, but so what? Maybe he's yours. Or maybe you two are the luckiest people in the world and you've just found your fireworks-in-the-sky, holding-hands-until-you-die Forever Person. Guess what? There are drawbacks either way.
Maybe you break up and it sucks, but then you heal and move on and fall in love again. Or maybe this is it, the last person you'll ever have butterflies for, your last first kiss, but you get to grow up together, start your life together sooner. And you know what else? You don't have to be afraid to walk away either way... — Emily Henry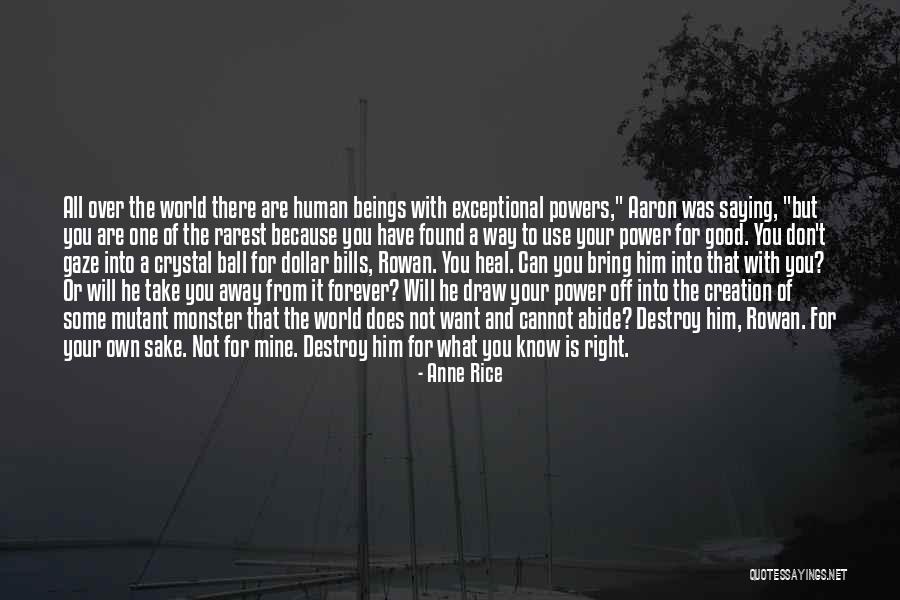 All over the world there are human beings with exceptional powers," Aaron was saying, "but you are one of the rarest because you have found a way to use your power for good. You don't gaze into a crystal ball for dollar bills, Rowan. You heal. Can you bring him into that with you? Or will he take you away from it forever? Will he draw your power off into the creation of some mutant monster that the world does not want and cannot abide? Destroy him, Rowan. For your own sake. Not for mine. Destroy him for what you know is right. — Anne Rice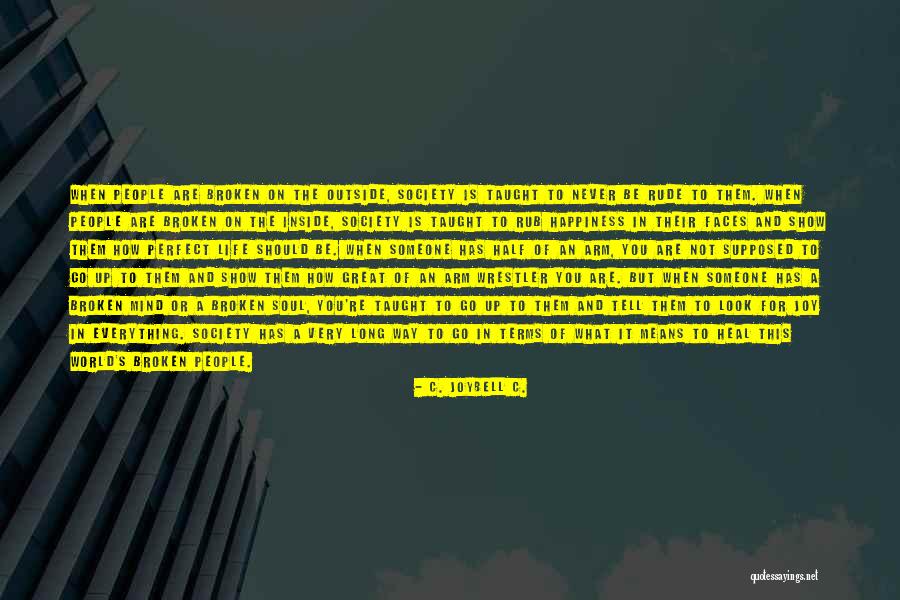 When people are broken on the outside, society is taught to never be rude to them. When people are broken on the inside, society is taught to rub happiness in their faces and show them how perfect life should be. When someone has half of an arm, you are not supposed to go up to them and show them how great of an arm wrestler you are. But when someone has a broken mind or a broken soul, you're taught to go up to them and tell them to look for joy in everything. Society has a very long way to go in terms of what it means to heal this world's broken people. — C. JoyBell C.
The terrifying message of gay liberation is that men are capable of loving their brothers. It should be sweet news to every womanin the world, for, if the capacity of men to love whom they have been taught to treat as competitors and enemies can transcend their education, the world can begin to heal. — Jane Rule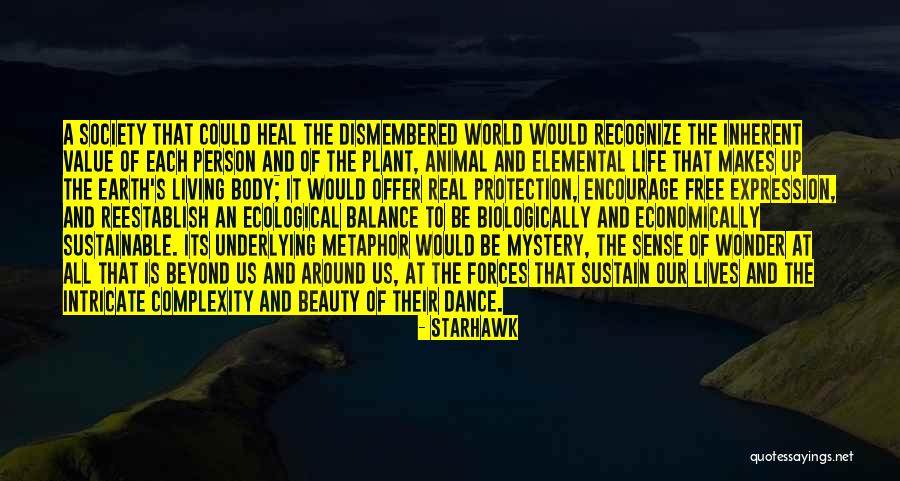 A society that could heal the dismembered world would recognize the inherent value of each person and of the plant, animal and elemental life that makes up the earth's living body; it would offer real protection, encourage free expression, and reestablish an ecological balance to be biologically and economically sustainable. Its underlying metaphor would be mystery, the sense of wonder at all that is beyond us and around us, at the forces that sustain our lives and the intricate complexity and beauty of their dance. — Starhawk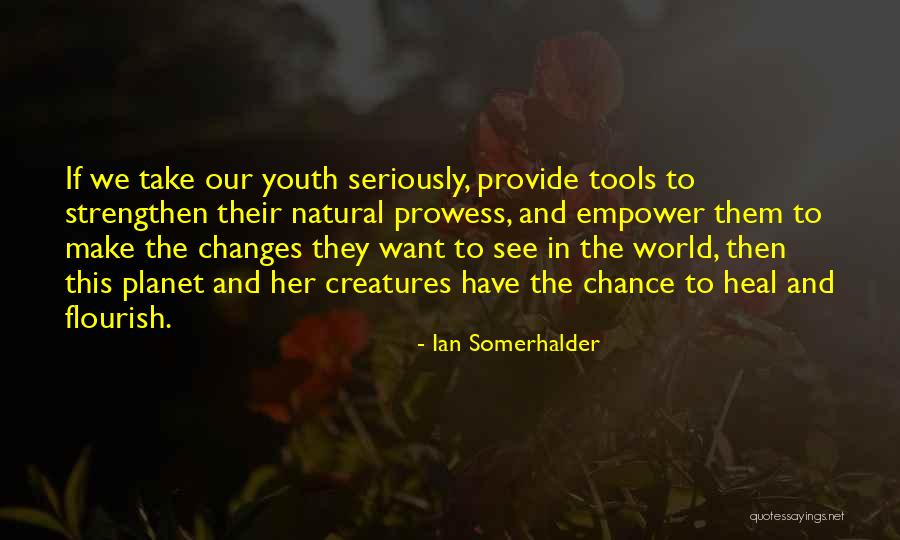 If we take our youth seriously, provide tools to strengthen their natural prowess, and empower them to make the changes they want to see in the world, then this planet and her creatures have the chance to heal and flourish. — Ian Somerhalder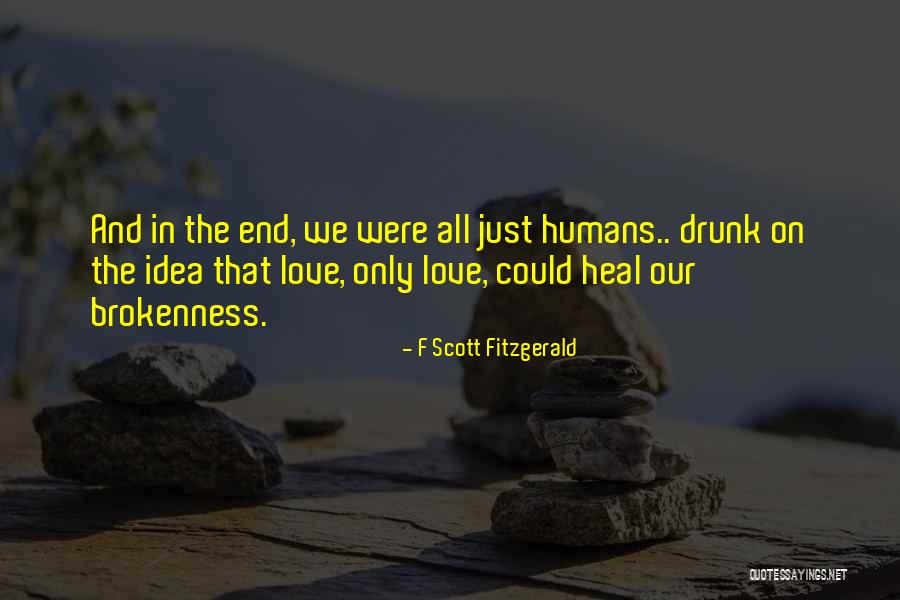 And in the end, we were all just humans.. drunk on the idea that love, only love, could heal our brokenness. — F Scott Fitzgerald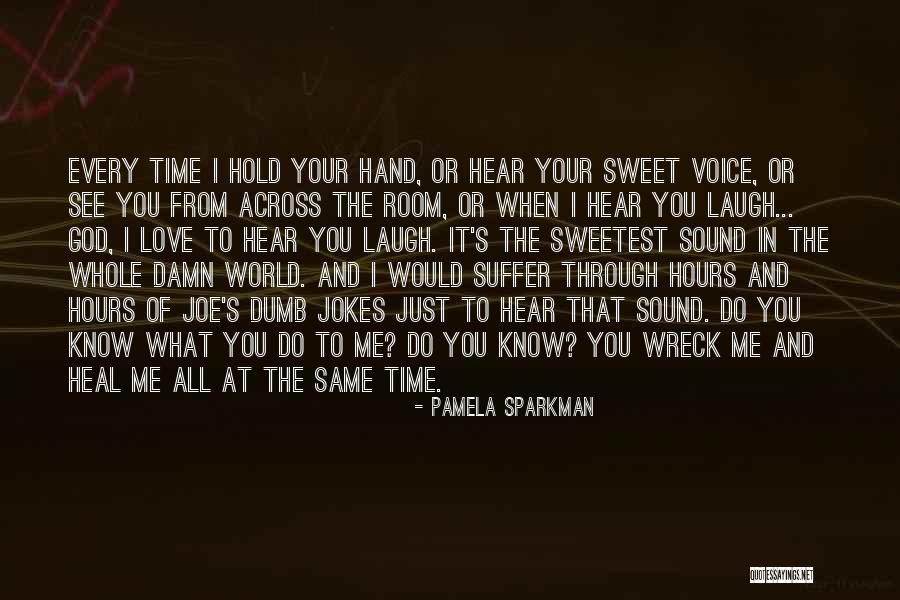 Every time I hold your hand, or hear your sweet voice, or see you from across the room, or when I hear you laugh... God, I love to hear you laugh. It's the sweetest sound in the whole damn world. And I would suffer through hours and hours of Joe's dumb jokes just to hear that sound. Do you know what you do to me? Do you know? You wreck me and heal me all at the same time. — Pamela Sparkman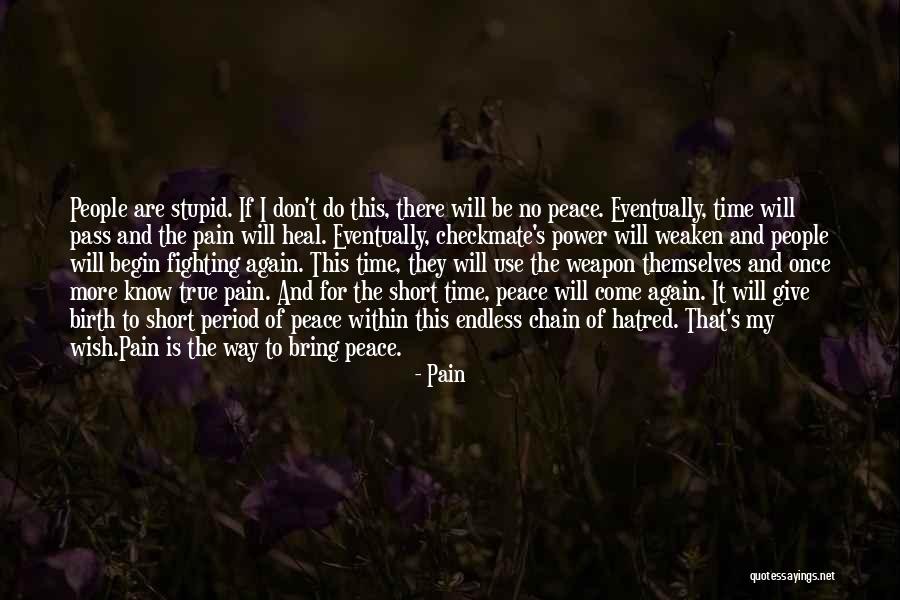 People are stupid. If I don't do this, there will be no peace. Eventually, time will pass and the pain will heal. Eventually, checkmate's power will weaken and people will begin fighting again. This time, they will use the weapon themselves and once more know true pain. And for the short time, peace will come again. It will give birth to short period of peace within this endless chain of hatred. That's my wish.
Pain is the way to bring peace. — Pain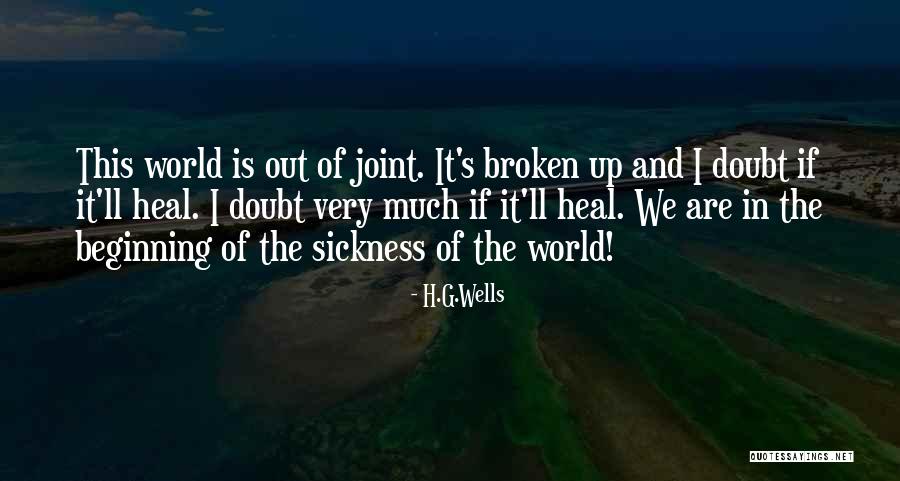 This world is out of joint. It's broken up and I doubt if it'll heal. I doubt very much if it'll heal. We are in the beginning of the sickness of the world! — H.G.Wells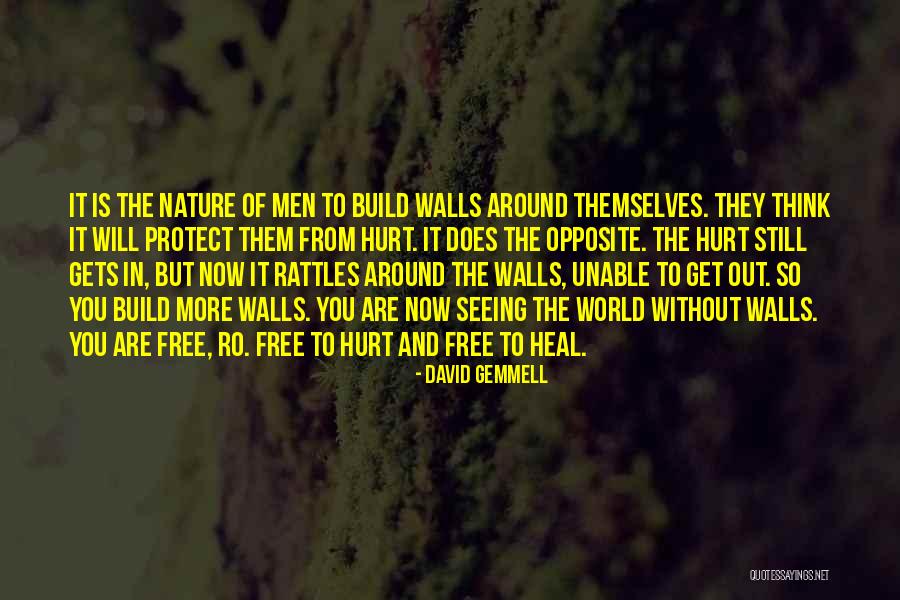 It is the nature of men to build walls around themselves. They think it will protect them from hurt. It does the opposite. The hurt still gets in, but now it rattles around the walls, unable to get out. So you build more walls. You are now seeing the world without walls. You are free, Ro. Free to hurt and free to heal. — David Gemmell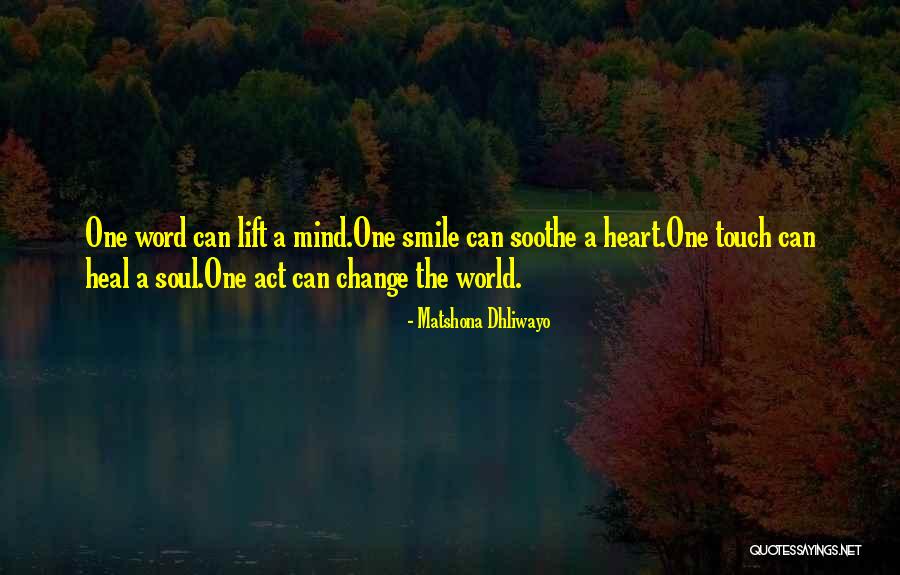 One word can lift a mind.
One smile can soothe a heart.
One touch can heal a soul.
One act can change the world. — Matshona Dhliwayo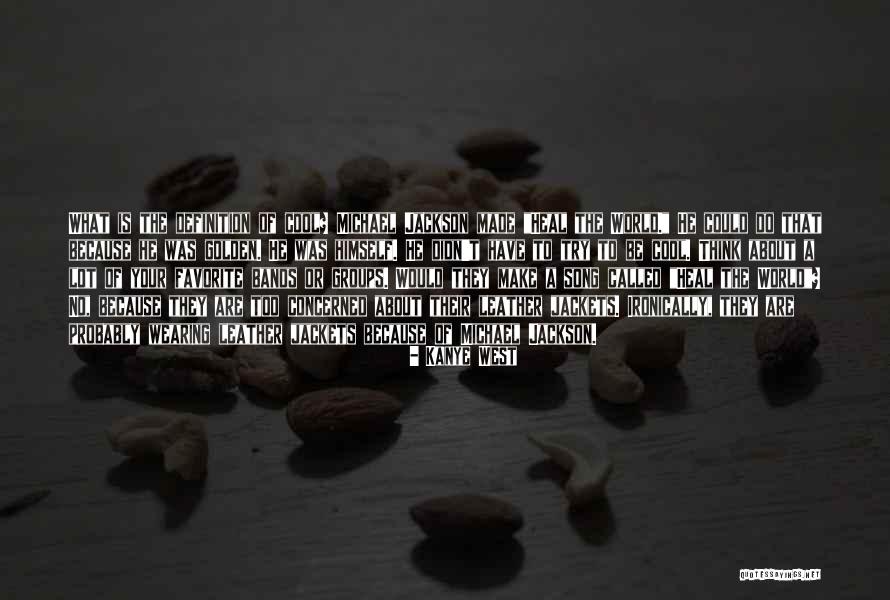 What is the definition of cool? Michael Jackson made "Heal the World." He could do that because he was golden. He was himself. He didn't have to try to be cool. Think about a lot of your favorite bands or groups. Would they make a song called "Heal the World"? No, because they are too concerned about their leather jackets. Ironically, they are probably wearing leather jackets because of Michael Jackson. — Kanye West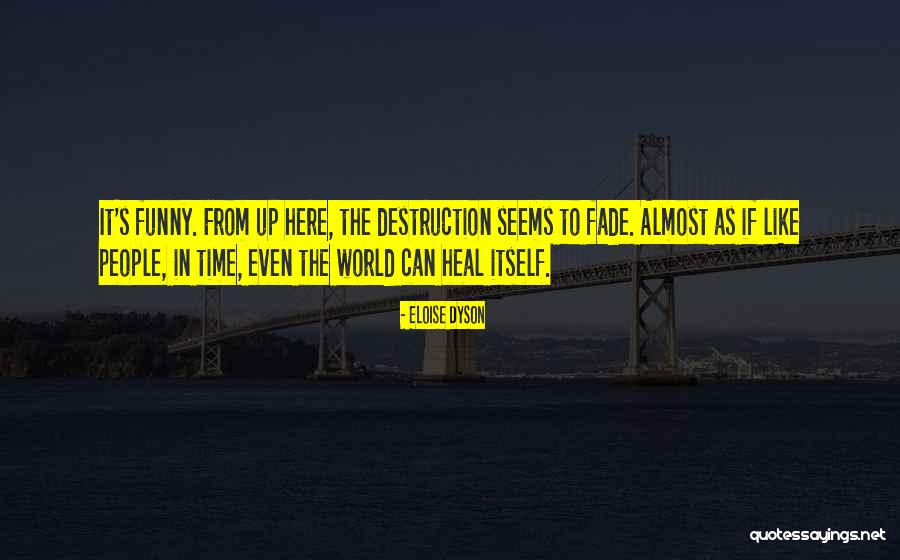 It's funny. From up here, the destruction seems to fade. Almost as if like people, in time, even the world can heal itself. — Eloise Dyson
When we turn to our innate wisdom for the harmony of mind and gut, we heal the entrance to the heart as it seeks to beat in rhythm with the world. — Stephen Levine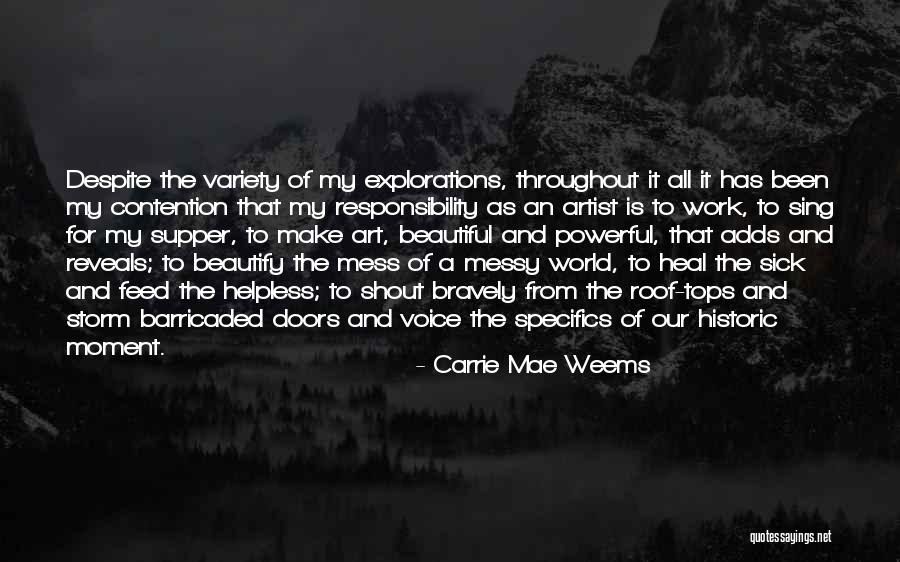 Despite the variety of my explorations, throughout it all it has been my contention that my responsibility as an artist is to work, to sing for my supper, to make art, beautiful and powerful, that adds and reveals; to beautify the mess of a messy world, to heal the sick and feed the helpless; to shout bravely from the roof-tops and storm barricaded doors and voice the specifics of our historic moment. — Carrie Mae Weems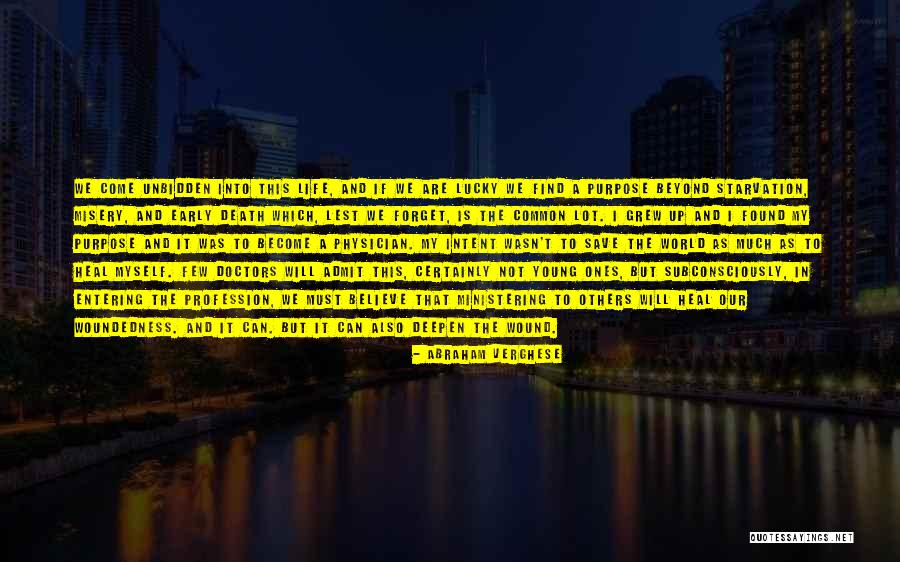 We come unbidden into this life, and if we are lucky we find a purpose beyond starvation, misery, and early death which, lest we forget, is the common lot. I grew up and I found my purpose and it was to become a physician. My intent wasn't to save the world as much as to heal myself. Few doctors will admit this, certainly not young ones, but subconsciously, in entering the profession, we must believe that ministering to others will heal our woundedness. And it can. but it can also deepen the wound. — Abraham Verghese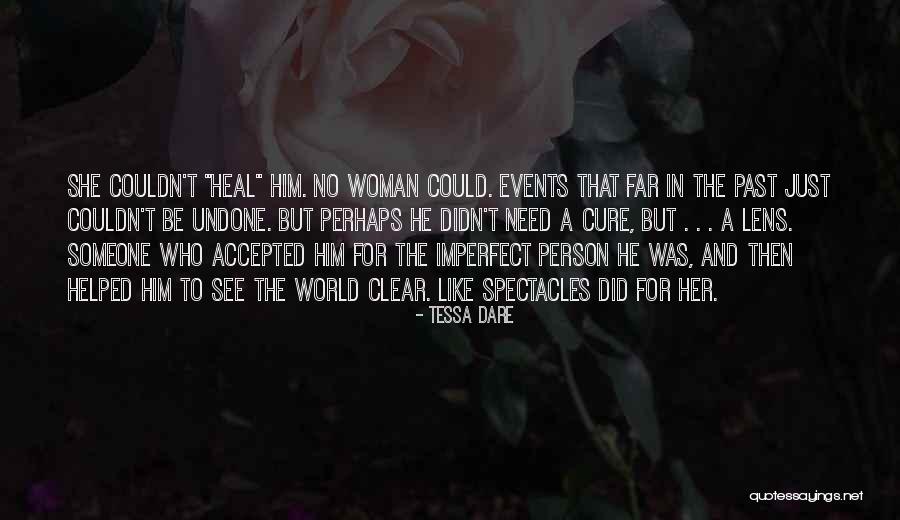 She couldn't "heal" him. No woman could. Events that far in the past just couldn't be undone. But perhaps he didn't need a cure, but . . . a lens. Someone who accepted him for the imperfect person he was, and then helped him to see the world clear. Like spectacles did for her. — Tessa Dare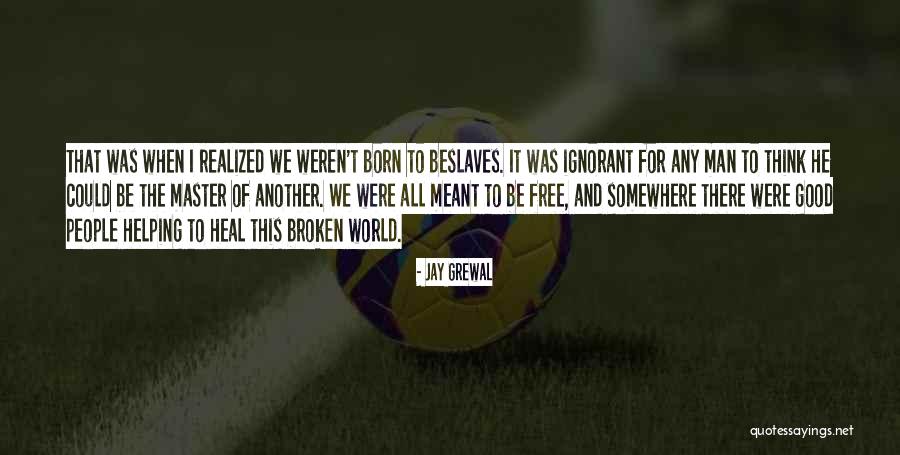 That was when I realized we weren't born to be
slaves. It was ignorant for any man to think he could be the master of another. We were all meant to be free, and somewhere there were good people helping to heal this broken world. — Jay Grewal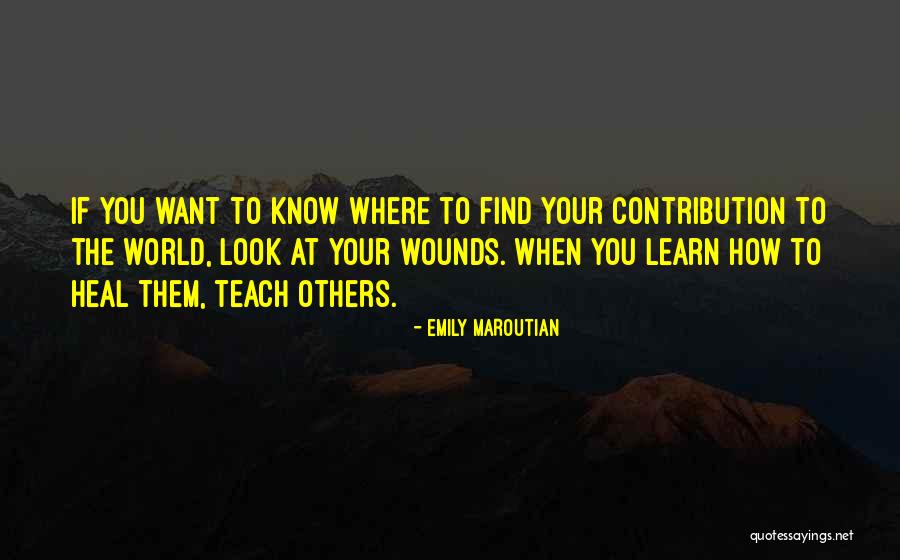 If you want to know where to find your contribution to the world, look at your wounds. When you learn how to heal them, teach others. — Emily Maroutian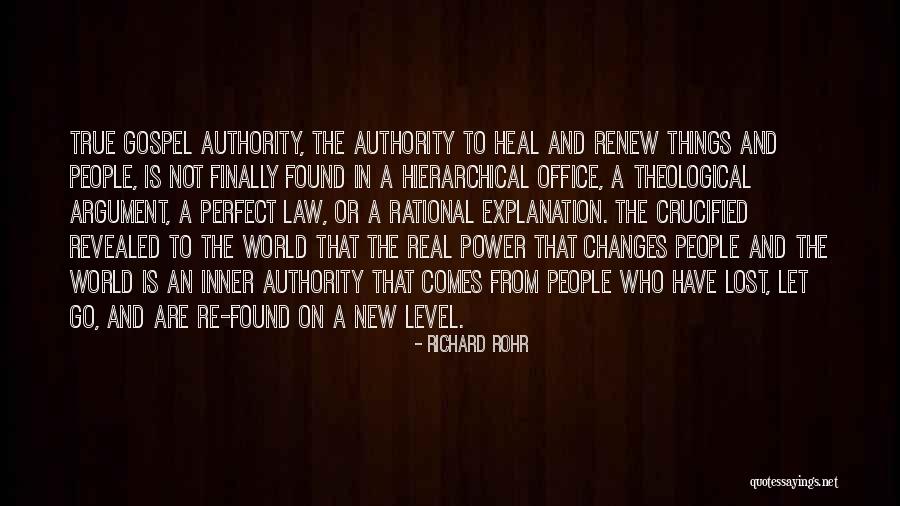 True gospel authority, the authority to heal and renew things and people, is not finally found in a hierarchical office, a theological argument, a perfect law, or a rational explanation. The Crucified revealed to the world that the real power that changes people and the world is an inner authority that comes from people who have lost, let go, and are re-found on a new level. — Richard Rohr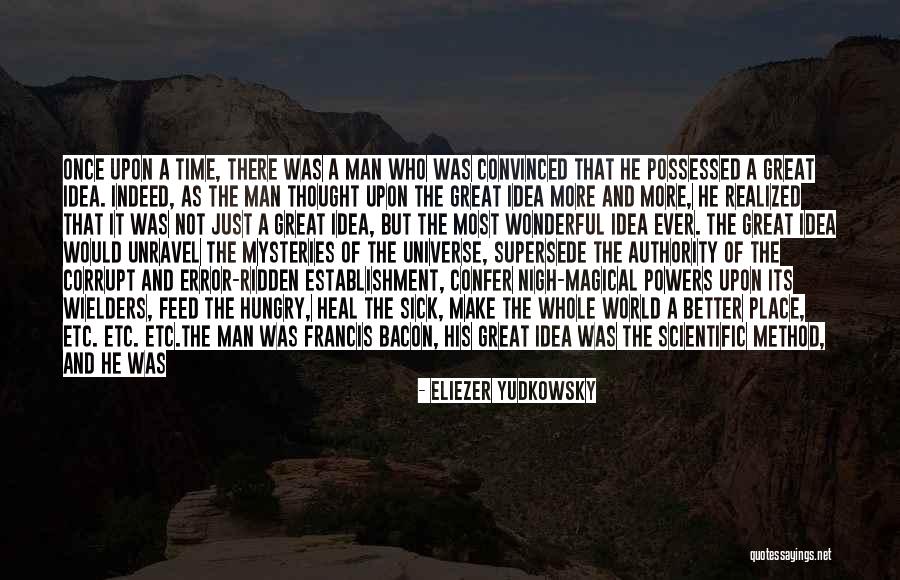 Once upon a time, there was a man who was convinced that he possessed a Great Idea. Indeed, as the man thought upon the Great Idea more and more, he realized that it was not just a great idea, but the most wonderful idea ever. The Great Idea would unravel the mysteries of the universe, supersede the authority of the corrupt and error-ridden Establishment, confer nigh-magical powers upon its wielders, feed the hungry, heal the sick, make the whole world a better place, etc. etc. etc.
The man was Francis Bacon, his Great Idea was the scientific method, and he was the only crackpot in all history to claim that level of benefit to humanity and turn out to be completely right. — Eliezer Yudkowsky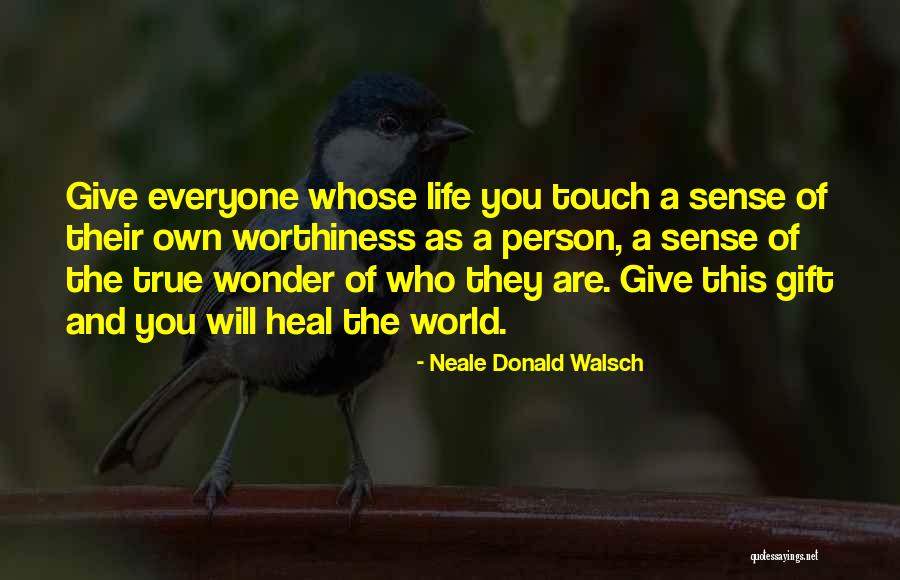 Give everyone whose life you touch a sense of their own worthiness as a person, a sense of the true wonder of who they are. Give this gift and you will heal the world. — Neale Donald Walsch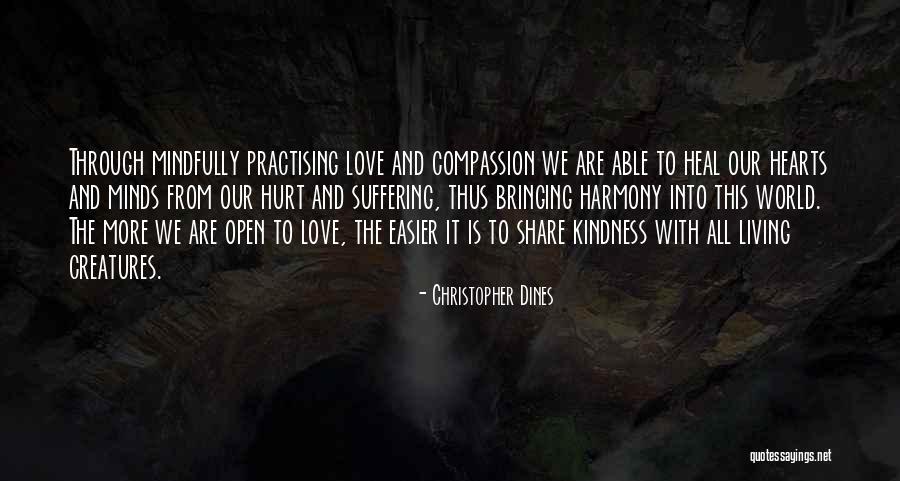 Through mindfully practising love and compassion we are able to heal our hearts and minds from our hurt and suffering, thus bringing harmony into this world. The more we are open to love, the easier it is to share kindness with all living creatures. — Christopher Dines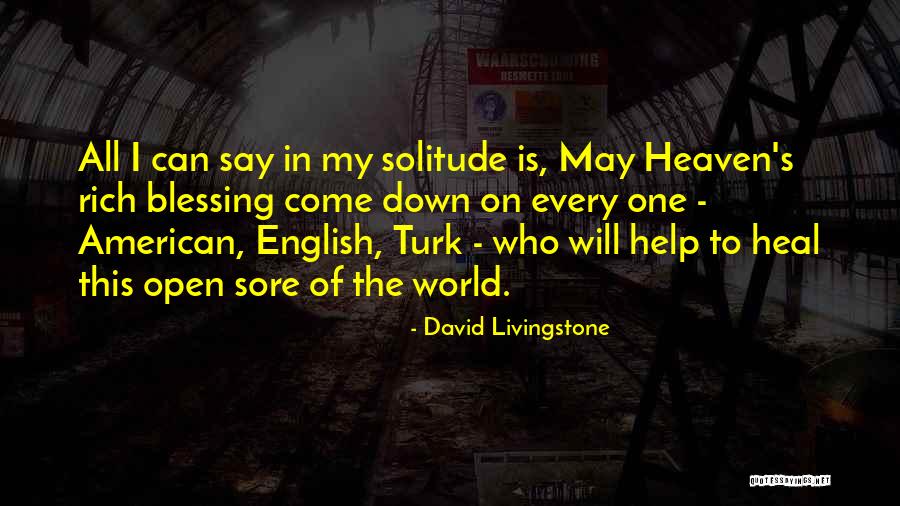 All I can say in my solitude is, May Heaven's rich blessing come down on every one - American, English, Turk - who will help to heal this open sore of the world. — David Livingstone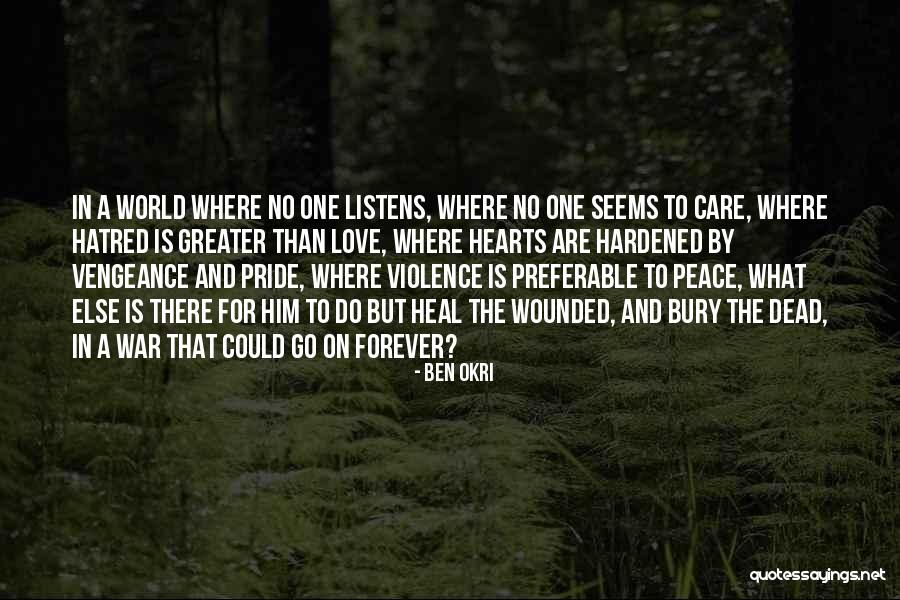 In a world where no one listens, where no one seems to care, where hatred is greater than love, where hearts are hardened by vengeance and pride, where violence is preferable to peace, what else is there for him to do but heal the wounded, and bury the dead, in a war that could go on forever? — Ben Okri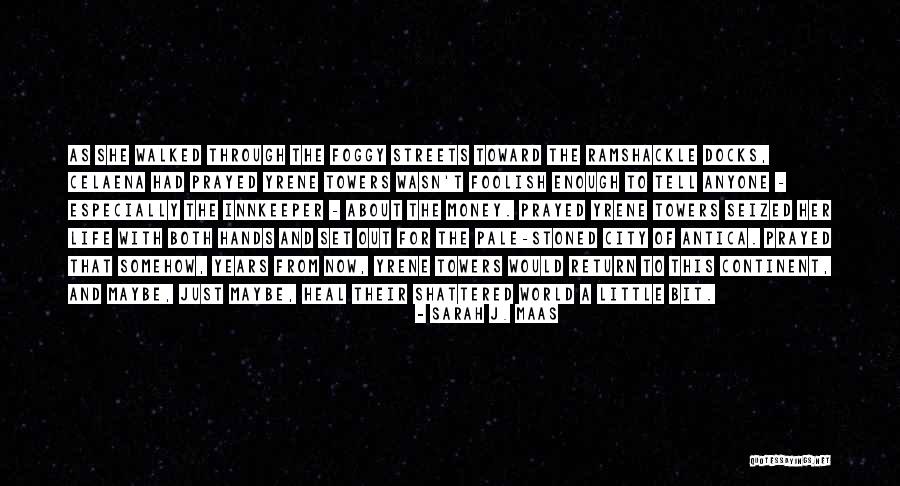 As she walked through the foggy streets toward the ramshackle docks, Celaena had prayed Yrene Towers wasn't foolish enough to tell anyone - especially the innkeeper - about the money. Prayed Yrene Towers seized her life with both hands and set out for the pale-stoned city of Antica. Prayed that somehow, years from now, Yrene Towers would return to this continent, and maybe, just maybe, heal their shattered world a little bit. — Sarah J. Maas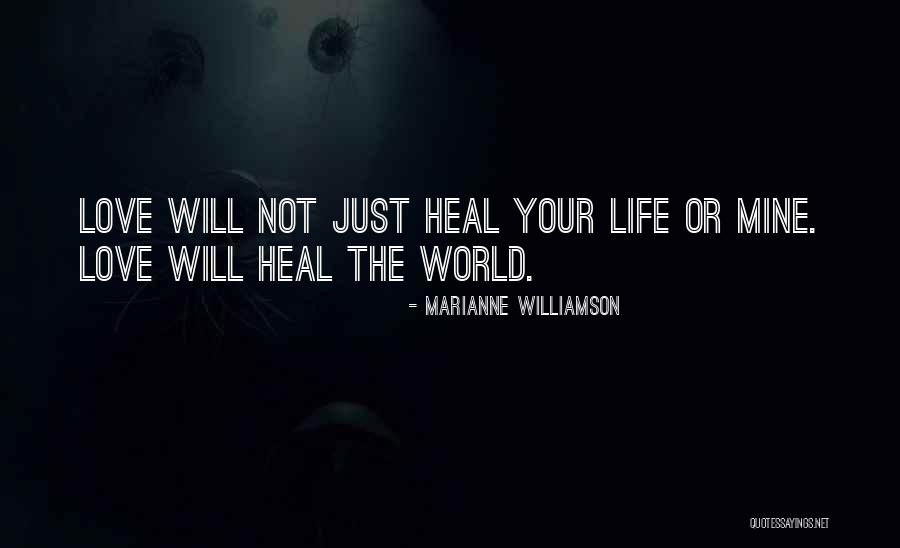 Love will not just heal your life or mine. Love will heal the world. — Marianne Williamson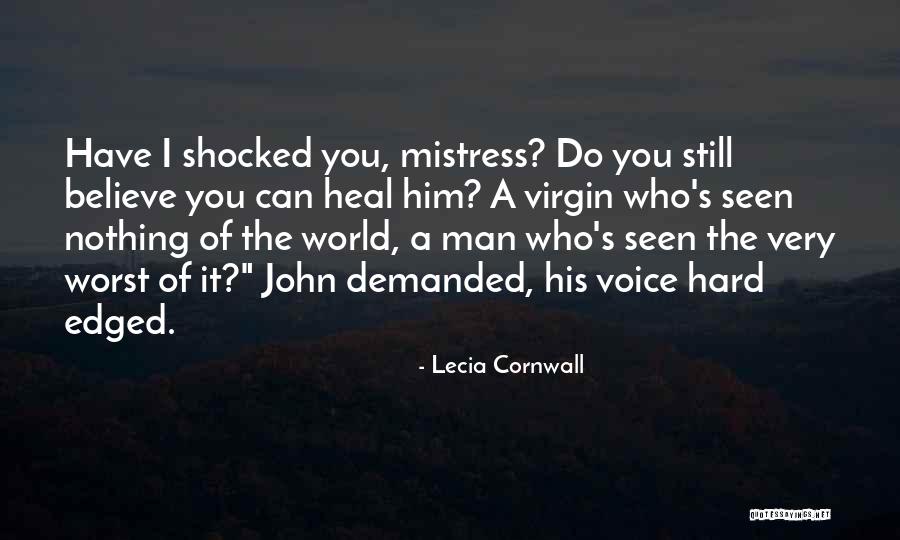 Have I shocked you, mistress? Do you still believe you can heal him? A virgin who's seen nothing of the world, a man who's seen the very worst of it?" John demanded, his voice hard edged. — Lecia Cornwall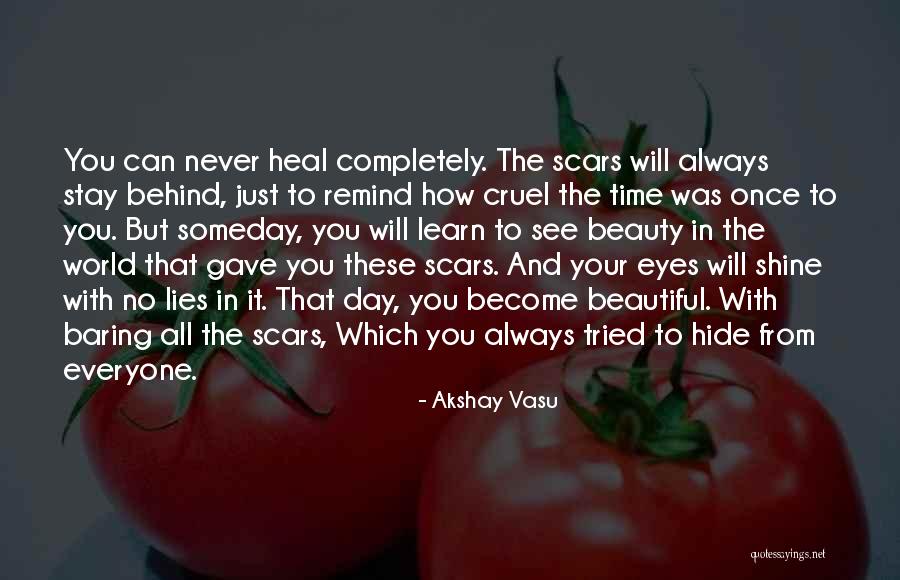 You can never heal completely. The scars will always stay behind, just to remind how cruel the time was once to you. But someday, you will learn to see beauty in the world that gave you these scars. And your eyes will shine with no lies in it. That day, you become beautiful. With baring all the scars, Which you always tried to hide from everyone. — Akshay Vasu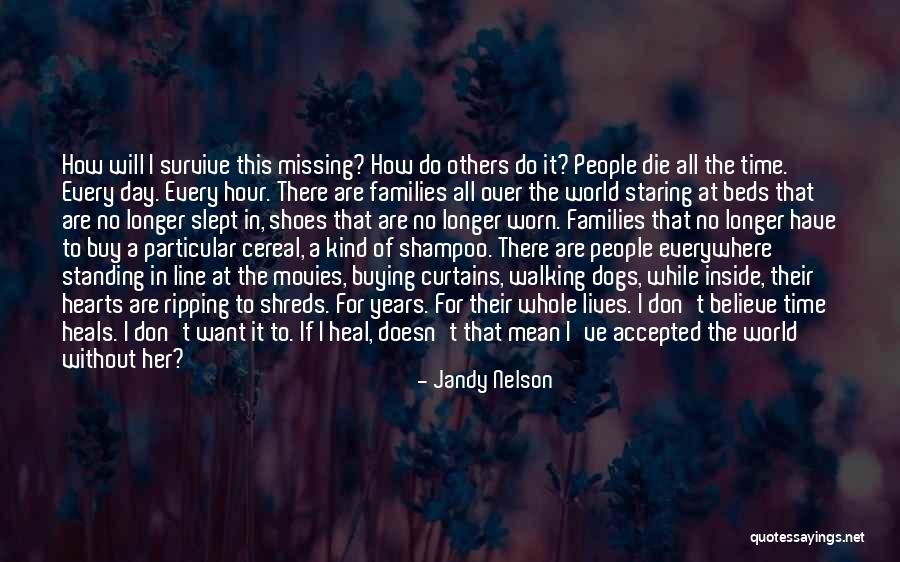 How will I survive this missing? How do others do it? People die all the time. Every day. Every hour. There are families all over the world staring at beds that are no longer slept in, shoes that are no longer worn. Families that no longer have to buy a particular cereal, a kind of shampoo. There are people everywhere standing in line at the movies, buying curtains, walking dogs, while inside, their hearts are ripping to shreds. For years. For their whole lives. I don't believe time heals. I don't want it to. If I heal, doesn't that mean I've accepted the world without her? — Jandy Nelson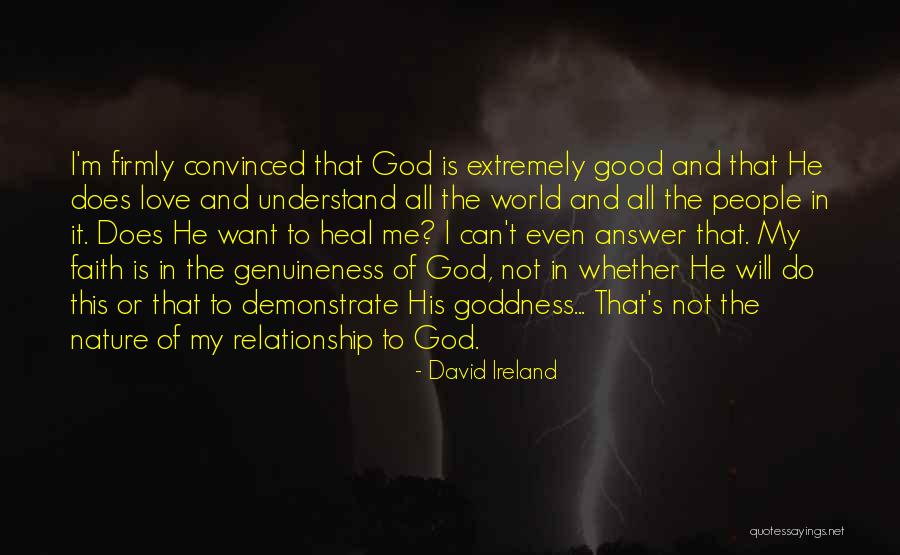 I'm firmly convinced that God is extremely good and that He does love and understand all the world and all the people in it. Does He want to heal me? I can't even answer that. My faith is in the genuineness of God, not in whether He will do this or that to demonstrate His goddness... That's not the nature of my relationship to God. — David Ireland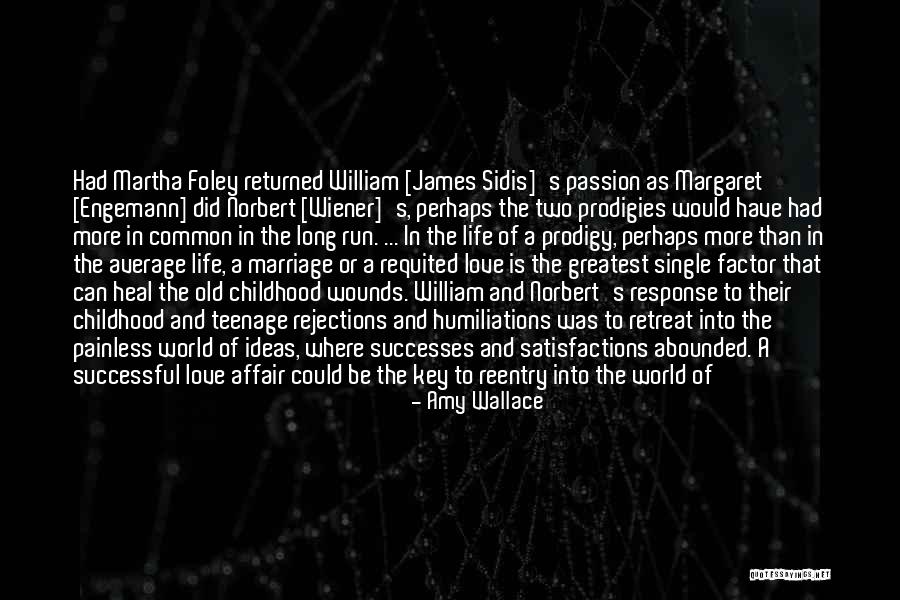 Had Martha Foley returned William [James Sidis]'s passion as Margaret [Engemann] did Norbert [Wiener]'s, perhaps the two prodigies would have had more in common in the long run. ... In the life of a prodigy, perhaps more than in the average life, a marriage or a requited love is the greatest single factor that can heal the old childhood wounds. William and Norbert's response to their childhood and teenage rejections and humiliations was to retreat into the painless world of ideas, where successes and satisfactions abounded. A successful love affair could be the key to reentry into the world of feeling, bridging the gap between the cerebral and the emotional lives. — Amy Wallace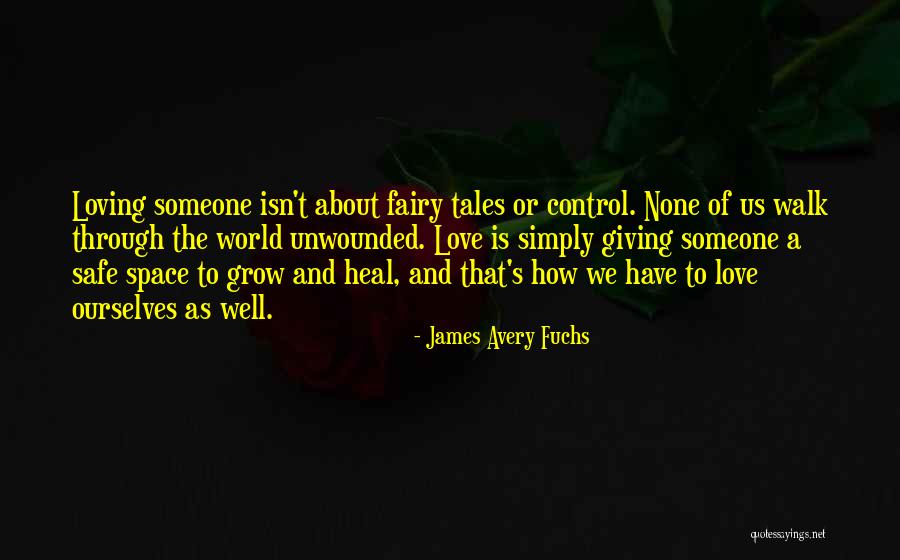 Loving someone isn't about fairy tales or control. None of us walk through the world unwounded. Love is simply giving someone a safe space to grow and heal, and that's how we have to love ourselves as well. — James Avery Fuchs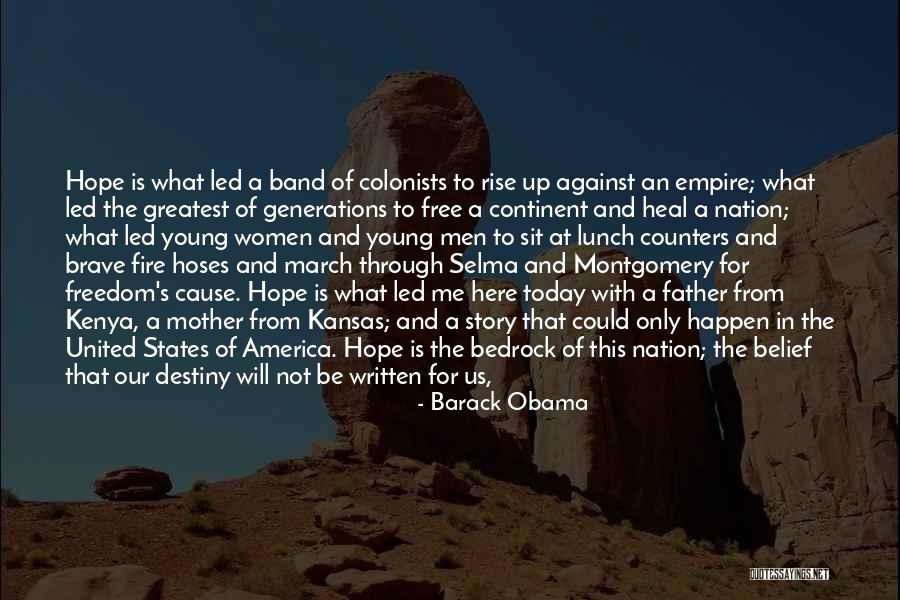 Hope is what led a band of colonists to rise up against an empire; what led the greatest of generations to free a continent and heal a nation; what led young women and young men to sit at lunch counters and brave fire hoses and march through Selma and Montgomery for freedom's cause. Hope is what led me here today
with a father from Kenya, a mother from Kansas; and a story that could only happen in the United States of America. Hope is the bedrock of this nation; the belief that our destiny will not be written for us, but by us; by all those men and women who are not content to settle for the world as it is; who have courage to remake the world as it should be. [January 3, 2008] — Barack Obama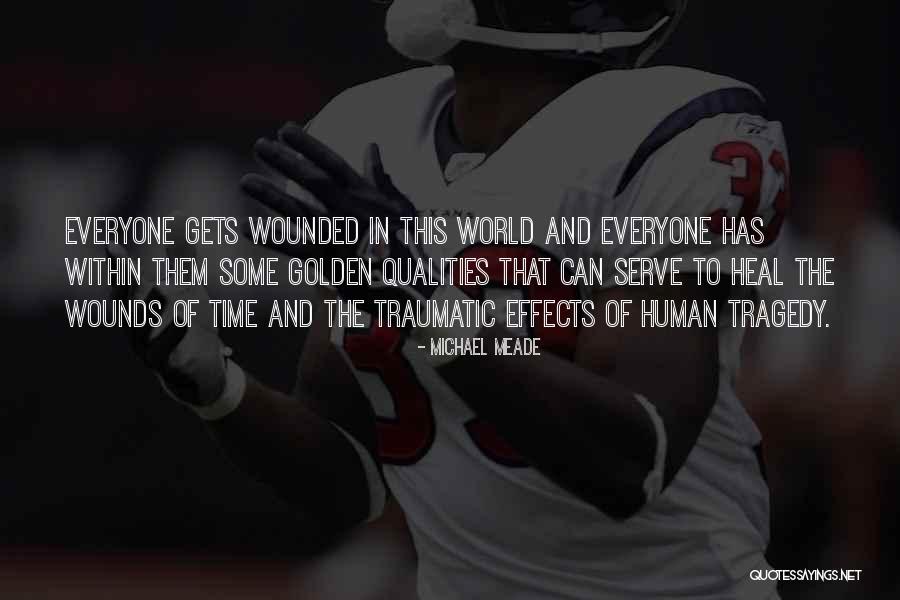 Everyone gets wounded in this world and everyone has within them some golden qualities that can serve to heal the wounds of time and the traumatic effects of human tragedy. — Michael Meade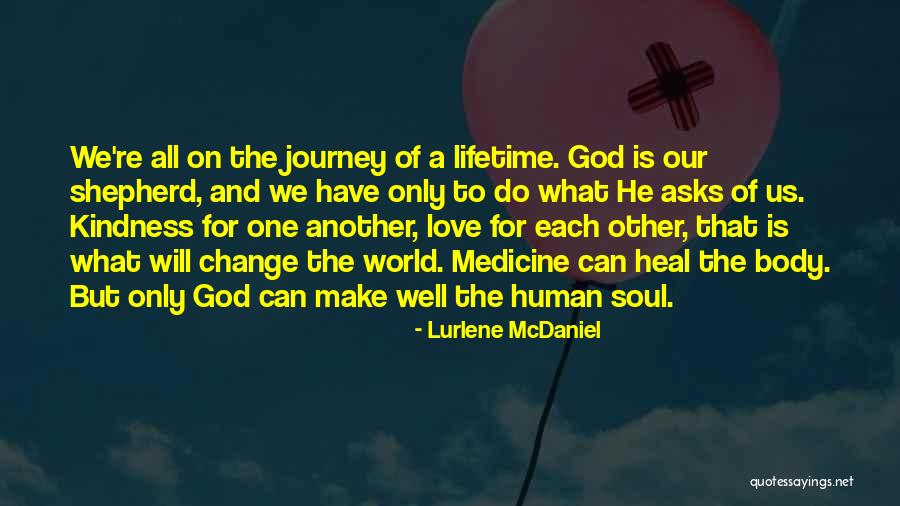 We're all on the journey of a lifetime. God is our shepherd, and we have only to do what He asks of us. Kindness for one another, love for each other, that is what will change the world. Medicine can heal the body. But only God can make well the human soul. — Lurlene McDaniel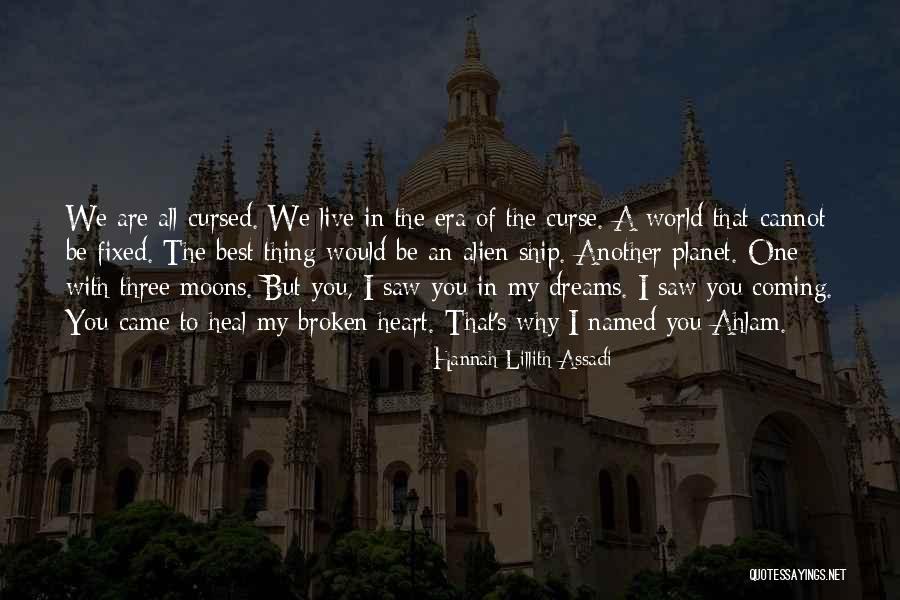 We are all cursed. We live in the era of the curse. A world that cannot be fixed. The best thing would be an alien ship. Another planet. One with three moons. But you, I saw you in my dreams. I saw you coming. You came to heal my broken heart. That's why I named you Ahlam. — Hannah Lillith Assadi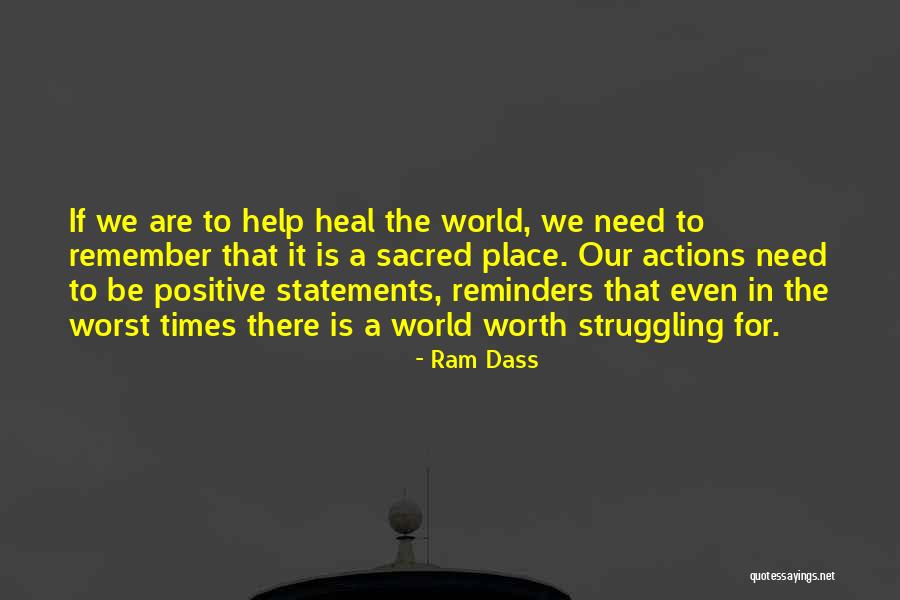 If we are to help heal the world, we need to remember that it is a sacred place. Our actions need to be positive statements, reminders that even in the worst times there is a world worth struggling for. — Ram Dass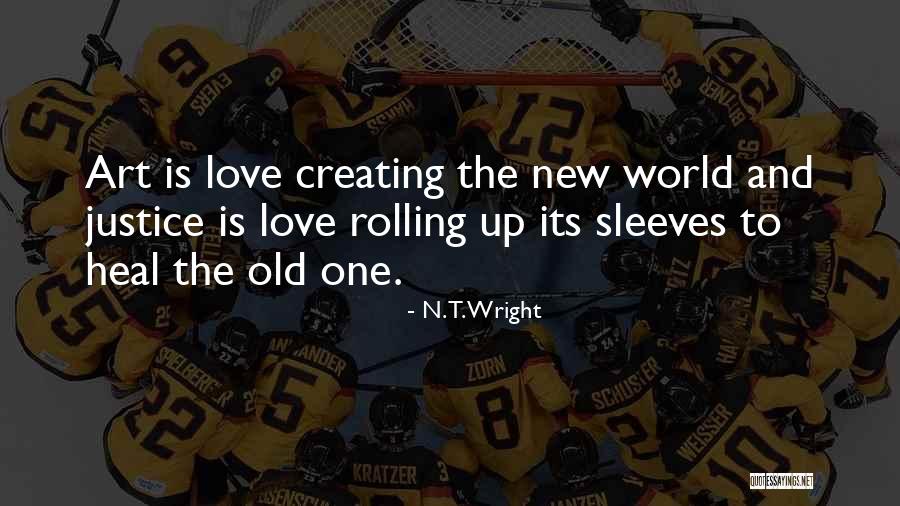 Art is love creating the new world and justice is love rolling up its sleeves to heal the old one. — N. T. Wright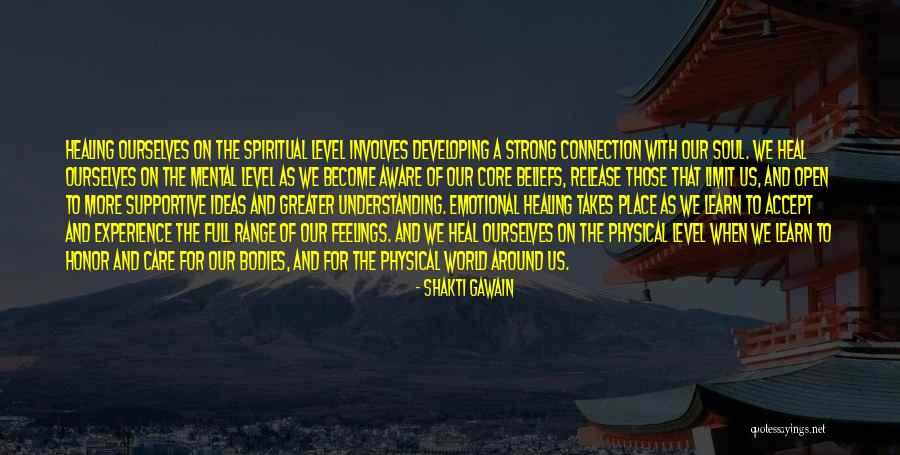 Healing ourselves on the spiritual level involves developing a strong connection with our soul. We heal ourselves on the mental level as we become aware of our core beliefs, release those that limit us, and open to more supportive ideas and greater understanding. Emotional healing takes place as we learn to accept and experience the full range of our feelings. And we heal ourselves on the physical level when we learn to honor and care for our bodies, and for the physical world around us. — Shakti Gawain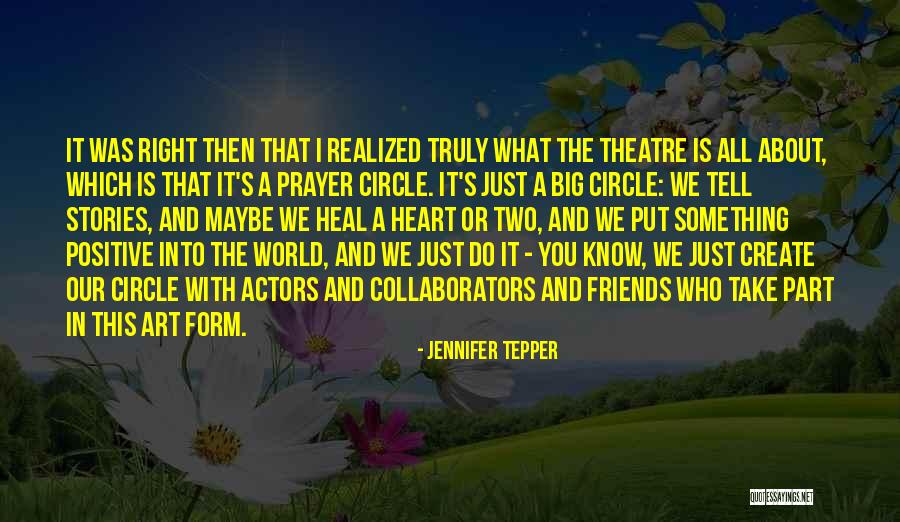 It was right then that I realized truly what the theatre is all about, which is that it's a prayer circle. It's just a big circle: we tell stories, and maybe we heal a heart or two, and we put something positive into the world, and we just do it - you know, we just create our circle with actors and collaborators and friends who take part in this art form. — Jennifer Tepper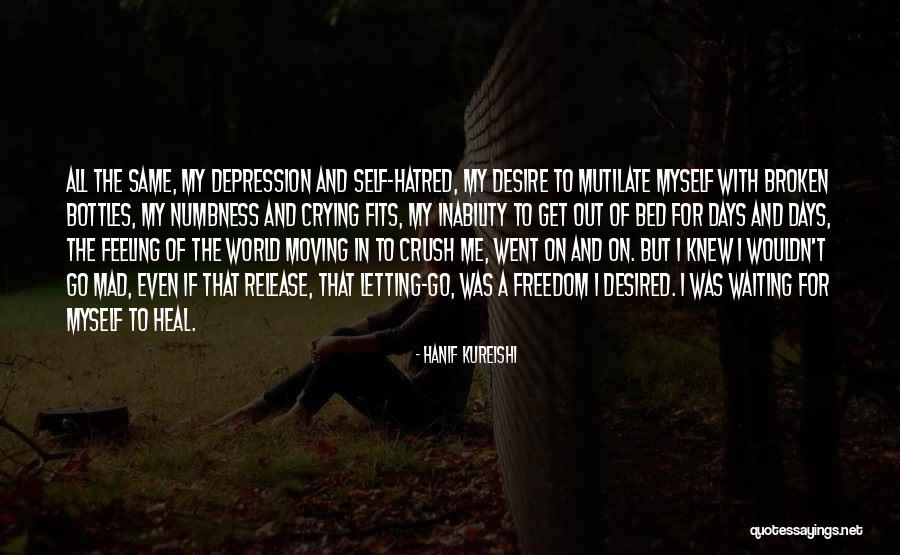 All the same, my depression and self-hatred, my desire to mutilate myself with broken bottles, my numbness and crying fits, my inability to get out of bed for days and days, the feeling of the world moving in to crush me, went on and on. But I knew I wouldn't go mad, even if that release, that letting-go, was a freedom I desired. I was waiting for myself to heal. — Hanif Kureishi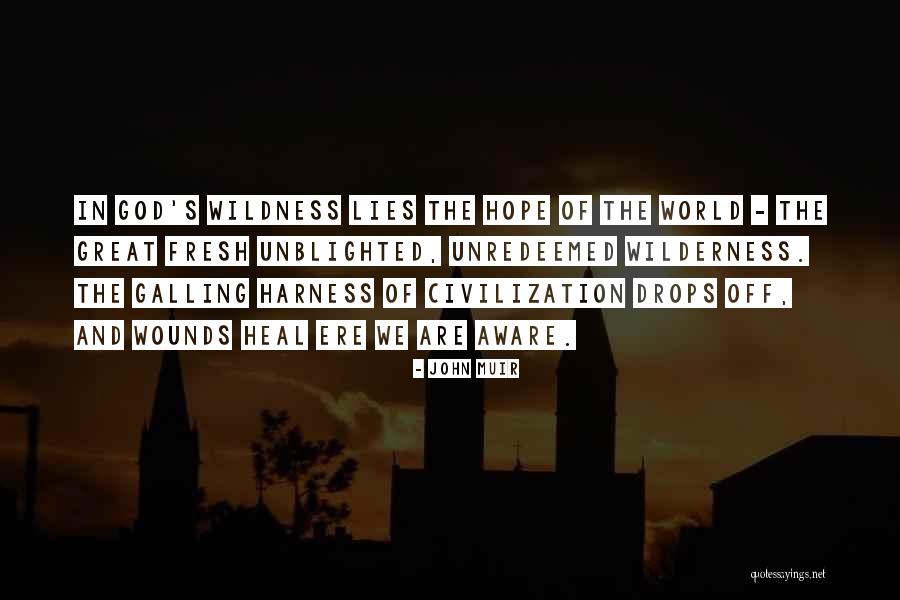 In God's wildness lies the hope of the world - the great fresh unblighted, unredeemed wilderness. The galling harness of civilization drops off, and wounds heal ere we are aware. — John Muir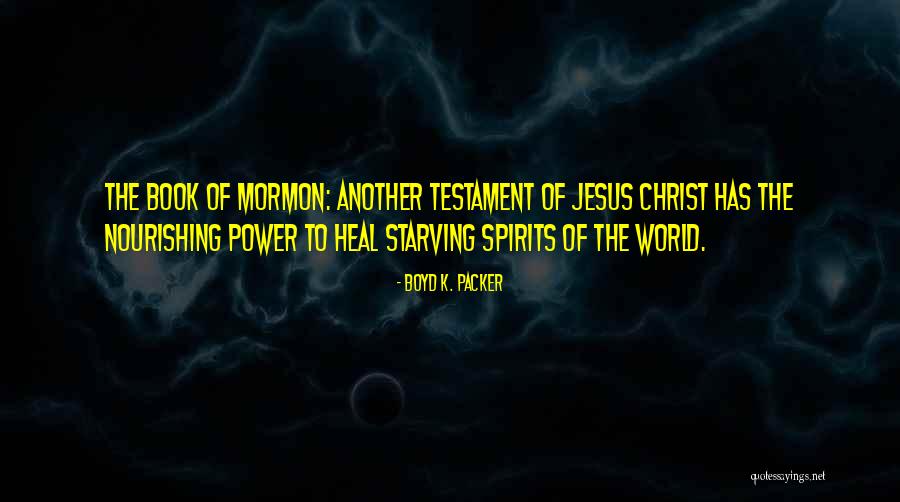 The Book of Mormon: Another Testament of Jesus Christ has the nourishing power to heal starving spirits of the world. — Boyd K. Packer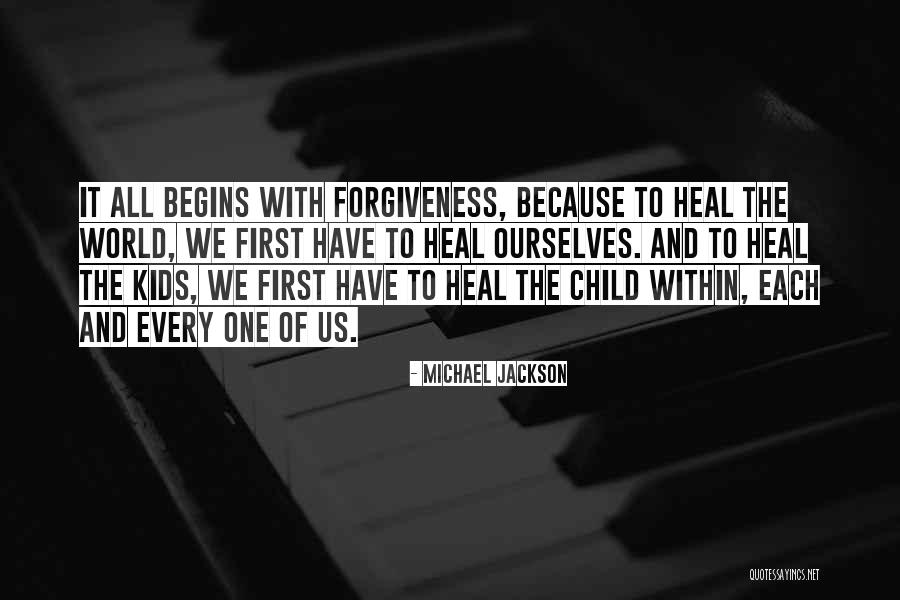 It all begins with forgiveness, because to heal the world, we first have to heal ourselves. And to heal the kids, we first have to heal the child within, each and every one of us. — Michael Jackson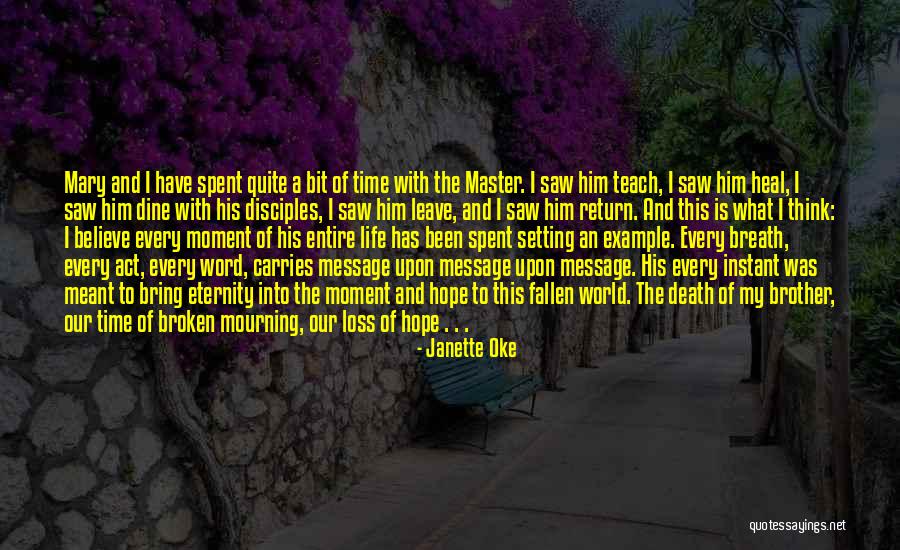 Mary and I have spent quite a bit of time with the Master. I saw him teach, I saw him heal, I saw him dine with his disciples, I saw him leave, and I saw him return. And this is what I think: I believe every moment of his entire life has been spent setting an example. Every breath, every act, every word, carries message upon message upon message. His every instant was meant to bring eternity into the moment and hope to this fallen world. The death of my brother, our time of broken mourning, our loss of hope . . . — Janette Oke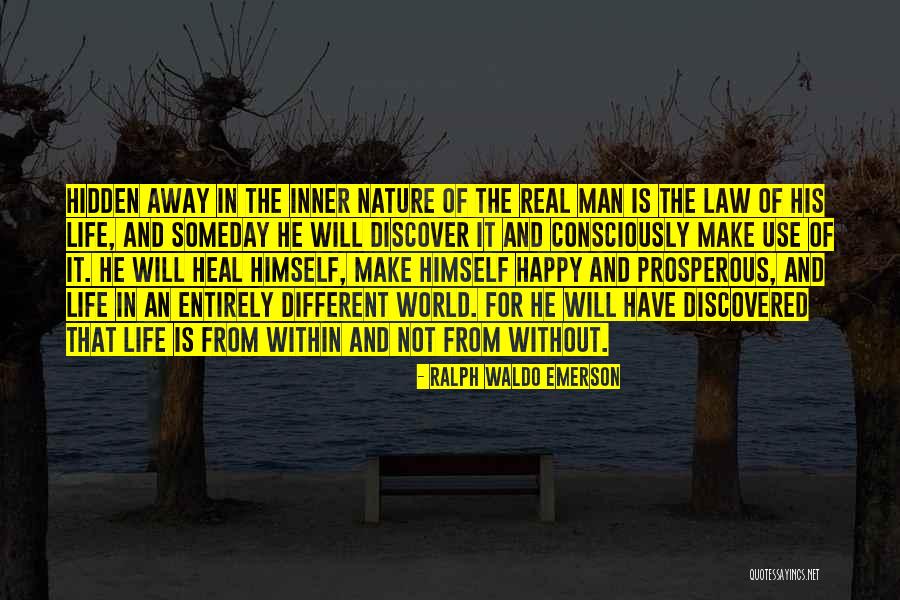 Hidden away in the inner nature of the real man is the law of his life, and someday he will discover it and consciously make use of it. He will heal himself, make himself happy and prosperous, and life in an entirely different world. For he will have discovered that life is from within and not from without. — Ralph Waldo Emerson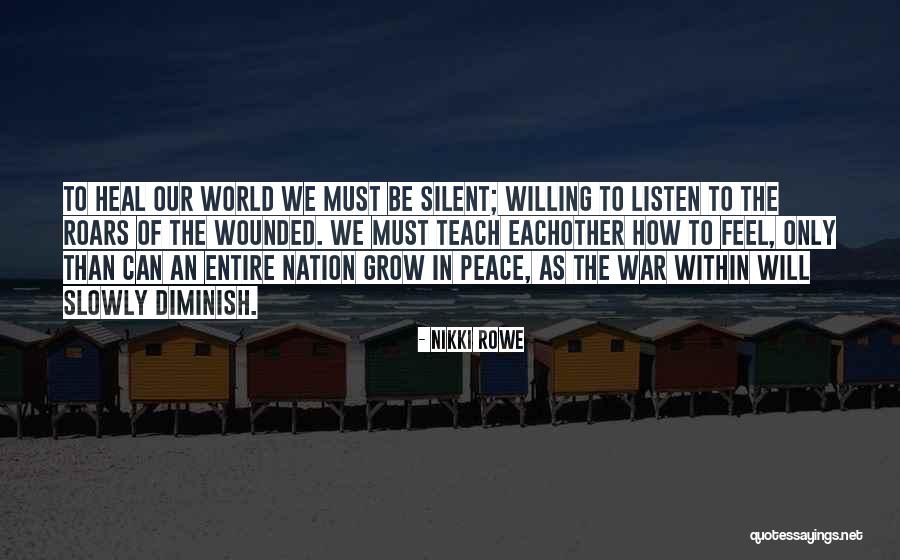 To heal our world we must be silent; willing to listen to the roars of the wounded. We must teach eachother how to feel, only than can an entire nation grow in peace, as the war within will slowly diminish. — Nikki Rowe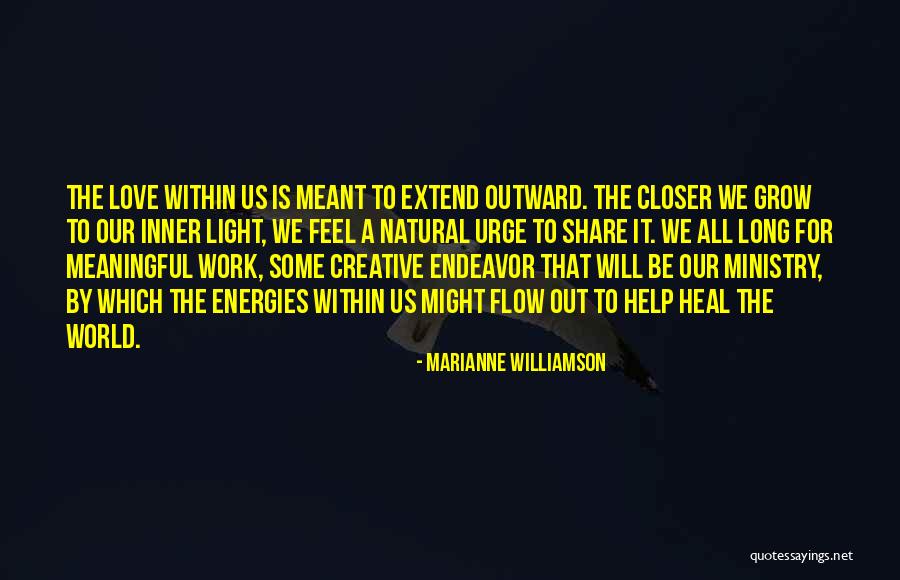 The love within us is meant to extend outward. The closer we grow to our inner light, we feel a natural urge to share it. We all long for meaningful work, some creative endeavor that will be our ministry, by which the energies within us might flow out to help heal the world. — Marianne Williamson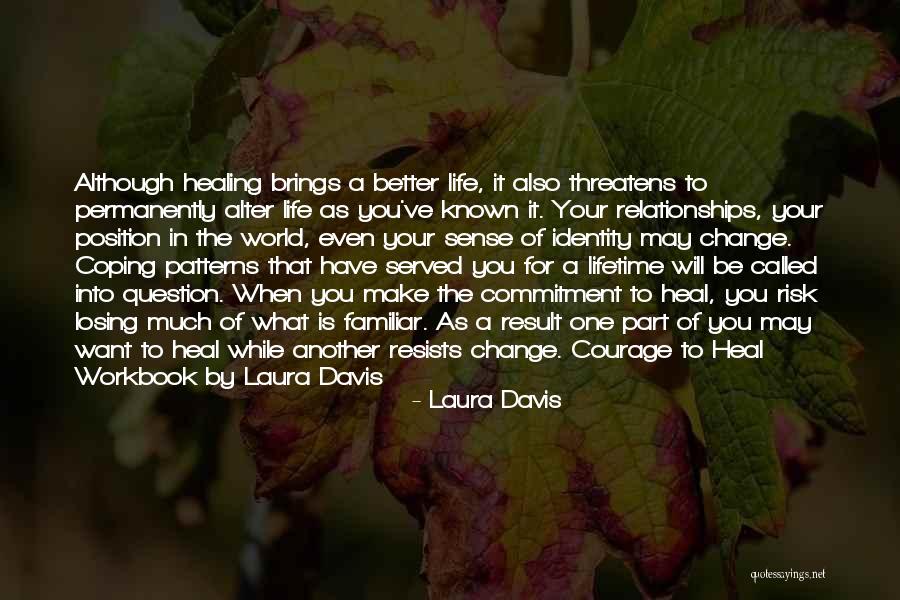 Although healing brings a better life, it also threatens to permanently alter life as you've known it. Your relationships, your position in the world, even your sense of identity may change. Coping patterns that have served you for a lifetime will be called into question. When you make the commitment to heal, you risk losing much of what is familiar. As a result one part of you may want to heal while another resists change.
Courage to Heal Workbook by Laura Davis — Laura Davis
Jessica came back into the room. When she saw Myron's face, she stopped and looked a question at him. Myron hung up and told her. She listened. Remembering Esperanza's crack, Myron realized that he had now spent four nights in a row here - a post-breakup world and Olympic record. He worried about that. It wasn't that he didn't like staying here. He did. It wasn't that he feared commitment or any of that other drivel; to the contrary, he craved it. But part of him was still afraid - old wounds that wouldn't heal and all that. Myron — Harlan Coben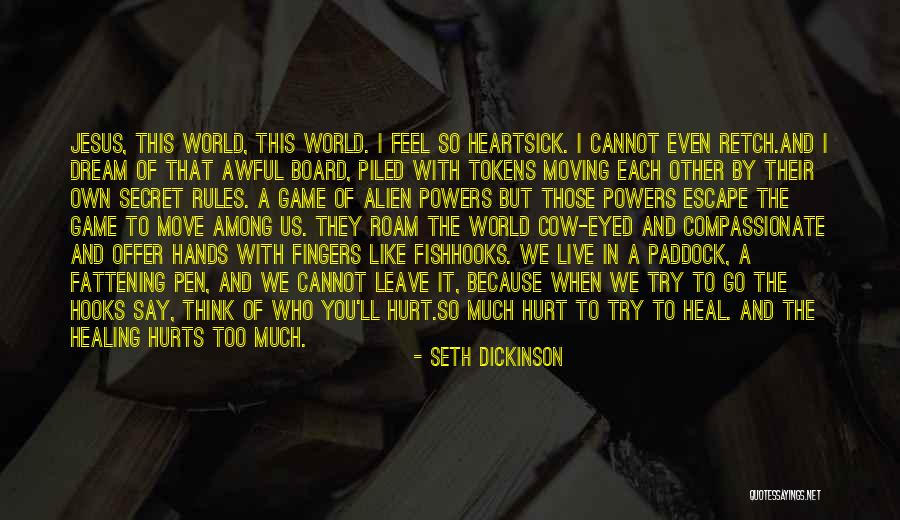 Jesus, this world, this world. I feel so heartsick. I cannot even retch.

And I dream of that awful board, piled with tokens moving each other by their own secret rules. A game of alien powers but those powers escape the game to move among us. They roam the world cow-eyed and compassionate and offer hands with fingers like fishhooks. We live in a paddock, a fattening pen, and we cannot leave it, because when we try to go the hooks say, Think of who you'll hurt.

So much hurt to try to heal. And the healing hurts too much. — Seth Dickinson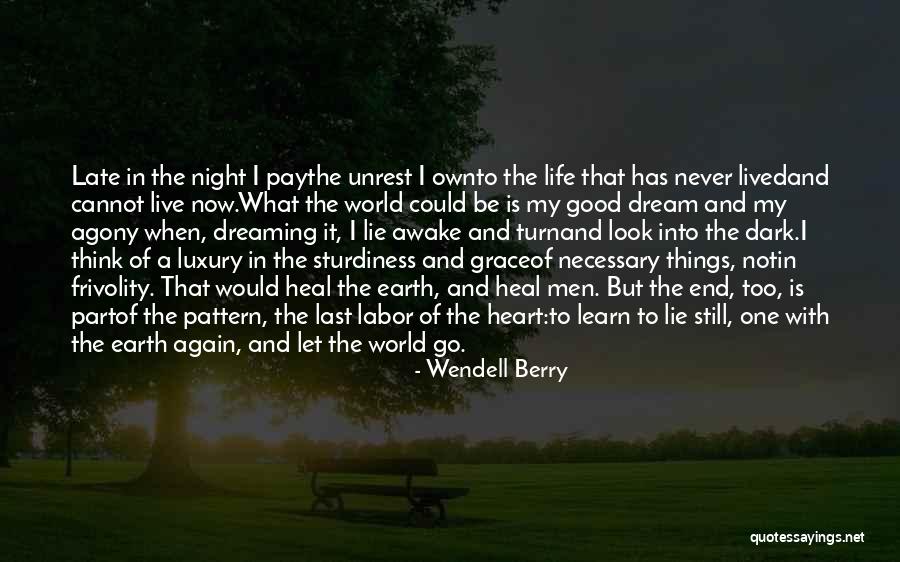 Late in the night I pay
the unrest I own
to the life that has never lived
and cannot live now.
What the world could be
is my good dream
and my agony when, dreaming it,
I lie awake and turn
and look into the dark.
I think of a luxury
in the sturdiness and grace
of necessary things, not
in frivolity. That would heal
the earth, and heal men.
But the end, too, is part
of the pattern, the last
labor of the heart:
to learn to lie still,
one with the earth
again, and let the world go. — Wendell Berry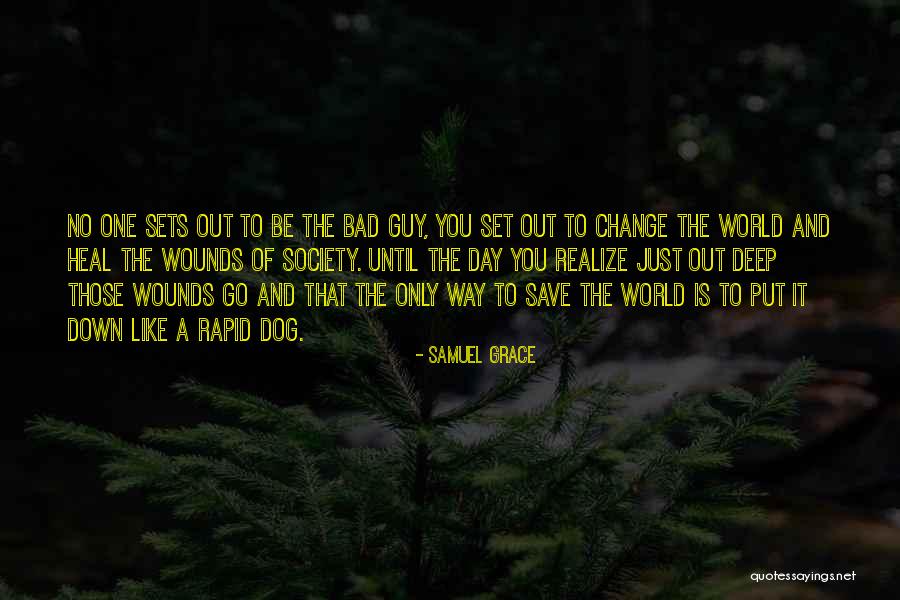 No one sets out to be the bad guy, you set out to change the world and heal the wounds of society. Until the day you realize just out deep those wounds go and that the only way to save the world is to put it down like a rapid dog. — Samuel Grace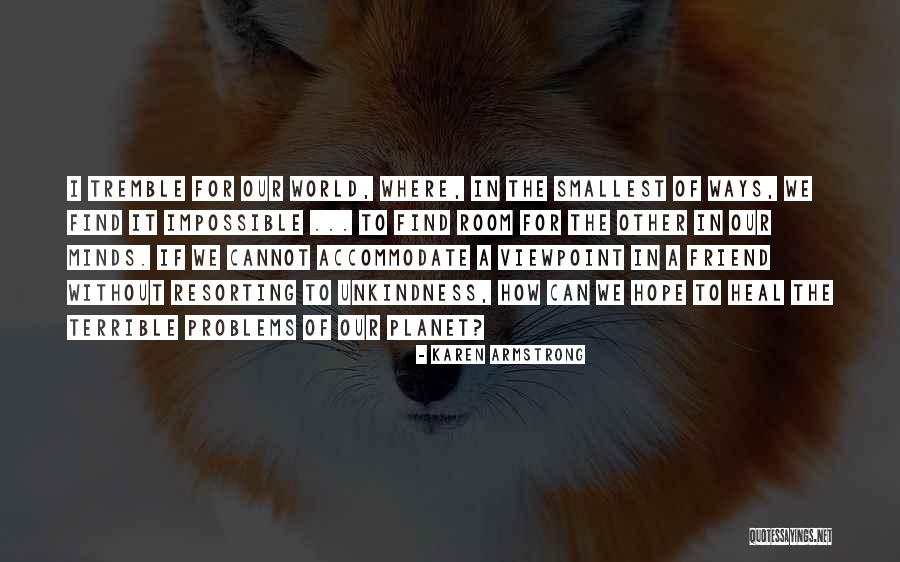 I tremble for our world, where, in the smallest of ways, we find it impossible ... to find room for the other in our minds. If we cannot accommodate a viewpoint in a friend without resorting to unkindness, how can we hope to heal the terrible problems of our planet? — Karen Armstrong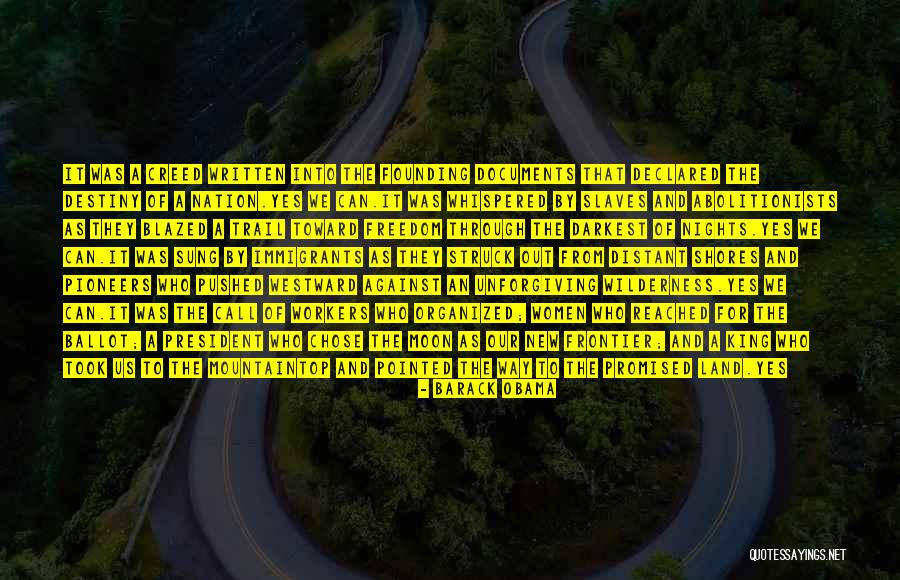 It was a creed written into the founding documents that declared the destiny of a nation.
Yes we can.
It was whispered by slaves and abolitionists as they blazed a trail toward freedom through the darkest of nights.
Yes we can.
It was sung by immigrants as they struck out from distant shores and pioneers who pushed westward against an unforgiving wilderness.
Yes we can.
It was the call of workers who organized; women who reached for the ballot; a President who chose the moon as our new frontier; and a King who took us to the mountaintop and pointed the way to the Promised Land.
Yes we can to justice and equality. Yes we can to opportunity and prosperity. Yes we can heal this nation. Yes we can repair this world. Yes we can — Barack Obama
The day I'm inaugurated, this country looks at itself differently and the world looks at America differently. If you believe that we've got to heal America and we've got to repair our standing in the world, then I think my supporters believe that I am a messenger who can deliver that message around the world in a way that no other candidate can do. — Barack Obama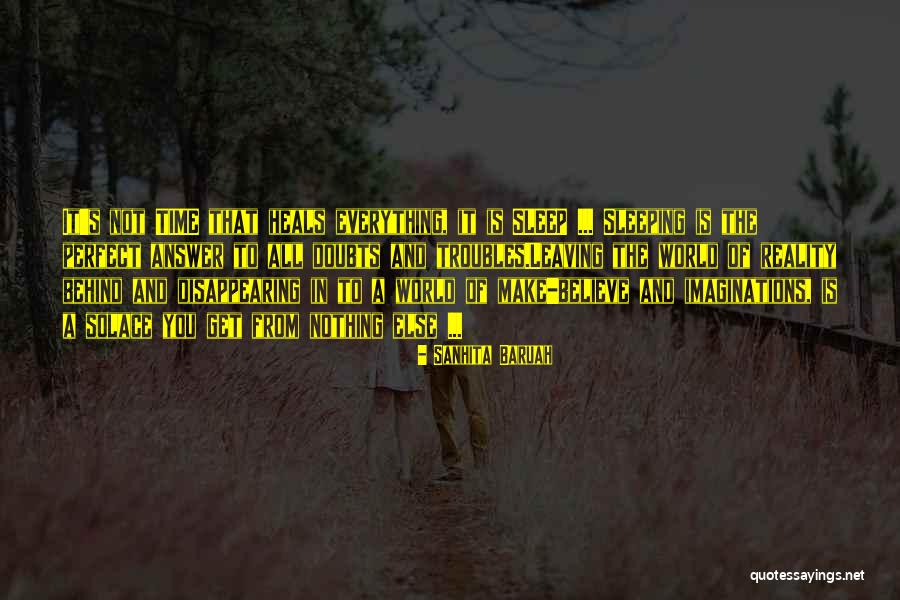 It's not TIME that heals everything, it is SLEEP ...
Sleeping is the perfect answer to all doubts and troubles.
Leaving the world of reality behind and disappearing in to a world of make-believe and imaginations, is a solace you get from nothing else ... — Sanhita Baruah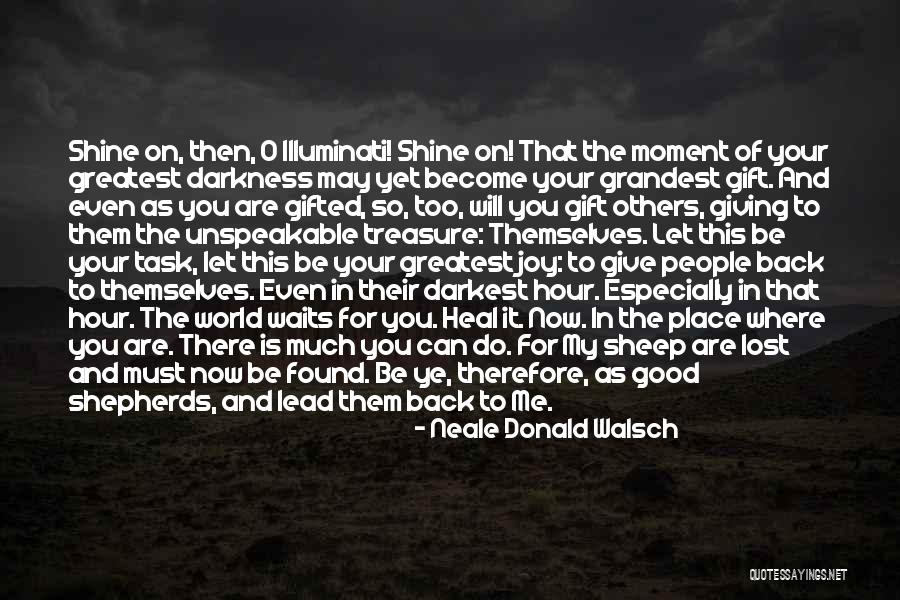 Shine on, then, O Illuminati! Shine on! That the moment of your greatest darkness may yet become your grandest gift. And even as you are gifted, so, too, will you gift others, giving to them the unspeakable treasure: Themselves. Let this be your task, let this be your greatest joy: to give people back to themselves. Even in their darkest hour. Especially in that hour. The world waits for you. Heal it. Now. In the place where you are. There is much you can do. For My sheep are lost and must now be found. Be ye, therefore, as good shepherds, and lead them back to Me. — Neale Donald Walsch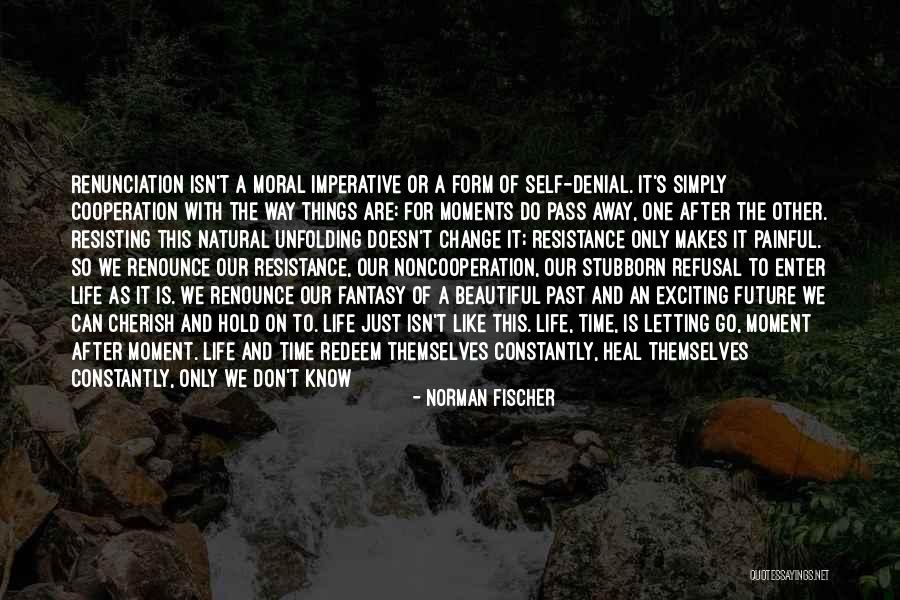 Renunciation isn't a moral imperative or a form of self-denial. It's simply cooperation with the way things are: for moments do pass away, one after the other. Resisting this natural unfolding doesn't change it; resistance only makes it painful. So we renounce our resistance, our noncooperation, our stubborn refusal to enter life as it is. We renounce our fantasy of a beautiful past and an exciting future we can cherish and hold on to. Life just isn't like this. Life, time, is letting go, moment after moment. Life and time redeem themselves constantly, heal themselves constantly, only we don't know this, and much as we long to be healed and redeemed, we refuse to recognize this truth. This is why the sirens' songs are so attractive and so deadly. They propose a world of indulgence and wishful thinking, an unreal world that is seductive and destructive. (142) — Norman Fischer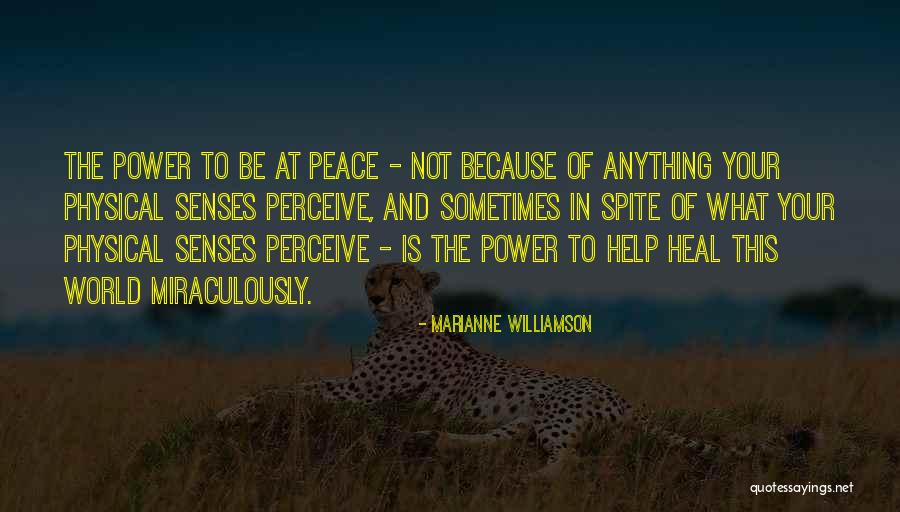 The power to be at peace - not because of anything your physical senses perceive, and sometimes in spite of what your physical senses perceive - is the power to help heal this world miraculously. — Marianne Williamson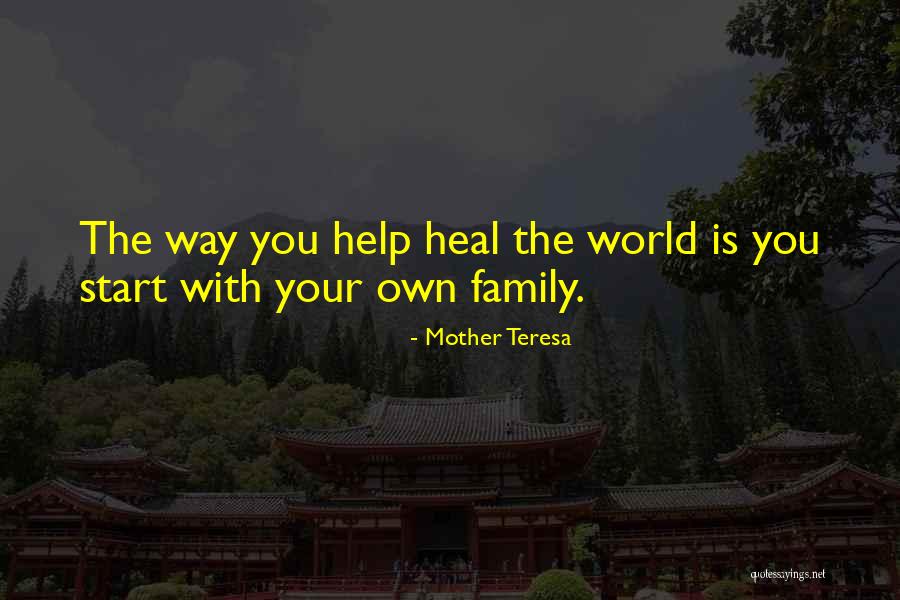 The way you help heal the world is you start with your own family. — Mother Teresa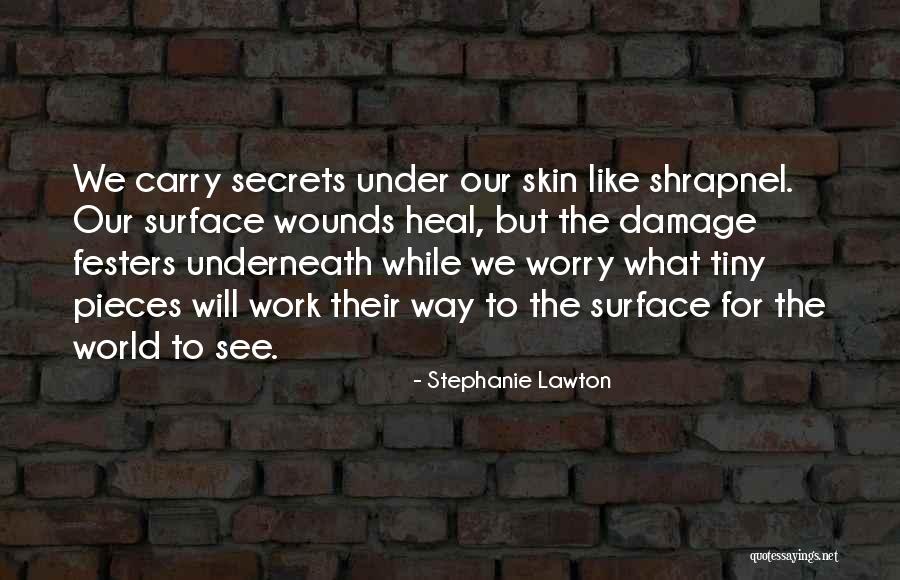 We carry secrets under our skin like shrapnel. Our surface wounds heal, but the damage festers underneath while we worry what tiny pieces will work their way to the surface for the world to see. — Stephanie Lawton
He wanted to hit something or someone. He wanted to burn up the whole world, heal it, and burn it down again. — Libba Bray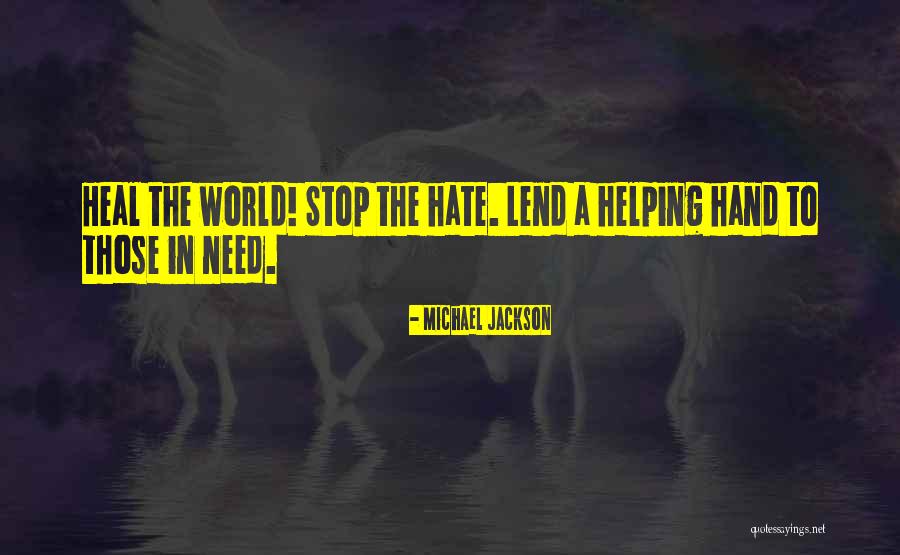 Heal the world! Stop the hate. Lend a helping hand to those in need. — Michael Jackson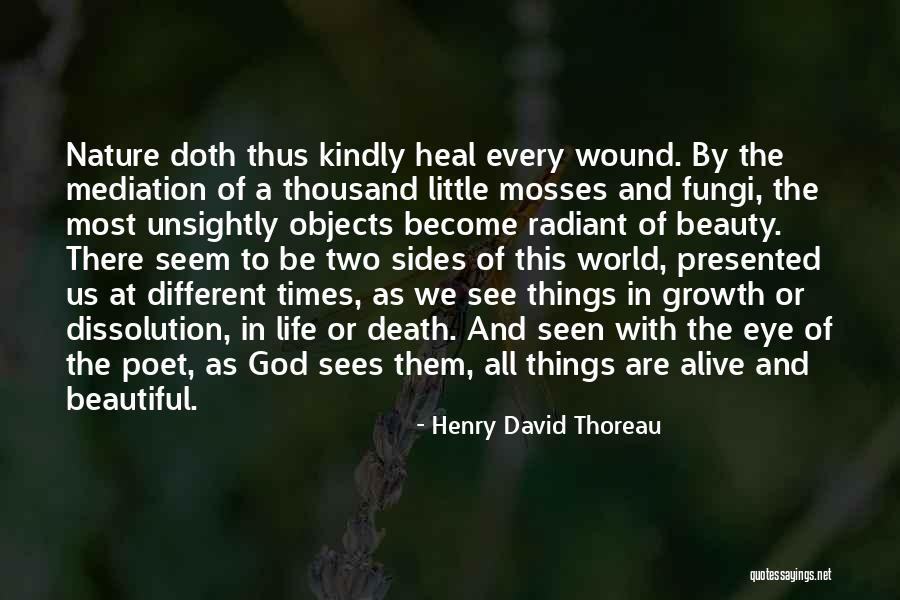 Nature doth thus kindly heal every wound. By the mediation of a thousand little mosses and fungi, the most unsightly objects become radiant of beauty. There seem to be two sides of this world, presented us at different times, as we see things in growth or dissolution, in life or death. And seen with the eye of the poet, as God sees them, all things are alive and beautiful. — Henry David Thoreau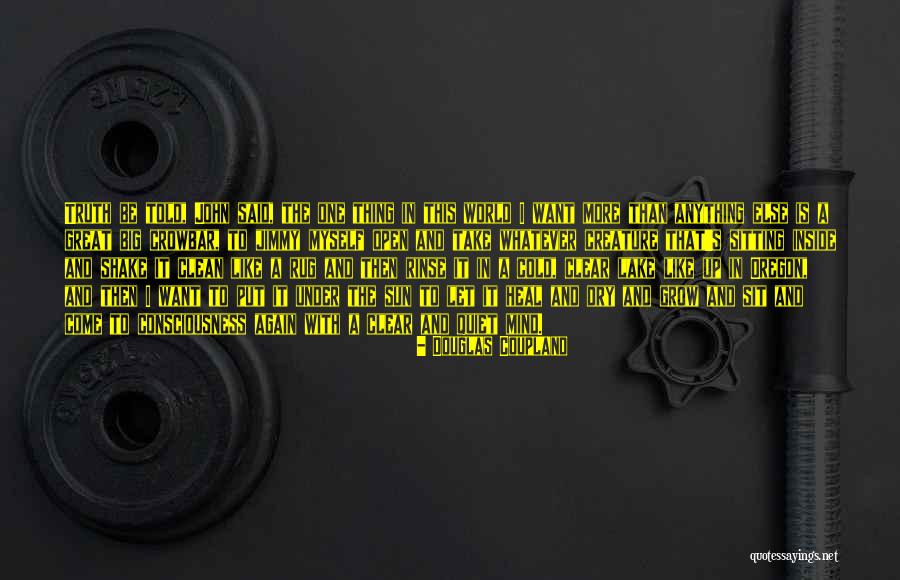 Truth be told, John said, the one thing in this world I want more than anything else is a great big crowbar, to jimmy myself open and take whatever creature that's sitting inside and shake it clean like a rug and then rinse it in a cold, clear lake like up in Oregon, and then I want to put it under the sun to let it heal and dry and grow and sit and come to consciousness again with a clear and quiet mind. — Douglas Coupland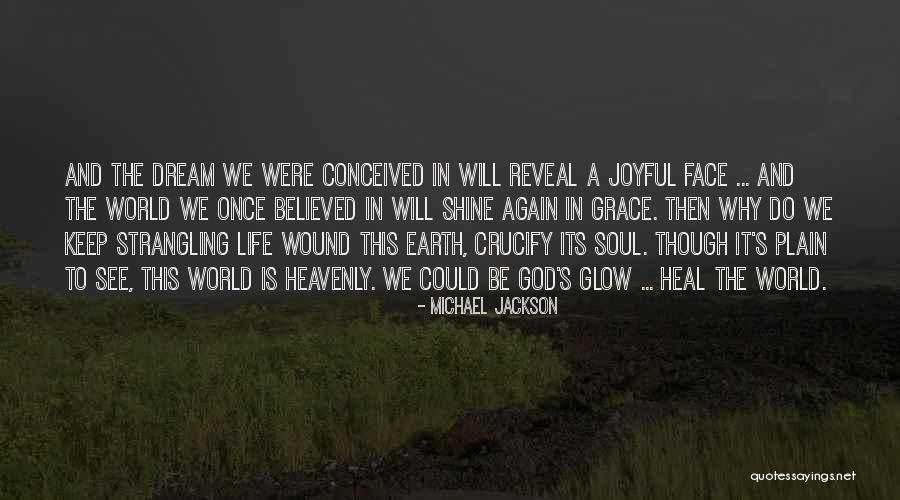 And the dream we were conceived in will reveal a joyful face ... and the world we once believed in will shine again in grace. Then why do we keep strangling life wound this Earth, crucify its soul. Though it's plain to see, this world is heavenly. We could be God's glow ... Heal the world. — Michael Jackson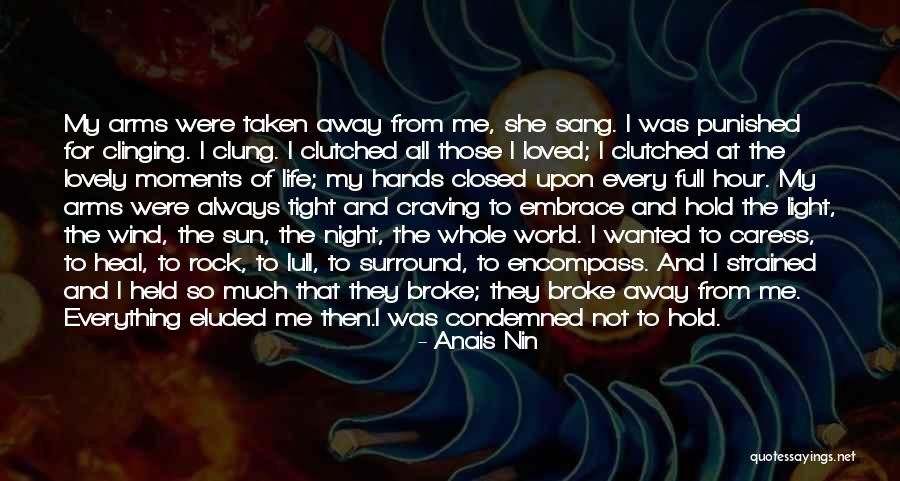 My arms were taken away from me, she sang. I was punished for clinging. I clung. I clutched all those I loved; I clutched at the lovely moments of life; my hands closed upon every full hour. My arms were always tight and craving to embrace and hold the light, the wind, the sun, the night, the whole world. I wanted to caress, to heal, to rock, to lull, to surround, to encompass. And I strained and I held so much that they broke; they broke away from me. Everything eluded me then.
I was condemned not to hold. — Anais Nin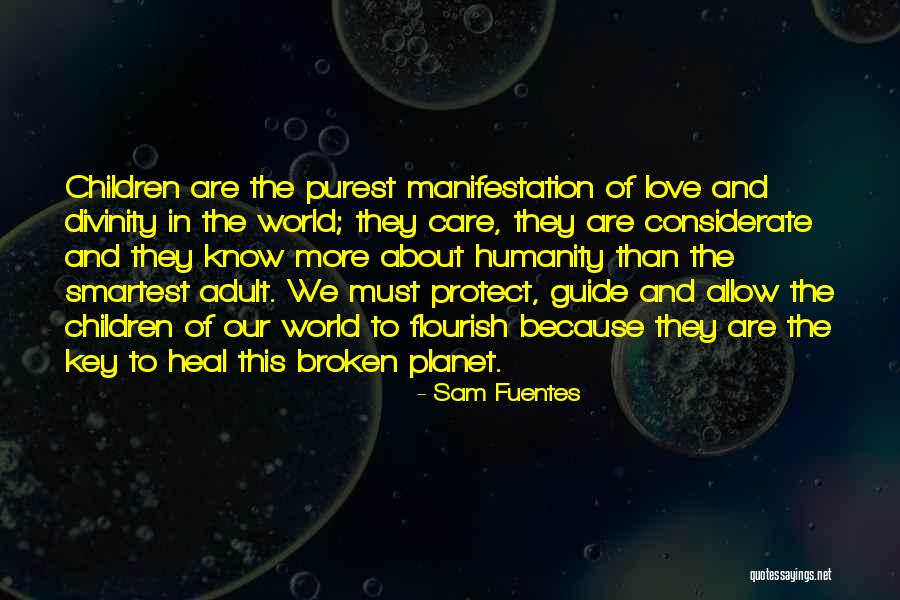 Children are the purest manifestation of love and divinity in the world; they care, they are considerate and they know more about humanity than the smartest adult. We must protect, guide and allow the children of our world to flourish because they are the key to heal this broken planet. — Sam Fuentes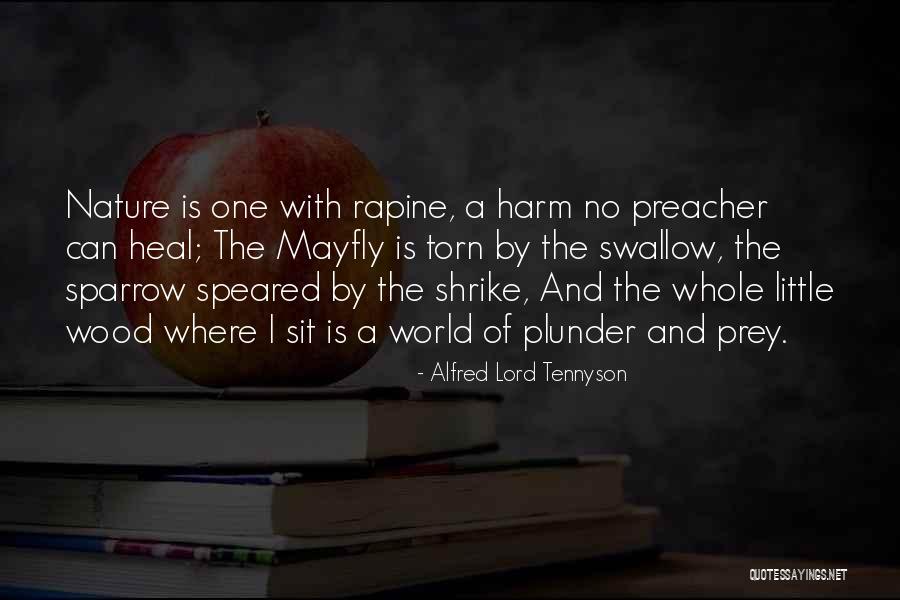 Nature is one with rapine, a harm no preacher can heal; The Mayfly is torn by the swallow, the sparrow speared by the shrike, And the whole little wood where I sit is a world of plunder and prey. — Alfred Lord Tennyson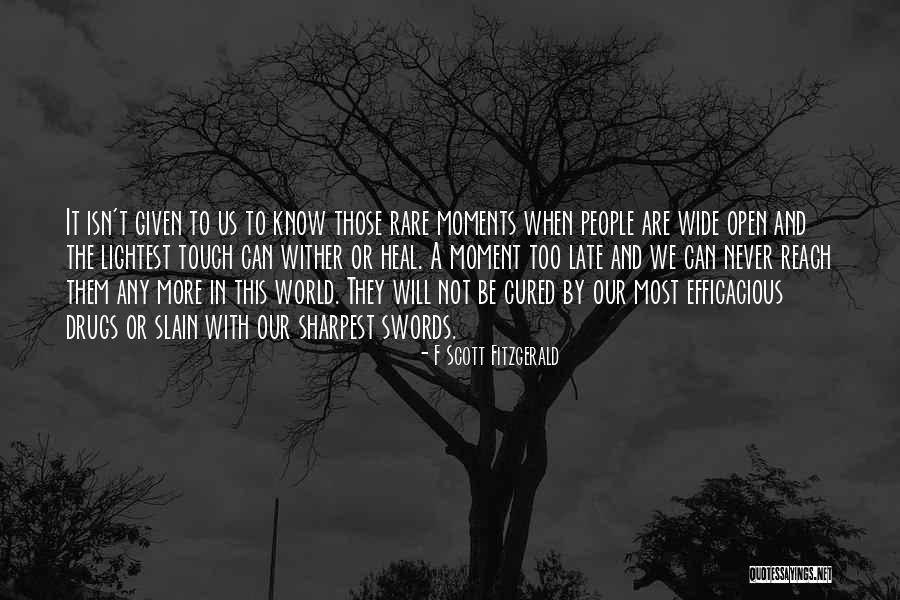 It isn't given to us to know those rare moments when people are wide open and the lightest touch can wither or heal. A moment too late and we can never reach them any more in this world. They will not be cured by our most efficacious drugs or slain with our sharpest swords. — F Scott Fitzgerald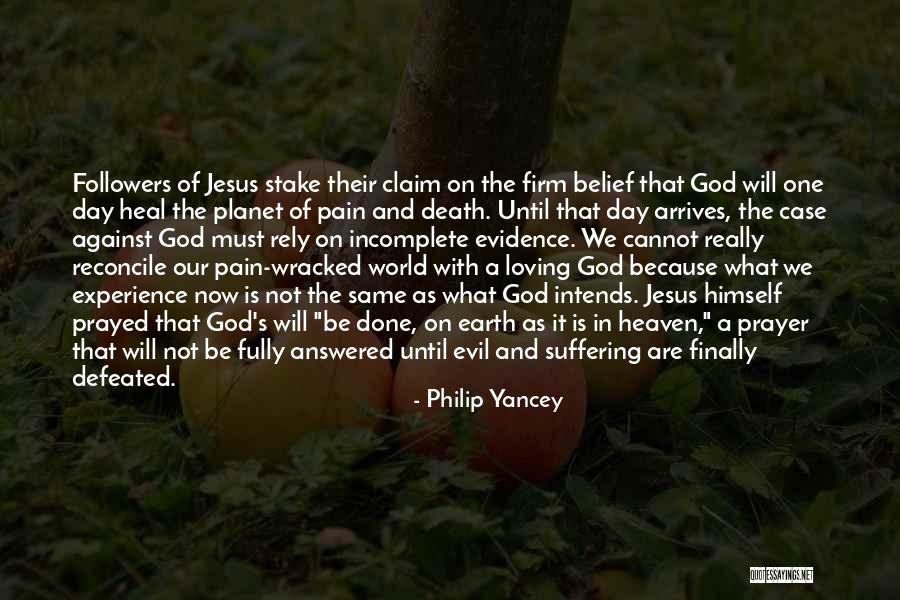 Followers of Jesus stake their claim on the firm belief that God will one day heal the planet of pain and death. Until that day arrives, the case against God must rely on incomplete evidence. We cannot really reconcile our pain-wracked world with a loving God because what we experience now is not the same as what God intends. Jesus himself prayed that God's will "be done, on earth as it is in heaven," a prayer that will not be fully answered until evil and suffering are finally defeated. — Philip Yancey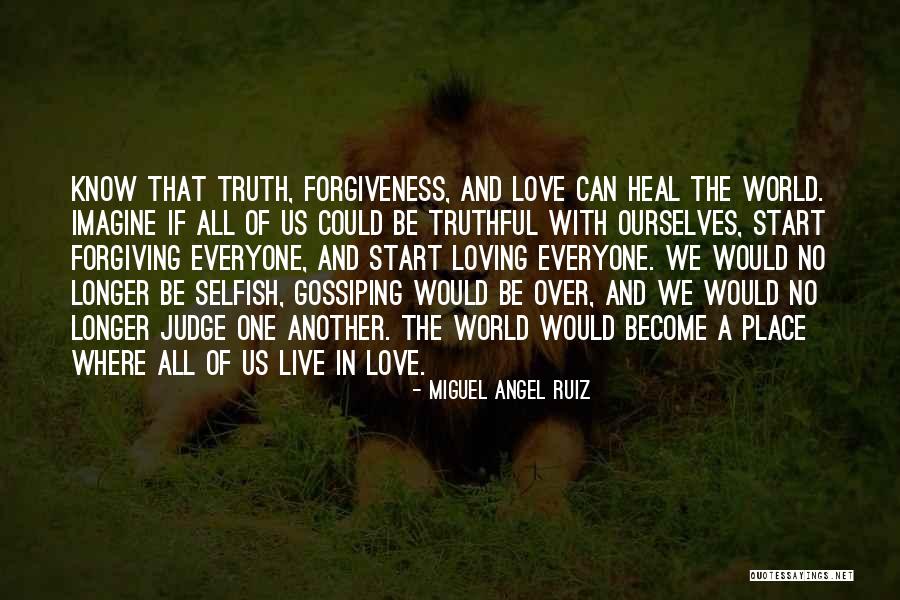 Know that truth, forgiveness, and love can heal the world. Imagine if all of us could be truthful with ourselves, start forgiving everyone, and start loving everyone. We would no longer be selfish, gossiping would be over, and we would no longer judge one another. The world would become a place where all of us live in love. — Miguel Angel Ruiz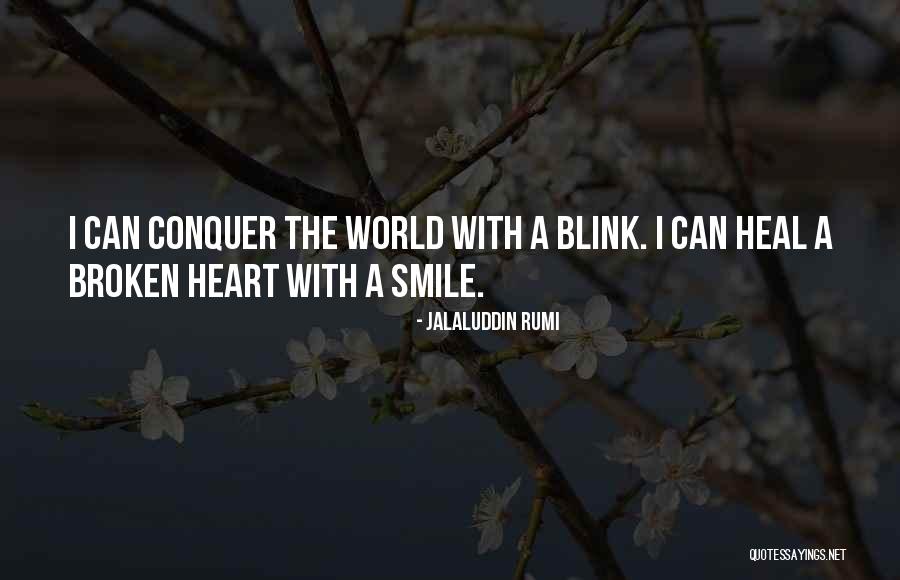 I can conquer the World with a blink.
I can heal a broken Heart with a Smile. — Jalaluddin Rumi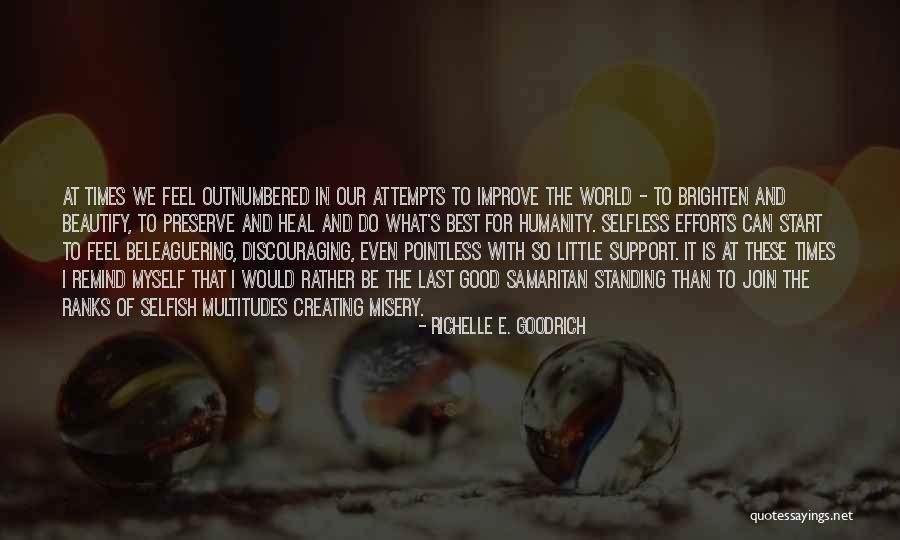 At times we feel outnumbered in our attempts to improve the world - to brighten and beautify, to preserve and heal and do what's best for humanity. Selfless efforts can start to feel beleaguering, discouraging, even pointless with so little support. It is at these times I remind myself that I would rather be the last Good Samaritan standing than to join the ranks of selfish multitudes creating misery. — Richelle E. Goodrich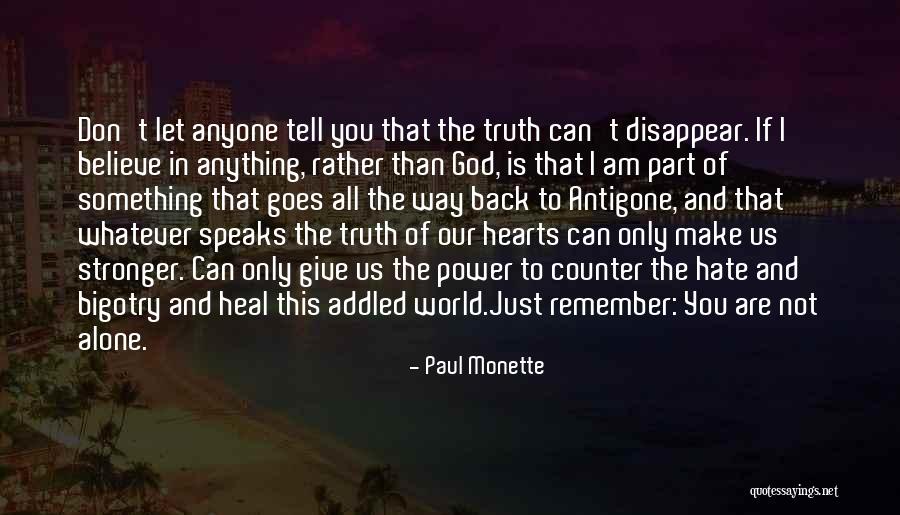 Don't let anyone tell you that the truth can't disappear. If I believe in anything, rather than God, is that I am part of something that goes all the way back to Antigone, and that whatever speaks the truth of our hearts can only make us stronger. Can only give us the power to counter the hate and bigotry and heal this addled world.
Just remember: You are not alone. — Paul Monette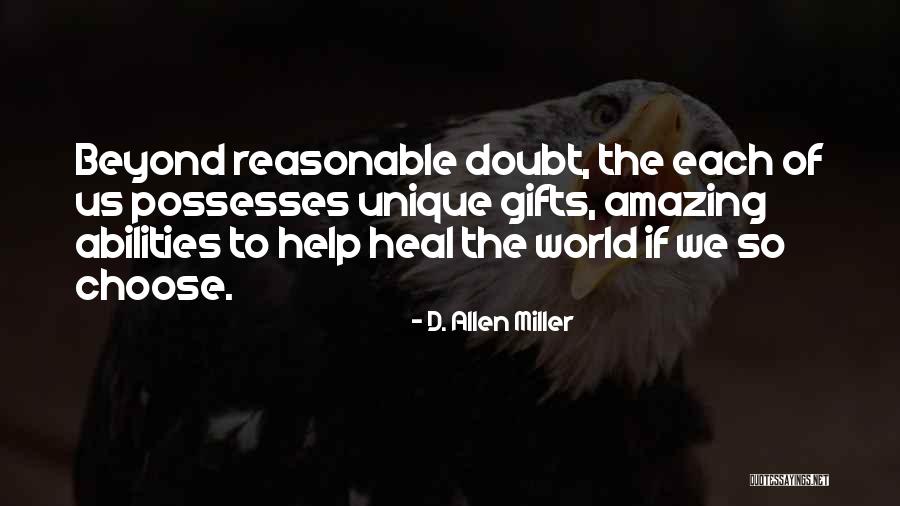 Beyond reasonable doubt, the each of us possesses unique gifts, amazing abilities to help heal the world if we so choose. — D. Allen Miller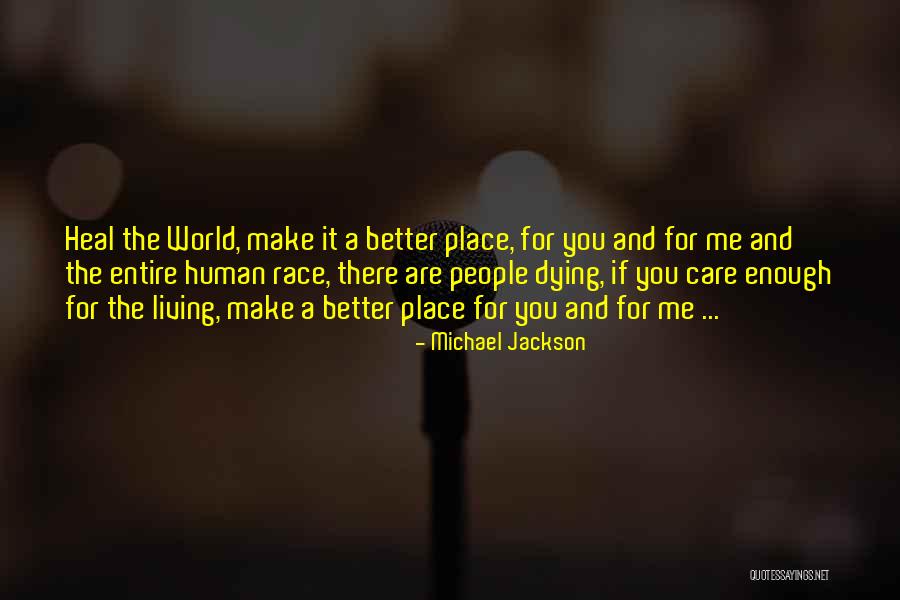 Heal the World,
make it a better place,
for you and for me
and the entire human race,
there are people dying,
if you care enough for the living,
make a better place for you and for me ... — Michael Jackson
As children and into our tumultuous teen years, we feel our way through the world. We may be told our intuition is wrong by peers and family. We act on our intuition and are quieted, shushed, or made fun of. In abusive situations, children raise their voice in objection and are silenced by adults who are supposedly know better. Our childhood intuition is stuffed down, ignored or suppressed. When you lie to a child, you send the message that their intuition is worthless and unreliable. This same child grows into adulthood questioning and doubting themselves. One of the most empowering things you can do is start to heal, trust and cultivate your intuition. You have the ability to reignite that candle inside yourself. You can reclaim your intuitive facilities. To do so is your birthright. — Sasha Graham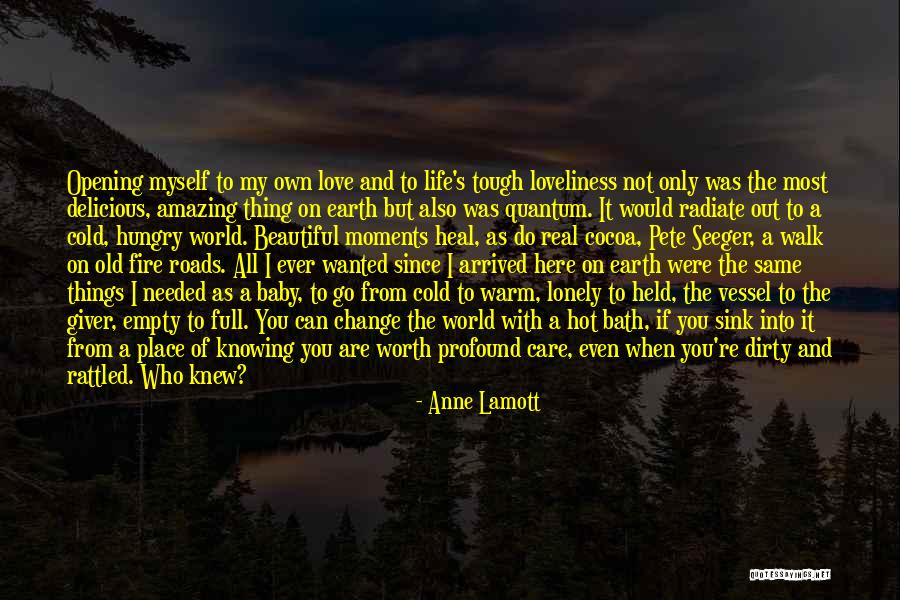 Opening myself to my own love and to life's tough loveliness not only was the most delicious, amazing thing on earth but also was quantum. It would radiate out to a cold, hungry world. Beautiful moments heal, as do real cocoa, Pete Seeger, a walk on old fire roads. All I ever wanted since I arrived here on earth were the same things I needed as a baby, to go from cold to warm, lonely to held, the vessel to the giver, empty to full. You can change the world with a hot bath, if you sink into it from a place of knowing you are worth profound care, even when you're dirty and rattled. Who knew? — Anne Lamott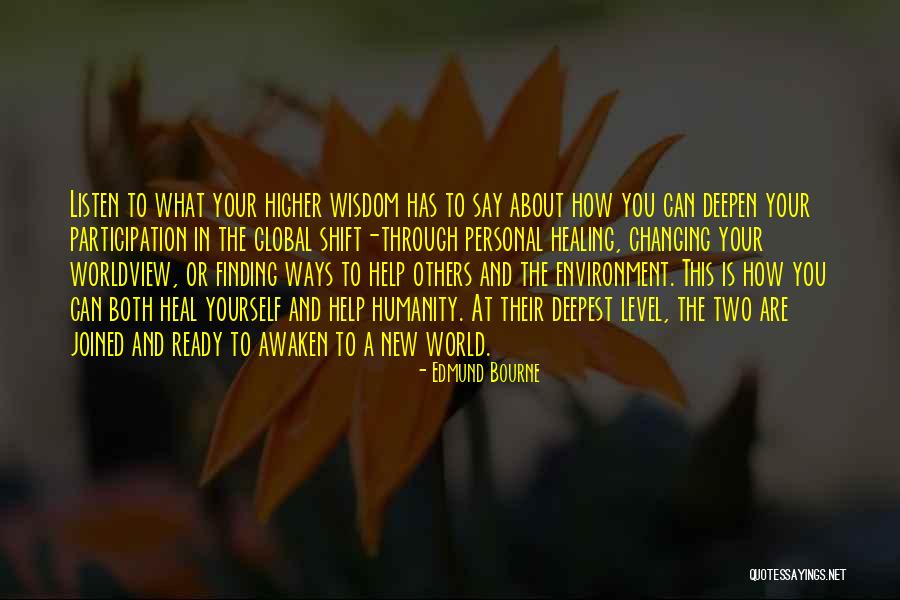 Listen to what your higher wisdom has to say about how you can deepen your participation in the global shift-through personal healing, changing your worldview, or finding ways to help others and the environment. This is how you can both heal yourself and help humanity. At their deepest level, the two are joined and ready to awaken to a new world. — Edmund Bourne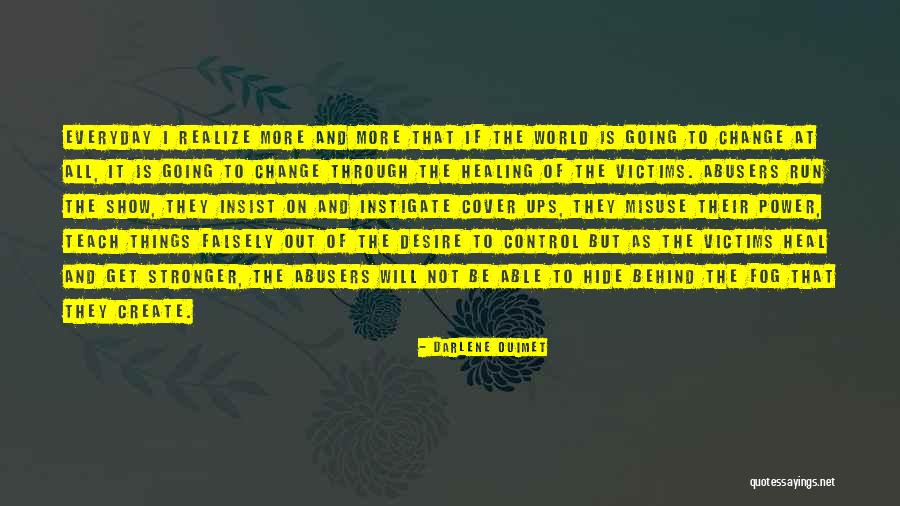 Everyday I realize more and more that if the world is going to change at all, it is going to change through the healing of the victims. Abusers run the show, they insist on and instigate cover ups, they misuse their power, teach things falsely out of the desire to control but as the victims heal and get stronger, the abusers will not be able to hide behind the fog that they create. — Darlene Ouimet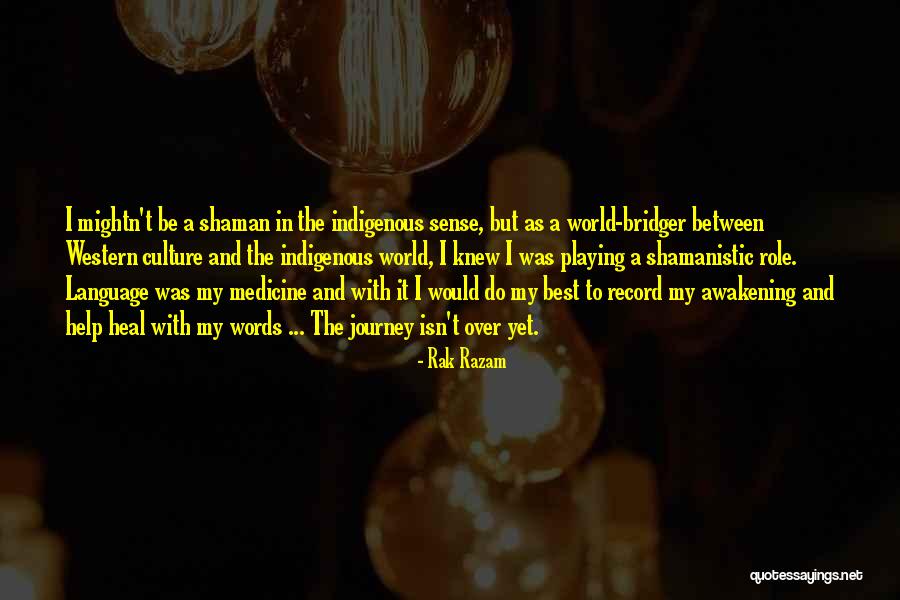 I mightn't be a shaman in the indigenous sense, but as a world-bridger between Western culture and the indigenous world, I knew I was playing a shamanistic role. Language was my medicine and with it I would do my best to record my awakening and help heal with my words ... The journey isn't over yet. — Rak Razam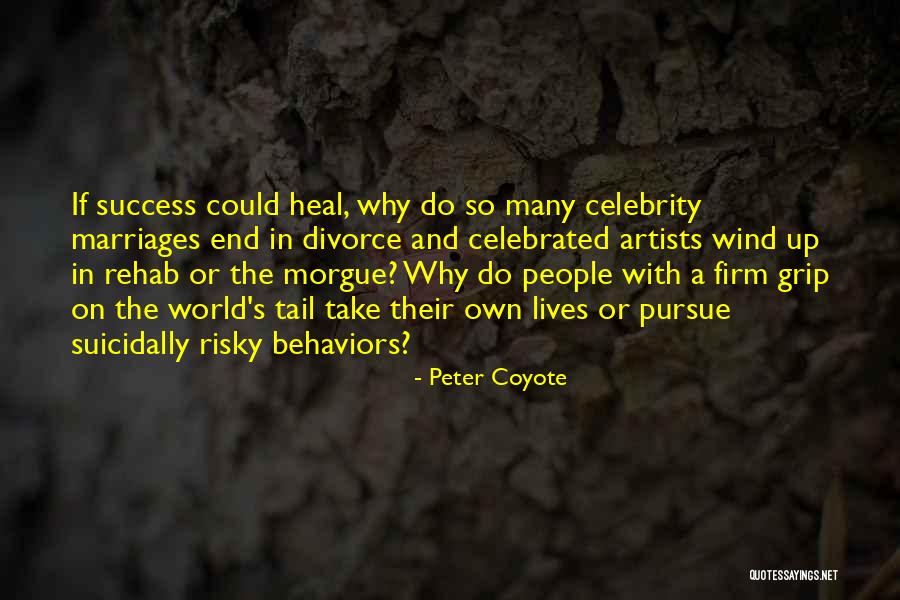 If success could heal, why do so many celebrity marriages end in divorce and celebrated artists wind up in rehab or the morgue? Why do people with a firm grip on the world's tail take their own lives or pursue suicidally risky behaviors? — Peter Coyote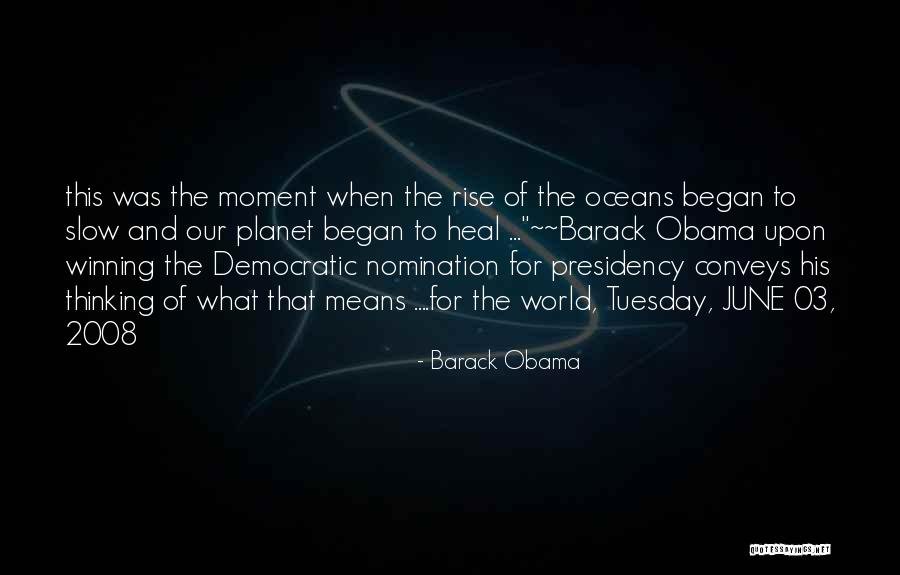 this was the moment when the rise of the oceans began to slow and our planet began to heal ..."~~Barack Obama upon winning the Democratic nomination for presidency conveys his thinking of what that means ....for the world, Tuesday, JUNE 03, 2008 — Barack Obama
We must relinquish our passive observation of the world outside; we can open the door to the world we want. In understanding ourselves, we come to understand the world. In allowing ourselves to heal, we become the healers of the world. In praying for peace, we become bringers of peace. Thus we actualize the power within us to remedy the psychic wounds of humanity. — Marianne Williamson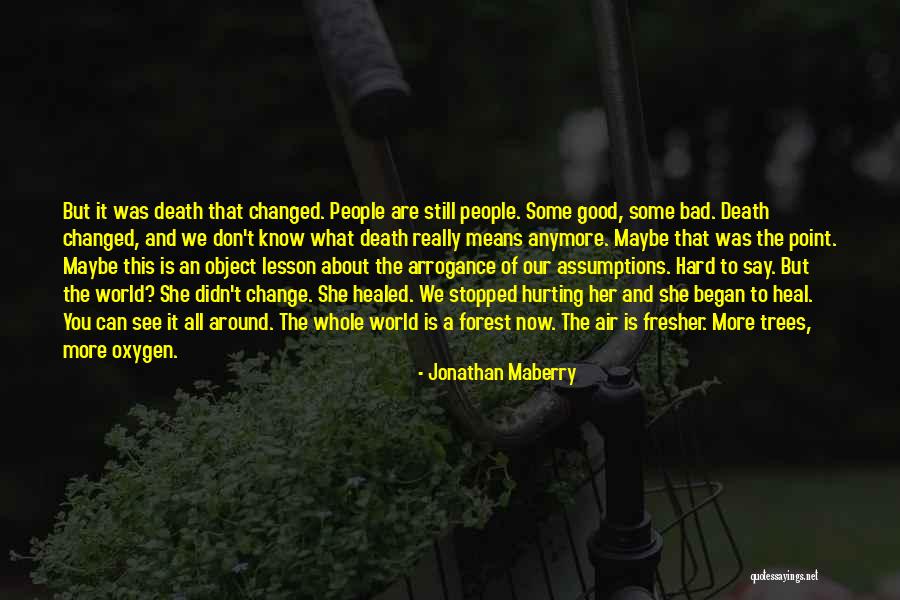 But it was death that changed. People are still people. Some good, some bad. Death changed, and we don't know what death really means anymore. Maybe that was the point. Maybe this is an object lesson about the arrogance of our assumptions. Hard to say. But the world? She didn't change. She healed. We stopped hurting her and she began to heal. You can see it all around. The whole world is a forest now. The air is fresher. More trees, more oxygen. — Jonathan Maberry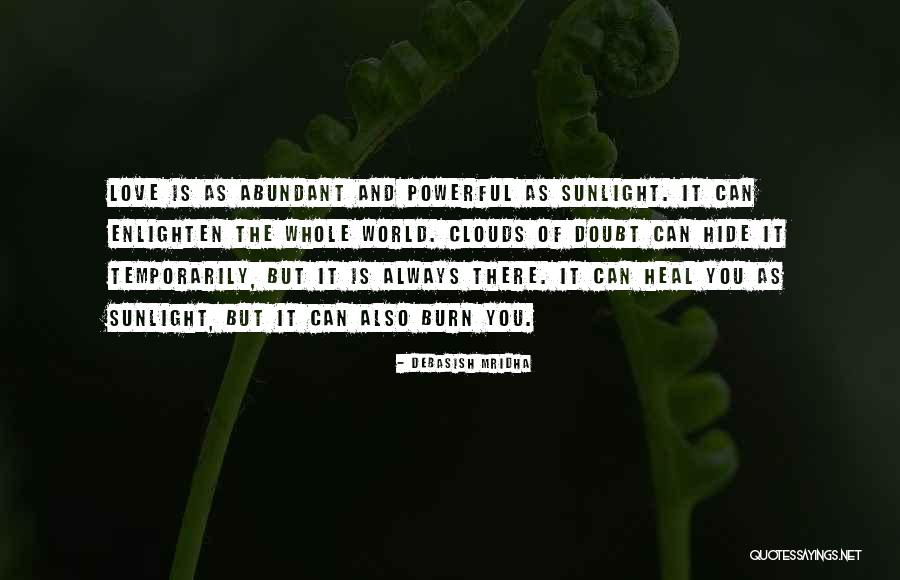 Love is as abundant and powerful as sunlight. It can enlighten the whole world. Clouds of doubt can hide it temporarily, but it is always there. It can heal you as sunlight, but it can also burn you. — Debasish Mridha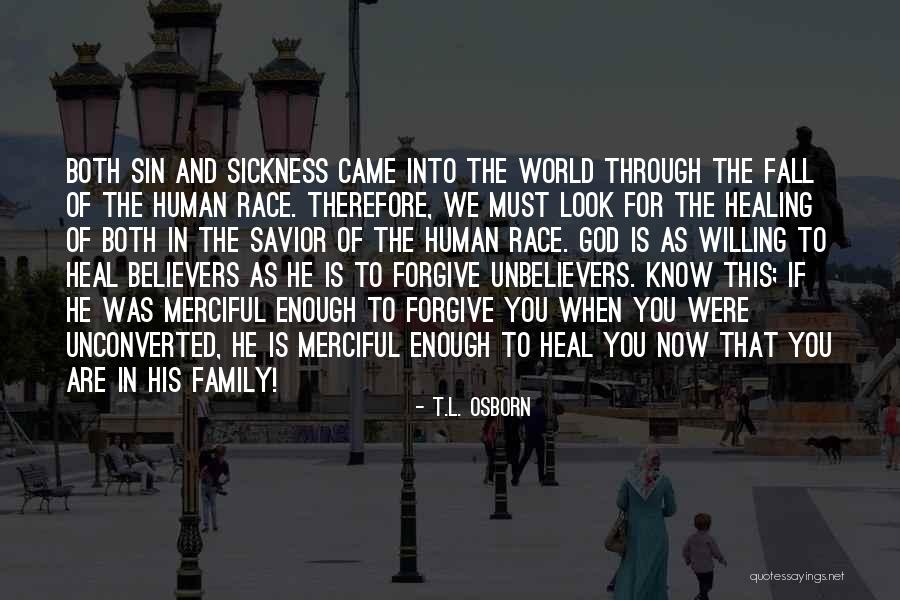 Both sin and sickness came into the world through the fall of the human race. Therefore, we must look for the healing of both in the savior of the human race. God is as willing to heal believers as He is to forgive unbelievers. Know this; if He was merciful enough to forgive you when you were unconverted, He is merciful enough to heal you now that you are in His family! — T.L. Osborn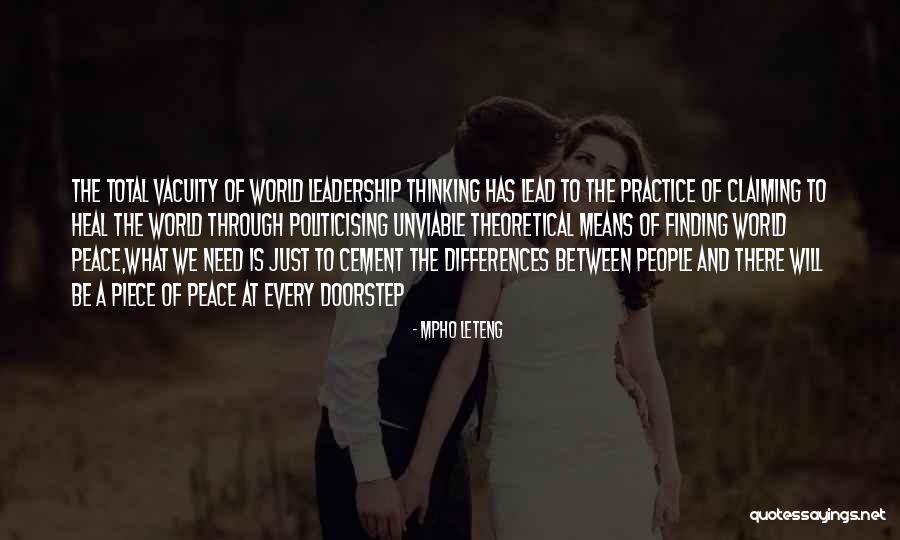 The total vacuity of world leadership thinking has lead to the practice of claiming to heal the world through politicising unviable theoretical means of finding world peace,what we need is just to cement the differences between people and there will be a piece of peace at every doorstep — Mpho Leteng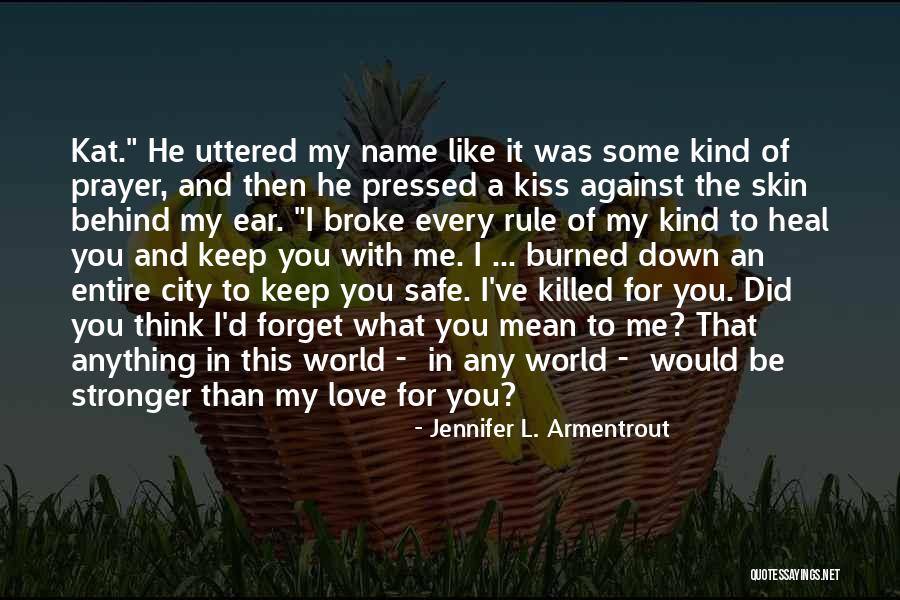 Kat." He uttered my name like it was some kind of prayer, and then he pressed a kiss against the skin behind my ear. "I broke every rule of my kind to heal you and keep you with me. I ... burned down an entire city to keep you safe. I've killed for you. Did you think I'd forget what you mean to me? That anything in this world - in any world - would be stronger than my love for you? — Jennifer L. Armentrout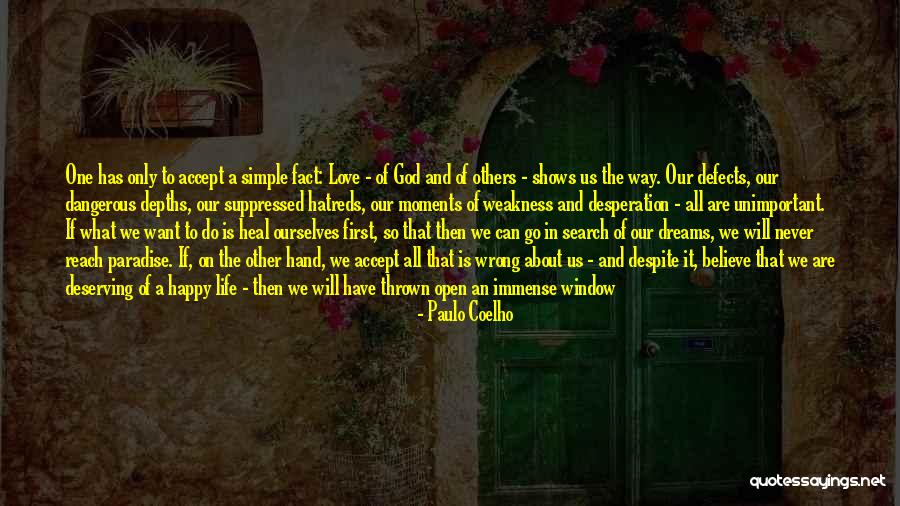 One has only to accept a simple fact: Love - of God and of others - shows us the way. Our defects, our dangerous depths, our suppressed hatreds, our moments of weakness and desperation - all are unimportant. If what we want to do is heal ourselves first, so that then we can go in search of our dreams, we will never reach paradise. If, on the other hand, we accept all that is wrong about us - and despite it, believe that we are deserving of a happy life - then we will have thrown open an immense window that will allow Love to enter. Little by little, our defects will disappear, because one who is happy can look at the world only with love - the force that regenerates everything that exists in the Universe. — Paulo Coelho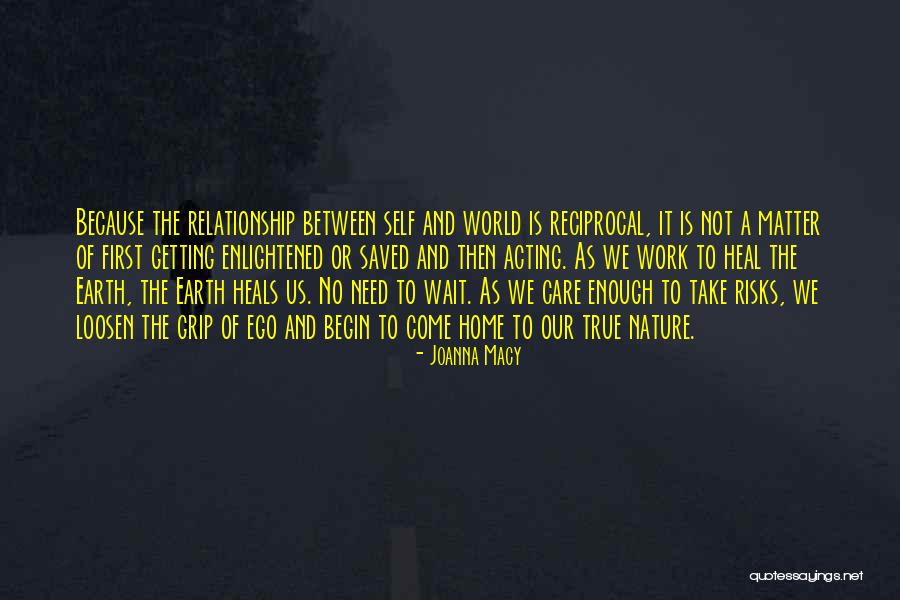 Because the relationship between self and world is reciprocal, it is not a matter of first getting enlightened or saved and then acting. As we work to heal the Earth, the Earth heals us. No need to wait. As we care enough to take risks, we loosen the grip of ego and begin to come home to our true nature. — Joanna Macy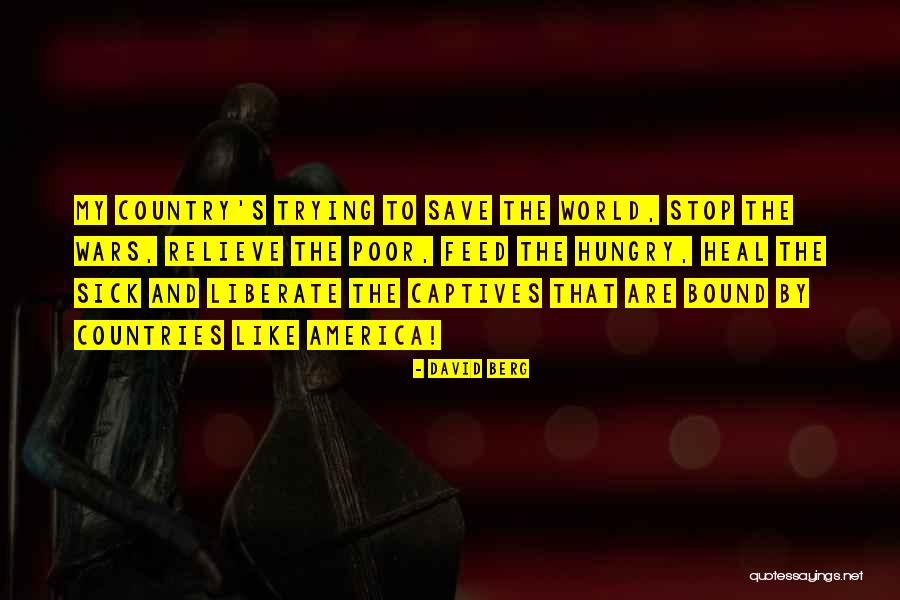 My Country's trying to save the World, stop the wars, relieve the poor, feed the hungry, heal the sick and liberate the captives that are bound by countries like America! — David Berg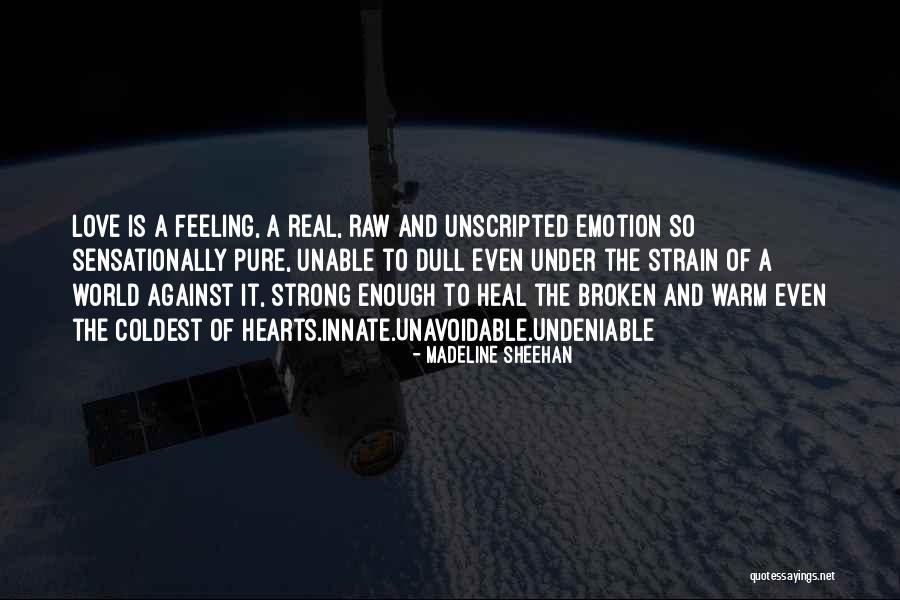 Love is a feeling, a real, raw and unscripted emotion so sensationally pure, unable to dull even under the strain of a world against it, strong enough to heal the broken and warm even the coldest of hearts.
Innate.
Unavoidable.
Undeniable — Madeline Sheehan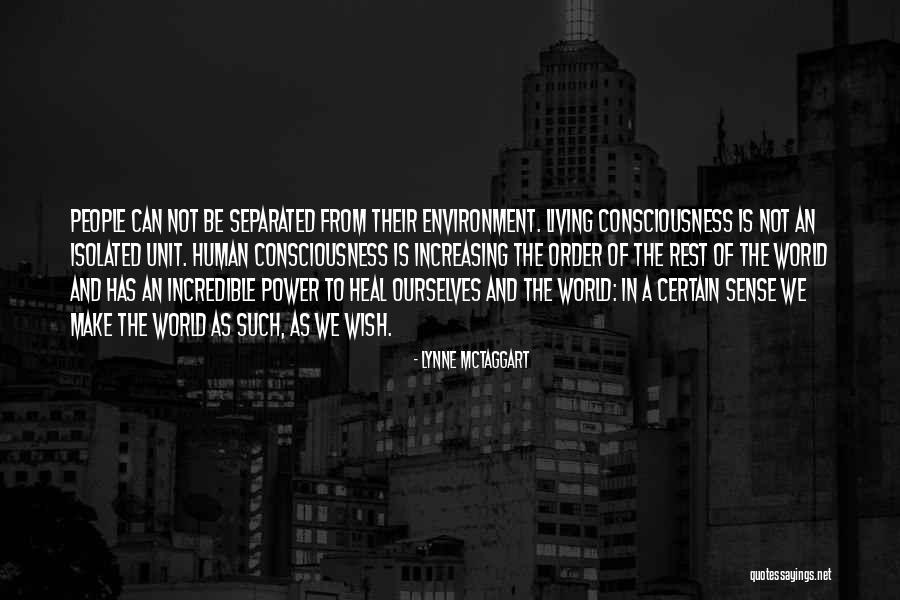 People can not be separated from their environment. Living consciousness is not an isolated unit. Human consciousness is increasing the order of the rest of the world and has an incredible power to heal ourselves and the world: in a certain sense we make the world as such, as we wish. — Lynne McTaggart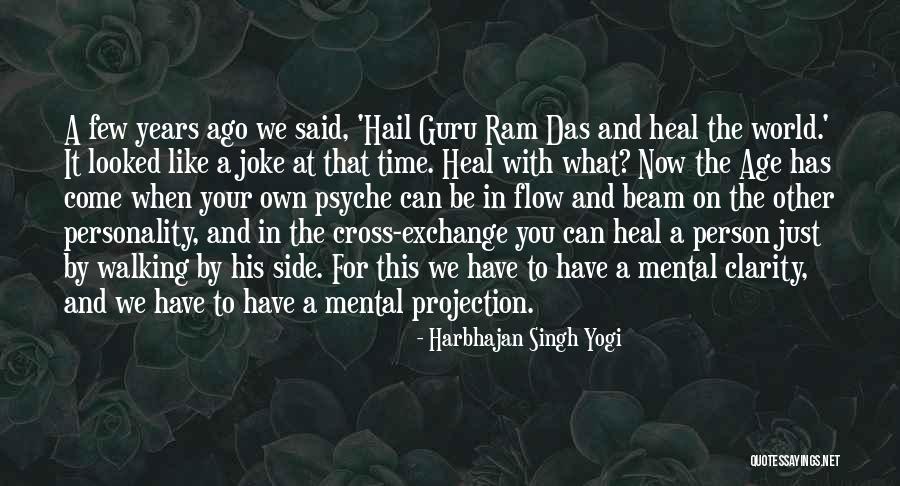 A few years ago we said, 'Hail Guru Ram Das and heal the world.' It looked like a joke at that time. Heal with what? Now the Age has come when your own psyche can be in flow and beam on the other personality, and in the cross-exchange you can heal a person just by walking by his side. For this we have to have a mental clarity, and we have to have a mental projection. — Harbhajan Singh Yogi