He Who Judges Quotes & Sayings
Enjoy reading and share 55 famous quotes about He Who Judges with everyone.
Top He Who Judges Quotes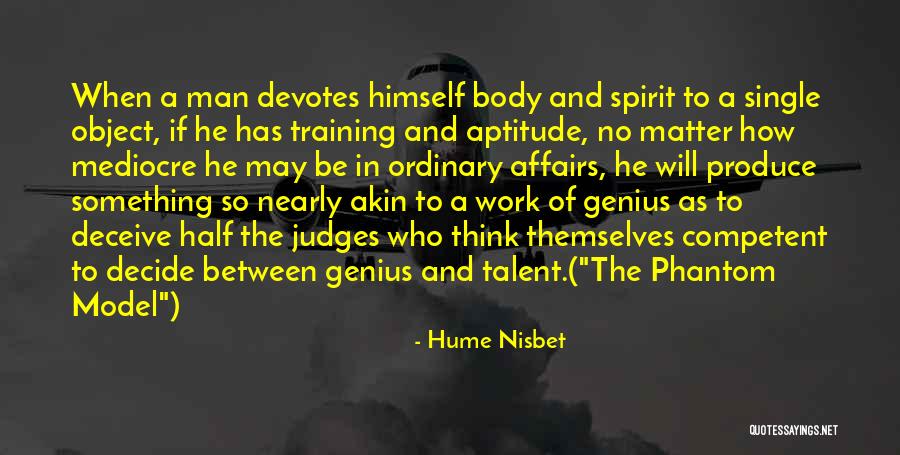 When a man devotes himself body and spirit to a single object, if he has training and aptitude, no matter how mediocre he may be in ordinary affairs, he will produce something so nearly akin to a work of genius as to deceive half the judges who think themselves competent to decide between genius and talent.
("The Phantom Model") — Hume Nisbet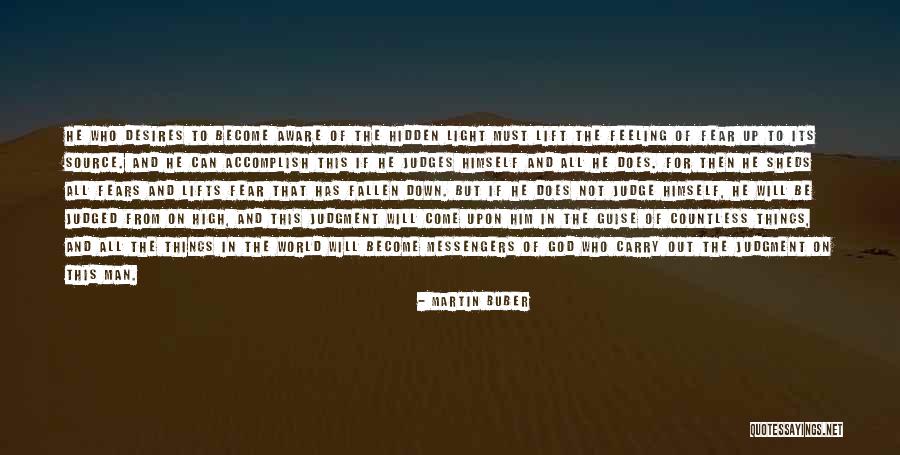 He who desires to become aware of the hidden light must lift the feeling of fear up to its source. And he can accomplish this if he judges himself and all he does. For then he sheds all fears and lifts fear that has fallen down. But if he does not judge himself, he will be judged from on high, and this judgment will come upon him in the guise of countless things, and all the things in the world will become messengers of God who carry out the judgment on this man. — Martin Buber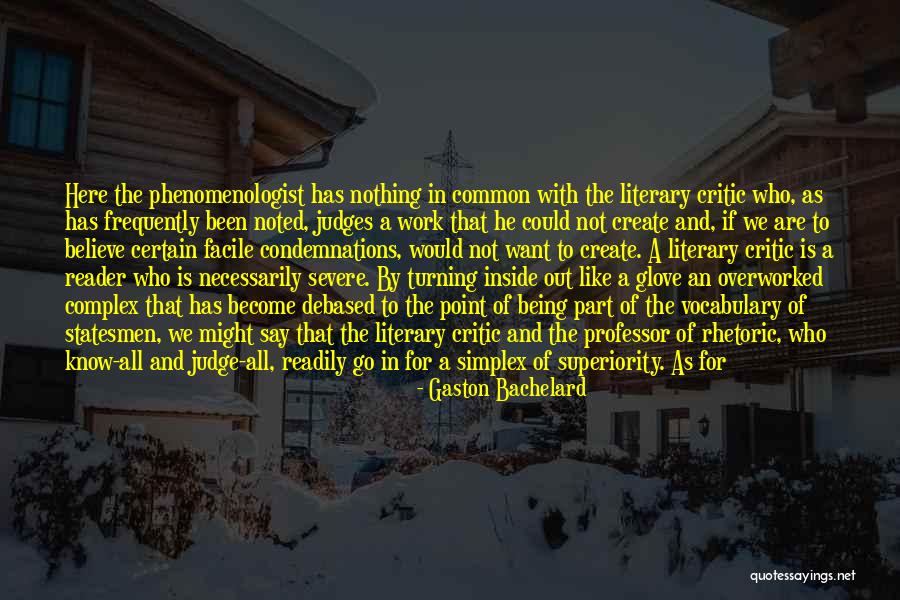 Here the phenomenologist has nothing in common with the literary critic who, as has frequently been noted, judges a work that he could not create and, if we are to believe certain facile condemnations, would not want to create. A literary critic is a reader who is necessarily severe. By turning inside out like a glove an overworked complex that has become debased to the point of being part of the vocabulary of statesmen, we might say that the literary critic and the professor of rhetoric, who know-all and judge-all, readily go in for a simplex of superiority. As for me, being an addict of felicitous reading, I only read and re-read what I like, with a bit of reader's pride mixed in with much enthusiasm. — Gaston Bachelard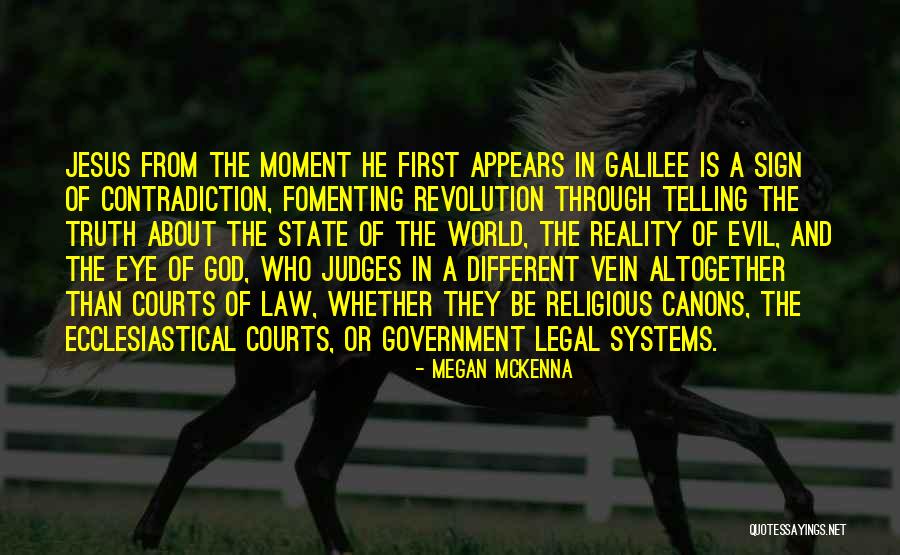 Jesus from the moment he first appears in Galilee is a sign of contradiction, fomenting revolution through telling the truth about the state of the world, the reality of evil, and the eye of God, who judges in a different vein altogether than courts of law, whether they be religious canons, the ecclesiastical courts, or government legal systems. — Megan McKenna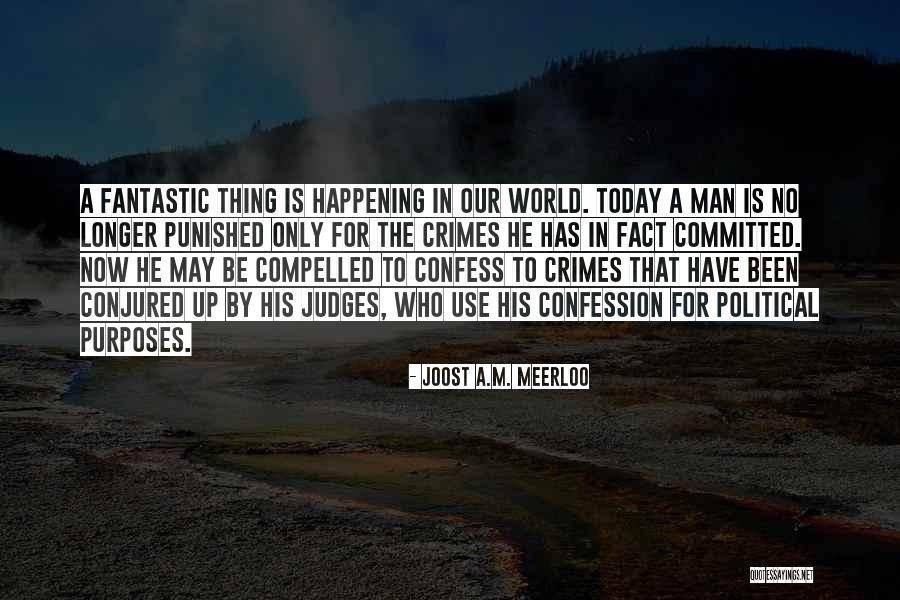 A fantastic thing is happening in our world. Today a man is no longer punished only for the crimes he has in fact committed. Now he may be compelled to confess to crimes that have been conjured up by his judges, who use his confession for political purposes. — Joost A.M. Meerloo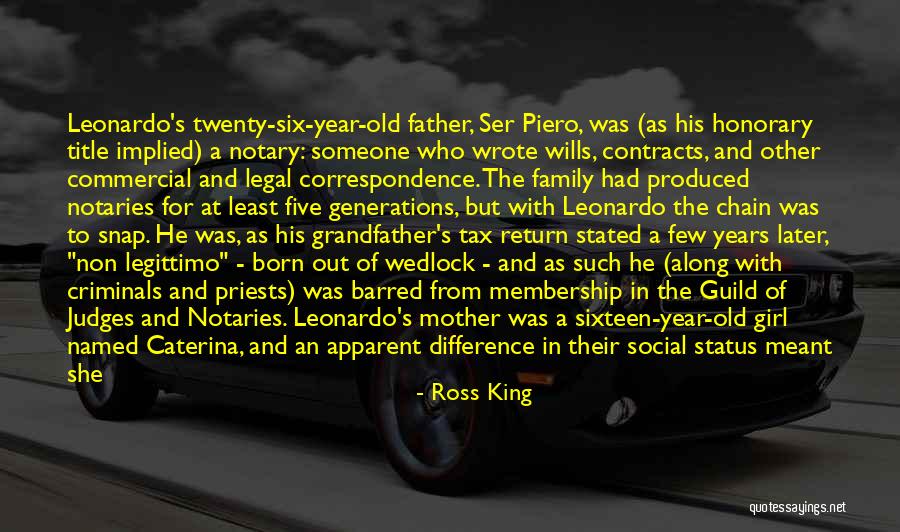 Leonardo's twenty-six-year-old father, Ser Piero, was (as his honorary title implied) a notary: someone who wrote wills, contracts, and other commercial and legal correspondence. The family had produced notaries for at least five generations, but with Leonardo the chain was to snap. He was, as his grandfather's tax return stated a few years later, "non legittimo" - born out of wedlock - and as such he (along with criminals and priests) was barred from membership in the Guild of Judges and Notaries. Leonardo's mother was a sixteen-year-old girl named Caterina, and an apparent difference in their social status meant she and Piero, a bright and ambitious young man, did not marry. Almost — Ross King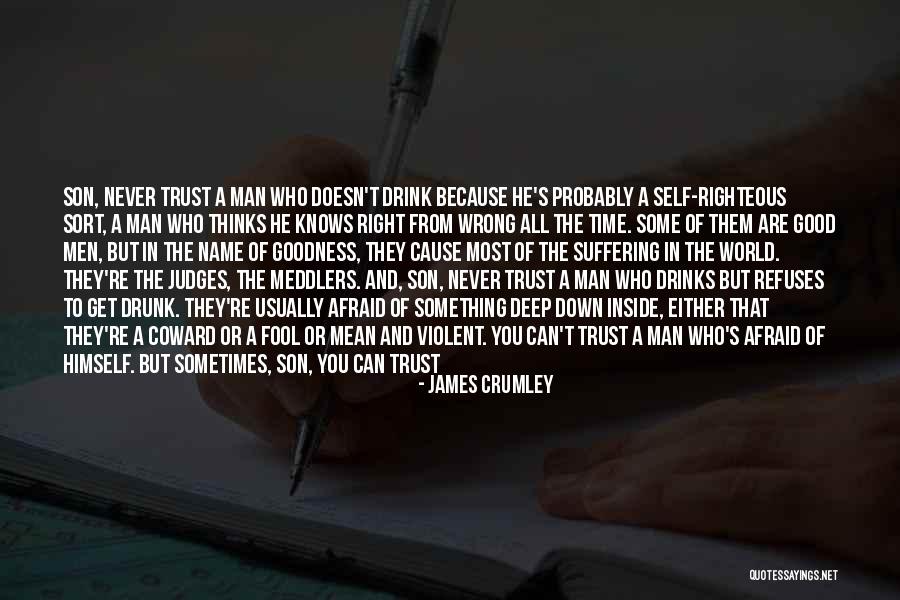 Son, never trust a man who doesn't drink because he's probably a self-righteous sort, a man who thinks he knows right from wrong all the time. Some of them are good men, but in the name of goodness, they cause most of the suffering in the world. They're the judges, the meddlers. And, son, never trust a man who drinks but refuses to get drunk. They're usually afraid of something deep down inside, either that they're a coward or a fool or mean and violent. You can't trust a man who's afraid of himself. But sometimes, son, you can trust a man who occasionally kneels before a toilet. The chances are that he is learning something about humility and his natural human foolishness, about how to survive himself. It's damned hard for a man to take himself too seriously when he's heaving his guts into a dirty toilet bowl. — James Crumley
The power of sin and death has been eclipsed by the power of the Spirit. The Spirit breathes life into our mortal, sin-infested bodies - thanks to what Jesus has done for us. By sending His Son in "the likeness of sinful flesh," God judges sin finally and completely. The sins of the world are concentrated and condemned in the flesh of Jesus as He hangs on the cross. So now there is no condemnation remaining for those who've entered into the life, death, and resurrection of Jesus. — Anonymous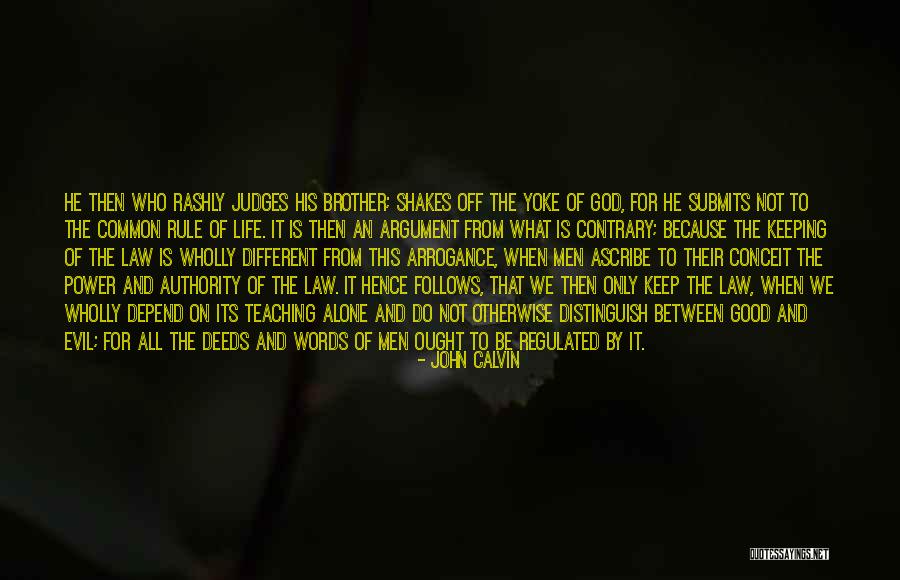 He then who rashly judges his brother; shakes off the yoke of God, for he submits not to the common rule of life. It is then an argument from what is contrary; because the keeping of the law is wholly different from this arrogance, when men ascribe to their conceit the power and authority of the law. It hence follows, that we then only keep the law, when we wholly depend on its teaching alone and do not otherwise distinguish between good and evil; for all the deeds and words of men ought to be regulated by it. — John Calvin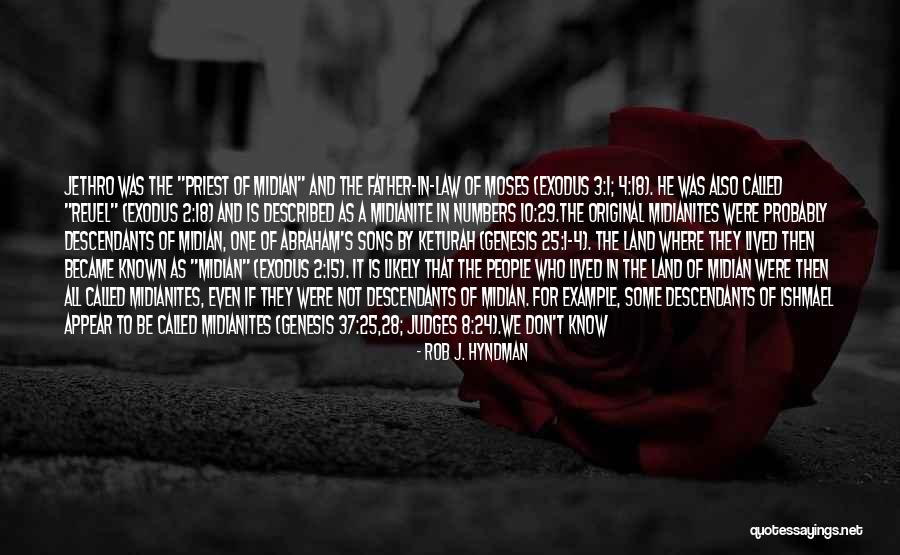 Jethro was the "priest of Midian" and the father-in-law of Moses (Exodus 3:1; 4:18). He was also called "Reuel" (Exodus 2:18) and is described as a Midianite in Numbers 10:29.
The original Midianites were probably descendants of Midian, one of Abraham's sons by Keturah (Genesis 25:1-4). The land where they lived then became known as "Midian" (Exodus 2:15). It is likely that the people who lived in the land of Midian were then all called Midianites, even if they were not descendants of Midian. For example, some descendants of Ishmael appear to be called Midianites (Genesis 37:25,28; Judges 8:24).
We don't know whether Jethro was a descendant of Midian, or whether he had some other ancestry but lived in the land of Midian.
In Judges 1:16, Jethro is described as a "Kenite" but that may not relate directly to his ancestry. The word keni in Aramaic means "smith" and it is thought that the Kenites may have been metal workers. — Rob J. Hyndman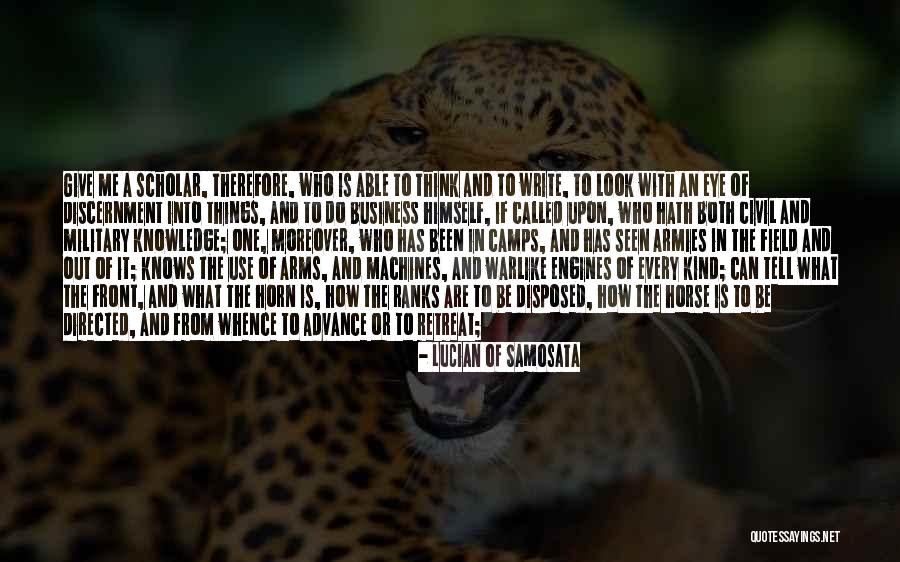 Give me a scholar, therefore, who is able to think and to write, to look with an eye of discernment into things, and to do business himself, if called upon, who hath both civil and military knowledge; one, moreover, who has been in camps, and has seen armies in the field and out of it; knows the use of arms, and machines, and warlike engines of every kind; can tell what the front, and what the horn is, how the ranks are to be disposed, how the horse is to be directed, and from whence to advance or to retreat; one, in short, who does not stay at home and trust to the reports of others: but, above all, let him be of a noble and liberal mind; let him neither fear nor hope for anything; otherwise he will only resemble those unjust judges who determine from partiality or prejudice, and give sentence for hire: but, whatever the man is, as such let him be described. — Lucian Of Samosata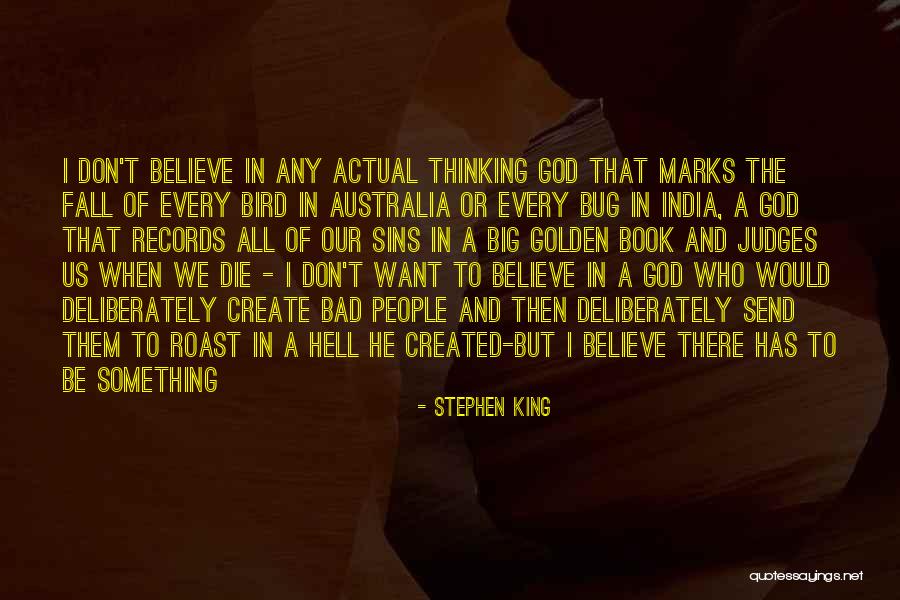 I don't believe in any actual thinking God that marks the fall of every bird in Australia or every bug in India, a God that records all of our sins in a big golden book and judges us when we die - I don't want to believe in a God who would deliberately create bad people and then deliberately send them to roast in a hell He created-but I believe there has to be something — Stephen King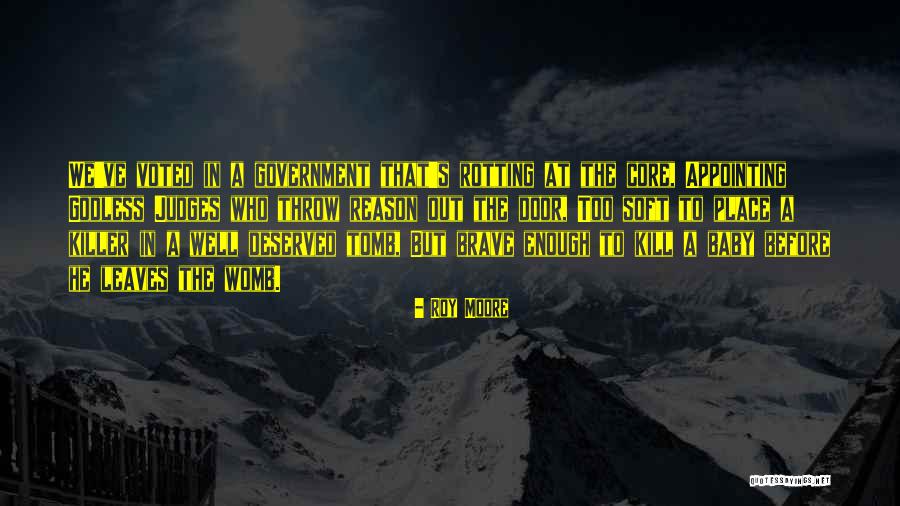 We've voted in a government that's rotting at the core, Appointing Godless Judges who throw reason out the door, Too soft to place a killer in a well deserved tomb, But brave enough to kill a baby before he leaves the womb. — Roy Moore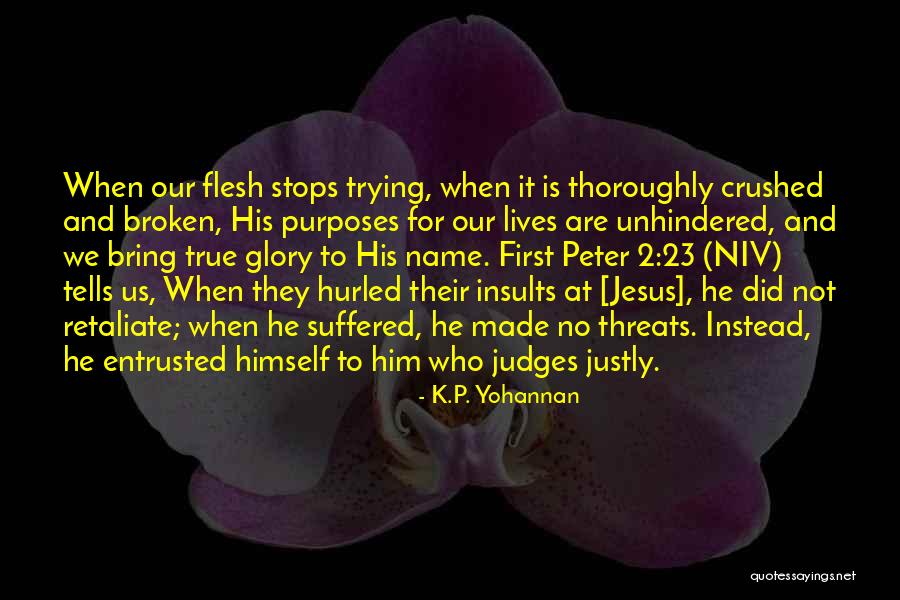 When our flesh stops trying, when it is thoroughly crushed and broken, His purposes for our lives are unhindered, and we bring true glory to His name. First Peter 2:23 (NIV) tells us, When they hurled their insults at [Jesus], he did not retaliate; when he suffered, he made no threats. Instead, he entrusted himself to him who judges justly. — K.P. Yohannan
Obama's attitude toward the rule of law is apparent in the words he used to describe what he is looking for in a nominee to replace Justice David Souter. He wants 'someone who understands justice is not just about some abstract legal theory,' he said, but someone who has 'empathy.' In other words, judges should decide cases so that the right people win, not according to the rule of law. — Michael Barone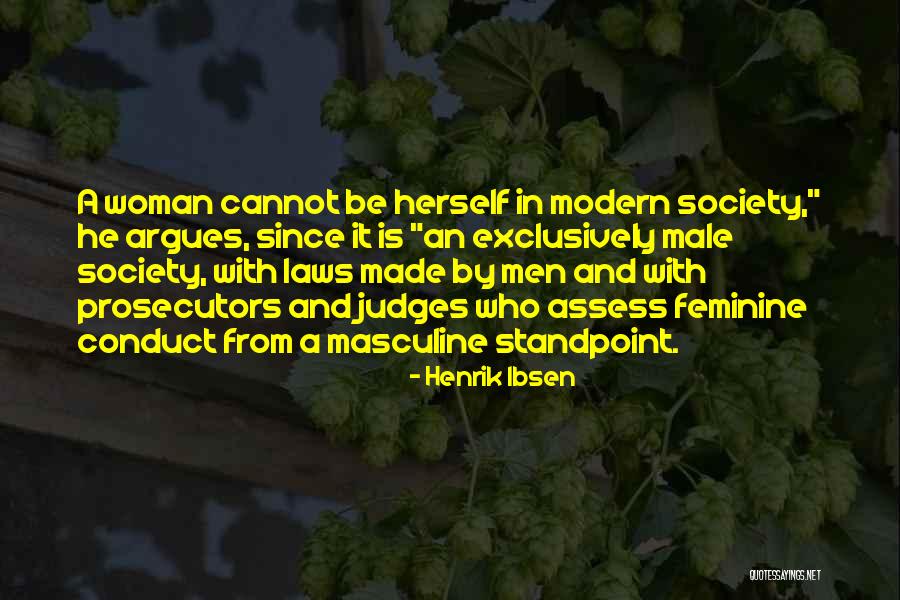 A woman cannot be herself in modern society," he argues, since it is "an exclusively male society, with laws made by men and with prosecutors and judges who assess feminine conduct from a masculine standpoint. — Henrik Ibsen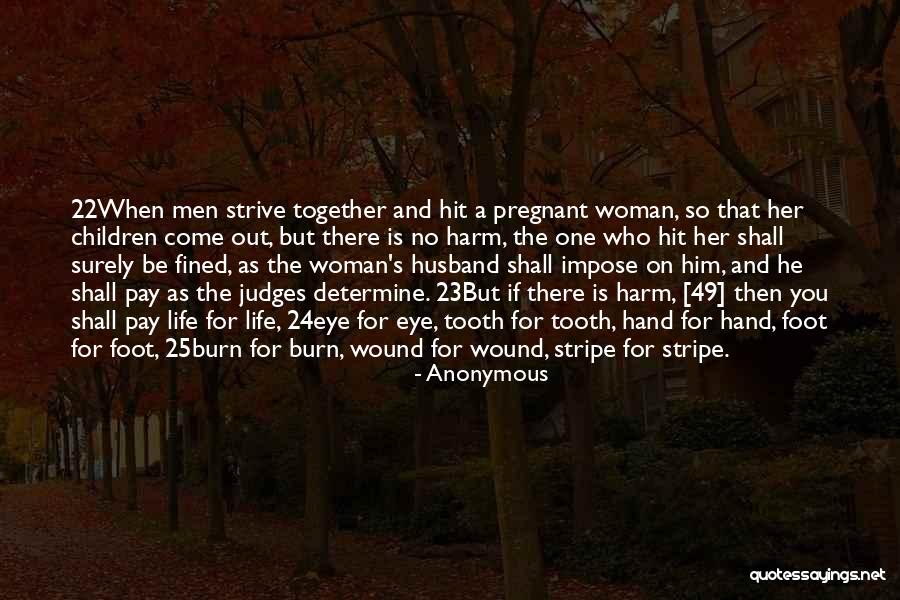 22When men strive together and hit a pregnant woman, so that her children come out, but there is no harm, the one who hit her shall surely be fined, as the woman's husband shall impose on him, and he shall pay as the judges determine. 23But if there is harm, [49] then you shall pay life for life, 24eye for eye, tooth for tooth, hand for hand, foot for foot, 25burn for burn, wound for wound, stripe for stripe. — Anonymous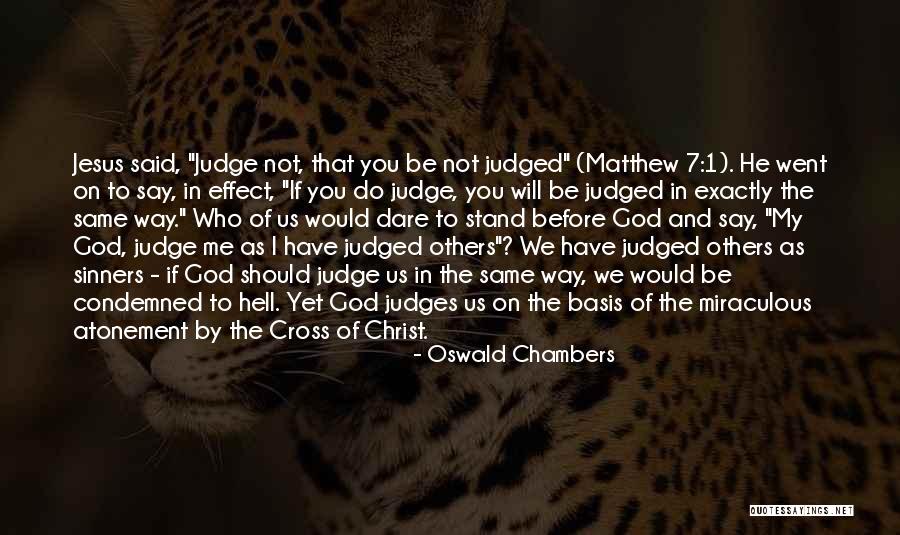 Jesus said, "Judge not, that you be not judged" (Matthew 7:1). He went on to say, in effect, "If you do judge, you will be judged in exactly the same way." Who of us would dare to stand before God and say, "My God, judge me as I have judged others"? We have judged others as sinners - if God should judge us in the same way, we would be condemned to hell. Yet God judges us on the basis of the miraculous atonement by the Cross of Christ. — Oswald Chambers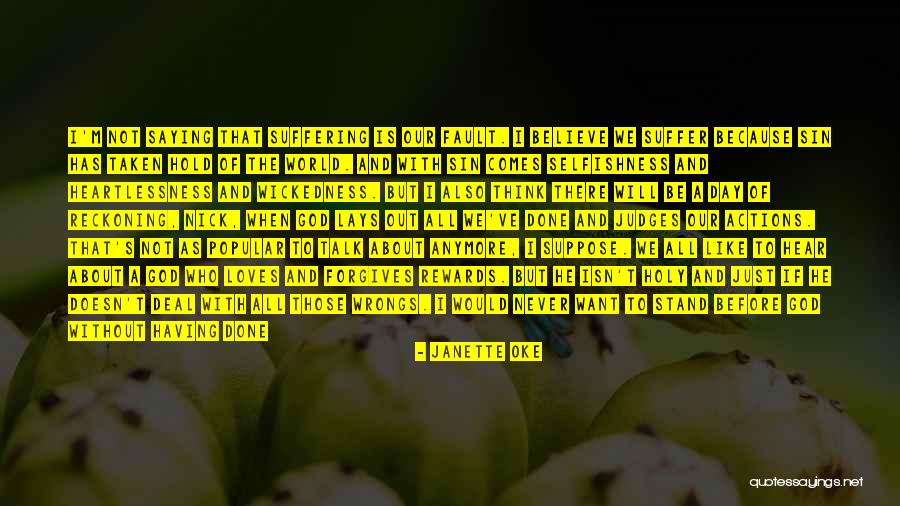 I'm not saying that suffering is our fault. I believe we suffer because sin has taken hold of the world. And with sin comes selfishness and heartlessness and wickedness. But I also think there will be a day of reckoning, Nick, when God lays out all we've done and judges our actions. That's not as popular to talk about anymore, I suppose. We all like to hear about a God who loves and forgives rewards. But He isn't holy and just if He doesn't deal with all those wrongs. I would never want to stand before God without having done everything in my power to extend His mercy to the people around me whenever I could. — Janette Oke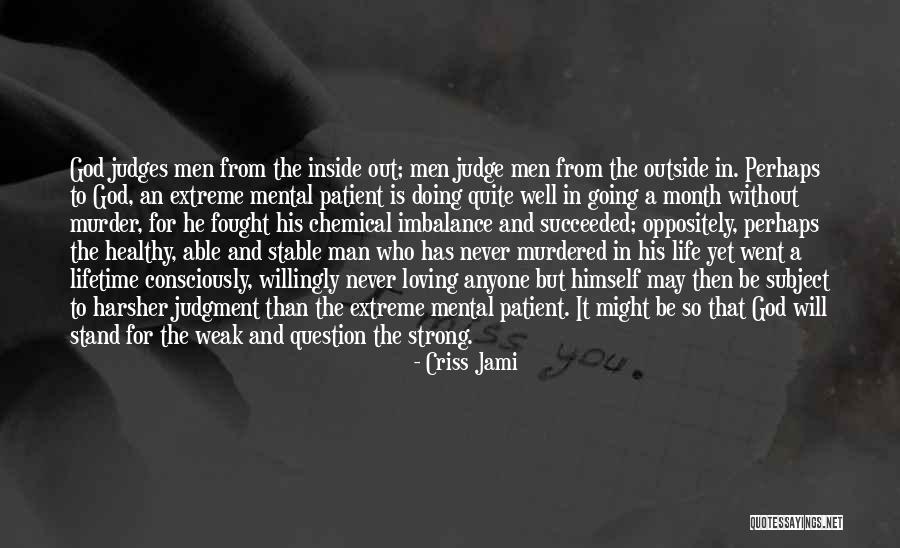 God judges men from the inside out; men judge men from the outside in. Perhaps to God, an extreme mental patient is doing quite well in going a month without murder, for he fought his chemical imbalance and succeeded; oppositely, perhaps the healthy, able and stable man who has never murdered in his life yet went a lifetime consciously, willingly never loving anyone but himself may then be subject to harsher judgment than the extreme mental patient. It might be so that God will stand for the weak and question the strong. — Criss Jami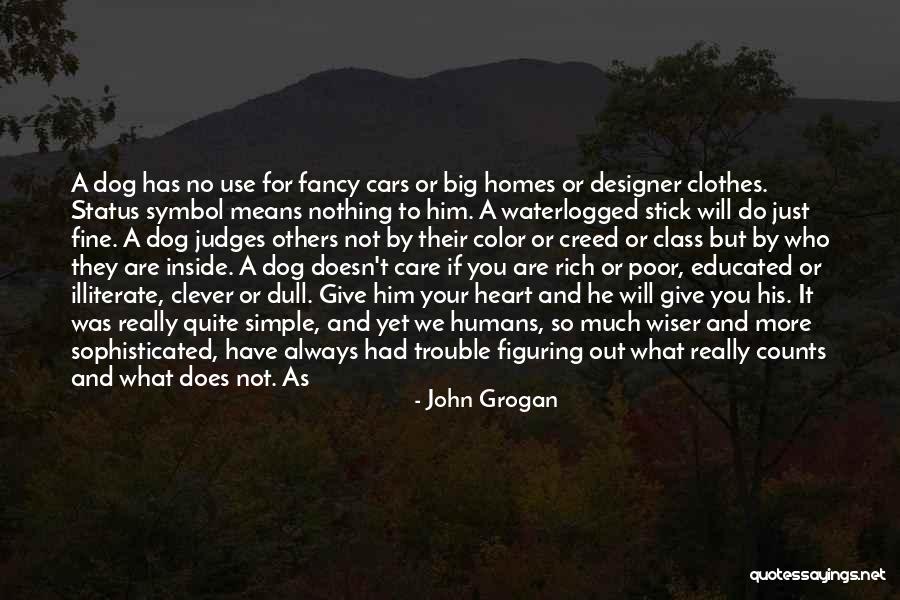 A dog has no use for fancy cars or big homes or designer clothes. Status symbol means nothing to him. A waterlogged stick will do just fine. A dog judges others not by their color or creed or class but by who they are inside. A dog doesn't care if you are rich or poor, educated or illiterate, clever or dull. Give him your heart and he will give you his. It was really quite simple, and yet we humans, so much wiser and more sophisticated, have always had trouble figuring out what really counts and what does not. As I wrote that farewell column to Marley, I realized it was all right there in front of us, if only we opened our eyes. Sometimes it took a dog with bad breath, worse manners, and pure intentions to help us see. — John Grogan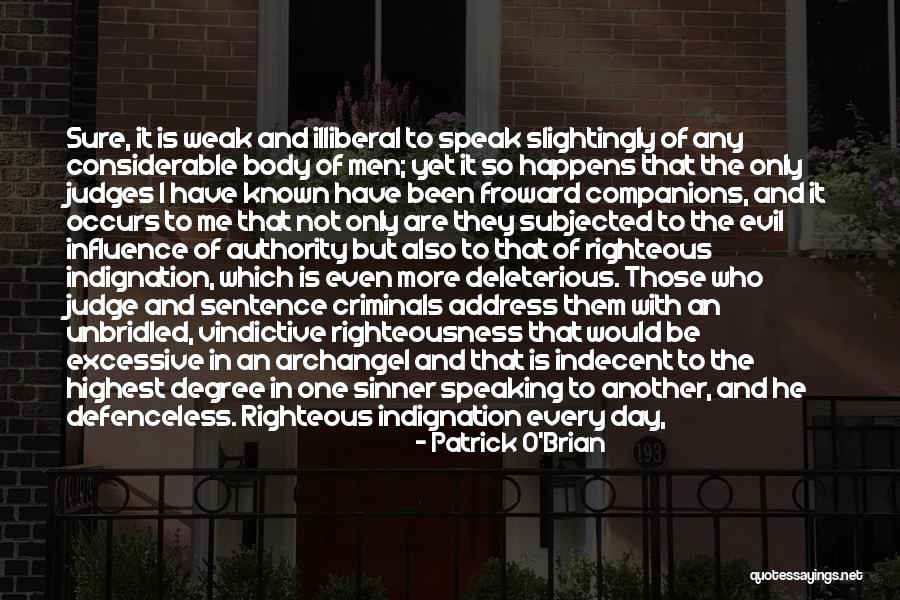 Sure, it is weak and illiberal to speak slightingly of any considerable body of men; yet it so happens that the only judges I have known have been froward companions, and it occurs to me that not only are they subjected to the evil influence of authority but also to that of righteous indignation, which is even more deleterious. Those who judge and sentence criminals address them with an unbridled, vindictive righteousness that would be excessive in an archangel and that is indecent to the highest degree in one sinner speaking to another, and he defenceless. Righteous indignation every day, and publicly applauded! — Patrick O'Brian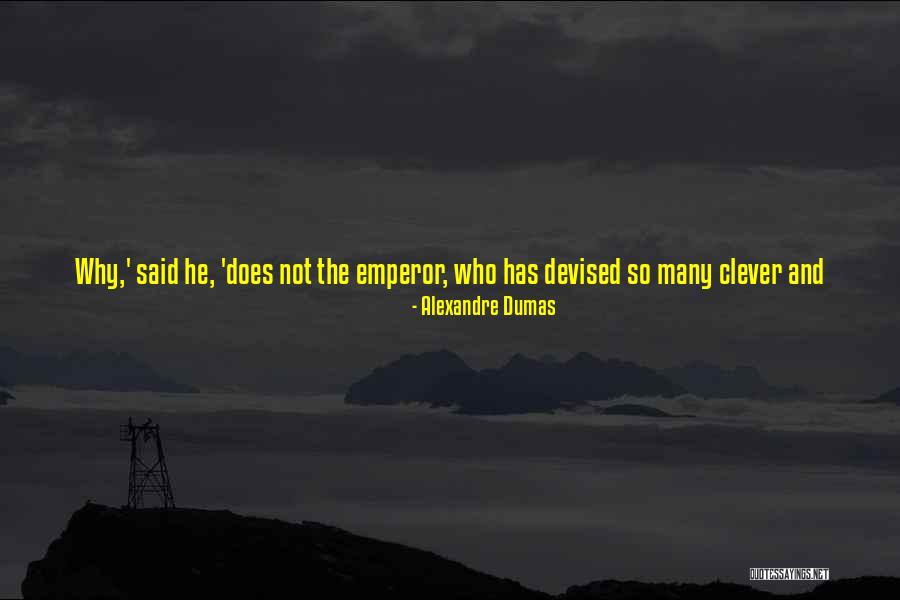 Why,' said he, 'does not the emperor, who has devised so many clever and efficient modes of improving the art of war, organize a regiment of lawyers, judges and legal practitioners, sending them in the hottest fire the enemy could maintain, and using them to save better men? — Alexandre Dumas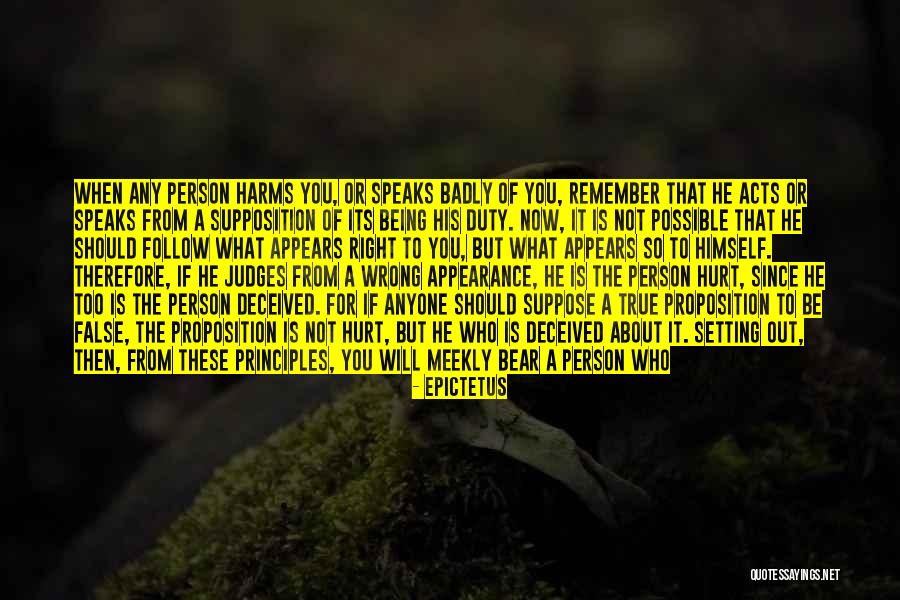 When any person harms you, or speaks badly of you, remember that he acts or speaks from a supposition of its being his duty. Now, it is not possible that he should follow what appears right to you, but what appears so to himself. Therefore, if he judges from a wrong appearance, he is the person hurt, since he too is the person deceived. For if anyone should suppose a true proposition to be false, the proposition is not hurt, but he who is deceived about it. Setting out, then, from these principles, you will meekly bear a person who reviles you, for you will say upon every occasion, "It seemed so to him."
... — Epictetus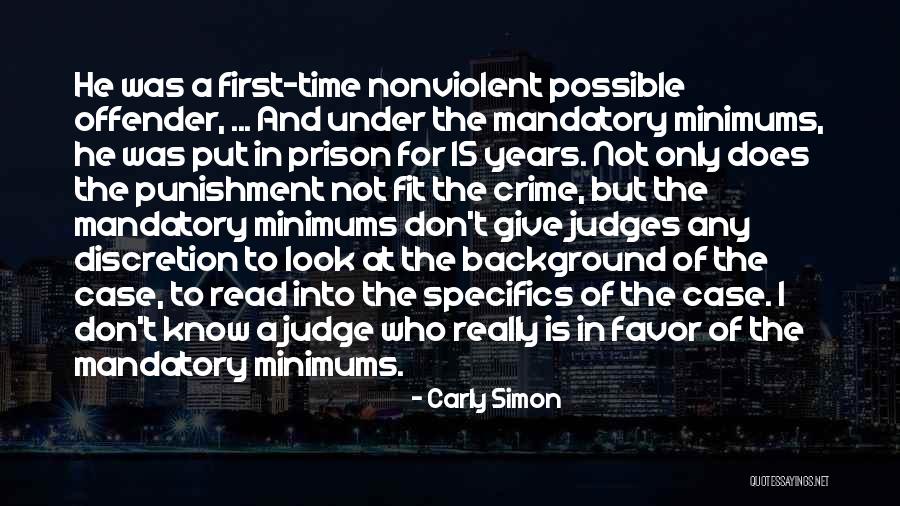 He was a first-time nonviolent possible offender, ... And under the mandatory minimums, he was put in prison for 15 years. Not only does the punishment not fit the crime, but the mandatory minimums don't give judges any discretion to look at the background of the case, to read into the specifics of the case. I don't know a judge who really is in favor of the mandatory minimums. — Carly Simon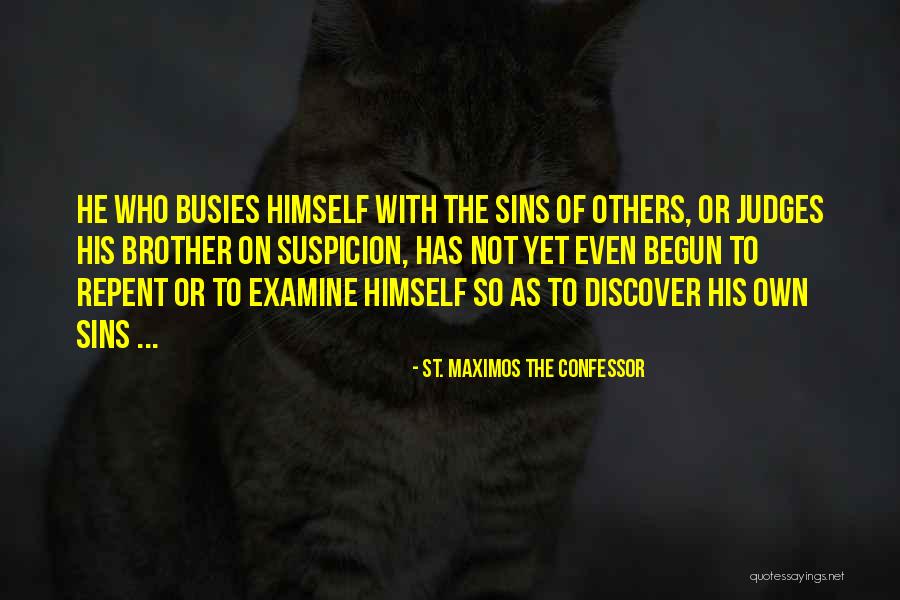 He who busies himself with the sins of others, or judges his brother on suspicion, has not yet even begun to repent or to examine himself so as to discover his own sins ... — St. Maximos The Confessor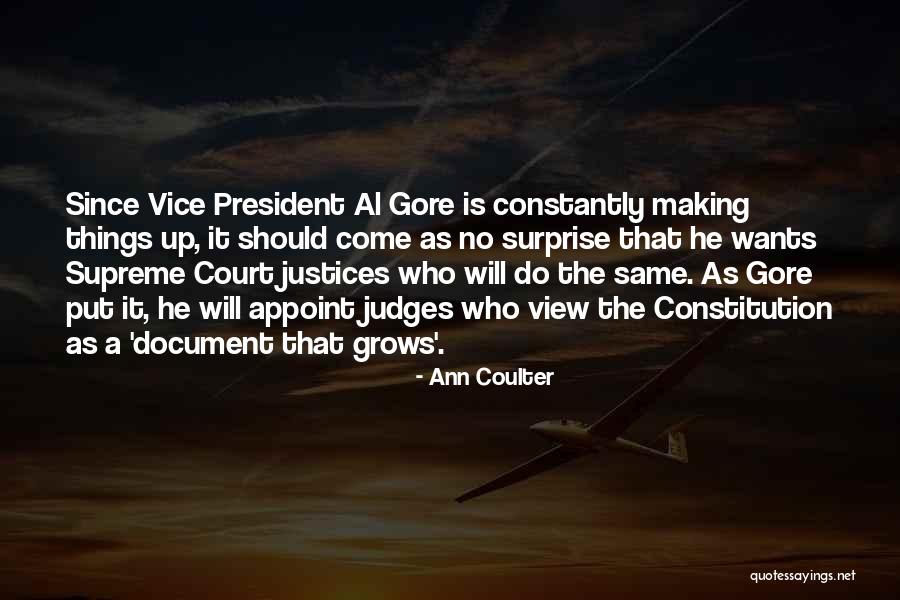 Since Vice President Al Gore is constantly making things up, it should come as no surprise that he wants Supreme Court justices who will do the same. As Gore put it, he will appoint judges who view the Constitution as a 'document that grows'. — Ann Coulter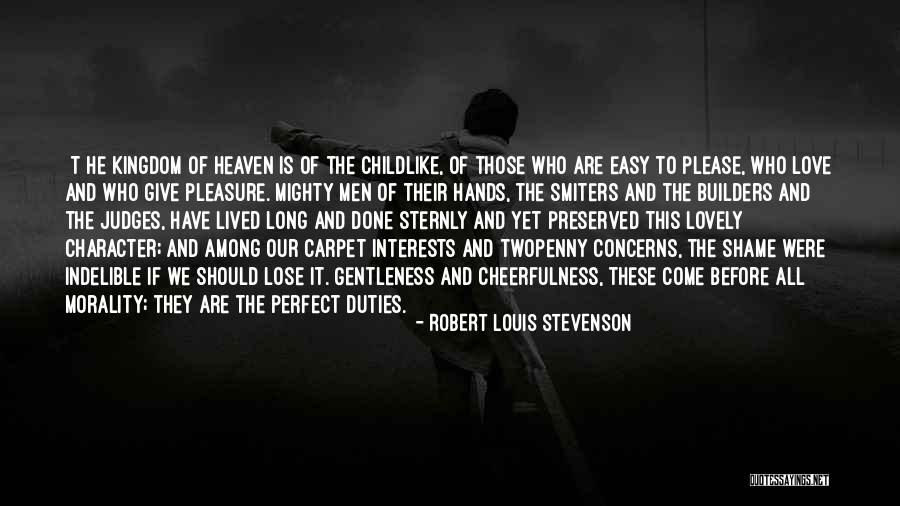 [T]he kingdom of heaven is of the childlike, of those who are easy to please, who love and who give pleasure. Mighty men of their hands, the smiters and the builders and the judges, have lived long and done sternly and yet preserved this lovely character; and among our carpet interests and twopenny concerns, the shame were indelible if we should lose it. Gentleness and cheerfulness, these come before all morality; they are the perfect duties. — Robert Louis Stevenson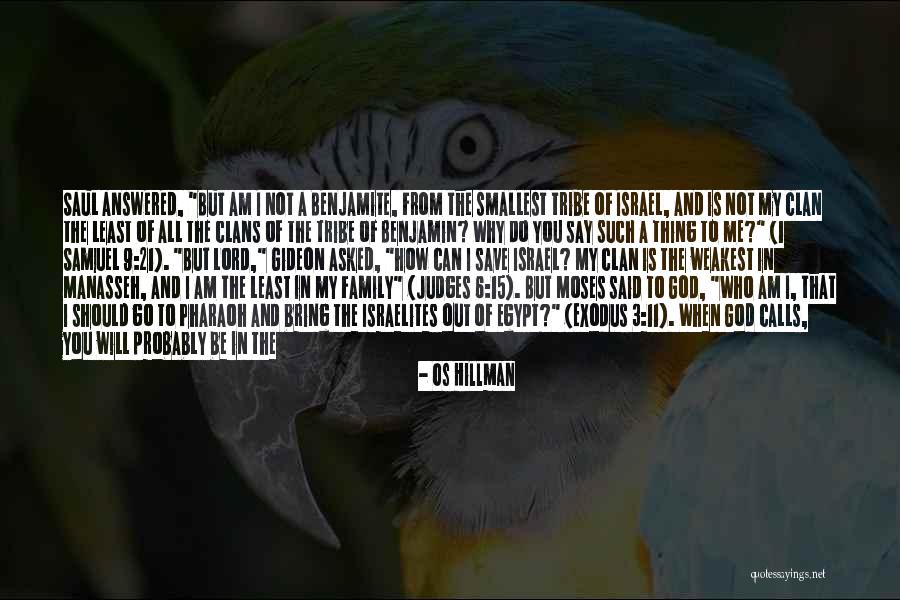 Saul answered, "But am I not a Benjamite, from the smallest tribe of Israel, and is not my clan the least of all the clans of the tribe of Benjamin? Why do you say such a thing to me?" (1 Samuel 9:21). "But Lord," Gideon asked, "how can I save Israel? My clan is the weakest in Manasseh, and I am the least in my family" (Judges 6:15). But Moses said to God, "Who am I, that I should go to Pharaoh and bring the Israelites out of Egypt?" (Exodus 3:11). When God calls, you will probably be in the most unlikely circumstances to receive that call. You will be in the midst of a crisis, you will lack resources and you will not have the skills you think you need. This is the way of God. God works this way because He wants you to know that your call is based on His ability, not yours. When you think it is based on you, you possess a false humility, which is unbelief and disobedience on your part. — Os Hillman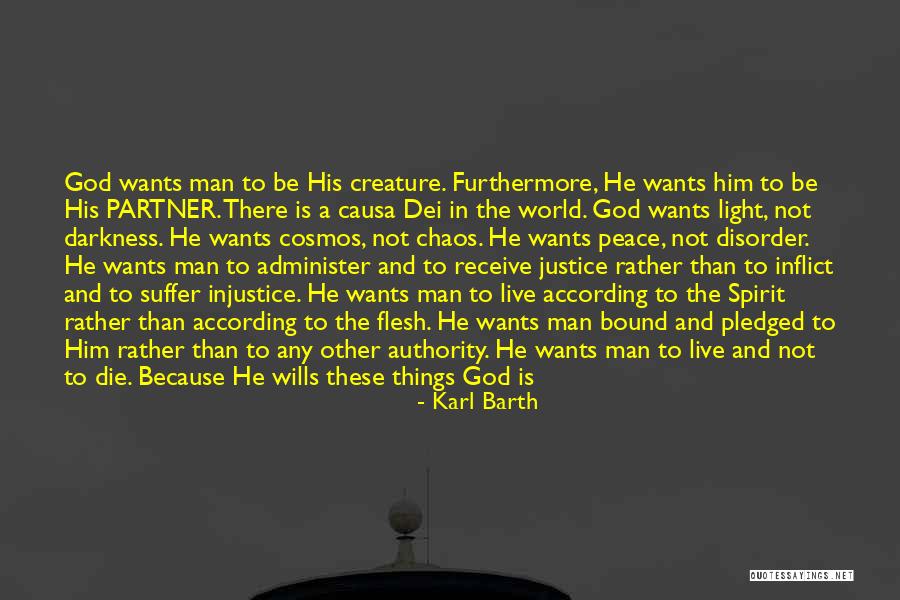 God wants man to be His creature. Furthermore, He wants him to be His PARTNER. There is a causa Dei in the world. God wants light, not darkness. He wants cosmos, not chaos. He wants peace, not disorder. He wants man to administer and to receive justice rather than to inflict and to suffer injustice. He wants man to live according to the Spirit rather than according to the flesh. He wants man bound and pledged to Him rather than to any other authority. He wants man to live and not to die. Because He wills these things God is Lord, Shepherd, and Redeemer of man, who in His holiness and mercy meets His creature; who judges and forgives, rejects and receives, condemns and saves. — Karl Barth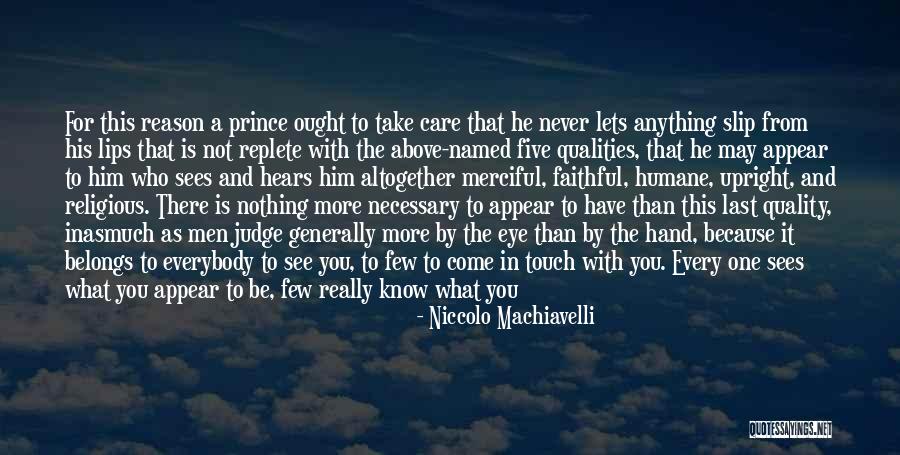 For this reason a prince ought to take care that he never lets anything slip from his lips that is not replete with the above-named five qualities, that he may appear to him who sees and hears him altogether merciful, faithful, humane, upright, and religious. There is nothing more necessary to appear to have than this last quality, inasmuch as men judge generally more by the eye than by the hand, because it belongs to everybody to see you, to few to come in touch with you. Every one sees what you appear to be, few really know what you are, and those few dare not oppose themselves to the opinion of the many, who have the majesty of the state to defend them; and in the actions of all men, and especially of princes, which it is not prudent to challenge, one judges by the result. — Niccolo Machiavelli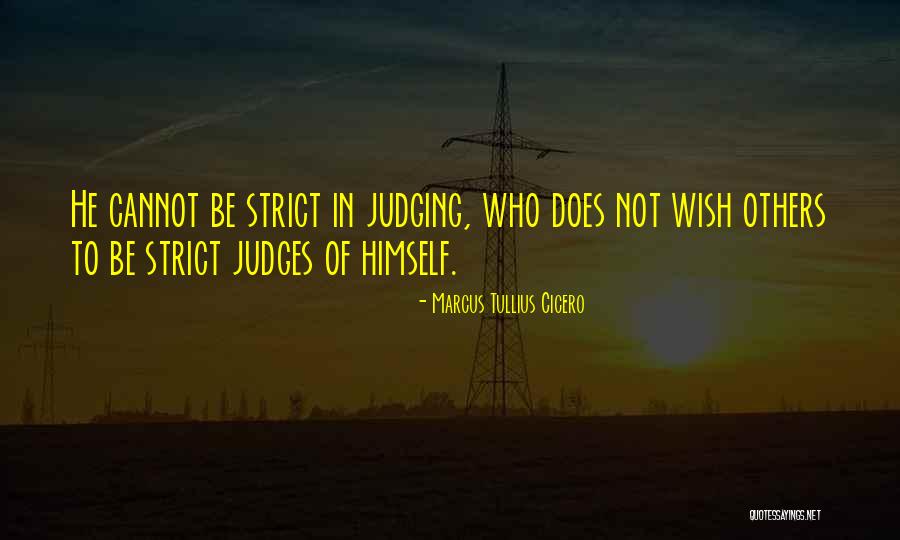 He cannot be strict in judging, who does not wish others to be strict judges of himself. — Marcus Tullius Cicero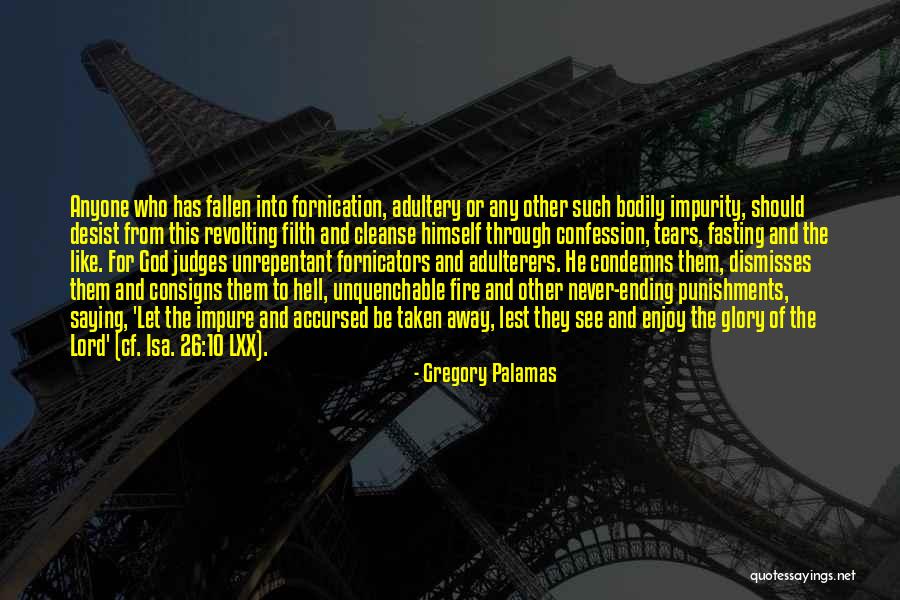 Anyone who has fallen into fornication, adultery or any other such bodily impurity, should desist from this revolting filth and cleanse himself through confession, tears, fasting and the like. For God judges unrepentant fornicators and adulterers. He condemns them, dismisses them and consigns them to hell, unquenchable fire and other never-ending punishments, saying, 'Let the impure and accursed be taken away, lest they see and enjoy the glory of the Lord' (cf. Isa. 26:10 LXX). — Gregory Palamas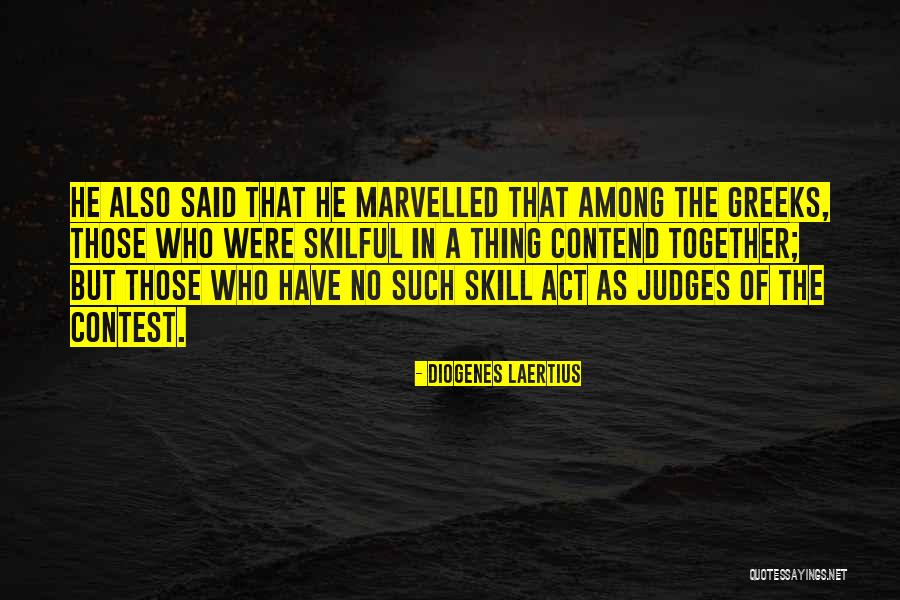 He also said that he marvelled that among the Greeks, those who were skilful in a thing contend together; but those who have no such skill act as judges of the contest. — Diogenes Laertius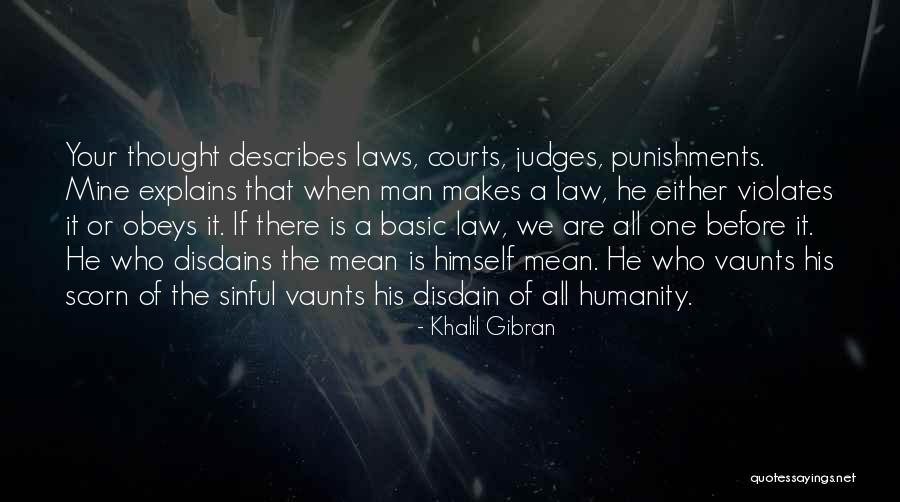 Your thought describes laws, courts, judges, punishments. Mine explains that when man makes a law, he either violates it or obeys it. If there is a basic law, we are all one before it. He who disdains the mean is himself mean. He who vaunts his scorn of the sinful vaunts his disdain of all humanity. — Khalil Gibran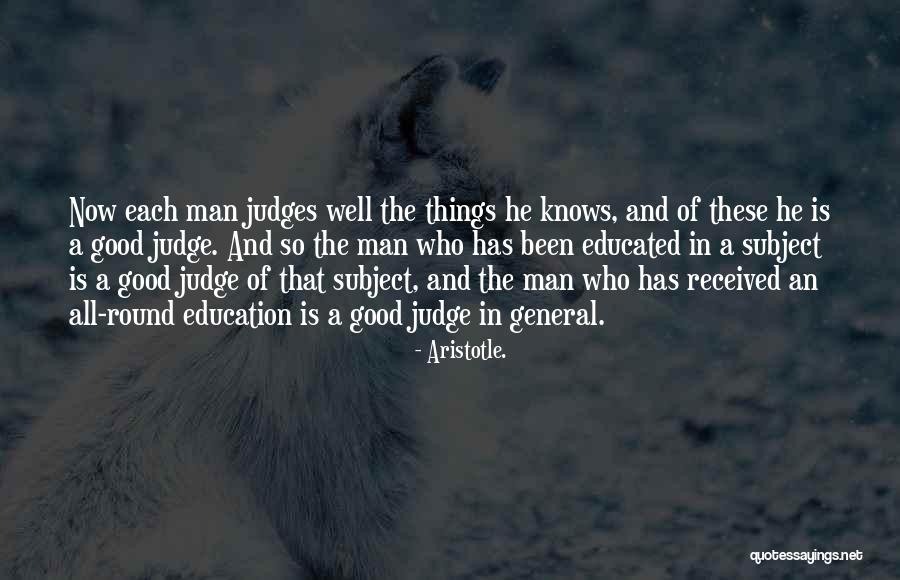 Now each man judges well the things he knows, and of these he is a good judge. And so the man who has been educated in a subject is a good judge of that subject, and the man who has received an all-round education is a good judge in general. — Aristotle.
Not every woman has a Boaz in her life. Sometimes the male voices we hear are cautioning us to hold back instead of urging us to serve God wholeheartedly with them. Sometimes the cautioning voices we hear belong to other women. Sometimes those who have the power to facilitate our callings and clear a path for us set up roadblocks instead. Ruth, Naomi, and Boaz remind us powerfully that even in a dark era like the days of the judges, God always has his people and the Blessed Alliance is still alive and well. He is working in our hearts, summoning us to be strong and courageous like Ruth - to embrace and embody his gospel on our 'bit of earth. — Carolyn Custis James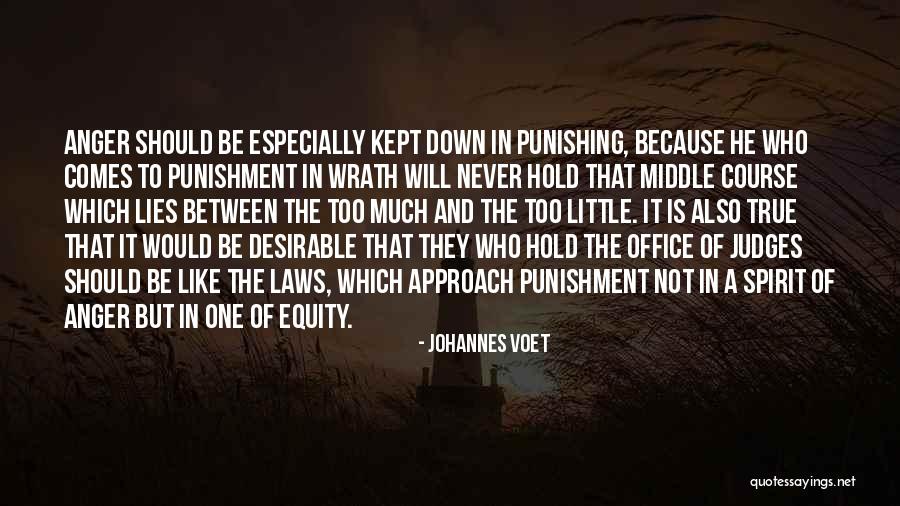 Anger should be especially kept down in punishing, because he who comes to punishment in wrath will never hold that middle course which lies between the too much and the too little. It is also true that it would be desirable that they who hold the office of Judges should be like the laws, which approach punishment not in a spirit of anger but in one of equity. — Johannes Voet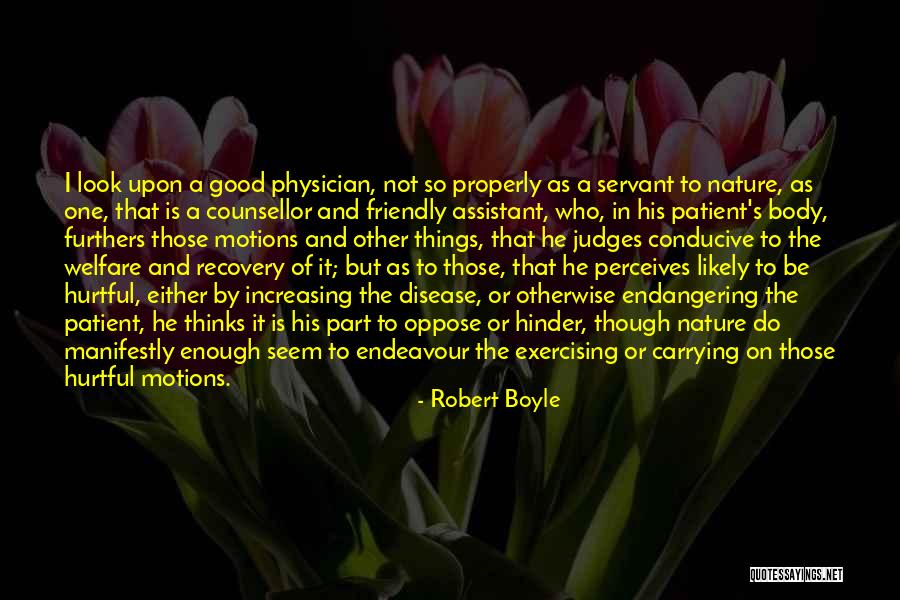 I look upon a good physician, not so properly as a servant to nature, as one, that is a counsellor and friendly assistant, who, in his patient's body, furthers those motions and other things, that he judges conducive to the welfare and recovery of it; but as to those, that he perceives likely to be hurtful, either by increasing the disease, or otherwise endangering the patient, he thinks it is his part to oppose or hinder, though nature do manifestly enough seem to endeavour the exercising or carrying on those hurtful motions. — Robert Boyle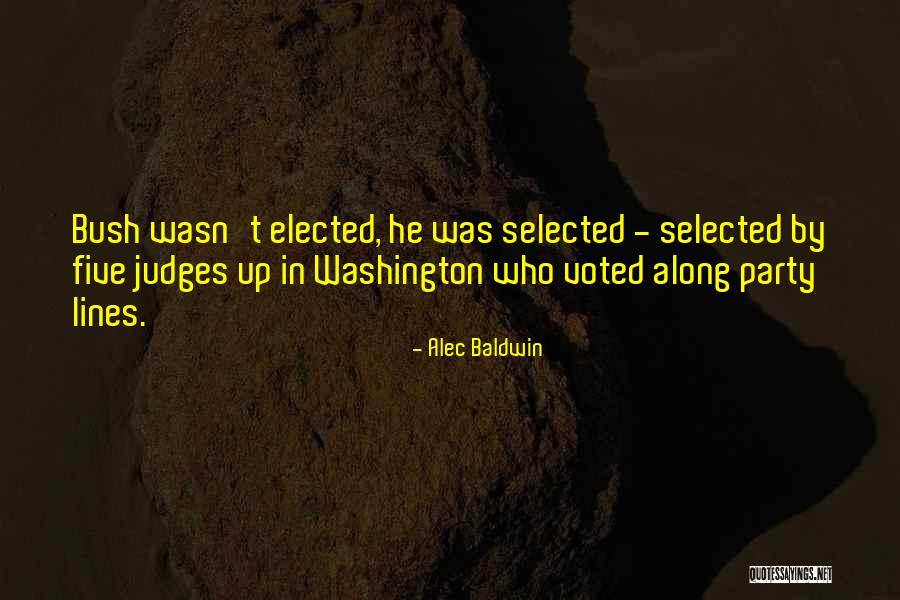 Bush wasn't elected, he was selected - selected by five judges up in Washington who voted along party lines. — Alec Baldwin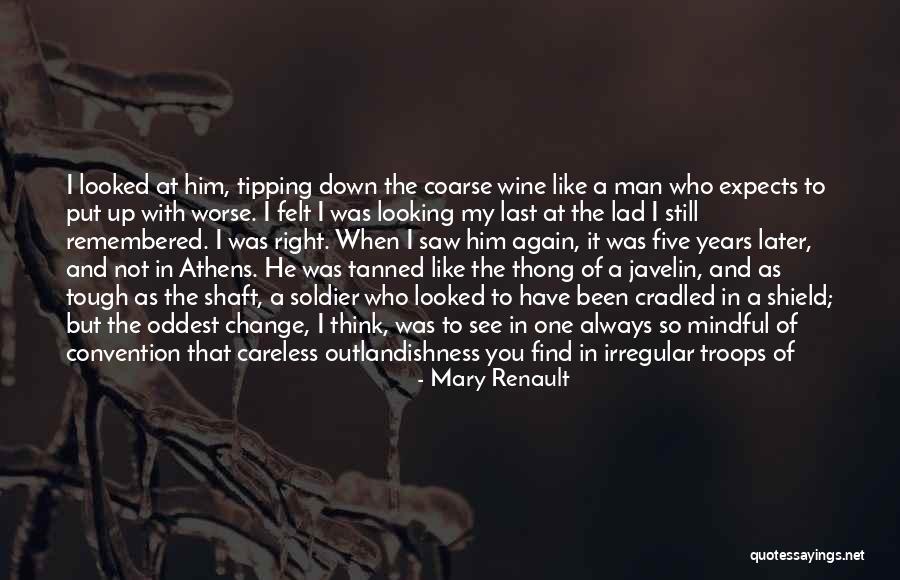 I looked at him, tipping down the coarse wine like a man who expects to put up with worse. I felt I was looking my last at the lad I still remembered. I was right. When I saw him again, it was five years later, and not in Athens. He was tanned like the thong of a javelin, and as tough as the shaft, a soldier who looked to have been cradled in a shield; but the oddest change, I think, was to see in one always so mindful of convention that careless outlandishness you find in irregular troops of great renown; men who seem to say, "Take it or leave it, you who never went where we have been. We are the only judges of one another. — Mary Renault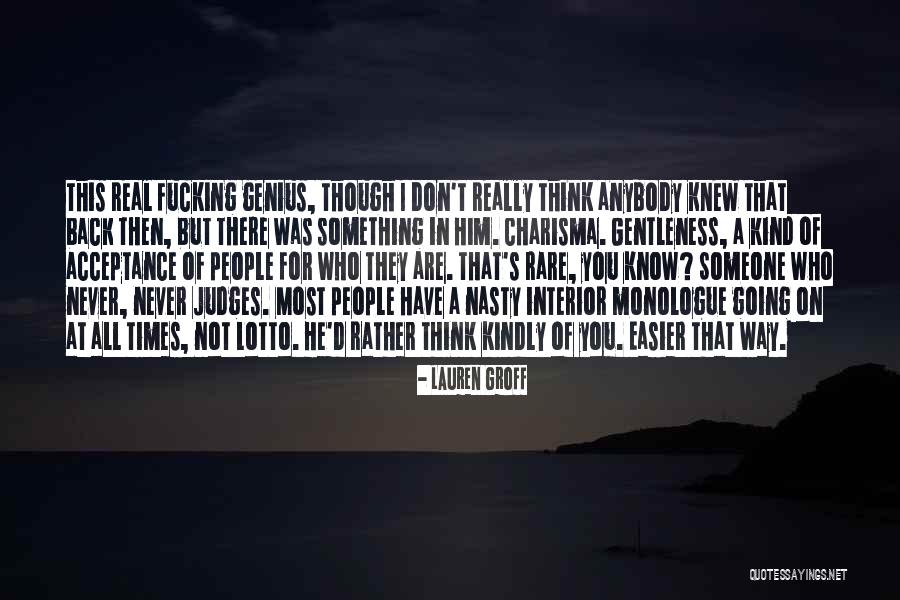 This real fucking genius, though I don't really think anybody knew that back then, but there was something in him. Charisma. Gentleness, a kind of acceptance of people for who they are. That's rare, you know? Someone who never, never judges. Most people have a nasty interior monologue going on at all times, not Lotto. He'd rather think kindly of you. Easier that way. — Lauren Groff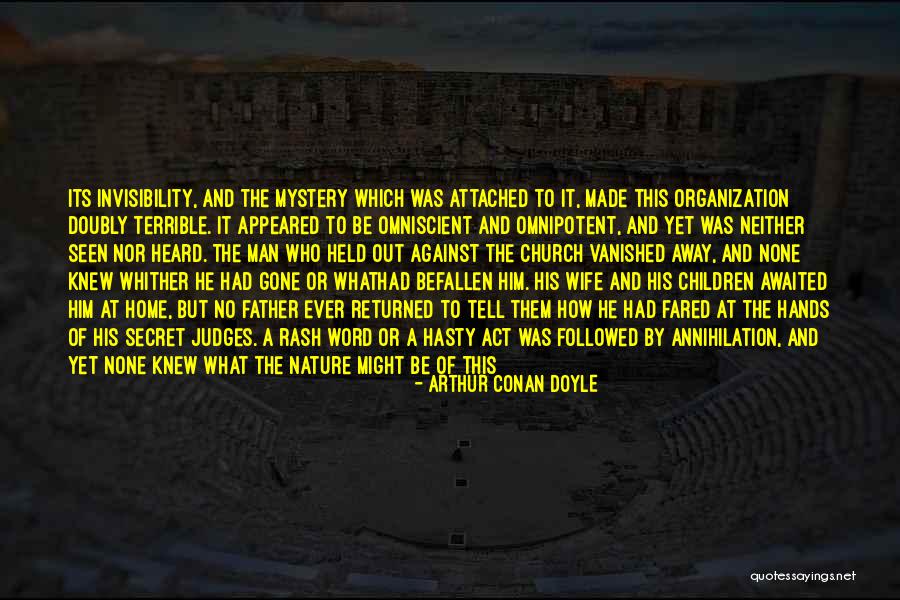 Its invisibility, and the mystery which was attached to it, made this organization doubly terrible. It appeared to be omniscient and omnipotent, and yet was neither seen nor heard. The man who held out against the Church vanished away, and none knew whither he had gone or what
had befallen him. His wife and his children awaited him at home, but no father ever returned to tell them how he had fared at the hands of his secret judges. A rash word or a hasty act was followed by annihilation, and yet none knew what the nature might be of this terrible power which was suspended over them. No wonder that men went about in fear and trembling, and that even in the heart of the wilderness they dared not whisper the doubts which oppressed them. — Arthur Conan Doyle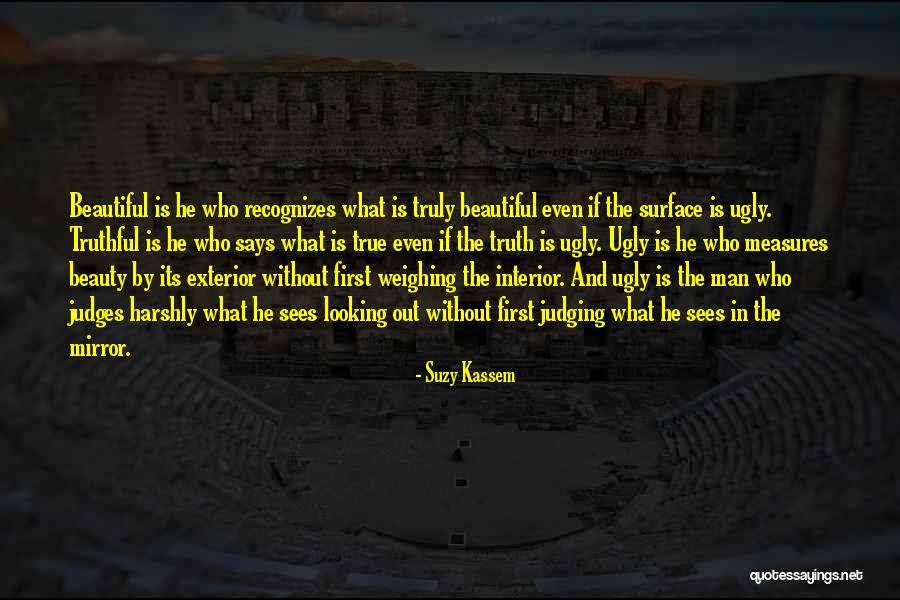 Beautiful is he who recognizes what is truly beautiful even if the surface is ugly. Truthful is he who says what is true even if the truth is ugly. Ugly is he who measures beauty by its exterior without first weighing the interior. And ugly is the man who judges harshly what he sees looking out without first judging what he sees in the mirror. — Suzy Kassem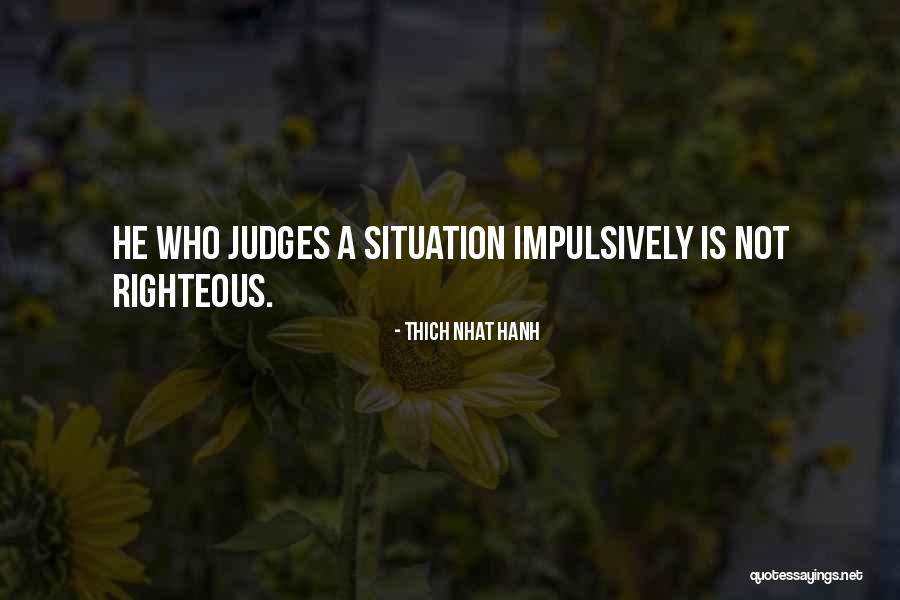 He who judges a situation impulsively is not righteous. — Thich Nhat Hanh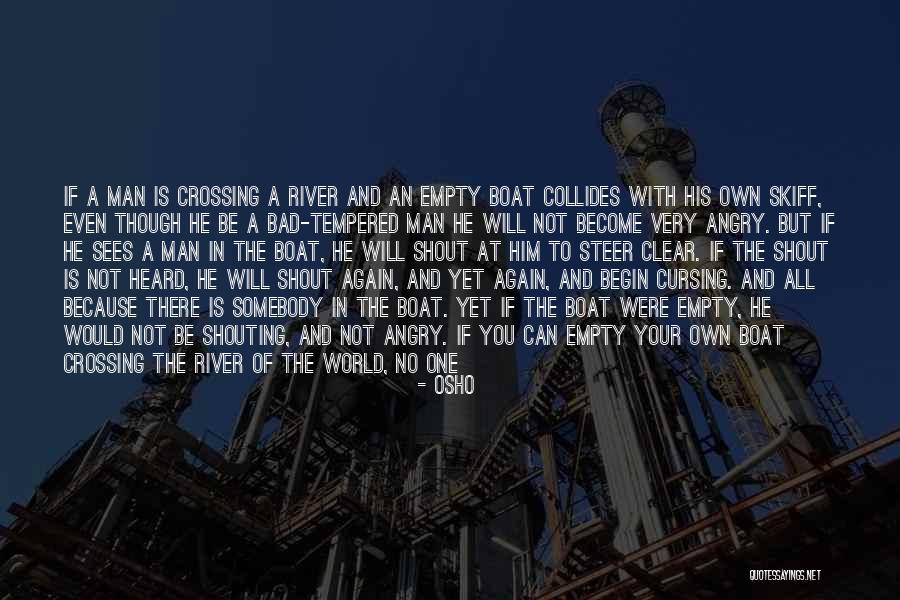 If a man is crossing a river and an empty boat collides with his own skiff, even though he be a bad-tempered man he will not become very angry. But if he sees a man in the boat, he will shout at him to steer clear. If the shout is not heard, he will shout again, and yet again, and begin cursing. And all because there is somebody in the boat. Yet if the boat were empty, he would not be shouting, and not angry. If you can empty your own boat crossing the river of the world, no one will oppose you, no one will seek to harm you ... . Who can free himself from achievement, and from fame, descend and be lost amid the masses of men? He will flow like Tao, unseen, he will go about like Life itself with no name and no home. Simple is he, without distinction. To all appearances he is a fool. His steps leave no trace. He has no power. He achieves nothing, has no reputation. Since he judges no one, no one judges him. Such is the perfect man: His boat is empty. — Osho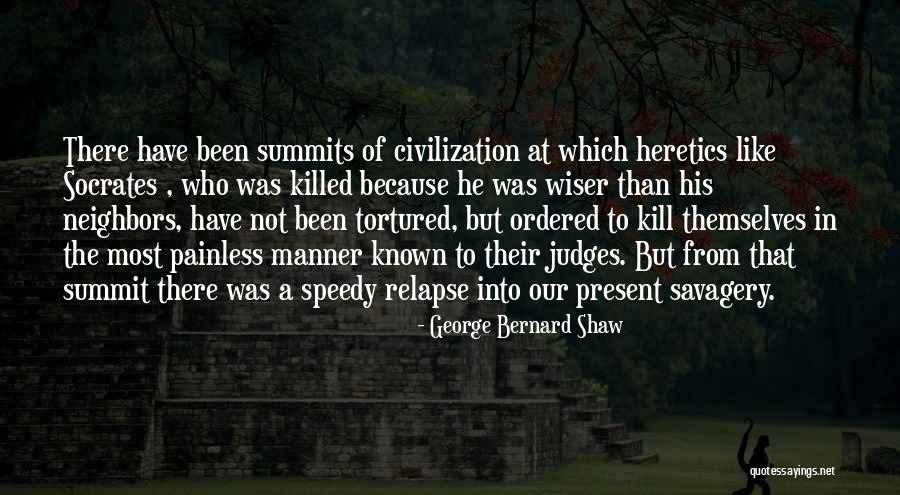 There have been summits of civilization at which heretics like Socrates , who was killed because he was wiser than his neighbors, have not been tortured, but ordered to kill themselves in the most painless manner known to their judges. But from that summit there was a speedy relapse into our present savagery. — George Bernard Shaw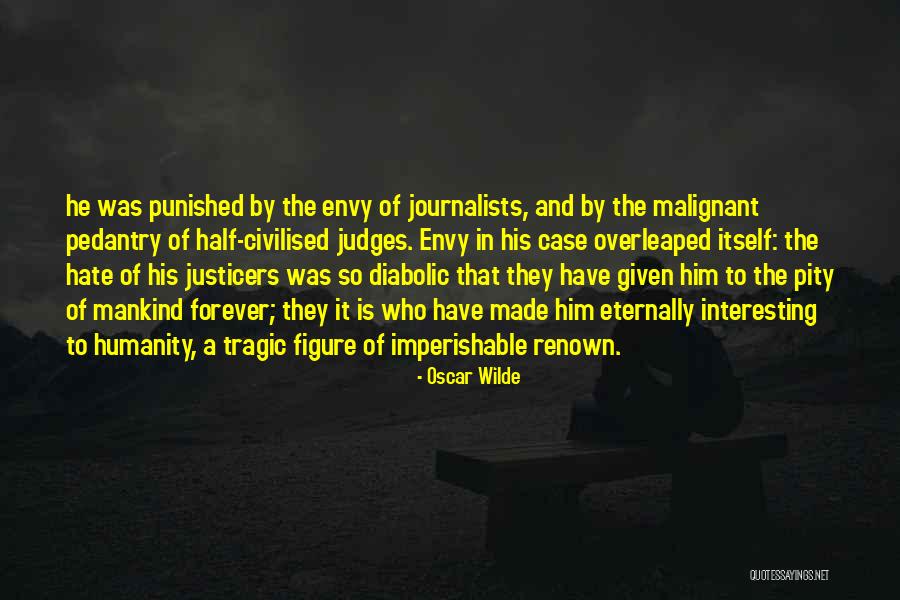 he was punished by the envy of journalists, and by the malignant pedantry of half-civilised judges. Envy in his case overleaped itself: the hate of his justicers was so diabolic that they have given him to the pity of mankind forever; they it is who have made him eternally interesting to humanity, a tragic figure of imperishable renown. — Oscar Wilde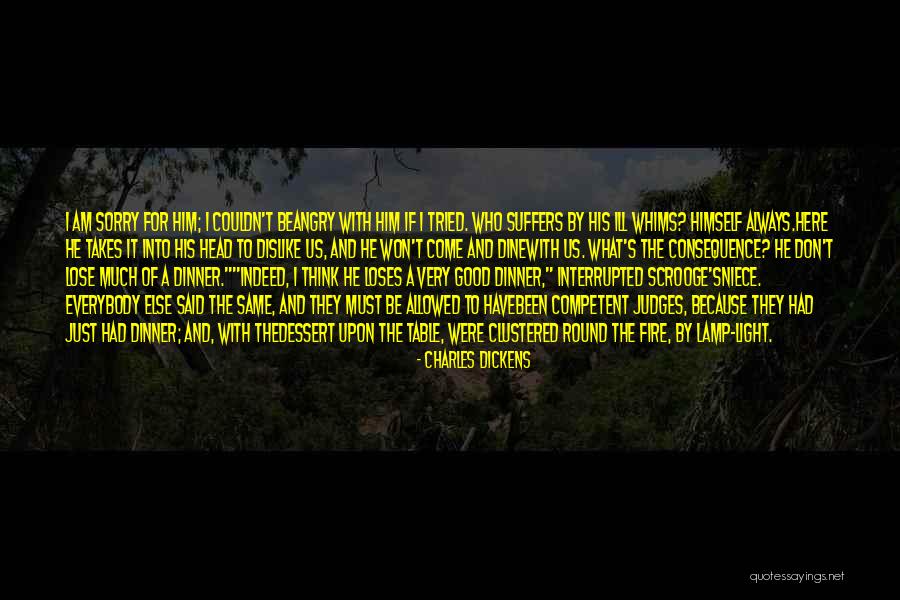 I am sorry for him; I couldn't be
angry with him if I tried. Who suffers by his ill whims? Himself always.
Here he takes it into his head to dislike us, and he won't come and dine
with us. What's the consequence? He don't lose much of a dinner."
"Indeed, I think he loses a very good dinner," interrupted Scrooge's
niece. Everybody else said the same, and they must be allowed to have
been competent judges, because they had just had dinner; and, with the
dessert upon the table, were clustered round the fire, by lamp-light. — Charles Dickens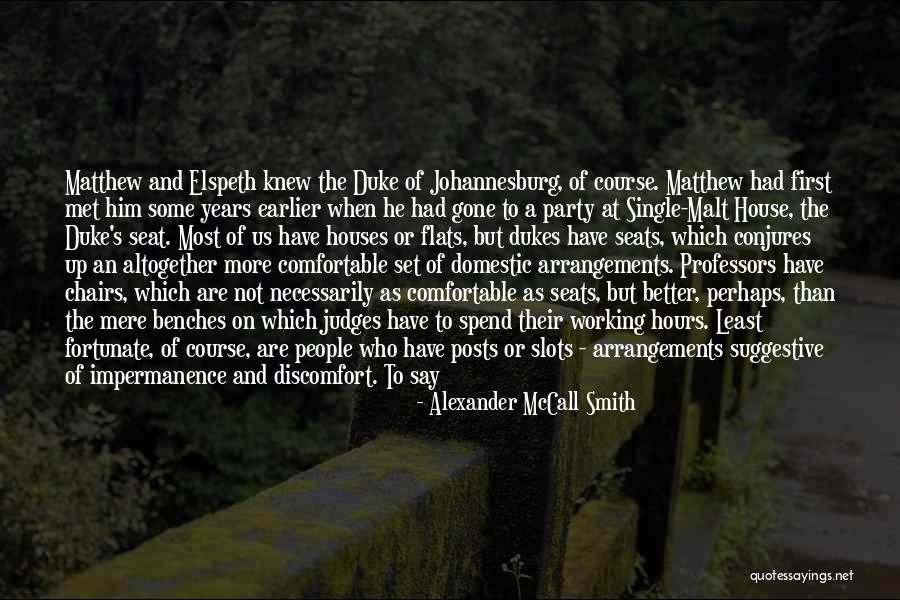 Matthew and Elspeth knew the Duke of Johannesburg, of course. Matthew had first met him some years earlier when he had gone to a party at Single-Malt House, the Duke's seat. Most of us have houses or flats, but dukes have seats, which conjures up an altogether more comfortable set of domestic arrangements. Professors have chairs, which are not necessarily as comfortable as seats, but better, perhaps, than the mere benches on which judges have to spend their working hours. Least fortunate, of course, are people who have posts or slots - arrangements suggestive of impermanence and discomfort. To say of somebody that "he occupies the post of" is to imply that he has a place, but that he should not become too ensconced as there are others only too ready to take his place, with all the enthusiasm of the would-be stylite, on that post. — Alexander McCall Smith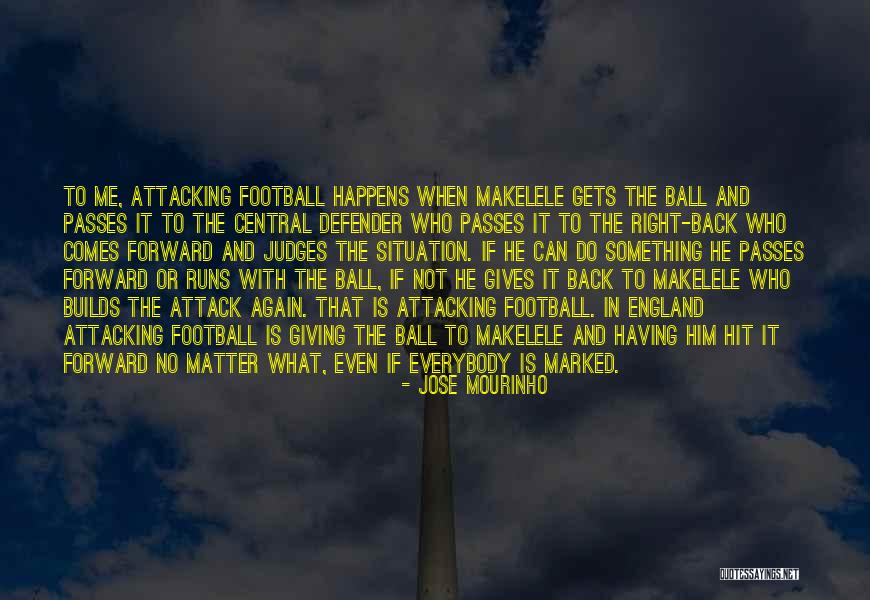 To me, attacking football happens when Makelele gets the ball and passes it to the central defender who passes it to the right-back who comes forward and judges the situation. If he can do something he passes forward or runs with the ball, if not he gives it back to Makelele who builds the attack again. That is attacking football. In England attacking football is giving the ball to Makelele and having him hit it forward no matter what, even if everybody is marked. — Jose Mourinho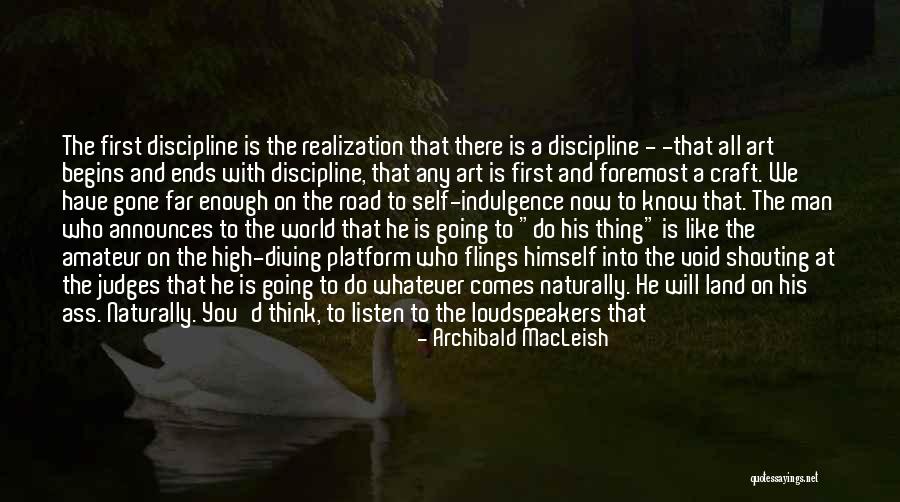 The first discipline is the realization that there is a discipline - -that all art begins and ends with discipline, that any art is first and foremost a craft. We have gone far enough on the road to self-indulgence now to know that. The man who announces to the world that he is going to "do his thing" is like the amateur on the high-diving platform who flings himself into the void shouting at the judges that he is going to do whatever comes naturally. He will land on his ass. Naturally. You'd think, to listen to the loudspeakers that surround us, that no man had ever tried to "do his thing" before. Every poet worth reading has, but those really worth reading have understood that to do your thing you have to learn first what your thing is and second how to go about doing it. — Archibald MacLeish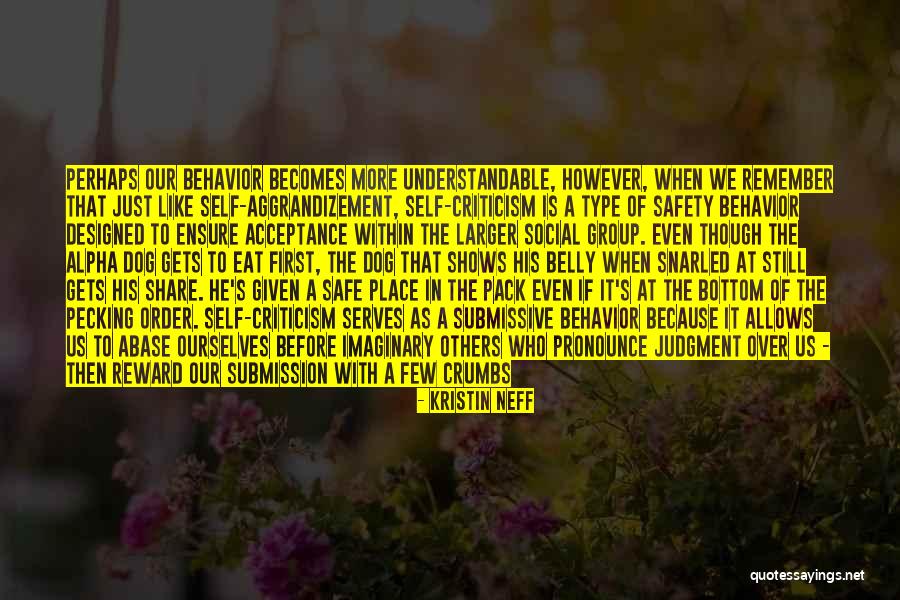 Perhaps our behavior becomes more understandable, however, when we remember that just like self-aggrandizement, self-criticism is a type of safety behavior designed to ensure acceptance within the larger social group. Even though the alpha dog gets to eat first, the dog that shows his belly when snarled at still gets his share. He's given a safe place in the pack even if it's at the bottom of the pecking order. Self-criticism serves as a submissive behavior because it allows us to abase ourselves before imaginary others who pronounce judgment over us - then reward our submission with a few crumbs from the table. When we are forced to admit our failings, we can appease our mental judges by acquiescing to their negative opinions of us. — Kristin Neff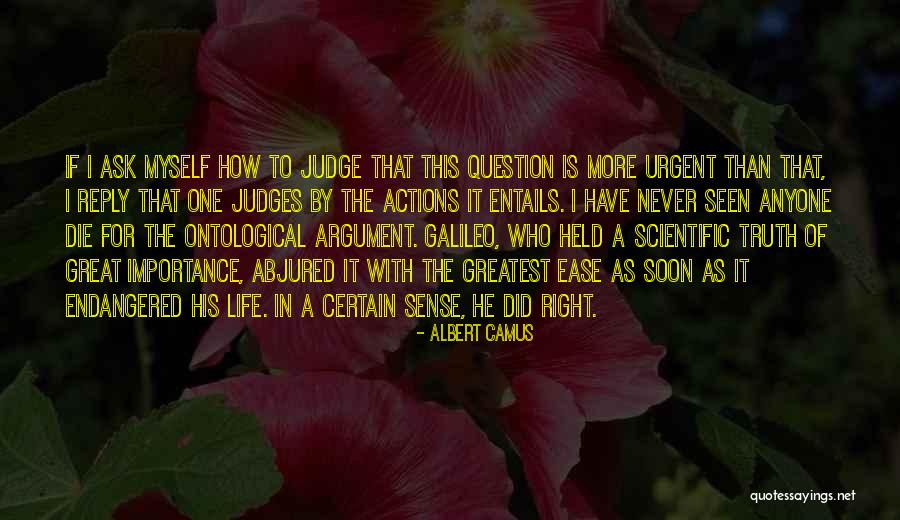 If I ask myself how to judge that this question is more urgent than that, I reply that one judges by the actions it entails. I have never seen anyone die for the ontological argument. Galileo, who held a scientific truth of great importance, abjured it with the greatest ease as soon as it endangered his life. In a certain sense, he did right. — Albert Camus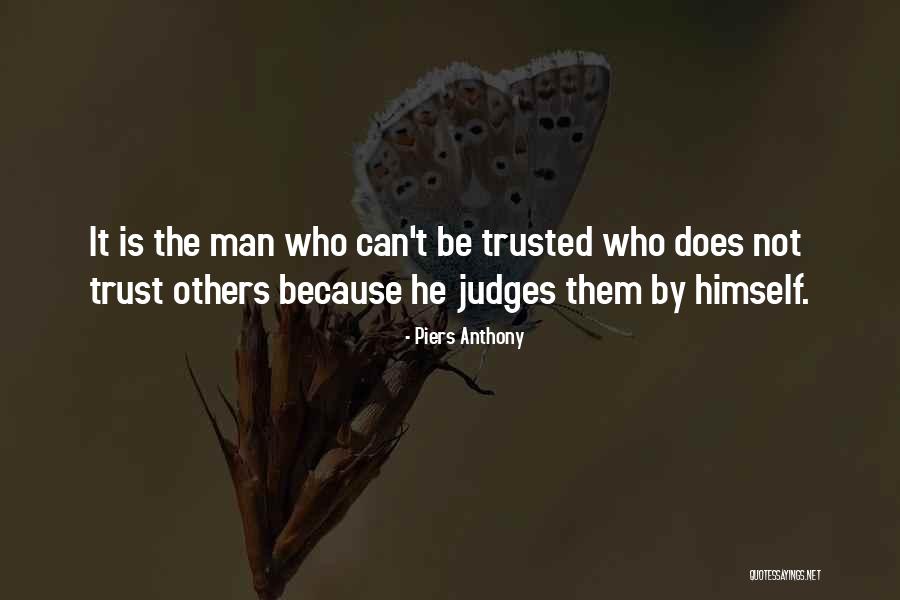 It is the man who can't be trusted who does not trust others because he judges them by himself. — Piers Anthony