Quotes & Sayings About Having Sweet Dreams
Enjoy reading and share 38 famous quotes about Having Sweet Dreams with everyone.
Top Having Sweet Dreams Quotes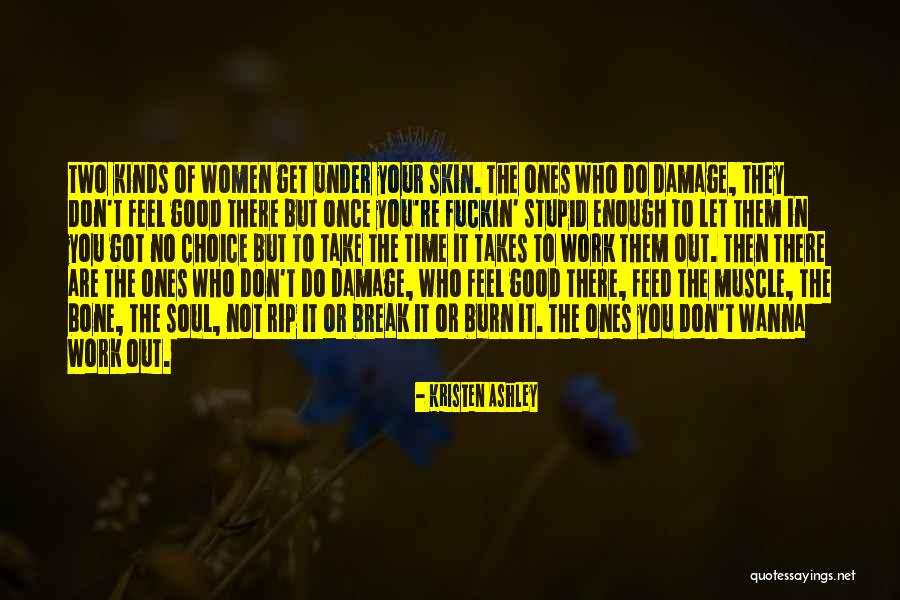 Two kinds of women get under your skin. The ones who do damage, they don't feel good there but once you're fuckin' stupid enough to let them in you got no choice but to take the time it takes to work them out. Then there are the ones who don't do damage, who feel good there, feed the muscle, the bone, the soul, not rip it or break it or burn it. The ones you don't wanna work out. — Kristen Ashley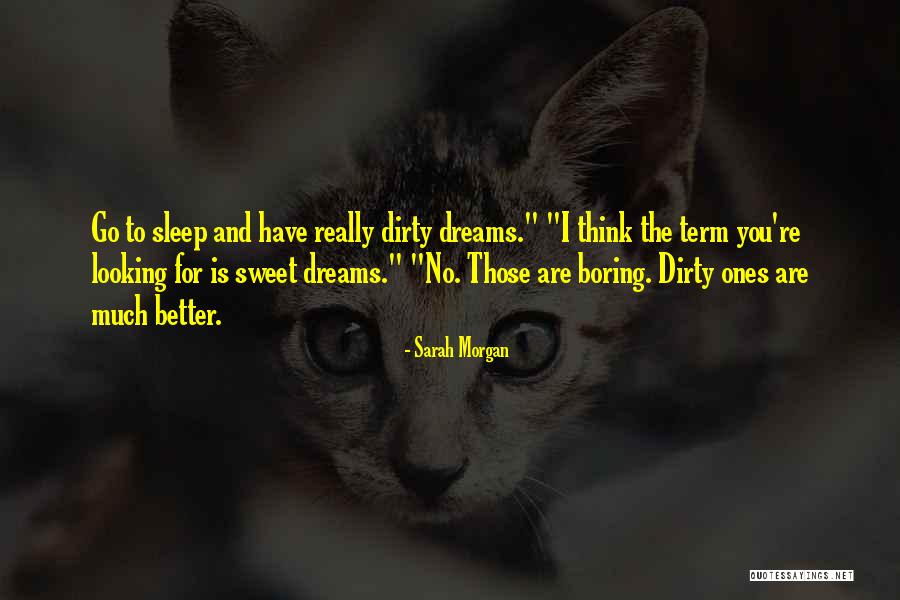 Go to sleep and have really dirty dreams." "I think the term you're looking for is sweet dreams." "No. Those are boring. Dirty ones are much better. — Sarah Morgan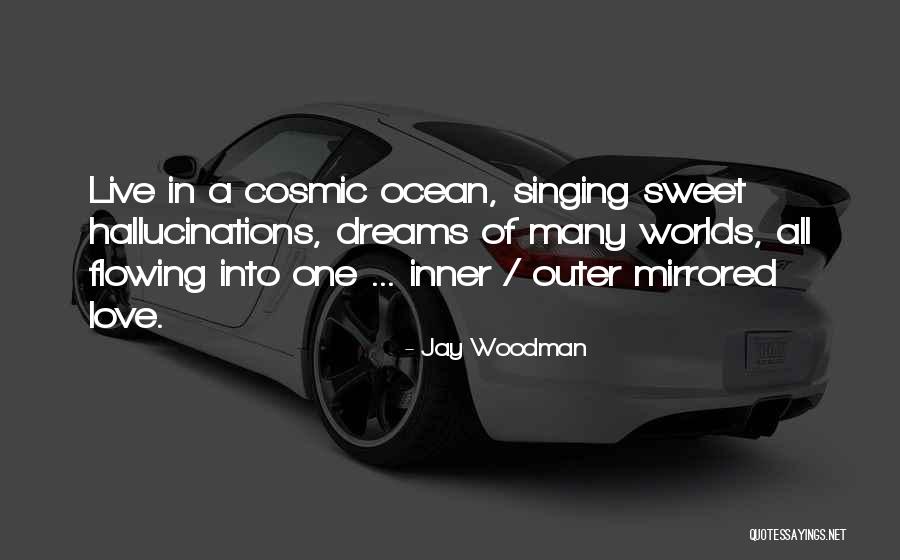 Live in a cosmic ocean, singing sweet hallucinations, dreams of many worlds, all flowing into one ... inner / outer mirrored love. — Jay Woodman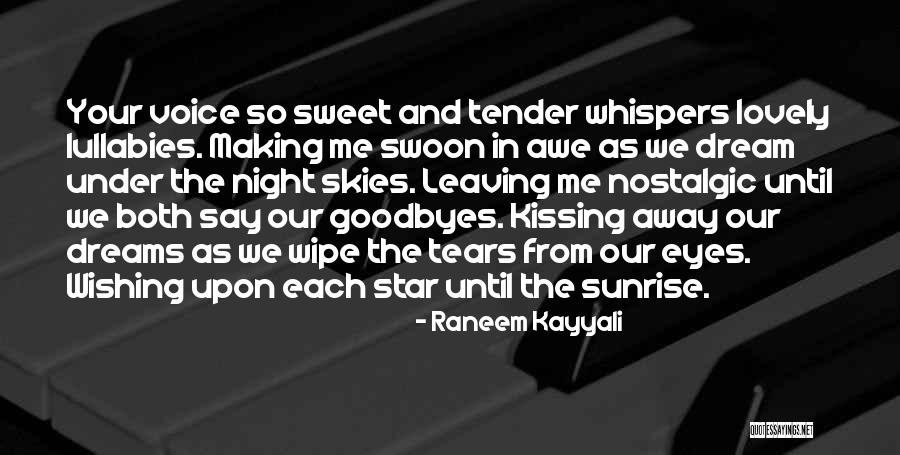 Your voice so sweet and tender whispers lovely lullabies.
Making me swoon in awe as we dream under the night skies.
Leaving me nostalgic until we both say our goodbyes.
Kissing away our dreams as we wipe the tears from our eyes.
Wishing upon each star until the sunrise. — Raneem Kayyali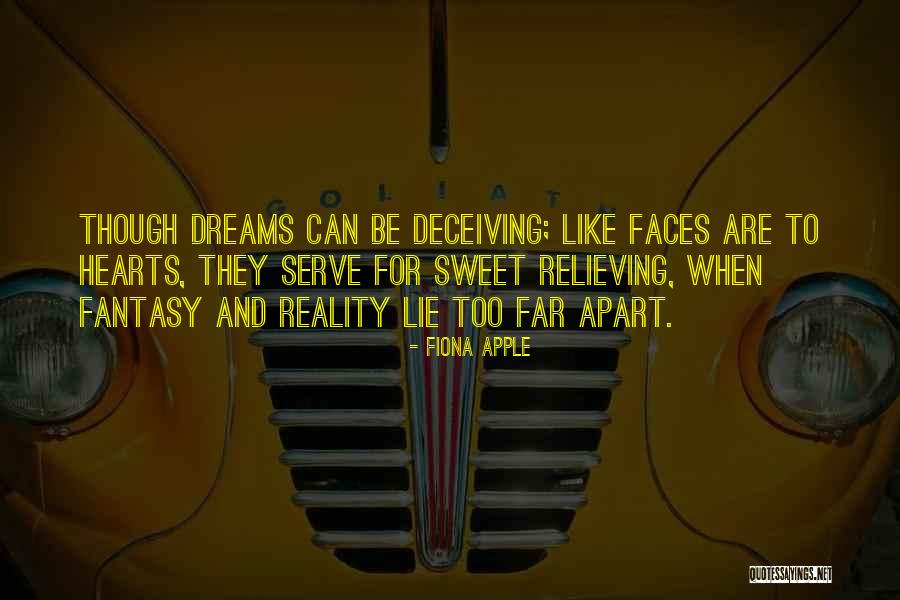 Though dreams can be deceiving; like faces are to hearts, they serve for sweet relieving, when fantasy and reality lie too far apart. — Fiona Apple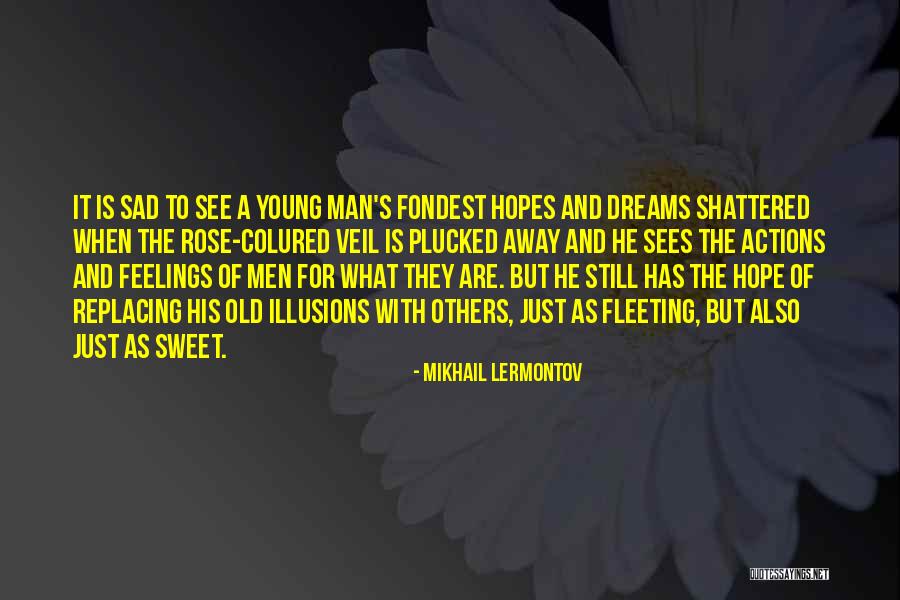 It is sad to see a young man's fondest hopes and dreams shattered when the rose-colured veil is plucked away and he sees the actions and feelings of men for what they are. But he still has the hope of replacing his old illusions with others, just as fleeting, but also just as sweet. — Mikhail Lermontov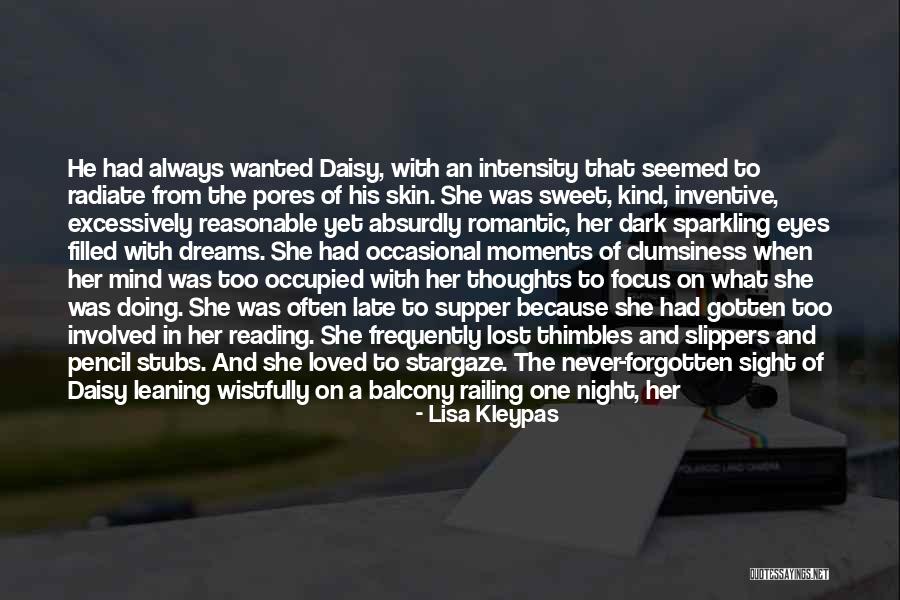 He had always wanted Daisy, with an intensity that seemed to radiate from the pores of his skin. She was sweet, kind, inventive, excessively reasonable yet absurdly romantic, her dark sparkling eyes filled with dreams. She had occasional moments of clumsiness when her mind was too occupied with her thoughts to focus on what she was doing. She was often late to supper because she had gotten too involved in her reading. She frequently lost thimbles and slippers and pencil stubs. And she loved to stargaze. The never-forgotten sight of Daisy leaning wistfully on a balcony railing one night, her pert profile lifted to the night sky, had charged Matthew with the most blistering desire to stride over to her and kiss her senseless. — Lisa Kleypas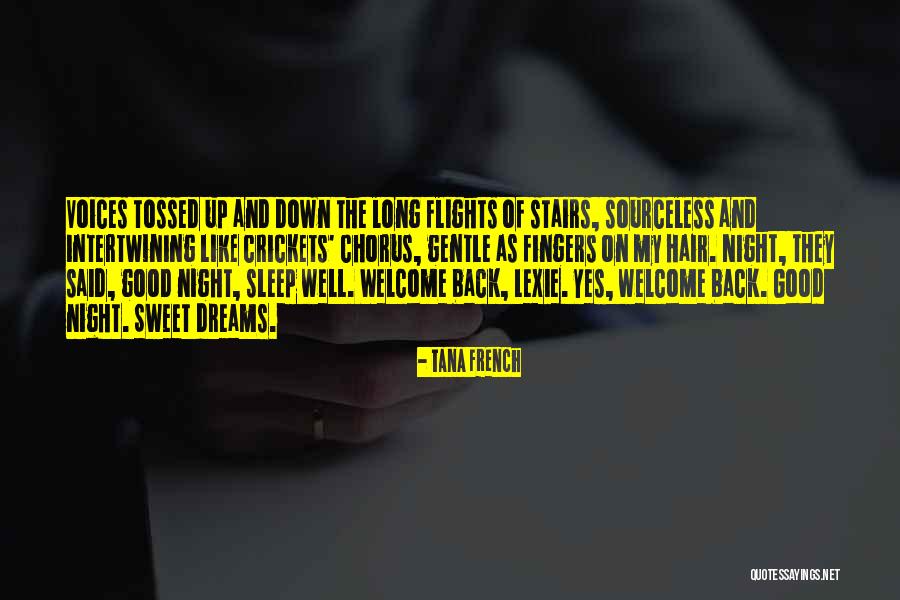 Voices tossed up and down the long flights of stairs, sourceless and intertwining like crickets' chorus, gentle as fingers on my hair. Night, they said, good night, sleep well. Welcome back, Lexie. Yes, welcome back. Good night. Sweet dreams. — Tana French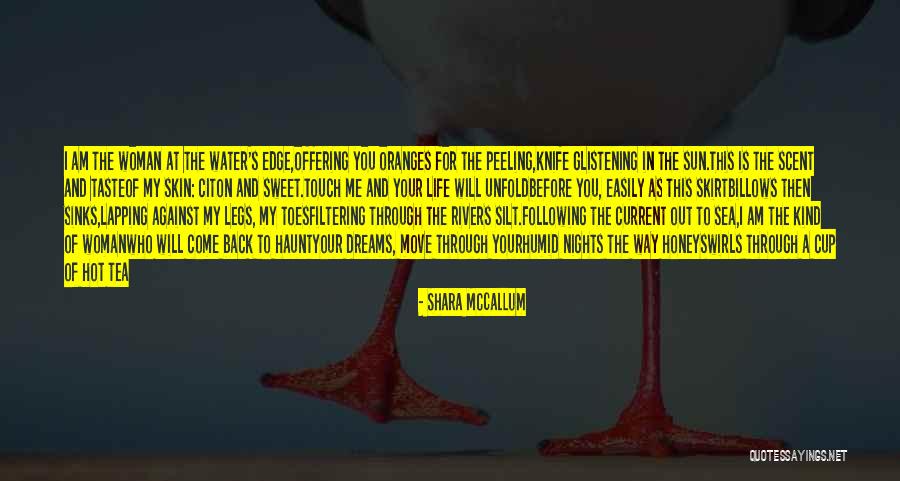 I am the woman at the water's edge,
offering you oranges for the peeling,
knife glistening in the sun.
This is the scent and taste
of my skin: citon and sweet.
Touch me and your life will unfold
before you, easily as this skirt
billows then sinks,
lapping against my legs, my toes
filtering through the rivers silt.
Following the current out to sea,
I am the kind of woman
who will come back to haunt
your dreams, move through your
humid nights the way honey
swirls through a cup of hot tea — Shara McCallum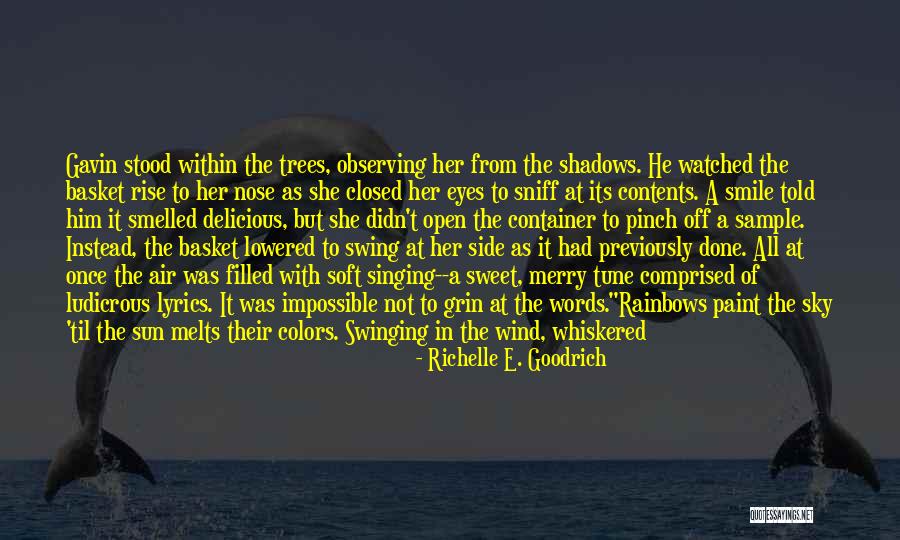 Gavin stood within the trees, observing her from the shadows. He watched the basket rise to her nose as she closed her eyes to sniff at its contents. A smile told him it smelled delicious, but she didn't open the container to pinch off a sample. Instead, the basket lowered to swing at her side as it had previously done.

All at once the air was filled with soft singing--a sweet, merry tune comprised of ludicrous lyrics. It was impossible not to grin at the words.

"Rainbows paint the sky 'til the sun melts their colors.
Swinging in the wind, whiskered cattails purr.
The pigs gallop by and snort at the moon,
While frogs kiss the lizards and princesses too." — Richelle E. Goodrich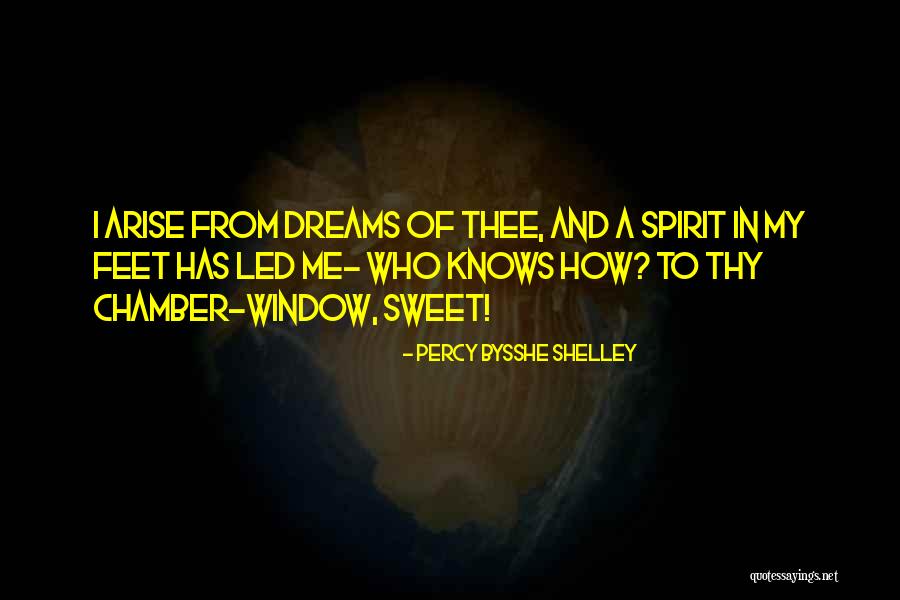 I arise from dreams of thee, And a spirit in my feet Has led me- who knows how? To thy chamber-window, Sweet! — Percy Bysshe Shelley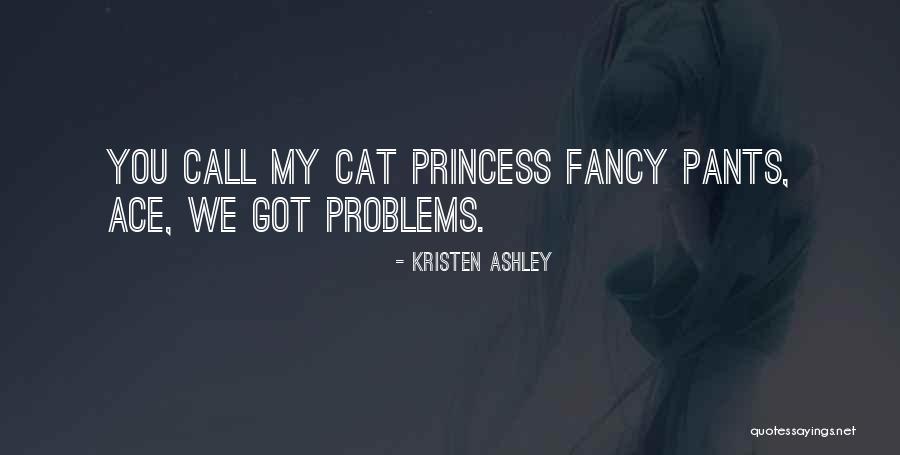 You call my cat Princess Fancy Pants, Ace, we got problems. — Kristen Ashley
I walked him to the door. "Is there anything else you want me to do? Check your mail? Water your plants?"
"My mail is being forwarded to my lawyer. And I'm watering my own plants."
"So, you feel safe in the Batcave?" The corners of his mouth curved into the hint of a smile. He leaned forward and kissed me at the base of my neck, just above my T-shirt collar.
"Sweet dreams." Before he left, he said good-night to Grandma, who was still in the kitchen.
"What a nice, polite young man," Grandma said. "And he's got an excellent package."
I went straight to her closet, found the bottle of booze, and dumped some into my cocoa. — Janet Evanovich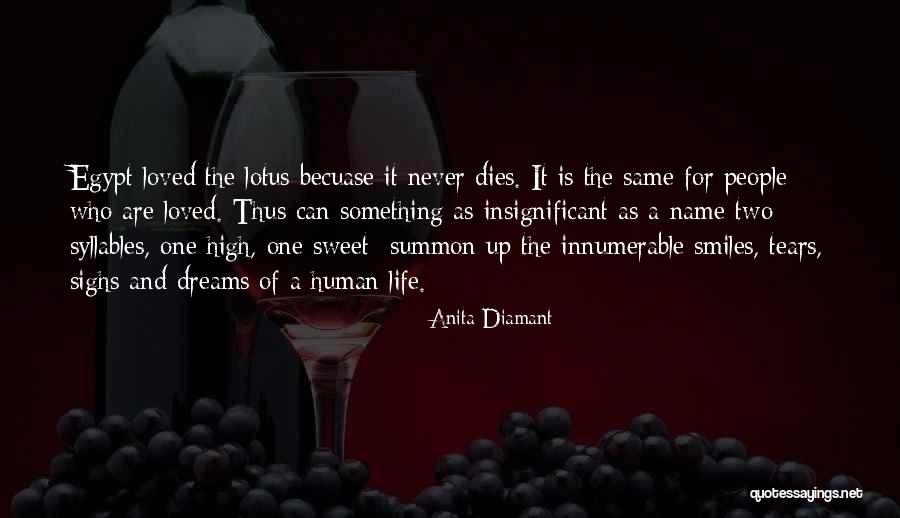 Egypt loved the lotus becuase it never dies. It is the same for people who are loved. Thus can something as insignificant as a name-two syllables, one high, one sweet- summon up the innumerable smiles, tears, sighs and dreams of a human life. — Anita Diamant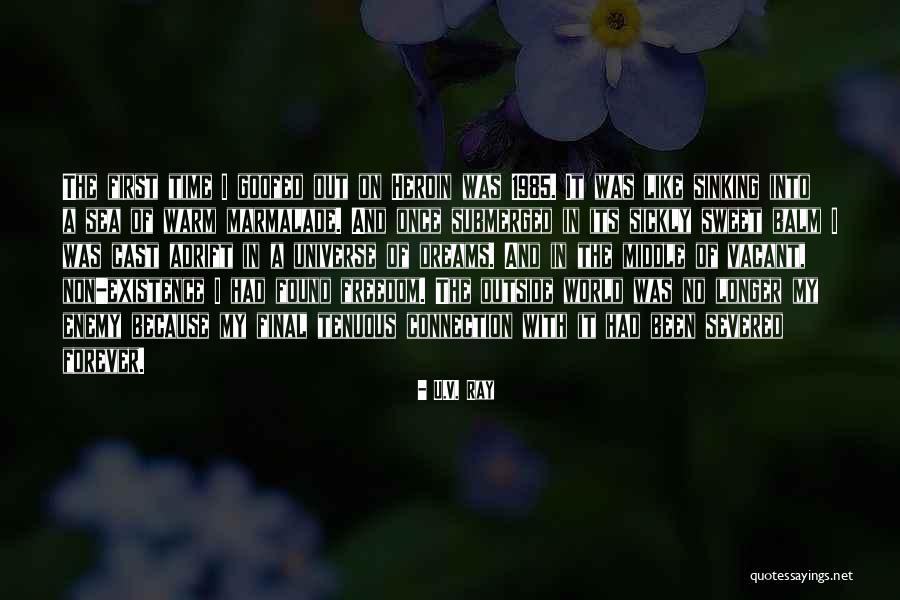 The first time I goofed out on Heroin was 1985. It was like sinking into a sea of warm marmalade. And once submerged in its sickly sweet balm I was cast adrift in a universe of dreams. And in the middle of vacant, non-existence I had found freedom. The outside world was no longer my enemy because my final tenuous connection with it had been severed forever. — U.V. Ray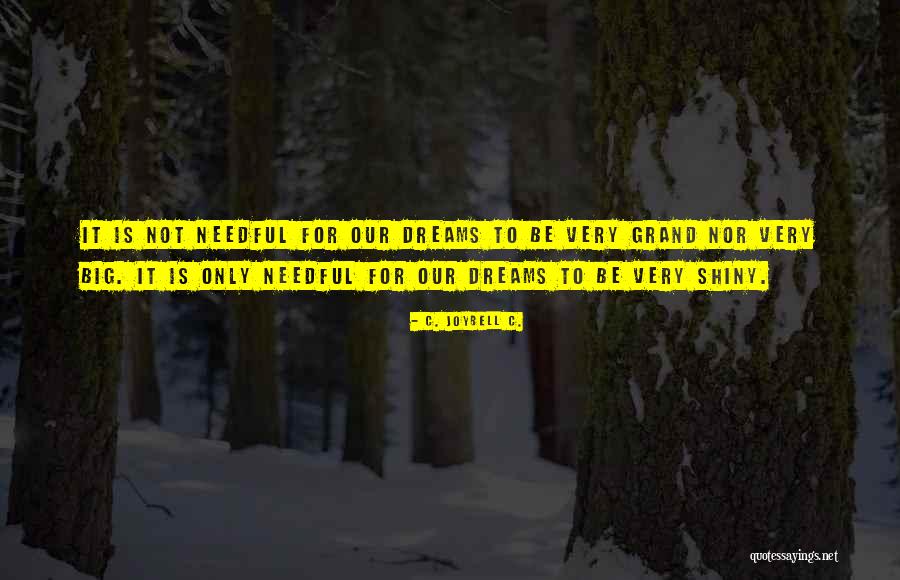 It is not needful for our dreams to be very grand nor very big. It is only needful for our dreams to be very shiny. — C. JoyBell C.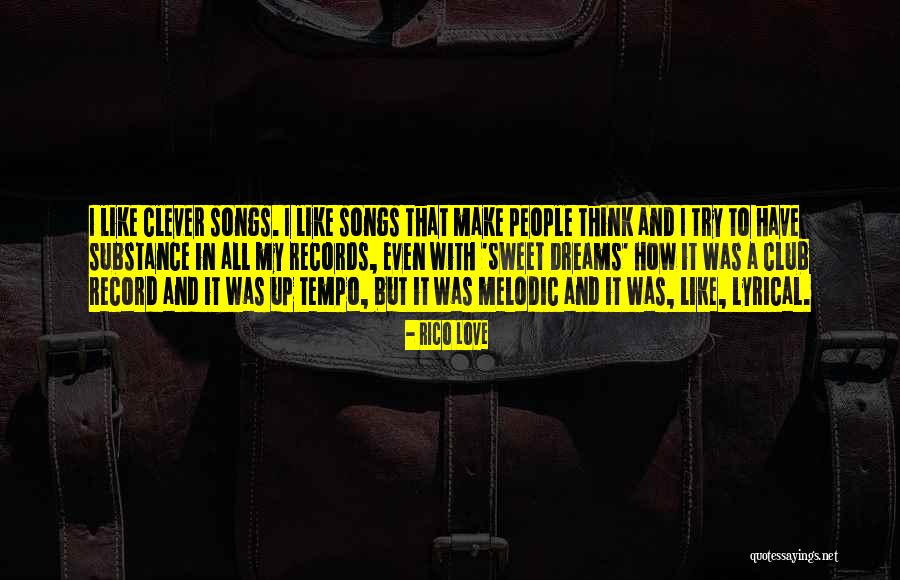 I like clever songs. I like songs that make people think and I try to have substance in all my records, even with 'Sweet Dreams' how it was a club record and it was up tempo, but it was melodic and it was, like, lyrical. — Rico Love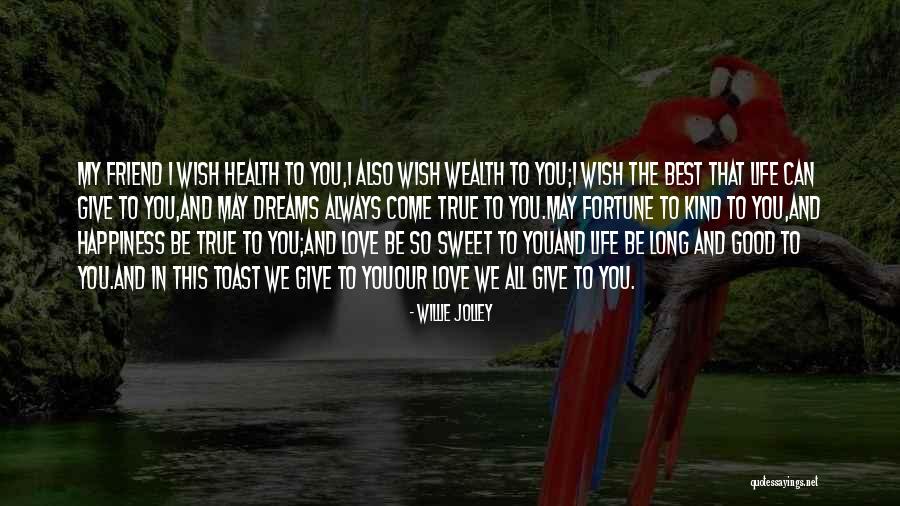 My friend I wish health to you,
I also wish wealth to you;
I wish the best that life can give to you,
And may dreams always come true to you.
May fortune to kind to you,
And happiness be true to you;
And love be so sweet to you
And life be long and good to you.
And in this toast we give to you
Our love we all give to you. — Willie Jolley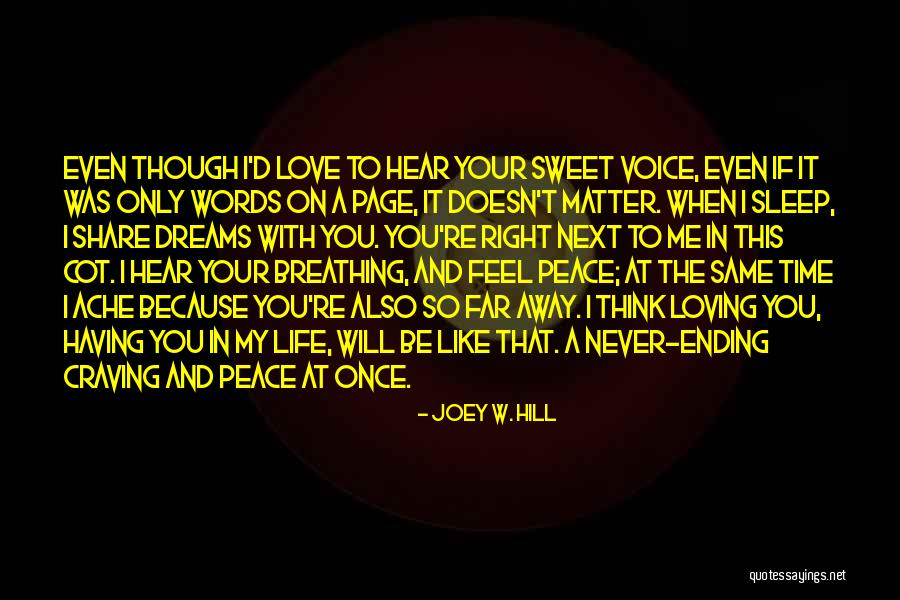 Even though I'd love to hear your sweet voice, even if it was only words on a page, it doesn't matter. When I sleep, I share dreams with you. You're right next to me in this cot. I hear your breathing, and feel peace; at the same time I ache because you're also so far away. I think loving you, having you in my life, will be like that. A never-ending craving and peace at once. — Joey W. Hill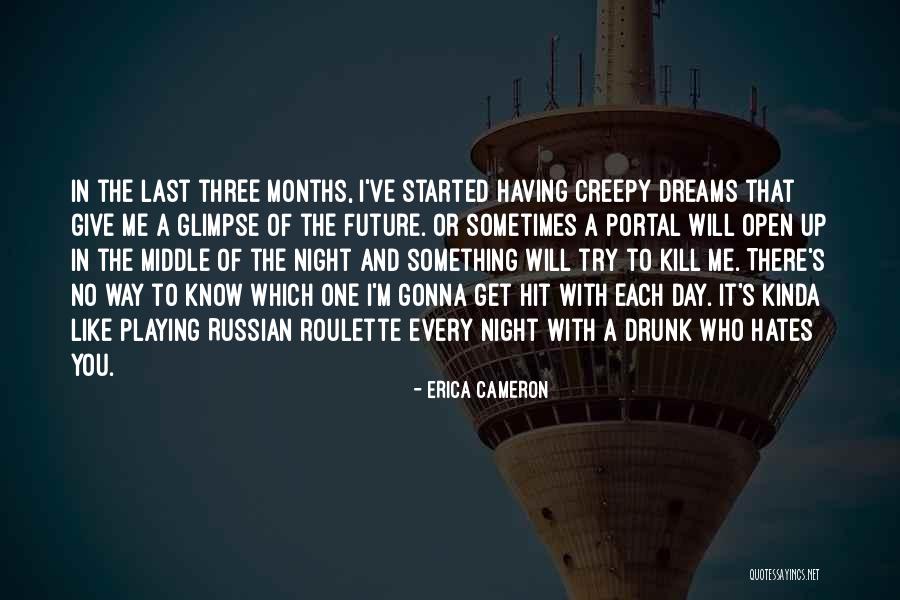 In the last three months, I've started having creepy dreams that give me a glimpse of the future. Or sometimes a portal will open up in the middle of the night and something will try to kill me. There's no way to know which one I'm gonna get hit with each day. It's kinda like playing Russian roulette every night with a drunk who hates you. — Erica Cameron
What honest man was never in his life without sustenance? And what human being has ever seen as the years pass his hopes, plans, and dreams completely undestroyed? Where is the soul whose longings and daring aspirations, whose sweet and lofty imaginings of happiness have been fulfilled without that soul's having had to deduct a discount? — Robert Walser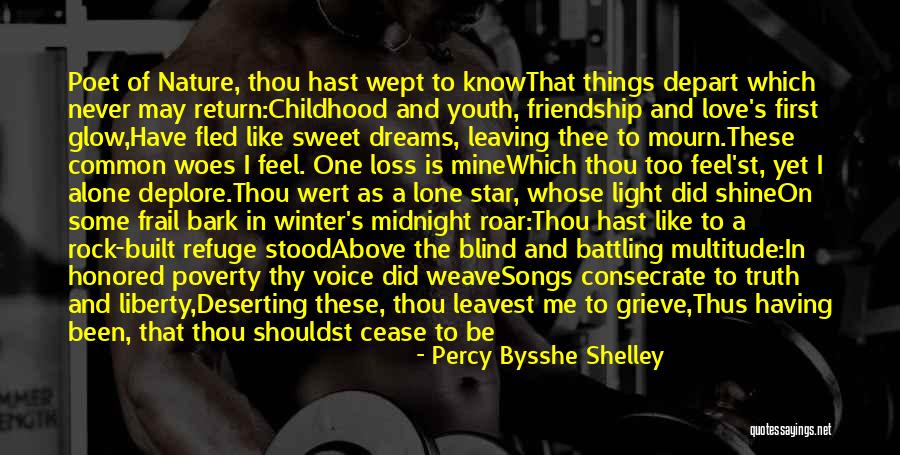 Poet of Nature, thou hast wept to know
That things depart which never may return:
Childhood and youth, friendship and love's first glow,
Have fled like sweet dreams, leaving thee to mourn.
These common woes I feel. One loss is mine
Which thou too feel'st, yet I alone deplore.
Thou wert as a lone star, whose light did shine
On some frail bark in winter's midnight roar:
Thou hast like to a rock-built refuge stood
Above the blind and battling multitude:
In honored poverty thy voice did weave
Songs consecrate to truth and liberty,
Deserting these, thou leavest me to grieve,
Thus having been, that thou shouldst cease to be — Percy Bysshe Shelley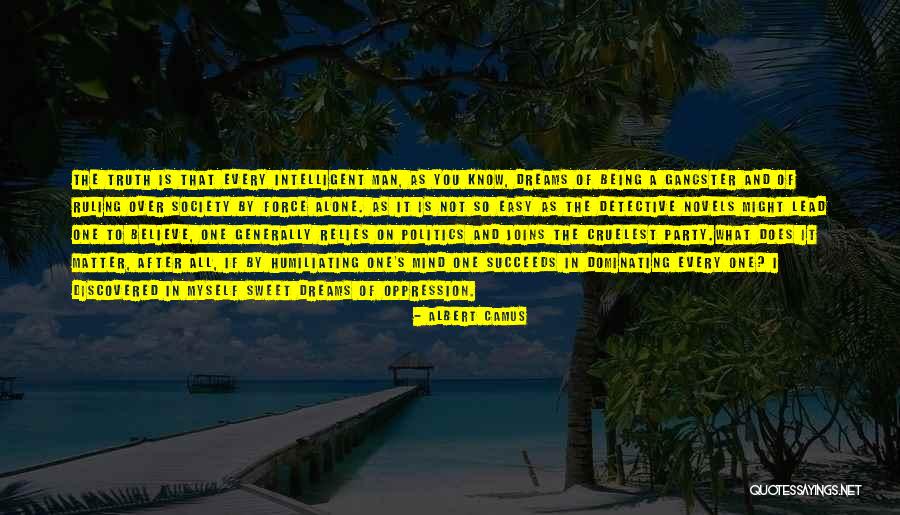 The truth is that every intelligent man, as you know, dreams of being a gangster and of ruling over society by force alone. As it is not so easy as the detective novels might lead one to believe, one generally relies on politics and joins the cruelest party.What does it matter, after all, if by humiliating one's mind one succeeds in dominating every one? I discovered in myself sweet dreams of oppression. — Albert Camus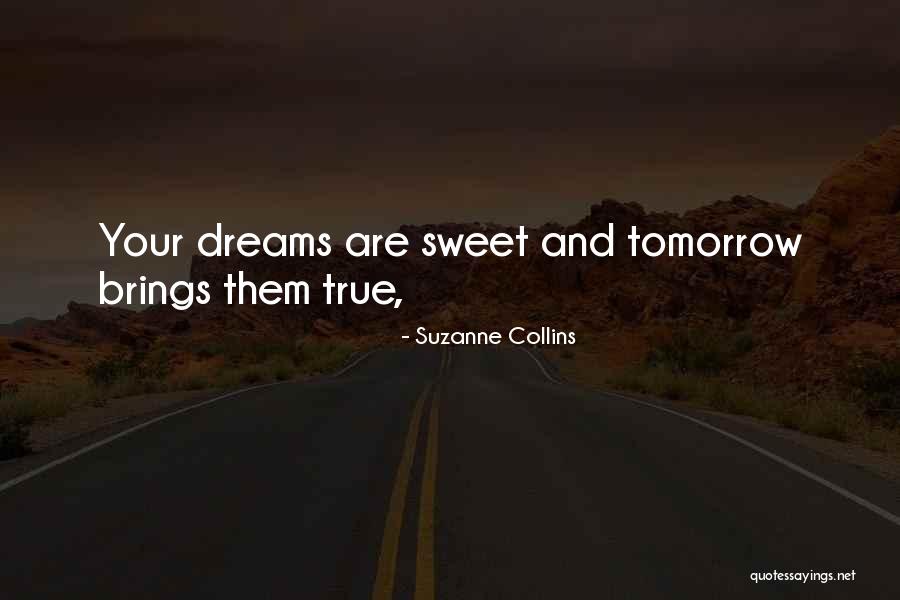 Your dreams are sweet and tomorrow brings them true, — Suzanne Collins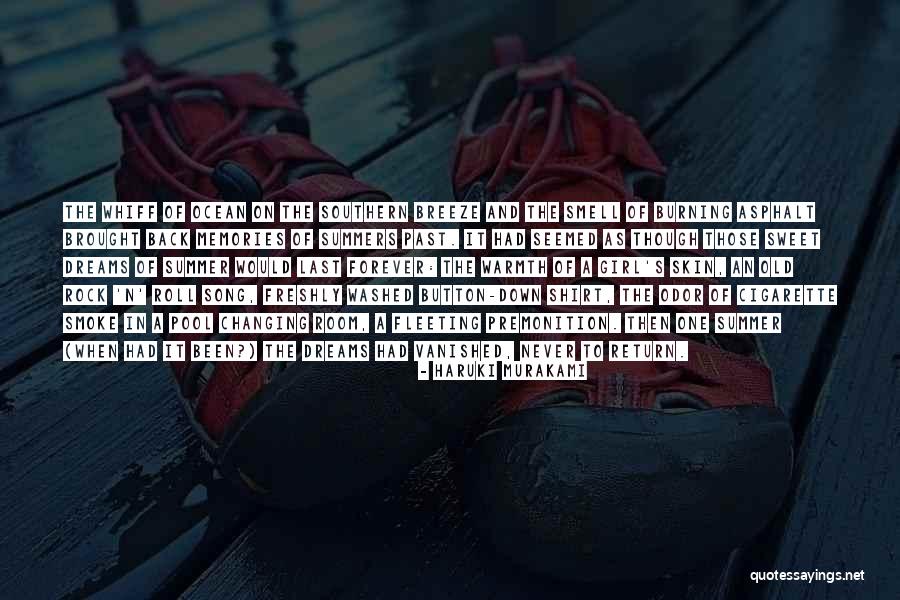 The whiff of ocean on the southern breeze and the smell of burning asphalt brought back memories of summers past. It had seemed as though those sweet dreams of summer would last forever: the warmth of a girl's skin, an old rock 'n' roll song, freshly washed button-down shirt, the odor of cigarette smoke in a pool changing room, a fleeting premonition. Then one summer (when had it been?) the dreams had vanished, never to return. — Haruki Murakami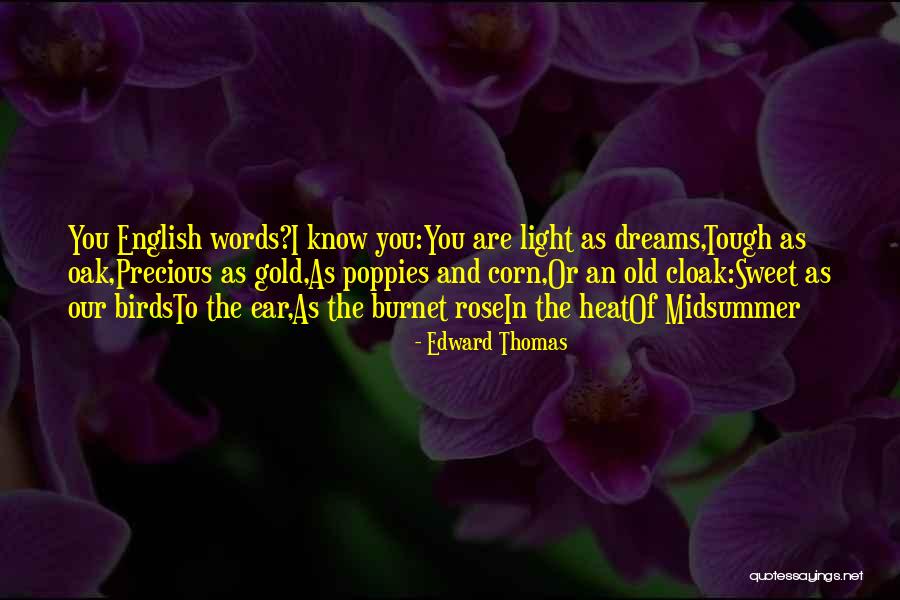 You English words?
I know you:
You are light as dreams,
Tough as oak,
Precious as gold,
As poppies and corn,
Or an old cloak:
Sweet as our birds
To the ear,
As the burnet rose
In the heat
Of Midsummer — Edward Thomas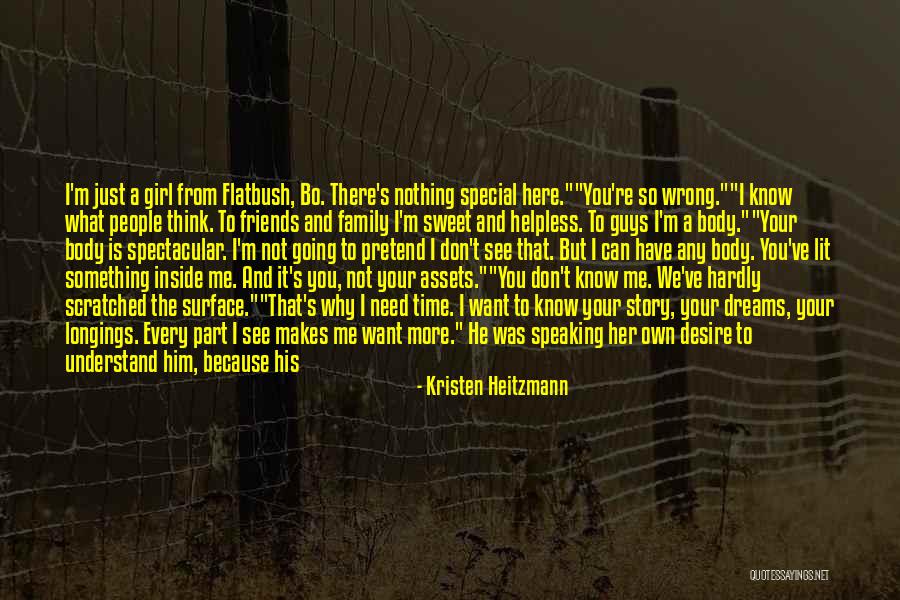 I'm just a girl from Flatbush, Bo. There's nothing special here.""You're so wrong.""I know what people think. To friends and family I'm sweet and helpless. To guys I'm a body.""Your body is spectacular. I'm not going to pretend I don't see that. But I can have any body. You've lit something inside me. And it's you, not your assets.""You don't know me. We've hardly scratched the surface.""That's why I need time. I want to know your story, your dreams, your longings. Every part I see makes me want more." He was speaking her own desire to understand him, because his real self called to her more strongly than anyone she'd known , even people she'd known for years. — Kristen Heitzmann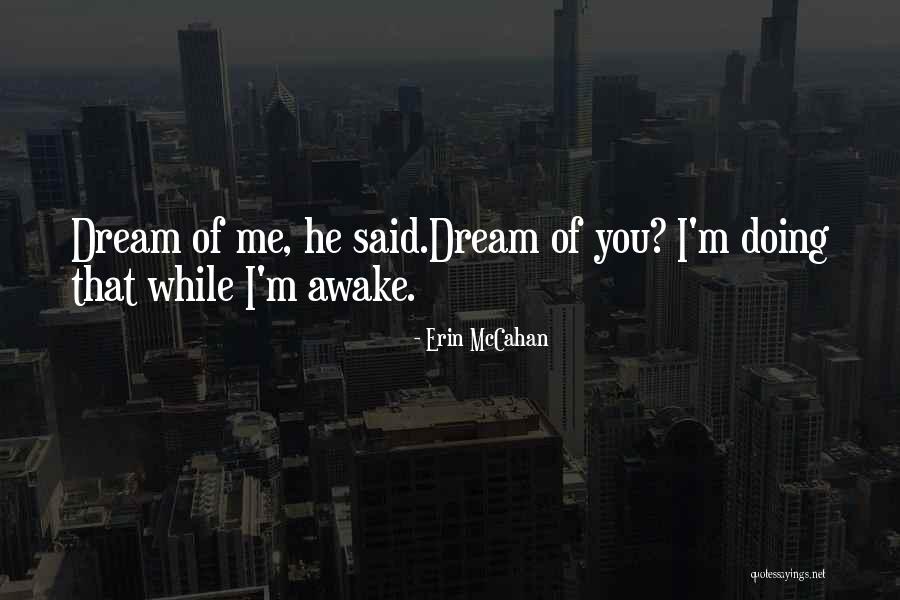 Dream of me, he said.
Dream of you? I'm doing that while I'm awake. — Erin McCahan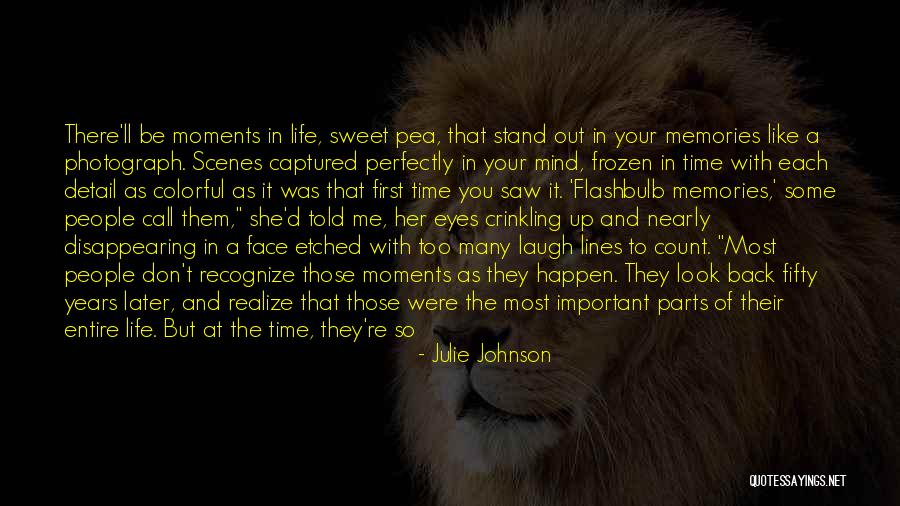 There'll be moments in life, sweet pea, that stand out in your memories like a photograph. Scenes captured perfectly in your mind, frozen in time with each detail as colorful as it was that first time you saw it. 'Flashbulb memories,' some people call them," she'd told me, her eyes crinkling up and nearly disappearing in a face etched with too many laugh lines to count. "Most people don't recognize those moments as they happen. They look back fifty years later, and realize that those were the most important parts of their entire life. But at the time, they're so busy looking ahead to what's coming down the line or worrying about their future, they don't enjoy their present. Don't be like them, sweet pea. Don't get so caught up in chasing your dreams that you forget to live them. — Julie Johnson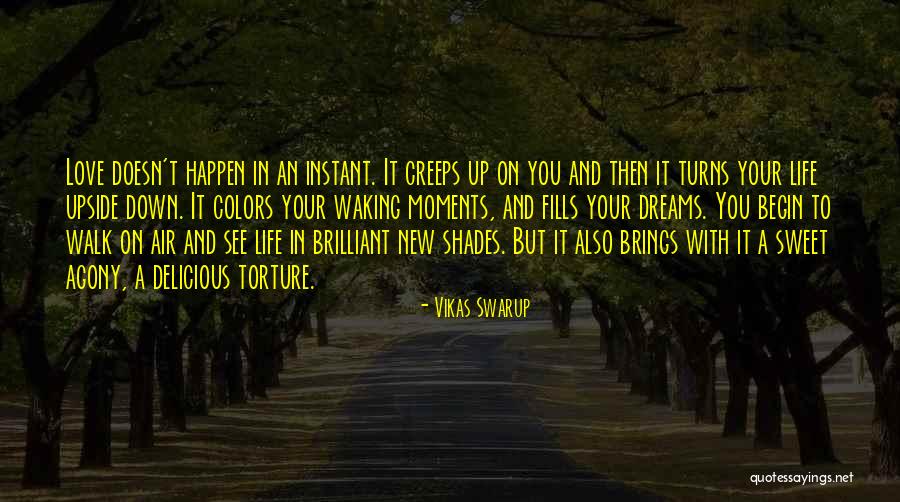 Love doesn't happen in an instant. It creeps up on you and then it turns your life upside down. It colors your waking moments, and fills your dreams. You begin to walk on air and see life in brilliant new shades. But it also brings with it a sweet agony, a delicious torture. — Vikas Swarup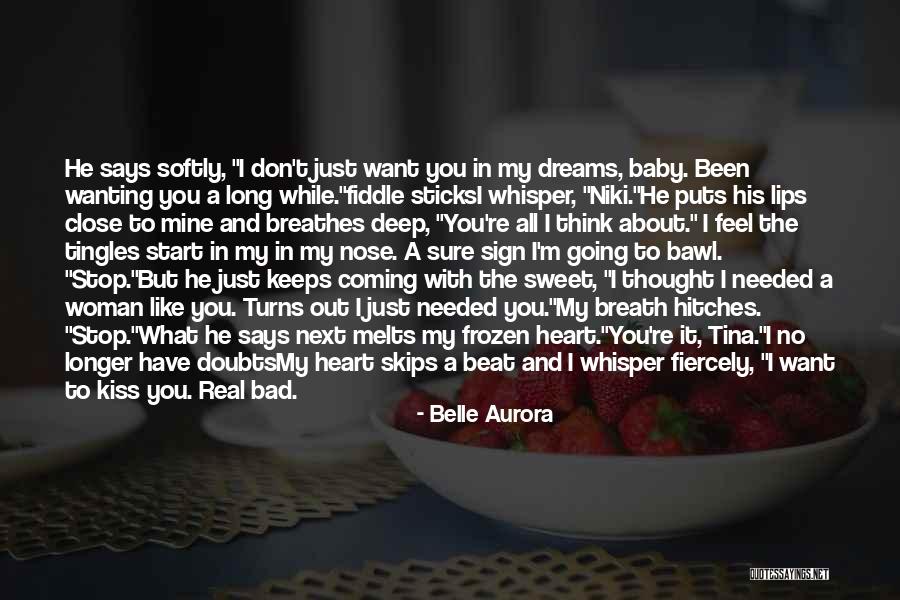 He says softly, "I don't just want you in my dreams, baby. Been wanting you a long while."
fiddle sticks
I whisper, "Niki."
He puts his lips close to mine and breathes deep, "You're all I think about." I feel the tingles start in my in my nose. A sure sign I'm going to bawl. "Stop."
But he just keeps coming with the sweet, "I thought I needed a woman like you. Turns out I just needed you."
My breath hitches. "Stop."
What he says next melts my frozen heart.
"You're it, Tina."
I no longer have doubts
My heart skips a beat and I whisper fiercely, "I want to kiss you. Real bad. — Belle Aurora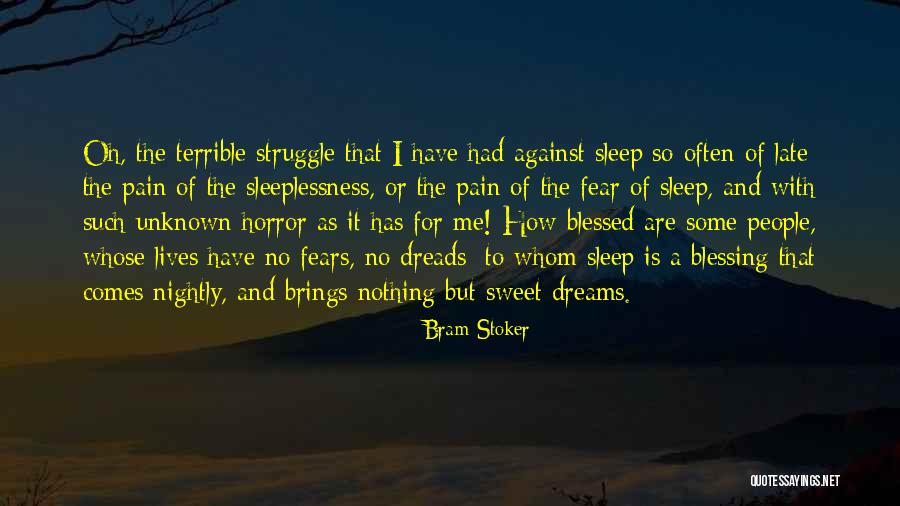 Oh, the terrible struggle that I have had against sleep so often of late; the pain of the sleeplessness, or the pain of the fear of sleep, and with such unknown horror as it has for me! How blessed are some people, whose lives have no fears, no dreads; to whom sleep is a blessing that comes nightly, and brings nothing but sweet dreams. — Bram Stoker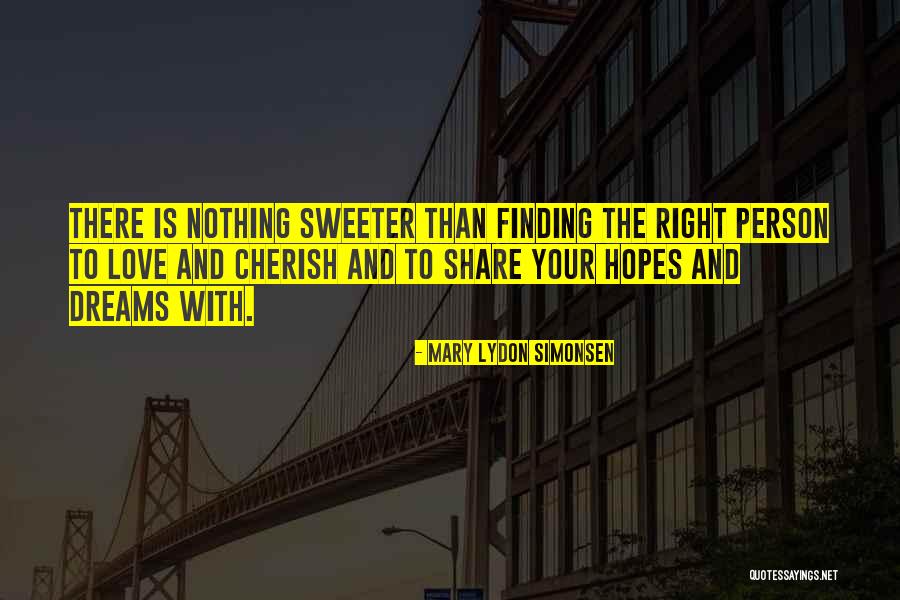 There is nothing sweeter than finding the right person to love and cherish and to share your hopes and dreams with. — Mary Lydon Simonsen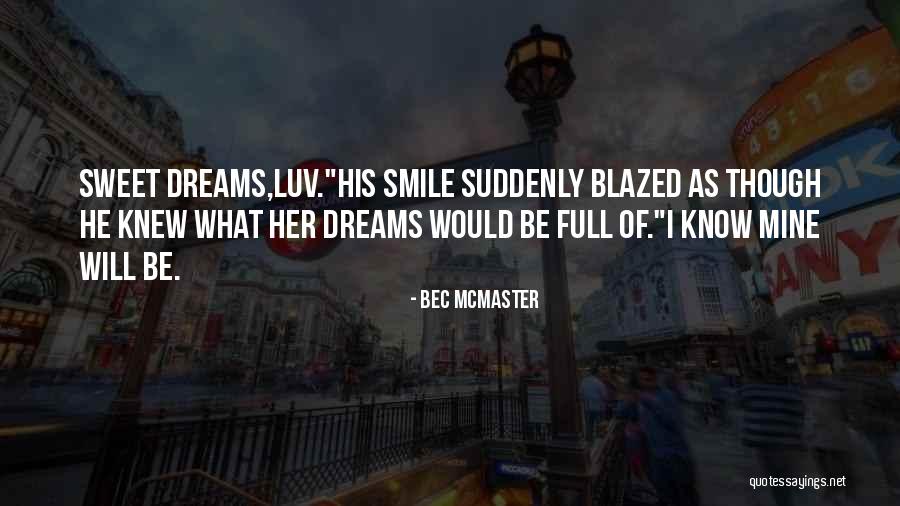 Sweet dreams,luv."His smile suddenly blazed as though he knew what her dreams would be full of."I know mine will be. — Bec McMaster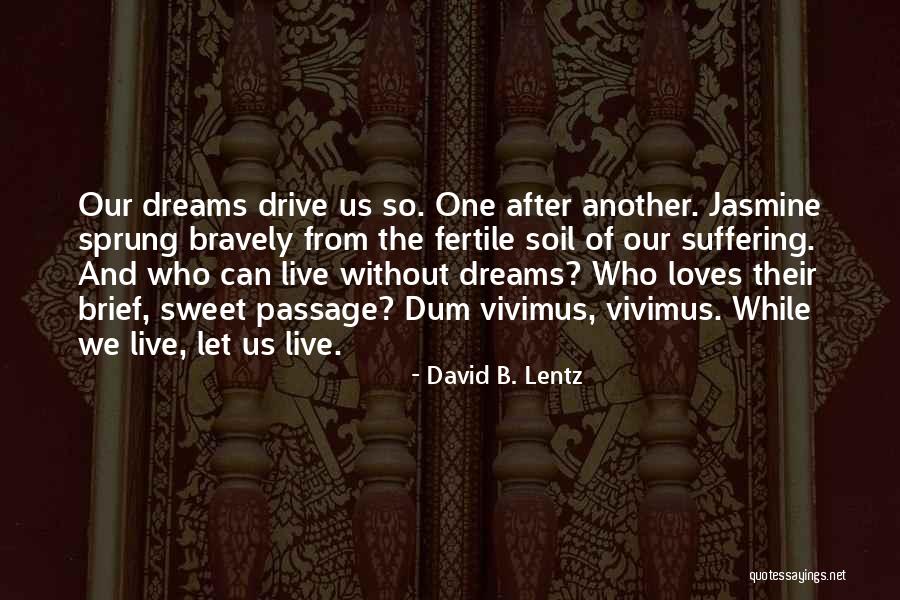 Our dreams drive us so. One after another. Jasmine sprung bravely from the fertile soil of our suffering. And who can live without dreams? Who loves their brief, sweet passage? Dum vivimus, vivimus. While we live, let us live. — David B. Lentz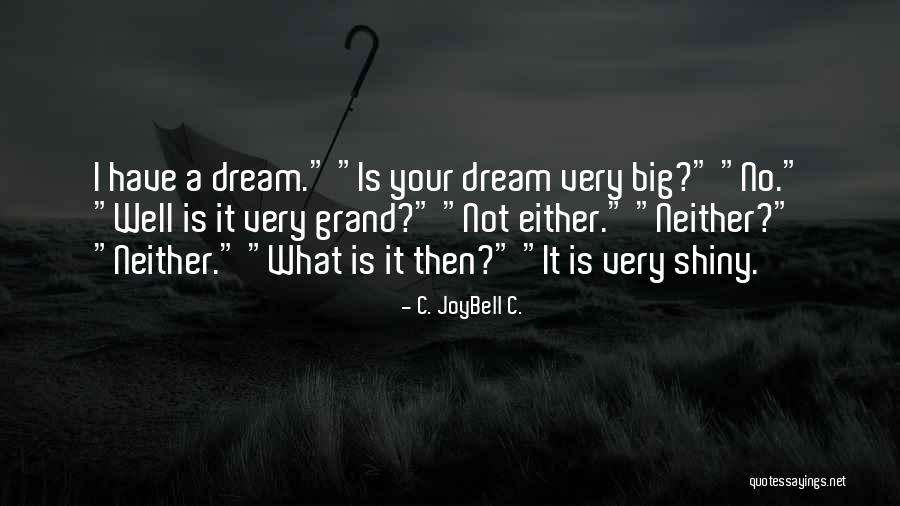 I have a dream." "Is your dream very big?" "No." "Well is it very grand?" "Not either." "Neither?" "Neither." "What is it then?" "It is very shiny. — C. JoyBell C.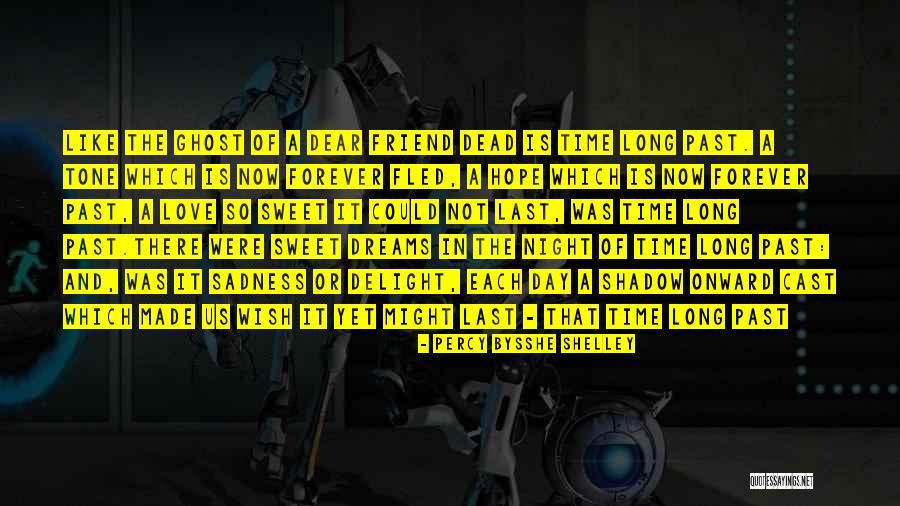 Like the ghost of a dear friend dead
Is Time long past.
A tone which is now forever fled,
A hope which is now forever past,
A love so sweet it could not last,
Was Time long past.
There were sweet dreams in the night
Of Time long past:
And, was it sadness or delight,
Each day a shadow onward cast
Which made us wish it yet might last -
That Time long past — Percy Bysshe Shelley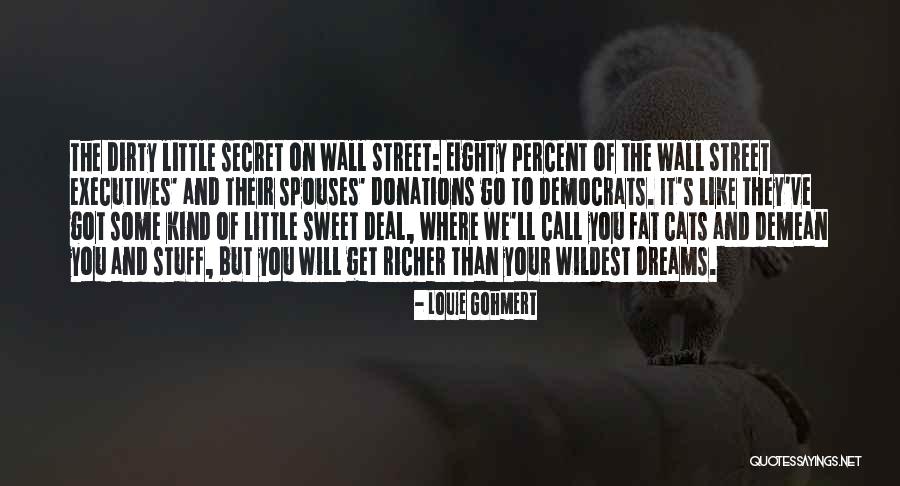 The dirty little secret on Wall Street: Eighty percent of the Wall Street executives' and their spouses' donations go to Democrats. It's like they've got some kind of little sweet deal, where we'll call you fat cats and demean you and stuff, but you will get richer than your wildest dreams. — Louie Gohmert