Quotes & Sayings About Having Little Money
Enjoy reading and share 50 famous quotes about Having Little Money with everyone.
Top Having Little Money Quotes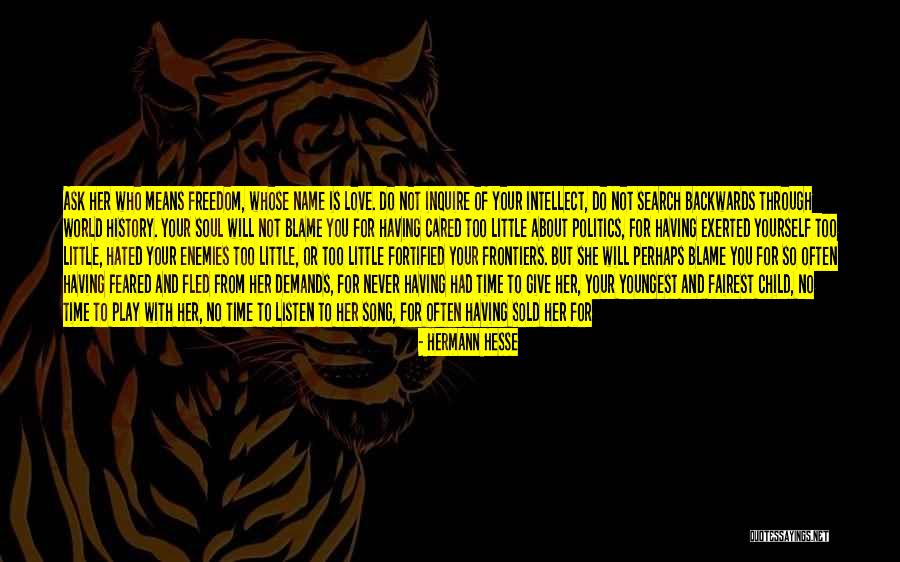 Ask her who means freedom, whose name is love. Do not inquire of your intellect, do not search backwards through world history. Your soul will not blame you for having cared too little about politics, for having exerted yourself too little, hated your enemies too little, or too little fortified your frontiers. But she will perhaps blame you for so often having feared and fled from her demands, for never having had time to give her, your youngest and fairest child, no time to play with her, no time to listen to her song, for often having sold her for money, betrayed her for advancement ... You will be neurotic and a foe to life
so says your soul
if you neglect me, and you will be destroyed if you do not turn to me with a wholly new love and concern. — Hermann Hesse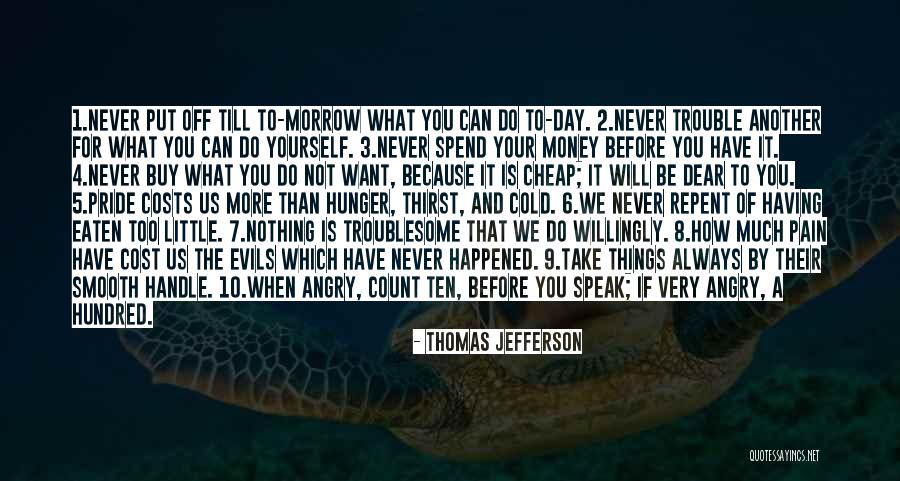 1.Never put off till to-morrow what you can do to-day. 2.Never trouble another for what you can do yourself. 3.Never spend your money before you have it. 4.Never buy what you do not want, because it is cheap; it will be dear to you. 5.Pride costs us more than hunger, thirst, and cold. 6.We never repent of having eaten too little. 7.Nothing is troublesome that we do willingly. 8.How much pain have cost us the evils which have never happened. 9.Take things always by their smooth handle. 10.When angry, count ten, before you speak; if very angry, a hundred. — Thomas Jefferson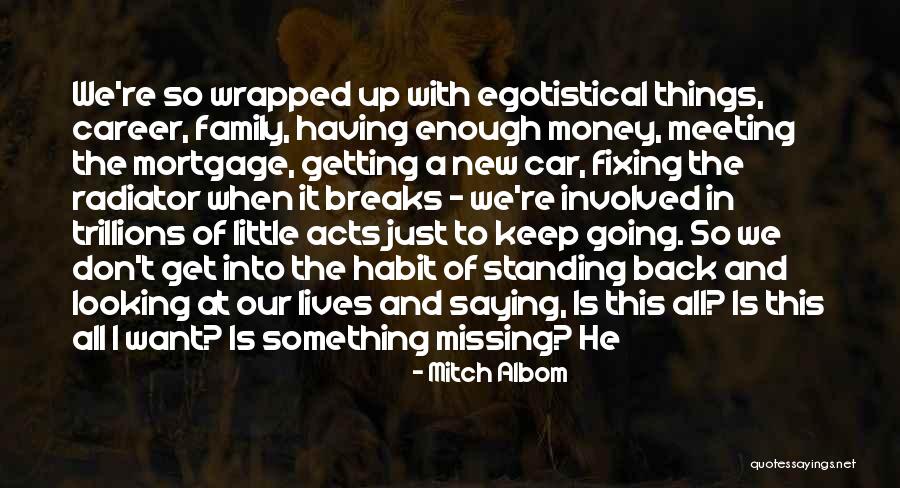 We're so wrapped up with egotistical things, career, family, having enough money, meeting the mortgage, getting a new car, fixing the radiator when it breaks - we're involved in trillions of little acts just to keep going. So we don't get into the habit of standing back and looking at our lives and saying, Is this all? Is this all I want? Is something missing? He — Mitch Albom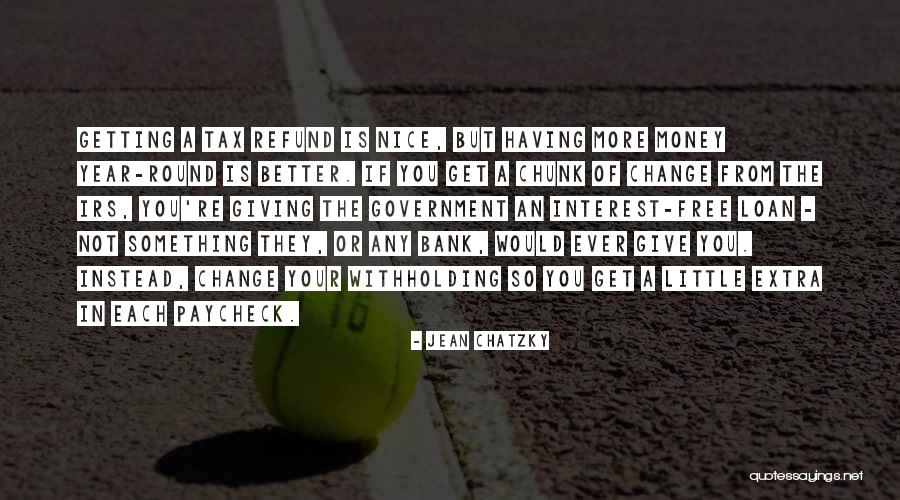 Getting a tax refund is nice, but having more money year-round is better. If you get a chunk of change from the IRS, you're giving the government an interest-free loan - not something they, or any bank, would ever give you. Instead, change your withholding so you get a little extra in each paycheck. — Jean Chatzky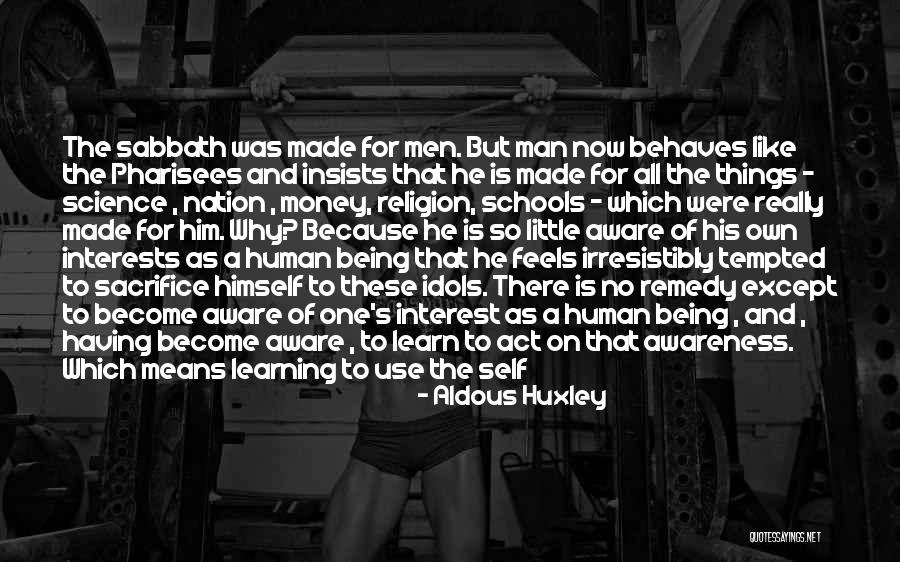 The sabbath was made for men. But man now behaves like the Pharisees and insists that he is made for all the things - science , nation , money, religion, schools - which were really made for him. Why? Because he is so little aware of his own interests as a human being that he feels irresistibly tempted to sacrifice himself to these idols. There is no remedy except to become aware of one's interest as a human being , and , having become aware , to learn to act on that awareness. Which means learning to use the self and learning to direct the mind. It's almost wearisome, the way one always comes back to the same point. Wouldn't it be nice , for a change , if there were another way out of our difficulties! A short cut. A method requiring no greater personal effort than recording a vote or ordering some " enemy of society" to be shot. A salvation from outside, like a does of calomel. — Aldous Huxley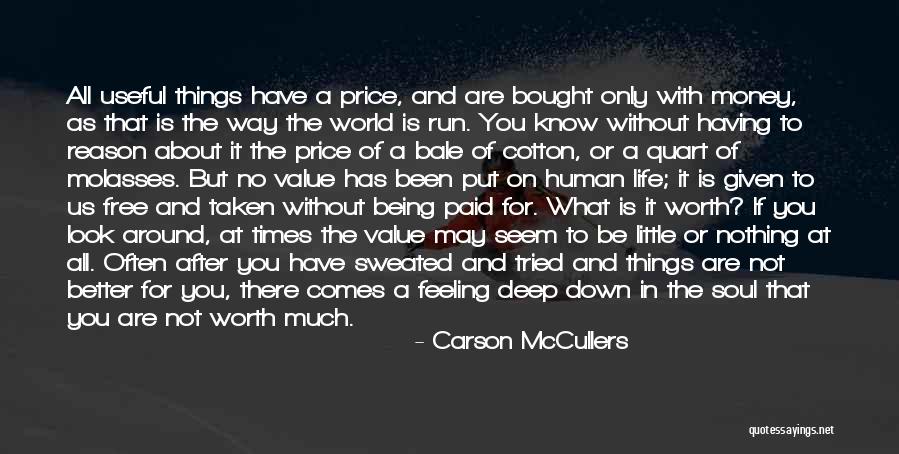 All useful things have a price, and are bought only with money, as that is the way the world is run. You know without having to reason about it the price of a bale of cotton, or a quart of molasses. But no value has been put on human life; it is given to us free and taken without being paid for. What is it worth? If you look around, at times the value may seem to be little or nothing at all. Often after you have sweated and tried and things are not better for you, there comes a feeling deep down in the soul that you are not worth much. — Carson McCullers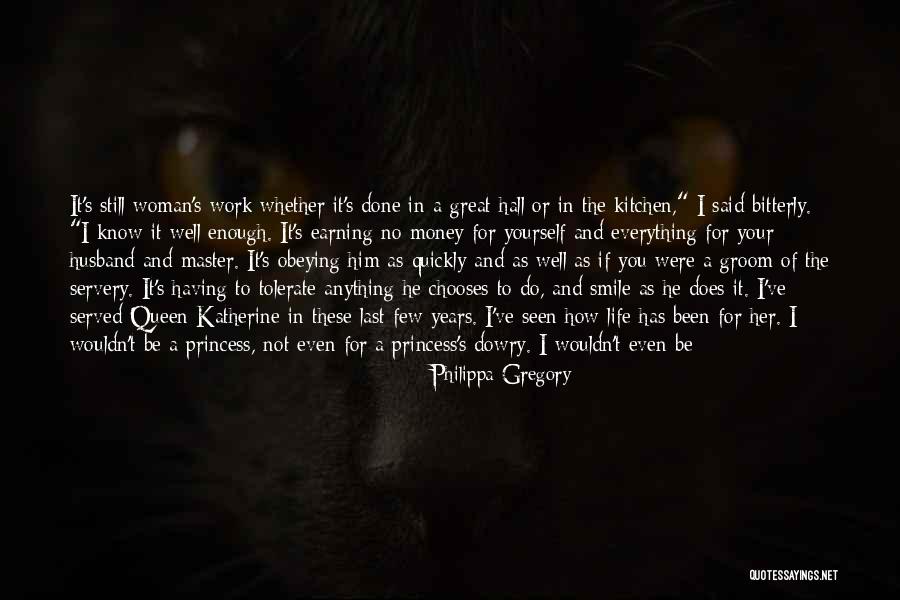 It's still woman's work whether it's done in a great hall or in the kitchen," I said bitterly. "I know it well enough. It's earning no money for yourself and everything for your husband and master. It's obeying him as quickly and as well as if you were a groom of the servery. It's having to tolerate anything he chooses to do, and smile as he does it. I've served Queen Katherine in these last few years. I've seen how life has been for her. I wouldn't be a princess, not even for a princess's dowry. I wouldn't even be a queen. I have seen her shamed and humiliated and insulted, and all she could do was kneel on her prie dieu, pray for a little help, and get to her feet and smile at the woman who was triumphing over her. — Philippa Gregory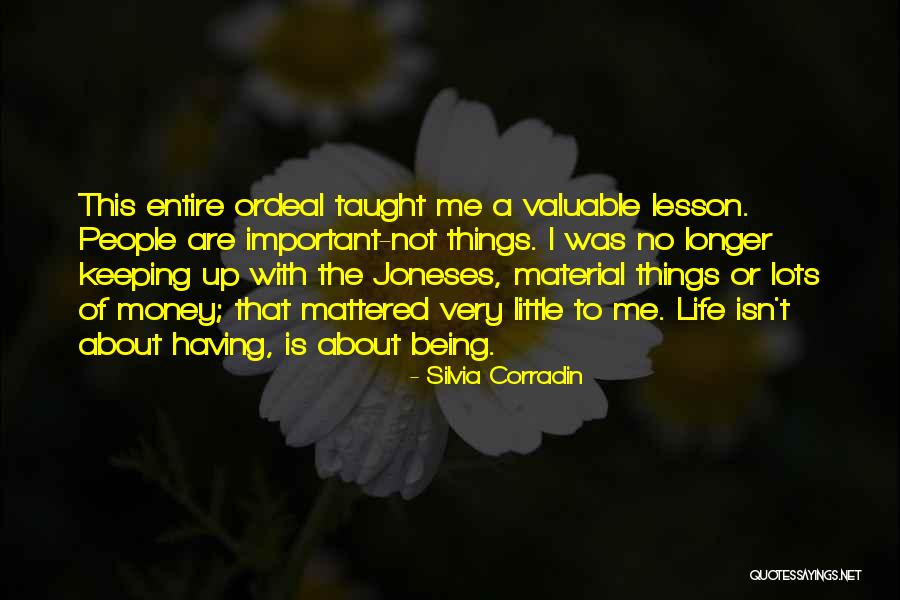 This entire ordeal taught me a valuable lesson. People are important-not things. I was no longer keeping up with the Joneses, material things or lots of money; that mattered very little to me. Life isn't about having, is about being. — Silvia Corradin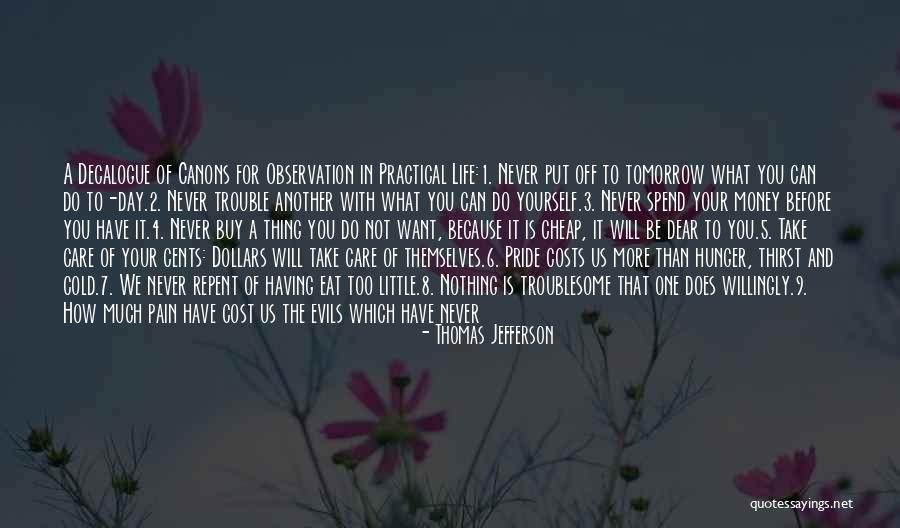 A Decalogue of Canons for Observation in Practical Life:
1. Never put off to tomorrow what you can do to-day.
2. Never trouble another with what you can do yourself.
3. Never spend your money before you have it.
4. Never buy a thing you do not want, because it is cheap, it will be dear to you.
5. Take care of your cents: Dollars will take care of themselves.
6. Pride costs us more than hunger, thirst and cold.
7. We never repent of having eat too little.
8. Nothing is troublesome that one does willingly.
9. How much pain have cost us the evils which have never happened.
10. Take things always by their smooth handle.
11. Think as you please, and so let others, and you will have no disputes.
12. When angry, count 10. before you speak; if very angry, 100. — Thomas Jefferson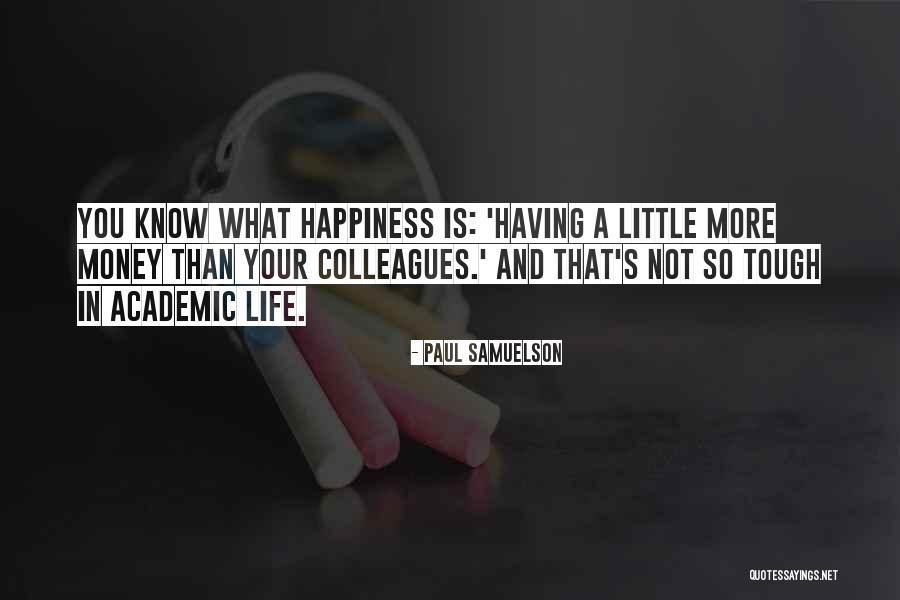 You know what happiness is: 'Having a little more money than your colleagues.' And that's not so tough in academic life. — Paul Samuelson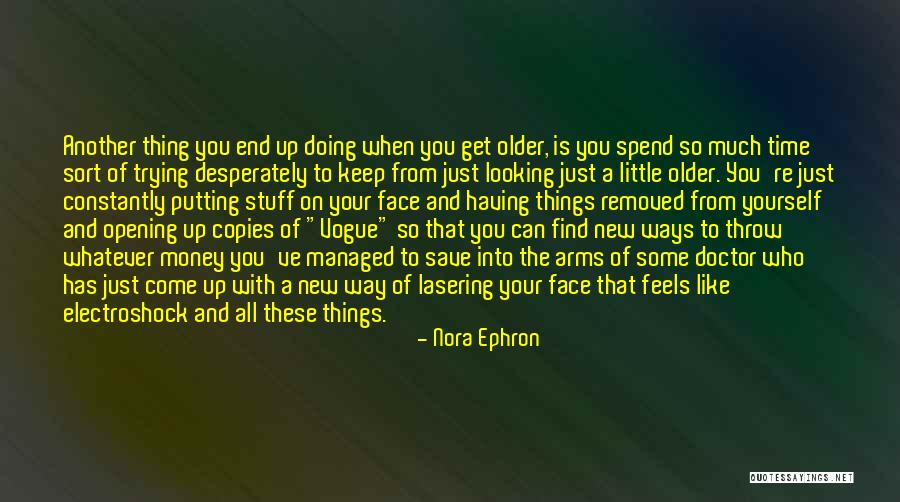 Another thing you end up doing when you get older, is you spend so much time sort of trying desperately to keep from just looking just a little older. You're just constantly putting stuff on your face and having things removed from yourself and opening up copies of "Vogue" so that you can find new ways to throw whatever money you've managed to save into the arms of some doctor who has just come up with a new way of lasering your face that feels like electroshock and all these things. — Nora Ephron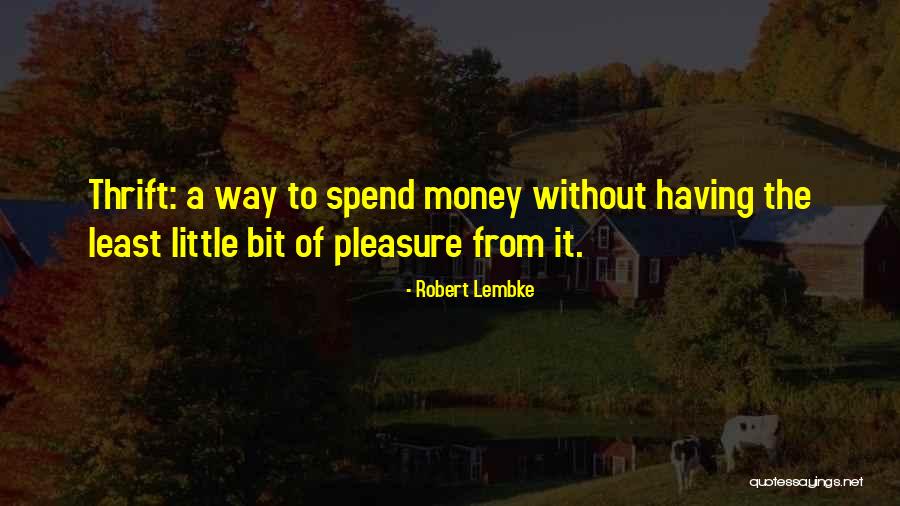 Thrift: a way to spend money without having the least little bit of pleasure from it. — Robert Lembke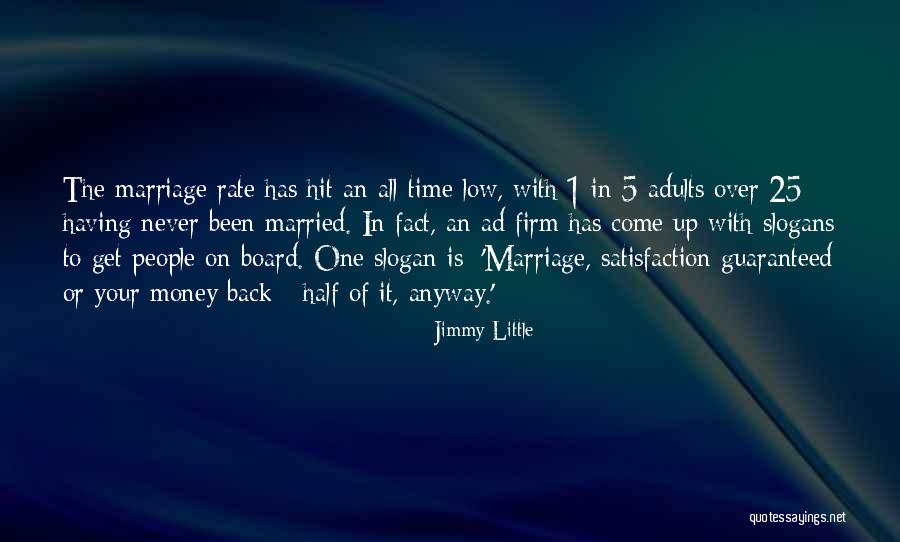 The marriage rate has hit an all-time low, with 1 in 5 adults over 25 having never been married. In fact, an ad firm has come up with slogans to get people on board. One slogan is: 'Marriage, satisfaction guaranteed or your money back - half of it, anyway.' — Jimmy Little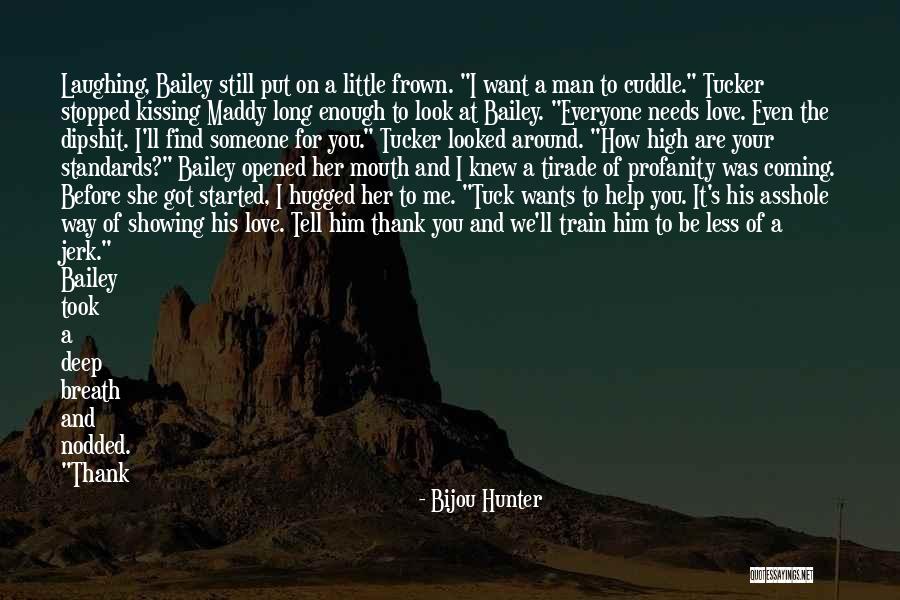 Laughing, Bailey still put on a little frown. "I want a man to cuddle."
Tucker stopped kissing Maddy long enough to look at Bailey. "Everyone needs love. Even the dipshit. I'll find someone for you." Tucker looked around. "How high are your standards?"
Bailey opened her mouth and I knew a tirade of profanity was coming.
Before she got started, I hugged her to me. "Tuck wants to help you. It's his asshole way of showing his love. Tell him thank you and we'll train him to be less of a jerk."
Bailey took a deep breath and nodded. "Thank you, Tucker."
A sober Tucker might have teased his sister, but the drunken version hugged her and told her that he would find someone great. Hot, big dick, money, good hair, the whole package.
Cooper frowned at both me and Farah. "You two are having an adverse influence on the family. Fucking Sawyer said thank you earlier today. What's next? Will she say please?"
Grinning, Farah cuddled up to Cooper. — Bijou Hunter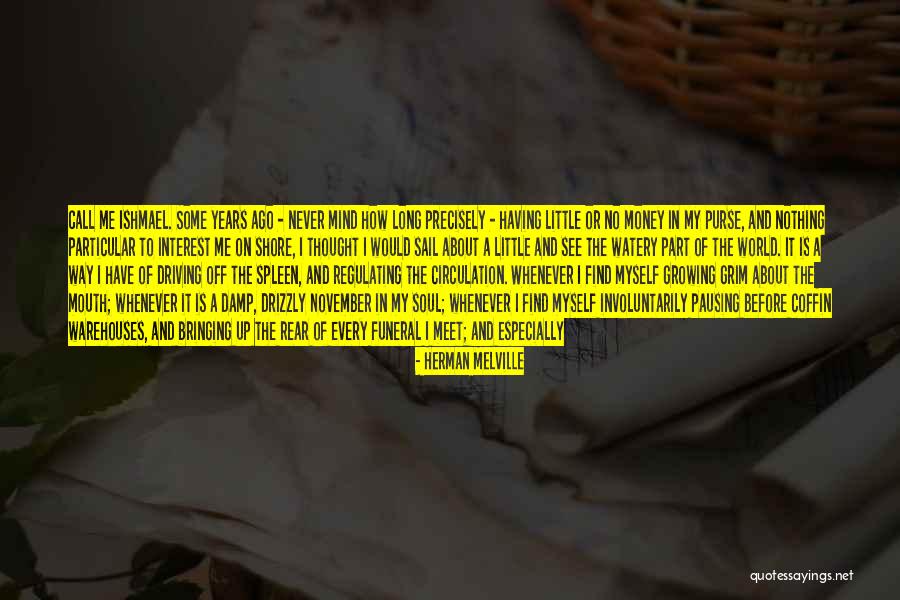 Call me Ishmael. Some years ago - never mind how long precisely - having little or no money in my purse, and nothing particular to interest me on shore, I thought I would sail about a little and see the watery part of the world. It is a way I have of driving off the spleen, and regulating the circulation. Whenever I find myself growing grim about the mouth; whenever it is a damp, drizzly November in my soul; whenever I find myself involuntarily pausing before coffin warehouses, and bringing up the rear of every funeral I meet; and especially whenever my hypos get such an upper hand of me, that it requires a strong moral principle to prevent me from deliberately stepping into the street, and methodically knocking people's hats off - then, I account it high time to get to sea as soon as I can. This is my substitute for pistol and ball. With a philosophical flourish Cato throws himself upon his sword; I quietly take to the ship. — Herman Melville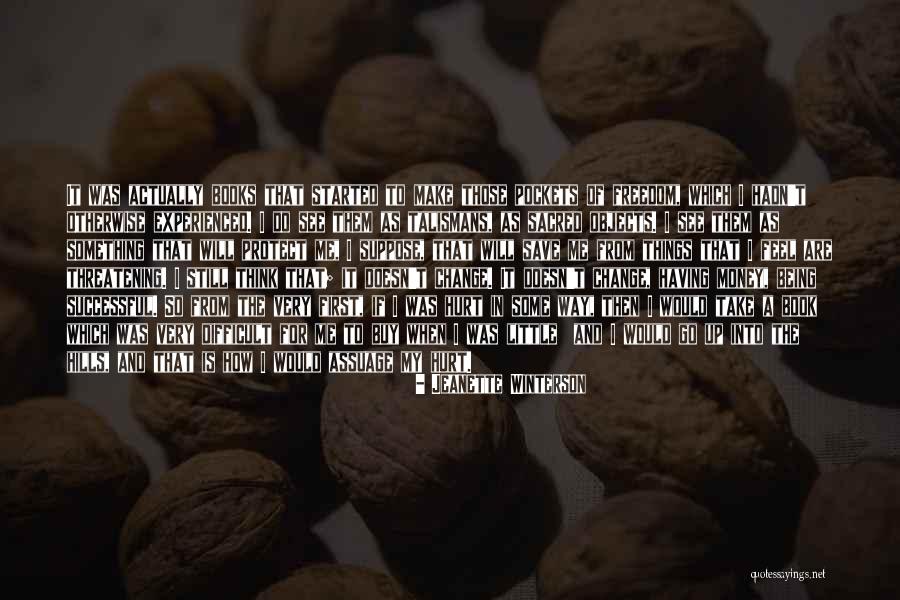 It was actually books that started to make those pockets of freedom, which I hadn't otherwise experienced. I do see them as talismans, as sacred objects. I see them as something that will protect me, I suppose, that will save me from things that I feel are threatening. I still think that; it doesn't change. It doesn't change, having money, being successful. So from the very first, if I was hurt in some way, then I would take a book
which was very difficult for me to buy when I was little
and I would go up into the hills, and that is how I would assuage my hurt. — Jeanette Winterson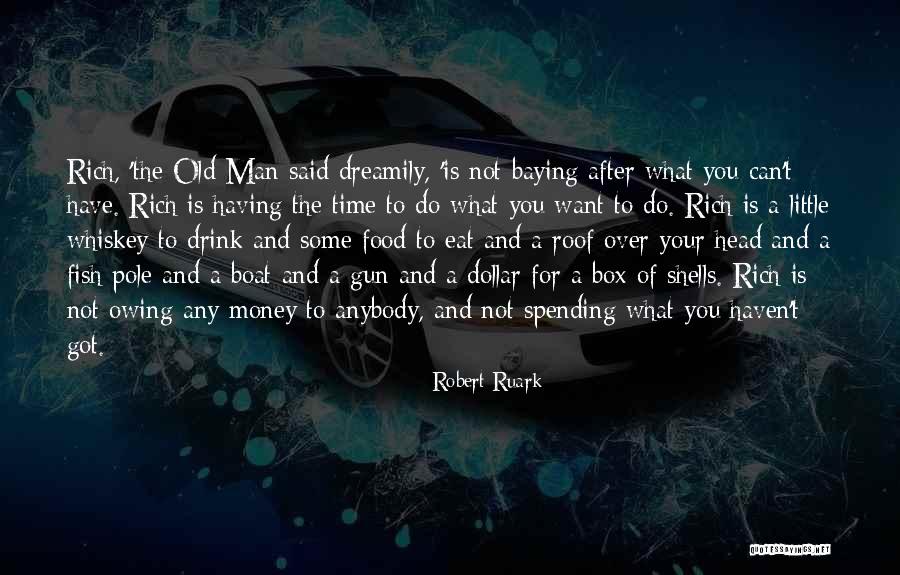 Rich, 'the Old Man said dreamily, 'is not baying after what you can't have. Rich is having the time to do what you want to do. Rich is a little whiskey to drink and some food to eat and a roof over your head and a fish pole and a boat and a gun and a dollar for a box of shells. Rich is not owing any money to anybody, and not spending what you haven't got. — Robert Ruark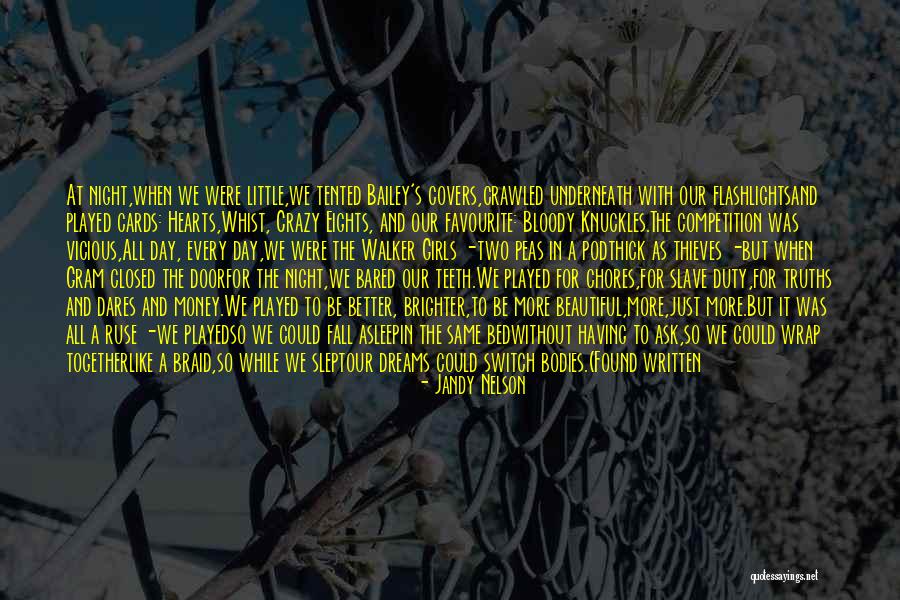 At night,
when we were little,
we tented Bailey's covers,
crawled underneath with our flashlights
and played cards: Hearts,
Whist, Crazy Eights, and our favourite: Bloody Knuckles.
The competition was vicious,
All day, every day,
we were the Walker Girls -
two peas in a pod
thick as thieves -
but when Gram closed the door
for the night,
we bared our teeth.
We played for chores,
for slave duty,
for truths and dares and money.
We played to be better, brighter,
to be more beautiful,
more,
just more.
But it was all a ruse -
we played
so we could fall asleep
in the same bed
without having to ask,
so we could wrap together
like a braid,
so while we slept
our dreams could switch bodies.


(Found written on the inside cover of Wuthering Heights, Lennie's room) — Jandy Nelson
I was a little different. I still say I'm a little different, because success to me is not having the most money, or having the biggest car or the biggest house. — Herschel Walker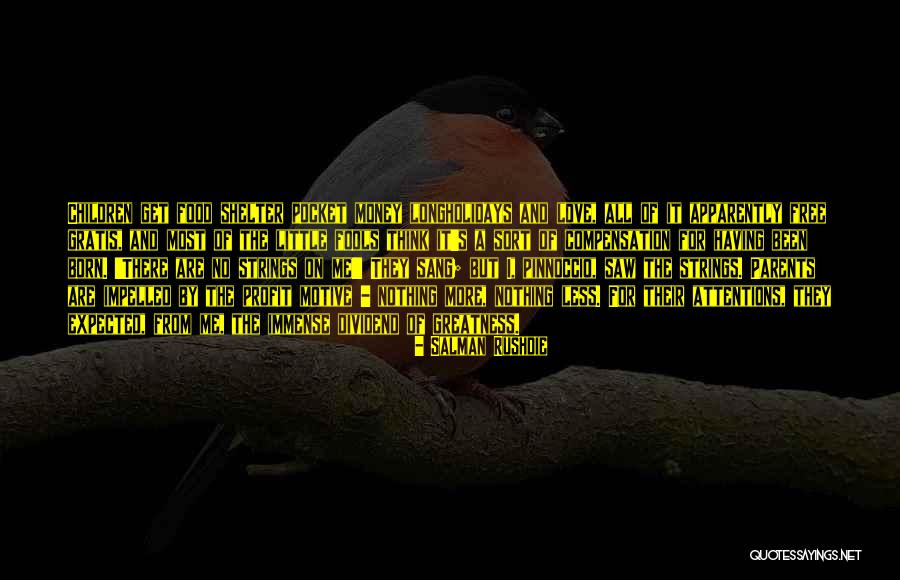 Children get food shelter pocket money longholidays and love, all of it apparently free gratis, and most of the little fools think it's a sort of compensation for having been born. 'There are no strings on me!' They sang; but I, pinnoccio, saw the strings. Parents are impelled by the profit motive - nothing more, nothing less. For their attentions, they expected, from me, the immense dividend of greatness. — Salman Rushdie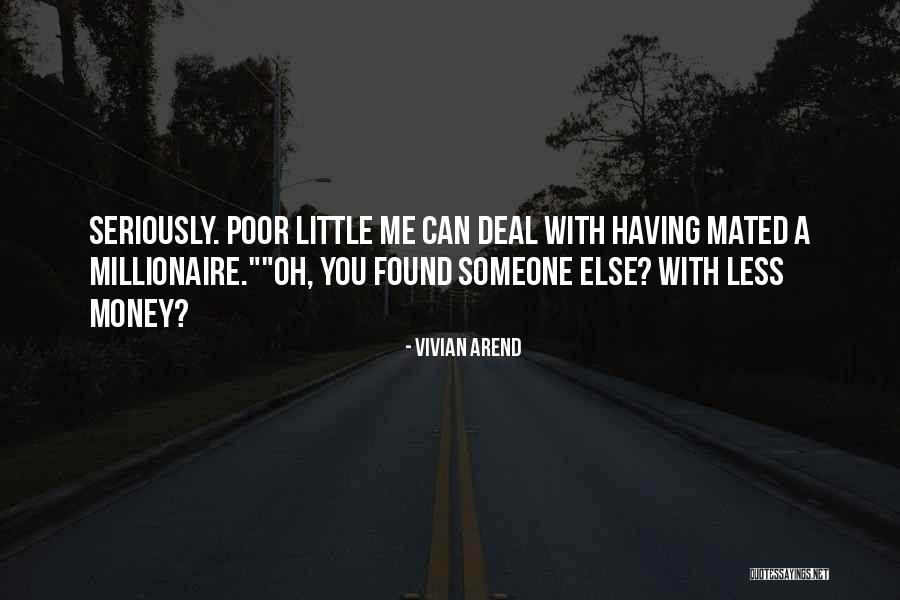 Seriously. Poor little me can deal with having mated a millionaire."
"Oh, you found someone else? With less money? — Vivian Arend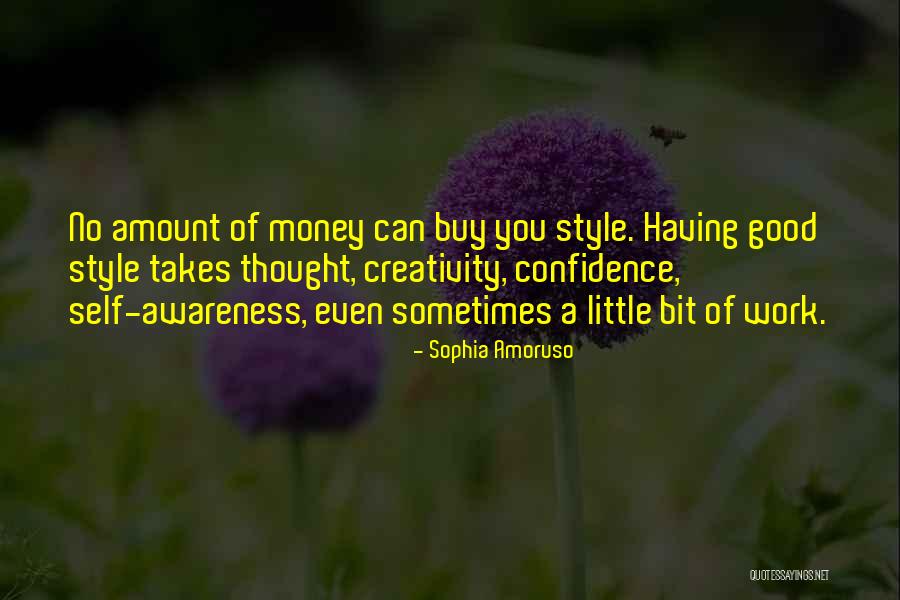 No amount of money can buy you style. Having good style takes thought, creativity, confidence, self-awareness, even sometimes a little bit of work. — Sophia Amoruso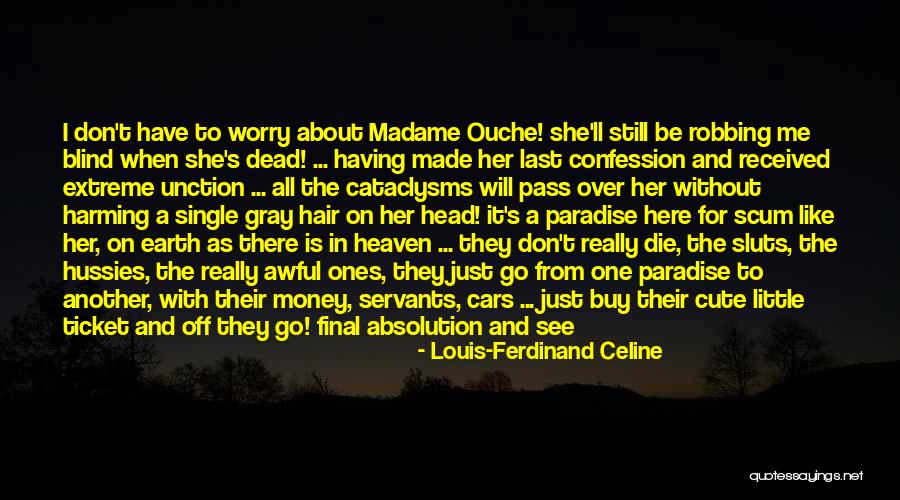 I don't have to worry about Madame Ouche! she'll still be robbing me blind when she's dead! ... having made her last confession and received extreme unction ... all the cataclysms will pass over her without harming a single gray hair on her head! it's a paradise here for scum like her, on earth as there is in heaven ... they don't really die, the sluts, the hussies, the really awful ones, they just go from one paradise to another, with their money, servants, cars ... just buy their cute little ticket and off they go! final absolution and see you later! they shit in your hands! ... they're born to slip out of both hells - the one here and the one in the next world ... all they do is fuck and whine ... loads of cash! never broke! ... cheers! here's to you! no regrets! you realize too late ... — Louis-Ferdinand Celine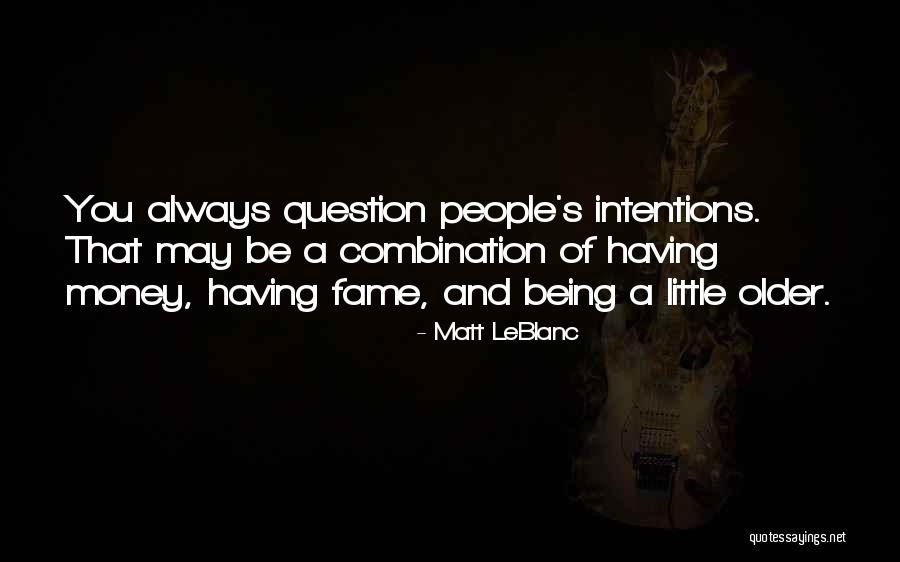 You always question people's intentions. That may be a combination of having money, having fame, and being a little older. — Matt LeBlanc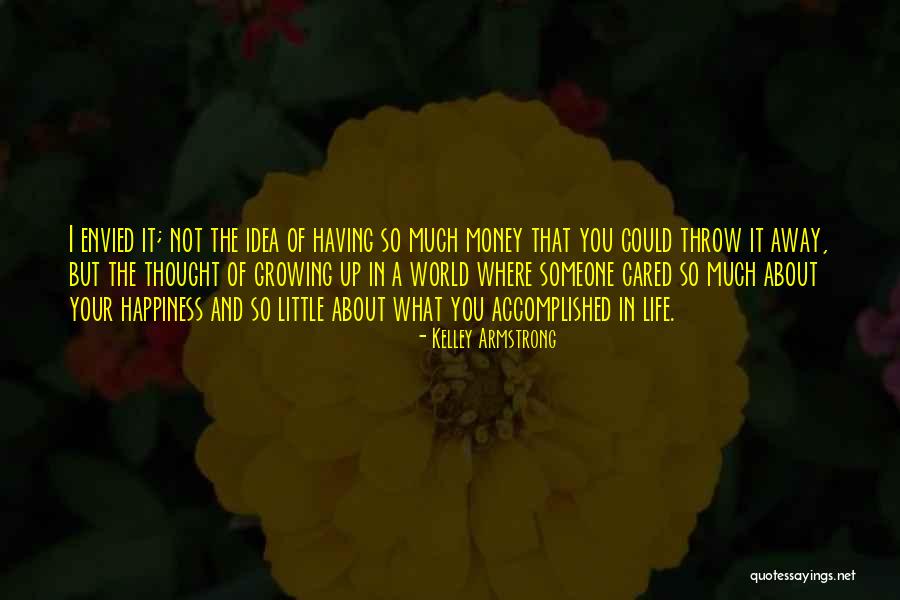 I envied it; not the idea of having so much money that you could throw it away, but the thought of growing up in a world where someone cared so much about your happiness and so little about what you accomplished in life. — Kelley Armstrong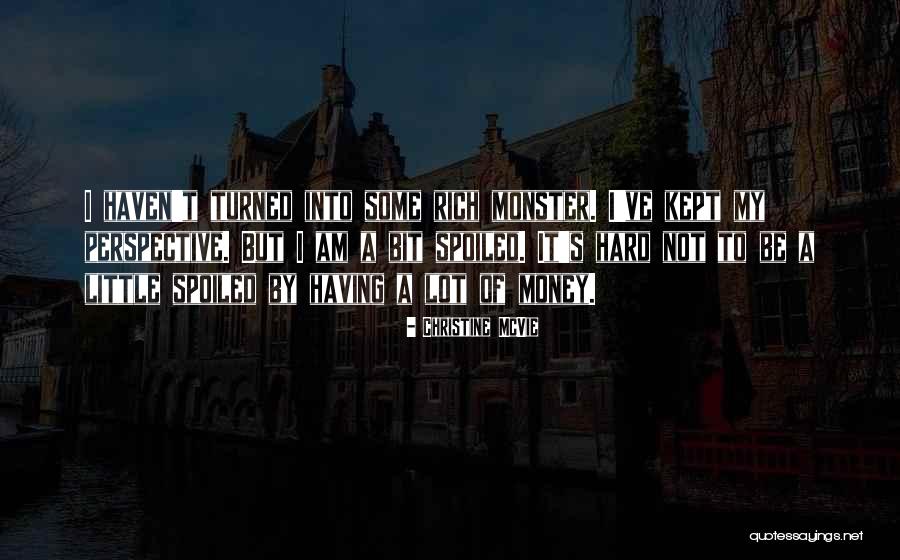 I haven't turned into some rich monster. I've kept my perspective. But I am a bit spoiled. It's hard not to be a little spoiled by having a lot of money. — Christine McVie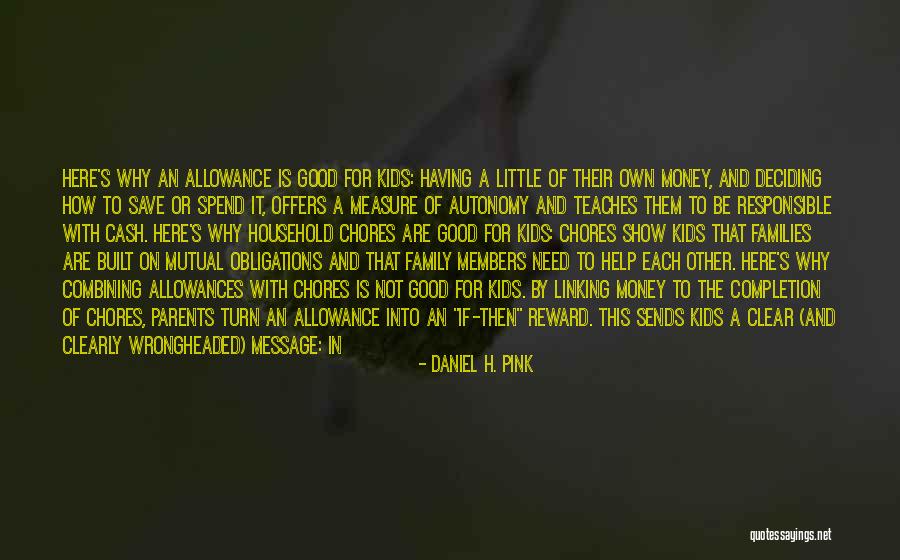 Here's why an allowance is good for kids: Having a little of their own money, and deciding how to save or spend it, offers a measure of autonomy and teaches them to be responsible with cash. Here's why household chores are good for kids: Chores show kids that families are built on mutual obligations and that family members need to help each other. Here's why combining allowances with chores is not good for kids. By linking money to the completion of chores, parents turn an allowance into an "if-then" reward. This sends kids a clear (and clearly wrongheaded) message: In the absence of a payment, no self-respecting child would willingly set the table, empty the garbage, or make her own bed. It converts a moral and familial obligation into just another commercial transaction - and teaches that the only reason to do a less-than-desirable task for your family is in exchange for payment. — Daniel H. Pink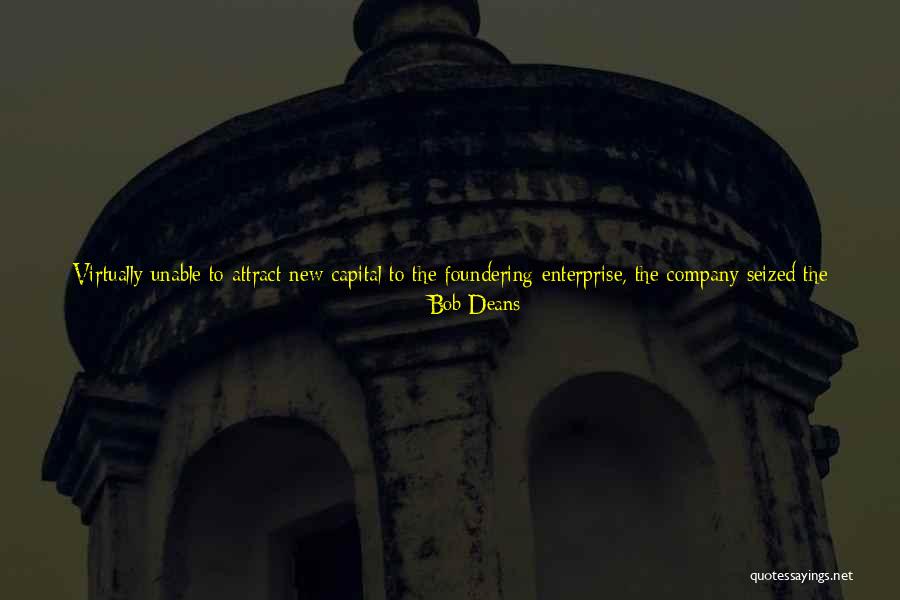 Virtually unable to attract new capital to the foundering enterprise, the company seized the next year on a novel approach to raising money to fund the embryonic British Empire: a lottery.
With the reluctant approval of King James and the Church of England, the Virginia Company sold lottery tickets to the public, discovering no shortage of gamers willing to hazard hard coinage for the chance to win the 01,000 grand prize, a fortune at a time when the typical working-class family scraped by on little more than a pound a month. Having begun as a corporation, Virginia had evolved into a gamblers' stake with a lively populist following back in England. — Bob Deans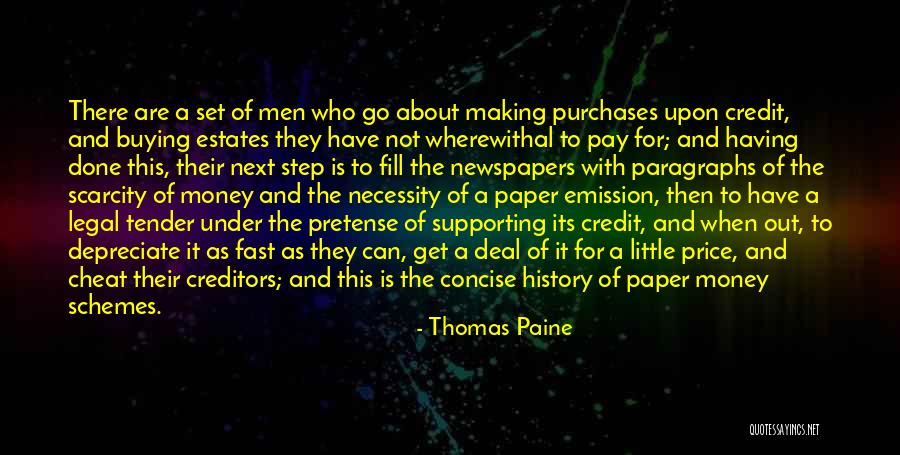 There are a set of men who go about making purchases upon credit, and buying estates they have not wherewithal to pay for; and having done this, their next step is to fill the newspapers with paragraphs of the scarcity of money and the necessity of a paper emission, then to have a legal tender under the pretense of supporting its credit, and when out, to depreciate it as fast as they can, get a deal of it for a little price, and cheat their creditors; and this is the concise history of paper money schemes. — Thomas Paine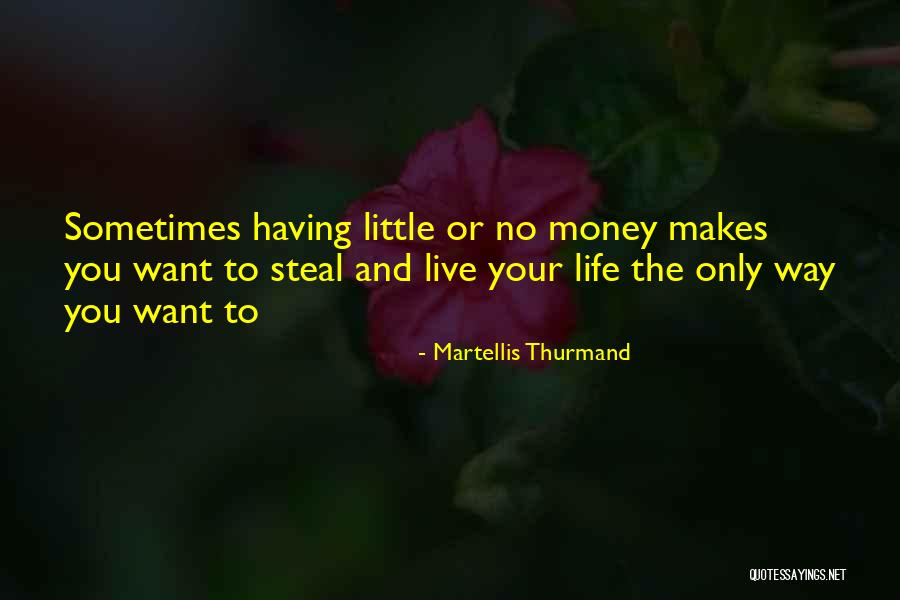 Sometimes having little or no money makes you want to steal and live your life the only way you want to — Martellis Thurmand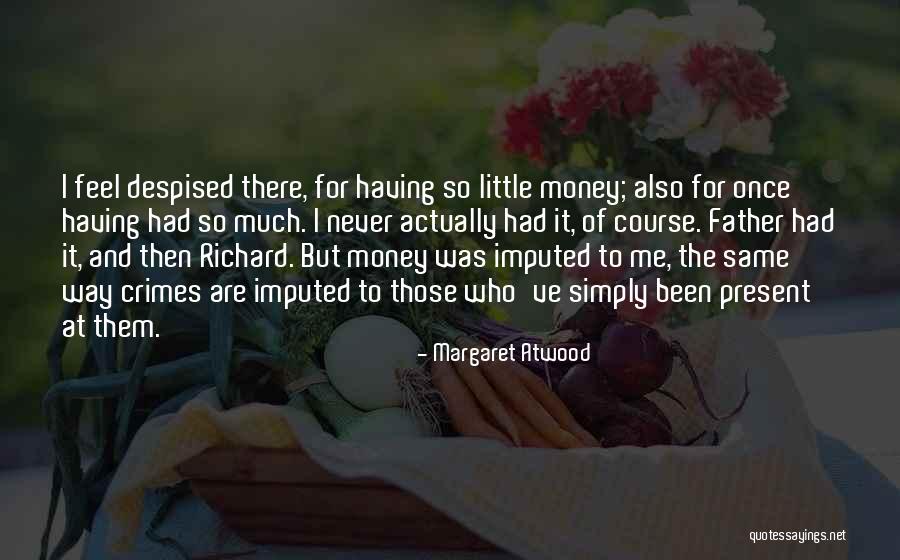 I feel despised there, for having so little money; also for once having had so much. I never actually had it, of course. Father had it, and then Richard. But money was imputed to me, the same way crimes are imputed to those who've simply been present at them. — Margaret Atwood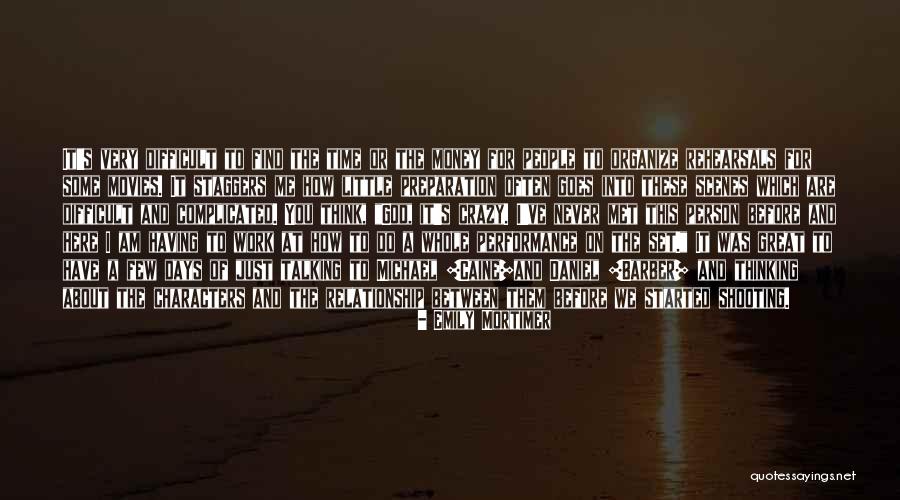 It's very difficult to find the time or the money for people to organize rehearsals for some movies. It staggers me how little preparation often goes into these scenes which are difficult and complicated. You think, "God, it's crazy. I've never met this person before and here I am having to work at how to do a whole performance on the set." It was great to have a few days of just talking to Michael [Caine]and Daniel [Barber] and thinking about the characters and the relationship between them before we started shooting. — Emily Mortimer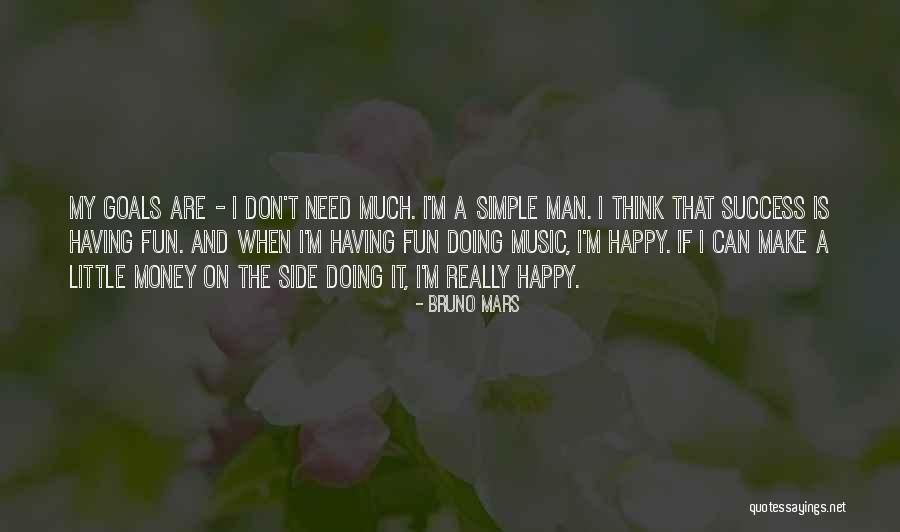 My goals are - I don't need much. I'm a simple man. I think that success is having fun. And when I'm having fun doing music, I'm happy. If I can make a little money on the side doing it, I'm really happy. — Bruno Mars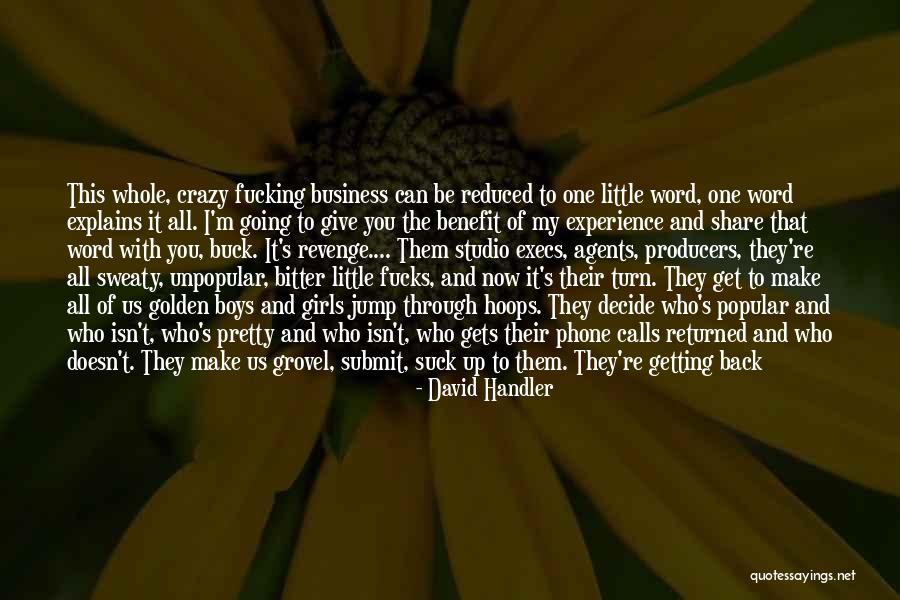 This whole, crazy fucking business can be reduced to one little word, one word explains it all. I'm going to give you the benefit of my experience and share that word with you, buck. It's revenge.... Them studio execs, agents, producers, they're all sweaty, unpopular, bitter little fucks, and now it's their turn. They get to make all of us golden boys and girls jump through hoops. They decide who's popular and who isn't, who's pretty and who isn't, who gets their phone calls returned and who doesn't. They make us grovel, submit, suck up to them. They're getting back at us, man. It means more to them than the money, the fame, the glamor, having power over guys like me.... It's what they live for. — David Handler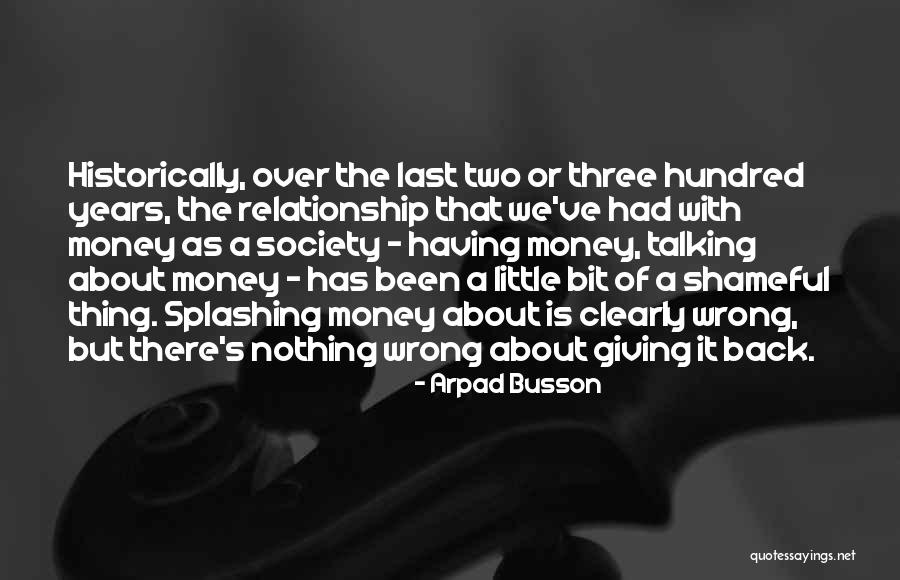 Historically, over the last two or three hundred years, the relationship that we've had with money as a society - having money, talking about money - has been a little bit of a shameful thing. Splashing money about is clearly wrong, but there's nothing wrong about giving it back. — Arpad Busson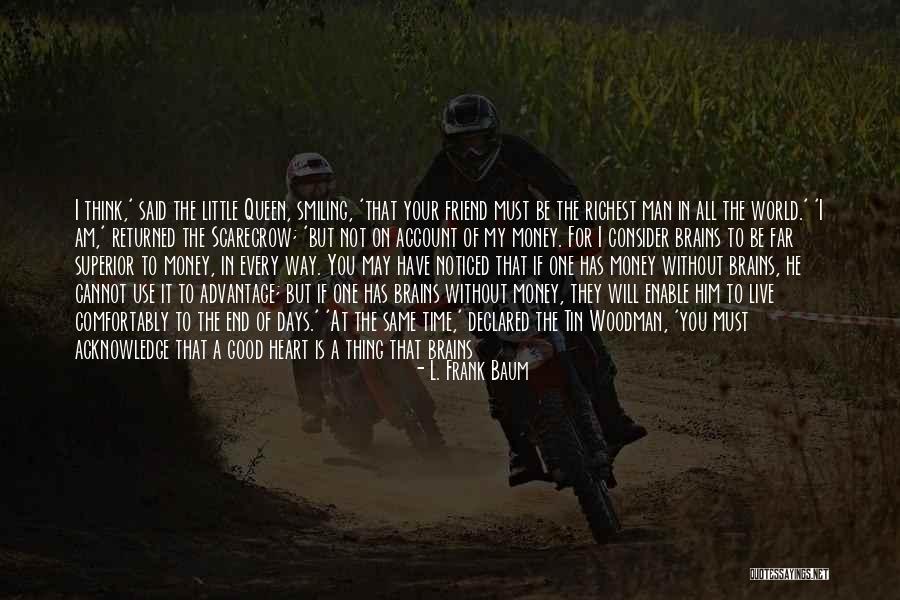 I think,' said the little Queen, smiling, 'that your friend must be the richest man in all the world.' 'I am,' returned the Scarecrow; 'but not on account of my money. For I consider brains to be far superior to money, in every way. You may have noticed that if one has money without brains, he cannot use it to advantage; but if one has brains without money, they will enable him to live comfortably to the end of days.' 'At the same time,' declared the Tin Woodman, 'you must acknowledge that a good heart is a thing that brains cannot create, and that money cannot buy. Perhaps, after all it is I who am the richest man in all the world.' 'You are both rich, my friends,' said Ozma gently; 'and your riches are the only riches worth having - the riches of content!' - The Marvellous Land Of Oz by L. Frank Baum pg 192 chapter 24 — L. Frank Baum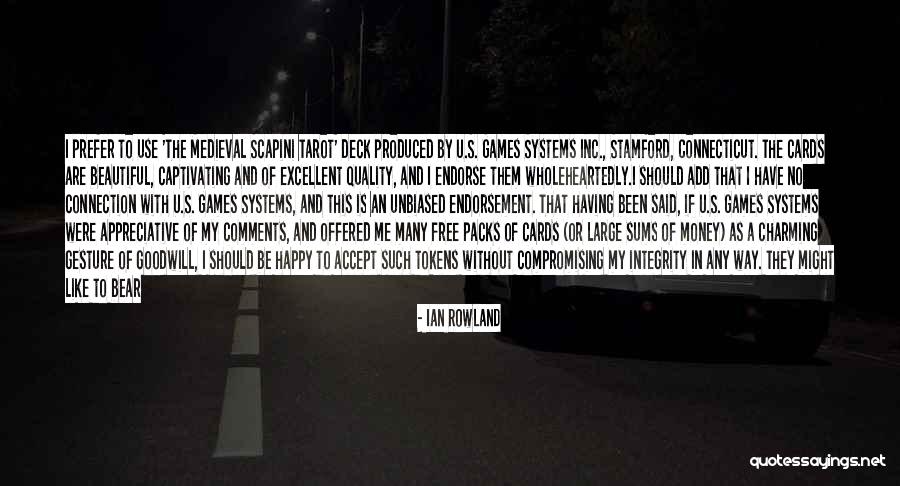 I prefer to use 'The Medieval Scapini Tarot' deck produced by U.S. Games Systems Inc., Stamford, Connecticut. The cards are beautiful, captivating and of excellent quality, and I endorse them wholeheartedly.

I should add that I have no connection with U.S. Games Systems, and this is an unbiased endorsement. That having been said, if U.S. Games Systems were appreciative of my comments, and offered me many free packs of cards (or large sums of money) as a charming gesture of goodwill, I should be happy to accept such tokens without compromising my integrity in any way. They might like to bear in mind that in future editions of this book my endorsements may have 'evolved' in the direction of other card companies who are, perhaps, a little more generous in their appreciation of my valuable judgements. — Ian Rowland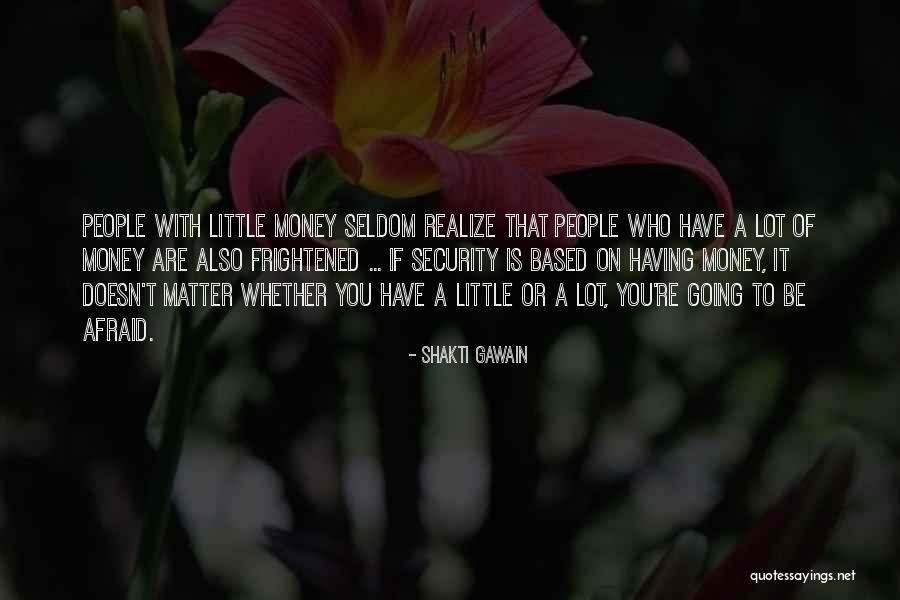 People with little money seldom realize that people who have a lot of money are also frightened ... If security is based on having money, it doesn't matter whether you have a little or a lot, you're going to be afraid. — Shakti Gawain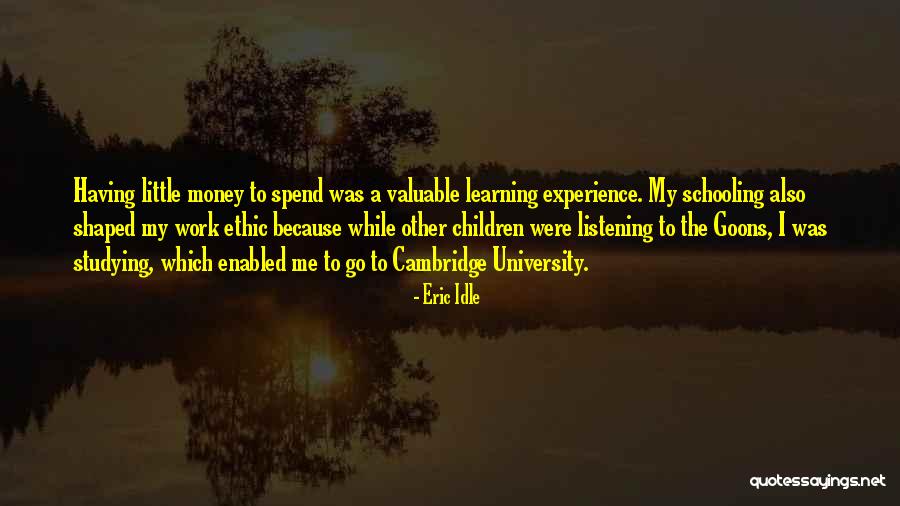 Having little money to spend was a valuable learning experience. My schooling also shaped my work ethic because while other children were listening to the Goons, I was studying, which enabled me to go to Cambridge University. — Eric Idle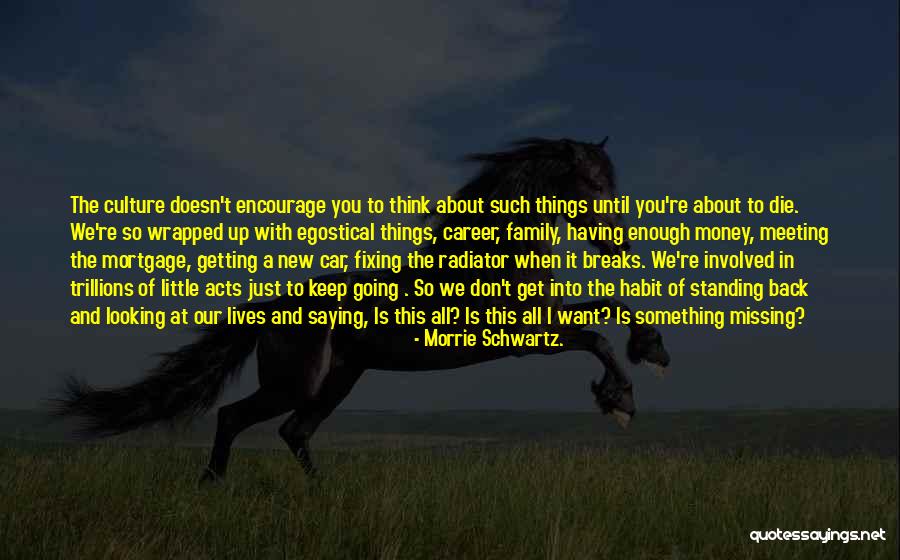 The culture doesn't encourage you to think about such things until you're about to die. We're so wrapped up with egostical things, career, family, having enough money, meeting the mortgage, getting a new car, fixing the radiator when it breaks. We're involved in trillions of little acts just to keep going . So we don't get into the habit of standing back and looking at our lives and saying, Is this all? Is this all I want? Is something missing? — Morrie Schwartz.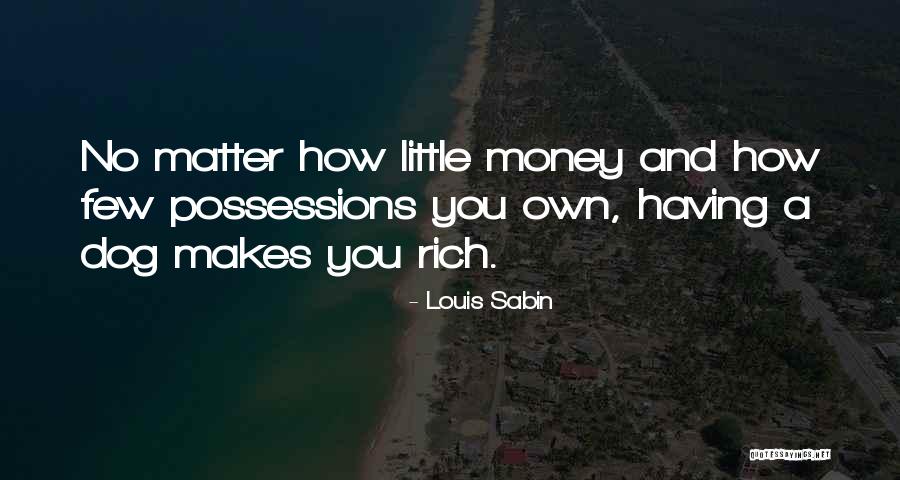 No matter how little money and how few possessions you own, having a dog makes you rich. — Louis Sabin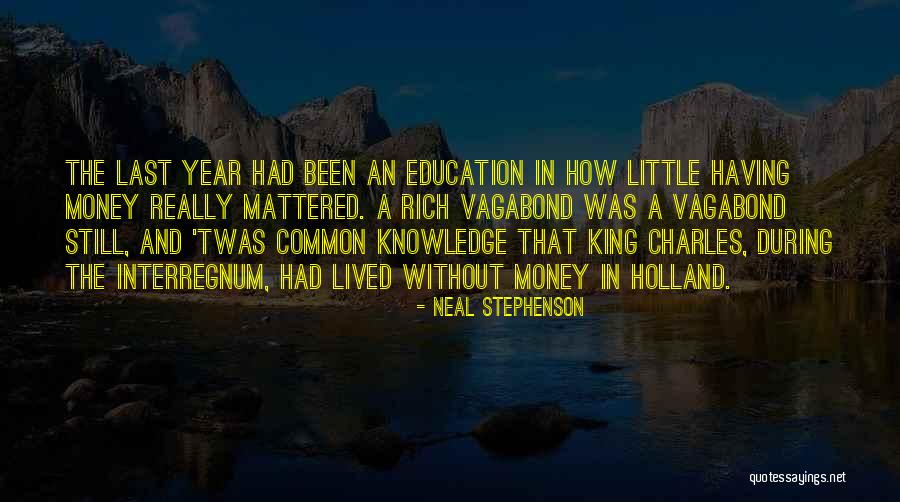 The last year had been an education in how little having money really mattered. A rich Vagabond was a Vagabond still, and 'twas common knowledge that King Charles, during the Interregnum, had lived without money in Holland. — Neal Stephenson
Poverty is a funny phenomenon. It is always defined financially and always relative to what other people earn. It is possible to be extremely happy despite having little money and being officially categorised as poverty-stricken. You can also be really unhappy despite earning a high salary. Those who always want something more will always live in poverty, regardless of how much they earn, while those who are content with what they have will always feel they have an abundance. Most poverty in the UK isn't material poverty, it's spiritual poverty, a state of mind in which fulfilment comes only from the pursuit of material gain. — Mark Boyle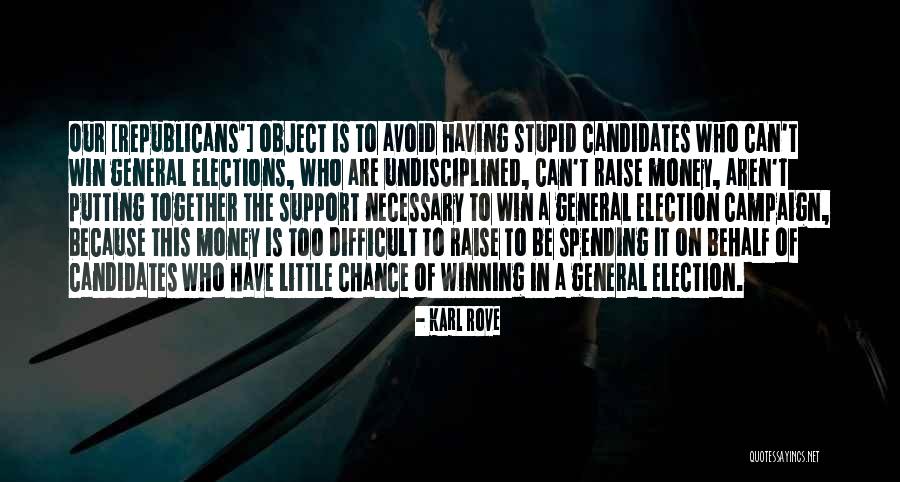 Our [Republicans'] object is to avoid having stupid candidates who can't win general elections, who are undisciplined, can't raise money, aren't putting together the support necessary to win a general election campaign, because this money is too difficult to raise to be spending it on behalf of candidates who have little chance of winning in a general election. — Karl Rove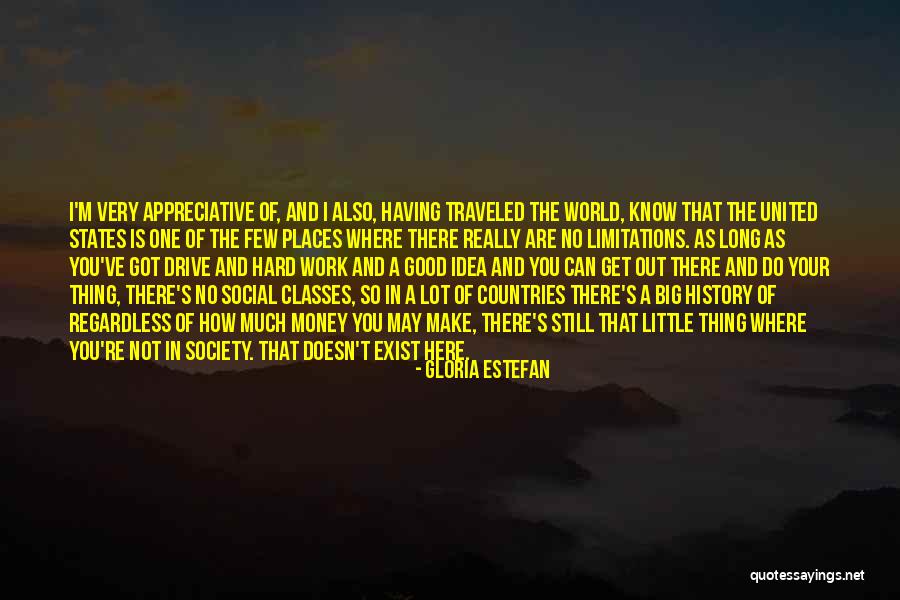 I'm very appreciative of, and I also, having traveled the world, know that the United States is one of the few places where there really are no limitations. As long as you've got drive and hard work and a good idea and you can get out there and do your thing, there's no social classes, so in a lot of countries there's a big history of regardless of how much money you may make, there's still that little thing where you're not in society. That doesn't exist here. — Gloria Estefan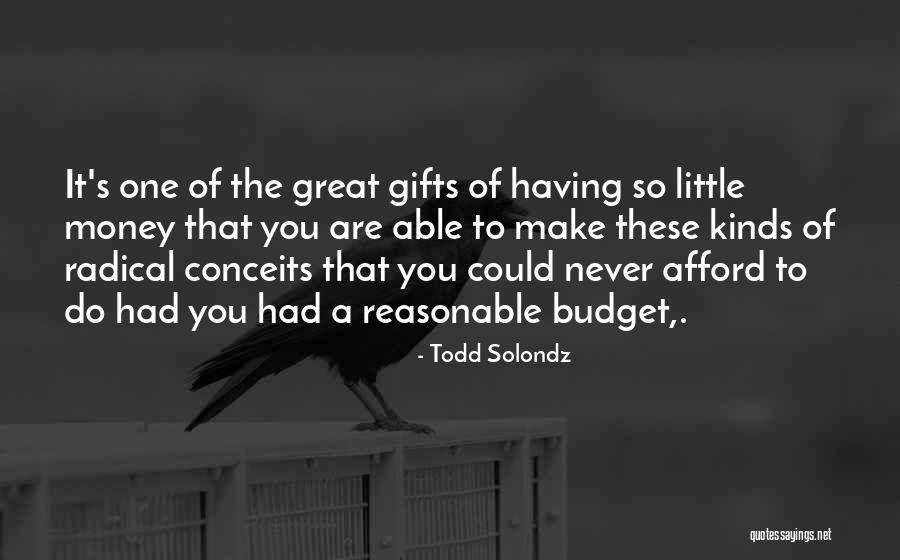 It's one of the great gifts of having so little money that you are able to make these kinds of radical conceits that you could never afford to do had you had a reasonable budget,. — Todd Solondz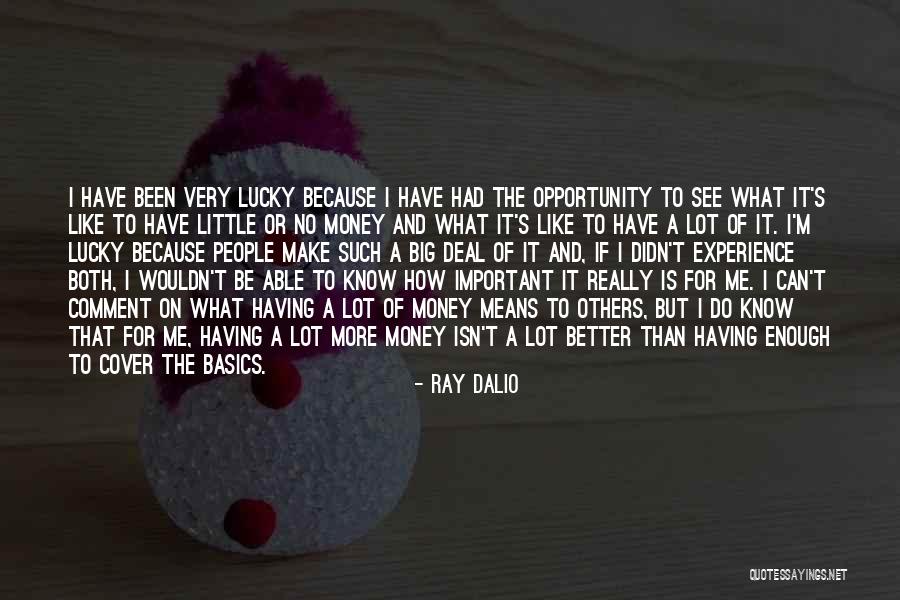 I have been very lucky because I have had the opportunity to see what it's like to have little or no money and what it's like to have a lot of it. I'm lucky because people make such a big deal of it and, if I didn't experience both, I wouldn't be able to know how important it really is for me. I can't comment on what having a lot of money means to others, but I do know that for me, having a lot more money isn't a lot better than having enough to cover the basics. — Ray Dalio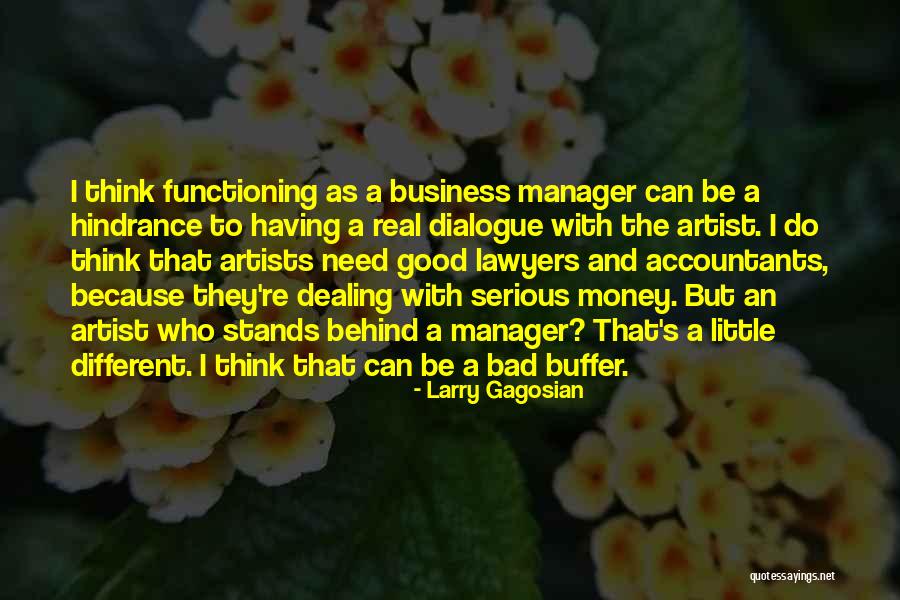 I think functioning as a business manager can be a hindrance to having a real dialogue with the artist. I do think that artists need good lawyers and accountants, because they're dealing with serious money. But an artist who stands behind a manager? That's a little different. I think that can be a bad buffer. — Larry Gagosian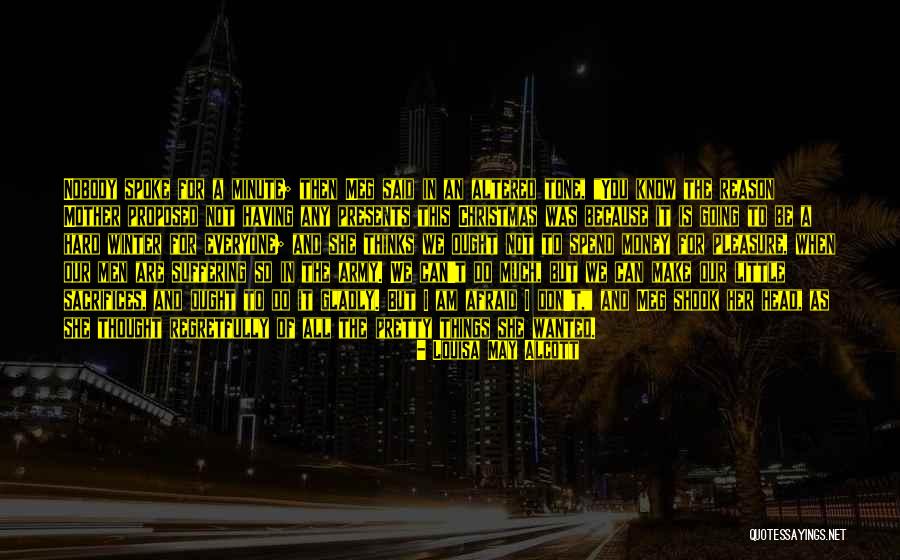 Nobody spoke for a minute; then Meg said in an altered tone, "You know the reason Mother proposed not having any presents this Christmas was because it is going to be a hard winter for everyone; and she thinks we ought not to spend money for pleasure, when our men are suffering so in the army. We can't do much, but we can make our little sacrifices, and ought to do it gladly. But I am afraid I don't," and Meg shook her head, as she thought regretfully of all the pretty things she wanted. — Louisa May Alcott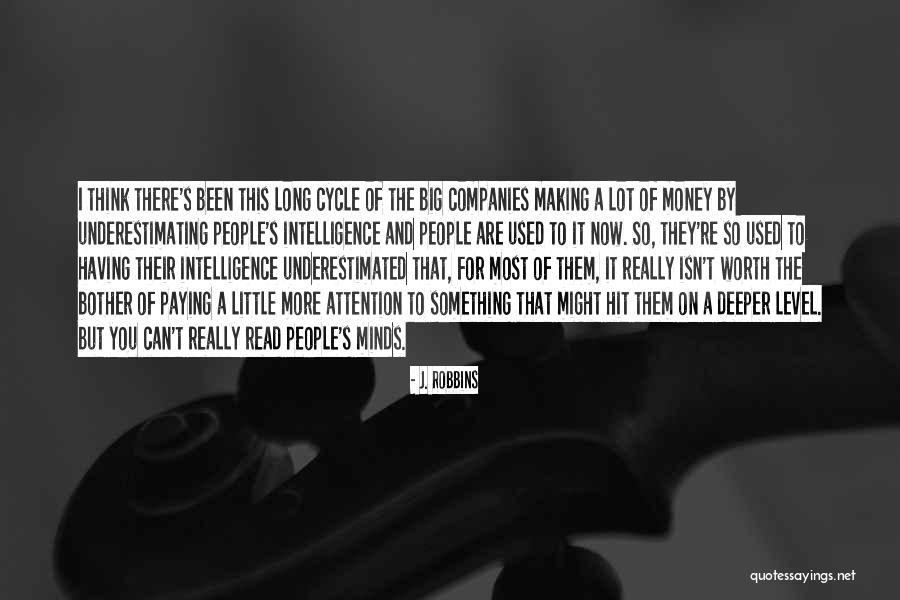 I think there's been this long cycle of the big companies making a lot of money by underestimating people's intelligence and people are used to it now. So, they're so used to having their intelligence underestimated that, for most of them, it really isn't worth the bother of paying a little more attention to something that might hit them on a deeper level. But you can't really read people's minds. — J. Robbins