Quotes & Sayings About Having Childlike Faith
Enjoy reading and share 31 famous quotes about Having Childlike Faith with everyone.
Top Having Childlike Faith Quotes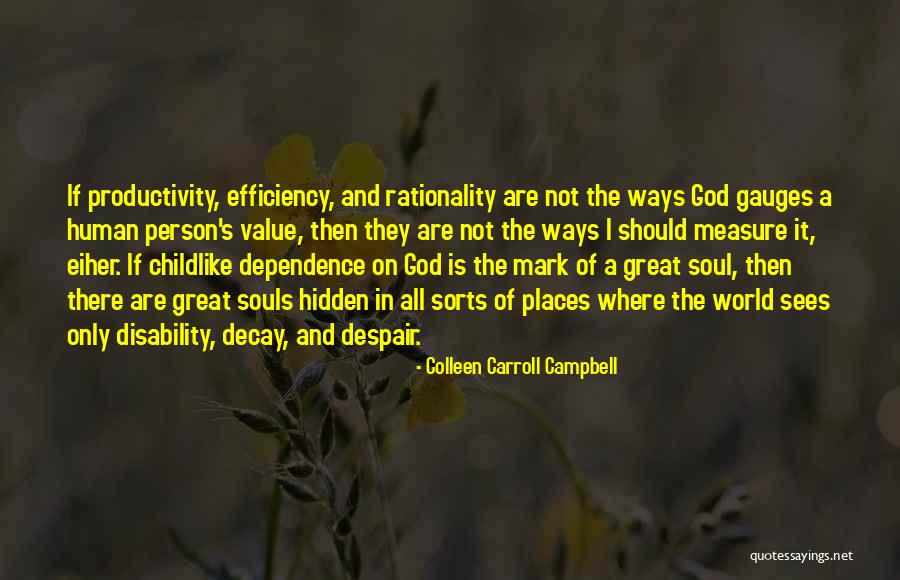 If productivity, efficiency, and rationality are not the ways God gauges a human person's value, then they are not the ways I should measure it, eiher. If childlike dependence on God is the mark of a great soul, then there are great souls hidden in all sorts of places where the world sees only disability, decay, and despair. — Colleen Carroll Campbell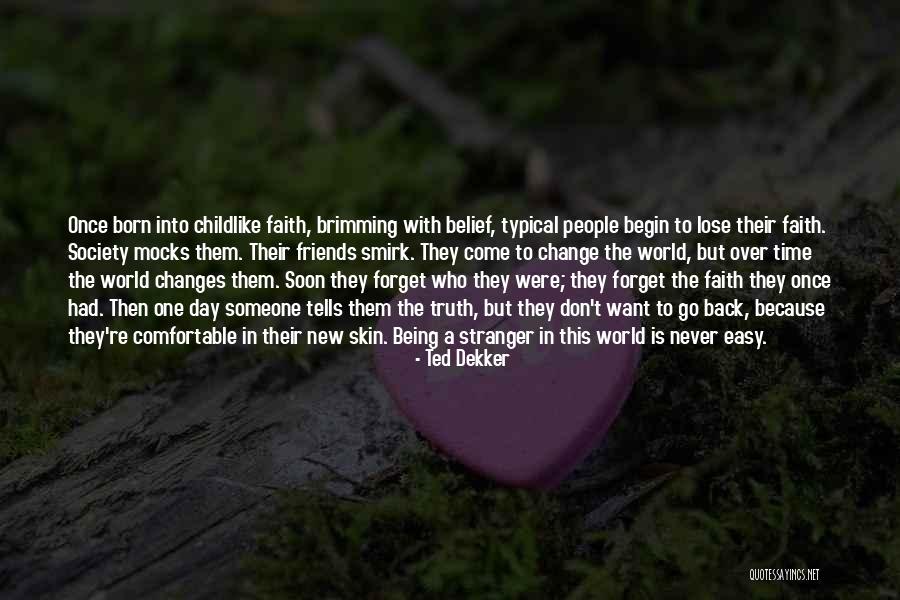 Once born into childlike faith, brimming with belief, typical people begin to lose their faith. Society mocks them. Their friends smirk. They come to change the world, but over time the world changes them. Soon they forget who they were; they forget the faith they once had. Then one day someone tells them the truth, but they don't want to go back, because they're comfortable in their new skin. Being a stranger in this world is never easy. — Ted Dekker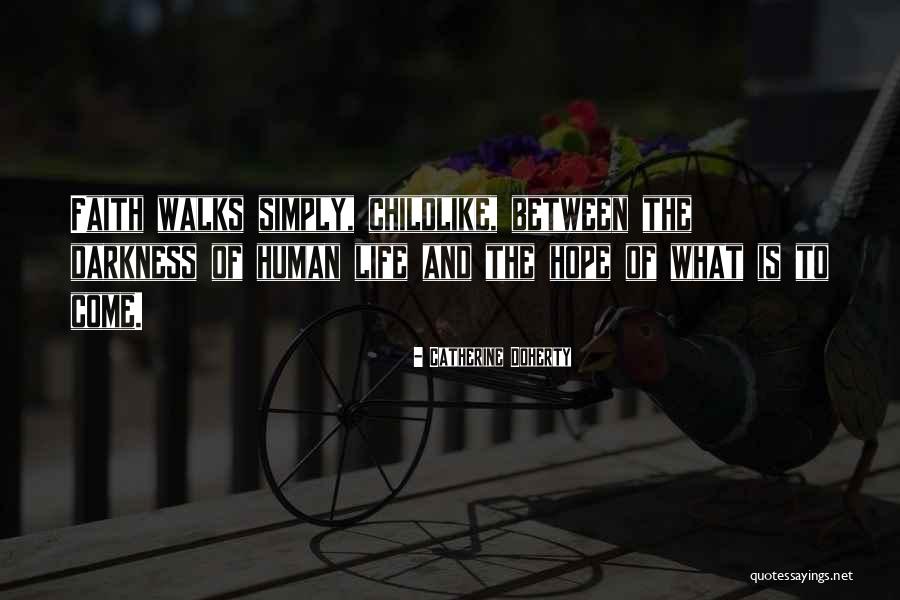 Faith walks simply, childlike, between the darkness of human life and the hope of what is to come. — Catherine Doherty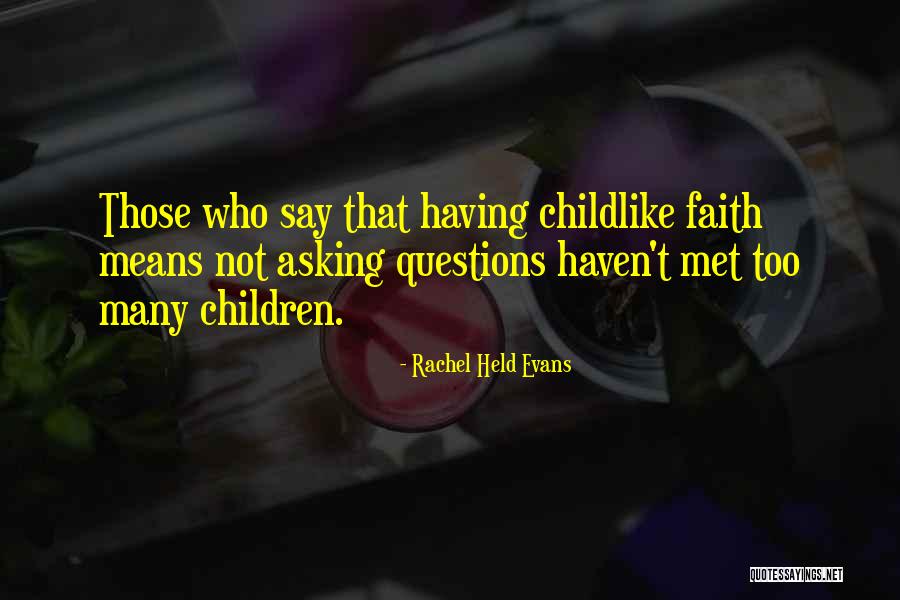 Those who say that having childlike faith means not asking questions haven't met too many children. — Rachel Held Evans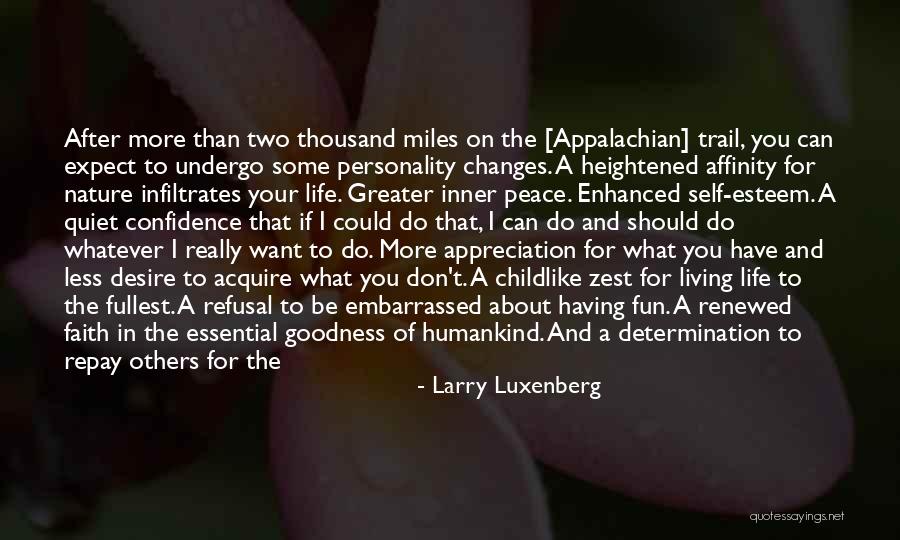 After more than two thousand miles on the [Appalachian] trail, you can expect to undergo some personality changes. A heightened affinity for nature infiltrates your life. Greater inner peace. Enhanced self-esteem. A quiet confidence that if I could do that, I can do and should do whatever I really want to do. More appreciation for what you have and less desire to acquire what you don't. A childlike zest for living life to the fullest. A refusal to be embarrassed about having fun. A renewed faith in the essential goodness of humankind. And a determination to repay others for the many kindnesses you have received. — Larry Luxenberg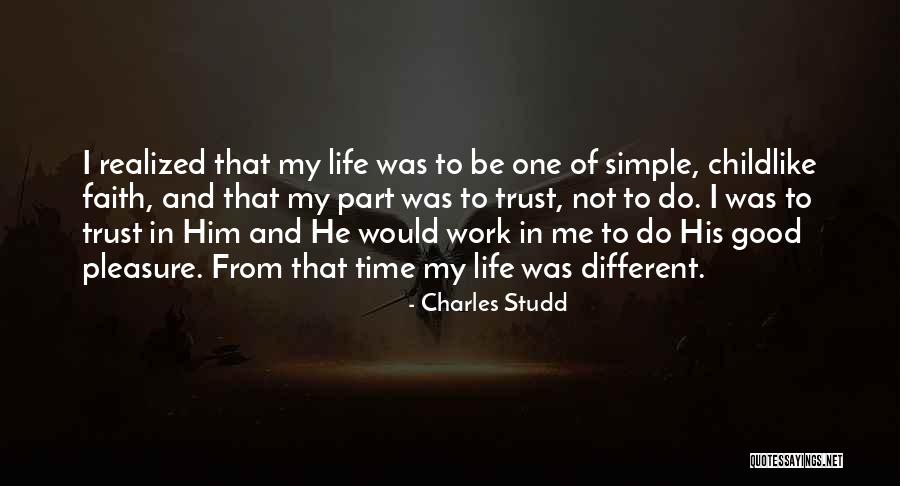 I realized that my life was to be one of simple, childlike faith, and that my part was to trust, not to do. I was to trust in Him and He would work in me to do His good pleasure. From that time my life was different. — Charles Studd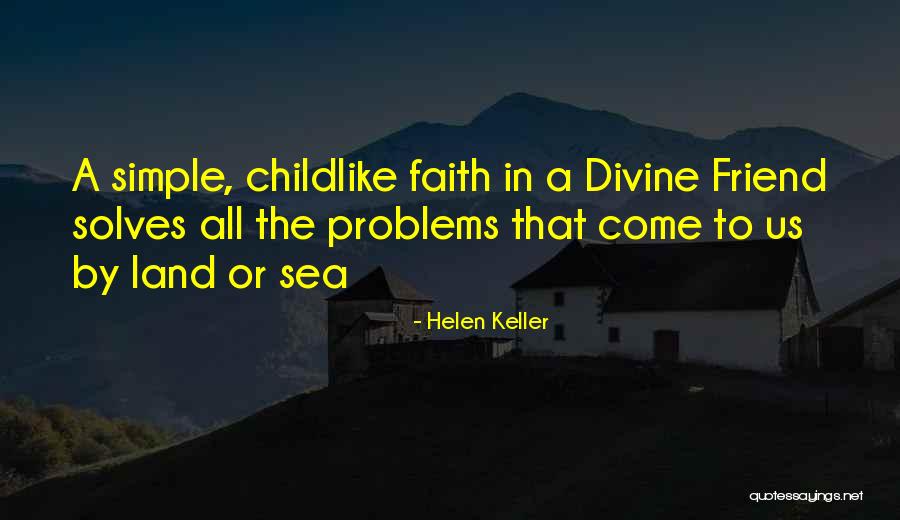 A simple, childlike faith in a Divine Friend solves all the problems that come to us by land or sea — Helen Keller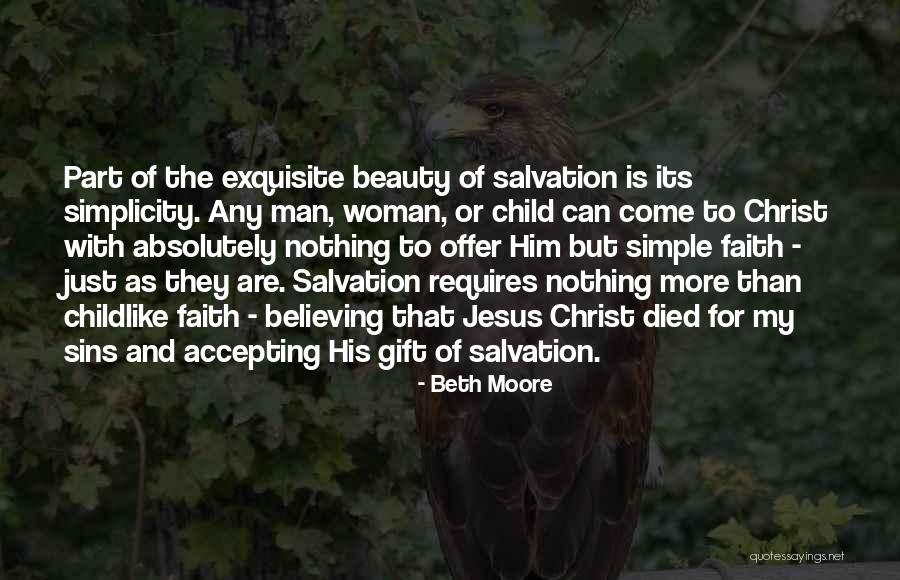 Part of the exquisite beauty of salvation is its simplicity. Any man, woman, or child can come to Christ with absolutely nothing to offer Him but simple faith - just as they are. Salvation requires nothing more than childlike faith - believing that Jesus Christ died for my sins and accepting His gift of salvation. — Beth Moore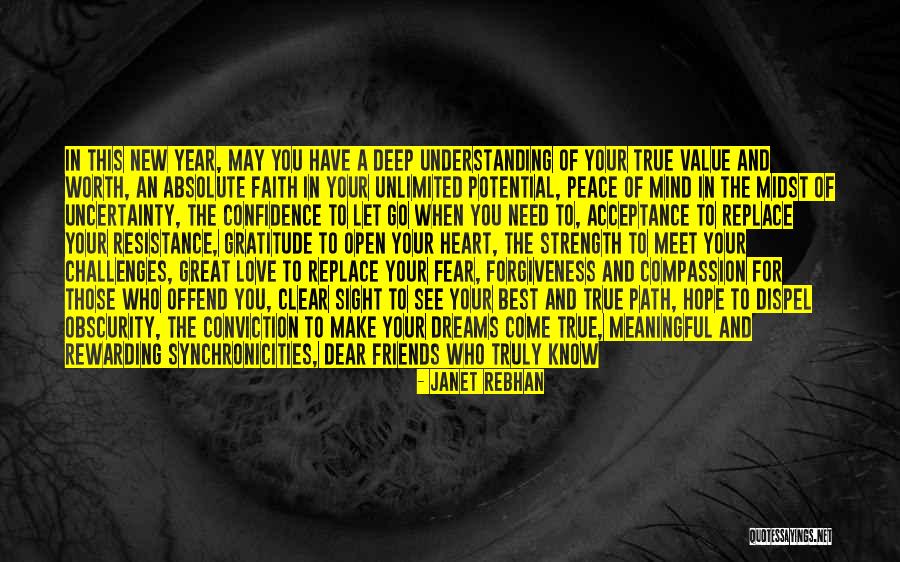 In this new year, may you have a deep understanding of your true value and worth, an absolute faith in your unlimited potential, peace of mind in the midst of uncertainty, the confidence to let go when you need to, acceptance to replace your resistance, gratitude to open your heart, the strength to meet your challenges, great love to replace your fear, forgiveness and compassion for those who offend you, clear sight to see your best and true path, hope to dispel obscurity, the conviction to make your dreams come true, meaningful and rewarding synchronicities, dear friends who truly know and love you, a childlike trust in the benevolence of the universe, the humility to remain teachable, the wisdom to fully embrace your life exactly as it is, the understanding that every soul has its own course to follow, the discernment to recognize your own unique inner voice of truth, and the courage to learn to be still. — Janet Rebhan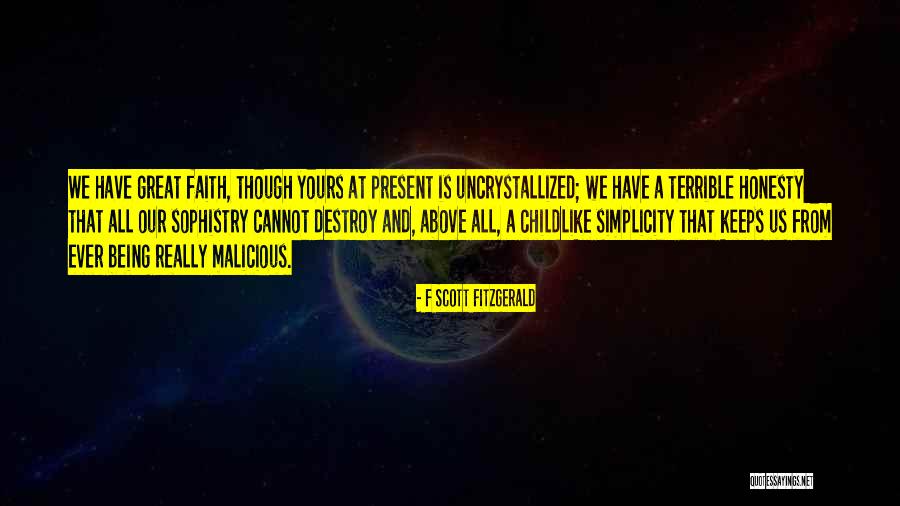 We have great faith, though yours at present is uncrystallized; we have a terrible honesty that all our sophistry cannot destroy and, above all, a childlike simplicity that keeps us from ever being really malicious. — F Scott Fitzgerald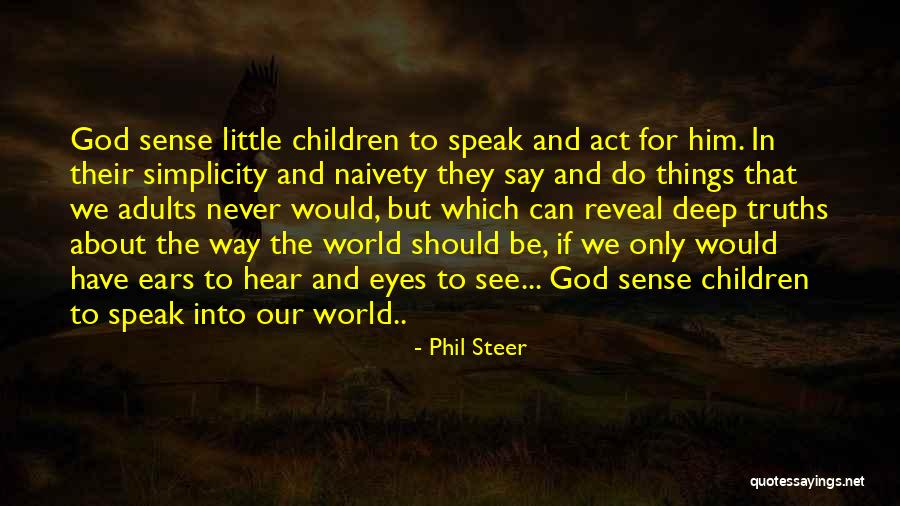 God sense little children to speak and act for him. In their simplicity and naivety they say and do things that we adults never would, but which can reveal deep truths about the way the world should be, if we only would have ears to hear and eyes to see... God sense children to speak into our world.. — Phil Steer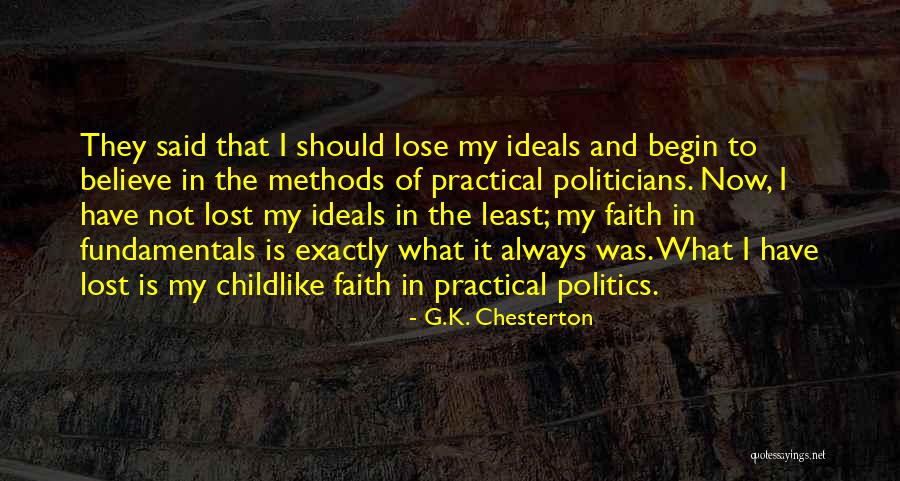 They said that I should lose my ideals and begin to believe in the methods of practical politicians. Now, I have not lost my ideals in the least; my faith in fundamentals is exactly what it always was. What I have lost is my childlike faith in practical politics. — G.K. Chesterton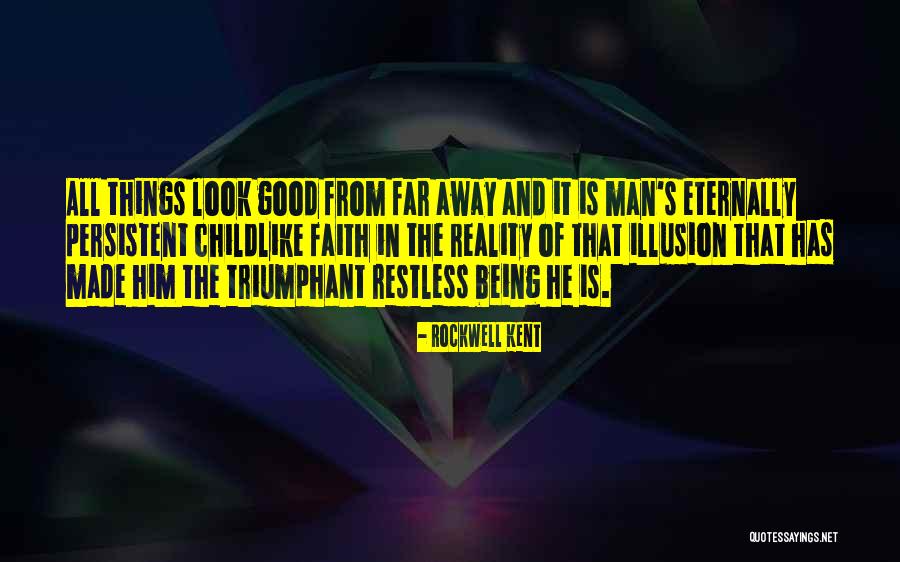 All things look good from far away and it is man's eternally persistent childlike faith in the reality of that illusion that has made him the triumphant restless being he is. — Rockwell Kent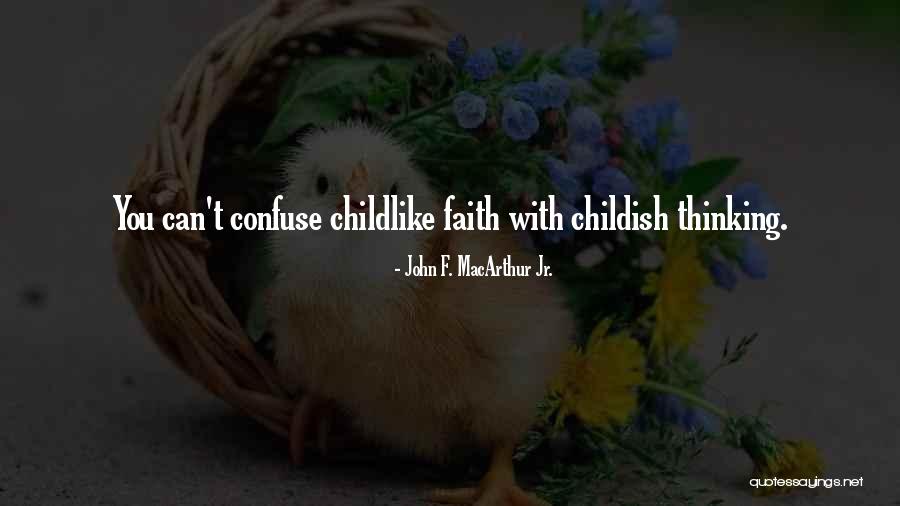 You can't confuse childlike faith with childish thinking. — John F. MacArthur Jr.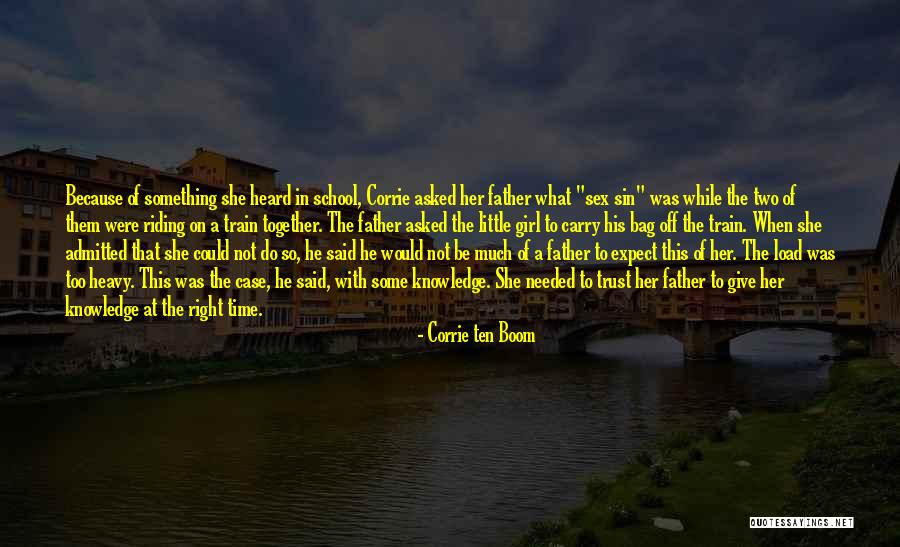 Because of something she heard in school, Corrie asked her father what "sex sin" was while the two of them were riding on a train together. The father asked the little girl to carry his bag off the train. When she admitted that she could not do so, he said he would not be much of a father to expect this of her. The load was too heavy. This was the case, he said, with some knowledge. She needed to trust her father to give her knowledge at the right time. — Corrie Ten Boom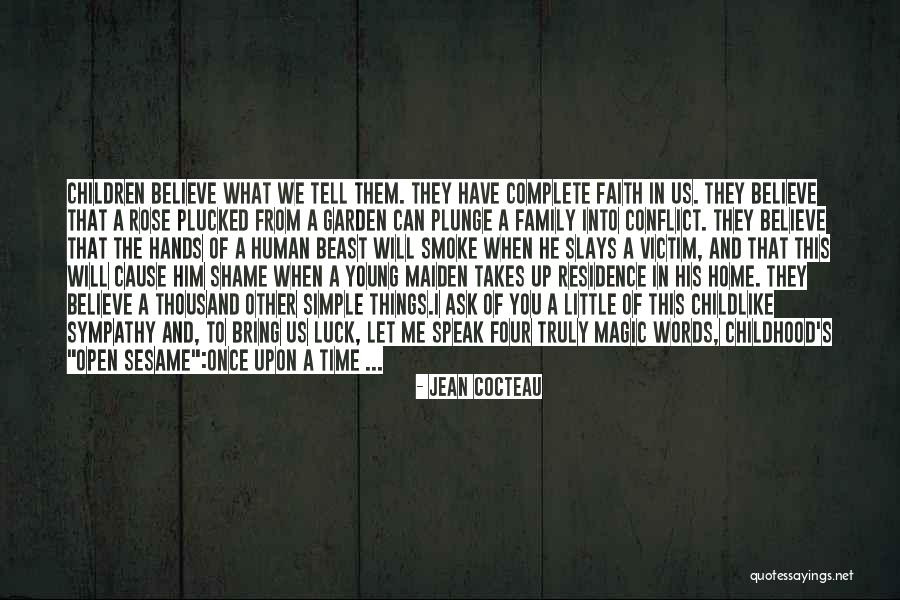 Children believe what we tell them. They have complete faith in us. They believe that a rose plucked from a garden can plunge a family into conflict. They believe that the hands of a human beast will smoke when he slays a victim, and that this will cause him shame when a young maiden takes up residence in his home. They believe a thousand other simple things.
I ask of you a little of this childlike sympathy and, to bring us luck, let me speak four truly magic words, childhood's "Open Sesame":
Once upon a time ... — Jean Cocteau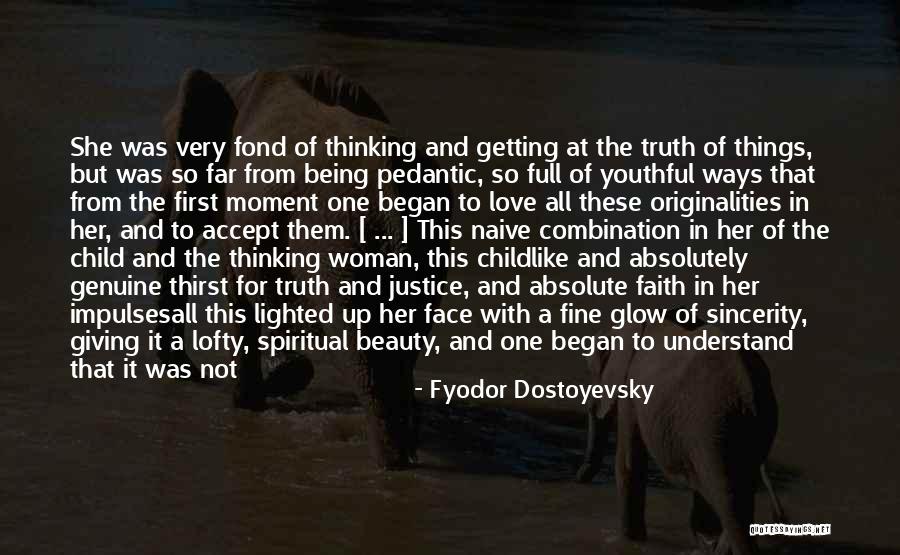 She was very fond of thinking and getting at the truth of things, but was so far from being pedantic, so full of youthful ways that from the first moment one began to love all these originalities in her, and to accept them. [ ... ] This naive combination in her of the child and the thinking woman, this childlike and absolutely genuine thirst for truth and justice, and absolute faith in her impulses
all this lighted up her face with a fine glow of sincerity, giving it a lofty, spiritual beauty, and one began to understand that it was not so easy to gauge the full significance of that beauty which was not all at once apparent to every ordinary unsympathetic eye. — Fyodor Dostoyevsky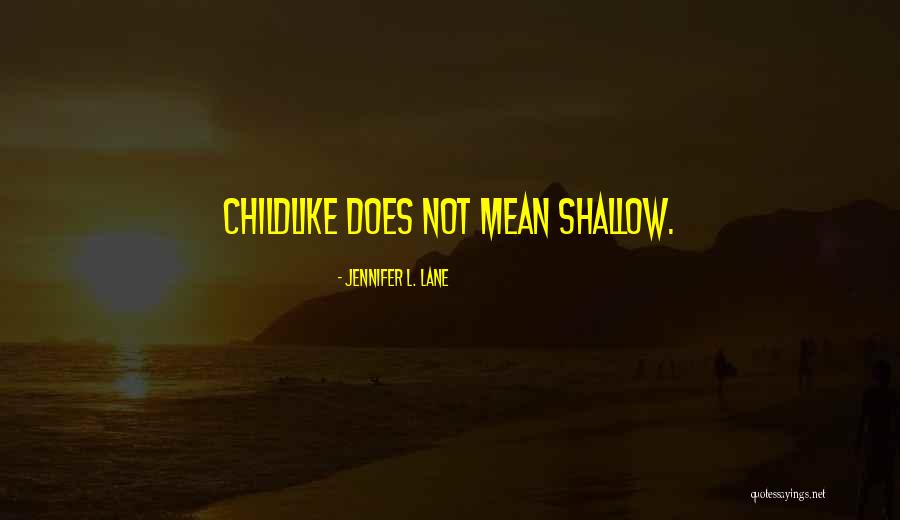 Childlike does not mean shallow. — Jennifer L. Lane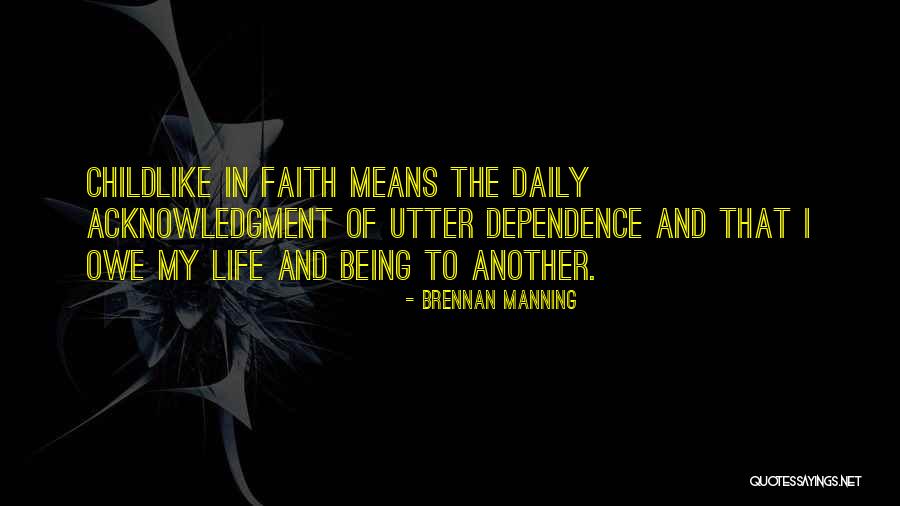 Childlike in faith means the daily acknowledgment of utter dependence and that I owe my life and being to another. — Brennan Manning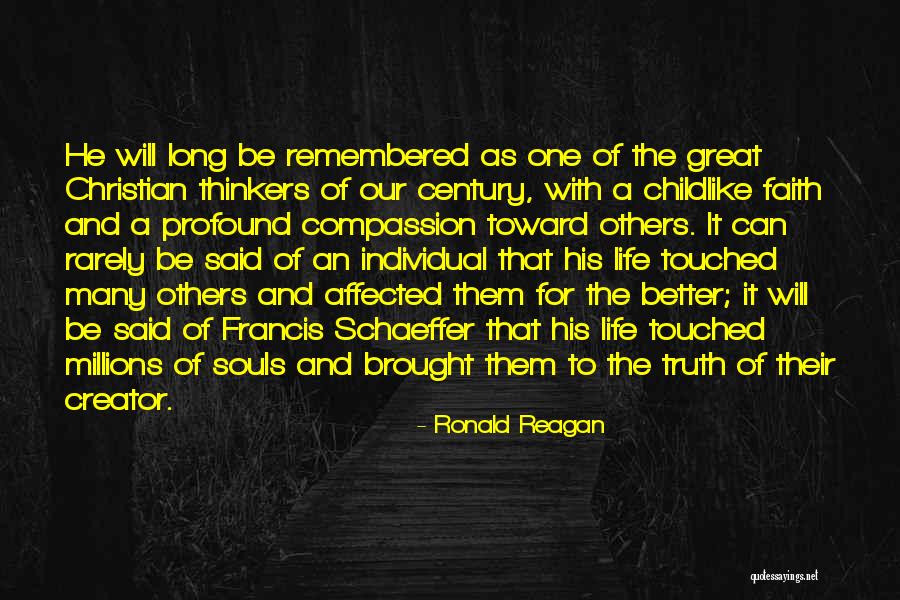 He will long be remembered as one of the great Christian thinkers of our century, with a childlike faith and a profound compassion toward others. It can rarely be said of an individual that his life touched many others and affected them for the better; it will be said of Francis Schaeffer that his life touched millions of souls and brought them to the truth of their creator. — Ronald Reagan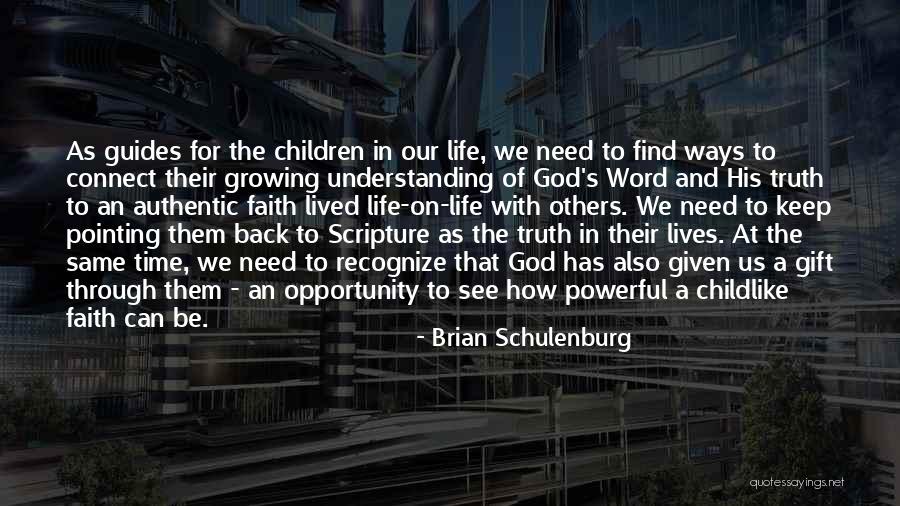 As guides for the children in our life, we need to find ways to connect their growing understanding of God's Word and His truth to an authentic faith lived life-on-life with others. We need to keep pointing them back to Scripture as the truth in their lives. At the same time, we need to recognize that God has also given us a gift through them - an opportunity to see how powerful a childlike faith can be. — Brian Schulenburg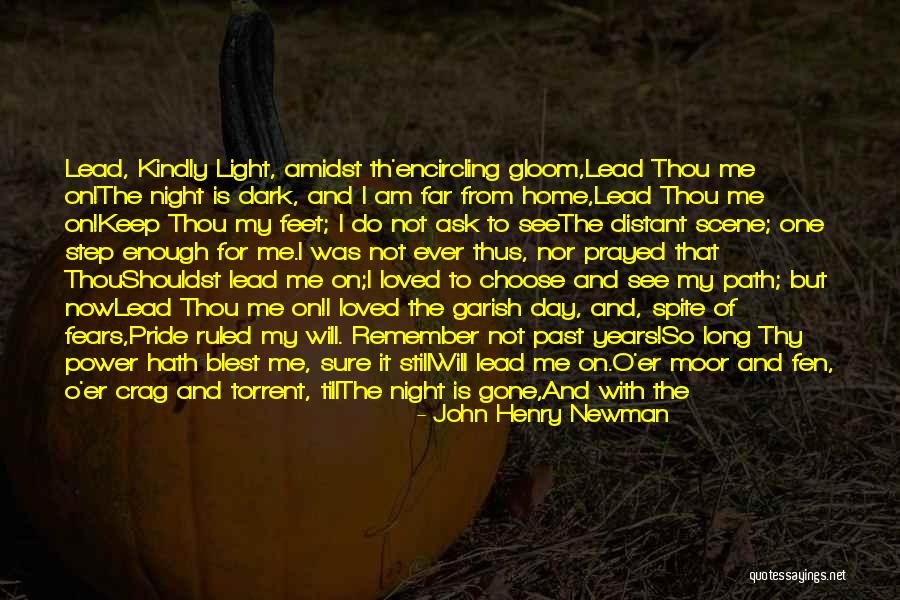 Lead, Kindly Light, amidst th'encircling gloom,
Lead Thou me on!
The night is dark, and I am far from home,
Lead Thou me on!
Keep Thou my feet; I do not ask to see
The distant scene; one step enough for me.
I was not ever thus, nor prayed that Thou
Shouldst lead me on;
I loved to choose and see my path; but now
Lead Thou me on!
I loved the garish day, and, spite of fears,
Pride ruled my will. Remember not past years!
So long Thy power hath blest me, sure it still
Will lead me on.
O'er moor and fen, o'er crag and torrent, till
The night is gone,
And with the morn those angel faces smile,
Which I have loved long since, and lost awhile!
Meantime, along the narrow rugged path,
Thyself hast trod,
Lead, Saviour, lead me home in childlike faith,
Home to my God.
To rest forever after earthly strife
In the calm light of everlasting life. — John Henry Newman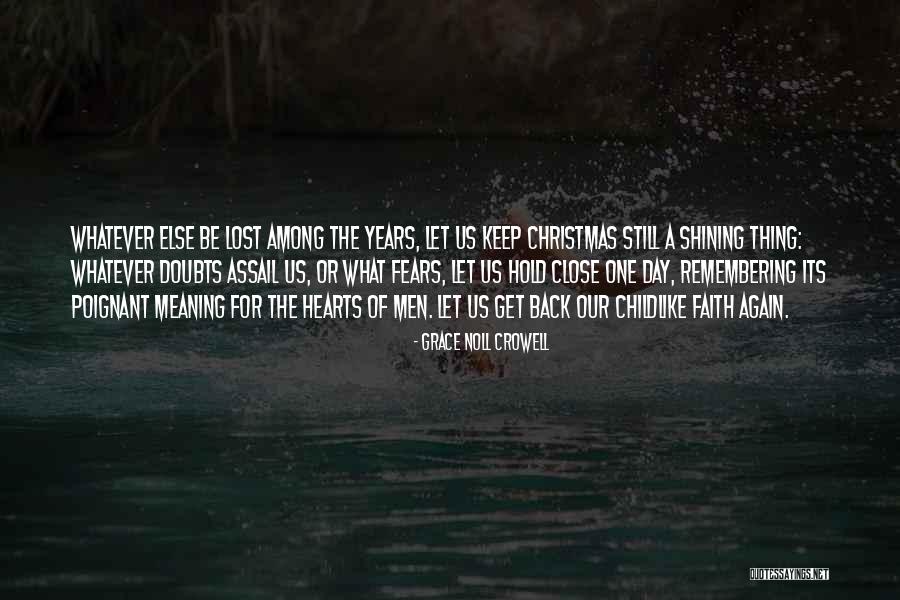 Whatever else be lost among the years, Let us keep Christmas still a shining thing: Whatever doubts assail us, or what fears, Let us hold close one day, remembering Its poignant meaning for the hearts of men. Let us get back our childlike faith again. — Grace Noll Crowell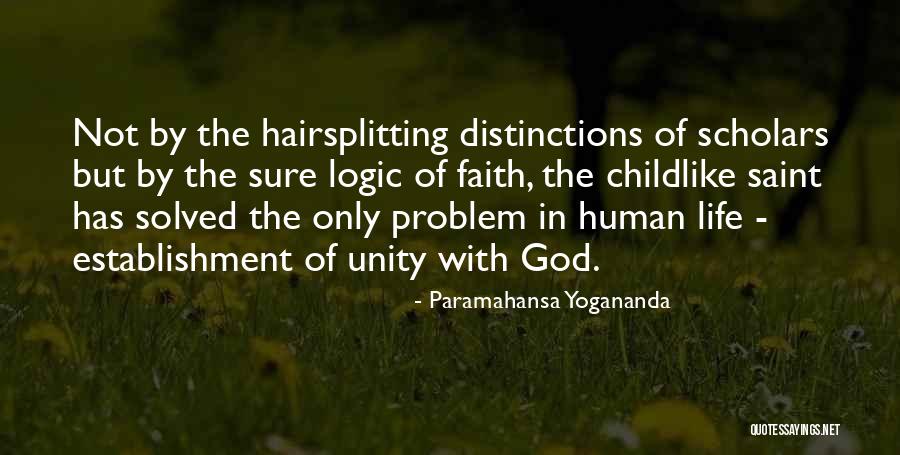 Not by the hairsplitting distinctions of scholars but by the sure logic of faith, the childlike saint has solved the only problem in human life - establishment of unity with God. — Paramahansa Yogananda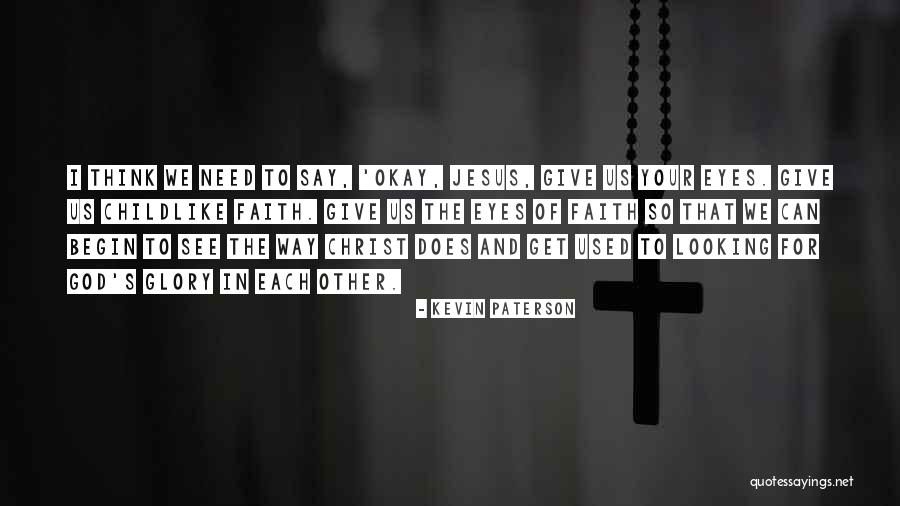 I think we need to say, 'Okay, Jesus, give us your eyes. Give us childlike faith. Give us the eyes of faith so that we can begin to see the way Christ does and get used to looking for God's glory in each other. — Kevin Paterson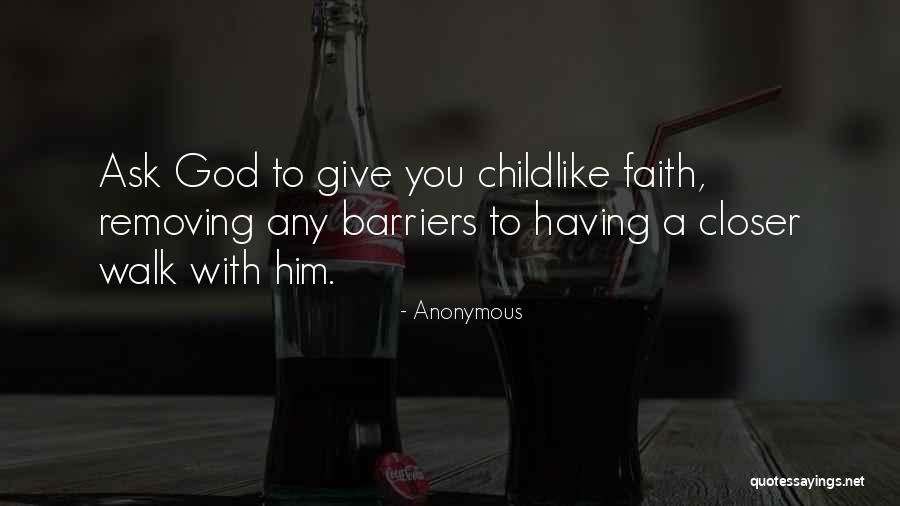 Ask God to give you childlike faith, removing any barriers to having a closer walk with him. — Anonymous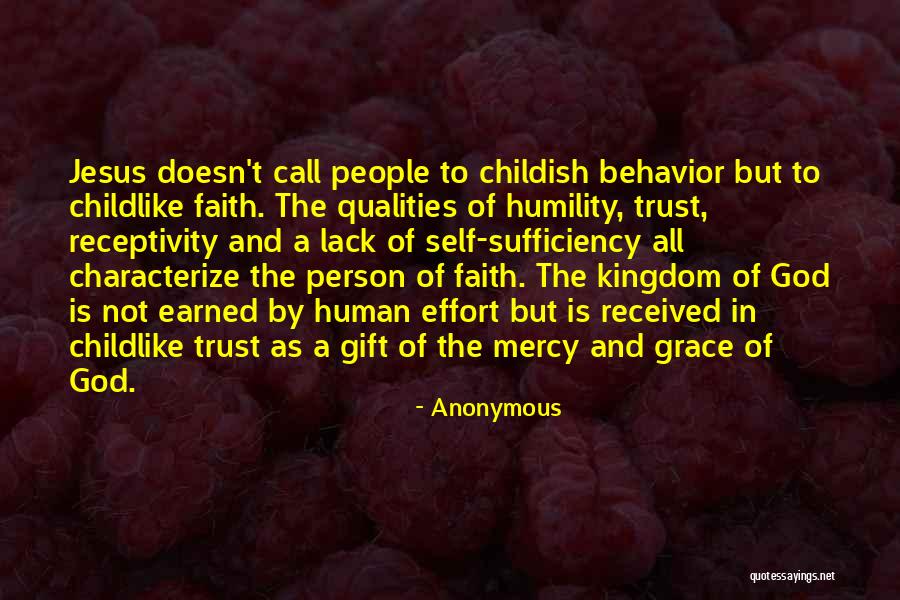 Jesus doesn't call people to childish behavior but to childlike faith. The qualities of humility, trust, receptivity and a lack of self-sufficiency all characterize the person of faith. The kingdom of God is not earned by human effort but is received in childlike trust as a gift of the mercy and grace of God. — Anonymous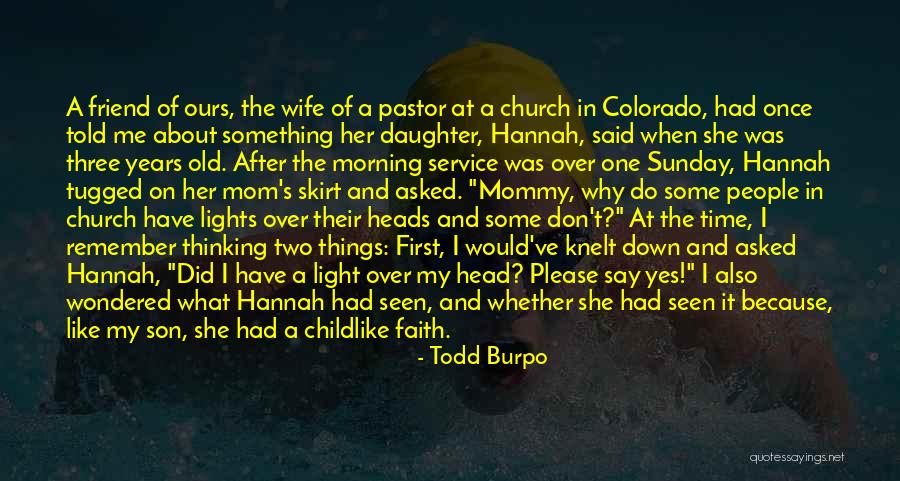 A friend of ours, the wife of a pastor at a church in Colorado, had once told me about something her daughter, Hannah, said when she was three years old. After the morning service was over one Sunday, Hannah tugged on her mom's skirt and asked. "Mommy, why do some people in church have lights over their heads and some don't?" At the time, I remember thinking two things: First, I would've knelt down and asked Hannah, "Did I have a light over my head? Please say yes!" I also wondered what Hannah had seen, and whether she had seen it because, like my son, she had a childlike faith. — Todd Burpo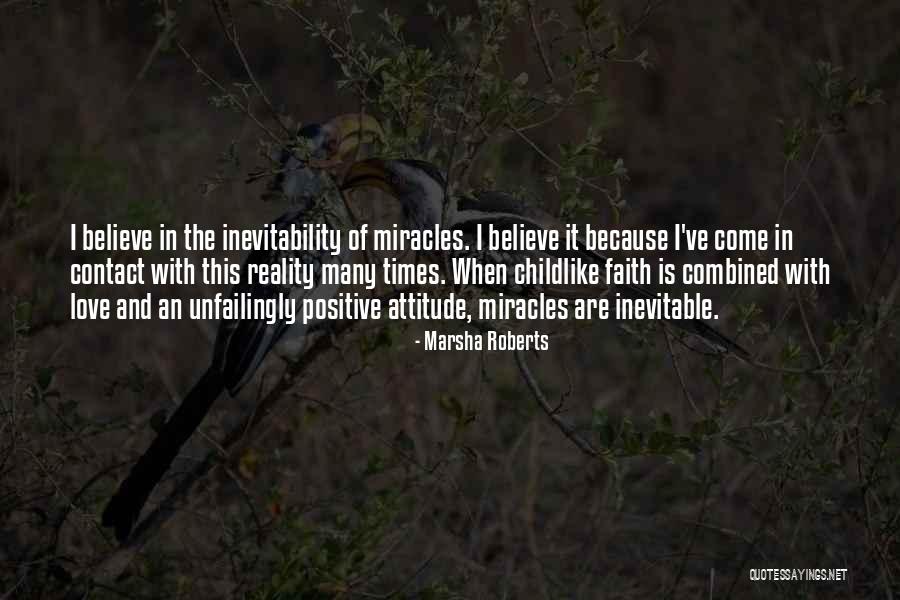 I believe in the inevitability of miracles. I believe it because I've come in contact with this reality many times. When childlike faith is combined with love and an unfailingly positive attitude, miracles are inevitable. — Marsha Roberts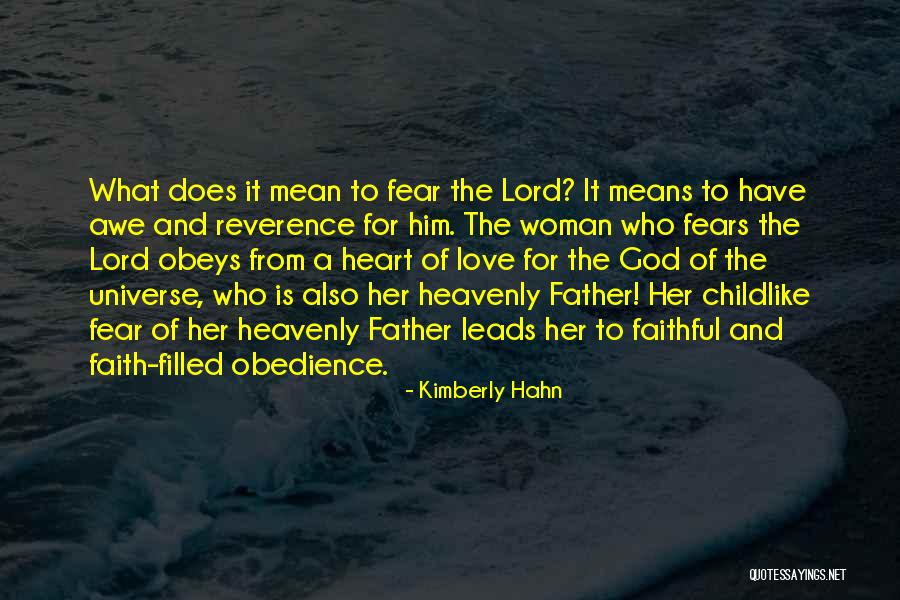 What does it mean to fear the Lord? It means to have awe and reverence for him. The woman who fears the Lord obeys from a heart of love for the God of the universe, who is also her heavenly Father! Her childlike fear of her heavenly Father leads her to faithful and faith-filled obedience. — Kimberly Hahn