Have Faith And Patience Quotes & Sayings
Enjoy reading and share 41 famous quotes about Have Faith And Patience with everyone.
Top Have Faith And Patience Quotes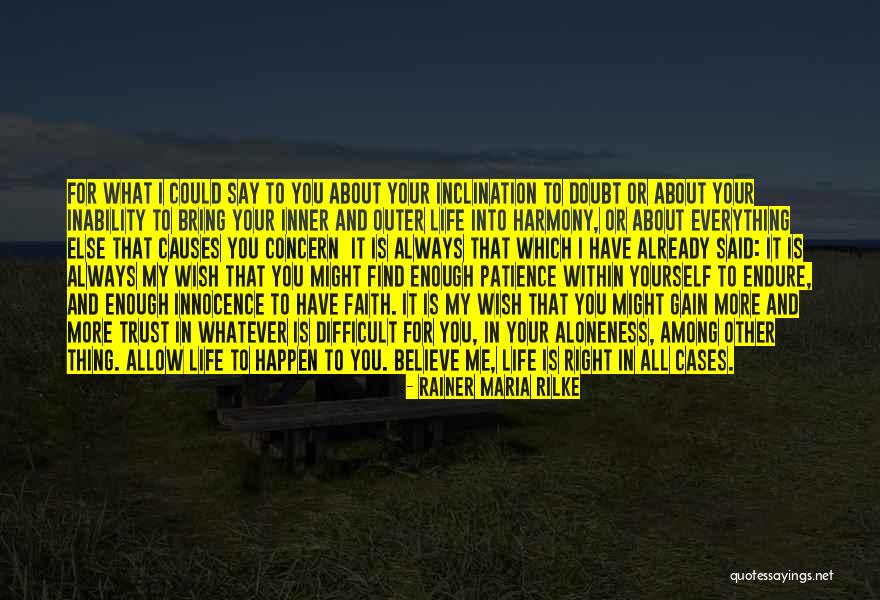 For what I could say to you about your inclination to doubt or about your inability to bring your inner and outer life into harmony, or about everything else that causes you concern
it is always that which I have already said: it is always my wish that you might find enough patience within yourself to endure, and enough innocence to have faith. It is my wish that you might gain more and more trust in whatever is difficult for you, in your aloneness, among other thing. Allow life to happen to you. Believe me, life is right in all cases. — Rainer Maria Rilke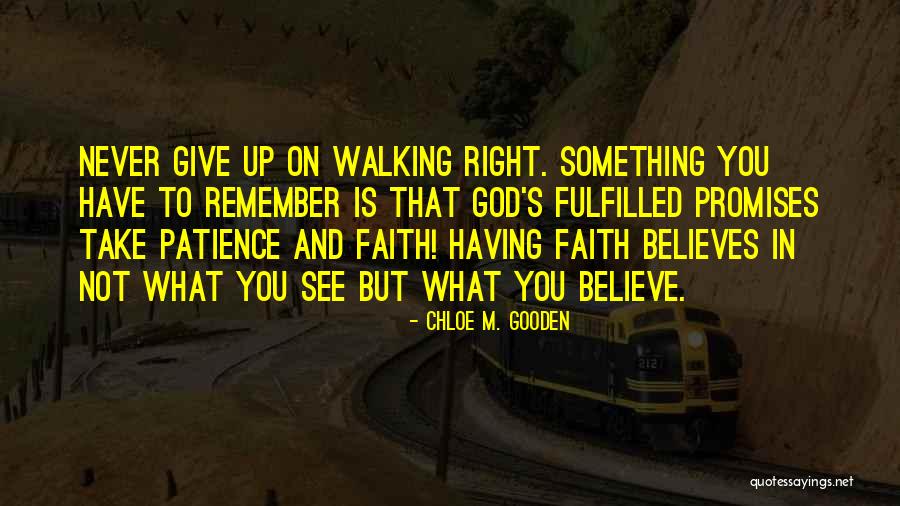 Never give up on walking right. Something you have to remember is that God's fulfilled promises take patience and faith! Having faith believes in not what you SEE but what you BELIEVE. — Chloe M. Gooden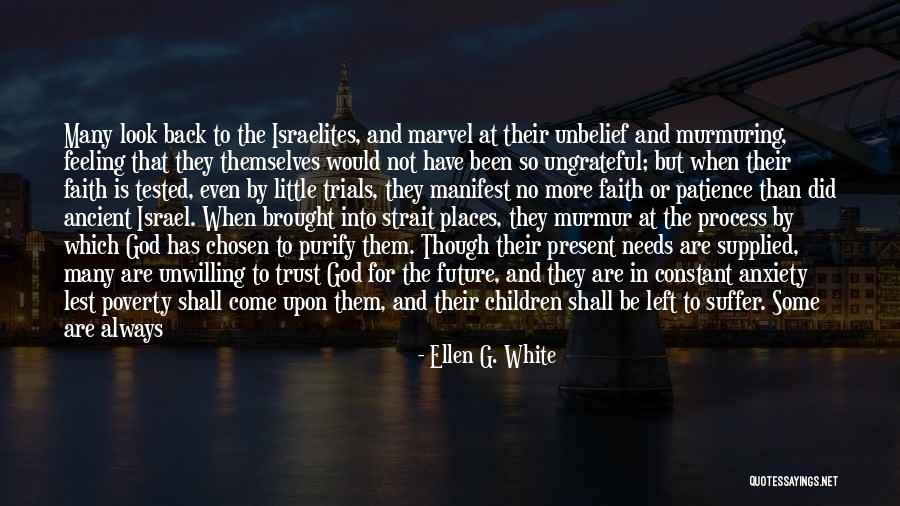 Many look back to the Israelites, and marvel at their unbelief and murmuring, feeling that they themselves would not have been so ungrateful; but when their faith is tested, even by little trials, they manifest no more faith or patience than did ancient Israel. When brought into strait places, they murmur at the process by which God has chosen to purify them. Though their present needs are supplied, many are unwilling to trust God for the future, and they are in constant anxiety lest poverty shall come upon them, and their children shall be left to suffer. Some are always anticipating evil or magnifying the difficulties that really exist, so that their eyes are blinded to the many blessings which demand their gratitude. The obstacles they encounter, [294] instead of leading them to seek help from God, the only Source of strength, separate them from him, because they awaken unrest and repining. — Ellen G. White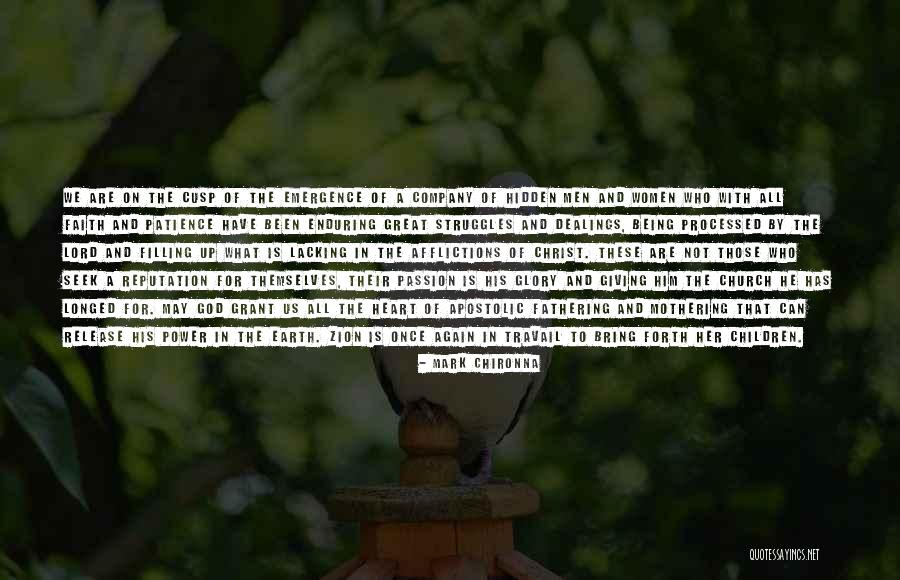 We are on the cusp of the emergence of a company of hidden men and women who with all faith and patience have been enduring great struggles and dealings, being processed by the Lord and filling up what is lacking in the afflictions of Christ. These are not those who seek a reputation for themselves, their passion is His glory and giving Him the church He has longed for. May God grant us all the heart of apostolic fathering and mothering that can release His power in the earth. Zion is once again in travail to bring forth her children. — Mark Chironna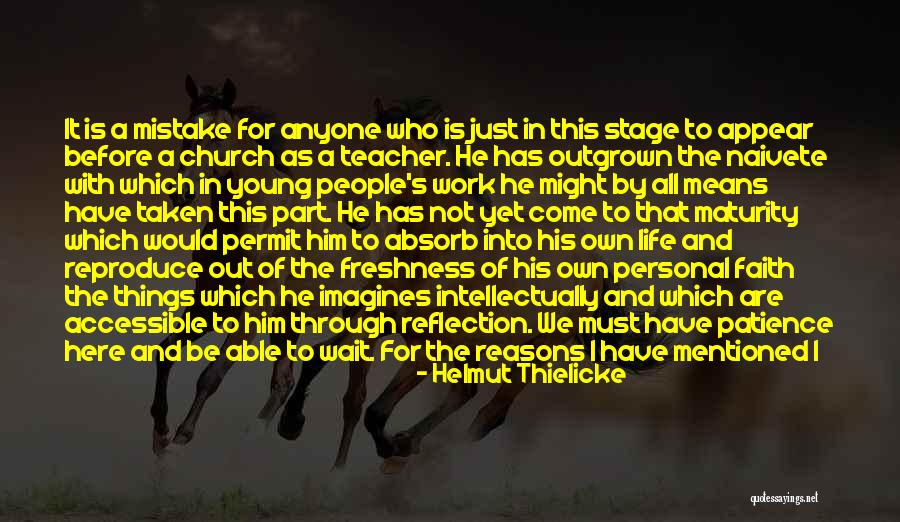 It is a mistake for anyone who is just in this stage to appear before a church as a teacher. He has outgrown the naivete with which in young people's work he might by all means have taken this part. He has not yet come to that maturity which would permit him to absorb into his own life and reproduce out of the freshness of his own personal faith the things which he imagines intellectually and which are accessible to him through reflection. We must have patience here and be able to wait. For the reasons I have mentioned I do not tolerate sermons by first-semester young theological students swaddled in their gowns. One ought to be able to keep still. During the period when the voice is changing we do not sing, and during this formative period in the life of the theological student he does not preach. — Helmut Thielicke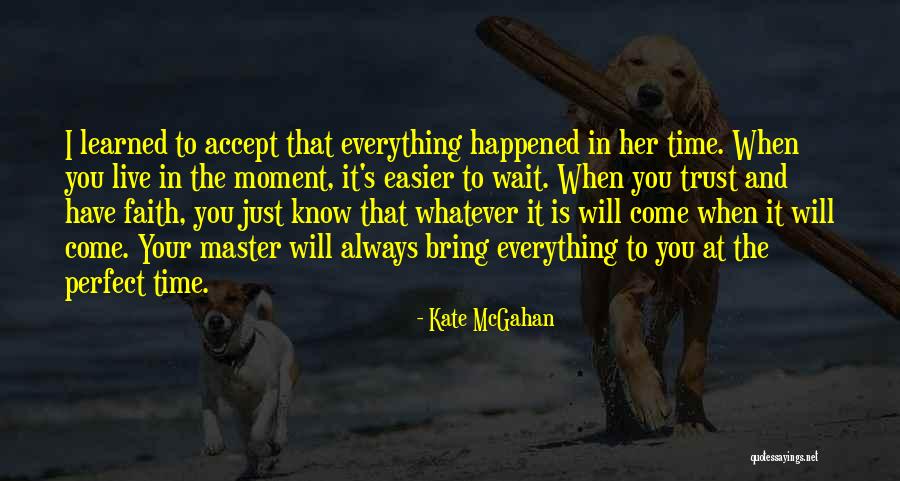 I learned to accept that everything happened in her time. When you live in the moment, it's easier to wait. When you trust and have faith, you just know that whatever it is will come when it will come. Your master will always bring everything to you at the perfect time. — Kate McGahan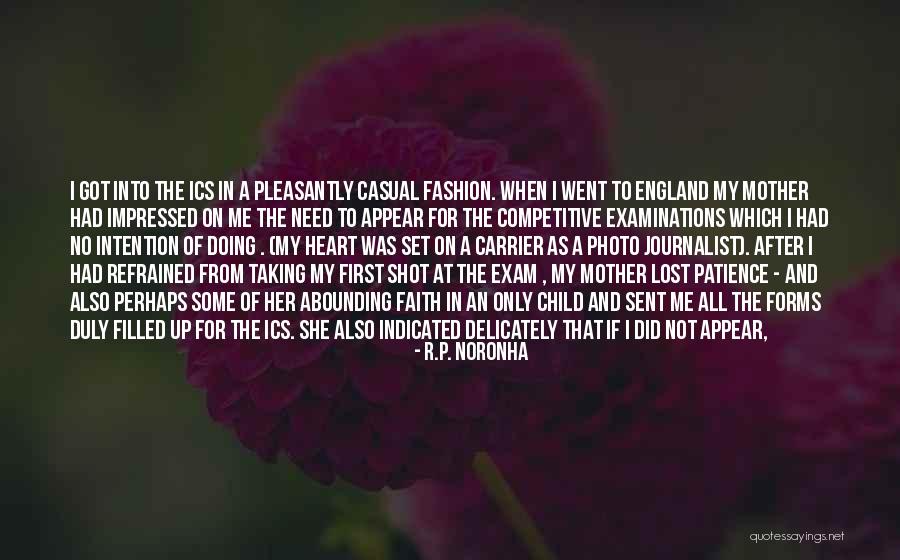 I got into the ICS in a pleasantly casual fashion. When I went to England my mother had impressed on me the need to appear for the competitive examinations which I had no intention of doing . (my heart was set on a carrier as a photo journalist). After I had refrained from taking my first shot at the exam , my mother lost patience - and also perhaps some of her abounding faith in an only child and sent me all the forms duly filled up for the ICS. She also indicated delicately that if I did not appear, my allowance would die a sudden death. I appeared; much to my surprise, I got in. Even more to my surprise I topped the list of Indian candidates, and ever since then I have had no faith in competitive examination — R.P. Noronha
Have you seen a room from which faith has gone? ... Like a marriage from which love has gone ... And patience, patience everywhere like a fog. — Graham Greene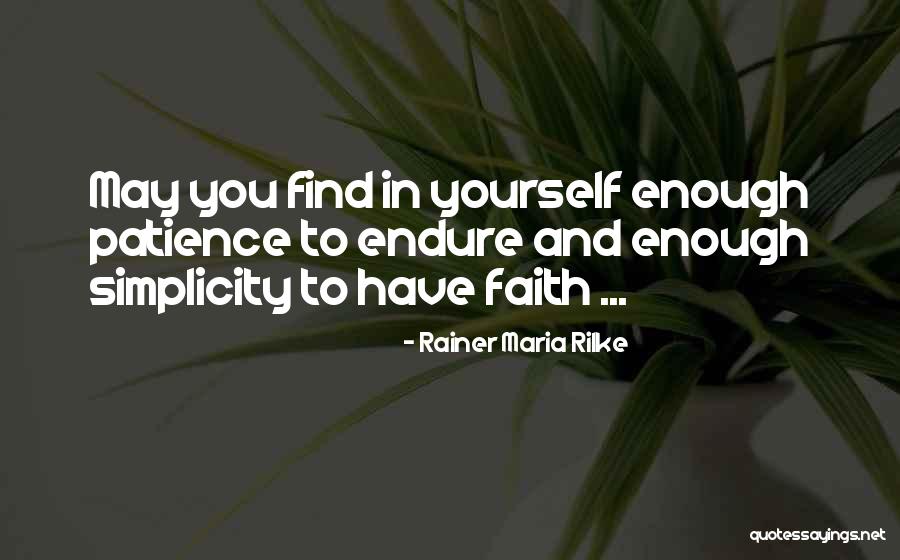 May you find in yourself enough patience to endure and enough simplicity to have faith ... — Rainer Maria Rilke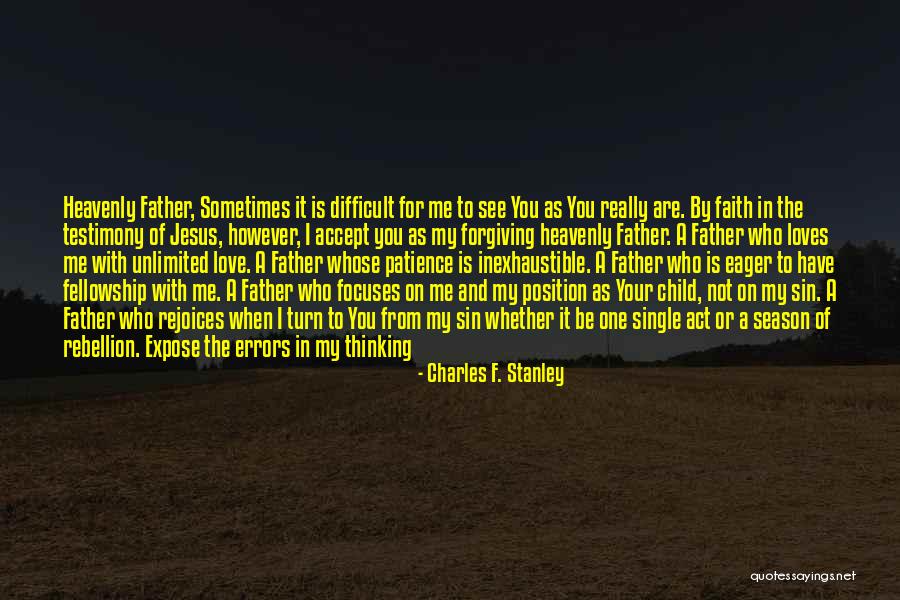 Heavenly Father, Sometimes it is difficult for me to see You as You really are. By faith in the testimony of Jesus, however, I accept you as my forgiving heavenly Father. A Father who loves me with unlimited love. A Father whose patience is inexhaustible. A Father who is eager to have fellowship with me. A Father who focuses on me and my position as Your child, not on my sin. A Father who rejoices when I turn to You from my sin whether it be one single act or a season of rebellion. Expose the errors in my thinking toward You and fill me with the truth, for I know that in discovering the truth I will be set free. Amen. — Charles F. Stanley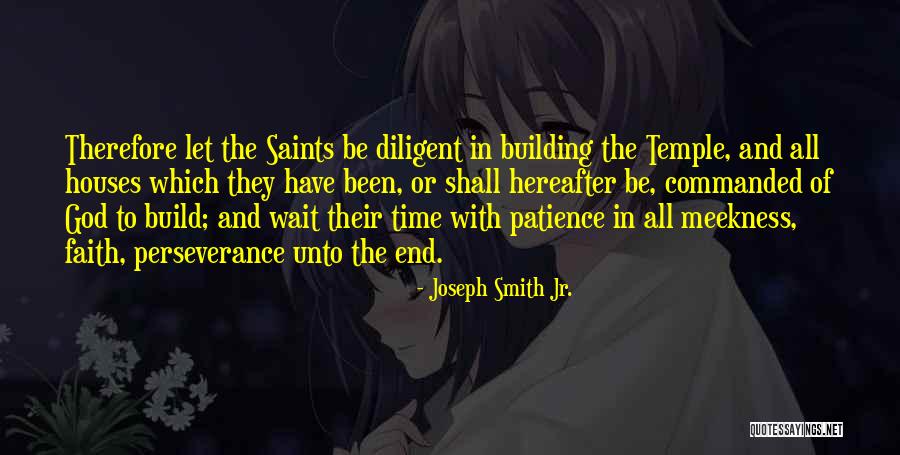 Therefore let the Saints be diligent in building the Temple, and all houses which they have been, or shall hereafter be, commanded of God to build; and wait their time with patience in all meekness, faith, perseverance unto the end. — Joseph Smith Jr.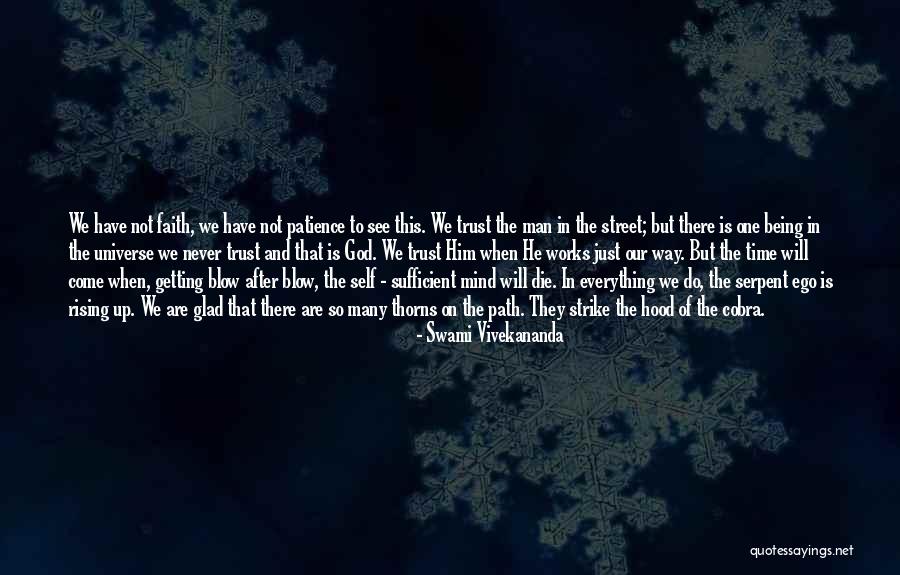 We have not faith, we have not patience to see this. We trust the man in the street; but there is one being in the universe we never trust and that is God. We trust Him when He works just our way. But the time will come when, getting blow after blow, the self - sufficient mind will die. In everything we do, the serpent ego is rising up. We are glad that there are so many thorns on the path. They strike the hood of the cobra. — Swami Vivekananda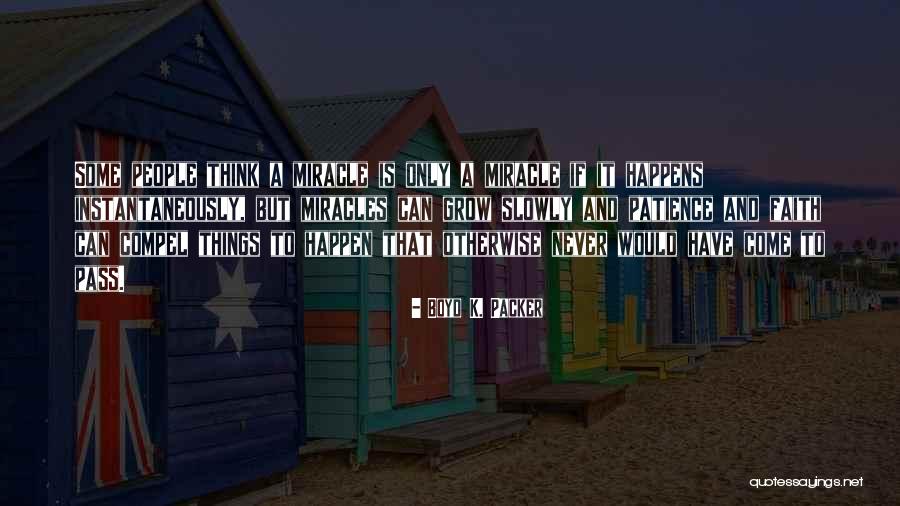 Some people think a miracle is only a miracle if it happens instantaneously, but miracles can grow slowly and patience and faith can compel things to happen that otherwise never would have come to pass. — Boyd K. Packer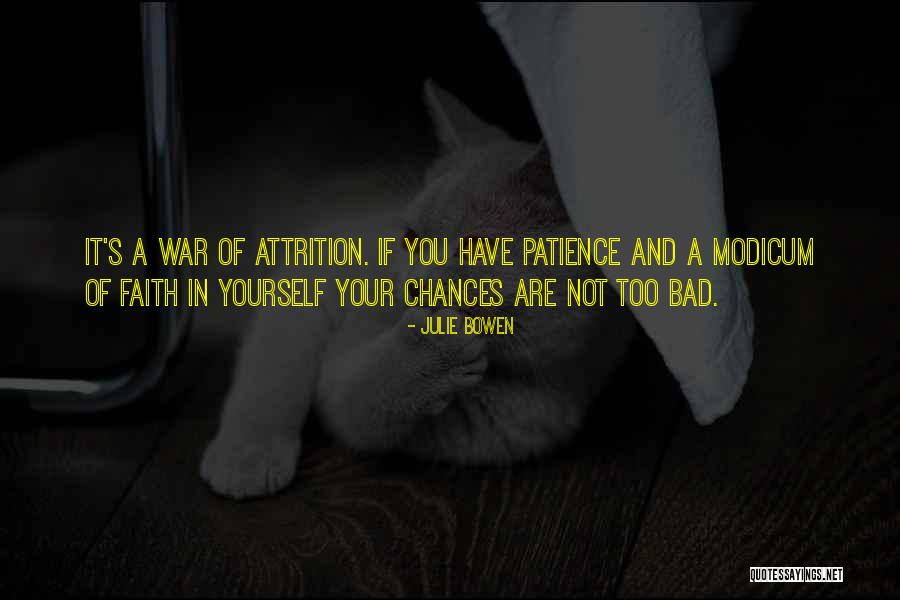 It's a war of attrition. If you have patience and a modicum of faith in yourself your chances are not too bad. — Julie Bowen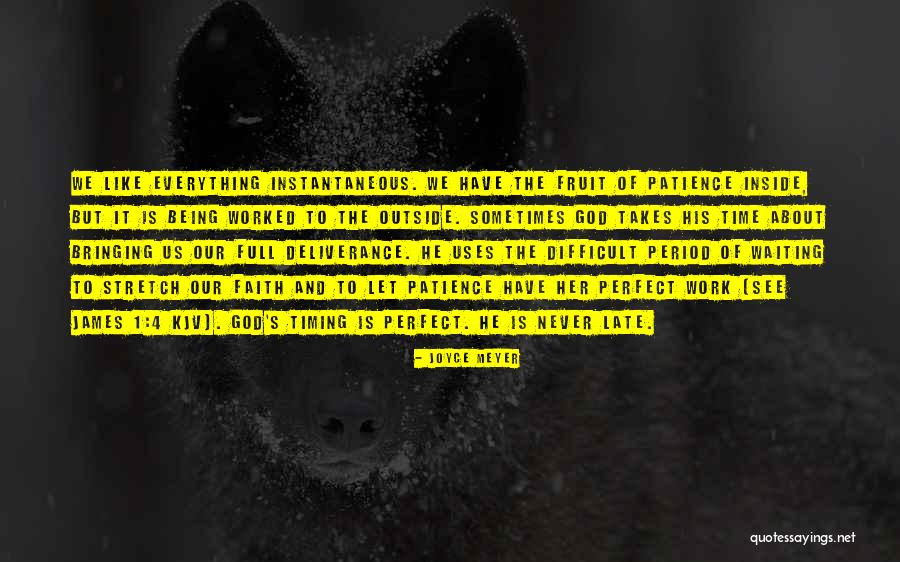 We like everything instantaneous. We have the fruit of patience inside, but it is being worked to the outside. Sometimes God takes His time about bringing us our full deliverance. He uses the difficult period of waiting to stretch our faith and to let patience have her perfect work (see James 1:4 KJV). God's timing is perfect. He is never late. — Joyce Meyer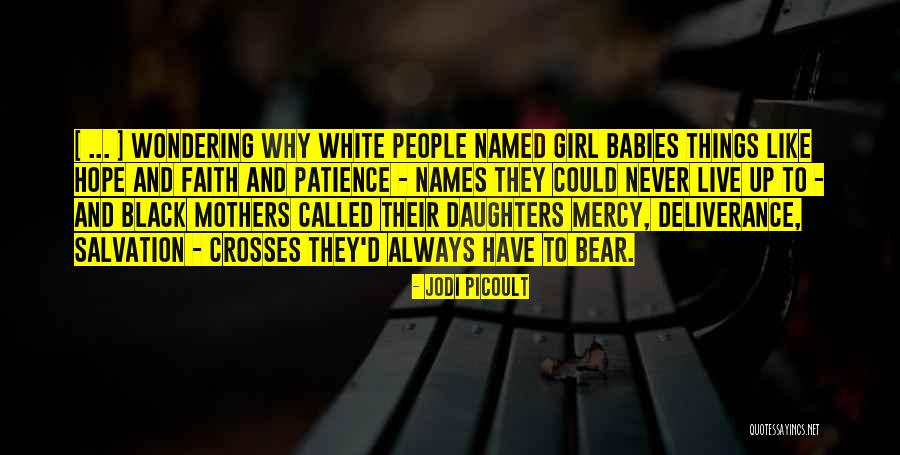 [ ... ] Wondering why white people named girl babies things like Hope and Faith and Patience - names they could never live up to - and black mothers called their daughters Mercy, Deliverance, Salvation - crosses they'd always have to bear. — Jodi Picoult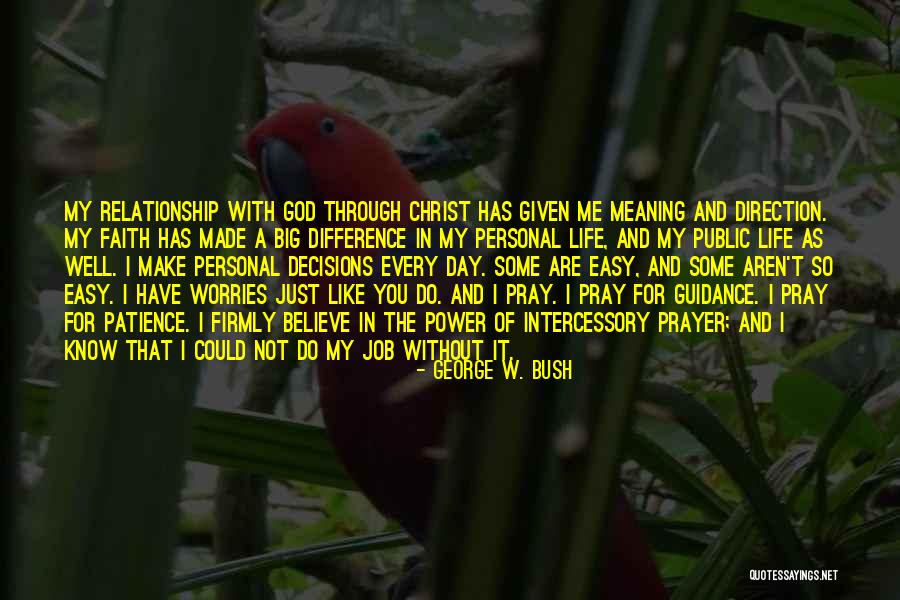 My relationship with God through Christ has given me meaning and direction. My faith has made a big difference in my personal life, and my public life as well. I make personal decisions every day. Some are easy, and some aren't so easy. I have worries just like you do. And I pray. I pray for guidance. I pray for patience. I firmly believe in the power of intercessory prayer; and I know that I could not do my job without it. — George W. Bush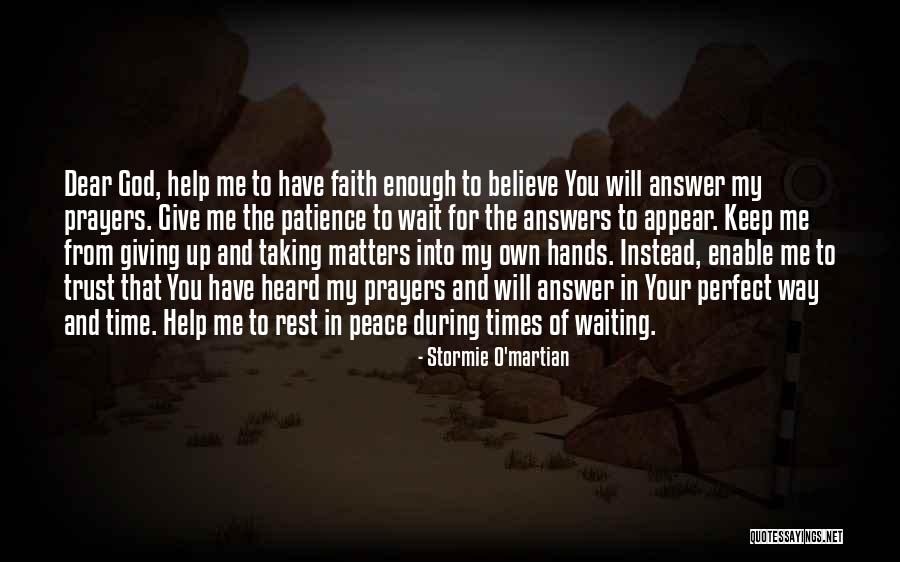 Dear God, help me to have faith enough to believe You will answer my prayers. Give me the patience to wait for the answers to appear. Keep me from giving up and taking matters into my own hands. Instead, enable me to trust that You have heard my prayers and will answer in Your perfect way and time. Help me to rest in peace during times of waiting. — Stormie O'martian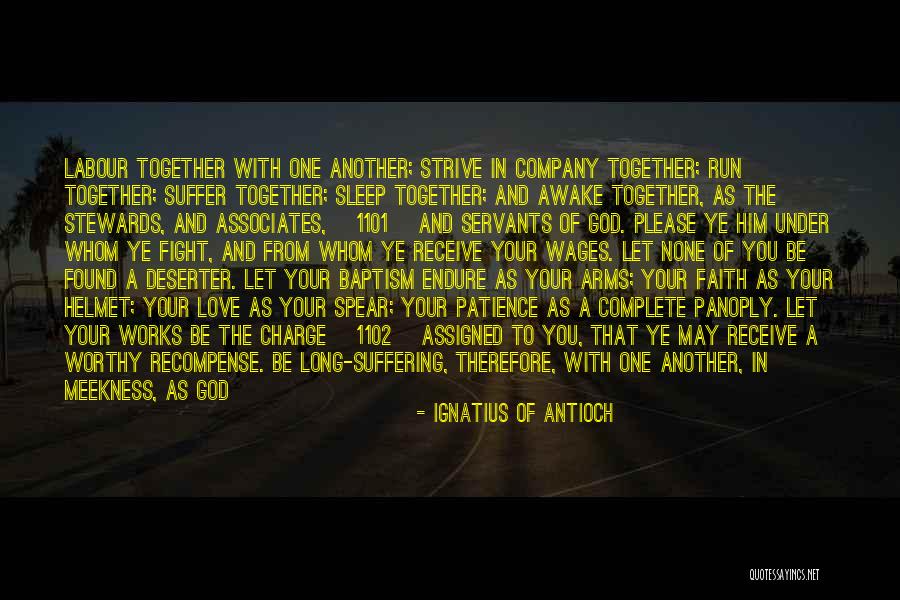 Labour together with one another; strive in company together; run together; suffer together; sleep together; and awake together, as the stewards, and associates, [1101] and servants of God. Please ye Him under whom ye fight, and from whom ye receive your wages. Let none of you be found a deserter. Let your baptism endure as your arms; your faith as your helmet; your love as your spear; your patience as a complete panoply. Let your works be the charge [1102] assigned to you, that ye may receive a worthy recompense. Be long-suffering, therefore, with one another, in meekness, as God is towards you. May I have joy of you for ever! [1103] Give — Ignatius Of Antioch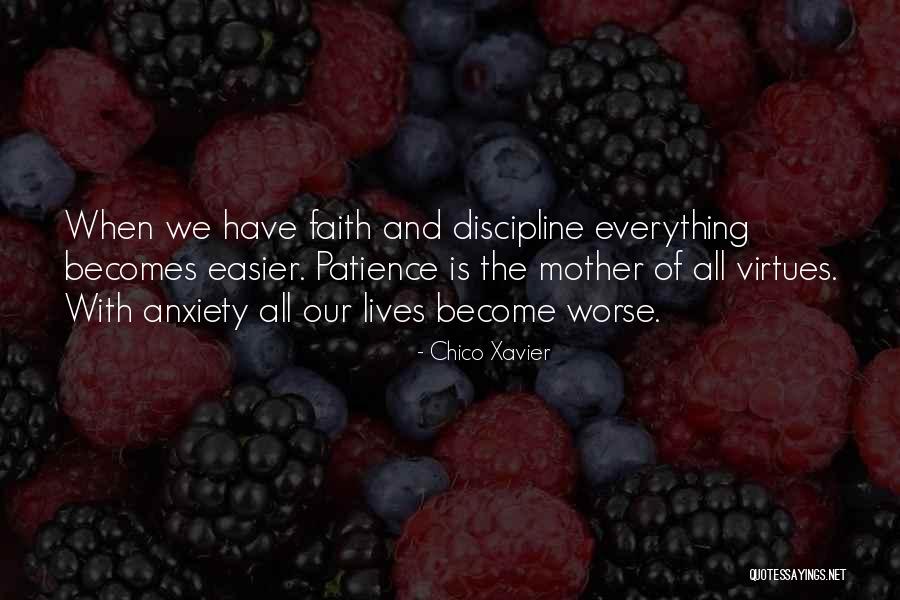 When we have faith and discipline everything becomes easier. Patience is the mother of all virtues. With anxiety all our lives become worse. — Chico Xavier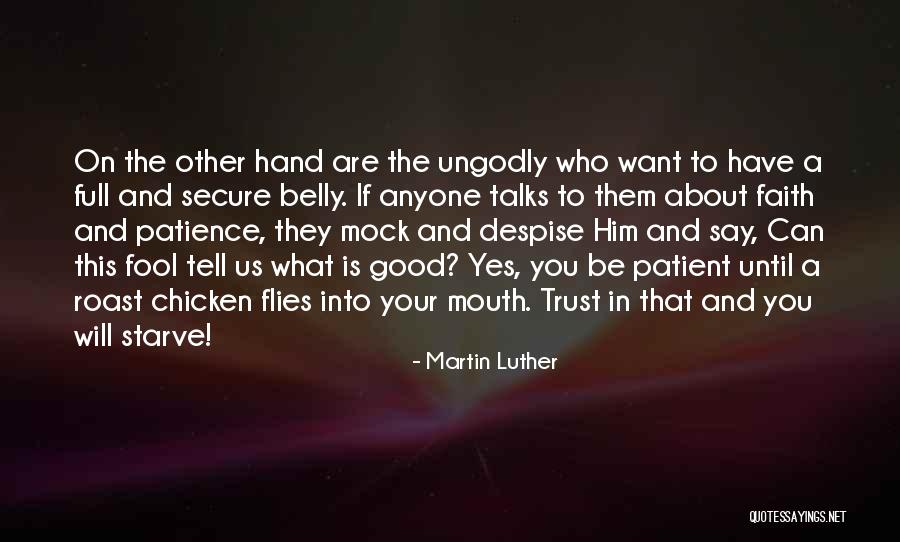 On the other hand are the ungodly who want to have a full and secure belly. If anyone talks to them about faith and patience, they mock and despise Him and say, Can this fool tell us what is good? Yes, you be patient until a roast chicken flies into your mouth. Trust in that and you will starve! — Martin Luther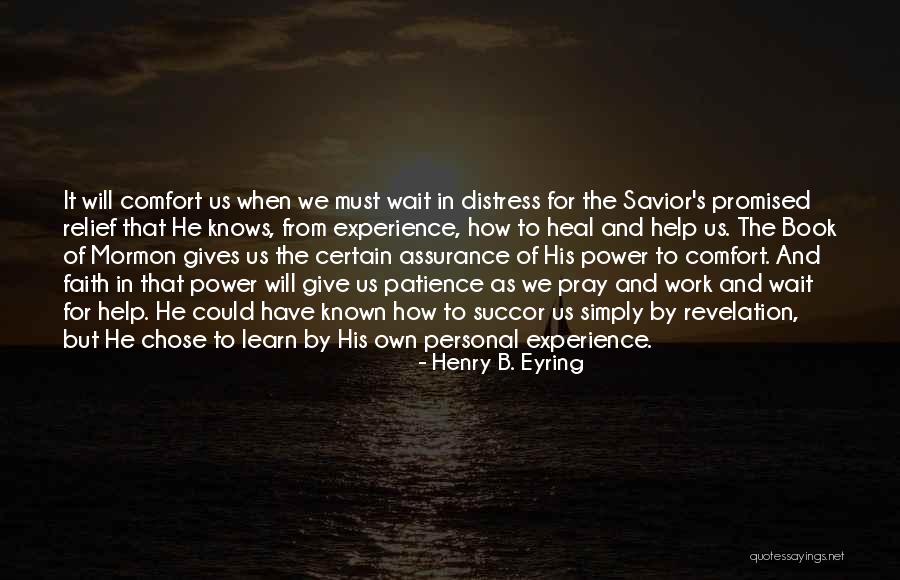 It will comfort us when we must wait in distress for the Savior's promised relief that He knows, from experience, how to heal and help us. The Book of Mormon gives us the certain assurance of His power to comfort. And faith in that power will give us patience as we pray and work and wait for help. He could have known how to succor us simply by revelation, but He chose to learn by His own personal experience. — Henry B. Eyring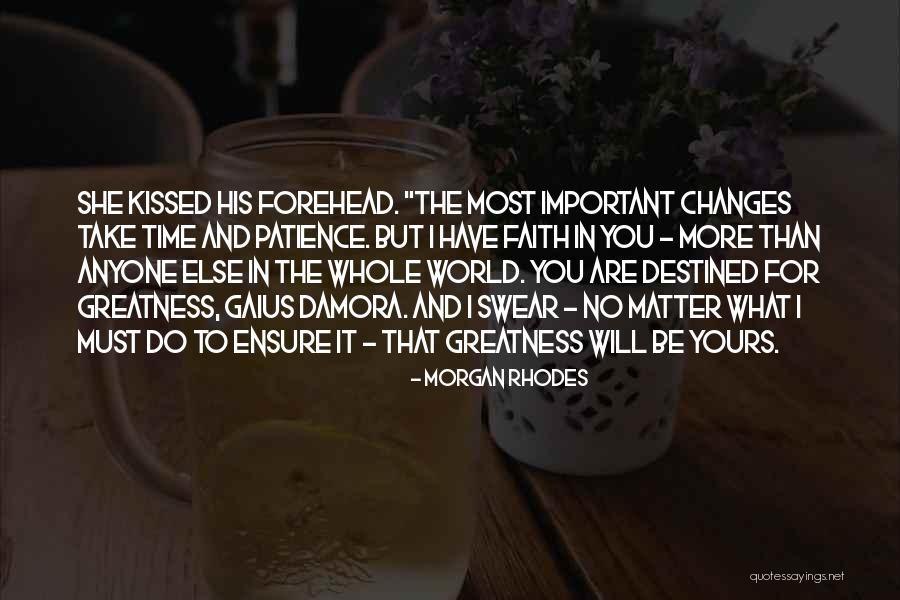 She kissed his forehead. "The most important changes take time and patience. But I have faith in you - more than anyone else in the whole world. You are destined for greatness, Gaius Damora. And I swear - no matter what I must do to ensure it - that greatness will be yours. — Morgan Rhodes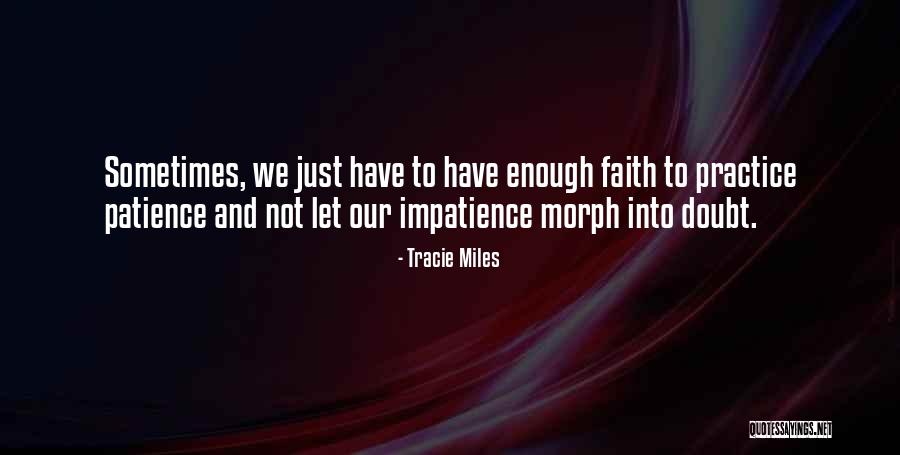 Sometimes, we just have to have enough faith to practice patience and not let our impatience morph into doubt. — Tracie Miles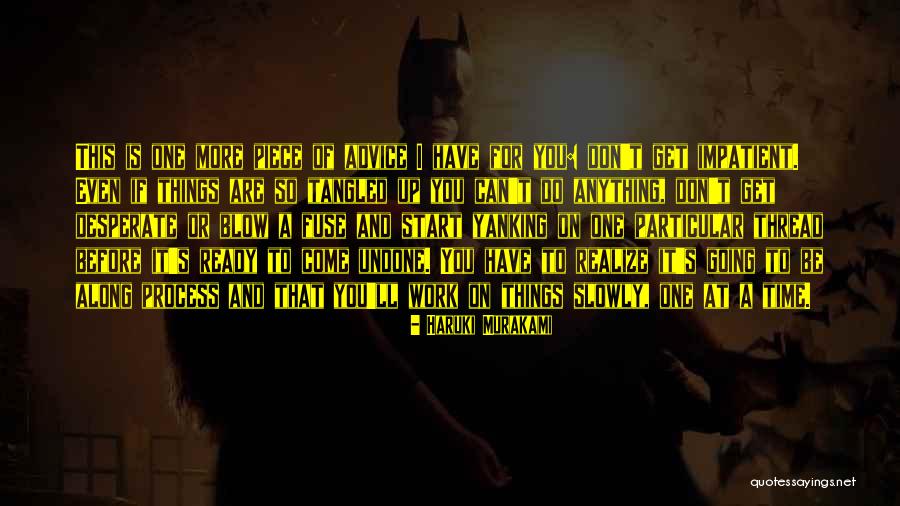 This is one more piece of advice I have for you: don't get impatient. Even if things are so tangled up you can't do anything, don't get desperate or blow a fuse and start yanking on one particular thread before it's ready to come undone. You have to realize it's going to be a
long process and that you'll work on things slowly, one at a time. — Haruki Murakami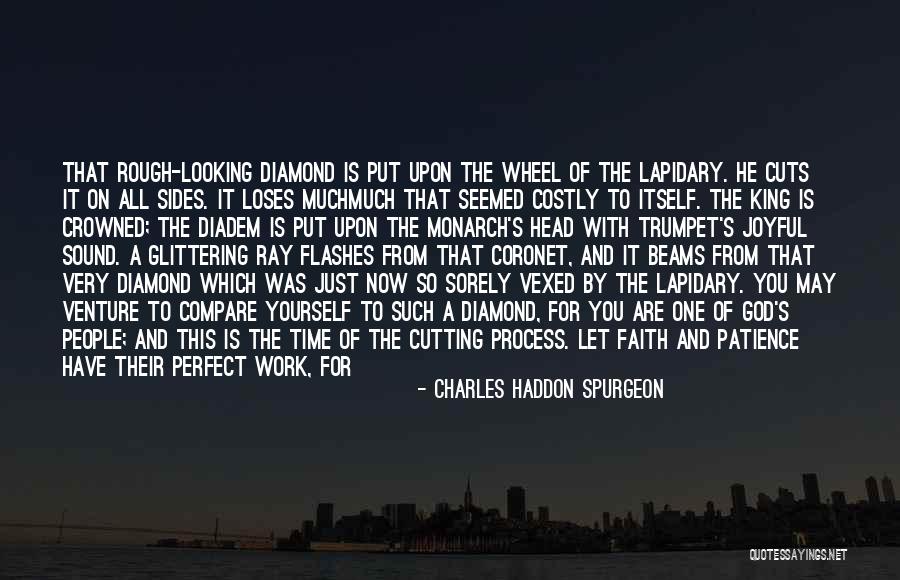 That rough-looking diamond is put upon the wheel of the lapidary. He cuts it on all sides. It loses much
much that seemed costly to itself. The king is crowned; the diadem is put upon the monarch's head with trumpet's joyful sound. A glittering ray flashes from that coronet, and it beams from that very diamond which was just now so sorely vexed by the lapidary. You may venture to compare yourself to such a diamond, for you are one of God's people; and this is the time of the cutting process. Let faith and patience have their perfect work, for in the day when the crown shall be set upon the head of the King, Eternal, Immortal, Invisible, one ray of glory shall stream from you. "They shall be mine," saith the Lord, "in the day when I make up my jewels." "Better is the end of a thing than the beginning thereof. — Charles Haddon Spurgeon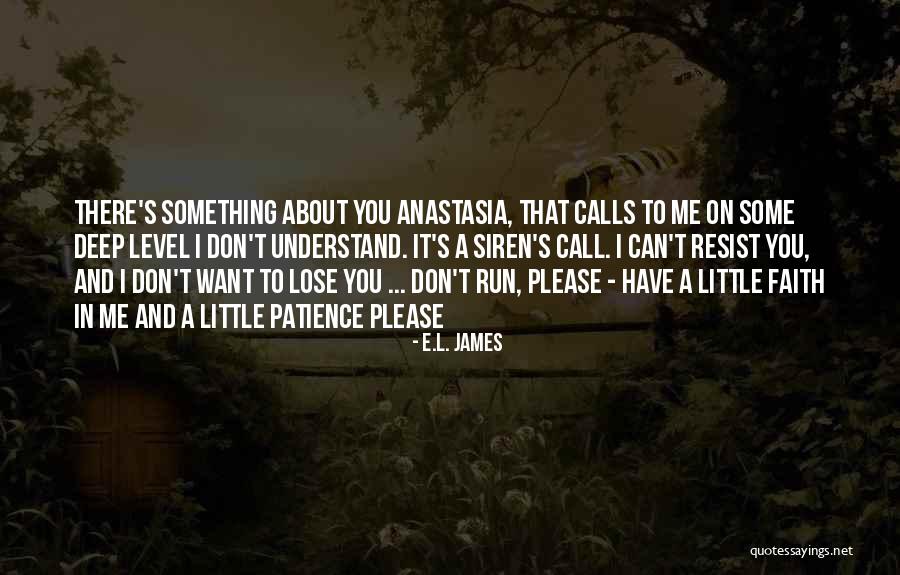 There's something about you Anastasia, that calls to me on some deep level I don't understand. It's a siren's call. I can't resist you, and I don't want to lose you ... don't run, please - have a little faith in me and a little patience please — E.L. James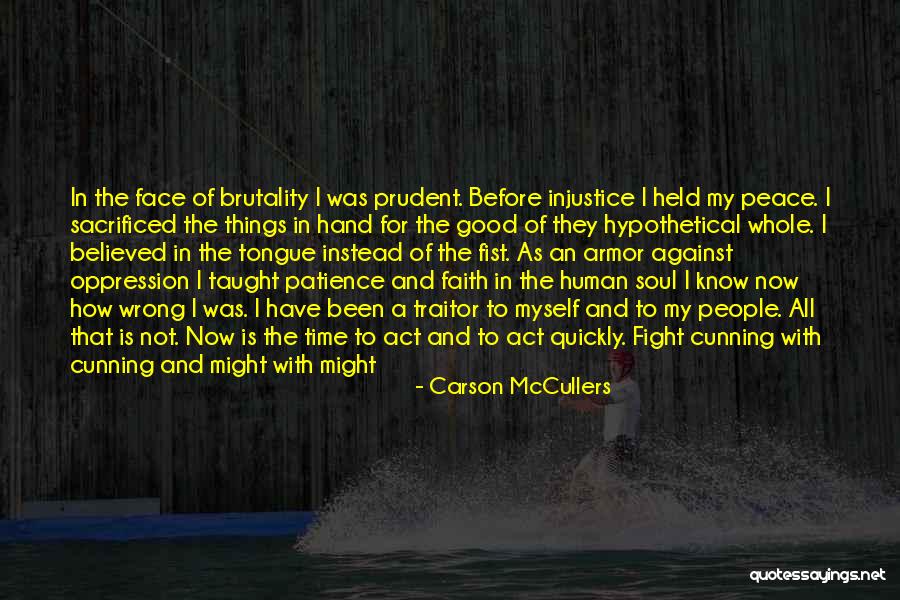 In the face of brutality I was prudent. Before injustice I held my peace. I sacrificed the things in hand for the good of they hypothetical whole. I believed in the tongue instead of the fist. As an armor against oppression I taught patience and faith in the human soul I know now how wrong I was. I have been a traitor to myself and to my people. All that is not. Now is the time to act and to act quickly. Fight cunning with cunning and might with might — Carson McCullers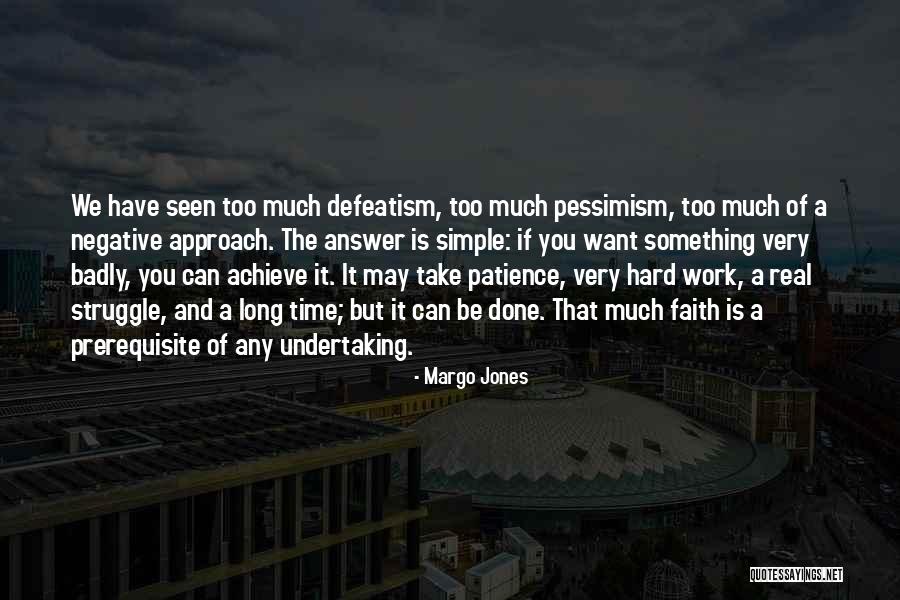 We have seen too much defeatism, too much pessimism, too much of a negative approach. The answer is simple: if you want something very badly, you can achieve it. It may take patience, very hard work, a real struggle, and a long time; but it can be done. That much faith is a prerequisite of any undertaking. — Margo Jones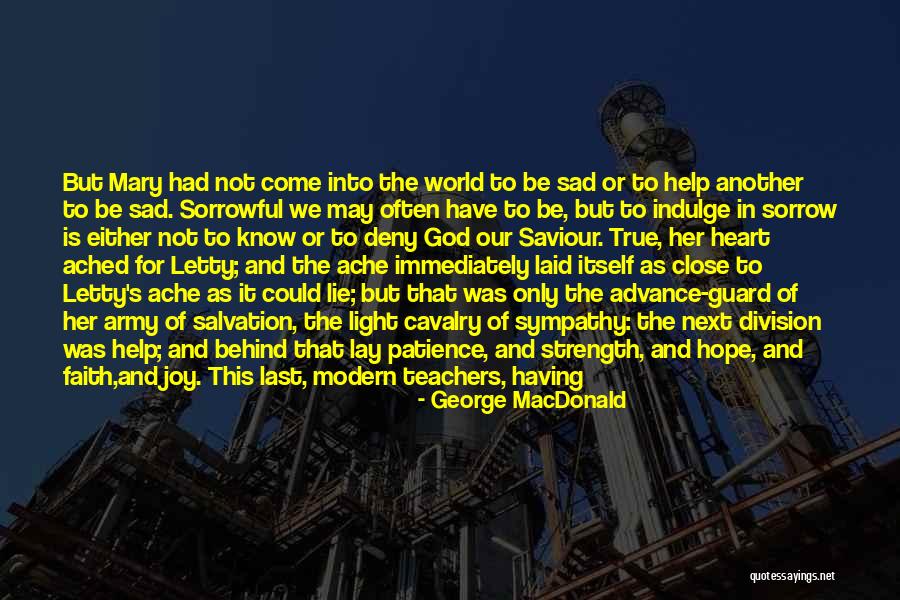 But Mary had not come into the world to be sad or to help another to be sad. Sorrowful we may often have to be, but to indulge in sorrow is either not to know or to deny God our Saviour. True, her heart ached for Letty; and the ache immediately laid itself as close to Letty's ache as it could lie; but that was only the advance-guard of her army of salvation, the light cavalry of sympathy: the next division was help; and behind that lay patience, and strength, and hope, and faith,and joy. This last, modern teachers, having failed to regard it as a virtue, may well decline to regard as a duty; but he is a poor Christian indeed in whom joy has not at least a growing share, and Mary was not a poor Christian--at least, for the time she had been learning, and as Christians go in the present aeon of their history. — George MacDonald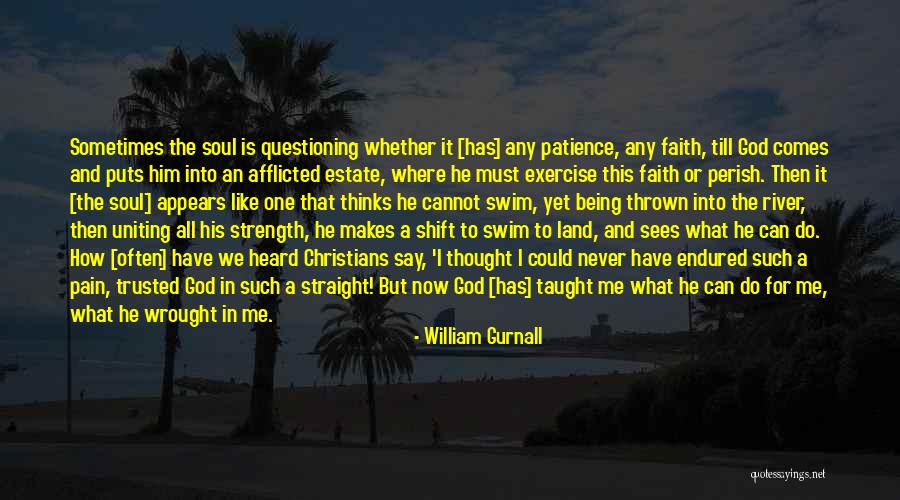 Sometimes the soul is questioning whether it [has] any patience, any faith, till God comes and puts him into an afflicted estate, where he must exercise this faith or perish. Then it [the soul] appears like one that thinks he cannot swim, yet being thrown into the river, then uniting all his strength, he makes a shift to swim to land, and sees what he can do. How [often] have we heard Christians say, 'I thought I could never have endured such a pain, trusted God in such a straight! But now God [has] taught me what he can do for me, what he wrought in me. — William Gurnall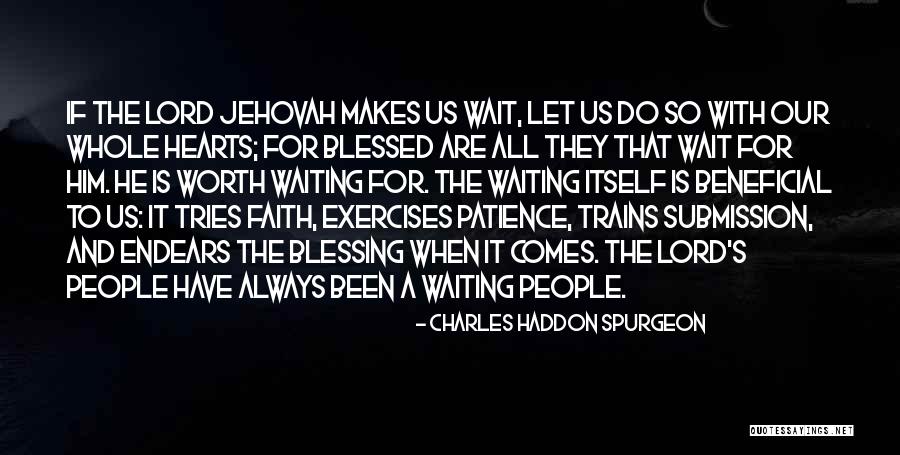 If the Lord Jehovah makes us wait, let us do so with our whole hearts; for blessed are all they that wait for Him. He is worth waiting for. The waiting itself is beneficial to us: it tries faith, exercises patience, trains submission, and endears the blessing when it comes. The Lord's people have always been a waiting people. — Charles Haddon Spurgeon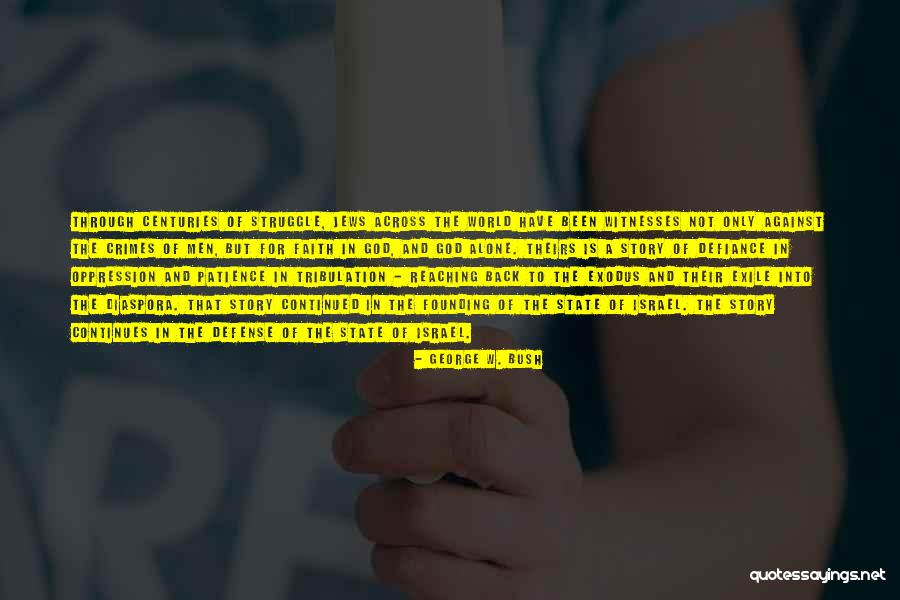 Through centuries of struggle, Jews across the world have been witnesses not only against the crimes of men, but for faith in God, and God alone. Theirs is a story of defiance in oppression and patience in tribulation - reaching back to the exodus and their exile into the diaspora. That story continued in the founding of the State of Israel. The story continues in the defense of the State of Israel. — George W. Bush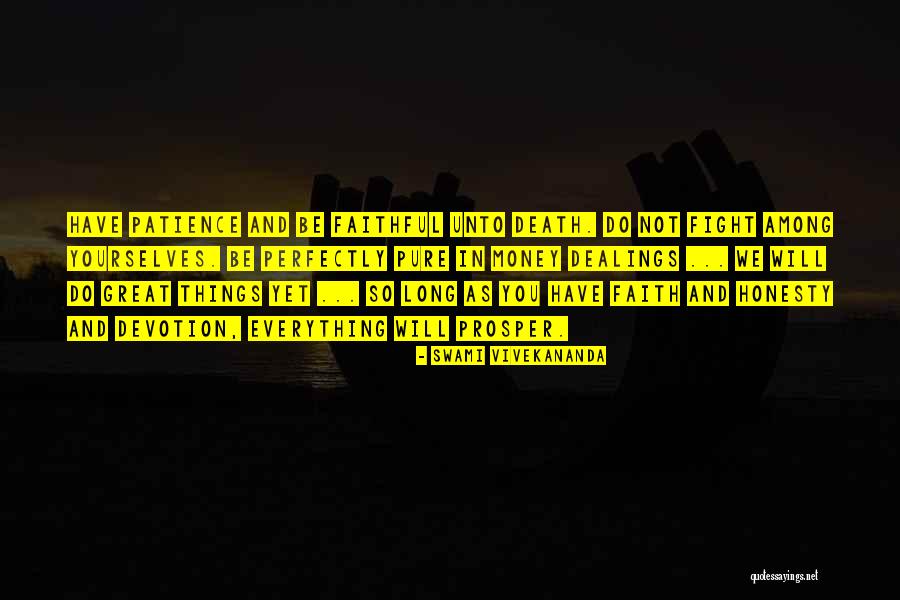 Have patience and be faithful unto death. Do not fight among yourselves. Be perfectly pure in money dealings ... We will do great things yet ... So long as you have faith and honesty and devotion, everything will prosper. — Swami Vivekananda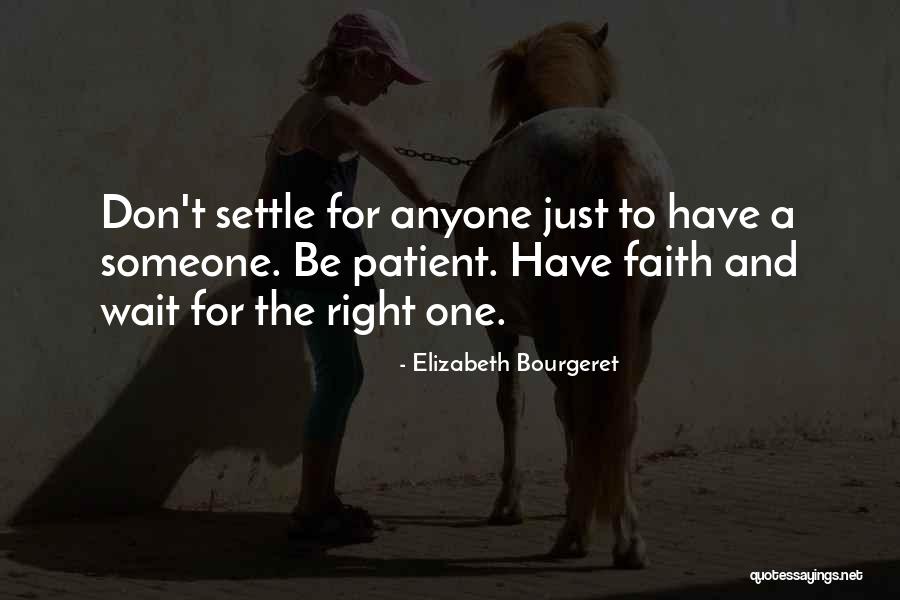 Don't settle for anyone just to have a someone. Be patient. Have faith and wait for the right one. — Elizabeth Bourgeret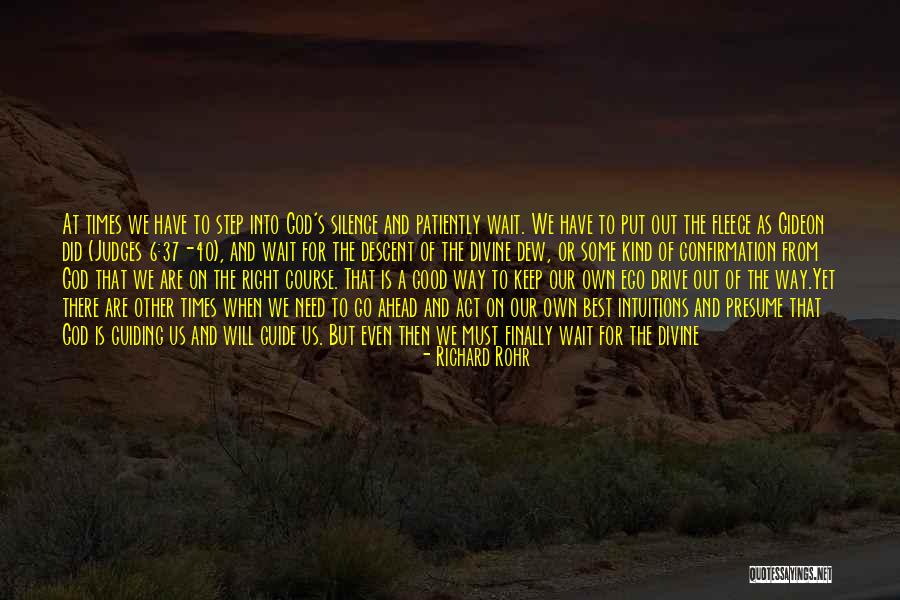 At times we have to step into God's silence and patiently wait. We have to put out the fleece as Gideon did (Judges 6:37-40), and wait for the descent of the divine dew, or some kind of confirmation from God that we are on the right course. That is a good way to keep our own ego drive out of the way.
Yet there are other times when we need to go ahead and act on our own best intuitions and presume that God is guiding us and will guide us. But even then we must finally wait for the divine backup. Sometimes that is even the greater act of faith and courage, and takes even more patience. What if the divine dew does not fall? What do we do then?
When either waiting or moving forward is done out of a spirit of union and surrender, we can trust that God will make good out of it - even if we are mistaken! It is not about being correct, it is about being connected. — Richard Rohr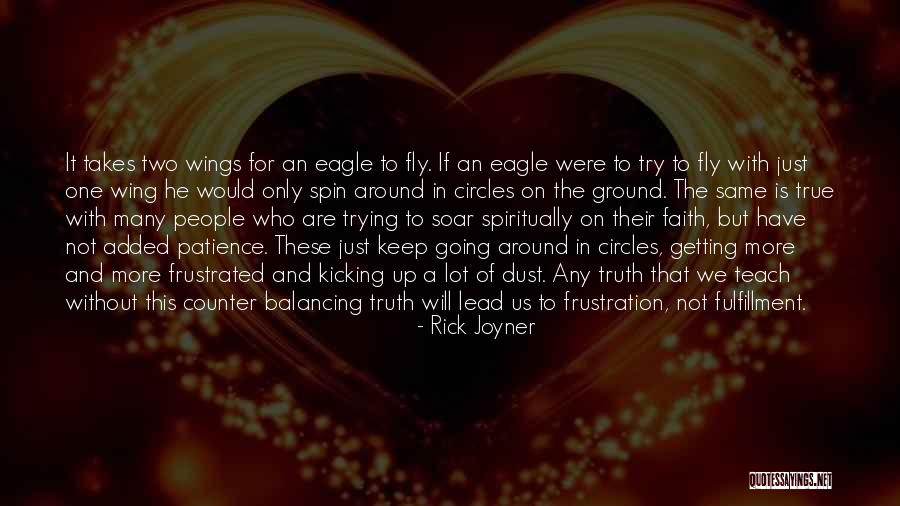 It takes two wings for an eagle to fly. If an eagle were to try to fly with just one wing he would only spin around in circles on the ground. The same is true with many people who are trying to soar spiritually on their faith, but have not added patience. These just keep going around in circles, getting more and more frustrated and kicking up a lot of dust. Any truth that we teach without this counter balancing truth will lead us to frustration, not fulfillment. — Rick Joyner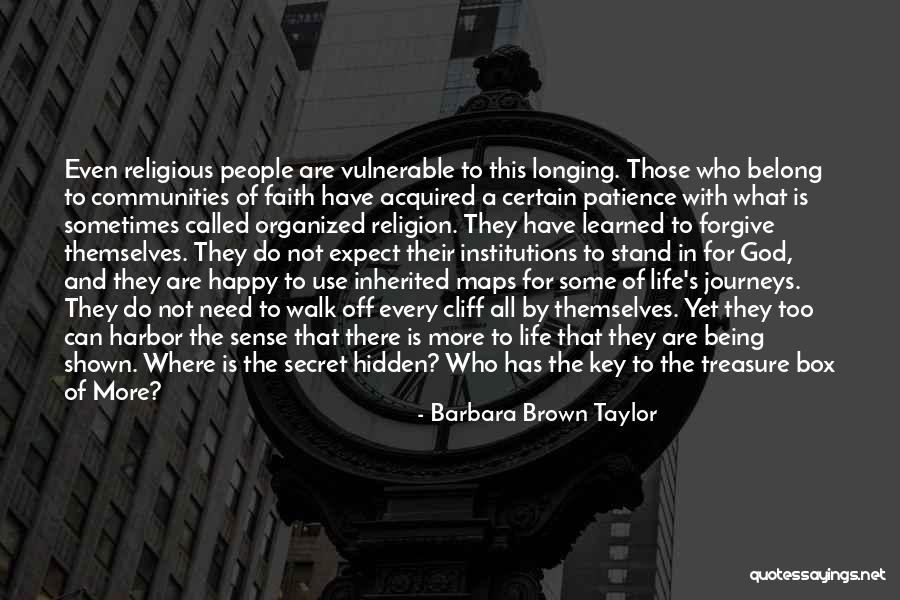 Even religious people are vulnerable to this longing. Those who belong to communities of faith have acquired a certain patience with what is sometimes called organized religion. They have learned to forgive themselves. They do not expect their institutions to stand in for God, and they are happy to use inherited maps for some of life's journeys. They do not need to walk off every cliff all by themselves. Yet they too can harbor the sense that there is more to life that they are being shown. Where is the secret hidden? Who has the key to the treasure box of More? — Barbara Brown Taylor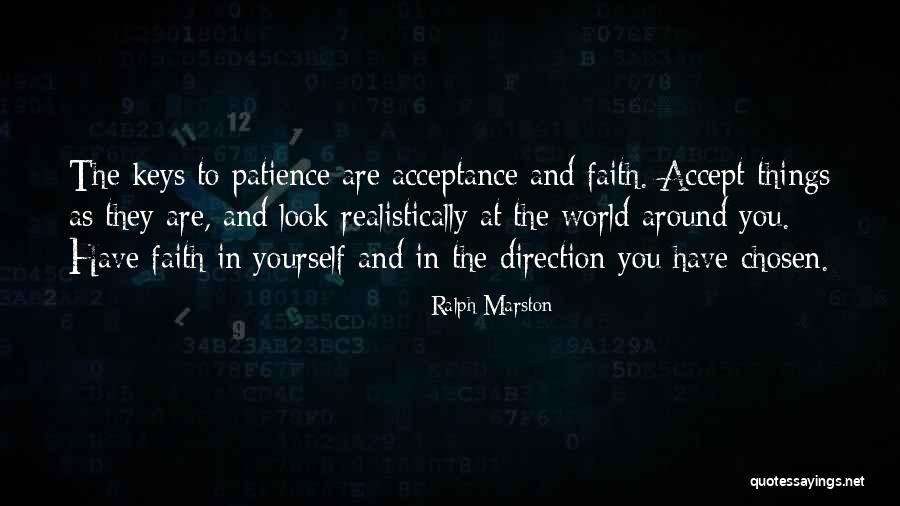 The keys to patience are acceptance and faith. Accept things as they are, and look realistically at the world around you. Have faith in yourself and in the direction you have chosen. — Ralph Marston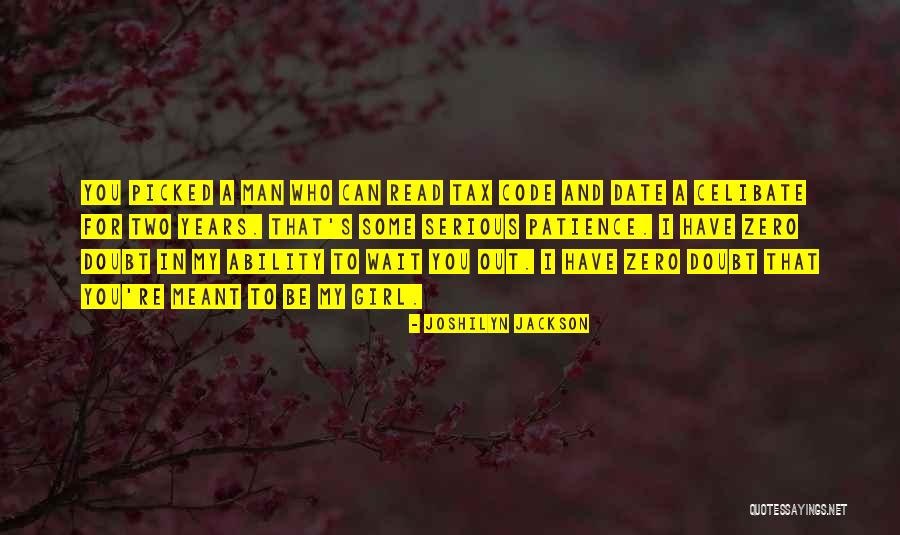 You picked a man who can read tax code and date a celibate for two years. That's some serious patience. I have zero doubt in my ability to wait you out. I have zero doubt that you're meant to be my girl. — Joshilyn Jackson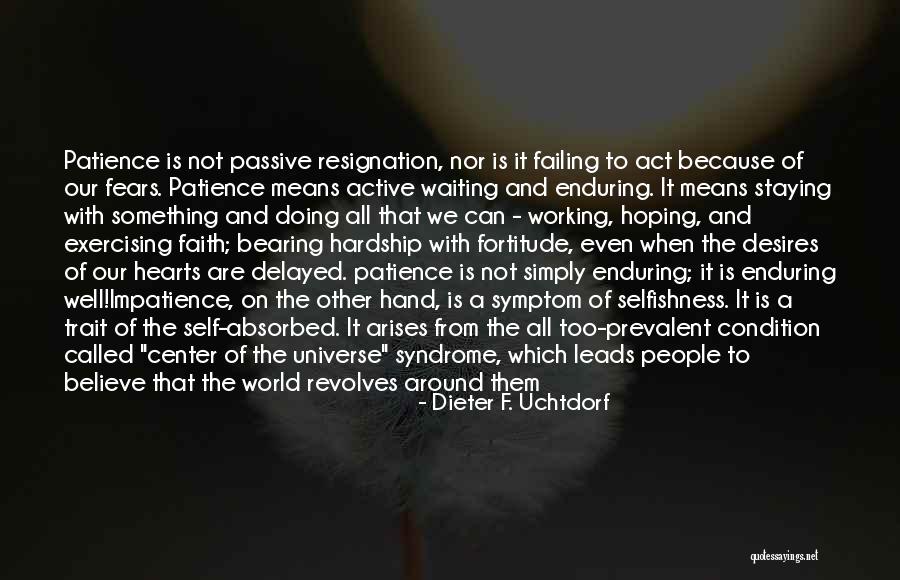 Patience is not passive resignation, nor is it failing to act because of our fears. Patience means active waiting and enduring. It means staying with something and doing all that we can - working, hoping, and exercising faith; bearing hardship with fortitude, even when the desires of our hearts are delayed. patience is not simply enduring; it is enduring well!
Impatience, on the other hand, is a symptom of selfishness. It is a trait of the self-absorbed. It arises from the all too-prevalent condition called "center of the universe" syndrome, which leads people to believe that the world revolves around them and that all others are just supporting cast in the grand theater of mortality in which only they have the starring role. — Dieter F. Uchtdorf